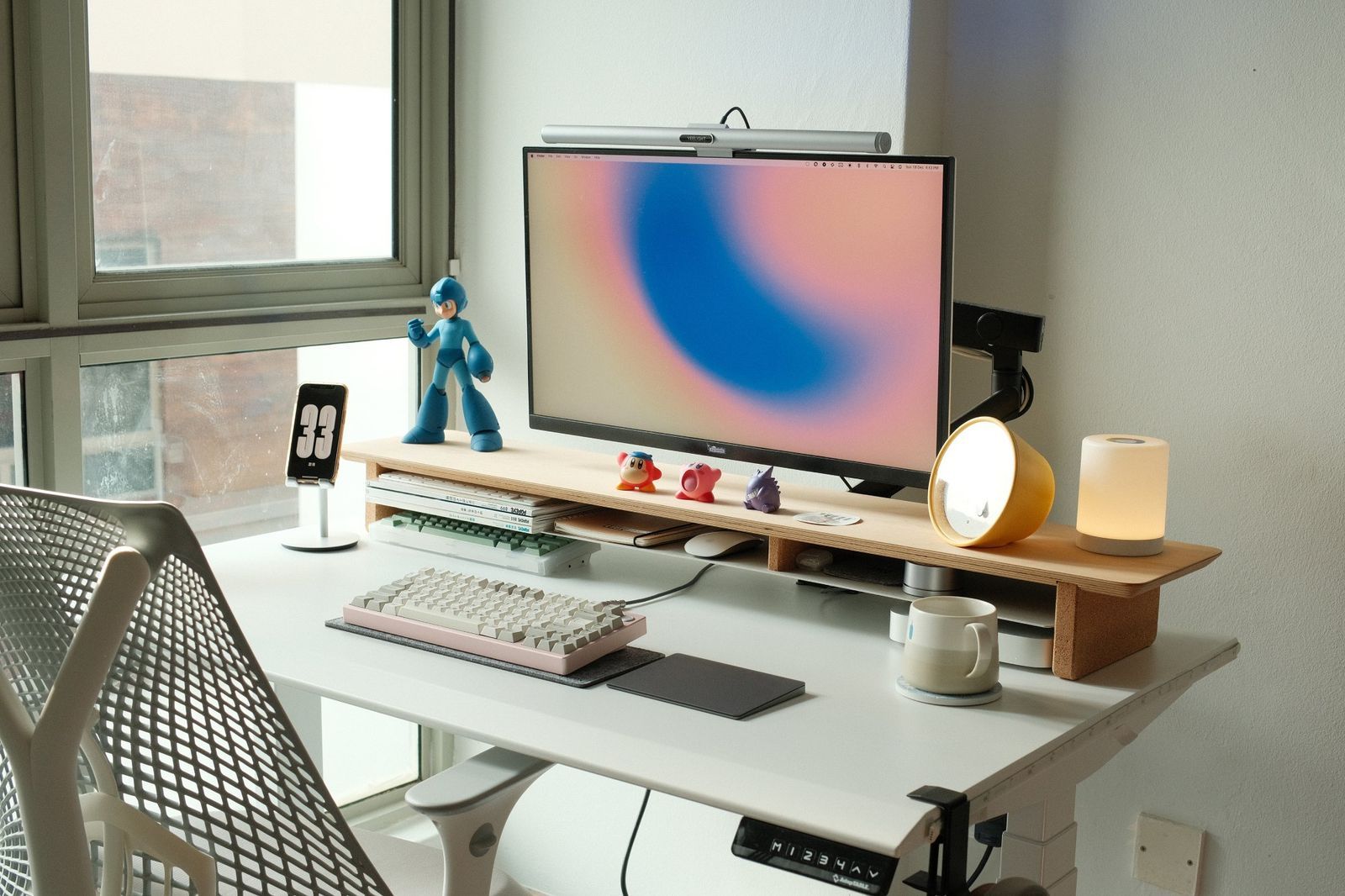 13 Creative and Practical Home Office Setup Ideas for a Small Space
Unlock the secrets to a stylish, ergonomic setup that's big on inspiration and productivity — no matter the square footage.

Who says small can't be mighty? When it comes to home offices, it's all about working smarter, not harder.
Let's take a trip around the world and sneak a peek at how every nook can be turned into the ultimate work-from-home haven.
Whether it's a cosy corner or a garden retreat, these real-life setups from the pros show us the ropes of crafting a small home office that punches well above its weight.
Expand your home office setup upwards
Maximising a petite area starts with smart vertical designs. PJ in Manila, the Philippines, has nailed using height to his advantage.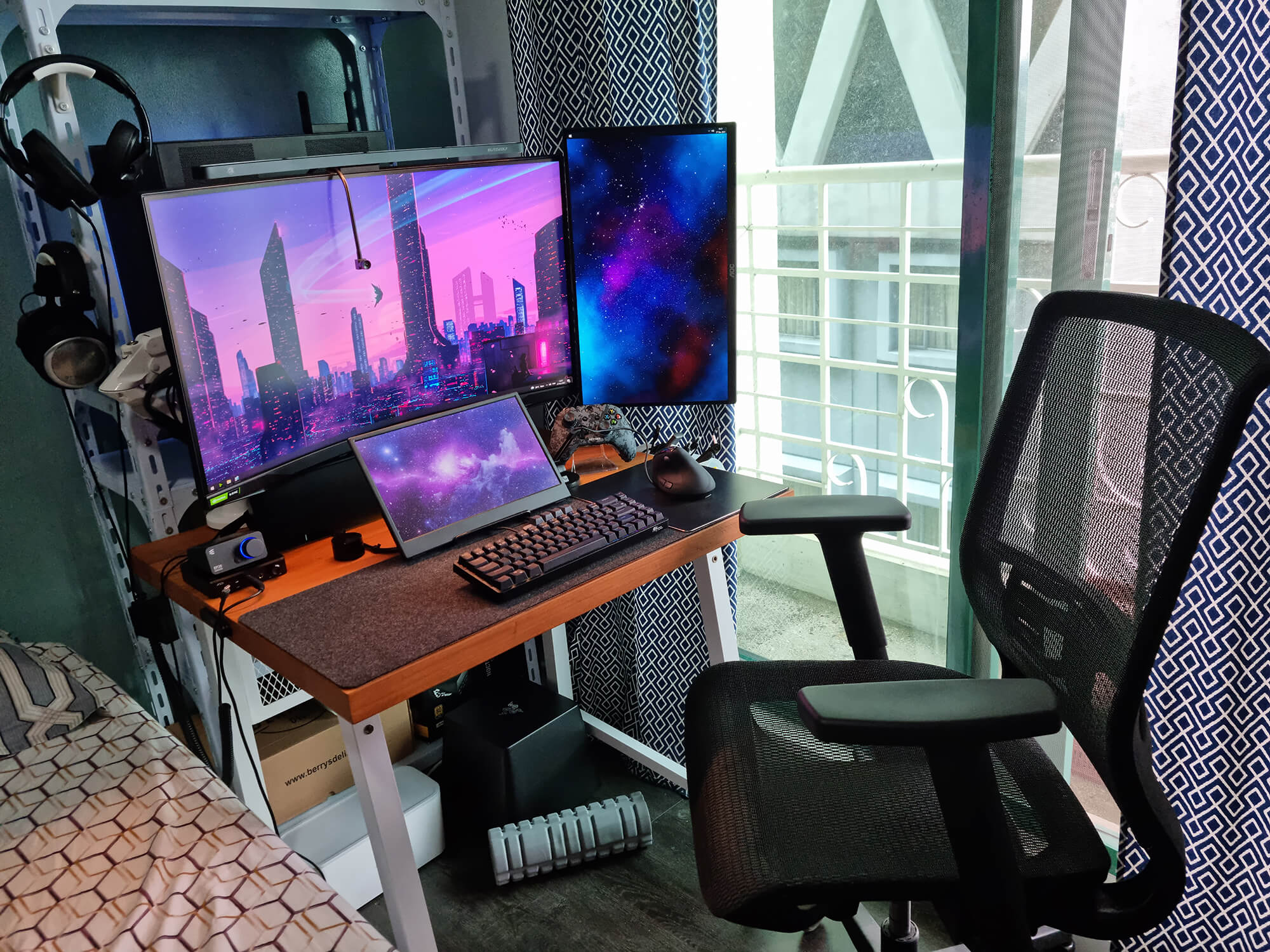 "I took inspiration from my neighbourhood of high rise condominiums," he says. "I built vertically with as few compromises as possible"​​.
Take a cue from PJ's home office setup and invest in tall shelving units and monitor arms that let you reclaim precious desk real estate.
Stack your storage – think floating shelves and wall-mounted cabinets to stow your stuff out of the way but still within reach.
Add a touch of tranquility
Rochelle in Georgia, United States, transformed a tiny room into a zen zone for focused work.
She suggests, "Design a tranquil and organised environment where you could fully concentrate"​​.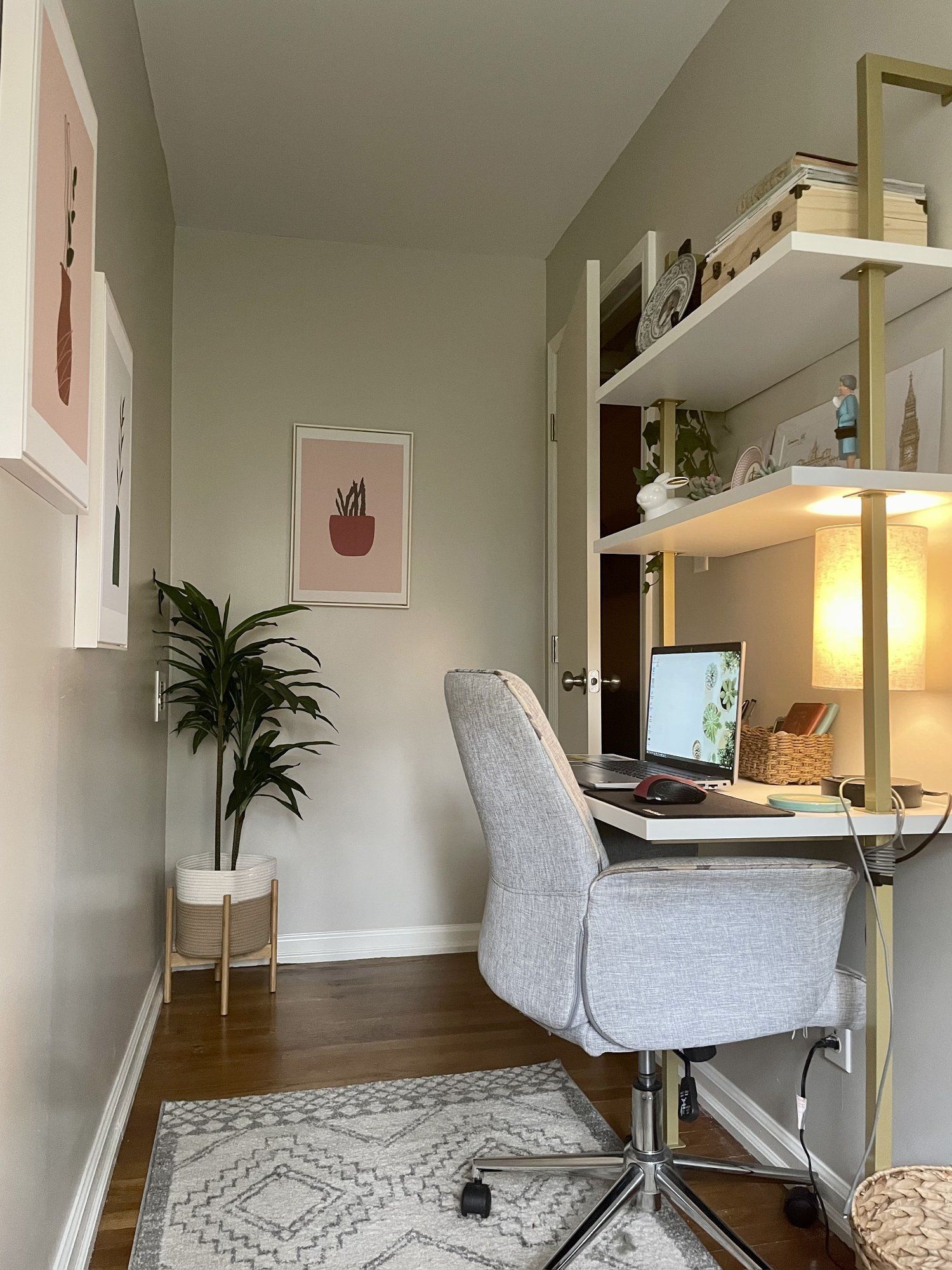 Pick calming colours and keep your setup clutter-free. A wall-mounted desk gives you legroom, and a comfy chair that tucks under will save space.
Decorate with items that soothe your soul, like Rochelle's cherished England mementos.
Bring the outdoors in
Nothing breathes life into a small space like a bit of nature. Indoor plants not only purify your air but also boost your mood.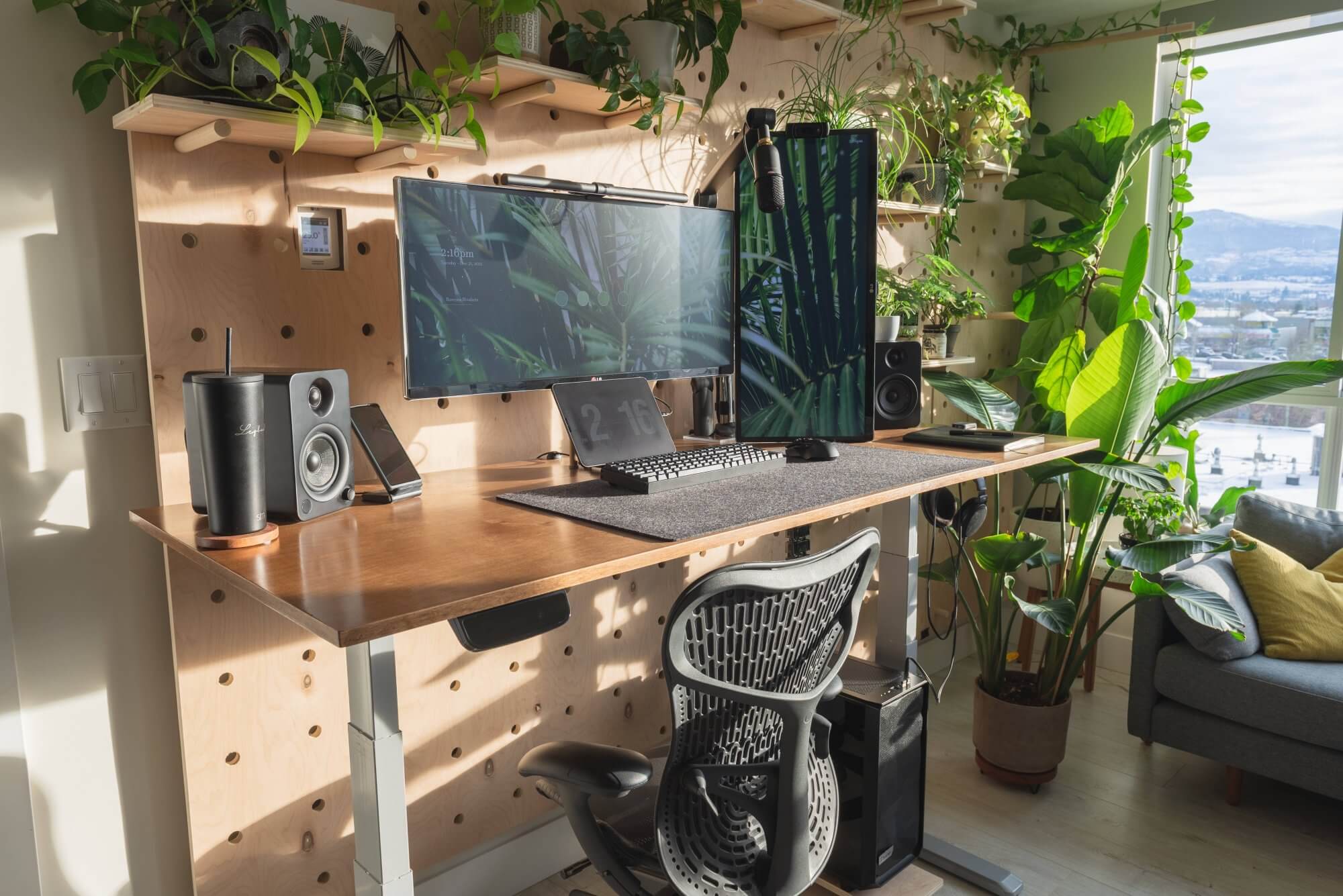 Position your desk by a window to soak up the view and the natural light. It's a simple move that can transform the vibe of your confined work area.
Craft your backyard office pod
Turning your small outdoor space into a productivity haven like Petar in Perth did can be a game-changer.
He found peace away from the home hustle by setting up a WFH garden pod. "I needed a sanctuary to focus," he shares in his desk tour​​.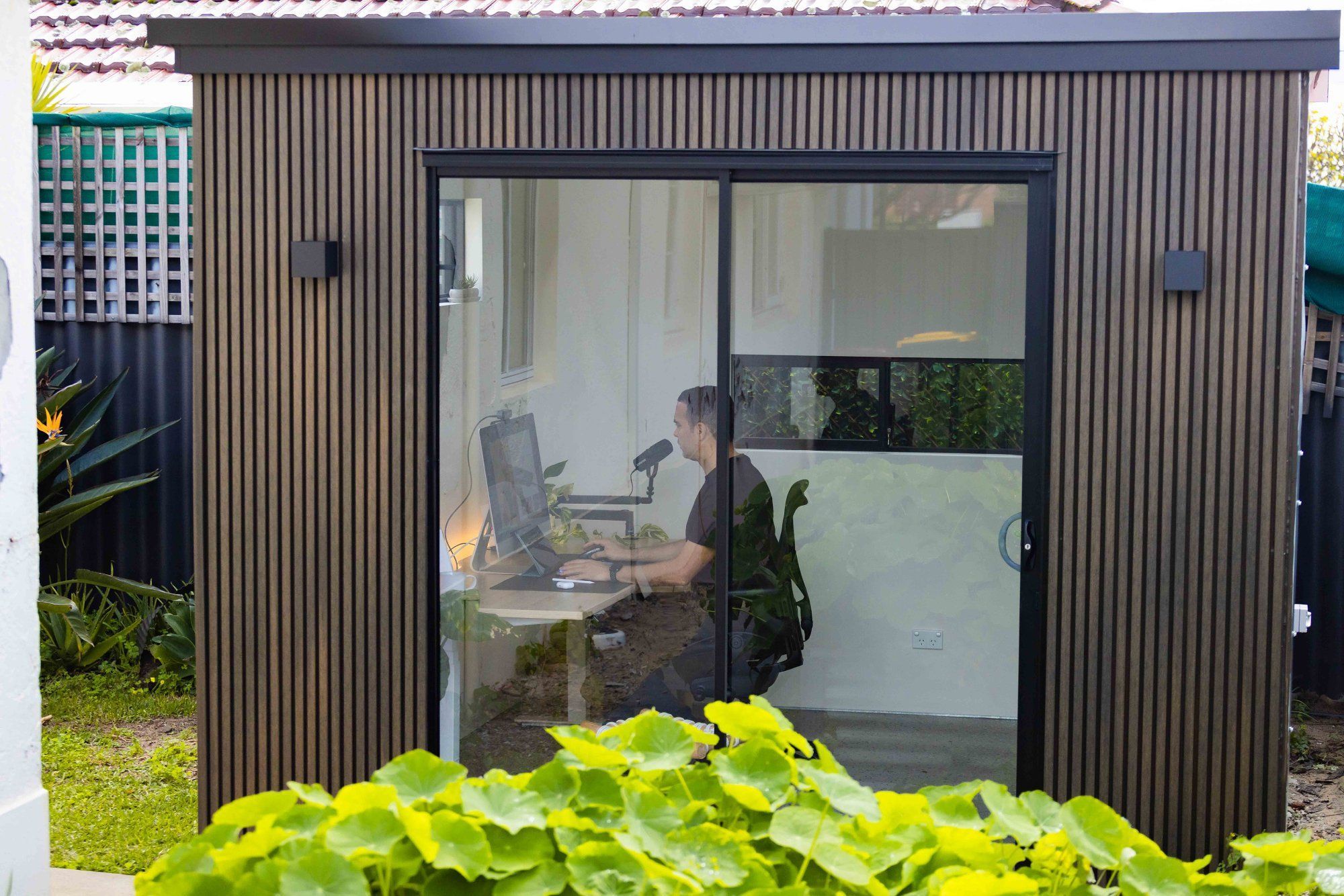 To create your backyard retreat, consider a shed or a pre-fab pod. Kit it out with essentials like an ergonomic office chair, a sturdy desk, and don't forget insulation for those cooler days.
Learn flexible storage tricks
For your small home office setup, look for storage that's flexible – pieces that can move around as your day shifts from work to relaxation.
Rolling file cabinets, storage ottomans, fold-down wall desks, and even pegboards can keep your space tidy and versatile.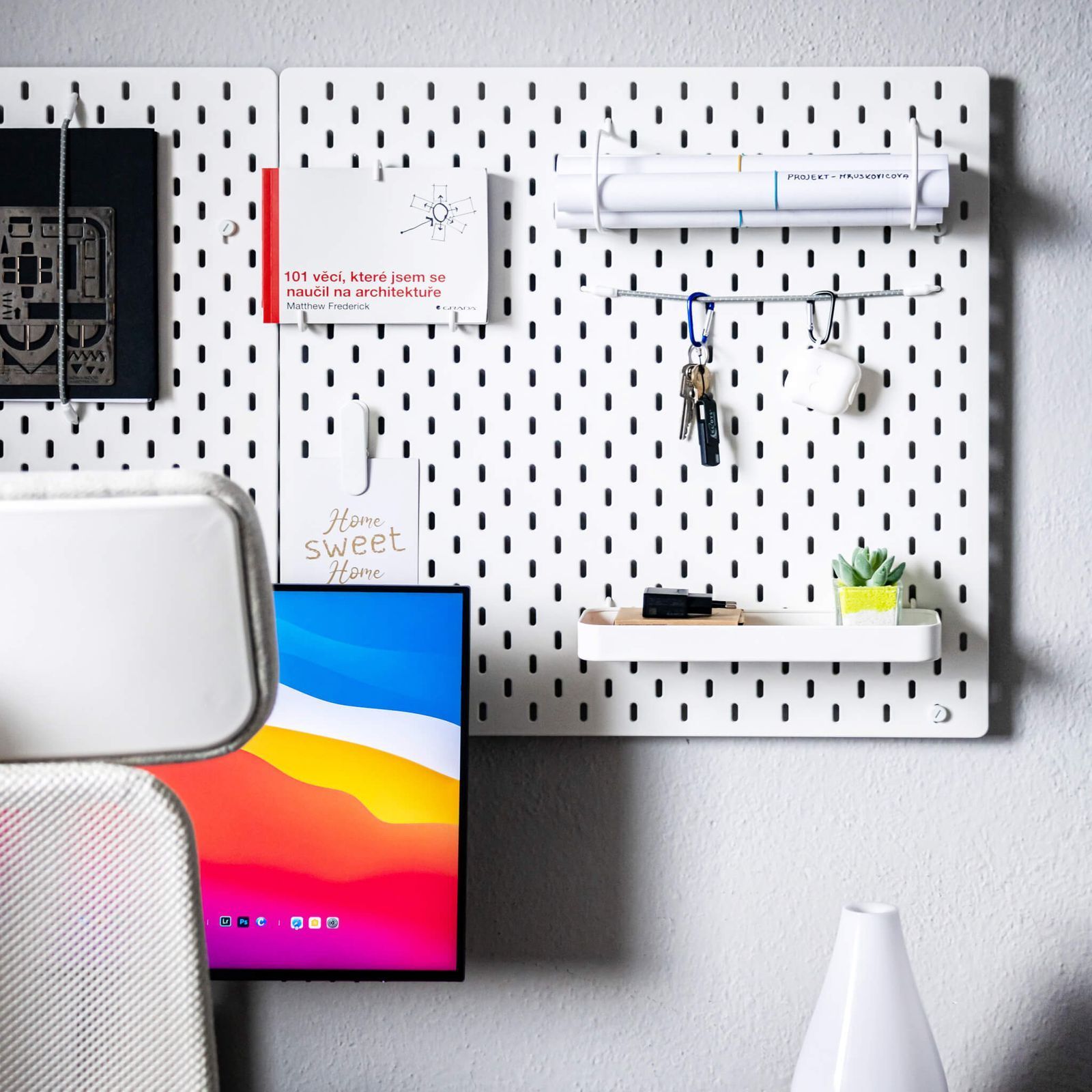 Embrace minimalism for maximum effect
Emmie's architect workspace boasts clean, minimal, and moody layout. Located in the Philippines, his setup is a reminder that less is more.
With a focus on space-saving and sleek design, Emmie has chosen furniture and accessories that complement his need for a streamlined and neat environment.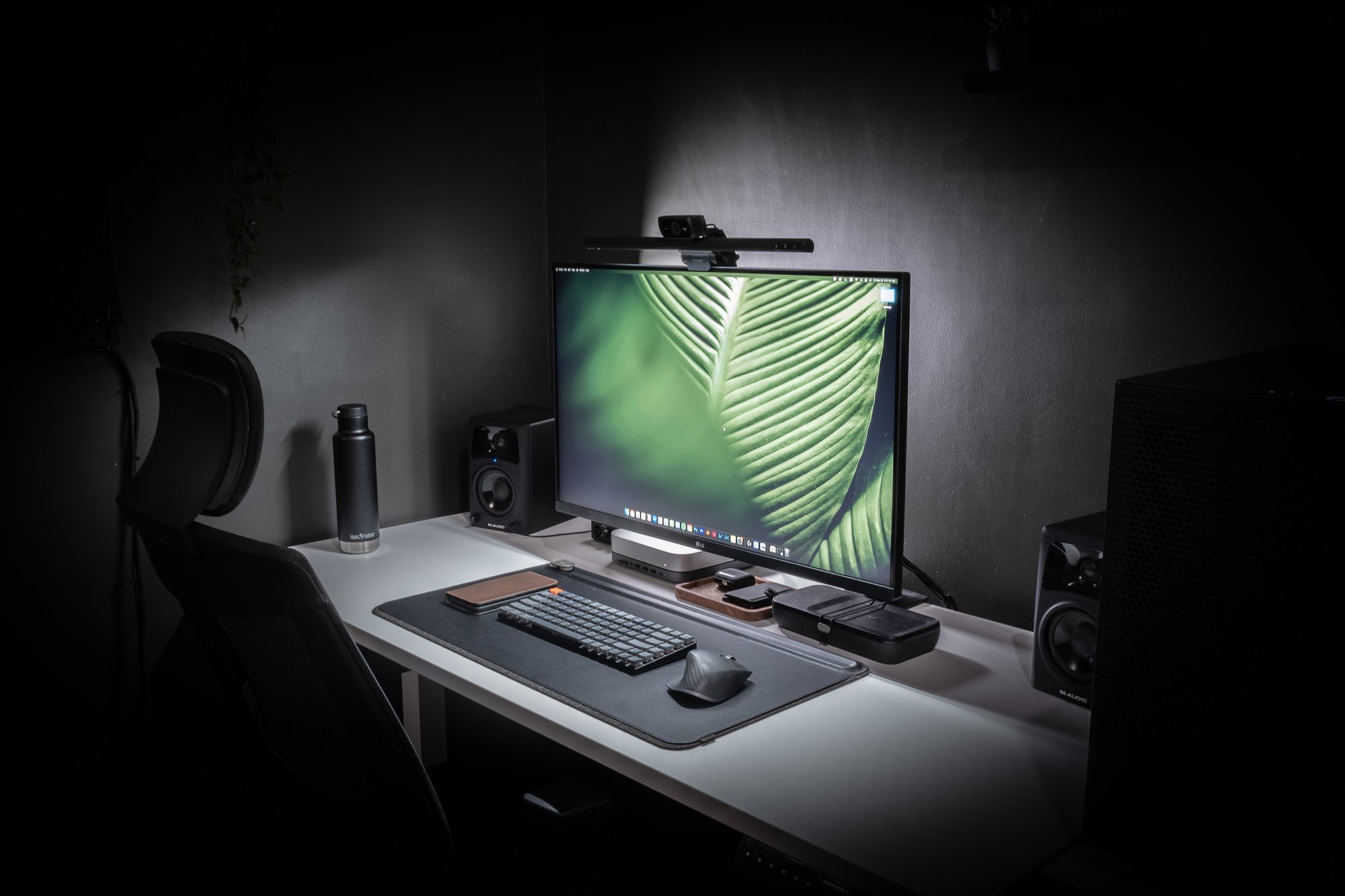 Minimalism helps Emmie to concentrate on his work. "I prioritise only the essentials and meaningful items to keep my space minimal and clutter-free," he says.
Choose pieces that are functional and fit the minimalist aesthetic to replicate this approach​​.
Invest in a comfort chair for a small home office
One essential piece of advice from a Singapore-based product designer Kiboorou is to never skimp on a good chair.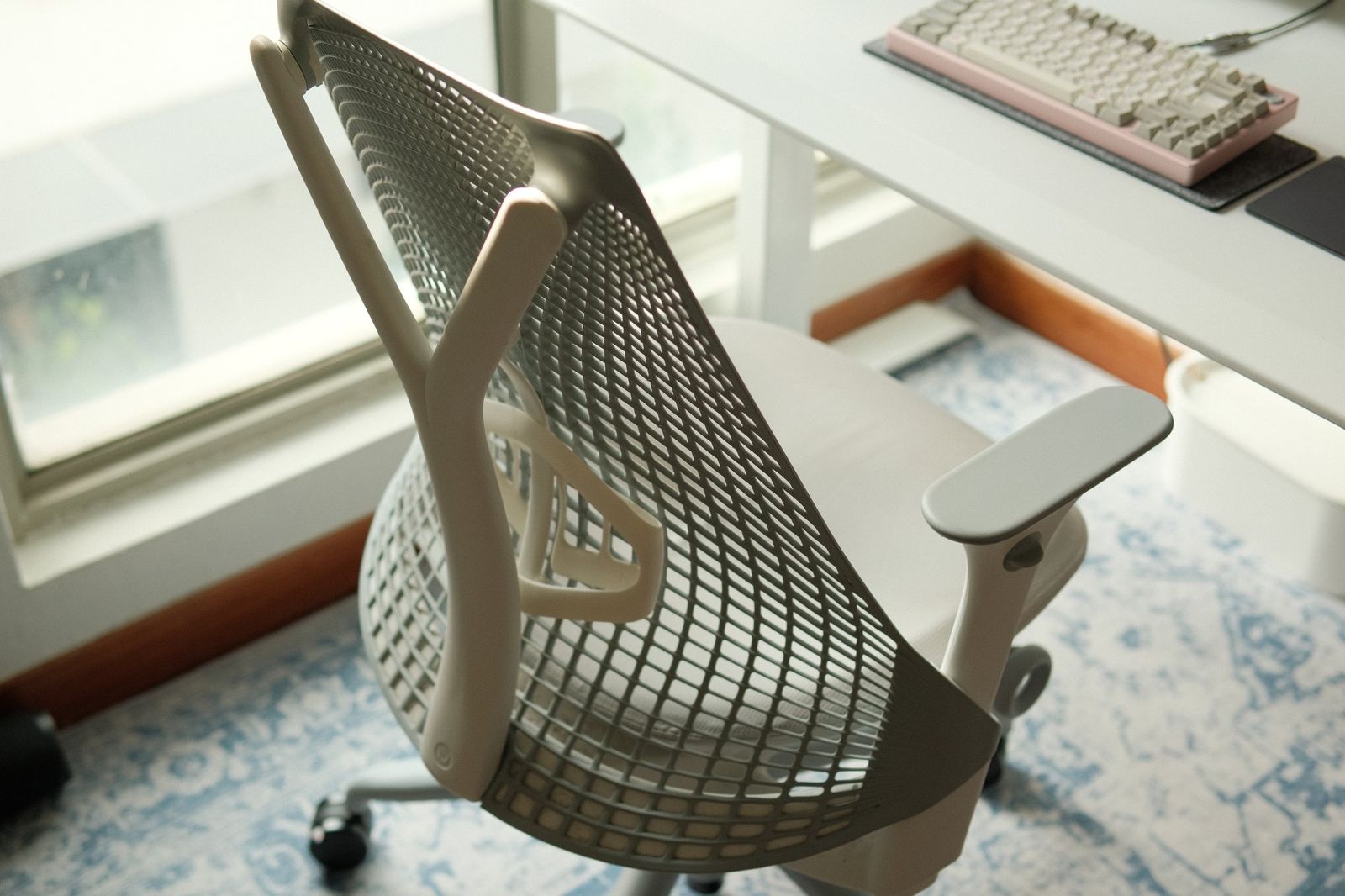 "Invest in a good chair, especially if your job requires you to sit for hours each day. After suffering from back pain, I regretted not investing in a proper chair that could support my posture". Hop over to Kiboorou's space to see which chair won a spot at their desk setup.
So, make sure your first upgrade for the small home office is a high-quality chair that offers excellent back support.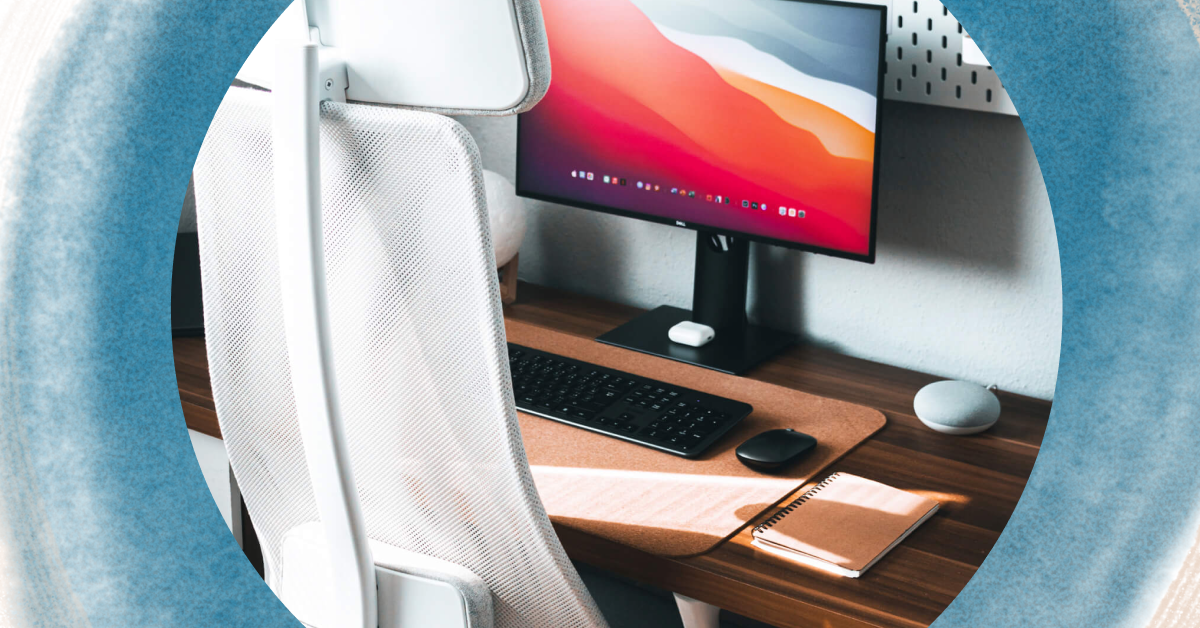 Find a home for everything
Alex's workspace is all about focus and functionality. His Portugal home office setup includes a dedicated area for each task, whether it's for work, gaming, or creativity.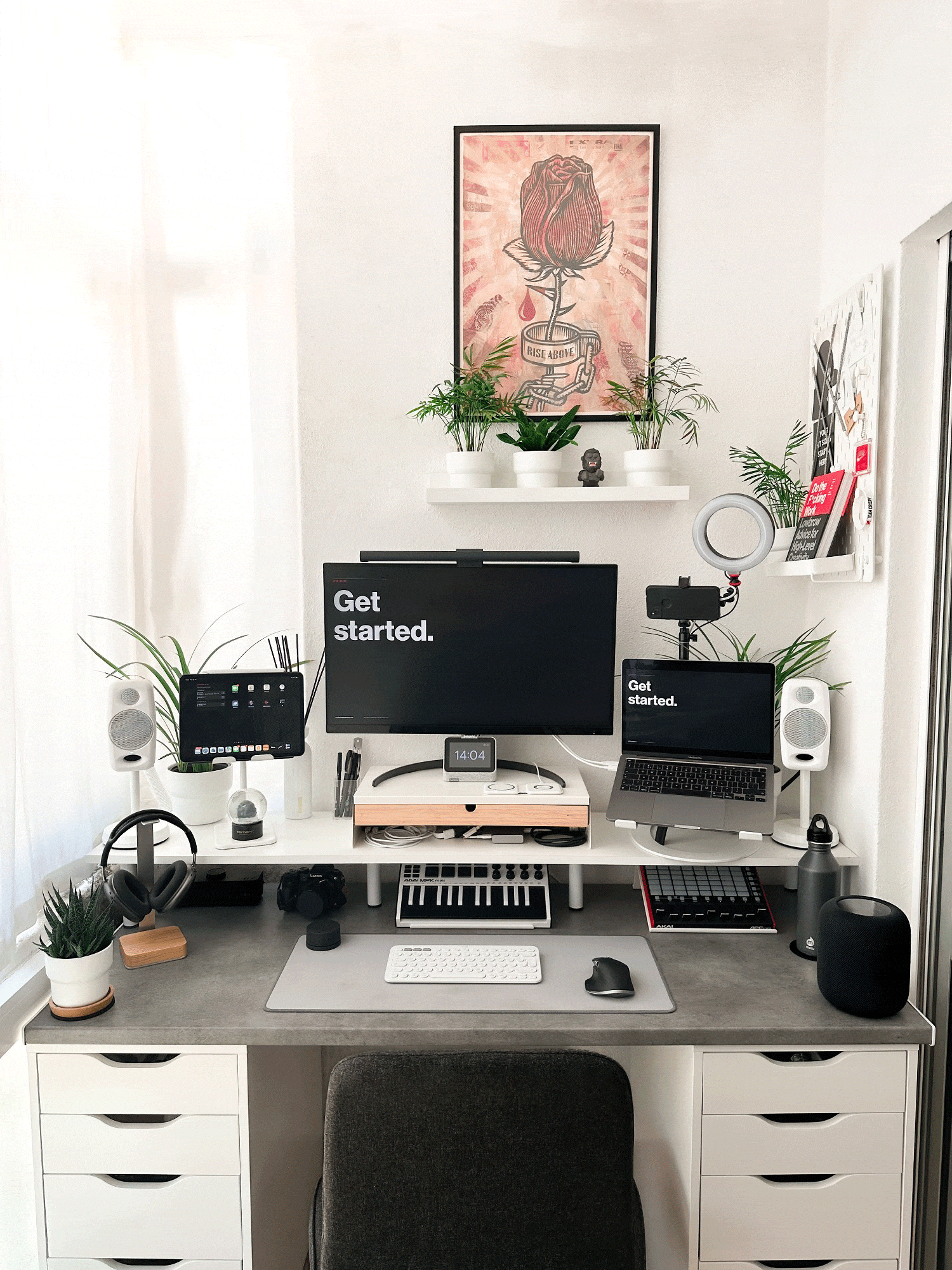 "I store most gadgets in my drawers — including headphones, microphones, game controllers, lights, tools, and gimbals — to keep my desk clear and ensure that I work with purpose," Alex shares.
To achieve this in a small space, utilise desk organisers and multi-purpose furniture pieces.
Loft your bed, expand your workspace
Raymond's loft bed setup in his Australia apartment is a genius way to use vertical space. By elevating his bed, he has created ample room for a full-sized desk and workspace underneath.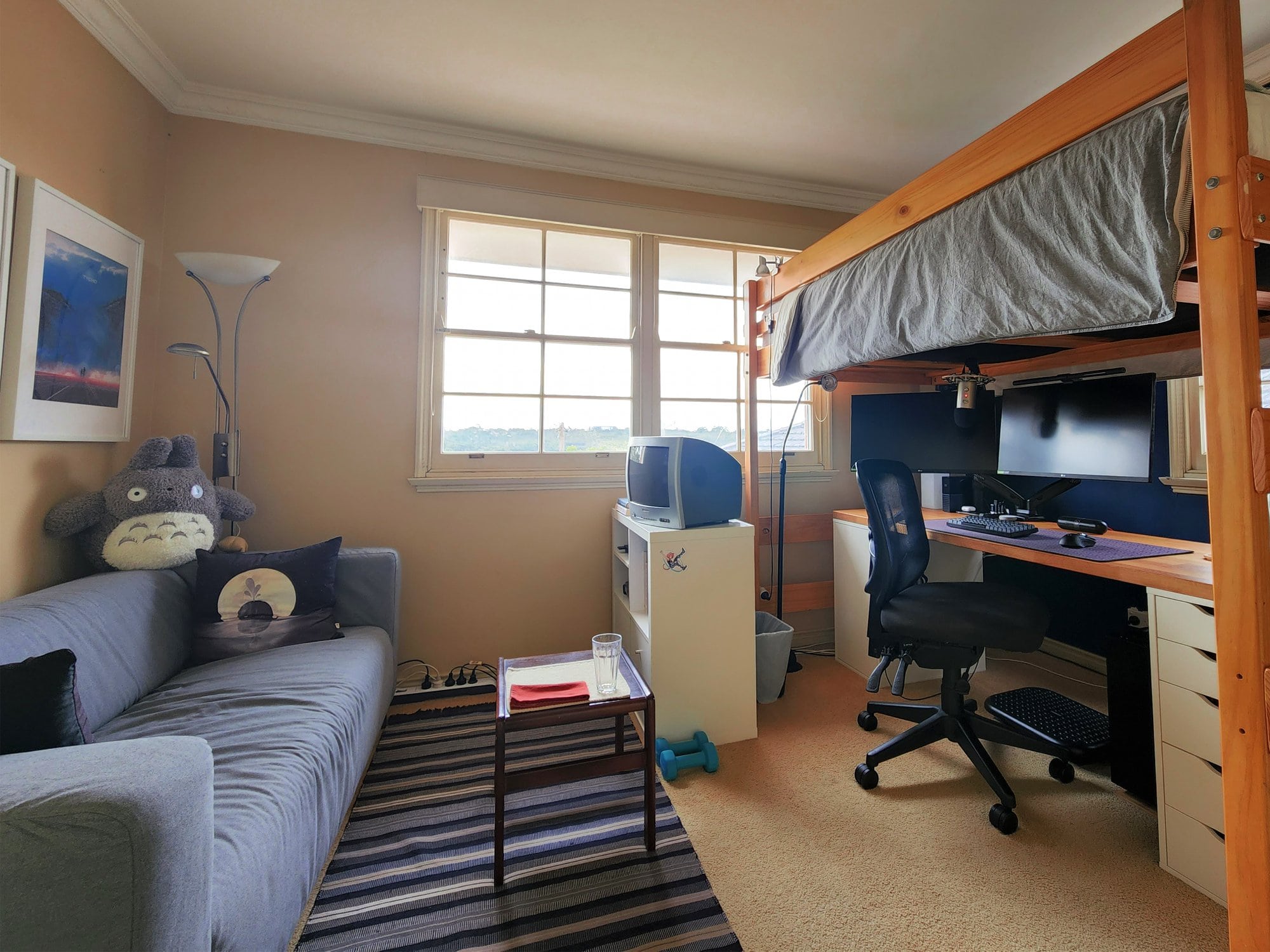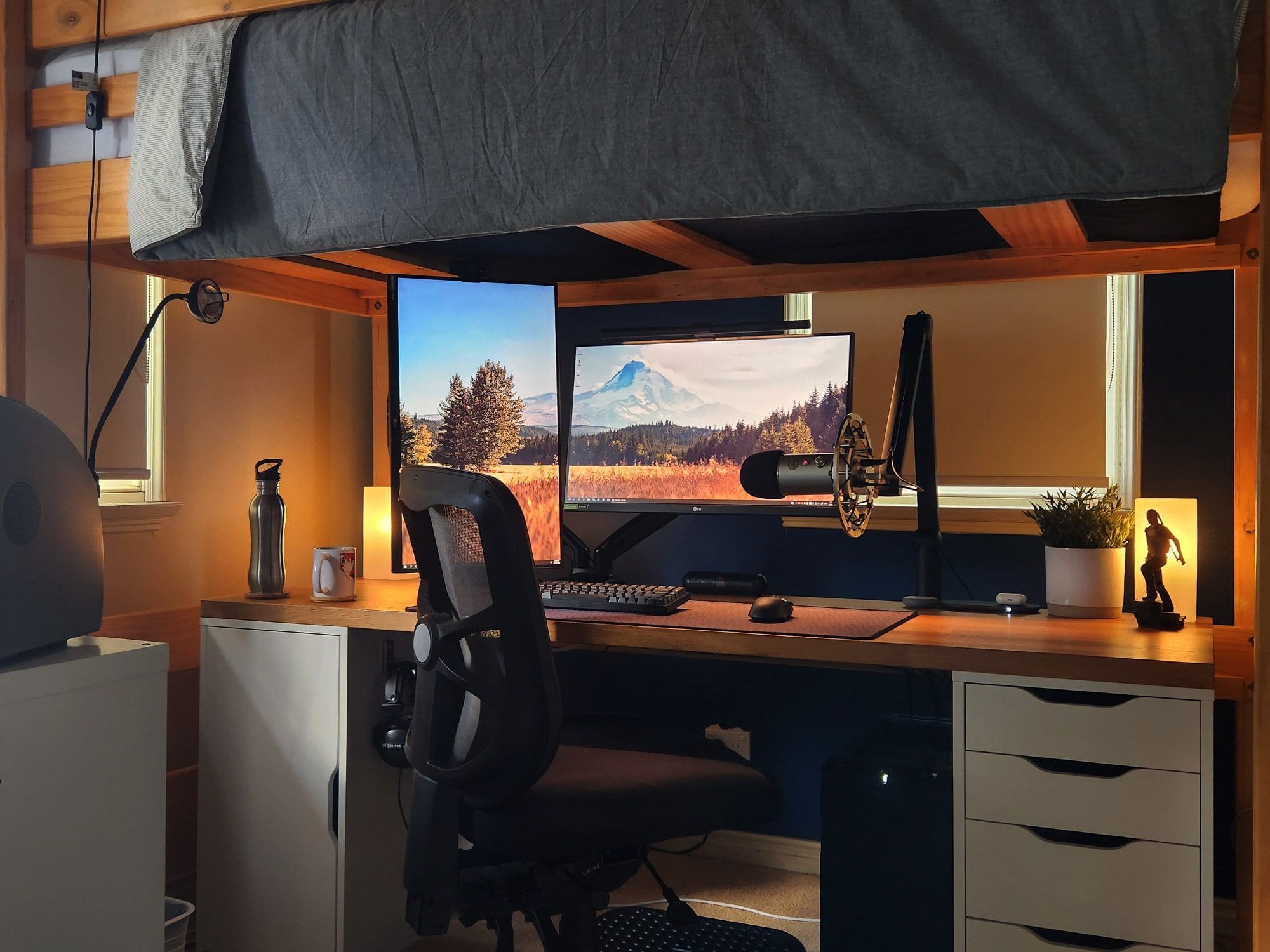 "This is my bedroom. I have divided my room into two halves. The far side features the loft bed and desk setup, and the near side features the couch, PlayStation 2 and CRT television," Raymond says.
If you're tight on space, consider a loft bed to open up the area for your home office​​.
Infuse your workspace with personality
Gerwyn's cyberpunk-themed RGB desk setup in the Philippines is a vibrant example of personal expression in a workspace.
His setup's got mood lighting and gaming gear that scream "this is me" louder than a gamer at a winning streak.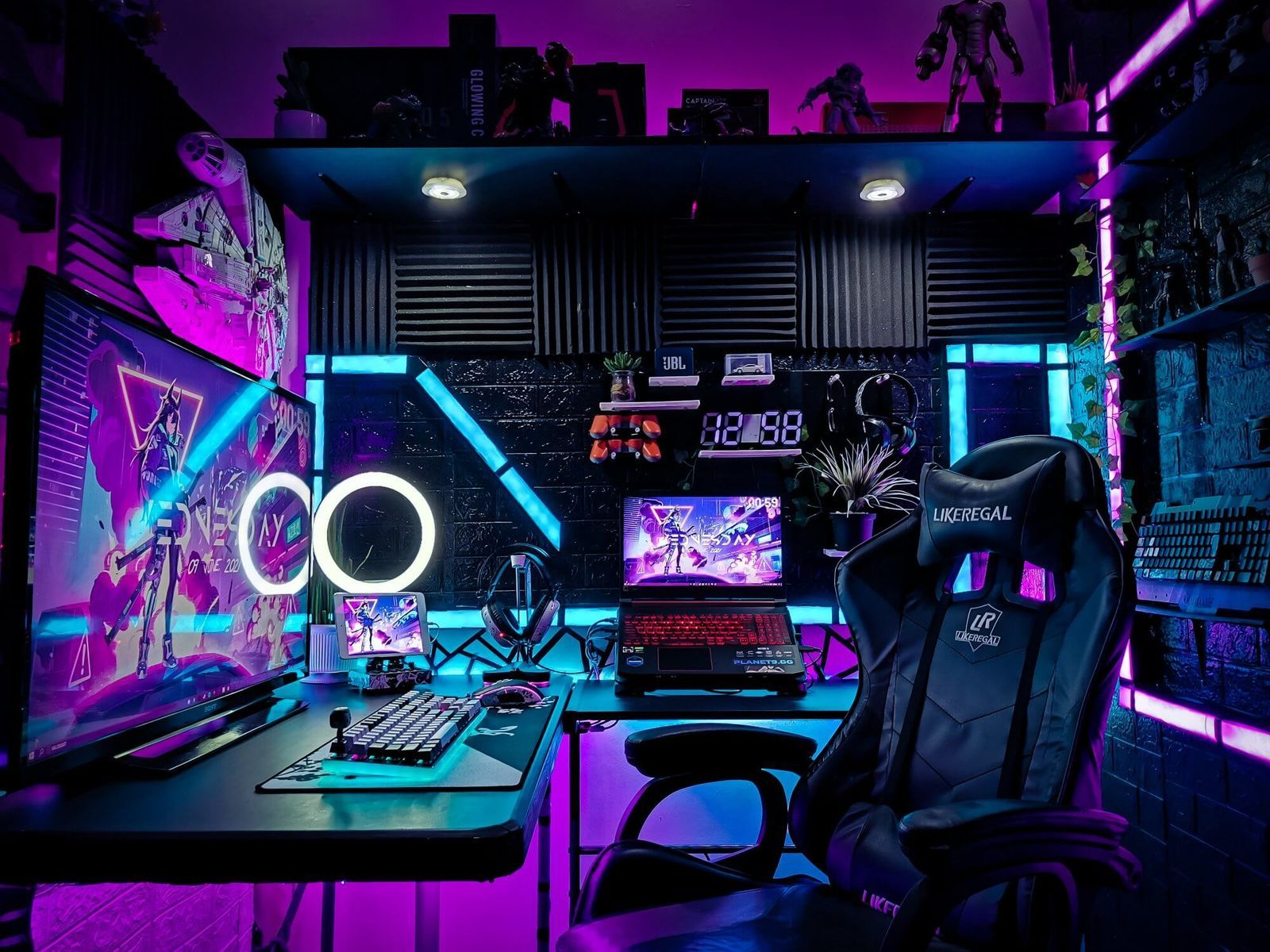 "Since I'm there for 8-12 hours a day, the aesthetics of my setup is very important to me. My battlestation is what I see most of the time," Gerwyn shares.
Make your desk a reflection of what you love. Adding LED strips and personal collectables can make your space uniquely yours.
Innovate with space-saving furniture
Chris's drop-leaf desk in his Virginia home is a smart solution for tight spaces. When not in use, the desk folds away, freeing up the area for other activities.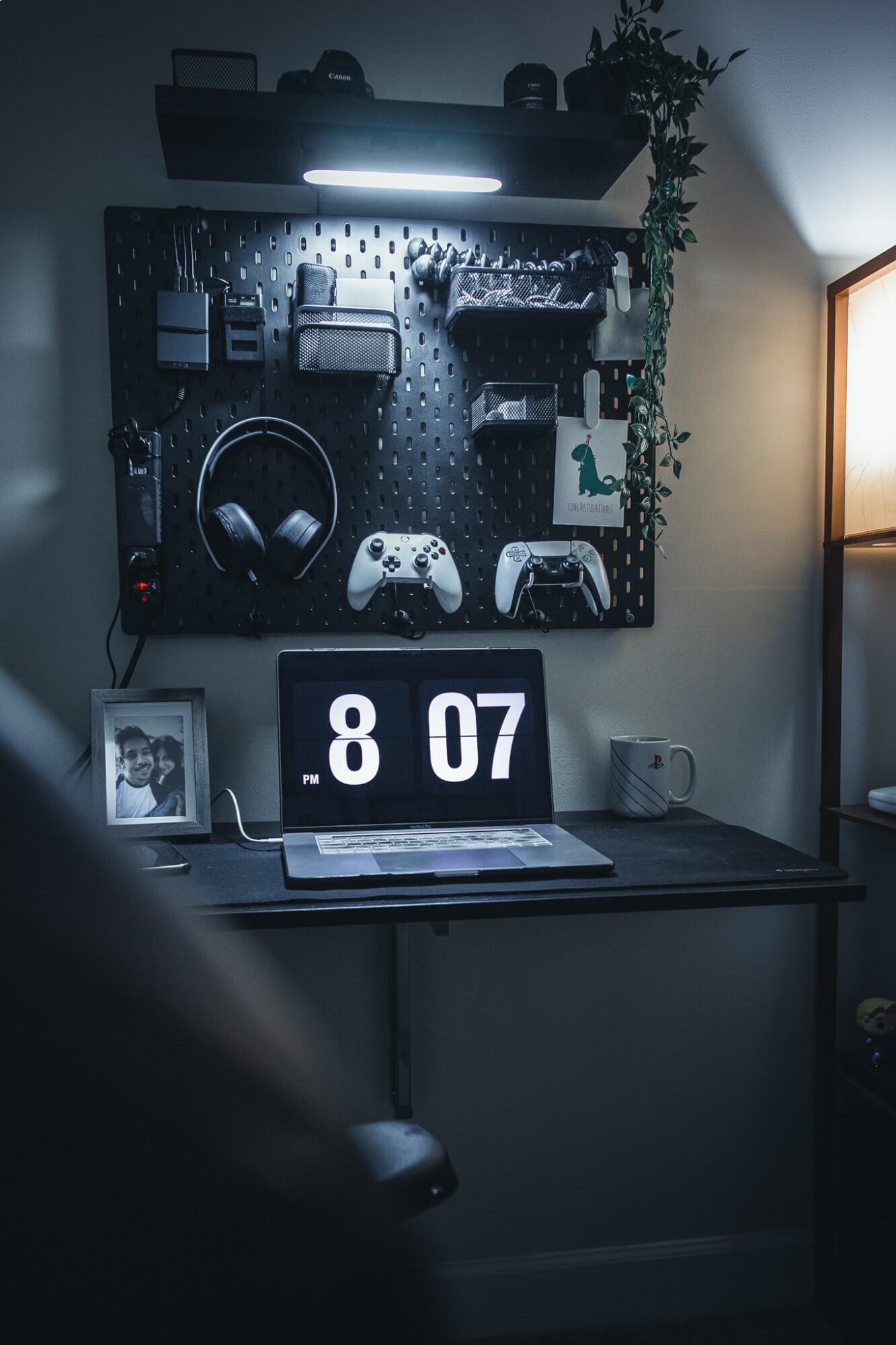 "The desk itself is called Bjursta from IKEA. What I love about it is that it mounts to the wall and folds down when I'm not using it," Chris remarks.
Look for furniture that can transform or tuck away when you need more room​​.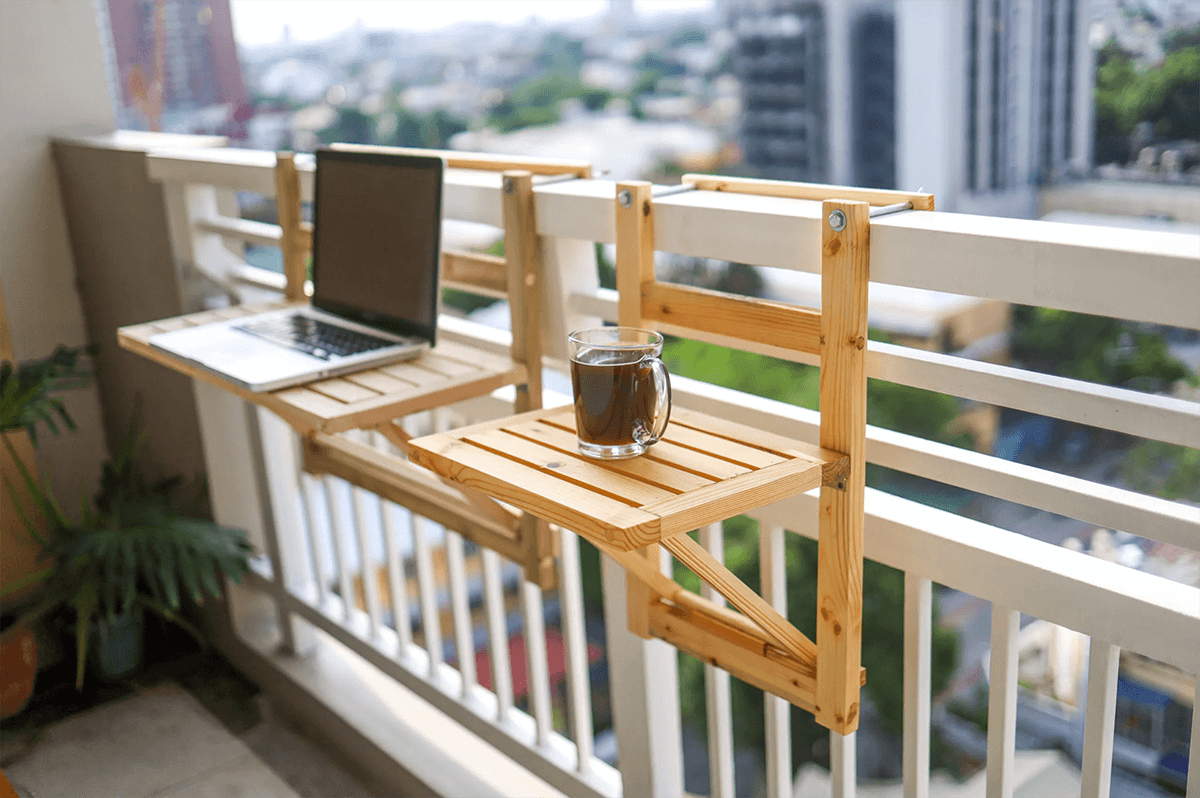 Maximise your bedroom's potential
Bram's small bedroom setup in the Netherlands showcases how to balance sleep and work in the same area.
With a compact desk that fits snugly into the corner, he makes the most of limited space.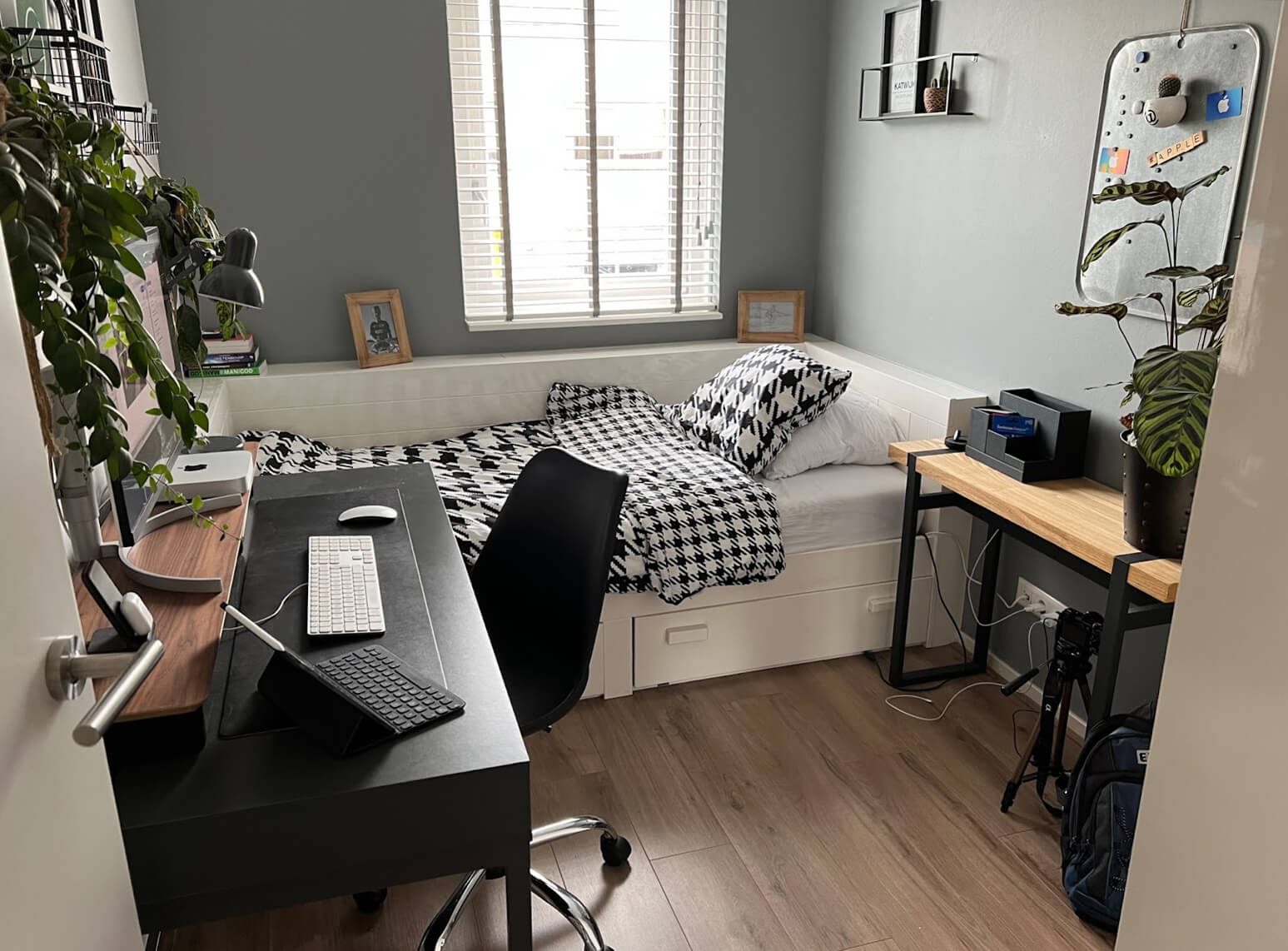 "The small size of my bedroom was definitely a challenge. Yet, I managed to make it work by measuring pretty much everything I got before buying anything," Bram says.
So, when it comes to designing small home office setup, it's all about measuring. Take precise measurements of your room and choose furniture that will slot in snugly.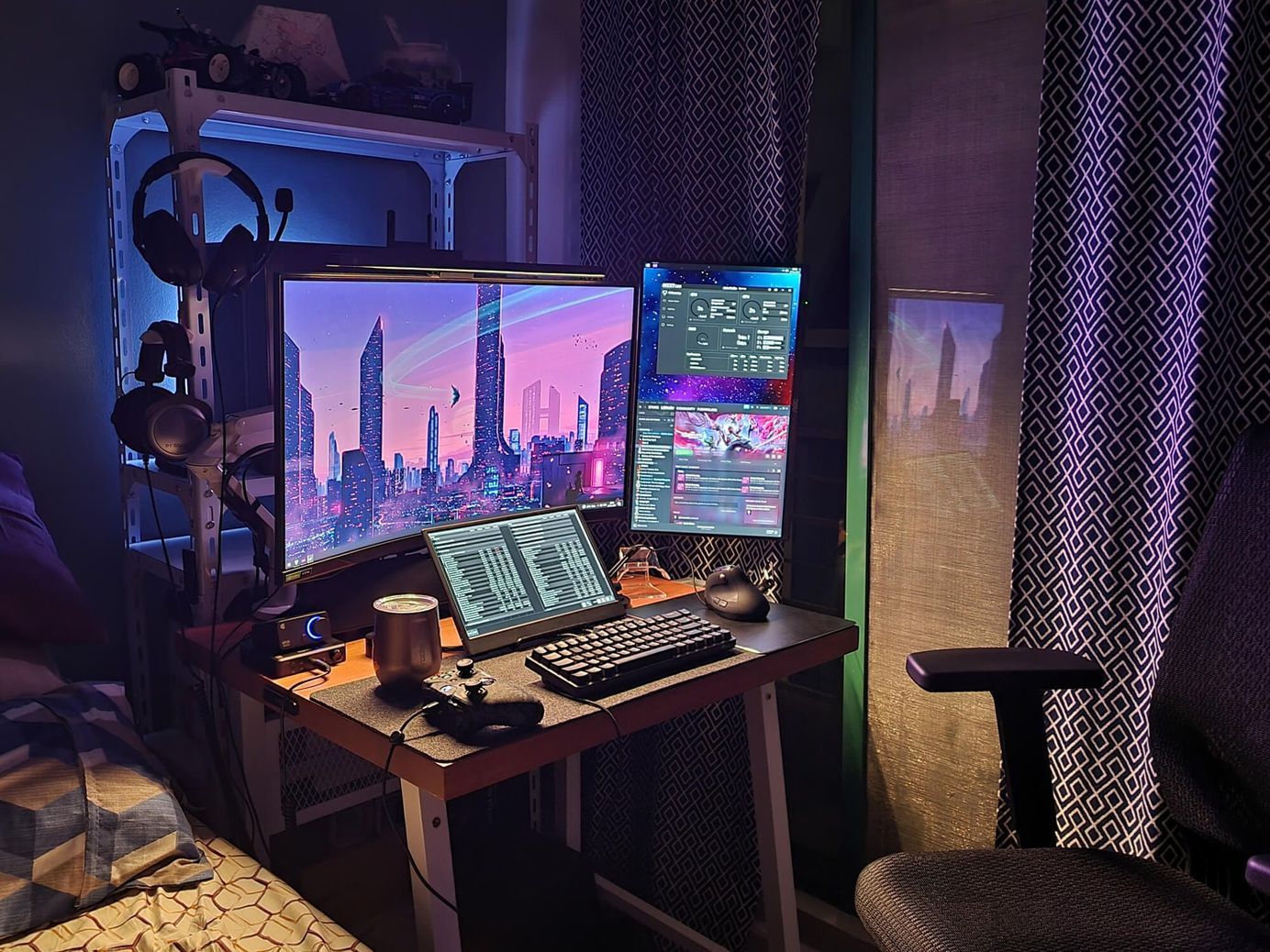 Cosy up your small home office with pre-loved chic
Shekinah from New Zealand has skillfully blended functionality with a dash of nostalgia, creating a cosy studygram setup that's as photogenic as it is practical.
Her secret? A mix of second-hand finds and personal mementos.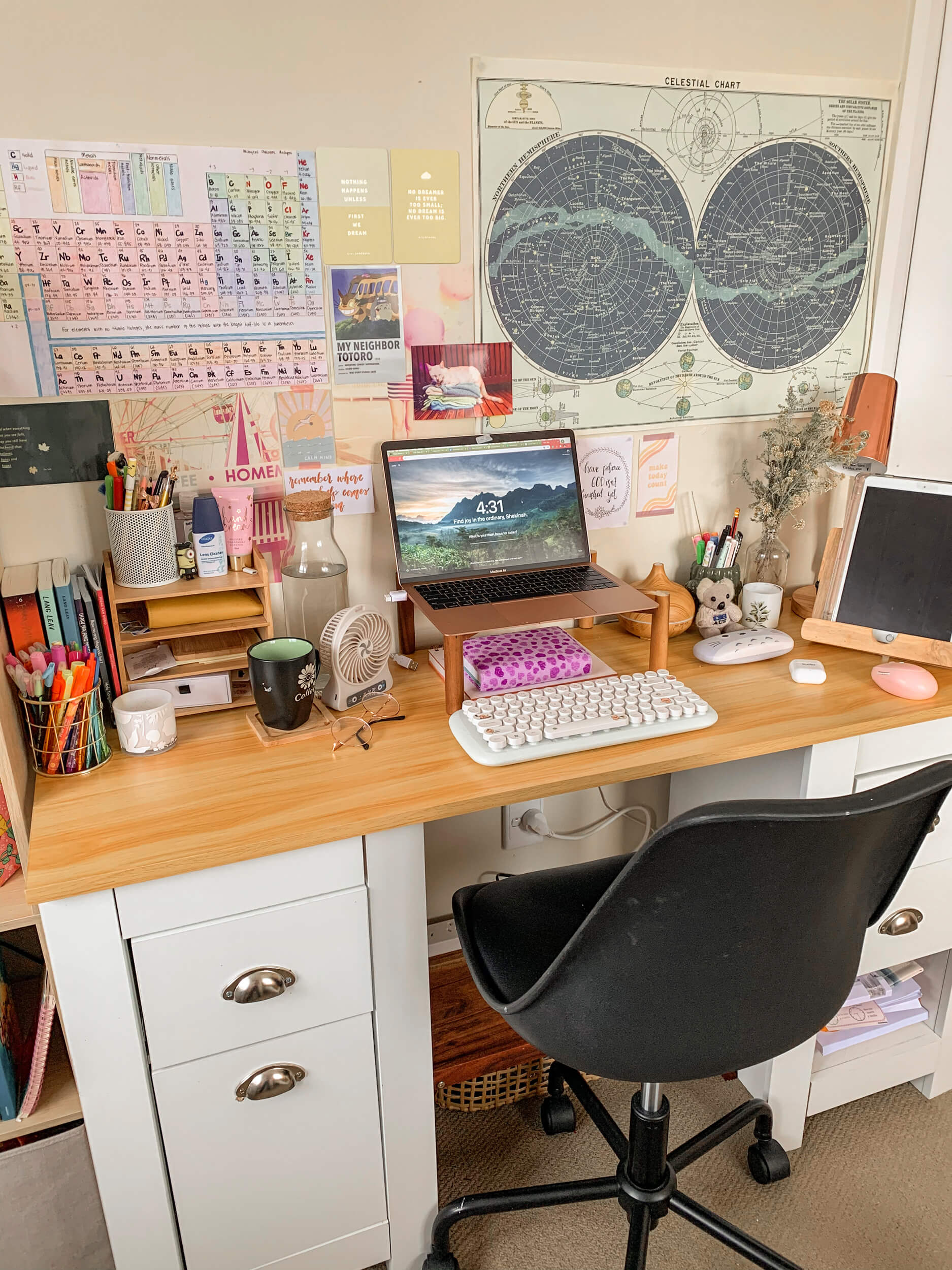 "My desk items are mostly second hand that I found on the Facebook marketplace. I don't like buying expensive items. The desk and chair are both pre-loved, except for the gadgets — I worked hard to buy them," Shekinah shares.
Follow her lead by snagging some chic, pre-loved gems for your little study corner or home office setup. Toss in a few framed snapshots and those quirky little treasures you just can't part with. The goal is to build a desk setup that's got heaps of heart and does its job without draining your wallet.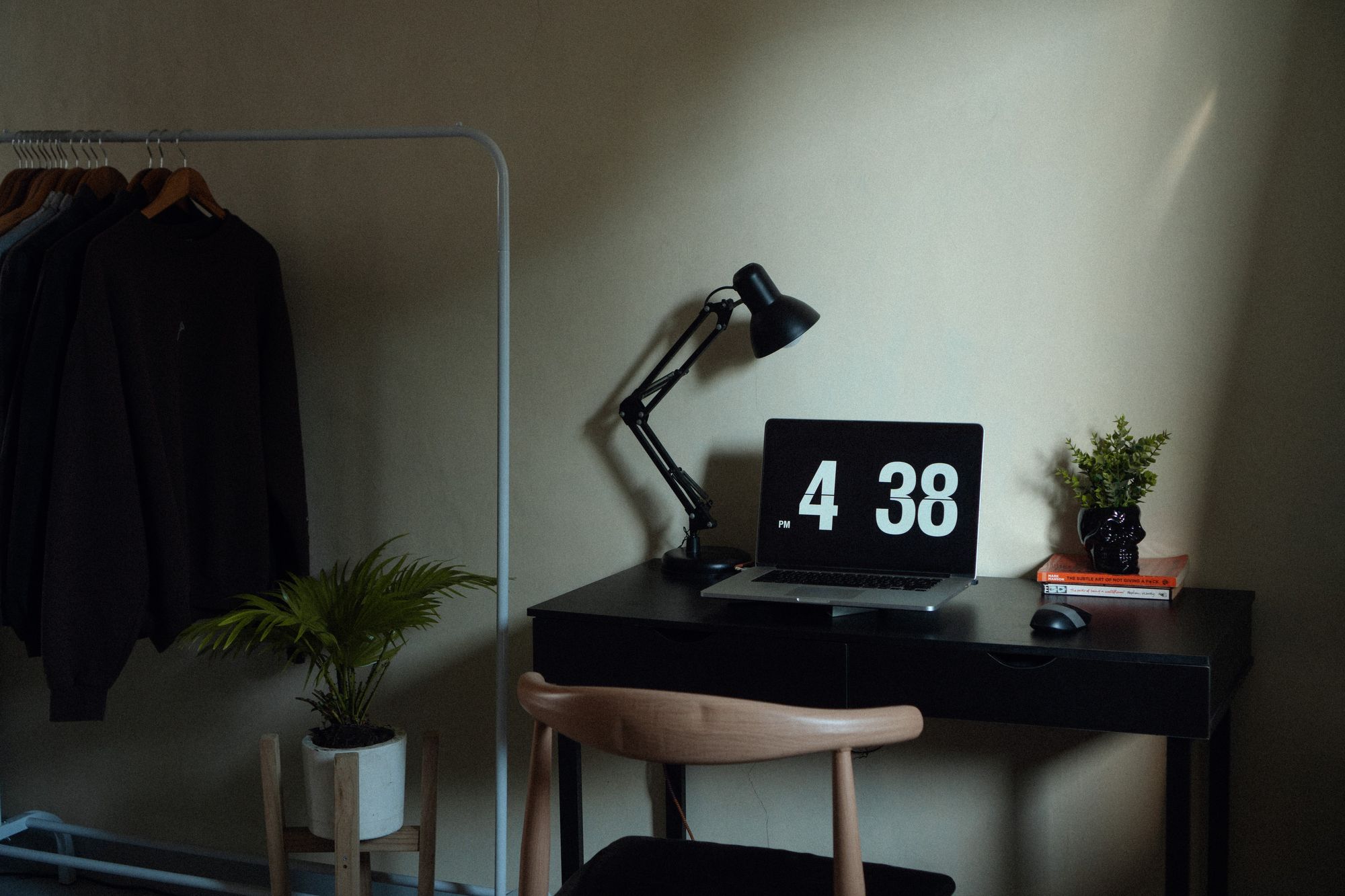 We're a reader-supported publication. This article might contain affiliate links. It means we may receive a commission if you click a link and buy a product that our maker has recommended. The article was written independently.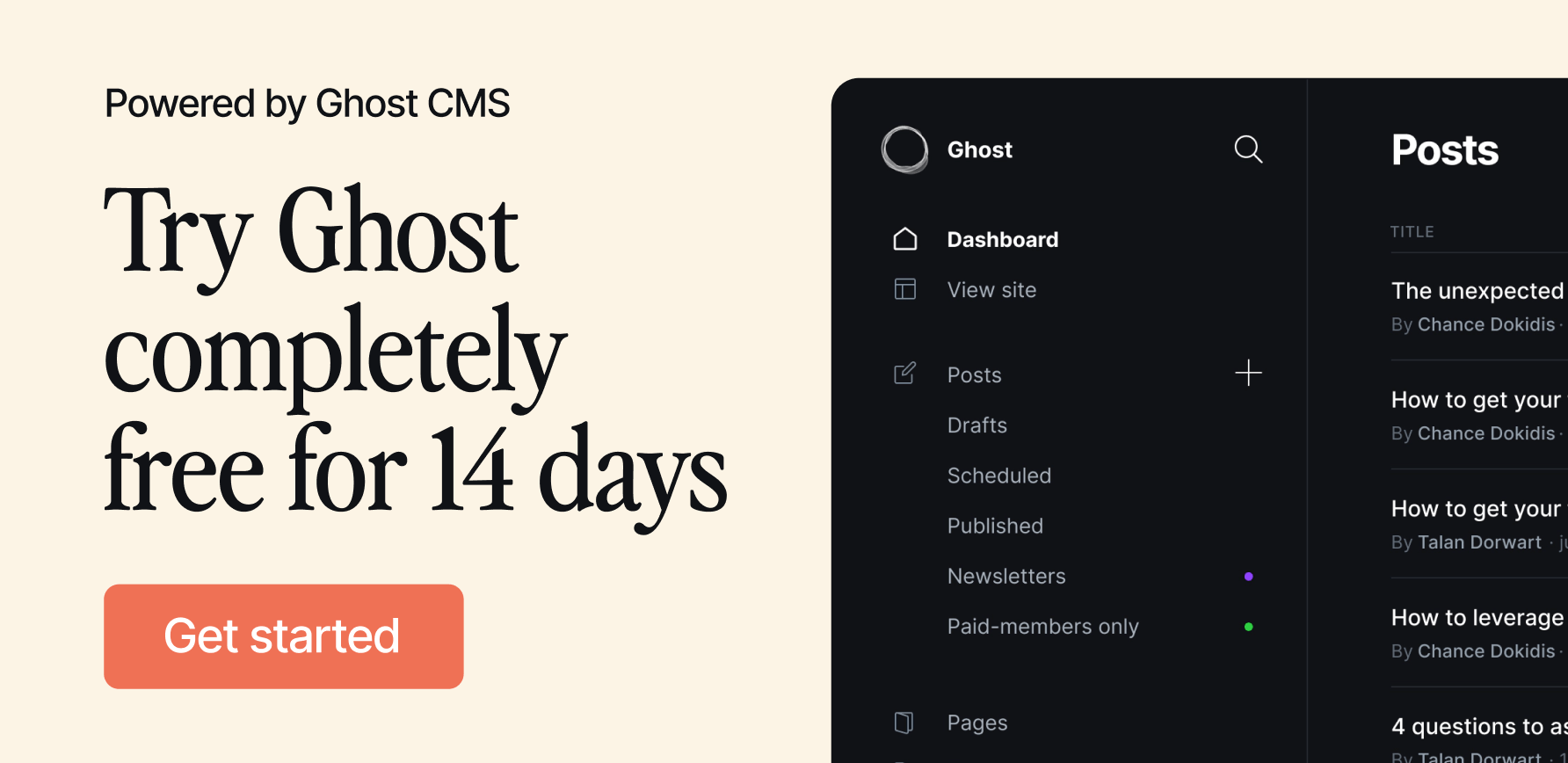 ---