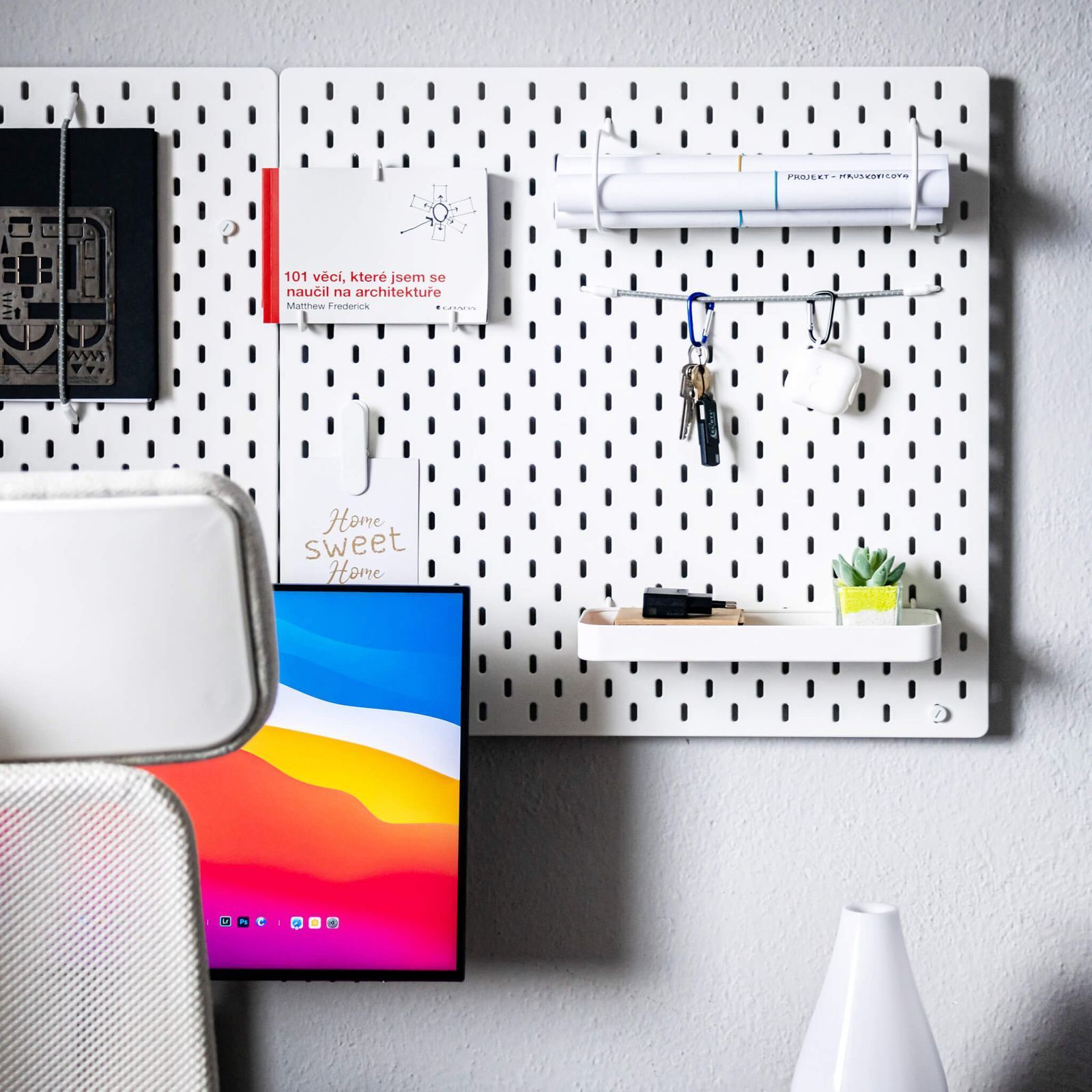 13 Pegboard Desk Setup Ideas for Your Home Office
Find out how creators and makers around the world use pegboards to elevate their workstations.

Looking for that home office game-changer? Well, the answer might be hanging right in front of you.
No longer just for garages, see how creators and makers around the world use pegboards to elevate their home workstations.
Beyond simple aesthetics, these setups address common home office problems, such as cluttered desks and frequently missing accessories.
Let's explore how content creators and tech professionals have crafted their pegboard systems to bring order to their desk setups.

Reimagine your study desk setup with a customisable pegboard
In the heart of Bratislava, Slovakia, an architecture student Matúš Gocman has transformed a 12 m² space into a well-orchestrated study hub that's both functional and inviting.
Central to this is the SKÅDIS pegboard from IKEA, an affordable wall-mounted organisation tool that not only facilitates a clean and tidy space but also infuses a degree of playfulness into his daily routine.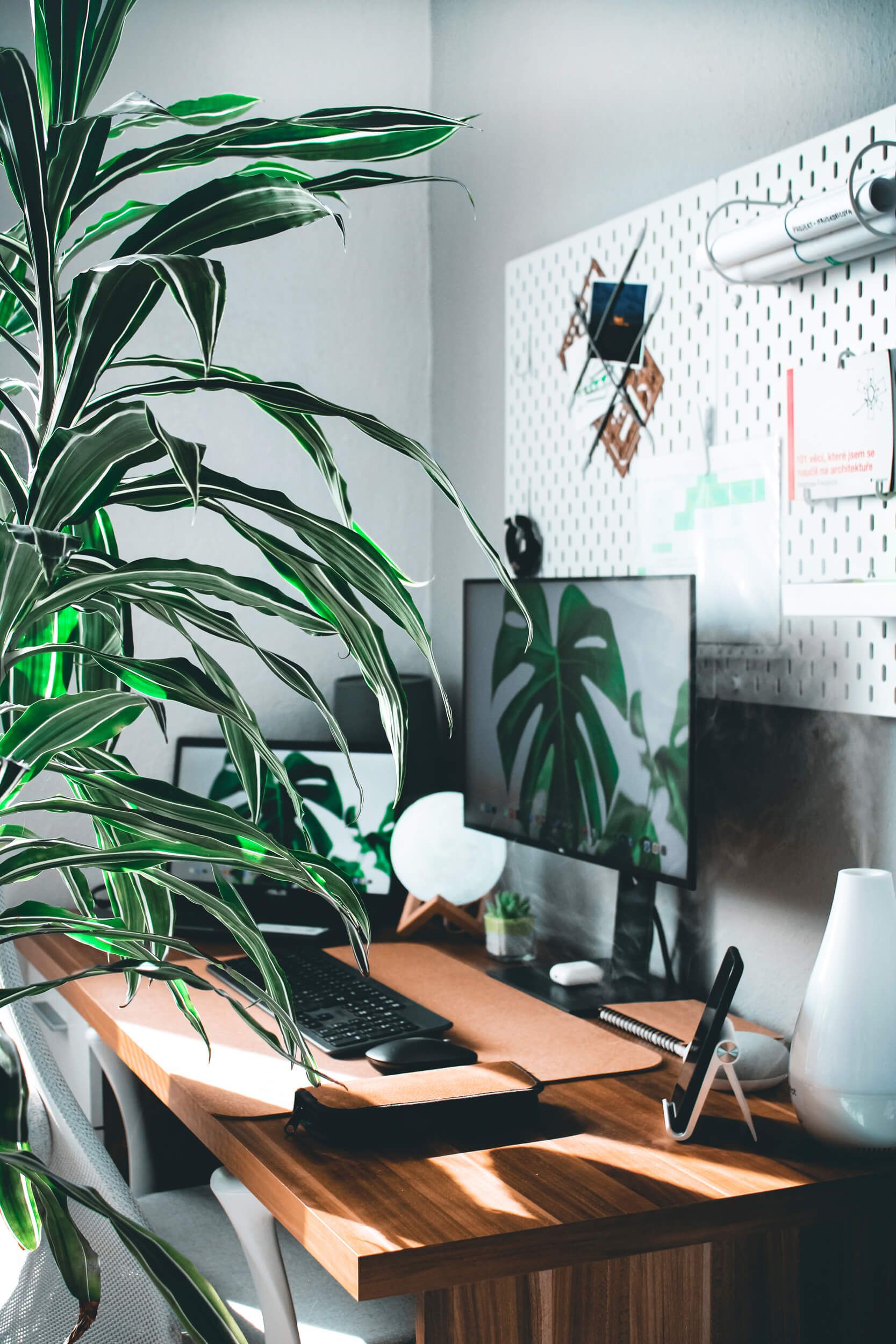 The pegboard, a present from Matúš' girlfriend, carries a personal touch, and stands as a testament to his approach to optimising space.
Matúš has transformed the pegboard into a go-to hub housing everything he needs at hand; from the projects fuelling his passion to the essential bits and bobs like cables, keys, and chargers.
"Occasionally, I switch the hooks around to liven up my workspace a bit and give it a new look," shares Matúš. "It's highly customisable. It's like a puzzle mounted on the wall — that's why I like it so much."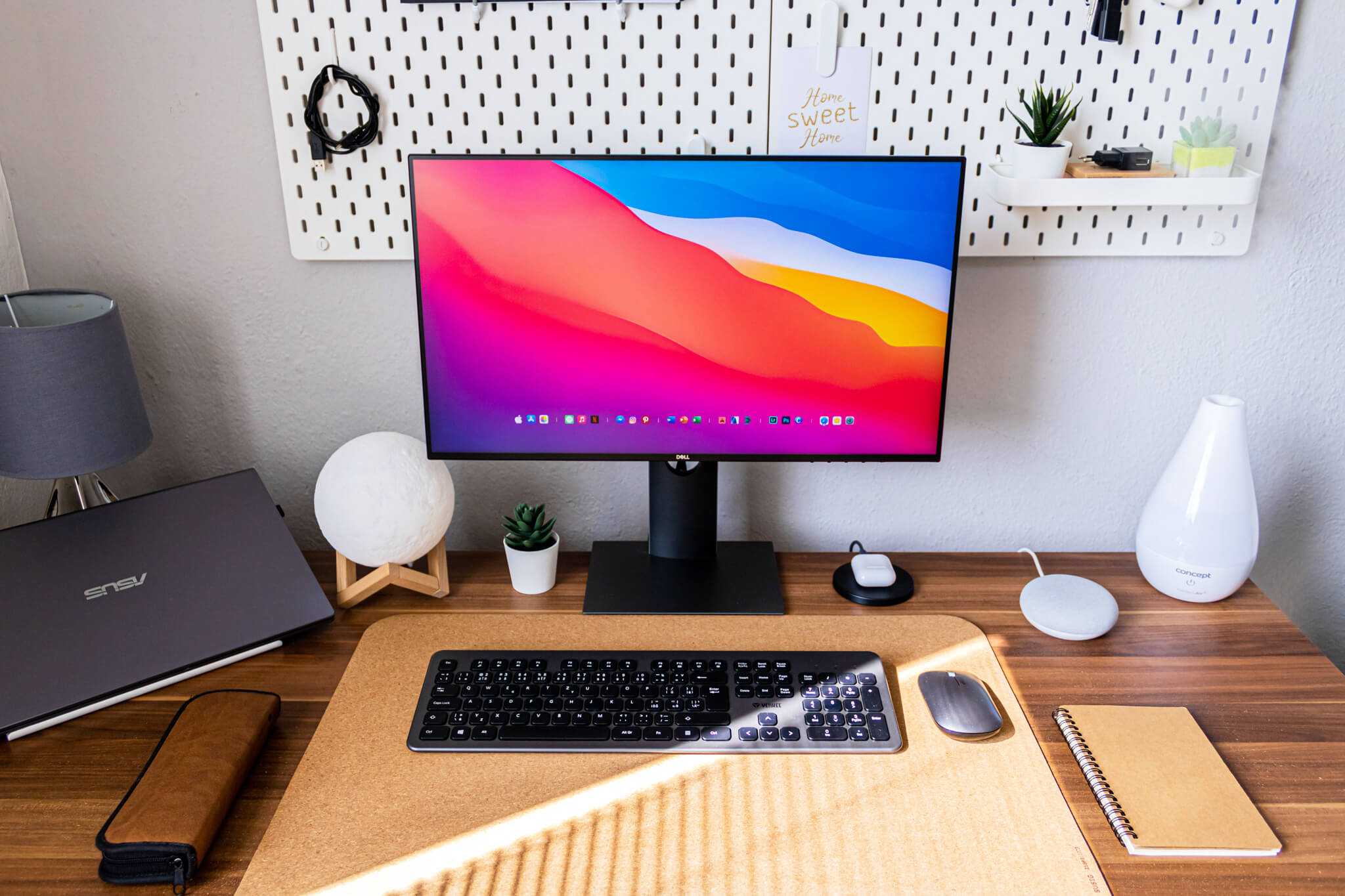 Max out your small workspace with do-it-all pegboards
In a snug corner of Boston, US, Cam DiCecca, an IT systems engineer, has turned a mere 0.8 m² desk area into a powerhouse of function and style.
The space may be tight but it's loaded with personality, resonating with influences from creatives who have left a mark on him.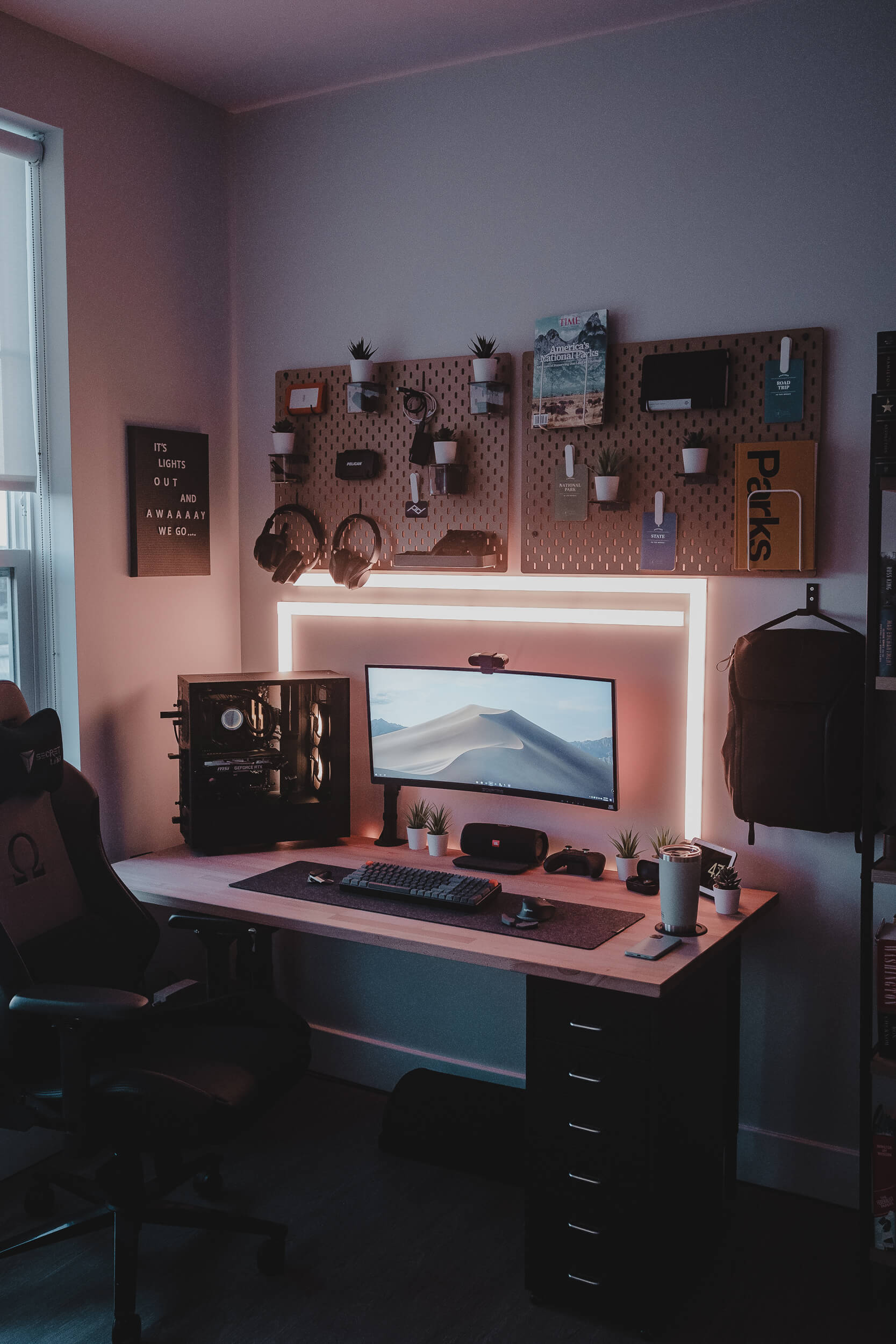 At the heart of this compact yet inviting desk setup are two IKEA SKÅDIS pegboards, true champions in leveraging every inch of a limited space.
It's not just about storage.
It's about having a multifunctional canvas to play around with, to constantly refresh, and to make his own.
"I like to use my pegboards for a combination of vertical storage and displays, but I do find myself always adding/removing items, as well as re-organising them," says Cam.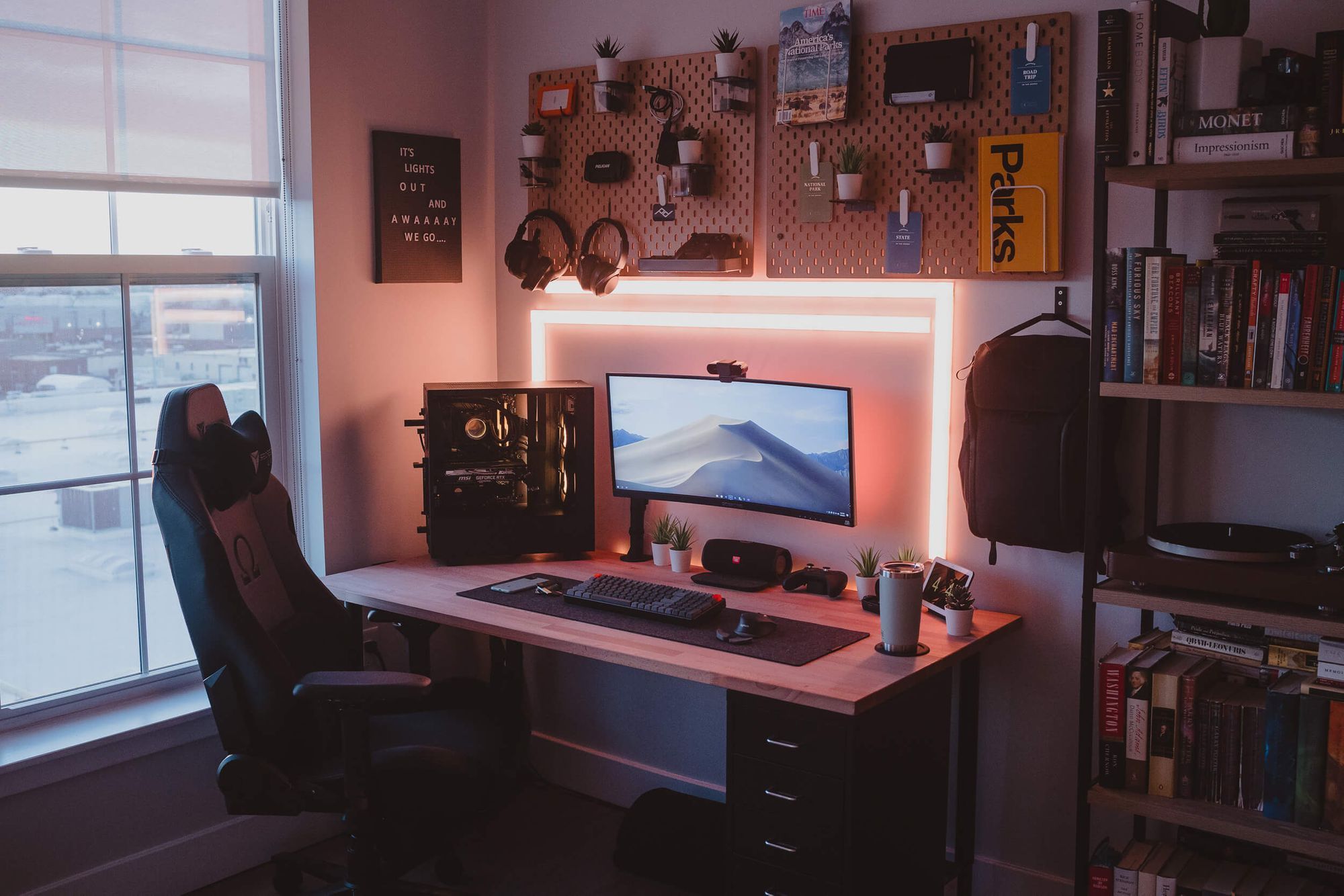 Declutter your desk with a side pegboard solution
In the bustling city of Barcelona, Spain, a freelance designer Nuria Quero has created a minimalistic workspace within a 15 m² room that caters perfectly to her needs.
Positioned conveniently to the right of her desk, the reliable IKEA pegboard serves as a neat organiser for her daily essentials, keeping them easily accessible yet off her working surface.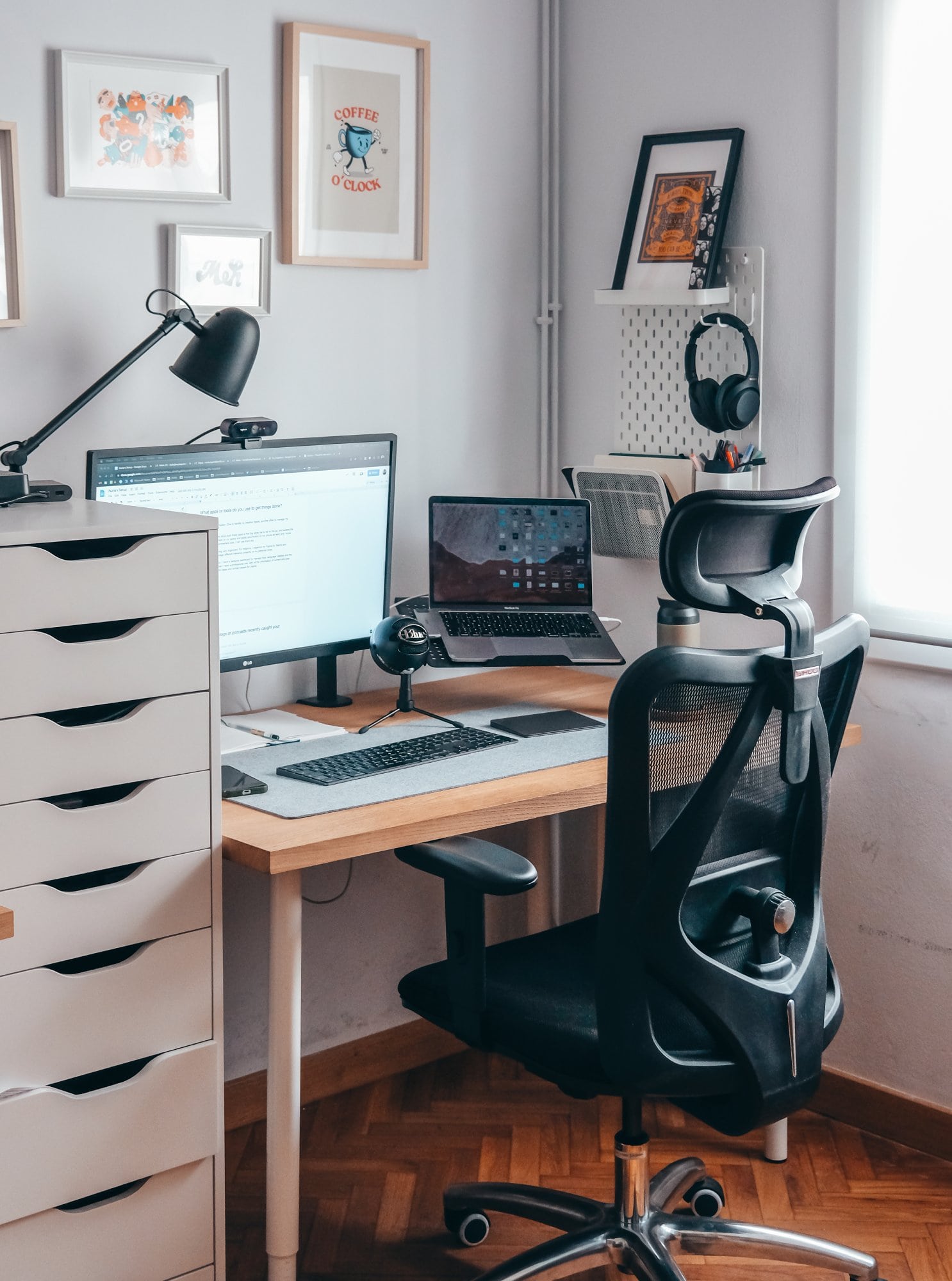 This straightforward desk setup echoes Nuria's practical approach to her workspace: nothing unnecessary, just a carefully curated selection of items useful for her day-to-day tasks.
"My desk setup is not very fancy. I've just got things as I've needed them," says Nuria.
"It allows me to keep my desk empty while having things I use every day (like headphones, notebooks, etc.) at arm's reach."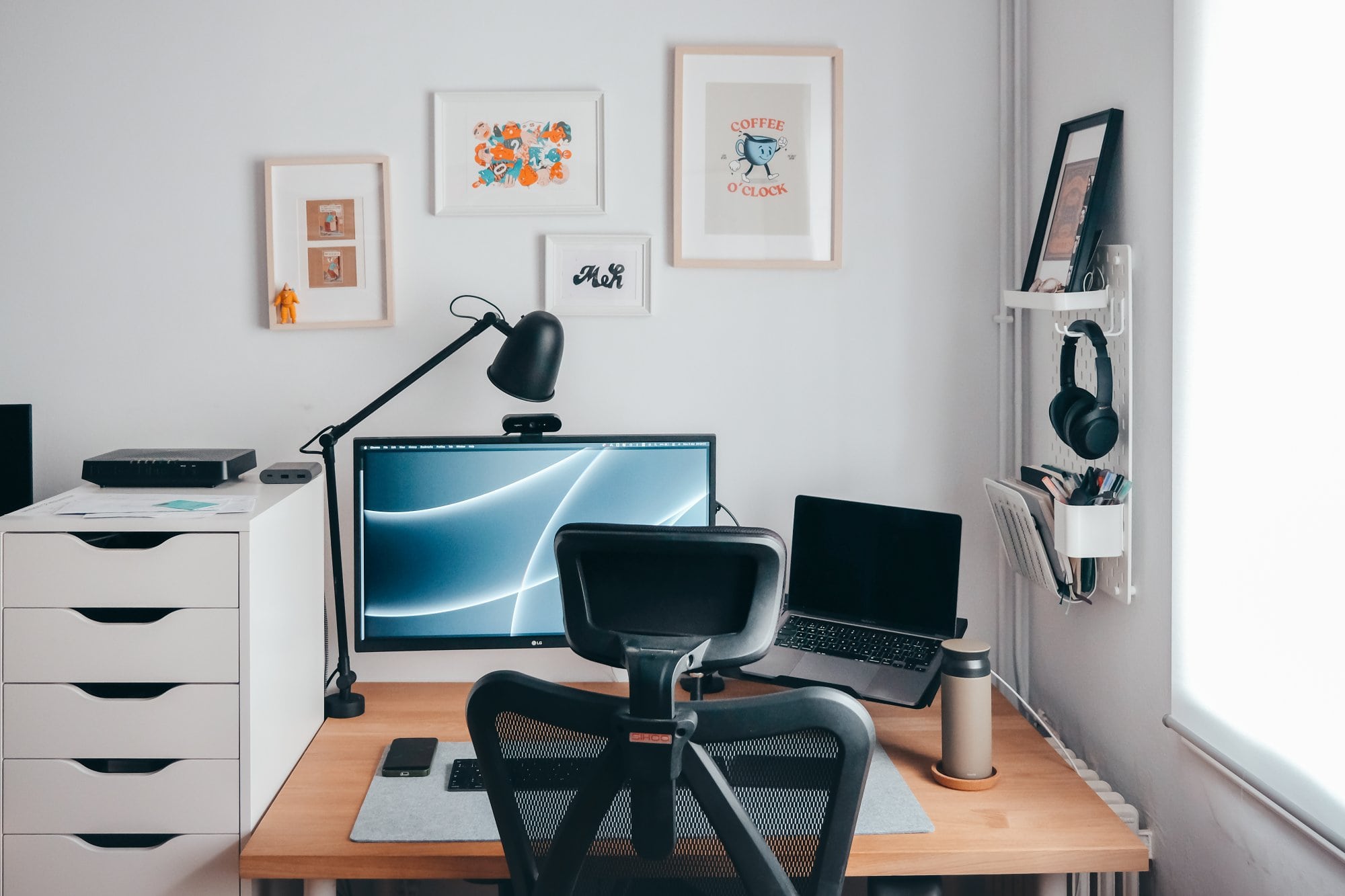 Unlock the potential of a versatile pegboard for a multipurpose space
In the heart of Mumbai, a tech vlogger Ronak Shah created a multifaceted space that transitions smoothly between a YouTube studio, a gamer's domain, an entertainment hub, and a discreet bedroom.
Every wall of this 13 m² room tells a part of Ronak's personal story, from the space-saving wall-folding bed to the immersive triple monitor setup (each designed to optimise both productivity and leisure).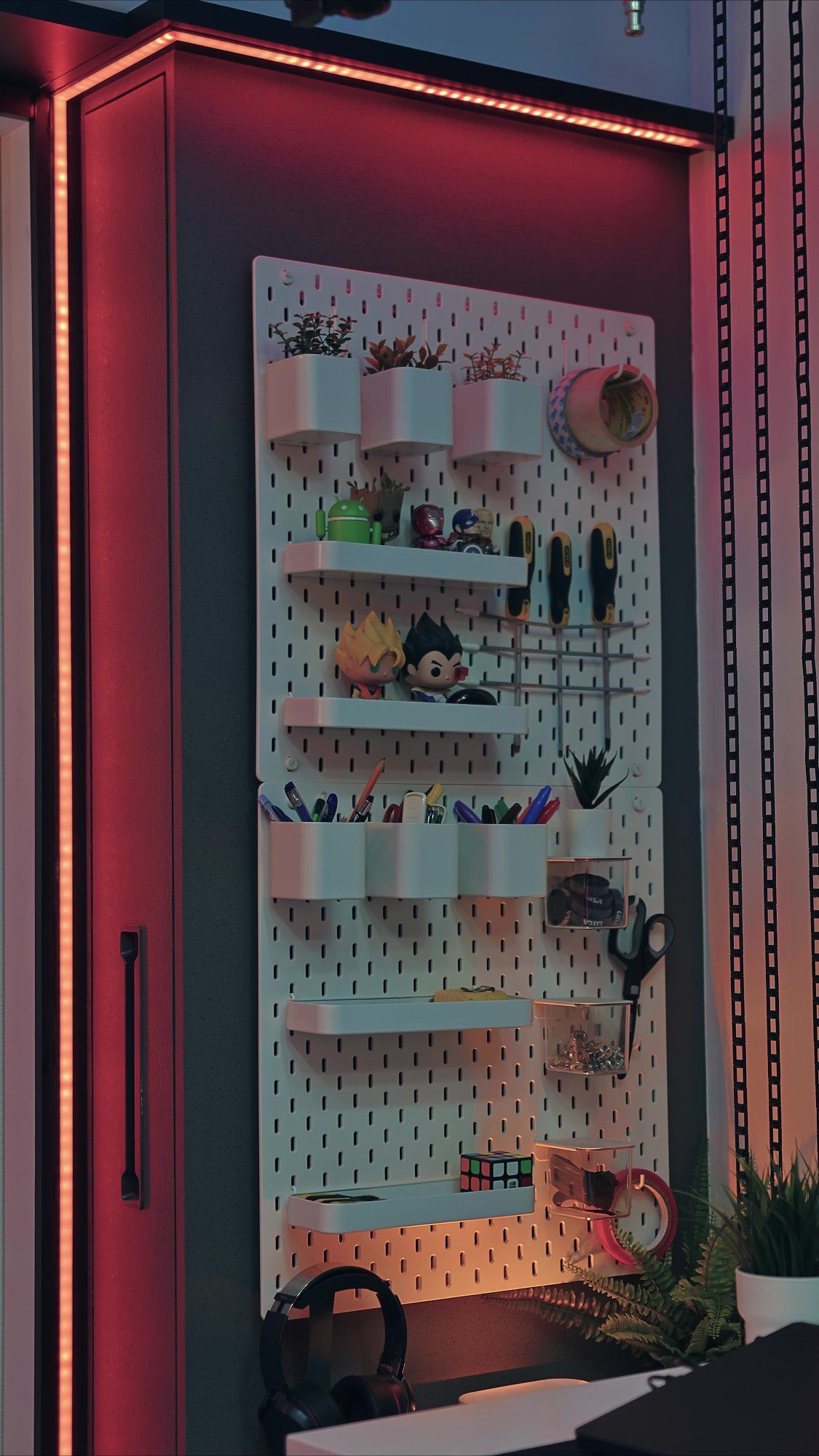 Nestled in the gaming and entertainment corner is a versatile pegboard, a testimony to Ronak's knack for organisation.
It houses a range of items, from peripherals, succulents, and vinyl figurines to stationery, scotch tapes, and screwdrivers; his pegboard reflects a harmony of practicality and personal touch.
All in all, one compact, multipurpose pegboard amplifies the room's functionality tenfold.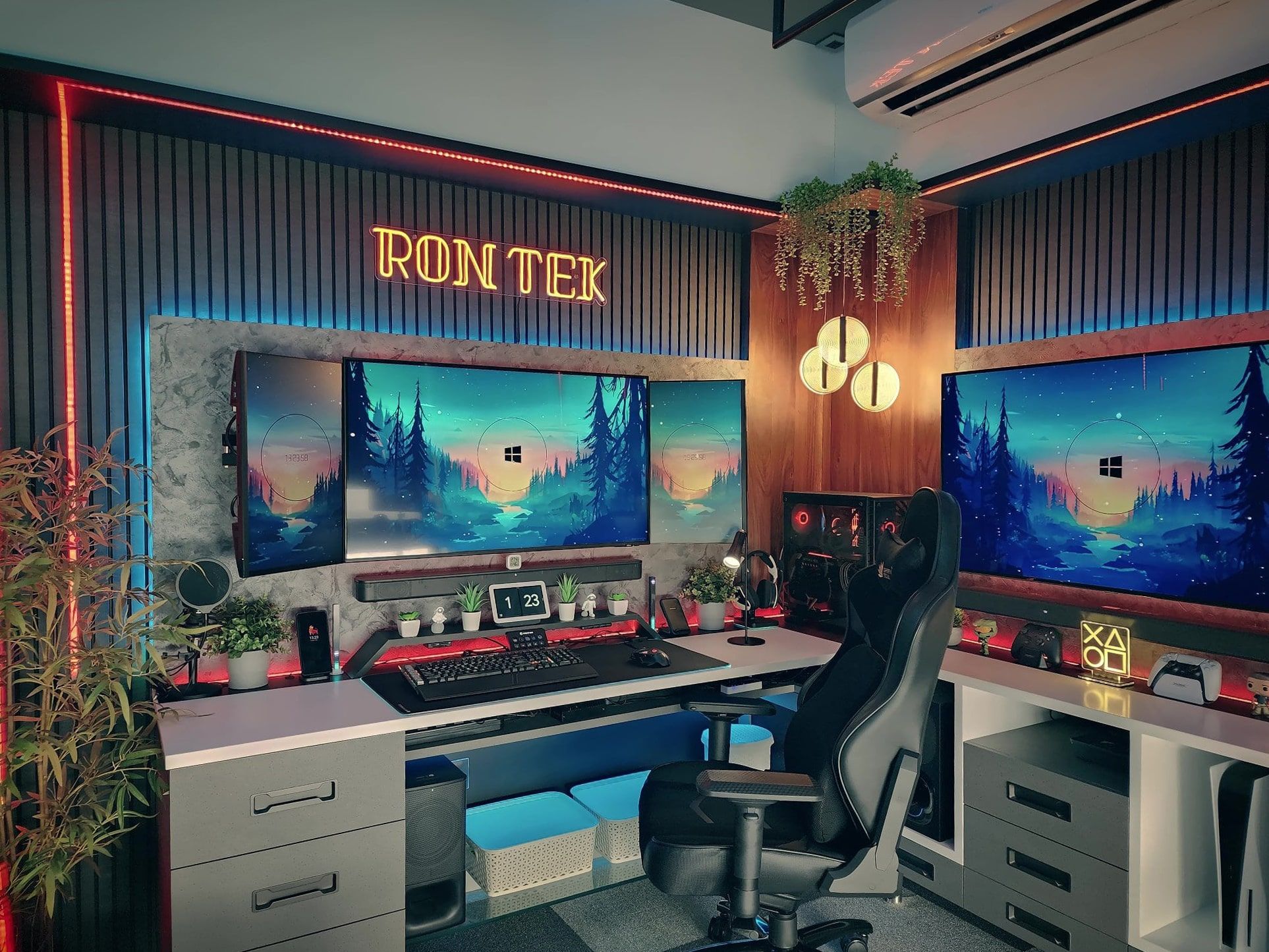 Carve out your niche of inspiration in a home office
Amid the sun-soaked vibes of Brisbane, Australia, Adam Peters, a seasoned customer service manager at Myer, curates a home office that's as much about functionality as it is about creativity.
Dedicated to his passions in photography and videography, his IKEA KARLBY desk setup is warm and inviting.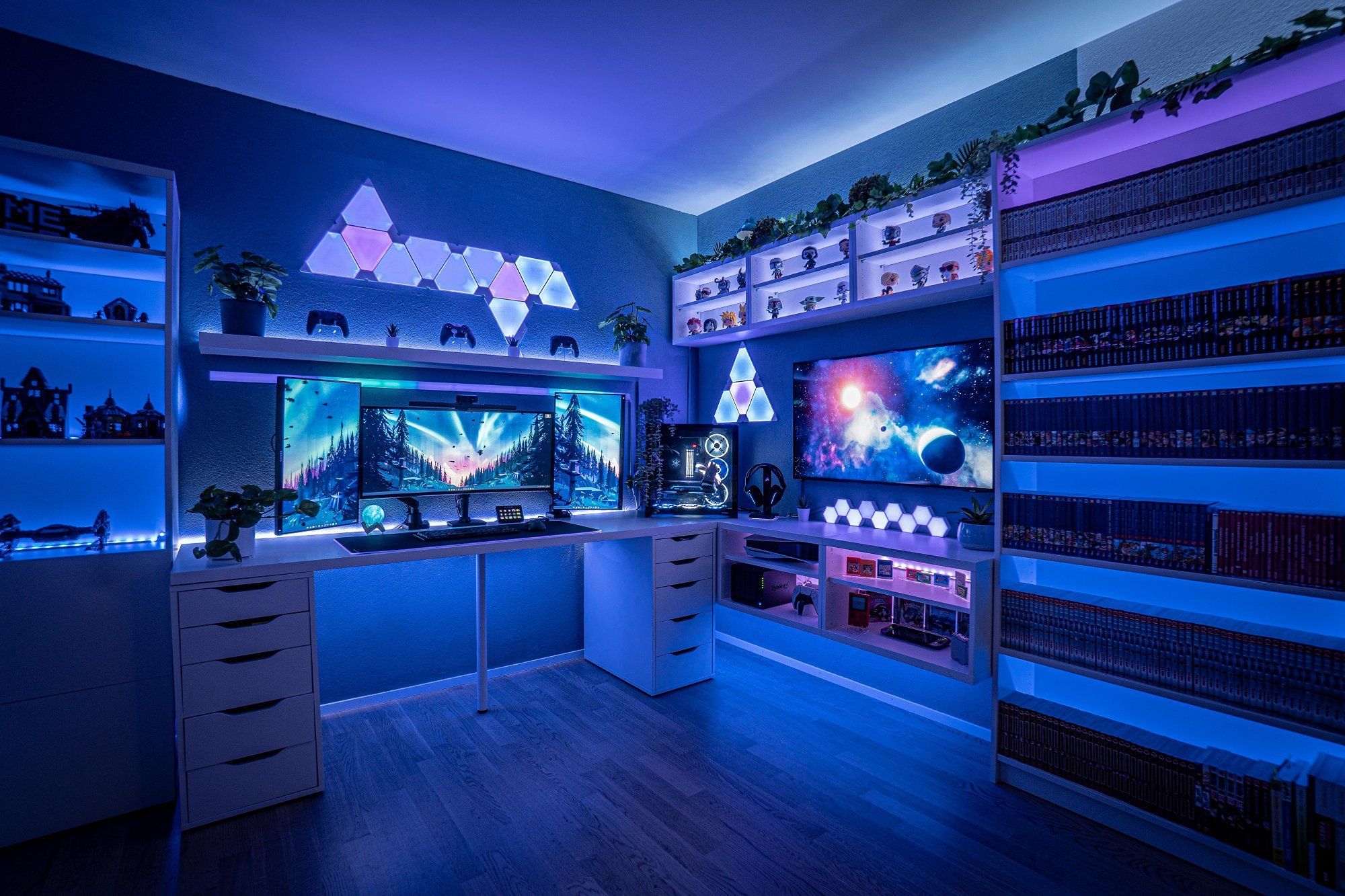 Central to its charm is the vertically stacked monitor workspace — a smart move to make the most of limited desk area in his 9 m² room.
Yet, it's not just the desk that speaks volumes about Adam's keen eye for design.
Adjacent to the workspace, a pegboard serves a dual purpose.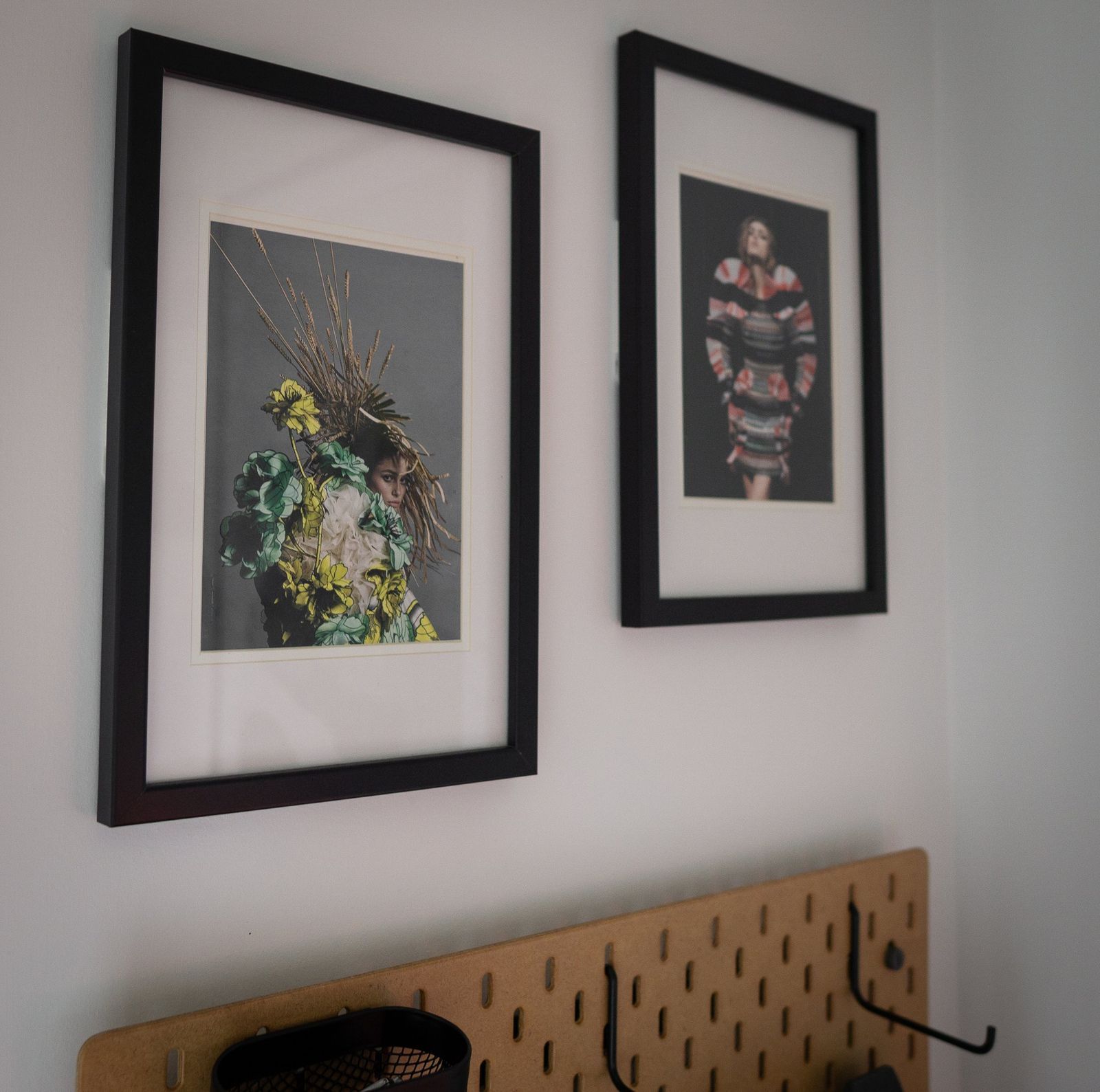 It not only ensures everyday items remain within arm's reach, but it also doubles up as a canvas for Adam's inspiration, allowing him to frequently change things up and refresh the look.
"On the left side of the desk, I installed a pegboard to display and store items I use daily and to give myself the opportunity to add a styling touch," adds Adam.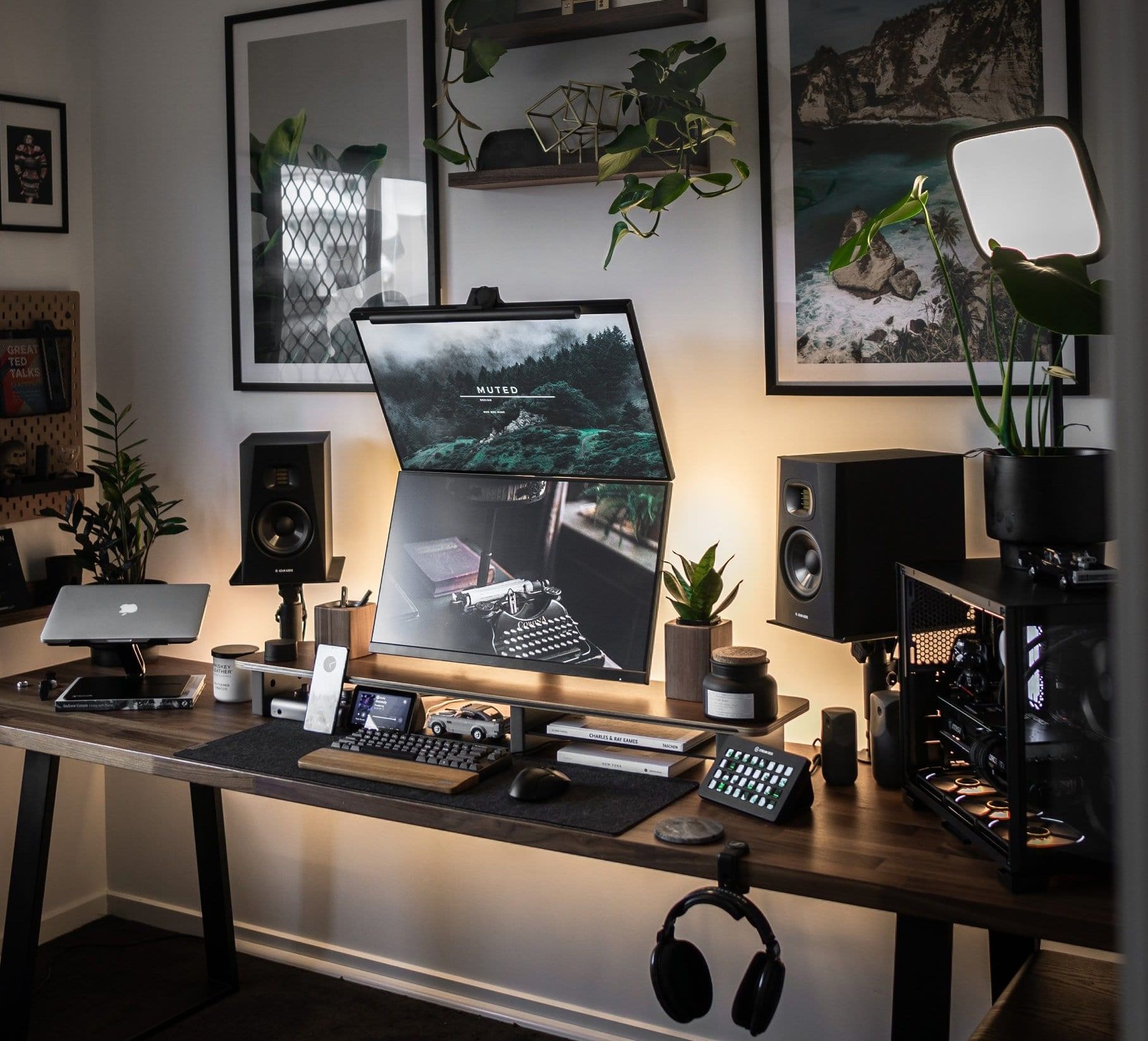 Elevate your minimalist design with sleek metal pegboards
Tucked away in bustling Quezon City of the Philippines, Emmie Villegas — a multi-talented architect and designer — has cultivated a workspace that seamlessly fuses functionality with minimalist aesthetics.
His roomy and dark 28 m² workspace is a masterclass in understated elegance.
While some might call it "mundane", Emmie's method ensures everything has its place, cutting out the unnecessary and honing in on essentials.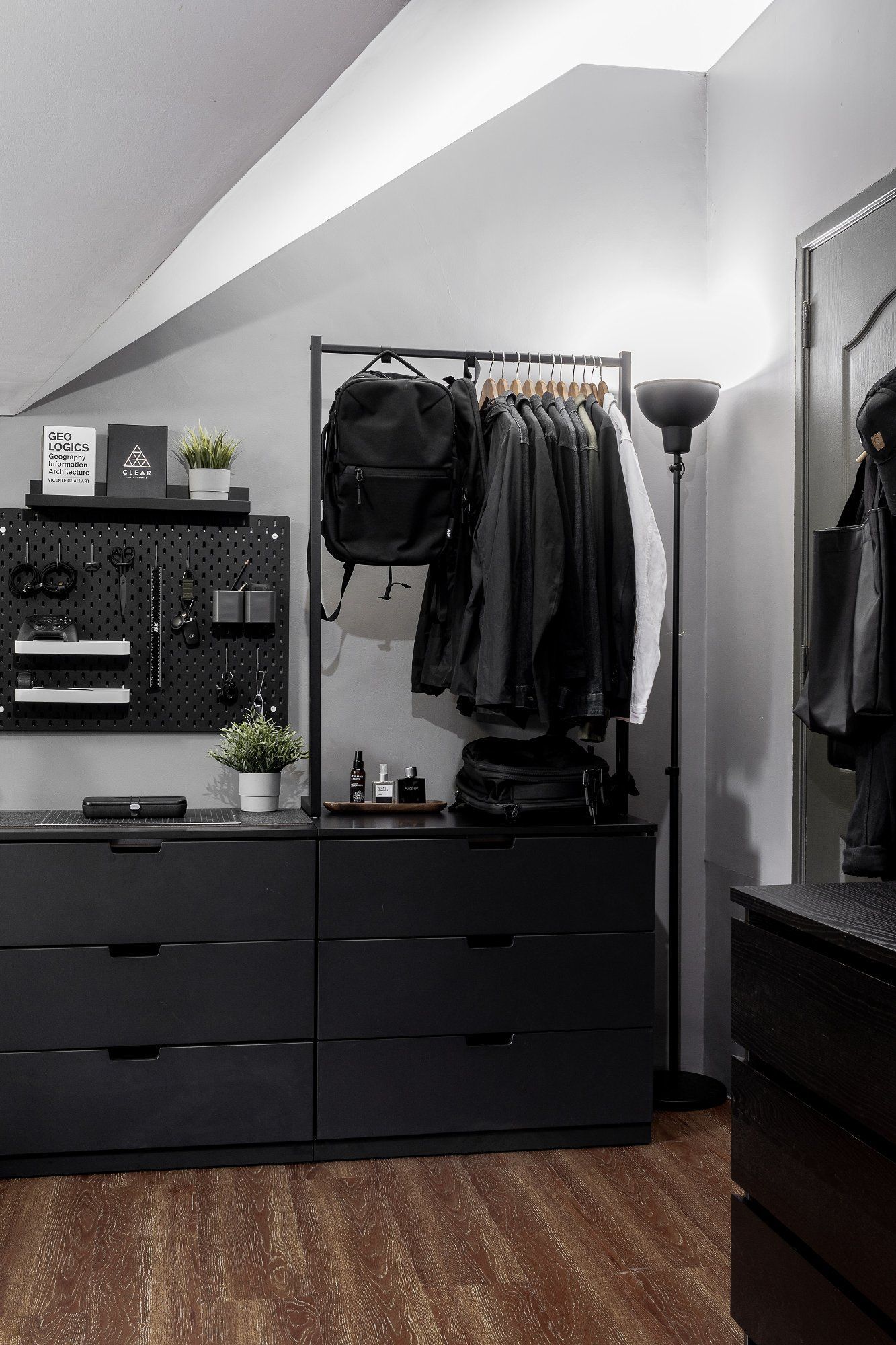 The pièce de résistance of his desk setup is the black metal pegboard.
Its metallic sheen adds a touch of sophistication while serving as a ready-to-reach storage for his keyboards, cables, and other essentials.
More than just organisation, the approach integrates everyday necessities seamlessly, keeping tools within reach while preserving the workspace's clean lines and moody vibes.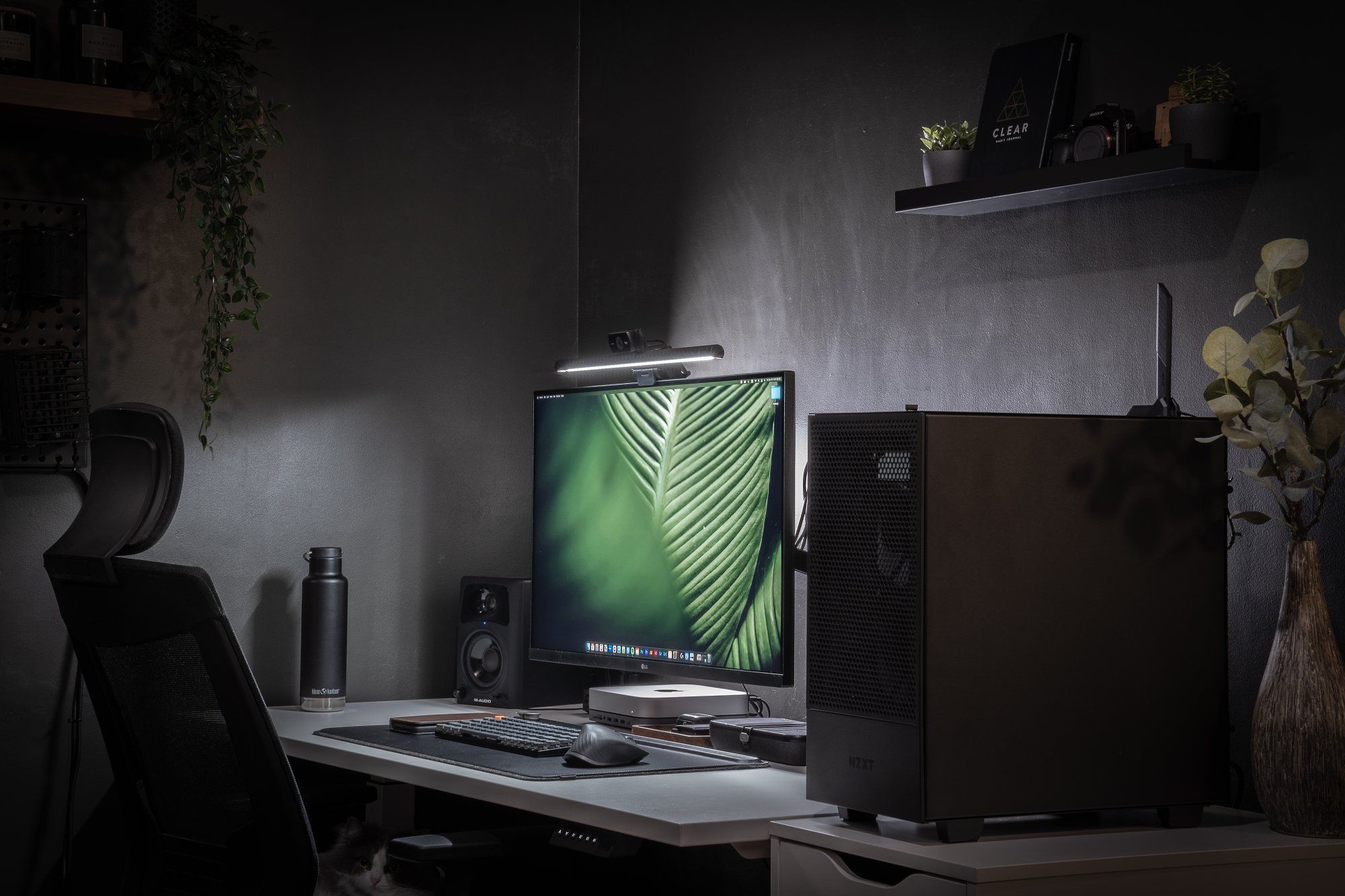 Infuse personality into your workspace with a hand-painted pegboard
Over in Nantes, France, an IT consultant Nicolas R. Dumas has found a way to blend functionality and personal expression in his cosy workspace.
Evolving from a minimalist black-and-white theme, his desk now bursts with a rich palette of green, wood, black, silver, grey, and yellow, showcasing a blend of materials like metal, wood, felt, and glass.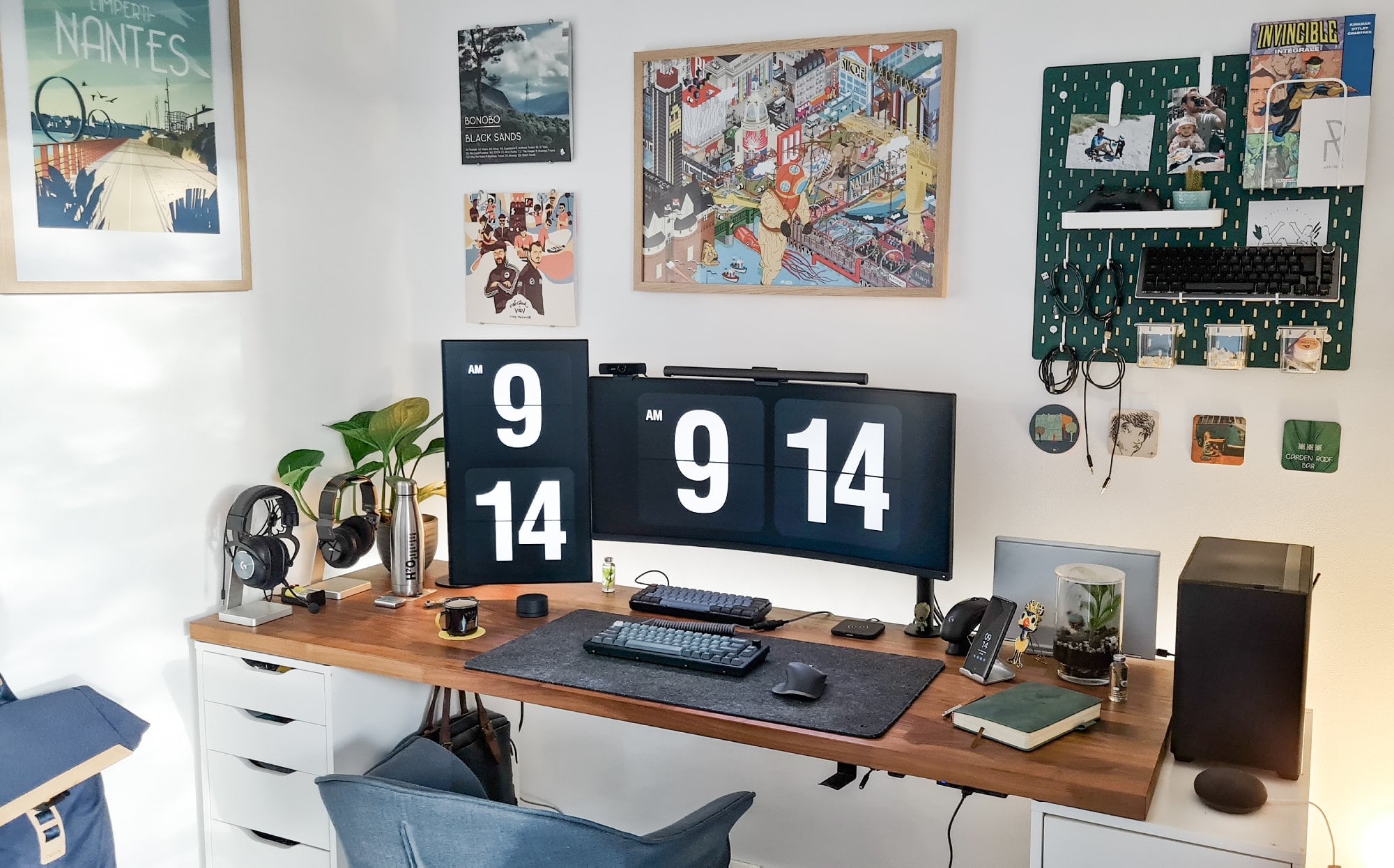 Central to this harmonious mix is his IKEA SKÅDIS pegboard.
Rather than settling for a regular pegboard, Nicolas took things up a notch by hand-painting it in a refreshing green, integrating it seamlessly with his home office's aesthetic.
This embodies his guiding principles: if you can't find what you're looking for in the market, create it or adapt existing items to resonate with your personal style.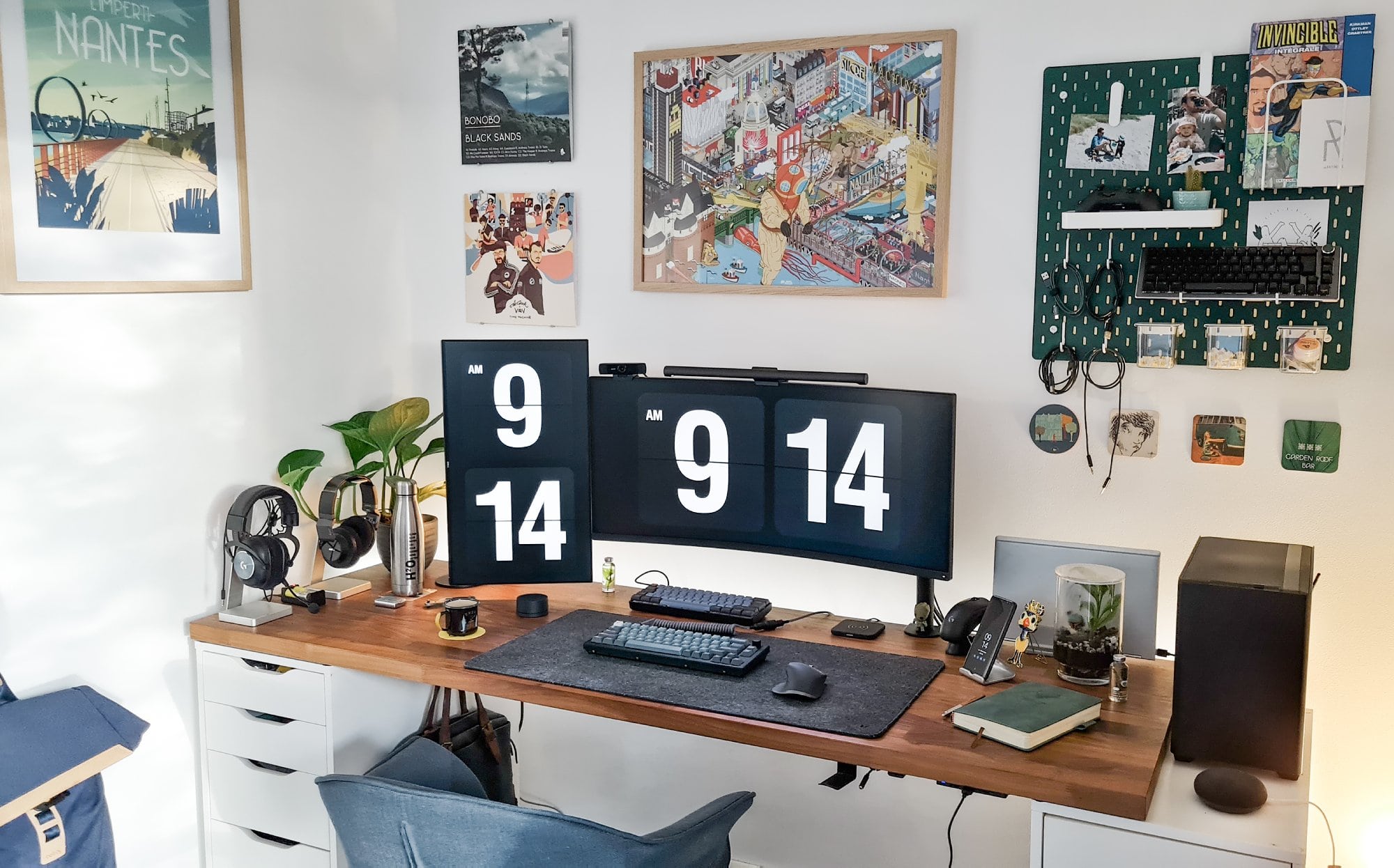 Grow your own urban jungle with a DIY pegboard wall
Over in Kelowna, Canada, Nicholas, a software developer and UI/UX designer, has combined his love for nature and functional design to build a botanical workspace.
The heart of this space? A massive pegboard wall that Nicholas himself created from scratch.
The pegboard wall isn't just about aesthetics, though it does add an element of sleek design.
It's a strategic move by a dedicated houseplant enthusiast.
Nicholas and his fiancée are proud owners of over 150 plants, and each plant, with its unique light requirement, finds a perfect spot on this versatile wall.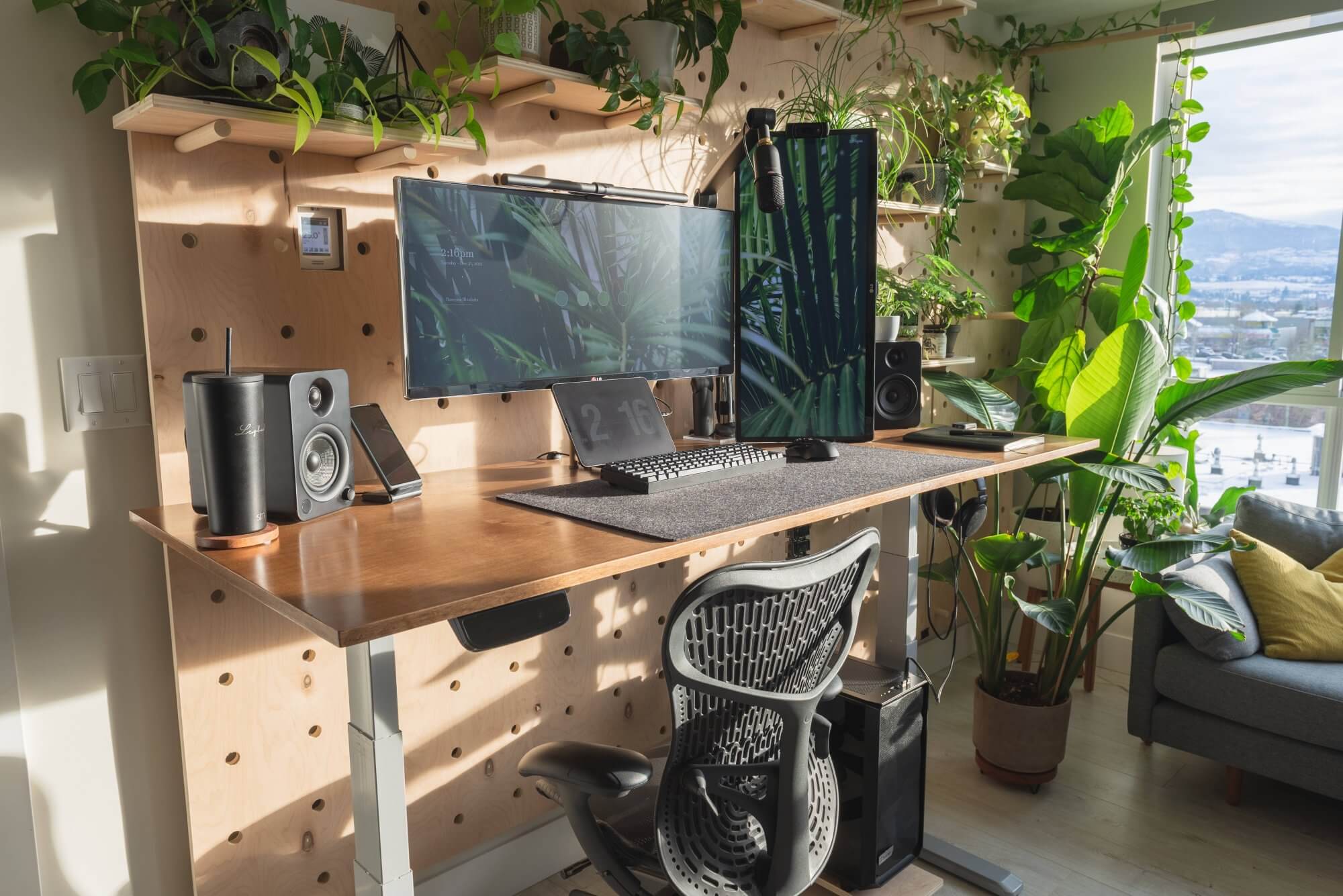 Nicholas mentioned that he's had a thing for design since he was a kid and even dreamed of becoming an architect. This pegboard wall project was a throwback to those days.
"I made the pegboard wall myself with three sheets of 8×4″ good two-side plywood," shares Nicholas. "It took roughly twelve hours to complete but was well worth it."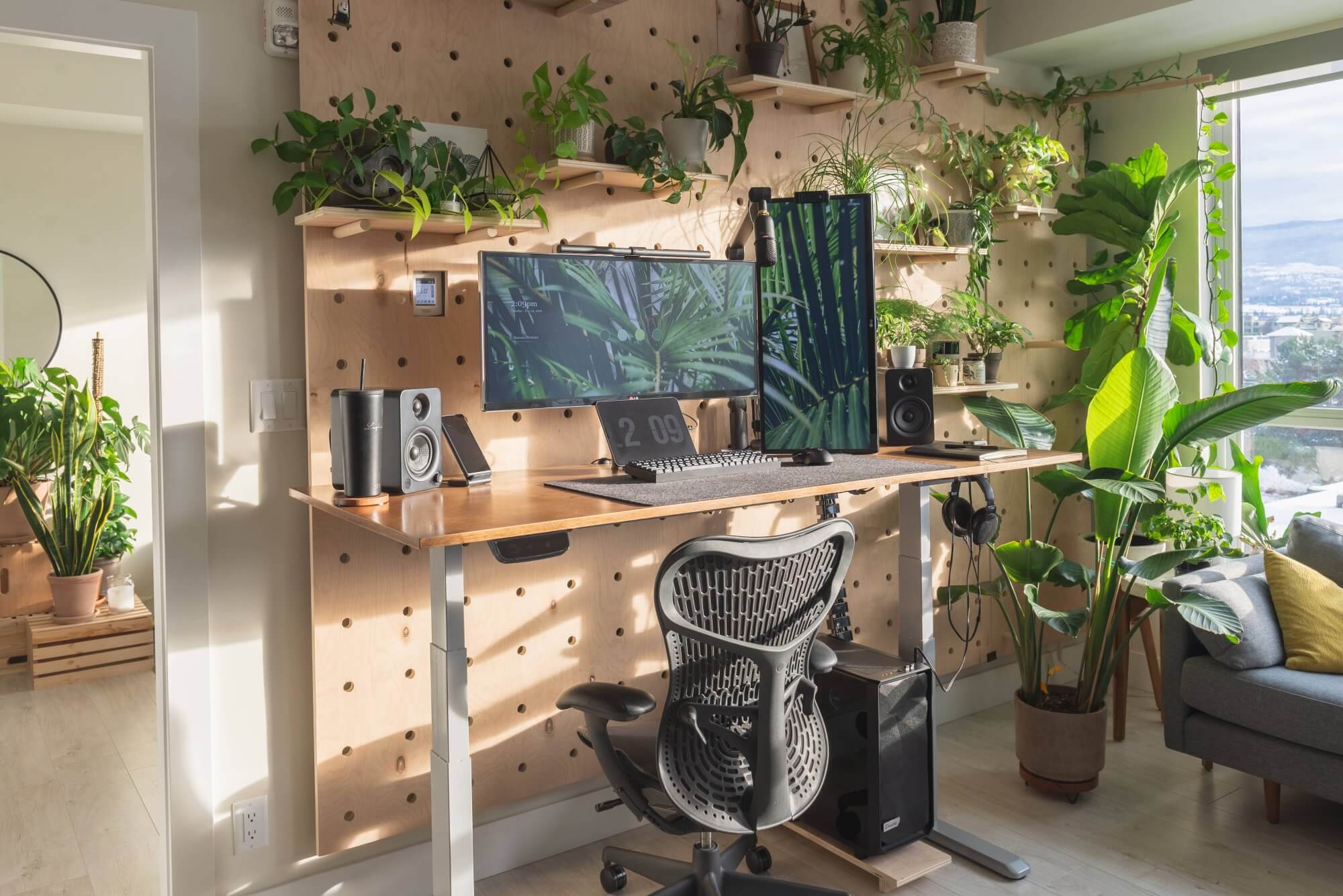 Transform blank walls into dynamic storage hubs
In the heart of Lagos, Nigeria, Ogeh Ezeonu has smartly used vertical space in her home office.
Pegboards might be known for tool storage, but Ogeh shows they can be invaluable for digital professionals in keeping things tidy.
Against Lagos' vibrant backdrop, her desk shows how pegboards can help maintain a clean, focused workspace.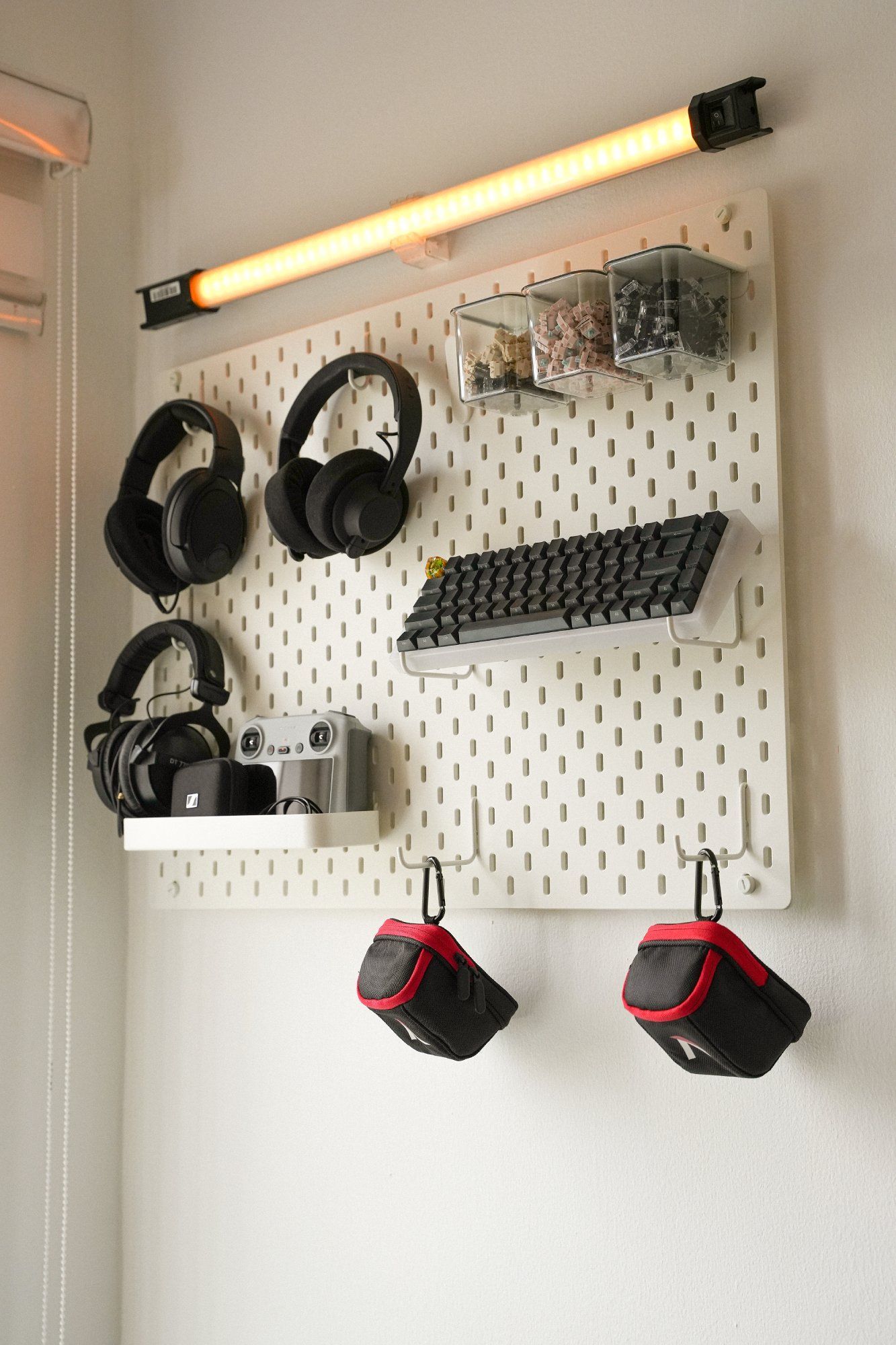 Ogeh views her pegboard as more than mere storage.
For her, it's a dynamic canvas that adapts with her whims, projects, and inspirations.
"Like how some people enjoy working on their cars, I enjoy tweaking my desk setup to satisfy my needs and reflect my current interests," she explains.
Branch out your front-end flow with a pegboard upgrade
Deep within the buzzing heart of Toronto, Kevin Ng has transformed an ordinary workspace into a haven for front-end developers.
Kevin's shift from a promising path in computer science to graphic design has equipped him with a unique perspective on design and its impact on our daily lives.
And this fusion of disciplines shines through in his workspace.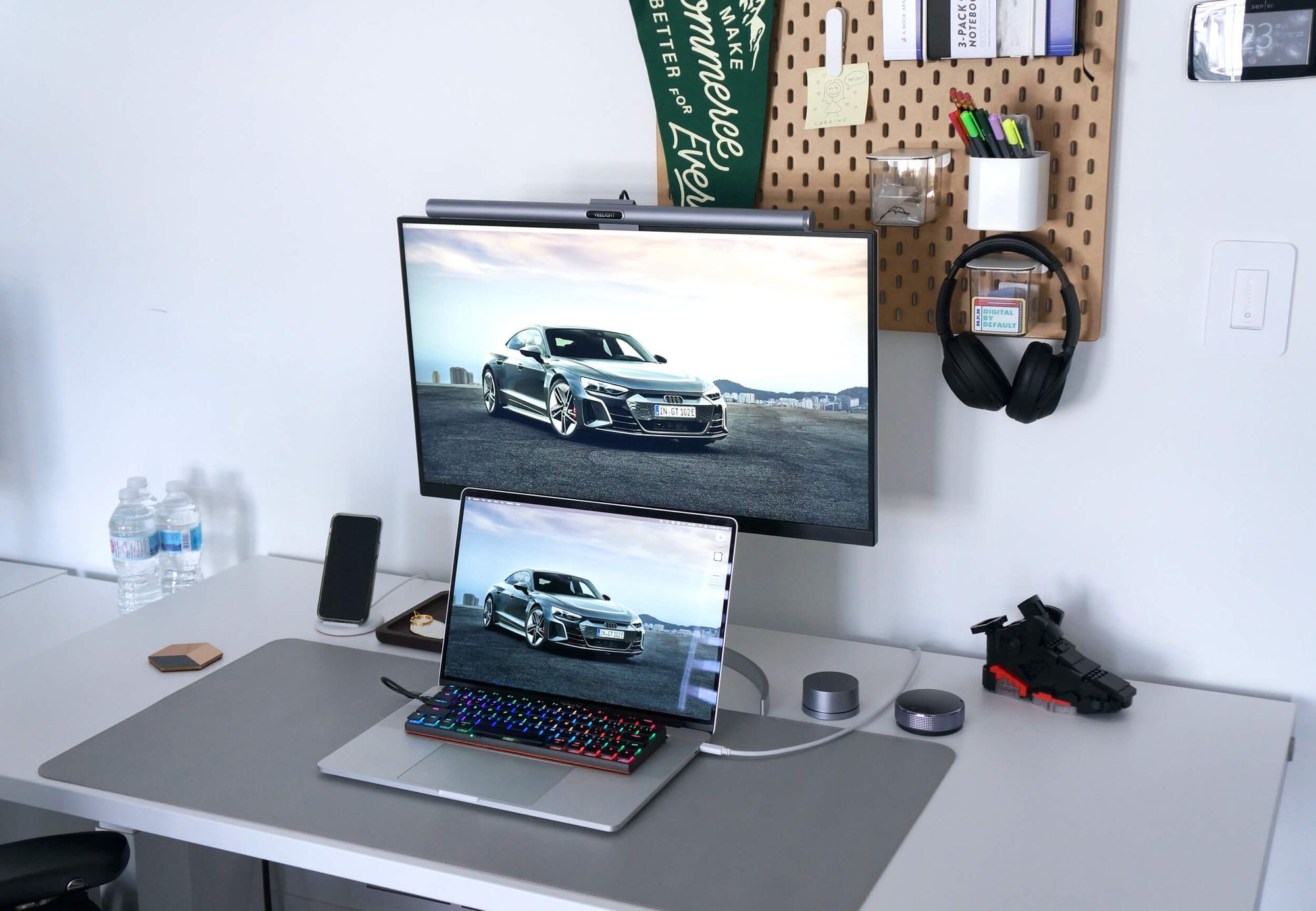 Using the ever-versatile SKÅDIS pegboard from IKEA, Kevin has efficiently organised his essential tools of the trade.
"You'll see this pegboard on many other peoples' setups but I love it," says Kevin. "Just like the ALEX drawer, it's cheap, does its job and looks good."
Reflecting on his desk setup, he believes that the essence of a great workspace lies in its personal touches.
This pegboard, for instance, holds everything from pens, stickers, and notebooks to sentimental gifts, and every item tells a story that intertwines with his personal journey.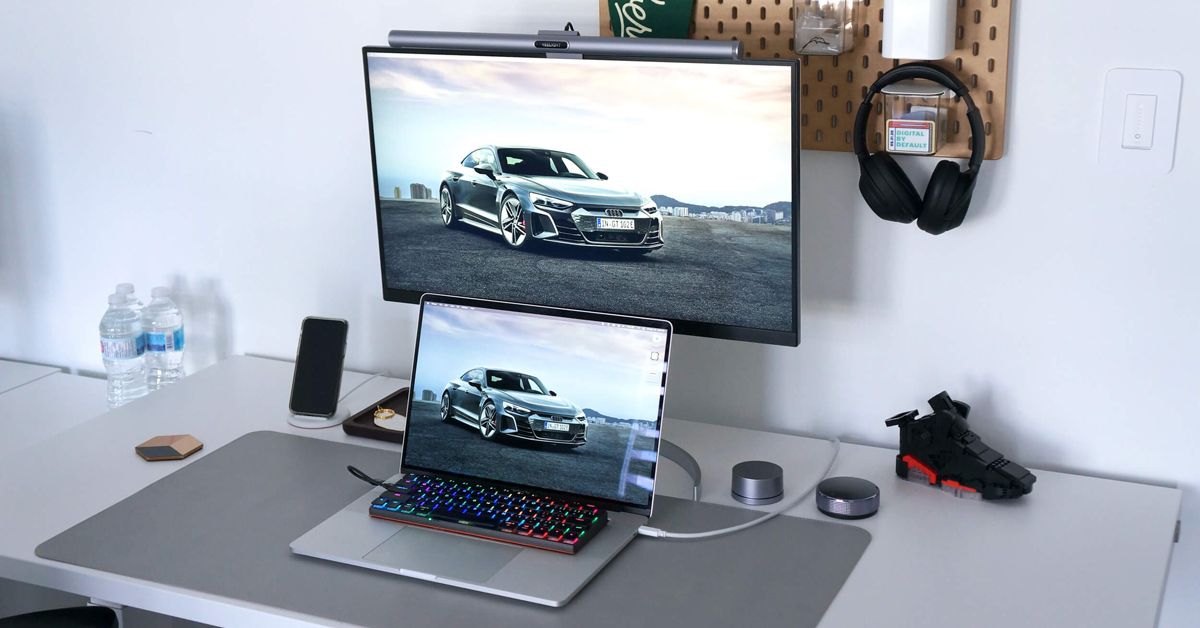 Strike a balance between fun and functionality on a single pegboard
Nestled within the dynamic vibes of New York City, Ryoma Brunel's WFH battlestation is a brilliant blend of practicality and personal flair.
Infused with a rich cultural background, his workspace is reminiscent of his '90s roots and the diverse interests inculcated by his Japanese mother and French father.
Ryoma's pegboard is adorned with an eclectic mix of items.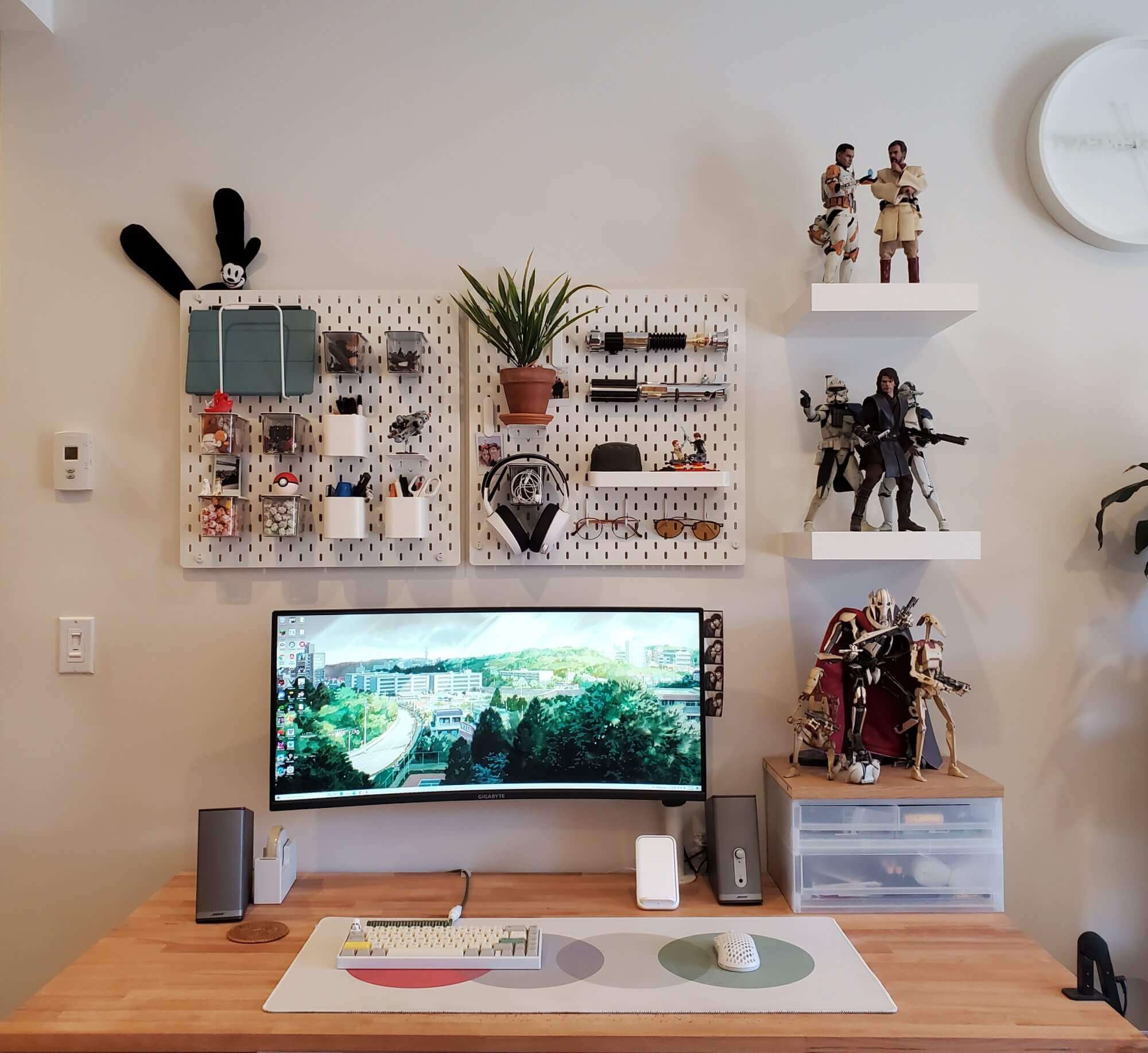 There are quirky photos of his girlfriend and cat that lighten up even the dreariest of workdays, intricate mini Lego sets, the refreshing touch of greenery, and lightsaber hilts he meticulously crafted.
Yet, it's not all fun and games.
This pegboard also houses his essential work tools like glasses, headset, and writing instruments, ensuring that his desk remains spacious and clutter-free.
Ryoma shared that when setting up his workspace, he really valued flexibility. He aimed for a space that could easily shift between his hobbies and work duties.
Ryoma felt that the pegboard gave him a chance to blend a bit of everything, crafting a desk setup that was truly his own.
"Working at home can get boring during slower days, and I try not to let my work overshadow my personal space and life."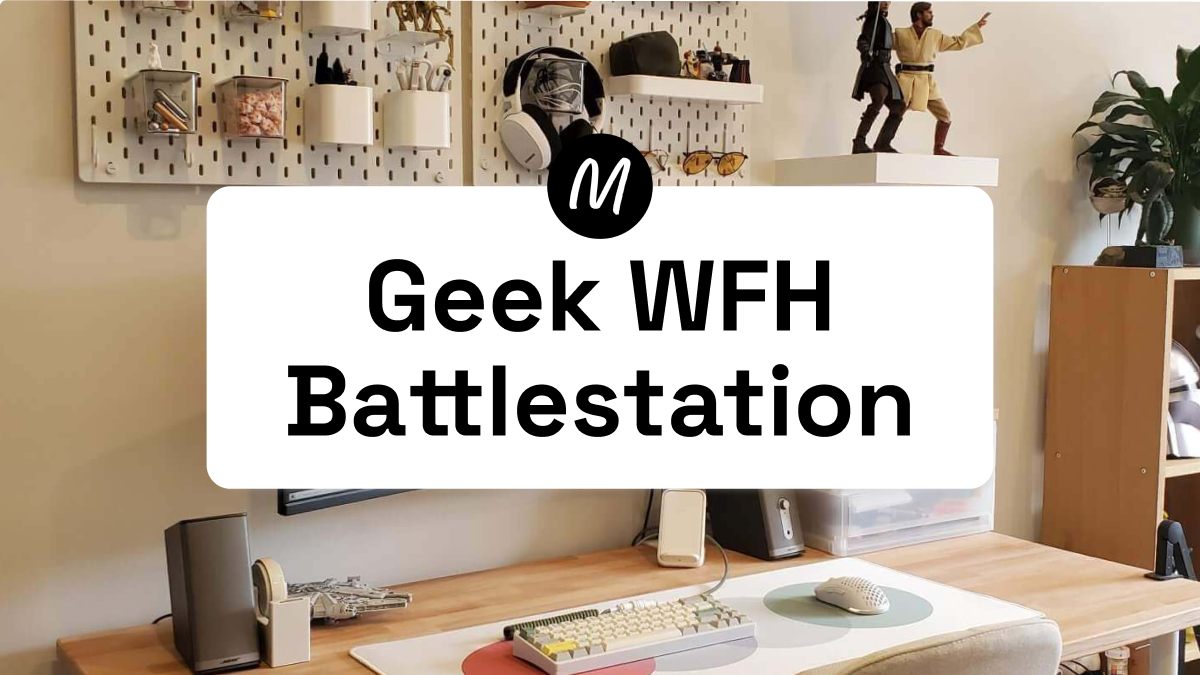 Triple-charge your desk setup with perfect pegboard placement
Nestled in the heart of Copenhagen, Lars' bright Scandinavian workspace is the embodiment of his philosophy on organisation.
Store what's rarely used and prioritise what's essential.
As a data scientist and engineer, Lars knows the importance of efficiency and clarity, which he mirrors in his workspace design.
With three pegboards adorning his workspace, Lars ensures that his most-used items are always within reach, maintaining a clutter-free desk.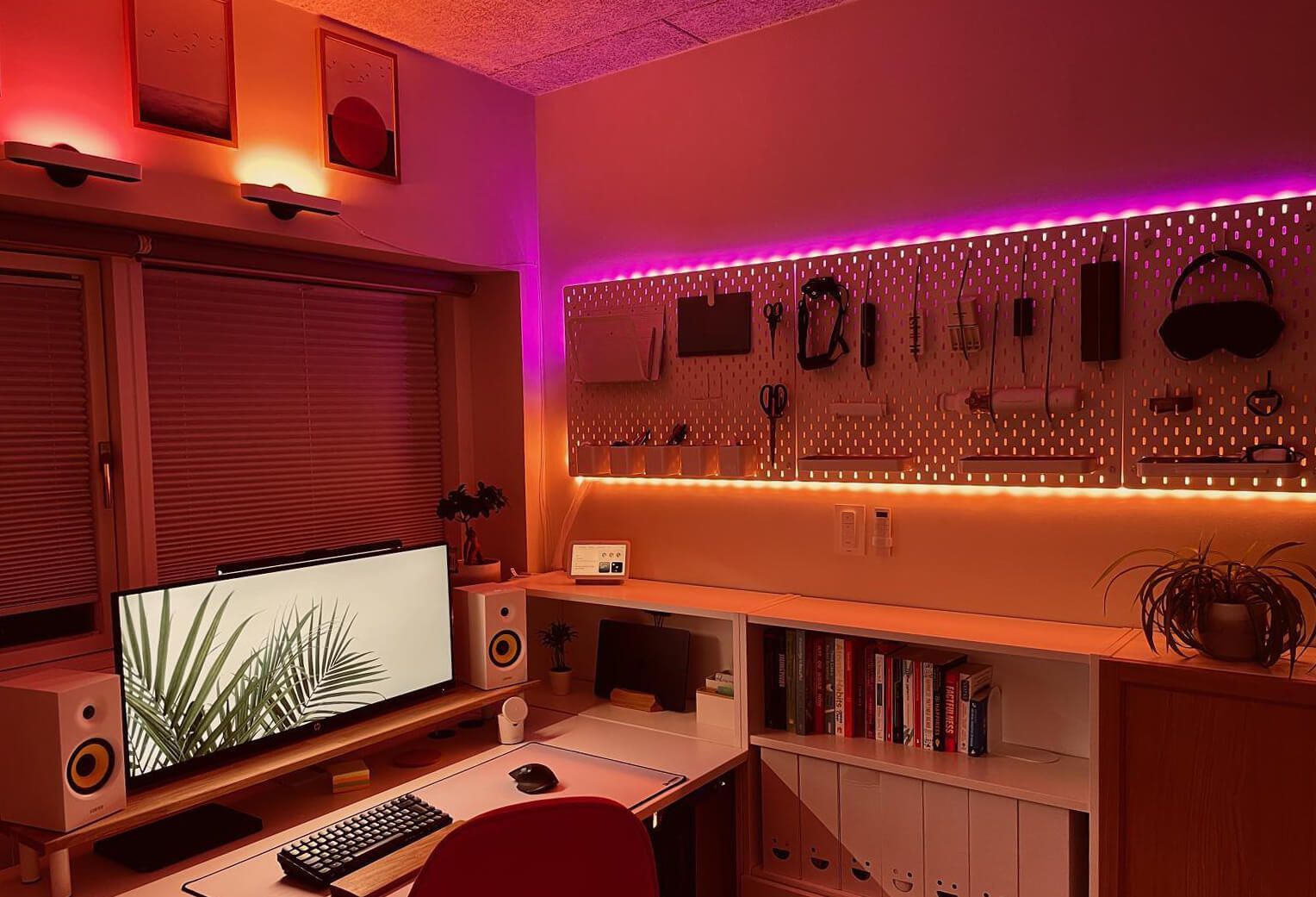 "I want my desk to be clean and tidy. It is, after all, a workspace and not storage," says Lars. "My biggest challenge? Getting those pegboards to hang right next to each other. That was a real pain."
Through his clean desk setup, Lars reinforces that a workspace should inspire focus, innovation, and occasionally challenge one's problem-solving mettle.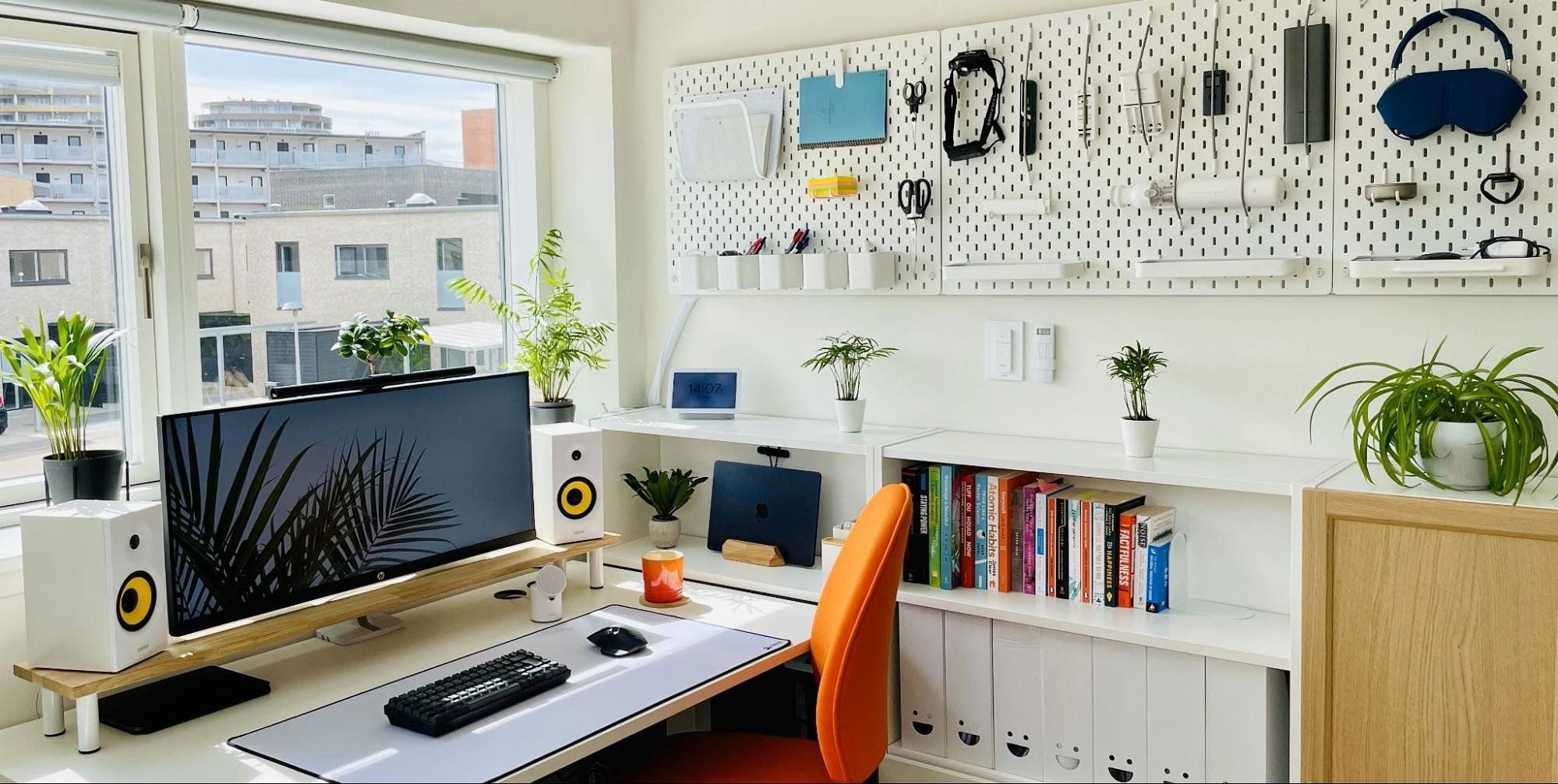 Hooked on choice? Find a perfect pegboard partner for your space
Tucked away in Virginia Beach, Chris has merged his love for DIY with the practicalities of a home workspace.
As a multifaceted photographer, videographer and content, it's no surprise that his desk setup required a unique touch.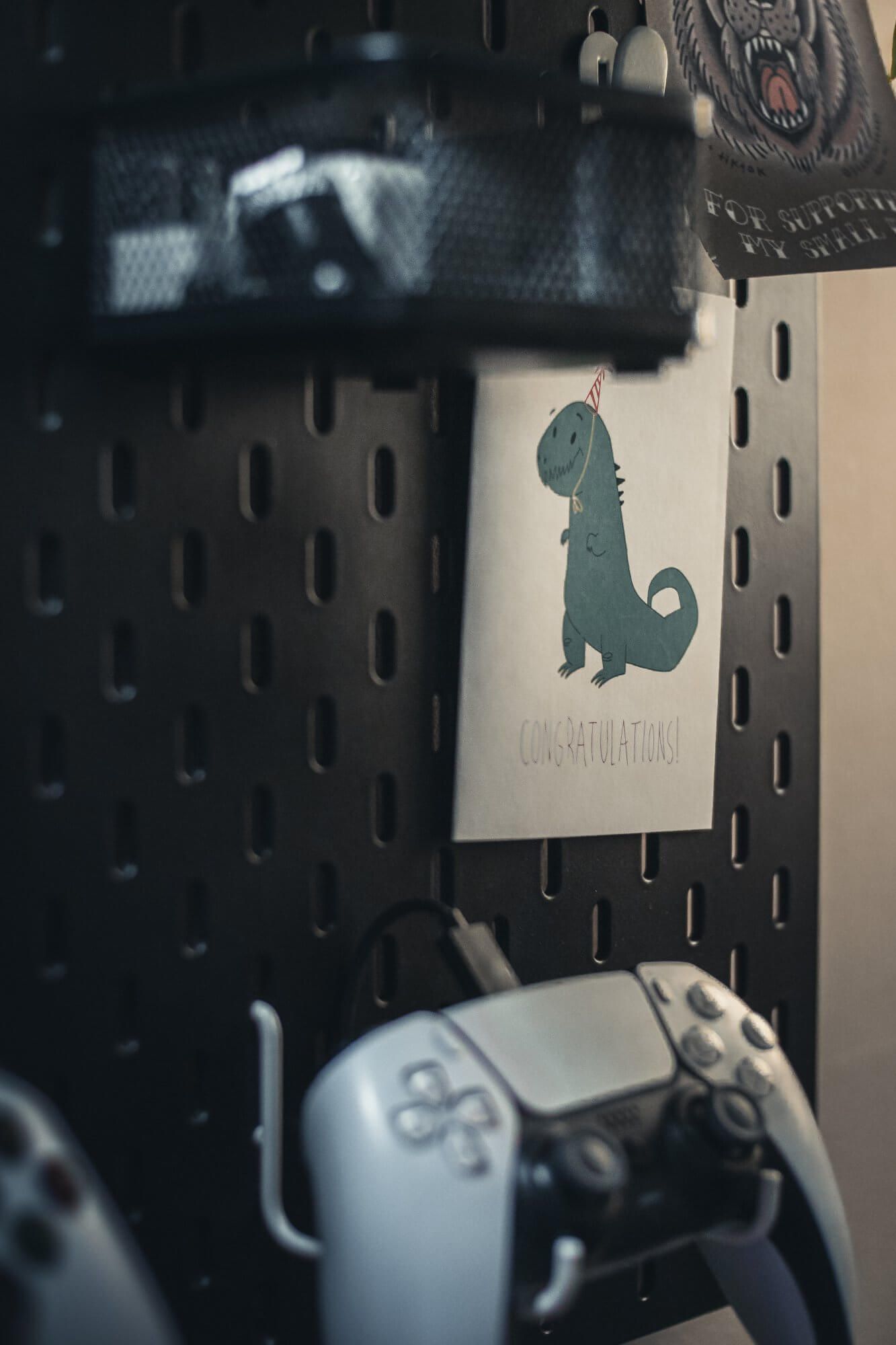 After spray-painting his SKÅDIS pegboard from IKEA to a sleek matte black, Chris hit a snag: finding those elusive compatible peg hooks for the controllers and headphones.
Luckily, a few online shopping adventures later, he eventually found them.
For Chris, his pegboard journey wasn't just about organisation — it was about crafting a workspace that resonated with his DIY spirit, even when faced with the tiniest of challenges.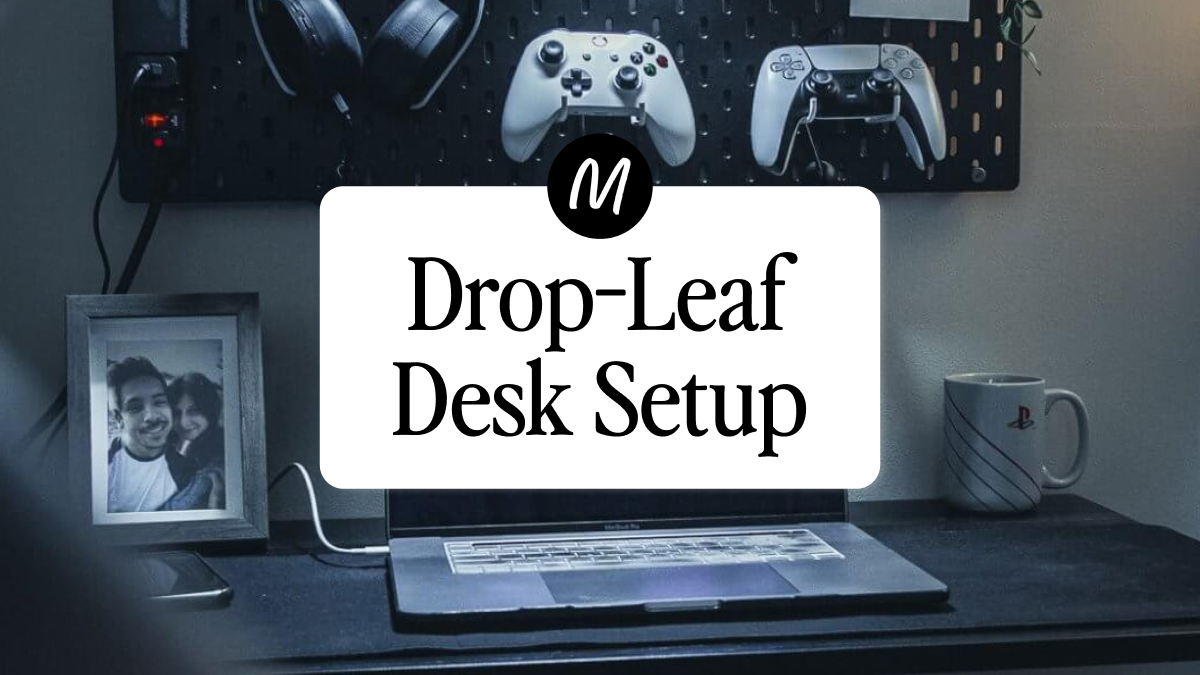 We're a reader-supported publication. This article might contain affiliate links. It means we may receive a commission if you click a link and buy a product that our maker has recommended. The interviews were done independently.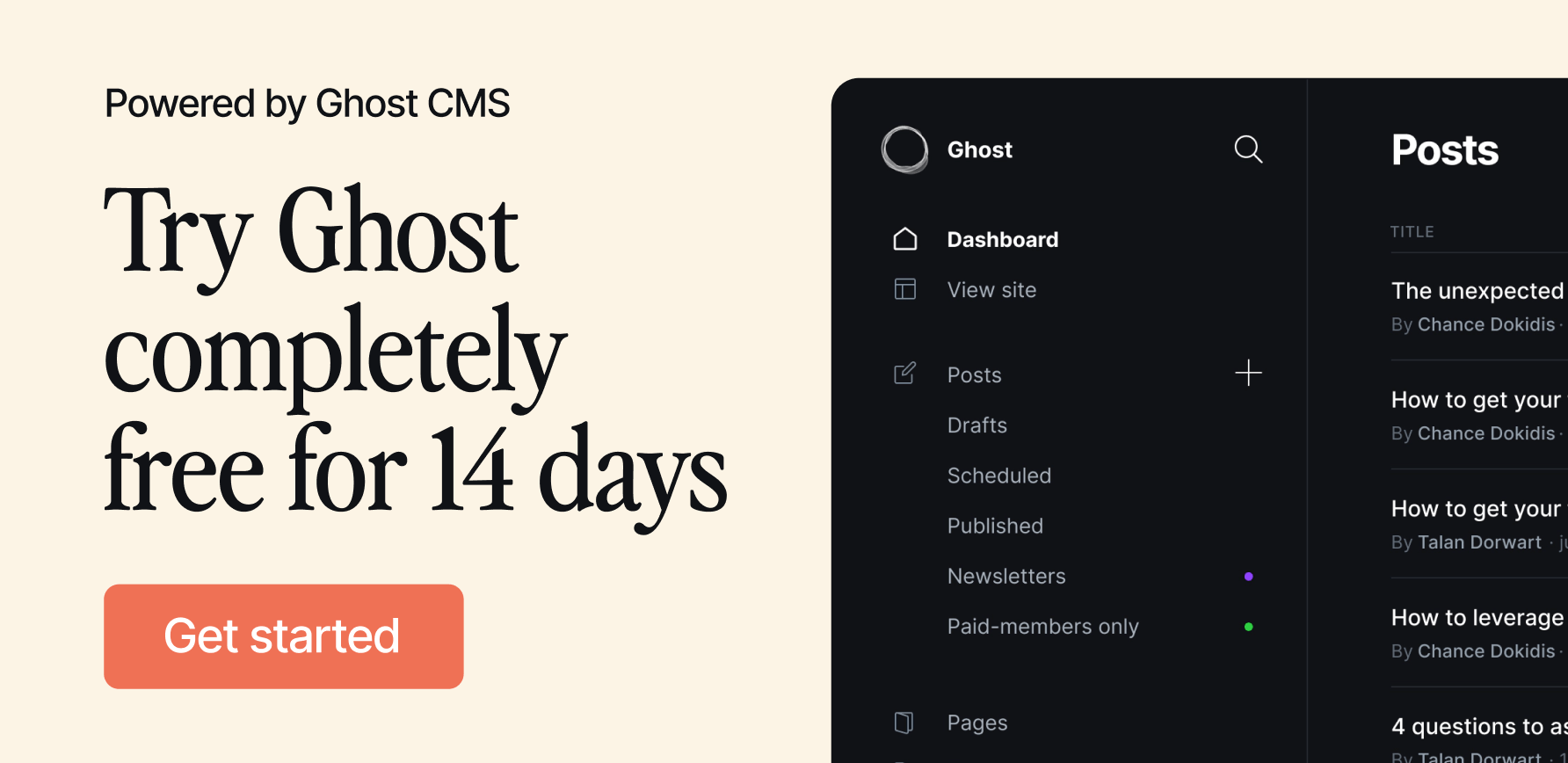 ---