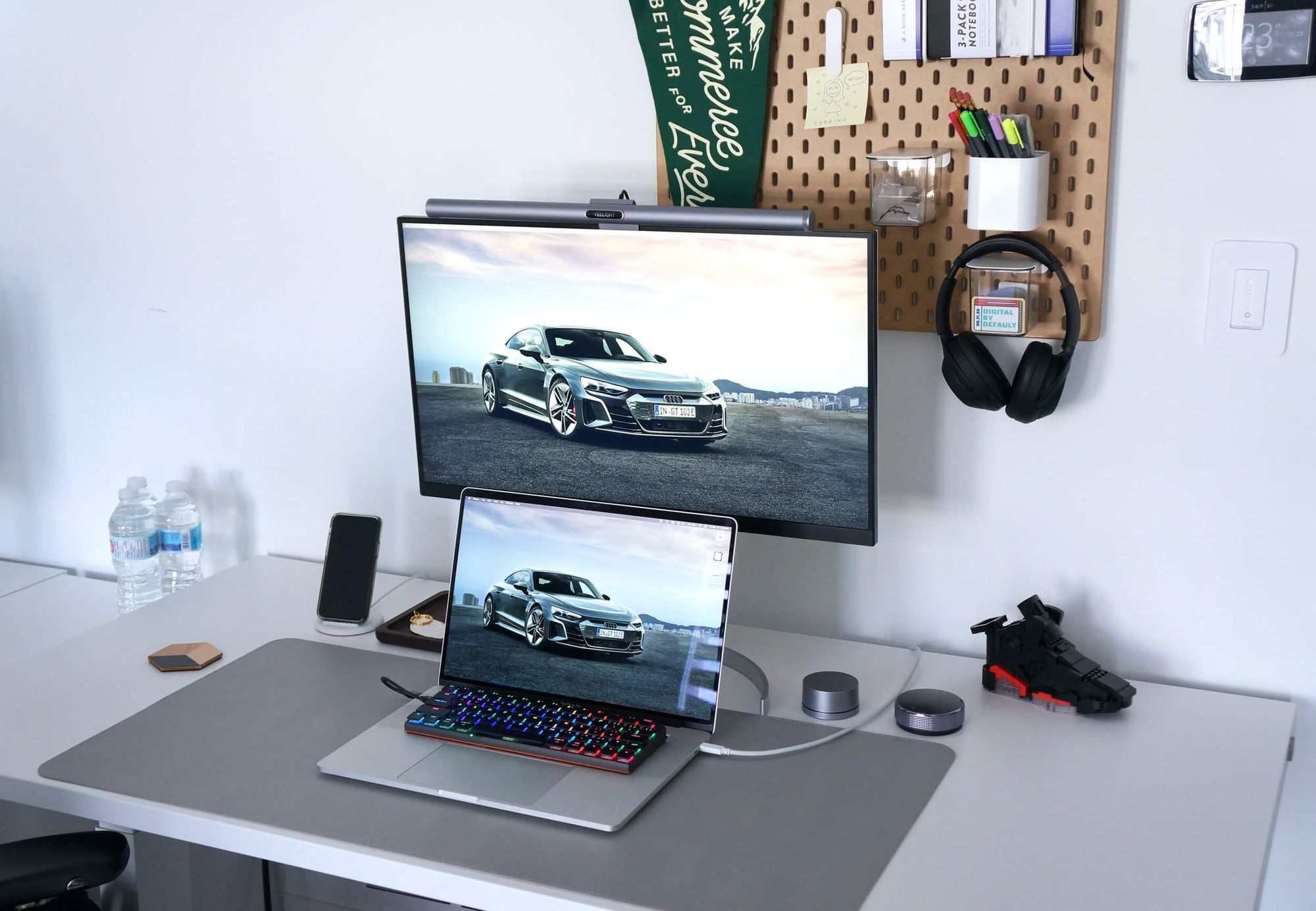 Front-End Developer Setup in Toronto, Canada
"What makes a setup great are the personal touches that the owner adds to it"
Join 1700+ Curious Readers.
Every Sunday evening, get an *in-depth* workspace tour from a random corner of the world.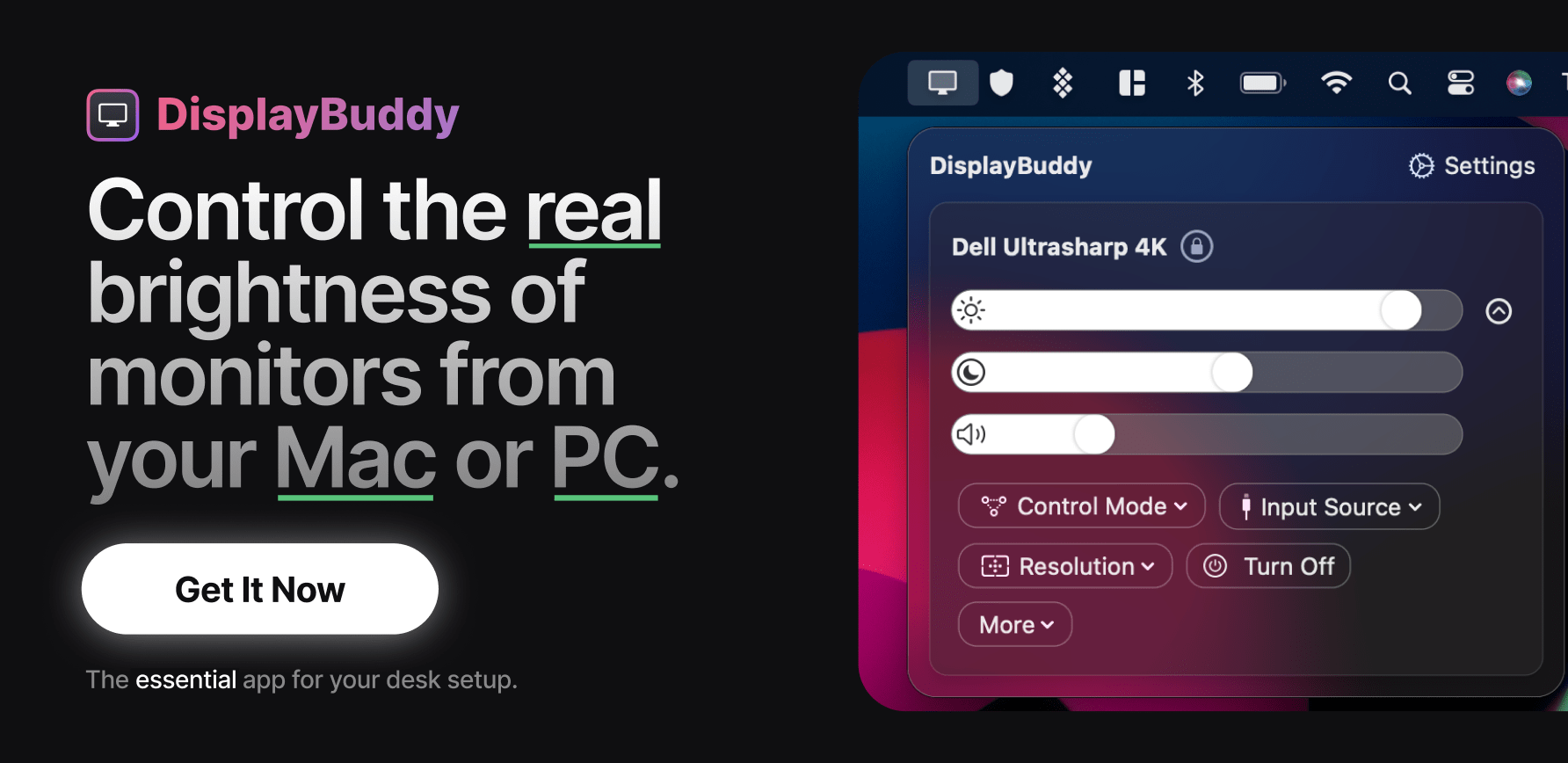 Name: Kevin Ng
Location: Toronto, Canada
Occupation: Front-End Developer
Room size: 16,7 m² (180 ft²). Desk area: 2,3 m² (25 ft²)
Cost of the setup: $3,2K
Social media: Instagram
Hey, Kevin! Tell us a bit about yourself
Hi, I'm Kevin! I'm a graphic designer turned front-end developer based in Toronto, Canada.
It's almost a cliché but I feel like I was born with an attention to design and detail.
Throughout high school, I was well on the path of going into computer science. It wasn't until almost the last minute when I decided I would go into graphic design instead.
I aspired to be able to design something that would have an impact on people's lives. I thought graphic design had a better chance of that than computer science.
So I went through that adventure, picked up invaluable design knowledge and experience, as well as photography.
I had interned at a world-renowned design studio, I was ready to graduate, land a dream job and change the world with my ideas!
How naive I was, lol.
It took me almost a year to find a job and in the end, it was an in-house designer at a recruiting agency. The opposite of changing the world.
I did end up learning a lot at that job and realised I didn't need to create something famous to have an impact on the world. Even the little things count.
From there I learned about web- and front-end development and this intrigued me. I could potentially have a huge impact on designing and building the web, something everyone uses daily.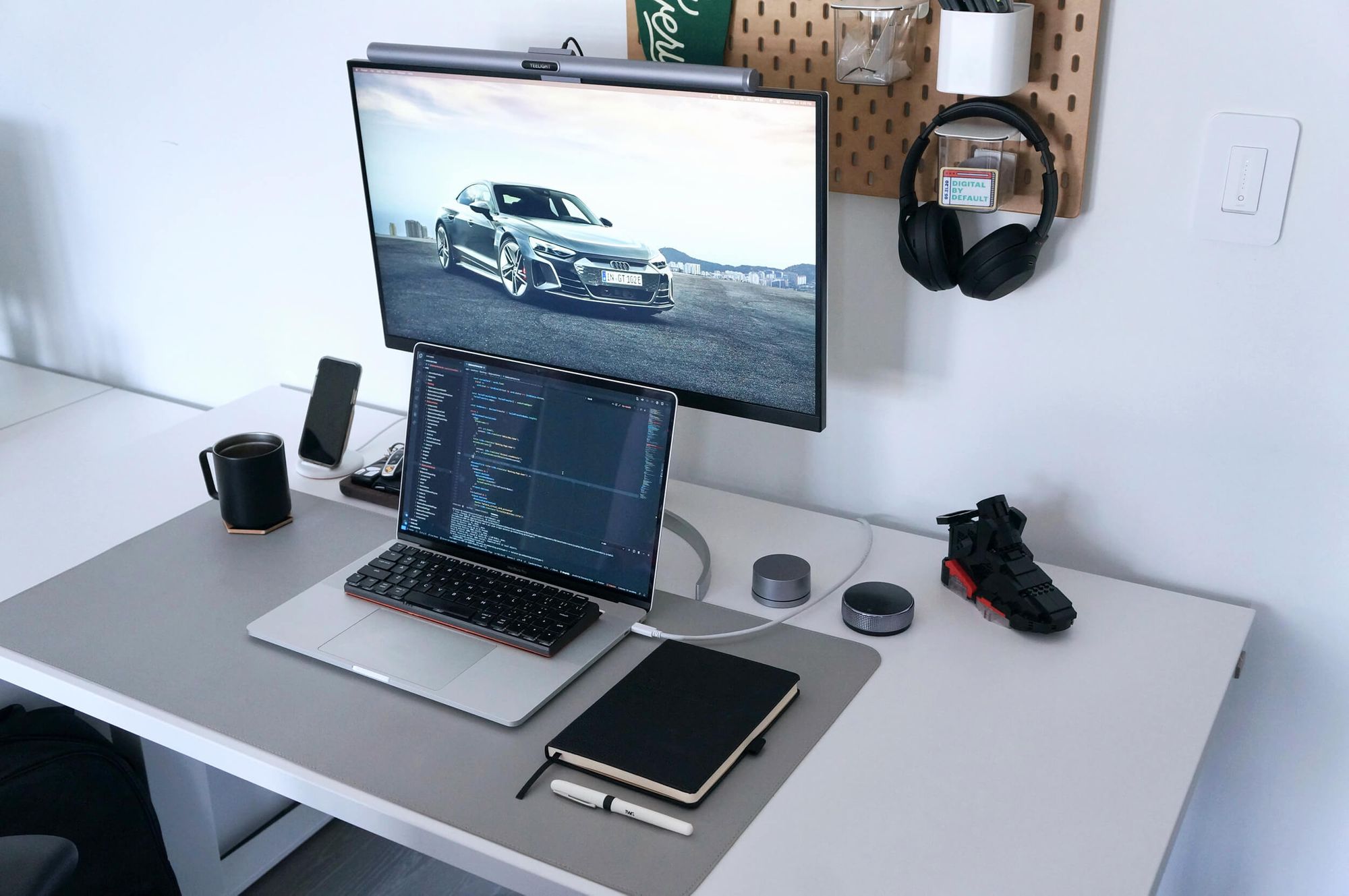 So I quit my design job, enrolled in a 9-week boot camp and after completing that I landed my original dream job but as a web developer. I worked at an agency for just over four years with a focus on marketing and e-commerce.
This let me have the opportunity to work with clients including the likes of Audi, TSN and Ecobee to create a lasting impact on the web.
I also did some freelance work on the side helping small and medium-sized businesses start and grow their e-commerce storefronts on Shopify.
Working on these freelance projects as well as the clients at my work helped me see the impact I had on helping them redefine their web experiences.
Last year I joined Shopify as a front-end developer.
I believe I can have an even bigger impact working on the platform that has helped bring so many businesses onto the web.
Shopify also moved to a completely remote workplace so I've had the opportunity to design and put together my perfect work setup.
I created my setup, tech and developer-focused Instagram account to document my setup as a hobby and to flex my creative muscles creating content.
It's been a lot of fun!
Can you describe your home setup?
I moved into my new house around the same time I switched to a remote job.
So my home setup didn't exist before and everything now is brand new. The whole office space is still an ongoing project and it's been about six months to get it up to its current state.
I started with the 16″ MacBook Pro and the 27″ LG monitor. My work provided them for me.
The desk is the Motia standing desk and the chair is Aeron one, both from Herman Miller.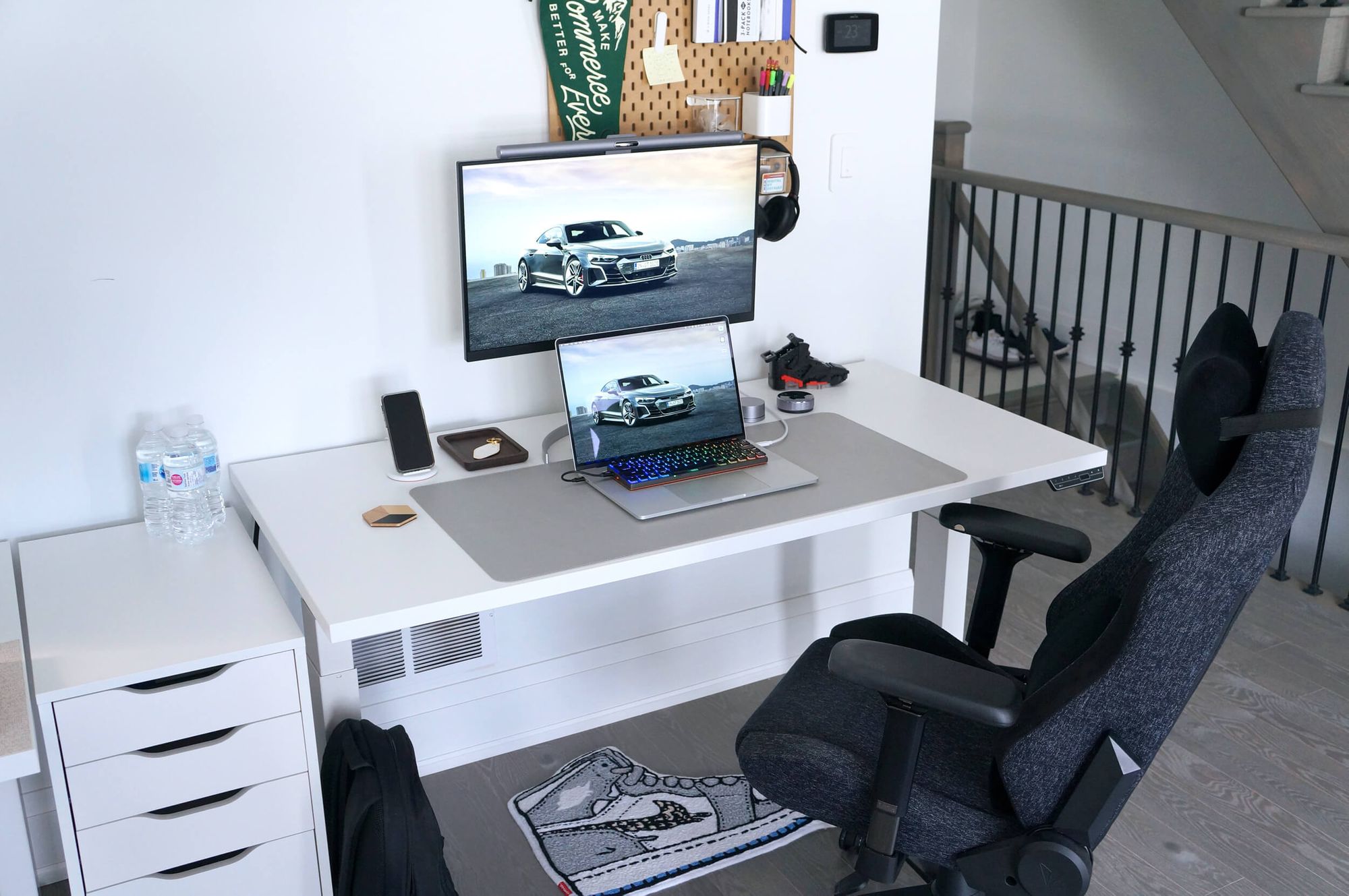 On the left, I have an ALEX drawer. It's been great. My desk was starting to fill up with things so I got it just to throw anything I don't need in there.
This is the filing cabinet version so any letters or documents I need to keep go in there too.
On the wall behind my setup, I have a SKÅDIS pegboard from IKEA. You'll see this pegboard on many other peoples' setups but I love it.
Just like the ALEX drawer, it's cheap, does its job and looks good.
On the pegboard, I have a pen and pencil holder, my notebooks are racked up there and I put any of the smaller items up there. The pennant flag says Make commerce better for everyone and it was a gift from Shopify. I thought it looked nice and had some space on the pegboard so I have it clipped up there!
On top of my MacBook, you'll notice there's a mechanical keyboard.
I'm so tied to the touchpad on the MacBook, the gestures are a big part of my daily workflow that I wouldn't be able to work efficiently without it.
However, the keyboards on MacBooks haven't been my favourite.
Luckily I found this mechanical keyboard, the F1 from Nuphy, that's designed specifically to fit on top of the MacBook's keyboard. It's perfect for me and it looks nice too.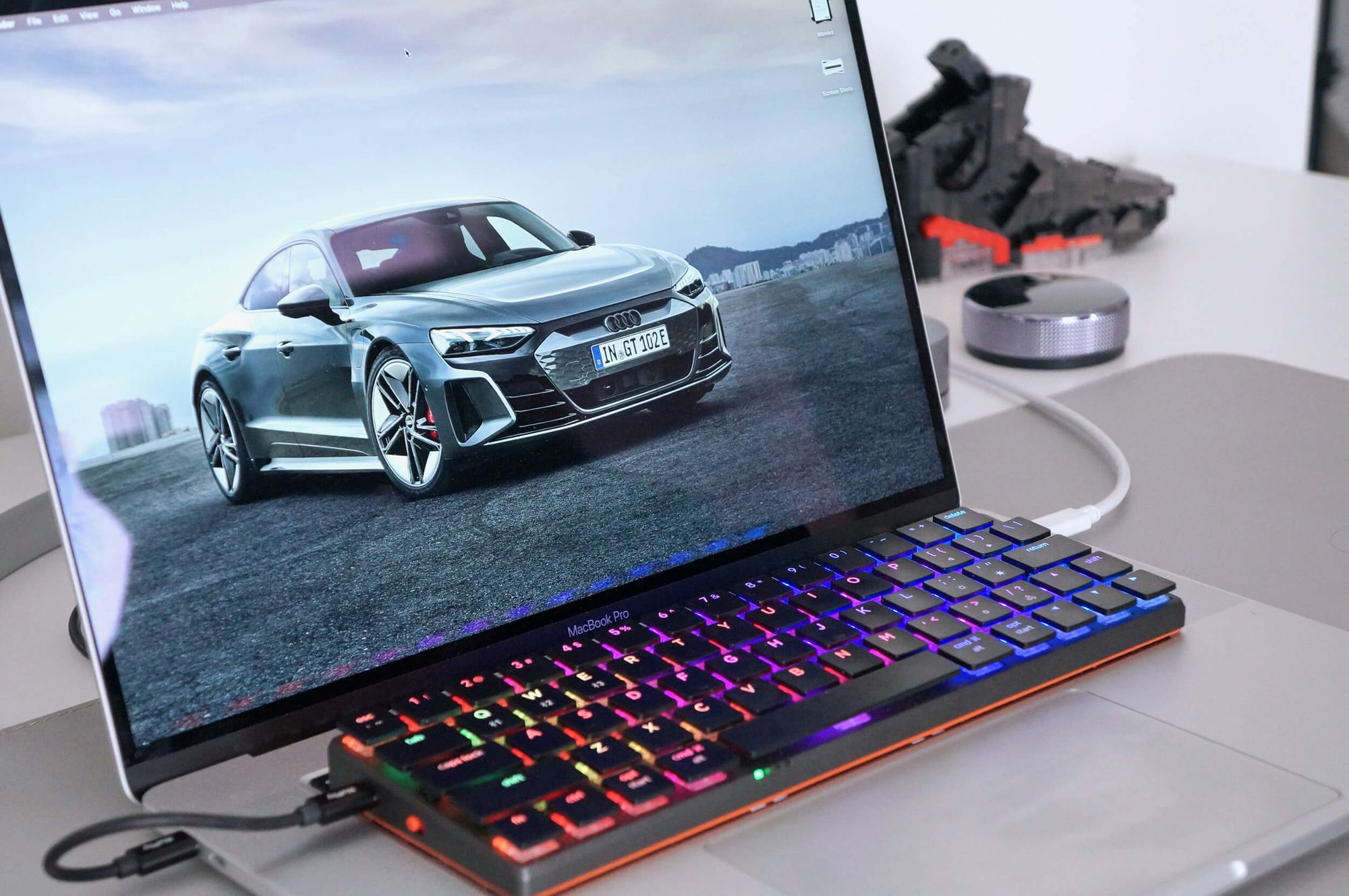 I have a screen lightbar by Yeelight mounted on top of my monitor. It does a great job lighting up the desk when I need it and it doesn't take any space on my desk. It also has another ambient light on the back which is a big plus.
I don't have speakers but instead, I have Sony's WH-1000XM4 headphones. These are probably the best noise-cancelling headphones available and it also has amazing sound.
There are a couple of things I'm considering next for my setup. I'm thinking of getting an ultrawide monitor and the Apple Magic Trackpad 2.
This will let me use the MacBook closed without losing screen real estate and allow me to continue using the trackpad separately.
What's your favourite item on your desk?
There are a couple of things that are favourites of my setup.
They are the Air Jordan 6 kickbrick and the Air Dior floor mat.
I think what makes a setup great are the personal touches that the owner adds to it. Anyone can have a clean, white, minimal setup.
The things that make a setup interesting are the things that make a setup personal.
For me, those are sneaker-related things.
I've always had a lot of sneakers. One reason for my passion comes from the design and tech that goes into sneakers, especially Nikes and Jordans.
They do a great job of marketing the tech that goes into their shoes, improvements to cushioning or the fit or materials (I buy into all of it 100%, lol). Plus, they always do an amazing job with the style and colourways.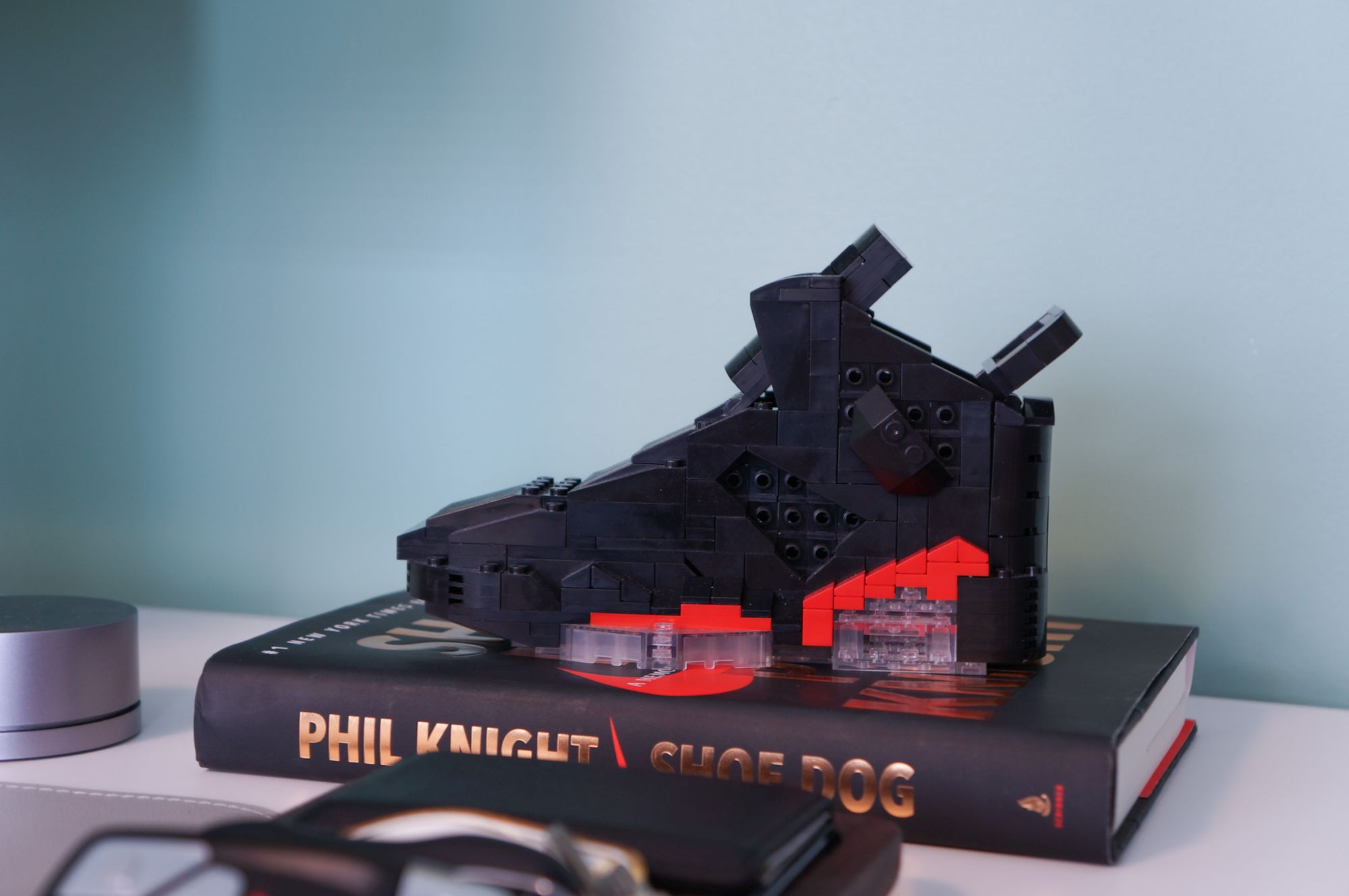 The Air Jordan 6s have always been my favourite sneaker. So I had to have some version of it on my desk. Not going to lie, I might even put the actual sneakers there in the future.
I love its silhouette, the tongue and heel tab is so unique and the two infrared colourways are just amazing. I always liked that they are infrared instead of the classic Chicago red.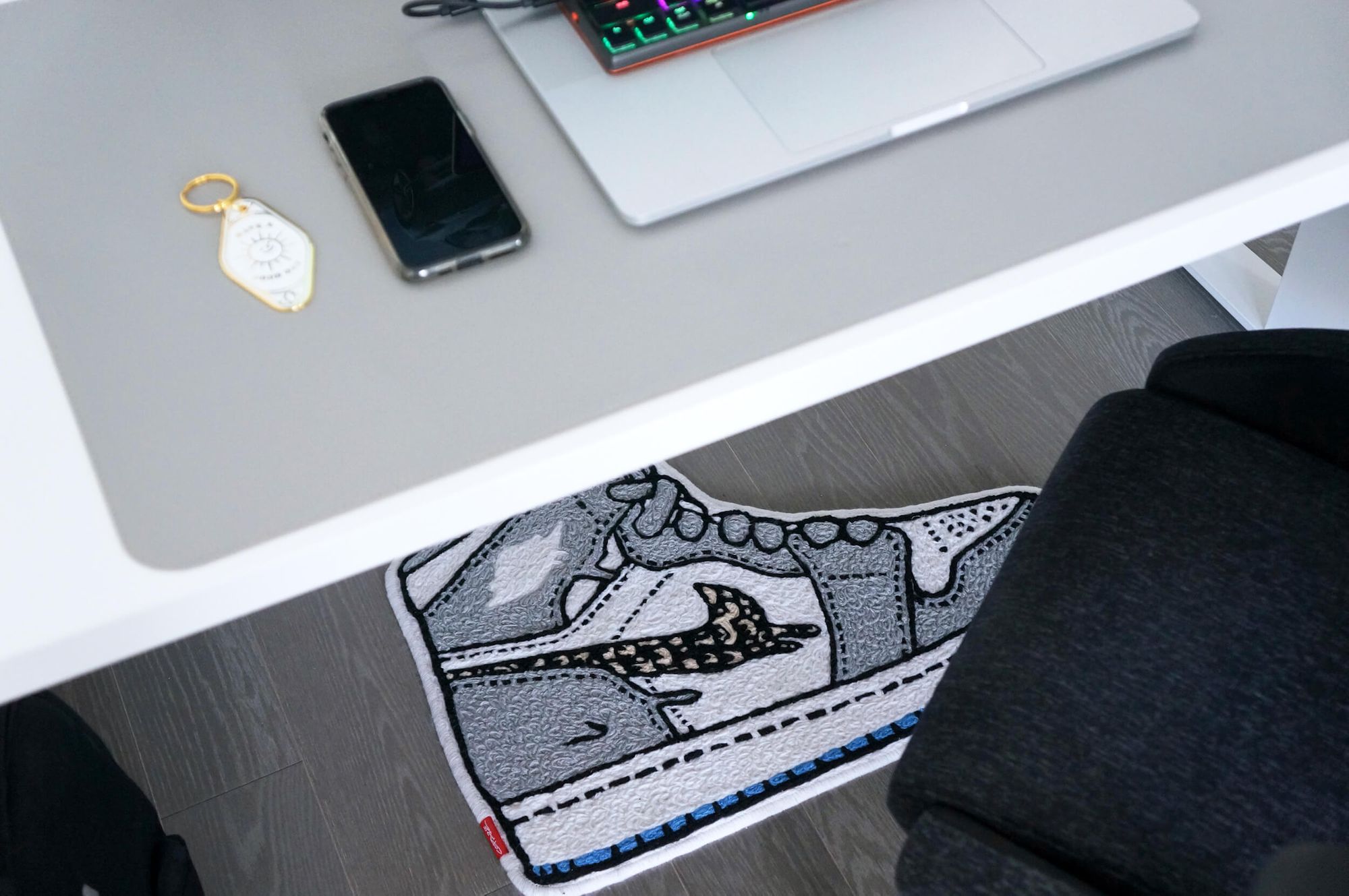 The Air Diors might be one of the hardest and expensive sneakers to own so I settled for a floor mat instead.
It looks great and pops on the grey hardwood floors. It also adds comfort when I'm using the standing desk.
What does your typical day look like?
I'm a night owl.
I usually sleep later around 1 am although I try to be in bed before midnight.
I wake up around 8 am and — first things first — I have a cup of coffee and check my schedule for the day.
My work is 9-5 so I'm at my desk for most of the day.
If I'm not in a Zoom meeting then I try to head down in focus mode.
My work is fully remote so one thing we have that's new for me is the optional team "coffee hangs".
It's different from going out for a coffee at the office and takes a bit to get used to. But they're nice to have to feel closer to the team.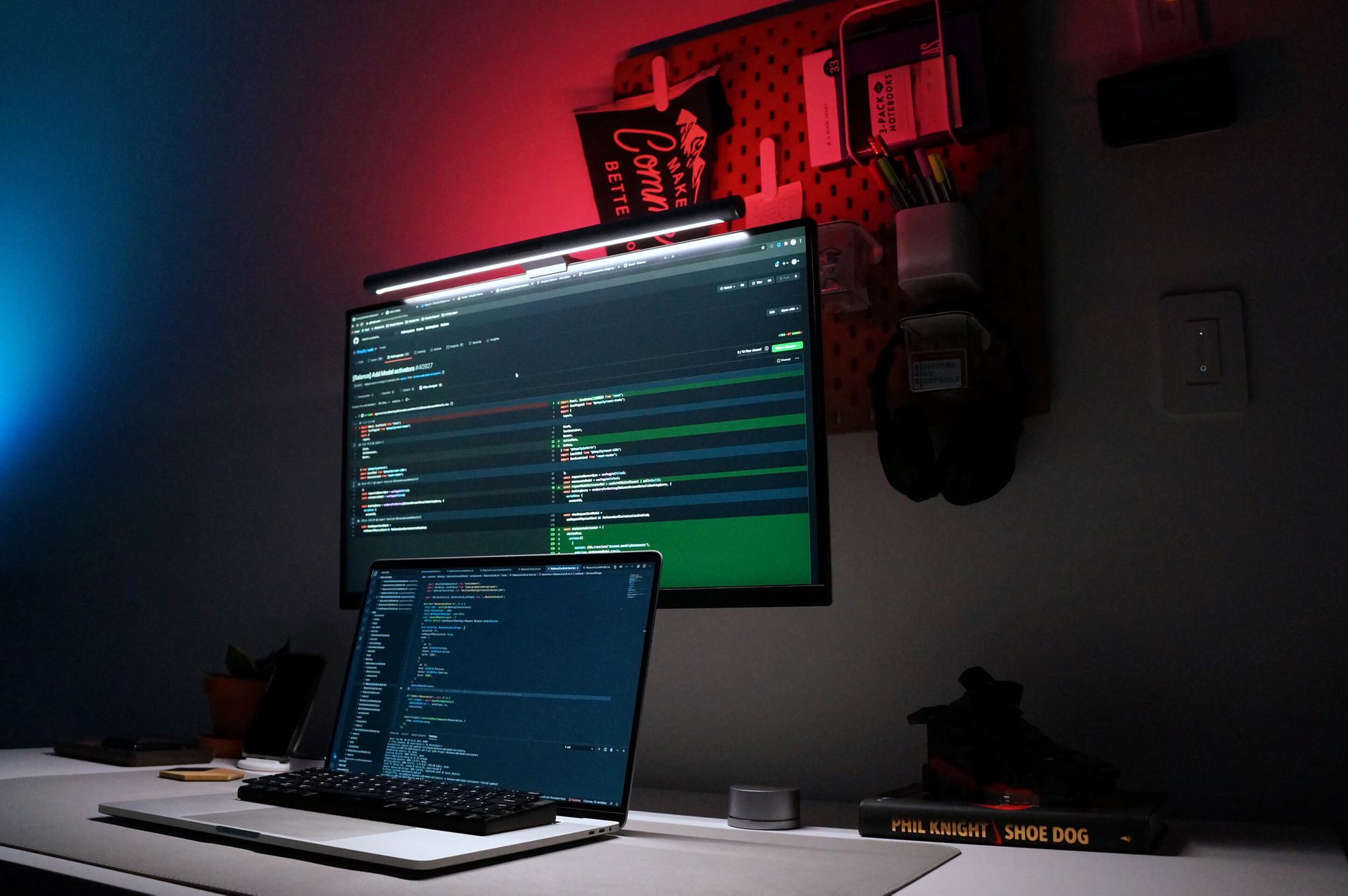 Few times a week I'll take a Peloton class at lunch and after work. When finished working, I usually move into the living room or kitchen.
I'll cook dinner with my fiancée and watch shows or a movie on Netflix. We'd also watch the Toronto Maple Leafs or Raptors when they're playing.
Later at night or on the weekends is when I'll have some time to game. I managed to get a PS5 and most recently I've been playing the new Spider-Man game.
I've been WFH since March 2020, pretty much when the COVID pandemic started, and it's changed a lot. My job has become fully remote and I moved into a new house.
As long as I'm still at this job, I'm going to be WFH permanently.
Your tips for working from home?
Having defined blocks of time for as many things as possible helped me create an efficient working-from-home routine.
This includes blocked off time for focused time (no meetings) as well as for lunch and breaks. These blocks of time keep me focused during the day.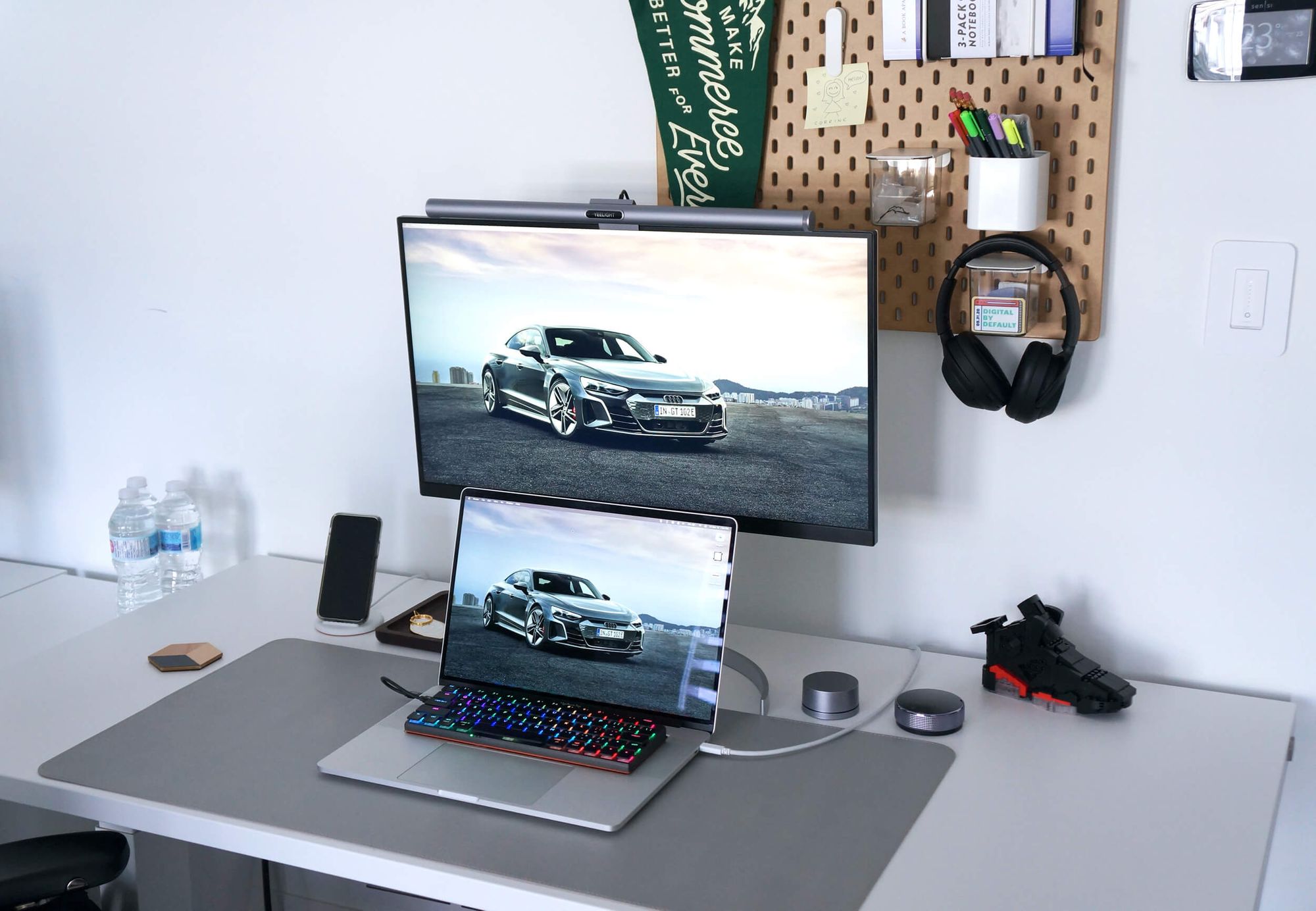 I have a lot of smart home devices as well and I've set up routines for different times of the day.
I have a routine in the morning that announces the weather and my next meetings.
I also have routines that announce when it's lunchtime and 5 pm.
It's easy to lose track of time when I spent time at my desk for most of the day. These reminders help create a good work-life balance.
We're a reader-supported publication. This article might contain affiliate links. It means we may receive a commission if you click a link and buy a product that our maker has recommended. The interview was done independently.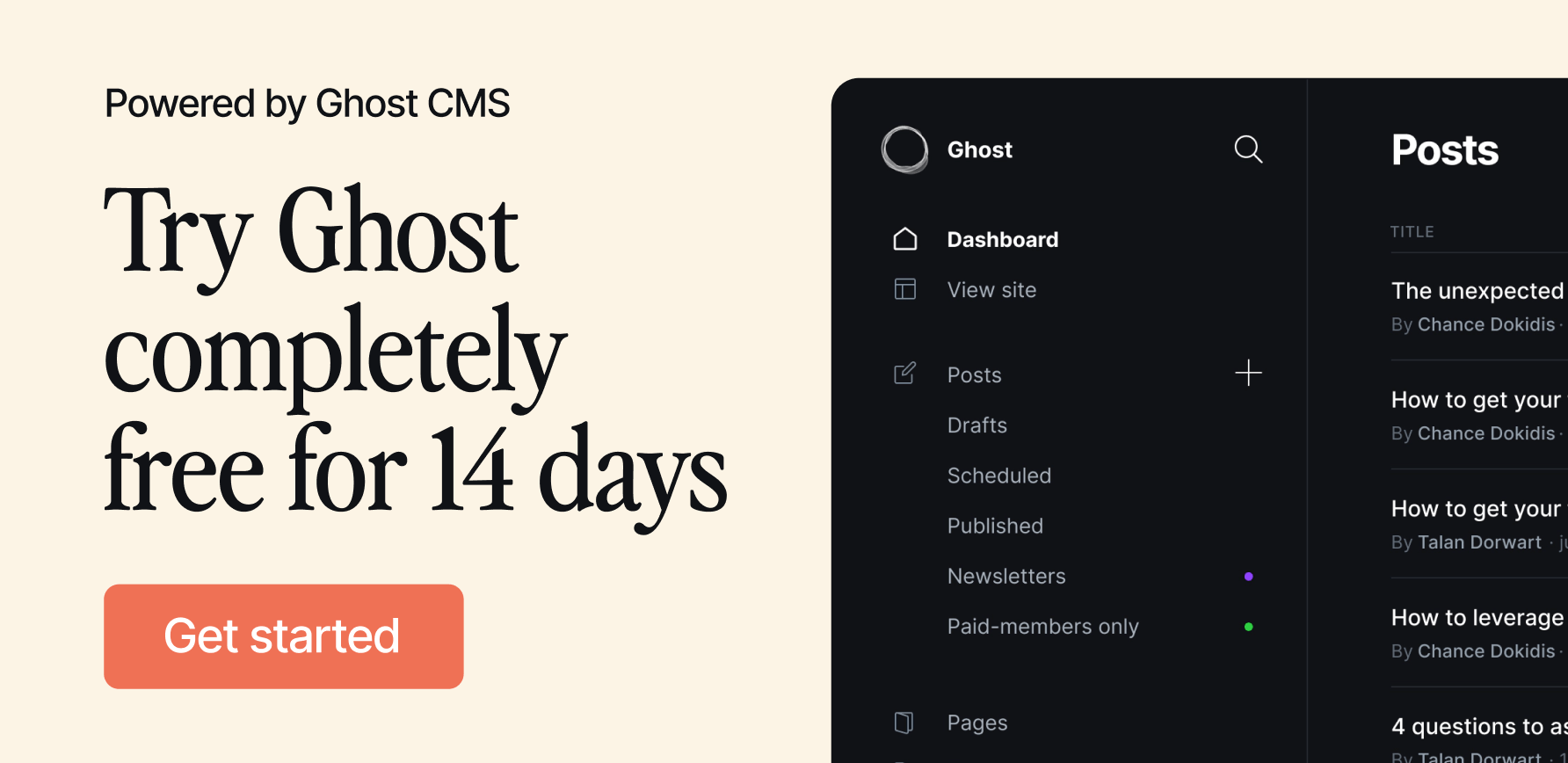 ---