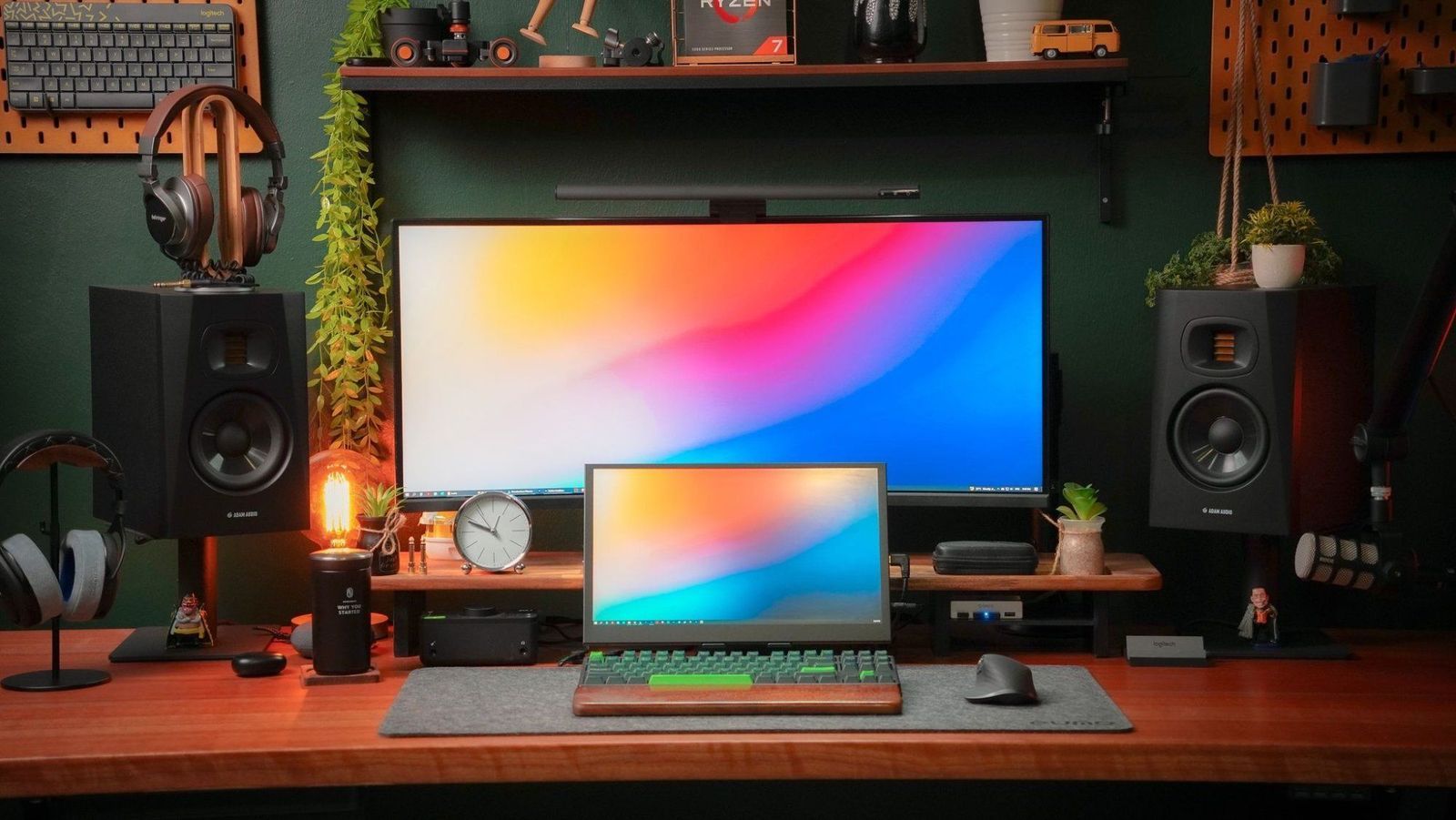 50+ Work-From-Home Essentials From Real People (2022)
What's one item you cannot live without? Here are the answers from WFHers around the world.
Join 1700+ Curious Readers.
Every Sunday evening, get an *in-depth* workspace tour from a random corner of the world.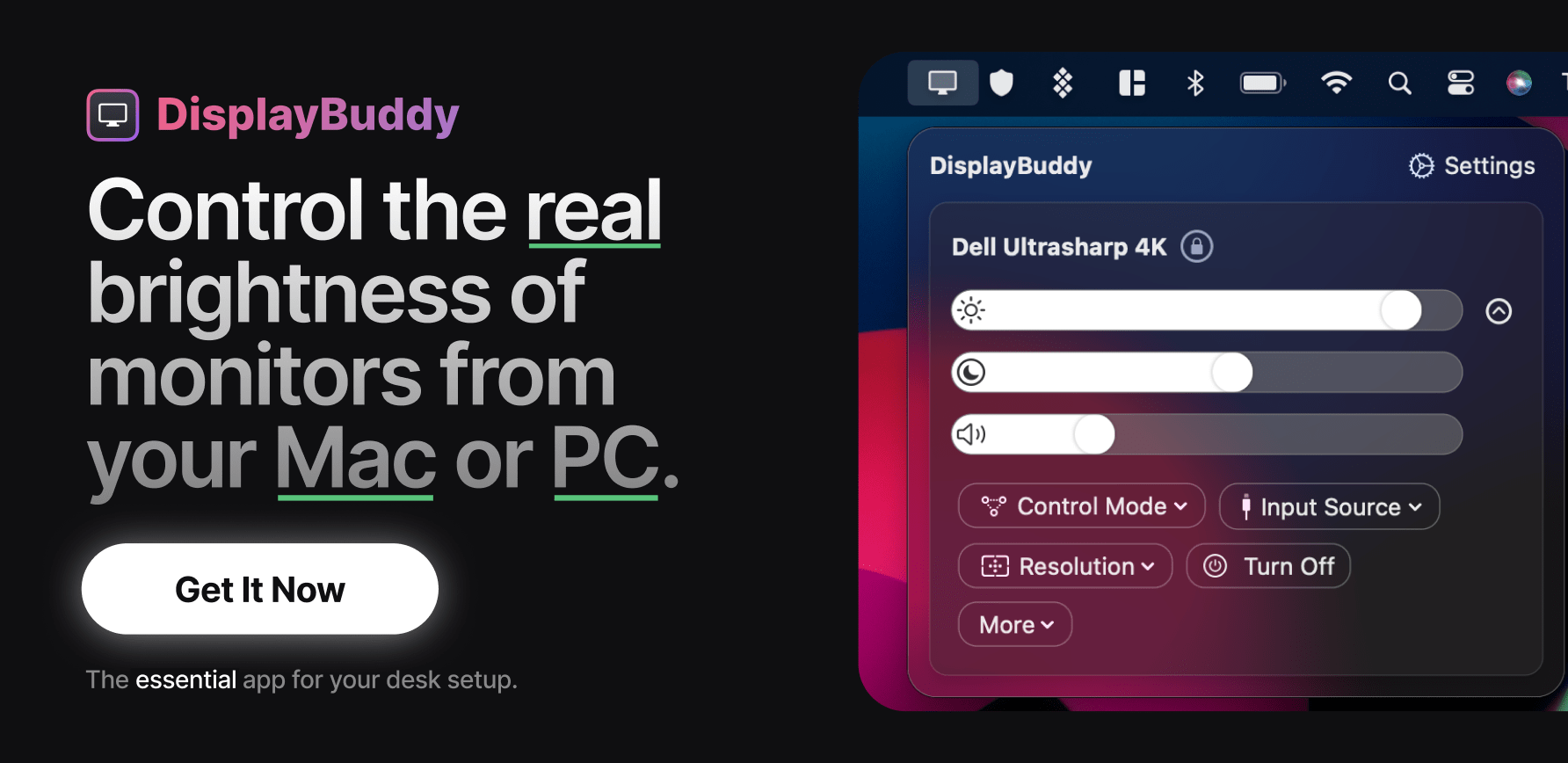 What's one item in your workspace that you cannot imagine yourself without?
A decent monitor? A pair of noise-cancelling headphones? Or maybe an ergonomic keyboard?
We challenged people around the globe to think about that one thing that matters to them the most when working from home and share the answer with us.
No matter how small or big, expensive or not.
Let's see what they came up with.
Mechanical Keyboard
"If there is one thing that I cannot live without in my workspace, that would be my Keychron K8 mechanical keyboard.
The mere fact that I could customise it by changing the keycaps and making it sound and feel great (such as modifying the switches and altering the sound profile), would enhance my everyday workflow since I use this mainly for school and for doing light work.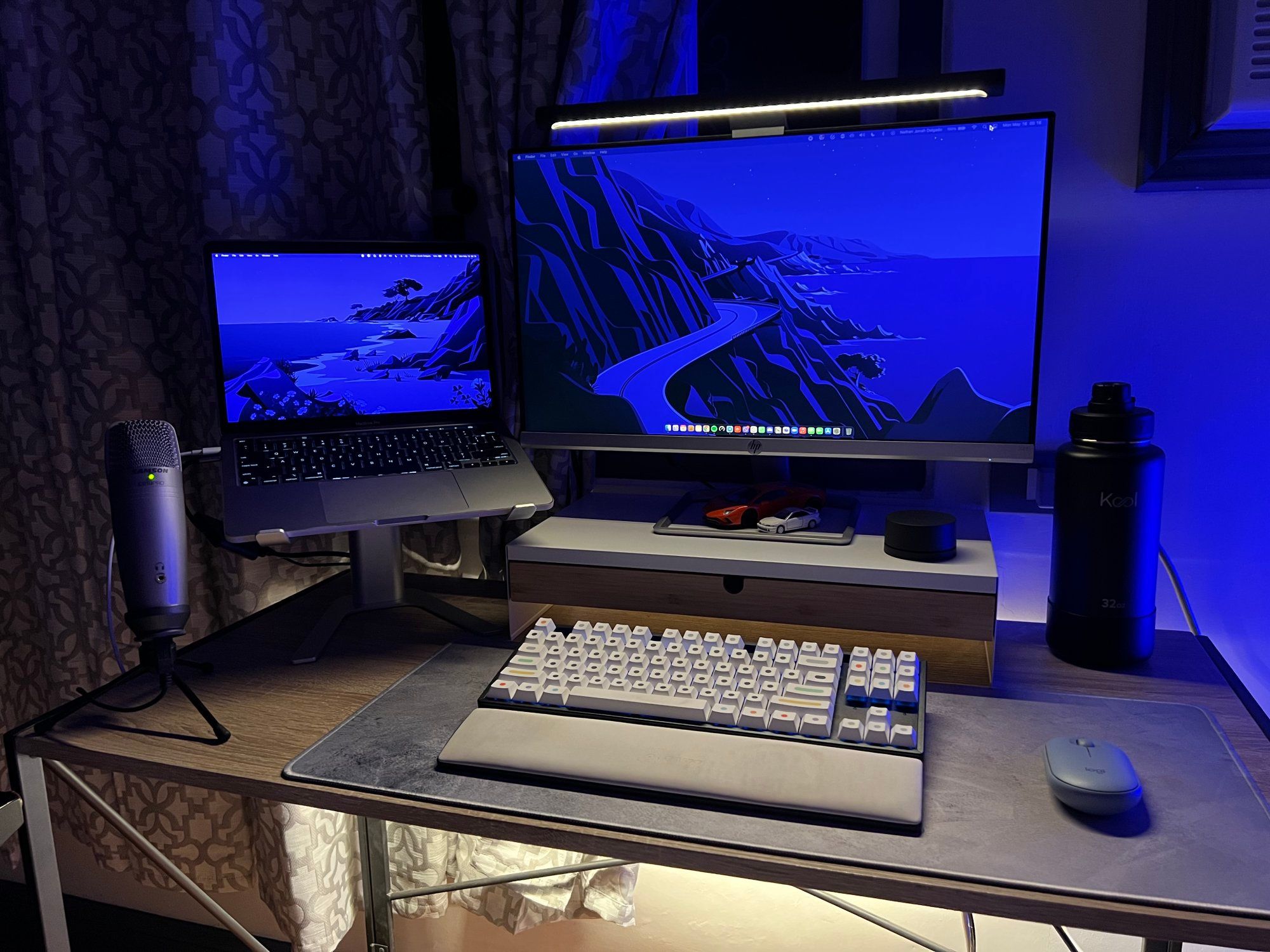 I've been getting lots of comments regarding the keycaps, too, lol! They're called GMK Dots 2 (but I got them as fakes, lol), but there are original versions of these keycaps. It's just that I could not have them delivered here to the Philippines.
As for the switches, I'm using Akko CS Matcha Green ones, which are linear (my preferred kind of switches). Since I opted for really heavy ones, it's got that weight to them for each keypress.
I bought the keycaps from an online store based in the Philippines called Shopee, and as for the switches, I got them as a gift."
— By Nathan Jonah Delgado
Paper Tray
"That one single item would probably be my paper tray.
I'm not really using it as a paper tray at all.
It's where all my devices, tools and peripherals go in order to keep the desk clutter-free.
It's my organised chaos in an otherwise perfect environment. Just like my brain :)"
— By harbour_frog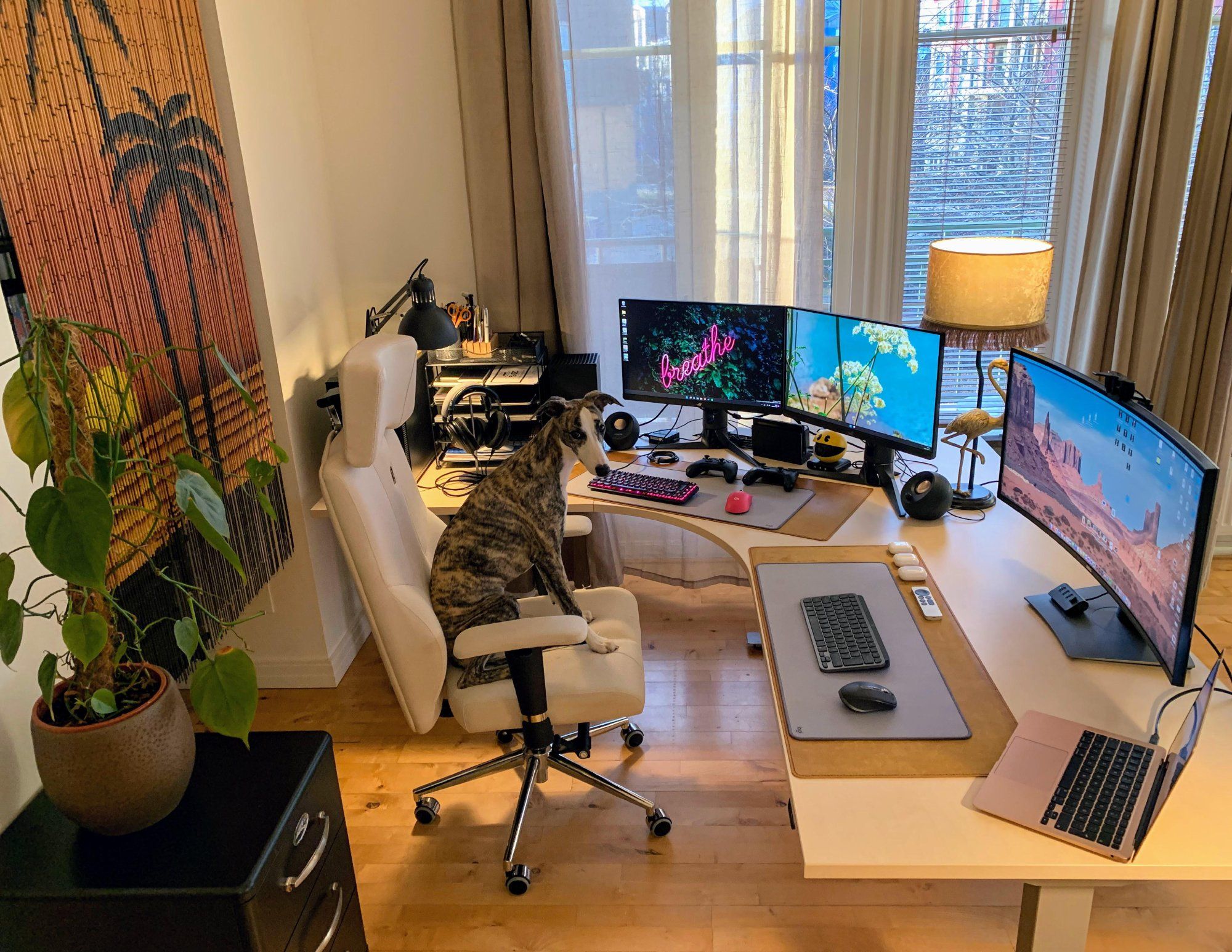 Broadcast Mixer
"If I were to choose one item, it would be my TCHelicon GoXLR.
I've got a complex desk setup with two different PCs and a Nintendo Switch. The GoXLR helps me to control all the audio sources using just one single device.
It also provides me with voice effects and a sampler that I use to make jokes or change the mood while streaming or in a meeting with my closest colleagues."
— By germanrcuriel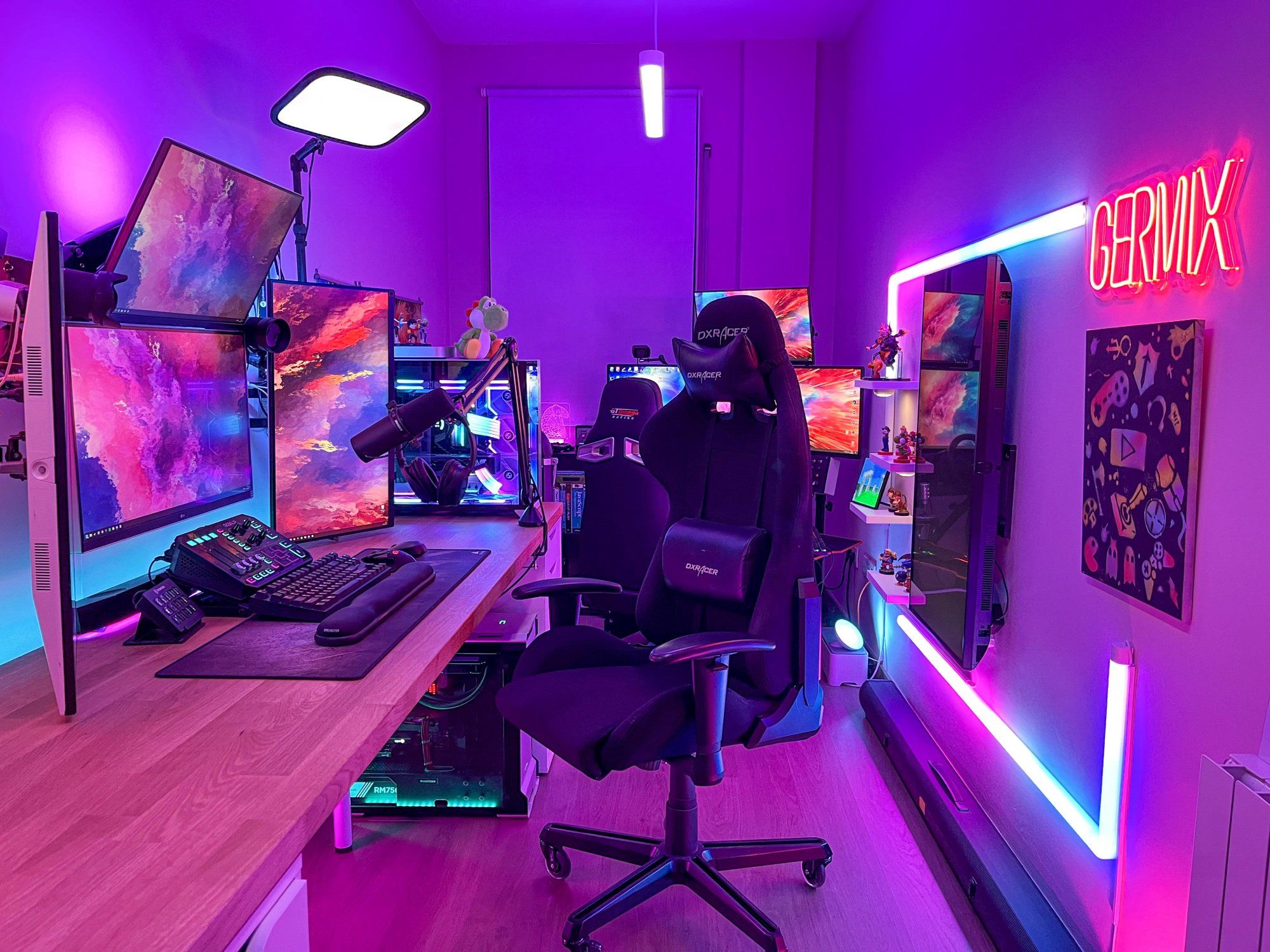 Custom Keyboard
"My favourite item on my desk would have to be the custom keyboard chosen and built by my husband.

The mouse and keyboard are peripherals we use and touch most frequently in our workspace, so it makes sense to invest in something that best suits our tastes.
The keyboard in particular is an area with room for expression, with different switch and keycap choices to suit different preferences in typing experience and aesthetics.

As I'm not deep into the hobby, I tasked my husband with building something on a budget, based on his understanding of my preferences.
And I absolutely love the end result!
Not only is it a joy to look at, but it's also a joy to type on. And ever so slightly, it makes me look forward to sitting down at my desk and getting to work.

The fact that it only runs wirelessly on AAA batteries can be a deal-breaker for some.
But, it works perfectly for me as we always have spare, rechargeable batteries ready to go, and I never have to have cables on my desk to charge the keyboard."
— By thoughtworthyco, Instagram, YouTube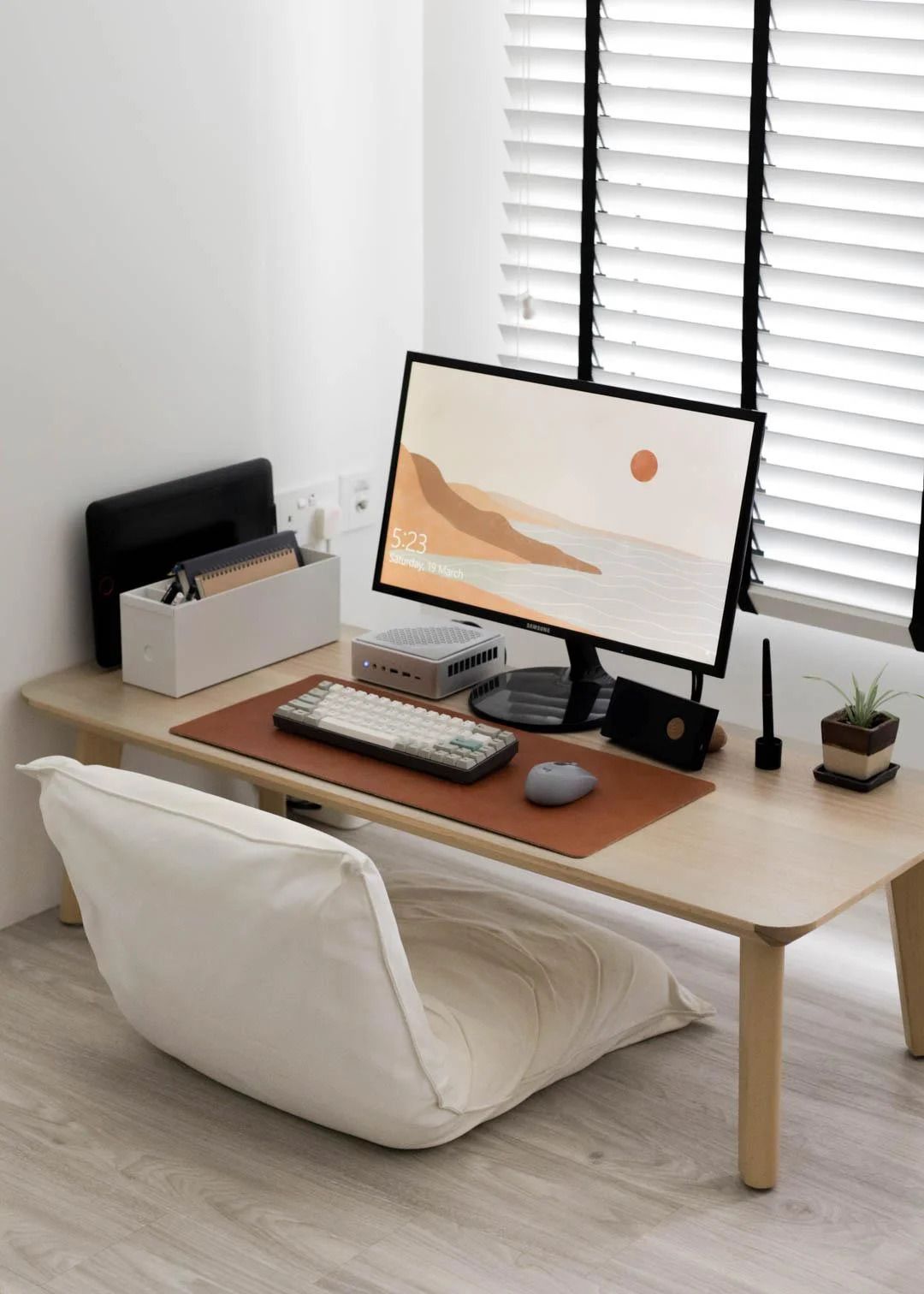 Wrist Rest and a Monitor Riser
"Personally, I can't use my mechanical keyboard without a wrist rest!
Most mechanical keyboards have a high front edge that requires you to hold your fingers really high up. A nice natural feeling wrist rest is a necessity for me :)
Another thing I recommend is finding the right size monitor riser for your desk setup. A few cm can make a big difference, so choose one that's perfect for you.

There are a lot of different sizes available online, but OKKOwood provides you with a custom build service, so each riser can be made exactly to clients' wishes."
— By Kristofo02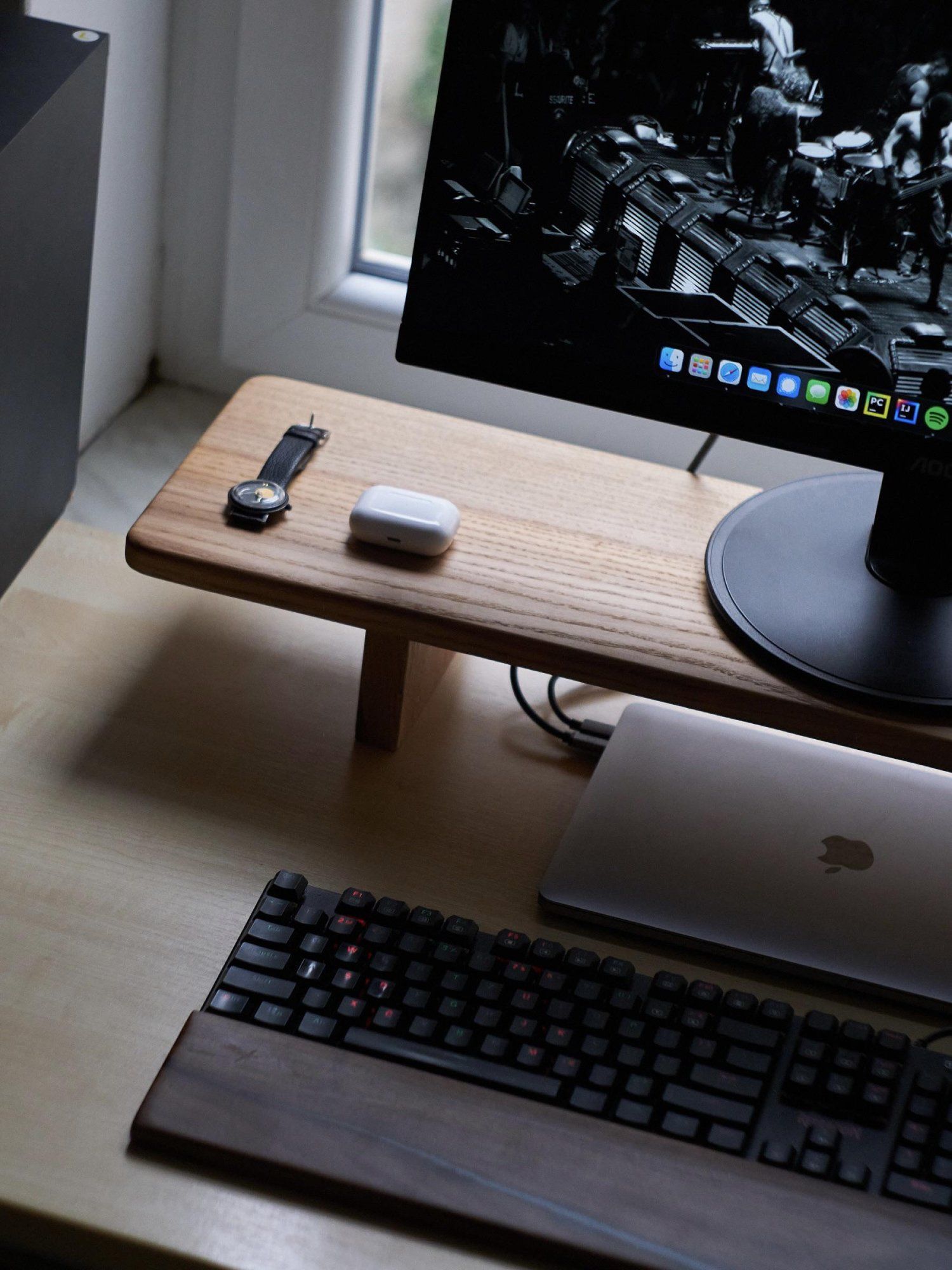 Mechanical Keyboard
"I can't live without my Keychron K6 Wireless Keyboard. It's incredible, has Gateron Brown switches and is perfect for gaming and school work.
I read a lot of reviews and did quite a bit of research.
I chose this one as it has hot-swappable switches, customisable RGB lighting, wireless via Bluetooth, and it's a 65% layout.
It met all of my criteria flawlessly and had exceptional reviews."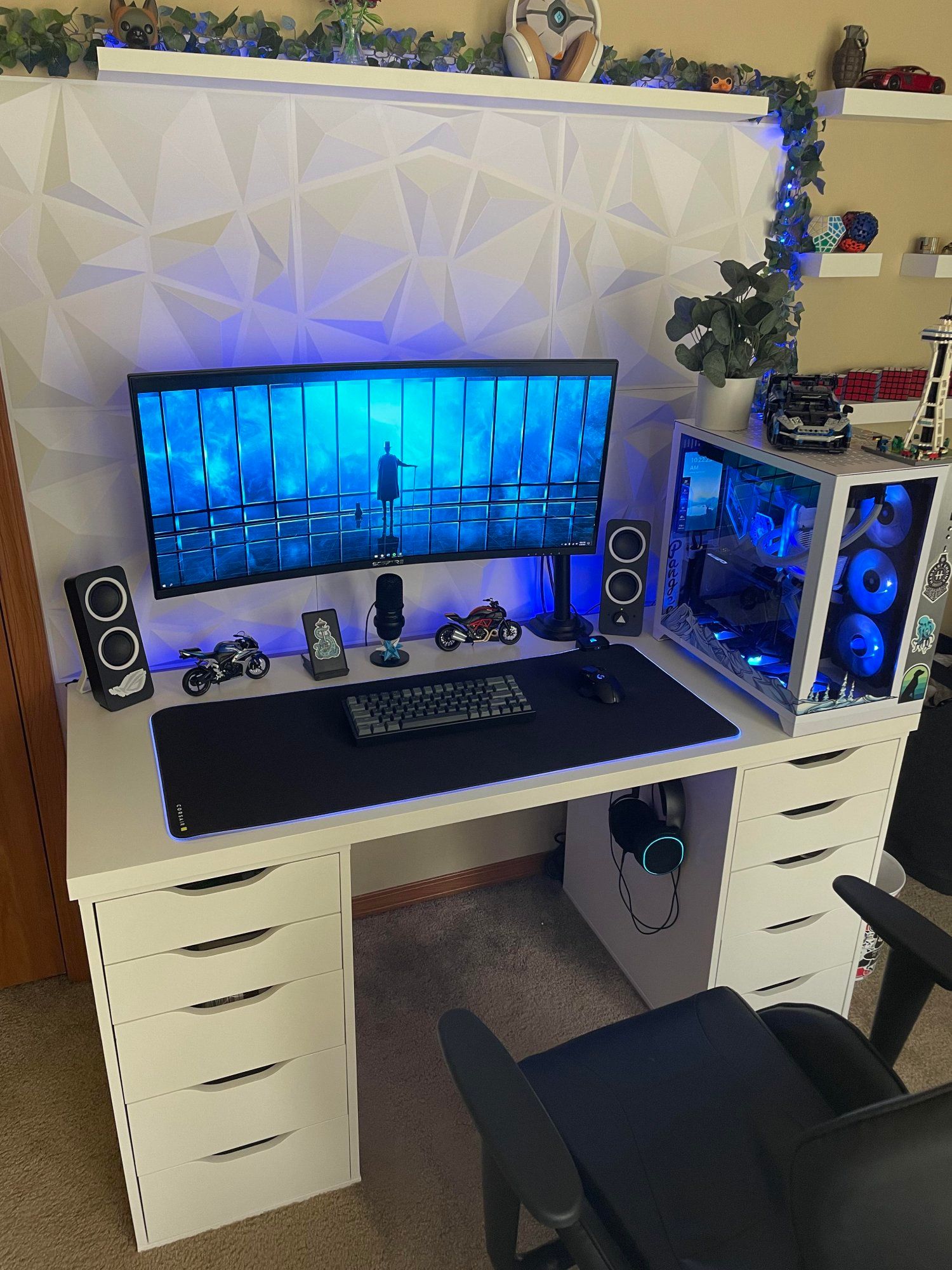 Screen Bar
"The one single item that I cannot imagine living without would be my monitor screen bar.
As a student, it's crucial for me because of the amount of light it produces on the desk whether I'm doing homework or studying for an exam.
I think it's something everyone would enjoy and use no matter what you do in life.
I'm currently using the BenQ monitor screen bar."
— By ezenzios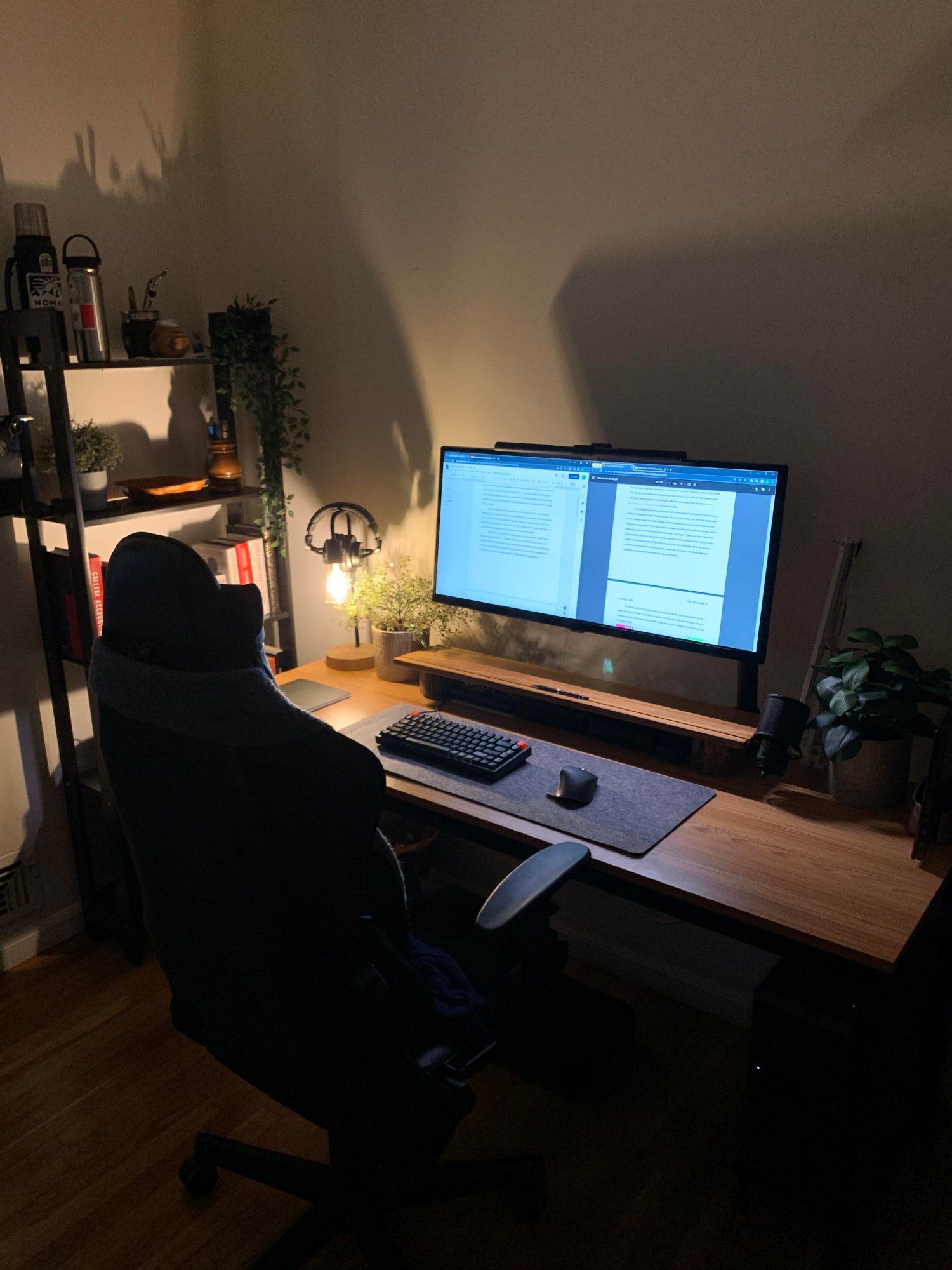 Hydro Flask
"I drink so much tea throughout the day!
One item I cannot imagine my workspace without would be my 16 oz. wide mouth Hydro Flask!
It keeps my tea warm, so I don't have to chug it, and I never have to worry about spilling.
From the ones that I've tried, it doesn't give off a metallic taste, it's dishwasher friendly, has a good weight to it, and it keeps your hot beverages super hot for very long and cold beverages very cold.
The only con so far has been cleaning the drinking lid, which is why I keep it off, but it keeps my tea warm, even without the lid on :)"
— By unphogetable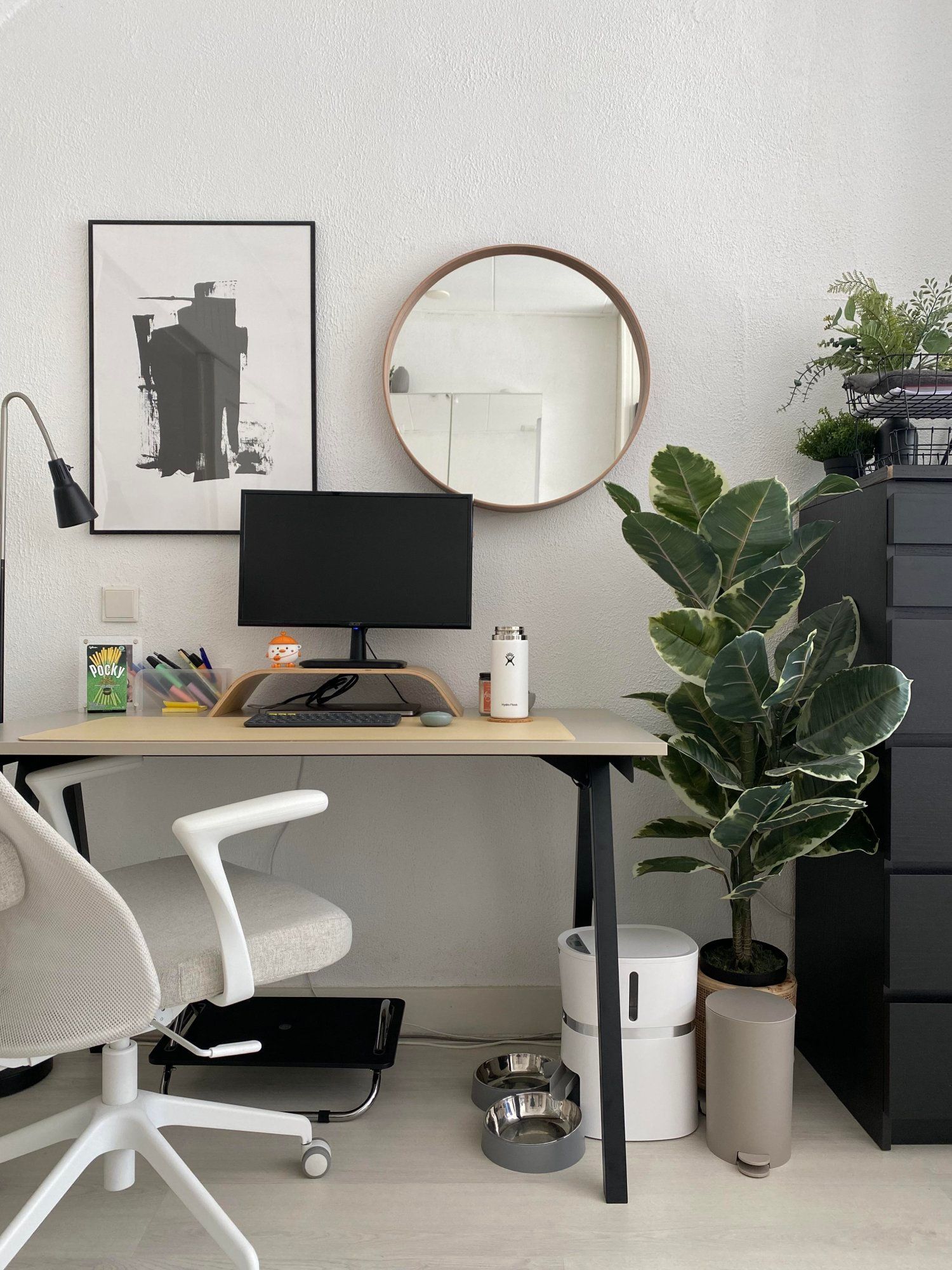 Second Monitor
"My must-have thing is a second monitor.
I've been a one-monitor guy for years, but after upgrading to ultra-wide, it seemed a shame to just get rid of my old monitor.
I decided to vertically mount it.
Now I'm never going back to a single-screen setup!
So much better for productivity and multi-tasking."
— By LifeOnMarsden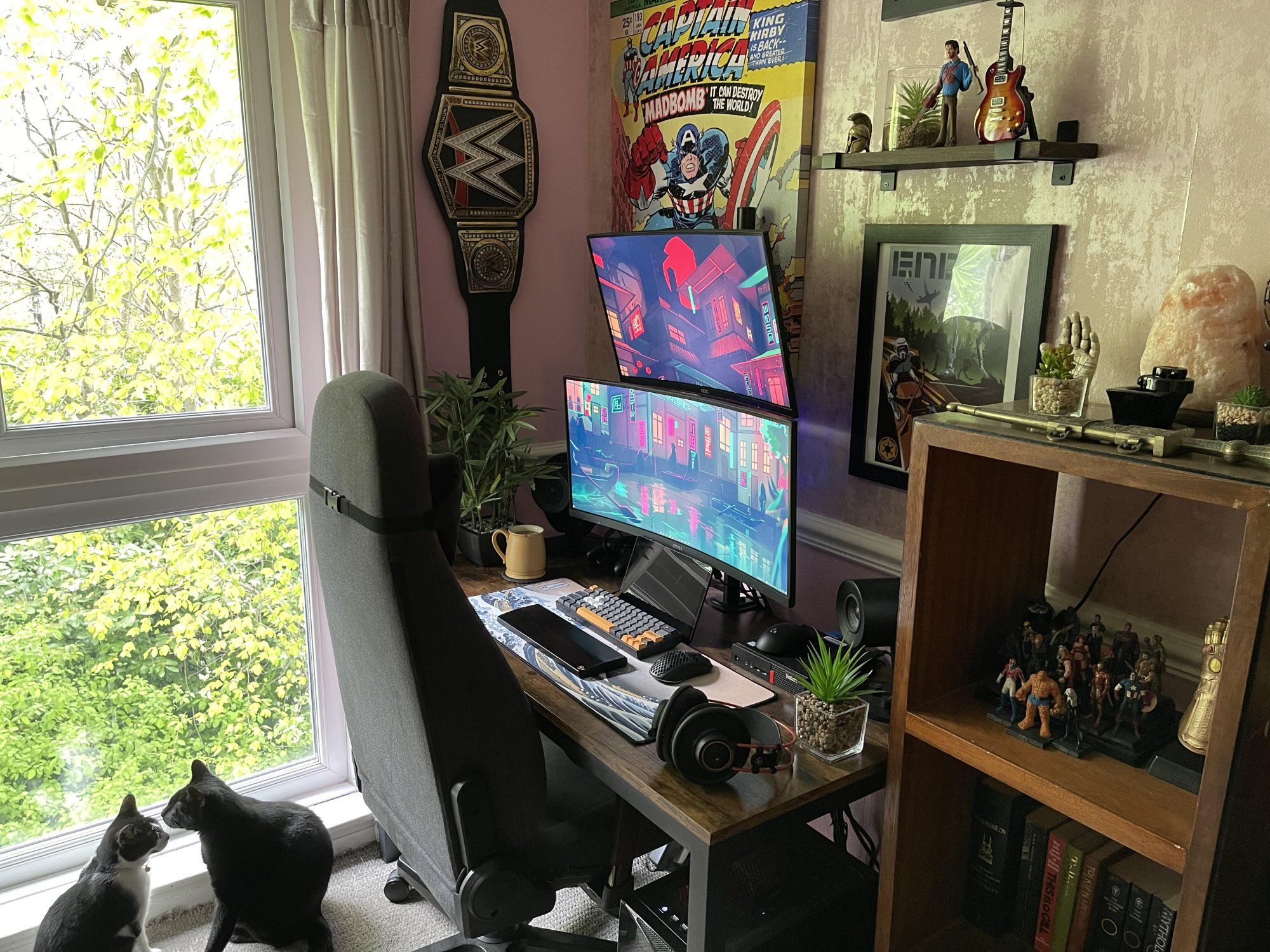 Wireless Mechanical Keyboard + Mouse
"I like to work in a clutter-free environment, and wireless peripherals are great for keeping the table tidy.
Also, the option to switch devices when you're using multiple laptops makes working seamless.
I use Lychee G66 (from Shopee) and Logitech G304 (from datablitz)."
— By Mimi Morada, Facebook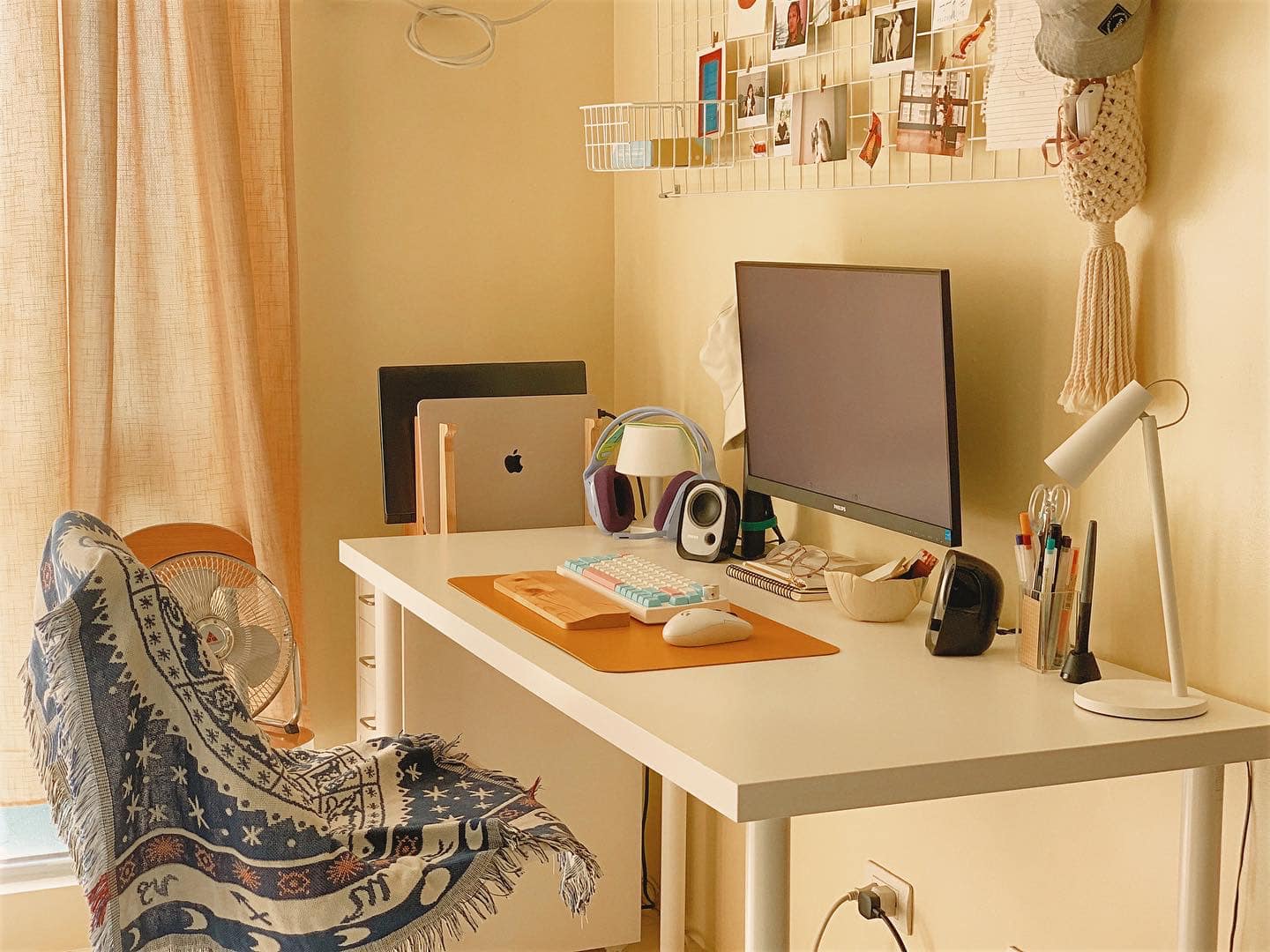 Docking Station
"My must-have item for my desk is my Plugable Thunderbolt dock.
It helps me connect all of my peripherals (monitor, SD cards, USB drives, Bluetooth devices, webcam, etc.) and charge my laptop all through one single cable back to my laptop.
If you want a clean yet functional and productive set-up, a dock is vital"
— By Katie Eckstrom, Instagram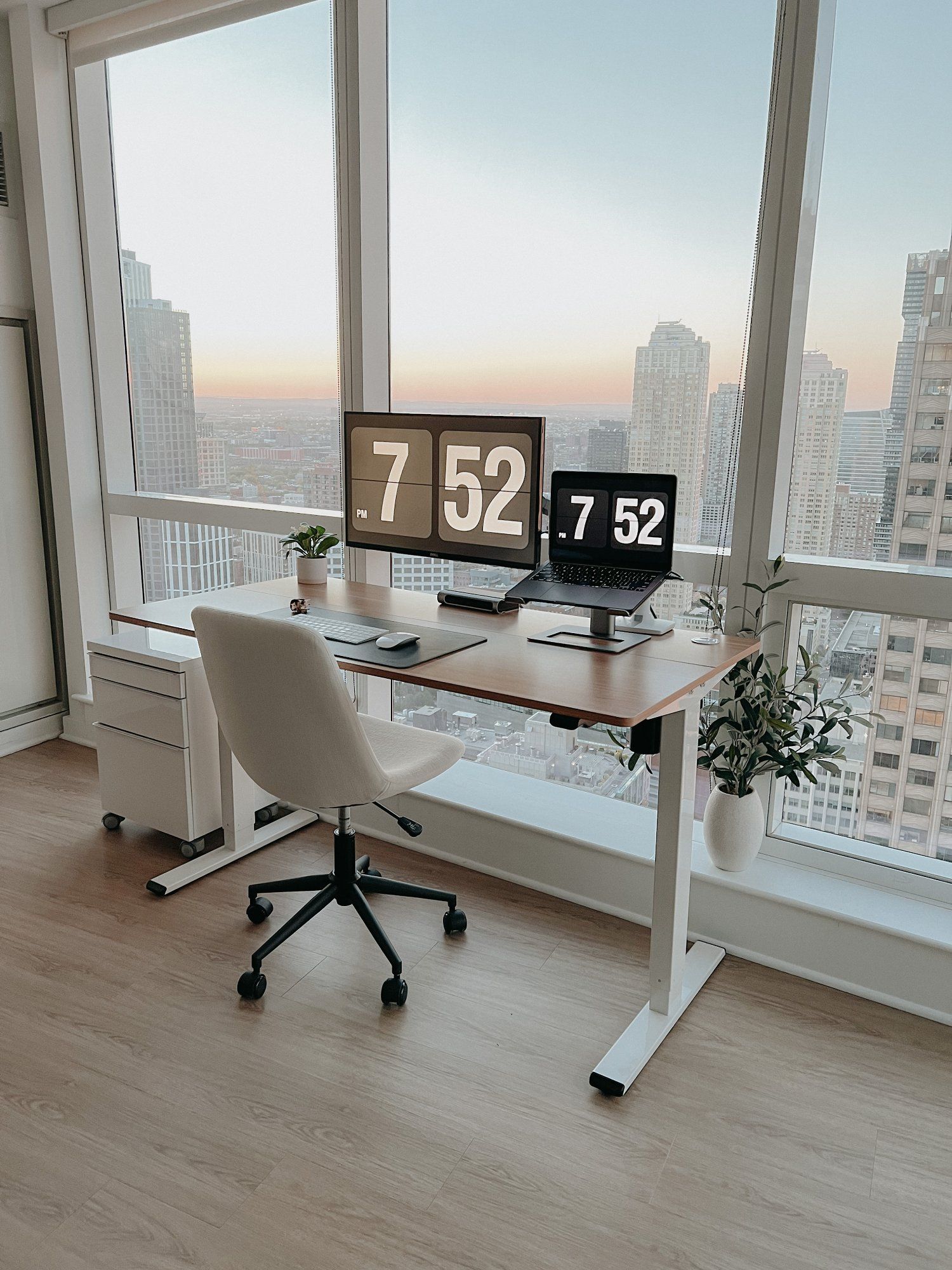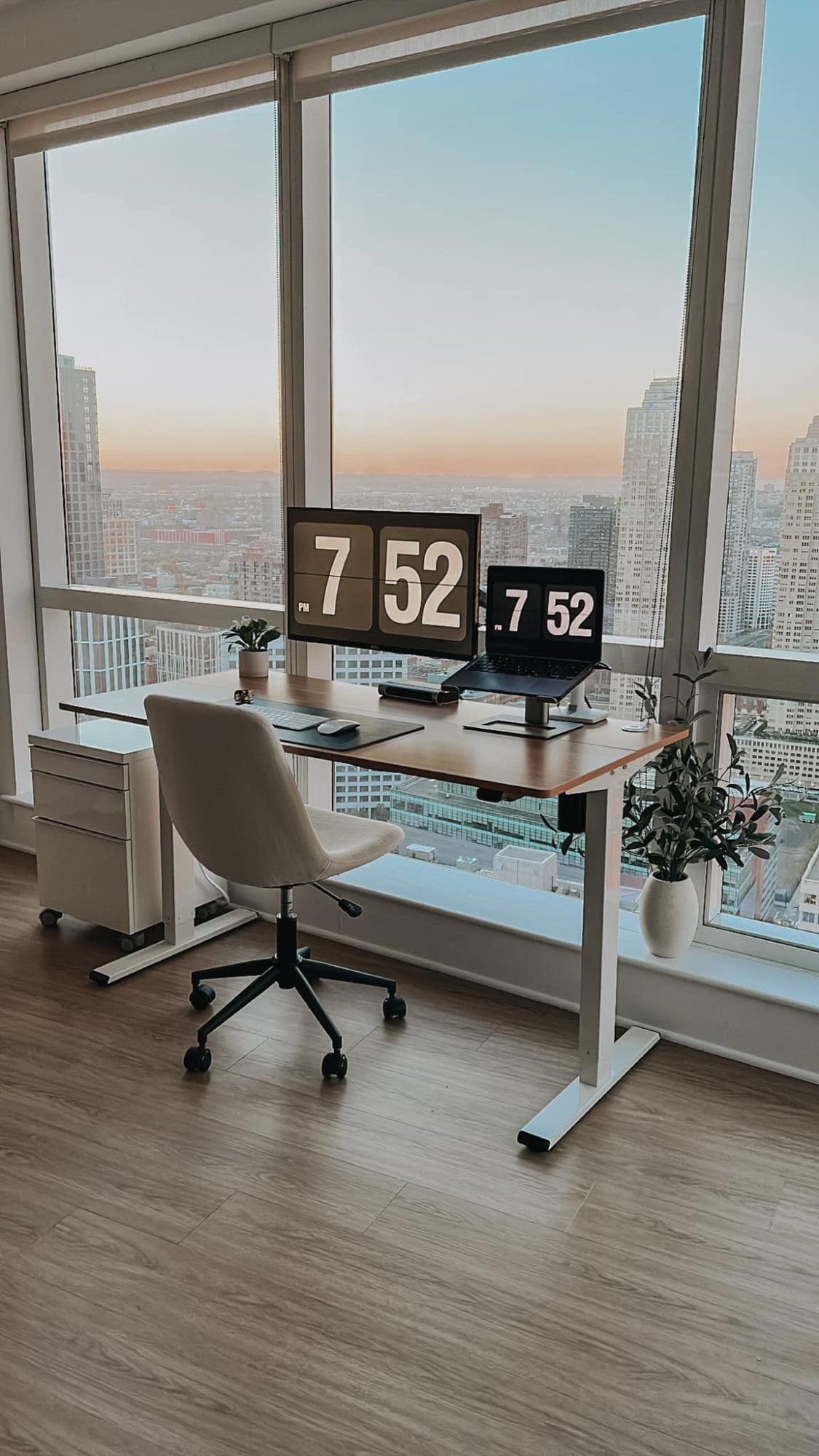 Stream Deck
"My favourite item would be the Elgato StreamDeck.
It saves me so much time each day.
I have one project that now only takes me eight minutes when it used to take 60 — all thanks to the StreamDeck."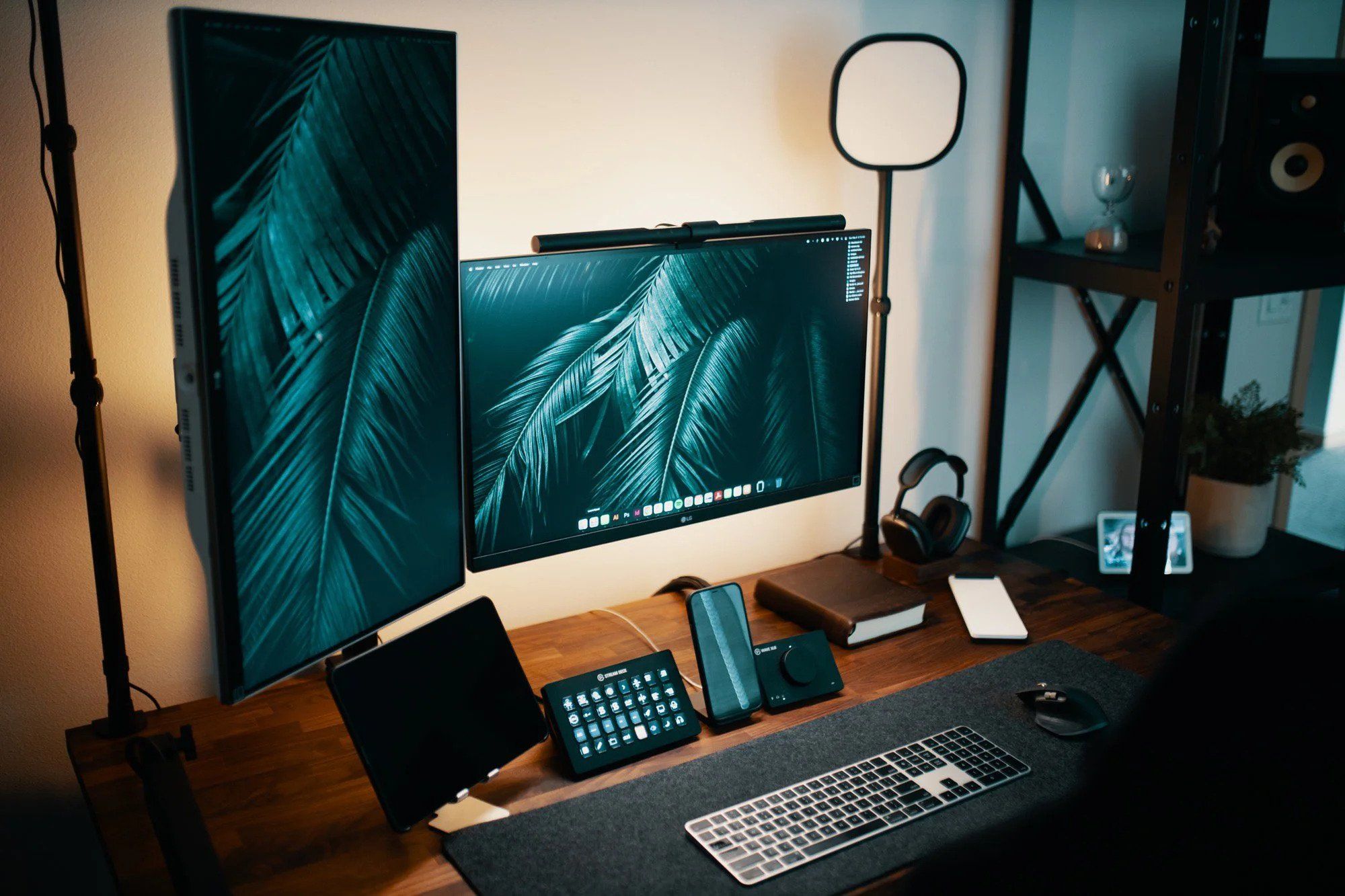 Ergonomic Chair
"The one item I cannot imagine my workspace without is my Pursuit Ergonomic chair from Uplift Desk.
If you're going to be sitting anywhere for hours on end, whether that be for work or just a good old fashion gaming session, you want to be as comfortable as possible.
What I love most about this chair is that it's fully adjustable, and you can essentially customise it to all the contours of your body.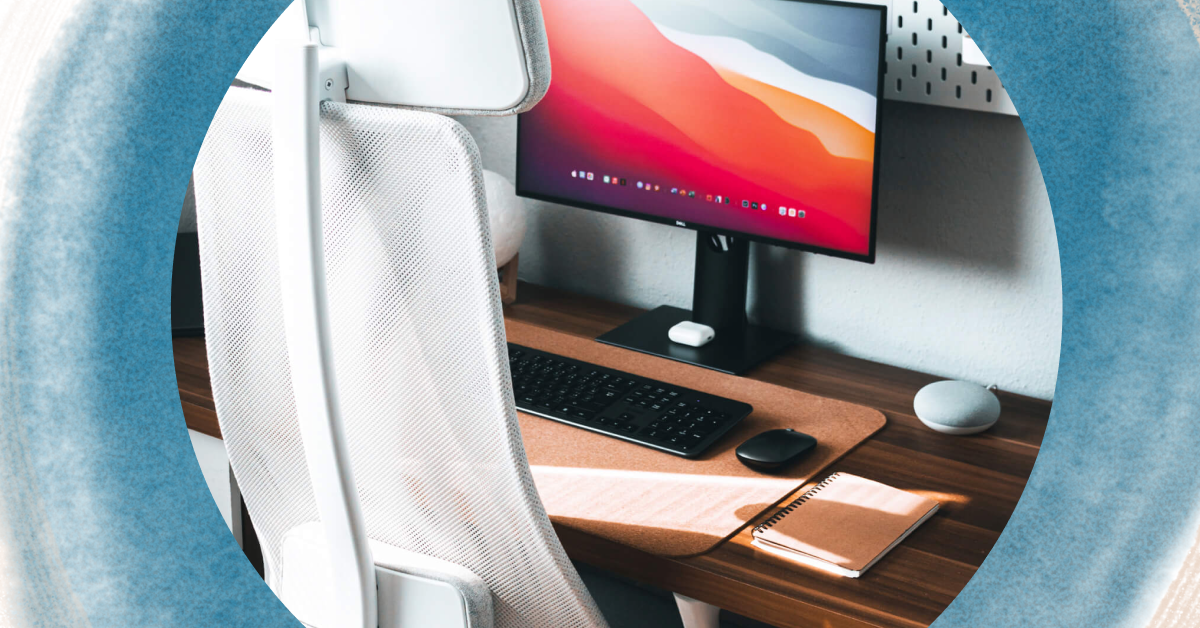 There are times when it's almost too comfortable, and I catch myself on the verge of a power nap as I lean back in the chair.
I definitely recommend this chair for those who want a quality ergonomic chair that isn't going to break the bank.
This is my workspace essential. I can't live without it!"
— By Eric_T_Meraki, Instagram, YouTube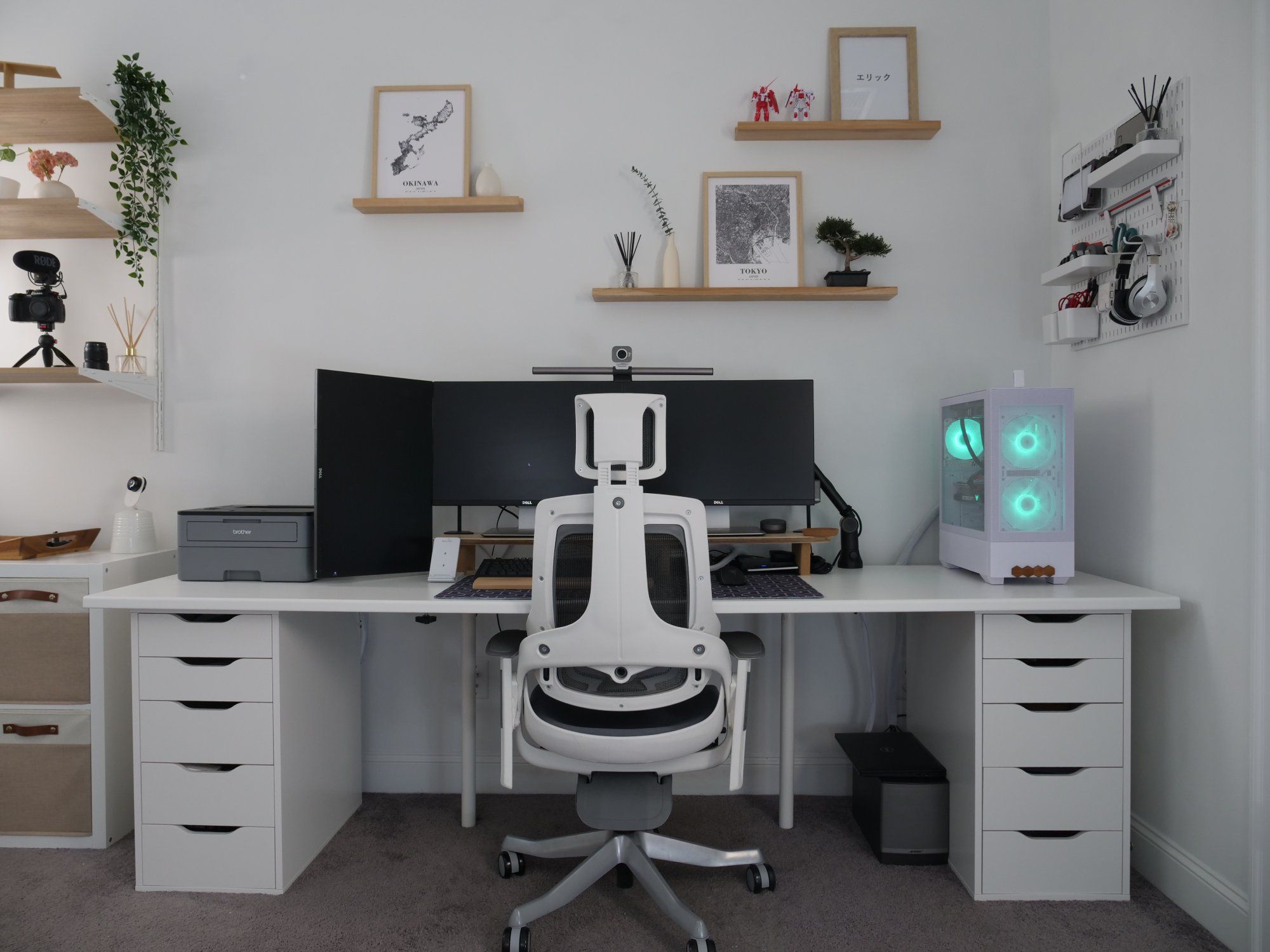 Compact Keyboard
"My absolute favourite thing that I own in my workspace is my Royal Kludge 84 keyboard!
The wireless and compact design makes my setup look clean and less cluttered. The keyboard can be easily connected to my PC and iPad which is important and useful for my work.
I've been using this keyboard for quite a long time now.
I can't imagine my workspace without it!"
— By Belle Eusoff, Instagram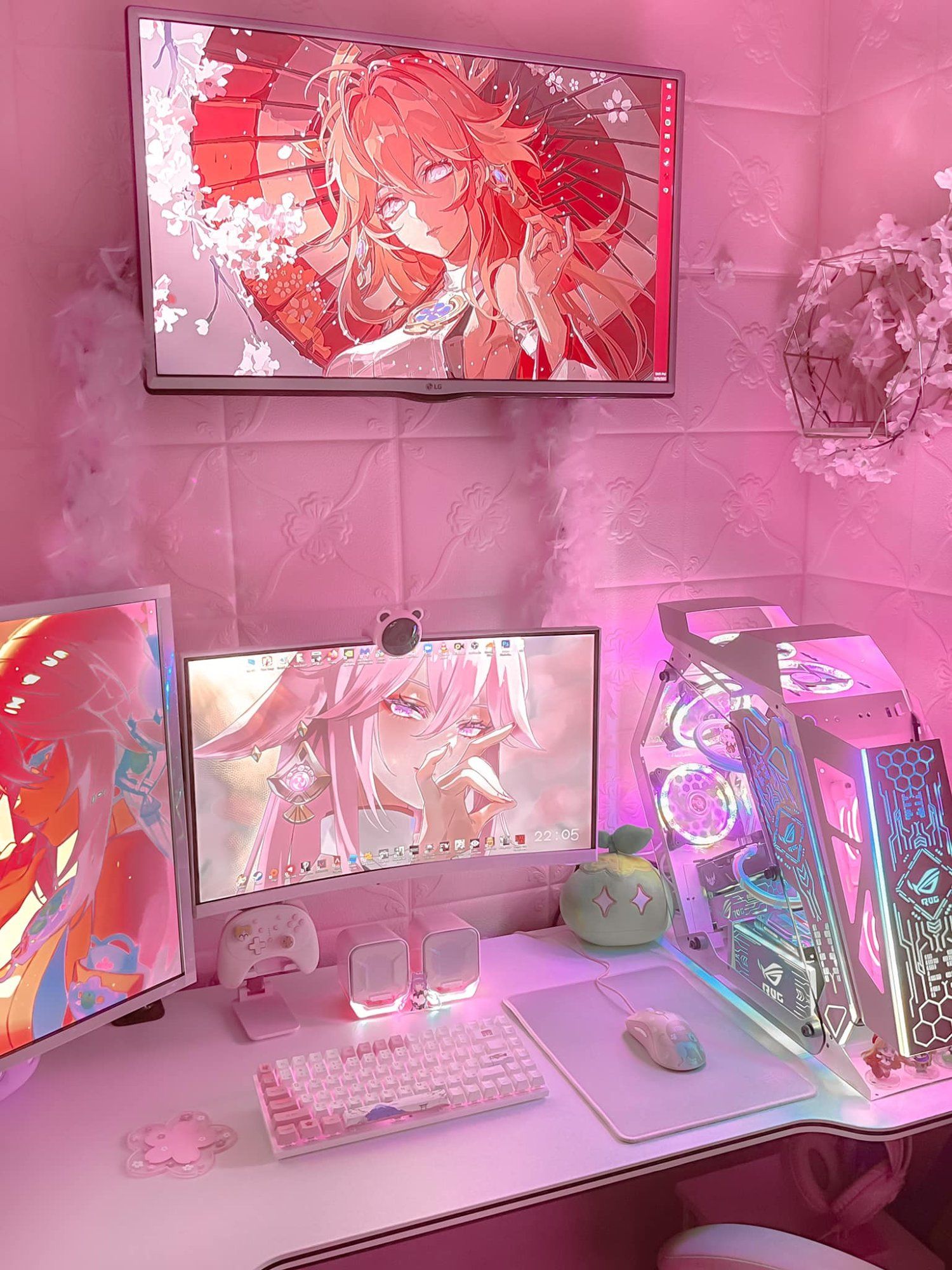 Ultrawide Monitor
"To be honest, it's quite difficult to choose just one item.
I give great importance to several items, like good lighting, comfort, useful peripherals, etc.
But if I had to choose, I would probably say that having a good monitor is essential.
Right now, I'm using a 34″ ultrawide, and I absolutely love working with it."
— By xavi94pt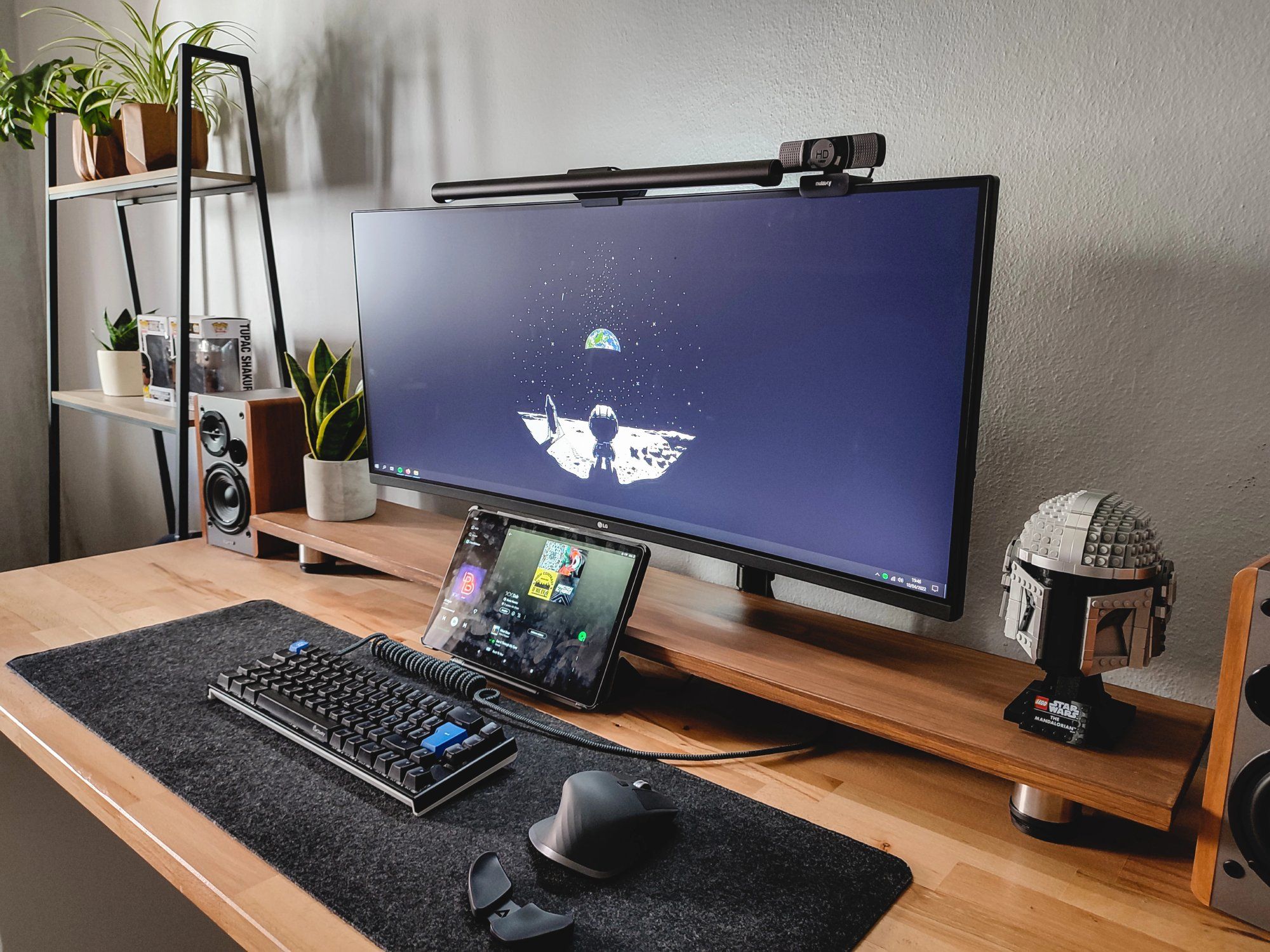 Mouse
"The most important item for me is my mouse.
After many years spent with shit mice, I finally upgraded to a wireless one — the best choice I've ever made. It's the Logitech G Superlight.
I was looking for the best wireless gaming mouse. She's not the best, but she's very light (60 grams, I think) and also she's white!
And I got it for like €90 ($95).
It was a good deal.
An artisan mousepad, a Logitech G Superlight mouse with Corepad mouse feet is the combination that I'm using."
— By Rorodzilla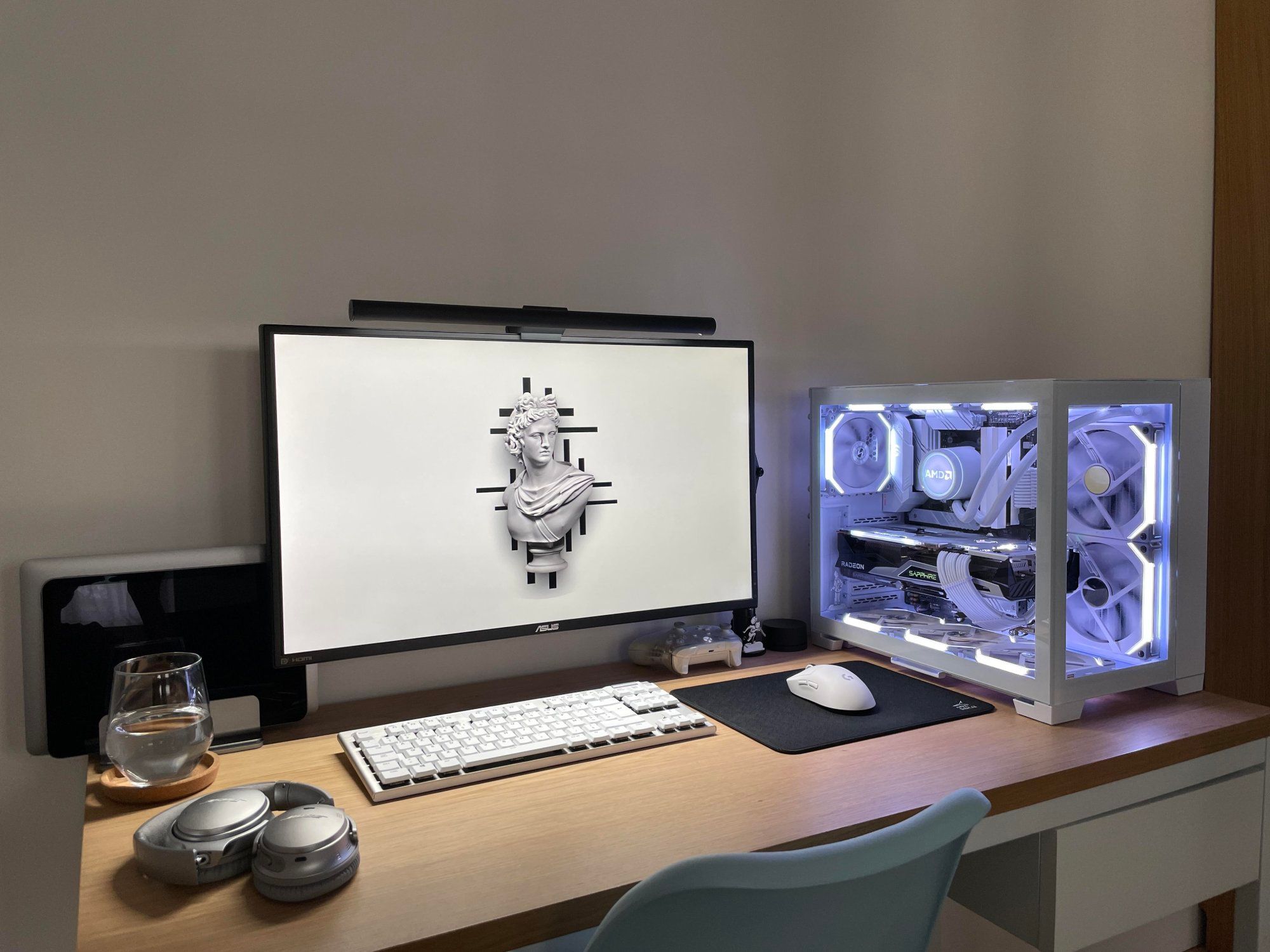 Pegboard
"The thing I love the most in my desk setup is my custom pegboard.
I made it myself using a CNC machine and then painted it afterwards. I was inspired by the IKEA SKÅDIS design.
It turned out great!"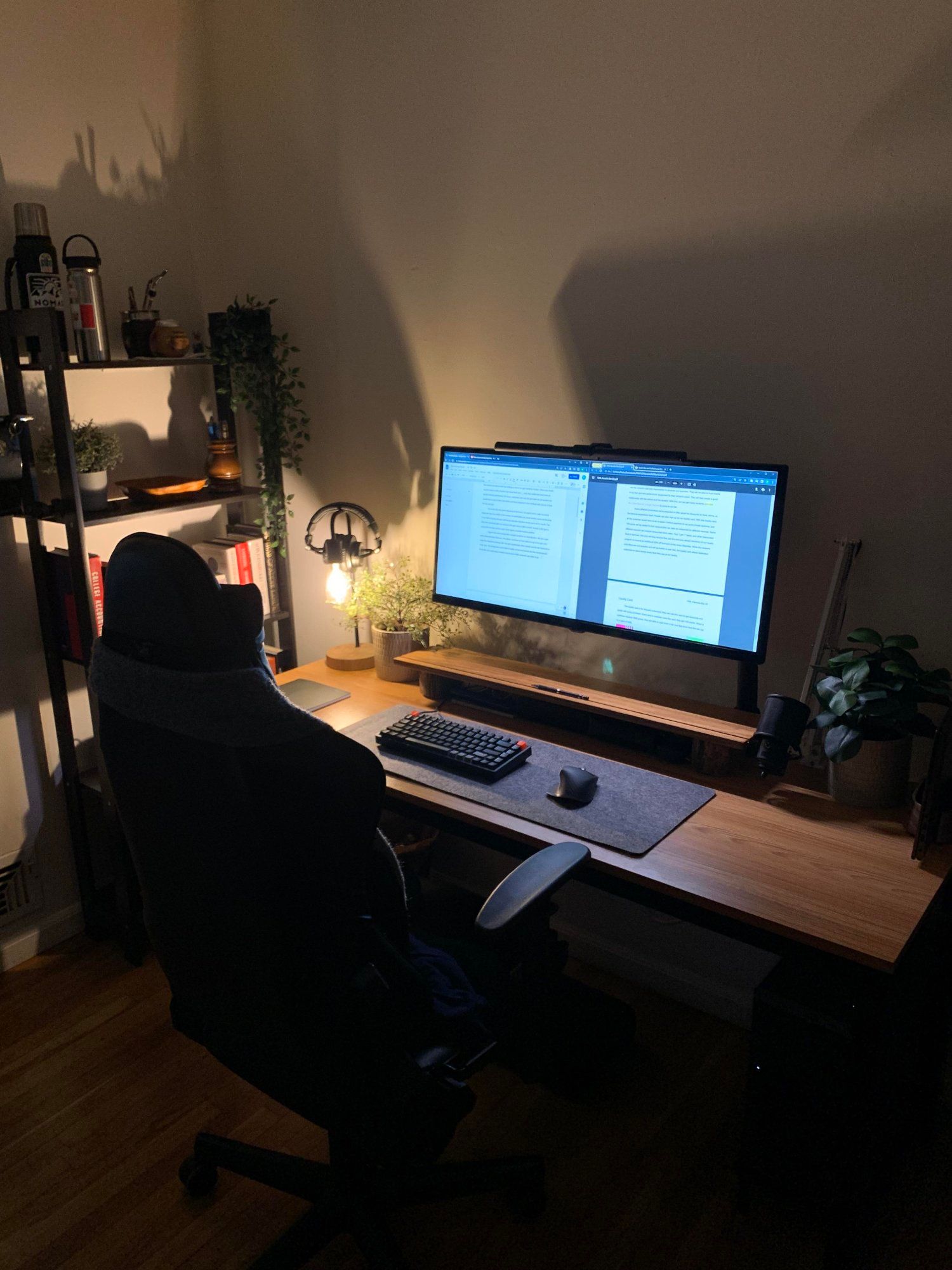 Desk Pad
"It's going to be the Nekmit Leather Blotter. Probably one of the more unique items that aren't technology but I can't live without.
It ties together the workspace so nicely and gives you such a pleasant surface to work and write on.
It also looks professional, is easy to clean, and lasts a long time. I've had this specific one for about five years.
Also affordable and makes for a great gift. I've gifted one to several people"
— By Shoedog331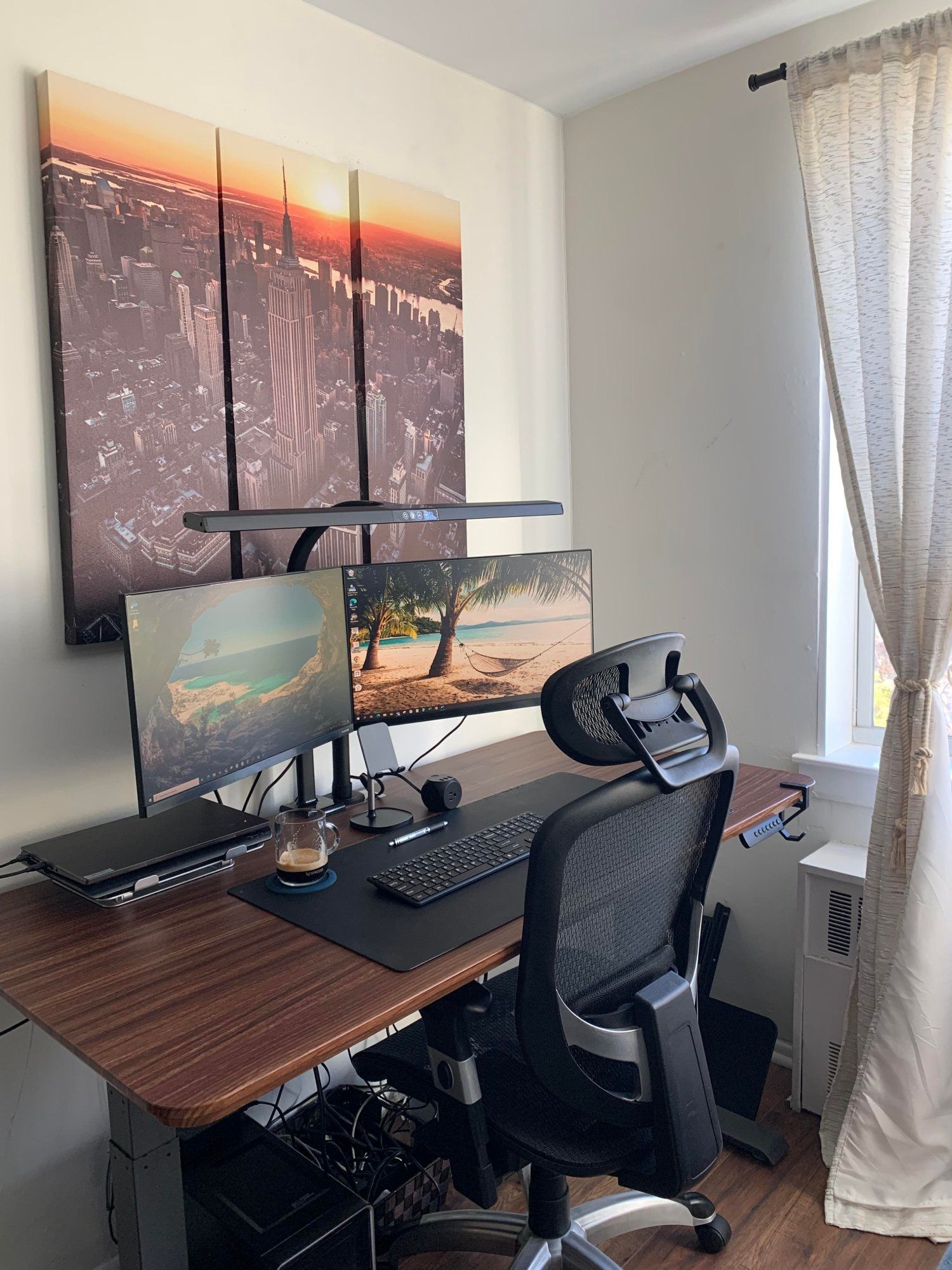 Docking Station
"The one item I cannot live without and recommend to everyone is my Dell TB16 Thunderbolt 3 docking station or actually any docking station for all laptop users.
It's the one item that essentially gets my workstation up and running.
It's very convenient to be able to plug my work laptop into one cord and be able to have all my peripherals turn on/off.
It was such a disaster when I first started building my WFH office. Cables everywhere and a million wires plugged into my laptop.
Now if I need to leave and grab my laptop, all I have to do is disconnect one cable.
The docking station helped me centralise those cables and made it easier to manage."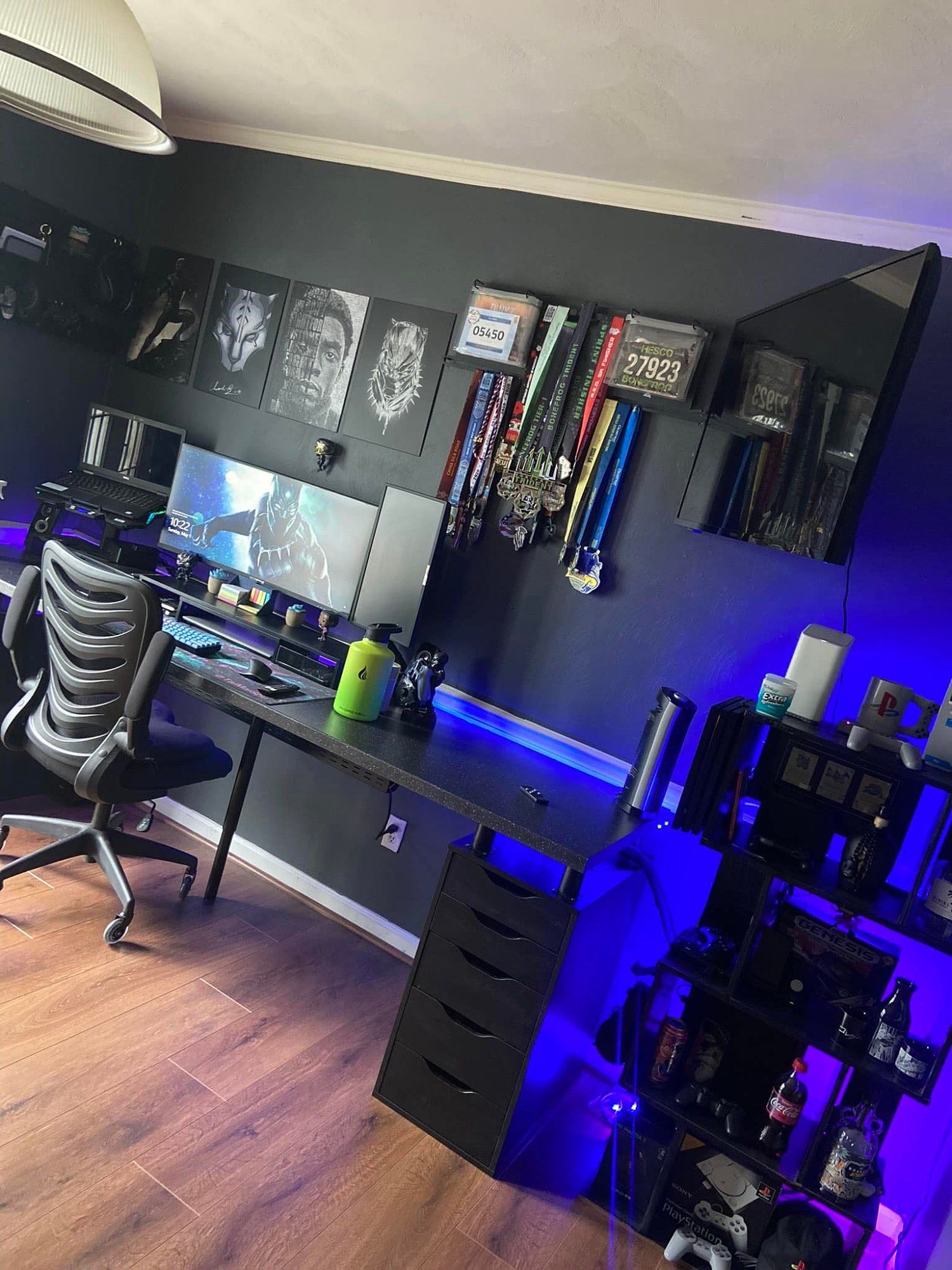 Ultrawide Monitor
"A must-have item for me is a 34-inch ultrawide monitor. I can't live without it.
Once I go ultrawide, I'd never turn back.
The ultrawide monitor makes the setup looks so nice and balanced. Also, it's better for work like editing, browsing and even gaming.
So if you give me 27 inches or 32 inches for free, I will not be using it.
I'll sell and buy ultrawide instead."
— By Kirin Abbas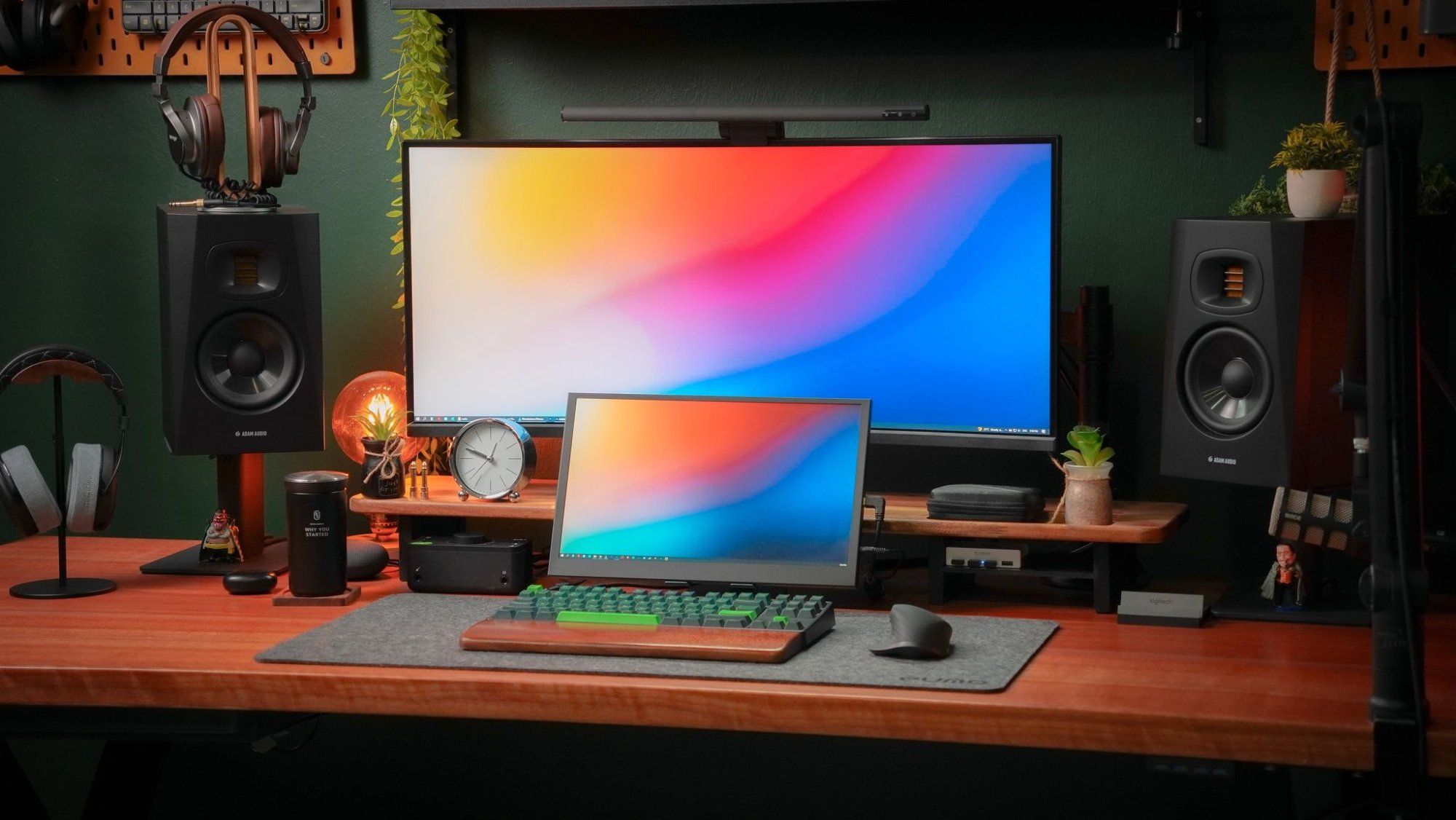 Well-Designed Keyboard
"As someone who cares about the details of my workspace, I've come to recognise the value of having a well-designed keyboard.
It's the main interface to our work and a display piece at the centre of our desks.
Therefore, custom mechanical keyboards are a special work-from-home essential for me."
— By matthewencina, Instagram, YouTube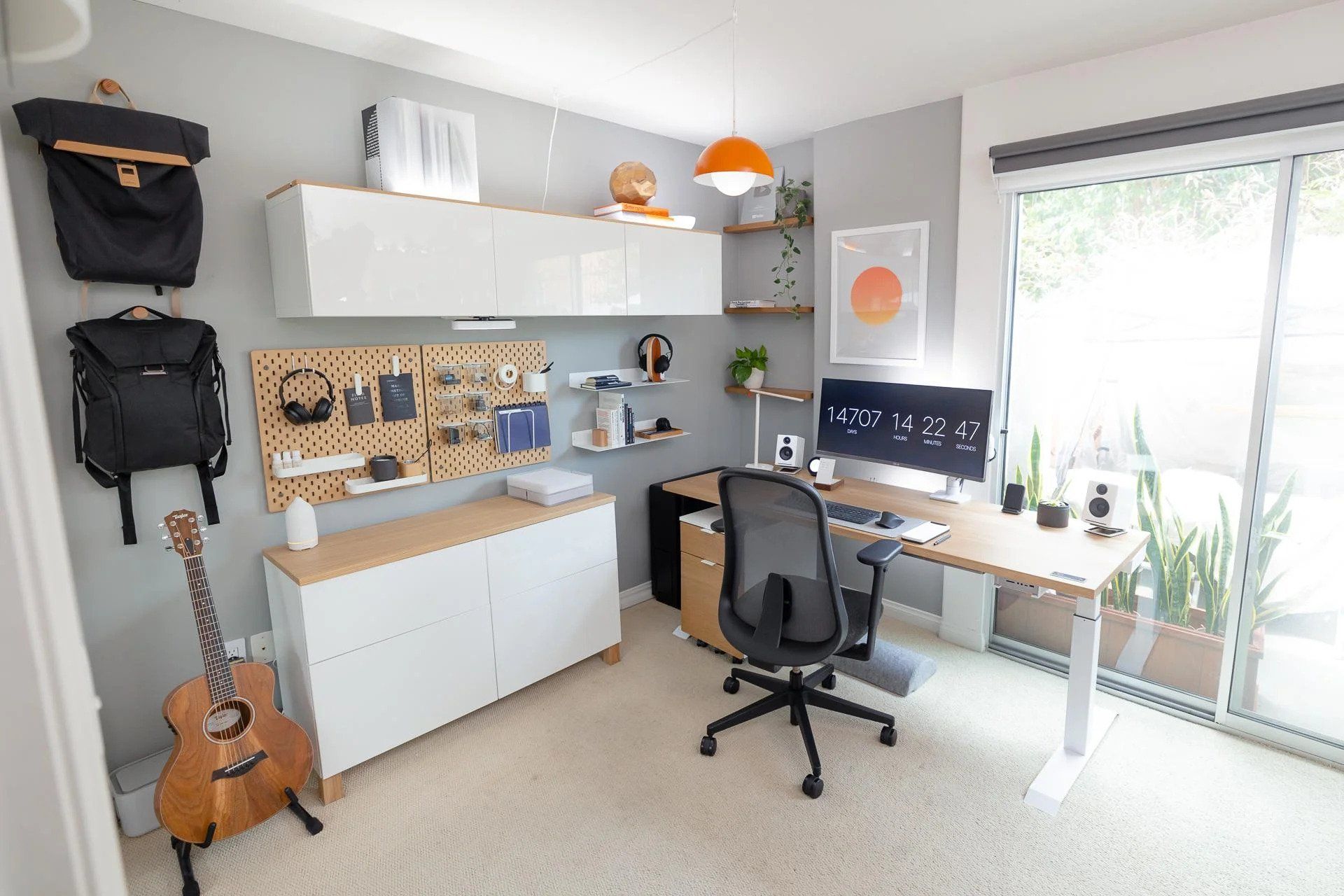 Water Bottle
"The one single thing I couldn't imagine my workspace without is my trusty 1-litre water bottle that I got months ago from Tyeso.
Living here in the Philippines feels like every day is summer.
So whenever the heat becomes too unbearable while I work, my water bottle, filled with cold fresh water, always got my back.
I'm recommending having a water bottle at your side to always keep you hydrated and refreshed when working or gaming :)"
— By Xychologic, Instagram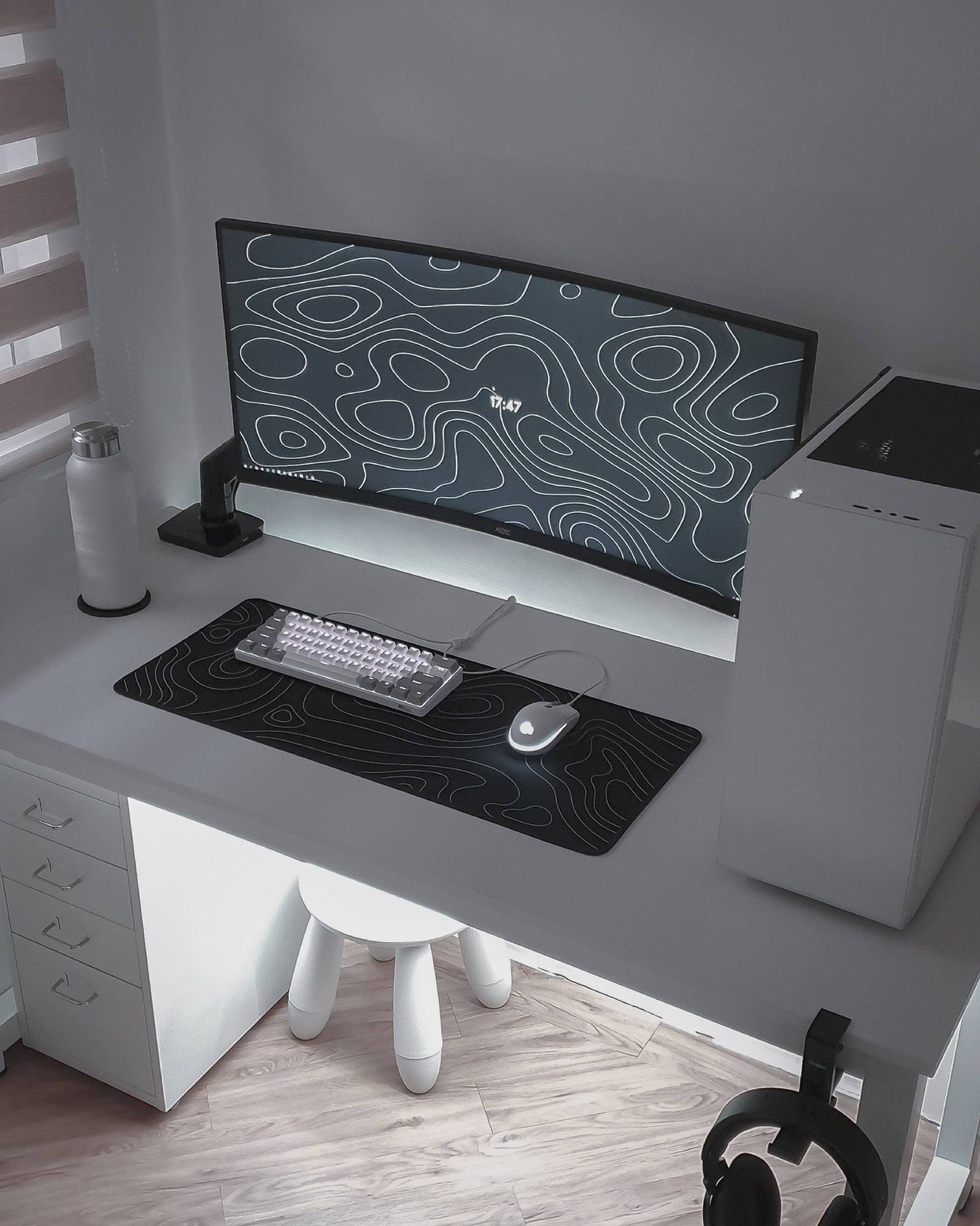 Mechanical Keyboard
"I would say the one item and can't imagine my workspace without is my mechanical keyboard.
It's something I built and put together to fit my needs and preference and I use it every day for gaming!
This one is the satisfaction75 by cannonkeys built with gateron black inks. I picked this one because I thought it looked super unique!
There aren't a lot of keyboards with a knob and LED display. Plus you can customise it to have something like bongo cat animation as you type which is just super delightful!"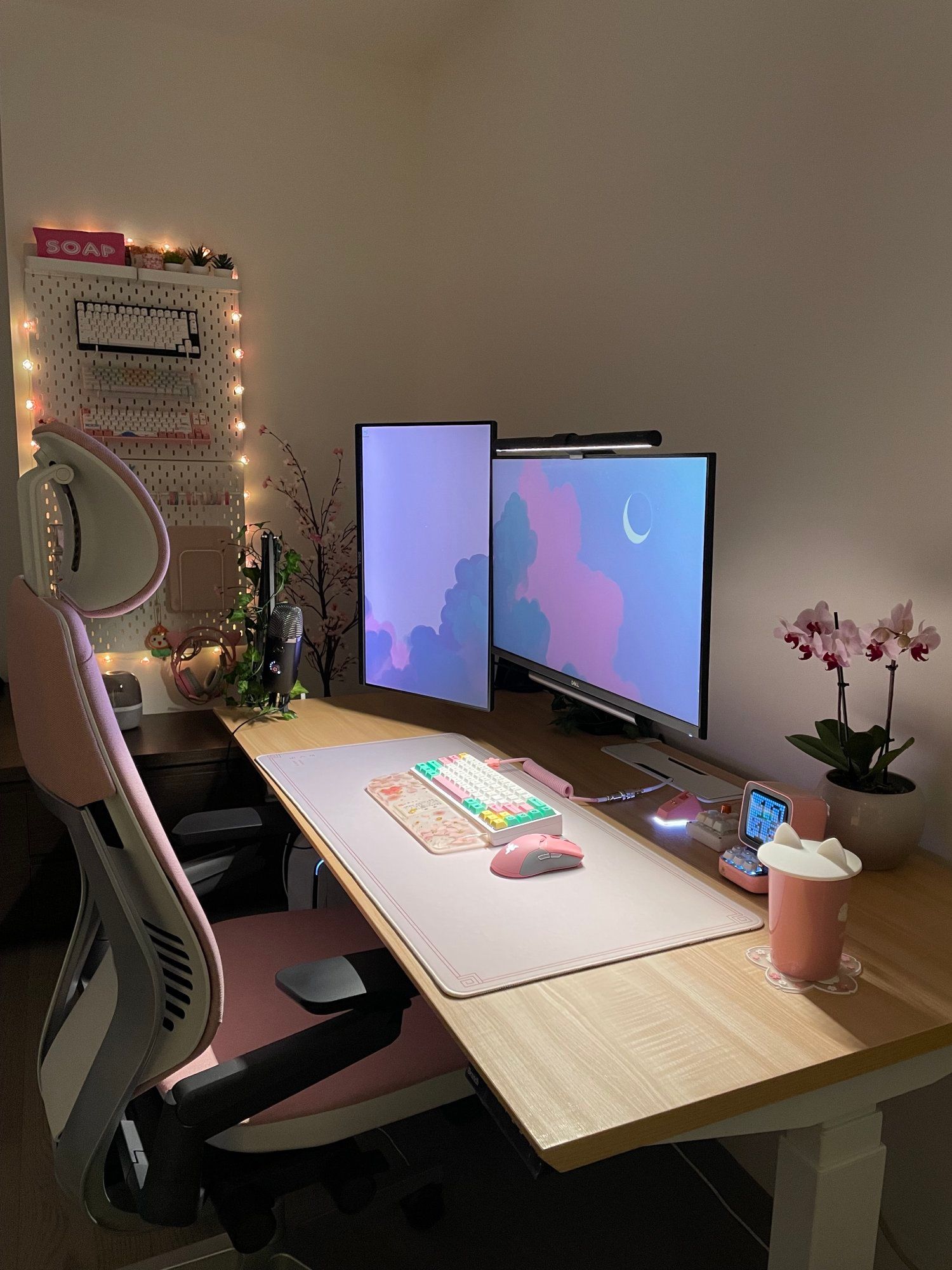 Vertical Mouse
"The most useful part of my setup is my Logitech MX Vertical mouse.
I've used a variety of mice including the Logitech Master 3 and found that the Vertical is the only mouse that has been able to greatly mitigate wrist and arm pain while I'm working long hours due to the 57-degree tilt.
I just know that Logitech produces such a large variety of mice that there's usually a fit for everyone's needs.
This was one of the few mice that offered a near vertical grip, so..."
— By Ethan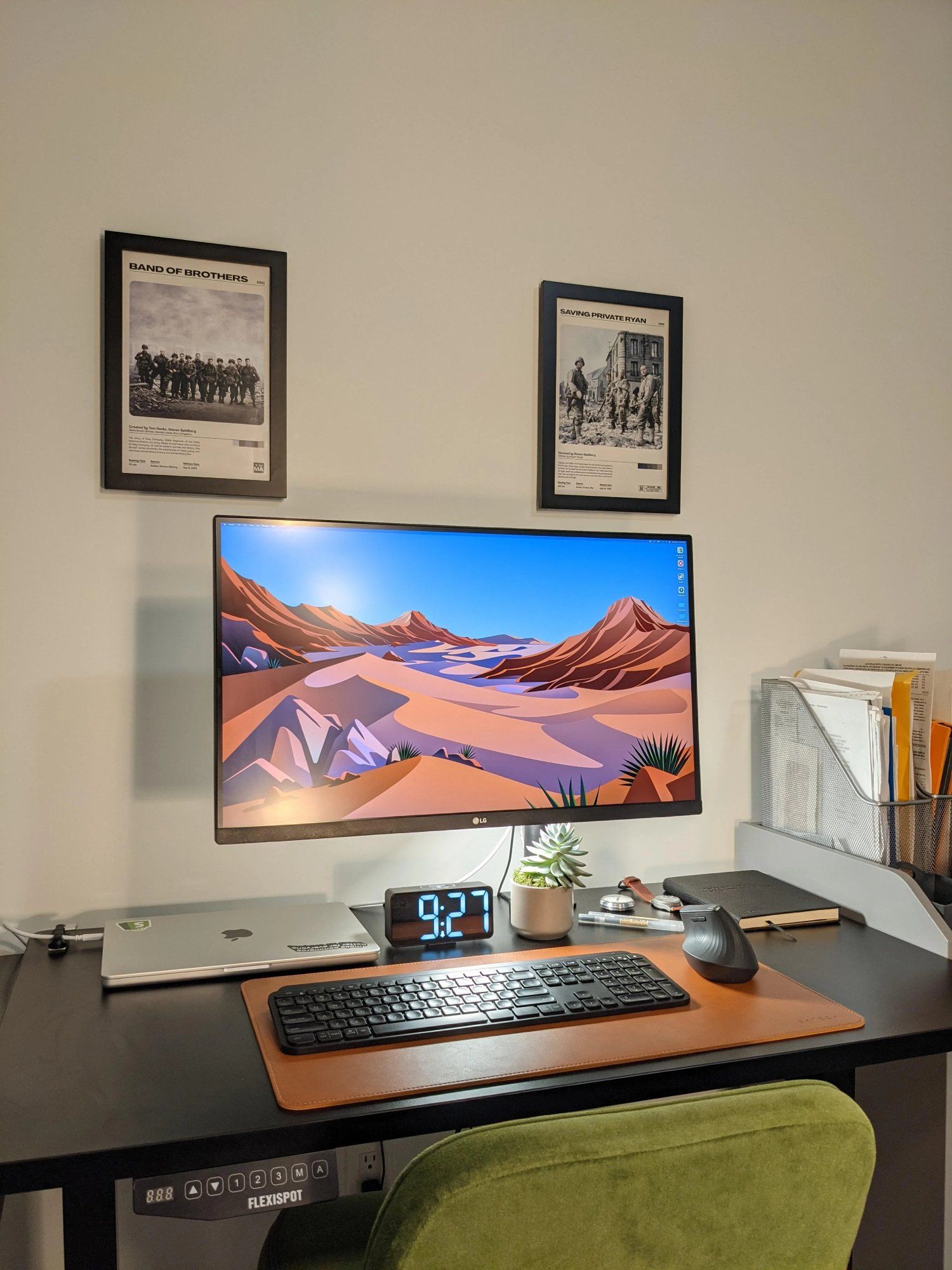 LED Strip
"The one thing I can't live without when I'm working would have to be the Nanoleaf LED Lightstrip.
The light is right behind my monitor.
It does the white spectrum and RGB colours so I can set it to whatever fits my mood.
It helps me set the tone for the day."
— By Matthew Gunselman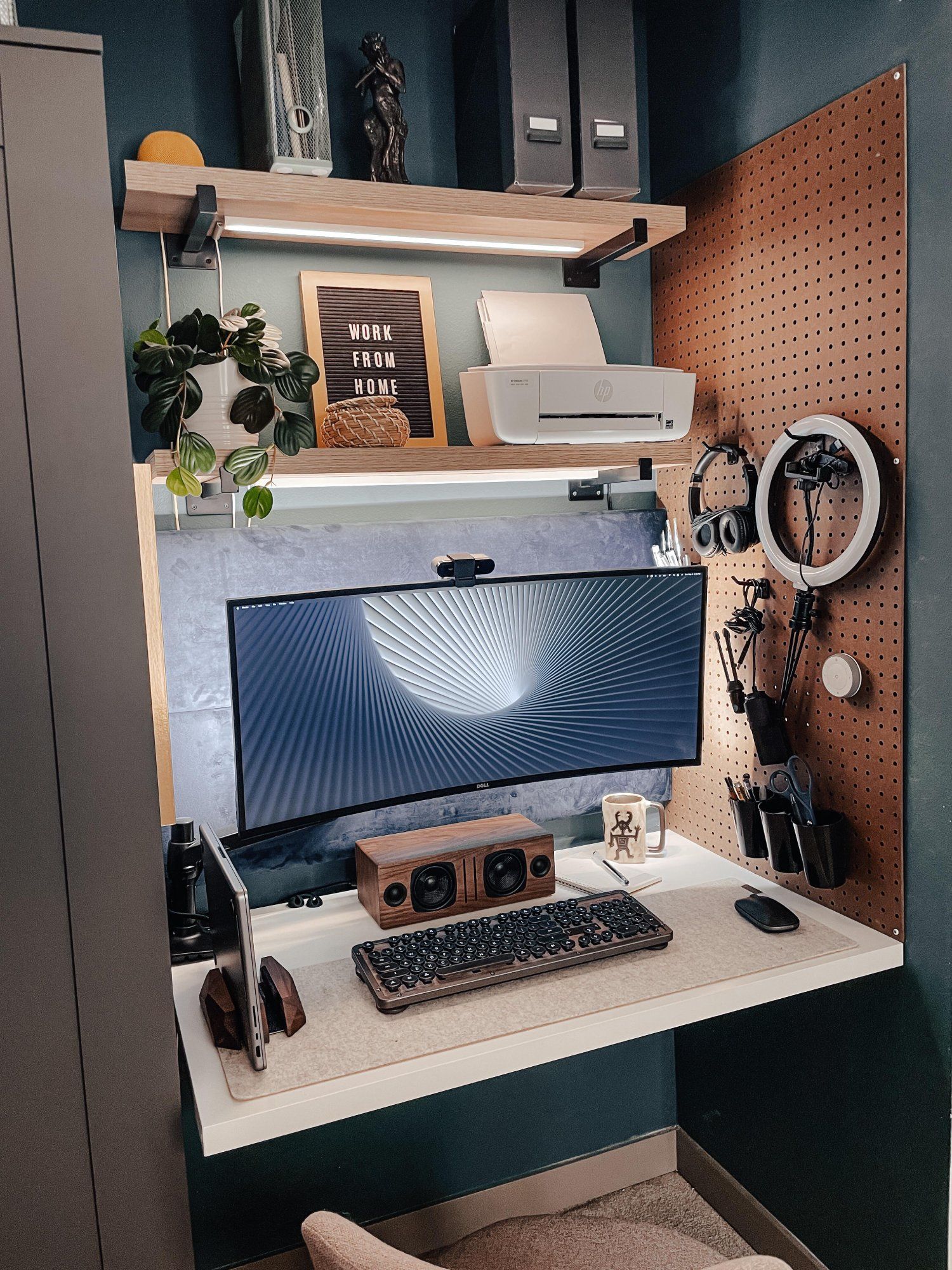 Headphones
"My headphones are something that I use every day and couldn't live without!
I love music and it's not the same on speakers.
I currently have the HiFi Man Sundara and they are incredible! They are open back — great for gaming and music enjoying.
Very balanced sound that doesn't ever get harsh as you turn it up."
— By Frost_991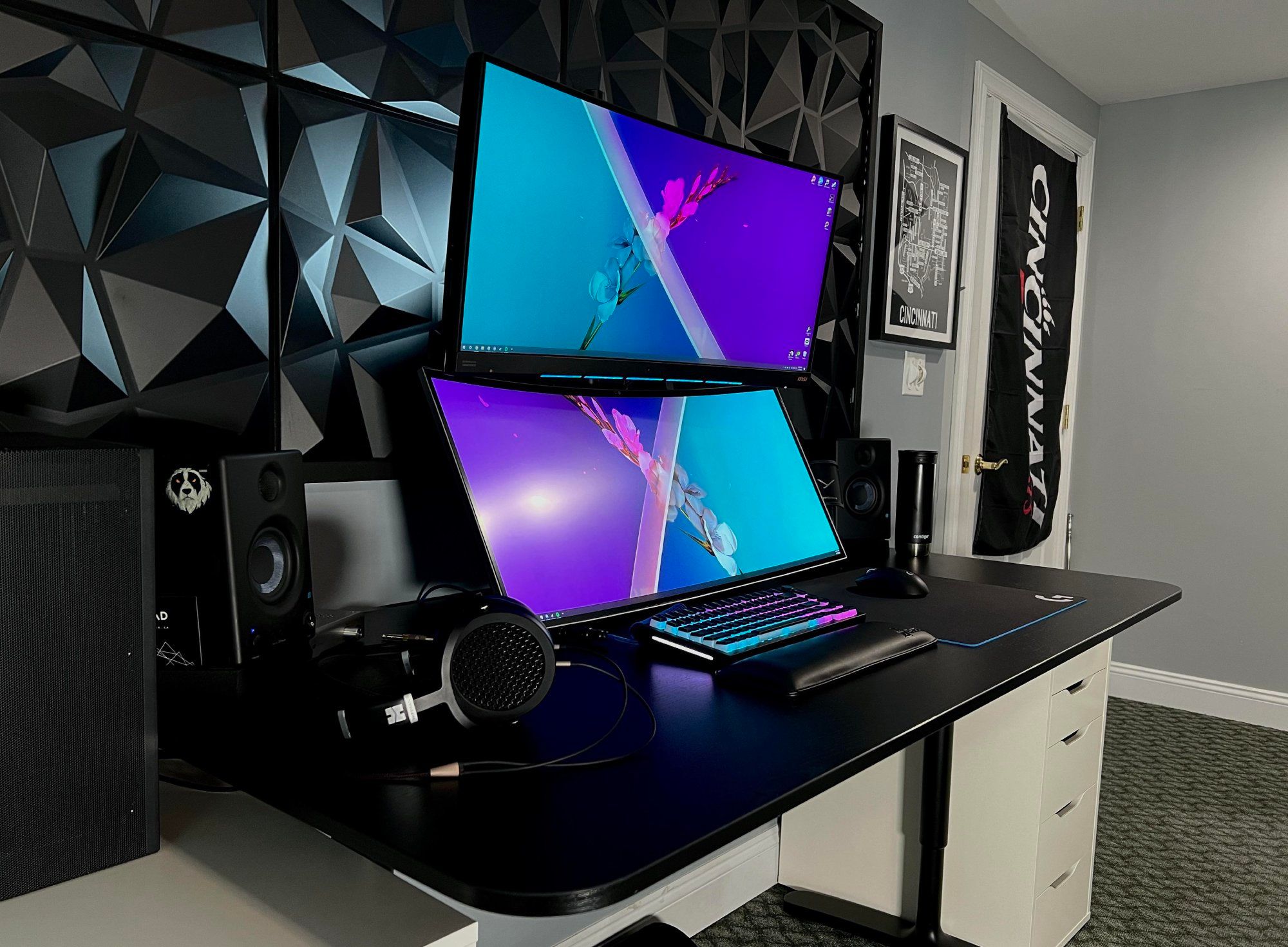 Armchair
"It would be my chair.
I spent years using generic office chairs and my back was always stiff.
I got myself a Herman Miller Aeron which forces good posture and my back loves me for it."
— By matthewgrima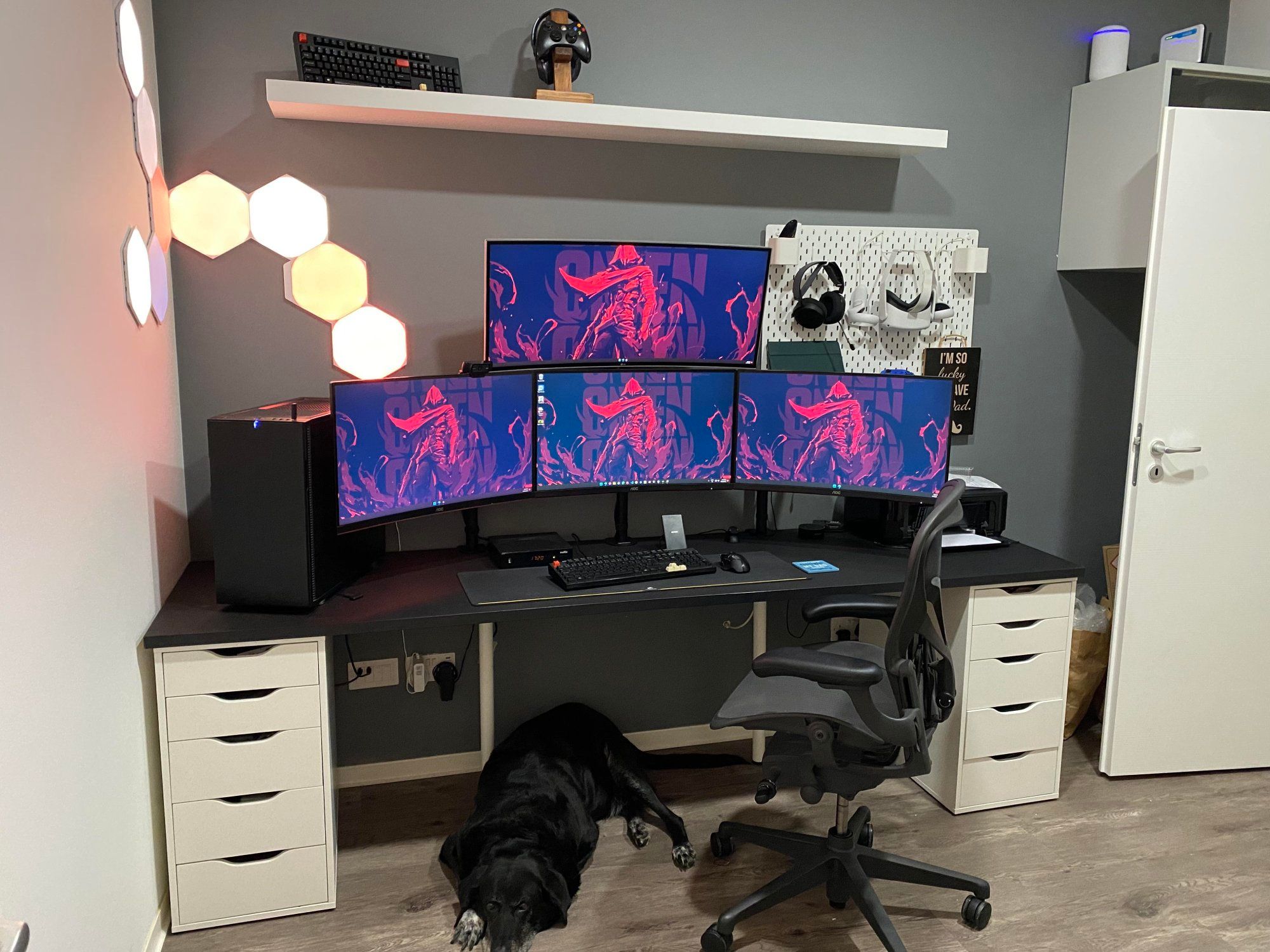 Chair
"A comfortable chair! Any chair will do as long as it gives you comfort and not back pain.
You'll be sitting at your desk for several hours, and you need to be very comfortable while doing your job.
Not to mention, the right posture is important in the long run.
I can't imagine working the whole day sitting in an uncomfortable chair.
You can't even stay for a brief period of time, and it's counterproductive."
— By Paolo Surio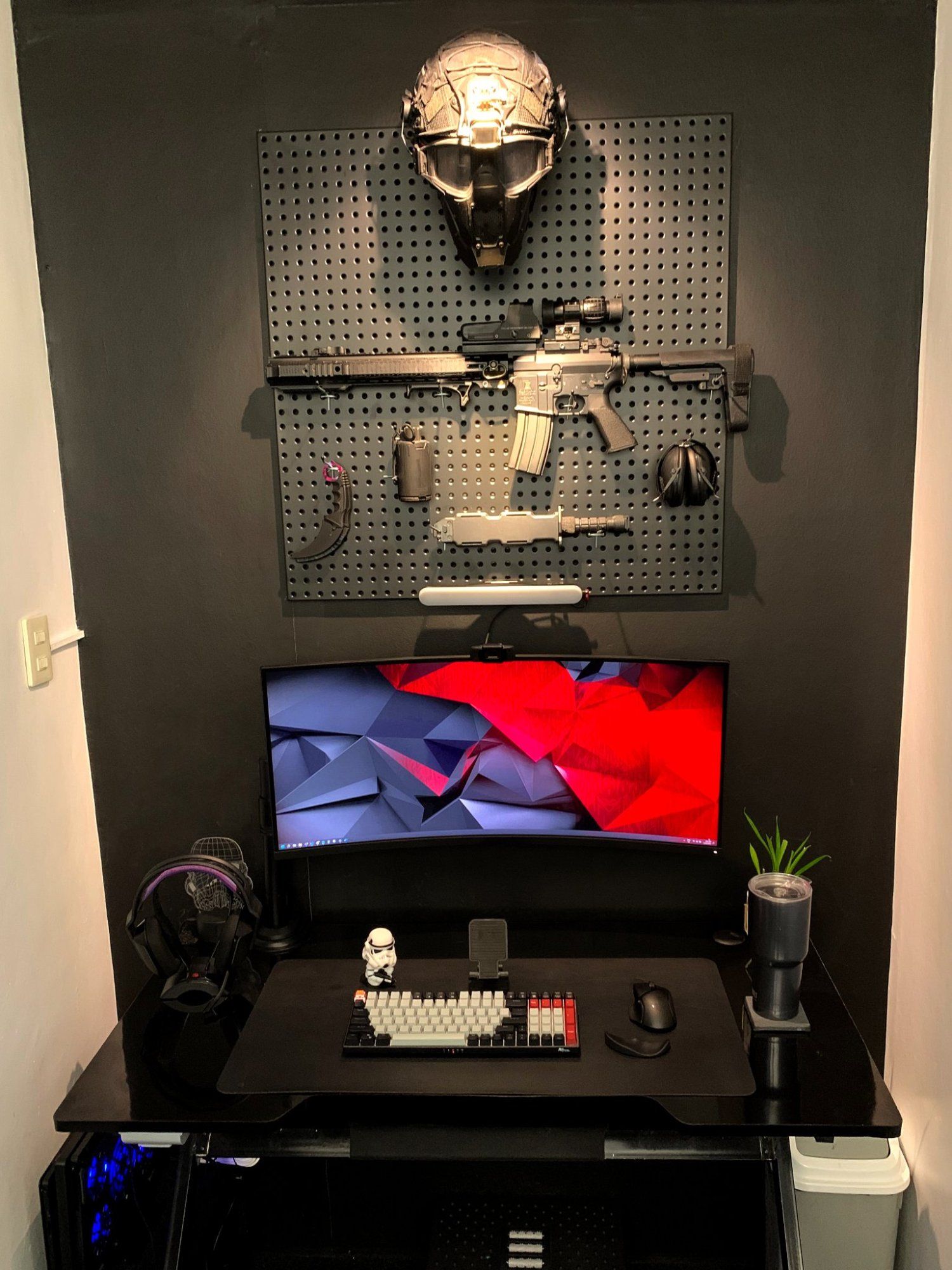 Light Bar
"Other than my trusty Furret plush, I would certainly miss my light bar.
It's a simple, elegant, and effective lighting solution.
It illuminates my desk without shining in my eyes or adding glare to my monitor.
It's great for taking notes or sketching — but it's also fantastic as more of an ambient light to brighten the space and help it feel a bit cosier.
I live in an area where it is dark for most of the year. So I appreciate the extra light in my workspace!
I pretty much have it on all the time when I am at my desk."
— By neembll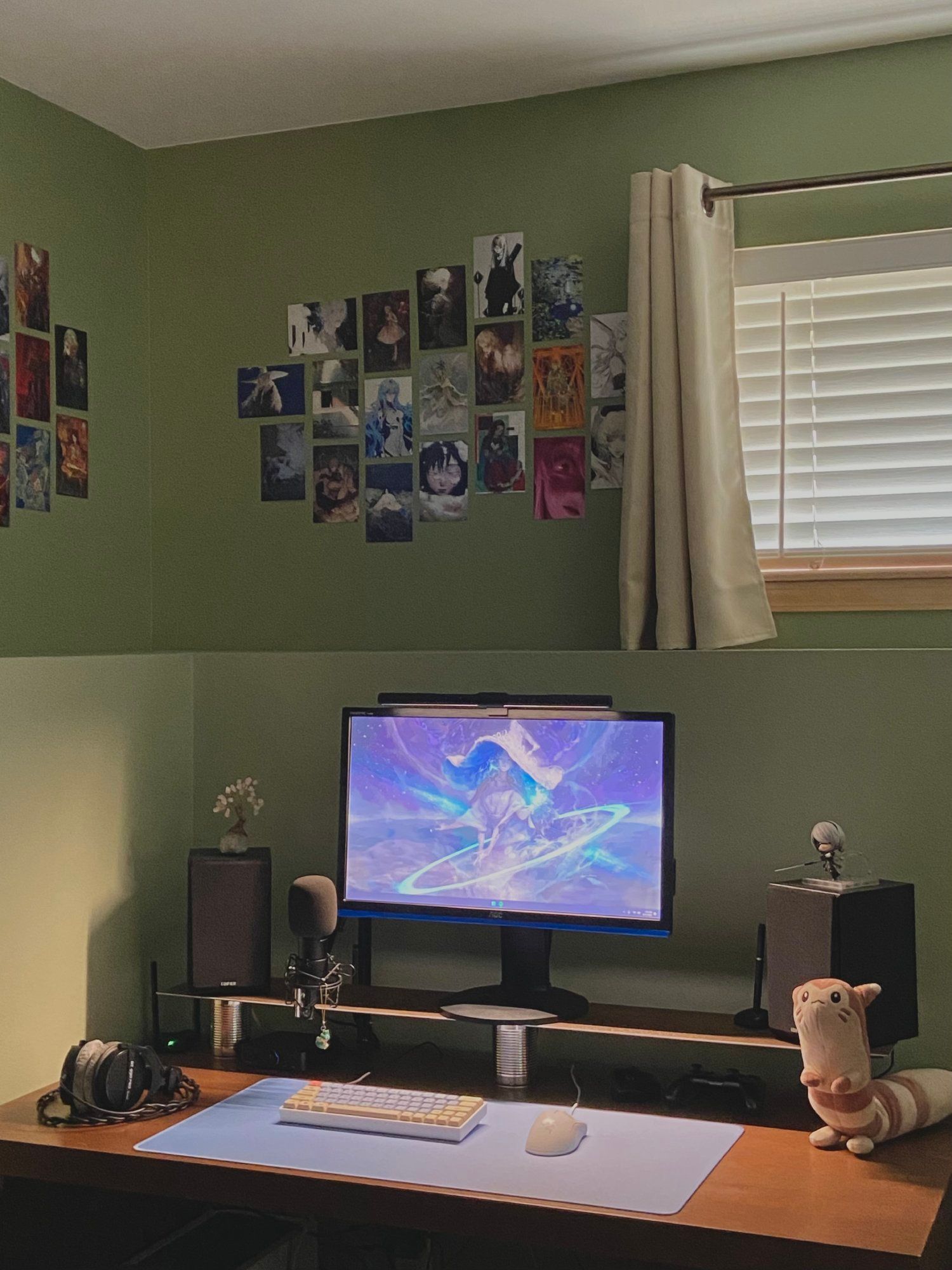 RGB Monitor Light Bar
"This would have to be my monitor light bar. It's crazy good.
Lighting up my desk has been an issue for a while now. Lamps just didn't do it for me; they were all over the place and felt messy.
However, the light bar sits on top of your monitor and lights up your entire desk easily. It also allows you to change the time and brightness of the light to get that perfect tone to match your needs :)
The best part of it all? It's all controlled through an app, meaning I can very easily adjust the tone of the light bar.
I don't know if it's just my particular model of the monitor light bar I use, but it also has RGB lights which shine backwards onto my wall (I'm an RGB lunatic and this makes me very happy).
Ever since I got this item, my productivity levels skyrocketed. It's very useful having light shine onto your work so you can easily read and write at night."
— By marcelthe1st, TikTok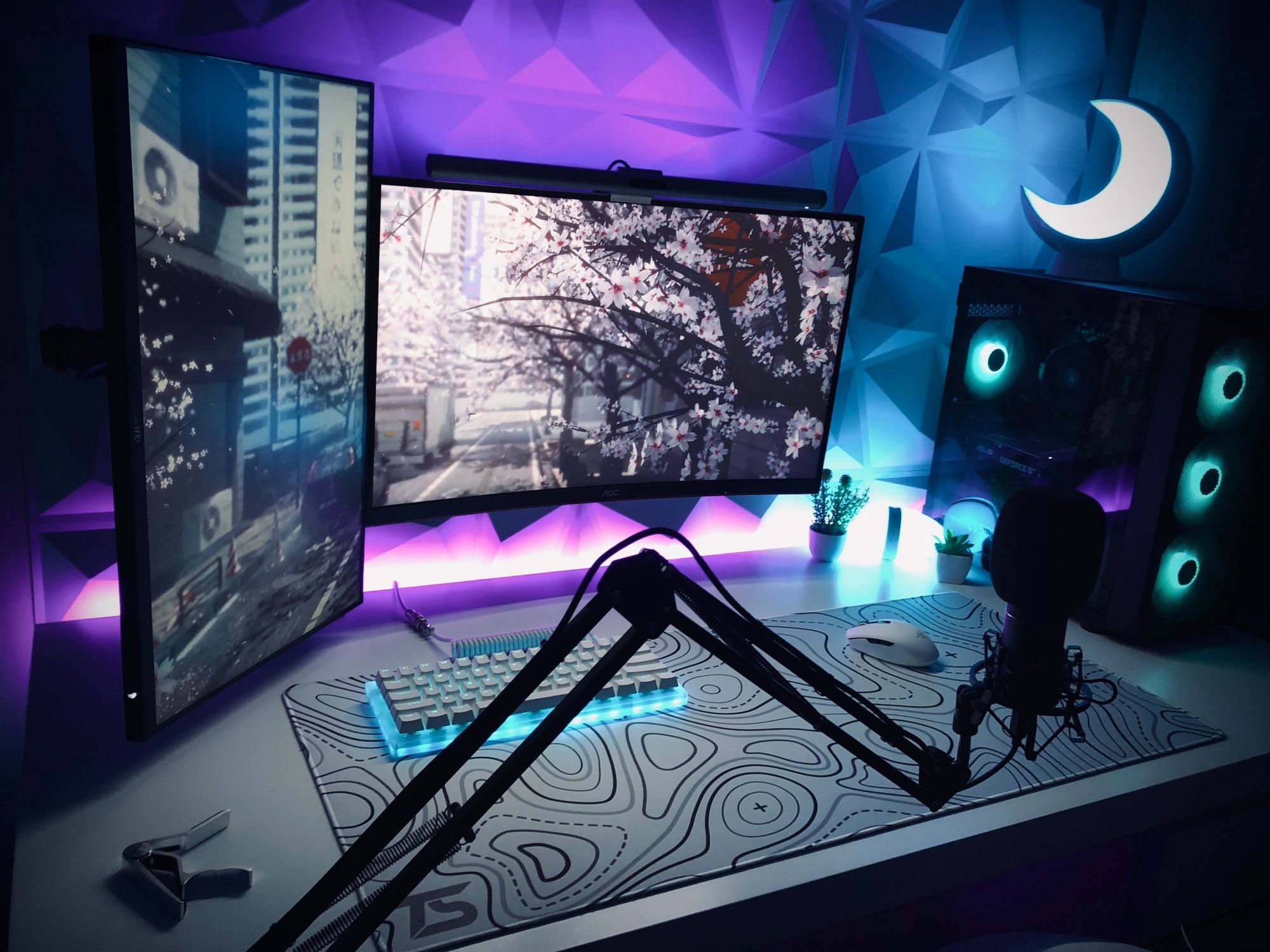 Wireless Speakers
"I would say that my KEF LS50 wireless speakers are a must-have for my setup.
I work with a ton of data for work and having music on at all times is a necessity.
— By free201, Instagram, Twitter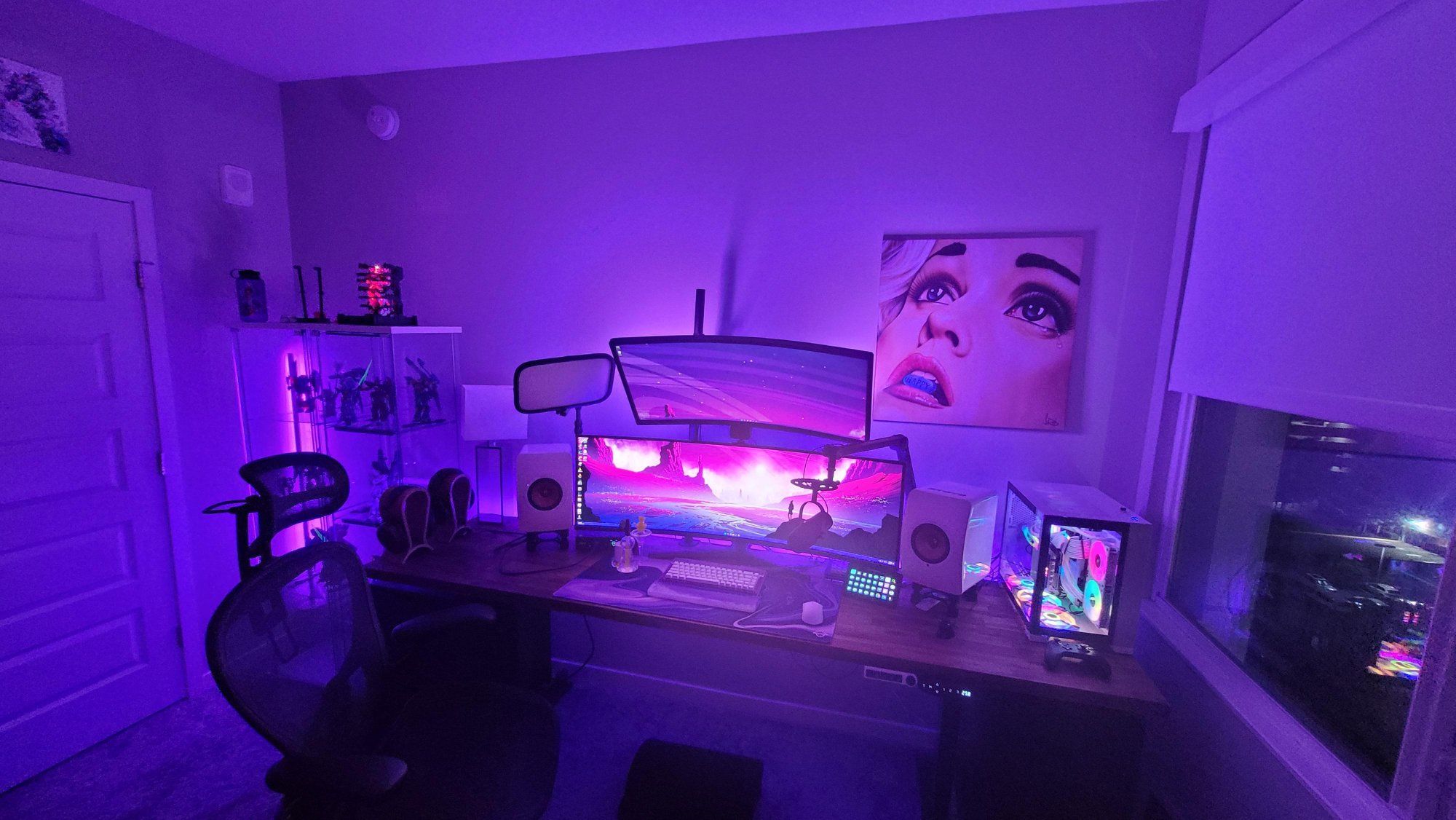 Mechanical Keyboard
"For me, it's the mechanical keyboard.

I used to be a reviewer and a copywriter but I still do type a lot. Therefore it's vital to have a decent typing experience.
I've got a pretty good mech key — Akko Mod007. It's not the most expensive model, but it works perfectly for my needs."
— By Minh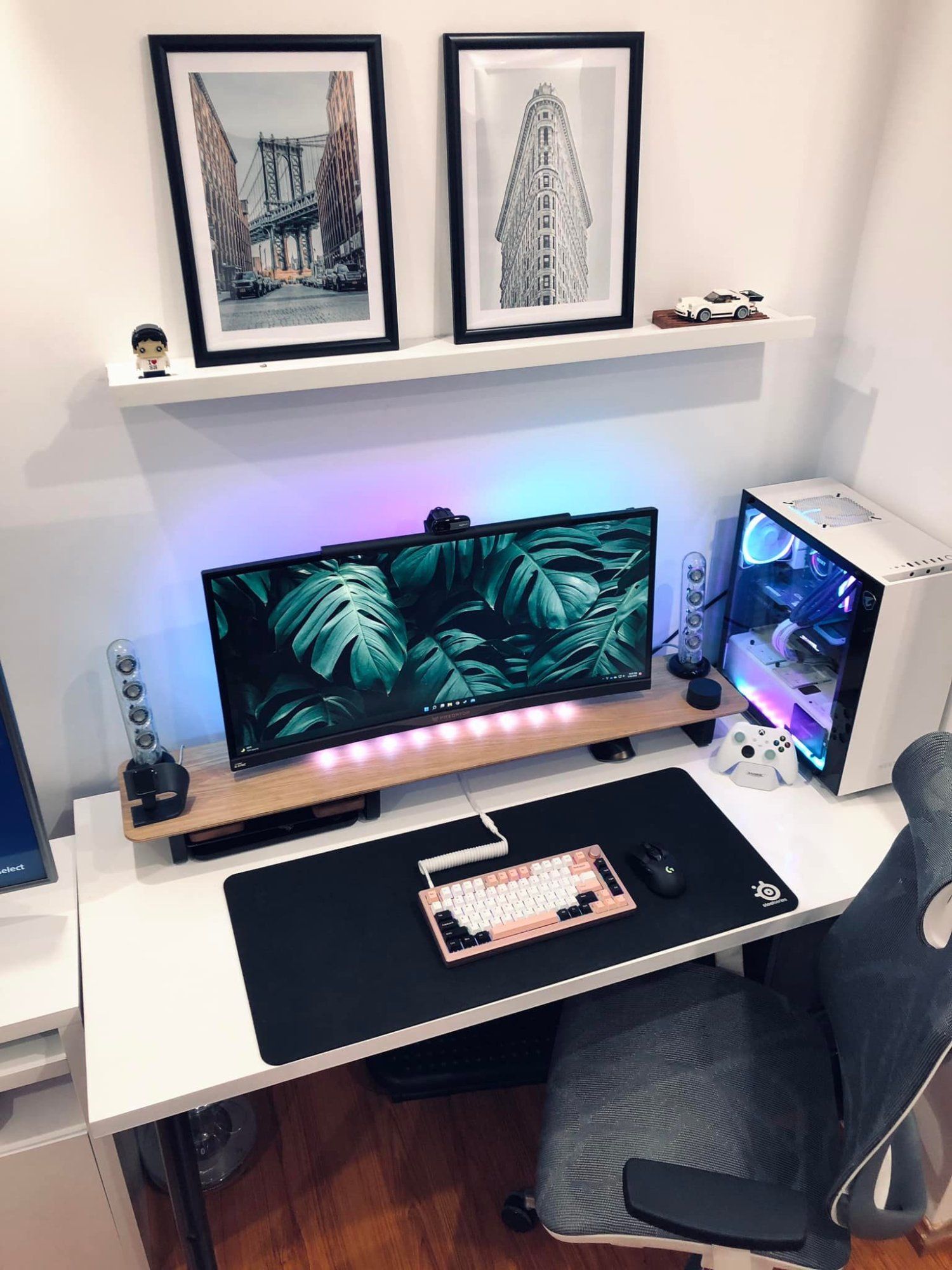 Analogue Timer
"If I have to choose that one thing I cannot work without, then it has to be this simple timer.
I'm a freelance journalist and an editor, so time management is important for me.

I've tried some digital and on-screen timers in the past but I didn't really like them.

They didn't make me feel they were my friends, but rather enemies, haha! Whereas this simple analogue timer makes me feel like I've got a friend by my side.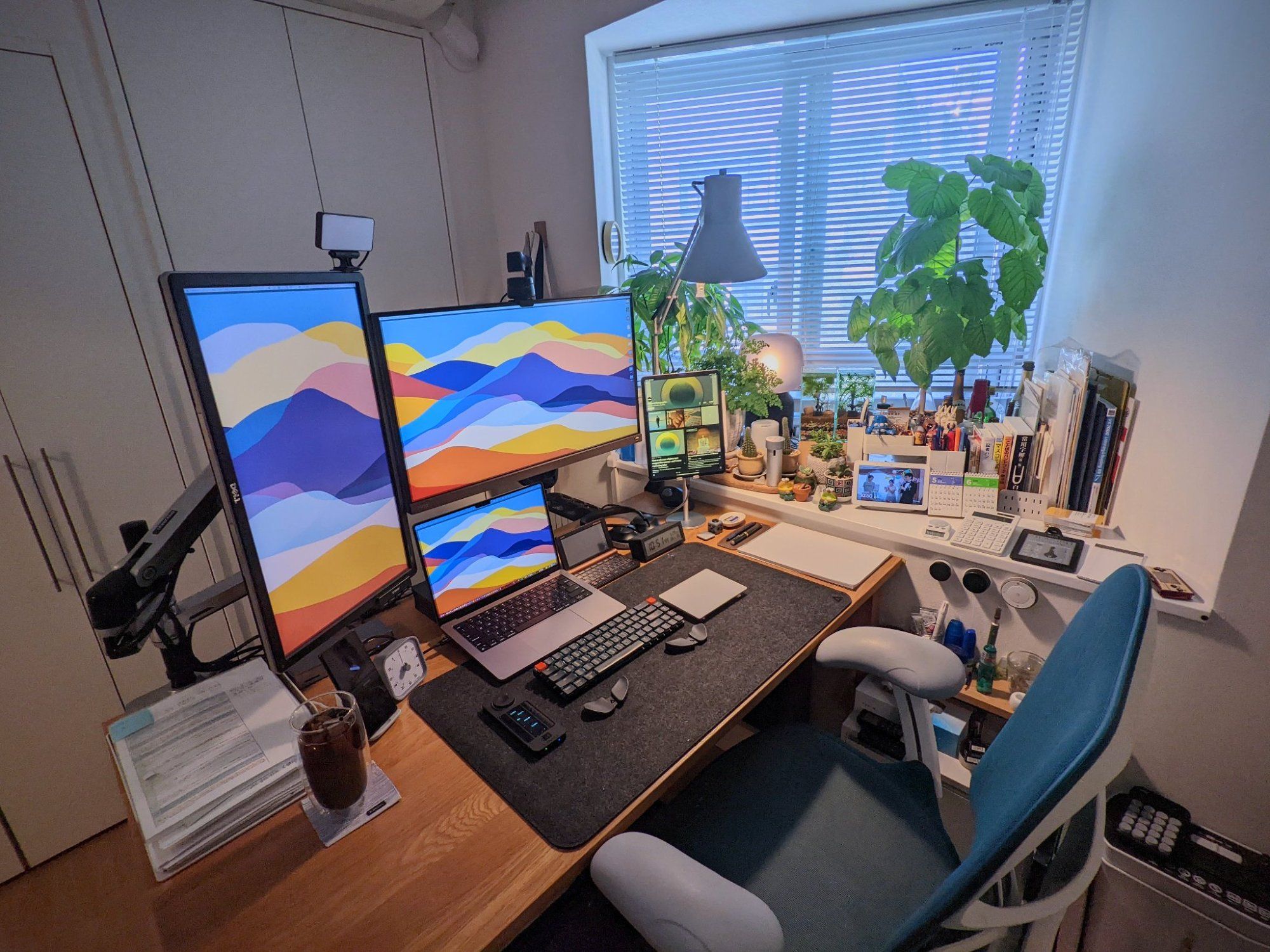 I can set a timer in the simplest way by just rotating the dial and it would show me the remaining time.
Once the timer's up, it produces a sound similar to the one my mom had when she'd finished baking cookies.
I can recommend this timer to everyone! A good item can help you work better. Stay productive."

— By Yuta Tsukaoka, Website
Custom Mechanical Keyboard
"A workspace item that I couldn't imagine not having would be an external keyboard; a custom mechanical keyboard.
I'd guess everything would be a given already, like a laptop per se, since it already has all the functionalities that you'll need to deliver a certain task.
But if I have to pick a weapon of choice just for the sake of the luxury of having it, even though it may seem unnecessary, it would be my fully-customisable mechanical keyboard.
Entering this niche hobby was one of my biggest guilty pleasures; and yes, it's one hell of an expensive hobby.
But you can't go wrong with the satisfaction that it gives you based on your own preferences.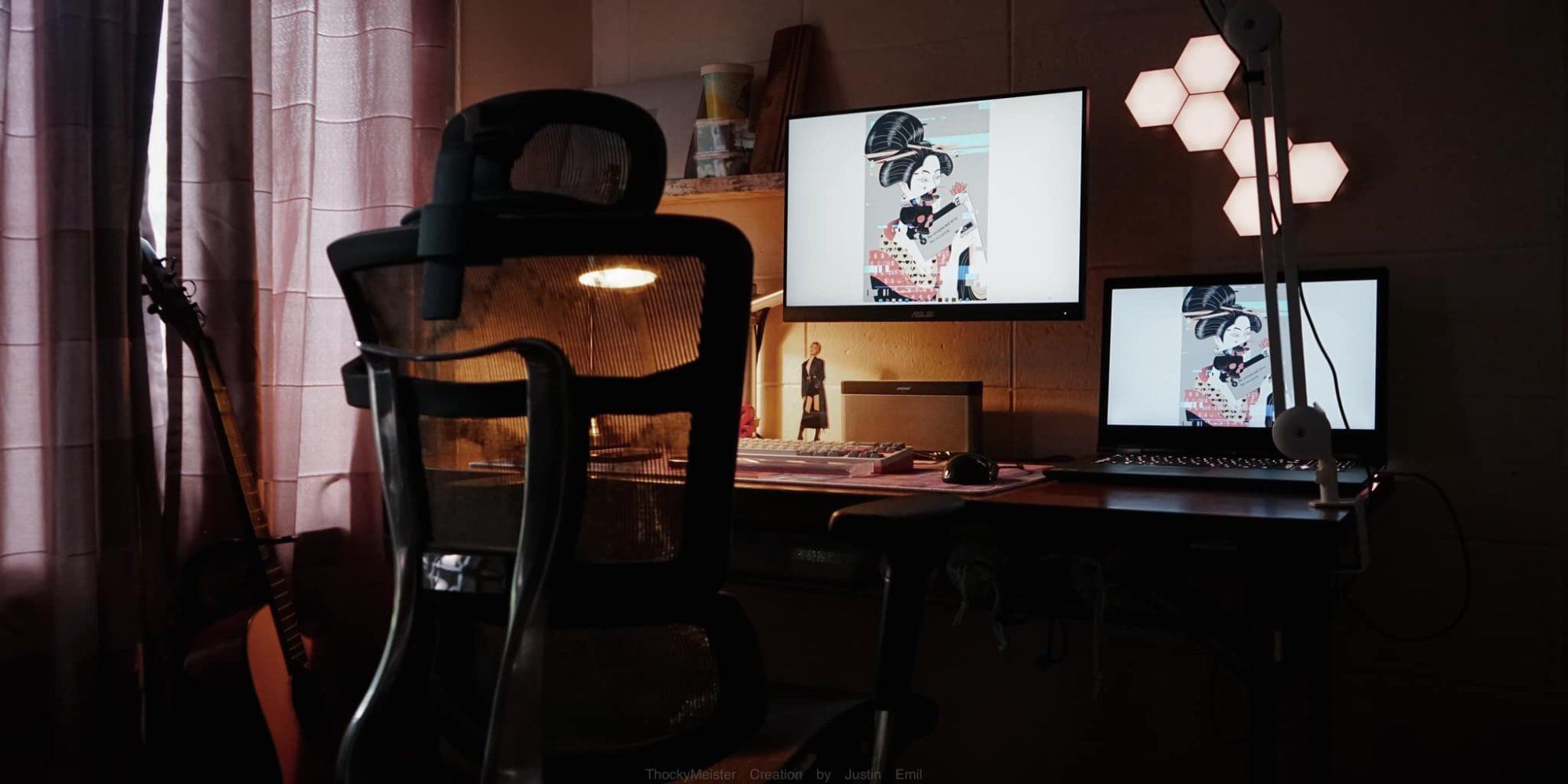 May it be the typing feel, the sound that it makes, or just simply the build quality and aesthetics that it offers that basically changes the whole game apart from the pre-built mechanical keyboards sold by the mainstream gaming brands that I was also once into.
It's all just simply gratification that pulls you deeper down this rabbit hole.
And I'd say even though I'm neck-deep down, I could proudly say that I have no regrets about entering this niche hobby.
It also accentuates my daily lifestyle that revolves around gadgets and other innovations that serves their purpose, but with finesse and style."
— By Justin Emil
6K Monitor
"For me, the game-changer is the Pro Display XDR.
It has all this colour accuracy that I don't care about, but it's the only 6K monitor available that works great with the Mac. It has been excellent for my posture and productivity.
Coding and designing websites using this desk setup is a true joy and that makes it worth every penny.
It's way too expensive though."
— By spiderfarmer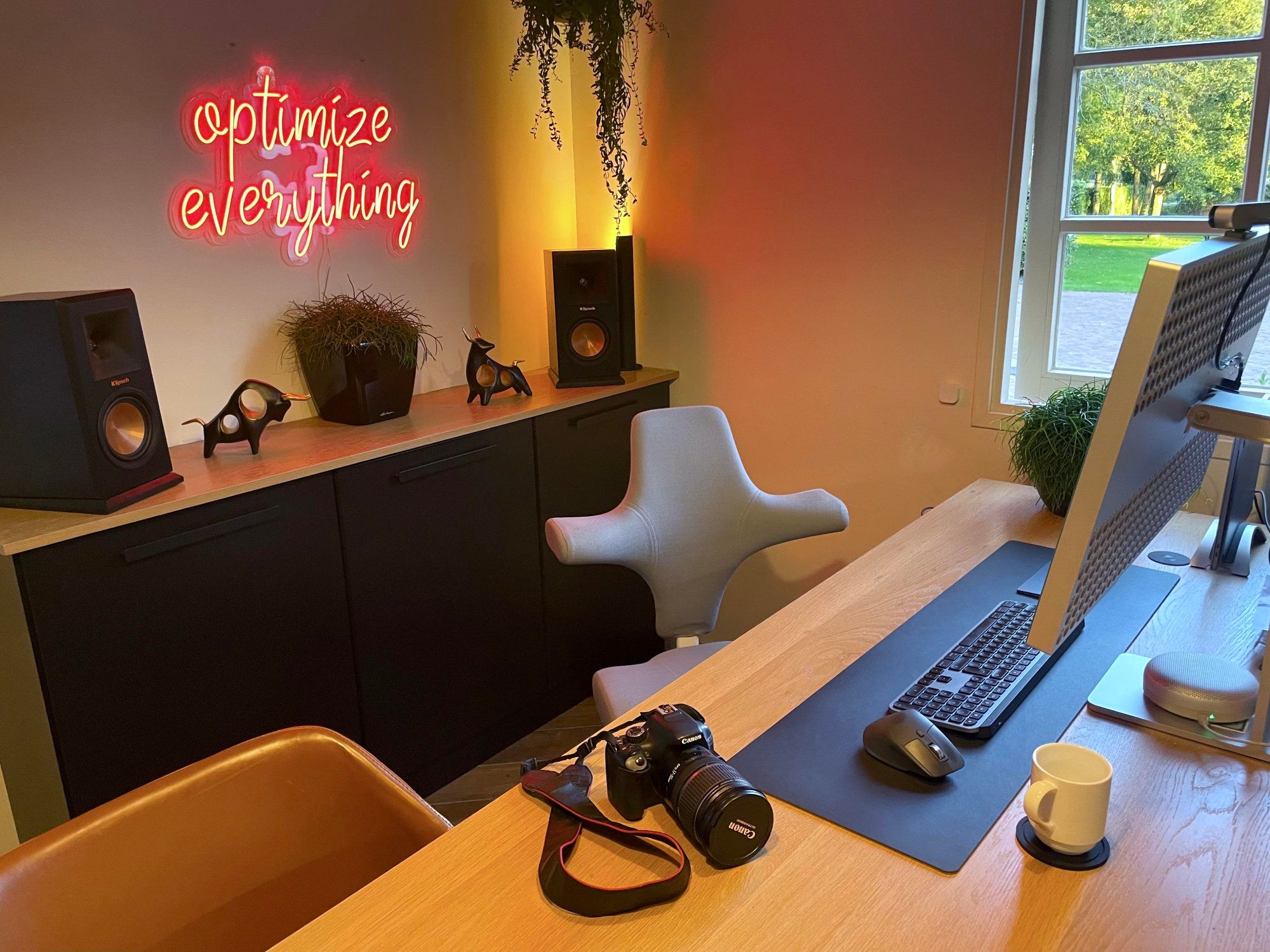 Keyboard
"I think the item I've been enjoying the most is my keyboard.
It's made by a company called NiZ. It uses electro capacitive switches that provide a light, but tactile typing experience that I enjoy!
It also isn't too noisy, which is a bonus for me."
— By mzy1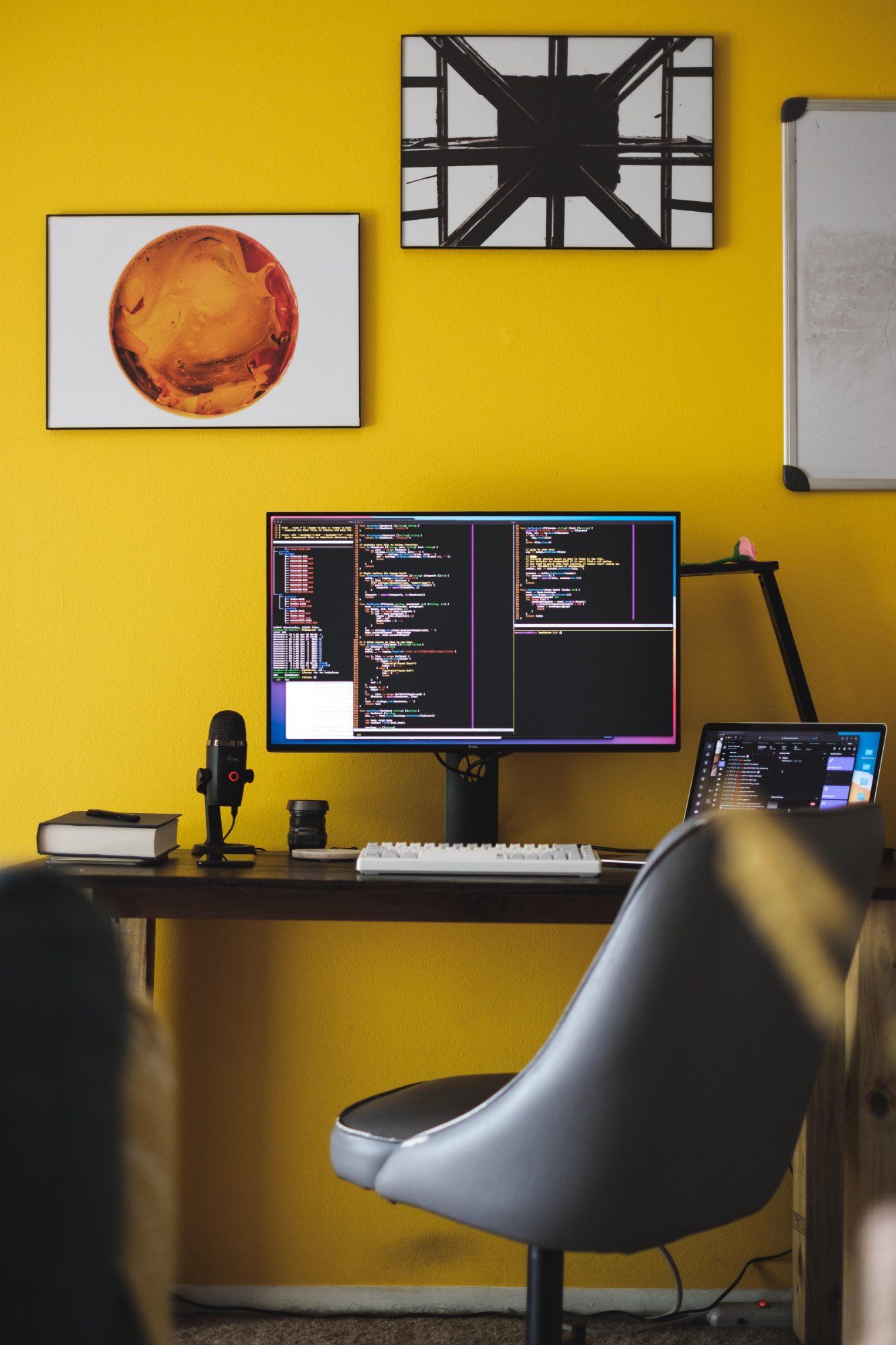 Custom L-Shaped Desk
"The desk itself!
It's a custom design created by my wife's interior design company @instudioec (a studio based in Quito, Ecuador).
I love that the desk can fold in itself! And that's why both parts of the desk are positioned at different heights.
It is an incredibly useful feature!"
— By SergioJMazure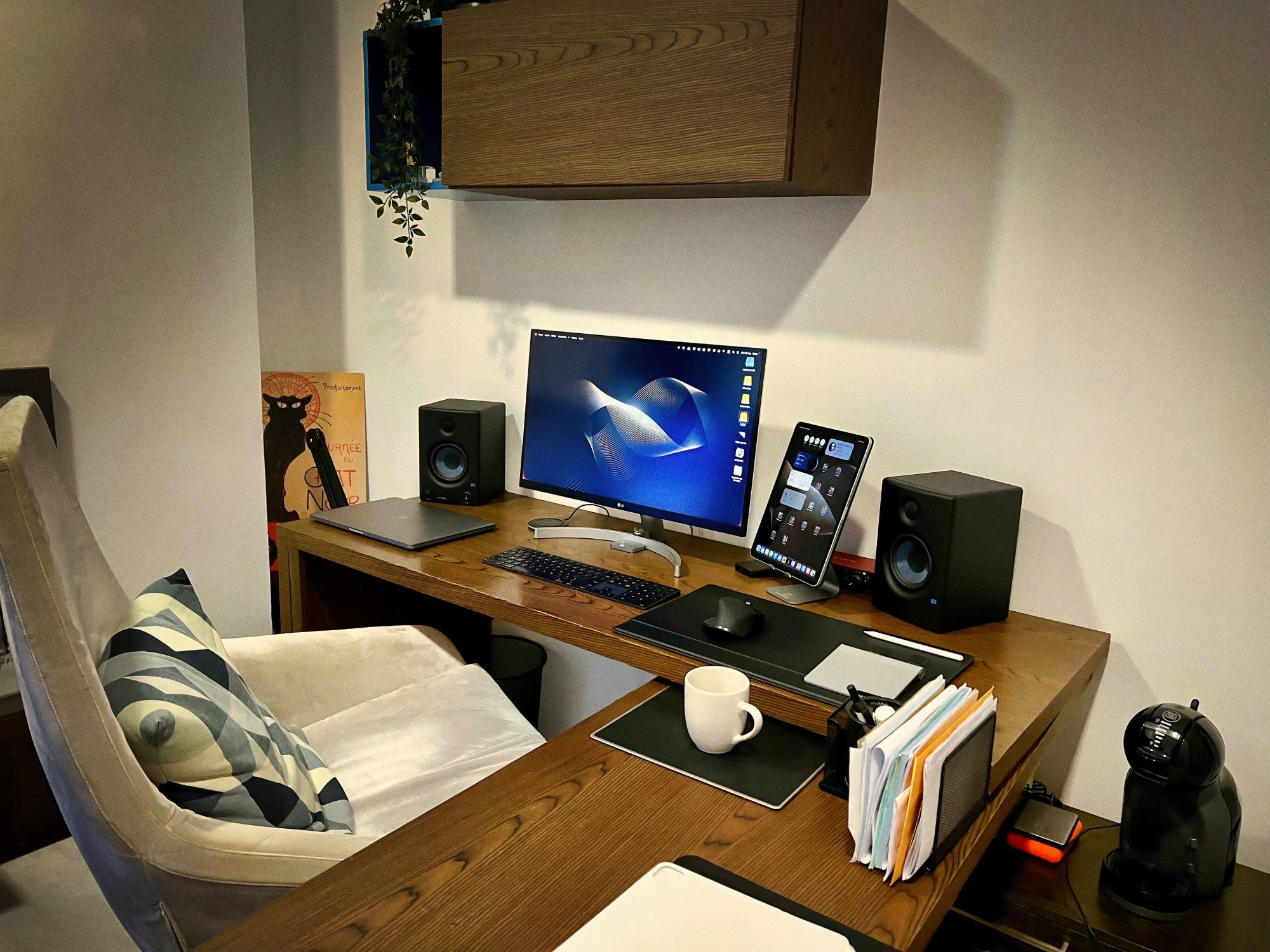 Mechanical Keyboard with Linear Switches
"Definitely a mechanical keyboard! It changes the look and feel of your entire desk setup.
Keyboards can make typing such a joy, thus, improving your productivity.
I don't have a specific brand of choice but I love modding them.
I love linear switches, smooth and easy to type on. Lube them and they sound even better!"
— By bananabenita, Instagram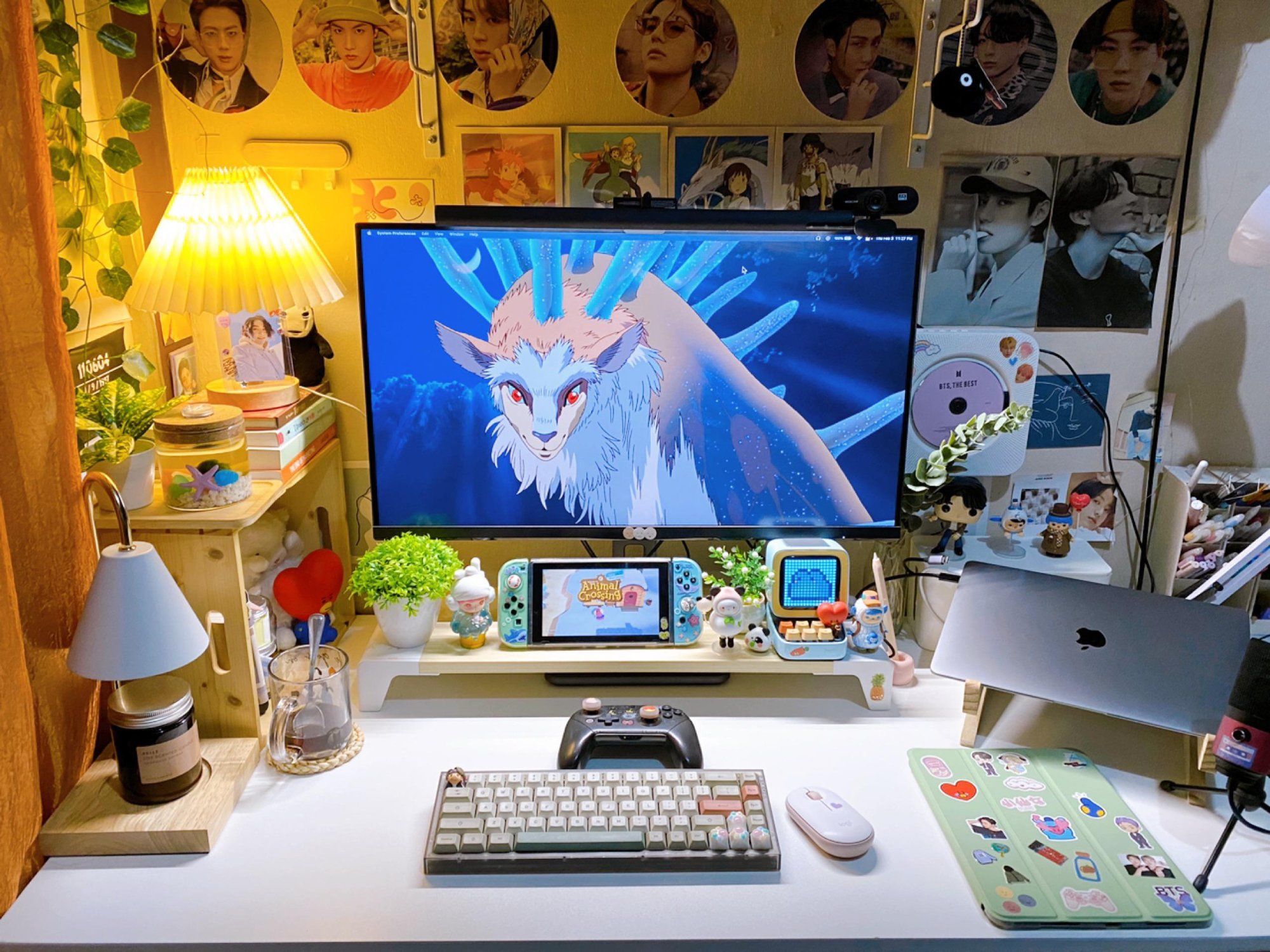 Monitor Stand
"It would probably be the little pink monitor stand underneath my screens.
Not only does it give me a place to put smaller items that would otherwise clutter up the area, but it was also a gift from an ex-fiancée.
And since the stand is directly in the middle of the room, it nicely ties it together!"
— By kinkykttn_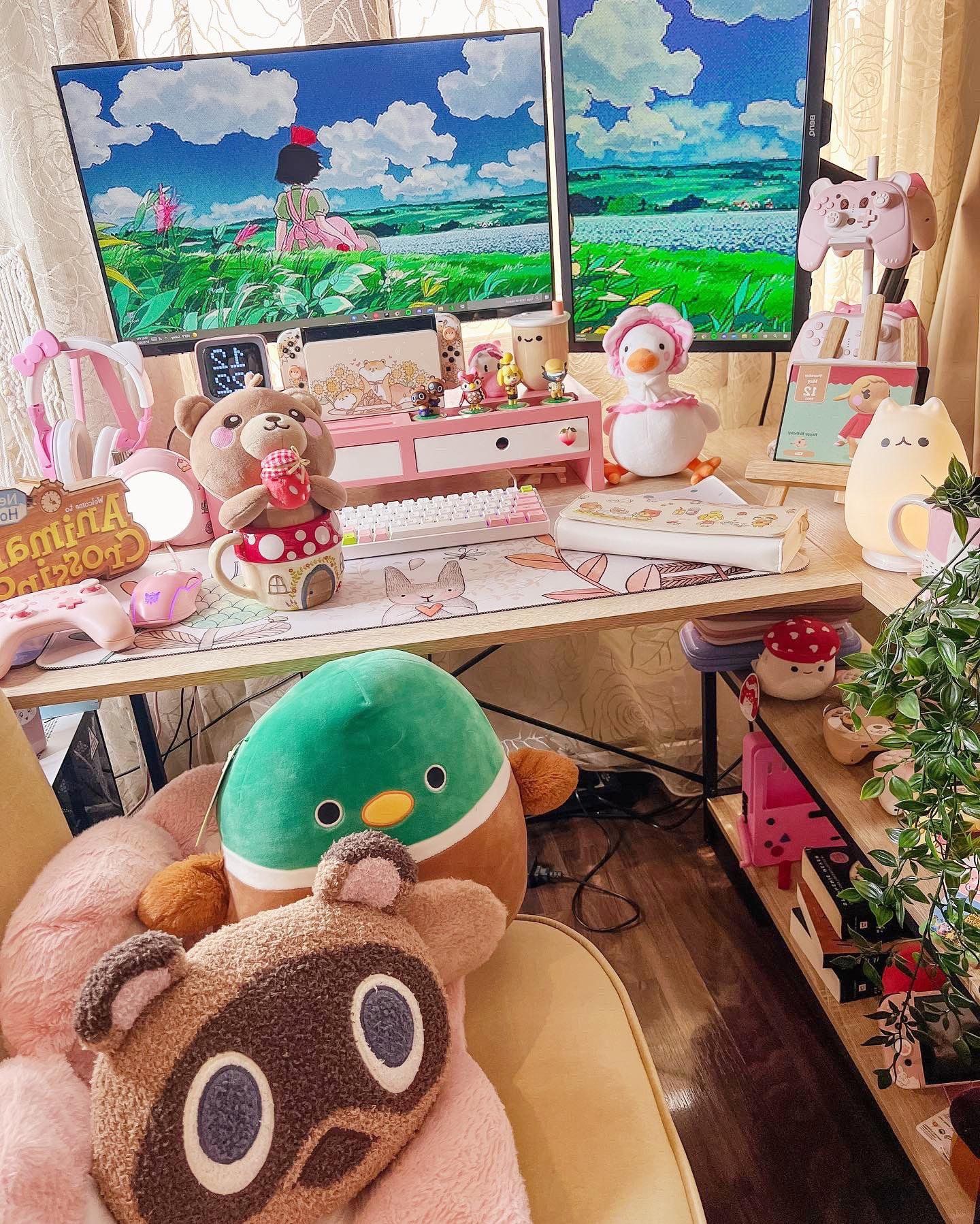 Laptop
"Definitely a laptop. I'm using a MacBook 12″, and it helps me to deal with any kind of work that needs to be done.
If I were to recommend something else, it would've been an HD webcam — I have a lot of meetings!
I used to have an old Logitech one but its 720p resolution [1280×720 pixels] made me disappointed when working remotely.
I recently bought a new 4K webcam from Depstech. The microphone and the image quality were surprisingly good.
— By emilylau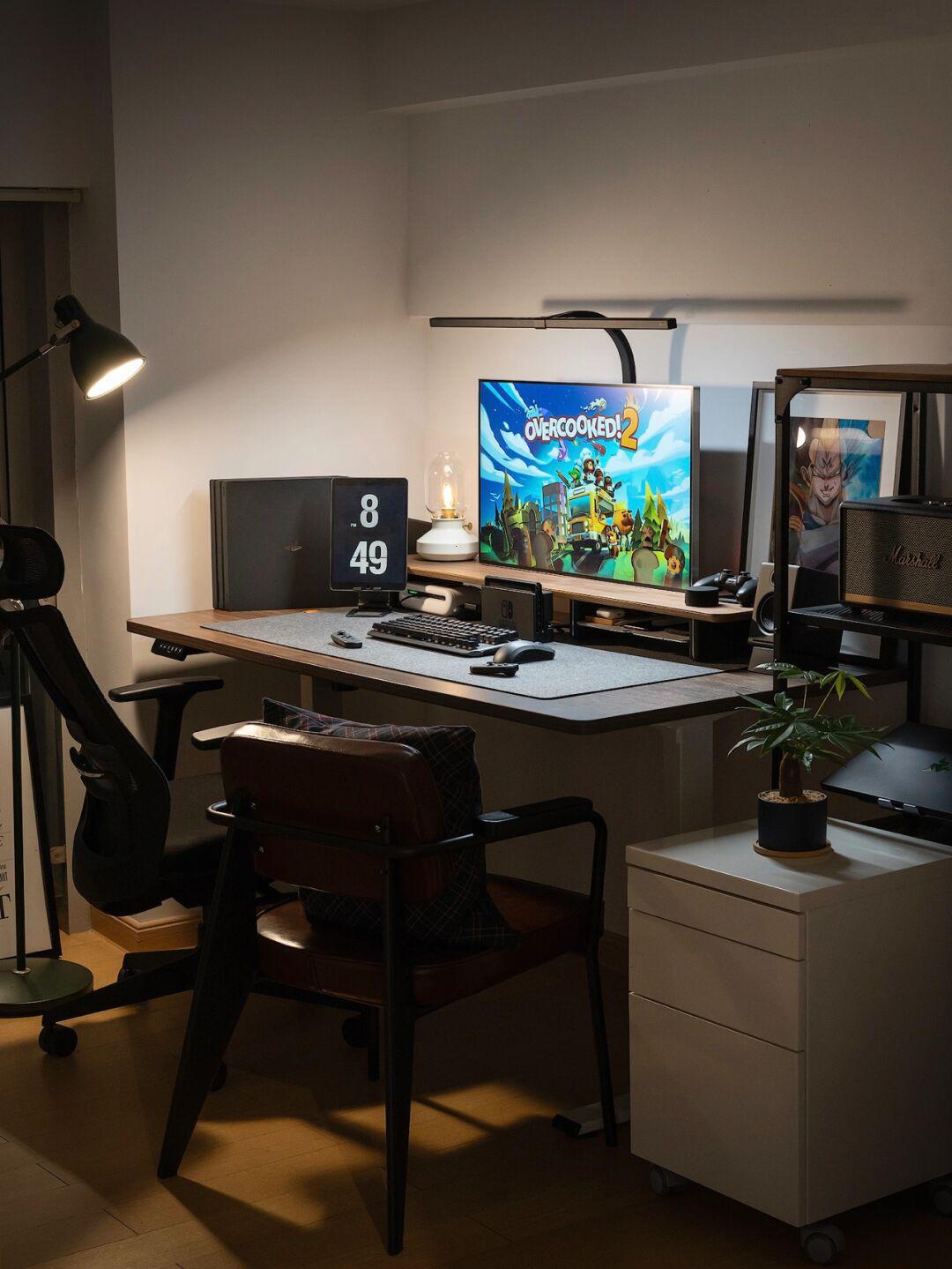 Monitor
"As silly as it may sound because it's so obvious, but definitely my monitor!
It's an ergonomic monitor from LG.
If I work at my desk for more than a few hours, I might switch positions frequently.
Being able to move the monitor freely around my desk, tilt, swivel and adjust it depending on how I'm sitting or standing has been a huge gamechanger for me."
— By Kamasylv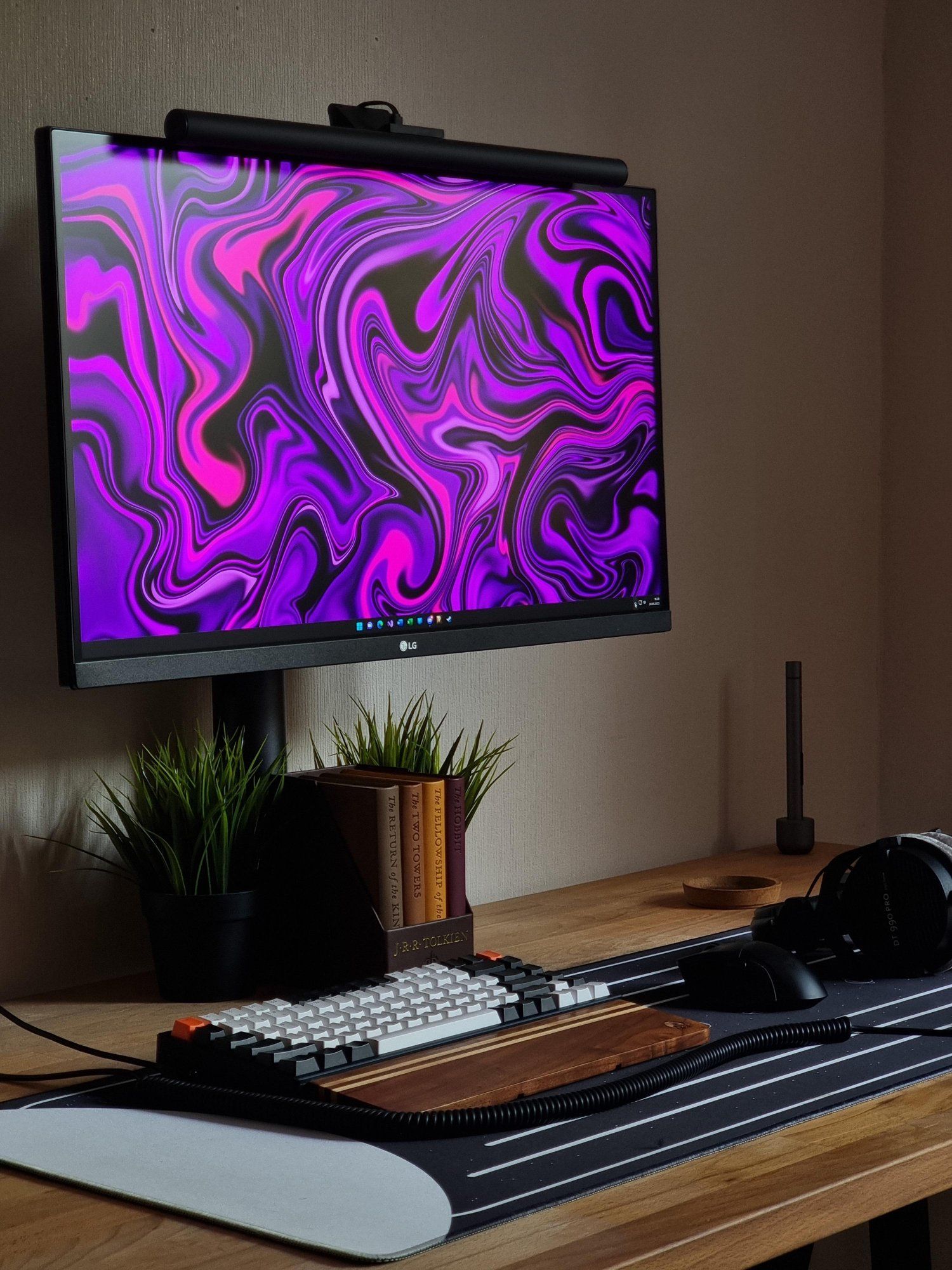 Light Bar
"If I had to pick one item, it would have to be the Xiaomi Mi Computer Monitor Light Bar.
It brings my workspace to life.
It brightens it up and puts less strain on my eyes when I'm working."
— By kingfirejet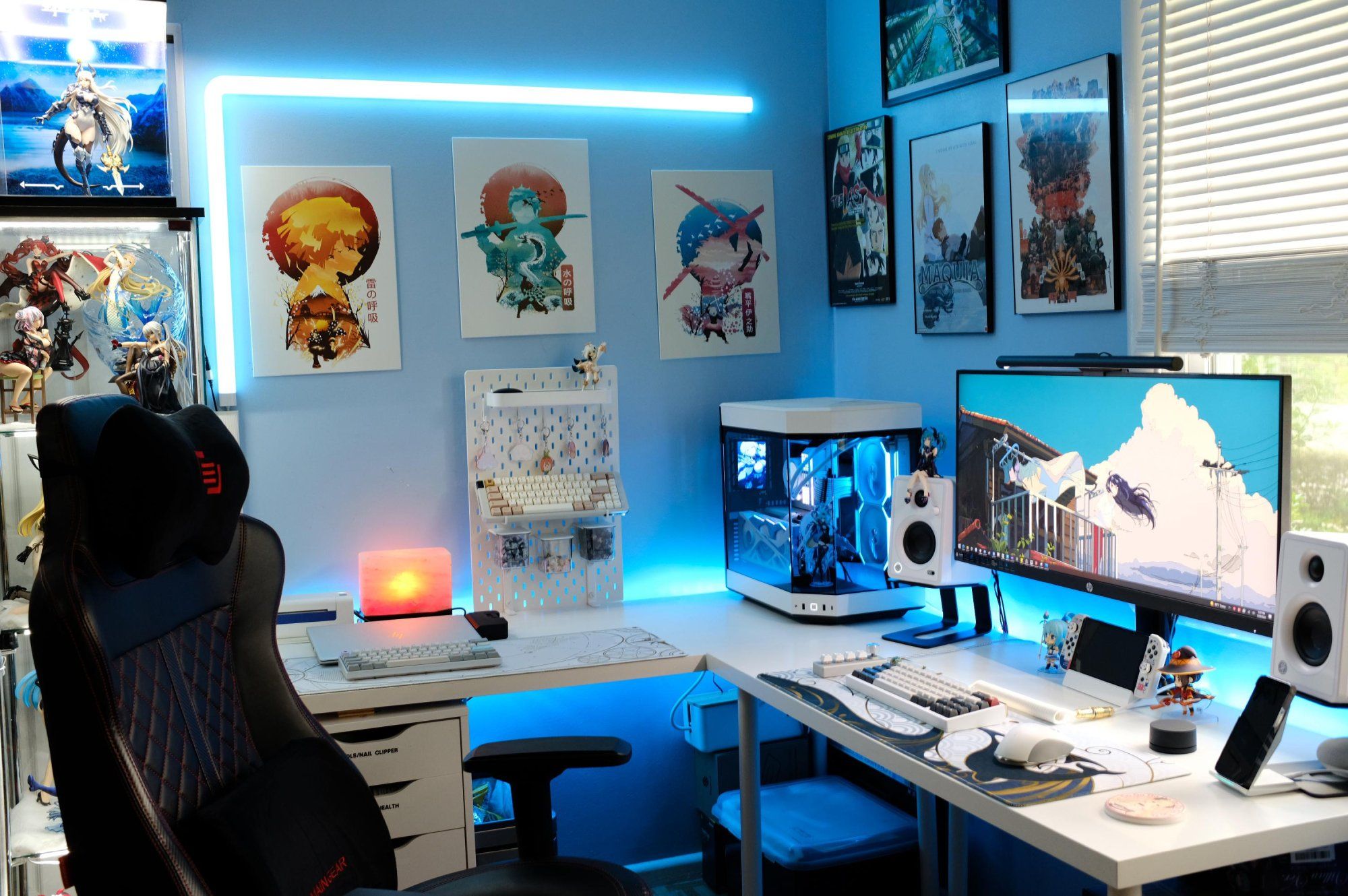 Headphones
"The one item I can not imagine my setup without is my Sennheiser HD 559 headphones.
I love listening to music and these cans are the best I've had so far."
— By Responsible_Growth18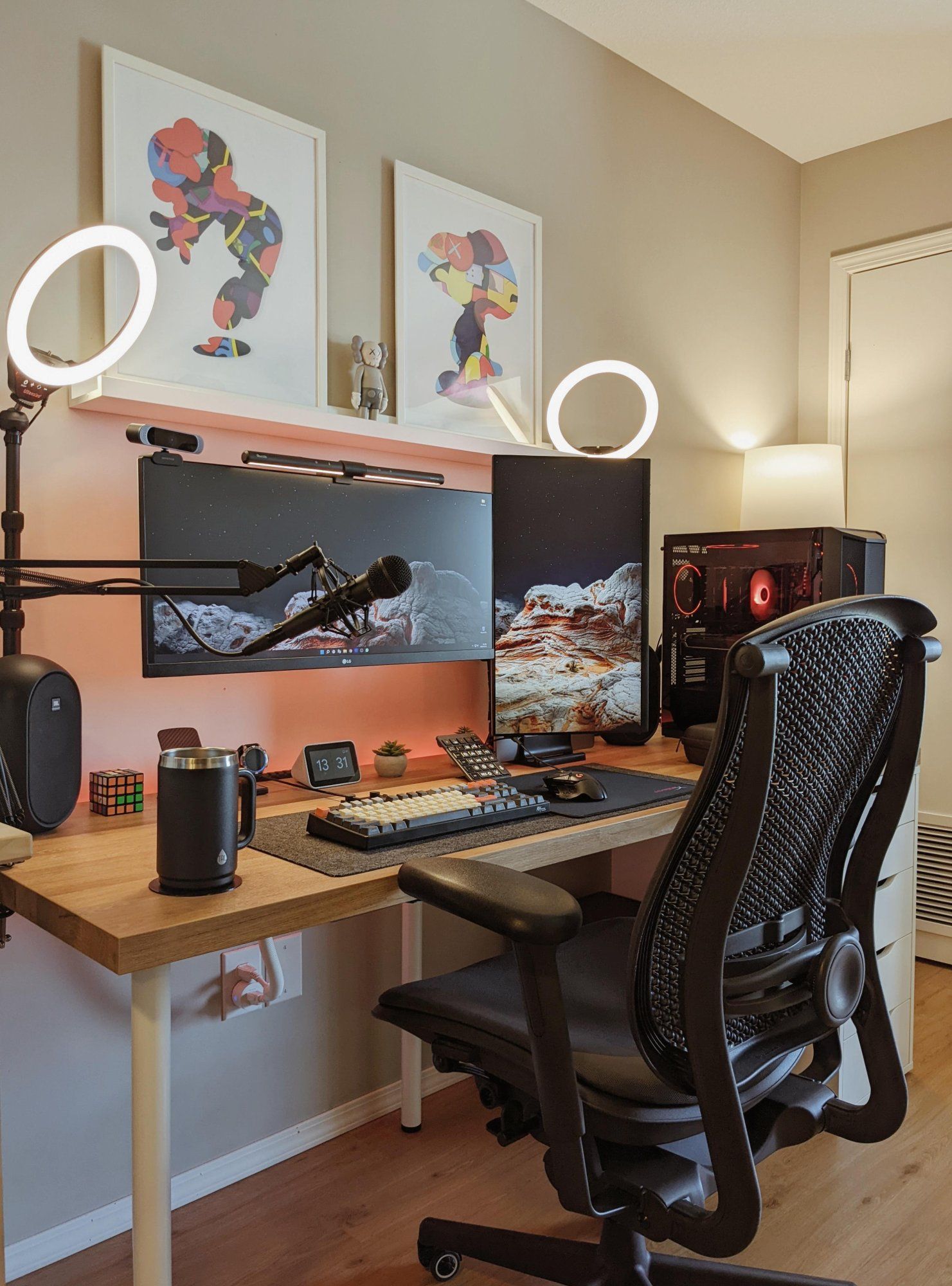 Ultrawide Monitor
"I do have one single item in my workspace that means more to me than anything else in the setup — this being my ultra-wide monitor.
The size and functionality work perfect for my PC to MacBook setup.

It easily provides options to daisy-chain all devices together through my monitor!"
— By TXRMXNX, Instagram, Twitter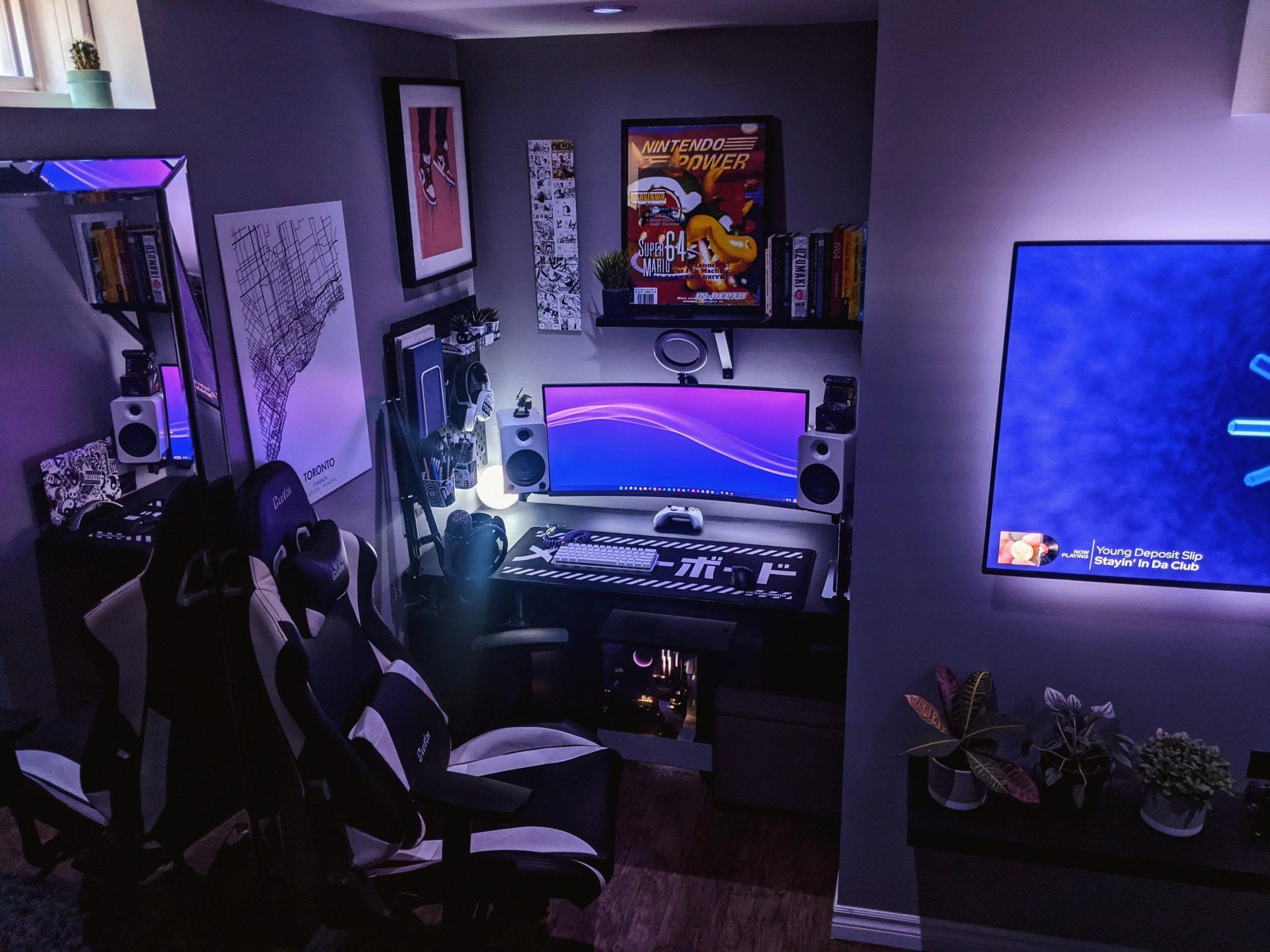 Mechanical Keyboard
"The item I can't live without is absolutely my mechanical keyboard!
I'm recommending it because that's how I get through my day as a graphic designer.
Between Photoshop, Illustrator, Indesign and whatever other programs I use day to day, the keyboard gets the most use for sure!
I've got a ton of keyboard shortcuts to make my workflow even faster, all of which I couldn't live without.
The keyboard is a GMMK Pro in white ice, with hand-lubed Glorious Lynx switches, Durock V2 stabilisers on an aluminium plate, and NP PBT Crayon & the Ice Cream keycaps!"
— By Brockoli96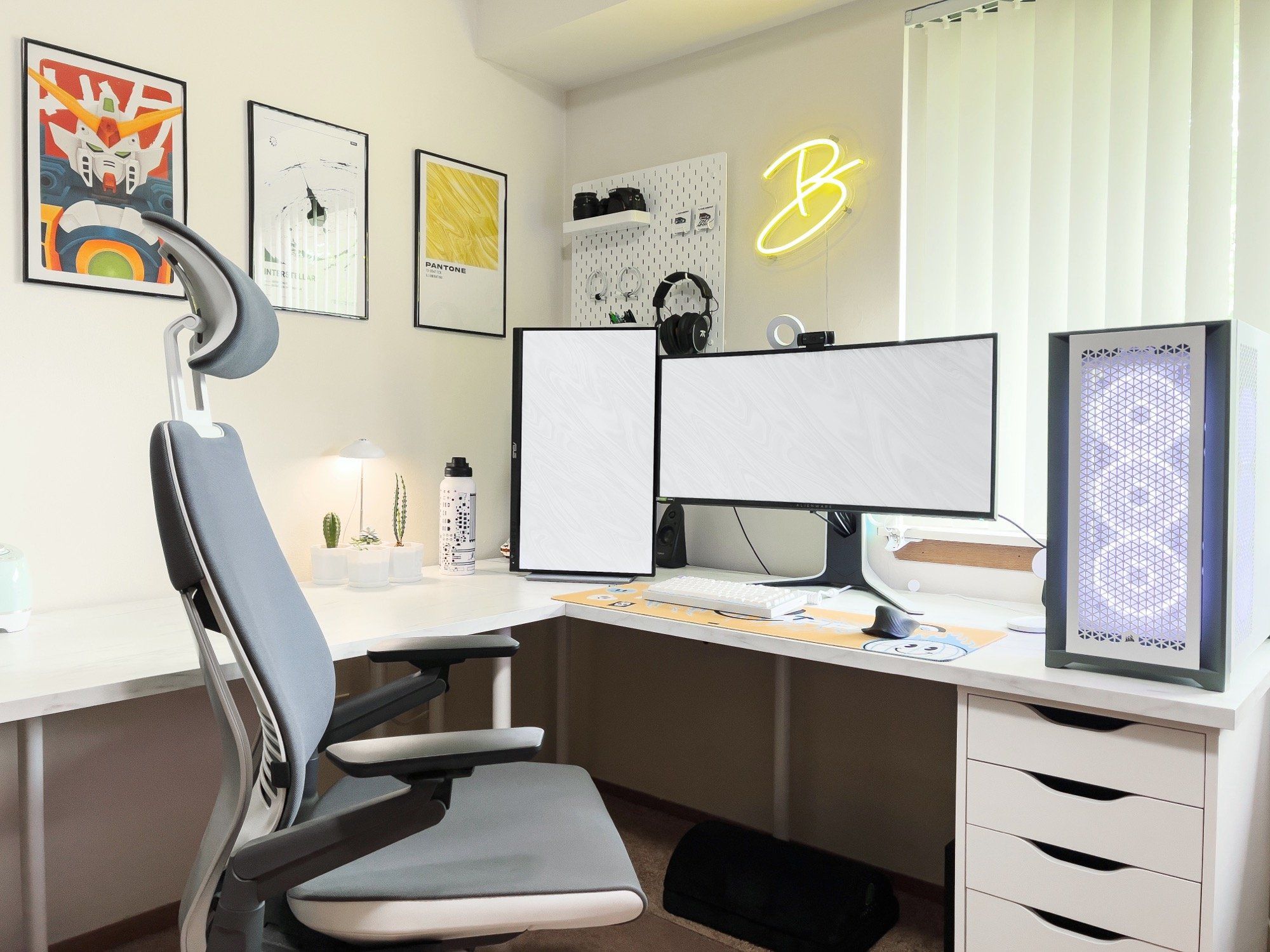 Audio Interface
"One item I couldn't imagine my setup without is my audio interface which sits on my desk mat!
Not only does it allow me to connect my headphones to it, but also to control their volume and record the guitar.
My Native Instruments interface also features XLR inputs — they allow me to plug high-quality mics into the interface and use them for voiceovers.
It also looks sleek ;)"
— By Abdulicare246, Instagram, YouTube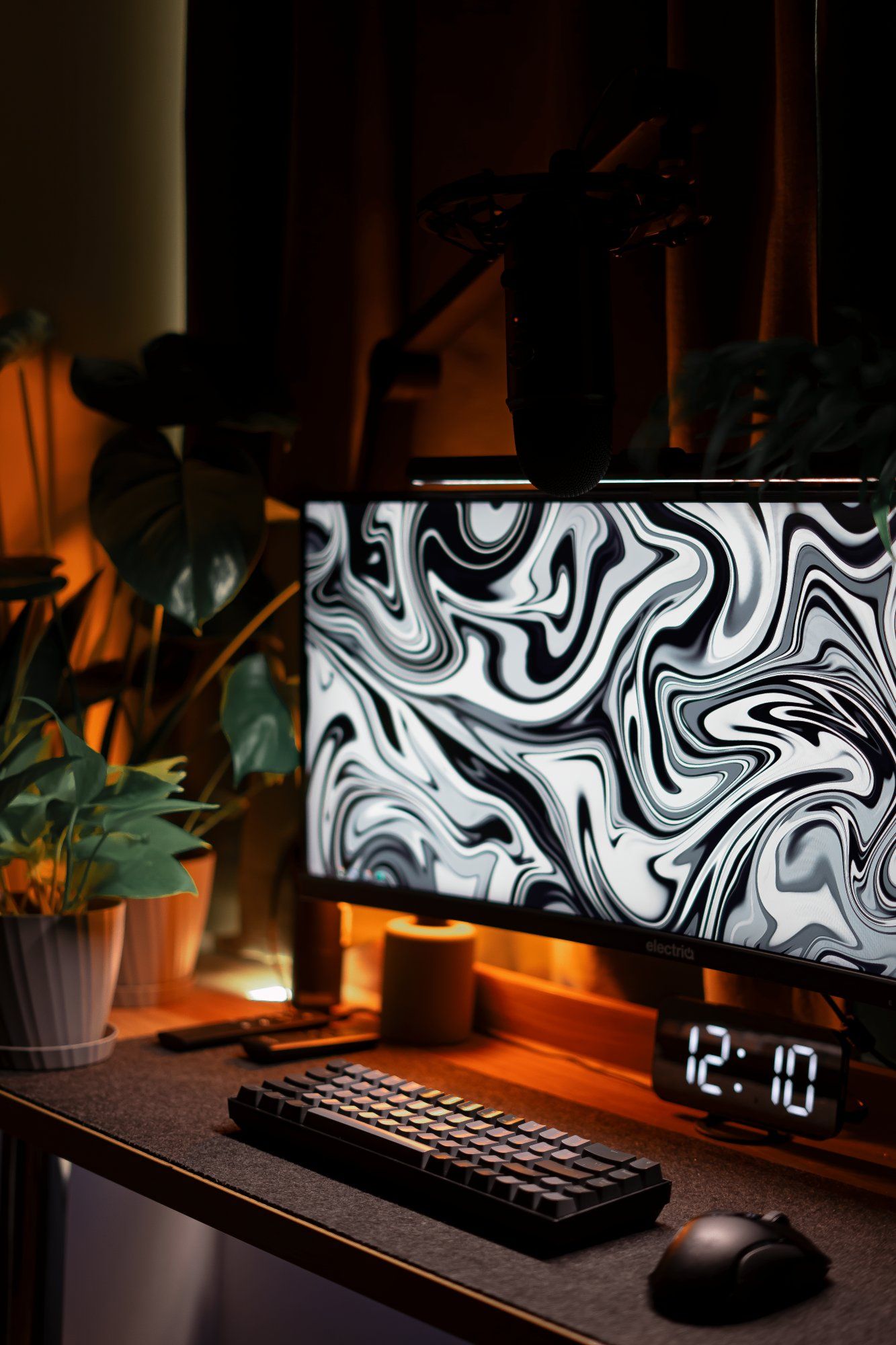 Mechanical Keyboard
"That one thing that I cannot live without is my mechanical keyboard.
It helps me to be more productive.
I type better and faster compared to a non-mechanical keyboard. It's also illuminated which definitely helps at night.
Aside from that, this keyboard has a dedicated knob. I use it to adjust the volume while working or watching Netflix."
— By Elijah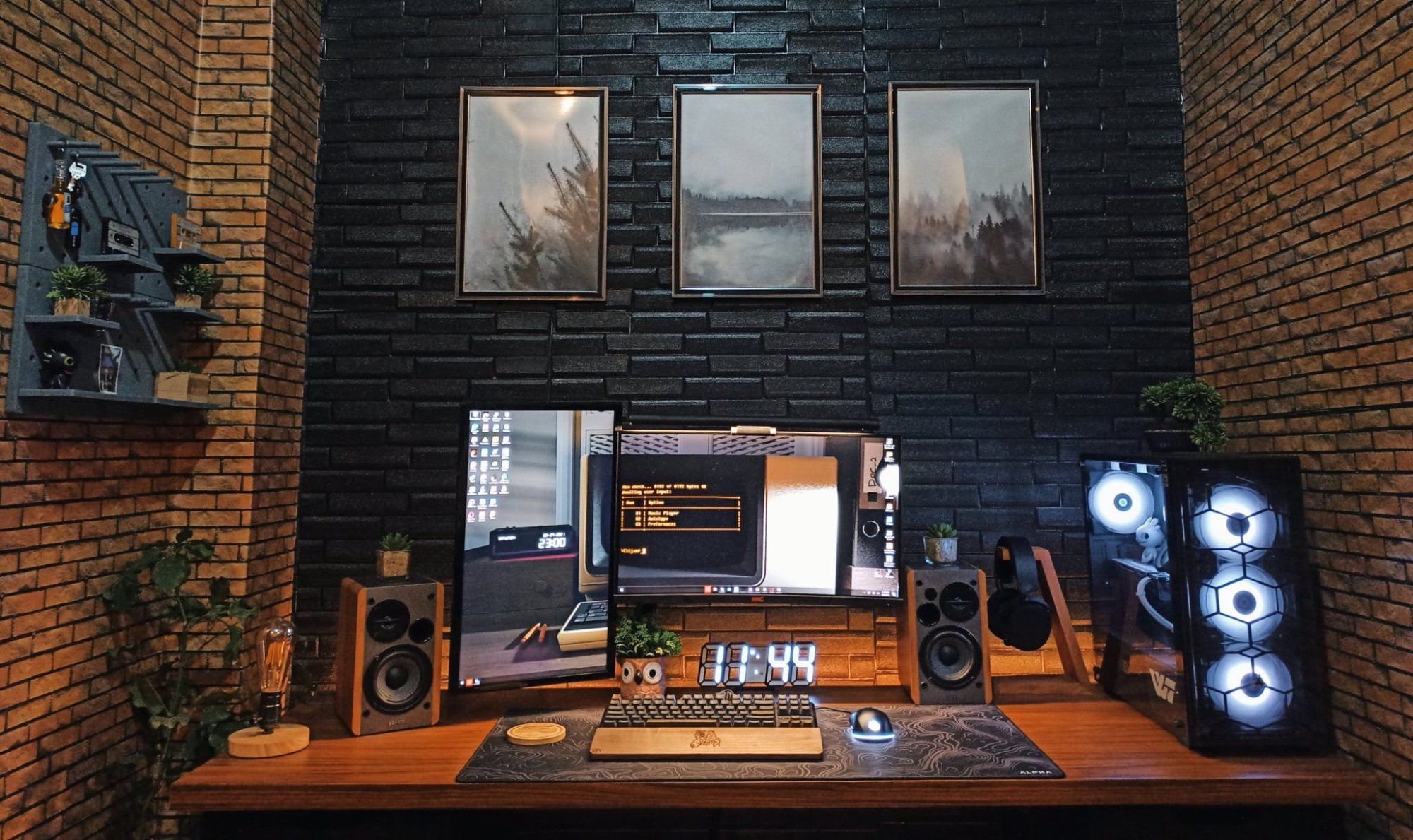 Speaker
"That one single item I cannot imagine your workspace without is my speaker.
It gets my attention to listen to more music.
I chose it cause it's affordable and it's a great-sounding speaker.
The model is the Edifier R1000T4 — cost me $60."
— By Sebastian Navato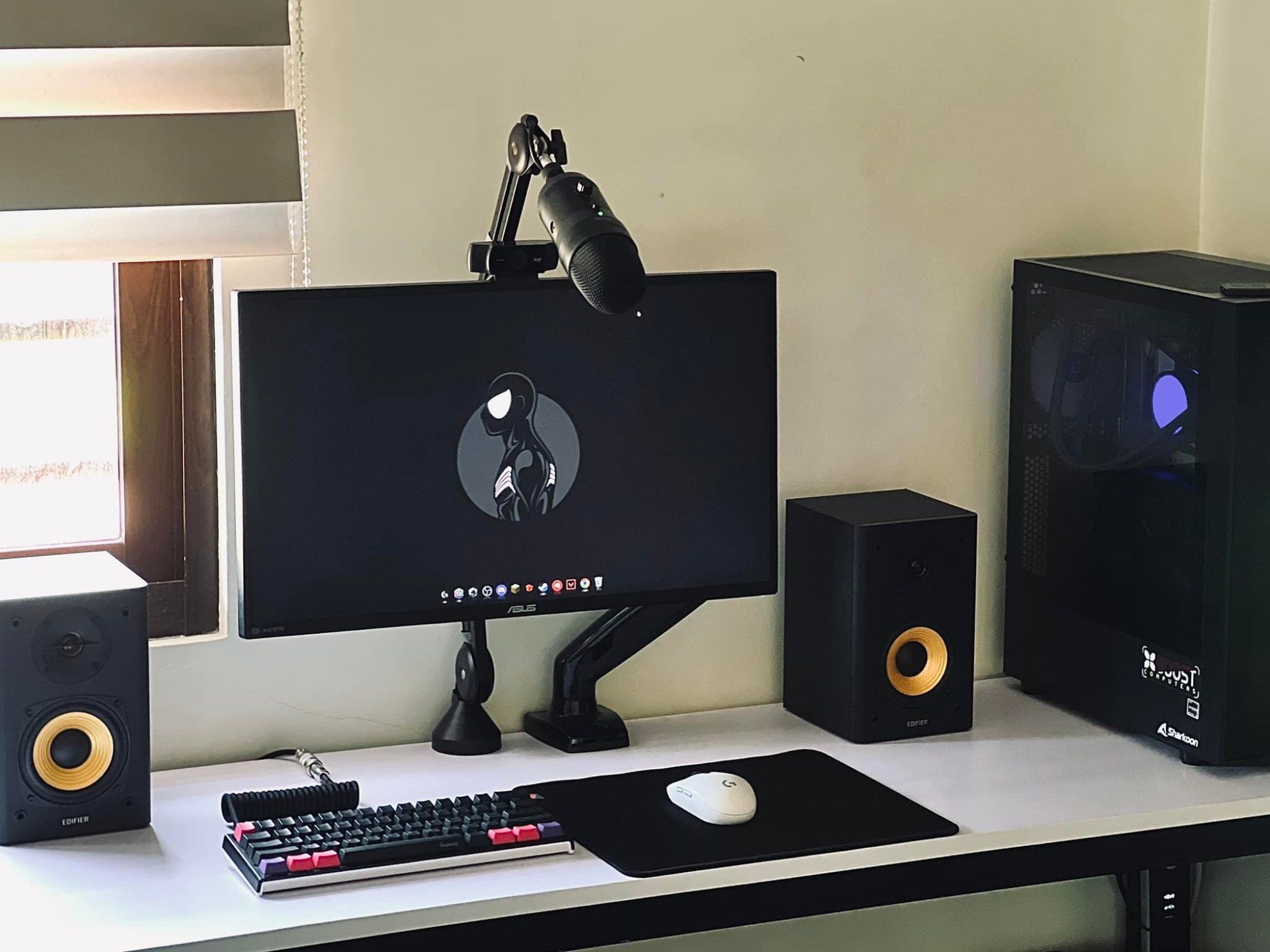 Standing Desk
"One item I can't go without in my workspace would have to be my standing desk.
This has been a game-changer in my life.
I work as an assistant administrator in a nursing home so my days vary throughout the week.
There are days when I am going from one side of the building to the other all day long.
Then there are days when I am sitting at my desk quietly minding my own business and working on documents, which is more often than I want it to be.
On these days, the last thing I want to do when I get home is more sitting down.
This is where my standing desk comes into play.
My Autonomous SmartDesk Pro allows me to lift my desk to a reasonable standing height so I can use my equipment comfortably.
Other than its amazingly easy functionalities, it's fascinating how it improved my back.
I can go long sessions in front of my computer either gaming or learning something new about my hobbies.
If I start feeling slight lower back pains or become sore in any part of my lower body, I just stand up and use the buttons on the side of the desk to raise everything up so I can keep using my PC.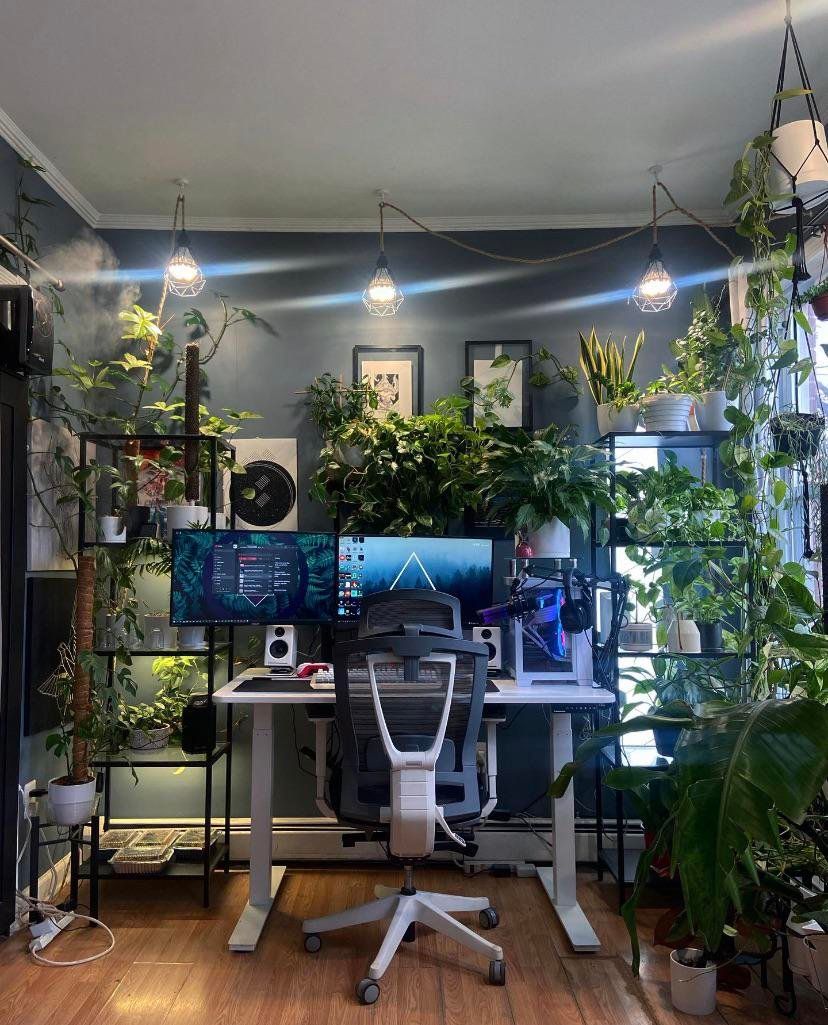 It's probably not the best to be in front of the screen for so long but I got used to it during the pandemic.

I got a few friends to convert their regular desk into a standing desk.
All of them enjoy it greatly. None of them would ever go back to a standard desk, especially the ones that work from home and sit in front of their workspace all day long!"
— By Surrender-20
Secondary Monitor
"It's hard to decide which item can prove the most useful.
It could be a powerful PC, a wireless mouse or an ultrawide monitor. I do enjoy all of these!
But if I had to make a choice, I'd go for a secondary monitor.
It is extremely useful for monitoring non-critical information while you have an important task or game running on your primary monitor.
You could make it display the weather, show notes, or even media like YouTube — the second monitor will come in handy for all of these.
My second choice for a favourite item is definitely a good pair of closed-back headphones.
I currently have an entry studio headphone, the Beyerdynamic DT 770 Pro.
Sometimes you just don't want to hear what's going on around you.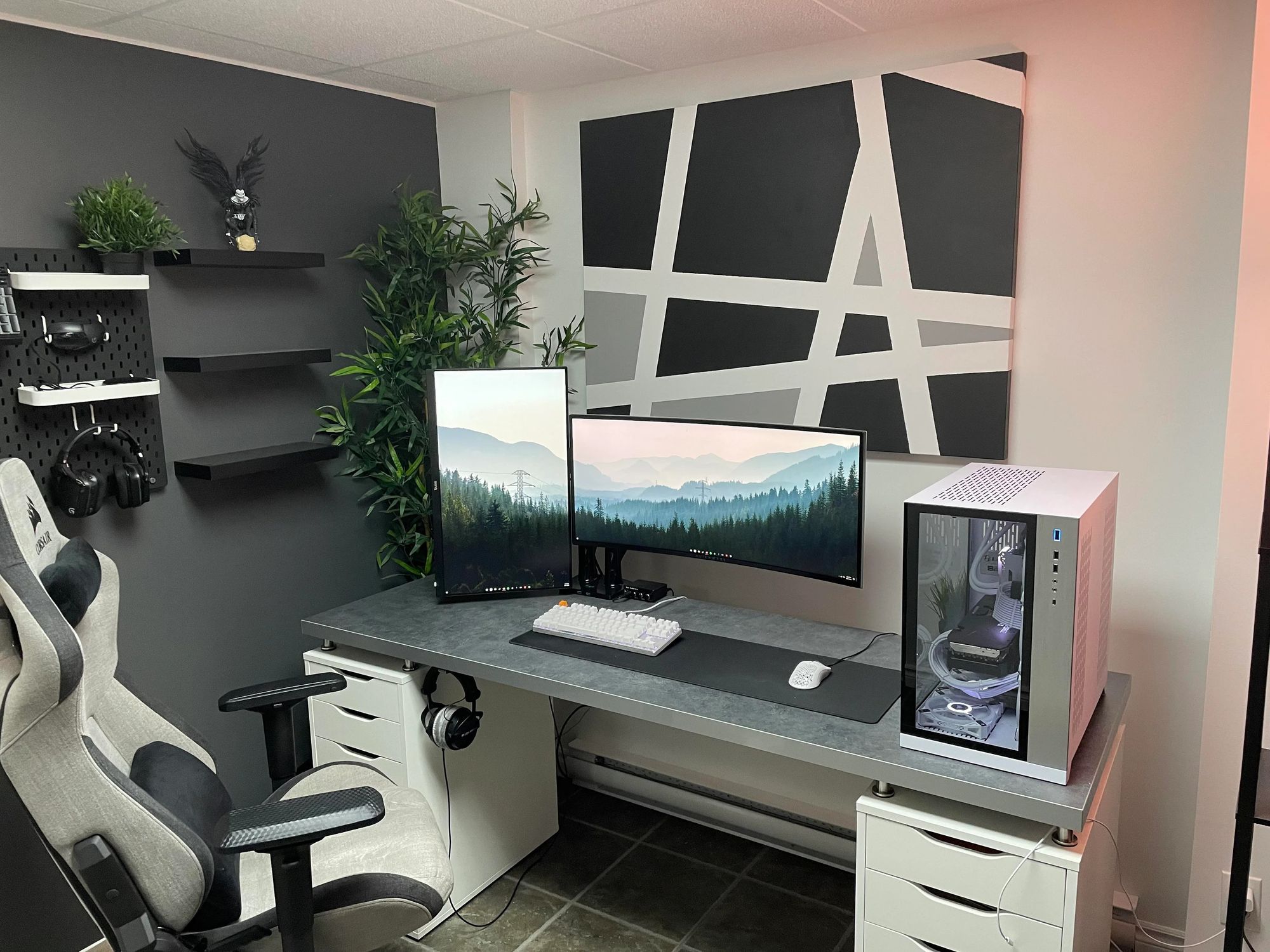 Sometimes it's people who are loud or street traffic. Putting on music, doing your work or casually gaming is a great way to relax.
The DT 770s are bass-y. When paired with an entry-level DAC/AMP, they can do you good for the price.
They make listening to music or gaming a great experience. They're also really comfortable and sturdy.
Every desk setup needs a good pair of headphones!"
— By DeIaminate, Steam
Wireless Peripherals
"Two items that I cannot imagine with my workspace are the wireless peripherals (the keyboard and the mouse).
I'm so obsessed with having no cables in my setup, haha.
And of course, the monitors. The horizontal screens are for work, and the vertical one is reserved for social media and other purposes."
— By killcry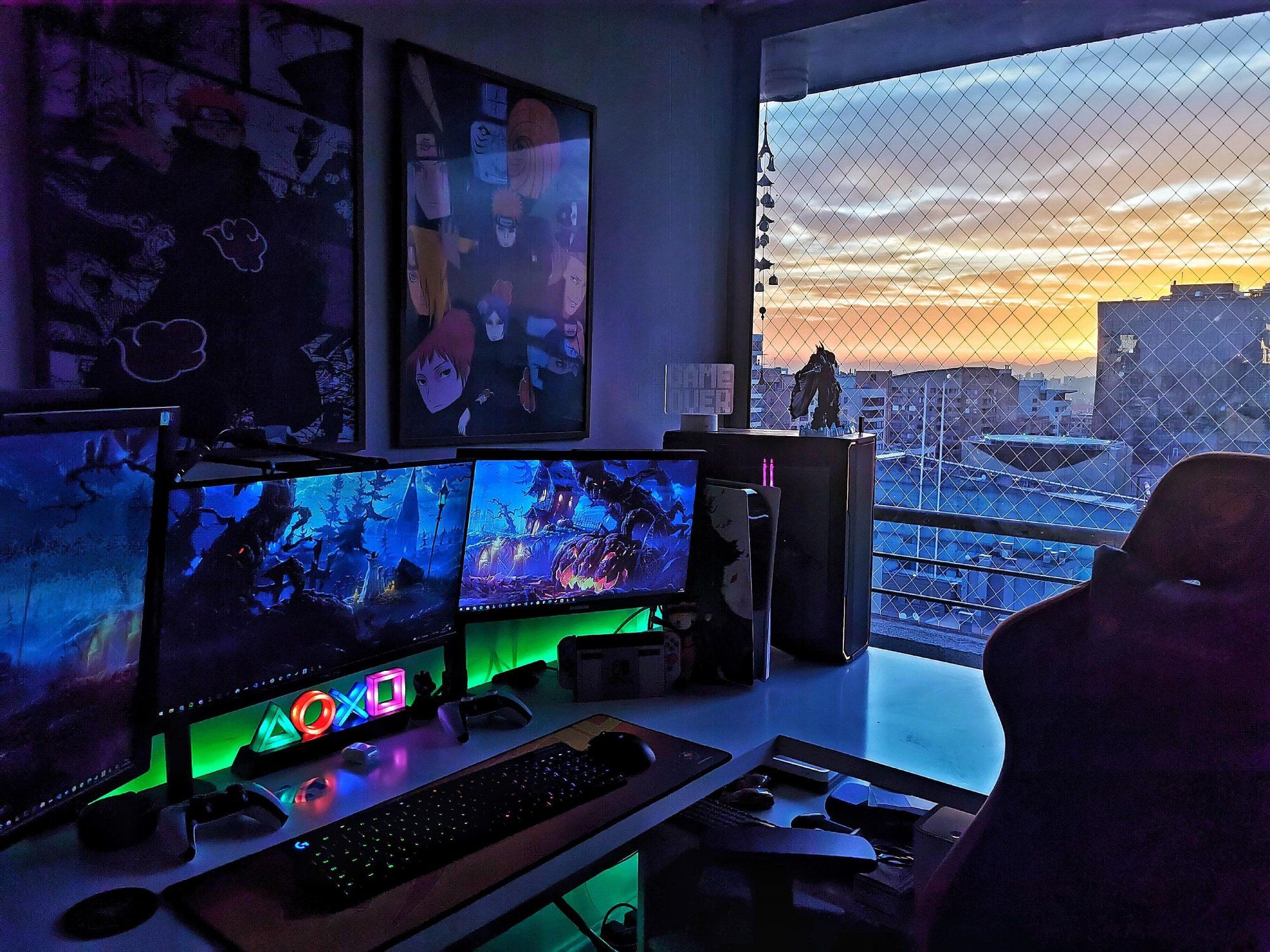 Keyboard
"I'd probably go with my custom keyboard.
It took me a few months to gather all the parts I wanted to get it just right.
Building keyboards has been a fun hobby for the past year or so but this is my first higher-end build.
It makes this keyboard special to me."
— By PromiseSafe998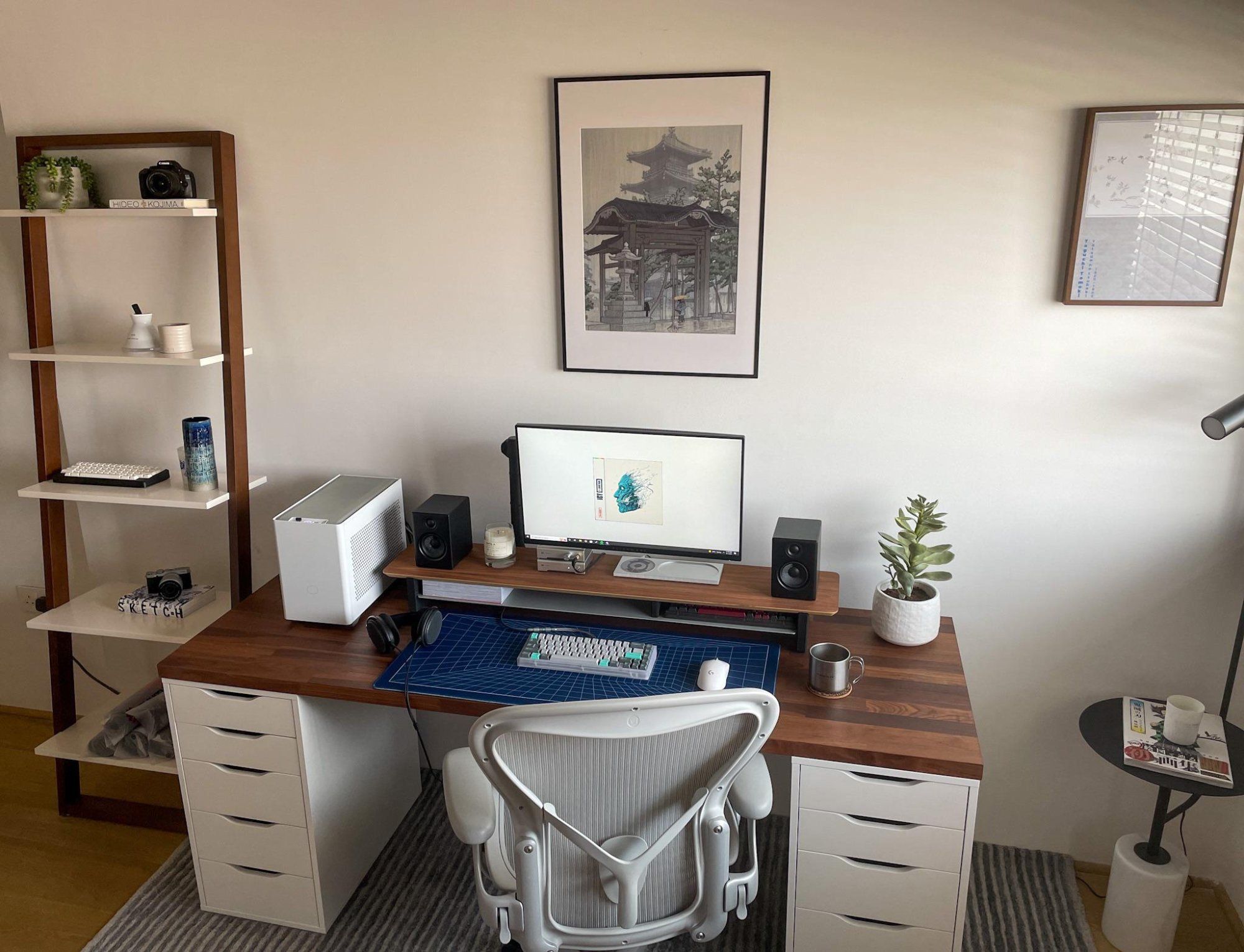 Stream Deck
"I would say that one essential item would be my Elgato Stream Deck.
I'm a video game writer for a living. I need the Stream Deck for macros, text functions, and other things.
It's right next to my Beacn Mix that I use to control my audio in meetings, games, and other instances."
— By BostoHolic, Twitter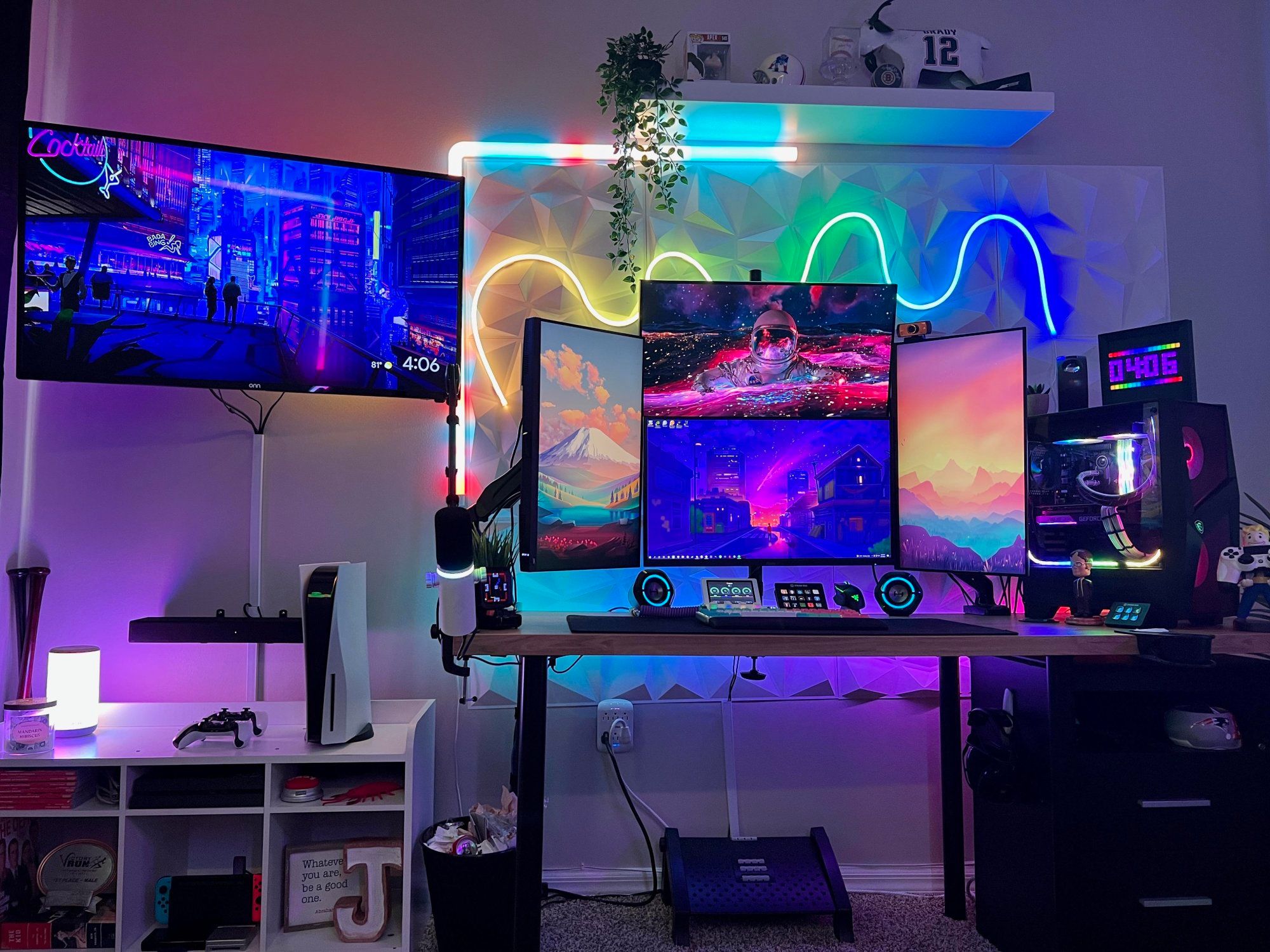 Monitors
"I cannot imagine my workspace without having multiple monitors.

I just need more screens for better productivity!
— By cryptnos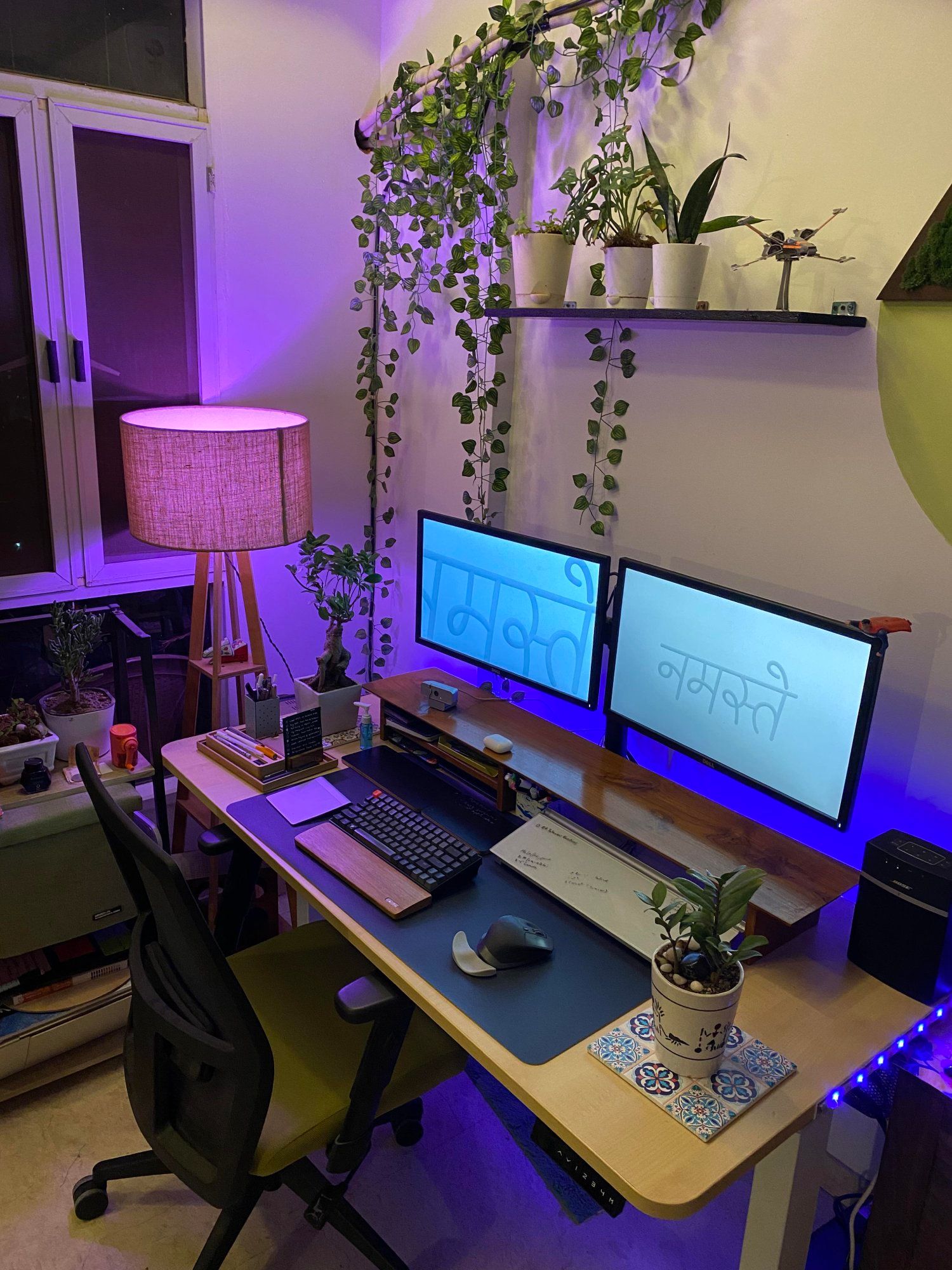 USB switch
"I've integrated my work laptop with my battlestation.
It makes it seem as if I'm simply working on another desktop as opposed to my laptop.
It is connected to a drawer underneath my desk that in turn is connected to two monitors.
I've got a USB switch mounted below my desk.
It allows me to quickly switch my mouse, keyboard and webcam back and forth between my work laptop and gaming PC at the push of a button.
I wouldn't able to work at home without it feeling like a true desktop.
So this allows swift transition between the two and comfortable working remote.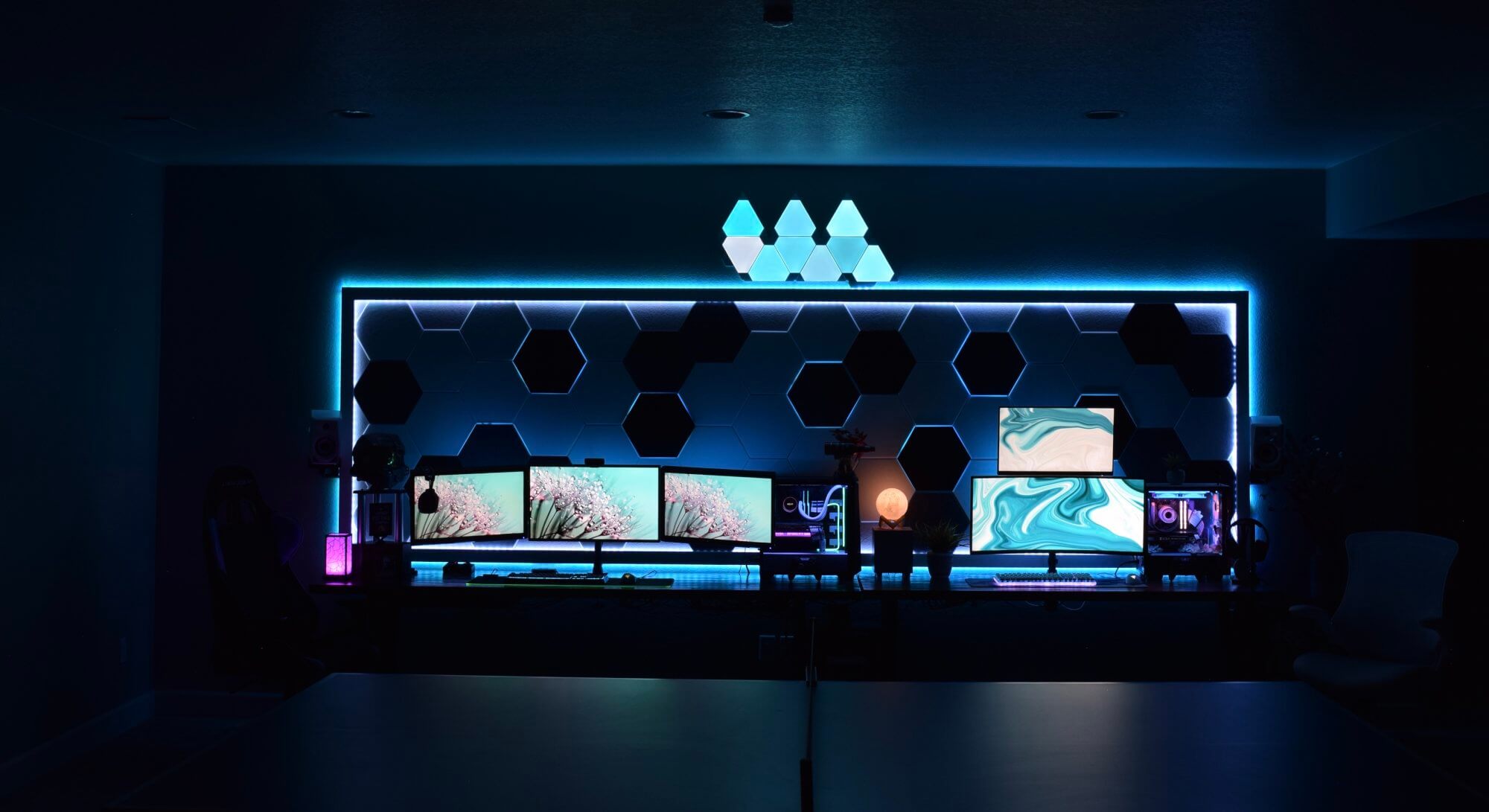 For the second option, I would go for my Pioneer DJ speakers.
I always love having a little bit of background music during work days and they also provide the option to jam out during gatherings of friends and family."
— By jcrist11
We're a reader-supported publication. This article might contain affiliate links. It means we may receive a commission if you click a link and buy a product that our maker has recommended. The interview was done independently.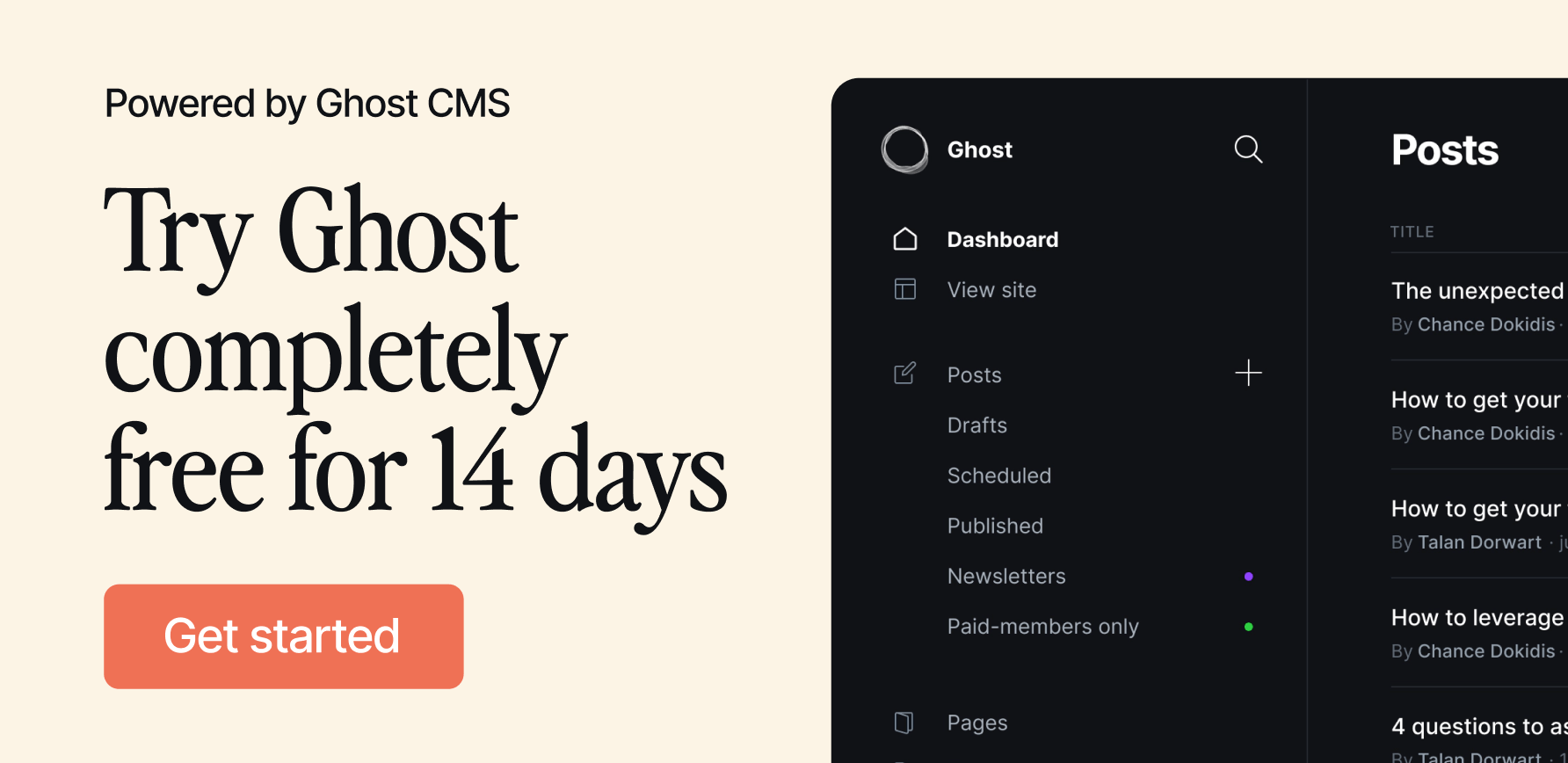 ---