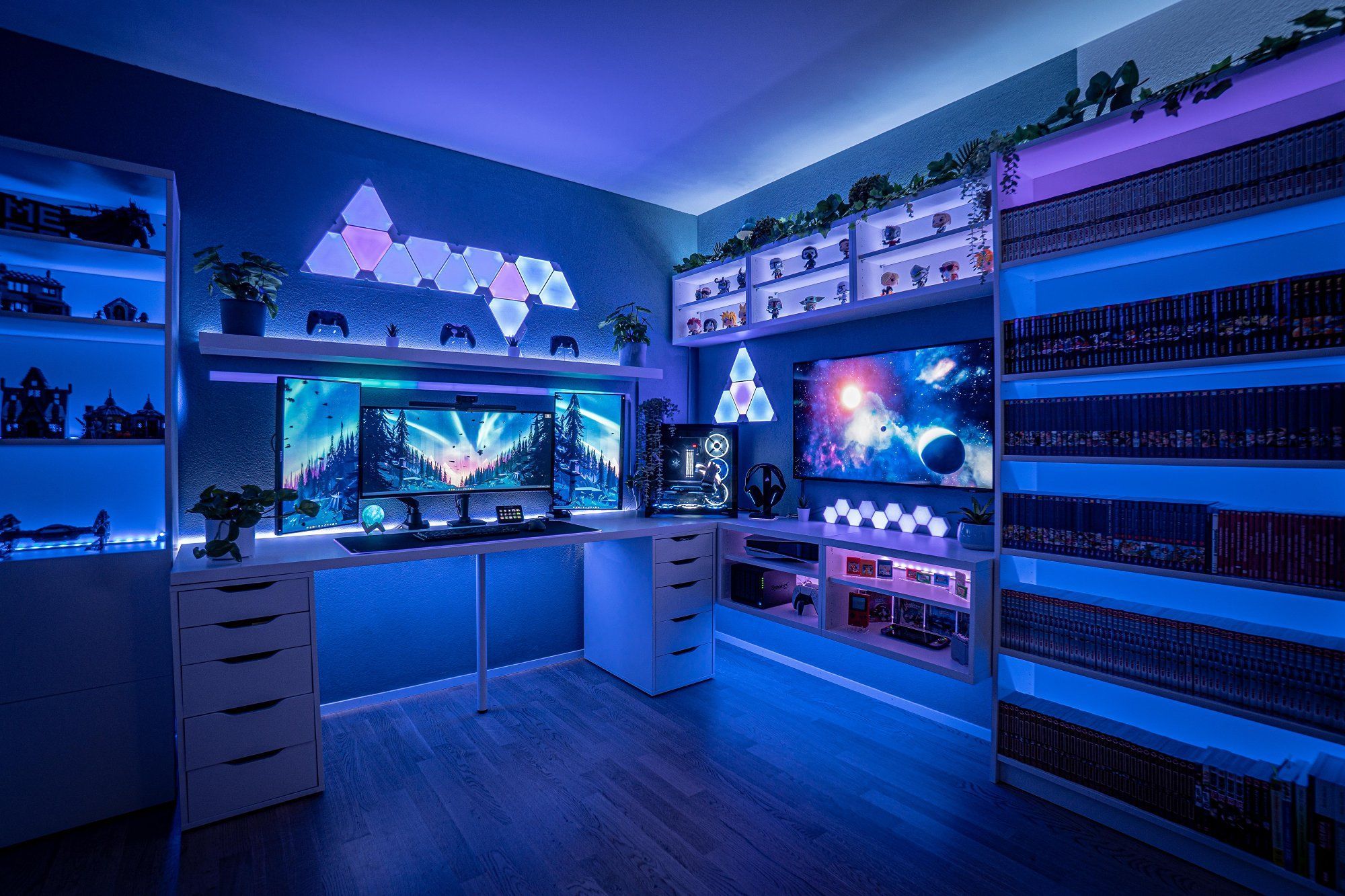 30+ IKEA ALEX Desk Setup Hacks (Ideas From Real People)
Discover the best IKEA desk hacks, insights, and stories from creators and makers who used ALEX drawers in their workspaces.
Join 1700+ Curious Readers.
Every Sunday evening, get an *in-depth* workspace tour from a random corner of the world.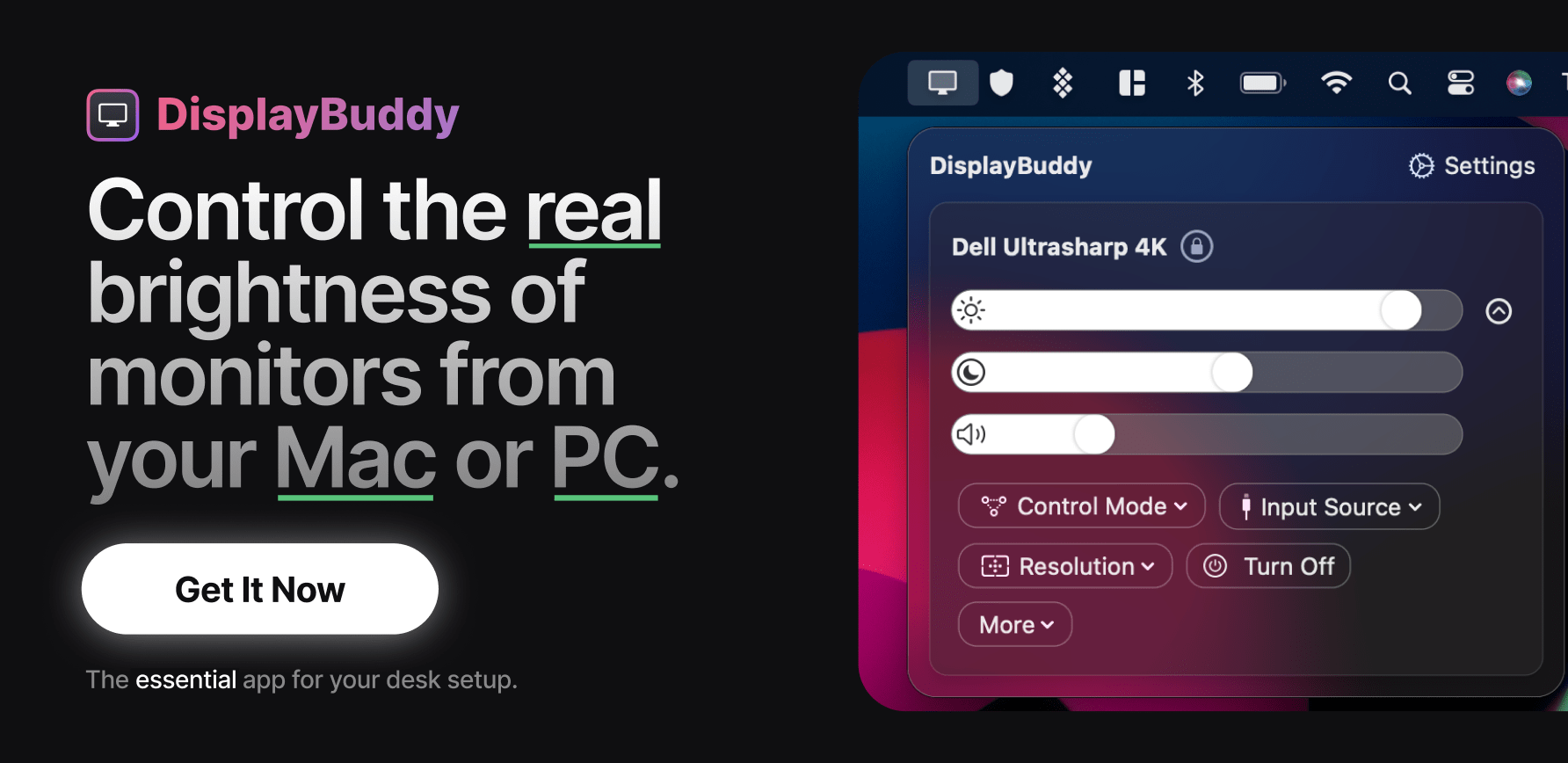 Ever wondered why IKEA ALEX drawers are so popular?
We spoke with many WFH creators around the world, and here are the top five reasons why they chose these storage units for their home offices.
ALEX drawers are space-saving. With their simple, thoughtful design and generous depth of 58 cm (23 in), the drawers provide ample storage and simplify cable management.
ALEX units are well-built and easy to assemble. The instructions are easy to follow, the drawers can tolerate minor assembly flaws and remain sturdy.
ALEX drawers are versatile. They come in various sizes and colours. You can either use them on their own or mount the worktop on top of drawers, serving as desk legs. KARLBY tabletop is a popular choice for this.
ALEX drawers are affordable. According to the users' reviews, they offer the optimal value-to-price ratio for budget home offices.
ALEX units are good for the planet. The particle board for this product is made from sawmill leftovers and scrap wood, so IKEA makes use of whole trees and not just the trunks.
Below, you'll find 34 authentic desk setups featuring IKEA ALEX drawers, along with direct quotes from home office owners about the pros and cons of their choices.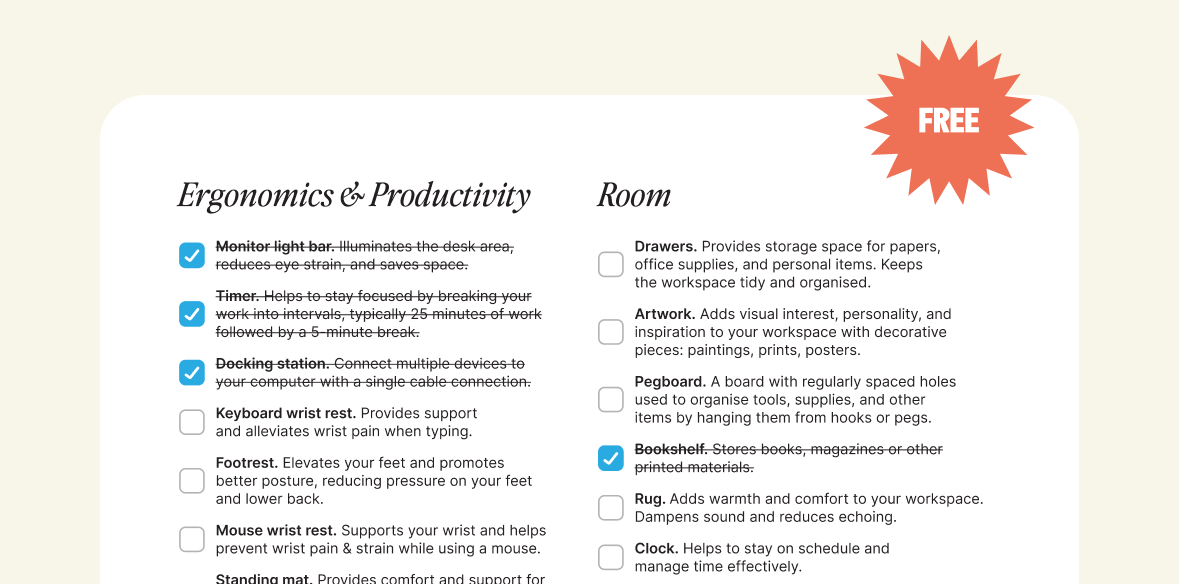 Minimal L-Shaped IKEA Desk Setup with ALEX Drawers
Desk size: 188×61 cm (74×25″)
"For the desk, I'm using two IKEA EKBACKEN countertops. They're 74″ long and 25″ deep.
One of them is used for the main desk where the monitors and PC sit, and the other runs along the wall to the left. Recently, I got a Flexispot E7 frame to convert the main desk into a sit/stand desk, and I'm loving it!
I was inspired by the increasing use of IKEA countertops and ALEX drawers. Since my PC was all white, I decided to build a desk setup around that colour scheme.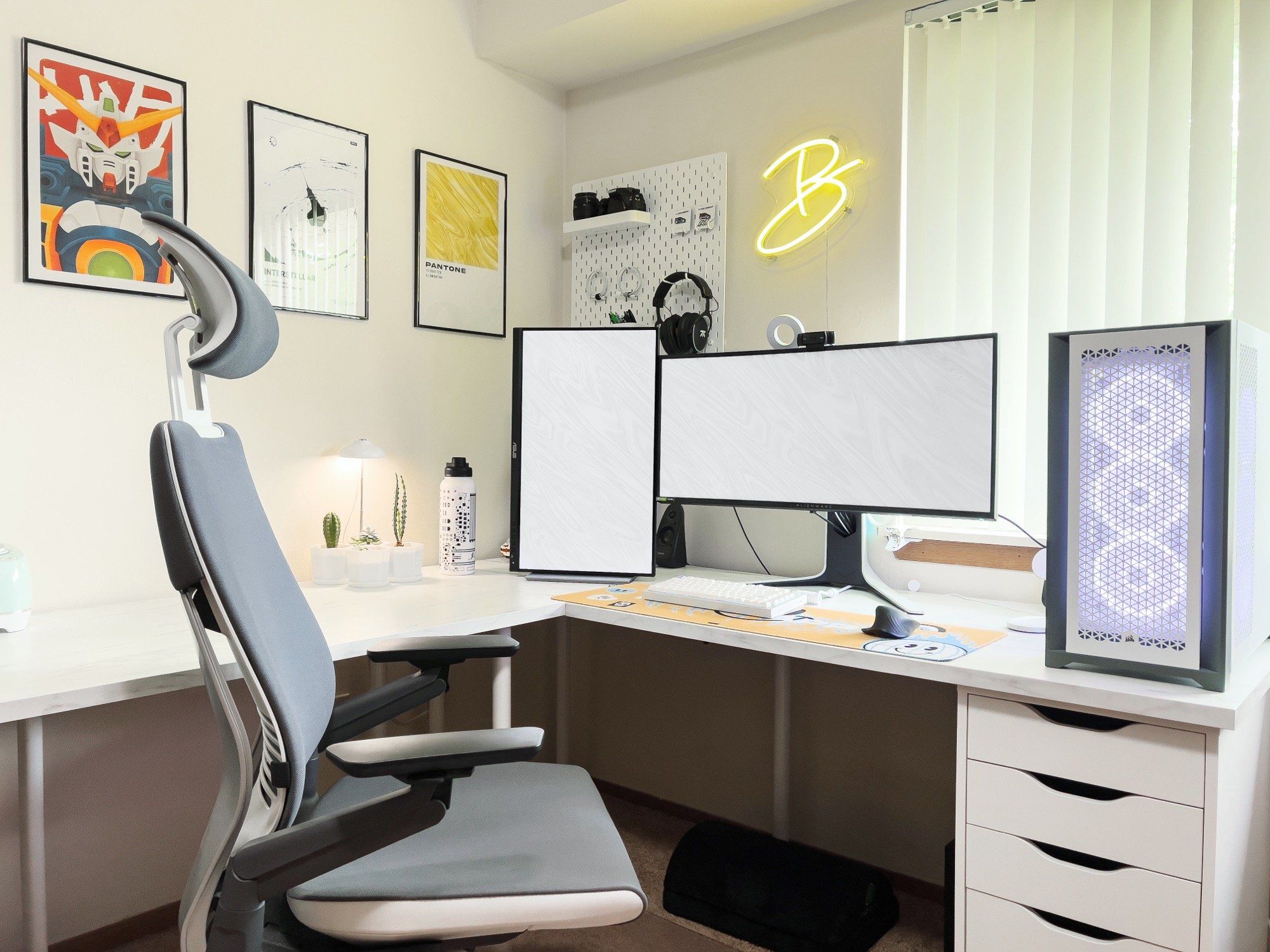 I needed storage, so the ALEX drawers were a must-have, and I wanted a lot of desk space, so I opted for an L-shaped setup.
I did consider some of IKEA's other countertop/desktop options, but none of them seemed to be made with the same quality in all white or had the right size I was looking for.
I wanted something that was durable and looked good as well."
IKEA KARLBY Battlestation with ALEX Drawer Units
Desk size: 188×65 cm (74×25,6″)
"The IKEA KARLBY countertop I have is 74 inches long and 25 5/8 inches deep, and the total height should be around 29 inches.
I went with the ALEX drawers because I needed lots of desk storage, and they also looked good with most countertops or butcher block tops.
They cost about $90 each.
It's also really easy to cable manage behind the ALEX drawers.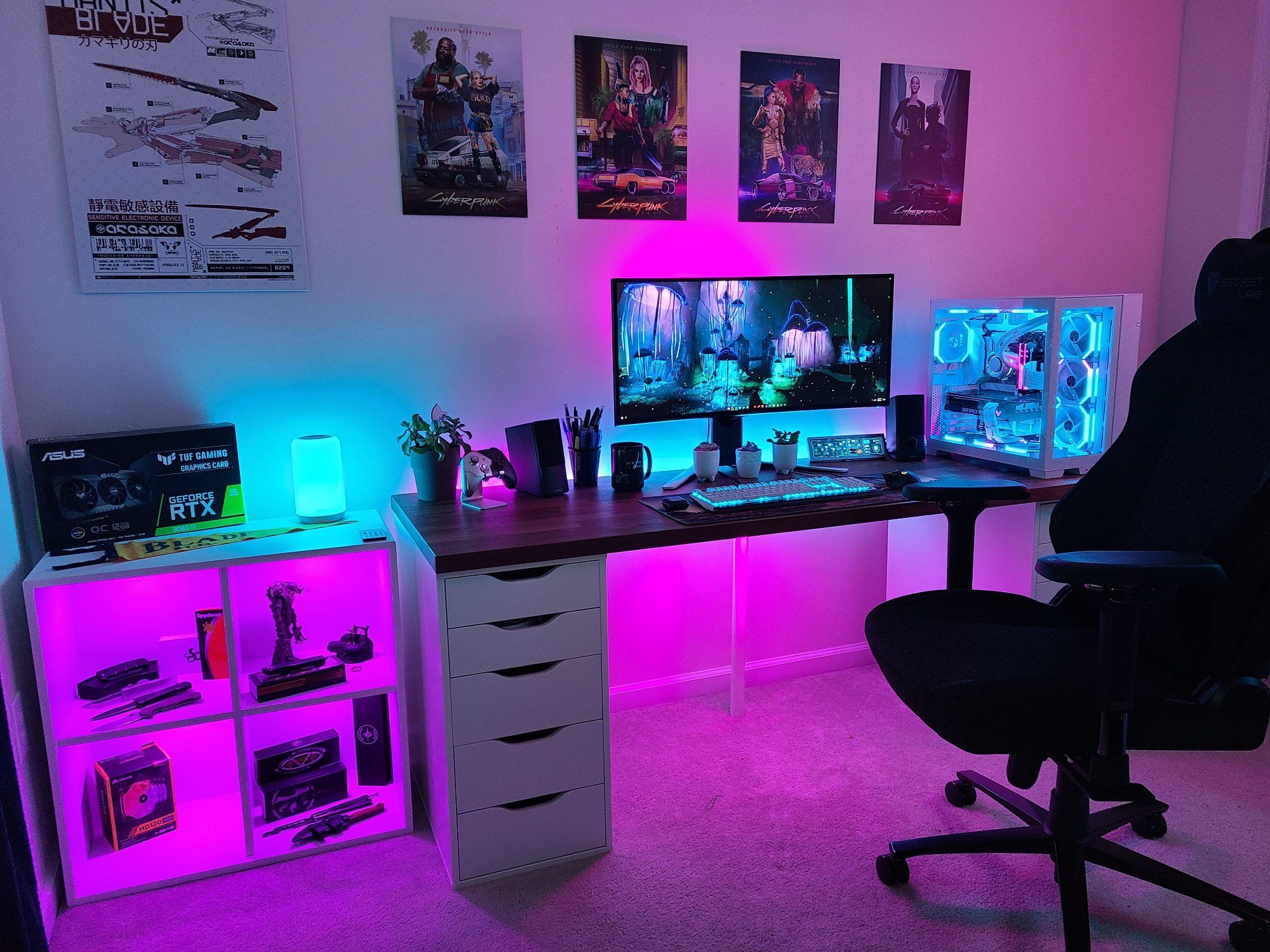 I considered buying a standing desk at first, but they were too expensive. I wasn't sure if I would actually use the standing feature.
The cost of the desk setup was only around $370: $180 for the ALEX drawers and $190 for the KARLBY countertop. If you include the PC, monitor, and peripherals, it would probably be around $4,5-$5K."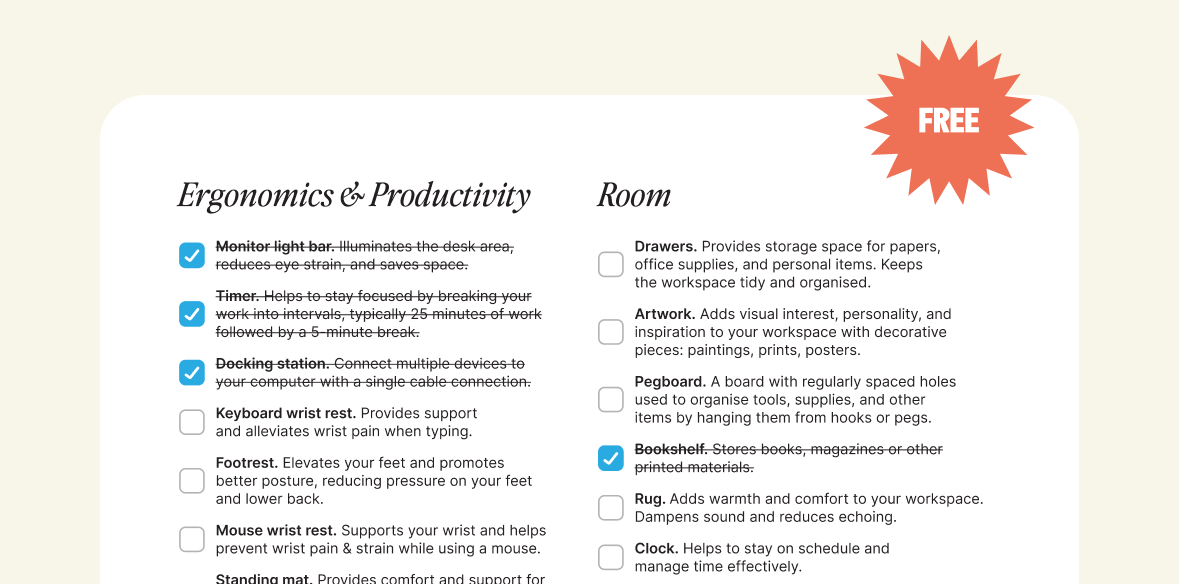 L-Shaped Double Desk Setup with Four ALEX Drawers
Desk size: 246 cm and 140 cm (97″ and 55″)
"The desk is made up of two white SÄLJAN IKEA worktops. The longest side of the desk is 246 cm, which is the full length available for purchase from IKEA.
The short side was originally 186 cm in length, but I cut it down to 140 cm to fit the desired dimensions. The desk is 74 cm in height and has a depth of 63 cm from the wall.
I chose the ALEX drawers because their height was suitable for mounting the worktop on top without the need for risers. The depth of the ALEX unit was also the closest match to the depth of the SÄLJAN worktops.
Another reason I chose the ALEX was that I wanted to have my large PC inside a unit, and its dimensions allowed for this.
I just had to cut out the rear of the unit for cables. I bought a pair of hinges and bolted together the drawer faces (the front) into a door.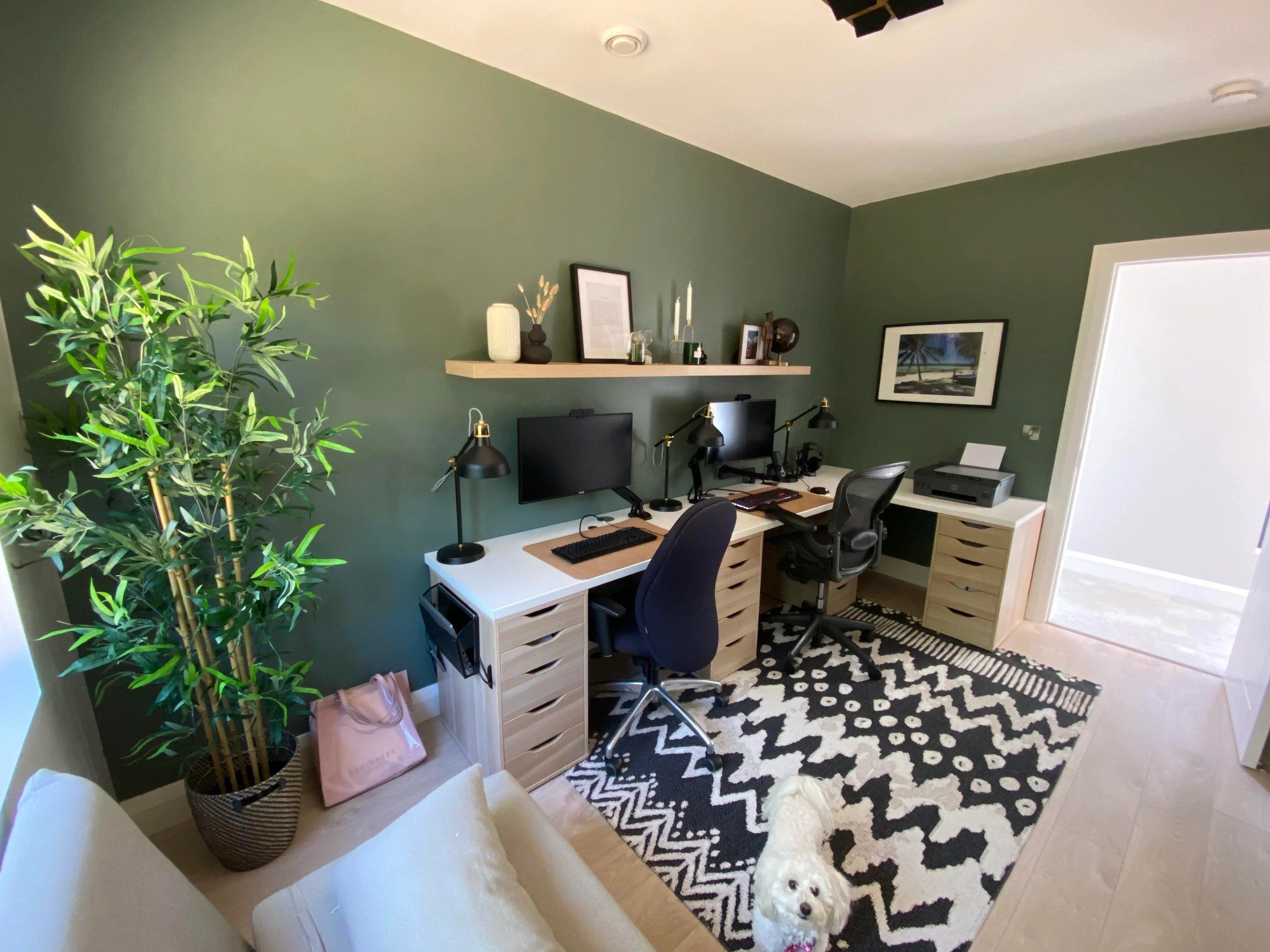 I considered other drawers/units from IKEA, but the ALEX units met all my criteria and provided a lot of storage.
I had to drill a few holes in the SÄLJAN worktop to facilitate the tidy management of cables, and I used rubber grommets in those holes to keep it looking clean.
Finally, the corner part of the desk is supported by 2× OLOV legs.
The components of the desk itself, as well as the three lamps on it, cost me €595. There were a few non-IKEA add-ons that I had to get, such as monitor arms, a microphone mount, and parts for a laptop docking basket (almost all purchased from Amazon).
These additional items cost roughly €200."
ALEX Drawers + IKEA Kitchen Countertop Desk Setup
Desk size: 186×62 cm (73×24″)
"The desk is an IKEA kitchen countertop that measures 186×62 cm. I chose it because it is more durable and easier to clean than a typical desktop.
I decided to go with the ALEX drawers because they are well-constructed and provide ample storage space. Plus, I wouldn't have to worry about the desk legs as they are at a good sitting height for me.
I am 6′4″, so everything just worked out perfectly.
I added some riser legs on top of each drawer to give the desk more height and a more polished appearance.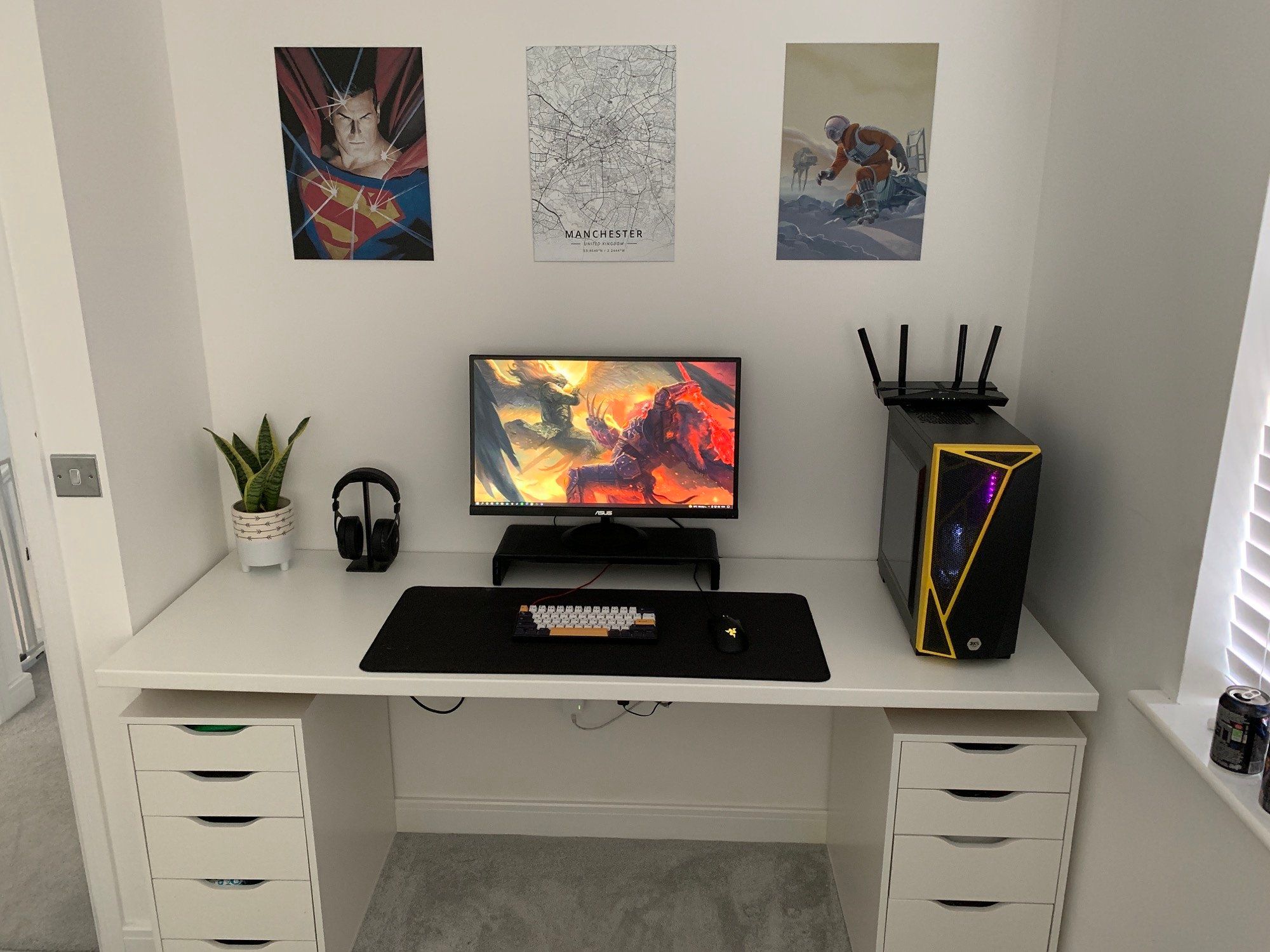 I also chose the ALEX drawers because they have plenty of room for both work and hobby items. Now, I can dedicate one side to work and the other to painting.
Overall, the drawers and counter cost me about £140 ($166), and the other bits and pieces were around £20 ($24), but I already had most of them."
IKEA ALEX Long Desk Setup
Desk size: 200×60 cm (78,75×23,63″)
"I wanted something to match the size of my window, which I recently gained in my new home.
The window has a large space but a lip at an awkwardly low height, so I wanted to draw attention away from that and up to my computer, which I have more control over.
I also wanted a desk with enough space for my two 32″ curved monitors and my D&D books.
This way, I can have a space for work and for fun.
There weren't any other options I had considered other than ALEX. It's used very often online, and I think that's because it's both aesthetically pleasing and functional.
The drawers on both sides are great for organizing items like notebooks, cables, and other things like tabletop miniatures or trading cards.
The desk cost me around $300 after tax, but if you include my monitors and desktop, the total cost is nearly $3K.
However, I think any large monitor with RGB lighting, a controllable keyboard and mouse, and a fun theme would make this desk look great."
Black ALEX Drawers Desk Setup with Three Screens
Desk size: 183×56×4,5 cm (72×22×1,75″)
"I repurposed an old Ethan Allen harvest table as my desk.
I cut and refinished it to give it a new look.
Initially, I had considered a floating desk design for my workspace, but I realised that I would lose a lot of storage space with a minimalist look.
That's why I decided to go with the ALEX drawers.
I had seen them in my office when I started working there and liked their deep dimensions and ample storage space.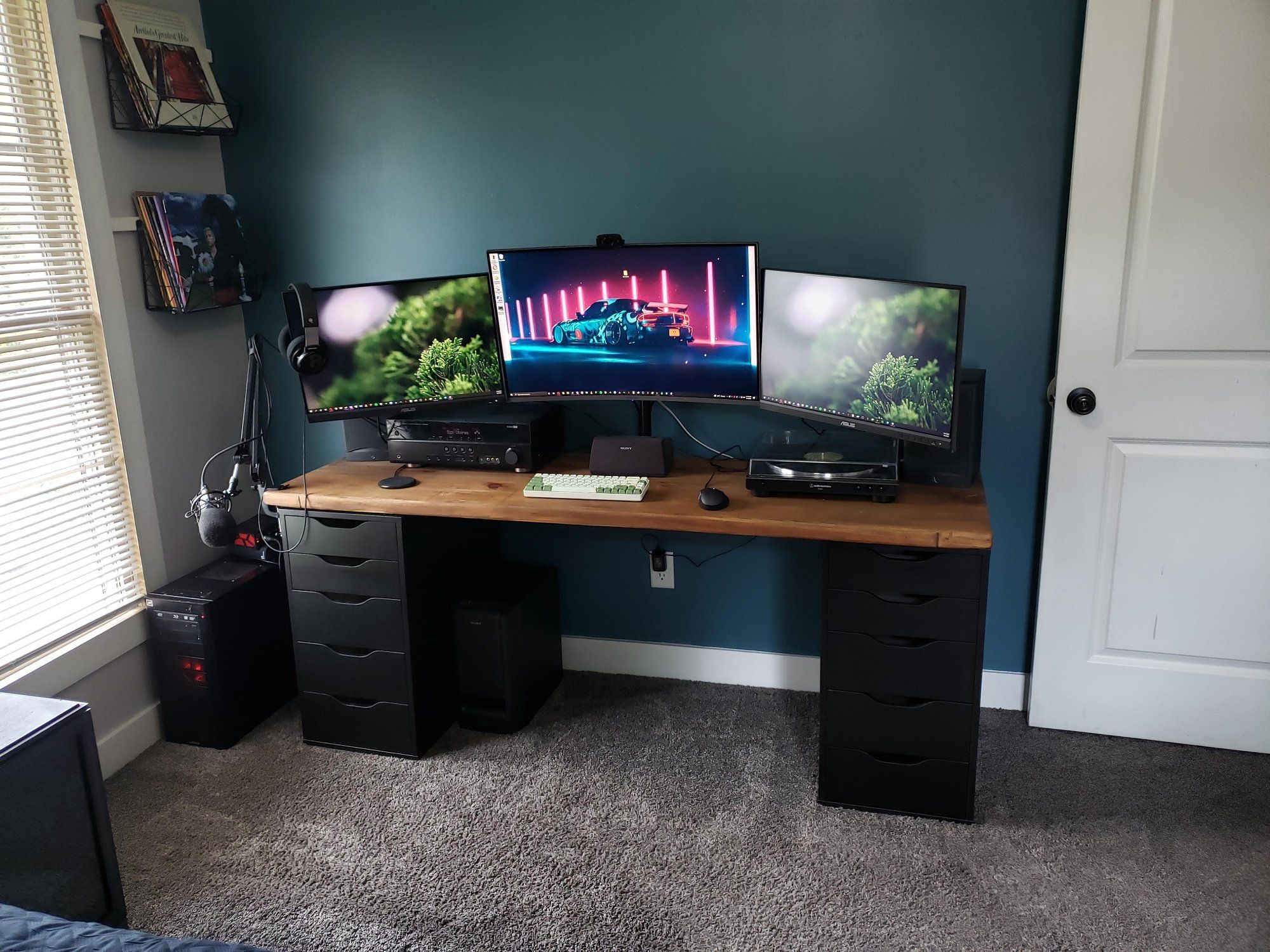 I did consider a slightly cheaper option on Amazon, but the dimensions were so vastly different that I just went with the ALEX drawers.
In total, the desktop and two ALEX drawers cost me $300: $100 for each drawer and $100 for the Ethan Allen harvest table. I already had the supplies needed for refinishing."
ALEX Units Battlestation
Desk size: 186×64×82 cm (73×25×32″)
"I chose the ALEX drawers because their flat tops and bottoms make it easy to keep things level without needing to buy additional legs.
Plus, it was convenient to have both the desktop and drawers shipped from the same place and easy to track their delivery.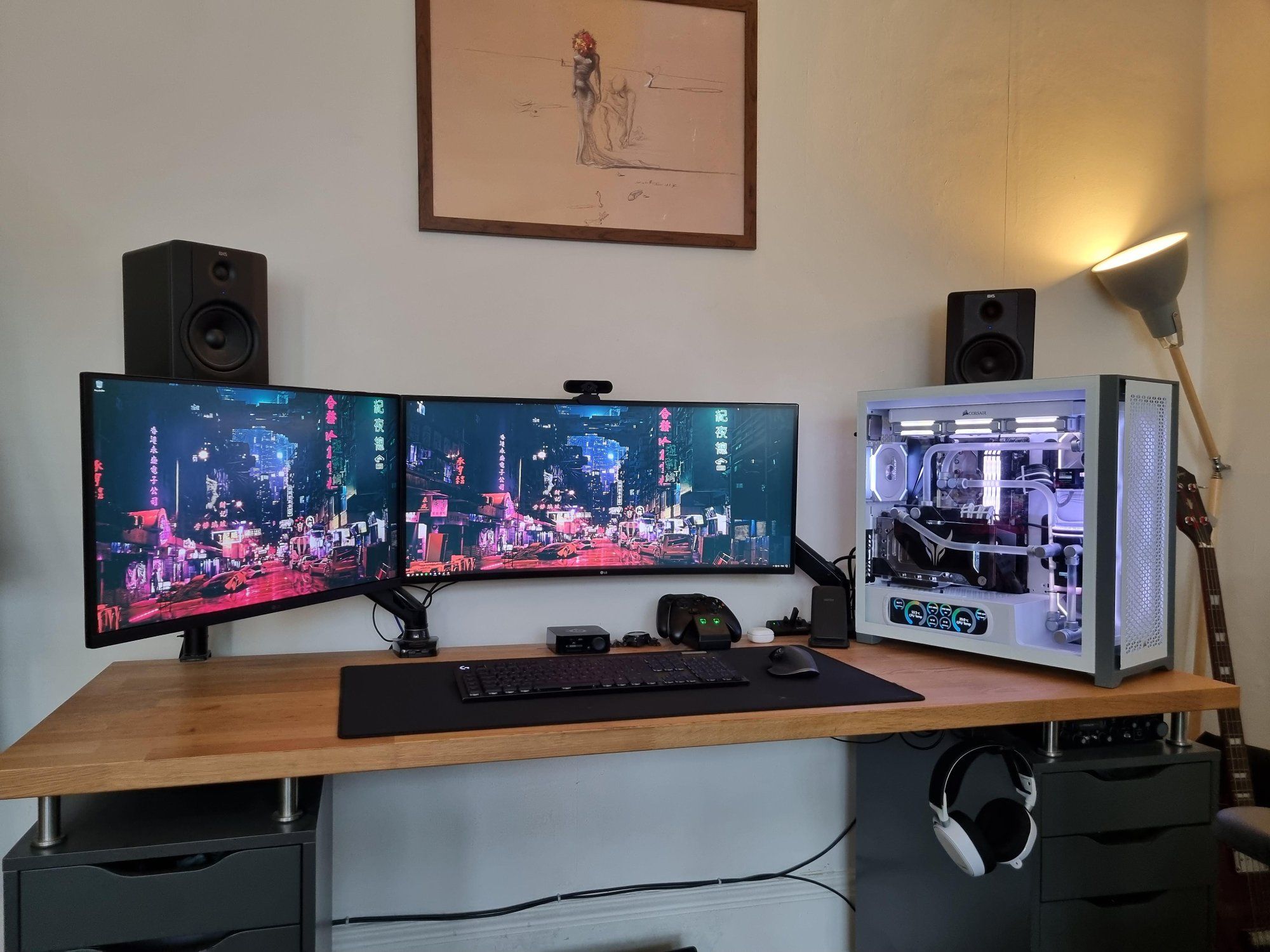 It's been a few years since I bought this desk setup, but if we're just considering the desk and drawers, I think it cost me around £200-300 ($238-356).
The entire desk setup, including all the additional equipment, has got to be more than £6-7K ($7,100-8,300)."
Budget ALEX Drawers Home Office Setup with SÄLJAN tabletop
Desk size: 188×65 cm (74×25,6″)
"What made me consider the ALEX drawers was the simplicity of their look and their sturdiness.
Plus, I made a visit to my local IKEA store and found both of them on sale!
The desk is quite economical, I'd say. Without considering the computer, screen, or other electronics present in the picture, I spent around $300."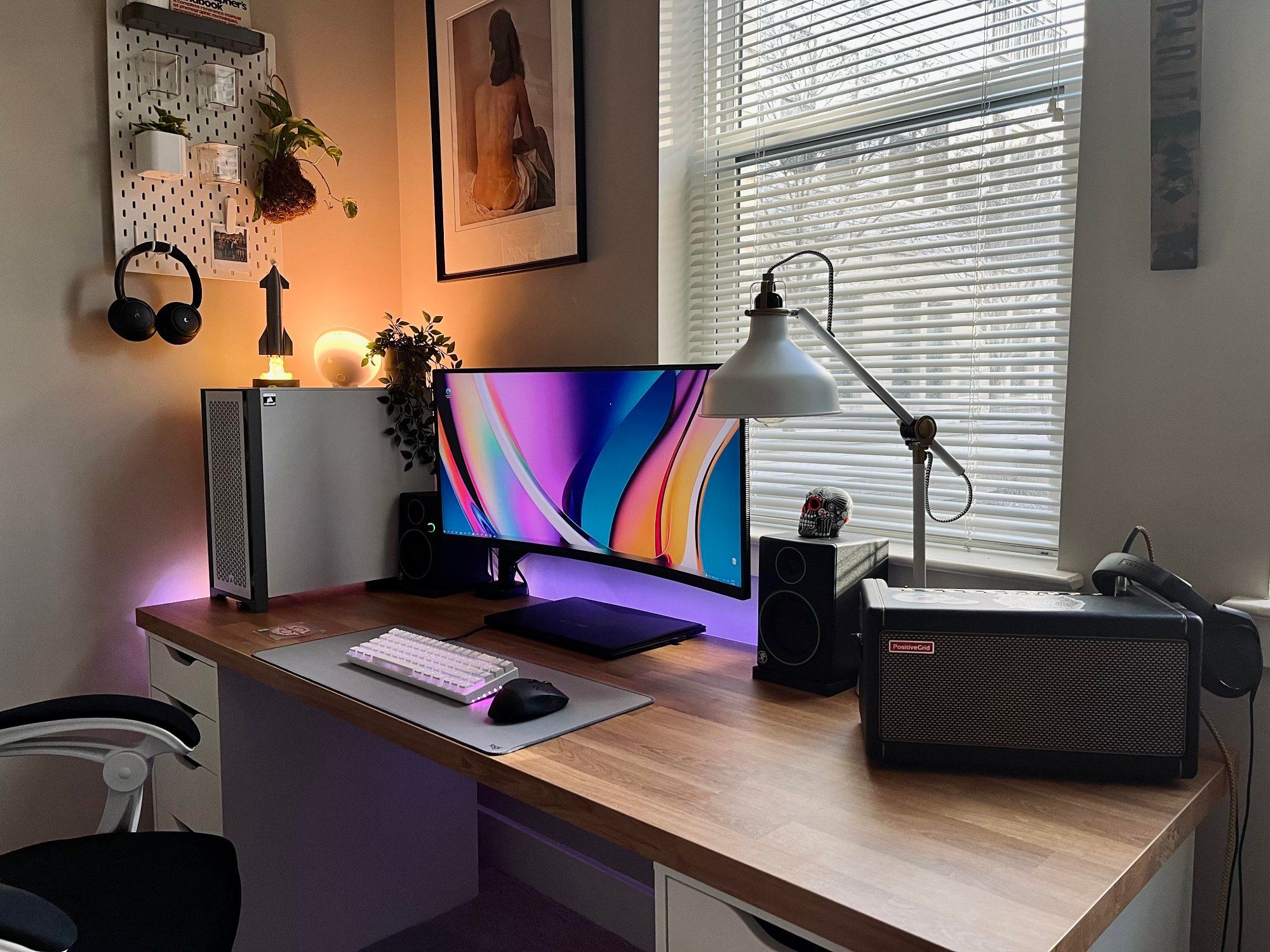 IKEA KARLBY Desk Setup with Grey ALEX Drawers
"I knew I wanted grey ALEX drawers since I've been a long-time Reddit user.
However, grey wasn't available in Australia. IKEA only offers white and blue in ALEX drawers, so I went to the second-hand market. I spent months on Facebook Marketplace and Gumtree looking for two perfect grey ALEX drawers.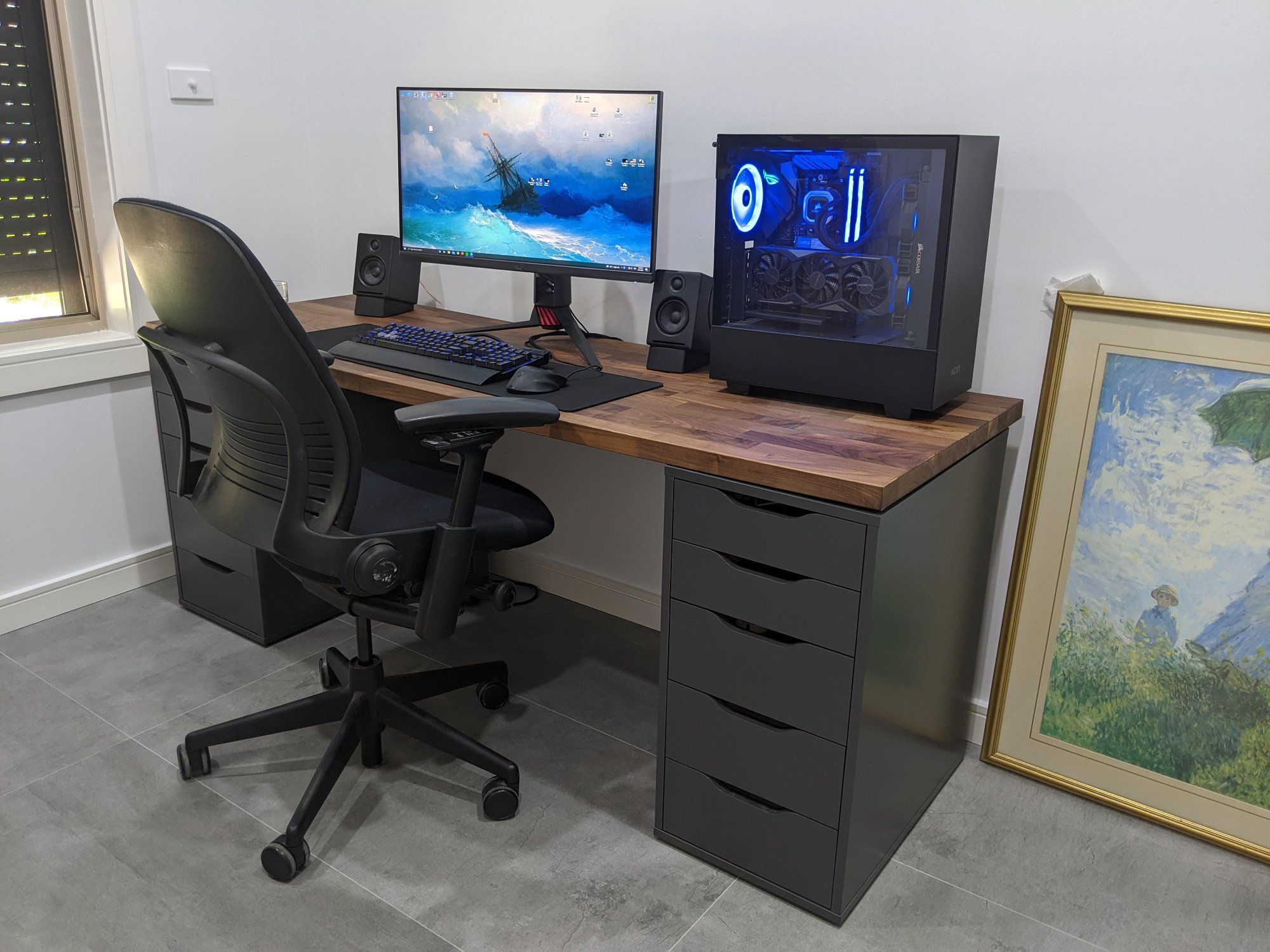 All in all, I spent around $4K on my computer and monitor; $250 for a KARLBY benchtop and roughly $100 per ALEX drawer on the second-hand market."
ALEX Units Desk Setup with GERTON Desktop and CAPITA risers
Desk size: 75×155 cm (29,5×61″)
"My desk is an IKEA GERTON with CAPITA risers. The desk is 29,5×61″ and 1,5 inches thick.
I saw many people online using ALEX drawers, which seemed to work well at a reasonable price, so I didn't really consider any other options.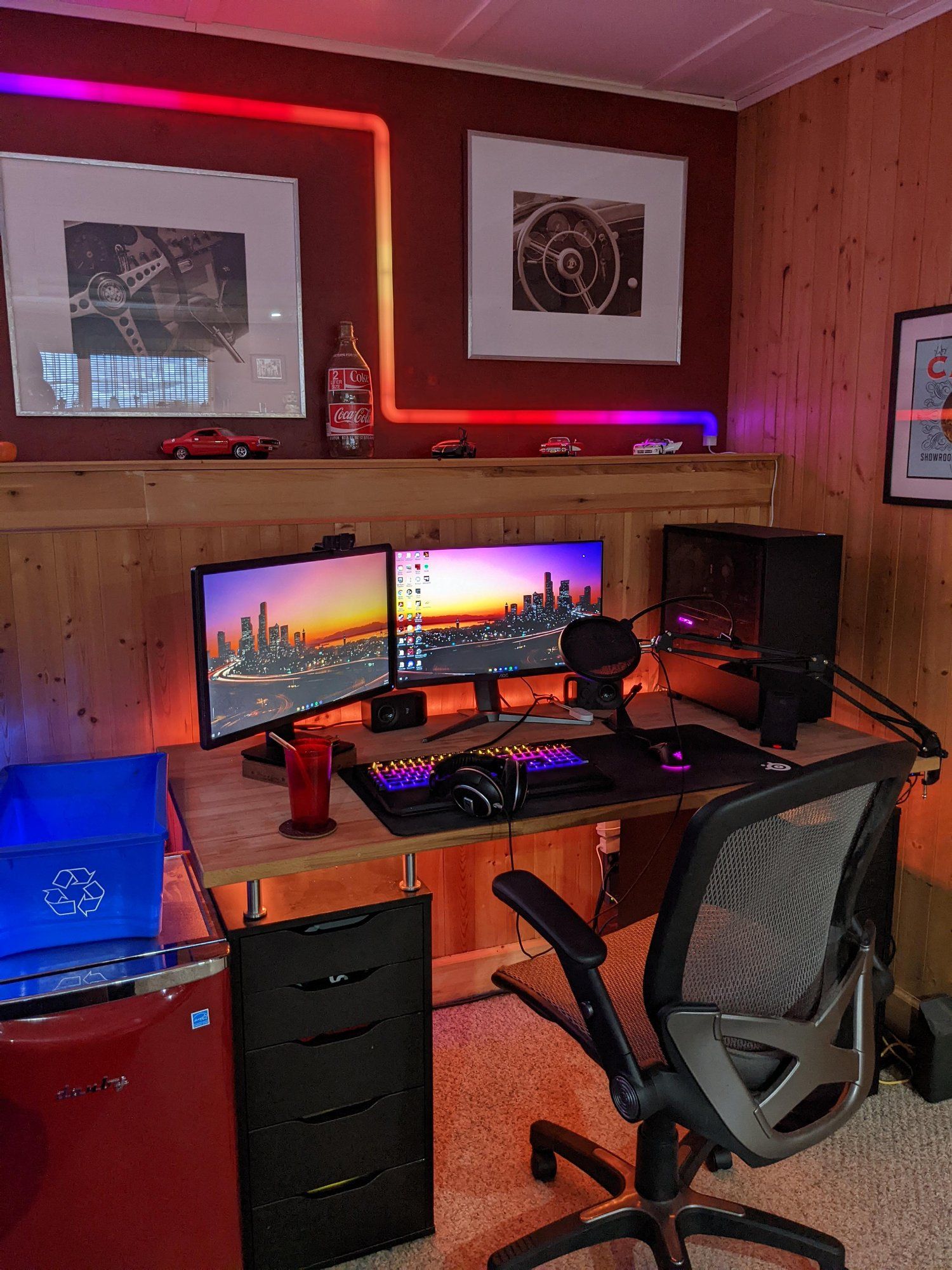 The total cost for the desk was around CAD 400 ($292 USD).
Here's a list of all my specs and peripherals. The keyboard has HyperX Pudding keycaps and a Huanuo Dual Monitor Gas Spring Mount."
IKEA ALEX Two-Desk Setup
Desk size: 150×75 cm (60×29,5″)
"The left-hand desk is an ANFALLARE 140×65 cm with ALEX drawers and it's mostly used for gaming.
I would have preferred to have a storage unit cupboard instead of drawers, but unfortunately, it's been discontinued.
The add-on unit cost £20 ($24) and is used to stack my PS2, PS4, and NowTV box.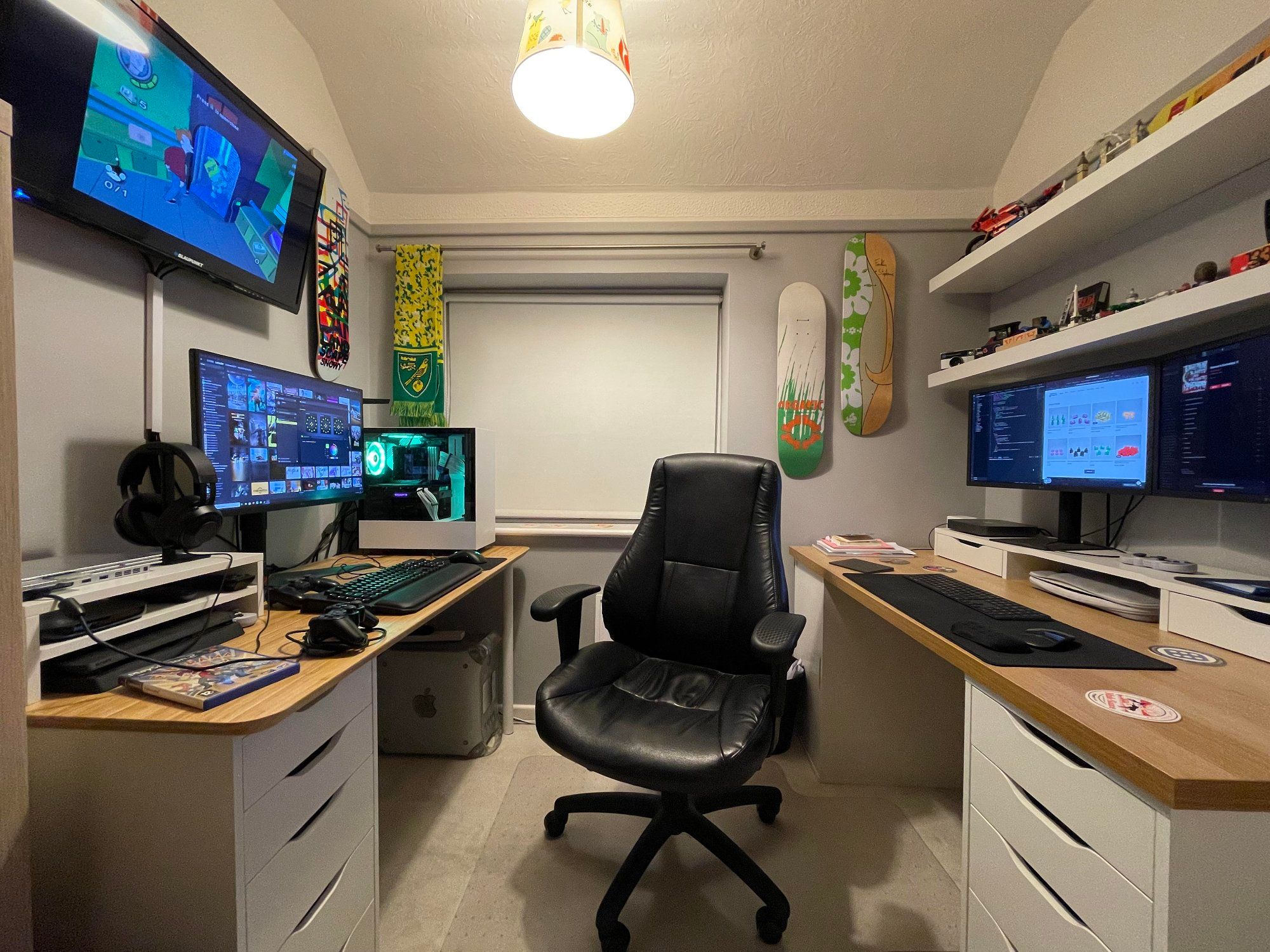 The right-hand desk is my current work desk setup. It has a LINNMON tabletop in the 150×75 cm size, which I think has been discontinued.
It was a touch too deep for the ALEX drawers, so I added a pair of ADILS legs at the rear to prevent any tipping backwards, as most of the weight on the desk was towards the rear.
| | |
| --- | --- |
| Cost | |
| Left desk | £147 ($169) |
| Right desk | £165 ($190) |
This desk setup also has the ALEX storage unit and add-on unit, which I think have both been discontinued.
It's a shame as the storage unit is pretty handy for tucking away a small home lab setup with a network switch, NAS and extra hard drive for Plex [streaming website] content.
This desk setup was originally set up when I was working from home in London before the pandemic, and then I had to share the workspace with my partner once the pandemic hit.
After that, we ended up moving to Cambridge, and now we each have a home office, allowing me to have the two-desk setup."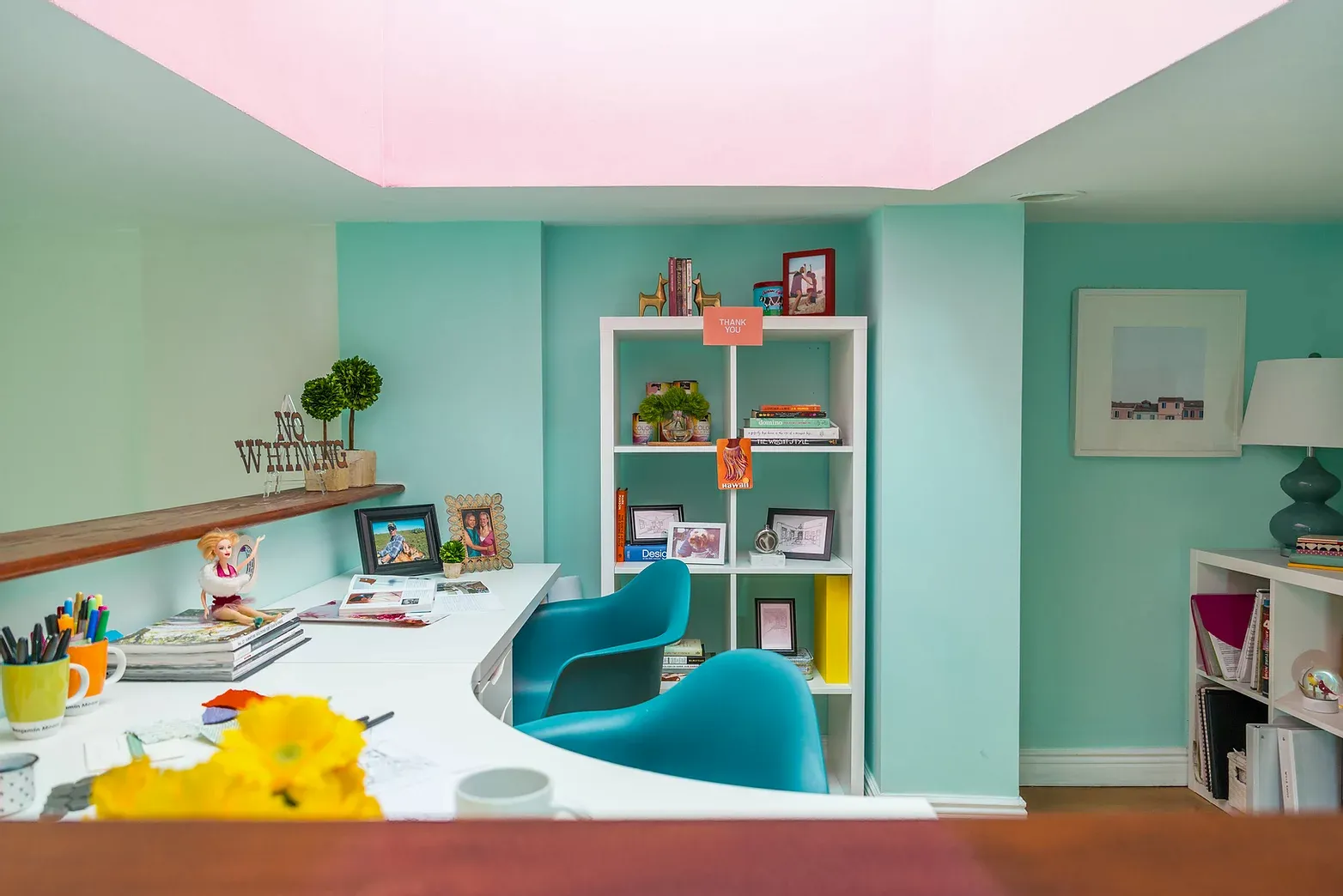 RGB IKEA Gaming Setup with ALEX drawers
Desk size: 188×61 cm (74×24″)
"The desktop is the IKEA EKBACKEN.
I recently started working from home and needed something more streamlined and minimal but still functional.
I considered the ALEX drawers because I had seen desk setups using them before and loved the look.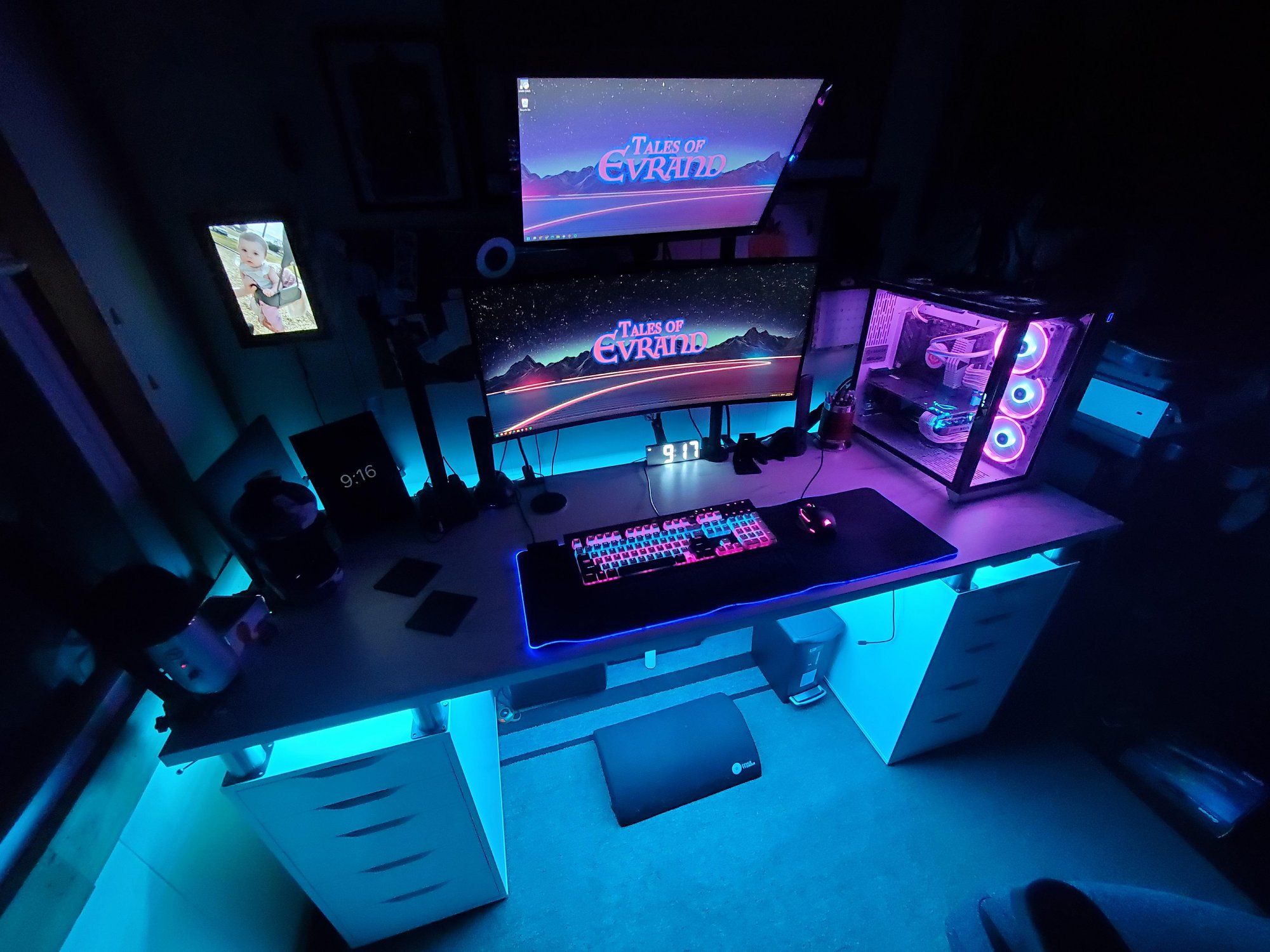 The setup (including the tabletop, drawers, and risers) cost me roughly $400.
I love it!
It's a big upgrade from my old clunky L-shaped hutch desk, and this setup gives me more space, which makes it more relaxing to sit at."
Flexible ALEX Drawers Bedroom Desk Setup
"I went with one stack of ALEX drawers because they provide a lot of flexibility with different setups and styles.
They look very modern, so they go well with any blend of fashion or style in our PC building.
I did consider building my own base stand, but I was afraid that my design for the table base wouldn't be sturdy enough (I have a habit of slamming my desk with my hand whenever I lose in Apex or Rust).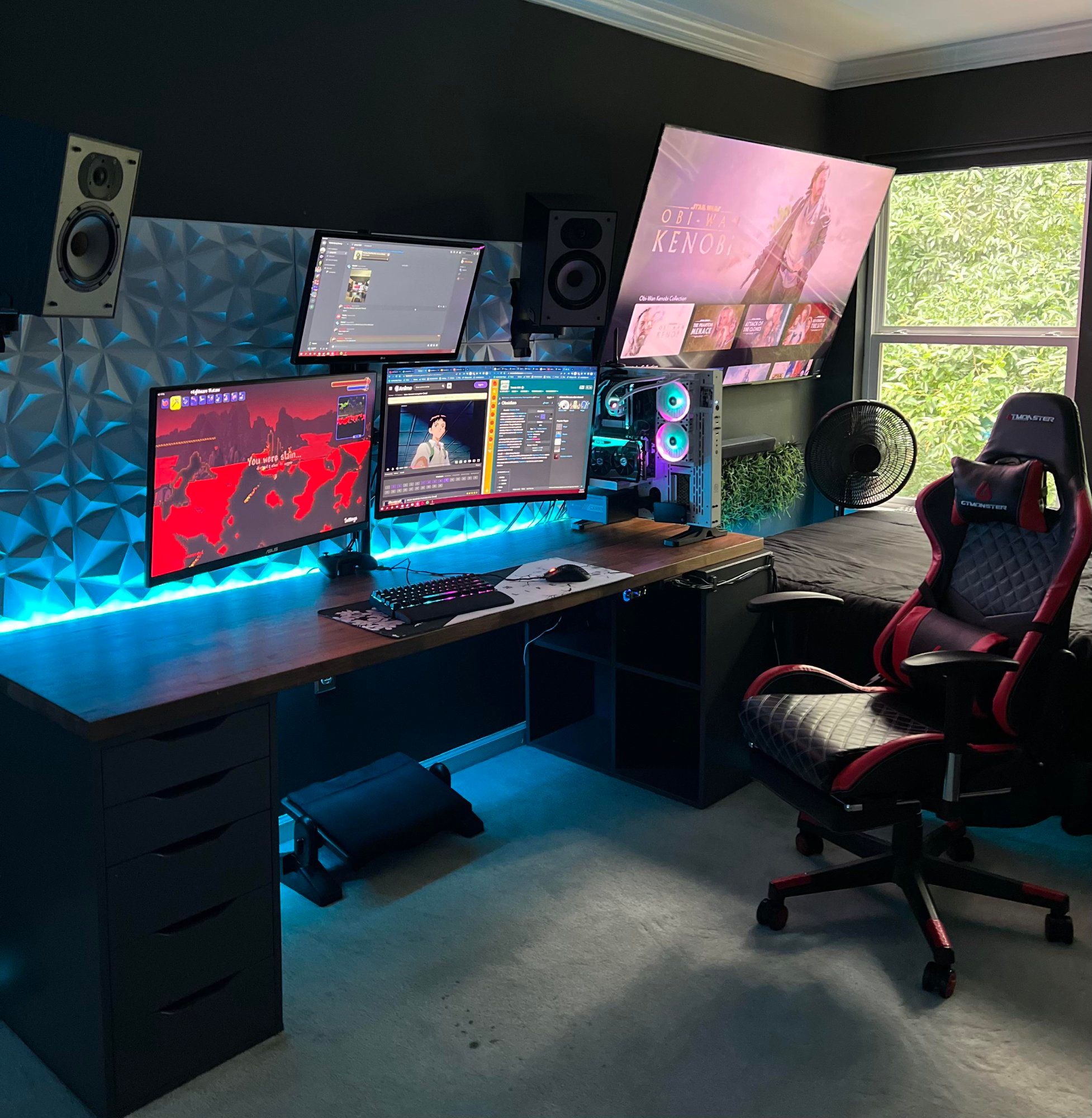 The total cost of my build was around $5K.

It's probably not worth that much now, but I tend to always have the newest hardware in my system, so I pay a premium as part of the "early adopters fee."
IKEA Workstation of a Software Engineer
Desk size: 200×60 cm (79×24″)
"The main goal of my desk setup was to create a beautiful ambience. I wanted to showcase things I love so that I could see them every day.
My desk consists of IKEA LINNMON (200×60 cm) with IKEA ALEX drawers and IKEA BESTA units on the side (3×60×42 cm).
I chose the ALEX drawers because I have a lot of stuff to store — one drawer is full of cables and chargers, and another one is filled with important documents.
I didn't want to go with an extra-long desk, but I did need the space for all three monitors and the PC.
I bought the side units so I could have a dedicated area for playing video games and watching TV.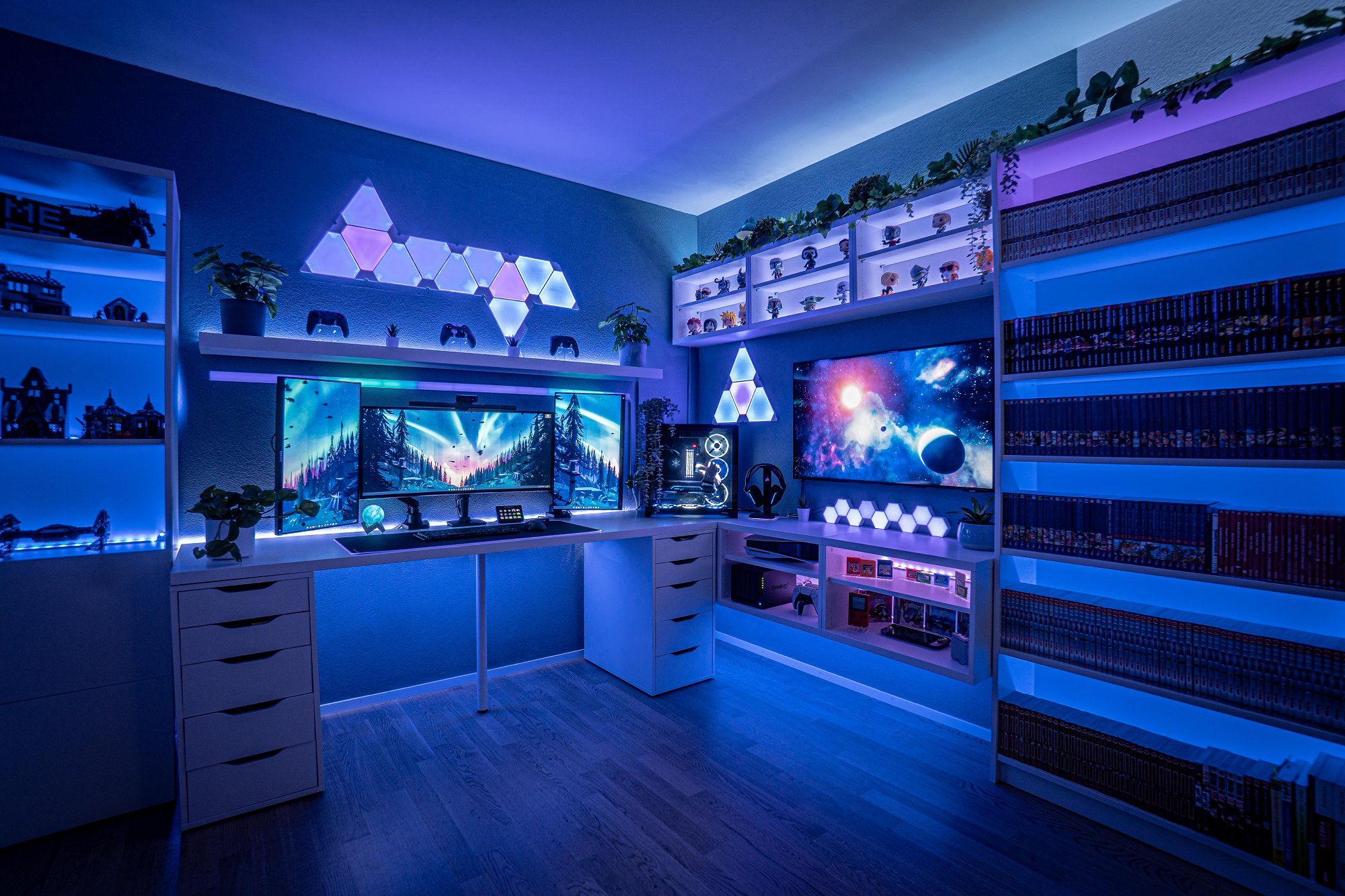 I might switch to a standing desk in the future, and replace the monitors with one super ultra-wide monitor (it's good to be able to change positions since I work as a software engineer — it's good for my back and neck).
If I had to estimate the value, I would say it was about 10-15K Swiss francs ($10,1-$15,3K)."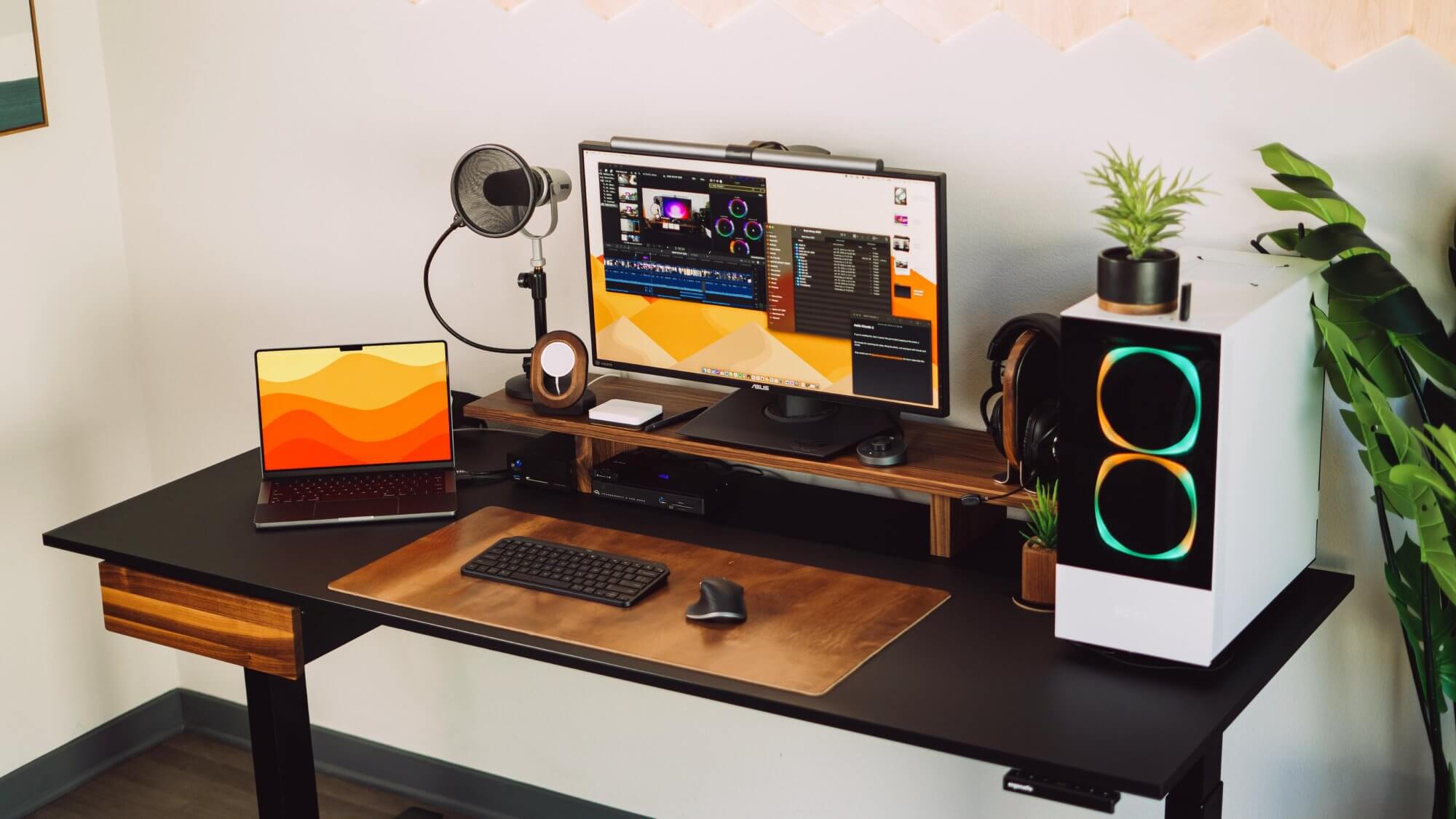 L-shaped KARLBY Desk Setup with ALEX drawers
Desk sizes: 183 cm (72″) and 244 cm (96″)
"I have two desks — a smaller KARLBY tabletop that's 72 inches long, and a longer one that's 96 inches.
The ALEX drawers are very popular online, and I noticed that they are functional and offer a lot of storage space, so that's why I chose them.
I believe the overall cost was about 700 Canadian dollars ($535)."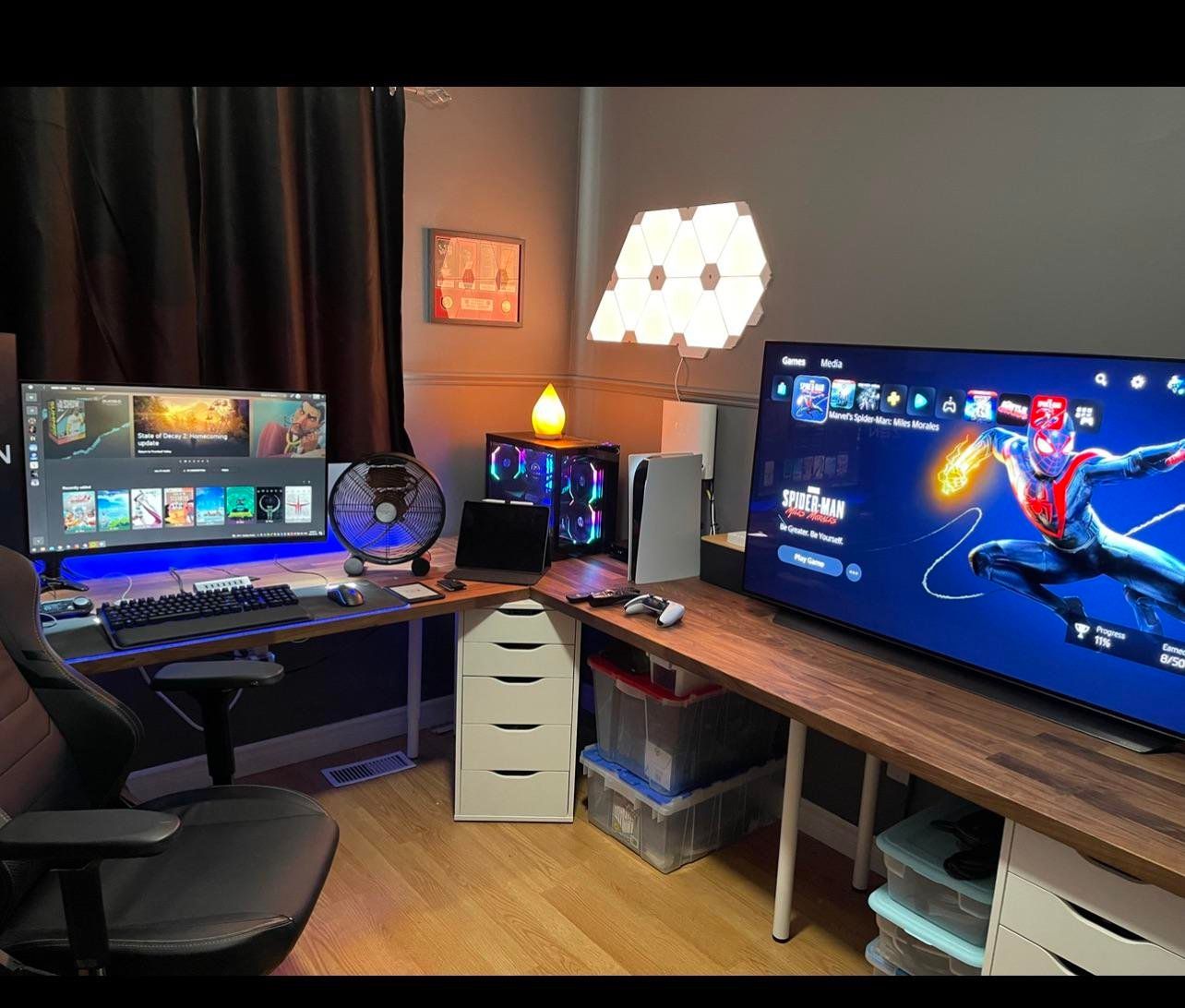 L-Shaped IKEA EKBACKEN Desk Setup with Three ALEX drawers
Desk size: 188 cm and 249 cm (74″ and 98″)
"My workspace has two countertops from IKEA (EKBACKEN), the 74 and 98-inch ones.
I initially had only one desk.
Then, I decided to create an L-shaped workspace to include my gaming setup in my home office.
I already had an ALEX drawer from a previous apartment, but I needed additional units to complete the L-shape."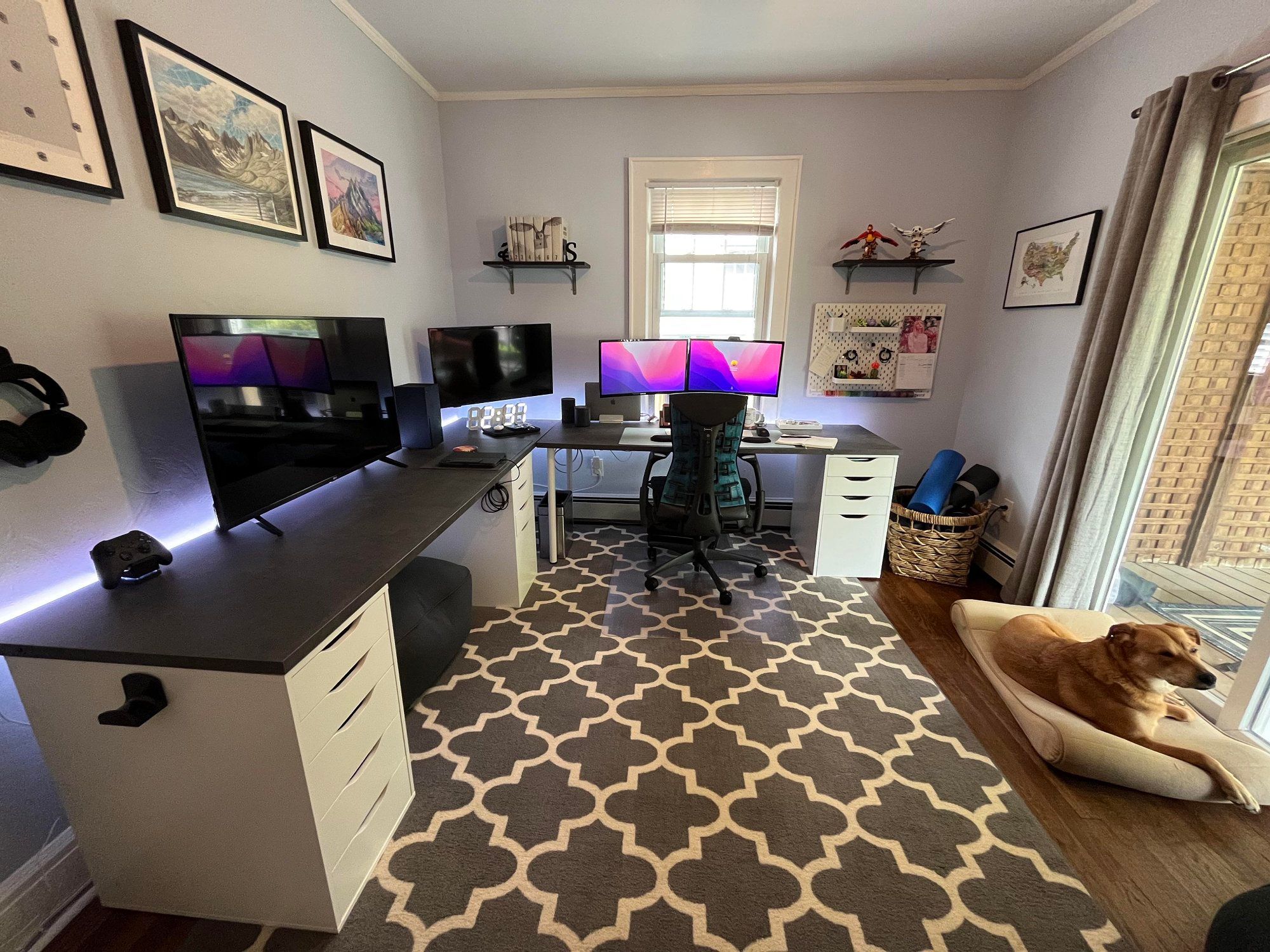 | | |
| --- | --- |
| Estimate costs | |
| Desk | $500 |
| Mount for laptop | $140 |
| Xbox and TV | $800 |
| Chair | $1,8K |
| Decorations | $500 |
Simple and Sturdy IKEA KARLBY & ALEX Desk Setup
Desk size: 188×3,8 cm (74×1,5″)
"I think my desk setup with a KARLBY walnut veneer countertop is pretty standard, but it's cool if you like it!
I mainly needed more space and storage — and I think ALEX drawers are great for that.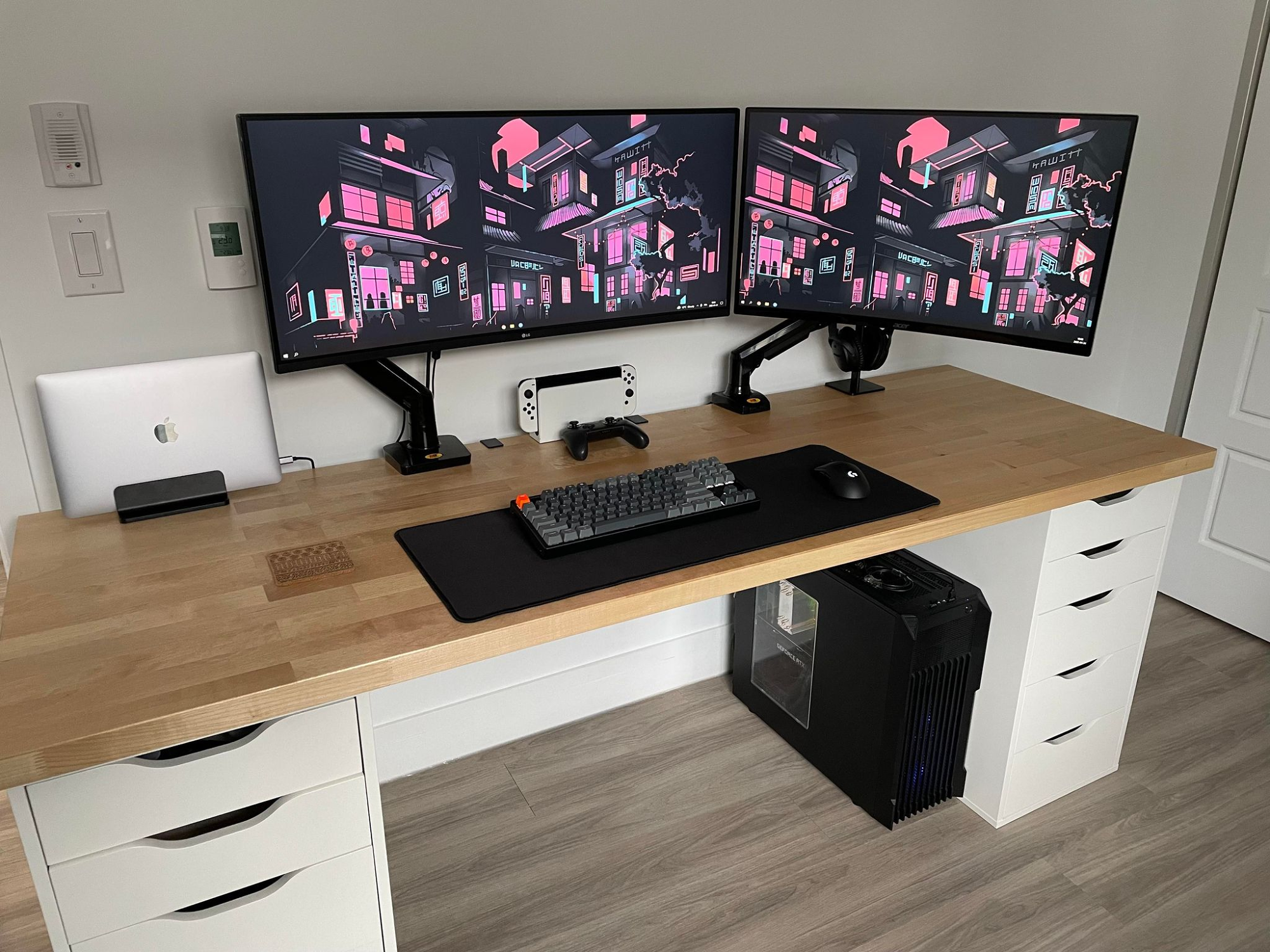 I also considered getting a stand-up desk, but I wanted something sturdy enough to hold my 34″ & 27″ monitors.
Altogether, everything in my desk setup cost around CAD 6,000 ($4,6K).'
Minimal and Colourful Desk Setup with an IKEA ALEX Unit
Desk size: 140×60 cm (55×24″)
"I wanted to go for a minimal yet still colourful and fun desk setup.
My favourite part is the shelf showcasing some of my custom-made keyboards.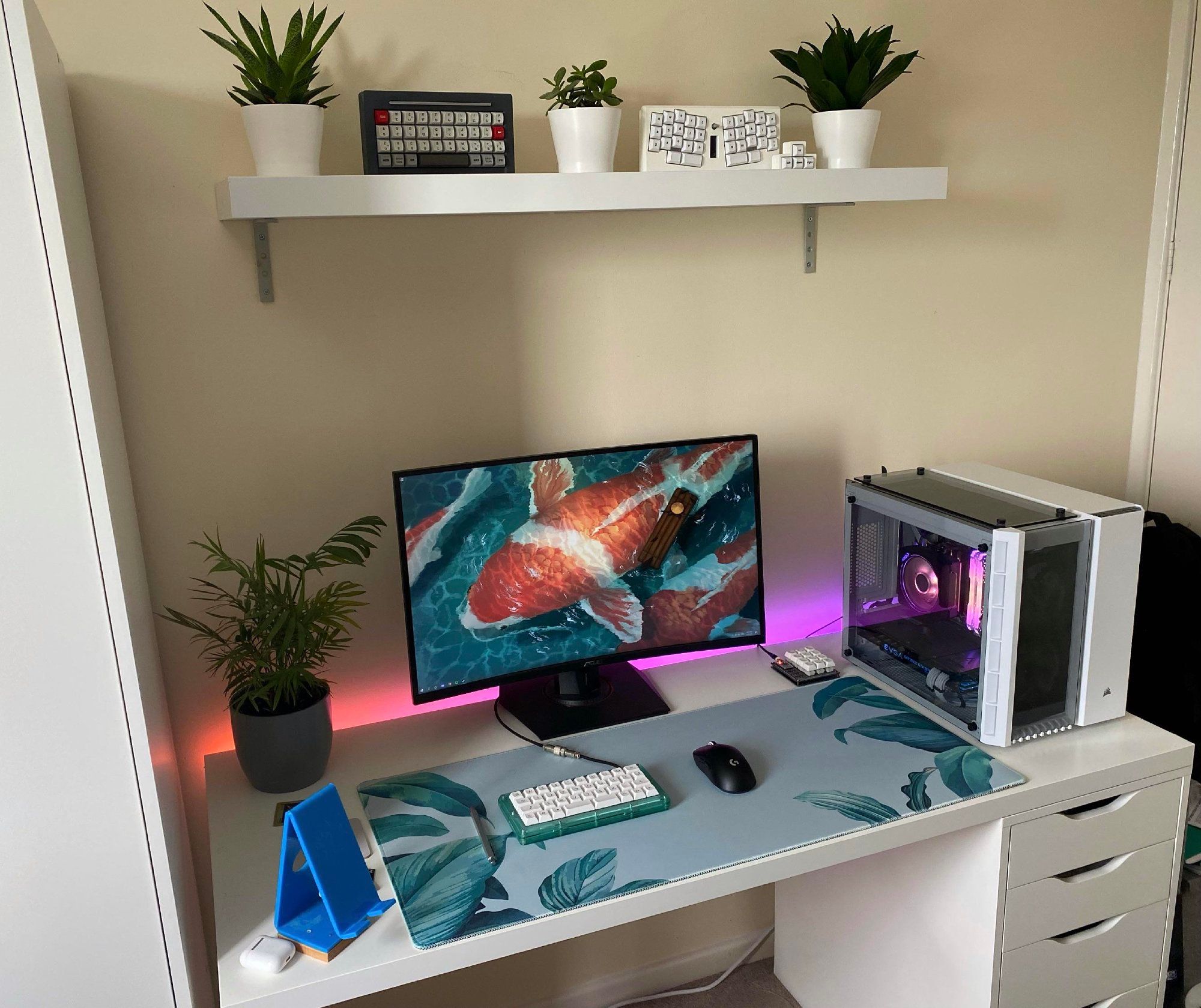 I chose ALEX drawers because they were readily available and easy to assemble. I knew they would work well with my desk setup and that I would be able to easily get them.
All items, including the PC, cost around £1,5K ($1,8K)."
White Symmetrical IKEA ALEX Desk Setup
Desk size: 188×83 cm (74×33″)
"I chose the ALEX drawers to achieve a symmetrical look in my workspace. Plus, they give lots of storage for the stuff I chuck in there.
I was thinking of getting just one cabinet from IKEA, but I figured that two ALEX drawers would look much better.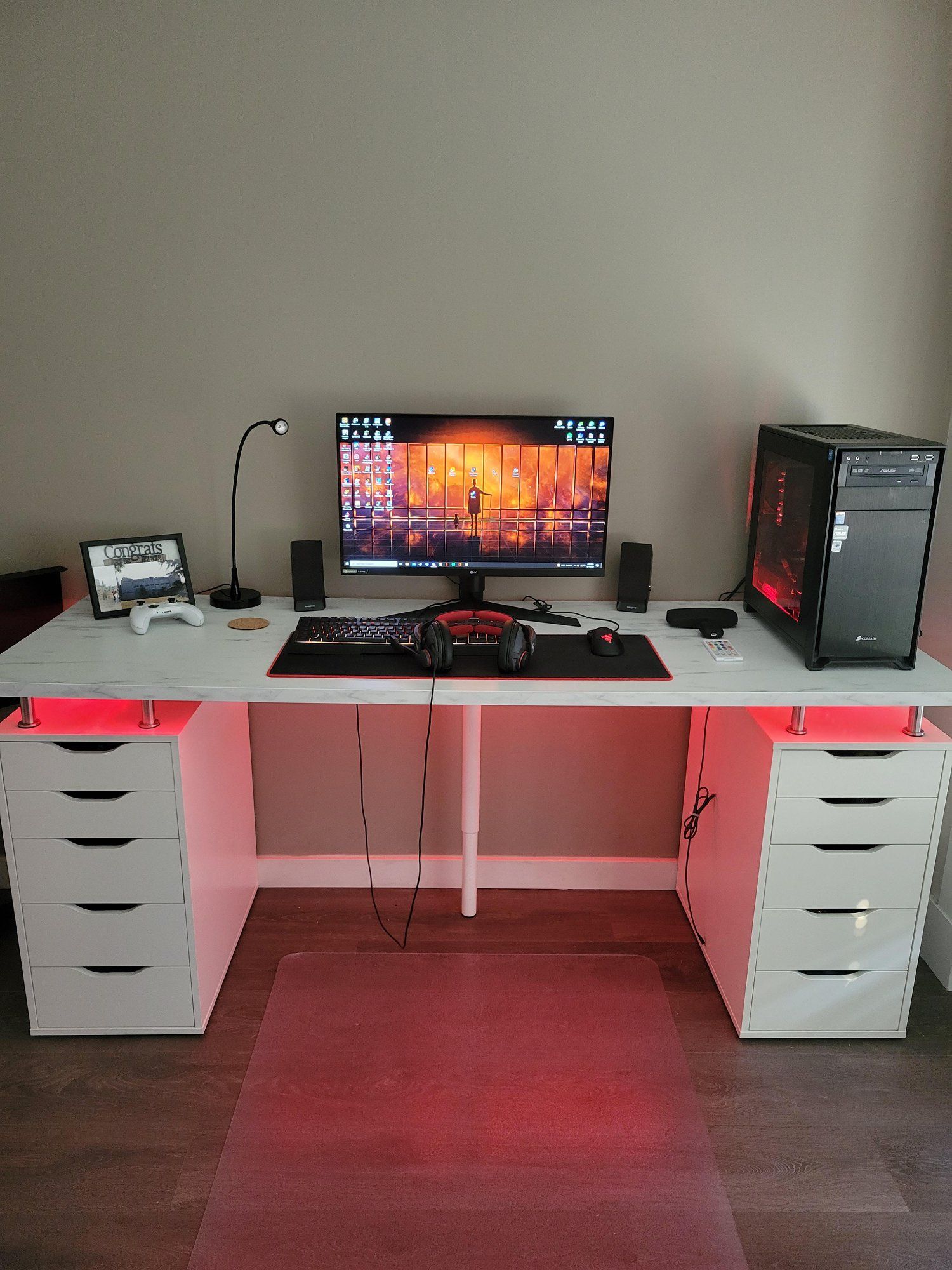 In total, I spent about 330 CAD ($250) on my entire desk setup. Fortunately, my uncle works at IKEA, so I was able to pay at a discounted rate.
Without the discount, the setup would have cost around 360 to 370 CAD ($275-280)."
Custom-designed Corner Workspace with Two ALEX Units
"I ended up getting two of the IKEA KARLBY countertops so I could create the corner desk.
| | |
| --- | --- |
| Measurements of each countertop before being cut | |
| Length | 74″ |
| Depth | 25,6″ |
| Thickness | 1,5″ |
I cut one down to 68″ because any longer would have been too close to the fully opened door.
I cut down the side desktop to 48″ to stop just before my window sill.
Together with the side countertop, it brings the total length to roughly 93,5″.
The height of my desk comes out to 30,5″ (it would have been 29″ without the metal legs).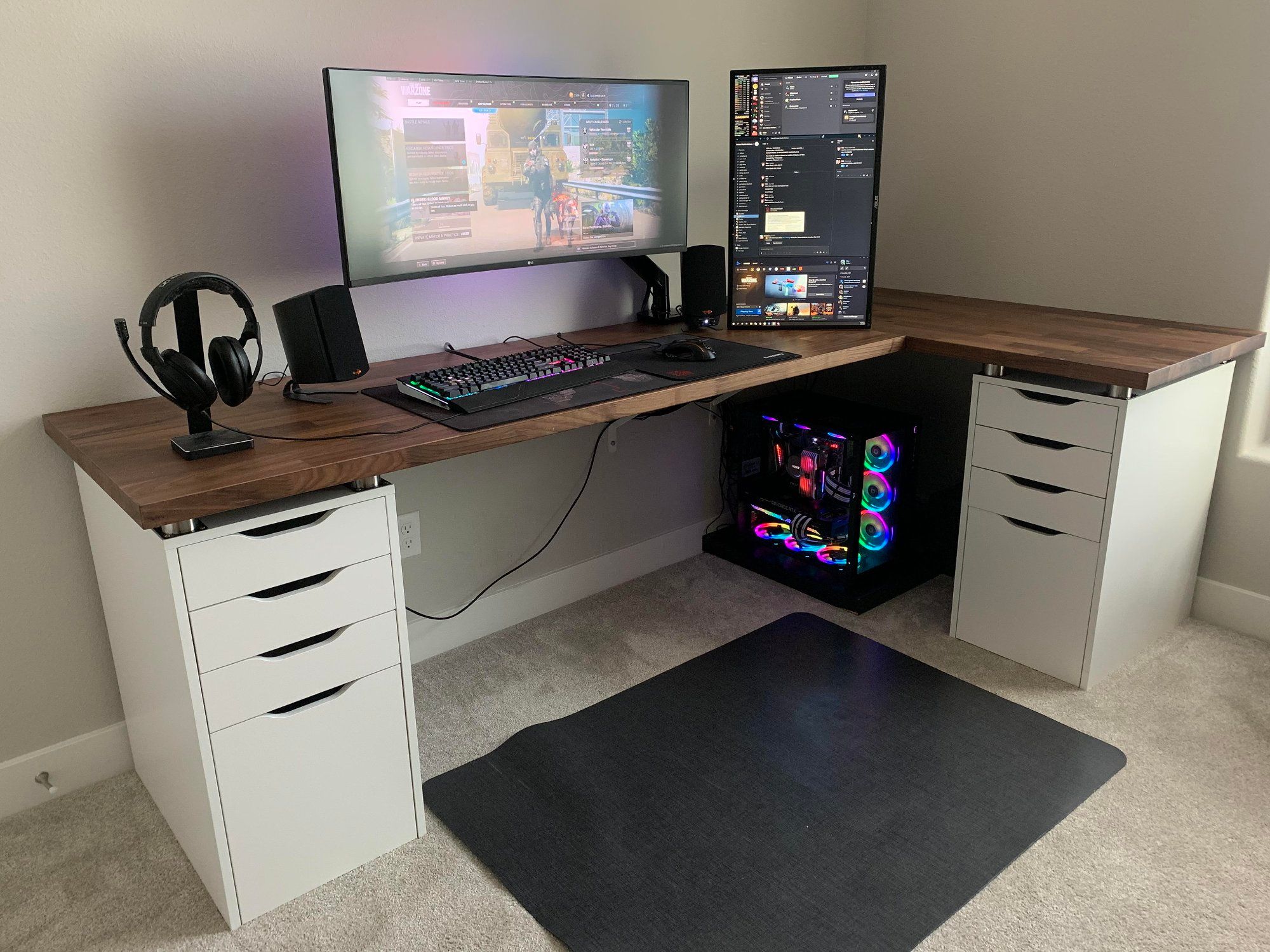 I chose the IKEA ALEX drawers as I liked the contrast the white provided, and also because they were a proven and well-liked desk setup by other people.
I also do some remote work, and it was nice having the option to get the ALEX drawers with the file cabinet drawer at the bottom.
To add a little bit more to the look, I went with VOVOV cabinet metal legs.
And to give the desk a semi-floating look for the corner, I bought two of these shelf brackets from Lowes.
The total cost was just under $700 (only because I had to purchase two KARLBY countertops for my corner setup). It would be right at $500 if I went with one."
Dual Monitor Desk Setup with an ALEX Monitor Stand and ALEX Drawers
Desk size: 180×60×75 cm (70×24×30″)
"I browsed the Internet for some desk setup inspiration and came across various IKEA-based desks that were affordable and looked good at the same time.
I built the first version of my workspace out of an ALEX cabinet with five drawers, a VIKA ANNEFORS (no longer available at IKEA) for my PC Case, and a 2-metre wide LINNMON tabletop in black.
The ALEX drawers are useful for storing things like my notebooks, spare batteries for the hardware, and different cables I might need.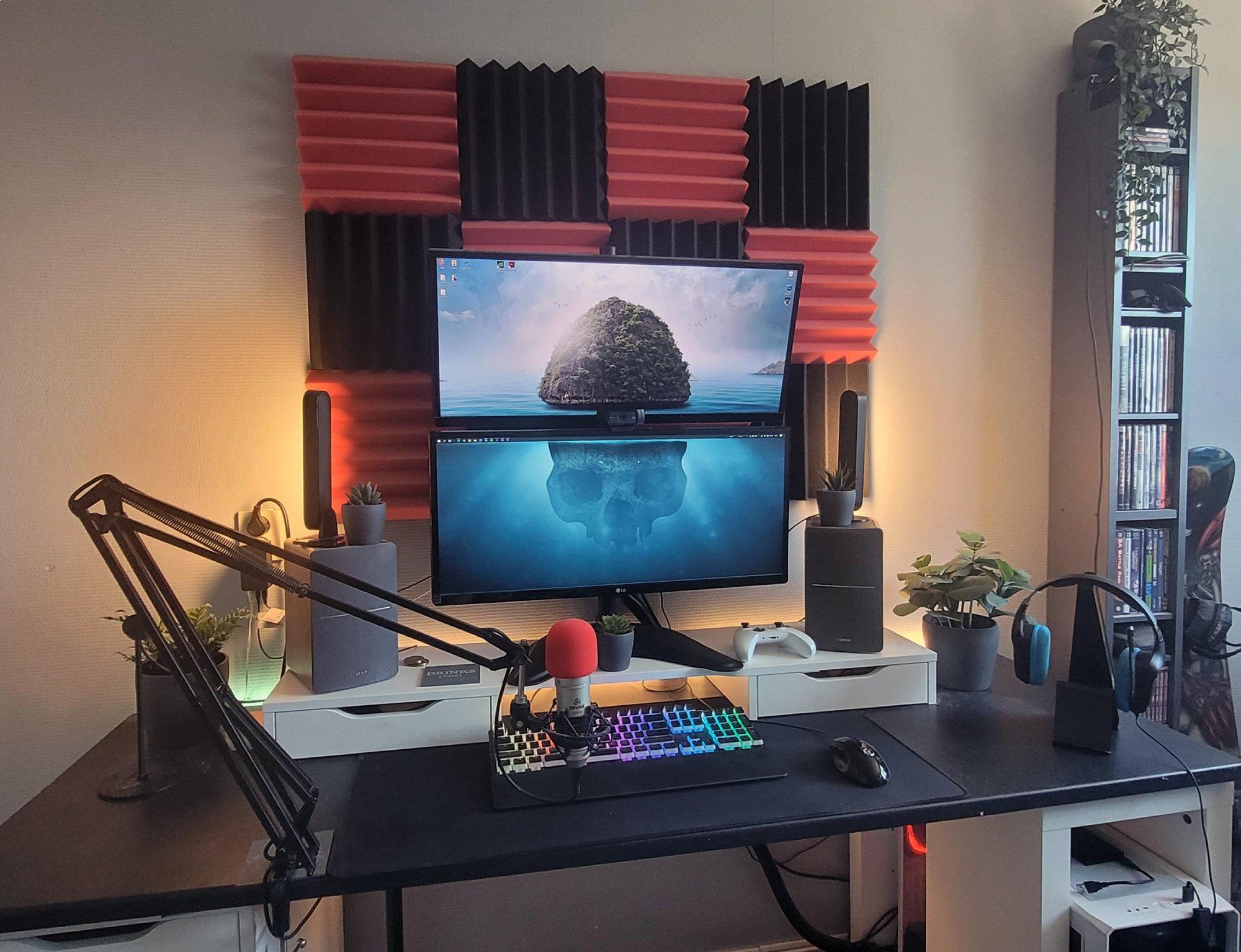 Later I added an ALEX monitor stand, as my original monitors weren't height adjustable, and also a few additional drawers to the desk setup.
I had to replace the tabletop as the weight of my microphone clamp and monitor arm were too heavy for the desk material. I replaced it with a solid wood kitchen counter from the DIY store.
Other additions included a Philips Hue light strip on the back and two Hue lightbars that match the screen colours when I'm playing or watching movies but are usually a solid colour when I'm working.
The desk itself cost around €195 (LINNMON: €45, ALEX drawers: €80, VIKA: €30, ALEX add-on: €40)."
Triple Screen Home Workspace with ALEX Drawers, Shelves and Plants
Desk size: 186×63,5 cm (98×25,6″)
"Mixing IKEA ALEX drawers and a simple countertop to make a desk? Genius.
I loved this idea the first time I saw it.
It offers exactly what I'd expect from my workstation. It's heavy and stable with enough space on the desk itself and a lot of storage area as well.
I've always hated those desks that you screw together, and then they creak with even the slightest touch.
One of the great things about this desk setup is its flexibility. You can choose almost any countertop type or size and customise it to fit your needs.
The countertop's material and thickness allow you to install any mount you want, whether it's for monitors, microphones, or lighting.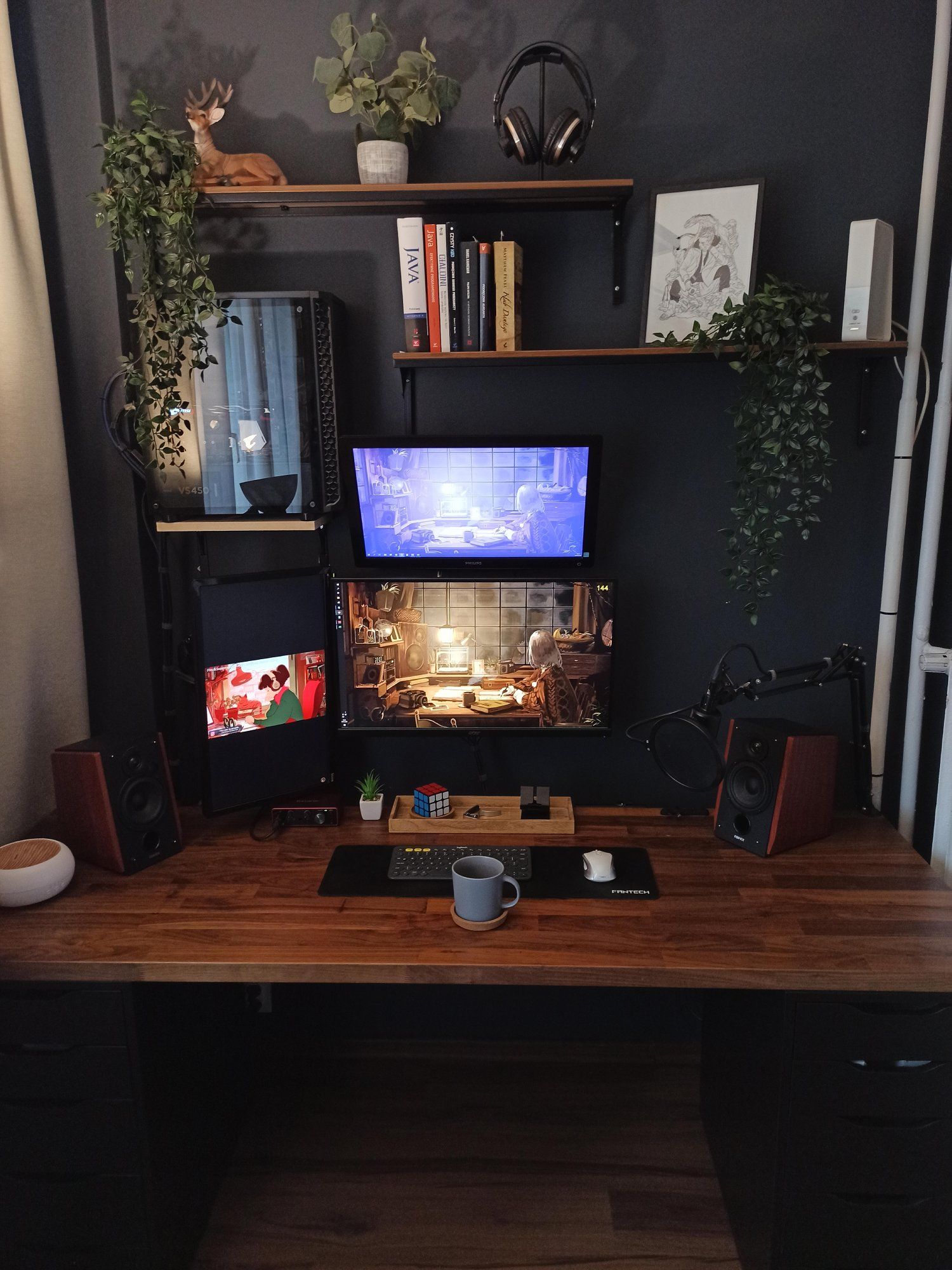 I also liked that all the parts could be bought separately and replaced if I wanted to.
What I particularly love about this workspace is cosiness. A wireless and silent keyboard. A wireless and silent mouse. No cables onboard.
The wooden elements, plants, and clean desk also contribute to a smooth work experience.
At first, I wanted to get a 246 cm wide desk with an L-shaped rail to support it from sagging.
However, I was not fond of the idea of an additional leg in the middle, as I felt it would get in the way and ruin the aesthetic.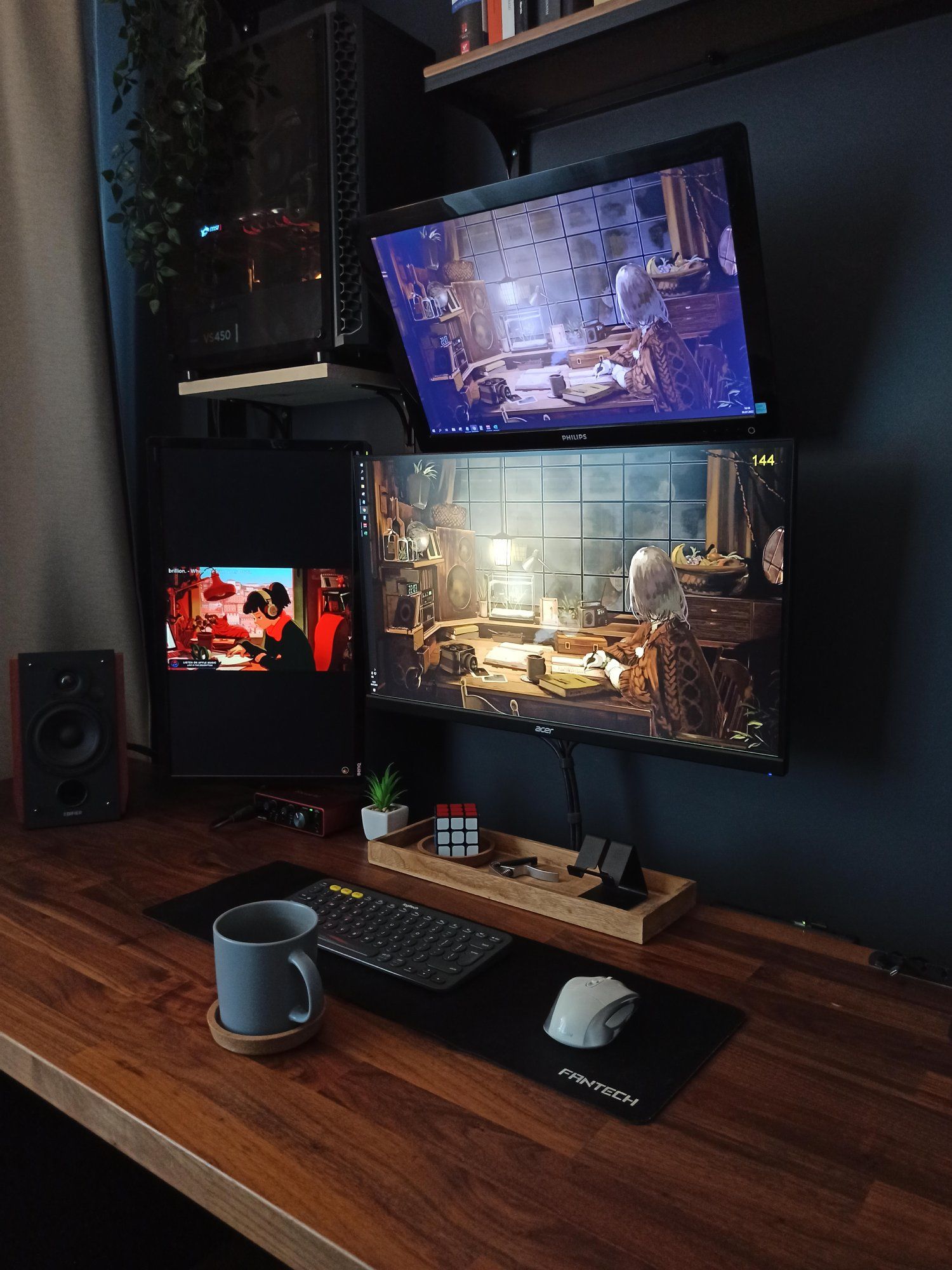 Instead, I chose a 186 cm long desk.
The problem that arose was the placement of the PC case. I didn't want to sacrifice a large portion of valuable surface space for a huge PC case.
The 186×63,5 cm desk was just way too small to keep the PC next to speakers and other equipment.
Putting the PC on the floor was not an option either, as the dust would damage its internal components.
The only solution was to put the PC on a shelf. It would have been unfortunate if that option was not available.
Having a lot of storage is important to me.
I hate using the surface of my desk as storage. It clutters the workspace and stresses me out when I can't find something I think I saw a moment ago.
With drawers, I have plenty of storage space within arm's reach for all the things I need, such as documents, accessories, notes, and any other equipment I find handy.
There is one downside, though. It takes a strong will and discipline to not store snacks in the drawers. It's a double-edged sword."
Ultrawide Screen Desk Setup with ALEX Castors
Desk size: 180×60 cm (71×24″)
"I chose the ALEX drawers because of their versatility. I bolted my bench top to the units and mounted wheels underneath for easy mobility.
While I considered other options such as a studio desk, the combination of IKEA products offered the best combination of price and practicality — it's a winner!
The price of the desk itself was probably between $400 and $500, and the complete desk setup cost around $7K to $8K."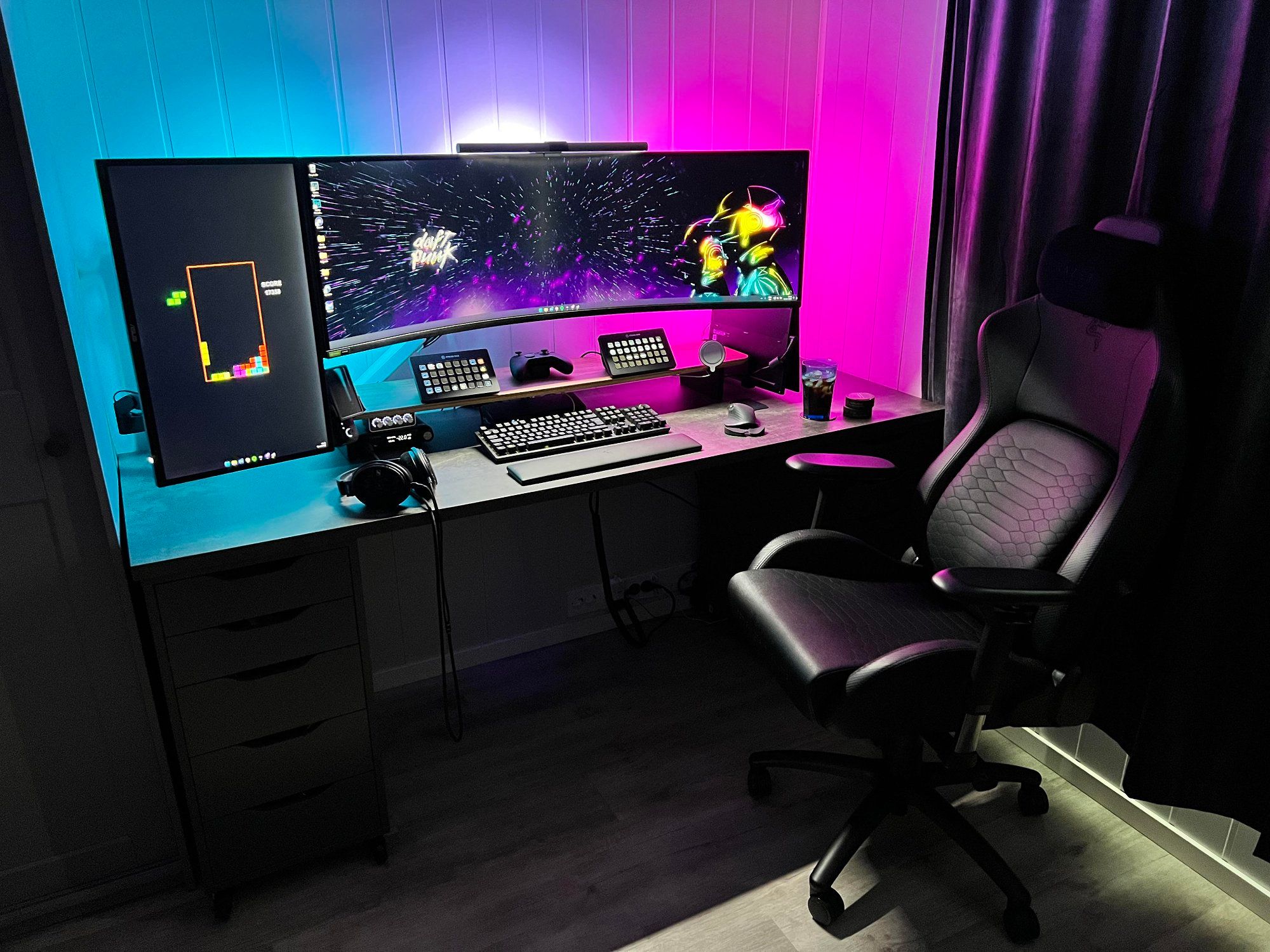 IKEA Desk Setup for a Small Space
Desk size: 120×60 cm (47×24″)
"The desktop is the LAGKAPTEN model, measuring 120×60 cm.
I have a pretty small space to work with, so I needed to find a storage solution that wouldn't take up too much space. That's why I got the ALEX drawers.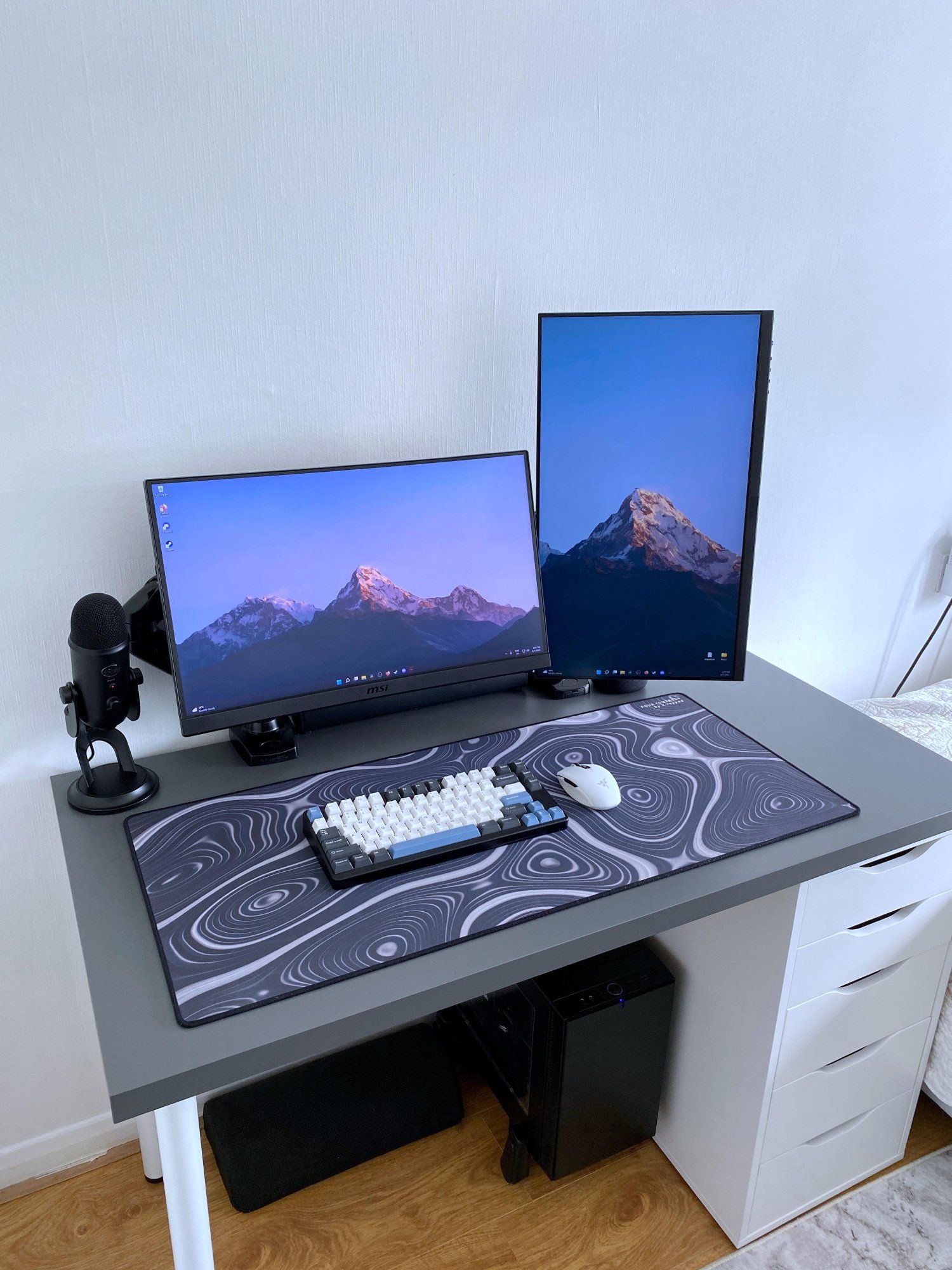 The same reason applied to the desk size. I couldn't have anything larger or it wouldn't fit, but I also wanted some depth to keep the monitor not too close.
The whole IKEA setup — LAGKAPTEN, SIGNUM rack, ALEX drawer, and ADILS legs — cost me about £90 ($106).
However, my whole setup is much more expensive. It's probably slightly above £2K ($2,4K)."
Basic ALEX Drawers Desk Setup with a Central Leg
Desk size: 200×62 cm (75,75×23,6″)
"I considered the ALEX drawers mainly because a friend of mine has the same kind and I fell in love with them. So, I decided to get some for my desk setup.
The LAGKAPTEN table top cost me $80, the ALEX drawers cost $90 each, and the OLOV centre leg cost $15.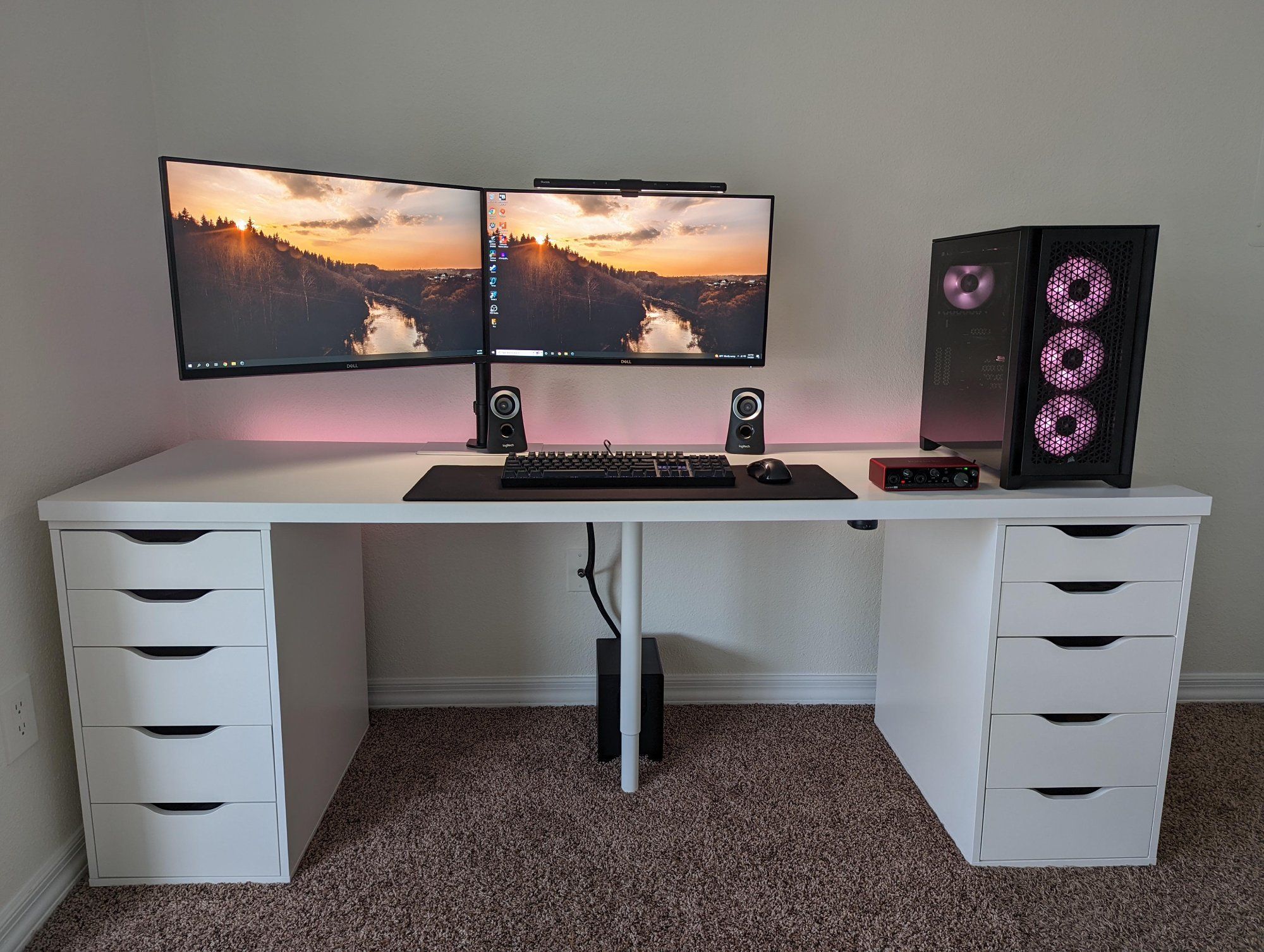 So overall, it cost me a total of $275 before taxes!
I did look at other options besides the ALEX drawers, but I kept coming back to them, so that's what I ultimately went with."
Neutral Home Workstation Featuring White ALEX Units and Rubberwood Desktop
Desk size: 203×66 cm (80×26″)
"The desktop is a solid rubberwood butcher block custom cut by my husband, David.
We built the PC together. He did most of the work, and I did most of the shopping :)
We decided on the ALEX drawers fairly quickly because the office also serves as a craft room. We already had the matching IKEA drawer units and a tall BILLY shelf unit with a glass door, which houses a lot of yarn for my knitting hobby.
I also work from home some days, so I wanted a desk setup that was comfortable for both gaming and working. I game quite a lot, so dark curtains and a powerful gaming PC were must-haves.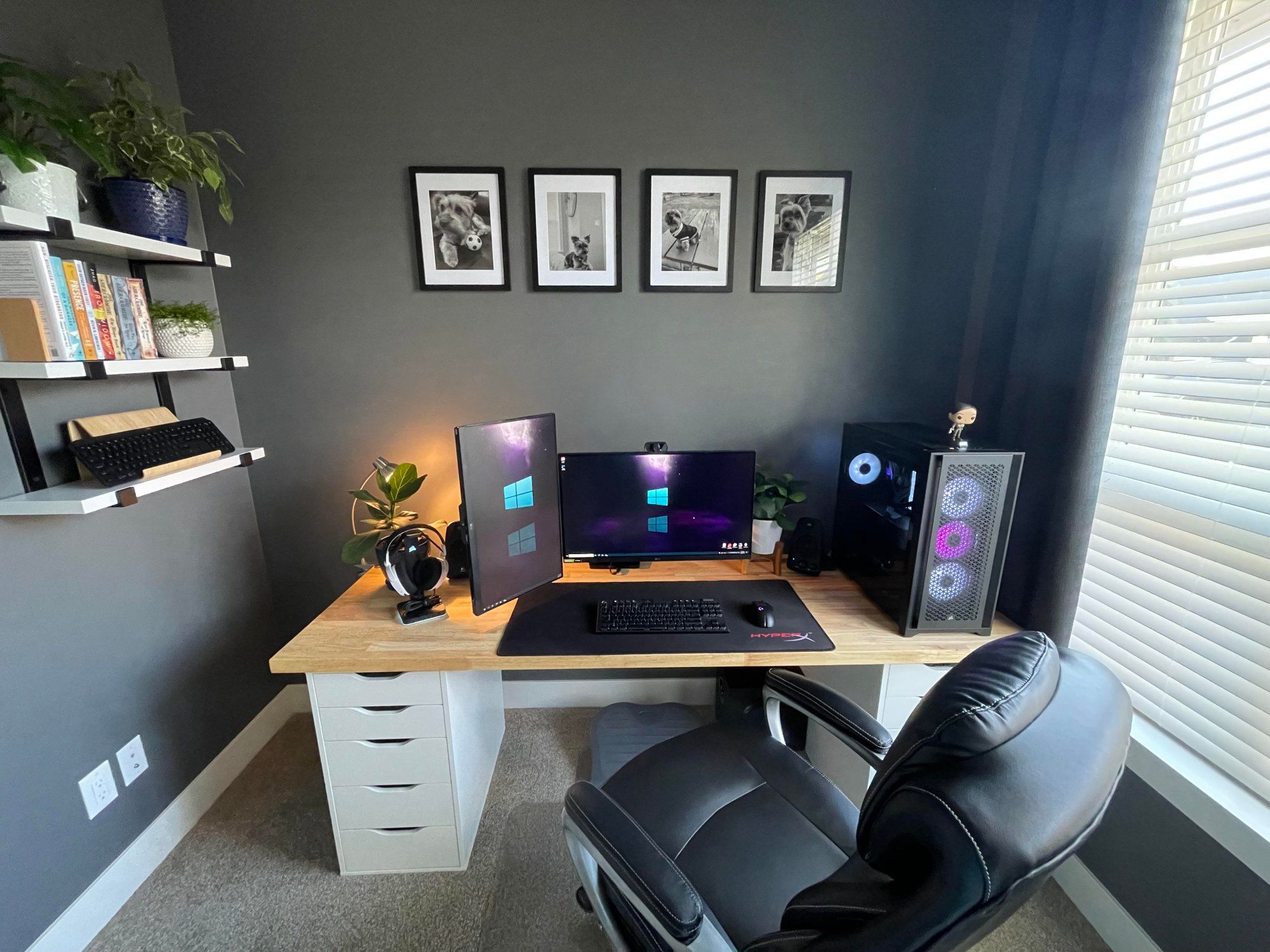 The three-tier wall shelf was a quick buy from Home Depot in Canada, and it took several painstaking days of spray painting the shelves white, as they originally had a faux wood look.
For artwork, I couldn't think of anything more meaningful to me than some fabulous photos of our 11-year-old Yorkie, Oz. And, of course, he's always more than happy to be the centre of attention.
Altogether, everything except the computer and peripherals cost about $1,7K. The computer, monitors, monitor arms, etc., were about $6K."
Desk size: 183×57 cm (72×22,5″)
"The desk area is an IKEA KARLBY countertop.
I chose this desk setup because of its flexibility, the good availability and affordability of the IKEA products.
The ALEX drawers have a lot of drawer space. Their size makes them really easy to hide wires for cable management.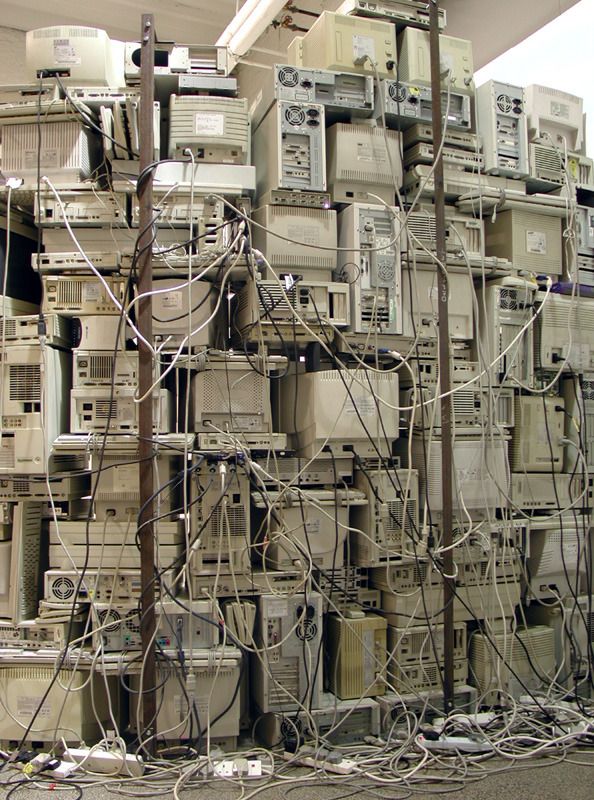 The low price also made me feel comfortable drilling holes in the back to run cables through for my headphones and gaming peripherals, so the desktop stays clutter-free.
The dimensions also happened to work well in the nook I set it up in. The two half walls are actually two KALLAX units I backed with particle board and attached soundproofing panels and 3D back panels to.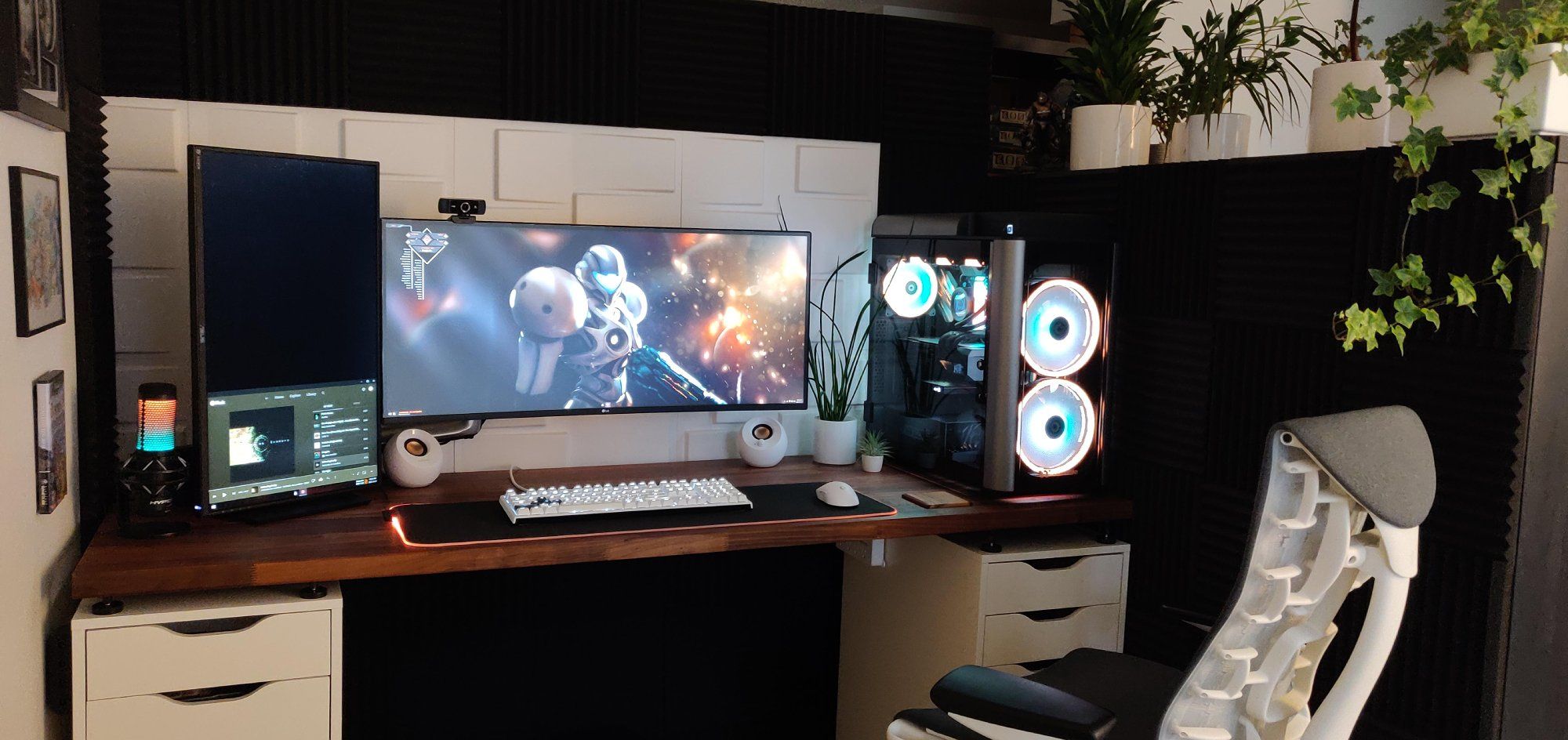 Not including hardware peripherals and the office chair, I believe the desk setup cost me around CAD 1,300 ($1K USD) in total, though the details are fuzzy.
Approximately CAD 400 ($300) went to the IKEA desk, CAD 400 ($300) went to the two KALLAX units, CAD 350 ($270) went to the custom back panelling, and the remaining CAD 150 ($115) went to cables, cable trays, and other cable management solutions."
IKEA EKBACKEN Standing Desk Setup with ALEX Drawers
Desk size: 188×63,5 cm (74×25″), the height is 27″.
"I used to have a black L-shaped desk that I bought on Amazon for approximately $140. It did its job for a few solid years but eventually started to show its age a bit.
I did some research online and pretty quickly came to the conclusion that an IKEA setup would be the best option for me in terms of price, quality, and aesthetics.
It also seemed like a safe play due to it being such a widely recommended choice these days.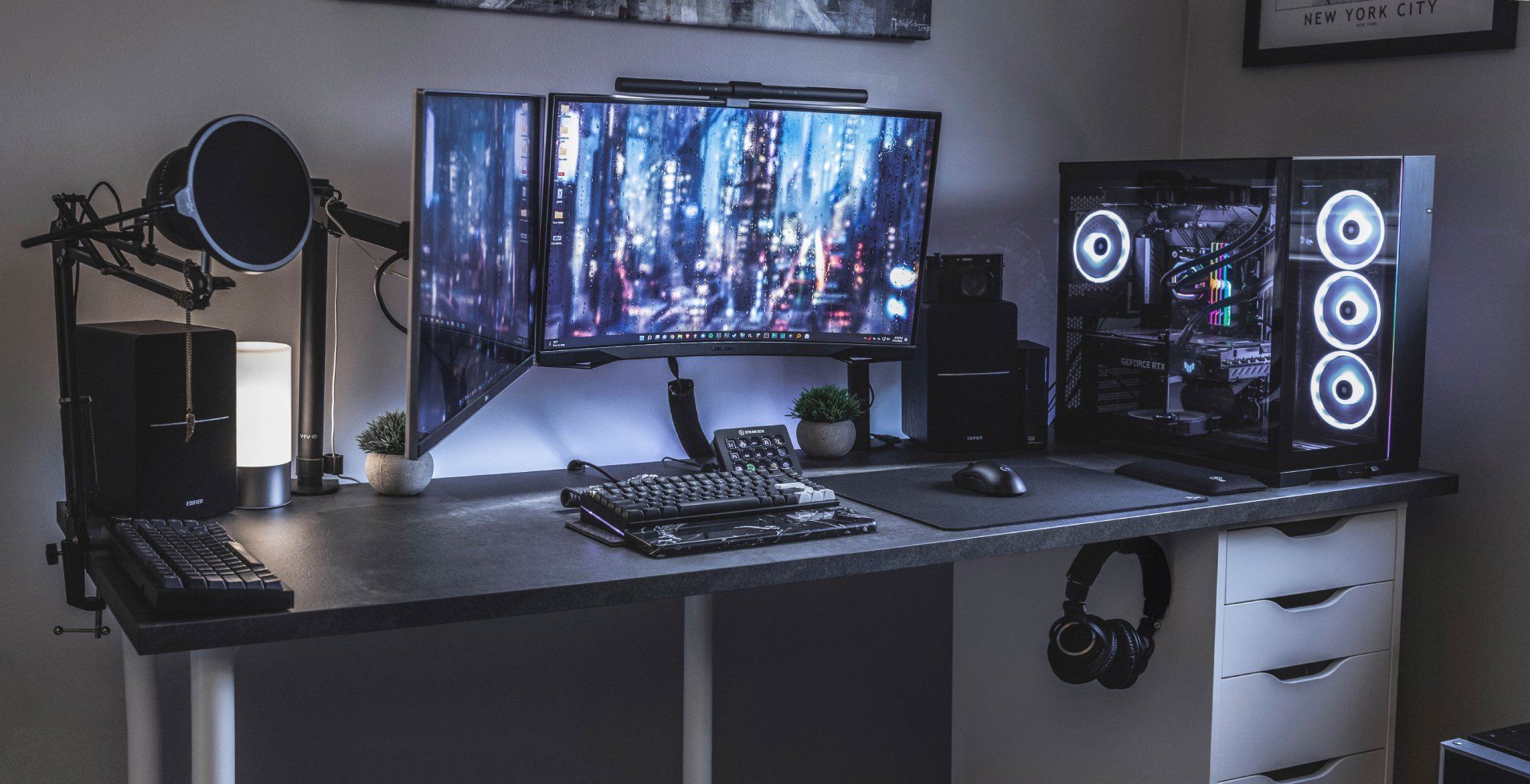 I did look at some other options, including the UPLIFT standing desks, but the size I was interested in had a much higher price tag than I was willing to pay at the time.
The IKEA EKBACKEN countertop, ALEX drawer unit, and three OLOV legs cost $306. The total cost of desk setup was $7,1k, including the PC, desk, peripherals, MacBook, and Steelcase Chair.
I don't regret my decision at all!"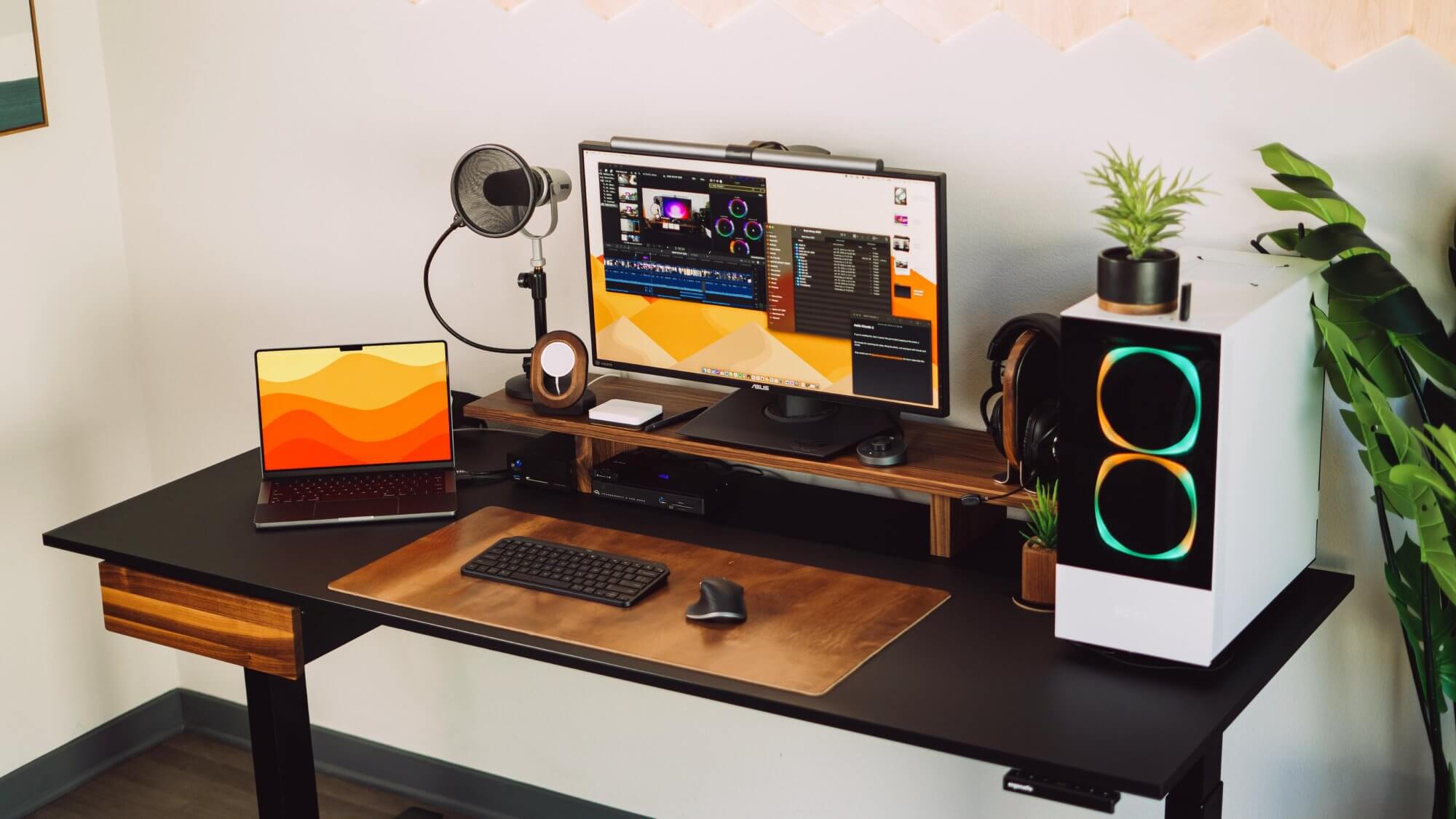 IKEA ALEX and EKBACKEN Budget Desk Setup
Desk size: 188×61 cm (74×24″)
"To be completely honest, the main reason I chose the ALEX drawers with the EKBACKEN combo was because of how good it looked aesthetically. In combination with the risers, it added extra storage (for an audio interface, for example).
I can't say for sure how much I spent on the entire desk setup, but I know the ALEX drawers with the EKBACKEN countertop cost me around $250."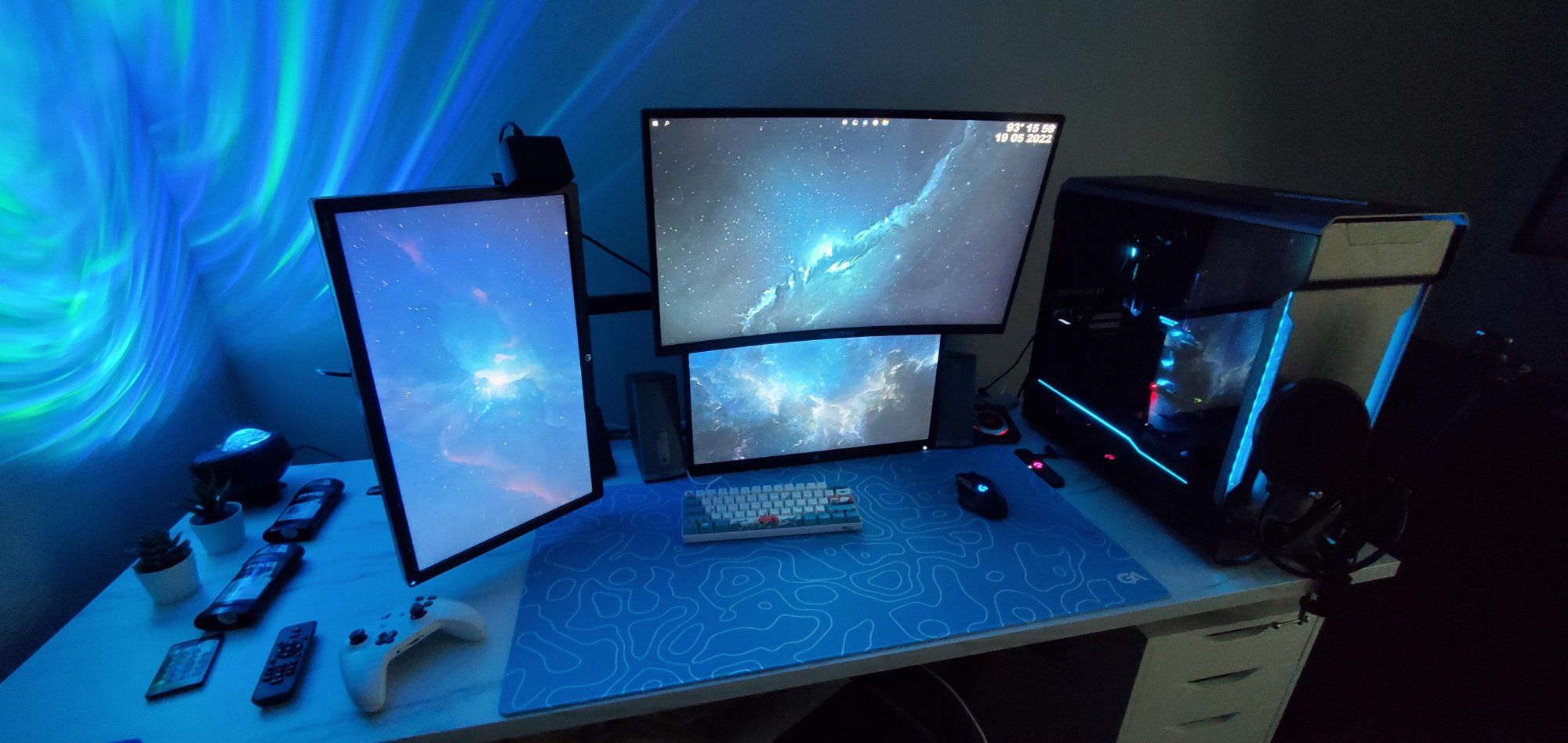 Functional IKEA Desk Setup with ALEX storage for a Small Room
Desk size: 120×60 cm (47×24″)
"The desk is the LAGKAPTEN in a white oak finish.
I chose to use ALEX drawers because they are deep and can fit a lot of stuff in them.
As I live in a small apartment where my bedroom is also my office, incorporating storage into the desk helps to maximise space without the need for separate units.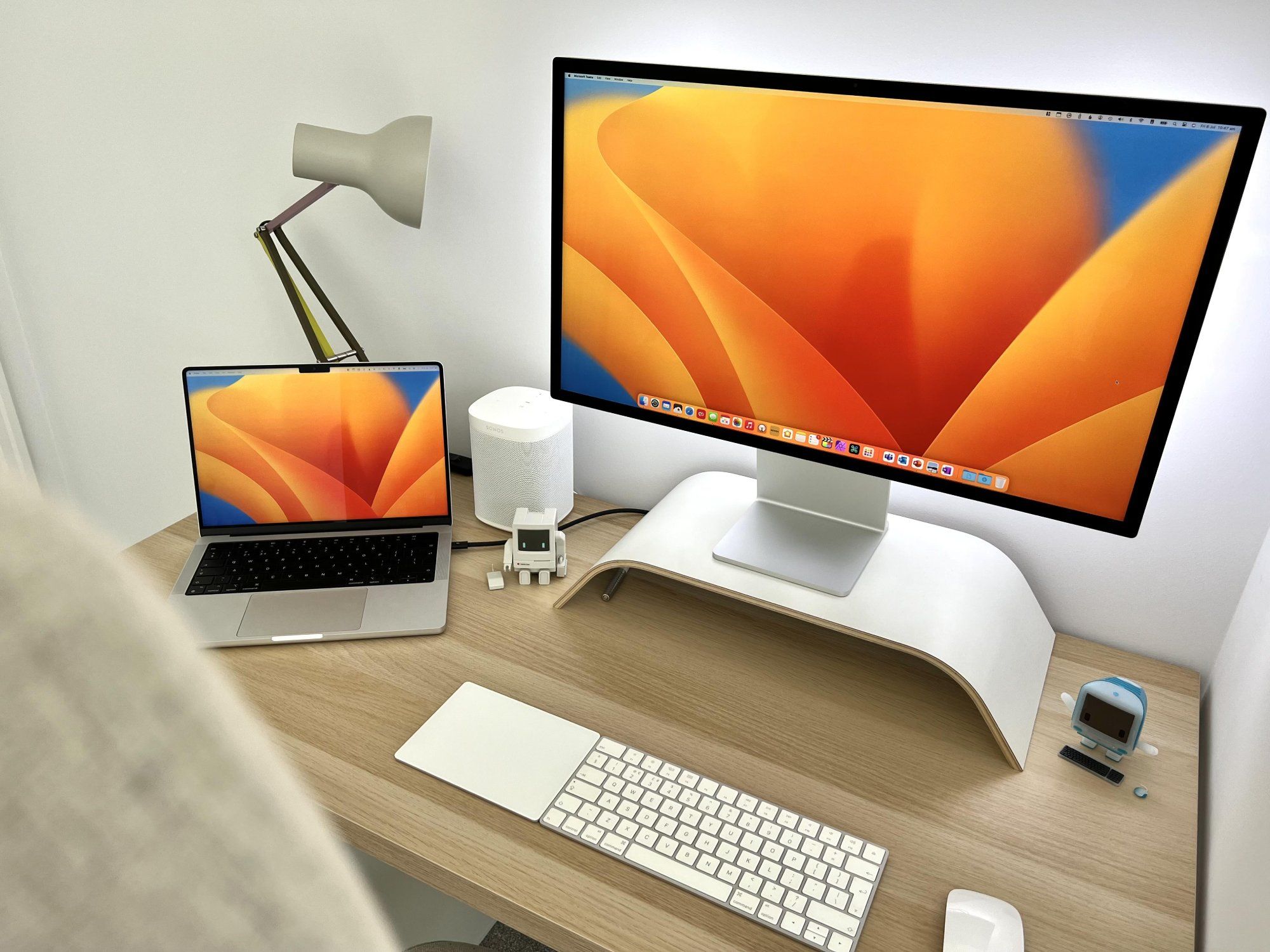 I used an IKEA SIGNUM cable management trunk under the desk to hide wires.
I also drilled an 80 mm grommet into the desktop to provide a hole for feeding wires through.
The desk, drawers, and chair cost a total of under £300 ($355)."
Sag-proof KARLBY Desk Setup with Two Legs in the Middle
Desk size: 250×65,5 cm (98×25″)
"The dimensions of the desk are 98″in length and 25″ in depth. The hack here is using IKEA kitchen KARLBY countertops.
I wanted to create a large and cosy setup that could fit everything and still have a clean and spacious feel.
I achieved this with the 2.5-meter walnut KARLBY countertop. The ALEX drawers are great for storing a lot of things within reach. They are deep and come in various sizes to fit everything.
The white ALEX drawers also added a clean and modern look to the wooden colour of the worktop.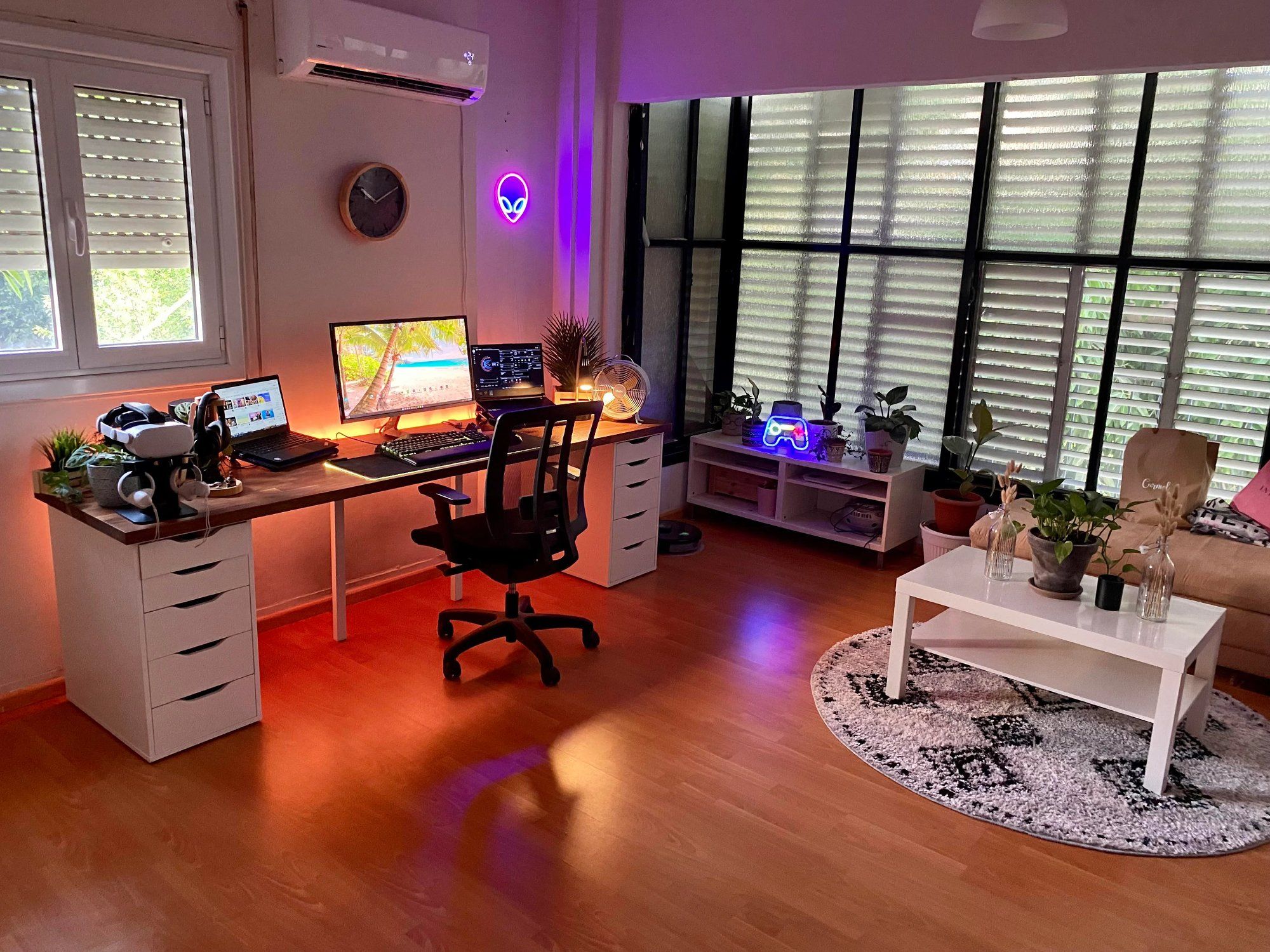 I used two legs to support the middle part of the table. Without it, the heavy countertop would bend like a banana.
The IKEA ADILS legs were used for this purpose (one leg in the middle is also sufficient).
The total cost was $494 including $259 for the countertop, $220 for two ALEX drawers, and $15 for the legs."
Pre-loved IKEA ALEX Drawers Desk Setup for Retro Gaming
Desk size: 198×60 cm (78×24″)
| | |
| --- | --- |
| Dimensions | |
| Depth | 24″ |
| Height | 28,5″ |
| Width | 78″ |
"My goal when creating a bedroom system was to do it as cheaply as possible while still making it functional, stylish, and suitable for my hobbies of gaming, music, and retro gaming.
Everything you see in my desk setup was either purchased second-hand or given to me for free.
I live in Yellowknife, Northwest Territories in Canada, which does not have an IKEA.
I was able to score this particular desk second-hand on the marketplace for CAD 200 ($150).
The previous desk I had was fine, but it was not wide enough to accommodate my Sony PVM CRT monitor for retro games.
The IKEA ALEX drawers desk was the perfect solution, as it has a very wide work surface.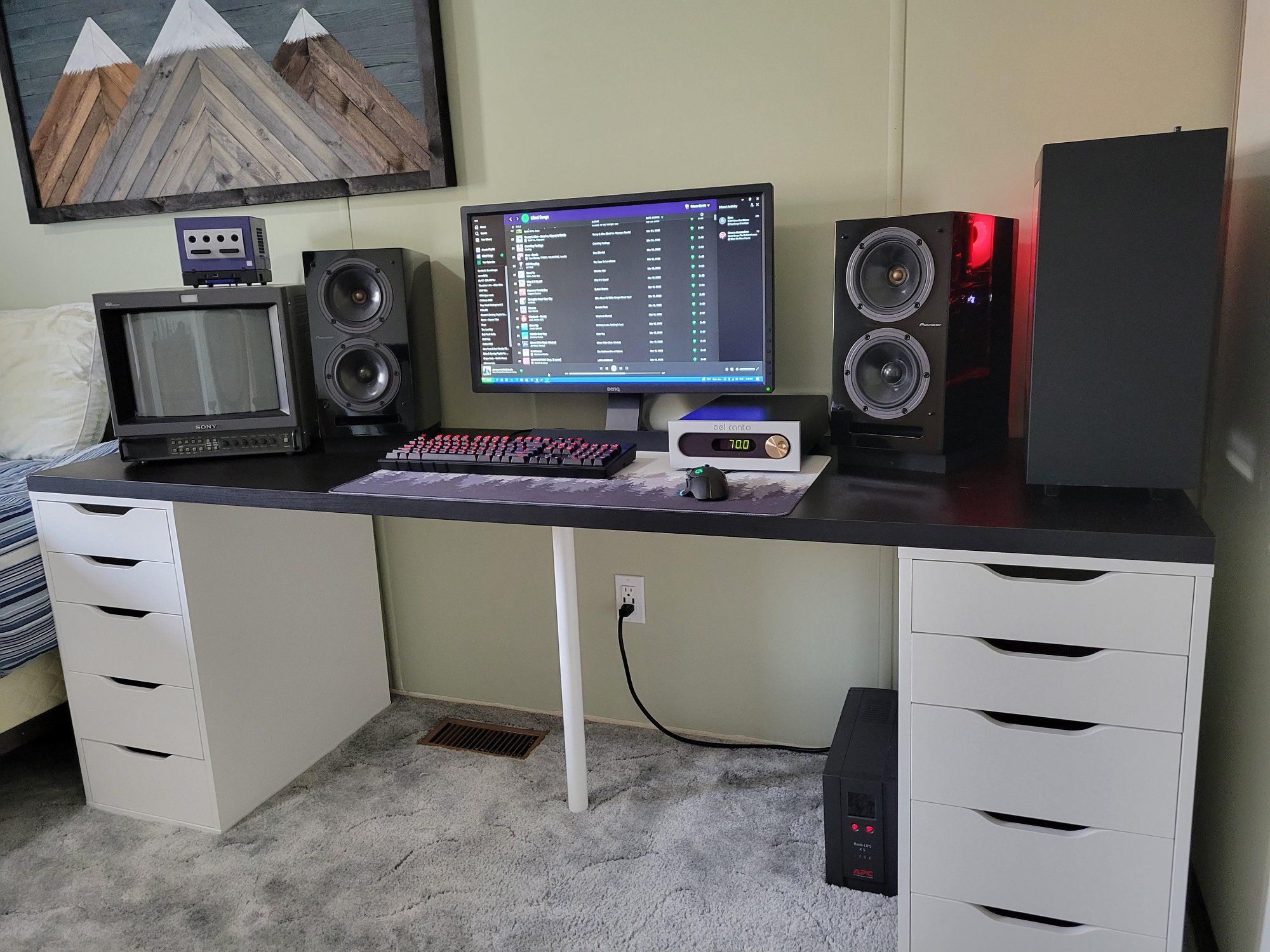 I had considered making my own desk using prefabricated aluminium stands and a carry-way butcher block countertop slab, but that would have cost about double what I ended up paying for the IKEA desk.
The total cost for everything was just shy of CAD 900 ($680). If everything had been purchased new, it would have cost CAD 9,300 ($7,000).
So essentially, by buying second-hand, I was able to get everything for about 10% of its original cost."
IKEA Workstation with Two Screens and Custom Loop PC
Desk size: 180×80 cm (70,8×31,5″)
"The ALEX drawer fits all of my office supplies and other little things, so I didn't consider other options. It works so well.
The whole desk setup, including the custom loop PC, cost me over €6K altogether. It's hard to say the exact sum, but it's in the ballpark of €6-7K."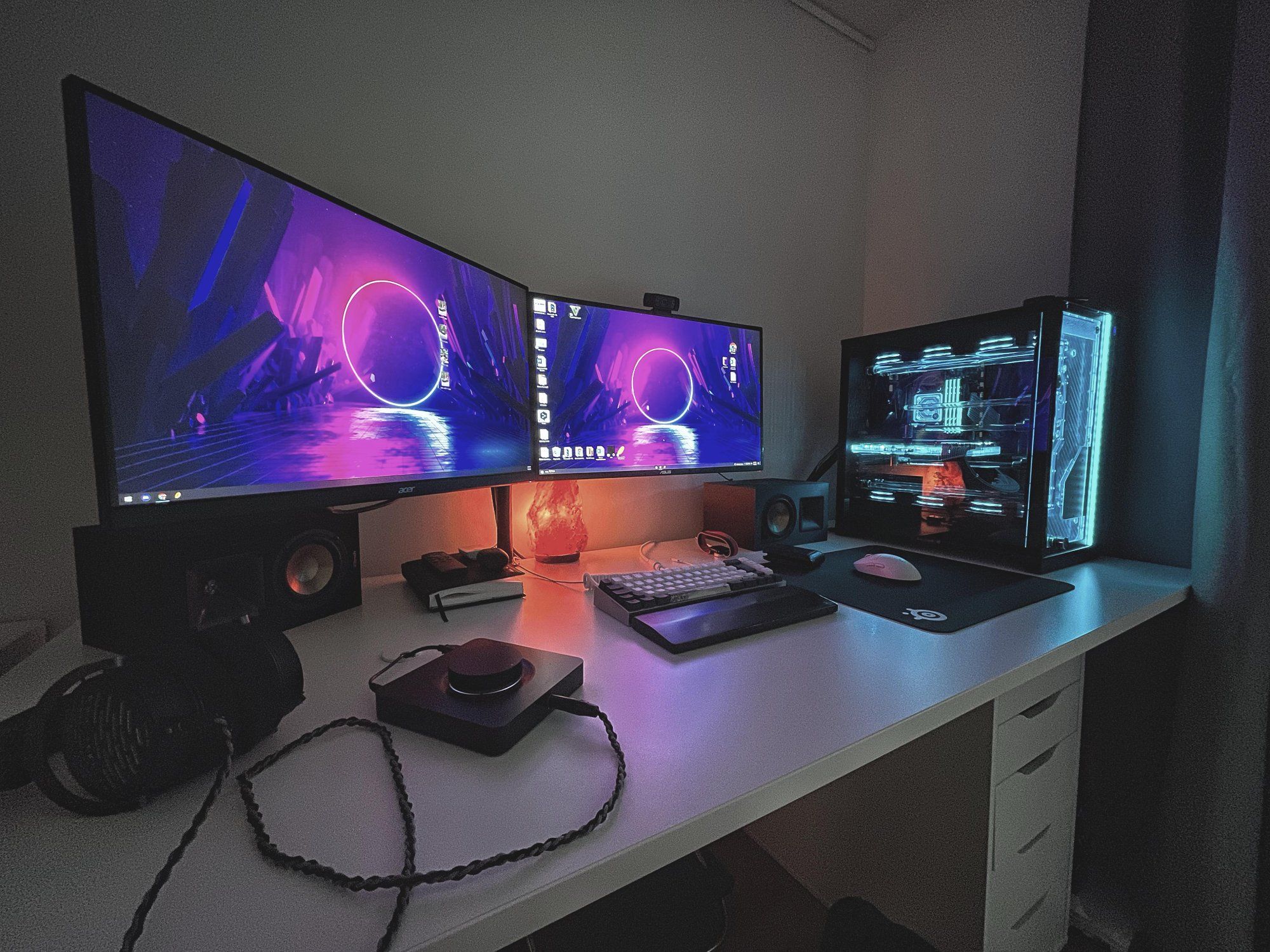 Wooden ALEX Units Corner Desk Setup
Desk size: 120×60 cm (47×24″)
"The desk I bought is 120×60 cm, and I arranged it in an L-shape.
The longer side is 178 cm (60 cm desk + 120 cm desk, minus 2 cm for the connection), and the shorter side is 156 cm (120 cm desk + 36 cm ALEX). I connected an ALEX to one of them.
The first desk is 74 cm high, and the second one is 70 cm high. The reason for the height difference is that the higher one contains an ALEX as one of the supports, while the other has ALEX as an extension to provide more desk space.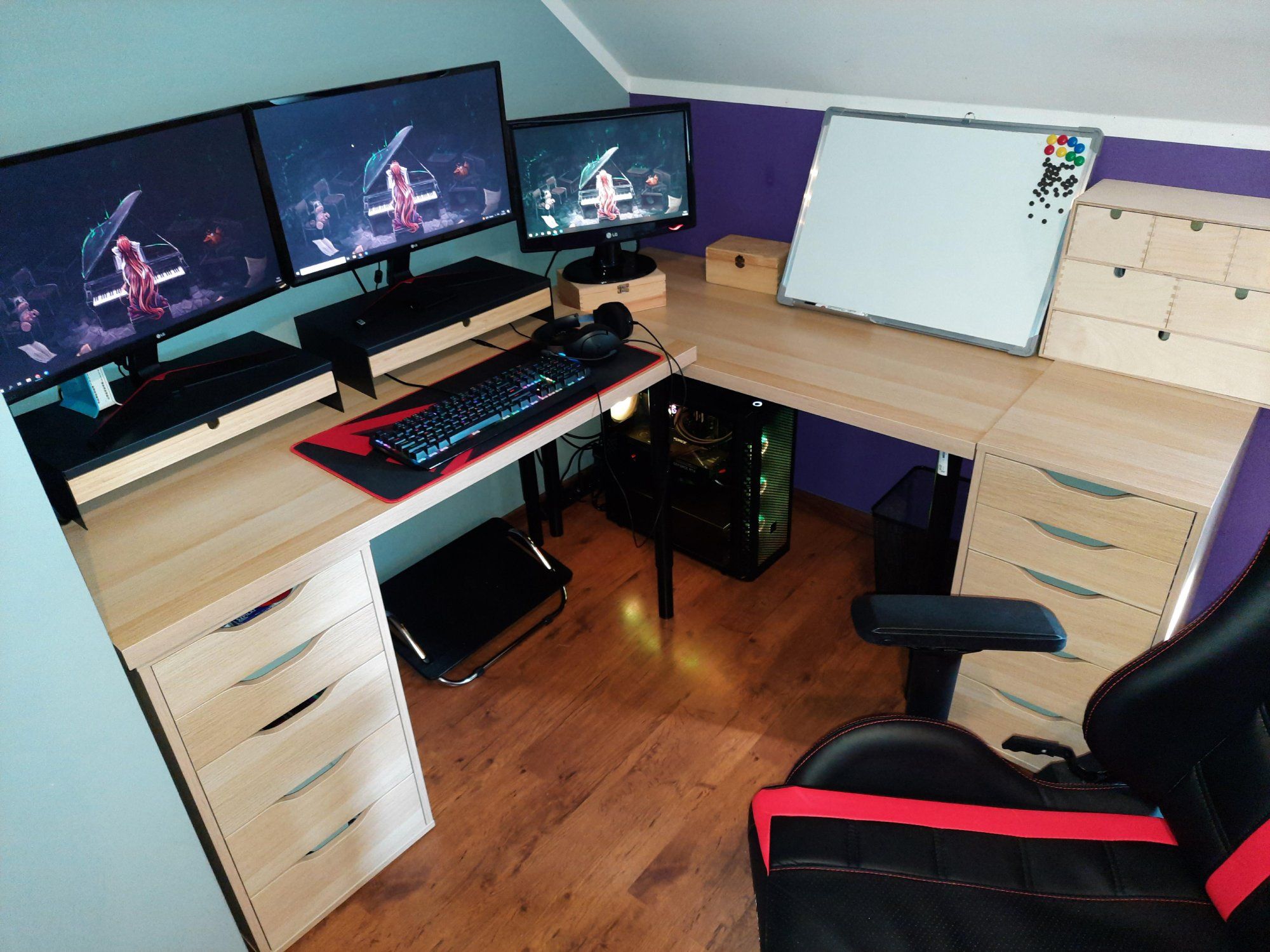 I chose ALEX drawers because they perfectly match the LAGKAPTEN tabletop.
They are very deep and sturdy, and I have found them to be the best option among the drawers available in Polish shops.
I also find IKEA products to be reliable and sturdy based on my experience using them at work.
The whole desk setup (including only IKEA products) cost me 1452zł, which is approximately $300, plus an additional 120zł for shipping, bringing the total sum to around $325.
One reason for the open space underneath the desk is that the PC I built generates a lot of heat, so it needs good airflow."
We're a reader-supported publication. This article might contain affiliate links. It means we may receive a commission if you click a link and buy a product that our maker has recommended. The interviews were done independently.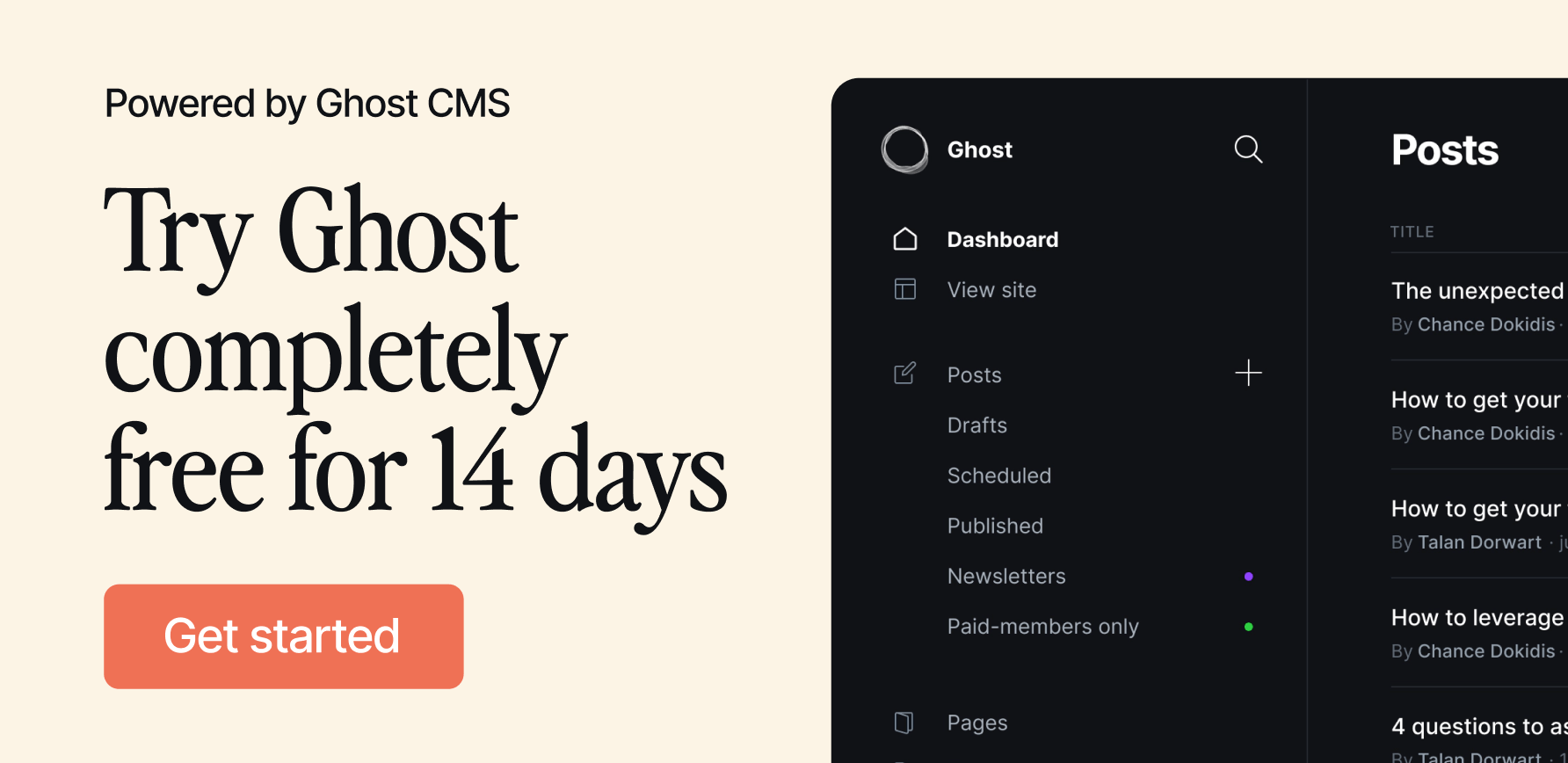 ---