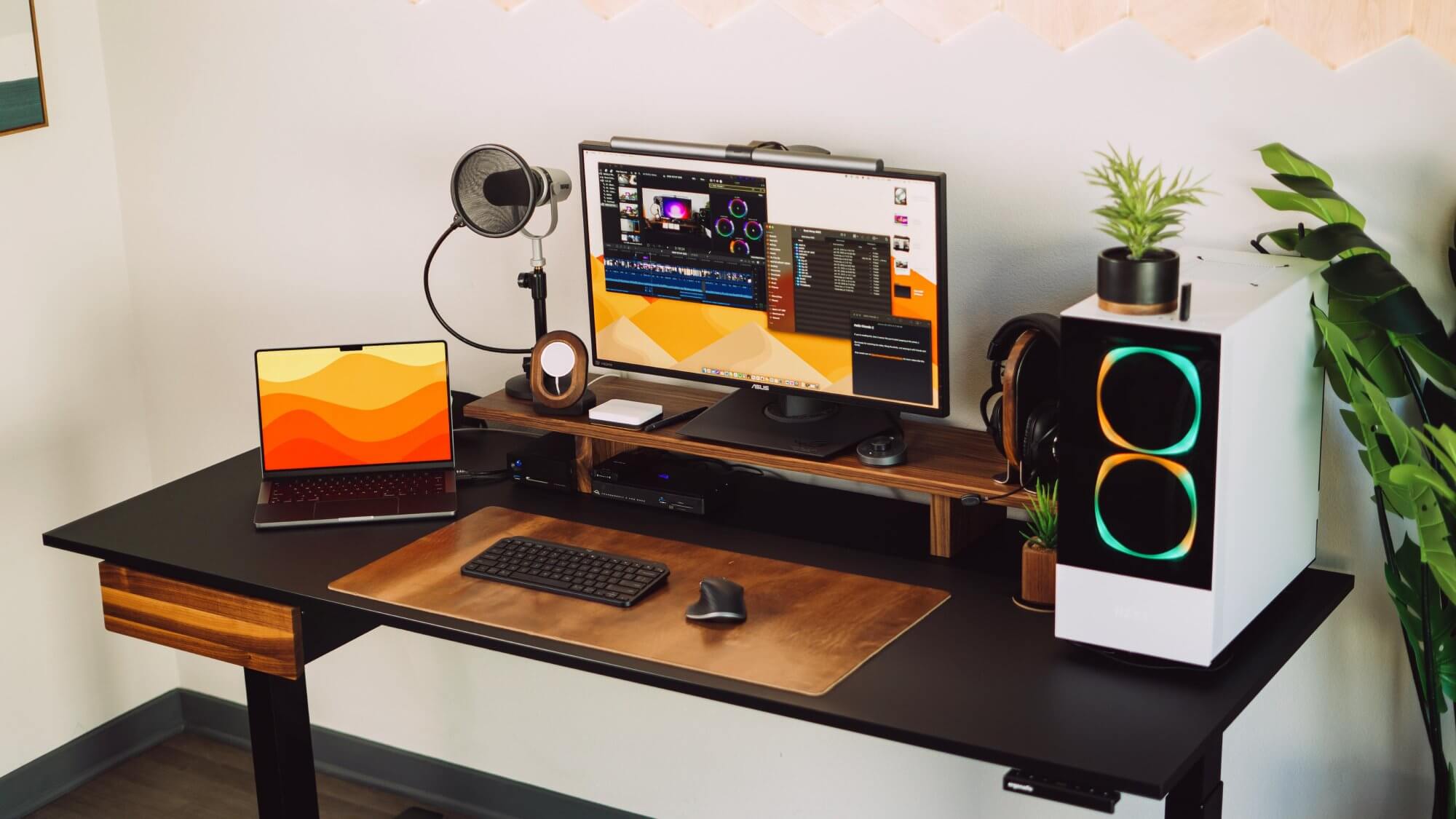 58 Best Standing Desks for Home Office (With Photos From Real People)
Stand up and keep it going with the standing desks tested by WFHers from all over the world.

Double-decker bus drivers were twice as likely to have heart attacks as their bus conductor colleagues, who spent most of the day on their feet. That's what researchers found in 1949.
In 2018, the American Journal of Public Health reported that sitting down for more than eight hours can increase the risk of chronic diseases by 10-20%.
At the same time, the research that assessed the health impact of standing desks, concluded:
47% of participants reported a reduction of discomfort in the upper back, shoulder or neck;
88% said that standing desks were convenient to use;
65% reported increased productivity;
65% reported a positive impact outside the workplace.
All in all, it's a no-brainer: sit-stand desks make us healthier and more productive.
We've asked people working from home to share their personal experiences and recommend the standing desk they swear by.
Skarsta/Trotten Sit-Stand Desk from IKEA
Desk size: 121×70 cm (47,6×27,6″)
"My standing desk is the IKEA Skarsta, the smaller size of the two options. It's sitting right on the carpet.
Working from home permanently required good ergonomics, and I was starting to feel some lower back pain.
So having the standing option as well as the Herman Miller Embody chair allowed my body to move around as needed and get support in the right places.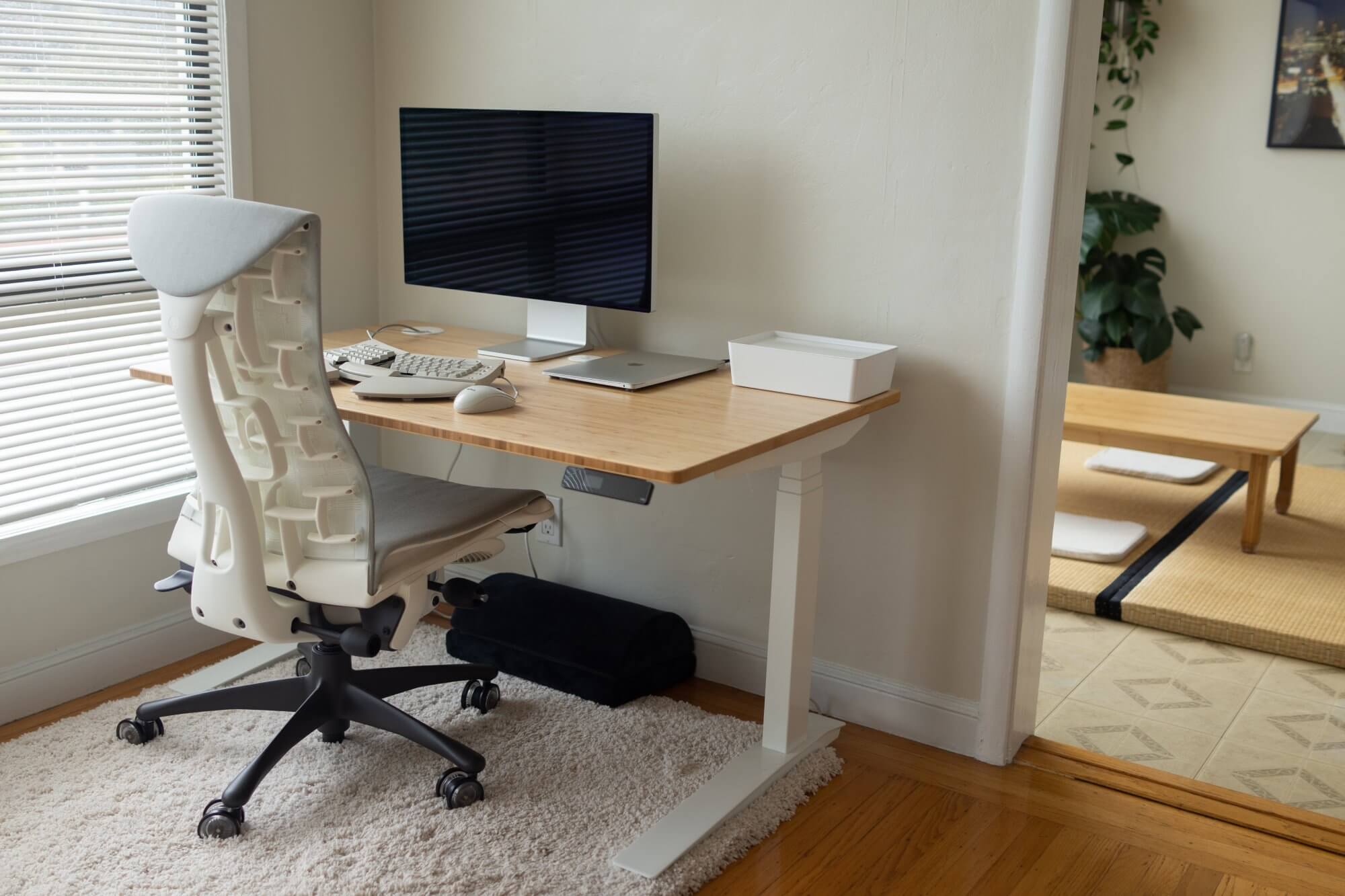 The most unique part of this setup is the 1993 Apple Adjustable Keyboard.
It's probably not as comfortable as modern mechanical keyboards but it feels great to me, and it makes me nostalgic for when I was a kid in the 90s.
Skarsta was around $230, the Embody was around $1,4K, Fully Jarvis arm was $100, and everything else was less expensive than that."
Autonomous SmartDesk 2 Business Edition
Desk size: 178 cm (70″)
"The desk is the SmartDesk 2 Business Edition from Autonomous.
I'm actually a product reviewer and have a lot of the information you are looking for in my article about this desk. The images in the review are from my setup a couple of years ago, but the desk itself is still the same.
This desk is my primary workspace for Mac Sources, a tech news and reviews website that I am the co-founder of.
I am also a photographer and use the computer and monitor for photo editing work.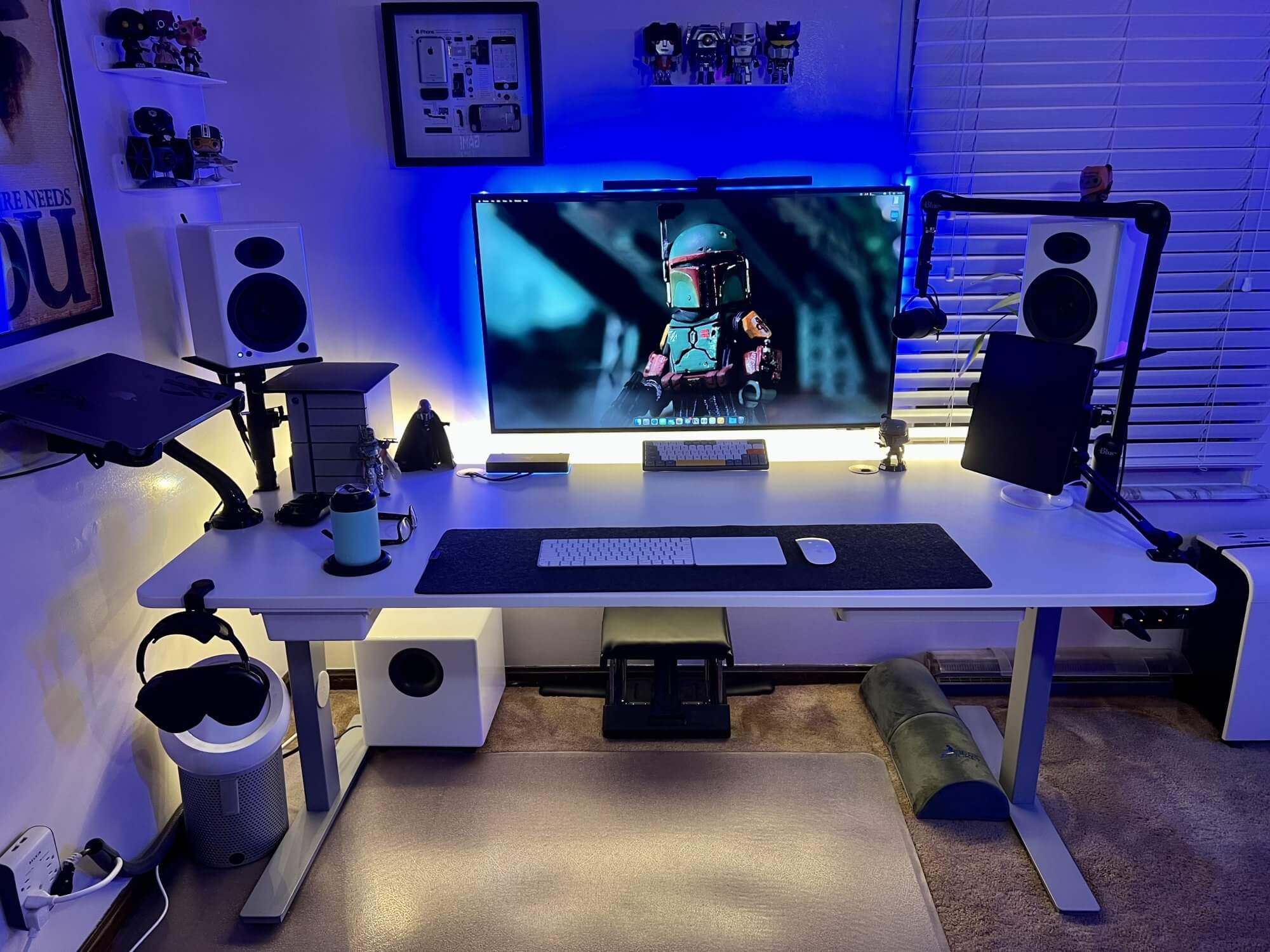 I decided to use the 71-inch desktop so that I had plenty of real estate to work with when building the setup.
I wanted to make sure that I had room to mount the two drawers and the Scarlett interface without having them right up against each other.
I like to keep the desktop as clean as possible, which is why I opted to keep my MacBook Pro on a monitor arm with a laptop mount. It keeps it off the desk but is easily accessible.
The LaCie 6-Big is on top of the desk because as a photographer, I need the attached storage device to house my Lightroom library as well as all the media associated with it.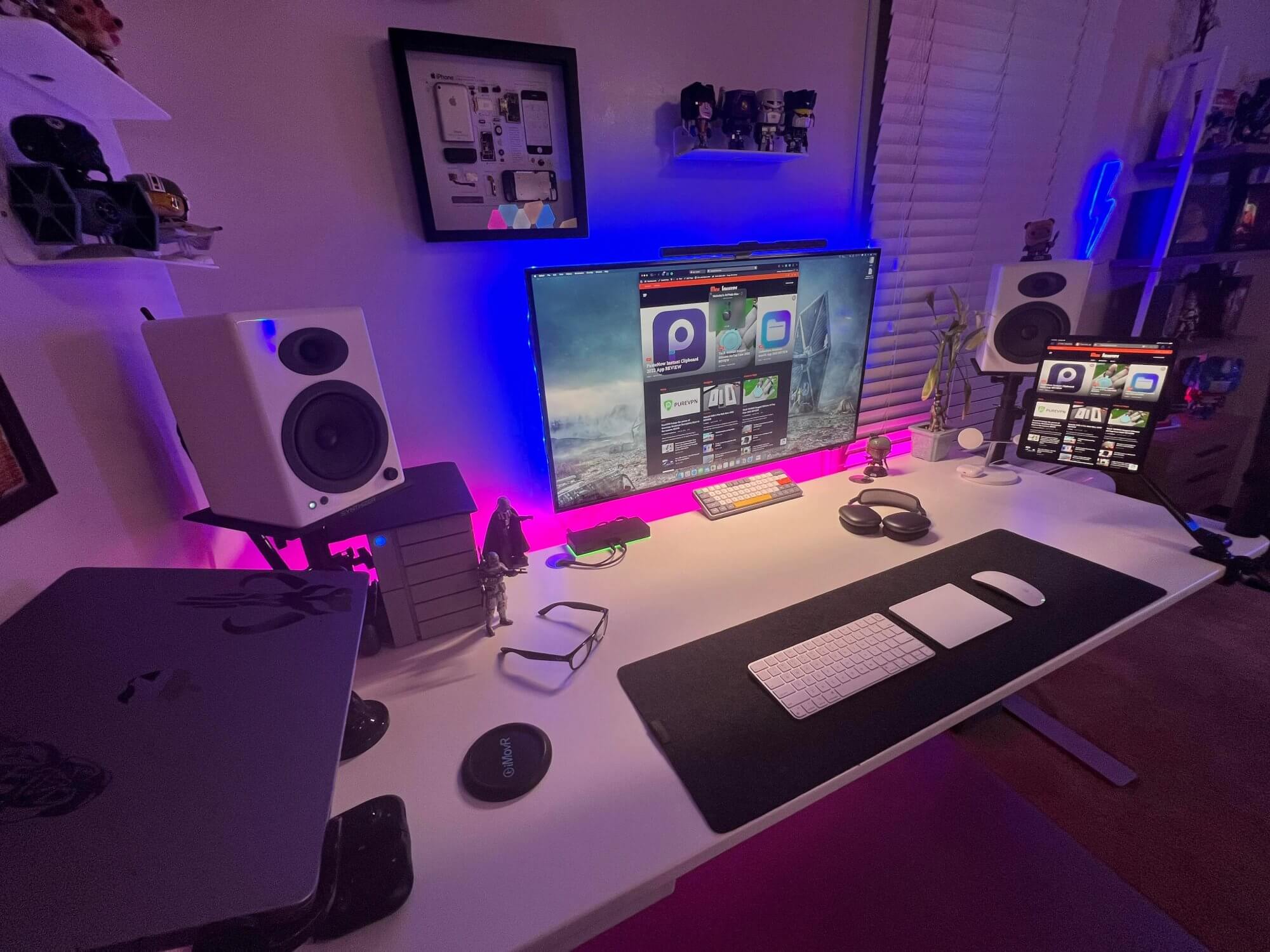 In a previous setup, my Thunderbolt dock was mounted beneath the desk, but we discovered that this Thunderbolt 4 dock got pretty warm on the top, and honestly, I wanted to be able to see the RGB lights on it, too. So, it has a spot on my desktop as well.
I'm a huge Star Wars fan, hence the characters across the desk, and I have Audioengine speakers because I am a fan of the brand. They sound great and they work well with my setup.
The Nuphy keyboard is a recent addition. I like the feel of the mechanical keys but typically default to the Apple Magic Keyboard because I use the fingerprint reader on it quite frequently.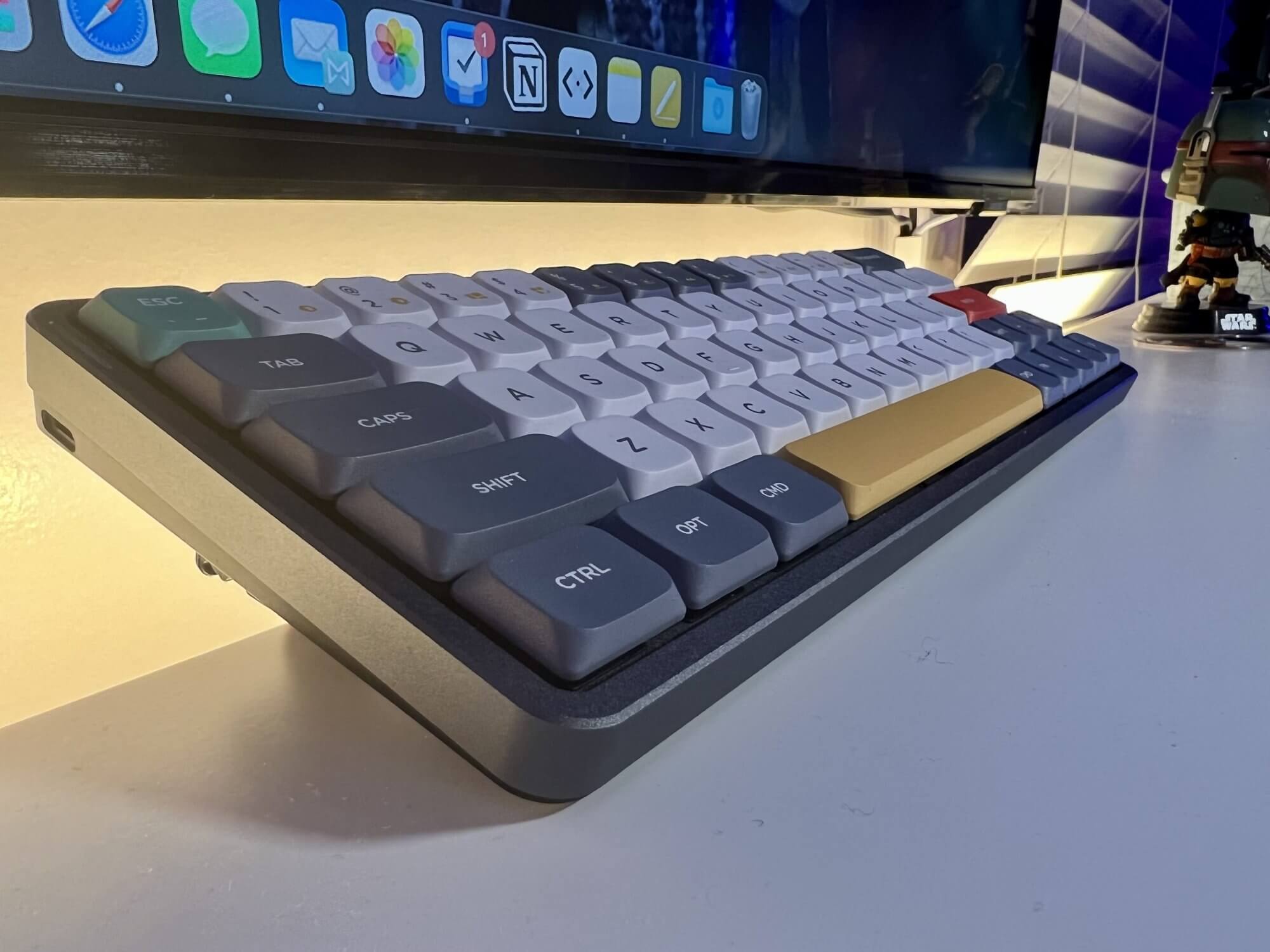 The microphone includes three different pieces — the microphone, the Scarlett Solo, and the amplifier that acts like a Cloudlifter, but is a different brand. All of these parts make it possible to get a great, deep sound from the Shure microphone into my computer.
I've used USB microphones before and just never fell in love with how they sounded, so I invested in this more advanced setup for professional voiceovers when we create videos for our site.
Ever since Apple released Universal Control as a feature, the iPad has become part of my standard workflow. It's not unusual for me to have my Twitter feed up on the iPad so that I can monitor it while working on other projects on the MacBook Pro.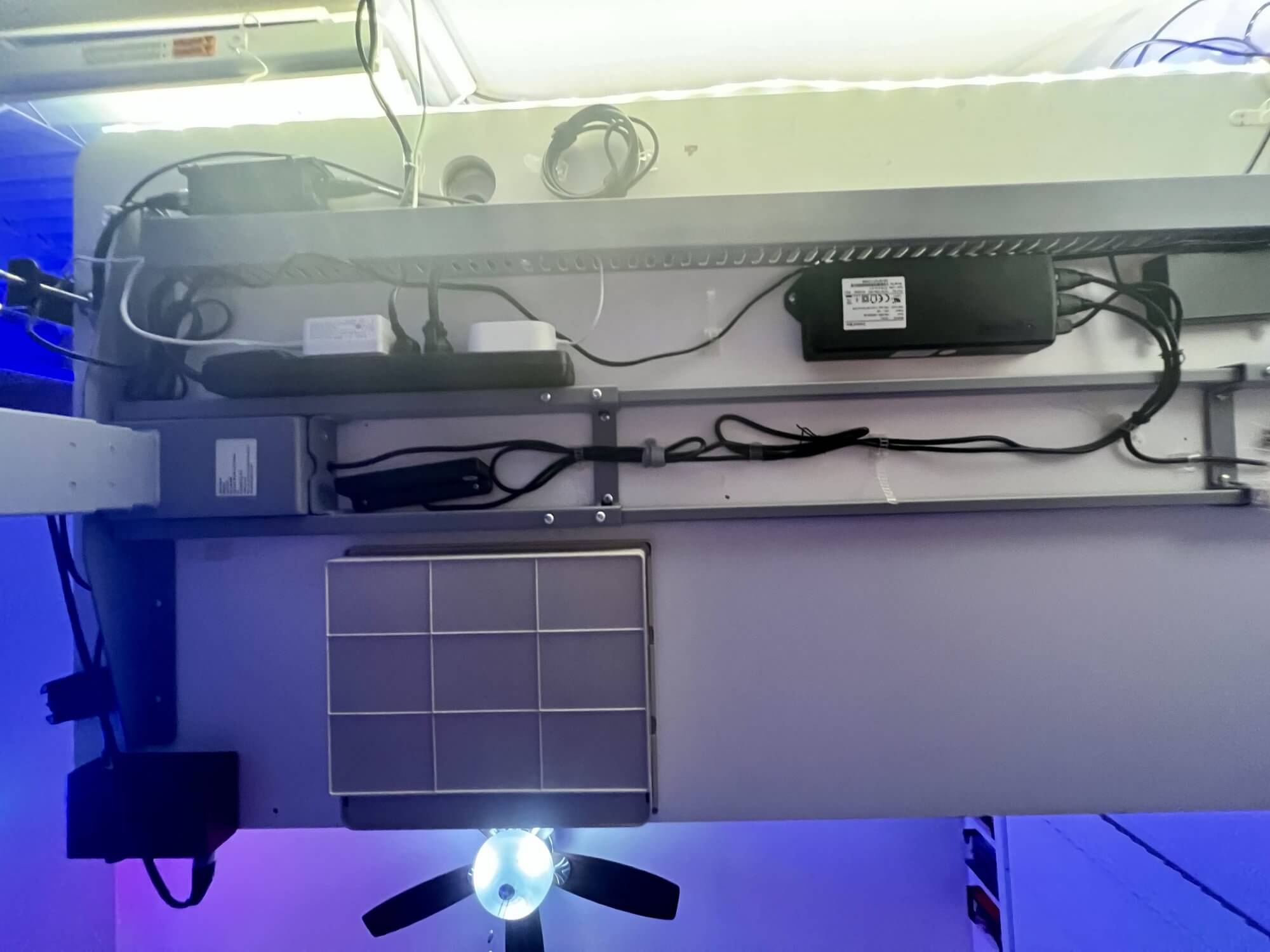 As far as cable management goes, the StarTech cable channel is the only accessory that could make it happen. It encloses the cables so they don't hang down and because there are open slots on the sides, you can route the cables in and out as needed.
In order for me to be comfortable with a standing desk, the cable management had to be "just right" or I wouldn't have been happy with it. This cable management system made it possible."
Ergonofis Shift 2.0 Standing Desk
Desk size: 76×183 cm (30×72″)
"My desk is an Ergonofis Shift 2.0 one with a black top and black legs.
I made the switch to a standing desk because I started working from home full time and needed a work-from-home setup that'd be super versatile.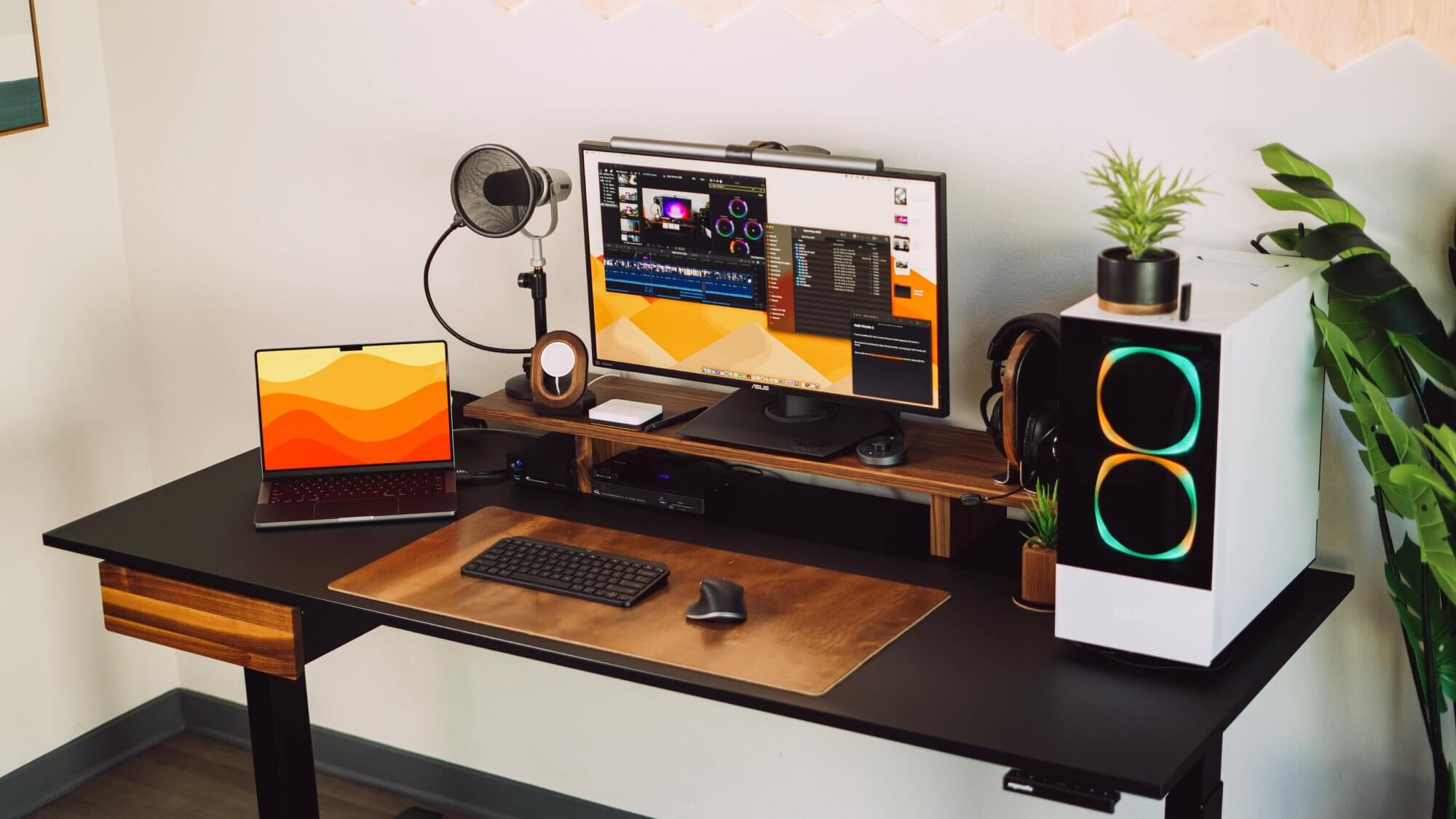 I went with the Ergonofis Shift desk because of the style and accessories that they offer.
The black shift desk tabletop is really smooth and super easy to clean. Then the fact that they offer a cable management solution and a drawer is a nice touch too.
I'm a YouTuber, so I also made a video on my setup and also used the desk to film on.
Altogether, it cost somewhere around $3K."
Stand Up EFFYDESK Home Office Table
Desk size: 188×188 cm (74×74″)
"The dimensions of this desk were 74 by 74 inches, though the right side of the desk is adjustable. I've also used it as 74″ by 55″ with different IKEA tabletops. The brand of the standing desk legs is EFFYDESK.
I work from home due to the pandemic, and I experienced my first standing desk at work.
I knew I needed something like that at home since I both work and game/use my computer for personal stuff.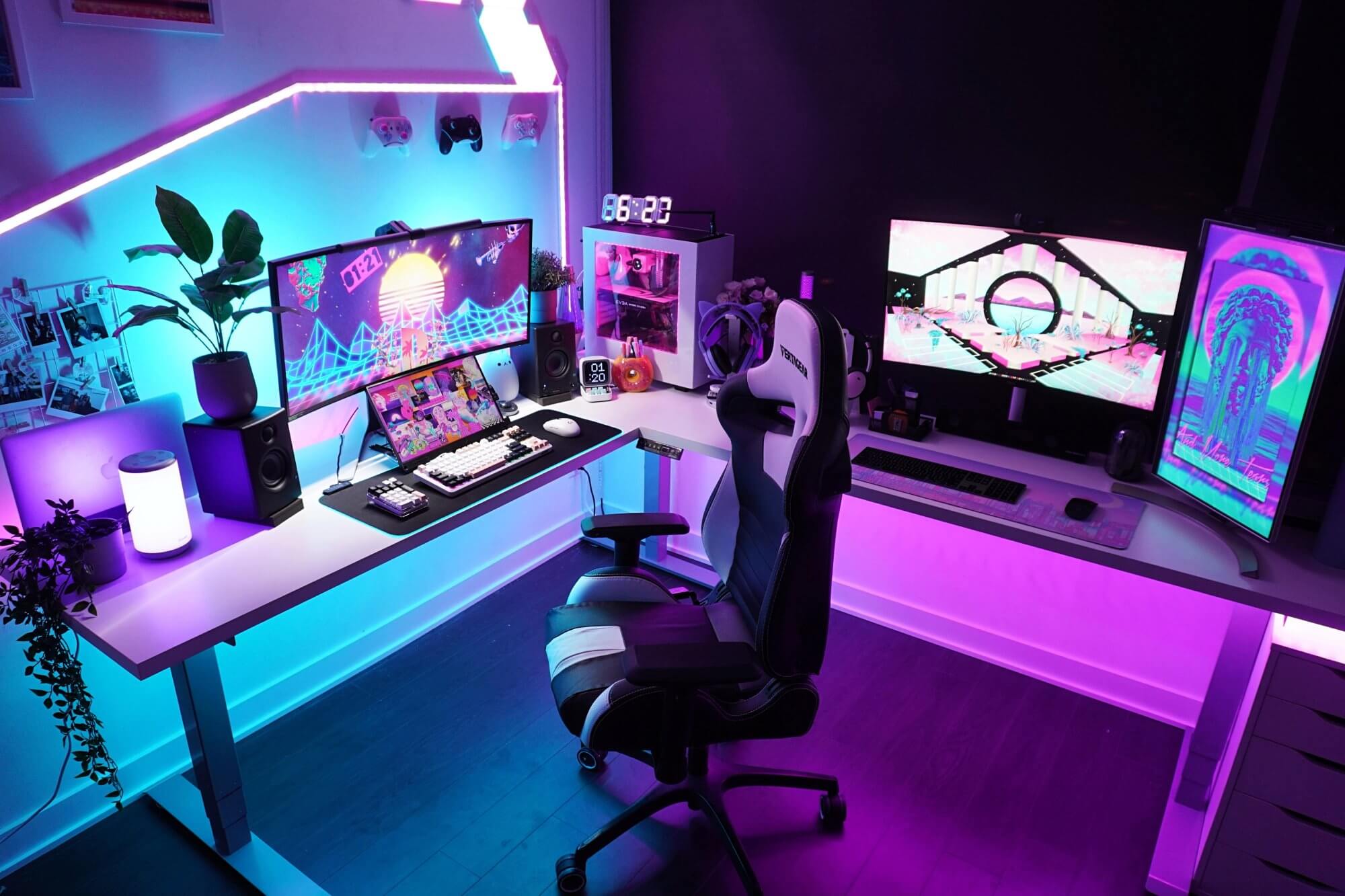 I have a typical 9-5 job during the day, then shuffle over to my gaming side of the desk where I also find it convenient to stand if I end up playing something for a long time on the other side.
This desk was gifted to me, luckily. However, the legs cost $975. My total setup costs around $10K, I think.
The standing desk has absolutely no wobble! It's super sturdy since it has the bars underneath it for support, and the legs are even."
Custom-Made Sit-Stand Desk
Desk size: 71×130 cm (28×51″)
"There is no brand as I built the desk myself. It is sitting on a hardwood floor.
I switched to the standing desk for flexibility.
When I'm working all day, there are times I prefer to be on my feet, and now I don't have to stop working on stretching my legs and back.
When I'm relaxing and listening to music, it's nice to be able to sit and relax.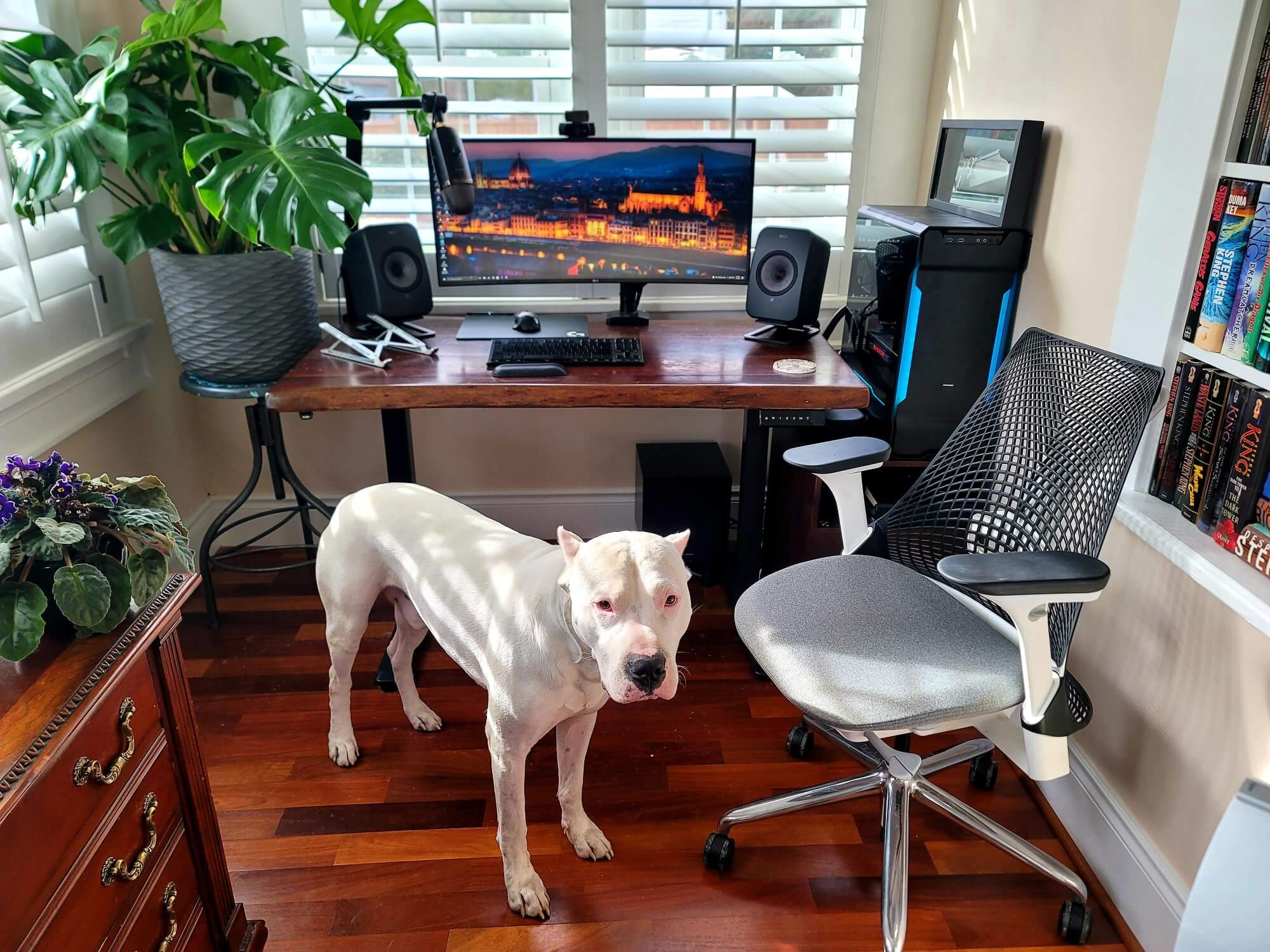 Price is hard to quantify. The exotic live edge wood was the most expensive. I spent about $800 there but also built a table for my orchid collection.
Then I sourced the legs, motor, and controls. Maybe a few hundred dollars there, but I wanted something completely unique, custom, and one of a kind.
Then the time it took to cut, sand, stain, and assemble everything."
Fully Jarvis Standing Desk
Desk size: 152×69 cm (60×27″)
"My desk is a Fully desk standing on the black wide foot legs.
With the switch to working from home mainly, I decided to upgrade from working from my dinner table.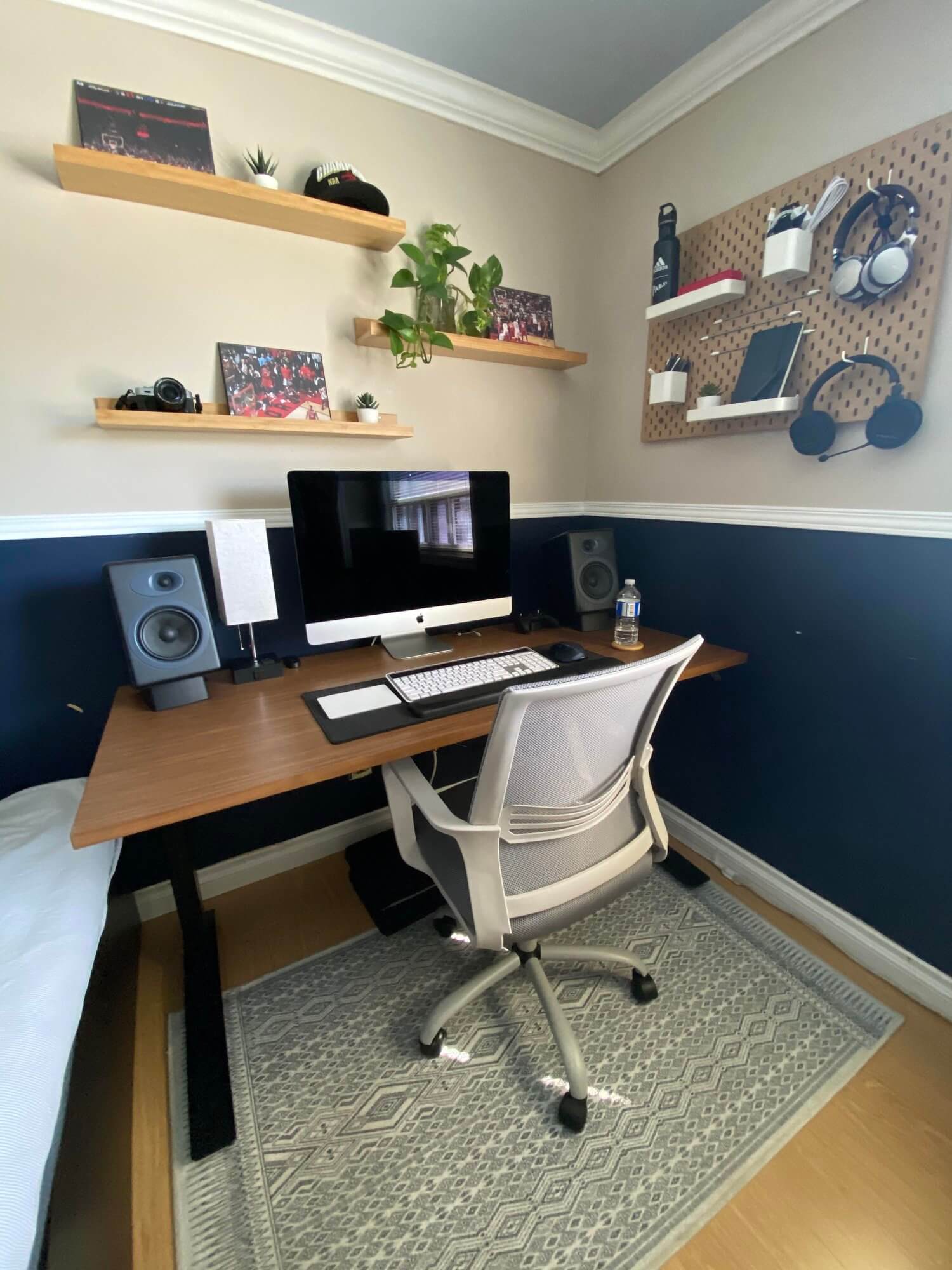 I use my new standing desk for work (I'm a product designer), and also for some light gaming (COD: Warzone).
The brand is Fully. I liked the aesthetics of it, with its walnut finish and the matte black legs. It is not a DIY tabletop.
I love the size and quality of my desk. Though I've noticed I haven't used the standing feature as much as I thought I would, or should.
The desk cost me 811 CAD ($633)."
FlexiSpot EC1 Standing Desk + Wood Slab
Desk size: 140×71 cm (55×28″)
"The desk is a composite wood slab pre-drilled for the FlexiSpot EC1 motorised stand. The stand can hold up to 78″ if I remember correctly so it's fairly versatile.
I was using a manual, non-motorised desk topper before.
I honestly didn't think that a desk like this was needed but quickly changed my mind after using it for less than a day!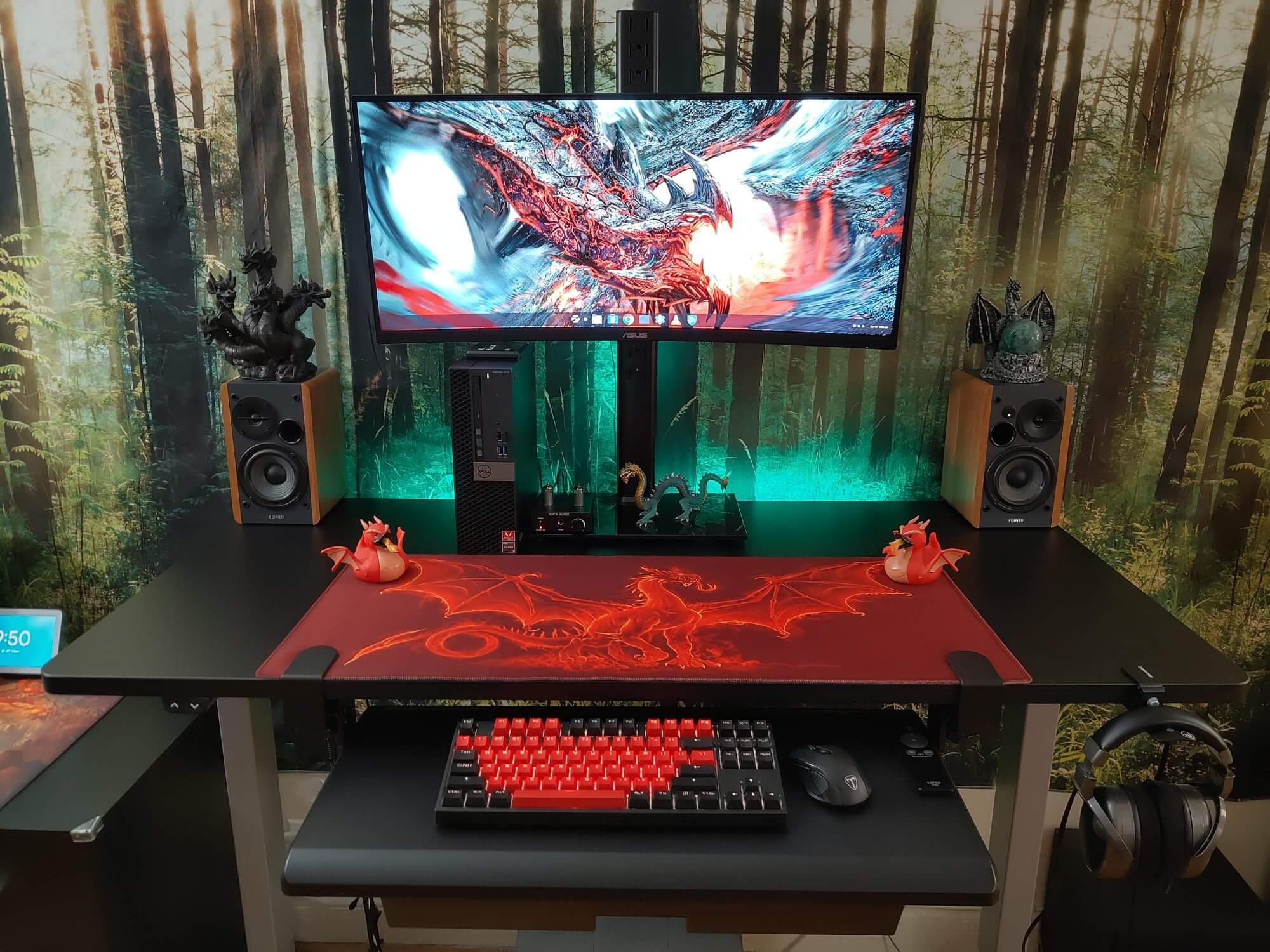 It's a great addition to my work-from-home setup allowing for effortless raising and lowering, something I do several times a day.
I'm more than six months into ownership, and it's as good as the day I got it in.
I'm a fairly short guy at 5′6″, and it has allowed for infinite positions to accommodate my workflow with ease.
As a person who suffers from blood clots, this is a great addition to my health plan to help keep the blood flowing and not pooling up like it was on a standard desk. I love it!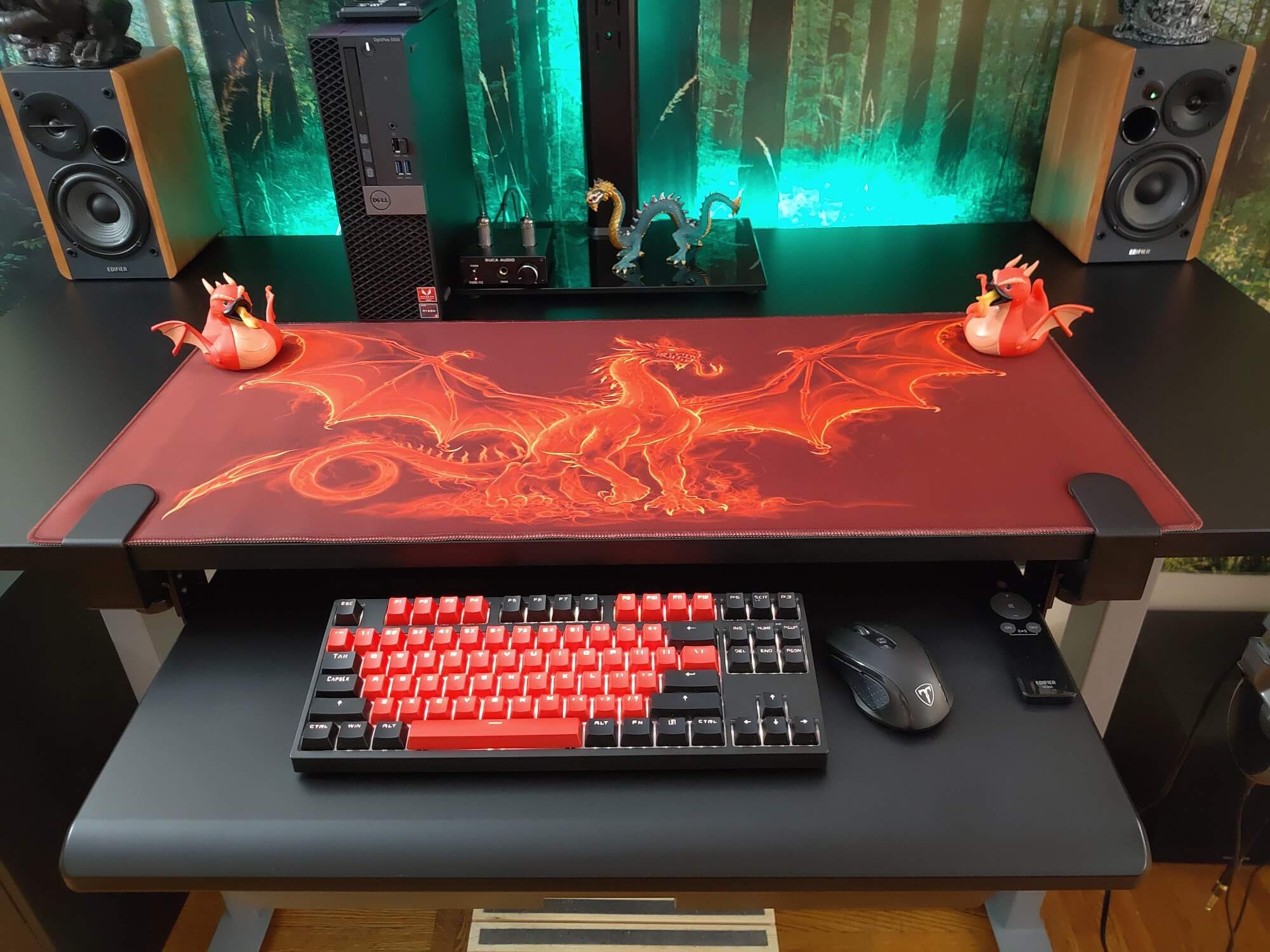 The assembly was easy with one exception, it's a very heavy desk. The top alone is over 40 pounds and is fairly awkward to move around if you do this by yourself. But with a helper, it's a breeze.
The only issue I ran into was the holes pre-drilled into the desktop weren't exactly lined up well, so be prepared to do a bit of re-drilling.
You can also line it up, hammer a slim nail into the holes partway, pull them out, and then screw the screws in. Either way works fine. Very good included instructions helped tons here.
The only downside is noise.
It makes a lot more of it than I expected. That's about it on the negatives, to be honest.
I won this desk in a contest in Reddit's r/battlestations subreddit. The actual cost as of right now is $329, though.
And yes, I'd buy it in a heartbeat. It's that nice :)"
VIVO V120EB Frame + Reclaimed Scaffolding Boards
Desk size: 170×75 cm (55×29,5″)
"My desktop is custom-made from reclaimed pine scaffolding boards by a carpenter who I found on Etsy.
It's sitting on VIVO V120EB legs, which is a motorised frame with a nice range and all the standard features.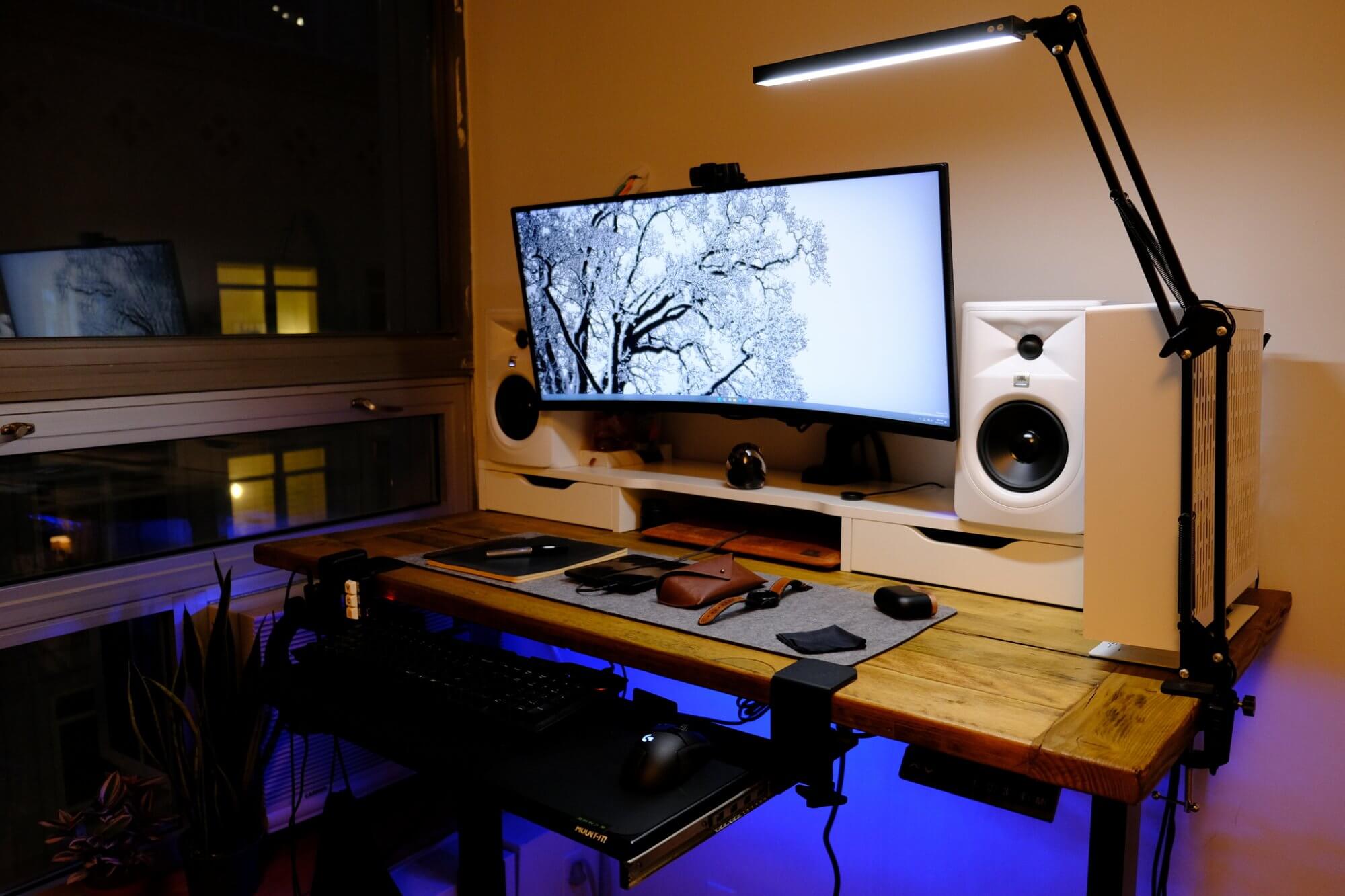 The solid wood desktop was important to me. I knew I'd want to be able to modify it myself with accessories over time and the custom sizing was important to make the most of my slightly unusual space.
In particular, I wanted a bit of extra depth without increasing the width.
Prior to the pandemic, I was very lucky to be in an office where every desk was a standing desk.
I got used to being able to change things up and stimulate my energy levels.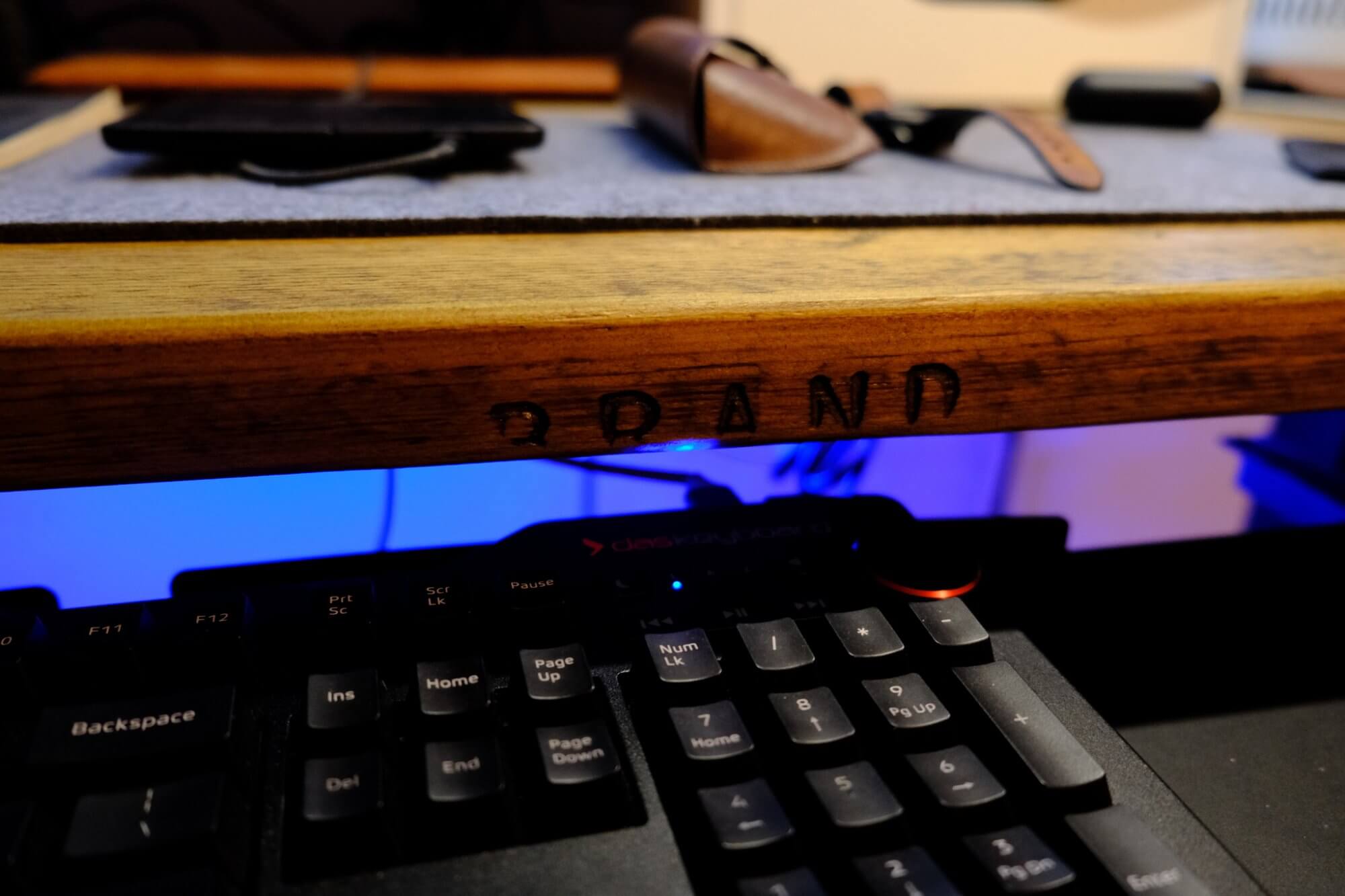 During WFH, I missed the benefits of having that kind of dynamic workspace but held out on investing in a standing desk until I was able to price things just right.
I often start the morning out standing and then switch back and forth whenever I feel too static. I'll often stand after lunch as well to try and combat the slump I often experience.
It's made a big difference!
I got some good deals to make it all happen. I found the frame at Woot for just over $200 and then found the custom desktop for another $200 or so — a steal when the wood has been so expensive.
I added on a cable management tray underneath and some power accessories to make everything usable.
With taxes, I think everything was still under $500."
Vari Standing Desk
Desk size: 152×76 cm (60×30″)
"It is 60×30 inches which I think are the perfect dimensions. I went with Vari.
These guys are amazing. I'm not just talking about the desk itself, which is honestly a marvel of engineering.
Everything in this product is just so perfect.
The entire thing is assembled with like four screws!
Do you know those annoying power bricks that some displays have?
You don't want to stick that to be visible on your beautiful desk — Vari included a holder in the exactly perfect size to hold that brick beneath the desk.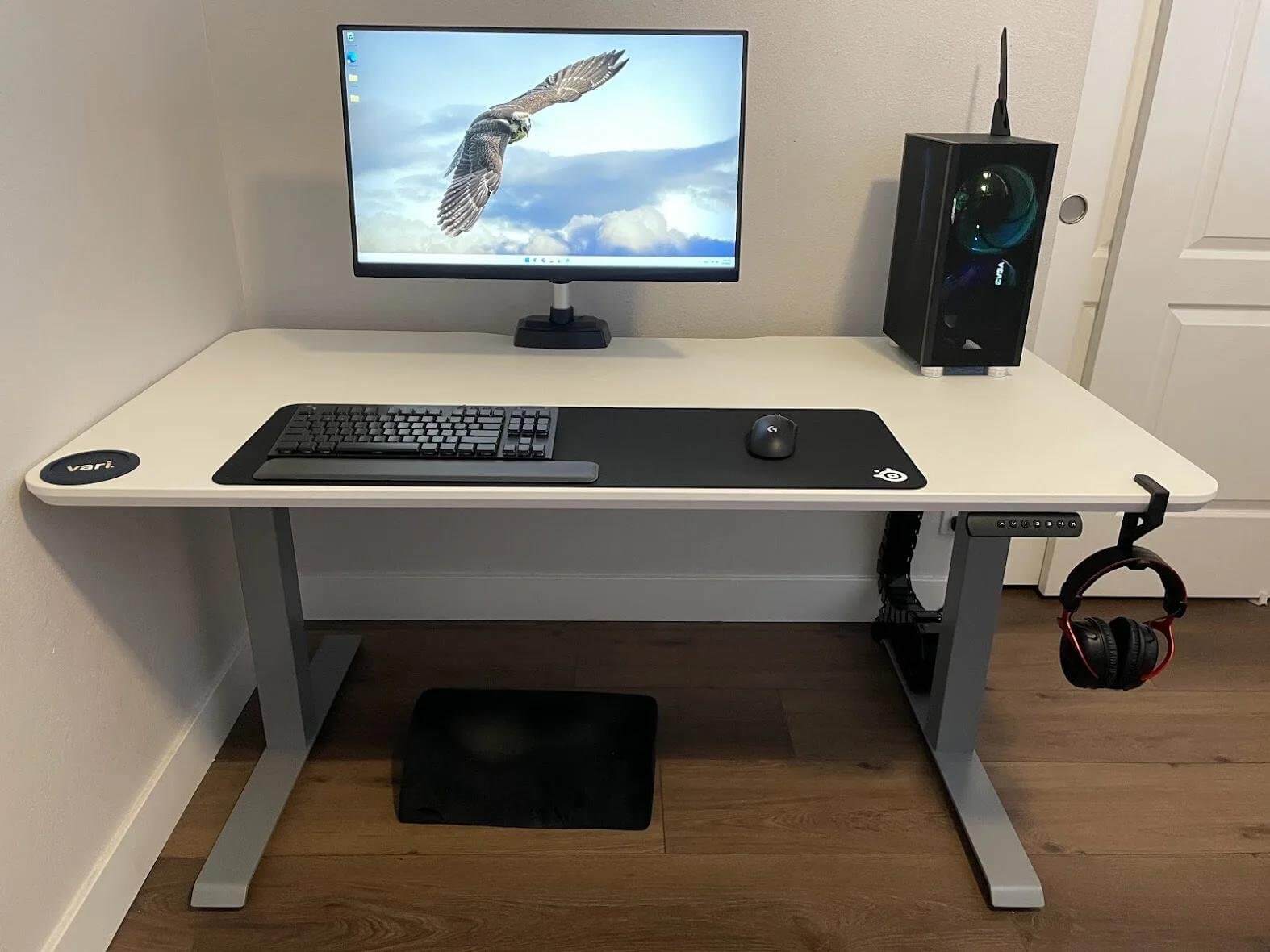 I moved to the US about a year ago and decided I wanted all my stuff to be of high quality.
I am starting in a new place which I intend to stay in for the long run, and it makes a lot of sense to spend the money just once — on good products, instead of buying cheap crap that I will have to replace in a year.
So after a lot of research, I came to the conclusion this specific standing desk is probably the best I can get.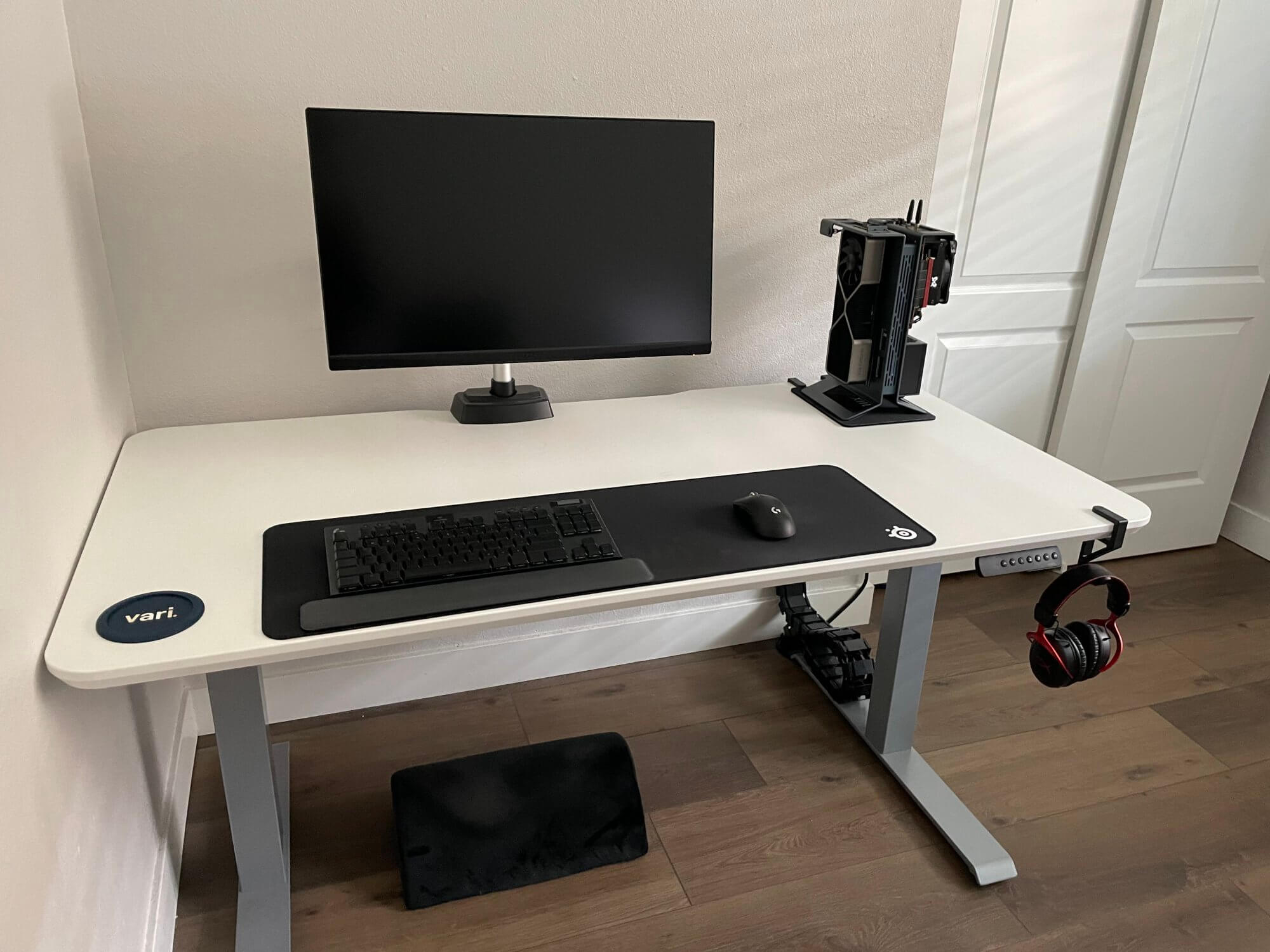 Why a standing desk?
It started by just wanting a desk with height adjustment, but it was important for me that it will go as low as 26″, and there are very few that support that. Vari was one of them.
So I thought, why not a standing desk? Worst case scenario, I won't use it.
I was wrong. It is awesome.
I usually switch to the standing position when I feel a bit uncomfortable sitting, usually standing for about 10-20 minutes. It helps a lot.
The desk itself was about $600, the cable manager was $50, and the monitor arm was $175.
I only paid for the desk, as Vari messed up the shipping a little bit and gave me the other equipment for free as a courtesy."
FlexiSpot H1W Standing Desk
Desk size: 120×60 cm (47×24″)
"My desk is a FlexiSpot, 120×60 cm maple table. It is sitting on a FlexiSpot H1W manual standing desk base.
What made me switch to a standing desk was that I felt that as my job entails that I spend several hours a day at a computer, I wasn't active enough.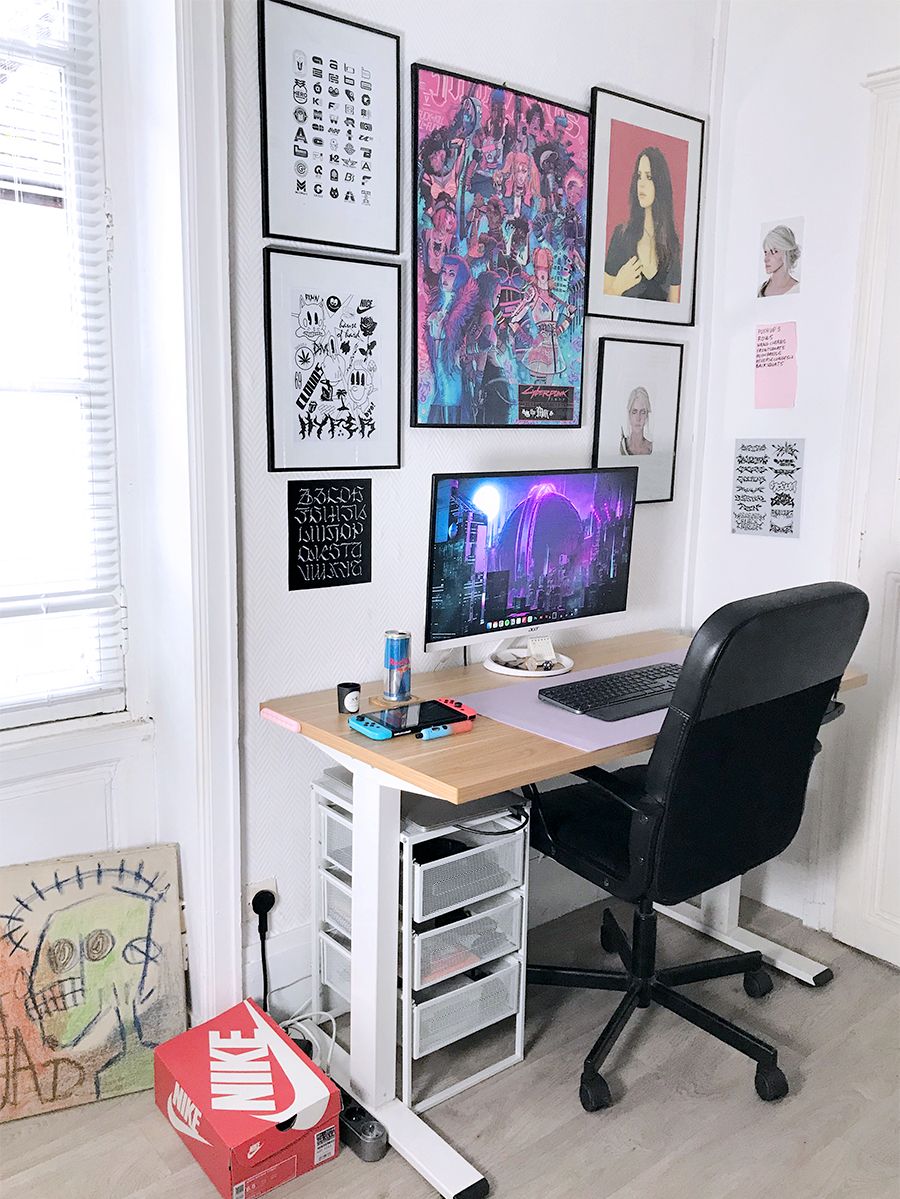 To be perfectly honest — I never use the standing position, I sort of forget it even exists. But the desk is solid, well made, and comfortable to use.
The desk table and base cost me €250 ($264) in total."
Apex Pro with the Live Edge
Desk size: 211×76 cm (83×30″)
"The desk is 83×30″ (+/- an inch for the live edge). The top was custom-made by a local woodworker, Granfalloon Woodworks. He's got an Etsy and a few other sites.
The base is an Apex Pro from DeskHaus. My chair is a Steelcase Think v2.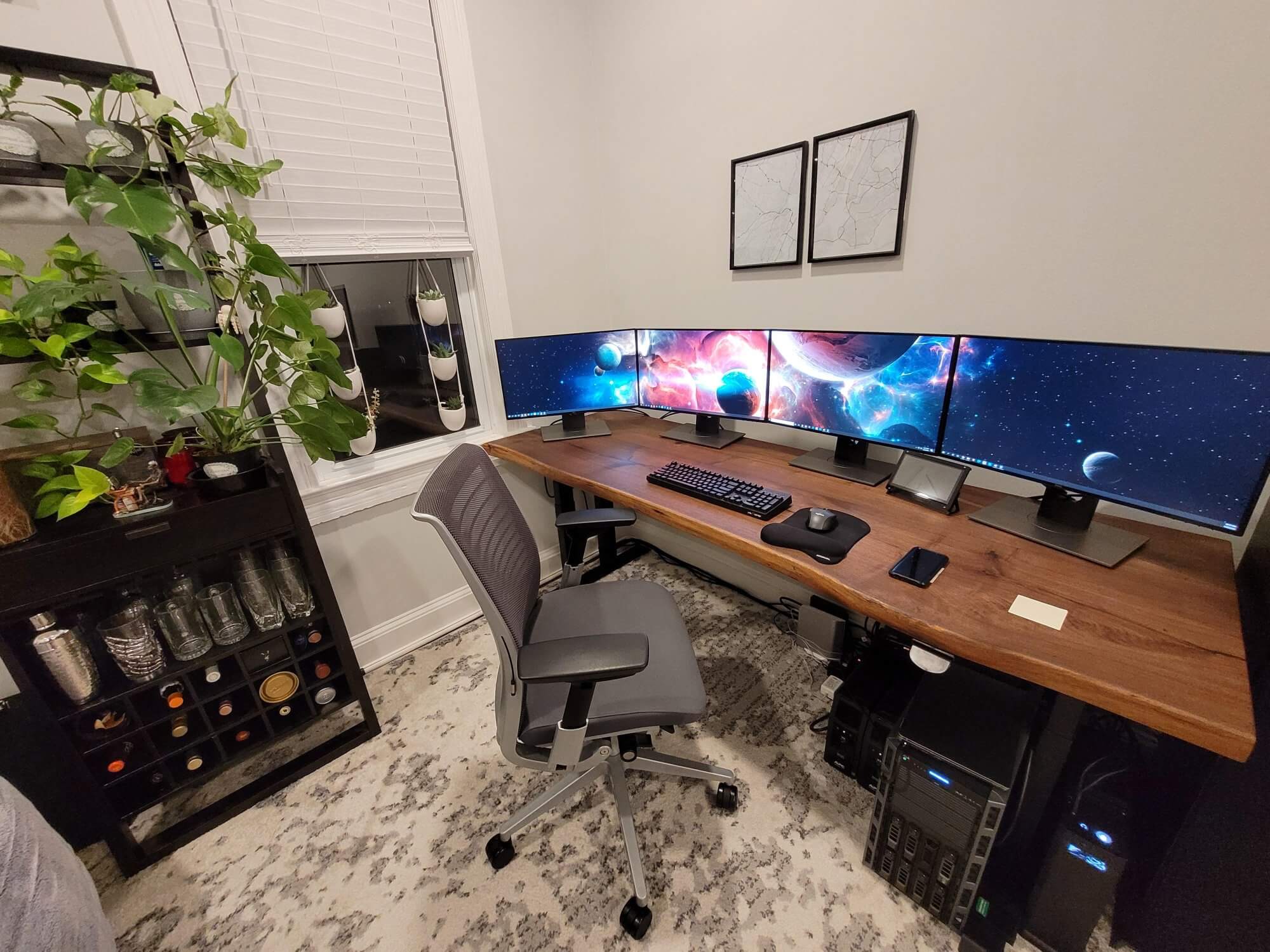 Why did I switch?
Well, I got a new role that's 100% work from home except for travel and wanted a better experience/more active time at home. I was highly inspired by specifically this post.

The standing desk helps so I can convert and stand on occasion.
I've had way fewer back pains than sitting 24/7.
I find when I'm standing it also motivates me more to walk around and be active.
Standing also feels much more natural when I'm presenting over Zoom.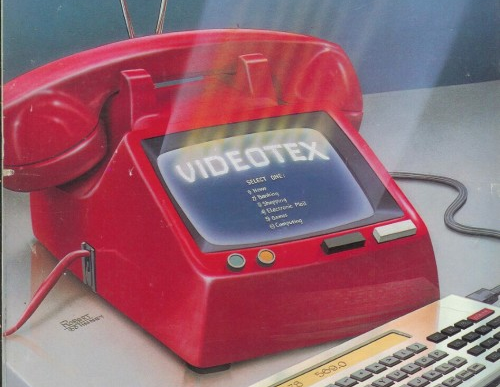 Building custom also gave me the opportunity for many extras. The two hidden wireless chargers (personal and work phone), cable management, and a much better fit for my space.
I get a ton of compliments when friends visit, and it's great looking in addition to extremely functional.

I probably spent around $4K making the desk my own.
| Item | Cost |
| --- | --- |
| DeskHaus Base | $820 |
| Kew Labs Chargers | $200 |
| Custom Top | $2700 |
Plus the miscellaneous cable management, and parts for woodworking."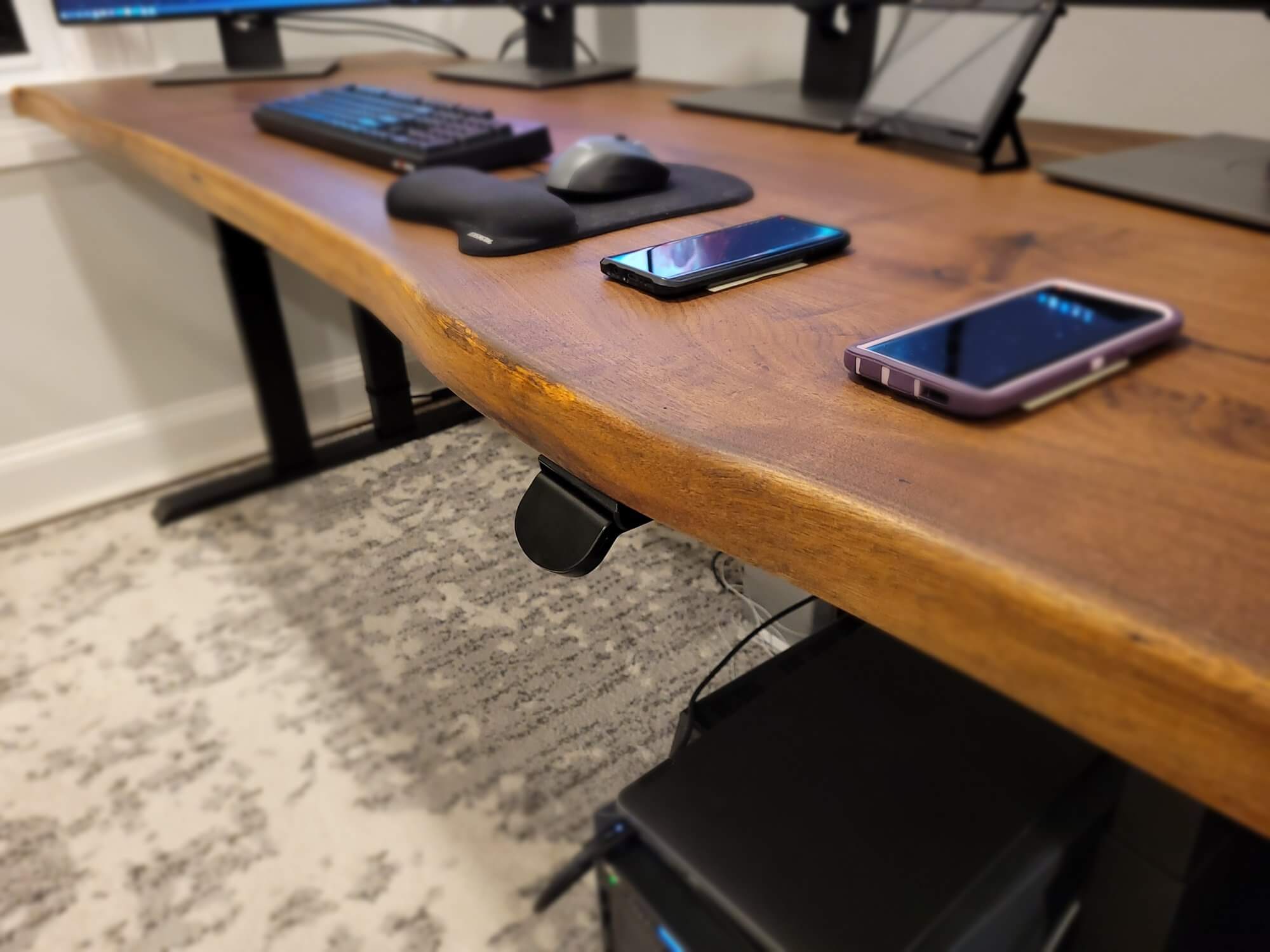 Custom Desk with Fully legs
Desk size: 180×90 cm (71×35″)
"I ordered a 180×90 cm brown oak plank and sawed, sanded and varnished it after having drawn up dimensions and specs on a large cardboard blueprint.
I then attached it to the legs which I ordered from a company called Fully.

I used to own a cheaper, flimsier IKEA standing desk (Bekant) but as with all things IKEA, they tend to break down after a few years so decided to build my own after having moved to a bigger apartment.
I lower/raise it practically every day, and I find that working and gaming while standing up helps my posture and energy levels!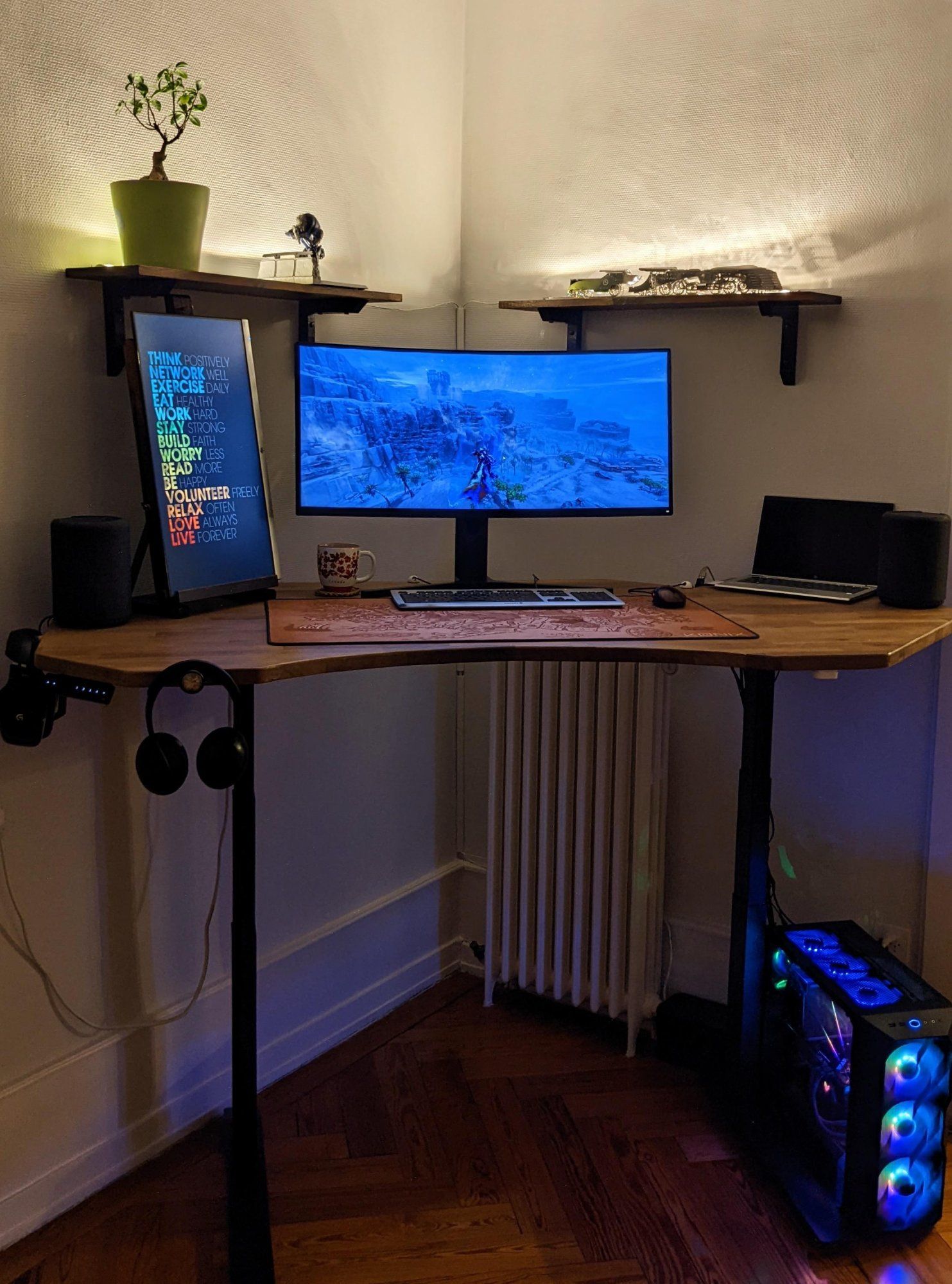 The wood plank cost me around $250 and the leg frame around $580 for a grand total of around $830.
I finished building almost two years ago and it's sturdy!
I'm quite tall so it does still wobble a tiny bit (to be expected), but nothing really to complain about.
The legs are advertised as being able to support around 150kg, so even with the wooden frame (50ish kg), they can hold my two screens, the laptop, and everything else I have lying around on my desk.
I think the leg motors are also meant to last several years, and they seem to be doing perfectly well so far."
Uplift V2 Standing Desk
Desk size: 183×76 cm (72×30″)
"My desk is the Uplift V2 Walnut, sitting on hardwood flooring.
Before the pandemic, I had a standing desk at my office, and I wanted to keep that utility as trends shifted to work-from-home.
I have a light treadmill stored underneath to keep active, especially in the afternoon as meetings taper off.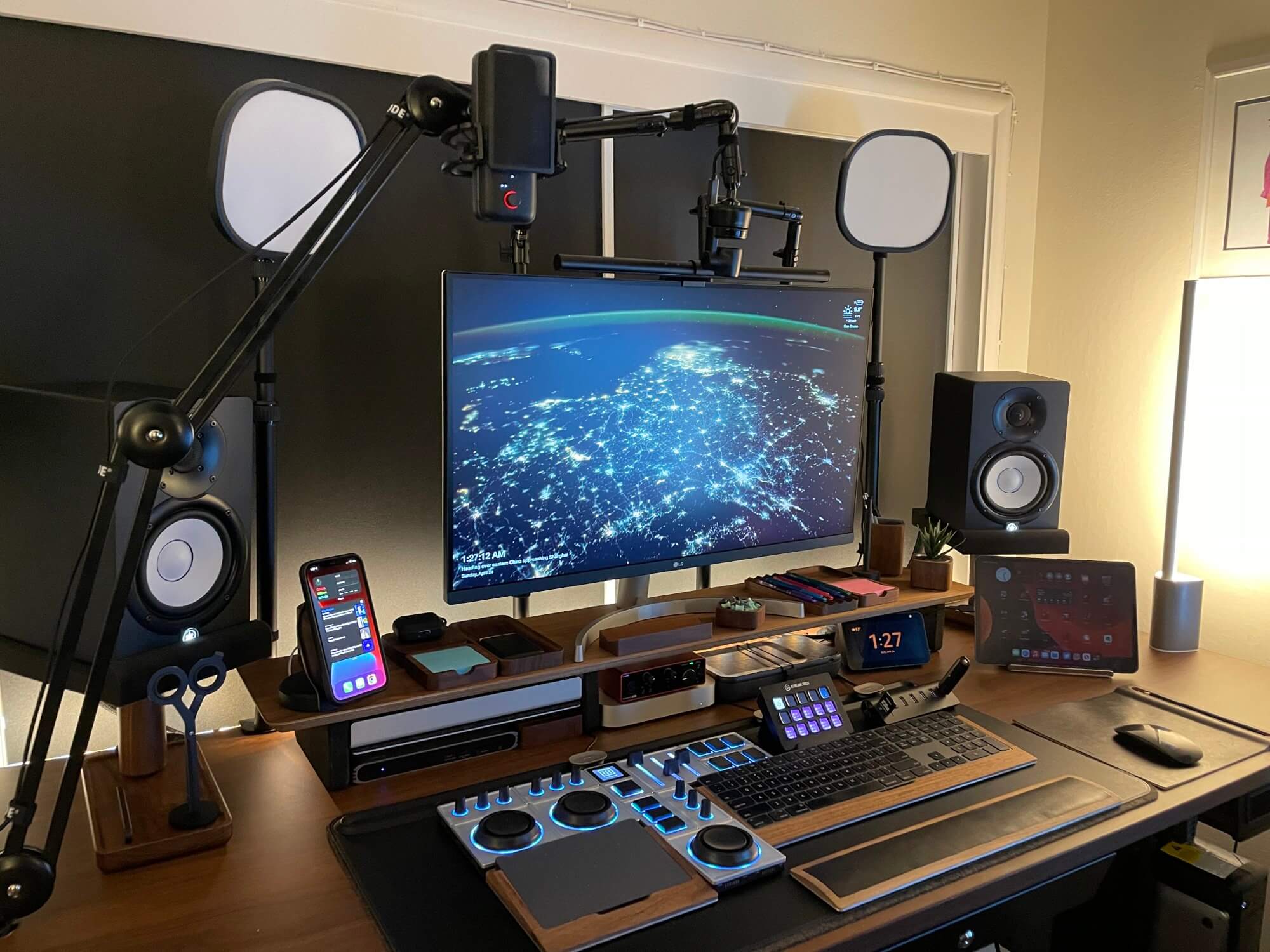 The desk itself and accompanying wood pieces from Grovemade & Artifox clock in at about $2,4K in total.
A bit high considering other solutions like IKEA, but my goals were a large surface area, solid construction, modern look & feel, ergonomics without sacrificing style, and lots of utility.
It was easy to justify the budget for a setup I love to use every day."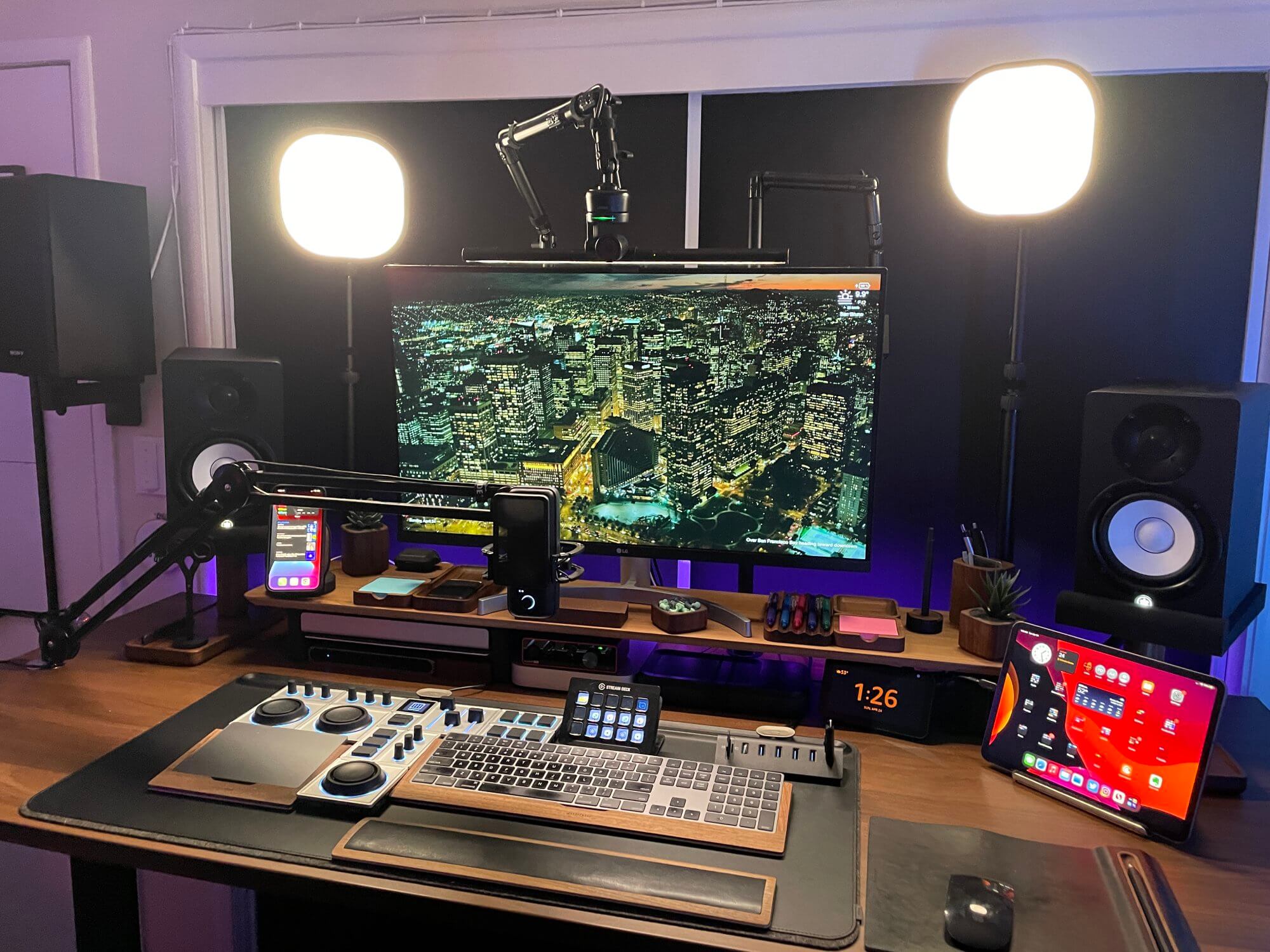 Apex Pro Frame + India Rosewood Tabletop
Desk size: 152×76 cm (60×27″)
"The desktop is a single slab of savaged India Rosewood from Florida that is very rare to find.
It measures 60×26~27 inches (the depth is estimated since it's live-edge). The frame is the Deskhaus Apex Pro.
I've been using a standing desk for four years. This one is my newly built desk.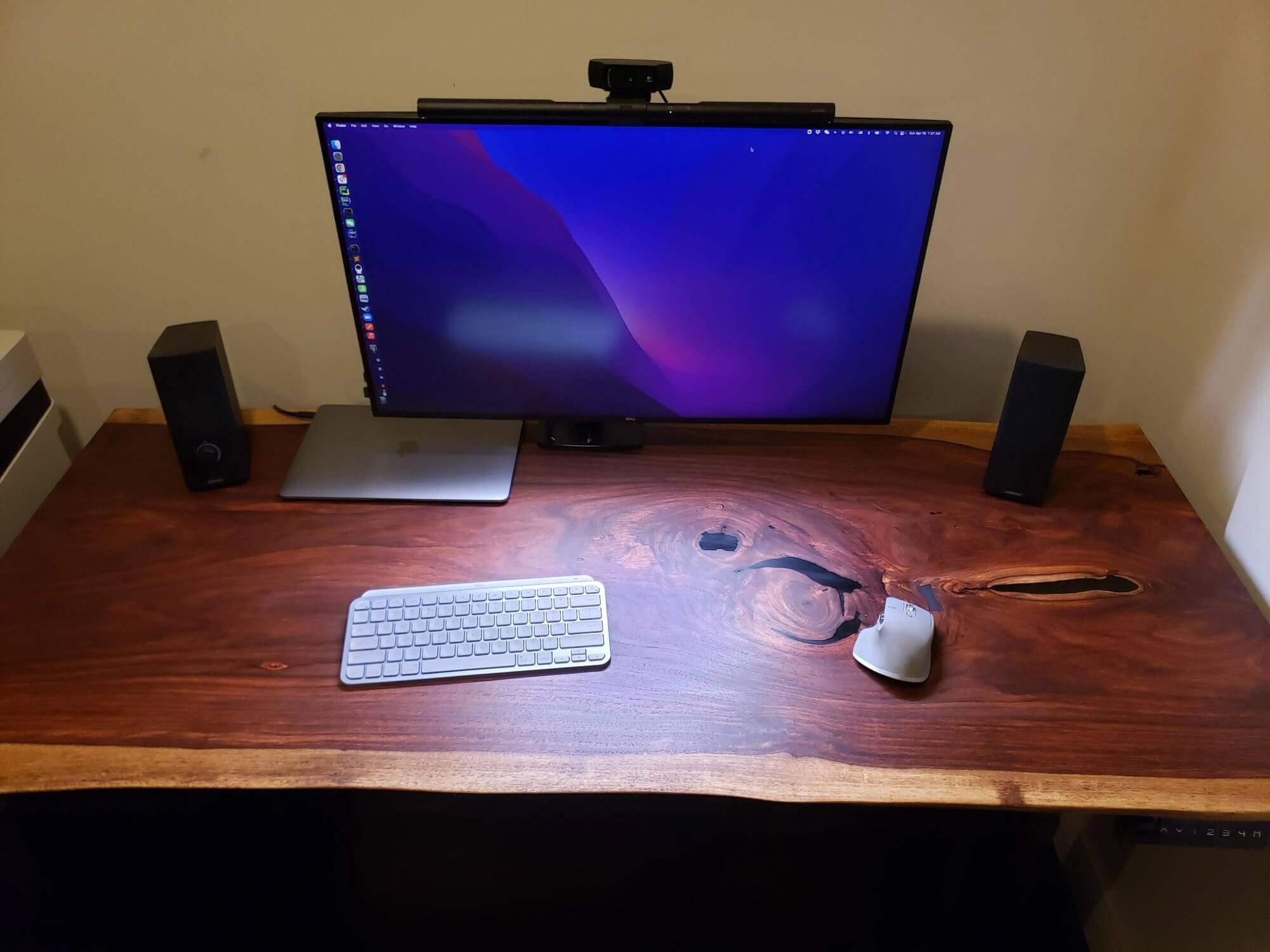 Working as a software engineer for eight years, I learned the hard way how bad an extensive setting is to health, so a standing desk is a must for me.

I spend about $2,5K to get the frame, slab and other materials. However, I didn't simply screw the raw slab on the frame, the piece of wood needs to be prepared.
I probably spend about 100 hours processing the slab.
I guess buying such a standing desk from a professional maker might cost $3 to $5K.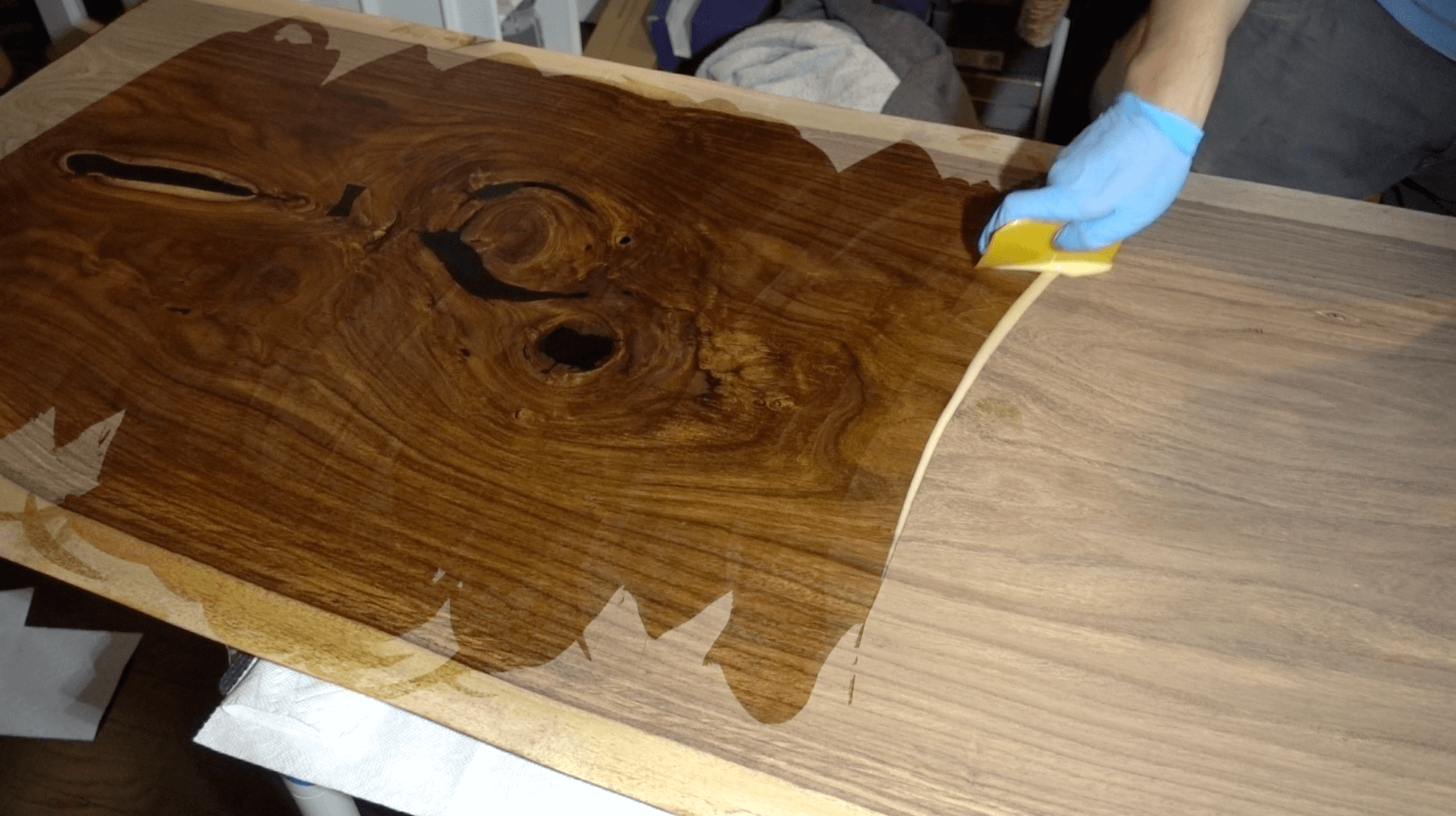 I removed the barks and cleaned up some interesting stuff out of voids/cracks. Then installed c-channels to limit wood movement.
Next, I filled all cracks with epoxy and installed some bowtie inlays as decor and also add more strength over the cracks.
Finally, I sanded the whole piece to 320 grits and applied an oil wax finish.
I think this is DIYable at most homes, so if any of your readers are interested in taking this route, I am more than happy to share more details.
You can also find my previous setup on Reddit."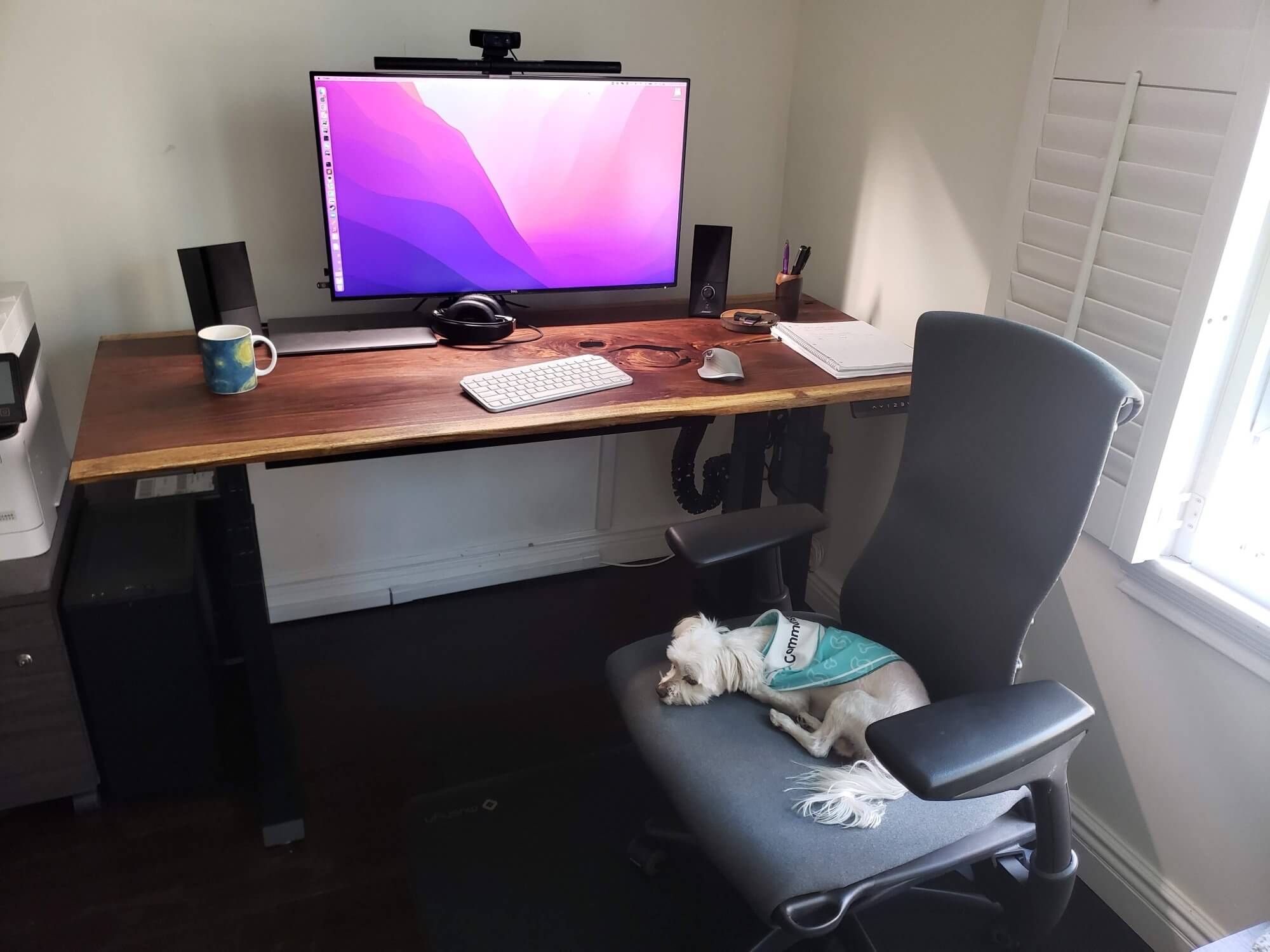 AIMEZO Standing Desk
Desk size: 78,49×58,93×10 cm (31×23×4″)
"My desk has an adjustable height of 5,5-40 cm, the brand is AIMEZO.
I've always preferred standing desks but working from home during COVID-19 made going to the office impossible.
We have a very small flat in London so needed a solution that has a small footprint.
The room is 40 m2, and the desk itself cost £80 ($99). It's sitting on our dining table.
I raise and lower my desk throughout the day depending on my calendar and workload.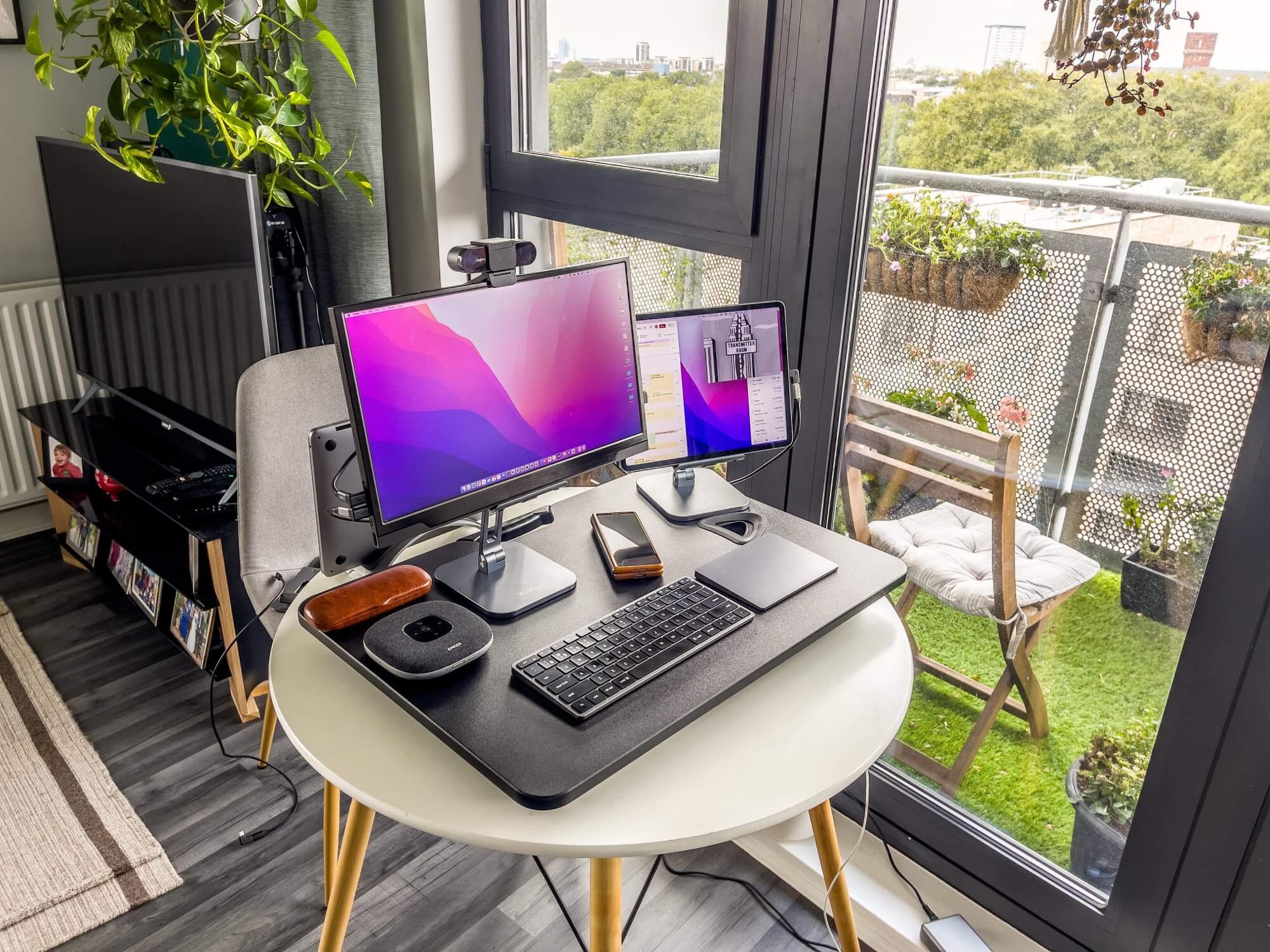 I work from home so I set up and break down the desk each morning and evening. It takes about ten minutes to pack everything away and put it in the closet.
It works well for our tiny flat."
VIVO Standing Desk Frame + IKEA Tabletop
Desk size: 165×66×100 cm (65×26×39″)
"My desk is sitting on a VIVO electric standing desk frame. The tabletop is from IKEA, and I built the shelf that sits on top.
A standing desk was an amenity that I had at my office at work. I saw the benefits in the flexibility and wanted to have one at home too.
When I was looking around, I couldn't find an option that would accommodate all of my hobbies and productivity needs, so I decided to piece together my own version of a production desk.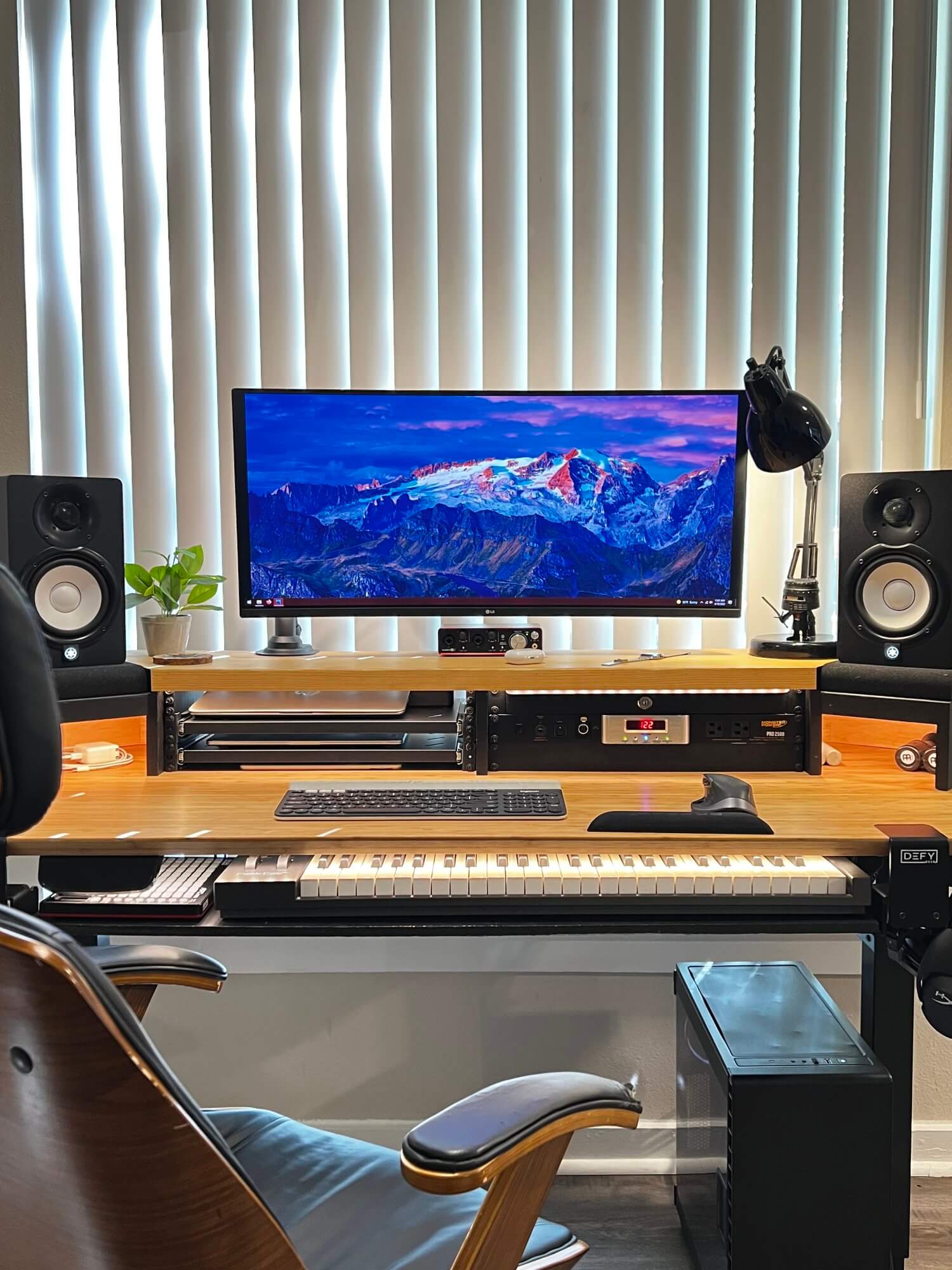 Now I'm able to use it for work, video editing, music production, and gaming, too.

On a typical work day, I will usually start with the desk raised as I'm checking emails and hopping on morning meetings. With the location of the desk, it's easy to come and go as I do things around the house.
Around/after lunchtime, I'll lower it to sit down and focus on some other work tasks. And by the end of the day, I'm ready to move around and be active again. For non-work-related stuff, I almost always sit at my desk.
It's easier for me to focus creatively that way.
I initially wanted to build my own version of a standing desk as it would be cheaper than buying a prebuilt version, but the more I worked with it, the more niceties I wanted to add!
I actually am terrified of seeing the real dollar number but I'm sure it's probably around $1,5K if you don't include the computers.
I started with a standing desk frame. They have a new dual-motor version that supports an extra 100 lbs (~45 kg) for $30 more — I'd definitely go for that instead.

The tabletop is from IKEA. Wish it was cheaper but I liked the angled edge design.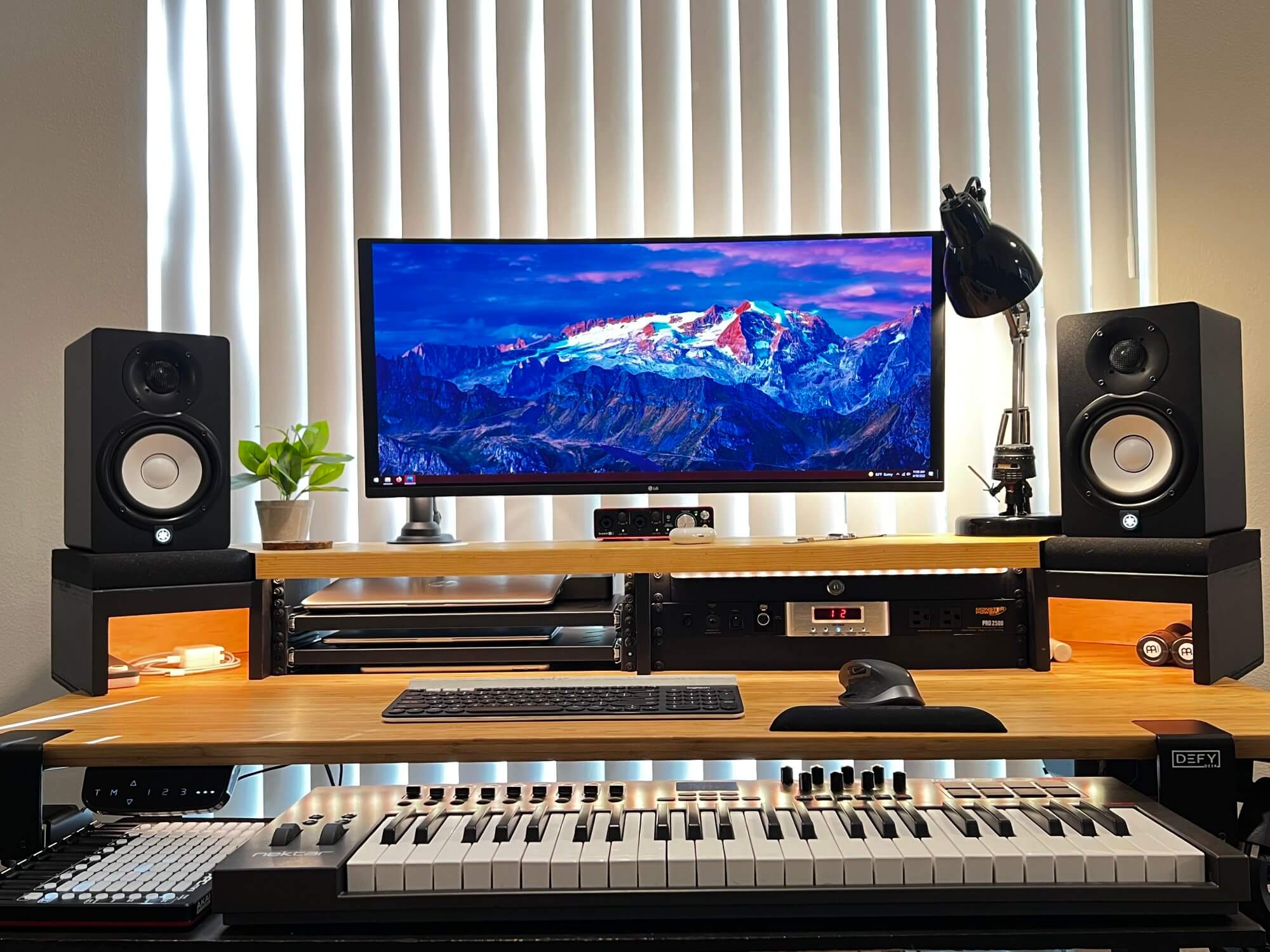 The slide-out keyboard tray is probably what I put the least amount of thought into.
It's a clamp-on-style keyboard tray that I originally had my computer keyboard on with the piano keyboard sitting on top of the desk.
That wasn't practical so I used some MDF to make a longer tray so I could put the piano keyboard underneath instead.
The clamp-on part was super annoying too because it's like 1/4″ thick and gets in the way of putting anything on the desktop.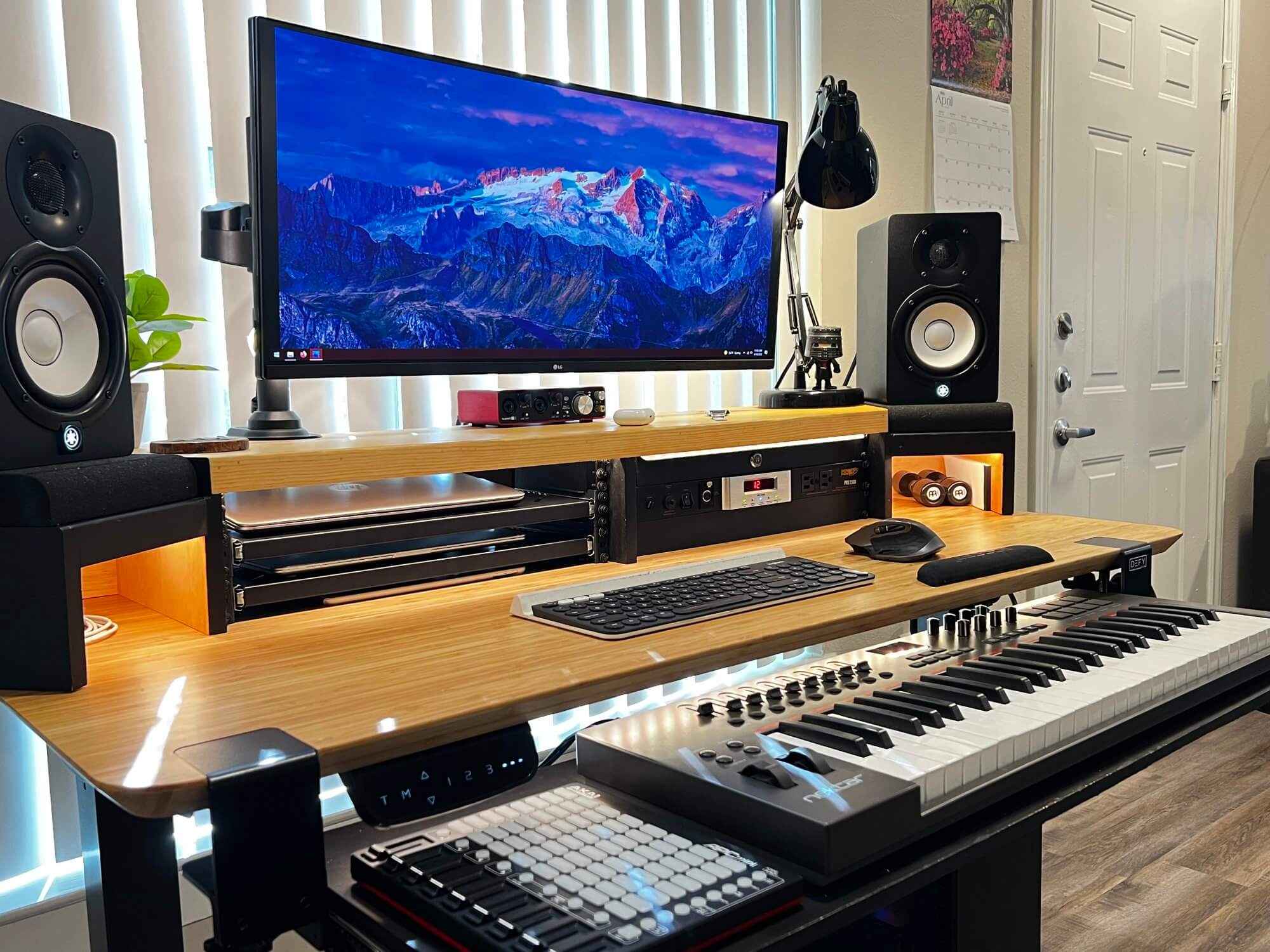 I ended up using a router to insert the clamp into the desk so now it's a flush tabletop again. I should've just made my own tray with sliding rails from Home Depot.

Next to the tray is an under-desk headphone hanger which is awesome.

The shelf was about $100 for material, paint, and sealer. I used two pairs of these 3u rack rails for the rack cabinet and some isolation pads for the monitors to sit on top of."
A Shelving Unit on D-rail Mounts
Desk size: 183×61 cm (72×24″)
"My desk is a modified shelving unit.
It was made using what's called D-rail mounts.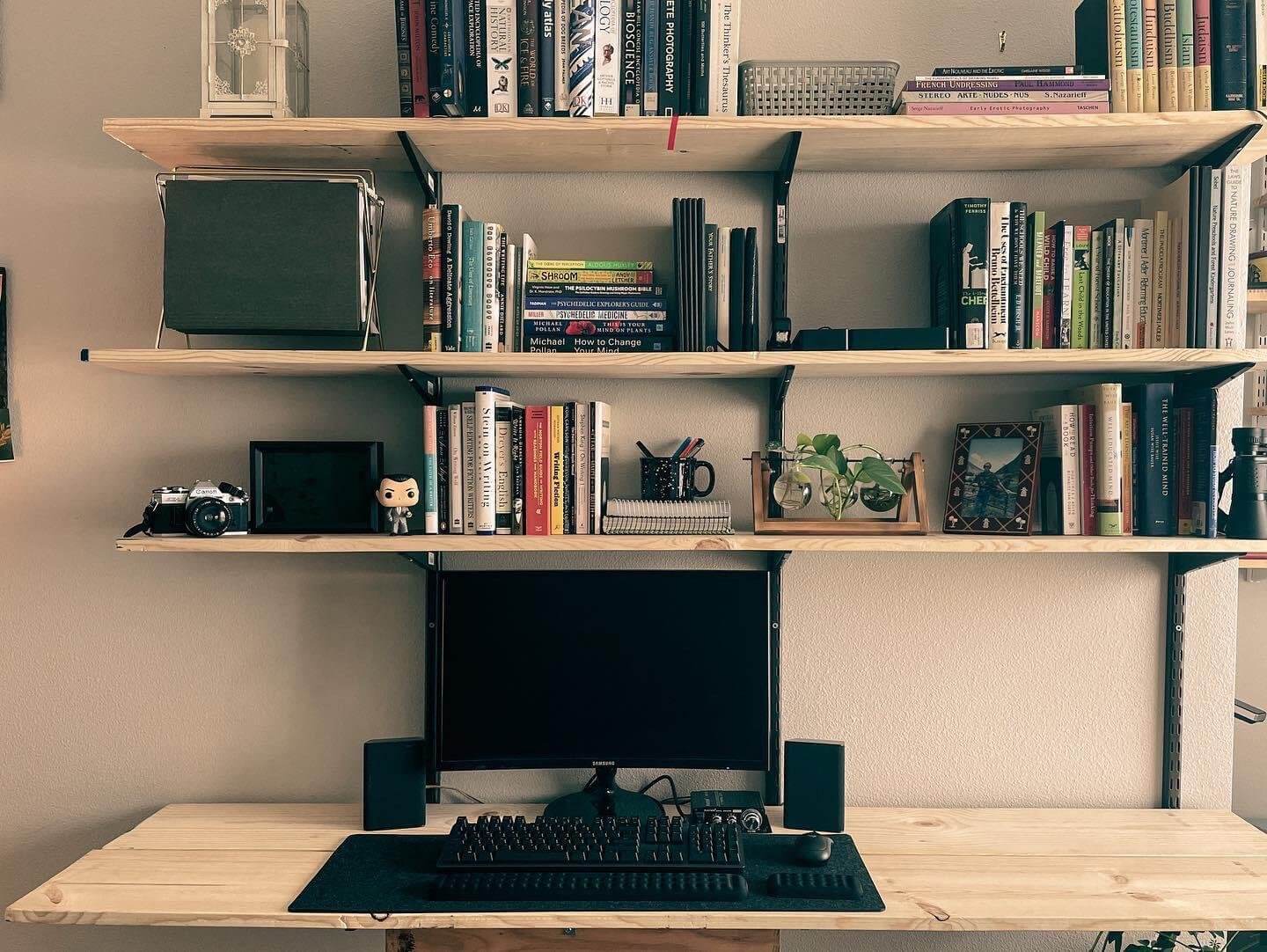 I use my desk for school. I'm an English major and made the switch out of needing more space in the room.
My previous desk was taking up too much floor space, so I made this one to move everything upward. It also provides a great deal of storage for books and knick-knacks.

Overall cost, including the lumber, was around $100."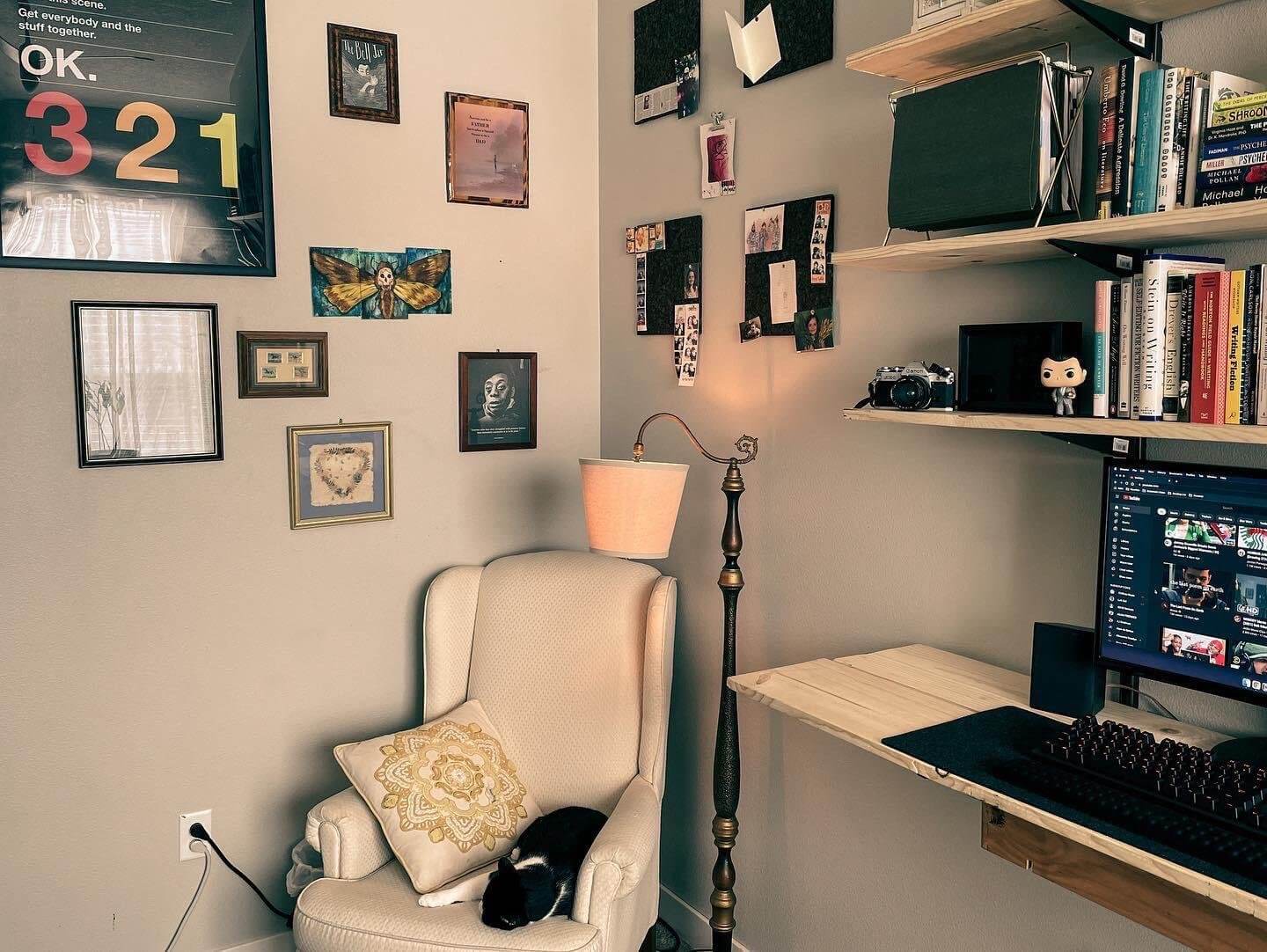 Herman Miller Sit-to-Stand Table
Desk size: 76,2×134,6 cm (30×53″)
"I'm a PhD student and do research for the University which I do mostly from my home office.
I do a lot of writing for school/work and decided to switch to a standing desk to help me focus better on my work.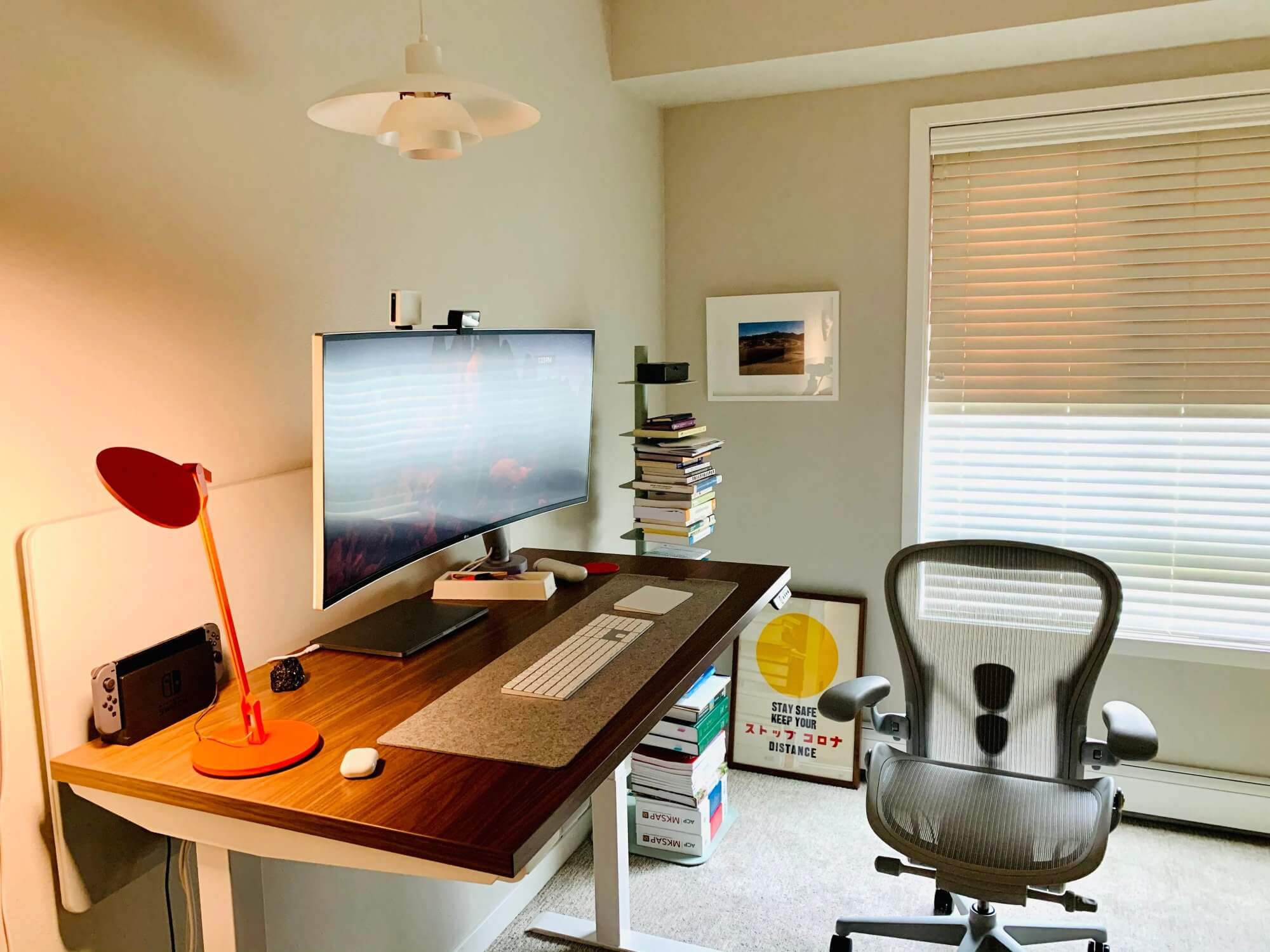 When I feel distracted or tired, I stand up and work.
The panel on the back of the desk helps me focus too because it provides a bit of a backdrop/visual barrier and I can pin documents to it that I reference often.
I typically work in 25-minute focus sessions.
Then I stand for five minutes at the desk while I check Reddit or do some stretches.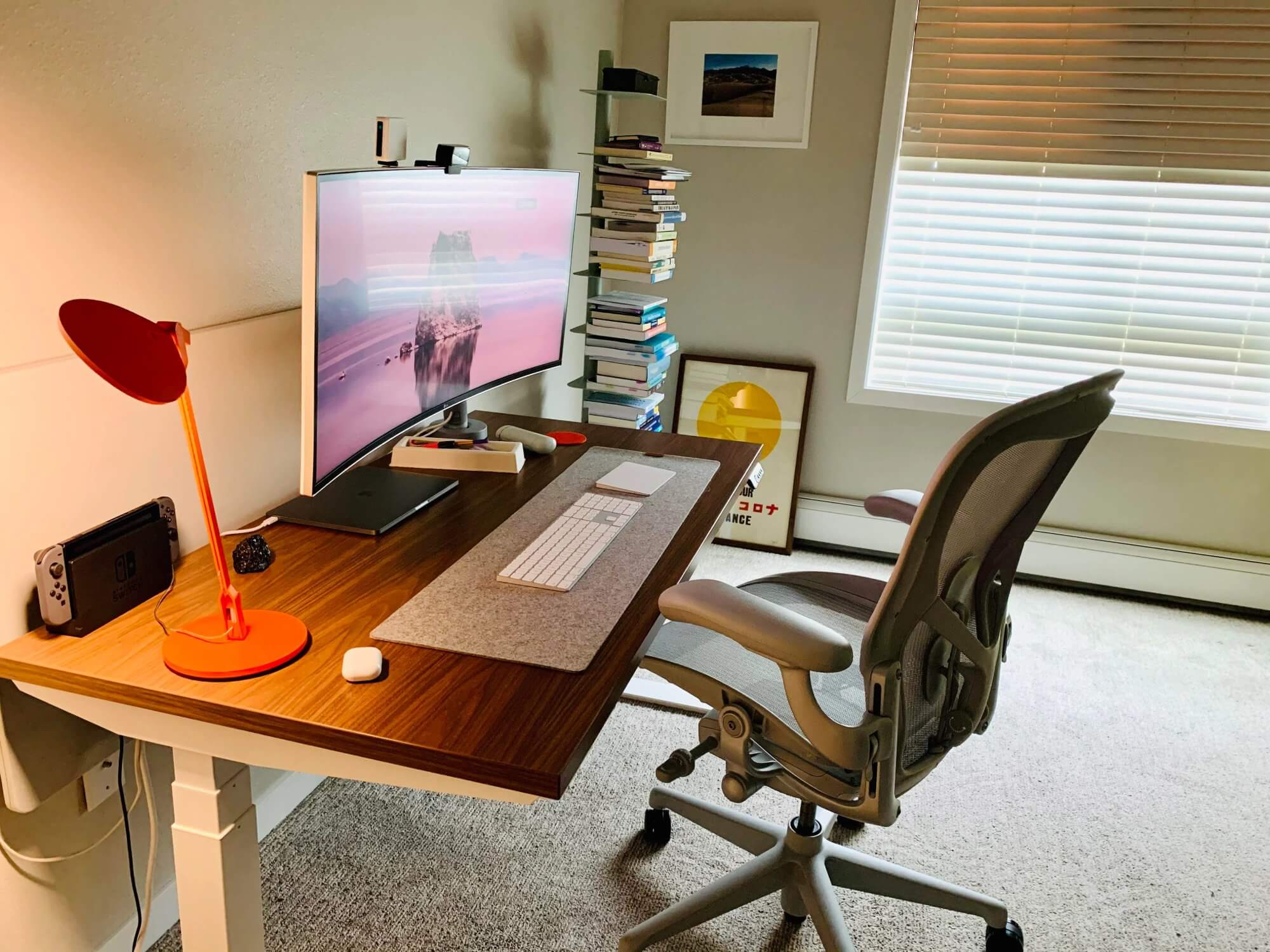 The dimensions of the desk are 30×53 inches, and the brand is Herman Miller.
The tabletop is actually laminate and it came with the legs. I'll probably switch out the top for a slab of wood if I come across a finish I like.
The desk cost about $900 and the chair $1,9K. Altogether with the monitor, the monitor arm and everything on the desk, I paid about $4,5K."
Navodesk Smart Sit-Stand Desk
Desk size: 178×76 cm (70×30″)
"The desk is from a company called Navodesk. It's their smart standing desk.

I switched to a standing desk as I started a new job working fully remote.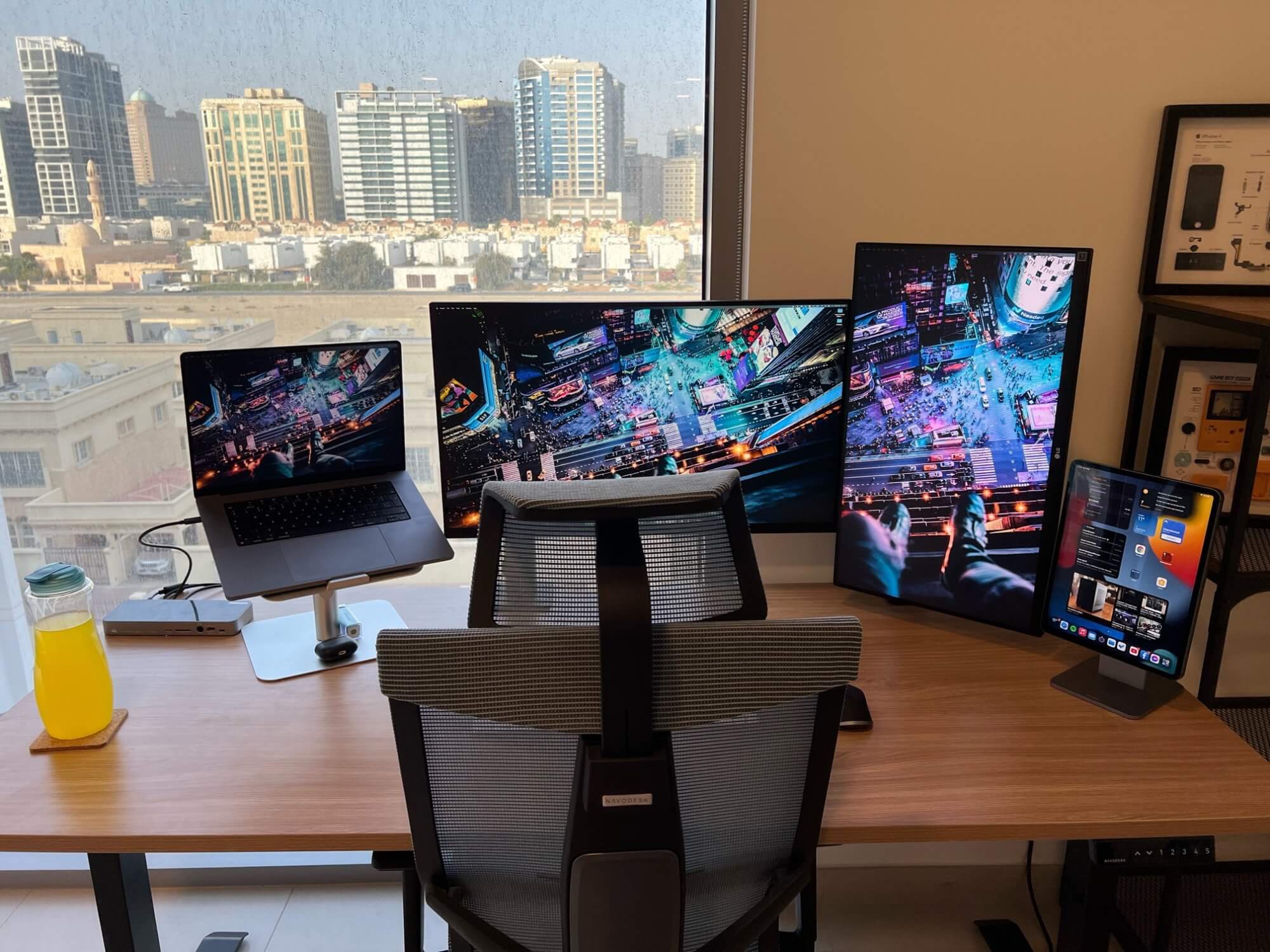 Without an office commute, I wanted to at least make sure I had the most ergonomic setup I could so I wasn't sitting down in the same spot all day every day.
The standing desk helps to ensure I get up out of my seat and also stretch more during the working day.

I normally switch to standing mode 2-3 times a day and only stand for about 20-30 mins at a time. So not loads but it does help to step up.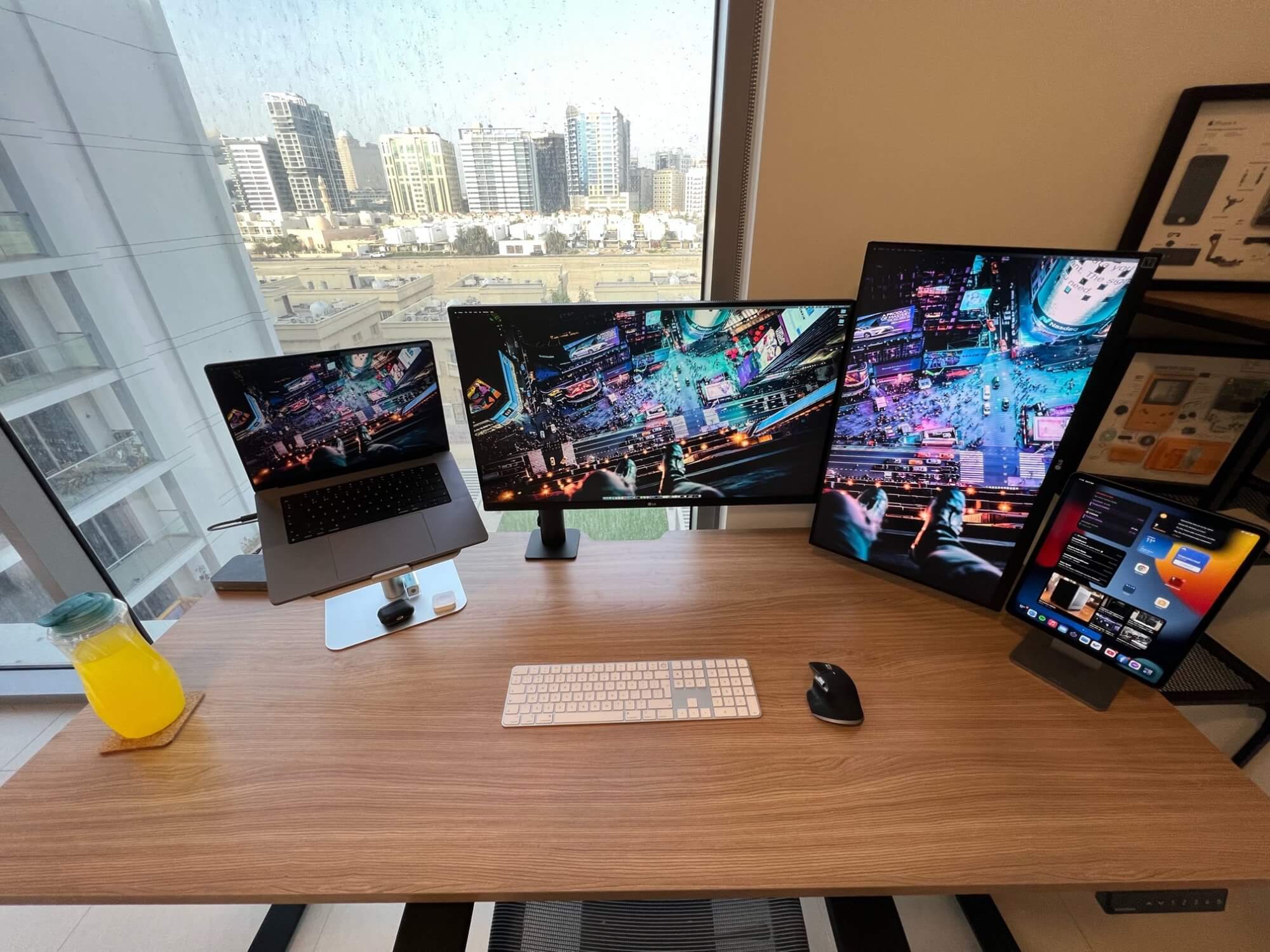 When standing, I also find I often step back from the screens and pace about a little bit which is good to ensure I keep moving.

The desk itself cost about $500. My setup is simple but enough to get the job done."
| Item | Cost |
| --- | --- |
| Desk | $500 |
| 16″ MacBook Pro | $3300 |
| 32″ 4K LG Ergo | $697 |
| 27″ 2K LG Ergo | $443 |
| OWC Thunderbolt 3 | $365 |
| Navodesk Aero chair mesh | $245 |
Fully Jarvis Standing Desk with a Balance Board
Desk size: 102×244 cm (40×96″)
"I got a wood top remnant from Restoration Hardware Outlet for around $300. It's a full dining table. The monitors are 32″ in the centre and two 27″ on the sides on an Ergotron stand.
The base is a Fully Jarvis with a Level by Fluidstance board in front and a Bowery Laura chair.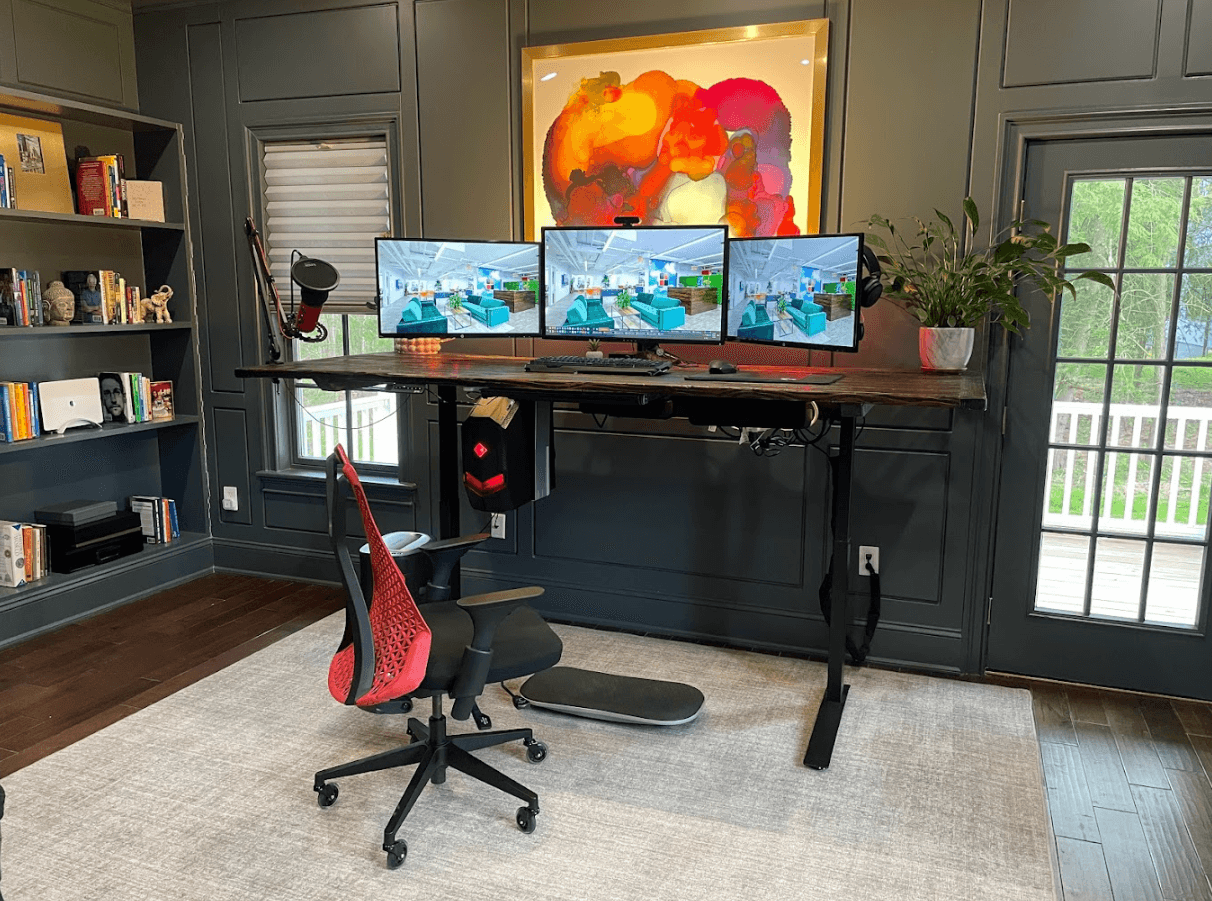 I switched my home desk and all office desks to the Fully Jarvis because sitting all day is not extremely good for you.
Doing Zoom calls or other things while standing breaks up the work day a lot.
The total cost of the desk with the base was around $1,2K."
Flowdesk 2 Max
Desk size: 152×76 cm (60×30″)
"Desk is Flowdesk 2 Max from Flowlyf. It's a startup here in India. Dimensions: 5×2.5 ft. Real solid wood top.
I am a UX designer.
And like any other designer, I spend most of my day in front of the computer.
So it was a no-brainer to switch to a sit-stand desk for better ergonomics and start standing more.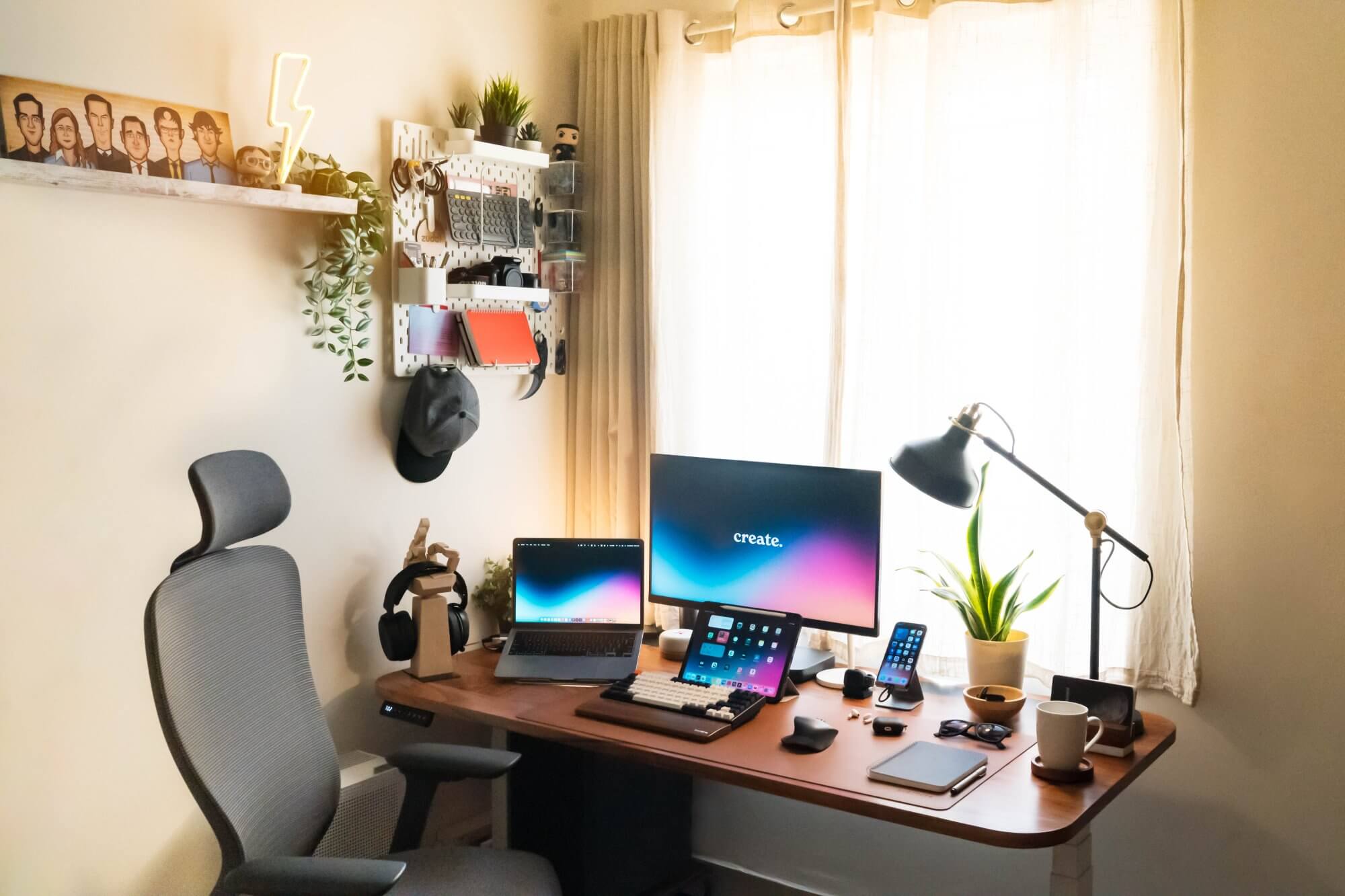 I think the height adjustment is great. It gives you more flexibility with the chair to adjust for the right sitting ergonomics as well as not being bound to a fixed height.
It is future-proof with any chair I choose to get.
The desk costs around $600 (45K INR)."
Jarvis Bamboo Standing Desk
Desk size: 120×80 cm (47×31,5″)
"Because of the little alcove my desk sits in, I was sort of limited to a max width of around 120 cm.
It's a Jarvis bamboo standing desk from Fully and it's on the Jarvis 3-stage frame.
I've had quite a nice corner desk before this but I wanted to be able to stand whilst working to not feel too lethargic.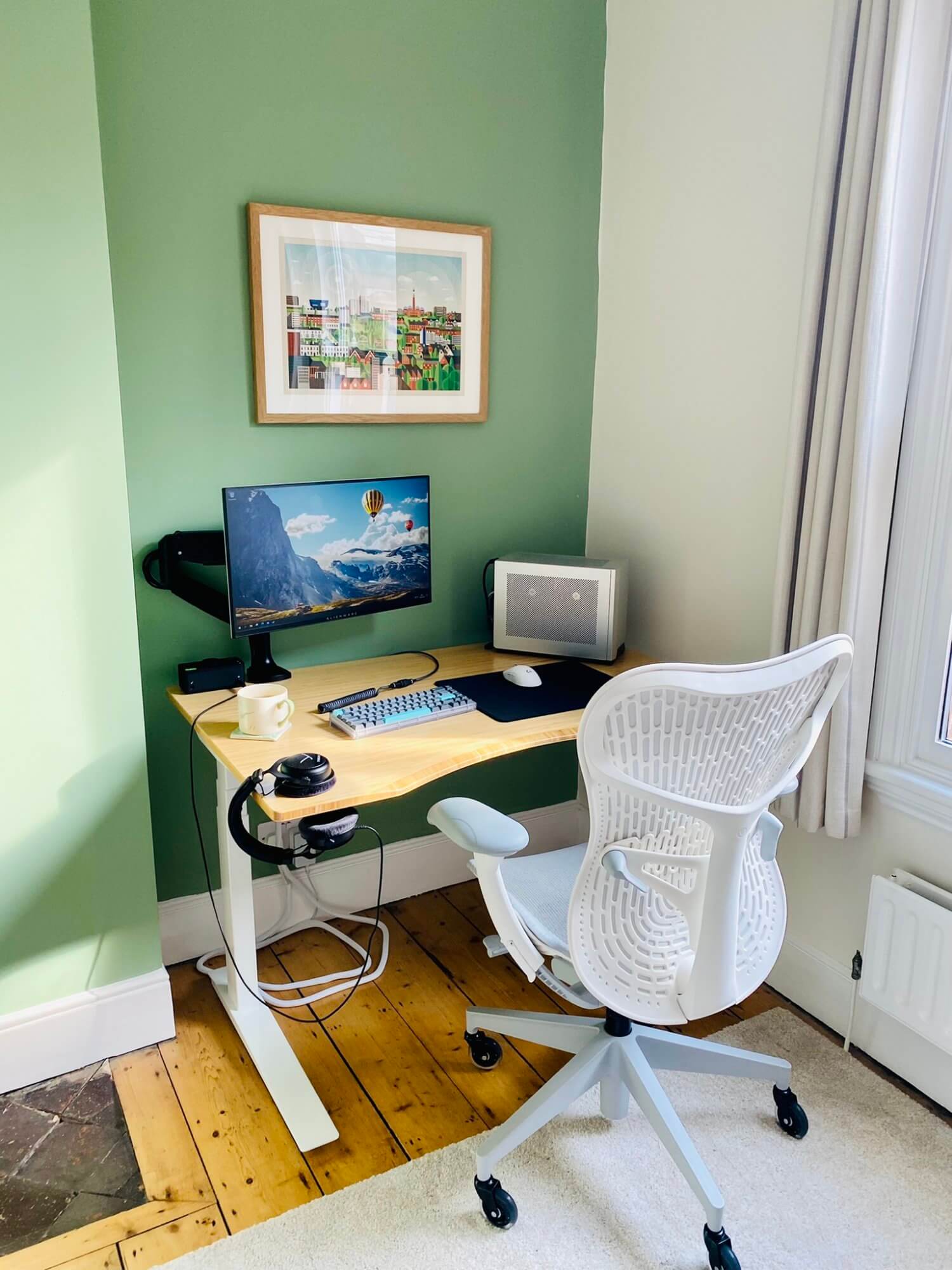 I tend to stand for most of the morning (unless I'm on calls, I get a bit spooked being stood up whilst on a call) and then will sit in the afternoon.
But honestly, at the moment, I'm sort of doing an hour standing, an hour sitting and alternating throughout the day.
It turns from a work setup in the daytime to more of a home setup in the evening (so I remove the work laptop, basically) and I typically don't stand in the evenings — but I'm finding that I'm now standing for almost all of the morning from around 8-11 am each day now.
The total cost was around £650 ($802) for the whole standing desk.
Also, Fully delivery was great — just under a week from placing the order to the actual delivery."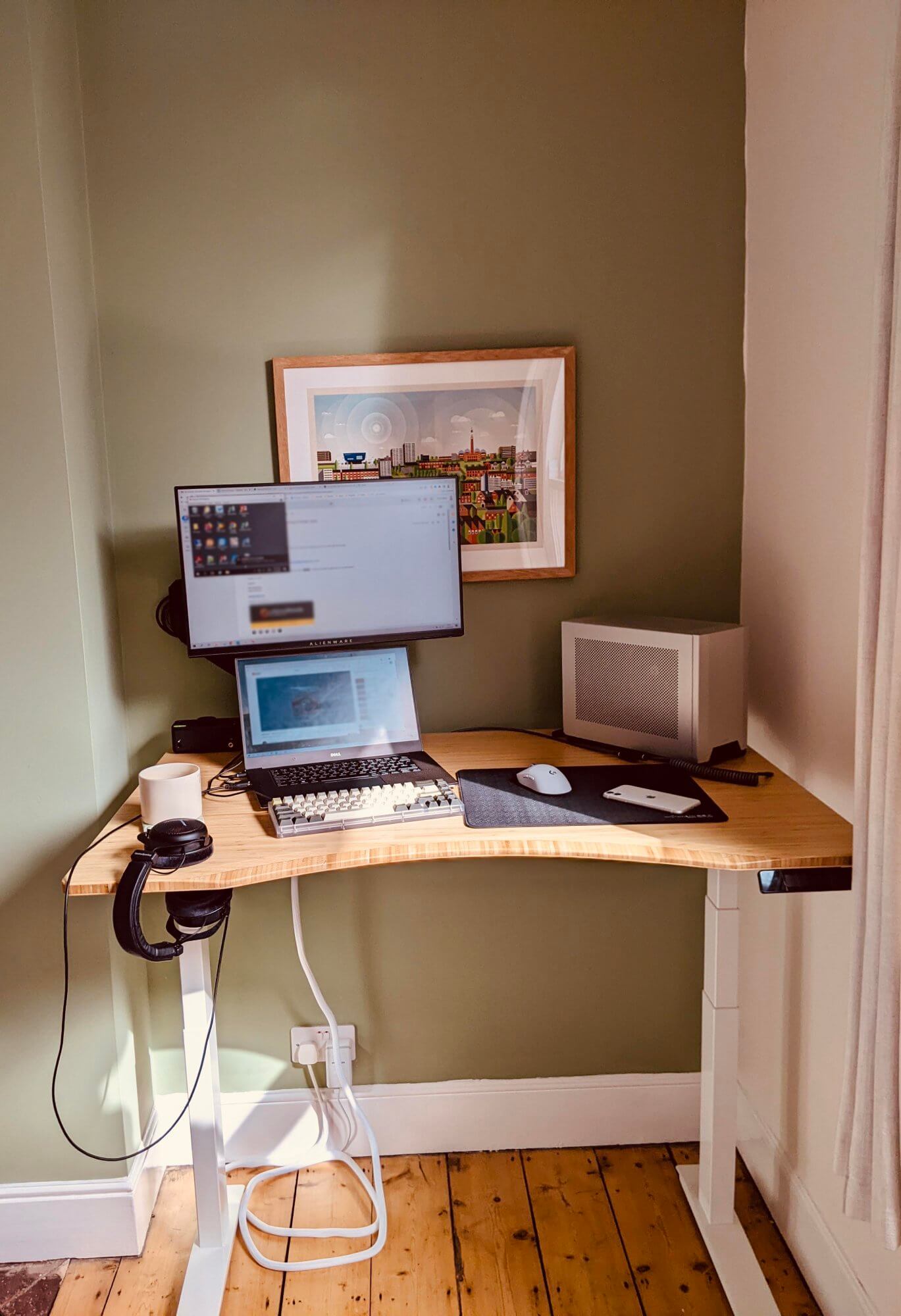 L-shaped Standing Desk with an Uplift Base
Desk size: 183×64 cm (72×25″)
"I went with an Uplift base and did a DIY mitre-joined walnut butcher block countertop as the desktop.
I've used zip bolts and mend plates to connect the wood pieces together. Other than that, it's just wood screws that came with the frame.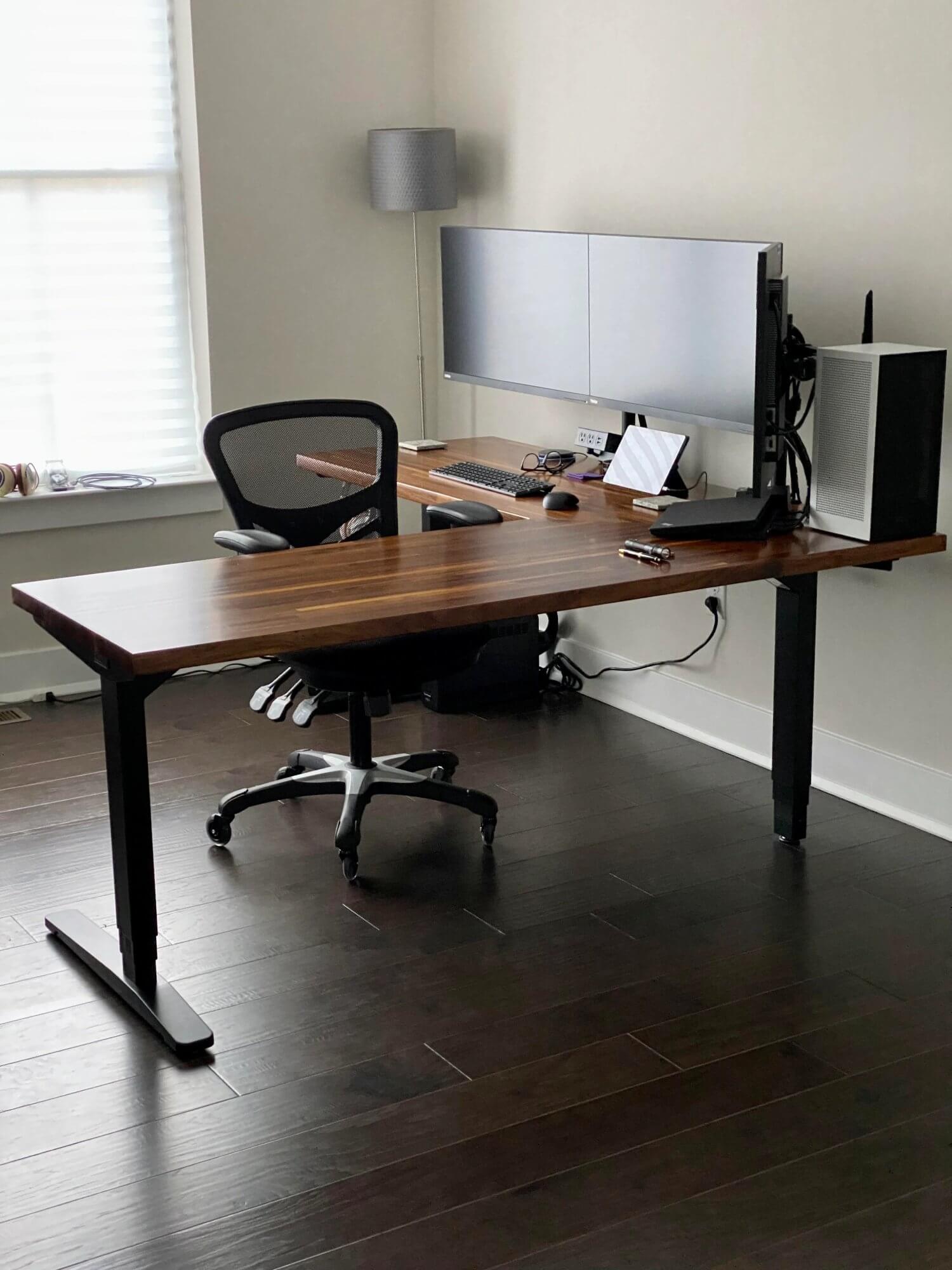 I needed a workstation I could use for both logging on to work (using a docked laptop), and for my personal projects (using my PC).
And I knew I needed some empty desk space for anything else I was working on, or for just lunch.
I have a smaller standing desk at work, so I'm used to the hybrid sit-stand, which is how I use it.

Including some tools and supplies for woodworking, it cost me around $2,6K for the desk. Not including any of the computers."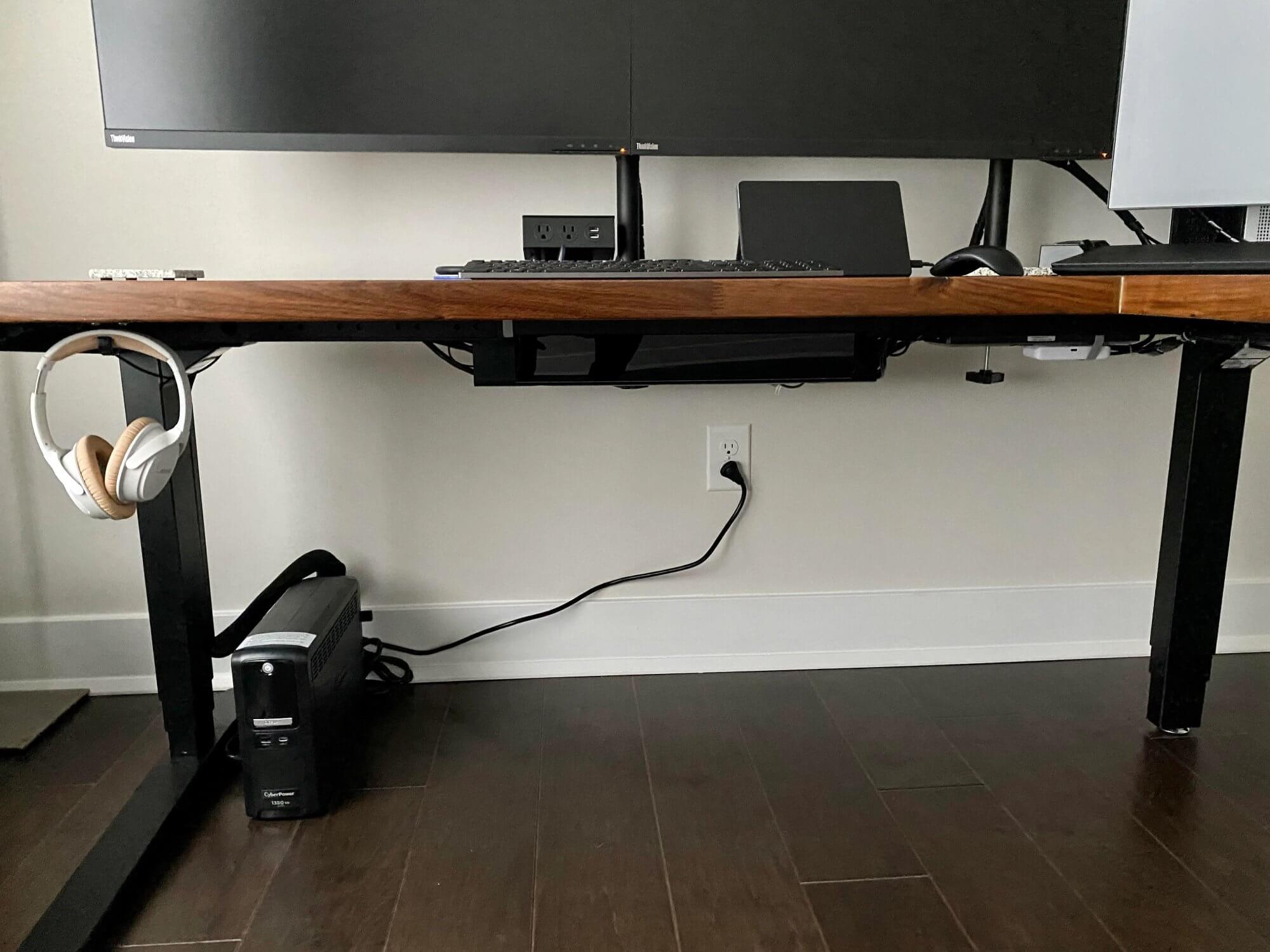 FlexiSpot Standing Desk
Desk size: 120×60 cm (47,25×23,5″)
"The desk brand is FlexiSpot. I actually received this as a gift in exchange for posting an honest review on Reddit. It's sitting on the legs that came with it.
I had wanted to try a standing desk for some time and FlexiSpot's offer was too good to pass up.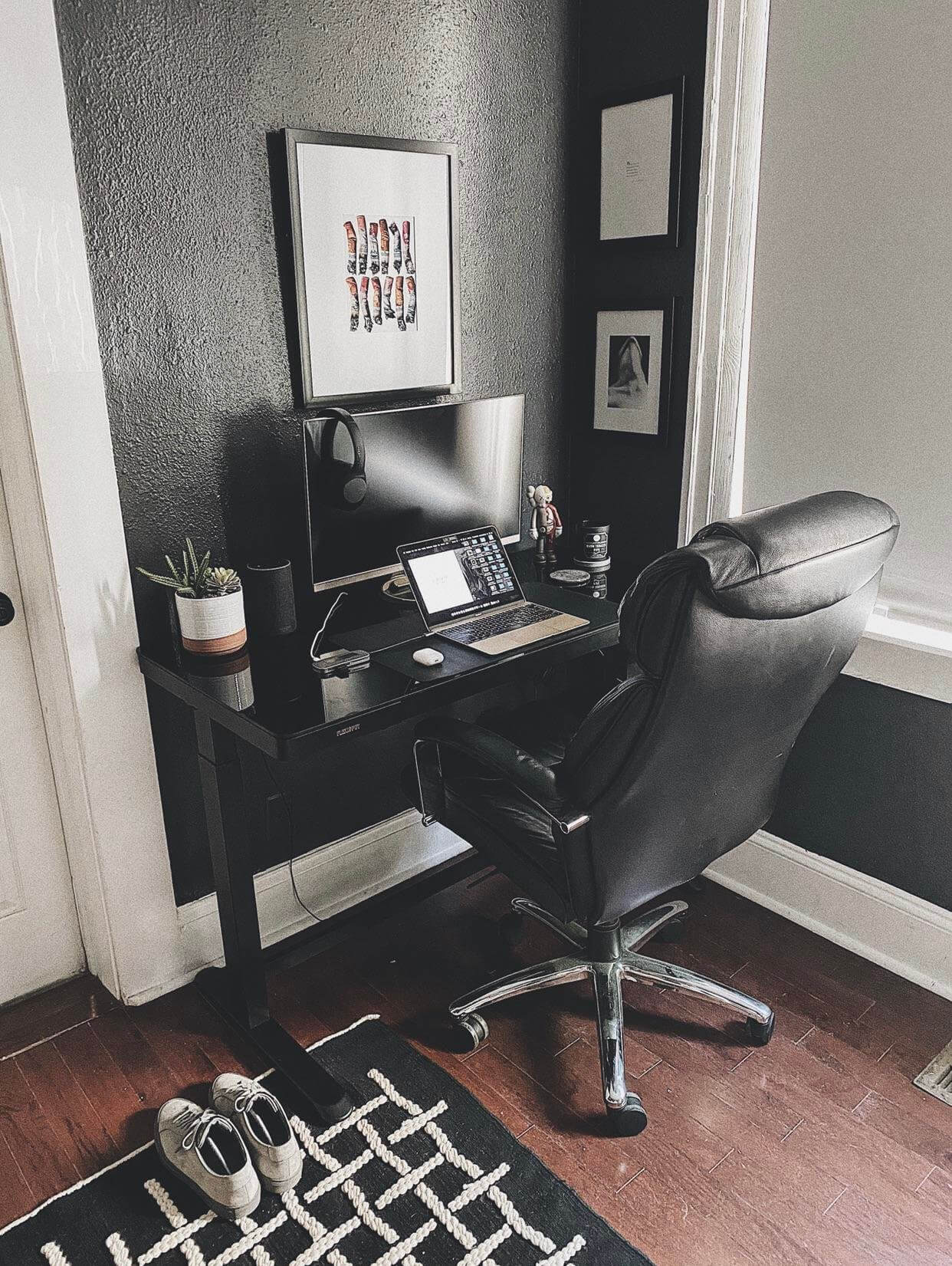 I initially used the standing option for the first couple of weeks, but now I simply use it as a regular desk.
It is nice to know I have the option to use it in a standing position if needed."
Autonomous SmartDesk with the Live Edge Slab
Desk size: 140×64 cm (55×25″)
"The desktop is a Siberian Elm live edge slab from a local sawmill ($175). The top was finished with Rubio Monocoat ($49) and the cracks and divots were filled in with West systems 105A Epoxy resin ($97) with Mica powder pigment ($16). The frame is from Autonomous.AI ($449).
A previous company I worked for decided to get standing desks for everyone and I was converted.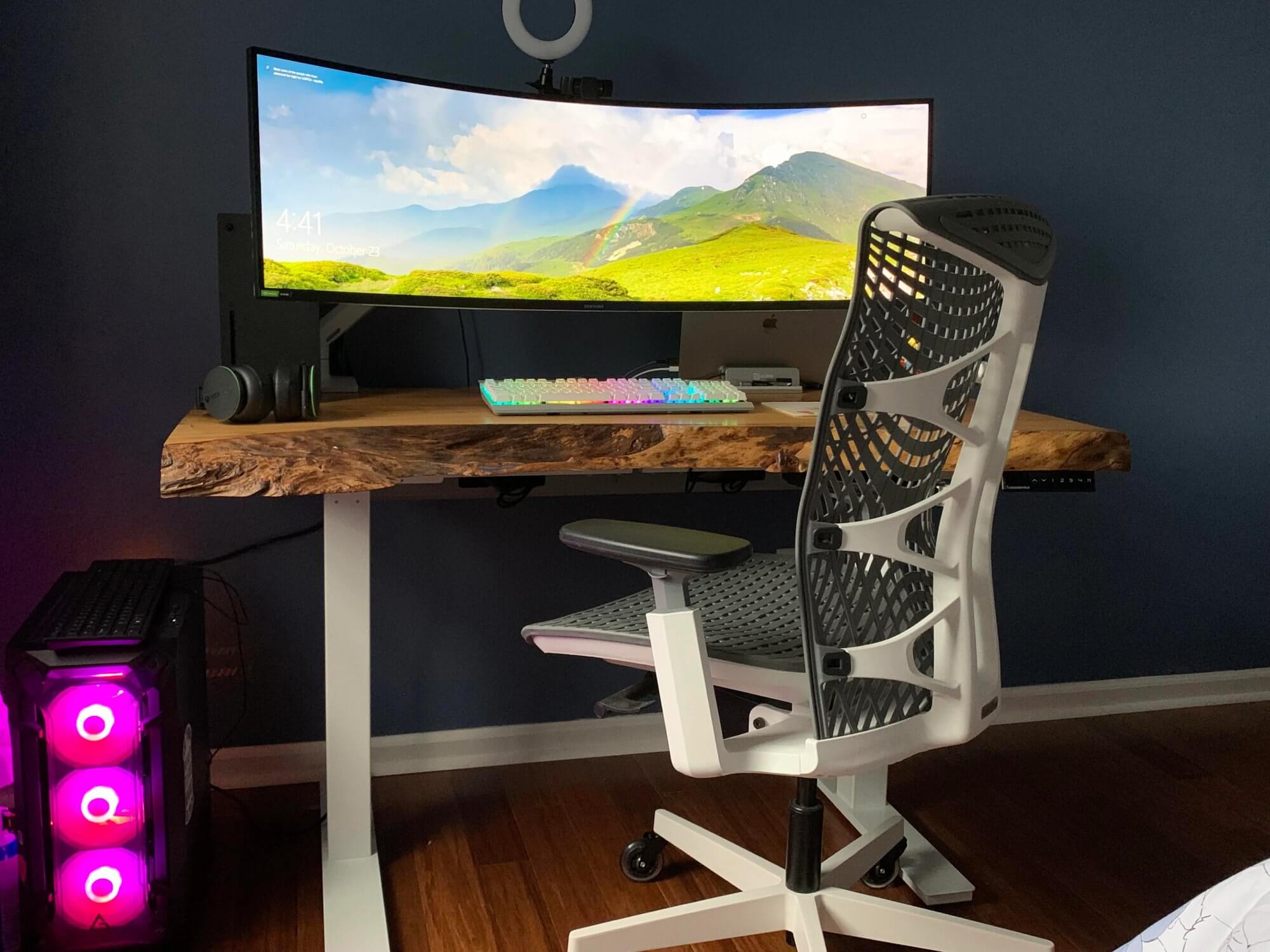 I work from home now.
It helps my back and hip to stand every now and again.
I try to keep to a schedule by standing for certain daily meetings. It would drive me crazy to switch back to a non-standing desk.
In the 2-3 years I was there, I never once heard anyone complain about their desk breaking down."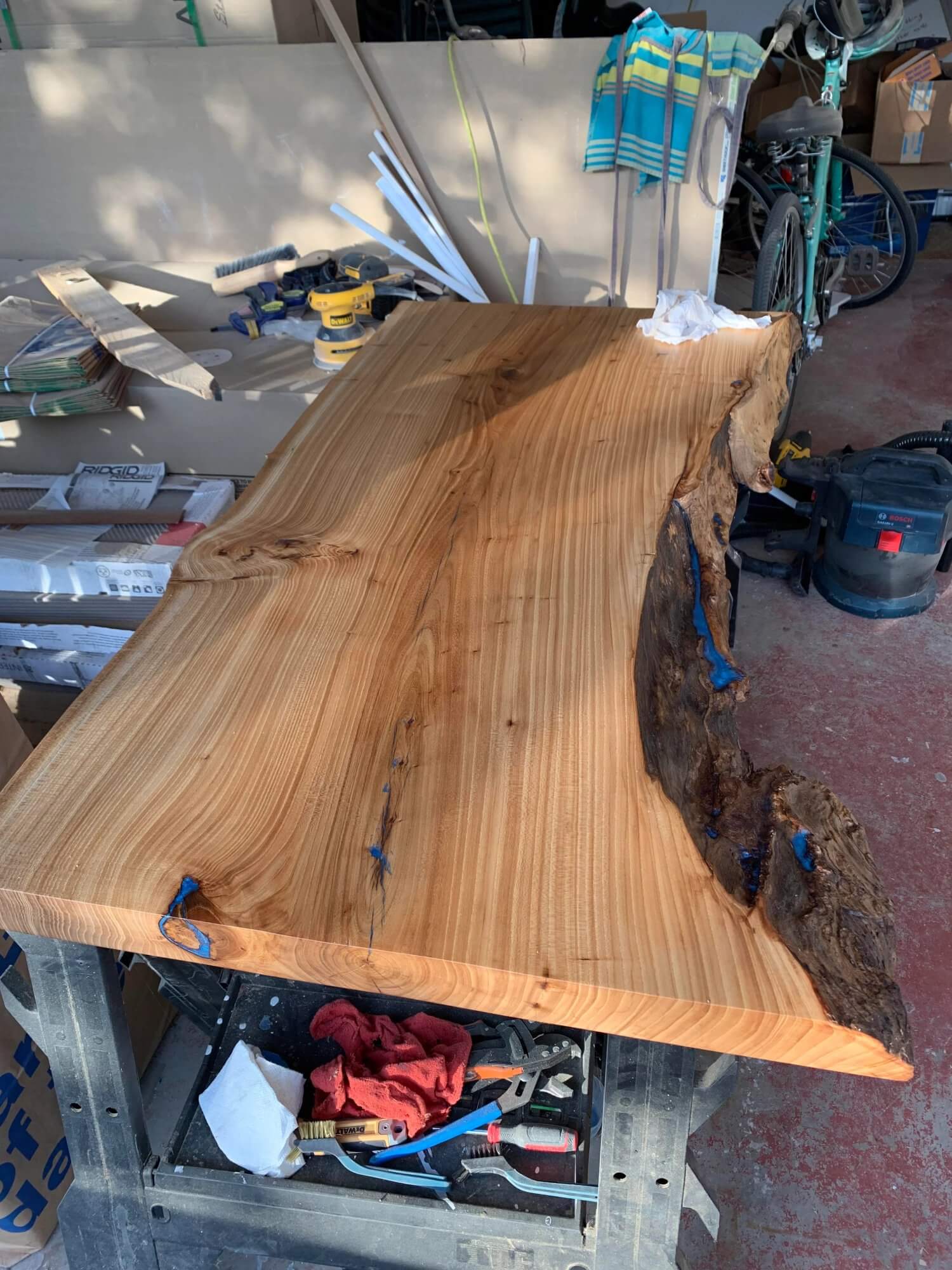 VertDesk v3 Sit-Stand Desk + Laminate Countertop
Desk size: 132×72 cm (52×30″)
"I take my desk setup, posture, and ergonomics, all very seriously and I constantly seek to optimise. After doing this for years, I have quite a few thoughts on the subject.

My desk has a 52×30″ black laminate top on a VertDesk v3 from btod.com.
I chose VertDesk because it seemed to be the best balance of quality and price that I could find.
It has a few features that were important to me, namely an automatic stop feature if it hits something on the way down and very good standing stability, much better than the more budget options like Fully or Autonomous.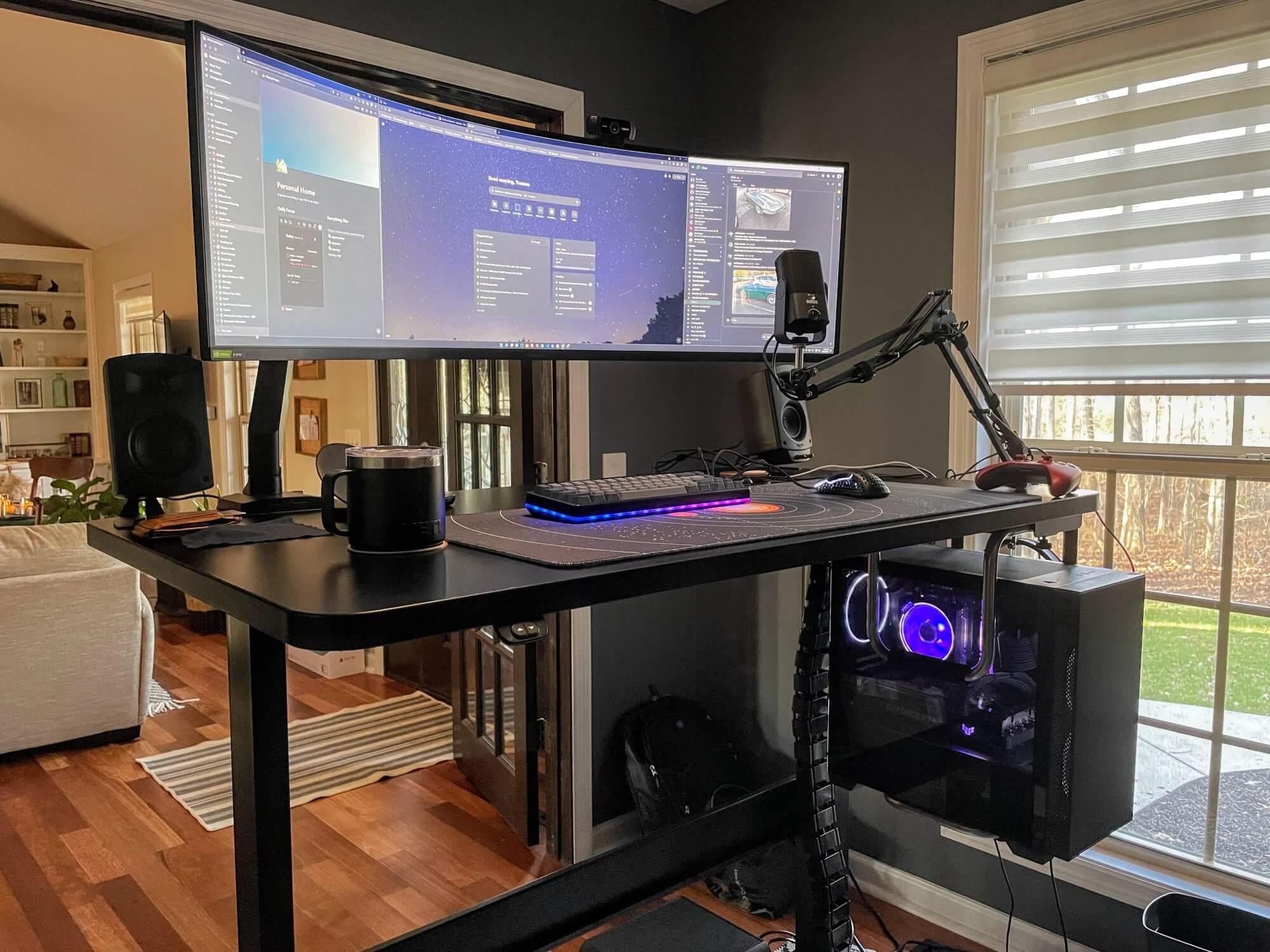 I've worked fully from home for over five years doing technical consulting and have tried a lot of desk configurations.
I spend about 7-8 hours a day working and another 1-4 doing personal business, web browsing, gaming, Reddit, etc.
Spending around 10 hours a day in front of the computer means I should really ensure the space is as healthy and functional as possible.
A height-adjustable desk is more than just a standing desk.
It means you can fine-tune your seated ergonomics too and this was a big part of my desire to get one.
When working casually, I like my desk around 31″ high but when typing a lot of gaming I prefer it closer to 29″ to prevent straining my trapezius muscles.

Another big ergonomic discovery was how much standing still on a hard floor for even 30 minutes can begin to hurt your feet.
Within days of getting an adjustable desk, I realised this and began looking for a solution. I ordered a Fezibo padded balance board which solves that problem and another one, fidgeting.
When I'm on a call, I like to walk around or at the least fidget with something. A balance board lets me keep my body in motion which helps me think and prevents foot fatigue.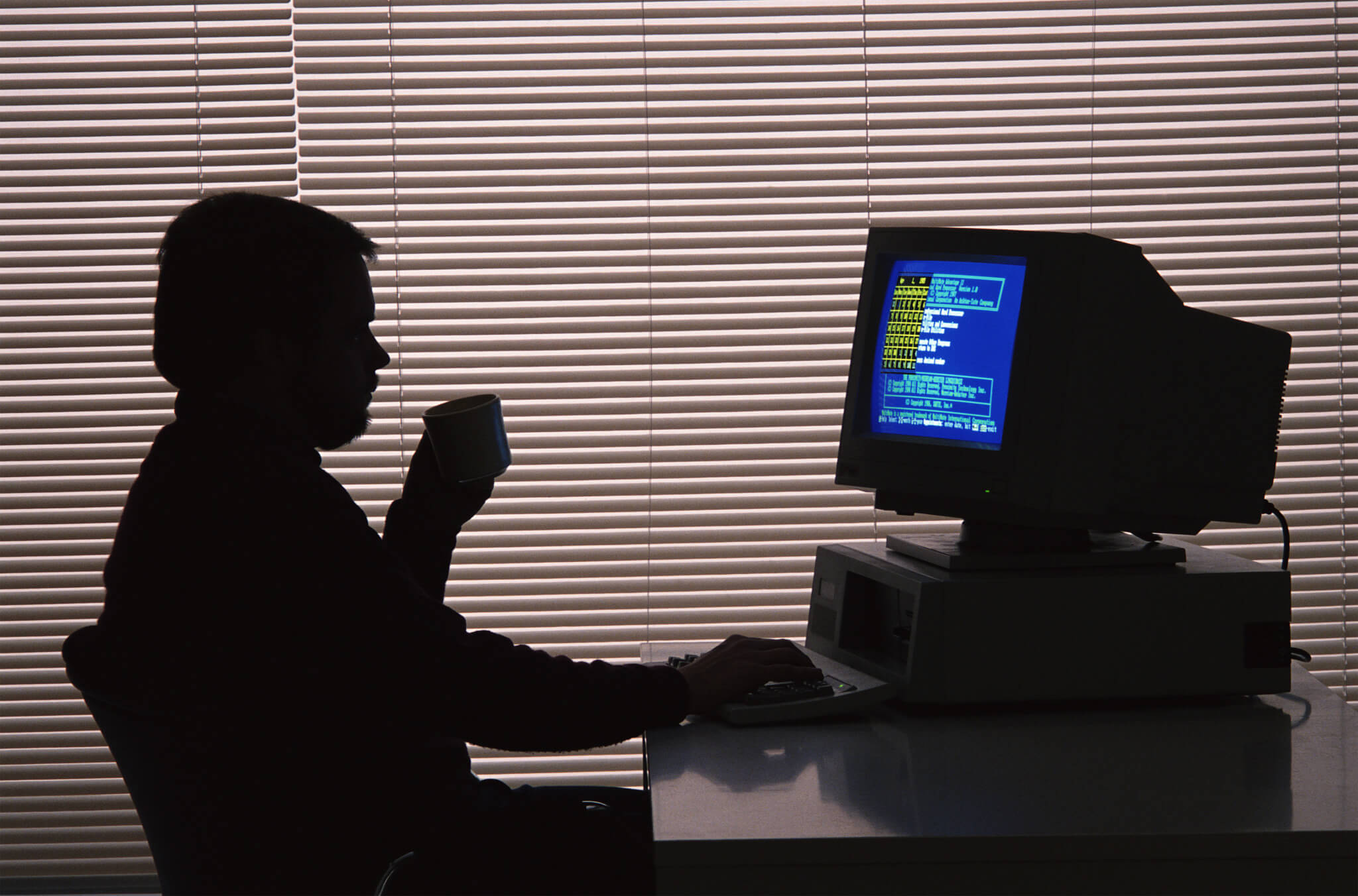 For some perspective, without a balance board and barefoot I can stand for about 30 minutes before discomfort. With good shoes, I can bump it up to an hour or more.
With my balance board, I often stand for 5-6 hours no problem and have done entire workdays without realising I'd not sit at all.
It's very energising, and I strongly recommend one anytime I talk about standing desks.
It improves energy levels and focus, prevents chronic fatigue, and burns a few extra calories.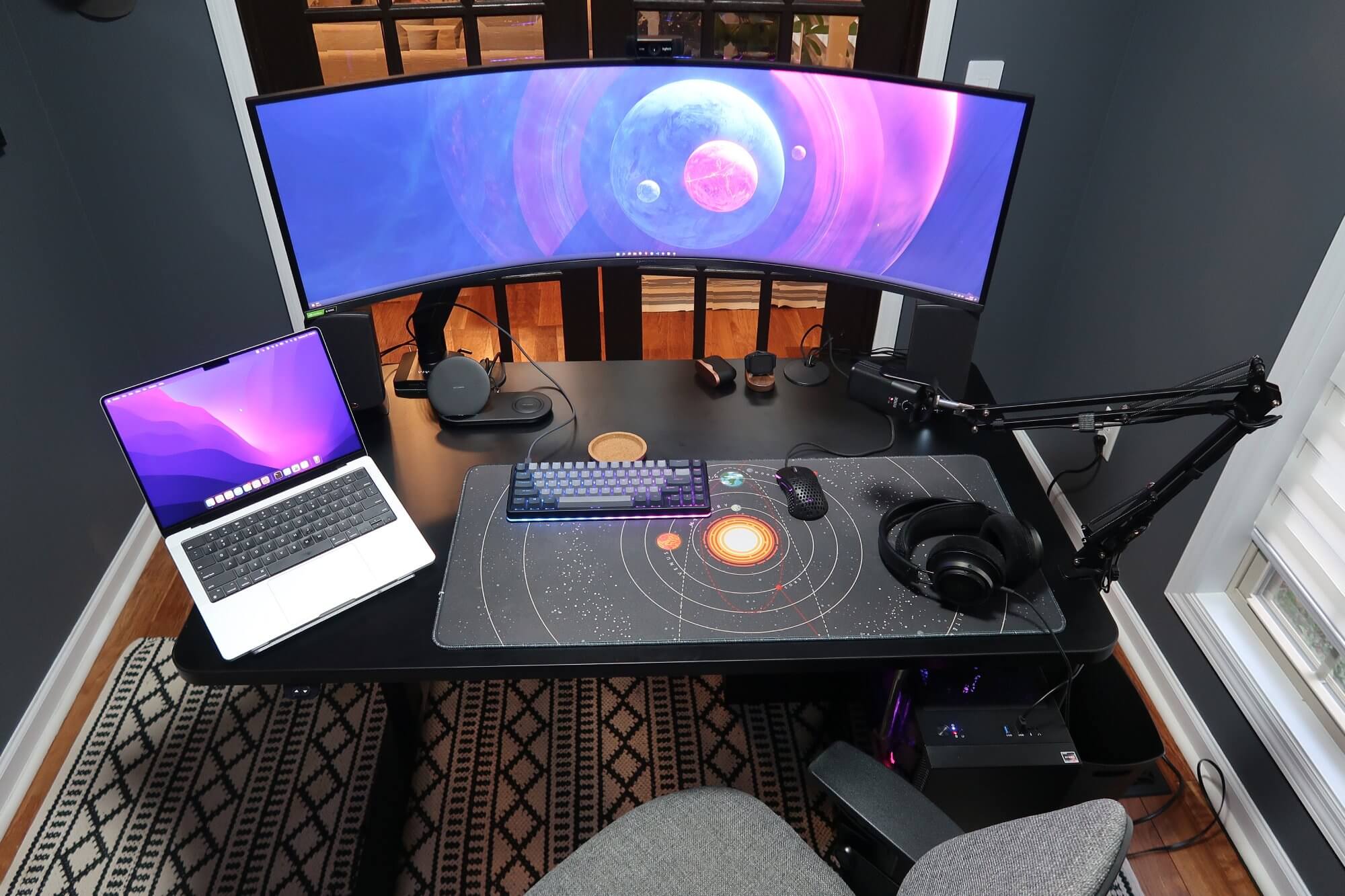 How do I use it throughout the day?
I always start standing with my office lights on high and my window blinds open, as much light and energy as I can get into my room.
Once I settle into my day, I'll often return to sitting, usually, around 11 am or so. I typically dim my lights to around 60% at this time too.
When the "two o'clock" set in and I start feeling lazy, I try to take a 10-minute walk outside if the weather is nice and when I return I go back to standing and turn my lights back up.
In the evenings when I get back on to use my space for entertainment, I dim my lights to 20%, turn on my indirect lighting, go down to 29″ and just relax.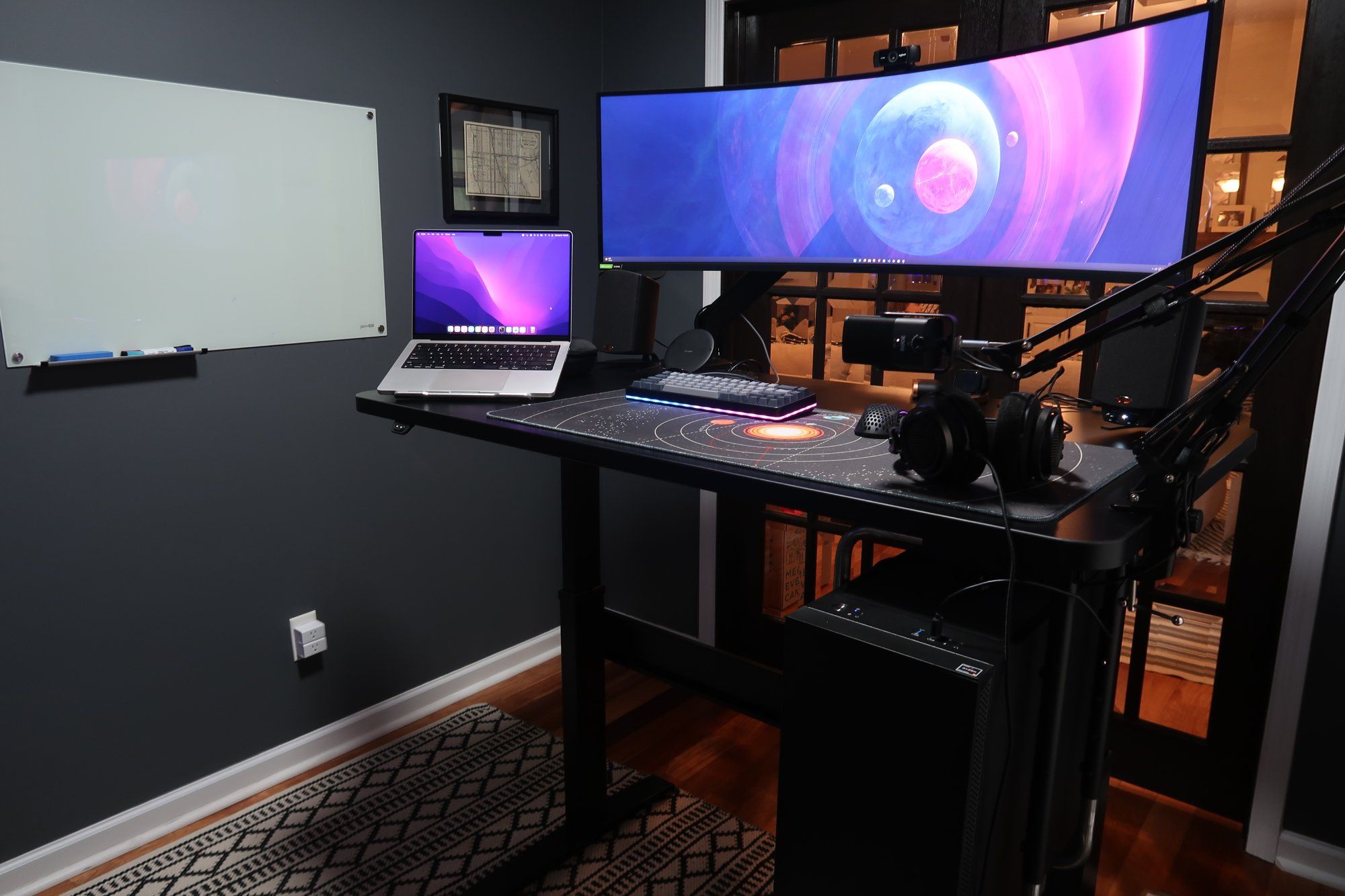 This lets me "cheat" the fact that I'm spending 10+ hours on my computer and break it up into many different activities that feel different and avoid prolonged sedentary sessions.
When my day allows for it, I replace my afternoon walk with a 45-minute session at the gym, get to do that usually three times a week or so.
Even more important than an adjustable desk IMO is a good ergo chair. I use a Steelcase Leap V2 which I purchased refurbished.
Before the pandemic, one could be had for around $250. They are about twice that now but still worth it if you spend a lot of time sitting at a desk.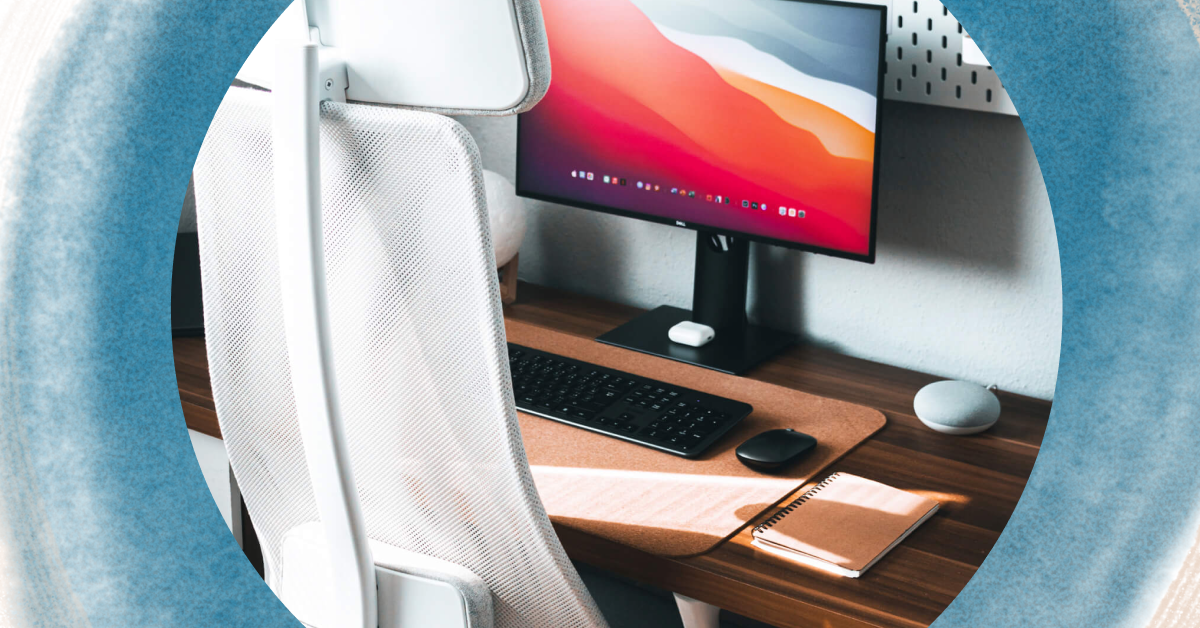 I type a lot, my work includes quite a bit of scripting and programming and I send about two dozen emails daily.
For that reason, I have a keyboard that I really enjoy typing on. Hardly as important as a desk or chair but for me, it's a big deal too. Mine happens to be a heavily modded Drop Alt High Profile with Halo Clear switches.
Finally, I'll mention my display. I have a Samsung Odyssey G9 which is a 49″ superwide (same dimensions as 2×27″ monitors but without the middle bezel).
Obviously, this expansive screen is awesome for immersive gaming but for work, there are a couple of cool things it lets me do.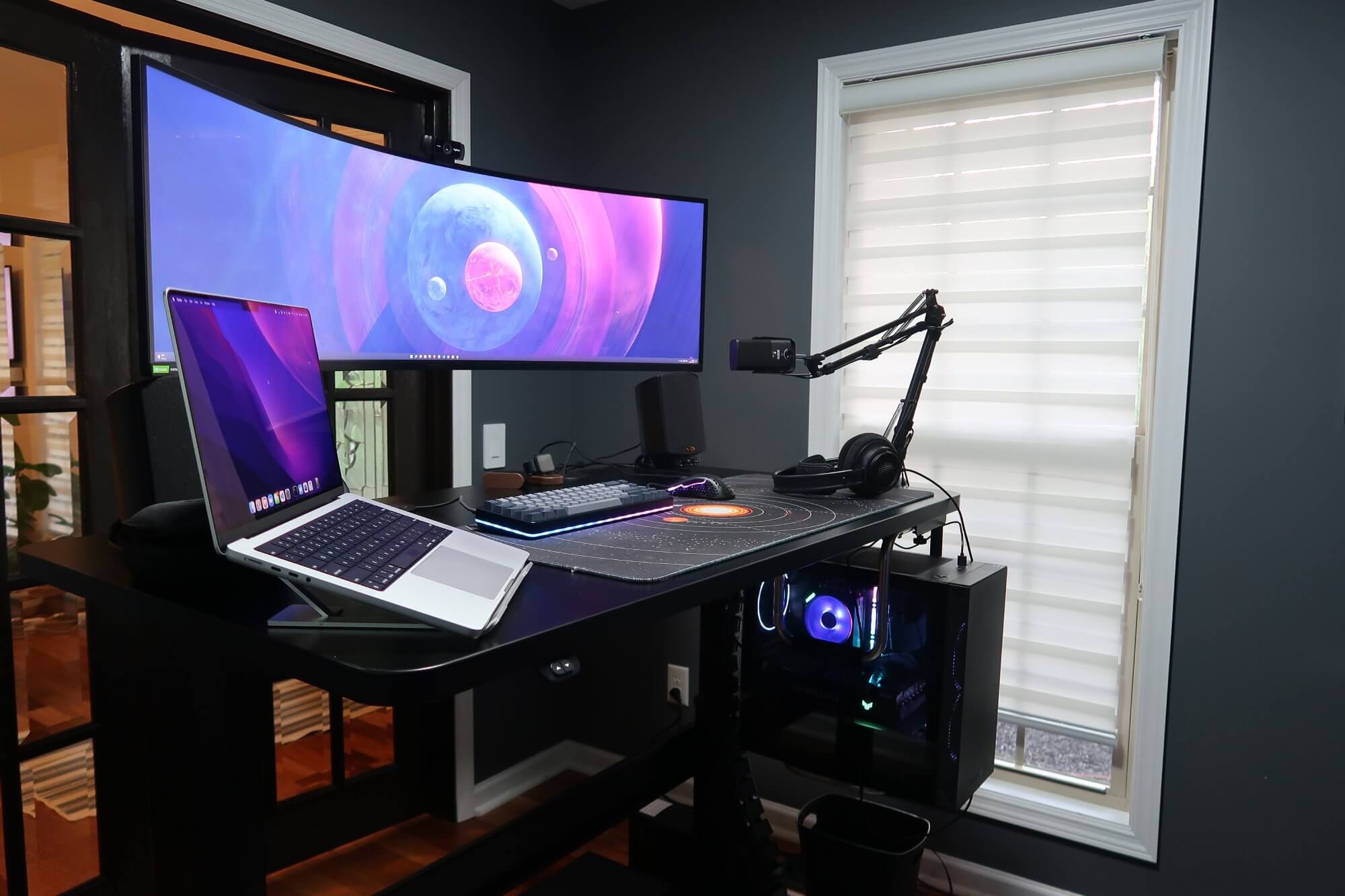 First, I can split three windows into almost perfect squares. Windows 11 has a feature that makes this super easy to do and it's an awesome way to maximise space. This wouldn't be easily possible if I was using two monitors since the bezel would cause grief.
Second, since there's no bezel, I can configure that huge space (which is almost the exact width of my desk) in any way I like. I often do one really wide screen in the middle and then two "portraits" on the sides for things like chat apps or documents.
I do believe strongly that if you spend a huge percentage of your life doing something, you should have the best gear for that.
Do you hike every weekend? You should have the best shoes, pack, and accessories for that.
Love listening to music? Invest in some high-end studio headphones.
The same goes for your work.
I also refuse to buy junk.
By ruthlessly avoiding wasted spending and always buying high-quality stuff, I rarely need to replace things. And when I do, I get great resell value for my old stuff.
All in, I've probably got around $4,5K in my setup if I count my PC, monitor, desk, chair, and accessories like speakers, mic, custom keyboard, and headphones.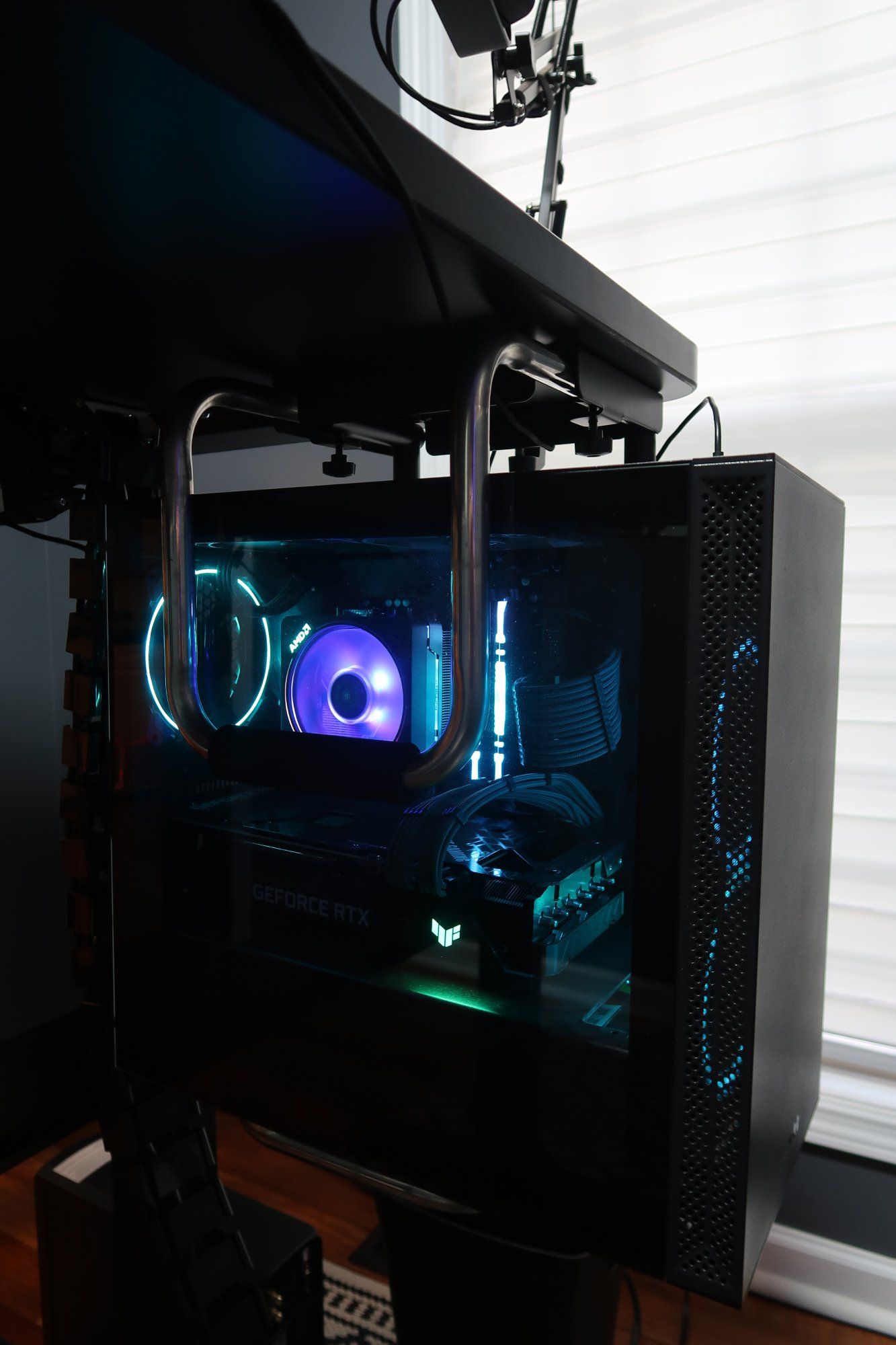 The desk was about $800 as configured, my chair was $250.
On stability, having the computer mounted under the desktop brings the centre of gravity for the desk closer to the floor.
I feel is much safer from a stability standpoint than having a 35lb tower sitting on the desktop that's already 44″ high.
Additionally, the VertDesk is actually very sturdy which has a lot to do with why I selected it.
The crossbar and general build quality go a long way. I wouldn't say there's any noticeable wobble at all even at standing height.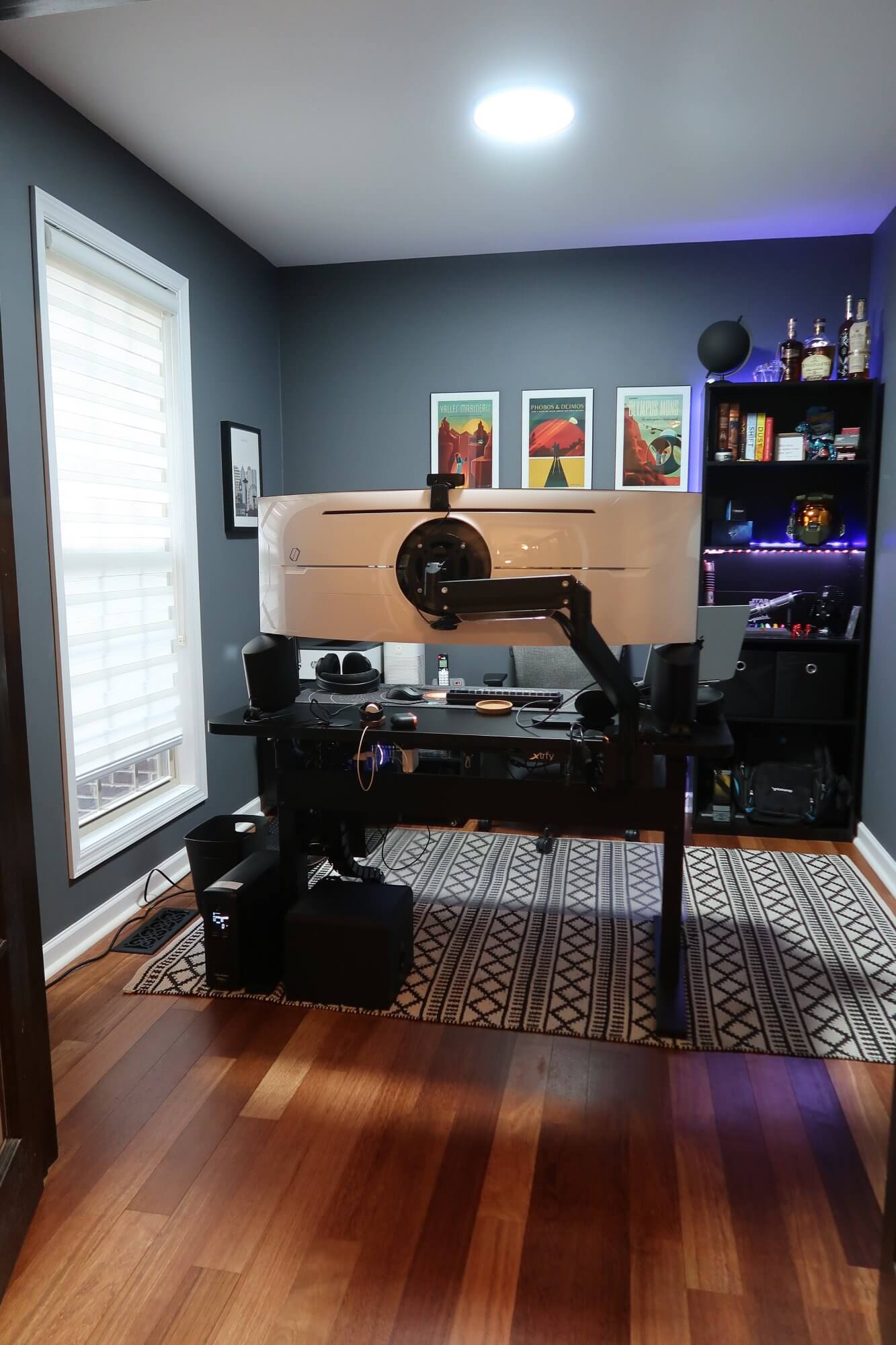 The biggest stability challenge is mounting the Samsung G9 display. It's over 30 lbs (~14 kg) and has a massive curve, so much that the edges are 16″ forward of the centre. When hung on a monitor mount, the centre of gravity for the display is very far forward, around 10 inches.
I've never calculated the effective weight with leverage but I suspect it's well over 50 lbs (~45 kg). I currently use a VIVO heavy-duty single monitor arm which VIVO confirmed for me is capable of holding the weight.
However, I plan to upgrade to an Ergotron HX with HD pivot which is specifically designed for this massive monitor.
The computer is mounted underneath using a VIVO Heavy Duty Under-Desk PC Mount which is hung with five large coarse threaded screws and washers.
The only other details I don't think I'd mentioned is that my mic and camera setup is a RODE USB NT-Mini mic and a Logitech G922 camera. The speaker system is a Klipsch ProMedia THX system."
Deskhaus Apex Pro Max + Custom Walnut Top
Desk size: 152×76 cm (60×30″)
"The desk is a Deskhaus Apex Pro Max frame with a custom walnut top made by Sage at World Tree Workshop in Longmont, Colorado.
He used four pieces of black walnut which were mounted together and finished with Odie's Oil products.
He also cut a deep bevel into each side for a more modern look and to stand out from the many similar walnut standing desks. It measures about 1,9″ thick.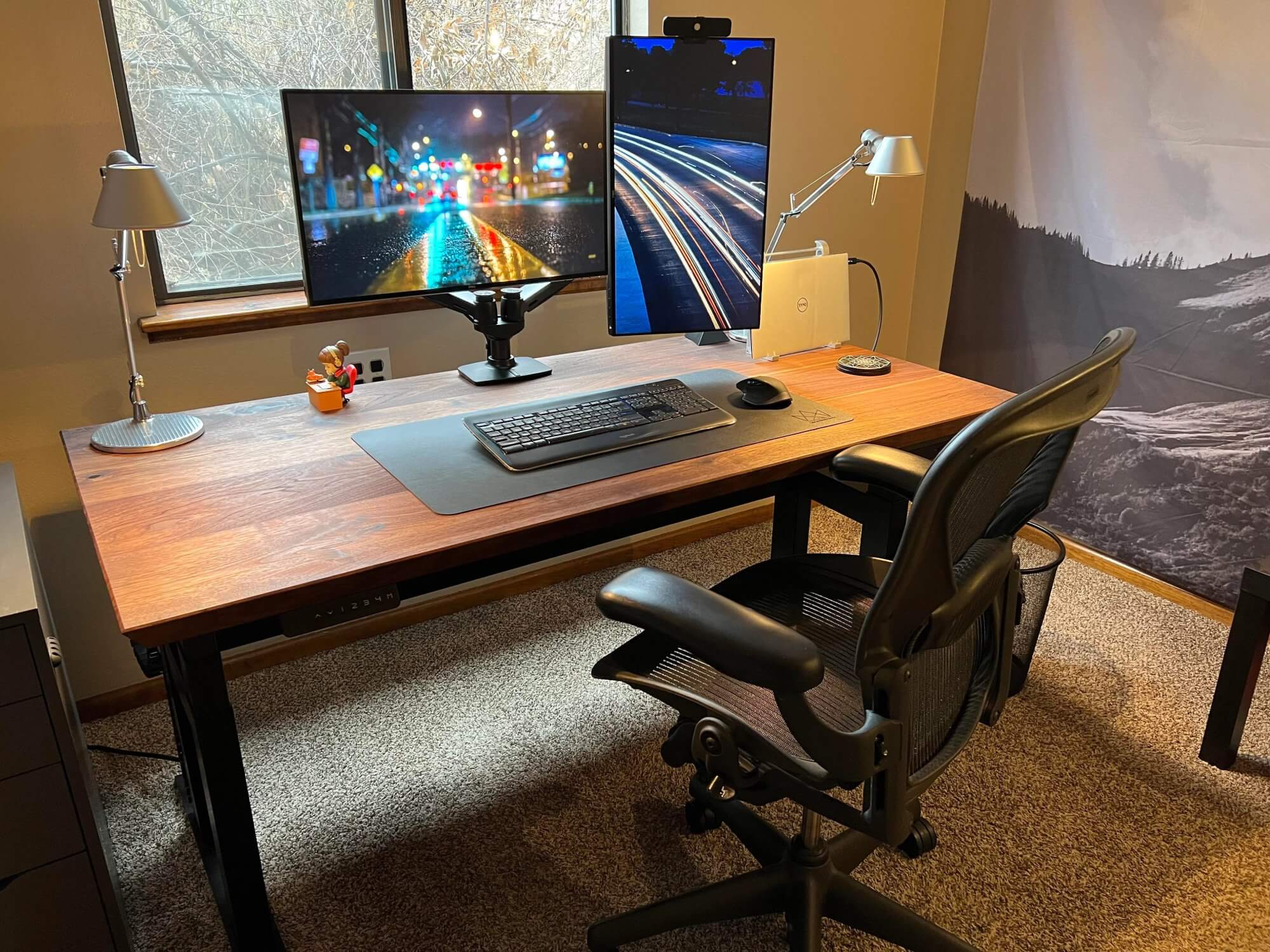 The desk is currently sitting on a carpeted floor in my condo's office, hence why I wanted the best stability that I could find.
The Apex Pro Max is pricey but worth it if you specifically need the extra stability both forward-to-back and side-to-side.
The crossbar provides some additional support and it barely wobbles at all on the carpet, even at my standing position of 47″ with two monitors adding some awkward weight at one side.
I wanted a standing desk because I work from home and spend most of my day at the computer.
I, unfortunately, have a spinal condition that results in pinched nerves, but standing up relieves a lot of pain for me.
I switch between sitting and standing a couple of times a day if I'm either getting tired or starting to feel some pain.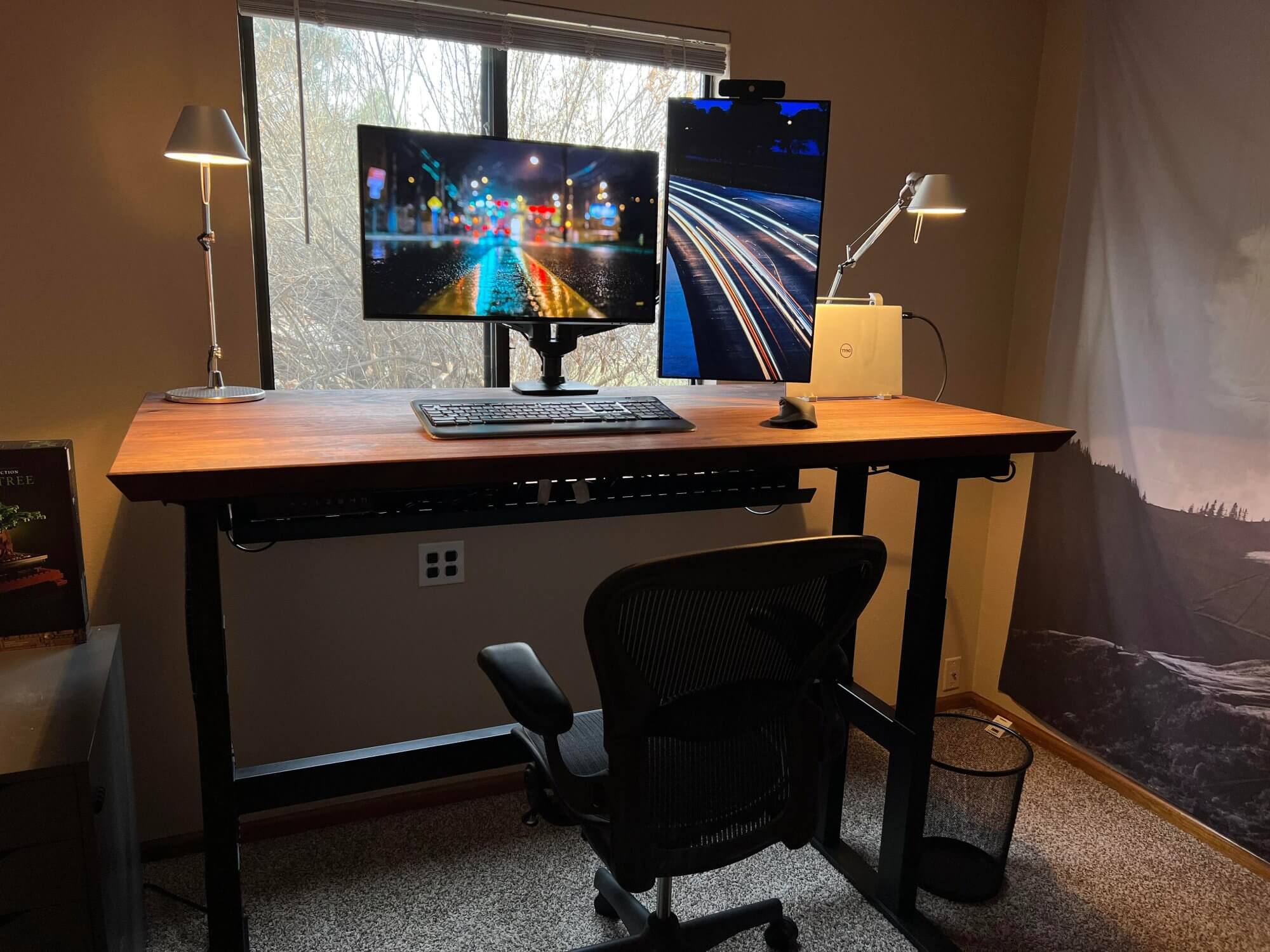 I'm also a pretty fidgety person with a lot of energy most of the day — standing up and being able to do some wiggling or stretching between projects helps me stay on task.
The desk's ability to lift a good amount of weight to support the very heavy workstation/server equipment was a necessary box to check when planning this desk.
Apex Pro Max does its job without any complaints and Deskhaus claims a 600 lb (272 kg) limit for this frame.
I did my best to tidy up a whole deal of cables underneath the desk with the SUDS cable management tray and utilised a Dell WD19TB Thunderbolt hub mounted to the underside of the walnut top.
I used a 3D printed mount to help hide the clutter but keep available all of the I/O functionality I need.
The cables underneath include:
USB 3.2 Gen 2 to use a monitor as a USB hub for my Logitech Unifying receiver and my C930e webcam
DisplayPort 1.4 for MST daisy chain between the two Dell monitors
another USB 3.2 Gen 2 for a high-gain Intel AX210 adapter that hides near the back of my desk.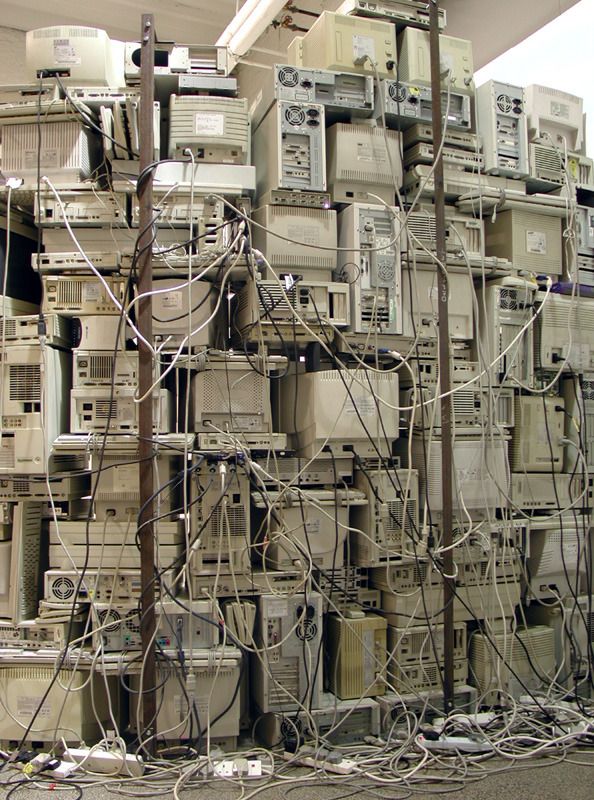 The whole build is somewhat overkill and was done with zero regard for any budget.
I am fortunate enough to have received lots of good news in the last couple of years in regard to finances — and figured it was time to treat myself to an upgrade from my old IKEA setup.
Super happy with how it turned out and it provides me with the flexibility to change and reconfigure this setup if I ever want to.
TL;DR — if you're looking for the best setup money can buy, reach out to Chris at DeskHaus.
Total build cost: $3,7K pre-tax."
| Item | Cost |
| --- | --- |
| DeskHaus Apex Pro Max | $1500 |
| Amazon Basics dual monitor stand | $120 |
| Stand up desk store cable tray | $94 |
| Thunderbolt dock mount | $35 |
| Tripp Lite 15-outlet power strip | $71 |
| Artemide Tolomeo Micro Lamps pair | $810 |
| Various items — zip ties, some longer power cables, etc. | $25 |
Xantron EDS07-W with an Oak Panel
Desk size: 180×85 cm (71×33″)
"The frame is a Xantron EDS07-W. The tabletop is DIY from an oak panel.
It took me over several months to make this desk. The bulk of the work was done in June and July 2021.
The PC is hidden in the drawer — and everything lifts up together. You can barely see any cables, which adds to the clean look.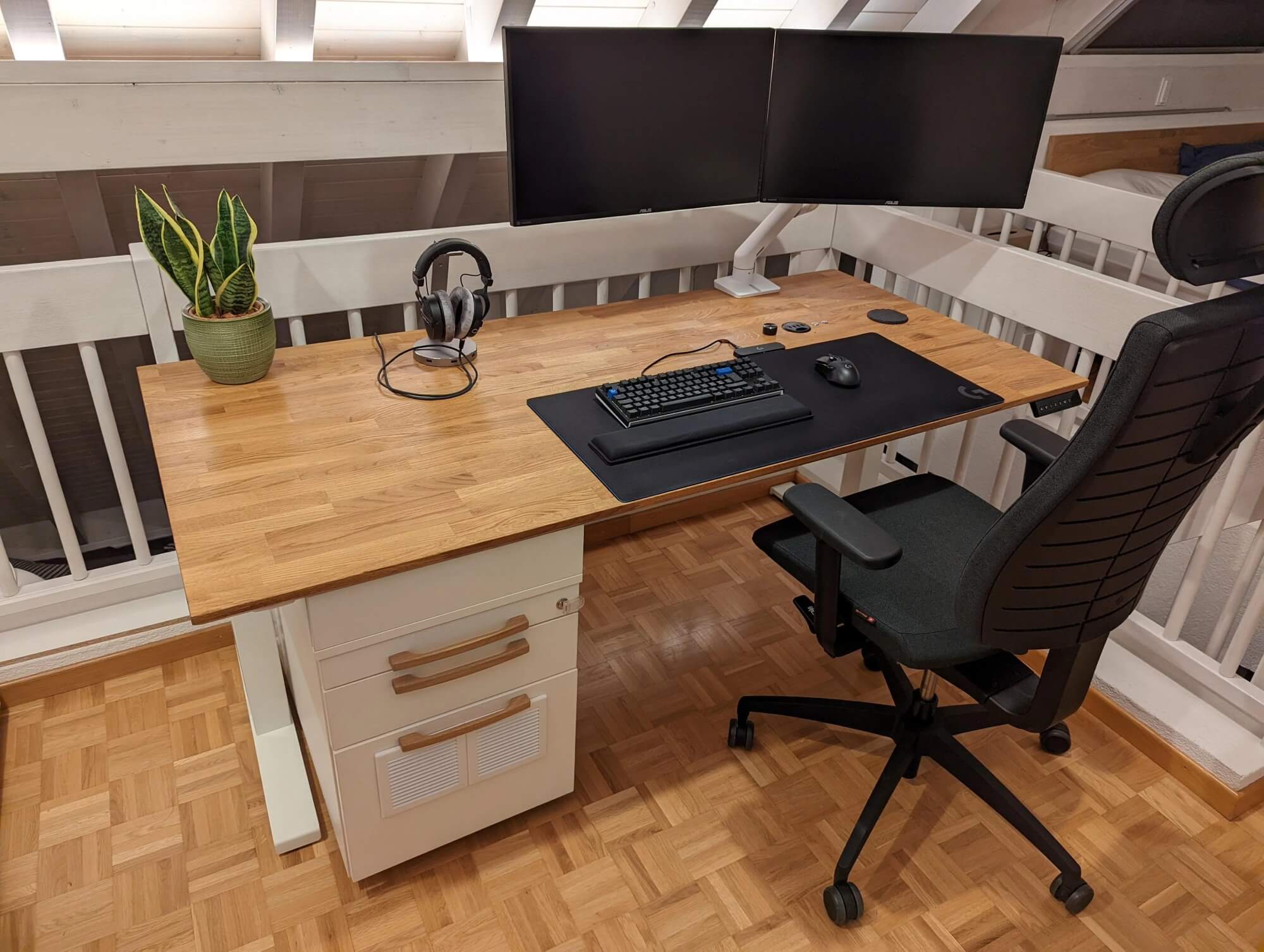 The desk also has some built-in features: the microphone mute button, the volume knob, a USB-3 hub, a PC power button, a hidden Blu-ray drive and a recessed Logitech Powerplay which charges my mouse.
I prefer standing desks over normal desks mainly for the ergonomics.
I also like to stand up from time to time.
The option to put it in every height I want can also help when soldering or doing other crafts.
Another thing I learned quickly is how easy it is to clean under the desk. One button and the table is out of the way — I can clean with ease.
I mainly use the desk for work from home, a bit of gaming and doing smaller tinkerers' work.
The overall cost must have been something between 1,5K and 2K CHF (Swiss Frank), which is about the same in USD. Prices include quite expensive shipping."
| Item | Cost |
| --- | --- |
| Frame | $500 |
| Wood | $600 |
| Drawer | $400 |
| Accessories | ~$200 |
FlexiSpot Comhar Standing Desk
Desk size: 122×61 cm (48×24″)
"I have the FlexiSpot Comhar Desk. It's 47.3″ long and 23.7″ wide and 0.5″ thick. It also has a 2″ drawer. I've got it on fairly plush carpet and it seems pretty sturdy when I have it standing.
I work from home full time and I'm a full-time online student.
I also love to game, so as you can imagine I'm at my desk a lot.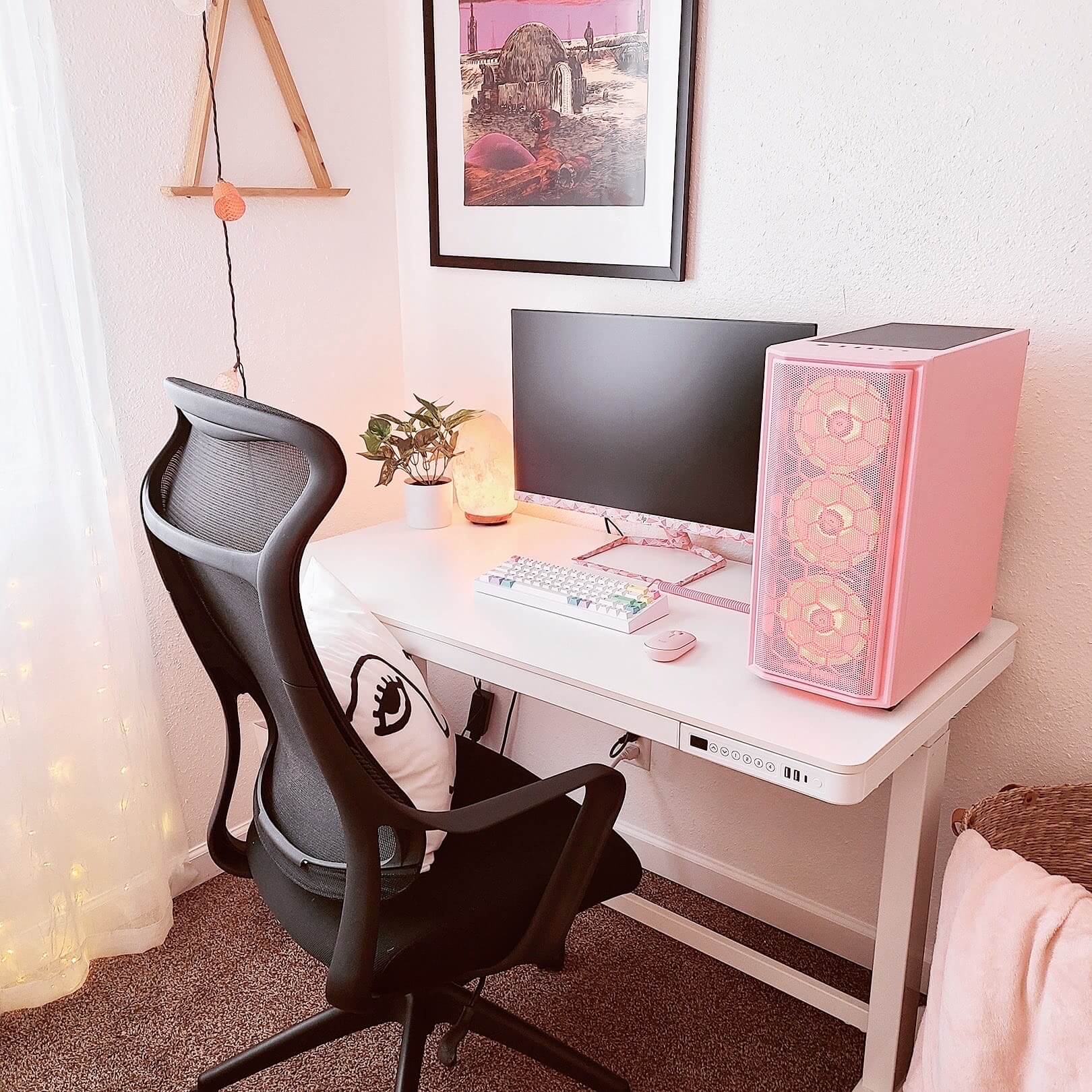 My desire for a standing desk actually stemmed from my inability to find the perfect chair.
I had no luck with Herman Miller Aeron or Embody chairs or any other chair for that matter.
I finally decided I'd just get a standing desk and sit in whatever cheap, painful chair I had and stand when it got to be too much.
Right around that time, FlexiSpot reached out to me asking if I'd try their desk in exchange for a review.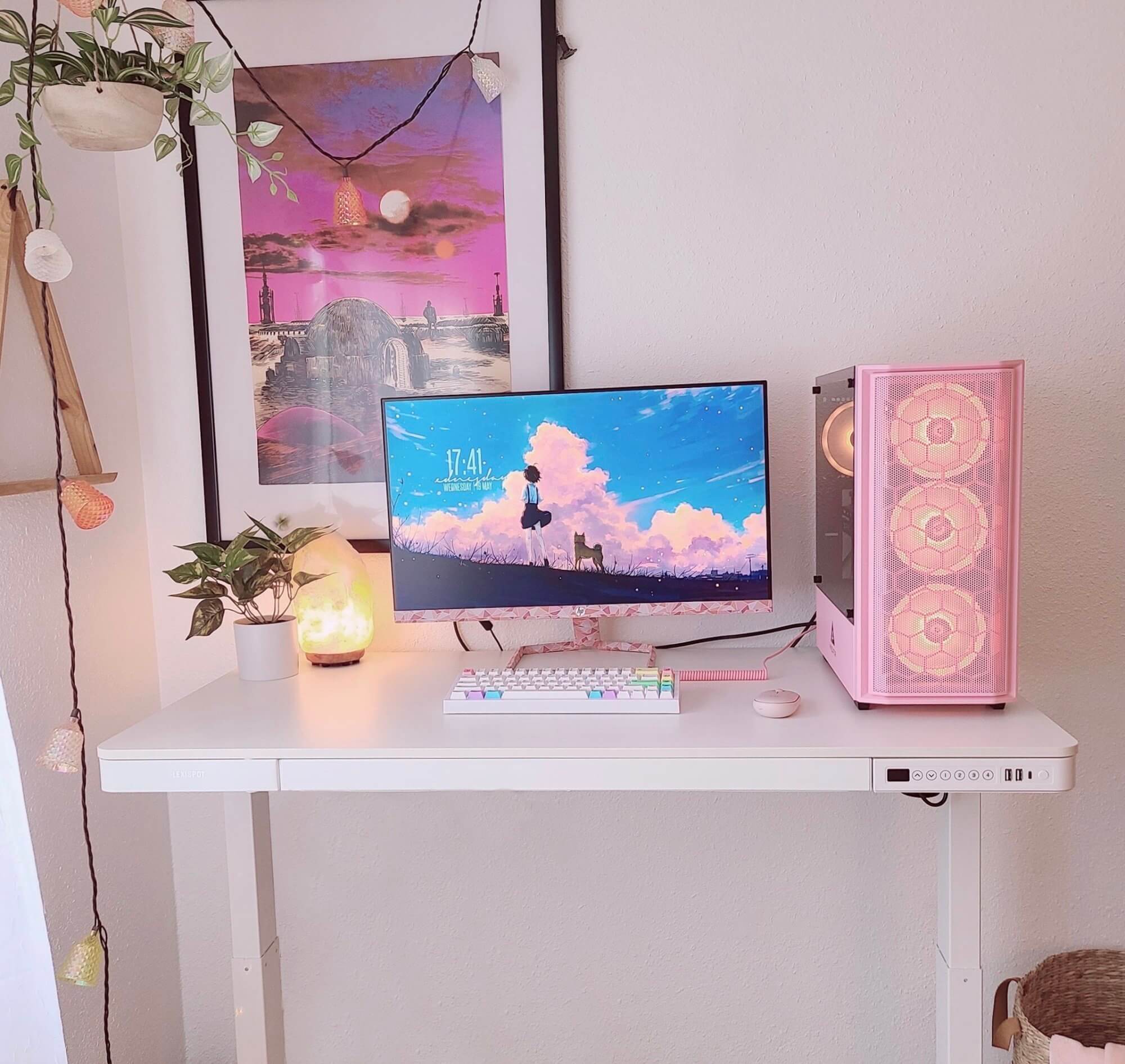 Since I'm well outside the timeframe for being obligated to say nice things, I really do love this desk. It's beautiful and it does what it's supposed to. I've never had a problem with it.

The desk is usually about $400, my PC is sort of custom built and costs around a grand. I have the NK65 Milkshake keyboard which is around $200 and a bunch of decorations and lights from Target mostly. Oh, and the painting is by Tim Doyle over at Nakatomi Art.

That's about it. I like to keep my workspace pretty minimalist because if there's too much clutter I get overwhelmed."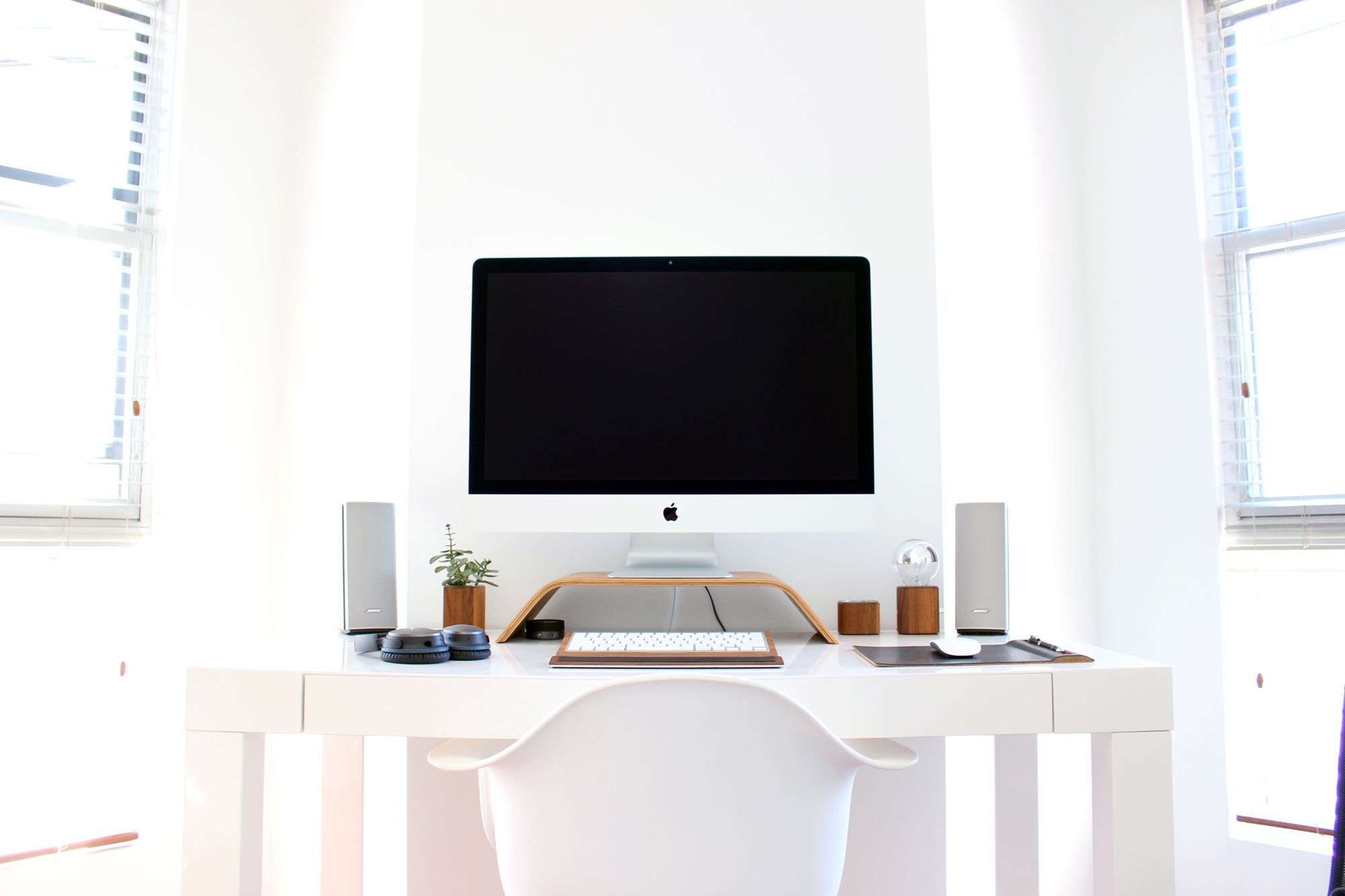 Deskhaus Apex Two Leg with a Birch Butcher Block
Desk size: 127×69 cm (50×27″)
"My desk is made of a Home Depot Birch Butcher Block and Deskhaus Apex 2-Legged.

As a photographer and retoucher, I feel like I'm always on my feet.
I go back and forth between taking photos and checking how they look, so I need to make sure it's all in focus and sharp.
A stand-up desk helps me with this because I don't have to bend down to see how sharp the photos are.
Having a low desk was a hindrance.
Also, I'm always slouched over the desk which is why I made the switch to a standing desk.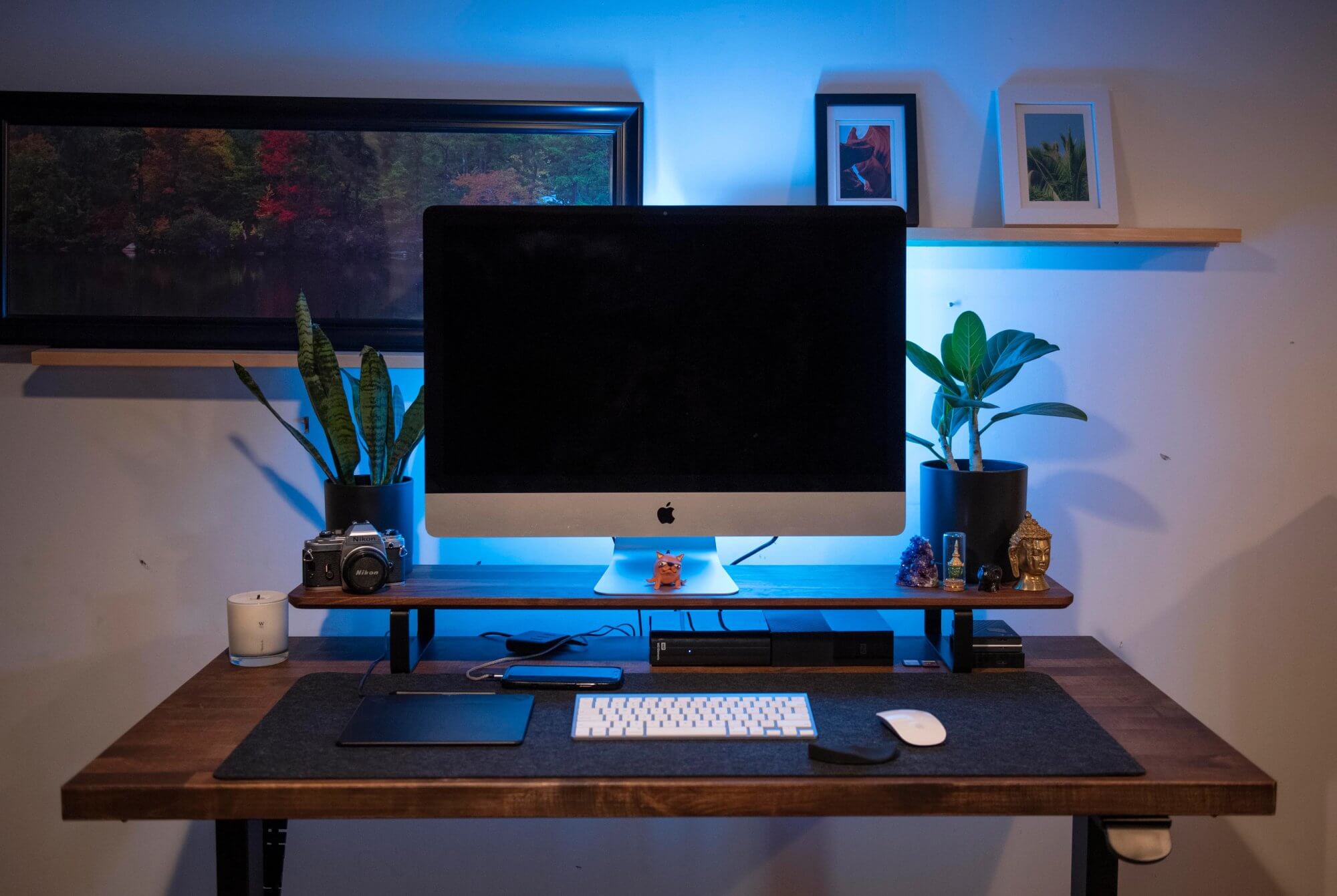 I was thinking of buying a pre-made one from China but read that they were wobbly when in a standing position.
So, I landed on a USA-made company and then decided to buy and stain my own wood because it was just more cost-efficient and I like to try and be handy sometimes.

For the design and accessories on the desk, I went with minimal and a theme of walnut, blacks, and greens.
It cost me roughly $650 and that was the desktop, staining for it, the legs, and the monitor stand."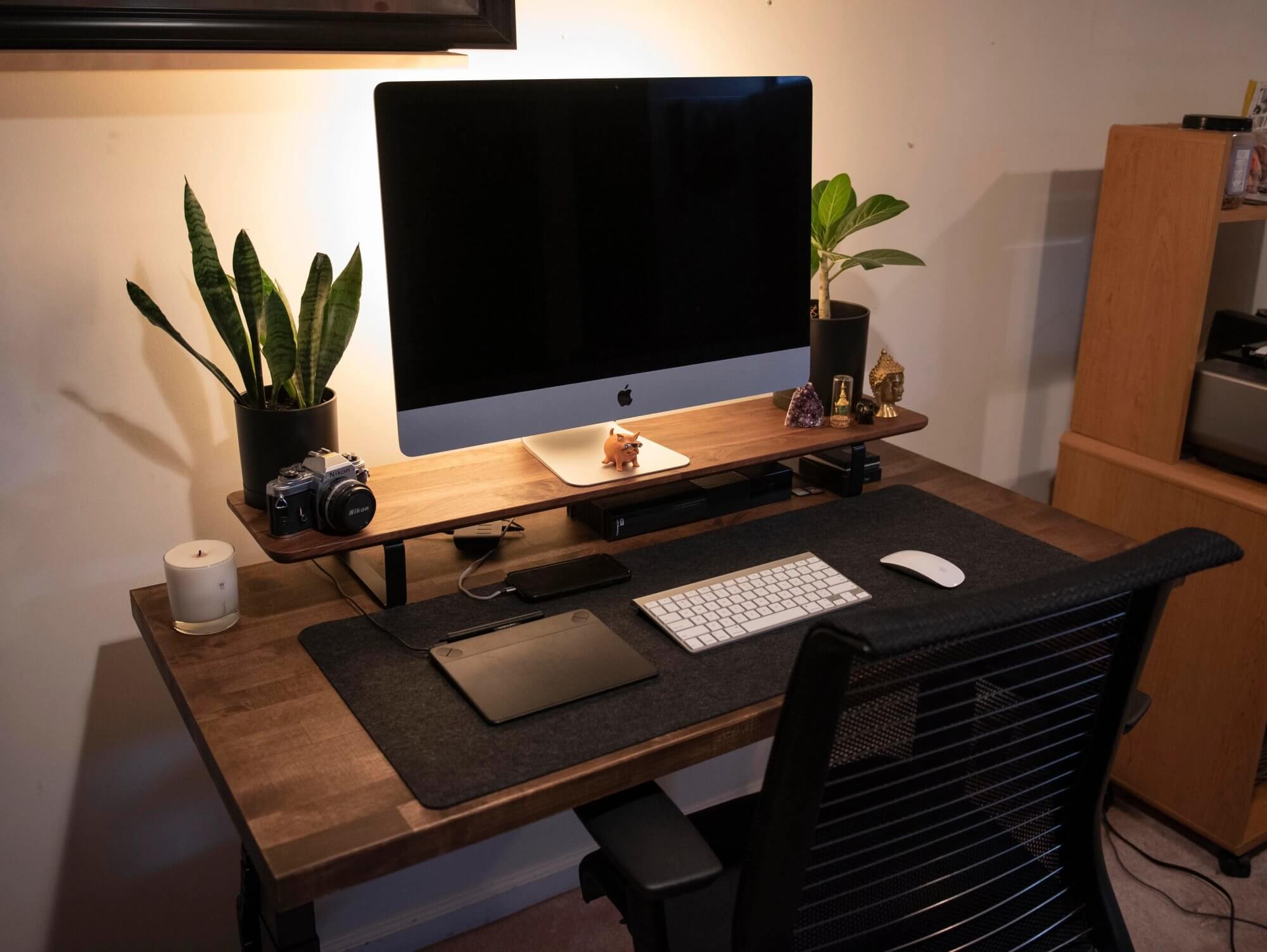 Artiss Standing Desk
Desk size: 160×60 cm (63×24″)
"I'm a final-year design student and I also work as a UI designer, so I'm constantly staring at my computer.
I like the flexibility of a standing desk.
Throughout the day, I'll probably sit/stand for 50% of the time.
I quite enjoy standing up if I'm grinding on tasks, but if I'm just chilling I'll sit.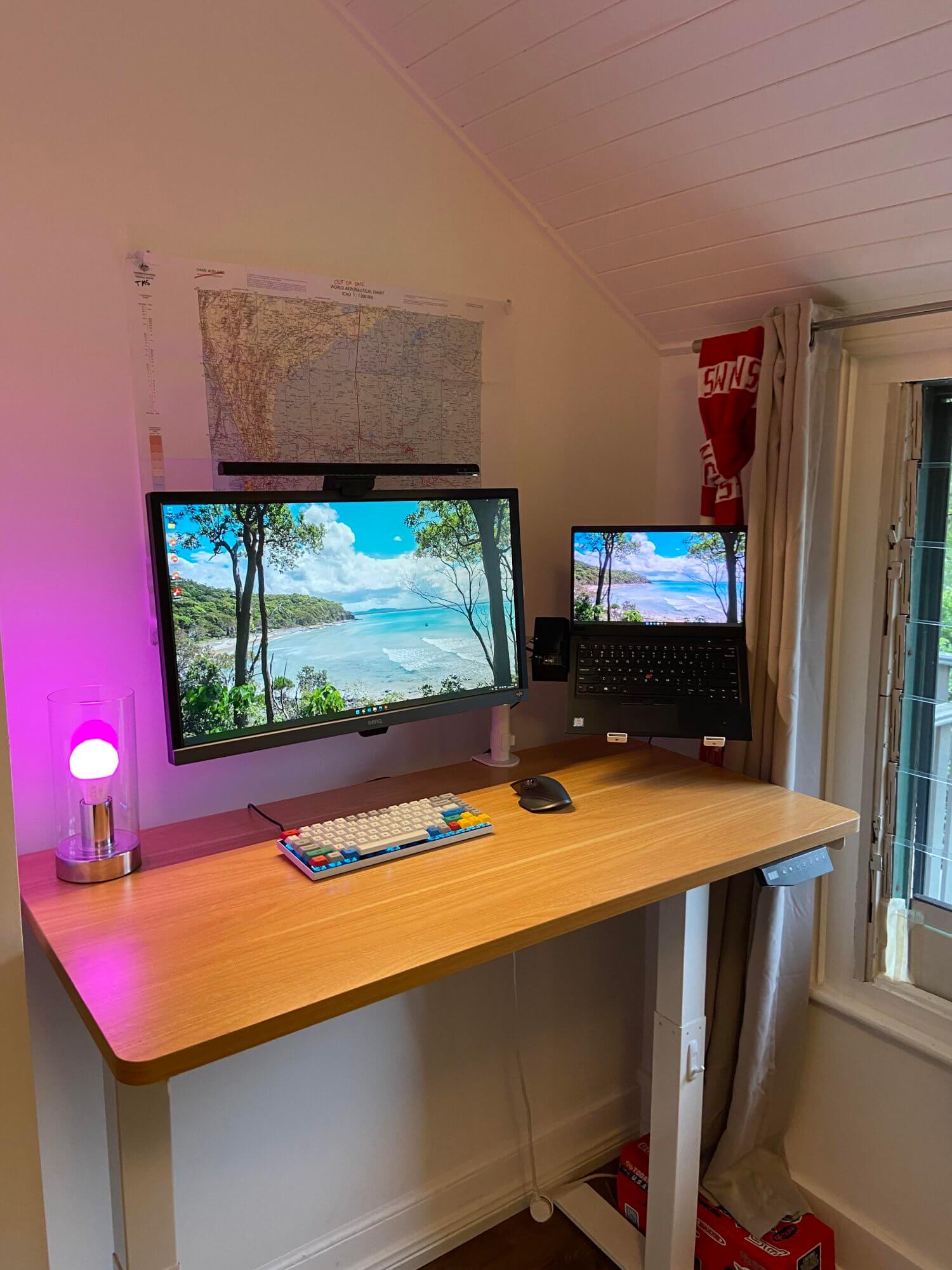 I bought my desk on eBay. I scored it for AUD 280 ($200) but the prices are closer to AUD 500 ($355) now.
It's held up well and I use it every day.
If it ever fails, I'll likely just buy some new legs. But, so far, it's been great value for money!
I wanted a standing desk for a while and when I moved out of college to my shared house, I decided I'd invest in one.
I've since upgraded to a 13″ M1 MBP, so my setup cost about $2K including the monitor, the mouse, the keyboard and the desk."
Deskhaus Summit Sit-Stand Desk with a Mahogany Top
Desk size: 152×76 cm (60×30″)
"The base is a Deskhaus Summit (OMT), and the top is solid mahogany, custom-made by Caleb Sweazy, a woodworker here in Memphis.
I went with a standing desk because I got tired of being hunched over a crappy MDF desk when I work.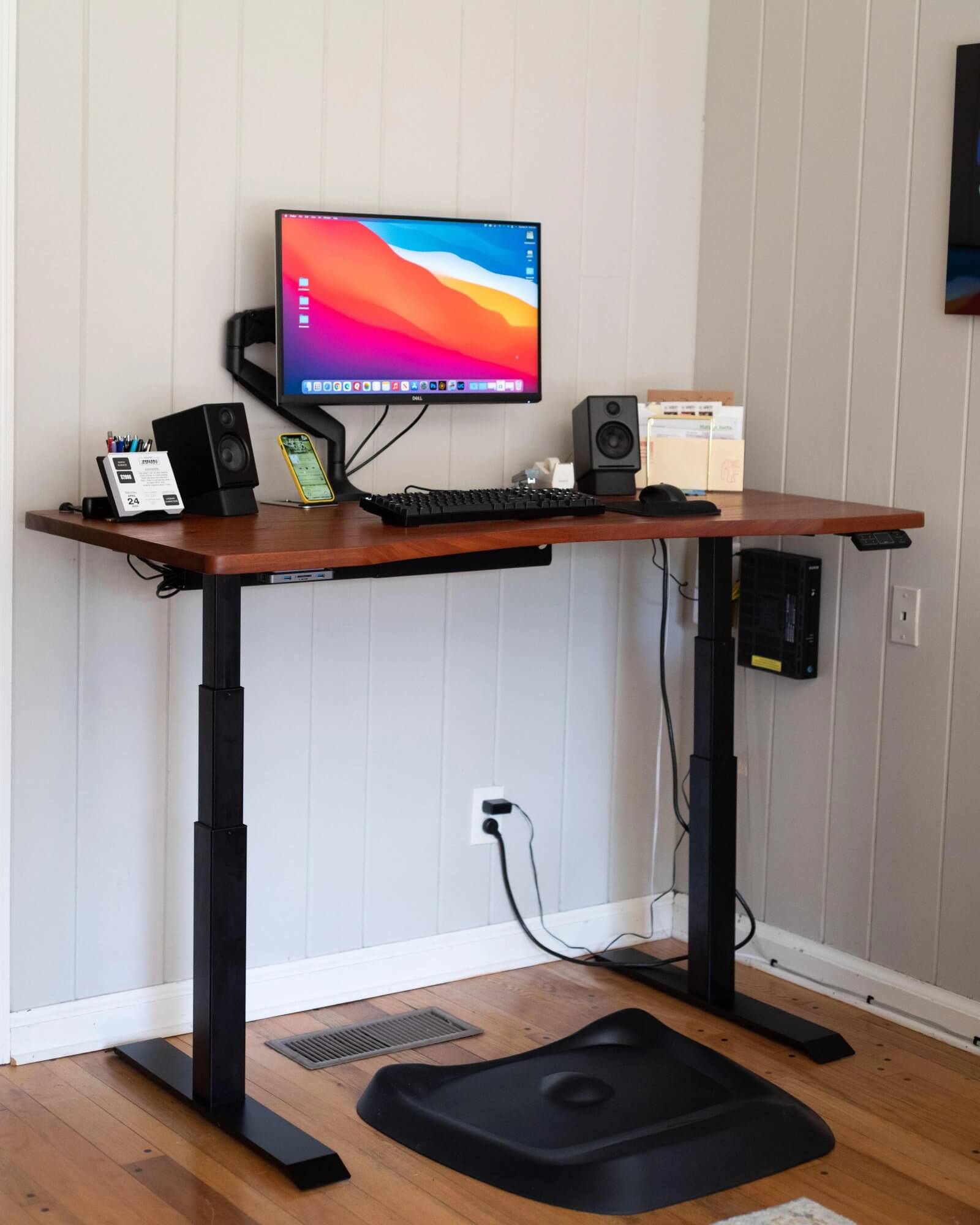 The ability to raise and lower appealed to me because:
1) occasionally I still like to sit;
2) the desk is used by both me and my wife, and she's 9 inches shorter than I am.
I use it in a sitting position less than I thought I would, and my wife never uses it that way.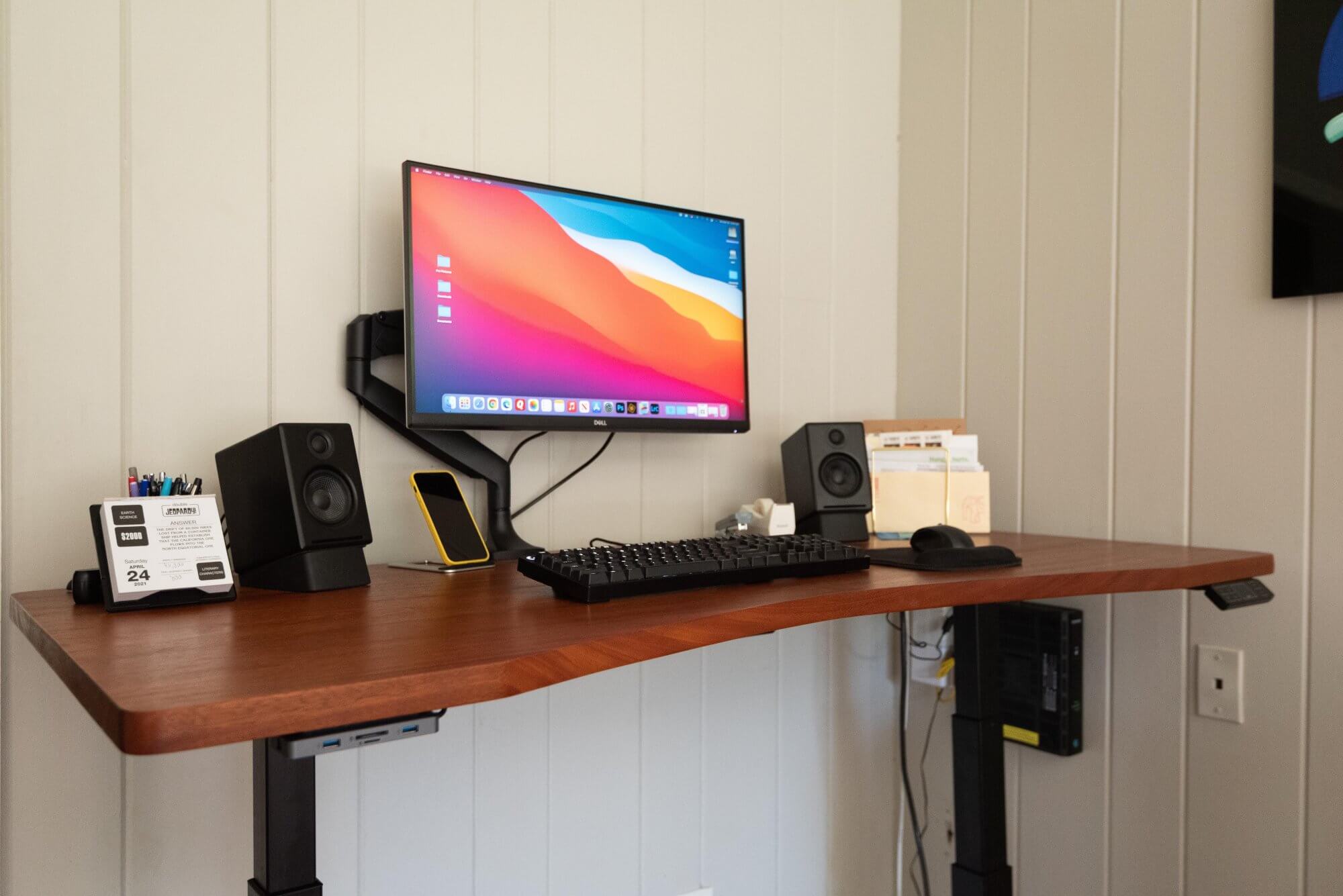 I came across a couple of issues. The collision detection was buggy, so raising and lowering were finicky. Chris from Deskhaus acknowledged known issues with that batch of control boxes and sent me a new one. No problems since then.
Including all the cable management stuff, I spent under $900 on the desk."
Zen Space Desk
Desk size: 160×140×70 cm (63×55×27,5″)
"The initial reason for switching to a sit-stand desk was mostly an ergonomic one.
I had been working from home due to COVID-19. Sitting for multiple hours per day was vastly different to before when I would usually meet customers in person and walk between meetings.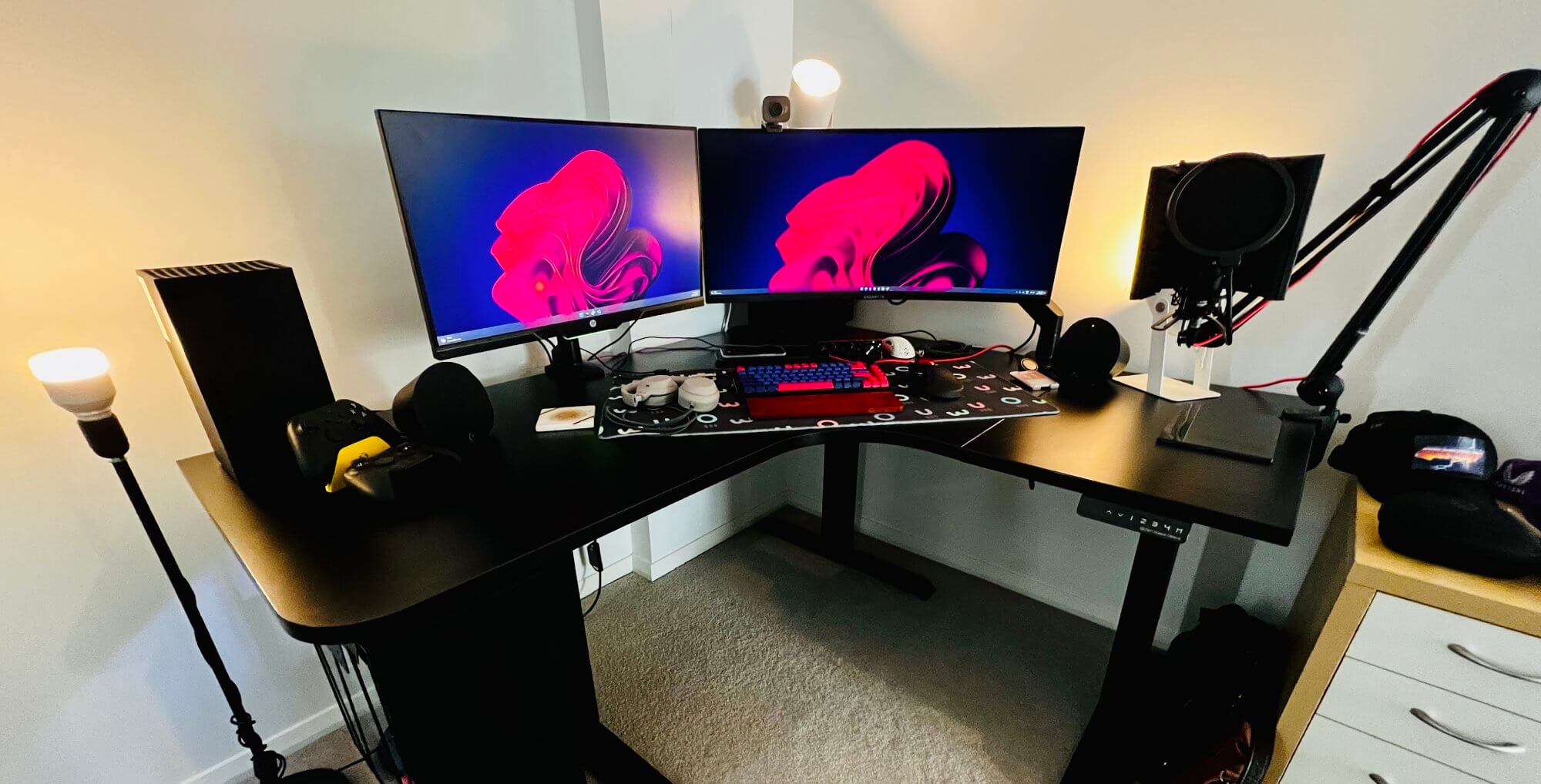 As a result, I started to experience back and neck pain. I was getting a massage to help relieve the pain every week.
I decided to investigate a new desk and settled on this one. It's a locally sourced desk here in Australia with some great reviews and great customer service.
I initially started with standing for large chunks of the day whenever possible which drastically helped with the neck pain issue.
After a couple of weeks, I started to find a nice rhythm where I would sit for maybe two hours and then stand for a similar amount of time.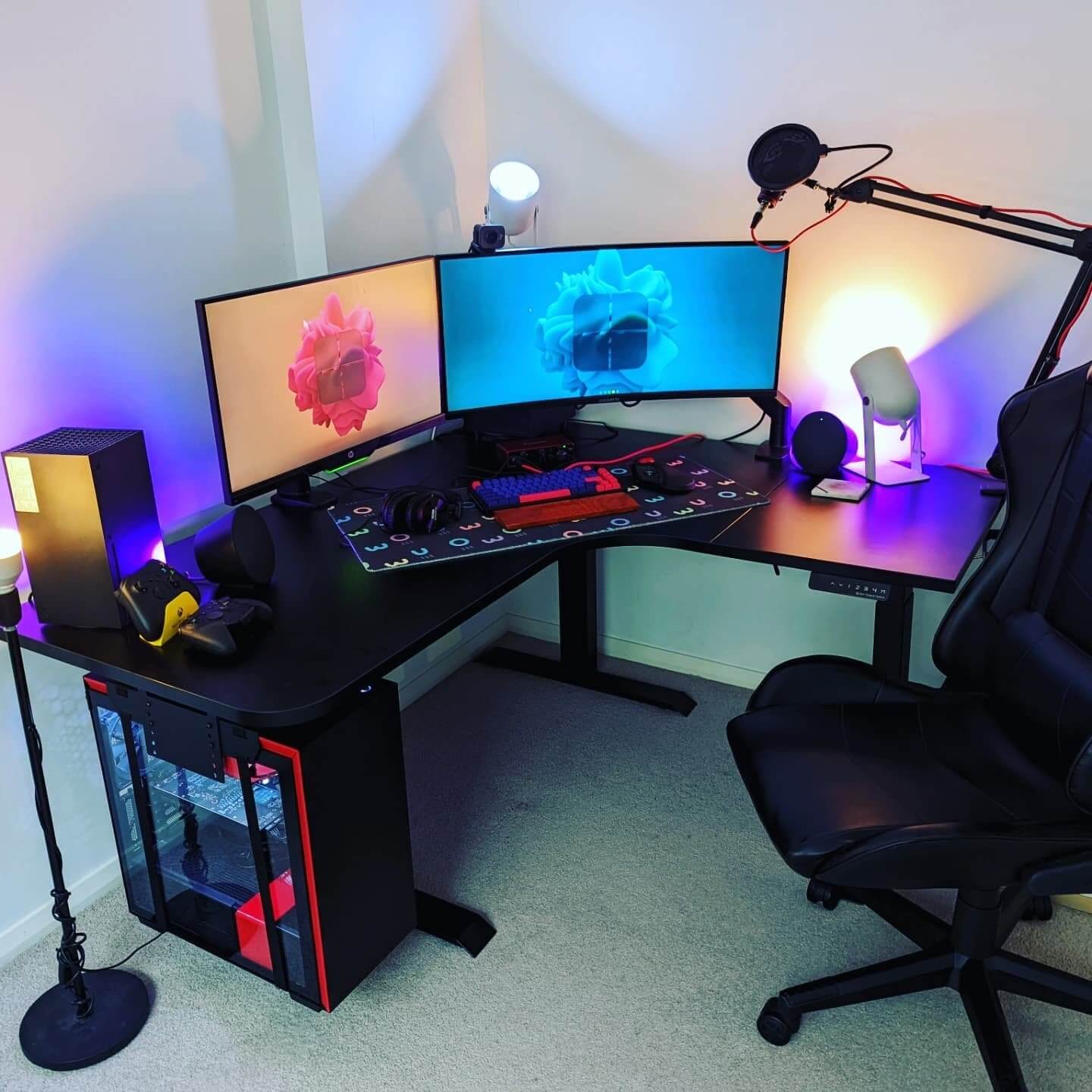 I also then purchased a cheap flat treadmill. I used it to walk whilst taking calls where I wasn't really expected to be on audio.
It also helped me from both a back/neck pain standpoint whilst also helping me to hit my step goals.

The cost of the desk with the monitor arms, cable management tray and power boards came to AUD 1,9K ($1,3K) but I had a coupon code for an additional AUD 100 ($70) off. The treadmill I bought was inexpensive at AUD 350 ($250).
Here are the full details of my setup:
| Item | Cost |
| --- | --- |
| Zen Space Desks Ultimate Gaming desk | $1900 |
| Monitor arms | Included with the desk |
| 10th Gen i7-10700K | $274 |
| 64GB DDR4 RAM | $270 |
| RTX 3070 GPU | $660 |
| 27" HP 144Hz gaming monitor | $290 |
| Gigabyte 34" UW 144Hz monitor | $400 |
| Logitech G560 speakers | $260 |
| Scarlett 2i2 Studio mic and Audio Interface | $160 |
| Logitech StreamCam | $180 |
| Custom Built GMMK Pro | $170 |
| Akko Neon caps | $60 |
| Glorious Panda switches | $25 |
| Elecom Huge trackball | $58 |
| Glorious Model O | $80 |
| LIFX Lights | $40 |
| Xbox Series X | $725 |
| Elite Series 2 | $110 |
Apex Sit-Stand Desk with a Butcher Block Countertop
Desk size: 183×76 cm (72×30″)
"The top is a butcher block countertop from Lumber Liquidators that I cut to size, modified, and finished. The base is the Apex from Deskhaus.
I started using a standing desk at work to avoid sitting all day every day.
I liked it enough that when I started working from home regularly, I bought one for there as well.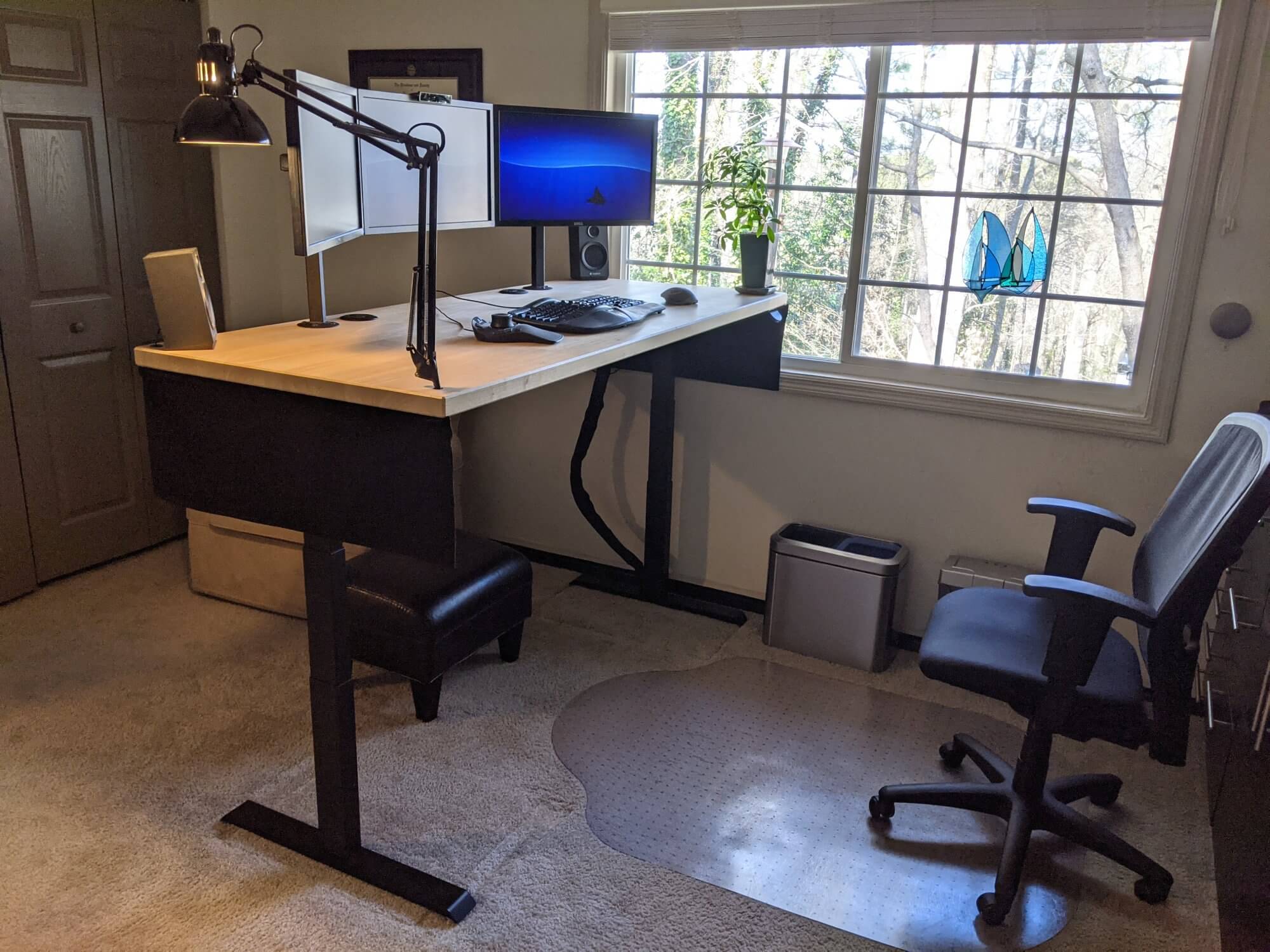 I don't try to force standing too much.
I generally stand a couple of times a day for 30-45 minutes, which feels like it helps without becoming annoying.
I don't really know the total cost. I bought the top years ago, but it's currently listed at $330. The base was $495. I custom-built the monitor mount and my fiance sewed the skirt, so I'm not sure about the cost there.
All the cable management and desk accessories add up to about $300. I would say $1,2K to $1,3K is probably a decent shot at what the desk overall cost, excluding the computer, monitors, etc."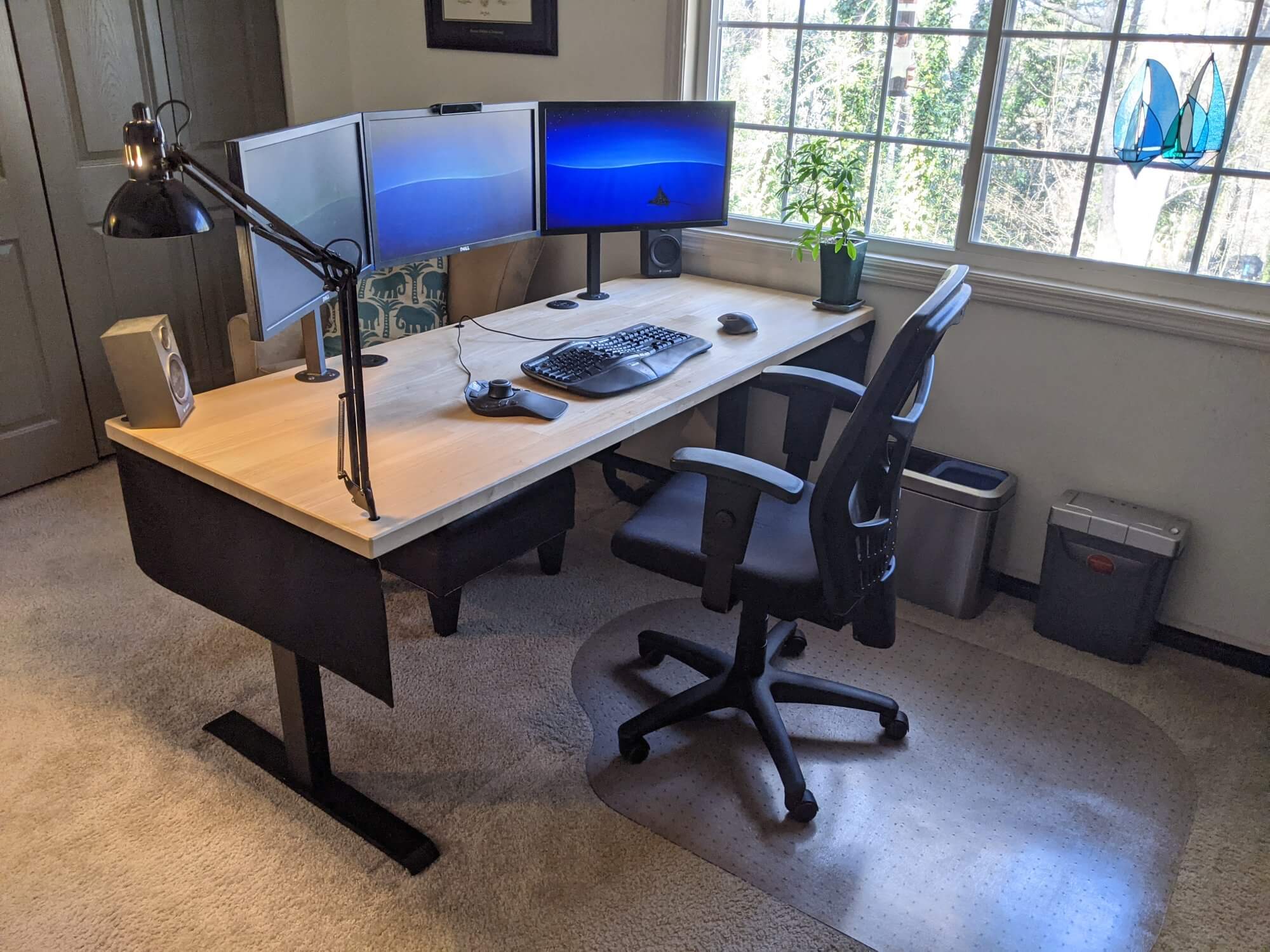 Haworth Planes Manual Height-Adjustable Desk
Desk size: 163×76 cm (64×30″)
"The desk is the Haworth Planes. It's manual. I found it used and in great condition for a little over $100.
When I'm not standing, I'm sitting on the Herman Miller Aeron chair so I don't have to adjust my desk from the standing position.
I'm a tall guy and I'm pretty restless.
A standing desk made sense, particularly since I tend to wander around when I'm on the phone.
I wanted a pretty large desk so I went with the 64×30″, but honestly, I'm kind of wishing I went bigger.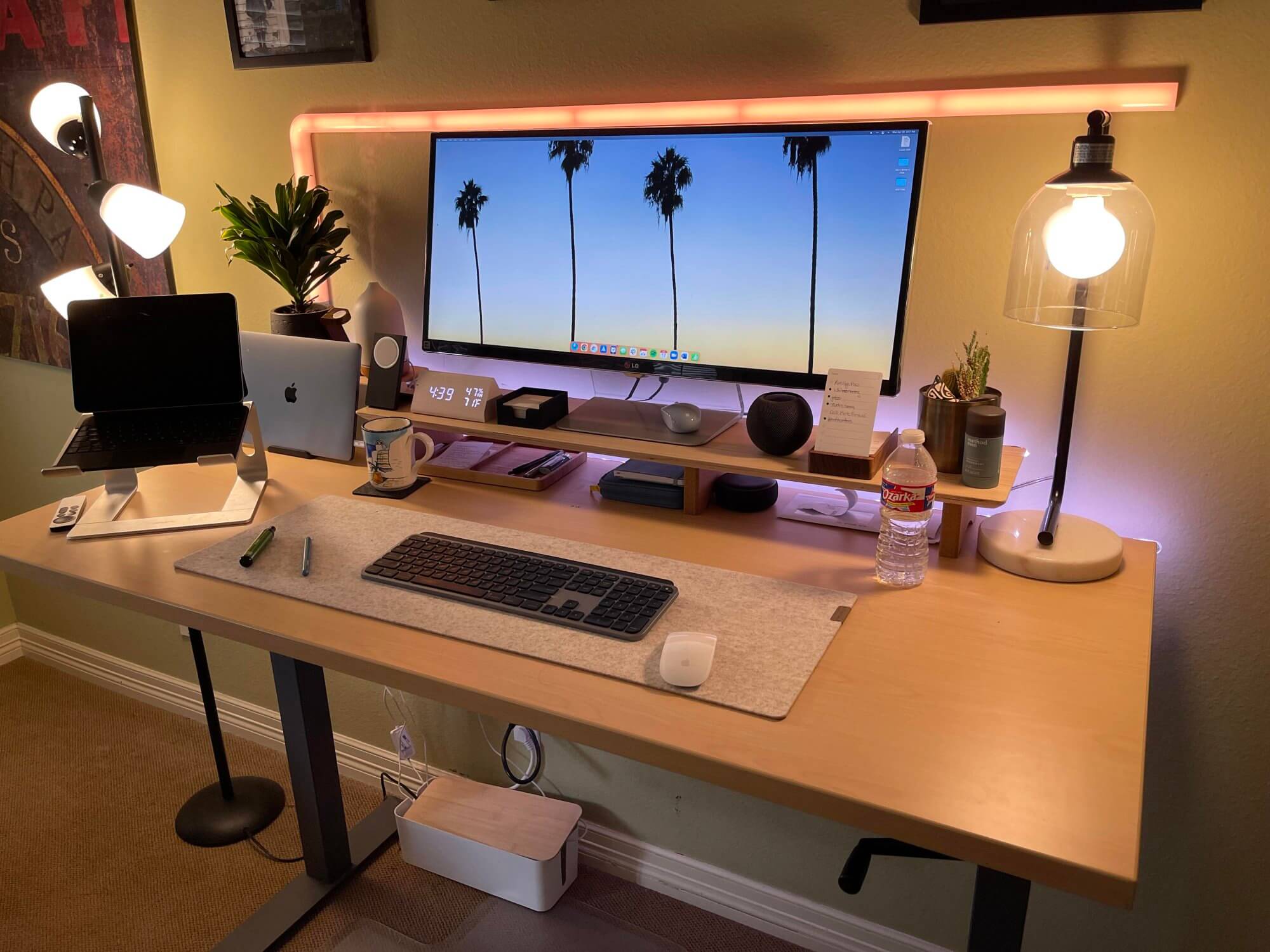 I wanted everything in my office to be cosy and nice, but inexpensive.
Amazon was a major contributor to my setup, my desk shelf in particular (beats spending $200+ on the Grovemade version when the functionality is basically the same... but damn they make pretty stuff).
I wanted to make sure I have everything in front of me that I need, including my iPad and my to-do list (Ugmonk's Analog) system that I use in conjunction with Culture Code's Things, digitally.
I wanted a nice, wide screen, so I swung with a 34″ that I got a deal on the aftermarket.
Also, have my desk pad (Oakywood) that I absolutely love, and my Homepod Mini, which I highly recommend if you use iOS or Things (it's Siri compatible) so I can ask Siri to add things to my reminders as needed.
When I'm not at my desk, you can find me in my Herman Miller Eames chair lounging and reading.
All of my ambient lightings are from Govee, and directly behind my desk, I have my TV that plays the news on mute non-stop.
Well, either that or Law & Order: SVU."
| Item | Cost |
| --- | --- |
| Monitor | $300 |
| Desk | $100 |
| Desk shelf | $60 |
| Desk pad | $60 |
| MX Keys by Logitech | $100 |
| Ugmonk Analog | $100 |
| Homepod Mini | $100 |
| iPad Air | $600 |
| MacBook Air | $1000 |
| Aroma Diffuser | $40 |
| Lamp (left) | $30 |
| Lamp (right) | $20 |
Uplift Height-Adjustable Desk with a Solid Walnut Top
Desk size: 183×76 cm (72×30″)
"My desk is a 72×30″ solid walnut top sitting on an Uplift height adjustable frame.
The desk is sitting on a FLOR Level Setting low pile rug as a chair mat. This feels better on my feet and I think looks better than a plastic mat.
I switched to an adjustable height desk for health and comfort reasons.
It is nice to be able to change from sitting to semi-sitting/standing on an Uplift Motion Stool, and to standing throughout the day depending on what I am doing.
I may take some meetings standing up but for a longer coding or concentration session, I may sit.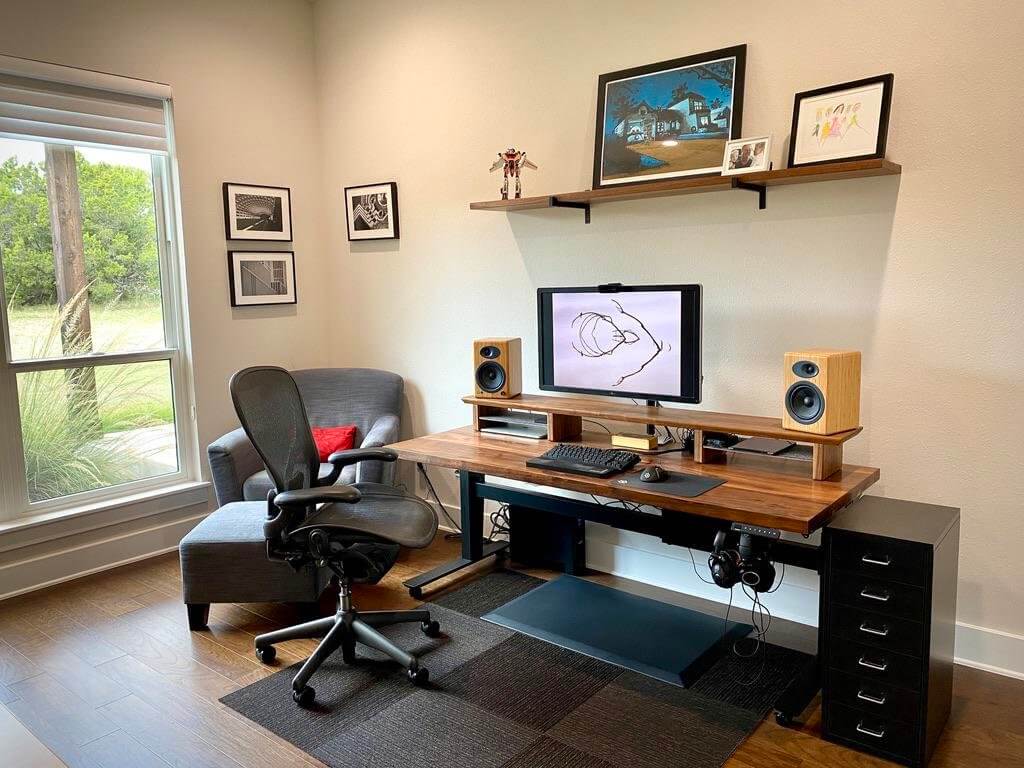 The frame from Uplift Desk was around $600. I decided to build the top and shelf setup myself so I could get the look and feel that I wanted. All in all, the desk is around $1K plus my labour.
I am a hobby woodworker so they were not all that complicated really. I had never worked with aluminium though so the little shelves on the left and right were a learning experience.
They are mounted into a groove in the legs of the riser and covered in felt. It makes for a neat look but is soft for my devices resting on it. The riser is solid walnut and it is sturdy as a rock.
The aluminium is sturdy and doesn't flex at all. If I had it to do over I might have made it a bit thinner all around.
I'm pretty satisfied with it though."
IKEA Bekant Standing Desk
Desk size: 160×80 cm (63×31″)
"My desk is an IKEA Bekant standing desk.
I'm a UX designer so I spend most of the day at the computer. I went with this setup for ergonomics. I also bought a height-adjustable monitor for best comfort sitting and standing.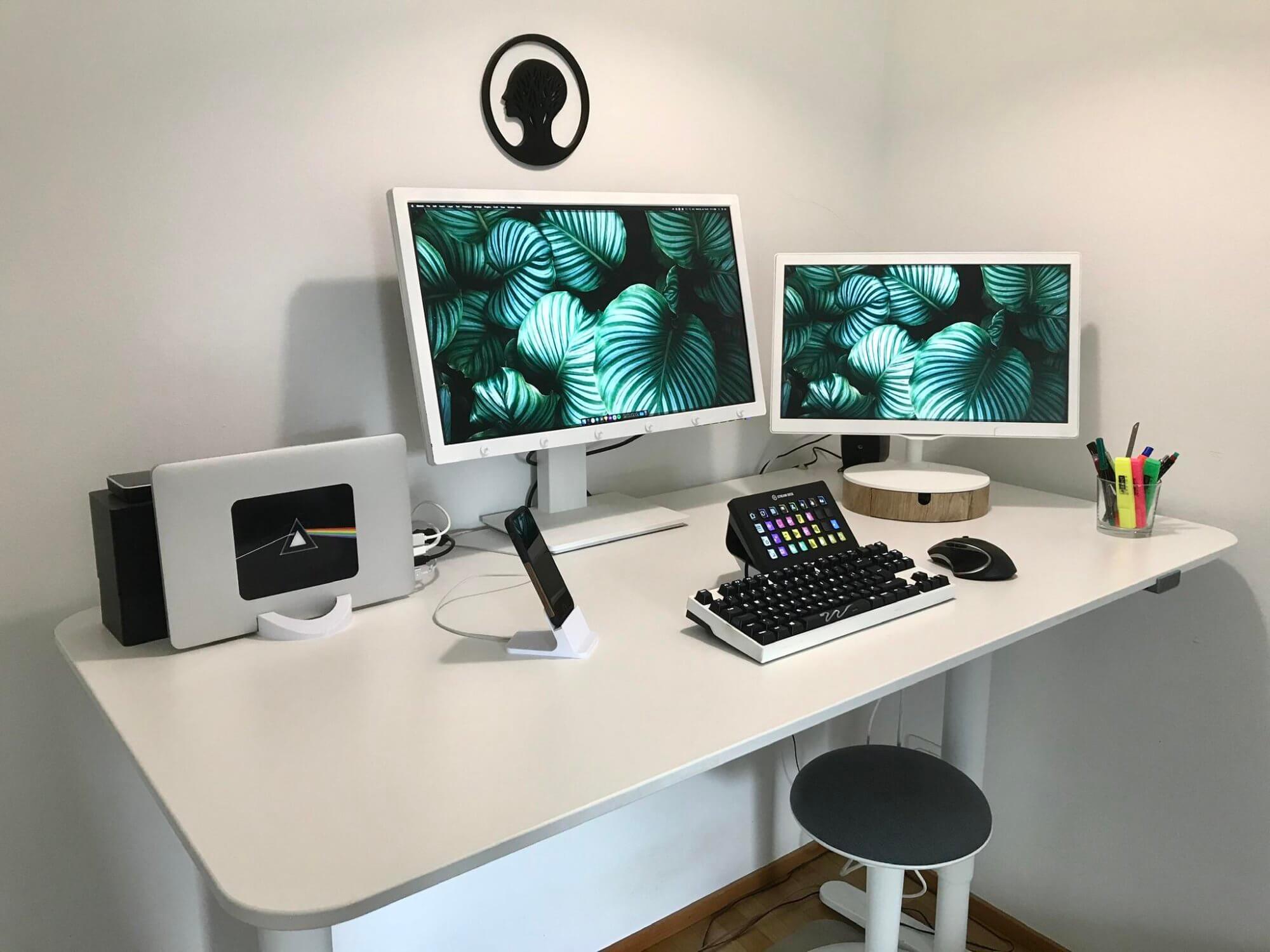 The stool/chair is an IKEA Nilserik. I don't recommend this chair for long use, but an hour of sitting is okay.
The monitor is an Asus PB27Q IPS display. In the picture, you can see my old MacBook Pro 2015 (now replaced with a MacBook Pro M1 2020).
The total cost of setup was around 500€ for the desk and the chair, around €1K for peripherals, and €2,3K for the MacBook."
Stand Up Office Desk from Uplift
Desk size: 163×76 cm (64×30″)
"The brand of my standing desk is Uplift.
I was a travelling consultant before the pandemic, so got to move around and walk a lot.
I've changed jobs since then and now I'm mostly WFH. I needed to add some movement to my work day, so went with a standing desk.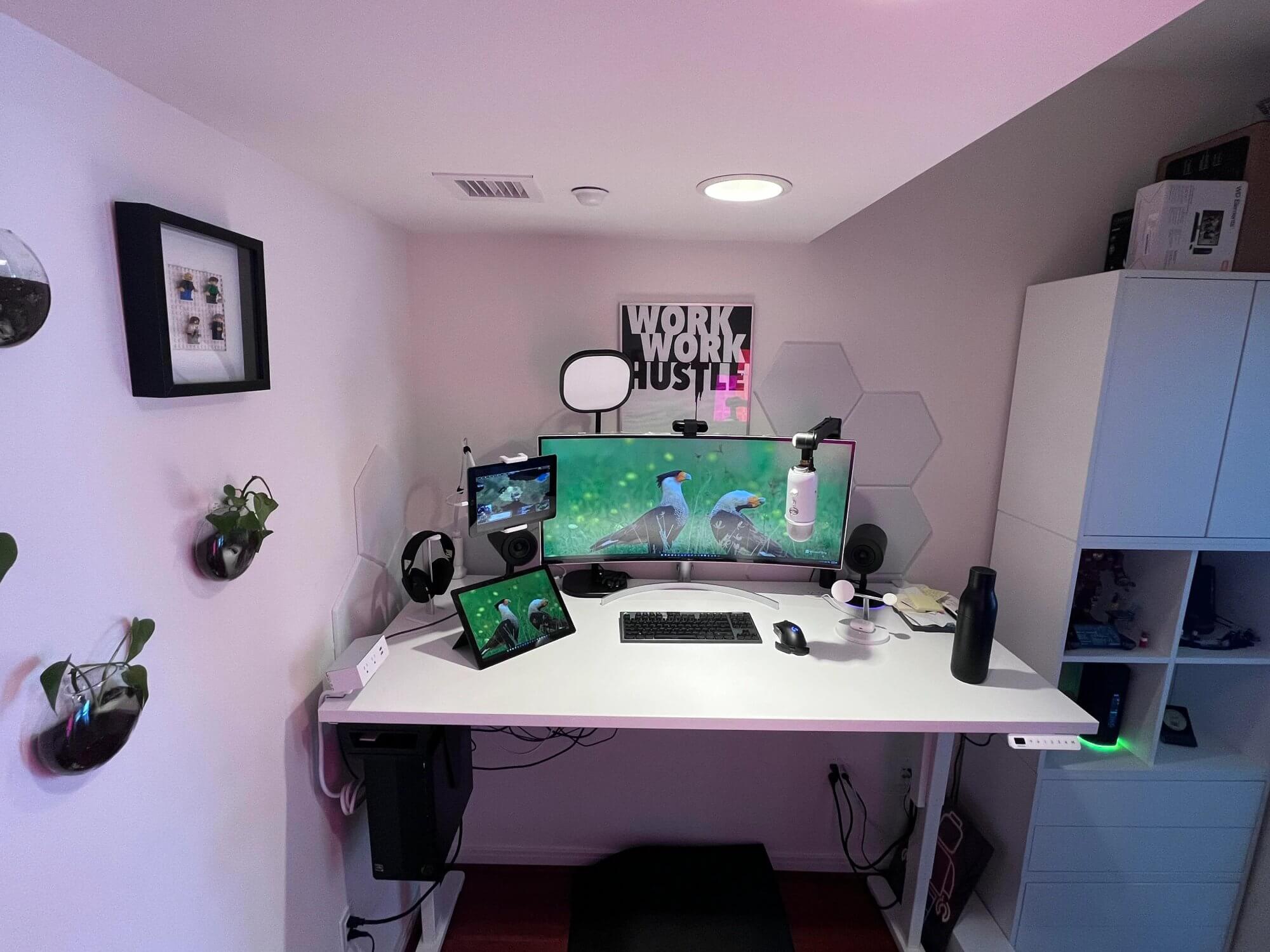 I spend roughly 50/50 time standing/sitting.
A standing desk allows me to walk around during the call because of how I have set it up.
The desk cost me $1,5K including a CPU holder and some accessories."
FlexiSpot EG1 Sit-Stand Desk with an MDF Kitchen Worktop
Desk size: 140×60 cm (55×24″)
"The desk is a FlexiSpot EG1 frame and an MDF kitchen worktop left over from a renovation.
The chair is an original Salli saddle stool I found second-hand for £20 ($25). An absolute steal considering retail pricing was hundreds.
I chose a standing desk to have better posture, and sit at a comfortable height. I also think they look quite nice.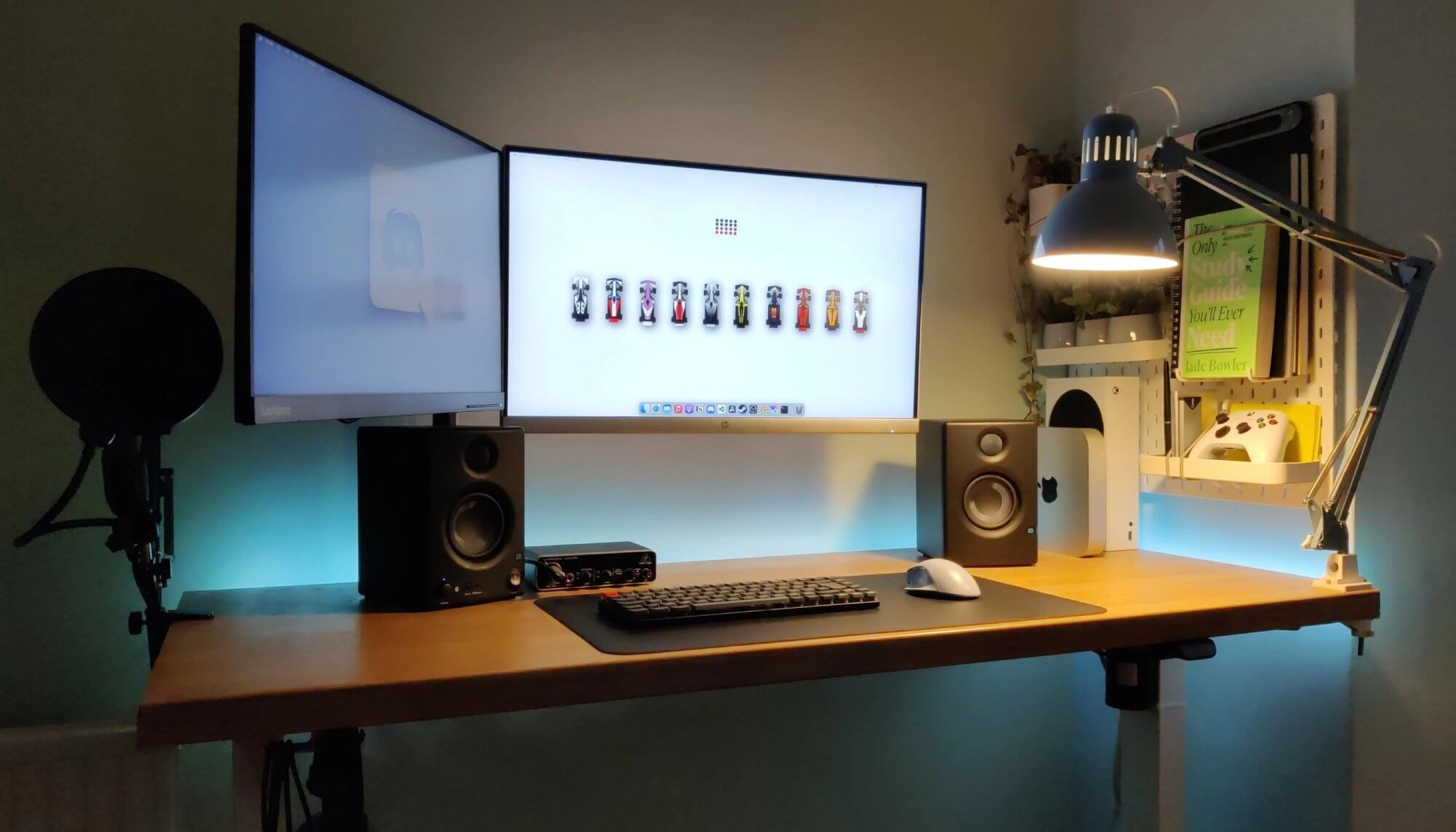 I like standing. It allows for more movement which is nice, especially with my hyperactive mind.
I use it for school work, graphic design and art, media consumption, gaming, and music, (have some Hifiman headphones and an amp on the way but not in the setup yet) and I am starting to dabble in a bit of video editing and media creation.
I still have a few things to sort out but I like the functionality of my desk setup so far — everything I need is within arms reach. It's capable of so much.
The total I spent was £2K ($2,5K) after a lot of deal hunting. If I were to buy it now at the current selling price, it would cost me about £2,6K ($3,1K)."
DIY Manhattan Return L-Shaped Standing Desk
Desk size: 160×74 cm (63×29″)
"My desk is the Manhattan Return Desk from American Furniture Warehouse. The desktop is 63×29″ with a 32″ return that can go on either side of the desk.
During the pandemic, I started upgrading my space.
I wanted a height-adjustable desk like I had become accustomed to at the office, but I didn't want to throw out the Manhattan, nor did I want to pay the high price of an L-shaped sit-stand desk.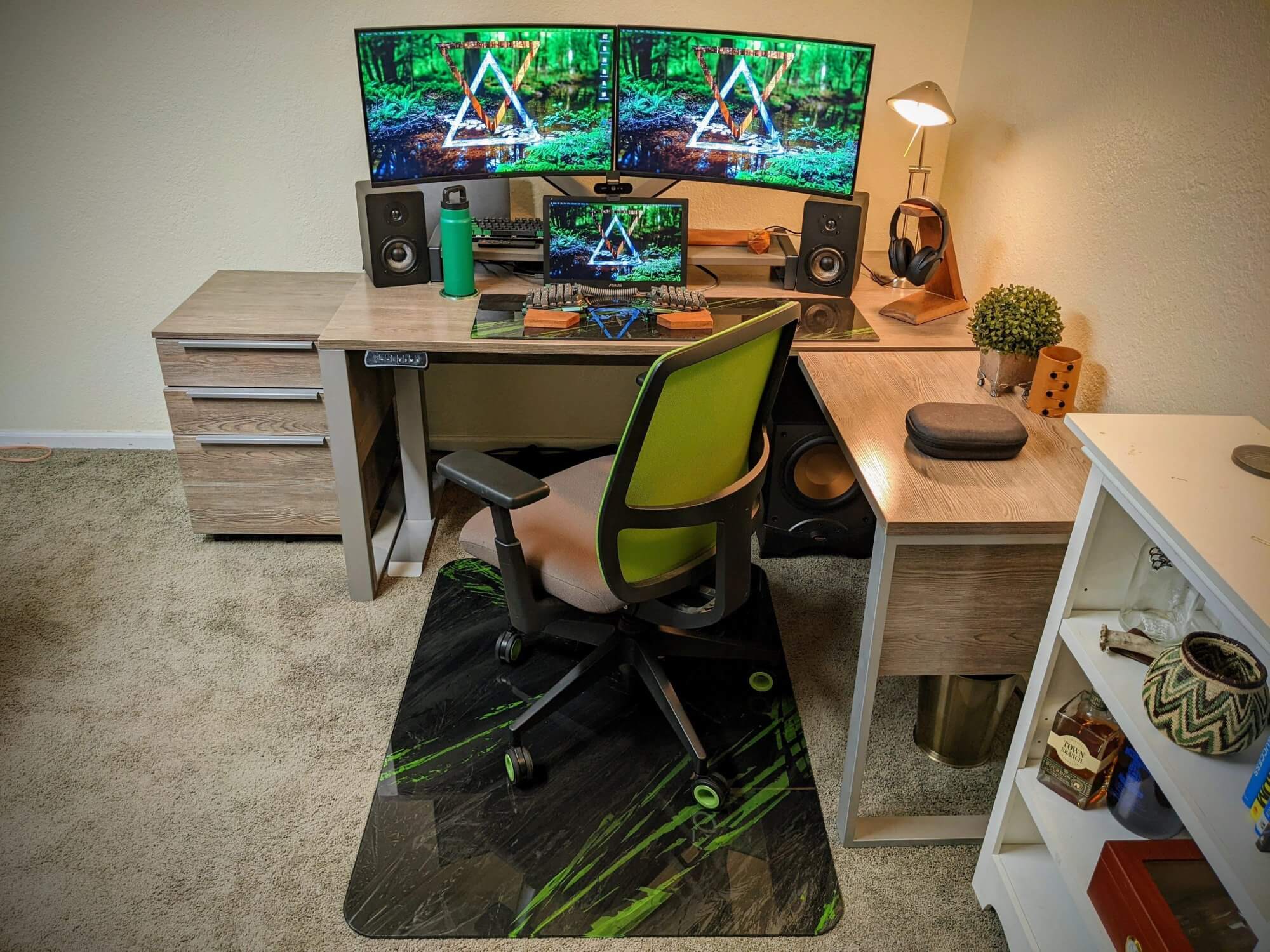 So I took a DIY approach and converted the Manhattan to a sit-stand desk by buying a motorized base from a local dealer for $375.
Of course, now Lift and other online retailers have started selling their motorised bases as standalone products.
Wish they would have done that earlier!
In any case, I unscrewed the desktop of the Manhattan from its leg base and mounted it to the motorized legs which sit in-between the Manhattan legs.
It looks a bit odd, but it's a small price to pay for the full functionality of an L-shaped sit/stand desk for only $375.
Both the desk and my chair sit on the carpet, so naturally, I needed a chair mat.
Since I had saved so much money converting the desk, I splurged on a Sola glass chair mat from Vitrazza.
It's gorgeous and has surprising ergonomic benefits. It pairs well with the sit/stand desk.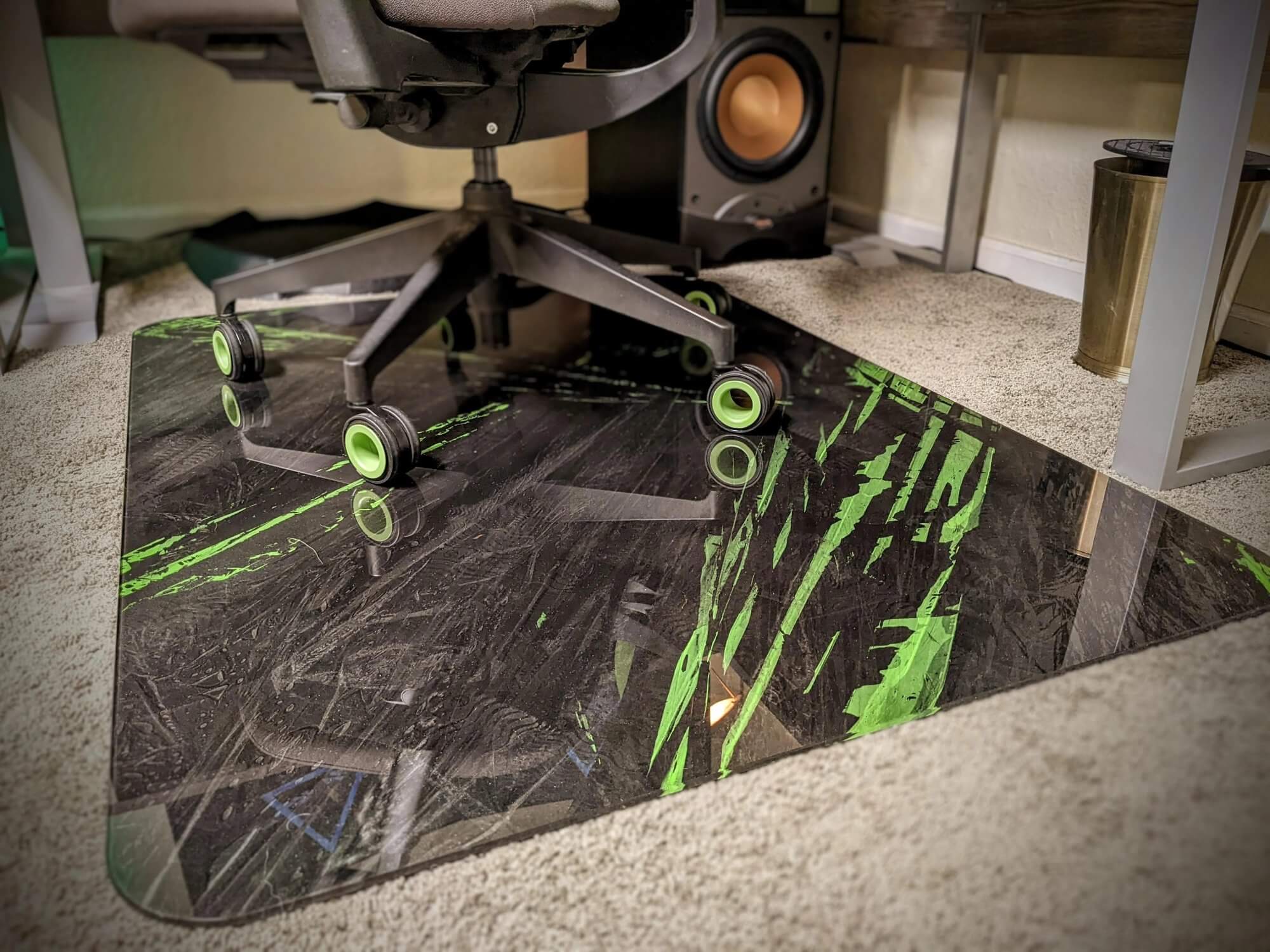 I mentioned I had become accustomed to the standing desk I had at the office prior to the pandemic, but it became a must-have for my back.
I'm an older millennial, so the reality of ageing is starting to materialise.
I don't have any major back issues, but I find aches and pains are also really distracting and slow my productivity!
So, in the name of comfort and productivity, ergonomic office furniture and peripherals were a high priority.
I like to think my setup is among the most ergonomic setups out there, while still looking and sounding phenomenal.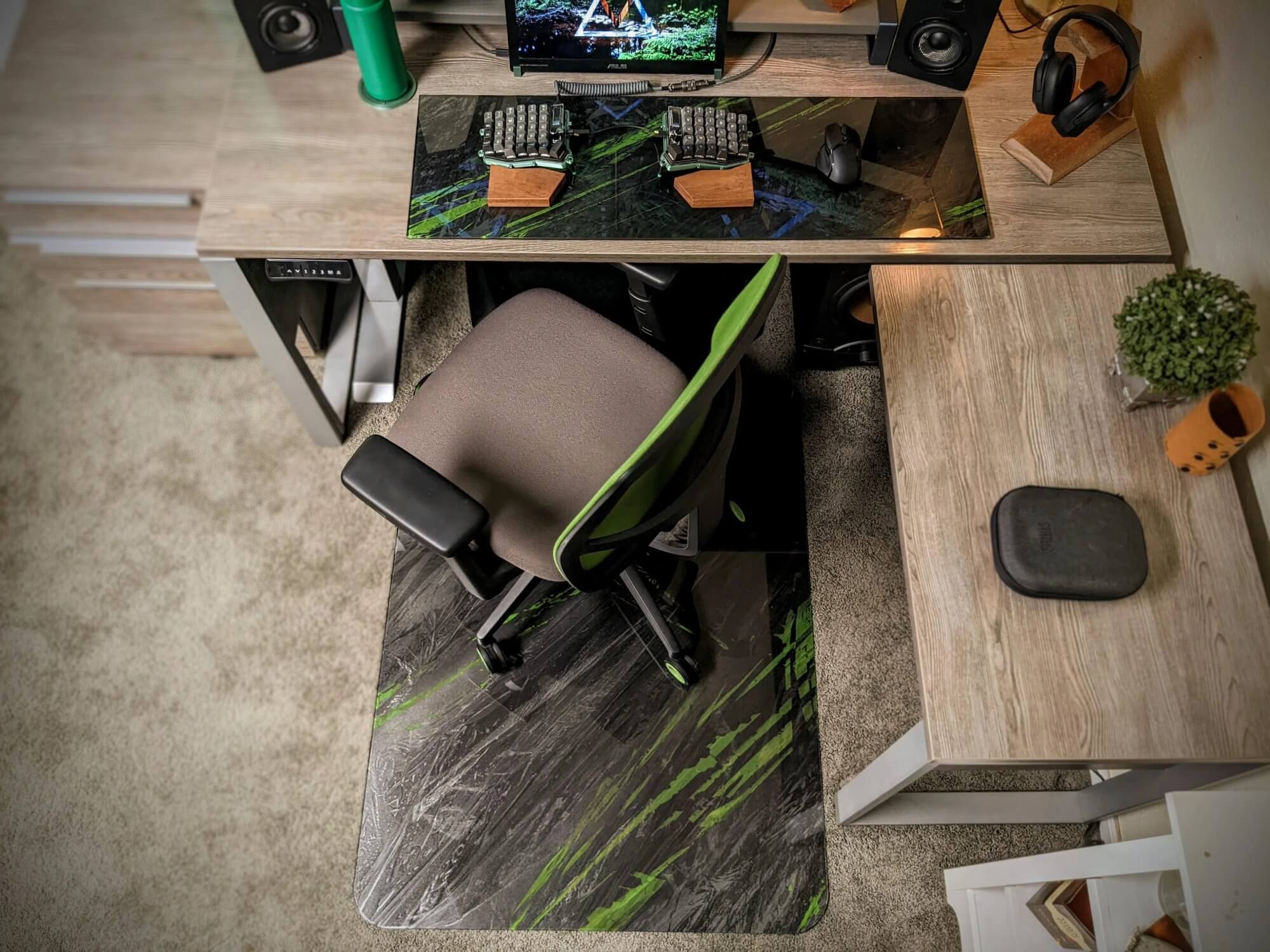 I typically switch from sitting to standing 2-4 times a day, so the Sola chair mat makes it much less cumbersome to move my chair around.
Honestly, my chair kind of moves out of the way by itself when I switch to standing.
As for the cost of the whole setup... Oh gosh!
Everything has been acquired over multiple years, but if I were to file an insurance claim to have EVERYTHING replaced new, it would be about $7,8K give or take a few hundred. The biggest expense, of course, was the $3,5K MacBook Pro."
airLIFT Sit-Stand Desk
Desk size: 60×120 cm (24×48″)
"The desk is an airLIFT by Seville Classics.
I switched to the standing desk just to stay a little more mobile while working. Even though I like my chair, I don't enjoy sitting for 8+ hours a day.
I am an apparel designer and I work from home.
If I'm doing creative work, I am usually sitting, and if I'm doing production work, I usually do it standing.
So my day is usually split 50/50 sitting vs. standing.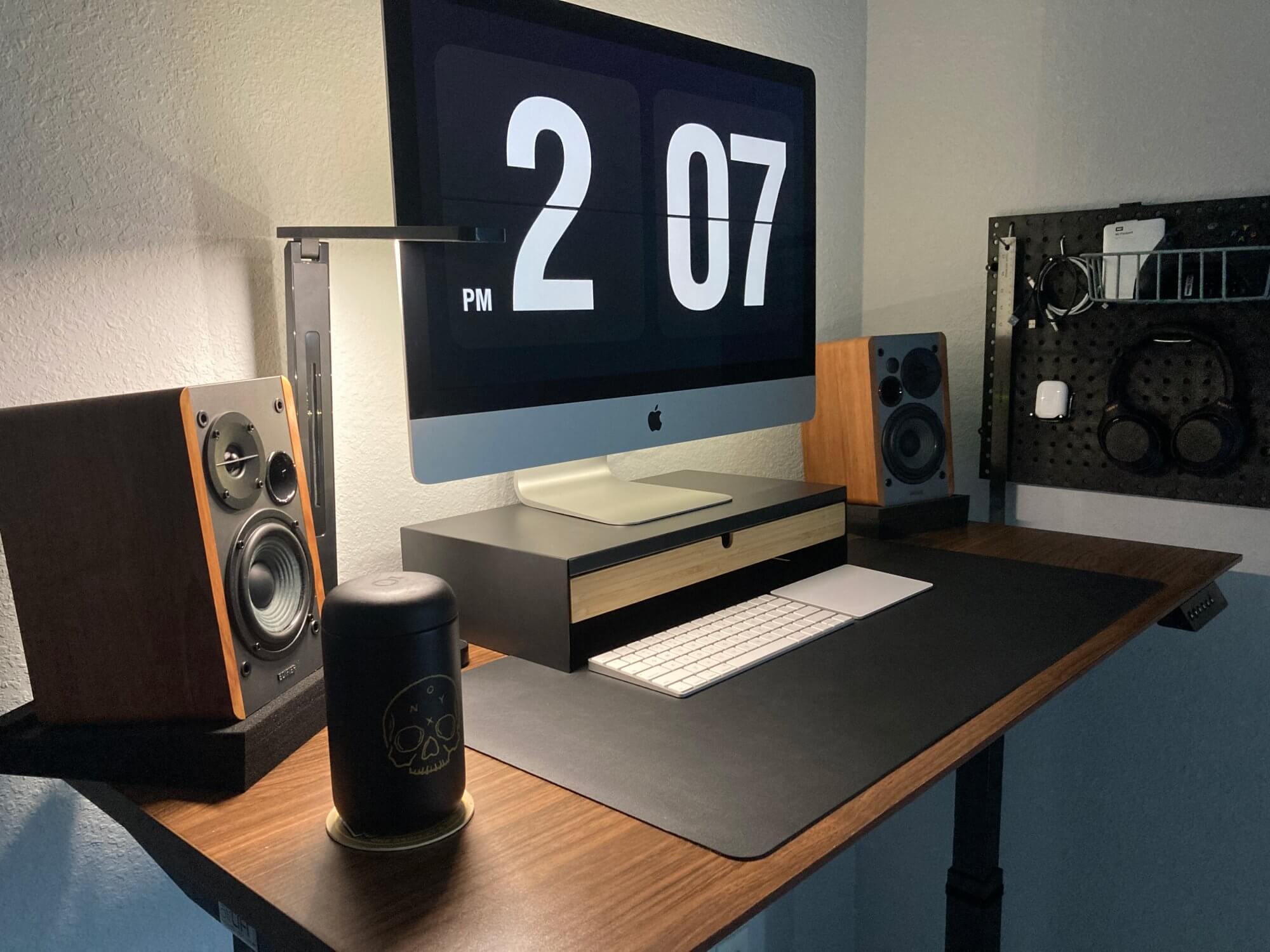 I've had no issues with the sturdiness of the desk.
I know it's not the best brand, but I initially wanted to start this as a budget desk setup. Also, the desk was available locally (Sam's Club) so I didn't have to wait or pay for shipping.
As all things go, the budget went out the window pretty quickly, but the desk has been great and is serving its purpose.
The addition of the iPad Pro as a secondary monitor has been great. It provided the ability to pull it off the stand and use the Apple Pencil to work on custom illustrations."
| Item | Cost |
| --- | --- |
| Desk | $250 |
| iMac | $400 |
| IKEA Elloven Monitor Stand | $30 |
| Edifier R1280T Speakers | $100 |
| Speaker Isolation Pads | $15 |
| airLIFT by Seville Classics | $250 |
| LED Desk Lamp/Wireless charger | $25 |
| Chair mat | $75 |
| Union and Scale FlexFit Dexley Chair | $180 |
| Leather Desk Pad | $20 |
| AirPods Pro | $200 |
| Sony WH-1000XM4 Headphones | $350 |
| Keychron K4 Wireless keyboard | $80 |
| iPad Pro | $1100 |
| Stand for iPad Pro | $20 |
IKEA Karlby Worktop + Prime Cables Legs
Desk size: 180 cm (70″)
"I've got an IKEA Karlby countertop sitting on Prime Cables sit-stand desk legs.
I wanted a countertop, not a regular desktop. They are thicker, and typically more durable to water stains and scratches.
I sometimes stand during meetings, but find myself needing to do it more often.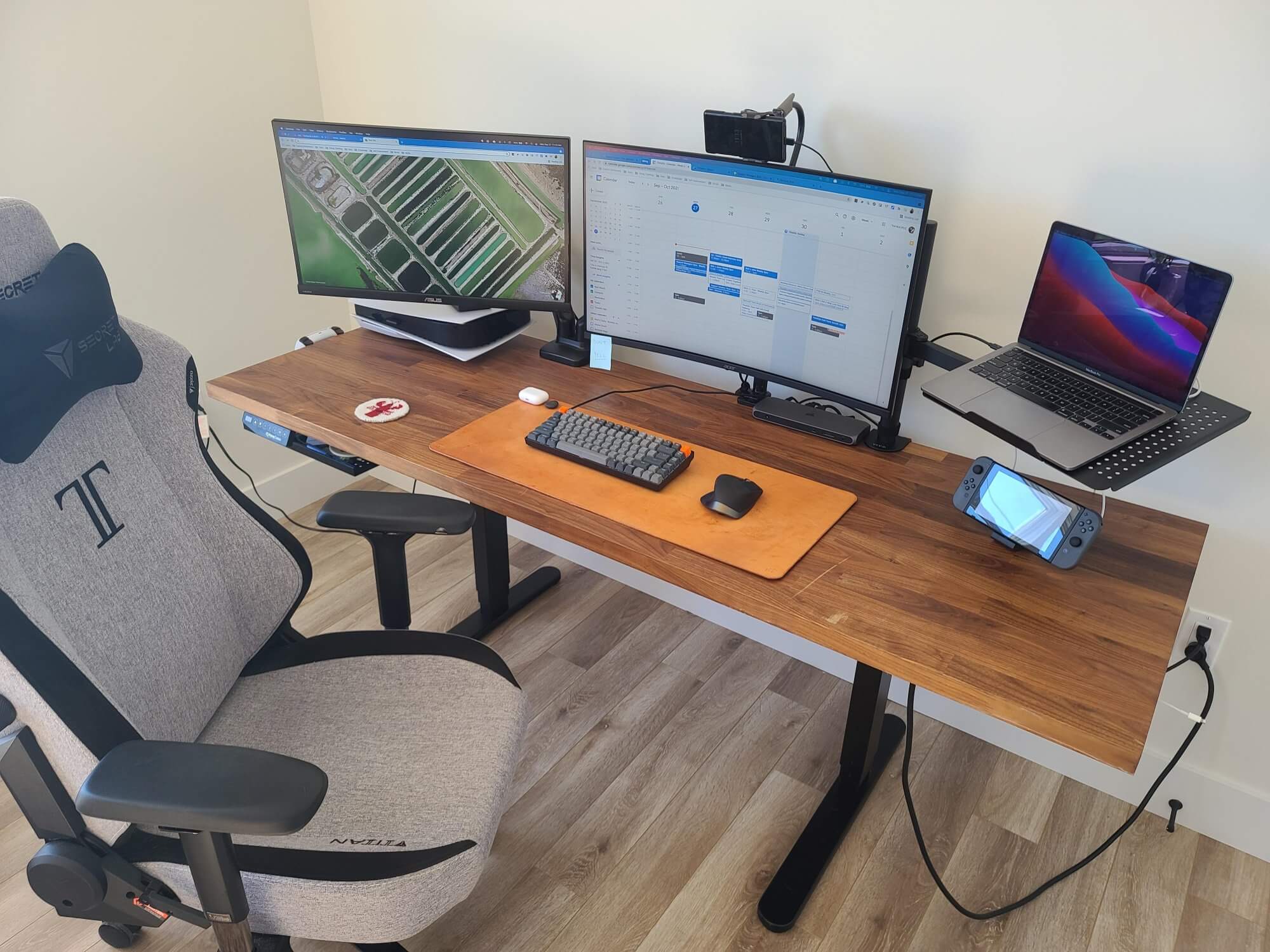 I went with the sit-stand option mostly because it gave me the option to customise the desktop.
The desk setup, not including the computer, but including the peripherals, accessories, and the chair would run you probably in the $2,5K range.
This would include monitors, mounts, keyboard, mouse, mousepad, desk, Secretlabs Chair, cable management, etc."
FlexiSpot E7 Sit-Stand Desk + IKEA Bekant Tabletop
Desk size: 160×80 cm (63×31,5″)
"The tabletop is from IKEA, it's called Bekant, and the standing desk is from FlexiSpot, the E7 Model.
I use it mainly in the seated position, but for work that is not very mentally challenging (Zoom calls, e-mails, whatever), it's good to have the opportunity to stand up.
This way, I don't sit around all day."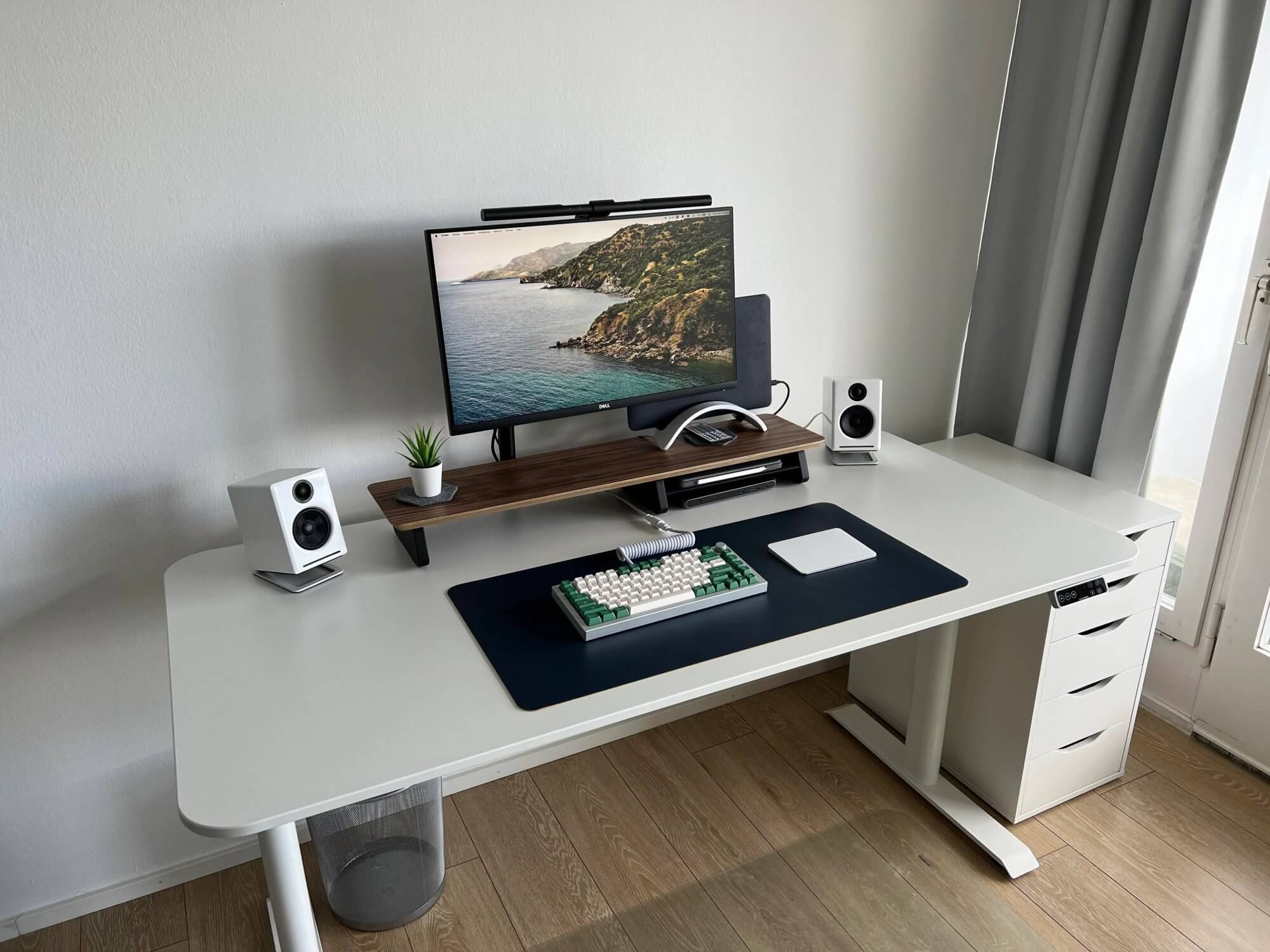 Stance Philippines Standing Desk
Desk size: 120×60 cm (47×24″)
"I got my standing desk from Stance Philippines.
I feel more comfortable doing client-facing jobs whenever I switch to standing mode (e.g. calls, virtual meetings).
If a task requires hyperfocus, I sit.
The whole desk setup cost me PHP 100K-105K (around $1,9K-$2K). Including the headphones and chair — around PHP 150K ($3K)."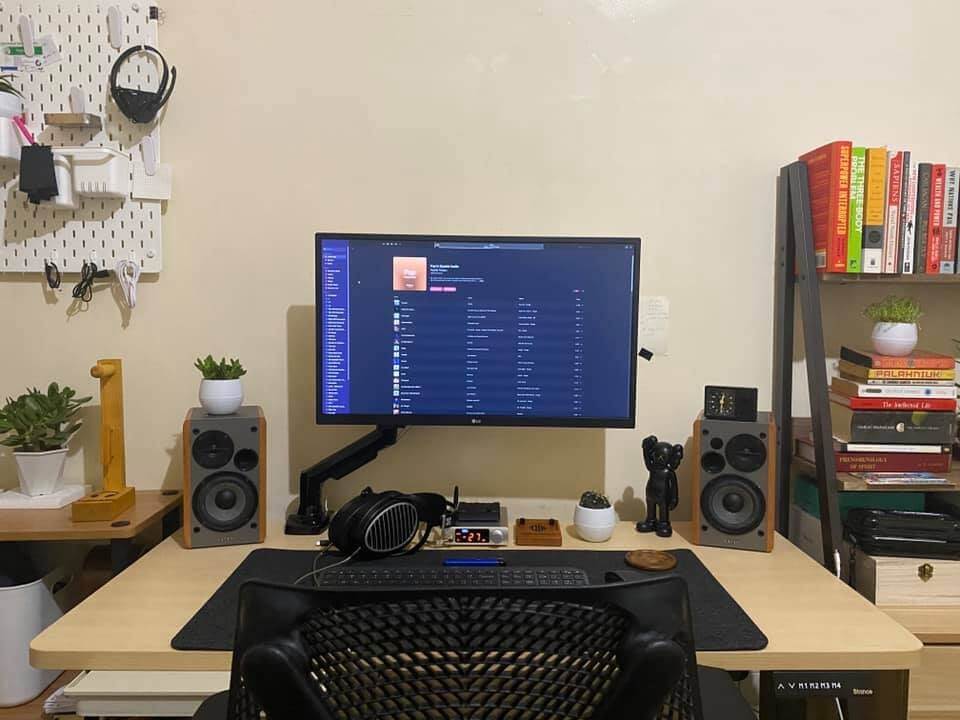 VIVO Electric Standing Desk + IKEA Tabletop
Desk size: 119,4×80 cm (47×31,5″)
"I'm using a standing desk from the Amazon link below.
It's a VIVO electric standing desk with three custom height settings.
The tabletop is from IKEA. It's 47 1/4″ × 31 1/2″ which is a great size for my two monitors, laptop, and plenty of space for accessories & writing notes.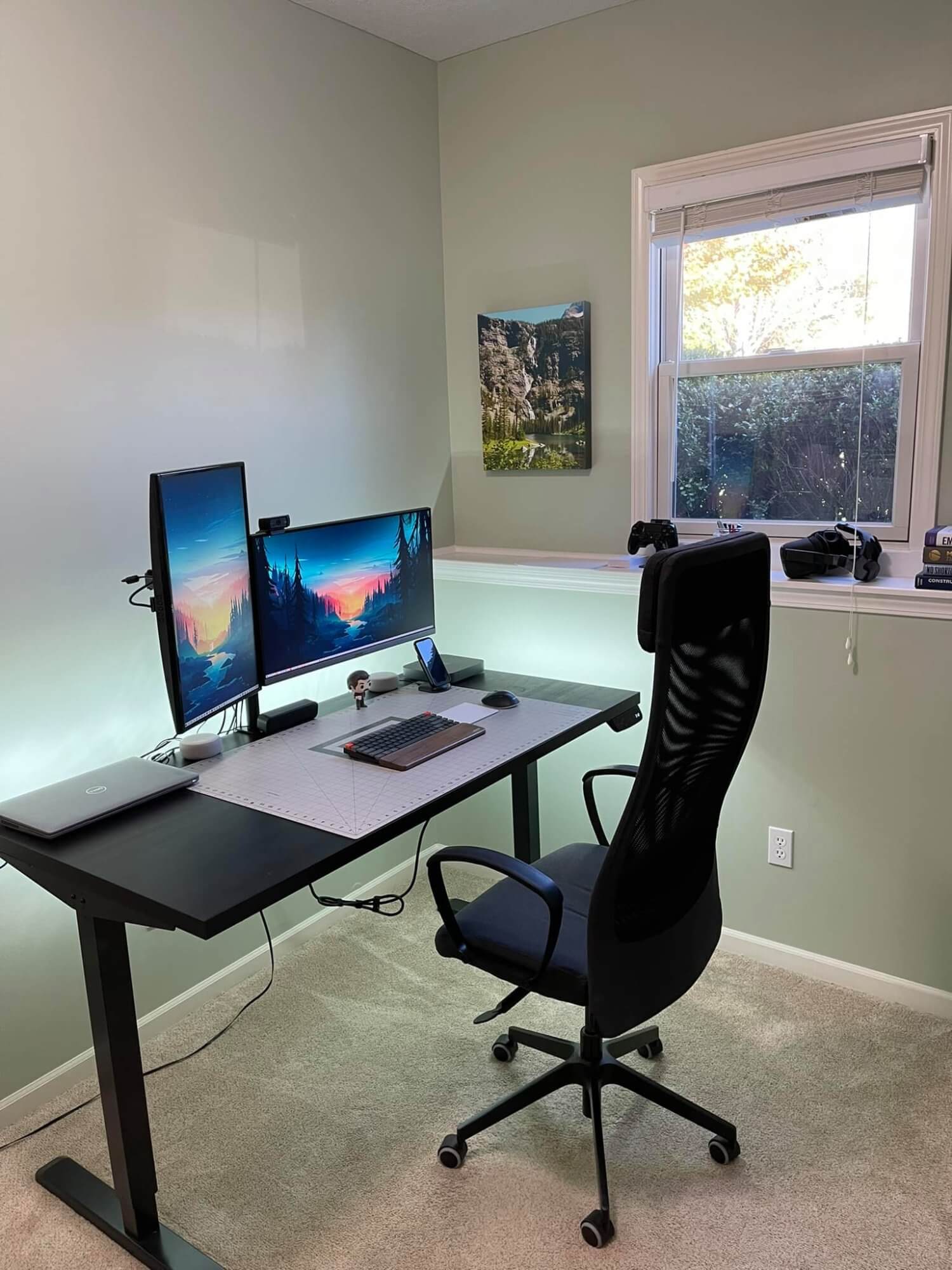 I switched to a standing desk about seven months after working from home after the start of the pandemic.
I wish I would have switched on day one because it's been awesome to use.
It's so nice to be able to adjust the height at any time.
Even when I'm just sitting down it's nice to make minor adjustments to keep changing my body position throughout the day.
Out of an eight-hour workday, I probably only spend about an hour of actual standing. This doesn't sound like a lot, but it's been pretty nice to stand during meetings.
It's funny, but I'm more expressive in meetings when I'm standing which allows me to be more creative.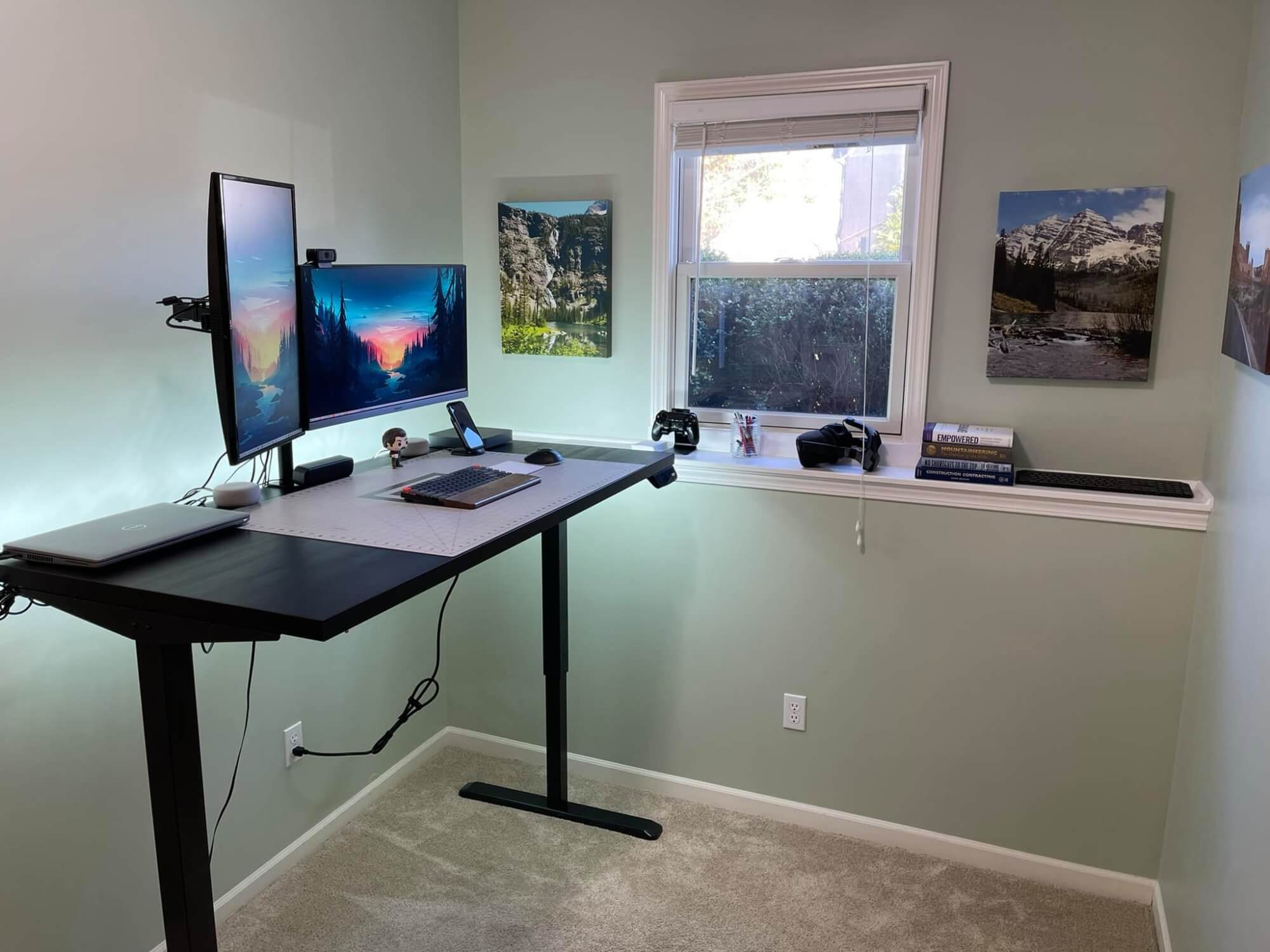 With returning to office mandates kicking in, I only get to spend one to two days per week working from home, which is a bummer.
I spent $280 on the electric standing desk, $50 on the IKEA tabletop, and $109 on the monitor stand."
FlexiSpot EG1 Standing Desk + Oak Tabletop
Desk size: 190×80 cm (75×31,5″)
"The tabletop is a custom 190×80 cm oak tabletop, designed to fit in my apartment perfectly. It is sitting on a FlexiSpot EG1.
I'm a filmmaker and despite being outside quite a bit, there are periods when I have to sit behind my desk for 8-10 hours a day and edit.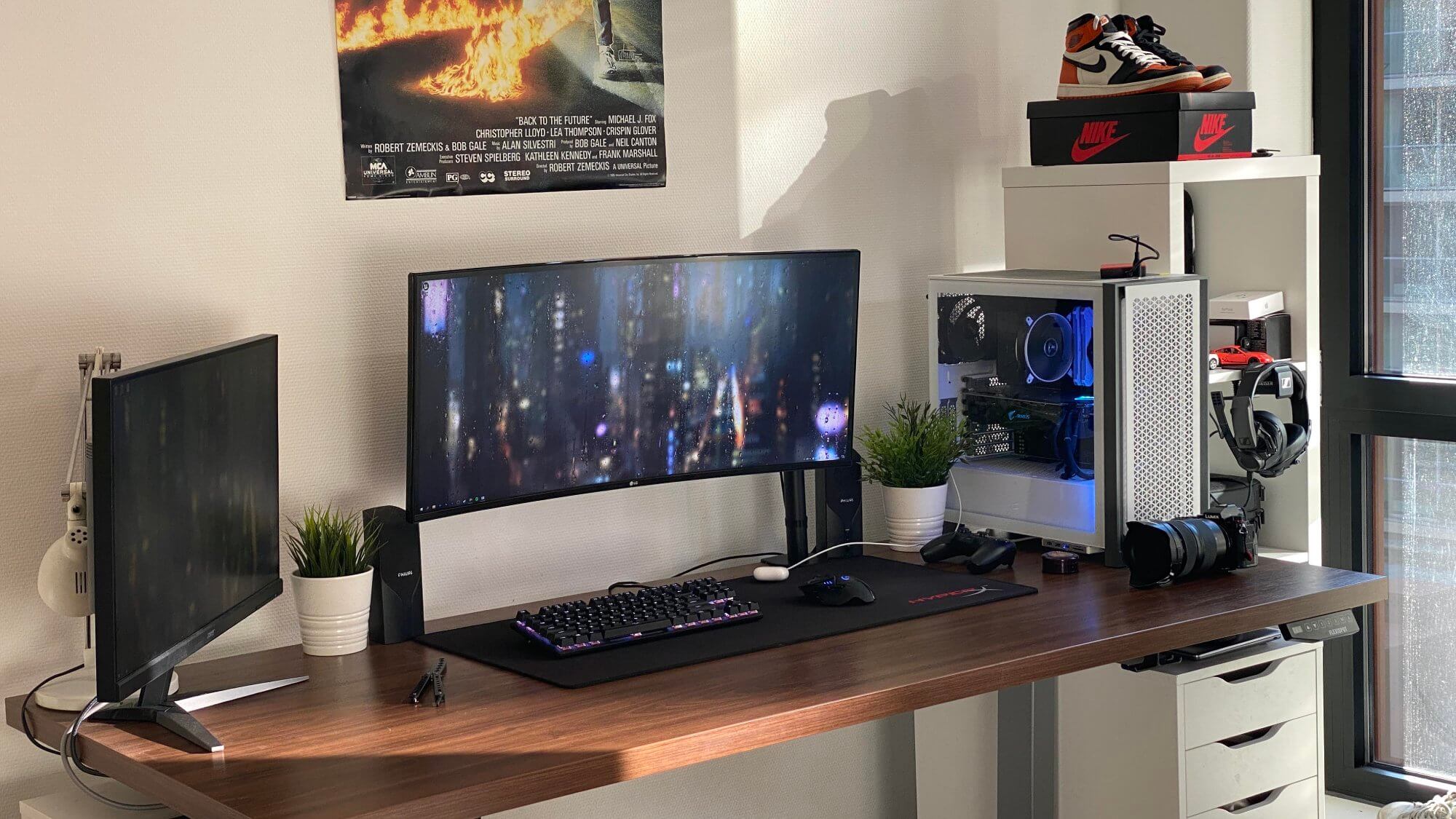 After a few years of just sitting, I finally bit the bullet and decided to get a standing desk, reusing the tabletop.
I usually do two hours sitting and two hours standing.
The tabletop was around €170 ($180) and the standing mechanism was around €200 ($212).
I went to a local woodwork shop and got it made there. It's quite sturdy, just a tiny bit of wiggle when the table is in stand mode."
Standing Desk with an Extra Desk Extension
Desk size: 203×76 cm (80×30″)
"I work from home and love gaming.
I also like moving around — this allows me to spend more quality time working and gaming without being sore from sitting.
I usually stand up every 90 minutes for 30 minutes at a time.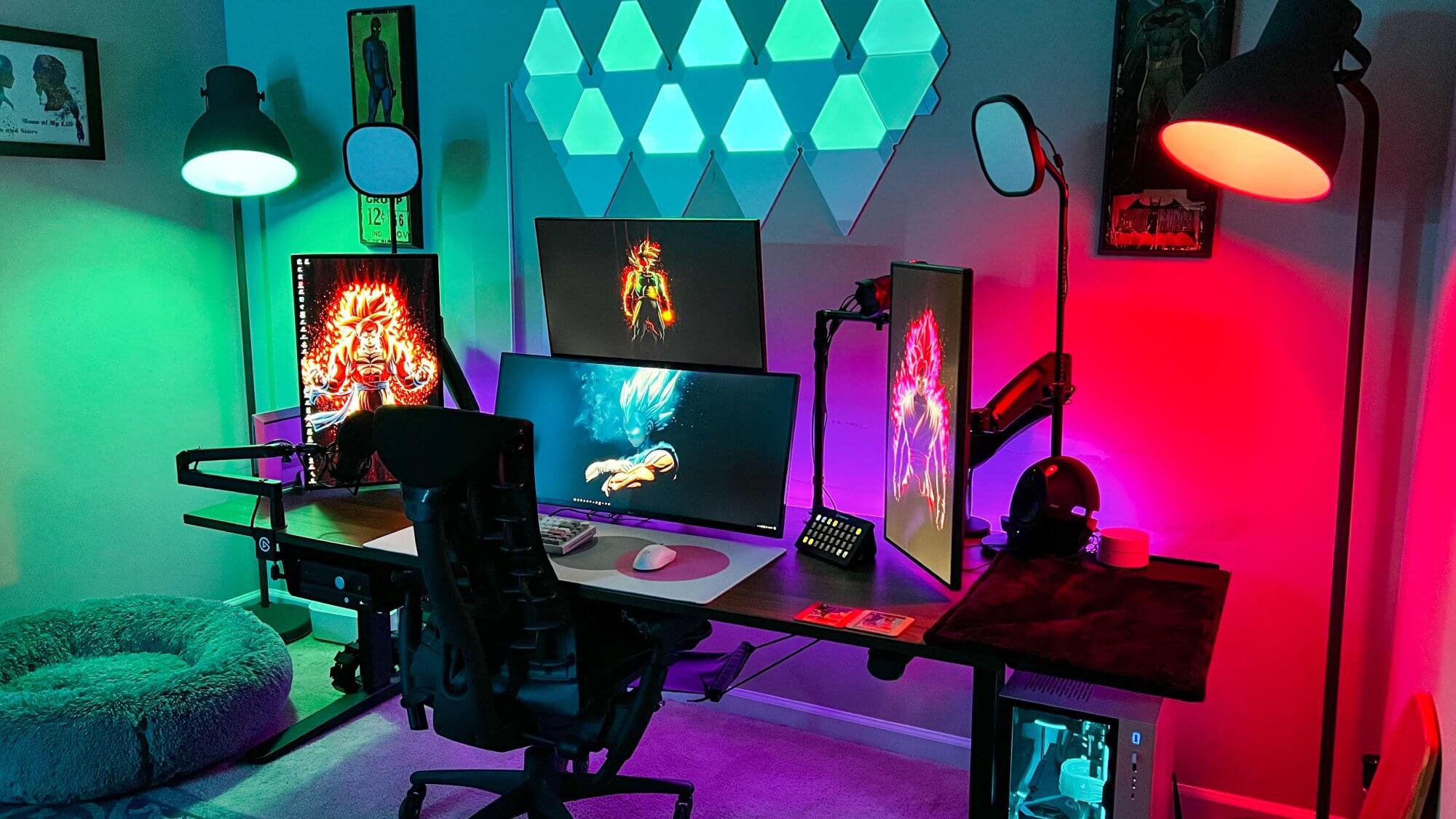 I love the looks of my standing desk — the tabletop is walnut laminate. It also has an extension that adds 12 more inches.
The desk itself is very sturdy and weighs about 50 lbs (23 kg). I didn't have a problem setting it up. But if you want to build it upside down, you need a person to flip it over.
The desk itself cost roughly $1,4K (without a computer, of course)."
IKEA Karlby on DLabel legs
Desk size: 186×63×3,8 cm (73×25×1,5″)
"The desktop is from IKEA, it's Karlby. The drawers are also from IKEA — I went for ALEX in grey after some consideration.
And the standing desk legs are from a local brand here in Indonesia called DLabel Online.
I made a switch to a standing desk to be versatile with the height of it when I sit down.
Some days I want it to be slightly higher or lower depending on the position of my arms on the table.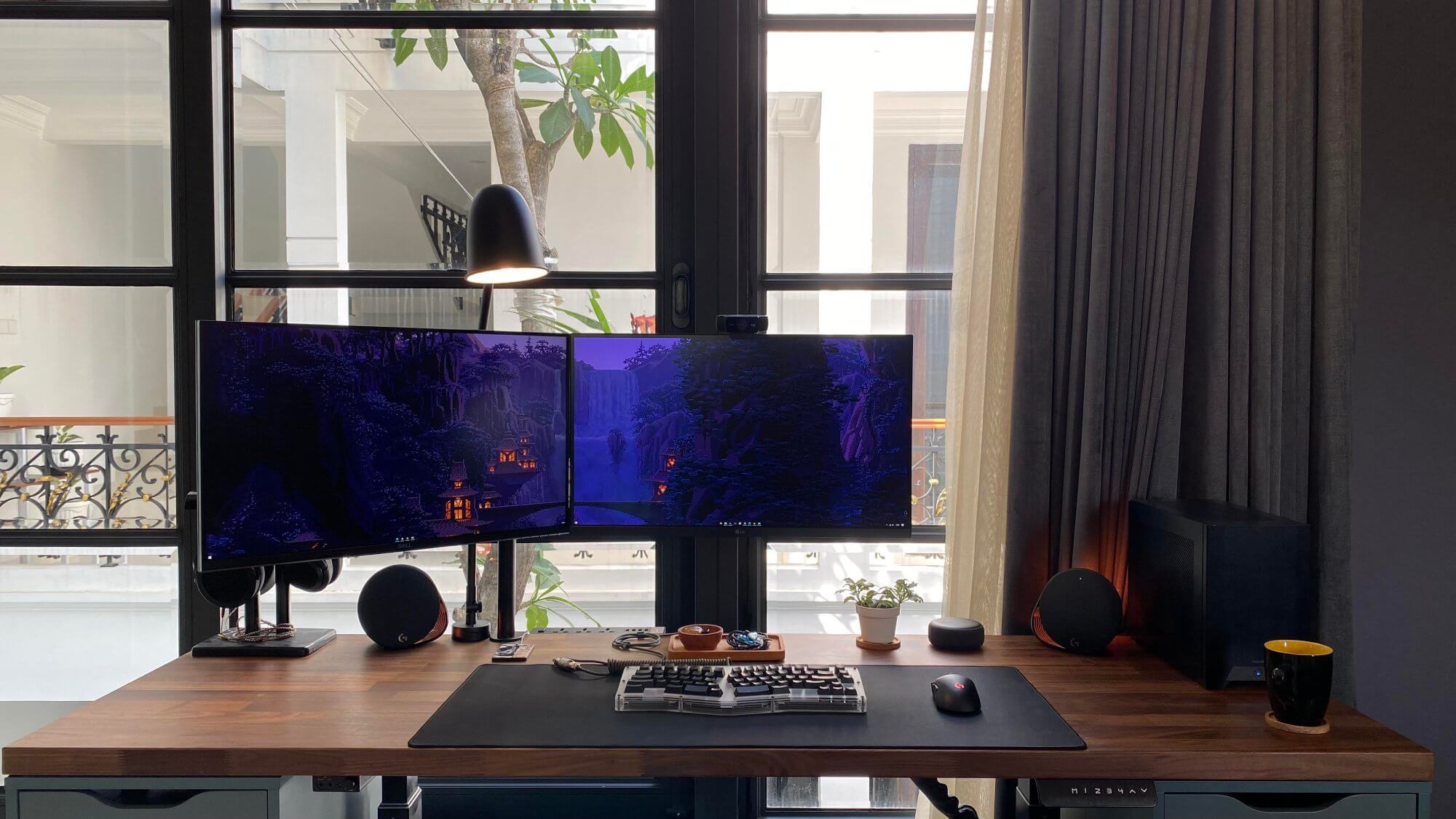 I also use it to stand up when my back starts to feel a bit sore from sitting down too much. Other family members might use it, too, so it's versatile for everyone.
Be sure to purchase high-quality standing desk legs.
You want them to last long and not go wobbly.
The total setup for the desk, legs, and drawer probably cost around 900 CAD ($700). The monitors were 1,2K CAD ($930) for both. Mouse, keyboard, and mousepad were 850 CAD ($660).
The earphones and headphones were 600 CAD ($465). PC is about 3,5K CAD ($2,7K), I think. The monitor arm was about 20 CAD ($15,50)."
VIVO Desk E151EB Standing Desk + IKEA Gerton Tabletop
Desk size: 155×75 cm (61×29,5″)
"My desk's tabletop is an IKEA Gerton (which is no longer available).
It is a solid medium wood that I bought unfinished. I sanded, stained, and polyurethaned it myself. The dimensions are as follows:
Length: 155 cm (61,02″)
Width: 75 cm (29,53″)
Thickness: 3 cm (1,18″)
I originally bought this tabletop in 2017 and used it for many years, but as my desk habits changed so did the need for my desk as well.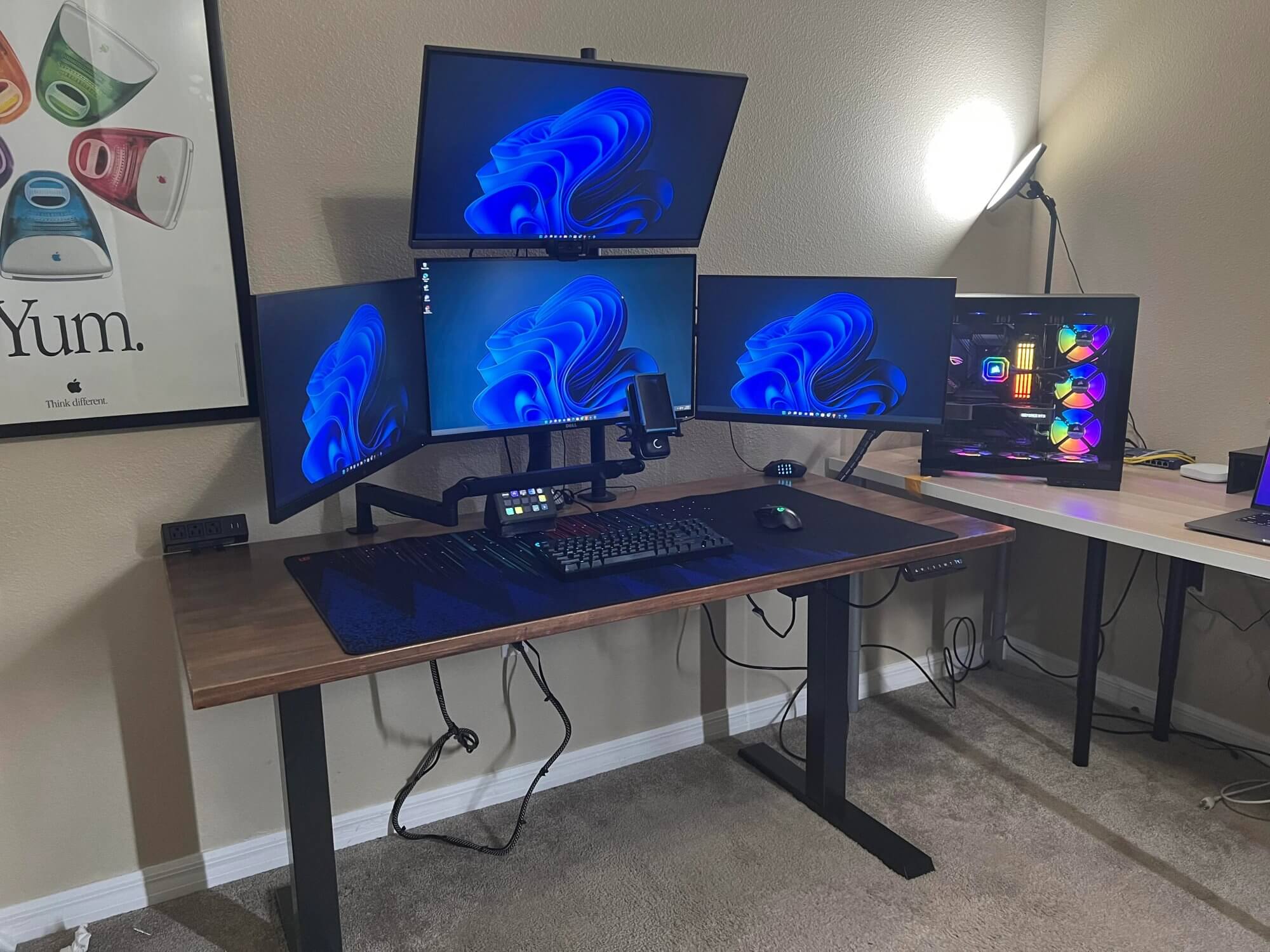 There's a multitude of reasons why I wanted a standing desk:
1. The frame distributes the weight better for the monitor mount.
2. I work from home and I don't want to be stagnant all day.
3. I use it all the time about half the day.
The Gerton tabletop after years of use began to bow and I needed to get a new frame to save it. The frame I went with was the VIVO DESK-E151EB.
Overall, my desk setup is pretty decent. Let me list it off for you:
| Item | Cost |
| --- | --- |
| Dell 1440P 144hz monitor | $390 |
| 2× HP 24″ monitors | $170 each |
| Ryzen 7 3700X | $310 |
| ASUS X570-F | $302 |
| 32GB Corsair 3200Mhz ram | $130 |
| Nvidia GeForce RTX 3080 Founders edition | $1070 |
| Lian Li O11 Evo | $180 |
| Corsair Capellex H150 Elite | $170 |
| Corsair RMx 850 Watt power supply | $160 |
| Vivo triple monitor mount | $90 |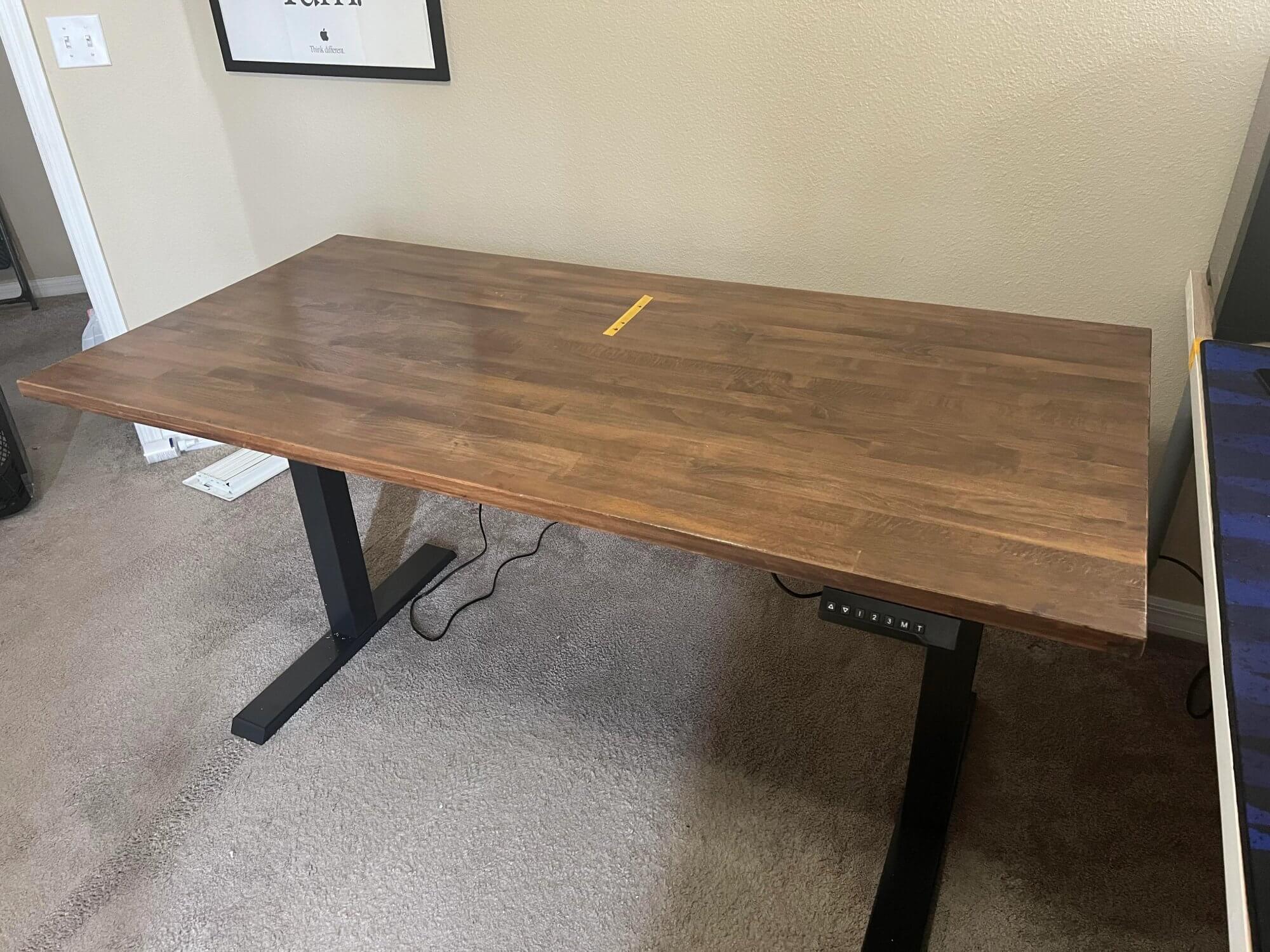 Here is the cost breakdown of everything:
| Item | Cost |
| --- | --- |
| IKEA Gerton | $100 |
| Vivo Standing Desk frame | $219 |
| 6 outlet metal strip | $20 |
| Varathane Dark walnut stain | $25 |
| Varathane water baste polyurethane | $20 |
The total cost was $384 (that does not include tools)."
Vivo L-Shaped Standing Desk + Menards Boards
Desk size: 182×229 cm (72×90″)
"The wood top is from Menards, a local hardware store. I purchased two separate boards and stained them with a walnut finish.
The legs are off Amazon — it's the Vivo L-shaped standing desk frame.
My desktop is 72 inches by 90 inches and 30 inches deep on each side. The white cabinets are ALEX ones from IKEA.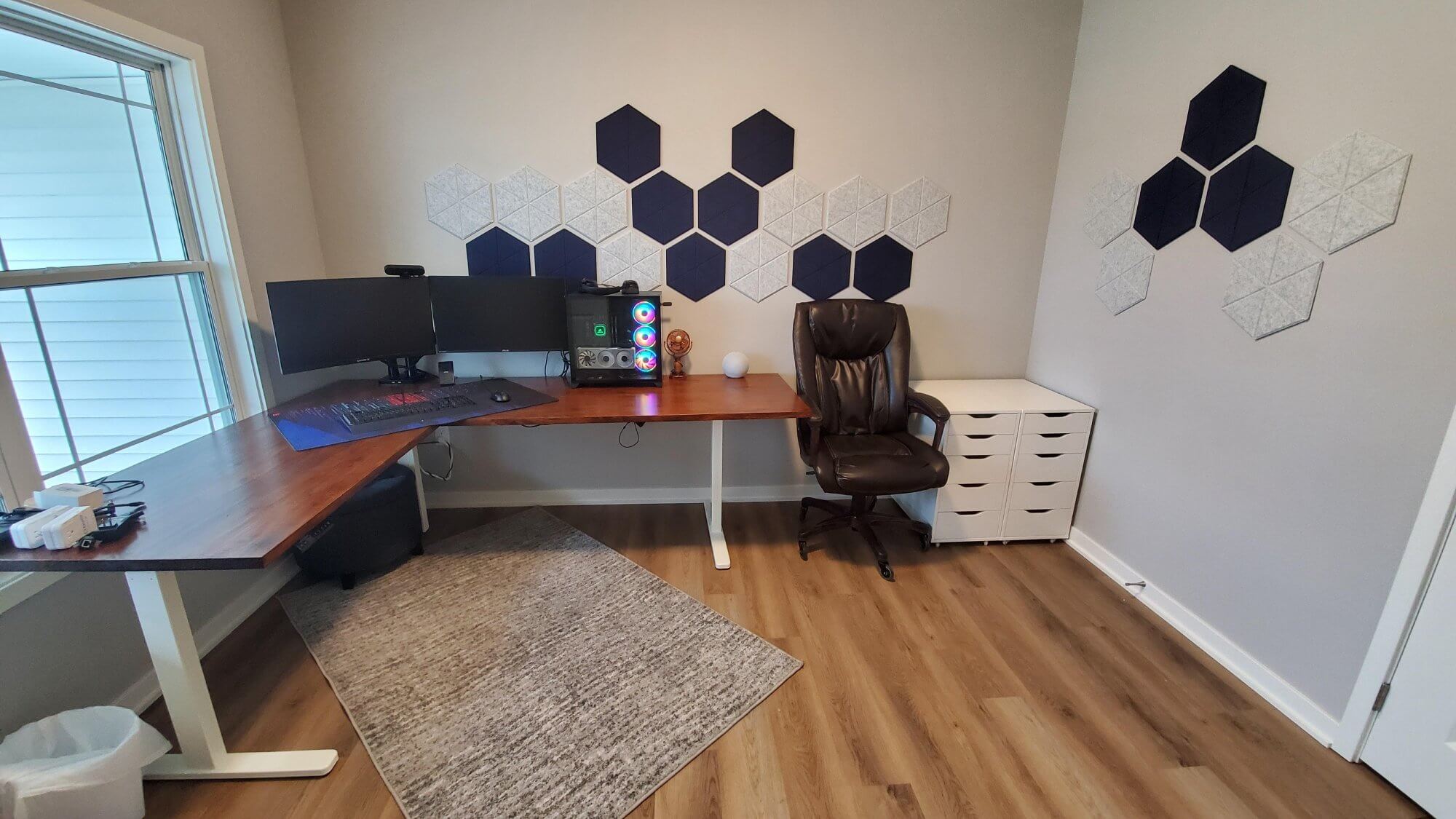 | Item | Cost |
| --- | --- |
| Legs | $420 |
| Wood | $140 |
| Stain | $20 |
| Drawers | $180 |
| Work paid for | $500 |
Fezibo Standing Desk + Pine Tabletop
Desk size: 61×122 cm (24×48″)
"The legs are FEZIBO brand (same as before) and the tabletop is 24×48″ restored pine from Pipe Decore. Both were purchased from Amazon. The total was probably around $500.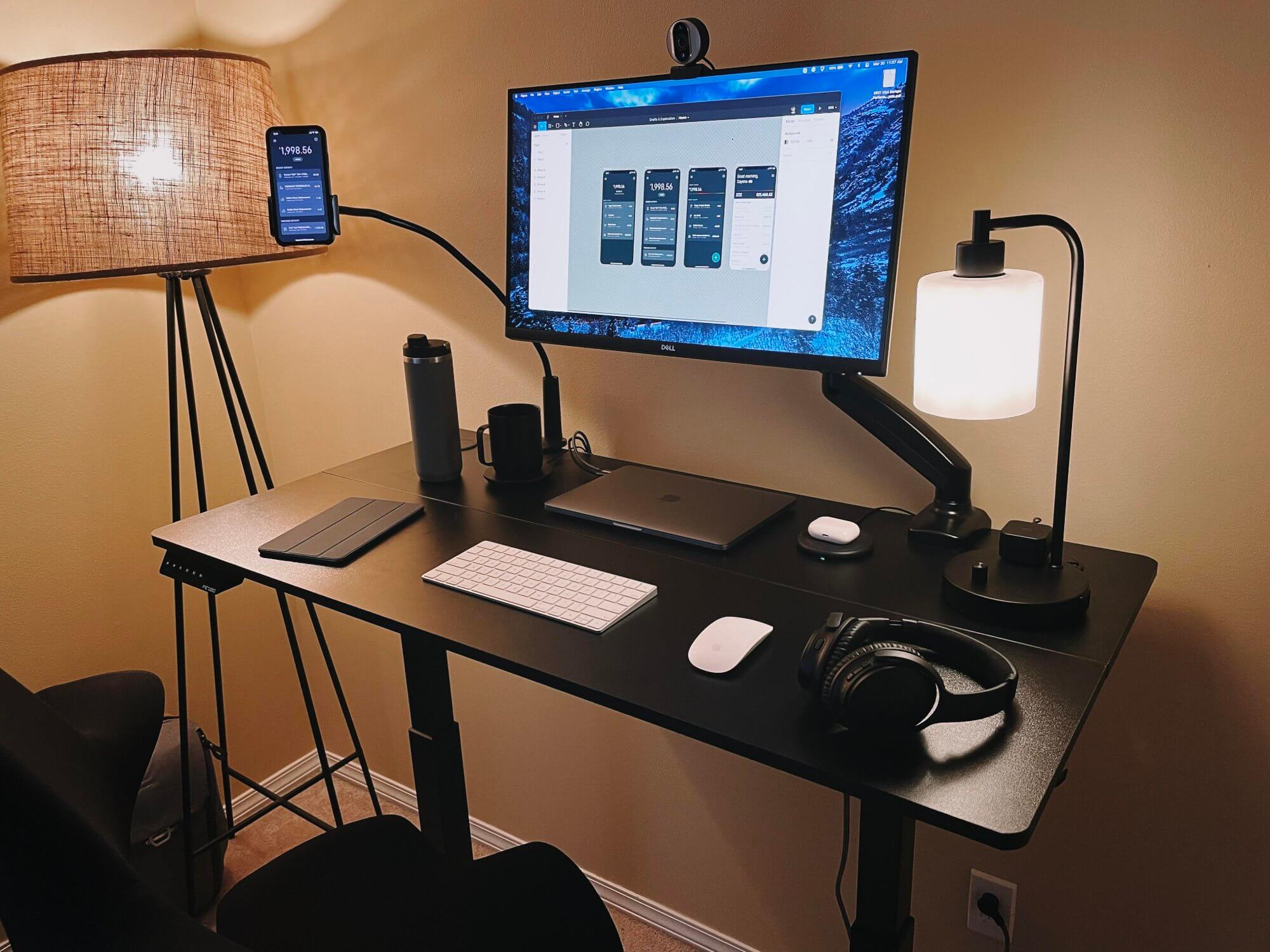 I use the standing desk probably 2-3 times per day for about 15-20 minutes each.
My whole setup — with the Capisco chair and adjustable desk — is designed to make me move often."
Jarvis Natural Bamboo Standing Desk
Desk size: 183×76 cm (72×30″)
"I switched to a standing desk because I knew my circulation would be horrible if I didn't.
Plus, intervals of standing up for 30 minutes and sitting for 30 minutes have been one of the best steps in being productive.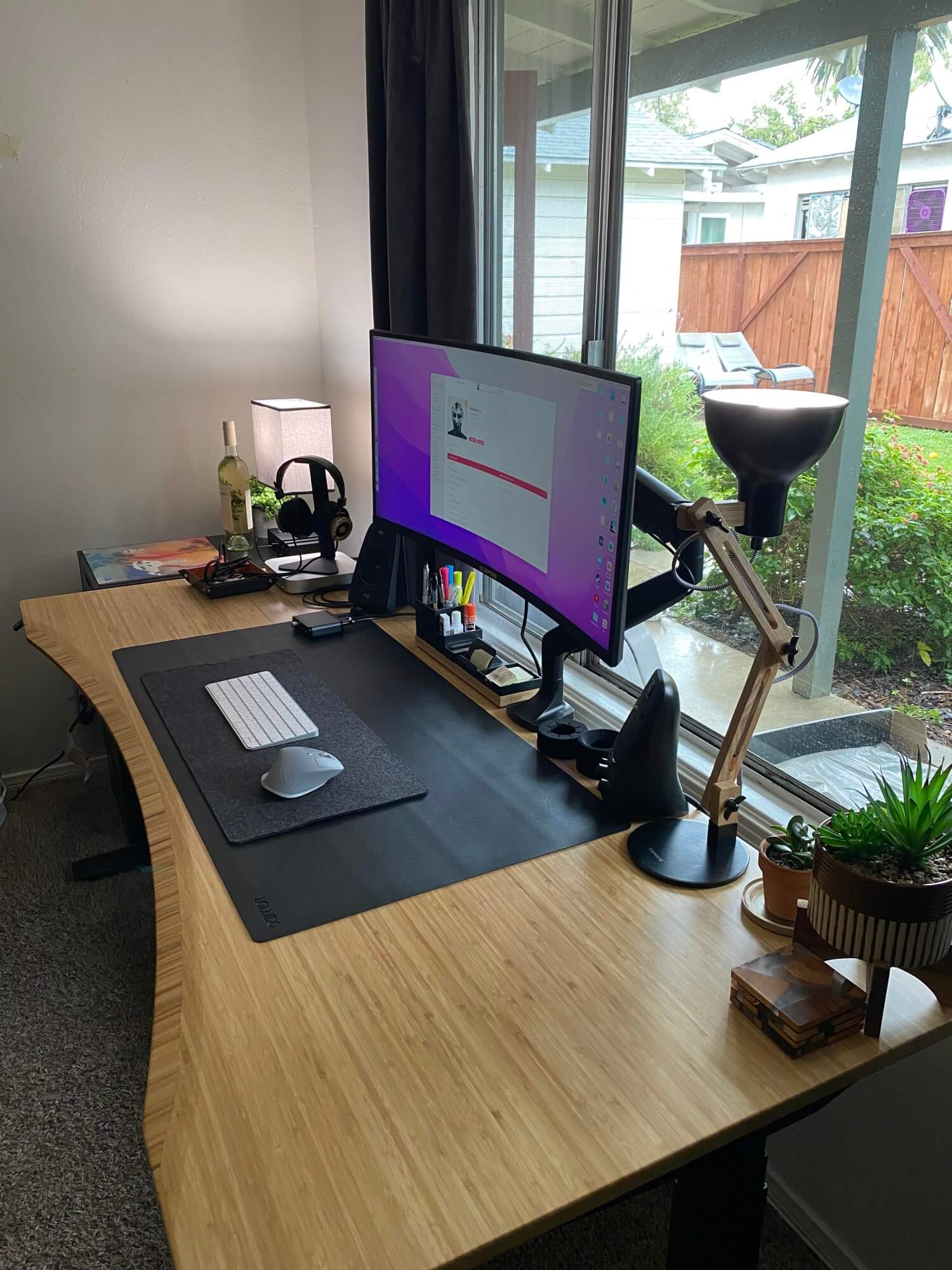 I use my desk for 8-10 hours a day, so having a big desk that can fit all of my extras and monitor was a must.
It had all of the parts labelled and was a pretty easy install! It is crazy sturdy, at least way more than my old desk.

Even standing up is great — I lean on it and everything. It sits on a carpet so I'd expect it to wobble more but nothing."
IKEA Bekant Height-Adjustable Desk
Desk size: 160×80 cm (63×31,5″)
"I've been using this setup since 2016 when I got into a 100% remote job. My back made me switch to a standing desk.
I switch positions when I feel that I'm wriggling on my chair — and stand for about 15 minutes. Then I sit down again.

The IKEA Bekant is hovering above a Helmer shelf. My PC sits still on the floor, I just bought longer display and keyboard cables.
The 34″ monitor is pretty heavy. I was concerned if the tabletop is strong enough, but it works fine.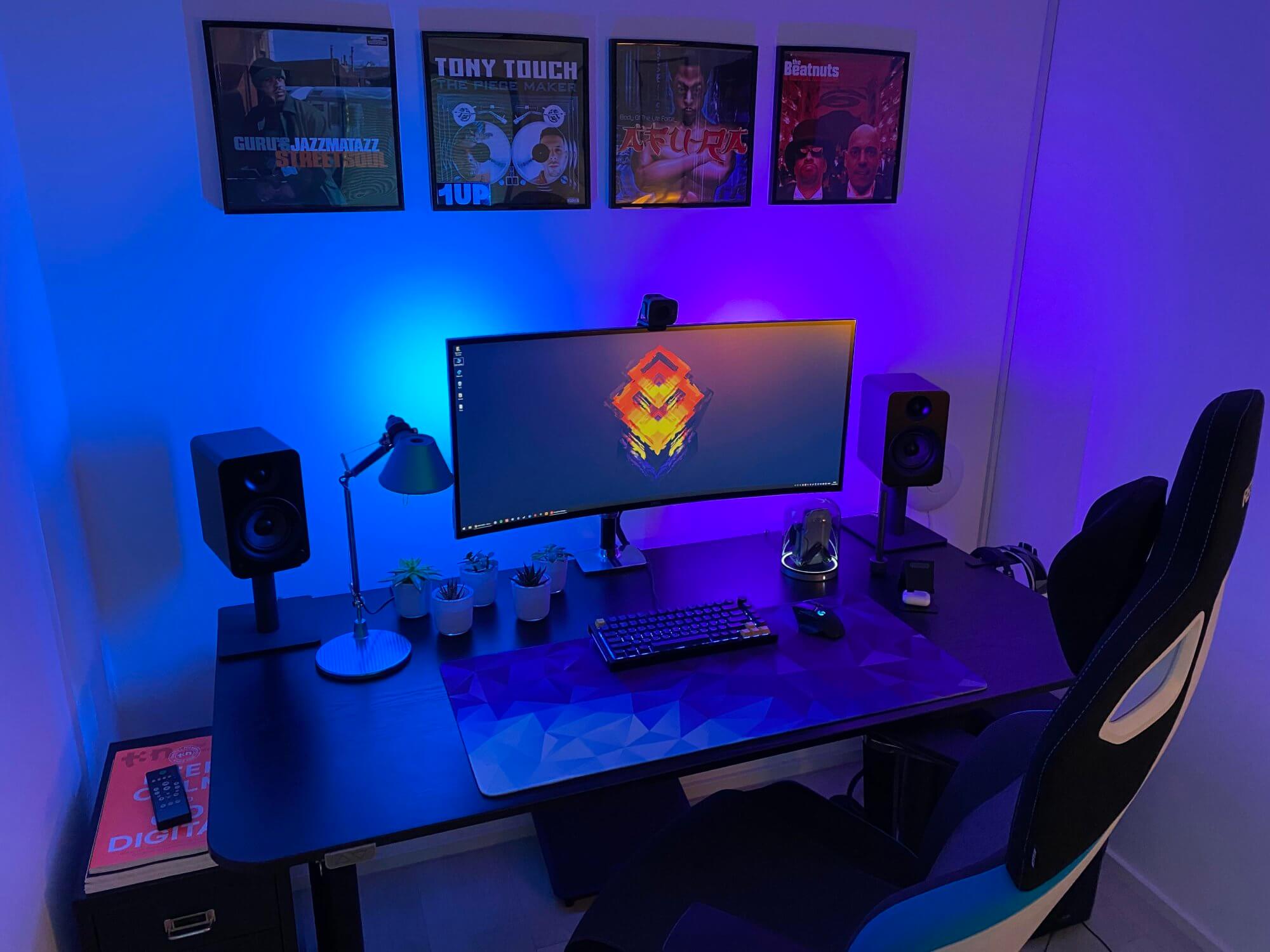 The only thing I miss on this table is the memory settings for at least two positions (sitting height and standing height).
I have to push the button for a pretty long time when adjusting the height. There is an open-source PCB you can build or buy to add this memory functionality to this desk. Maybe I'll get one sometime.
The complete setup (legs + tabletop) cost me around €580."
FlexiSpot EC1 Standing Desk
Desk size: 76×122 cm (30×48″)
"The desk is an EC1 by FlexiSpot.
It has my gaming laptop — a Razer blade 14″ 2016, my Focusrite audio interface, and my Anne Pro 2 mechanical keyboard.
I switched to the standing desk because I spent most of the time working from home.
It helped me a lot with the back pain and stiffness that developed by sitting for long periods of time."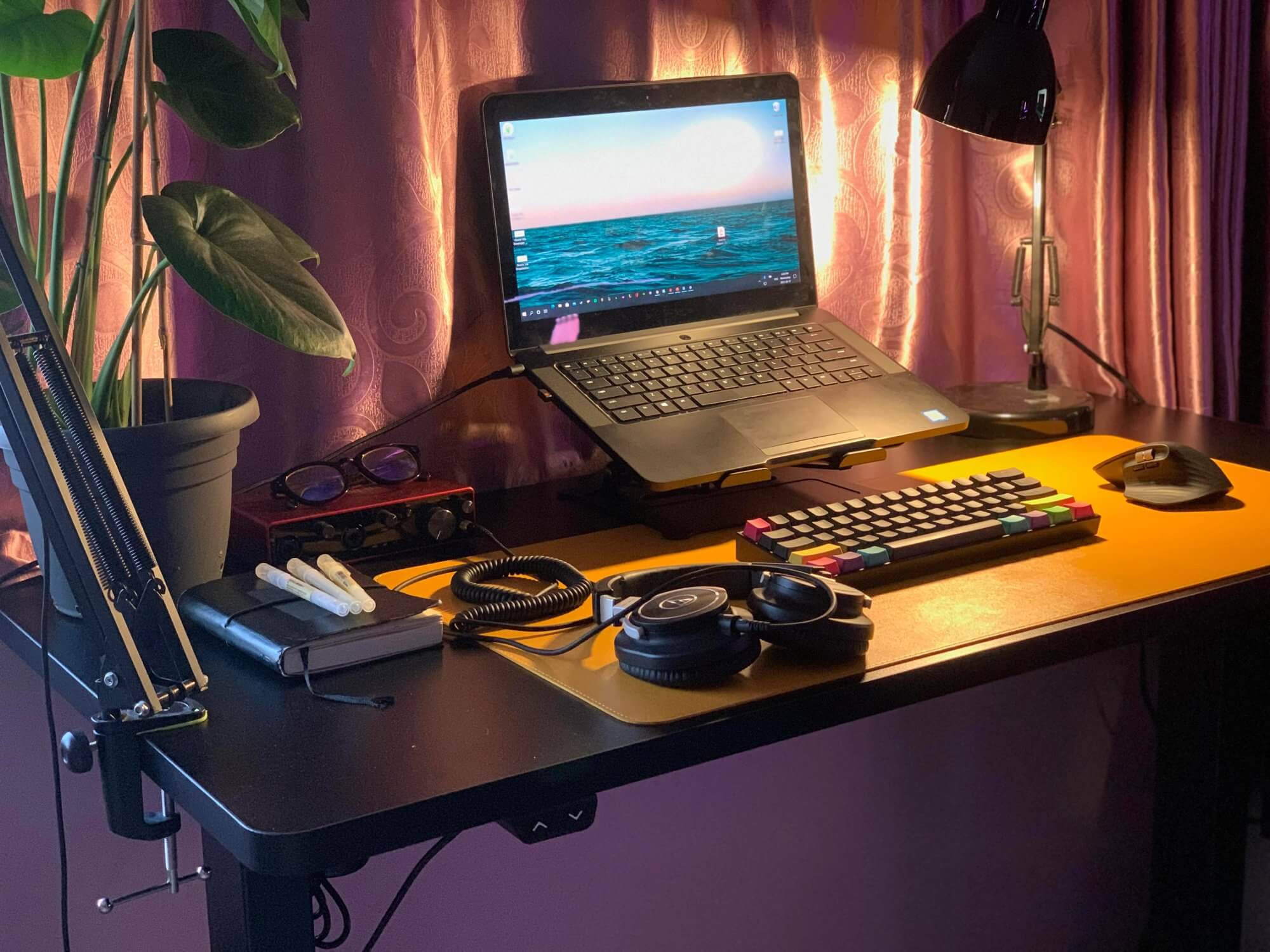 FlexiSpot E1 Standing Desk + Kitchen Countertop
Desk size: 140×60 cm (55×24″)
"I work in IT, and I sit down most of the time during the day.
When I come home and got some projects to finish for work or stuff, I love to stand up to give my back some rest and to be more active.
The desktop is a kitchen countertop from our local hardware store. It's way sturdier than the IKEA Linnmon for example. The standing desk itself is the FlexiSpot E1.
All in all, I spent $300 for the standing desk and desktop."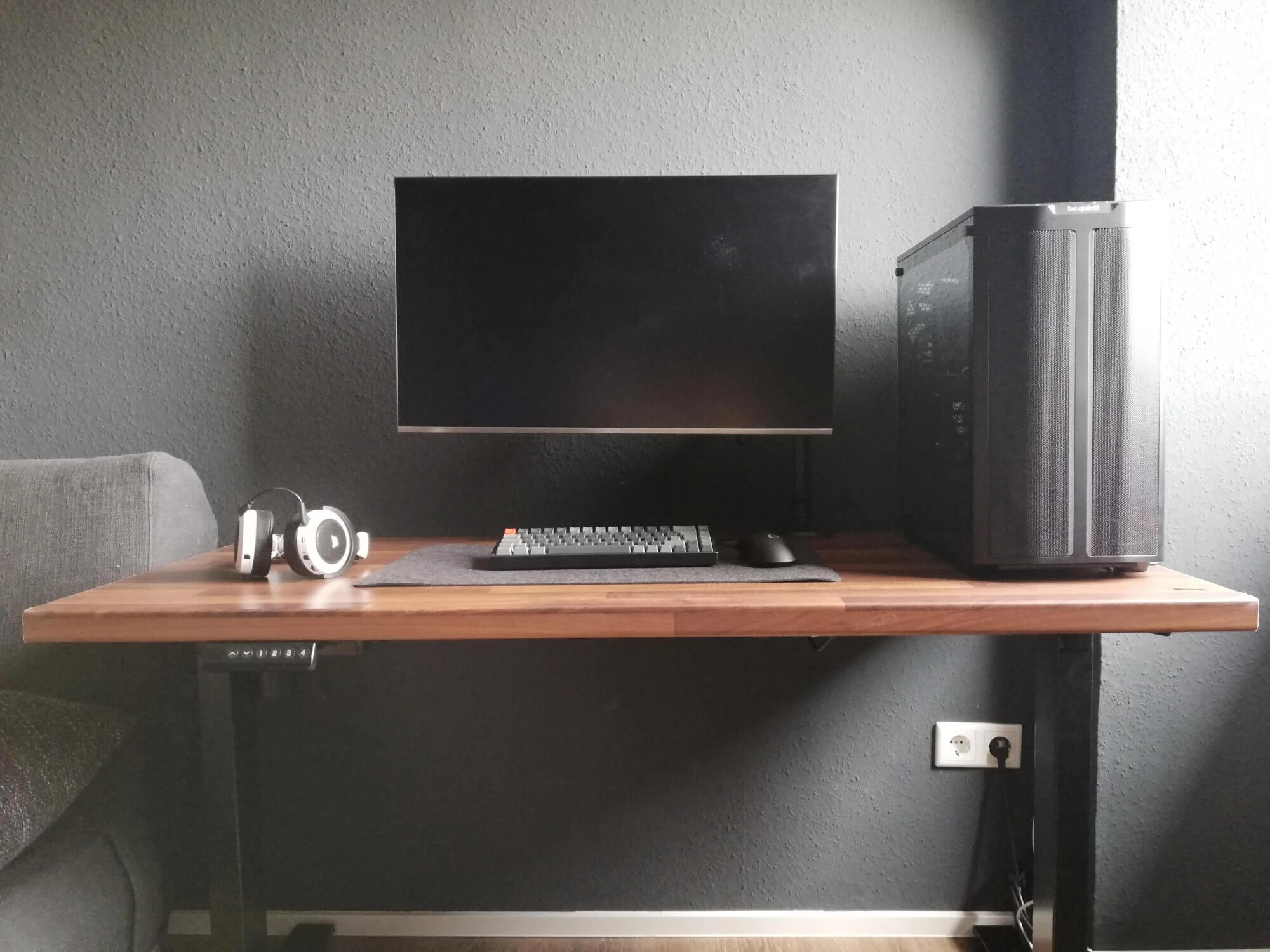 IKEA Bekant Standing Desk with a Bekant Tabletop
Desk size: 140×65 cm (55×26″)
"I use my desk to work from home as a developer and it suits me very well. I got it for free in my previous job.
It's a combination of these two IKEA parts I believe:
Unfortunately, I hardly ever use the standing function of the desk 😅"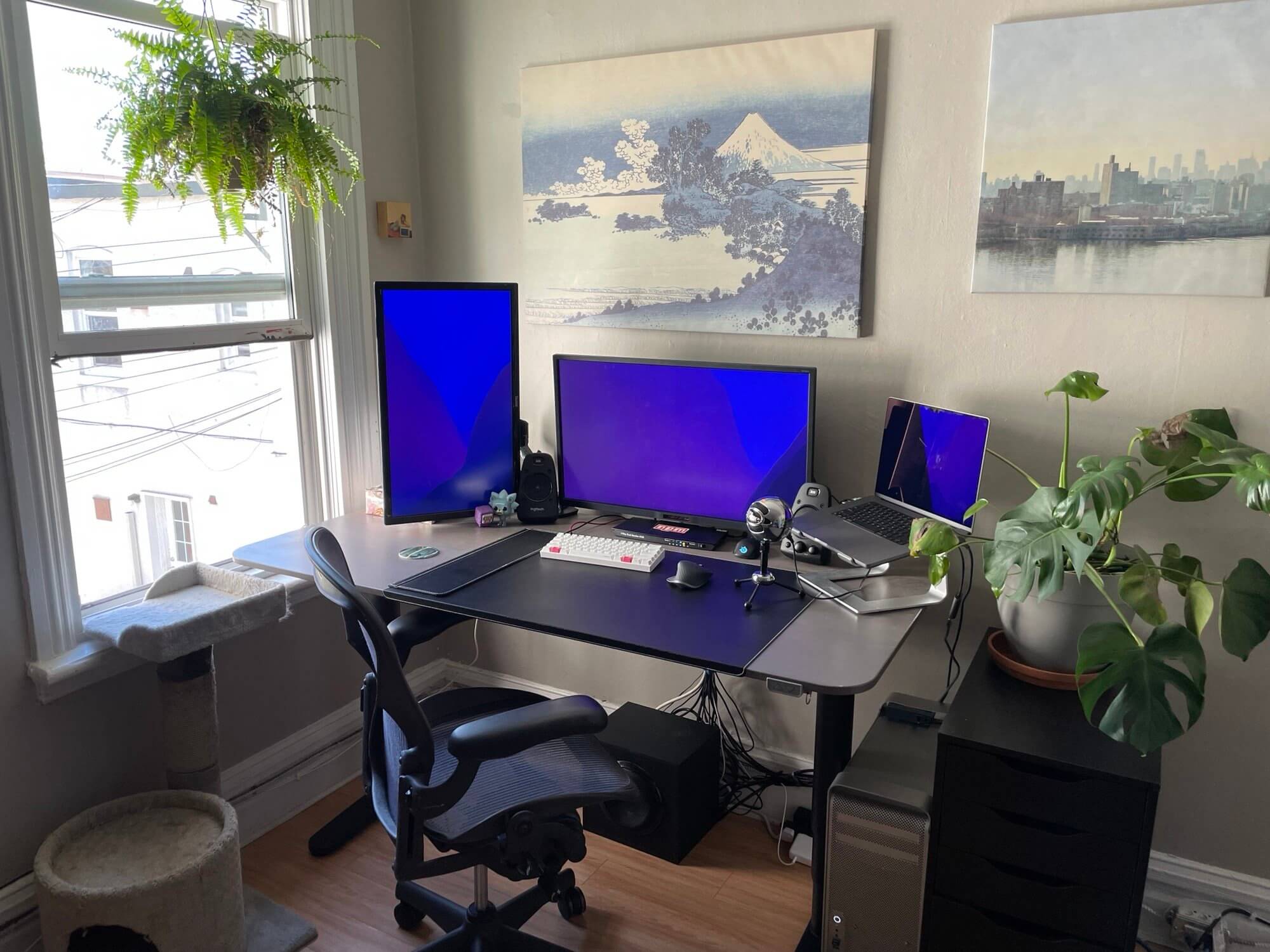 Fully Jarvis Bamboo Standing Desk
Desk size: 183×76 cm (72×30″)
I have a fully remote job and spend most of my day at my home office.
It just made sense to have a standing desk, so that I'm not sitting on a chair all day.
"It's a Fully Jarvis 72×30″ bamboo desk. My floor is carpeted and the table has castors.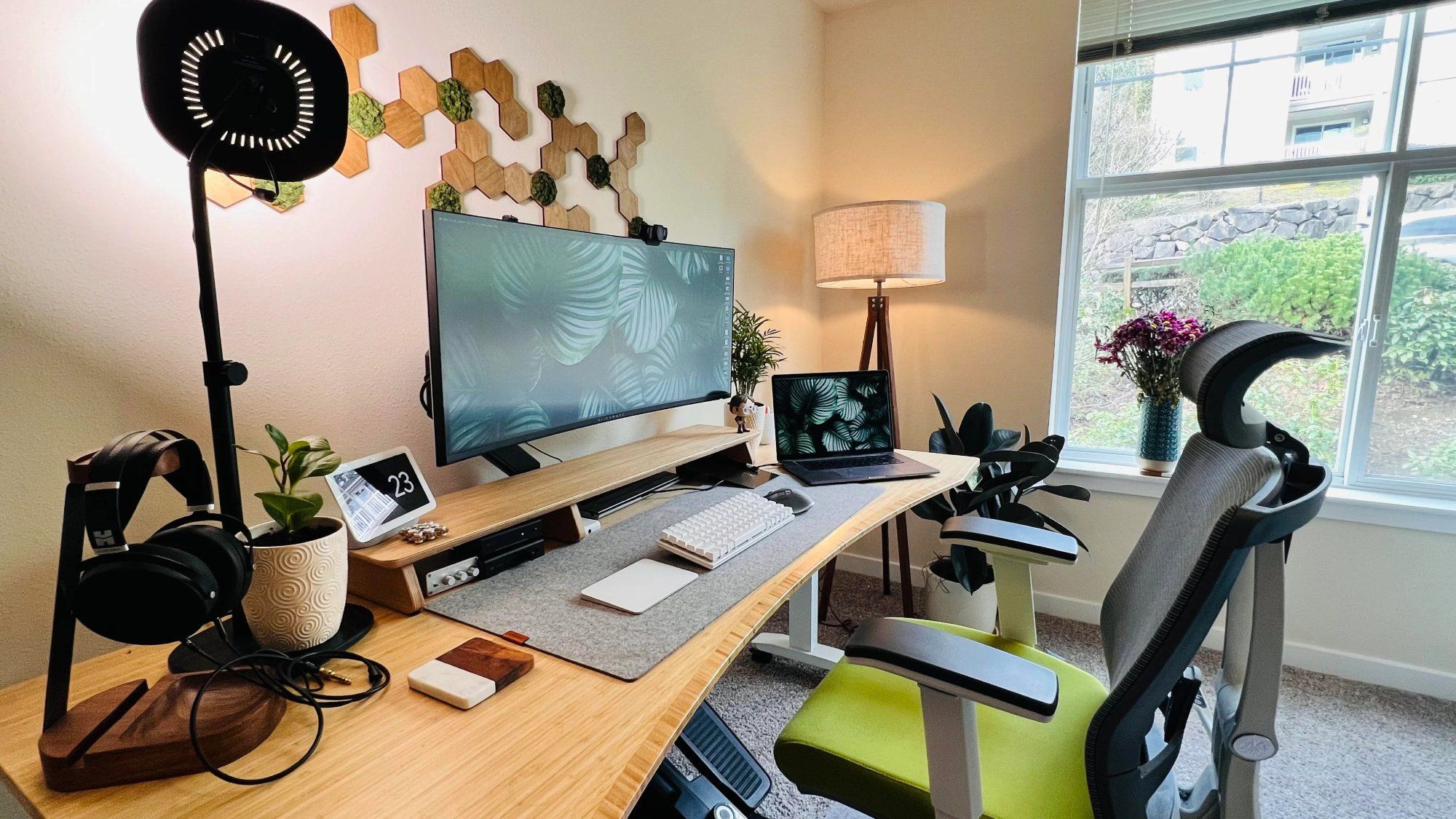 I sometimes like walking around the room while having the monitor at eye level on the table so that I can watch a video or a presentation while stretching my legs.
Occasionally, I would pull in my exercise cycle and read something on the screen while cycling.
I can't do that with a regular desk.
The table and a few accessories cost me about $1,1K including tax."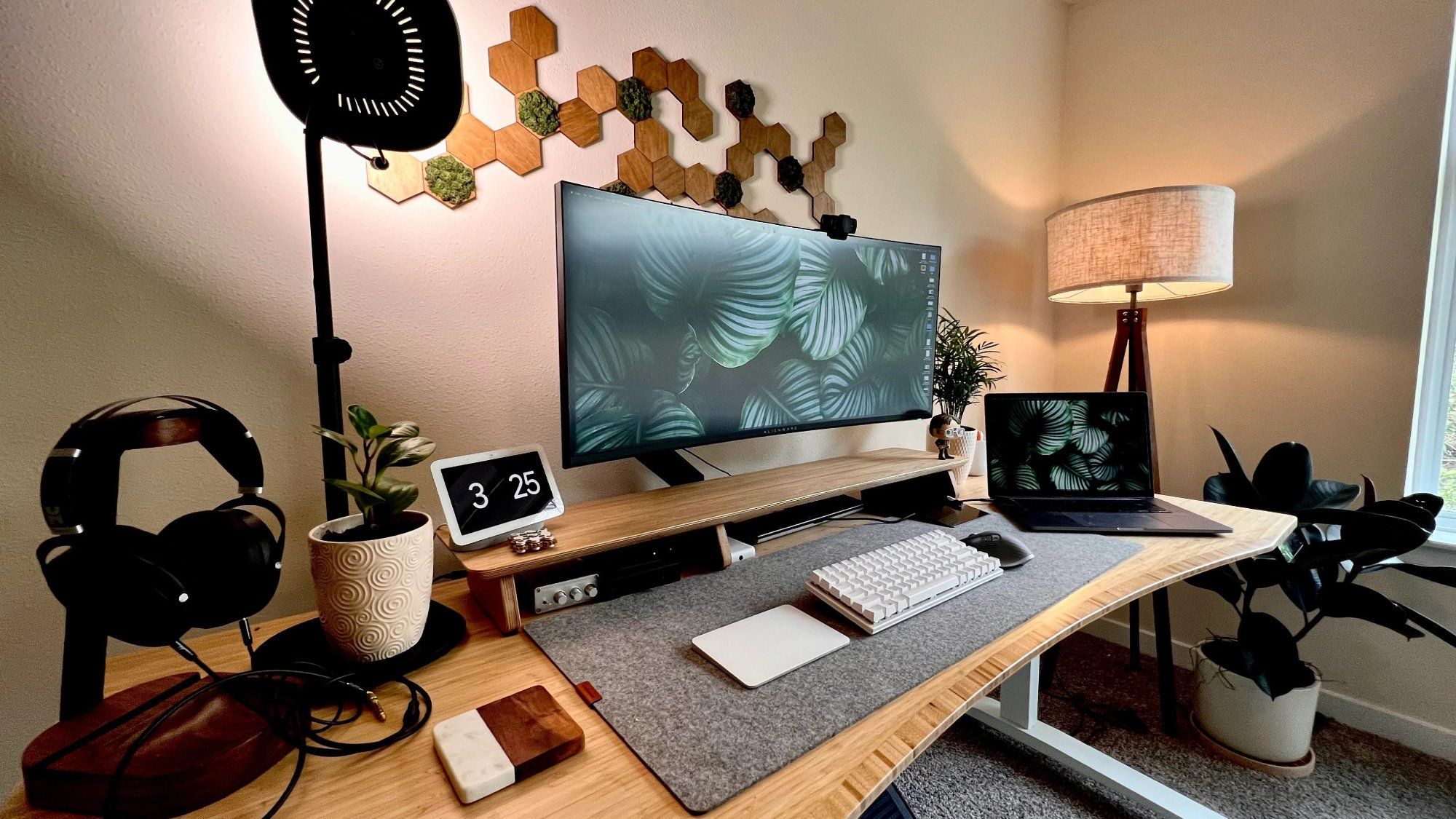 FlexiSpot Height-Adjustable Desk
Desk size: 152 cm (60″)
"As a 6′2″ tall person, I was struggling with normal desks.
I needed a desk that I could adjust according to my height, and the standing desk has definitely ticked this box for me.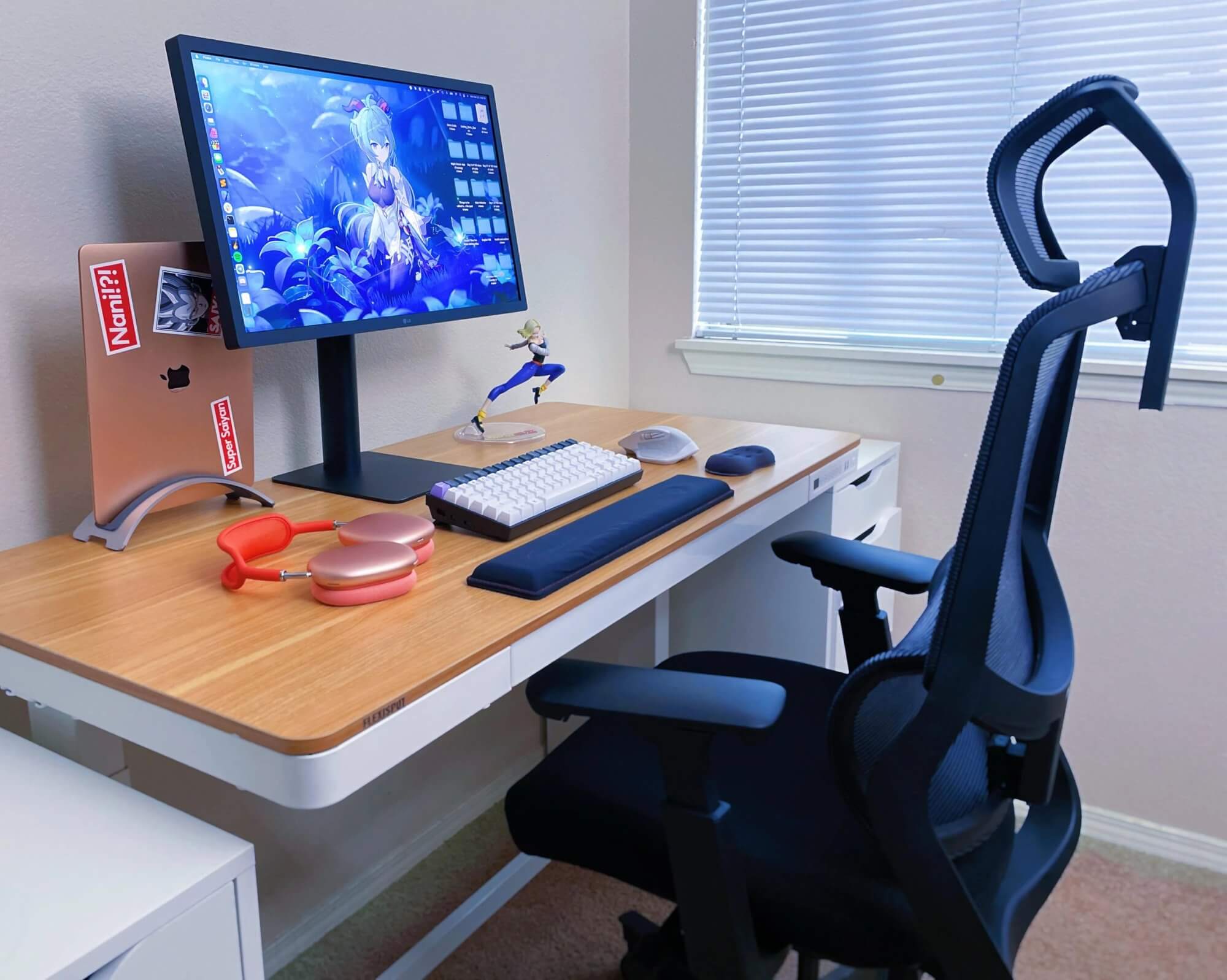 As for the computer, I used to have a MacBook Air 13″ with the M1 chip, but I have recently switched to the 16″ MacBook Pro M1 Max with 64GB of RAM and 32-Core GPU with 10-Core CPU.
The reason for that was I wanted something that could handle my iOS development.
As for the headphones, I use Apple AirPods Max in pink/orange colour. The monitor is an LG UltraFine 4K.
The keyboard is a Keychron K2 mechanical keyboard that I customised myself a few years ago. The mouse is the Logitech MX Master 2. I've had it for many years and, it works like the first day I got it.
The figure is from an anime called Dragon Ball Z. I'm a huge anime fan, I just love Dragon Ball Z. The character's name is Android 18."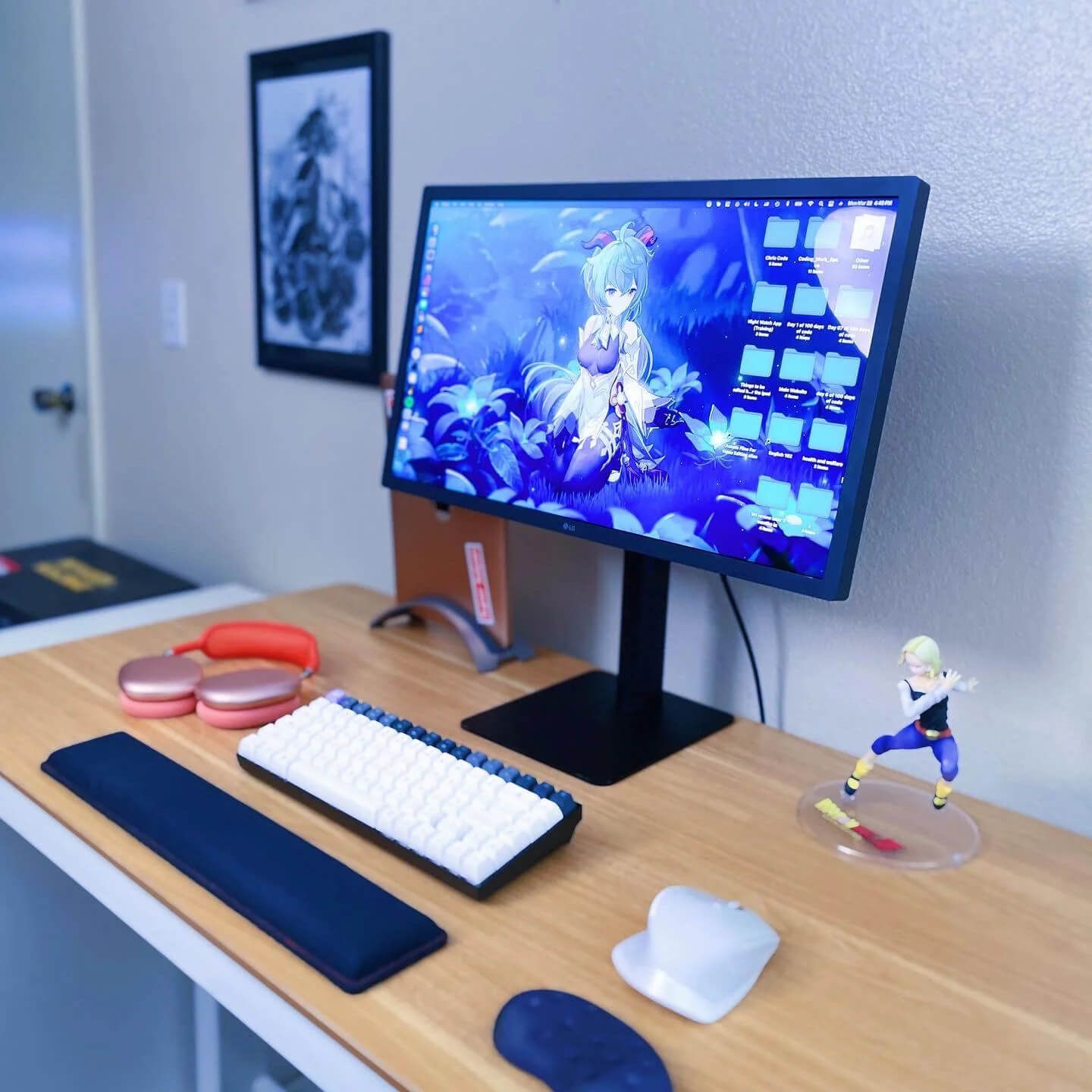 We're a reader-supported publication. This article might contain affiliate links. It means we may receive a commission if you click a link and buy a product that our maker has recommended. The interviews were done independently.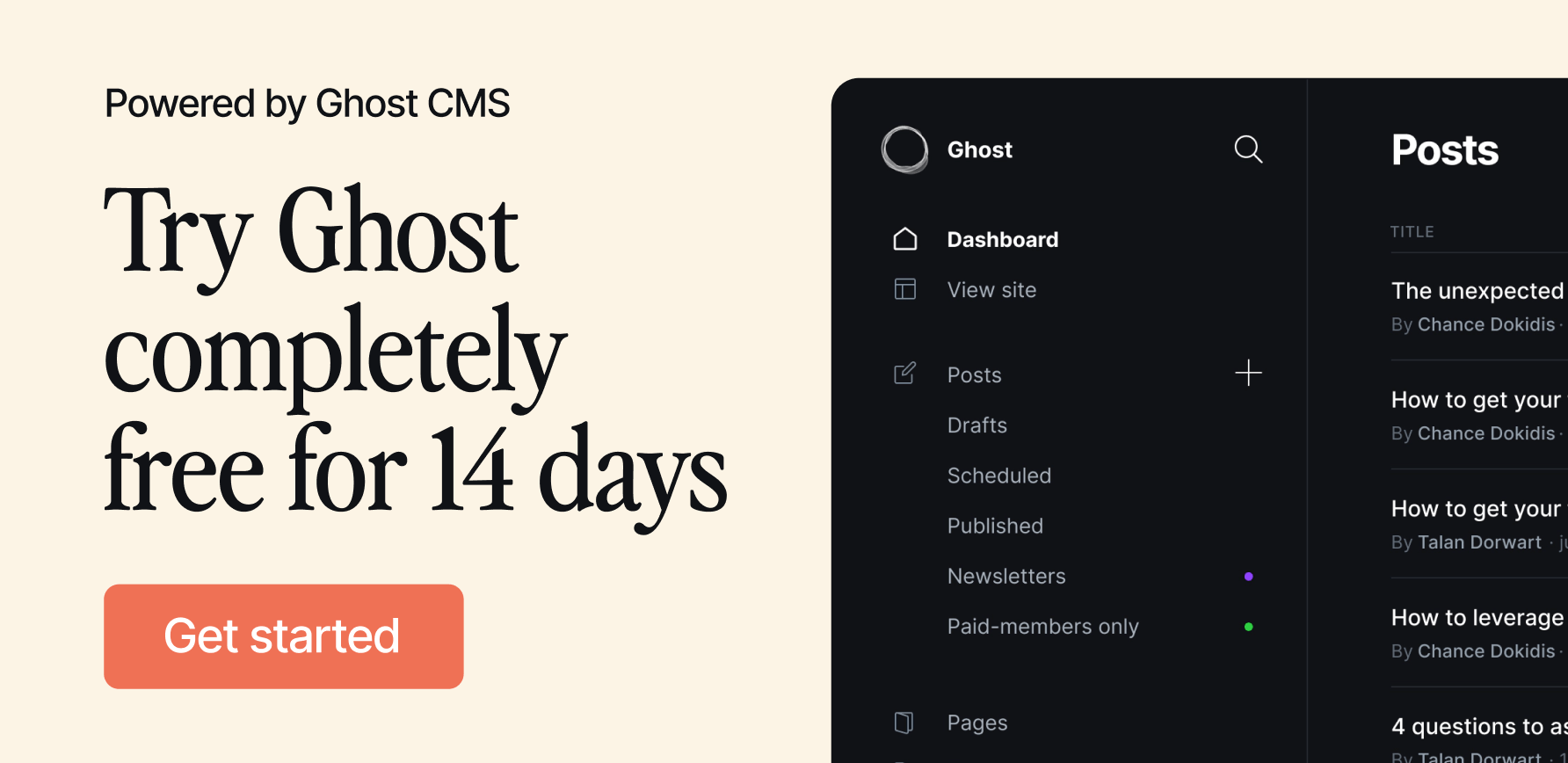 ---