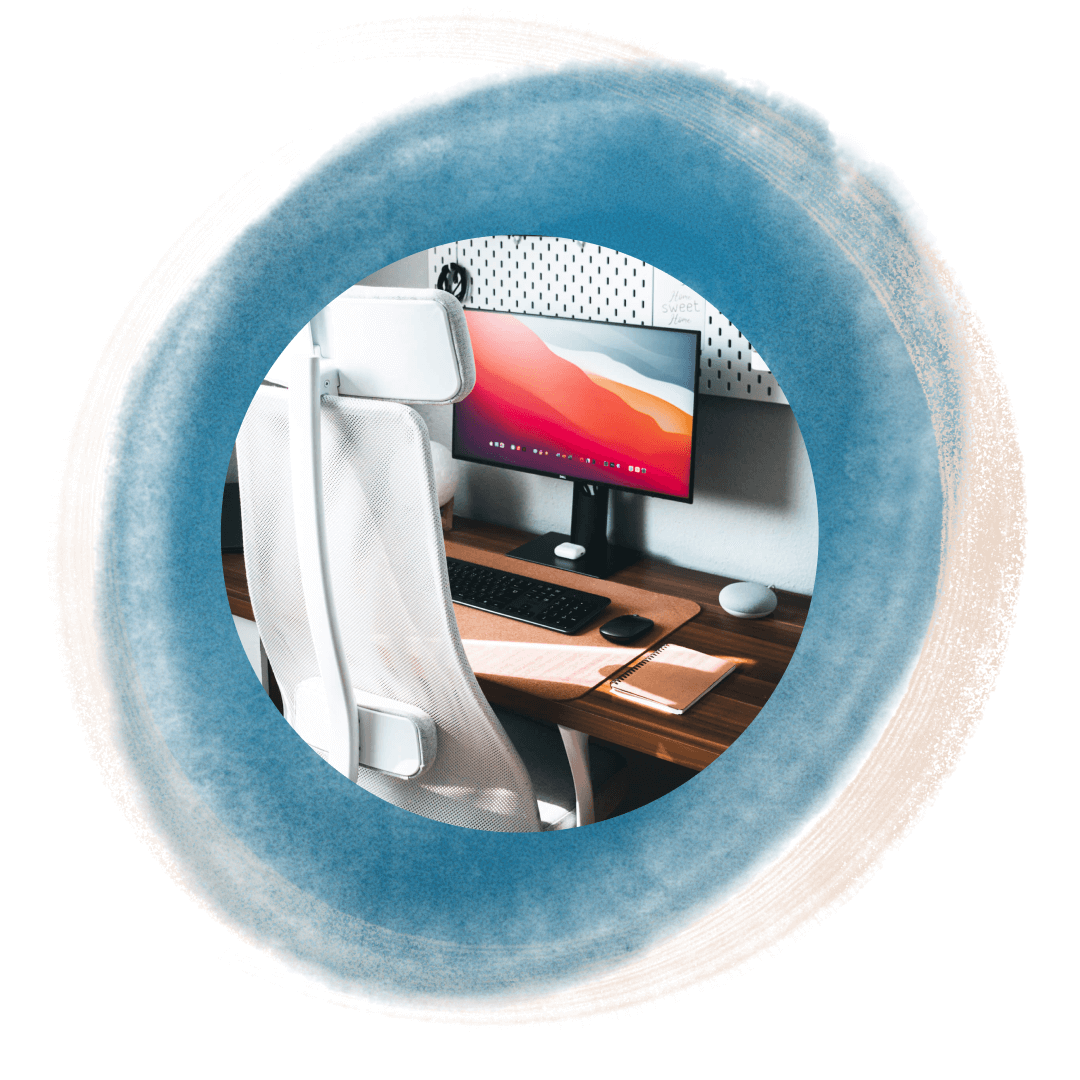 How to Choose a Home Office Chair for a Small Space
Find the best chair for your tiny home office with this easy guide.
Join 1700+ Curious Readers.
Every Sunday evening, get an *in-depth* workspace tour from a random corner of the world.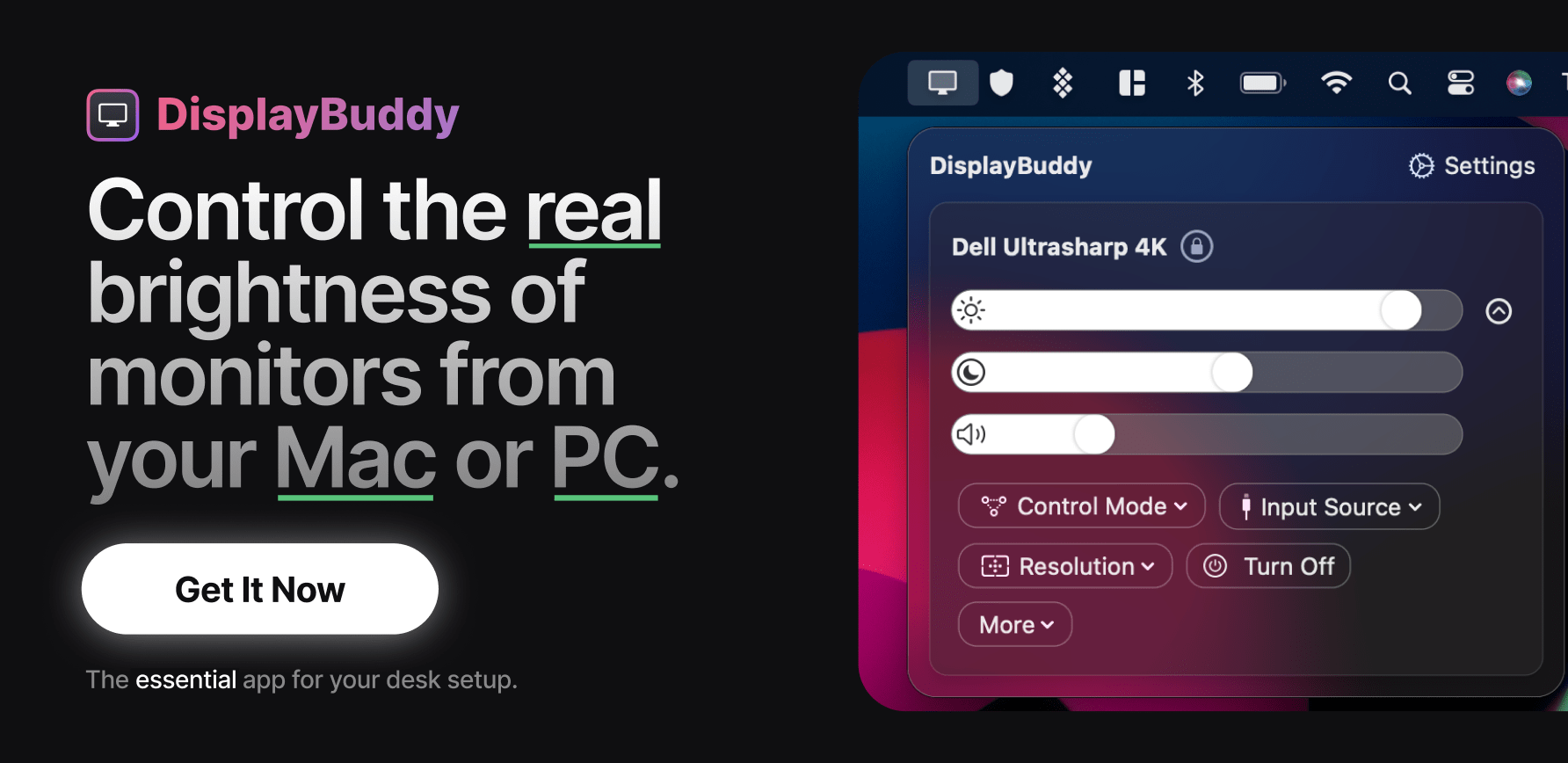 In a world with an increased understanding of ergonomics, design, and productivity, office chairs are no longer just pieces of furniture. They are an essential part of the home office.
After all, you spend most of your day sitting in a chair. Easily the most used piece of furniture in a home office, the humble office chair is often the hardest to choose. Especially for those who don't have the luxury of a large workspace.
Take a look at some of these factors to find the best home office chair for a small space.
Keeping size in mind
While there's a lot more to picking a home office chair than the size, it is still an important consideration. And all the more so in small offices.
Looking at the size helps you pick a chair that's flexible in a small space. No matter how tiny your office space is, rest assured there is a chair that is just right for you.
Types of home office chairs for a tiny workspace
Chair types can be a good indicator of their size.
Some types of chairs tend to be on the larger side, while others lean towards sleek, smaller designs.
Here are some of the chair types that are best suited for small home offices.
1. Task, or Operator Chair
A task chair is an ergonomic chair with a lighter and smaller design than most office chairs.
These chairs are designed to promote good posture and to fit well in small office spaces without compromising on comfort.
Most task chairs are adjustable — with the ability to modify seat height, back support, and armrest heights. Some task chairs also offer an adjustable headrest.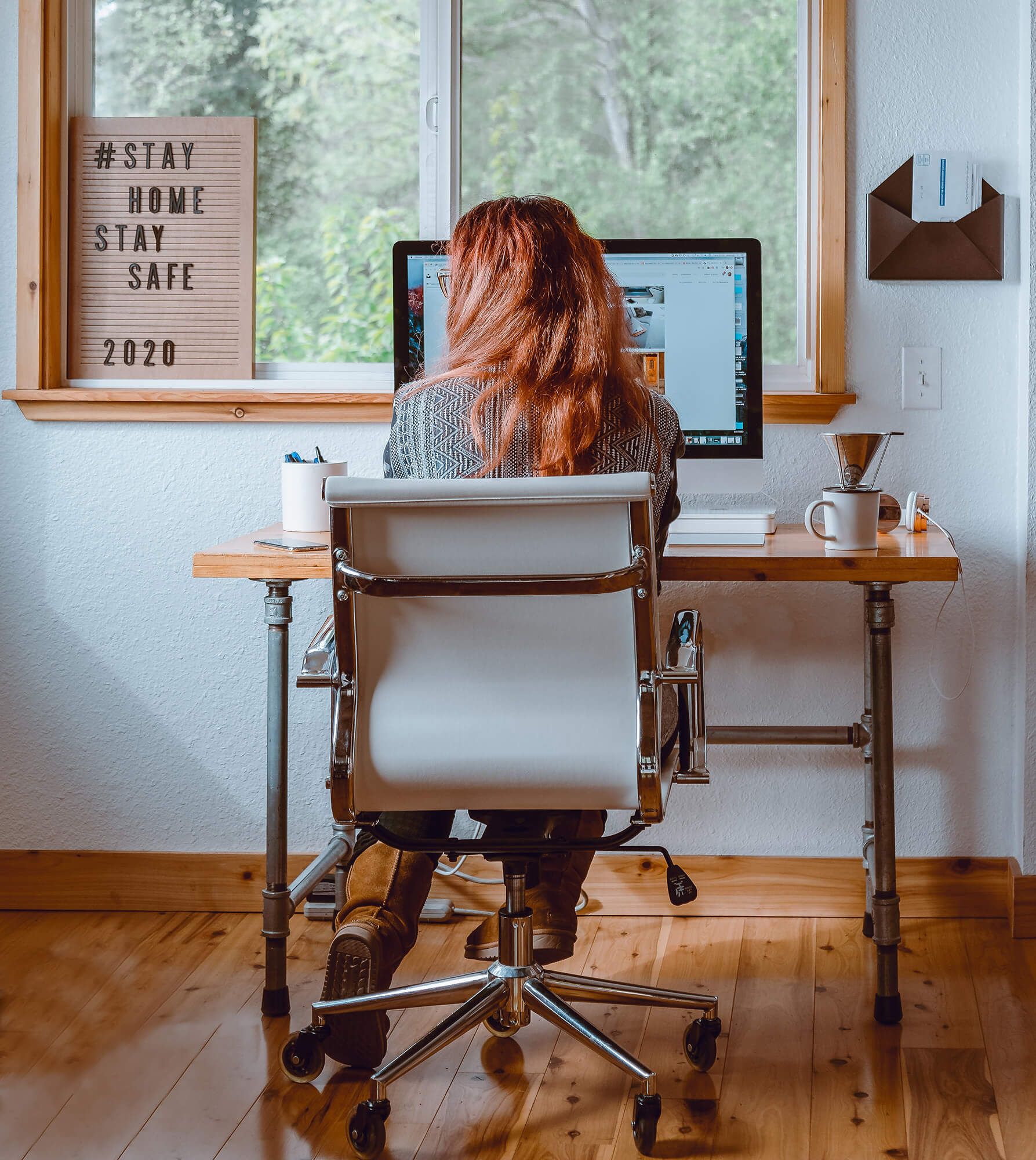 2. Active Stool Chair
If you're worried about sitting still for too long and prefer to work from a standing desk, an active stool could prove beneficial to your small home office setup.
These chairs take up little space and are meant for short periods seated at your desk.
An active stool is an alternative to balance ball chairs, which are commonly used to improve posture.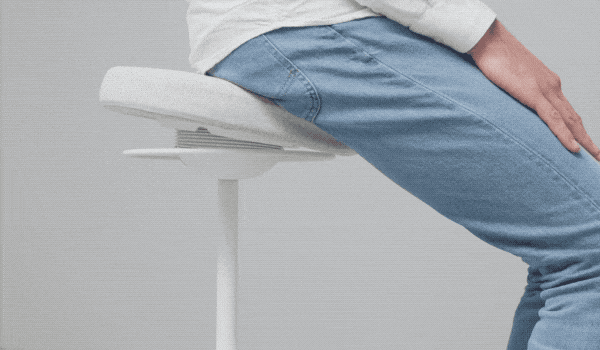 The base makes it easier to rotate and tilt freely while working. Due to this movement, the active chair is great for those who struggle to sit still while working.
Rocking and tilting on the chair work similar to fidgeting. It allows your mind to focus better at work.
3. Kneeling Chair
The kneeling chair is a good choice for those looking to break the habit of slouching while working.
These chairs are great for fixing your posture, even though they take a bit of getting used to.
The unique shape of the chair angles your body forward to straighten the spine. This in turn helps strengthen your back and core muscles, as well as prevent back pain.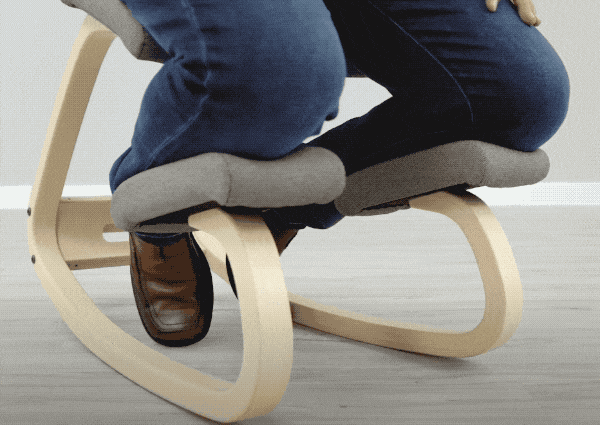 The forward-leaning design of the chair makes it well suited for those who spend a lot of time writing or drawing at their desk. A kneeling chair is also suitable for those who switch between sitting and standing at work.
One thing to keep in mind.
Although these chairs might work a treat for 2-3 hour work bursts, they are not designed for extended hours and long term comfort.
Using a kneeling chair for more than three hours can cut off circulation to the legs. Plus, scientific studies showed mixed results.
4. Drafting Chair
A drafting chair is a small seating option for tall tables and standing desks.
These chairs were designed to provide support while working at a drafting table.
Drafting chairs are height adjustable, with low height seatbacks and elevated foot rings to support your feet while working.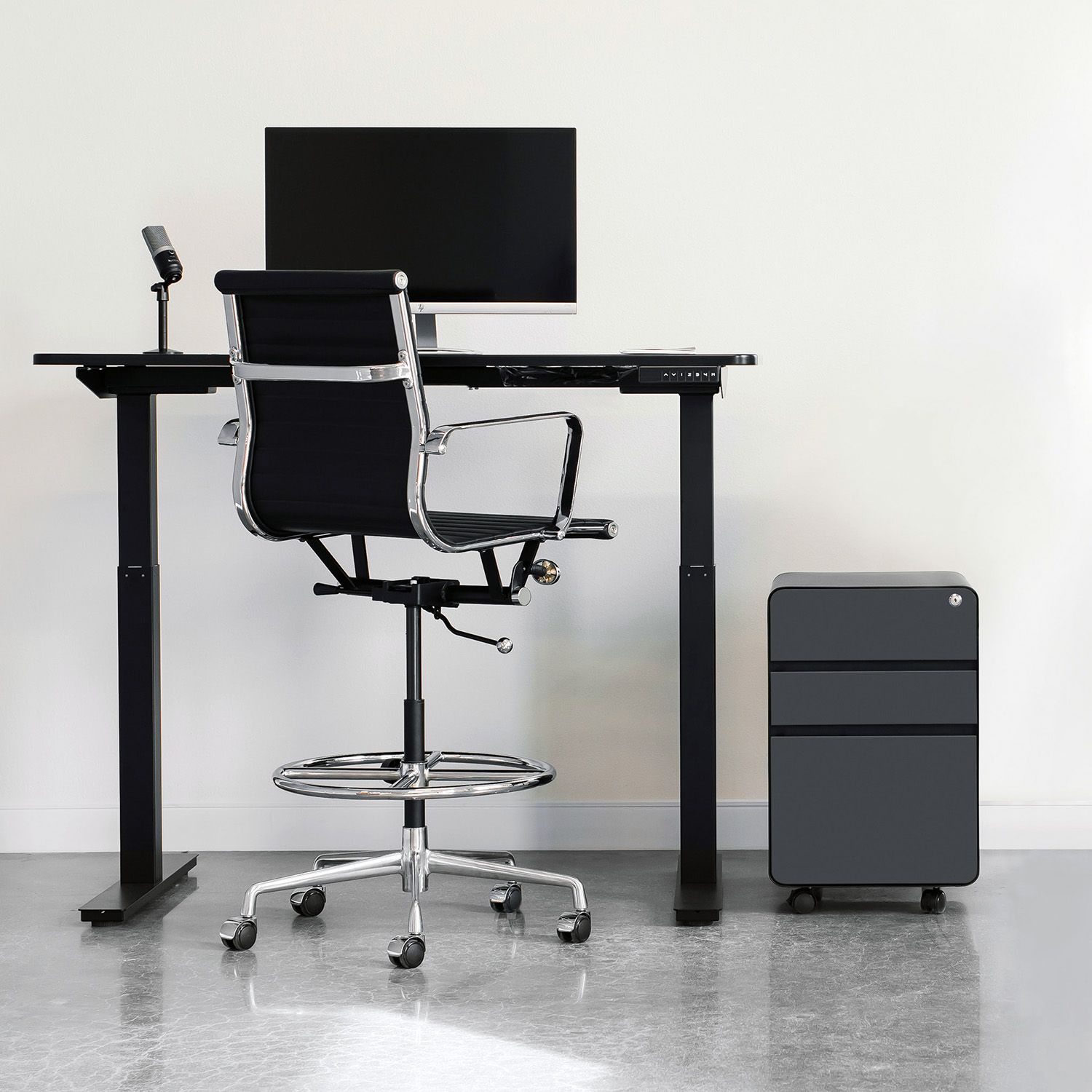 5. Foldable Ergonomic Chair
For those who work in tight spaces like bedrooms, and living rooms, a foldable office chair can make life a lot easier.
These chairs don't come with the bells and whistles of a traditional office chair but are still a significant step up from other foldable chairs.
A foldable ergonomic chair has cushioned seating, wheels, and a curved seat back for lumbar support, and some even have armrests. The ergonomic design of these chairs makes it easier to sit and work for longer hours.
Foldable ergonomic chairs are the best option for tiny office spaces, combining comfort with flexibility.
Storing a small home office chair
In small spaces, being able to keep the chair away after use is a big benefit.
Foldable chairs can be stowed away after use, while backless chairs and stools roll completely under the desk to clear up floor space.
Another option to consider for easy storage are chairs without armrests.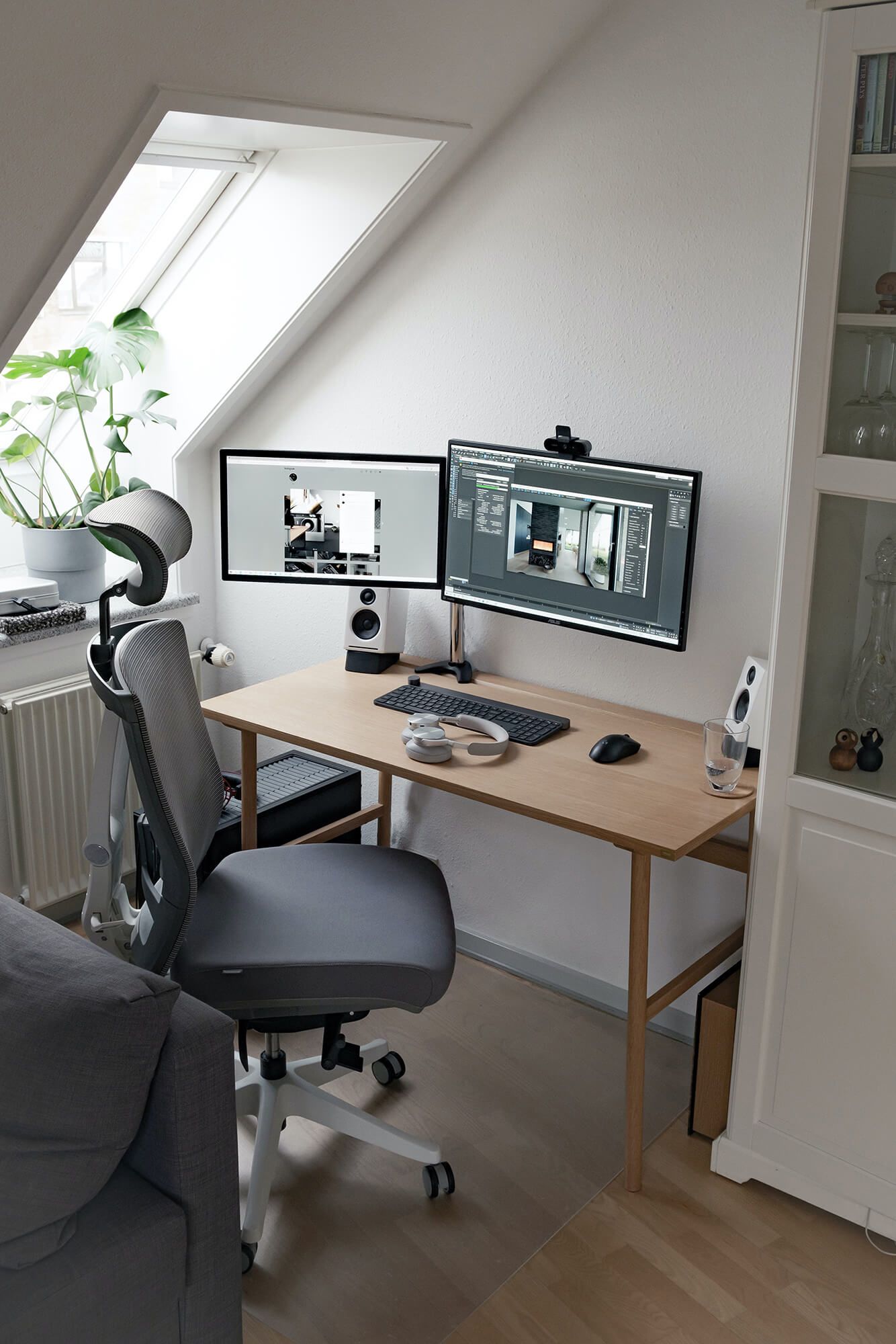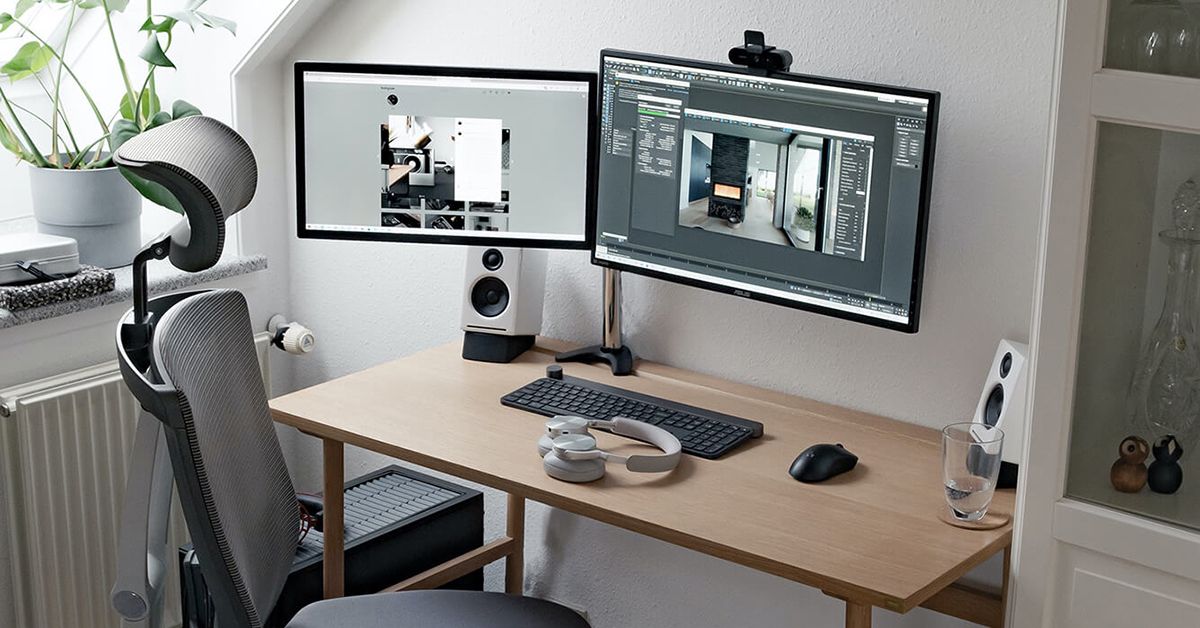 Ventilation
Office chairs have varied back designs to choose from.
Solid back chairs have cushioned back support to keep you comfortable, while mesh chairs use a fabric mesh for support.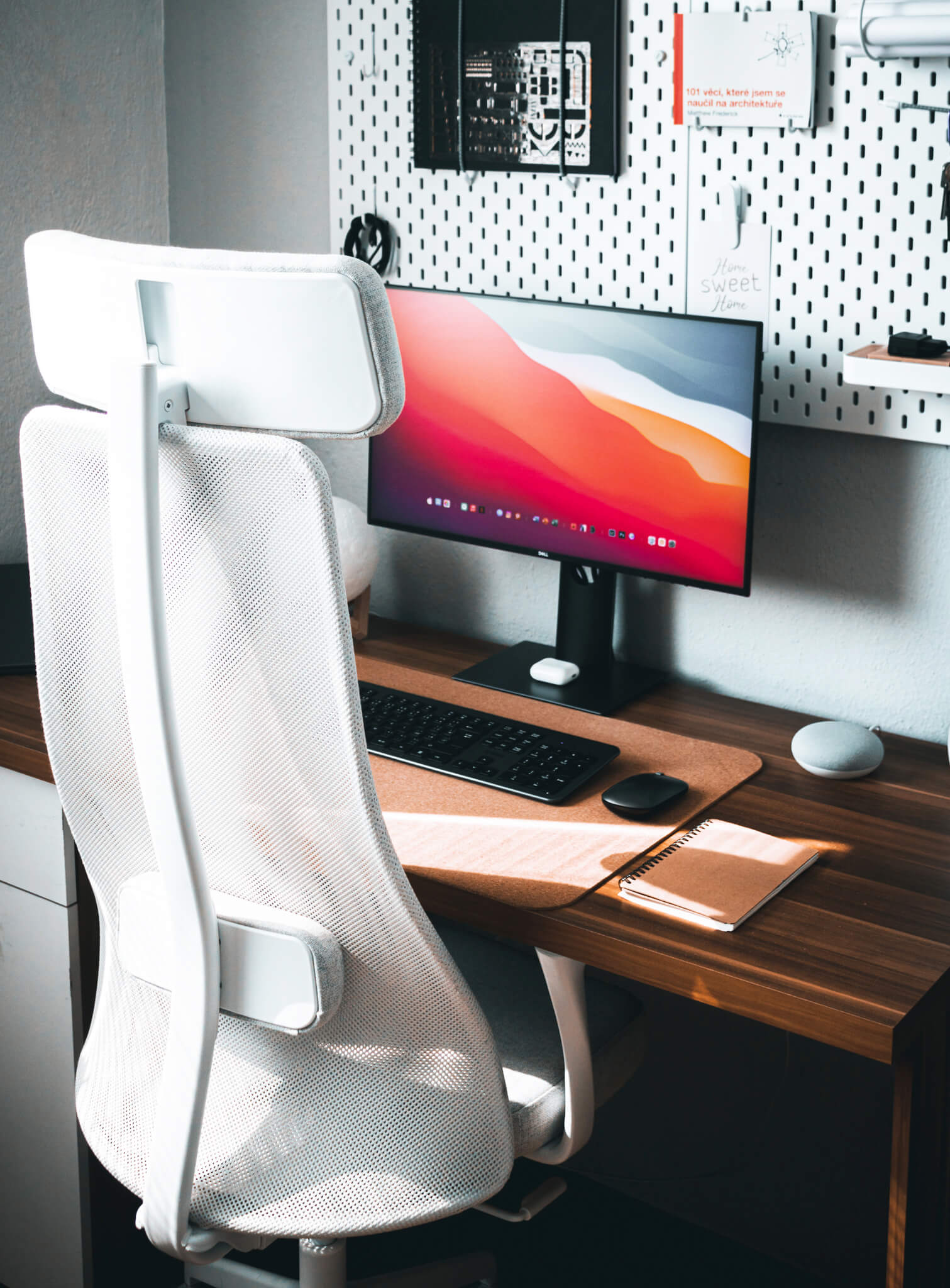 Breathable material and design ensure proper ventilation, keeping your back from sticking to the chair.
In small spaces, solid back chairs can be hard to work with, making ventilation worse.
Chairs with soft fabric mesh backs are better suited to these offices. They allow air to flow through, and keep you comfortable while working through the day.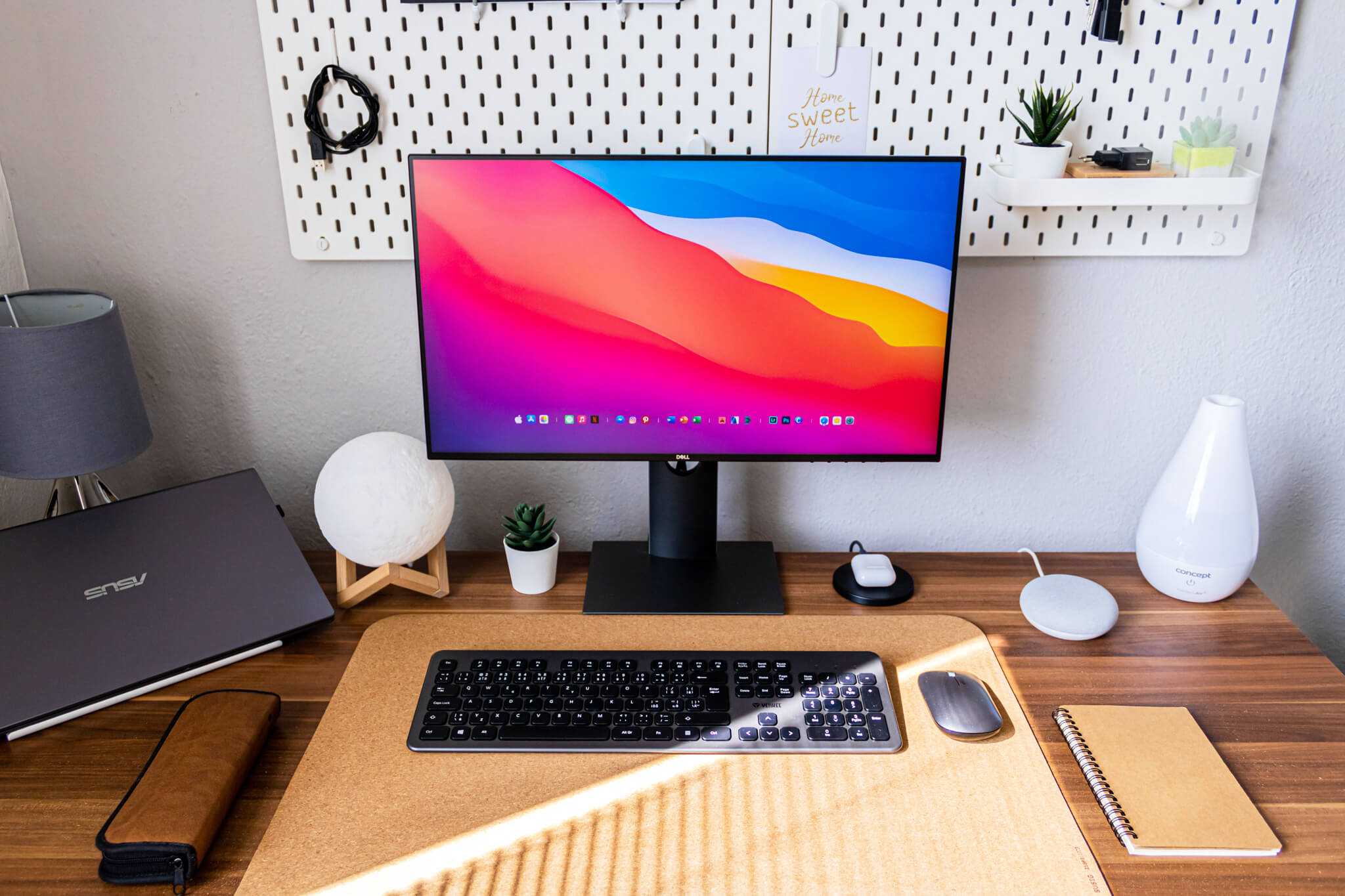 Materials
Living in a tiny apartment means using a space for multiple functions.
The office desk could be your dining table, and the bed your place to watch TV.
It also leaves you with less space for your belongings, all of which leads to more chances of spilling, knocking over, or dropping items.
Materials that are easy to clean make life easier in small homes, giving you one less thing to worry about.
If easy cleaning is a must, plastic and vinyl chairs are the best choices for you.
These can be simply wiped down with a damp cloth to get rid of most stains and dust.
Fabric seating upholstery requires a bit more effort to clean, while fabric mesh can be vacuumed in one go.
Leather chairs are some of the hardest to clean and maintain, making them unsuitable for small offices.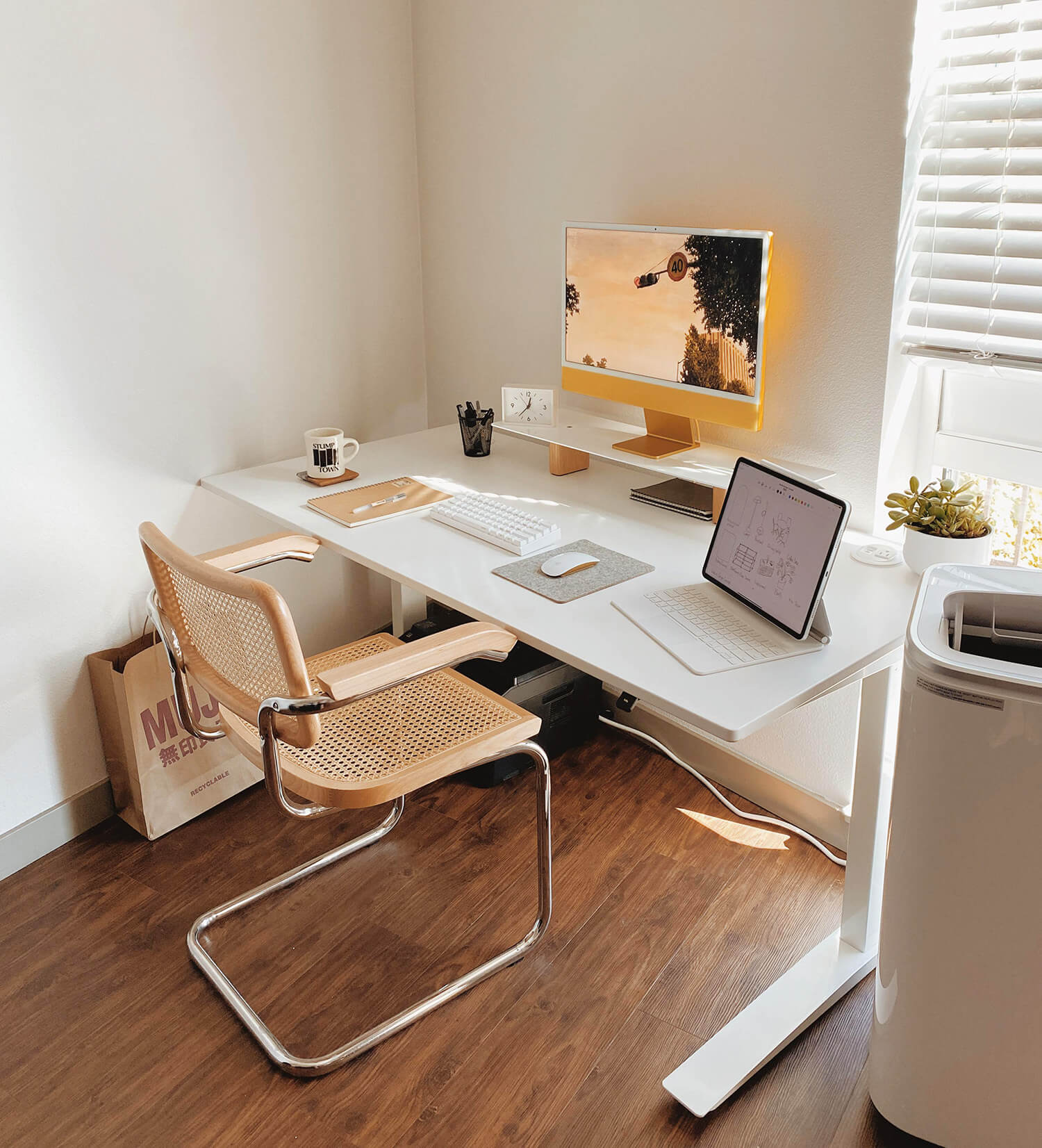 Colours
The colour of your office chair does more than meets the eye.
If your office looks cramped and dark, consider a lighter coloured chair for the space. Lighter colours help the office look brighter and more open by reflecting light, and all the more so when combined with a light coloured desk.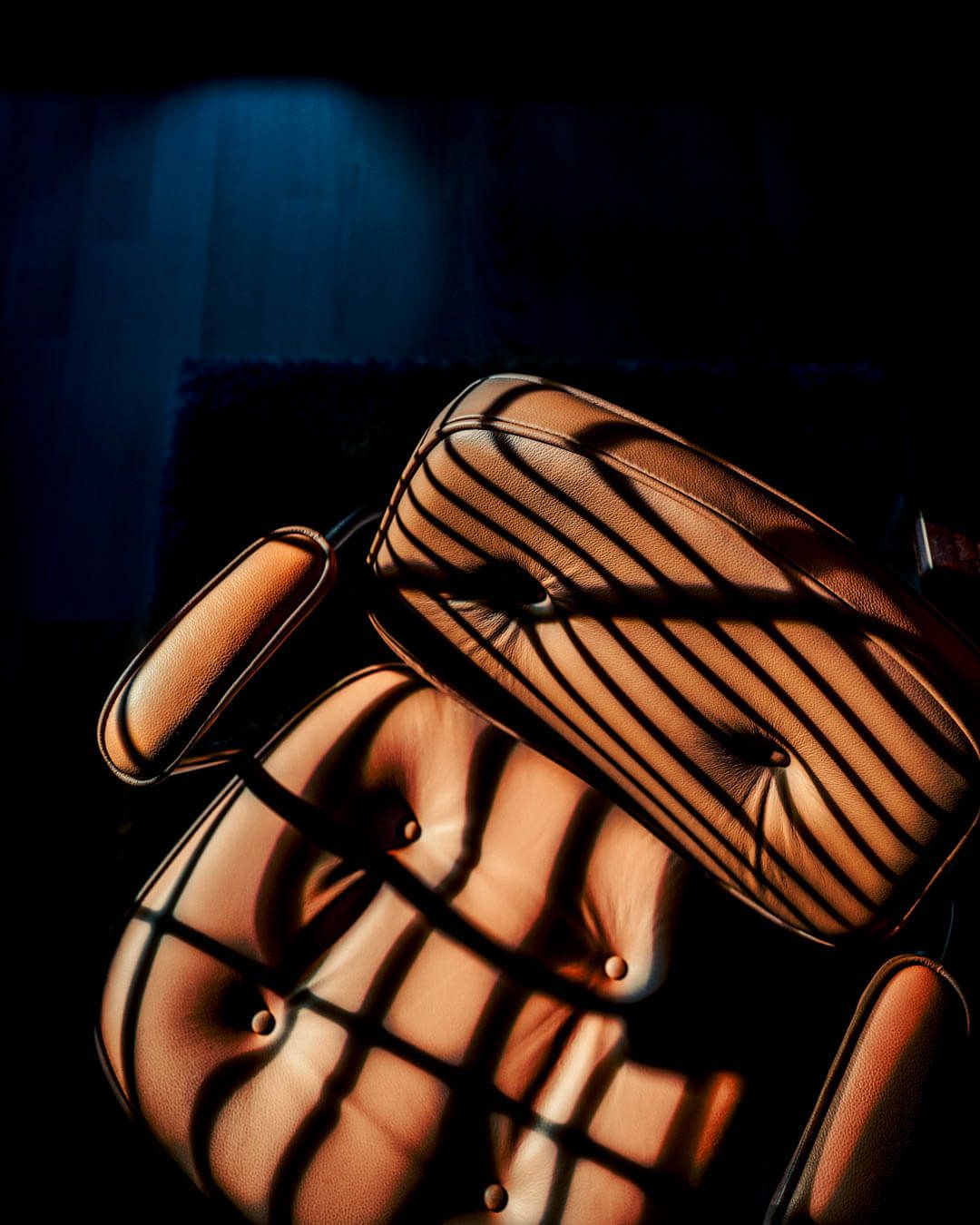 While colours like white may be hard to keep clean, most chair brands now offer a range of fun light neutrals and pale colours. These are perfectly light and easy to keep clean.
A pale brown or muted green chair will add a quirky quality to your home office and make the room look bright and airy.
Chair styles
Along with colours, another factor to pay attention to is the design of the chair itself.
Chairs with a bulky design can block light and appear much larger in a smaller space. In contrast, sleek, modern designs can make your home office look comfortable and large.
Executive office chairs are the worst offenders in this category.
Executive chairs are made for large offices. They take up a lot of space while looking equally massive.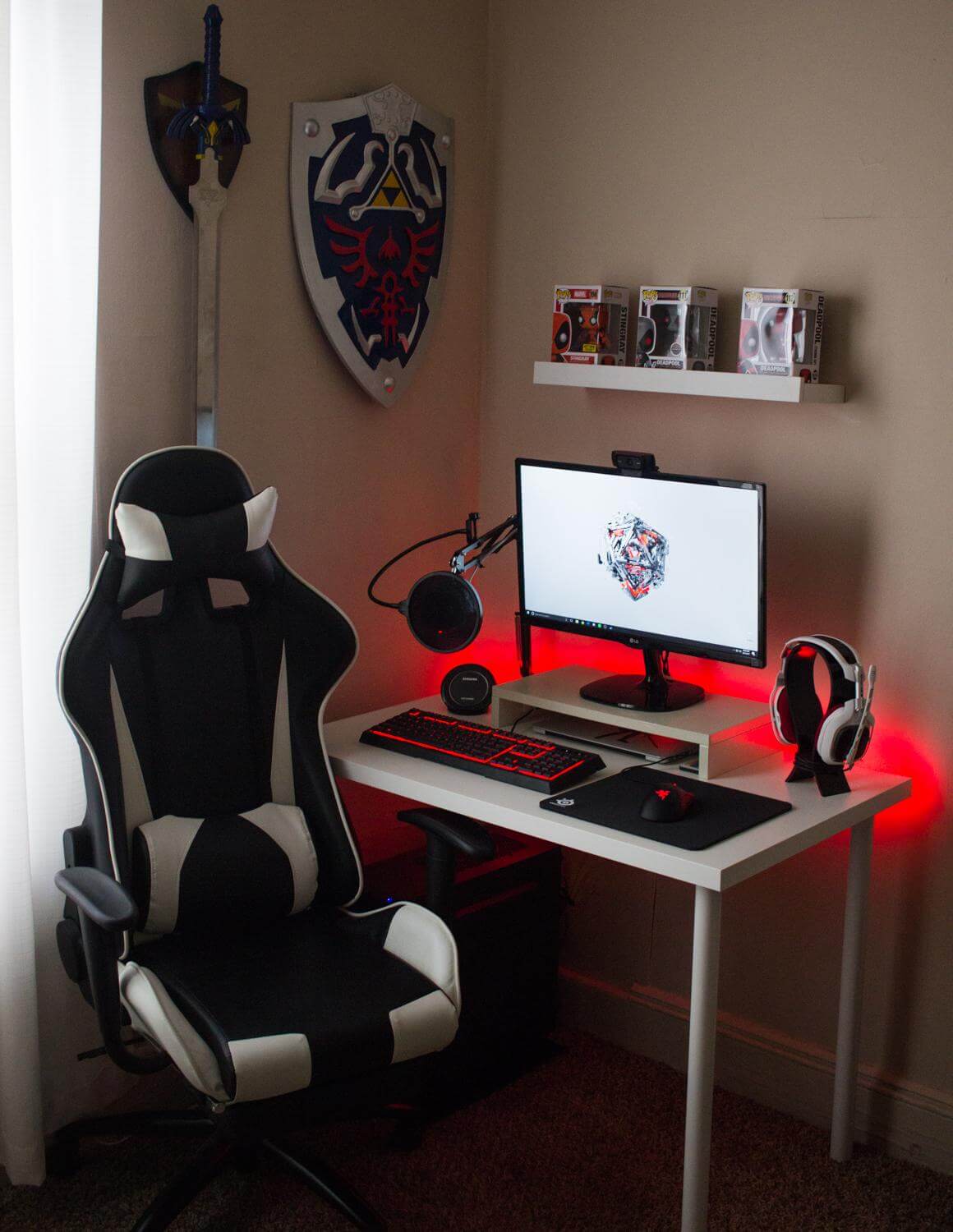 Instead, look for chairs with mesh back or thin back designs.
These look considerably smaller and can help prevent your small office from looking too cramped.
We're a reader-supported publication. This article might contain affiliate links. It means we may receive a commission if you click a link and buy a product that our maker has recommended. The article was written independently.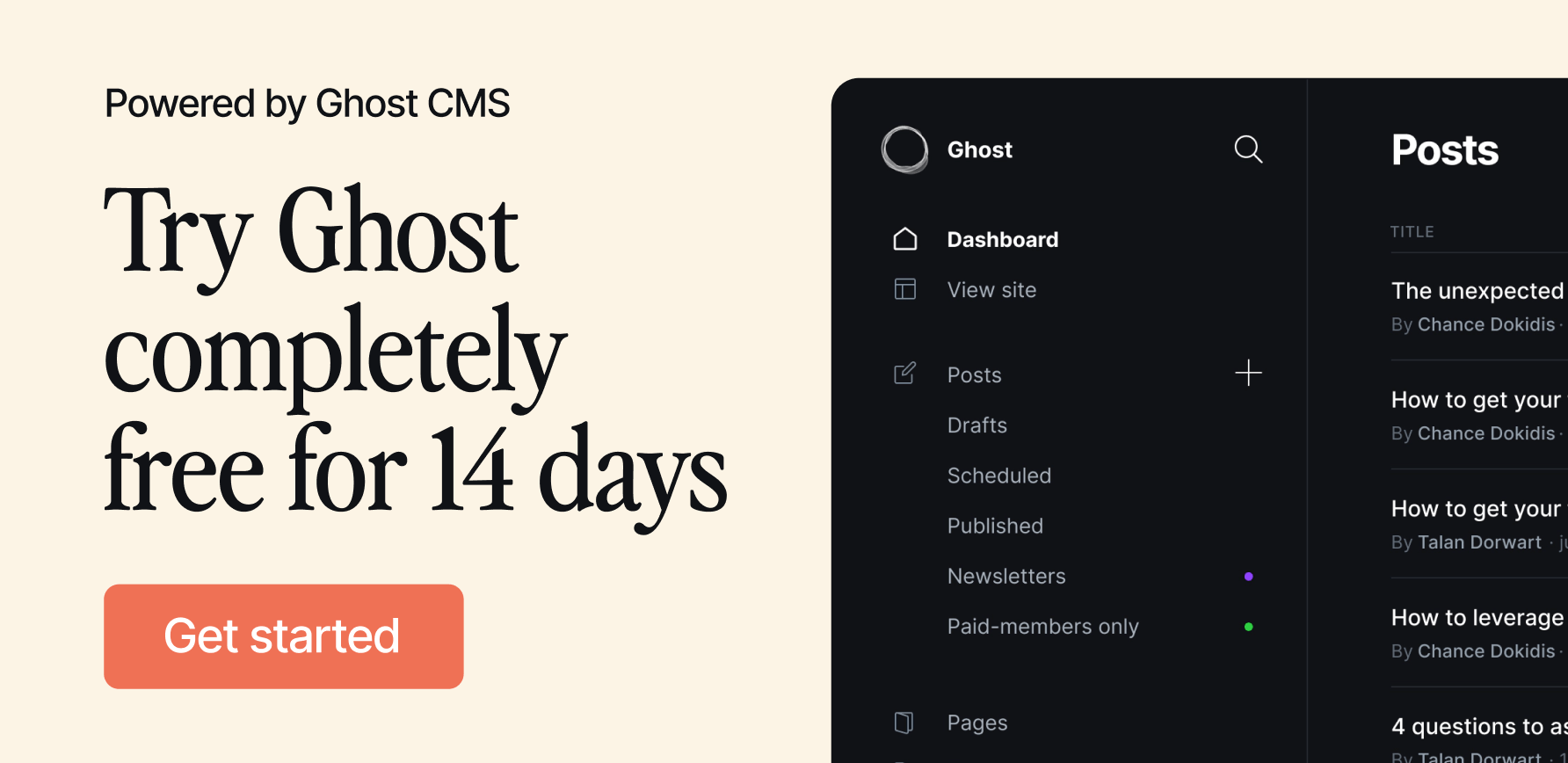 ---