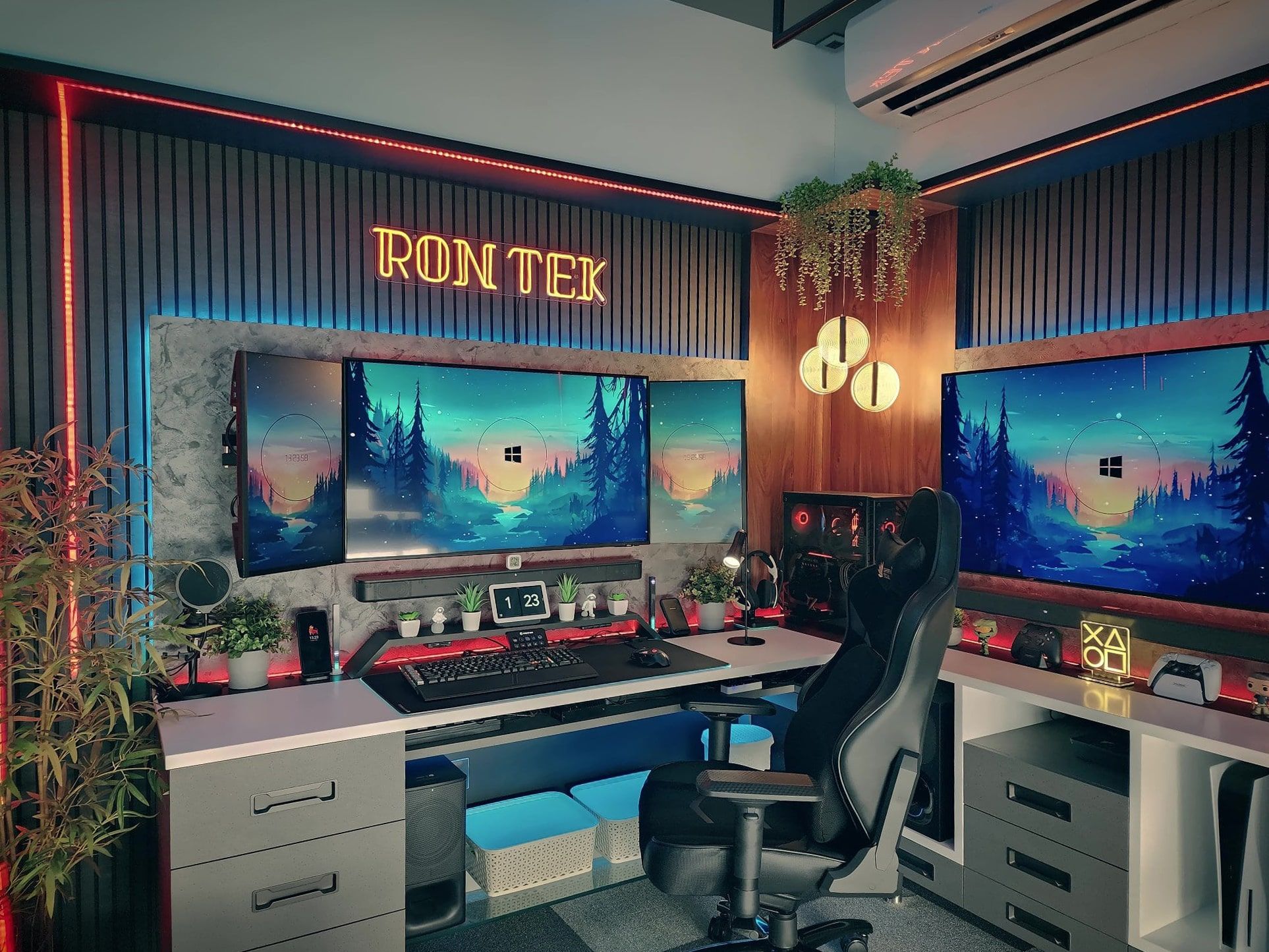 Tech YouTuber's Multi-Purpose Home Office Setup in Mumbai, India
"I use my laptop or tablet for lighter tasks like researching and scripting, while I rely on my desktop PC for heavy tasks like editing"
What's Inside
Join 1000+ Curious Readers.
Every Sunday evening, get an *in-depth* workspace tour from a random corner of the world.
Name: Ronak Shah
Location: Mumbai, India
Occupation: Tech YouTuber
Room size: 13 m² (140 ft²)
Cost of setup: ~$20K
Social media: Instagram, Twitter
Hello! Tell us a bit about yourself
Hi, I'm Ronak.
I'm a YouTuber who reviews tech on my channel called RON TEK.
Since childhood, I have had a liking for computers, gaming consoles, and mobile phones.
During my teenage years, I witnessed the entire transition of phones from simple devices that could barely make calls and send texts to the advent of smartphones.
I became obsessed with every new phone launch and the features they brought.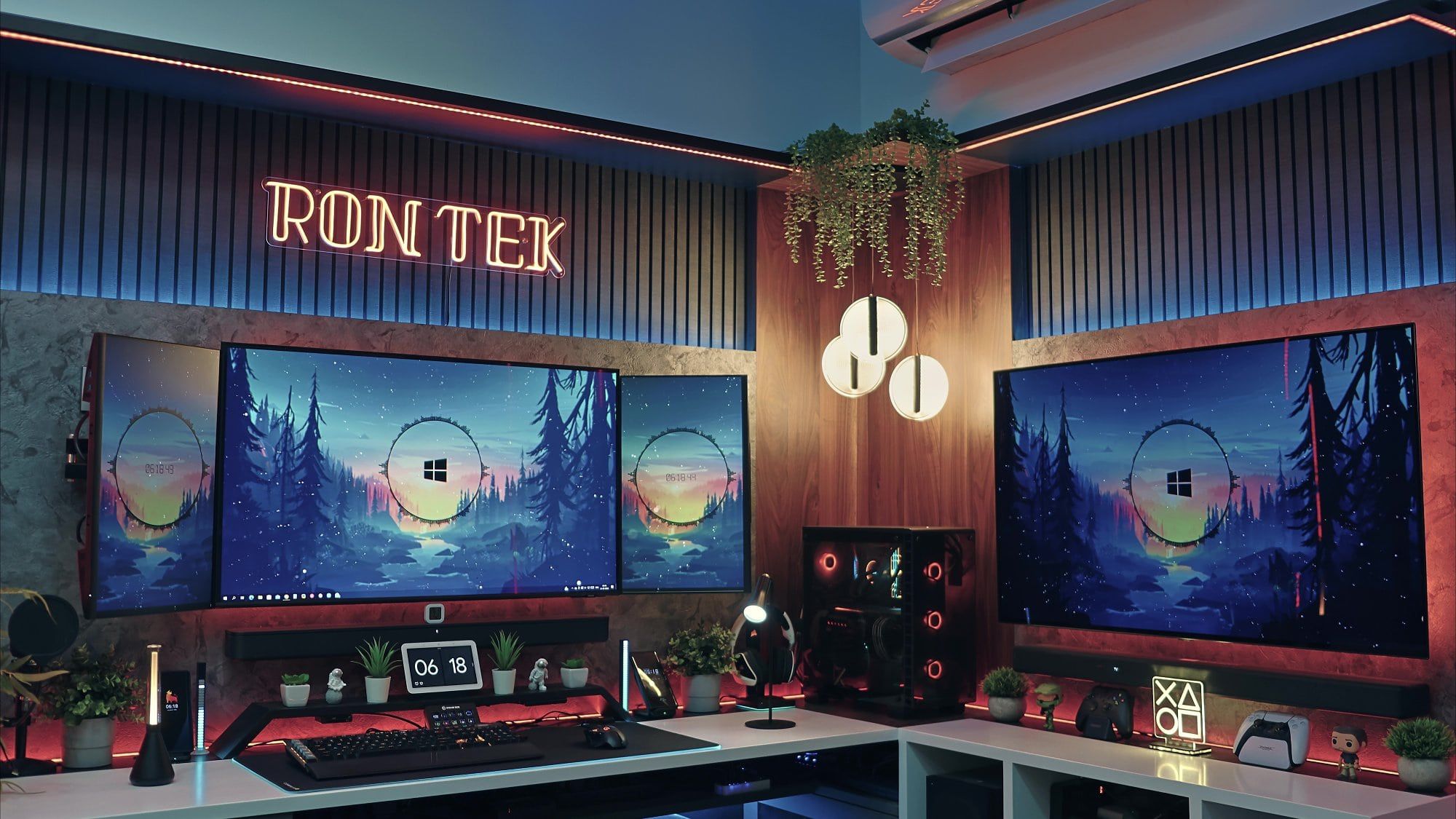 Additionally, my passion for gaming led me to build my own PC, considering the required specifications for my favourite games, which further sparked my interest in computer hardware.
Therefore, I decided to turn this passion into my career by specialising in smartphone and computer hardware reviews.
Take us through your setup
This room is my bedroom as well as my workspace.
So, I designed it to serve four requirements.
A space where I can shoot videos of the products I review.
A desk setup where I can do research, write scripts and edit videos.
A bed which can disappear when I need more space for video shooting.
A dedicated setup for entertainment and gaming.
Each of the four sides of my room is designed to fulfill one of these requirements.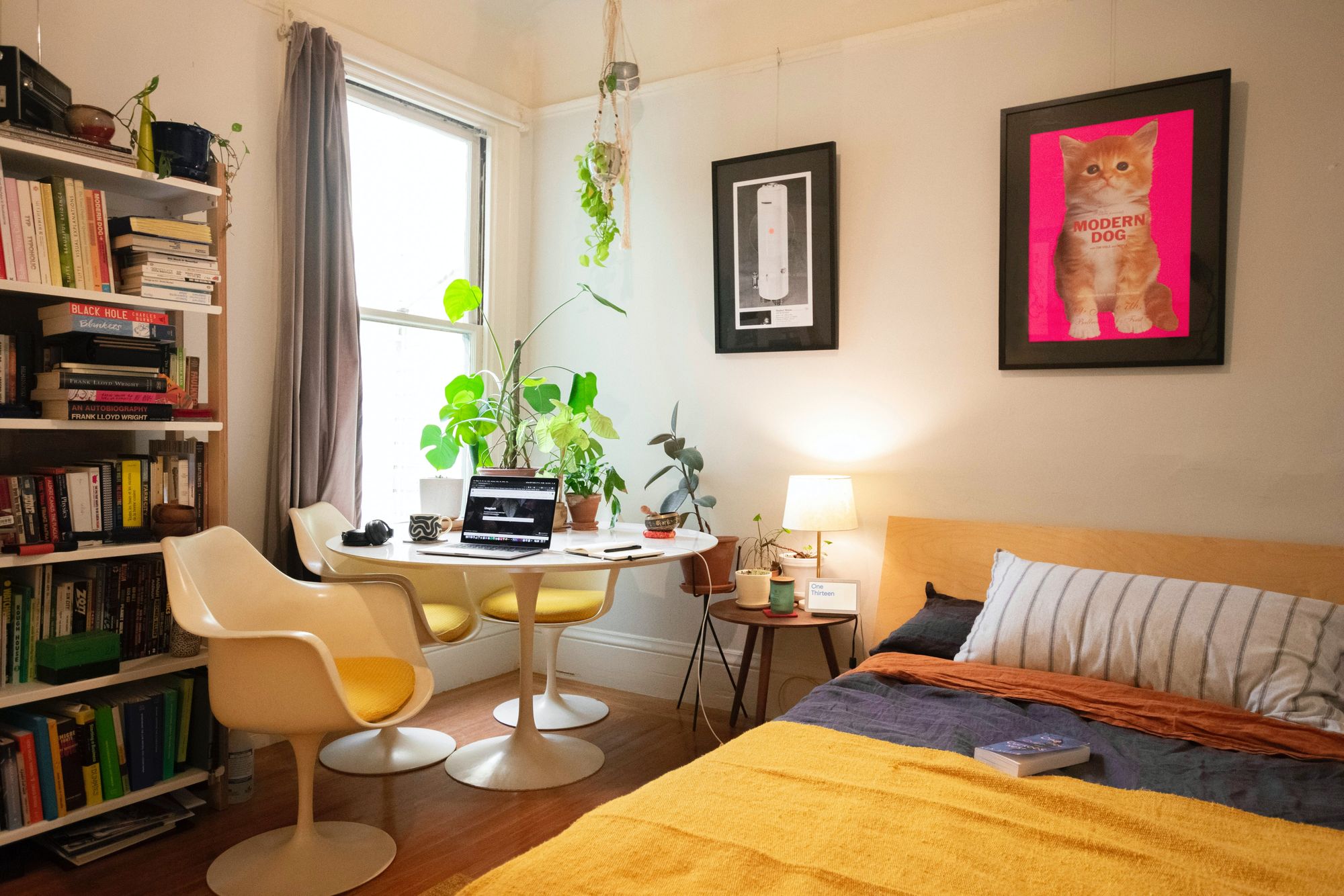 The first side has a wall folding bed, allowing me to fold it easily and free up more space instantly.
Above the bed is a shelving unit.
It holds many items of huge importance for me, including action figures from my favourite movies, TV shows, anime, and symbols of my nation and culture.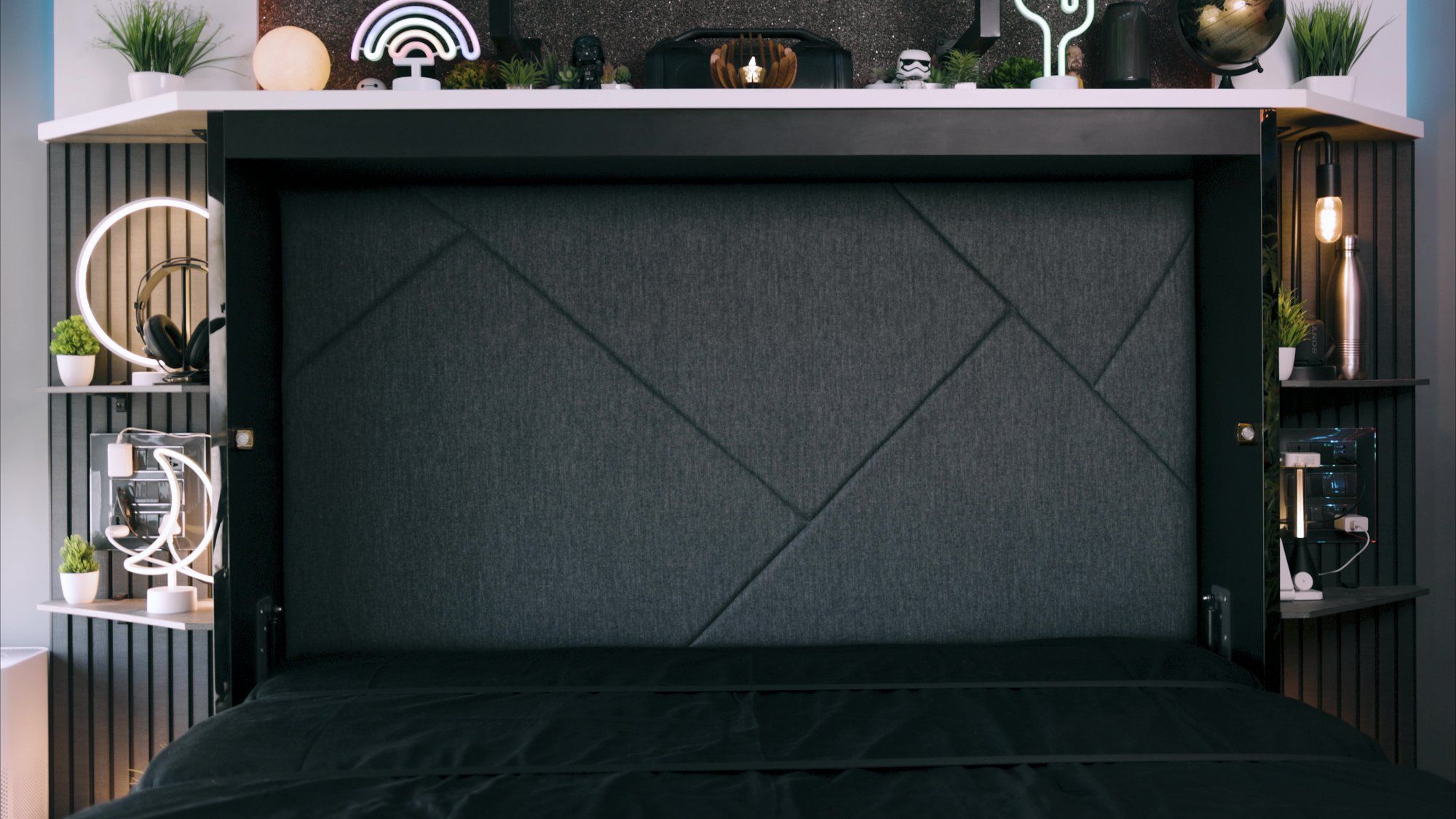 The next side features my main desk setup with a wall-mounted triple monitor setup.
This includes a big 43″ 4K TV and two 24″ monitors mounted in a vertical orientation on either side of the TV.
This setup covers my entire field of view, making it super immersive and ideal for multitasking.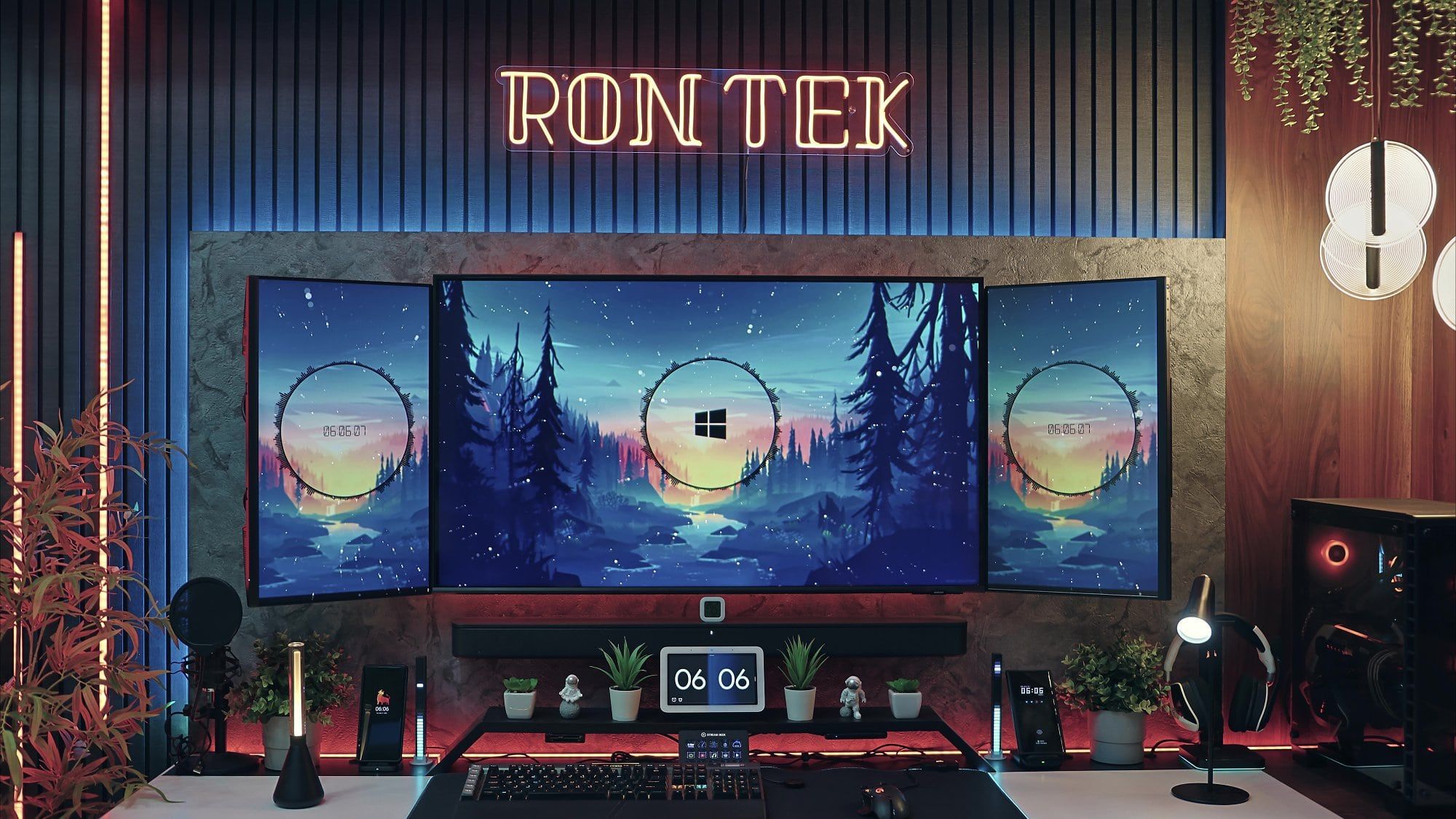 I thoroughly enjoy editing on this massive screen because I can fit all my editing tools, a lengthy timeline, and a large preview screen on it.
Meanwhile, the two vertical displays are perfect for displaying my script, storyboard, and file manager.
The third side is my entertainment and gaming setup.
Here, I have an OLED TV with 4K 120Hz support, which is ideal for gaming on both my PC and my PS5.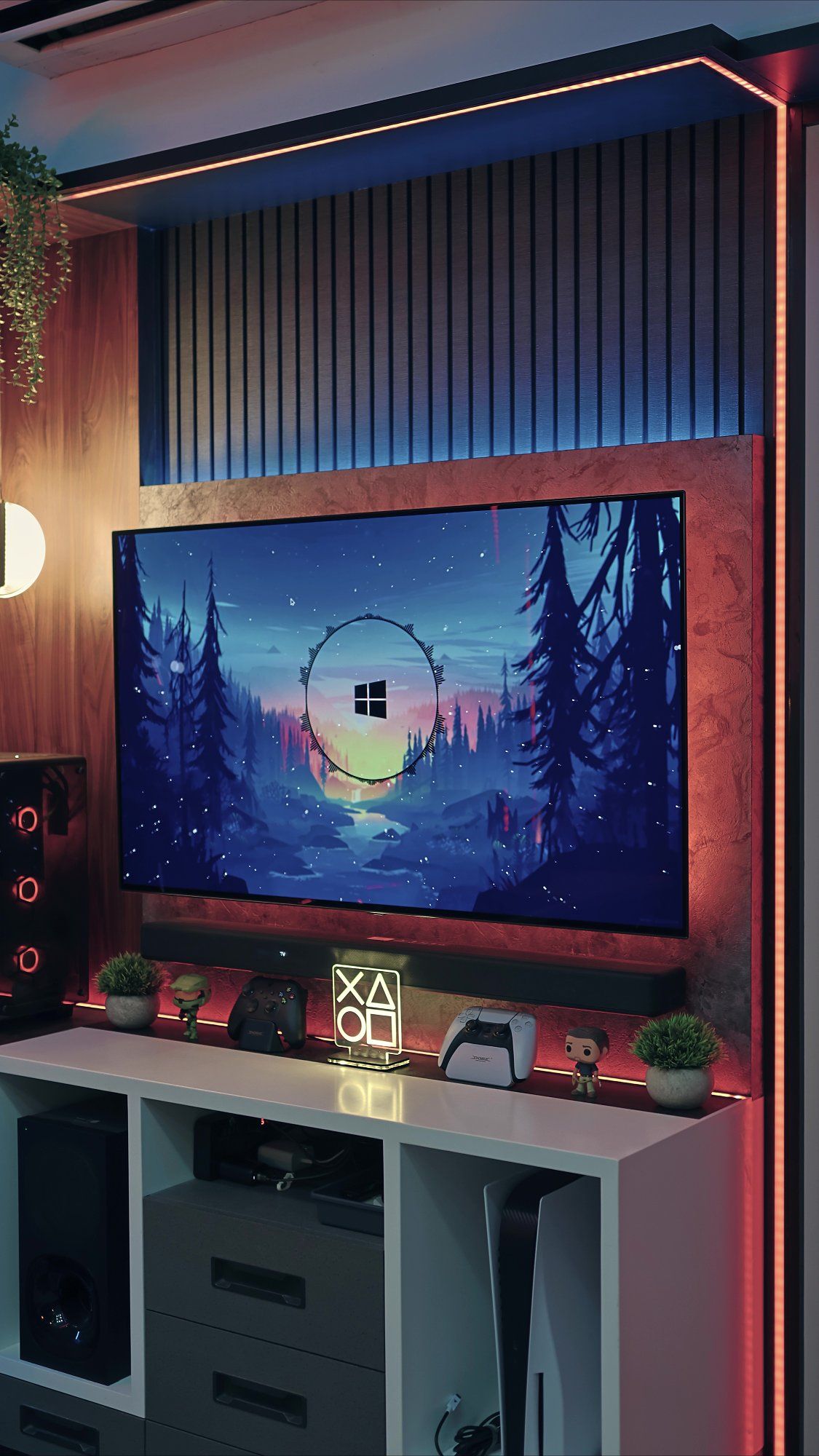 The TV and sound bar together provide Dolby Vision and Atmos support, creating a fantastic movie-watching experience.
I also have a pegboard on this side to hold small items that I need frequently.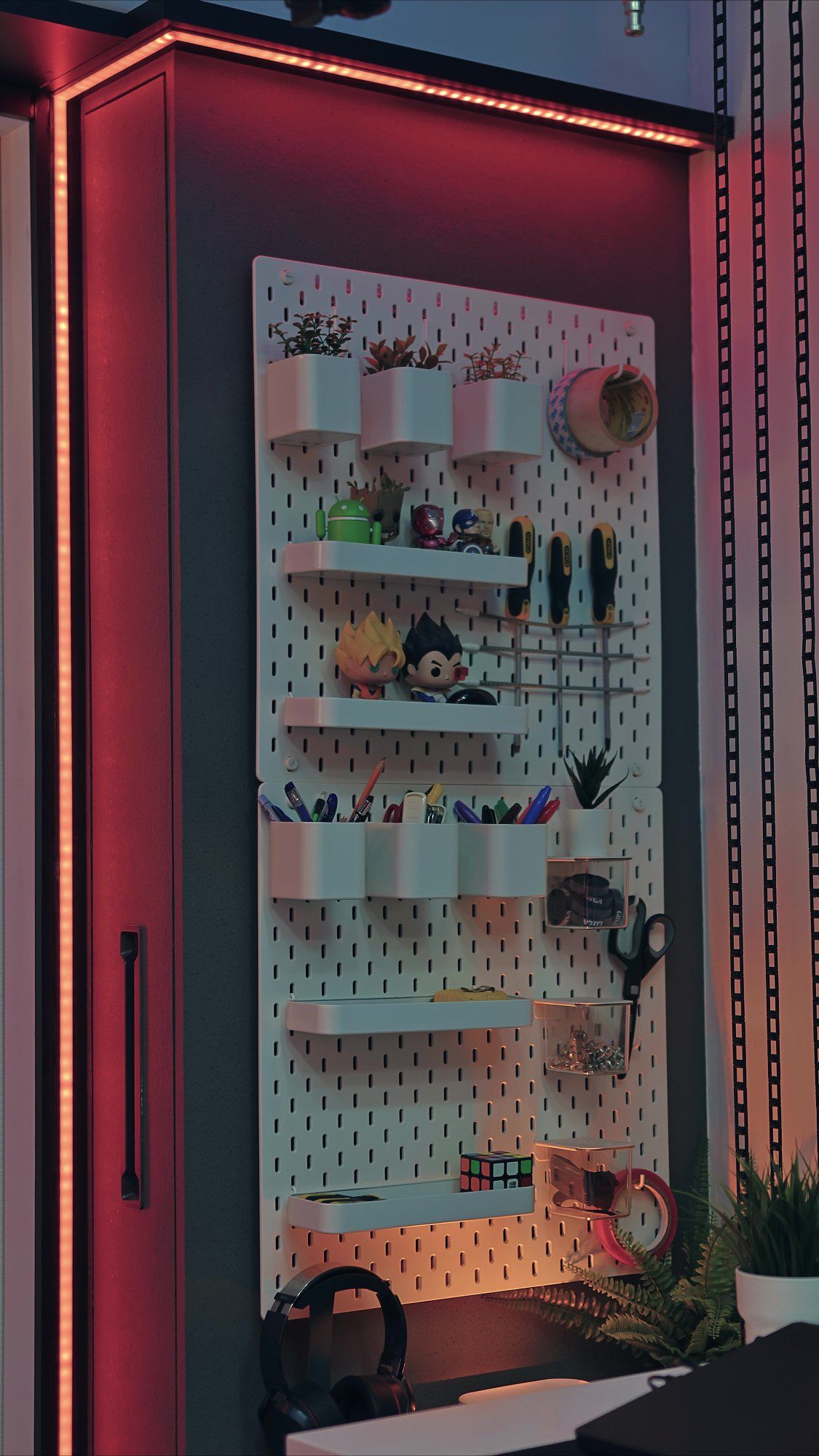 The fourth side, which includes the room's large window area, features three seamless paper roll backdrops positioned above the window for video shooting.
White and dark grey paper rolls are very versatile as backgrounds for video shooting, and a green screen brings endless possibilities.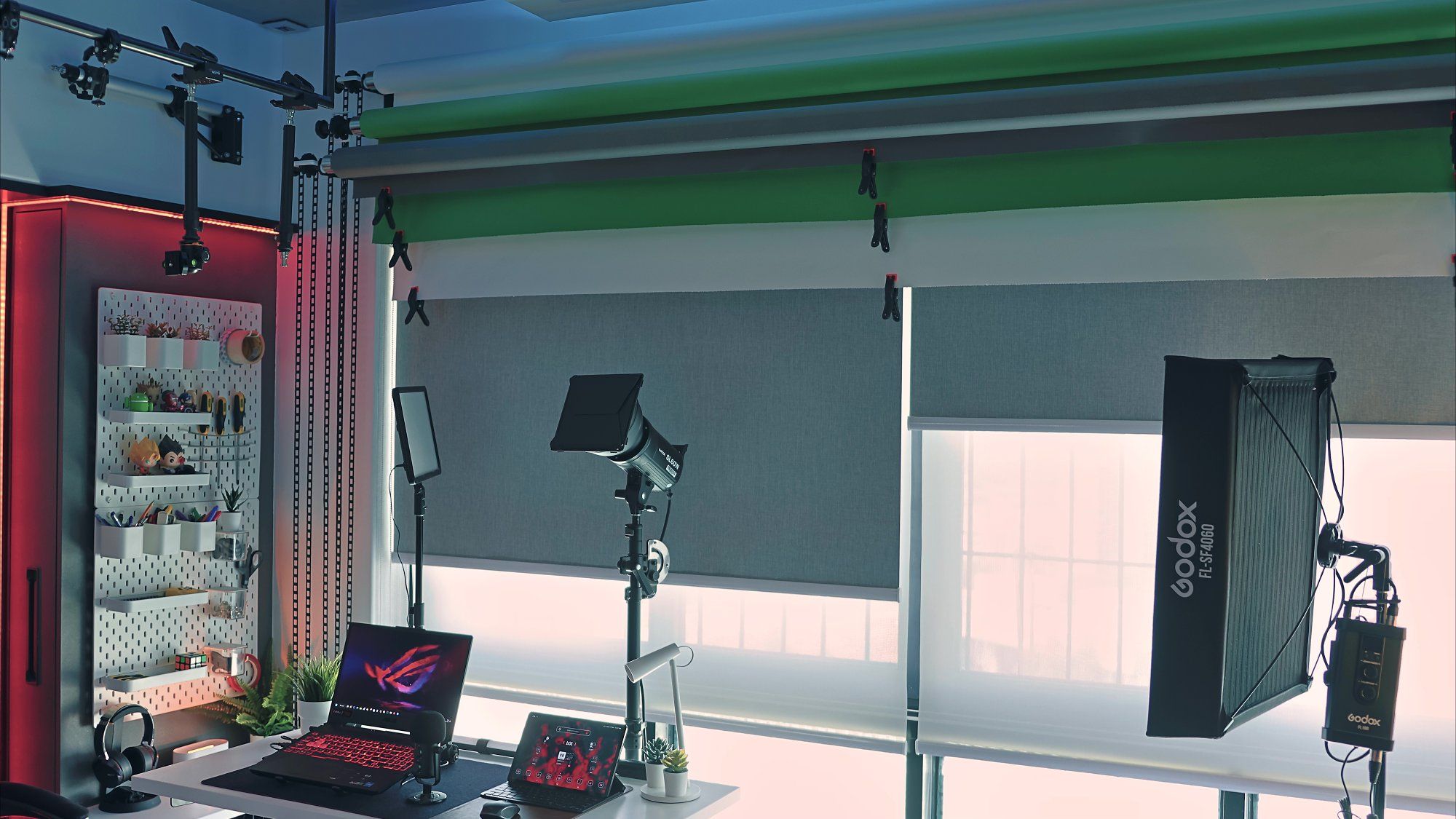 I also have a motorised sit-stand desk on this side, which holds my laptop and tablet setup.
I use this desk for shooting top-down videos of the products I review, as I have an overhead camera rig right above this desk.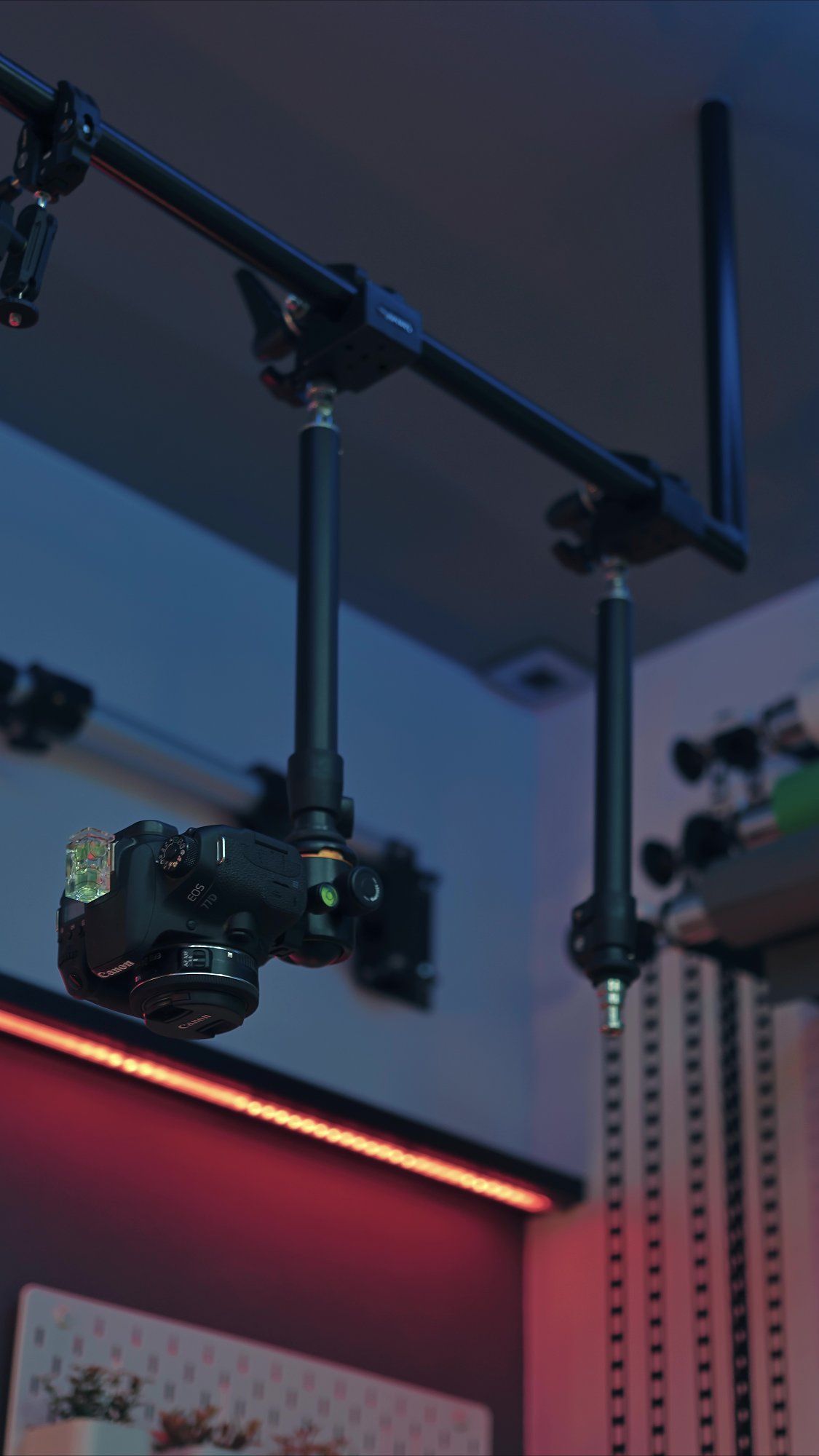 This room took a lot of planning and time to build. Originally, I wanted to build it back in 2020, but due to the pandemic, it got delayed until 2022.
As pretty much all the furniture is custom-made on-site, it took over six months to build with the help of a team of carpenters, painters, and electricians.
Now that the room is finally done, the next big step will be related to my PC. My current PC is about five years old and is due for an upgrade.
What's your favourite item on your desk?
My favourite item on my desk has to be my custom PC.
It's old and grumpy, but it's still the lifeline of this desk setup.
I built it in early 2018, and during that time, it was easily one of the most powerful PCs one could build or buy.
It has served me very well over the years, and even now, all my heavy video editing work is done on this PC.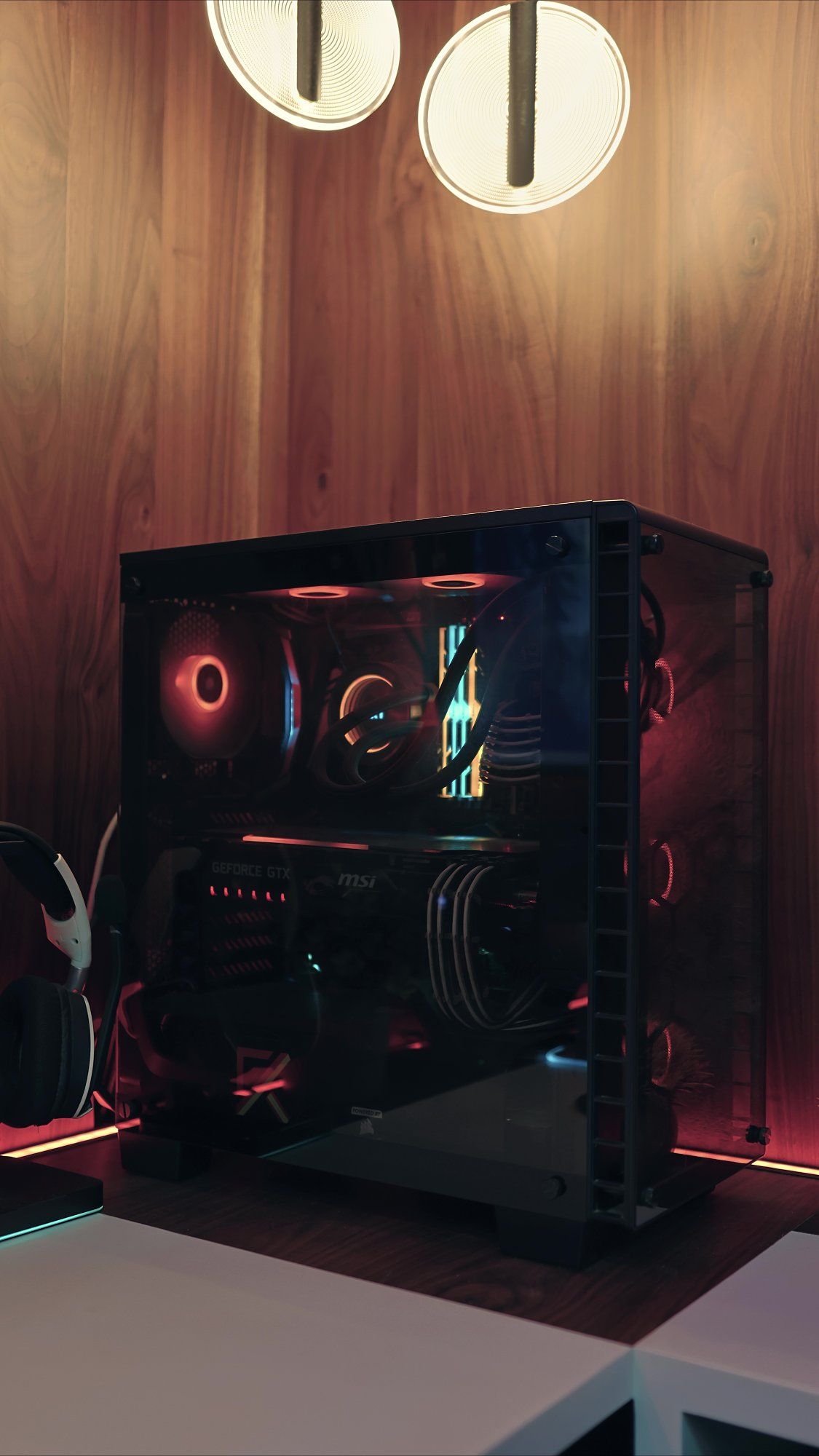 What apps or tools do you use to get things done?
The Adobe Creative Suite is what I use for my work.
Within the Adobe Suite, Premiere Pro and After Effects take care of video editing and special effects, and Audition is used for sound designing and voiceovers.
Photoshop, Lightroom, and Illustrator help me in designing thumbnails and creating social media posts.
I really like the Adobe Creative Suite as it is a one-stop-shop offering all the creative tools I need in my workflow.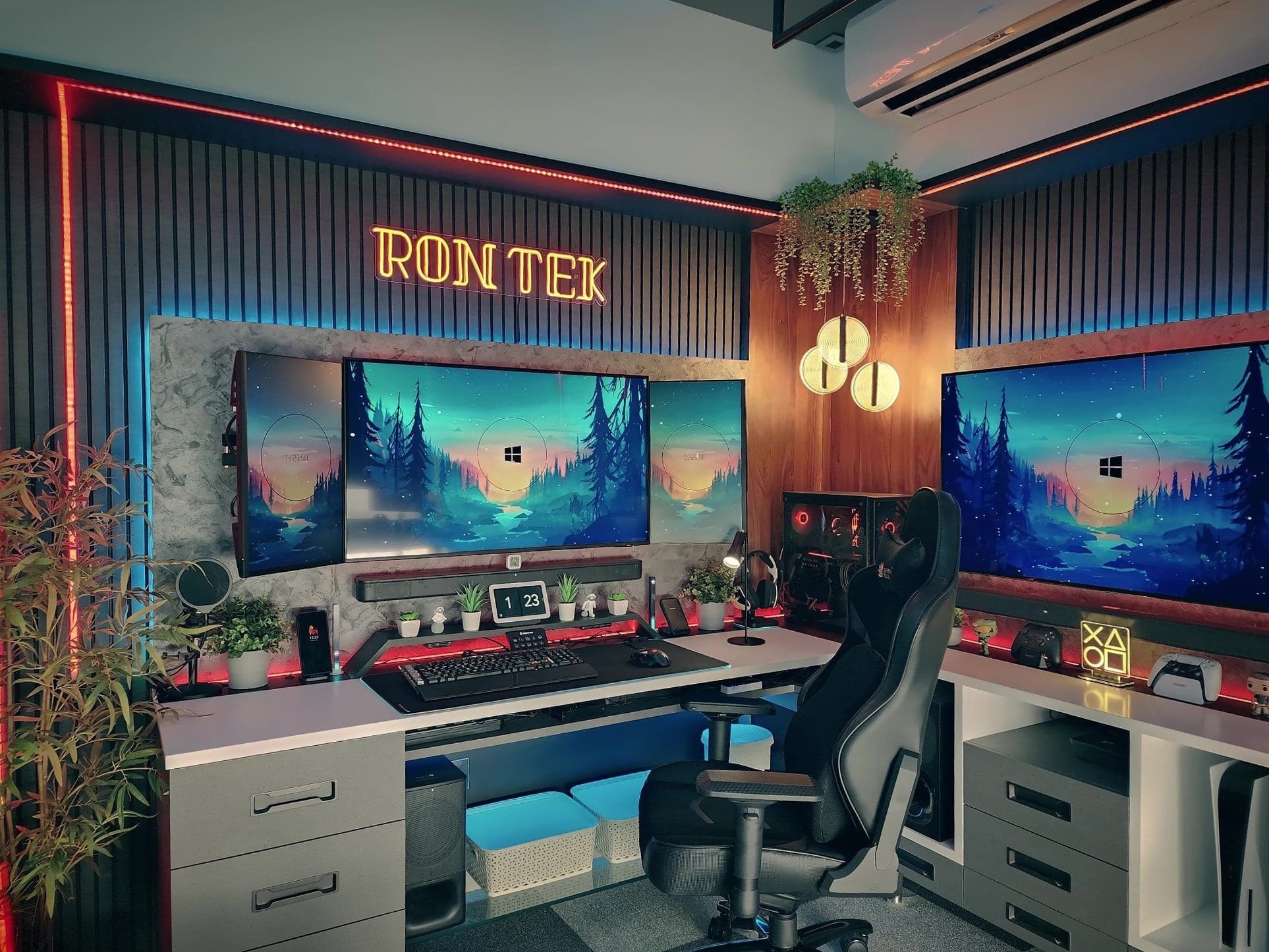 What books, blogs or podcasts recently caught your attention?
I had a good time watching a podcast by Flagrant with MKBHD (Marques Brownlee), a tech YouTuber whom I greatly respect and admire.
It was fun getting to know his other side and observing how he simplifies explanations of new technologies for those who aren't as tech-savvy.
Any tips for other makers who want to improve their workspaces?
While designing or conceptualising a home office setup, it is crucial to prioritise practicality over aesthetics.
Although aesthetics are important, they should not come at the expense of practicality.

The desk setup should be built with efficiency in mind, as this ultimately saves time in the long run.
This saved time can be better utilised for spending more quality moments with loved ones, engaging in new hobbies, or acquiring new skills.
What does your typical day look like?
I don't really have a set routine.
My waking up time and sleeping time mostly depend on what I'm doing on a particular day.
However, I generally prefer waking up early at around 4-5 am, when I write scripts for my reviews. The freshness of the morning helps me articulate my thoughts better and faster.
When it comes to shooting videos, I prefer staying up all night and sleeping during the day.
There's something about the peace and quiet of the night that helps me focus better on video shooting.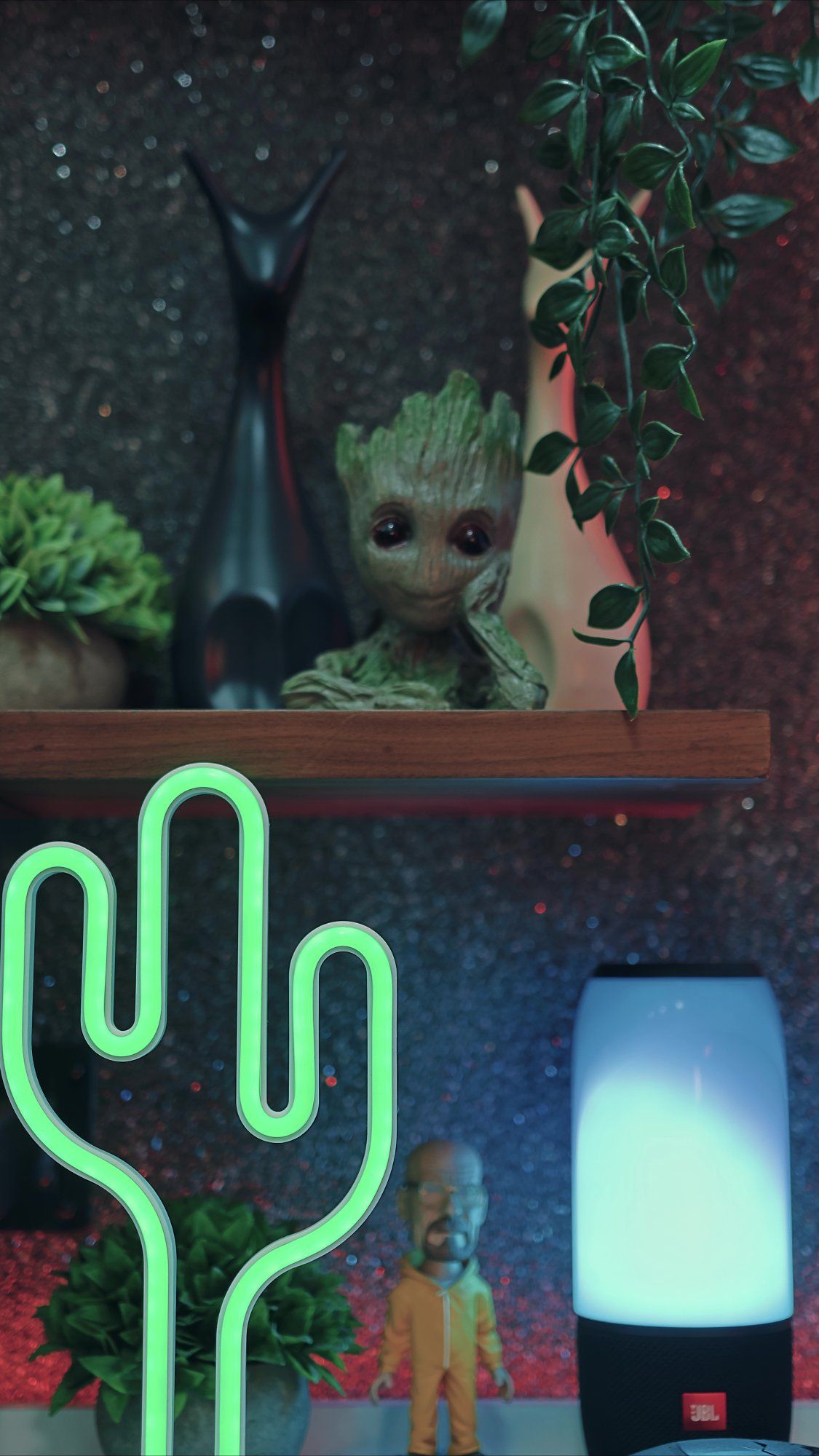 As for video editing, I don't have any specific preference — I can do it both during the day and at night.
After completing a video review, I take one to two days off to replenish my creativity.
During this time, I like to switch off and relax.
When I wake up, the first app I check is YouTube Studio.
It provides me with the latest statistics on my channel and notifies me to reply to new comments on my videos.
On average, I spend six to eight hours at my desk, but when I'm fully engrossed in the editing process, I can go on for 14-16 hours a day with minimal breaks.
To keep things fresh, I switch between my desktop and laptop setups.
I use my laptop or tablet for lighter tasks like researching and scripting, while I rely on my desktop PC for heavy tasks like editing.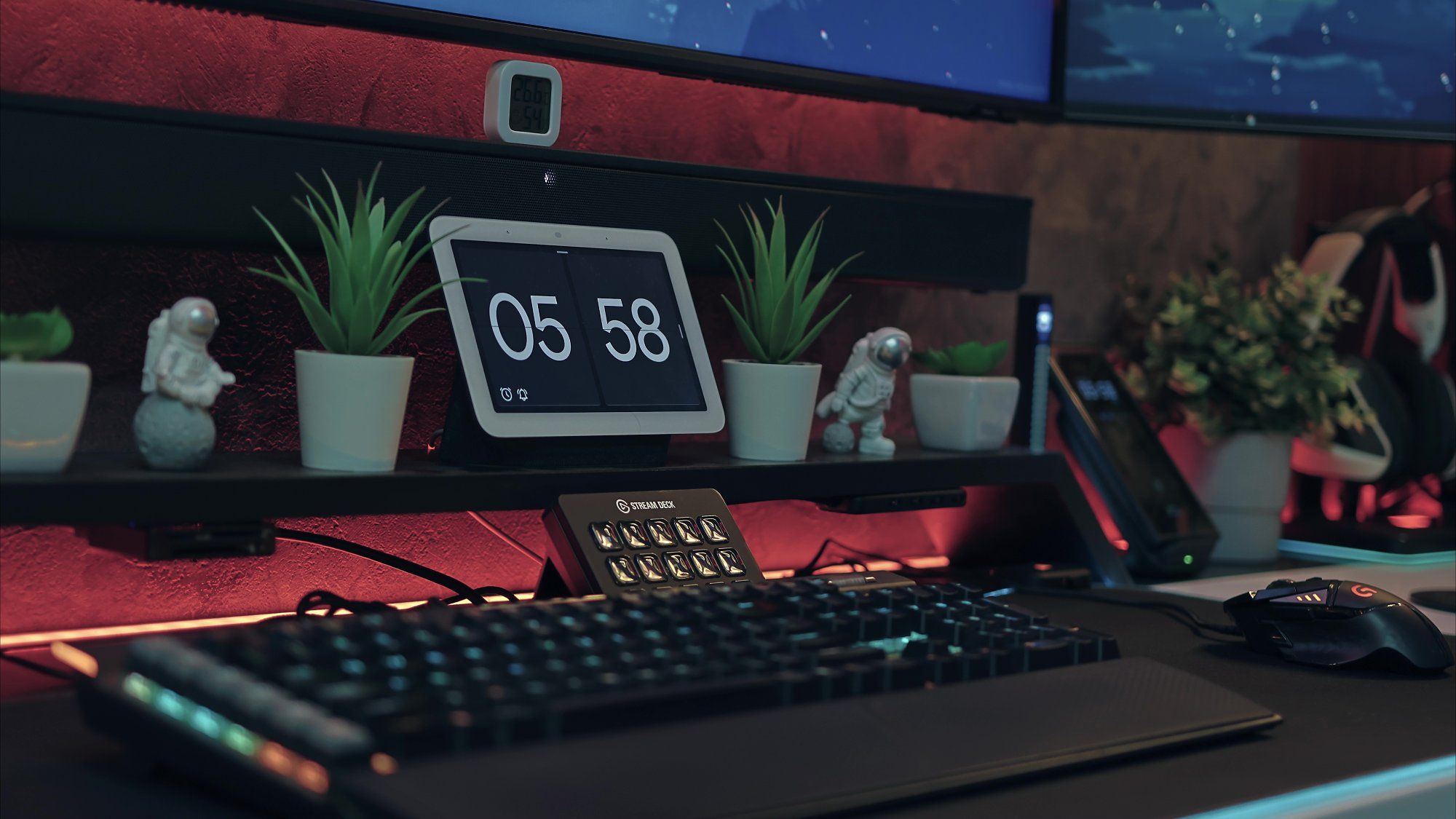 During breaks, I love playing video games on my PS5.
I'm particularly drawn to PlayStation-exclusive games for their immersive, story-driven single-player experiences that transport you to a completely different world.
Some of my favourite games include Spider-Man, Ghost of Tsushima, and God Of War.
Your tips for working from home?
Working efficiently from home can be tricky, considering it's both a place of rest and work.
This is particularly true for self-employed individuals without fixed schedules or anyone to be accountable to.
That's why it's important to establish rules or rituals that help separate work time from leisure time.
In my case, I rely on the folding bed as a signal. Once the bed is folded up, it's work time.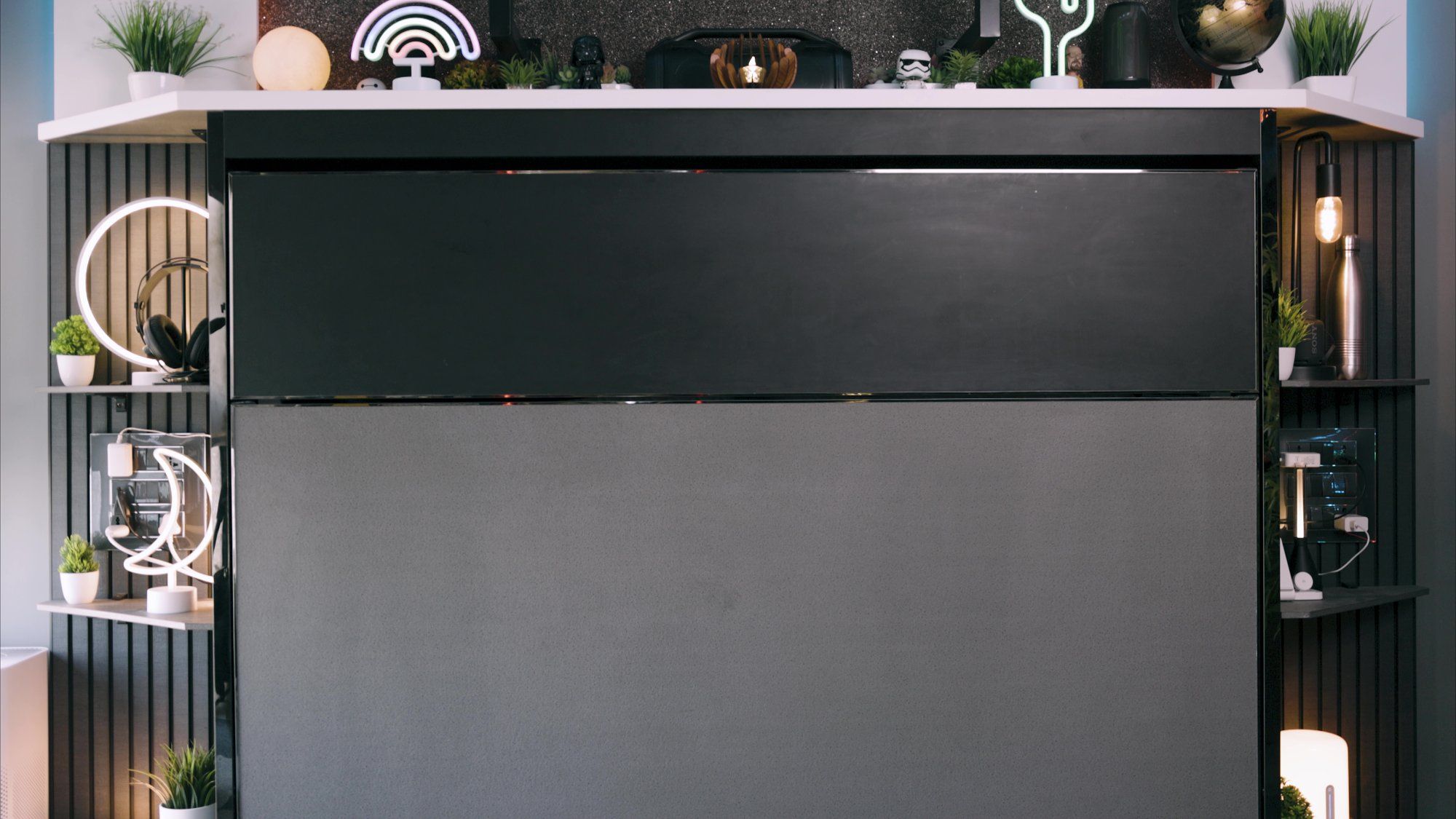 This helps me avoid wasting time scrolling through social media or getting caught up in TV shows.
When the bed is open, it's leisure time.
During this period, I refrain from thinking about video ideas or working on scripts.
This clear distinction allows me to fully enjoy my leisure time without the stress of work-related thoughts.
We're a reader-supported publication. This article might contain affiliate links. It means we may receive a commission if you click a link and buy a product that our maker has recommended. The interview was done independently.
Join 1000+ Curious Readers.
Every Sunday evening, get an *in-depth* workspace tour from a random corner of the world.
---