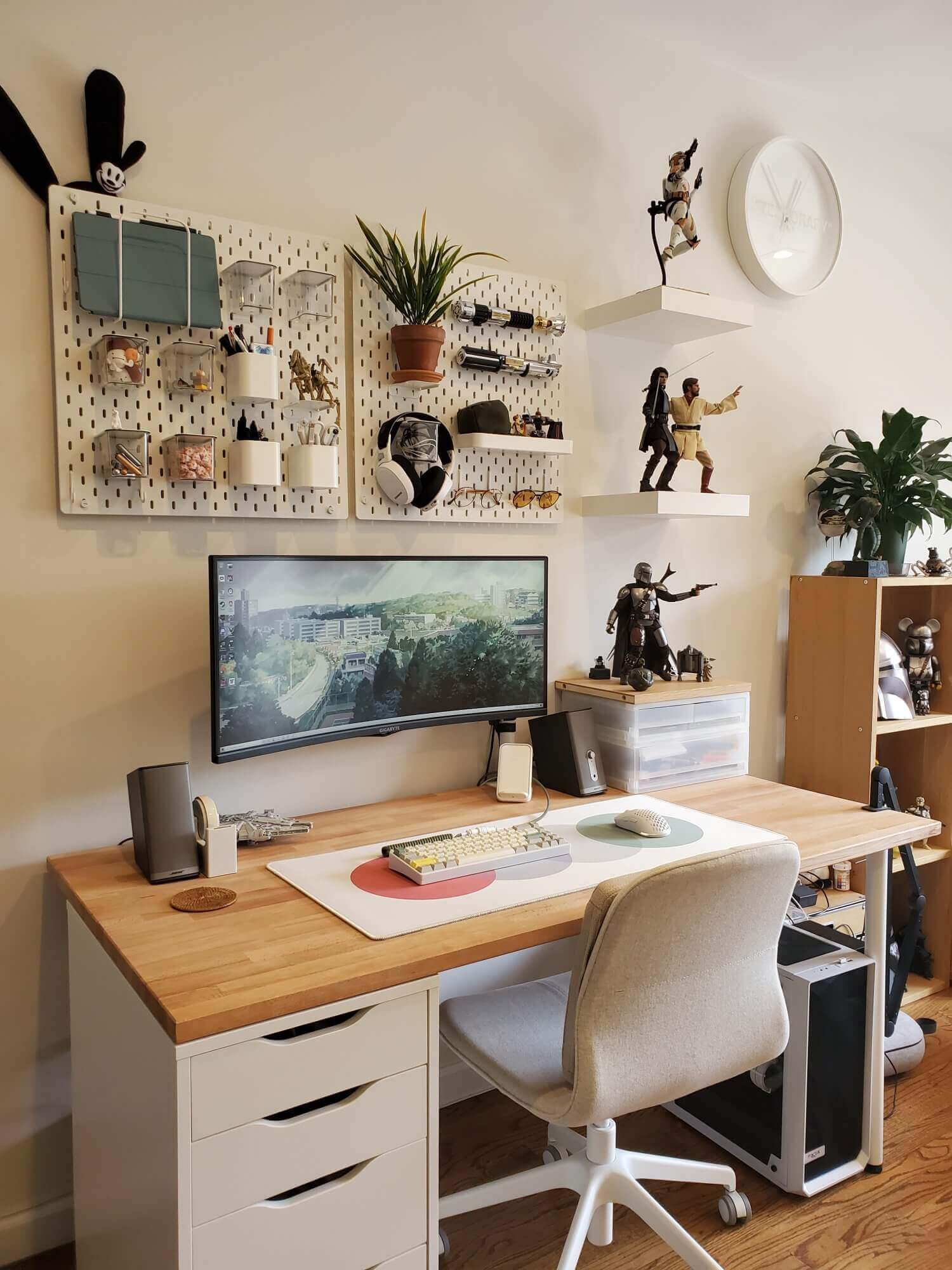 Geek WFH Battlestation in New York City, US
"I needed something with flexibility. I wanted my workspace to shift depending on which hobbies I was working on"
Join 1700+ Curious Readers.
Every Sunday evening, get an *in-depth* workspace tour from a random corner of the world.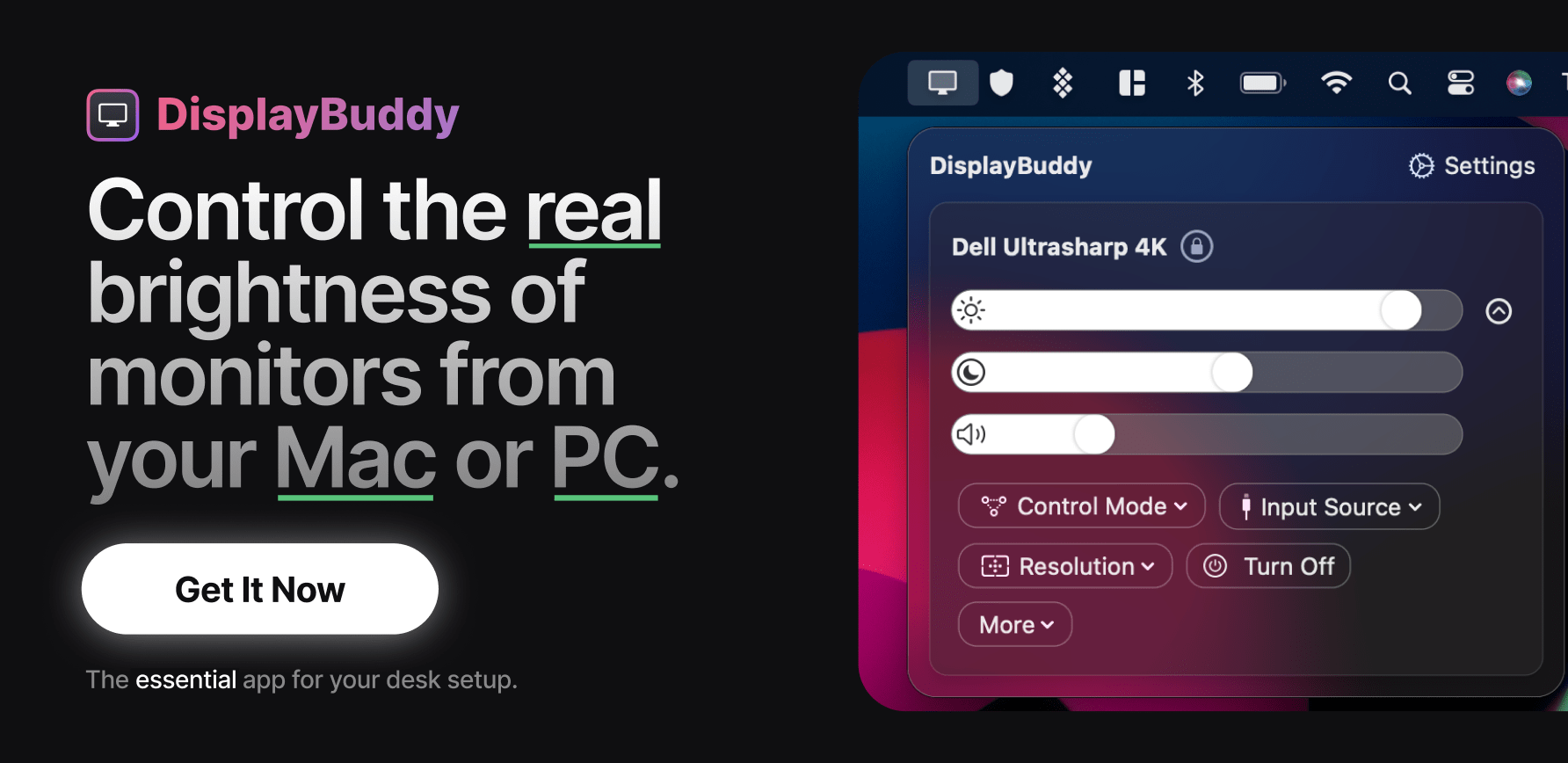 Name: Ryoma Brunel
Location: New York City, NY, United States
Occupation: Product Developer
Room size: 16 m² (172 ft²)
Cost of the setup: ~$2,4K
Social media: Instagram, Reddit
Hello! Tell us a bit about yourself
Hi! My name is Ryoma.
I'm a 90's kid born and raised in New York City. I grew up loving a wide range of hobbies and activities that were largely inspired by my Japanese mother and my French father.
I've enjoyed biking, roller skating, and skateboarding since I was young. I've found other interests along the way, such as sneakers and street fashion.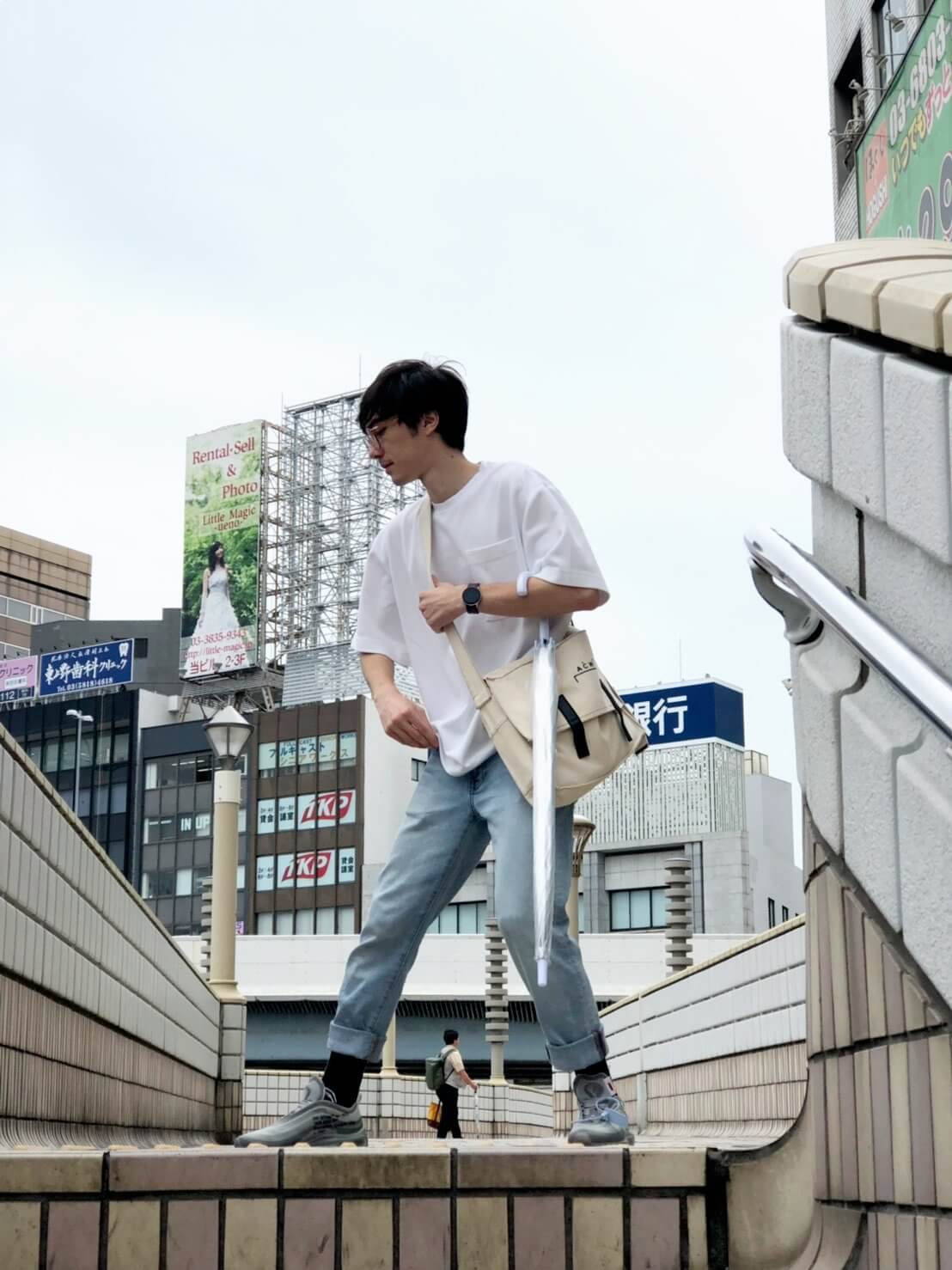 My dad, in particular, was a huge fan of the original Star Wars trilogy, which inherently piqued my interest and love of the franchise, which comes as no surprise.
In the past two years, I also started to explore prop making and cosplaying and learned the ins and outs of 3D printing.
It's exciting to be able to create props from scratch and bring various elements from my favourite (usually sci-fi) movies, TV shows, and games to life.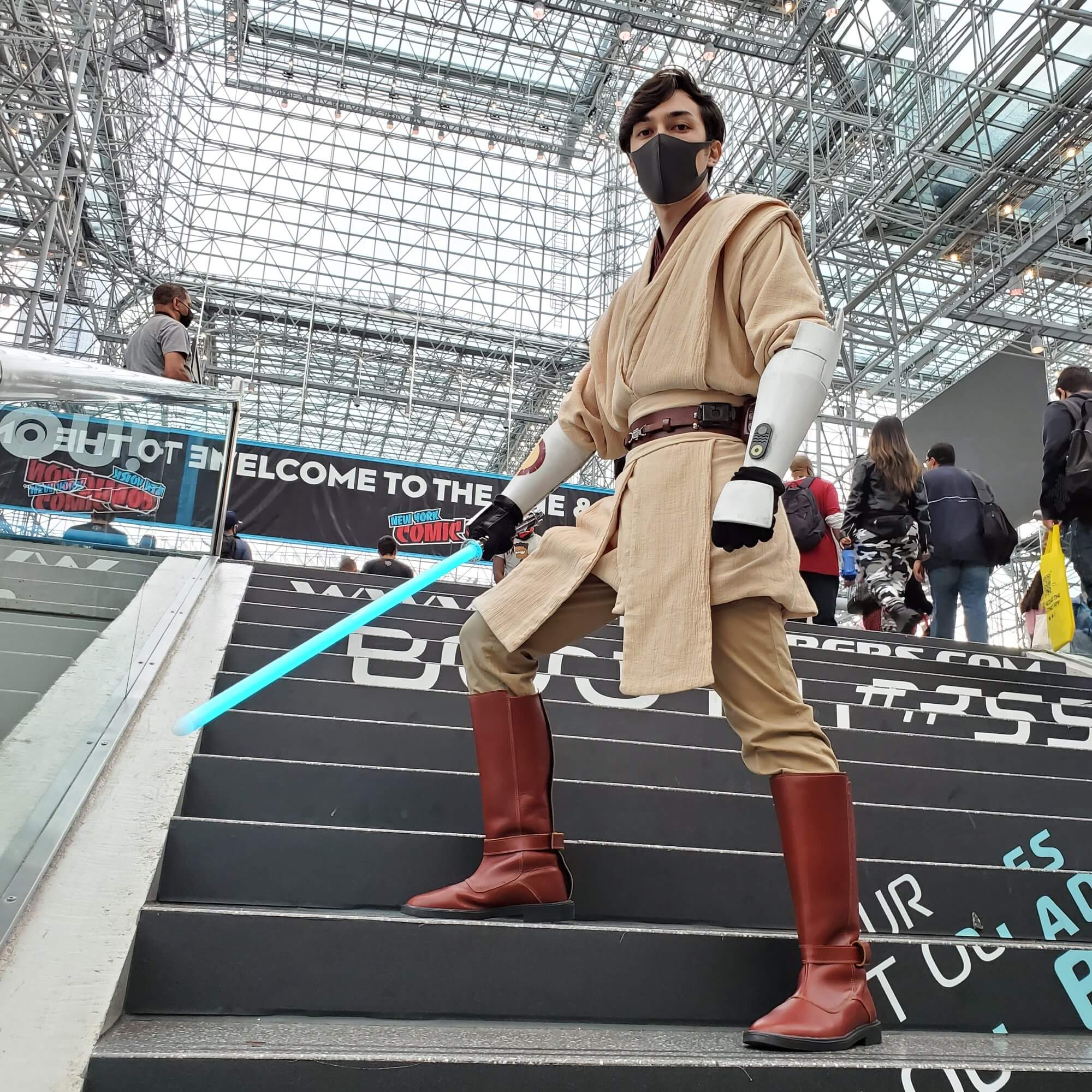 My mom may have been the one to inspire me to create, though — she's great with anything crafty. This trait was definitely passed down to me.
Growing up, I've always had a fascination with science, engineering, space, and the unknown (I had wanted to become an astronaut).
I loved drawing, so naturally, I would turn to illustrate some of these dreams and ideas.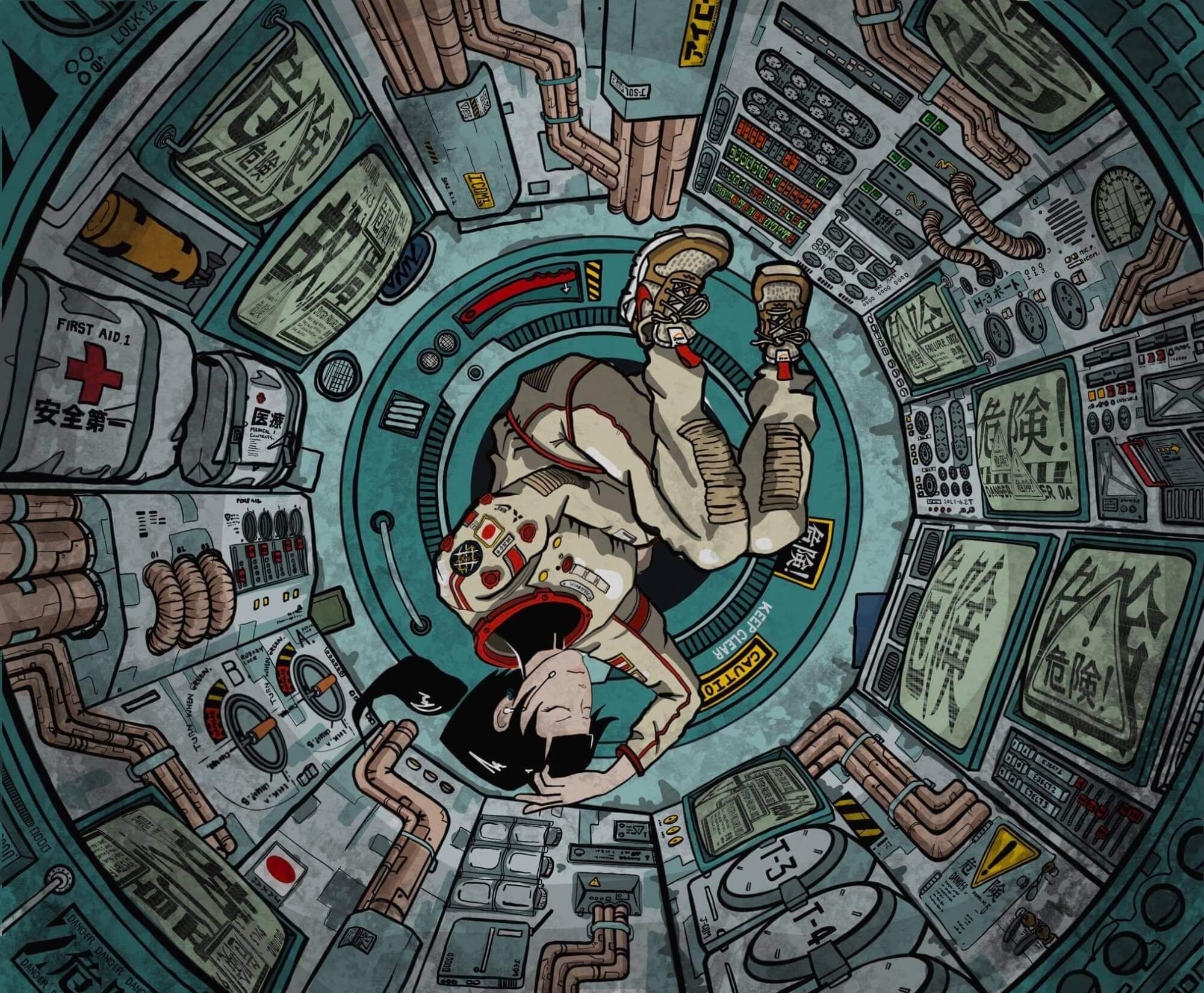 I attended a specialised high school for arts and expanded my skill set in design, illustration, and architecture.
A lot of my art at this time was also inspired by my Japanese background.
I often referenced Katsuhiro Otomo's Akira, which is still my favourite Japanese animated film of all time.
I currently work as a product developer for a Japanese lifestyle global retailer.
After school, I had intended to move to Sapporo (where my mother's family is from) and experience living in Japan for a few years.
However, with the help of a recruiter, I found my current job and ended up staying in New York City.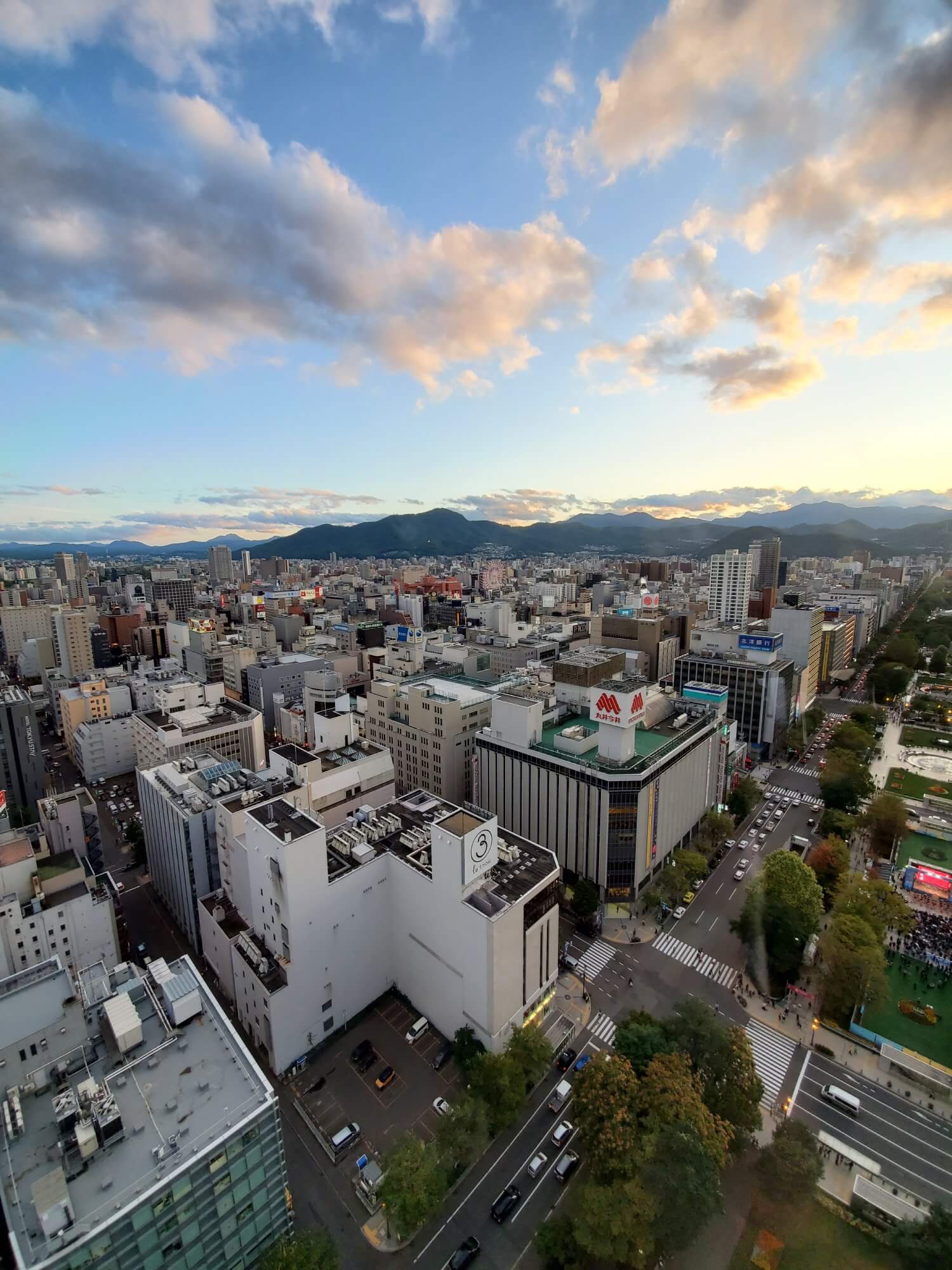 The company's philosophies and brand mission statement resonated with me — we're known for the pared-down, streamlined, minimalist style that I echo in my own aesthetic.
The work that I do involves curating partnerships with external businesses to create and add to the brand's product range.
I feel that it's a good marriage of some of my passions (design and creation).
It's been a great experience so far.
Take us through your setup
The way that I designed my desk setup is a balance between my personal, ideal aesthetic and showcasing the ever-expanding hobbies that I've picked up over the years.
Inspired largely by the Japandi style (Japanese minimalism + Scandinavian functionality), the setup features a neutral colour palette of whites and warm earth tones, with the occasional pop of colour for accents.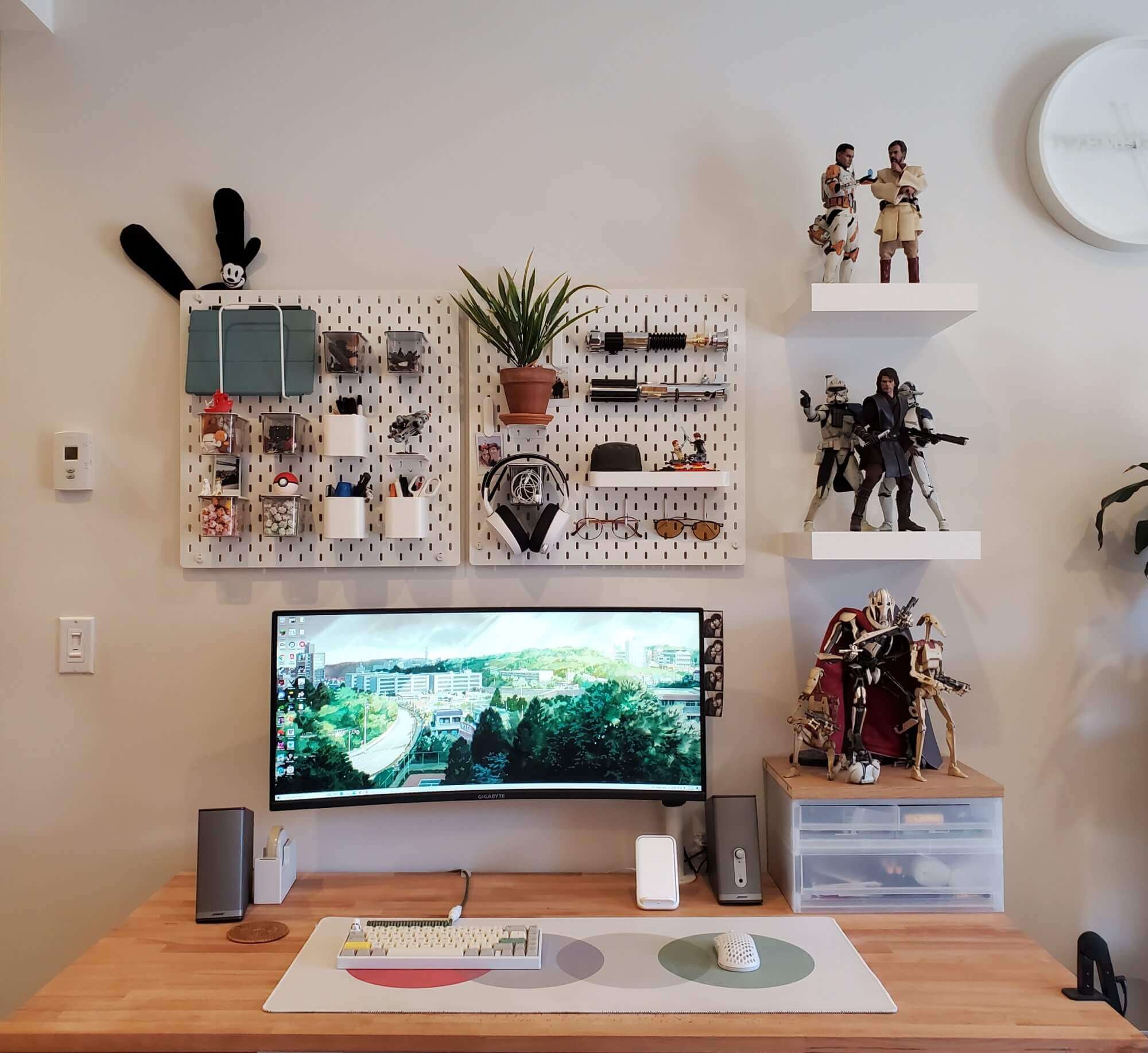 I do gravitate more towards oak wood furniture. I feel like it lends a fresher, younger, and more modern atmosphere.
Walnut is great for a more mature and grounded feel, but the cost was also a huge factor as walnut wood is generally more expensive.
Browsing through Reddit also served as a great source of inspiration. I saw a lot of RGB setups, but they were a bit too flashy for my preferences.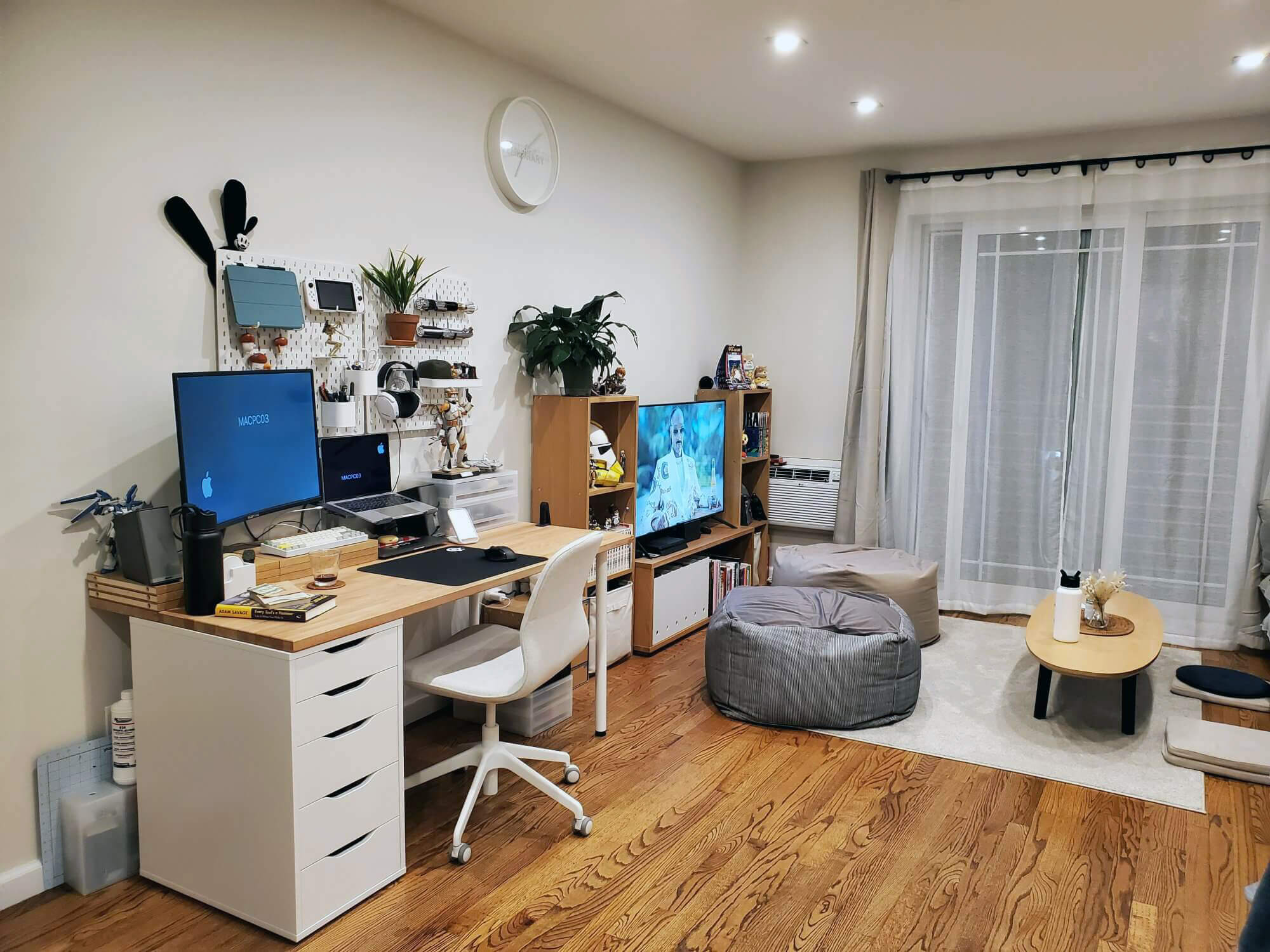 There were bits and pieces of setups that I liked, so I strived to create a workspace that felt functional without the clutter.
Something simple that could be easily replicable, detailed and fine-tuned without being too intricate.
I needed something with flexibility.
I wanted my workspace to shift depending on which hobbies I was working on.
The key standout features of my workstation are definitely my desktop, monitor, pegboard, and floating shelves.
The desktop is the Gerton from IKEA (I should preface now that all the furniture, except for the desktop drawers, are from IKEA).
It has the ideal size for work and my hobbies.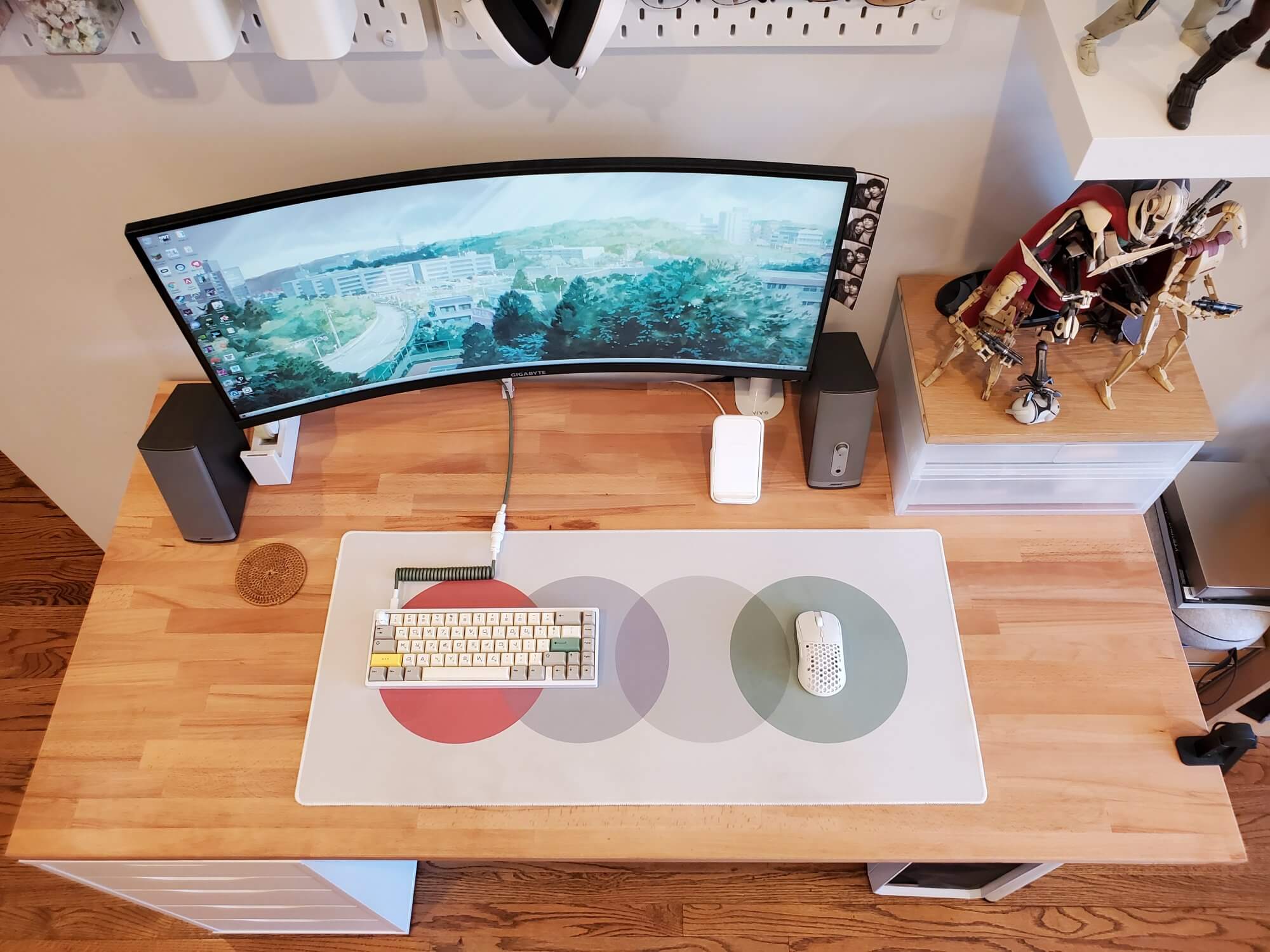 Before moving into my current apartment (which I share with my girlfriend), I had a fairly small room in my family's four-bedroom apartment.
I worked off of a small MUJI folding table that was roughly 30 by 20 inches [76×50 cm].
It was incredibly difficult to do any large-scale crafting (think soldering, wiring, sanding, painting, etc.)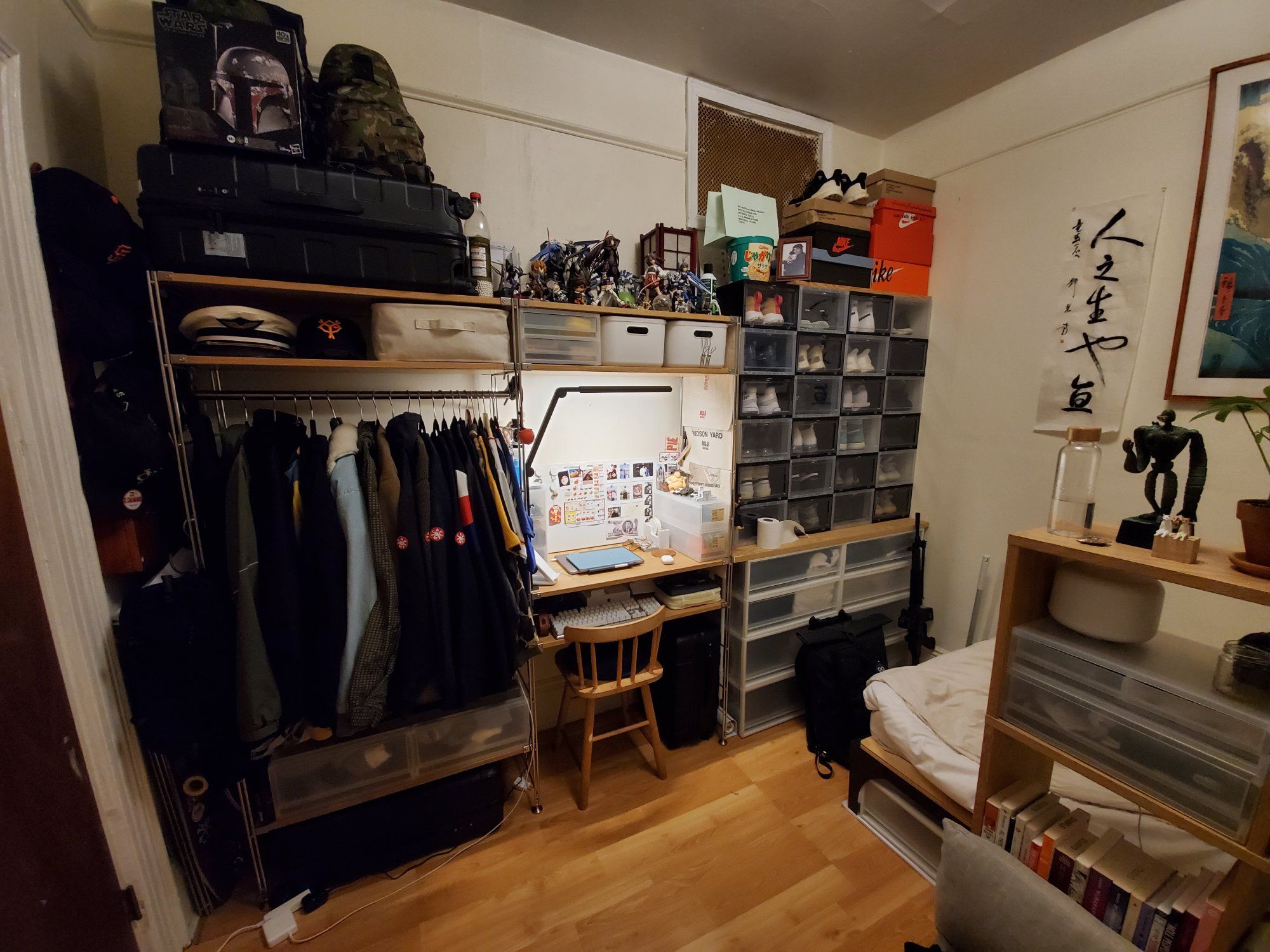 But this current setup enables me to balance everything from working in the day to building lightsabers, painting helmets, or gaming in my off time!
The PC itself is actually a fairly recent addition to the space (a miracle considering the chip shortage) and was built with the help of a friend.
Since acquiring the PC, I've enjoyed playing games like Valorant, Escape from Tarkov, and Battlefront 2 from time to time.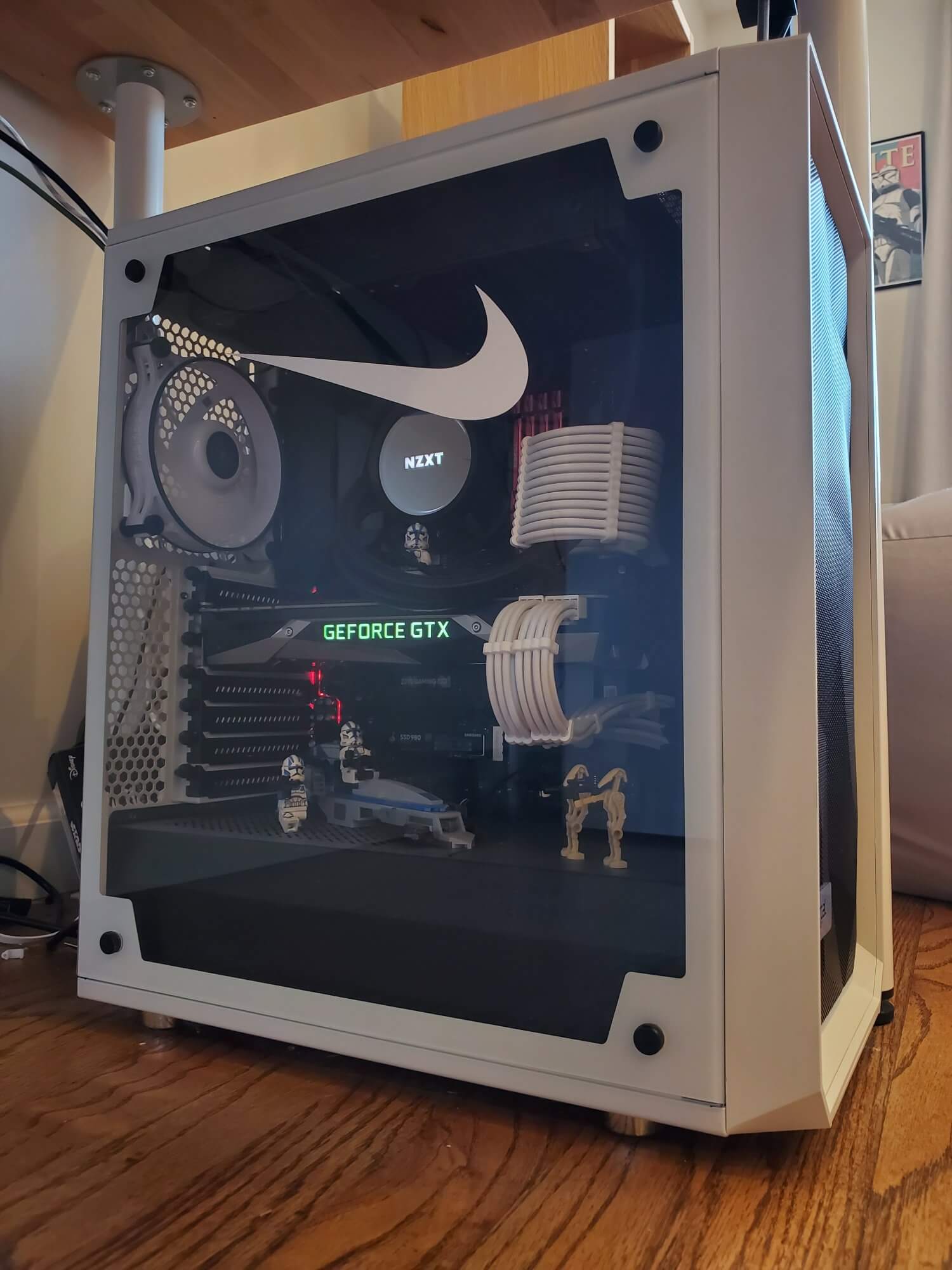 The ultrawide monitor was also such a great buy. It makes me feel much more productive, especially as I'm continuing to mostly work remotely due to the pandemic.
The widescreen lets me pull up spreadsheets and emails simultaneously to see everything at a glance. At the same time, I occasionally listen to streams or podcasts.
The monitor arm isn't anything fancy and was purchased off Amazon. I did have to mod it slightly as my monitor is on the heavier side, but it helps to save on precious desk space.
The pegboard and shelves have a bit more of a personal touch to them. Working at home can get boring during slower days, and I try not to let my work overshadow my personal space and life.
I try to surround myself with fun things on the pegboard, like silly photos of my girlfriend (to her dismay) and cat, mini Lego sets, greenery, and the two lightsaber hilts that I've built.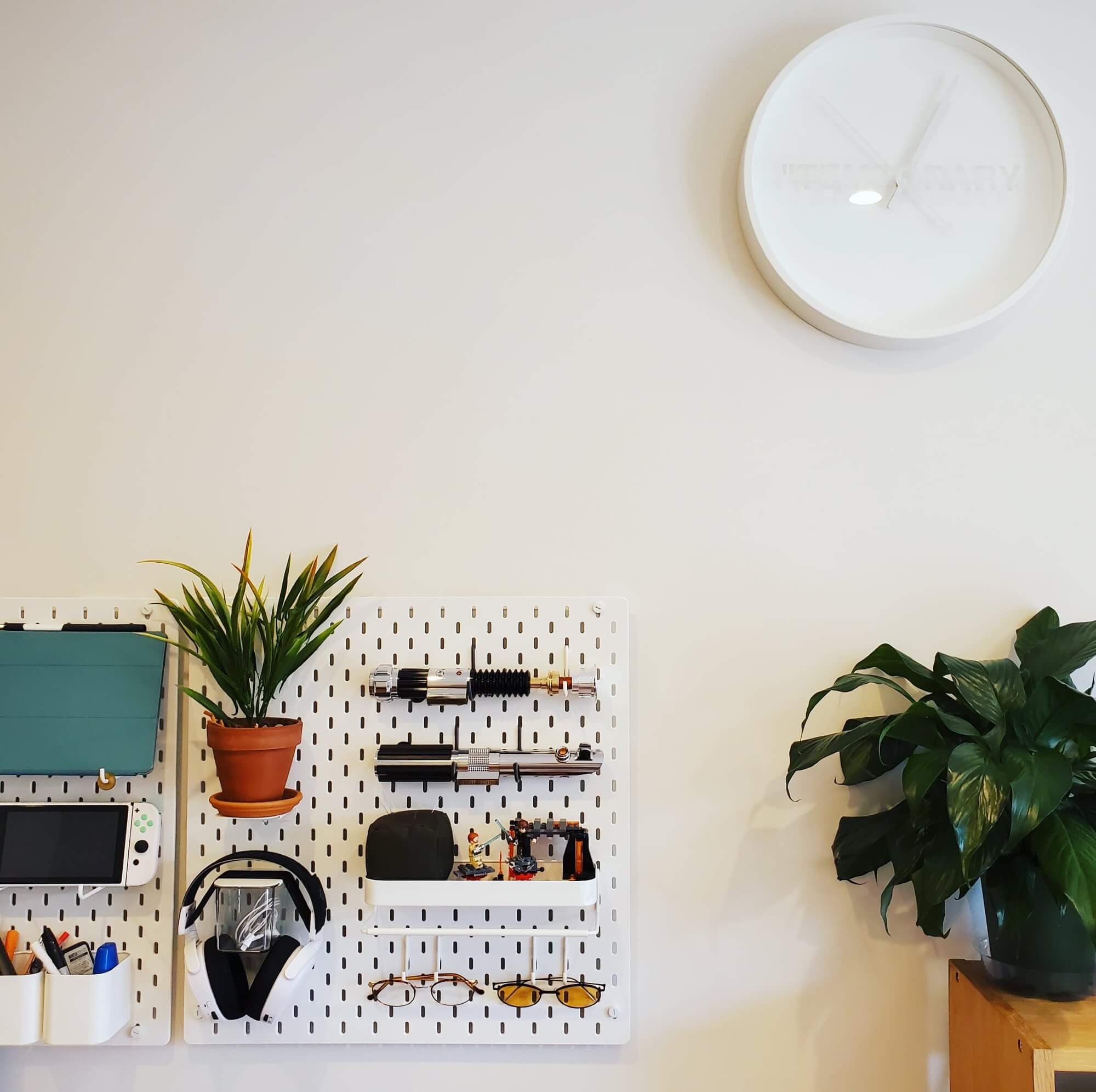 There's still the element of the functionality on the pegboard, though, as it holds my glasses, headset, pens, and other miscellaneous tools.
The shelves on the side are purely for display purposes. They hold the 1/6th scale figures of my favourite Star Wars characters.
Random note: I do tend to rotate them and change their poses every now and then, which breathes new life into the displays.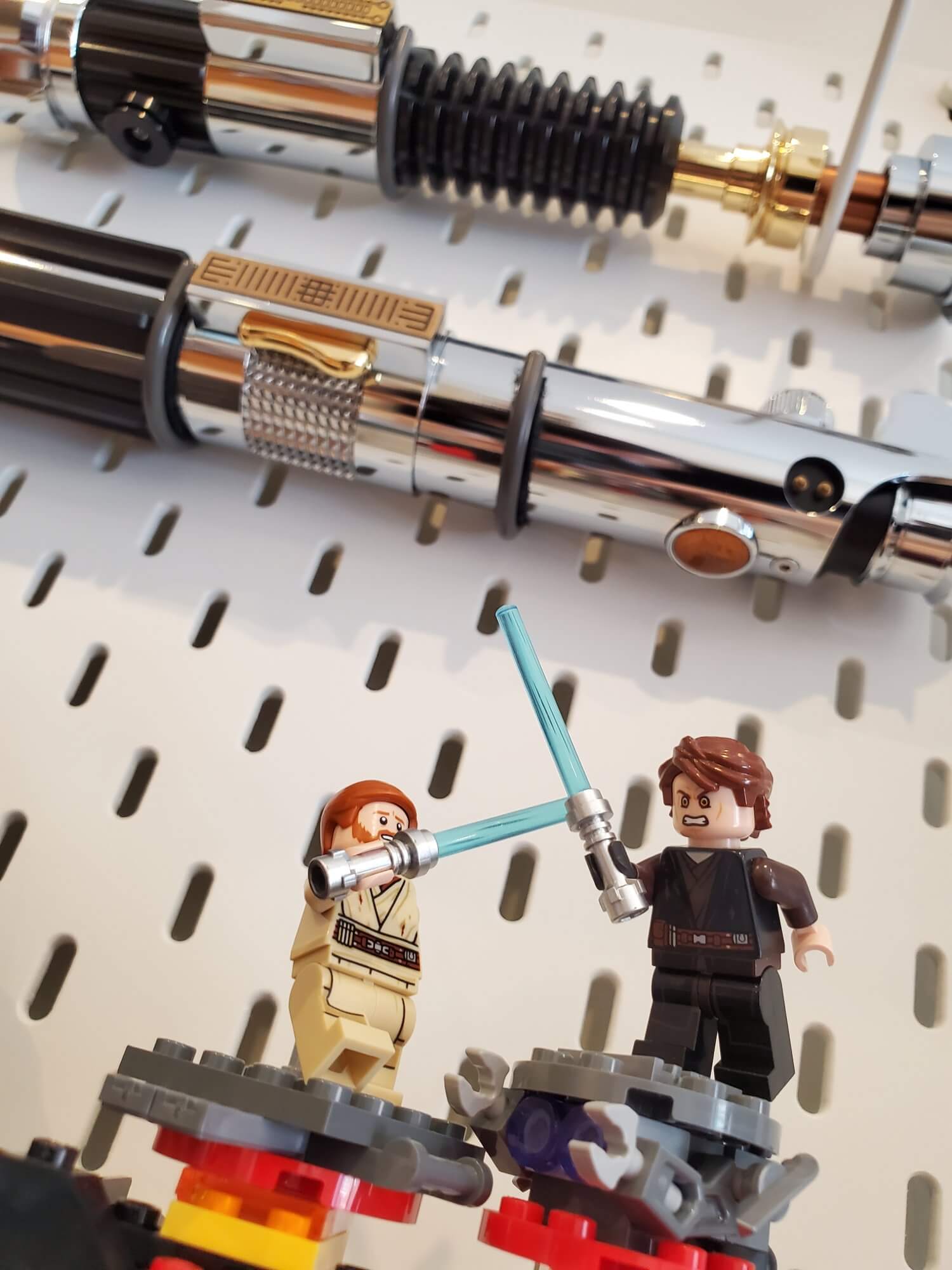 It's definitely been tricky to maintain a separation of workspace from personal space.
My workstation is located in the living room of our apartment.
This is my first apartment after moving away from my family, and I drew out meticulous plans of the space before my girlfriend and I even got the keys!
It is a one-bedroom space in NYC, so space is somewhat limited, but we found ways to make it work.
Her work desk is behind mine (we sit back to back), and it's become a habit of mine to go bother her every so often by rolling my chair back.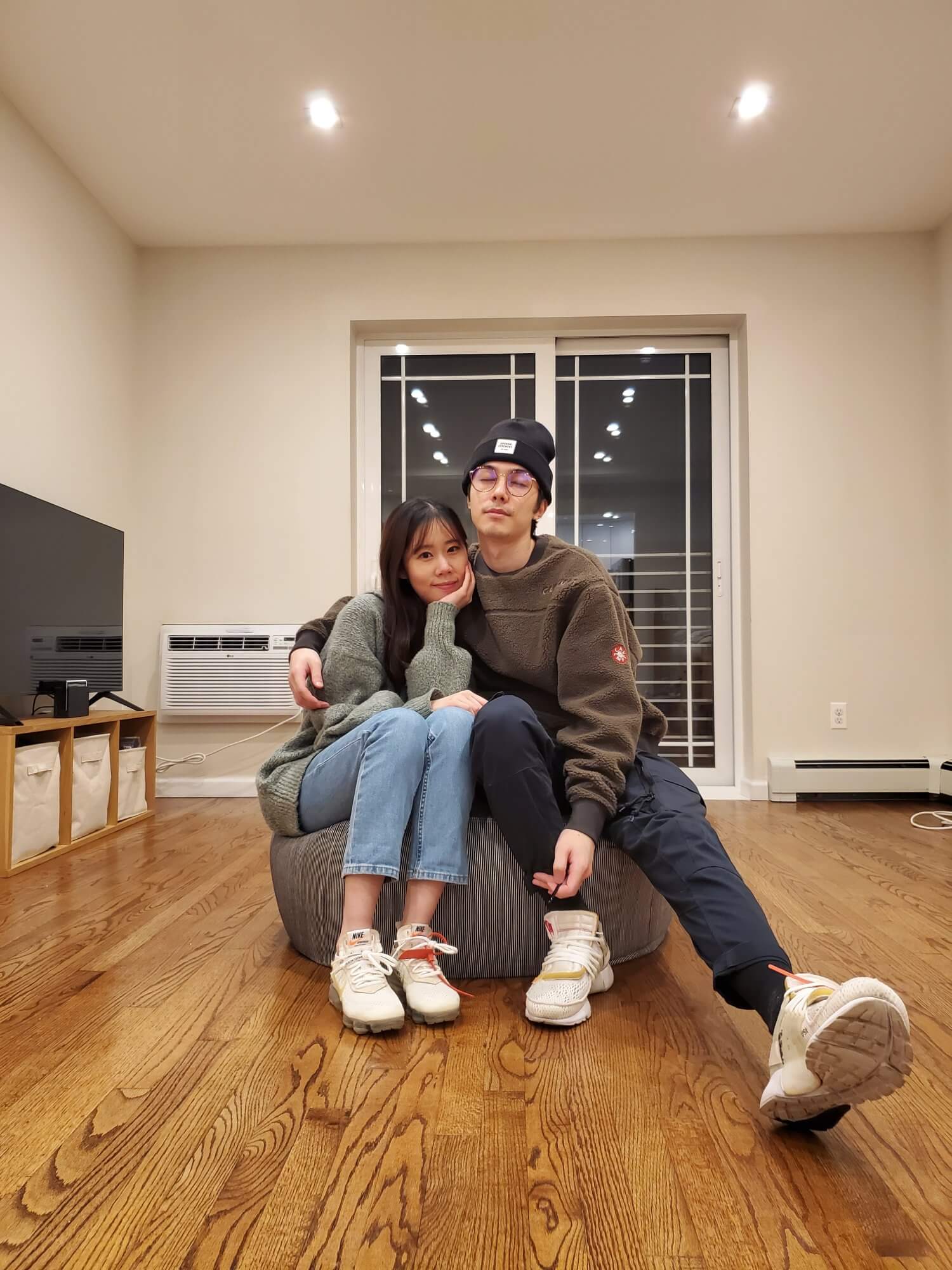 The general living room area is to my right and is furnished with MUJI, Floyd, and IKEA furniture pieces.
It features a window with a Juliet balcony, providing a ton of natural light in the morning to early afternoon hours.
One of the biggest obstacles that I encountered while building out this space is the apartment building's fixtures.
It's one of those newer developments with metal studs in the wall.
Unfortunately, I'm not able to mount anything too heavy, unlike wooden studs. The shelves and clock are currently held up with drywall anchors.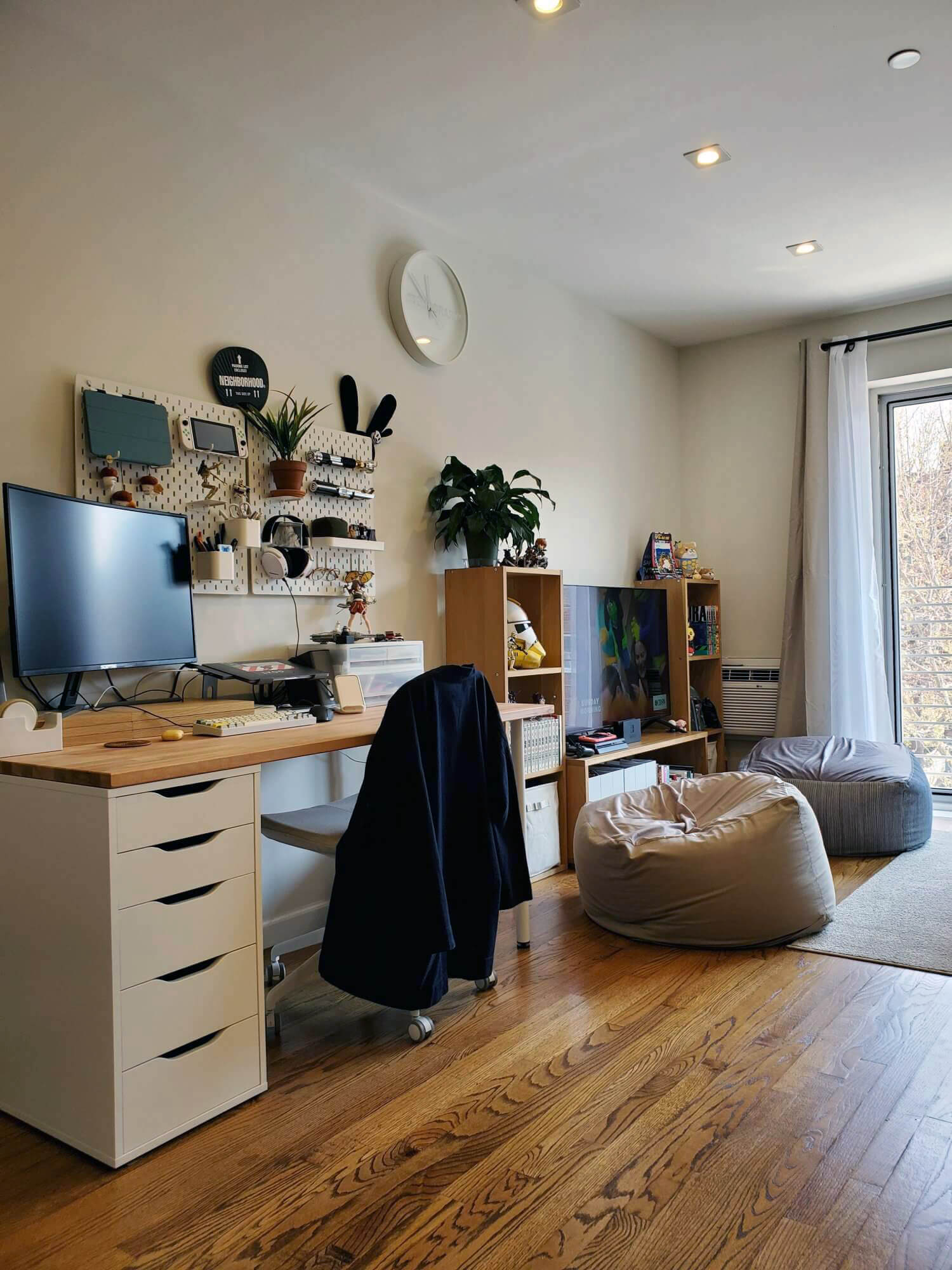 I went through a lot of trial and error to find the ones that worked best, which is kind of scary, especially in a New York apartment where we're hoping to get our security deposit back!
If anyone is interested, the best ones that worked for me are the TOGGLER Toggle TB drywall anchors for mounting heavier items. They're also relatively easy to remove from the walls when moving out.
What's your favourite item on your desk?
It's tough to single out one thing on my desk as a favourite, but I'll have to say my custom mechanical keyboard.
It's the one thing I use daily.
A friend of mine (@mach_keys on Instagram) is an avid keyboard builder and collector.
In all honesty, I didn't understand why a keyboard would cost hundreds of dollars. Still, my friend was super persistent and suggested that I build my own.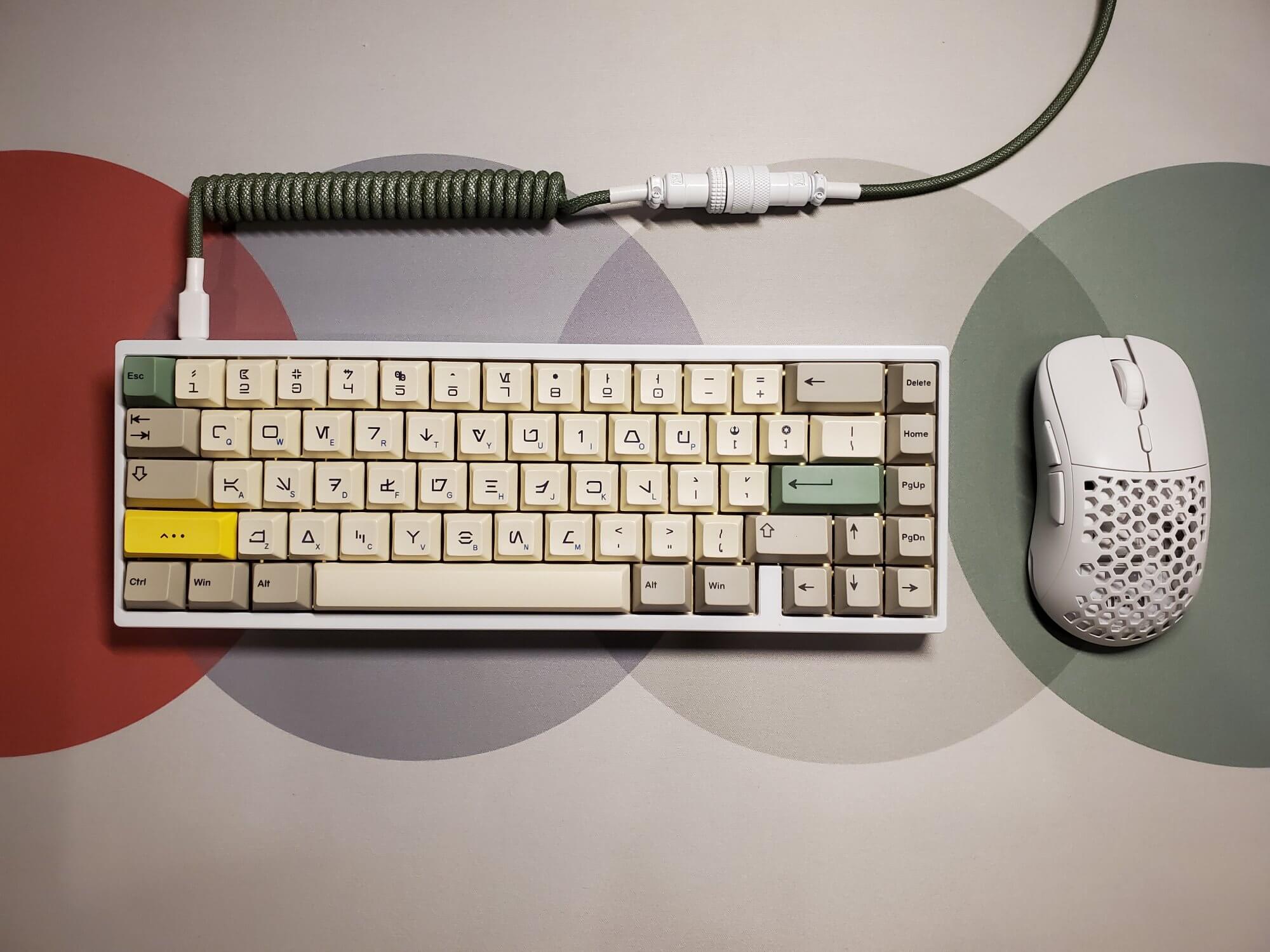 The main keyboard components (aluminium chassis case, brass backplate, etc.) are all from KBDfans, with the Aurebesh (Star Wars alphabet) keycaps from AliExpress.
My friends sold the switches to me, along with the gifted Darth Vader custom keycap.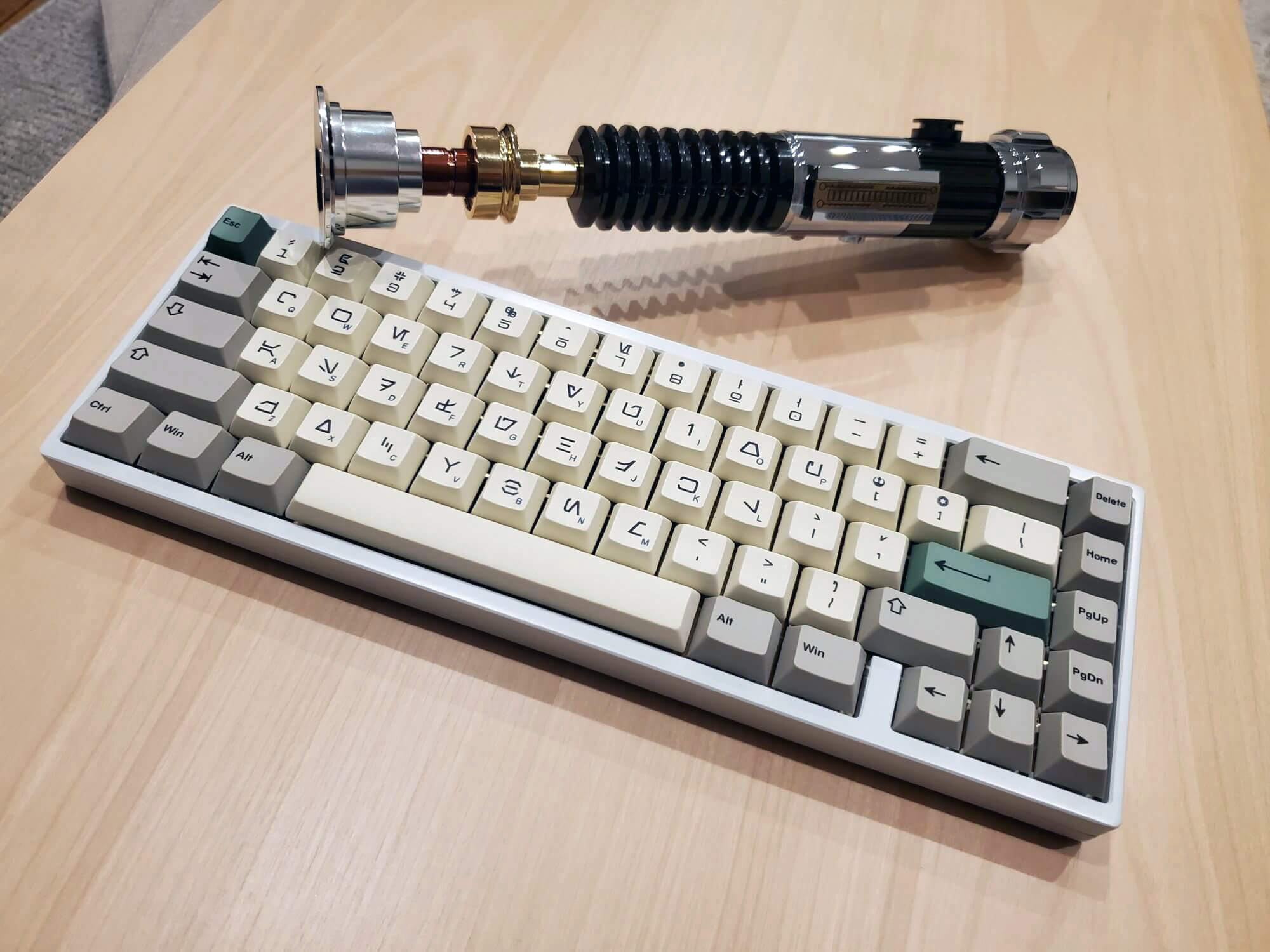 I'd be remiss not to mention my lightsaber here, though.
The one pictured with my keyboard is the Obi-Wan Kenobi hilt from Episode 3, as he is my favourite Star Wars character.
To put it bluntly, it's a glorified flashlight with motion sounds and the works, but for someone who loves Star Wars, this is one of my absolute priceless things.
The lightsaber consists of the hilt itself, which is sold as a hollow, static prop.
I decided that I wanted to fully build it out, which included the internals and electronic components such as the 3D printed chassis, boards, LEDs, speakers, and more.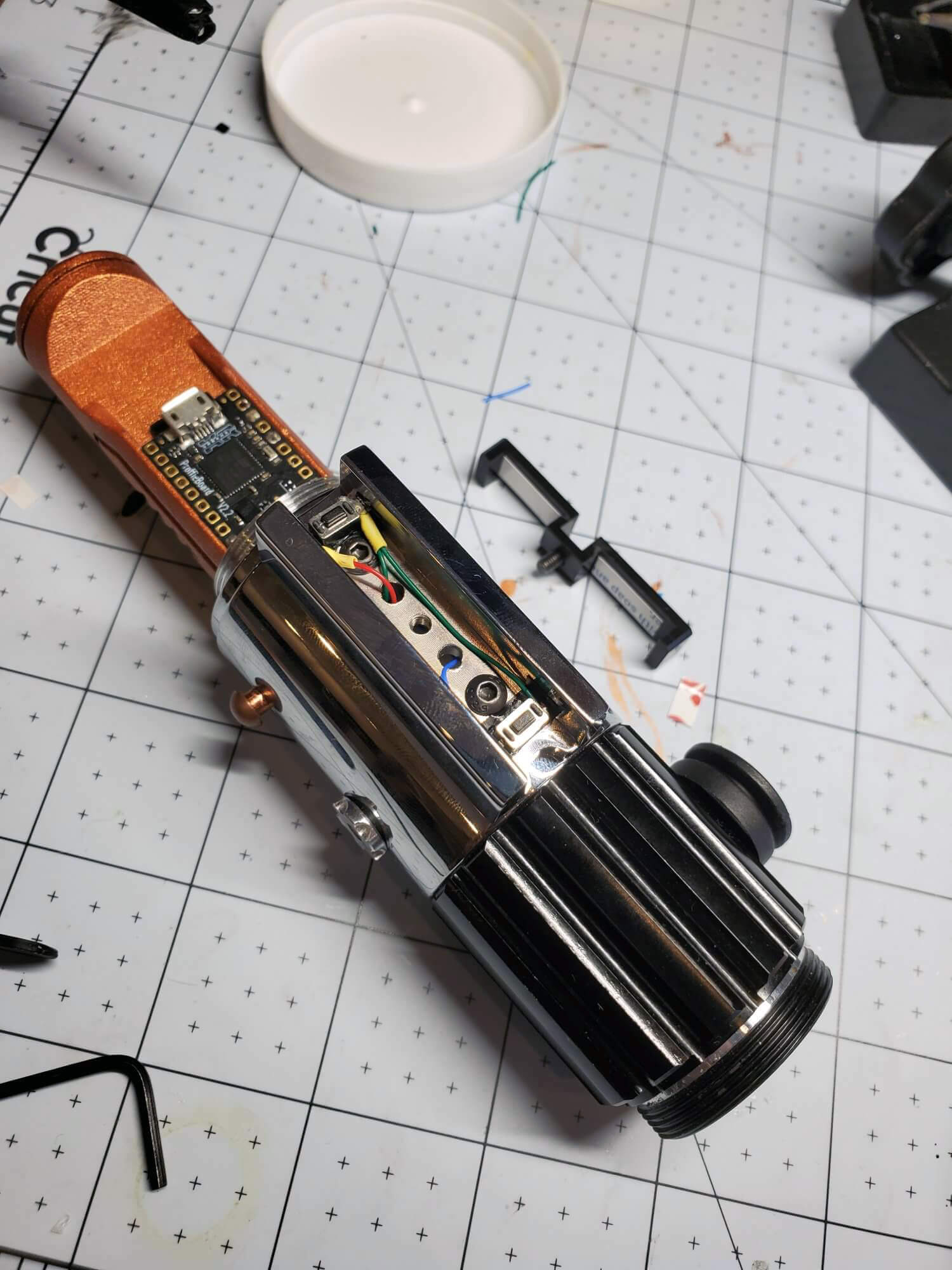 What apps or tools do you use to get things done?
Coming from my design and illustration background, my favourite software would probably be those in the Adobe Creative Suite and Procreate.
I was initially self-taught in Adobe Creative Suite and loved the process of learning how to edit, create, and publish works.
I eventually refined my design skills in school, which has proven useful in my current work.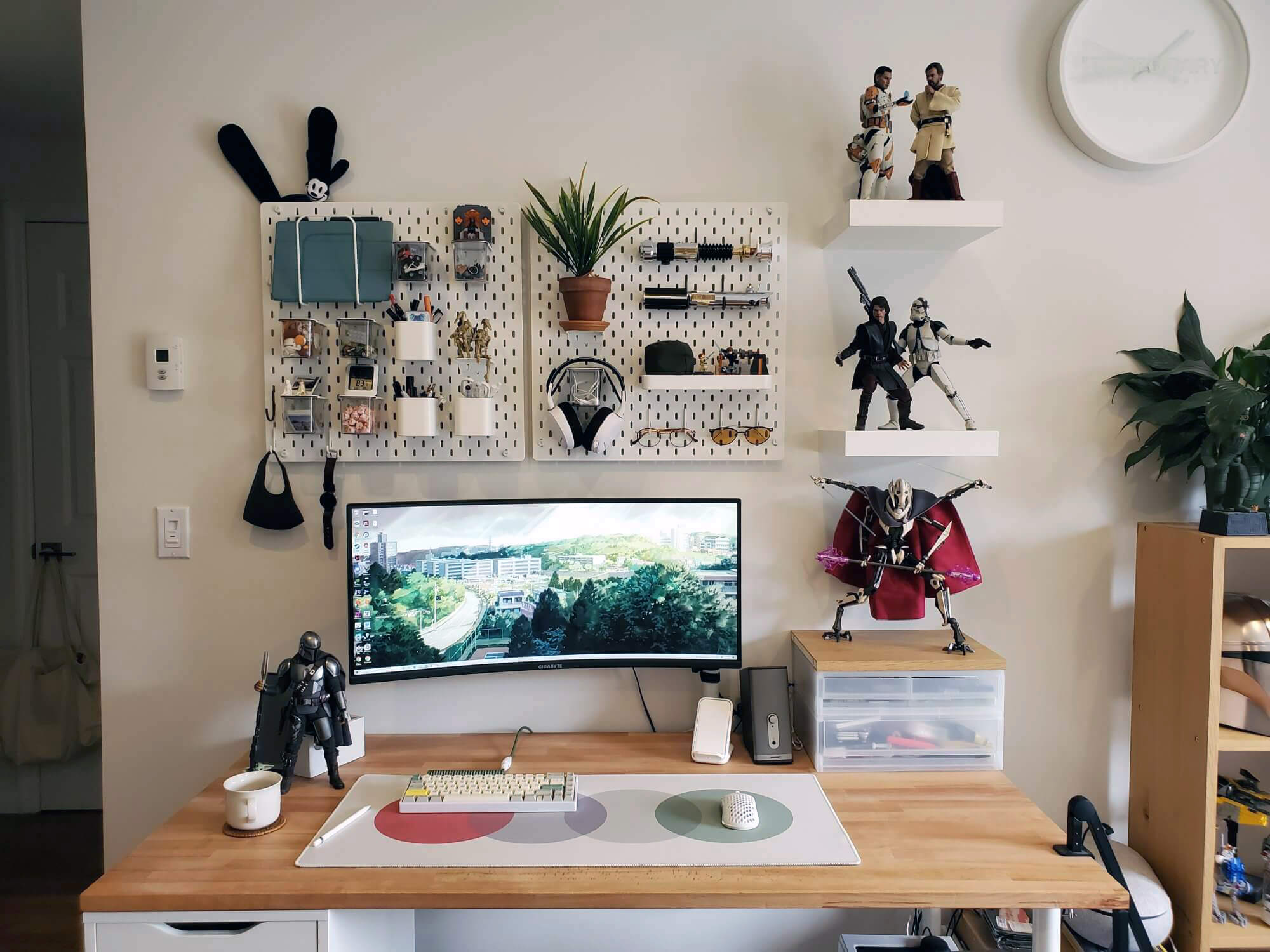 Outside of my professional work, I've also been teaching myself to use a program called Armorsmith Design for cosplay and prop-making.
The program is used to resize 3D STL files of armour (such as Star Wars' Clone or Storm Trooper Armor) to a person's specifications and measurements.
This has been so helpful, especially when creating pieces for clients and even myself so that the resulting print fits perfectly to the body.
I can be somewhat of a perfectionist at times, so a tailored fit is important to me when putting together a fully-realised cosplay.
What books, blogs or podcasts recently caught your attention?
Recently, a friend of mine gifted me a signed copy of Adam Savage's Every Tool's A Hammer.
I watched Mythbusters growing up and just loved the idea of testing a hypothesis that normally wouldn't be challenged and the whole trial and error process in between.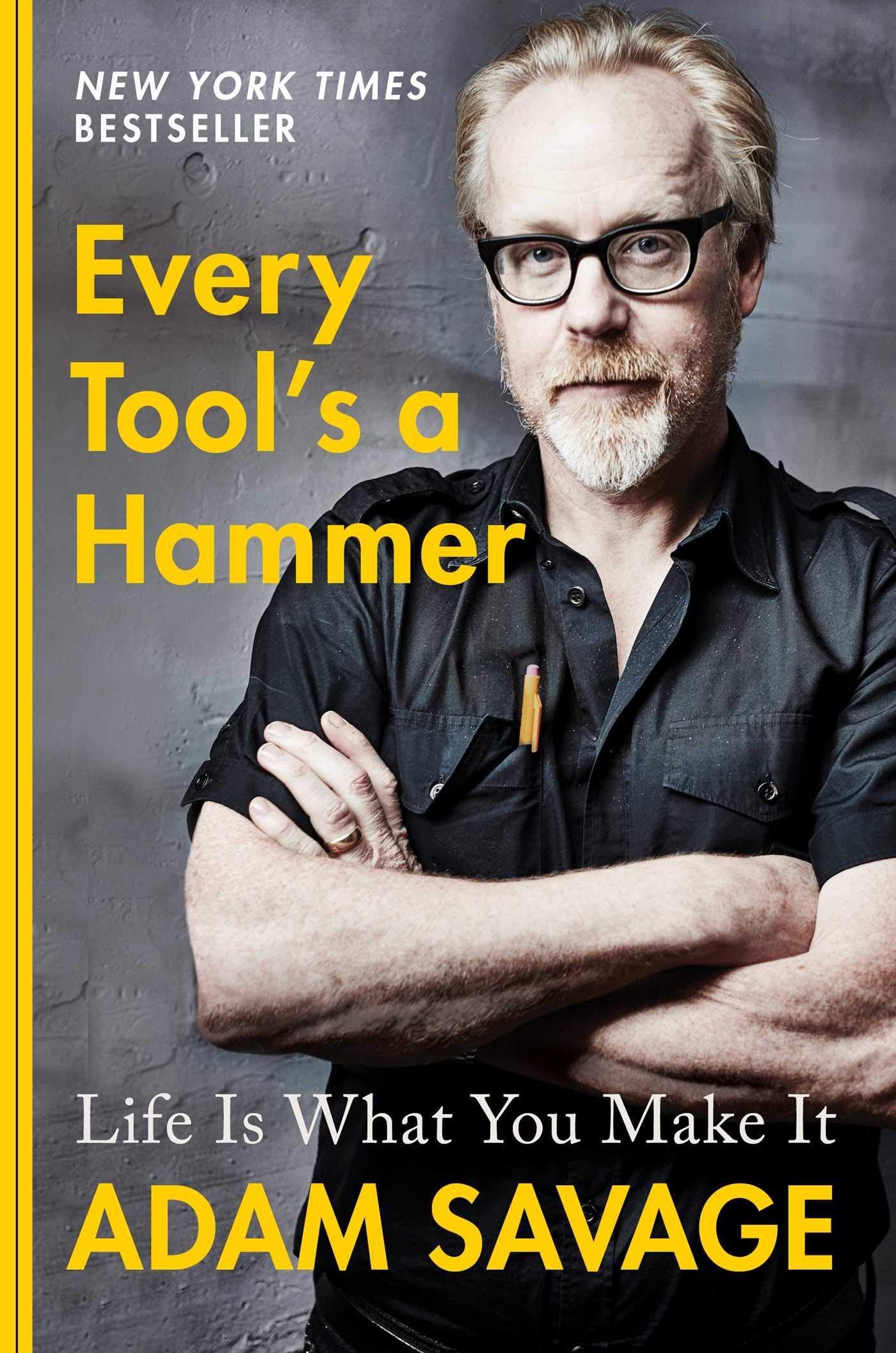 After the show ended, I continued to follow Adam on his YouTube channel and learned more about prop-making from my favourite movies and shows.
Thanks to him, I realised that I shouldn't limit myself from making and doing the things I enjoy doing regardless of tools or space.
He's inspired me to take up creating again as an adult.
I'm currently in between some projects and have hit a bit of a roadblock, so my next step is definitely to finish the book.
Even though I haven't gone far in the book yet, I would 100% recommend this to anyone who likes to create things from scratch.
The book has given me a new perspective on the process of making and creating and has been a great resource to refer to.
Any tips for other makers who want to improve their workspaces?
Keep the things you like close to you, but reserve some space to expand on new ideas.
It's important to keep the things you love close to you while you work, but it's just as important to have a bit of breathing room.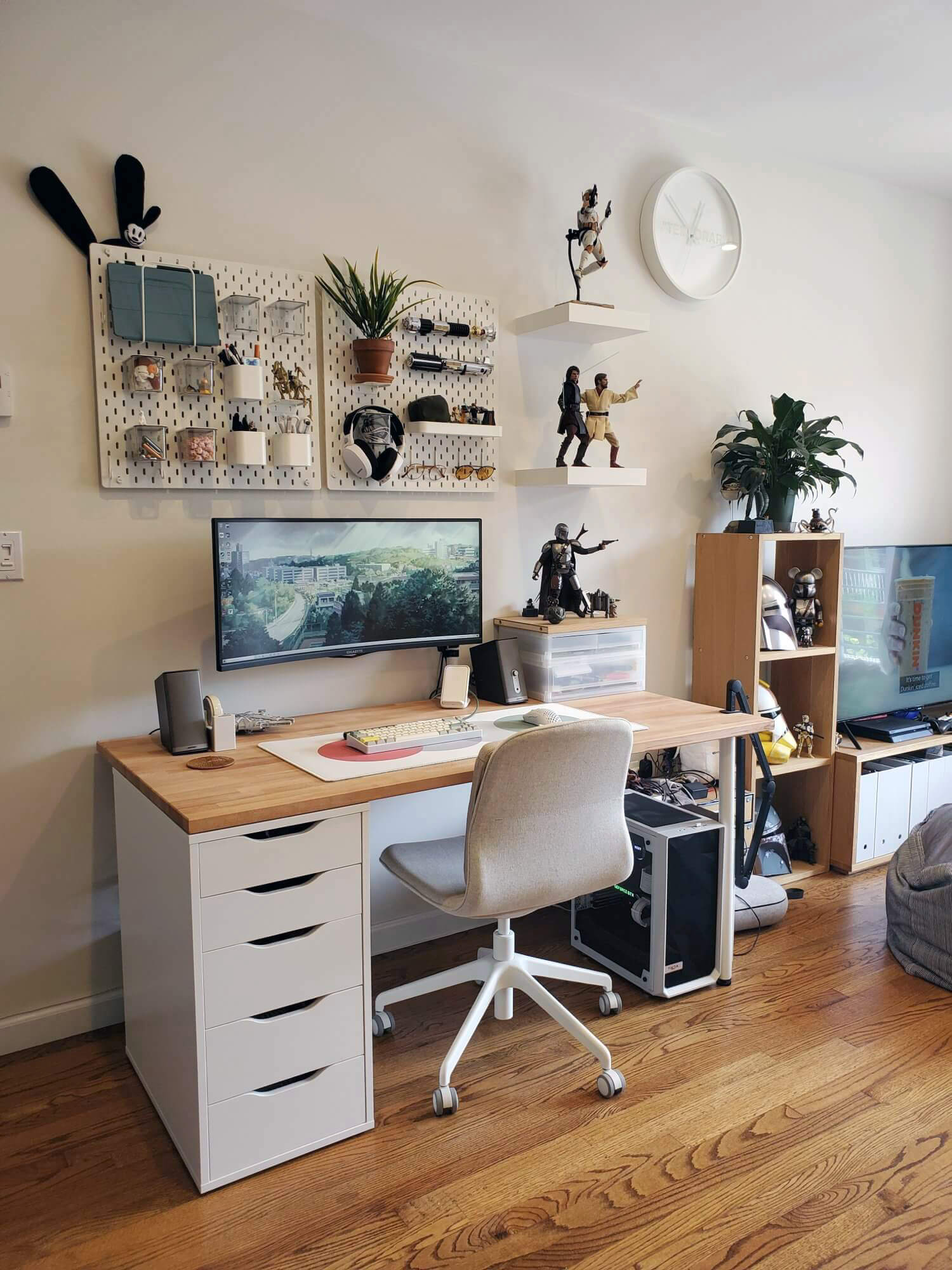 For me especially, it can be hard to sit for eight hours straight during a shift, so create the right atmosphere and ambience for yourself.
Making a space comfortable for you is the most important thing you can do to improve your setup.
This is where you work, create, make a living.
Make it enjoyable.
Make it as welcoming as possible so that you can start each day in an environment that is productive, comfortable, and allows creativity to flow freely.
What does your typical day look like?
The pandemic has changed the way that we work.
While I previously had a 40-minute commute into our offices, I've been fortunate enough to be able to work remotely for the past two years.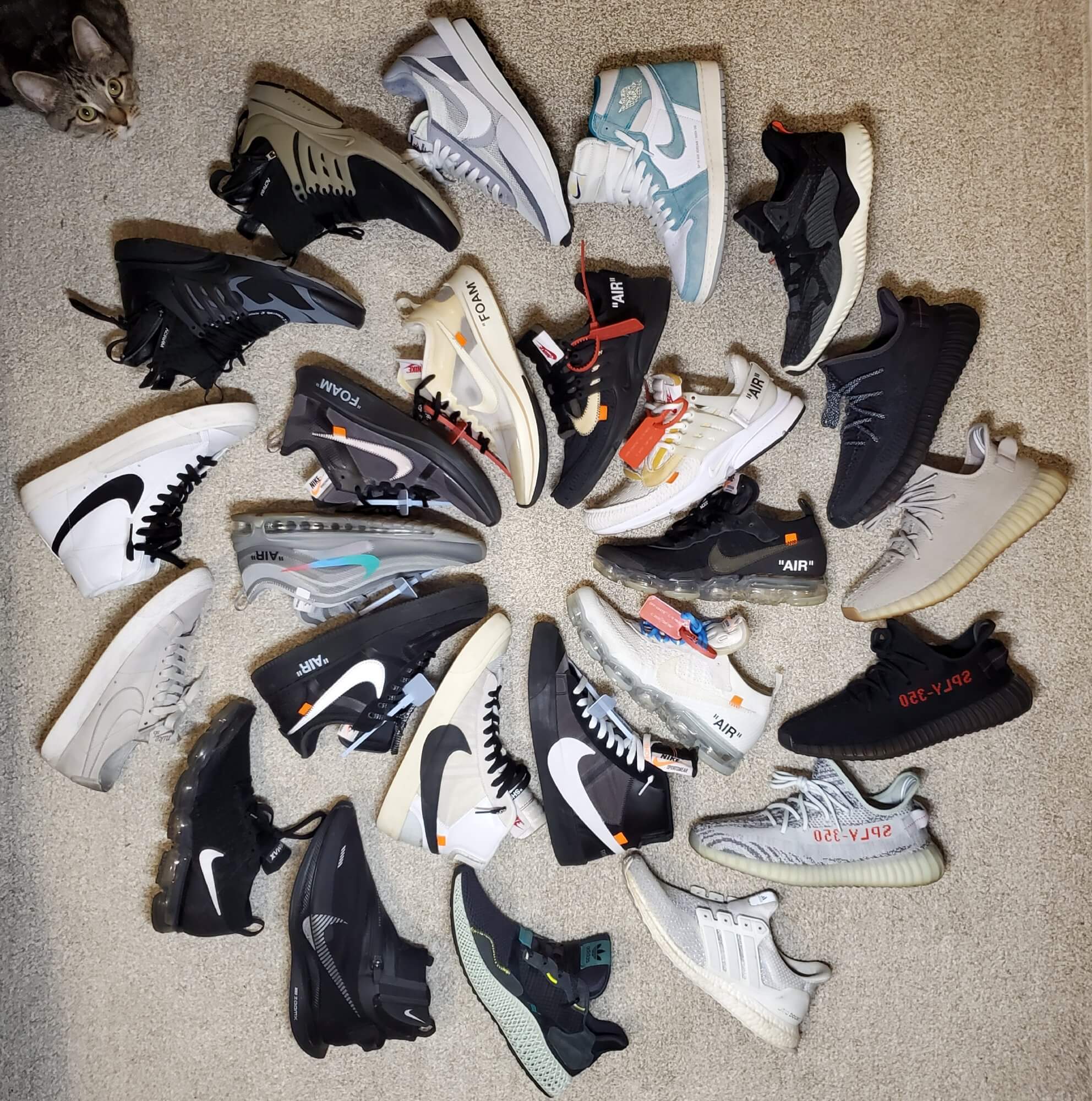 Rent prices had dropped drastically in the city at the peak of the pandemic as people were moving out, so I took the opportunity to move into my current apartment with my girlfriend.
Having this space lets us carve out a workstation that works for each of us, thankfully.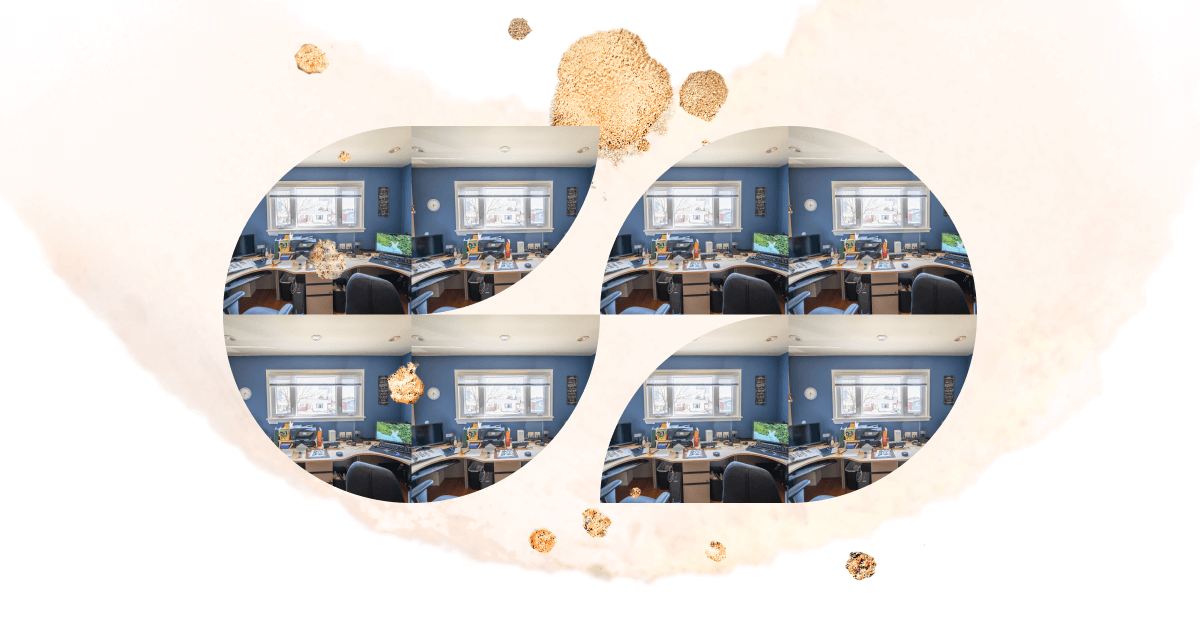 The day usually begins at 8 am, which starts with me checking my phone — scrolling through Instagram, Reddit, the news, and then slowly waking my brain up with the daily Wordle.
Coffee is a must-have (custom mix of Colombian, Costa Rican, and hazelnuts) quickly made with my Keurig and paired with toast or any other sort of carb.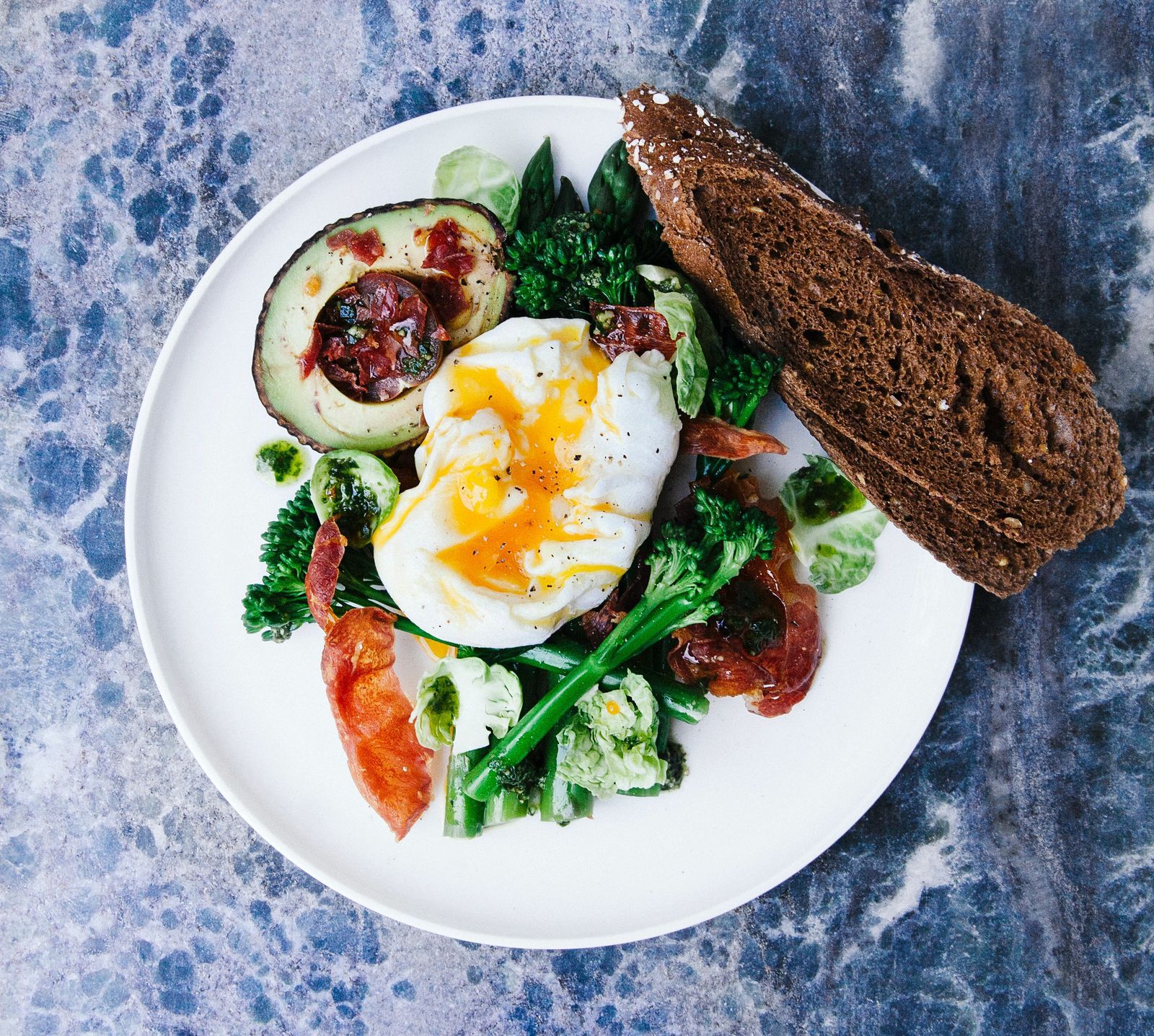 Then I sit down for work.
It starts at 9 am. I usually prep for the morning the evening before, so I'll go through the morning checklist of tasks.
The workday consists of answering emails, internal and external video conferences, some design work, and then more emails.
Rinse and repeat — you probably get the gist of it.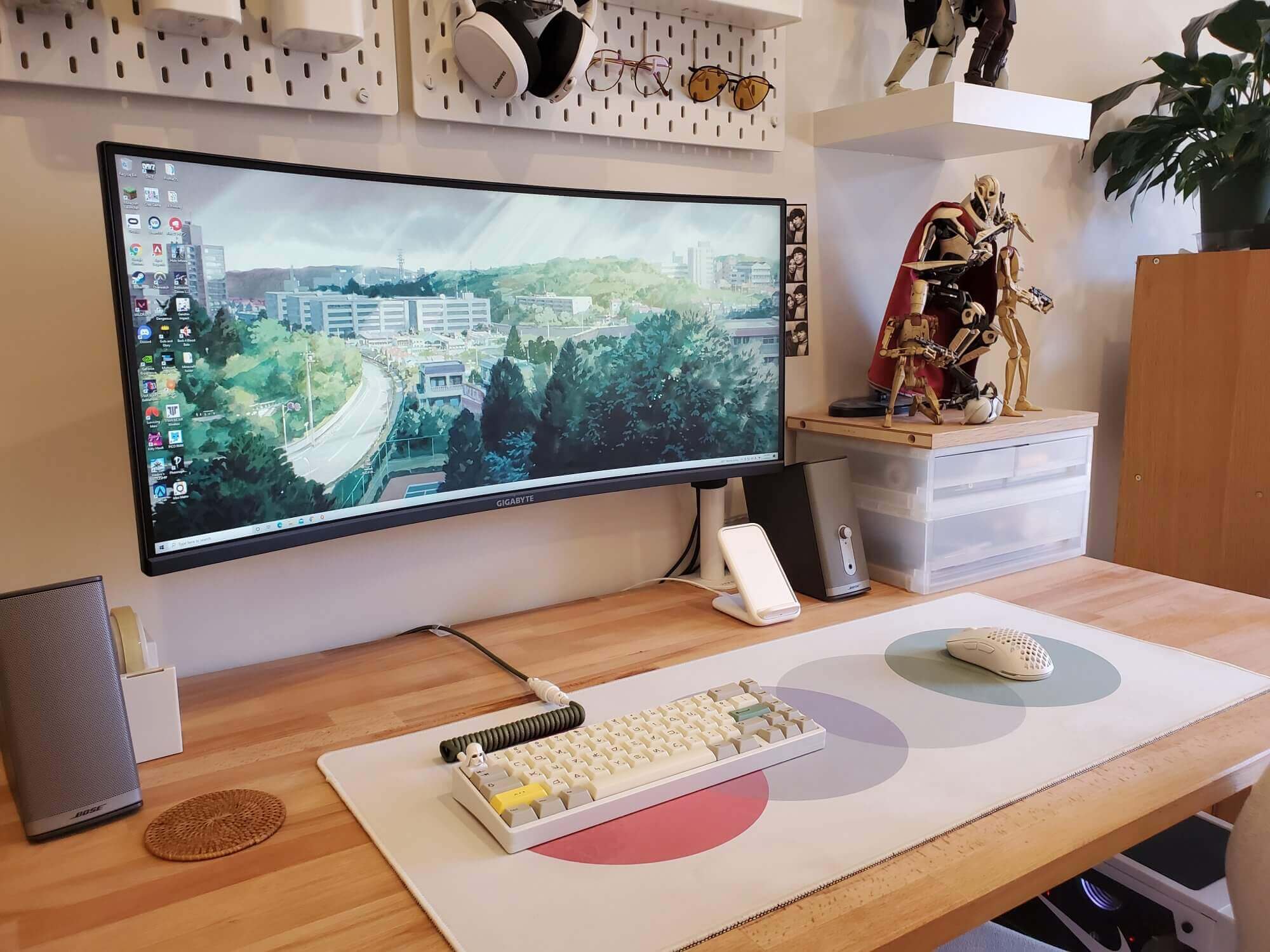 On my hour break, I'll sometimes tinker around with some 3D files to get ready for a print or take a break from the screen by going out for a quick walk to grab lunch.
While there are countless days with overtime, work normally ends around 6 pm, where I'll make the next morning's checklist and sign off for the day.
Decompressing after a long workday is also super important. I take a moment to step away from my workspace, stretch, and lounge on the sofa.
During the warmer seasons, I'll go out for a quick bike ride to my favourite park by the East River, taking along my iPad to sketch or a book to read.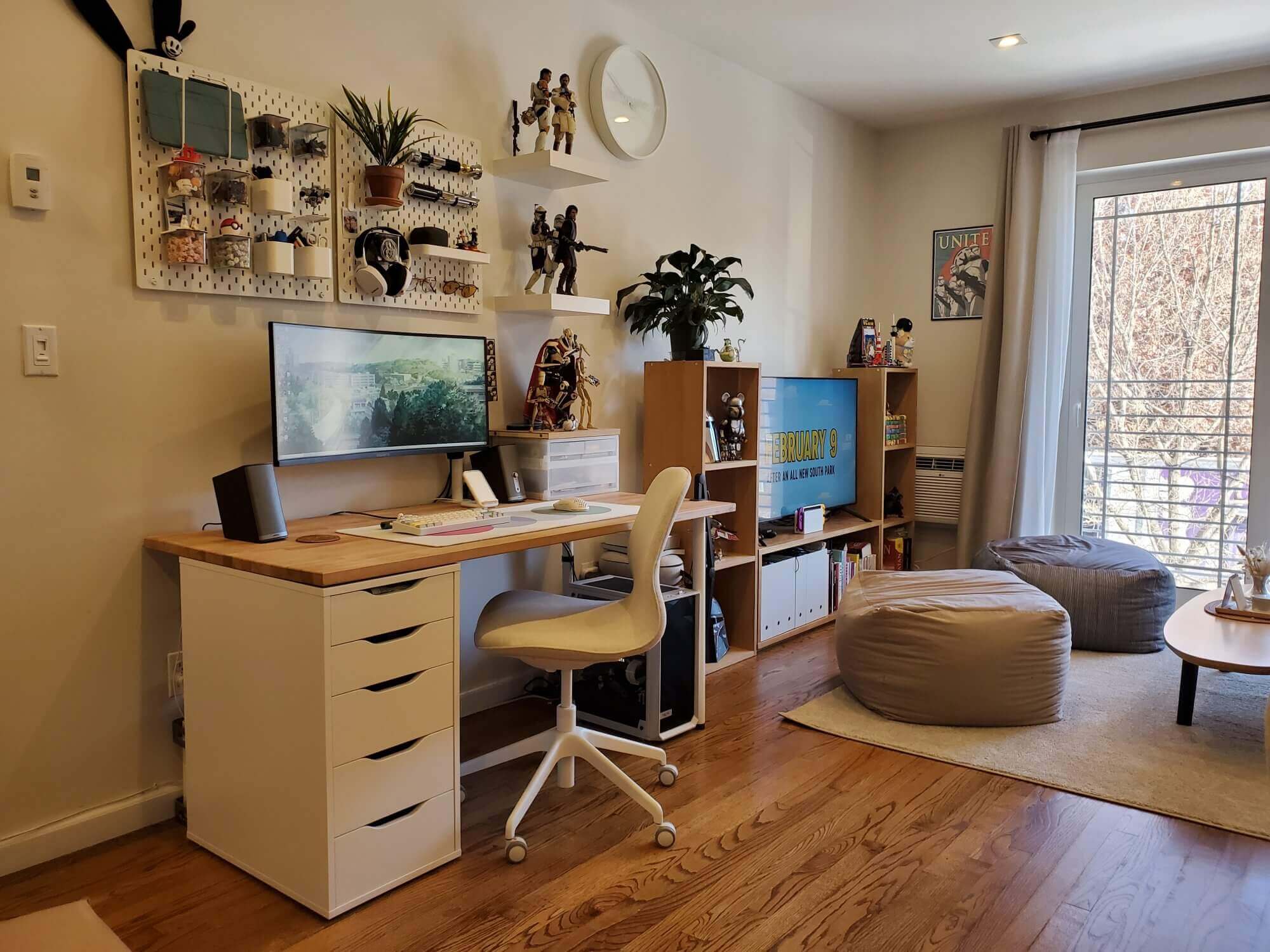 When I'm not out, I turn to the usual video games.
I've lately been hooked on the recent Pokémon Legends: Arceus game.
My favourite will always be the Diamond/Pearl series based on my mother's hometown of Hokkaido.
Following dinner, I'll sometimes return to my desk to play a few games of Valorant with my friends.
Your tips for working from home?
When working from home, the separation of work and my personal life has definitely overlapped.
Still, I try to make an effort to keep the two separate as much as possible. Easier said than done, for sure.
I often will wake up a bit earlier than my shift start time to allow myself to ease into the day, pull back the curtains, and lounge a bit in the natural light to gradually wake up.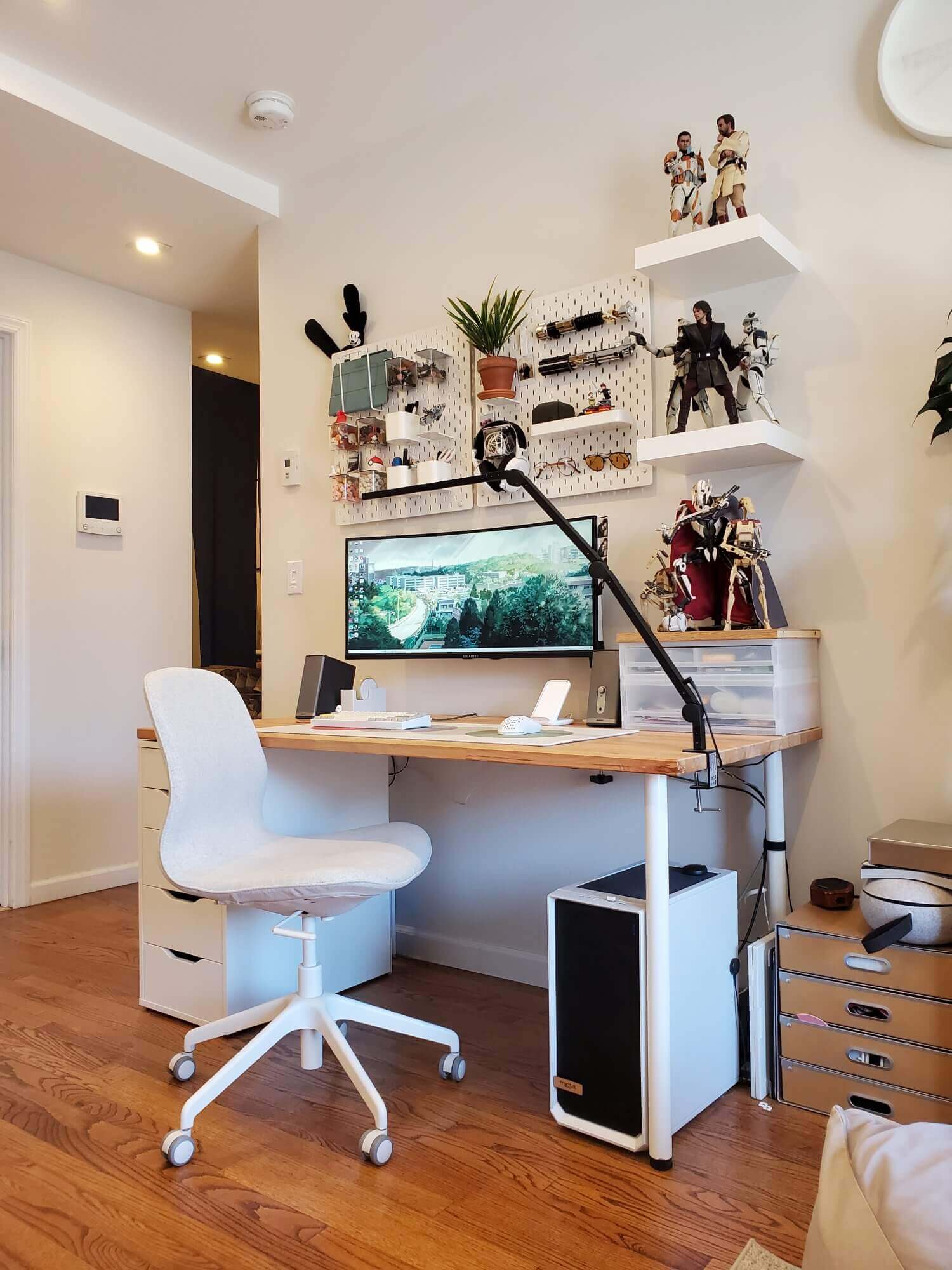 I change out of sleepwear into something that's work-appropriate but still comfortable.
It also helps to shift my mentality and ready myself for a workday ahead.
Having a workstation full of items that I love (but are not distracting) also makes me feel eager to be at my desk.
Again — keep items close to you or displayed that you enjoy, but steer clear of clutter.
I firmly believe that a tidy space leads to peace of mind, and that is so important when working out of a place so personal and intimate like your home.
We're a reader-supported publication. This article might contain affiliate links. It means we may receive a commission if you click a link and buy a product that our maker has recommended. The interview was done independently.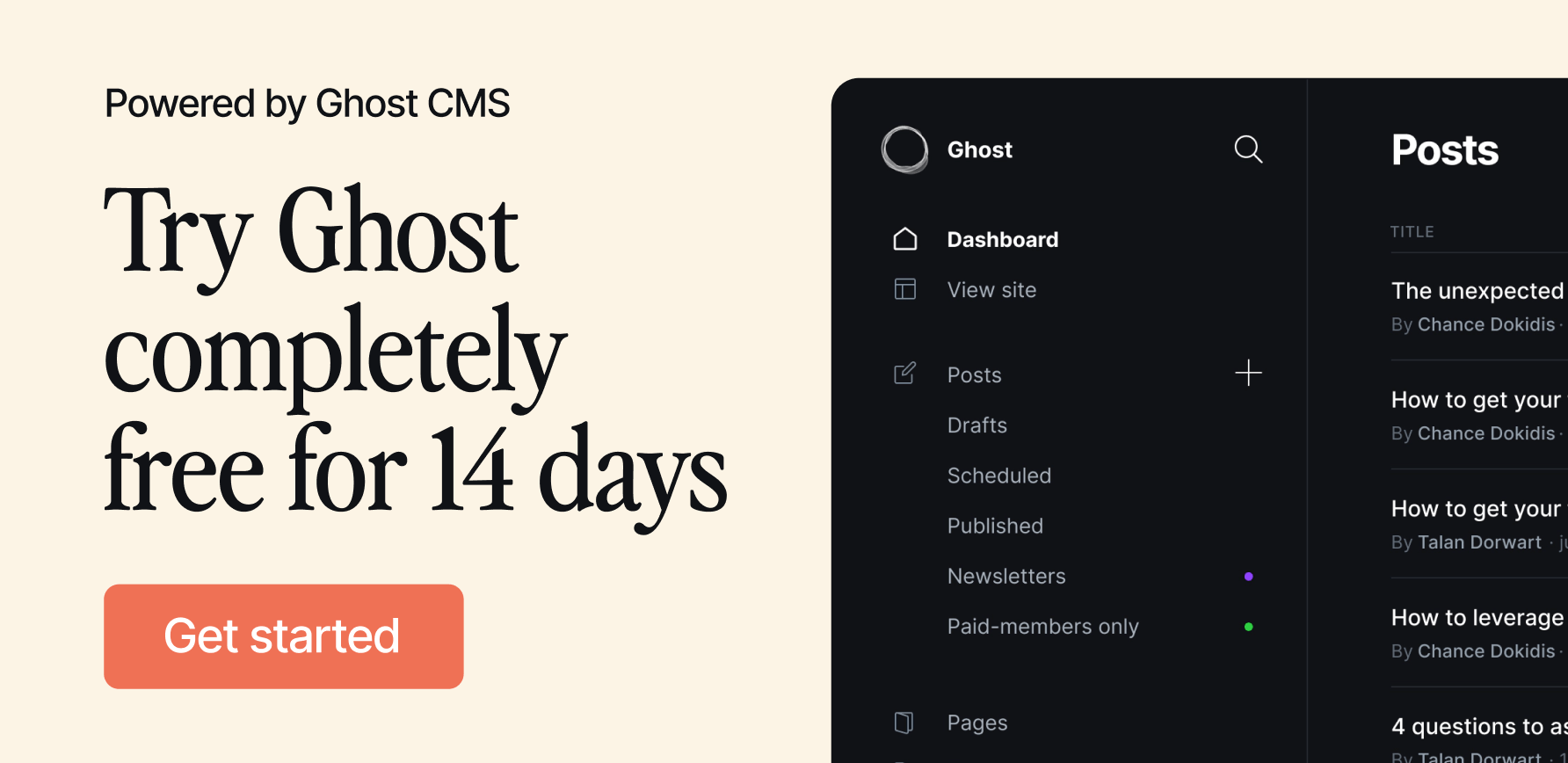 ---