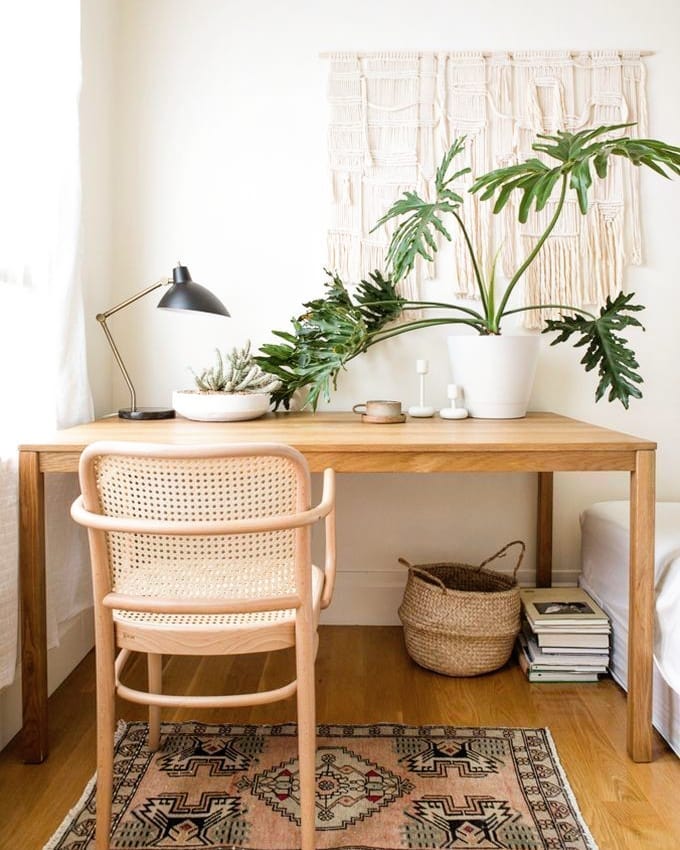 14 Ideas for a Japandi Style Home Office
It's a new take on minimalism — with more warmth and a deeper appreciation for nature.
What's Inside
Join 1000+ Curious Readers.
Every Sunday evening, get an *in-depth* workspace tour from a random corner of the world.
Have you ever had a hard time choosing between different décor styles? Are you worried about ending up with an eclectic room that looks completely out of place?
Then Japandi might be your answer. This style is forgiving and allows plenty of room for mistakes.
Japandi, or Japanordic, is an emerging trend that is making waves in interior design. It's a new take on minimalism — with more warmth and a deeper appreciation for nature.
Bring it into your home office with these ideas for a Japandi style WFH setup.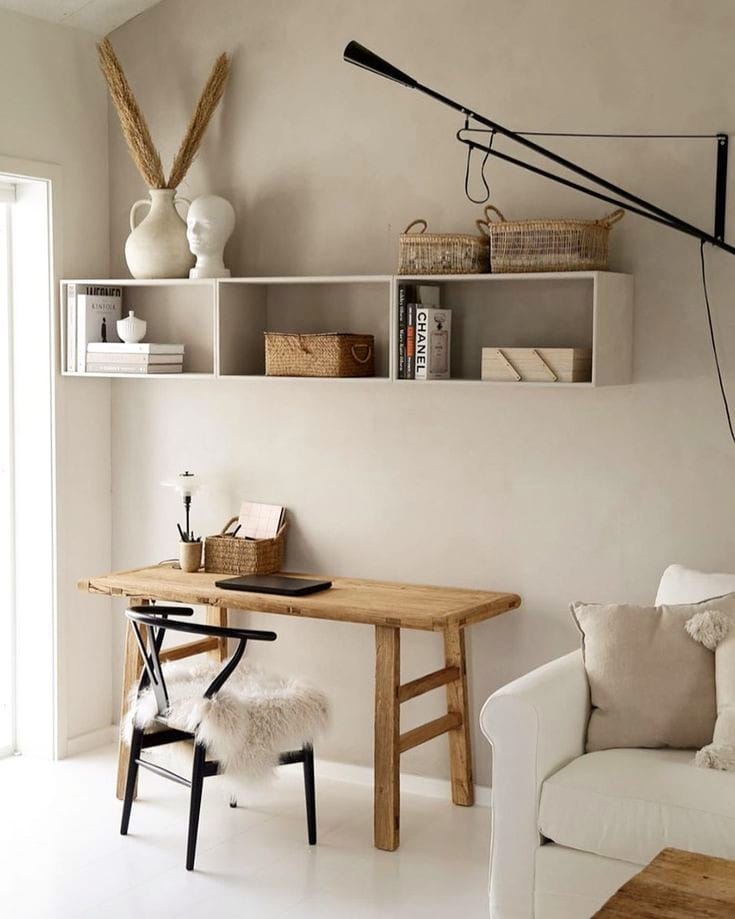 What is Japandi interior style?
Japandi style combines Scandinavian practicality with Japanese rustic aesthetics.
This fusion creates a balance of form and function. It focuses on light spaces, clean lines, and earthy colours.
🎋
Japandi (or Scandinese, also known as Japanordic) is a modern, minimalist style. It's a mix of the Scandinavian and Japanese design approaches: Japanese + Scandi = Japandi. Despite their distinct identities, these two styles share a mutual love for nature and artisanship.
The simple design approach keeps the rooms clean and uncluttered. And the warmth of the materials makes the space feel cosier (plus, more comfortable for work).
The peaceful ambience of Japandi is a rewarding choice for anyone working from home.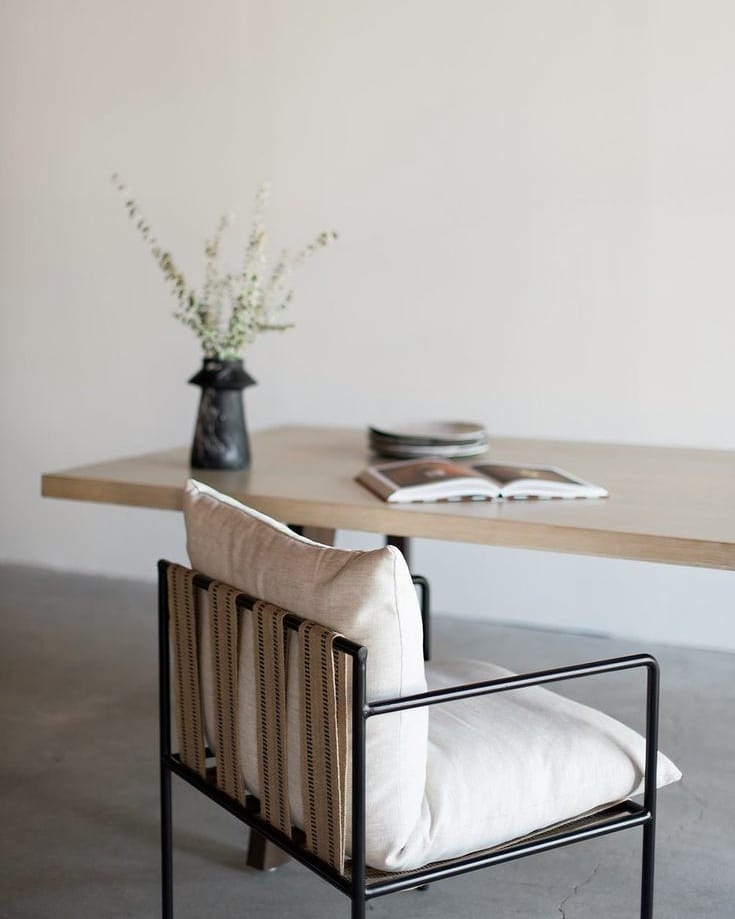 Japandi home office ideas
Japandi interiors exhibit a good mix of both Japanese and Scandinavian influences. They're minimal yet homey spaces.
In a Japandi home office, you can expect to see a lot of wood, as well as a mix of finished and unfinished surfaces (or handcrafted pieces).
On top of that, we've got calm colours and nature-inspired patterns.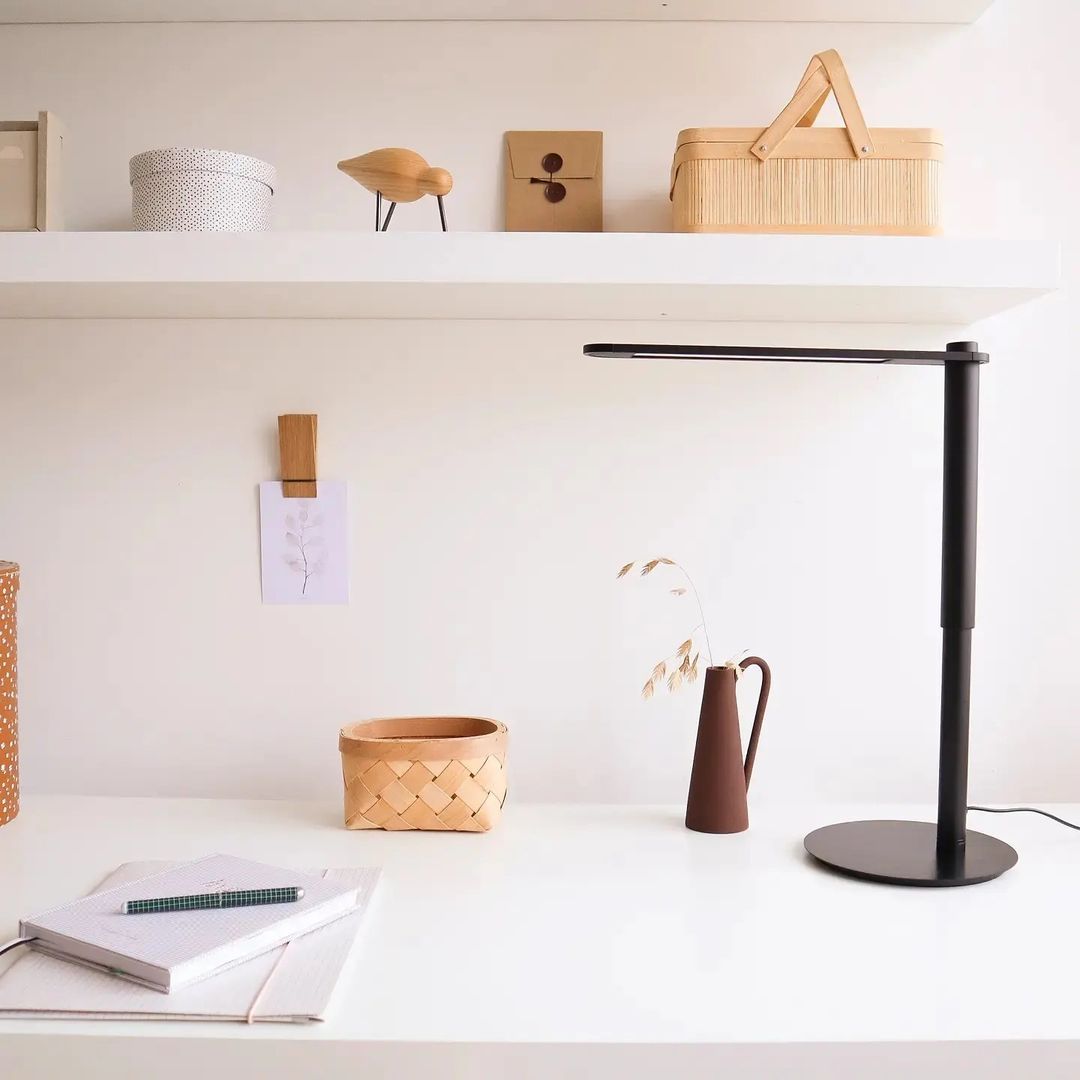 Less is more
To achieve that minimalist Japandi look in your home office, make sure that each piece serves a purpose.
In Japandi, the joy comes from things that respond to your needs clearly.
Start with function.
Choose quality over quantity.
The less-is-more approach makes your workspace decluttered and airy. It also gets you to appreciate things that you already have in your home office.
Embrace Japandi décor for WFH
Try out the classic Japandi look in your home office with a mix of neutral colours and wood.
This is easy to do with simple white walls and wooden furniture.
Consider a mix of light and dark wood for your furniture pieces. For example, combine an office desk and wall shelves in walnut brown with a chair or cabinet in oak wood finishes.
🧶
Japandi style has taken a lot from the Danish concept of hygge, or hyggelig. It refers to enjoying little things in life that make us happy.
Another approach is to pair modern furniture with white walls and then add black or grey to the design. For instance, a dark ceramic vase or a concrete lamp shade.
Show some grain
Japanese and Scandinavian styles use a lot of wood in their interiors.
Scandinavian design leans towards lighter shades of wood. Japanese interiors tend to feature darker tones.
Both styles appreciate wood as a natural material. They celebrate its imperfect beauty rather than cover it up with paint.
Wooden desks and cabinets are naturally suitable for Japandi WFH setups.
Look out for furniture pieces that showcase the grain and tone of the wood. A solid wood desk with a perfectly imperfect grain adds a lot of character to a simple home office setup.
These pieces also last longer, and wood will take on a deeper colour as it ages.
Try rattan furniture
Rattan is a natural material. It's used to make sustainable furniture.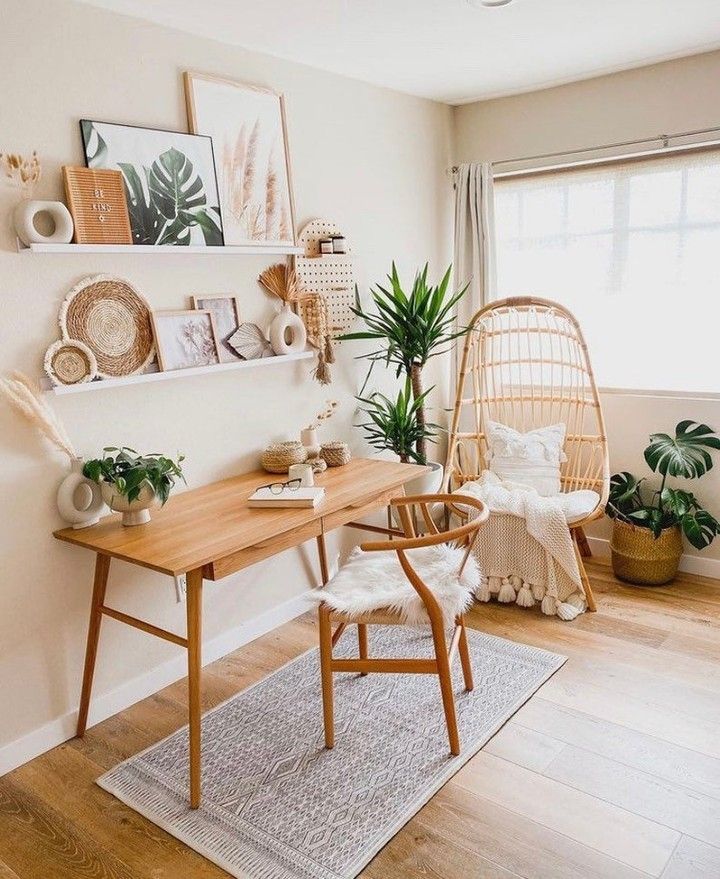 Rattan chairs bring a timeless look to your home office.
Cabinets with rattan doors and side tables with rattan tabletops add a rustic charm to any room.

Combine these light brown furniture pieces with tan walls or charcoal black décor to create an elegant home office.
Put a rattan basket under your desk to keep the cords organised.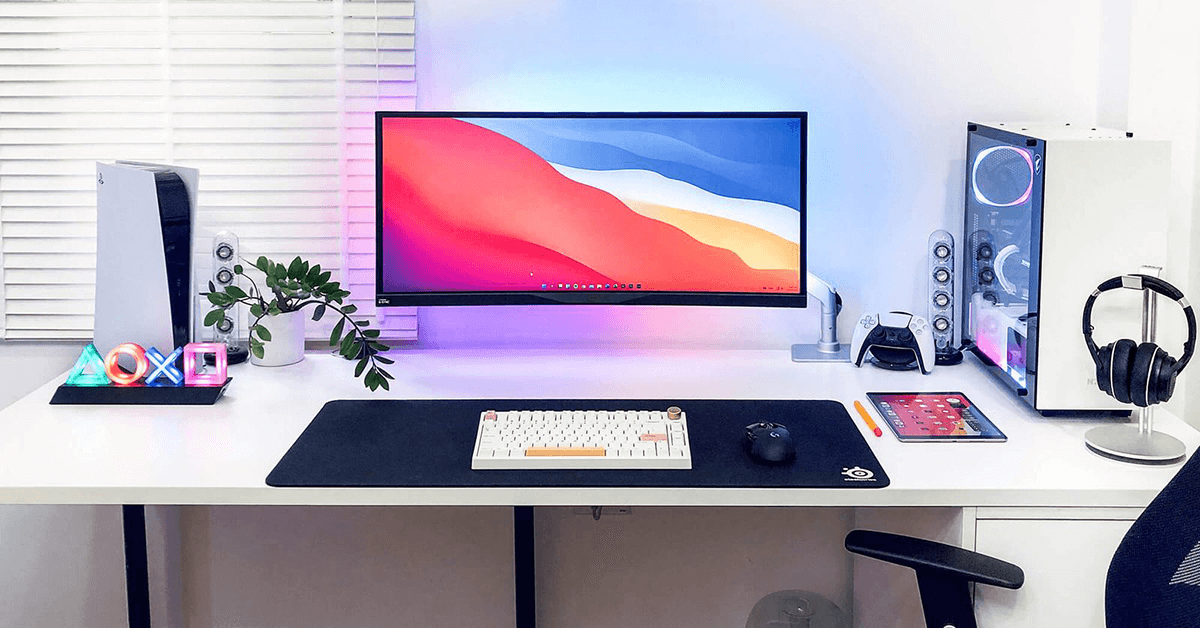 Use an earthy colour palette
Japandi loves all things natural. That extends to colours, too.
Add some earthy hues (terracotta, charcoal grey, wenge) to your home office for a calming and natural look.
Colours like pale brown, deep maroon, bronze, and honey yellow can make your space look warm and glowing.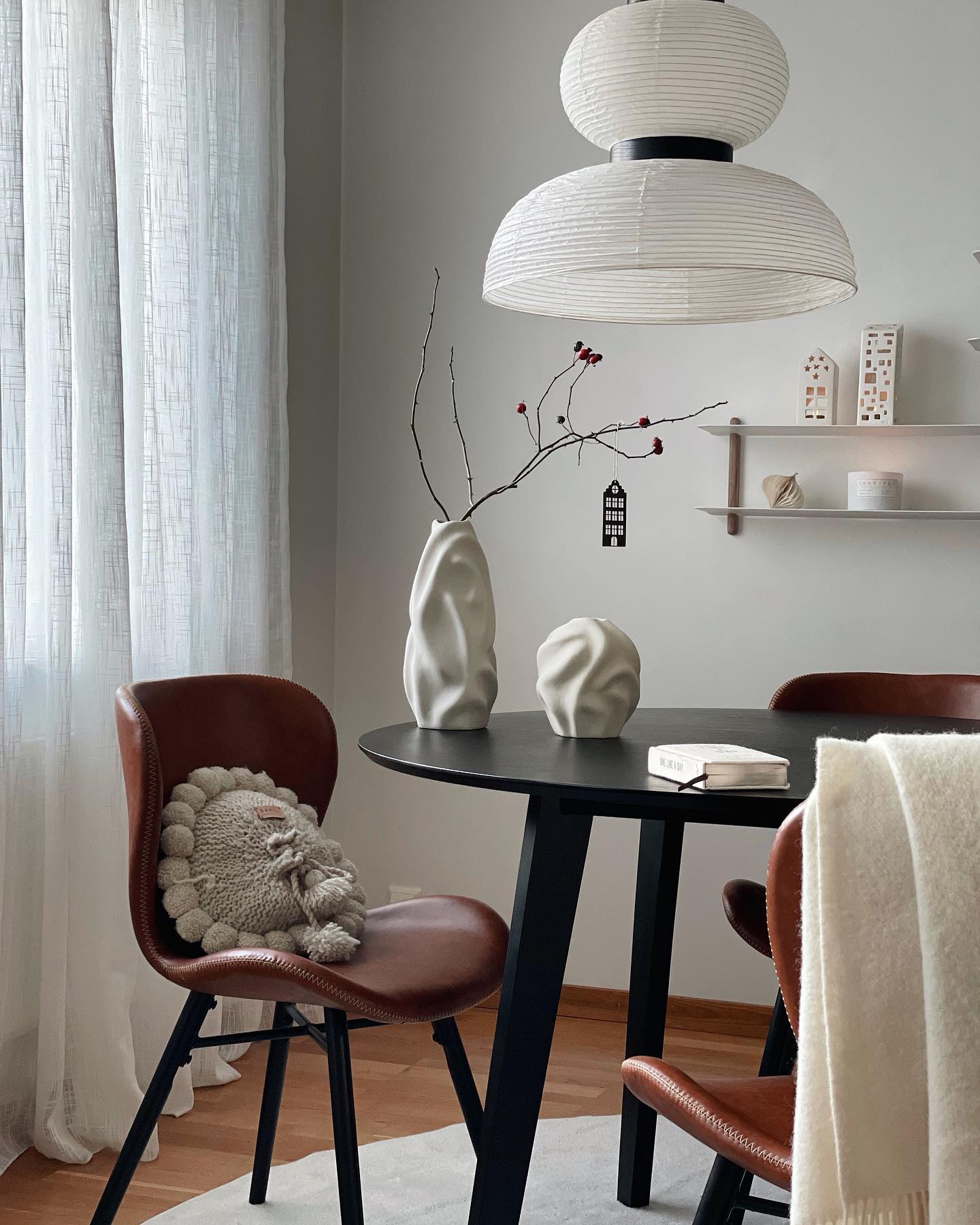 An easy way to bring earthy tones into interiors is through textiles and upholstery.
Look out for office chairs in brown or amber colours, or an accent chair in burnt orange.
Incorporate terracotta or porcelain pots into your home office décor to bring in the beauty of warm earthy tones.
Add a jute rug
A jute rug looks natural in a minimalist home office.
Jute rugs work with most office styles and colour schemes. They feature a natural, coarse look. Japandi values this.
Handmade jute rugs lend a rustic look to home offices. Jute also complements wood and rattan furniture (both are commonly used in Japandi interiors).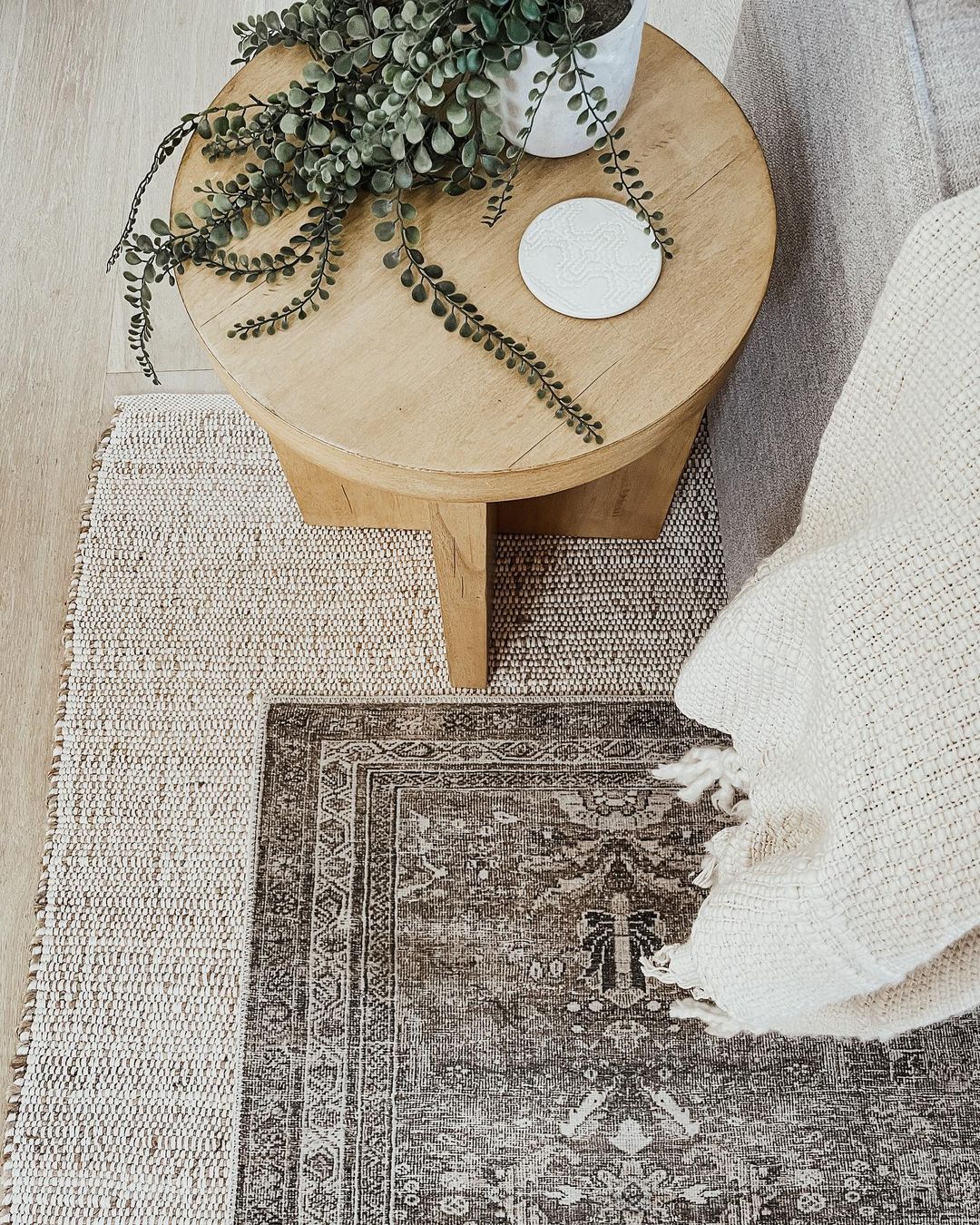 Keep it low
If your home office is lacking in space, a floor seating WFH setup could be the thing you need.
Take inspiration from classic Japanese floor seating arrangements.
A laptop table or low table elevates your laptop and offers a good height to work on.
Get a floor cushion and lean your back against the wall or a stable furniture piece. This will help with posture.
Alternatively, look for a zaisu. It's a Japanese floor chair with back support.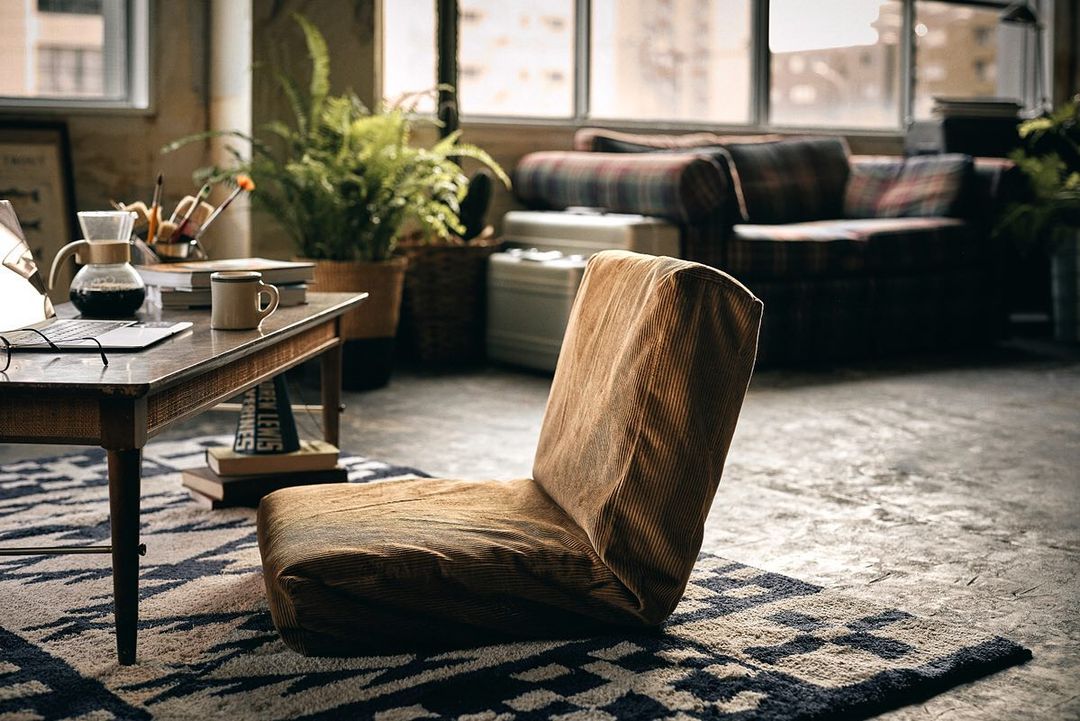 Whether you sit on a floor or use a regular chair and desk, don't forget to stretch and move often to avoid strain.
Try muted colours
Get a soft pink accent chair or pale green wall shelf to complete a sophisticated look.
Muted colours add a gentle feel to the home office.
Raw concrete and wood mix well with subtle interior pieces that feature natural colours.
The combination of smooth and unfinished surfaces also brings more textures to the room.
Go bespoke
Japanese and Scandinavian designers value craftsmanship. They aspire to create objects that last a lifetime.
This falls in line with the Japandi ideal of intentional decoration which starts with function.
If you're about to create or improve your home office, consider handcrafted products, be it furniture or furnishings.
You can commission a custom desk or cabinet made to last generations. Or find a handmade rug or cushion to make your workspace more personal.
You could even have a look for second-hand furniture pieces that add character and rustic charm to your Japandi setup.
Use paper décor
Japanese artisans and makers traditionally use paper to create lightweight objects.
The paper used in Japandi design, however, is stronger and made of different plant fibres.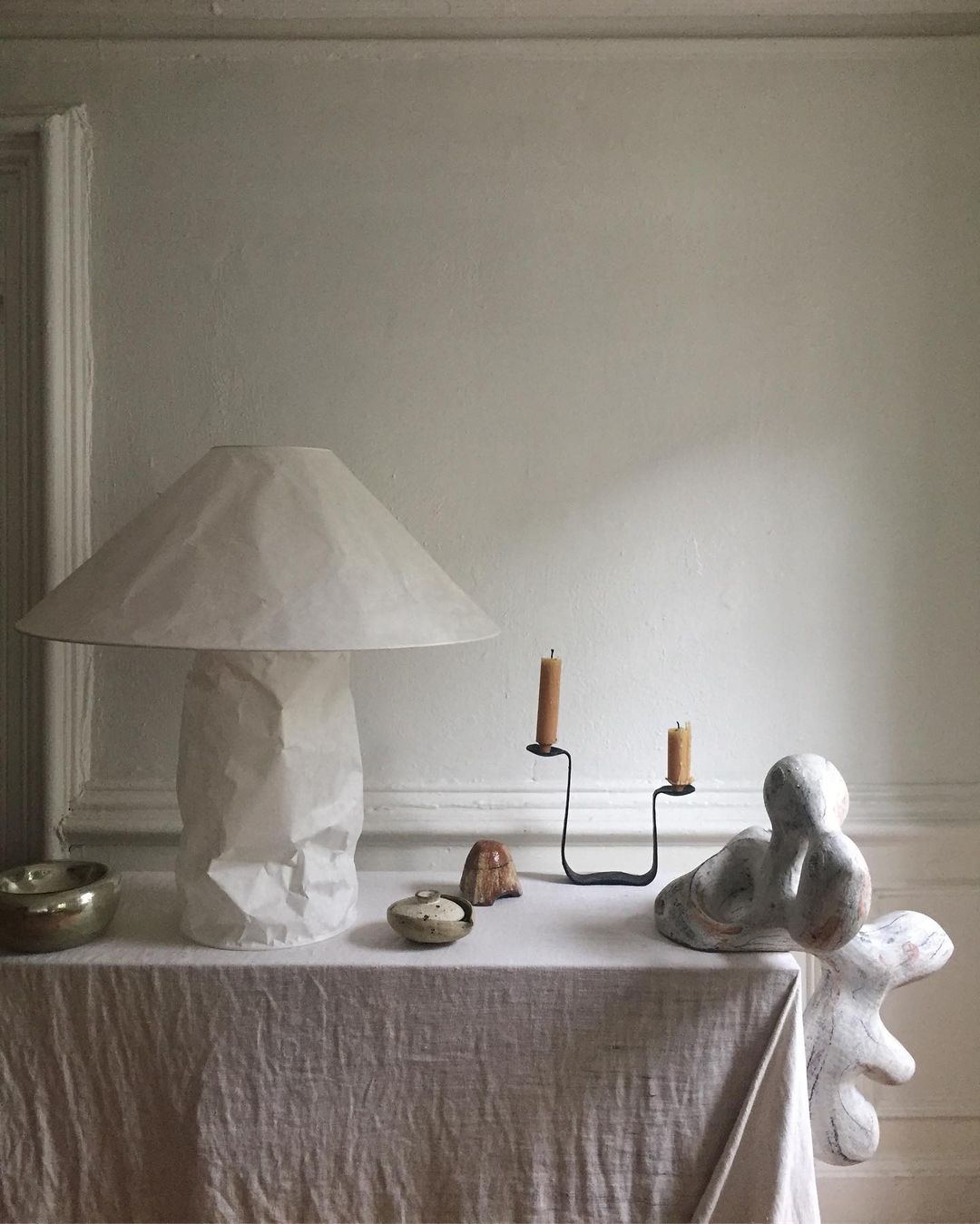 Japandi paper objects look elegant and add an airy feel to the room. Consider a modern paper table lamp or a set of pendants to light up your WFH space.
A shoji paper screen divider creates two spaces out of one. The screen allows light to pass through. This way, even the smallest of spaces feel larger and open.
Get some plants or dried flowers
Houseplants bring nature indoors and create a peaceful ambience at home.
Add an indoor plant to your home office to liven up the space and make it more appealing.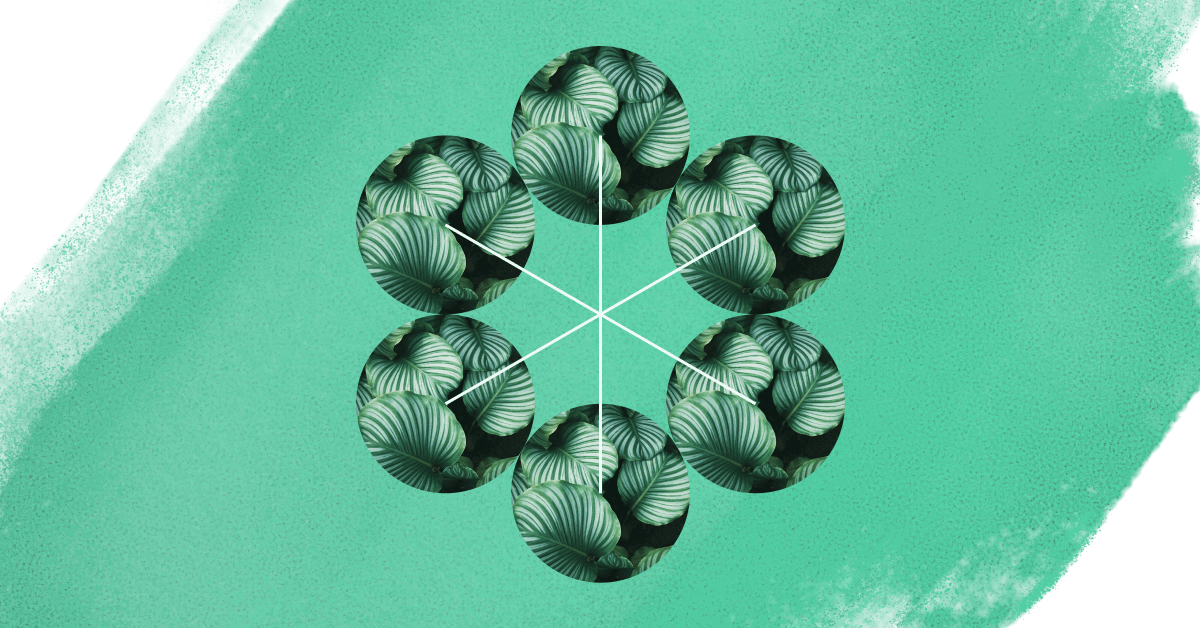 Rather than opting for a fully-fledged jungle, choose just a plant or two that would stand out in your space.
An olive tree or Calathea will look gorgeous in a Japandi office and give a natural look to your home office.
Add pops of blue
Blue is the perfect companion to neutral rooms. This colour looks appropriate in almost any setting.

Tints and shades of blue brighten up the workspace and make the WFH zone feel tranquil.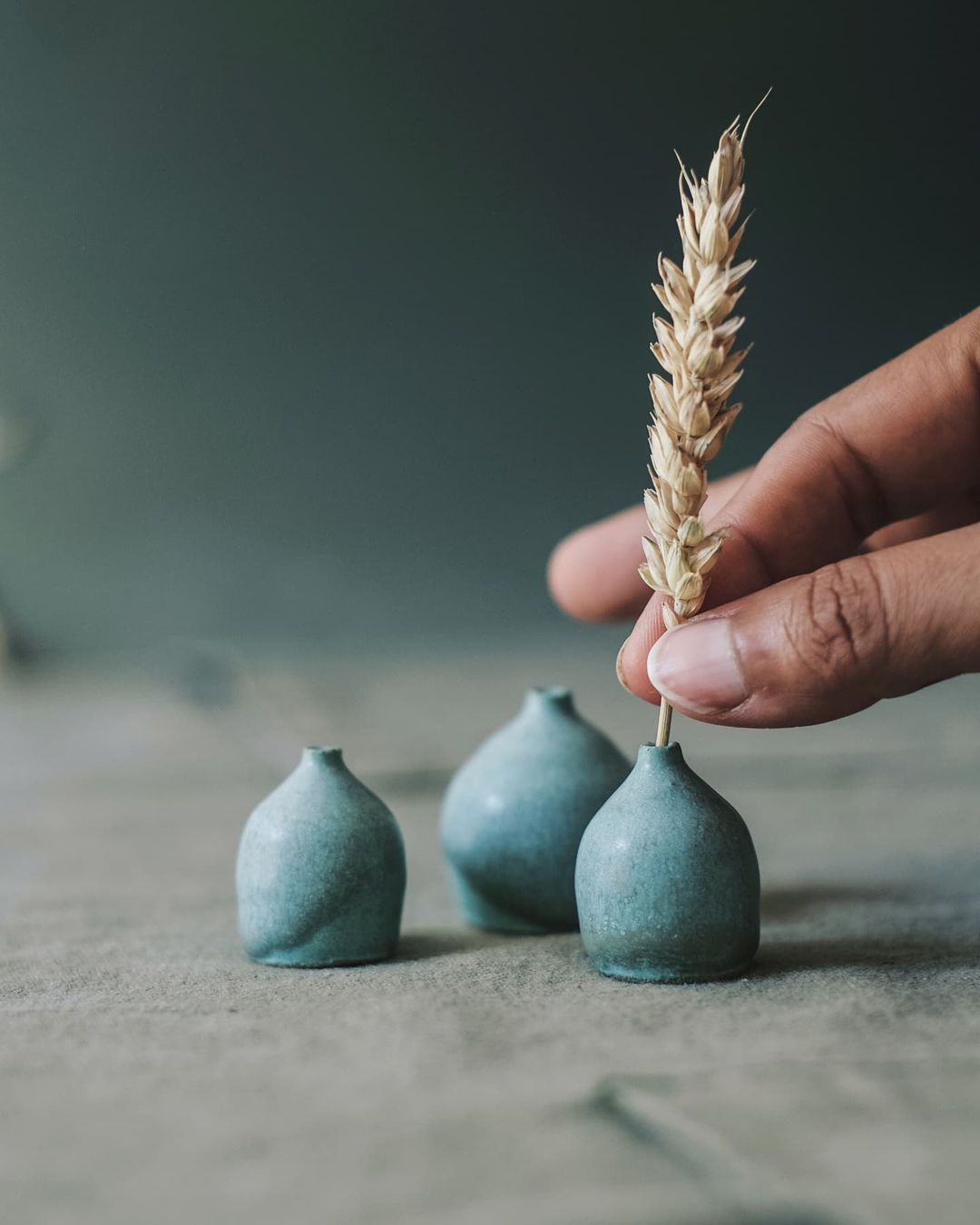 Blue ceramics are highly appreciated in Japanese design.

Scandi style loves the combination of dove-coloured (warm grey with a slight purplish tint) objects with muted hues.
Create a Japandi look in your home office with a simple blue rug or a wall shelf in pastel cobalt or pale azure.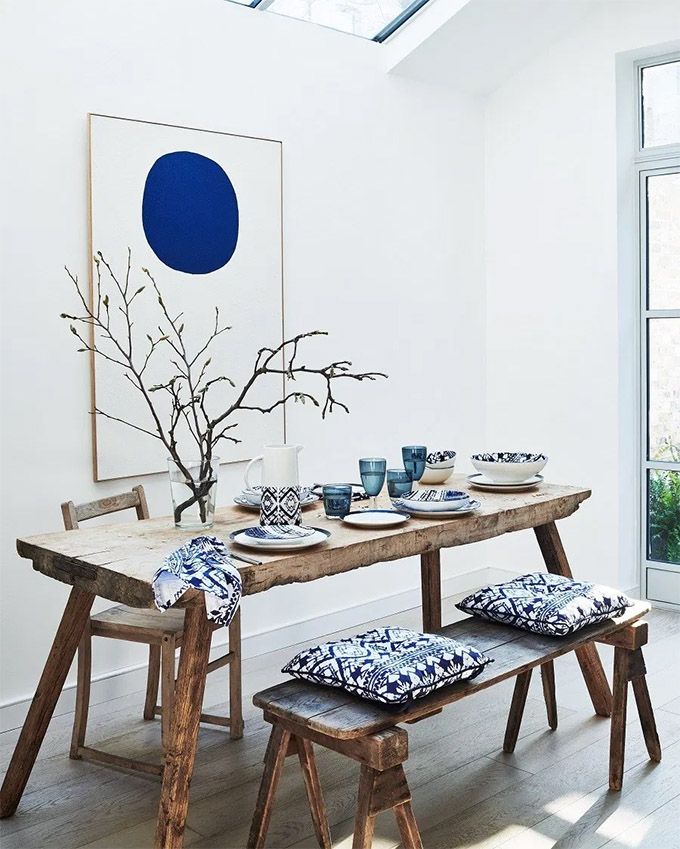 Bring in bamboo
The Japanese design style has a long-standing association with bamboo.

Try adding this sustainable material to a home office setup for an authentic Japandi ambience.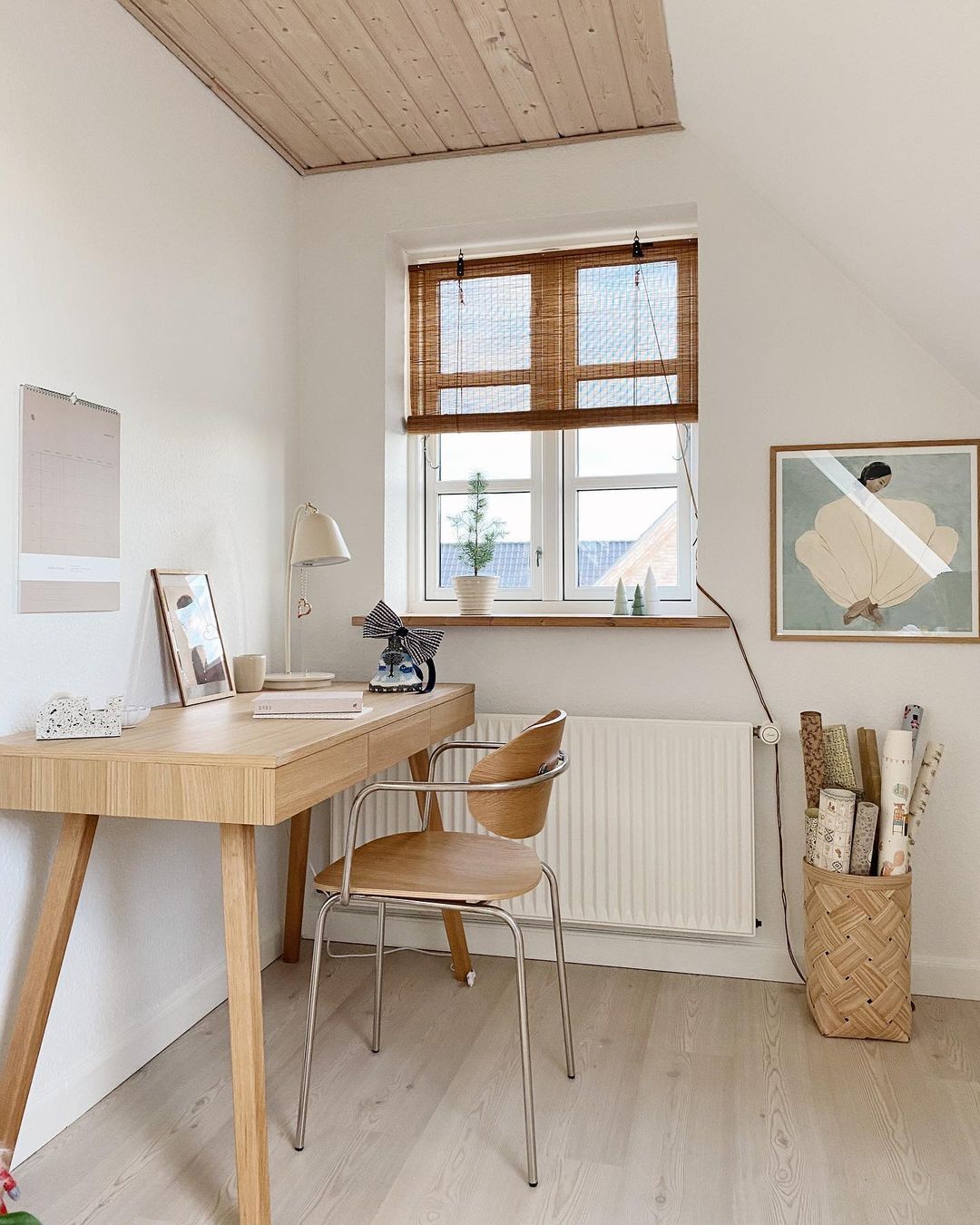 Celebrate imperfections
Wabi-sabi is the key concept of a Japanese approach to design.

It means to see the beauty in something that is flawed or incomplete.

As a design approach, wabi-sabi appreciates the beauty in things that aren't conventionally perfect.
For example, an old vase that got knocked off and shattered but glued back together. Or a distressed rug with an uneven pattern.
✅
Japanese aesthetics called wabi-sabi (侘寂) revolves around accepting the imperfection of life.
Also, natural materials age and patinate, gaining charm and character over time. Both Danish and Japanese designers find this beautiful.
A minimalist home can sometimes lack personality. Japandi style makes interiors more warm and human.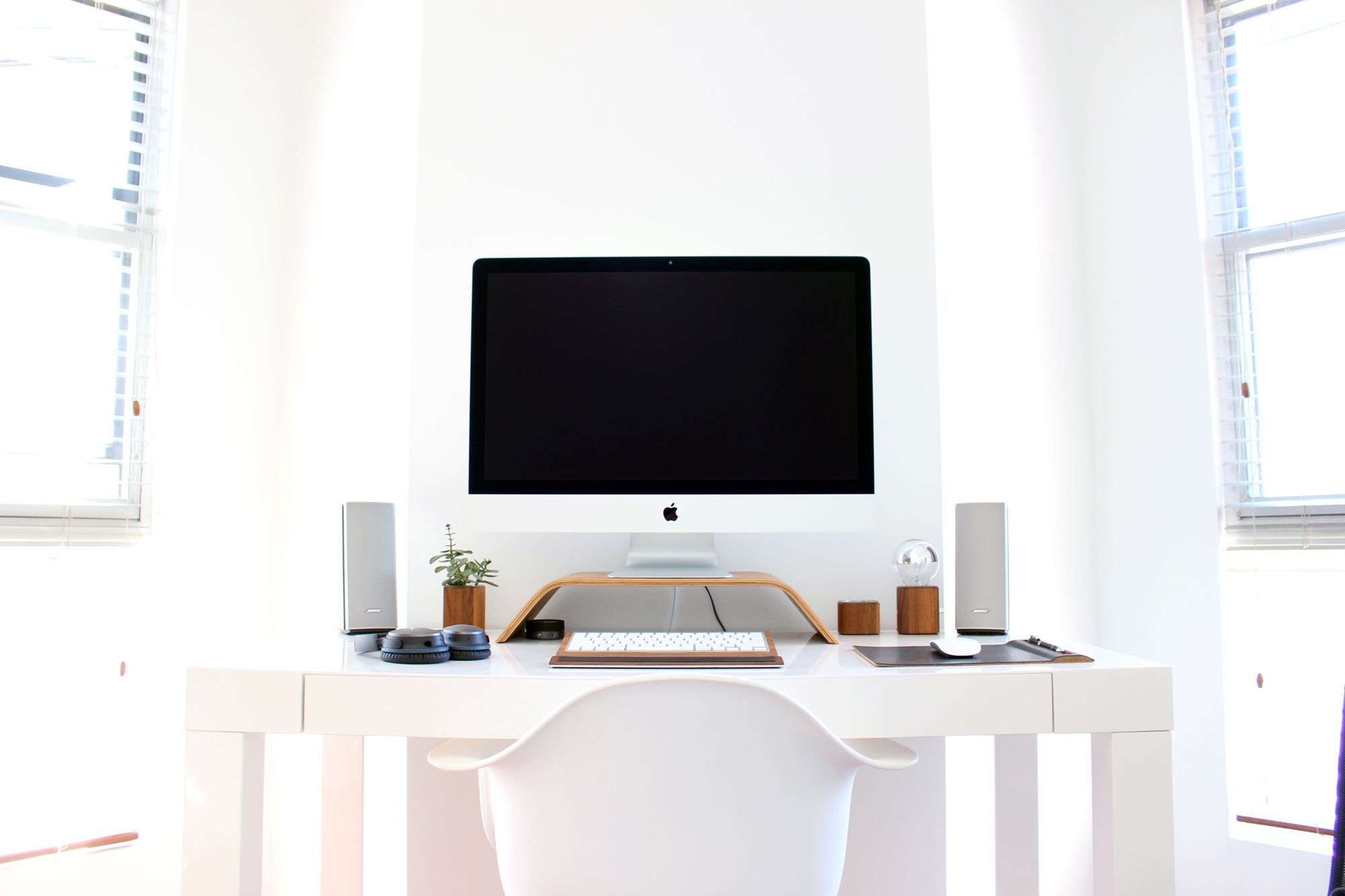 ---
When did Japandi start?
Although Japandi is a term coined in 2017, the style itself takes roots in a one-and-a-half-century cultural bond between Denmark and Japan. Danish artists and architects were among the first westerners to visit Japan after it opened the borders after 220 years of isolation. Both nations have always appreciated simplicity, craftsmanship, and natural materials. It is reflected in Japan's philosophy of wabi-sabi as well as in Denmark's concept of hygge.
What is Japandi design?
Japandi is a blend of Scandinavian and Japanese aesthetics (Japanese + Scandi = Japandi). This style is inspired by hygge — a Danish art of celebrating little things in everyday life. Japandi features a minimal, functional, but warm look with a wabi-sabi approach of finding beauty in imperfections.
What colours are Japandi?
The Japandi style combines the monochrome colour scheme of the Scandinavian design with the warm earthy tints of the Japanese interiors. When creating a Japandi WFH setup, you can't go wrong with the soft, nature-inspired colours such as brown, beige, terracotta, and pale blue. Add black hues and pops of green for contrast.
We're a reader-supported publication. This article might contain affiliate links. It means we may receive a commission if you click a link and buy a product that our maker has recommended. The article was written independently.
Join 1000+ Curious Readers.
Every Sunday evening, get an *in-depth* workspace tour from a random corner of the world.
---