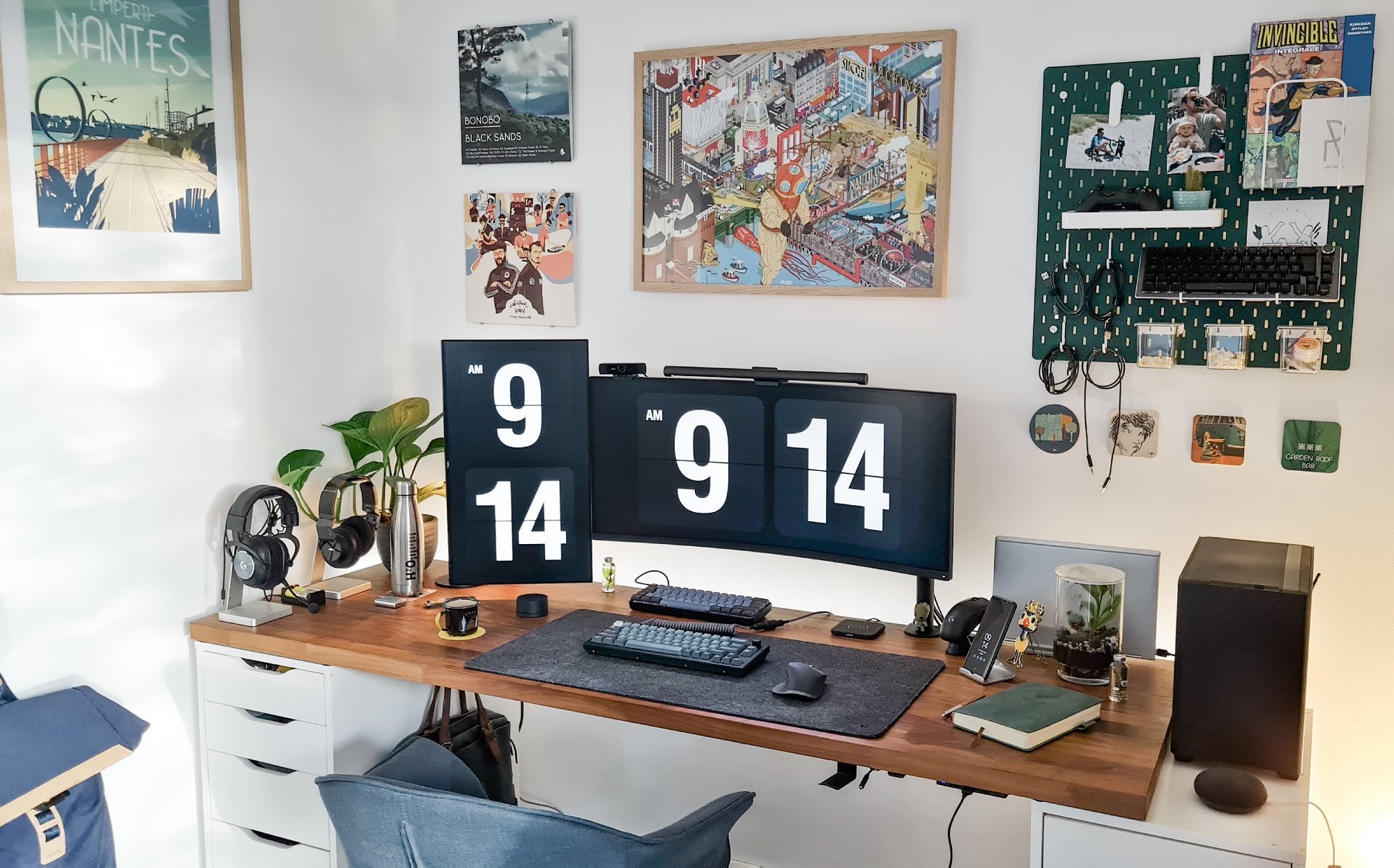 Cosy and Functional IKEA KARLBY Desk Setup in Nantes, France
"I'm a very enthusiastic tech enthusiast"

Name: Nicolas R. Dumas
Location: Nantes, France
Occupation: Network & Security Consultant
Room size: 12 m² (129 ft²)
Cost of the setup: ~$4K
Social media: Instagram
Hello! Tell us a bit about yourself
Hi there, my name is Nicolas. I am a 31-year-old IT consultant living in Nantes, France.
I was born in Paris, but my family moved to Nantes when I was five years old. I went back to Paris for my studies when I turned 18. I lived there for about twelve years before returning to Nantes 1,5 years ago.
The reason for this move was that my daughter was born and the COVID-19 made it necessary for our family to have more space, nature, and a calmer environment.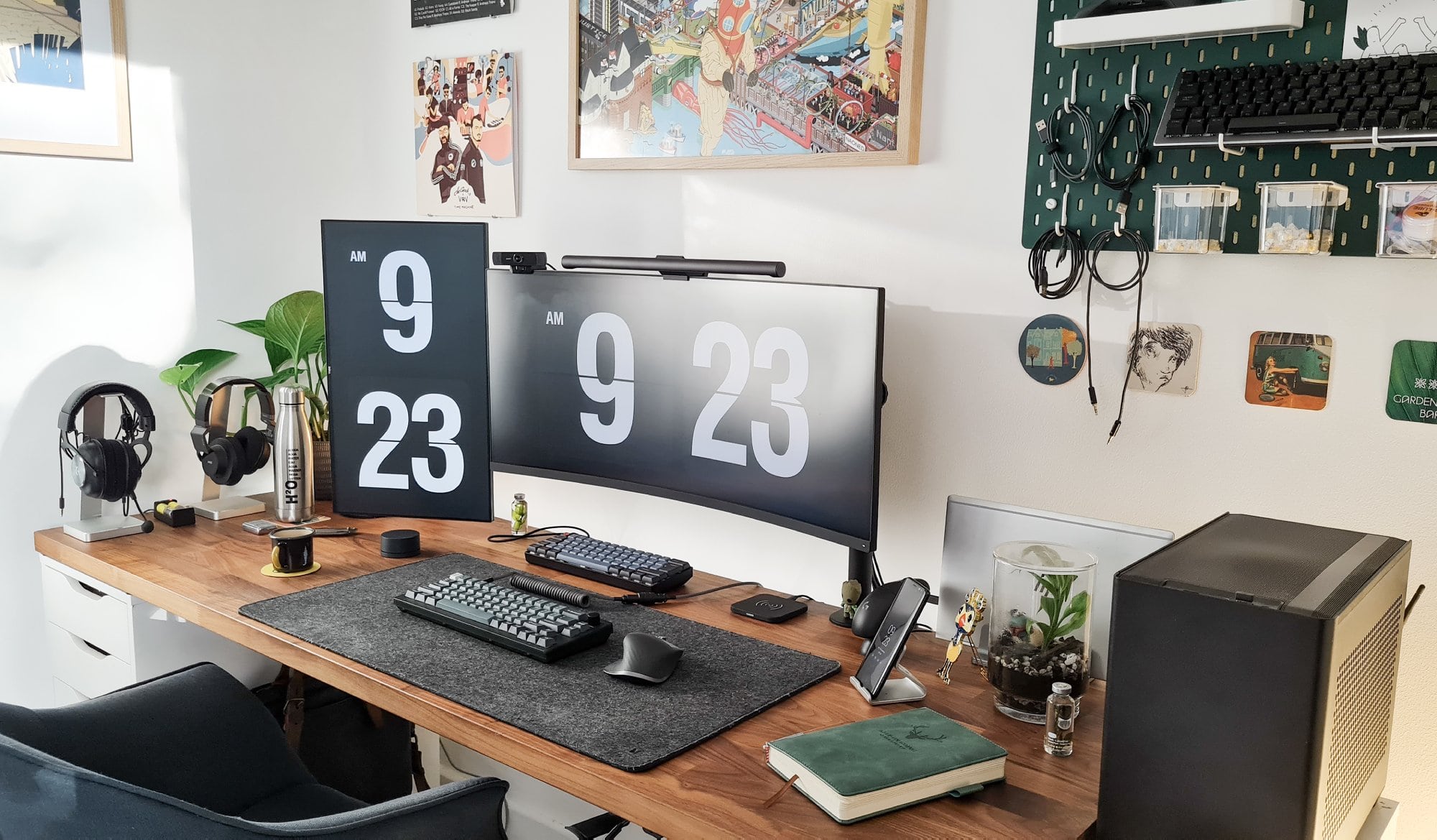 I've been working as an IT consultant for about six years now, and I really enjoy it.
Since COVID, I have been working from home three to four days a week, which has allowed me to spend more time with my family.
It has been a blessing.
One thing that has always been true about me is that I love gadgets.
At the age of 12, I blew everyone's minds by connecting two monitors to the family computer.
I have always wanted the latest phone, keyboard (for example, the Logitech diNovo when I was fifteen), computer, and other gadgets.
You could say I'm a very enthusiastic tech enthusiast.
Clearly, if I had unlimited money, I would probably become a danger to everyone in my household with all of the gadgets I would buy.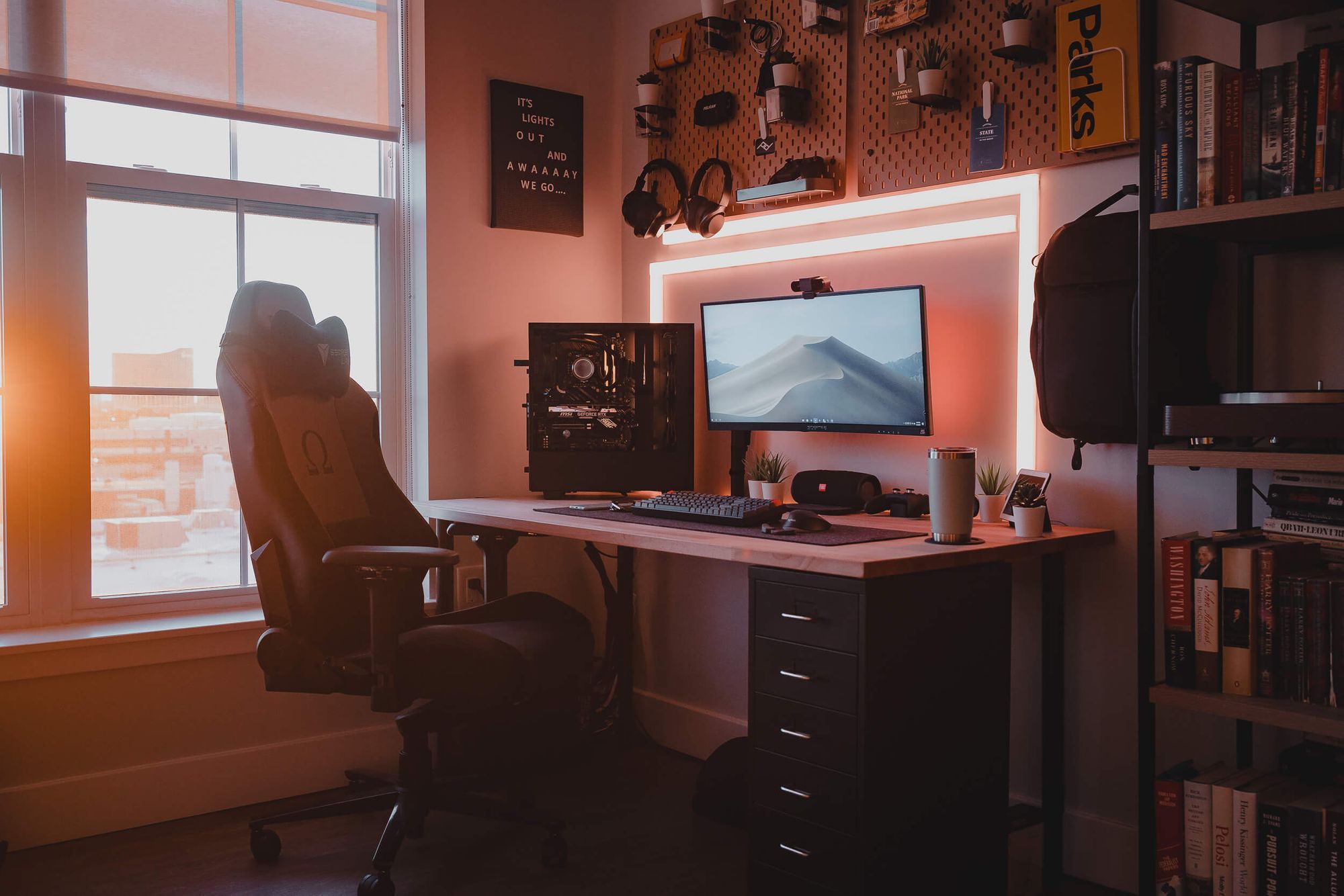 In my free time, I enjoy playing video games with my friends.
However, I prefer to play casually and have fun rather than becoming frustrated and mad when I die to a coward camper who is WAITING FOR ME AROUND THE CORNER.
Yes, I'm talking about you, hardcoregamer69.
Take us through your setup
Item
Model
Monitor 1
MI 34″ 144Hz Ultrawide Monitor
Monitor 2
Dell U2417H
Monitor mount
Duronic DM251X3
Monitor light bar
Xiaomi Monitor Light Bar
Laptop
HP EliteBook x360 16go
Tower
Case
Cooler Master NR200P Black
Processor
AMD Ryzen 5 5600X
MB
ASUS ROG Strix B550-I Gaming
RAM
Corsair Vengeance RGB Pro 16GB 3600MHz C18
GC
EVGA GeForce RTX 2060 XC Ultra
CPU cooler
Cooler Master Hyper 212 Black Edition (modded it to fit with the tempered glass)
CPU cooler fans
×2 Noctua NF-A12x15 PWM Chromax Black Swap
PS
Corsair SF600 80PLUS Gold
NVMe
Samsung SSD 970 EVO M.2 PCIe NVMe 1TB
SSD 1
Samsung Series 850 EVO - 250 GB
SSD 2
Samsung Series 860 EVO - 500 GB
Bottom case fans
InWin Sirius Loop 120
Custom cables
Antec
Headphones 1
AKG 845BT
Headphones 2
Logitech G Pro X
Keyboard 1
Keychron V2 w/ knob, Gateron Yellow Pro, Apollo cherry clones keycaps, switch foam, modified tape mode, Kingcables custom coiled cable, etc.
Keyboard 2
Bought a "cheap" keyboard on Amazon, still with good reviews, planning to build the quietest MK possible to bring it to the workplace. Ranked Nova60, Gateron silent red switches (lubed and filmed), Oblivion XDA clones keycaps + additional mods (switch foam, silicon pad, tape mod, etc.)
Mouse 1
Logitech G Pro Wireless
Mouse 2
Logitech MX Master 3S
Desk mat
FORMGUT Wool Felt Mouse Pad 80x40cm
Chair
Found in a little furniture shop in France
Laptop stand
OMOTON
Docking station
IVANKY Hub USB C
Web camera
AUKEY 1080p Webcam
Wireless charger
Choetech Wireless Charger
Headphone stand
Luxa2 E-one Silver
Phone stand
Universal dock from Amazon
Pegboard
IKEA SKÅDIS (painted in green)
Controller
Xbox One Controller
Figurine 1
Boba Fett in the terrarium (the terrarium was a gift, so I do not have an ID on it)
Figurine 2
Groot
Figurine 3
Kevin from the Pixar movie "UP"
Desk
IKEA KARLBY + ALEX drawers
With this desk setup, I aim to create a productive and optimised environment for work and leisure, as I spend most of my day sitting there.
I'm always changing and improving things, organising differently, and buying items that better suit my needs.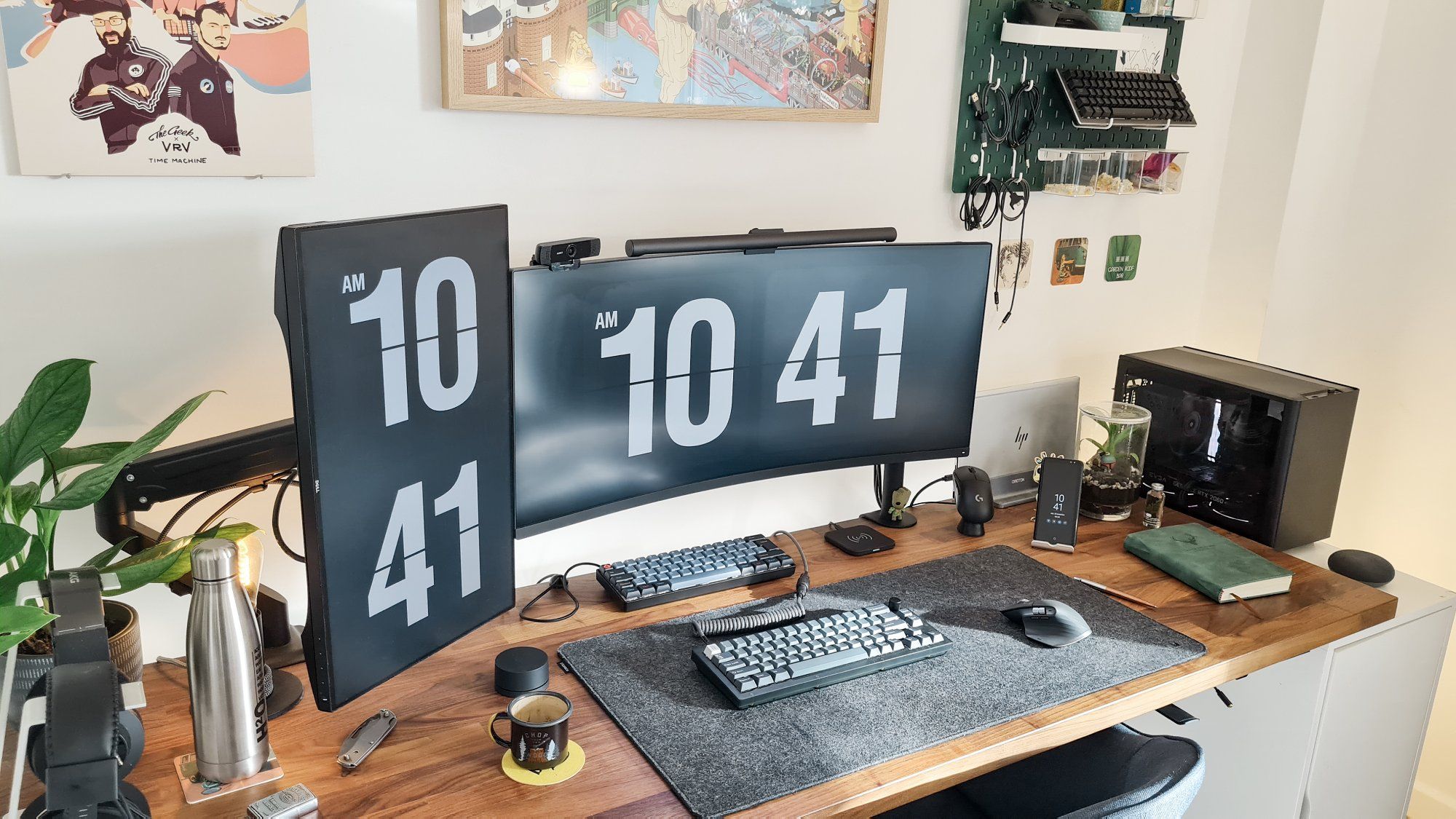 My workspace has transformed a lot since I built my first setup (when I was 14, I believe).
It has gone from full RGB lighting, a dual monitor, a big tower, and a glass desk, to what I have today, which may be very different from what I will have in a few months or years.
I am now closer than ever to having a desk setup that truly satisfies me both practically and aesthetically, but I like to change things up frequently.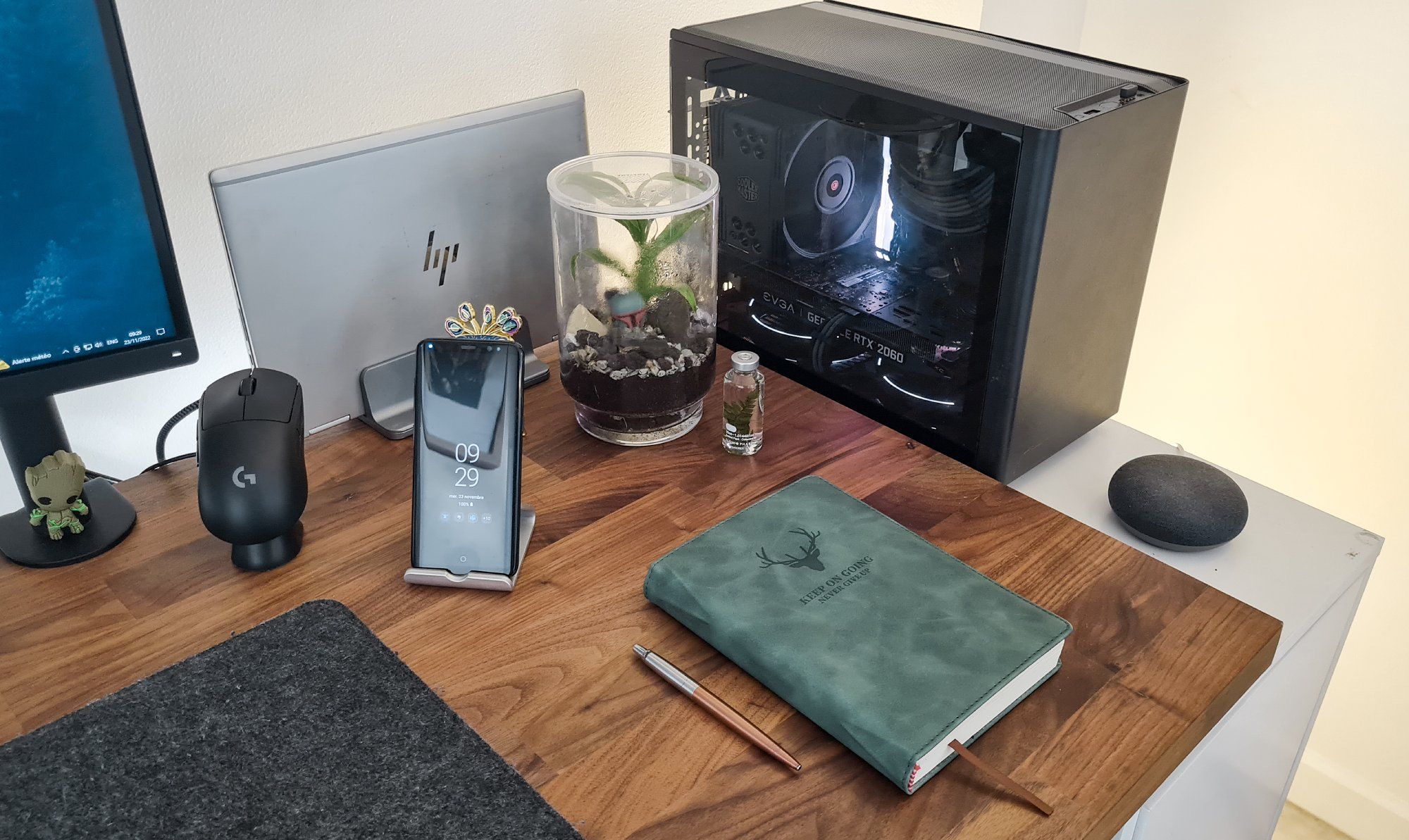 In an effort to make my setup feel cosy and welcoming, I have added personal items such as figurines (Marvel, Star Wars), pictures of my family and friends, and knick-knacks that have meaning to me (my lighter, Invincible comic, the art of Nantes, vinyl records of nostalgia-inducing artists and other things).
I like plants as well, although I'm not very good at taking care of them. However, I do love having a bit of nature on my desk.
For the colours and materials, I like to have a little bit of everything.
I try to mimic the mix of different materials and colours that you would see in the outdoors (a tree, a metal pole, the pavement, a window, some artwork), as it feels more lively to me.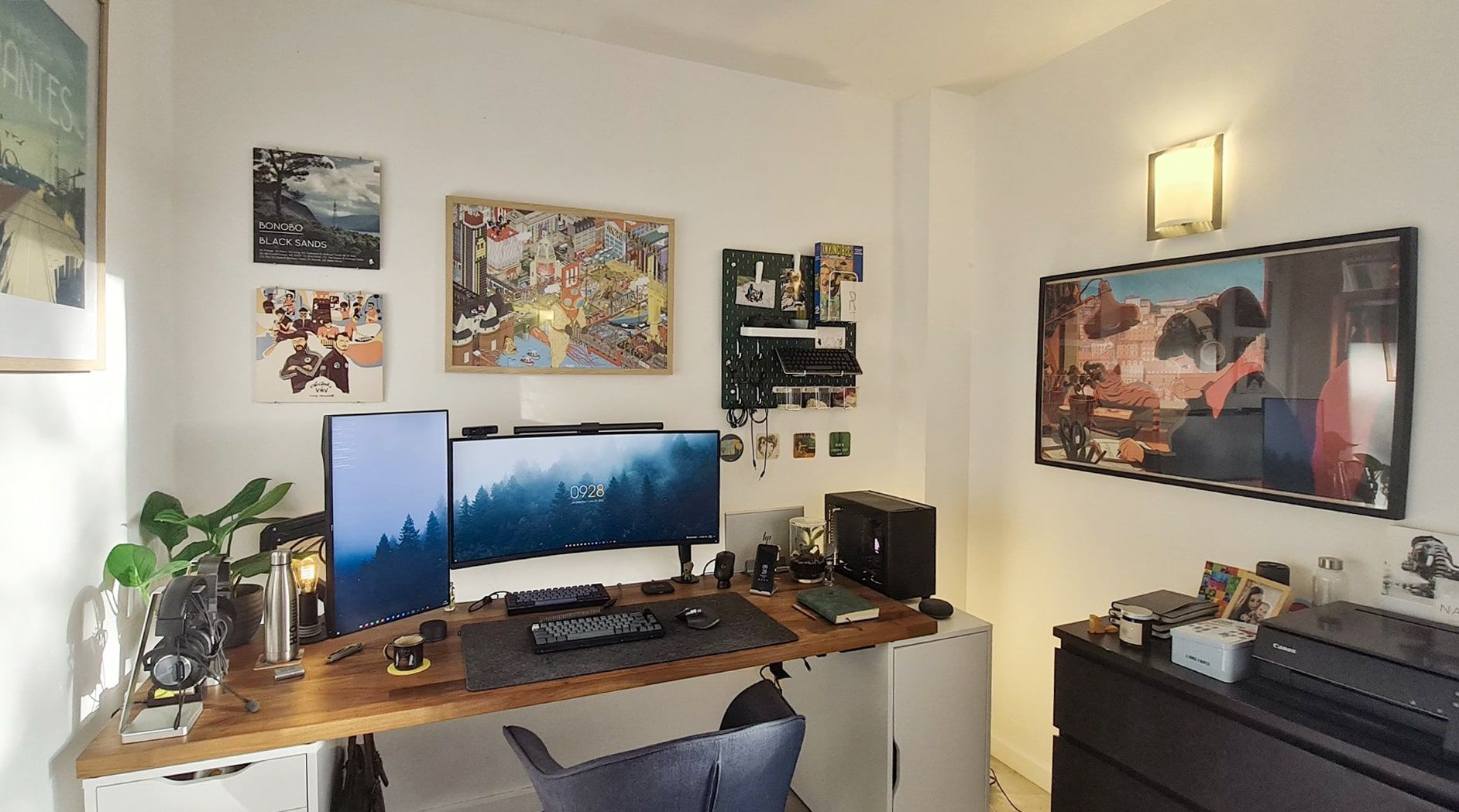 My work PC is a laptop.
I use the Nova keyboard for work because it's in the ISO FR layout. It's more comfortable for me as a French speaker than the ANSI layout.
I also built a budget custom keyboard with the goal of making it as silent as possible.
I put red silent switches on it and did a lot of modifications.
This way, no one can hear it during a call or if I bring it to work, and it feels like typing on clouds.
For my personal rig, I use a Keychron V2 keyboard (I'm in love with this thing!) with knobs and either an MX Master or G Pro wireless mouse (it's amazing for gaming). I have a docking station to keep the mouse charged and never run out of battery.
I pair the keyboard with an MX Master 3S mouse, which is also relatively quiet and great for productivity.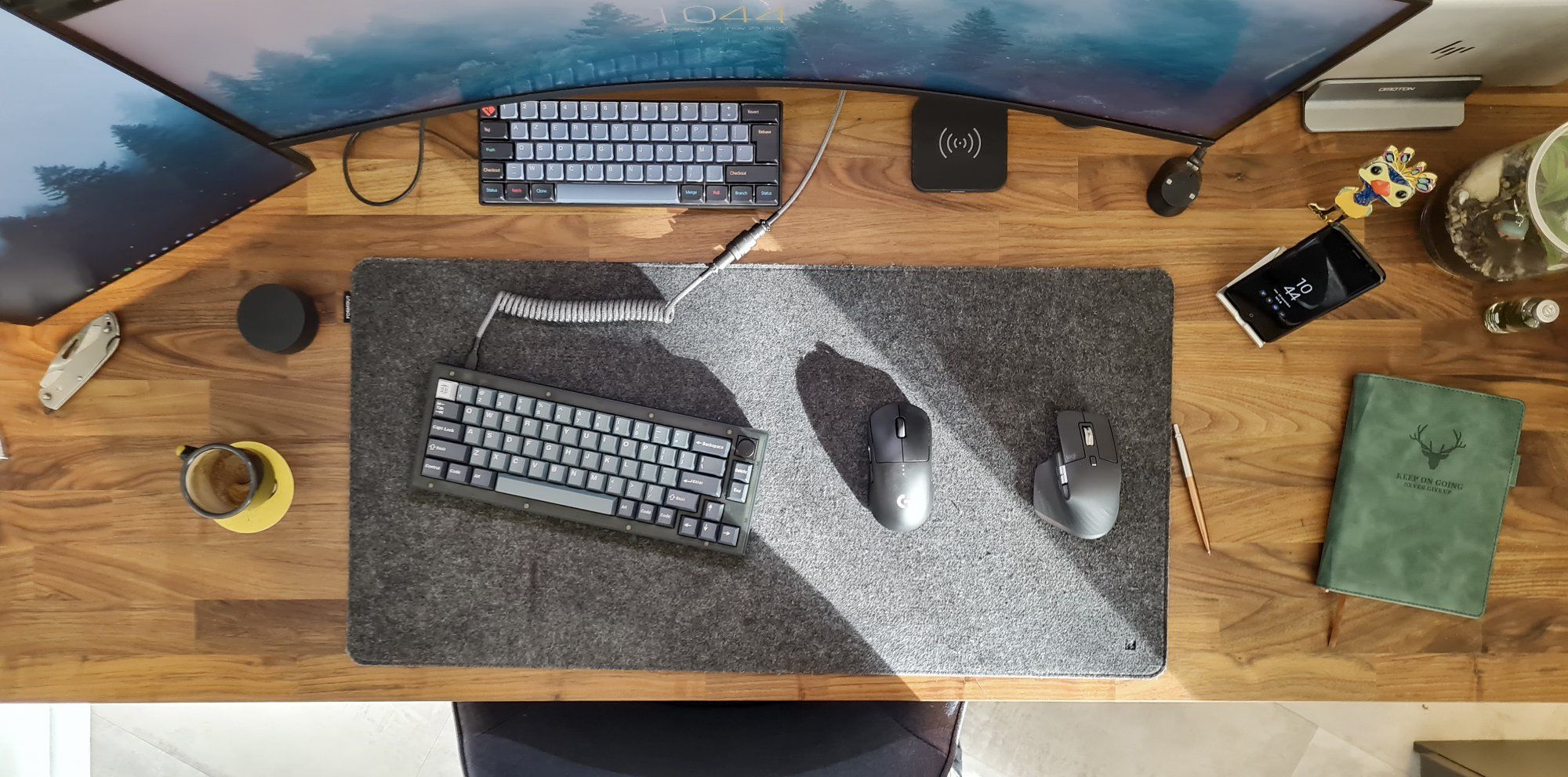 I use my Logitech G Pro X headset for both gaming and work.
The mic is perfect for multiplayer games and Teams meetings, and the headset is comfortable enough for me to wear for hours at a time.
My main monitor is an ultrawide 144Hz display that is great for both productivity and media content such as gaming and video watching.
It is definitely one of the best investments in my desk setup.
I have my keyboards and mice on a felt desk mat. I love its aesthetical appeal, but it's not ideal for gaming.
That's why I also have a smaller mouse pad in a drawer that I use as needed (not a perfect scenario, though).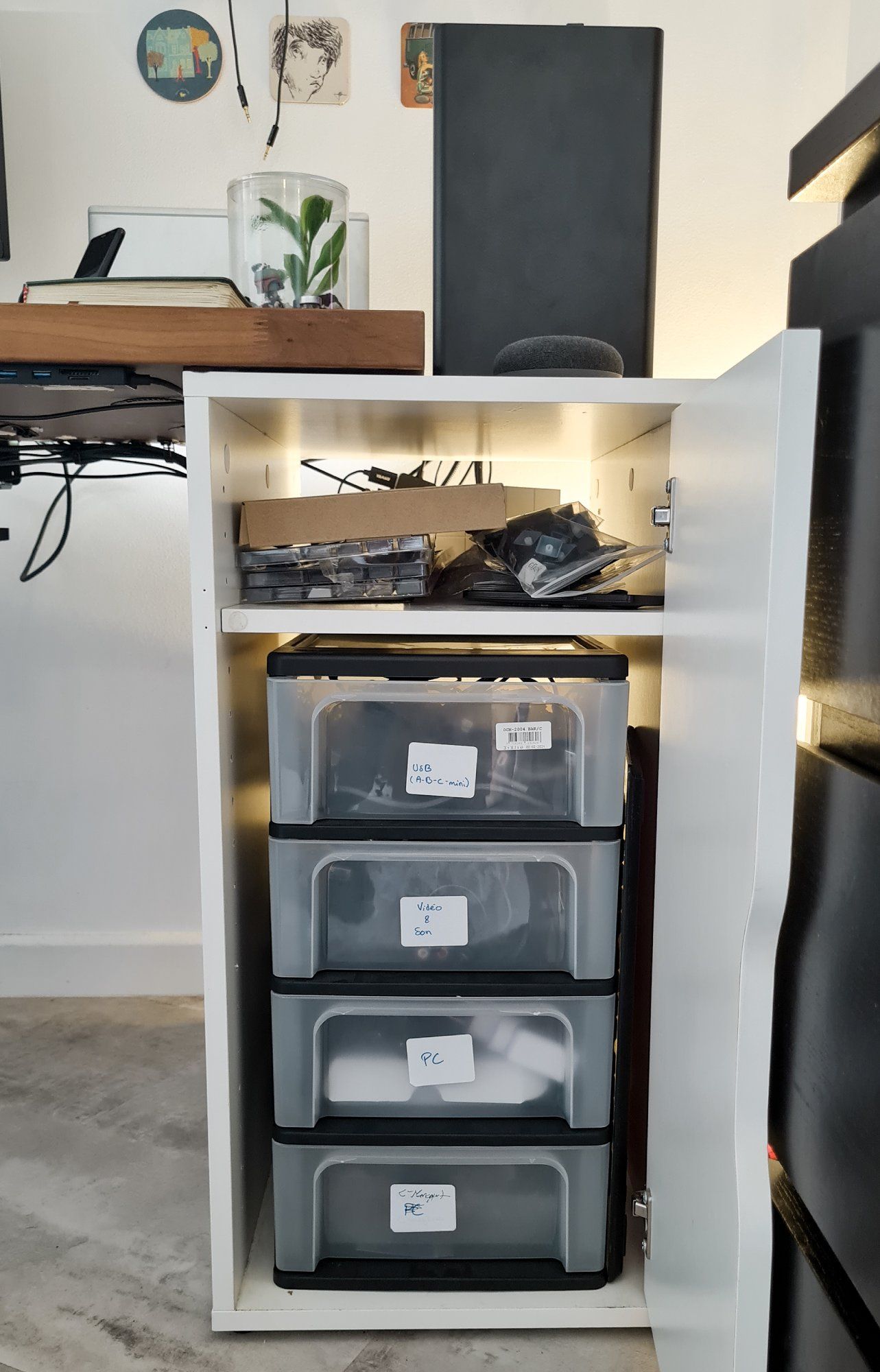 My main rig is an ITX PC built in the NR200P case from Cooler Master.
I used to have a larger PC case, but the ITX format is much more efficient and takes up less space.
It has the same power delivery as a larger case but in a smaller footprint.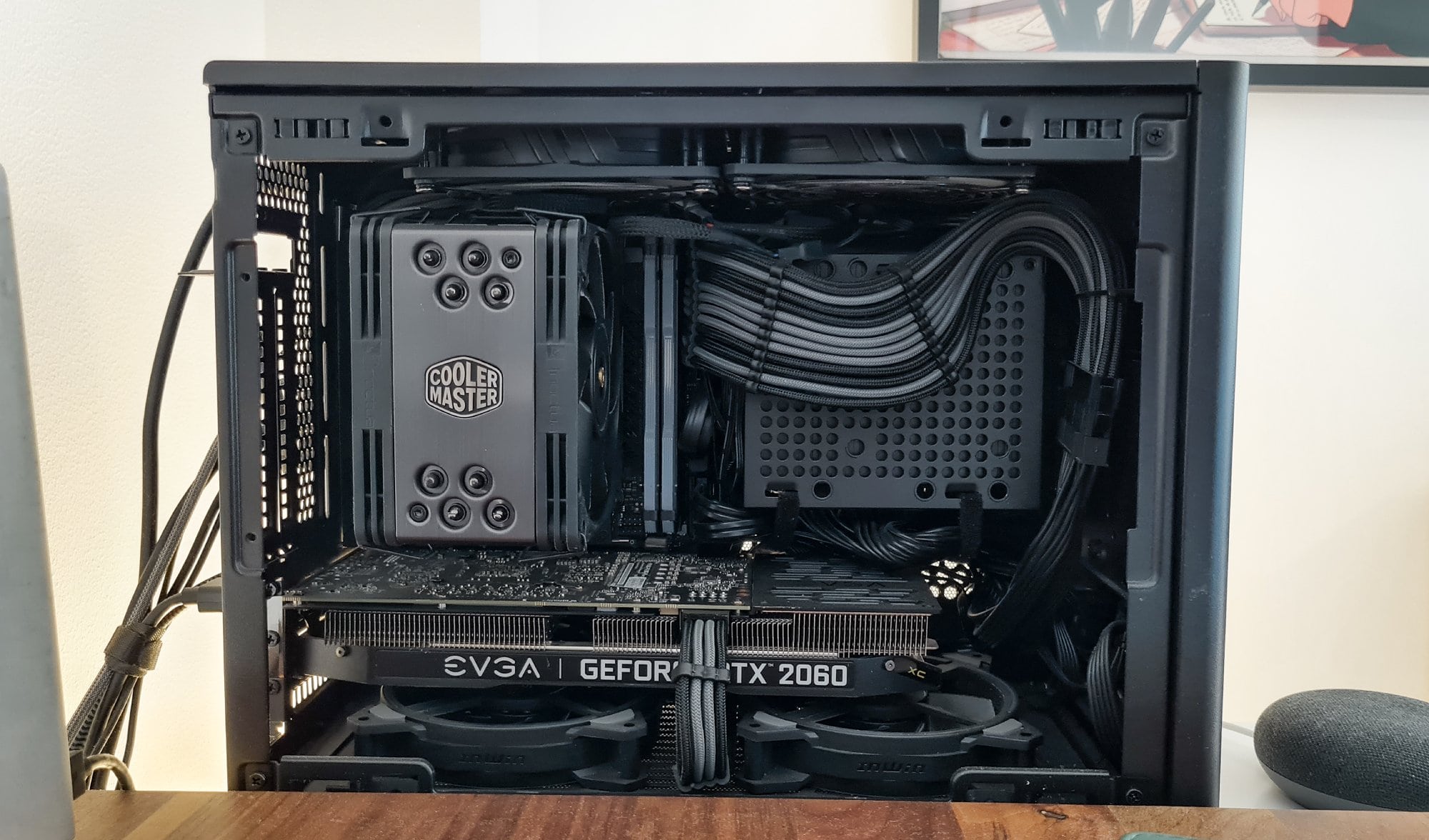 The PC is powered by a Ryzen 5600X and an RTX 2600 XC Ultra graphics card.
I built my rig about one and a half years ago, replacing almost everything except for the graphics card.
While I might need an upgrade at some point, it's currently enough for my casual gaming needs. (Plus, the graphics card market has been absolutely insane lately, and I don't want to drop $1,5K on an upgrade.)
One thing that I am not fully satisfied with is ergonomics.
I desperately need a better chair that is more kind to my lower back, and I also want to buy an ergonomic frame for my desk, so I can stand up from time to time.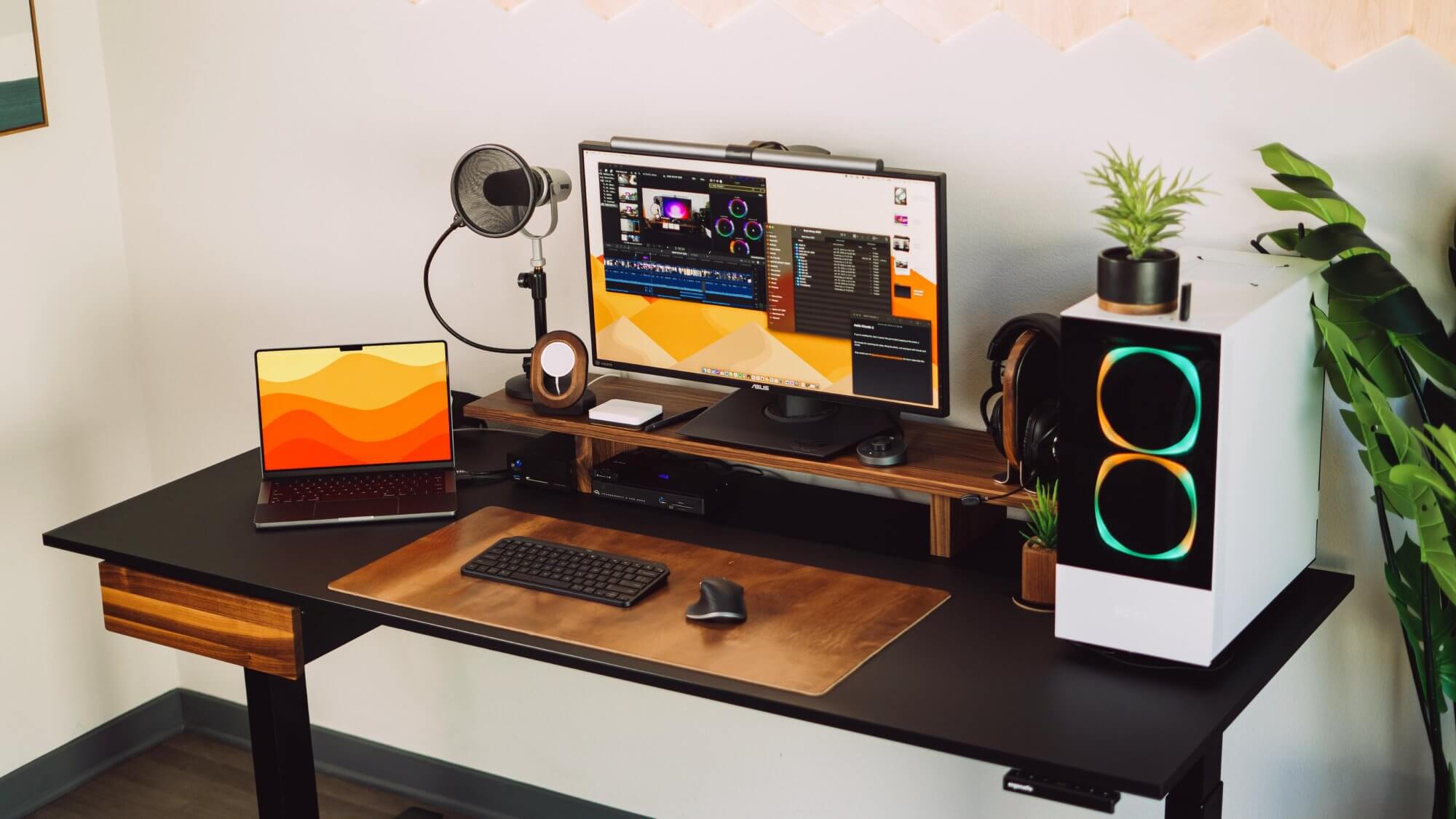 My room could also use more natural light, and I would like to paint the wall a different colour (maybe a shade of green), but I am currently renting and cannot make these changes.
Overall, I am pretty happy with my desk setup, although I do have another issue.
An ultrawide monitor and Teams meetings do not work well together.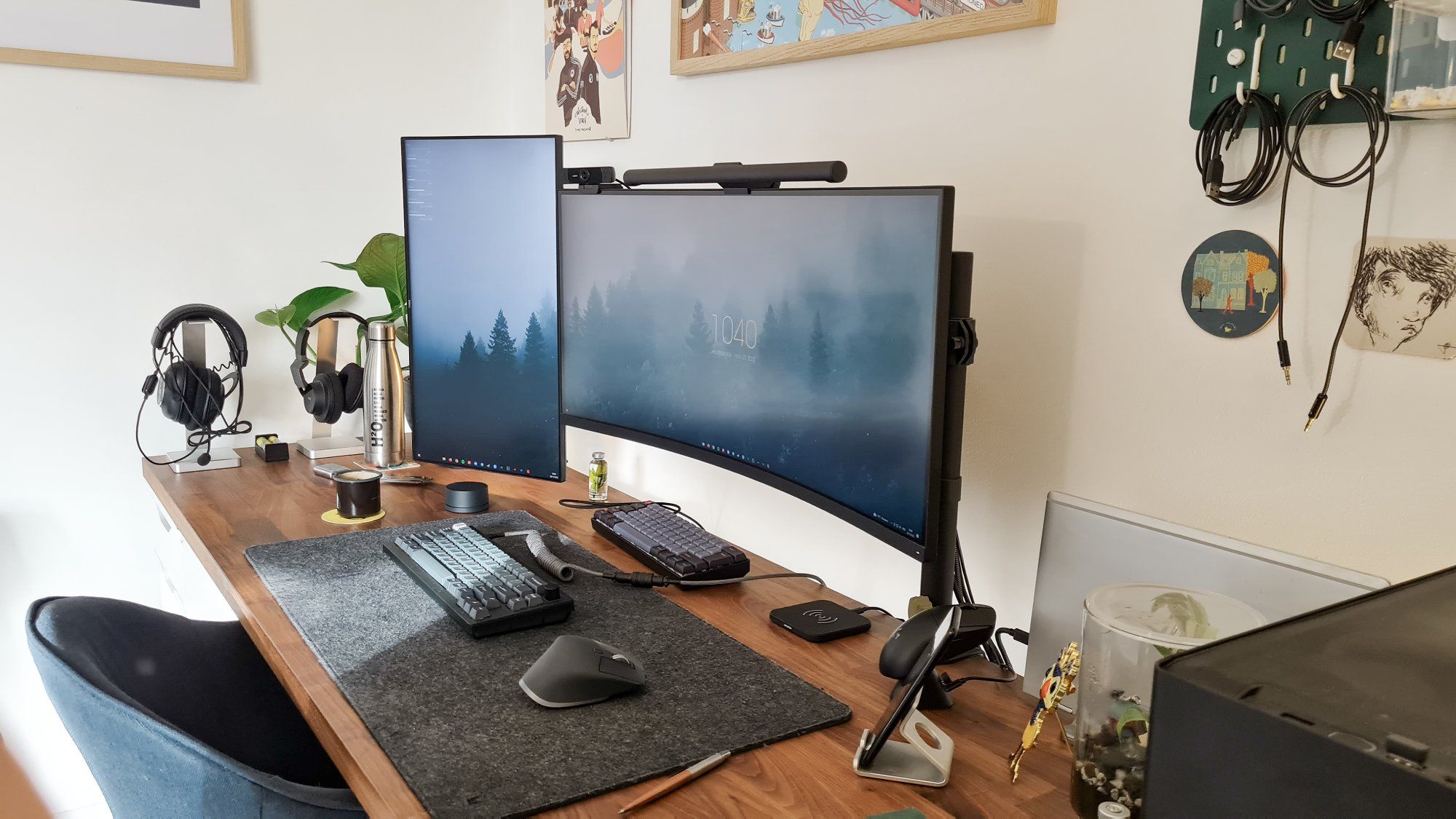 If I need to show a PowerPoint in presentation mode, I cannot use my monitor — the aspect ratio doesn't allow the audience to see the presentation properly.
Instead, I have to use my laptop and present on its screen.
While there are third-party apps that could address this issue, I am not able to install them on my work computer.
I could switch back to a 16:9 monitor, but... no, no way!
I've tried a variety of solutions, such as placing the laptop under the monitor for easy access, but it's not aesthetically pleasing and takes up valuable space.
I've also tried placing the laptop on the side, but it takes up too much space or makes me miss my vertical screen.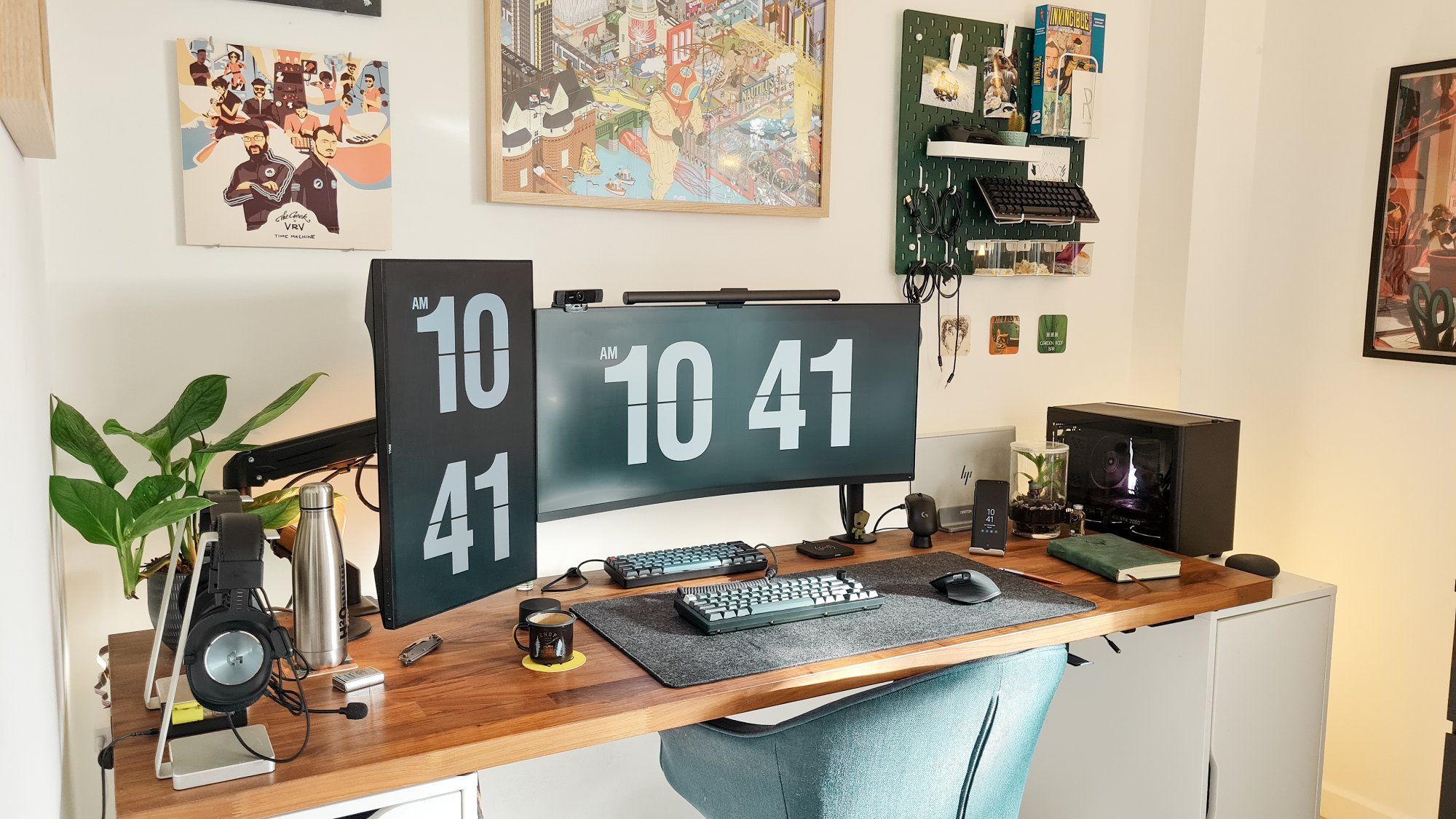 Another option is to keep the laptop in front of me, but then I have to use the laptop keyboard, which I am not OK with.
For now, I just bring the laptop in front of me when needed, but I am hoping that Microsoft will implement 21:9 (ultra-wide) aspect ratio management in the future.
I'm open to any suggestions on how to address this issue!
What's your favourite item on your desk?
Hm-m-m… That's a difficult question!
A few weeks ago, I would have said that was my monitor.
I used to have two 27″ 60Hz monitors, but switching to an ultrawide 144Hz monitor has made a huge difference for both gaming and productivity.
It's a game-changer.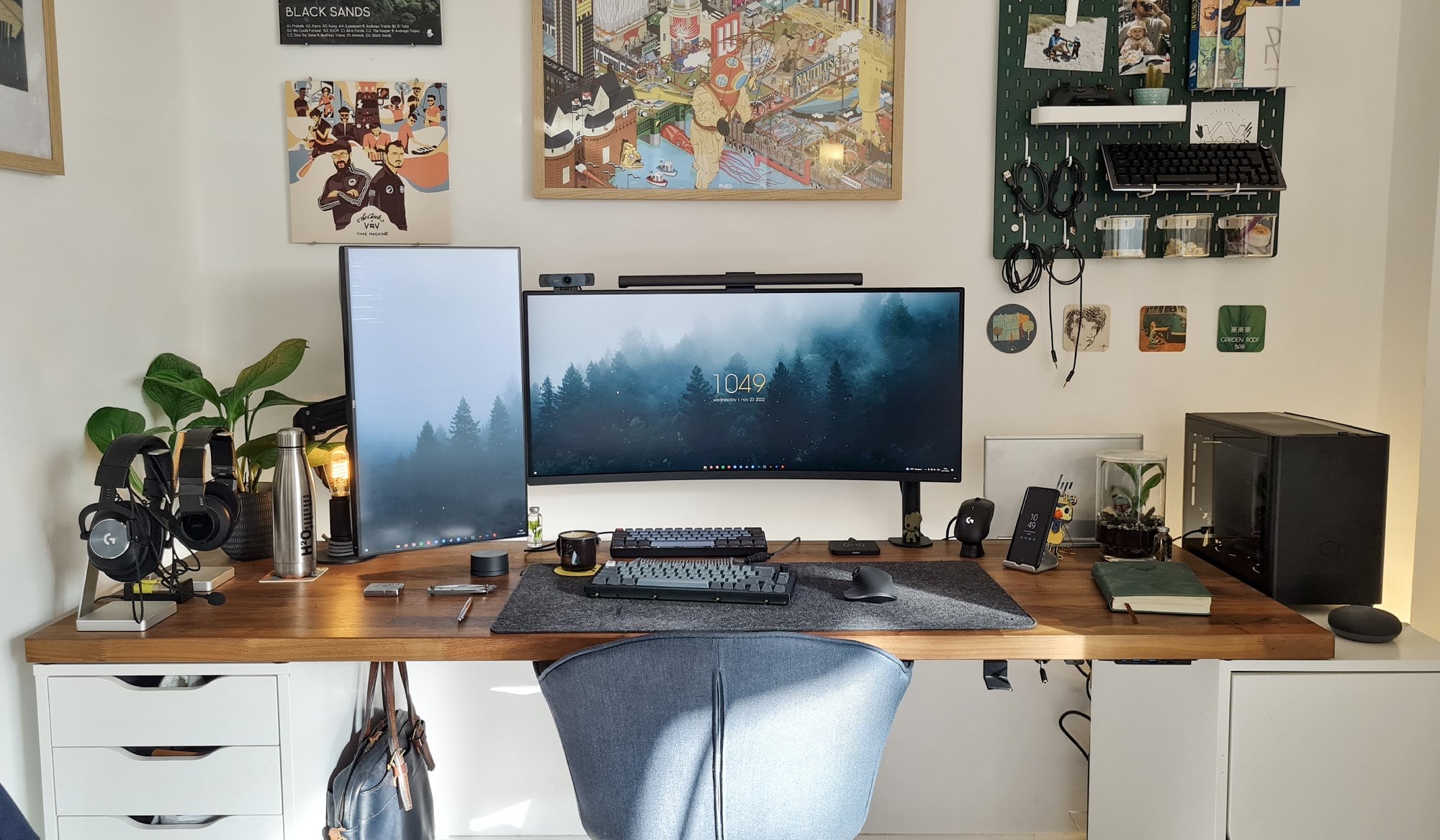 Now I would say it's my keyboard.
I switch up my peripherals frequently. I always try to improve the things I use the most (like a keyboard that I type on for eight hours a day).
I've been interested in going down the rabbit hole of custom mechanical keyboards for about four years, but couldn't justify the expense.
However, a few months ago (probably due to COVID-19), cheaper options started to be brought into the market. I decided to pull the trigger and bought a Keychron V2, put Gateron Yellow pro switches on it, and bought GMK clone keycaps. I also did a few mods to improve the sound and feel.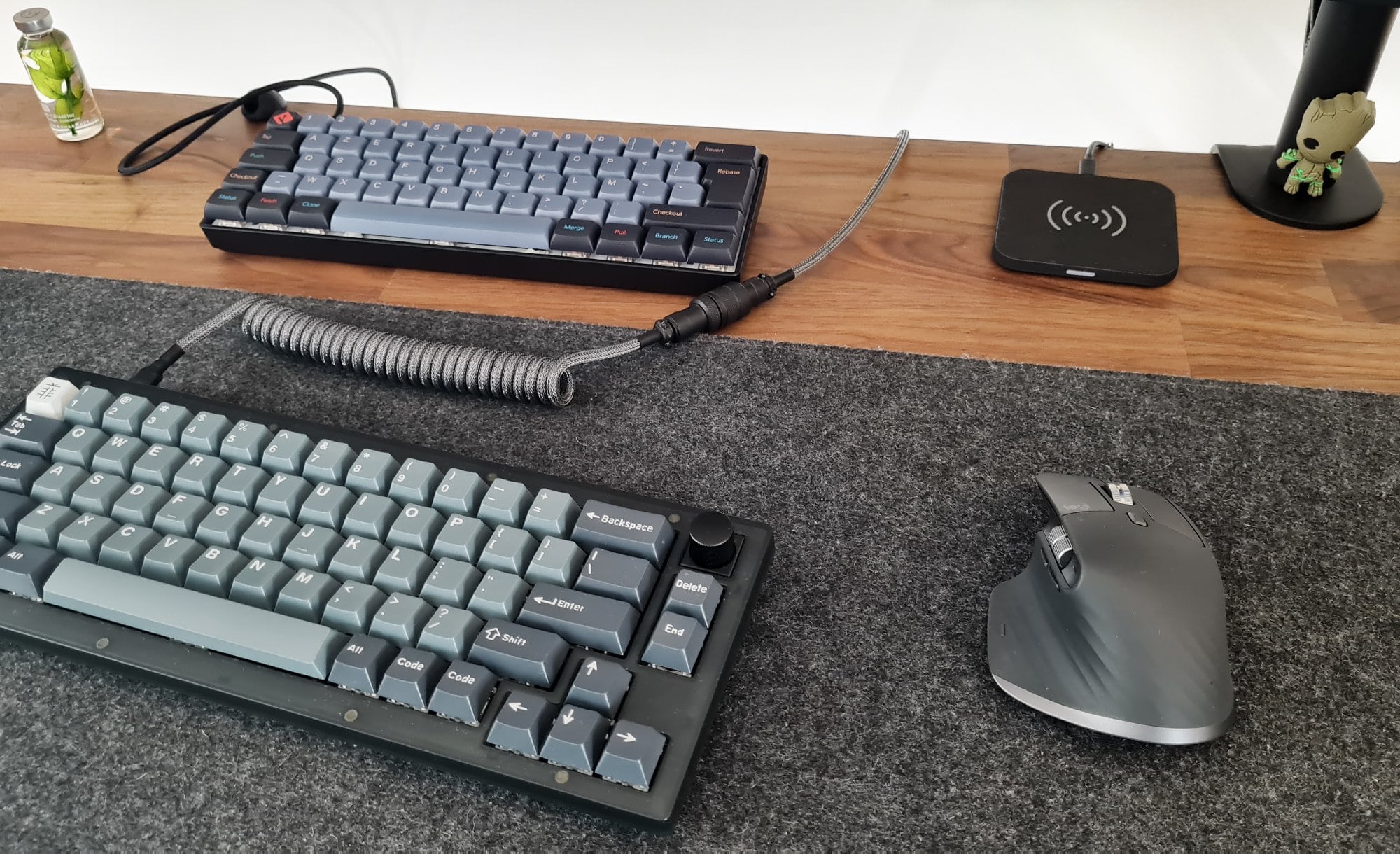 There is a huge difference between a pre-built keyboard and a custom mechanical one.
The custom mechanical keyboard is much more enjoyable to use and, for something that I use a lot, I consider it money well spent.
Plus, it's kind of nice to think that I built it myself. There is a sense of pride and accomplishment that comes with it (wink). I also really enjoyed the building process.
In total, it cost me about €300 ($320).
The only downside is that now I want to build a new, better keyboard, but my wife would probably kill me.
And I like to live.
So, for now, I will... wait.
What apps or tools do you use to get things done?
To organise my weekly and daily tasks, I use Trello (for work) and Todoist (for personal stuff).
You might be wondering why I use two different task management software apps.
Well, it's because I don't want to feel like I am addressing a work-related task when I am doing something for myself or my household.
It helps keep things separated, especially since I use the same desk for both.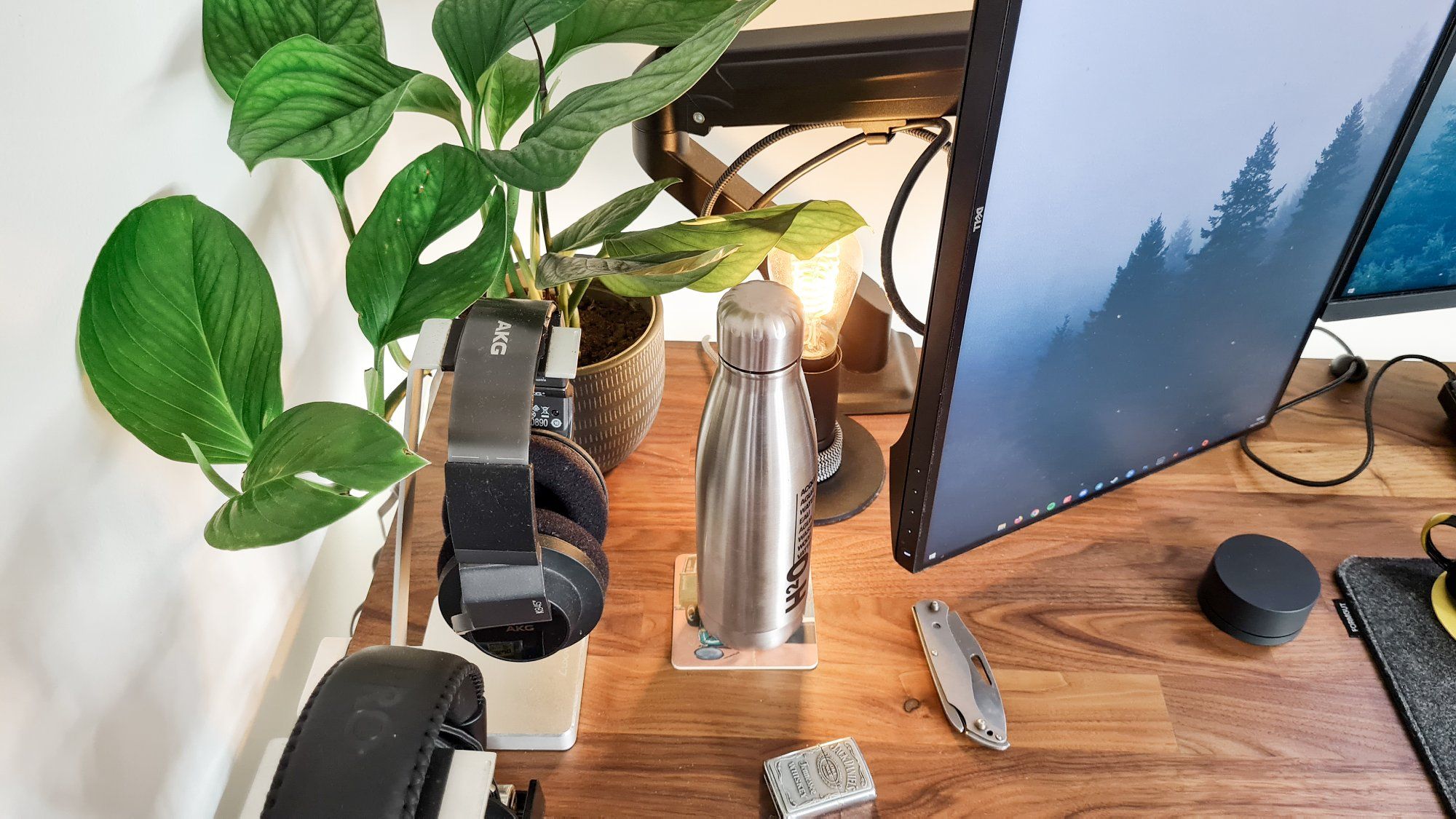 I'm kind of messy when it comes to organisation, so I need these tools to write down the things I have to do and be able to prioritise them.
I also work a lot on paper (that's why you can see a notebook sitting on my desk).
It's not digital, but it's just as important to me.
I don't know why, but there's something about marking a task as done with a pen and paper that adds a sense of accomplishment.
I also use a lot of Google Sheets, Docs and Drive to organise things in my household (like tracking our budget, storing important documents, keeping track of useful items, creating collaborative tools, etc.)
Other than that, not much to say. I use Photoshop and Lightroom from time to time for photo editing but definitely not in a professional way.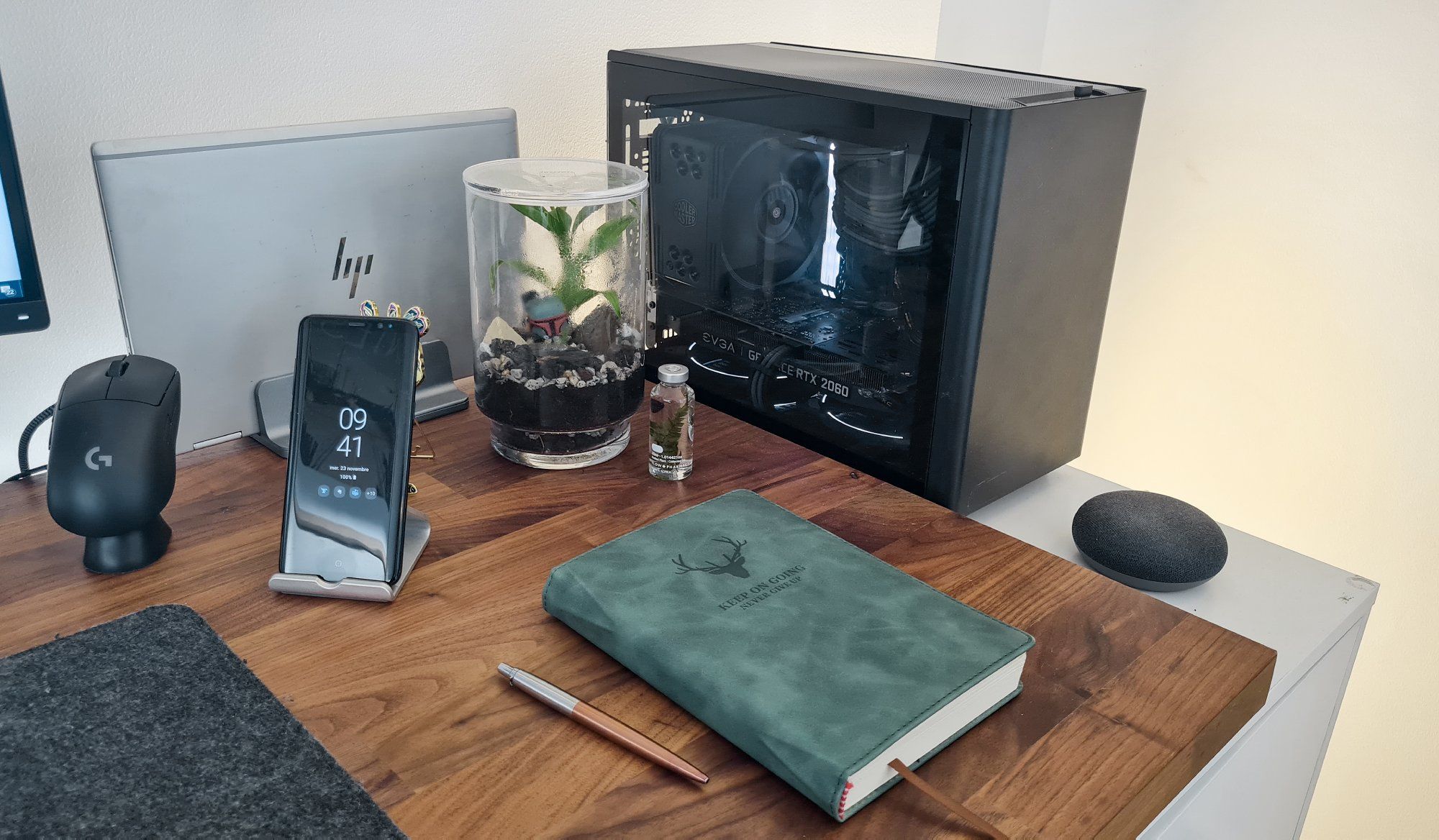 What books, blogs or podcasts recently caught your attention?
I follow a lot of tech YouTubers like MKBHD, RandomFrankP, Taeha Types, Bitwit, JerryRidEverything, Linus, JayTwoCents, Dave2D, and others.
I recently discovered Matthew Encina. If you're into organisation, DIY, and desk setups, you should definitely check him out.
I love the aesthetics he brings to his rooms and setups, as well as the dedication he puts into his projects.
He also has a lot of great tips and tricks for productivity.
Any tips for other makers who want to improve their workspaces?
My best advice would be to prioritise practicality.
In the past, I used to aim for a minimal and clean desk setup with just a few items on my desk or wall, but it wasn't very practical.
In the last few years, I have focused more on practicality — things that will improve my workflow, be a nice addition, and optimise the use of my desk.
My taste has also changed a bit, and I am aiming for a more cosy vibe now.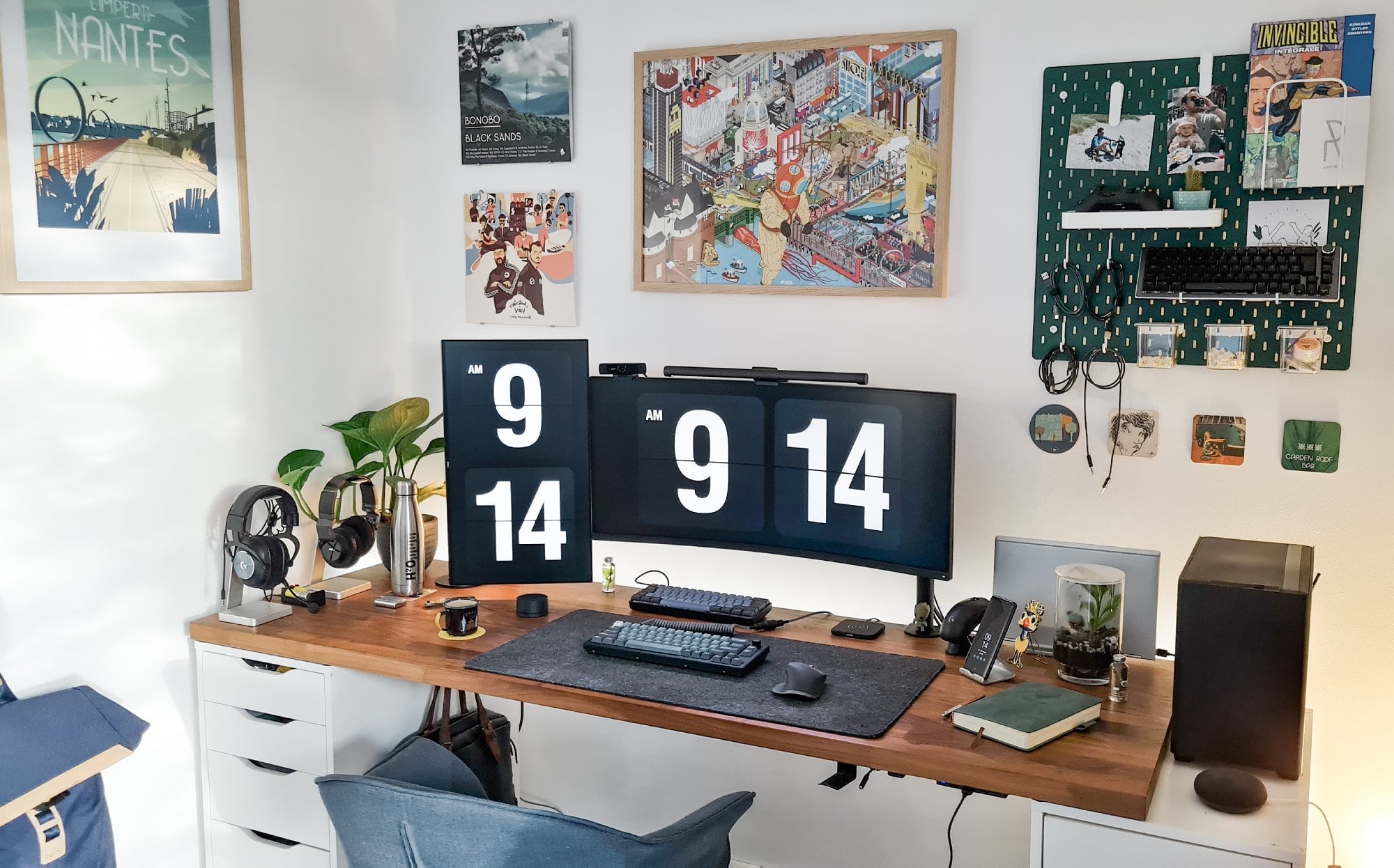 Whenever I'm thinking about changes to my desk setup, here is my usual train of thought:
Identify something that isn't optimal (for example, having my laptop placed horizontally under my monitor takes up space and isn't visually pleasing).
Consider how it can be improved.
Decide if the improvement requires an addition to my setup (like a vertical stand for my laptop).
If it does, see if it is a) already available on the market or b) if I have to make it or improve it myself (like the green SKÅDIS wall organiser that I painted to match my aesthetic).
If it doesn't require an addition, see if it's just something I need to change (like moving an item or rearranging my desk).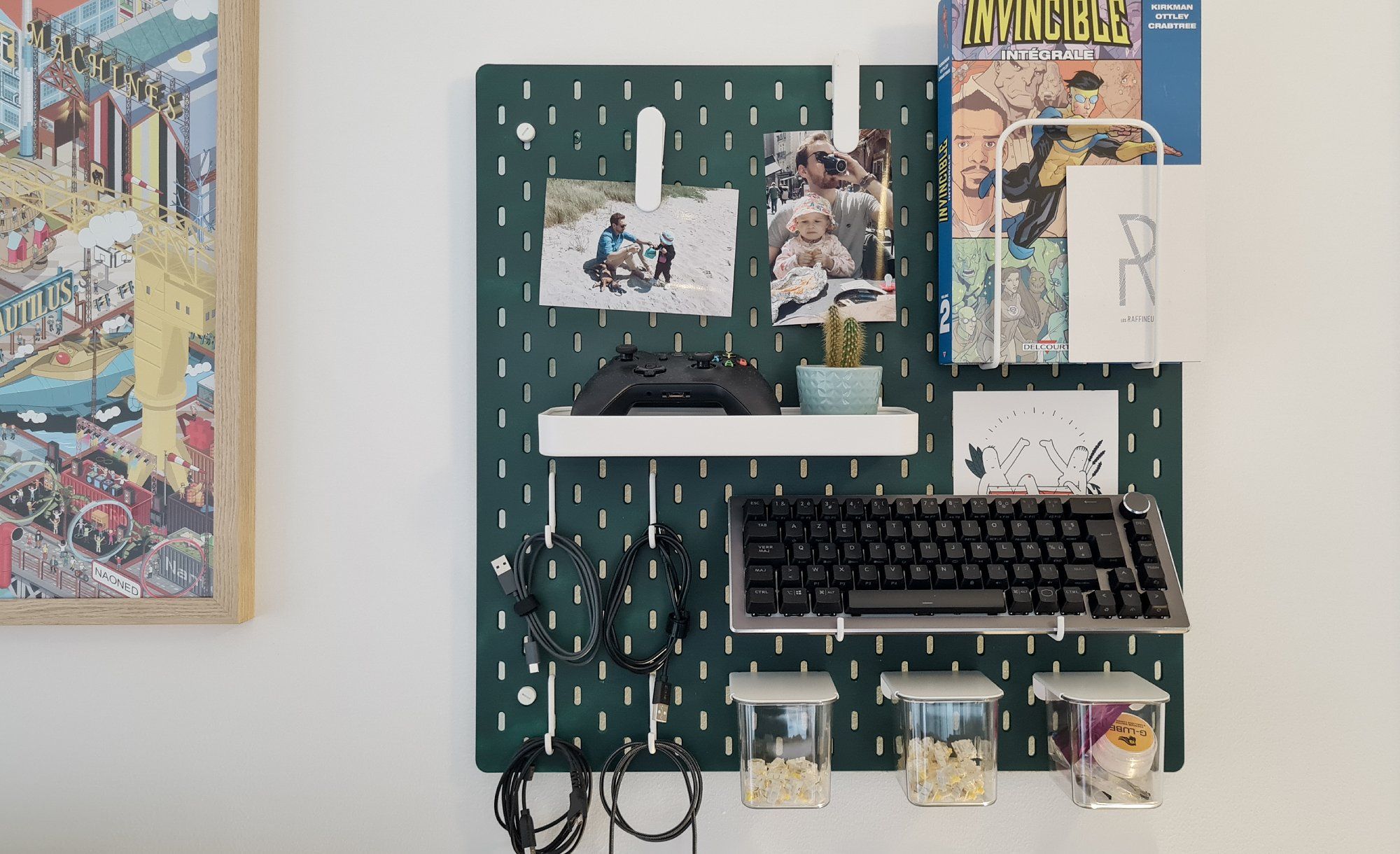 Using this method, I've been able to make a lot of improvements to my desk setup:
Ultrawide monitor has improved my productivity and is much better for gaming compared to a dual-screen setup.
The vertical monitor on the left has helped with the lack of a second monitor I used to have when I upgraded to an ultrawide (I can have Discord, Spotify, etc., on a separate monitor when I'm using the main one full screen).
Stand-alone stands were taking up too much space on my desk, so I bought monitor arms.
I have a hub for my laptop that connects the monitor, keyboard, headphones, and webcam, and charges it. This way, I only have one cable to plug/unplug when I move my laptop.
Having my laptop tucked away made me buy a dedicated webcam.
I have two plugs under my desk to connect my headphones to either my personal or work PC, which makes it easy to switch.
My MX master mouse can easily switch between two devices.
I used to have a wireless keyboard that could switch easily, but it had latency when gaming, and I had to worry about the battery and connection issues. So, I built two dedicated mechanical keyboards instead.
My previous build (RIP) was a big tower that took up too much space, so I built an ITX PC.
I needed light on my desk for when I'm writing, so I bought a monitor light bar.
I needed to be able to turn on all my lights and devices quickly, so I connected everything to a Google Home.
Plus, I do a ton of research.
I watch loads of videos about desk setups and productivity. I regularly browse dedicated subreddits and Instagram.
When I need to buy something (say, a new mouse), I watch a lot of YouTube videos (featuring benchmarks, reviews, opinions, etc.) on products that would match my needs.
This helps me avoid buying things I don't really need. For example, I was considering buying speakers for my desk setup, but I didn't pull the trigger (yet).
One reason is that I don't have a place for them on my desk — I would need a bigger one, but I'm not willing to get rid of anything on my current desk. The left speaker would also be behind my left monitor, which is a bad placement.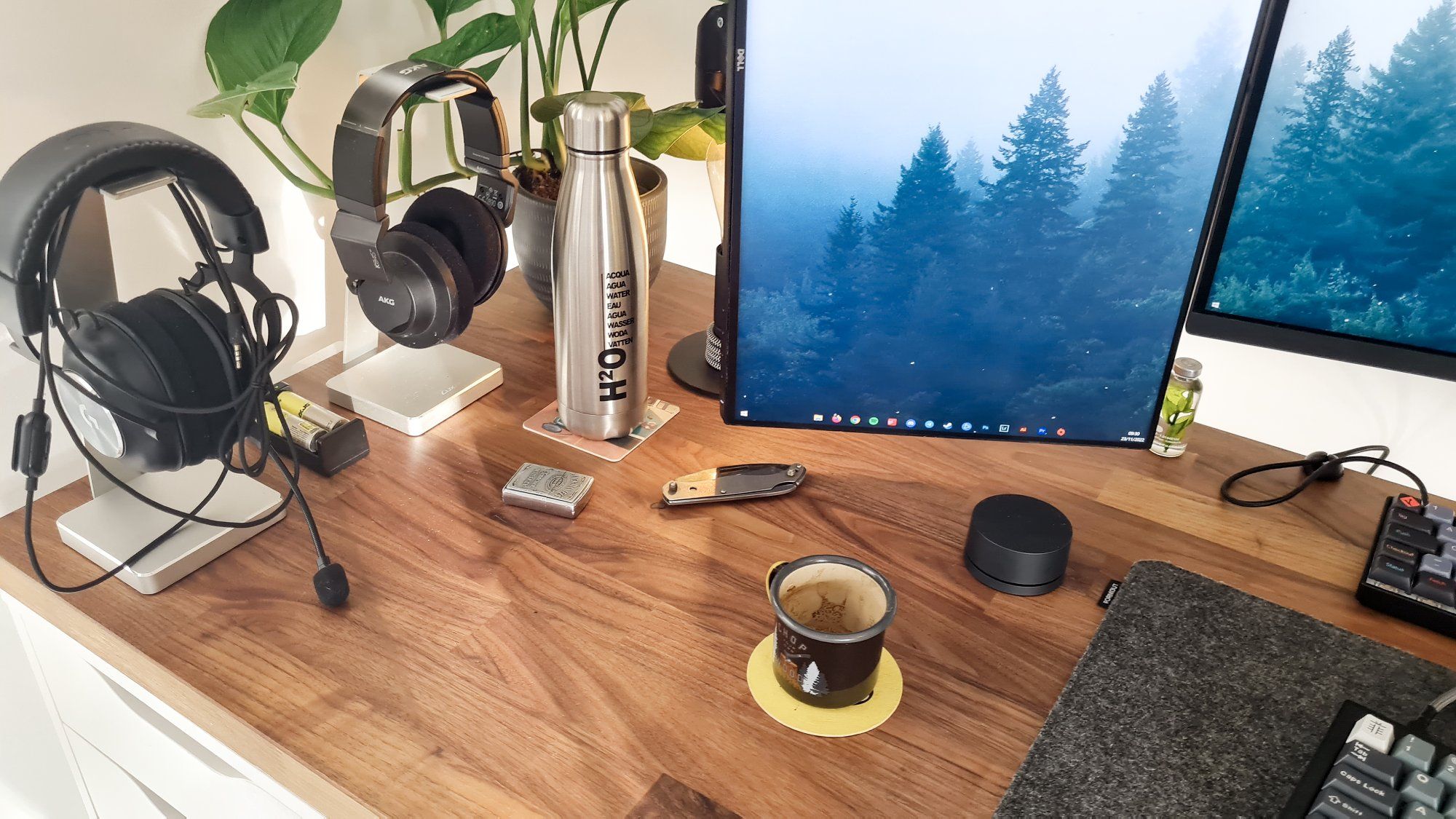 Also, I often have to use my headphones — when I'm in a Teams meeting to not disturb my family, when gaming, etc.
So I asked myself if I would use the speakers frequently and if I really need them.
For now, I'm good with comfortable headphones that I can use for hours at a time.
What does your typical day look like?
I usually wake up at 7:15 am, though it's actually my daughter who wakes me up — she's the best alarm clock ever.
She's always on time, even on Sundays.
The first thing I do is put on a comfy bathrobe and then take care of my daughter's breakfast while she's watching cartoons.
After that, I take care of my dog's breakfast and then have a cup of coffee while browsing Reddit or Instagram.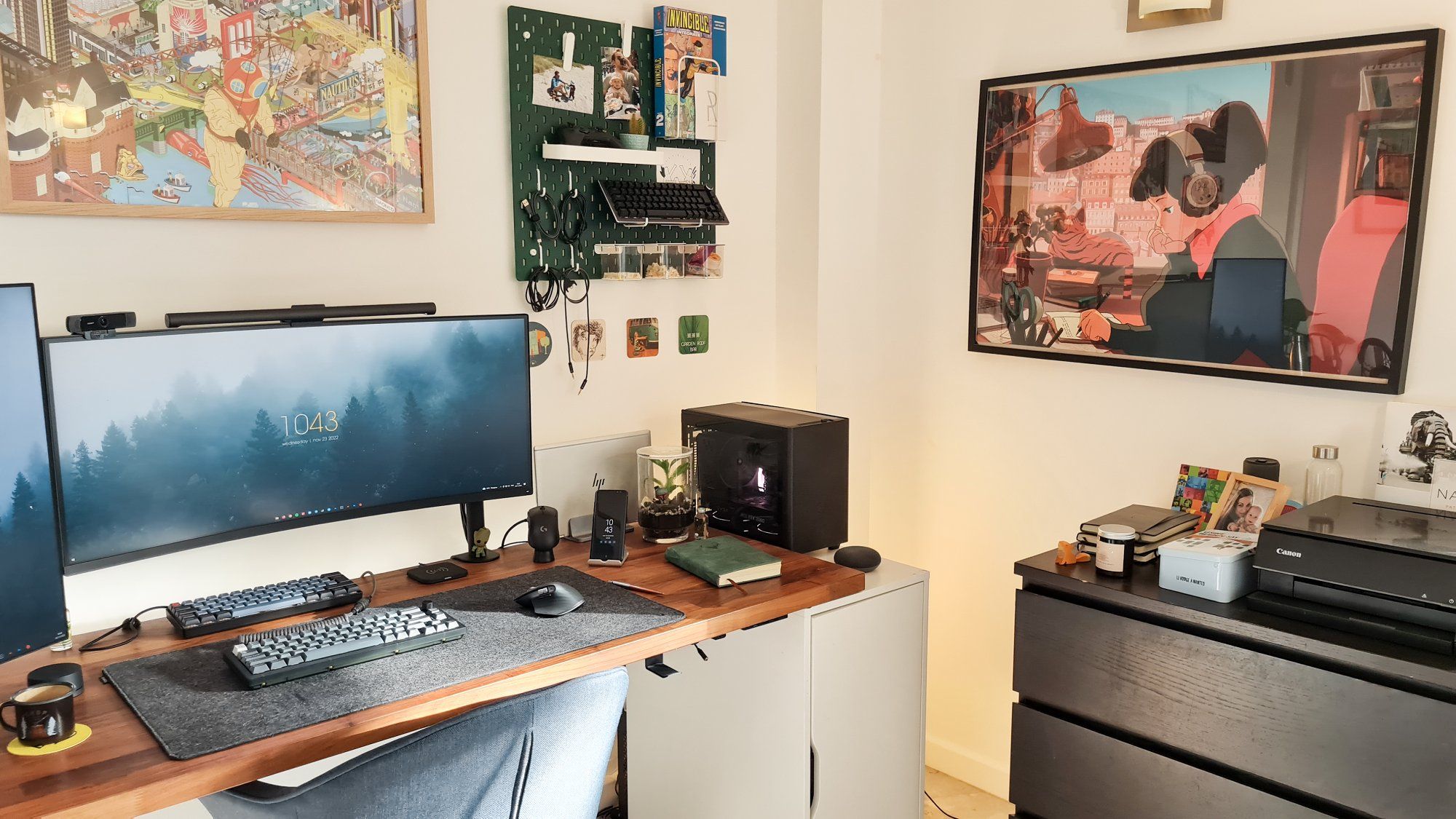 I'm one of those people who can't start their day without a morning coffee — I need it, I live for it, and it makes me feel complete.
After that, I take my daughter to school. My workday starts as soon as I get back home (around 8:30 am).
When I start working, the first thing I do is list all the tasks I need to do that day on a fresh page of my notebook, and check my meetings.
Then I open YouTube and watch a short tech video (or something else I'm interested in) to help me start the day in a good mood.
I try to maintain a balance between meetings, productive time, and short breaks throughout the day.
When I first started working from home (about three years ago), I had days filled with meetings, and it was a nightmare. I barely got anything done, and it was exhausting.
Now, I try to arrange my day in a more productive way.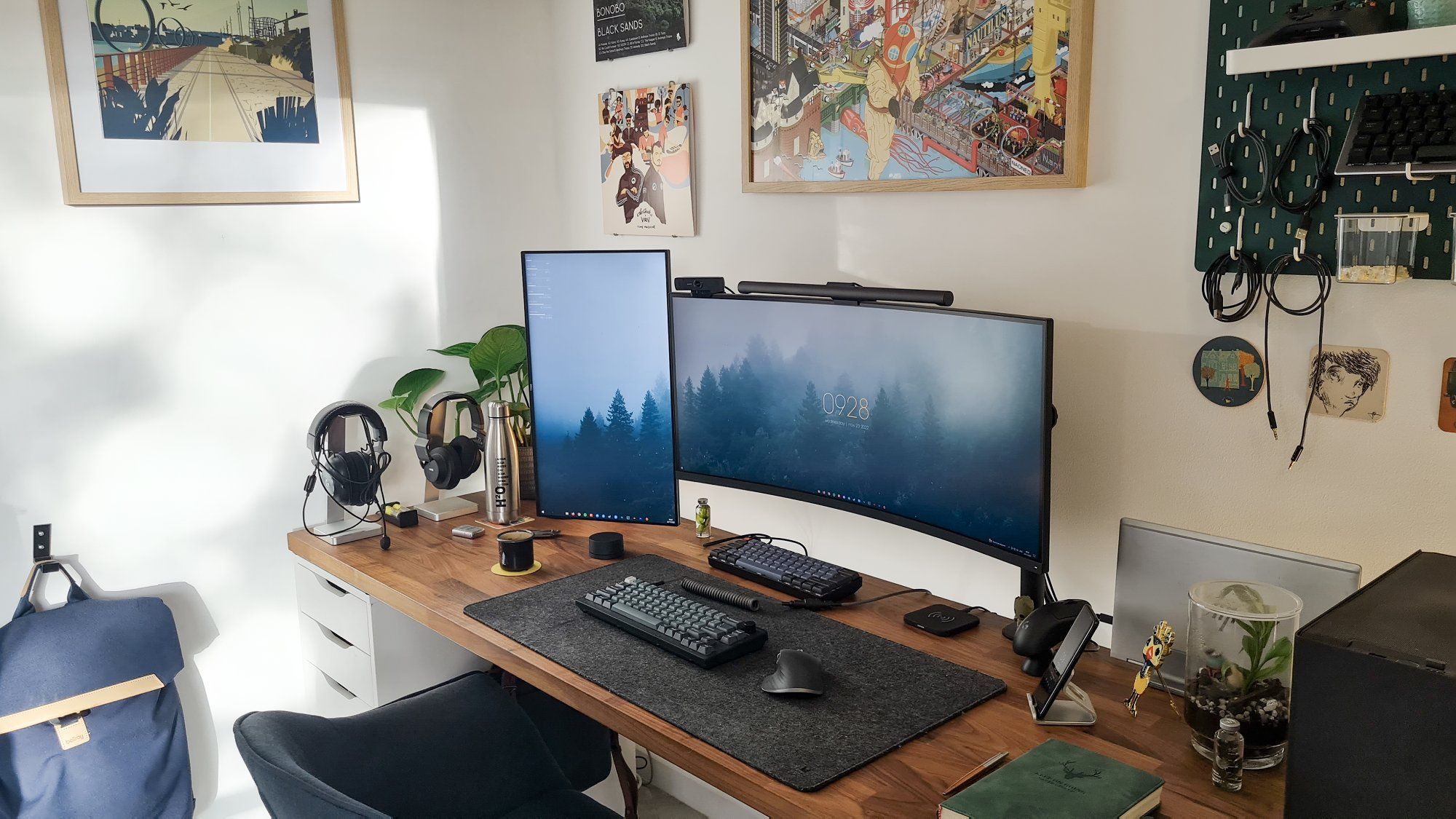 One thing I like to do is dedicate a few minutes of a meeting to discussing light subjects with a coworker — it's like the time you would spend chatting at the coffee machine if you were in an office.
I also try to end my meetings five minutes before the scheduled time (55 minutes instead of 1 hour, for example) — this helps if you have a few meetings in a row.
After I finish working at 6 pm, I take some time to read what I need to do the next day and check my agenda for the rest of the week.
This helps me go to sleep knowing I haven't forgotten anything and I have a clear idea of what the next day looks like.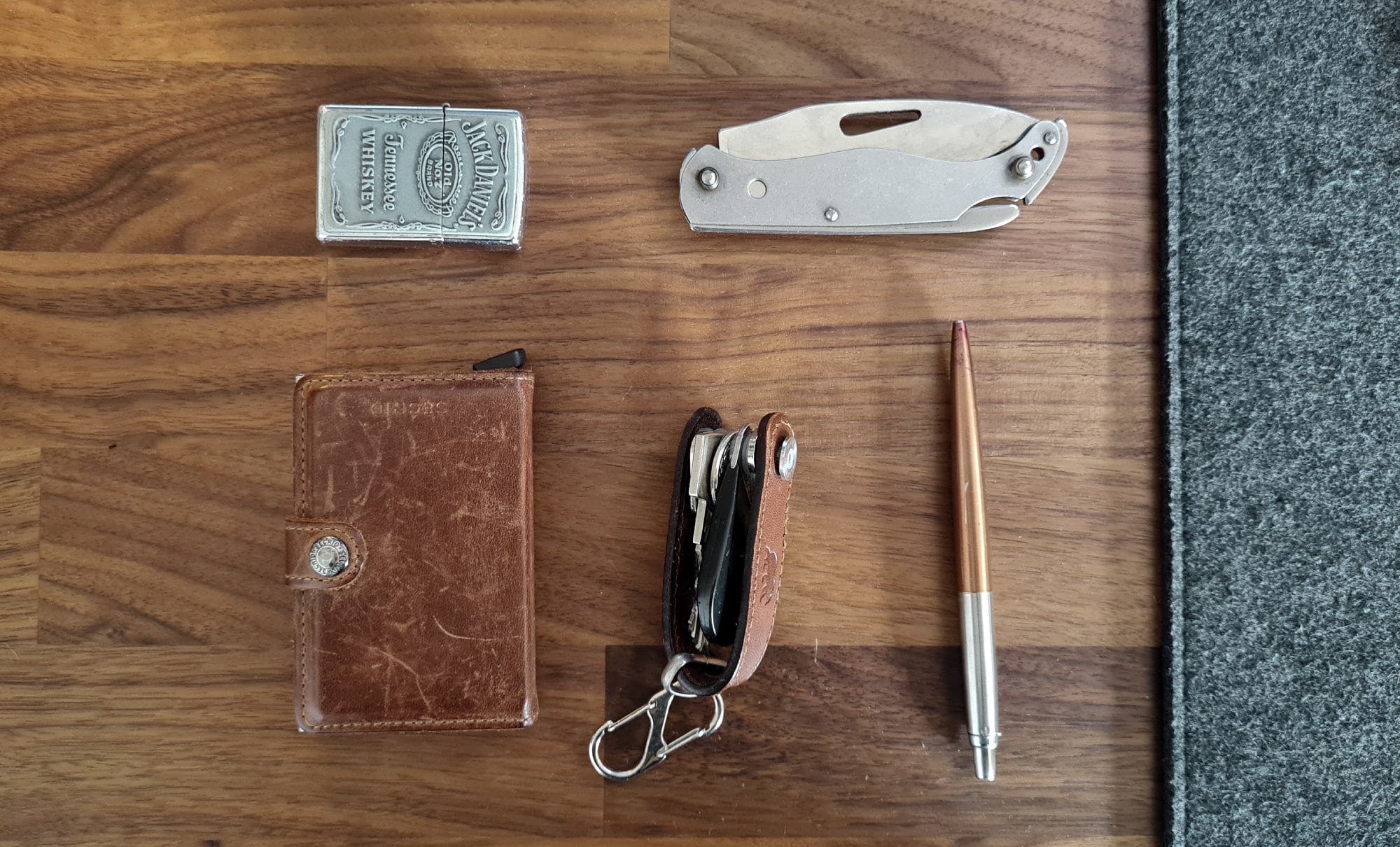 I used to work late into the night, sometimes until 7, 8, 9, or even 10 pm, but I realised that I was missing out on time with my daughter.
So, I made a rule for myself to stop working at 6 pm every day (unless I'm productive and can finish earlier).
I still occasionally work after my daughter goes to bed, but this is rare, and the important thing is that I can spend time with her between 6 and 8 pm.
To maintain a good balance between my work and personal life, I've had to implement a few rules like this.
After that, I have some time for myself. I usually play a few games and spend time with my wife before going to bed at 11 pm.
Your tips for working from home?
This is a very important question.
It has been a challenge to maintain a healthy balance while working from home for the past three years.
At first, it was great.
No commute, more time with my family, lunch at home, and saving money.
But as time went on, I found myself falling into bad habits like working late into the night and not taking breaks.
I also struggled with switching between work and free time, as I no longer had a 45-minute commute to act as a "decompression chamber", so to speak.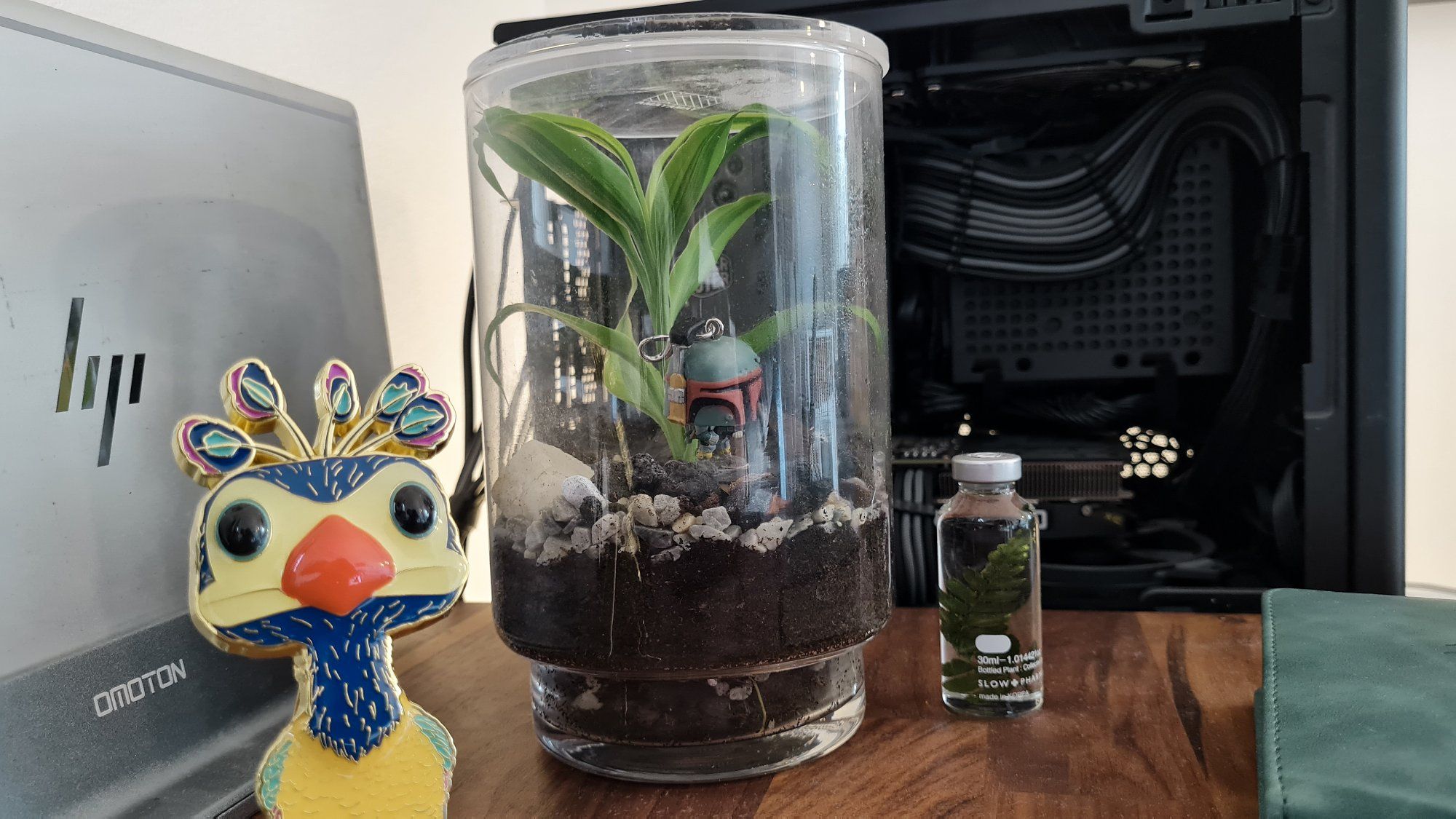 To combat these issues, I implemented a few rules for myself:
End my workday at 6 pm sharp. I can work a little later occasionally, but only after my daughter goes to bed, and I make sure to be available for my family between 6 and 8 pm.
At the end of my workday, I watch a funny or passion-related video or do something that helps me decompress, like meditation. I started meditating a few weeks ago, and so far, it's working better than I expected.
Go back to the office at least once a week. This helps me maintain good relationships with my coworkers and provides a change of environment to break up the monotony of the week.
Make time for small talk with my coworkers. This helps improve relationships and productivity.
Don't schedule back-to-back meetings.
Take frequent short breaks — grab a coffee, chat with my wife when she is home, watch a quick video, or read an article on a topic I'm interested in.
Set up a separate work and personal environment. I have the same desk for both, so I have to create a different mood and environment for each. I also have separate PCs for work and personal use (mostly for playing video games). An upgrade would be having a dedicated desk, but that might come later as it is another investment. (Please feel free to contact my office for them to invest in the new desk setup!)
While some of these rules may seem like they reduce the amount of time I spend working, they actually help me be more productive and have better quality time with my family.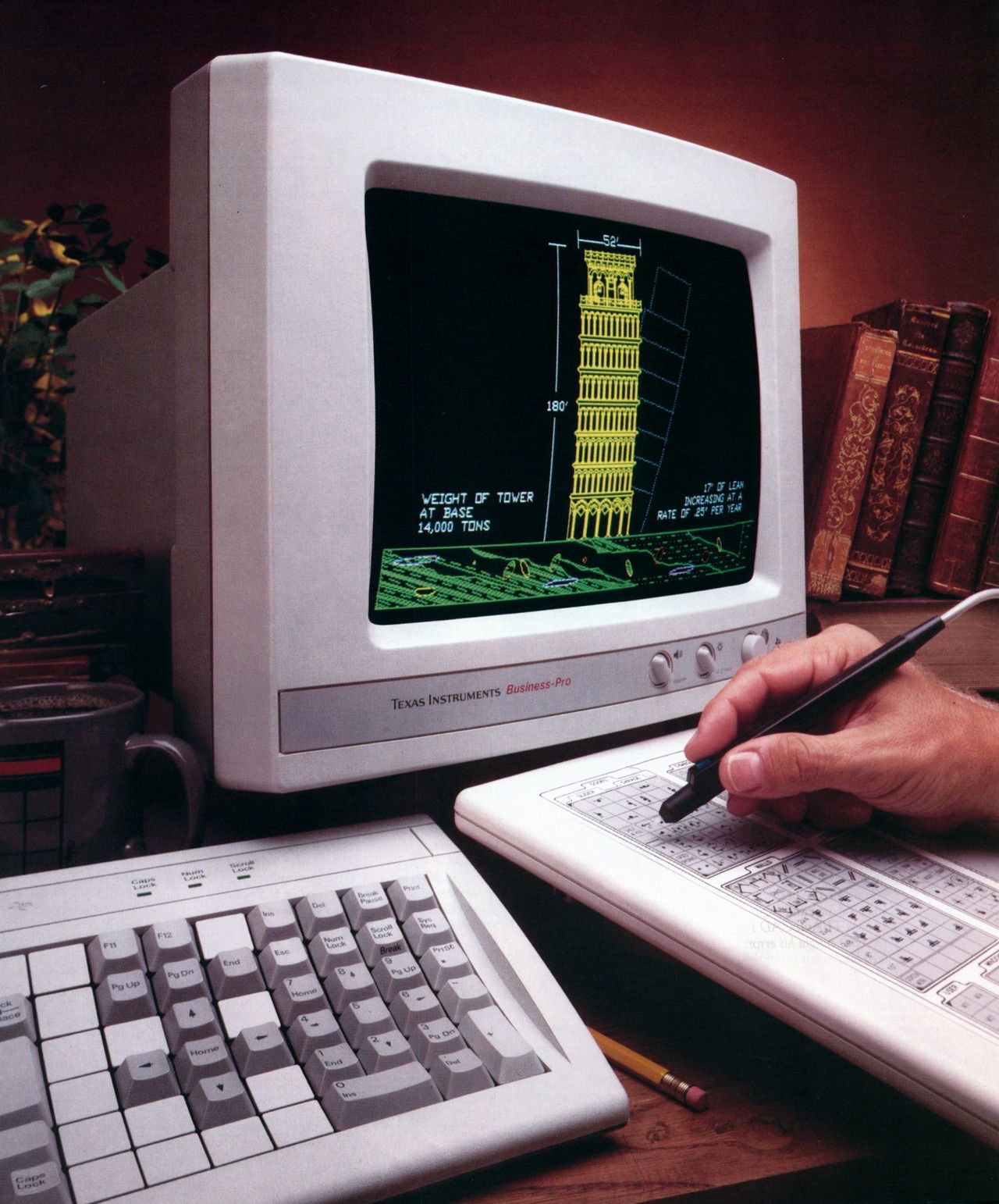 We're a reader-supported publication. This article might contain affiliate links. It means we may receive a commission if you click a link and buy a product that our maker has recommended. The interview was done independently.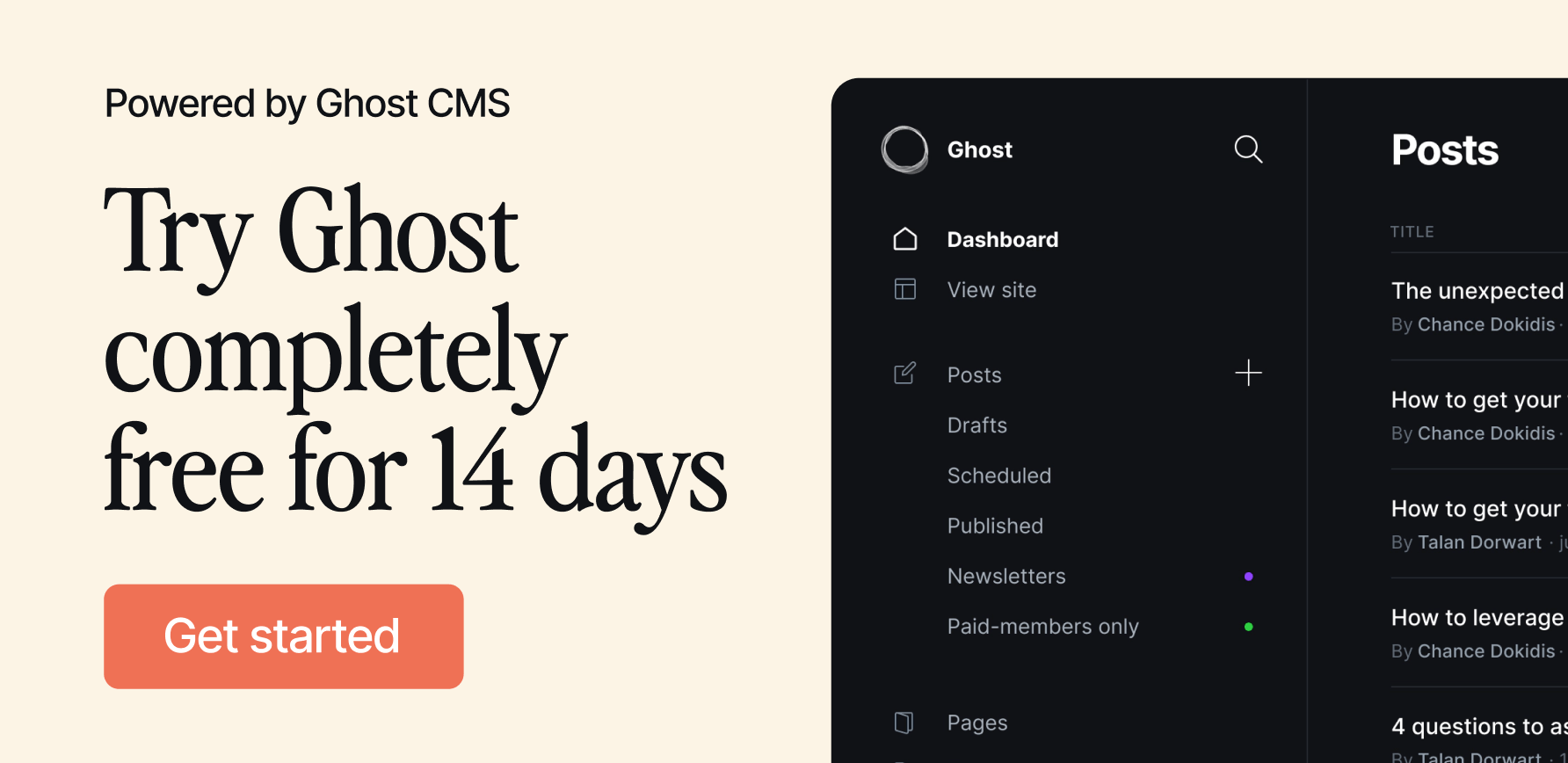 ---