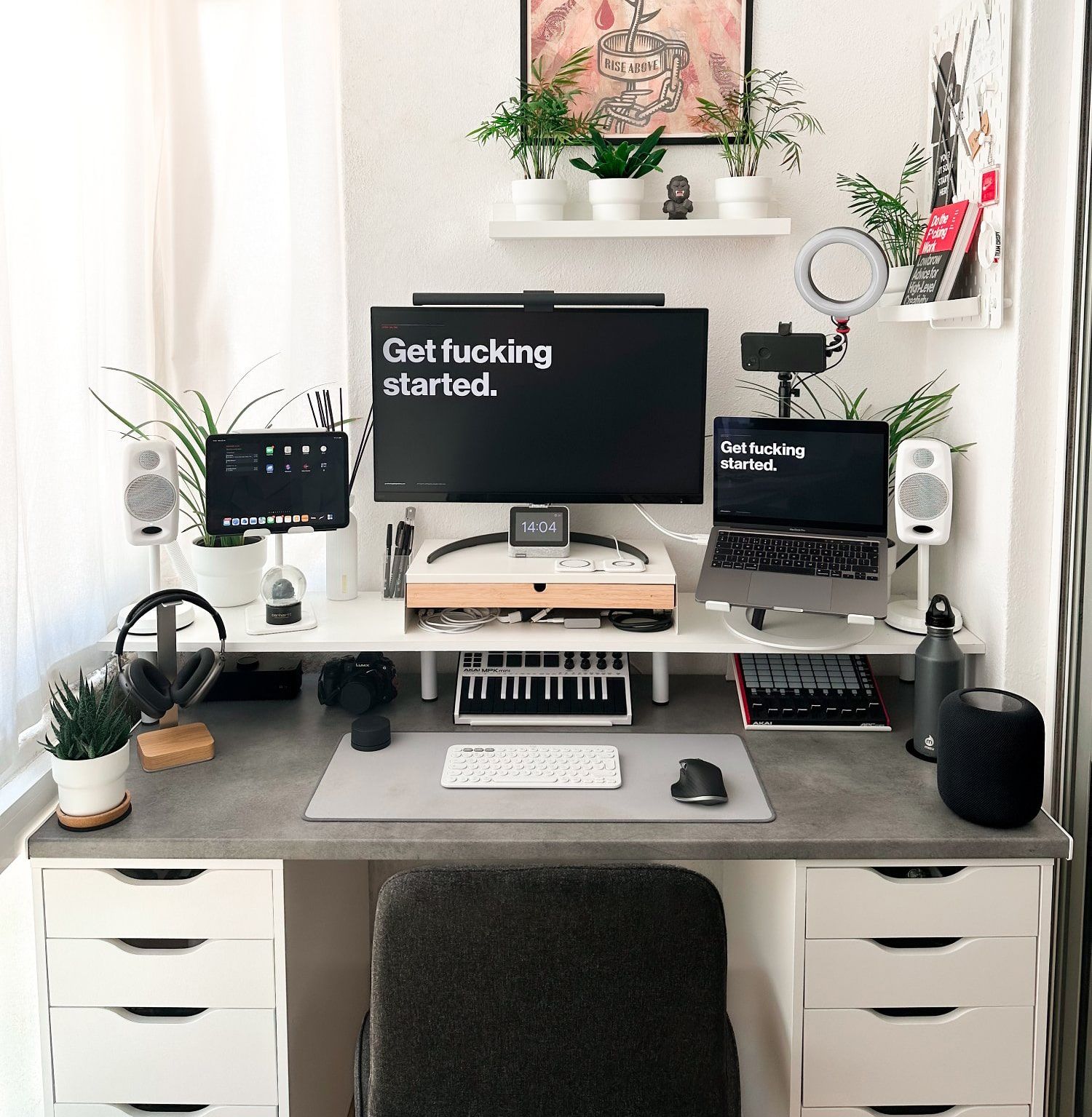 Productive and Focused Workspace of a Sales Copywriter in Portugal
"My home office is designed to help me remain focused and inspired"
Join 1700+ Curious Readers.
Every Sunday evening, get an *in-depth* workspace tour from a random corner of the world.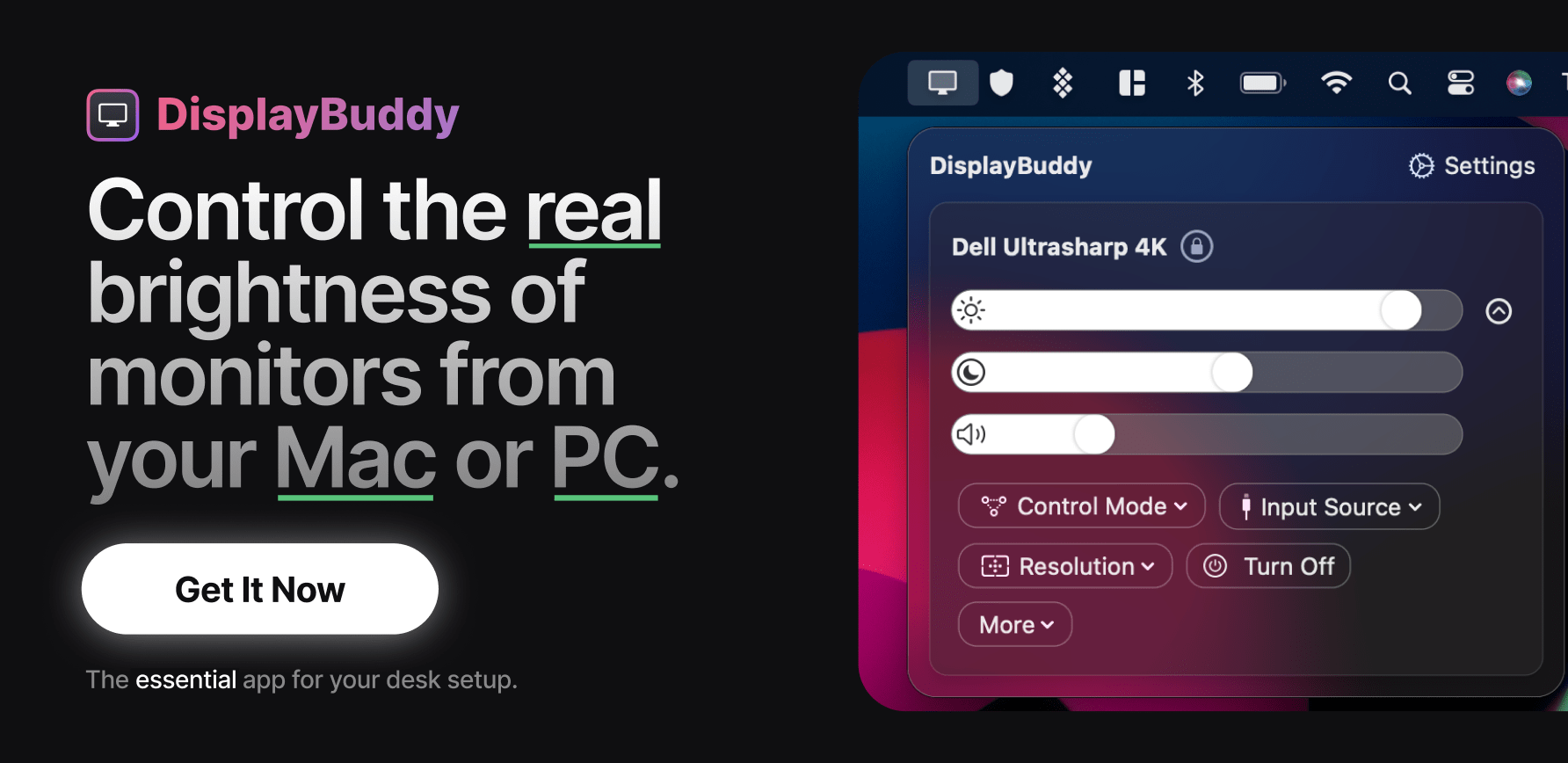 Name: Alex Napier Holland
Location: Algarve Coast, Portugal
Occupation: Sales copywriter for SaaS and technology brands
Room size: 5,25 m² (56,5 ft²)
Cost of setup: Approx. $12-15K
Social media: Instagram, LinkedIn, Twitter
Websites: alexnapierholland.com, GorillaFlow
Hello! Tell us a bit about yourself
I'm a freelance sales copywriter for more than 100 software and technology brands — including Adobe and Salesforce — over at gorillaflow.com
I'm hired to plan, write and design copy and wireframes for landing pages and websites that launch new products, boost online sales and improve conversions for SaaS brands, design agencies — and even autonomous vehicle startups.
Most of my work involves customer interviews, market analysis and conversion strategy.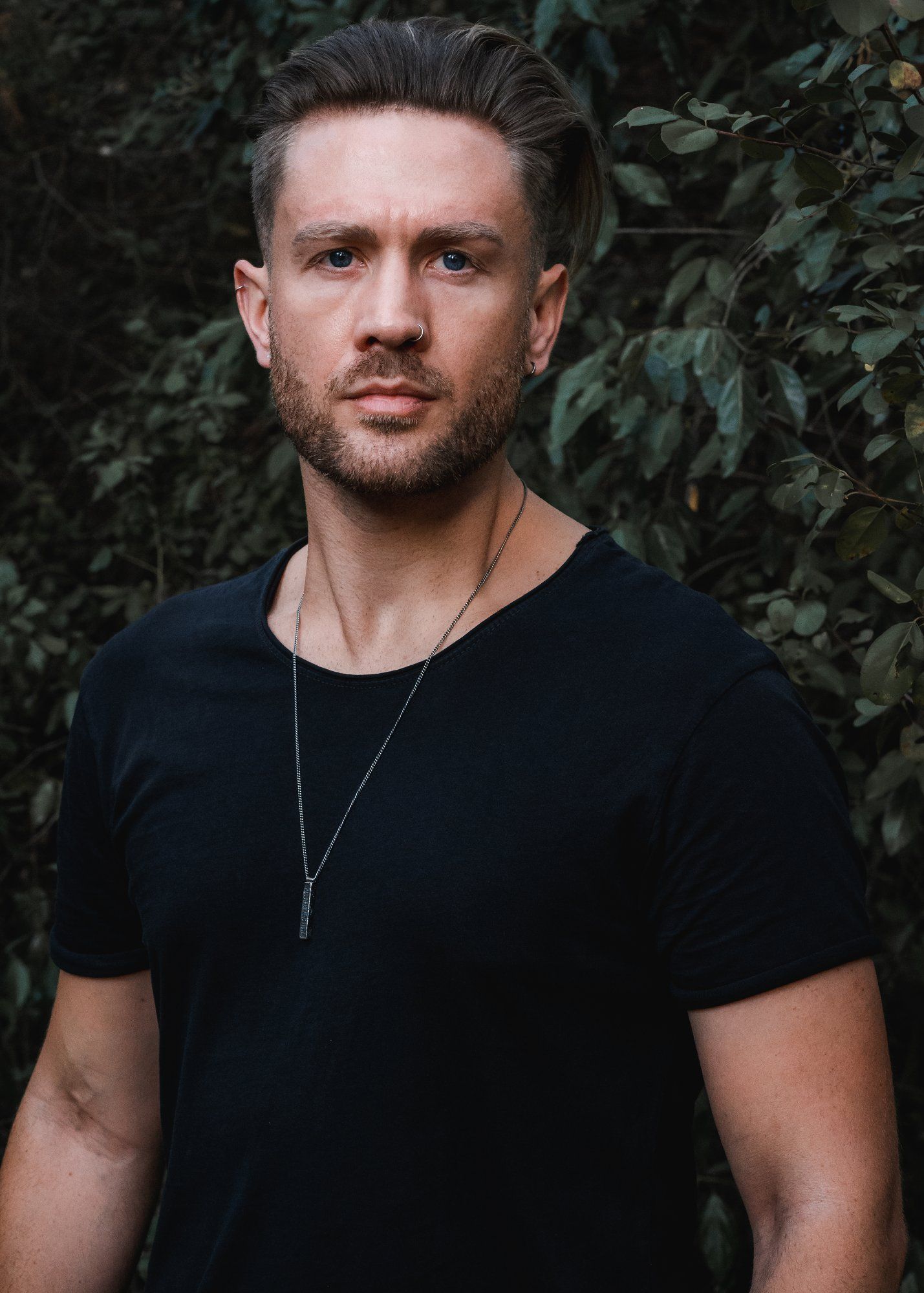 I deliver my projects as Figma wireframes — so that design and development can build and launch high-conversion experiences faster.
I also make music for adventure sports films — including Red Bull Media House.
Despite being expelled from two schools and diagnosed with ADHD, I somehow ended up in a "sensible" career — with an international sales career for software and advertising brands, a mortgage on a nice apartment, and a BMW parked downstairs.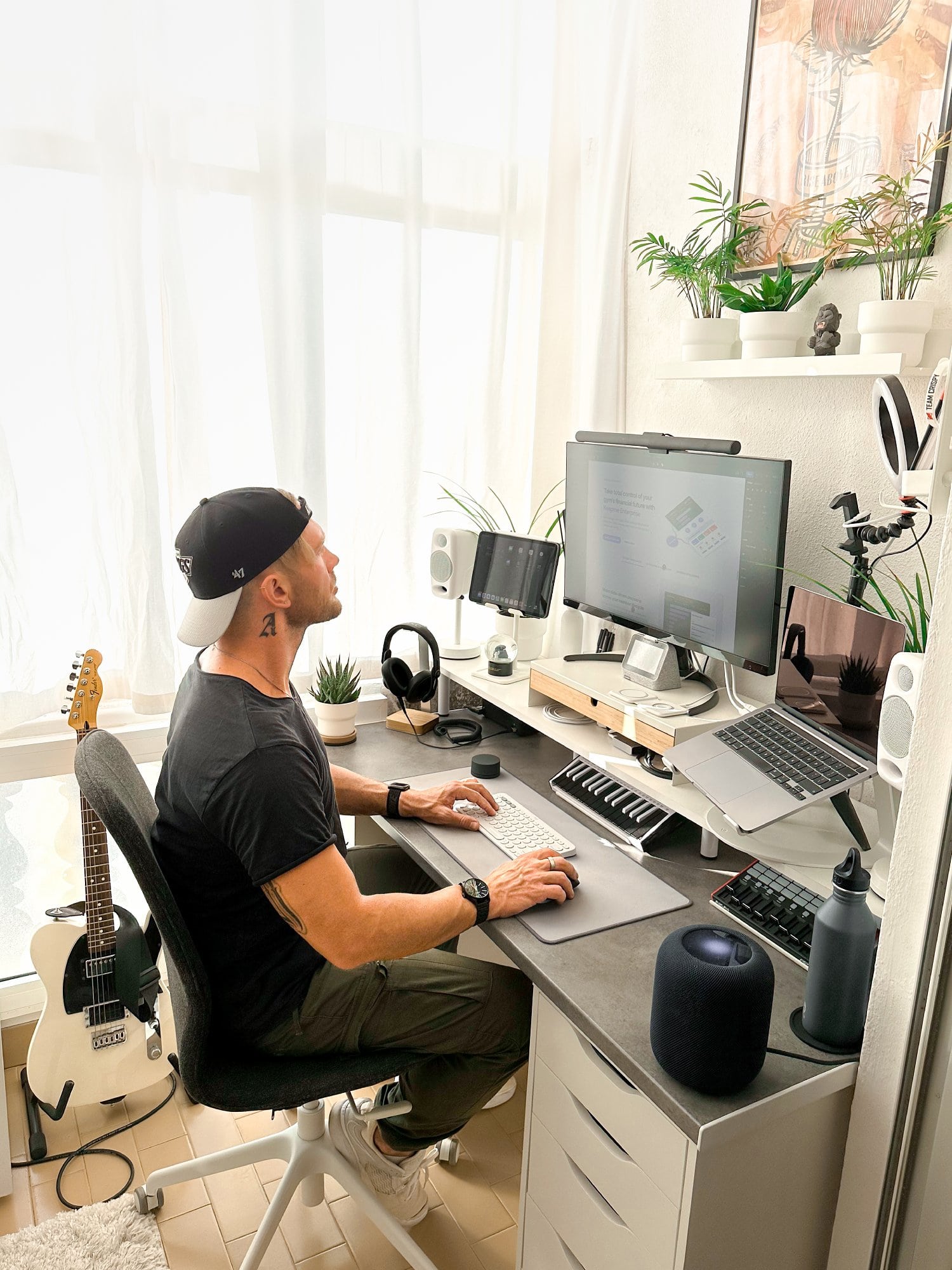 Surprise — these predictable benchmarks just made me miserable, empty, and overweight.
At 30, I sold everything and bought a one-way ticket to Sydney, Australia.
I started over as a junior copywriter — at both a trendy design agency and one of the city's top CRO agencies — then moved to Bali a year later.
I bounced between Asia and Europe for a few years while I built my freelance business and made a tonne of interesting entrepreneurial friends from around the world, then settled on the Algarve coast of Portugal — with my girlfriend.
Our lifestyle's built around fitness.
We have amazing adventure sports on our doorstep — and I spent a month working from a snowboard resort this winter.
Next, we want a second base — in Asia.
Take us through your setup
I built this office in a small balcony room that's connected to our bedroom.
It's smaller than my last office build — but limitations often unlock better design.
The most important thing with a smaller build is to plan ahead and choose office furniture that maximises vertical and horizontal space — with respect for the layout and flow of the room.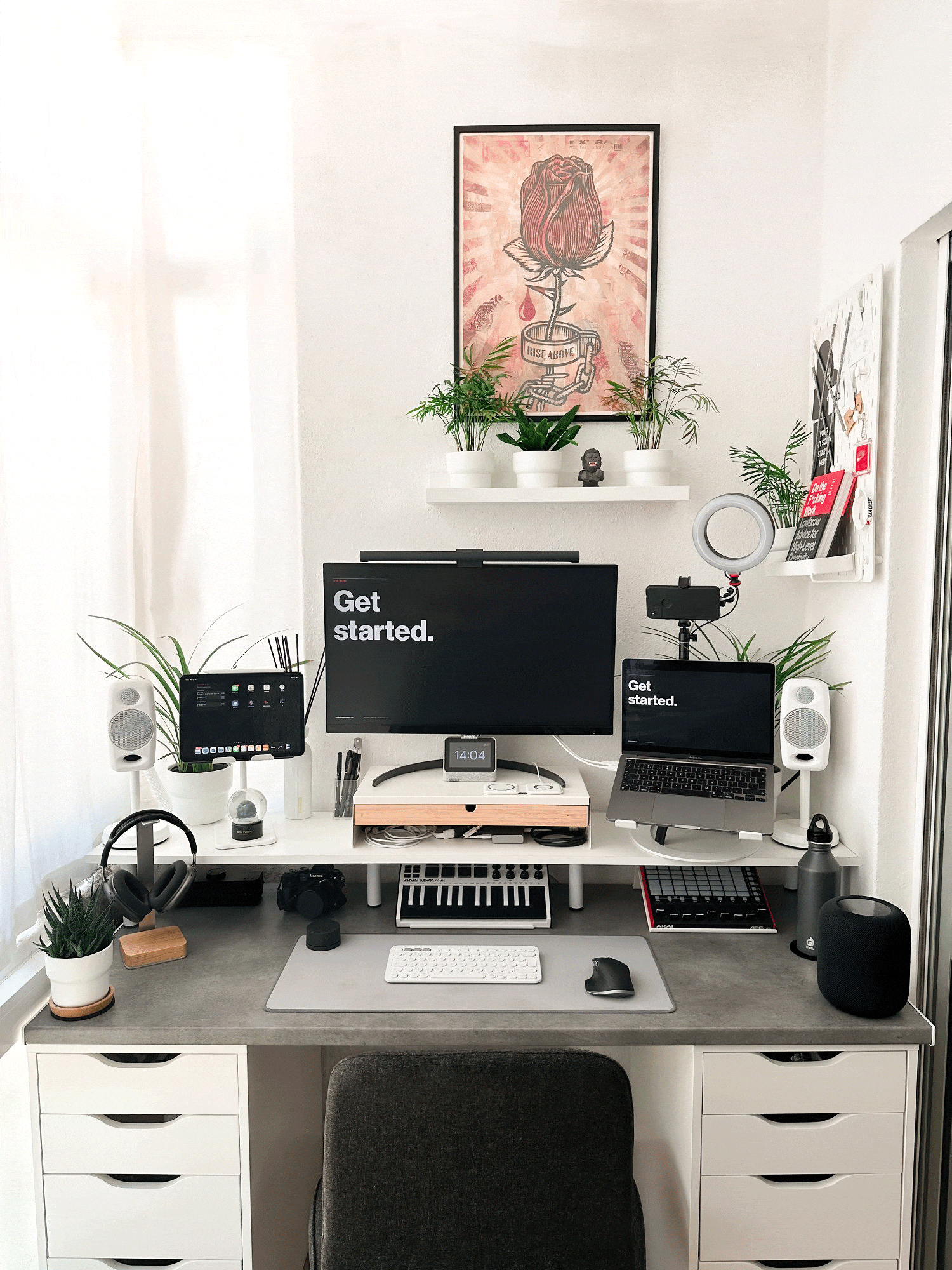 It's also helpful to prioritise your gear in advance based on importance, footprint and plug socket burden.
You don't want to buy items that dominate a small office and turn out to be unnecessary.
I armed myself with a tape measure, the IKEA catalogue and Google Sheets — and set to work.
Desk
It's tough to beat IKEA ALEX drawers plus a piece of kitchen countertop.
This desk's cut to the exact width of the room (150 cm), wipe-clean and an inch thick — perfect to drill my UK and European power strips with IKEA SIGNUM trunking to hide my cables.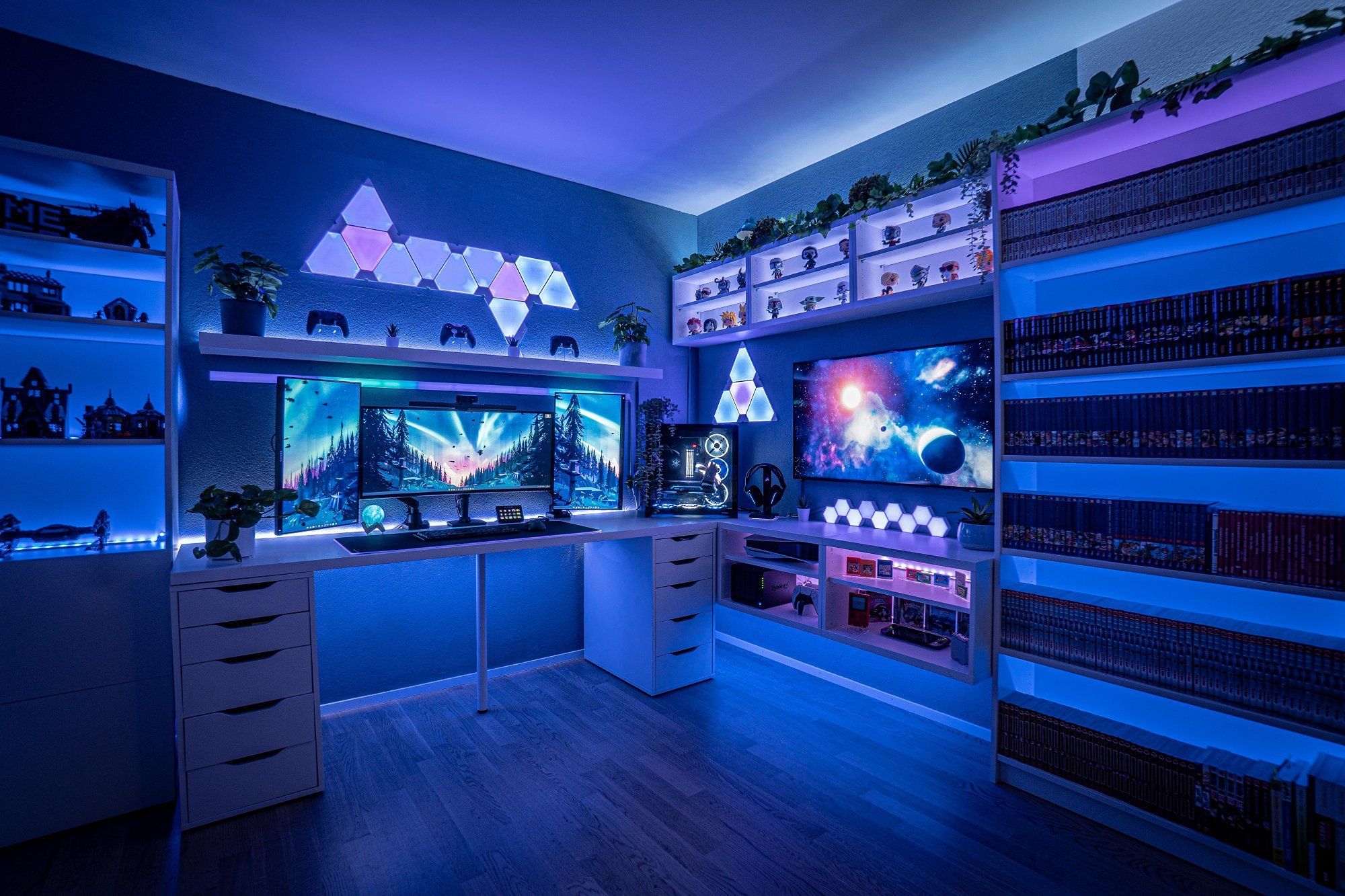 IKEA STÖDJA cutlery trays fit the upper drawers perfectly to organise gadgets.
I like every item to have a place — and this physical limitation stops me from relentlessly buying more tech.
A floating upper desk — one cheap slab of white MDF and six legs — adds a huge amount of storage space and keeps the top aesthetic clean, especially with a Nanoleaf light strip across the back.
My MIDI controllers, audio interface and camera are tucked away underneath.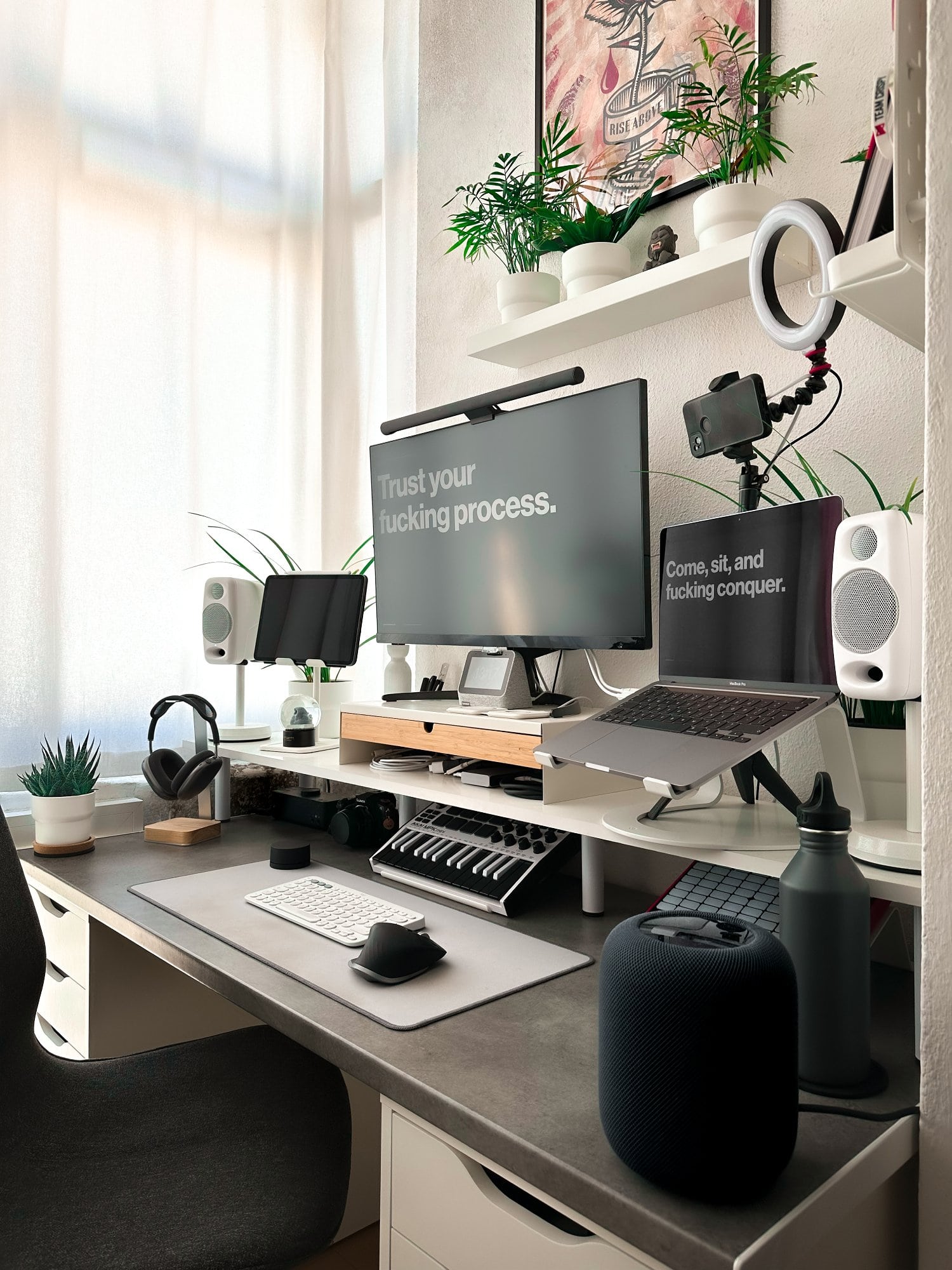 My chair's simply an IKEA LÅNGFJÄLL with no arms (I play guitar).
It's great for the money — although a Herman Miller is probably on the cards.
And a hairdresser footrest is a simple and effective ergonomic upgrade.
I like a white office, with black or space grey items, plenty of green plants — and an occasional splash of neon colour.
Desktop gear
My desk setup is optimised for flexibility and focus.
I write copy, design website mockups and wireframes, record guitars, make beats, edit photos (and sometimes videos) — and all this gear has to fit into a narrow office.
I store most gadgets in my drawers — including headphones, microphones, game controllers, lights, tools, and gimbals — to keep my desk clear and ensure that I work with purpose.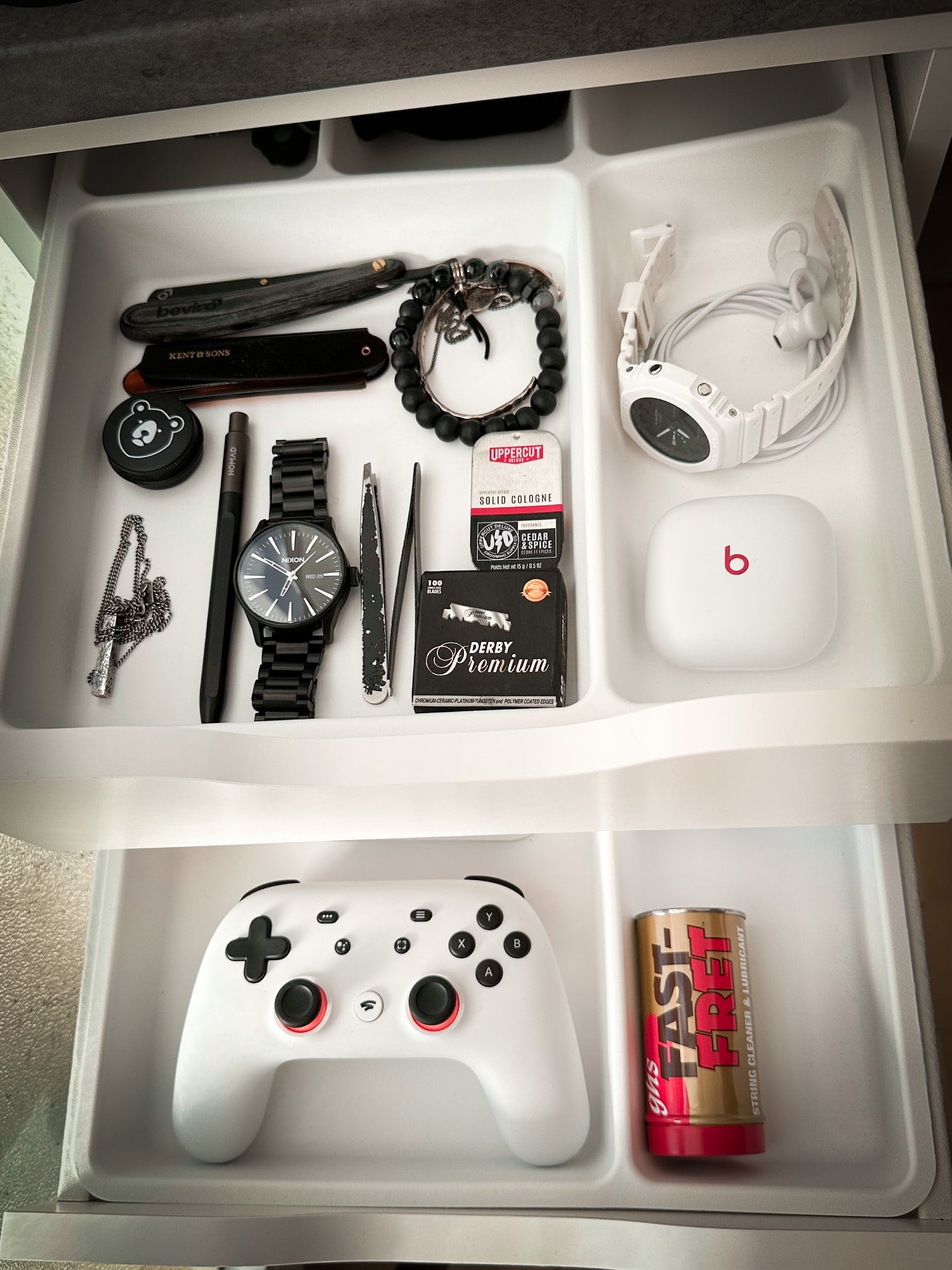 Laptop
My main device is an Apple MacBook M1. You know the rest.
Apple is untouchable right now in terms of performance for design and music production.
I know design directors who have ditched their MacBook Pros for Airs — because Apple's architecture is so capable.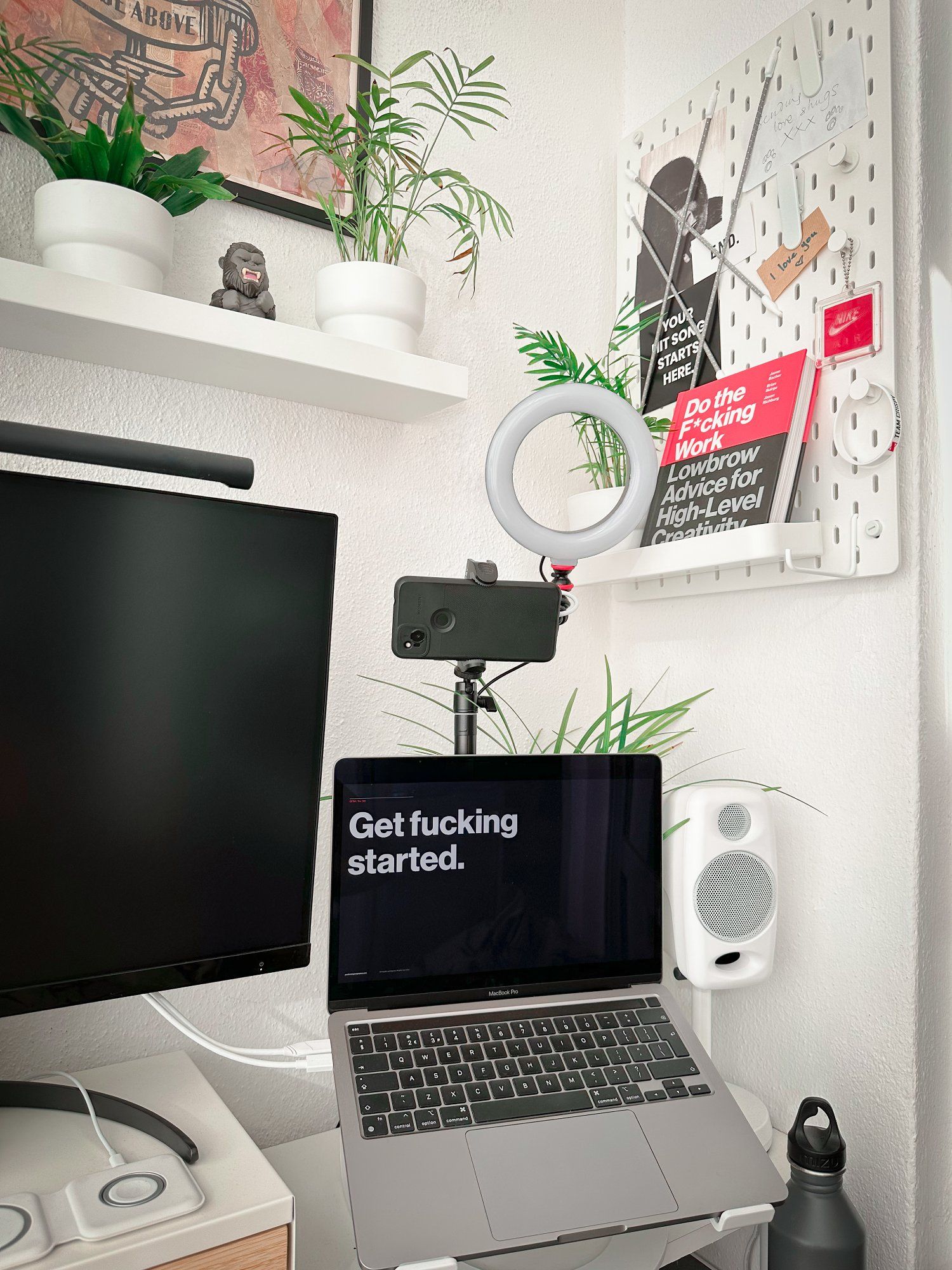 I use my Apple iPhone 14 Pro as a webcam thanks to Reincubate Camo — which offers superior video quality to Apple's Continuity Camera feature.
I'm an Apple fanboy.
That's obvious.
But I also own a Google Pixelbook Go and a Pixel 4a. I run my business on Google Workspace — so I can seamlessly switch between Apple and Google devices.
Monitor
I use a 27-inch 4K Phillips monitor. Apparently, it was the best panel at that price point.
I'll probably upgrade to an Apple Studio Display in the future — but this model's great for design.
MonitorControl is a free app that adds macOS controls for my monitor so that I can knock the brightness down easily at night.
My bias light is simply a Nanoleaf Essentials bulb in a gooseneck E27 socket that's clipped behind my monitor. Why slice up another light strip?
Speakers
Ideally, I'd have 8-inch studio monitors, but the iLoud Micros offer amazing separation and bass extension for the size.
I spray-painted a set of black metal stands with five to ten layers of white radiator paint to give them a thick gloss finish.
I use the Micros for music production and focused listening sessions — like techno, EDM and heavy metal — while my Homepod is great for jazz, chillhop and other clean music styles.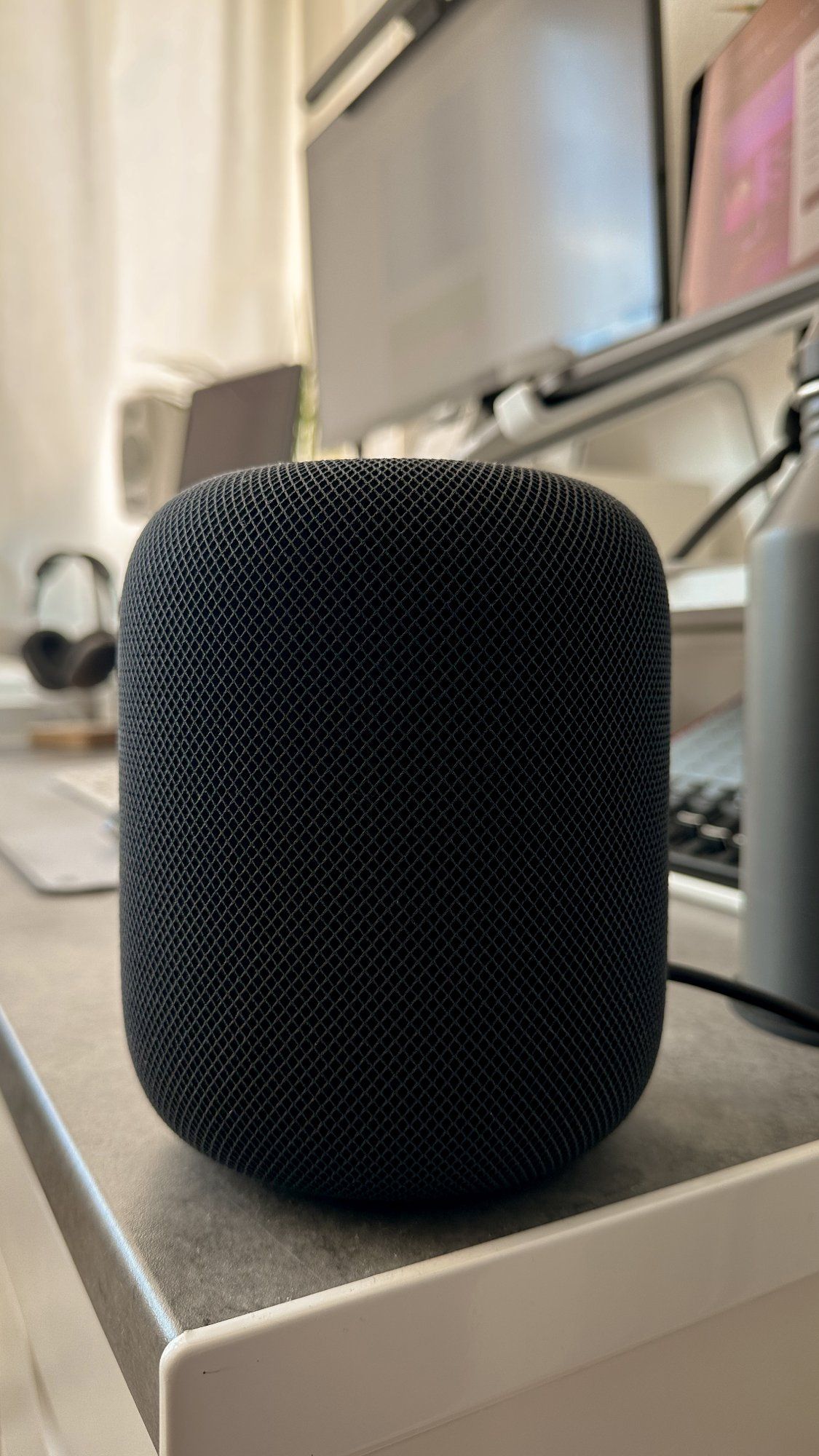 Headphones
I collect headphones.
Right now I use Beyer DT990 Pros and AKG 371 in my studio — and I'm itching for some DT1990 Pros.
The AKGs fold down small — so they're great for travel.
AirPods Max offers computational audio rather than raw technical performance — which is excellent in an incomparable way.
And my Beats Fit Pros are perfect for fitness.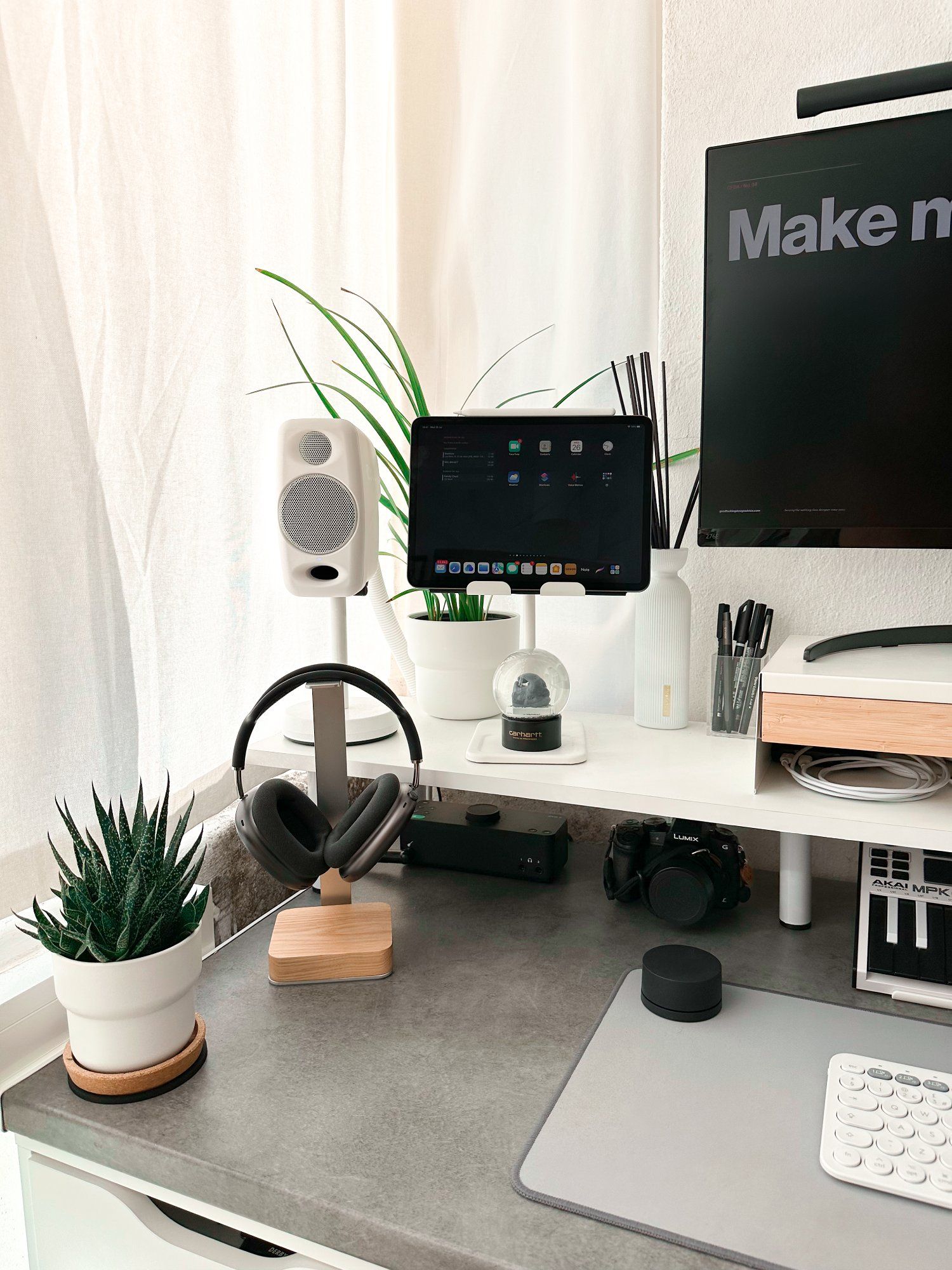 Tablet
Like many iPad owners, I love my iPad Pro 11-inch — yet feel frustrated that it's still not a laptop replacement (even with the excellent Magic Keyboard).
Sometimes, it feels like Apple does this on purpose to protect MacBook sales.
I love the Apple Pencil. It's classic Apple — simple and intuitive.
Phone
iPhone 14 Pro is (predictably) my main smartphone.
And it snaps straight onto my bike handlebars to track workouts — thanks to the Peak Design Mobile ecosystem.
Focus modes are a great feature.
I build screens with relevant widgets and apps for each activity — e.g. fitness, music, business, news, photography — then set Focus modes to de-activate any that aren't relevant to that workflow.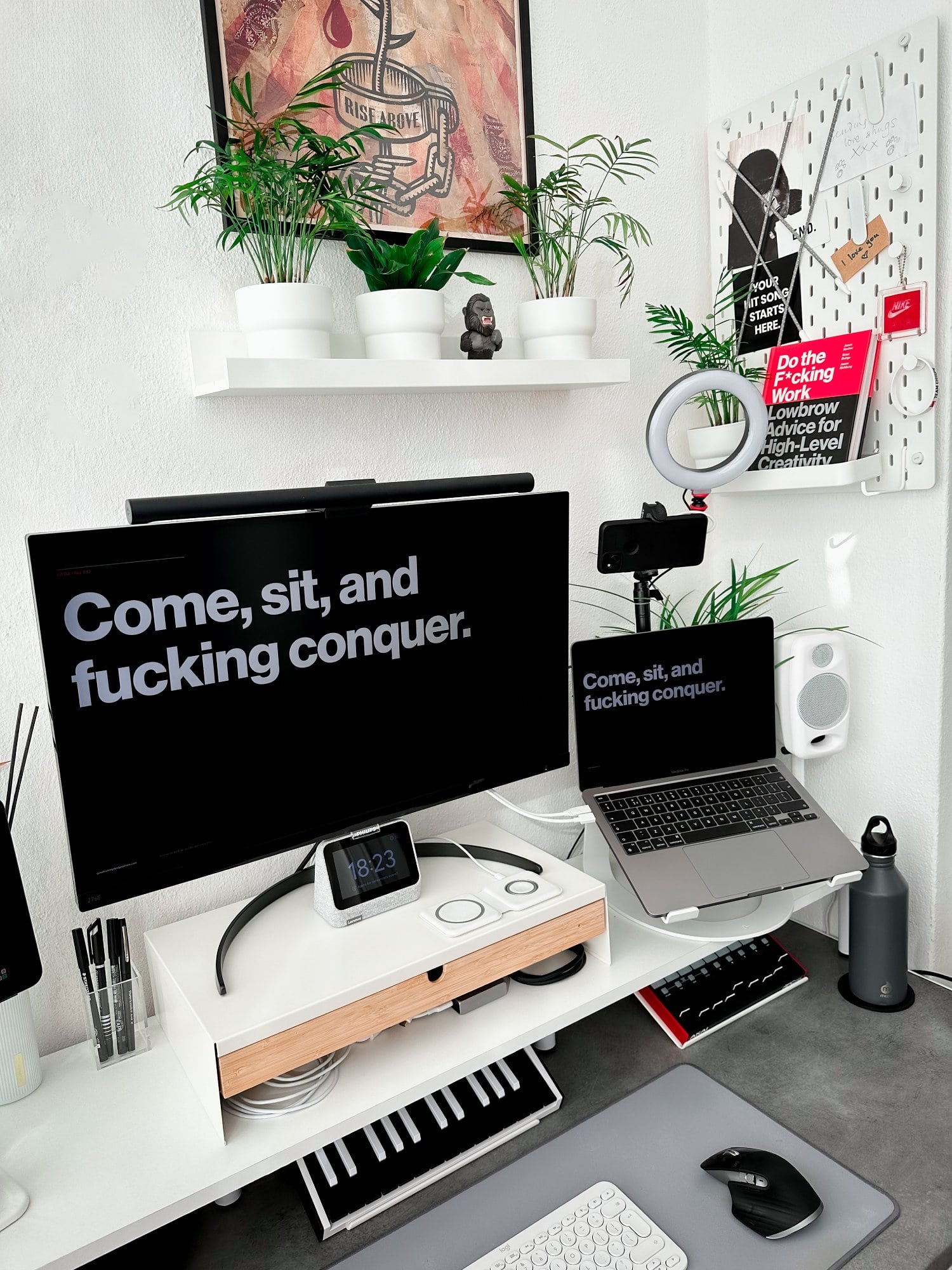 I appreciate Apple's recent efforts to make smartphone use more purposeful and conscious — and I actively remove apps and notifications that don't serve my goals.
I try to leave my phone in the office once I finish work — and not touch it again until after breakfast.
Self-discipline is crucial.
To abandon technology because you cannot manage your own behaviour is to admit defeat.
Apple Watch
I love fitness tracking. And my Apple Watch has reduced my screen time.
I can leave my iPhone behind whenever we hit the gym and still receive important notifications — with no risk of being pulled back into my phone.
Clock
My business runs on Google Workspace — so it makes sense to have a panel that displays my upcoming events and notifications.
Sadly, this Lenovo Smart Clock 2 isn't quite that device, as I have to swipe to check my calendar manually.
I hope some kind of upgrade hits the market soon.
Music
I like to mix beats with electric guitars.
I co-produced tracks for the Red Bull BC One breakdance championships a few years back — and I'd love to record more film soundtracks.
My guitar's a Fender Telecaster with a tonne of upgrades. And I've got AKAI MPK Mini and APC Mini MIDI controllers that I use with Ableton Live 11.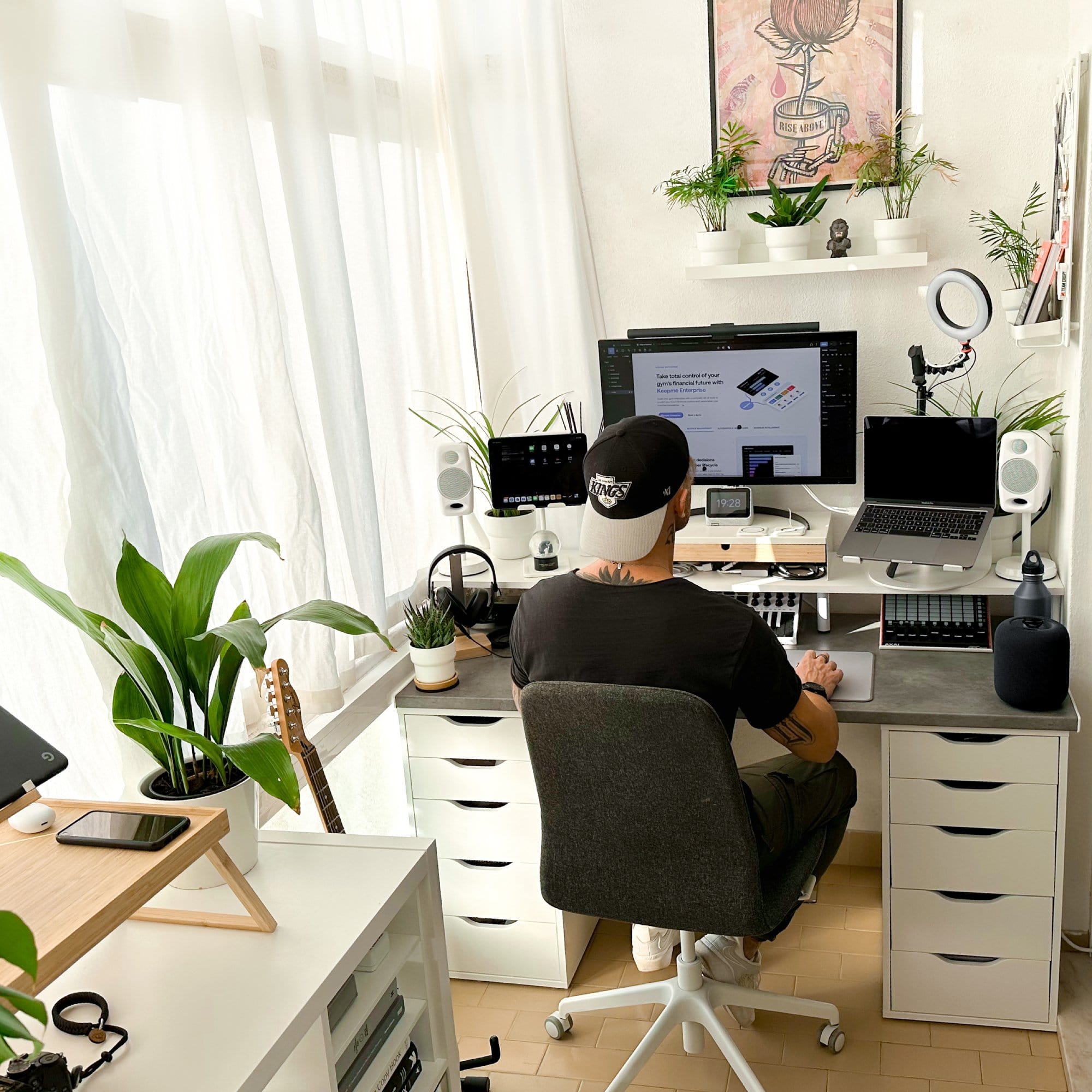 Home automation
Our entire apartment's automated via Apple HomeKit — with scenes for work, relaxation and entertainment.
HomePods for voice control and music.
Meross Smart Plugs to control our fans and other devices.
Netatmo smoke and carbon monoxide alarms.
Home automation sounds like a pointless luxury, but it eliminates numerous small, tedious tasks and optimises conditions throughout the day — which helps improve our focus.
IKEA KALLAX
I'm amazed at how much value I've squeezed out of this IKEA KALLAX.
Etsy offers a huge range of third-party modifications that are a great way to customise IKEA's most popular units — like these KALLAX insert shelves.
Guitar pedals
I run my guitar through a TC Electronic boost and an MXR EQ before they hit my soundcard — and these pedals are stored in my KALLAX shelves.
This is neater and cleaner than a floor-based pedalboard. And I can turn them on with voice control.
Display cabinets
I converted the bottom row of my KALLAX into display cabinets with these glass doors and LED downlights — plus a Meross Smart Plug. Easy.
Now I can display my favourite sneakers, baseball caps and camera gear.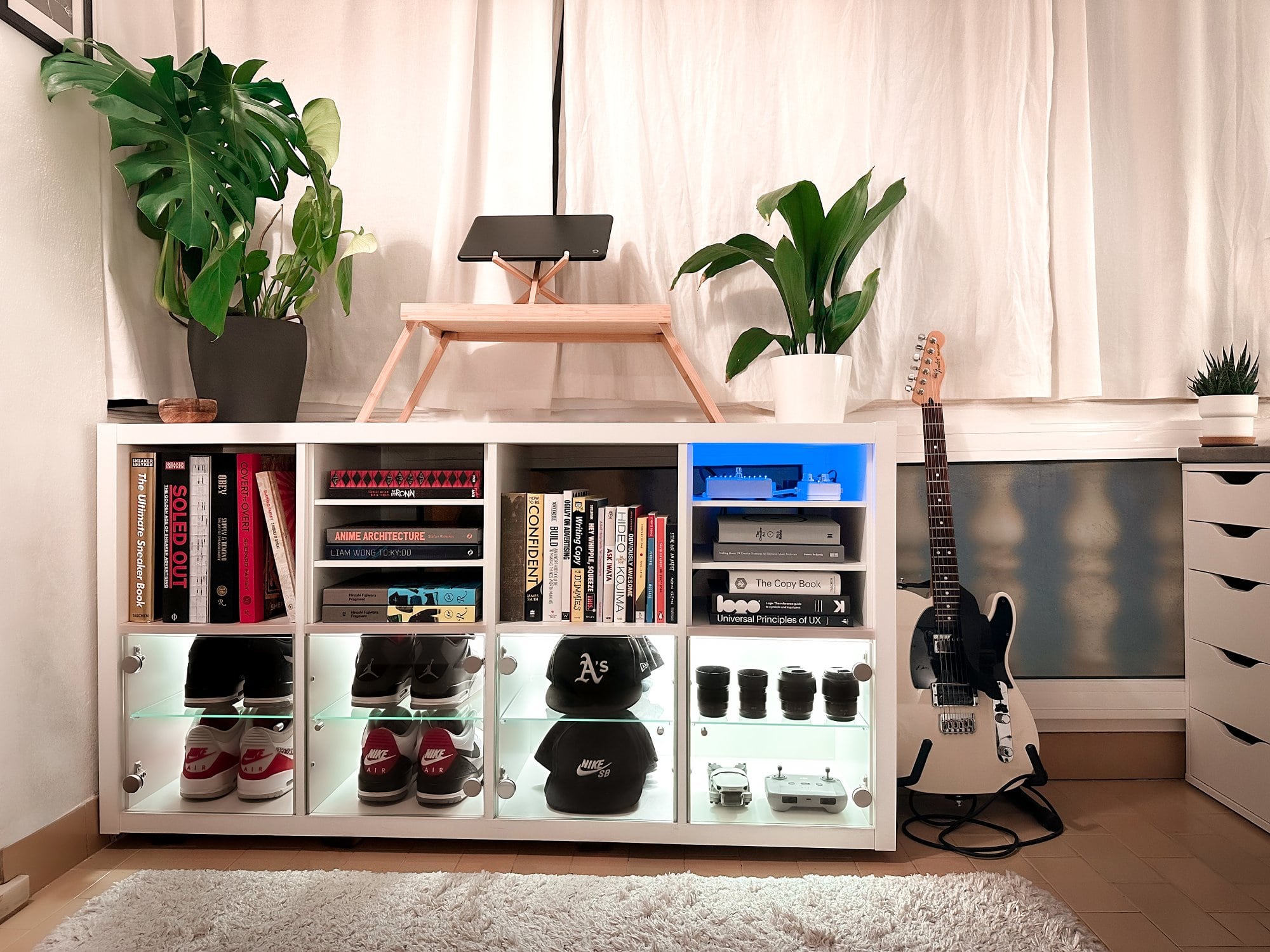 Camera gear
I also store my DJI Mini 2 and lenses for my Panasonic G80 mirrorless camera in my KALLAX display cabinets.
I enjoy flying my drone, but the Internet's so saturated with drone footage nowadays that it's difficult to shoot anything that feels fresh.
I still try!
What's your favourite item on your desk?
That's tough. My MacBook's an easy answer — but too obvious.
I'll go with my Homepod.
Right now it's an excellent smart speaker that can dish-up playlists, internet radio stations and even shows from our Apple TV while I'm in my office.
We can also control music, lighting scenes, our TV and fans throughout our apartment with voice commands — which enhances work and relaxation throughout the day.
But the future is more interesting.
I build Apple Shortcuts to automate tasks and scenes based on the time, weather and various other triggers.
As we add HomeKit appliances, I'll build more automations that perform chores, save time — and make our apartment a nice place to work and relax.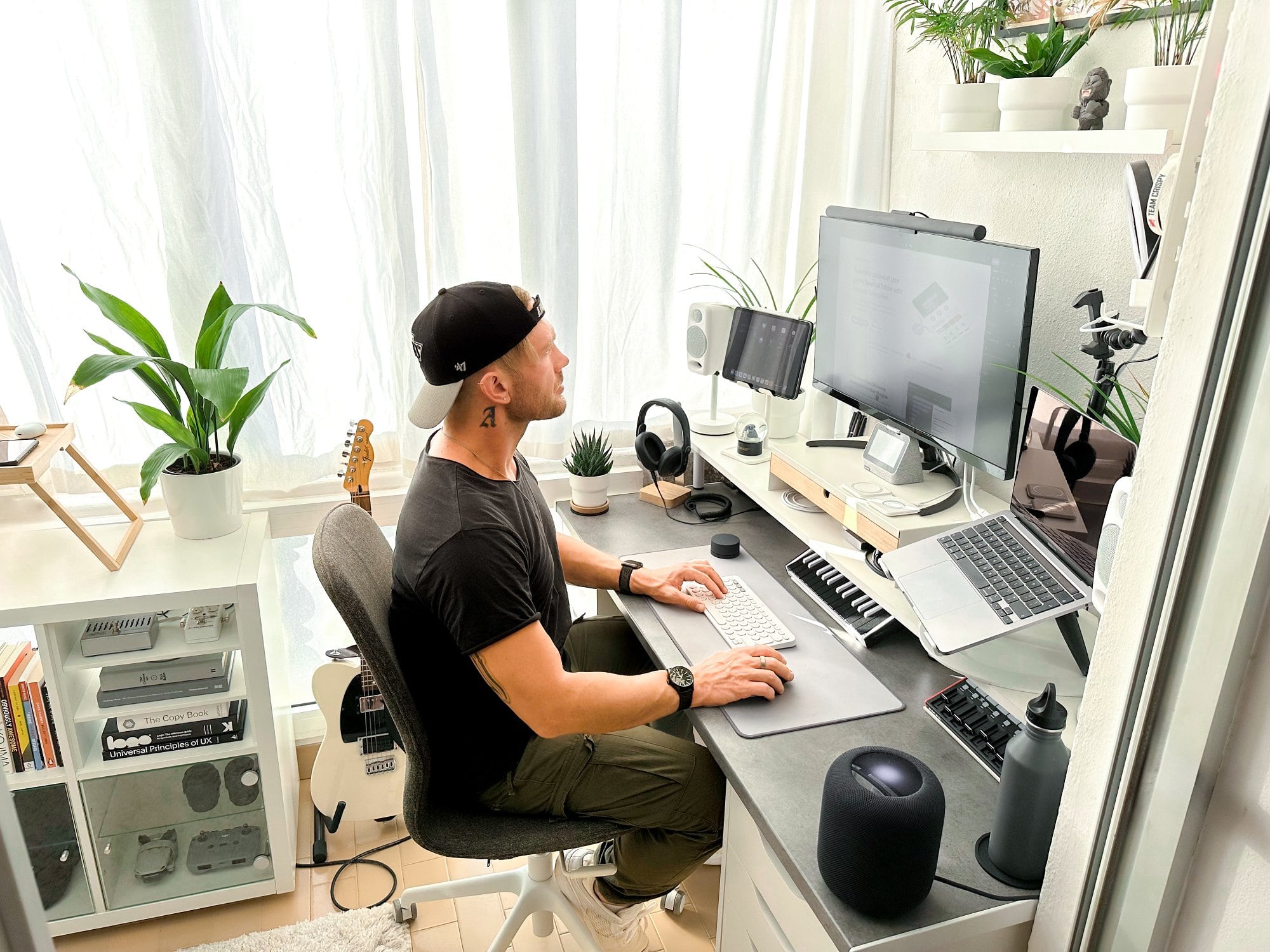 What apps or tools do you use to get things done?
I treated my freelance operation as a business from day one.
I paid for professional business tools when I could barely afford them — and built my brand and processes around the potential to hire and scale as an agency.
I'd like to get better at business workflow automation — but let me share my top apps for now.
Google Workspace
My first business expenses were a Google Workspace account and a domain name.
You should win and deliver for clients before you build a website. But an email account with a custom domain looks professional — and saves you switching email addresses later.
Google Docs and Sheets are industry standards and work great in a browser — although I wish the iPad apps supported an external keyboard properly.
Figma
Most copywriters dump their copy in a Google Doc, walk away and leave the design team to figure out the rest.
I use Figma to build greyscale mockups for each website and landing page — so that design teams can copy their own version and swiftly add colours, fonts and artwork.
Figma's the industry standard — and it's lightweight, affordable and easy to use.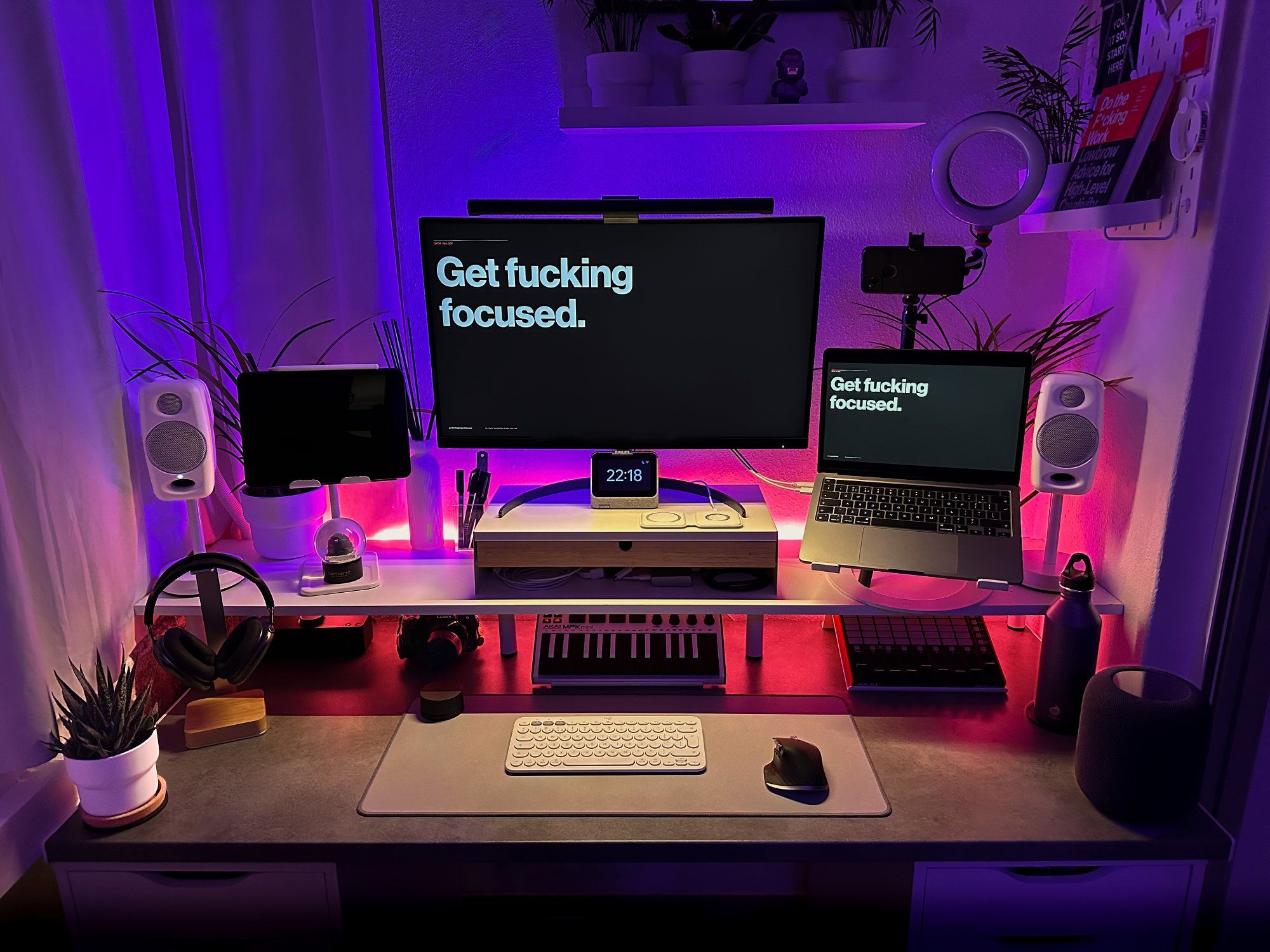 Pipedrive CRM
Sales is crucial for any business — freelancers can't escape this fact.
And Pipedrive's interface is unbeatable. It's fast and easy to add leads, estimate my pipeline value and track progress against monthly revenue goals.
I can also integrate Pipedrive with project management tools like Trello and Asana — and my accounting software, Xero.
Apple Notes
Notes isn't the prettiest app, but it's organised — and only a click away.
I can drag photos, screenshots and memes straight off the Internet into a relevant Notes folder, scribble over them with my Apple Pencil, organise ideas with tables — then copy everything into a Google Doc if I want to create a polished document.
Bear
Fonts change the way I write.
Bear offers bold fonts and a slick, dark interface — which suits the punchy, minimalist way that I like to write for my own projects.
Ableton Live 11
Ableton's interface is stunning.
I'm 15 years in — and their user experience is still unbeatable for live instruments and beat-making. Ableton Note is an awesome iOS experience, too.
What books, blogs, or podcasts recently caught your attention?
I mainly read around evolutionary psychology and the science of peak mental and physical performance — I think these topics offer more bang-for-buck than most business books.
Deep Work by Cal Newport changed my life.
My friend Max saw me sweat away for unproductive 10-12 hour days at Hubud co-working space in Bali and pointed me to this book.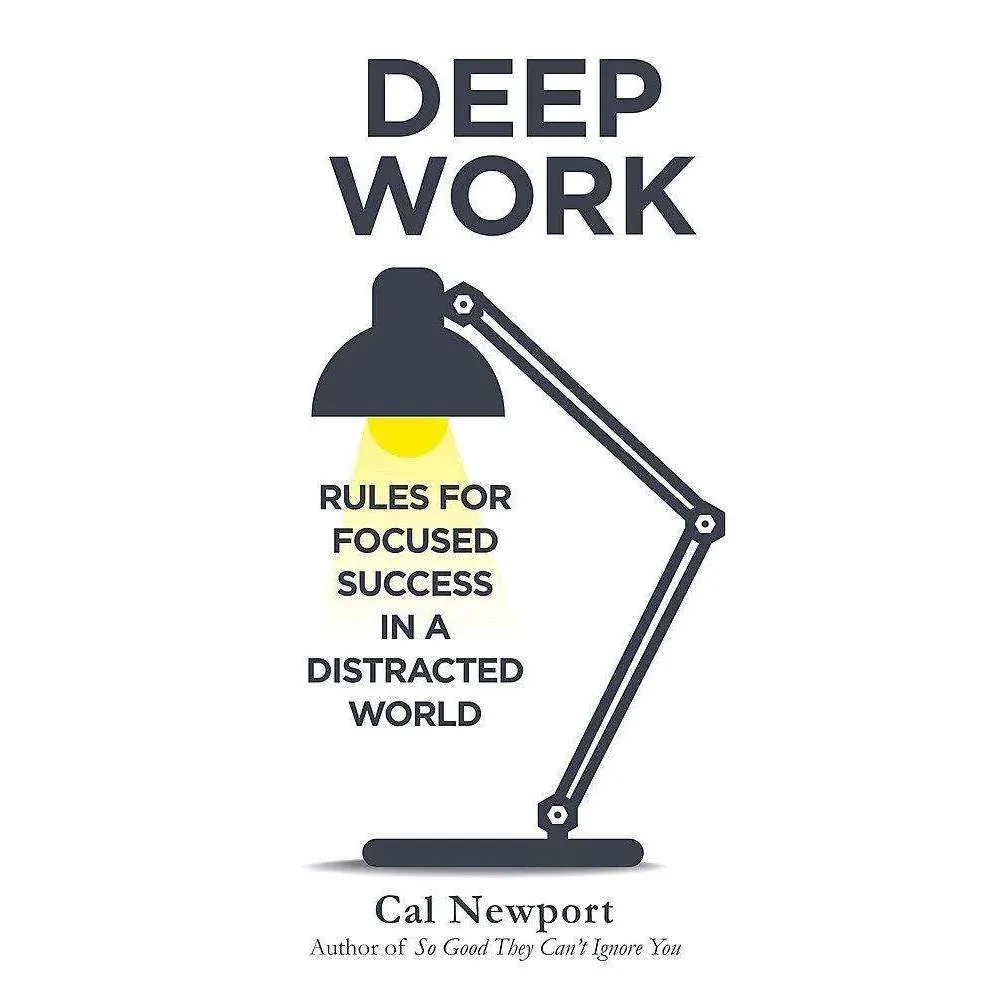 Deep Work: Rules for Focused Success in a Distracted World
"Cal Newport is exceptional in the realm of self-help authors" (New York Times)
Check price on Amazon
Something clicked and I started to tackle creative work like my fitness — in short, sharp sprints with rest in between.
Humans max out at around five hours of real creative work each day.
Anything more and you're probably doing tasks — meetings, emails and reports — not creative work.
48 Laws of Power, Robert Greene
Some people feel awkward about this book.
But creative people are often sensitive — and it's helpful to be aware of other people's potential to use power games over you in business so that you can identify these moves and protect yourself.
Dumbing Us Down, John Taylor Gatto
John is an award-nominated teacher who explains how the education system is designed to crush the ability to think freely and be creative.
Dumbing Us Down: The Hidden Curriculum of Compulsory Schooling
Throw off the shackles of formal schooling and embark upon a rich journey of self-directed, life-long learning.
Check price on Amazon
It's been therapeutic to build my own business and discover that my character qualities and attitude are much better suited to creative freelance work than any classroom work.
I'm fascinated by sports and athletic performance.
Testosterone offers a tonne of valuable insights regarding the impact of hormonal composition on human behaviour by a Harvard evolutionary biologist.
GFDA (Good F*cking Design Advice) had a big impact on my design style.
I recently shifted to a stripped-down, focused style that's built closely around typography — which pushes me to write hyper-focused and edited content.
Podcasts
I don't have much podcast bandwidth — as I can't listen to words while I write.
However, I make time for Andrew Huberman, Chris Williamson, Steven Bartlett and Sam Harris — anyone who is focused on performance and achieving positive outcomes.
Any tips for other makers who want to improve their workspaces?
Think strategically.
What kind of goals do you want to achieve in your office?
How can your layout, gear and aesthetic help you to achieve these goals?
My home office is designed to help me remain focused and inspired.
Items that could distract me are hidden in drawers — while items that I should use more (guitar, camera, MIDI controllers) are on display.
If your office feels overwhelmed, then it's often easier to empty and start from scratch.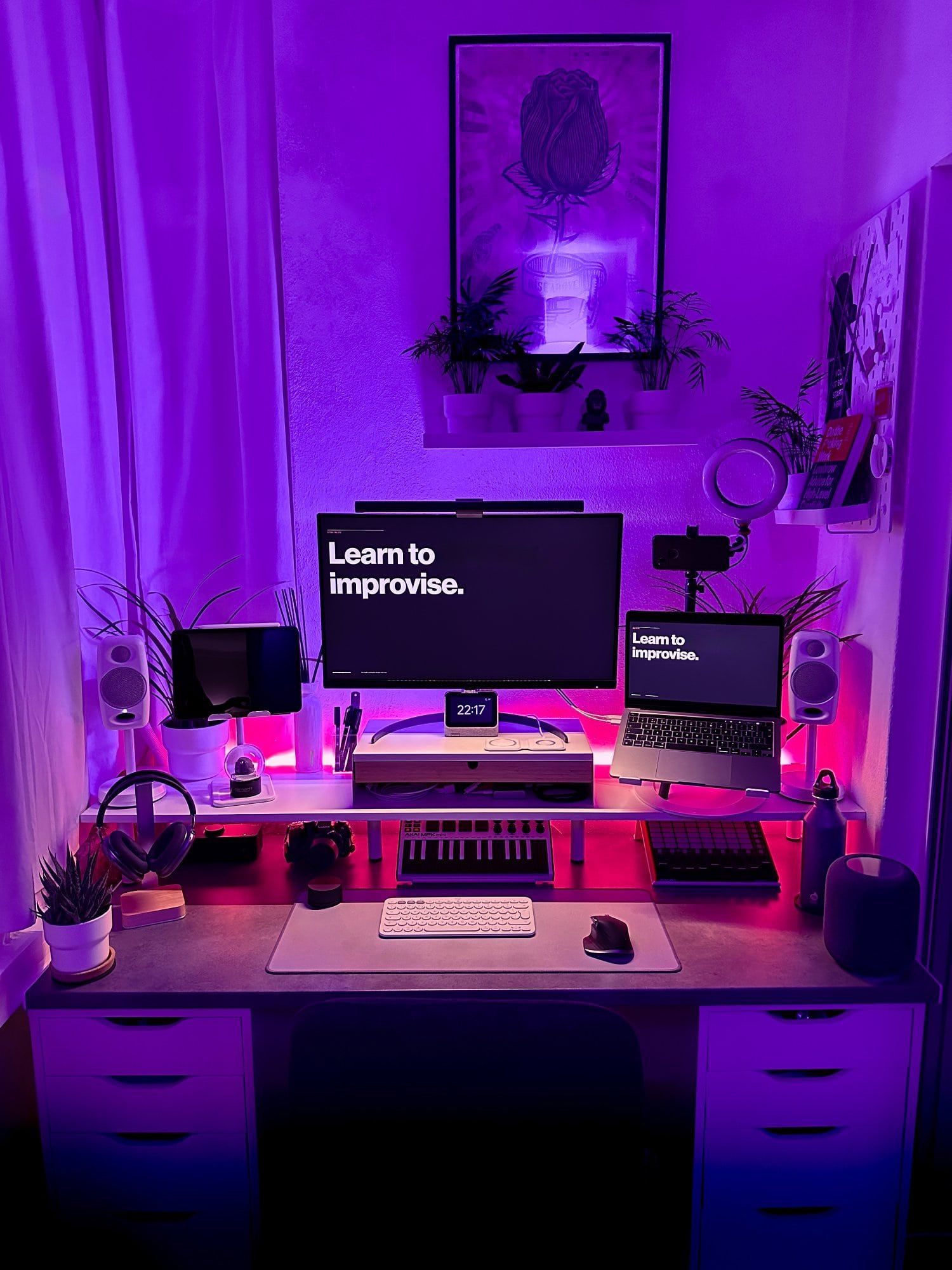 Start with your core items — e.g. desk, chair, monitor, speakers — and make sure they're placed perfectly before you add secondary items.
Screw your power strips to the underside of your desk and include more sockets than you think you'll need — with plenty of cable length.
Choose an aesthetic and stick to it
Make intelligent use of vertical space
Plan your lighting — daylight at day and warm at night
Soften your aesthetic with plants, wood and textiles
Only add decorative items that offer value, meaning or inspiration
Design an office that will make you a better creative professional — your lounge is the place for games, entertainment and relaxation.
What does your typical day look like?
We wake around 9 am — and never use an alarm.
Early starts are overrated.
If you wake earlier, then you go to bed earlier — same difference. Especially if you work asynchronously and are free from fixed work hours.
Cardio's first.
We hydrate with salts and go for a 30-minute cycle on our gravel bikes, a clifftop run or a long walk — depending on how recovered our legs feel.
We're blessed with some great routes here in the Algarve.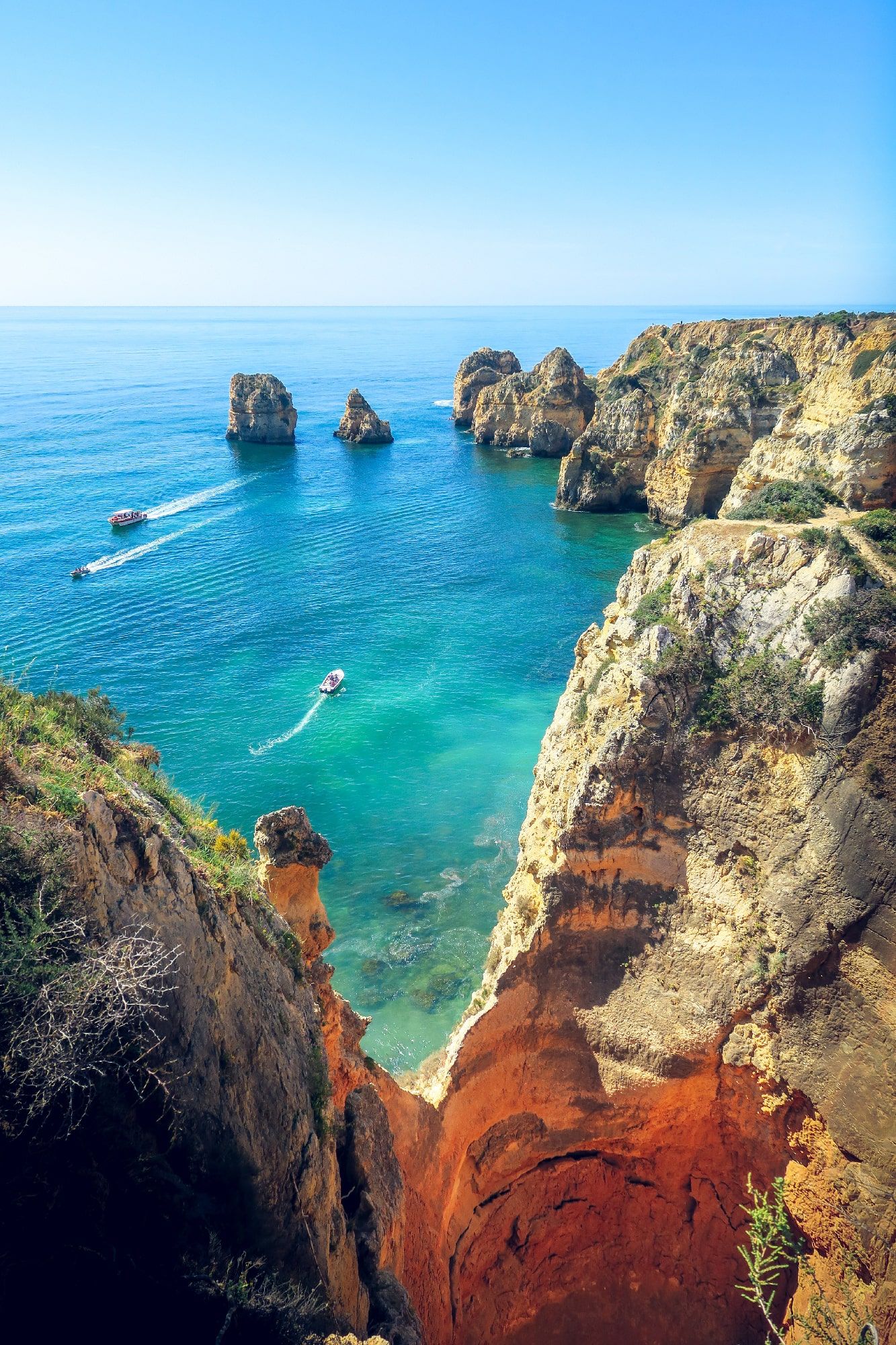 After breakfast and coffee, I hit my toughest tasks.
Maybe that's a headline or a 'hero' section that had stumped me.
Sleep organises your day's thoughts — so I often sit down and instantly nail a line that I'd struggled with for an hour the night before.
I like to clear any European client calls before lunch — and we hit the gym to lift weights most afternoons.
Fitness is the most important thing in my life.
Everything — from business to relationships — requires me to be physically and mentally focused and regulated.
I'm lucky that my girlfriend shares this outlook.
We always train together and it's great to be in a relationship with someone who shares my goals and drive.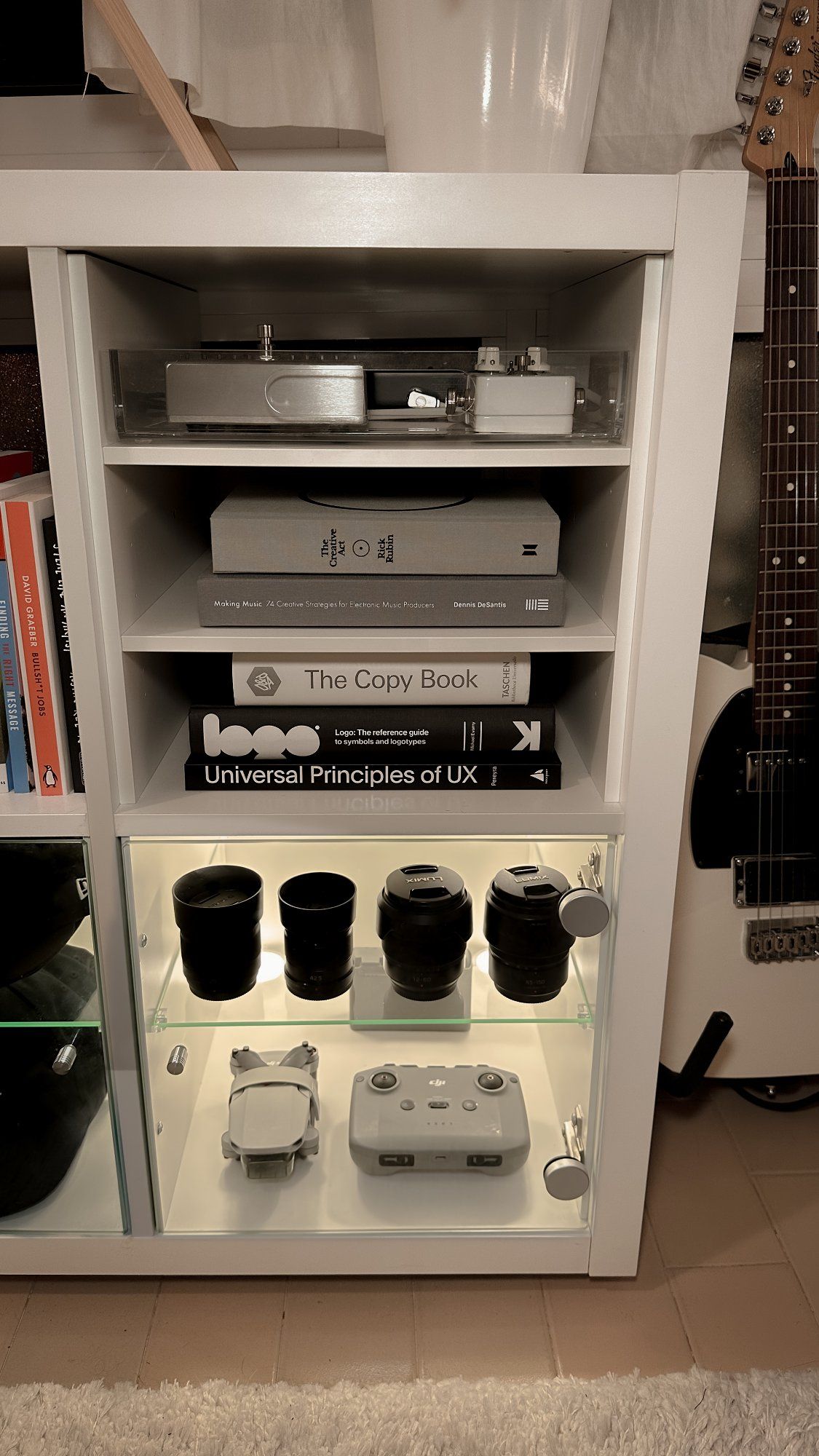 Like many creative people, I got an ADHD diagnosis — at around 15.
I find exercise and diet are more effective than medication.
I got heavily into martial arts at 18, and by 21, a psychologist graded my ADHD symptoms as reduced to borderline "normal".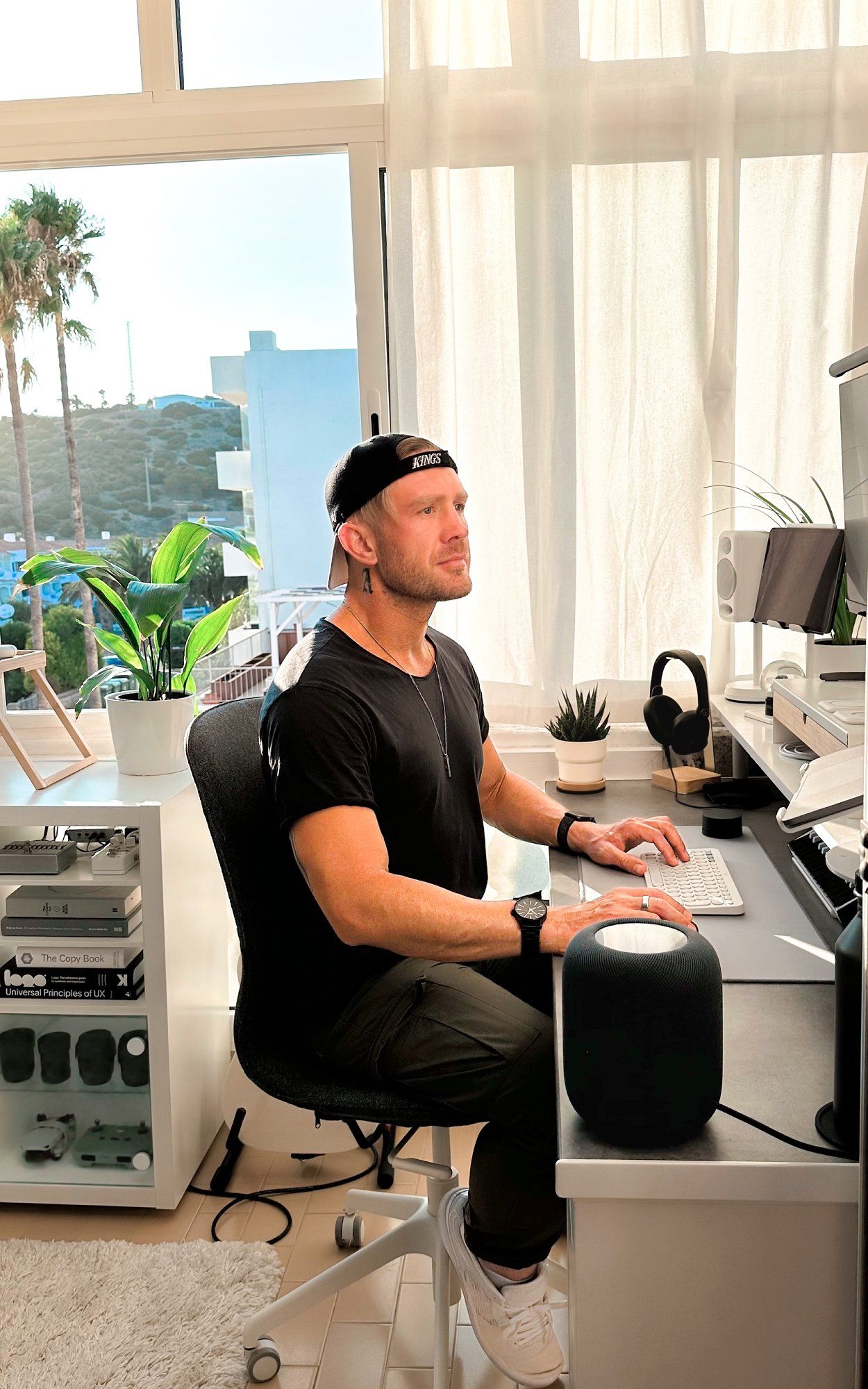 I've worked remotely since 2017 — mainly from Australia, Bali, Portugal, and a snowboard resort — and my productivity levels are vastly superior now that I'm free to alternate between exercise and creative output.
Offices are strange and unhealthy places that are packed with "pretend productivity" — reports, meetings and polished conversations that prevent creative people from being able to build a work routine that delivers quality output.
I've watched many people transition from an office to remote work.
There is typically a learning curve.
They'll initially become less productive — then build a routine and establish habits that make them far more productive than in an office.
Schools teach countless bad habits that are compounded by offices.
Remote work is the place where you get the freedom to raze everything to the ground and build your own systems and routines — so you can achieve bigger goals.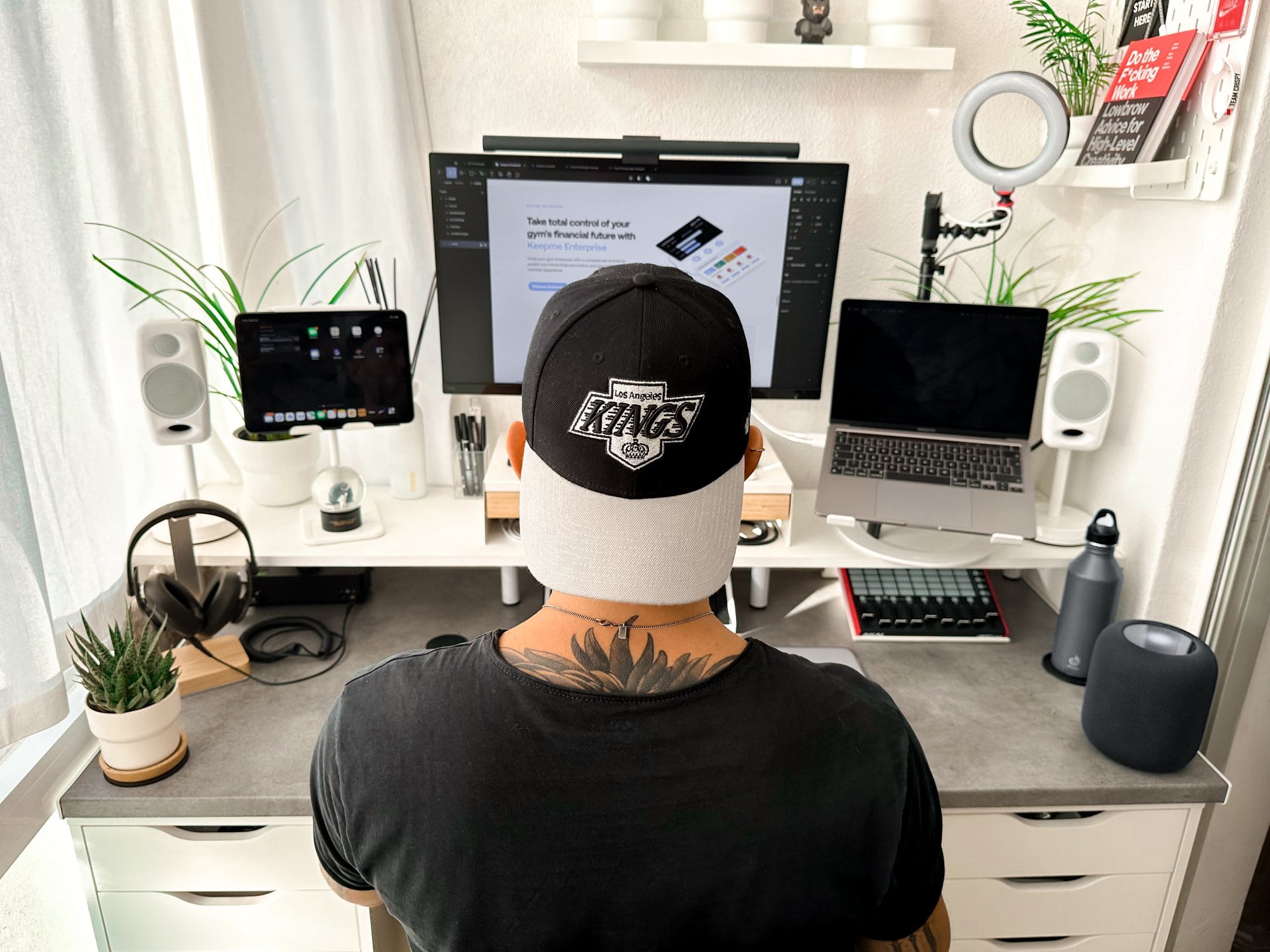 I typically do another two-hour work sprint in the afternoon — then we'll often do another cardio session at sunset.
Sometimes, we'll get a couple of beers near the ocean, or I'll work through a little later if it's a major project.
Then we'll relax, watch a film and read before bed.
I'm a night owl by nature and used to work late, but I've used Andrew Huberman's light exposure technique (sunlight into your eyes first thing in the morning) to reset my circadian rhythm — and rarely work beyond 10:30 pm.
I don't really do weekends.
Each day is a blend of work, fitness and pleasure — and that's how I like it.
But I'm also free to take entire days off if we want to surf or travel.
Your tips for working from home?
Remote work gives you a lot of freedom.
That's more freedom to fail — and more freedom to succeed.
You can study performance optimisation, build a workspace and routine that's centred around your fitness, well-being, and consistent creative output — and set bold and audacious goals for your career and lifestyle.
Or you can "chill" with online videos and computer games, coast in your career, watch five years fly by — and wonder 'what happened'?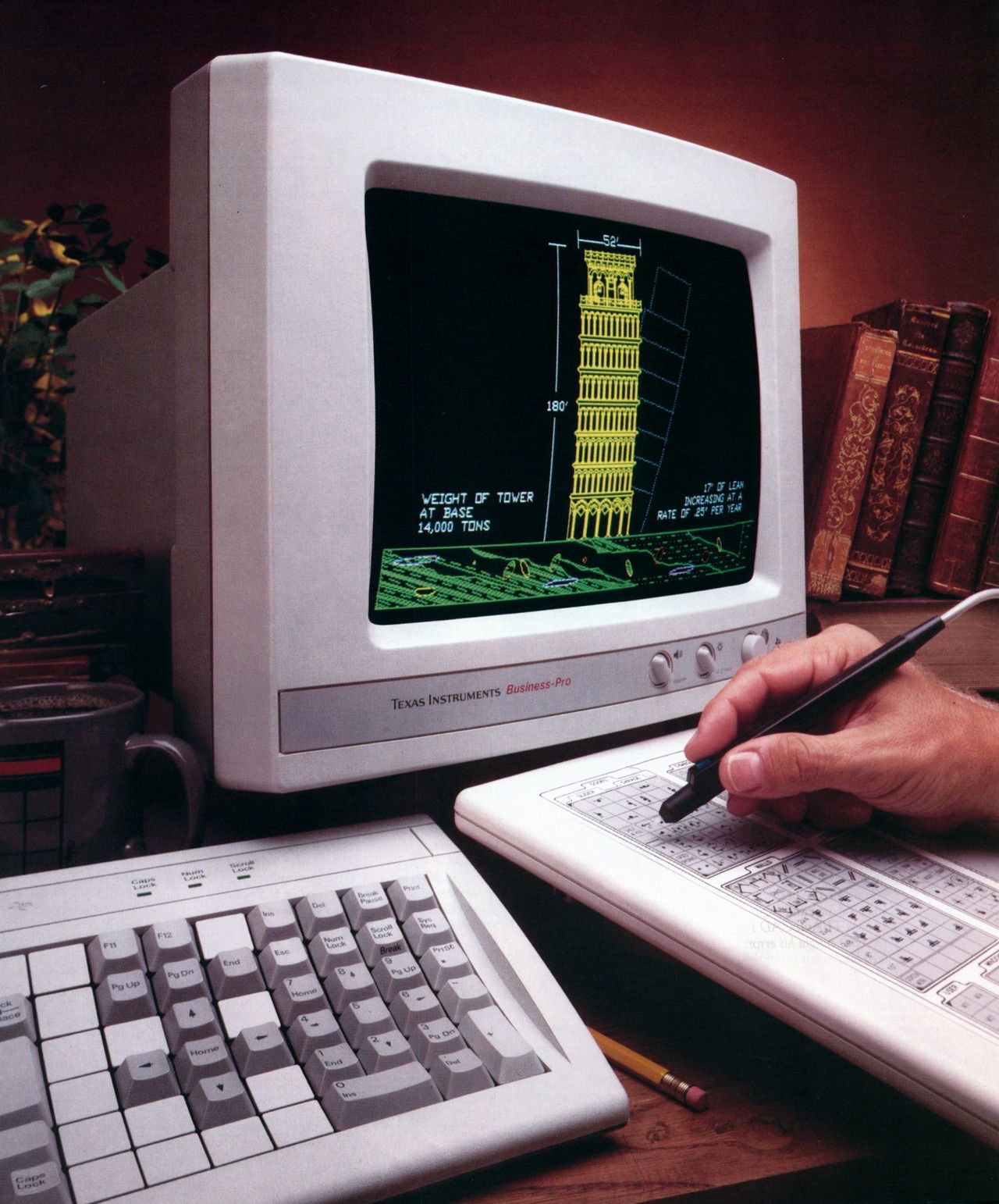 I'd start with a solid morning routine.
My clients deserve the best version of me — and that's the version that's exercised, showered, shaved and dressed in fresh clothes.
I never work in my pyjamas.
Remote work might require you to invest time upfront to reprogram your behaviours.
For my first two years, I had no Netflix, computer games or films. I only let myself do these things once I started to make decent money.
Ironically, I became much more productive when I decided that I would always prioritise my exercise and sleep ahead of any client work.
"Protecting your mental health" doesn't mean freely missing deadlines.
It means that you prioritise your relaxation, diet and well-being over and above partying and computer games — so that you can hit your deadlines.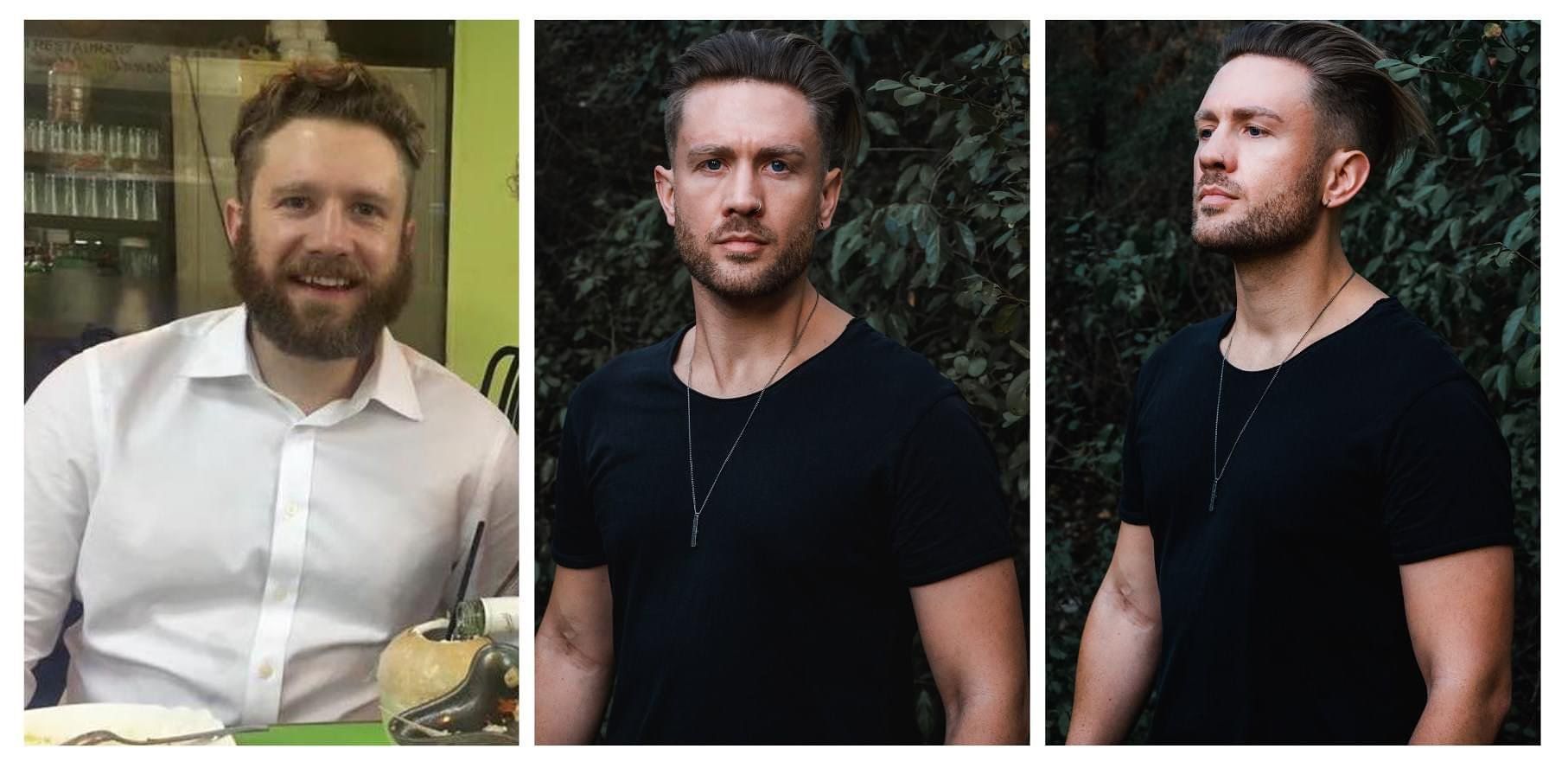 Ultimately, remote work is an amazing opportunity to reprogram the way that you think, work and behave — so that you can build a better lifestyle.
If that requires two or three years in which you work hard and prioritise your career over and above partying and consuming entertainment media — then it's totally worth it.
You'll spend decades of your life at work.
If you invest the work and energy to become a focused and effective creative freelancer, then you'll reap countless big rewards — far beyond your career.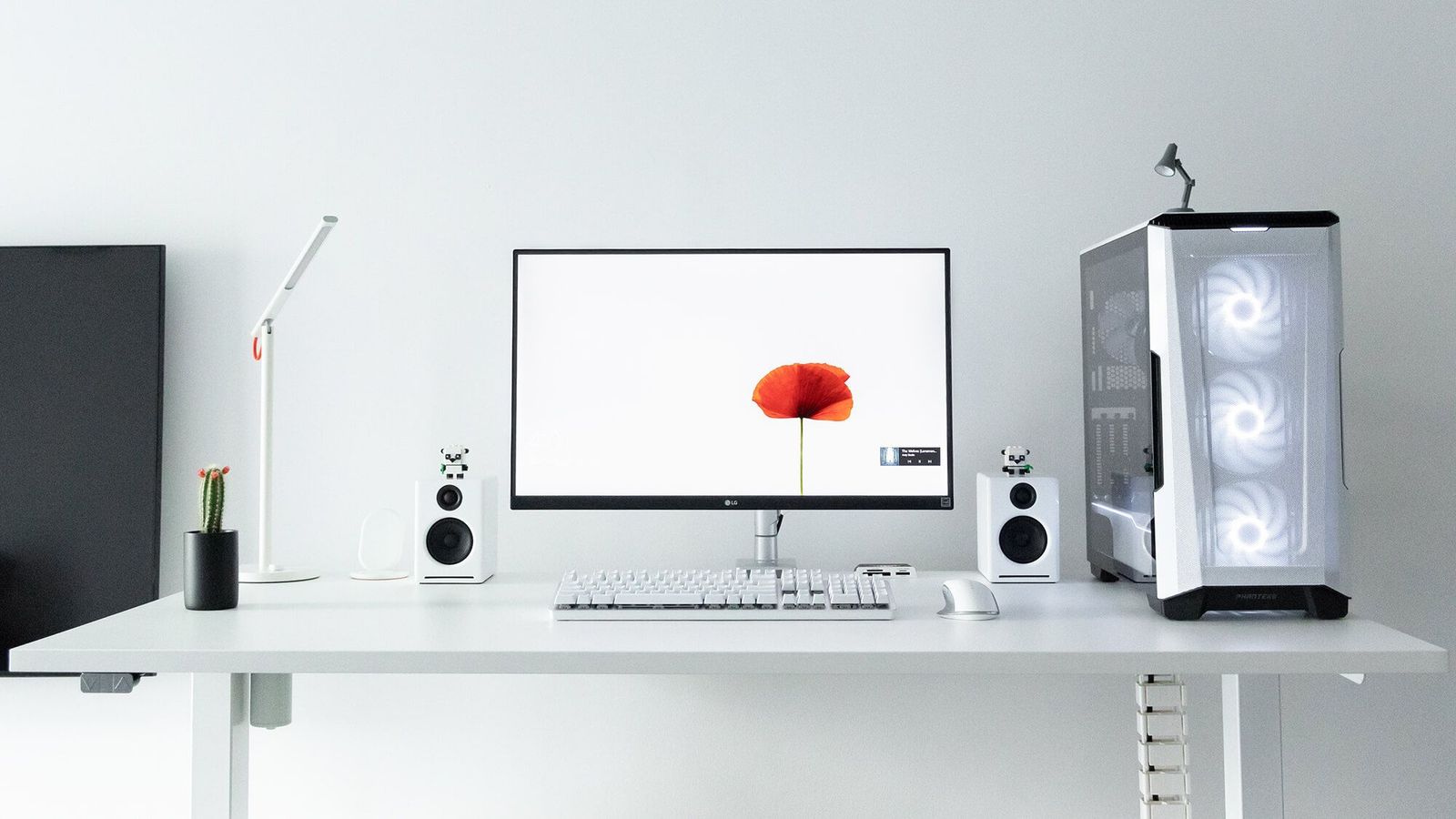 We're a reader-supported publication. This article might contain affiliate links. It means we may receive a commission if you click a link and buy a product that our maker has recommended. The interview was done independently.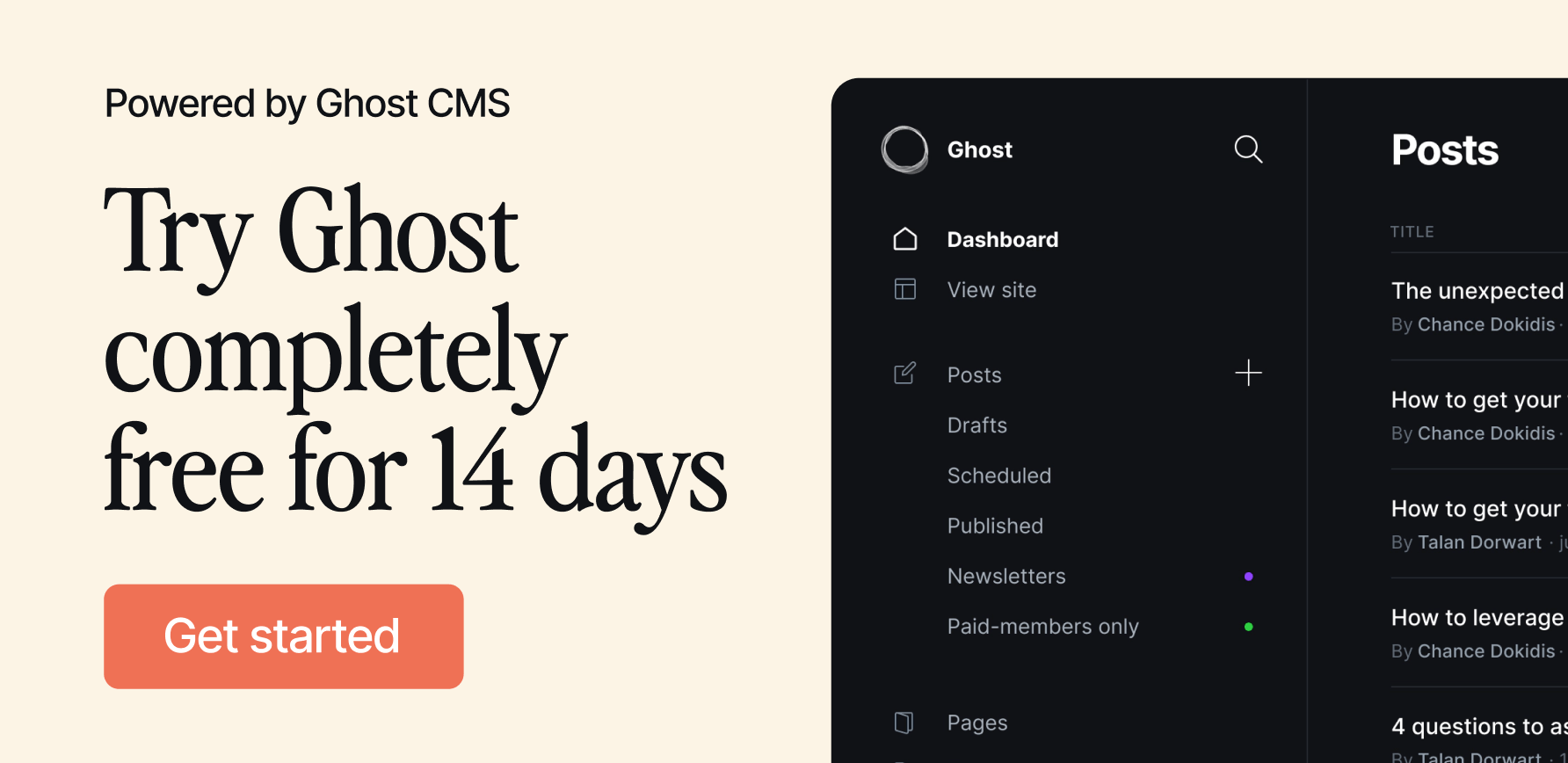 ---