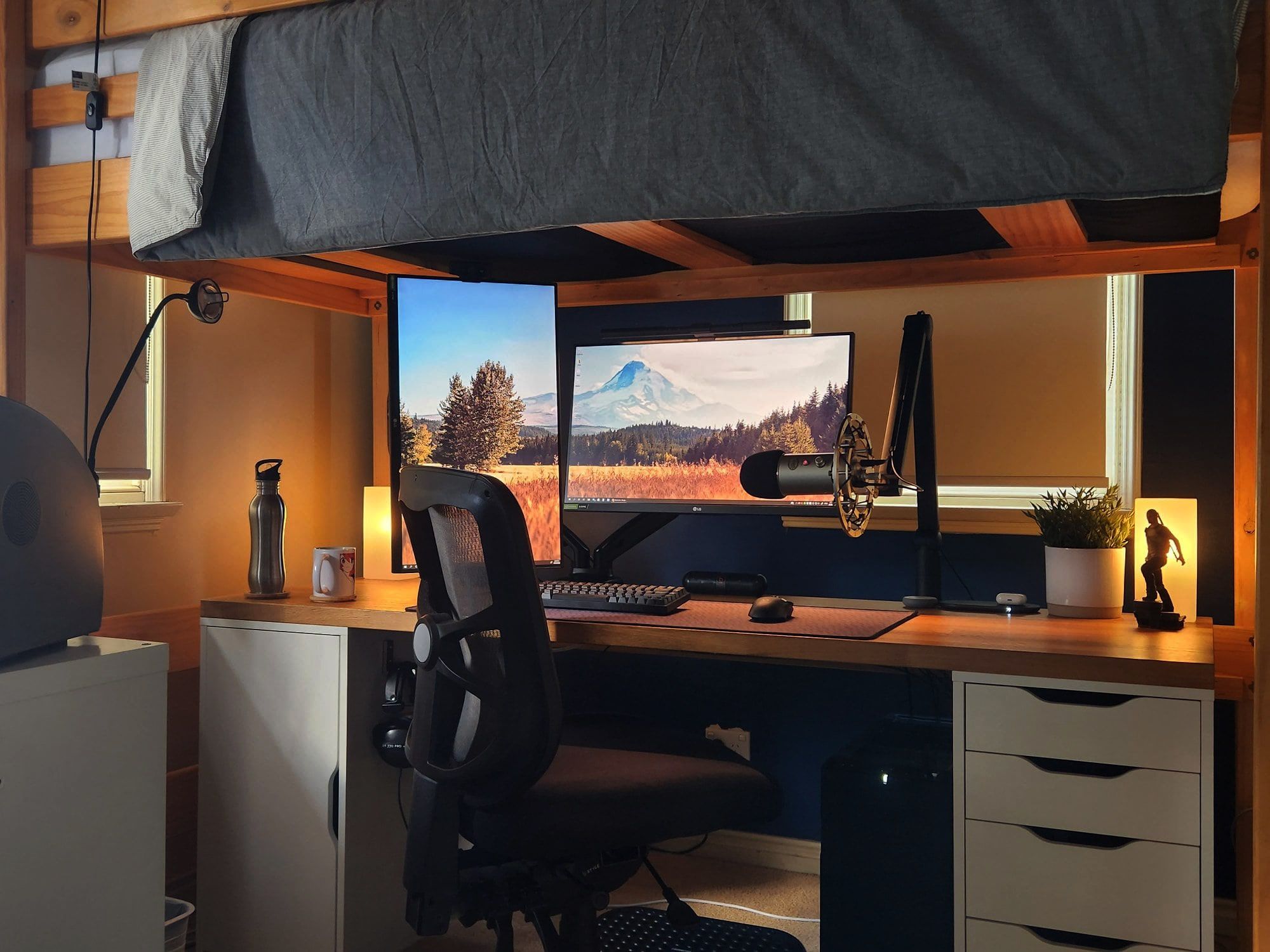 Small Loft Bed Desk Setup in New South Wales, Australia
"If I feel nostalgic on a particular day, I will chuck a disc in my PS2 and pretend it's 2005"
Join 1700+ Curious Readers.
Every Sunday evening, get an *in-depth* workspace tour from a random corner of the world.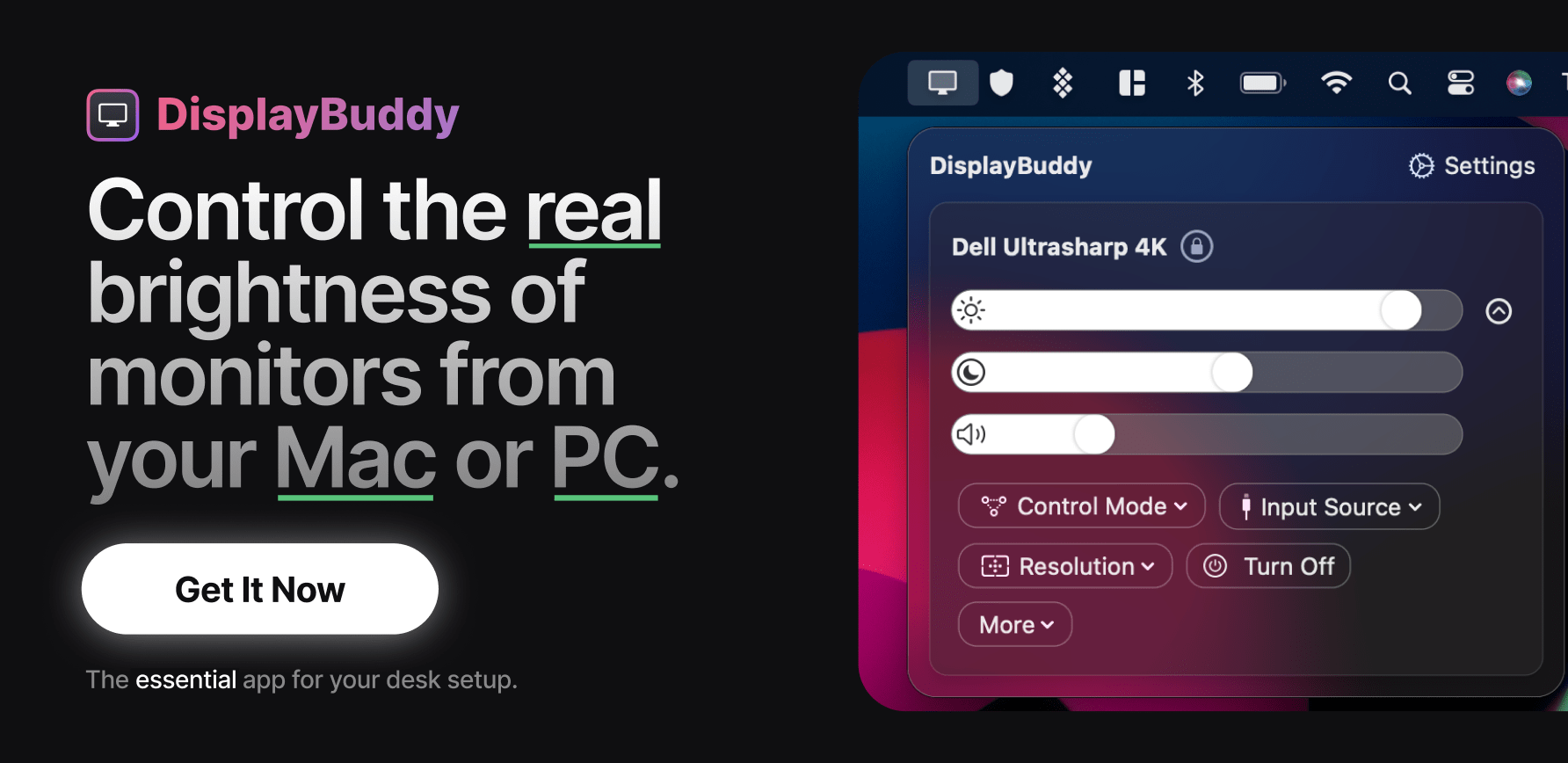 Name: Raymond Cripps
Location: New South Wales, Australia
Occupation: Game Developer & Content Creator
Room size: 13,5 m² (145 ft²)
Social media: Instagram, TikTok, Twitter, YouTube
Hello! Tell us a bit about yourself
I'm Raymond Cripps, an independent game developer working on my first commercial game, Project Feline.
Project Feline is an anime-inspired 3D platformer starring Gabi, a feline-human hybrid who can run on walls, grind on rails and build insane momentum.
Through mastery of Gabi's unique abilities, players traverse complex environments as fast and stylishly as possible.
I've been interested in game development, filmmaking, music and storytelling from a young age.
I spent my childhood dreaming up my own worlds, stories and characters. I envisioned that someday I would make that world real, and I'm taking my first step with Project Feline.
I still have a way to go, but I have learned so much since starting this project and am excited to see it through.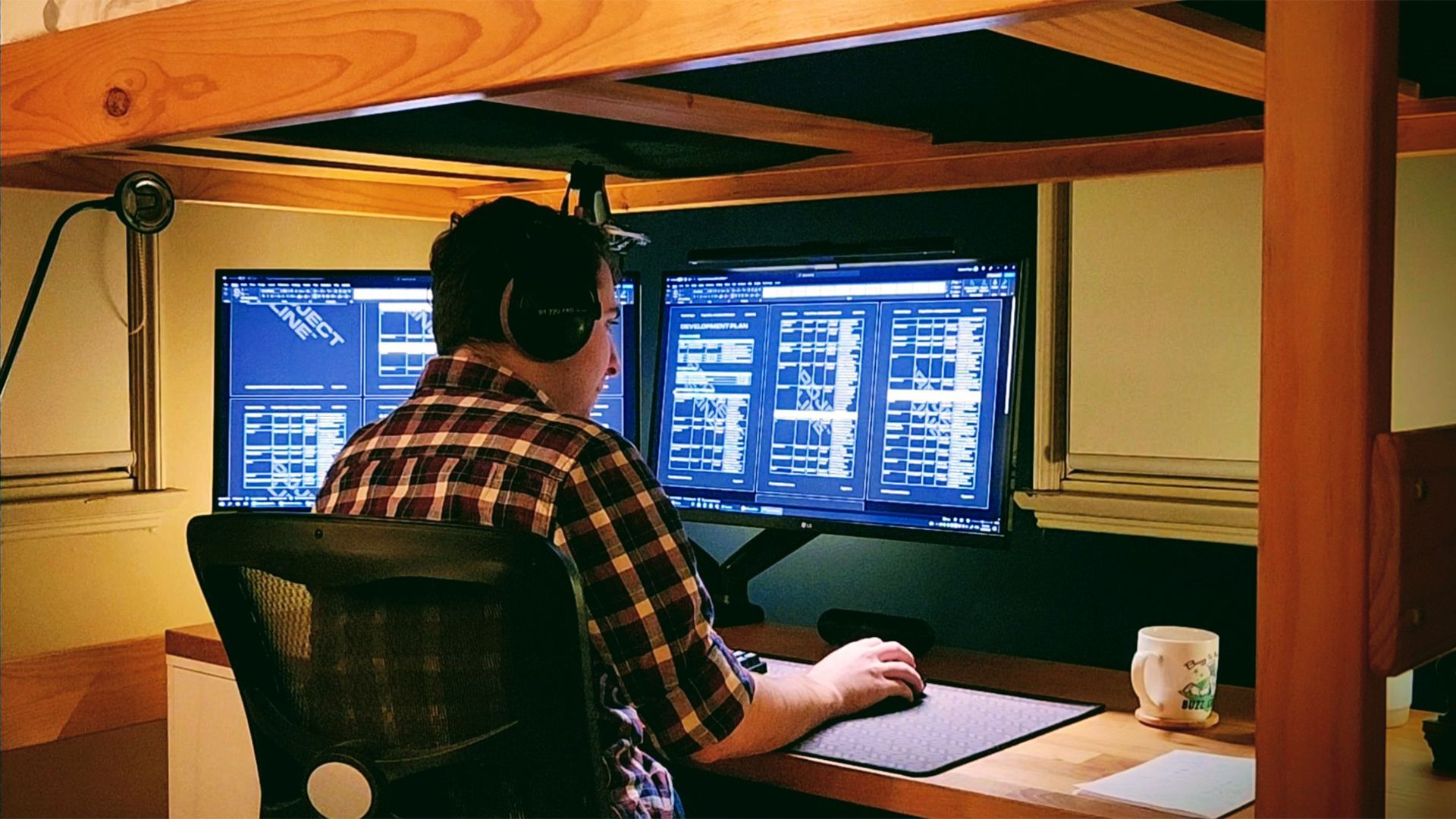 I have regularly been producing devlog videos on YouTube to document the game's development.
I feel very fortunate to have cultivated a following of people who enjoy my game so far and are interested in an honest look into the hardships of game development.
I occasionally create illustrations and compose music on the side.
Take us through your setup
This is my bedroom. I have divided my room into two halves.
The far side features the loft bed and desk setup, and the near side features the couch, PlayStation 2 and CRT television.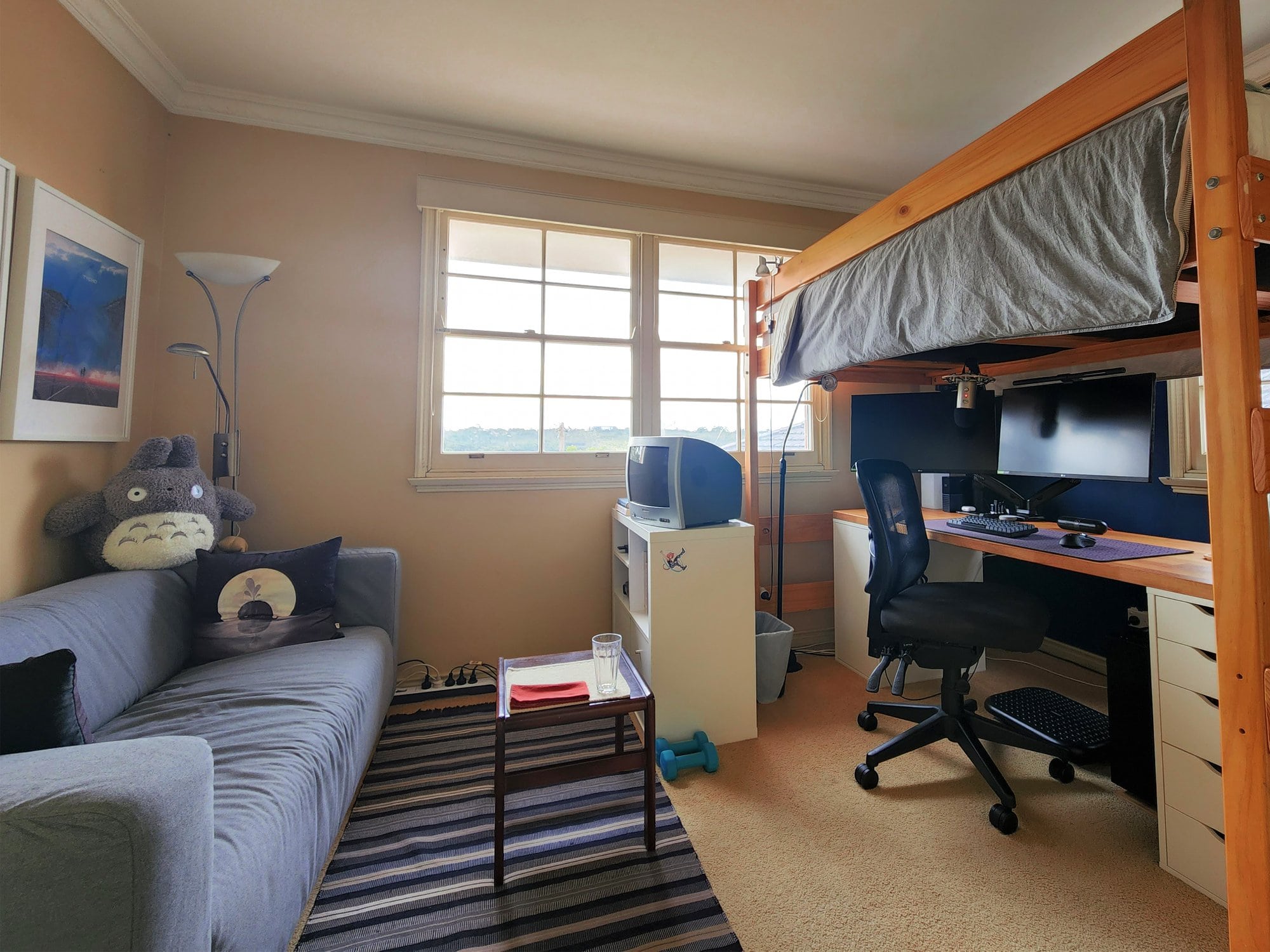 In my workstation, I have an IKEA kitchen top as a desk sitting atop two IKEA ALEX storage units.
I have a UPS installed in the left cabinet that supplies power to the setup. I also use a cable tray and lots of velcro strips to hide most of the cables routing to the UPS.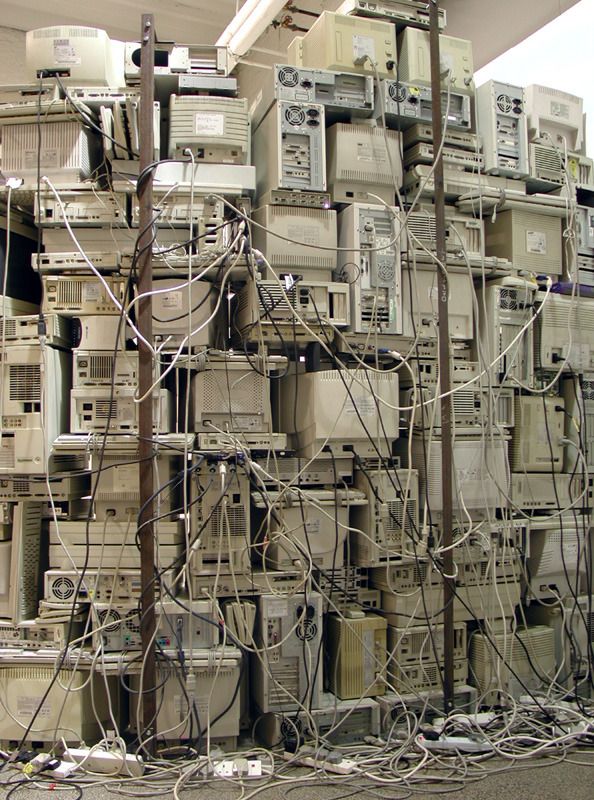 I have my custom-built PC placed under the desk, resting on a wooden slab to avoid igniting the carpet.
I have two 27″ monitors, a microphone, a webcam, and peripherals hooked up to them.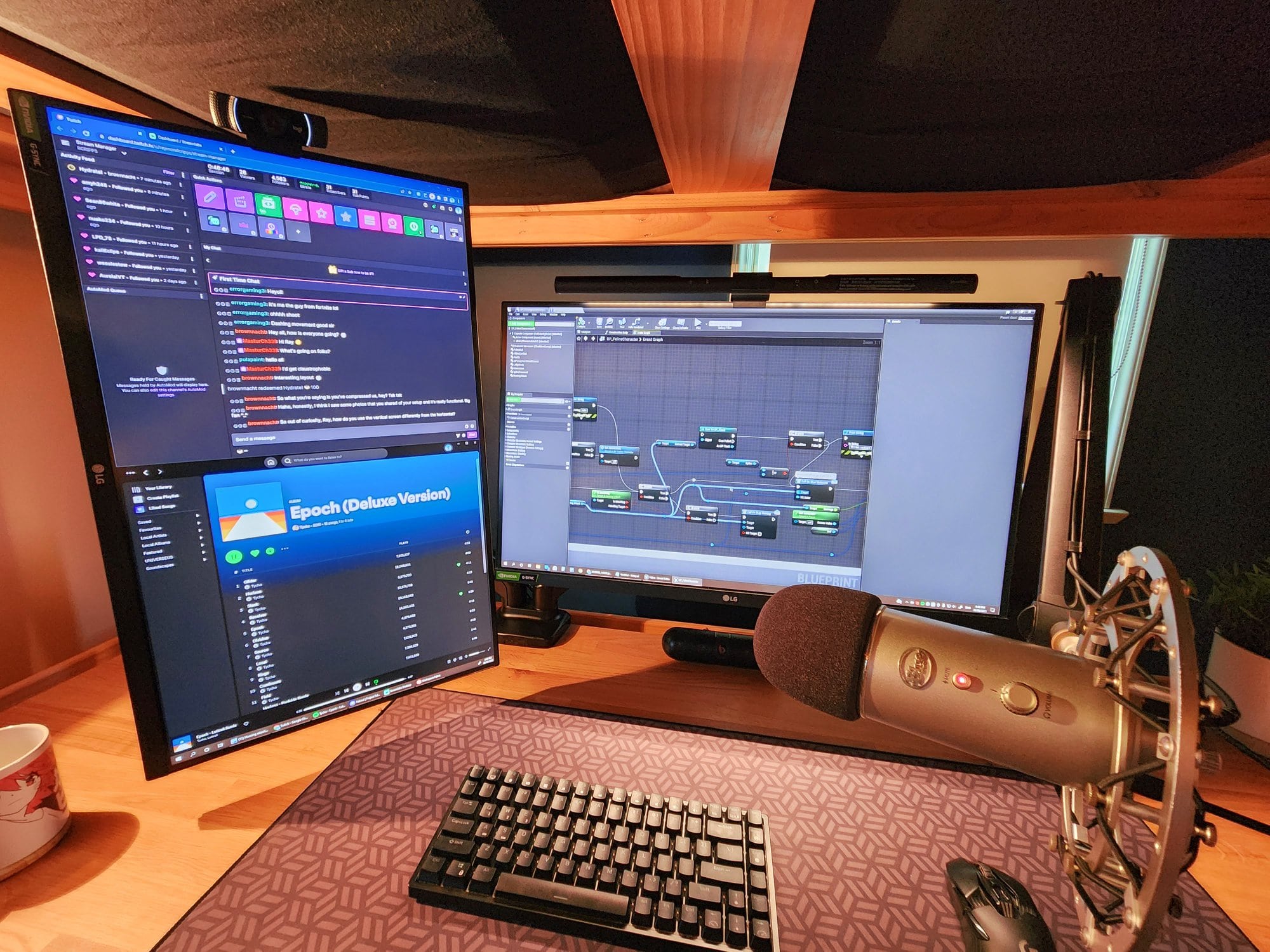 I have gone back and forth between dual monitors in the past, but when I started streaming, having the two monitors became a necessity.
I recently started using my secondary monitor vertically.
While working, I've started placing one program in the top half, like my web browser or live chat.
Another is in the bottom half, like my Trello board, while using my main monitor for my game engine or art program.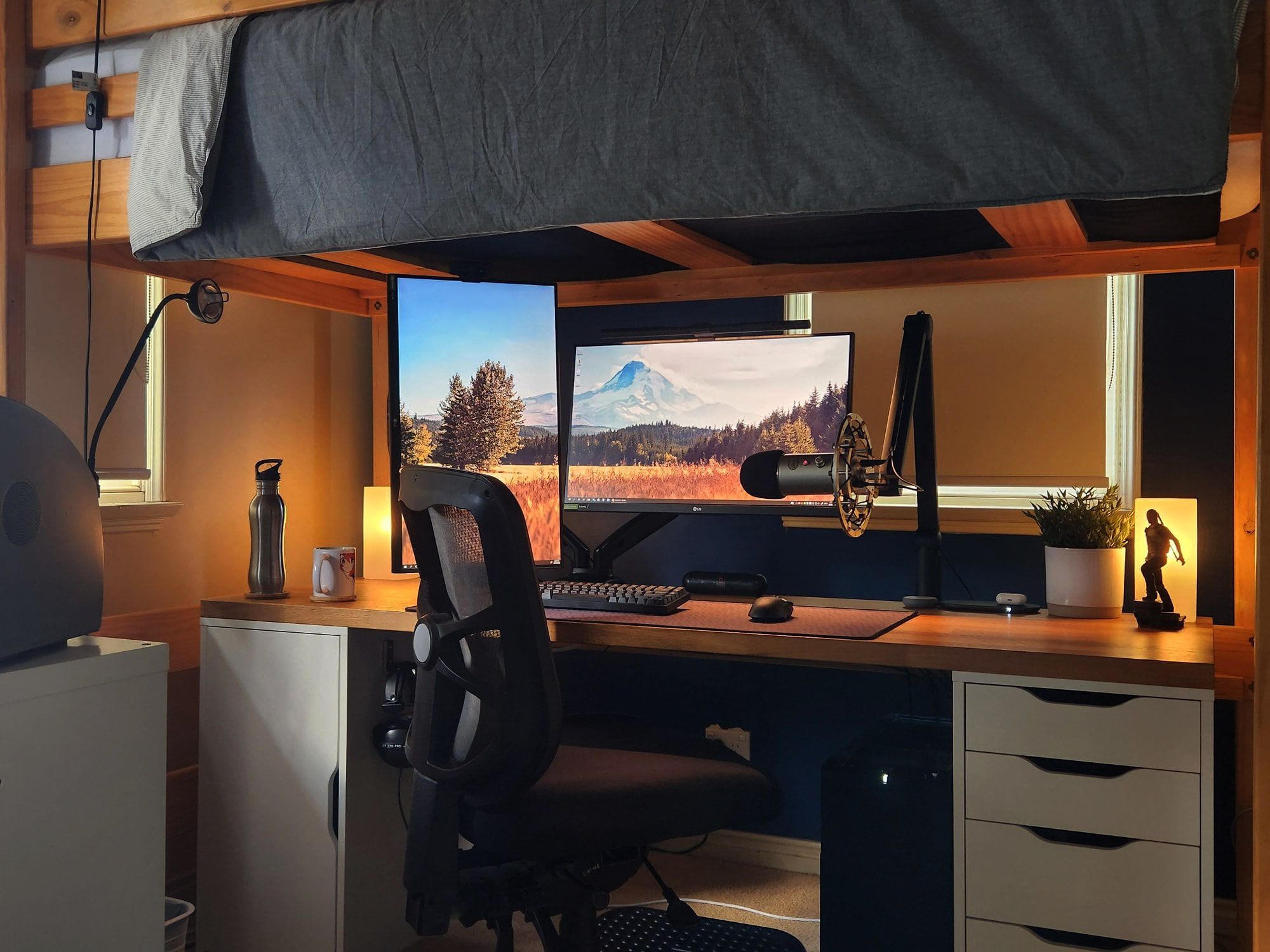 My recreation half is on the west side of the room, closest to the door.
I have an IKEA couch against the wall, with some old posters from my favourite artists and bands hanging above it.
I have owned these prints for over eight years, but I only recently stopped blu-tacking them to the wall and bought actual frames.
I wish I had done so sooner because the corners for these are all but destroyed. Thankfully, the frames hide it well.
Across from the couch is an IKEA shelf unit.
I keep my PlayStation 2 and Nintendo 64 on this shelf, with a collection of games stored in the cabinet unit below.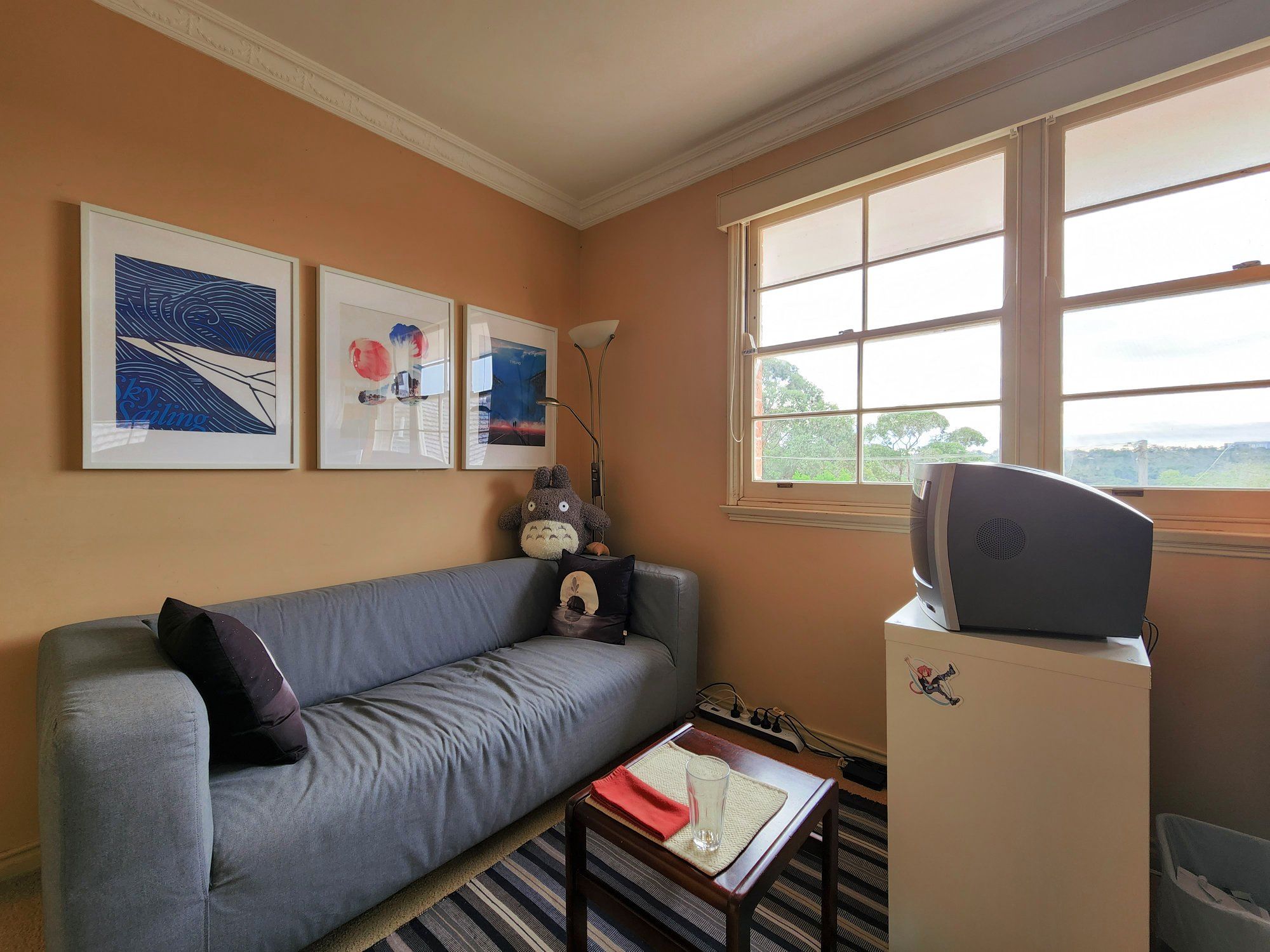 The PS2 holds a special place in my heart as it was the console that ignited the spark for me to start pursuing game development.
Atop the shelf, I keep my prized cathode-ray tube TV.
These were abundant in my childhood, and I have wanted to buy my own one for a long time as playing retro games doesn't hit the same on an HD flatscreen.
There is a certain intangible magic of the curved glass display and visible scanlines.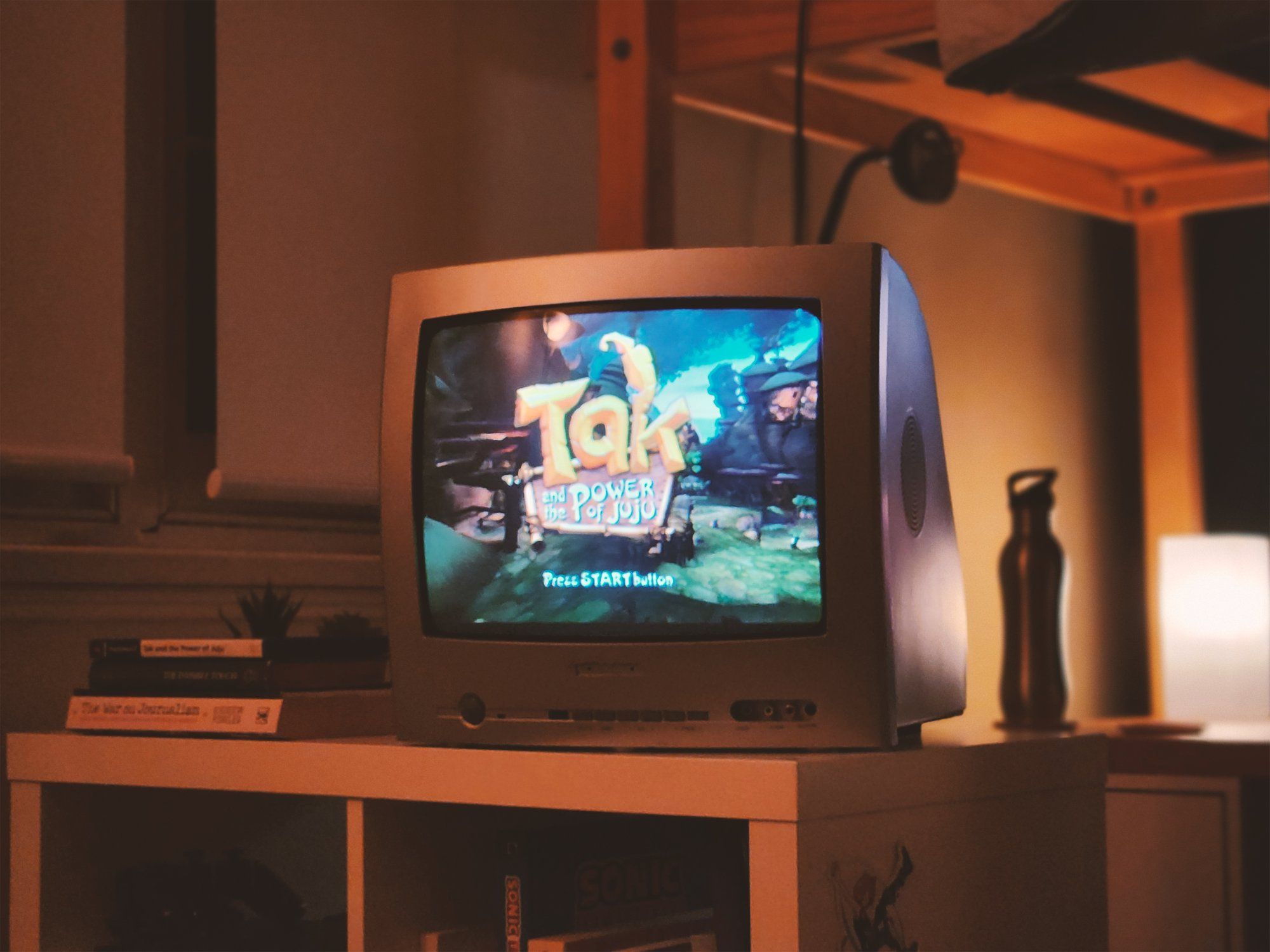 Last year I found some guy online selling a used 13″ CRT for thirty bucks.
The two-hour drive to collect it was the most exciting drive of my life.
It now sits proudly in my little retro zone, and playing Tak and the Power of Juju has never felt more authentic.
There are two fitted wardrobes on the south wall. I use one for clothes and the other for storing physical documents and boxes.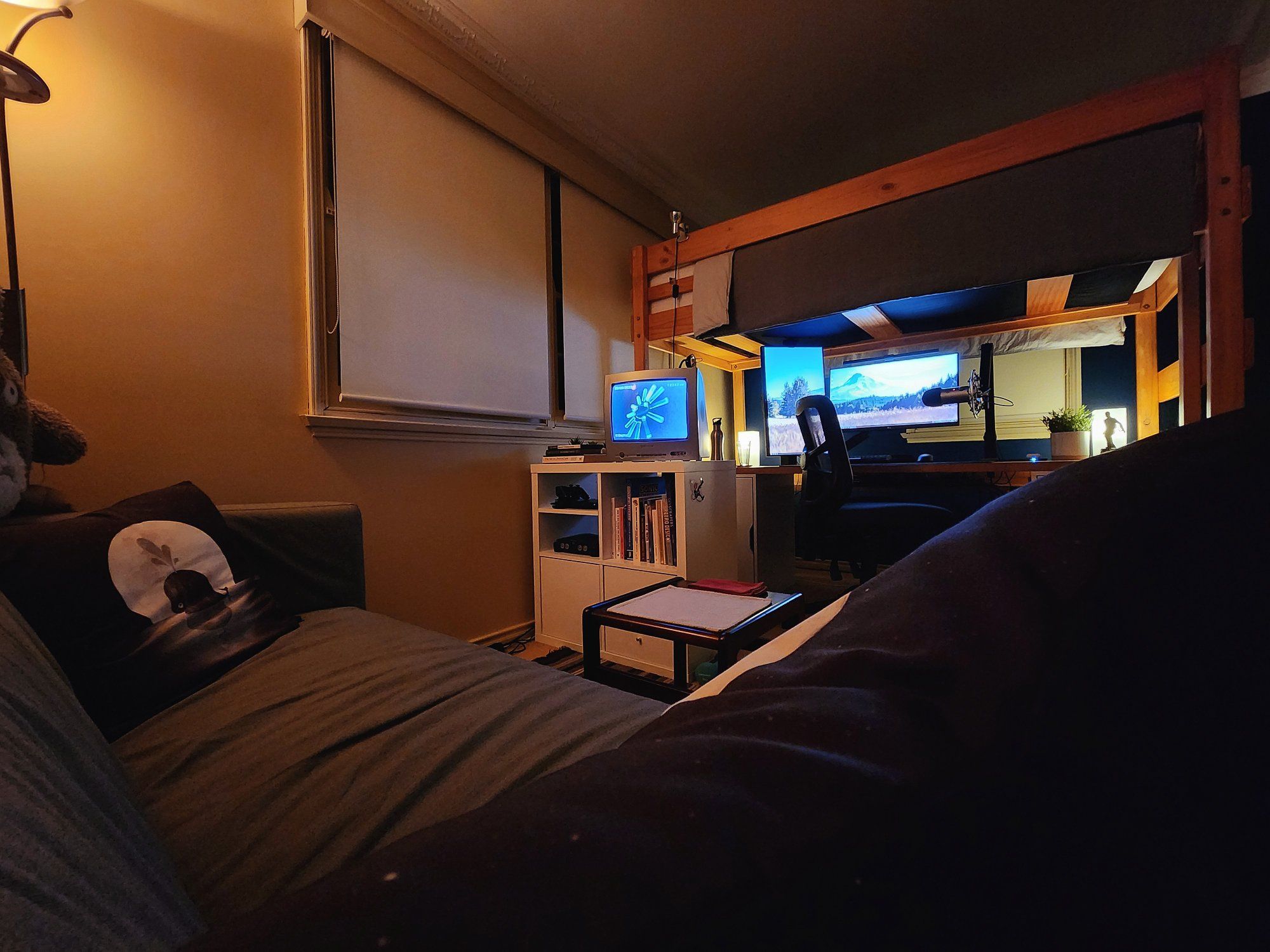 This room has undergone many gradual changes. I have owned most of the equipment for over five years.
My most recent addition was last year when I replaced my travel headphones with studio headphones with better cups that hopefully won't start peeling off in the next few months.
The custom PC was the most challenging item to build.
This was the first PC I had ever built.
While I had researched each component carefully, I had no idea how well they would fit together in practice.
It took about a day or two to get running. I did not have a desk surface to build on at the time, so I built it on the floor.
I was really worried about losing screws under the furniture.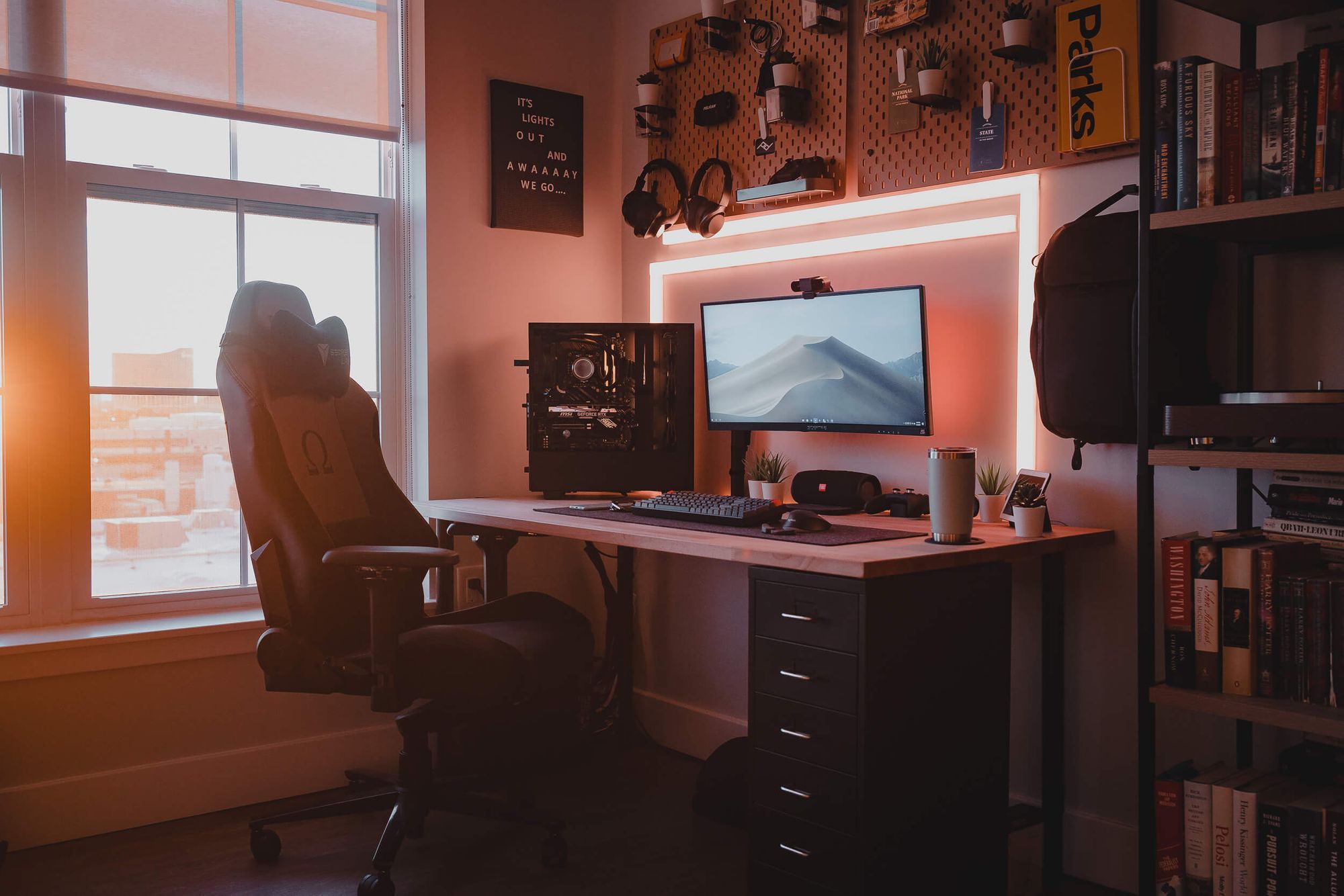 I'm very satisfied with the amount of natural light in the space.
There is a small window on the far east-facing wall and a wider window on the north-facing wall.
I usually keep my blinds halfway down to reduce glare during the day, but on days off, it's nice to let all the light in.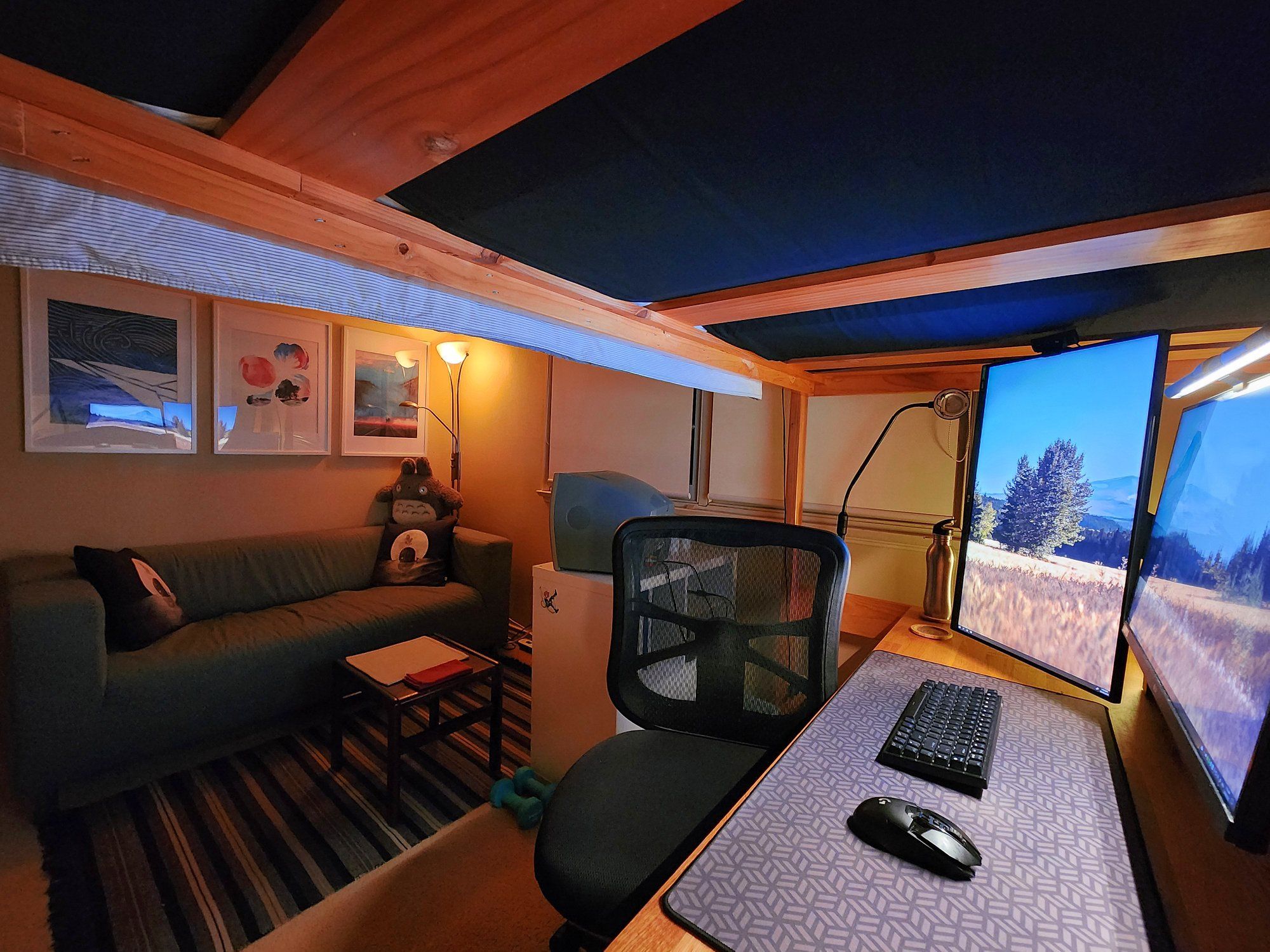 The loft bed can be a bit high maintenance sometimes.
The first thing I do every morning is make my bed, and it can be a challenge when the bed is suspended above your desk.
It would be a lot easier to maintain if it sat on the floor, but then I would not have room for a couch.
I do wish I could keep the window on the east wall unobstructed, but the bed will only fit in that corner.
I'm satisfied with my current setup.
There is nothing I have in mind to change.
If I had to change something, I would choose to upgrade my CPU as it would be helpful for my video editing and programming.
What's your favourite item on your desk?
My favourite item on my desk is my Cole MacGrath figurine.
He keeps a watchful eye on me to ensure I stay on task.
This statue came with my edition of inFamous 2 that my uncle gifted to me.
To this day, it is still one of my favourite games.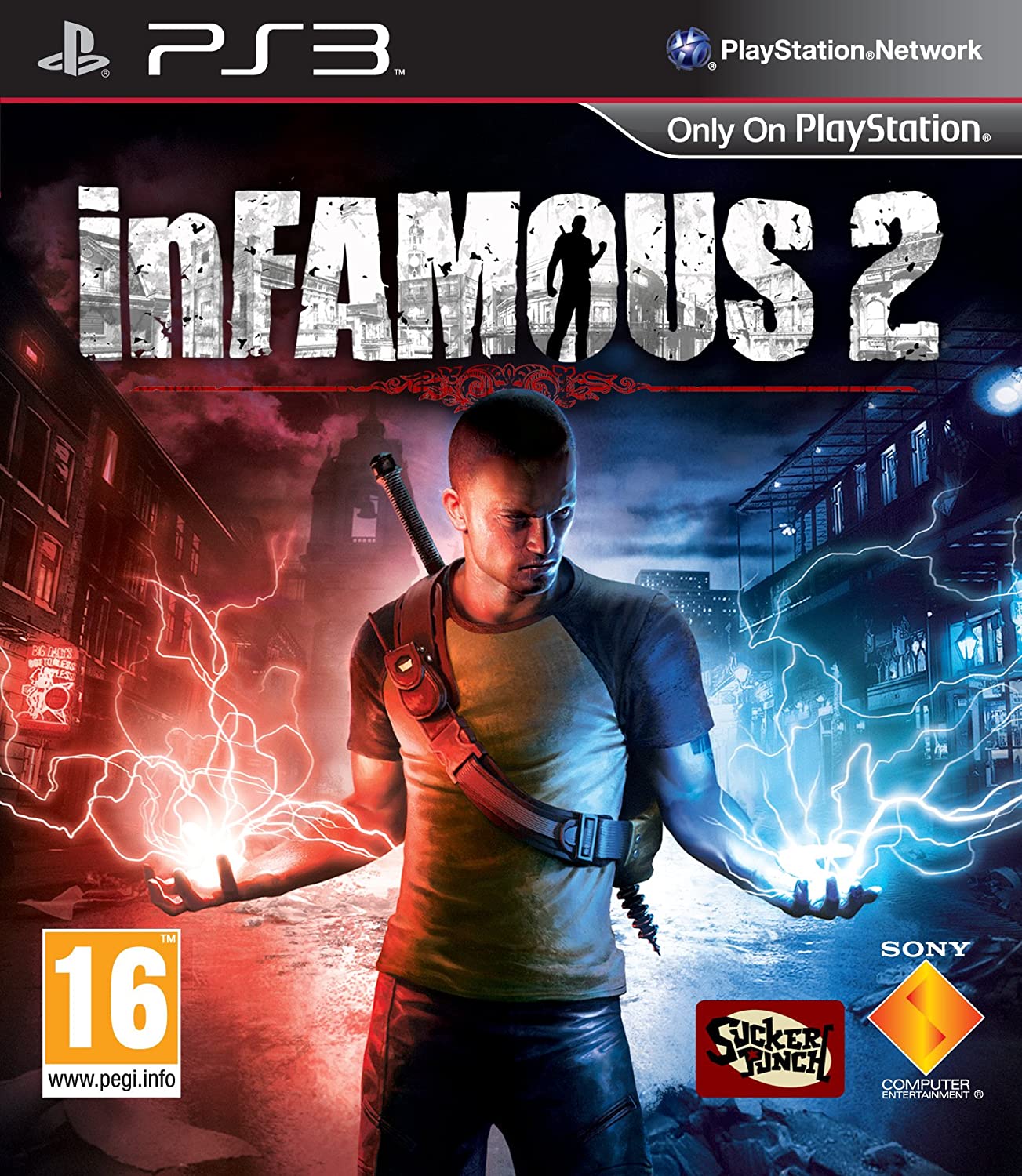 I have included this item in all my setups since 2012. I really like the design of the character.
I hope one day I can make a figurine this good for the characters in my game.
What apps or tools do you use to get things done?
I use Unreal Engine from Epic Games to program and develop my upcoming game, Project Feline.
It is incredible what a single individual can accomplish with these tools, and I'm amazed Epic Games gives this engine out for free to upcoming developers like myself.
Unreal includes a unique visual scripting system that allows more art-oriented people like myself to approach the daunting task of programming.
I feature my use of Unreal heavily in my ongoing devlog series.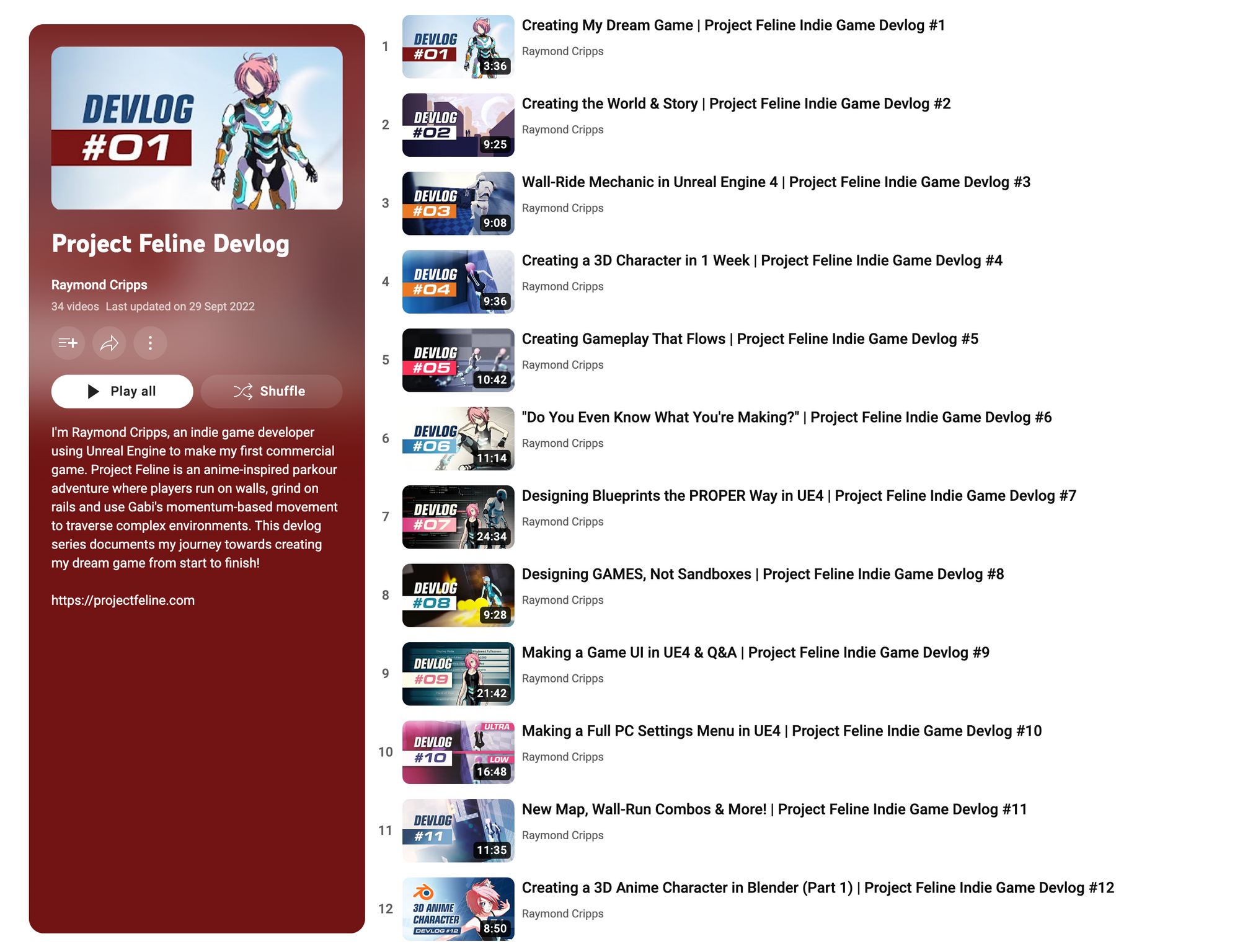 I use Blender for 3D modelling and animation.
I'm often recognised in the online Blender community for my Creating a 3D Anime Character series, where I showcase my process for creating a 3D game-ready character from scratch using Blender.
I use Quixel to source additional 3D assets for Project Feline's environments and Adobe Creative Cloud for various other tasks.
I find Premiere Pro handy for video editing, Photoshop for illustration, texturing and visual branding, and After Effects for the occasional effects work.
I use Logic Pro to compose and produce music for Project Feline and my other musical projects.
I use Trello to manage the project. It provides a simple and easy-to-use Kanban system, allowing me to easily plan and organise my tasks and development milestones.
Plastic SCM for source control allows me to keep incremental backups of my entire project for both myself and my contractors. It has excellent pricing and merging tools.
And finally, Spotify. I constantly need music playing.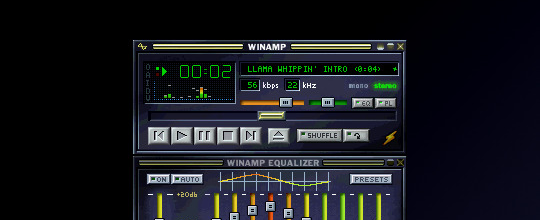 What books, blogs or podcasts recently caught your attention?
I recently started listening to AMC's Better Call Saul Insider Podcast.
Those who know me personally know I am not much of a TV guy, but Better Call Saul is something else.
I was so fascinated with how the producers, writers and directors were able to tell an intense, character-driven story with such high attention to detail.
I learned so much about their writing process from the first couple of episodes.
I hope to learn more so that I may incorporate their wisdom into my own future projects.
Any tips for other makers who want to improve their workspaces?
Only keep what you love, discard everything else, and hide those cables.
It may not seem important, but that visual clutter can make it much more difficult to focus.
I have more equipment around my workspace than meets the eye, like my graphics tablet, controllers, spare cables and even a MIDI keyboard.
But if I'm not using them, I put them in a drawer, out of sight.
If you can't pick what to discard, start with cable management.
Wireless peripherals and some cheap velcro strips are amazing for that.
What does your typical day look like?
As an indie game developer, I work from home and am responsible for my own schedule.
I'm a night owl and can easily work through the night, but I struggle to get up early.
Sometimes, I get bad insomnia, so I just stay up the whole night and into the next day in hopes that I feel extra tired when night comes again.
When I do wake up, I make my bed, shower, eat and caffeinate.
I then open my Trello board and assess what tasks need to be done for Project Feline.
I use the "Eisenhower Principle" to prioritise assignments and chores, whereupon tasks are organised based on their importance and urgency.
"Important" doesn't always mean the same thing but often relates to a task's importance concerning a specific project milestone.
I will first prioritise tasks that are important and urgent.
For example, last week, I had to program a new game mechanic, which needed to be implemented into the game by the end of the week.
When those are done, I will move to urgent but unimportant tasks, like getting my driver's license renewed.
Then, I will move on to tasks that are not urgent but important. This is normally about work that becomes urgent later, but I try to chip away in advance when I get the time.
For example, I don't plan on launching my game for a while, but I have spent time working on my marketing strategy.
And finally, tasks that are not urgent and not important are the lowest priority. This would include things like responding to comments.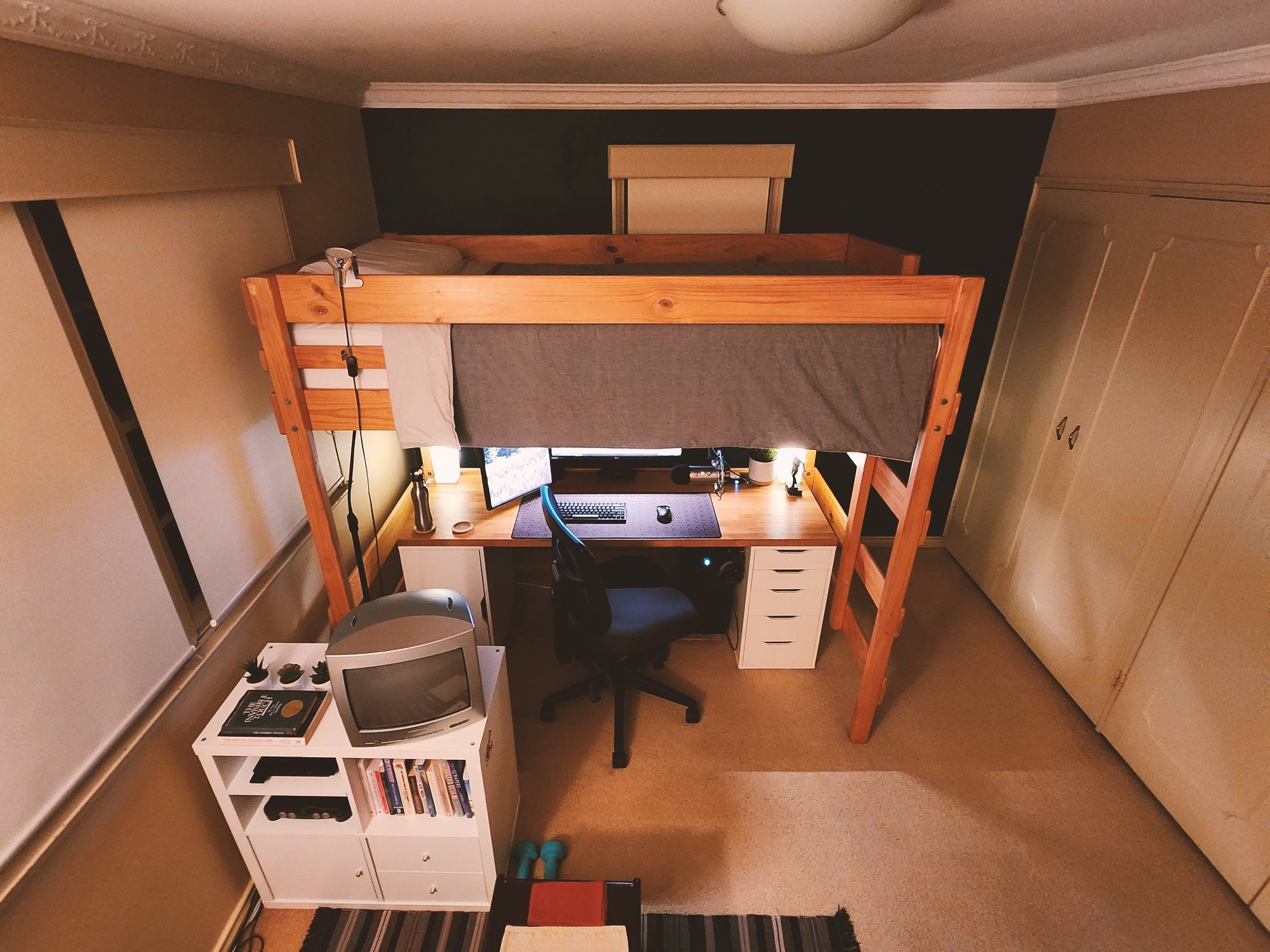 I usually spend the whole day in this chair unless I'm eating.
At sundown, I will go for a fifty-minute walk in an attempt to remedy the long-term damage I'm likely causing my body with this sedentary lifestyle.
It probably is not enough exercise, but it is better than nothing.
I like walking in the evenings because it is colder outside and I'm less likely to sweat.
I'm constantly thinking about Project Feline and have difficulty switching my brain off.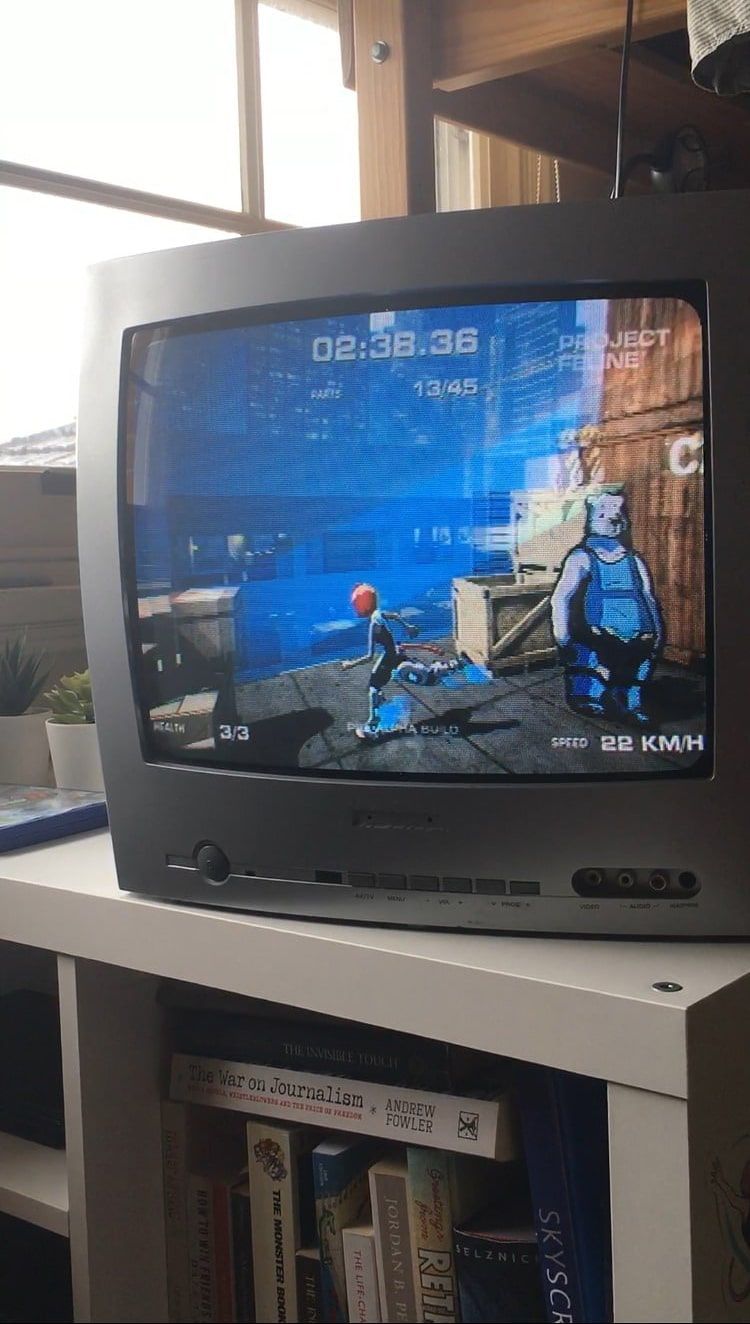 When I'm not behind schedule, I try to stick to a wind-down routine when the clock ticks past 10 pm.
I will leave my computer and watch an episode of Better Call Saul.
I work for at least a couple of hours on weekends to keep my momentum going.
I play video games on my setup when I get a spare moment. My favourite game to play at my desk is The Elder Scrolls V: Skyrim.
If I feel nostalgic on a particular day, I will chuck a disc in my PS2 and pretend it's 2005.
Nothing quite hits like playing a mission of Ratchet: Deadlocked on a rainy afternoon.
Your tips for working from home?
It can be tempting to let your sleep schedule slip when you are your own boss.
While my hours are entirely up to me, I would not recommend you make a habit of going to bed at 4 am — that damage is hard to undo.
Letting in natural light and going on evening walks have helped me stay balanced.
I've always been interested in photography as a hobby, so I always take my phone with me on walks.
Even if I don't feel like walking that day, I can at least go out and get some shots.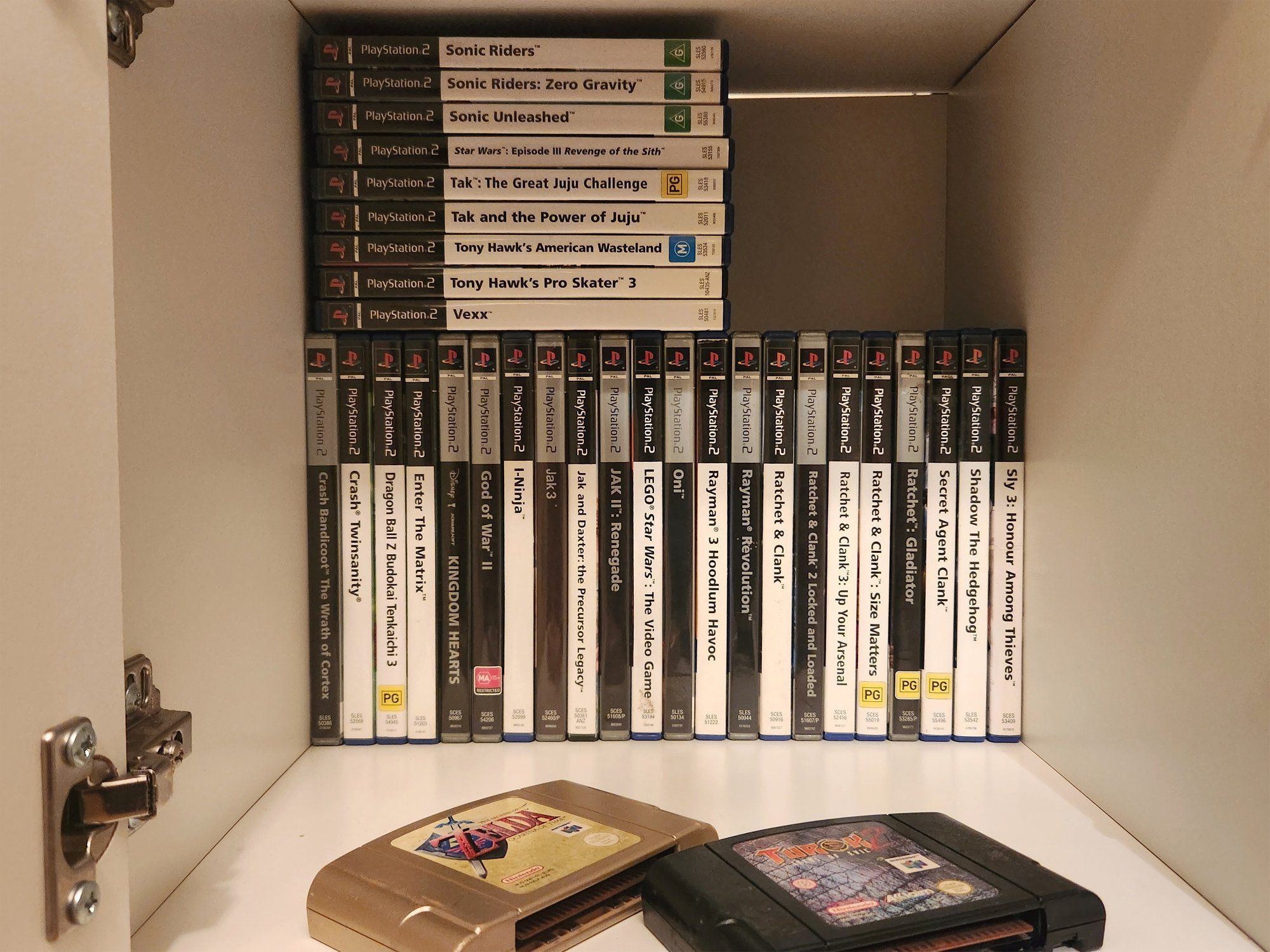 If you recently started working from home, your priority should be to try to make your workspace clutter-free and comfortable — getting those right will make it much easier to focus.
Clean and maintain your setup regularly — if you take care of your gear, your gear will take care of you.
Invest in quality equipment if you plan on working from home in the long term.
I honestly do not remember how much my equipment costs because I bought most of it years ago, and it has lasted so long.
Most importantly, try to find a good chair that you can sit in for eight hours straight without feeling sore.
I very rarely get a sore back or RSI [repetitive strain injury] thanks to the chair.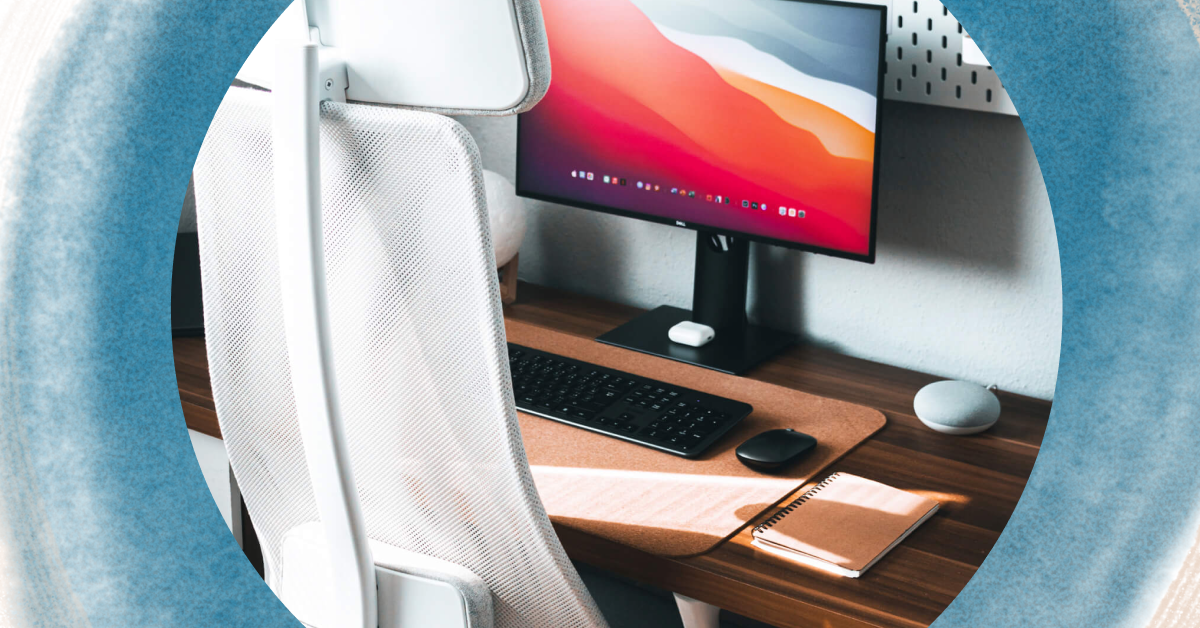 We're a reader-supported publication. This article might contain affiliate links. It means we may receive a commission if you click a link and buy a product that our maker has recommended. The interview was done independently.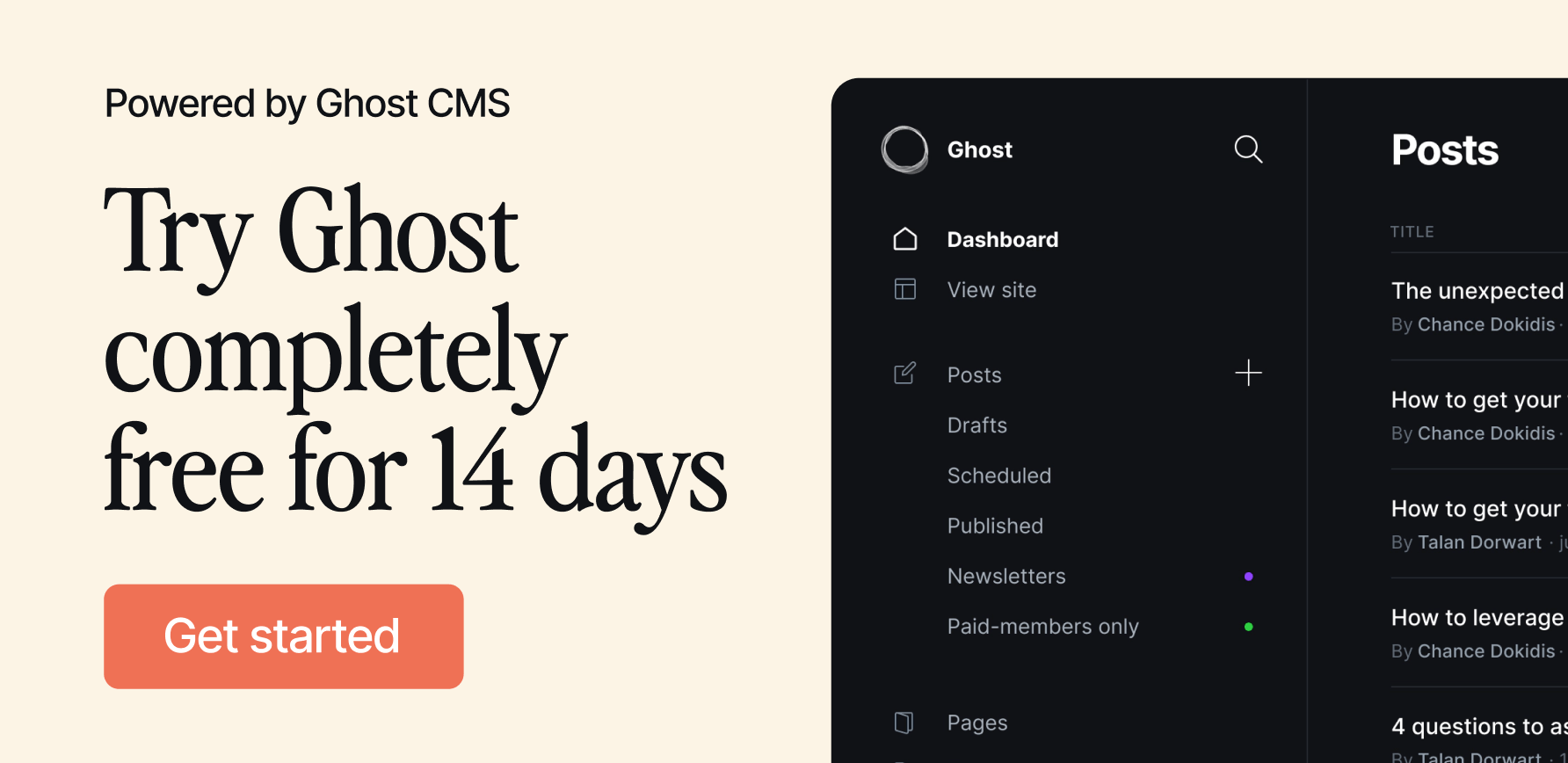 ---