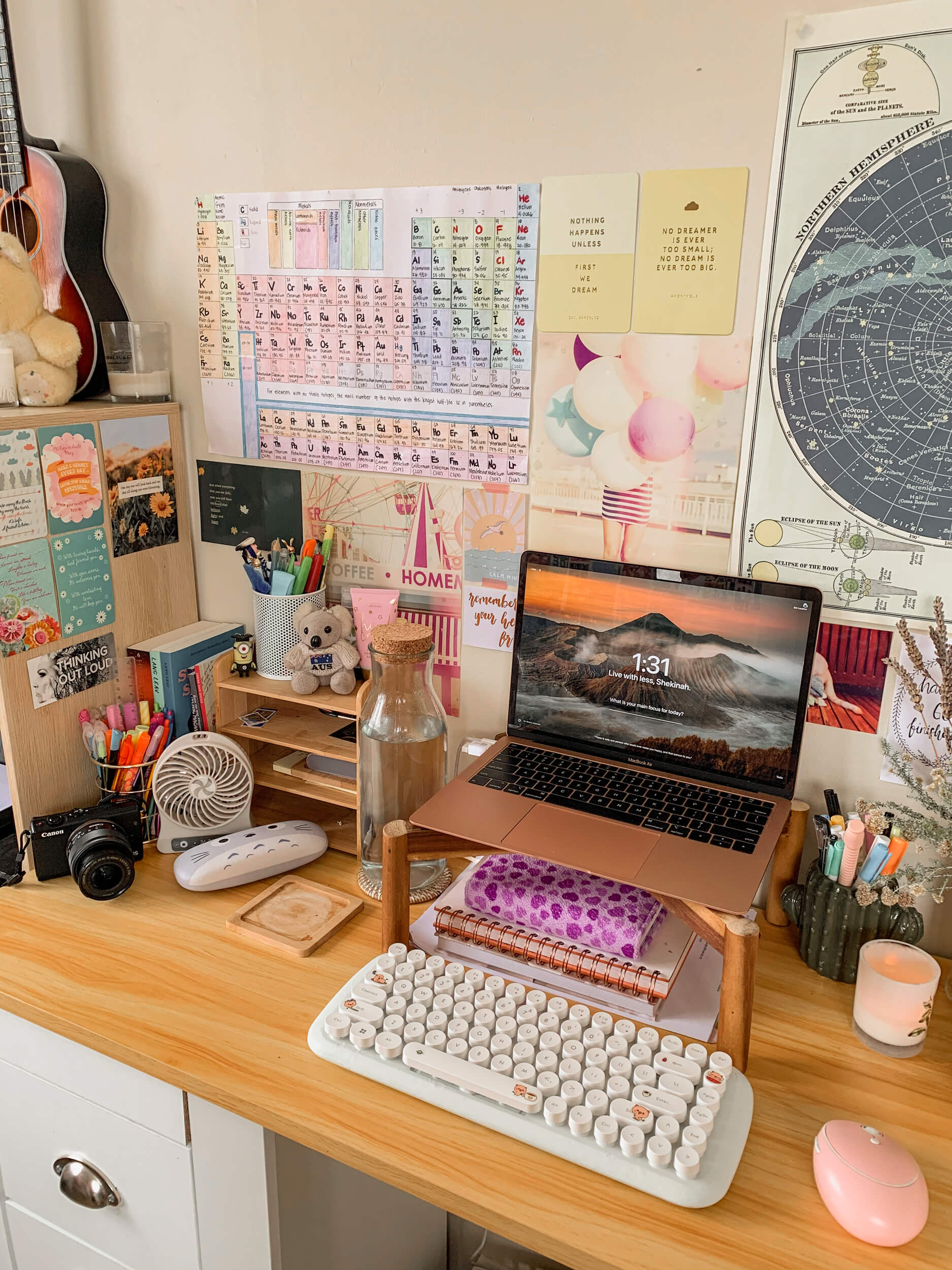 Studygram Setup in Wellington, New Zealand
"I don't like buying expensive items"
Join 1700+ Curious Readers.
Every Sunday evening, get an *in-depth* workspace tour from a random corner of the world.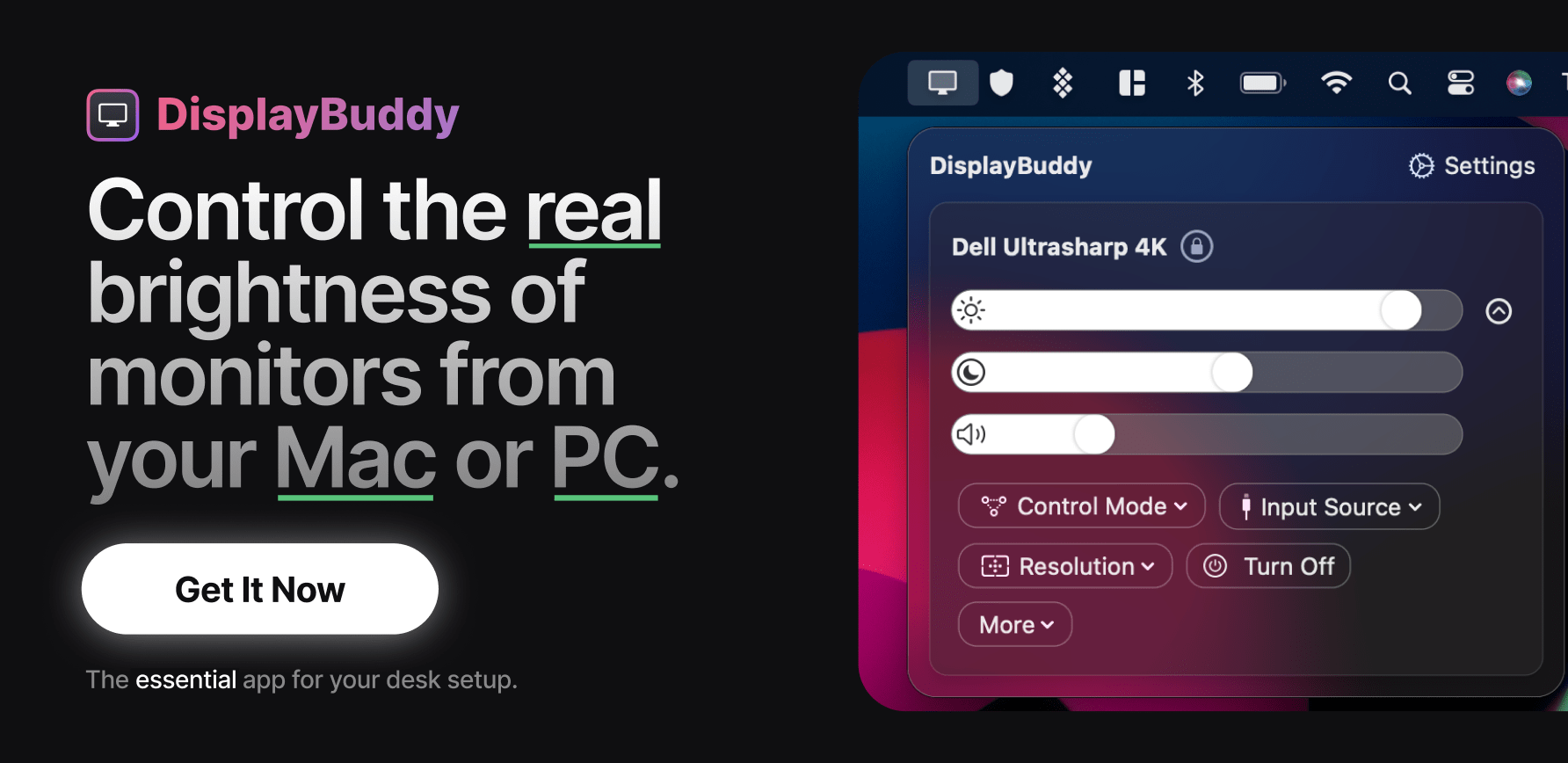 Name: Shekinah Glory
Location: Wellington, New Zealand
Occupation: University Student
Room size: 9,26 m² (99,67 ft²)
Cost of the setup: $2K
Social media: Instagram, YouTube
Hey, Shekinah! Tell us a bit about yourself
Hi, my name is Shekinah. I am a Filipina based in New Zealand. I am currently in my second year, studying BS in Chemistry at Victoria University of Wellington.
I've been residing here in New Zealand since 2015. Through some unforeseen circumstances, I wasn't able to study at that time and had to accept various jobs to support myself.
I experienced cleaning a 2-storey house, cleaning a garden, an office; I also worked at a dairy store.
Finally, in 2016, I was fortunate enough to get a full-time job at a government office even though I didn't have any experience or expertise in that area.
I worked in that job for almost three years. I was able to save money, which slowly helped me pay my tuition and set up my study area.
In 2020, when the pandemic started, personal circumstances happened. They made me struggle hard.
At that time, I discovered the studygram world.
I got inspired by other studygrammers, so I decided to create one as well. Through this and with my newfound friends' help, I survived my first year at the university.
This was also the year when I created my YouTube channel, uploading vlogs, documenting my lifestyle and university life.
I am glad to see both my Instagram and YouTube grow. It may not be as fast as the others, but I am genuinely enjoying it.
I am glad to have found this lovely studygram community. This community made studying more manageable for me, to be honest.
Can you describe your study setup?
This is actually my second study setup.
I am quite an indecisive person — I tend to fix and change a lot in my room and desk.
My desk items are mostly second hand that I found on the Facebook marketplace. I don't like buying expensive items. The desk and chair are both pre-loved, except for the gadgets — I worked hard to buy them.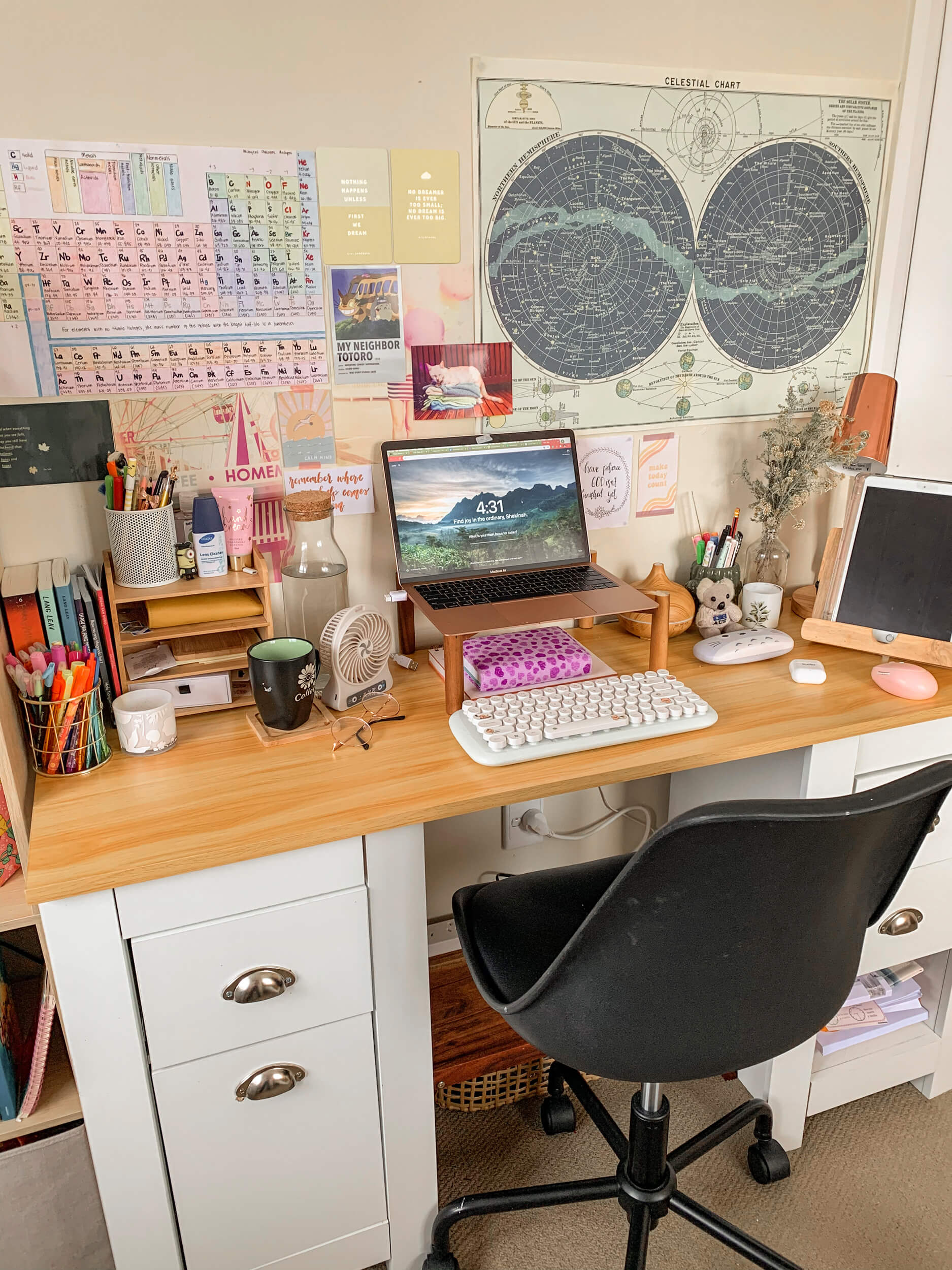 My desk is 135 cm in length and about 45 cm in width. I bought it on the Facebook marketplace for about $56. I am pretty happy with it as I was aiming for that warm wooden colour.
I fell in love with wood accents, so my stuff is mostly in that accent.
The hardest thing about organising my setup is that this bedroom is not mine. My family and I are renting, so it's difficult to design my room with full freedom. There are many things that we are not allowed to do. I am limited to putting some wallpapers on the wall using a blu tack.
I have a pretty tiny room.
As a hoarder, I feel like it's really little for me, plus I have this extra "door" that makes it inconvenient. And I only have a small opportunity to rearrange my stuff.
I purchased my chair on the Facebook marketplace for about $10. It is still in good condition; the size and height are perfect. However, the wheels are kind of stuck and don't work, so I'm having difficulty moving it around.
Additionally, I didn't like its leather fabric cushion. It gets really cold to sit on, especially in winters. And I don't like the backrest — it is solid and it gets very uncomfortable. There were many times when I had to study in our lounge because the couch is much more comfortable than my chair.
I am currently crushing on a SKRUVSTA swivel kind of chair. I think it's very comfortable, especially for someone like me who experiences pretty bad backaches and spends hours studying. It's pretty expensive and I will be saving up for it. Hopefully, I'll be able to buy it soon!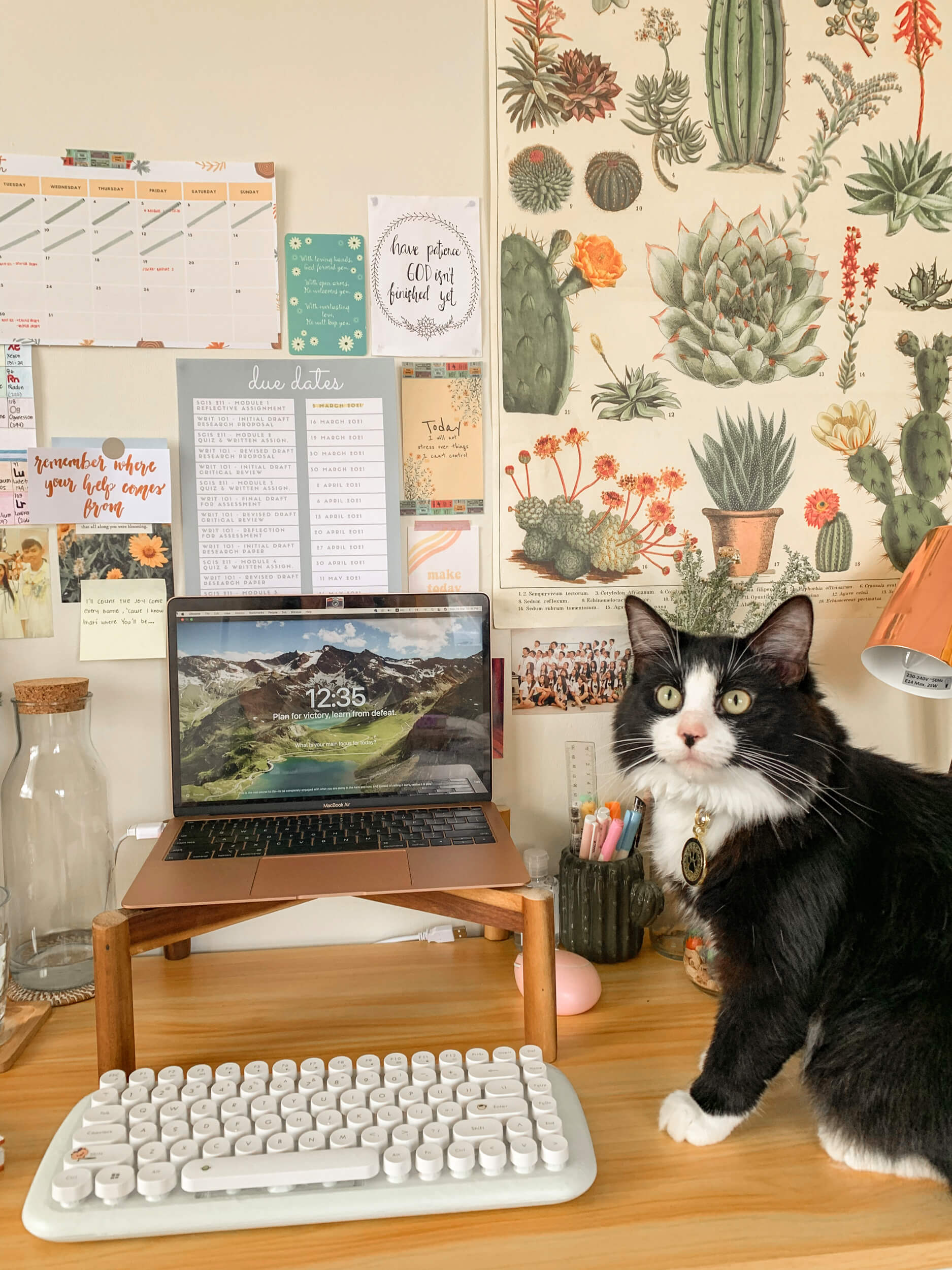 Could you give some tips for buying stuff online?
Buying online is very tricky, especially because you don't know who you're buying from.
When I buy stuff on Facebook, I never purchase items that are too far from where I live.
I always make sure that I can personally drive to the seller's place and check the item personally before handing out cash.
When I buy stuff from AliExpress, I buy it from sellers who have thousands of followers and reviews.
I spend hours and even days rechecking reviews of the item that I want before buying.
I try to make sure that I am not wasting my money.
Although there were many times when my items got lost on the way, fortunately, AliExpress was very quick in handling complaints. I always got refunded.
I don't buy items immediately. Normally, I wait for a few days and recheck whether they're on sale before buying.
I also sometimes haggle over Facebook sellers. Since I'm not good at haggling, I ask my sister to do it for me from time to time.
What's your favourite item on your desk?
My favourite item on my desk would be the keyboard that I bought from AliExpress.
It is originally a pink one, just like the colour of my mouse, but I spray painted it into diamond white and put some cute tiny stickers on it.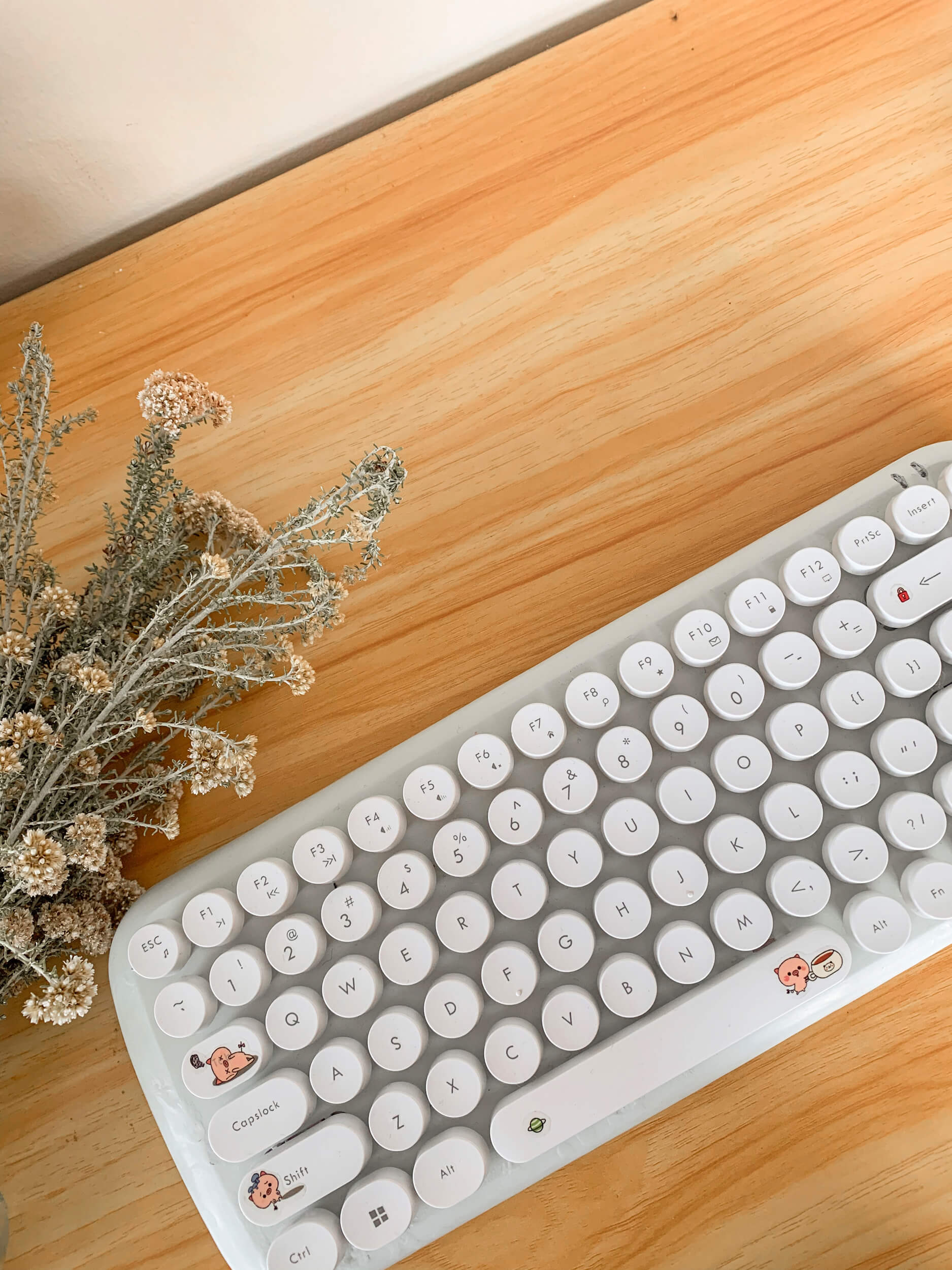 I personally invested in this keyboard + mouse combo because when building my studygram account, I wanted to make my desk look good on photos. It'd give my followers that quality of image they deserve.
This keyboard and mouse combo cost me around $25. I love buying on AliExpress because it's cheap.
The downside is that I've waited for at least three months before it arrived.
I am saving for a new Bluetooth keyboard and mouse. While the keyboard I have now is pretty, it's only limited to my laptop, and I couldn't use it for my iPad. I guess it's what you get from buying cheap products.
Nevertheless, it's still my current favourite item on my desk.
What does your typical day look like?
I am a "night owl", and I am much more productive at night.
The pandemic ruined my sleeping pattern, and I am having so much trouble fixing it.
My current typical day would be waking up at around 11 am and getting asleep at about 3 am.
When I wake up, I go straight to feeding my cat Oreo. Typically, on weekdays, it is my cat alone in the house and me because everyone else in the family has either a job or a school.
After I feed my cat, I like to have some heavy breakfast, or mostly "brunch", with a nice cup of hot coffee while watching some series on TV.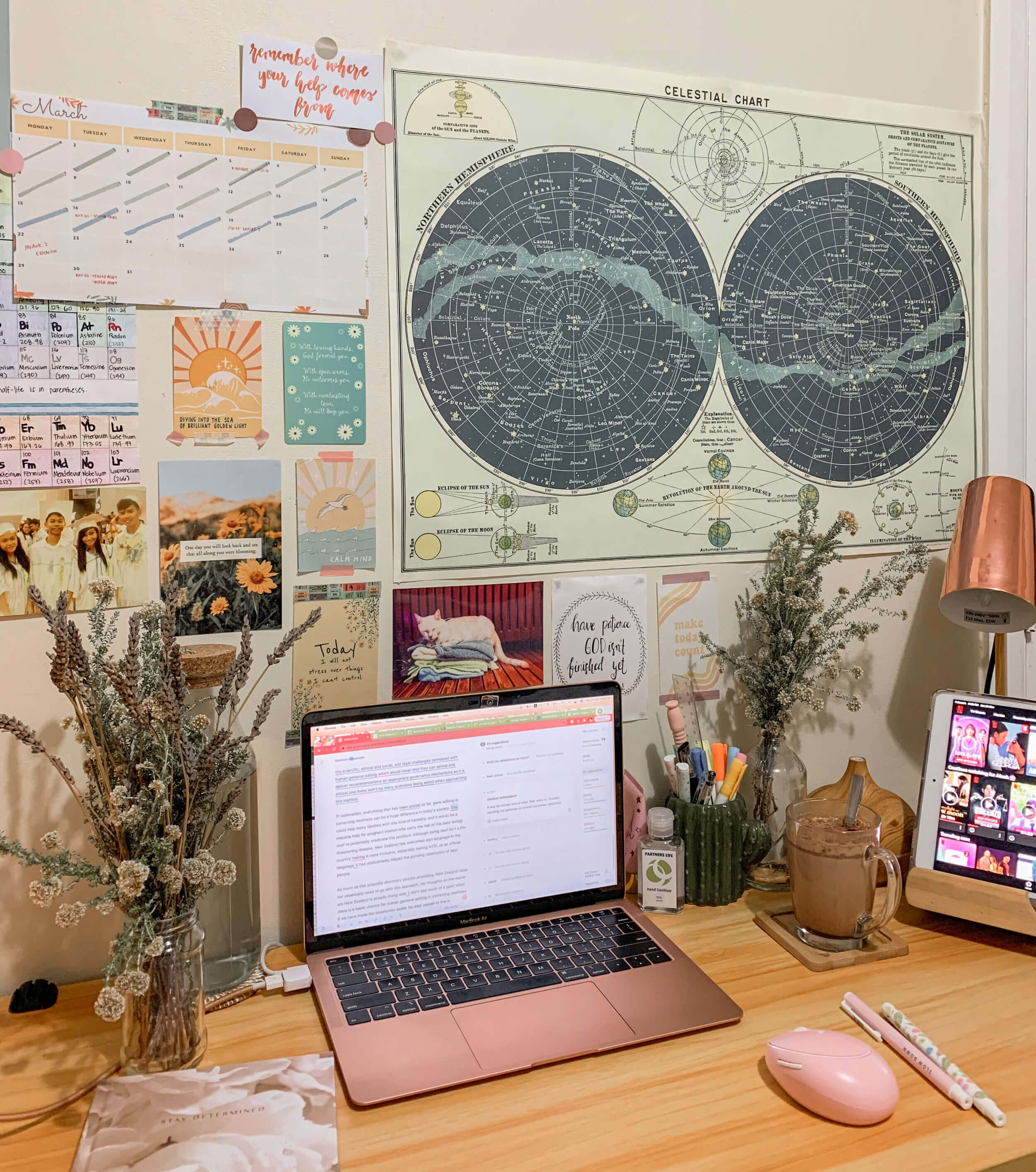 In the afternoon, when all of my chores are done, I study with my cat especially when I'm alone at the house...
Whenever I study, there's always something playing in the background. For some reason, I'm not able to work in a quiet environment. I couldn't play music either as I couldn't help myself from singing, and it distracts me.
So something is playing in the background, something that I have already watched probably a hundred times, like Harry Potter or Anne with an E.
Sometimes, I study with my online friends on Discord.
It's nice to have someone study with me. It makes me productive and forces me to finish what I need to finish.
I have been studying at home since the pandemic happened. Although New Zealand managed to sustain the virus quickly, many international students went back to their home countries. It allowed us to choose to study by distance or on campus.
It is quite a hassle at the moment for me to study on campus because I live pretty far, and I am only taking up elective courses at the moment.
Hopefully, I would be able to go back to campus in the following semester.
During my free time from studying, I always take the opportunity to edit my vlogs for YouTube and brainstorm ideas for my Instagram and YouTube. I also love watching Asian movies or series.
Apart from that, I use this time to do some admin work. I am an admin of the group called Study Vlogs Ph — which now have almost 700 members.
Your tips for studying from home?
Studying from home is hard, mainly because there are many nuisances nearby.
Without time management and strict goals, it is tough to be productive. And this is what happened to me during the first few months of the pandemic.
But I woke up one day, scolding myself for procrastinating a lot, and the accumulated works were stressing me out. So I changed my habits strictly (although my sleeping routine is still messed up).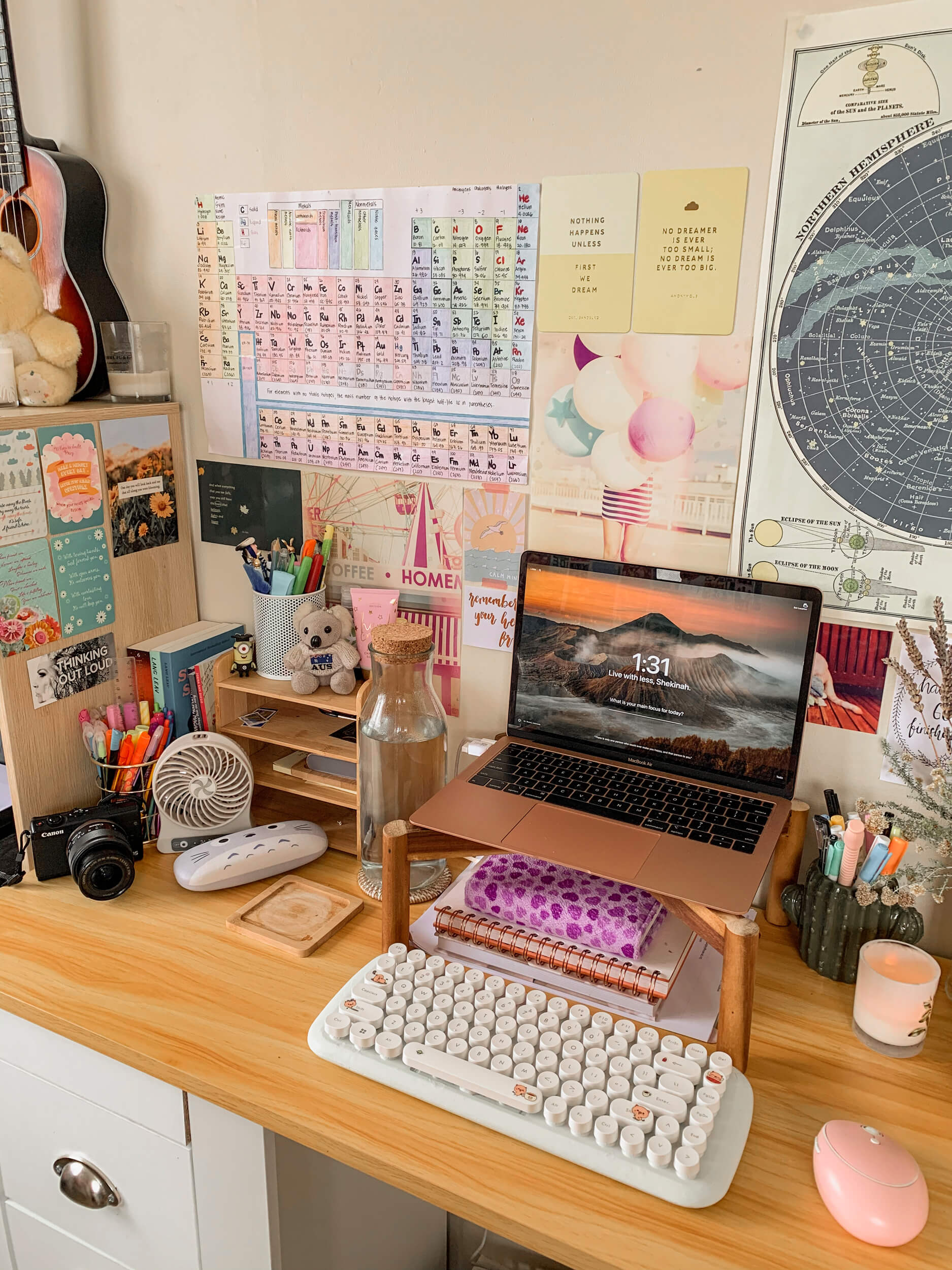 I try to get done the maximum of my homework as soon as I receive it to lessen the load. Sometimes I study from 1 pm to 3 am, with a few breaks in between. But I don't deprive myself of taking a break as much as I can afterwards.
After dinner, before studying, I have this routine of taking a long hot shower and making myself a hot mocha drink. I wear pyjamas when studying.
It increased my focus and comfort so I could study for longer hours.
My advice for other people who are just starting working or studying from home is to find some techniques tailored for you.
Everything is different for everyone. My routine might not work for you, so it is essential to listen to your needs.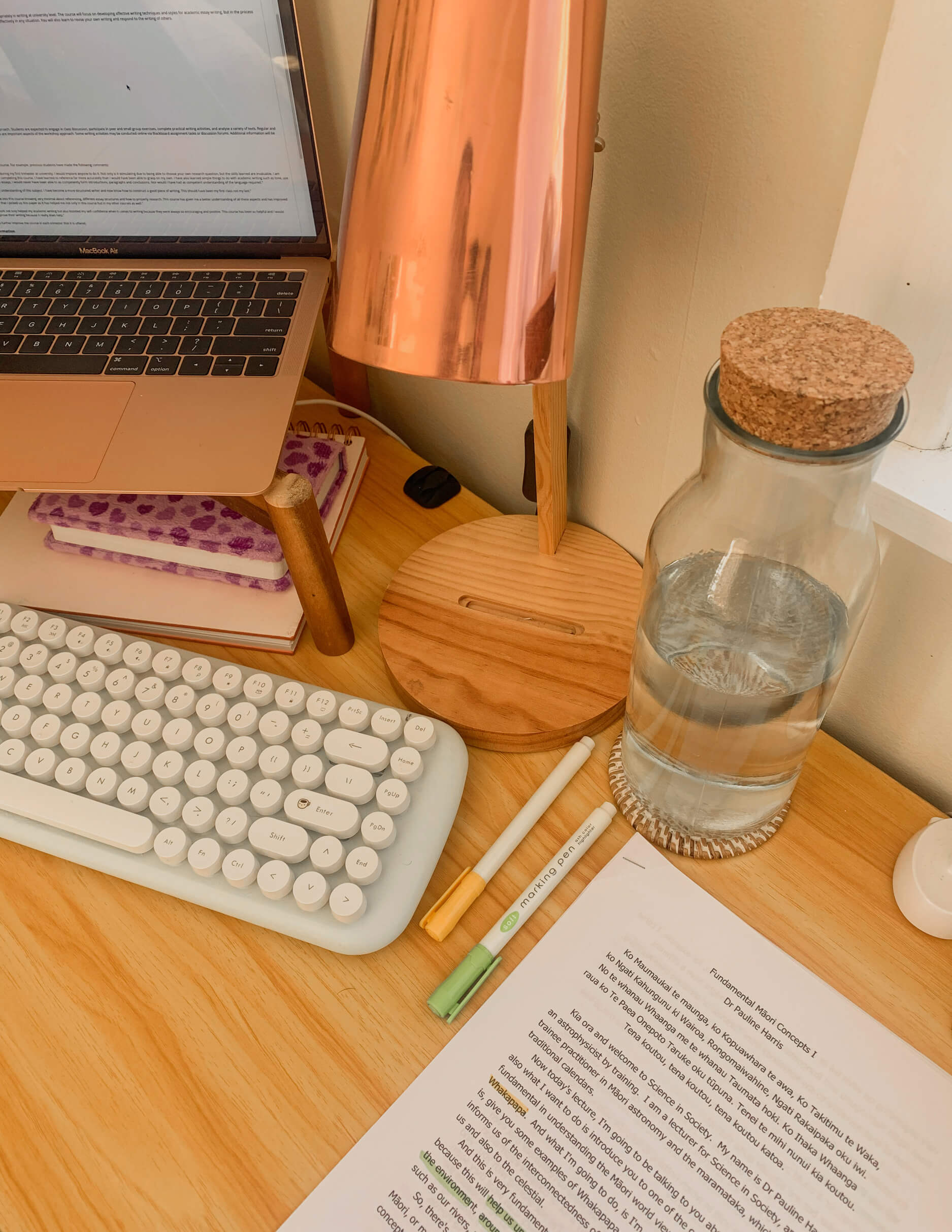 Avoid procrastinating because it will ruin everything. Work or study as best as you can, but allow yourself to relax and recharge.
I have learned that sleep deprivation eats our brains, so it is essential to rest and get enough sleep.
I know that my sleeping routine is messed up, but I make sure to take enough rest. I always listen to my body. I stop and drop my work immediately as soon as I feel tired but still making sure that I don't procrastinate.
It is crucial to have a strict schedule.
That's hard, but nobody else can do it except you. So you need to learn self-discipline to work towards goals that are worthwhile for you.
We're a reader-supported publication. This article might contain affiliate links. It means we may receive a commission if you click a link and buy a product that our maker has recommended. The interview was done independently.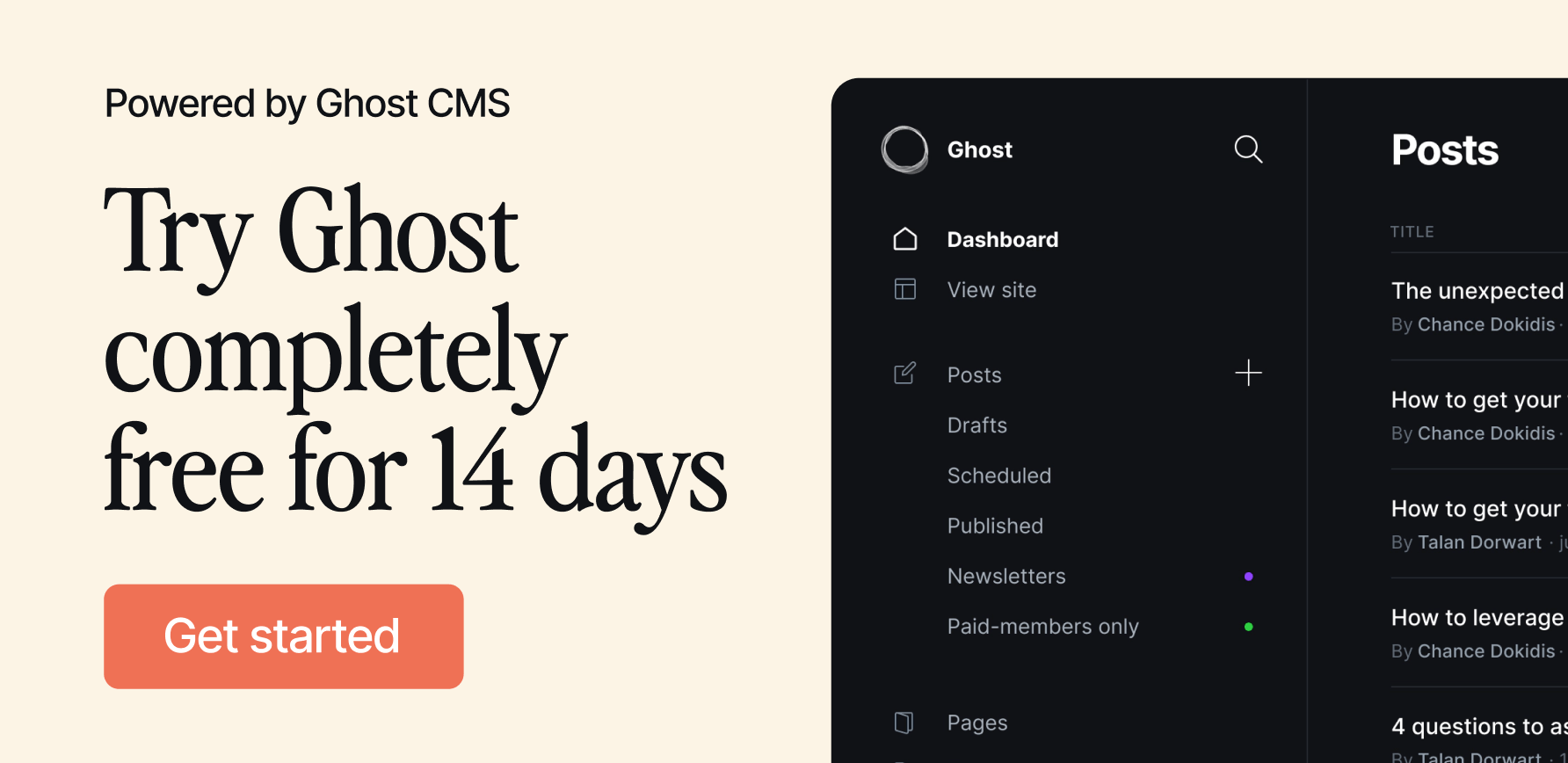 ---