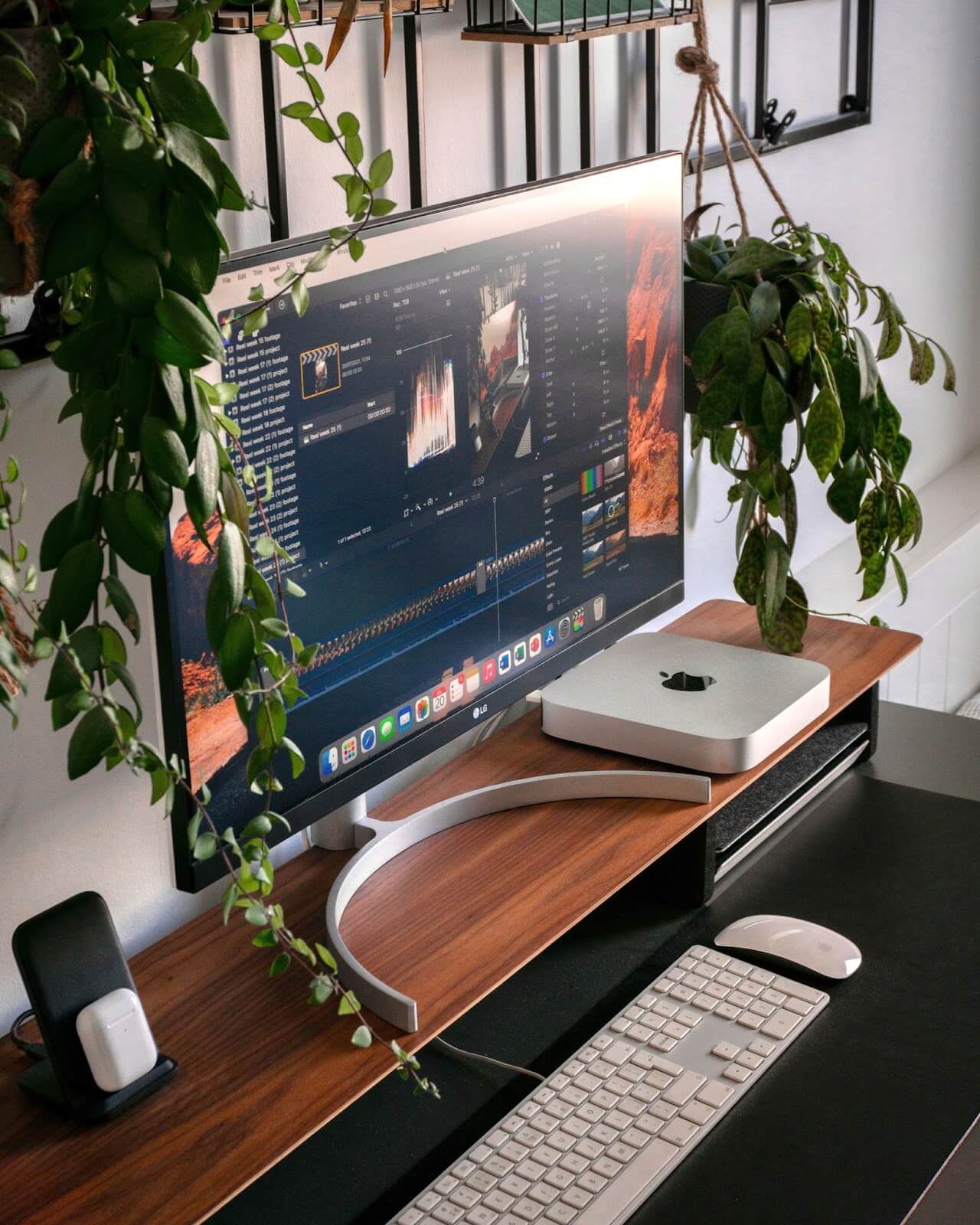 Small Bedroom Setup in the Netherlands
"I wanted my workspace to be a place where I could let my creativity run wild, but also study for exams"

Name: Bram van Duijvenvoorde
Location: The Netherlands
Occupation: Content Creator
Room size: 7 m² (75 ft²)
Cost of the setup: ~$2K, but most items were gifted
Social media: Instagram, Twitter, TikTok, YouTube
Hey, Bram! Tell us a bit about yourself
Hi! I'm Bram, an 18-year-old creator based in the Netherlands.
A little over 2,5 years ago, I started an Instagram page called @appletodaynow, which has now grown to over 20K followers — and I enjoy creating content for it!
Instagram turned out to be a perfect place to share my thoughts on Apple and technology in general.
At first, I only used my Instagram account for reposting. I would post other people's images (giving proper credits, of course) and then write a short post elaborating on what they depict.
However, after a year, I realised this was not what I wanted to do. I have always wished to be a creator, and at that time, I was not one.
Instead of hiding behind a logo and copy-pasting other people's content, I started putting in the work, showing my face more, and building a community.
Right now, I am working on expanding this community to other platforms, such as Twitter and YouTube.
Instagram is still not my main job because I don't get that much income from it. What I do get from it I immediately invest back.
I actually still have a side job at a grocery store. I work as a cashier, and I do enjoy the social aspect of it.
At my side job, I get to connect and collaborate with my peers, which is a nice change from working for myself.
It is probably also part of the reason why I haven't taken the leap to become a full-time content creator yet.
Can you describe your home setup?
Since I still live with my parents, I have a workstation in my bedroom. This room is the smallest in the house.
The small size of my bedroom was definitely a challenge. Yet, I managed to make it work by measuring pretty much everything I got before buying anything.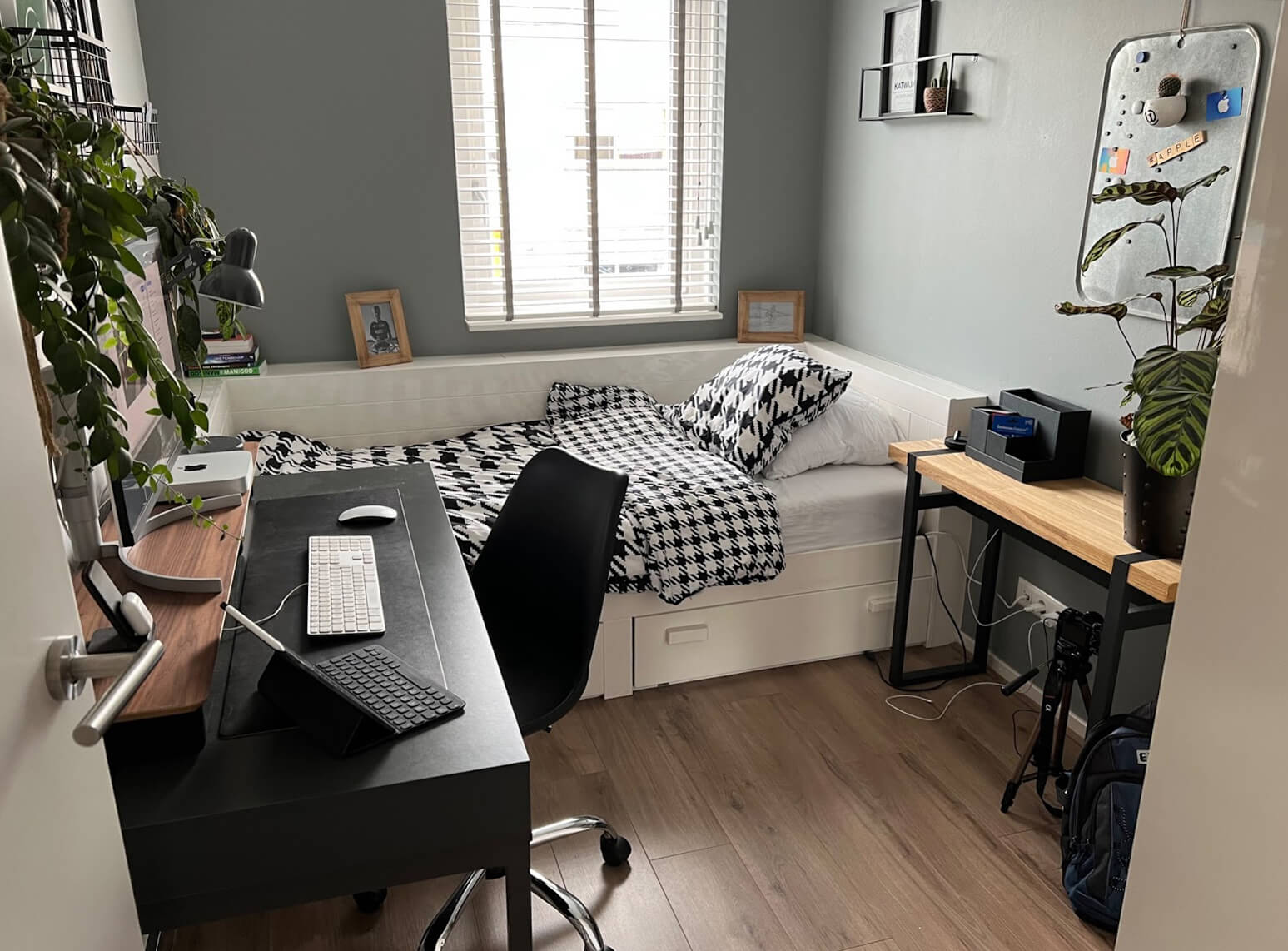 It was tricky to build a nice workstation in such a confined space, but I am pleased with the result.
I can't really move anything around though, so I am kind of stuck with my current setup arrangement, haha.
I wanted my workspace to be a place where I could let my creativity run wild, but also study for exams.
Therefore, my setup had to look inspiring, yet simple and distraction-free. I created this atmosphere by sticking to nature-infused vibes and avoiding vibrant colours.
For the same reason, I always set a real photo as my wallpaper rather than a design pattern or illustration.
I have also added lots of plants to my setup. These are mostly hung from a black wall organiser I bought from a Dutch store called Xenos. Now I only have to fill up the wall with some accessories.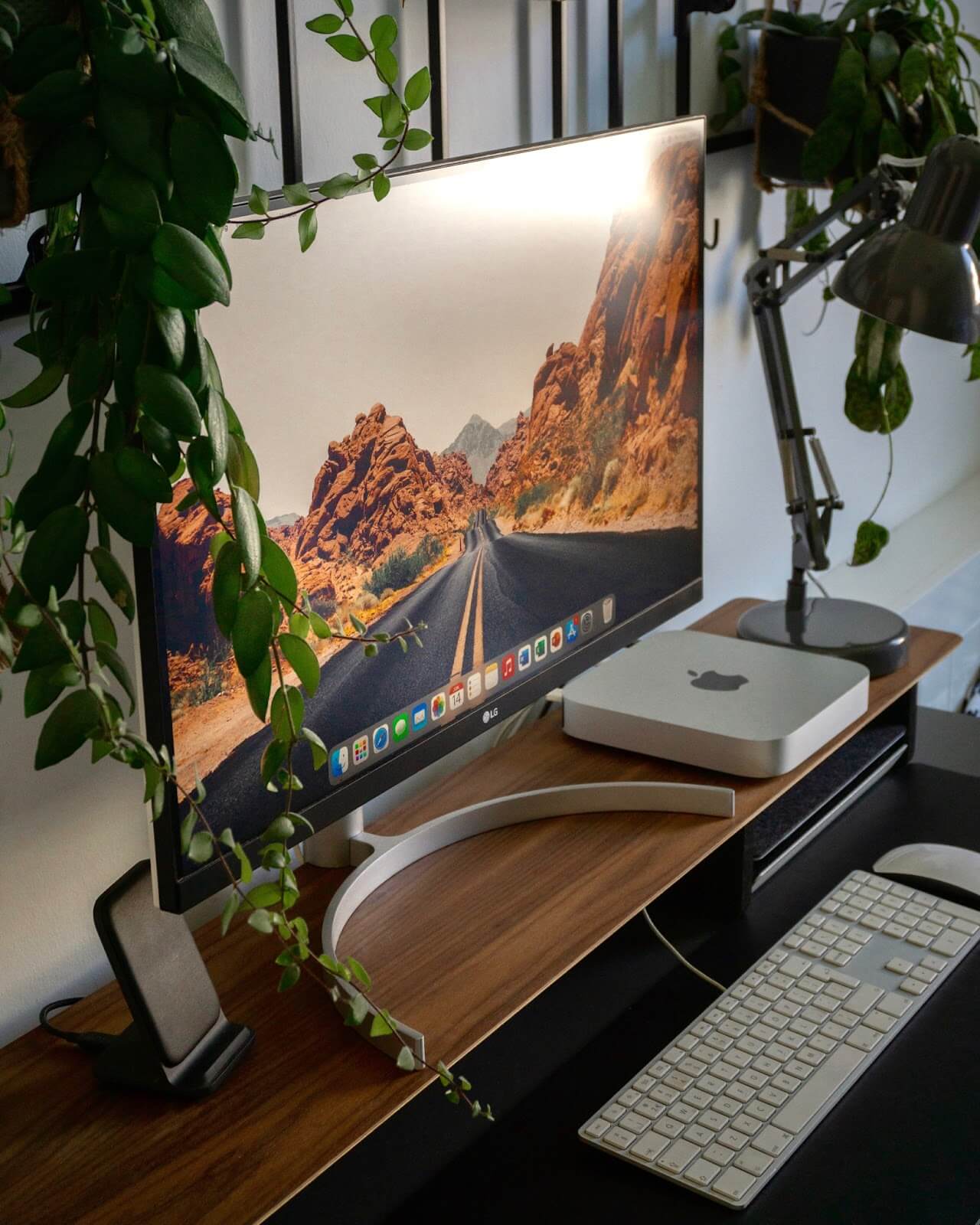 I would certainly like to improve the lighting in my setup.
There is enough natural light coming through the window during the daytime to illuminate my workspace. However, I do not work at my desk at night since the only lighting source I have at that time is a standard desk lamp.
I'll most likely buy a set of Philips Hue Play light bars or a light strip to attach to the back of my setup to make working at night more enjoyable and "playful".
As you may have noticed, I solely use Apple products. They make it so much easier to transfer a picture from one device to another than, say, a Samsung phone and a PC. I can airdrop any file to my other device in a tick, while others have to email it to themselves or upload it to a cloud service.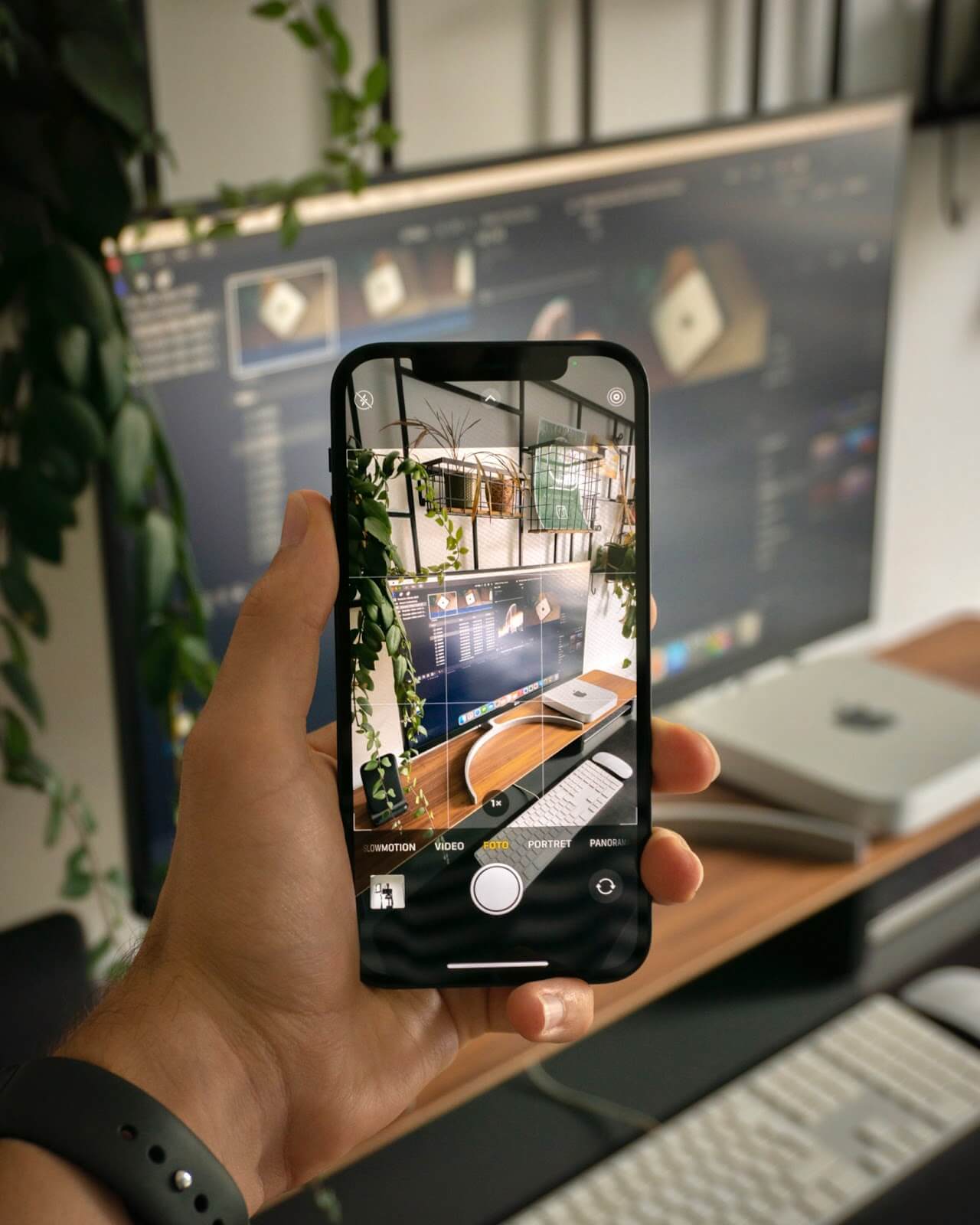 I'm so comfortable and familiar with Apple products that I've never used (or had the intention to use) an Android as my main device.
I guess I wouldn't even know how to approach a different brand of phone, haha!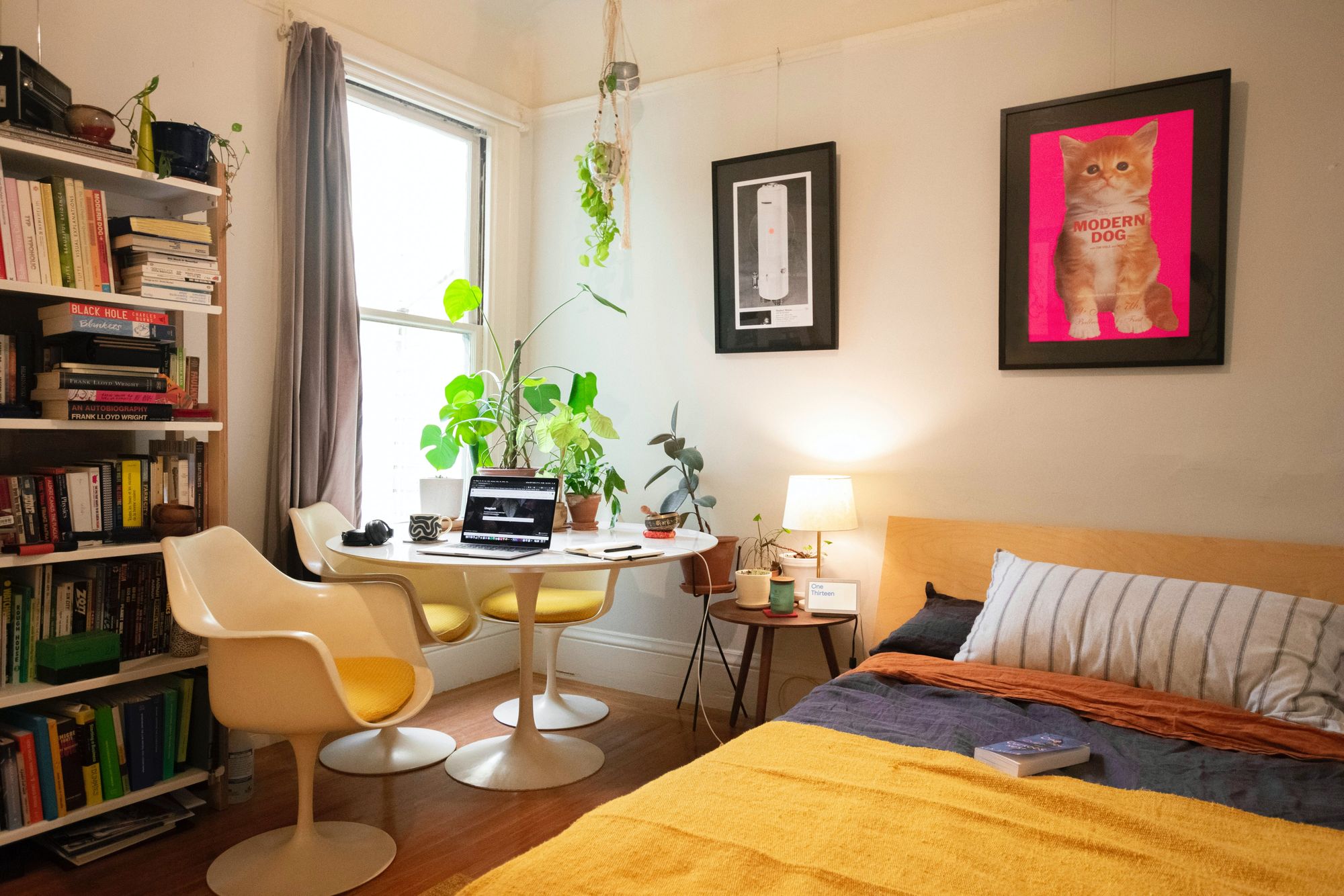 What's your favourite item on your desk?
My favourite item on my desk is the Grovemade shelf. They sent it to me as part of their promo campaign.
I am astonished by the quality of the wood and the attention to detail. I also like the fact that it was handcrafted rather than mass-produced in a factory.
I use my Grovemade shelf to elevate the monitor and store a few gadgets, including my Apple Watch band and iPad Pro.
Along with this shelf, I received a desk tray that works really well with it.
What does your typical day look like?
My days vary from week to week, which might seem counter-intuitive since I do enjoy having a strict routine.
I just started college at the Vrije Universiteit Amsterdam where I study international business administration.
I chose this program because I had realised I wanted to discover the creative side of creating content on my own (without an institution hanging over my shoulder to check if I have done my homework). Yet I could definitely use some help with the business aspects.
I am pretty business-minded. I enjoy learning more about this side of my passion. The program itself and college life as a whole have been great so far!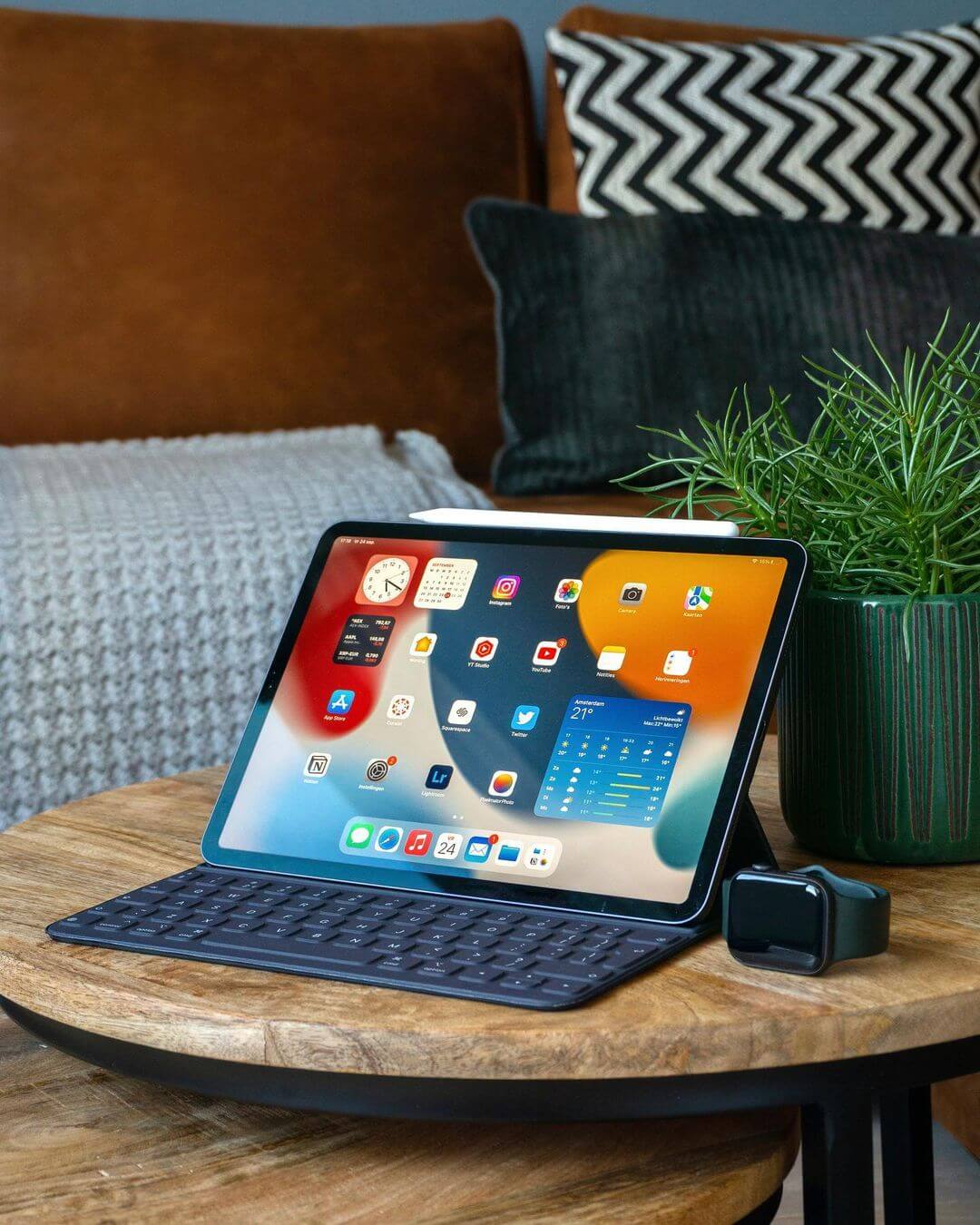 The morning routine is something I intend to follow pretty closely.
I usually get up at 8 am and check my e-mail to see if I have any updates on my projects. Then I'd go downstairs and have my breakfast with a nice cup of coffee.
Following that, I usually start writing the morning post for that day. Most of the time, I already have the edited pictures ready to go, so I just need to add a caption and some hashtags.
Then I get on with my day, which could be going to work, to school, or taking pictures. Fridays are usually dedicated to creating content.
Making Friday a content creation day became the key to keeping my IG page going.
Whenever possible, I try to keep Fridays free of any other commitments.
Even though this doesn't always work out, I like that I have this "routine glue" to hold my content creation schedule together.
Your tips for working from home?
It has only been two years since I started working from home, and I really enjoy it (As long as I plan my day properly).
At the beginning of each day or week, I make a to-do list. As a result, I am able to actually accomplish things instead of wandering around my desk aimlessly.
I also try to take breaks every now and then. I usually take a breather at around 10:30, 12:30 and 16:00 (if I continue working past 4 pm).
This helps to keep my mind focused. I wouldn't recommend taking too long of a break though, since you will likely become demotivated after a while.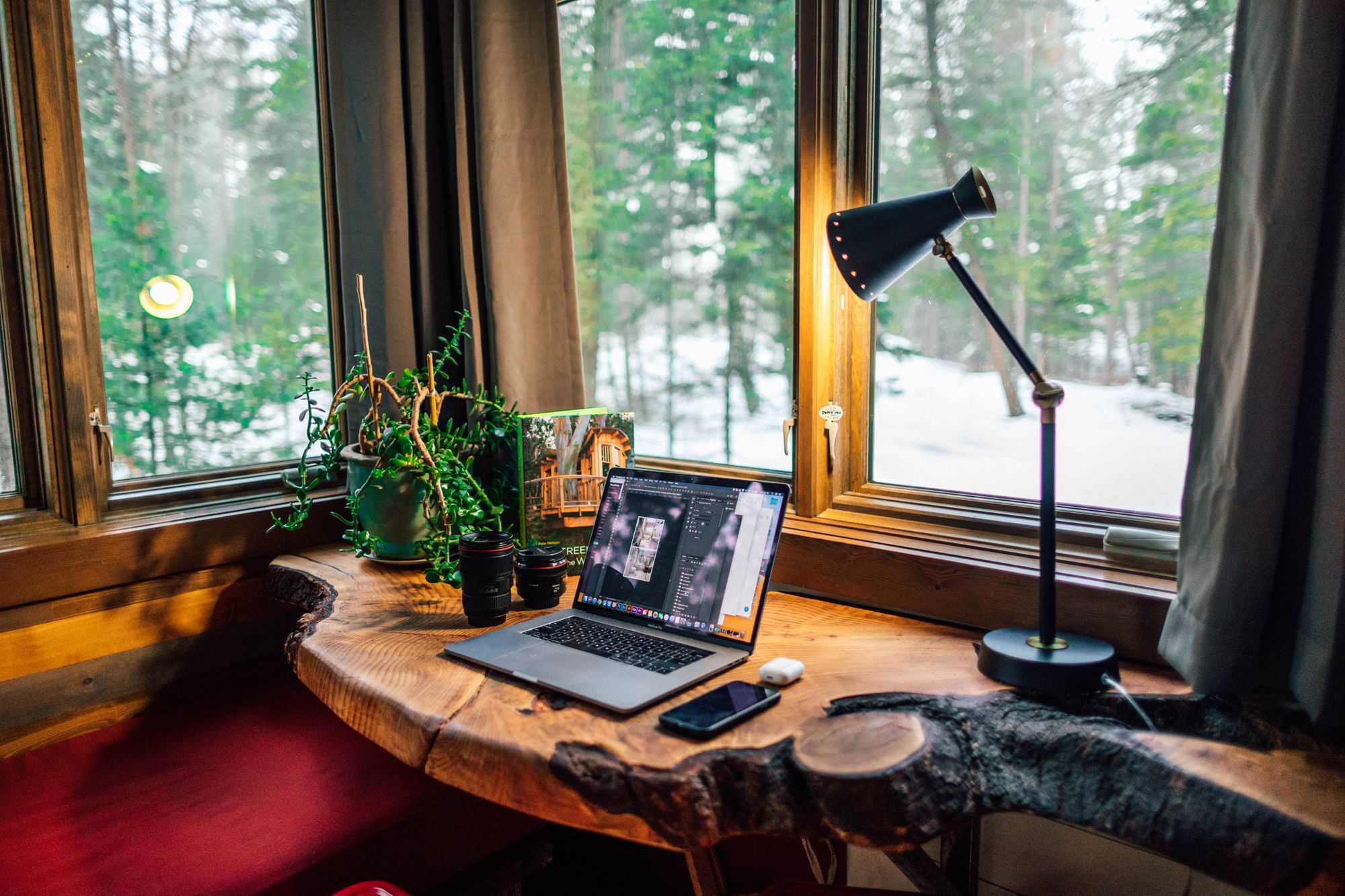 Also, I genuinely believe that a good setup is crucial. A good setup is the one that works for you.
This is why I built my workstation that way so that it does not hinder my creativity and productivity, nor does it distract me from the task at hand.
We're a reader-supported publication. This article might contain affiliate links. It means we may receive a commission if you click a link and buy a product that our maker has recommended. The interview was done independently.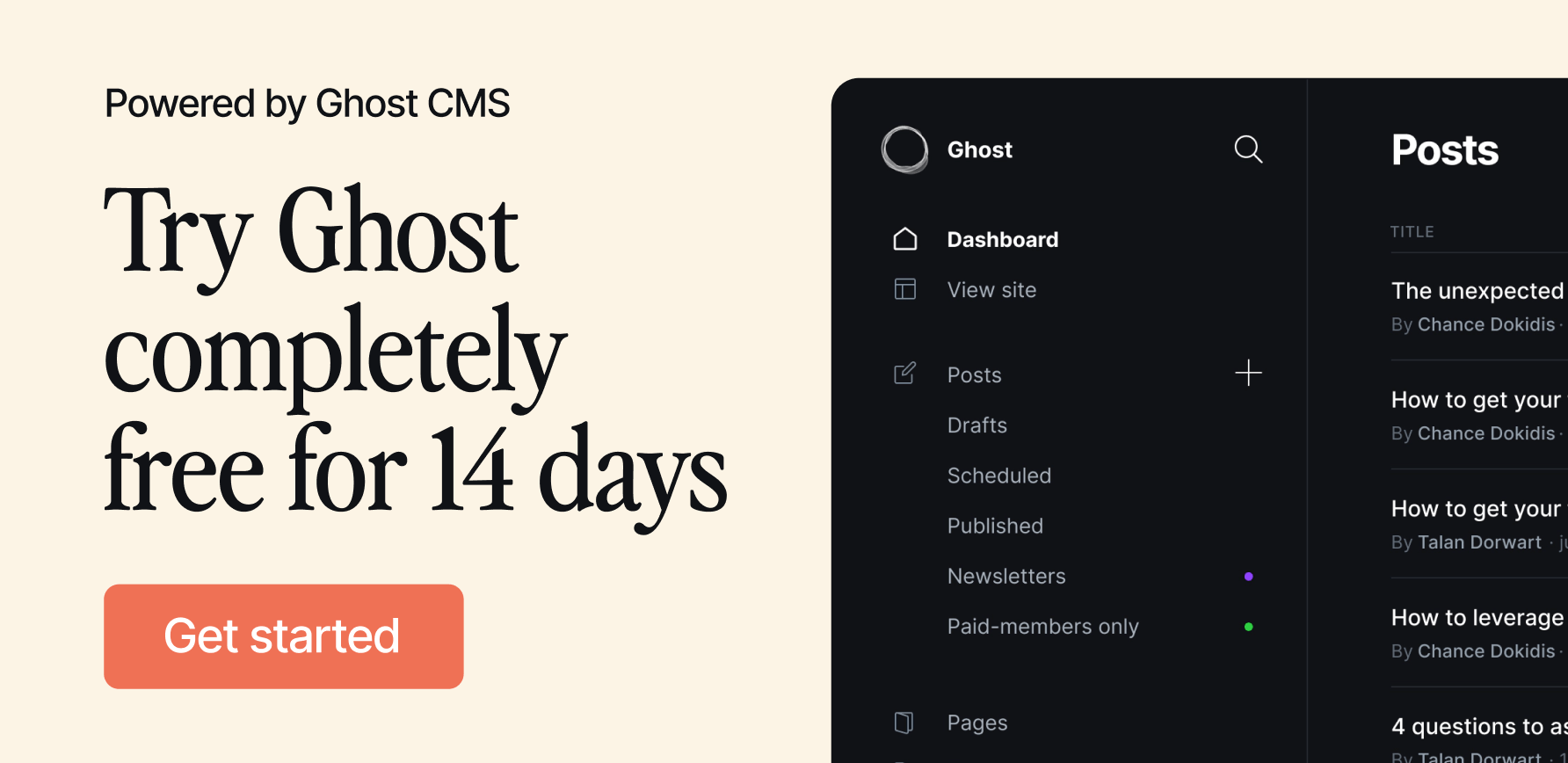 ---