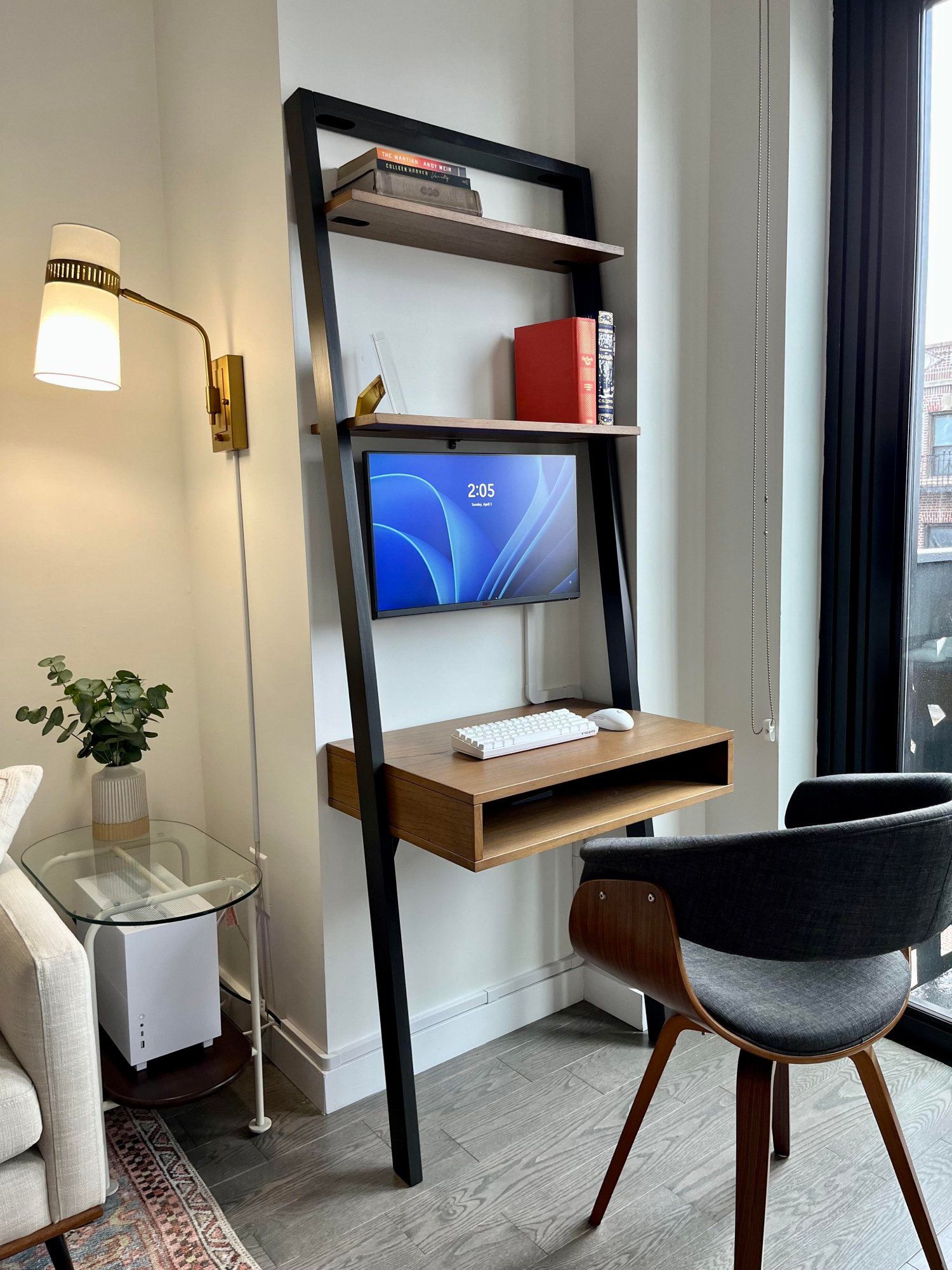 19 Small Home Office Ideas (With Tips & Photos From Real People)
Limitations spur creativity. Here's some proof of that in action.

Generous workspaces with multiple monitors, extra-long desks, and different lighting scenarios are great for productivity.
But what if you don't have room for a full-size home office? This is especially true for those living in big cities like London, Paris, San Francisco or Tokyo.
Limitations spur creativity.
Challenges we're facing in our home offices can help us explore unconventional ideas and new ways of working we wouldn't have arrived at otherwise.
We asked fellow makers all over the world to share their challenges, successes and tips for working at a small desk or in a confined space.
Here is what they said.
Consider pegboards
Desk size: 119×61 cm (47×24″)
Room size: 3×2,4 m (10×8′)
"My space is rather small, so I had to get creative and experiment a little bit. I tried various other desk sizes and eventually settled with my current setup.
I valued having floor room and that was definitely a challenge while deciding on my current setup.
Although I initially wanted a much larger desk, I chose to remain realistic and utilise other means of getting the most out of a small desk.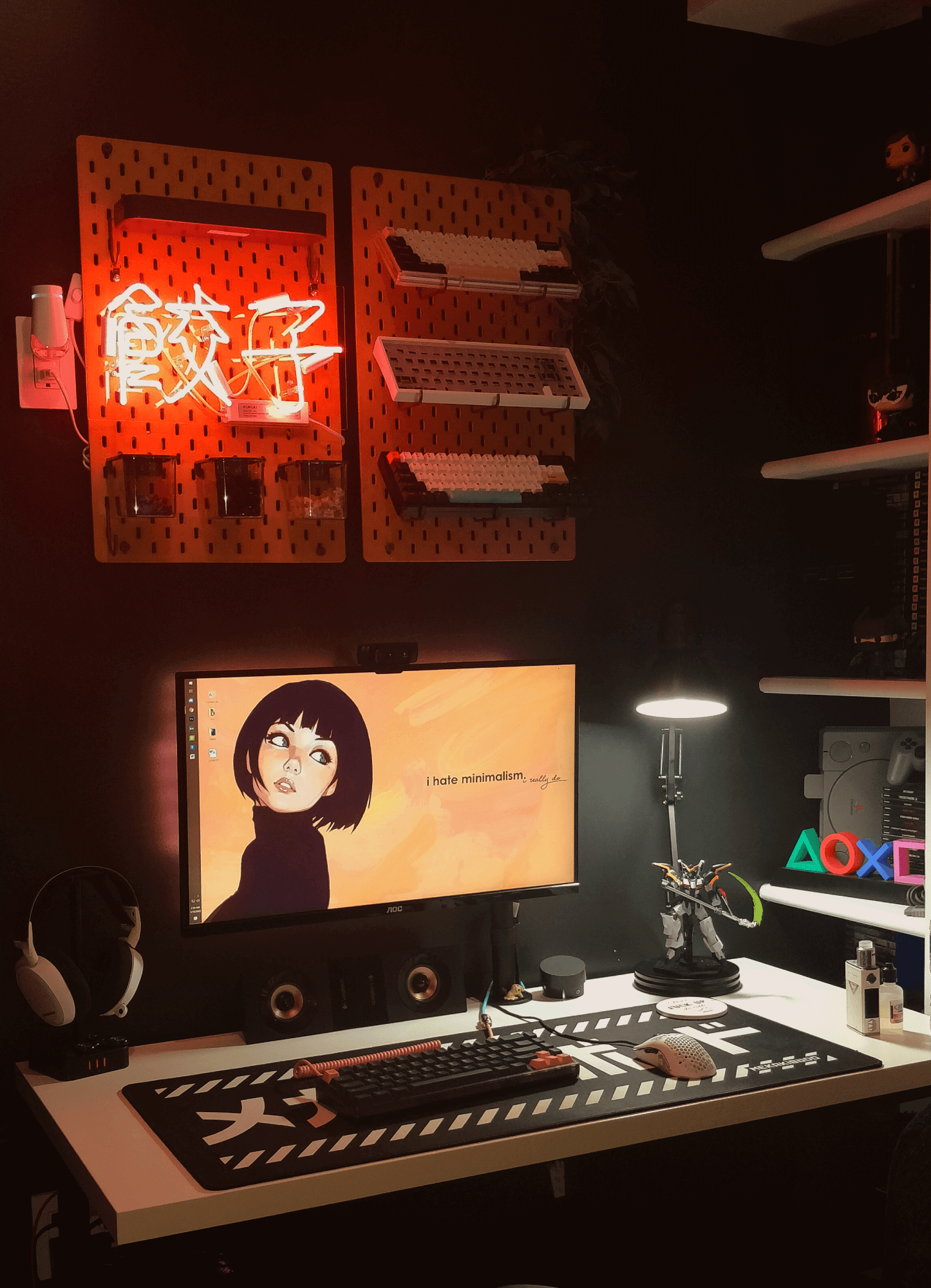 For example, I found using a monitor mount helped to provide more area on the surface of the desk. Having some shelves underneath the desk was also helpful, although I did have to sacrifice some legroom.
Lastly, pegboards were extremely helpful to make use of the walls around my desk while providing an aesthetically pleasing appearance.
Ultimately, I experimented a lot with dual monitor setups, large lamps with USB ports, LED lights, and plants and settled where I am now.
I think I achieved utility and maximised each square inch while remaining minimal enough so that it doesn't look overly cluttered."
— By PJKazama
Go bespoke
Desk size: 1,8 m² (19,3 ft²)
Room size: 12,3 m² (132,4 ft²).
"Lack of space is the main challenge of a 52 m² apartment for two people.
There isn't really space for a home office. My first setup was in a nook in the bedroom. The nook must've been used for a dressing table before.
I could only fit an IKEA MICKE personal desk — it was 73 cm wide and 50 cm deep. The whole space was a little less than 1 m².
It wasn't ideal because I couldn't slide my chair back much. I would've collided with the bed behind me.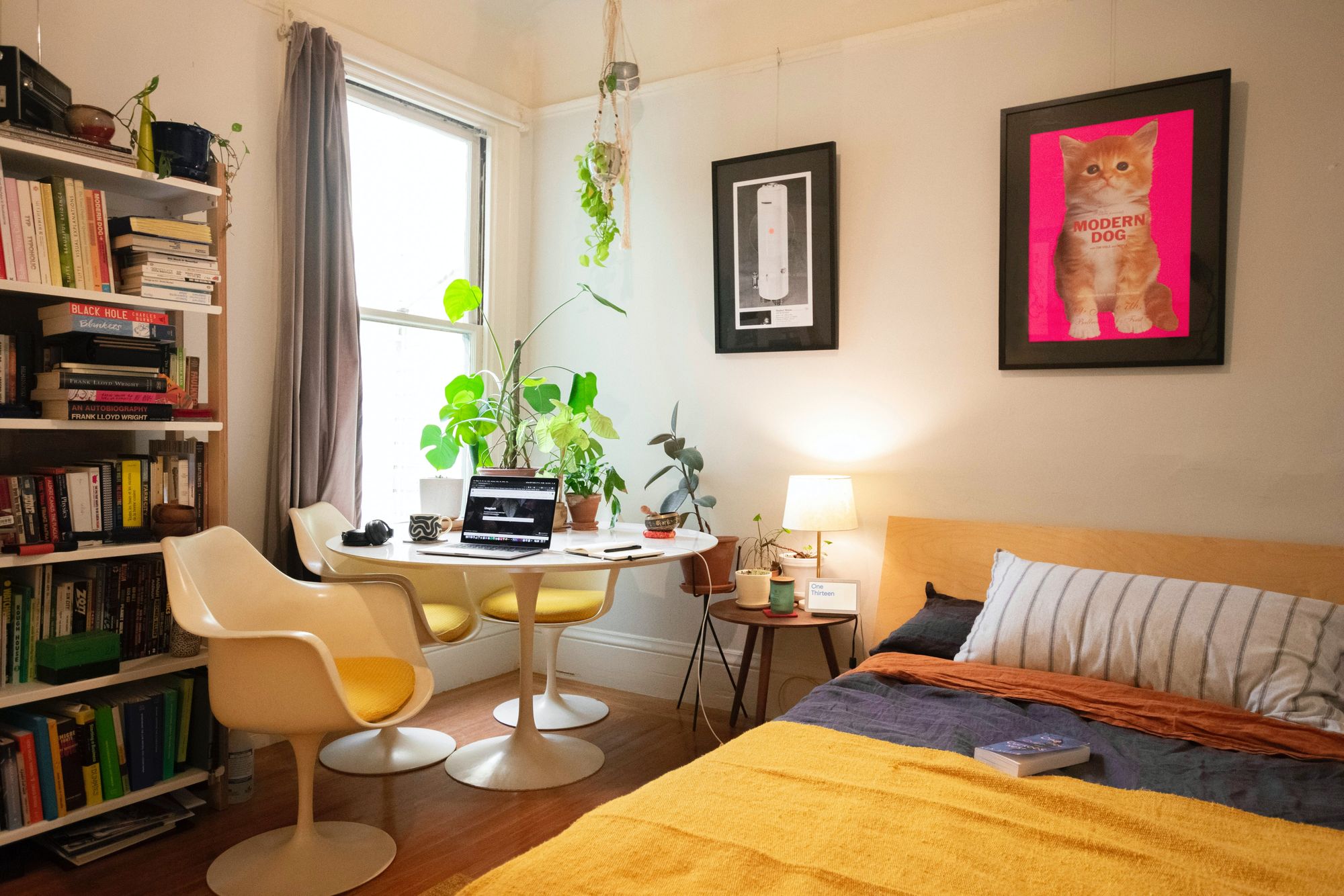 There was little natural light and no view. And my spouse couldn't get to her closet or the bed without people seeing her if I was on a video call.
I grew tired of that setup after over a year in quarantine. I did some measuring and moved furniture around the bedroom.
This gave me tons of space (1,8 m²; 80% more) that had more natural light, and a view of the city past the balcony.
With more space, I replaced the Micke with a custom-made desk (80 cm wide, 70 cm deep) by AvMake Furniture, a local custom furniture maker."
— By PJ Manalo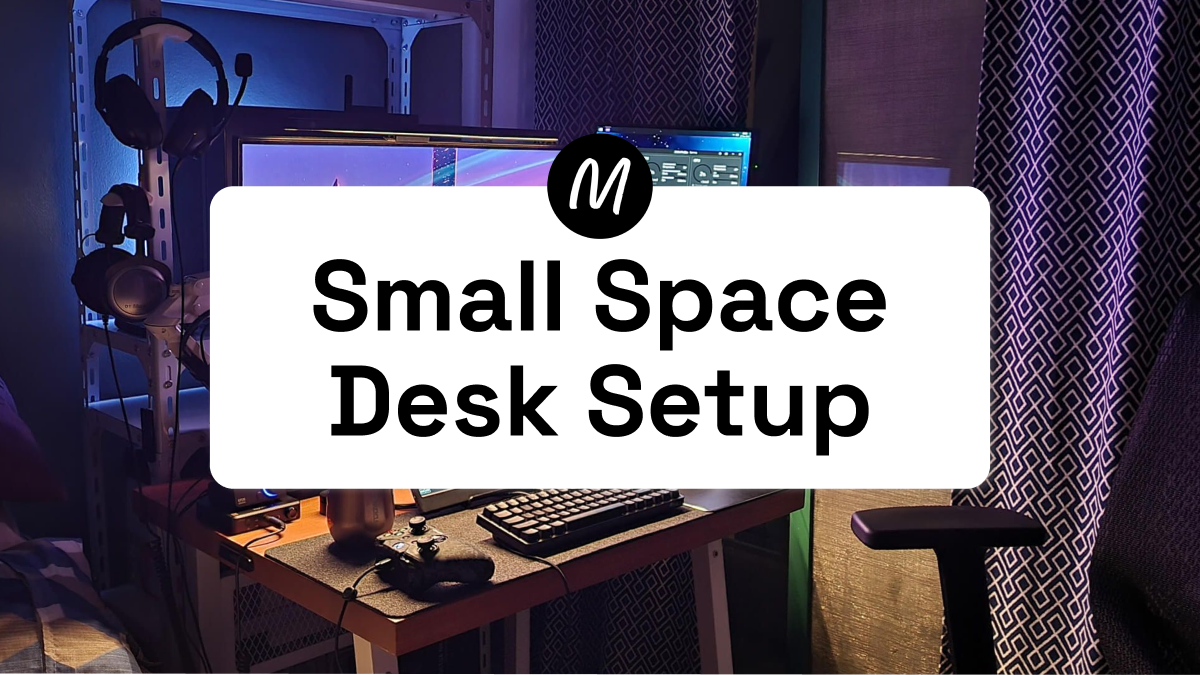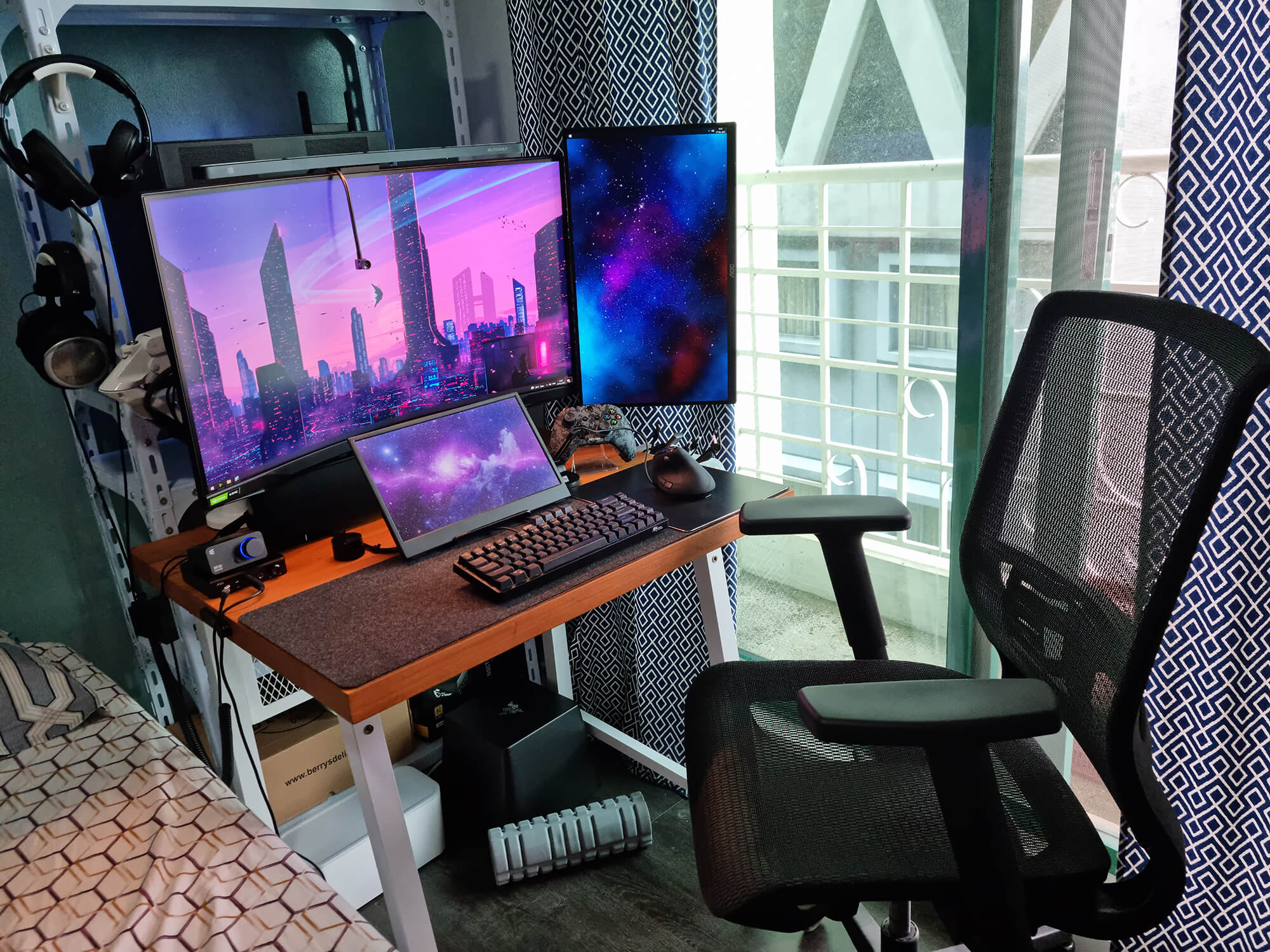 Get a floating desk
Desk size: 183×61 cm (72×24″)
Room size: 4,3×3,7 m (14×12′)
"This desk setup is in the corner of our master bedroom.
The main challenge was coming up with a design that was elegant/simple while able to hold all my gear, not look like a workspace, and taking up as small of a footprint as possible. Which was needed to convince the wife!
This is the updated version with a bit more theme and a better place for all the gear.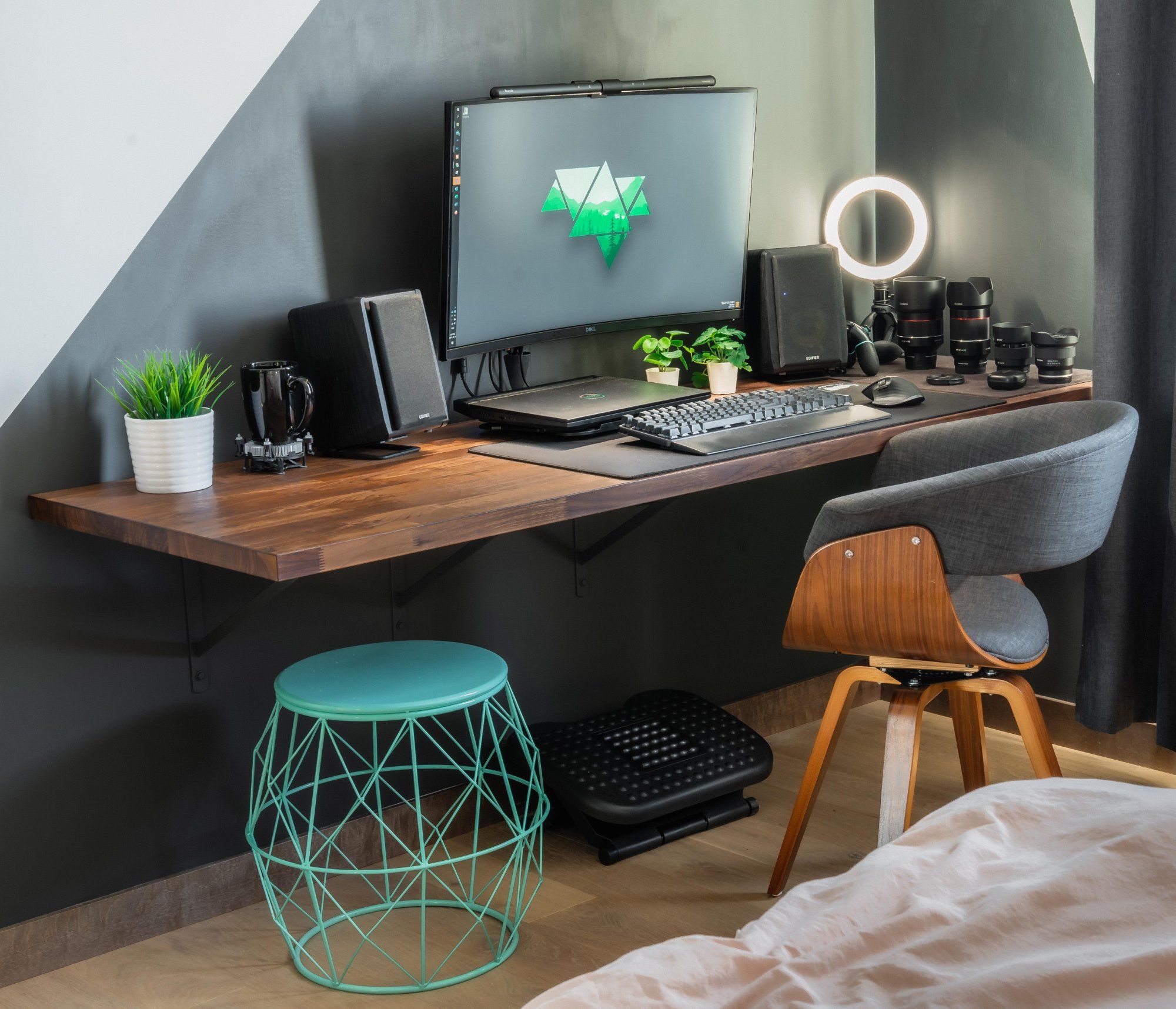 A friend of mine did a floating desk setup in a normal office room, and that started the idea.
I just took it to the next, adding the chair to match the wood theme for the look, and the rest was based on ergonomics.
It wasn't very hard. I just mounted L-brackets and put the Karlby countertop on. The rest was just cable management behind the walls and under the desk."
— By getdownkid
Go wireless
Desk size: 85×60 cm (33,5×23,6″)
"I always felt the depth of my desk was good, however, 85 cm of length is just not enough at times, especially when I'm doing uni work and I have hundreds of different notes on my desk.
The best thing you can do with a desk that small is to switch to wireless peripherals (mouse, keyboard, etc.) So when you need the space, you can just get that out of the way.
Also, the first thing I did when I bought my monitor was to get a monitor arm, as the stand for an ultrawide monitor was just huge, especially for my desk."
— By nonamems01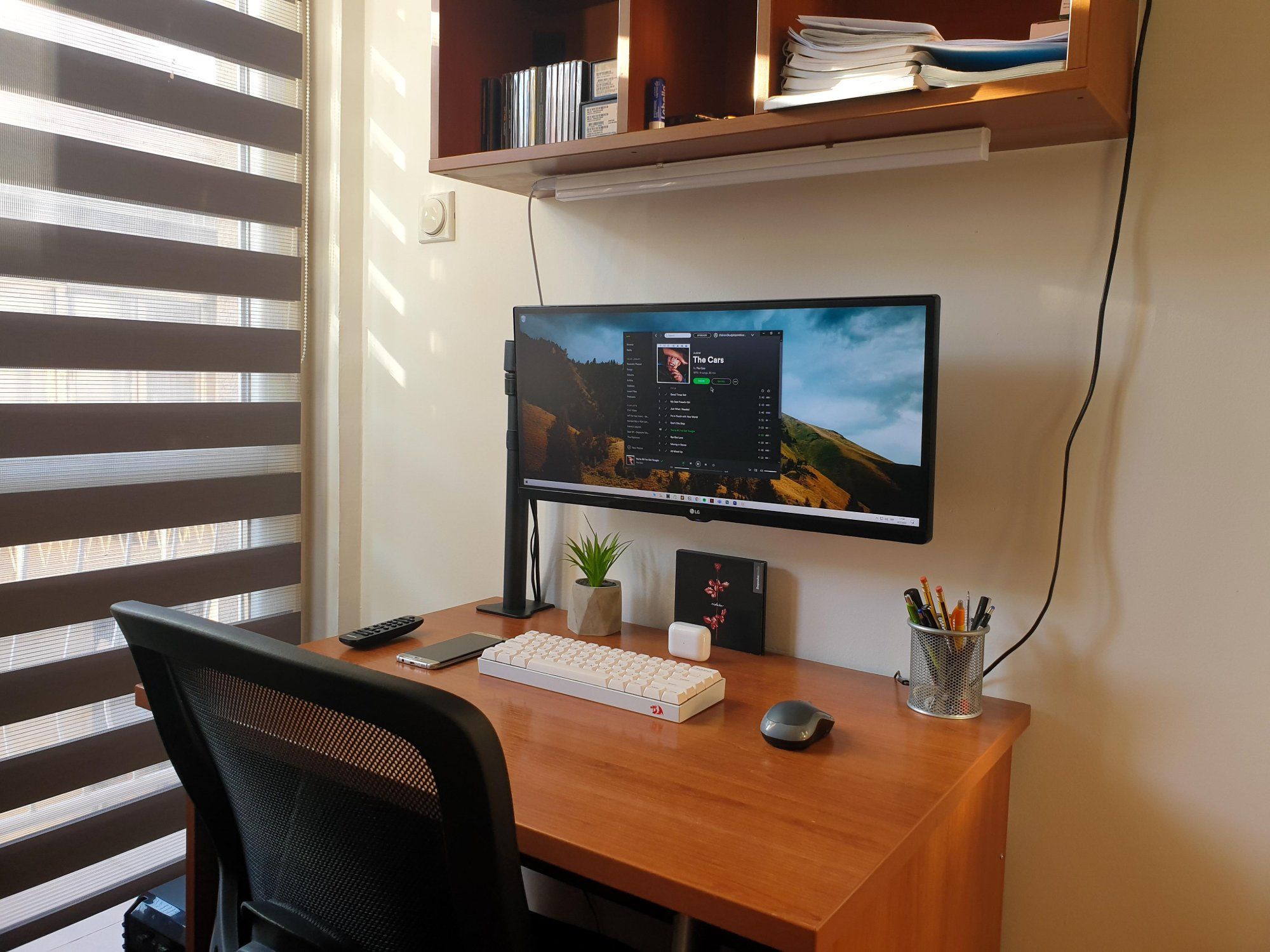 Use a monitor arm
Desk size: 120×60 cm (47,2×23,6″)
"My desk space is small, so a monitor arm is very useful, also because of its added functionality for watching TV in bed and Simracing.
I've mounted some of my speakers on the bottom of my desk. And put lights on the back of my monitor, so there is no need for a desk lamp."
— By @DrPh1ll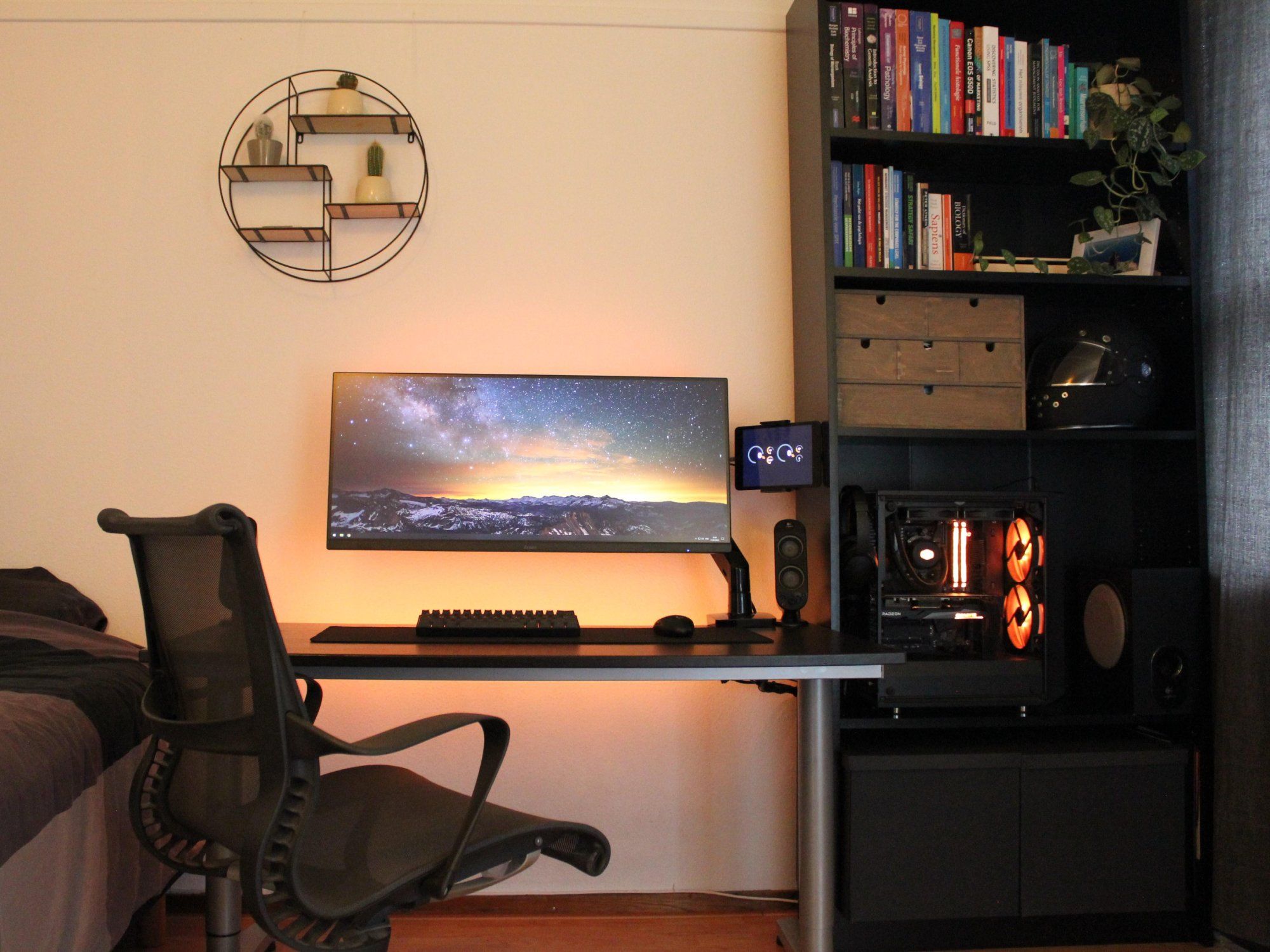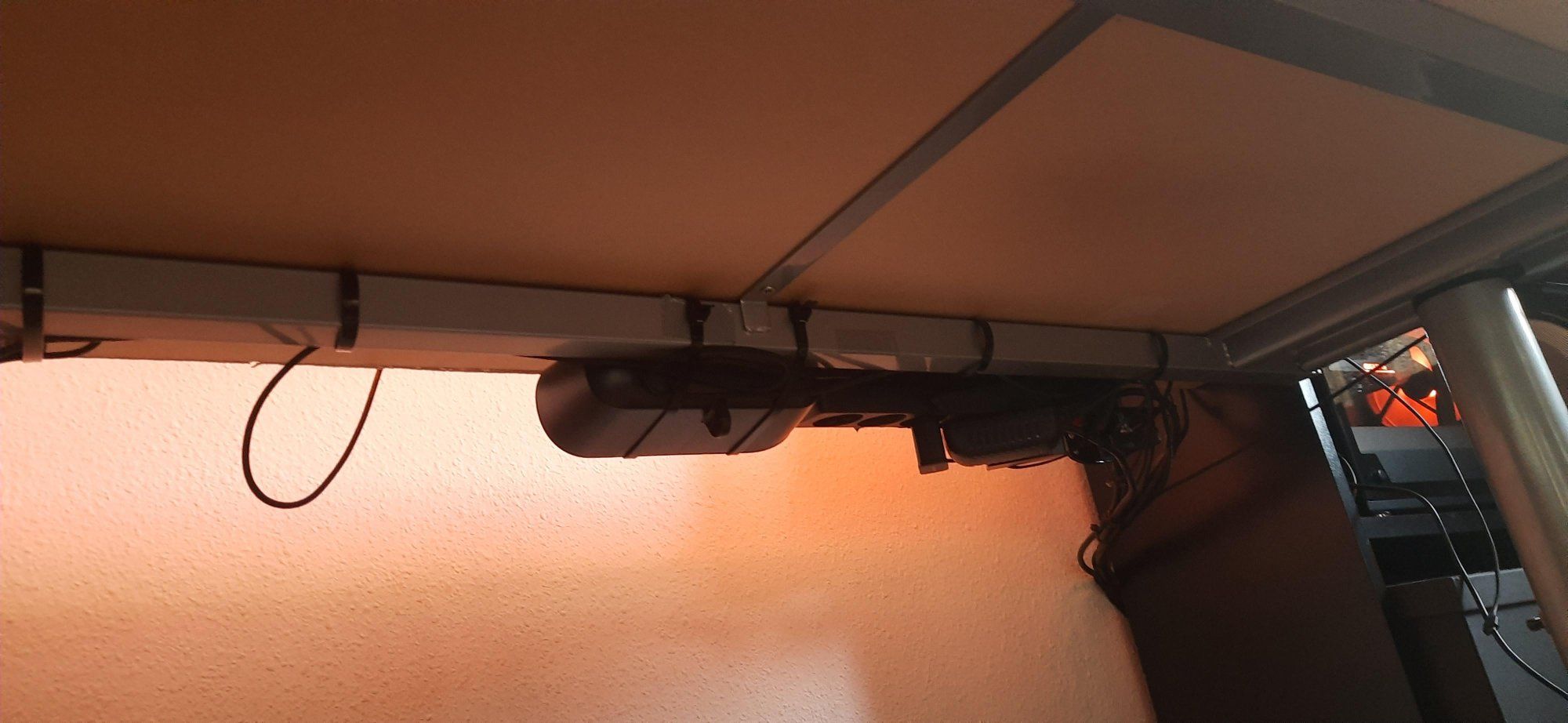 Keep it minimal
Desk size: 101×74×48 cm (40×29×19″)
Room size: 2,7×6 m (9×20′)
"My desk is LILLÅSEN from IKEA.
The WFH room is connected to a kitchen. The space is maybe 9 feet wide by 20 feet in length.
I think the biggest challenge was finding a way to make the space feel inviting and comfortable while also being functional without clutter.
I like to find furniture with more natural tones and minimalist qualities to make the space appear bigger than it really is.
I try to make the space feel relaxed rather than a stiff office-type setting, so to help with that, I love having as many plants as I can maintain."
— By aquarius_adriann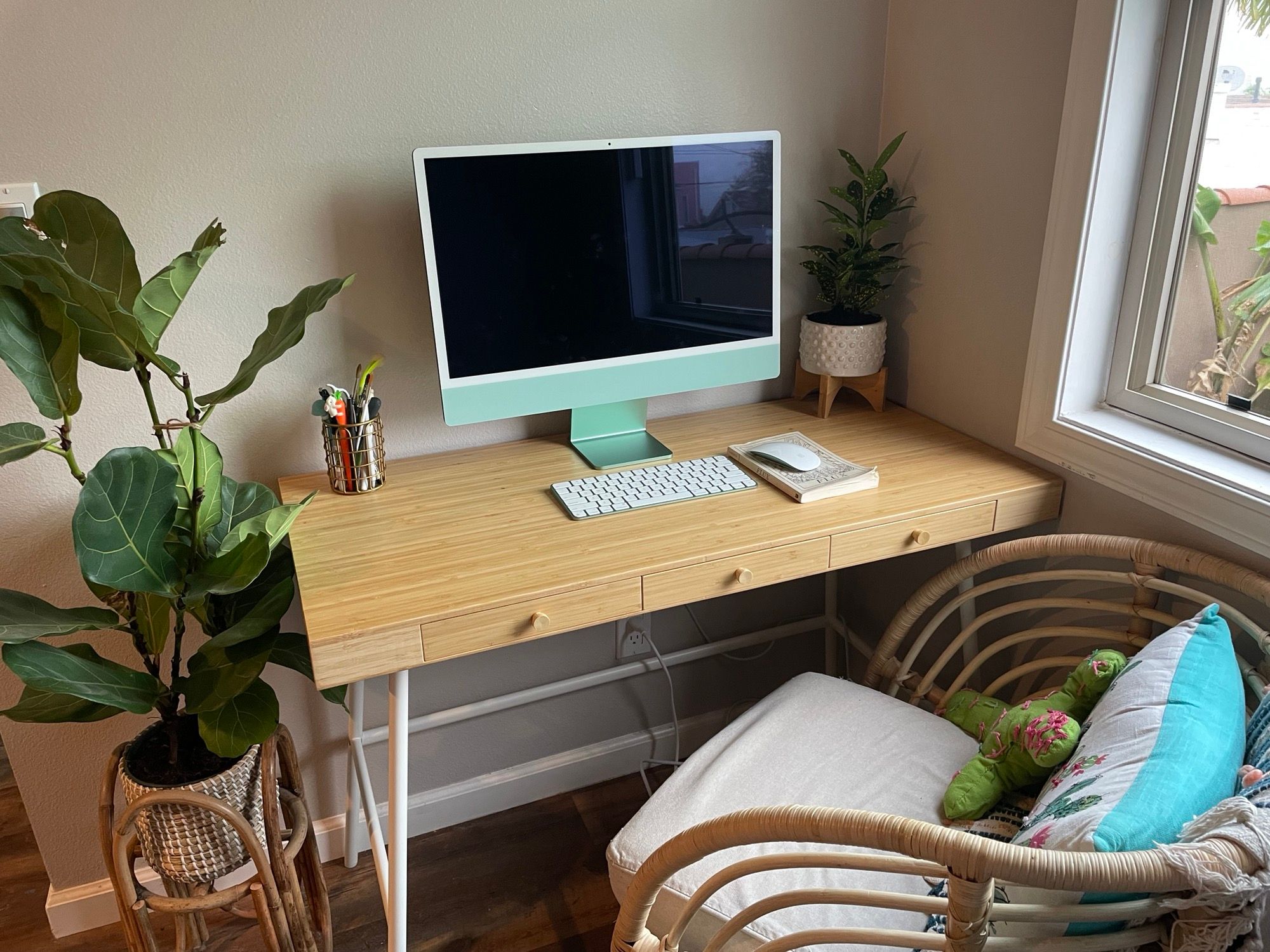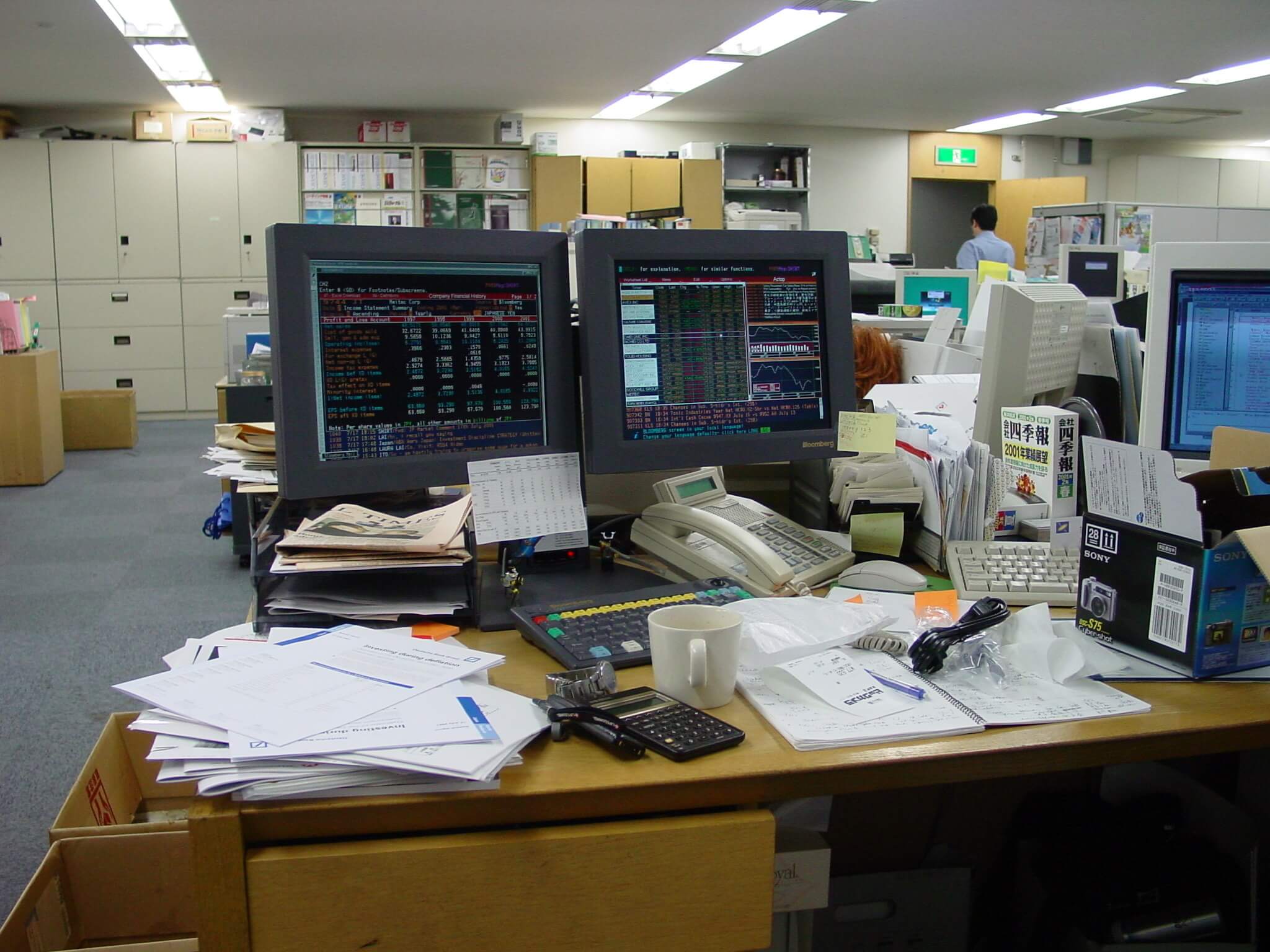 Hang things on a wall
Desk size: 50×120 cm (19,7×47,2″)
Room size: 135×180 cm (53,1×70,9″)
"My desk is actually located in my bedroom, so I'm considering just the space dedicated to the workspace.
I had two main challenges:
1) cable management, which I followed this guide to help me:
2) where to put my speakers. Finally, I decided to install a shelf to put them in.
Although it's best to keep the speakers at our head level when seated, I found out it wasn't a really big issue in a small room.
A cable raceway fixed on the wall (and similar colour) helped me hide the speakers' cable. It looked more natural.
Hanging things on the wall helps a lot when we have a small space!"
— By JoJoKun93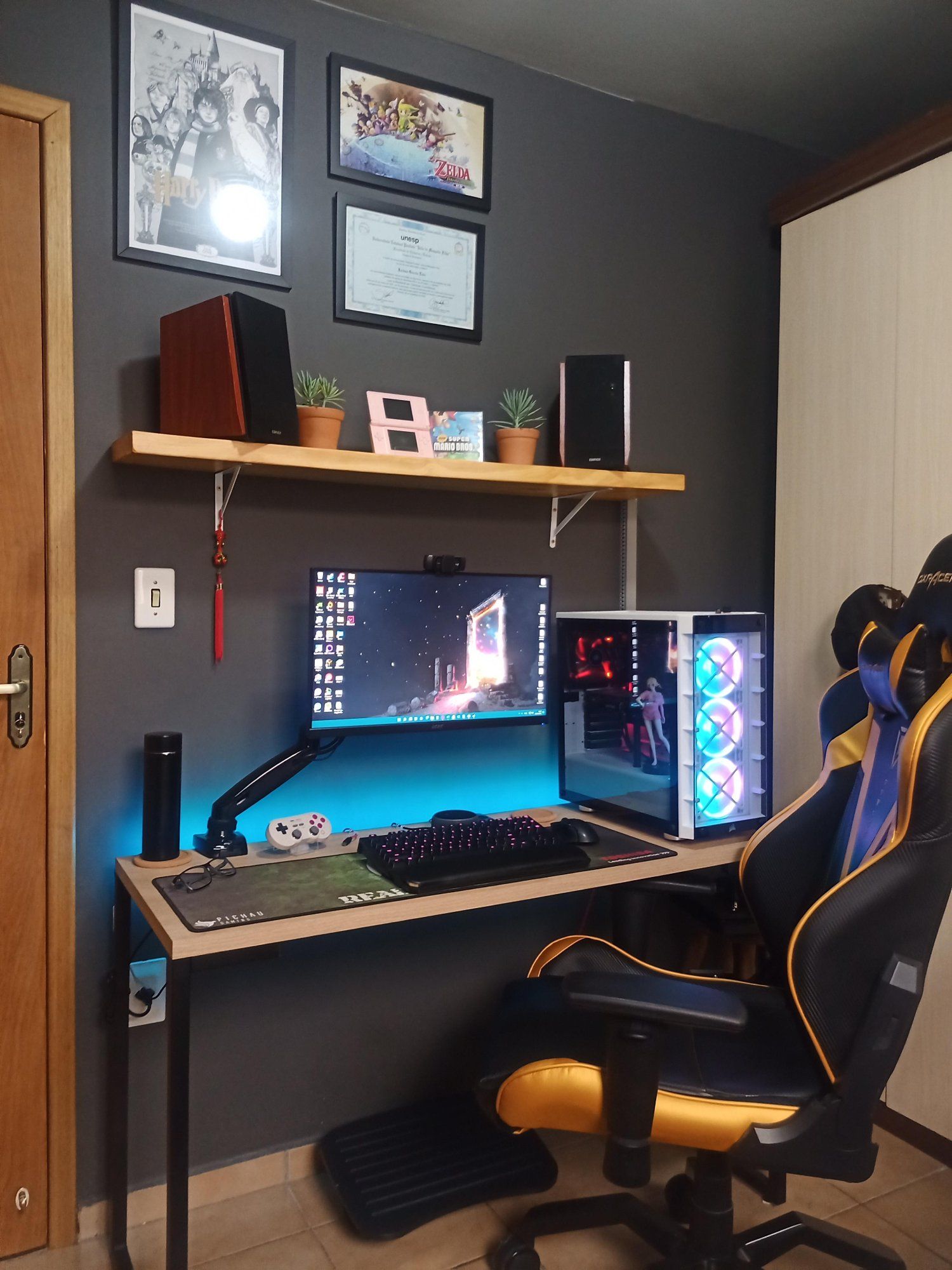 Measure twice, cut once
Desk size: 60×300 cm (23,6×118,1″)
Room size: 190×300 cm (74,8×118,1″)
"My room goes from one wall to the other with only about a 5 mm gap; it was a struggle to fit!
Having a small office, I didn't want to have any dead space, with ideas on how to utilise it all.
I was first looking at pre-built desks that would use some of the space but not all of it, finding the right size furniture was key.
After some trial and error (and some last-minute cancelled orders), I decided that doing the ever so popular ALEX drawers with a long worktop would work best to use all the space in the room.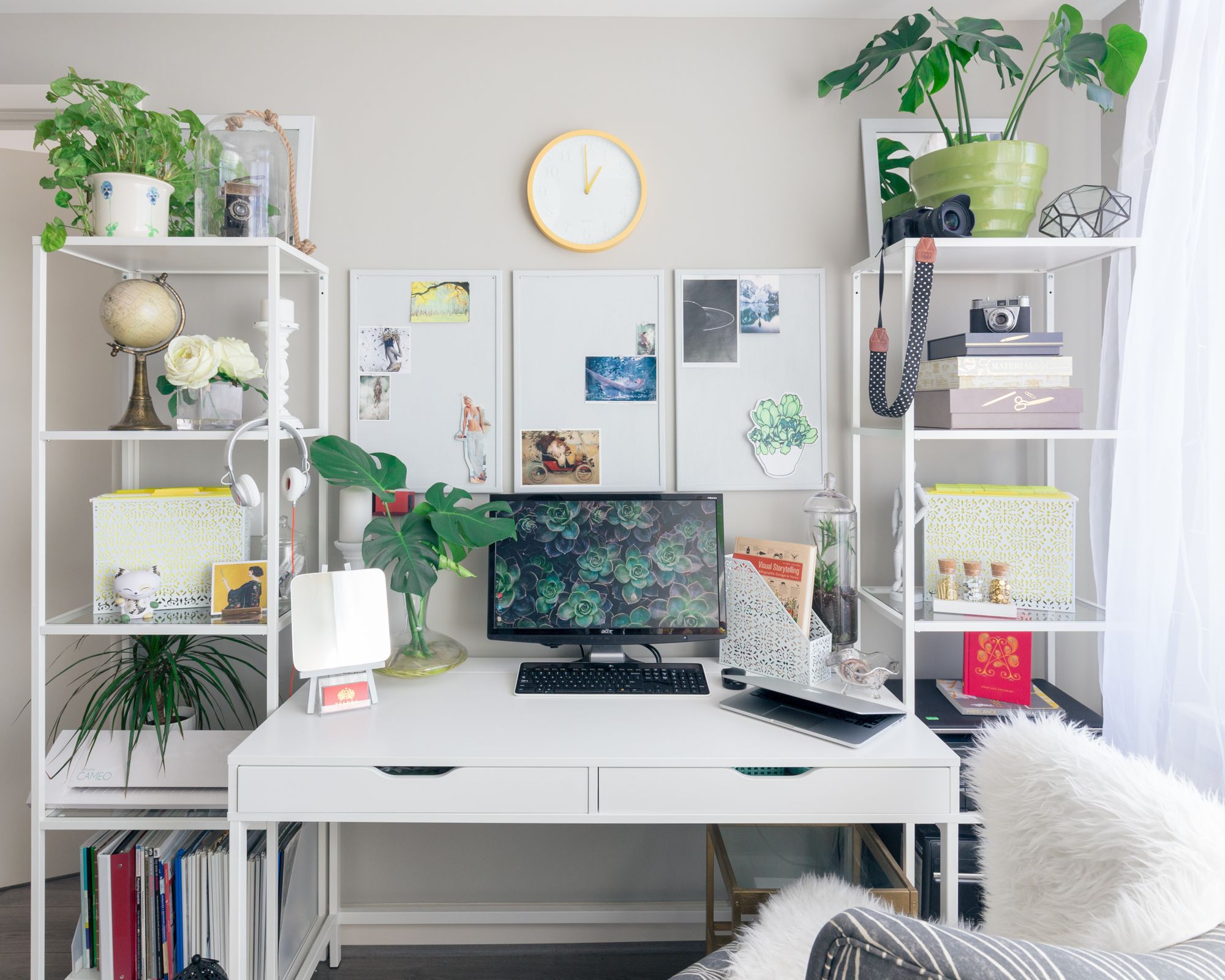 I could create out of view zones for storage and have enough desk space to work (while at home), and have my 3D printer out on the side all while not looking cluttered.
The challenge I had with this project was finding the correct size worktop for the room, I did look at 2-meter length worktops, but this would leave space unused. So after a quick measure of my walls, I bought a 3-meter worktop.
The problem I had was that seeing my house is over 200 years old. The walls were very uneven, so where I had measured 3 metres.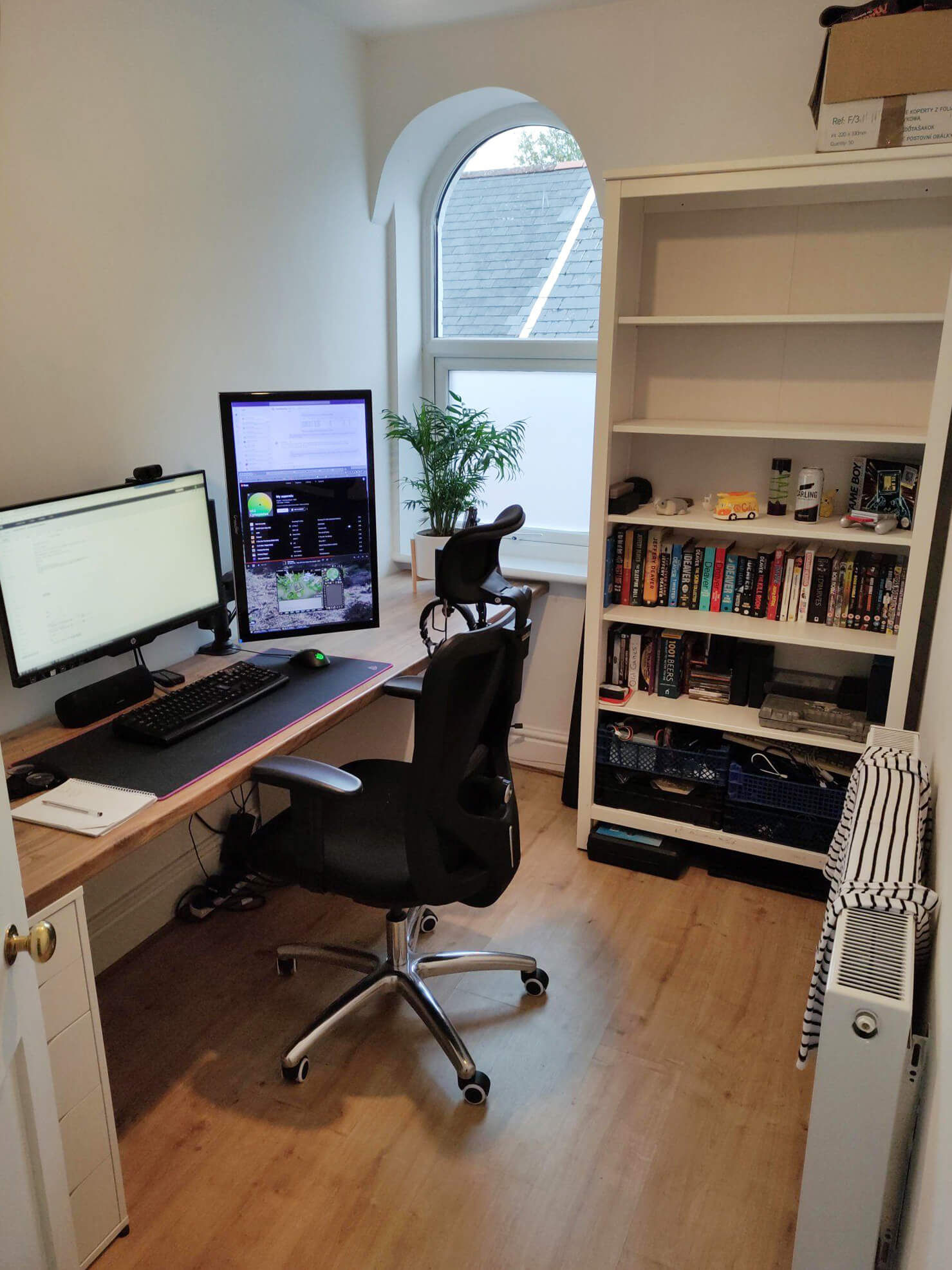 It was a bit under in some places, and this led to me struggling to fit the worktop in (in more than one way as I was doing this by myself and this worktop was quite heavy!).
I had to keep angling it in places to try and not scratch the paintwork, then cuts little angles off at a time to make it fit. Luckily the missing part could be hidden under the window sill. So measuring is key when buying a worktop!
Another challenge was trying to keep the office bright while having storage.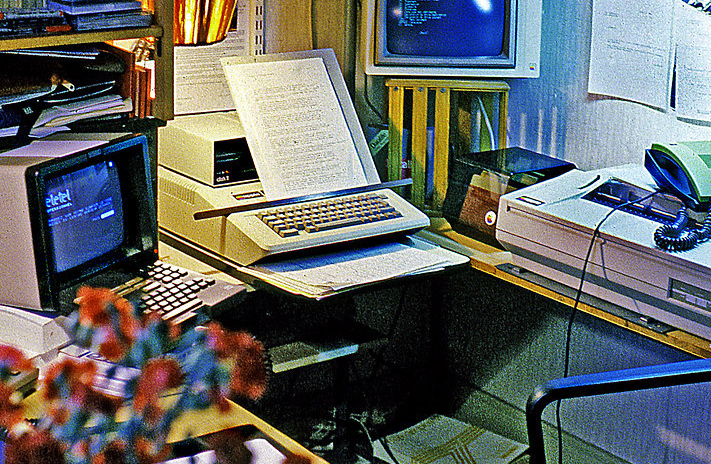 Due to the window, I couldn't have any blinds without killing the light, so privacy film at the bottom while leaving the top empty worked well.
The light comes in, and I can work from home in my pyjamas without worrying about people seeing me!"
— By paulrawr
Go for a drop-leaf desk
Room size: 12 m² (129 ft²)
"For a desk, I've chosen the BJURSTA from IKEA.
What I love about it is that it mounts to the wall and folds down when I'm not using it.
One of my concerns when starting this project was that I still wanted to feel like I had a lot of space in the room.
I wanted to be able to "move" the desk and chair out of the way when I didn't need them. The BJURSTA allows me to accomplish just that."
— By Chris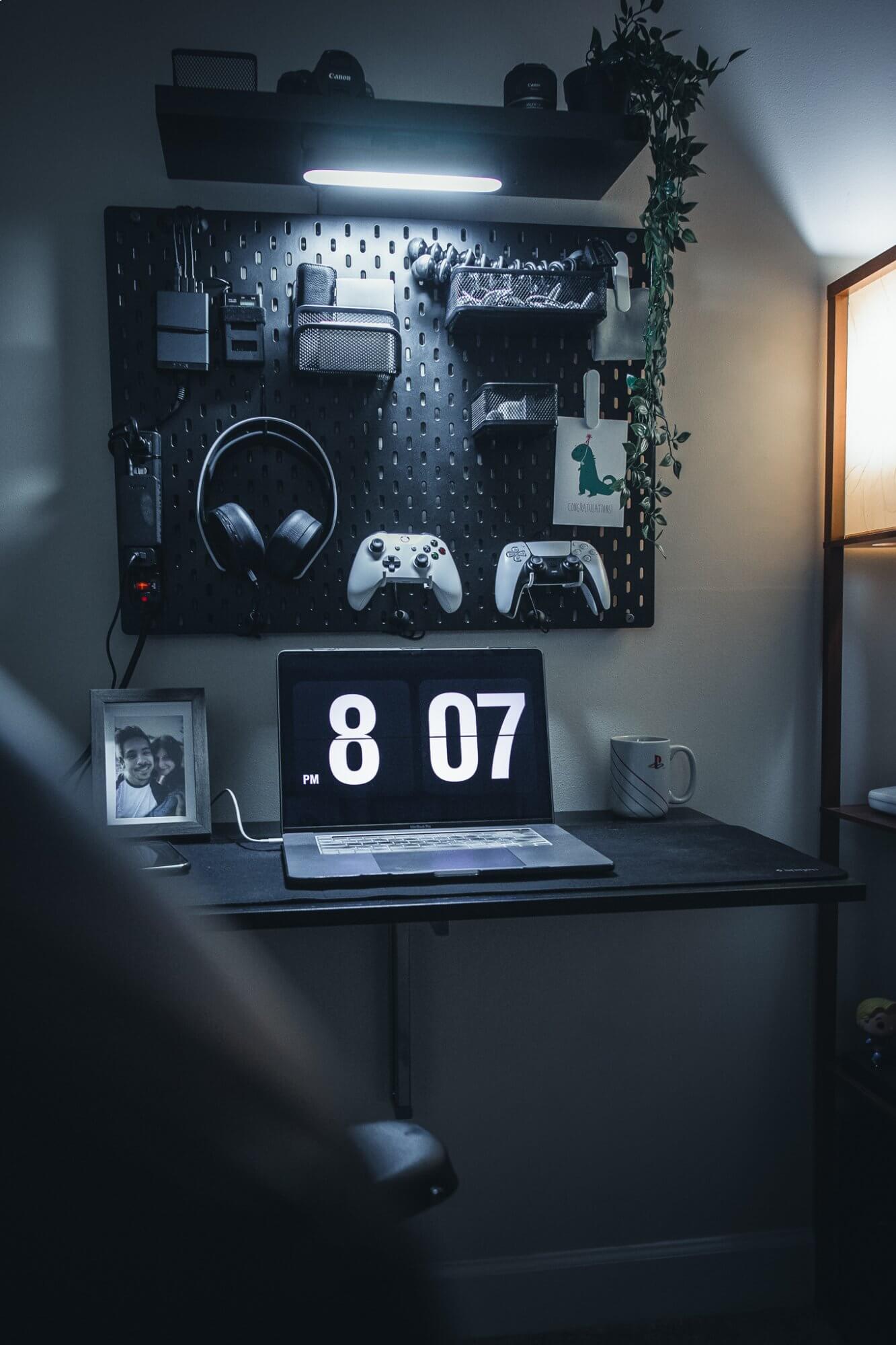 Make a custom desk
Desk size: 100×80×100 cm (39,4×31,5×39,4″)
Room size: 7,5 m² (80,7 ft²)
"The main challenge was how to position all my toy collections while having a work/game space to work with.
My table is a custom wood-steel combo made in my own dimensions. I preferred to stick to this fixed-height table rather than use the motorised one. I always utilise the maximum height of my chair, given that I'm six feet tall.
If I need to stretch, I use the foldable desk. I got it from Deskbros. The desk is right beside my door.
I'm sticking to black, grey, and white when picking essentials as I think they are easy on the eyes and they just go along with my room interiors."
— By varrianph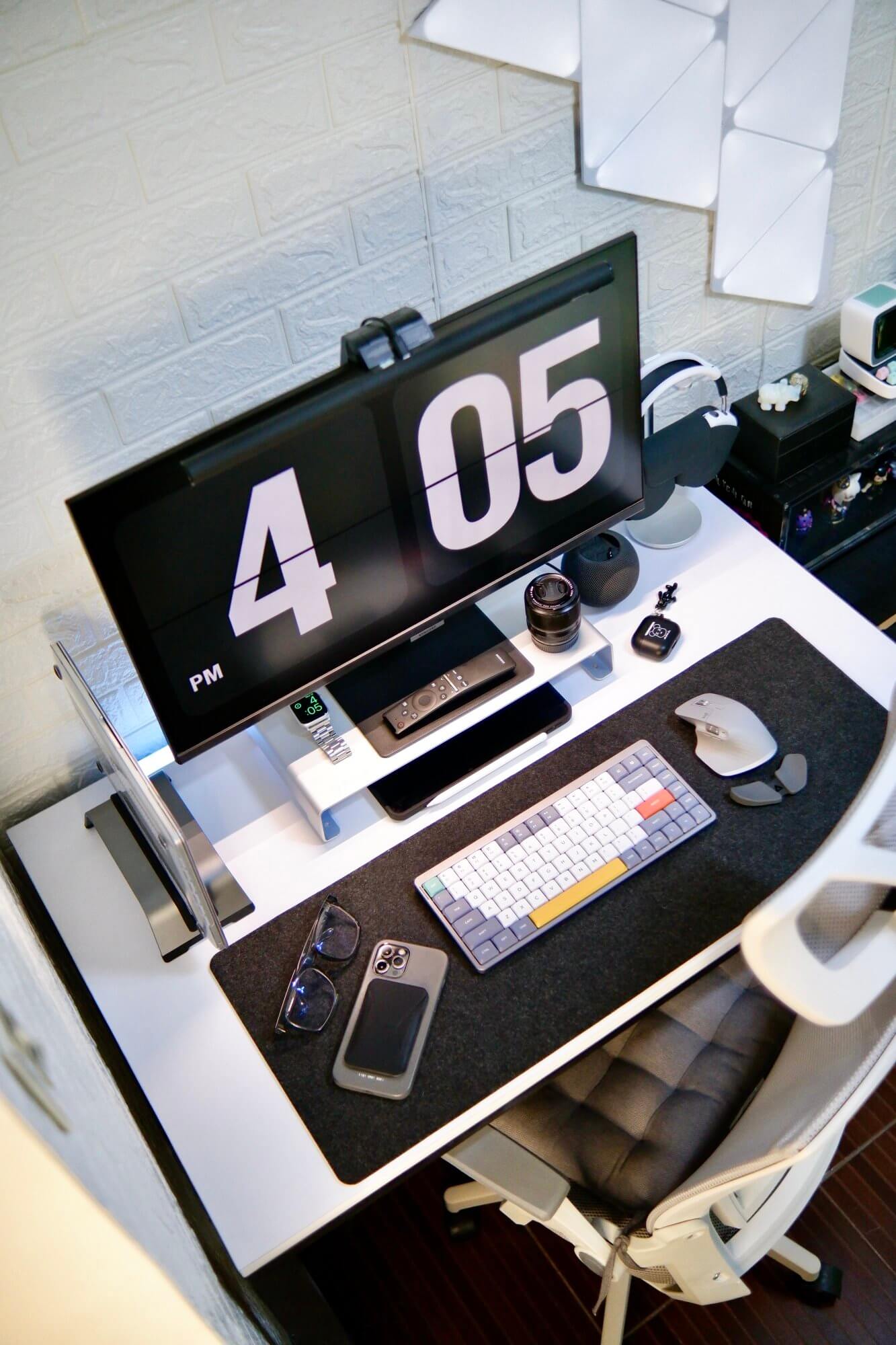 Put function first
Desk size: around 120 cm in length (47,2″)
Room size: 3×3 m (10×10′)
"I didn't customise my home office much since it was already installed when we bought the house.
The main challenge was to set it up, especially when the pandemic started. It took some time to find what works.
With me, it's always function > aesthetic.
A lot of other desks have these light panels, all white and clean space, but I keep mine realistic.
It's a bit messy, and not everything is Instagrammable, but it's a real desk that allows me to do my work well 🙂
It stays true to who I am — loves to write/take notes, use post-its to remember stuff, drinks A LOT of coffee, has crystals and essential oils. Haha!"
— By Alea SG
Turn your closet into a cloffice
Desk & room size: Unknown
"The main challenge was to find a space for my desk setup so that it didn't make the rest of my room feel cramped.
I found some inspiration by looking up "closet desk setups," so I found a way to minimise the space my clothes took up and squeezed my desk in there.
But the real challenge was money for the setup. 😂
I used a cheap 48-inch desk off Amazon for $50, and it's surprisingly super solid.
The overall cost was around $1850. The PC, mouse, monitor, and keyboard were $1240. The rest went to random décor."
— By Keen2261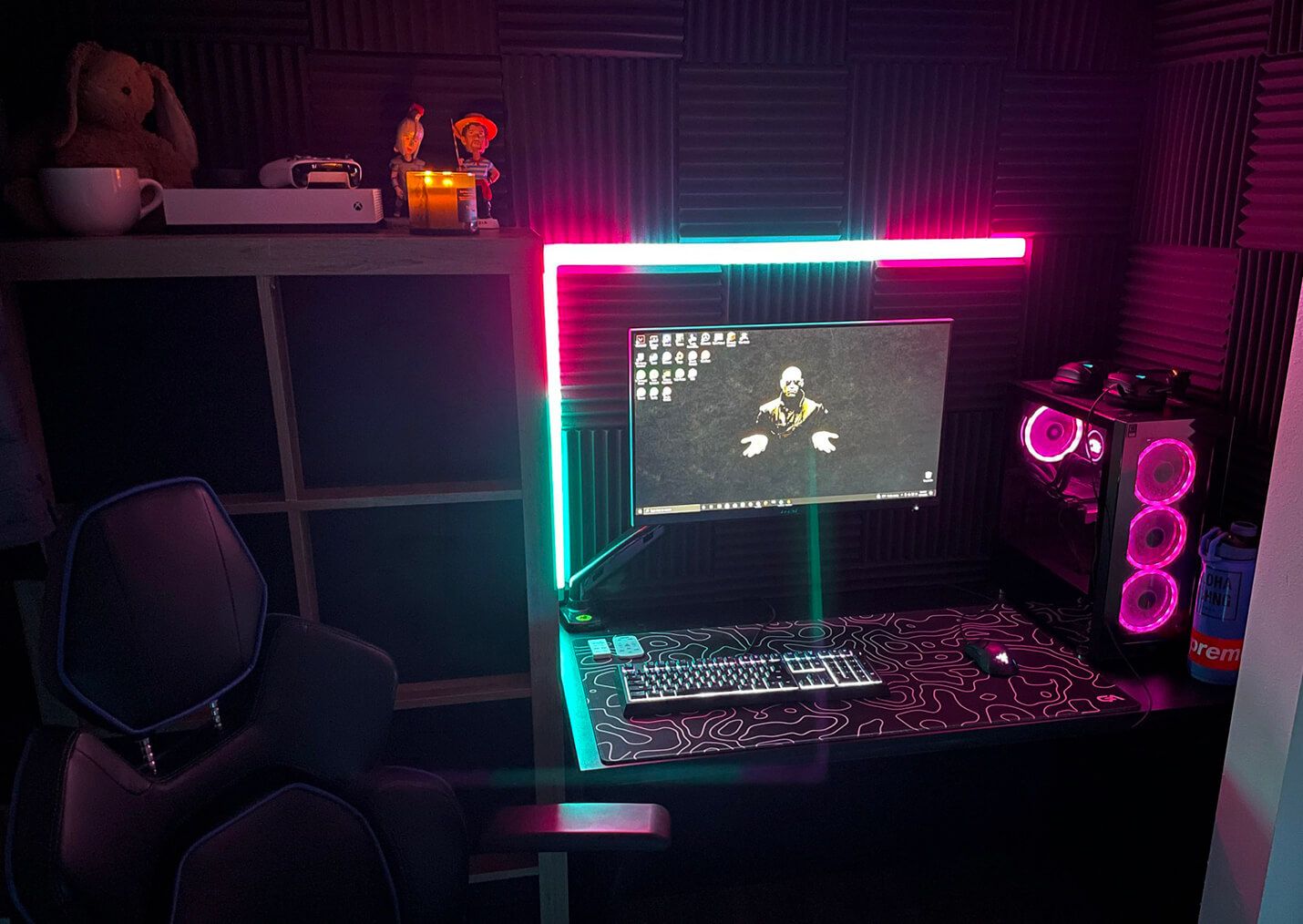 Make the most of the space you have
Desk size: 70×60 cm (27,5×23,6″)
Room size: 15 m² (approx. 160 ft²)
"My home office room is actually the room for two kids, so I had to use the little space I had so my desk was in between their desks.
The biggest issue was to get the laptop, so it is easily detachable but out of the way.
Thankfully, it was IKEA to the rescue once again."
— By Henri Kovanen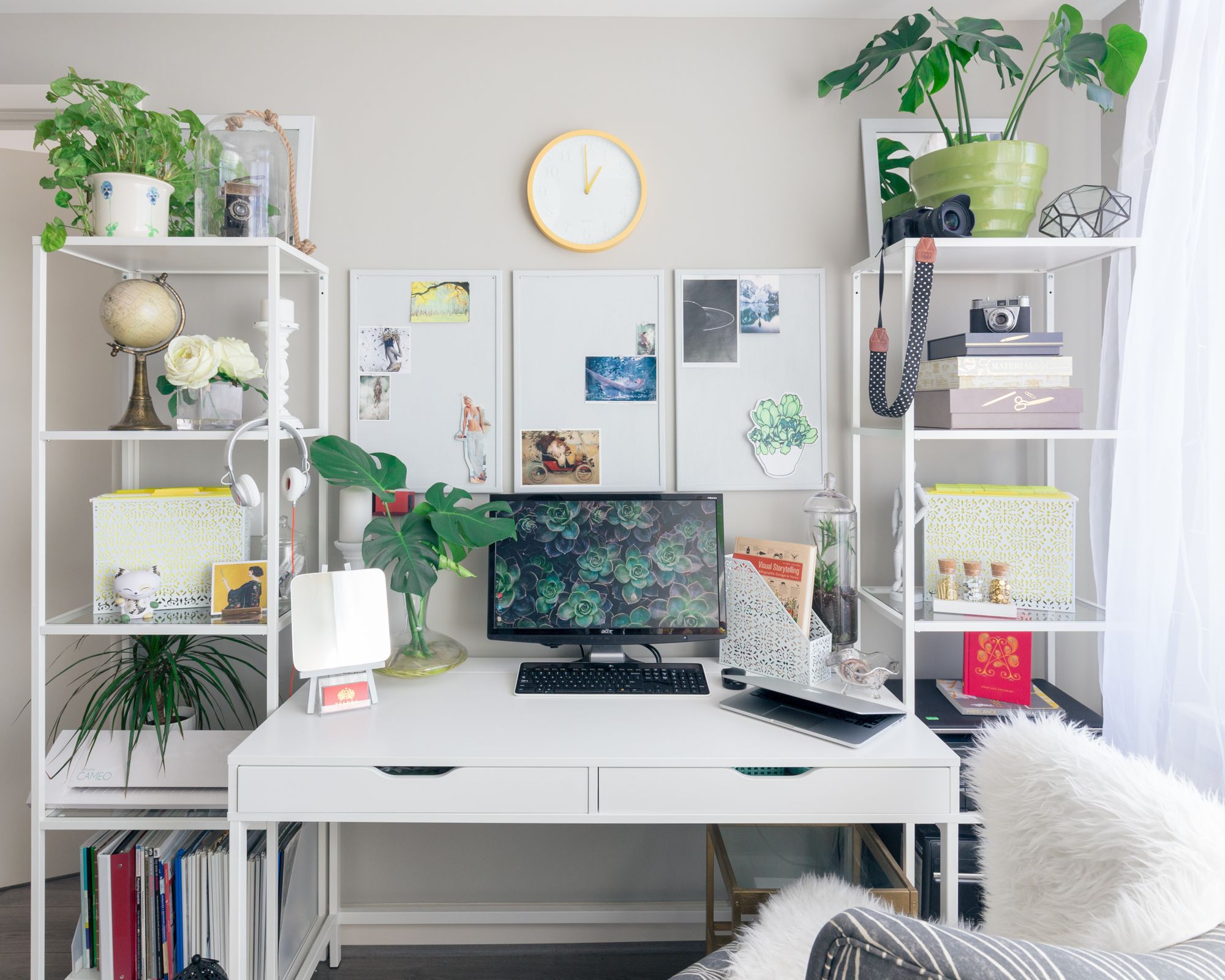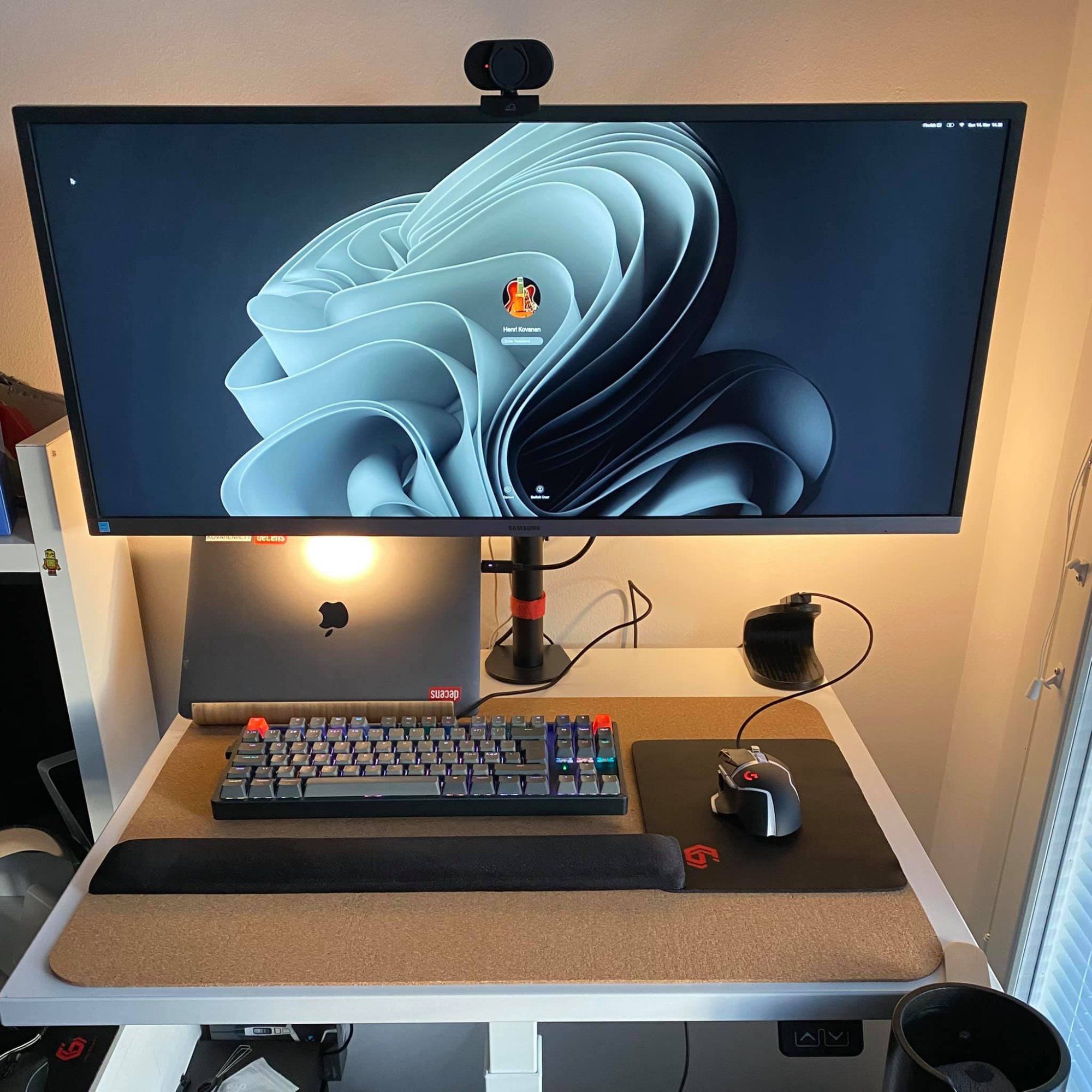 Opt-in for a standing desk
Desk size: 119×61 cm (47×24″)
"The challenge I had with fitting all the items in my workstation is to make it functional for both standing and sitting so I have my essentials at easy reach in both positions.
With a standing desk, you usually mix usage between standing and sitting so that's essential.
I also had a challenge with the monitor mount by starting with cheaper options, but I would say invest in the slightly more expensive mounts.
Considering the price of a monitor, you don't want to put that at risk!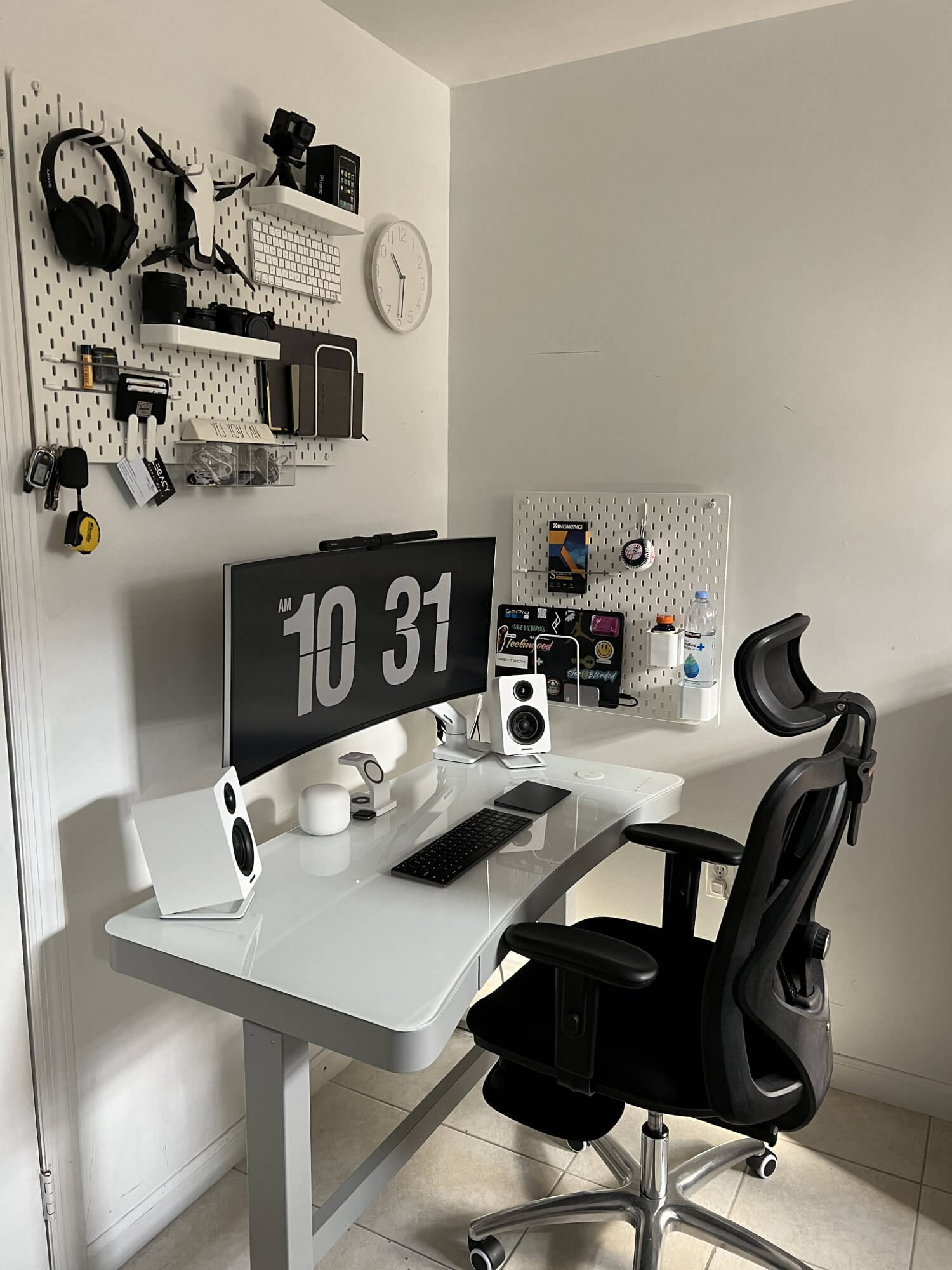 I had difficulties clamping onto a glass desk, but I was able to get creative on adding wooden beam supports to create some support for the glass top.
And my final tip would be that you should consider what's most important to you and start with those items, then slowly build your setup the way that fits your creativity and productivity the most!"
— By Leonard Marte
Integrate your desk setup with the rest of your space
Desk size: 203×229 cm (80×90″)
Room size: 4×3 m (13×10′)
"The main challenge here was to blend my workspace in the living room since it's not only a working area.
I maintained the white simple look and the grey metal parts seem to blend pretty well.
The desk was a sale from my workspace, and it was very cheap, 30 Ron ($7). It's like a pack of cigarettes here in Romania.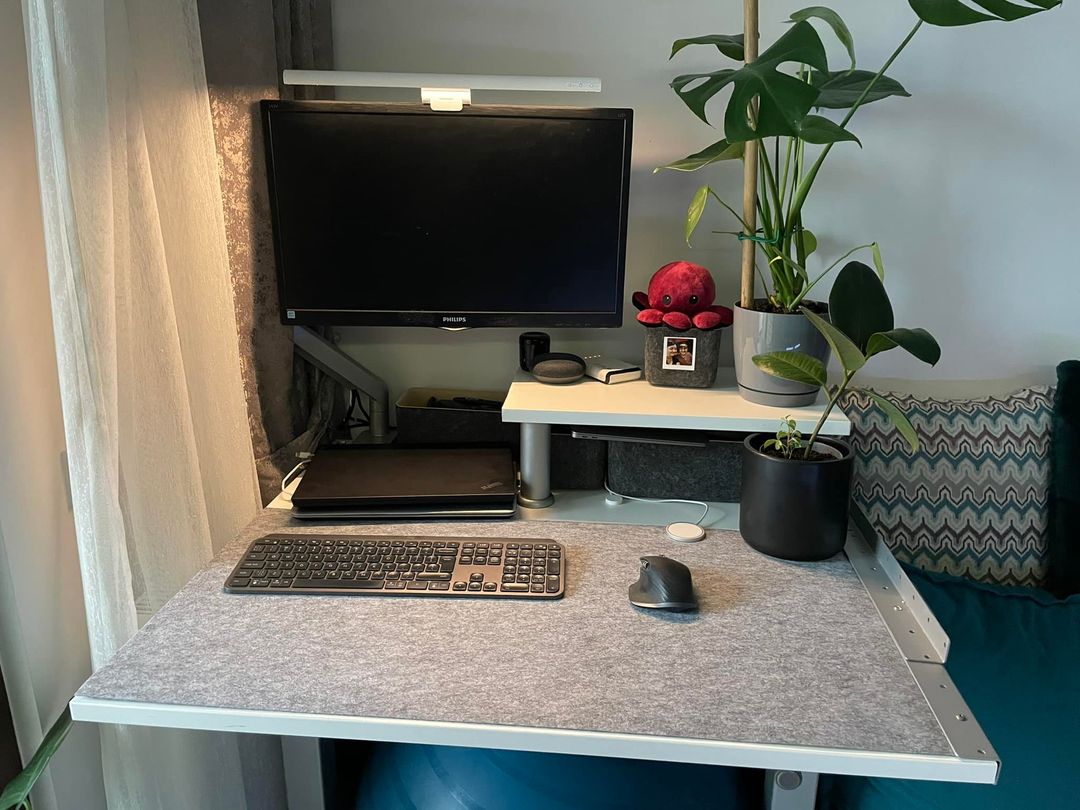 Most of my living room furniture is white, and this is why I say it's blending with the rest of the space, while the couch is turquoise.
When finding the furniture, I documented a lot from Pinterest and searched for what colours go together well, and it seems that grey, turquoise, brown and grey match perfectly."
— By Rosu Vlad-Gabriel
Plan your lighting, heating, and ventilation
Desk size: 105×62 cm (41,3×24,4″)
Room size: 135×113 cm (53×44,5″)
"With such a little room, there are two main challenges.
One is lighting — it will very easily get dark. I solved this with floodlights.
The other one is ventilation. It does not take much heat for a small closet to heat up. I never managed to solve this completely.
This makes for a perfect room for concentration and not just more without active airflow."
— By Ottetal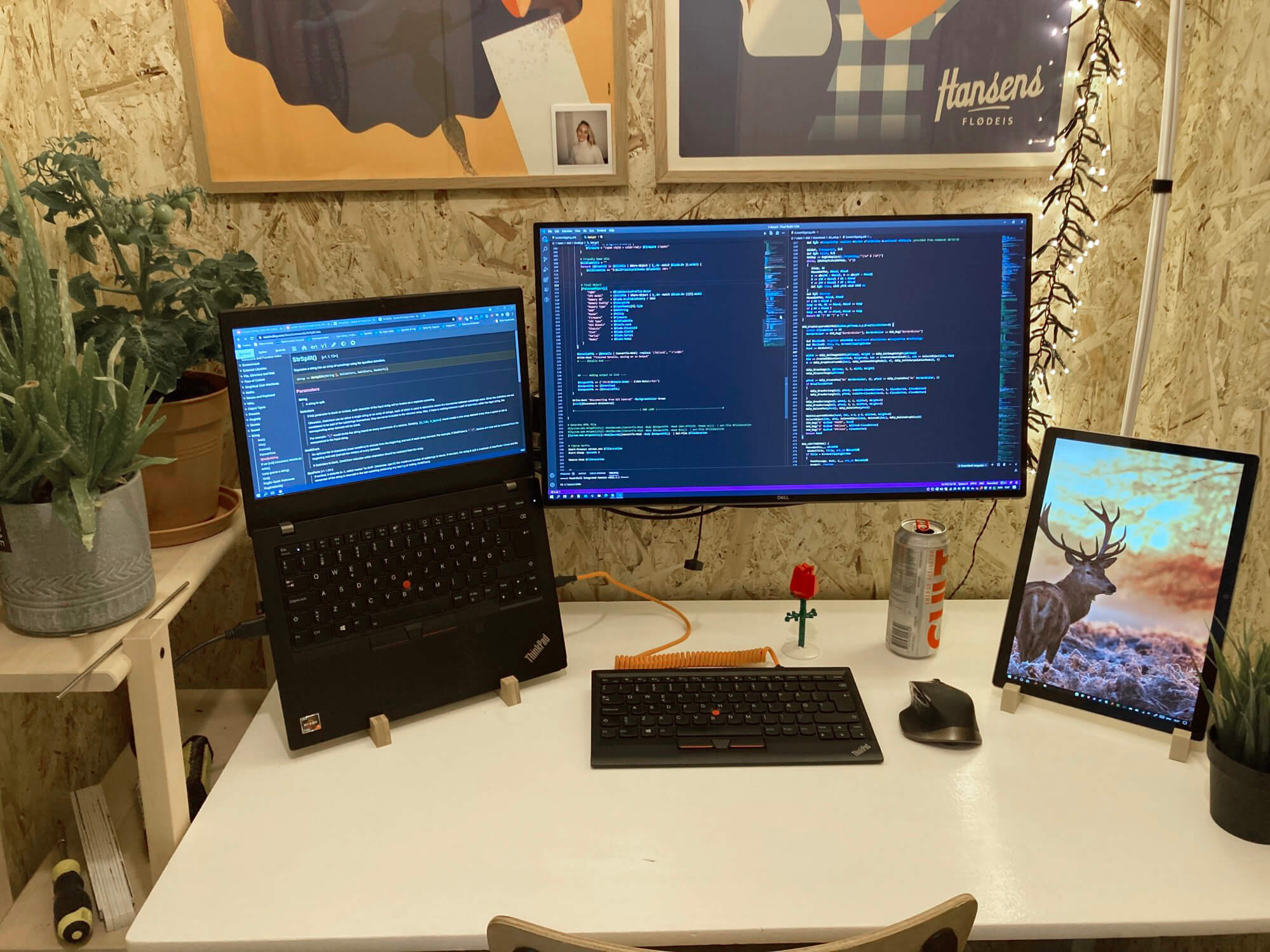 Pick multifunctional furniture
Desk size: 71 cm wide (28″)
Room size: 4,6×4,3 m (15×14′)
"The room is actually 210 ft² (19,5 m²), so it's fairly large.
However, after we put in our couch, media console, Peloton, coffee table and chairs, we only had this tiny corner wall for a desk which is 28 inches wide.
The main challenge was the cable management due to all the precise measuring but it's worth it.
For the first, we didn't have the cable covers and it just felt so messy and cluttered.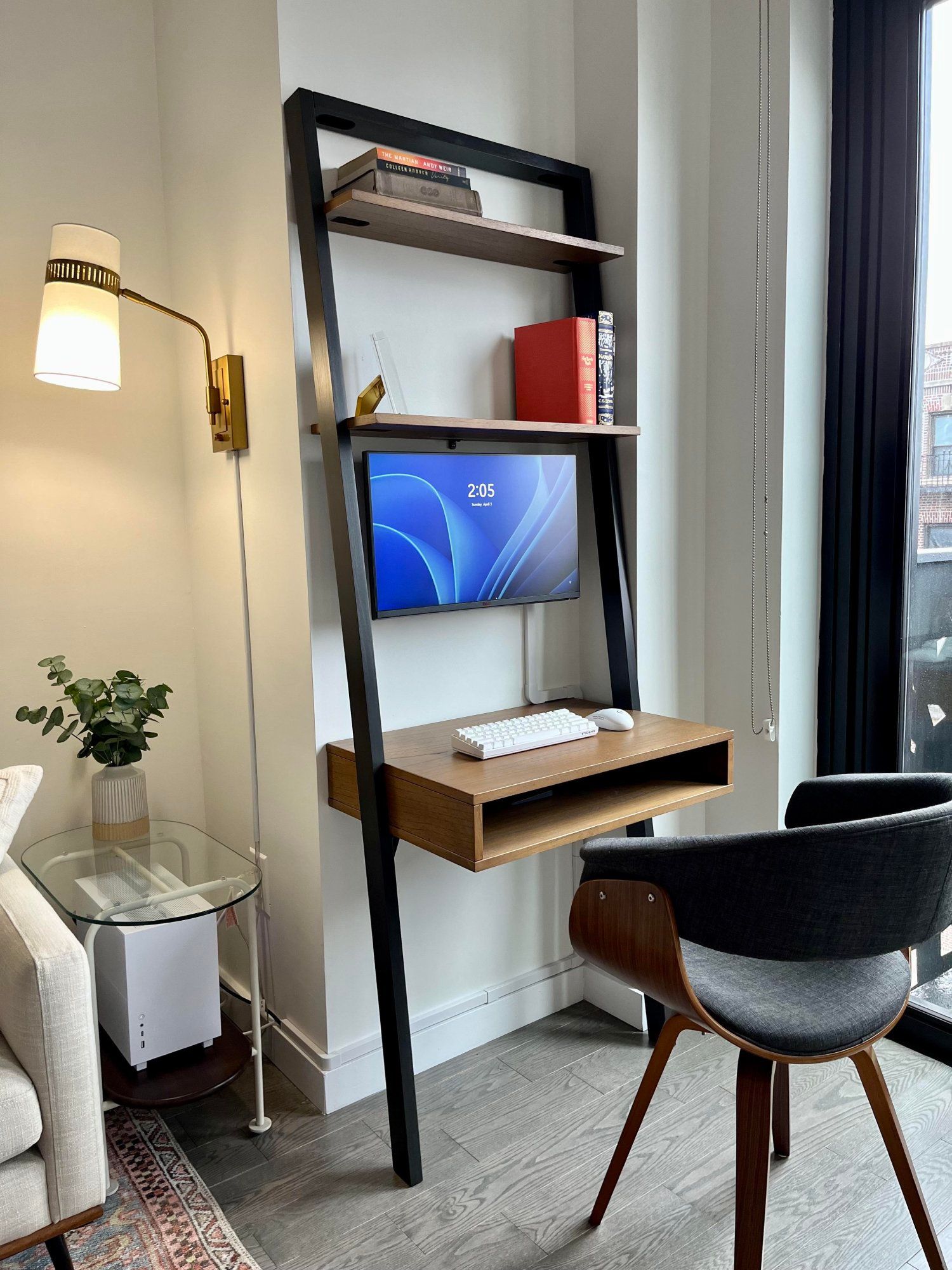 It helped make things feel tidier and thus more inviting once that was done. Wall mounting the monitor, too, gave us more precious desk space.
Small spaces don't have to be limiting, and it is worth investing in the right pieces, in my opinion.
We also like to look out for furniture that can do double duty, like being a desk/bookshelf or a coffee table/storage bin, that kind of thing."
— By FreddyRoosevelt
Liven up the "dead space"
Desk size: 122×61 cm (48×24″)
"My room is a decent size, but I have my bedroom desk and podcast setup in there, so it gets cramped.
I think the biggest tip for small spaces is to measure everything so that whatever you get fits perfectly and there's no dead space.
By 'no dead space' I mean that you don't have anything superfluous in your workspace, but at the same time, everything has its own place and does its job."
— By waleedswagg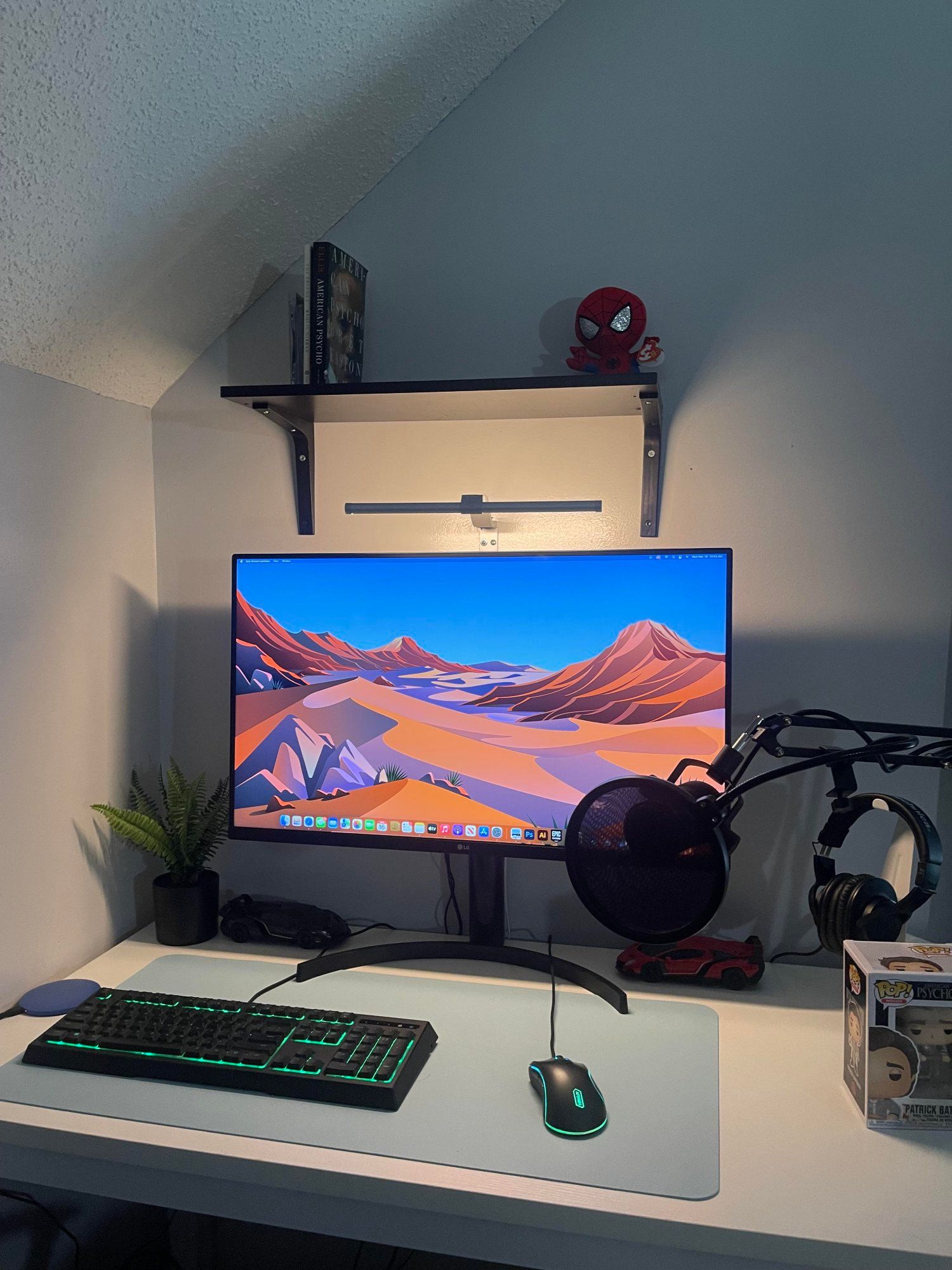 Try a mobile laptop desk
Getting a mobile laptop desk is the way to go if you want the convenience of a lap desk, but also need more space for a mouse, keyboard or notepad.
"I can easily move it around close to a window or another room if want a change of surroundings", says plantegral.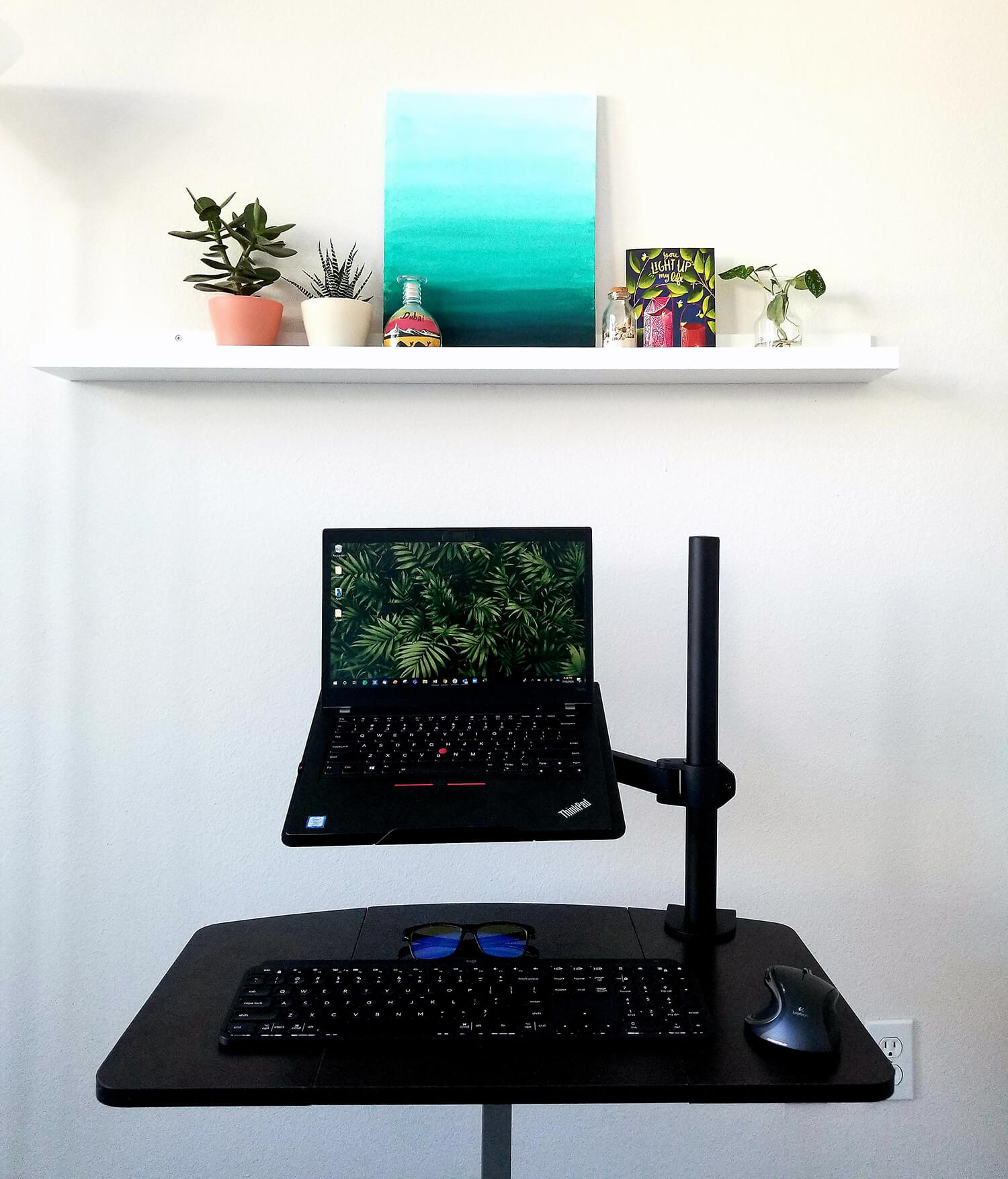 We're a reader-supported publication. This article might contain affiliate links. It means we may receive a commission if you click a link and buy a product that our maker has recommended. The article was written independently.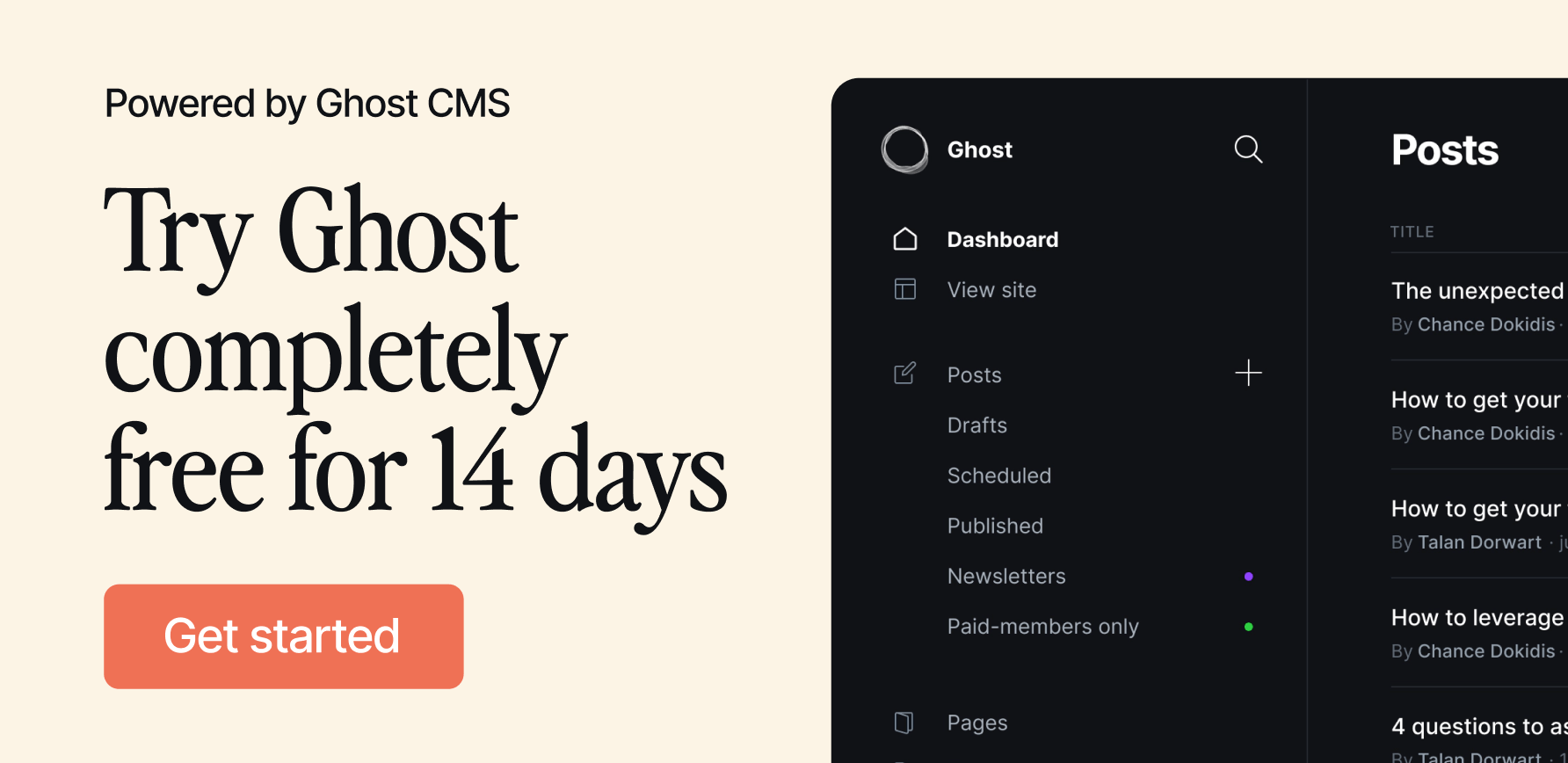 ---