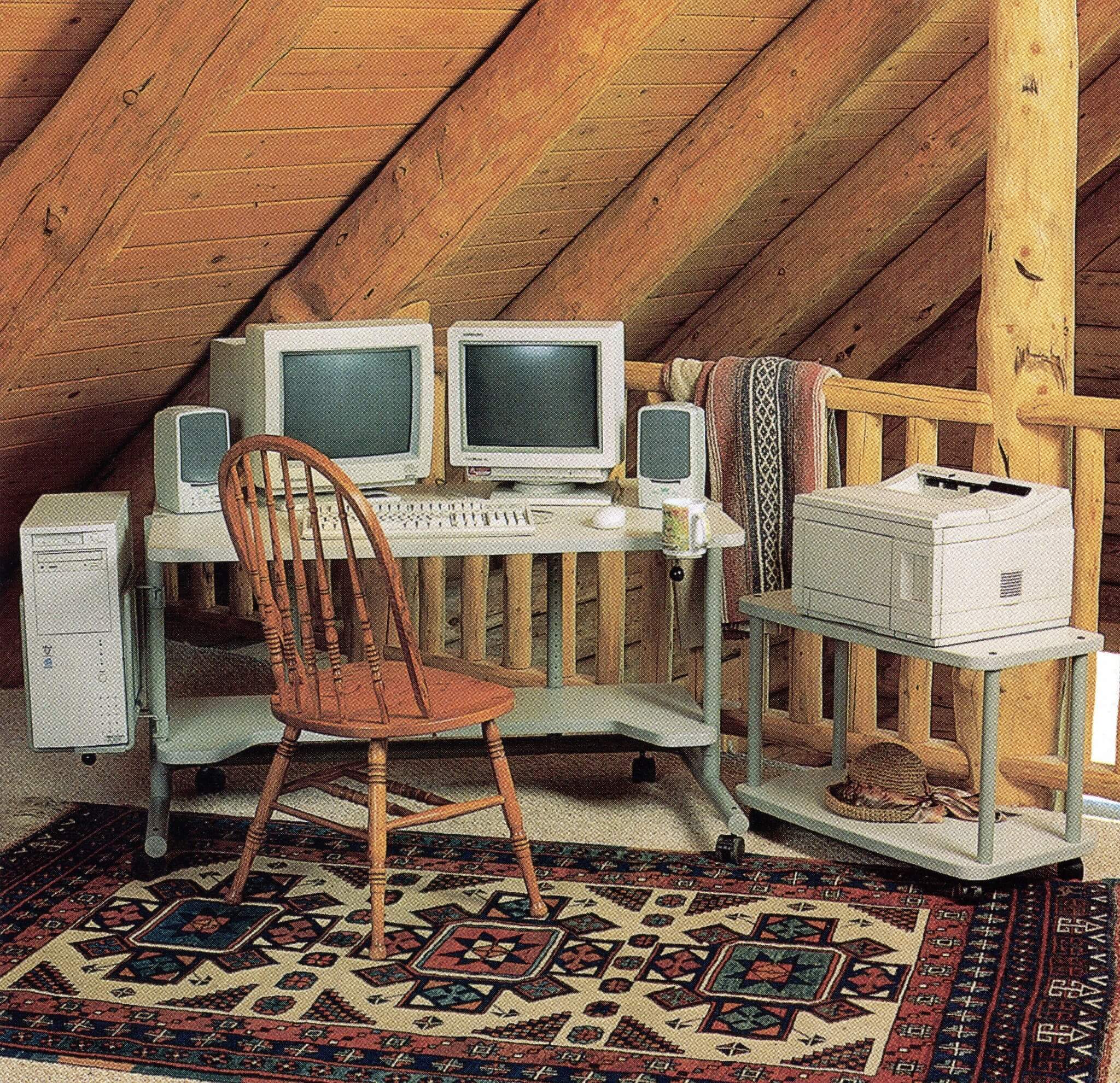 21 Cloffice Ideas. How to Turn a Closet into an Office
Even the oddest closet corner may hold more potential than you think. Find out how to make the most out of it.

A dedicated home office, even if it's just a tiny nook, has been directly linked to productivity in several studies.
Working from a bed or sofa might seem comfortable but actually, it's not a good idea. This area is normally associated with sleep — and our mind is trained to expect relaxation rather than work.
That's why even in small spaces, an area designated for WFH leads to increased productivity. The reasons being that there are fewer distractions, less cognitive load on our brains and as a result, a more focused working environment.
The problem is that many WFH employees or freelancers often lack the space in their homes to set up a proper office.
Thus, what we call a WFH closet, or a cloffice, has evolved into a trend of its own.
What is a cloffice?
The term "cloffice" refers to the concept of turning your closet into a mini-office.
A cloffice is a closet or nook that has been transformed into a home office.
This doesn't only mean spacious walk-in closets. The basic requirements of a closet home office include an area you can use as a desktop surface, some space for arranging important files plus other office supplies, and a chair to complete the setup.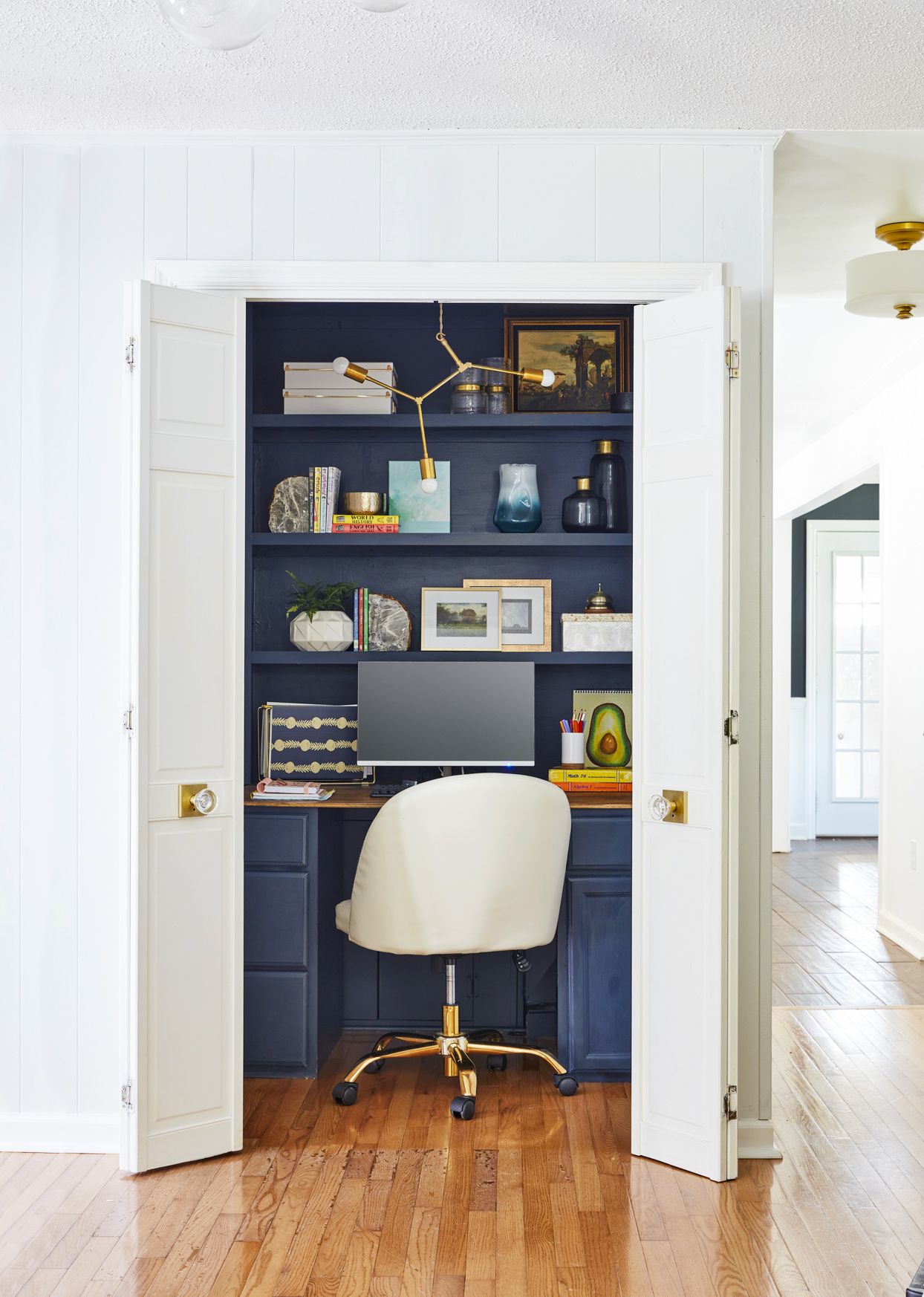 At the end of a workday, the closet door can be shut to separate the office from the living space. Depending on the kind of cloffice you opt for, it can also become a part of your room's decor.
Here are some handpicked cloffice ideas that will help to create your own happy workspace.
DIY cloffice checklist
Feel free to use this simple DIY checklist as guidance to design a WFH closet office tailored to your taste.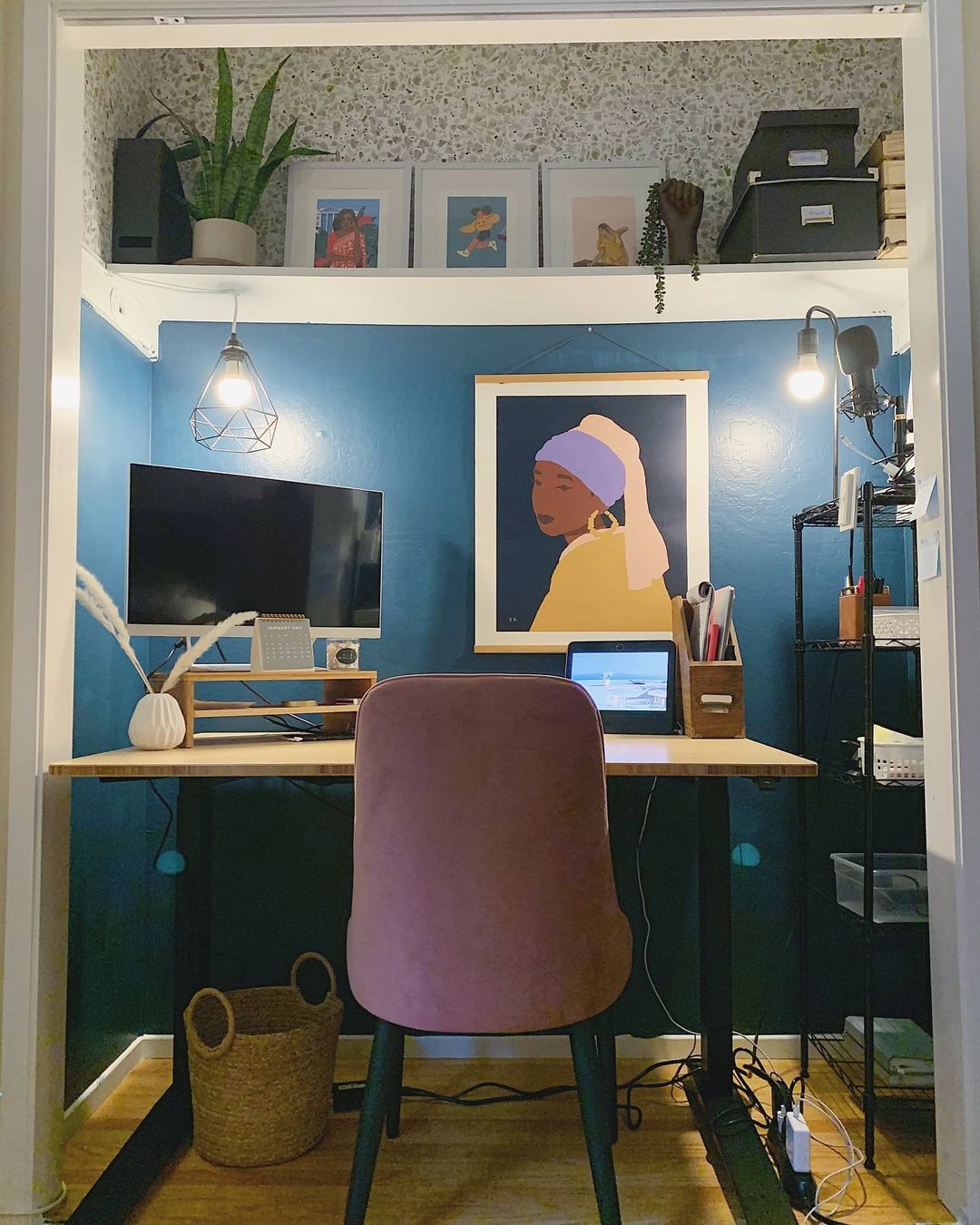 A chair and a desktop. That's the essence of a cloffice. Everything else can eventually be improved. If you have a walk-in closet, position the desk where the light flows freely. If it's a linen or reach-in closet (a cabinet for sheets and towels with deep shelves; they're often narrow, can be doorless, and it's common to find them in hallways between bedrooms and bathrooms), there's an option to fit in an entire desk or create a desk from scratch by mounting plywood or other similar material. Try to find a chair that fits inside the cloffice so that you're able to shut the closet door with ease.
Light sources. Think about the ways you can improve the existing lighting or if you would rather add more lighting fixtures.
Storage. What are your storage options? Are you going to use the entire closet as your cloffice? Is there a part you want to set aside for your clothes or other items? If so, how much space do you have left? How many shelves should there be in the closet?
Shelving units. Are you planning to use the existing shelves inside the closet? Would it be better if you take these out and add new shelves to the small area? Perhaps, you want to add hooks for lighting or hanging some decorations. These hooks can be useful for fitting cabinets, too.
Space dividers. If you decide to remove the closet door to fit a chair into the setup, you might be looking for something to differentiate your cloffice from the rest of your space. A good idea would be to use room dividers, which you could easily slide to the side when needed, or curtains.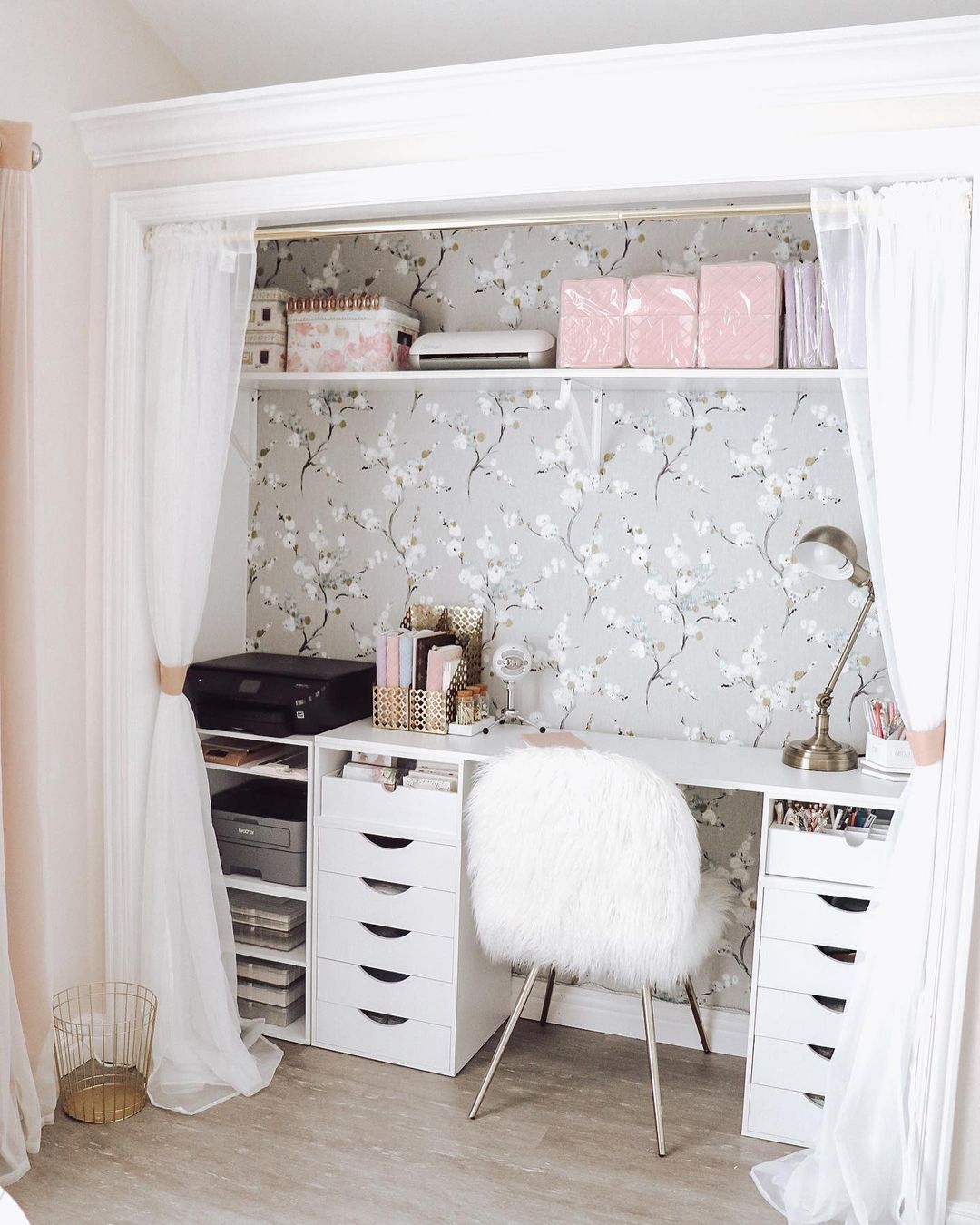 How to turn your closet into a home office?
After a basic cloffice setup is done, it's time to take a look at 21 practical ways you can enhance your workspace and make it personal.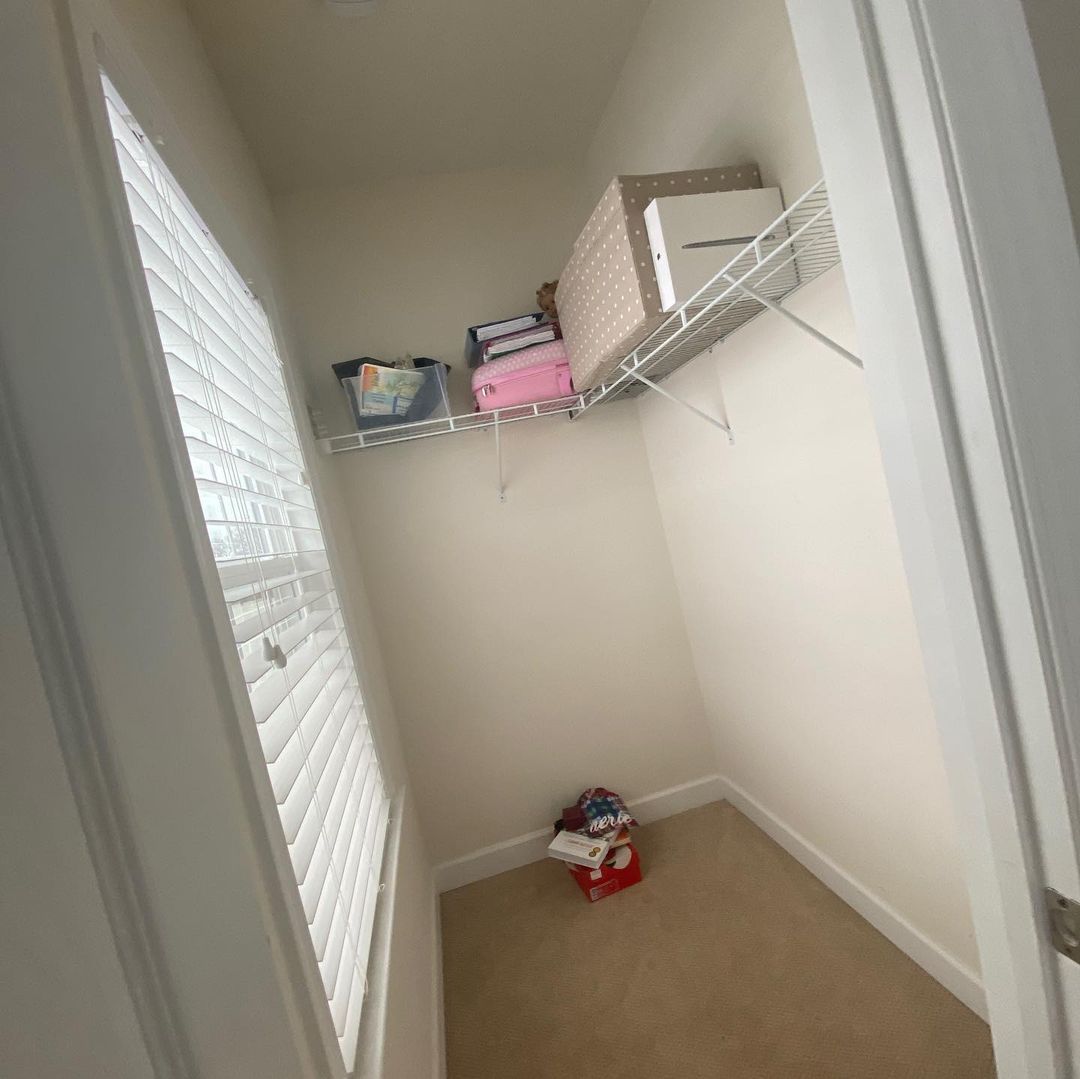 Invest in an ergonomic chair
Choosing the right chair is similar to choosing a mattress: we spend the better part of a day (or night) in it. You want both to be comfortable yet provide firm support for your back.
Avoid gaming chairs, as they're often made from non-breathable materials.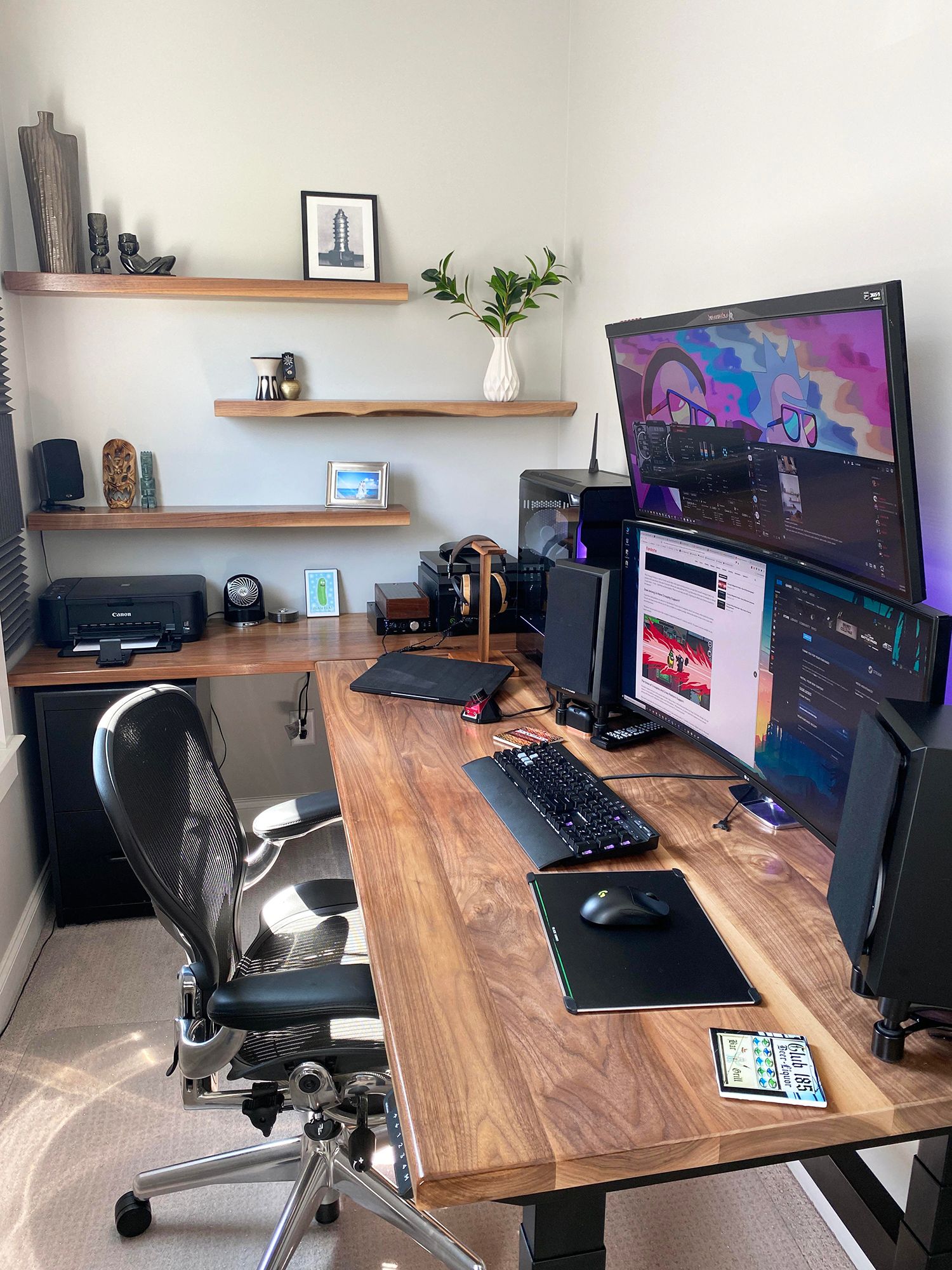 Steelcase, Humanscale, and Herman Miller products are expensive (Aeron, Mirra 2, and Embody are our personal favourites), but the benefits should far outweigh the cost.
It's a necessity, not a luxury.
If you're on a budget, keep an eye out on Facebook Marketplace, eBay, Gumtree (if you're living in the UK) and Craiglist (if you're based in the US).
If there is a used office furniture store near you, you can find a great deal on a refurbished item and save a fortune.
Alternatively, consider Markus from IKEA as a budget-friendly option.
Paint the walls and ceilings
A closet is a naturally dark space, with little or no access to daylight.
You could opt for warm-toned neutral colours containing yellow, pink or orange undertones — these hues can make a dark space seem larger.
Some people embrace the lack of light and create a more intimate atmosphere by adding dark colours, which also adds cosiness to the space.
Whatever colour you choose, don't forget to test a sample in a real cloffice: a colour on a screen is not an accurate representation of what you're going to see in real life.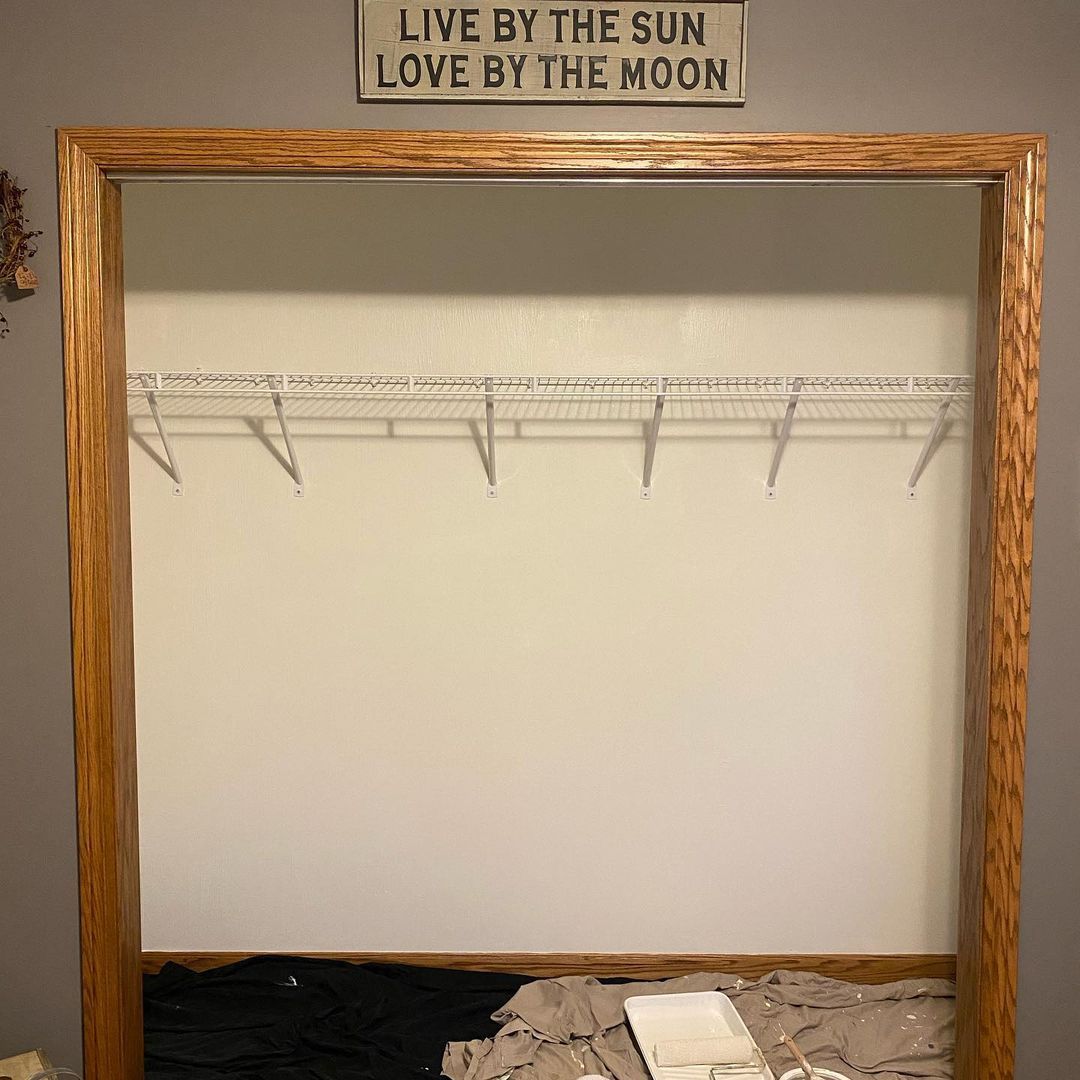 Get some wireless puck lights
The right lighting is a key factor for productivity. How do you go about fixing the lighting though? If you're not keen on rewiring the inside of the closet, puck lights would be a good option.
Attach them to the ceiling of the closet or if there are shelves above the desk, stick the puck lights under it. These are bright lights and buying a couple of them should considerably cheer up the space.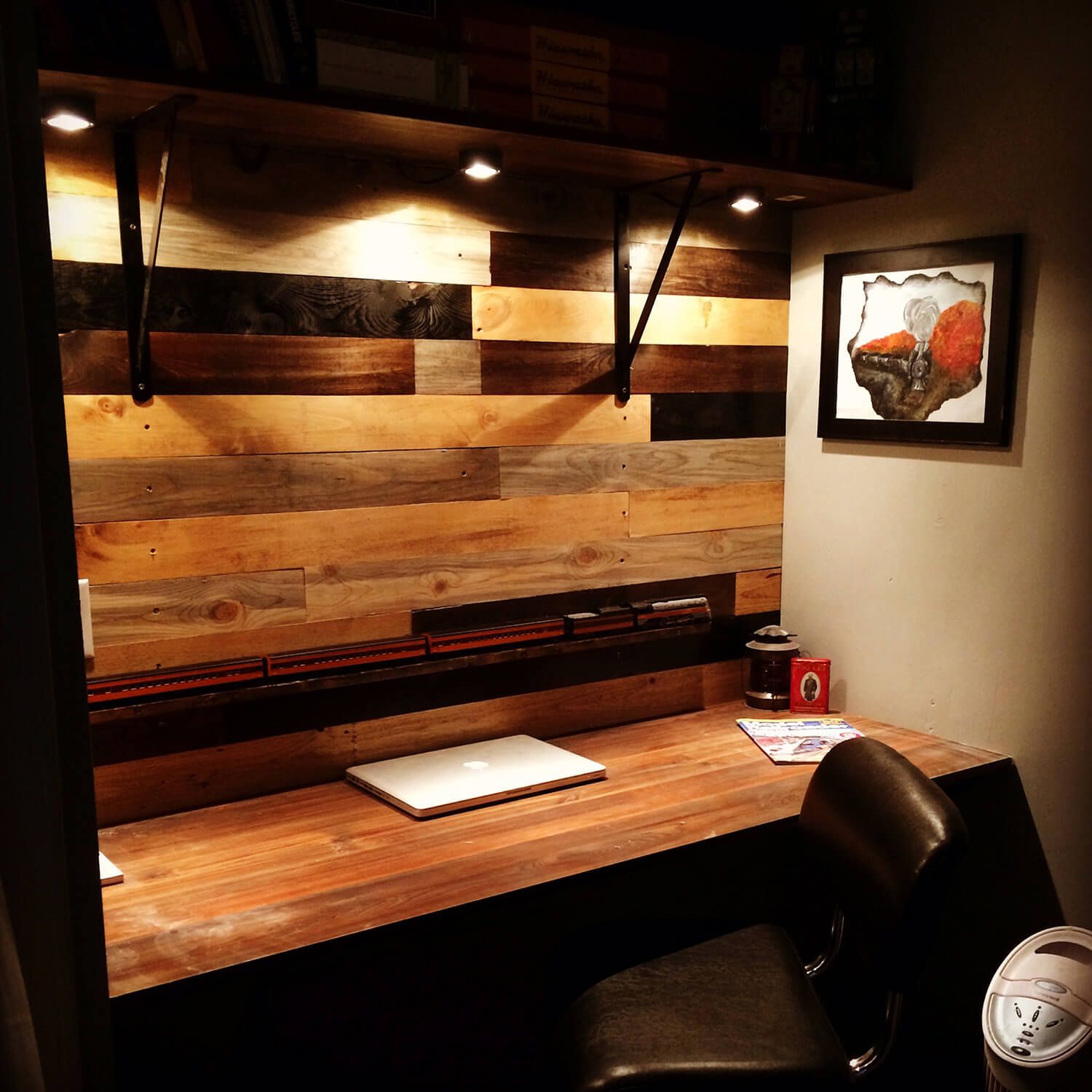 Install proper lighting to focus and relax
If there's already an outlet in the cloffice, mounting sconces to the wall or getting a regular table lamp are two of the many options.
Make sure you have adequate task lighting. In a small workspace with ambient light, task lamps increase illuminance which helps with focus-based activities.
If you want to add a more luxurious feel to your cloffice, an ornate chandelier hanging from the ceiling does wonders.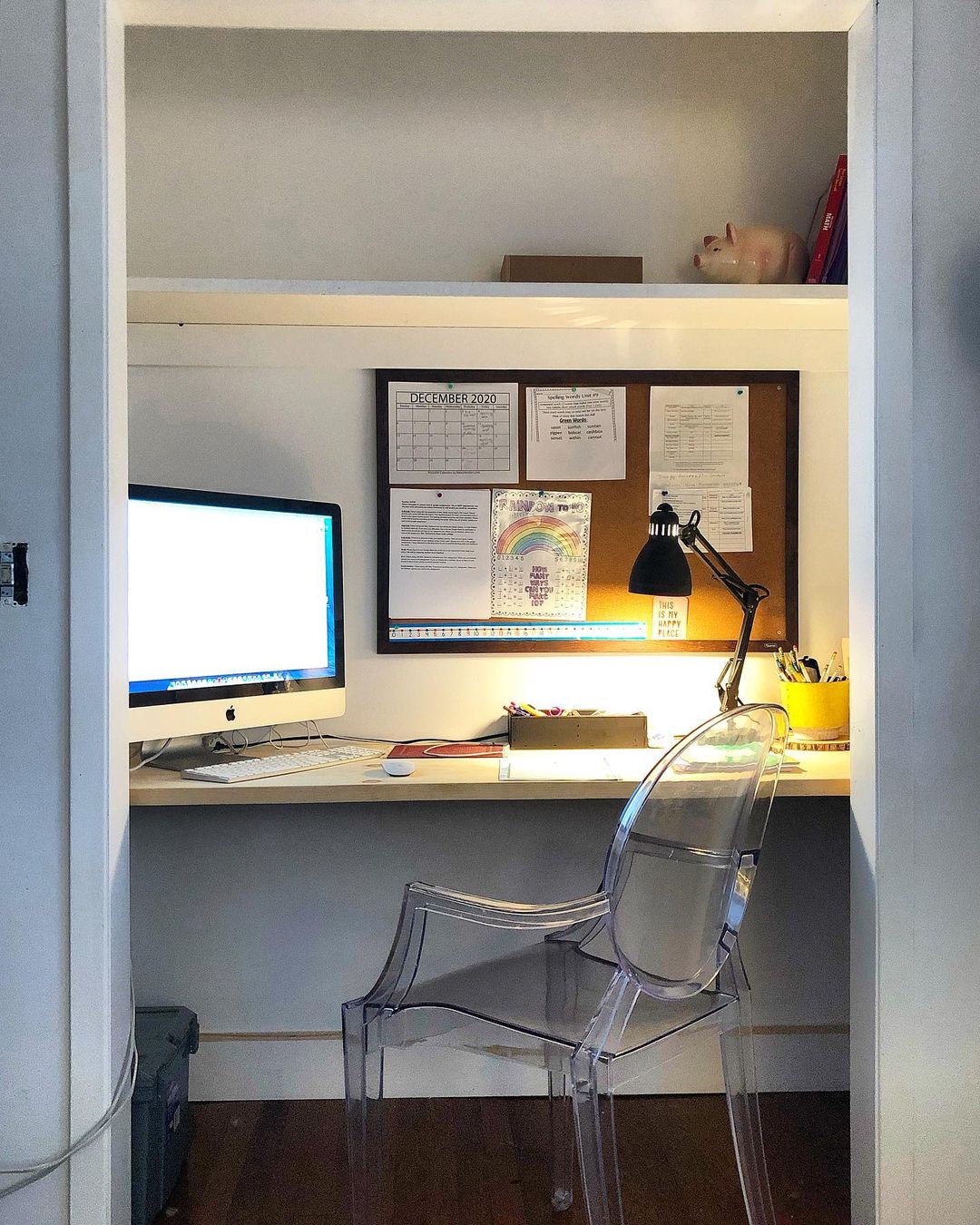 Put some drawers under the desk
Expanding your cloffice storage with drawers is a relatively simple process that works for every space. Feel free to buy a desk with built-in drawers or make your own. Then get drawer slides and attach your DIY drawers to the desktop.
Before purchasing supplies, you will need to determine how deep, wide, and tall you want the drawer to be.
Drawers do not need to span the entire width of the desk. Simply measure out the area where you think the drawer will fit neatly.
Think about organisers for more storage
For smaller items such as staplers, notebooks, and writing items, buy an inexpensive desktop organiser, stash all your stuff in it and place it to the side of your desk.
This way, you can easily access the items whenever you need them, without cluttering up your desktop.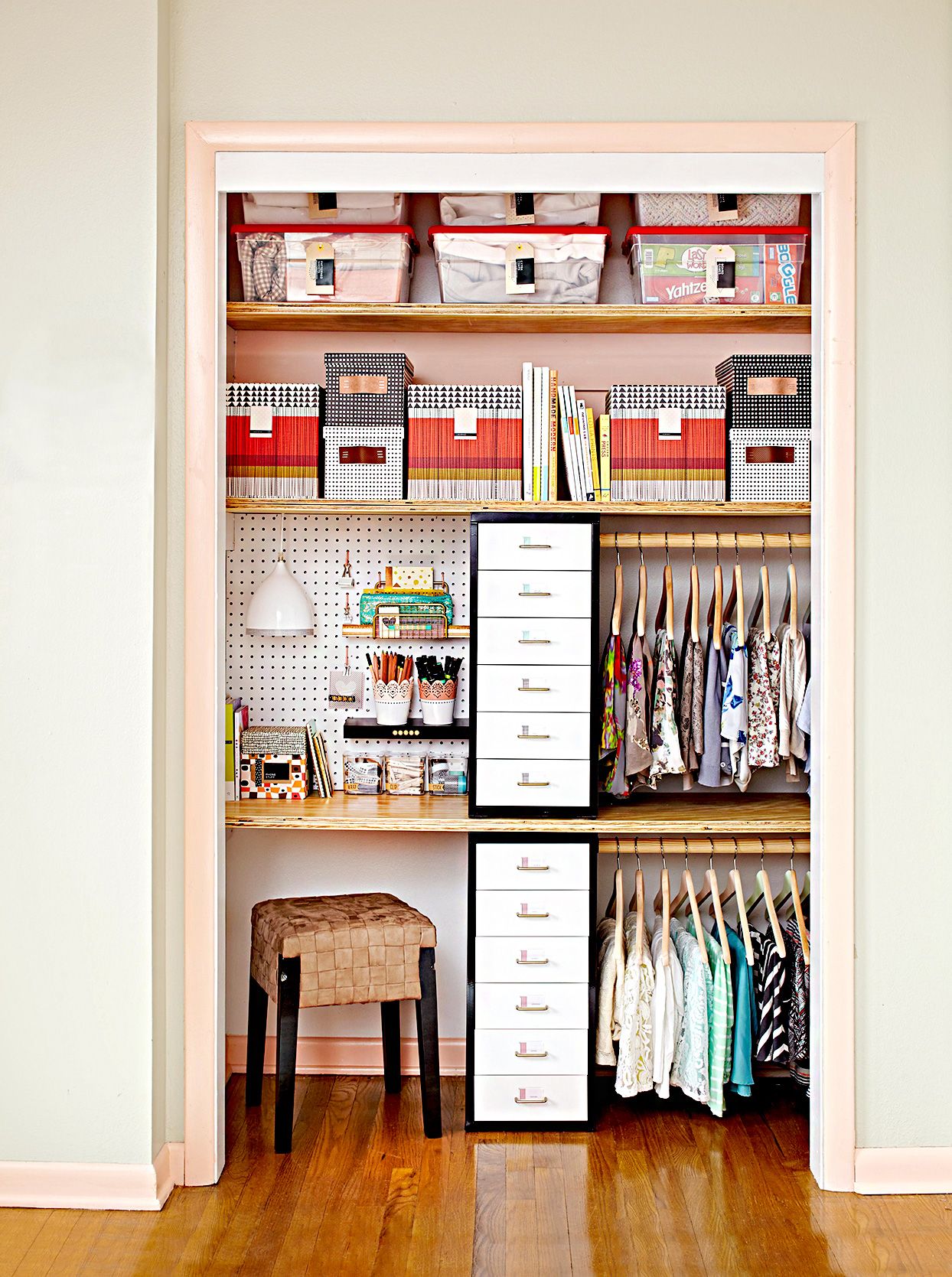 Attach shelves to the closet walls
Leave considerable space over your desk area (so you don't hit your head every time you stand up) and put up some floating shelves to show off your precious items.
Find out what type of wall you have before hanging anything. If it's drywall, attach floating shelves to wall studs — this will provide a solid foundation for your project.
Keeping everything in perfect order might be challenging with open shelves. Plus, they get dusty. You might consider closed storage if you have a lot of stuff — just hide it behind cabinet doors.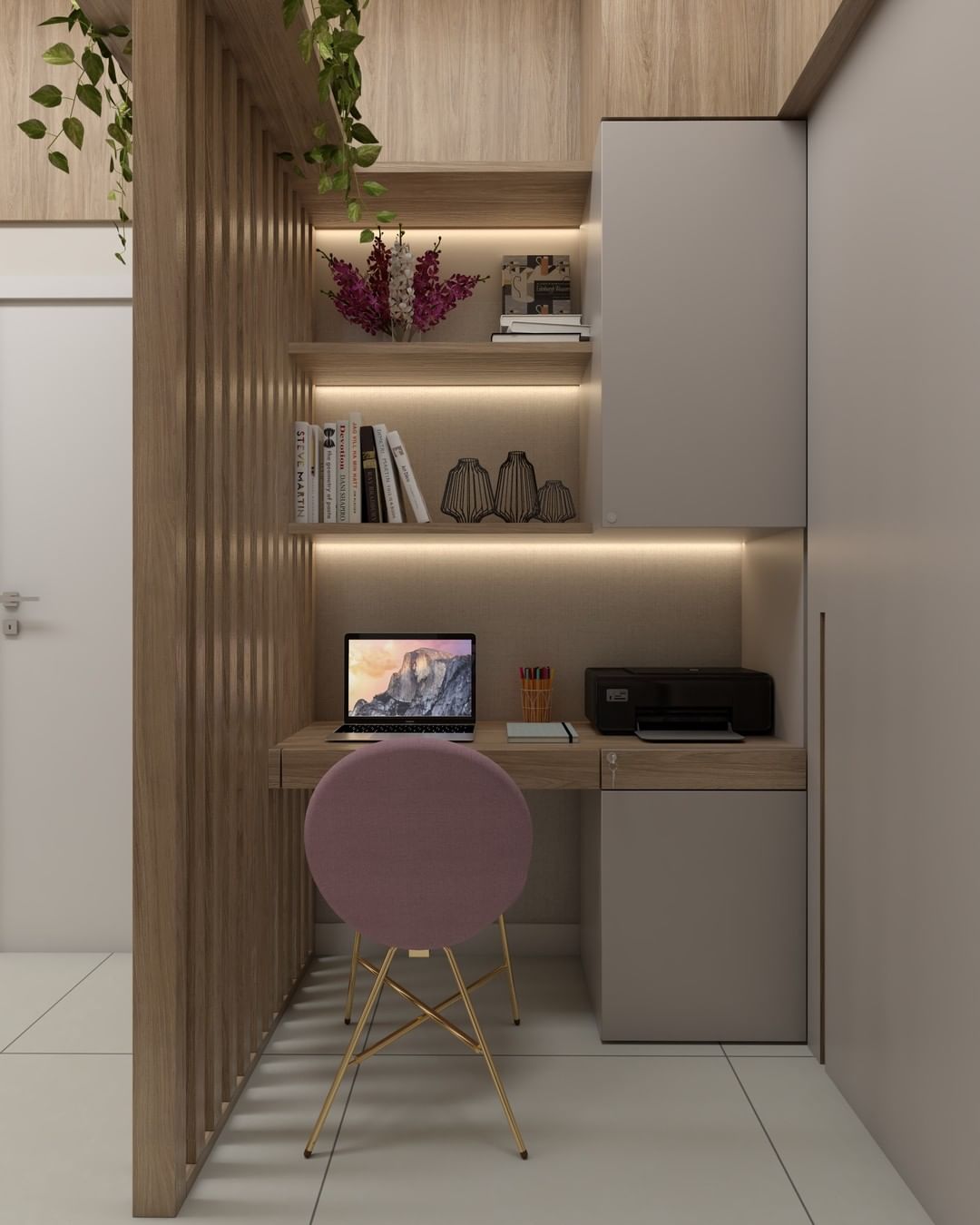 Get a swivel chair to fit under the desktop
A carefully selected swivel chair offers space-saving benefits in a confined space. Make sure the one you choose has a height-adjustable seat so that you could tuck it under your desk. To make the chair more comfortable, pop a pillow on it.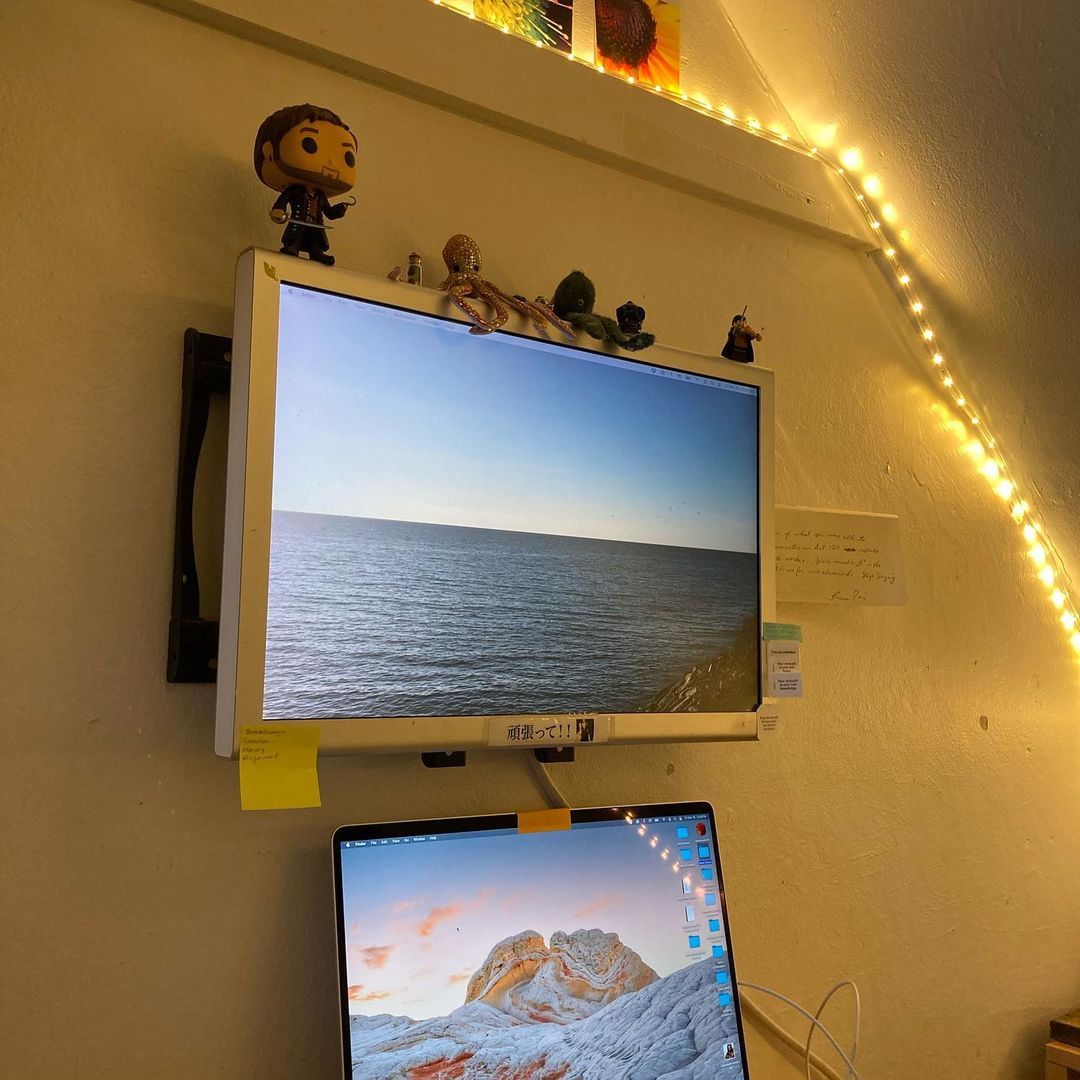 Consider making your cloffice doorless
If you find your cloffice visually appealing and feel happy when you look at it, going doorless is a nice option.
Having no doors makes a small space office appear larger; the downside is lack of privacy. However, curtains and dividers can easily separate work and home life without taking up too much space.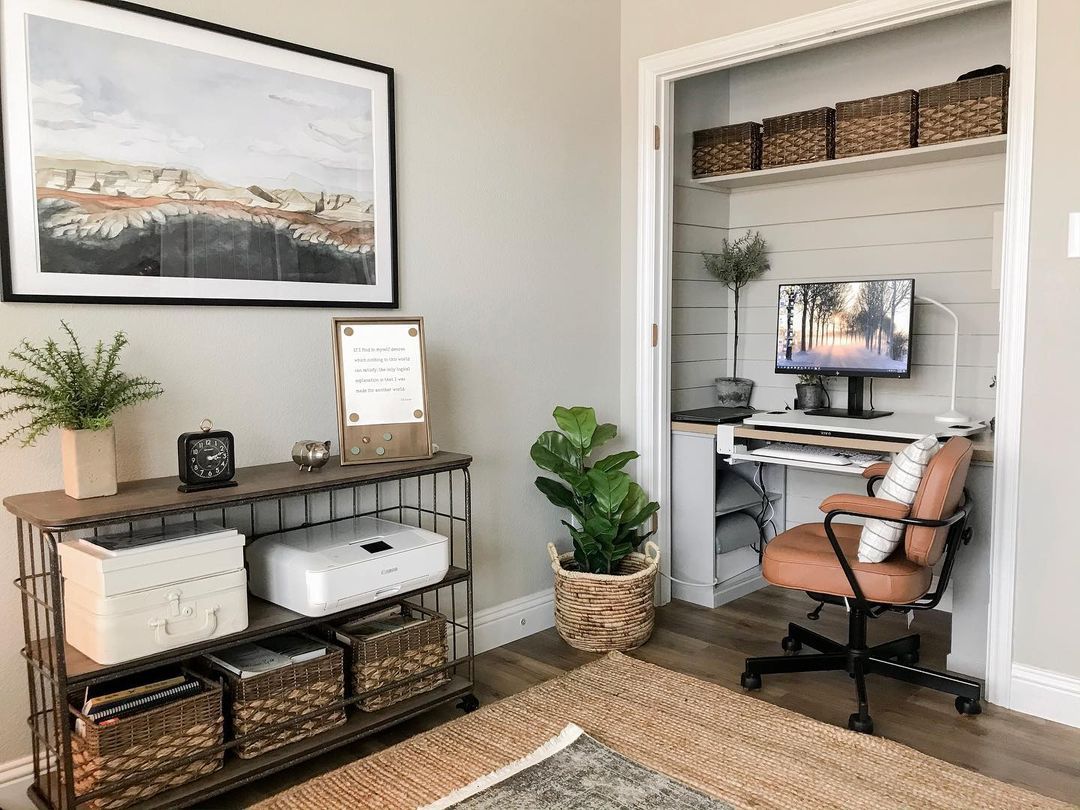 Distribute the lighting fixtures wisely
We talked about how you can use puck lighting or decorative fixtures for your office space.
However, we would like to remind you not to make the mistake of having only central lighting or only one kind of lighting.
You want to spread the lighting around by adding puck lights, desk lamps, and mounted sconces to dark corners.
As long as you have several sources of light, you can turn off the ones you don't need at the moment and create an ideal ambience in your home office.
Bring in some potted plants
Regardless of whether you're working in a walk-in or reach-in closet, chances are high that you're still facing a wall. It's also a relatively small space compared to the big office.
Add some greenery to improve the aesthetic of your cloffice and boost up your mood.
Opt for potted plants that stay alive without natural lighting. For example, the ZZ plant, or zamioculcas zamiifolia, adapts to low light levels.
You could even go for artificial plants since greenery is the main focus here.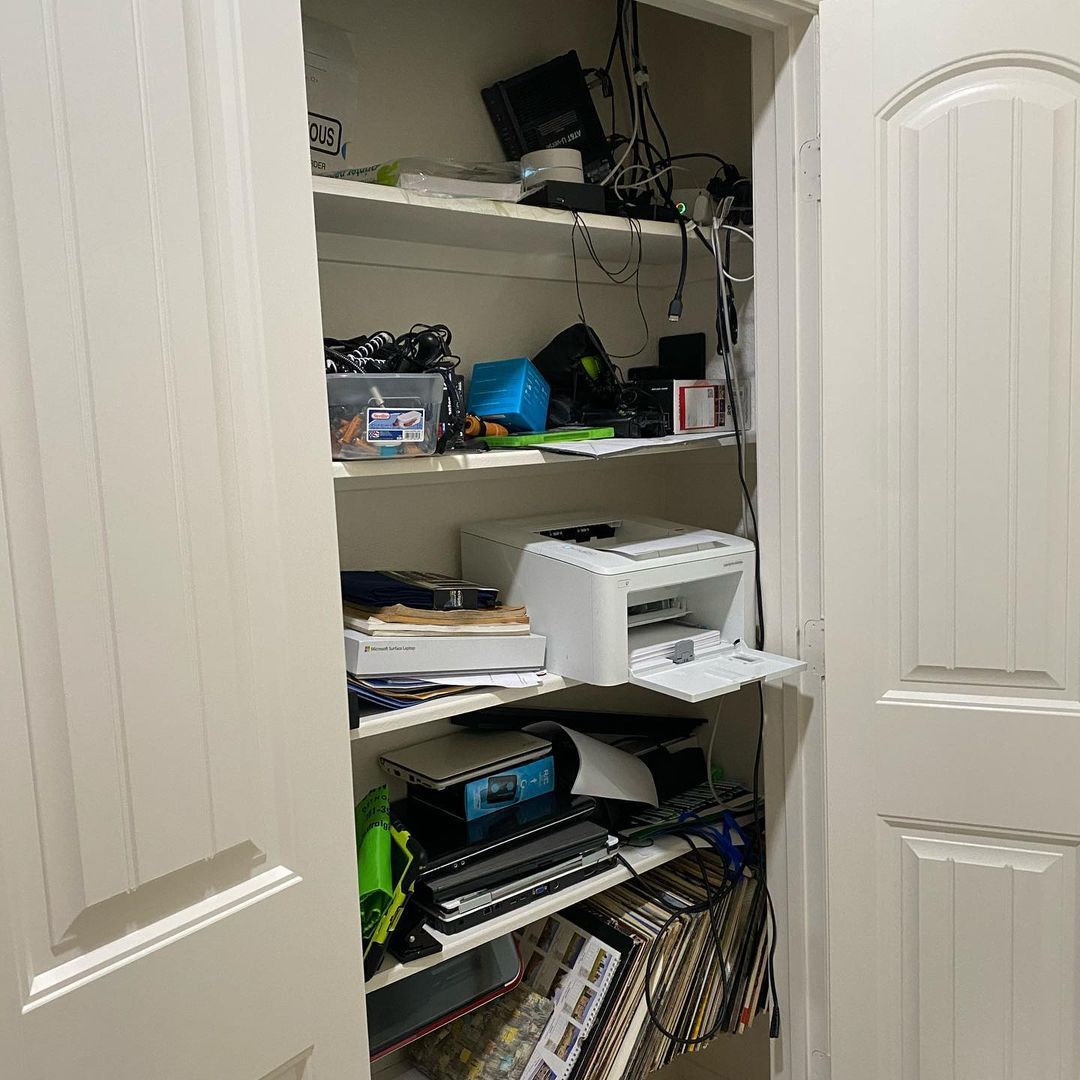 Get a mirror to create an illusion of a bigger space
A large mirror does several things at once. It reflects light better, adding to the brightness of the room, and makes the space look bigger.
A mirror also reminds one of a window, which can make you feel better in a windowless office.
Don't forget to leave a bit of breathing room on the wall and stay away from intricate decorative frames as these can be distracting.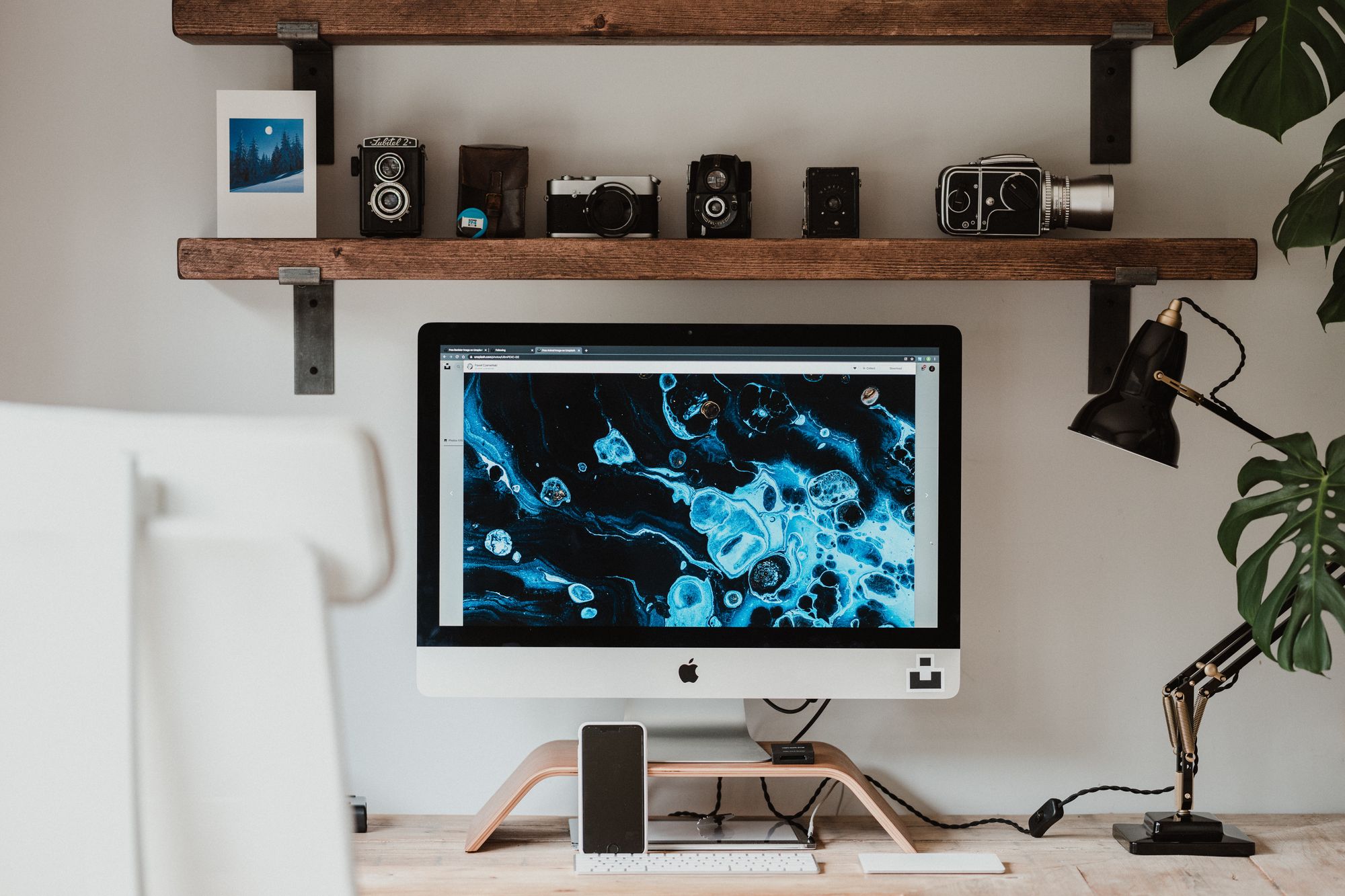 Be careful with the flooring
Ideally, your cloffice flooring should match your home's flooring. The purpose of this is to make a small space feel like it's part of something bigger.
Anything else would most likely break the space and make the workstation area appear too isolated from the rest of the house.
If you're still keen to lay a different floor over your cloffice, do not use busy patterns as they will overwhelm a small space.
Consider using wallpaper instead of painting a cloffice
If you cannot afford a plasterer to skim the walls, but still want them to look pretty, wallpaper could be the way to add some colour and texture to your cloffice.
The downside is that wallpaper takes ages to remove if you change your mind later, and we don't recommend painting over it (unless the paint is specifically designed for it).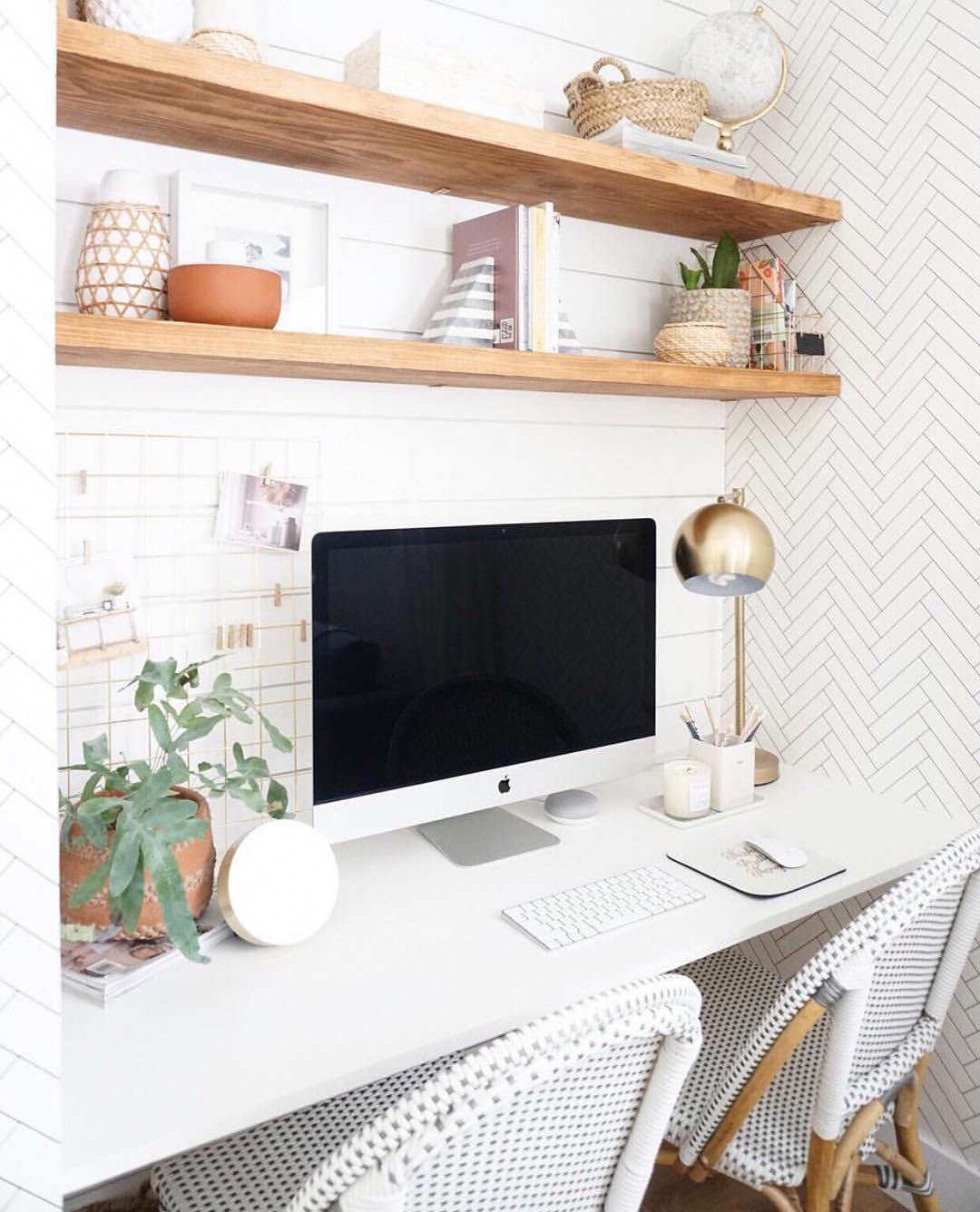 Attach your monitor to the walls
Desktop monitors are notoriously bulky, especially widescreen ones. If you have more than one on a cloffice desktop, there might be not enough space for your speakers or anything else. Mounting the monitor on the wall should resolve this issue.
The advantages of this solution are uncluttered, floating monitor look, flexible viewing angle and ease of installation — just make sure your monitors are VESA-compatible (a standard used for TV brackets and wall mounting systems).
Also, double-check that the mount you're going to buy is able to support the weight of the monitor without its stand.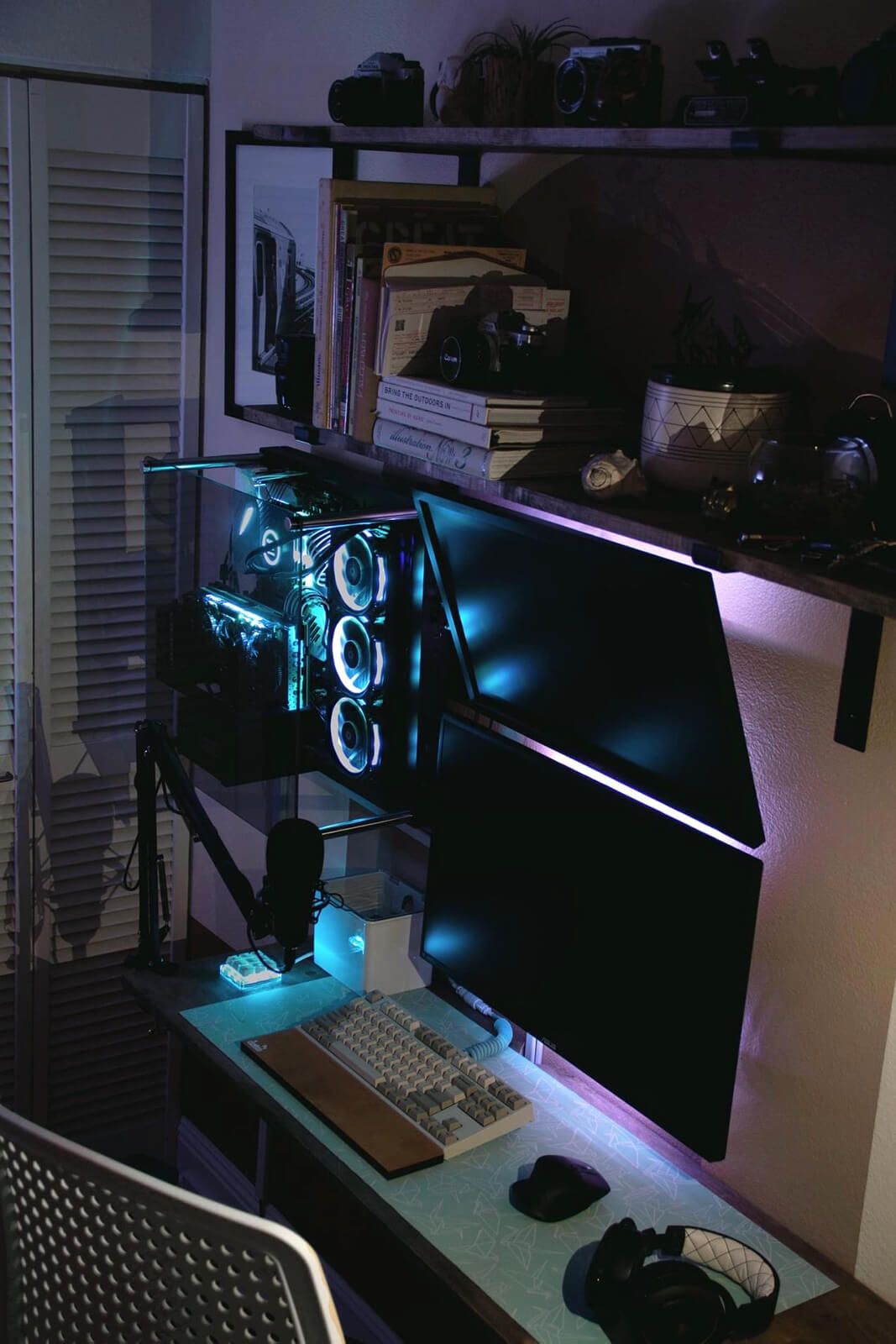 Turn to aromatherapy
Some people are not fond of fragrances at all. Some prefer bold sweet scents. If you do love a good fragrance, you might want to keep an oil diffuser on your desktop.
A few droplets of oil can reduce stress and create a calming atmosphere in the cloffice.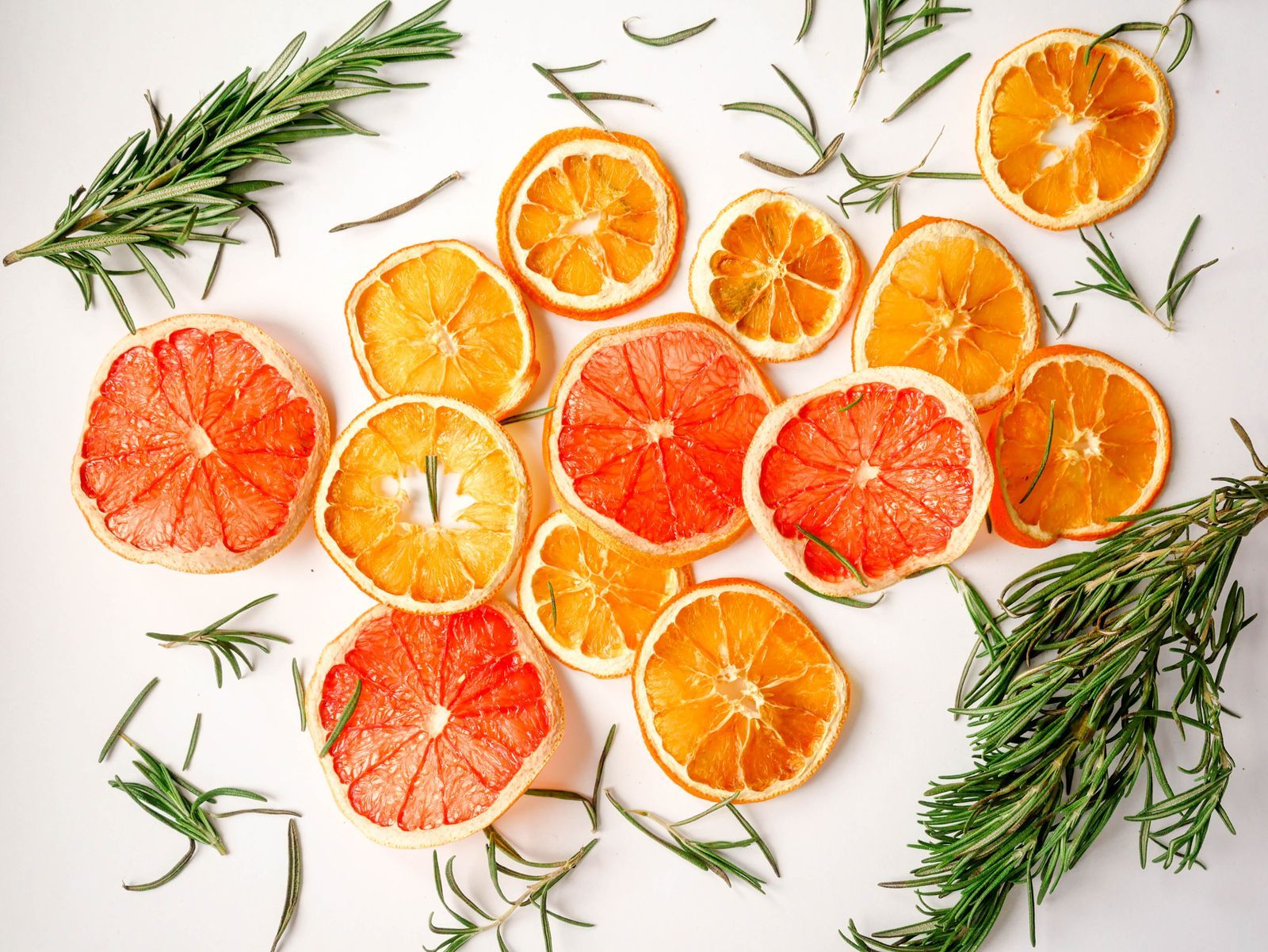 Personalise your cloffice
There is no reason to keep your cloffice extremely professional or too clean in appearance. Go ahead — decorate it as much as you want. Do what makes you happy. Surround yourself with items that matter to you.
Keep photos of your kids, family members, pets or whoever you want on the desktop, real or virtual. Anything or anyone that cheer you up is a good thing. Even if it's an odd-looking, but cherished doll from your childhood.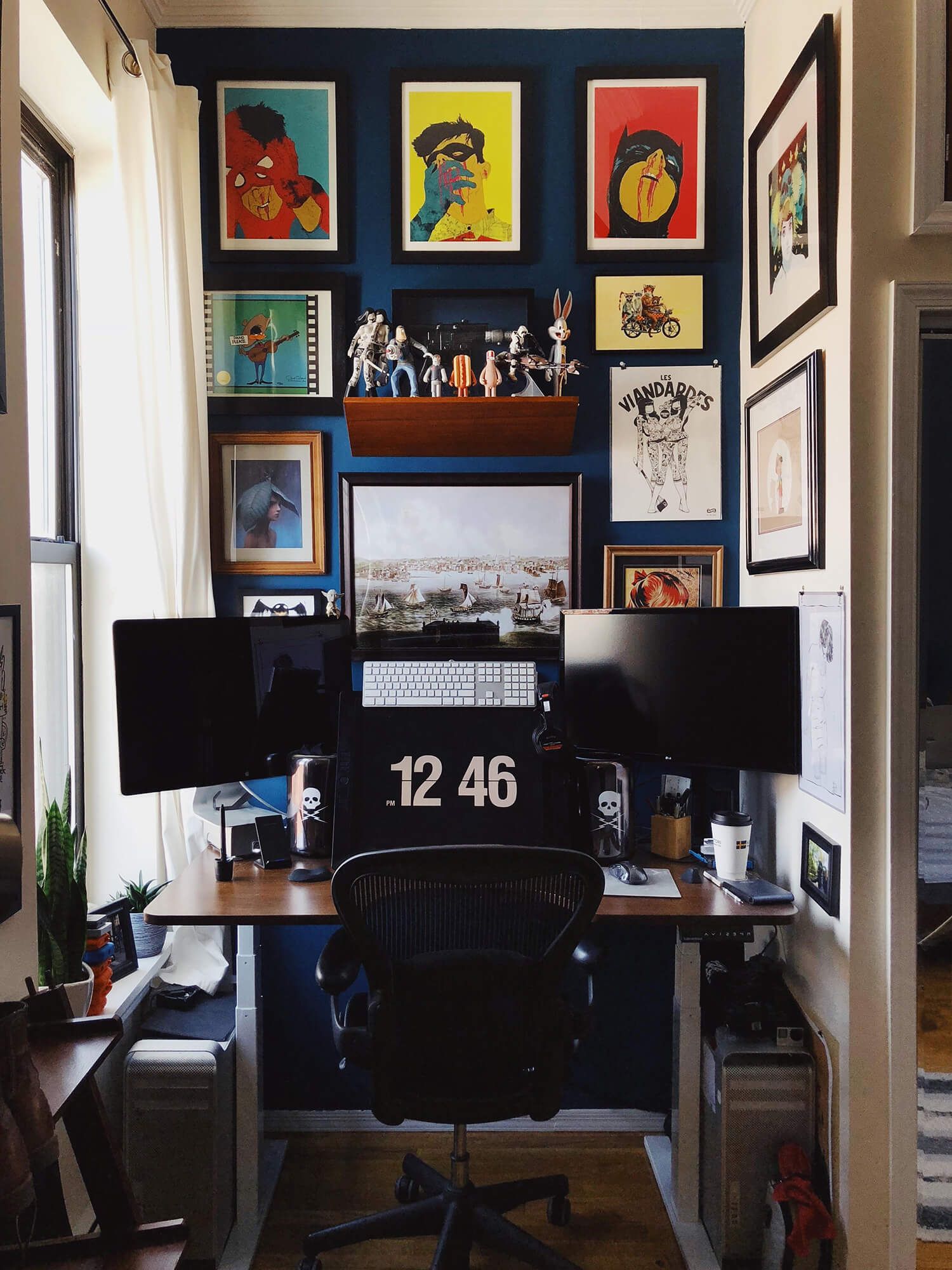 Add legs or risers to the drawer unit
If you have a couple of drawer units under your desktop, you want those items to have furniture risers under them.
With the help of such risers, you can elevate your cabinet and storage units, making them easy to move around and clean underneath.
As there's more place for light to pass through, the cloffice also appears brighter with that approach.
Design the side area
Cloffice storage ideas are incomplete without considering the sides of the closet. Add some shelves or cabinets to those areas to create further room inside a small workspace.
Wicker baskets placed on the shelves can make the cloffice look cosy and inviting. Lustigkurre basket from IKEA is made from natural water hyacinth and seagrass; it features an airy pattern and warm colour scheme.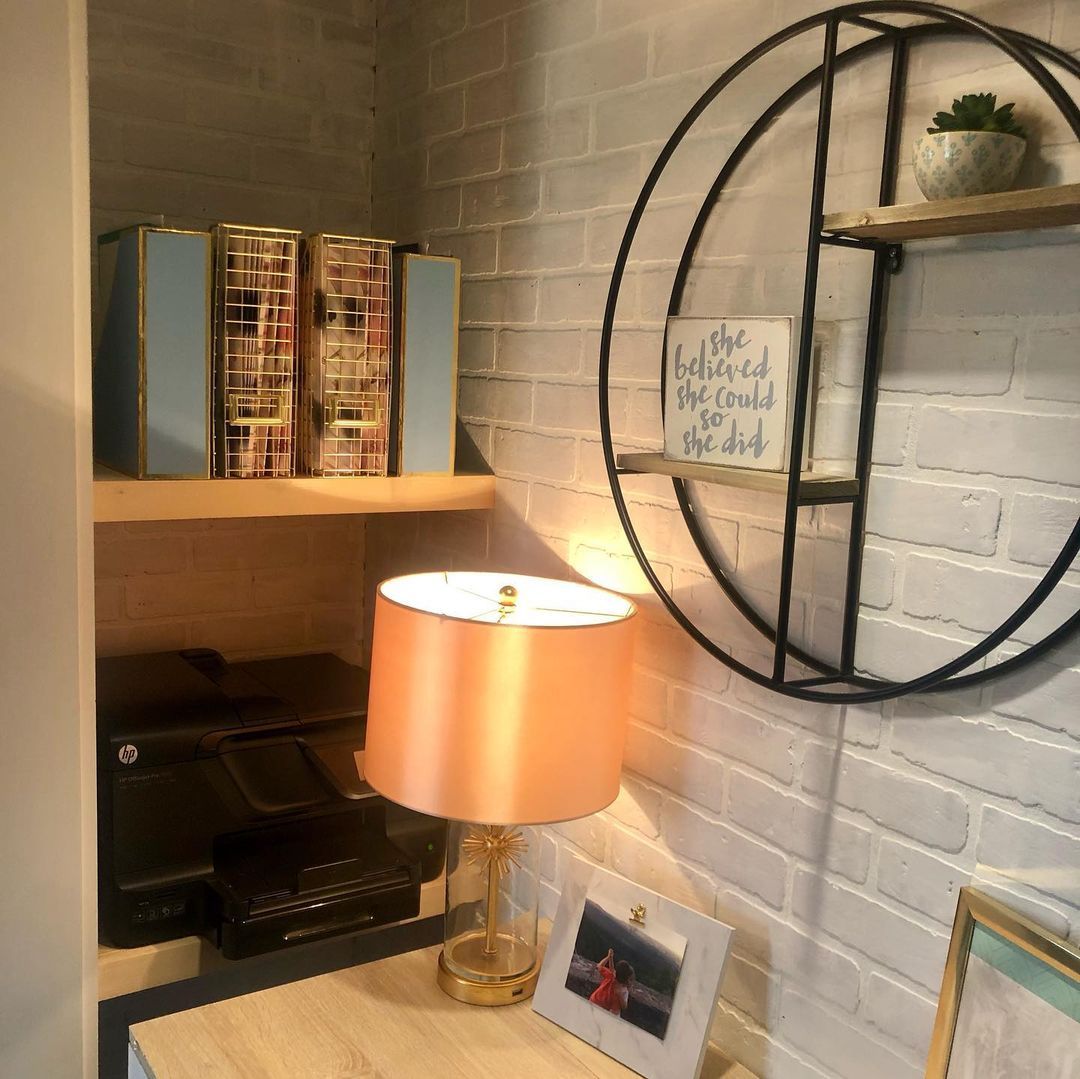 Go for a drop-down desk
If you have an alcove, another kind of a nook, or are just keen on saving space, consider using a wall-mounted folding or drop-leaf table desk — for example, Bjursta from IKEA. This table takes up less space when folded away.
It's also possible to mount a drop-down computer desk to a Billy bookcase. You can hide the monitor when not in use.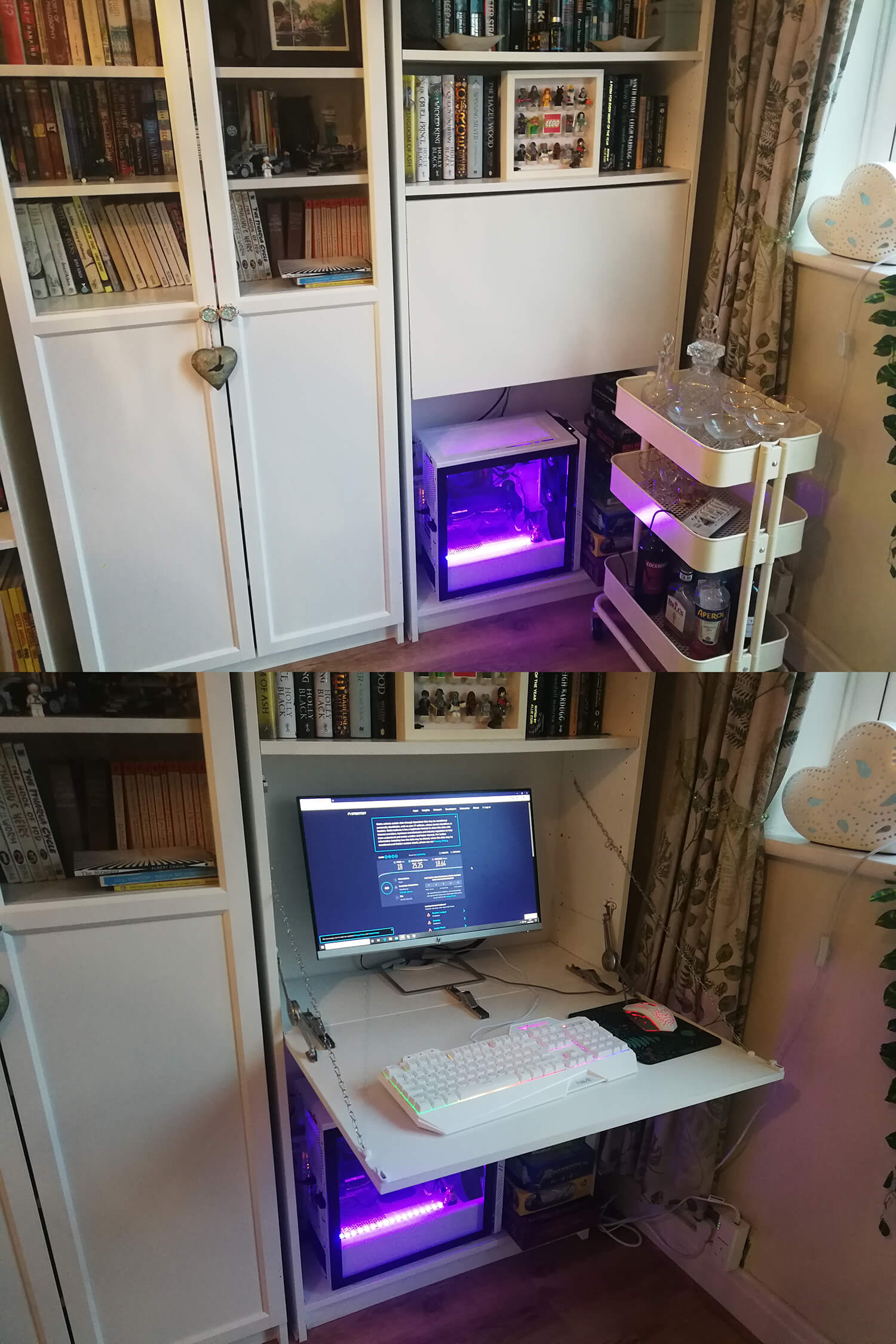 Create a themed cloffice
Designing your cloffice according to a theme or colour scheme can make the process way more enjoyable.
It would also help you feel positive towards your cloffice in the long run as it's where you express yourself.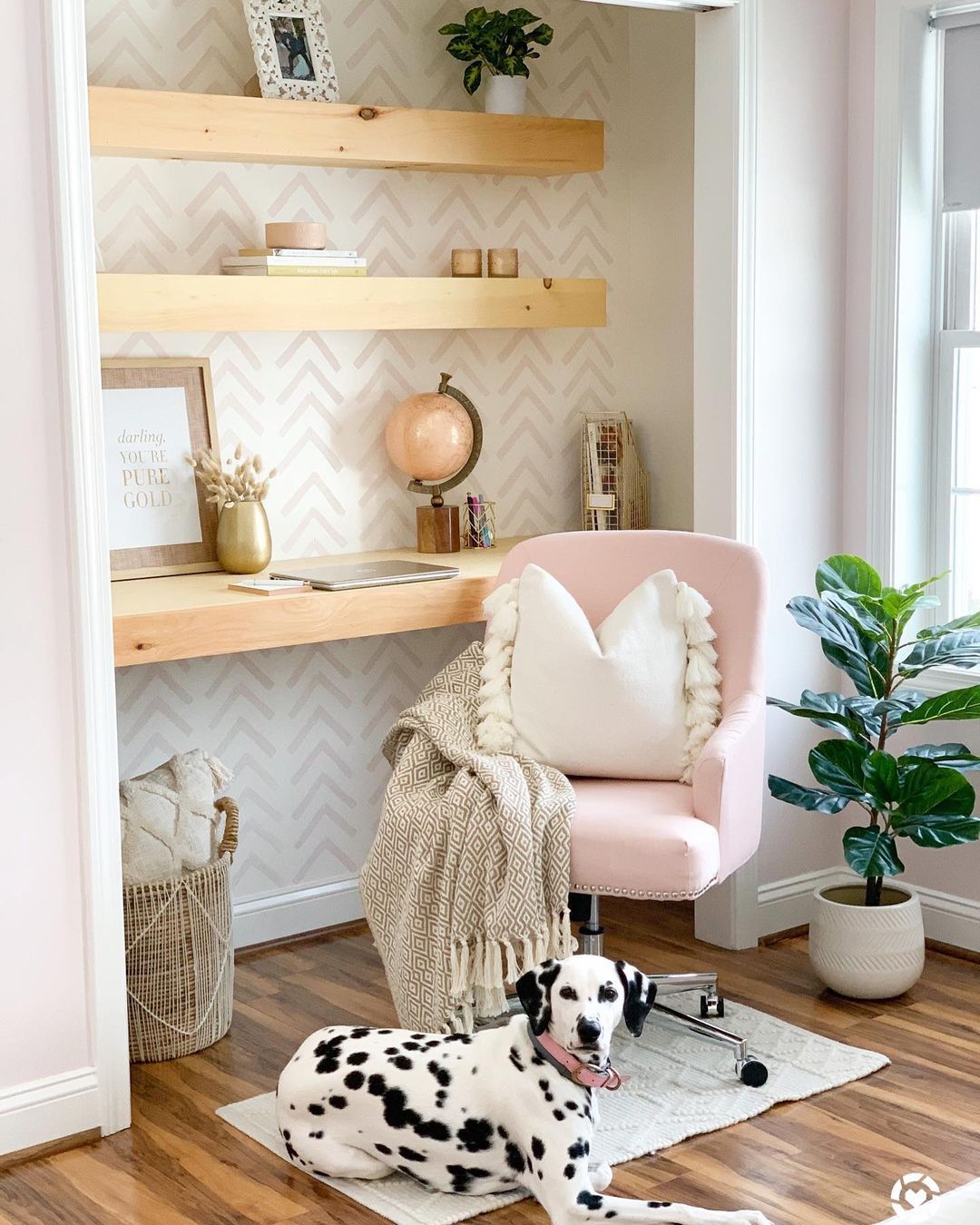 ---
Your cloffice, while being a workspace, is also your personal space where you spend at least eight hours a day.
Feel free to decorate it however you like, because ultimately, it's all about what makes you happy.
We're a reader-supported publication. This article might contain affiliate links. It means we may receive a commission if you click a link and buy a product that our maker has recommended.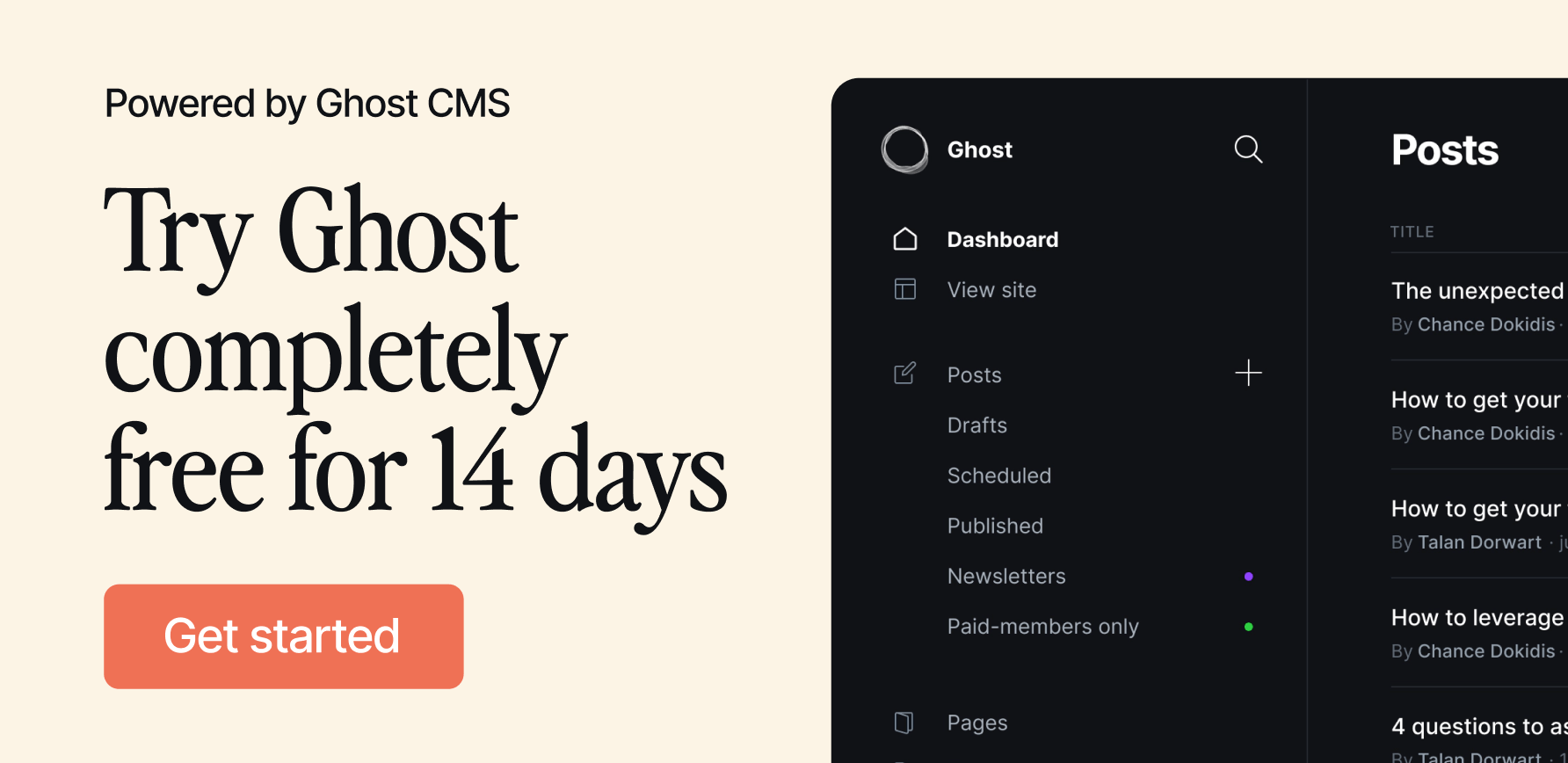 ---