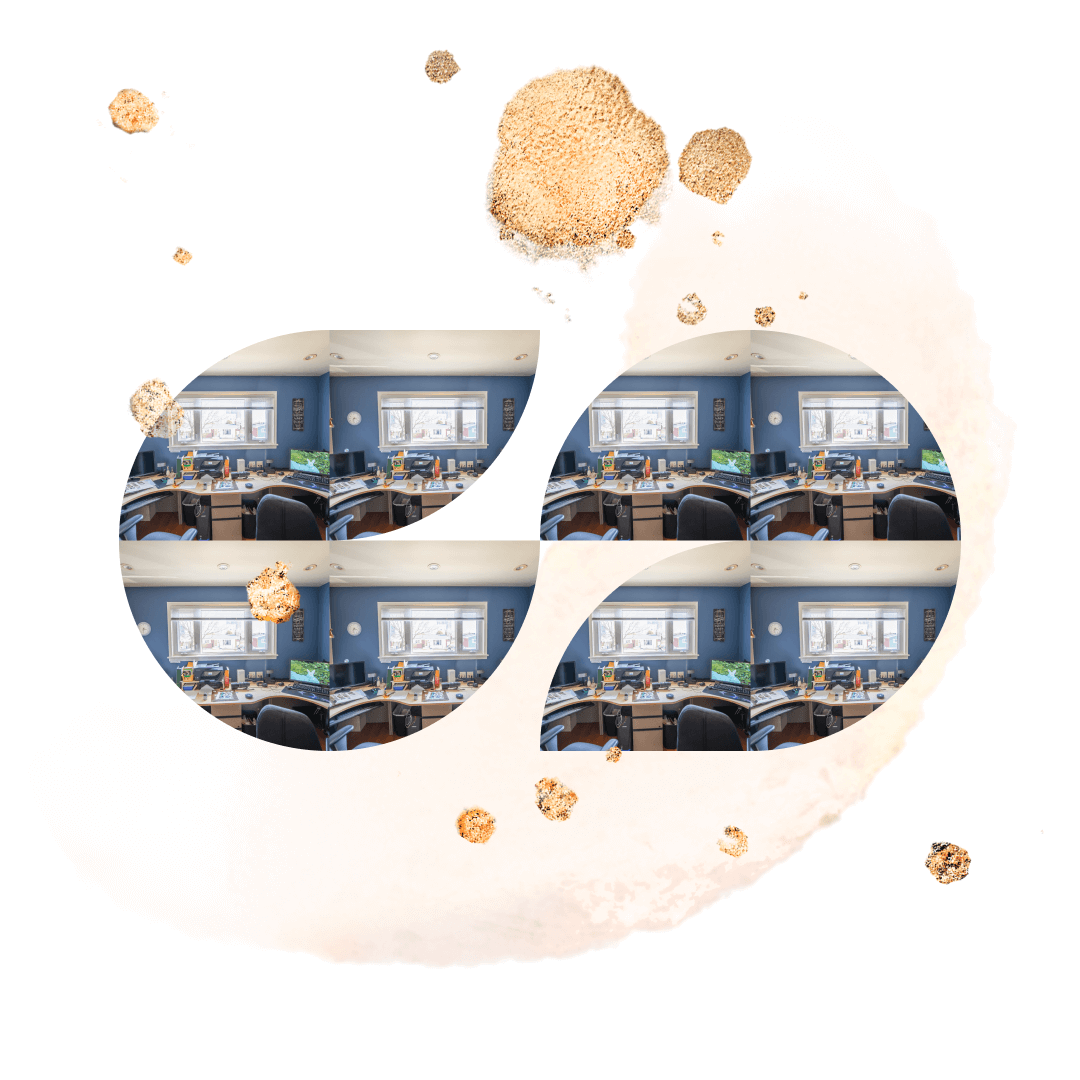 10 Common Mistakes When Setting Up a Home Office for Two (and How to Fix Them)
Sharing a workspace with your partner or roommate can be tricky, but it doesn't have to be.

Avoid these common mistakes while planning your shared home office, and you'll each have a peaceful space to work from.
Cramped Workspace
Working in a confined home office is less than ideal.
It makes the work harder than it needs to be. Especially if both of you are constantly moving things around to make space for a notebook or keyboard.
But it's not just about the size of your workspace.
The question is whether your home office actually meets your needs.
The Fix:
A well-thought-out workspace for two can make a world of difference to your level of comfort.
Start by identifying the tools each of you need for your day-to-day work. These could be iPads, multiple monitors, noise-cancelling headphones, a MIDI keyboard, lined notebooks, an extra laptop — all the things you use during your workday.
With specific needs in mind, it becomes easier to estimate the ideal size for your desks and how much storage you require.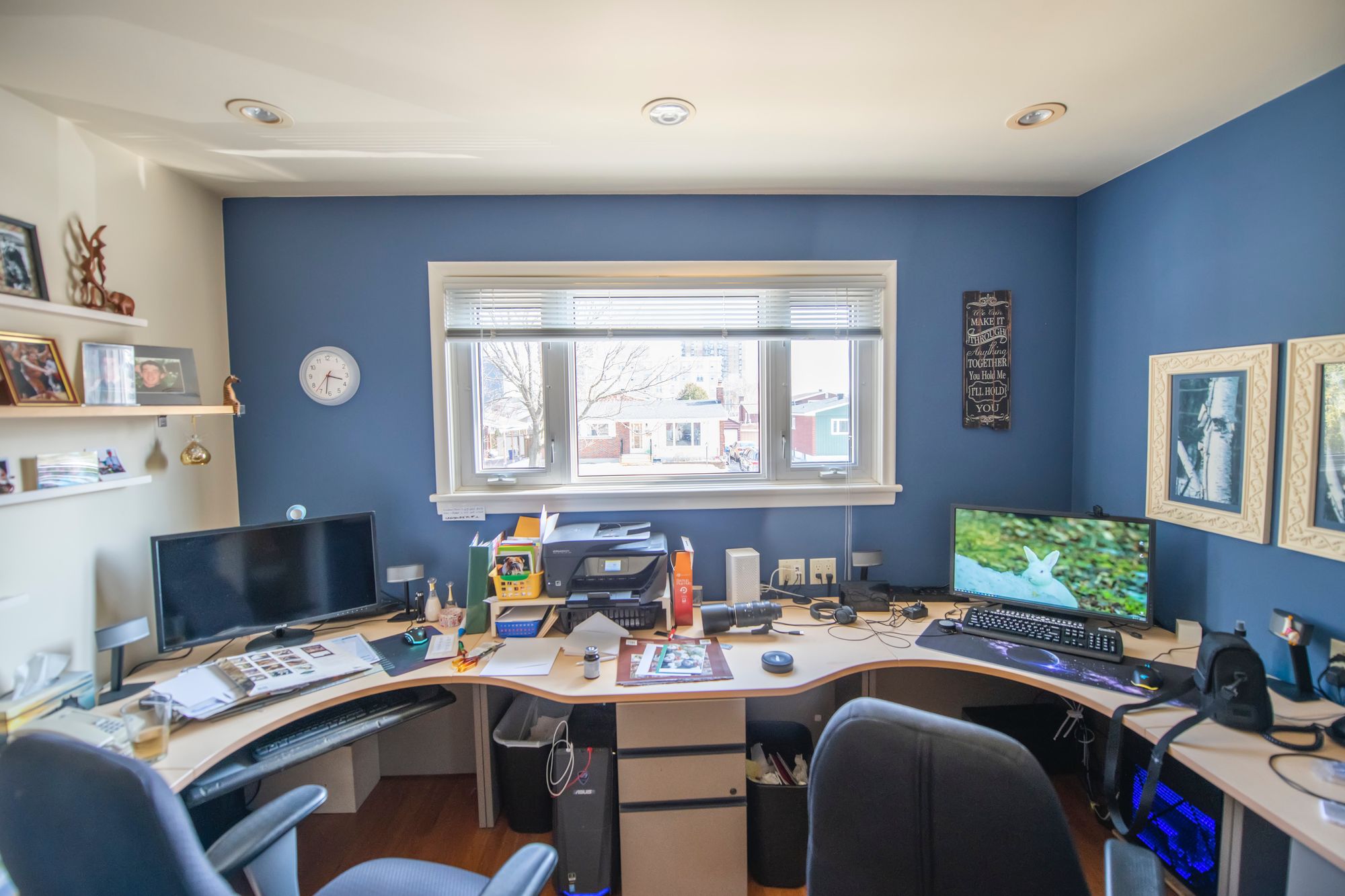 Of course, getting a bigger desk is never a bad idea if you're short on space. And even in small spaces, you can use clever tricks to maximise desk space.
For example, a custom desk covering the entire wall offers more workspace than two small separate desks side by side.
Making space for two in a home office includes many compromises. One thing you shouldn't compromise on is how well your shared home office is organised.
Limited Storage
Home office storage tends to get overlooked in shared spaces.
Most people who work from home will need some storage, be it for stationery, physical files, or electronics.
Unfortunately, an average desk isn't wide enough to accommodate a pile of documents, a set of sketching pencils, a notebook, a stapler, and the list goes on.
The Fix:
Use dedicated storage units and shelves rather than boxes and baskets. Keep your workspace clean and uncluttered.
If you have a small home office with a high ceiling, make use of vertical space for storage.
Wall cabinets, tall bookshelves, and floating wall shelves add extra storage without taking up too much floor space.
You can also use an open bookshelf as a divider if your desks face each other.
Just like with desks, extra storage space in the home office is never a bad thing.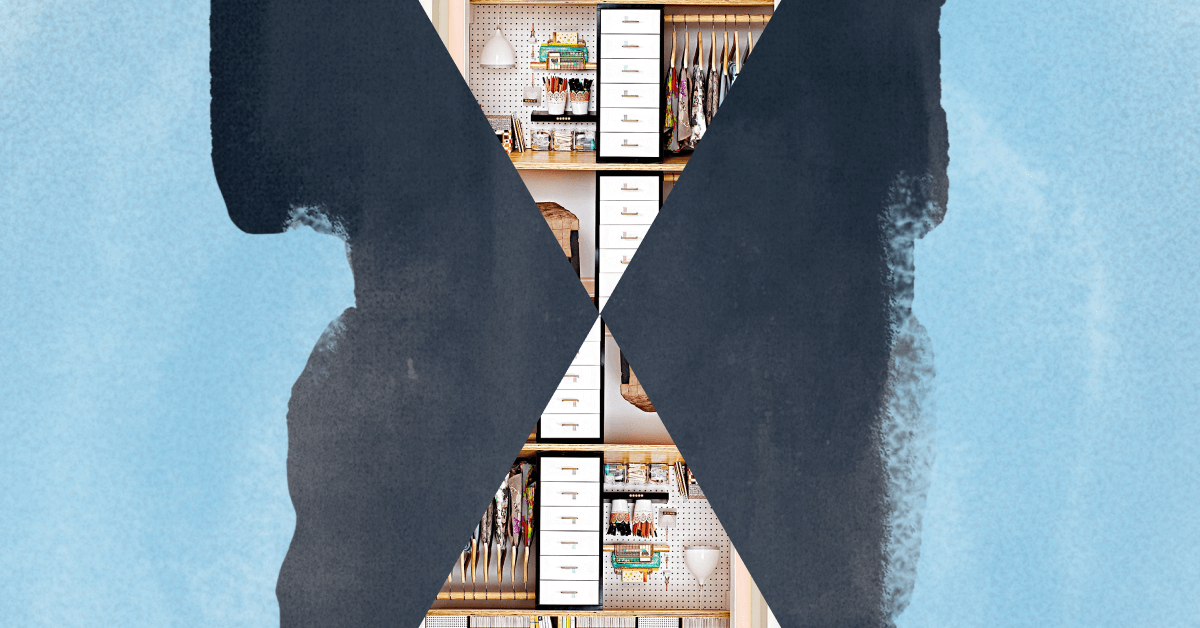 Lack of Privacy
A shared home office, while being practical, does not offer much privacy.
Some people — especially introverts — simply might not feel comfortable sitting next to another person (even if it's their partner or flatmate).
Thankfully, one of the many benefits of working from home is that you can create a setting that suits you.
And if you or your coworker struggle to be efficient in an open office setting, this is an opportunity to change it.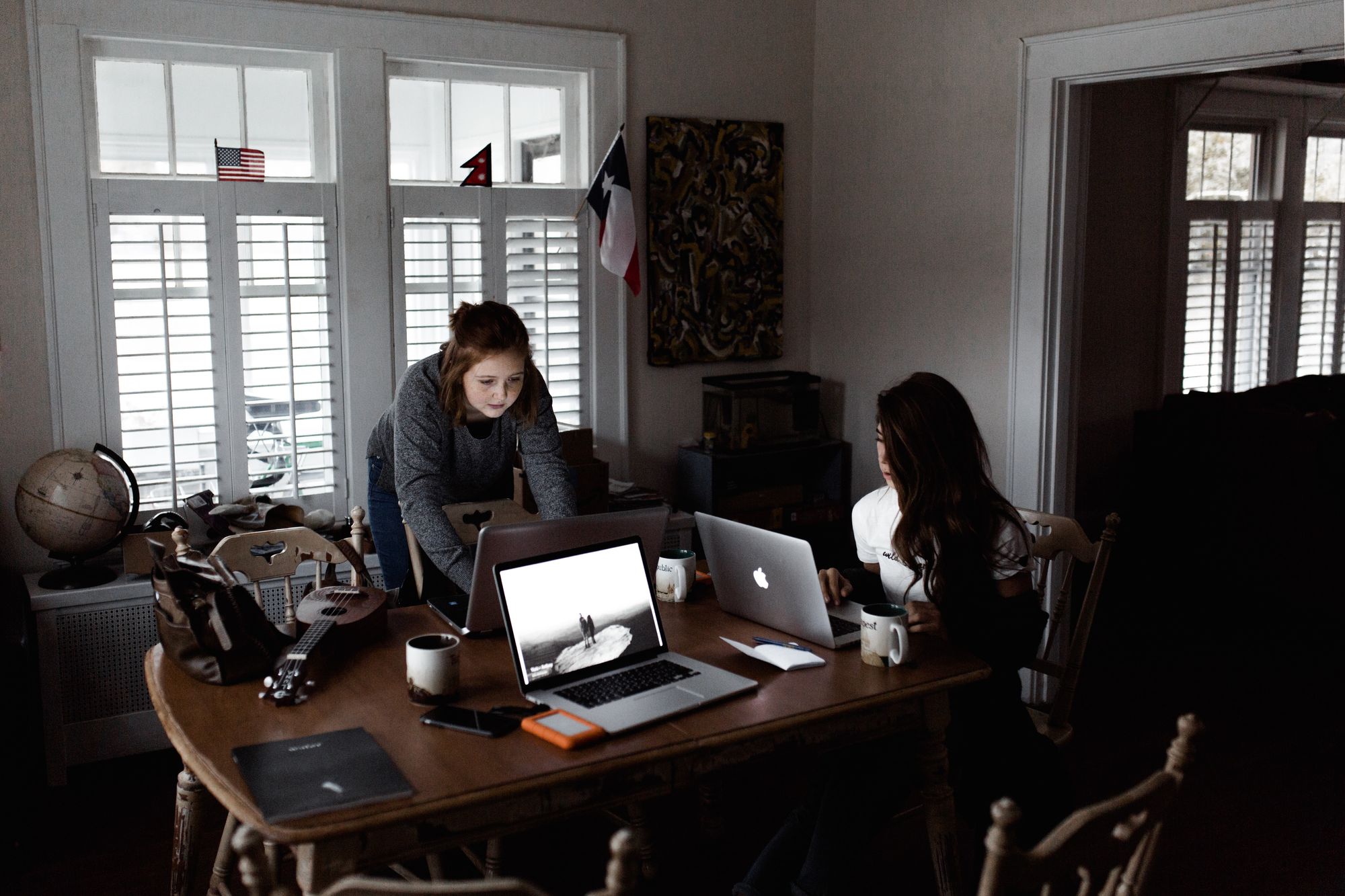 The Fix:
Just because you share a home office doesn't mean privacy should take a back seat. With some simple adjustments, you can make your workspace better suited for focused work.
Desk divider panels come in varied sizes — use them between workspaces in a side-by-side setup.
A movable screen or curtain can convert your home office into two separate areas while working and can be opened back up after work.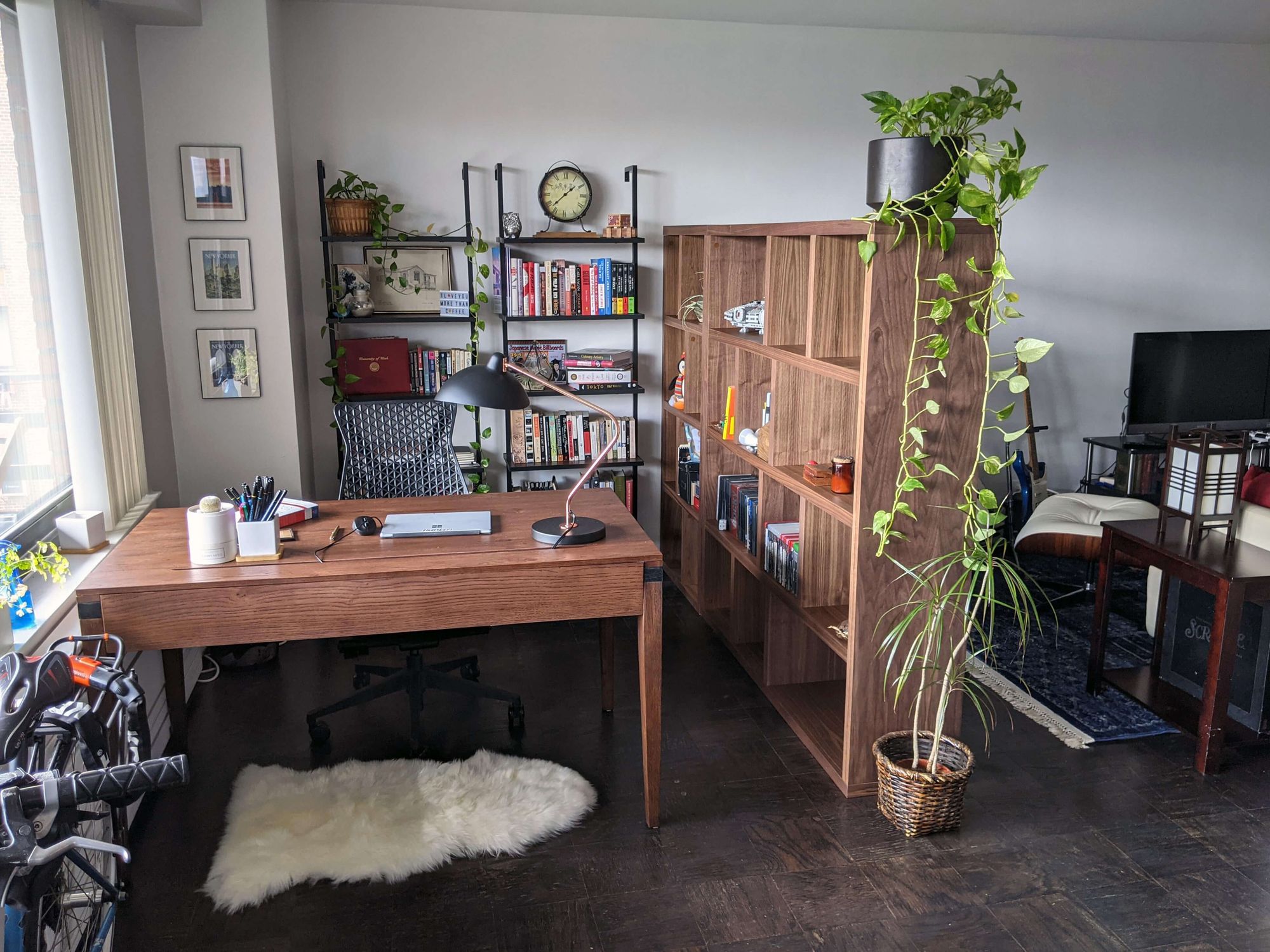 Noisy Workspace
For many, video calls and meetings are an essential part of working from home.
Noises at the workplace come in many forms — from calls and notifications to typing and clicking to fidget spinners and other ambient sounds.
These may result in an unpleasant work environment for your fellow coworker. This is why managing noise levels in home offices for two is so important.
The Fix:
Cut down on external noise by making sure your doors and windows are sealed.
Put on active noise-cancelling headphones. Their microphones "listen" to the environment and then produce an inverted sound wave, filtering out the noise.
Use acoustic wall panels to absorb and stop sound from echoing.
Furnishing your home office with items like rugs, soft seating, heavy drapes and other sound-dampening accessories can help control noise levels.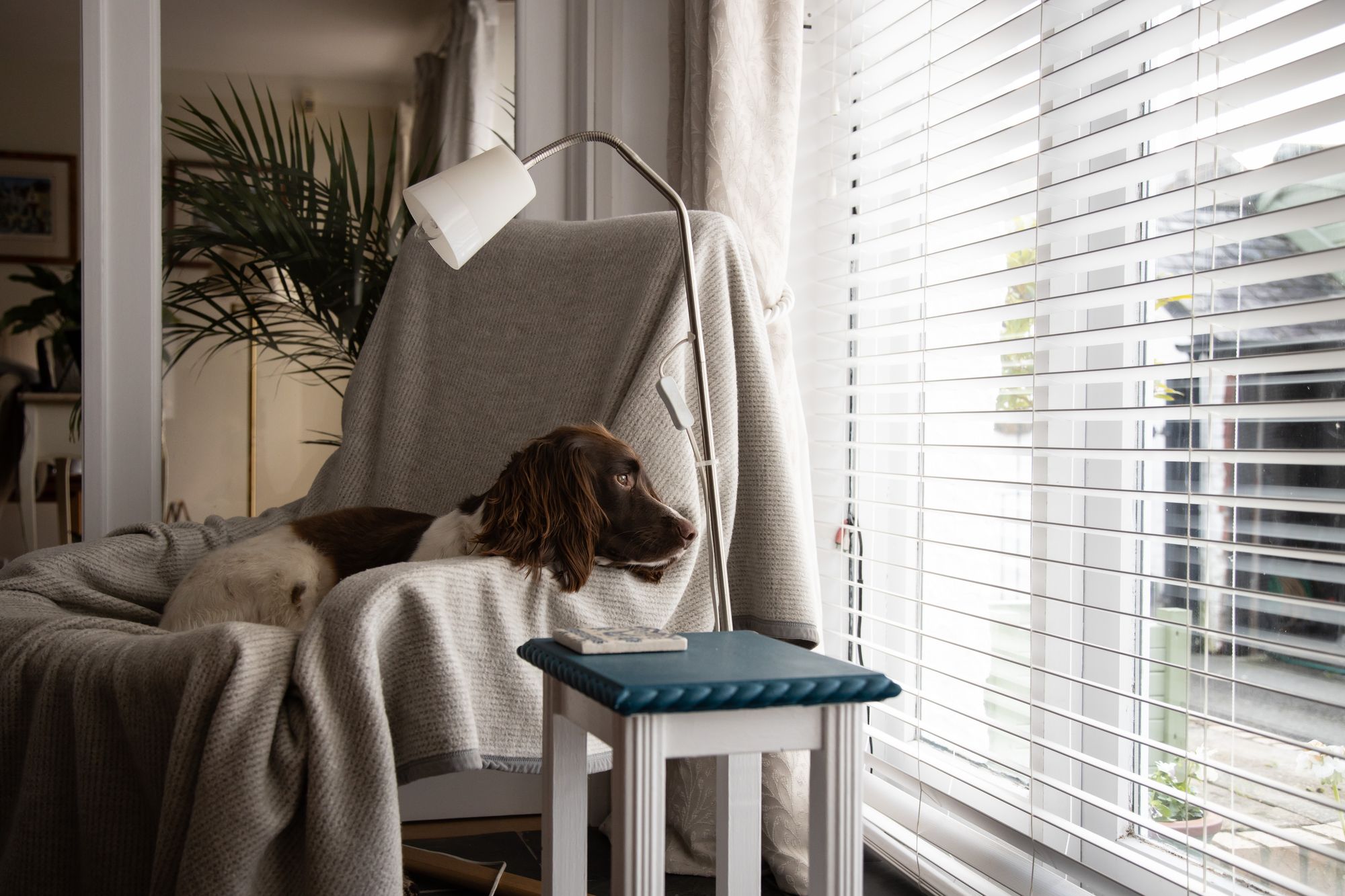 Wires Everywhere
A home office without wires would be a dream come true.
But until we get there, home offices need to be wired; and two people working in a room means double the wires.
Add in devices like printers, monitors, speakers, lamps, chargers for laptops and phones, and you've got a rat's nest of cables on your hands.
While commercial office spaces are designed keeping these in mind, home offices owners need to be more creative with cable management.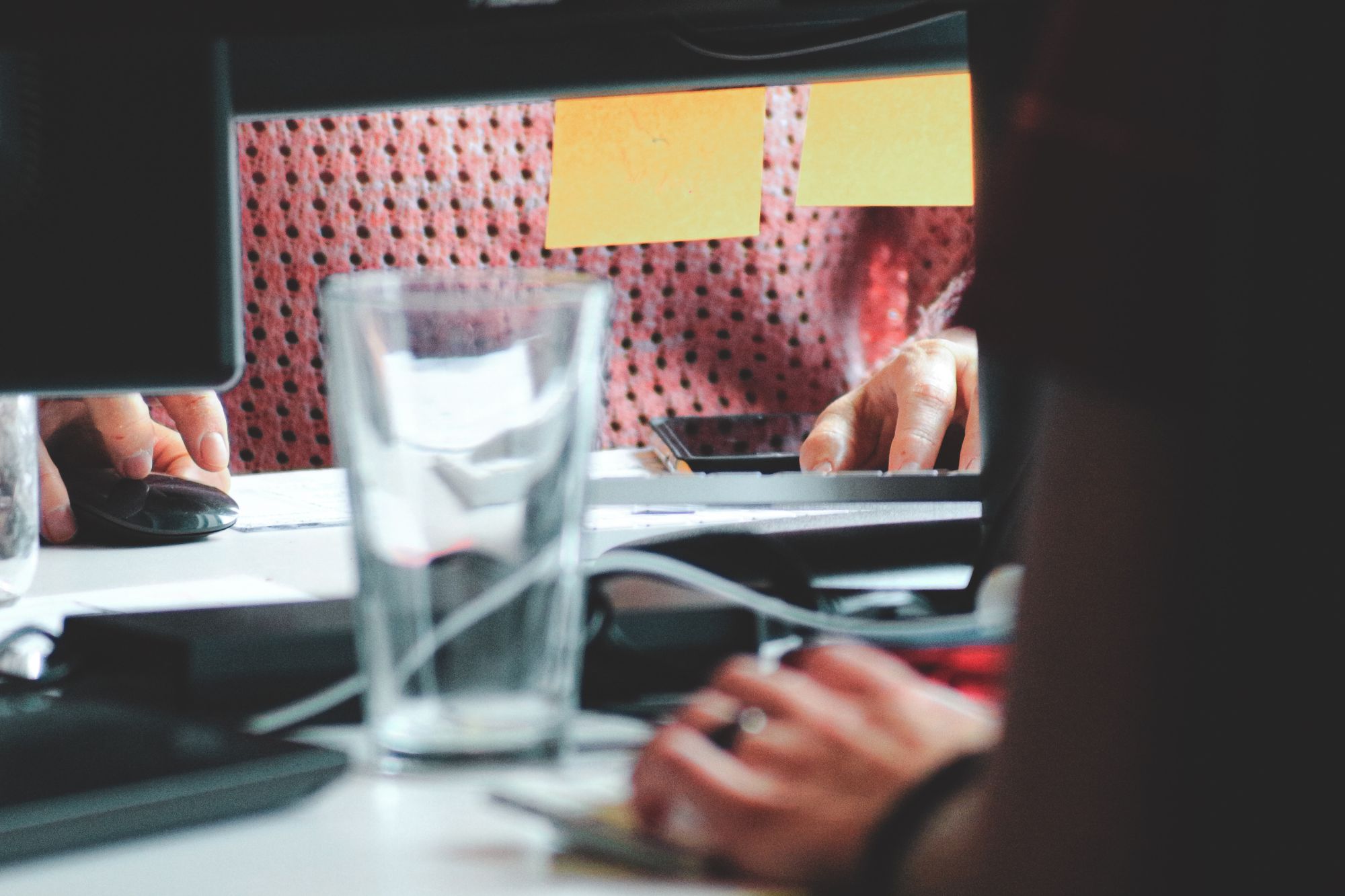 The Fix:
There are lots of tools available to organise wires and cables in your home office.
Cable covers and sleeves keep wires grouped together and hidden.
Use cable clips on your desk to guide and keep cords in place or run them through a desk grommet.
Under desk trays and cable boxes keep chargers and power strips neatly hidden.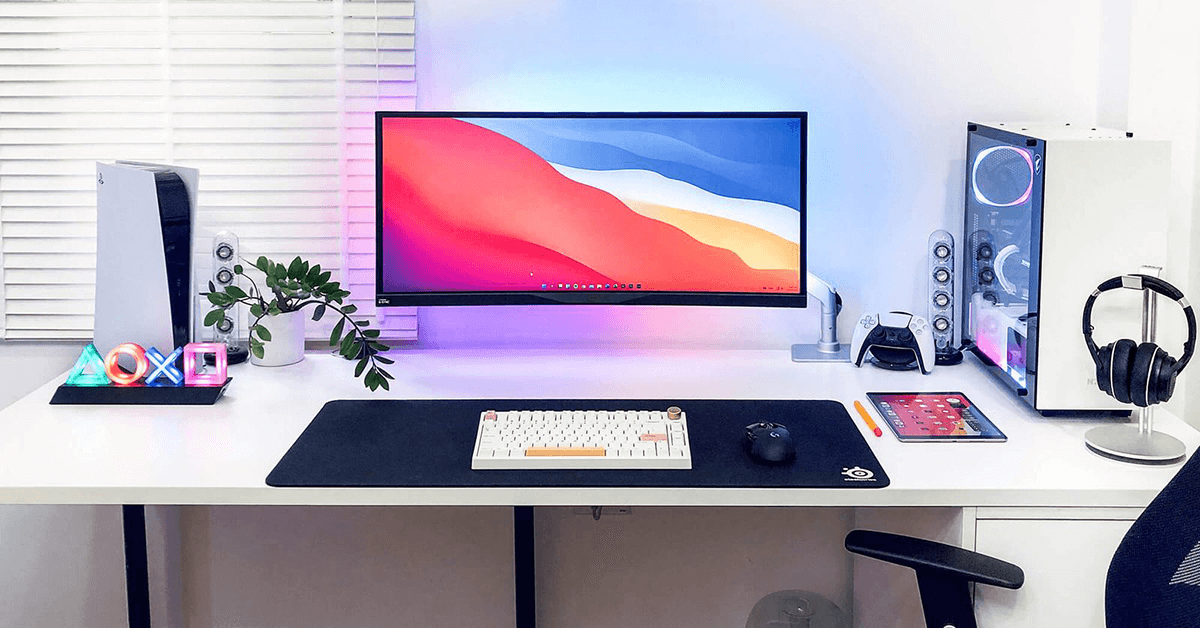 Such cable management solutions help your home office setup look clean, organised, and clear up more desk space for you to work with.
Dull Lighting
Lighting is an essential part of home office design.
But, when it comes to shared home offices, lighting often becomes an afterthought.
Ceiling fixtures that cast a ghoulish, unflattering glow throughout the room are more popular than you think.
The Fix:
Layer the lighting to add depth and make the room cosier.
Along with ambient lighting like ceiling lights, add personal lamps for each workspace. It can be two separate floor, wall, or desk lamps.
Desk lamps can be easily moved around, while wall lamps are a great choice for small rooms.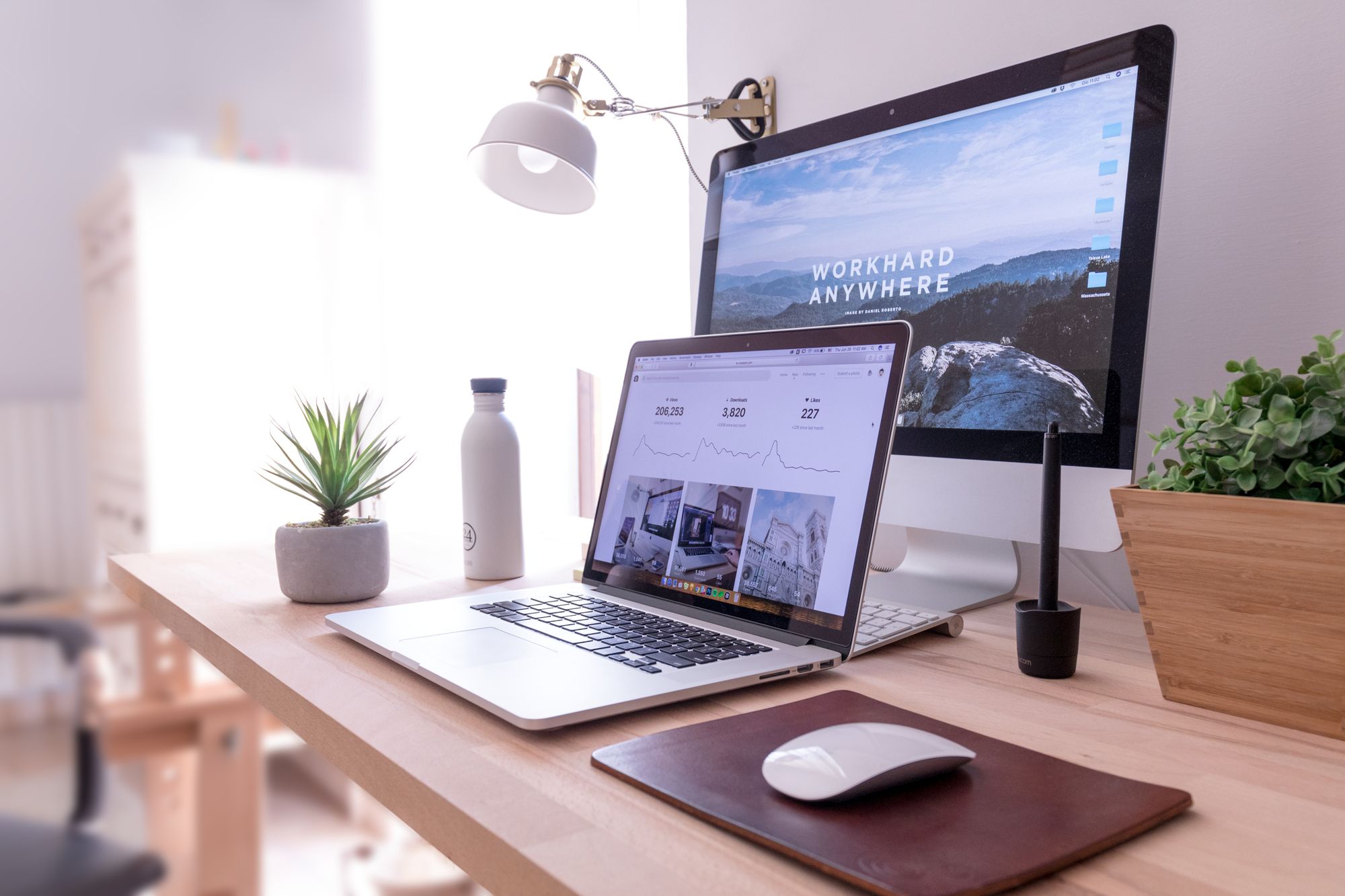 Some wall mounted desk lamps can also be extended or rotated. A personal lamp makes sure that each workspace is well-lit, and each person is able to control it.
Feel free to mix and match different types of lighting to better fit your space.
No Power Outlets
You found a great spot to put two desks and are keen to get started with work.
But when you go to plug in your devices, you suddenly realise that there's no wall outlet in sight. Or even worse, there aren't enough sockets to power all your devices.
This scenario is all too common when it comes to home offices, and can be quite a problem when there are two people working from the same space.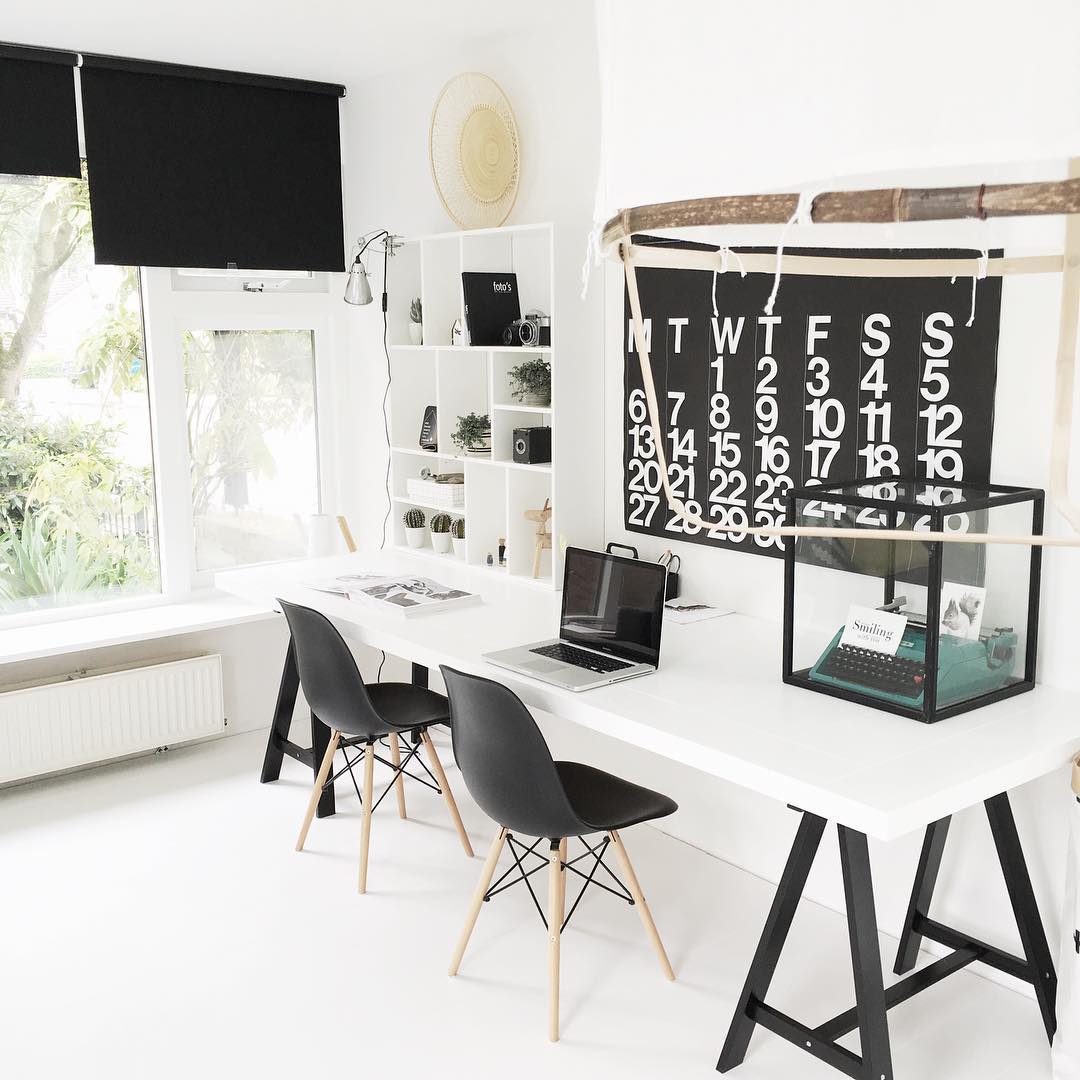 The Fix:
If you're still deciding on a space, look for an area with multiple power sockets nearby.
You could also consider a power strip for additional outlets, but do ensure that home appliances and heavy-duty items are never plugged into the power strip.
You can hide your power strips in baskets or cable boxes.
Consider drilling a small hole in the side of the box and feed the cords through.
The safest and best way to get extra power outlets is to have an electrician install them for you. They can add necessary outlets to the wall near each desk, or directly on the floor.
This way, your cables don't have to go around the room.
You can even choose a wall plate that matches the rest of your home office design.
Incompatible Layouts
Sites like Pinterest and Instagram are filled with home office ideas that cater to every style and budget.
While these online sources are intended to make things simpler, don't forget to consider your own space while designing.
Even if it looks stunning on a mood board, a certain design may not work out in real life.
The Fix:
There are chances that the best layout for your home office could be something completely different.
Look out for ideas from home offices that closely match your layout.
This is bound to give you the best options for your shared workspace.
If your room features niches and tricky corners, use them to your advantage. For instance, you can turn a small recess in the wall into storage with open shelves.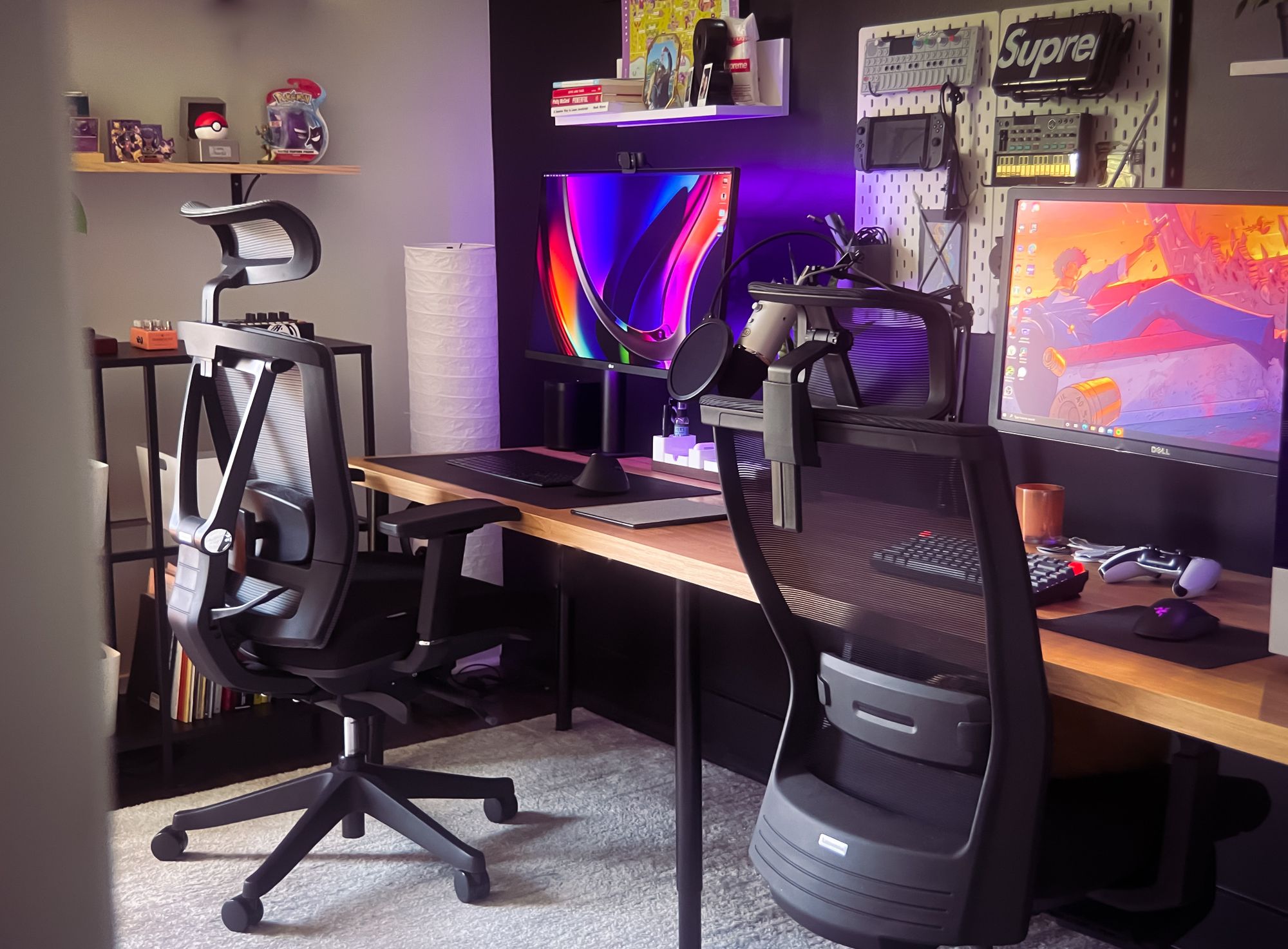 If possible, check with an interior designer to figure out the best layout for your shared home office.
They can help you make better use of your home office, especially if you have a uniquely shaped room or limited space.
Too Much Furniture
Shared home offices need a lot of furniture. Oftentimes, it's easy to go overboard.
You may be tempted to make the most of your space by adding a couch and a coffee table to relax in between work.
However, it's important to know where to draw the line when it comes to home office furniture.
The Fix:
Negative space (blank areas without furniture, artwork, or accessories) matters, unless you're going for a maximalist vibe.

Don't rush the process. Start with the basics before adding more. That means just two desks, chairs, and storage cabinets or bookshelves.
After a while, you'll be able to figure out how you use the room and how much extra space is available.
While adding more furniture, consider simple but multifunctional designs that take less space.
For instance, a folding wall-mount table provides extra desk space when needed, whereas an office armchair may be better than a couch.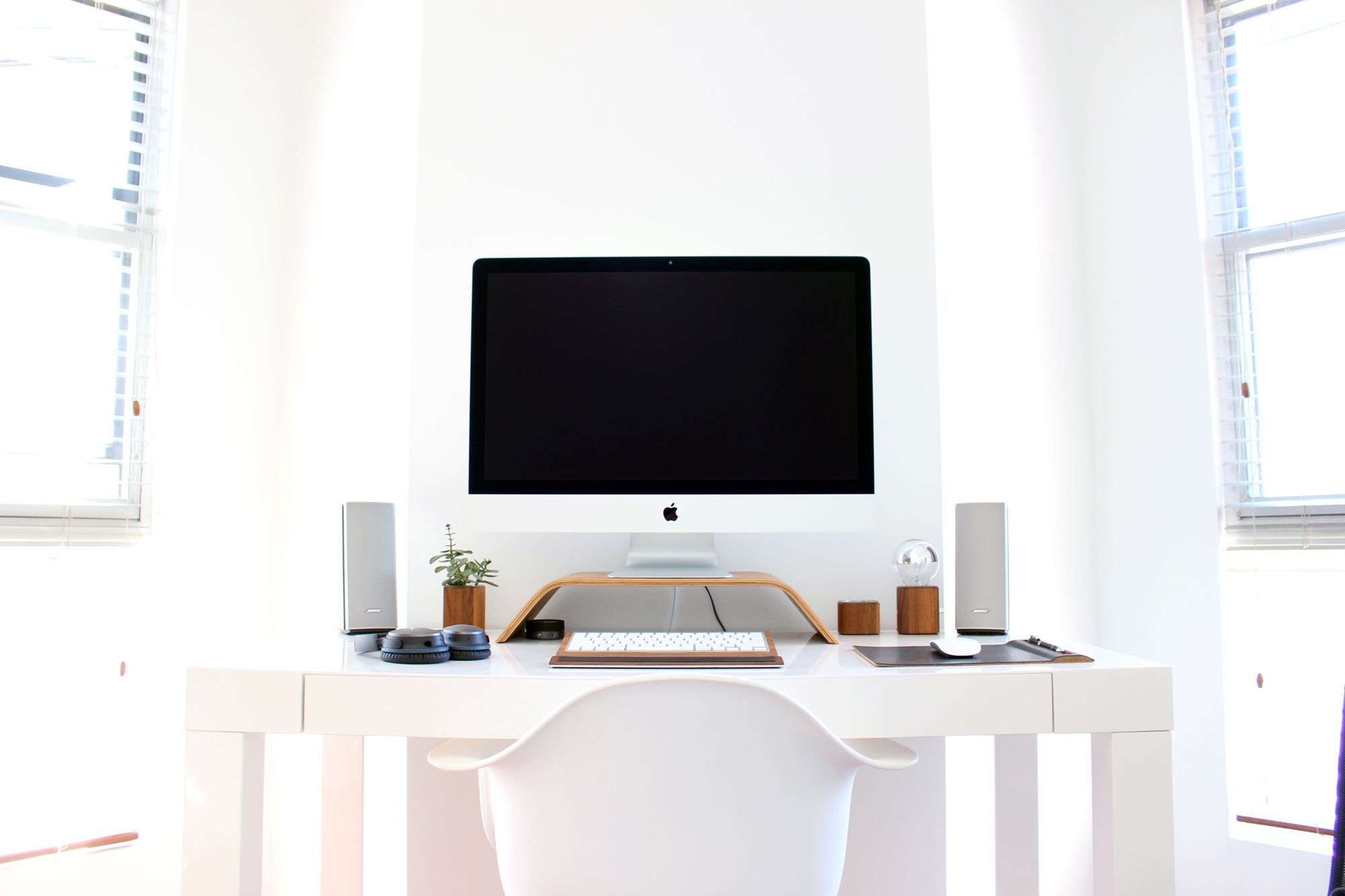 Boring Design
With the sheer number of items needed in a home office for two, it's not surprising that many opt for the "less is more", minimalist approach to design. Just to be on the safe side.
This approach may result in a clinical, soulless workspace that resembles a 3D render rather than an enjoyable and productive home office.
But how do you make a shared home office less bland and more exciting?
The Fix:
A shared home office can be as colourful and glamorous as you want.
If both of you love vibrant rooms and funky designs, don't let self-imposed, unnecessary restrictions hold you back.
It's your space, after all.
If in doubt, choose sleek furniture pieces to keep your home office looking clean. This gives you more freedom to decorate and play around with loud colours and elaborate patterns.
You can also go bold with your furniture design and keep the walls neutral. It's less laborious to swap out the furniture or curtains rather than sand and repaint the walls.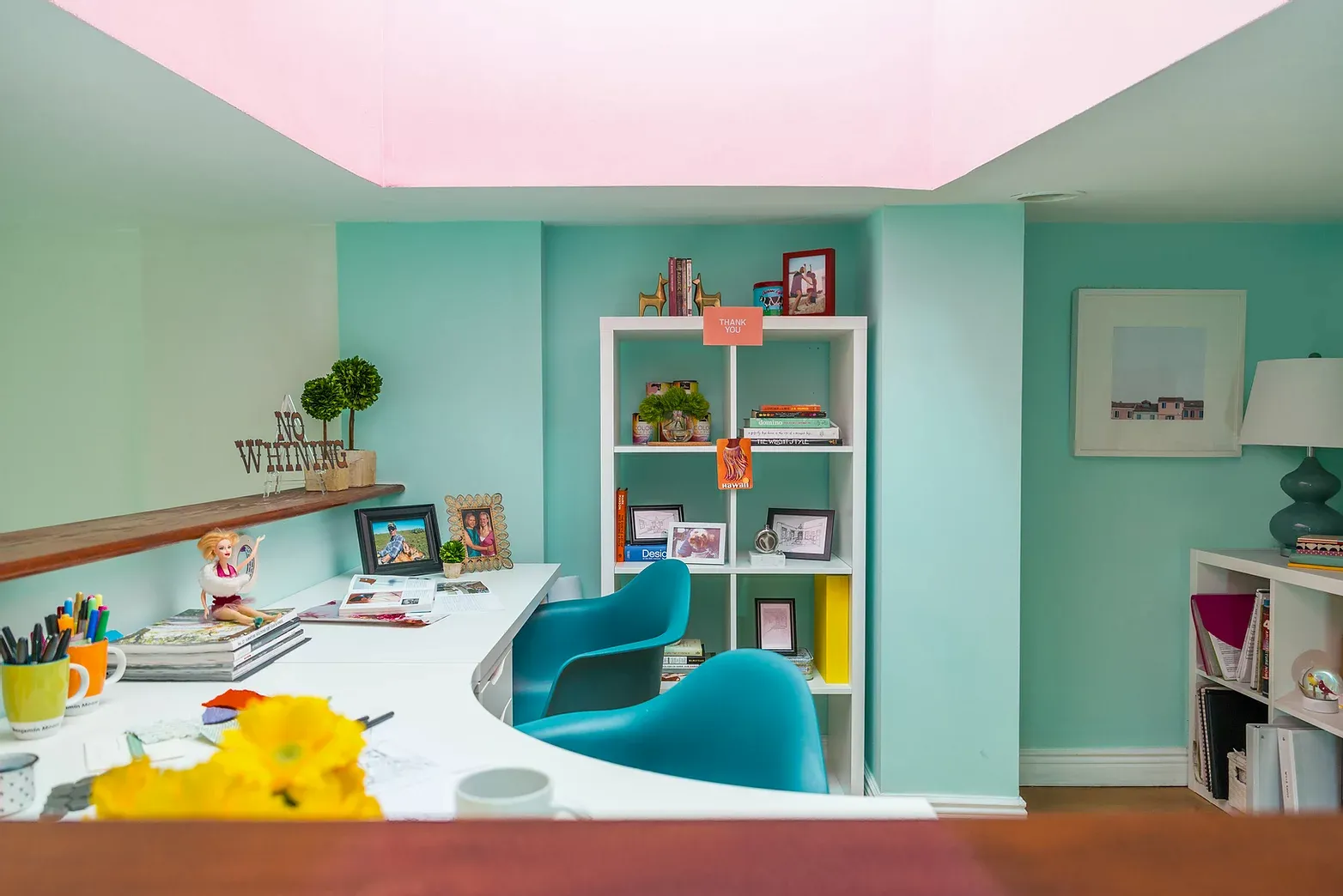 We're a reader-supported publication. This article might contain affiliate links. It means we may receive a commission if you click a link and buy a product that our maker has recommended. The article was written independently.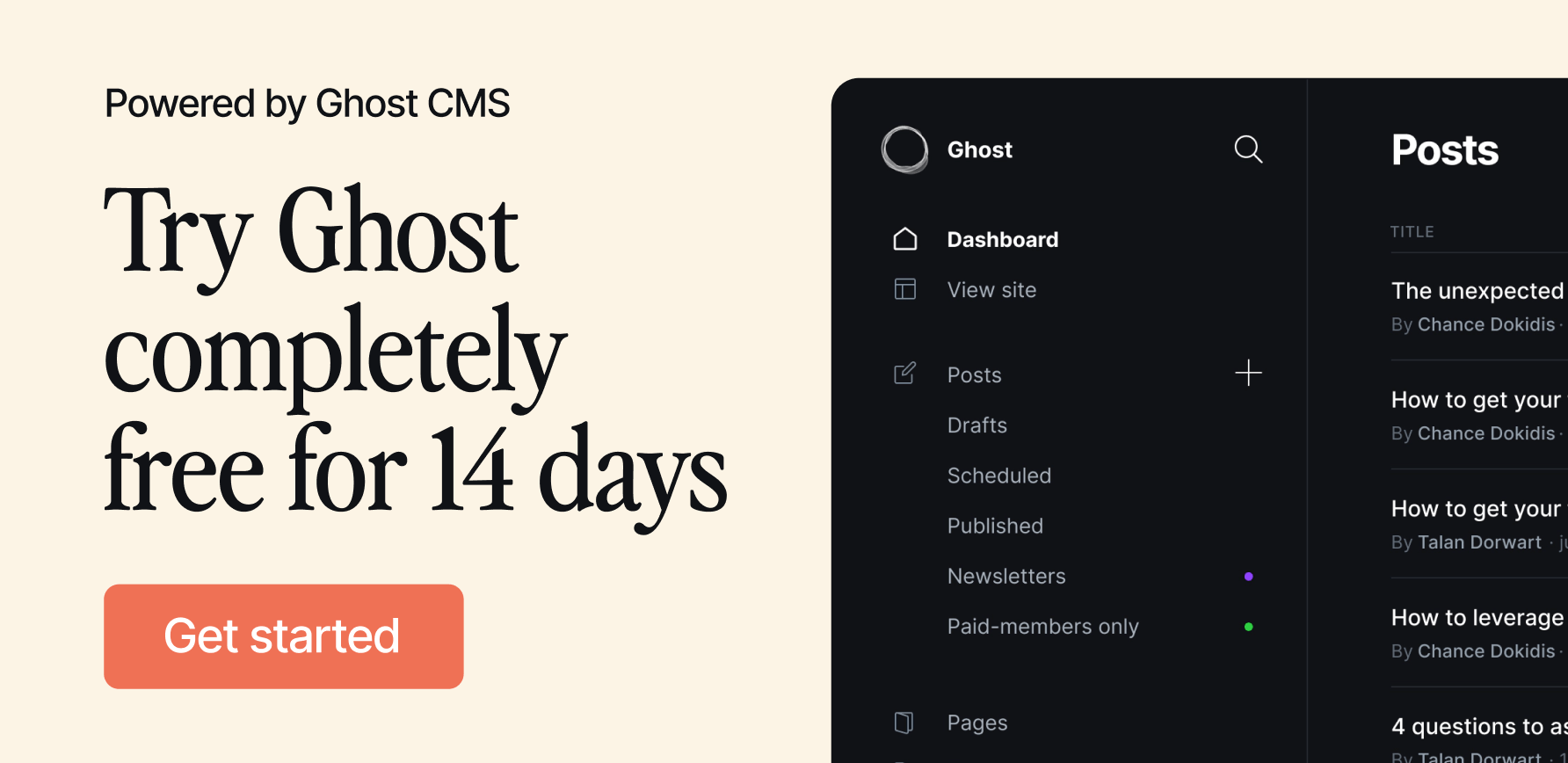 ---