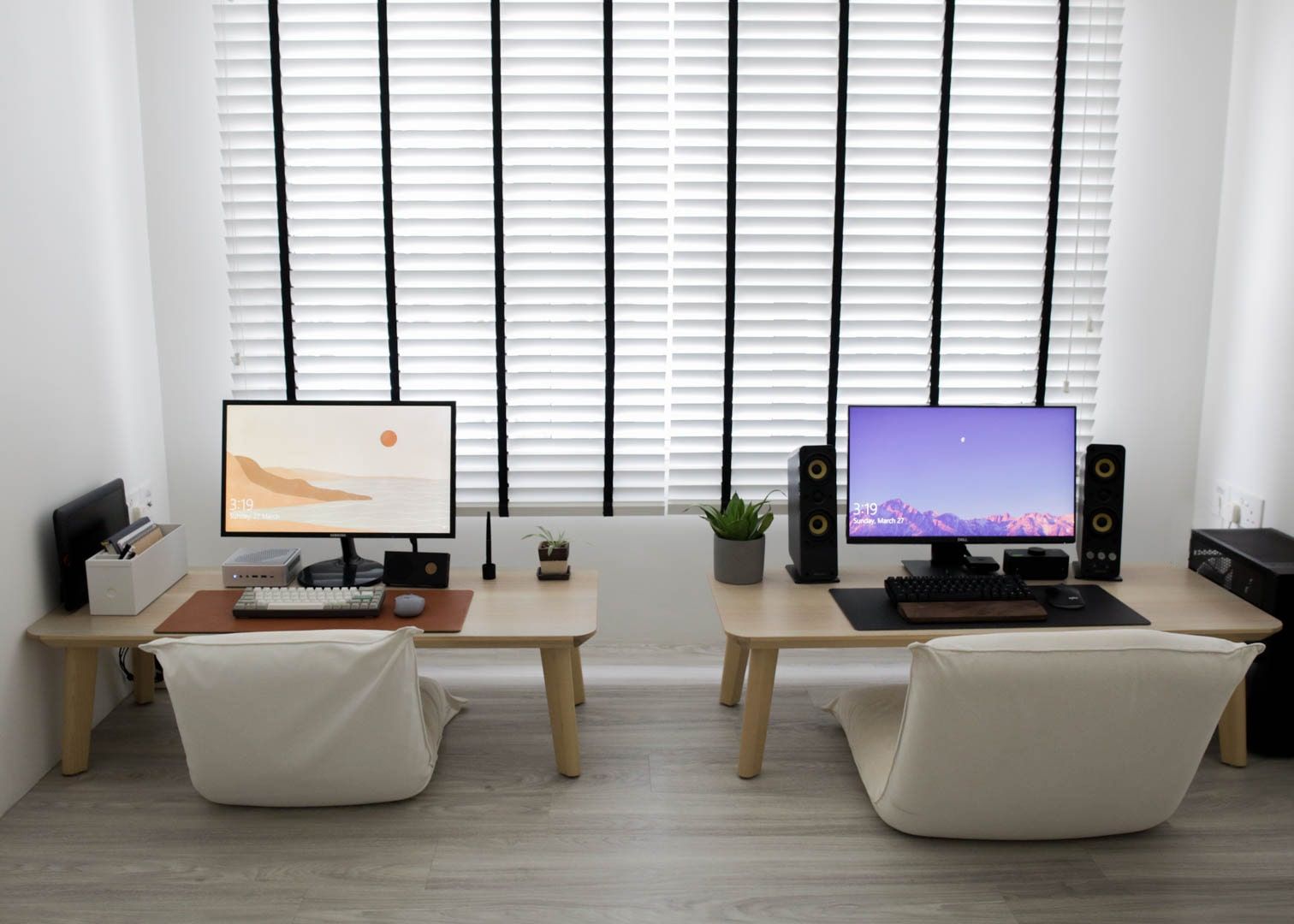 Floor Chair & Desk Setup for Two in Singapore
"Perhaps, the most striking feature of our setups is that we use floor desks and chairs"
Join 1700+ Curious Readers.
Every Sunday evening, get an *in-depth* workspace tour from a random corner of the world.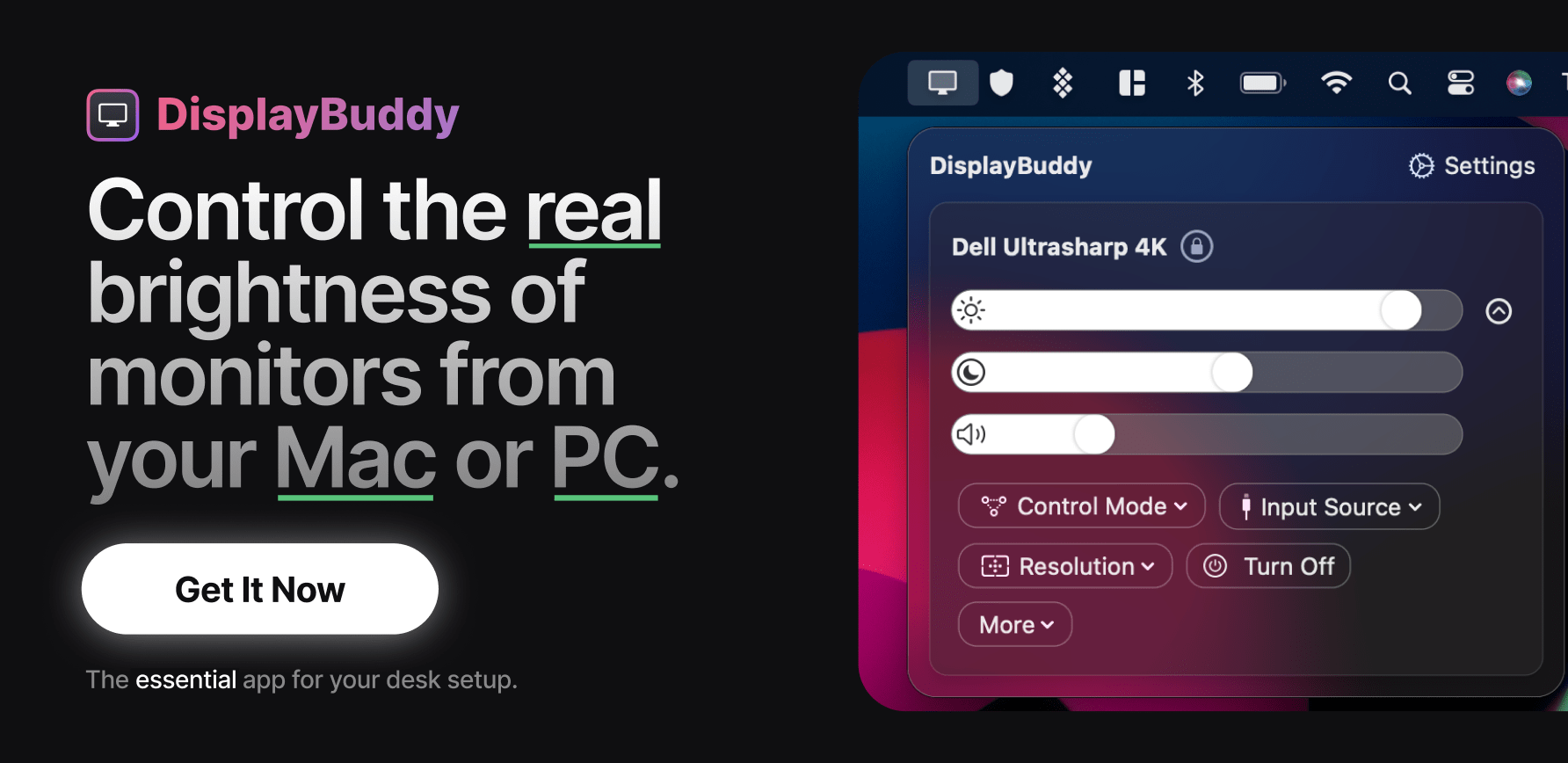 Name: HL (Thoughtworthy Co)
Location: Singapore
Occupation: Content Creator
Room size: 13,6 m² (146 ft²)
Cost of the setup: ~$1,5K
Social media: Instagram, YouTube
Hello! Tell us a bit about yourself
Hi! My name is HL, and I'm from sunny Singapore.
My husband, Glo, and I run the YouTube channel Thoughtworthy Co.
Glo was actually the one who started Thoughtworthy Co back around 2015. Our goal has always been to spread the message of health and happiness.
Back then, the company looked very different.
For a few years, we did fitness and nutrition coaching, but it wasn't until 2019 when we started creating content on YouTube, that we finally caught a break, which helped to solidify our vision and identity.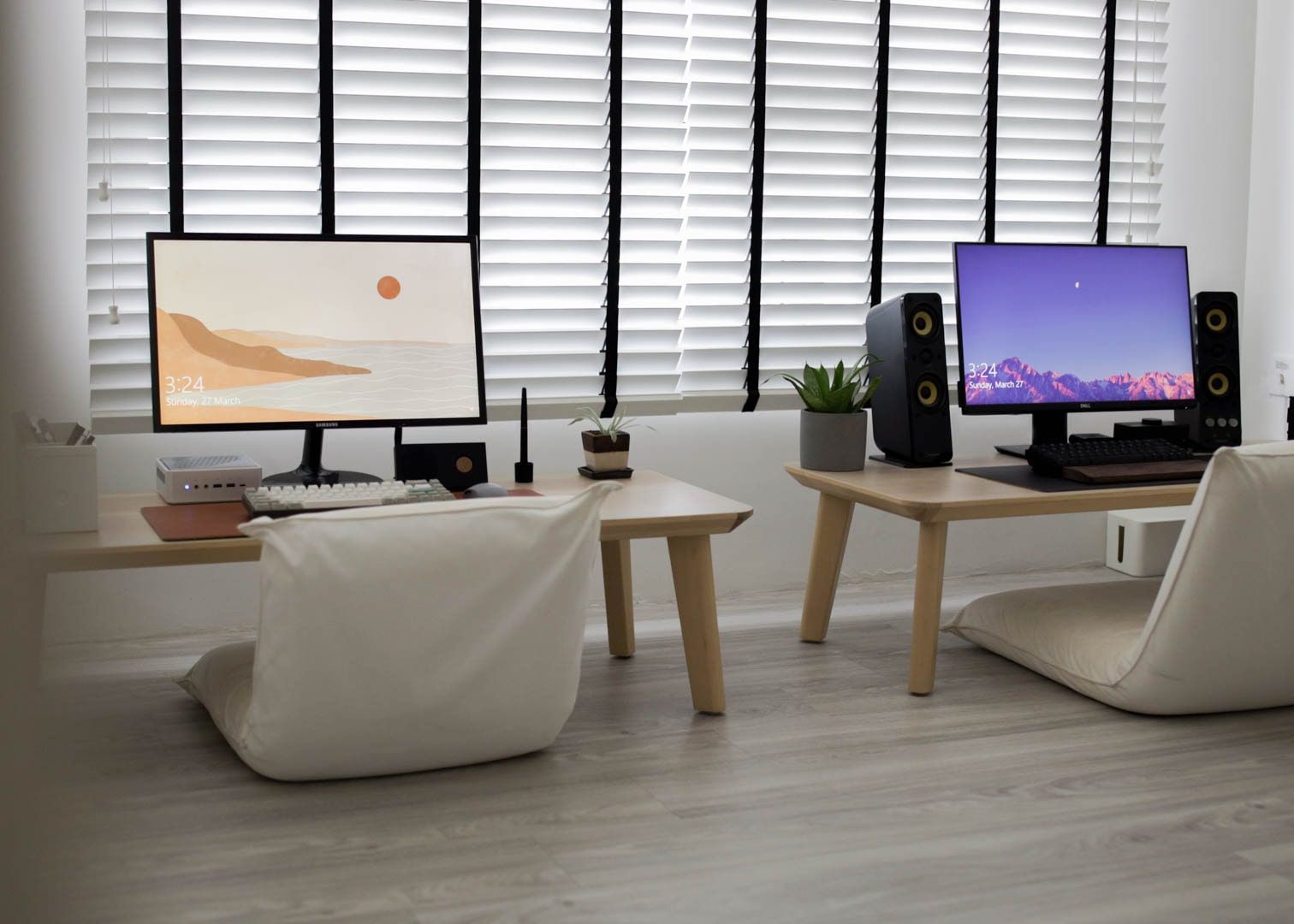 My side of the story is that I've never been the entrepreneurial type.
I studied hard, graduated with a degree, and worked in sales and marketing for a number of years.
I used to imagine my life would be smooth-sailing and without too many surprises. But then things got really exhausting, and both my physical and mental health suffered.
It was around then that Glo enticed me into joining his passion project.
Feeling jaded, with my guard down and the beautiful image of being my own boss, I accepted the offer under the assumption that he knew what he was doing.
My life has been a roller-coaster ever since.
In all seriousness though, in Glo's defence, you can never know what you're doing when it comes to entrepreneurship. A roller-coaster isn't too bad either.
It has still been exhausting with plenty of ups and downs, but my physical and mental health has never been better.
I would never even have imagined being an entrepreneur or content creator if I didn't have a reliable, adaptable partner at the helm.
Take us through your setup
We live in a 65 m², two-bedroom apartment.
We use the larger room (about 13,4 m²) as our home office.
Typically in Singapore, this room is the master bedroom. But we chose to squeeze our bed and wardrobe into the smaller bedroom since we spend most of the time in that room unconscious anyway.
Perhaps, the most striking feature of our setups is that we use floor desks and chairs.
We explain the reasons why in a couple of our videos on our channel.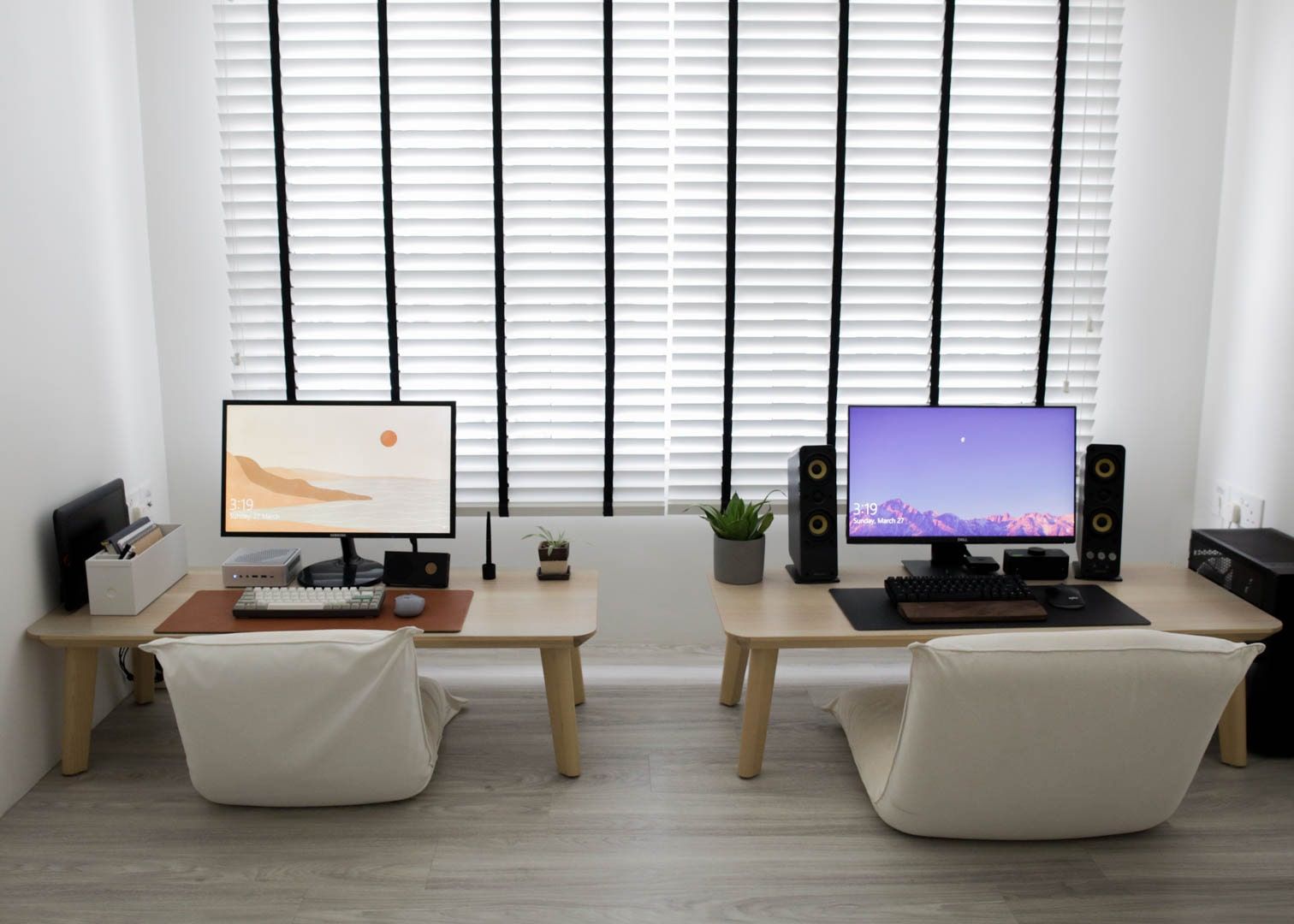 It was difficult to find a desk that was the height we wanted, so what we did was shorten the legs of an IKEA coffee table. It turned out quite well.
The main seating is a floor chair from Muji. But we switch around a lot, and sometimes, we'll just sit on a mat or a yoga block.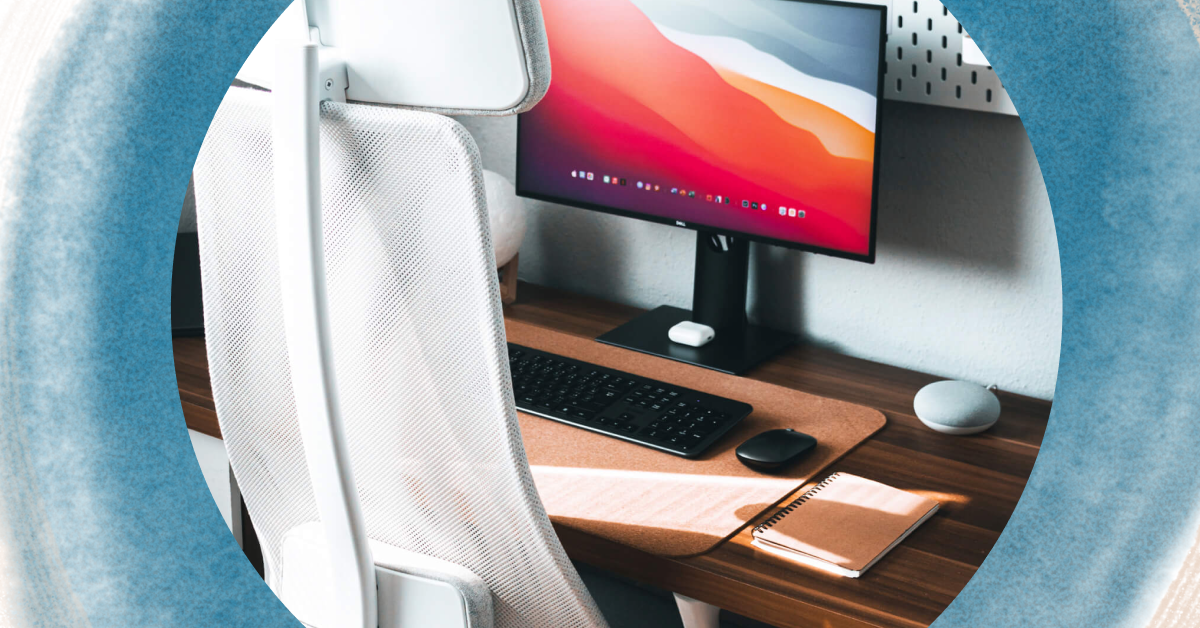 The rest of the setup got a small makeover recently with the help of my tech support. (Which is Glo. Any technical information/explanation from here on out, I got from him!)
The idea was to have some contrast between our desks to reflect our different personalities.
So while he has a mostly-black setup, my new setup was to have a slightly more vibrant colour palette.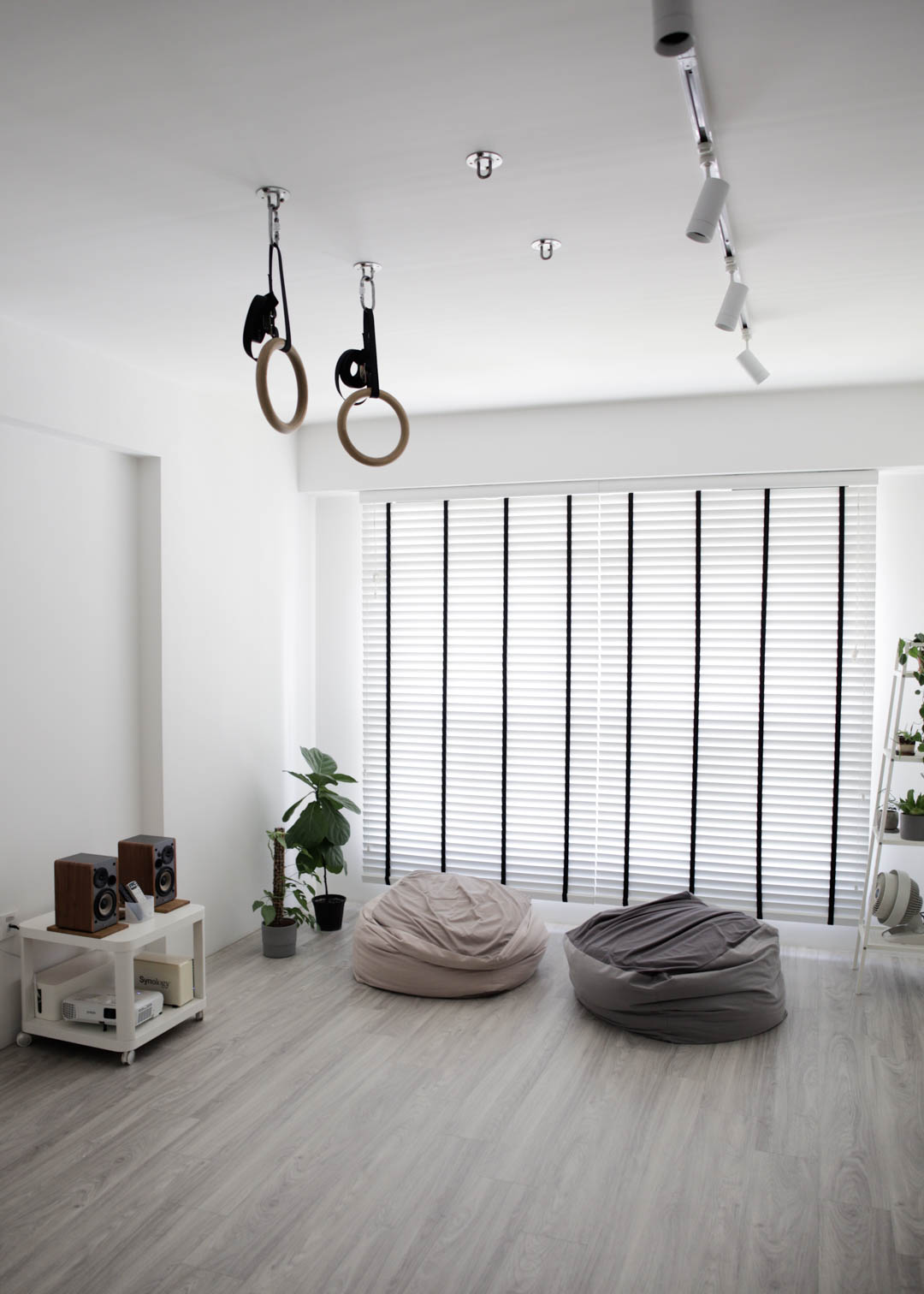 My seven-year-old laptop was replaced with a mini PC from Minisforum.
Switching away from a laptop made sense as I no longer needed to bring my computer with me on the go.
Glo built the keyboard. I roughly described my preferred aesthetic and typing feel and he took care of the rest.
The mouse is a basic one from Logitech that we could find in a lighter grey colour to suit the theme. The brown leather desk mat is from Grovemade.
I'm still quite a pen and paper person, so I added some organisation to my notebooks and papers as well.
There's also a stand to conveniently store away my drawing tablet.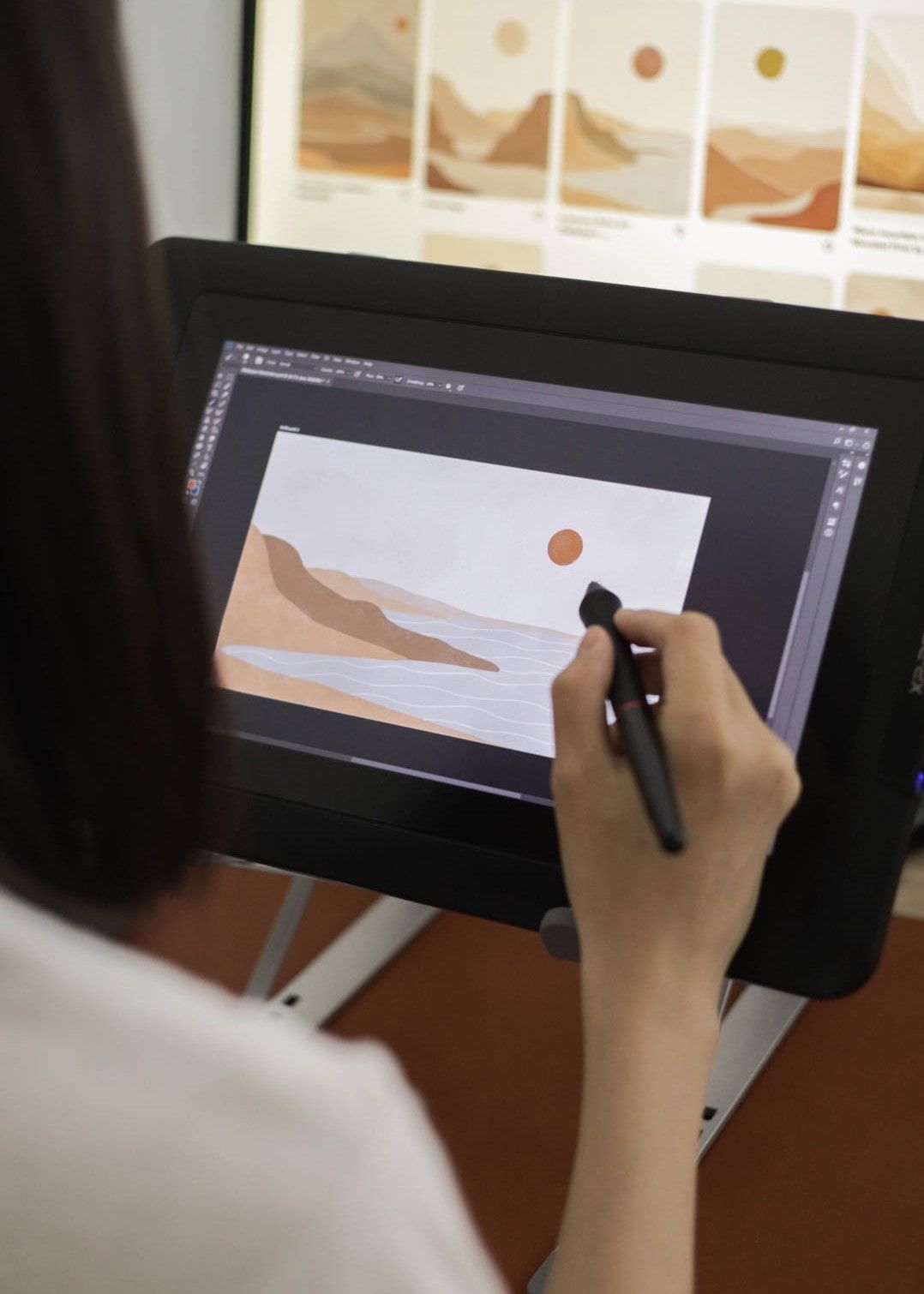 The speaker was a last-minute, low-priority purchase. We would have wanted it in white to continue with the theme, but unfortunately, it's not available in our country.
Still, it doesn't look too out of place!
The monitor is one of the only items that remained from my previous setup, as it's still working perfectly fine.
When it comes time to retire the monitor, we'll definitely look for a new one that has a height adjustment.
Finishing touches: I drew my own wallpaper to match the rest of the setup.
What's your favourite item on your desk?
My favourite item on my desk would have to be the keyboard.
The mouse and keyboard are peripherals we use and touch most frequently in our workspace, so it makes sense to invest in something that better suits our tastes.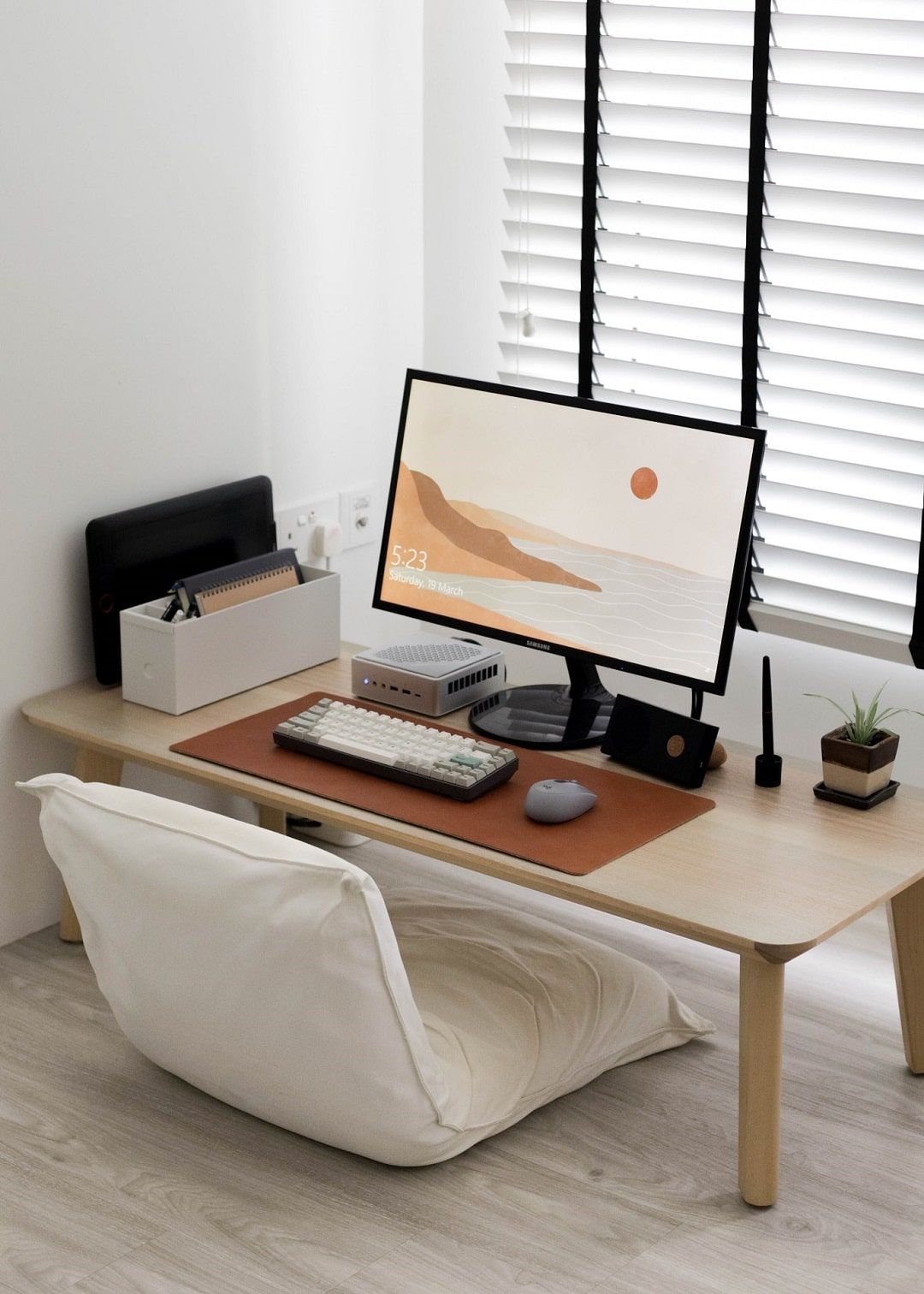 I absolutely adore the end product, especially considering how affordable it is for a custom keyboard.
Not only is it a joy to look at, but it's also a joy to type on.
And ever so slightly, it makes me more excited to sit down and get to work.
The fact that a keyboard only runs wirelessly on AAA batteries can be a deal-breaker for some, but it works perfectly for me as we always have spare, rechargeable batteries ready to go.
This means I never have to have cables on my desk to charge the keyboard.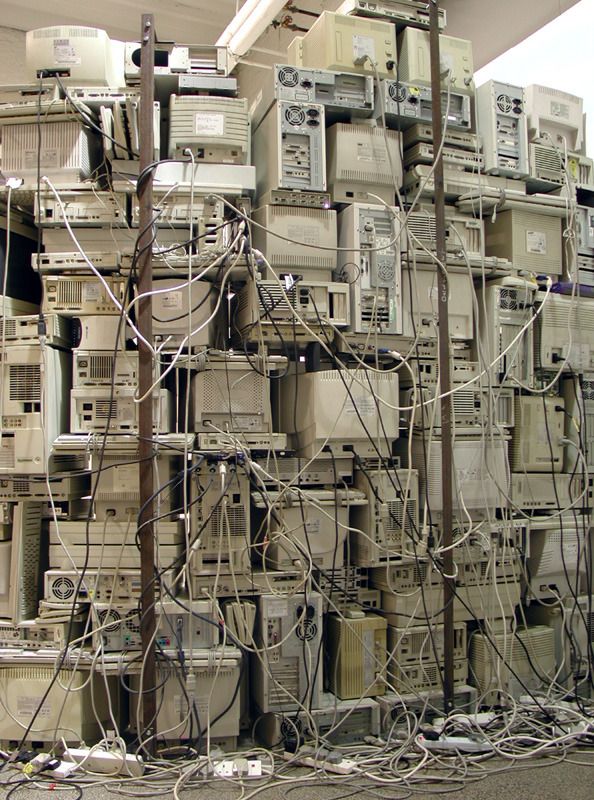 What apps or tools do you use to get things done?
The most important tool for our productivity will have to be Notion.
It's been a game-changer for us since we started using it a couple of years ago.
Today, it's how we organise all areas of our lives, both work and play.
It's actually scary how much we rely on Notion when we think about it.
Our to-do lists, our entire content creation workflow, and our personal lists (movies, books, recipes, etc.) all live on the platform.
By the way, cheeky plug for our content: we were so excited when Notion reached out to us to sponsor one of our videos.
We made a great starter guide for anyone who's thinking about using Notion for the first time!
What books, blogs or podcasts recently caught your attention?
I recently completed Shoe Dog by Phil Knight, which is a terrific read that I can highly recommend.
Even if you're not an entrepreneur or a fan of the brand, Phil Knight and Nike's journey is still an engaging story in its own right.
Podcasts-wise, Glo has been listening to a few (I've just been listening along) that I thought were quite interesting.
The Digiday Podcast had a four-episode series focusing on content creators, so anyone who's looking to get into or improve their content creation should check them out.
Any tips for other makers who want to improve their workspaces?
Everyone has a different style with different needs, so choose something that works best for you.
Identify and work towards solving the main pain points of your current desk setup.
When you follow that path, sometimes you may end up with a weird setup like having your desk and chair on the floor 😅
But the most important thing is that it works for you!
What does your typical day look like?
We've been working from home for several years, so the coronavirus basically did not affect our work arrangement at all.
We consider ourselves very lucky to be able to have complete freedom over our schedule.
This means we're able to fit in a workout or cook our own meals at any time of the day that works best for us.
Recently, we've changed up our routine a little bit to try and find a better balance between a healthy lifestyle and productivity.
My day starts around 7:30 am. Working out first thing in the morning works best for me, as I found I would procrastinate and talk myself out of it if I left it to a later part of the day.
Get it done and out of the way!
One thing we try to do is cook as many of our own meals as possible; it's healthier for our bodies and our wallets.
But cooking three meals a day was disruptive to our productivity, so recently we've been testing having two larger meals — brunch at around 10:30 am, and dinner at around 5 pm.
So far, it's been working well as we now have larger chunks of time to focus on work.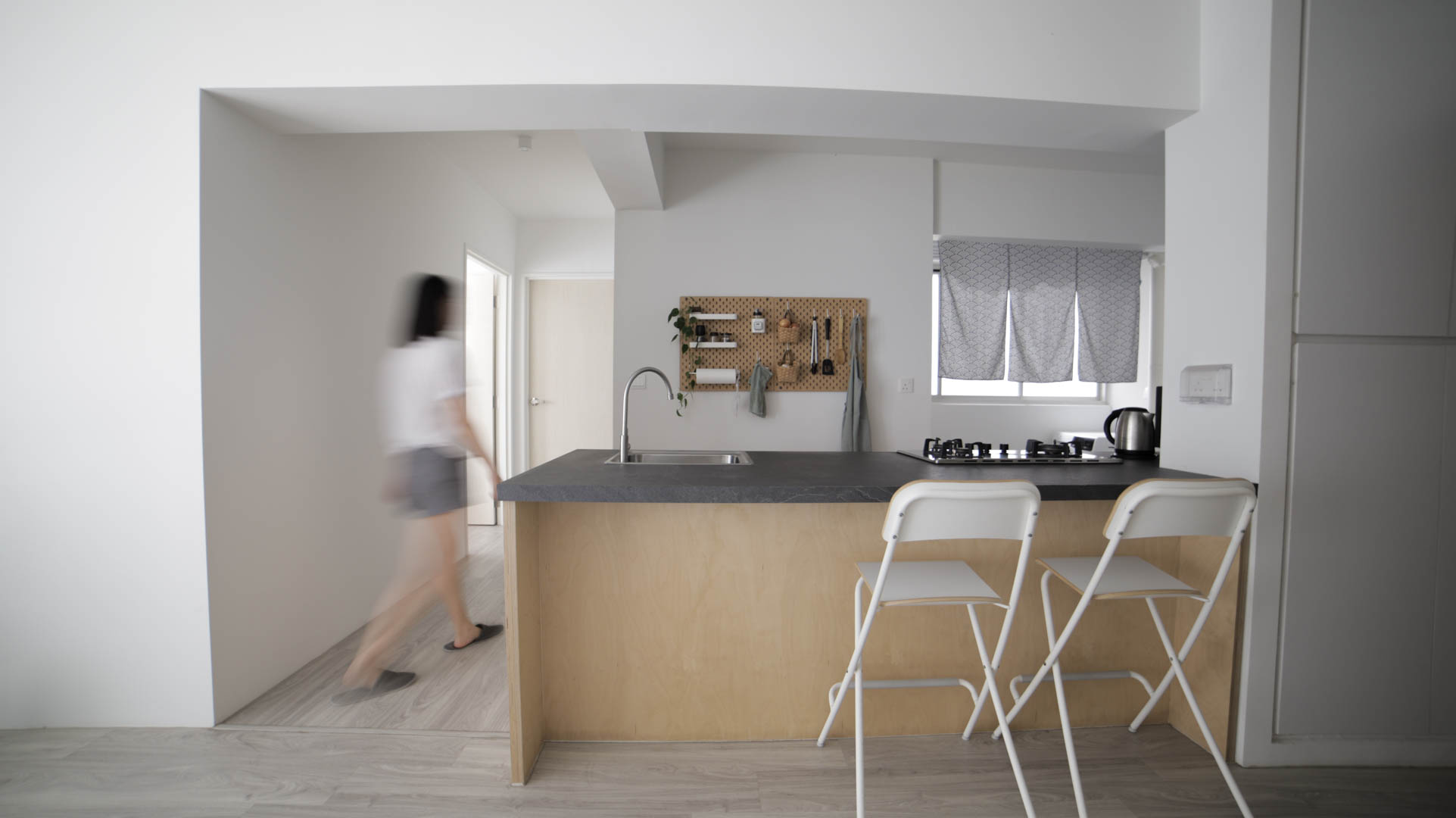 When it comes to working, every day looks a little different depending on the project we're working on at that point in time.
We can be editing videos in our office for the entire day, having meetings on the bean bags in our living room, or filming our videos all around the apartment.
Most days are organised chaos — with more emphasis on the chaos.
There are no designated break times or days off. We're extremely flexible with that.
I can tend to water my plants when I need a bit of a break, or we'll go cycling in the evening when we feel the need to be outdoors.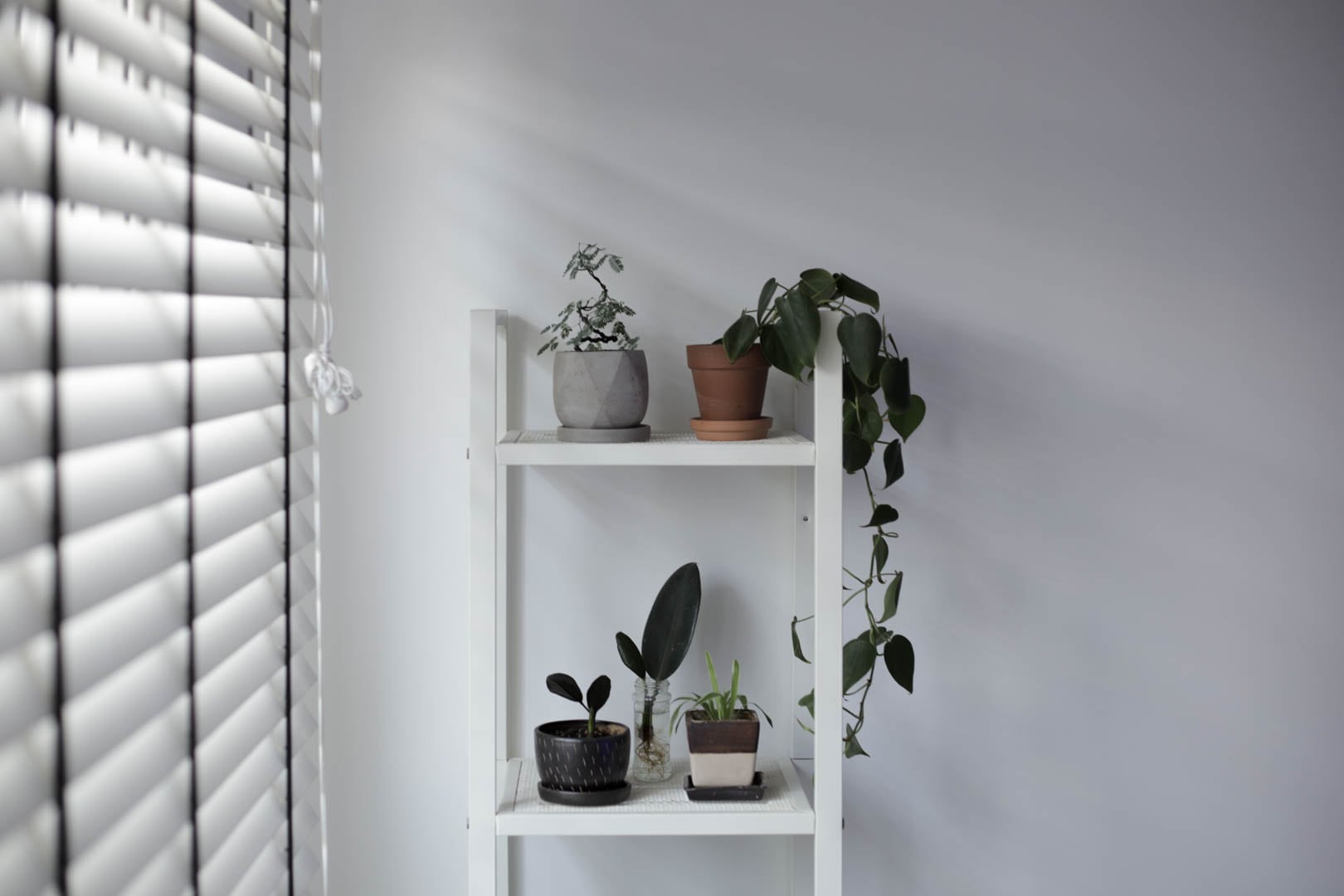 One form of entertainment that has been quite constant though is catching up on TV shows and movies together during our meals.
When we do take a full day off for ourselves, we like to do it on weekdays as there's usually less of a crowd in most places (Singapore is very densely populated).
Finally, I try (but often fail) to go to bed by 11:30 pm.
Your tips for working from home?
Working from home requires a very different mindset than working in an office.
I guess that's quite obvious since most people have already experienced the transition.
There's not much fresh advice we can give with regard to productivity since we're not any more productive than the next person.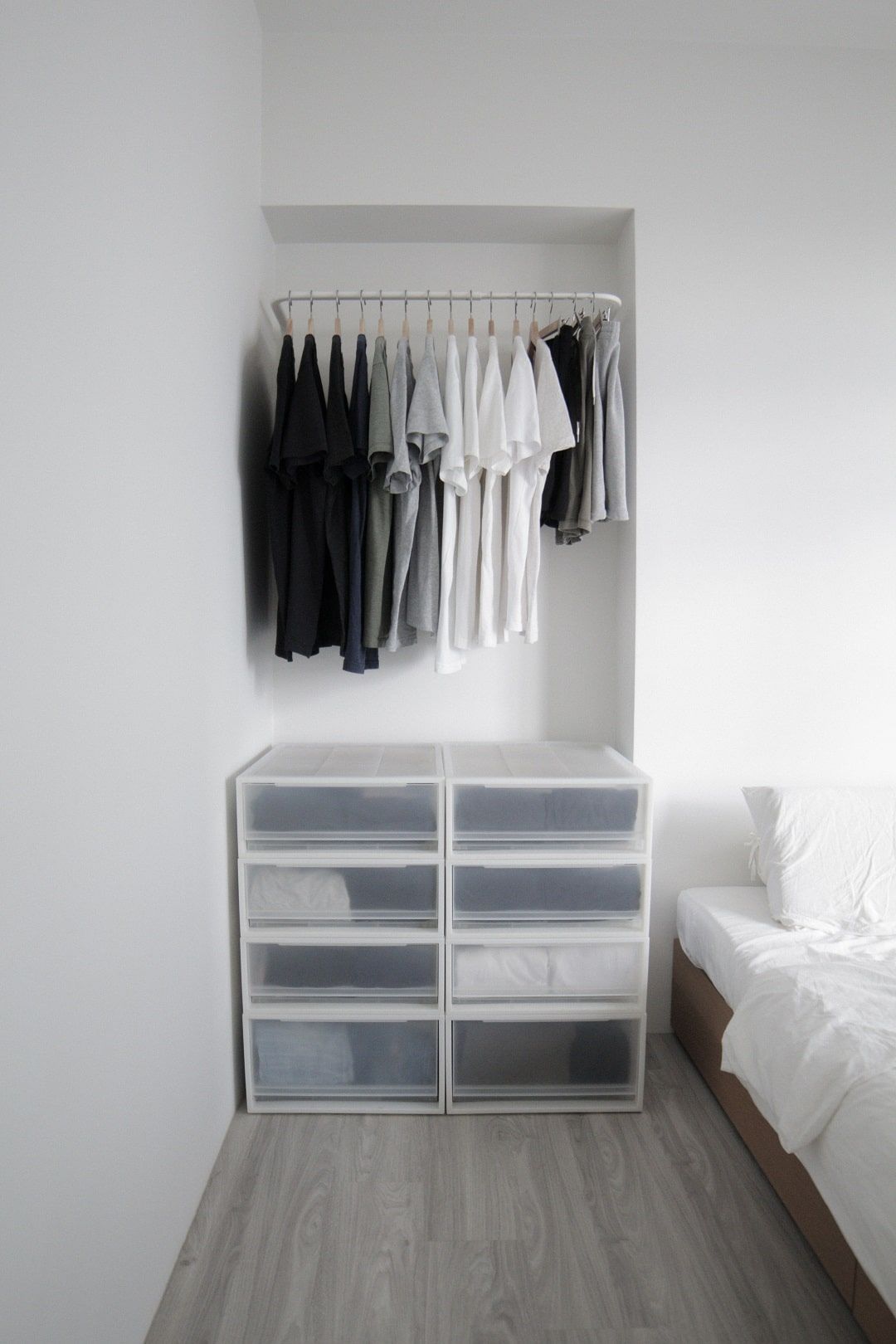 One thing we have to say is that it's easy to not realise how sedentary we are when working from home.
For many people, the daily commute to and from work was their main form of daily exercise, but WFH even takes that away.
We find it helpful to set periodic reminders to get up from the desk and move throughout the day.
It also helps to have a dedicated "movement corner" at home.
For example, we always leave a couple of soft mats and foam rollers lying around in our living room under our gym rings.
That means less resistance to get in a few healthy doses of movement over the course of the day.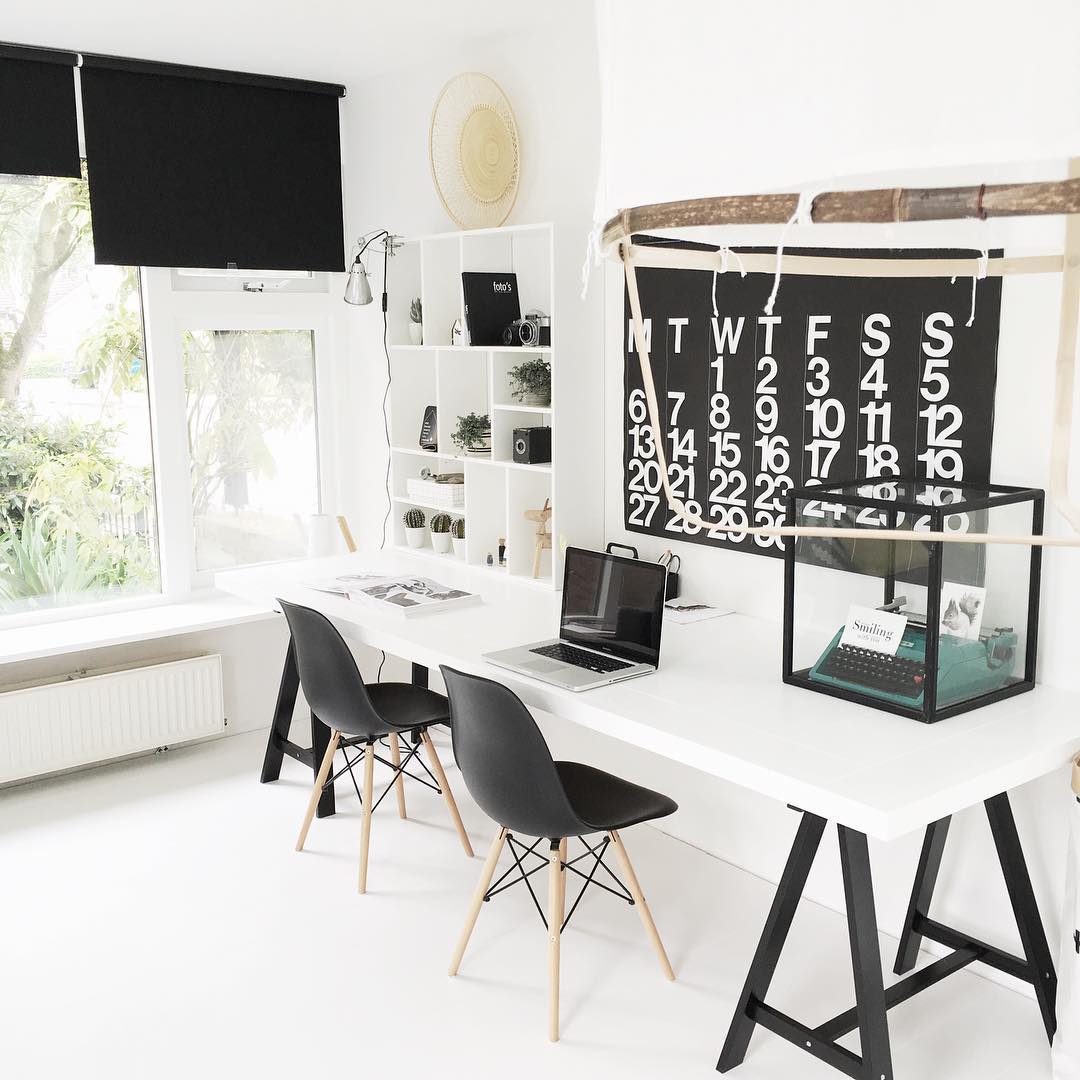 We're a reader-supported publication. This article might contain affiliate links. It means we may receive a commission if you click a link and buy a product that our maker has recommended. The interview was done independently.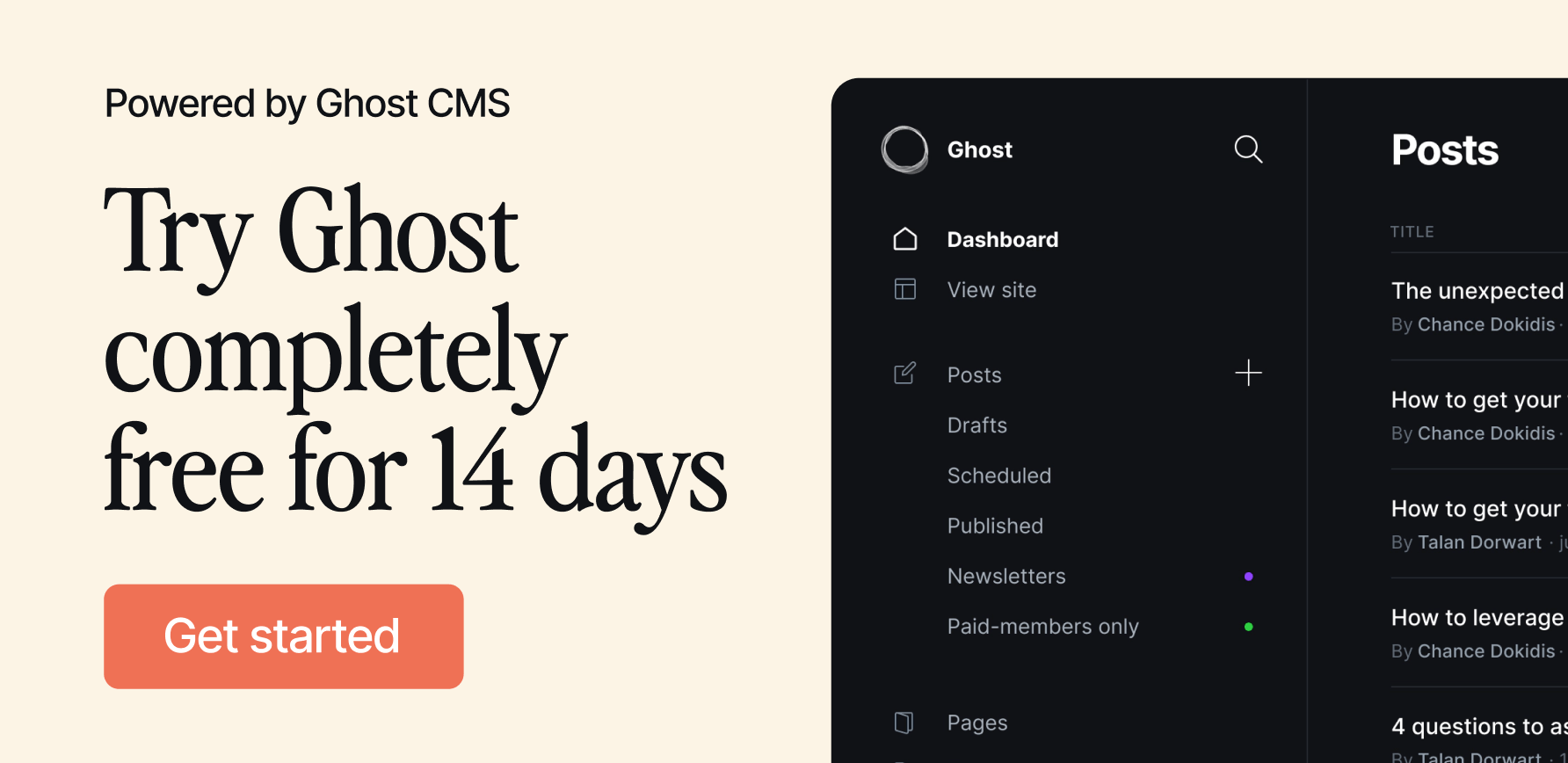 ---