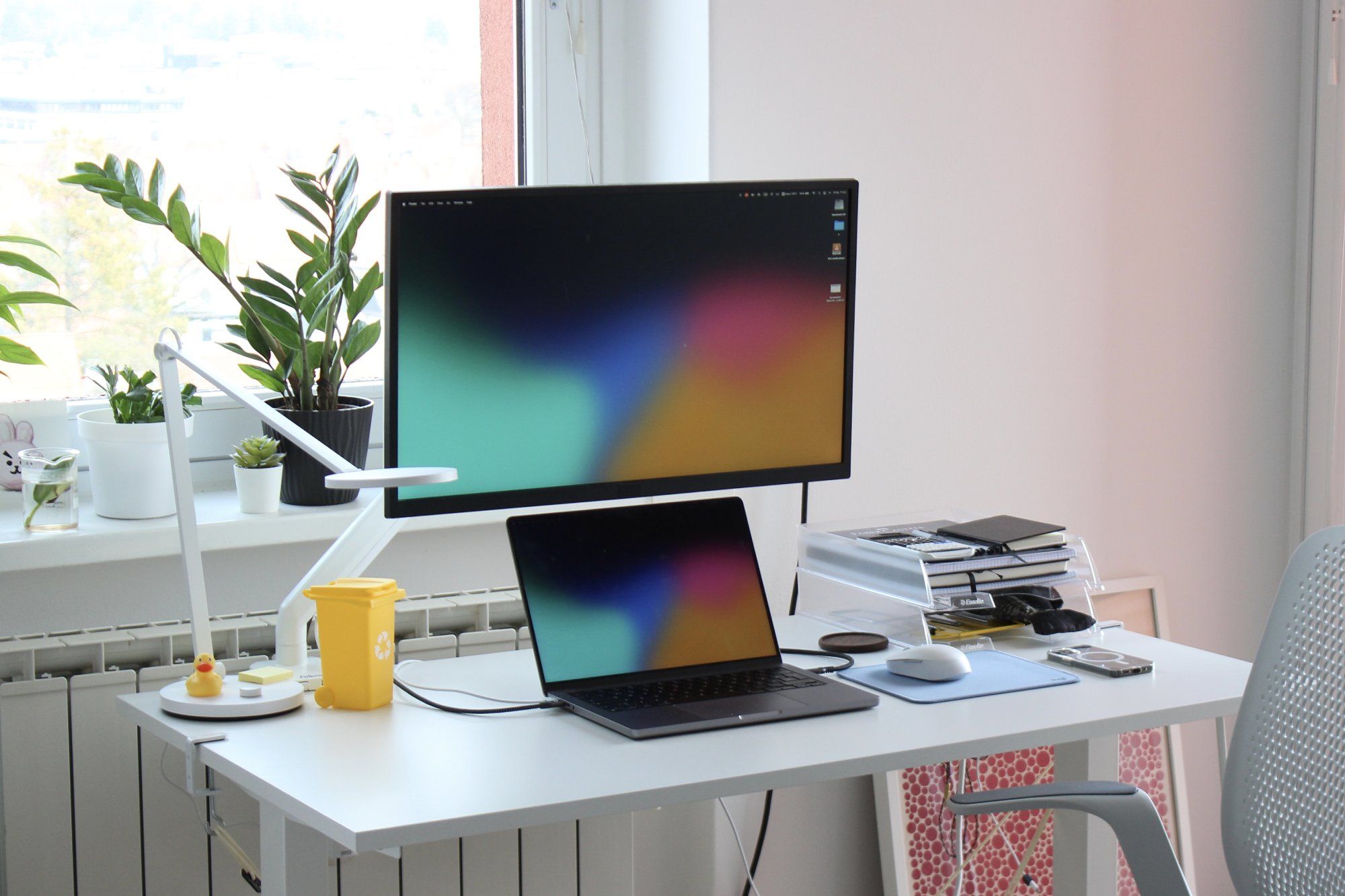 Coding with a View: A Tour of Viktor's Home Office in Slovenia (with an IKEA Desk)
"Blend practicality with sentimental value. Incorporate items that serve a purpose and hold a special meaning to you"
Join 1700+ Curious Readers.
Every Sunday evening, get an *in-depth* workspace tour from a random corner of the world.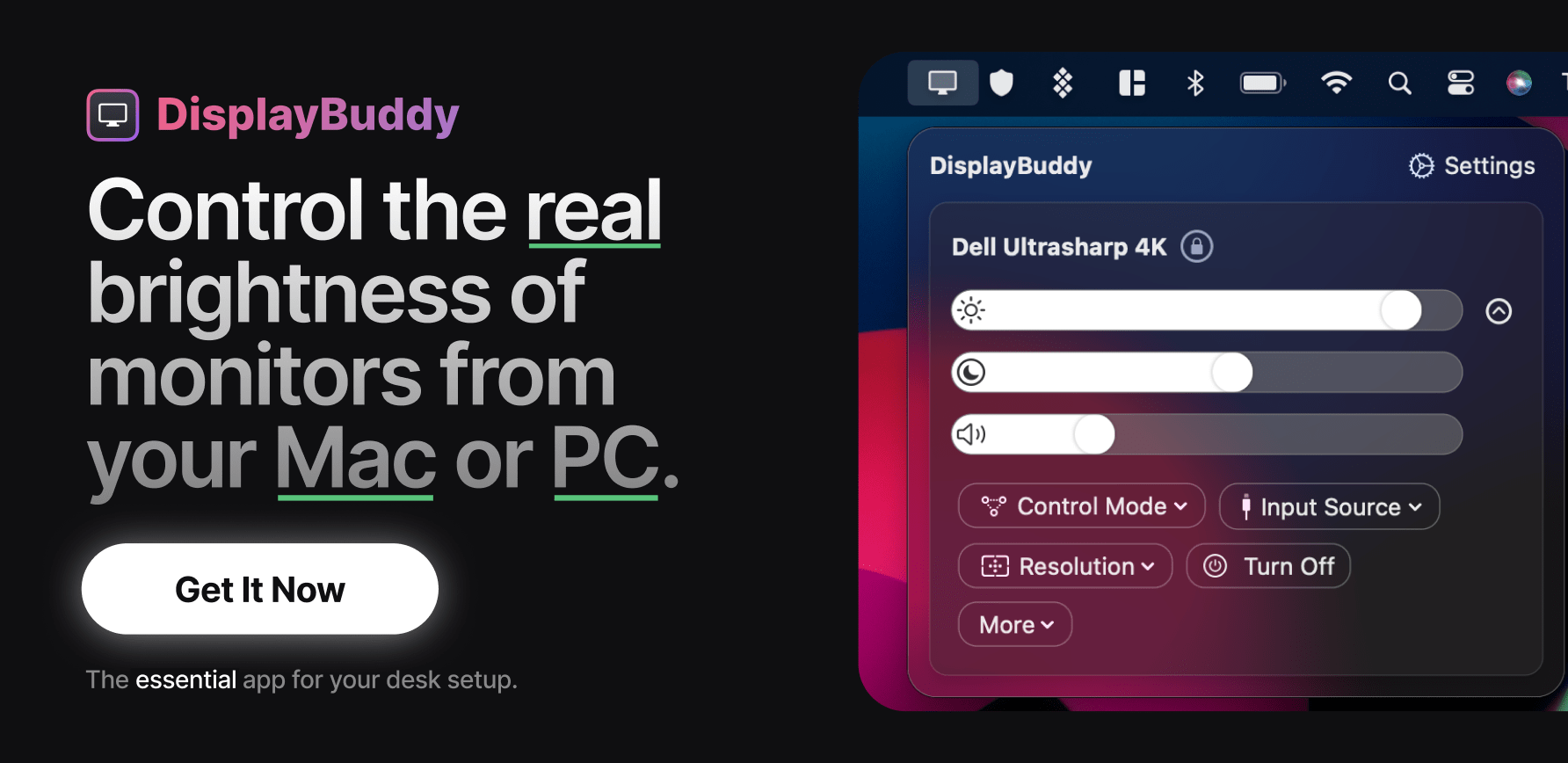 Name: Viktor Vlahek
Location: Maribor, Slovenia
Occupation: Computer Science Major
Room size: 21 m² (226 ft²)
Cost of setup: ~$3,7K
Social media: Instagram
This ad spot is now
available for bookings
📮
Showcase your product or services to a thriving community of 1200+ tech enthusiasts and creative professionals (you'll also support independent online publication!).
Find out
how to advertise with Maker Stations
.
Hello! Tell us a bit about yourself
Hey, my name is Viktor, and I'm a 21-year-old guy who moved from Croatia to Slovenia to study Computer Science.
Ever since I was little, I've loved being creative and innovative.
Back then, that implied drawing or making my own chairs and shelves using the plethora of tools my dad had.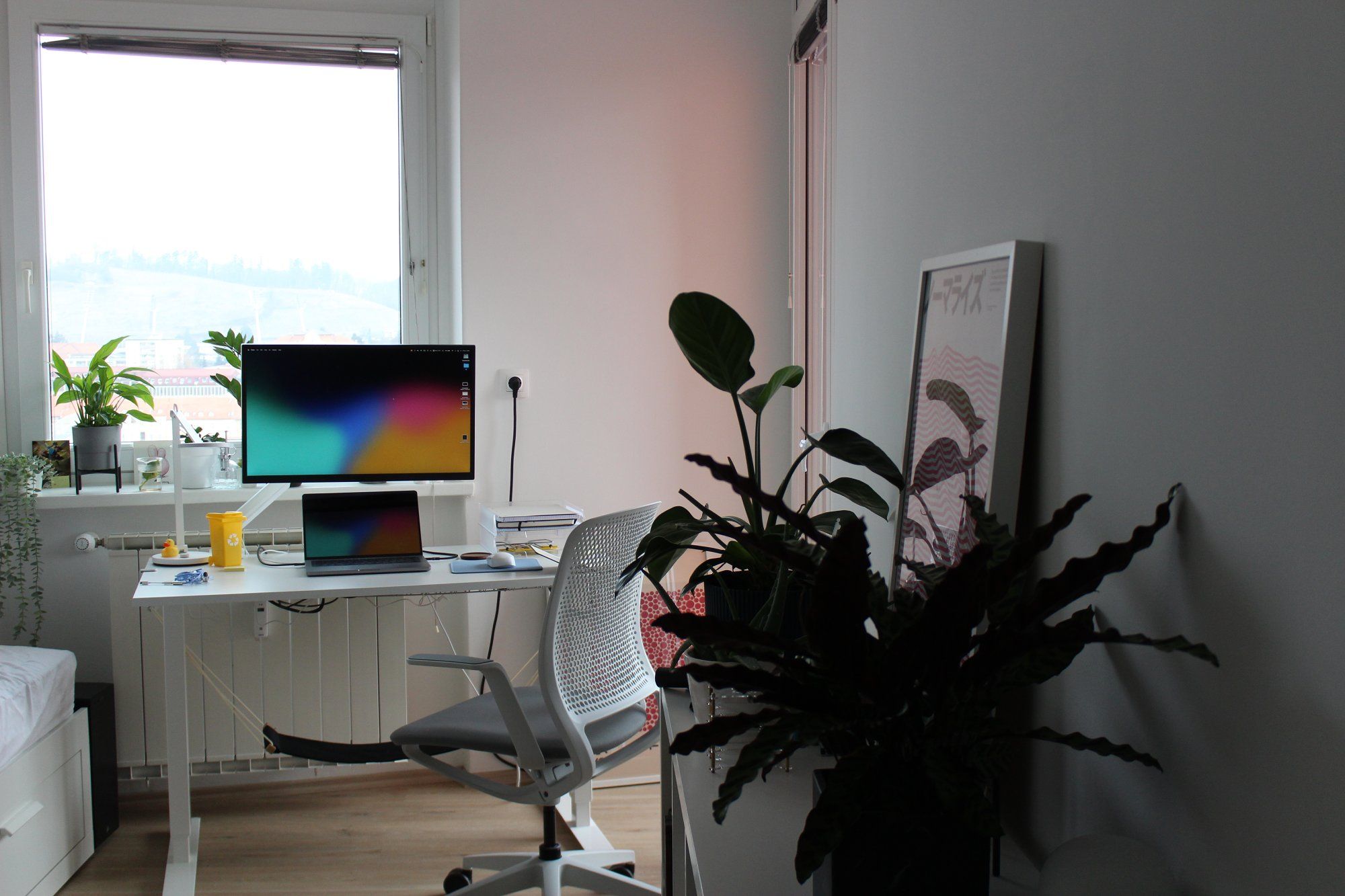 I've always dreamed of becoming an architect or an interior designer.
All that kind of shifted towards technology as I was introduced to robotics in primary school.
During my high school days, I started coding, playing around with Arduino for hours on end, making RC cars, drones, and overall cool little gadgets.
Some of the projects I have documented on my YouTube channel.
Ultimately, I decided that CS is the path I want to pursue.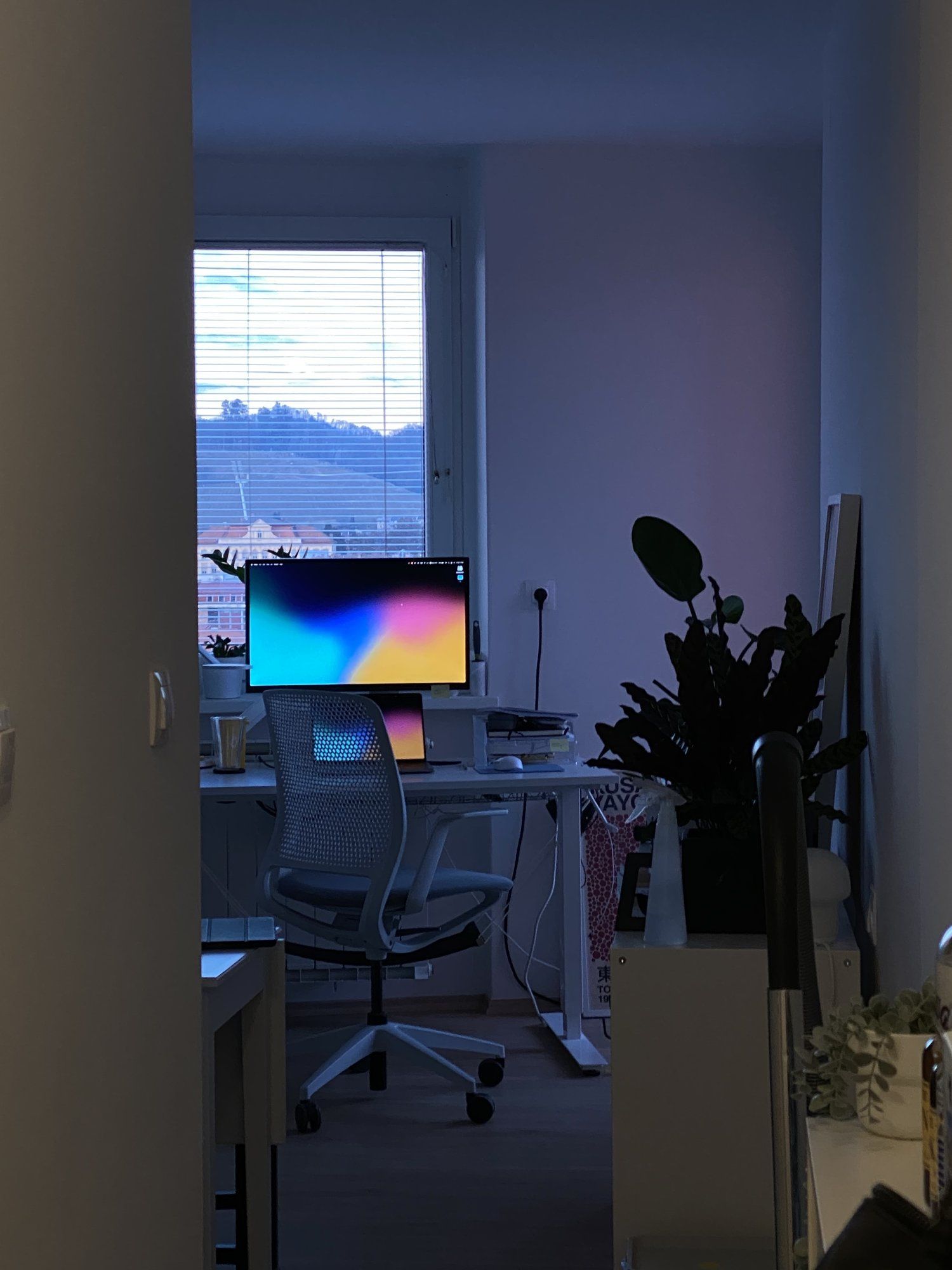 Granted, some of the material gets really boring at times, but nothing feels better than finishing a project or finally solving a problem you've spent hours working on.
My other hobbies include taking care of my lovely little plants and hi-fi (mostly vinyl and IEMs).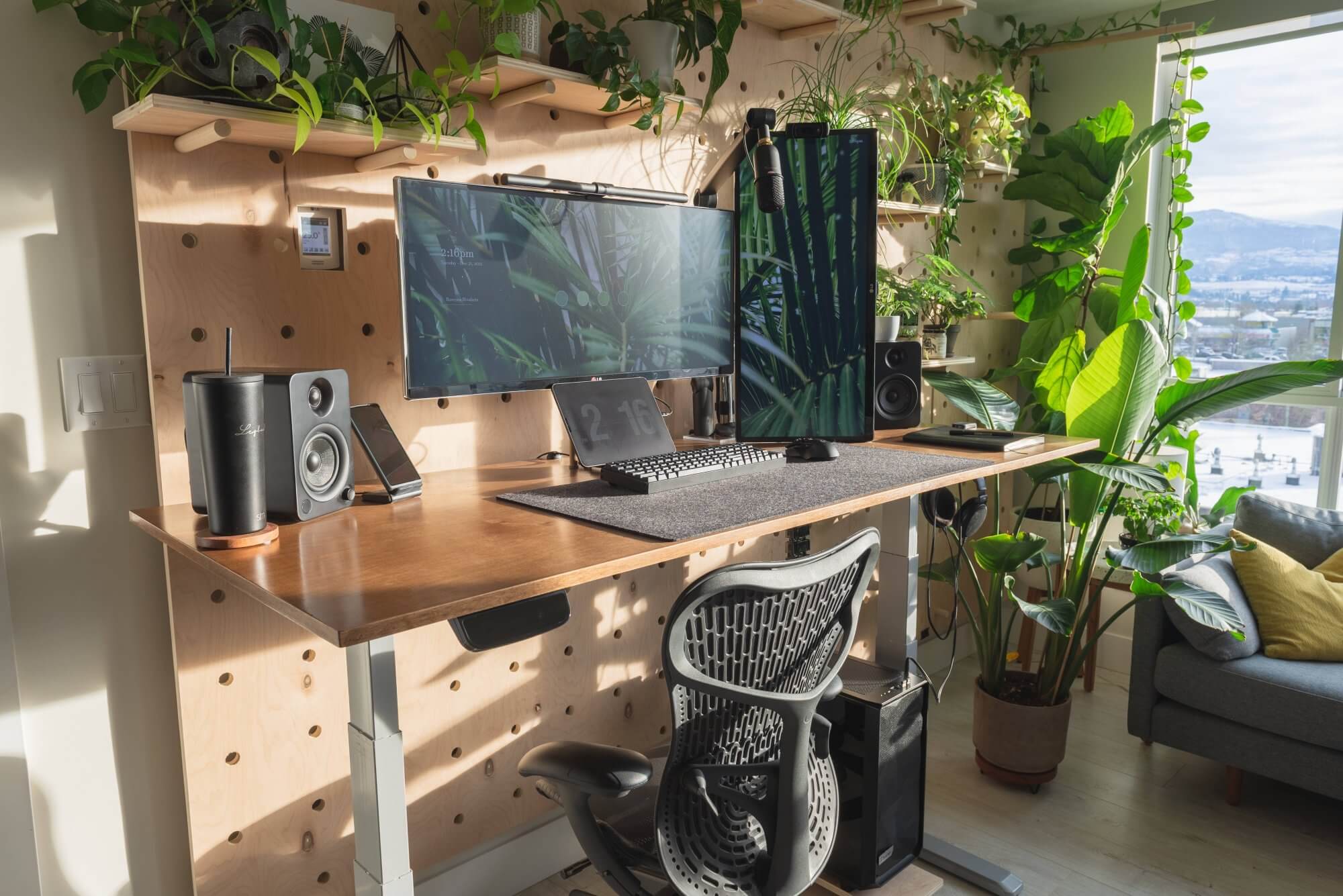 Take us through your setup
First of all, I was super lucky to get my current apartment.
Unfortunately, you can't see it all that well, but the thing I like the most about my setup is the view.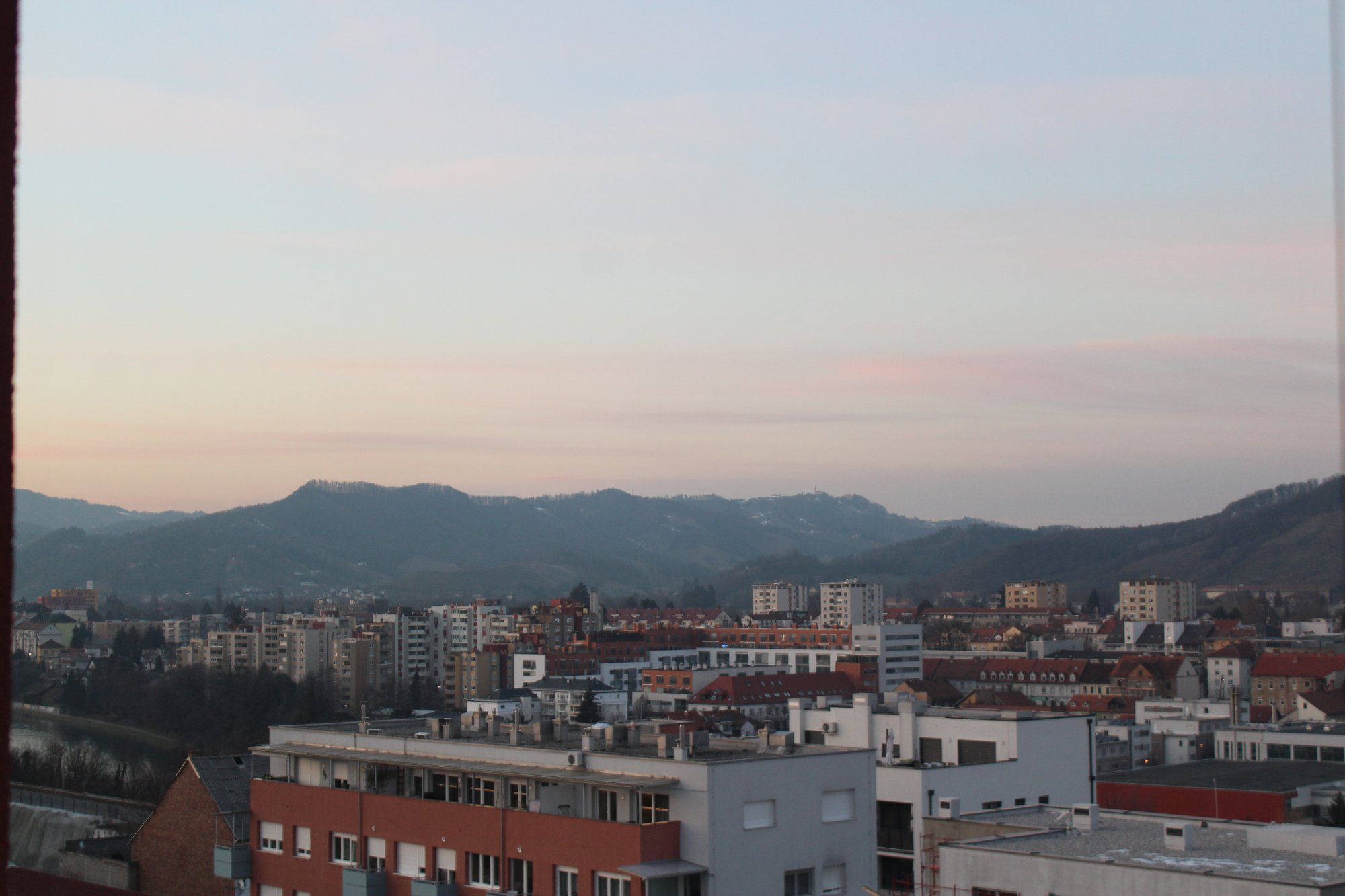 It's a small studio apartment on the 9th floor with a view of the whole city.
My workspace revolves around my MacBook Pro that sits on an IKEA TROTTEN standing desk.
Standing while working is always a nice habit to enforce, and with a fairly low price, I can easily transform my setup to accommodate that.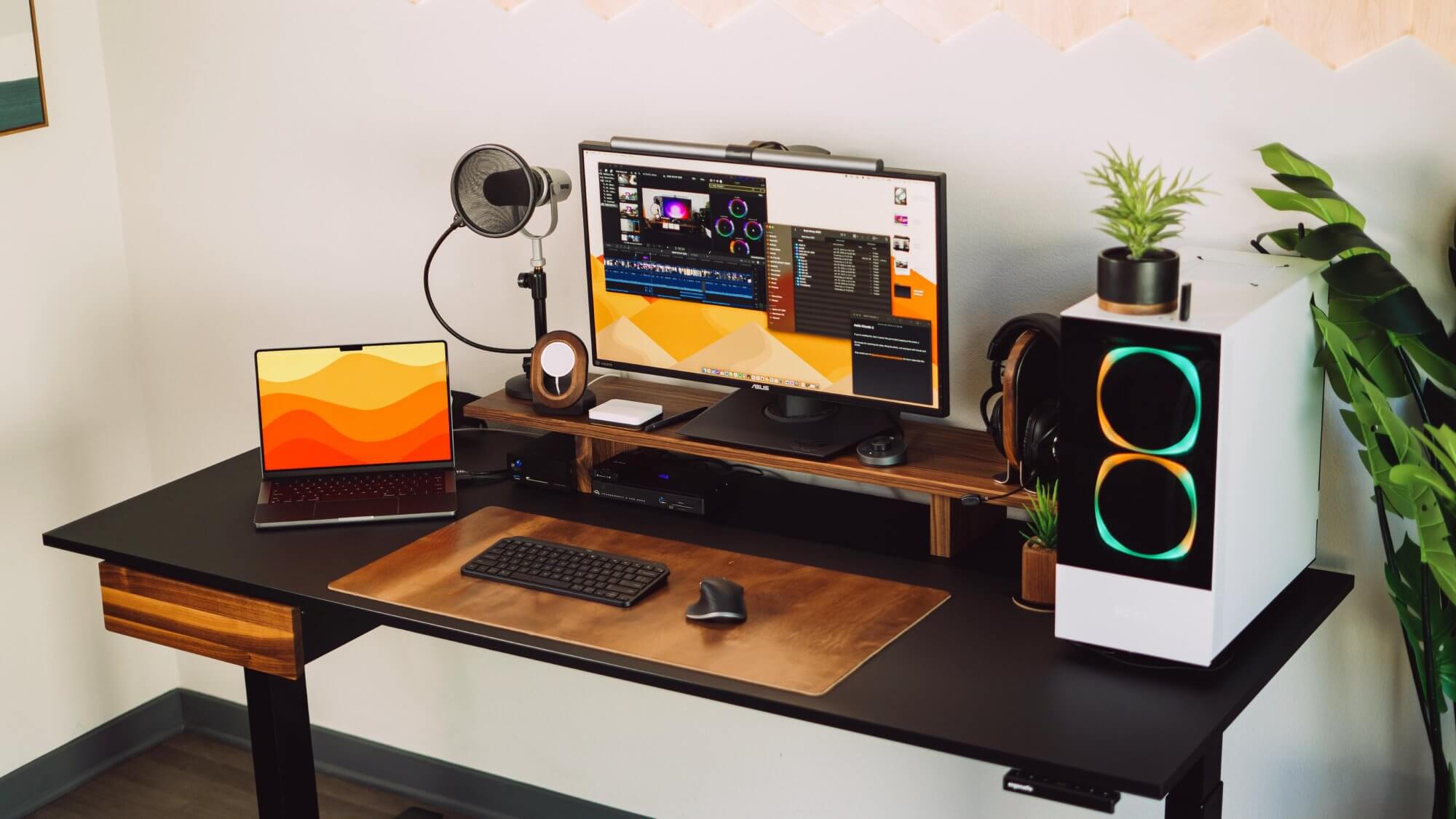 Ever since my first setup, I always used two additional monitors. However, after purchasing a 4K display, I've found that the single monitor, paired with the MacBook's amazing display, works much better for me.
As I am one of those people who use small fonts and have everything on one screen, I've never felt the need to add another one since then.
Moving and setting up my current setup in my new place was a thoroughly enjoyable process for me.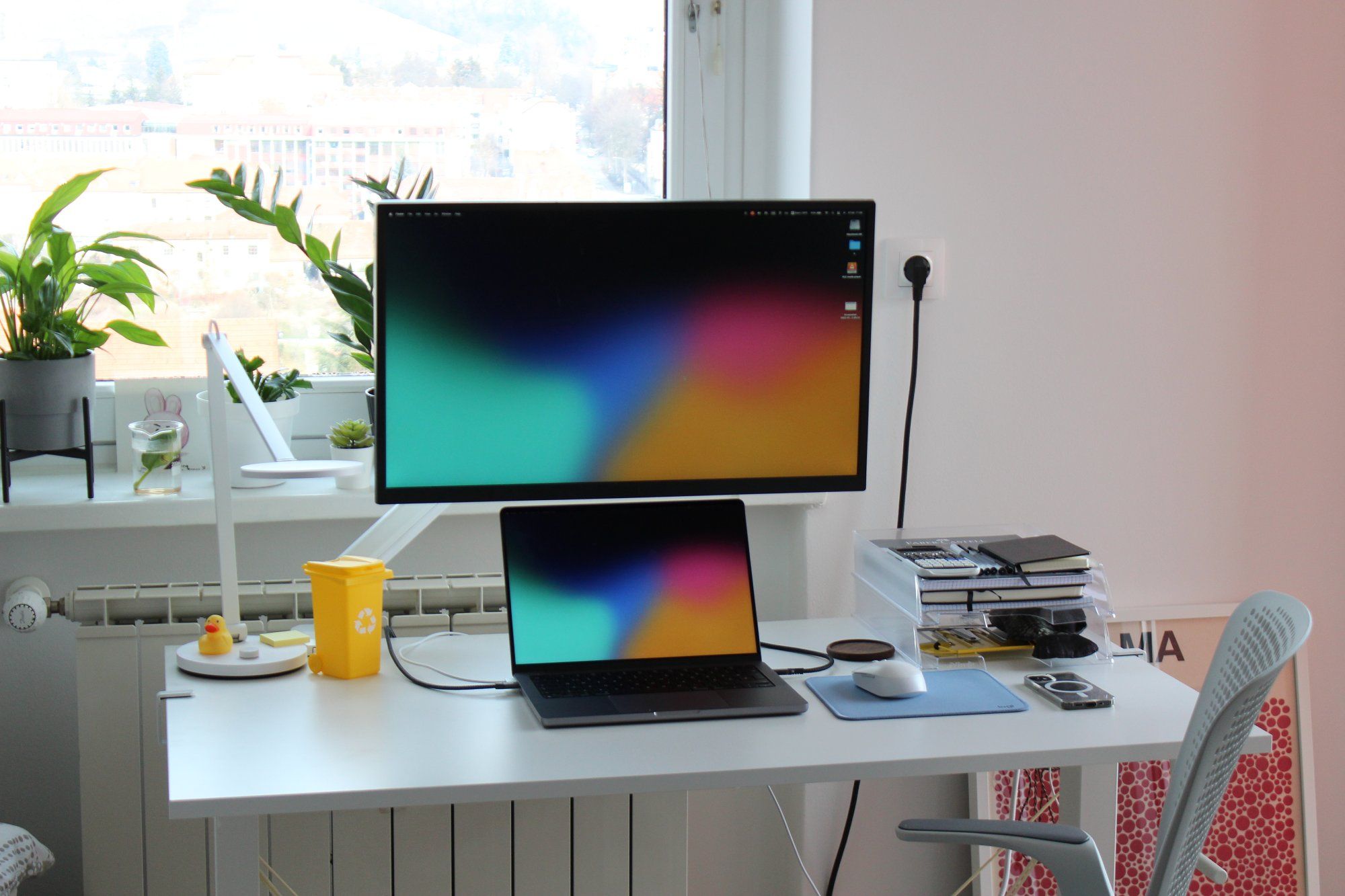 As mentioned, I've always loved rearranging my room, trying out new things, and seeing how they look and function together.
My first step is to sketch out how I envision my room.
After setting it all up, it's basically a never-ending project that I work on and alter depending on my latest interests, hobbies, and requirements.
I've never really struggled with decorating my room or my setup.
I'm confident that most people who care about their workspaces enjoy enriching their home office environment with tiny little things, art pieces, or books that bring them joy.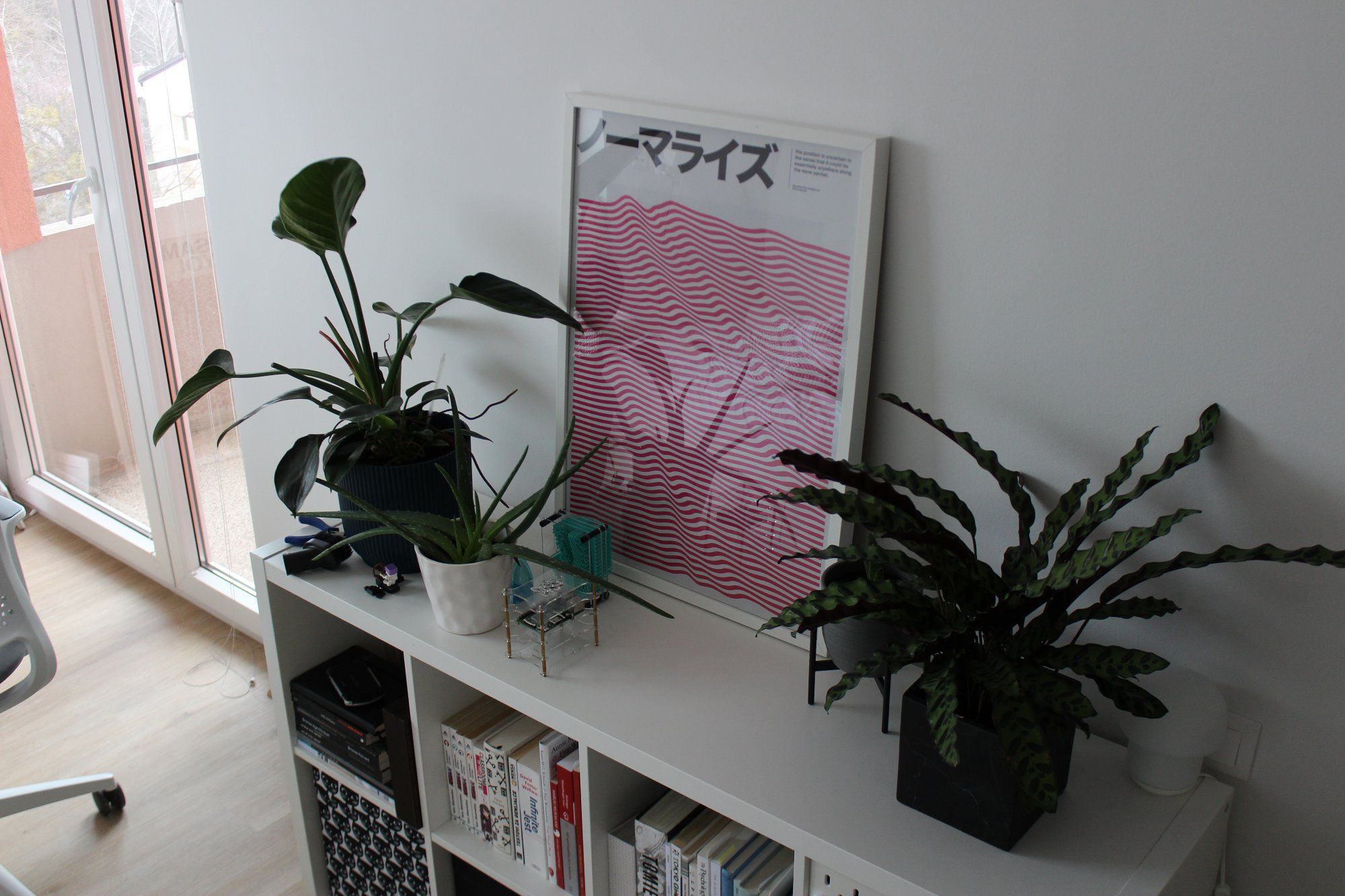 And on the topic of decorating (and me being a bit of an audiophile), I normally have music playing all the time.
I see music as this quote by Jean-Michel Basquiat depicts it: "Art is how we decorate space, music is how we decorate time."
I'm very happy with my setup, and there isn't anything in particular that I'd improve at the moment.
If I had to choose one thing, though, I'd probably upgrade my monitor to an Apple Studio Display.
What's your favourite item on your desk?
Small, meaningful items hold great value for me, such as this little ducky that my girlfriend gave me.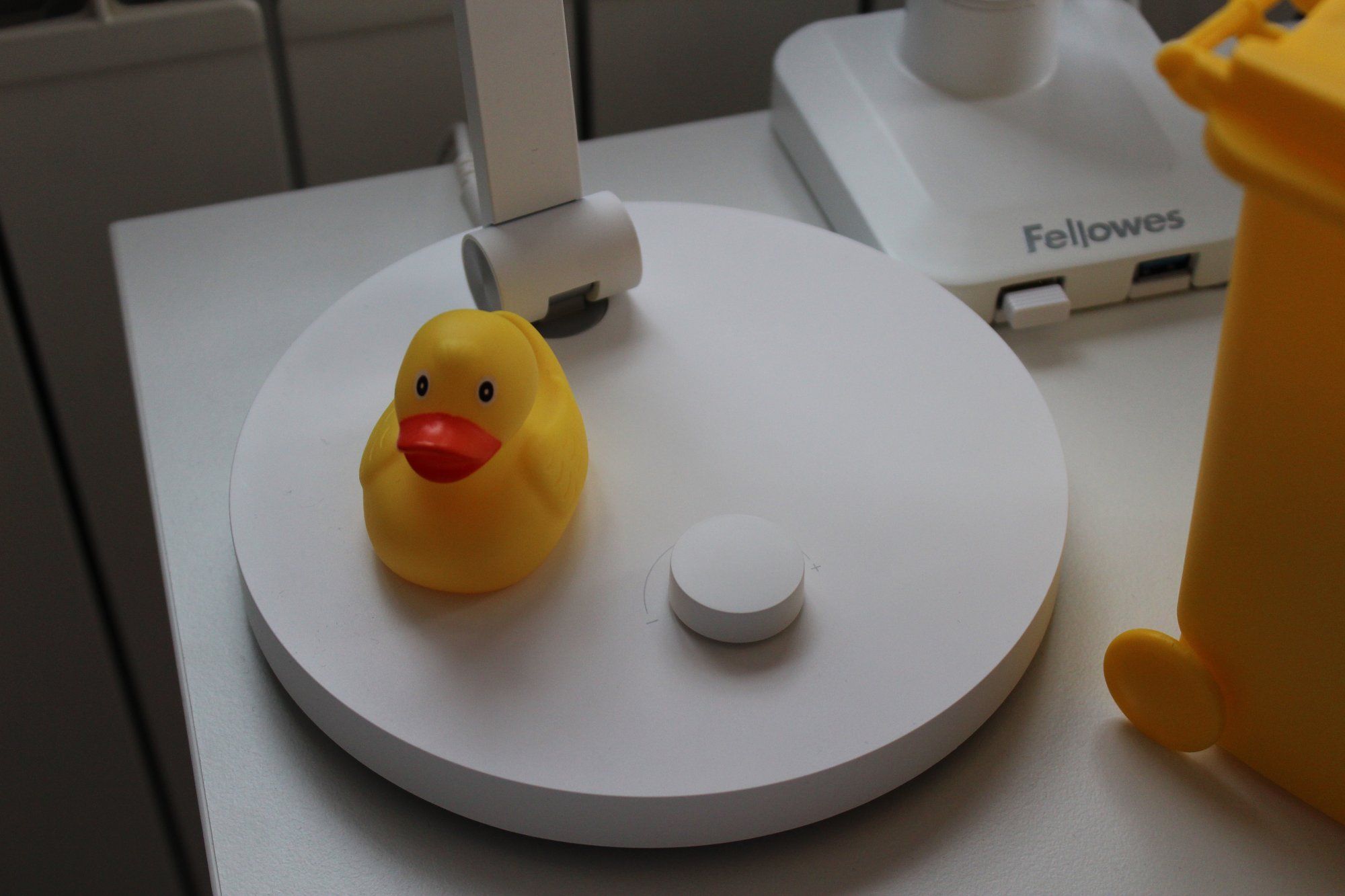 People who code are probably sick and tired of seeing these "coding ducks", but essentially, it's supposed to be your desk buddy that helps you debug code in a way where you explain what you're doing to your little duck.
My girlfriend is an incredible coder herself and jokingly gifted me the duck so that one day, I'll be as good as her :)
What apps or tools do you use to get things done?
My all-time favourite app has to be Vim.
Vim is a simple, free, open-source, screen-based text editor program that I use for everything.
It's been my go-to for many years now, but other than that, I occasionally use Visual Studio Code as well.
You can check out my Vim config here: https://github.com/ekaeoq/mac-config.
Also, I prefer to keep my notes, goals, and ideas in physical form, so there is always a planner right next to me.
What books, blogs or podcasts recently caught your attention?
I think I've only liked a single podcast in my life — Safety Third.
While I don't enjoy podcasts, I do love reading books and blogs. My latest finished read is Almond by Sohn Won-Pyung.
Some of my favourite books ever include two poetry books: Poems by Kajetan Kovič and Flowers of Evil by Charles Baudelaire.
Сurrently, I'm reading Tomie, a manga by Junji Ito.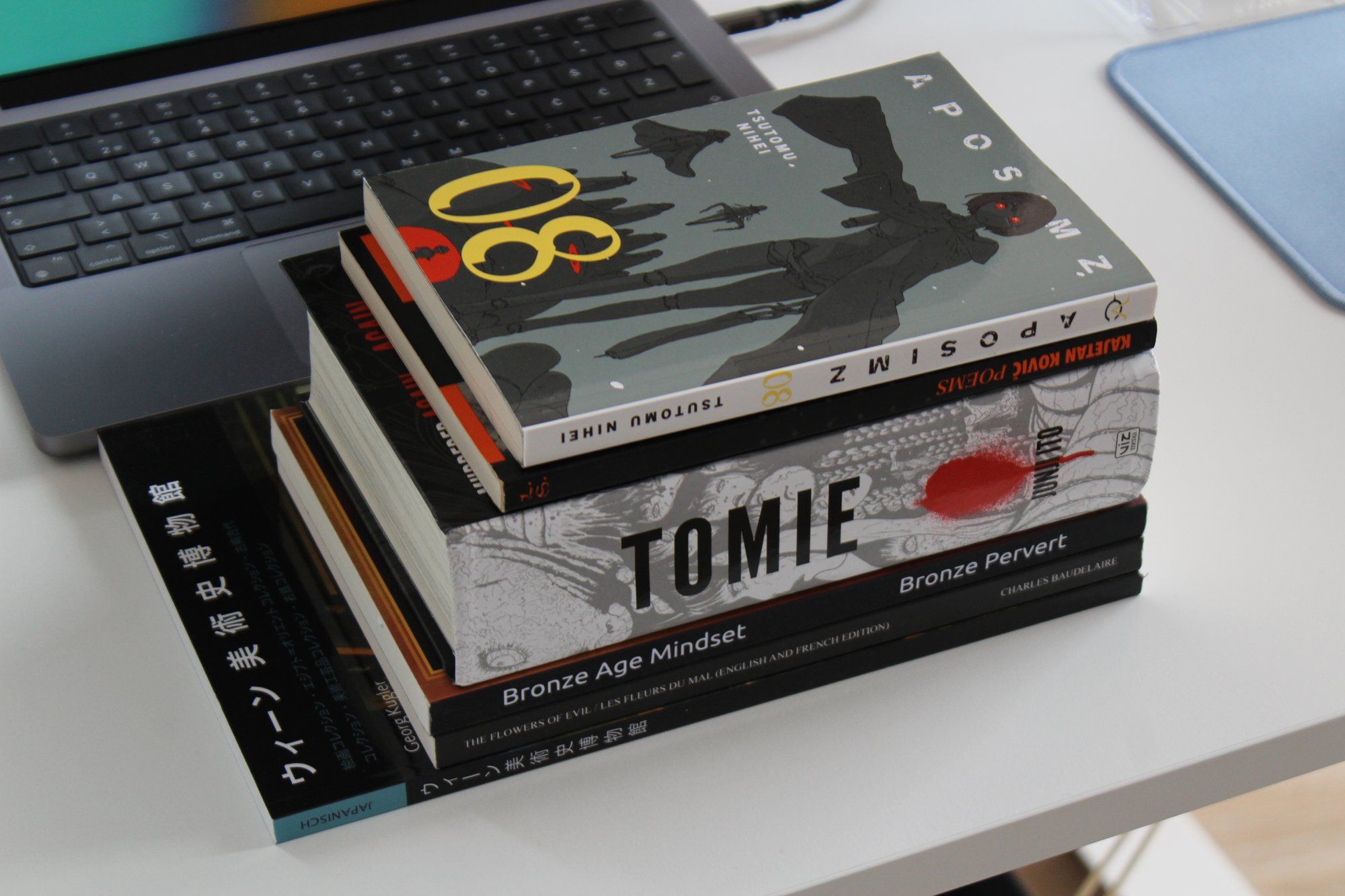 One of, if not the biggest inspiration to me is George Hotz, an incredible human and programmer, whose blog I highly recommend reading.
Even if you don't like him, I'm sure there's something for everyone to take away from his articles.
Any tips for other makers who want to improve their workspaces?
Find what you like and keep exploring what you can do with it.
A little money can go a long way, and something like a monitor arm or a desk lamp can improve the overall look and symmetry of the setup.
Blend practicality with sentimental value.
Incorporate items that serve a purpose and hold a special meaning to you.
Don't try too hard and just enjoy it.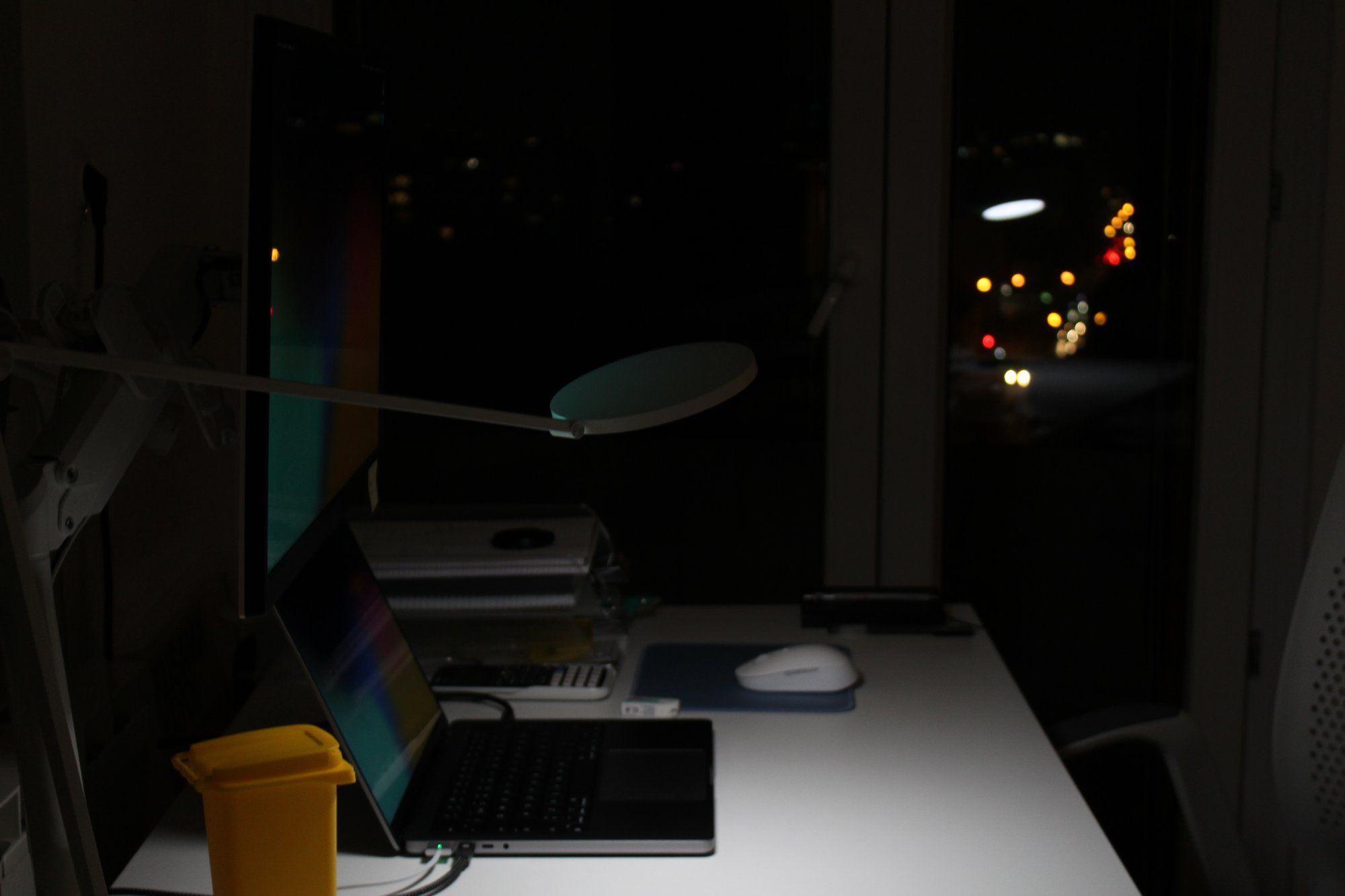 What does your typical day look like?
My sleep schedule is all over the place, and I wake up at random times depending on my current obligations and habits.
I always write a small to-do list for the next day before hitting the hay so that I get an idea of tomorrow's structure.
After waking up and consulting my to-do list, I will slowly get into the flow of working.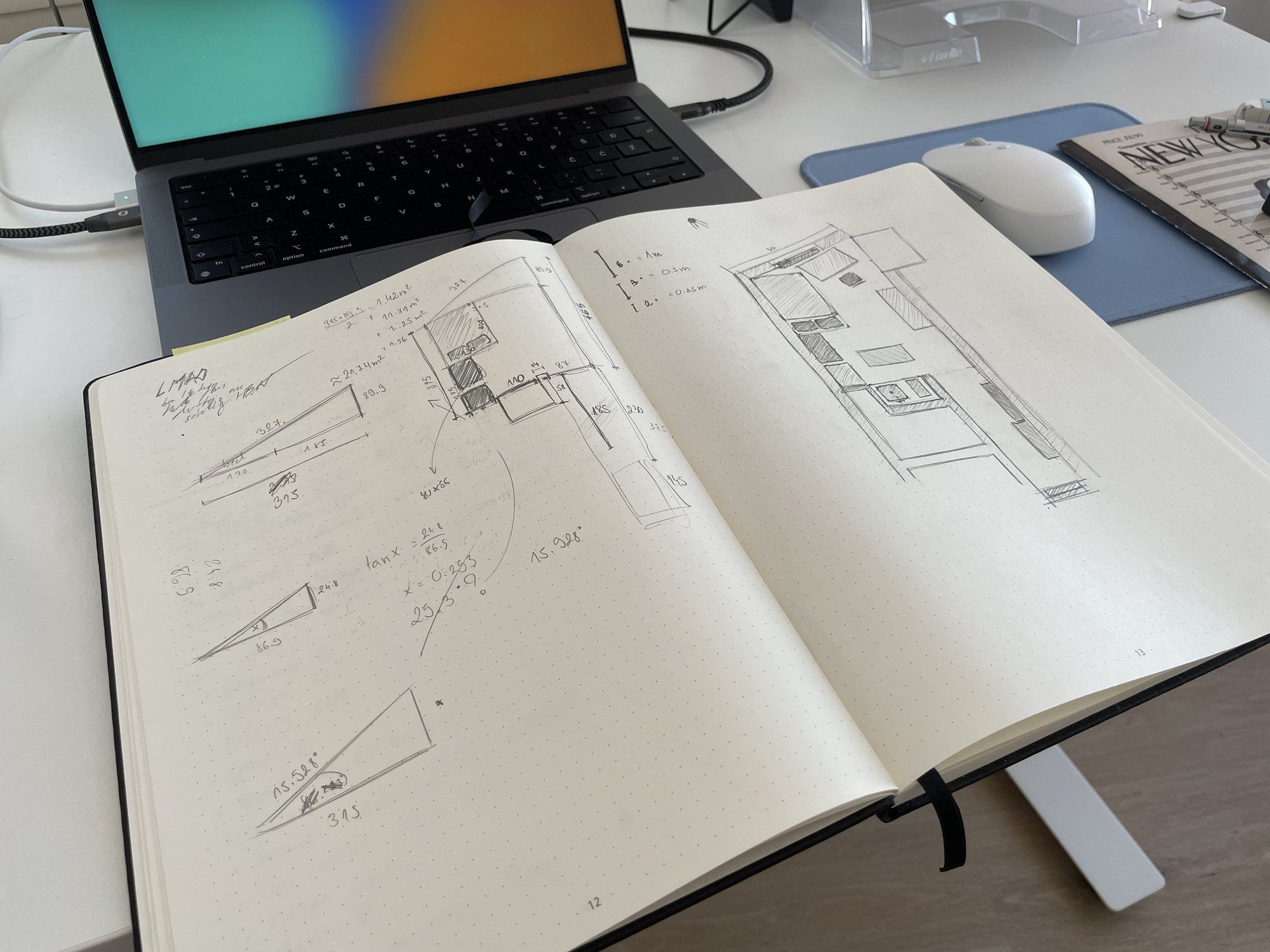 Most of the time, I juggle between my university tasks, watching videos on YouTube and working on a current project (right now, that is a web-automation engine).
My time is mostly spent in front of my desk, but when I get tired of it, I pick up my laptop and go to a coffee shop or a university library to get motivation and a change of scenery.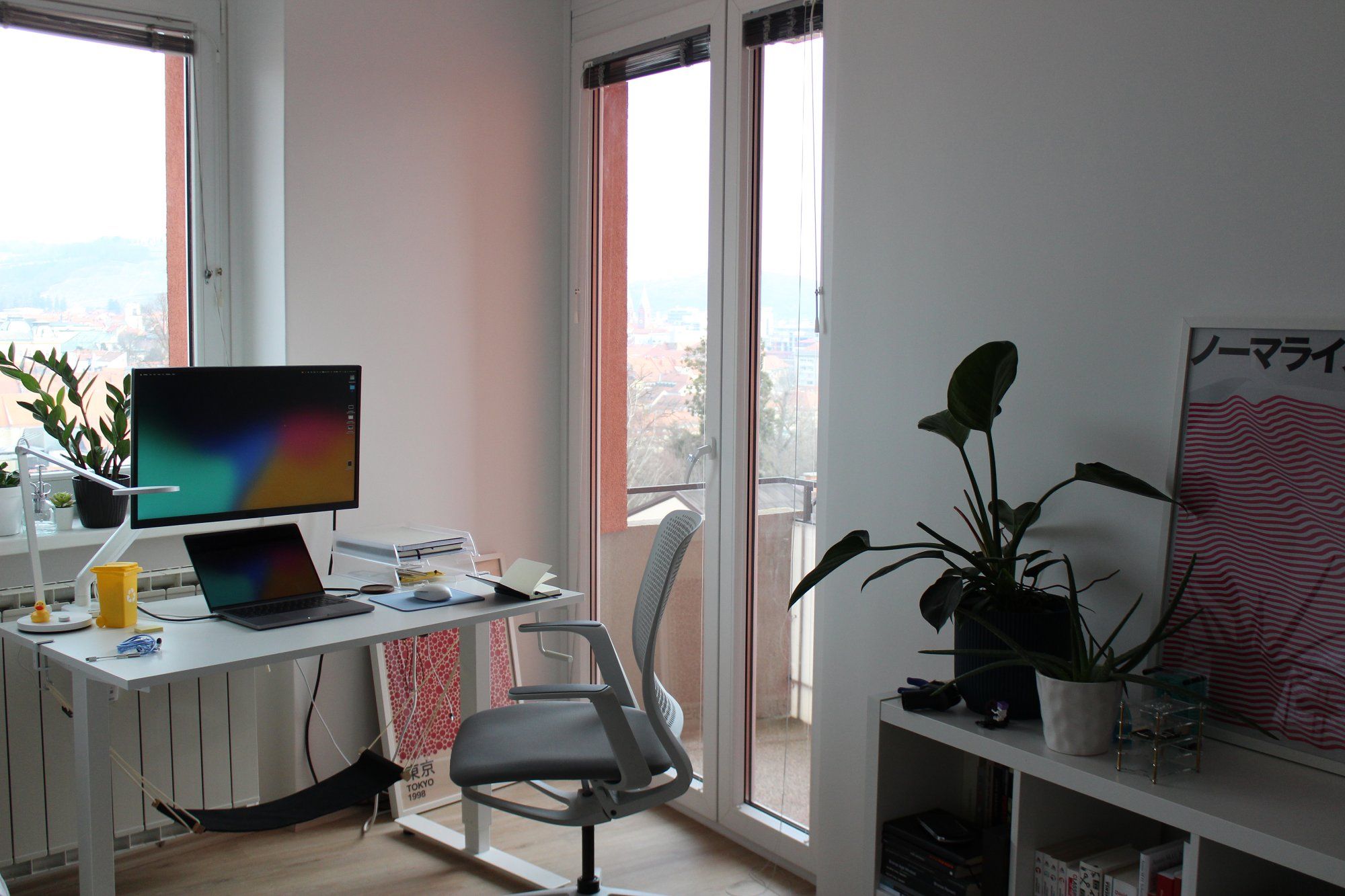 In my free time, I mostly mindlessly scroll the internet.
My favourite social media platform is Reddit.
If I'm not reading discussions there, I will listen to music, browse the internet for cool art pieces and books I'd like to read, or research any current obsessions (lately, that have been watches and telescopes).
Slowly but surely going through everything this world has to offer.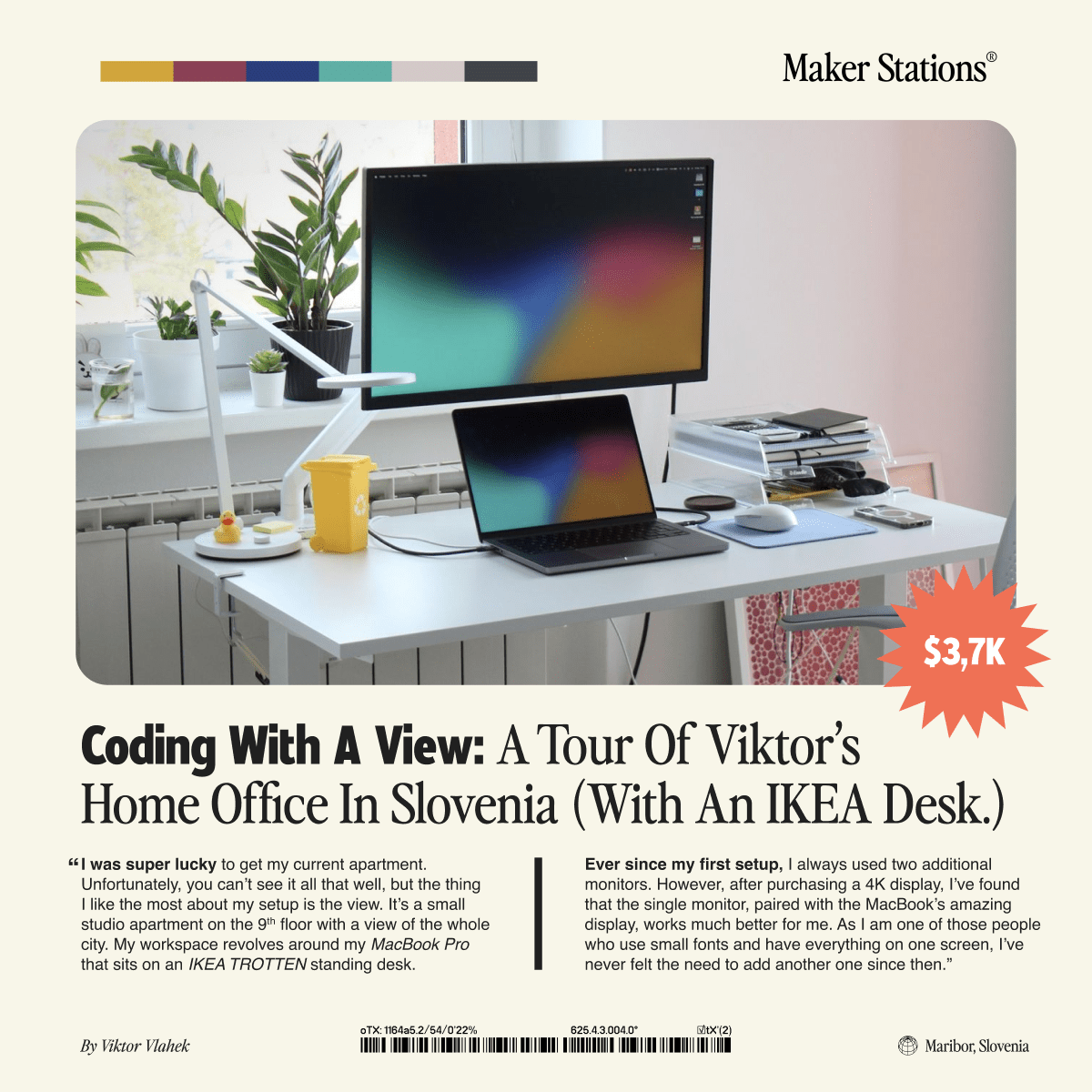 Your tips for working from home?
That's probably one of the rare things that I don't overthink.
I don't have too much discipline, and everything is just random to me.
I know what I must do, and I just do it.
If it's not urgent, I slack off, and if it is, I'm able to keep doing it until I'm done with it.
I have found that the method that works best for me is short bursts of productivity in which I work for a certain amount of time (±20 minutes) and rest for another (±10 minutes).
This helps me focus and, in a way, gives me a fresh set of eyes every time I get back to work.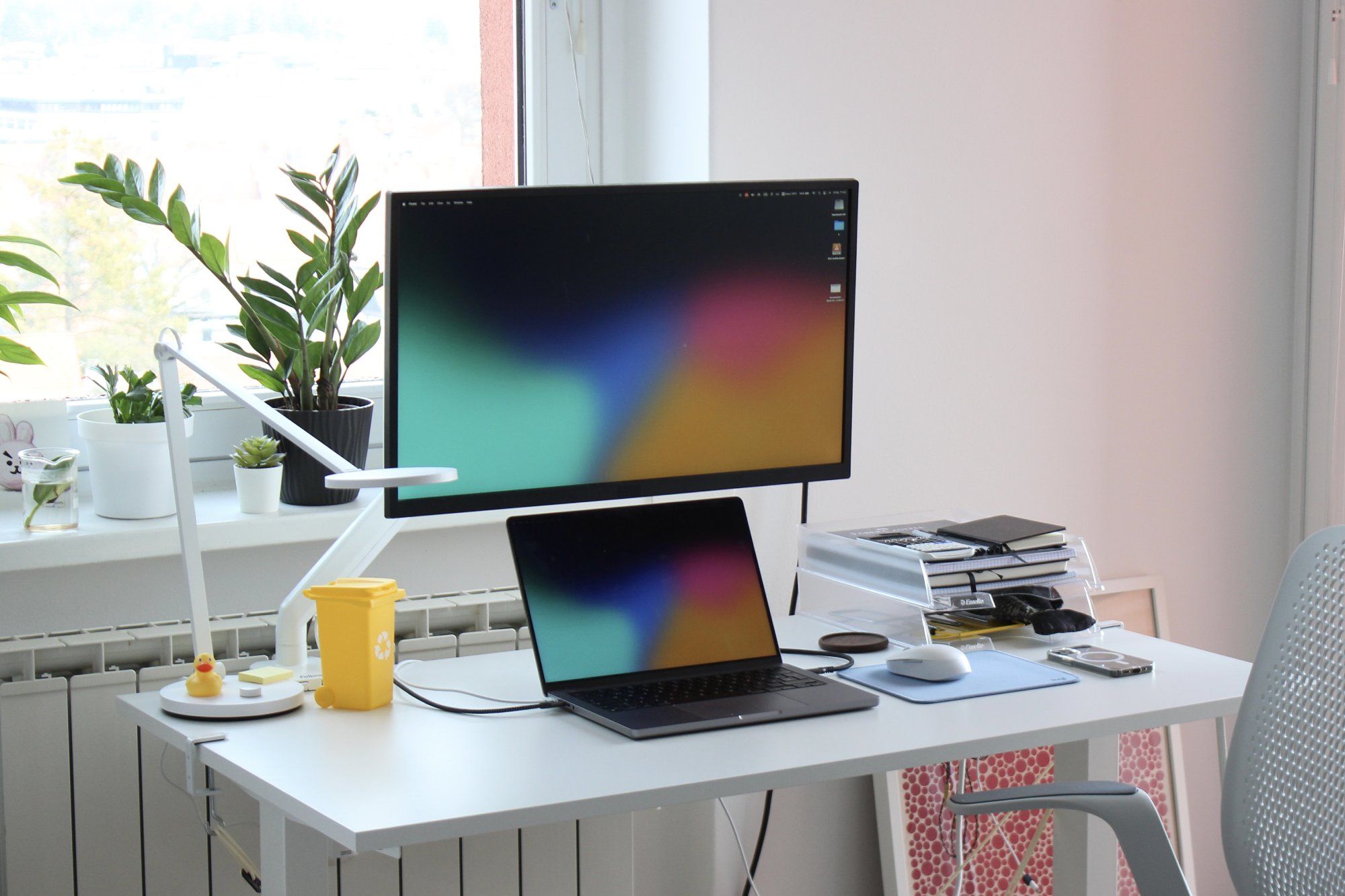 The only routine that I can think of is before any big task, I like to make myself black tea with milk, take a chocolate bar and ease into the workload.
So, I guess the best tip I can give is, don't overthink what you have to do.
Break it up into more manageable parts, and just do it.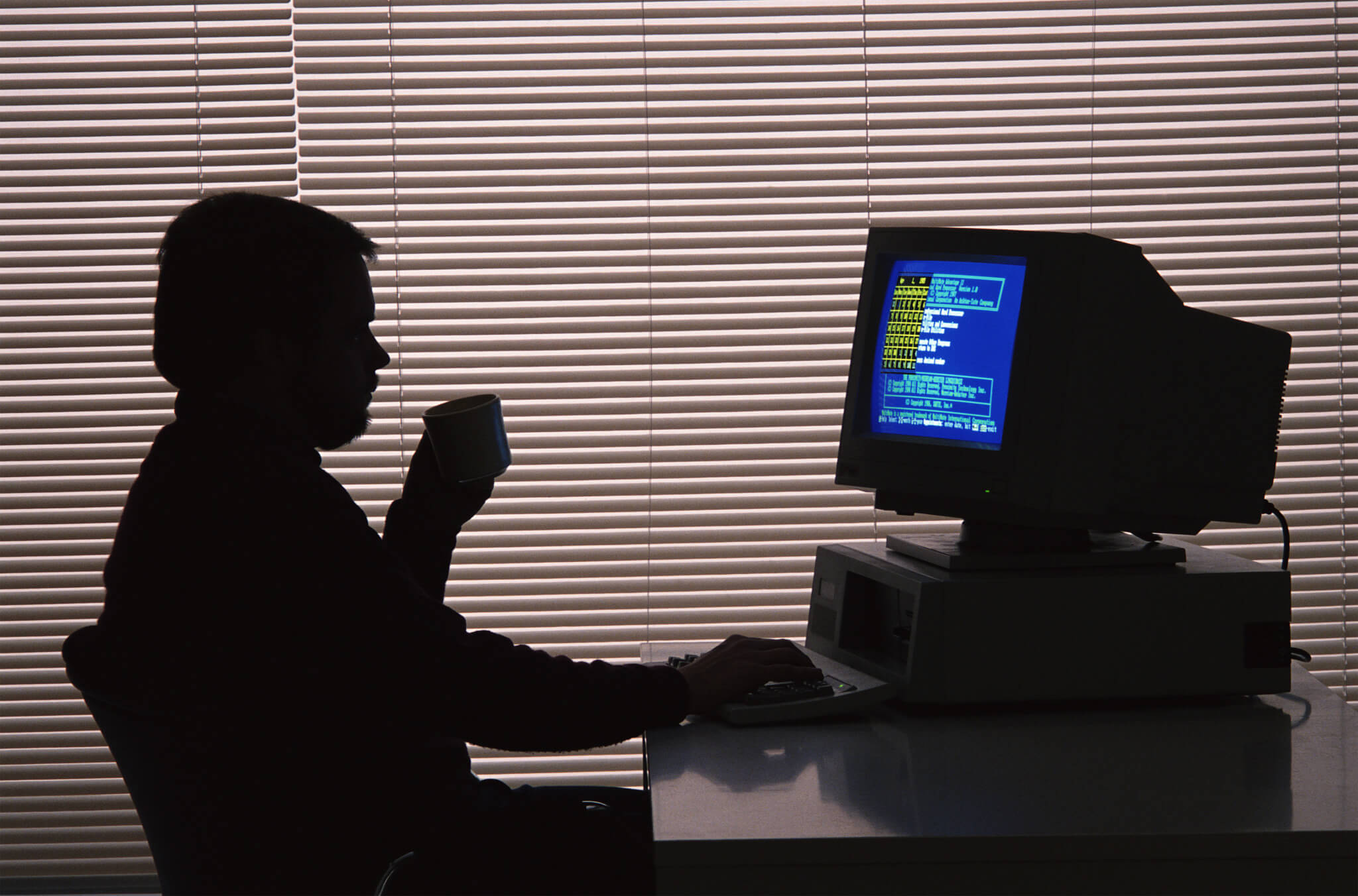 We're a reader-supported publication. This article might contain affiliate links. It means we may receive a commission if you click a link and buy a product that our maker has recommended. The interview was done independently.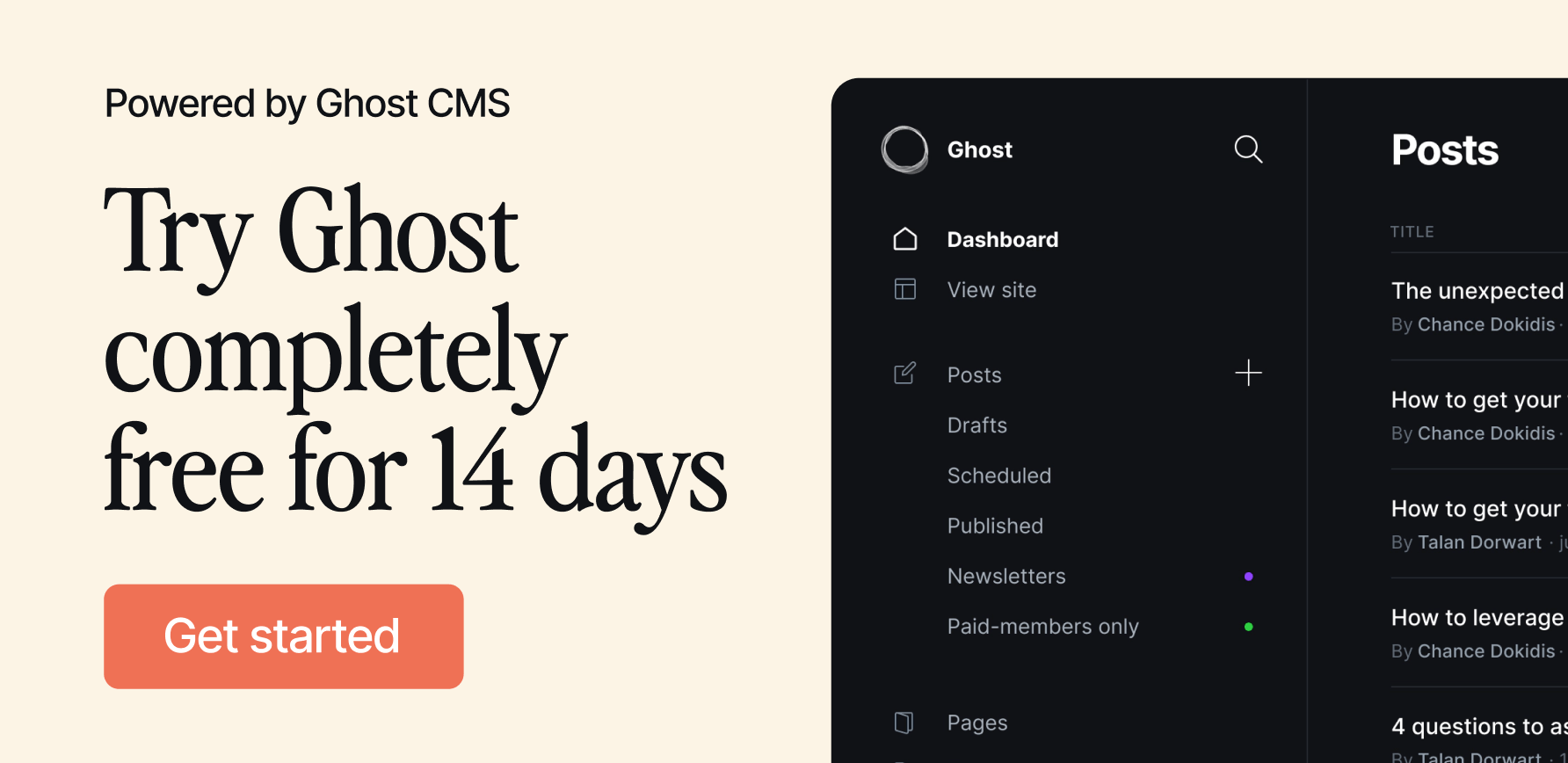 ---