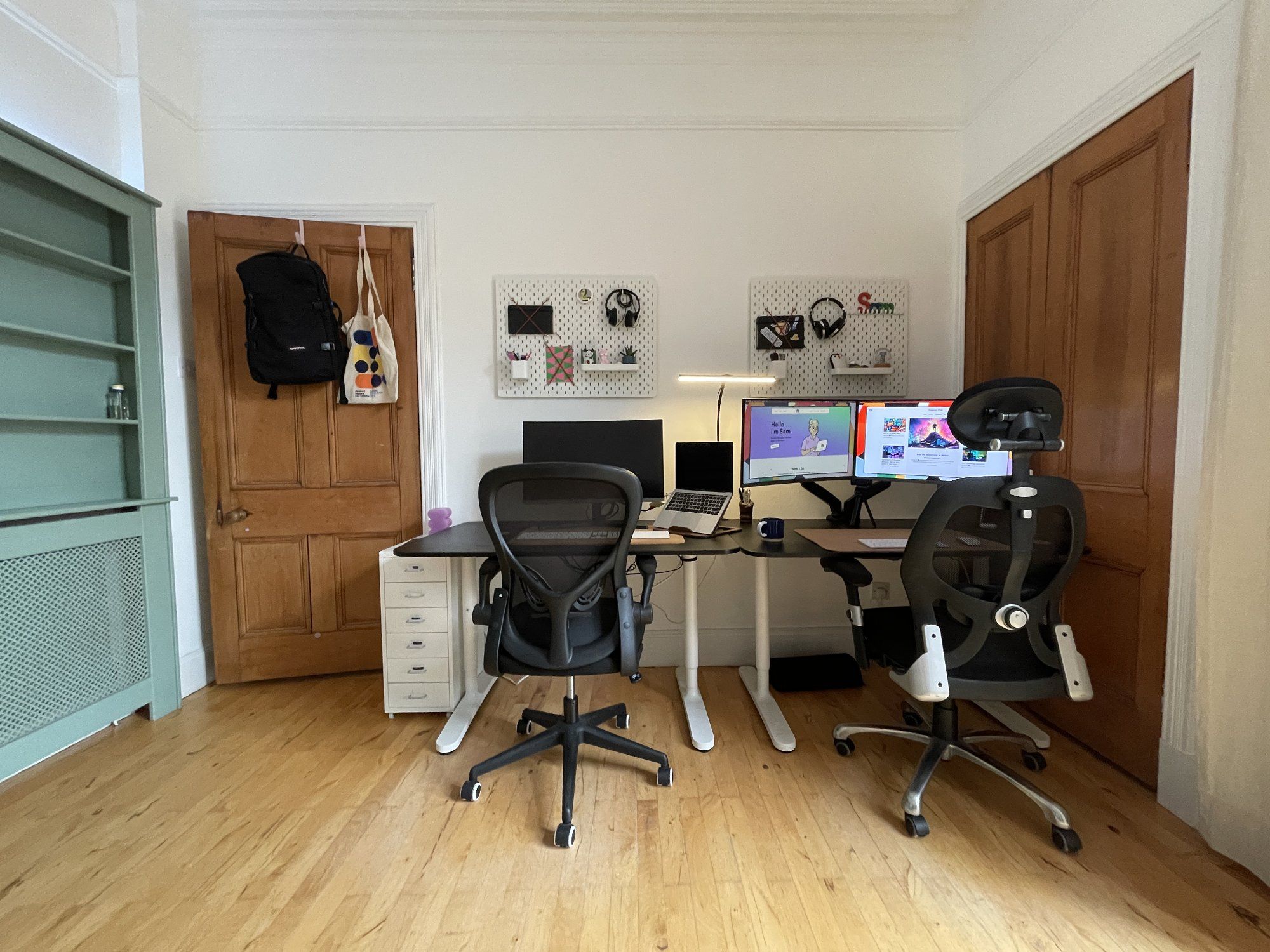 Shared Home Office in Troon, Scotland
"We wanted to create a space that didn't look too clinical, but with our own personality injected into it"

Name: Sam Dickie
Location: Troon, Scotland
Occupation: Senior Product Manager
Room size: 18 m² (194 ft²)
Cost of setup: £5,2K ($6,3 USD)
Social media: LinkedIn, Twitter
Website: Sam Dickie
Hello! Tell us a bit about yourself
My name is Sam. I'm a Product Manager at Skyscanner, located on the west coast of Scotland.
I've spent the last nine years of my career as a Product Manager, primarily for very early-stage tech startups.
The first five years were spent as a PM in a startup studio in London and subsequently for two no-code web app builder startups working remotely.
I recently took the leap and decided to try working for a somewhat more mature startup at a much larger organisation to understand the dynamics of a larger org and learn from some of the best designers, engineers and PMs.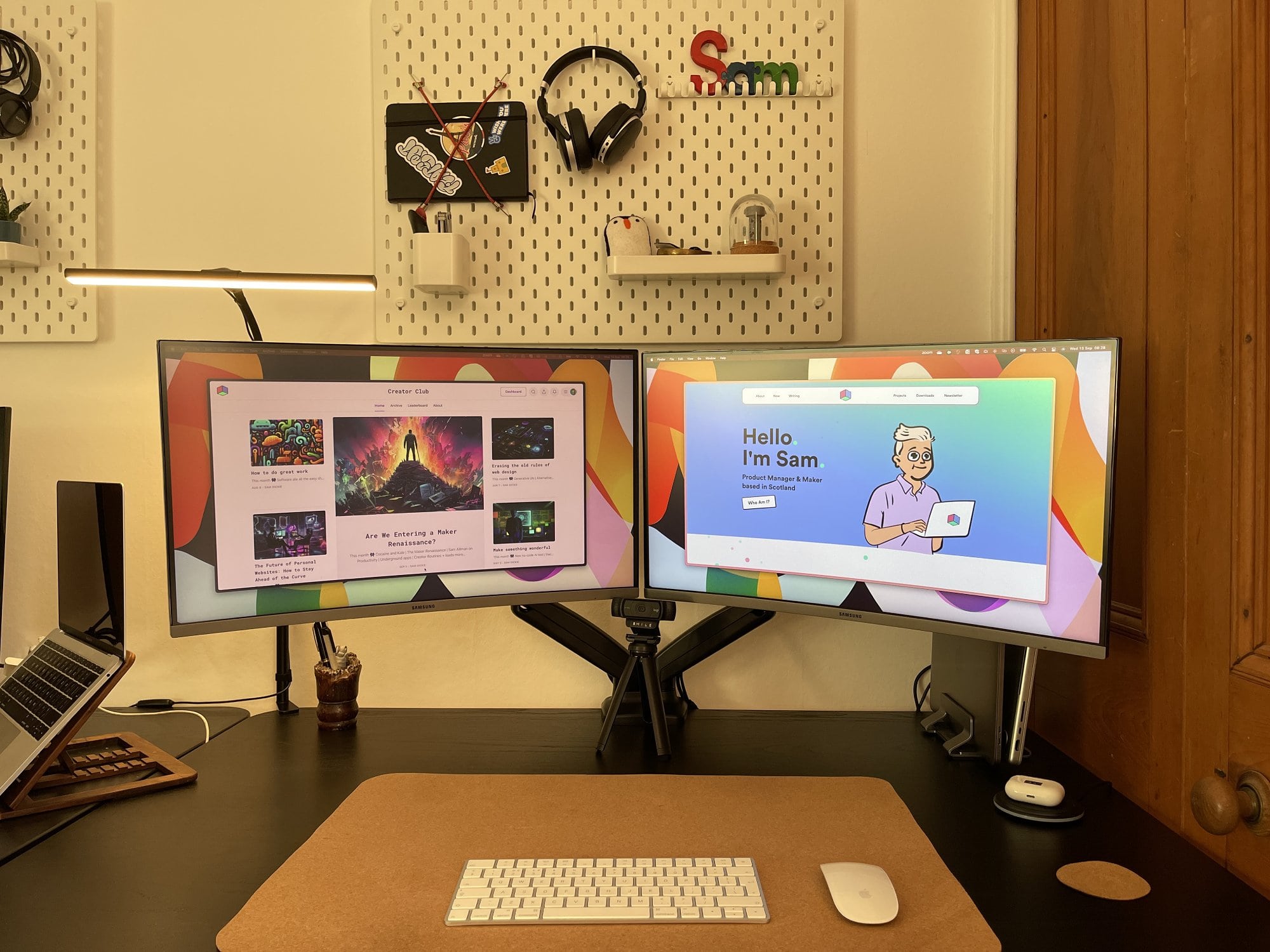 Believe it or not, prior to getting into Product Management, I was previously a Town Planner.
Turns out it's nothing like SimCity, so I spent my evenings trying to learn code until I discovered no-code tools back in early 2015.
I felt like the only person aware of these tools at the time, so I decided to curate all the tools I found into a directory and launched NoCode.tech in 2016.
Fast-forward two years later and the site was acquired. This was the inflection point that drove me to find a career in tech.
I continued to create digital products, communities, and newsletters and fell in love with the process, which led me to my first role as a PM.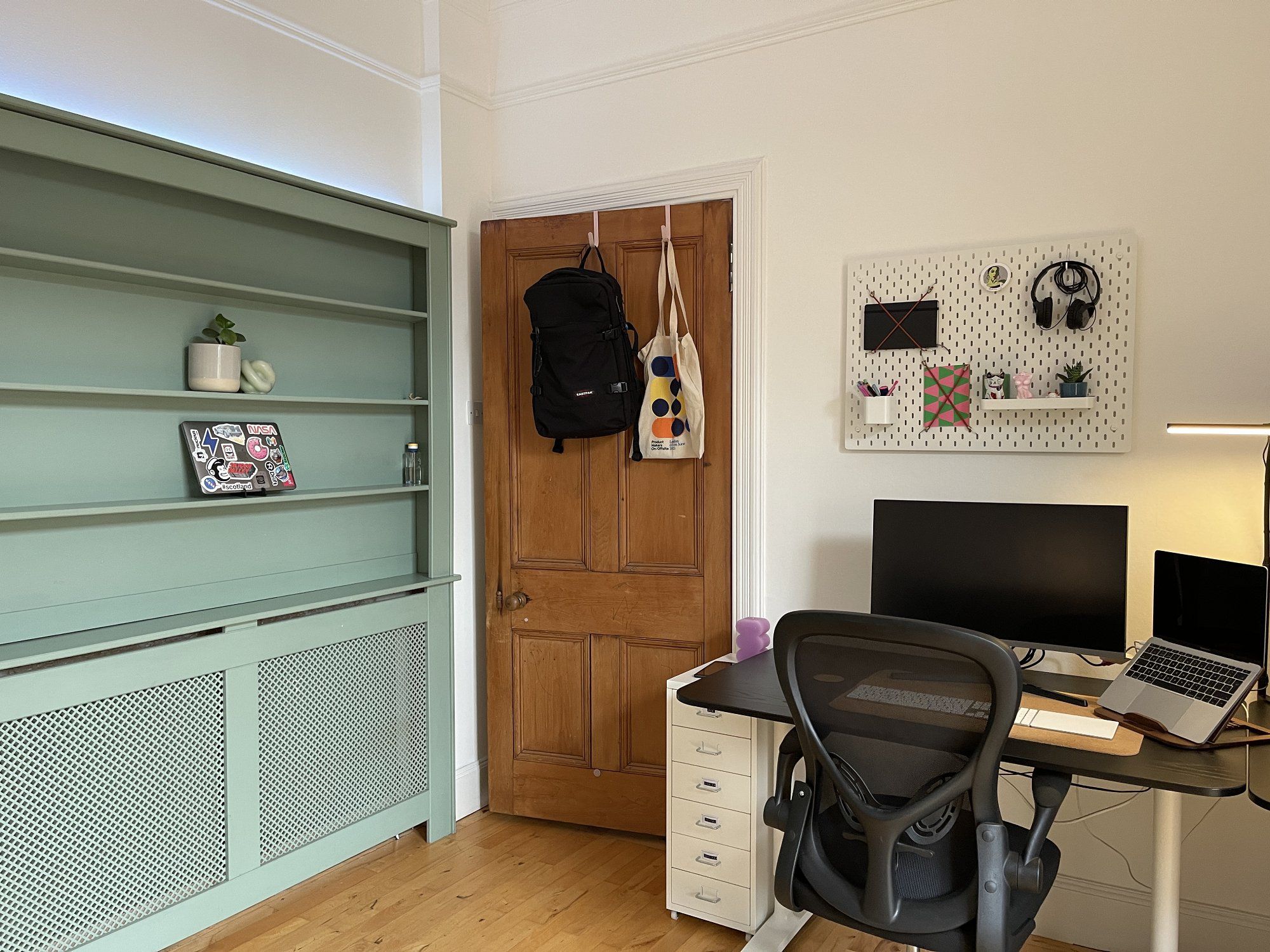 During the early mornings, evenings, and weekends, I love spending time working on some of my own projects.
The beauty of this work is that there are fewer constraints and I can flex my creativity and do what I want.
My current side projects include my monthly newsletter, discovering new software products in Beta, and curating them in BetaDirectory, occasionally writing for my blog, tinkering with my personal website, experimenting with new technology, and doing product consultancy for early-stage tech startups.
Take us through your setup
I share the office with my partner, so we designed the workspace together, which was much easier than you might think.
Fortunately, we have somewhat similar tastes.
We both work remotely and are in the tech sector, so we have matching requirements.
Big screens, spacious desks, good lighting, and room for all our somewhat unnecessary tech.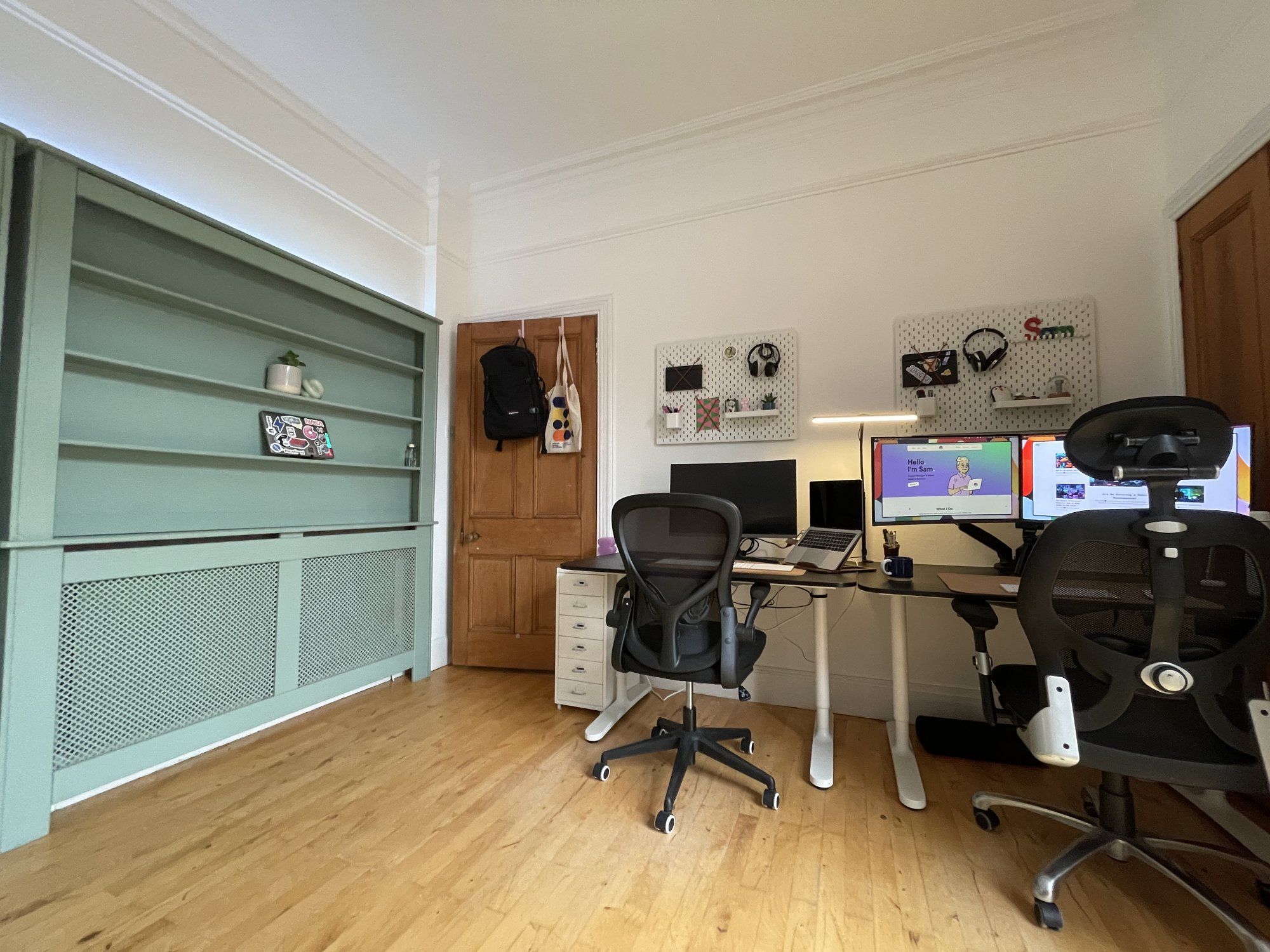 We have spent the last ten months since moving into our new house refurbishing each room.
The office has received a lot more attention than the other rooms, given we spend the majority of our time here during the work week.
It's almost at the point where we want it. It is certainly the largest office we have had at home together.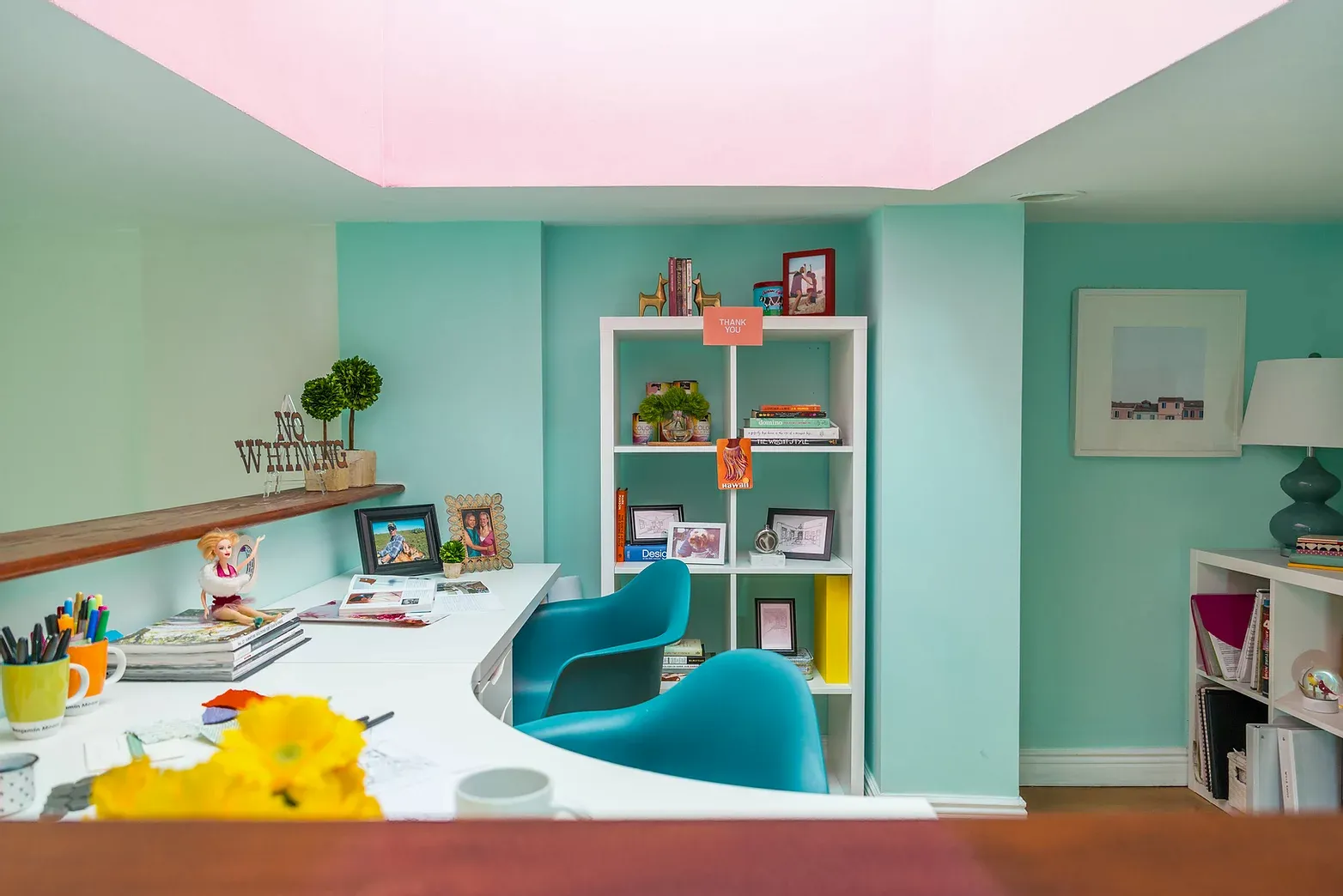 We wanted to create a space that didn't look too clinical, but with our own personality injected into it.
Having a set of French doors out to our back garden has been incredible in the summer, especially because we have a young dog that we can let in and out and also enjoy the fresh air while at our desks.
Having two monitors is a great luxury.
I'm typically working in various apps (Slack, Spotify, Arc, Outlook, Jira, Confluence, Miro, Figma).
Having the extra screen real estate allows me to quickly find what I'm looking for and navigate between them all at ease.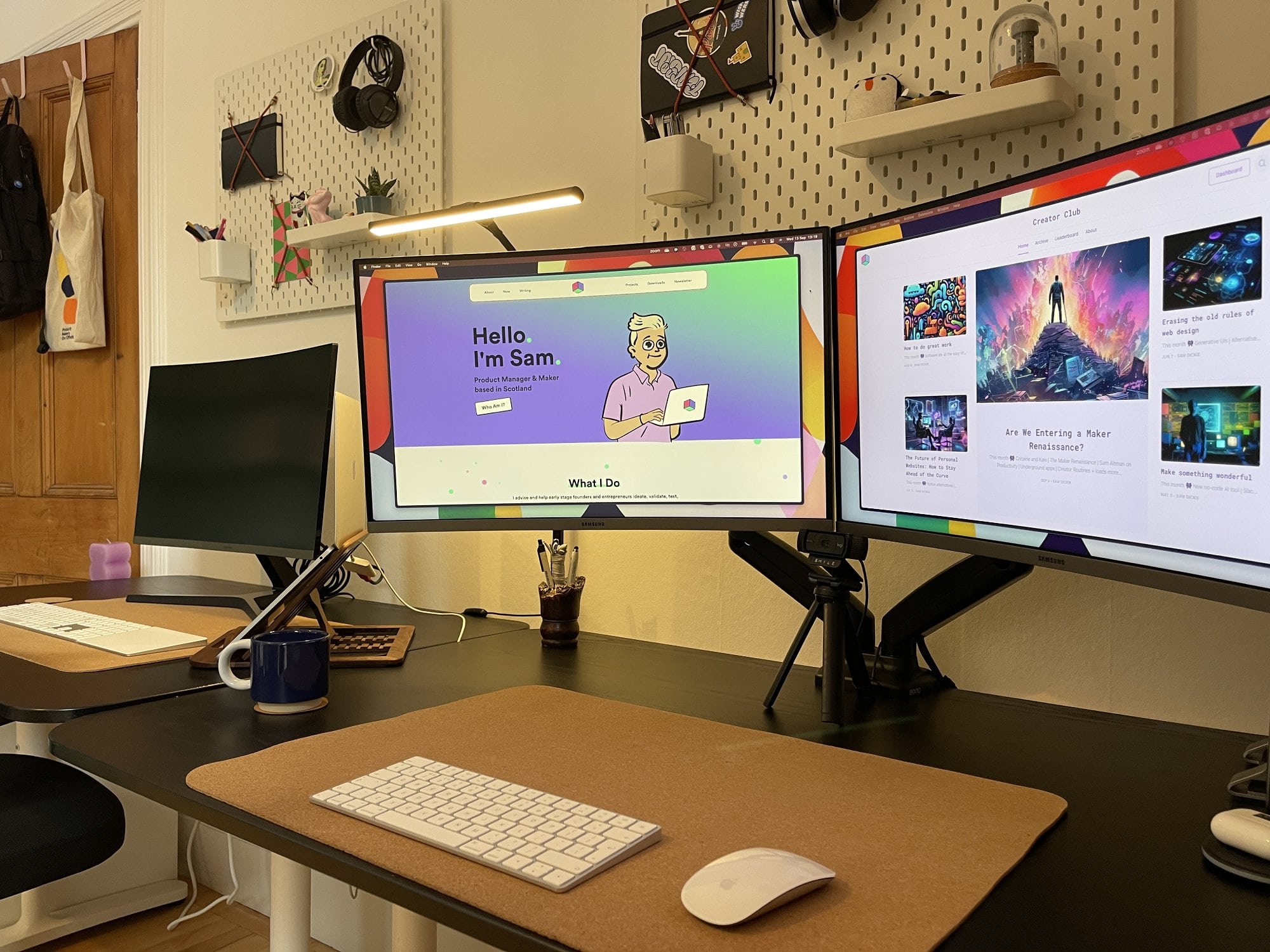 Due to having my laptops in a dual dock in clamshell mode, I needed a webcam.
However, I wanted to avoid ones which clip onto the top of the monitor to prevent that awkward top-down angle.
I tried using the Continuity Camera with my iPhone and loved the quality, but it drained the battery.
I eventually bought a Logitech webcam and mounted it on a cheap camera tripod, which works perfectly.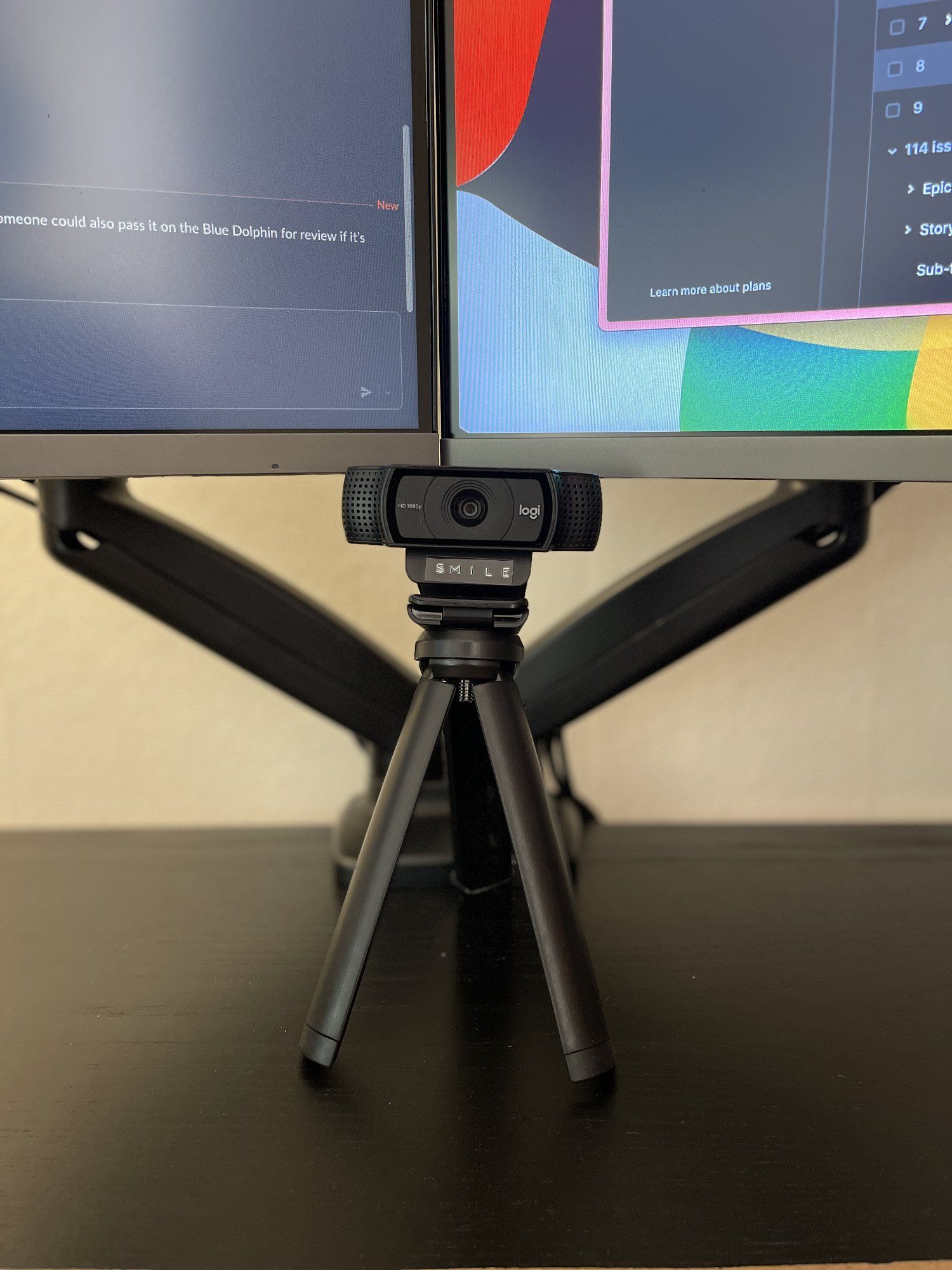 The last big improvement on the list for the office is a wood-burning stove.
We recently got one for our living room and it's fantastic in the winter.
The house was built in the 1890s, so it's not exactly the most energy-efficient, and the winters can get cold on the west coast of Scotland.
So, we are looking forward to getting the stove lit in the mornings and keeping warm throughout the day.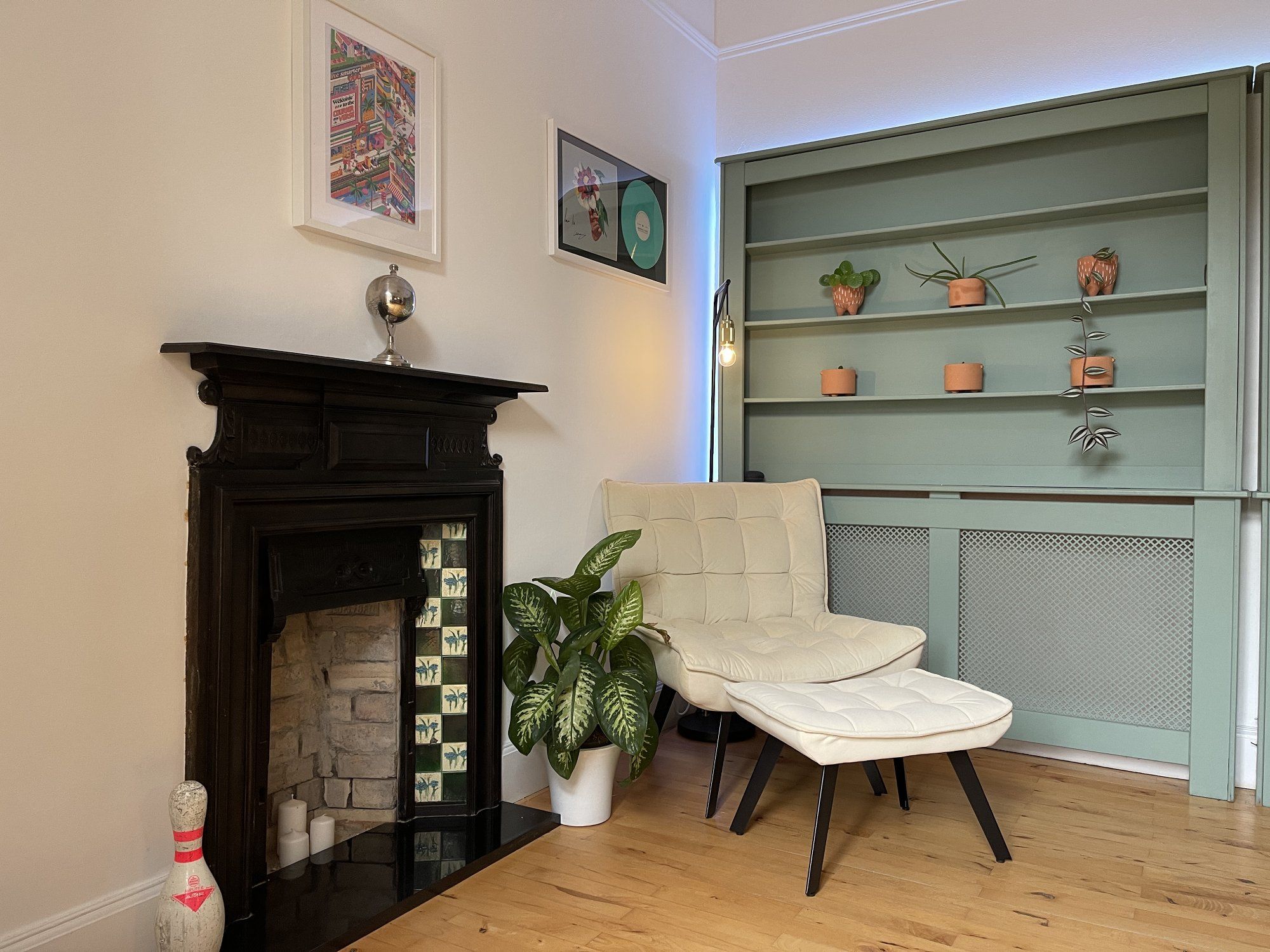 We plan to bring even more plants into the room. Currently, we are in the process of propagating a bunch of plants.
The hope is to have our shelving full of different species and to bring the outside in.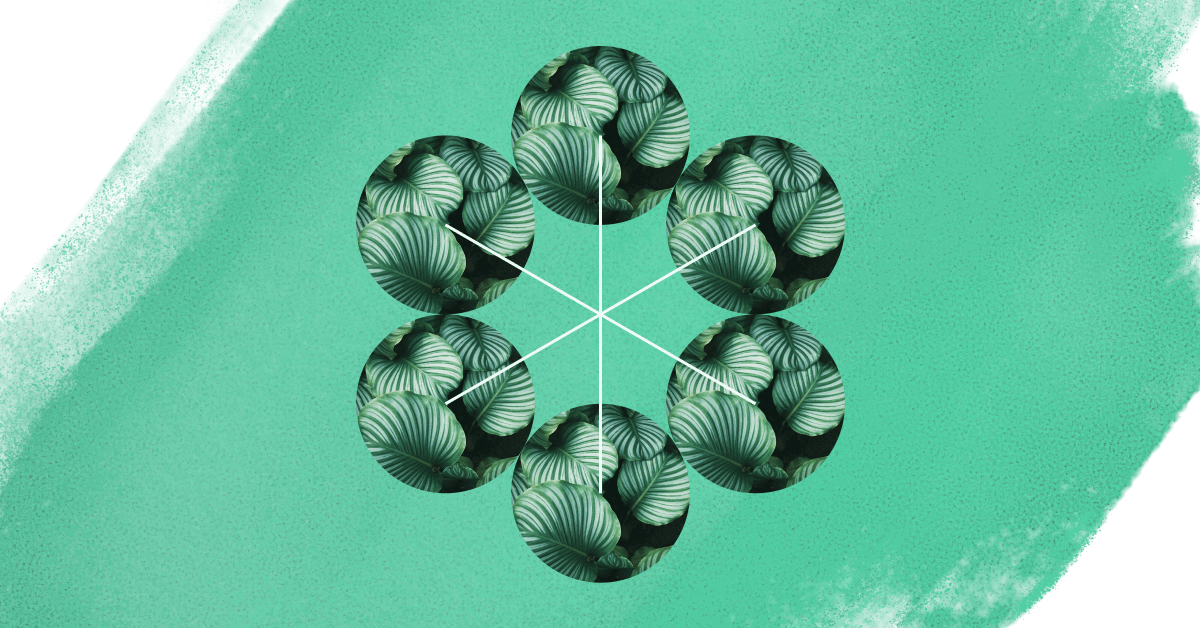 What's your favourite item on your desk?
My favourite item on my desk has to be my pen holder, oddly enough.
It's an old, wooden table leg which has been hollowed out by the looks of it.
I wish I knew exactly what it was, but I'll let my imagination figure that out.
I got it from my grandparents when they downsized, and I don't think they even know where they got it or what it is.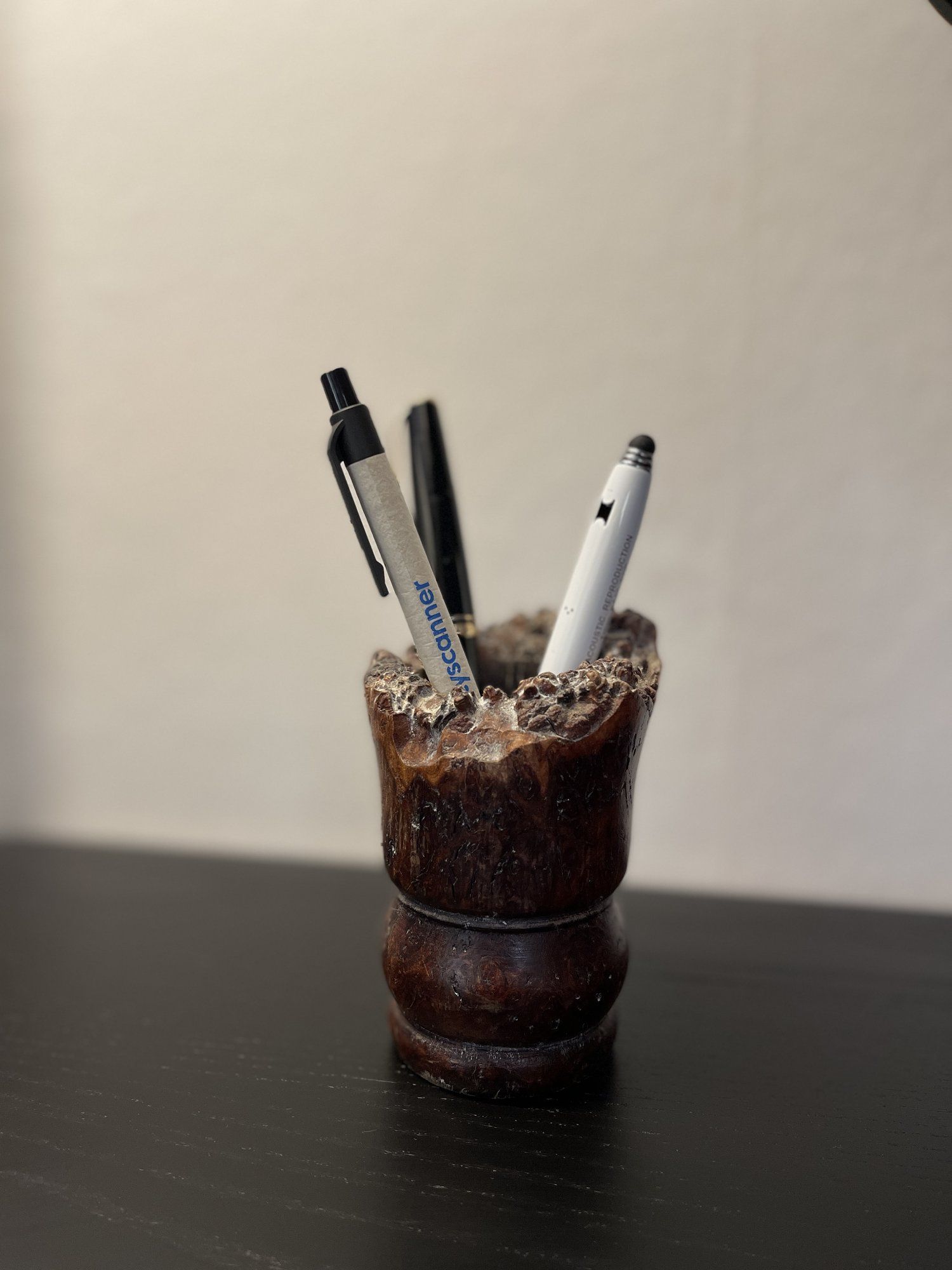 The other item I love is my 3D-printed hydroponics system prototype, for which I found a neat display to house it in.
It's the original prototype we built, made from corn starch filament, and was part of our GrowGrow range.
I built a small e-comm company with a friend, called Fiilo, back in 2014, which was later acquired in 2016 for a small sum.
It brings back both stressful and ultimately great memories of my time in London working with my friend and building our first physical product business.
What apps or tools do you use to get things done?
My most used software tools are Notion and Arc Browser.
I've been an early adopter of both and really admire both products and the direction they are going.
Notion is such a versatile product.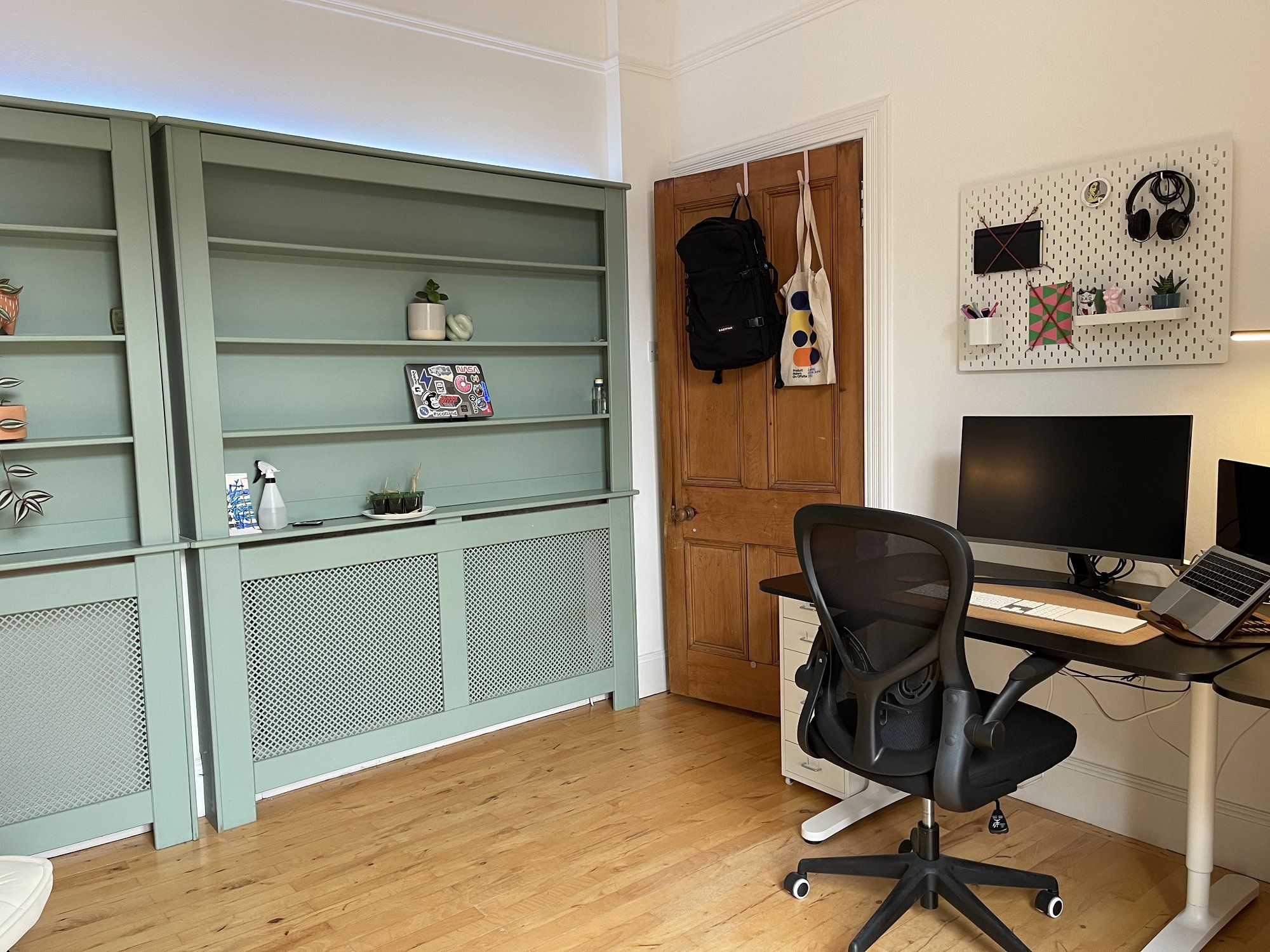 I needed some convincing when Notion first launched, as I was a power user of Evernote, but once I migrated my Evernote pages across to Notion, I was hooked.
I manage my personal to-do list with a Kanban board layout in it.
At work, I use a similar format to organise myself.
I've built a great process that works for me on Notion and it organises pretty much most of my life with the tool.
Additionally, I created a few website template kits on Notion and have sold thousands of them via Gumroad, which came as a huge surprise.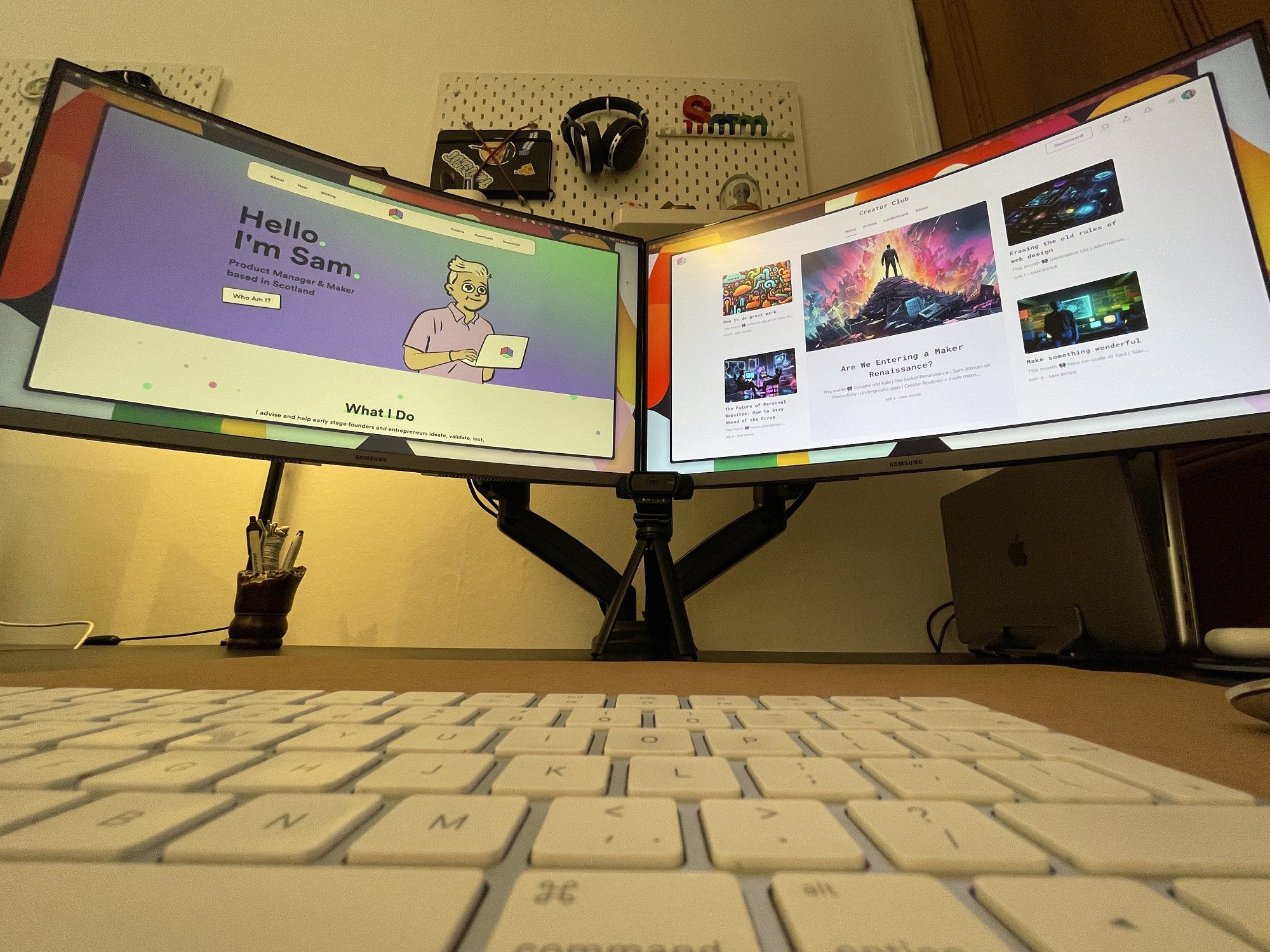 Arc is the browser I had been waiting for, yet I didn't even know I needed it.
It is fun to use, has a minimal design, includes everything Chrome has and more, yet it doesn't suffer from feature bloat or janky UX.
The expiring tab feature has been a game-changer for me.
Knowing my tabs get archived after 12 hours of inactivity has dramatically reduced my tab anxiety.
What books, blogs, or podcasts recently caught your attention?
The Founders podcast is a fascinating listen, which I've recently become obsessed with.
The host, David Senra, has to be one of the most passionate and enthusiastic humans I've heard.
It's so infectious.
He loves devouring books from some of the greatest minds in business and shares a two-hour summary of his takeaways and lessons.
Paul Graham's essays are a treasure trove of wisdom, full of well-articulated approaches to business and life.
He can spend months and sometimes years working on an essay, something I can only hope to be in a position to do in my lifetime.
If you're in the tech sector and more specifically considering or working on your own startup, his essays are a must to read in my opinion.
Any tips for other makers who want to improve their workspaces?
Make it personal.
I love getting inspiration from others, but my workspace needs to meet my needs.
I don't want to make it too clinical, and fortunately, my partner has been great in introducing some personality to our workspace.
Given we both work side by side most days, we had to collaborate to design our ideal space for creativity.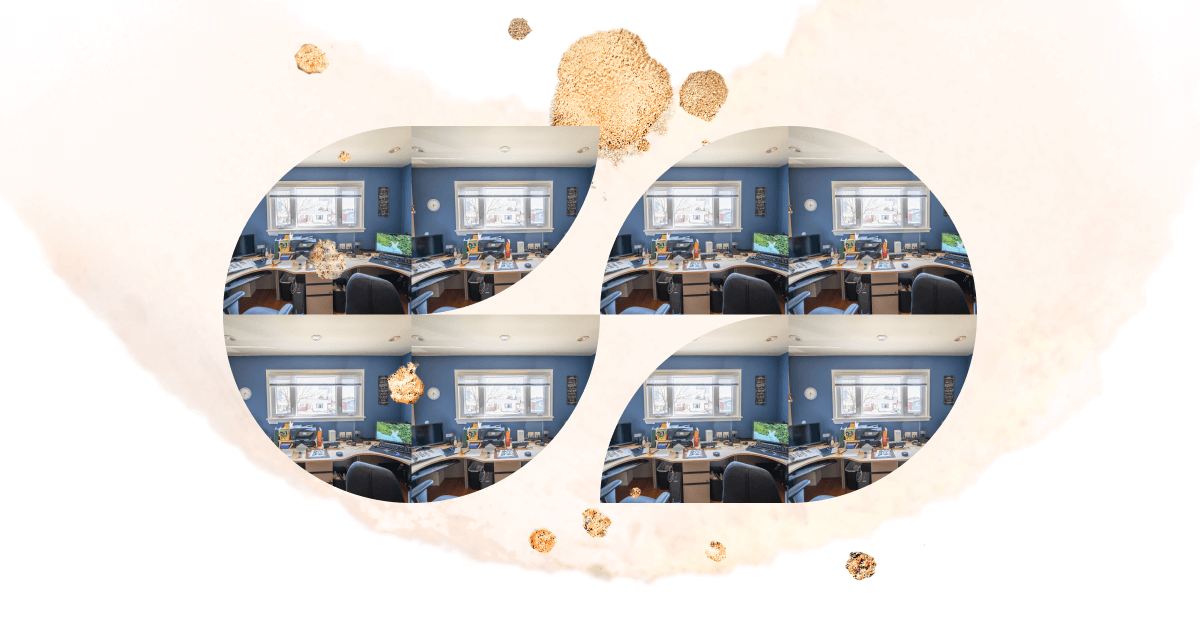 What does your typical day look like?
I typically wake up between 5:30 — 6 am most days naturally, as this has been a routine of mine for some time now.
I'm not a great sleeper, so this isn't something I necessarily intend to do, but I've learned to embrace it.
I make a coffee, stick the radio on, and read through my RSS newsletter feed for new content for the newsletter.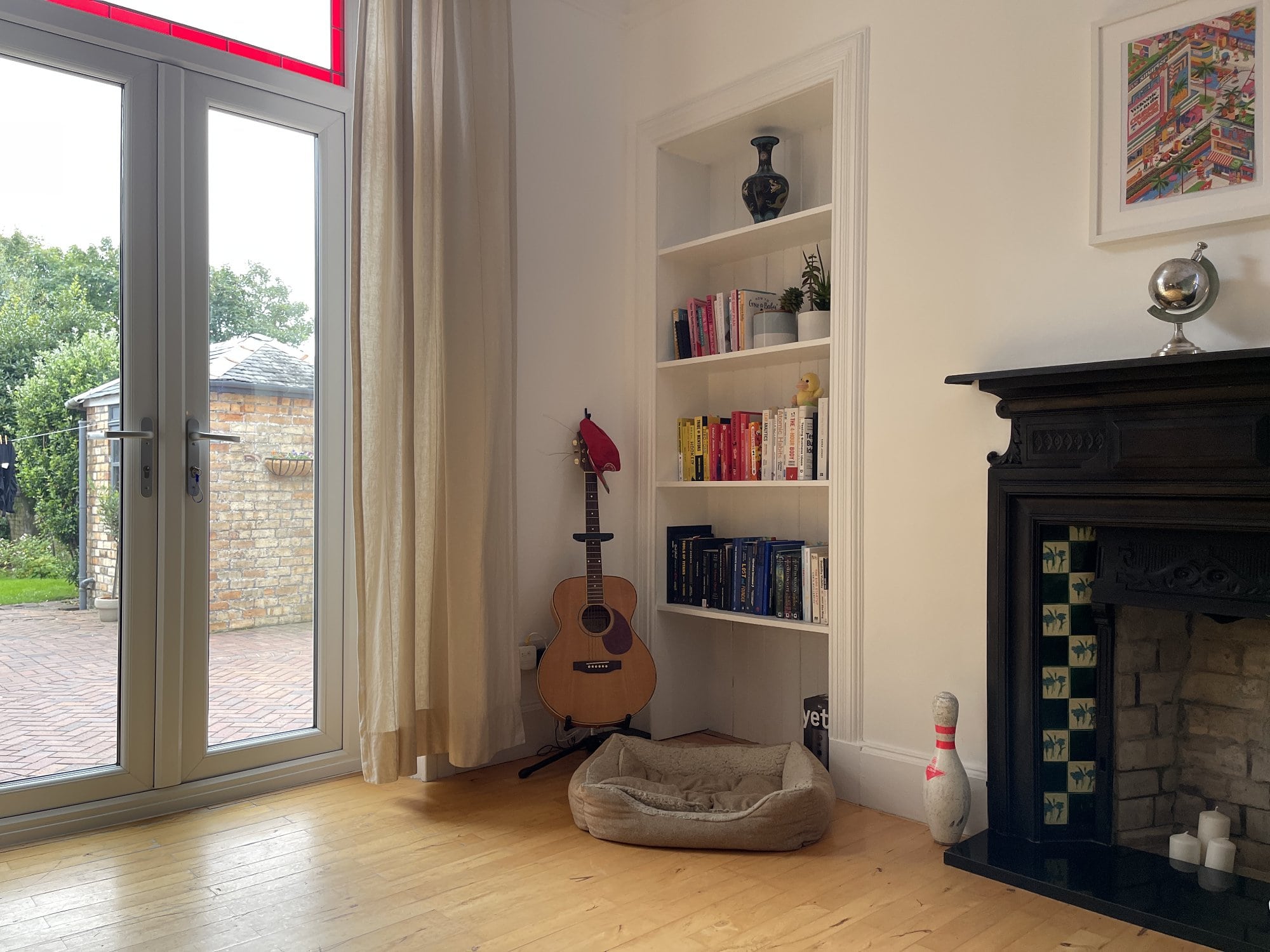 I then head out for a run with my dog at about 7 am.
I might listen to a podcast, or if I want to use the time to think something through, I'll leave my headphones at home.
Once back, I have breakfast and then get to my desk at 8 am. I like to get some time in before my Slack starts pinging me with notifications around 9 am.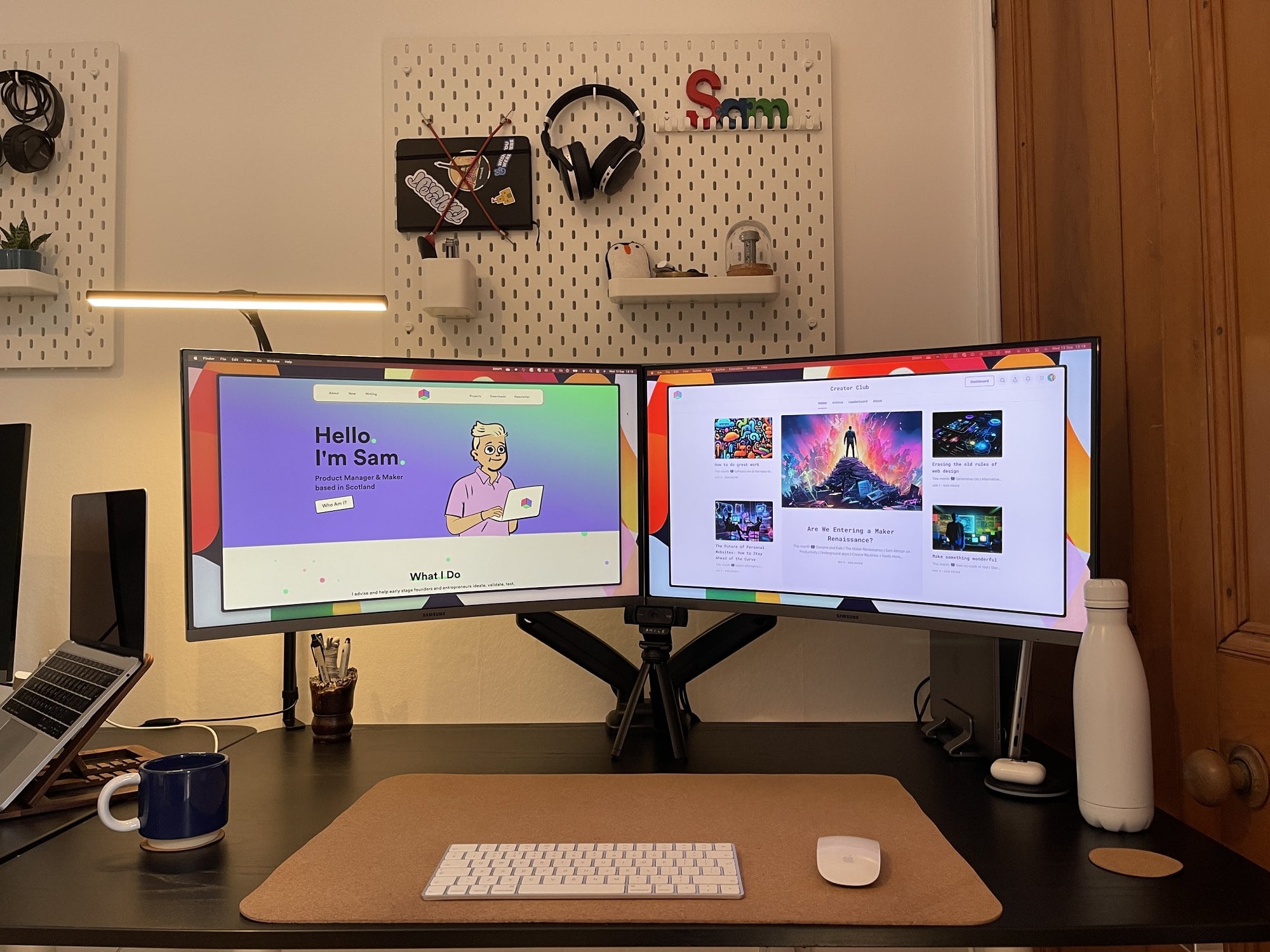 We typically take turns playing our Spotify playlists in the background and take our dog for a walk during lunch, and sometimes around 3 pm if the weather is nice.
I usually take a brief 30-minute lunch, as I prefer to finish slightly earlier, usually around 5 pm.
I'm a much more productive worker in the mornings, so I try to optimise my day around trickier pieces of work before lunch and take calls in the afternoon.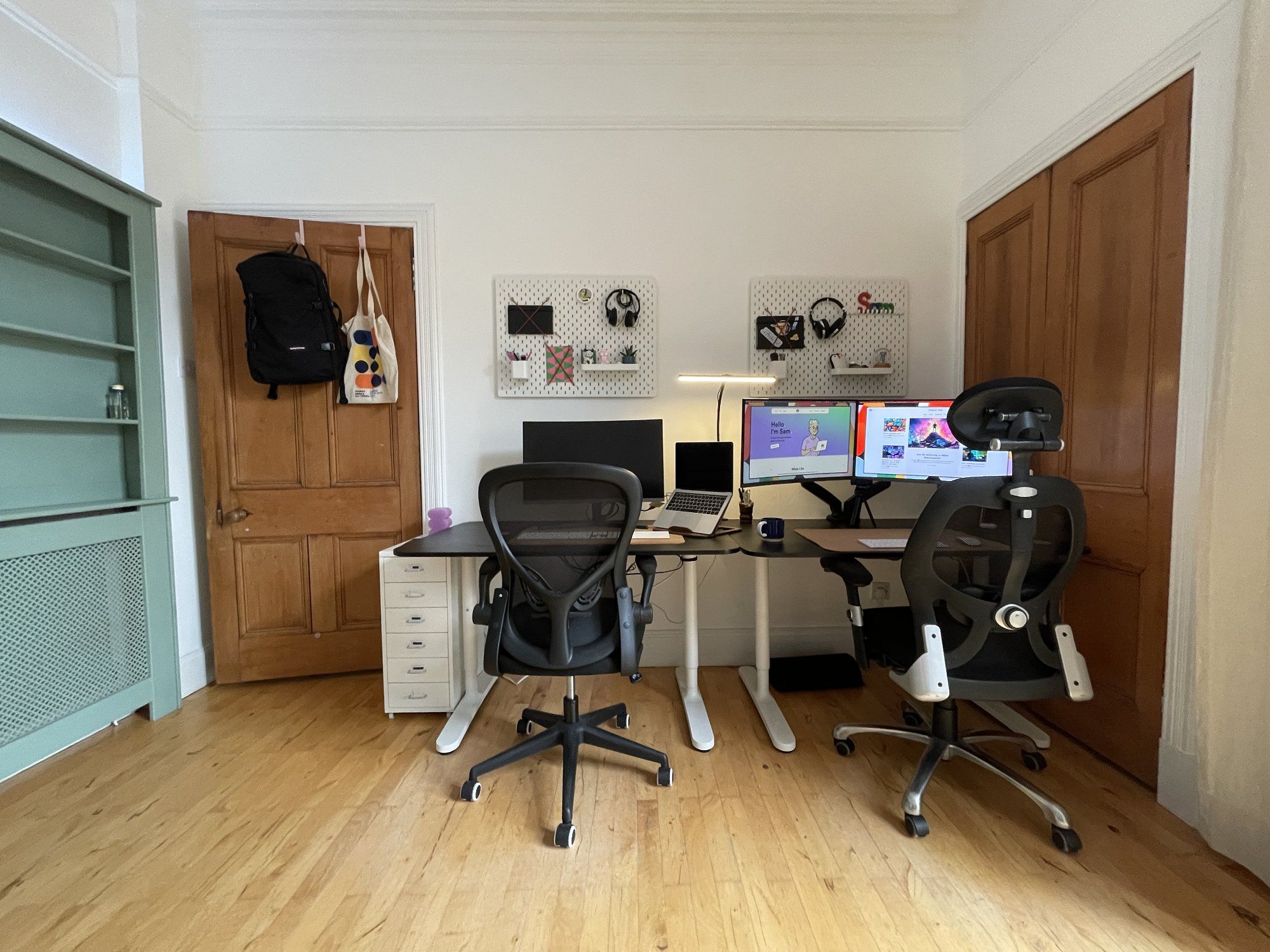 I've been working from home for about five years now.
The last two companies I worked for were remote-first, and the company I work for now is hybrid, so I'm in the office at least once a week, providing a nice change of scenery each week.
I try to finish at 5 pm sharp to take our dog for a big walk down the beach with my partner and chat about our day before having dinner at 5:30 pm.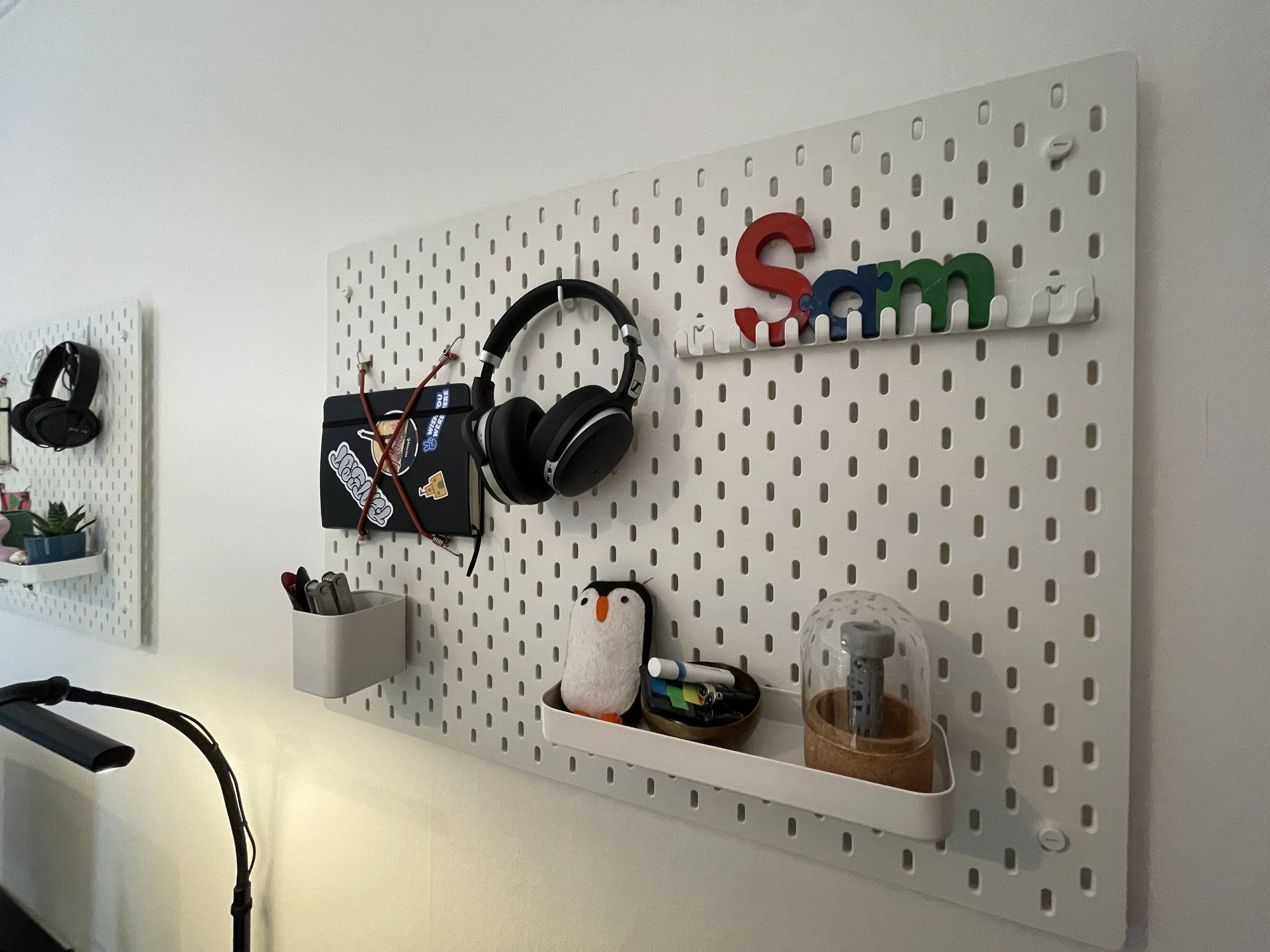 In the evenings, I typically jump back into the office, switch out my keyboard and mouse, connect my personal laptop, and spend a few hours working on some of my personal projects before going to bed between 9:30 – 10 pm.
Although I expect my routine to change dramatically in the coming months, since we are expecting our first child in December, I'm trying to wrap up a few projects I'm currently working on in anticipation of needing to step away from personal projects for some time during the early phase of being a new parent.
Your tips for working from home?
Create a space you look forward to spending time in.
If you're like me and work remotely, you will spend a lot of time in that room, so it needs to be somewhere you enjoy being in.
It's cliché, but I take regular breaks.
Before we had a dog, I was guilty of not taking time away from my desk.
Now, I look forward to regular walks and thinking things through.
I'm always walking and taking notes using Notion on my phone.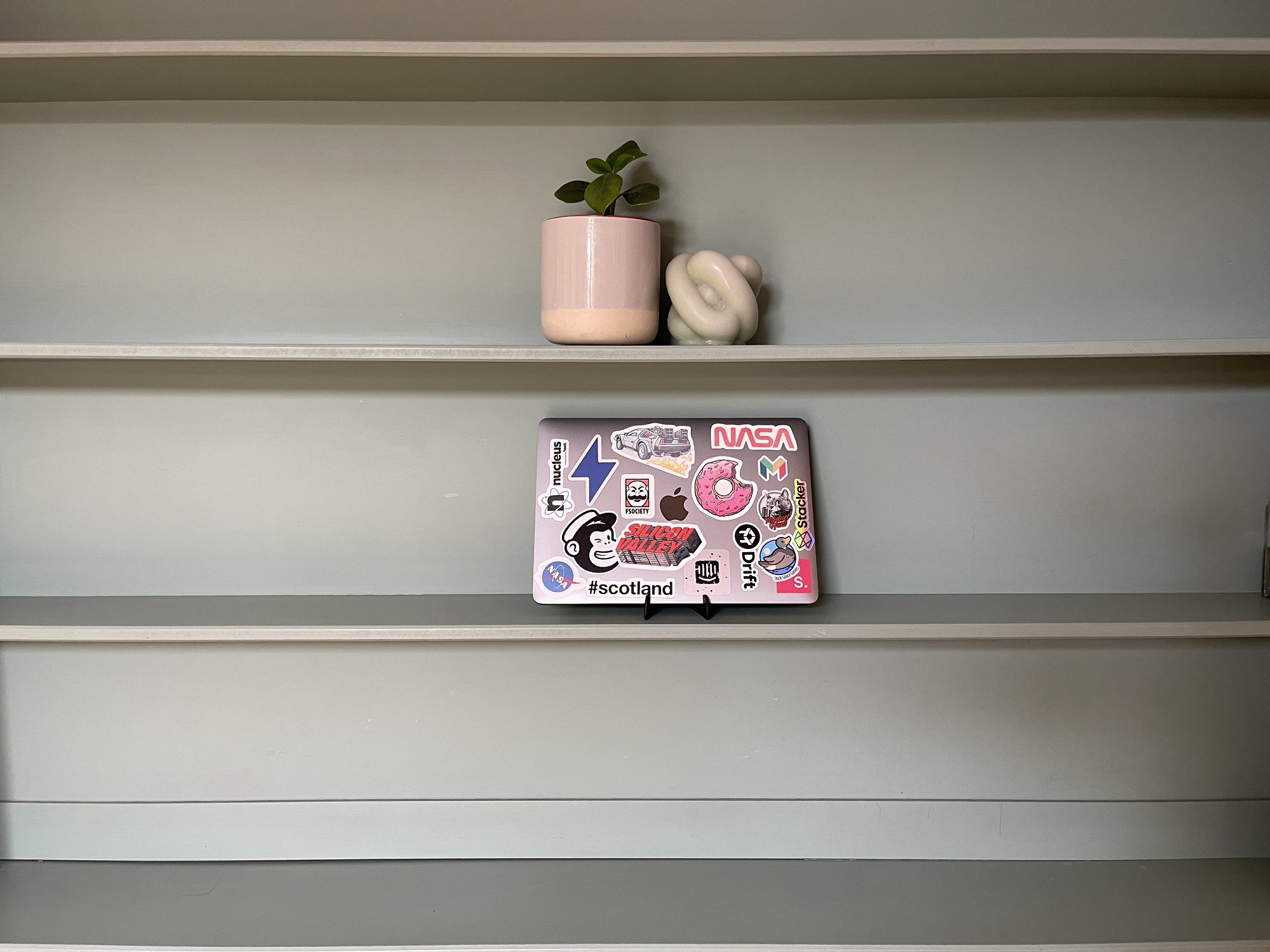 Take your time to find the necessary items for your office. I've made a few mistakes in the past, rushing to find items and later regretting them.
Lastly, I'm an advocate for tidying my workspace at the end of each day and resetting it for the next day.
It takes a few minutes each evening, but it's so rewarding the next morning to come to a tidy office and desk.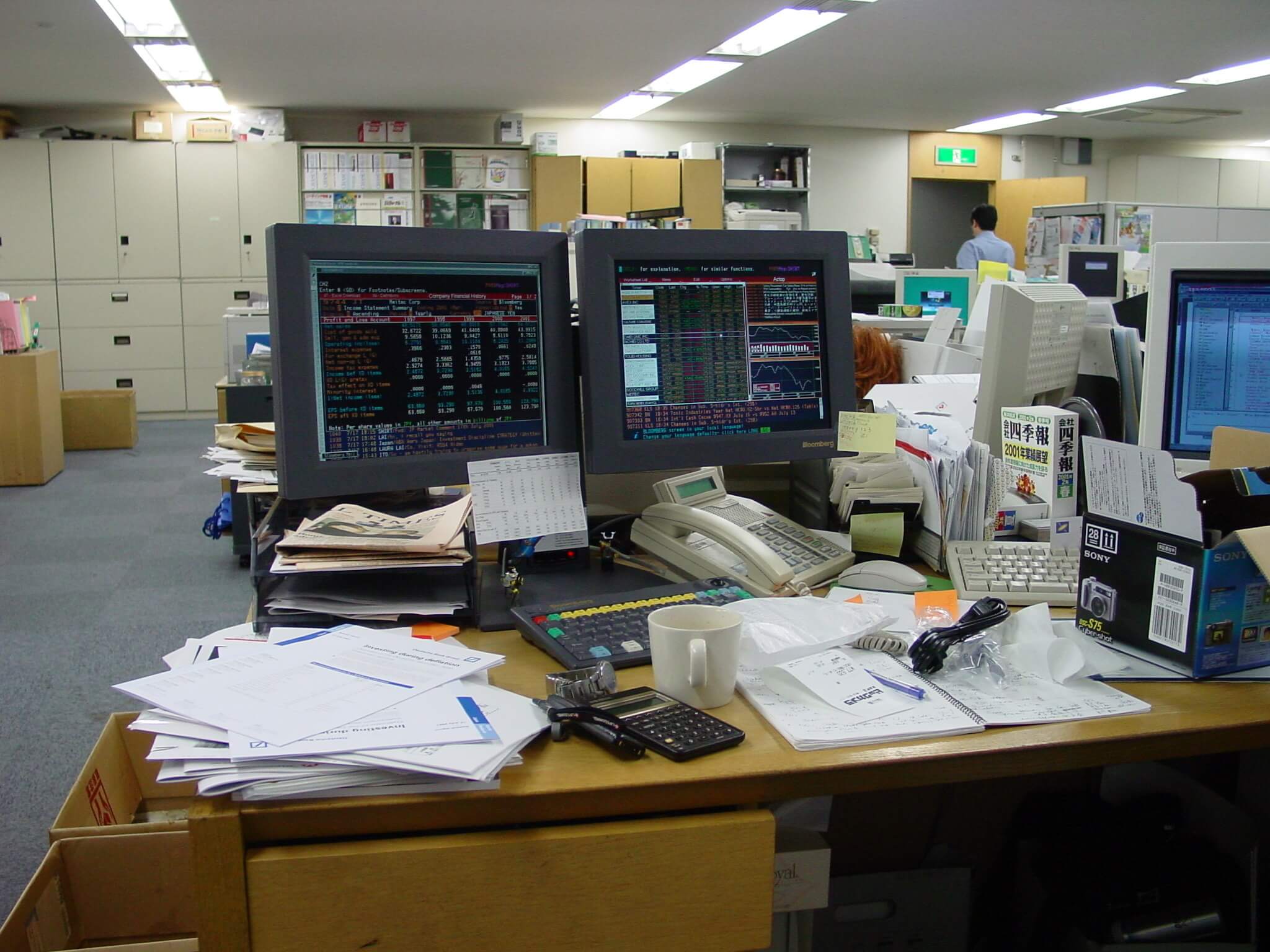 We're a reader-supported publication. This article might contain affiliate links. It means we may receive a commission if you click a link and buy a product that our maker has recommended. The interview was done independently.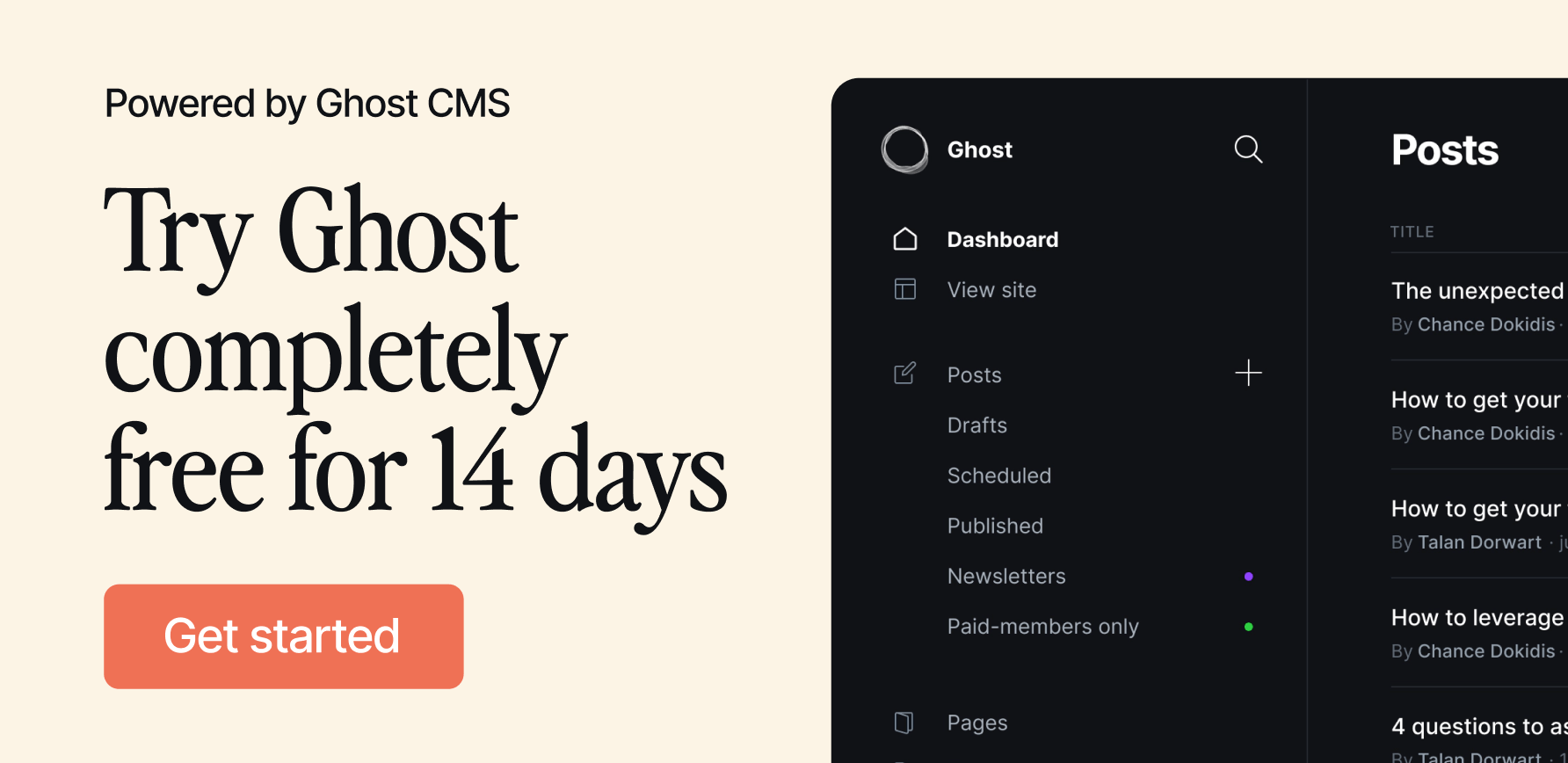 ---