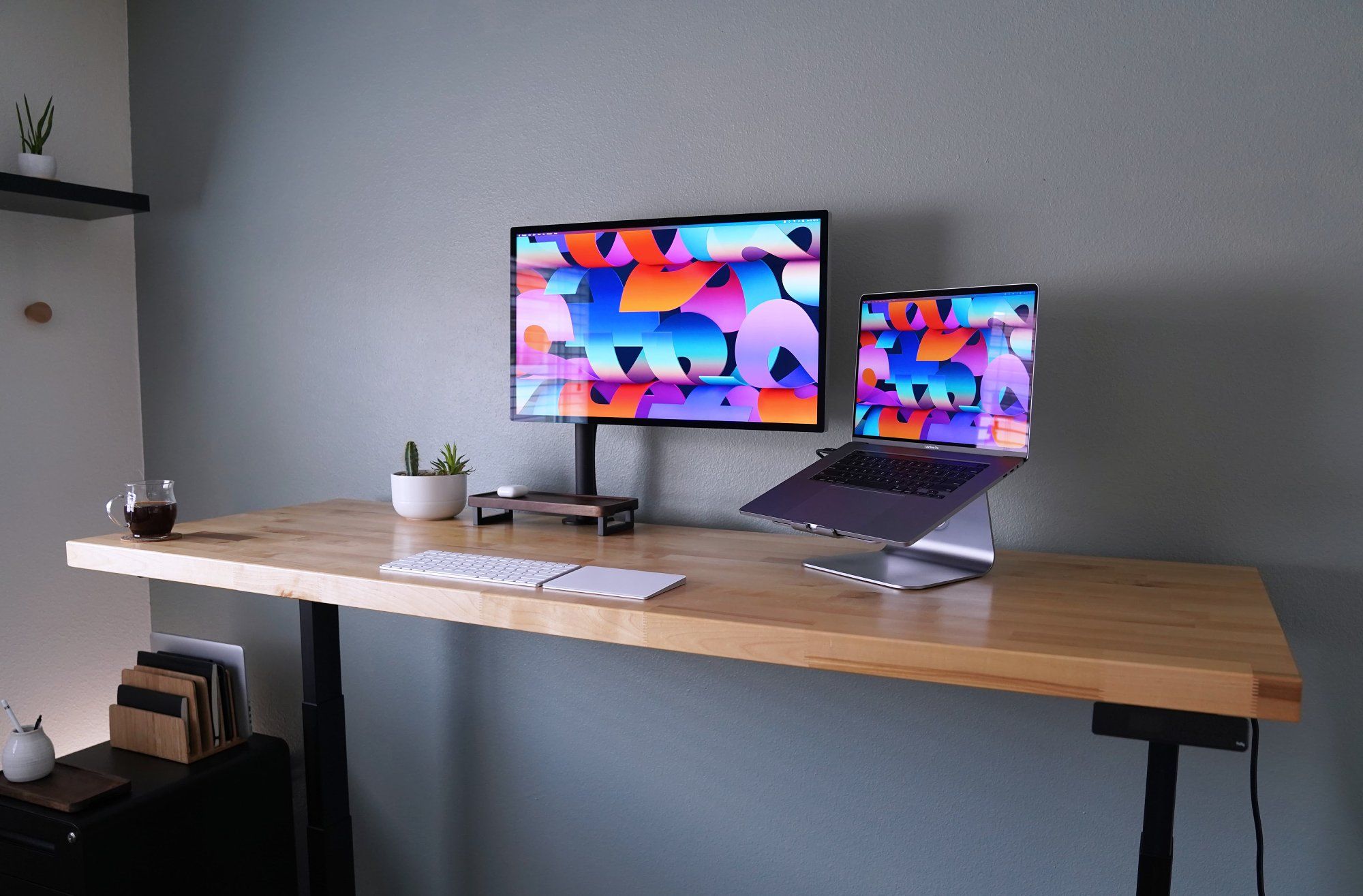 Minimal and Spacious Standing Desk Setup in Florida, US
"The most prominent feature of my workspace has to be the standing desk"

Name: Logan Liffick
Location: Tampa, Florida, United States
Occupation: Senior Designer, DigitalOcean
Room size: 19 m² (200 ft²)
Cost of setup: ~$4K
Social media: Instagram, Twitter
Hello! Tell us a bit about yourself
I'm Logan Liffick, a designer and creative engineer currently living in sunny Tampa, Florida, with my wife and our two-year-old golden retriever!
I work with DigitalOcean full-time as a Senior Designer, where I help build our brand and web properties, as well as some of our events like Hacktoberfest.
I do a lot of contract work as well.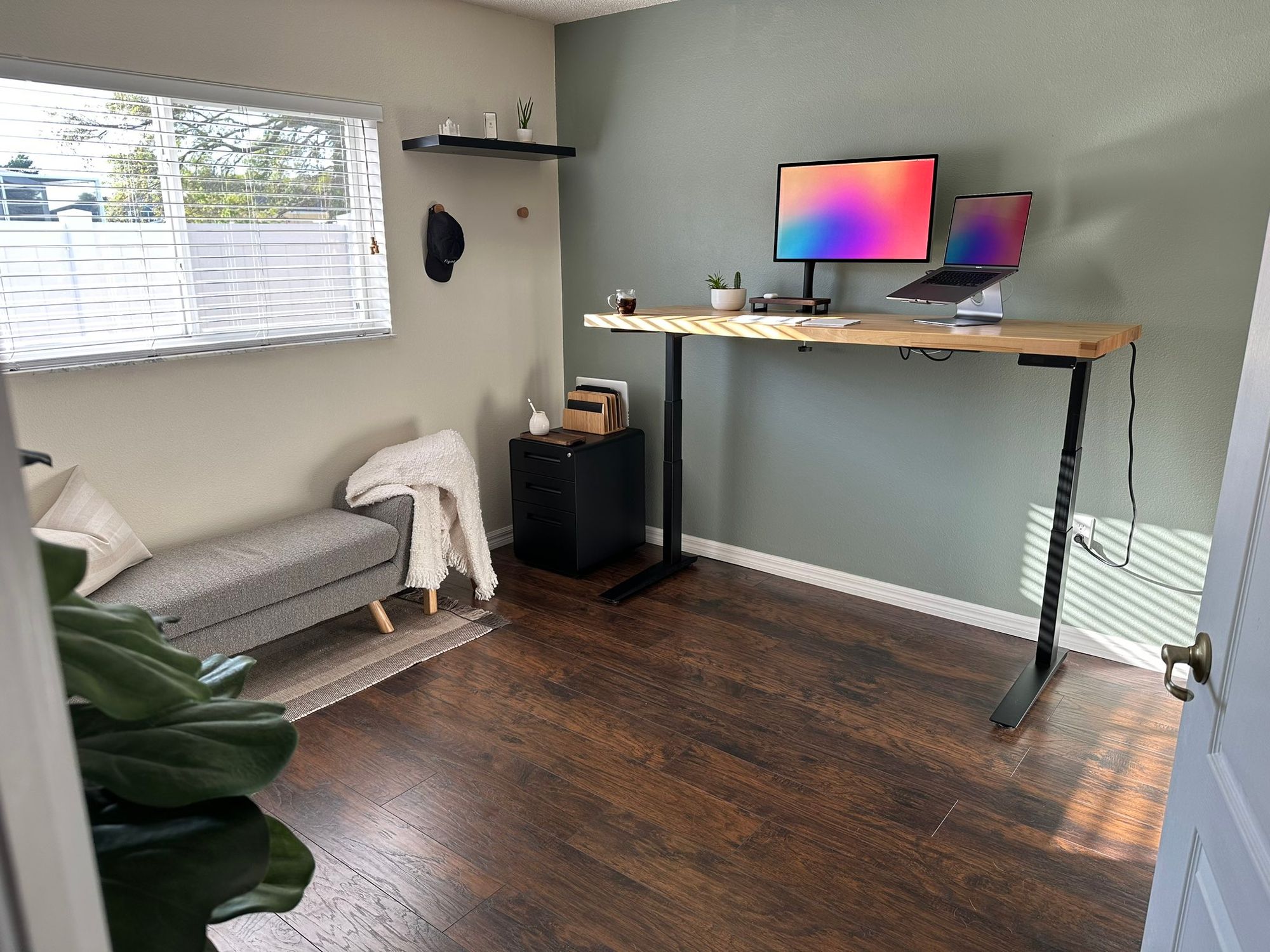 Most recently, I did a cool brand refresh and site design/build for a startup I work with, Makelog.
I love to tinker.
Be it with design or code, the medium has never been super important to me.
I just like to build and have been fortunate enough to make a career of it without having to cling to any one discipline.
I've thrown together a few hacky side projects more recently as well: splt.js, a fun, lightweight text-splitting library, and keybored, an on-screen keyboard UI.
I'm working on a few other projects as well, but not much else I can say about those for the time being 😉

Take us through your setup
The most prominent feature of my workspace has to be the standing desk.
It is the hero piece, after all, and the entire room is built around it.
I wanted something custom for myself and went with a Fully Jarvis frame topped with a custom-cut birch butcher's block.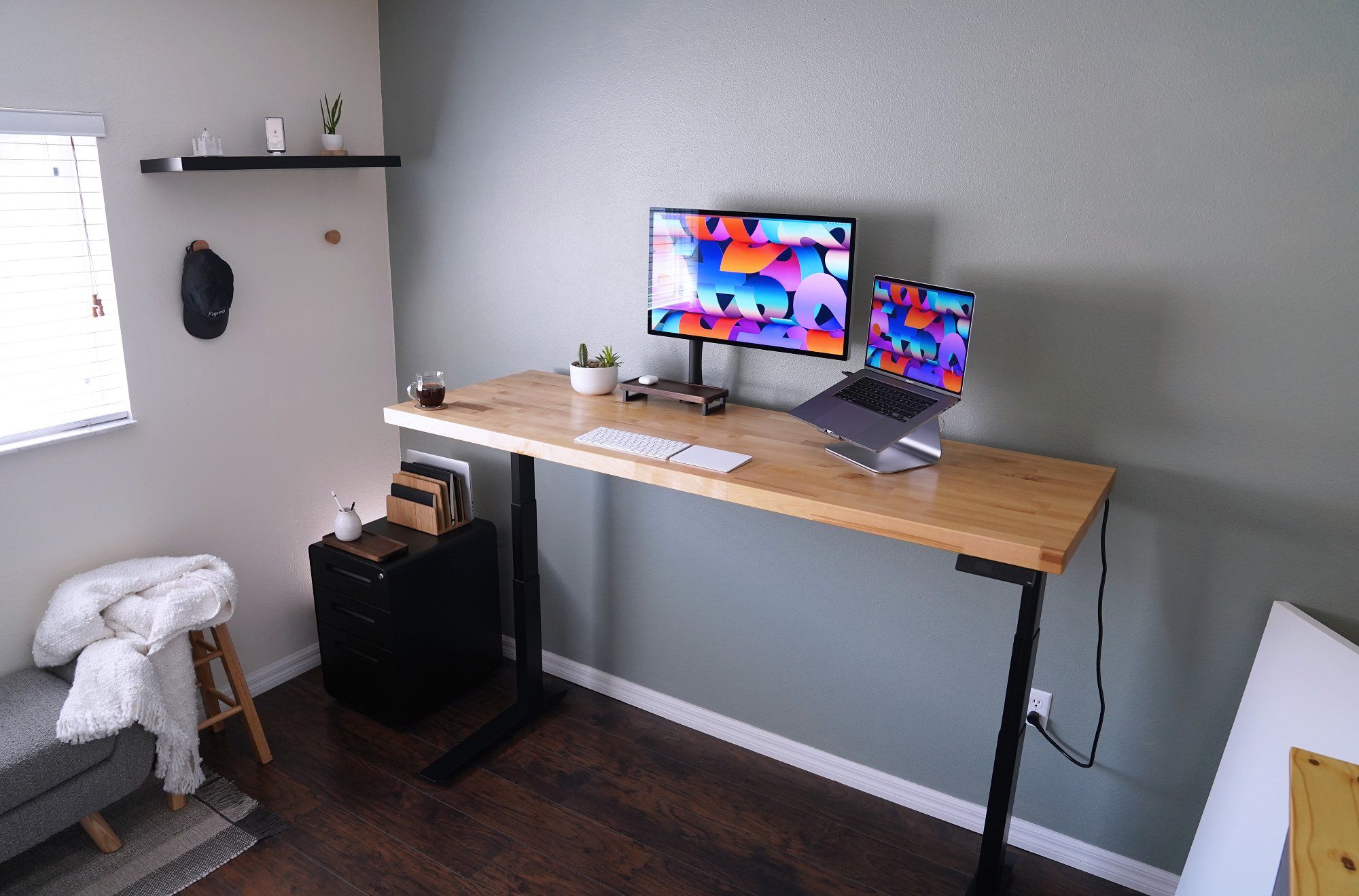 It's super wide — about 72″ (183 cm) — and gives me ample room to switch between computer work and drawing things out by hand.
I like to be active when I work, which makes the standing desk the perfect choice.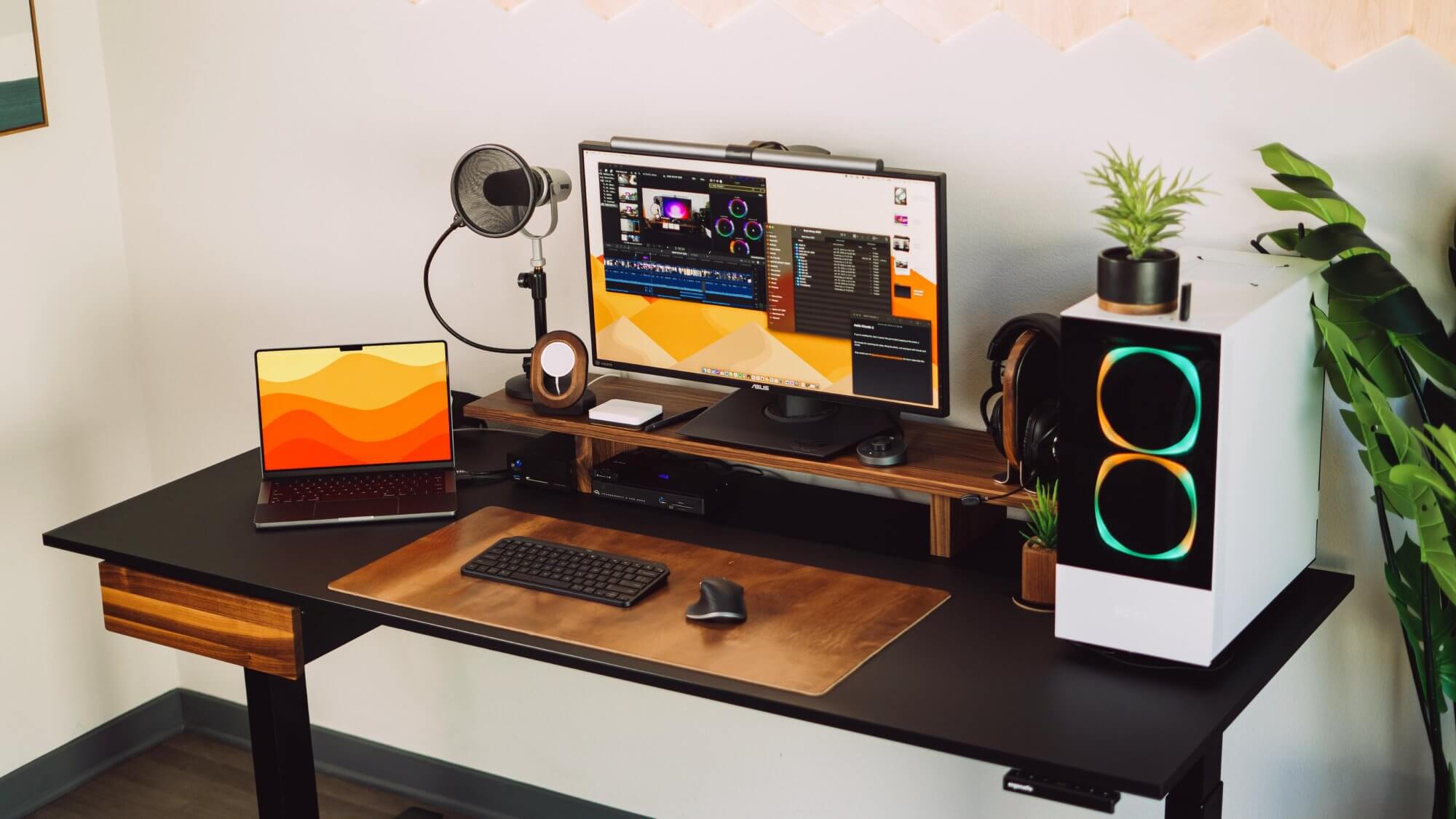 When seated, I use a stool that promotes wobbling, which helps me maintain my energy.
So much of this space features natural materials, from the birch butcher's block I hand-finished for my desk to the custom floating birch cabinet top my father-in-law cut for me.
It provides a balance against the tech-centric functionality of the space and promotes a comforting and relaxed environment.
The natural lighting that pours in from the morning sun adds to that vibe as well.
It's a very Zen space for me.
I'm rather nostalgic.
You'll notice a few fun pieces scattered about, like my Gameboy Advance in the forever-cool translucent glacier, my custom-displayed original iPod Touch, or the various robot models from a few lesser-known 80's anime series.
Coupled with my collection of art and design literature, all of these pieces help me create and continue to inspire.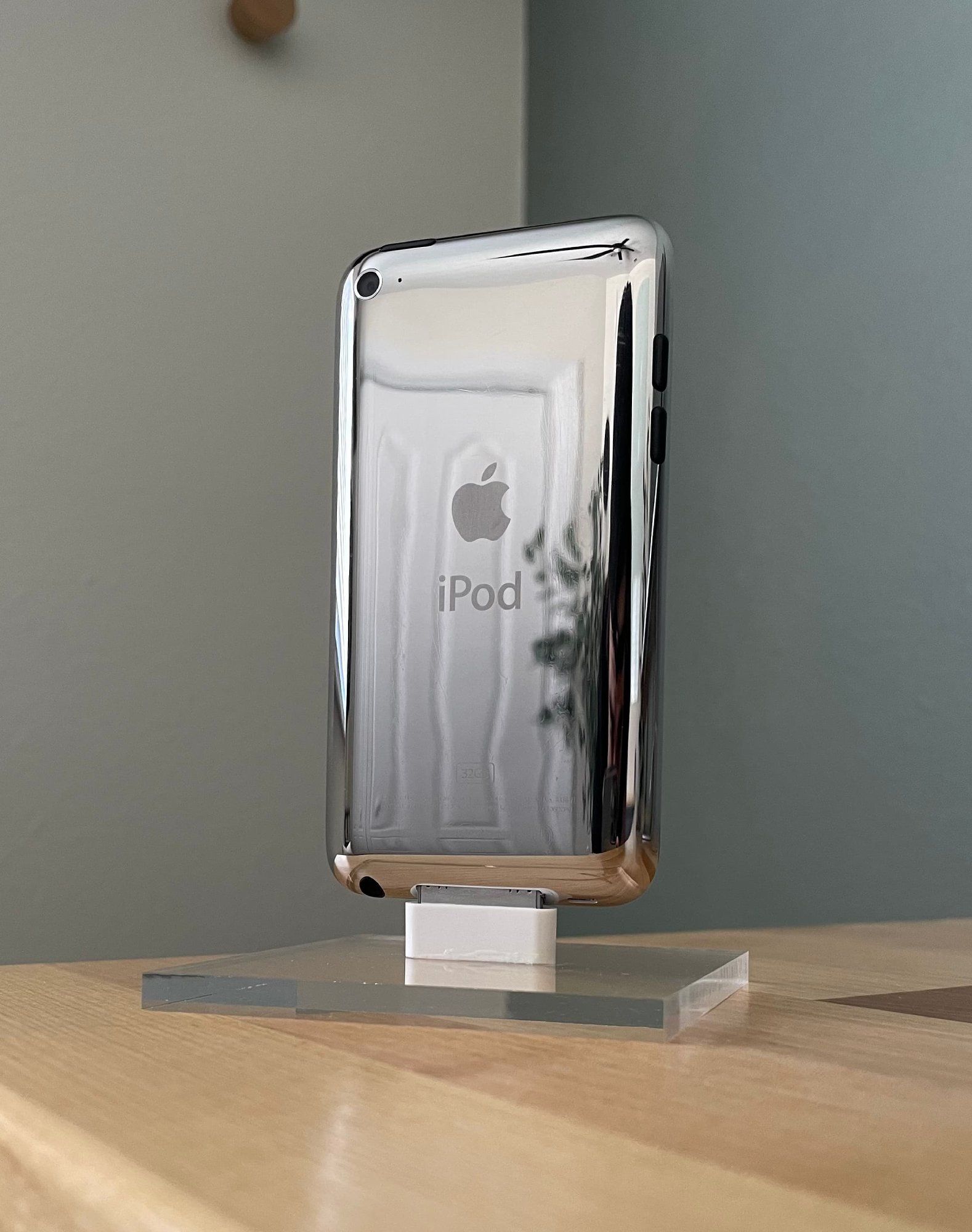 I joke that I get a new office each year.
I'm constantly iterating and keeping the space fresh by either altering the desk setup, adding or removing pieces from the rest of the room, or finding ways to add efficiency.
This year's newest iteration involved replacing my ultrawide LG monitor with Apple's new Studio Display.
My forever struggle is cord management (not that I make it easy for myself with a standing desk).
The idea is to keep everything as streamlined as possible, and while I've done a great job in doing so, it has, without a doubt, taken more time than anything else.
As for future plans, maybe a second Studio Display with an under-desk mounting tray for the MacBook Pro.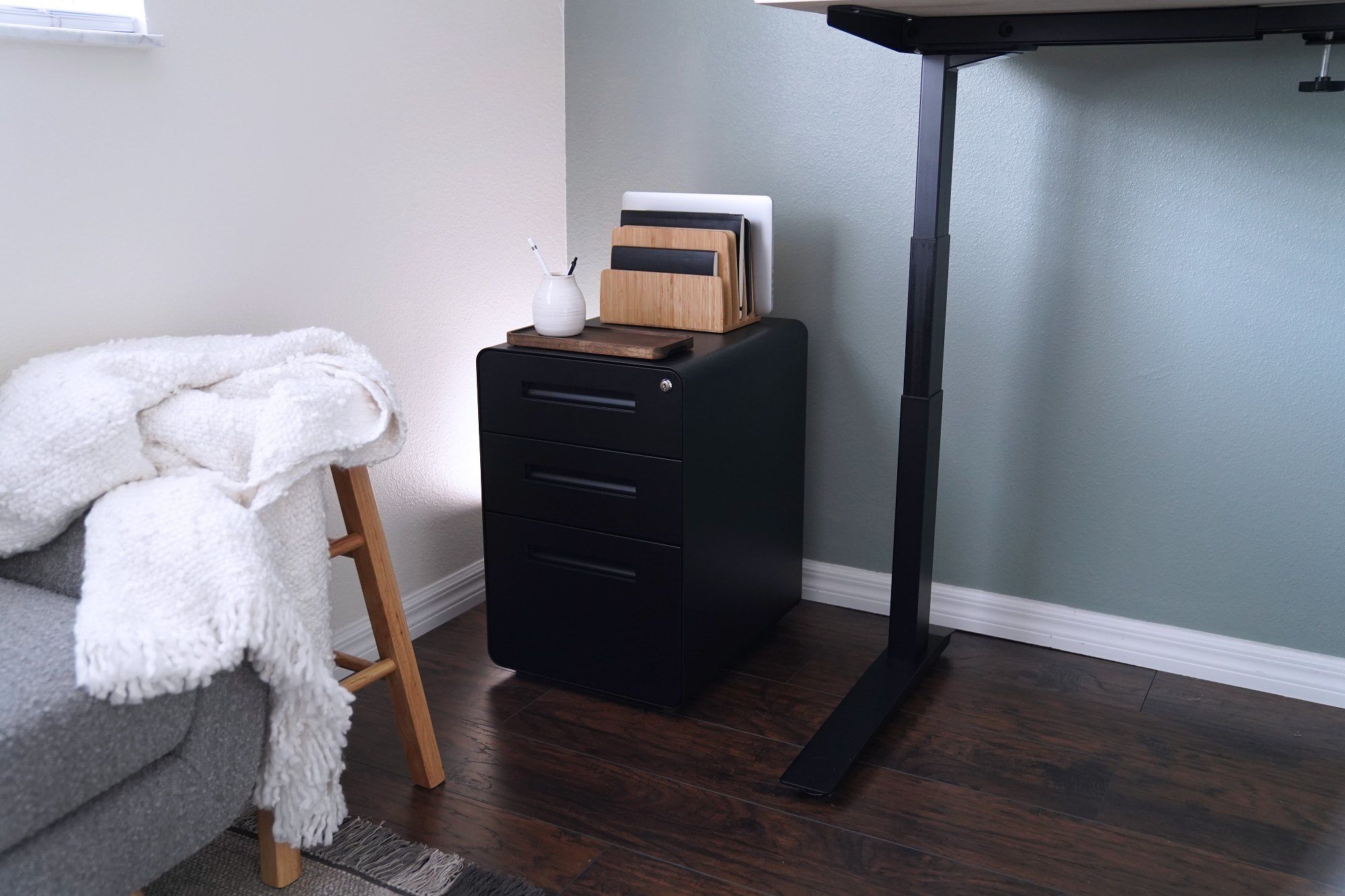 What's your favourite item on your desk?
My favourite small item from the space has to be the Gameboy Advance.
It was my first hand-held (circa 2002), and I don't think Nintendo's done a finish quite like the translucent glacier since.
Every now and again, I'll throw some double-A's in it and play through an old Pokemon Ruby save.
There's just something about the constraints from that generation of hand-held gaming that make it special.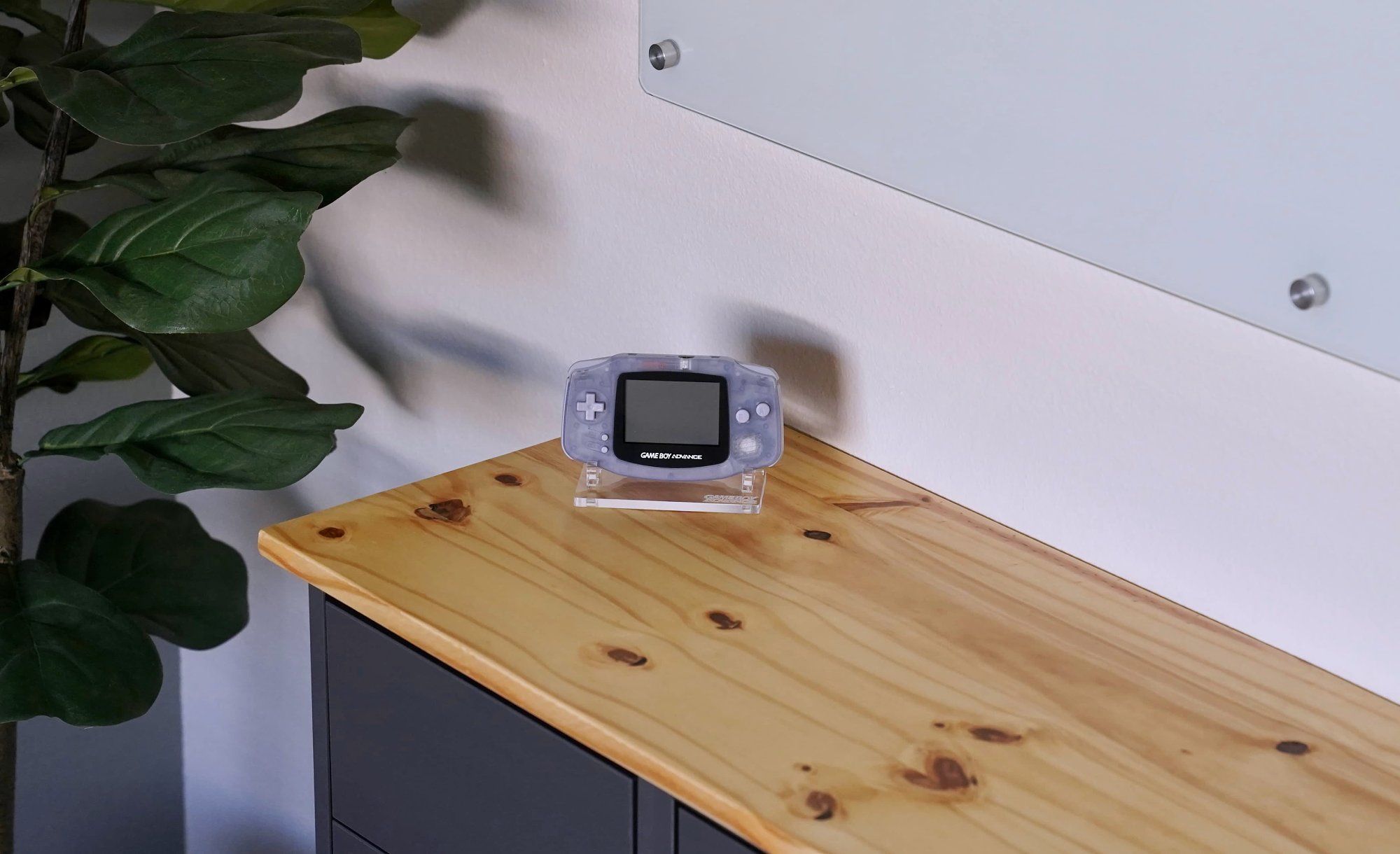 What apps or tools do you use to get things done?
I live most of my day in Figma or VSCode.
Figma's taken a firm hold on the remote design world — rightfully so — and has made working remotely so much easier and generally a lot more fun.
As for VSCode, it's a lot.
I've spent countless hours dialling in my workflow via layout options, colour themes, and plugins.
While bloated out-of-the-box, I've stripped away the paint to reveal an editor that works for me.
As for non-technical software, I find myself using Notion for pretty much everything related to project management, Slack for team communication, and Spotify for tunes.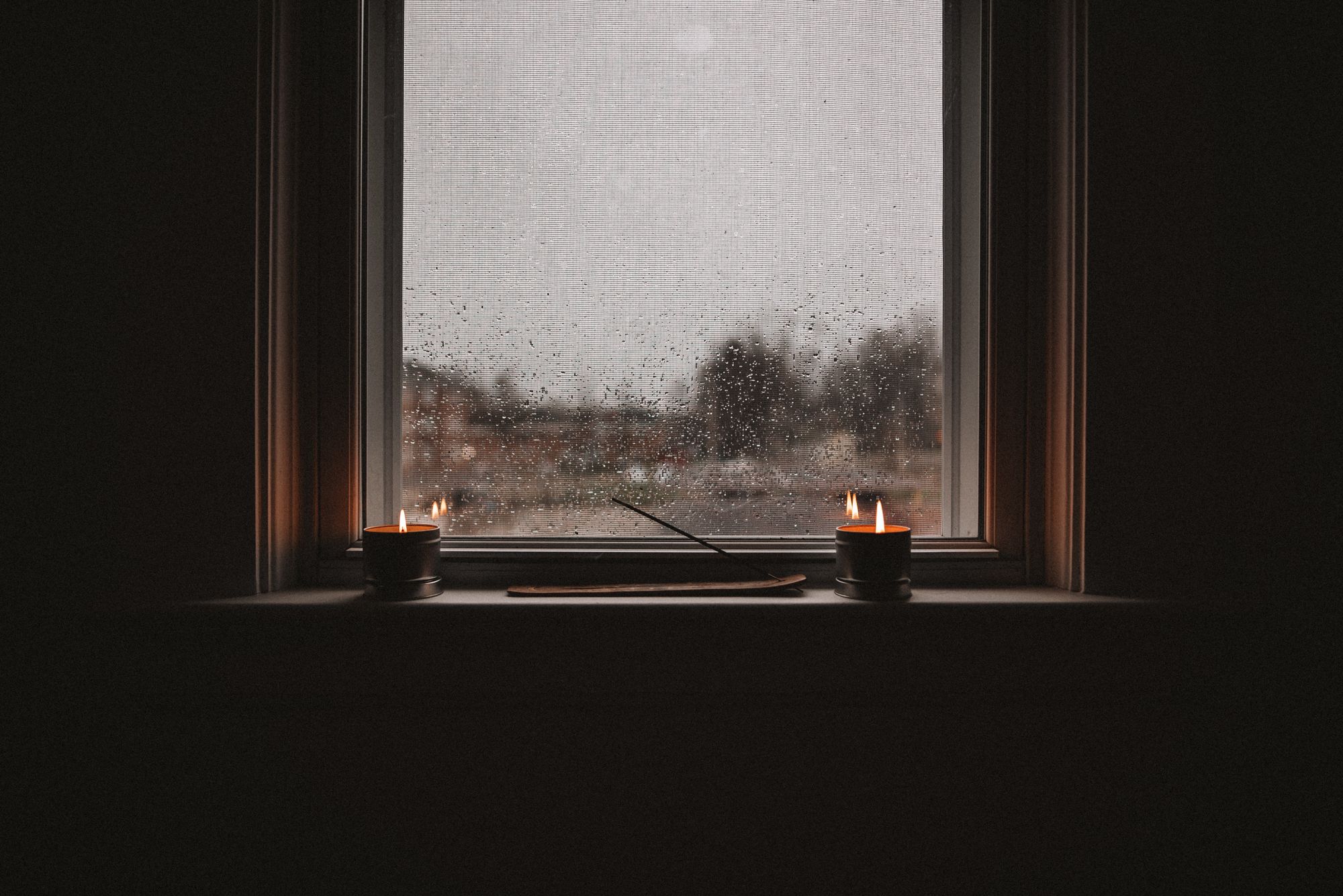 What books, blogs or podcasts recently caught your attention?
Podcasts are my white noise.
A few favourites come to mind:
Noclip, the absolute best video game documentary crew on the planet, with a kick-ass podcast to go with it.
Video Game History Hour, by the Video Game History Foundation, covers the histories of older games in incredible detail.
Avatar: Braving the Elements, some of the best coverage of my favourite show growing up.
As for books, I read a lot.
Currently re-reading Dune as a break from the more technical non-fiction reads I've previously hit, like Company of One by Paul Jarvis and The Order of Time by Carlo Rovelli.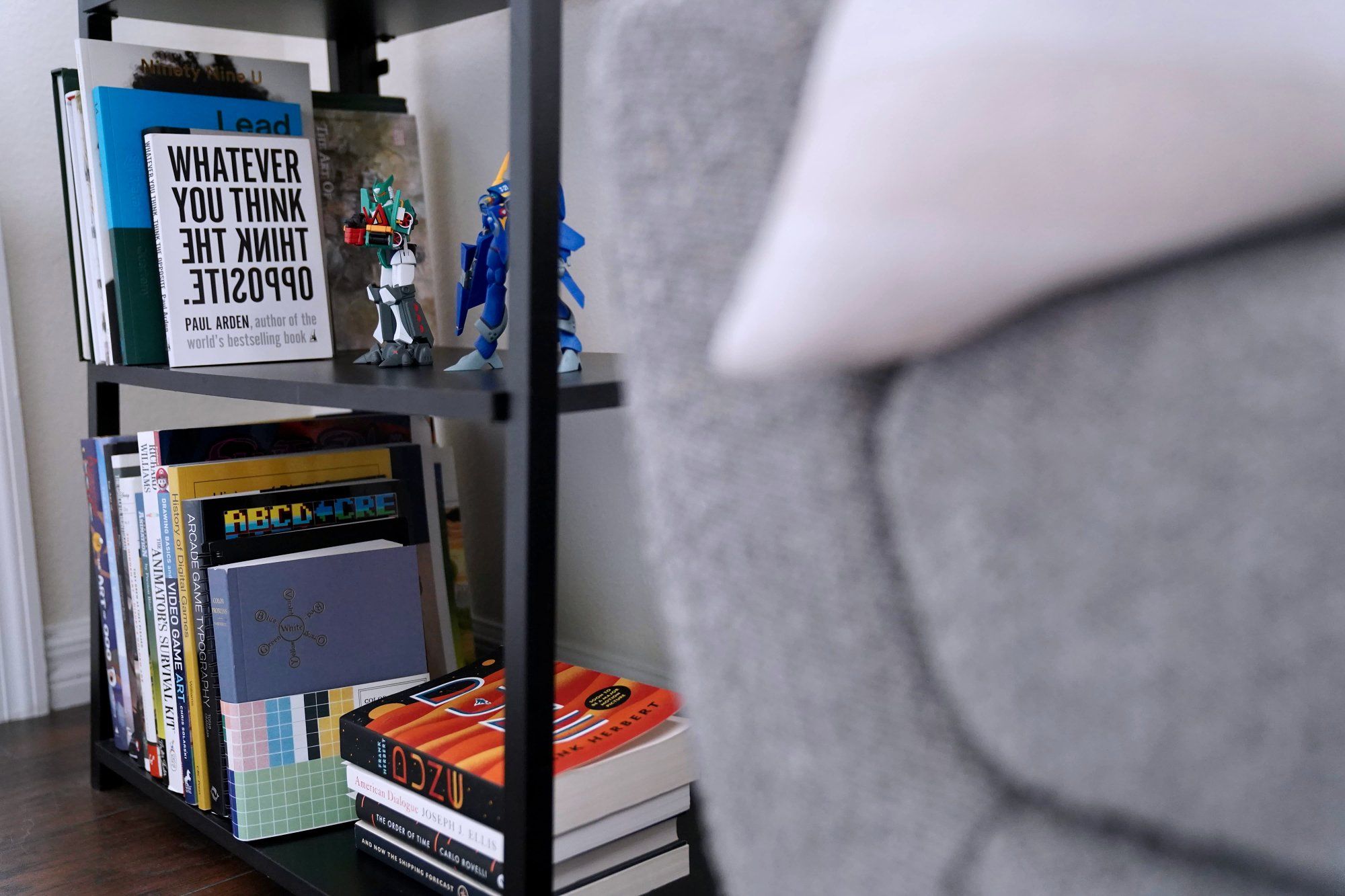 Any tips for other makers who want to improve their workspaces?
Work around the constraints of your physical space.
While a ten-foot-tall plant may look great with tons of natural lighting and 24-foot ceilings, it may not work in your eight-foot-tall guest bedroom.
Pick colours that work together. It will make adding extra elements an easier process.
Don't get too hung up on it all.
If the perfect shelf comes in charcoal but not the matte black that matches your space, get the shelf.
The slight mismatch in colour will go unnoticed and can help add a slight bit of sprezzatura to your setup.
What does your typical day look like?
I'm a horrible morning person, but I've been working on improving.
The first duty of the day is getting our dog out and putting down his food, which doubles as a great way to get some fresh air right off the bat.
After I get myself ready, it's time to brew some coffee.
I'm big into pour-overs and run a V60 setup with some coffees from my local area.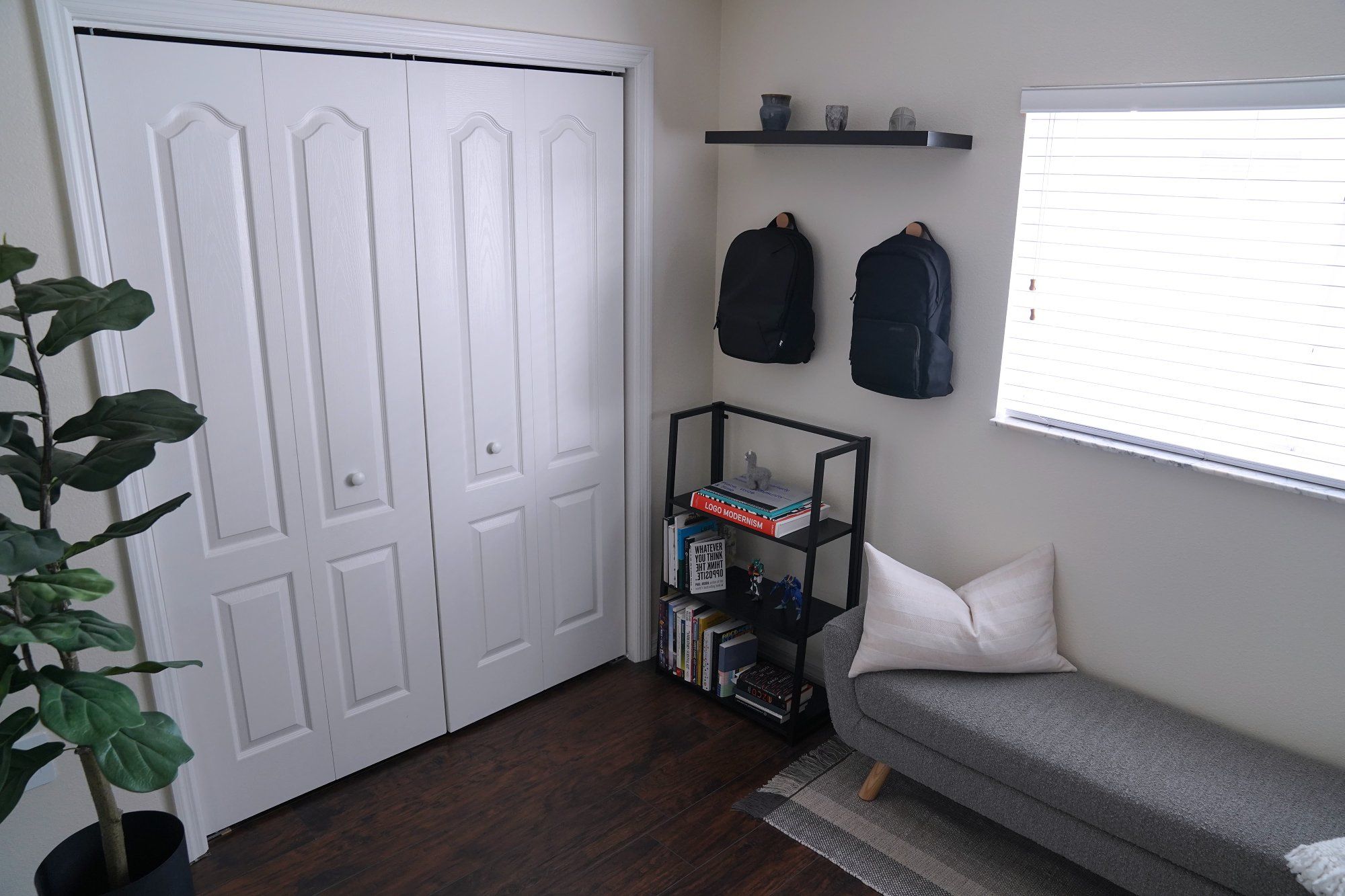 Next up is typically a daily stand-up meeting at work and figuring out what I'd like to tackle.
I like to work between 9 am and 5 pm with an hour break for lunch.
Some days, I work less, and some more.
I think we're all in that boat.
Working remotely since mid-2019 has been nothing short of amazing.
No commutes and the ability to organise your day how you see fit is the best thing anyone could ask for.
I felt a little lost at first — as I'm sure everyone did, but quite honestly, as the pandemic started and the culture of remote work exploded, it helped me feel more at home while working from home, knowing that everyone else was doing the same.
Your tips for working from home?
Own your time.
It is far too easy to let someone book you for a "quick 15 minutes", and learning to say no is important.
Obviously, the more responsibility you have in your role, the more meetings you end up with, but do yourself a favour: decline two per week and see how it feels.
Eat.
There were far too many times in the early days that I just completely forgot to eat lunch, and as a result, my output was terrible for the remainder of the day.
While I advocate finding what works best for you, what works for me is a protein-heavy breakfast + caffeine and a lighter lunch.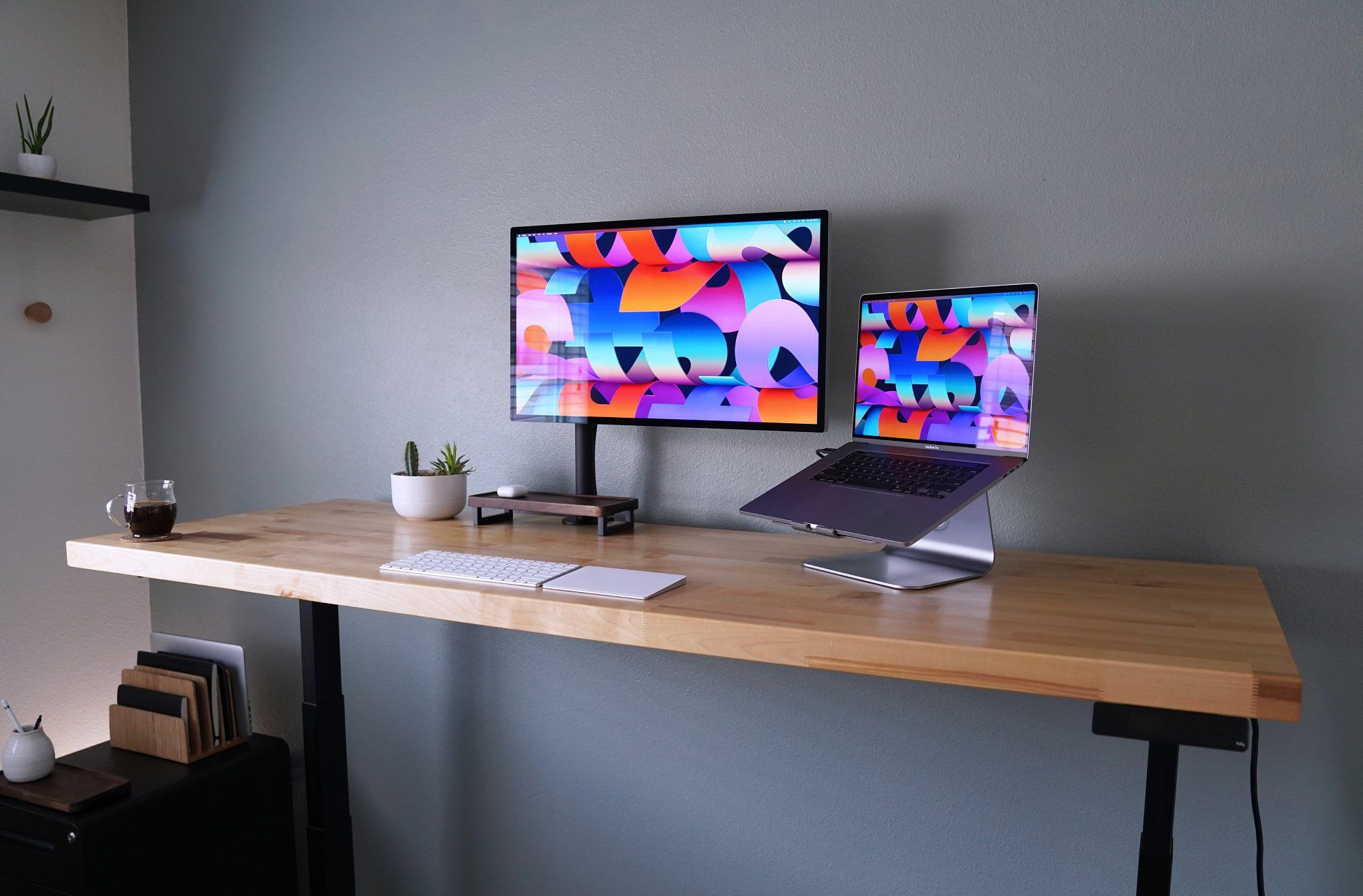 I find overeating in the afternoon damaging to my output as well.
Your end-of-day routine is critical.
I find myself in the freshest headspace if my after-work routine doesn't involve more work.
I like to break pace with either a workout, a walk with our dog, or something entirely detached from technology.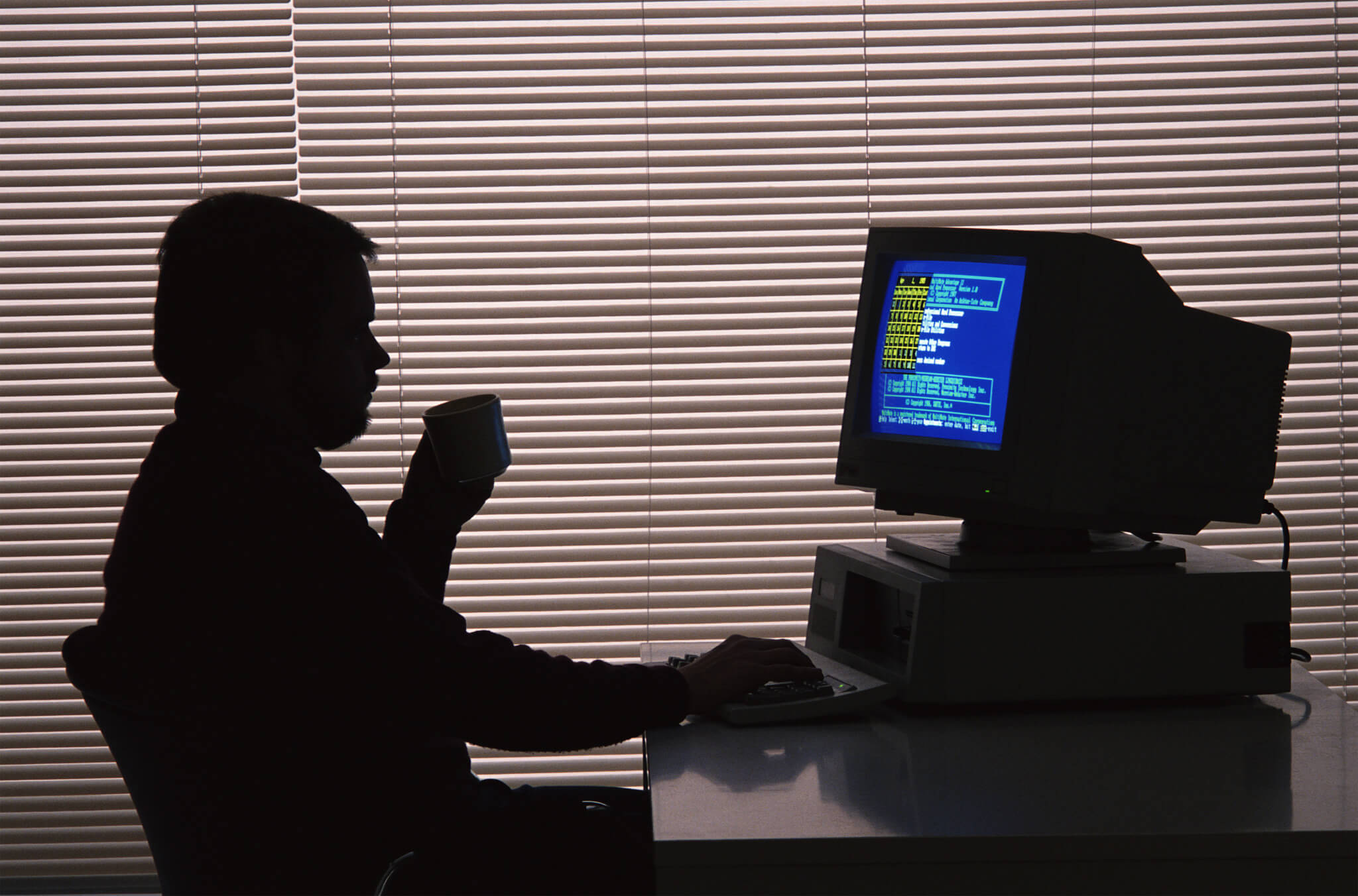 We're a reader-supported publication. This article might contain affiliate links. It means we may receive a commission if you click a link and buy a product that our maker has recommended. The interview was done independently.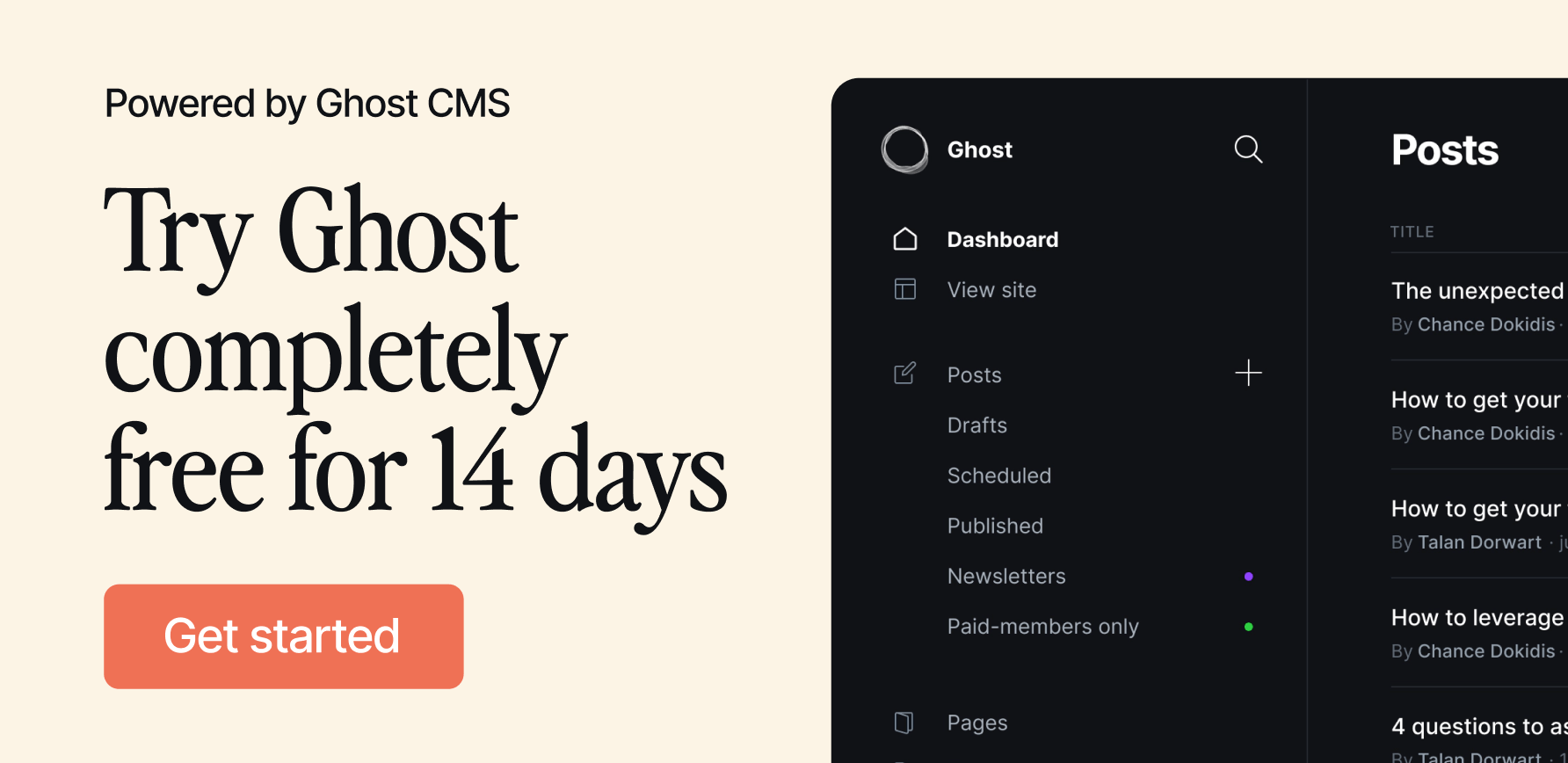 ---