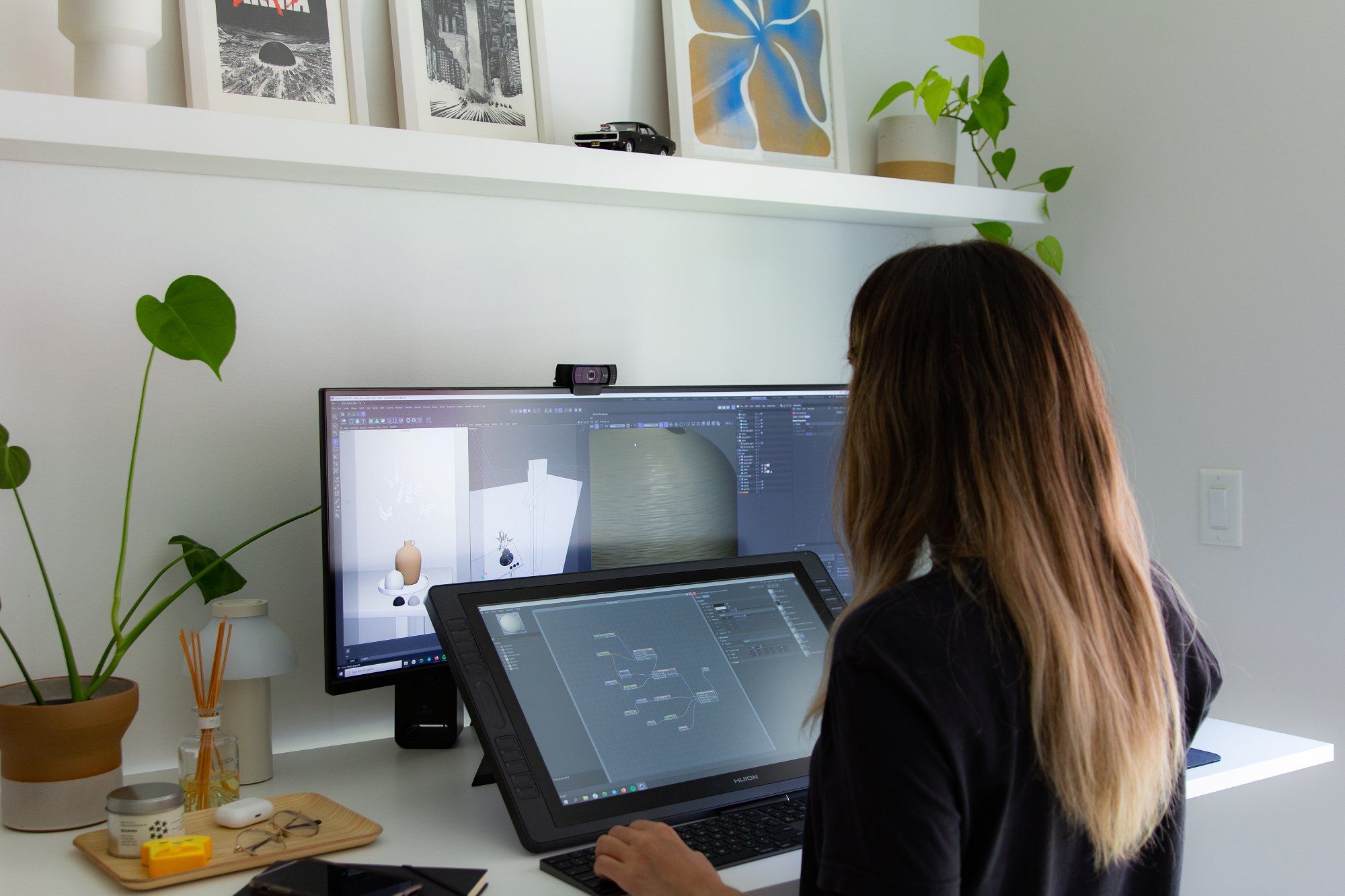 Ergonomic 3D Design Workstation in Montréal, Canada
"I always feel I have too many objects. It's a never-ending battle with my inner Marie Condo"
Join 1700+ Curious Readers.
Every Sunday evening, get an *in-depth* workspace tour from a random corner of the world.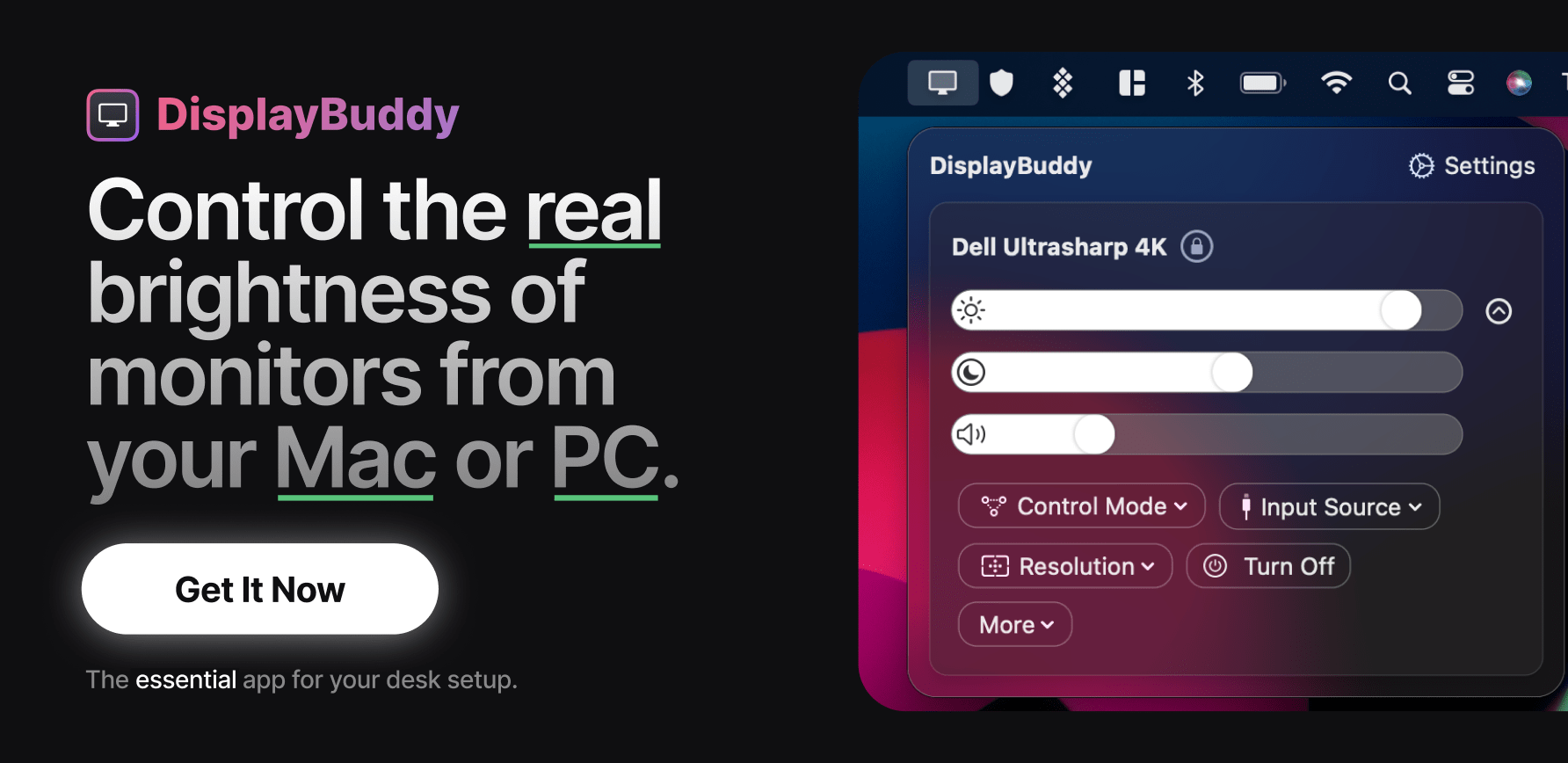 Name: Jantana Hennard
Location: Montréal, Canada
Occupation: Interactive 3D Designer
Room size: 20 m² (215 ft²)
Social media: Instagram, Twitter
Hello! Tell us a bit about yourself
Hi, I'm Jantana Hennard. I'm an independent 3D designer currently based in Montréal, Canada.
I've worked with several studios, such as Moment Factory, Stink Studios, and Merci Michel.
I mostly work on 3D design for motion, immersive installations and interactive experiences.
I thrive on finding ways to have fun with new technologies.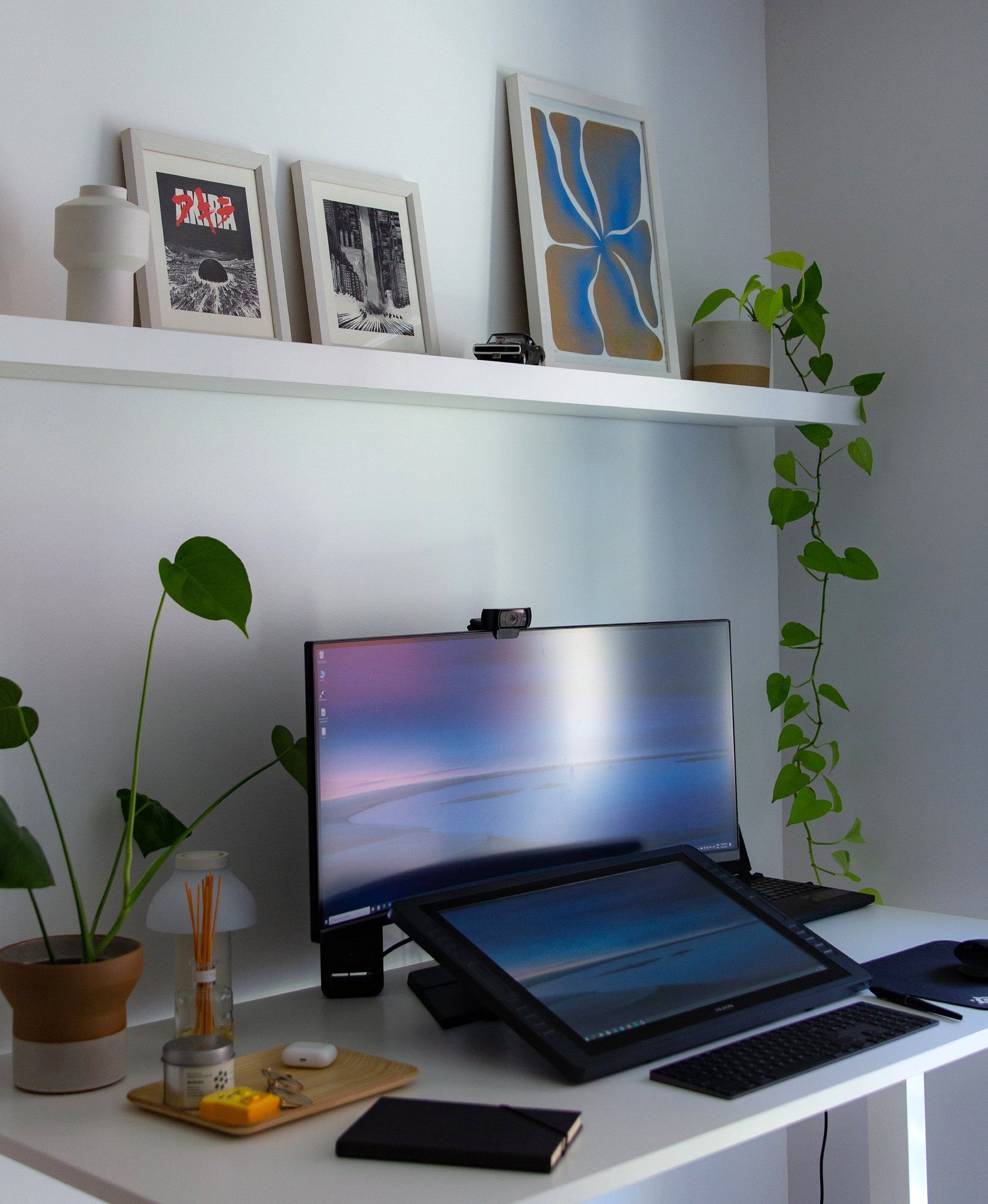 I've had the extreme privilege of working with an amazing team on several projects around the world such as the Shinjuku Metro Station in Tokyo, the Moynihan Train Hall in New York City, and the audiovisual installation for the festival Nuits Sonores in Lyon.
I enjoy blurring the lines between reality and digital art.
This is why my latest side project mixes photorealistic elements with surrealist animations.
I love my job because it allows me to find the extraordinary in the ordinary.
You can find me on Instagram, LinkedIn or Twitter. And of course, here's my latest portfolio.
Take us through your setup
Moving from Paris to Montréal, I had to build my setup from scratch pretty quickly.
I put a lot of importance on good ergonomics, so I chose to invest in a decent mouse and desk chair.
It makes a difference in the long run.
Since I was working on a lot of wide canvases at the time, I also bought a wide screen to make sure I always have enough room for all my visuals.
It took about two months to get everything I needed.
I had to choose the desk that would arrive quickly (this is why mine is a simple IKEA one) and got some help from friends.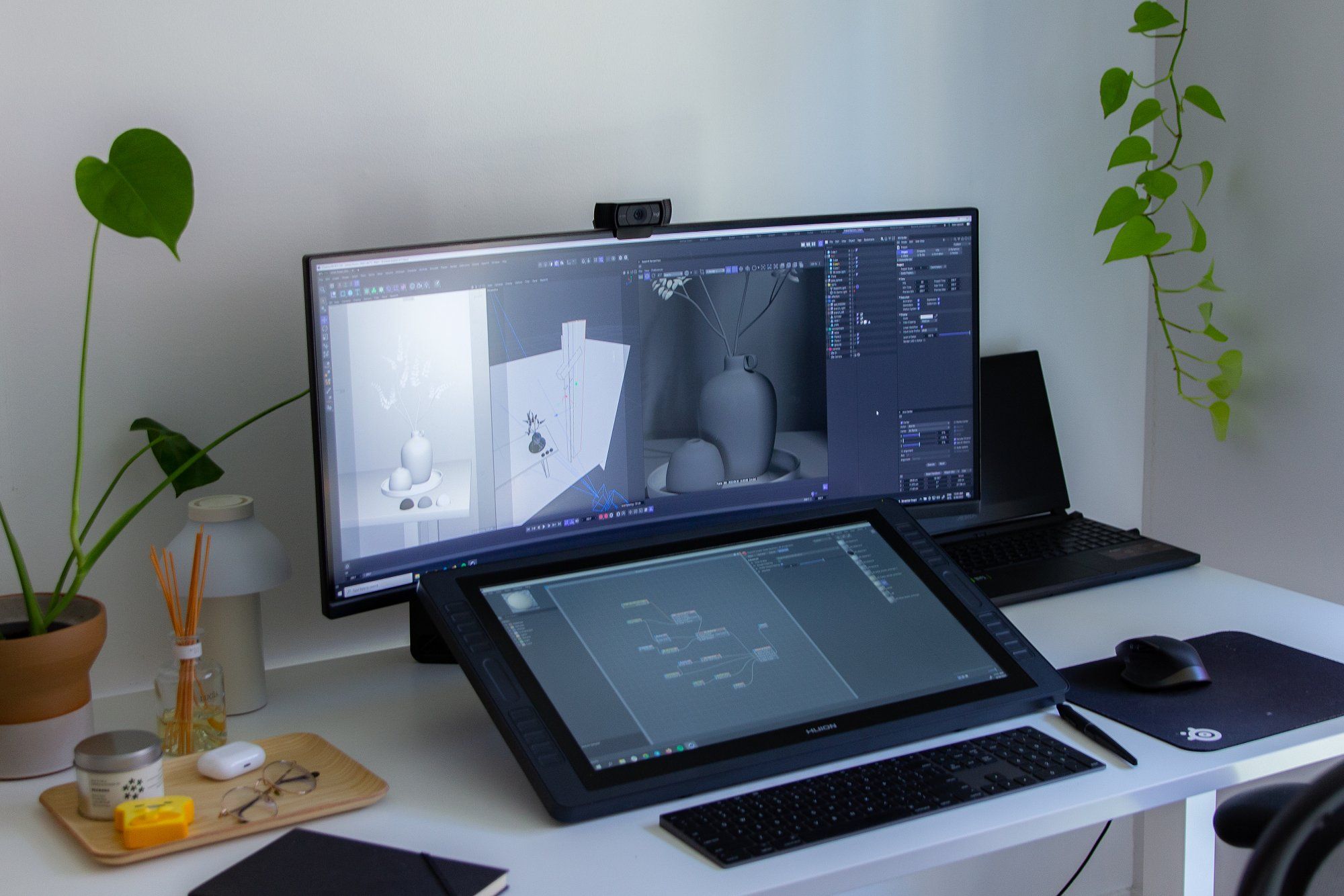 My room is pretty minimalist with some books and pieces that have a meaning for me.
Being far from your close ones can be a struggle sometimes. So having objects that remind me of them was part of building my work environment.
I like to keep things neat and tidy, so I try to carefully select the pieces I'll be surrounded by.
My main struggle was that I moved three times in two years.
That's why I had to gather enough objects to work with but only stick to the essentials because I knew I would have to pack them right after.
I always feel I have too many objects anyway so it's a never-ending battle with my inner Marie Condo.
I have two huge windows near my desk so I've got a lot of natural light, which is great during the long Canadian winters.
What's your favourite item on your desk?
As I've stated before, I have several objects that remind me of my loved ones, so it's hard to choose!
If I had to decide though, it would be my Gudetama squishy toy, which can be very handy for never-ending meetings and stressful days.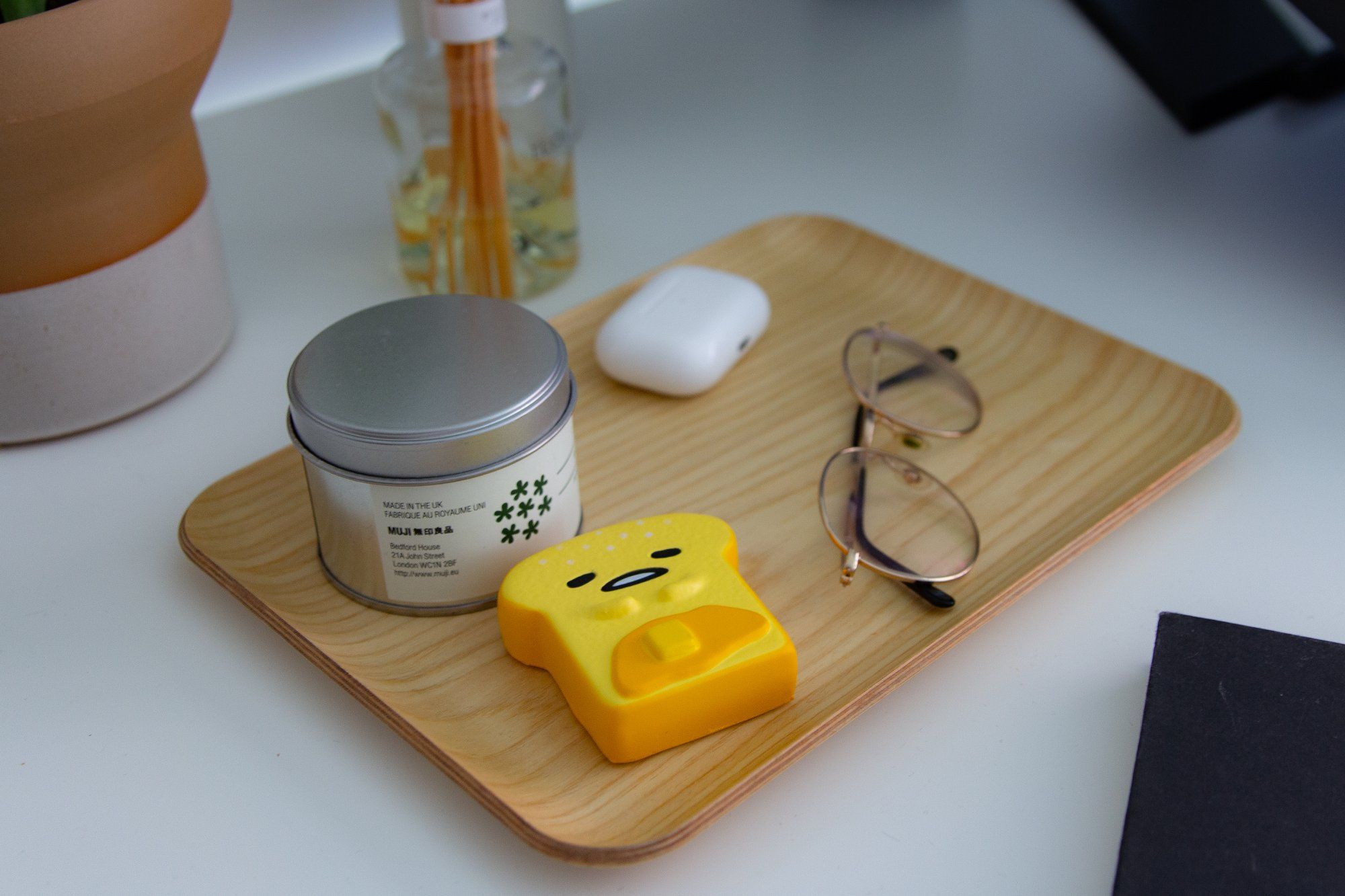 I was under a lot of pressure at work when I received a package from my partner. It was this Japanese character that I really liked.
This sign of attention made my day. It helped me to go through all the hardships of the project.
The top contender for my favourite item is a print gifted by my lovely friend, Victoire Douy. She creates these wonderful illustrations.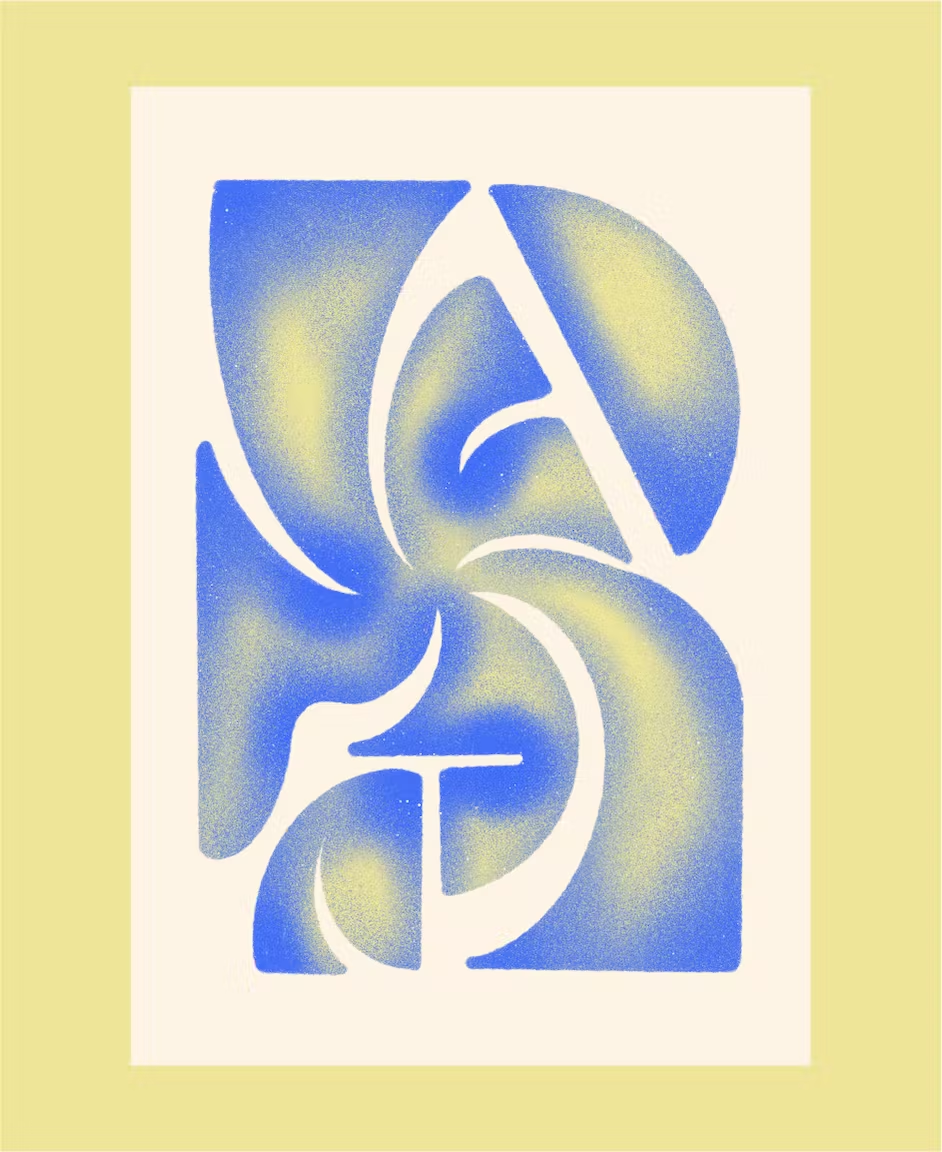 Her colour palettes are incredibly soothing. I'm so grateful for having this person in my life.
And she happens to be super talented — you can follow her work on Instagram.
What apps or tools do you use to get things done?
I'm a power user of Cinema 4D. I use it with either OctaneRender or Redshift.
It's definitely my favourite, even though I'm starting to have a taste for Houdini's procedural workflow.
I think Cinema 4D is a fairly easy software to learn as a 3D designer. I'm always exploring new tips and tricks that help me work faster.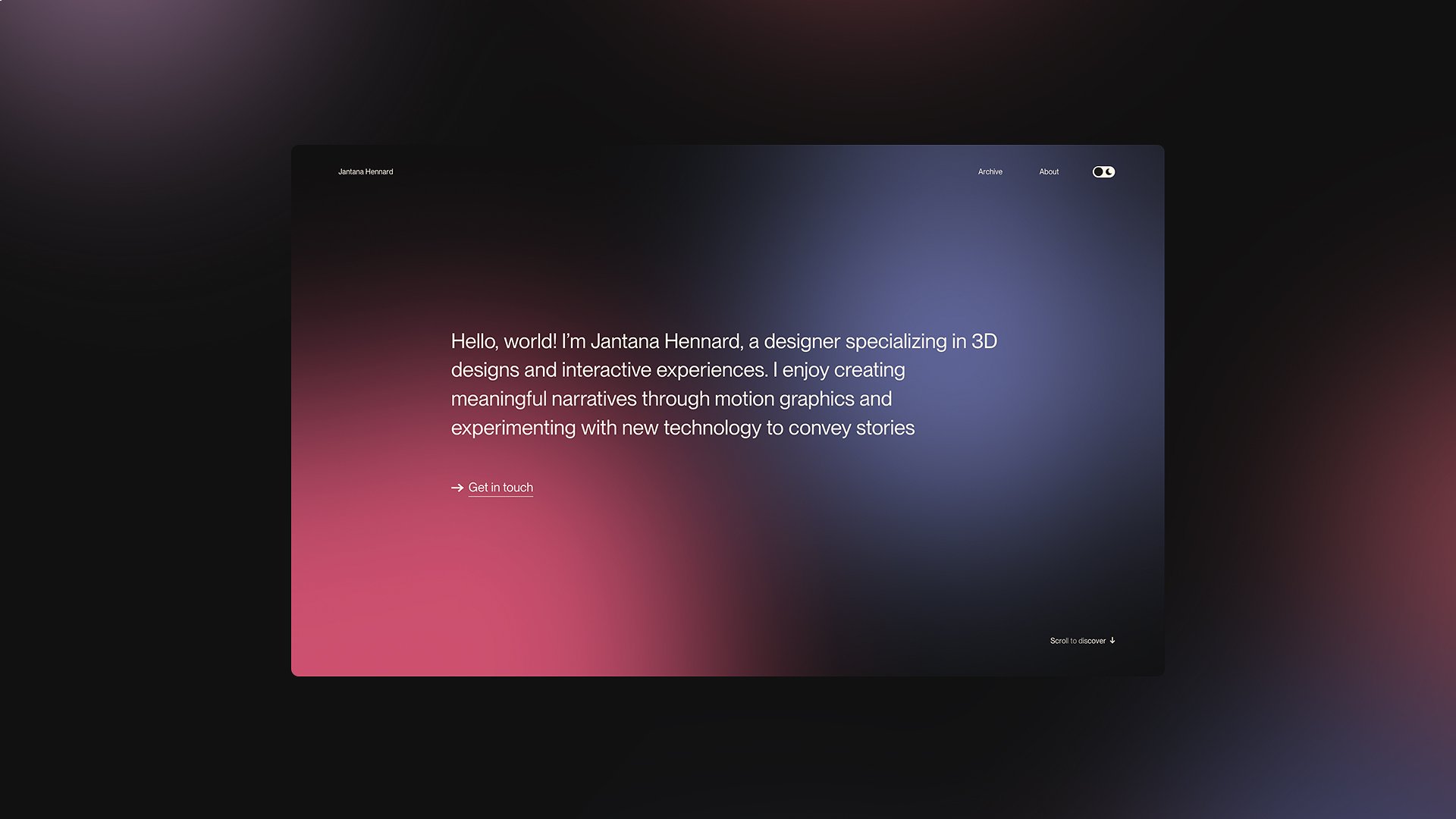 It's quite nice to do either look development or production, so I think it's pretty powerful, especially when you work independently.
The amount of additional content and help available online makes it a great tool to work with.
I think a big part of the industry owes a lot to Eyedesyn and Greyscale Gorilla for providing many answers for motion and 3D designers.
What books, blogs or podcasts recently caught your attention?
Recently, I've been reading On Connection by Kae Tempest. It tackles the issue of how our need for connection can be fostered by creativity and art.
I listen to many podcasts, including The Collective Podcast for creative insights, the A24 Podcast for films and anecdotes, and lately, You're Wrong About for American pop culture and misunderstood media events.
I got obsessed with this one. Sarah Marshall and Michael Hobbes are really good at making me emotionally invested by the end of each episode, haha!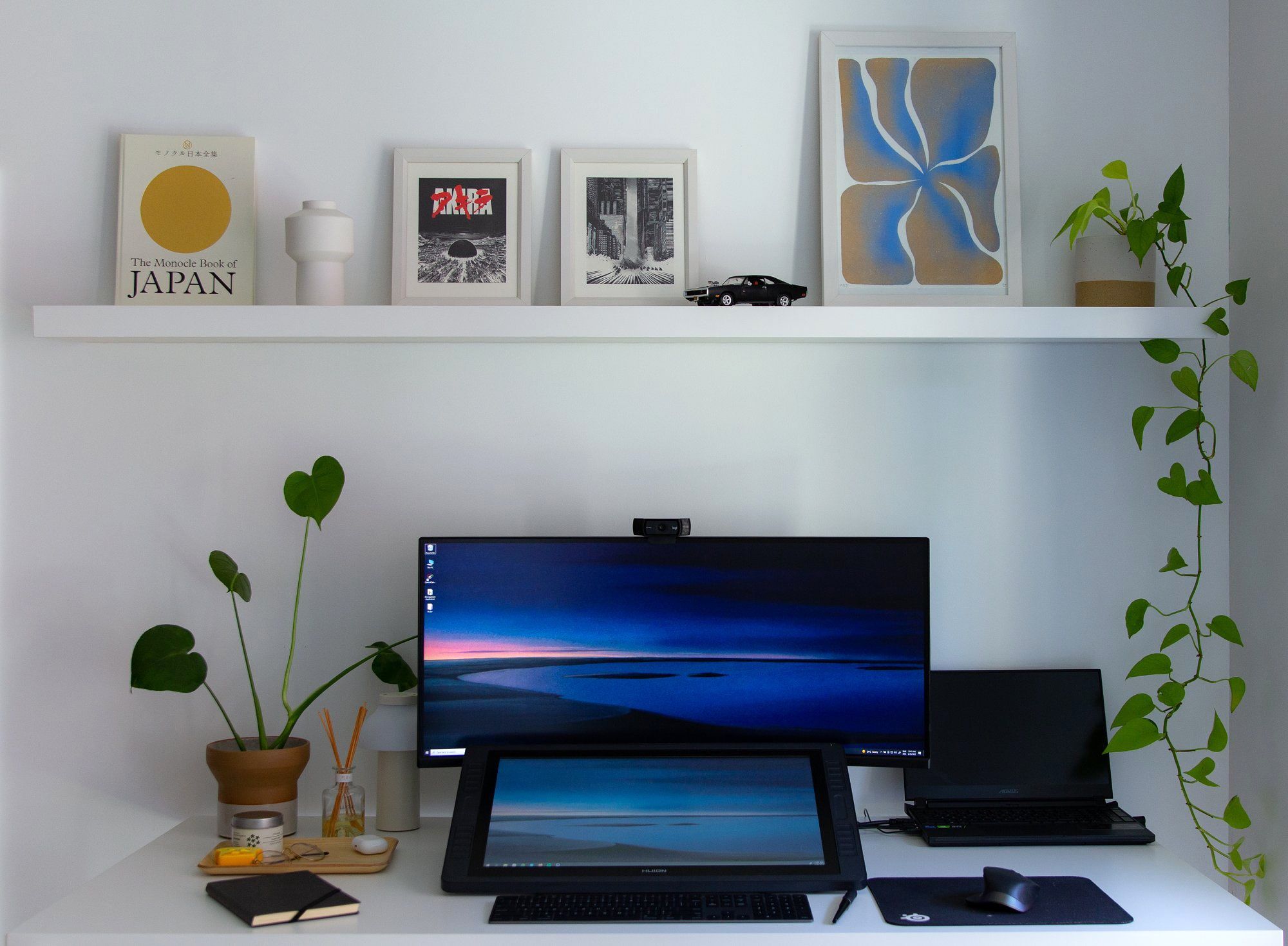 I've also stumbled onto Square Eyes by Anna Mill and Luke Jones, a graphic novel about the dystopian world where the boundaries between dream and memory are blurred.
The premise is great, and the execution is even more impressive. I'm in awe of artists that manage to depict brilliant graphic elements with deep meaning.
Any tips for other makers who want to improve their workspaces?
Invest in a good standing desk and desk chair, and you'll do yourself a service for the following years.
You can decorate a desk easily with house plants.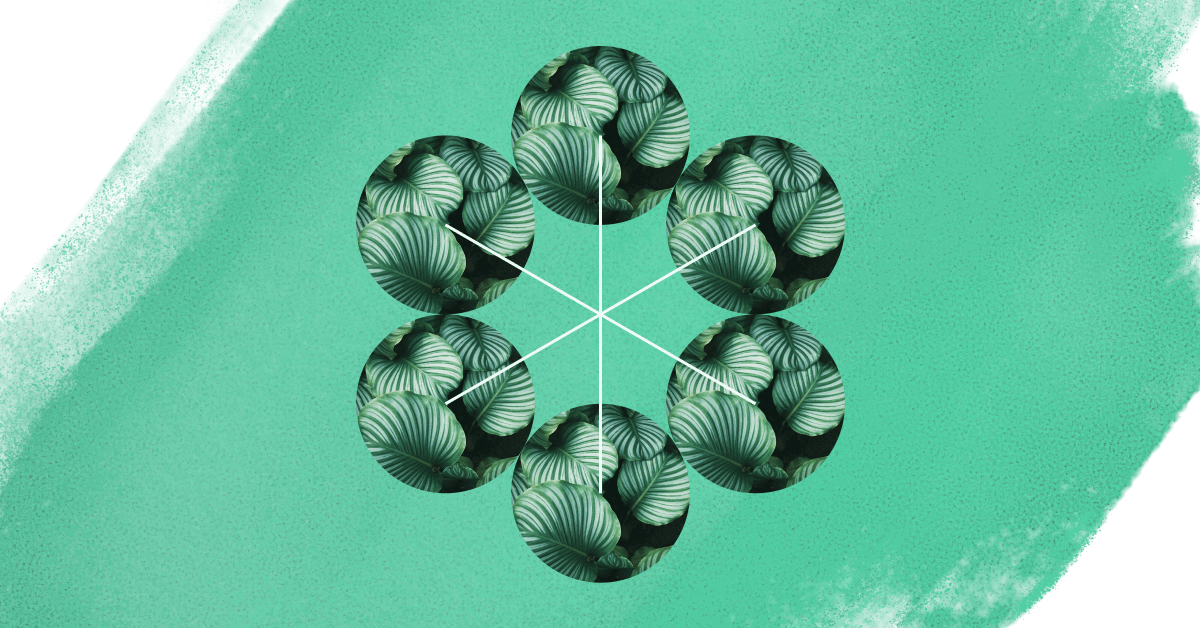 What does your typical day look like?
I've been working from home since March 2020 and appreciate the flexibility it offers.
My typical day varies a lot from one day to another, since I work for clients based in the US and Europe.
Depending on the time difference, I would start working earlier or later.
It can be hard to have an established routine with my schedule, but I do appreciate collaborating with people all over the world.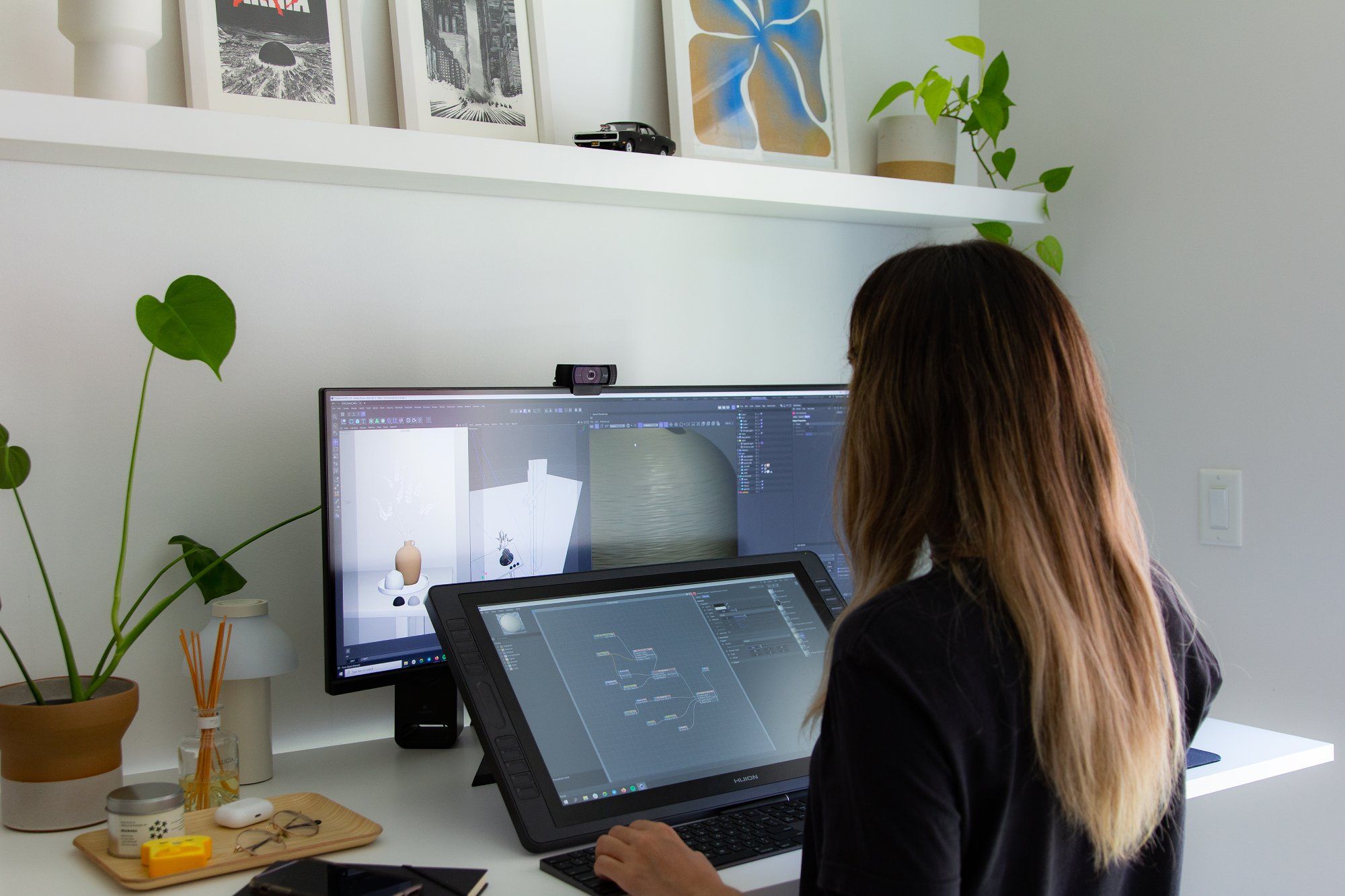 The first thing I do in the morning is drink coffee while reading texts from my friends in Europe (who started their day earlier).
I usually stay in the same workplace all day long, but I've got a laptop to move around if I need to. It can be good to regain focus, too.
I get easily distracted. This is why I need a simple setup.
I used to play a lot of video games, but they would distract me so much from my daily tasks.
Since I normally struggle with discipline, I just stay away from them.
Your tips for working from home?
Build a routine and discipline that feels realistic for your personal goals.
Be proactive and ask questions, especially when joining a new team.
I have a task list in Notion for my everyday tasks. I've got it connected to Google Calendar to keep track of deadlines.
I listen to music to stay focused. I've also accepted the fact it can be tough to maintain concentration every single day.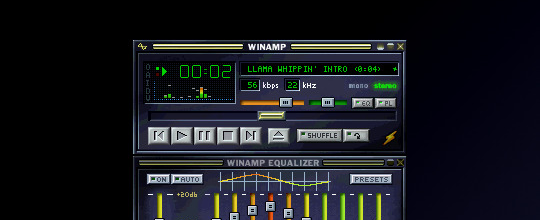 Finally, my last advice would be to exercise regularly and be gentle with yourself.
We're a reader-supported publication. This article might contain affiliate links. It means we may receive a commission if you click a link and buy a product that our maker has recommended. The interview was done independently.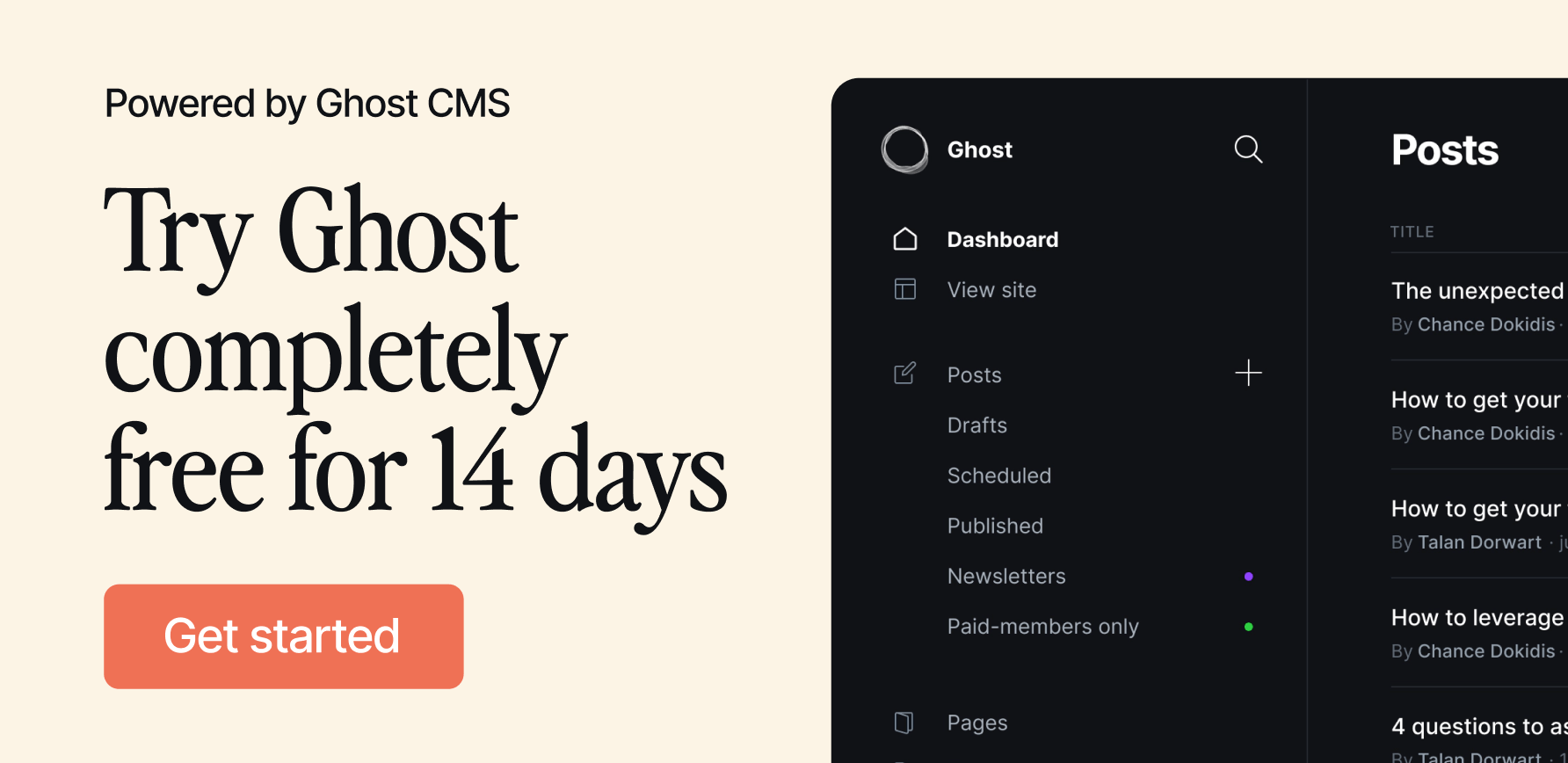 ---