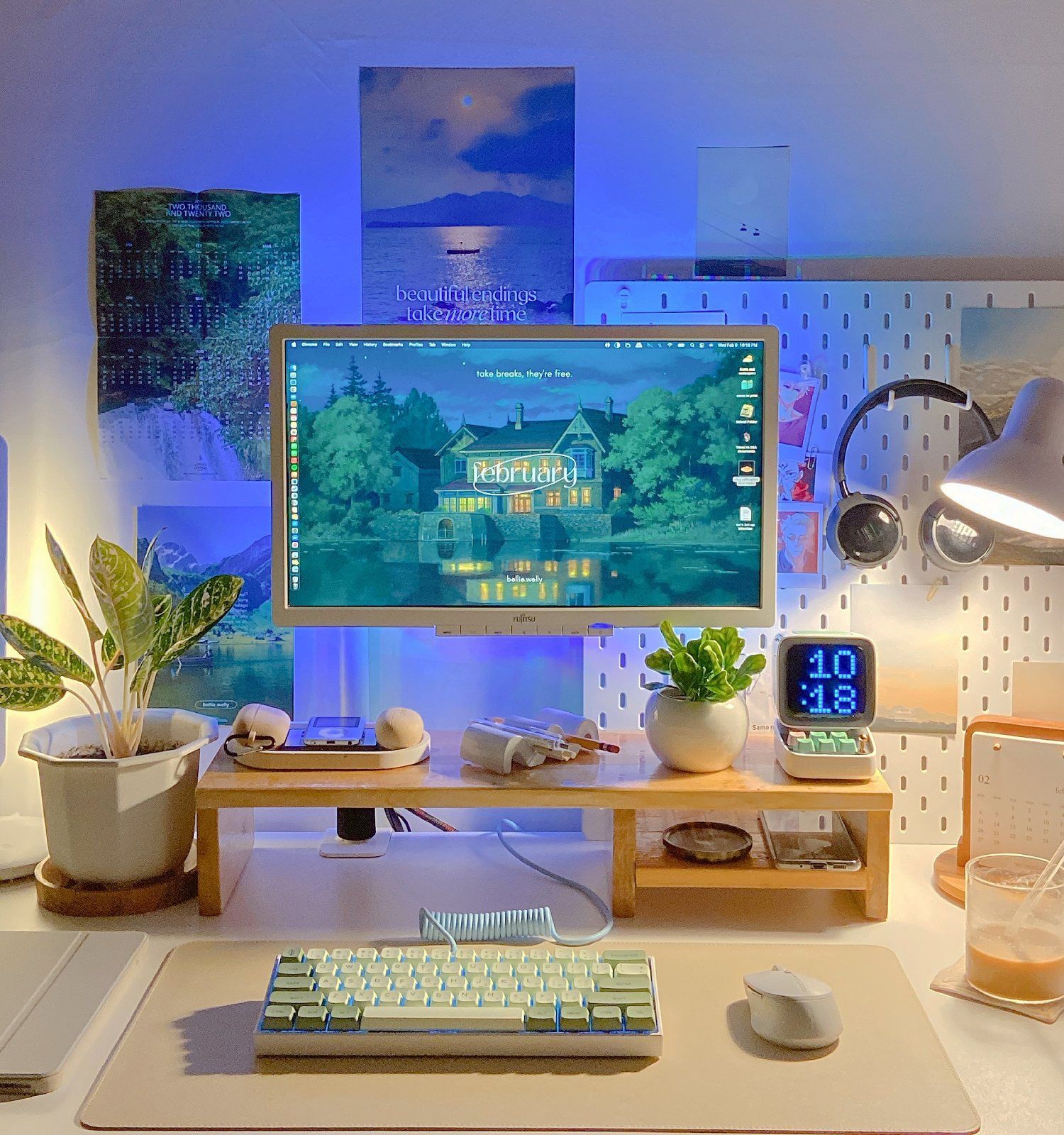 Studygram Desk Setup in Quezon City, Philippines
"The main struggle for me is that I tend to change things up a lot. I've gone through so many rearrangements in a span of a year!"
Join 1700+ Curious Readers.
Every Sunday evening, get an *in-depth* workspace tour from a random corner of the world.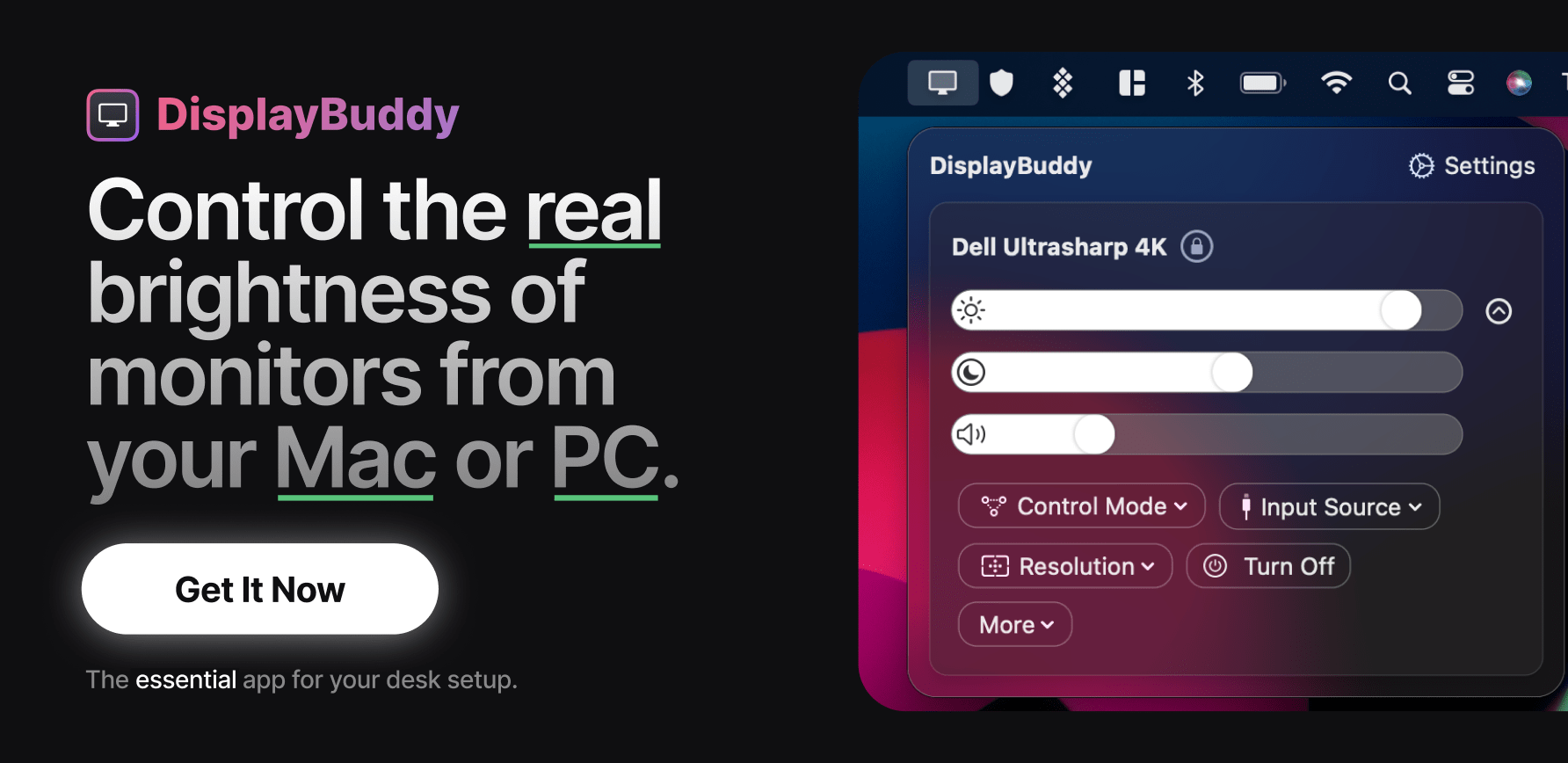 Name: Isabel E.
Location: Quezon City, Philippines
Occupation: Law Student, Full-time Mom
Room size: 12 m² (129 ft²)
Cost of the setup: ~$1,5K (₱78,9K)
Social media: Instagram
Hello! Tell us a bit about yourself
I'm Isa or Bellie, as I'm known on my Instagram page bellie.welly.
I'm a full-time law student at Arellano University School of Law and a mother of a 3-year-old.
I also do a little content creation on the side with my studygram, which I started early into the pandemic as a form of accountability for my studying.
It was also around this time when study with me videos and silent vlogs were starting to become a hit.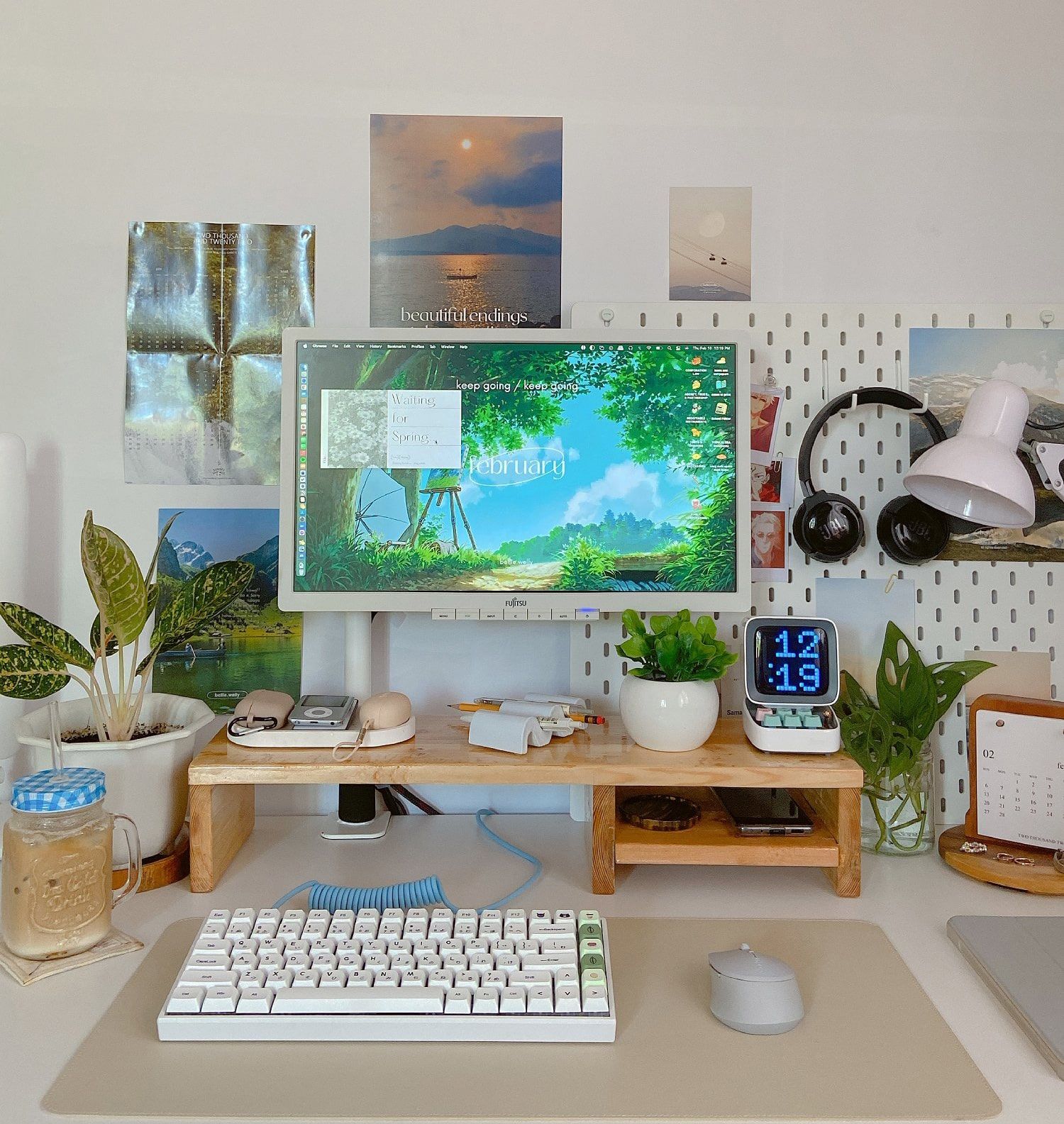 I was obsessed with how their desks looked along with their tech, which got me into my current hobby: mechanical keyboards. I currently have four in rotation, and I love them!
Prior to the pandemic, I was uninterested in how my desk looked. As far as I was concerned, as long as I had a space to study or work ­— it was enough.
I used to study a lot at cafés or the library, rarely at home.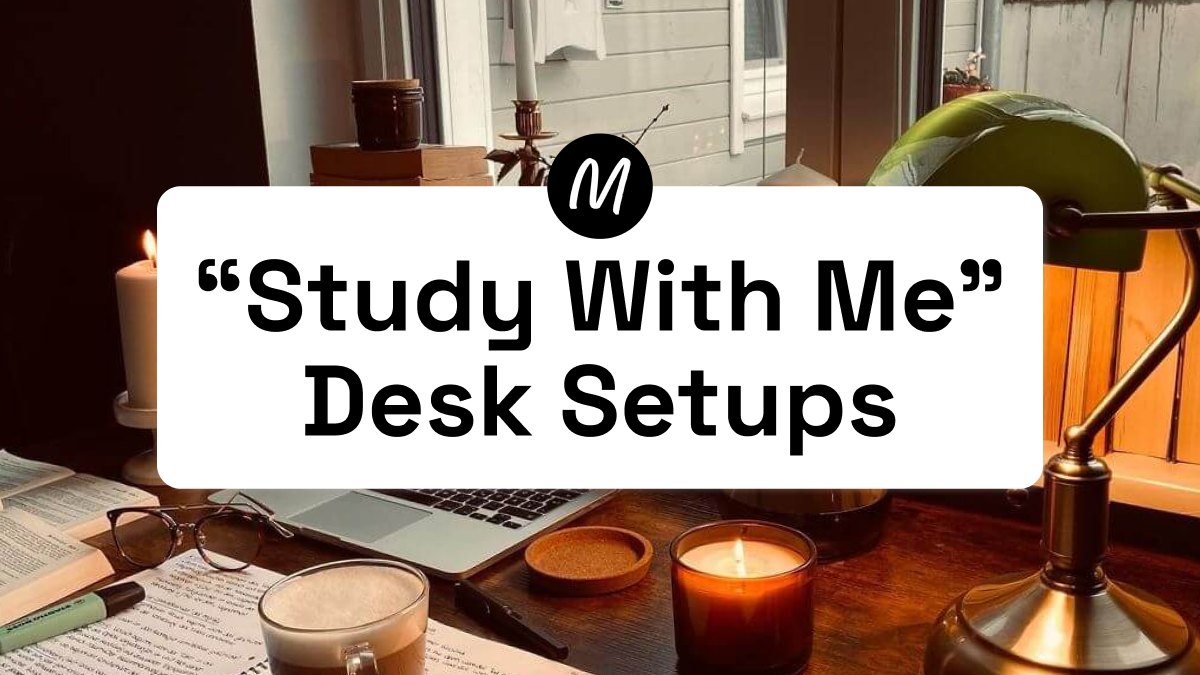 Then COVID-19 happened.
I was forced to look at my untidy and unappealing desk every day, which pushed me to revamp it.
Take us through your setup
Two main things I was aiming for while creating my setup:
1) it should be comfy enough for me to stay for long hours;
2) it should not be too cosy that I won't be able to do my work.
I tend to go overboard with the first one, so I had to add the second goal.
I had a lot of trial and error before I figured out what my preferences were and which items I needed.
I was heavily inspired by other content creators and what usually happened was the following: what worked for them didn't really work for me.
Some desk setups looked good in photos but weren't too useful.
I had to re-evaluate whether the item/setup was working for me or it was just an additional clutter to my desk because, aside from avoiding making it too cosy, it had to be tidy.
The main struggle for me is that I tend to change things up a lot. I've gone through so many rearrangements in a span of a year!
I always say to myself, "This is the final look. I am satisfied".
Then I notice something that can be improved, and I change it all up again.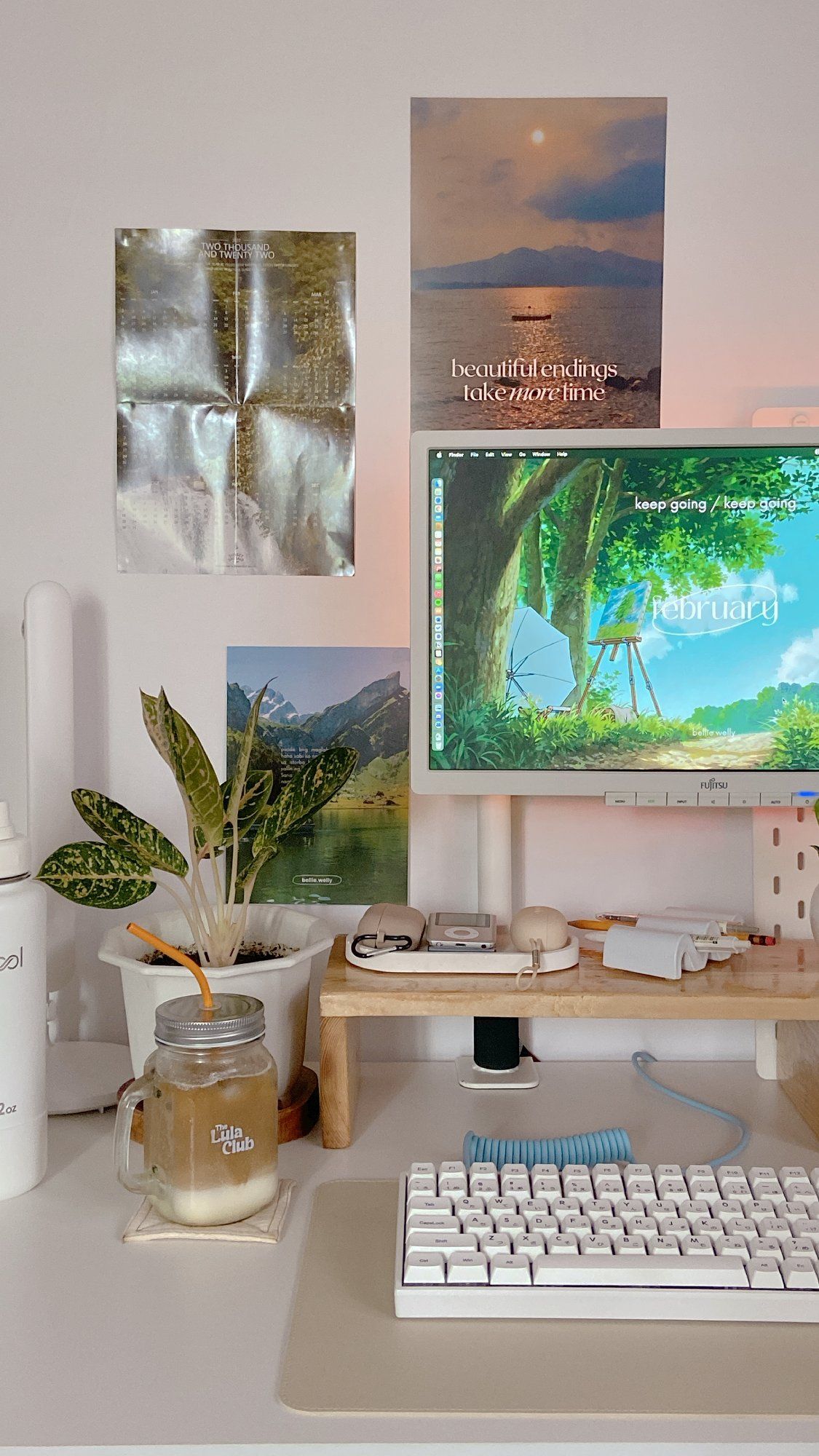 One example would be my monitor.
I used to have a 17″ square monitor that I got second-hand. Then I realised I could definitely level this up with a monitor mount and voilà — I also got a bigger monitor, and everything else fell into place.
It's a whole process of figuring out your style and preference, so it's best to experiment, and if something doesn't work for you, don't force it!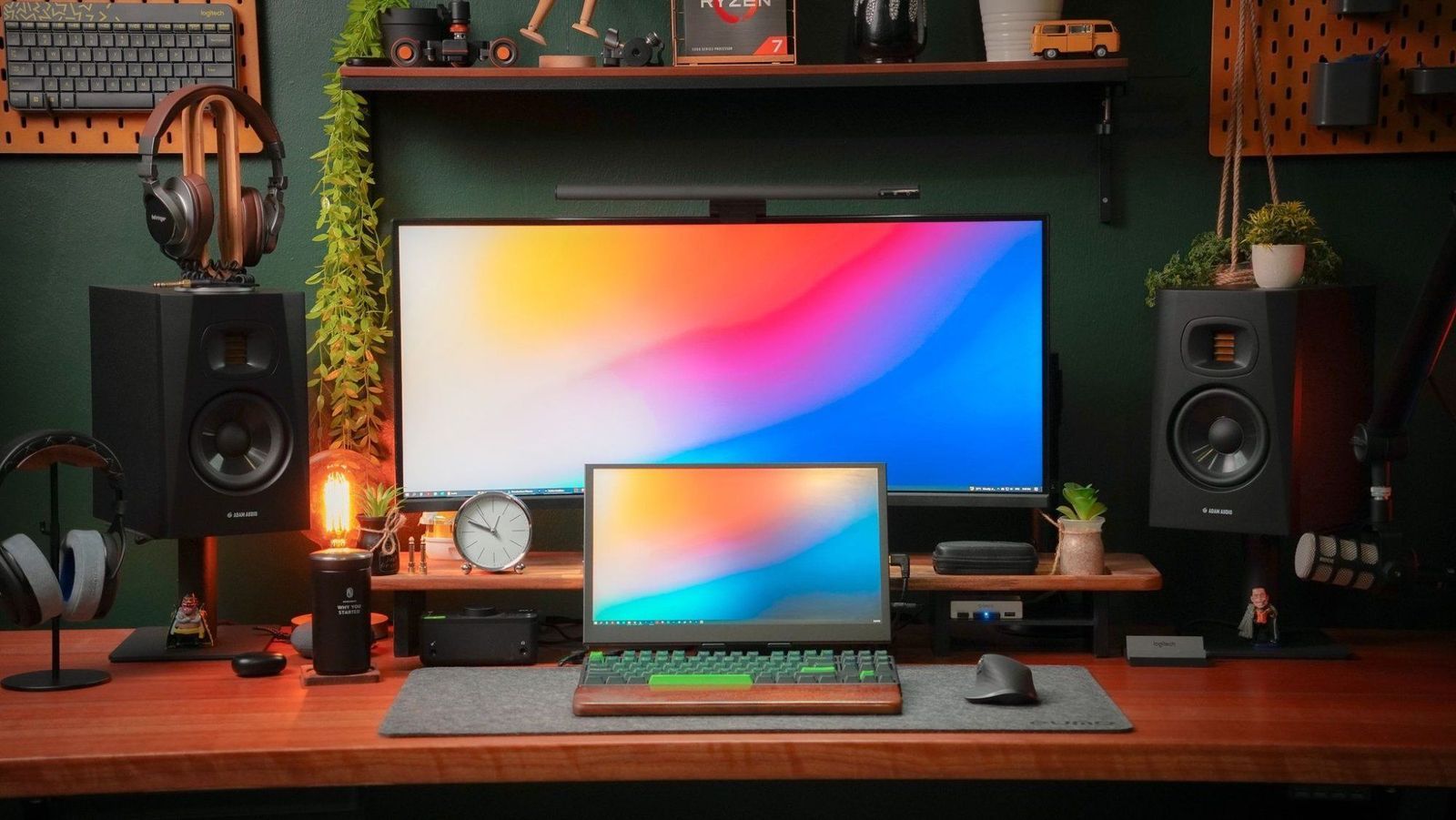 I think I already have a grasp on the themes I do like and keep coming back to. So maybe my current setup will last for a while before I decide to rearrange it again.
If I were making any improvements to my setup, it would either be an ergonomic chair or a standing desk.
I'm leaning towards getting a standing desk in the near future if the budget permits.
What's your favourite item on your desk?
I love everything on my desk, but my ultimate favourite would be my keyboards.
I've been spending a lot of time modding them to my liking, choosing the right keycaps and switches and then typing to my heart's content!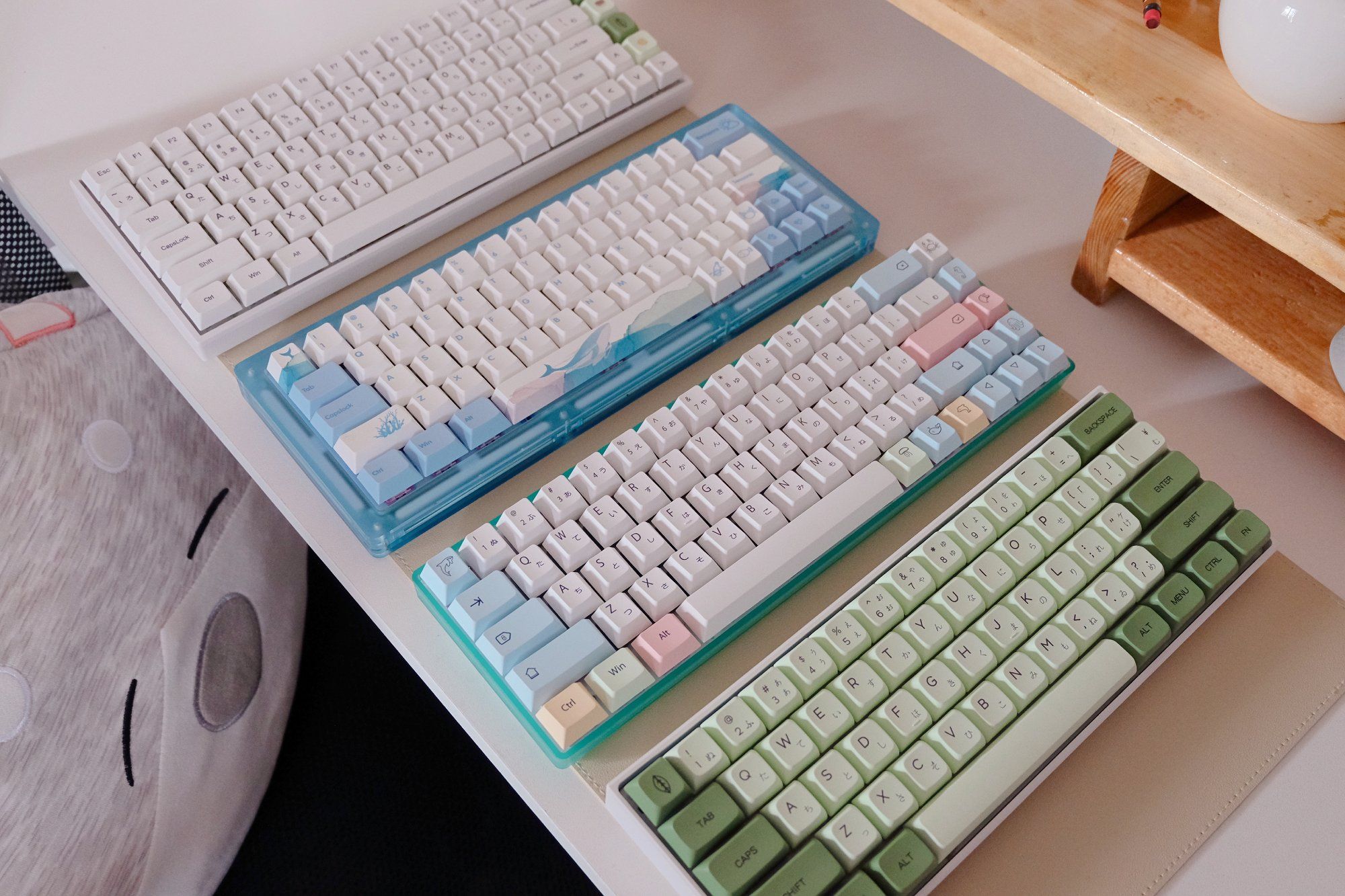 I first saw one of my favourite study vloggers, Mar Fortuno, using a mechanical keyboard in her videos, and I got curious (curious enough to purchase two mechanical keyboards immediately, haha).
My first two were the Royal Kludge RK71 and Royal Kludge RK61, which are pre-built keyboards. They were not yet available in hot-swappable versions at the time.
Since then, I've fallen in love with mechanical keyboards!
Next, I got the Rumi61, my first hot-swappable keyboard. I also bought the AWS84, my first barebones kit.
Then I got my first acrylic gasket mount, Akko ACR64. My newest purchase is the Tester68, which I built just recently!
I look forward to building more mechanical keyboards in the future.
What apps or tools do you use to get things done?
Notion is my best friend when it comes to organising my tasks, goals, and to-dos!
It took me a while to find the right template that worked for me, but now that I did, I get excited whenever I open my Notion page. It looks nice and it's functional.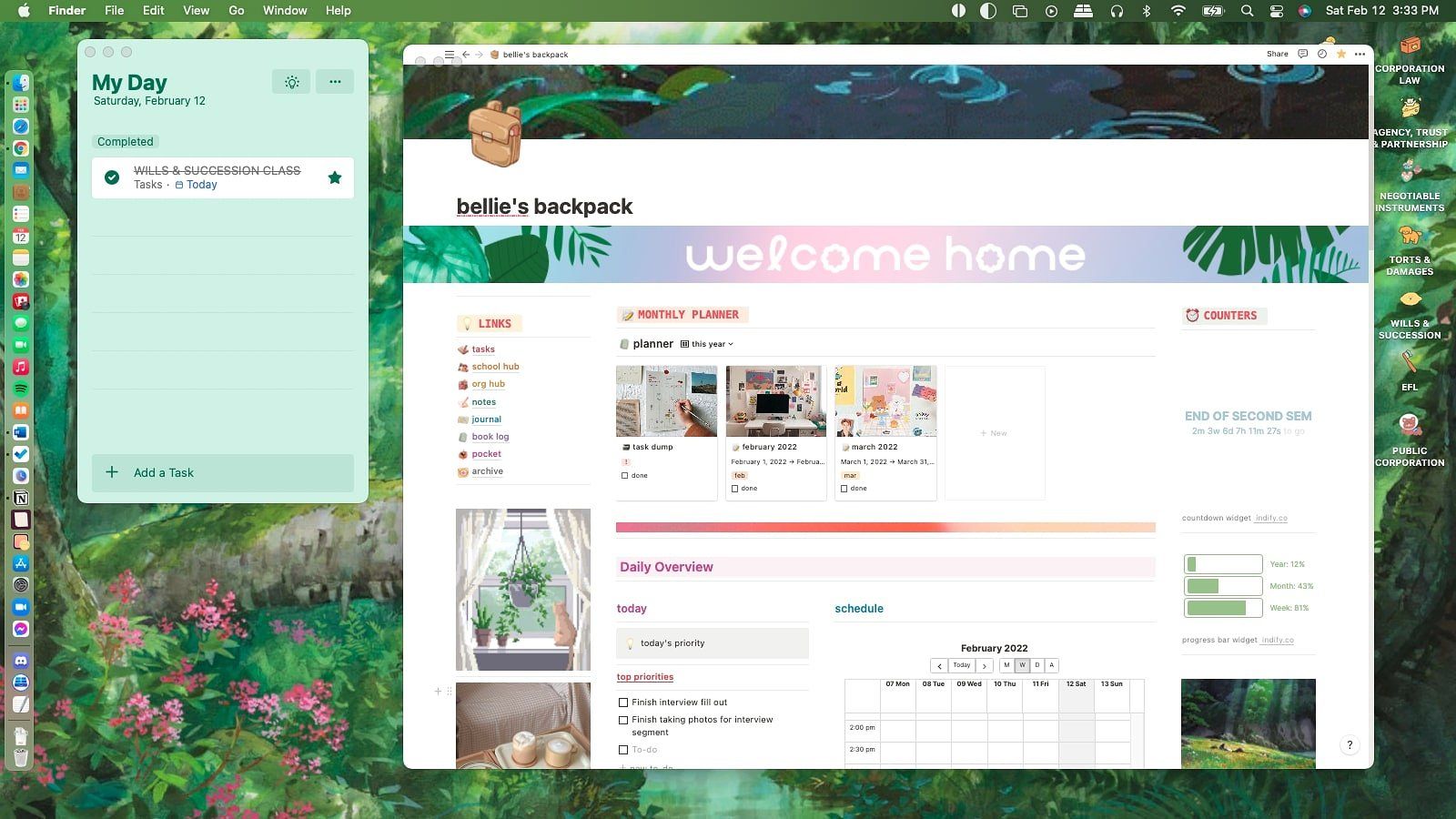 Another app that helps with my productivity is the Microsoft To-Do app, especially when I have to do certain tasks ASAP.
It opens on its own whenever I open my laptop, so I'm immediately reminded that I have deadlines to meet and tasks left unfinished.
I love that you can categorise whether a task is for the day or week, add a deadline, or schedule an errand that you'll do on a specific day.
What books, blogs or podcasts recently caught your attention?
My latest source of inspiration is Maisy Leigh.
She's a YouTube vlogger and content creator who has been sharing her cosy and safe space, aka her workspace.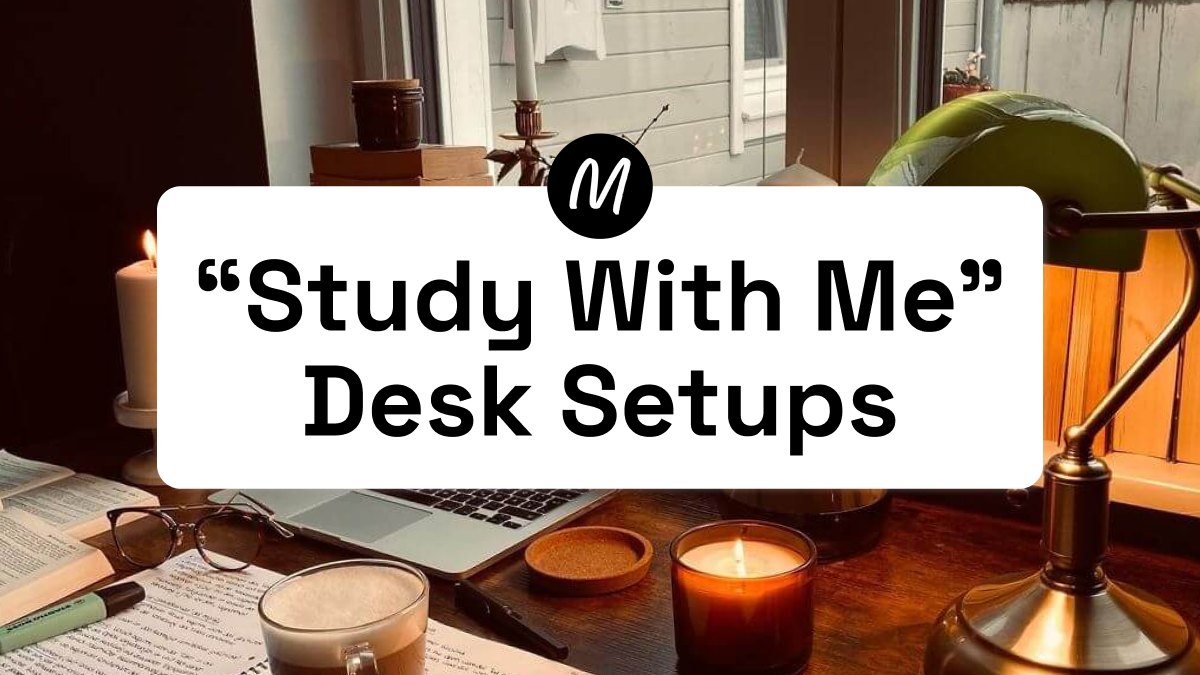 Maisy heavily inspired the current look of my setup! I love how soothing her videos are and how they're filmed so well.
Whenever I want to chill or just before I start working, I would play one of her code-with-me videos in the background, and it feels like I'm being productive with a close friend in a co-working space.
Any tips for other makers who want to improve their workspaces?
Do not compare your setup to other setups.
Different strokes for different folks!
Focus on what works for you and improve on it when needed.
What's most important in your home office setup is that your space is productive and comfy for you.
What does your typical day look like?
A typical day for me would start at 6:30–7:00 am. Earlier if I have a class for the day.
I would fix the bed first, freshen up, and make breakfast and my usual coffee: an iced Spanish latte.
Only after a few sips, I'd head up to my desk and open my phone. The first apps for me to check are Instagram and Gmail, then Messenger.
After checking my notifications and messages, I would then open up my Notion and check my to-dos for the day, adding tasks if needed.
My workload depends on the amount of studying I need to do and if there are any tasks assigned to me or post deadlines I need to work on.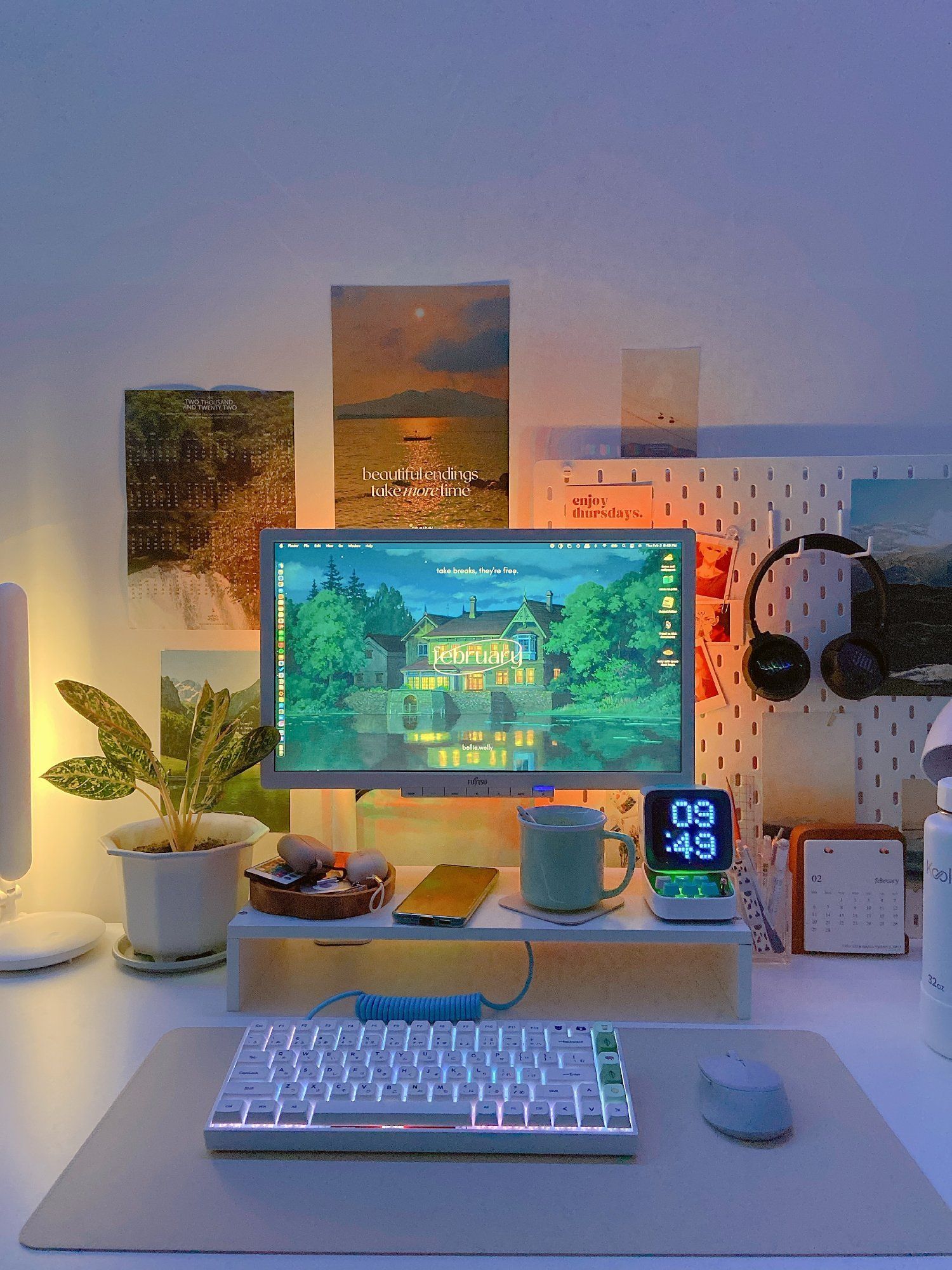 I spend around six hours at my desk. It can be up to 15 hours if online classes are included.
Prior to the pandemic, I wouldn't last an hour at my desk. To be honest, I wouldn't even bother with it since I used to prefer to study and work outside.
But having experienced long lockdowns in the past two years forced me to become a homebody, and now I love working and studying in my study/workspace.
Aside from studying and working, I also play Animal Crossing and Genshin Impact in my free time.
Genshin Impact does have a hold on me right now because of all those new cool characters. I just want to collect them all, honestly!
Your tips for working from home?
My number one tip for those working or studying from home: do not make yourself available 24/7 for work or school just because you work/study from home!
This is so important because transitioning from a school and office setting to a home-based one is rough.
The fine line between working hours and rest hours gets blurred.
And soon, there are no more boundaries left.
It's best to practice this early on because you may get burned out sooner than you think.
Always respect your breaks and practice having your own "me time".
I've noticed that since going home-based, I tend to feel that even though I've completed X amount of tasks, I don't consider it "productive" or at least enough to deserve a break.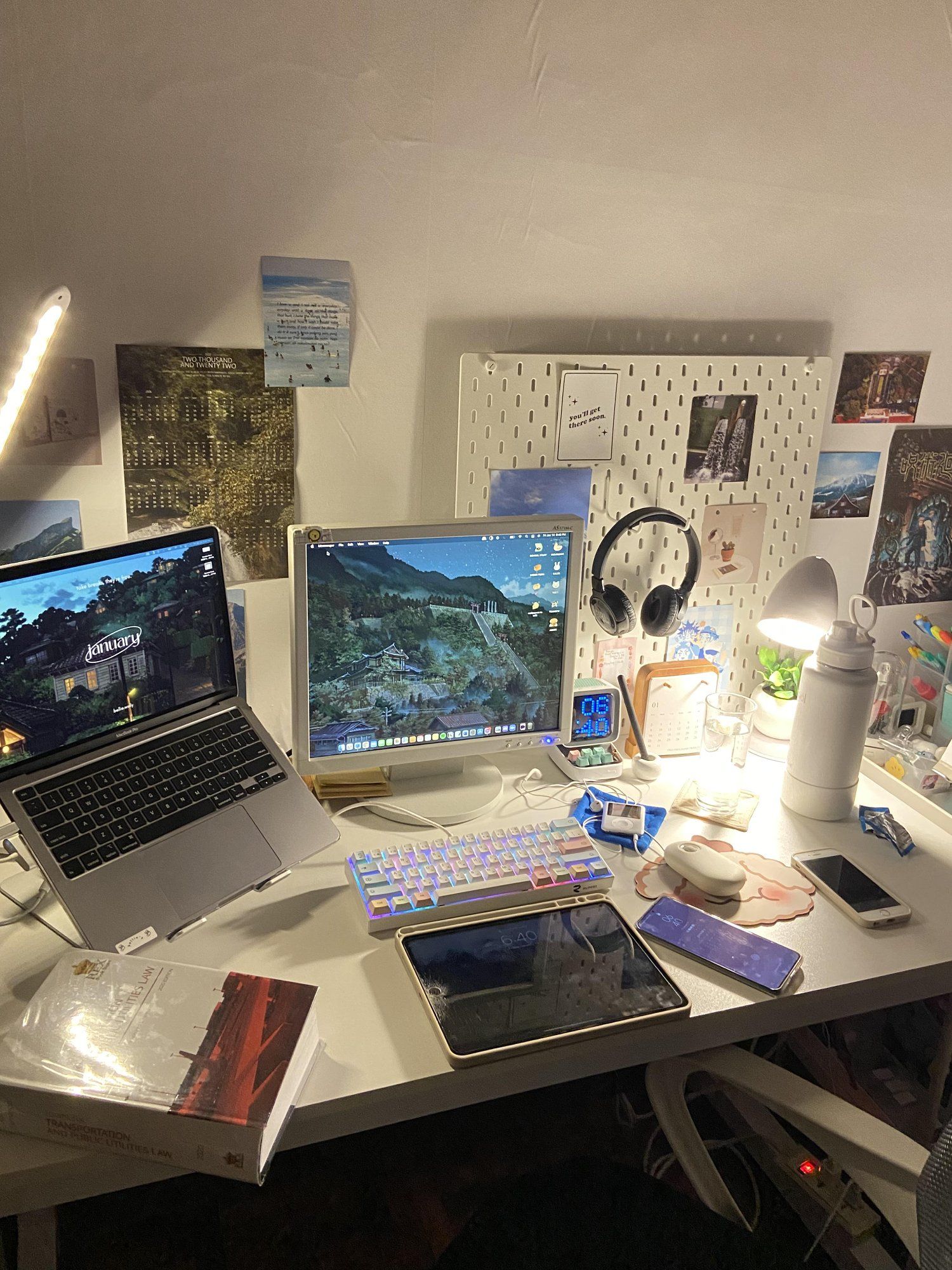 Then I proceed to overwork myself, but the number of tasks I do would never be enough for me to take that break.
The newsflash is we do deserve that break.
We do deserve that "me time".
Times are different now, we're going through the pandemic, and we cannot ignore the fact that it's causing us so much stress and anxiety that it has affected how we work and study, too.
We should pat ourselves on the back and cut ourselves some slack.
Take that break.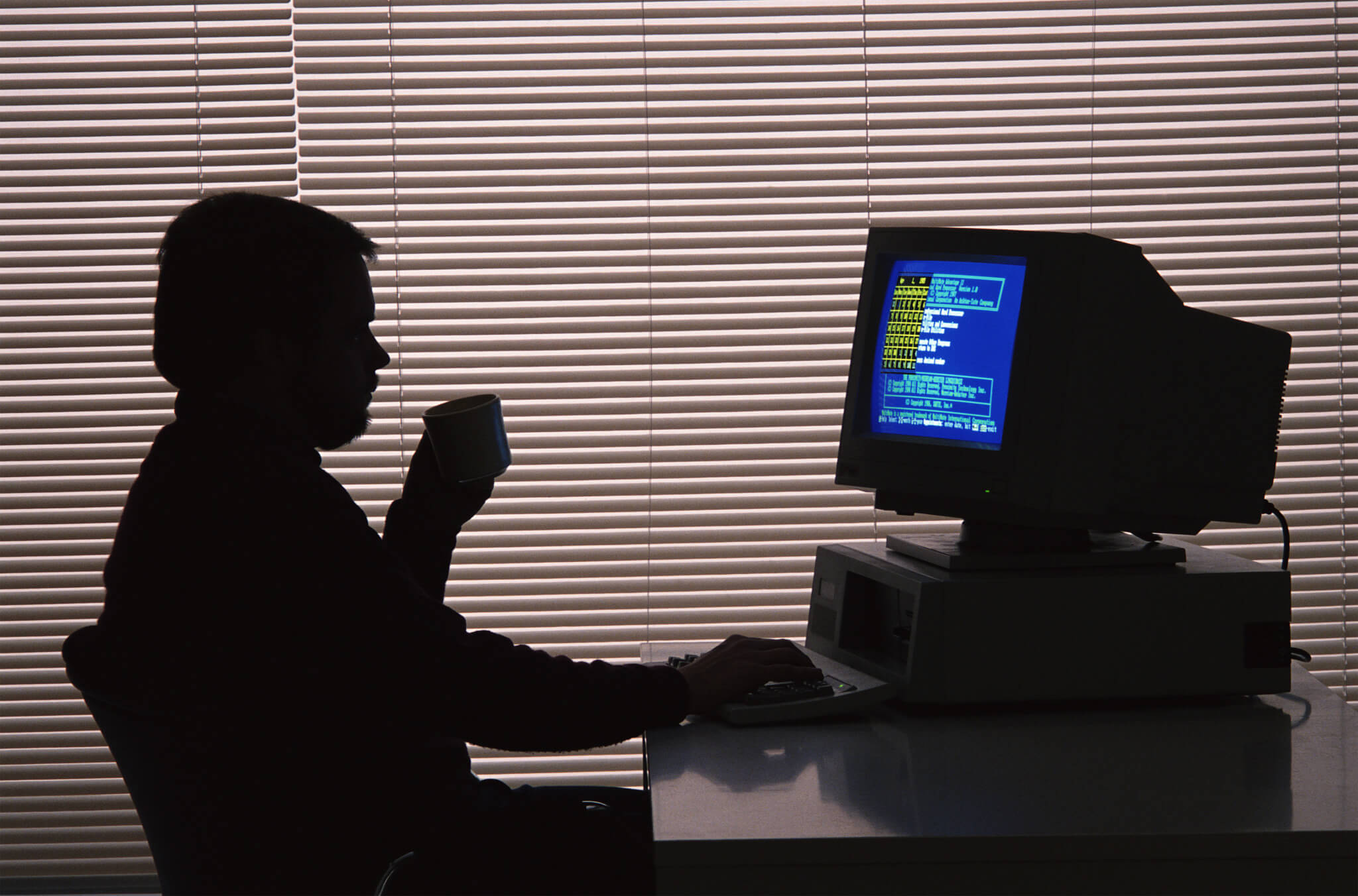 Watch that series.
Sleep and rest.
You deserve it!
We're a reader-supported publication. This article might contain affiliate links. It means we may receive a commission if you click a link and buy a product that our maker has recommended. The interview was done independently.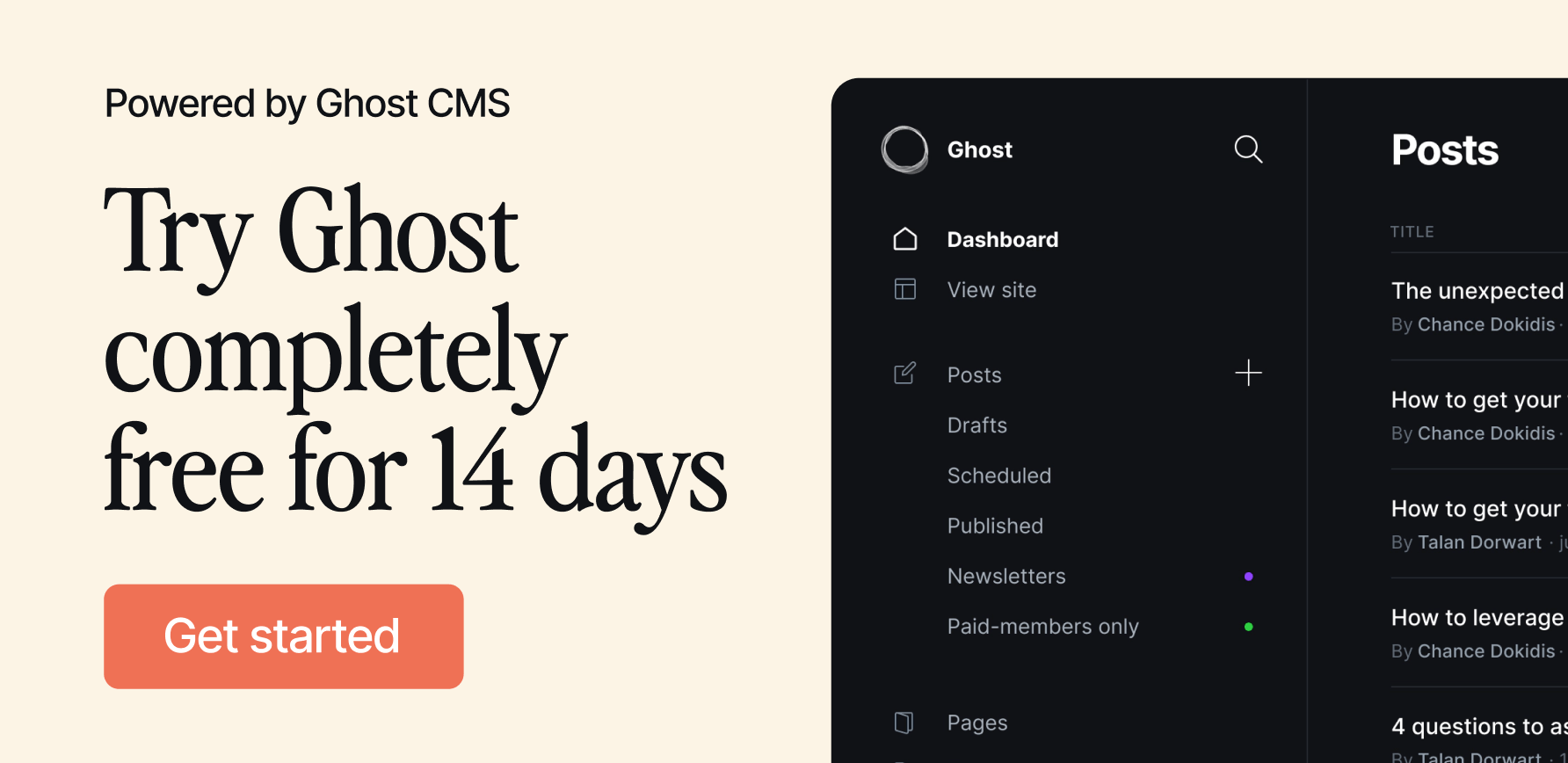 ---