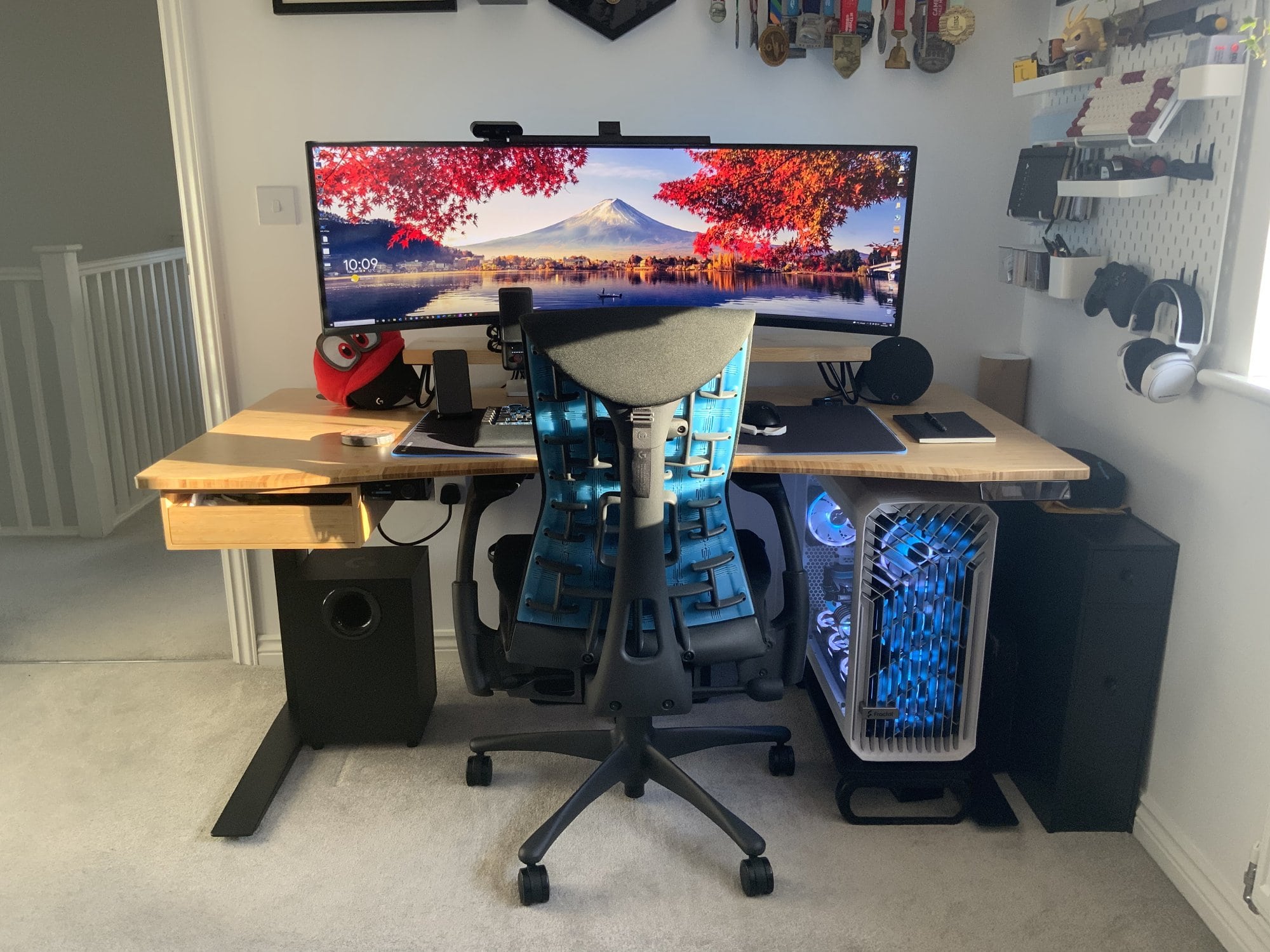 Ultrawide Battlestation in Cambridge, UK
"The monitor has a habit of stealing the show whenever someone sees my setup due to its sheer size"
Join 1700+ Curious Readers.
Every Sunday evening, get an *in-depth* workspace tour from a random corner of the world.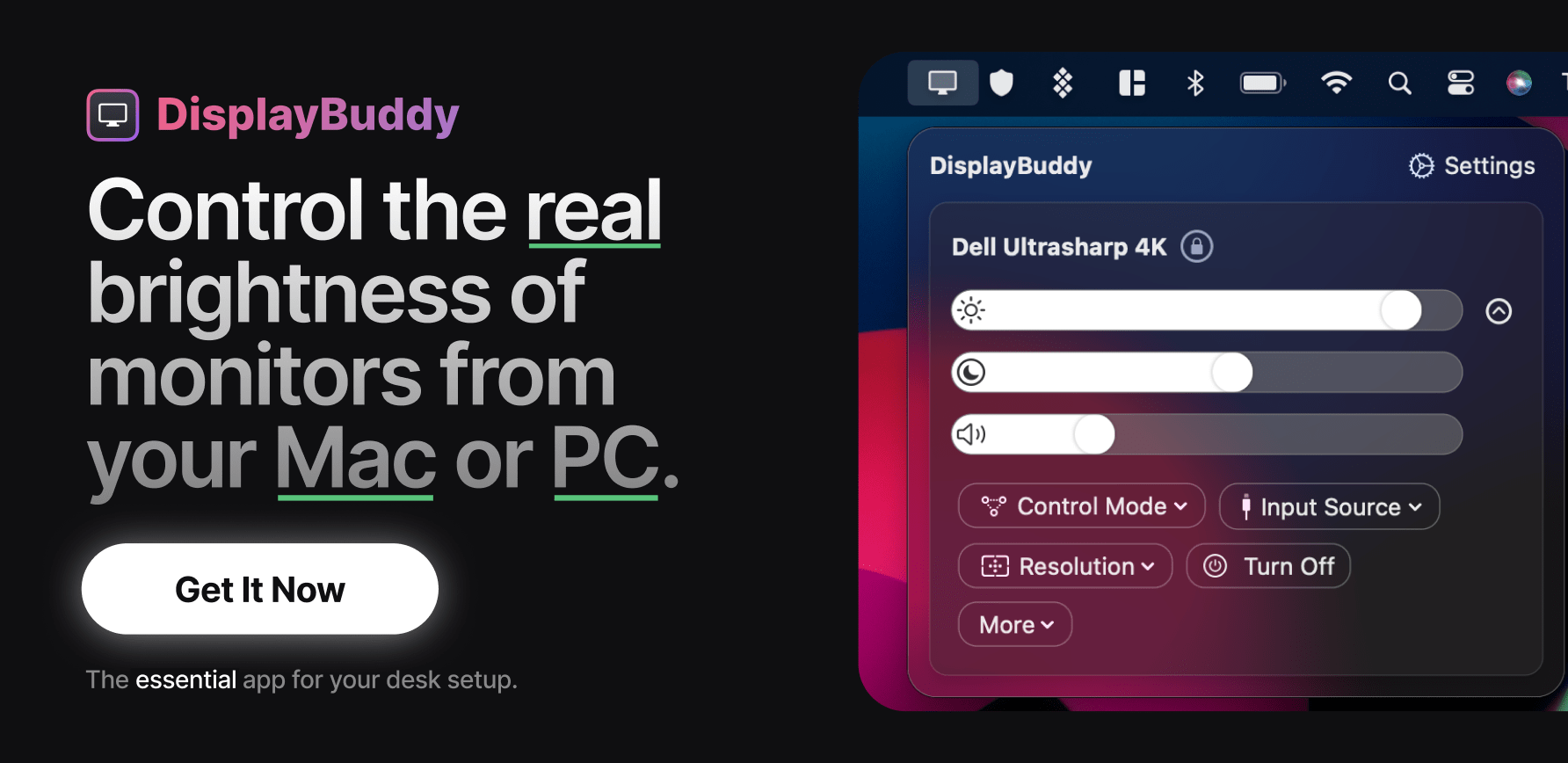 Name: Colin Chang
Location: Cambridge, UK
Occupation: Producer (Video Games Industry)
Room size: 9 m² (97 ft²)
Cost of the setup: $6,1K (£5K)
Social media: Instagram, Twitter
Hello! Tell us a bit about yourself
Hi everyone. I'm Colin from the UK.
I'm a producer in the video games industry for a developer called Flavourworks based in London. We're best known for a title that came out a few years ago initially on PS4 called Erica.
When I was in high school, I found that this was a viable career. I studied at Abertay in Dundee, Scotland.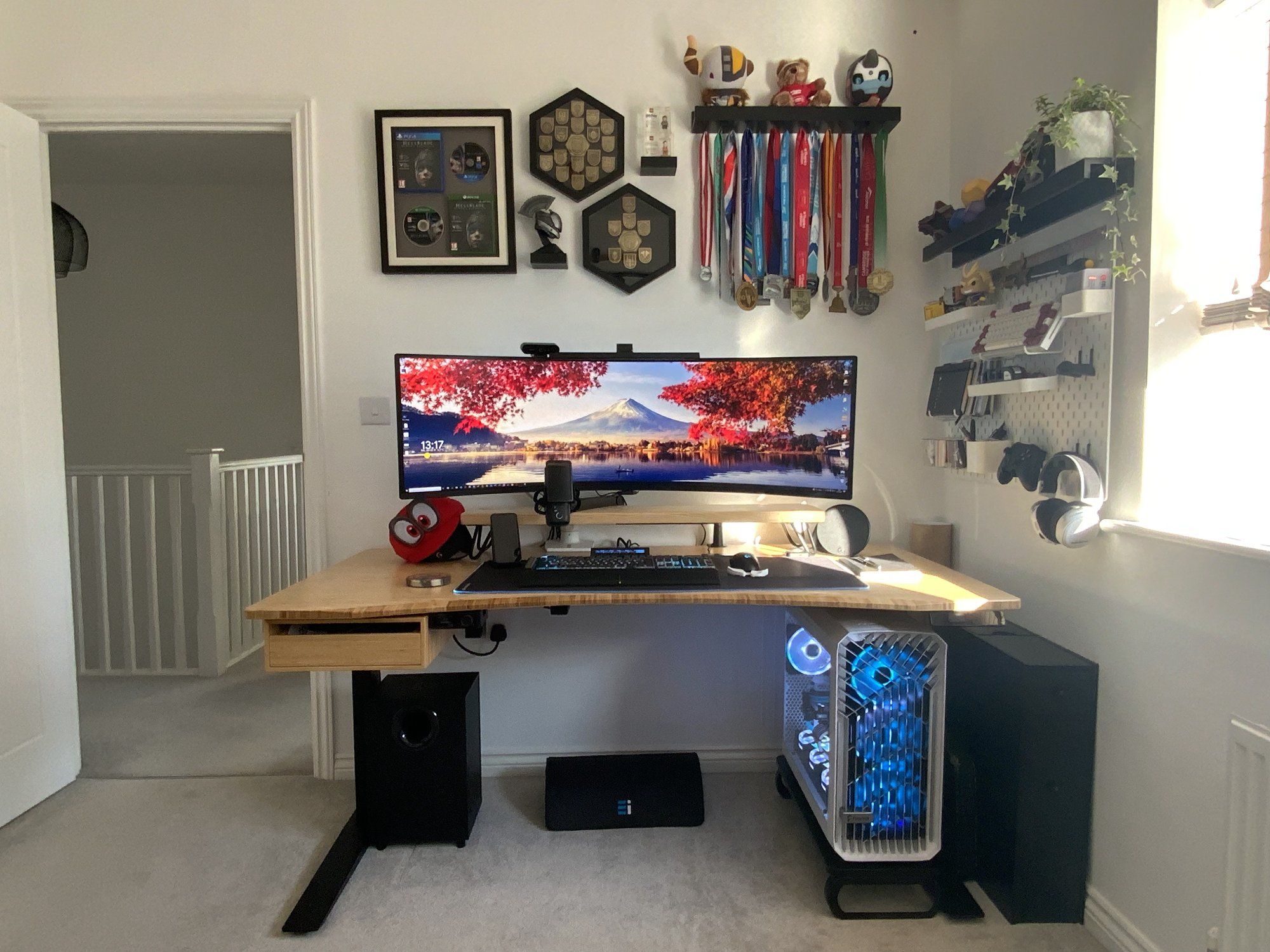 Then I landed my first role in games six months after I graduated as a QA tester for a developer called Traveler's Tales, working on, and shipping numerous games including the LEGO Harry Potter series.
A few years later, I became a producer for another developer called Ninja Theory and had the pleasure of shipping Hellblade: Senua's Sacrifice which went on to win 5 BAFTAs.
At the start of the pandemic, I was made redundant, but there was no shortage of developers that wanted to discuss opportunities with me. I ended up joining Frontier for a year before recently joining Flavourworks.
Take us through your setup
Having been cooped up in a one-bedroom apartment with my partner for the past year, we finally moved to a new home back in October.
One thing that we agreed on was having a dedicated room for my office/PC gaming space and being able to function as a guest room.
I already had most of the things that make up the room (PC, desk, monitor, peripherals, etc.), so that was mainly about getting them in the right position.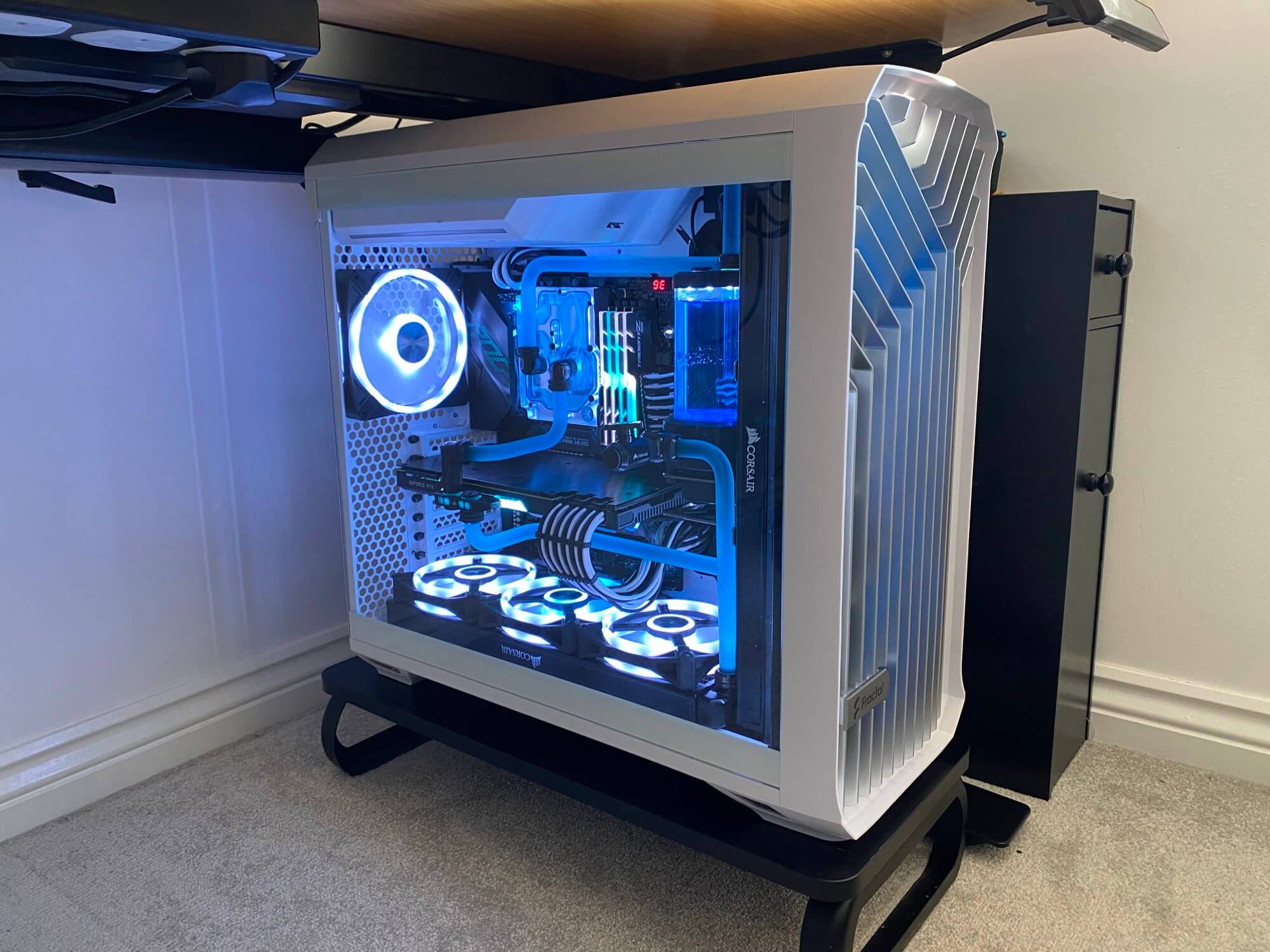 The Samsung G9 monitor grabs everyone's attention as soon as they enter the room. Followed by the Herman Miller Embody chair, which is comfortable to sit in for hours on end while being ergonomically sound for your back and posture.
The next thing that grabs people's attention is the custom PC with the aggressive Y-shaped front grill and the RGB fans behind it. To the custom cooling loop inside with hardline tubes going to the major components.
The PC has been my pet project for the past year that I've continuously tinkered with. To ensure maximum performance with a Ryzen 9 5950X CPU and an ASUS ROG Strix 3090 GPU to power the latest Triple-A Games and handle apps like Da Vinci Resolve and Affinity Photo.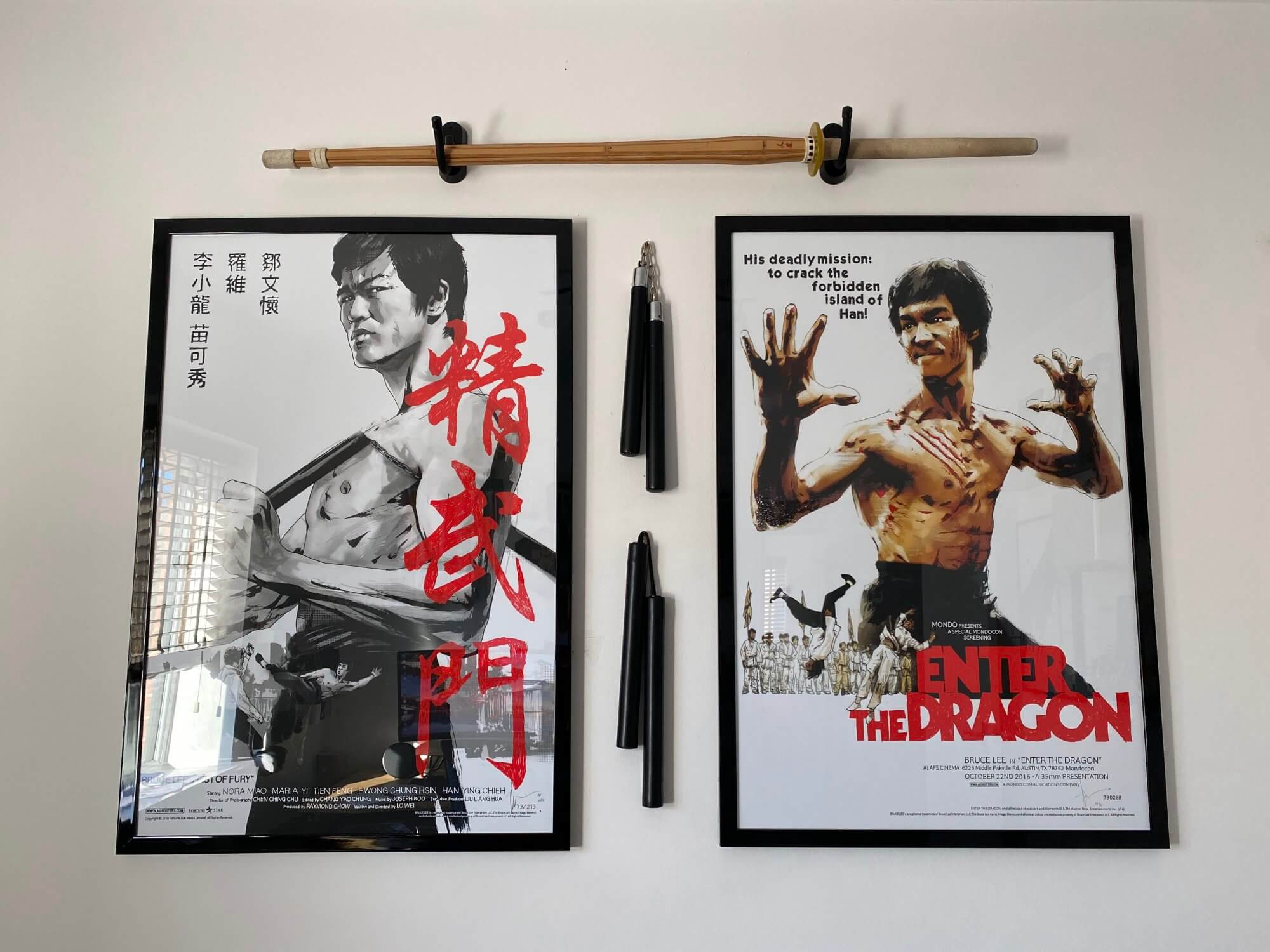 We struggled with finding a suitable sofa bed that would blend well with the room as well as fit nicely when used as a bed.
We eventually found what we were looking for from Made.com. The downside was that the delivery time took around six weeks, but it arrived in time for my brother and his family to use during Christmas.
The room itself gets great natural sunlight in the morning throughout the rest of the day.
The monitor lamp gets used in the evenings and there are lamps on the side tables beside the sofa bed if needed.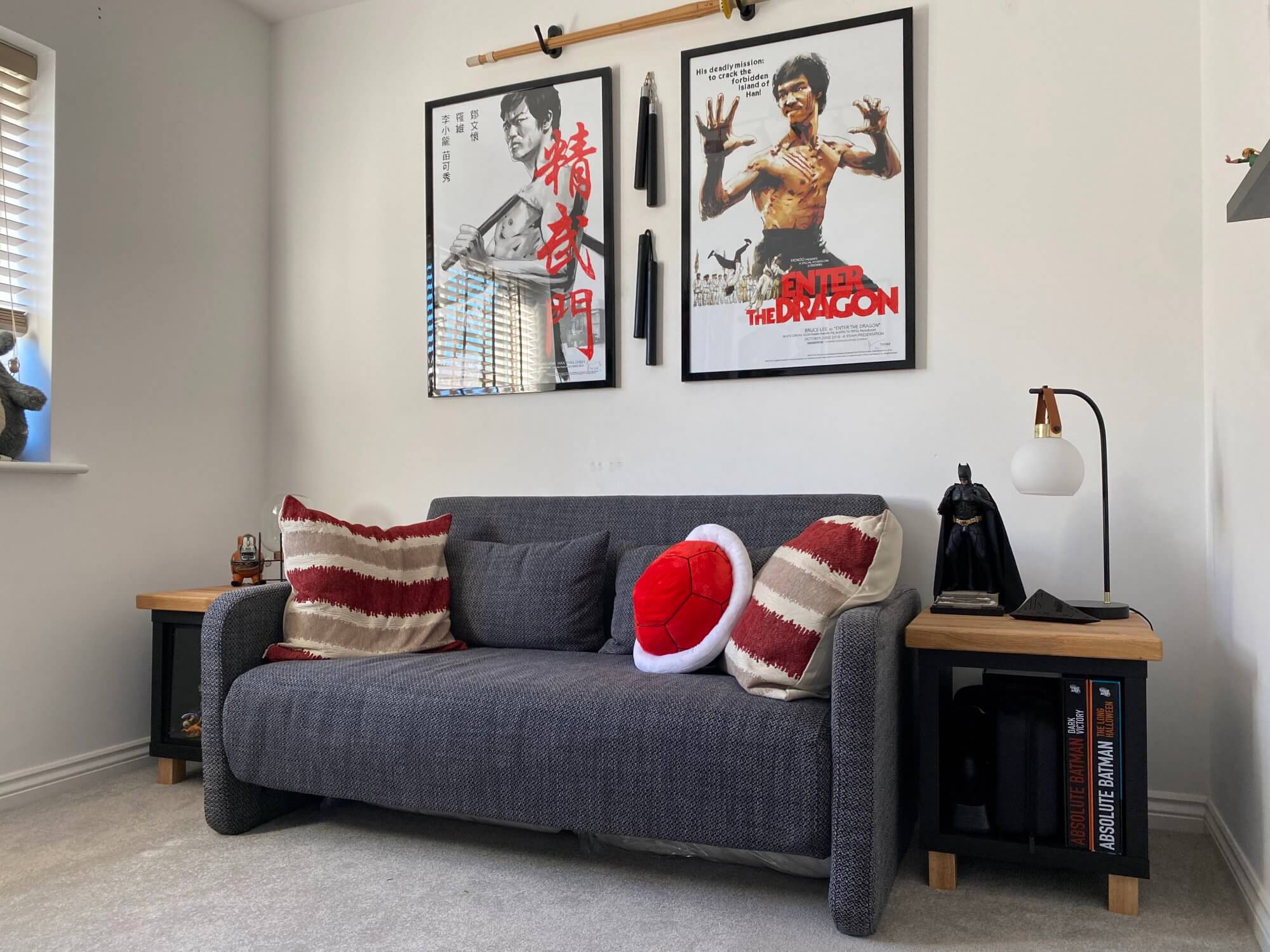 I don't think there's much to improve upon. If I'm honest, I'm very satisfied with how the room, space and gear have turned out.
The PC won't need upgrading for quite some time.
The only niggle I have is with the monitor shelf/riser. I find it's a bit tall, and there isn't a shelf that I can store things in.
Something like the Grovemade monitor shelf is what I'd like to swap it out with. But again, overall, I'm very happy with the space.
What's your favourite item on your desk?
Two things, really.
My Samsung G9 Odyssey monitor is followed closely by a custom PC.
The monitor has a habit of stealing the show whenever someone sees my setup due to its sheer size. I debated having two separate monitors, but the bevels would've bothered me.
Some benefits I've found along with fewer bevels are fewer cables and more options for positioning my apps and games on the desktop.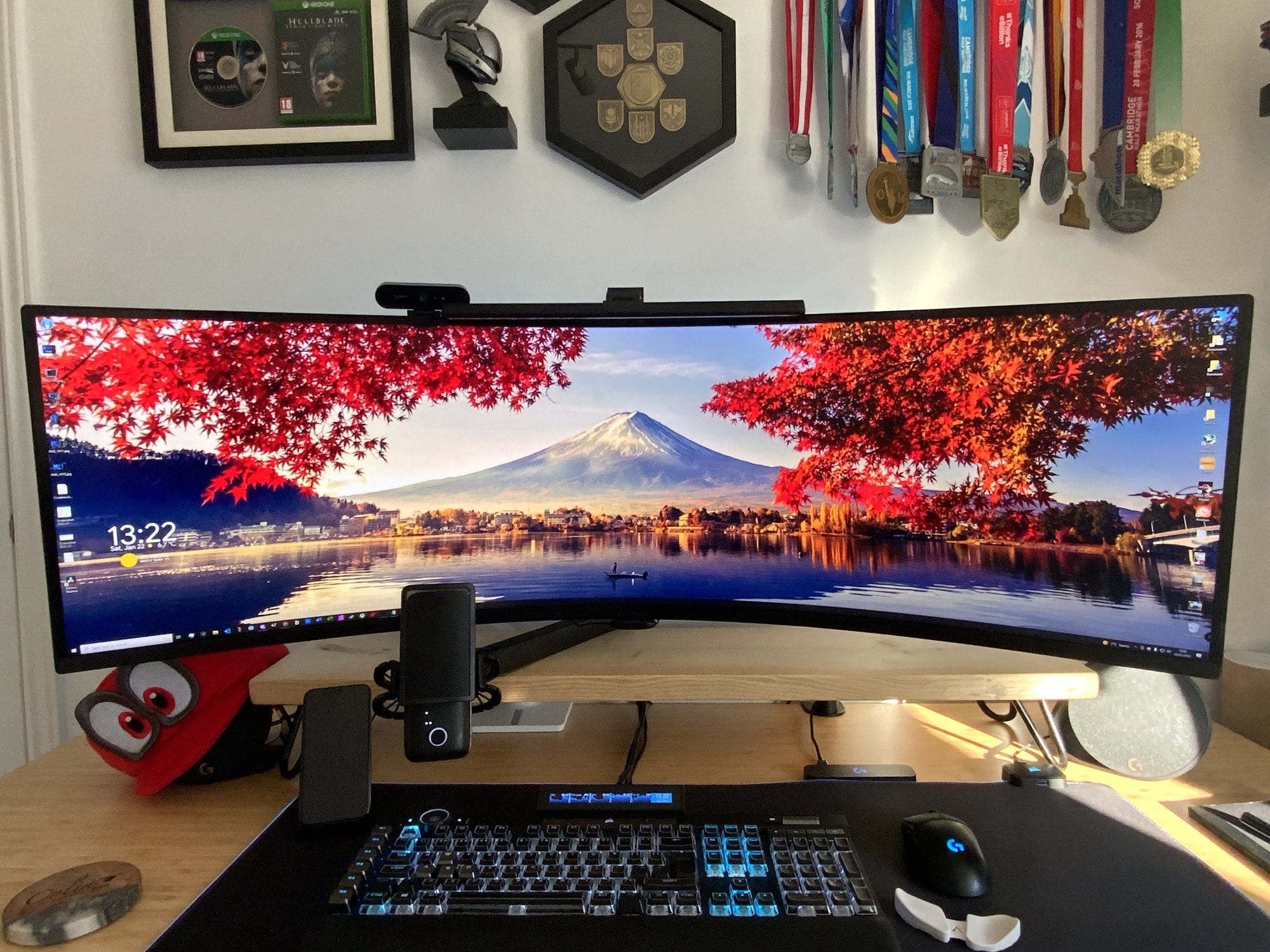 I was always a console gamer before, and the notion of building a PC was daunting until I saw Henry Cavill's video on social media of him doing it.
I felt inspired to do my own, which was good timing as there were new Ryzen CPUs, and Nvidia 30 Series GPU were right around the corner.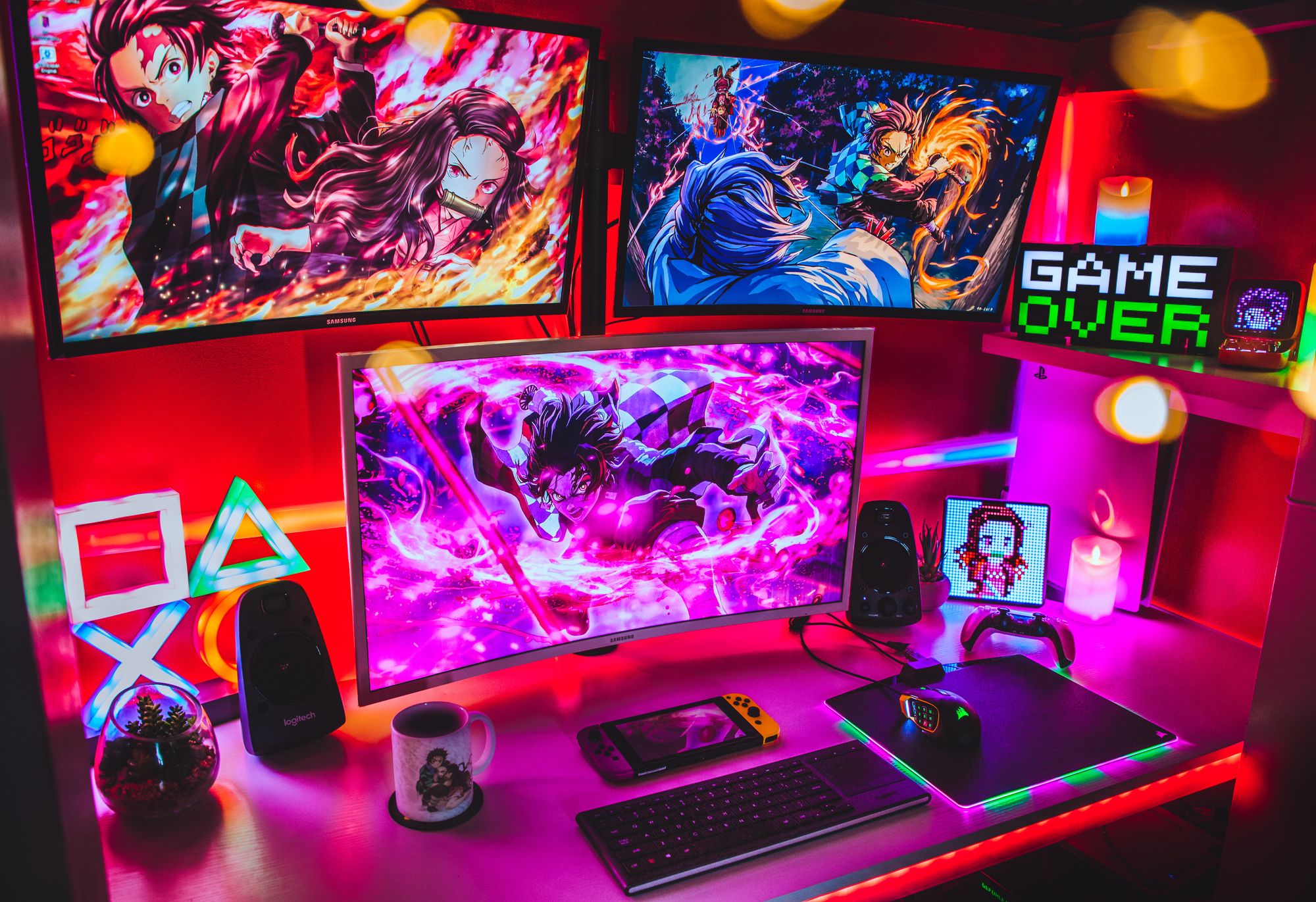 Around December 2020, I (luckily) managed to get all the parts I wanted and built my first PC with the help of tutorials from YouTube.
But a few months down the line, I was not satisfied with the cooling performance and noise being made.
I taught myself how to do custom cooling with bending of hardline tubes and moved the majority of my components to a bigger case that was aesthetically pleasing to me.
PC communities on Reddit seem to approve of the job I've done.
What apps or tools do you use to get things done?
During my day job, I primarily use Excel to create dashboards and roadmaps for the projects I oversee in conjunction with web-based apps like Asana to track tasks and ensure the team delivers on their goals.
Being able to create graphs from data pulled from Asana allows me to display and share information with the entire team in a digestible manner that I can tailor to the team's needs.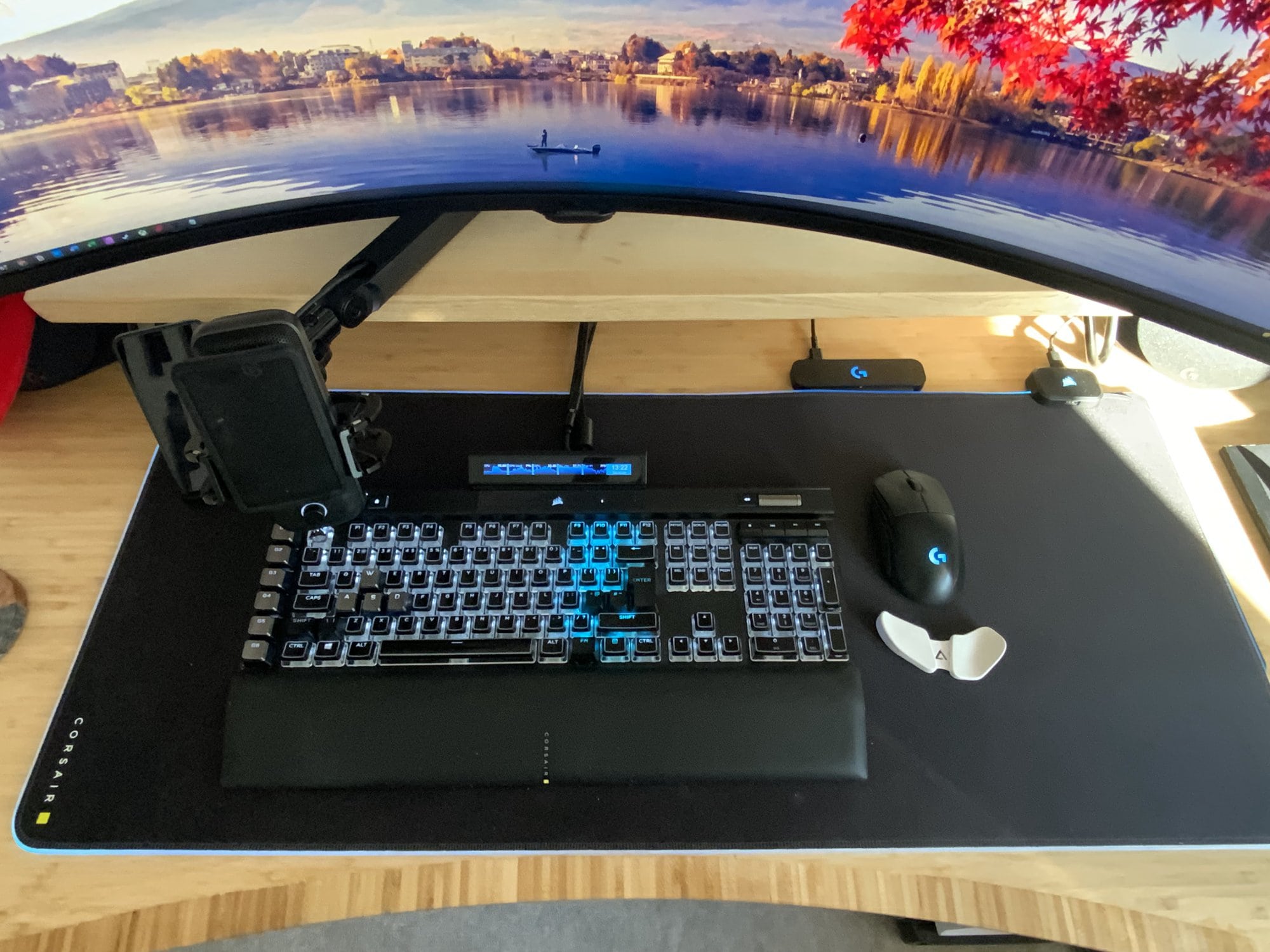 I've also dabbled with video and photo editing with Da Vinci Resolve and Affinity Photo, respectively.
The great thing about these two pieces of software is they are either free (Da Vinci Resolve) or low cost of entry (Affinity Photo) yet still provide many of the features that their Adobe equivalents offer without compromising on robustness.
If I ever need to do more video or photo editing in a professional capacity, I would consider utilising Adobe's suite.
What books, blogs or podcasts recently caught your attention?
I've recently picked up A Playful Production Process: For Game Designers (and Everyone) by Richard Lemarchand to gain insight from one of the lead designers. From Naughty Dog (developers of the Uncharted and The Last of Us series), their production process of game development helps me become a better producer.
This is certainly applicable to those who are game developers. Still, from where I'm at in the book, I would certainly recommend it to that audience.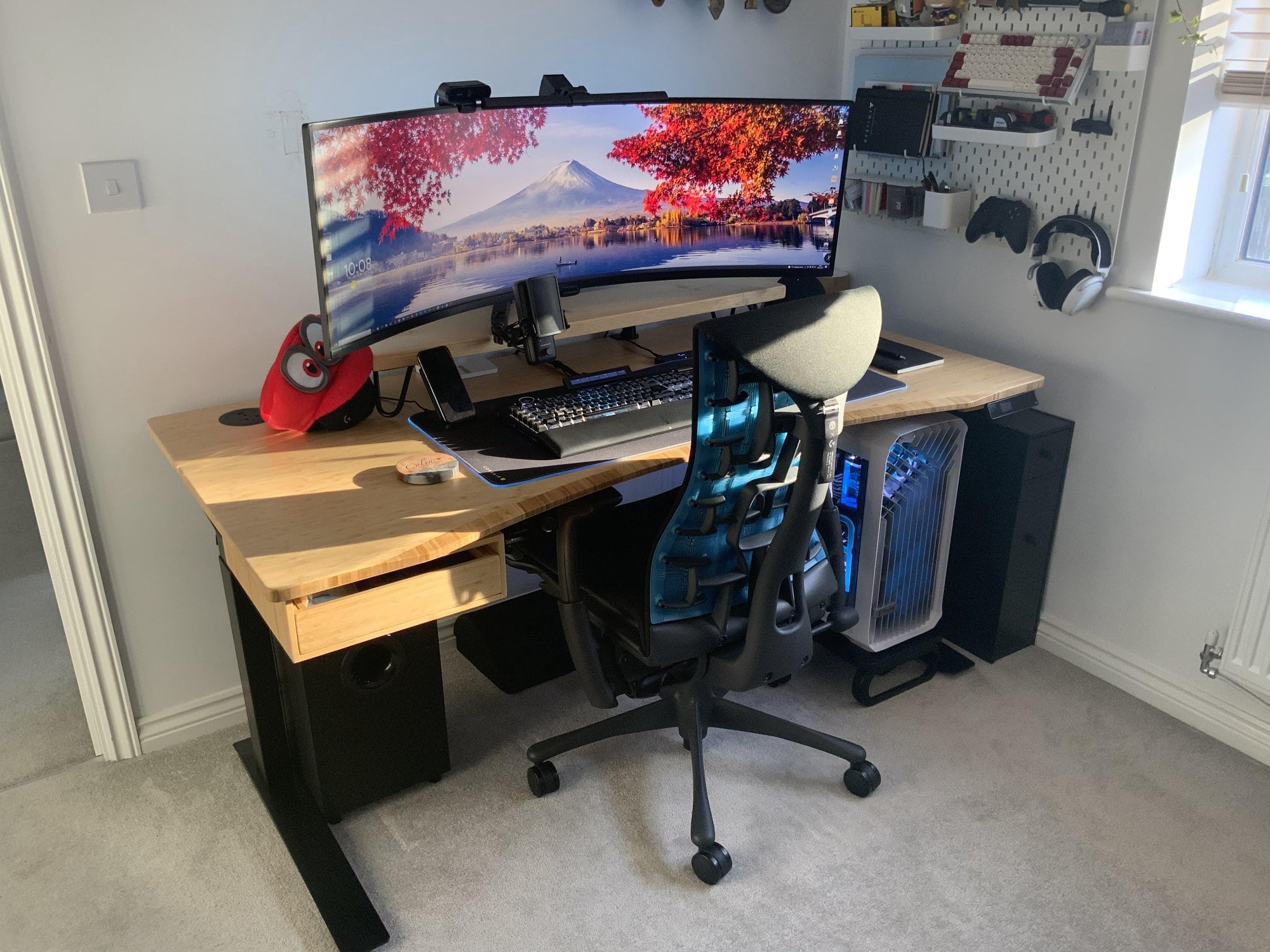 Not necessarily a blog per se, but over the past year, I've been watching Matthew Encina's YouTube channel.
He's renovated his entire home starting from his workspace to the other rooms in his home and taught himself to make the bespoke furniture.
I got a lot of inspiration from him and emulated what he's done.
Any tips for other makers who want to improve their workspaces?
The best piece of advice I can give is to ensure your space is big enough to serve as your setup.
You can get work done without distractions, and there's good ventilation to allow fresh air in, i.e. a window.
When I was still in my one-bedroom apartment, my partner had the great idea of converting our IKEA Kallax bookcase into a makeshift office setup.
We removed some of the columns so the monitor and peripherals could fit.
I'd also recommend investing in a good chair that will support your back, especially if you'll be spending a lot of time in your setup.
What does your typical day look like?
So my current work routine is a hybrid WFH and designated face-to-face day of two days and three days a week, respectively, since I joined Flavourworks a few months ago.
Due to the nature of my role, I have to talk to my team members, whether in groups or individually.
I initially found this hard at the height of the pandemic as I couldn't just have an organic conversation with someone at work like I normally would. Chatting through Slack/Teams felt too formal.
I prefer working with people in the same room as I feel more effective in my role this way.
I still struggle with this from time to time, but I feel it is improving.
During my WFH days, I'm lucky to have an environment that is my own and where I'm comfortable. So my day kicks off with a handful of 'stand-up' meetings with specific teams via Google Meet.
Everyone gives a brief summary of what they did yesterday, what they intend on doing today and whether they are blocked by anything.
I'll take notes on this for reference. This information is useful for me to ensure that everyone is making progress with their goals and whether people are working on the correct thing.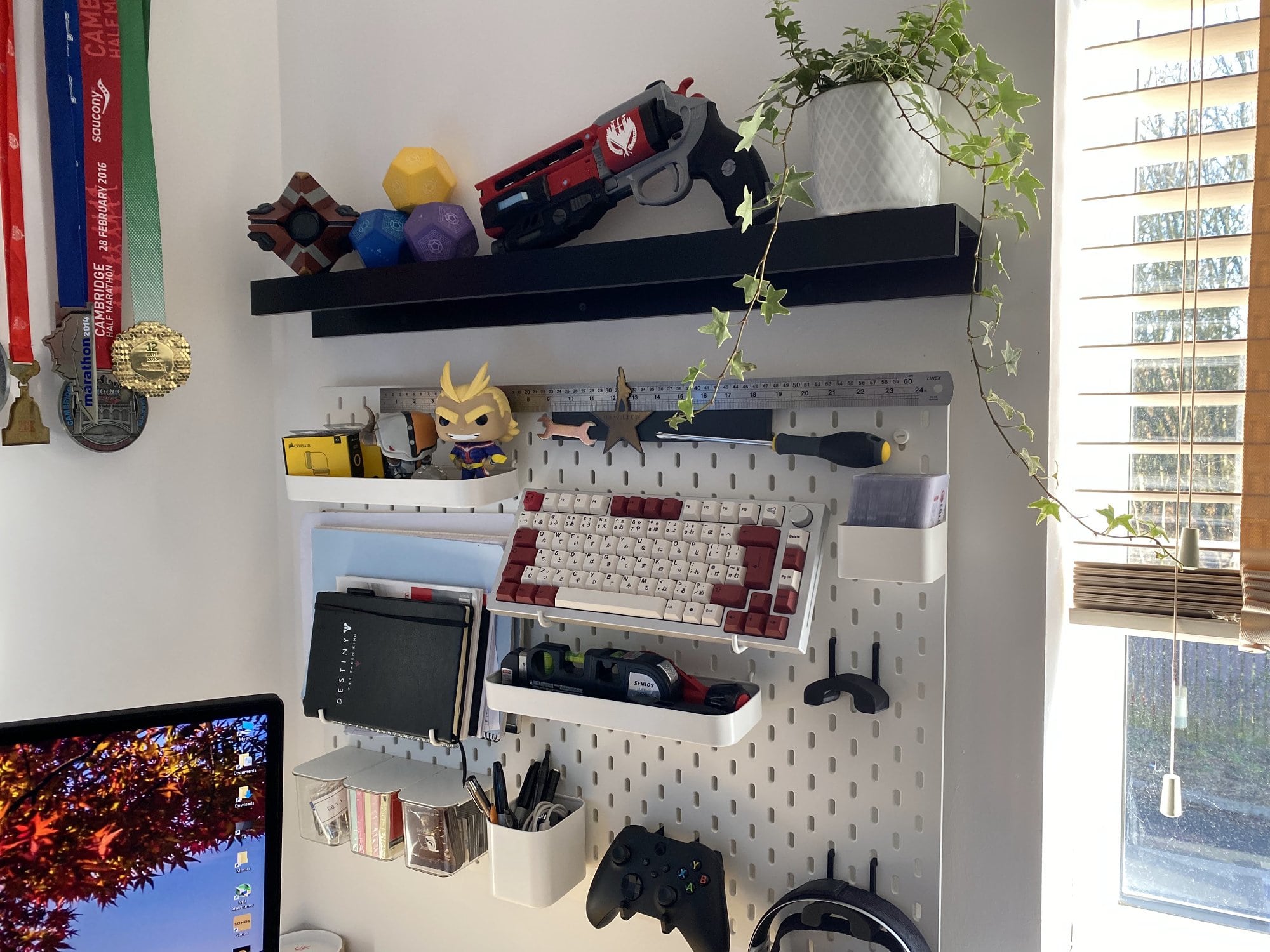 If anyone is blocked, I make it a priority to unblock them by either getting them the support they need, i.e. a designer/artist needs code support to expose something in their development apps or coders needing further clarification or detail from design/art for a feature.
I'll then be knee-deep in our task tracking software to ensure the information from the stand-ups reflects what is in there and update/amend where necessary.
I'll then extract this information and apply it in Excel for my dashboards so that overall project health information is visible to the entire team.
While working from home during my lunch break, I'll often go for a run to get some fresh air and exercise.
When work is done, I'll often spend the evening with my fiancé, cooking dinner and watching a movie or continuing a season of a show or we'll go for a walk around our neighbourhood.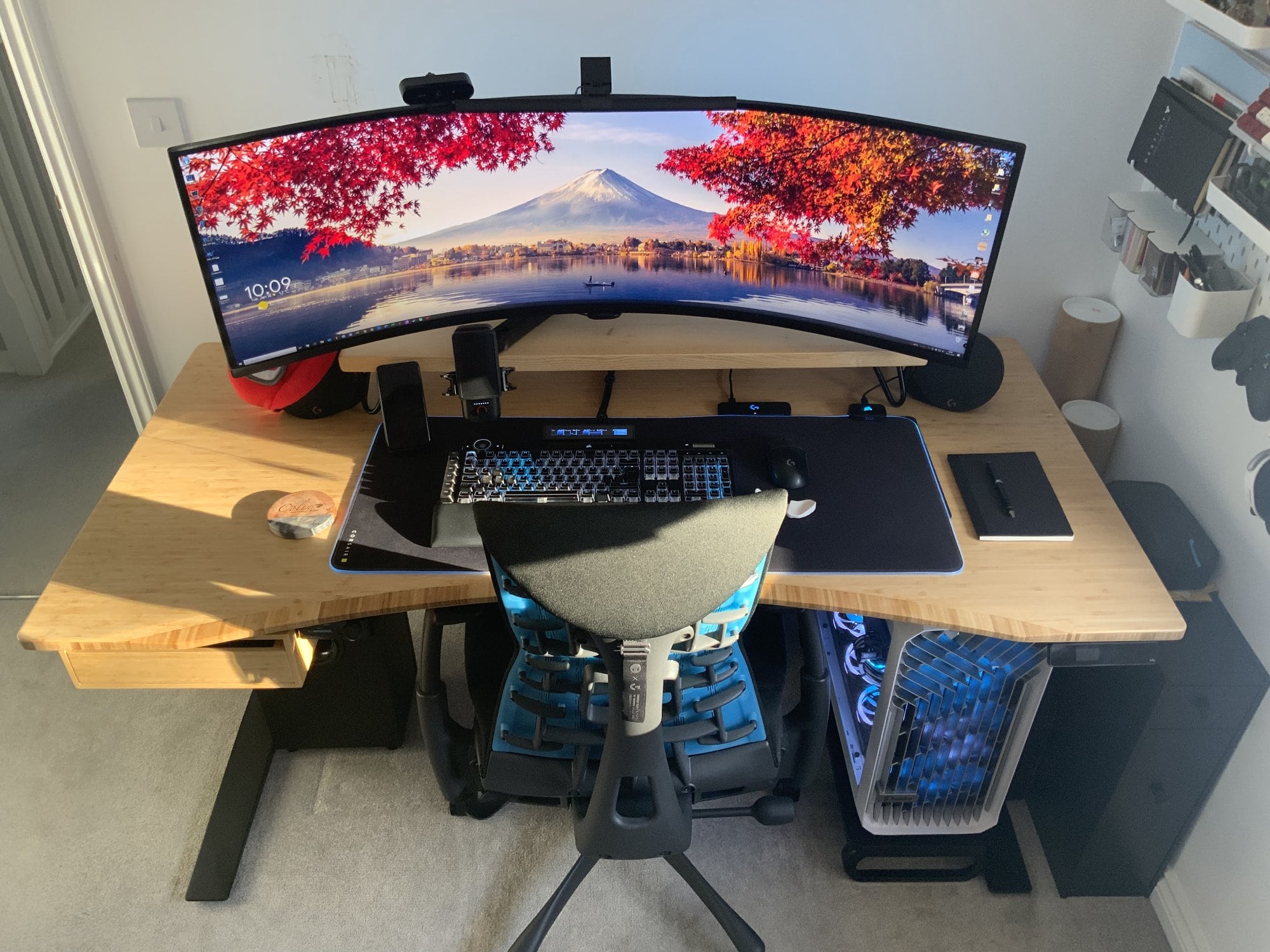 Your tips for working from home?
At the start of the workday, I always write a list down of what I need to do or make progress on for that day.
I'll stand up and walk around or work standing up, thanks to my standing desk. I stand during calls to keep myself energised throughout the day. The aim here is to avoid sitting down for too long.
Ensure anything you could possibly need throughout the day (pens, notebooks, post-it notes, etc., headphones, etc.) is within easy reach to minimise disruption.
Before meetings, I'll ensure I've always got a glass of water next to me to ensure I'm hydrated, especially if I'll be doing a good amount of talking.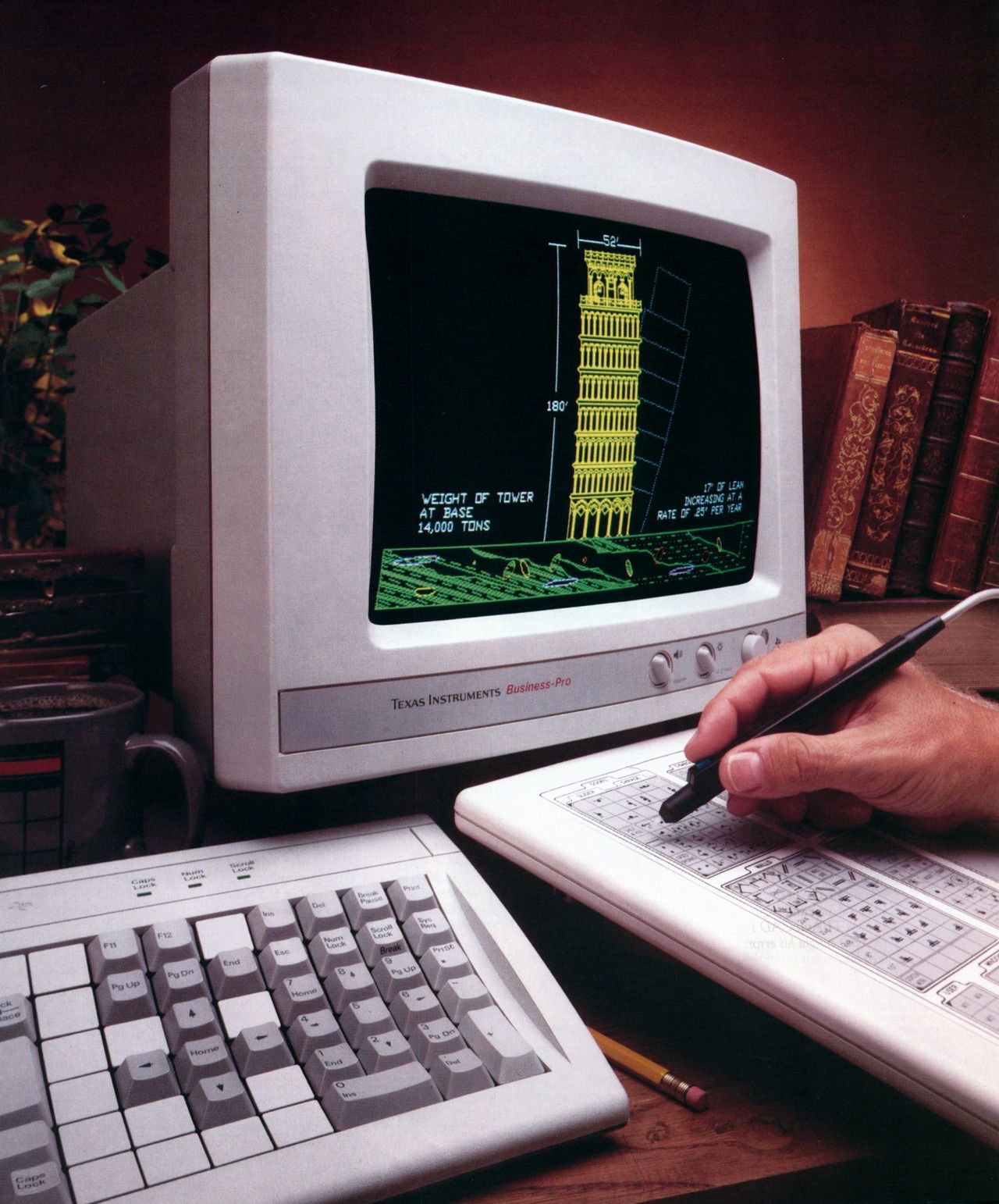 Set boundaries and do your best not to work later than you should, which is something I was guilty of at the start of the pandemic.
I personally find having something in the background like music, a YouTube video or even something from a streaming service helps (I'll certainly take advantage of the desktop real-estate), I have to be wary that I don't let it distract me too much.
If you're using the same computer for work and personal use, take advantage of virtual desktops to help organise and differentiate work apps from personal apps.
Make time to exercise.
If your workspace is in a room where a door can be closed, make the most of it so you can concentrate when you're there and be able to close it off and be out of sight when you're not.
We're a reader-supported publication. This article might contain affiliate links. It means we may receive a commission if you click a link and buy a product that our maker has recommended. The interview was done independently.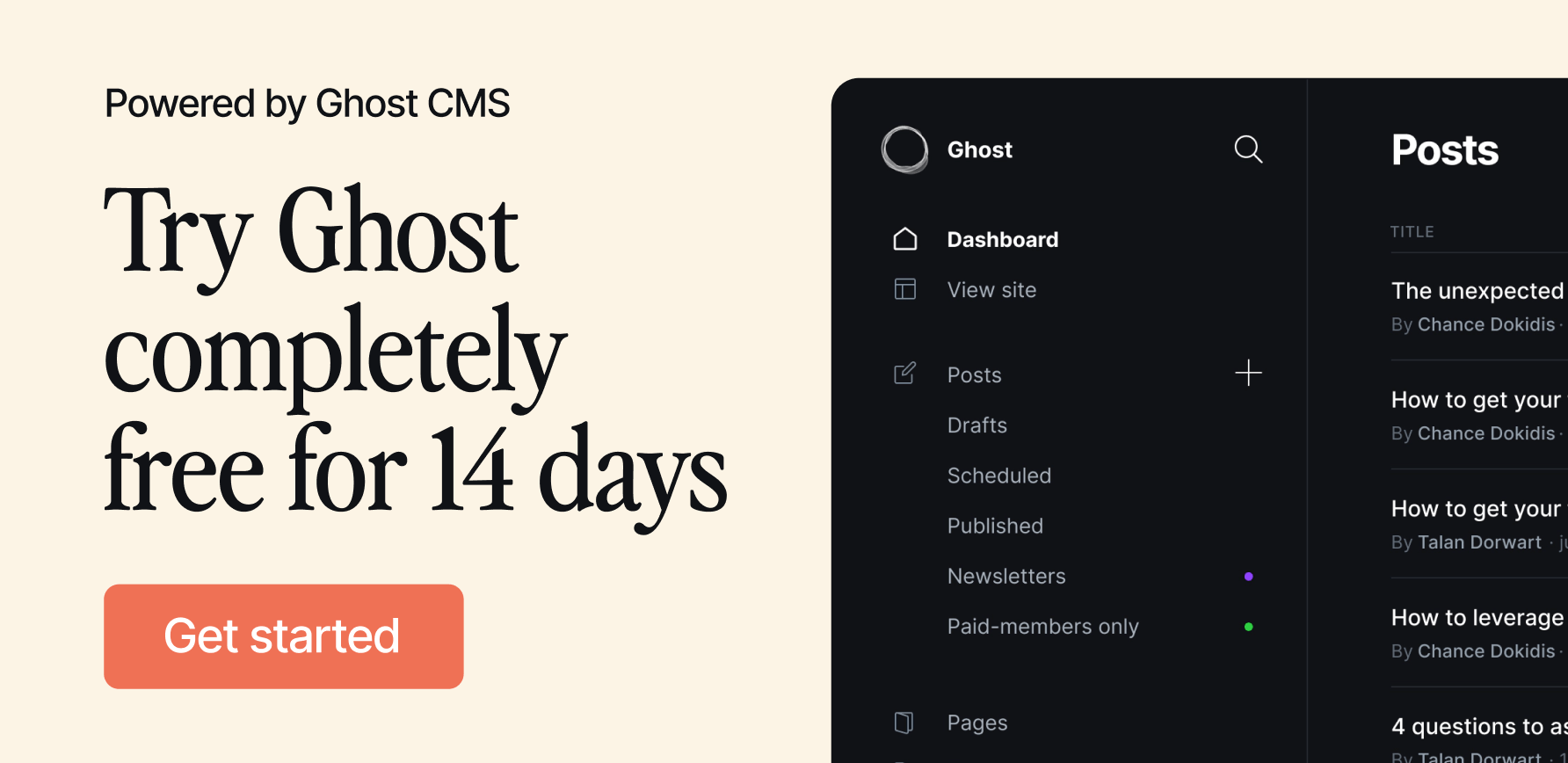 ---