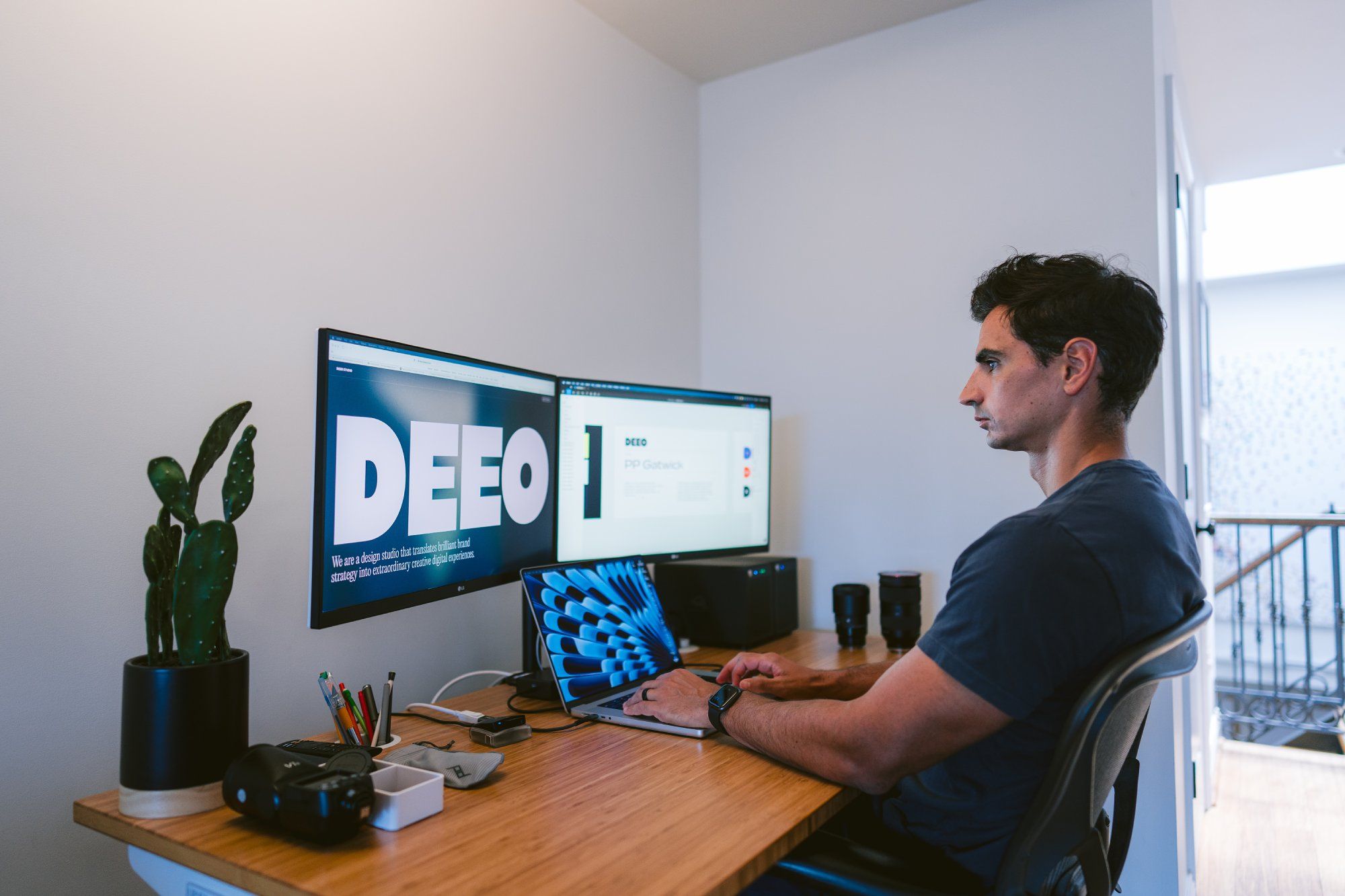 Dual Displays: Creative Director's Home Office in Baltimore, US
"I wanted a space that was inviting, portable, and focused on productivity"

Name: Yianni Mathioudakis
Location: Baltimore, Maryland
Occupation: Co-founder & Creative Director at Deeo
Room size: 74 m² (800 ft²)
Cost of setup: $6.5K
Social media: Instagram, Twitter
Hello! Tell us a bit about yourself
Hi! My name is Yianni Mathioudakis, and I'm a digital designer, photographer, and filmmaker.
I'm the co-founder & creative director at Deeo, which is based out of Baltimore, Maryland.
I'm also the co-founder of Cast83, a wedding photography & videography company.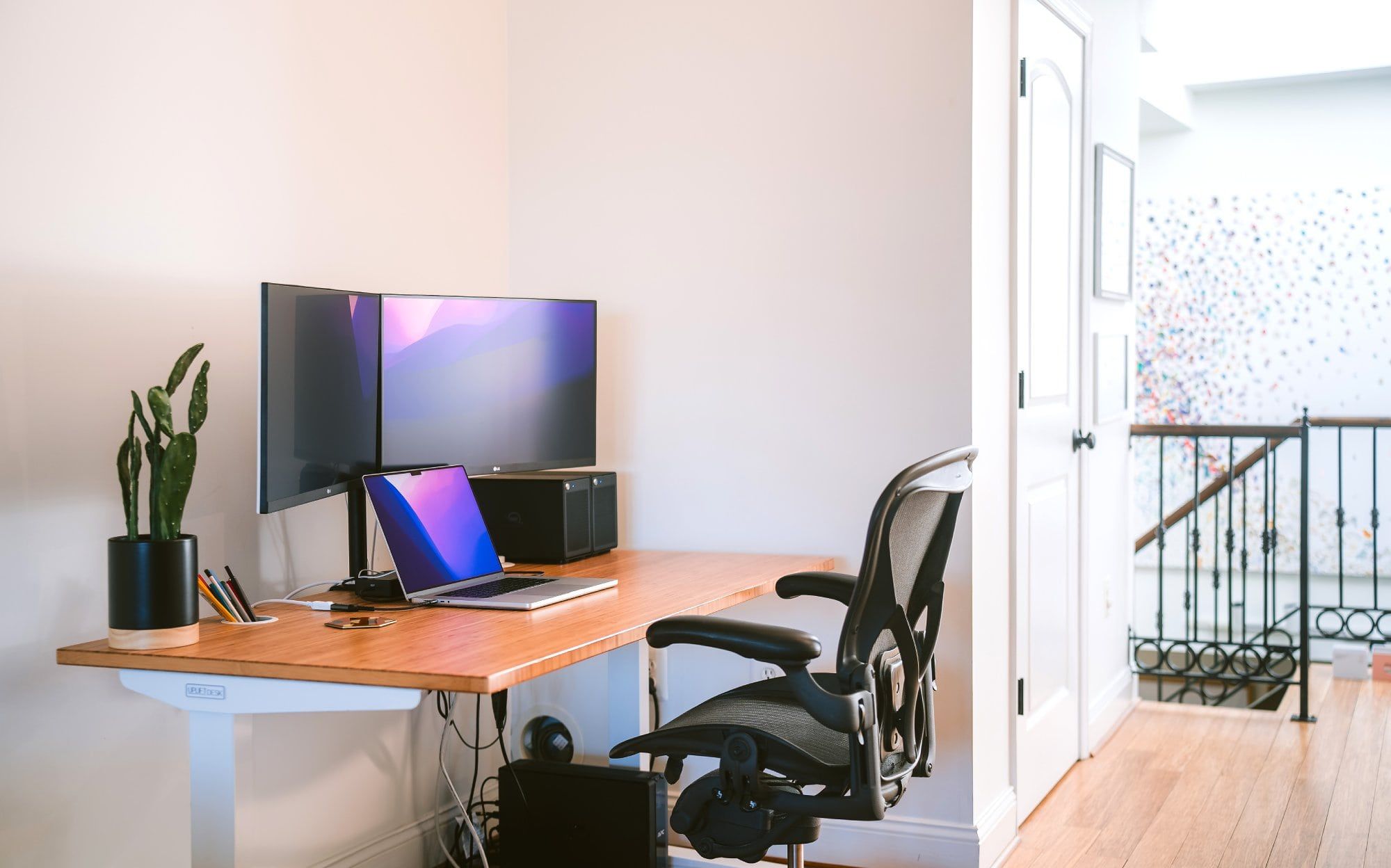 I started my career in the design space in 2006, right after graduating from Maryland Institute College of Art with a degree in Graphic Design.
I worked for an agency in Baltimore called Fastspot, starting as an intern and eventually working my way up to design director.
I fell in love with web design from the start, as it involved so many disciplines: design, animation & motion, writing, development, photography, videography, etc.
The interactivity of the web always kept me interested.
I've had the privilege of working on award-winning work at Fastspot. Some notable projects:
Now, with Deeo we're looking to focus our offerings specifically on brand & web.
I'm really excited to build something new from the ground up with my partner Monica Sanchez, which sparked changing up my workspace.
I wanted a space that was inviting, portable, and focused on productivity.
When I get to my desk now, there are no distractions and it really allows me to focus and get going.
In my free time, I love travelling and just hanging out with my family.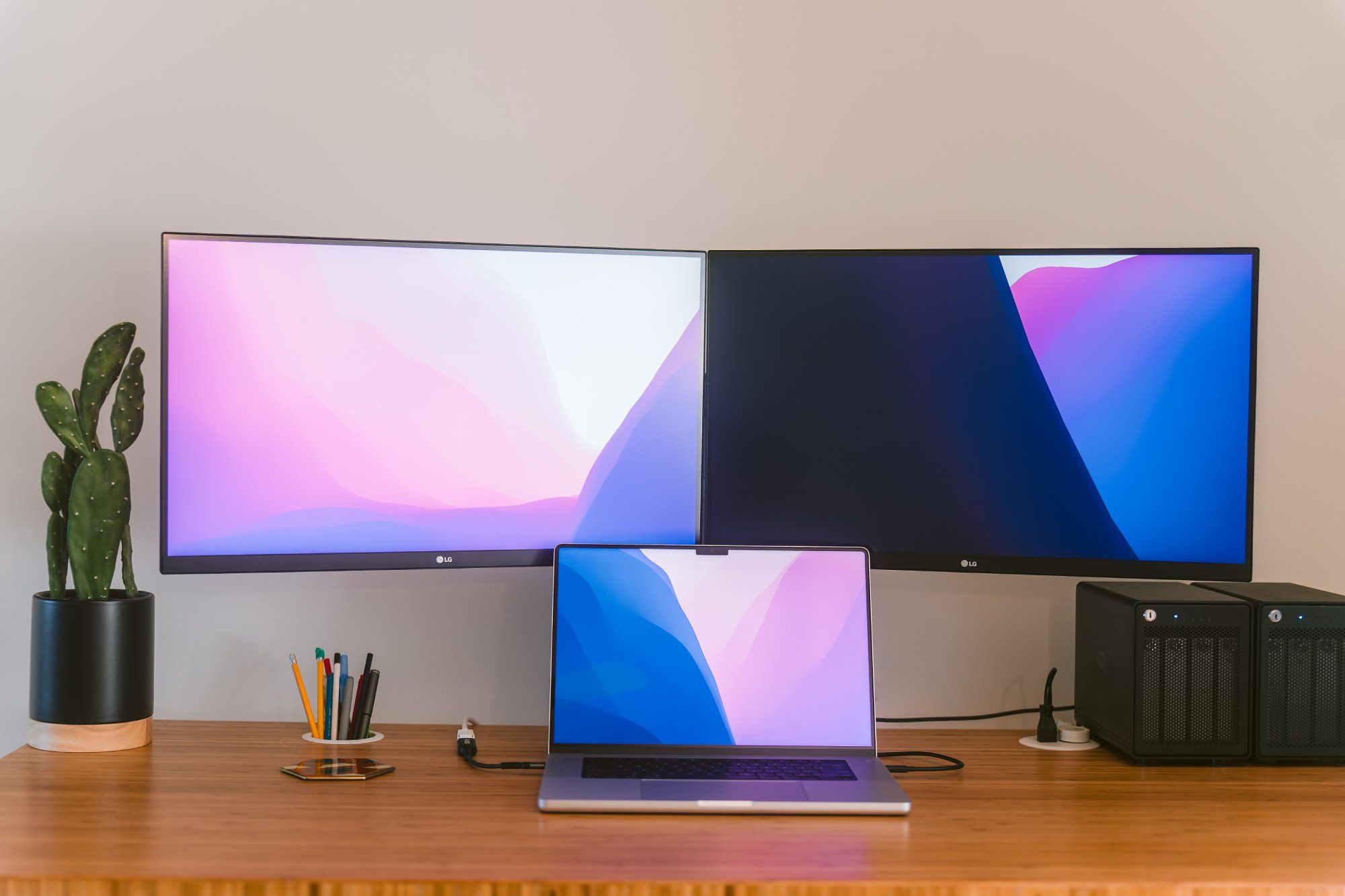 My two boys (seven & nine) are into sports right now, so it's fun to get outside and play soccer or basketball.
For myself, I find time in the morning before everyone wakes up to go to my local Crossfit gym, Push511, where I've been a member since 2011.
It really helps to start my day knowing I've already accomplished something really hard.
Take us through your setup
Before refreshing my setup, I had a 27″ iMac with a second display.
It worked well, and I loved the 5K display but the computer was showing its age, especially with 4K video work.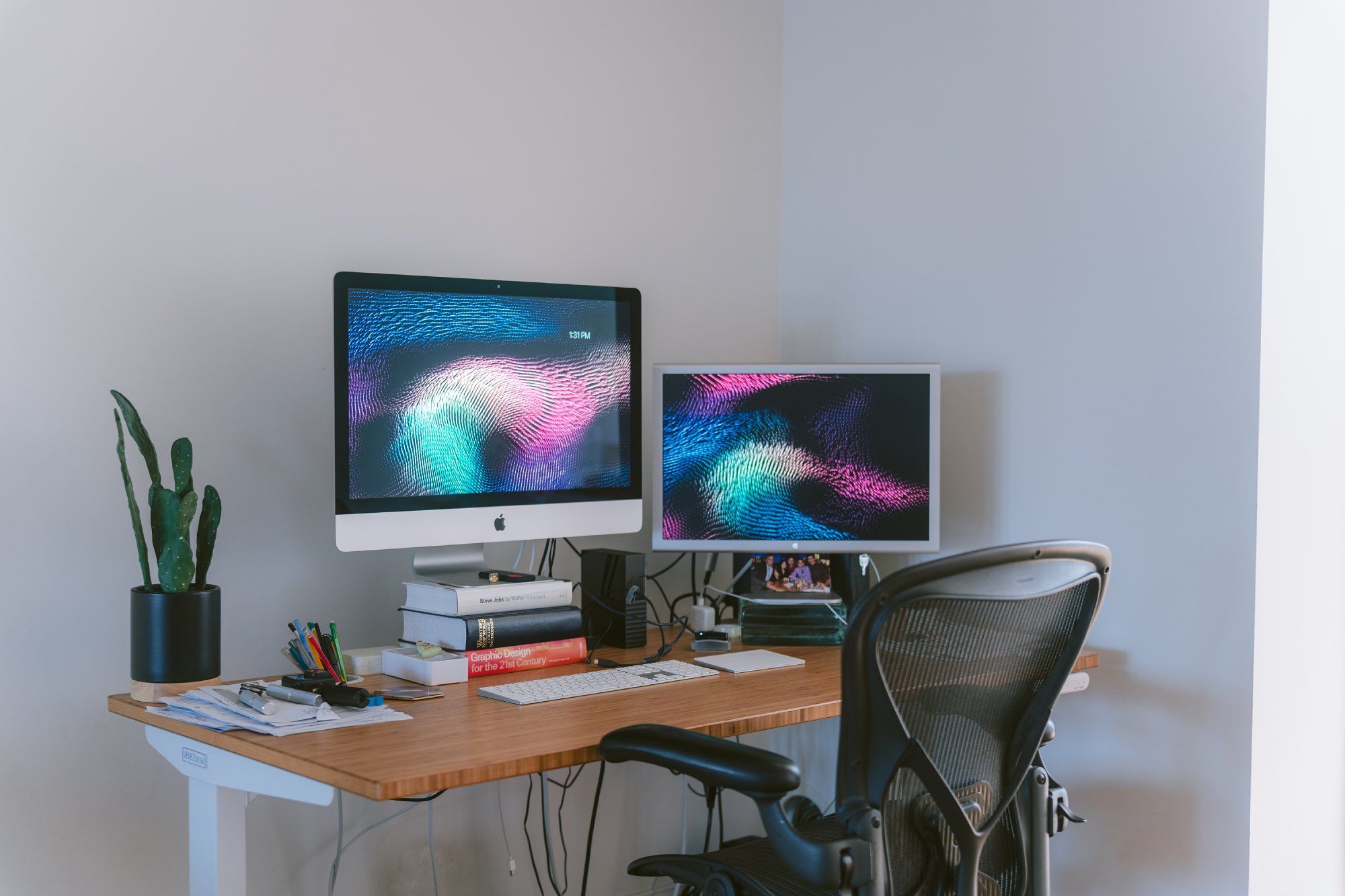 I also didn't like that I was stuck with a desktop computer and couldn't move around.
Fast forward to now, I spent about two weeks getting my new desk setup completed.
The key features are:
I find that I'm way more productive having a laptop versus a desktop now.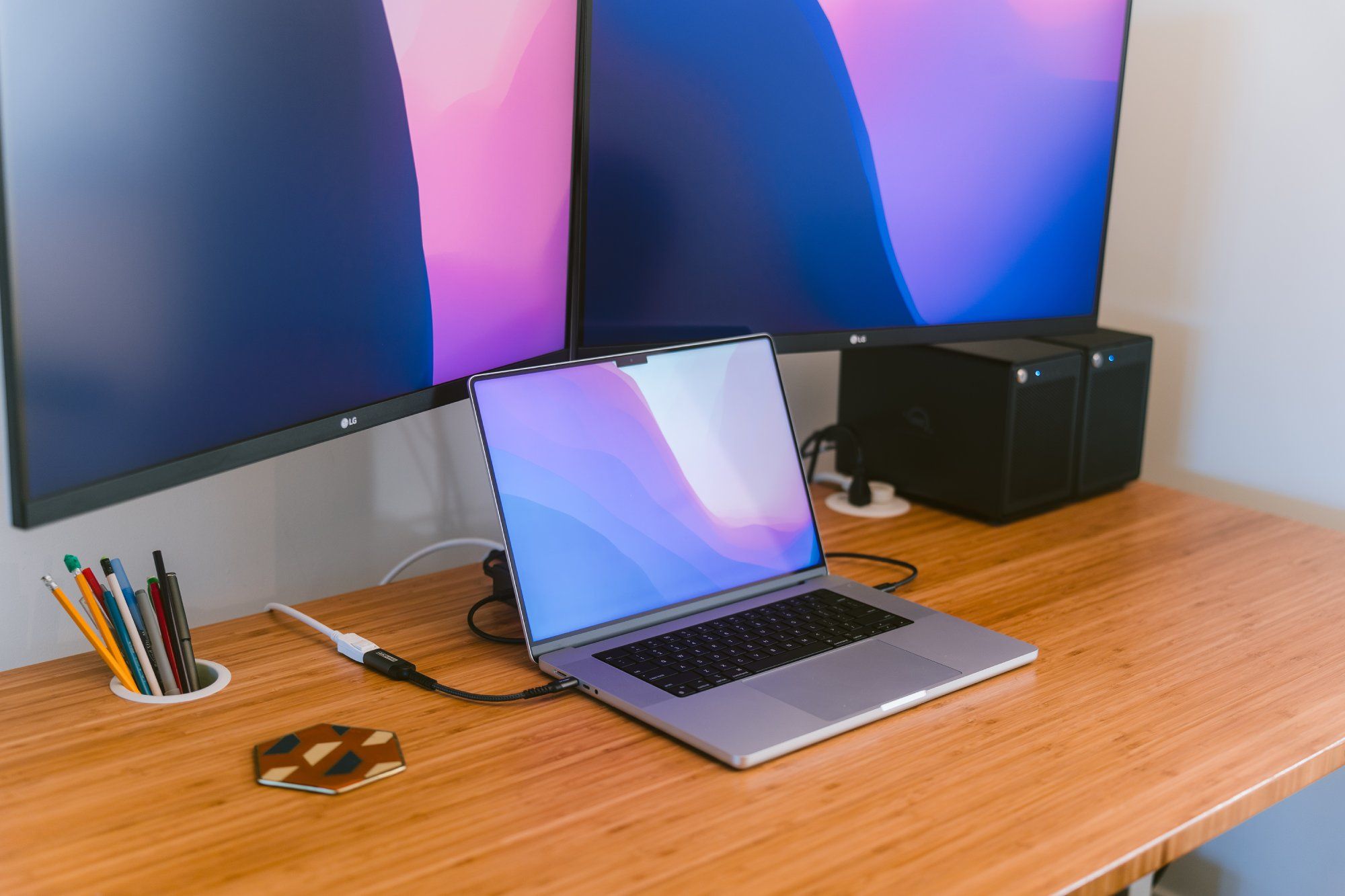 Previously, I really had to be locked in and ready to work at my desk to get going.
Now, I tend to unplug my laptop from my desk & monitors and have it around me throughout the day.
That way if I'm eating lunch or want to go to a coffee shop to work, it's so easy.
However, I still make sure I'm not always working every minute of the day. Just good to know that when an idea or inspiration strikes, I can get into it quickly.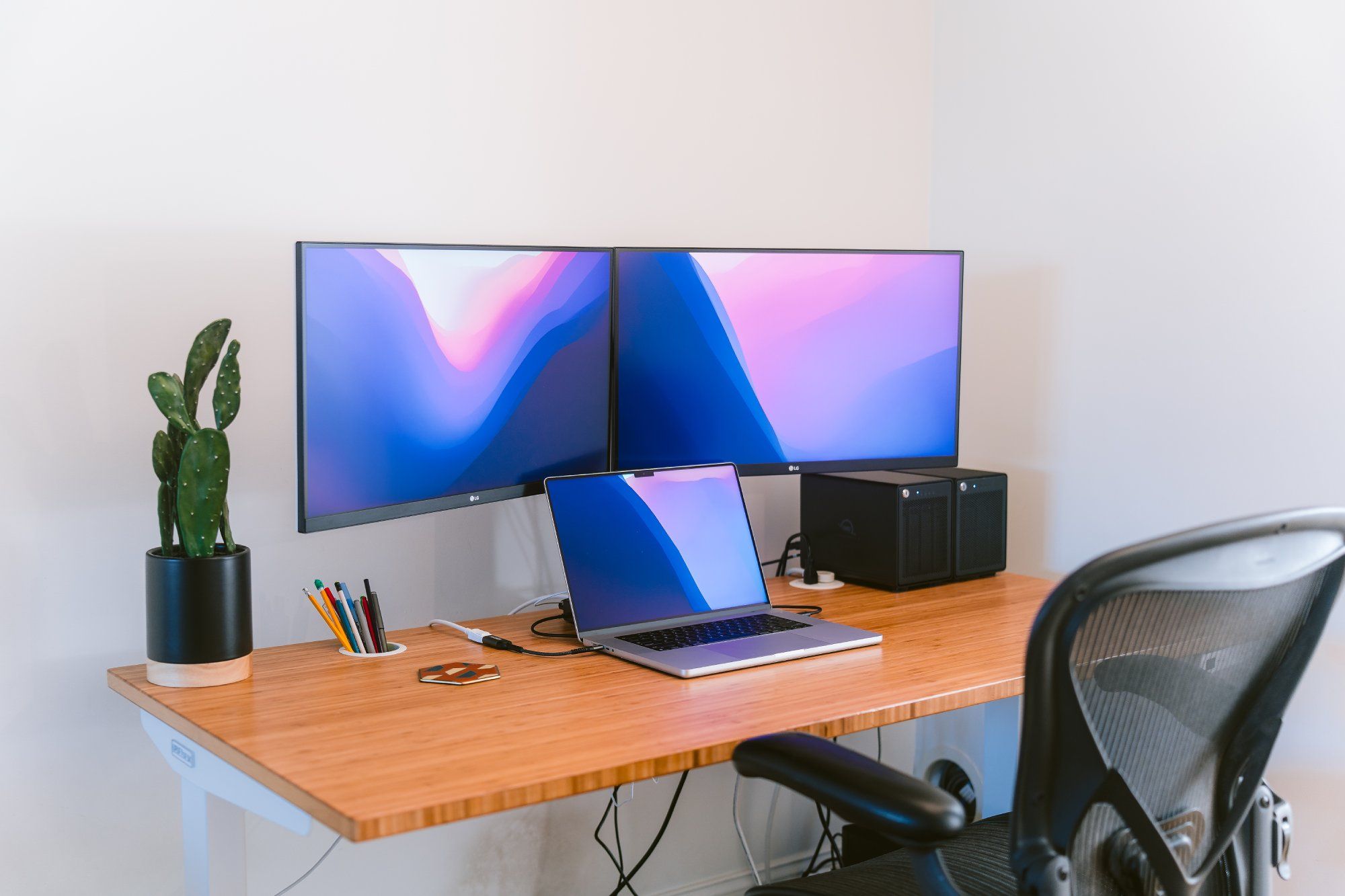 As a designer, photographer, and filmmaker having two 4k displays is amazing.
I'm always utilising all the screen space and often have multiple apps open at once (Figma, Lightroom, FCPX).
My setup of having the two displays above my centred laptop is new, but I've really grown to like it and have no issues.
I also love having my MacBook screen utilised as well instead of in clamshell mode. Especially if I need to really check something for colour.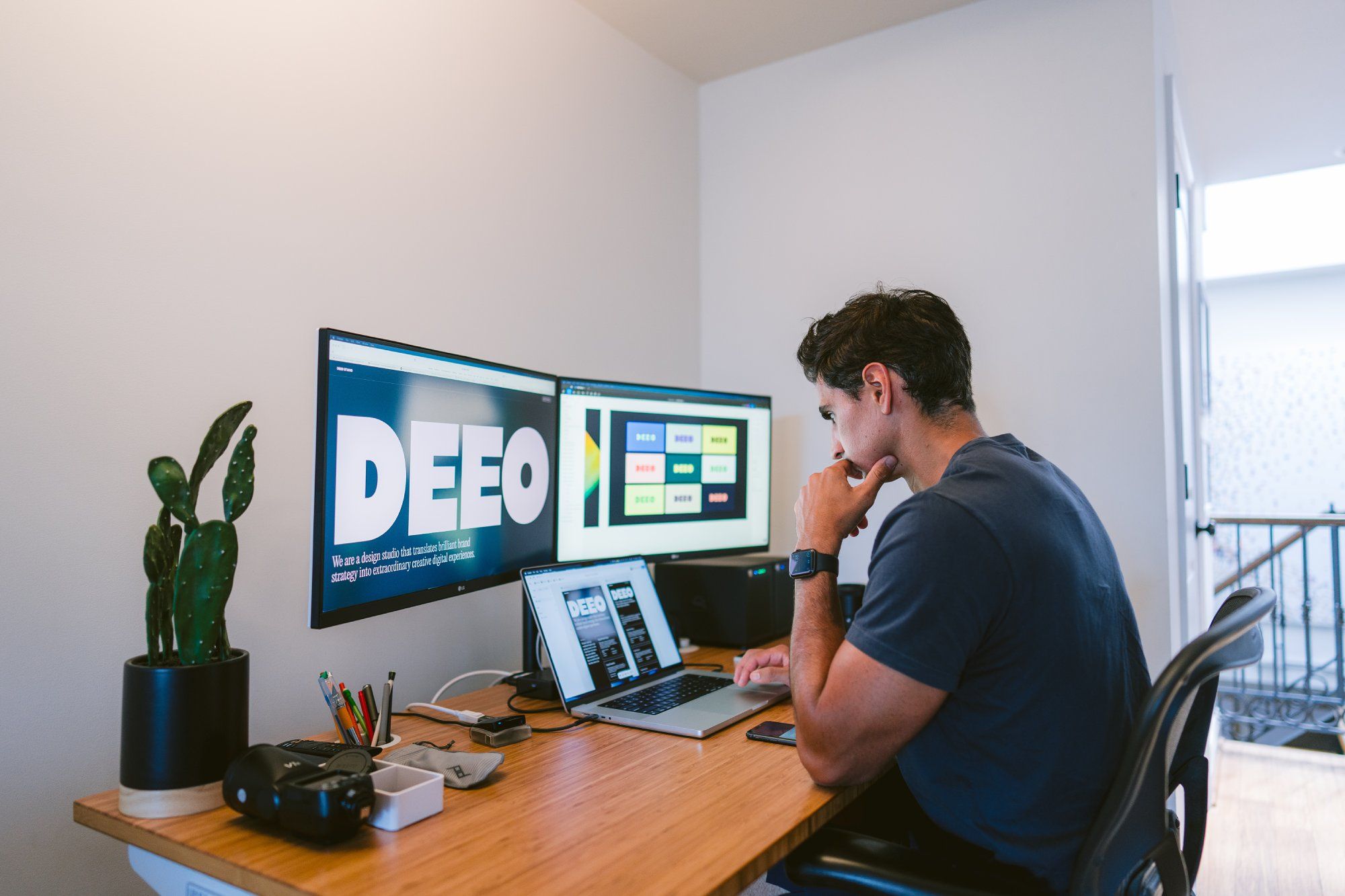 I've had lower back issues for a while and found that most of it was attributable to sitting down for long hours.
Having a desk that can switch between sitting/standing has been great. If my back feels tight, I switch to standing.
If I get tired while standing, I switch back to sitting.
Everything is in moderation for me. I didn't want to go all in one way or the other.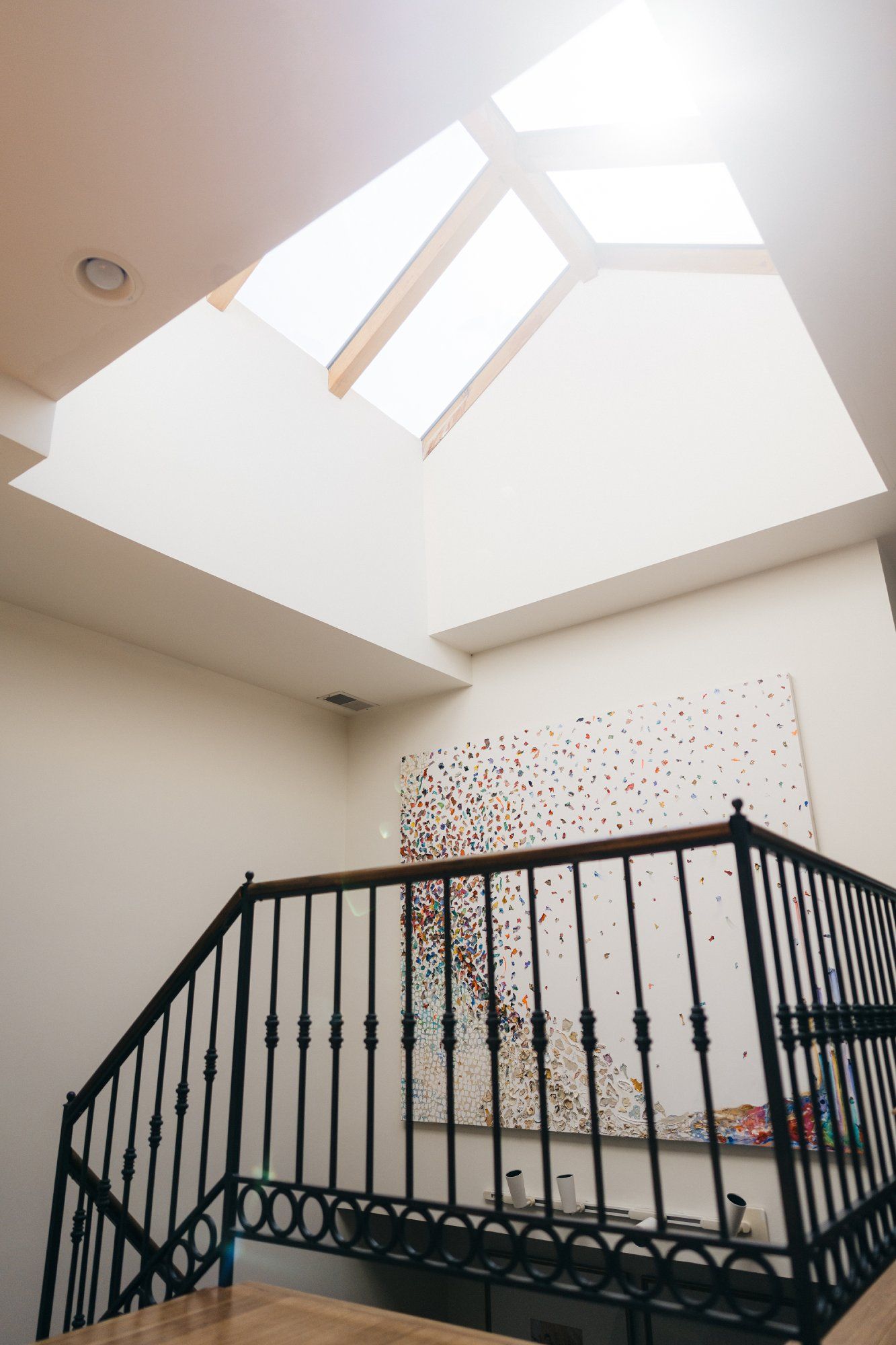 Since I work from home, the office is on my third floor in a Baltimore row home.
It's a long and narrow space (16 ft wide), but I have my workspace setup in a great spot next to the living space. It gets a lot of natural light from the doors to the deck and our skylights.
My workspace is connected to the living space. There's a TV and couch right next to me.
I never use the TV except for AirPlaying music to it from my computer.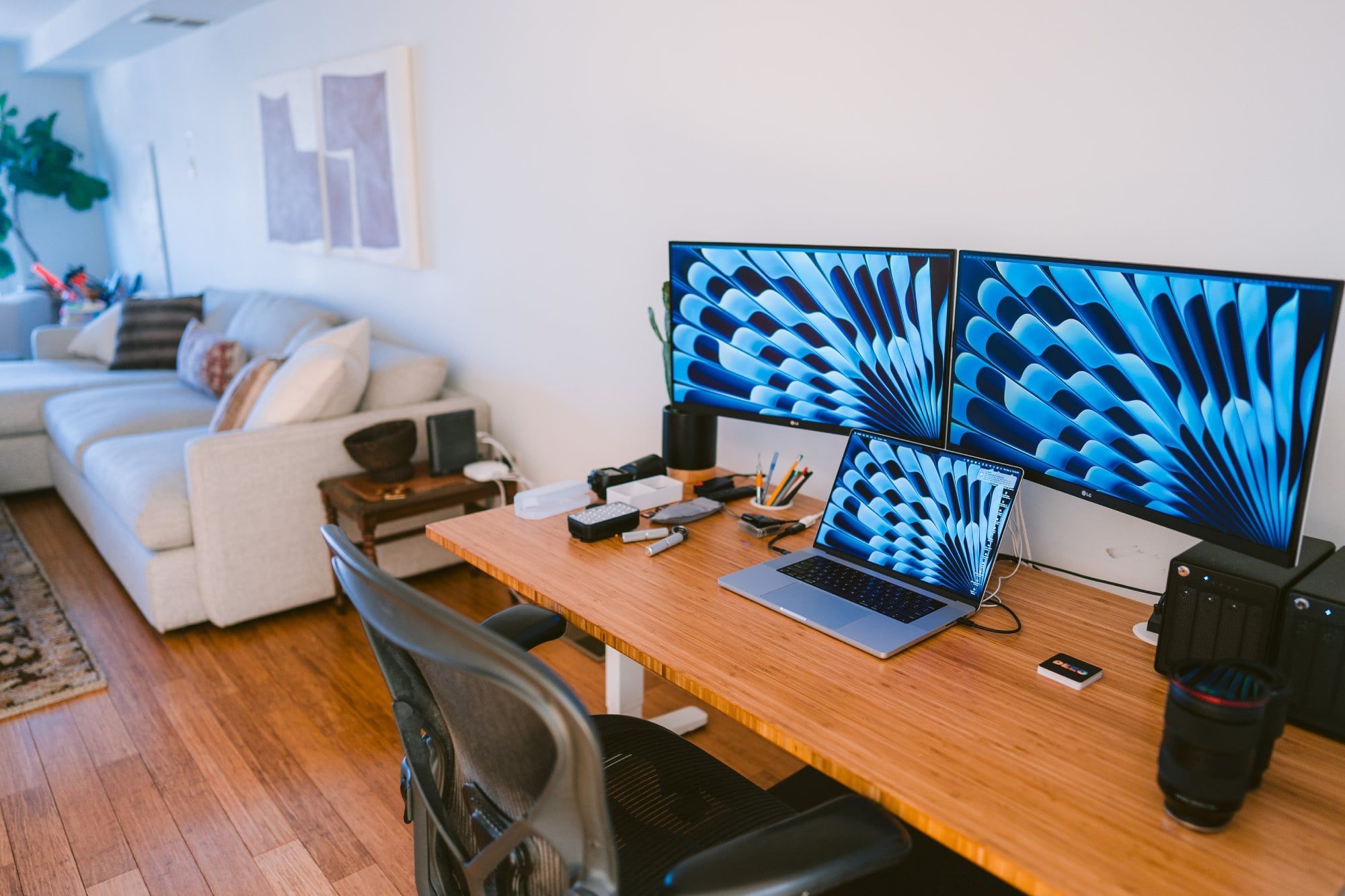 I do however use the couch to relax when I need a break or to move to something comfortable to work on.
The more challenging aspect is when my two boys (nine & seven years old) pop up and decide to play soccer inside.
That's when the beauty of the mobile workspace comes into play and I can just move downstairs if they're too distracting.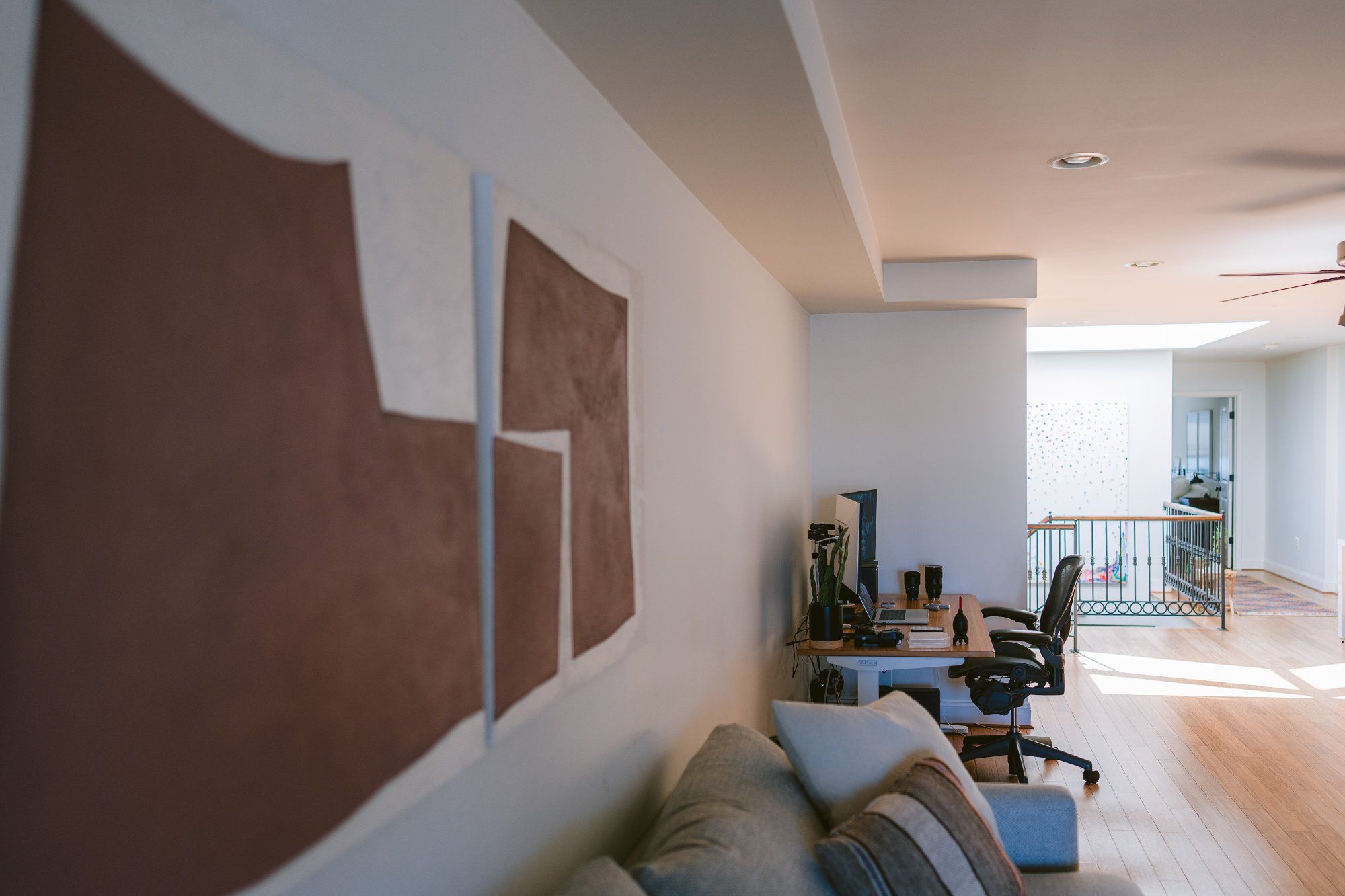 I'd like to add more photography & prints around my desk. However, my workspace is really focused on productivity right now. The personal touches will come soon!
Also I'd like to improve my cable management.
Something I've never been good at, but I'm slowly improving it. It gets tricky with the standing/sitting desk to make sure all the cable lengths work well.
Next on my list is adding a desk lamp and some more artwork.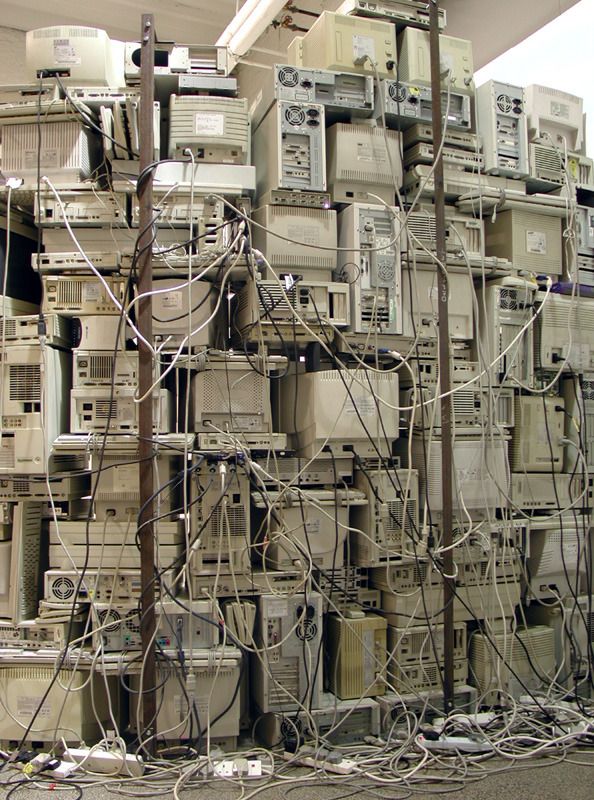 What's your favourite item on your desk?
My favourite item has to be my 16″ MacBook Pro M1 Max.
I opted for the internal 4TB storage which allows me to keep a lot of projects local. No need to carry extra SSD drives around.
I love that I can disconnect from the dock and move around my house or work at a coffee shop.
I also keep a pair of Crush Grippers on the desk to maintain that hand strength!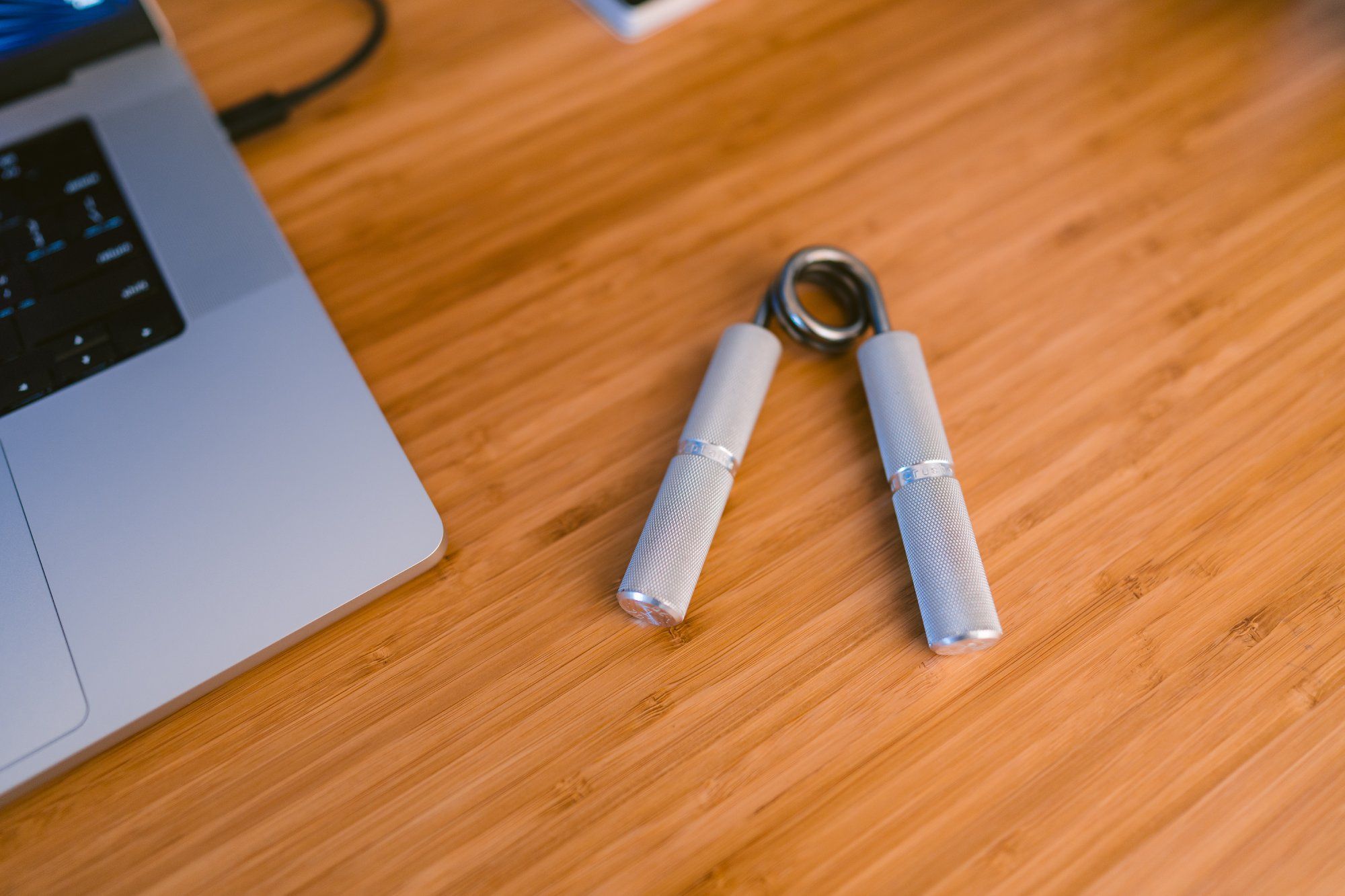 What apps or tools do you use to get things done?
Since I flex between design, photo, and video, I'm going to split these up:
Design, Brand, Business:
Framer (built our studio site with this)
Spline (3D) — something new I'm learning
Slack — internal communication with my business partner
Trello — client management
Notion — business admin & notes
Apple Notes — for quick thoughts or ideas, I find that Apple Notes is the best!
Photo & Video:
What books, blogs, or podcasts recently caught your attention?
I used to listen to a lot of podcasts but have found lately I haven't had as much free time.
I would listen to:
For design inspiration, these are my go-to's:
Any tips for other makers who want to improve their workspaces?
Try not to over complicate it.
Really think about how you want to feel when you're working, and then design the space around that.
What does your typical day look like?
Typical day looks like this:
5:30 am — Wake up
6:00 am — CrossFit gym
7:15 am — Help get the kids ready for school
8:30 am — Check emails and Slack
9:00 am — Shower and get ready
9:30 am — Begin work

Talk to biz partner
Figure out priorities
Start work

11:30 am — Break for a short walk
11:45 am — Lunch
12:30 pm — Work
2:30 pm — Break for a walk
3:00 pm — Hang with kids for a bit
3:30 pm — Work
5:00 pm — Wrap up work
I've been remote/hybrid since 2020.
Really love the flexibility that being remote offers and the additional time to spend with my wife and kids.
Even just getting to eat lunch together or go on a short walk is so nice.
It's simple but meaningful.
Your tips for working from home?
I really try to start by prioritising what needs to get done for the week.
We do that on Monday, and then that informs how each day will go.
I try to keep social media (Twitter or X, IG) for when I need a break and want to get away from my desk.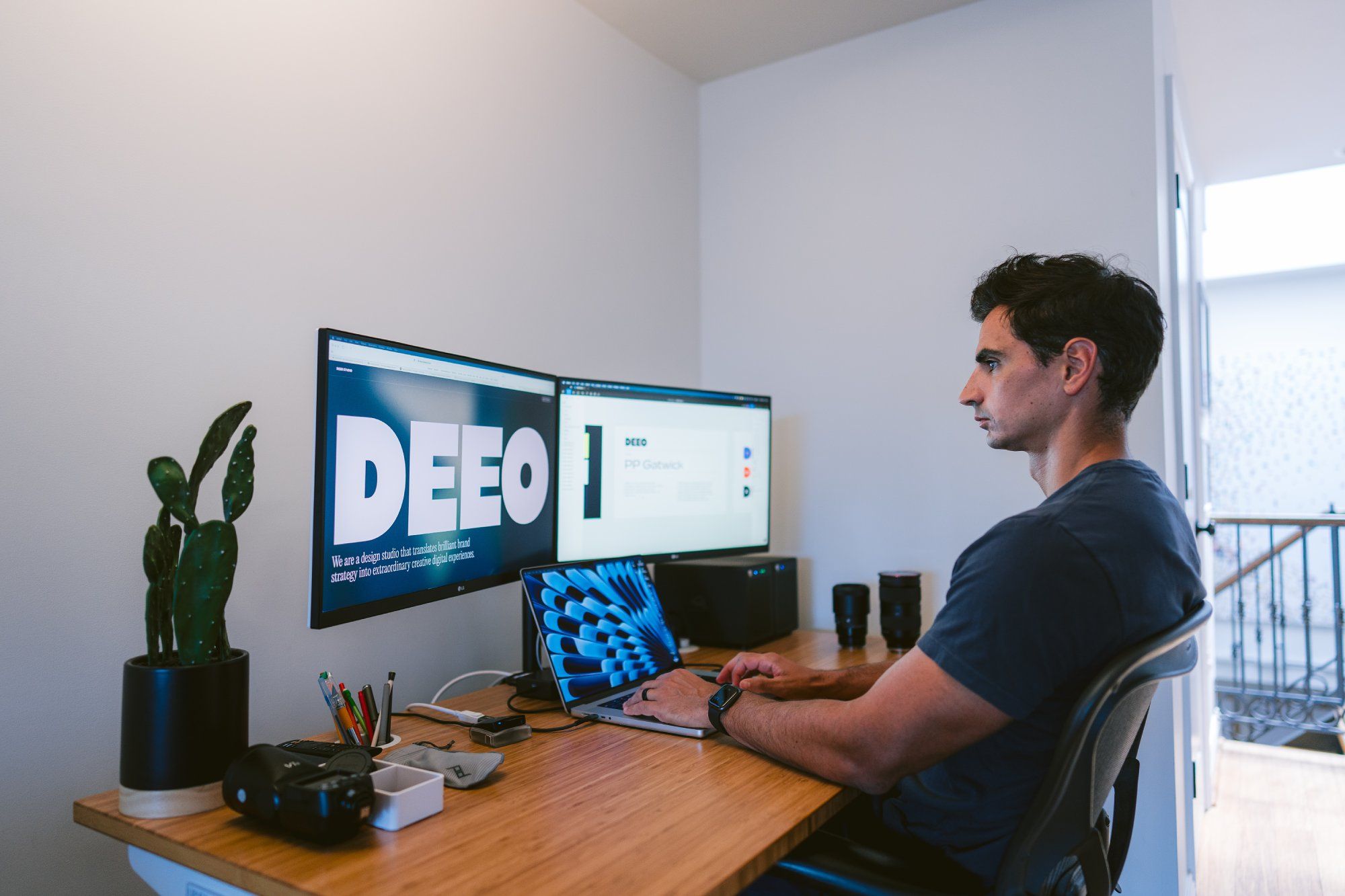 If I leave those open on my desk, I can find that a lot of time will go by. So, eliminating those while working helps with focus.
I recommend taking breaks and walking outside. It always helps me feel better and keeps me energised.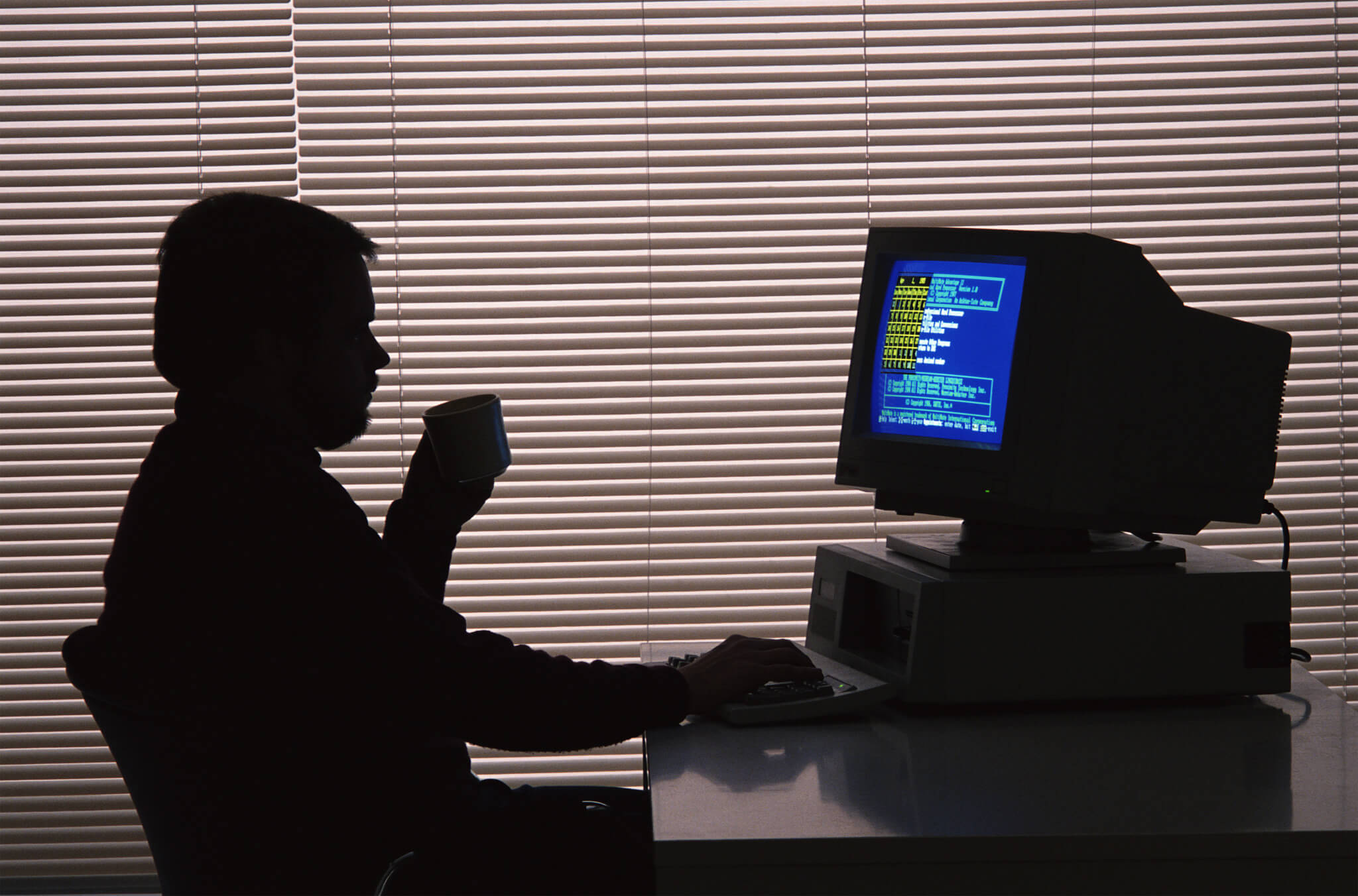 We're a reader-supported publication. This article might contain affiliate links. It means we may receive a commission if you click a link and buy a product that our maker has recommended. The interview was done independently.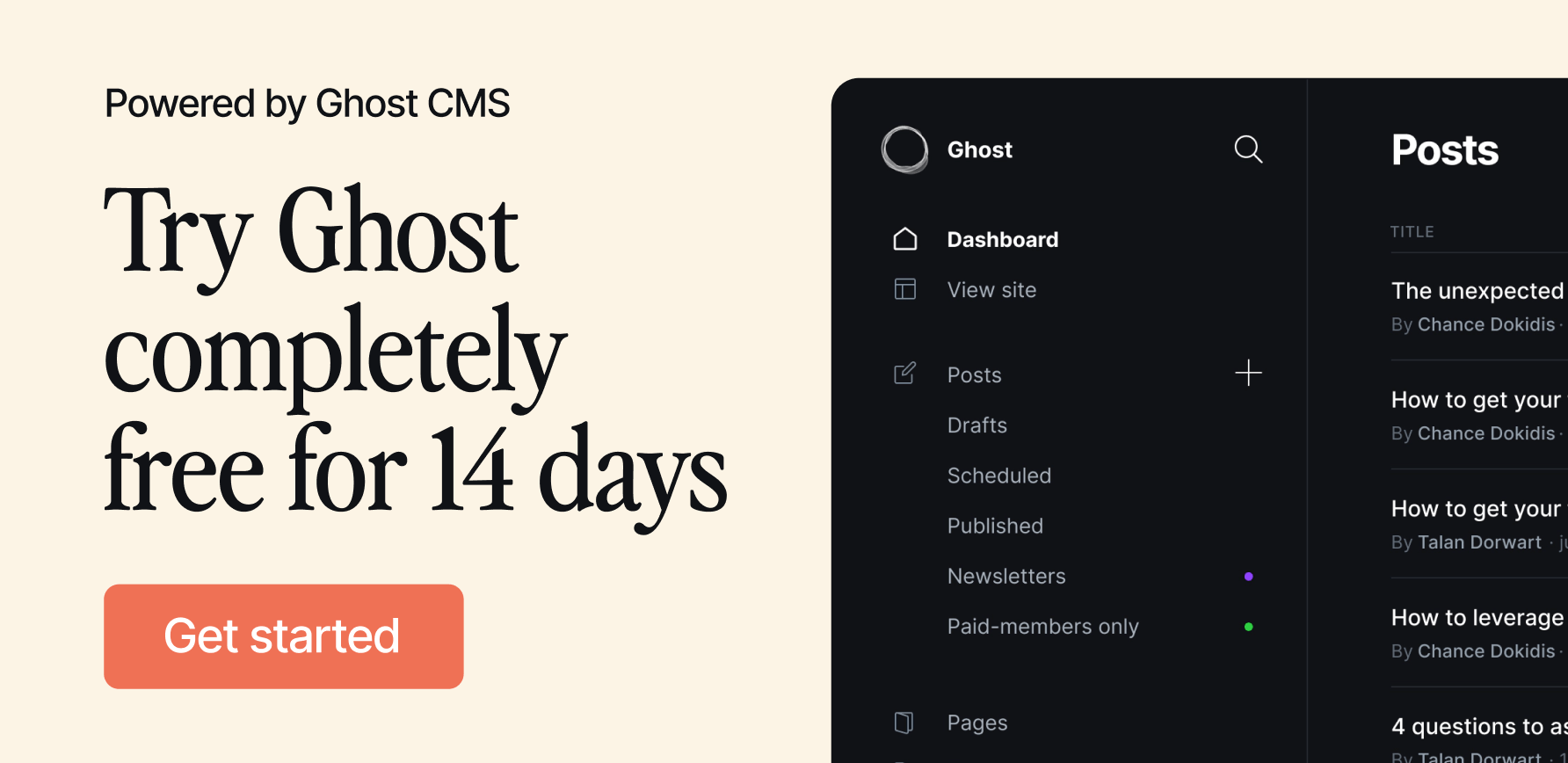 ---