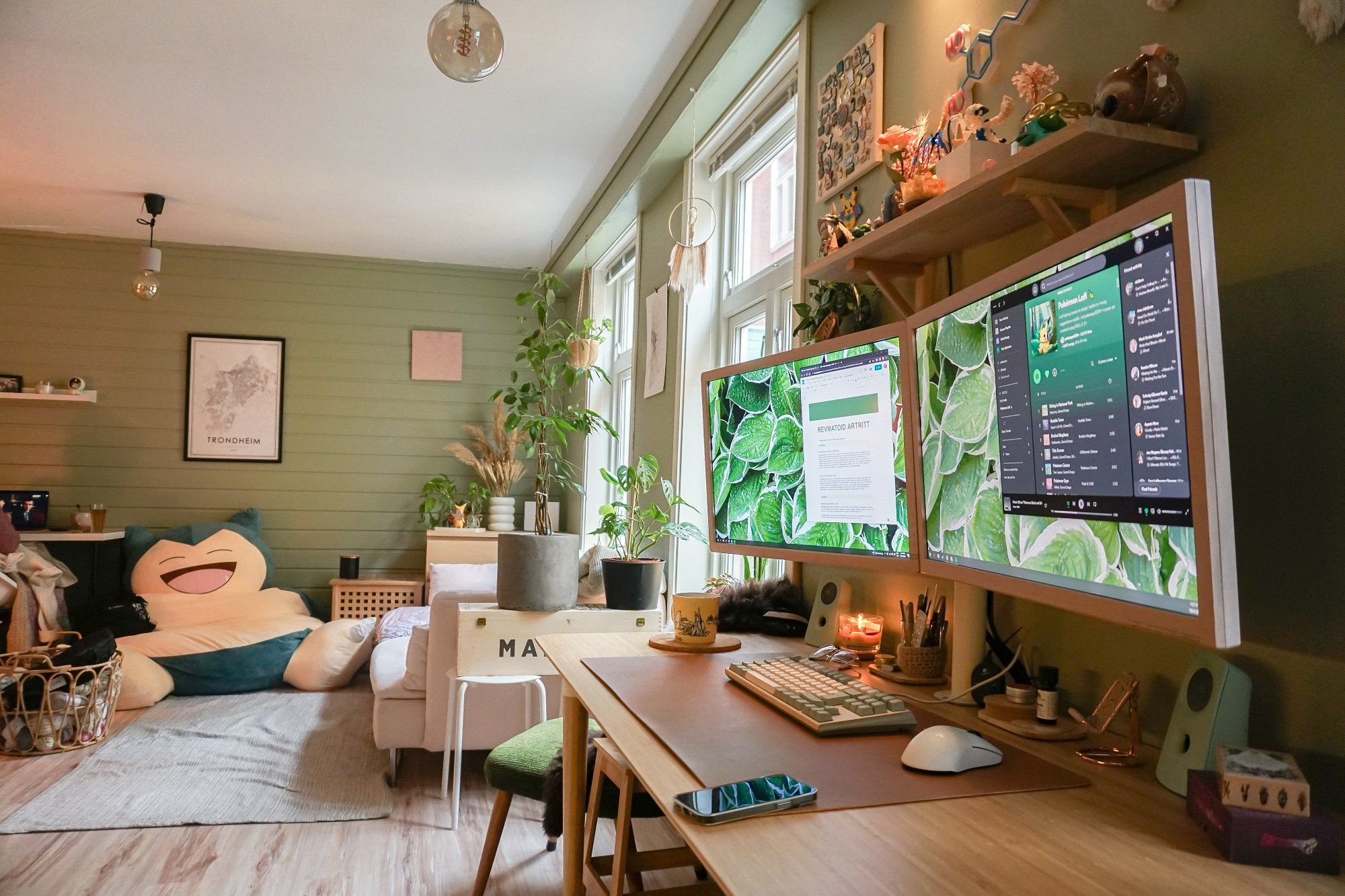 Zen Workspace in Trondheim, Norway
"I love natural materials and textures, and I want to avoid blacks and plastics to the best of my ability"
Join 1700+ Curious Readers.
Every Sunday evening, get an *in-depth* workspace tour from a random corner of the world.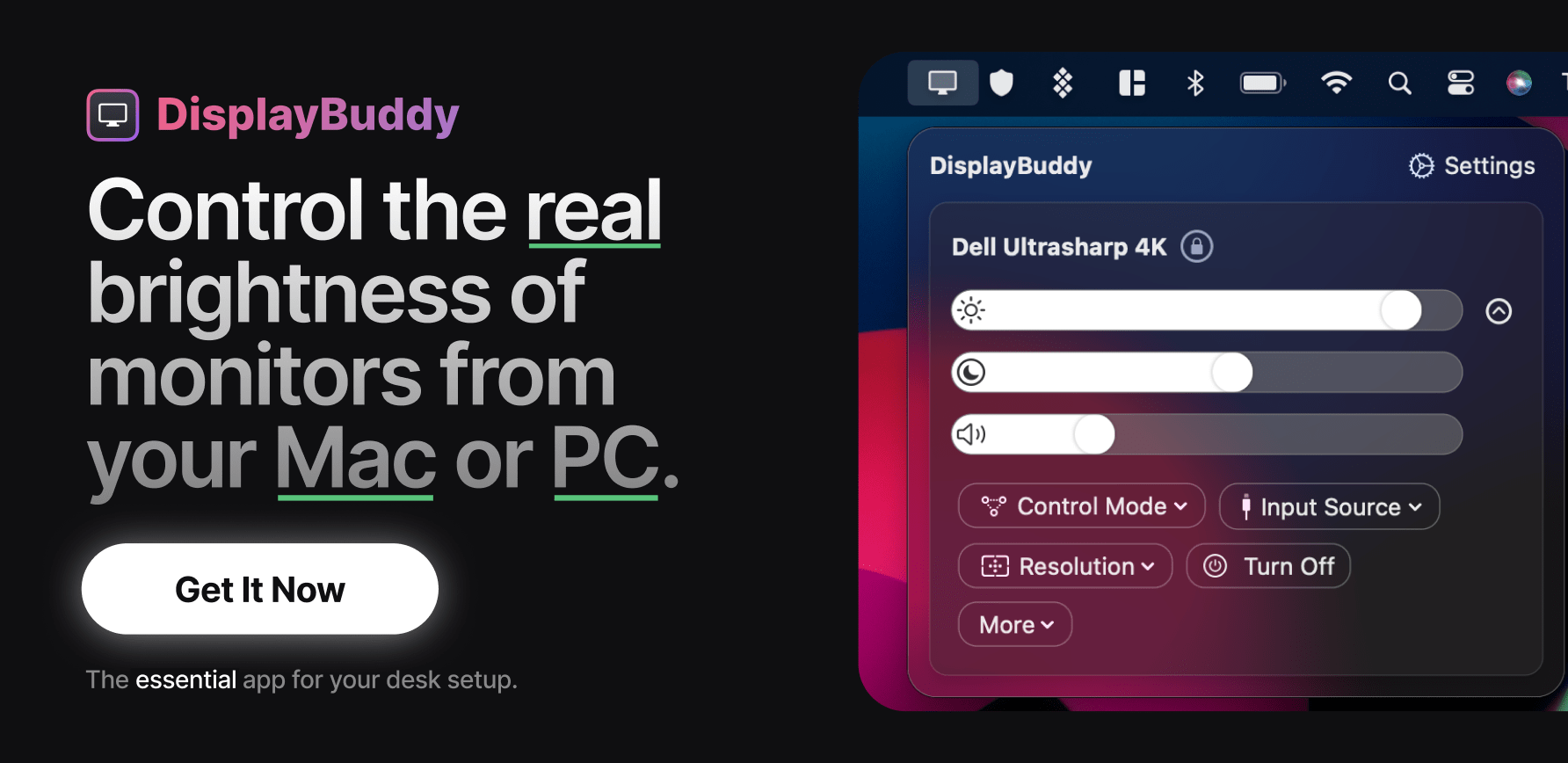 Name: Tanja Renate Aakerøy
Location: Trondheim, Norway
Occupation: Former photographer, now about to graduate as a radiographer
Room size: 30 m² (323 ft²)
Cost of setup: ~$3K
Social media: Instagram
Hello! Tell us a bit about yourself
Greetings! I'm Tanja, a coastal child from the North of Norway.
I'm a student living in Trondheim, Norway, with my dog Atlas and my roommate Julie in a central two-bedroom apartment.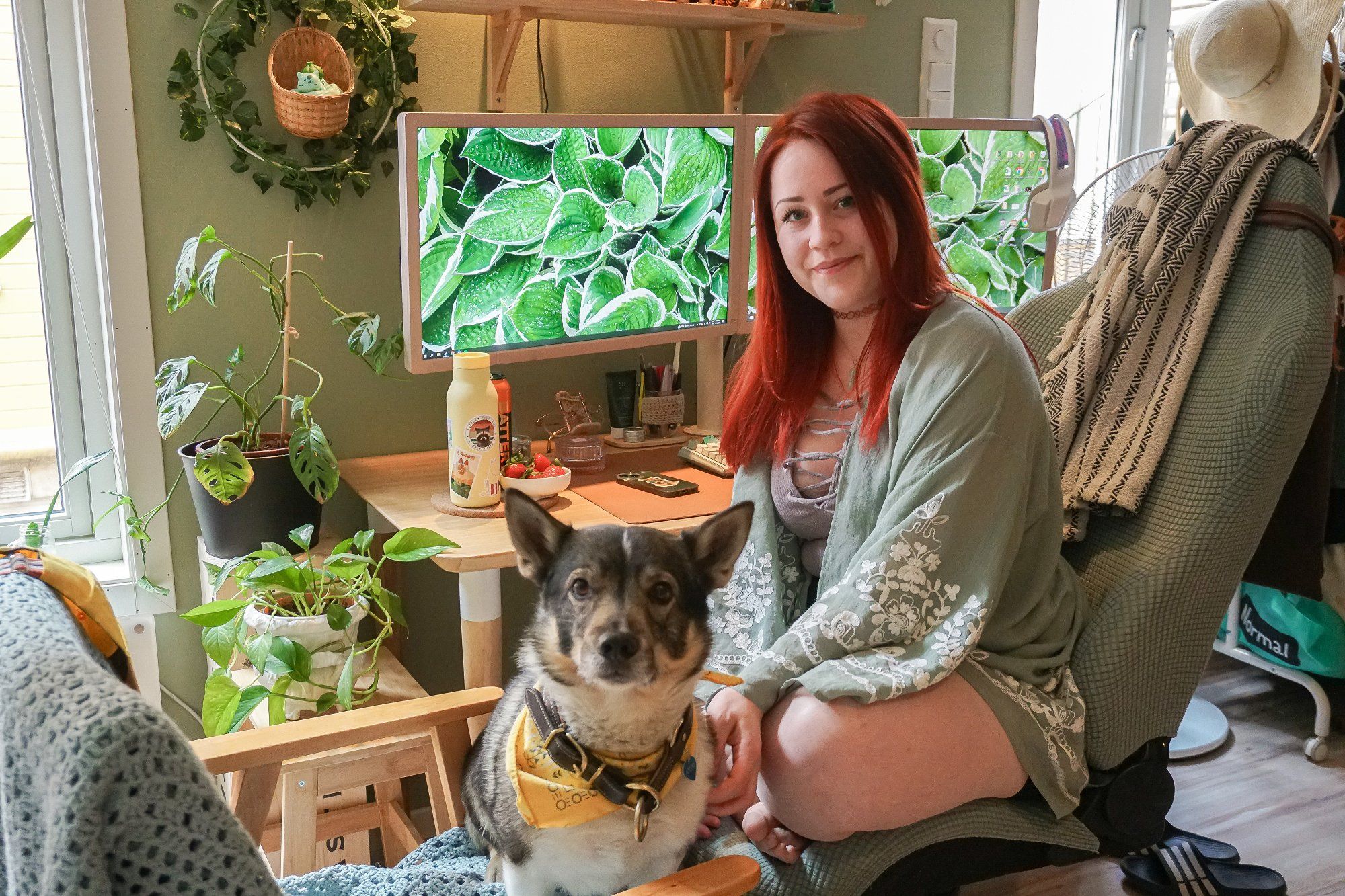 I come from a small island village on Helgelandskysten.
I grew up in a four-season climate, within walking distance of great mountains, coasts, and forests, which is something I find great comfort in today as an adult and is represented via grounding elements in my setup.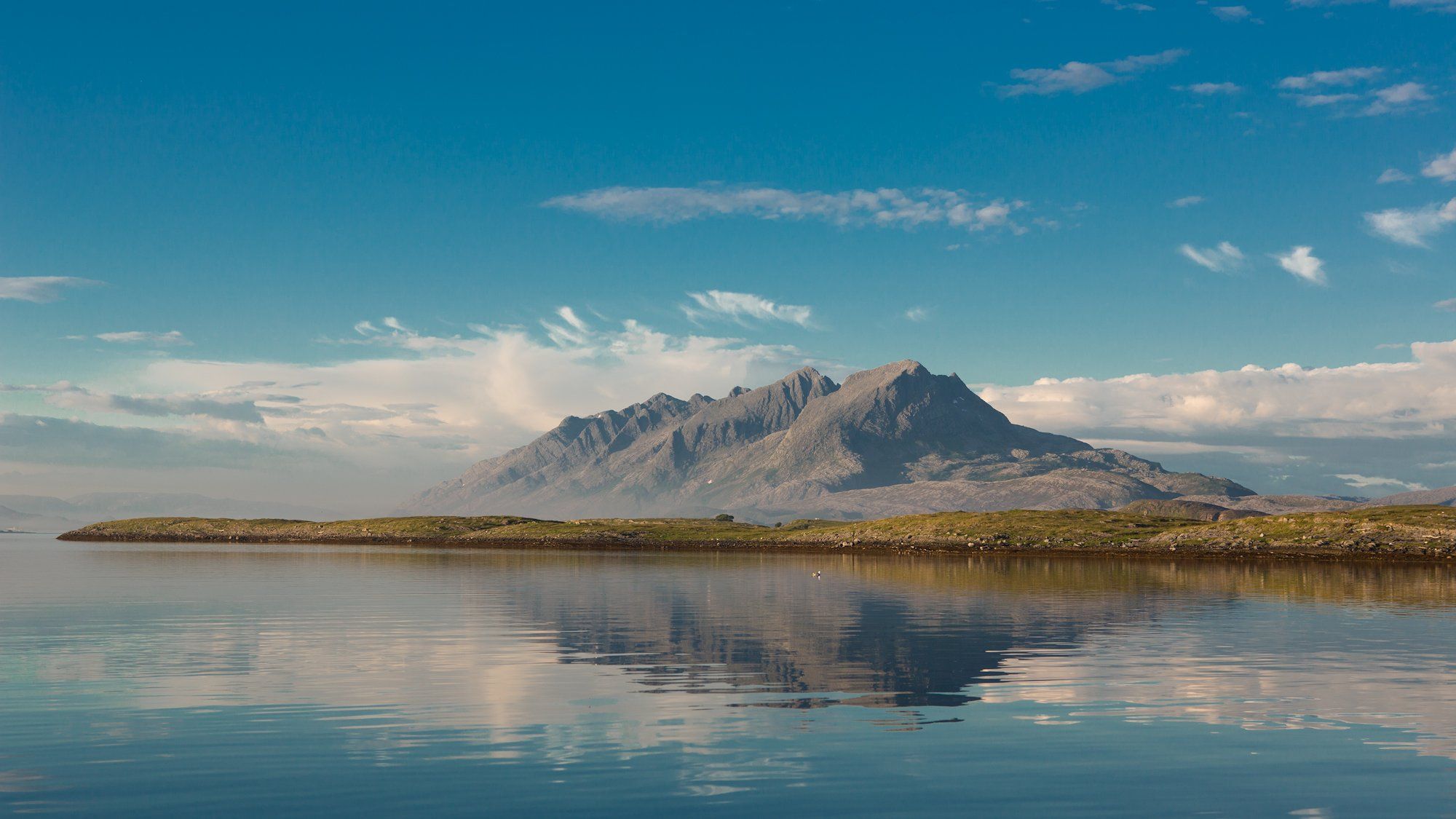 Trondheim is about seven hours away from home, where I am finishing up a bachelor's degree in radiography after a decade of doing photography.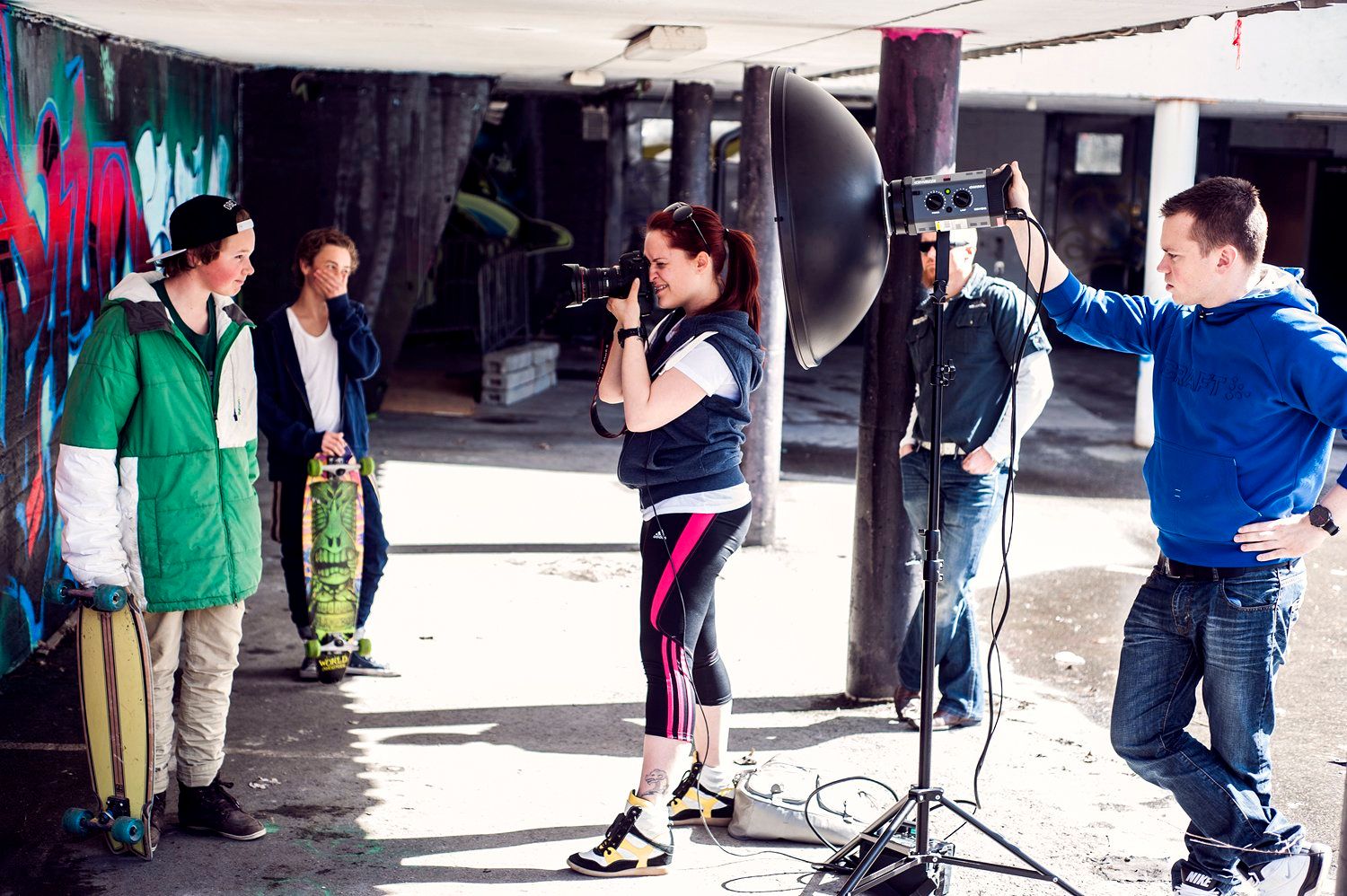 In 2016, I started working part-time in a hobby & craft supply store, Panduro, where I still work occasionally while studying.
I love being able to stay creative.
It's a source of energy for me.
Over the twelve years before moving here, I've lived in thirteen different cities in two different countries.
I've been in Trondheim for three years now, and it is the longest I've stayed put in one place since leaving home at age 16 to study.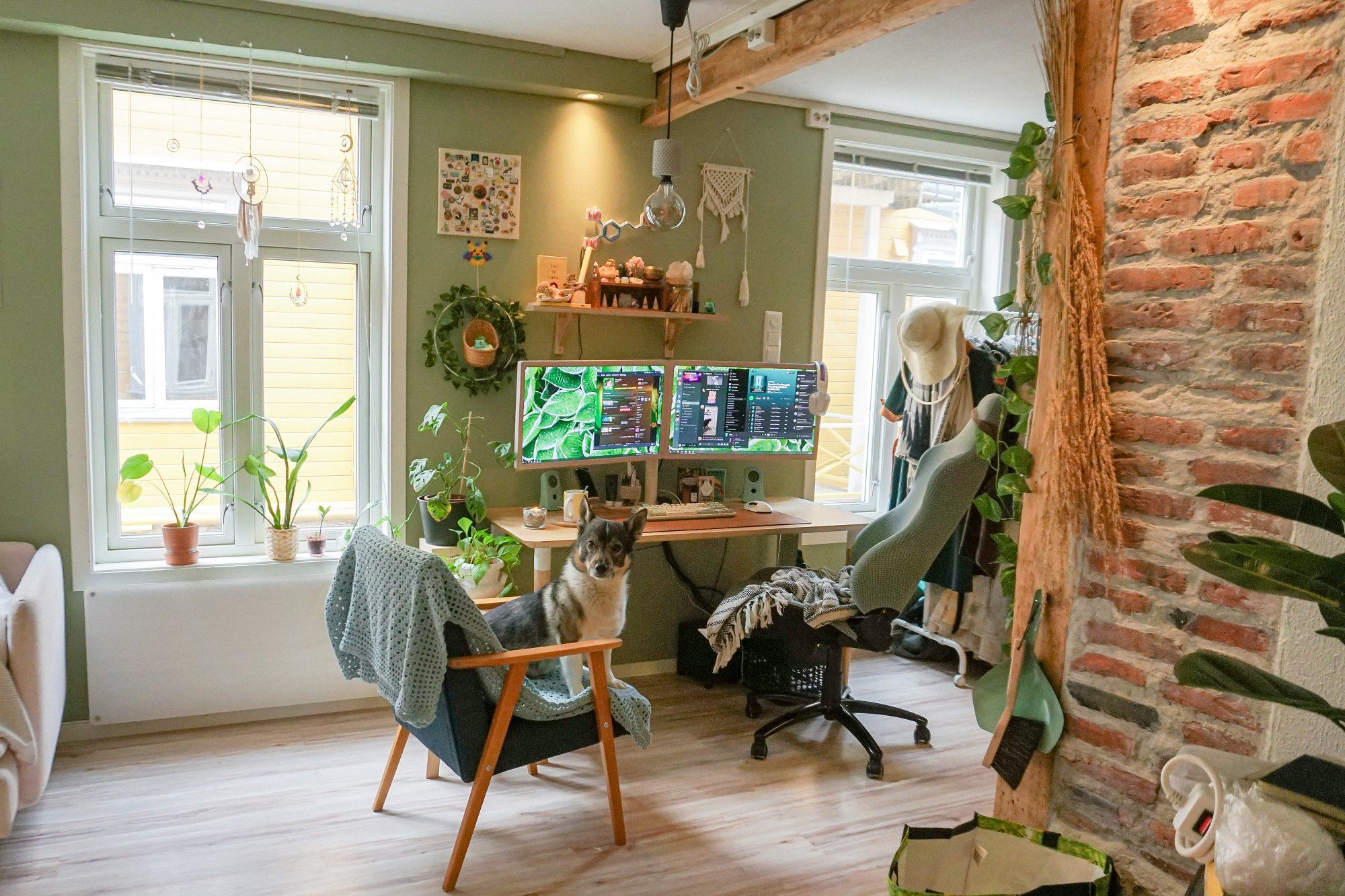 Because of this, my setups are ever-changing and evolving as I grow, but it's also the place I put a lot of effort into making a home.
In 2021, I lost my then-fiancé and essentially became a widow before the age of 30, which has been such a transformative experience for me.
I have found myself returning a lot more to my roots and spiritual side.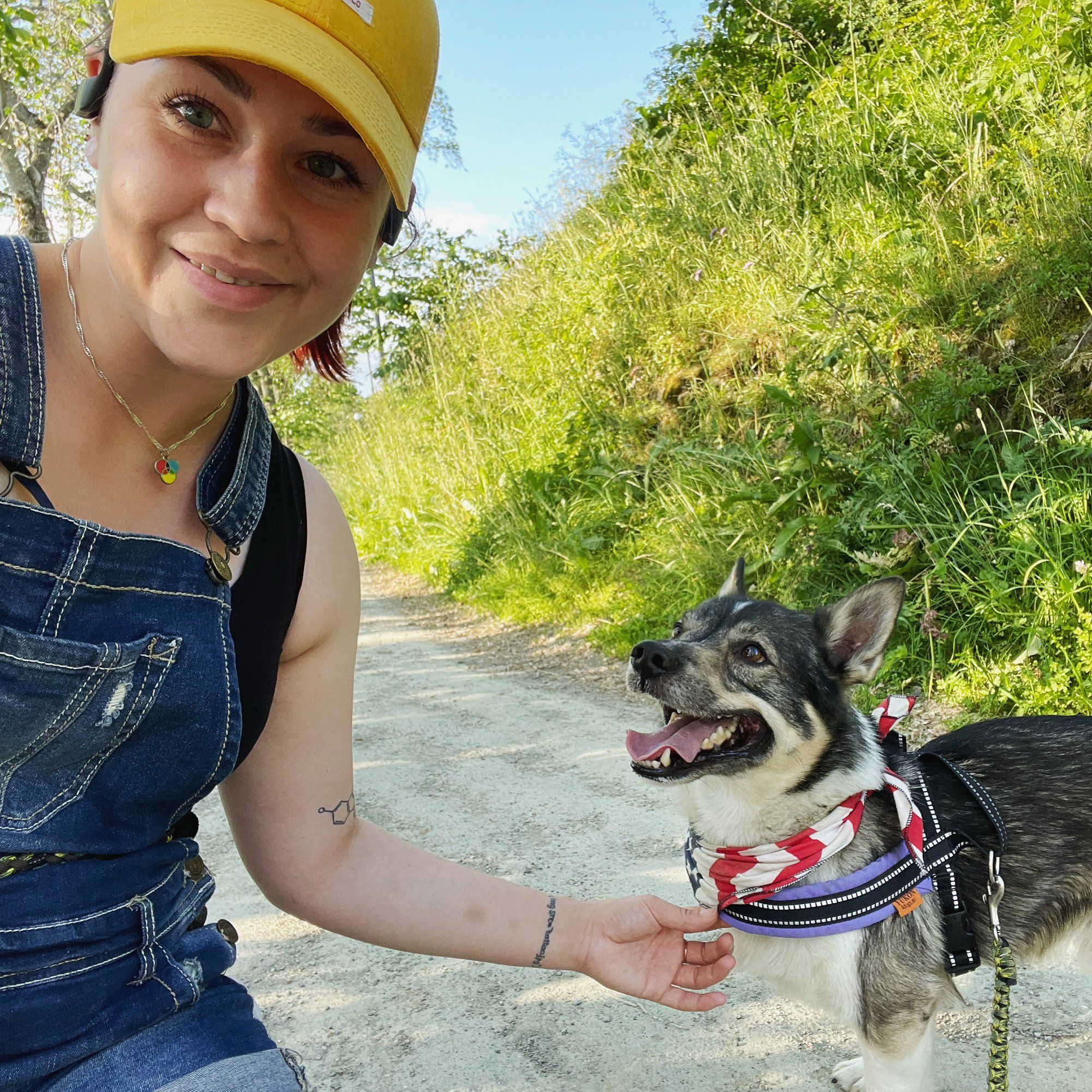 Although I have always had that part inside of me, it has only started surfacing more in the past two years. This shift coincides with finding greater security in myself as a result of going through a traumatic experience.
I enjoy the freedom of the minimalist mindset, practicing mindfulness and letting go of things as my ideas and needs have changed.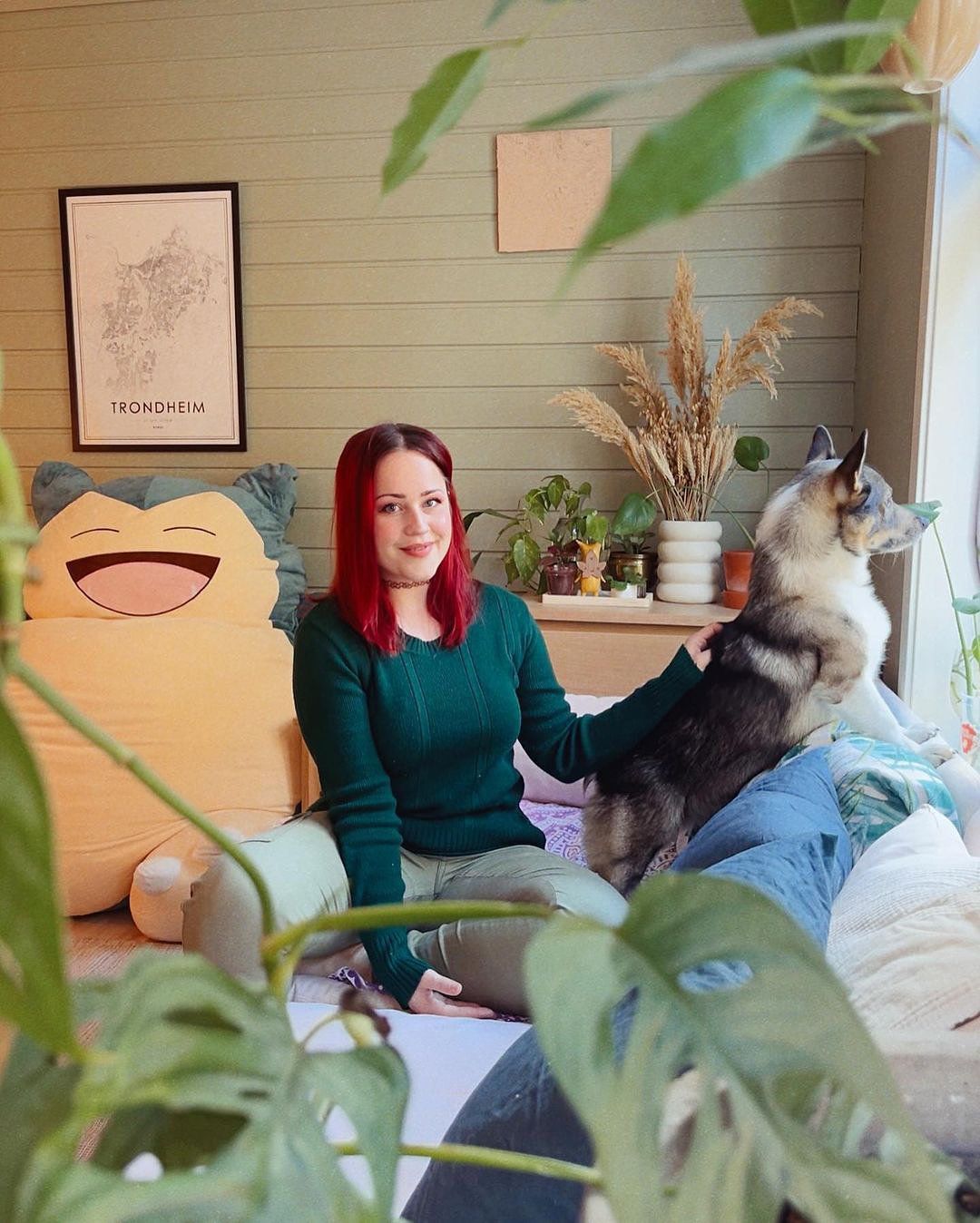 I try to be more conscious about how I use and where I place my own energy and time and I find a lot of guidance and comfort in the Tao.
I used to be a lot more angry and stressed, and while I still have my moments, I am much more aware of my inner ways and how it manifests physically.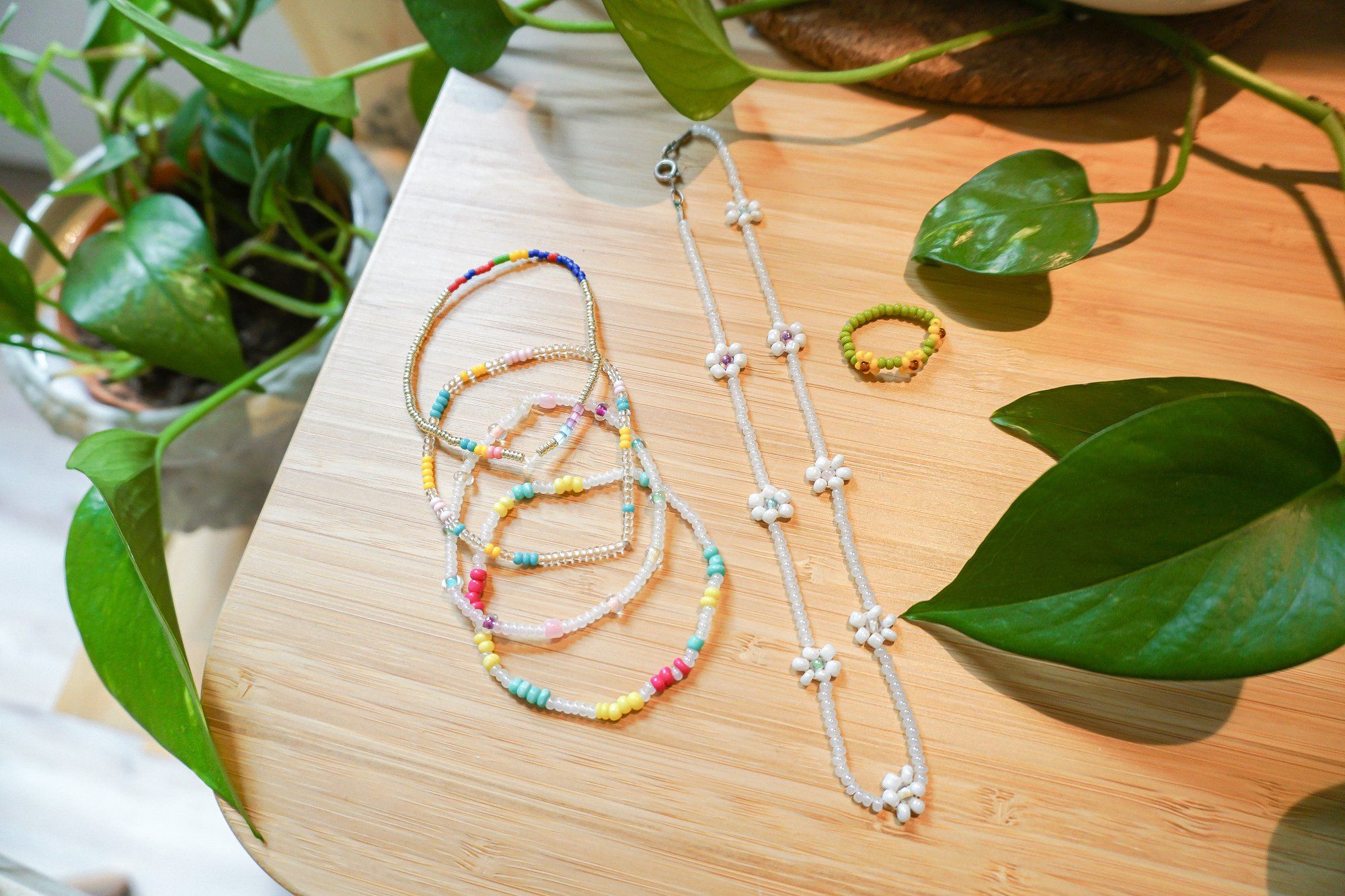 This awareness allows me to meet and handle these feelings in a completely different way.
In a sense, I have made my setup into my own type of Zen garden or altar to help ground myself.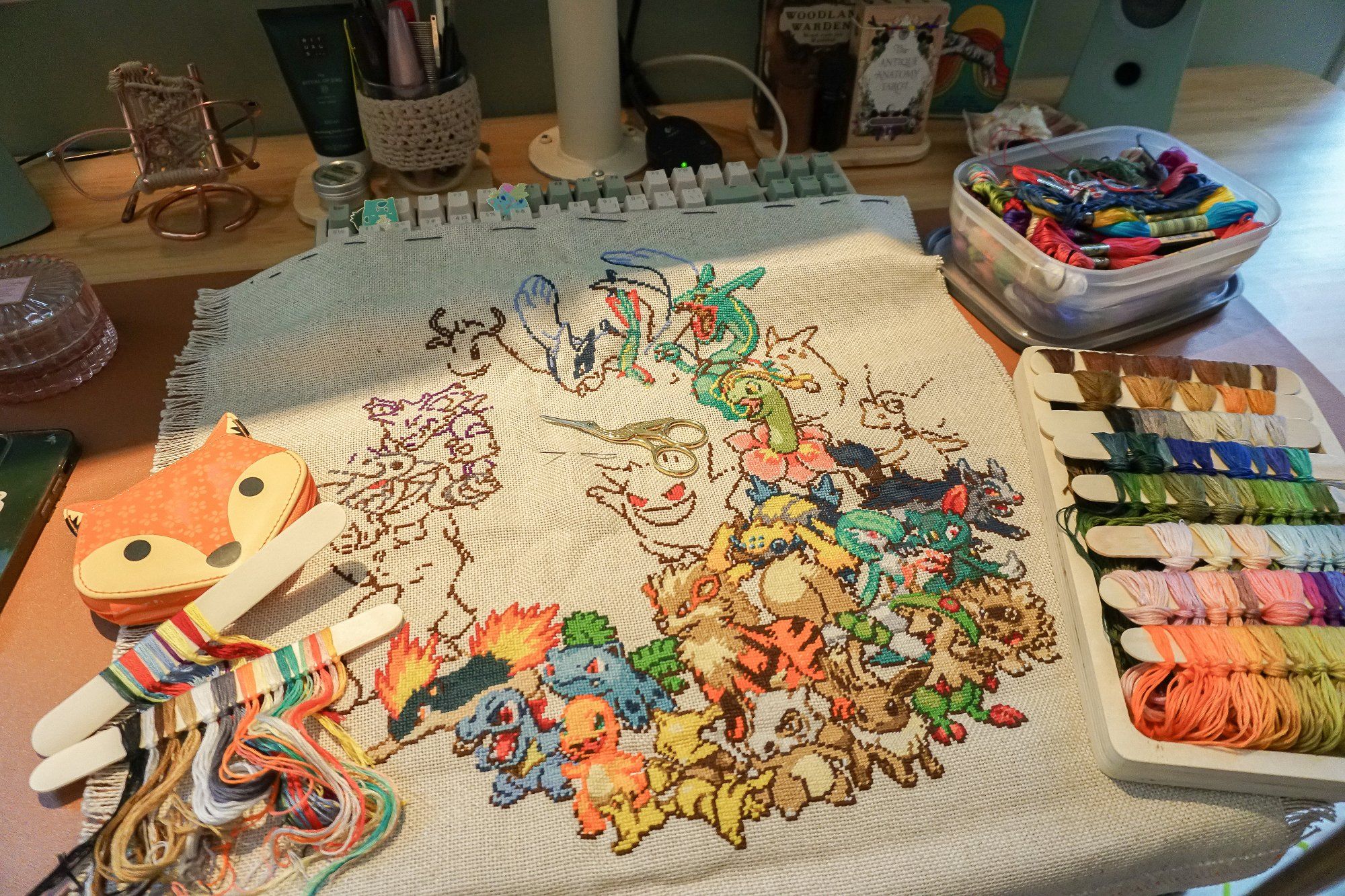 My hobbies include hiking, embroidery, macramé, seed bead bracelets, drawing/painting, video games, movie watching, and photography.
I help run a peer support community for young widow(-er)s we fittingly called The Dead End on Discord, where I mainly function as their tech monkey for the server setup.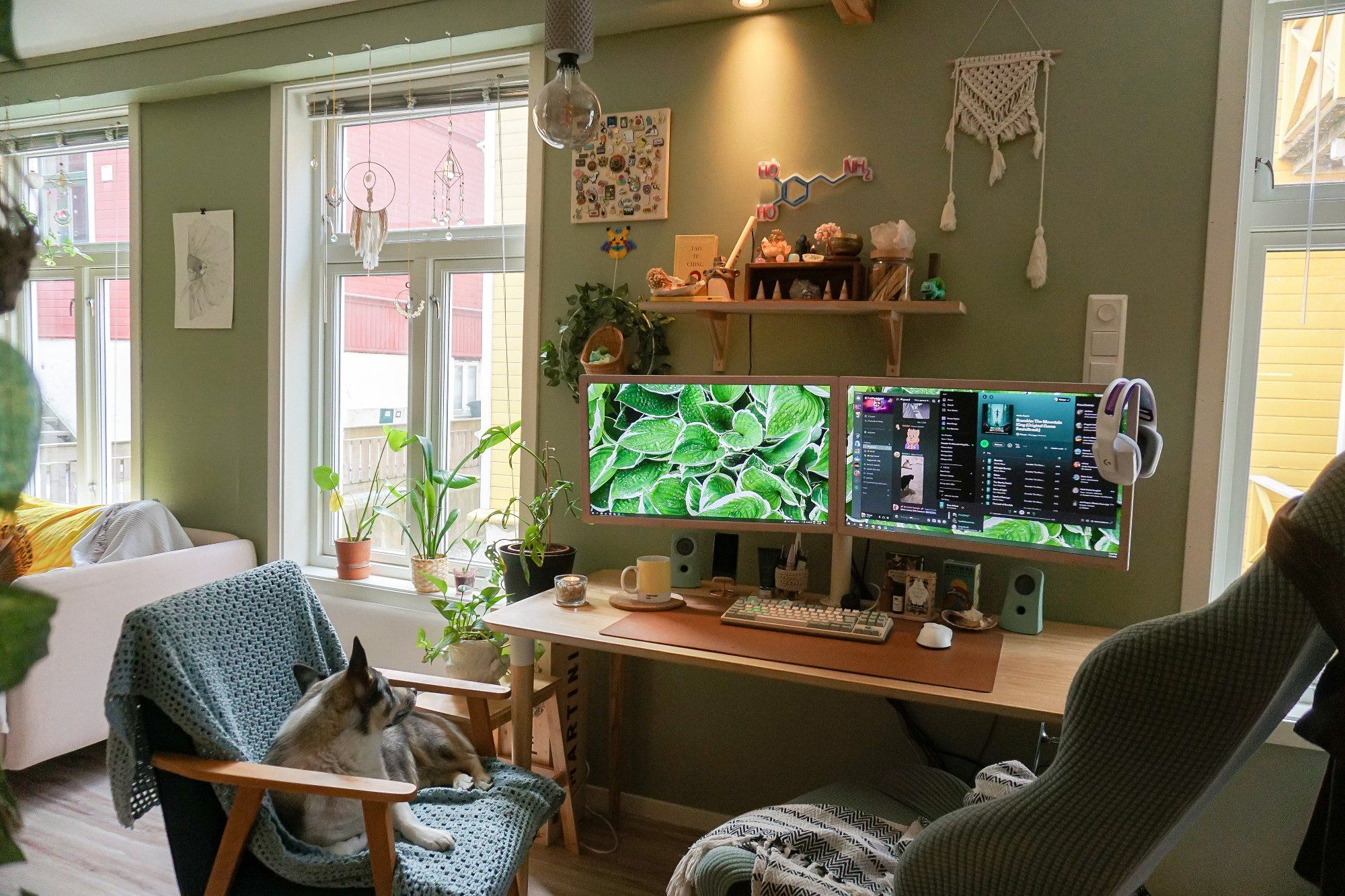 Take us through your setup
My desktop setup is located smack-dab in the middle of the kitchen and living room area because my desk fits perfectly there, and my bedroom is too small.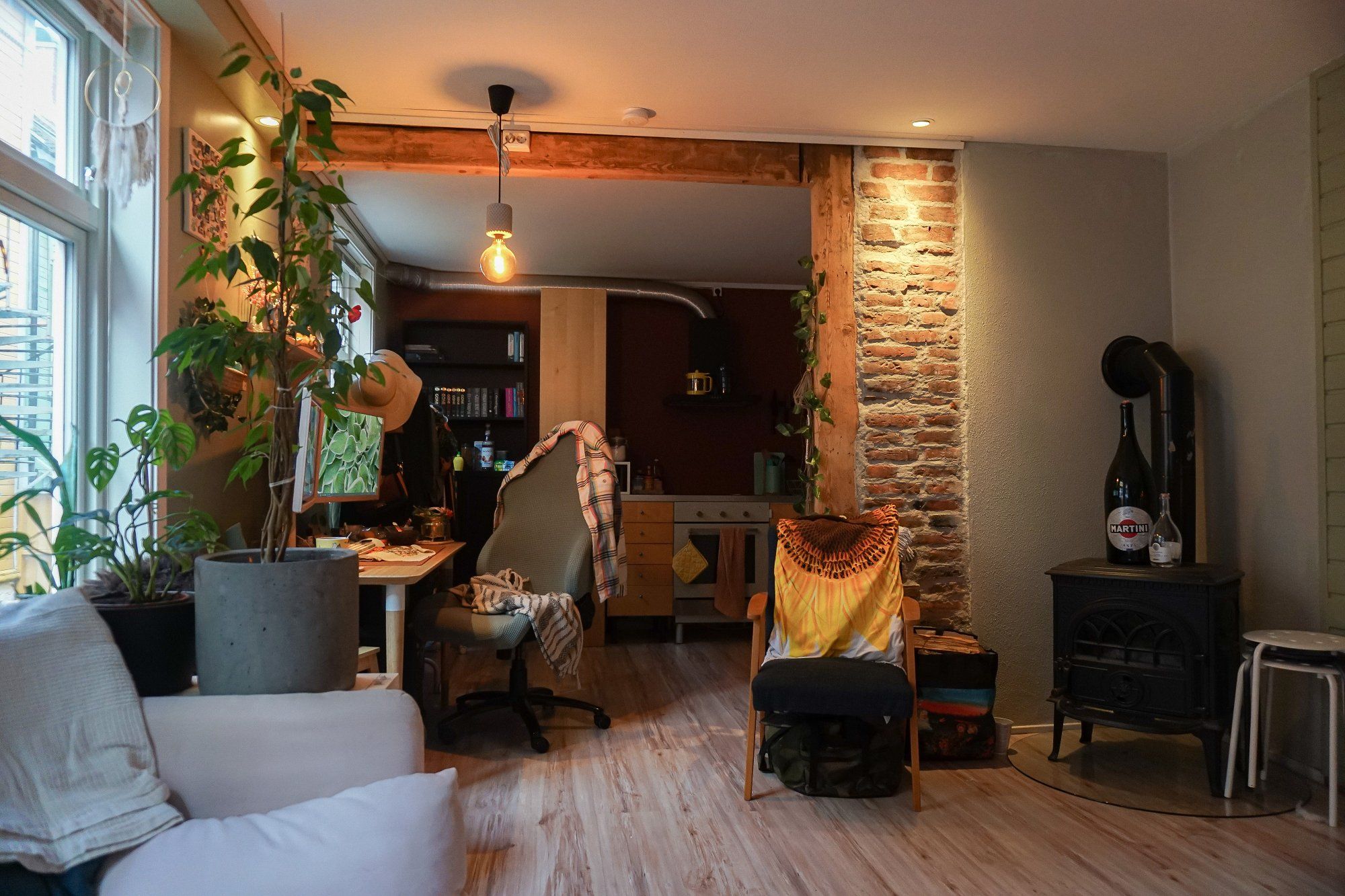 The first thing that catches people's attention is the serene atmosphere created by calm colours and elements, as well as the hand-painted beige acrylic frames adorning my monitors.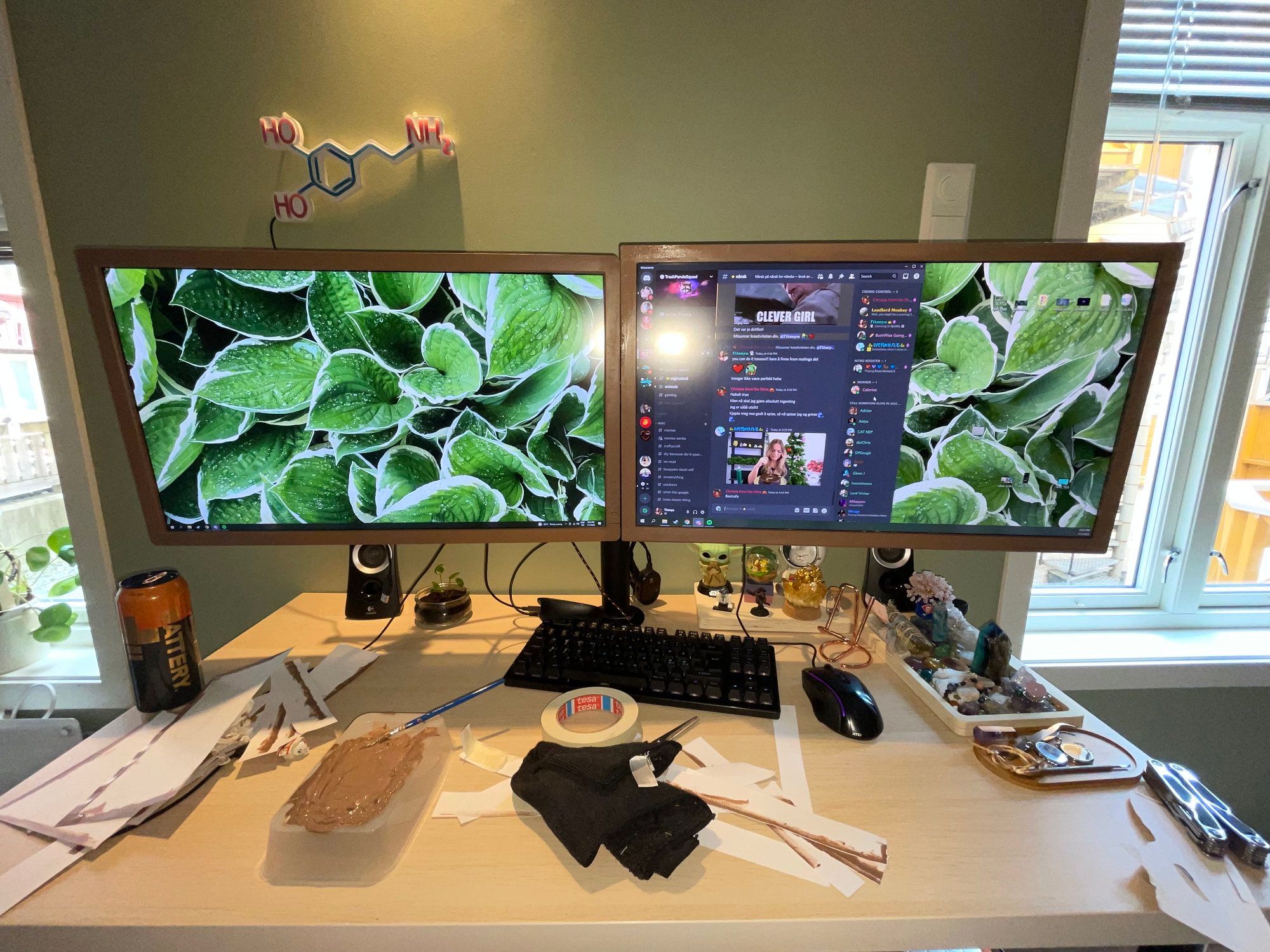 Our landlady lets us paint and hang things as we want, but the green wall paint (Olivenlund by Butinox) was already in place when we moved in.
It's a colour a lot of people ask about, and I recently had a person on Reddit show me a photo of a wall they did inspired by ours with the same paint!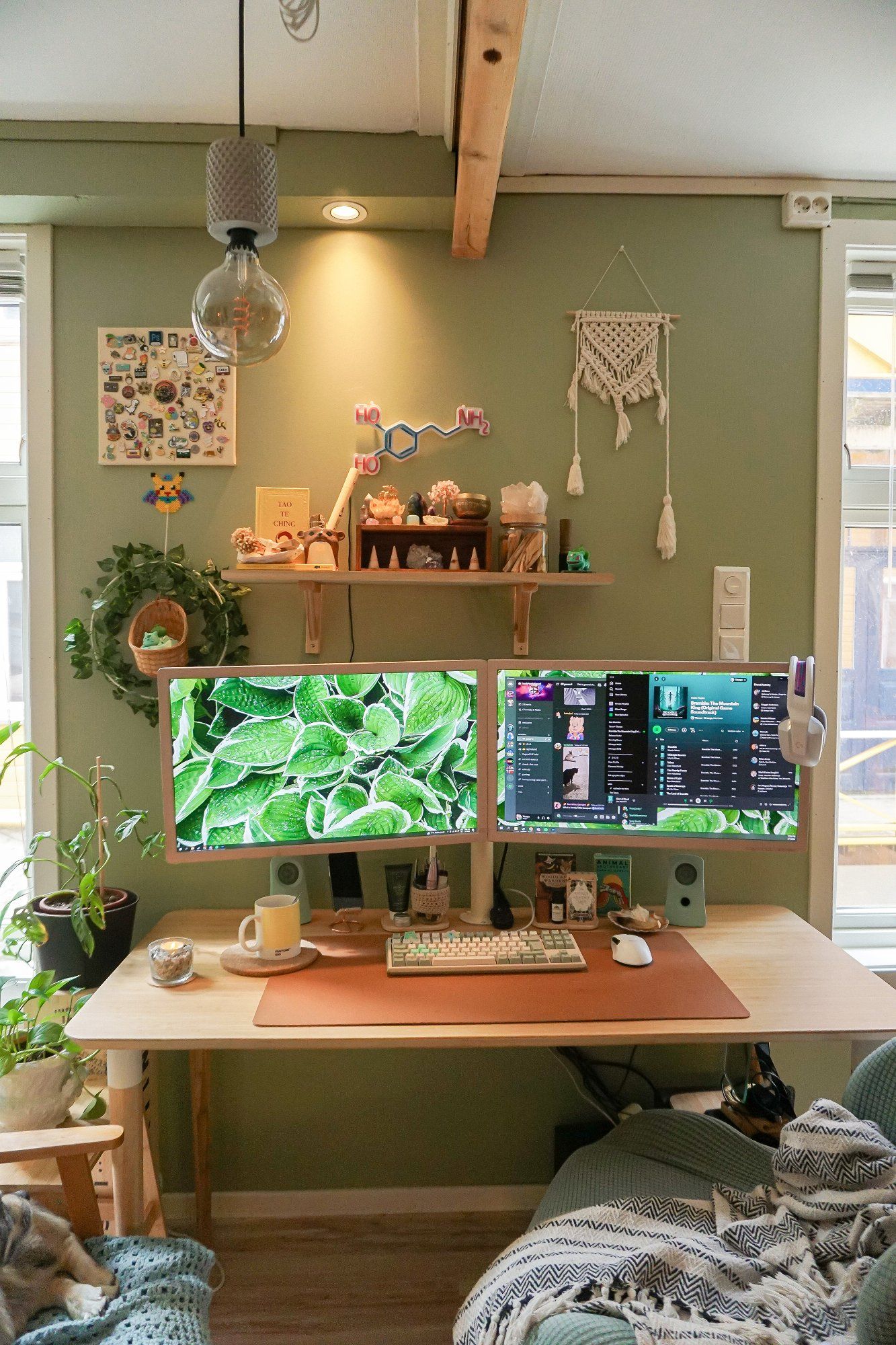 I did not want to spend money on new monitors for the sake of colour.
I wanted to take measures to reduce the appearance of darkness in my setup with some quick and cheap fixes.
It has become quite the icebreaker whenever I bring people over or post my photos on socials.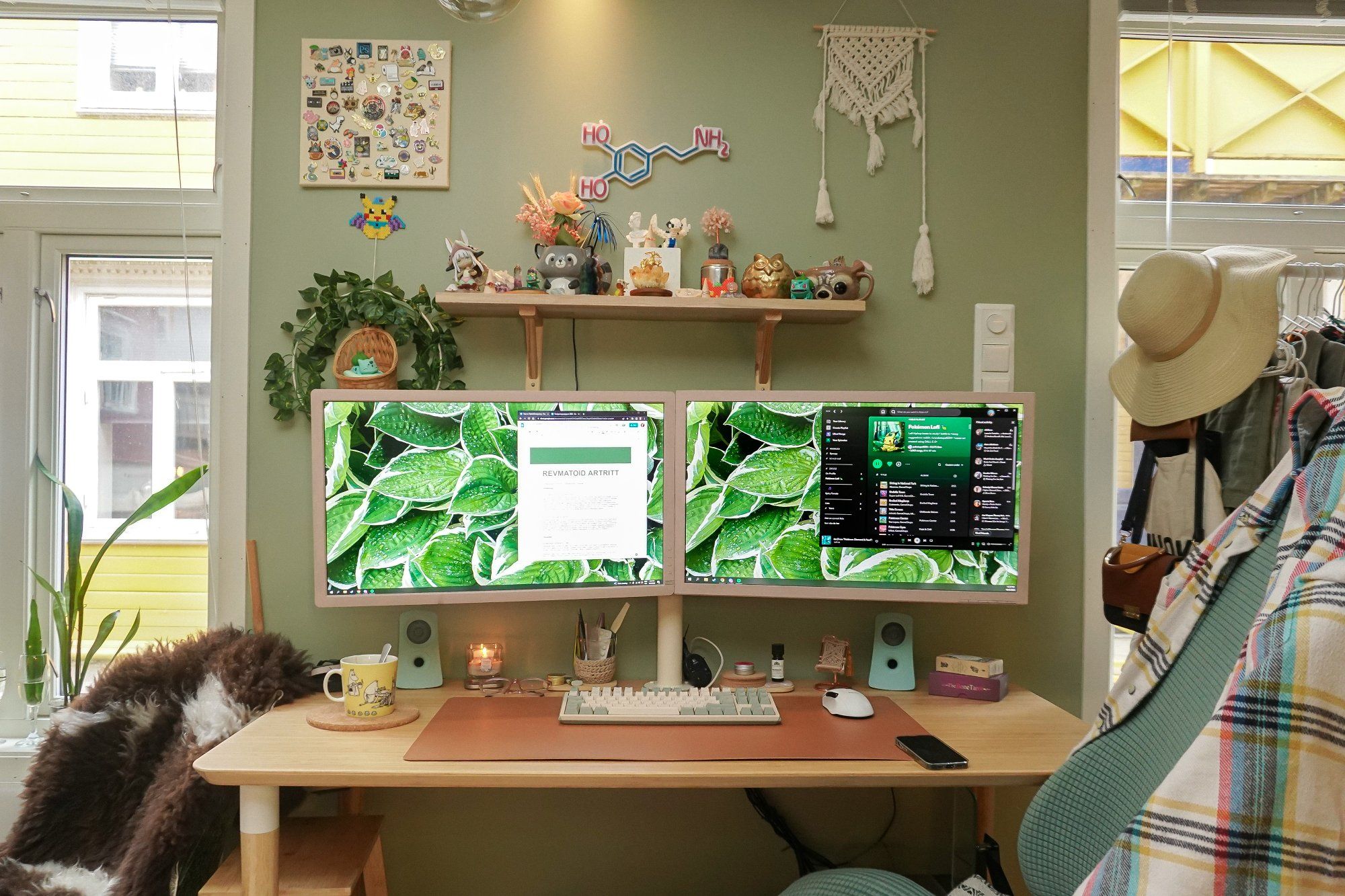 I love the big windows on both sides that provide a healthy dose of daylight and fresh air.
I went from having a darker setup with neon lights and lava lamps to a complete 180° switch where I need things to be calm and clean.
I love natural materials and textures and want to avoid blacks and plastics to the best of my ability.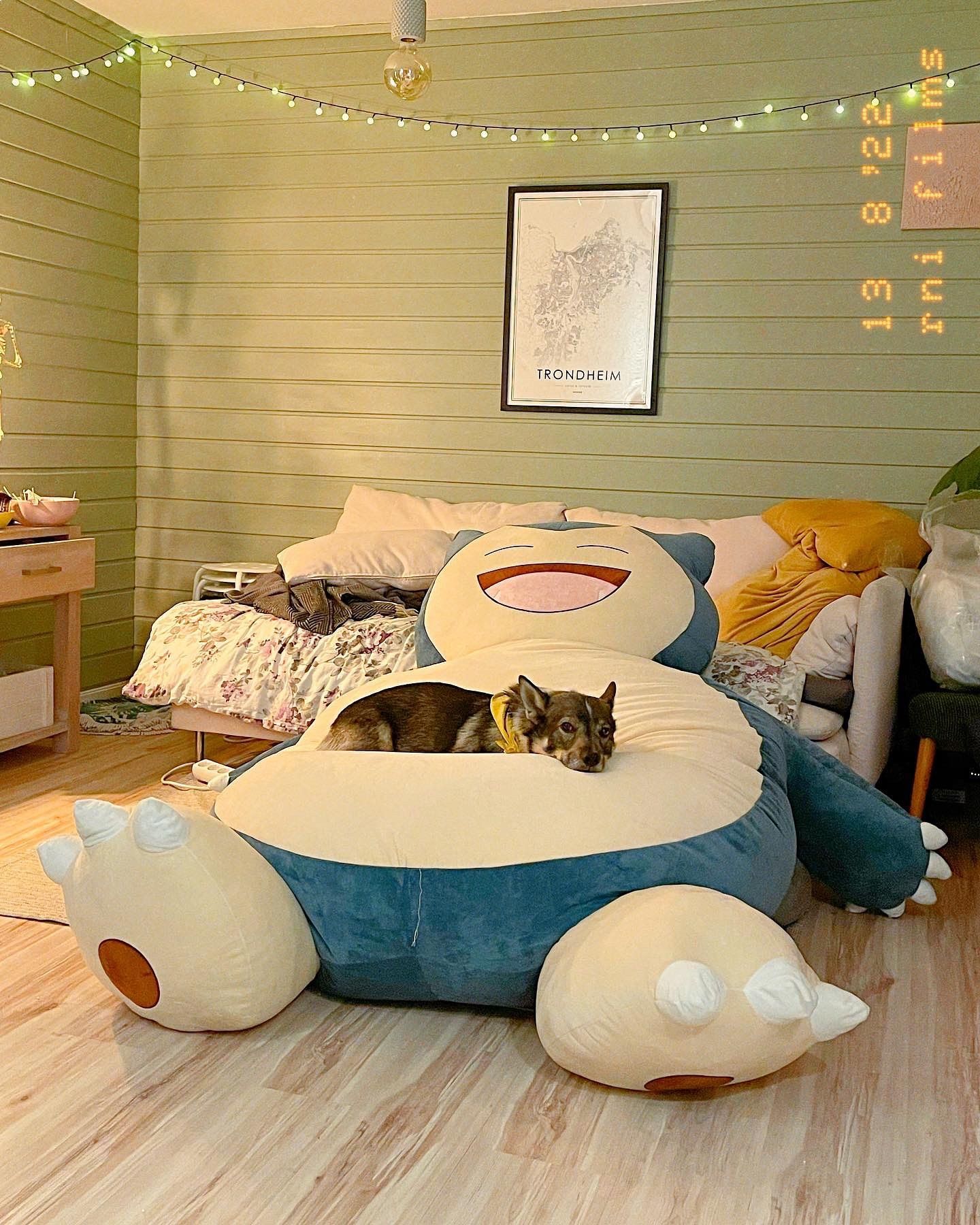 I'm always looking for ways to create and craft things myself.
For instance, I added a crocheted band around my makeup glass and a macramé addition to my phone stand to make them blend more into my setup.
It's amazing what some cotton yarn and beige paint can do to better tie mismatching things together.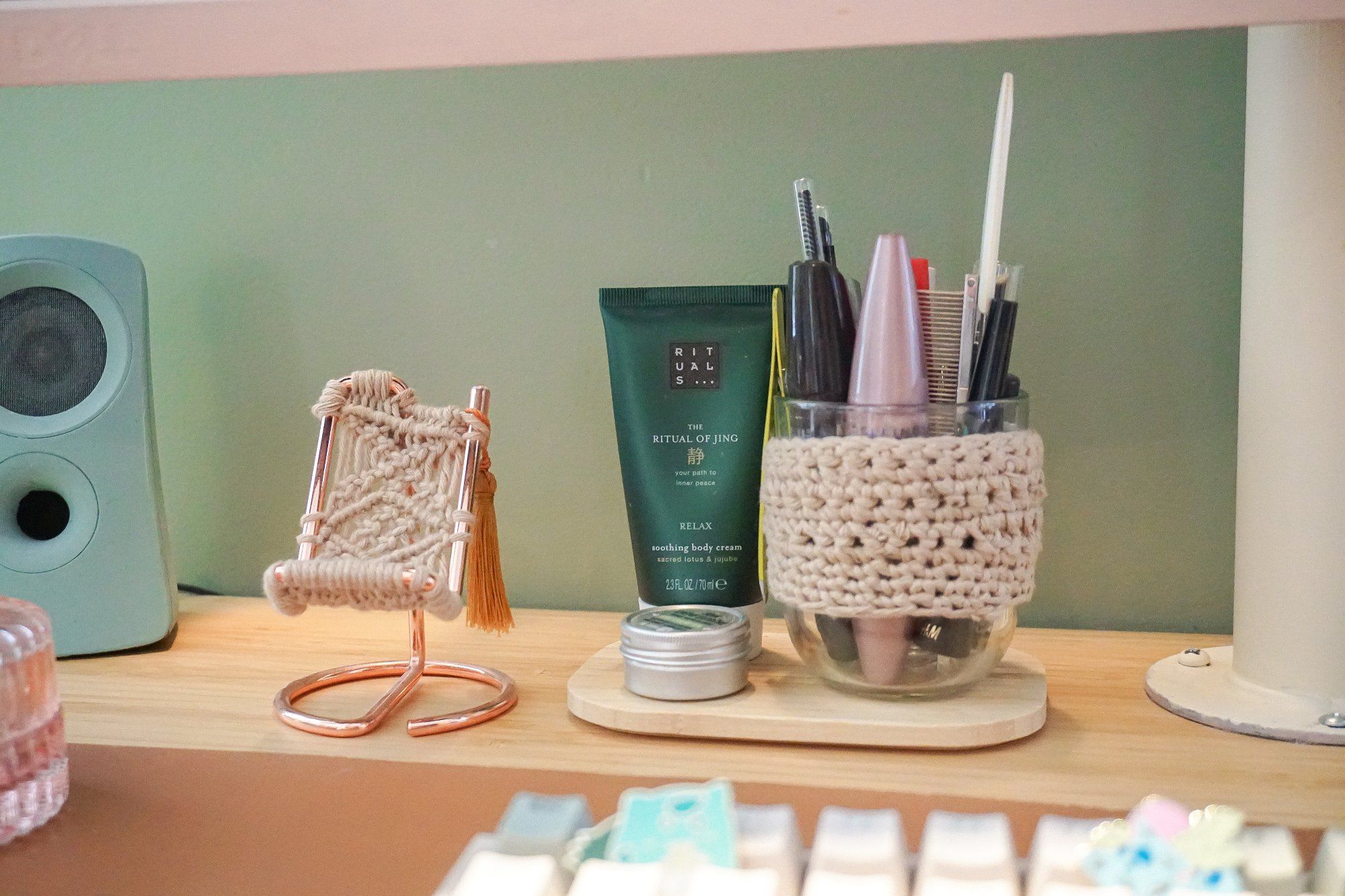 The black and yellow computer chair is covered with a ten dollar slipcover I found on AliExpress.
I have a dopamine neon LED sign that I got as a gift from my late fiancé that people often ask about, and you can find similar ones on Etsy.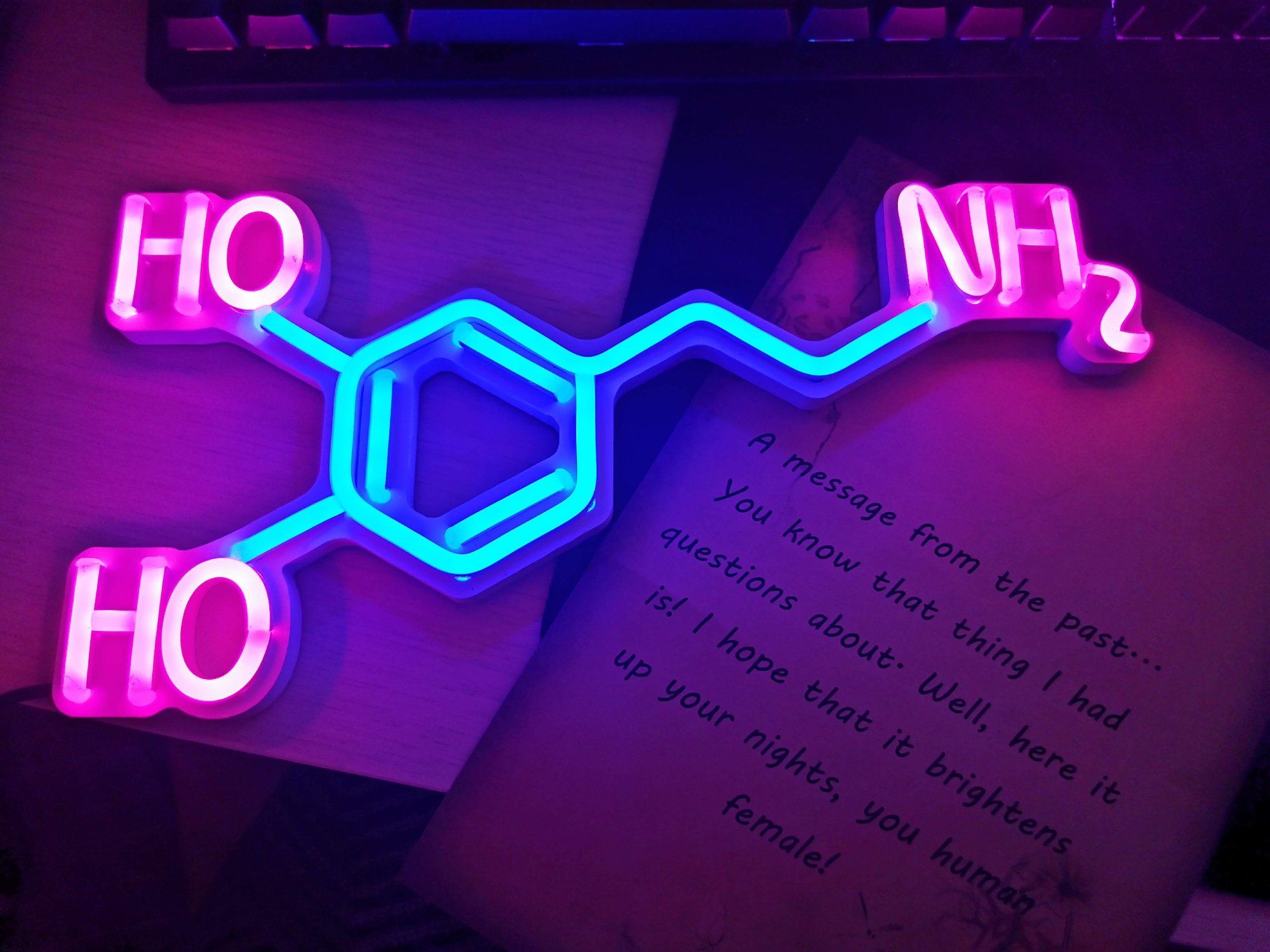 In addition to the dopamine lamp, I do have a serotonin tattoo, so now I need to figure out how to implement caffeine into this mix without it becoming too much!
I also have a half-assed macramé wall-hanging I made while trying to figure out some knots. And I don't know, it just stuck around despite having made better and bigger ones since.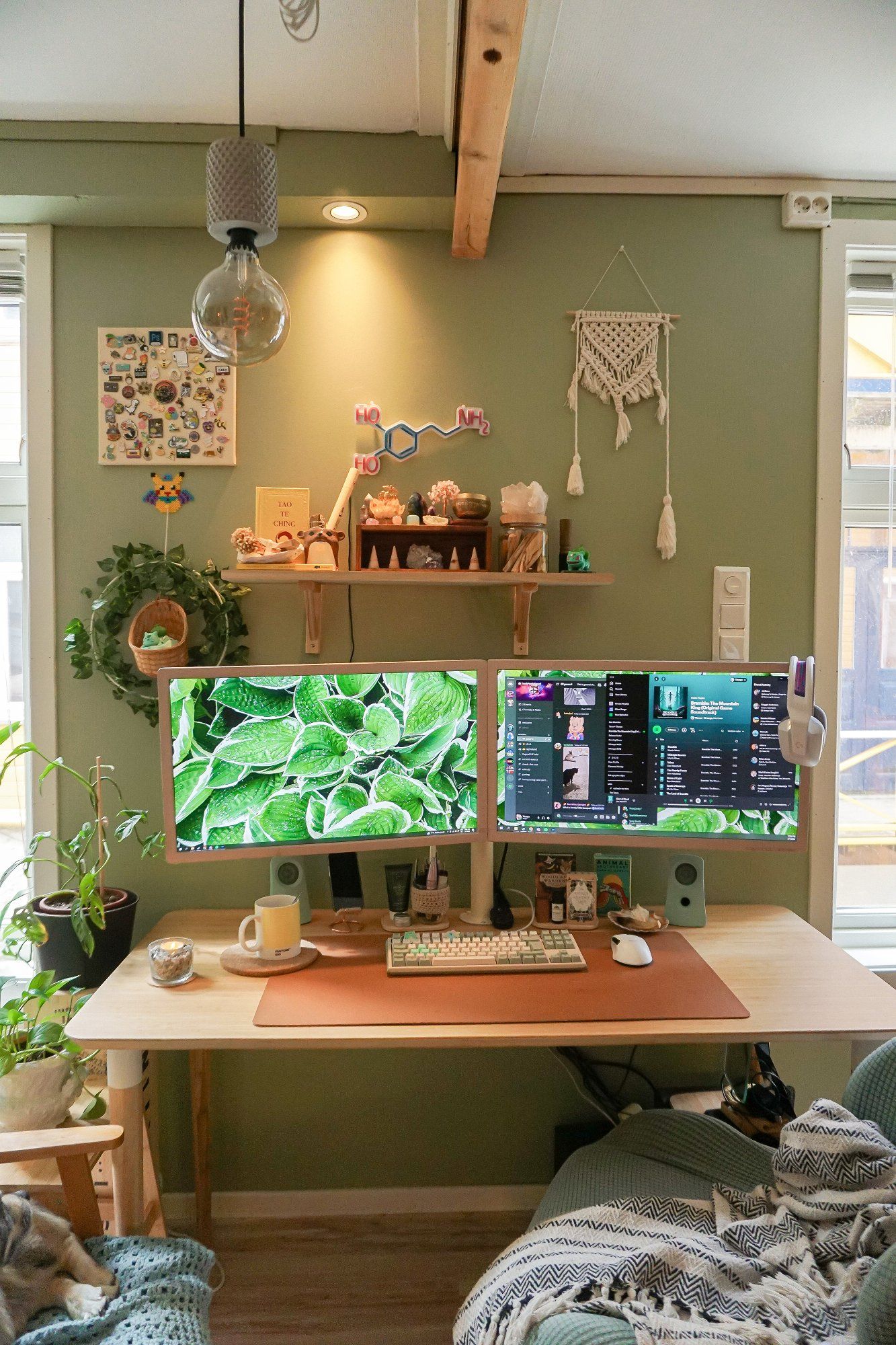 Most of the items on display serve as reminders of my personal values and abilities.
I used to have a lot more figurines and nerd merch around, but I realised it was contributing to mental clutter.
So, I transitioned to keeping various enamel pins, which represent elements of what I enjoy, on a painted canvas instead.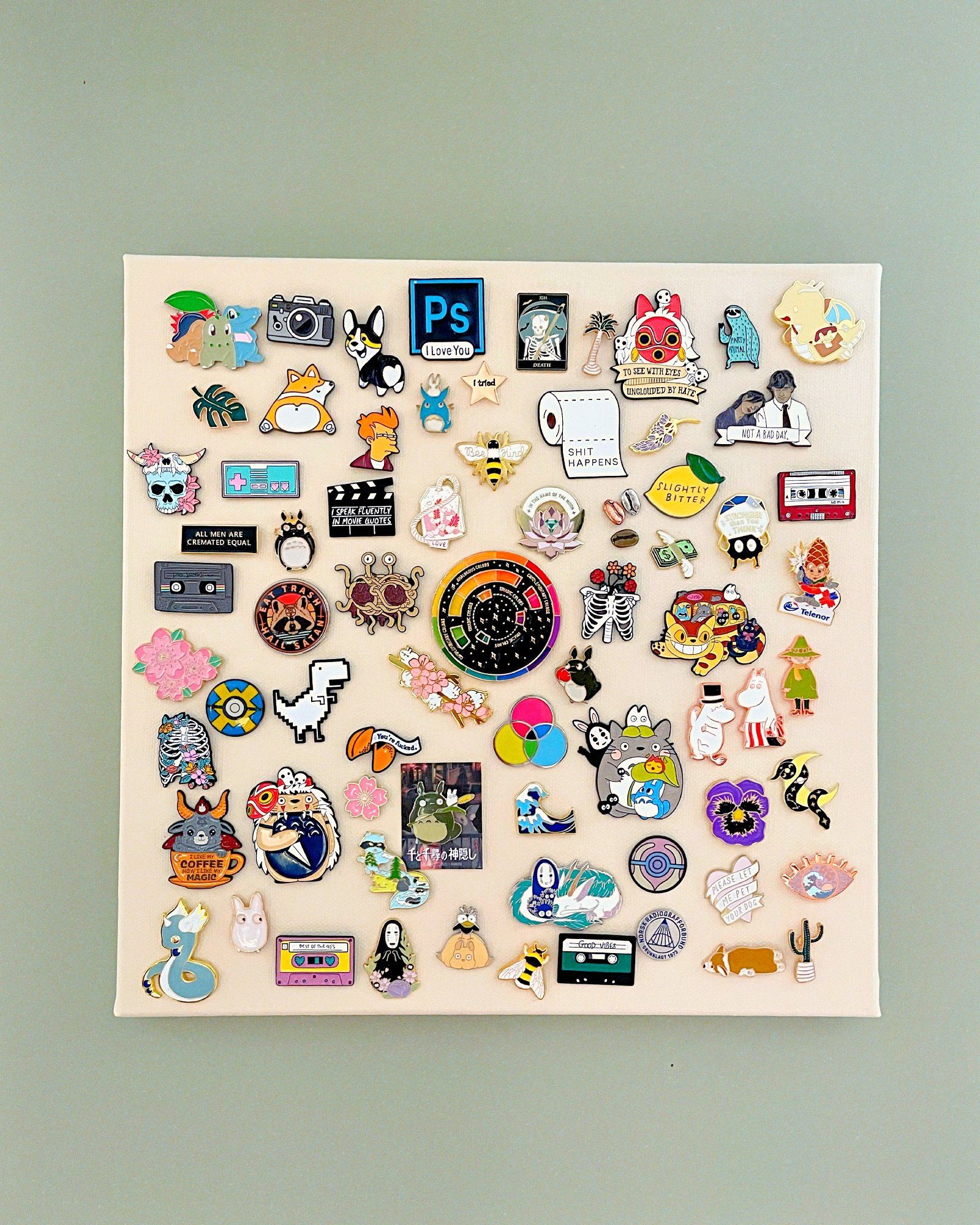 I also keep some sun catchers in the window.
Some are bought, some I made myself, and I love how it will cast tiny rainbows all over my living room at certain points of the day.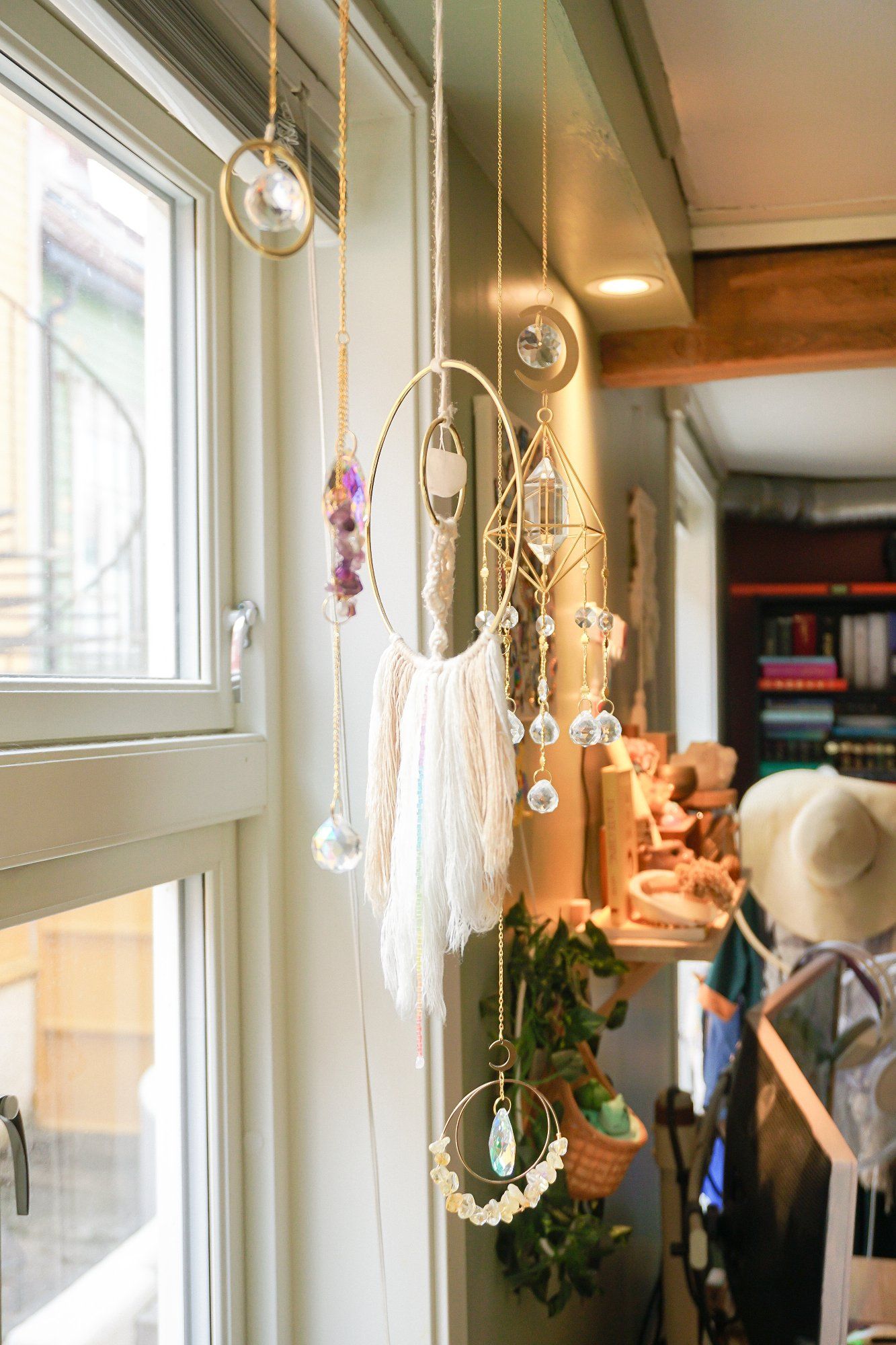 Always within arms reach, I have a chair with a blanket for my dog for some free oxytocin supply throughout the day.
Atlas is a six-year-old Swedish Vallhund, popularly known as the Viking corgi or wolf corgi, despite being an ancient Swedish breed.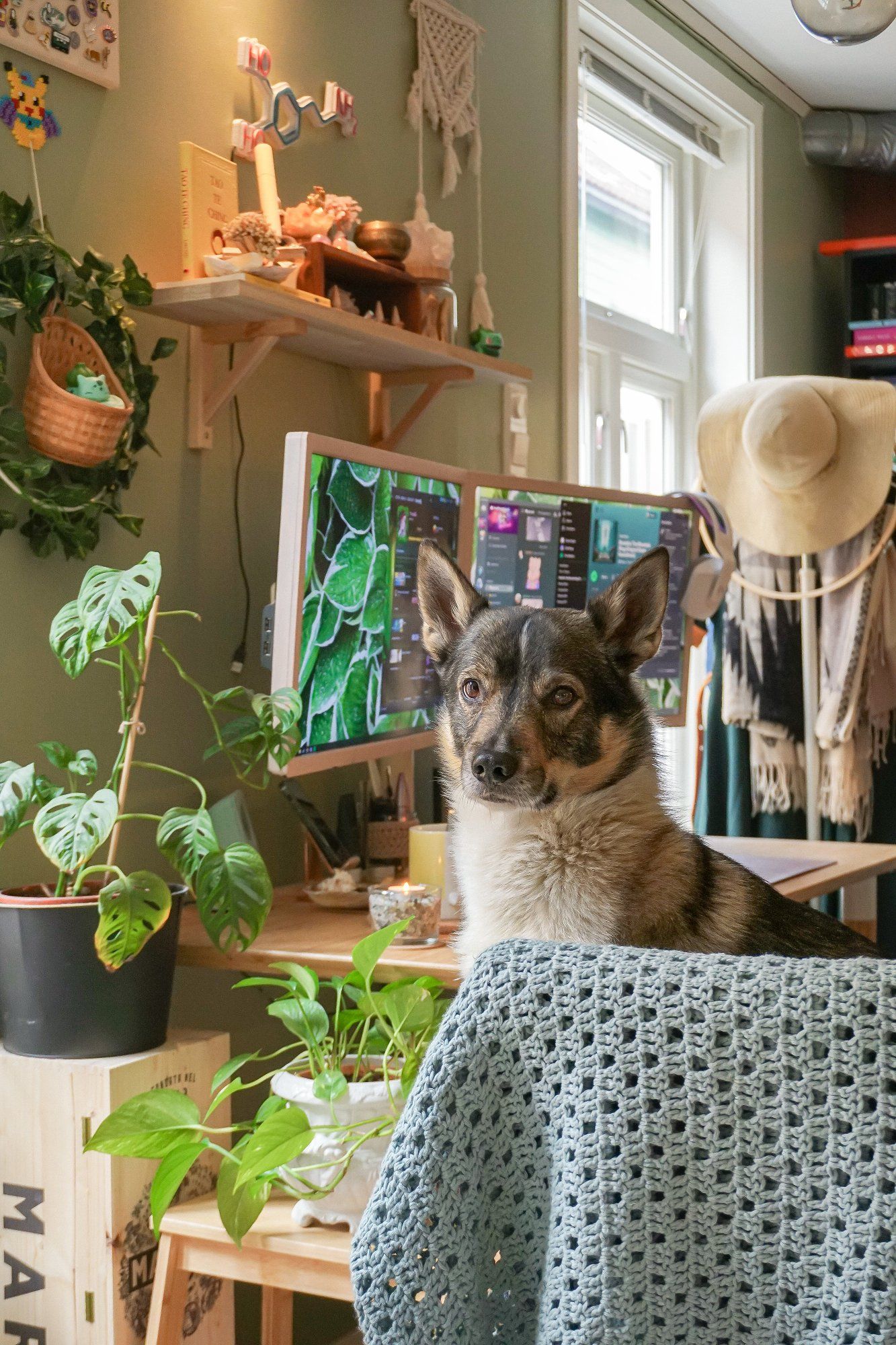 He has shown time and time again he can live up to his name, being the resilient dog he has grown to be, and I am lucky to have him as my familiar and partner in crime.
My current plants are all rescues from moving neighbours or grown from cuts, so they have come a long way since I got them, and I'm very proud of them for not giving up on me!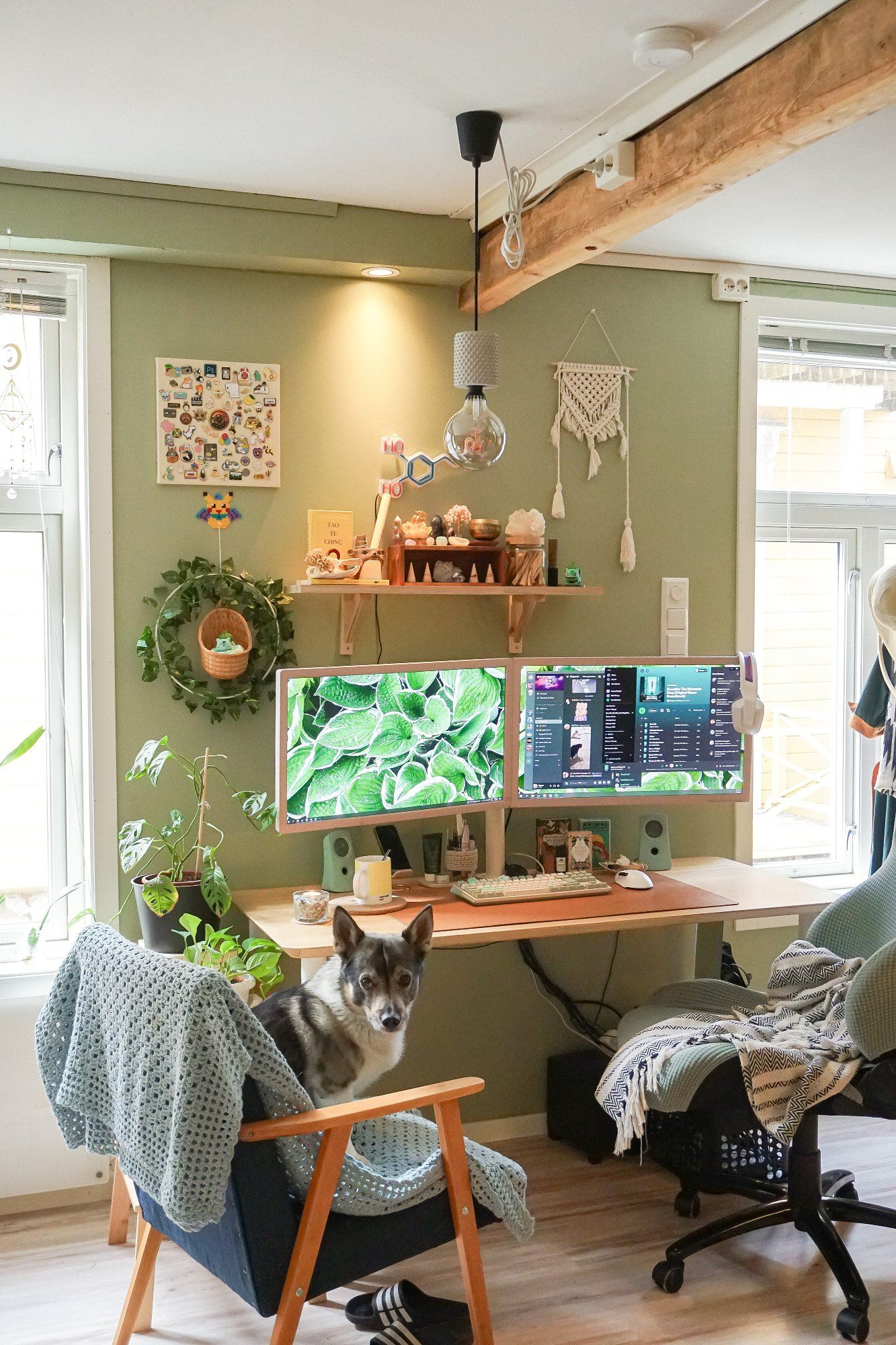 Next on my to-do list would be to either find a new casing for my PC or dress it up with a wicker box to make it more representable without disturbing the airflow to avoid overheating.
I would also love to get a new office chair eventually, but for now, this one is still doing its job nearly ten years later.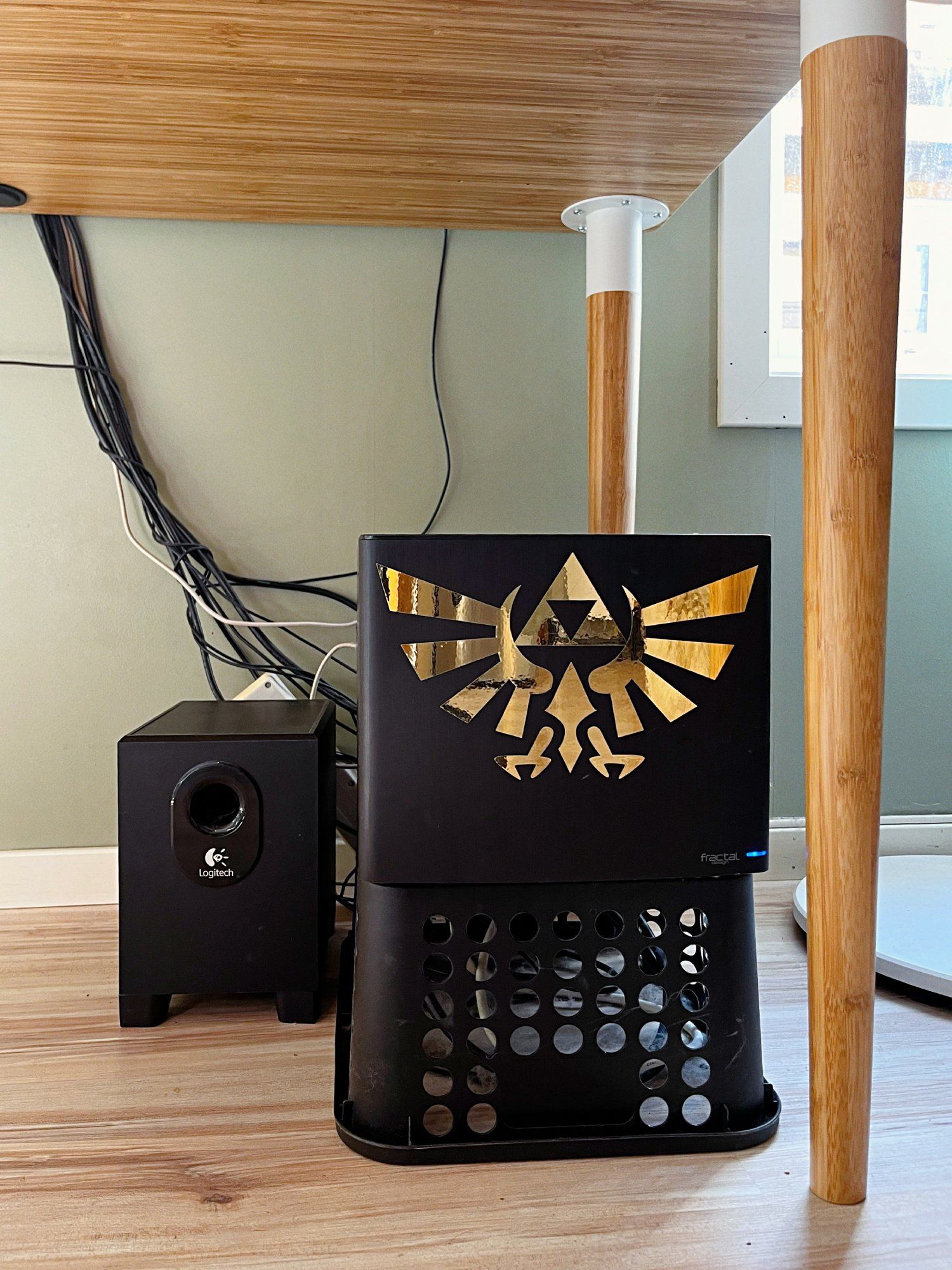 What's your favourite item on your desk?
Placemats! All the placemats!
I'm a known beverage goblin (just ask my classmates when I show up to lectures with a water bottle, energy drink, and coffee in place), so instead of using single coasters, I'm using a bigger pot trivet made of cork, that can hold three and four drinks of my choosing.
I'm pretty sure I got them off IKEA.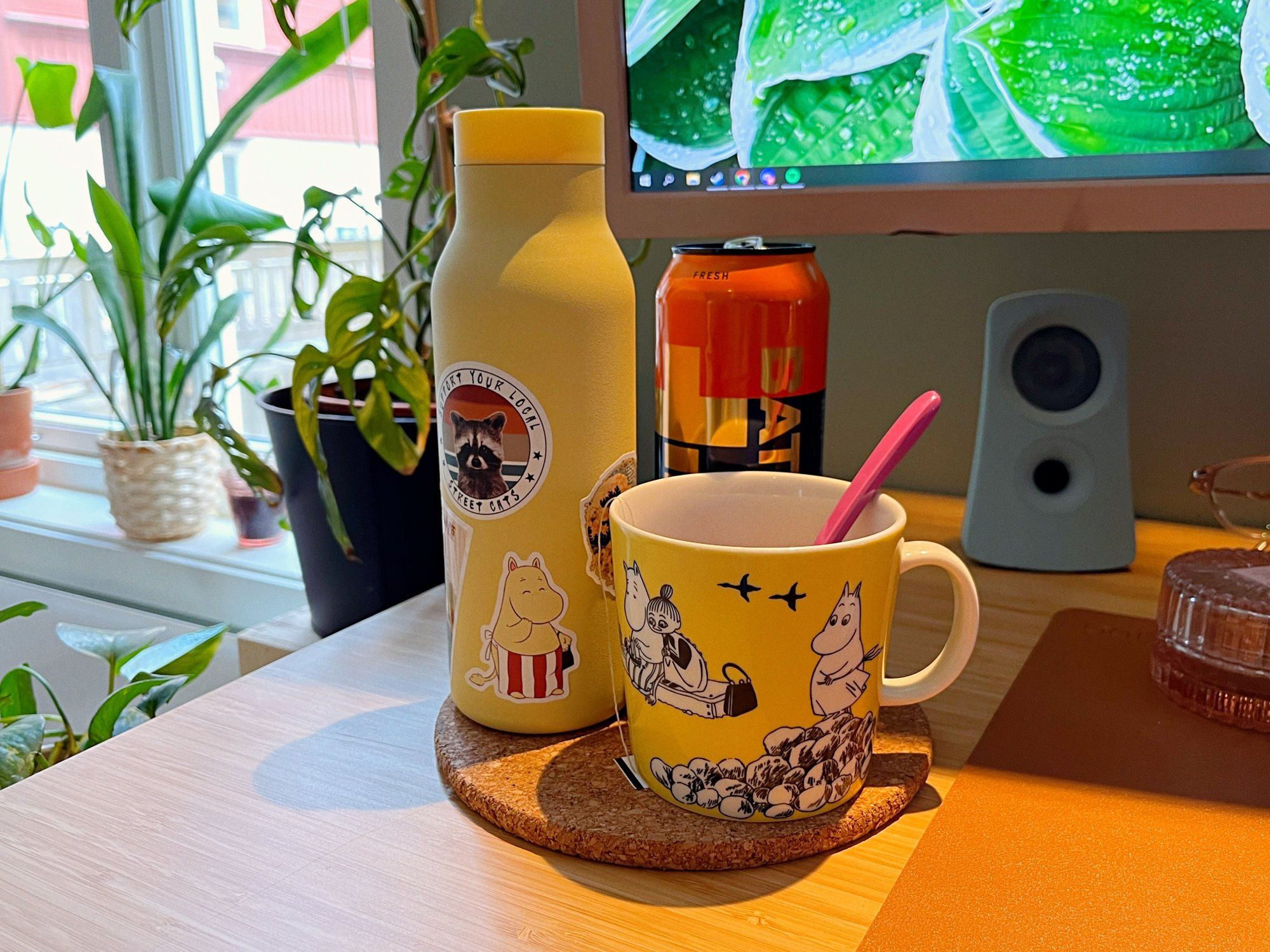 In addition, my faux leather mouse pad also has a cork side that can be used, and I got some bamboo lids for storage boxes that I am using for small placemats for my tarot cards and makeup glass.
Having these placemats makes dusting much easier and helps keep my desk organised since each item has a designated place.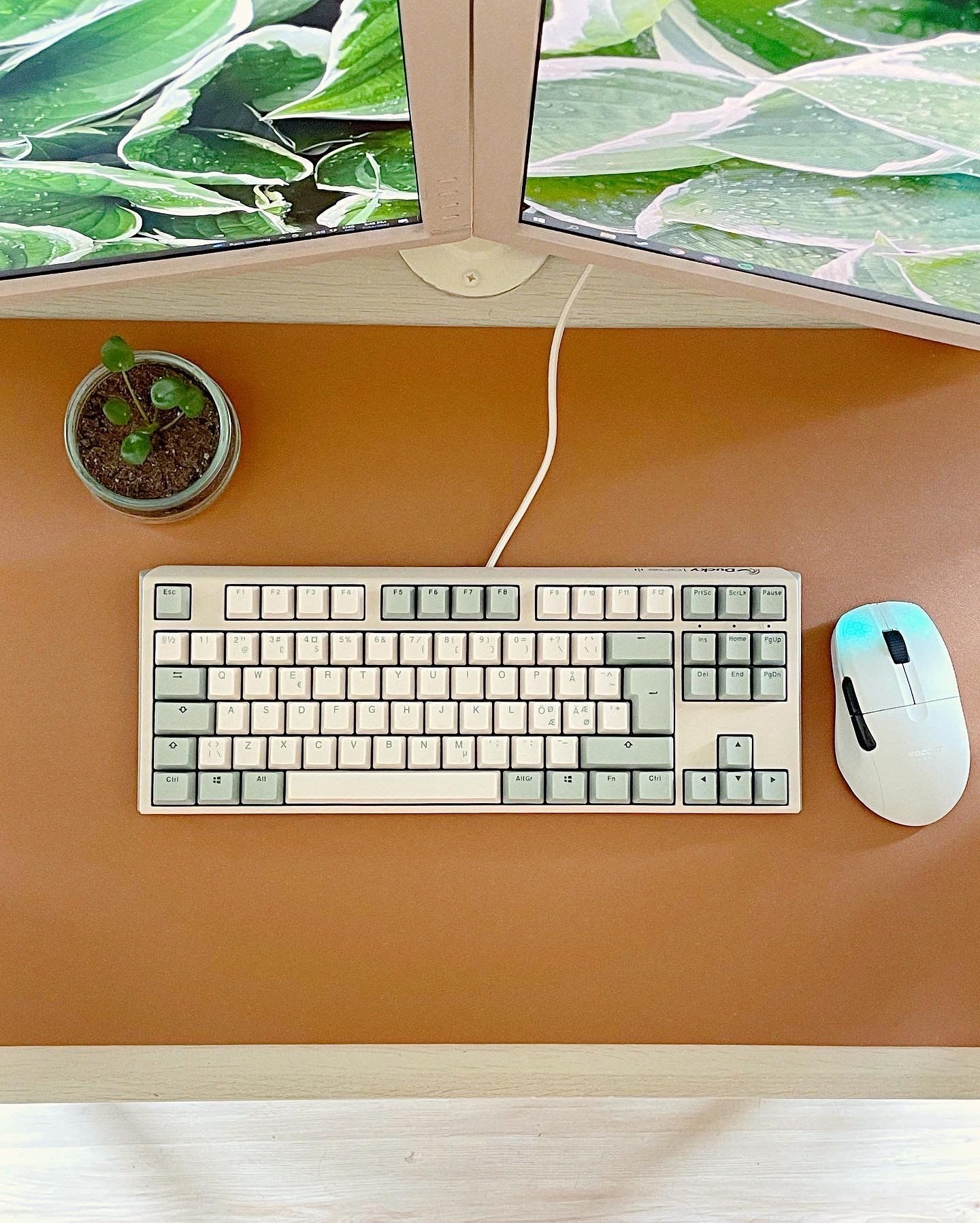 What apps or tools do you use to get things done?
I have three apps running at all times: Discord, Spotify, and Steam.
Discord is my preferred social media platform.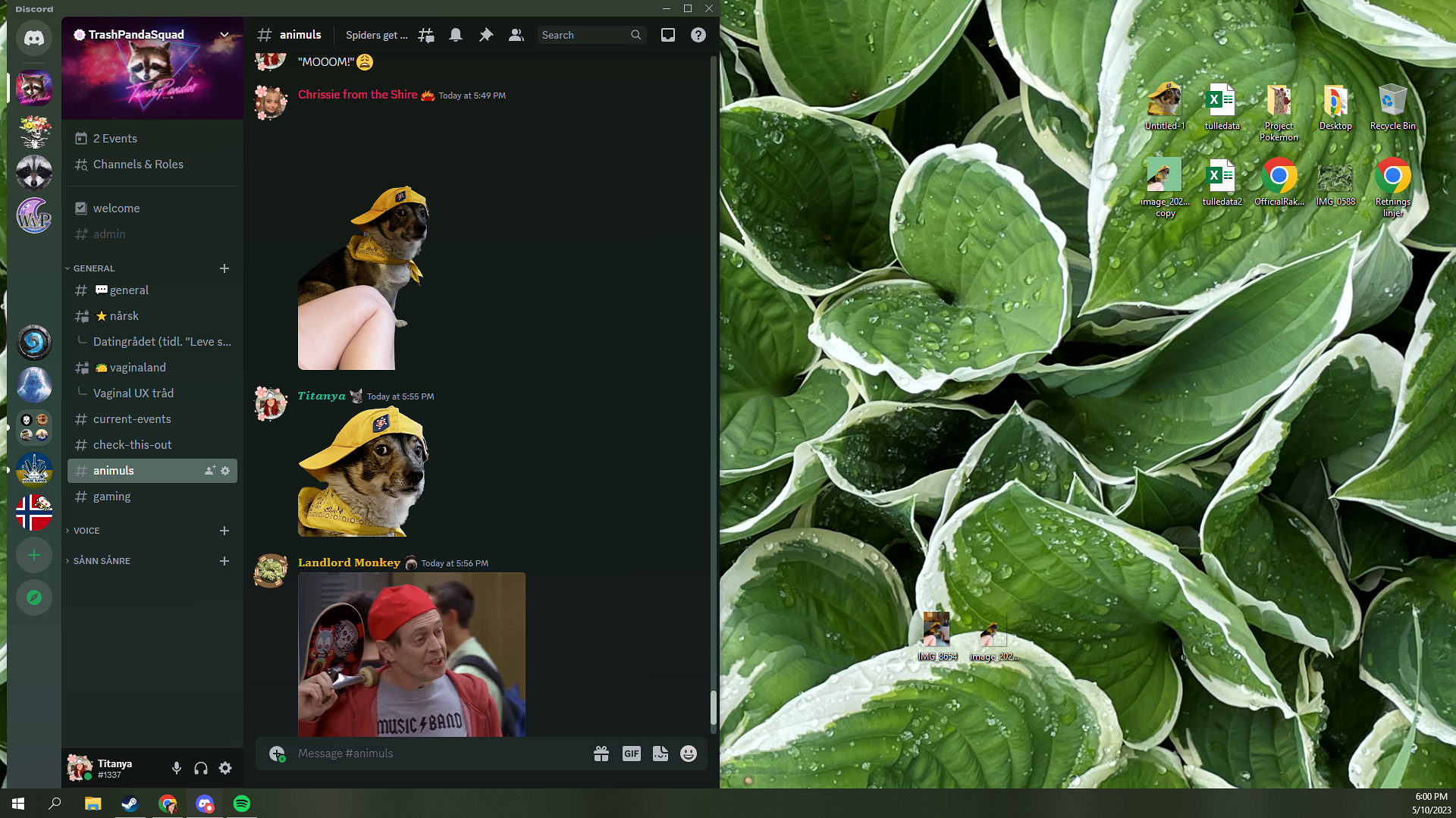 I stopped using Facebook completely, except Messenger for work/school-related purposes.
My friends can reach me on Discord or a good old text message.
For productivity, I'm a big fan of cloud-based services since they allow me to work from anywhere with just my laptop or phone.
Google Docs/Sheets/Slides is a tool I use frequently, particularly for collaboration with my friends on various documents. (Especially useful for group projects.)
I also have a physical journal and writing supplies with me at all times.
In my free time, I still do some graphic work and photography from time to time, so Adobe Photoshop and Lightroom are staples on my computer, which is also what I used when I was working professionally.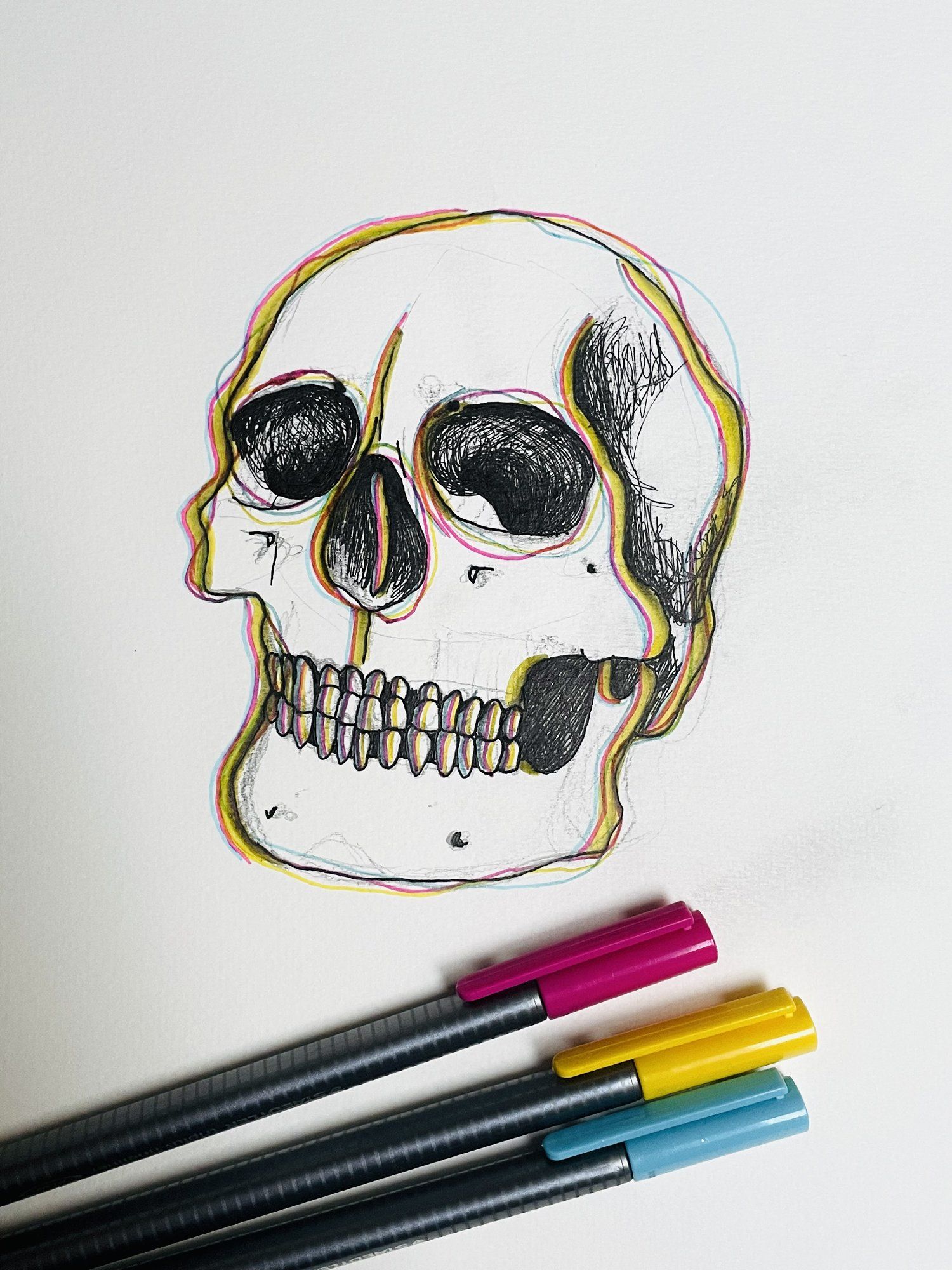 Thanks to a tech-interested dad, I was introduced to Paint Shop Pro very early on and got a Wacom Tablet back when I was a kid. When I got older, I started learning Photoshop.
I went on to school and majored in media production, where I continued to hone these skills.
However, I decided to change paths to healthcare in my late twenties.
So for the major part of the past 17 years, Adobe has been a steadfast companion, and their cloud system and subscriptions have become very affordable!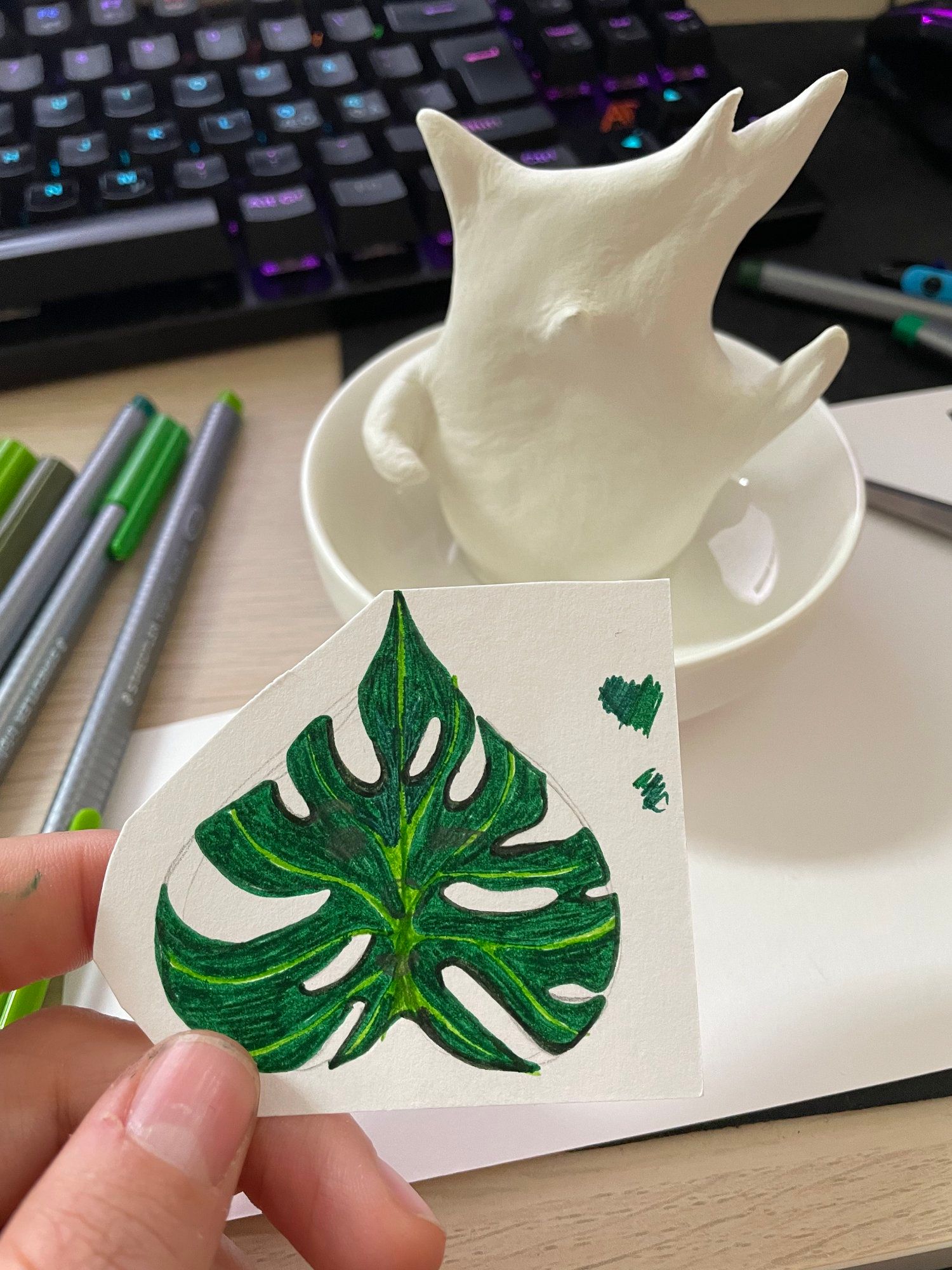 Canva.com is another website I like, also in the name of being flexible when it comes to moving and travelling.
I used their free services a lot and have since moved over to the monthly subscription.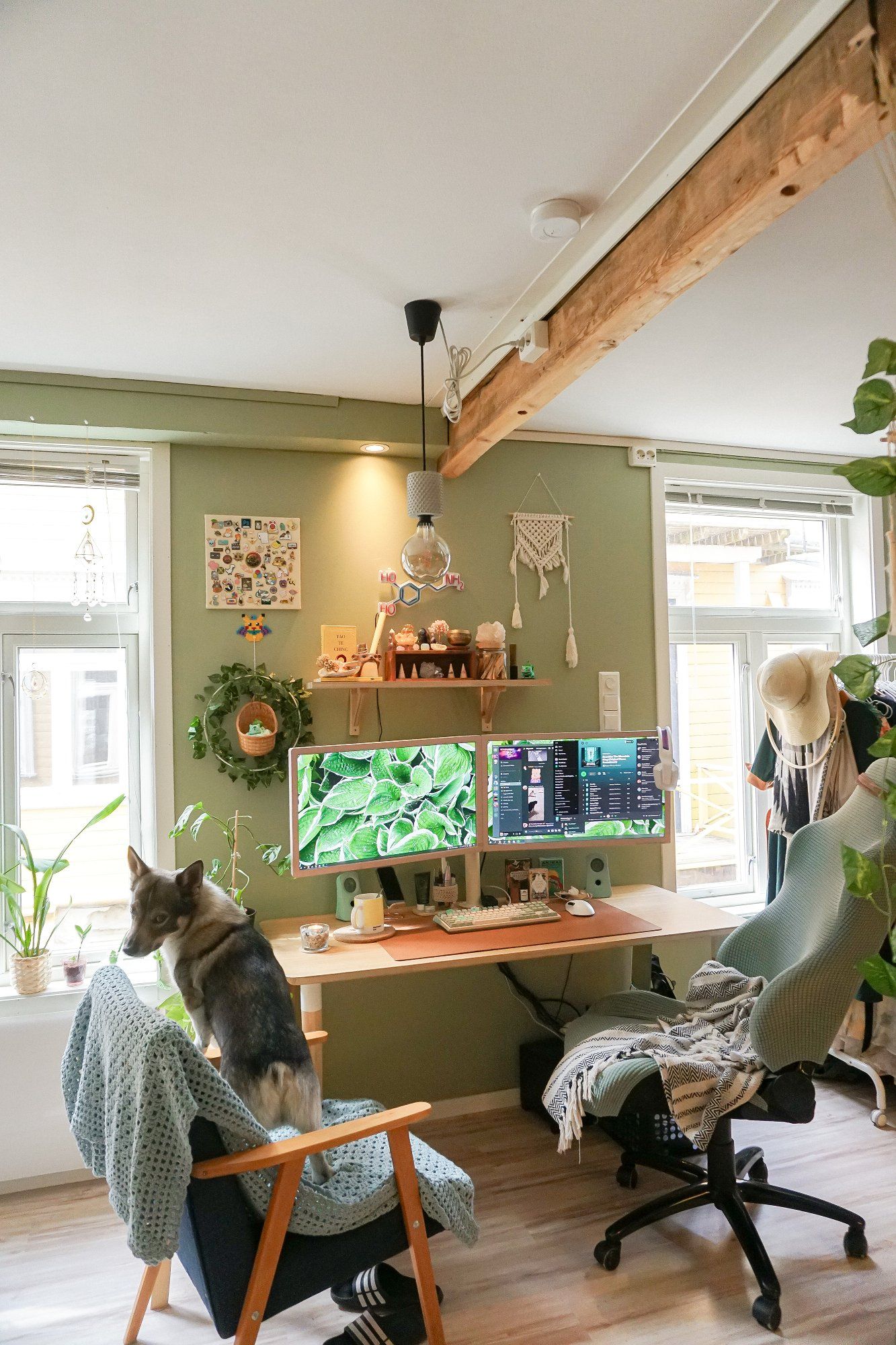 I love making quirky birthday cards for my friends with funny graphics. I also find Canva useful for presentations both at work and school.
Another thing I've grown to love is creating cover images for my Spotify lists, as it's quick and easy to adjust the templates you find or make yourself as you need new images.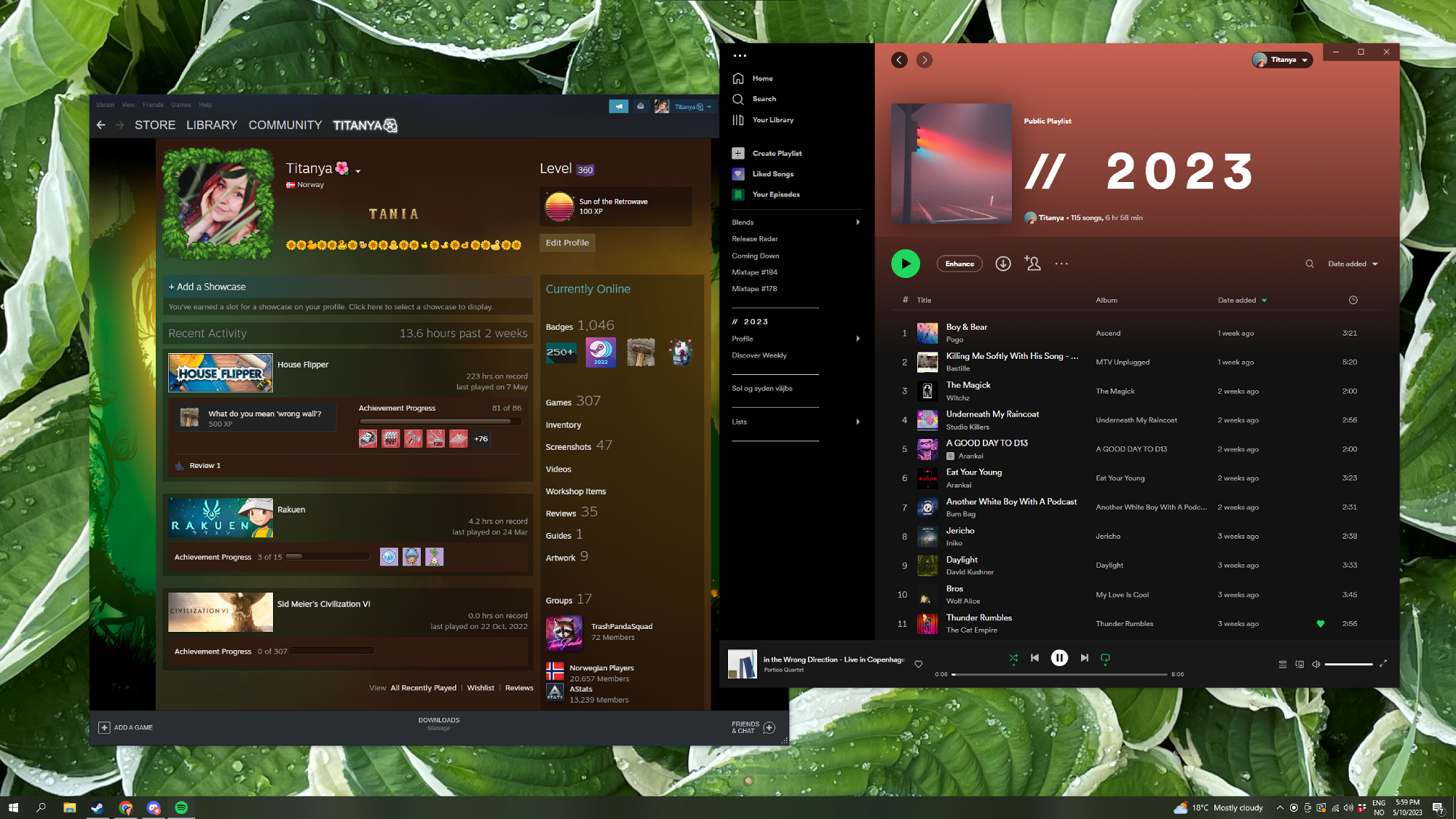 What books, blogs, or podcasts recently caught your attention?
You are Here: Discovering the Magic of the Present Moment by Thich Nhat Hanh is a book I will never stop recommending to people.
It's short and sweet, yet it contains so many lessons and reminders of life and death, and how it's all a cycle, and how we can learn to grow in new ways.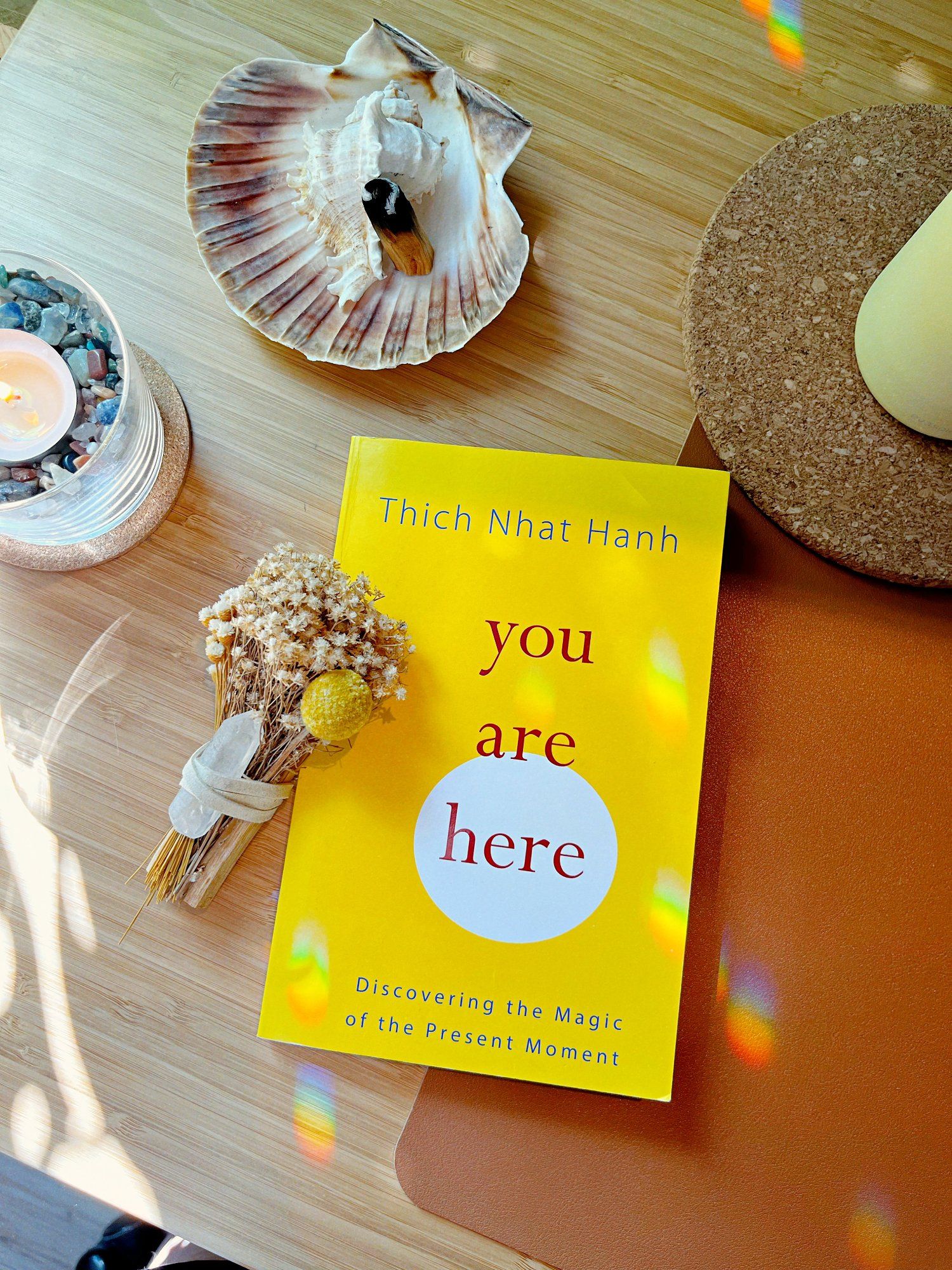 It's a daily reminder to just breathe. After reading it for the first time, I found myself stressing less — not only over things outside of my control but also over those things that are within my control.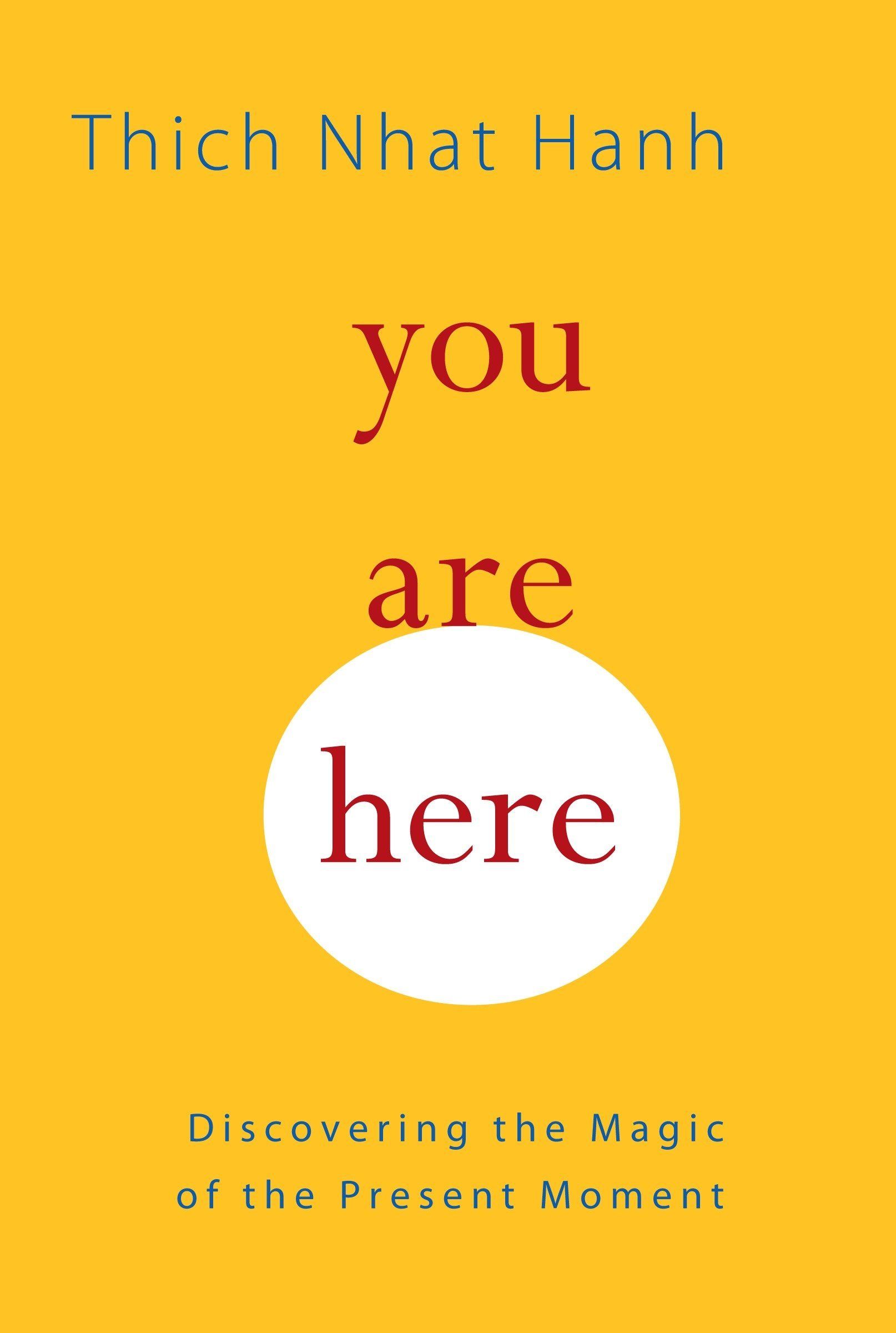 You Are Here
Cut through the busyness and anxieties of daily life to discover the simple happiness of living in the present moment, as taught by a world-renowned Zen monk.
Buy on Amazon
I have to plug a YouTuber/vlogger I love watching.
One of my favourite YouTubers is an LA-based vlogger named Carla. Through her YouTube channel The Carla Project, she shares her daily life, decluttering journey, and mindful shopping and cleaning routines.
I find it a really enjoyable way to start my mornings, watching her videos while sipping on my coffee.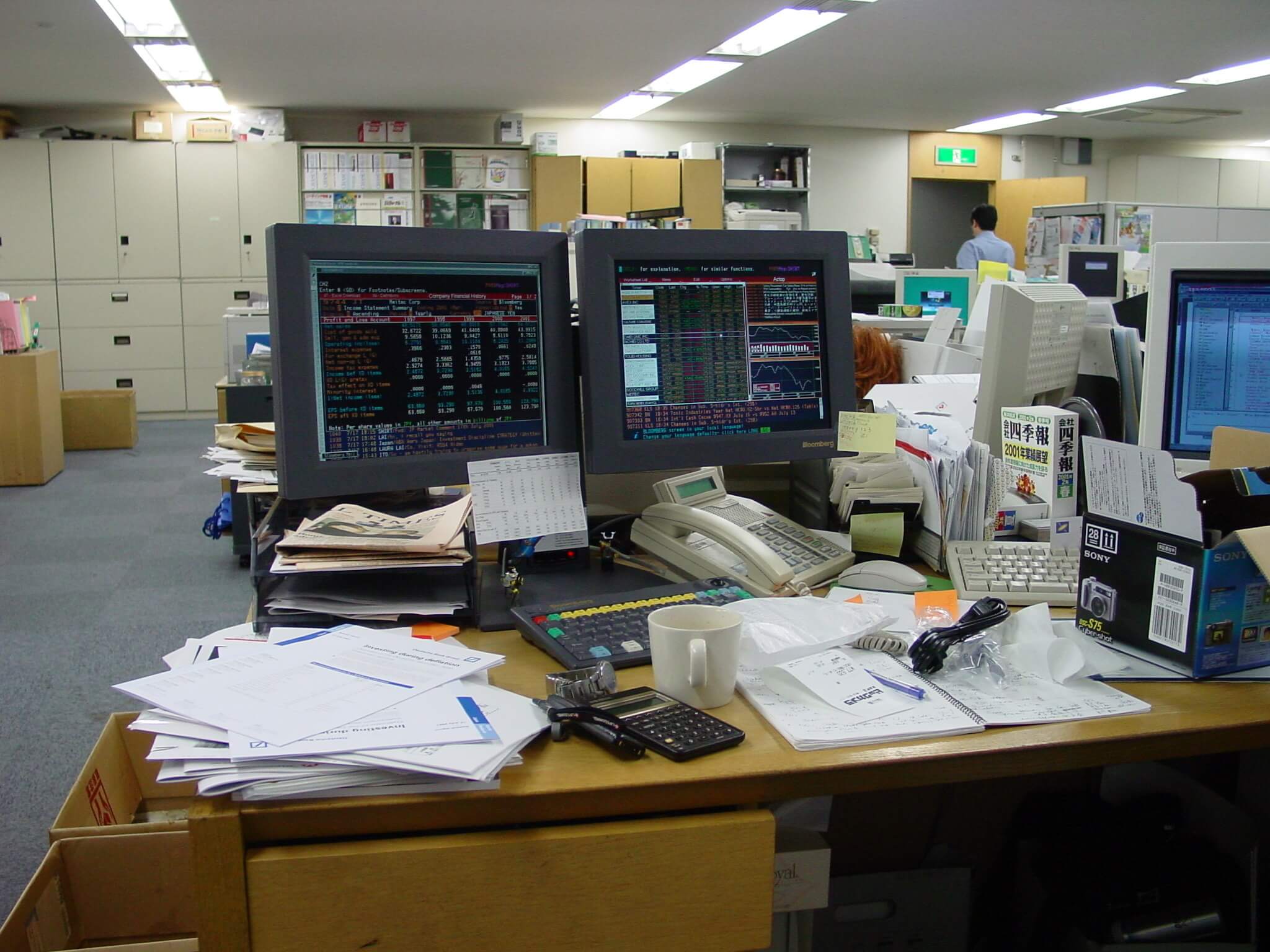 I enjoy her because it's focused on being honest and unfiltered, from showing messy kitchens to a sofa covered in dog hair.
It's honest, and it's raw, and I admire that.
Any tips for other makers who want to improve their workspaces?
For mindfulness and calm, make sure every item has a home and return it to its home after use to avoid clutter.
Don't be afraid to DIY and alter things you already own.
Decide on colour palettes, materials, and textures you enjoy and feel at home with. Then remove anything that doesn't fit that style.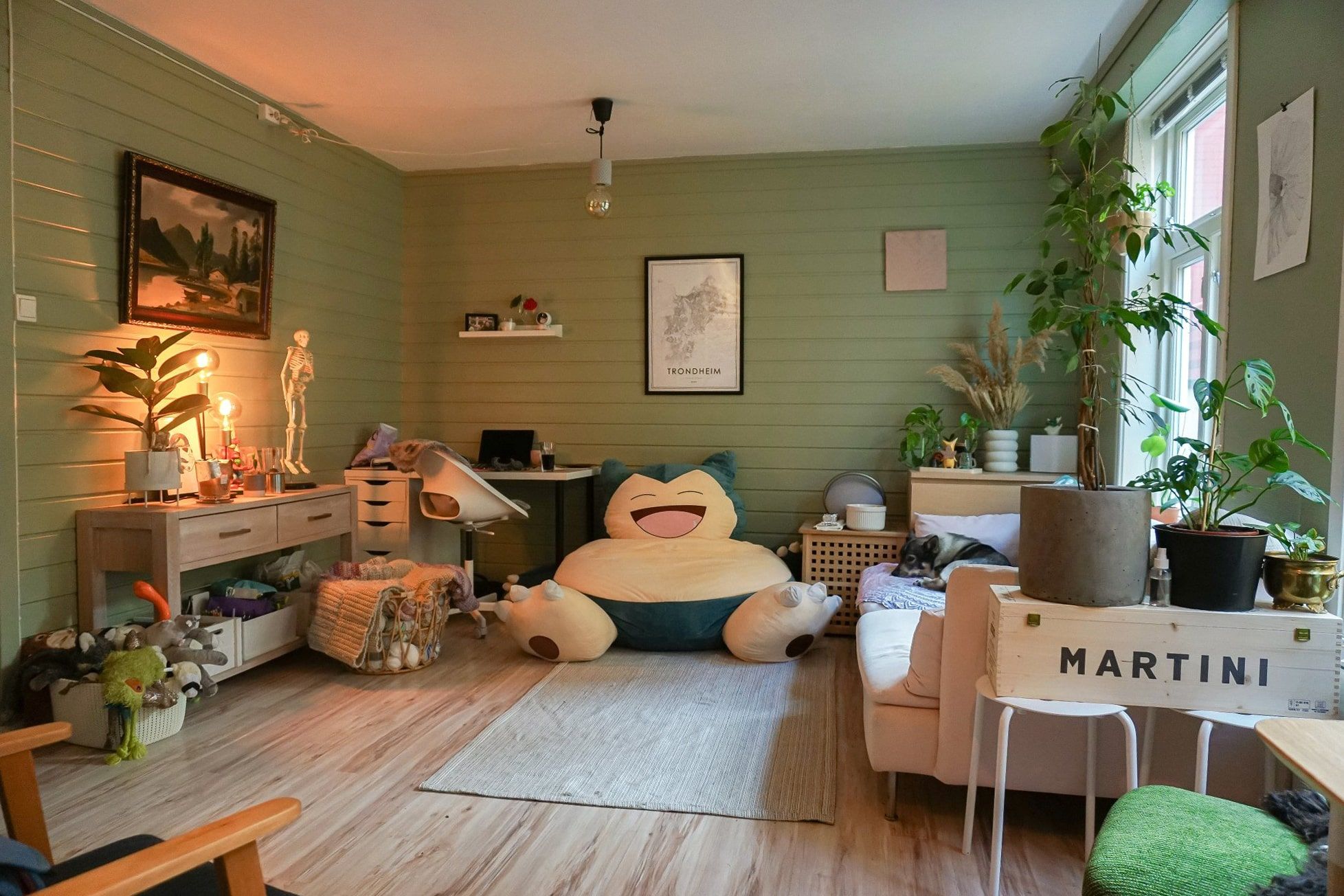 Try to be conscious about what you bring in and find a setup that works for you.
If it brings bad juju, find it a different spot or get rid of it.
I often find it easier to completely empty a space and then "move into it" again rather than gradually removing things.
However, different approaches work for different people.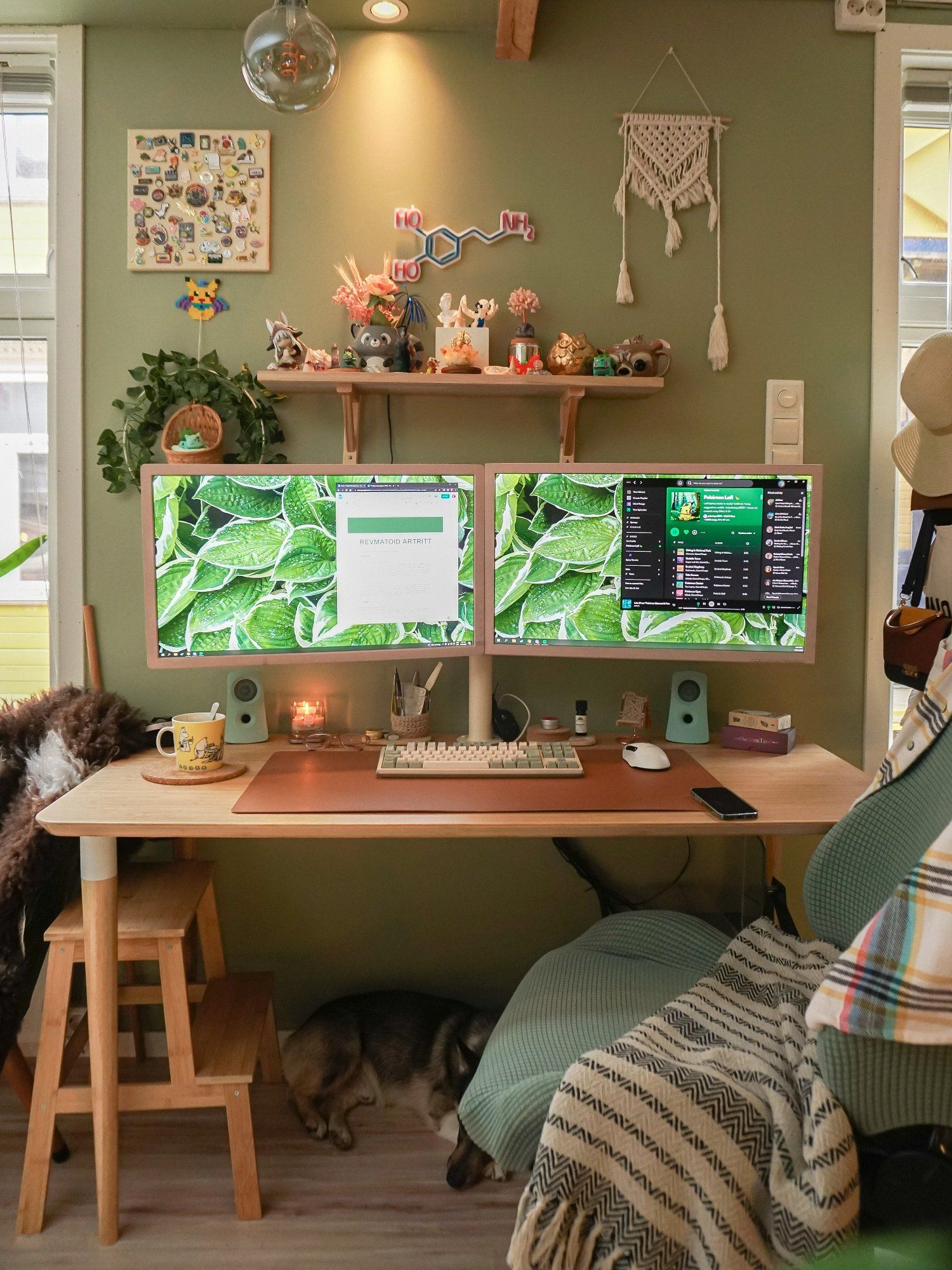 Also, don't be afraid to invest in higher-quality items if you need them.
Not everything can be fixed with cheap DIYs.
I invested a bit more money into my desk, which made a significant difference compared to my previous, cheaper desk that wobbled a lot.
What does your typical day look like?
As I type this, I'm in the final phase of writing my bachelor's thesis, so my days are a lot more self-controlled and scheduled.
I wake up anywhere between 8 am and 12 pm, take Atlas for a walk, and then get myself either an energy drink or a coffee with milk and sugar.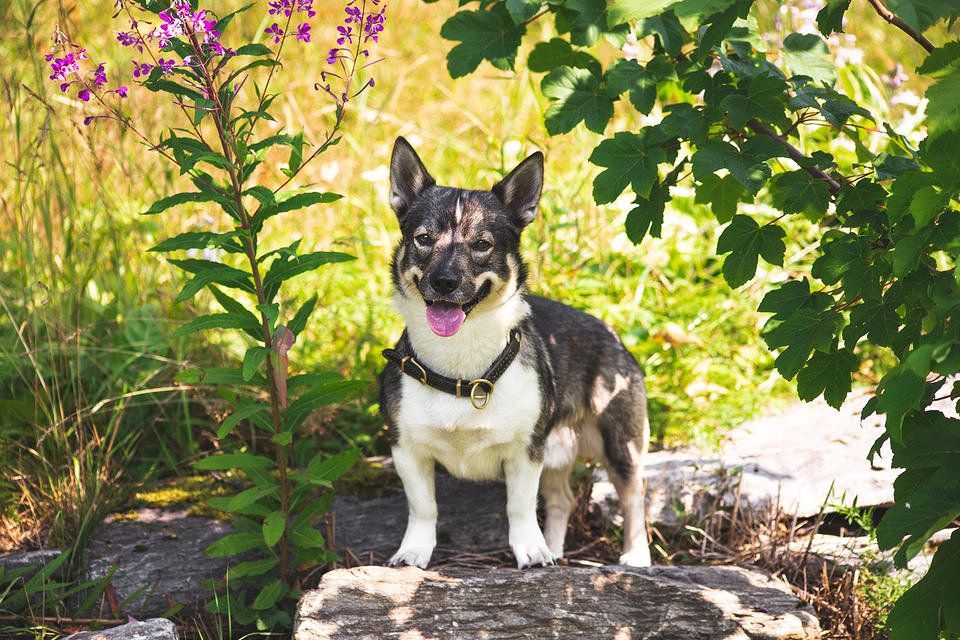 I drink a lot of tea, both loose and cheap tea bags, throughout the day as well as tons of water.
I'm not a breakfast person, so I typically don't eat until lunchtime.
While getting ready for the day, I typically watch some YouTube, enjoy my coffee, do my makeup, and check the mail and news, among other things.
The first app I open on my phone is Discord to check for notifications and mentions in The Dead End because most of our members are American, which happens to be most active while I'm sleeping, so I tend to try to catch up on their shenanigans and handle any queries coming my way.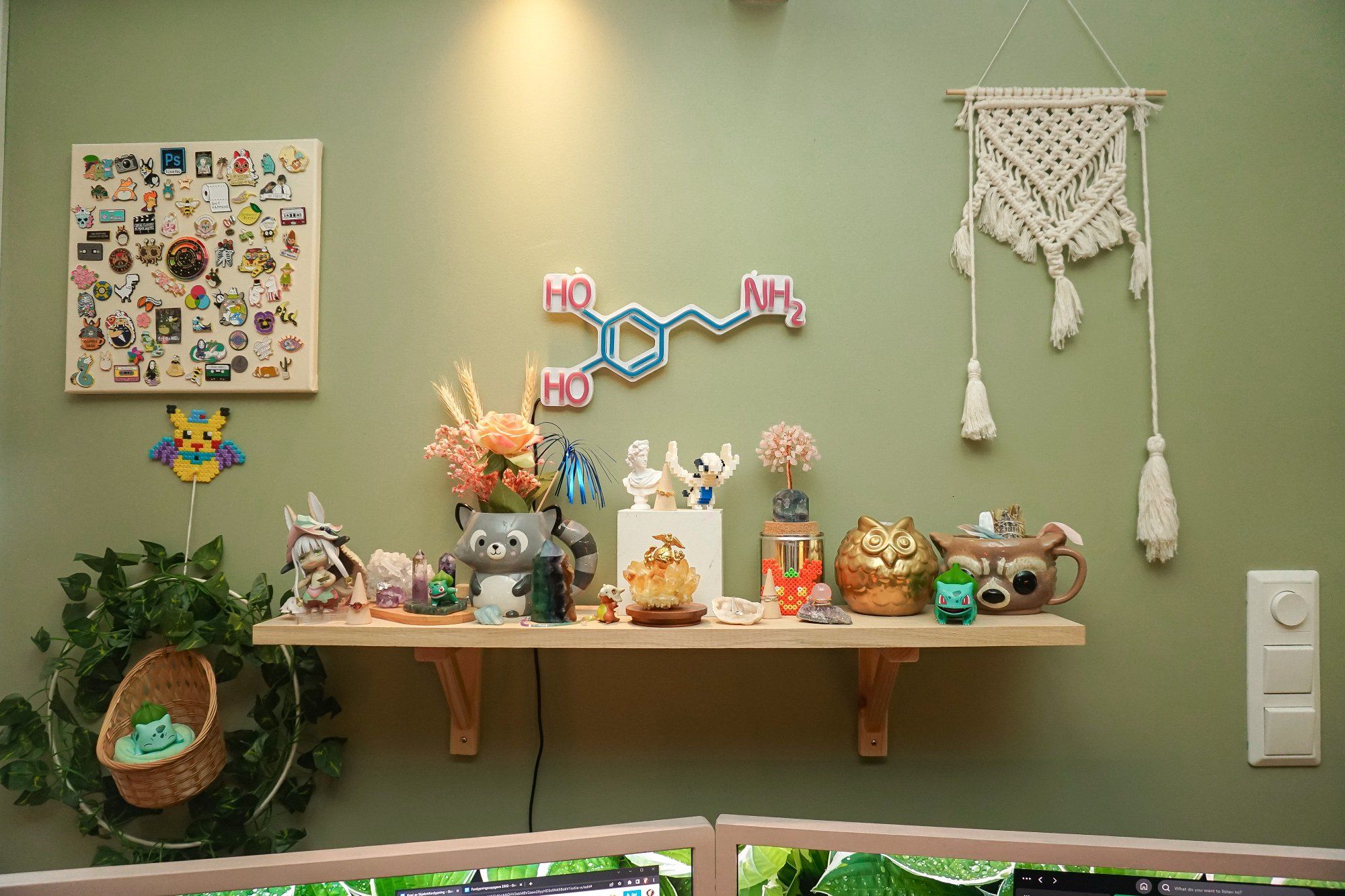 My desktop is multi-purpose, so it's used for leisure, school work, and hobbies, but I'm trying to take more time away from my computer when I can and get out of the house more now that the sun is coming back after a dark winter.
Right now, writing happens a bit here and there, depending on what needs to be done.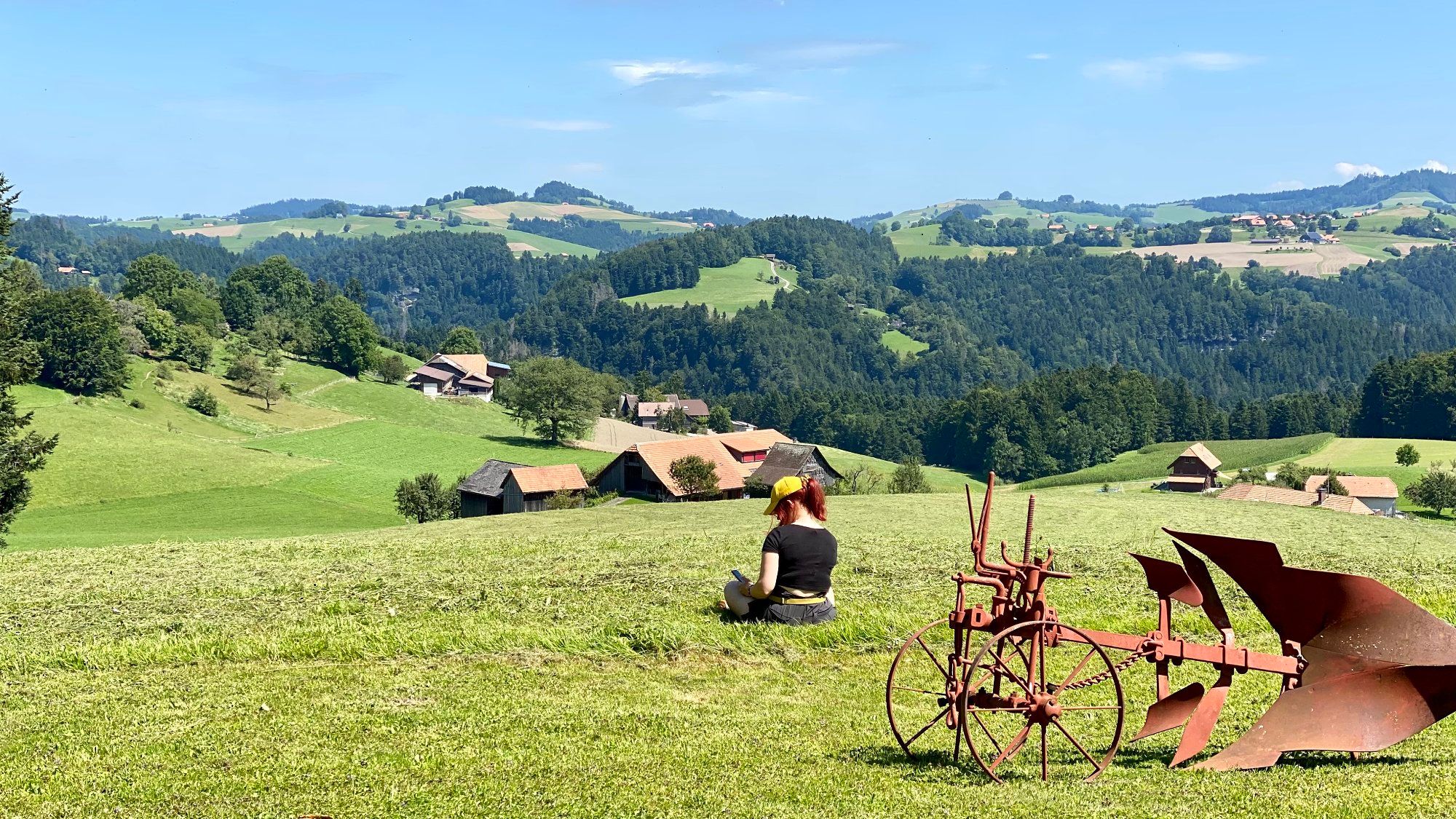 For video games, I try to focus on shorter games that have an ending instead of a never-ending grind.
I have played a lot of MMORPGs like WoW and Runescape, but these days, I enjoy House Flipper, Outer Wilds, Stardew Valley, and Fallout 4.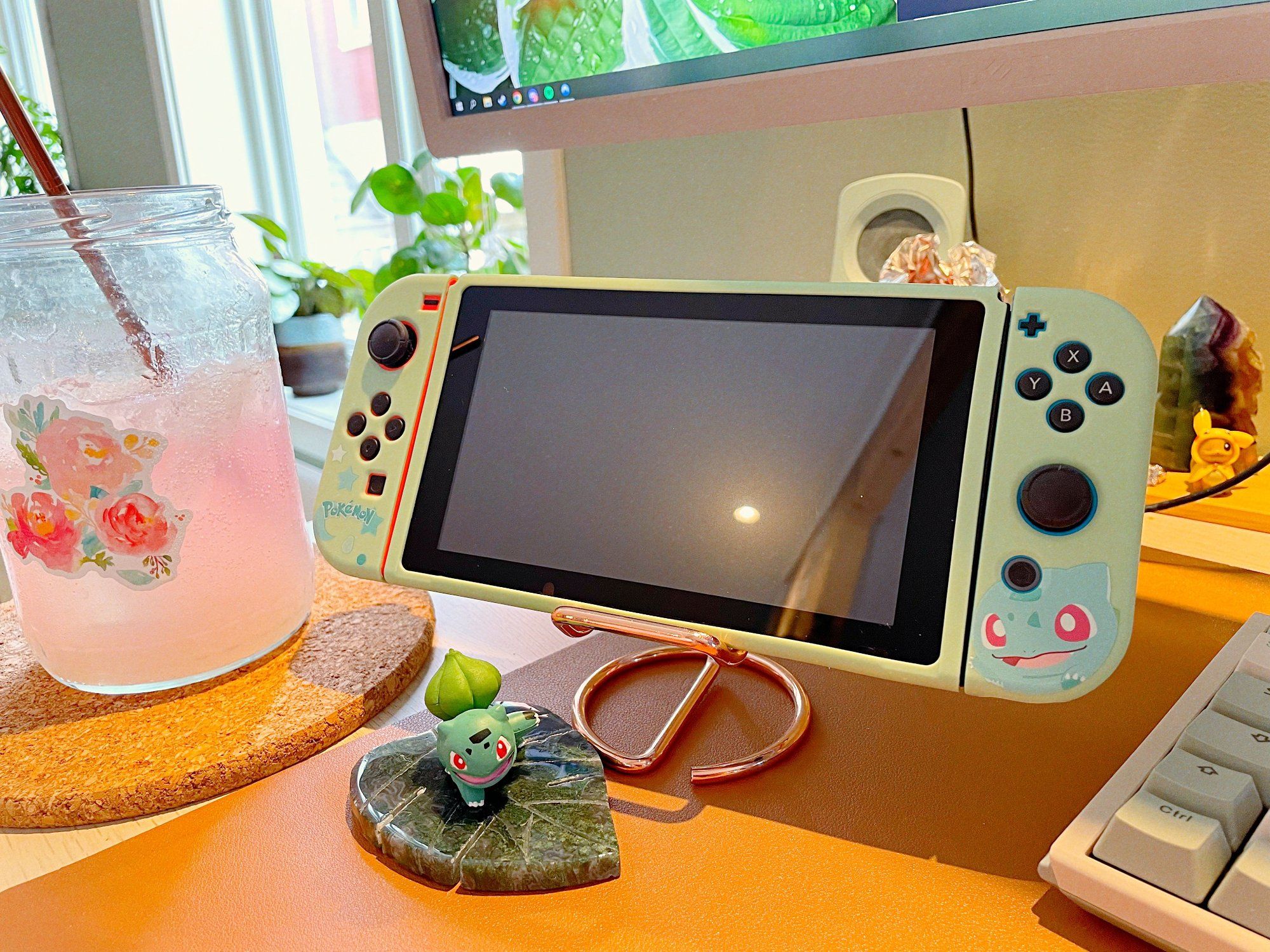 Atlas and I enjoy exploring new routes in both the city and more rural areas.
I'm also a huge fan of late-night walks, either alone or with loved ones, during which I enjoy pondering on life.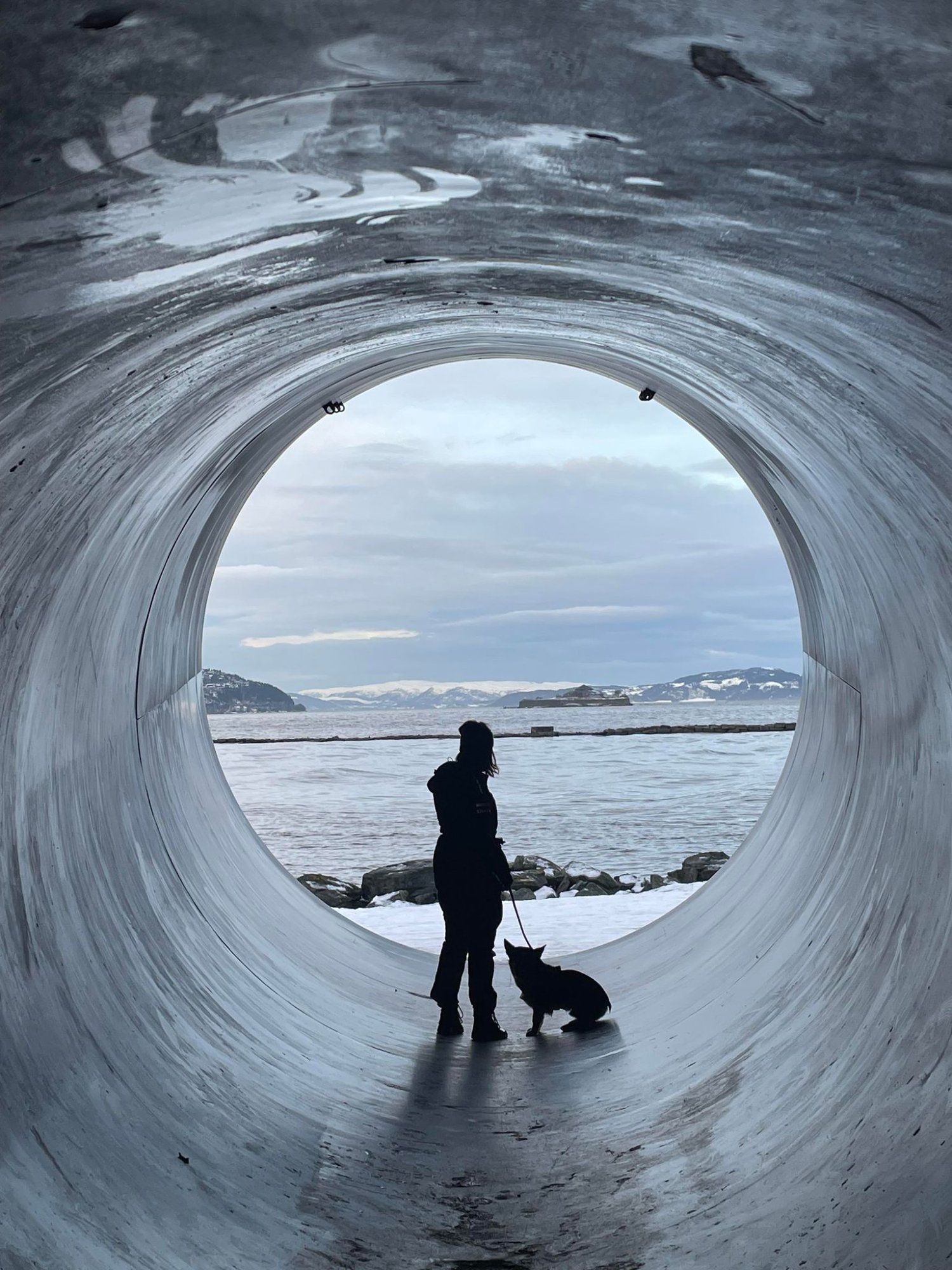 I have more or less stopped doing photography professionally, but I have found new joy in trying to get nice shots with my iPhone mini.
Photo quality isn't the best, but for me, it's more about exercising my photography skills and playing with angles and light than the technical quality of the camera.
I also enjoy watching a film or two in the evenings, often while working on my Pokémon cross stitch.
Alternatively, I might grab a beer or some food in great company.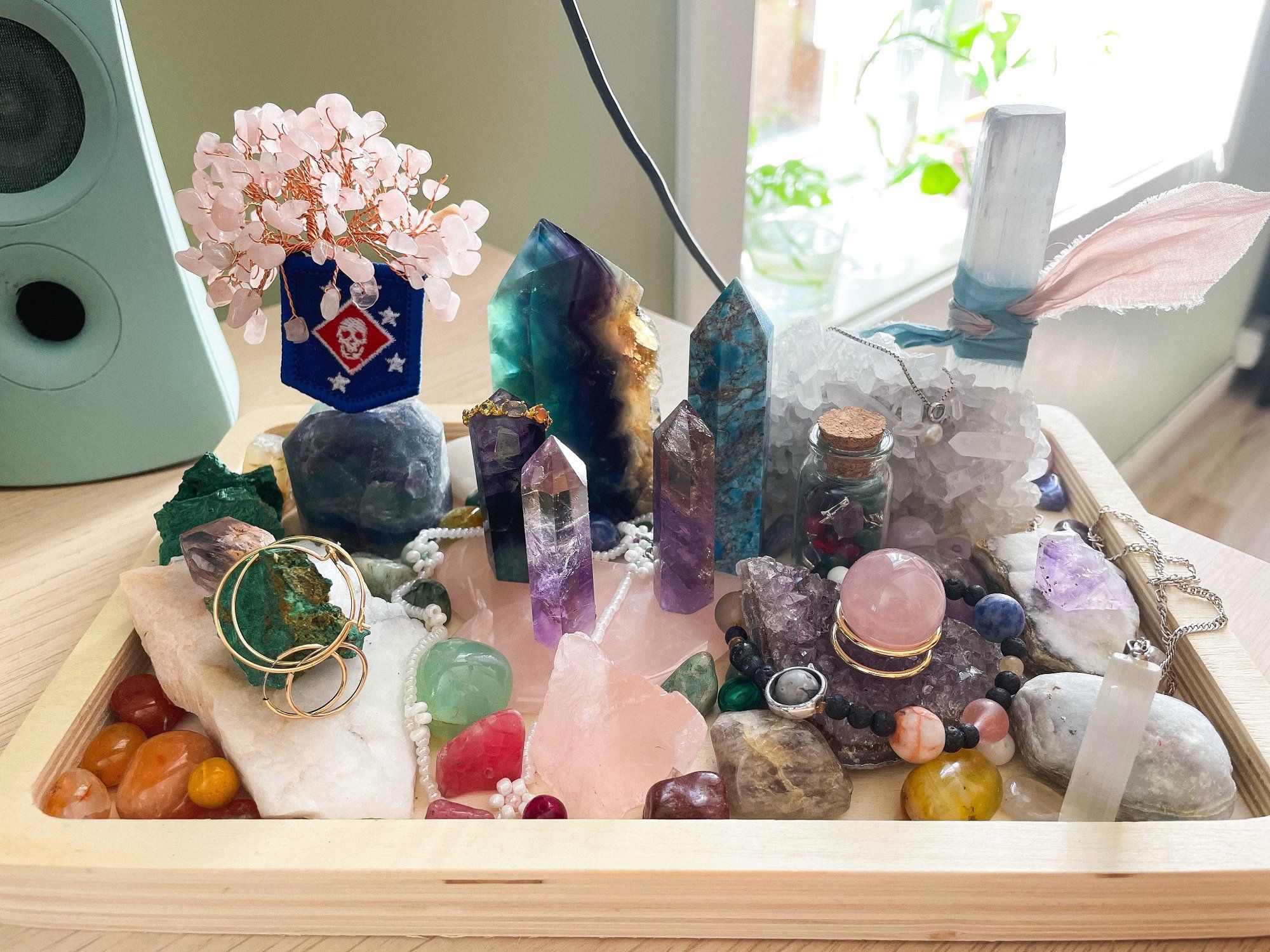 Your tips for working from home?
Drink water, get fresh air, and stretch them muscles!
I'm a chronic procrastinator, so I might not be the best source of advice.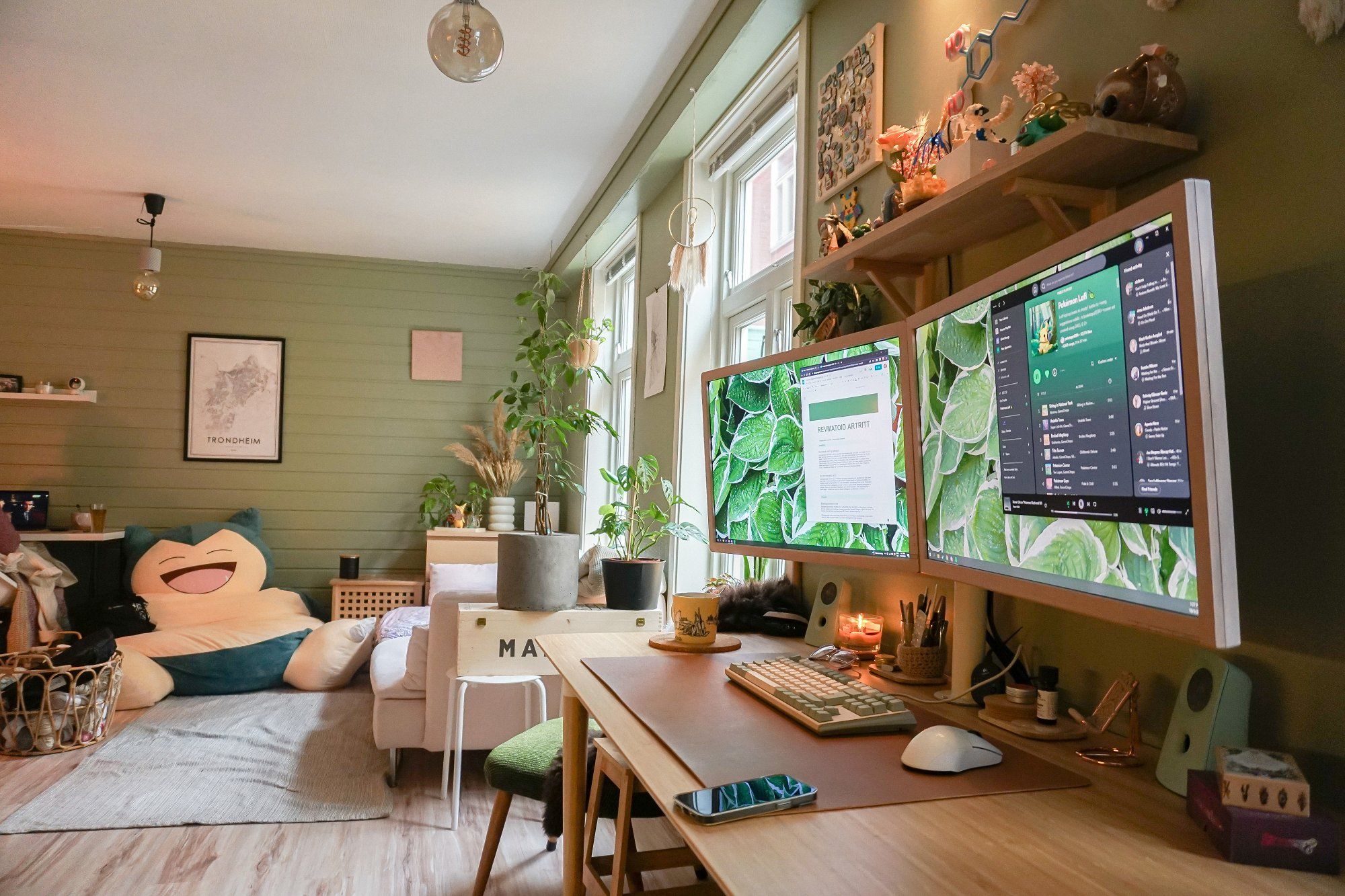 However, do what I say, not what I do: set small, achievable goals each day instead of waiting until the last minute (cough-cough).
Ensure that your space is clean and free from mental clutter.
If something is weighing you down, it doesn't need to stay in sight.
Deal with it or move it out of sight.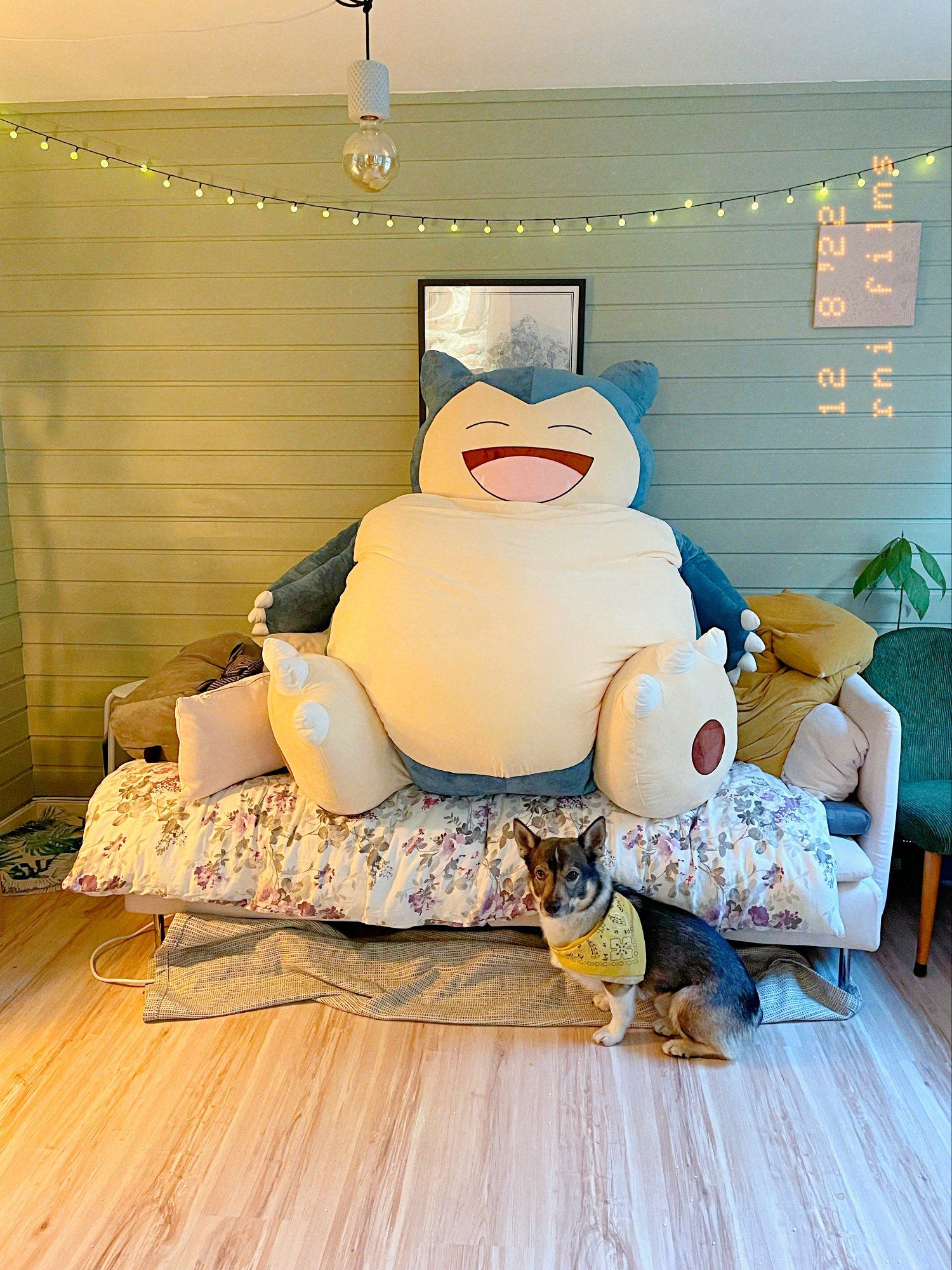 We're a reader-supported publication. This article might contain affiliate links. It means we may receive a commission if you click a link and buy a product that our maker has recommended. The interview was done independently.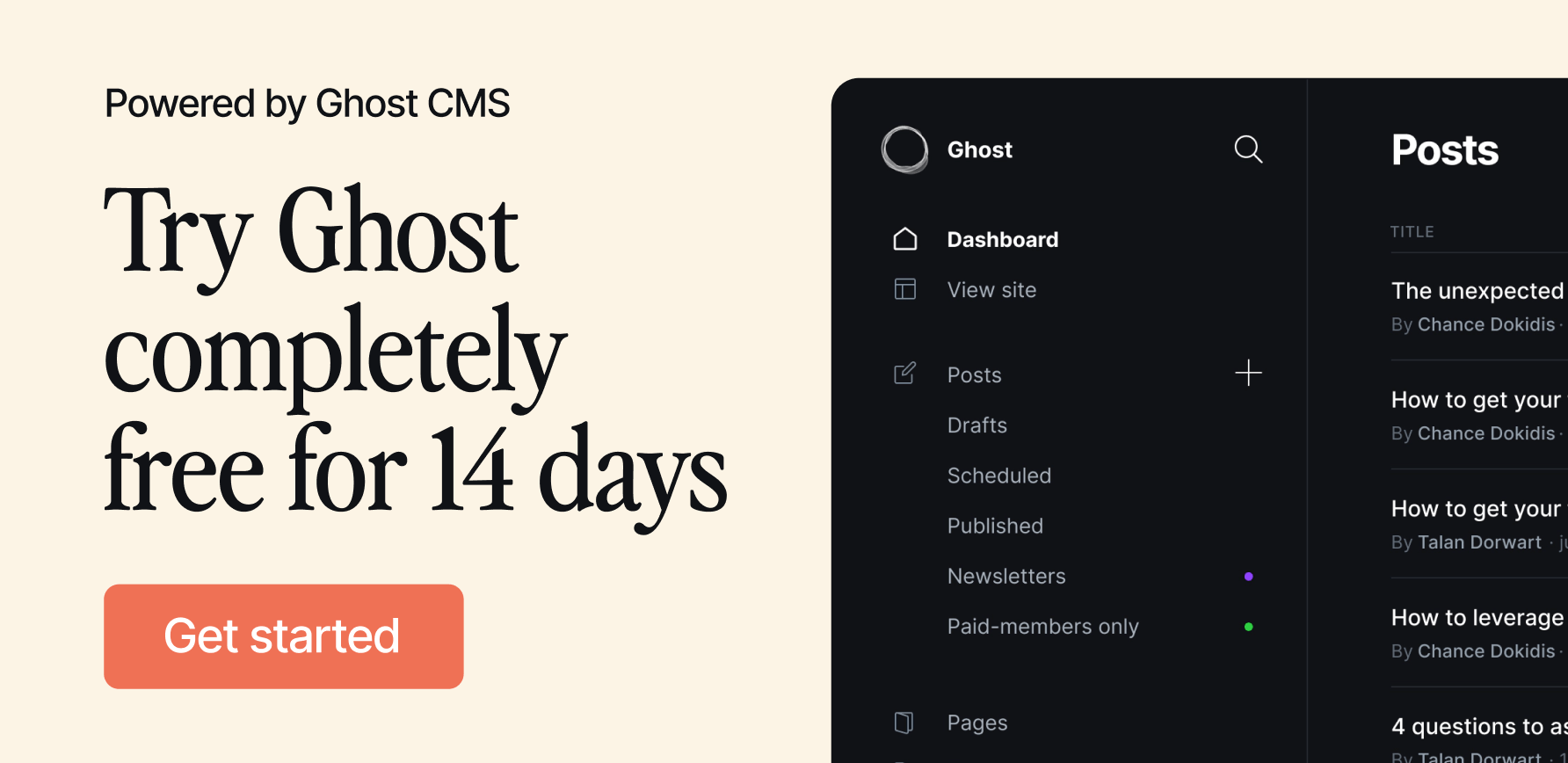 ---