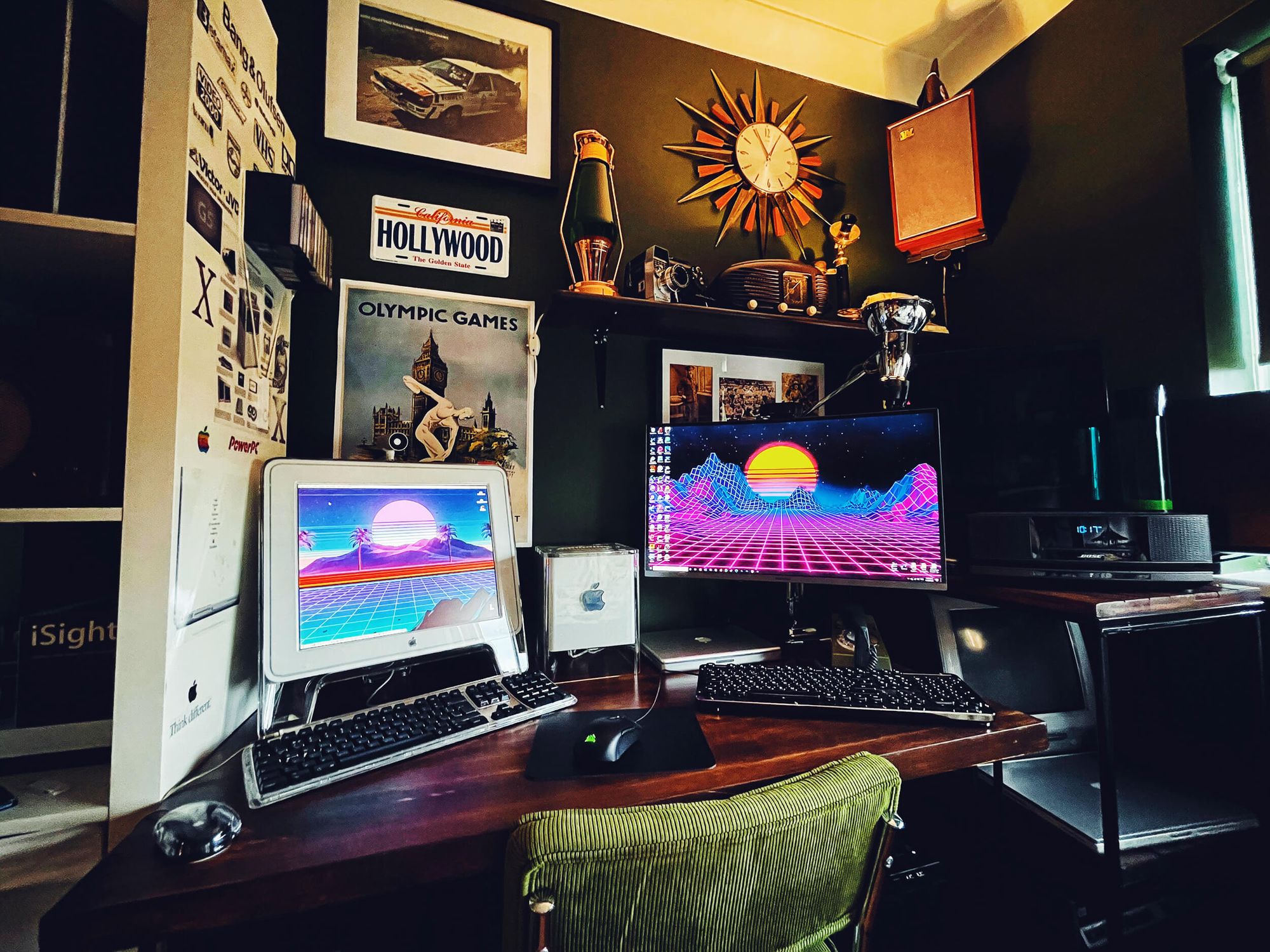 Vintage Workspace in Yorkshire, UK
"I'd say the most unique item on my shelves is the speed gauge out of an Avro Vulcan nuclear bomber"

Name: Ryan Nicholson
Location: Yorkshire, United Kingdom
Occupation: Racing Data Analyst
Cost of the setup: "Difficult to say due to obscure collecting habits"
Social media: personal Instagram and photography Instagram
Hey, Ryan! Tell us a bit about yourself
Hello, my name's Ryan. I'm 27 and I work as a Racing Data Analyst for a local media agency.
I have been working from home since March 2020 and I've adapted well to the new home working environment.
I monitor the company's infrastructure, live broadcast feeds and respond to customer queries. A lot of the job is shift work, involving a mixed rota of nights, afternoons and mornings. That's why we have to be very flexible with our working hours.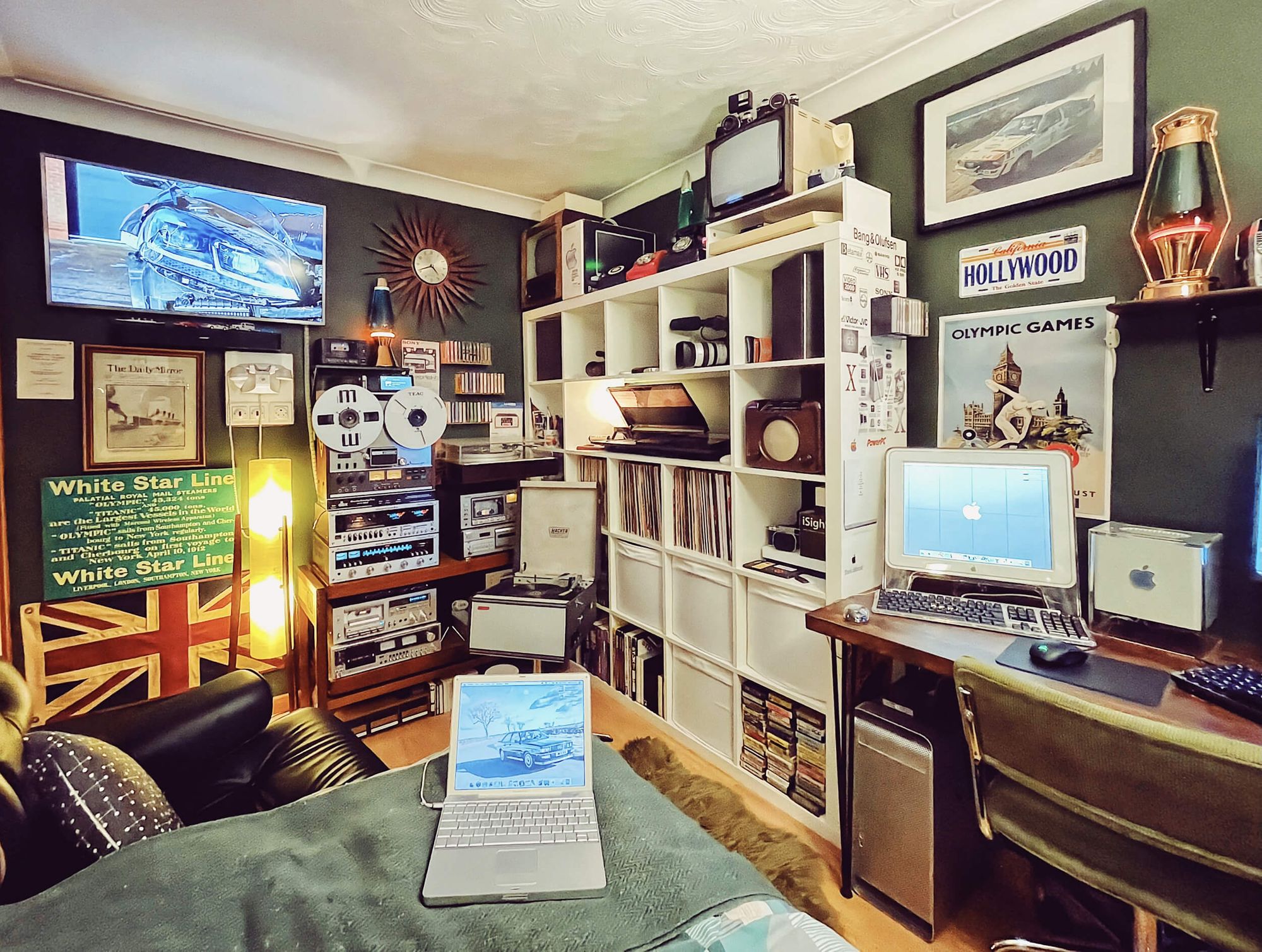 Before COVID, I was also a keen sports photographer. I enjoyed shooting rowing events such as The Oxford and Cambridge Boat Race, Henley Royal Regatta, BUCS Regatta and Head of The River Race. I hope to get back to it soon.
My favourite place to visit is the odd Aircraft Museum. I also love going to the Yorkshire Dales, Yorkshire Moors or Lake District.
My photo editings take place within my setup, by the way. I use Adobe Lightroom and my gaming rig along with an iPad Pro to edit. An alternative option is my Retina MacBook Pro, which is more often than not stored in my work bag out of the way.
Can you describe your home setup?
My workspace is a mixture of various styles.
I am fascinated by WWII and the Cold War so I have a little shelf dedicated to that.
I used to be a WWII reenactor once upon a time. So I also have a few relics leftover from when I was part of an American Airborne WWII Re-enactment group. I'd say the most unique item on this shelf is the speed gauge out of an Avro Vulcan nuclear bomber.
On another shelf, I have a small collection of British Airways and BEA (British European Airways) memorabilia. There is also quite a few Concorde related items and several 1:400 scale British Airways aircraft models.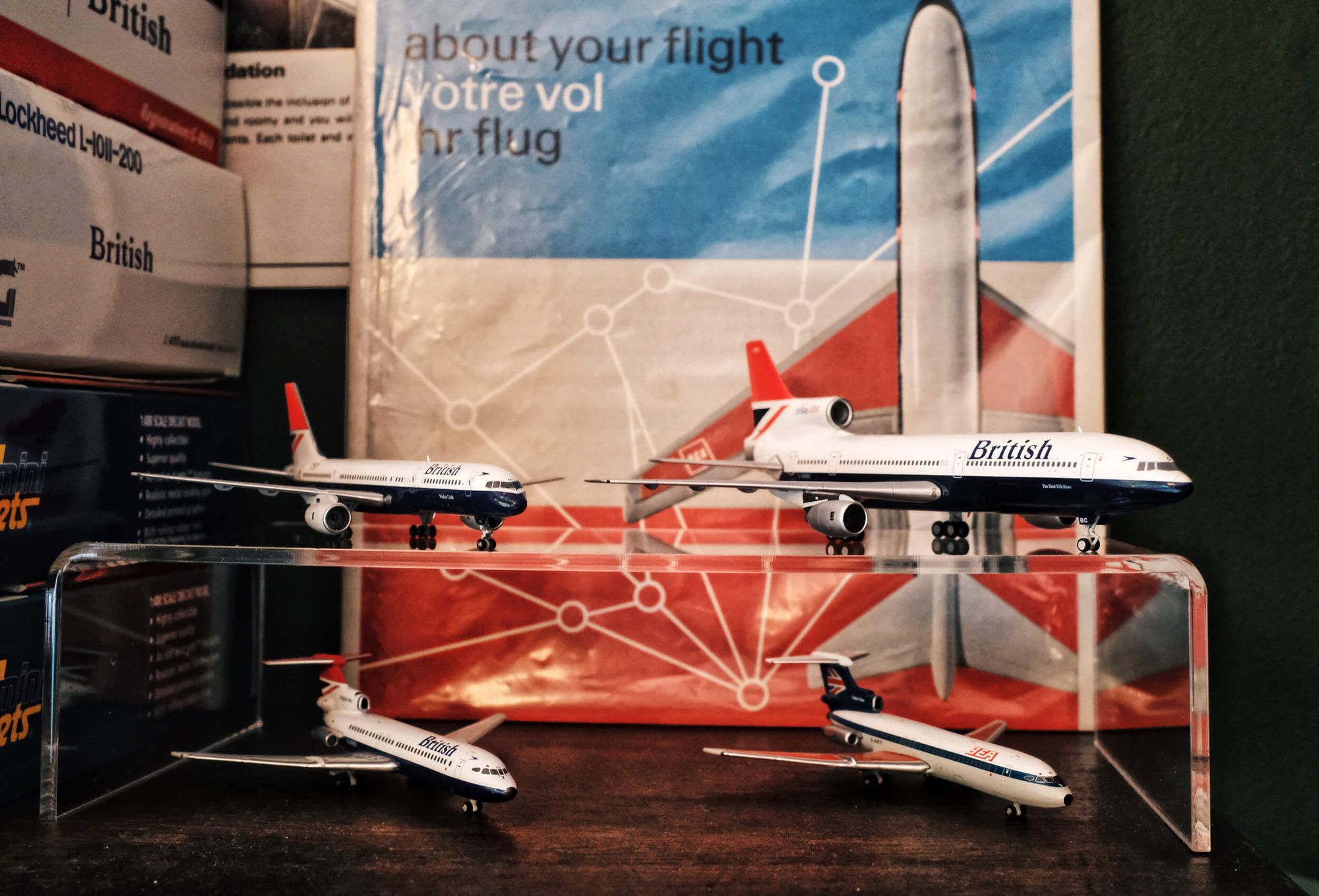 I am a fan of the 1960s Mid-century modern movement along with a more vintage industrial rustic style.
The colour I chose for my walls is known as Bohemian Bliss by Valspar paints, almost military-looking green.
My desk is custom, which I built myself, out of some leftover oak kitchen worktop.
I dyed the worktop dark walnut and sealed it with varnish to finish off. I also added some black hairpin style legs.
My PC is a custom rig I built myself. It features an ASUS Z370-P Gaming Motherboard, Intel Core i5 8400 series CPU, 24GB DDR4 RAM, ASUS GTX 1080 (8GB) 1TB NVME SSD, and several 2TB mechanical hard drives. All are housed in a black Fractal Design Meshify C Case.
Recently, I upgraded my monitor to a curved Samsung C27JG56QQU 27 inch 144Hz one and I couldn't be happier with it.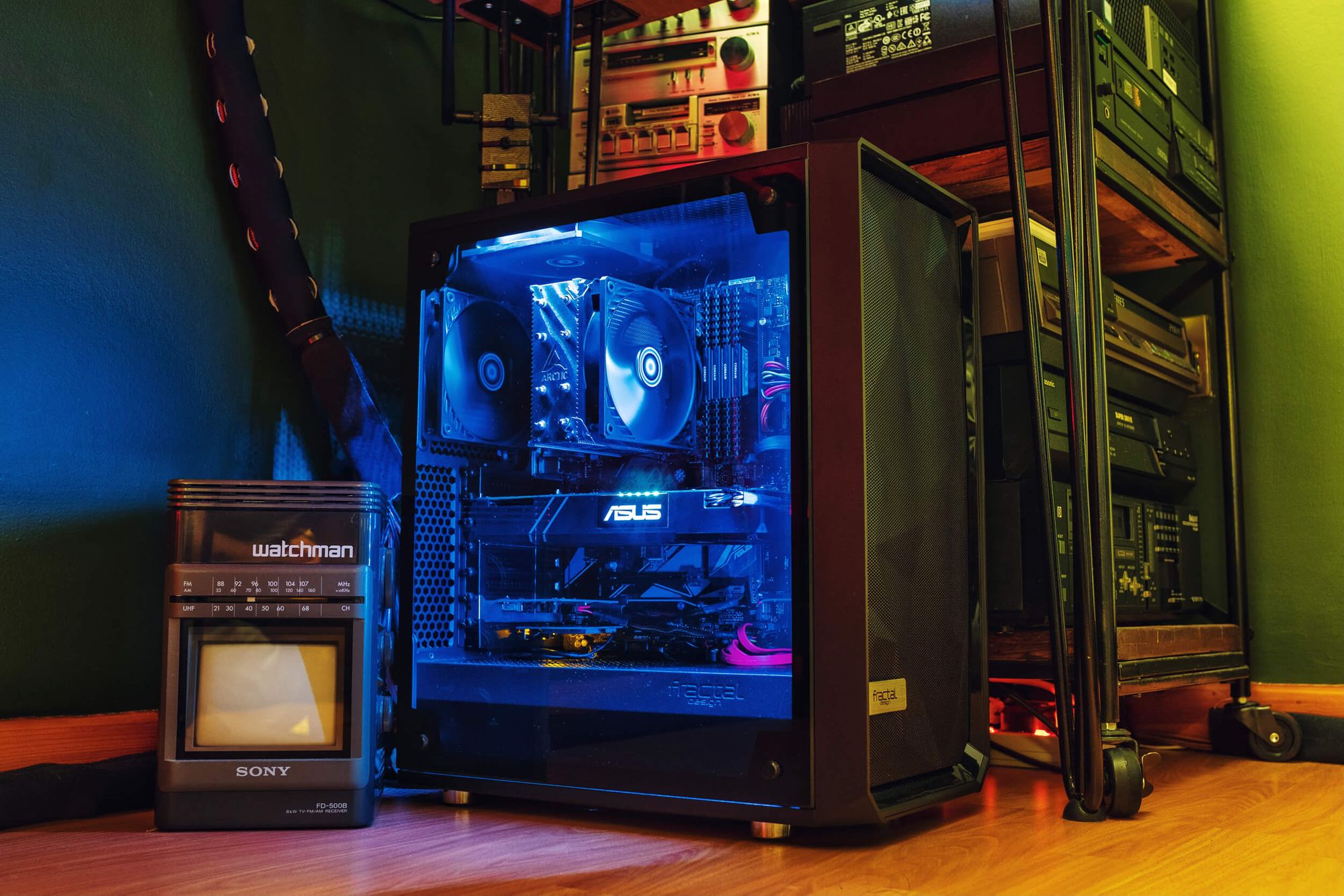 I'm an avid collector of vintage technologies. I'm extremely fond of the more obscure and unusual audio formats such as Sony Elcaset, 8-track, Open Reel tape and MiniDisc.
I also love the more conventional mediums such as vinyl records and compact discs.
I have been into vintage audio since around 2009/2010 and got started with an old 1970s Toshiba Music Centre. I got more serious about vintage audio in late 2018 just as my dad was diagnosed with throat cancer.
I decided to build my current hi-fi space as a bit of a distraction from what was going on.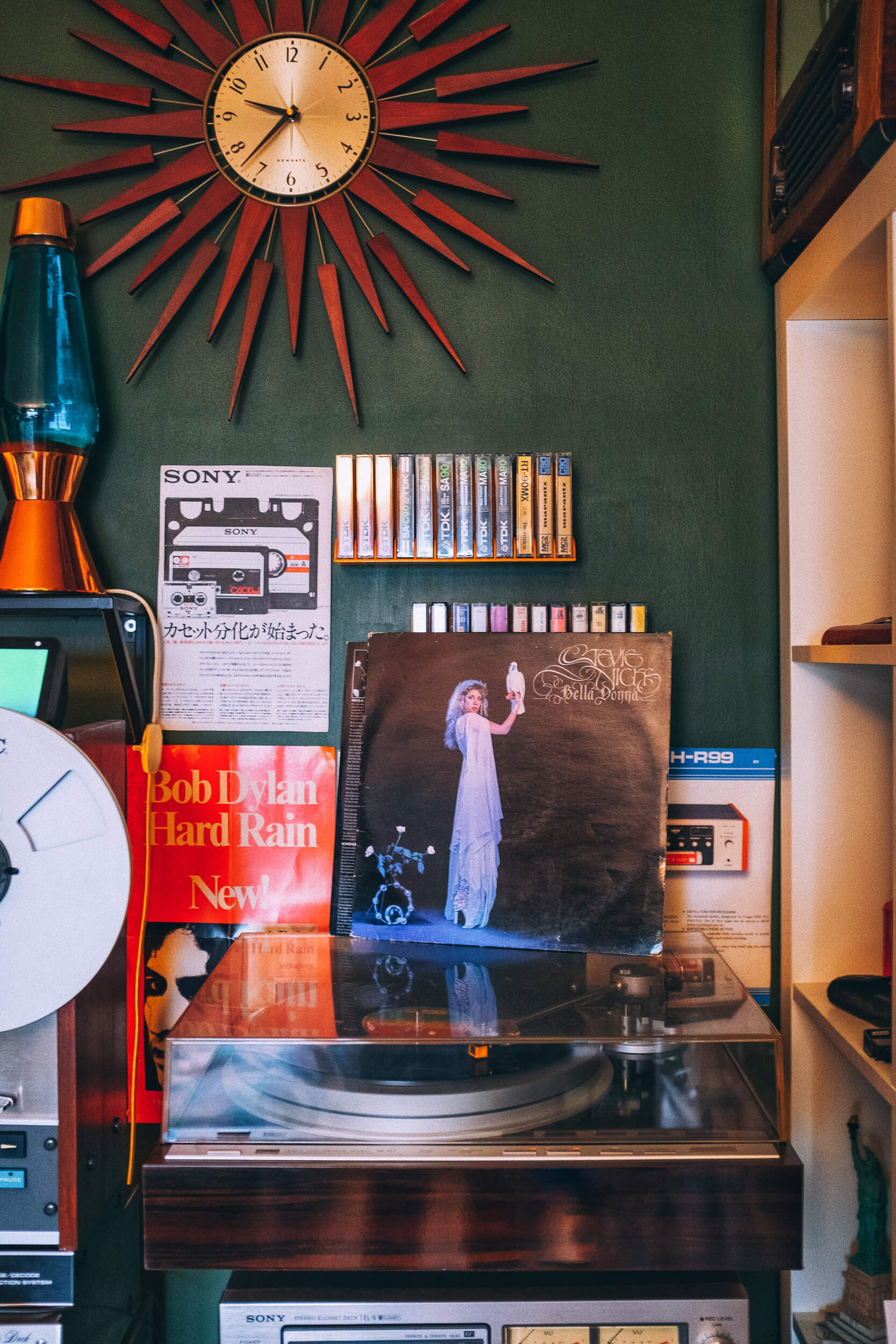 I also enjoy collecting old cameras and television sets. Another point of interest for me is tape-based video formats such as Betamax, VHS and Philip's short-lived Video2000 system.
My A/V Rack is apparent in the collection of photos complete with a 1985 Bang & Olufsen BeoVision TV set and the various VCR's set up below.
What's your favourite item on your desk?
I would say my favourite item on my desk is the Apple Power Mac G4 Cube.
I have owned this machine for around two years now. My friend gave it to me as compensation for shooting his wedding photos. He now lives overseas in Japan.
It is a fairly rare piece of technology.
It was a machine that was in production for just under a year and only 150,000 units were made. In consumer electronics terms those figures are pretty minuscule.
To put it into context, by the year 2001 Apple had shipped over six million iMac G3 computers.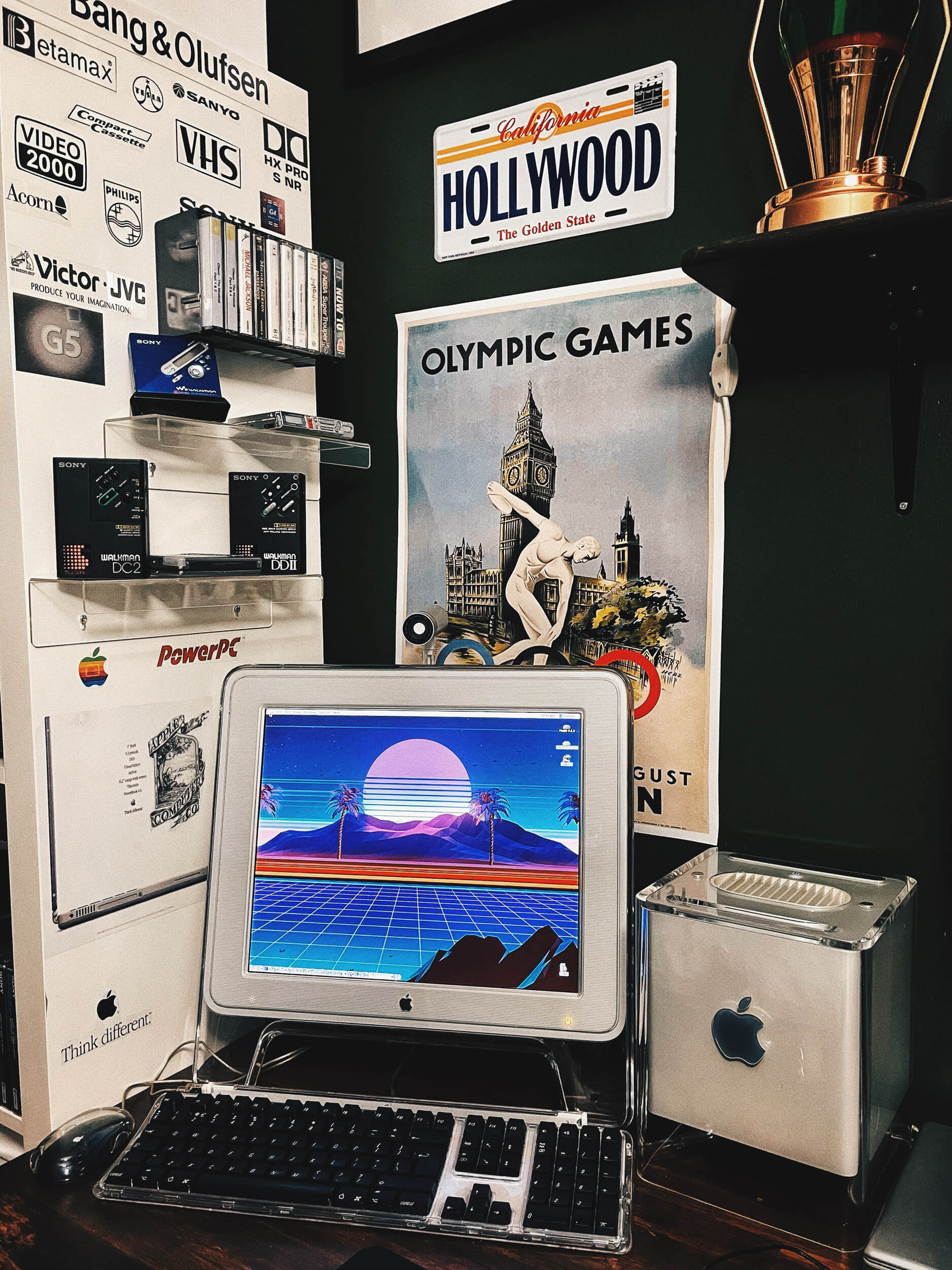 Only recently though have I put this machine on my desk and displayed it properly. I use the G4 for playing old games. Mostly, this is the original Fallout and Sim City 3000. I've also used it to capture analogue mini DV video from my Canon XL-1 Video Camera.
I also spent time upgrading the ram. I installed a modern solid-state drive and upgraded the rather weedy 16MB ATI Rage Pro 128 graphics card to a much better ATI Radeon 7500. It has 32MB VRAM, twice the memory of the original.
The Cube is a pretty slow machine by modern standards clocked at just 450MHz. But with these upgrades, SSD, extra ram and improved graphics card, the classic Mac OS 9.2.2 flies on it and it boots up within a few seconds.
I did also install a small cooling fan in the base to better aid cooling and ensure the longevity of the components. As stock, the G4 Cube is convection cooled without any sort of cooling fan installed.
What does your typical day look like?
I work shifts so every day is often different.
Night shifts are all about monitoring. The day shifts are all about responding and keeping our clients informed of any issues in regards to horse or greyhound racing.
Queries include confirming results as well as monitoring live video coverage and network infrastructure. I also report any FTP feed issues and liaise with team members within the Racing Department to bring forward clients' concerns.
I generally work 8-hour shifts at my desk.
I stick to the same workspace throughout the day. I'm currently using a work based desktop PC hooked into my own curved monitor, so it would be difficult to transport and move.
The plan is to eventually transition to laptops hopefully so will allow us to be a lot more mobile.
As mentioned above, I love vintage hi-fi and I love all different types of music. Some of my favourite performers include Bob Dylan, The Who, Electric Light Orchestra, Supertramp, Elvis Presley, The Rat Pack, Hall & Oates, Fleetwood Mac, Queen etc.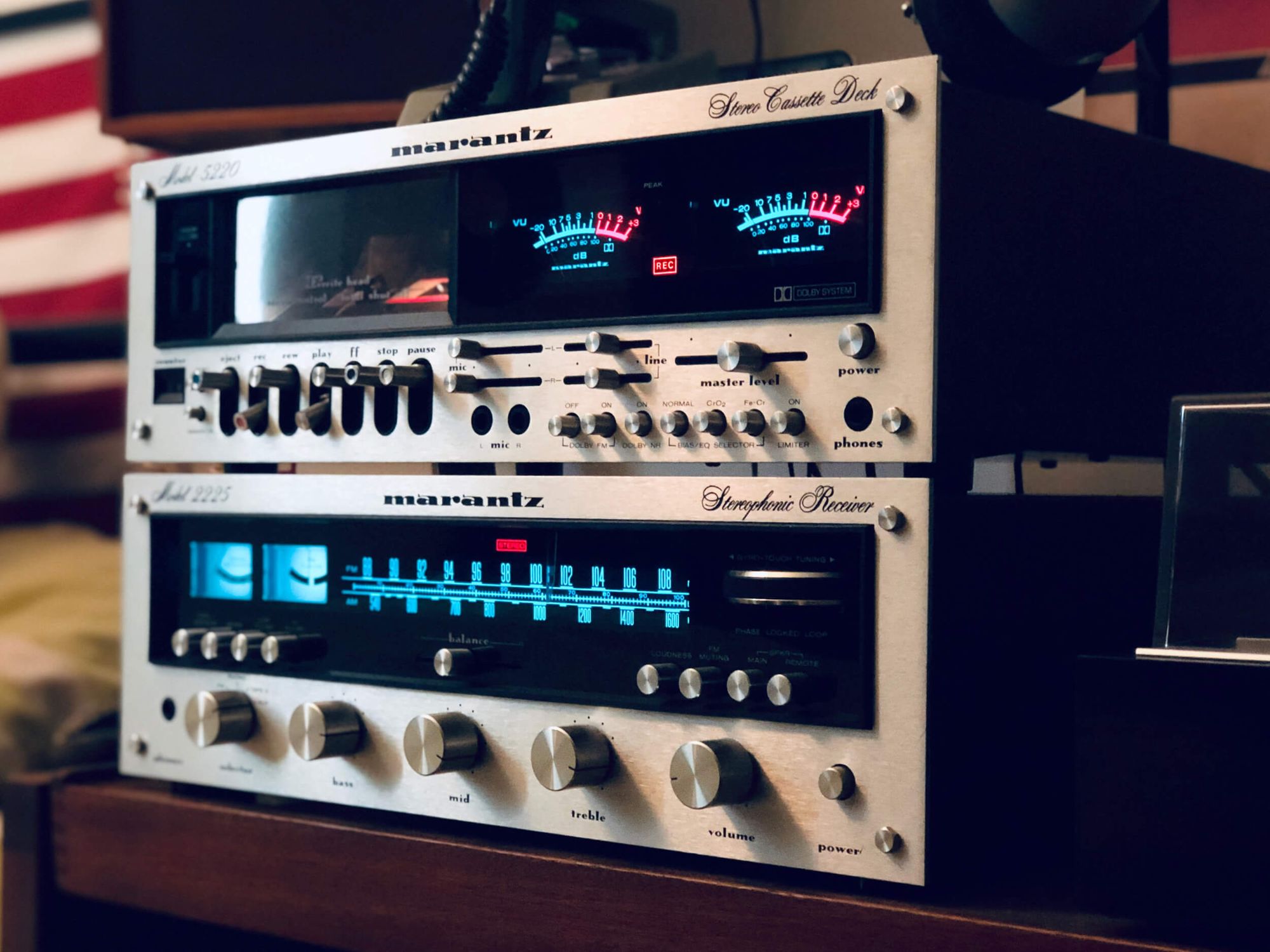 I tend to do most of my hi-fi listening at my main hi-fi setup with a Marantz 2225 receiver from 1976.
As I work a lot of night shifts I often use a pair of Sennheiser Momentum 2 headphones paired to the amp.
The speakers hooked into it are a pair of Wharfedale Denton 80th Anniversary editions in rosewood finish. They were originally launched around 2012.
Your tips for working from home?
Get a proper dedicated office space with a comfortable desk and chair setup.
Try and keep your space separate from other family members or those you are living with.
I'm quite lucky as I don't have any young children or other family commitments now. It allows me to work at home quite well and be free from distractions.
We're a reader-supported publication. This article might contain affiliate links. It means we may receive a commission if you click a link and buy a product that our maker has recommended. The interview was done independently.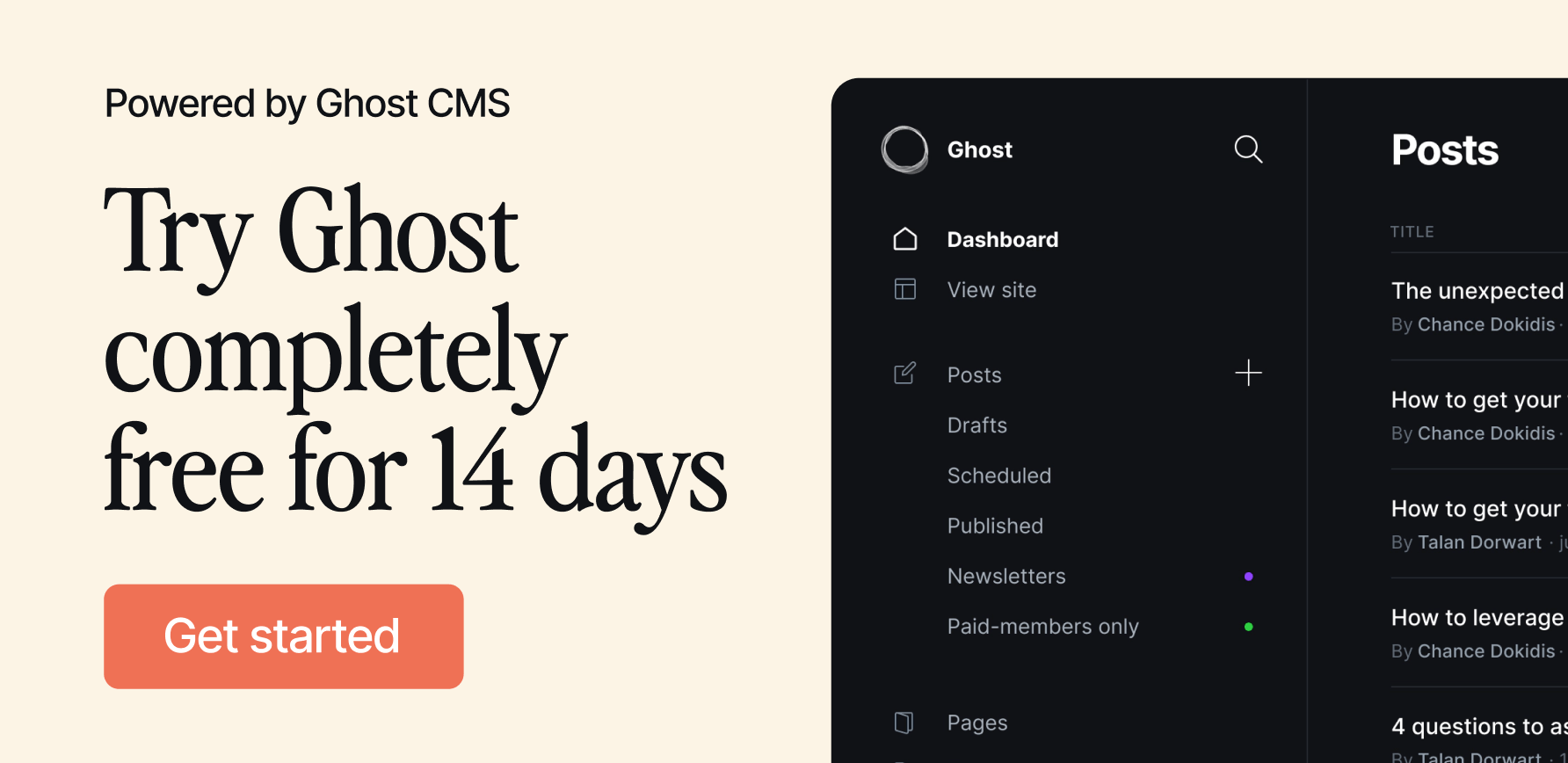 ---