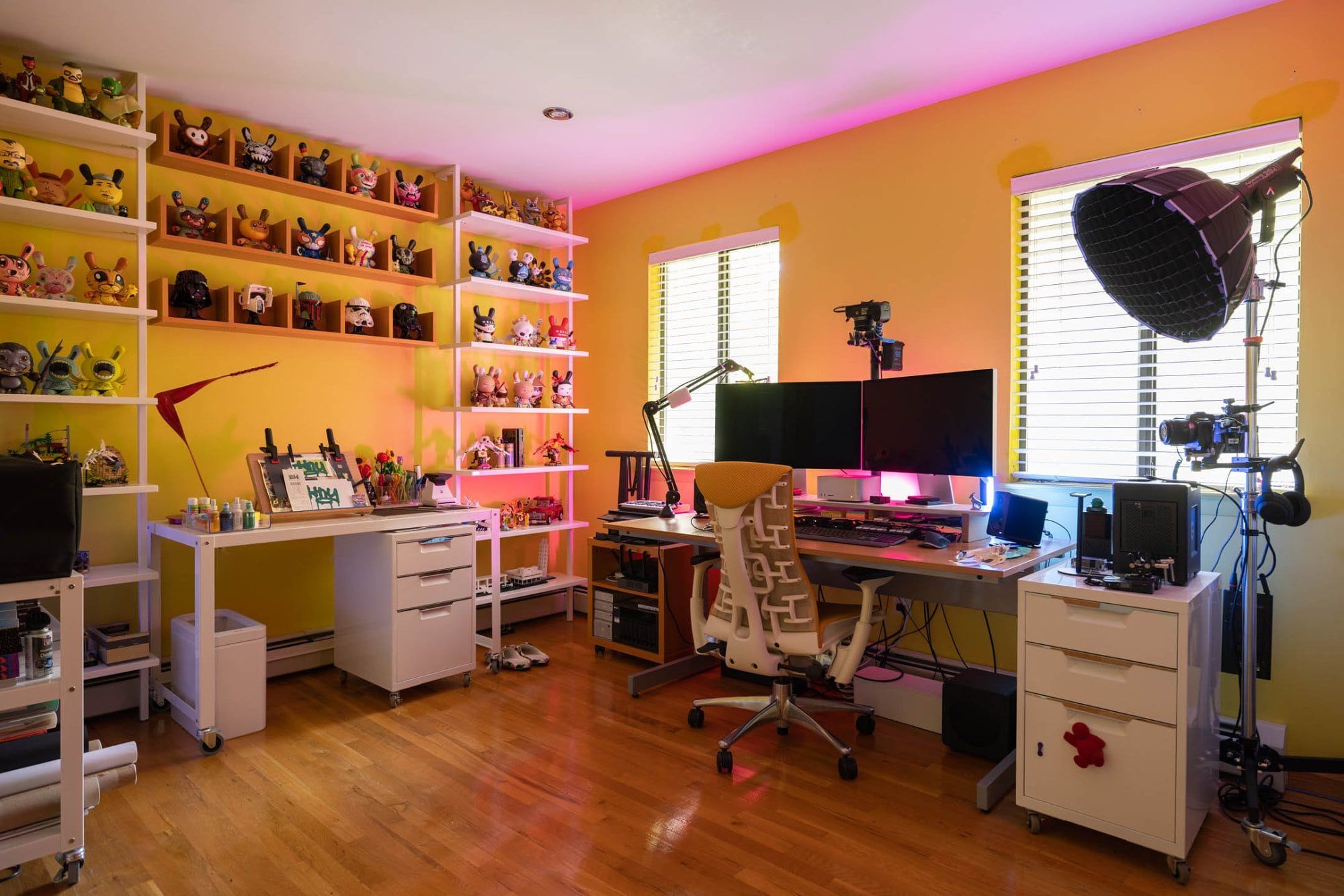 Joyful Design Desk Setup in New York City, US
"I'm more than my Mac. They are just tools"

Name: Rina Miele
Location: New York City, US
Occupation: Creative Director + Designer
Room size: 13 m² (142 ft²)
Social media: Instagram, Twitter, Honey Design & Rina Rentals
Hello! Tell us a bit about yourself
I've been freelancing full-time since 2010, creating multifaceted experiences and solving problems that encompass a variety of brands.
Sometimes, I work with large companies — Starbucks, Stoli, Nike, Estée Lauder, Weta Workshop, Discovery, Harvard, Unilever, Newsweek, Gerber, Michael Kors, Samsung, Jet Blue, Nintendo, HBO, Bayer, Univision (and beyond).
And other times, I work with small start-ups making natural soap, as well as individuals who become Grammy-winning singer-songwriters.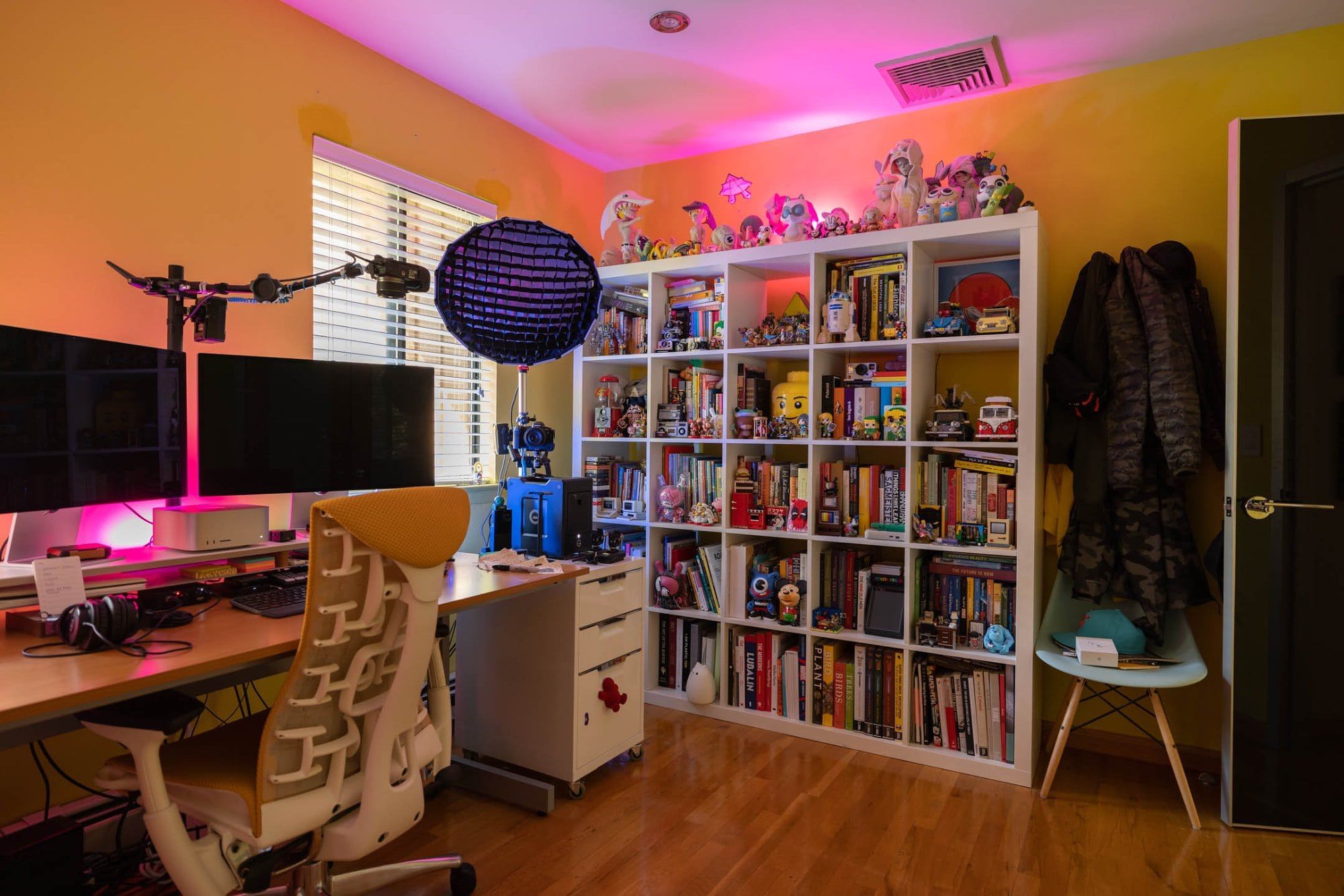 I started doing mostly digital when it was new and print was still the main media. But now everything is digital, and I've grown beyond just marketing for screens.
Over the last few years, I've been involved with larger branding projects that include strategy, identity, interactive design and packaging.
Something fun: I'm fascinated by birds.
I dedicate a lot of my time to photographing them.
I've been getting deeper into video as well.
It's quite a challenge but certainly worth it when you've captured some beautiful and exciting moments in nature.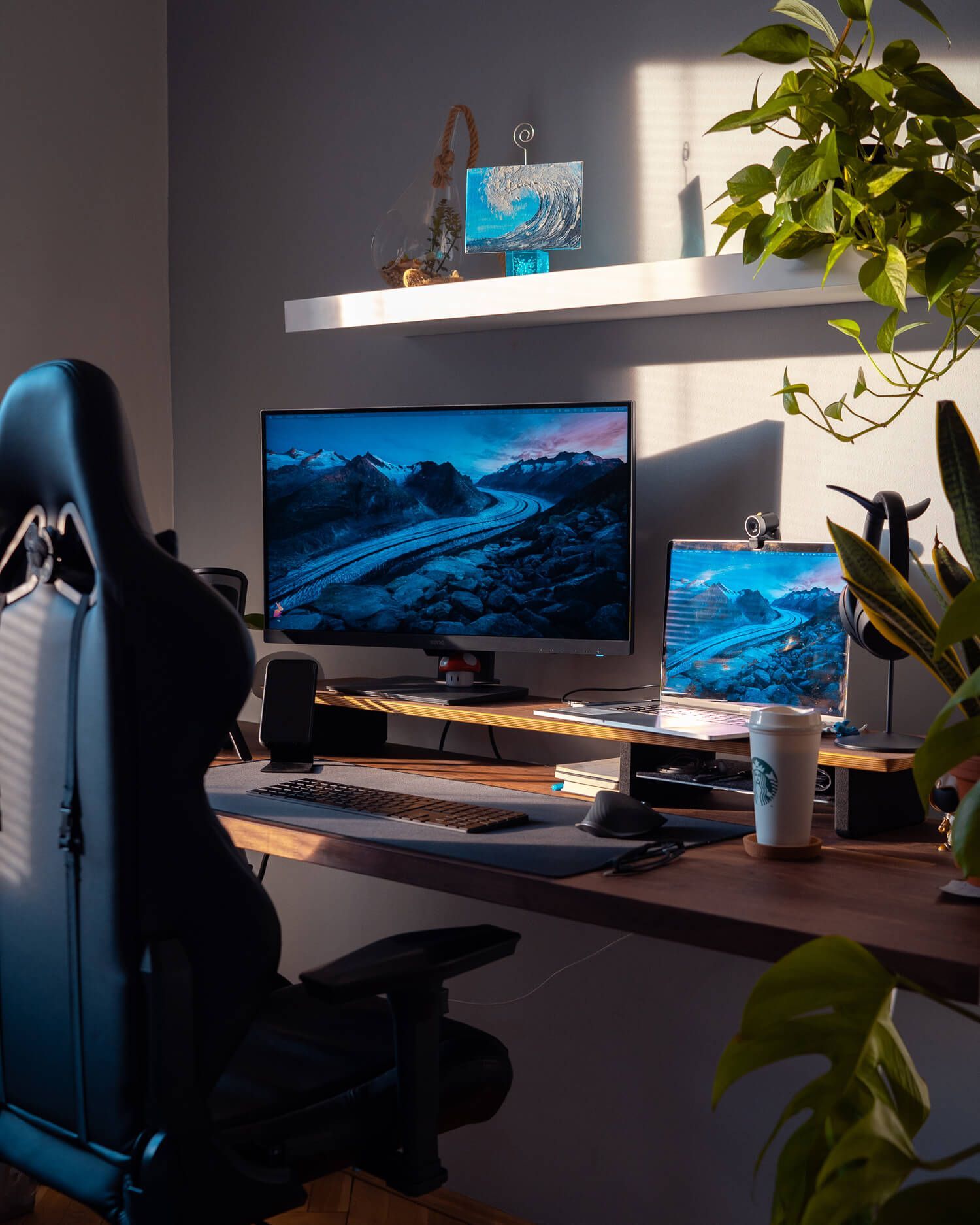 Take us through your setup
| Item | Model |
| --- | --- |
| Monitor | Apple Studio 5K Display ×2 |
| RAID hard drive unit | Philips Hue Play ×2 |
| Speakers | Kanto YU4 and SUB8 |
| Headphones | Apple AirPods Pro 2, Apple AirPods Max |
| Keyboard | Logitech MX Keys, Logitech MX Palm Rest |
| Mouse | Logitech MX 3 |
| Accessories | ProGrade CFexpress B Card reader, GTECH Atomos Caddy SSD reader |
| Games | Nintendo Switch, Analogue Pocket |
| Desk | IKEA Jerker Beech |
| Chair | Herman Miller Embody |
| Desk mat | Grovemade Large Matte White |
| Web camera | ATEM Mini, Canon R ×2 |
| Microphone | RØDE NT-1, PSA-1 |
| Audio | RØDE AI-1 XLR Input, Elgato Stream Deck |
| Printer | Canon Imageprograf Pro 1000, Canon PIXMA TS9100 |
| Lights | Aputure 120D ii, Philips Hue Play Bars, Aputure MC |
| Furniture | CB2 Go-Cart White Rolling Desk, CB2 Go-Car Rolling Side Cart, CB2 Go-Cart Filing Cabinet ×2, CB2 Stairway White Wall Mounted Bookcase ×2, IKEA Kallax 5x5 Book Shelf, Simple Human 25L Slim Open Can, Eames Molded Plastic Side Chair |
Two large screens. Fast computer. Get it done. Since 2010.
Designing "on-command" à la without inspiration can be super tricky, but it is literally my job as a creative director and designer.
I have to make something out of nothing.
And it's exactly why I like to surround myself with things that comfort and inspire me.
You've got to feel at ease, so your mind has room to think. If you're a ball of stress and tension, that idea will never come.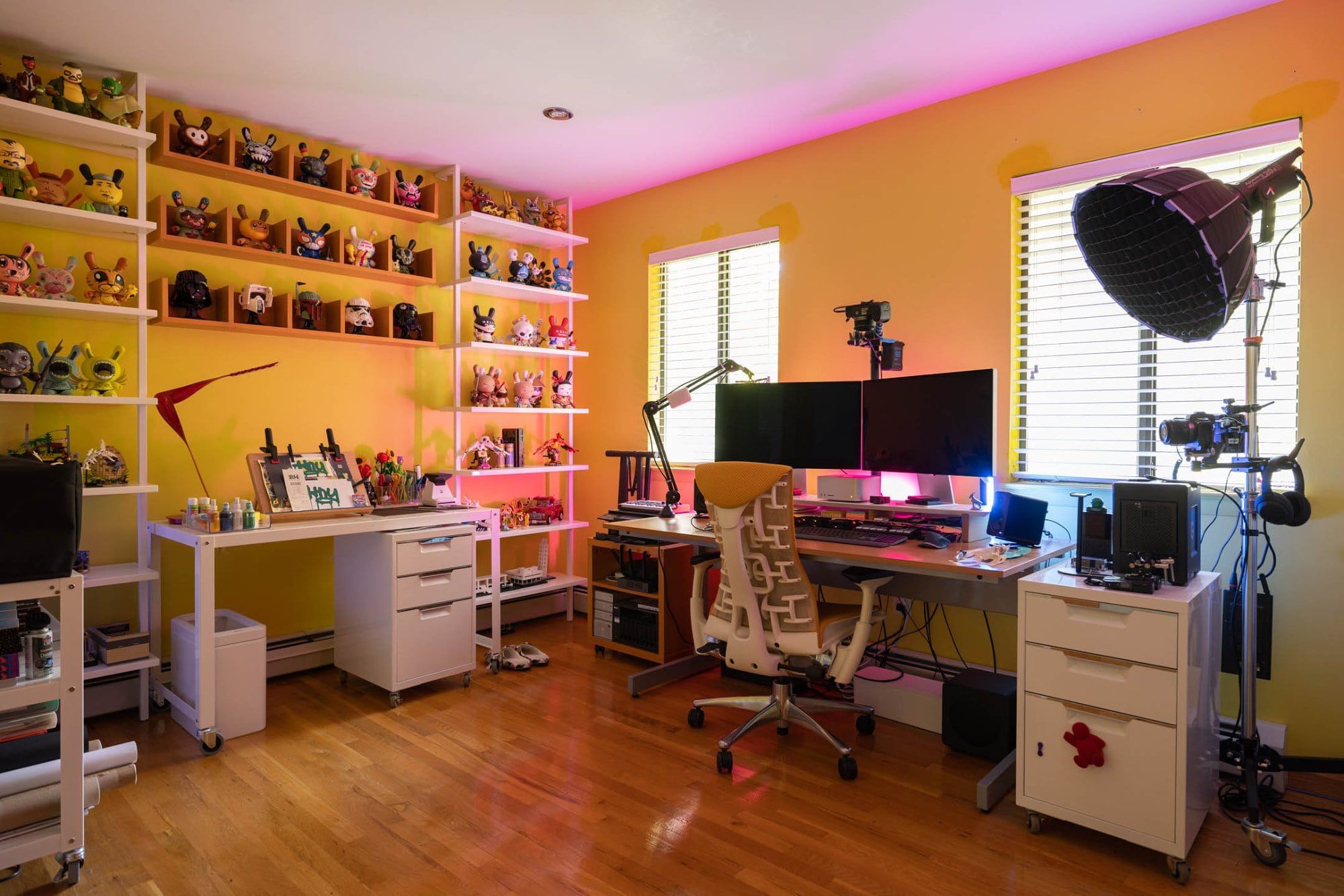 I've got a lot of the best tech available, but that in and of itself doesn't get the work done.
Sure it can facilitate things with speed or ease, but it doesn't make creative decisions.
I'm more than my Mac. They are just tools.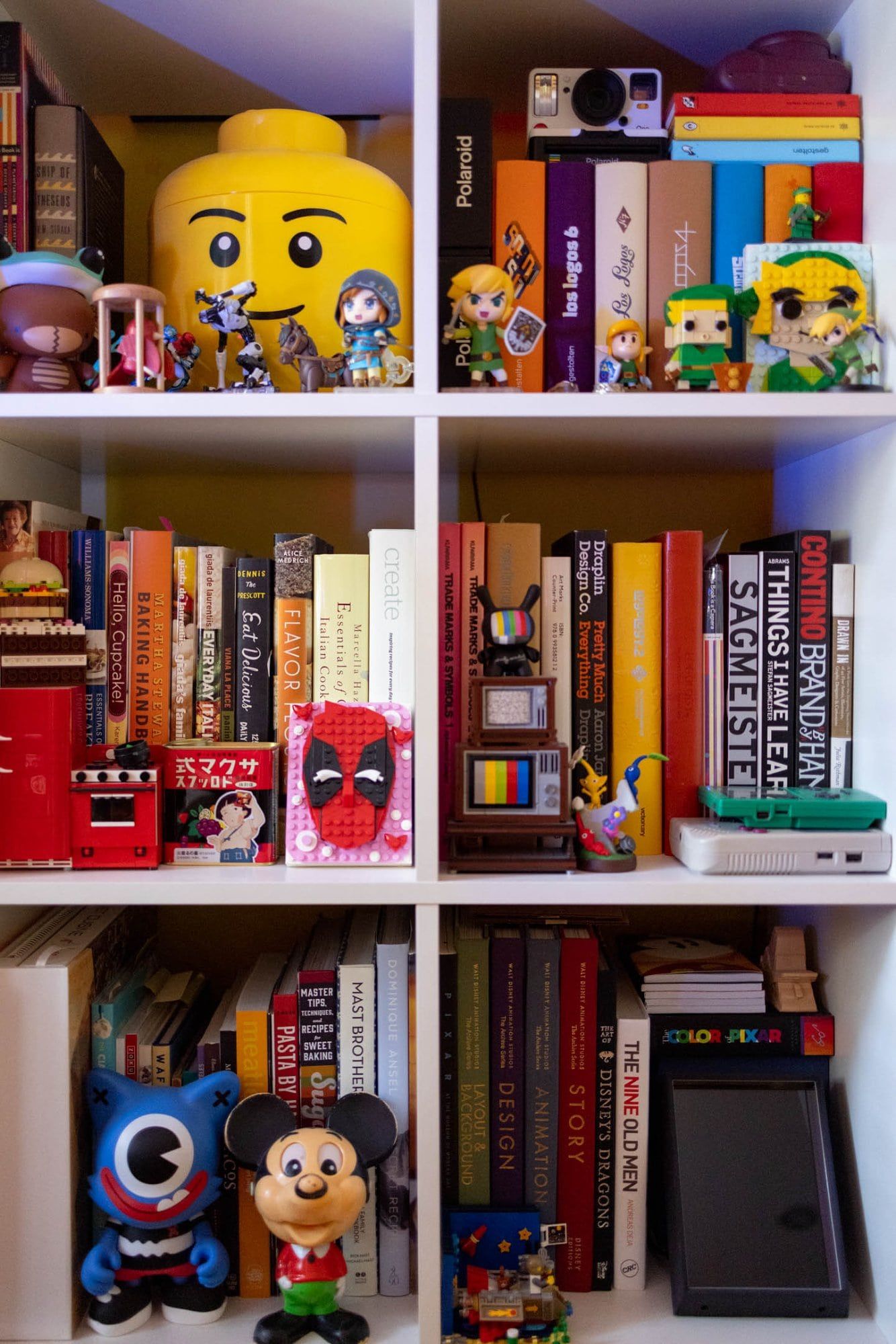 I've always had a vast array of toys, books, paint, markers, cameras, games, and more. I can always turn around and have a brief moment of enjoyment.
Working for yourself, by yourself, can seem pretty stifling. Sure, you are virtually connected with others, but you're physically in your own bubble.
I created my space based on what I need and what works for me.
Of course, I've been inspired by others through the years, but I've got a pretty unique office, really.
I need to be able to hone in on a project or concept and deliver executions to a client, as well as create a space I want to be in.
Again, you can have the best tools, but if you don't feel at ease, you aren't going to be very productive.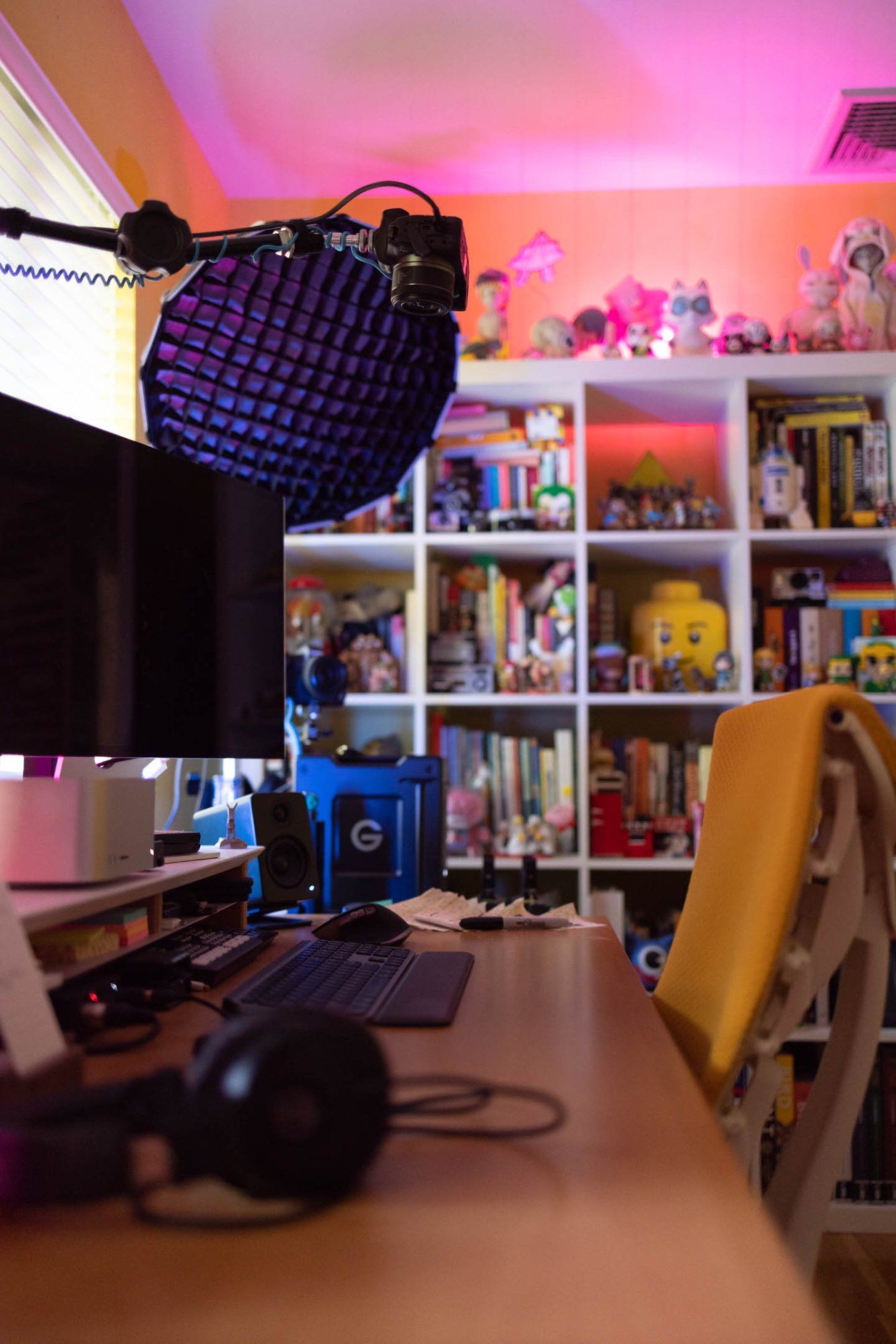 I'm also fortunate to live in a house, and my workspace is in its own room.
I have two windows where I have access to sunlight that fuels me (and seeing birds at the feeder is definitely a plus!)
Nature does wonders for your soul.
And this space was very similar before I lived in my current house. The room size and configuration were different, but the elements were the same.
As they say, "If it ain't broke, don't fix it!"
As much as I love new things, I don't feel the need to change everything all the time — only little emendations through the years.
What's your favourite item on your desk?
I love my 3D-printed metal goat!
It is from one of my favourite projects and clients — GOAT Soap.
It feels like a little trophy that I've won.
It always makes me smile.
I worked with an amazing client, collaborator, and one of the best 3D generalists I know.
The branding work was really successful up until that point — and we wanted to do something different and fun.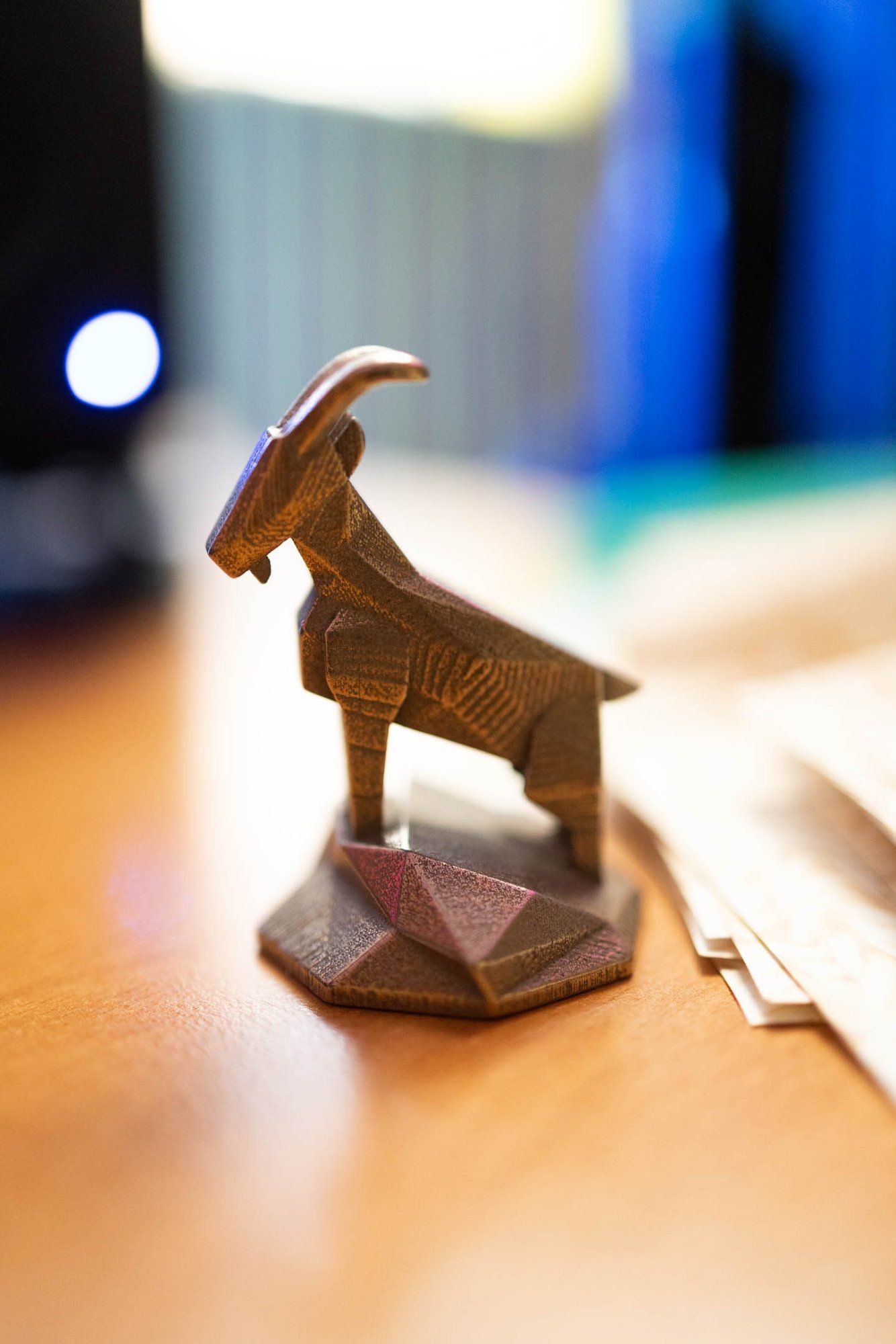 We decided to create a mascot for the brand. I gave my 3D guy a concept sketch, and he created it in 3D form.
Then we sent it off to Shapeways to print some Goat mascots in colourful plastic and metal.
Can't recall the price, but it was under $50 for the most expensive metal version. The prints came out so amazing, too!
I'd encourage anyone to create something super personal like this to always keep themselves grounded and comforted — a small reminder of a great moment!
What apps or tools do you use to get things done?
I use traditional design tools for most of my design: Photoshop, Illustrator, Lightroom, Sketch, and Connect Fonts.
But I also use old-school analogue tools like Pencils, Markers, Paper, and Post-Its.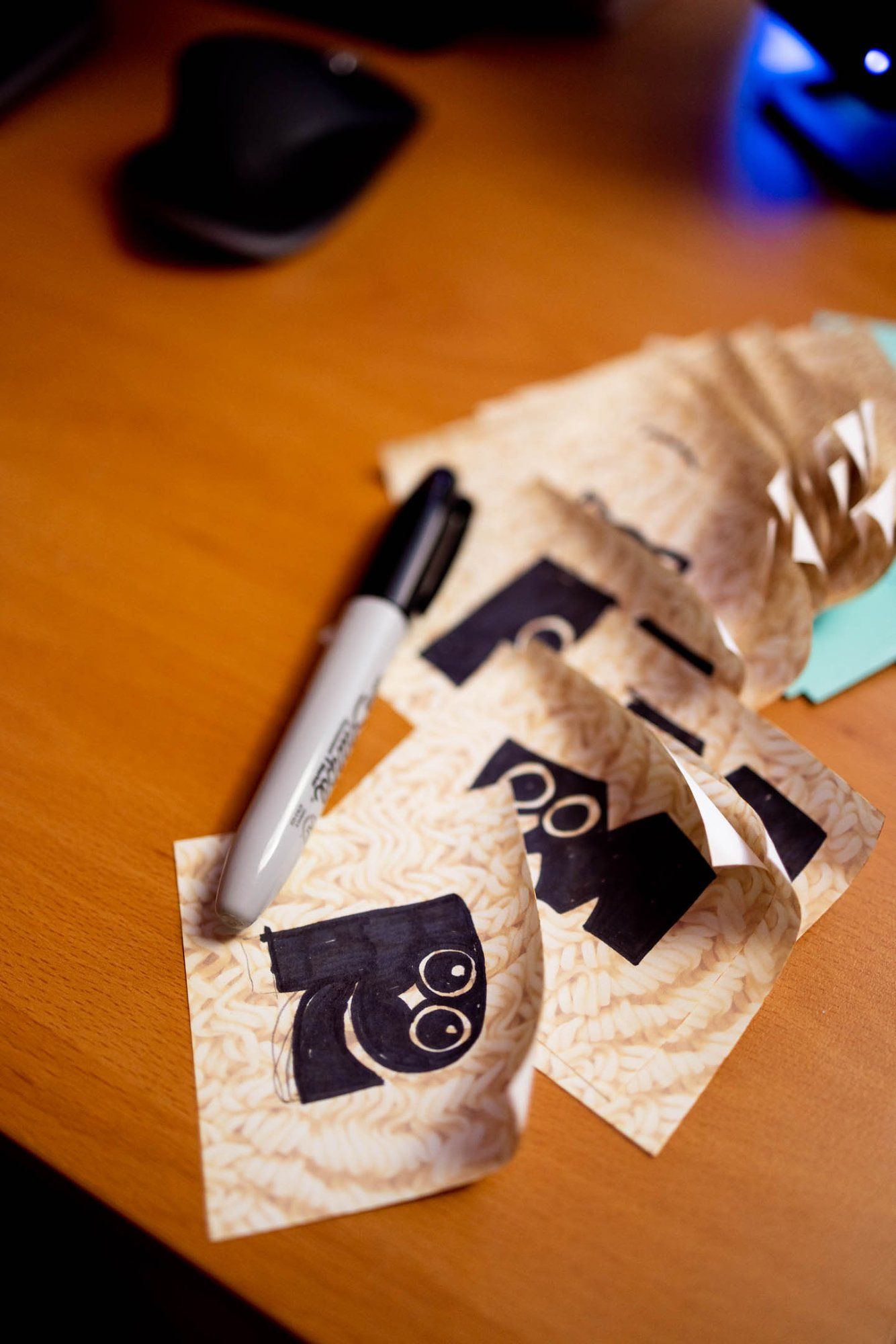 I use Ugmonk's Analog system for productivity when I'm grinding daily.
It's a good way to see your daily tasks in a visual way and get things done without the digital clutter of a computer screen.
But I like to keep it simple in a digital space. Sometimes targeted/niche apps can be too restricting or fussy.
I use Apple Notes because of its instant synchronization with all my devices.
Things app is also excellent, which I use for managing other work-related items, such as projects on deck, incoming invoices and other budgeting notes.
What books, blogs or podcasts recently caught your attention?
Podcasts have definitely been some of my most consumed media lately, besides YouTube videos, really.
Not everything has to be "talk radio" or non-fiction.
Anything from QCODE has been excellent. They create well-produced series that are very vivid, rich audio experiences. I just finished The Left Right Game with Tessa Thompson.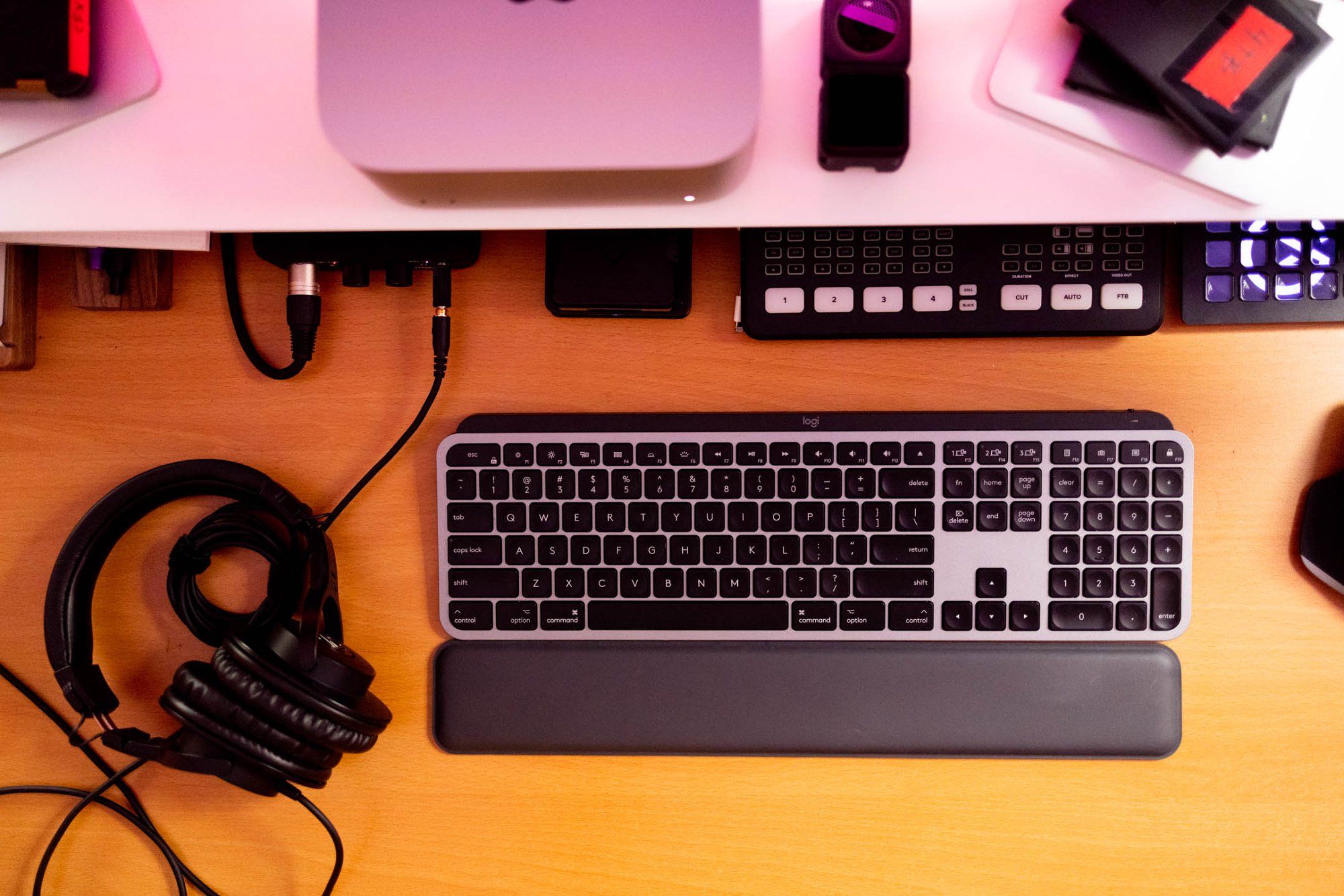 I love This American Life podcast as it really is interesting to hear stories from people all over.
Sometimes the stories are sad. Sometimes funny. Sometimes informative.
It's great to get different perspectives from different humans.
Anything produced by Apple Podcasts — like Run Bambi Run or Wild Things.
Podcasts are utterly enjoyable. And you can listen in the car, in the studio or anywhere you are.
Feeling good puts you in a good state of mind to create.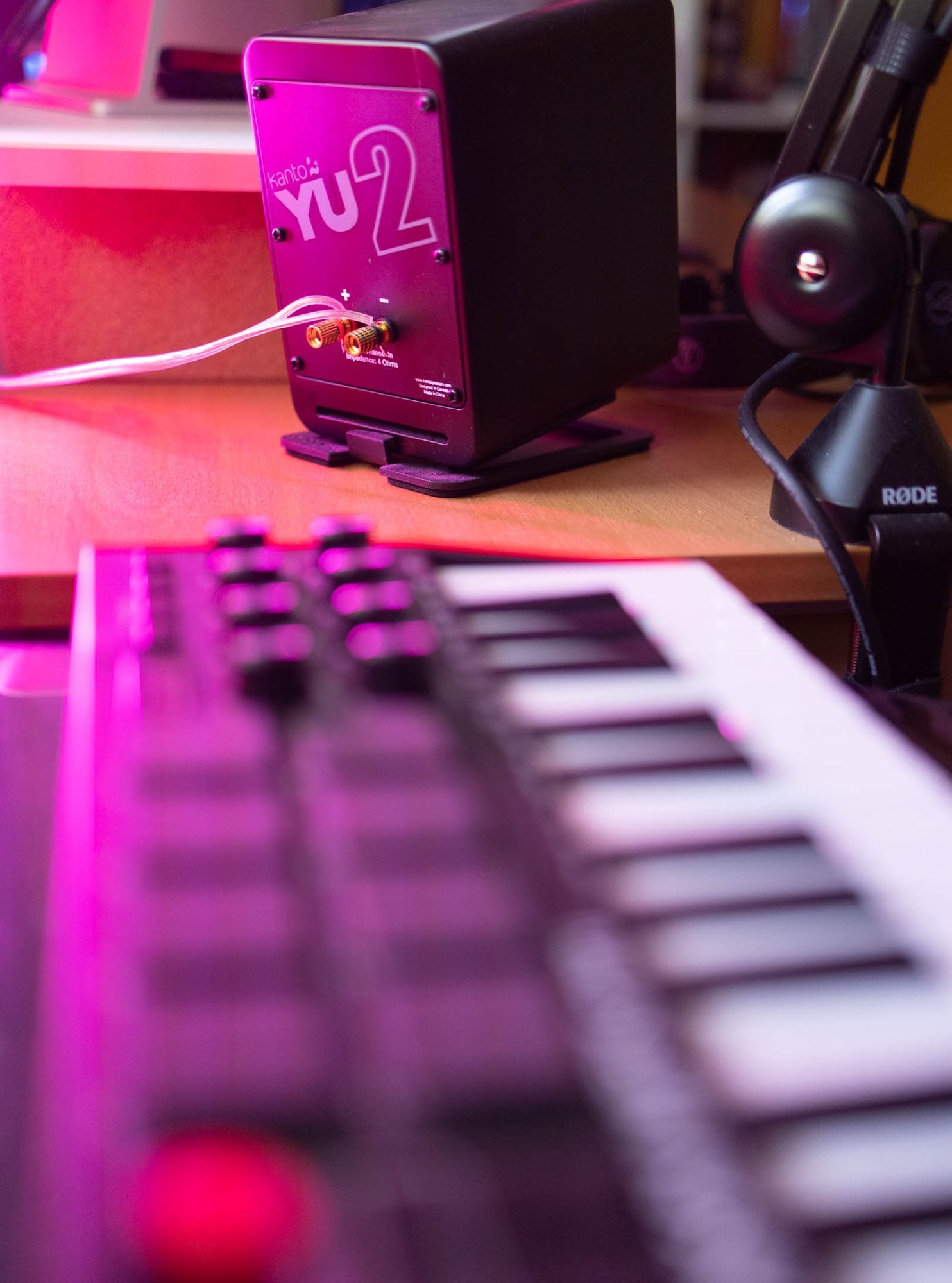 I love the vibe of Lew Later. It's kind of like a video podcast.
It's mostly a chill session where tech news is the side project. Definitely, a great mood to do just about anything.
Any tips for other makers who want to improve their workspaces?
Be true to you.
Don't try to create a trendy, kitschy or ephemeral workspace, copying everyone else.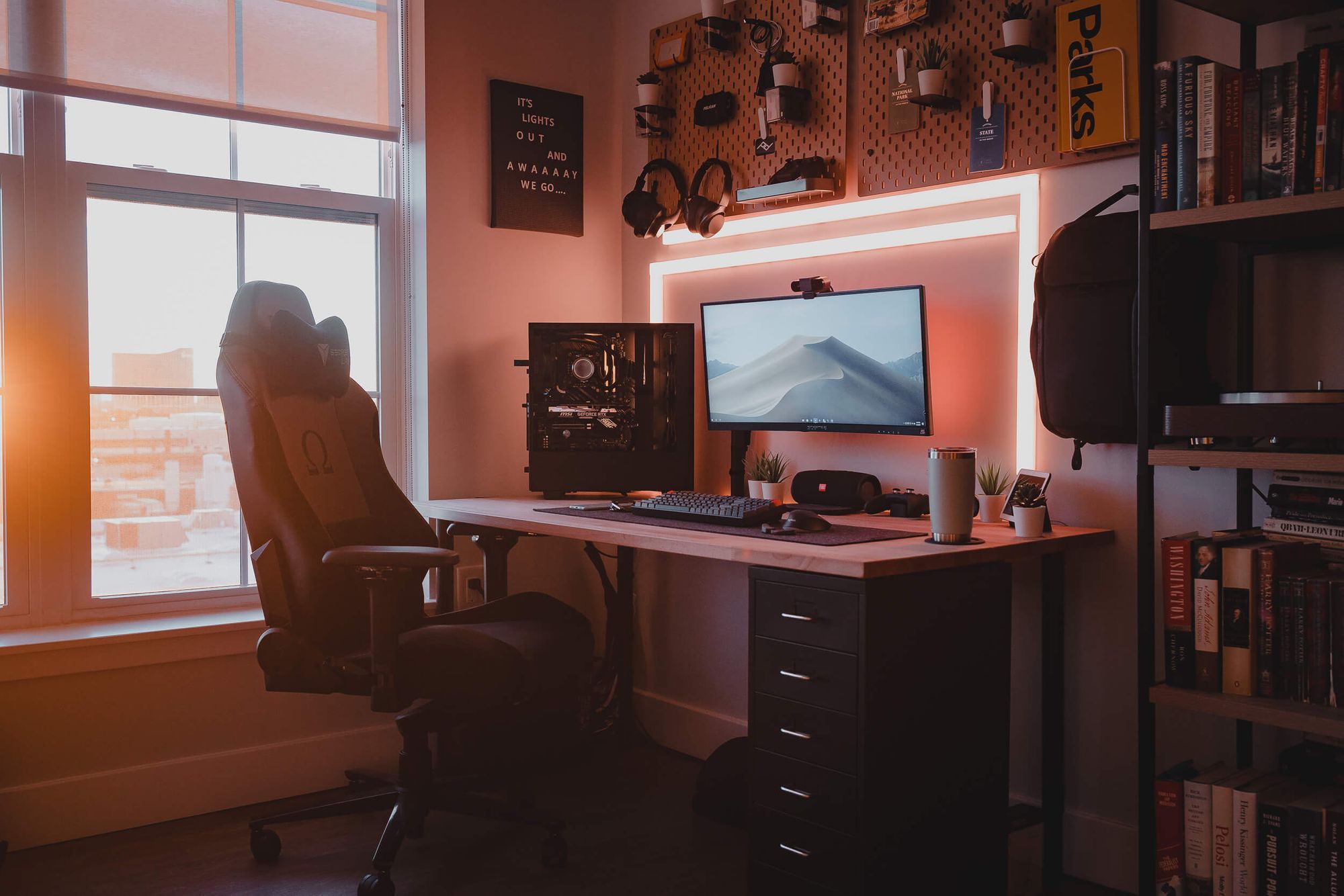 It's certainly cool to see how others manage their setups — and a bonus if you see a cool addition you'd like, but definitely remember to be yourself.
Have items that help you feel at ease and inspired — so you can be productive.
Create a space that embraces who you are and helps you be the best version of yourself you can be.
What does your typical day look like?
I wake up really early.
I can wake anywhere from 3 am to 5 am — depending on the time of year and day.
I do a lot of photography as the sun rises, so that's one major reason for the early wake-up.
But I do like the quiet and calm outside of that as well. I may just build some Legos or clean up my office before I start my day.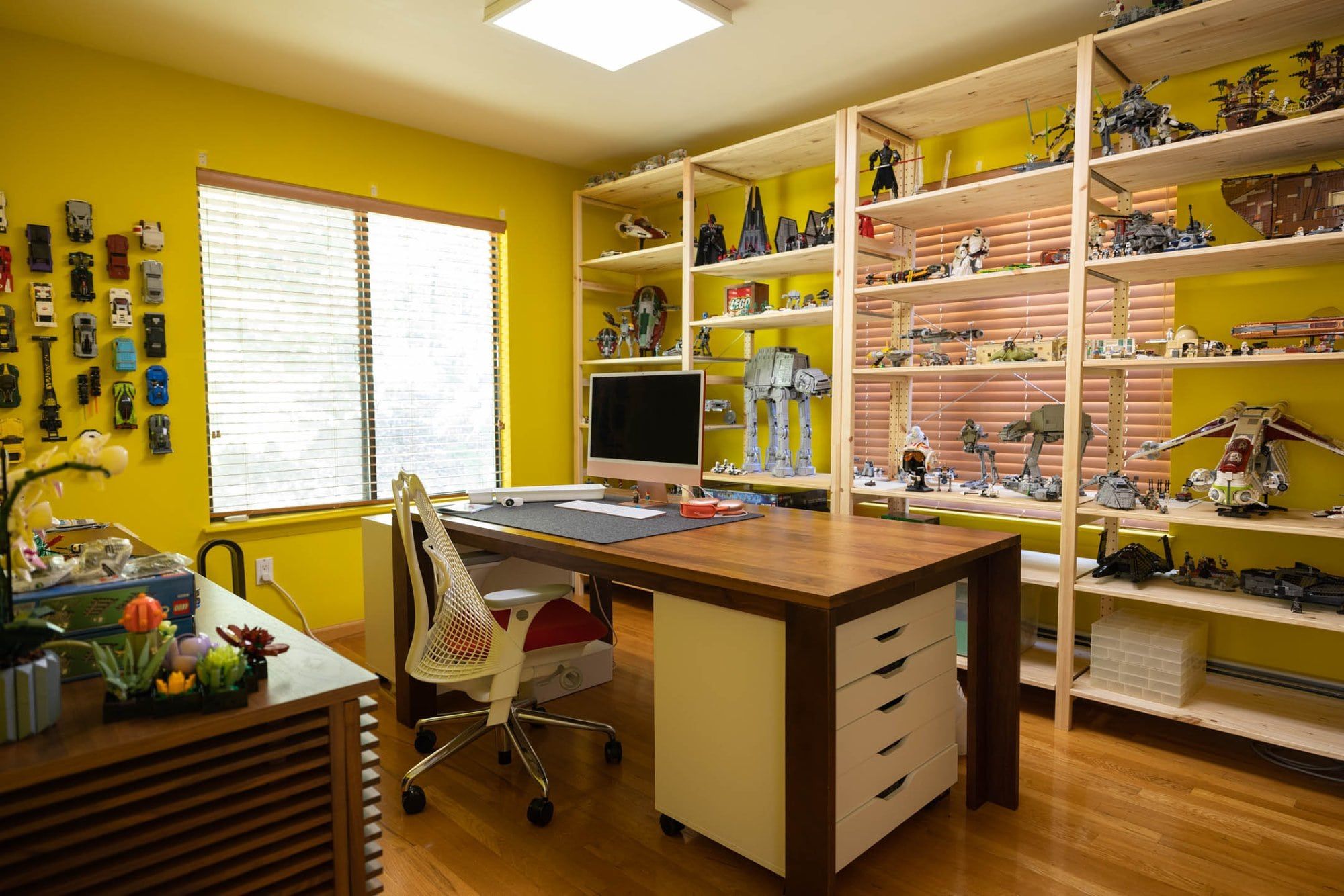 It's really important not just to wake up and jam right into work.
It would help if you gave yourself a bit of pacing — ease into the day.
And even once I sit down at my desk to work, I'll definitely not start designing immediately.
I may respond to any pending messages, billing, or other admin-related items, getting my head back into things.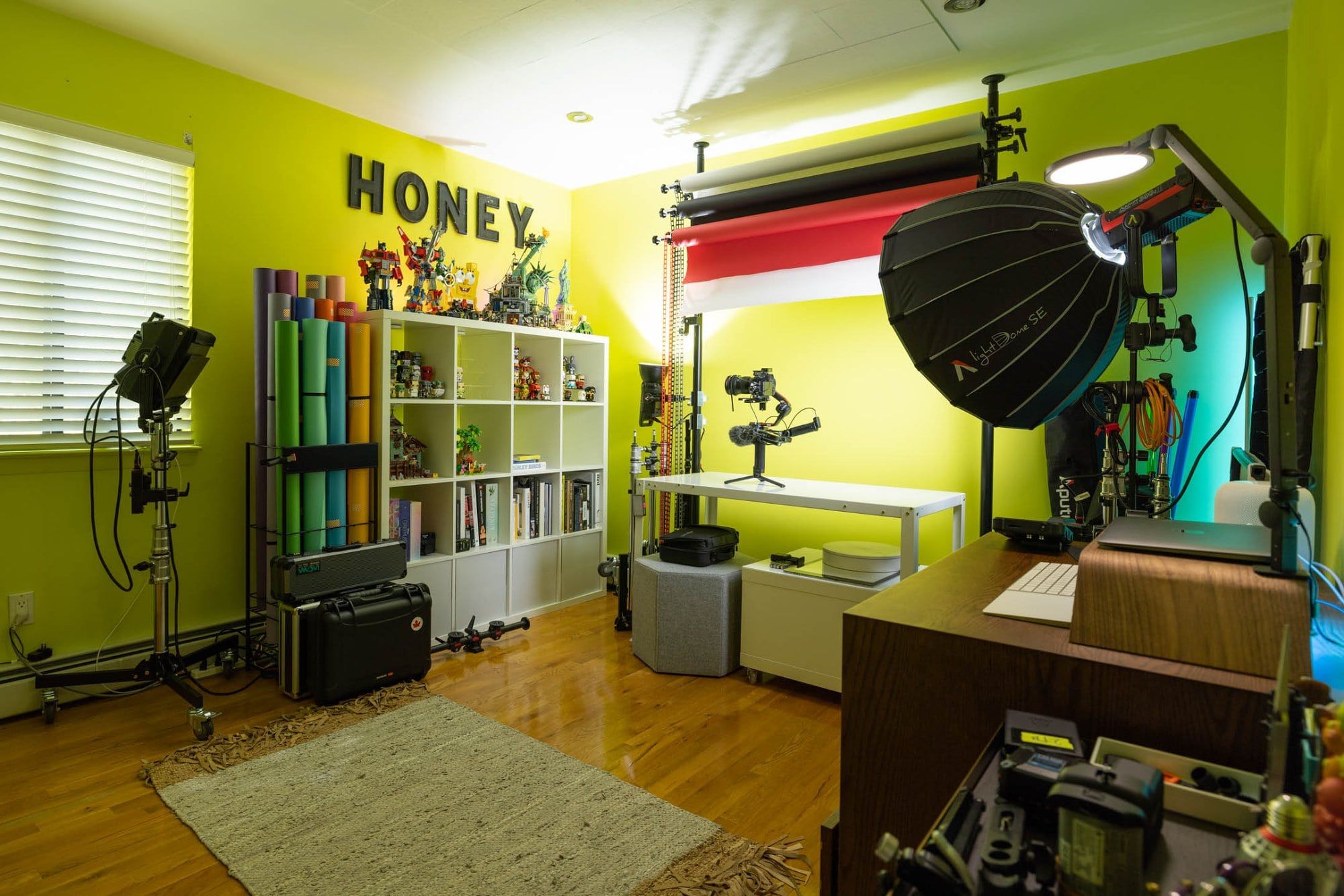 Since photography is a major hobby of mine, I'm all about Instagram (even though the algorithm has been against us lately)!
But I love seeing other photos/videos and connecting with those communities. So I definitely am checking that out as the day begins as well.
When I need a break, I head to one of my other spaces — my photo studio or Lego Room.
Or head outside to do some photography for a bit — usually, some yard macro or bird photography gets the job done.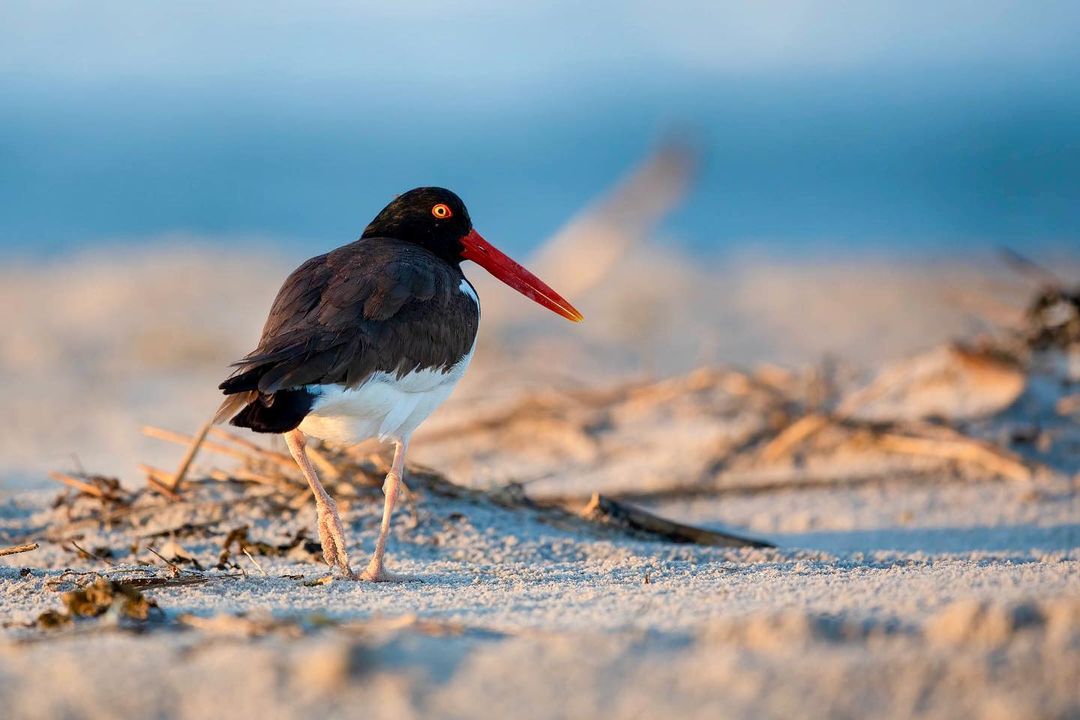 It's important to take a break and get away from staring at the same page or screen for hours.
You will come back with a clearer head, ready to proceed, reinvigorated with a new perspective — I guarantee it.
Sometimes I do grab my Nintendo Switch or Analog Pocket to play a video game for a bit.
I do love the portability and opt for more casual games that I can pick up and put down easily.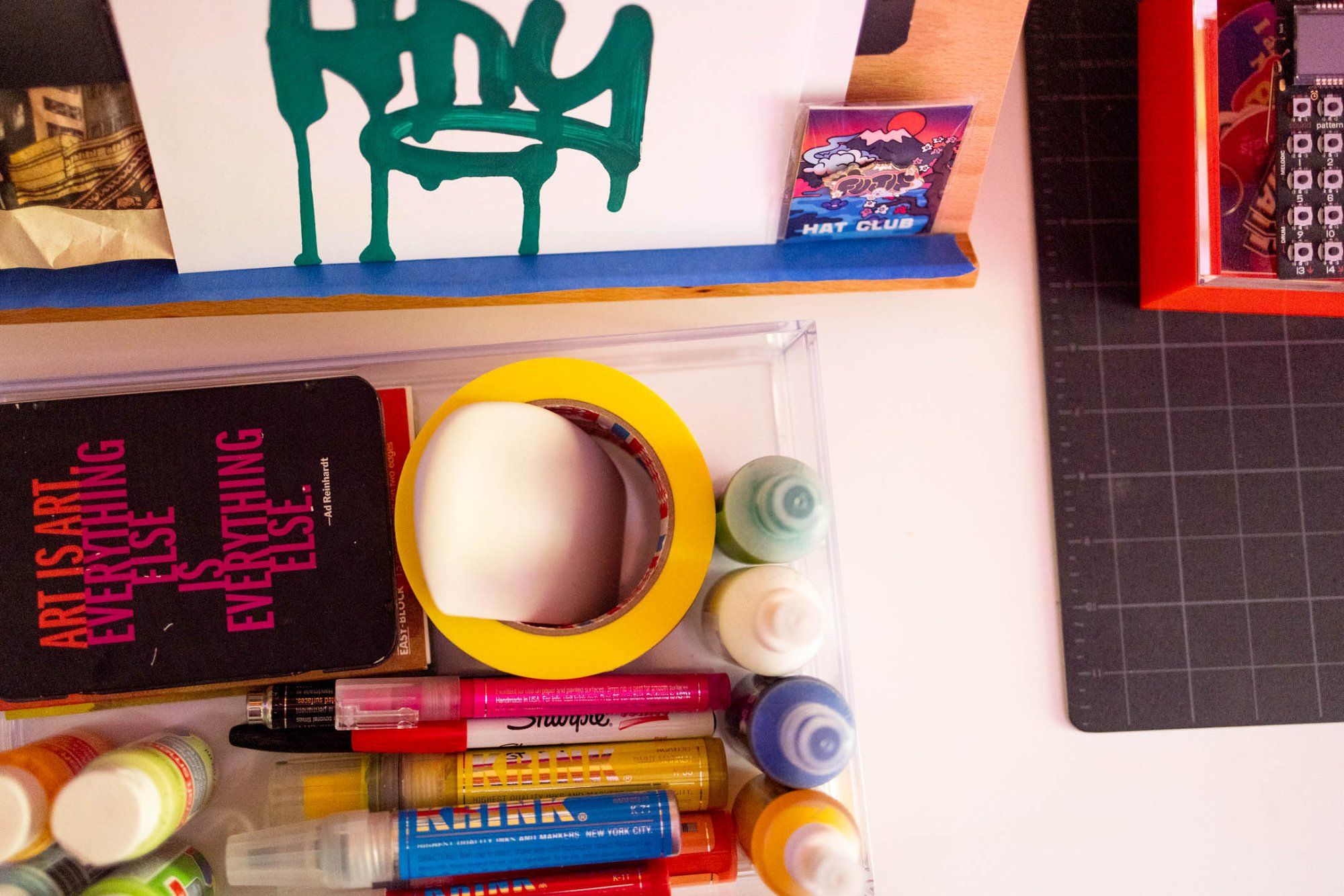 Generally, I keep normal office hours — until about 6 pm.
But I have been regularly working a four-day-work-week. It's definitely a help to a better work & life balance.
And I've been doing this full-time since 2010.
While COVID-19 impacted just about every other aspect of my life, it did not really impact this workflow since I had already been doing it for so many years.
If I can help it, I do not ever wish to return to working in an office.
I'm most productive and better balanced when I work from home and on varying projects and client types.
Your tips for working from home?
Focus on work, but take breaks.
You need to alleviate a lot of the monotony of work with moments of relaxation, but you can't just sit around and watch Netflix all day.
Get into a schedule and keep at it.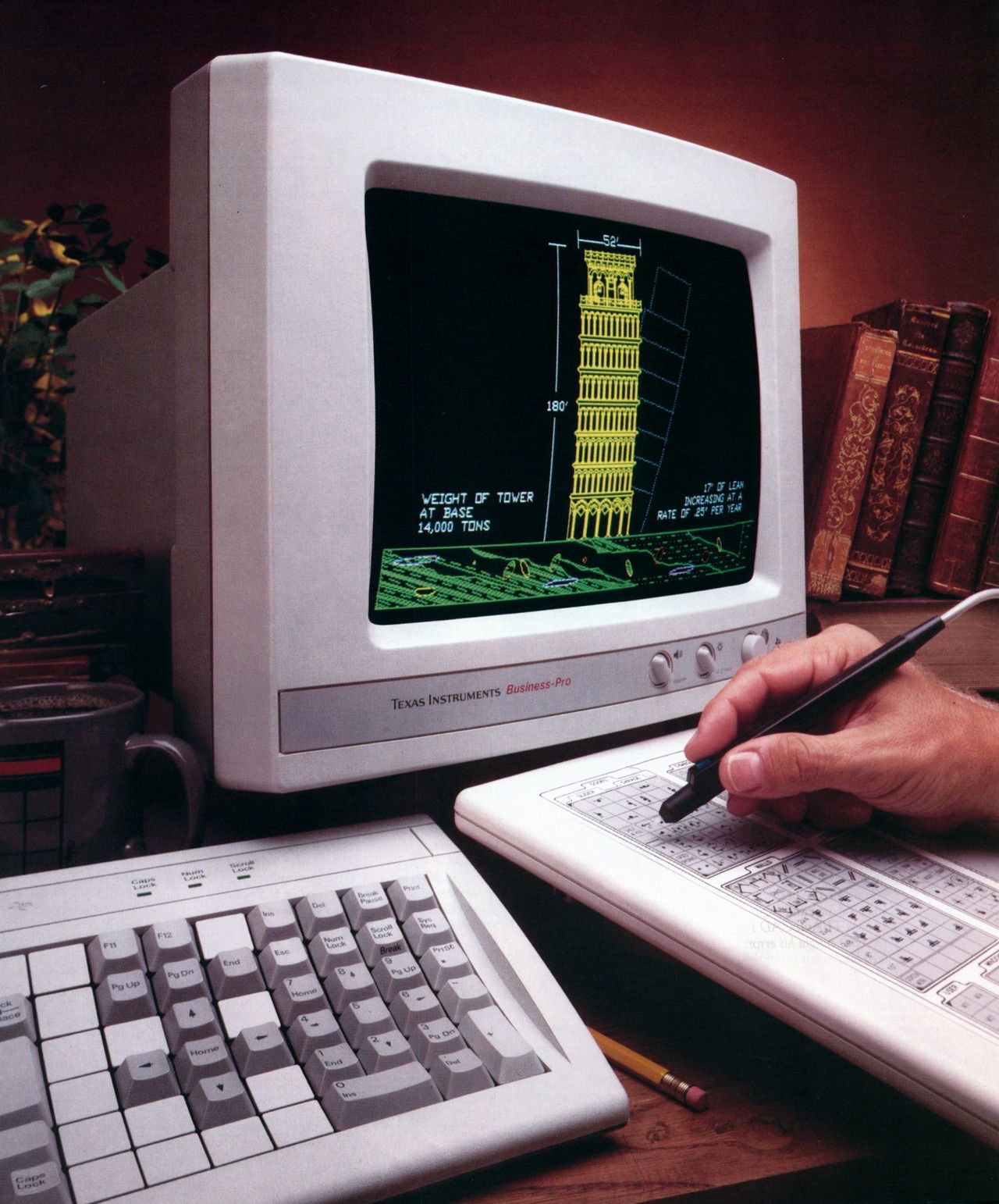 The structure will help you from getting distracted throughout the day.
Keep a task list (Ugmonk's Analog) to keep yourself accountable for each day's required responsibilities.
We're a reader-supported publication. This article might contain affiliate links. It means we may receive a commission if you click a link and buy a product that our maker has recommended. The interview was done independently.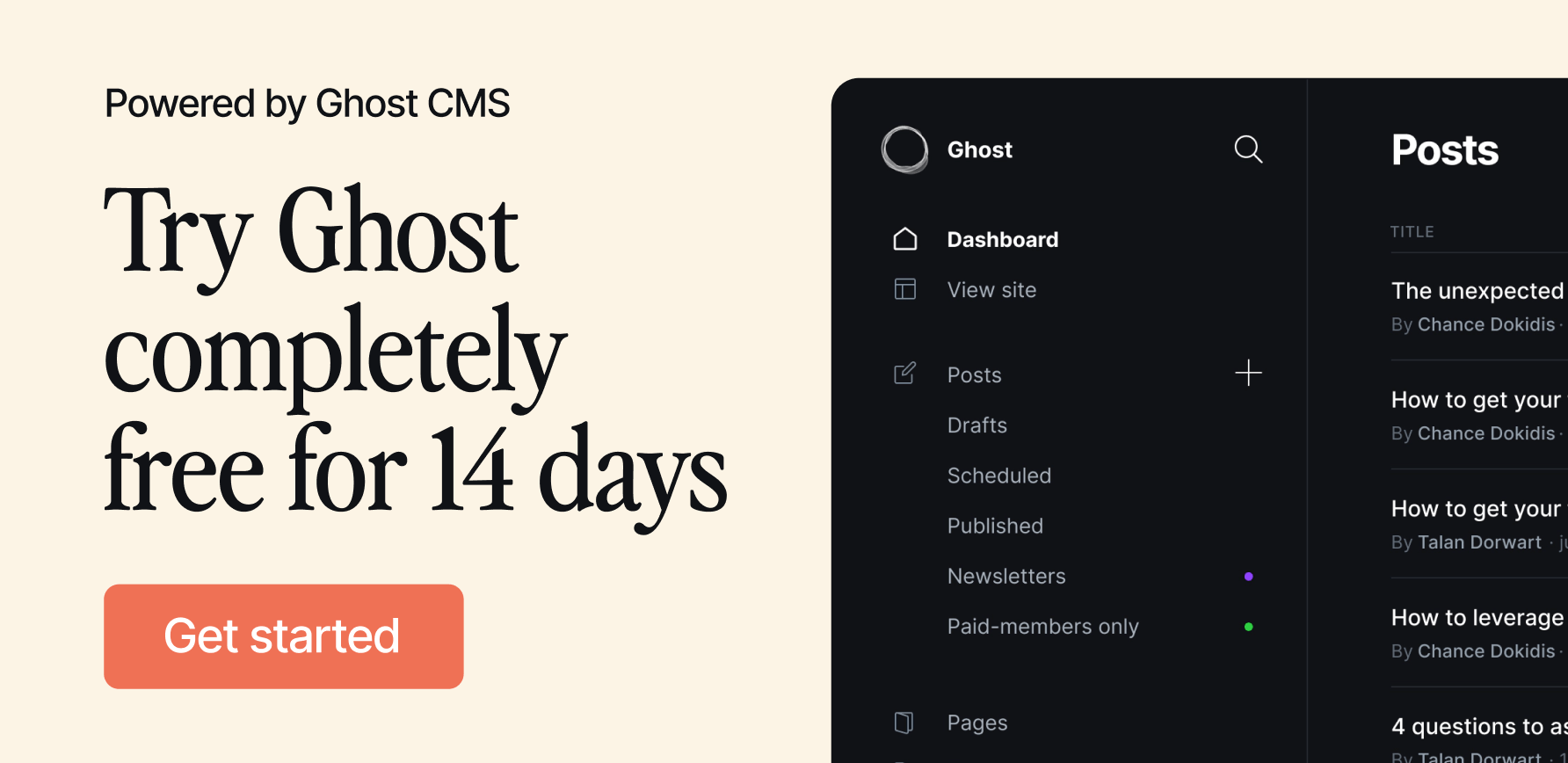 ---