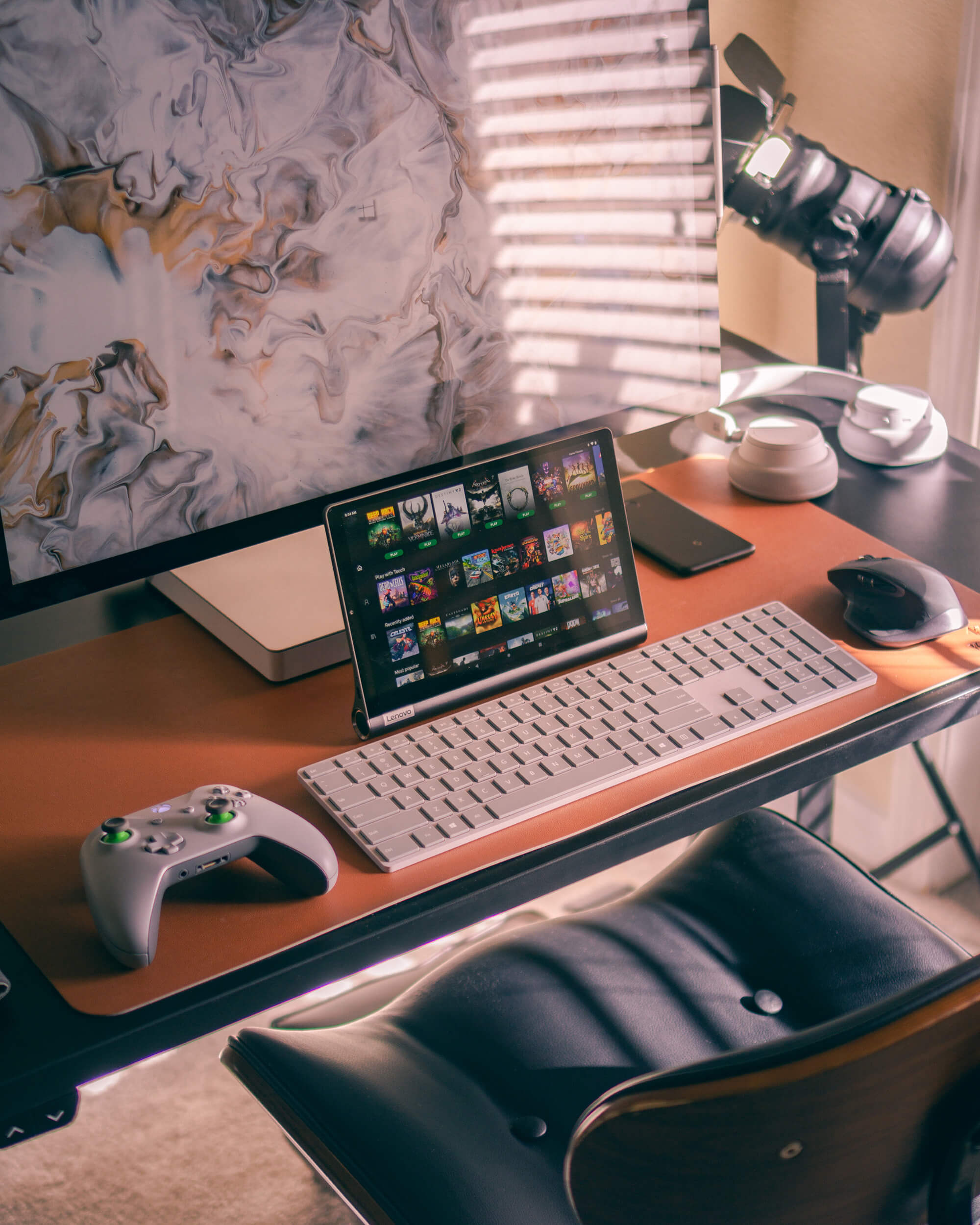 Graphic Design Setup in California, US
"I love working on a Windows machine. It's an old dog that can still learn very new tricks"
Join 1700+ Curious Readers.
Every Sunday evening, get an *in-depth* workspace tour from a random corner of the world.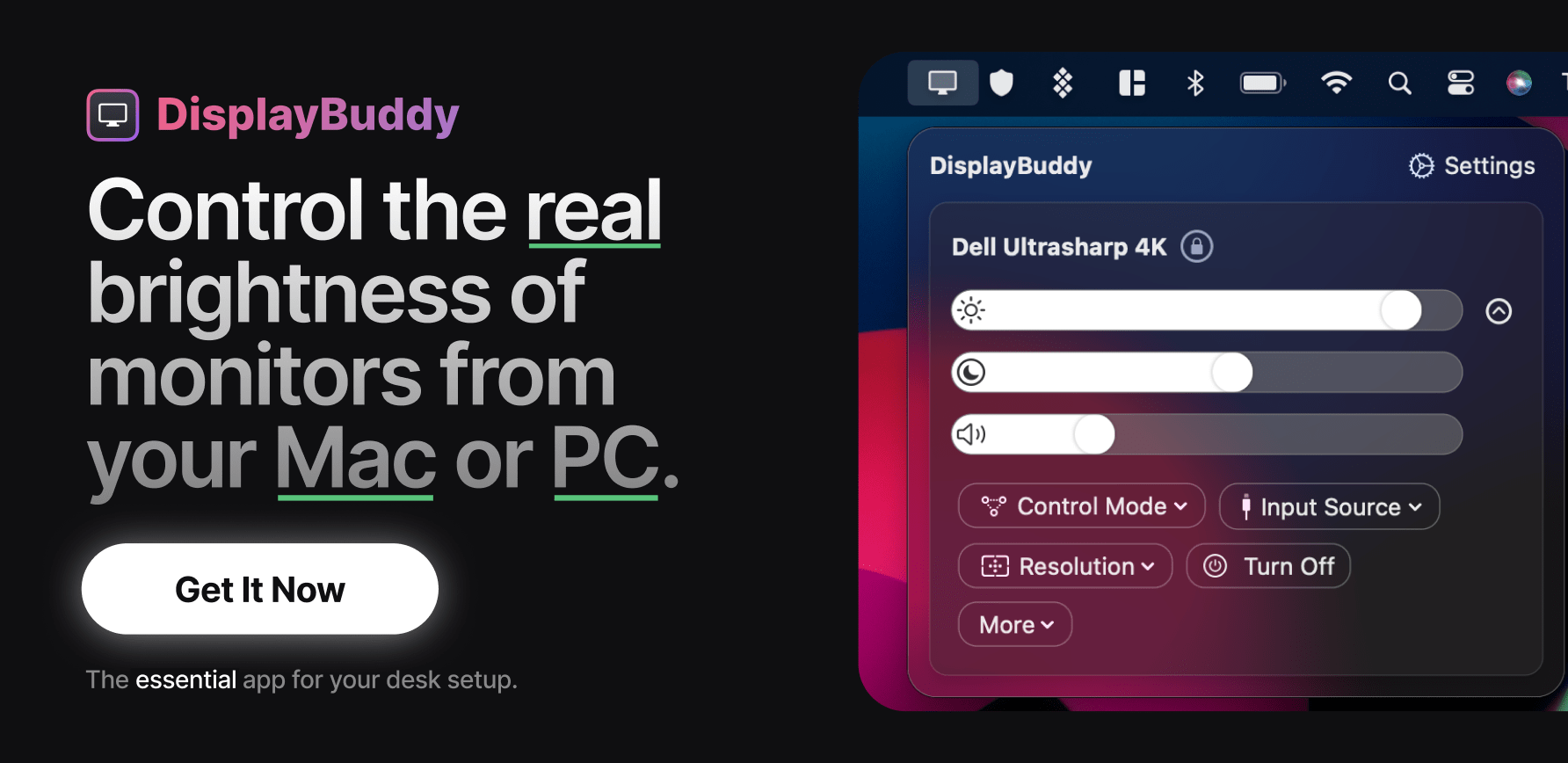 Name: Richard Soledad
Location: San Marcos, California, US
Occupation: Freelance Creative Designer
Room size: 13,4 m² (144 ft2), desk area fitted in 0,5 m² (5 ft2) corner
Cost of the setup: ~$4K for the main setup which includes the computer, desk, headphones and gaming console. Other things are gifted or given.
Social media: Instagram
Website: 5inbetween.com
Hey, Richard! Tell us a bit about yourself
My name is Richard, and I am a Creative Designer based in San Marcos, CA. Or San Diego, if it makes things easier to geographically locate.
It's a little hard even for me to believe it, but I have been designing for close to twenty years now, give or take. Like a lot of designers, I started off with much simpler things, like being that one guy who has slightly above-average fine motor skills that knows a few more colours than the ones in the rainbow.
But much to the bewilderment of a lot of people, not all of my past design professions have been quite glamorous. After college, I worked as a Window Display artist for a chain of malls in the Philippines, surviving 12-16 hour shifts which left me coming home sometimes as late (or early) as 2 am.
If I had a dream job, it would have been to be a professional illustrator during my post-college years. But due to life being not as simple as we would like, my love for it fell away as I decided to concentrate more on landing a job as a legitimate graphic designer.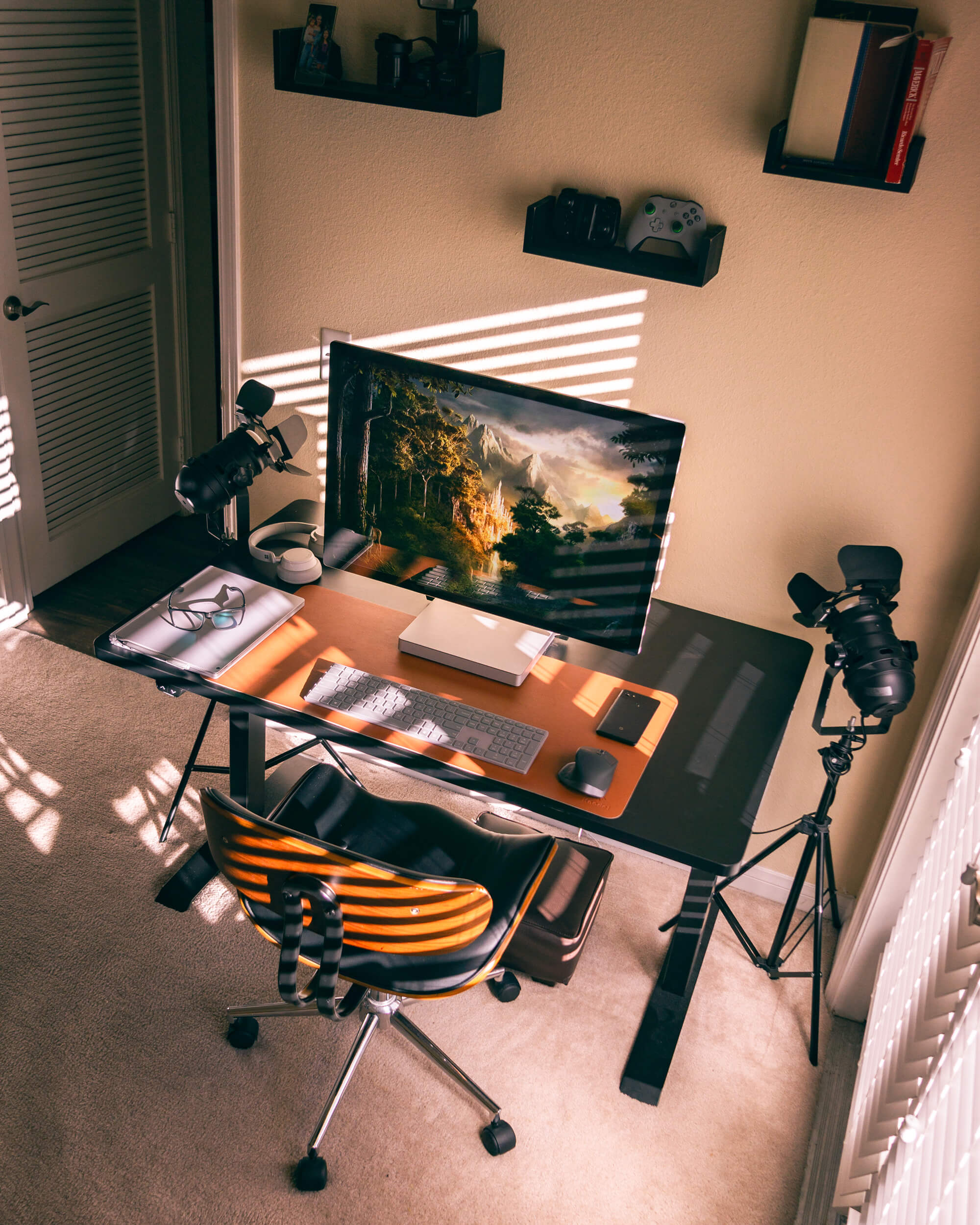 When I moved to the US, the crucible of my career started in the Production Team of a small local business newspaper. 5% design, 95% production work. It taught me a lot about the value of parameters in design that even to now I still carry.
I also had a career stint as a 3D Visual Effects Artist, proudly being able to work alongside other people in several major motion picture titles. Man of Steel and The Little Mermaid were my favourites but only got to be credited for the former.
I called it a stint as it did not feel like that was the role I was meant to play long-term. Aside from the fact that I knew absolutely nothing about 3D, the skills they required were more in tune with spatial intelligence and some creative problem solving than actual 3D software know-how.
After several other in-office jobs as a designer over the years, life eventually encouraged me (very convincingly) to pursue the very scary thought of working freelance at home. This allowed me to be more present with my family, being able to help out and tend to the children's needs.
This in turn made me realise the "5 minute in-betweens" of my life — taking my eldest to school; feeding our youngest — were the very things that I missed while I was too busy with my career. Hence, my username: 5.inbetween.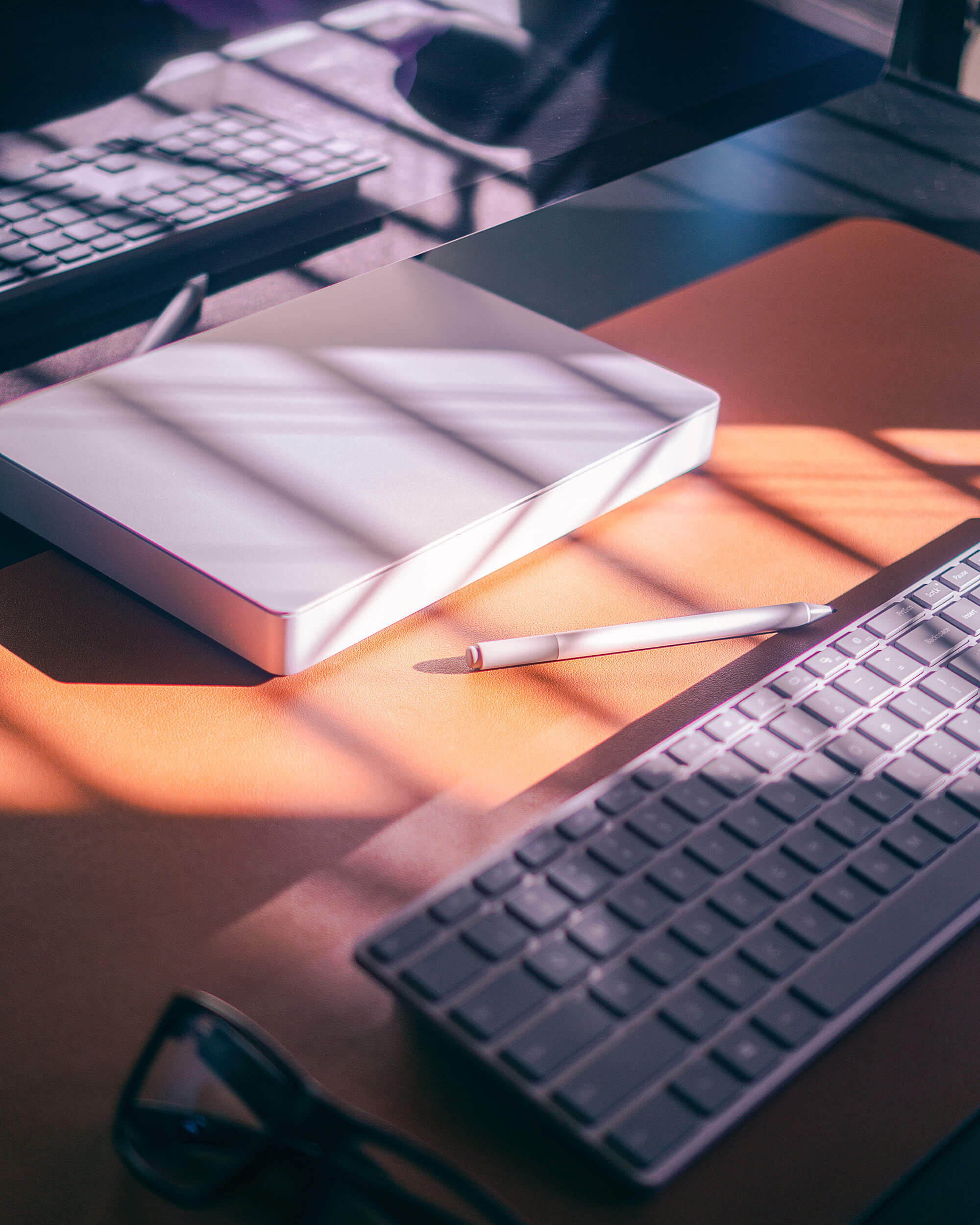 This year is the start of my third year of working from home. I am fortunate enough that aside from the family being home with me, transitioning to working from home during the start of the pandemic was a bit simpler for me.
Now I get to design for clients and companies without having to worry about missing those little moments, all 5-minute in-betweens of them.
Can you describe your home setup?
I'm a Windows guy if it's not evident yet from my photos. More specifically, their Surface line of devices.
I fell in love with the Surface line when they first announced them back in 2015. I knew that I wanted to work my way up to owning them one day.
My biggest computer purchase then was the first-gen Surfacebook, but I could only reach the i7, 8GB RAM instead of the 16GB one. Eventually, I paid it off after a year and a half of freelance work. And by then I knew that working my way up to get the Studio was definitely possible.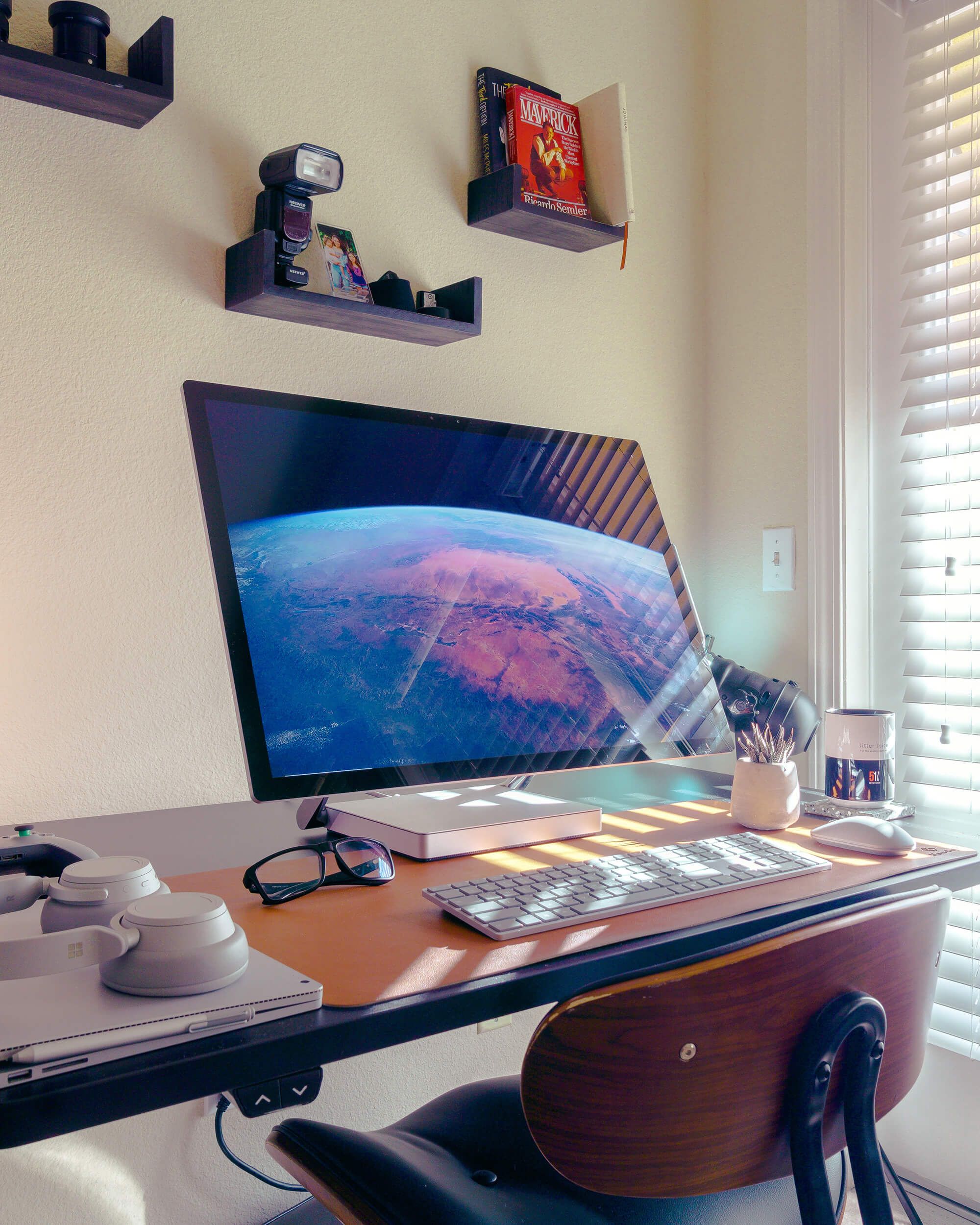 My main workhorse now is the Microsoft Surface Studio 2 (32GBs RAM, 2TB) with the first-gen Surface Book (i7, 8GB) as my mobile workstation. The Studio, as I like to call it, handles all of my graphic design and illustration needs with flying colours.
As for peripherals, I use the Logitech MX Master 2S mouse and Craft keyboard. For media and meetings, a pair of the first-gen Surface headphones is what sits on my head.
My sit-stand desk is a Flexispot desk. I always thought that standing desks were too gimmicky, but was happily proven wrong when I paired it with the Studio. Now it feels like a very malleable graphic designing, draft-table machine.
People usually look at my desk and exclaim, "my goodness, you are loaded with cash," while I wonder if they thought I bought all of this in a single day.
So, I then proceed to scour internet forums about people complaining about how they can't upgrade their one-year-old graphics card so they can stare at shadows being cast on rocks in 4K. This makes me feel better, admittedly.
I also have an Xbox Series S beside my Studio with an old Acer monitor that I got from a previous job a lifetime ago. The interesting bit about me and games is that I actually don't have time for a lot of it.
I loved video games growing up but as I got older and started a family, my gaming time has dwindled down to spurs of 15 minutes or an hour.
And since it pretty much boils down to timing, I decided to try out Cloud gaming for its convenience. I started off with Xbox's beta program called Project xCloud a couple of years ago and then Stadia.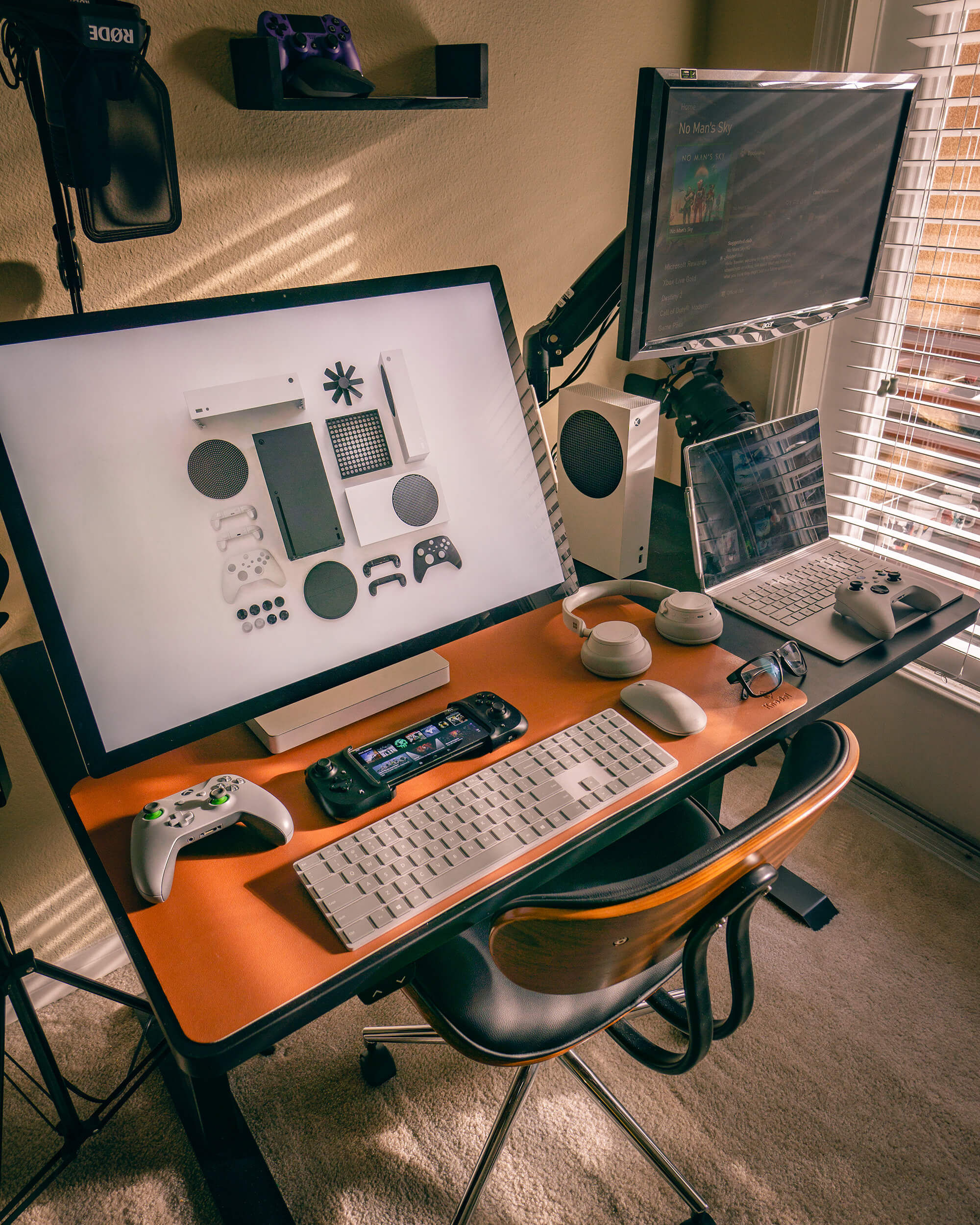 There are still limitations to cloud gaming however but I found the convenience factor worth it. Now I'm pretty much deep into Xbox's Ultimate Game Pass, which is sort of like Netflix but with games.
Slightly related, I can't binge-watch shows like a lot of folks and it's sort of the same for me with games.
What's your favourite item on your desk?
Definitely the Surface Studio itself. It is hard not to admire how beautiful it is in person.
It constantly invites me to come closer and try my hand at its well-made and flexible canvas. It does inspire me to not work, but design.
So even if my "office space" is only in a small corner of the room, I still get to be immersed in what I'm working on.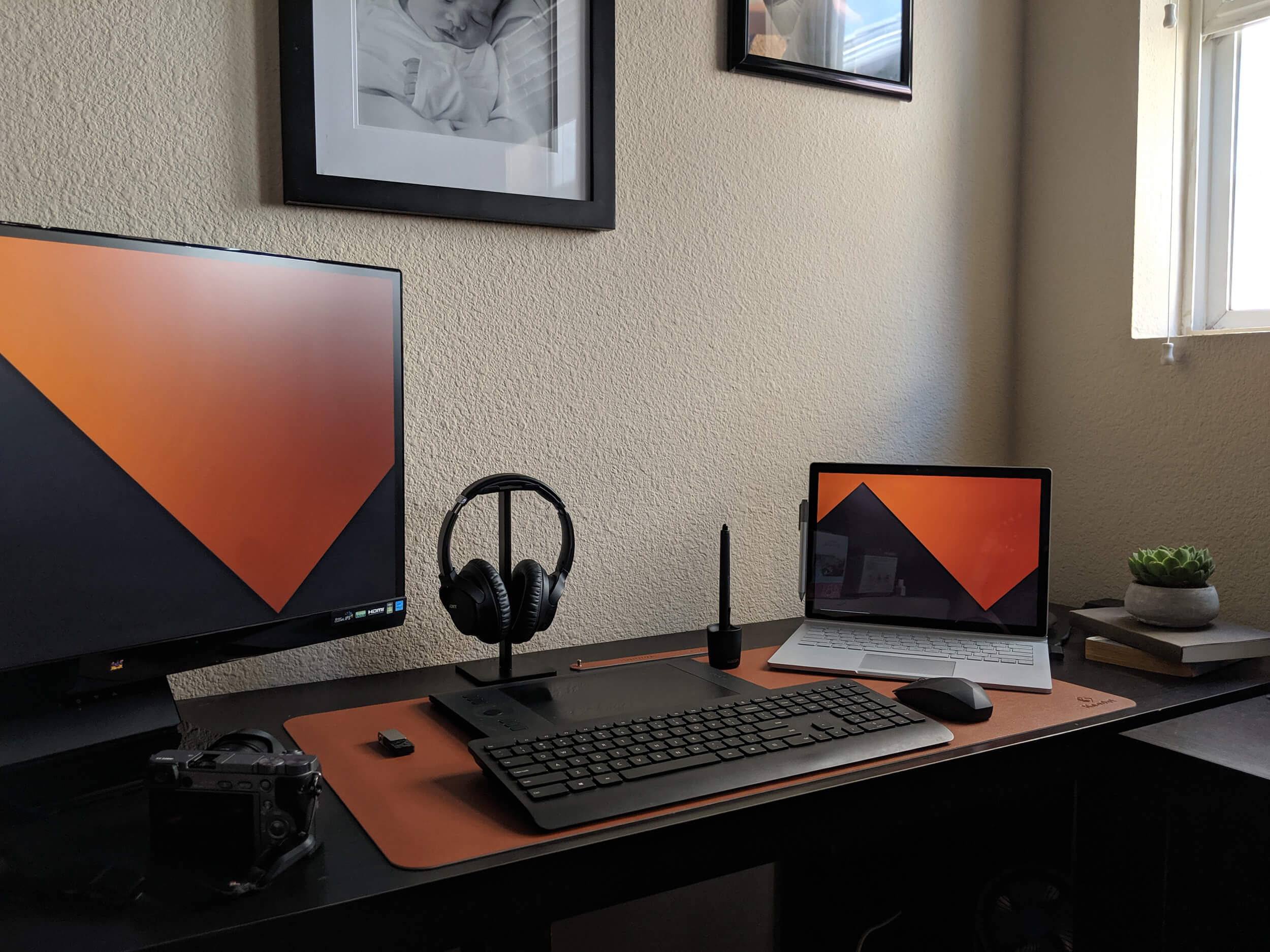 Before this setup, I owned a mid-range custom PC that a friend had helped me build, accompanied by a 1080p, 27-inch IPS monitor from ViewSonic and a Wacom Intuos Pro tablet.
99% of designers I know use Apple products. I still get the occasional raised eyebrow when I tell people I use a Windows machine for my design work (even my non-designer friends question my choice, haha.)
But I've also used Macs previously in a professional setting, so I definitely know where they are coming from. Like Windows, Mac OS is not perfect and it pretty much boiled down to my own preferences (I prefer file navigation in Windows, for example).
The unfortunate reality is when people see you own a Mac, youre a designer. When you own a PC, you're a gamer.
And thus the Surface line falls under a weird place wherein, number 1: people do not believe it's capable of being a designer's machine because it's not a Mac.
And number 2: people think you wasted your money on a PC that doesn't play real games. It suffers from quick assumptions based on this never-ending spec-wars from different demographics.
I do wish they continue to succeed. A lot of their products, while not perfect, are well thought out, intelligently designed. The rotating cups on their headphones is a wonderful example of bringing back analogue into a digital-centric age of user interfaces.
So combine this intelligent, tangible way of design along with a digital canvas and you get the best of both worlds. You have to actually use it to see the benefits.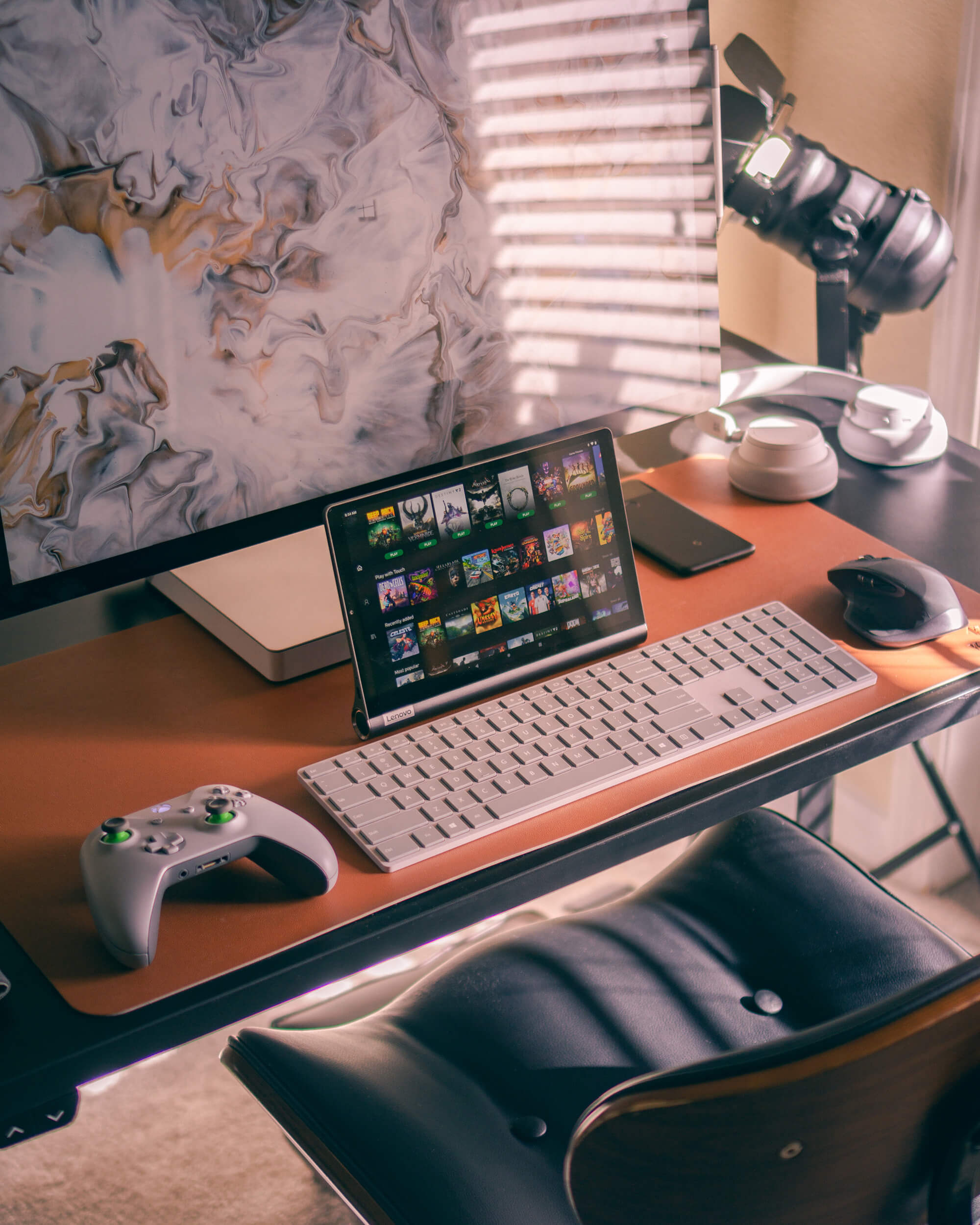 I guess you could say that part of the reason why I gravitated towards the Surface line was that I finally found something that can go toe-to-toe with Apple in terms of hardware and aesthetics. It was a hopeful feeling of finally finding my own identity in a way.
Now, I find myself in a much smaller niche of designers. Once in a blue moon, you encounter someone similar to you and all of a sudden you feel like you've been reunited with a long-lost relative.
But it is a nice place to be because I've finally accepted that I am different from the beginning, no effort required.
I love working on a Windows machine. It's an old dog that can still learn very new tricks.
What does your typical day look like?
I've always been a morning person. And now my two children have inherited this talent that their mother sometimes likes to call "weird".
6 am is usually when I naturally wake up, followed by my children at around 6:30 am.
Our morning rituals usually consist of milk chocolate drinks and the occasional scrambled eggs or bread for breakfast while we let Mom take some much-needed Z's.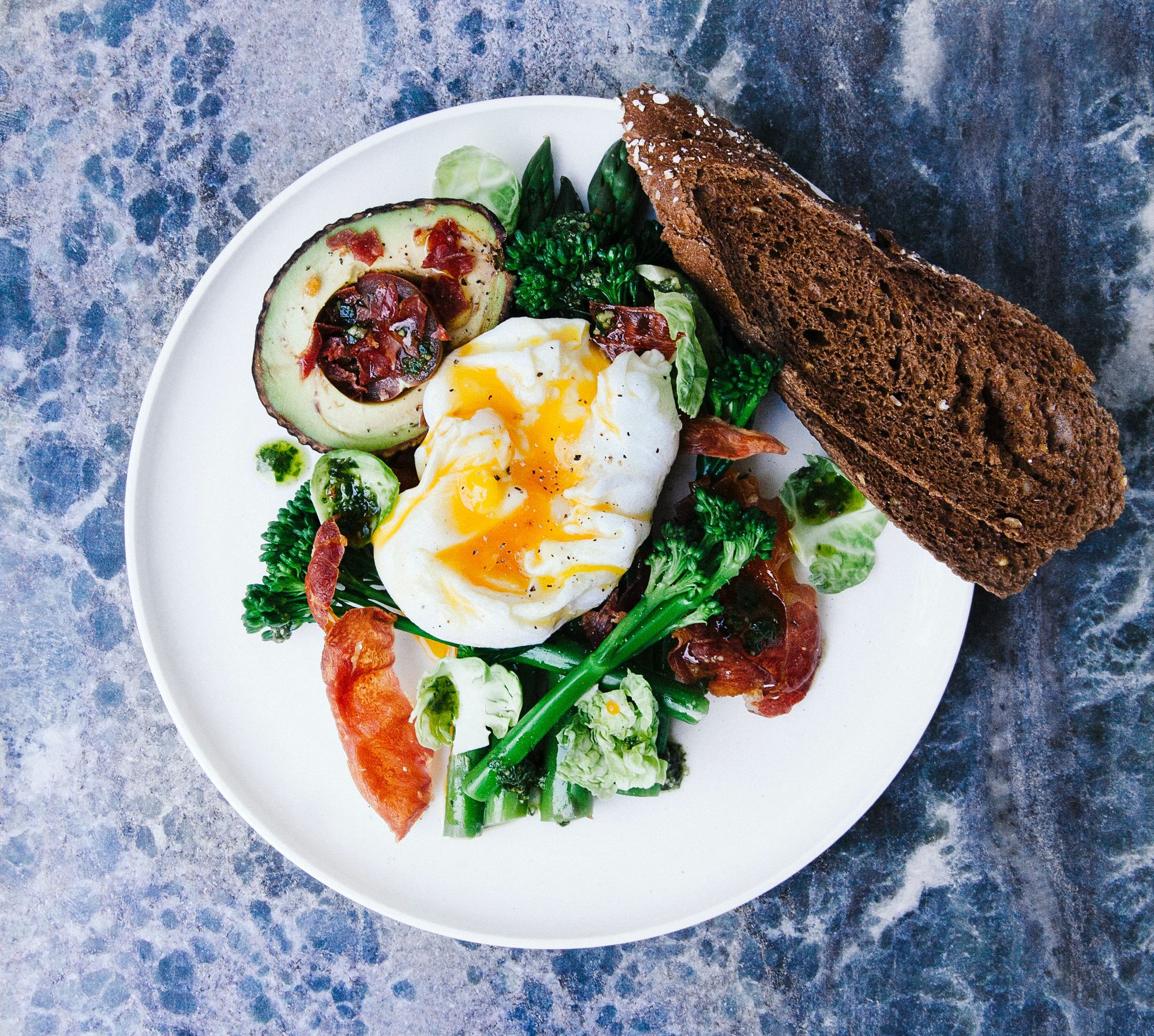 I also spend time for my Daily Devotional shortly after. It gives me the proper time to be thankful and be prepared for the day.
A typical workday for me is a little hard to pin down, mainly because a lot of times in the design world priorities shift. Like, really shift. Since I also sometimes deal with different clients, the amount of work can pile up pretty quickly.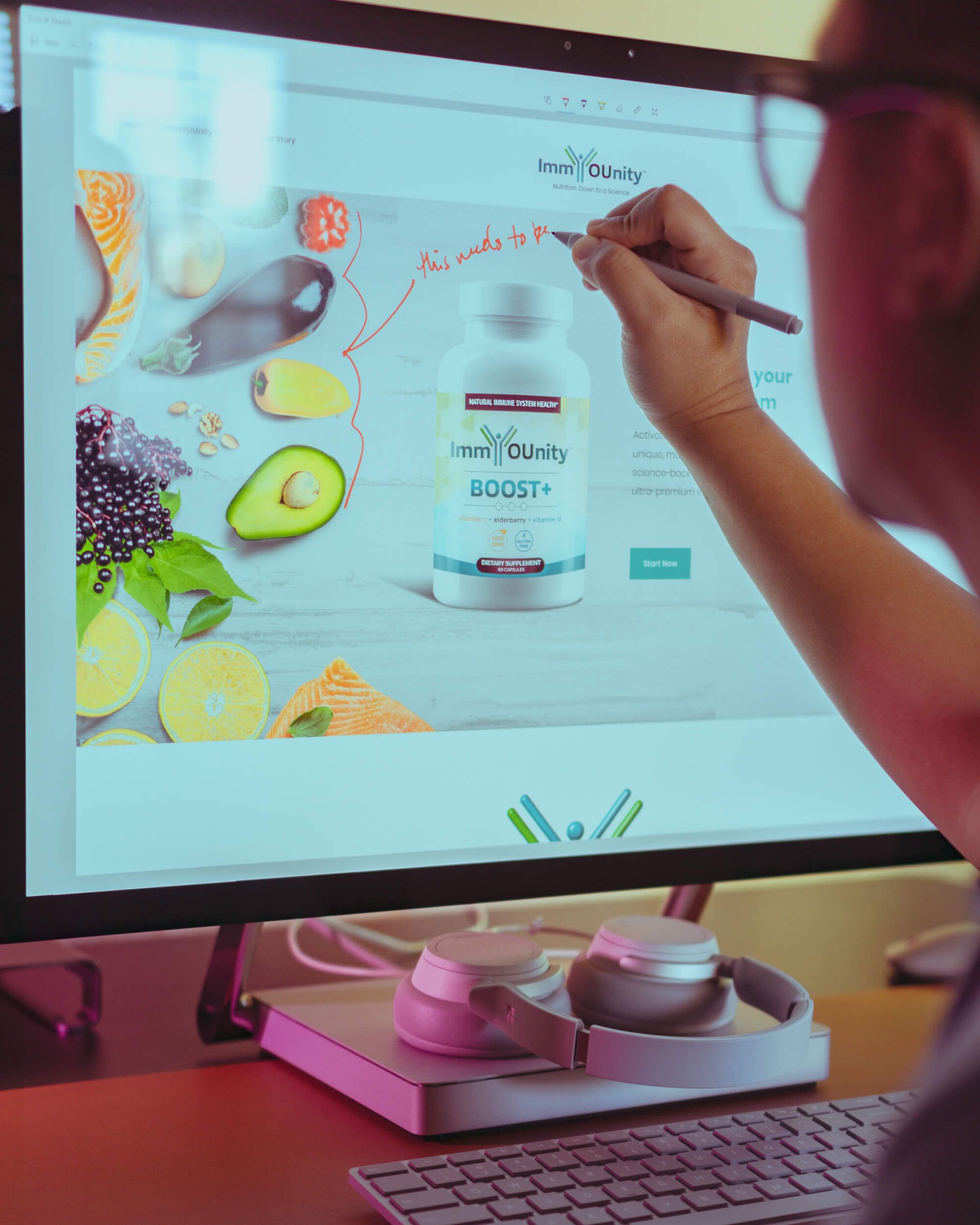 But to paint a picture, my typical day might look like this:
Meet before project
Start work, submit, expect revisions
Review other jobs, annotate PDFs
Reprioritise work, jump on backburner project
Resubmit, expect revisions.
Rinse and repeat until the day is over or both parties are brain-dead.
Your tips for working from home?
The biggest challenge for working from home for me is space.
Not necessarily the actual physical space, but the boundaries and the rules by which everyone has to learn to abide within those boundaries.
So if it's your office space, meeting space, study space, set down some ground rules and abide by those rules.
At home, we are free to move around but we are also to be mindful of what type of "work" or "attitude" we bring into whatever boundary we are in.
Encourage your "co-workers" or "classmates" in the house and be nice overall. If you live alone, bring yourself into a different space on occasion to unwind. Be kind to everyone but especially to yourself.
Lastly, give yourself a break. No work is more important than your personal sanity, or your personal relationships.
We're a reader-supported publication. This article might contain affiliate links. It means we may receive a commission if you click a link and buy a product that our maker has recommended. The interview was done independently.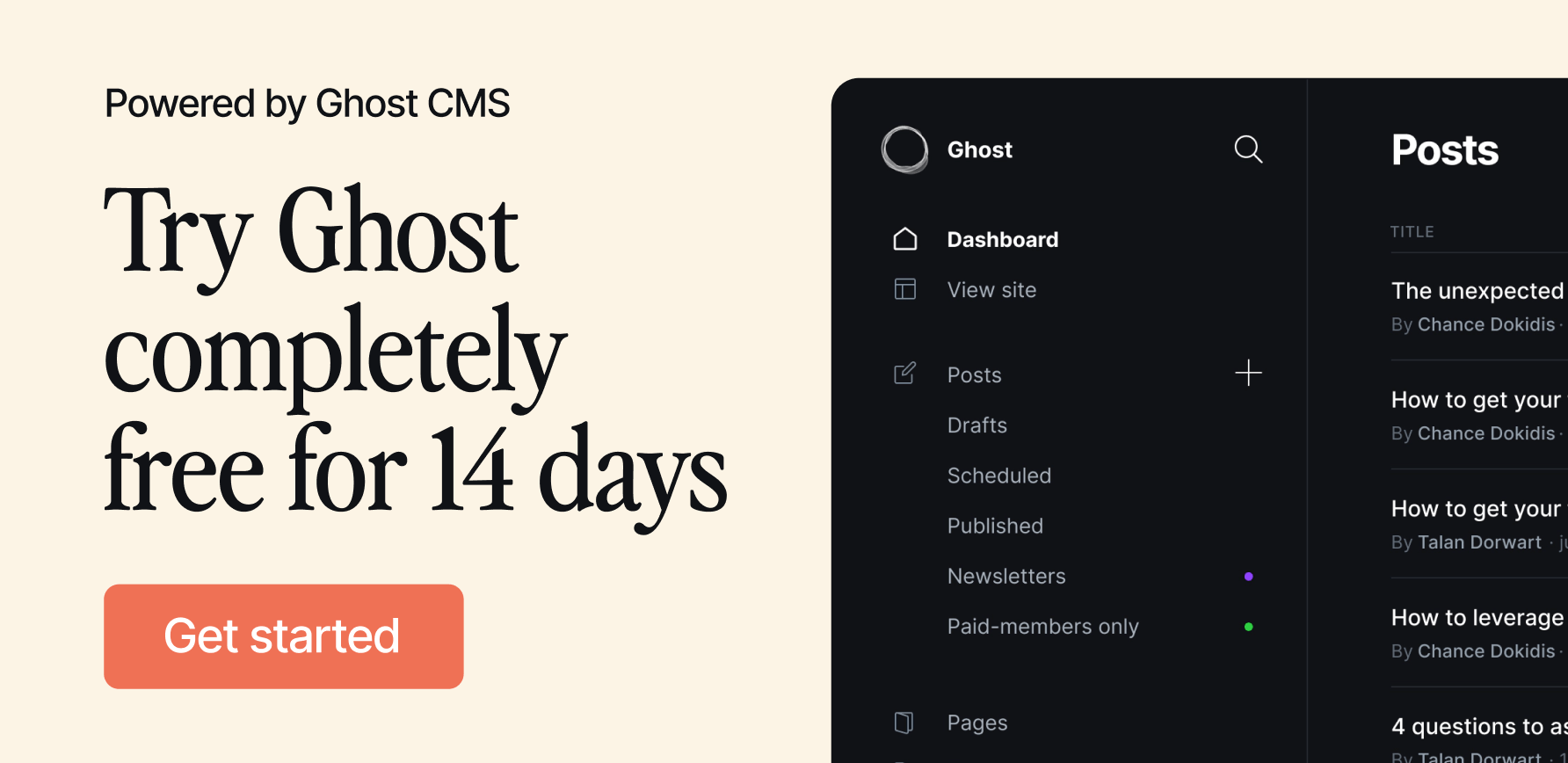 ---