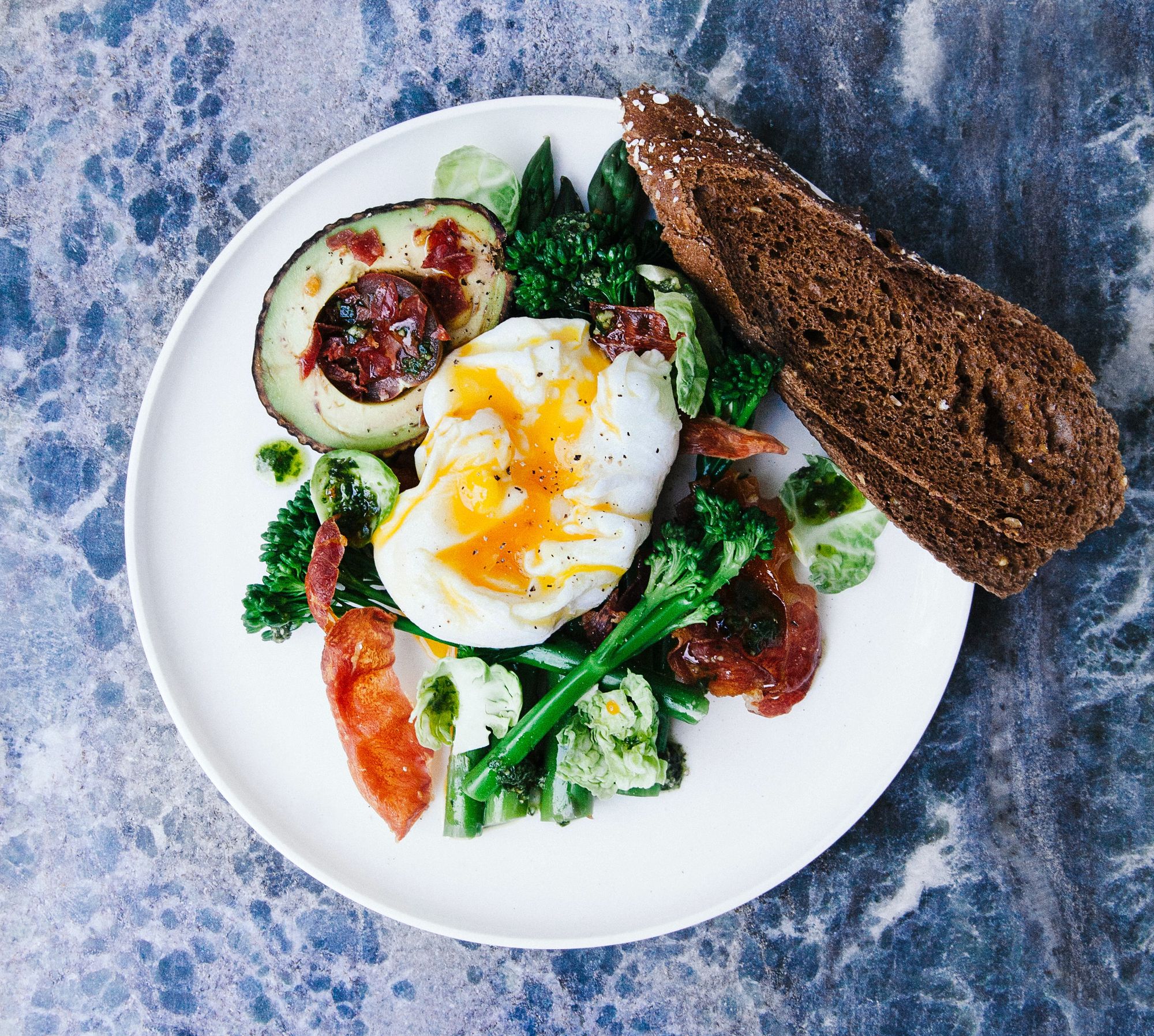 15 Easy Work-From-Home Breakfasts Ready in up to 15 Mins
From Acai bowl and stuffed avo to ham & cheese roll-ups.

It's time to kiss a bland bowl of cereal goodbye.
With these fail-proof and healthy recipes, you are less than 15 minutes away from powering up your morning.
5-minute Mediterranian-Style Stuffed Avocado
What makes this light and nutrient-rich meal special is its experimental nature.
Goat cheese, smoked salmon, olives or capers — use your favourite ingredients to create a perfect combo.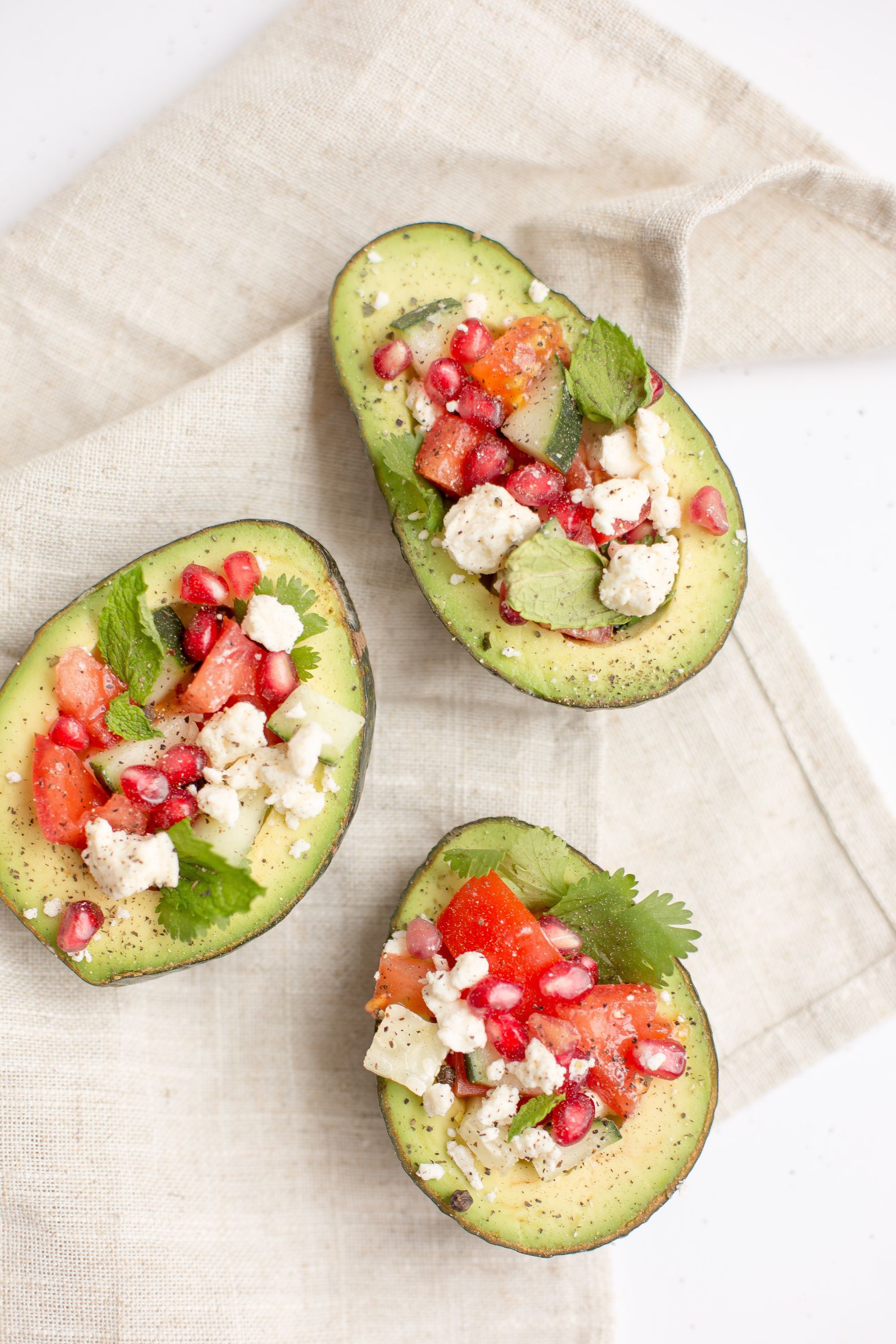 ⏰ Prep time: 5 mins, no cook
🌱 Vegetarian
🥣 Ingredients (serves one):
1 ripe avocado sliced in half and pitted
2 tbsp thinly chopped cucumbers
2 tbsp chopped tomatoes
2 tbsp pomegranate seeds
30g feta cheese
1 tsp olive oil
½ tsp white wine vinegar
dried basil or mint leaves, or parsley
⅛ tsp salt
1 turn freshly cracked pepper
Step 1
In a small bowl, mix the cucumber, pomegranate seeds, feta cheese, tomato, olive oil, white wine vinegar, greens, salt, and pepper.
Toss gently with a spoon.
Step 2
Divide the mixture between each avocado half. Enjoy.
Lazy Three-Ingredients Pancakes
The lifesaver for the mornings when you can't... even...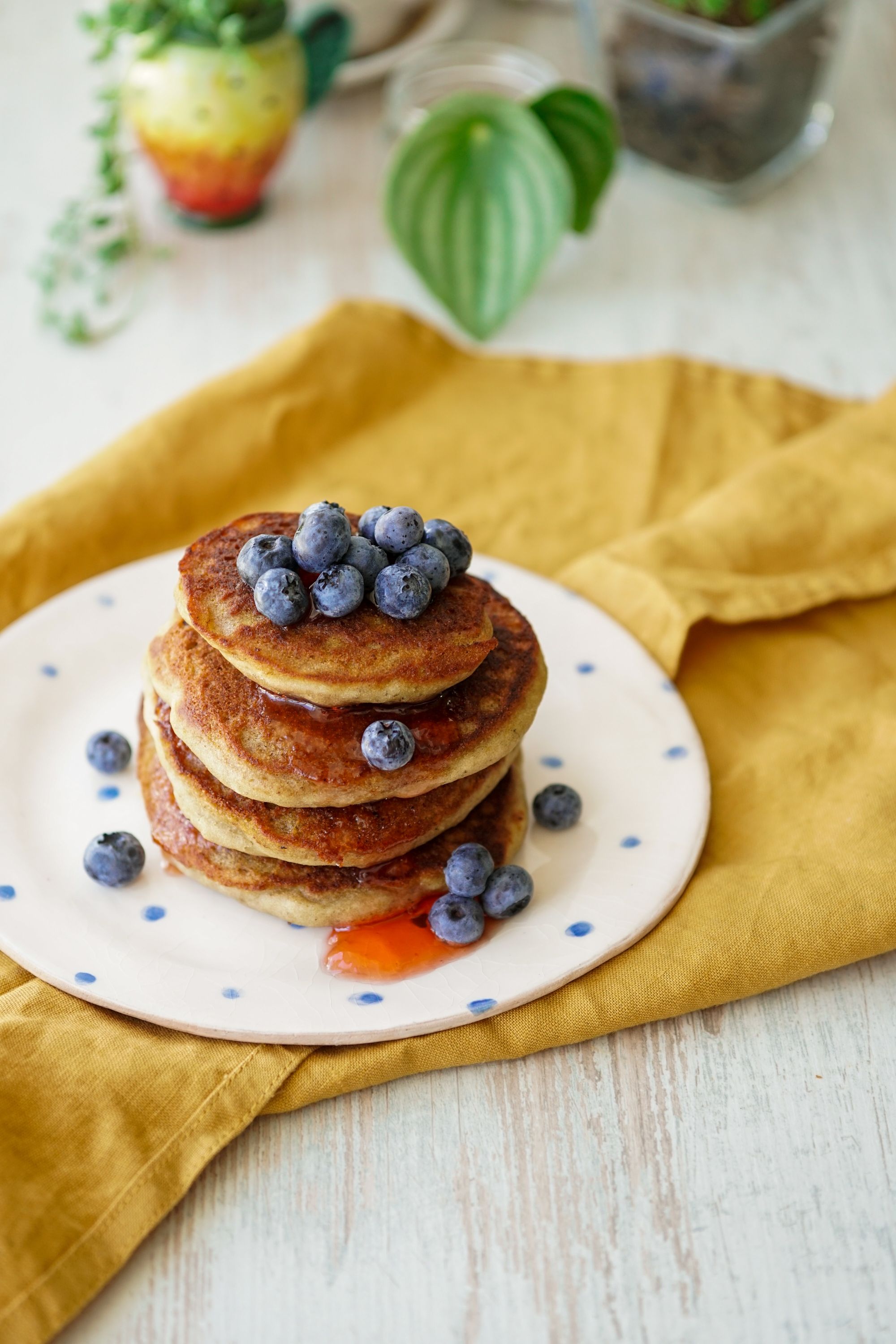 ⏰ 10 mins
Prep time: 5 mins
Cook time: 5 mins
🥣 Ingredients (serves one):
1 banana at its ripest
2 tbsp all-purpose flour
1 egg, whisked
Step 1
Mash the overripe banana vigorously with a fork.
Add the egg and flour, then mix well.
Step 2
Heat a large nonstick pan over medium-high heat.
Pour one-third of the batter onto the pan, forming a nearly perfect circle.It is ready when you see bubbling on top and a golden crust.Flip the pancakes with a spatula (or thrust the pan like a pro if you are feeling it at 7 am). Then cook for a minute more.
Step 3
Transfer to a plate and top with blueberries, bacon, peanut butter, maple syrup, or whatever you wish.
Blueberry and Spinach Green Smoothie
For a light, delicious breakfast that's also nutritious, nothing beats a smoothie. Especially, that green one.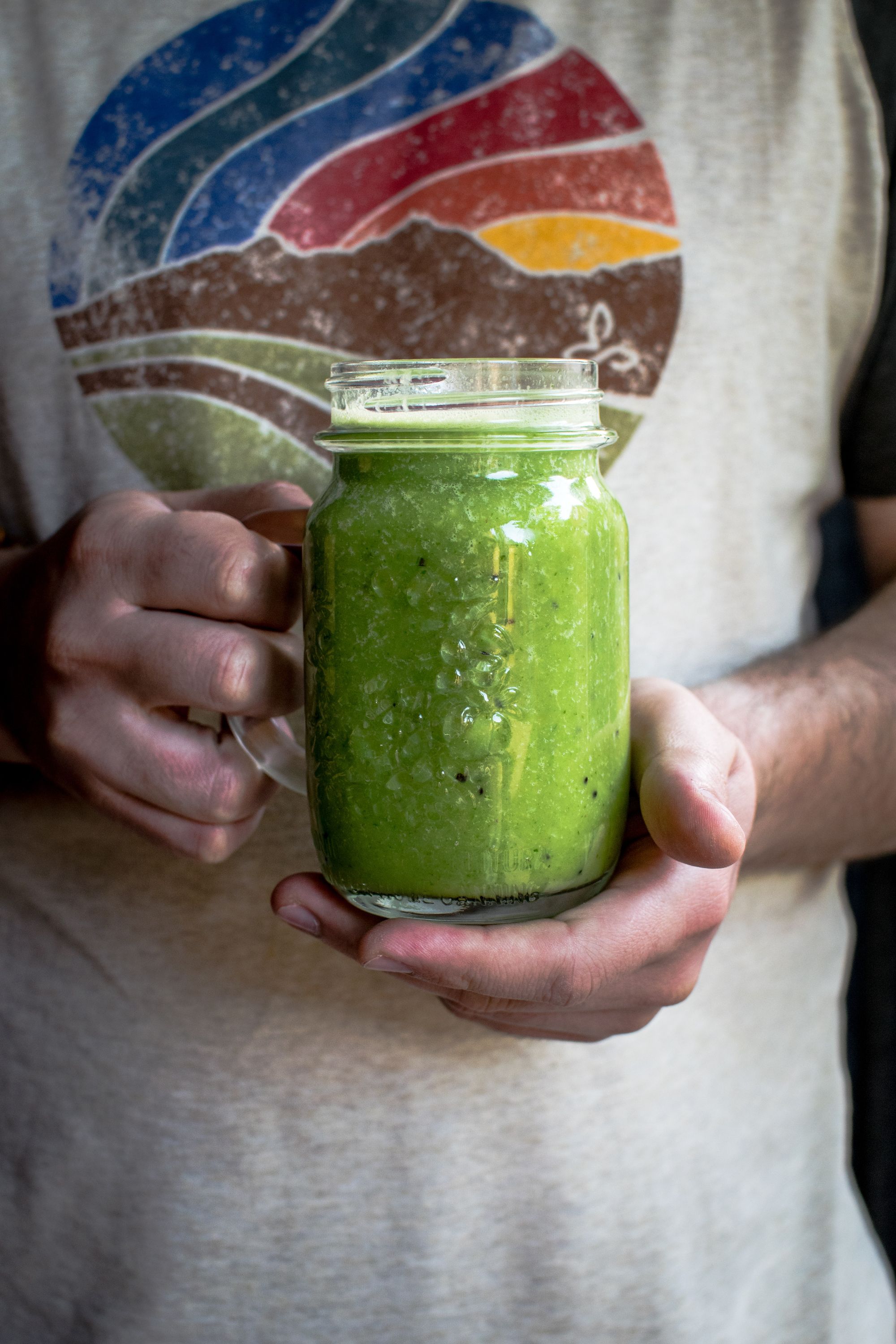 ⏰ Prep time: 5 mins, no cook
🌱 Vegetarian
🥣 Ingredients (serves one):
1 ripe banana
1 cup fresh spinach
½ cup fresh blueberries
¼ cup liquid (water or any kind of milk substitute)
4 ice cubes
Step 1
Blend together a banana, ice cubes, blueberries, and liquid until smooth.
Step 2
Add spinach and blend again until creamy. Serve and enjoy!
Poached Eggs on Avocado & Feta Toast
An almost illegal combination of creamy avocado, salty feta, a tinge of chilli, topped off with a runny poached egg. Well worth getting up for.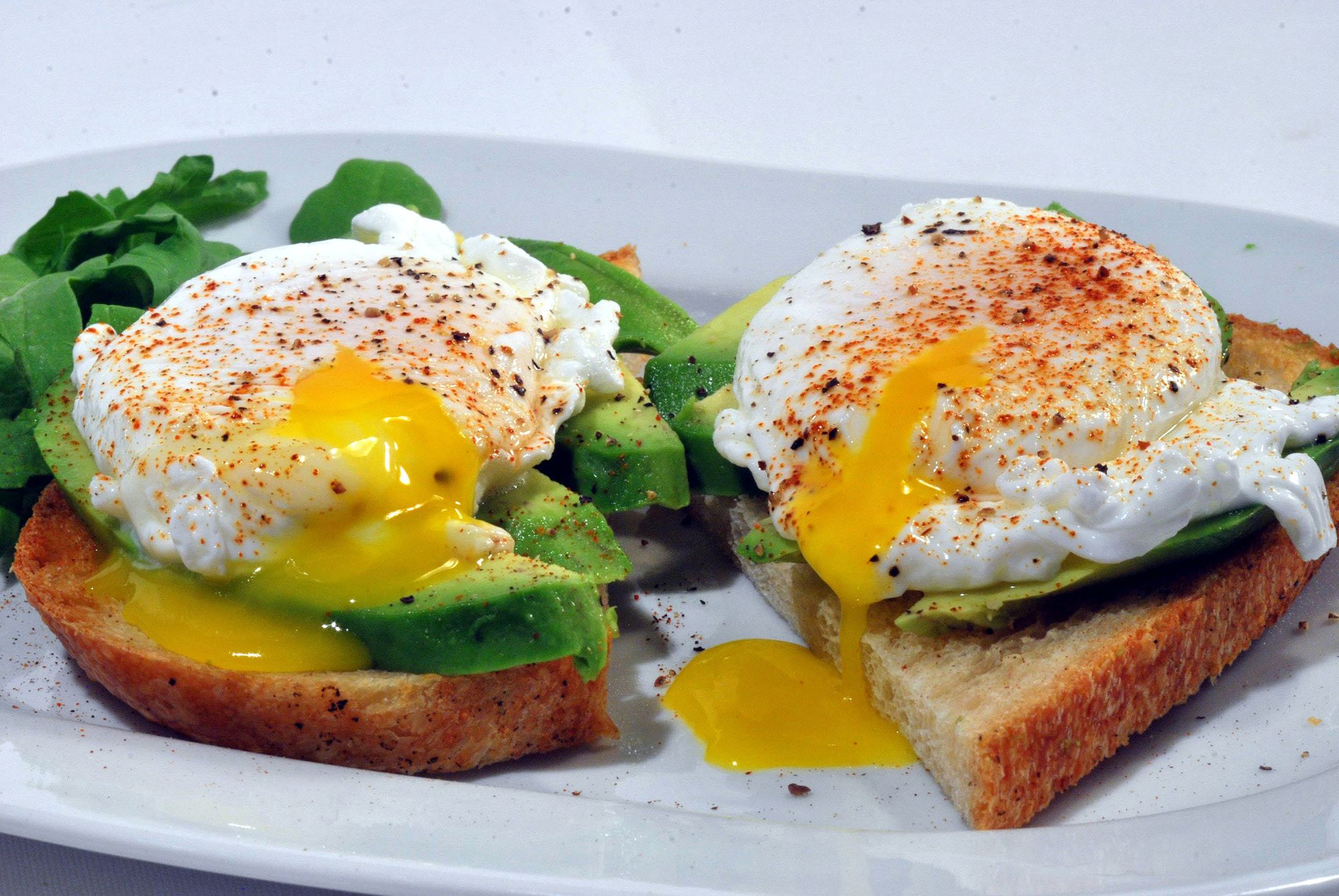 ⏰ 10 mins
Prep time: 5 mins
Cook time: 5 mins
🥣 Ingredients (serves one):
2 large eggs
1 avocado
50g feta
juice ½ lemon
1 tsp chilli flakes
2 tbsp white wine vinegar
2 slices of sourdough
Step 1
Fill a large saucepan with water, pour the vinegar in and bring to a boil over a high heat.
Once boiling, lower the heat till the water is simmering. Then, using a spoon, swirl the water into a whirlpool.
Break in eggs and cook for 2.5 minutes.
Step 2
Meanwhile, in a small bowl, mash (or slice) the avocado, crumble the feta cheese, add the chilli flakes and lemon juice.
Season your mixture with black pepper.
Toast the bread.
Step 3
Pile the avocado and feta on each toast, then top with a poached egg. Bon Appétit!
Quick Breakfast Tacos
With reduced-fat cheddar and egg substitute, breakfast tacos are a healthier alternative to burritos and a fulfilling morning meal.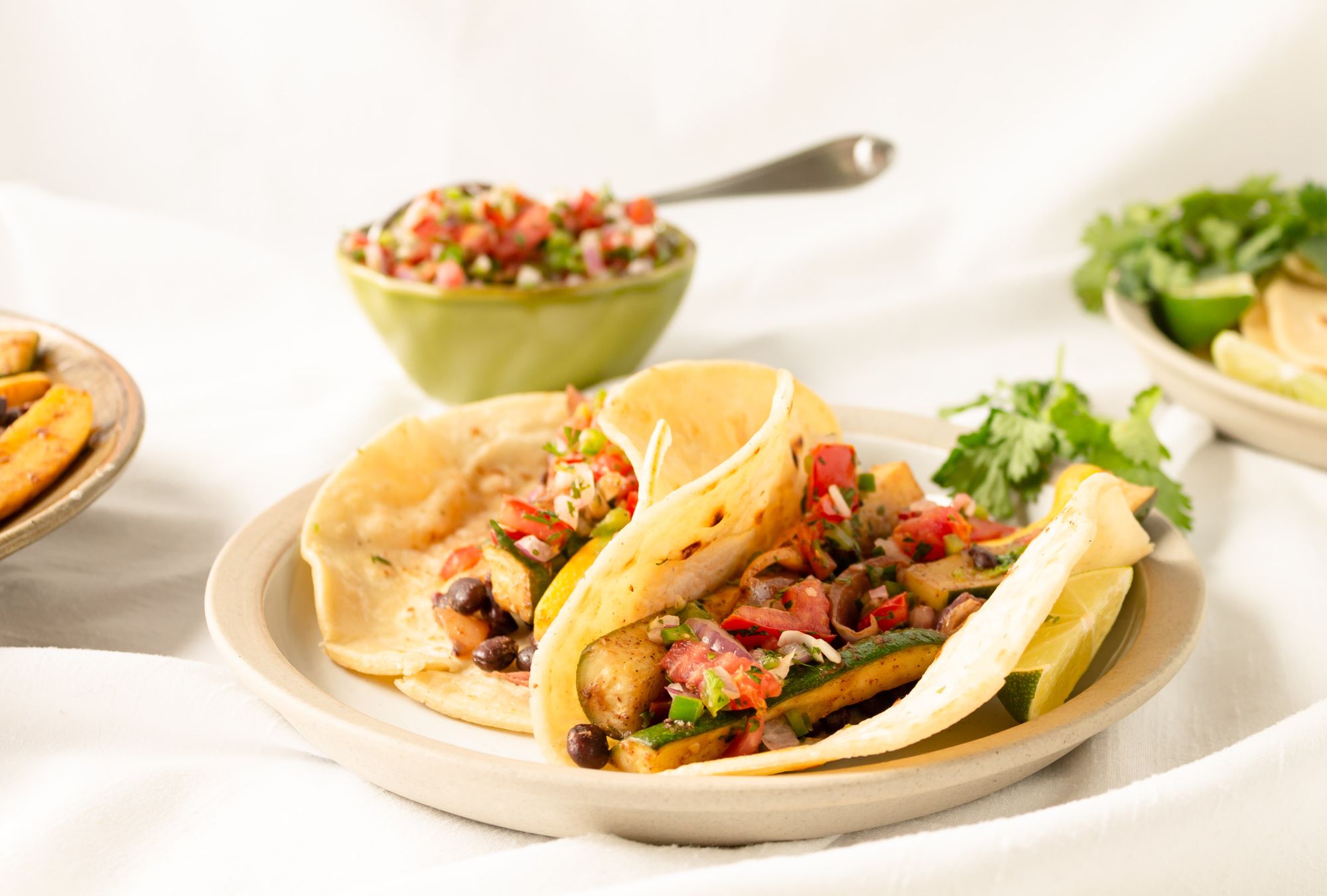 ⏰ 10 mins
Prep time: 2 mins
Cook time: 8 mins
🥣 Ingredients (serves two):
2 corn tortillas
2 tbsp shredded reduced-fat Cheddar cheese
½ cup liquid egg substitute (e.g. Egg Beaters)
1 tbsp salsa
Step 1
Top tortillas with cheese and salsa.
Microwave them for 30 seconds or until the cheese melts.
Step 2
Meanwhile, coat a small pan or skillet with cooking spray.
Turn on the heat to medium, add the egg substitute, and cook, stirring constantly, for about 90 seconds.
Divide the scrambled eggs between each taco.
Ham & Cheese Omelette Roll-ups
Easy to prepare, these protein-packed rolls provide an energy-boosting start to any day of the week.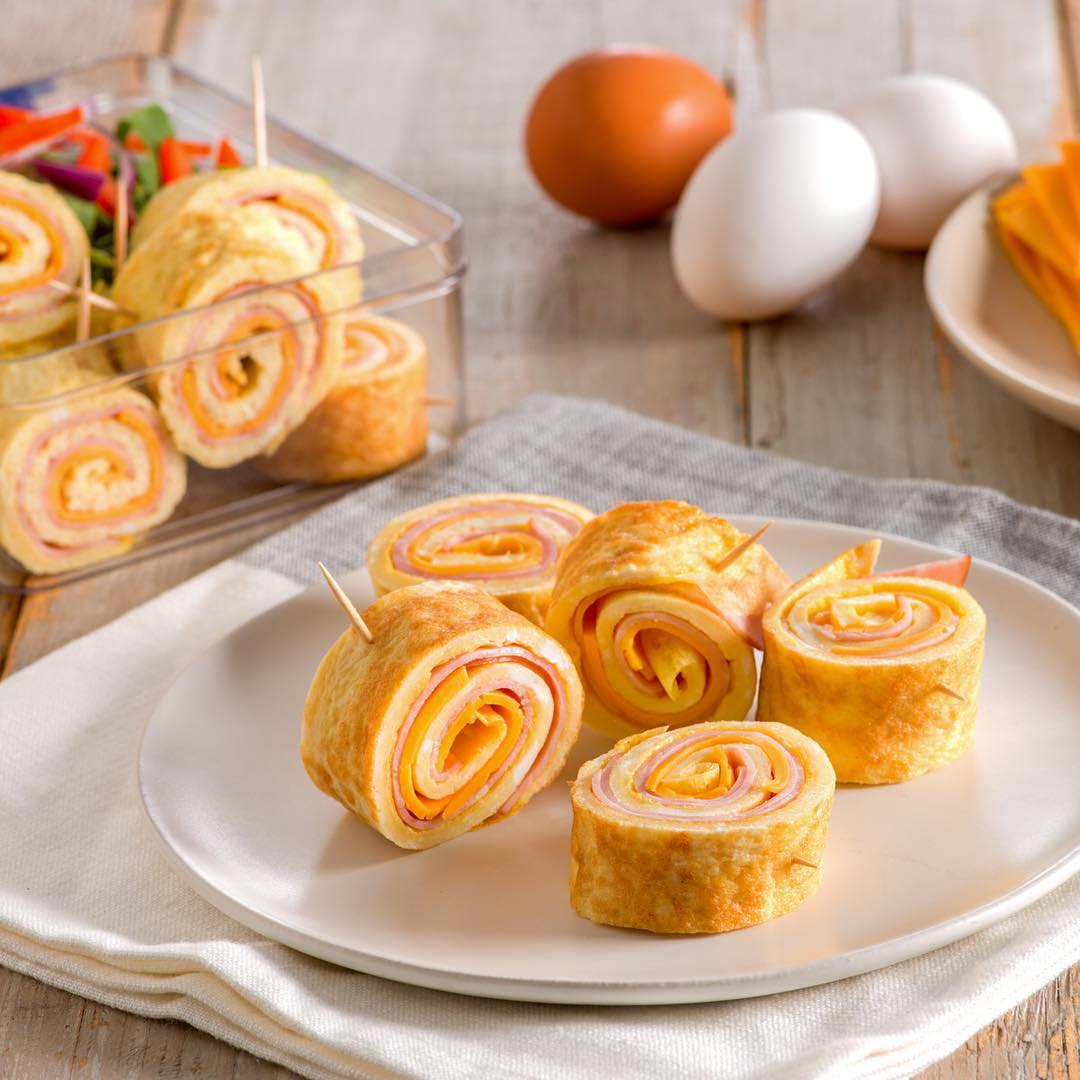 ⏰ 15 mins
Prep time: 5 mins
Cook time: 10 mins
🥣 Ingredients (serves one):
6 eggs
2 tbsp butter
4 slices Cheddar cheese
4 slices ham
a pinch of salt and pepper
Step 1
Whisk together eggs, 4 tsp water, salt and pepper.
Heat half of the butter in 25 cm nonstick skillet over medium heat and pour in half of the egg mixture, swirling to coat bottom of pan.
Step 2
Cook for a couple of minutes or until eggs begin to set.
Flip over and top with 2 cheese slices.
Cook for a minute more or until eggs are fully set, then transfer omelette to cutting board.
Continue with the remaining egg mixture, cheese, and butter.
Step 3
Place ham slices down the middle of each omelette.
Roll up tightly to enclose filling.
Slice each roll into 8 pieces.
Skewer with tooth sticks if you wish.
Light Tropical Acai Bowl
Providing a quick, delicious, and antioxidant-rich breakfast, acai bowls are perfect for a busy schedule.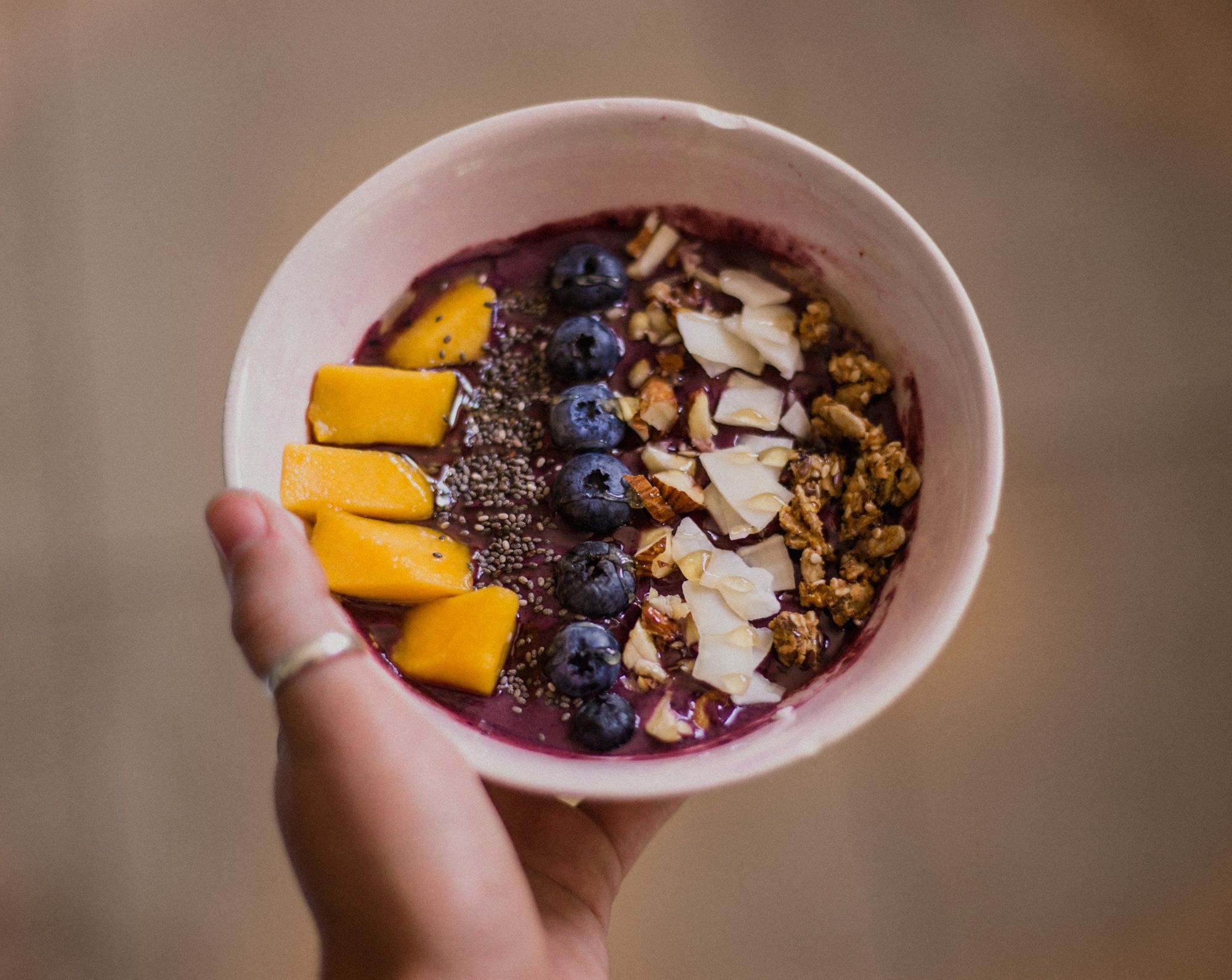 ⏰ Prep time: 5 mins, no cook
🥣 Ingredients (serves two):
½ cup fresh pineapple (save the rest for serving)
2 pouches of unsweetened frozen acai puree
¼ cup orange juice (or another juice you prefer)
1 tsp candied ginger
1 tbsp chia seeds
½ cup granola
1 tbsp honey
some blueberries and walnuts for serving
Step 1
Run hot water over the acai puree pouches to loosen them.
Place the acai puree in the blender along with chopped pineapple and juice.
Step 2
Blend the mixture until it's thick, smooth and resembles a sorbet.
Step 3
Divide the fruit mixture between two bowls evenly.
Top the bowl with the fresh pineapple, candied ginger, granola, berries, nuts, chia seeds and honey.
Easy Huevos Rancheros
This healthy Mexican breakfast has got everything you need to liven up your plate, and it's super easy to make.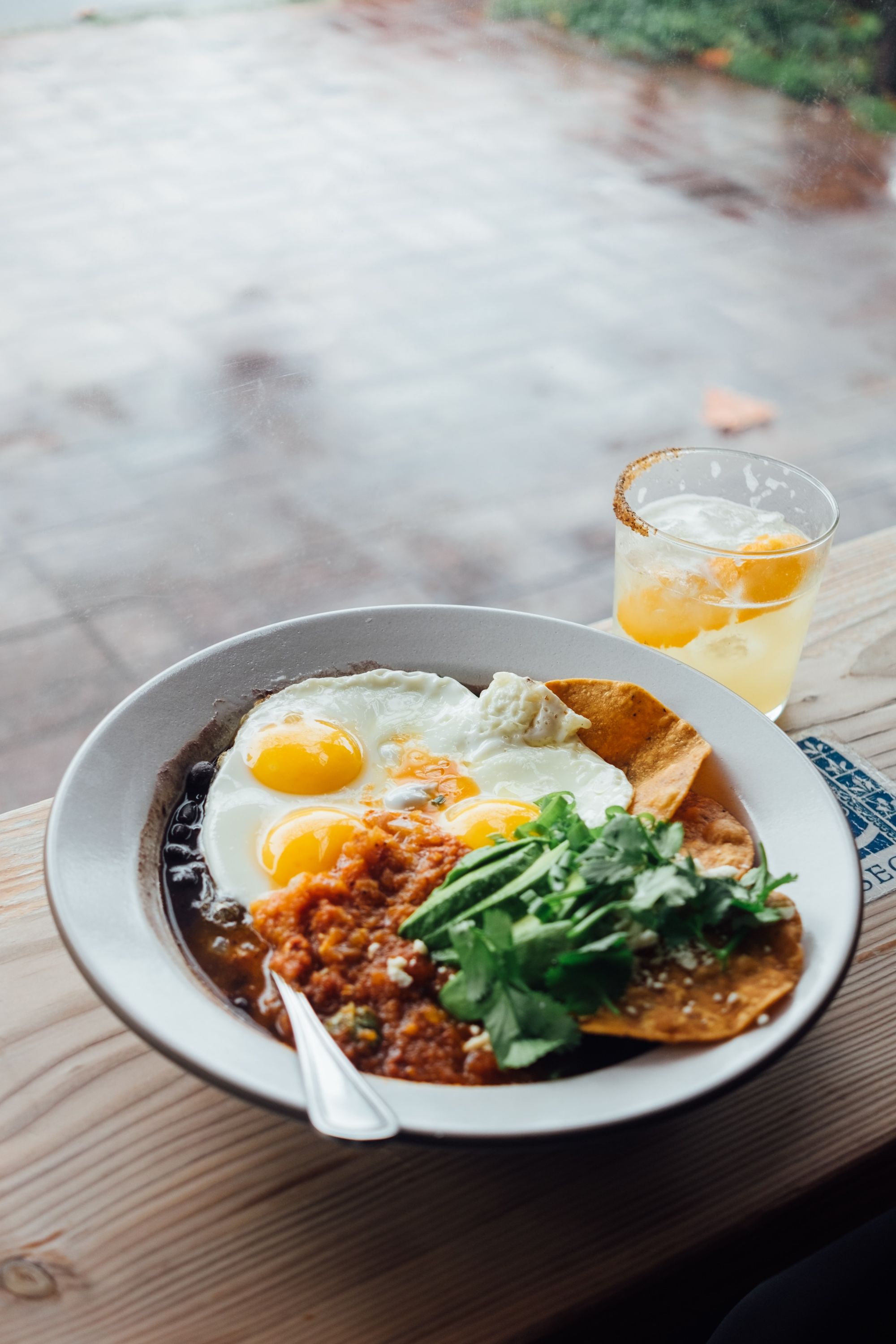 ⏰ 10 mins
Prep time: 3 mins
Cook time: 7 mins
🥣 Ingredients (serves one):
1 corn tortilla wrap
1 large egg
200g can black beans, drained
½ ripe avocado, peeled and sliced
50g feta
juice ½ lime
sriracha (or another hot sauce of your taste)
1 tbsp vegetable oil or sunflower oil
Step 1
Heat the oil in a frying pan over high heat. Add the tortilla and fry for 1-2 minutes on each side until it is crisp at the edges. Transfer to a plate.
Step 2
Crack the egg into the pan and cook to your liking. Put the beans in a bowl, season and add a squeeze of lime, then lightly mash with a fork.
Step 3
Spread the beans evenly on the tortilla, followed by an egg, avocado, feta, and hot sauce. Just before eating, squeeze over a little more lime juice.
Carrot & Citrus Sunshine Smoothie
Not only is this smoothie low in fat and counts towards one of your five-a-day, but it is also utterly delicious.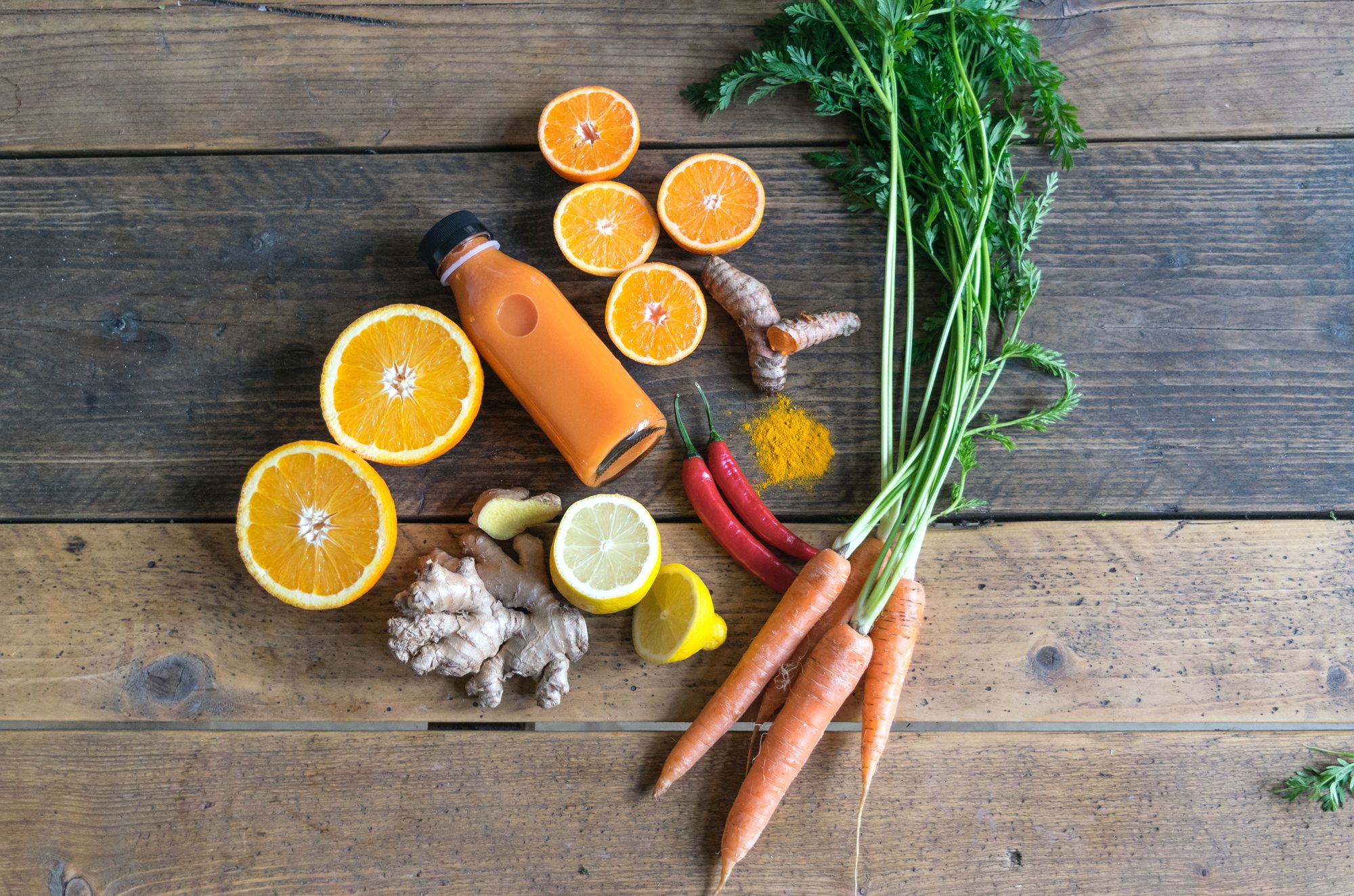 ⏰ Prep time: 5 mins, no cook
🥣 Ingredients (serves three-four):
500ml chilled carrot juice
200 ml of orange juice
1 lime juice
200g fresh or canned pineapple
2 bananas, broken into chunks
small piece of a peeled ginger
20g cashew nuts
Step 1
Using a blender, process all the ingredients until smooth.
You can either drink it right away or pour it into a bottle to take with you.
Keeps in the fridge for a day.
Comfy Mushrooms on Toast
Meet comfort and easy-to-make breakfast at its finest — earthy mushrooms on toast with a runny poached egg on top.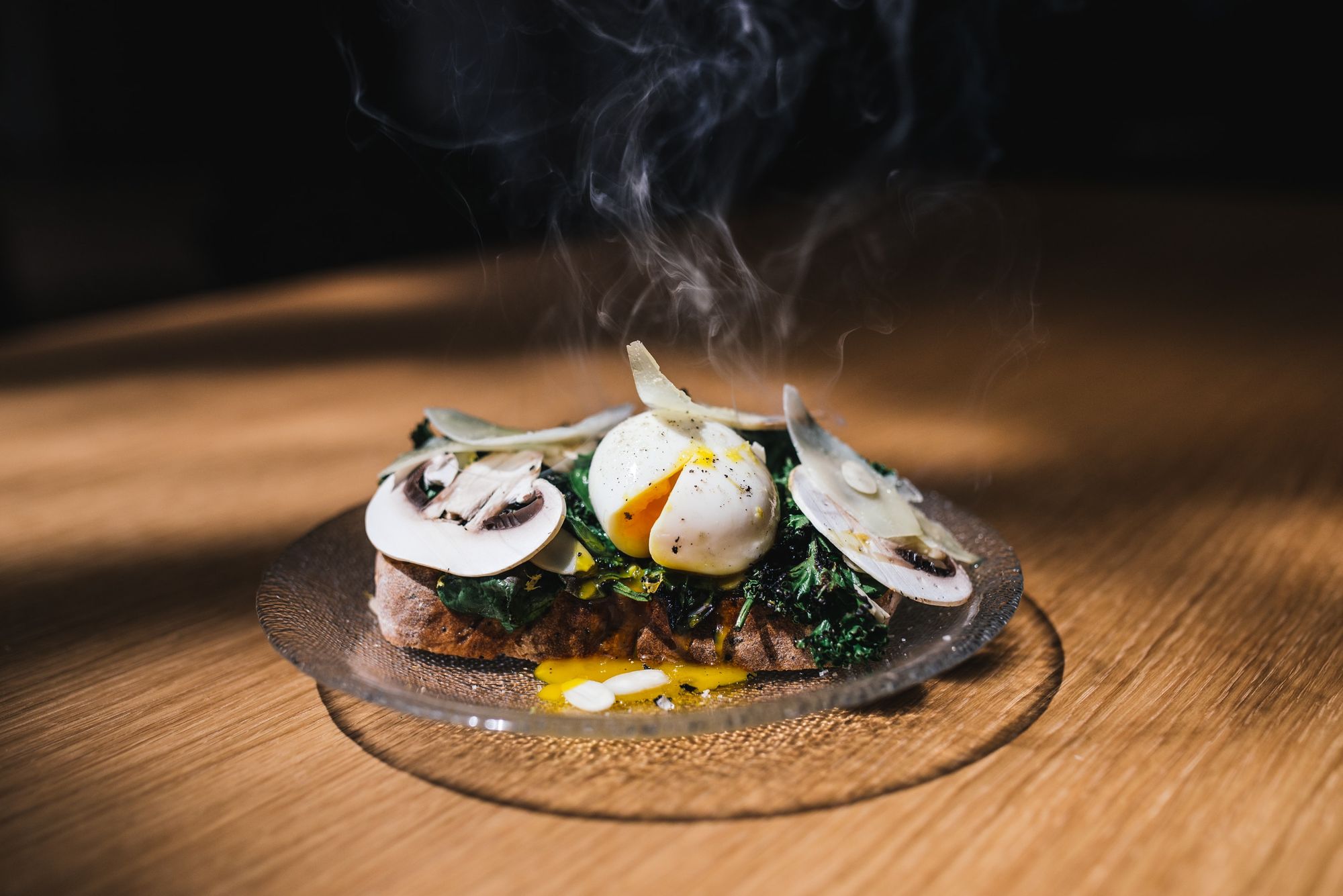 ⏰ 10 mins
Prep time: 1 min
Cook time: 9 mins
🥣 Ingredients (serves two):
2 slices of sourdough bread
2 eggs
200g sliced mushrooms
2 tbsp white wine vinegar
1 tbsp olive oil
knob of butter
1 crushed garlic clove
2 tbsp crème fraîche (optional)
handful finely chopped parsley leaves (or other herbs you like)
Step 1
Toast the sourdough bread with olive oil.
Cut each slice in half, then set aside.
Step 2
Pan-fry mushrooms until golden.
Add garlic, parsley (or herbs of your choice) and a knob of butter.
At this point, you can add a splash of crème fraîche if you prefer it this way.
Step 3
Meanwhile, fill a large saucepan with water, add the wine vinegar and bring to a boil over a high heat.
Once boiling, reduce the heat, then swirl the simmering water into a whirlpool with a spoon.
Crack in the eggs and cook for about 2.5 mins.
Step 4
Pile the mushrooms on the toasts and top with the runny poached egg.
Baby Spinach Omelette
A simple green omelette recipe you can never go wrong with.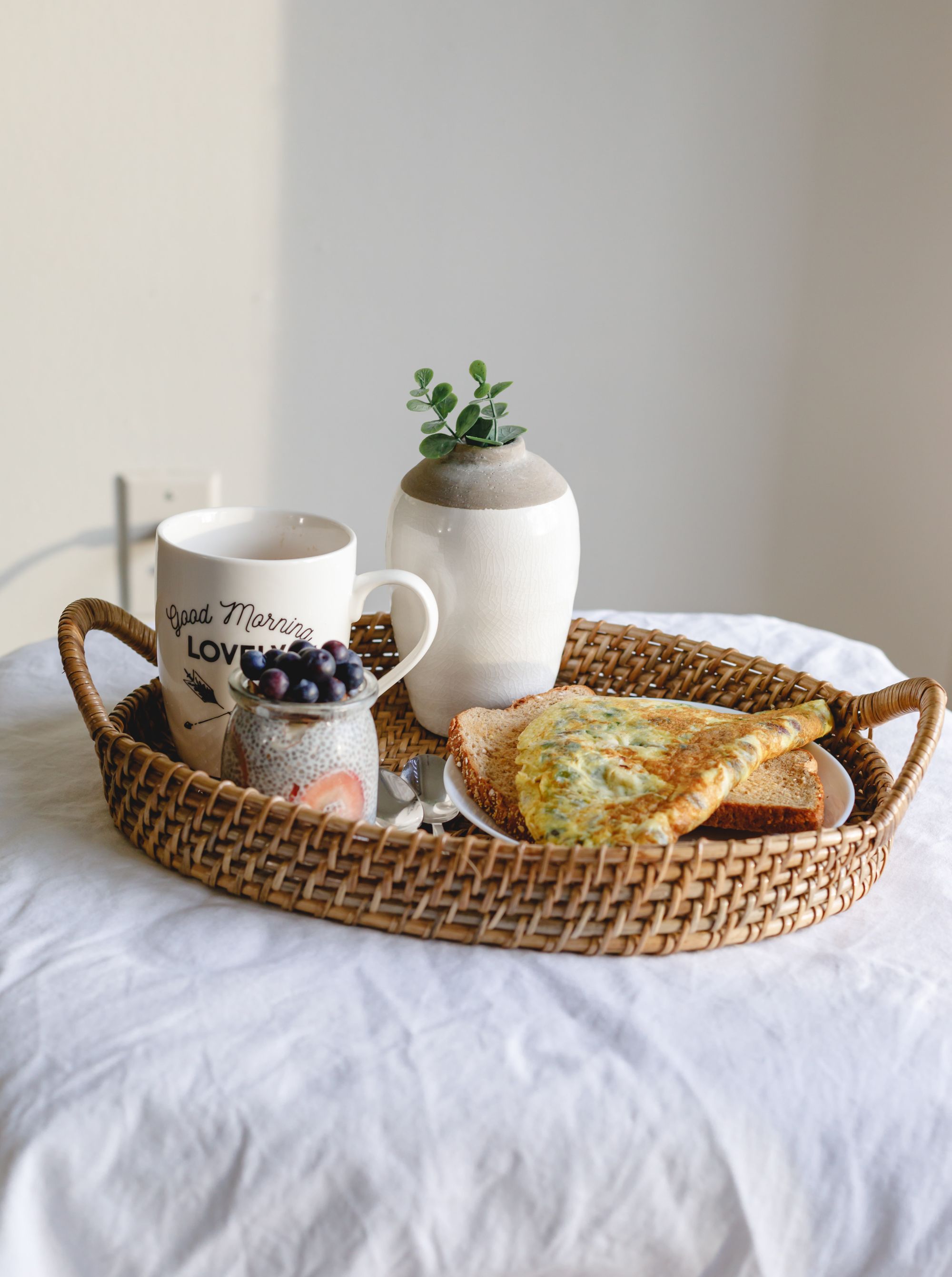 ⏰ 15 mins
Prep time: 5 mins
Cook time: 10 mins
🥣 Ingredients (serves one):
2 eggs
1 cup torn baby spinach leaves
1 ½ tbsp grated Parmesan cheese
⅛ tsp ground nutmeg
salt & pepper to taste
Step 1
Crack the eggs in a medium bowl.
Stir in the baby spinach and Parmesan cheese.
Season with nutmeg, salt, and pepper.
Step 2
Put a small skillet coated with cooking spray over medium heat.
Pour the egg mixture into the skillet and cook for about 3 minutes, or until partially set.
Flip it with a spatula, and continue cooking for 3 minutes more.
Reduce heat to low, and cook a couple of minutes more, or until the desired doneness.
Flash-Fried Smoked Salmon & Egg Bagel
This dish makes any weekday breakfast feel like a brunch.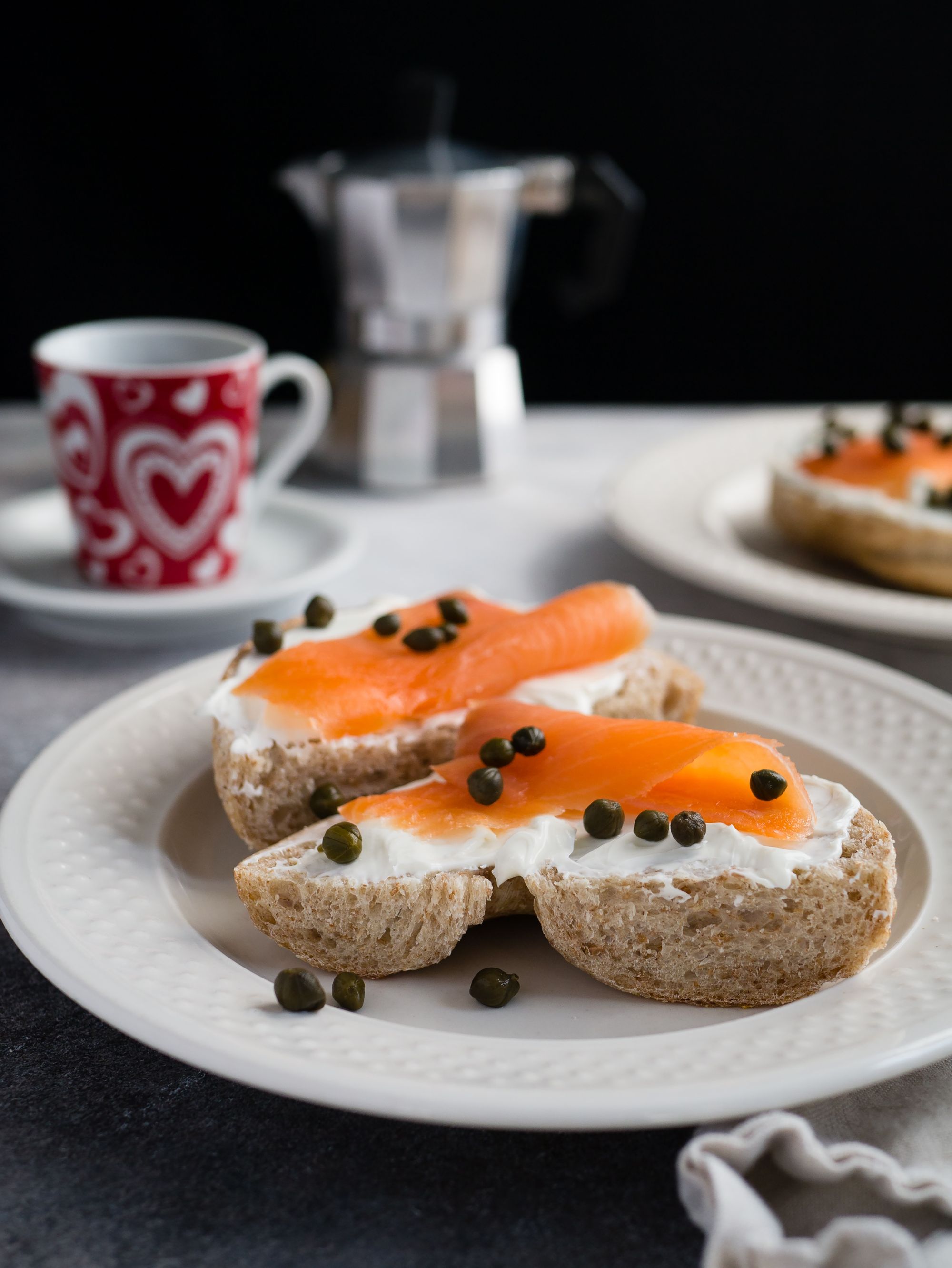 ⏰ 7 mins
Prep time: 1 min
Cook time: 6 mins
🥣 Ingredients (serves one):
1 half of a split bagel
1 tsp horseradish cream
1 tbsp mayonnaise
a large slice of smoked salmon
1 egg
1 thinly sliced garlic clove
Step 1
Toast half of split bagel.
Take a piece of smoked salmon and fry it in a nonstick pan for just a few seconds on each side. It is ready once opaque.
Step 2
Stir the horseradish cream into the mayo.
Spread one side of the bagel with the mayonnaise and top with the salmon.
Step 3
Spray some oil into a pan and fry an egg.
Just before it's done, add the garlic clove and let it sizzle briefly.
Step 4
Place the egg on top of the salmon, sprinkle over the garlic, and season to your likeness.
Fruit & Seed Yoghurt
This hearty morning snack is chock full of calcium and smells like cosiness itself.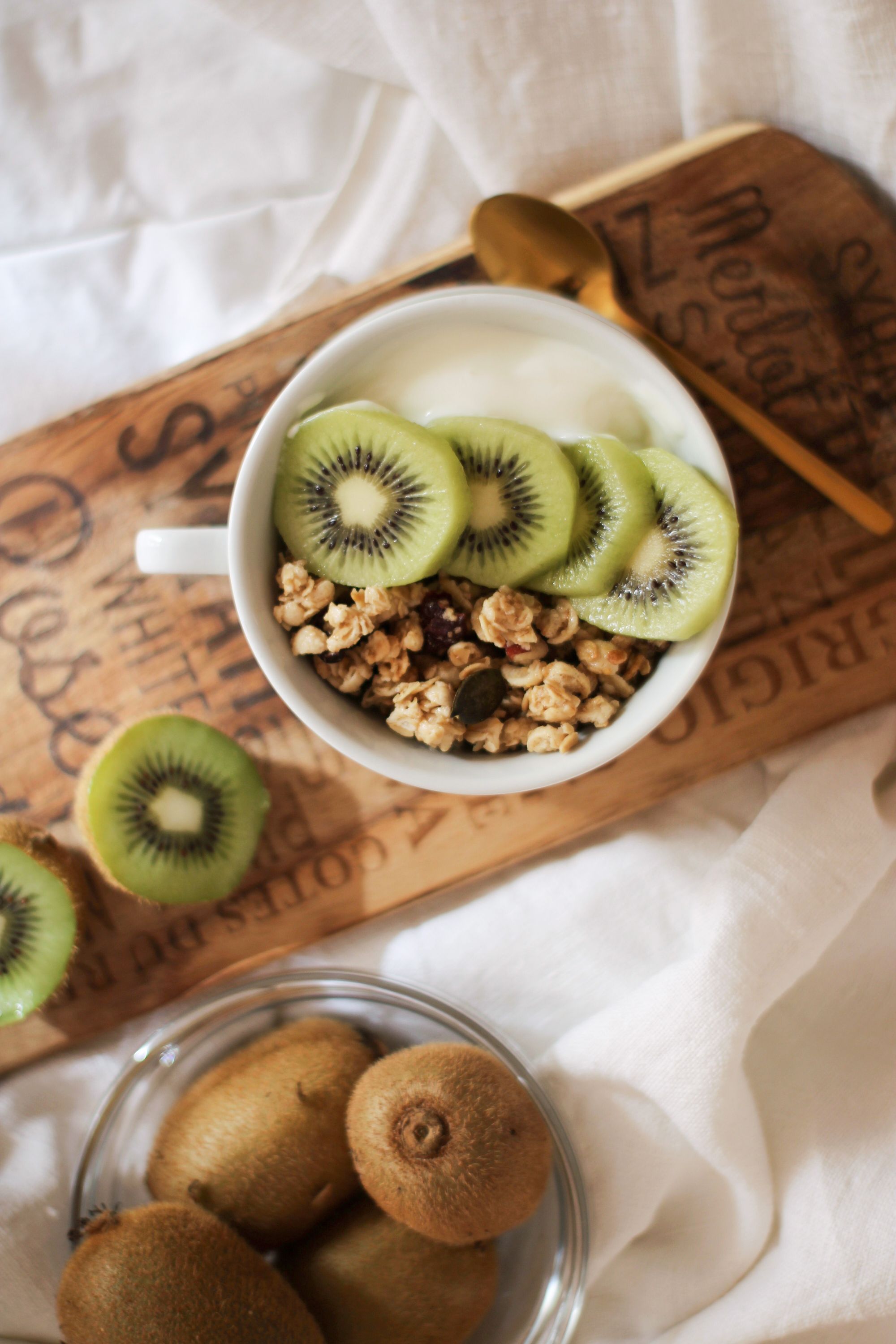 ⏰ Prep time: 2 mins, no cook
🌱 Vegetarian
🥣 Ingredients (serves one):
1 sliced kiwi fruit
1 tsp mixed seeds
¼ tsp cinnamon
150g pot of 0% fat probiotic yoghurt
Step 1
Add the sliced kiwi, mixed seeds, and cinnamon to the yoghurt, and serve.
Eggs-in-a-Nest
This recipe not only allows you to use various cookie cutters to cut out any shapes you fancy but also lets you experiment with different kinds of nests — such as scooped bagels or doughnuts.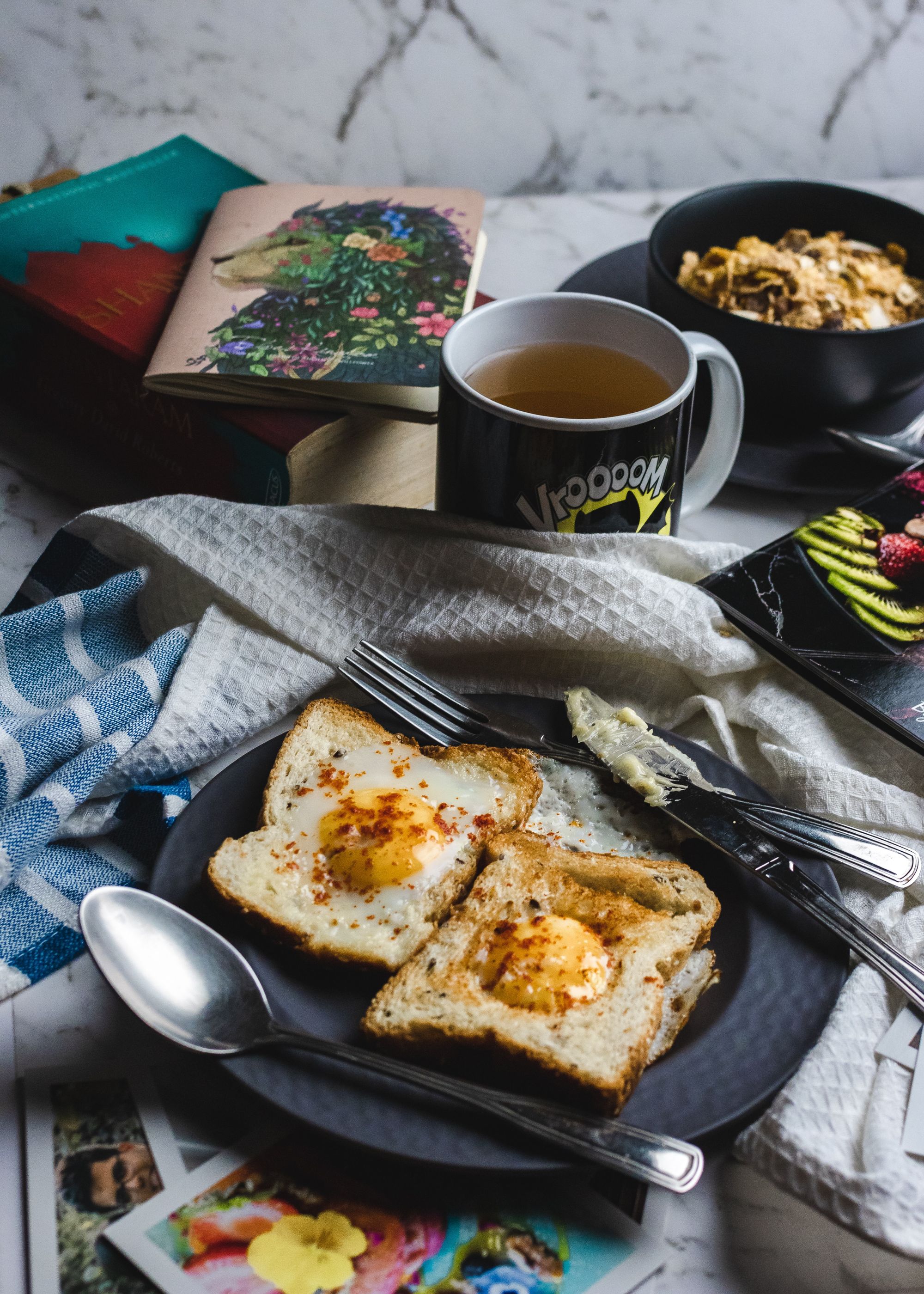 ⏰ 10 mins
Prep time: 5 mins
Cook time: 5 mins
🥣 Ingredients (serves one):
1 slice whole-wheat bread
1 large egg
2 tsp butter
salt & freshly ground pepper to taste
Step 1
In the centre of each slice of bread, cut a simple circle, or any other shape you like.
Step 2
Butter one side of each piece of bread, including the cutout pieces.
Heat a large frying pan over medium-high heat and melt one teaspoon of butter in the pan.
Place the bread on the griddle, buttered side down.
Step 3
Break an egg into a small dish and gently slide it into the hole in the bread.
Cook 1-2 minutes, or until the egg is golden on the bottom.
Then flip gently and cook on the other side for about a minute.
Step 4
Place on serving plates and sprinkle with salt and pepper. Enjoy!
Black Forest Granola
While it looks like a cheat meal, it counts as one of the five-a-day and is also high in fibre.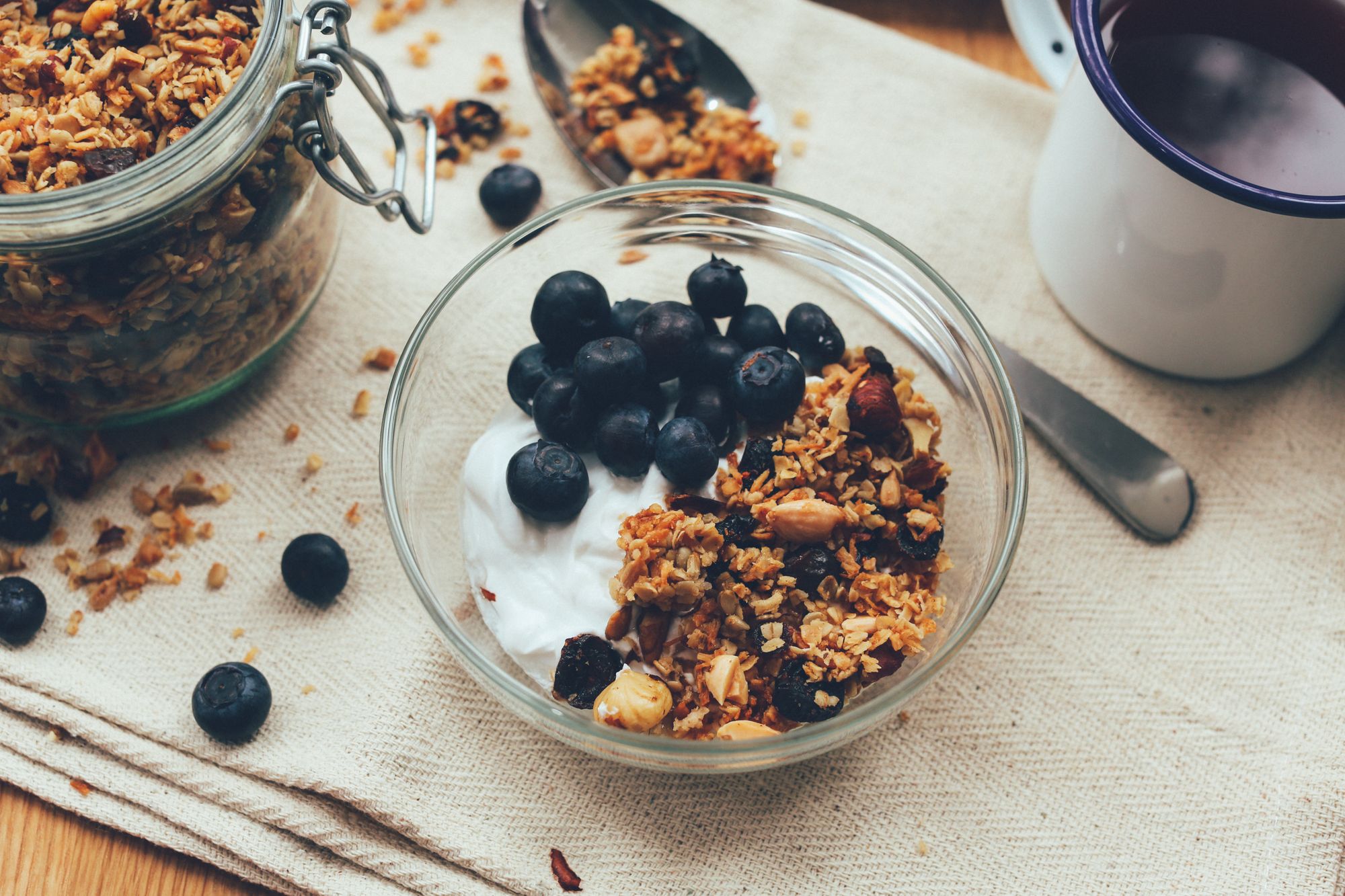 ⏰ Prep time: 10 mins, no cook
🌱 Vegetarian
🥣 Ingredients (serves four):
60 g (10 tbsp) rolled oat
200g cherries (halved and pitted)
100g blueberries
2 small pears (grated)
200g Greek yoghurt, plus 4 tbsp
5 tbsp milk
2 squares dark chocolate
1 tbsp cocoa powder
1 tbsp honey or maple syrup (you can use some more to serve)
Step 1
Combine the pears, oats, cocoa, yoghurt, milk and maple syrup in a large bowl, then divide between four bowls.
Step 2
Garnish each serving with a few cherries, blueberries, and a tablespoon of yoghurt.
Feel free to add more maple syrup or honey if you prefer.
Then finely grate the chocolate over each serving, giving it a light dusting.
Enjoy straight away or chill in the fridge for up to two days.
We're a reader-supported publication. This article might contain affiliate links. It means we may receive a commission if you click a link and buy a product that our maker has recommended. The article was created independently.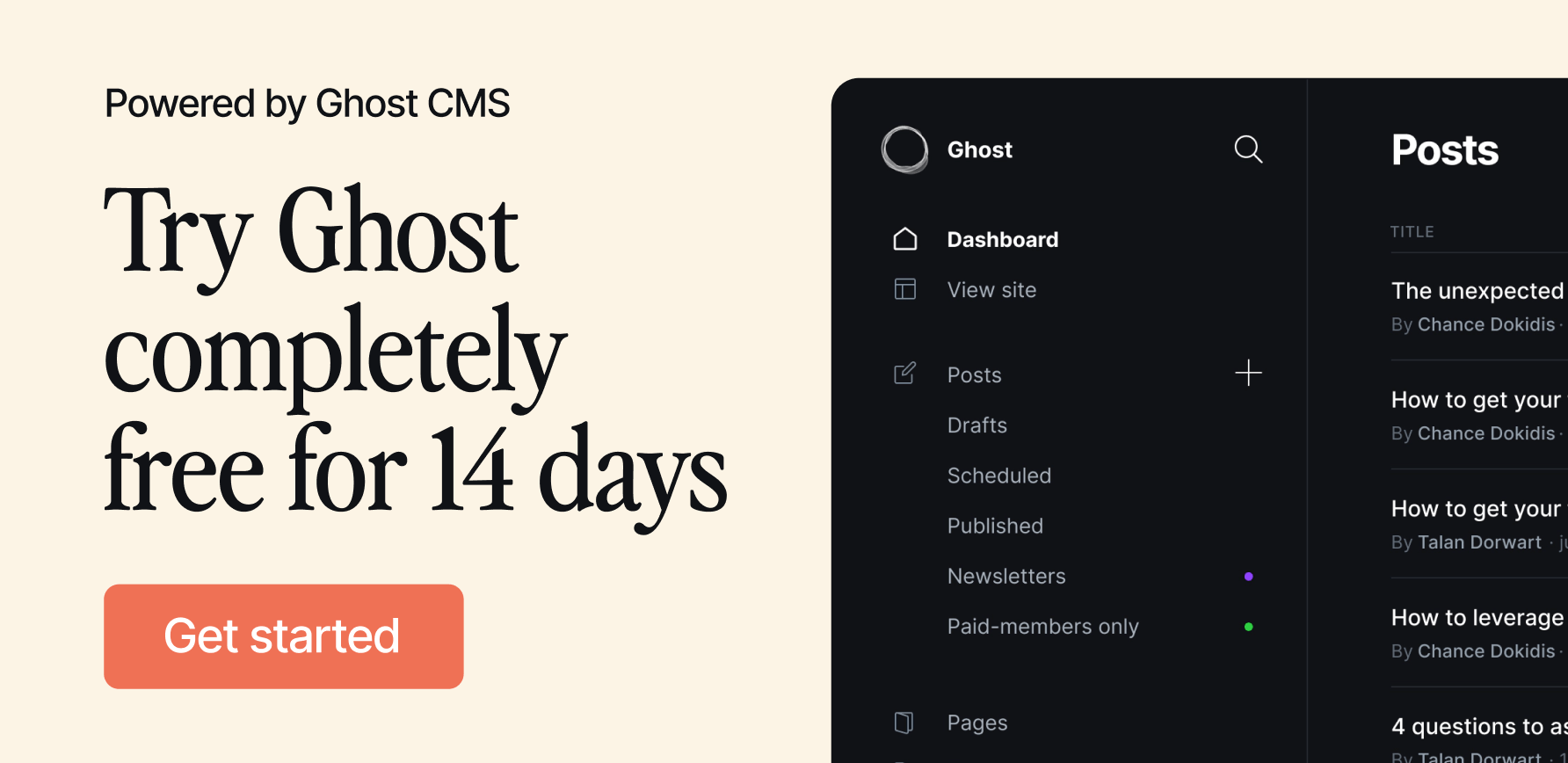 ---