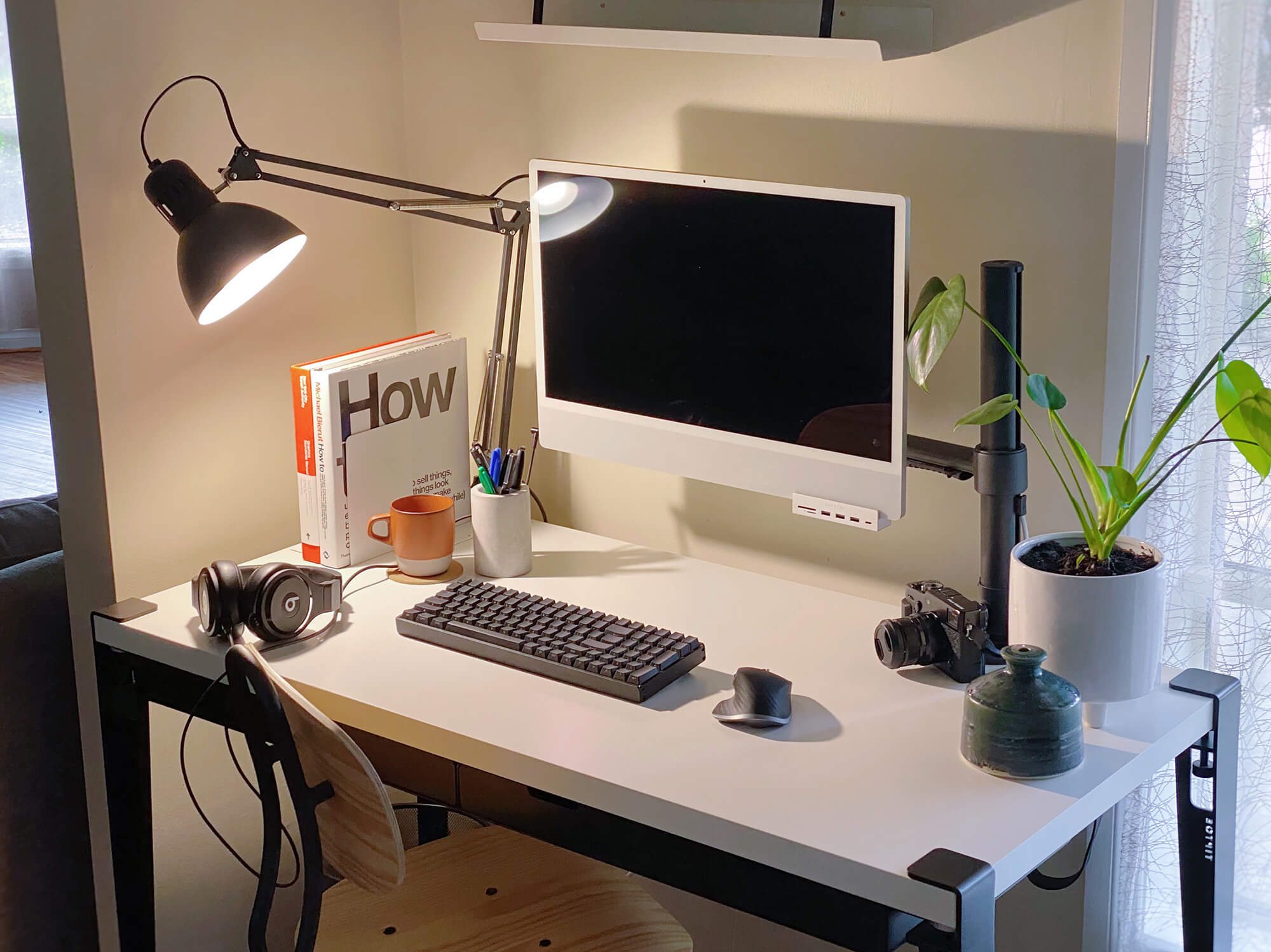 Patrick's Minimal Retro iMac Setup in Melbourne, Australia
"I'm glad I was so meticulous and deliberate about picking out every item because I couldn't be happier with the outcome"

Name: Patrick Johns
Location: Melbourne, Australia
Occupation: Graphic Designer
Room size: 9 m² (97 ft²)
Cost of the setup: ~$4,4K
Social media: Instagram, Twitter
Hey, Patrick! Tell us a bit about yourself
Hi, I'm Patrick, a Melbourne-based designer and amateur photographer. In my full-time job, I'm an in-house graphic designer for a furniture company. I also freelance a bit.
I've been in the design industry for four years now — I love it more than ever. My friends and I are looking to start our own marketing and design studio and hopefully make it a full-time gig one day.
I also love to play video games on PS, Switch, and Xbox, listen to music and indulge in dumplings. Minecraft, League of Legends, all the Pokémon games, GTA, Forza Horizon, and The Simpsons: Hit & Run are the greatest games I've ever played.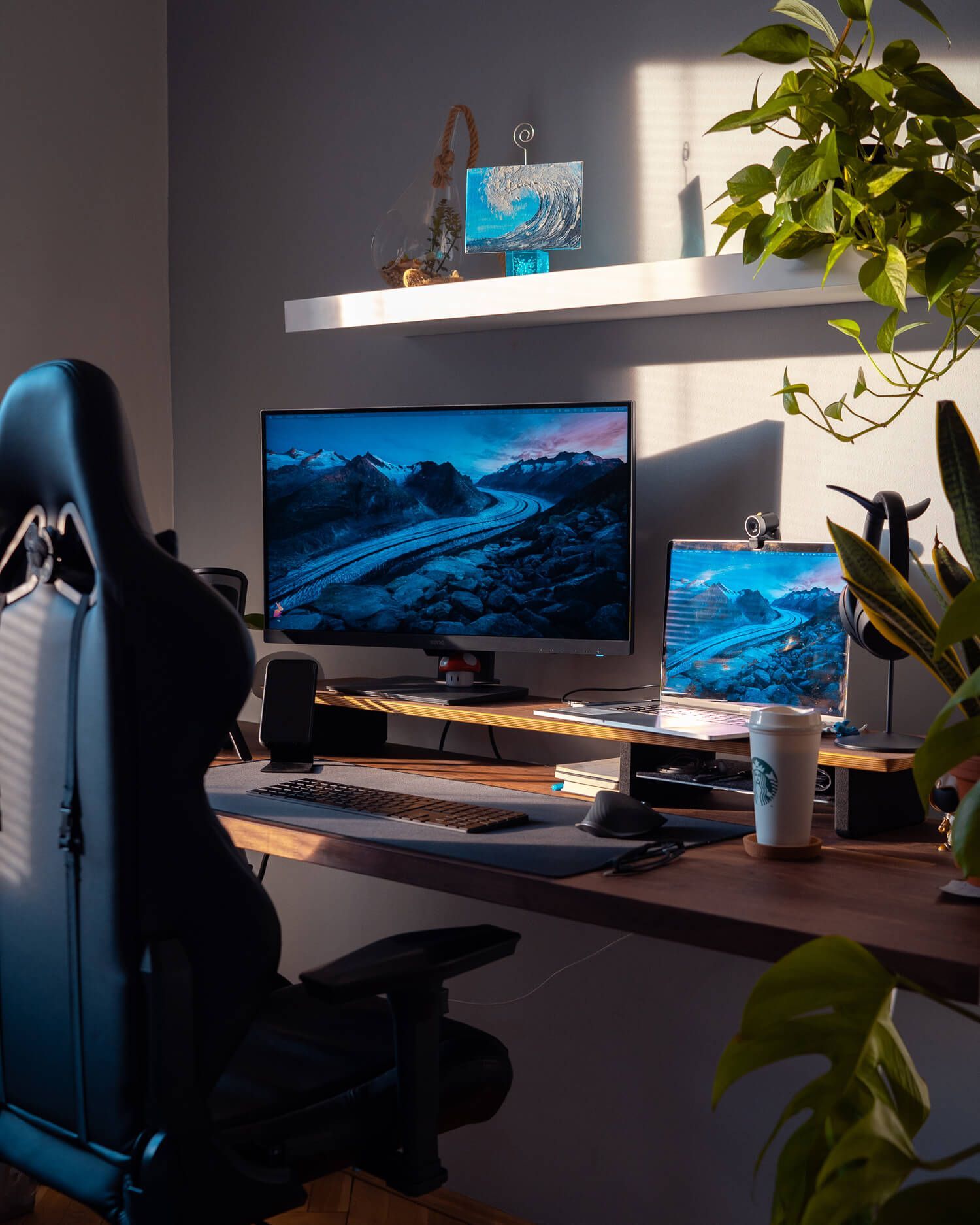 Can you describe your home setup?
I wanted my setup to improve my workflow, increase productivity, and provide a space that'd be inspiring, yet not distracting, and work seamlessly with all of my devices.
To create the setup, the planning phase was by far the longest.
I had a folder on my phone with a bunch of photos saved from Pinterest, Instagram, and Google Images.
It took me two years to find all the things I wanted. As I bought everything at once, it only took me a couple of months to put it together.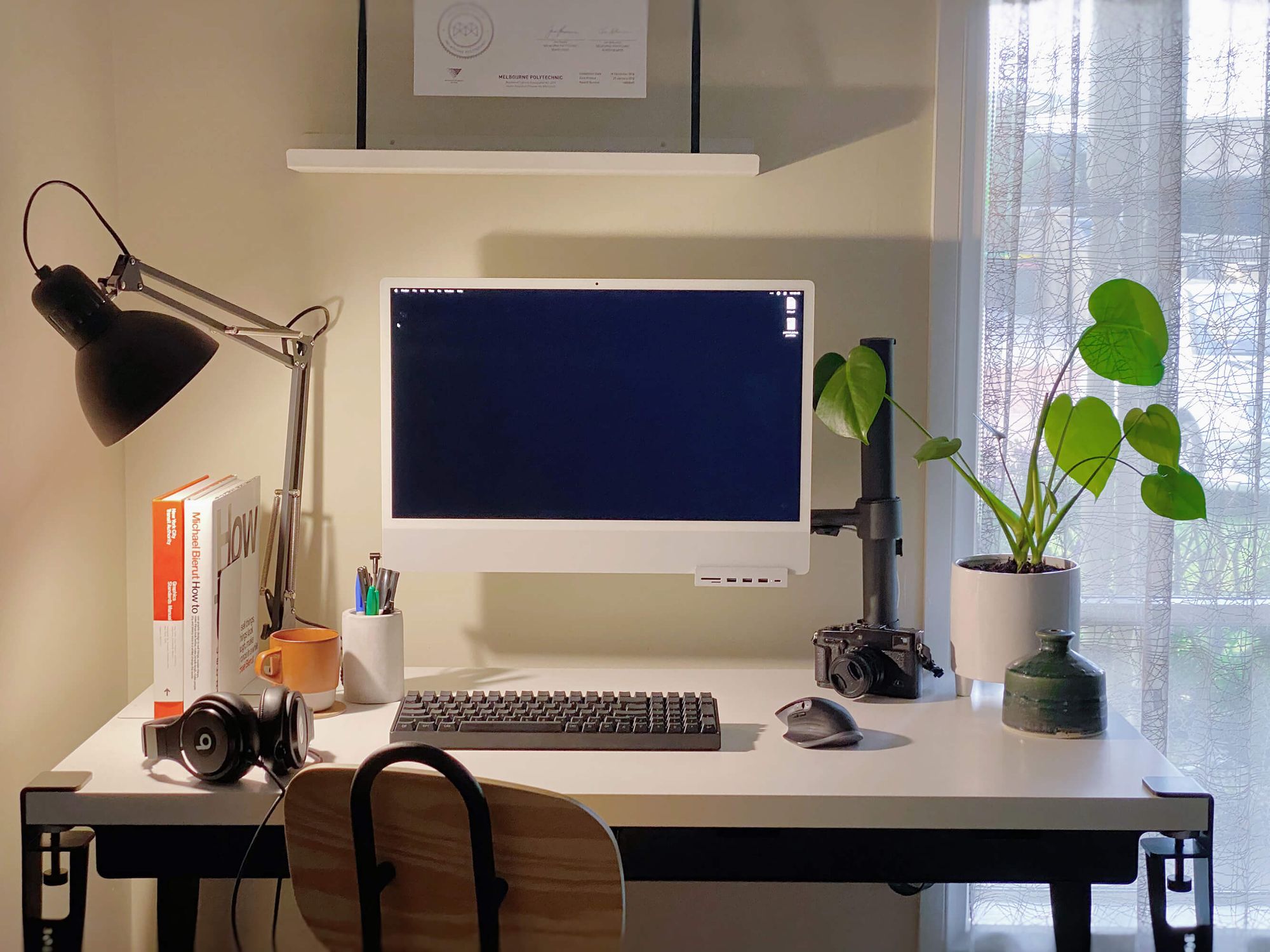 I'm glad I was so meticulous and deliberate about picking out every item because I couldn't be happier with the outcome.
However, I still struggle with finding a nice mouse pad that doesn't ruin the minimalist aesthetic, yet makes moving the mouse around a little quieter.
I am also thinking about getting a new office chair with lumbar support and stuff. The chair I have now is from IKEA. I'm not sure what it's called, but it's actually quite comfy even though it looks uncomfortable. It's firm and swivels quietly, too. I just wish it had wheels on the bottom.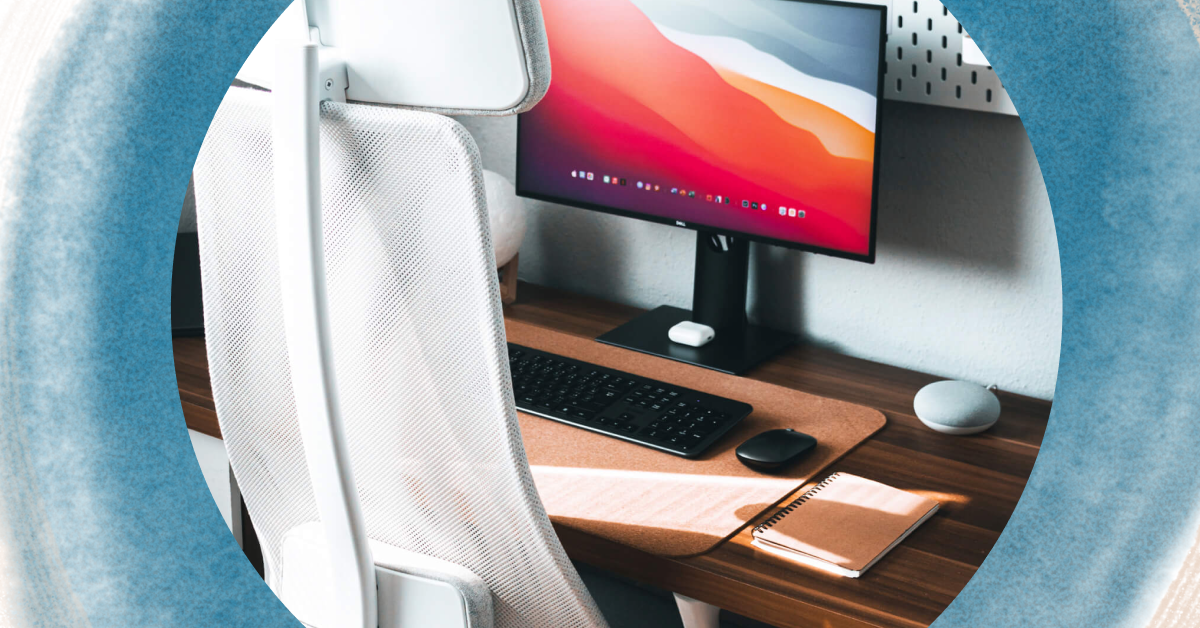 I am deeply rooted in the Apple ecosystem, so choosing an M1 iMac was a no-brainer for me. I prefer a desktop to a laptop since I use my iPad and Apple Pencil on the go. This way, I can also jot down ideas on my iPad and pick them up seamlessly on my Mac when I need them.
I have a custom mechanical keyboard with cherry brown switches. I decided to go for this exact configuration following my friend's recommendation. He had keyboards of all sorts, so I tested them out to get a feel, and the brown switch felt and sounded the best to me.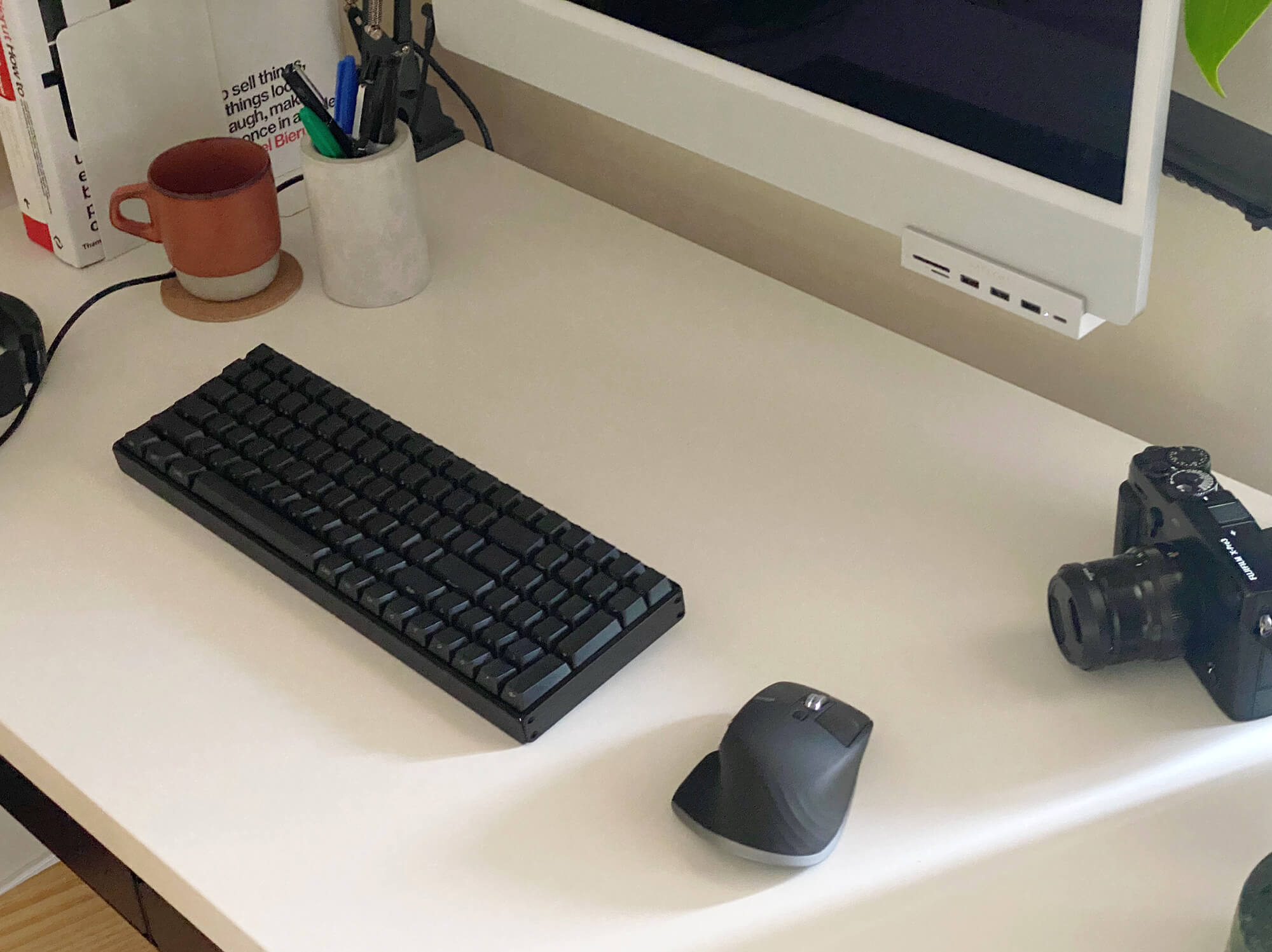 My monitor is mounted to the wall with a C.ME monitor arm. It's easy to adjust, heavy-duty and looks super clean, sleek and minimal. And it's built like a tank, too!
I use Beats Pro headphones. I'm yet to get a new pair since I received these ones as a gift a while ago. Initially, they're comfortable but I find they get sore after a while. Open to your recommendations!
My mouse is the Logitech MX Master 3 for Mac. It is super ergonomic for long working sessions and the quality is great. But most importantly, I've hugely improved my workflow by mapping different functions to the mouse.
I'm quite happy with the natural lighting in my space. I have a window just to my right that faces north, so I don't get the sun striking in my eyes while I'm working.
What's your favourite item on your desk?
My favourite item on my desk has to be my camera. It's a Fujifilm X Pro 3.
I got into photography to enhance my creative skills, but also for fun and memories. It's been amazing so far!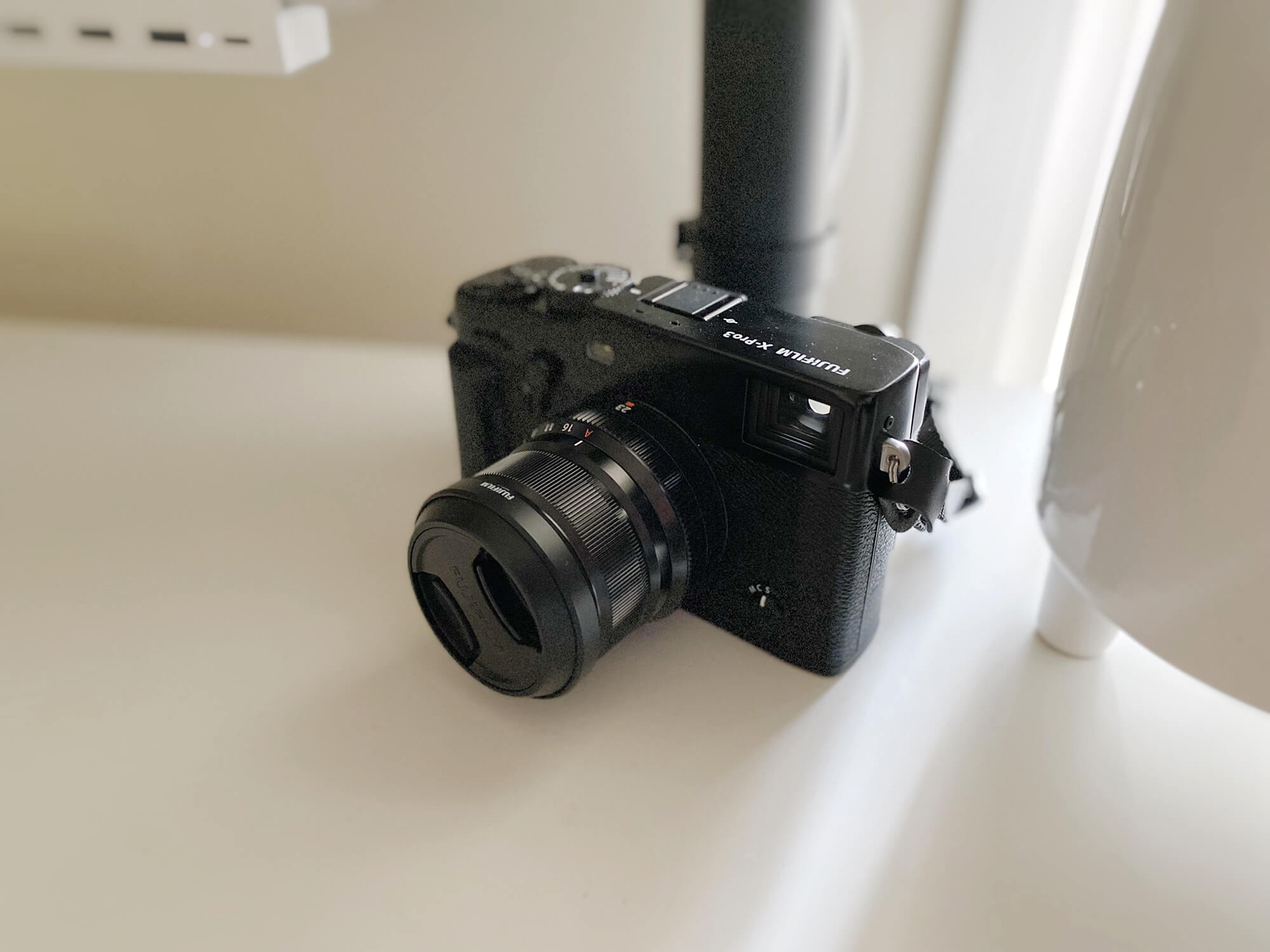 I got myself a 23mm lens to replicate the feel of 35mm film photography. Simply the look and feel of the camera itself are awesome. It's lightweight, solidly built, and compact, so I can take it anywhere.
By adding a Satechi USB-C clamp hub to my iMac, I can use my SD card right from my camera seamlessly.
What does your typical day look like?
During the lockdown here in Melbourne, my routine changed quite a bit. Generally, I'd wake up at 7 am, drive to the gym next to my office, work out for an hour, then head into work.
Now when I work from home, I wake up at 8 am, make myself a hot cup of coffee, and put on some music to get going.
My morning ritual is coffee and a workout. Nothing fancy, just a simple way to kick off the day.
The first thing I open on my phone at around 9 am is my email. I enjoy using Tempo — which has sadly been discontinued :( — to sort through my inbox effortlessly. Then I usually open MinimaList to plan my daily tasks.
I work from 9 am to 5 pm and do everything from marketing emails, social media content, and advertisements, to visual merchandising.
I am most productive in the mornings. I like to get my admin stuff done first thing in the morning so I can get on with the fun stuff later.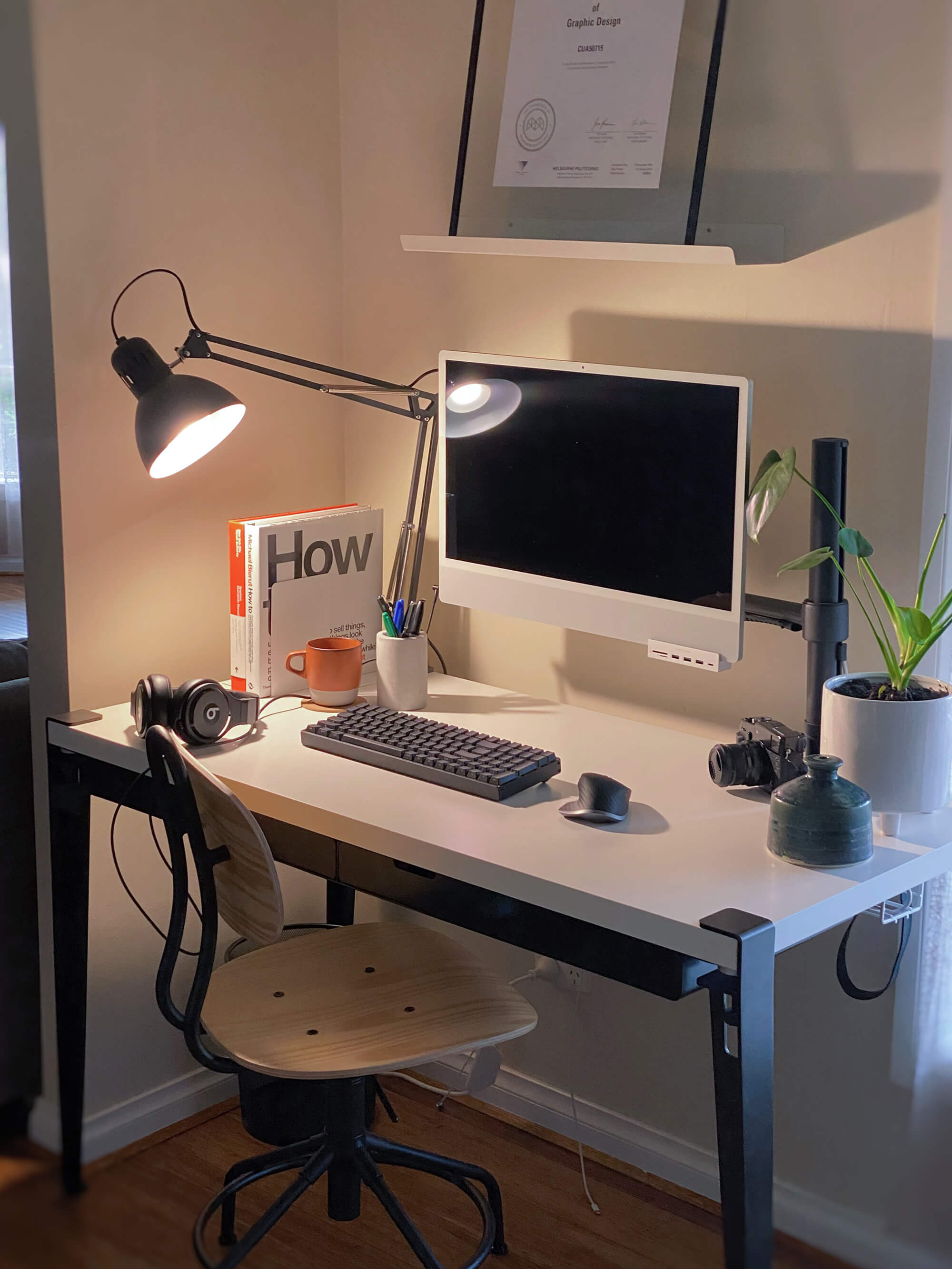 I don't switch workspaces, but I do like to get up and walk around when I'm thinking. Since I don't have a standing desk, that way, I can still get up every so often to get the blood pumping.
I spend around 6-7 hours at my desk in an 8-hour workday.
In my spare time, I like to play video games that even made me lean towards a PC. However, I only play Minecraft and League of Legends (Bard Main) — two lightweight games that run fine on my Mac. This is why I never got myself a PC.
Your tips for working from home?
I have been working from home for about two years now and I've learned a few things to improve my workflow.
Using hot corners with Mission Control makes my workflow so much faster just to navigate between applications.
I've discovered five apps that help me get through my day.
I'm a bit of a software geek, so finding these apps took a lot of trial and error.
I start my day off by opening the Tempo email client, so I can take care of any urgent stuff and respond to people.
I then write down what my tasks for the day are using the MinimaList app.
Timepage is my calendar of choice for both personal and work stuff.
Dropbox organises all my files, so not only can I access them from anywhere, but so can my clients.
For any notes I need to take, I use Mettle, an MD writer.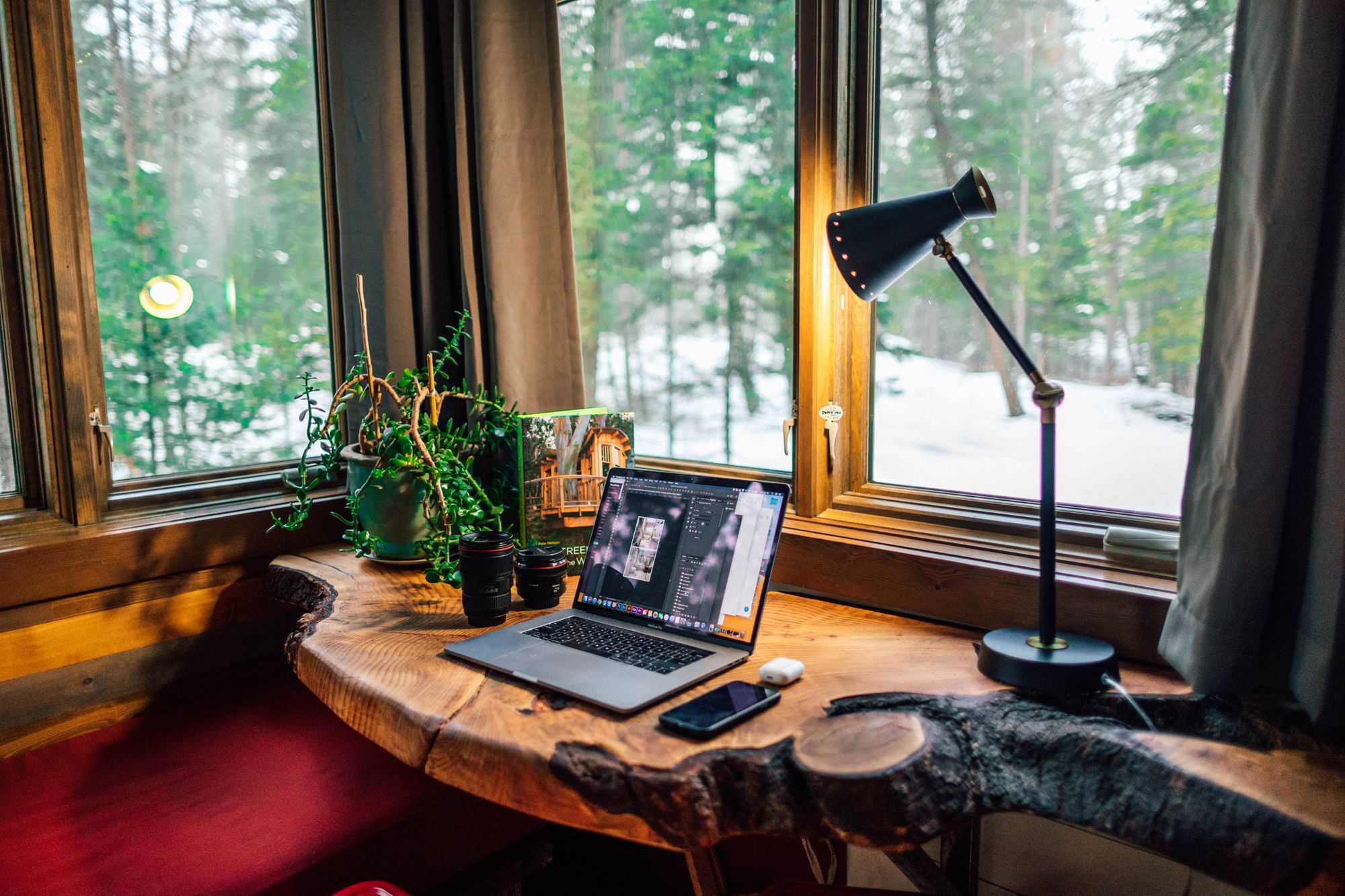 When it comes to time management, I like to finish all my tasks 3-4 days before the due date so my colleagues have plenty of time to request changes, etc.
MinimaList's built-in Pomodoro timer keeps me focused. Usually, I work for 25 minutes, then take a 5-minute break and drink some water.
The advice I have for people that work from home is to move around and separate their work and play spaces.
That way, you'll enjoy your playtime more, since it won't remind you of work. And vice versa — you won't get distracted by your gaming gear when you need to concentrate on work tasks.
We're a reader-supported publication. This article might contain affiliate links. It means we may receive a commission if you click a link and buy a product that our maker has recommended. The interview was done independently.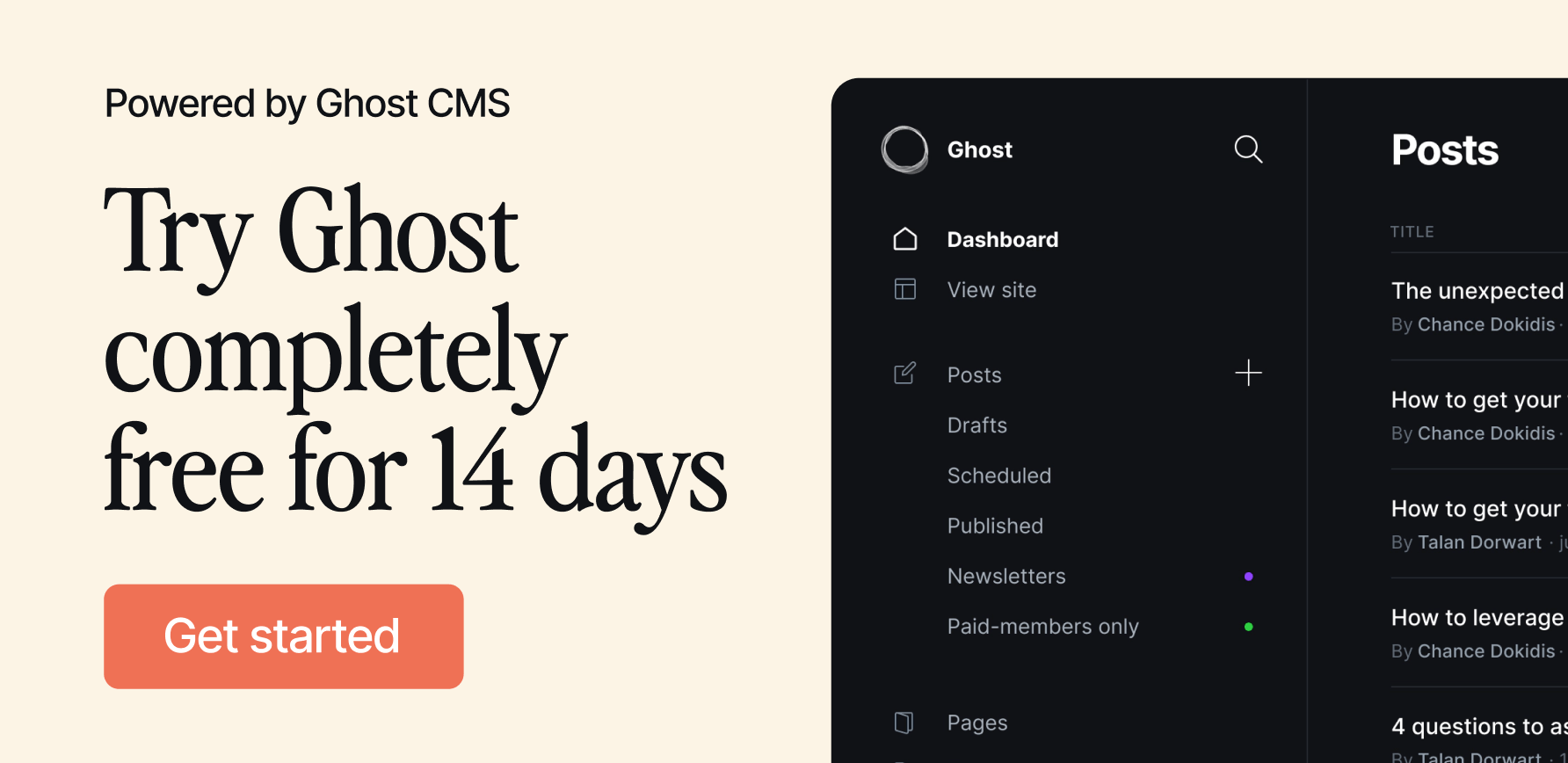 ---