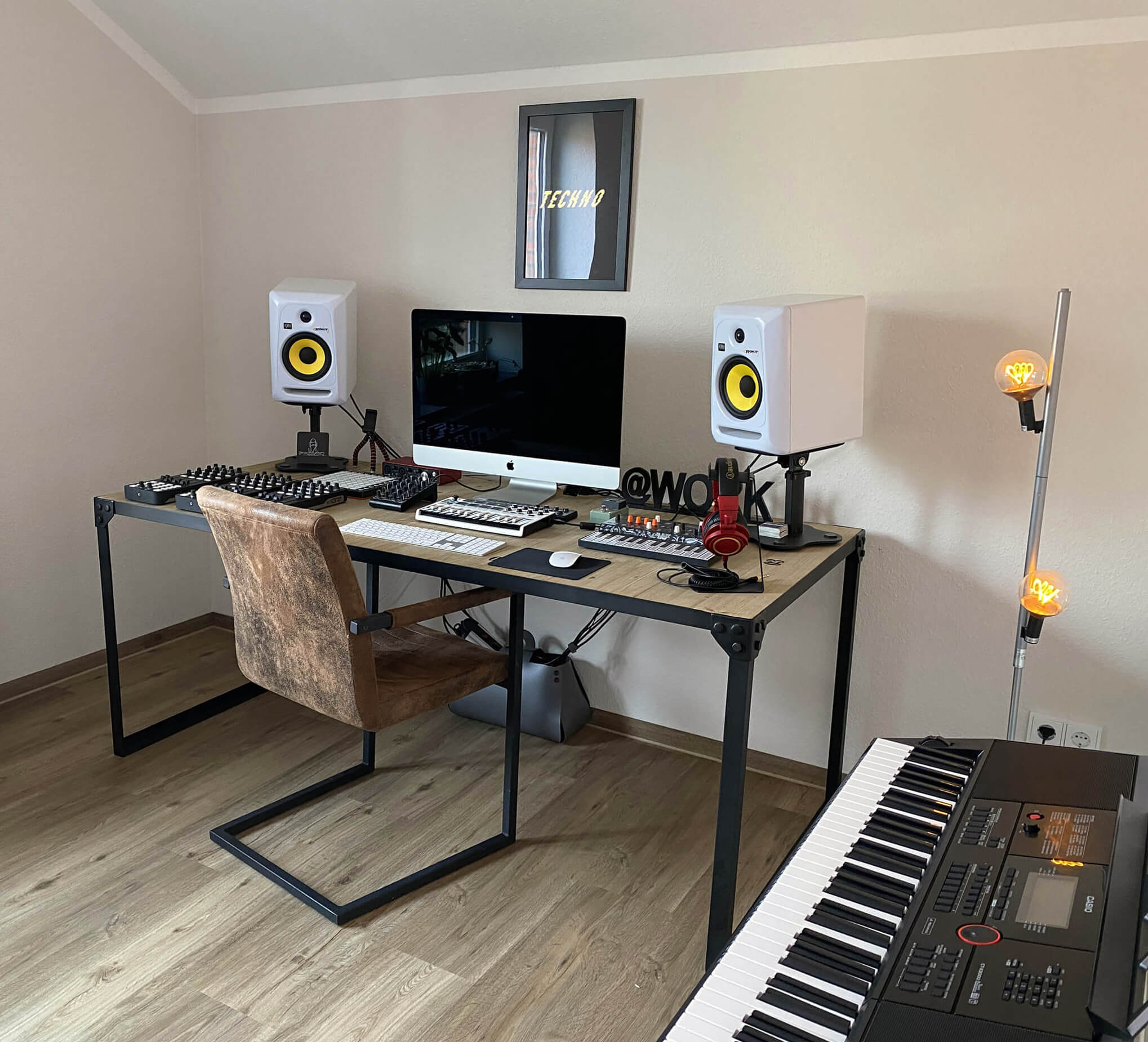 Music Studio Setup in Kiel, Germany
"At first, I didn't know what it's all about and if I'd like it or not. However, after attending a few parties and meeting new inspiring people, I was enthralled with techno"
Join 1700+ Curious Readers.
Every Sunday evening, get an *in-depth* workspace tour from a random corner of the world.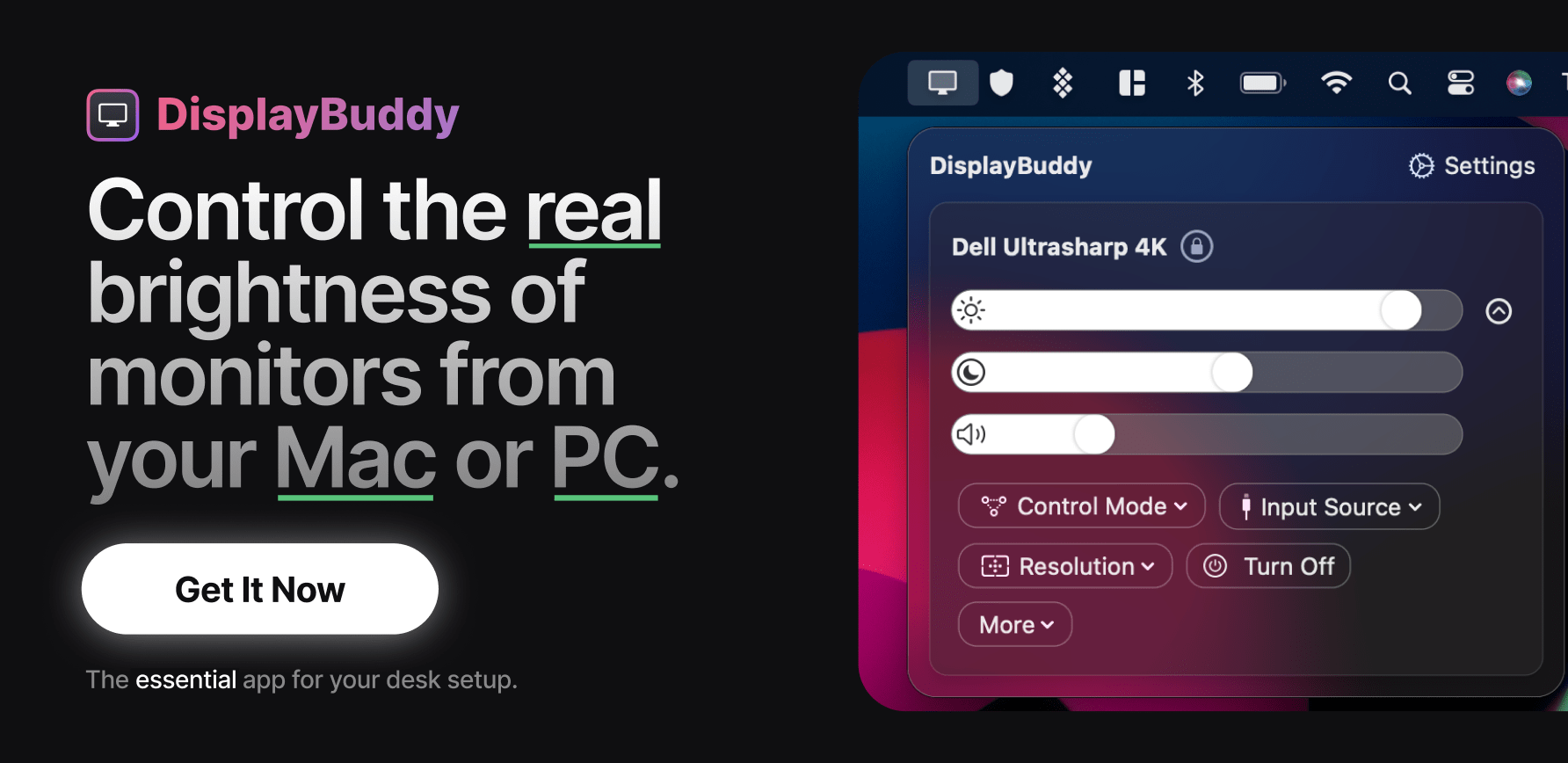 Name: Nadine Westphal
Location: Kiel, Germany
Occupation: Sports economist, Fitness coach, Techno DJ
Room size: 15 m2 (161,5 ft²)
Cost of the setup: $4,3K
Social media: Instagram, Facebook, Soundcloud and Beatport
Hey, Nadine! Tell us a bit about yourself
Hi, I am Nadine, a perpetual self-explorer!
For the past few years, I have tried quite a few different things. After school, I completed my pastry chef training. Even though I enjoyed it a lot, I knew it wasn't my true passion.
Later on, I finished my dual study course in sports economics. Although I have a relevant job now, I'm always looking for new opportunities.
I've been working as a local blogger's back office manager for the past three years as a side hustle (moinmoinkiel.de / moinmoinkiel on Instagram).
Besides my career development, I've always been interested in music. But I didn't really pay too much attention to it, sadly.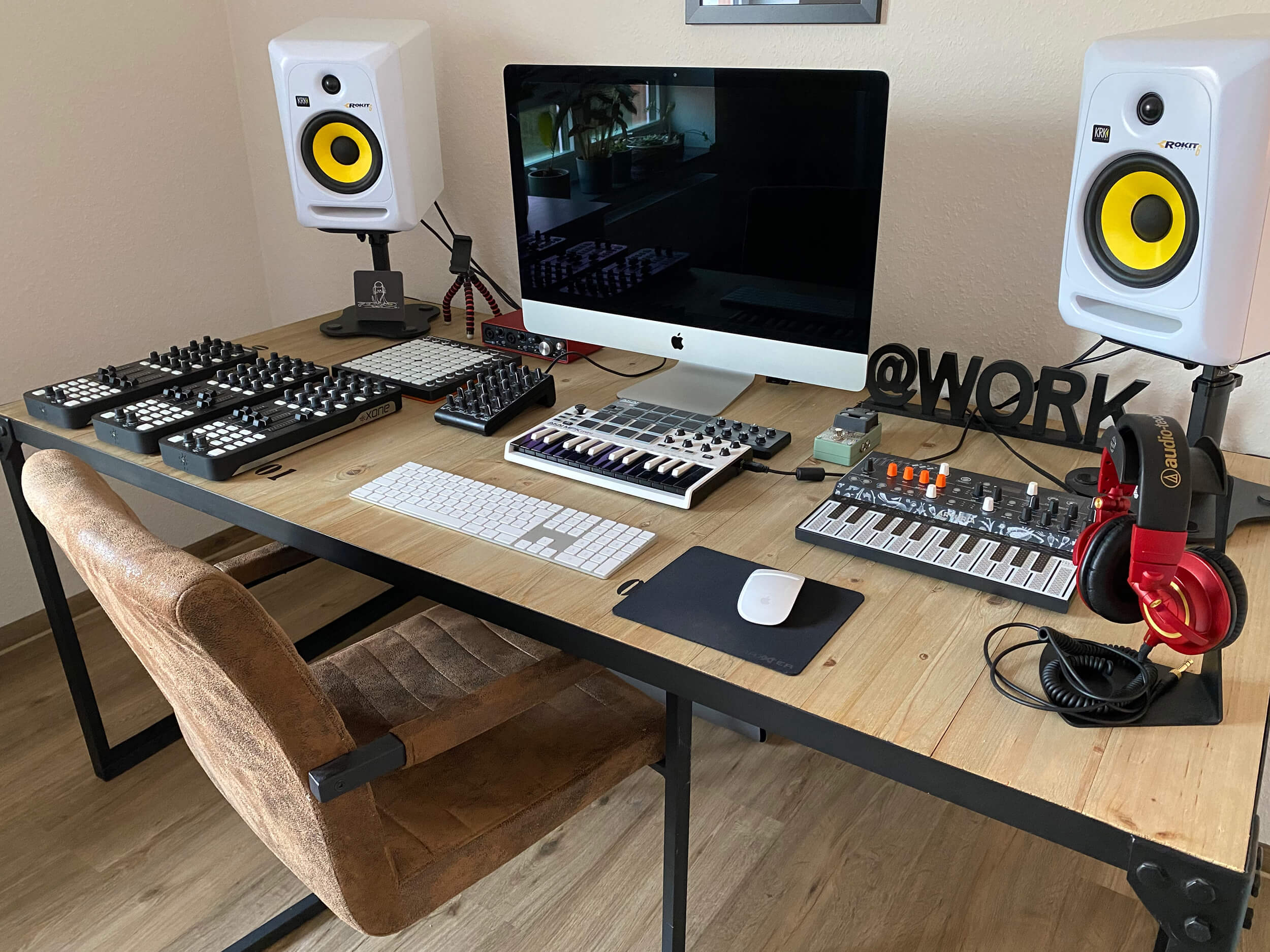 In Frankfurt am Main, where I lived for three years, I discovered techno. At first, I didn't know what it's all about and if I'd like it or not. However, after attending a few parties and meeting new inspiring people, I was enthralled.
In summer 2018, I asked my wife what she'd say if I started making and DJing techno music. This was just a wild idea, a mere curiosity about doing this stuff.
But then I suddenly heard her say "Just do it". And I did.
Starting to make music was probably the best decision I've ever made. I am very grateful to my wife for urging me to go into this new phase of my life.
Since then I have achieved so many goals, or perhaps I should describe them as dreams. This includes my first releases on a label (Black Snake Recordings / Black Snake Recordings Instagram). Moreover, the owner of the record label, Darian, believed in my talent before anyone else. I'll never be able to thank him enough.
It's been an amazing journey so far, I have worked with some wonderful creative folks who became more like friends than just colleagues. One of them is my dearest friend Roman. He made my first live session happen at the Mukkefuk party in Wiesbaden. Roman remains a big help and support to me in music theory and stuff.
Another big dream came true in 2020: I was invited to join a local DJ collective, Stadtpalava Records, and I am looking forward to future projects!
Can you describe your home setup?
My workspace has changed drastically since I started my music production project.
At first, the only equipment that I had was a MacBook Pro, Ableton (DAW — digital audio workstation), the most ordinary headphones, and a MIDI keyboard (AKAI MPK Mini MKII).
We moved home in 2020, and now I'm lucky enough to use a separate perfect-sized room with a big window for my workspace. I have steadily grown my maker station since then. During the pandemic, it also serves as a fitness room with enough space for sports equipment.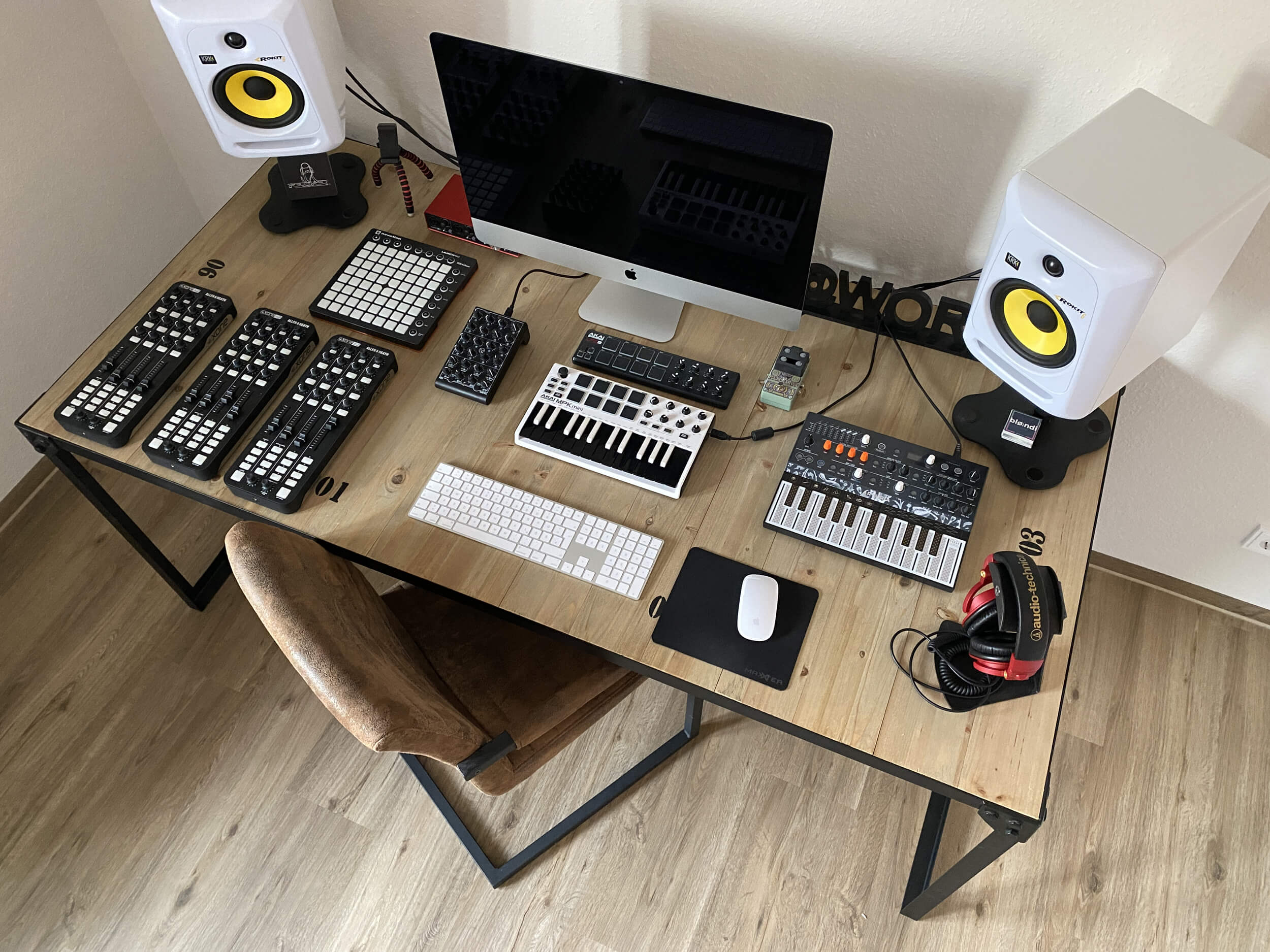 My wife and I place a high value on interior design in our home. We both adore industrial-style furniture, and it was my wife who found that DOCKS fir wooden desk for my workspace on the internet.
Originally, it was meant for dining. But I got so enthused with the look of that table that I purchased it for my studio as a birthday present from my parents. The desk is super cool because it seems like it was reclaimed, but it's brand new and it's huge. I also got the perfect fitting chair from my wife!
I have all my stuff arranged on my desk now: an iMac, studio monitors and stands, studio headphones and a stand, a MIDI keyboard, a Novation Launchpad, a Focusrite audio interface, three Allen & Heath Xone:K2 controllers, an AKAI LPD 8 controller, Faderfox PC4, one synthesizer (MicroFreak) and also an effect pedal. I placed the Casio keyboard on a stand next to the desk and put a comfortable stool in front of it.
Right now I'm very satisfied with my workspace. It's of a decent size and has enough natural light.
Despite having a lot of different equipment, I've managed to make my space feel clean and minimalist.
The one thing I would love to improve is room acoustics. It's poor, I can't even use my monitors for mixing. Currently, I'm trying to figure out the costs and the best approach so maybe that's next on my list.
What's your favourite item on your desk?
That's a tough one!
Well, at the moment I don't have as much equipment as other producers have but I do believe my entire equipment is necessary and sufficient.
However, if I had to choose, I would say that Faderfox PC4 and Allen & Heath Xone:K2 controllers are my favourites. I admire both of them for their simplicity. The mapping is straightforward and easily programmable.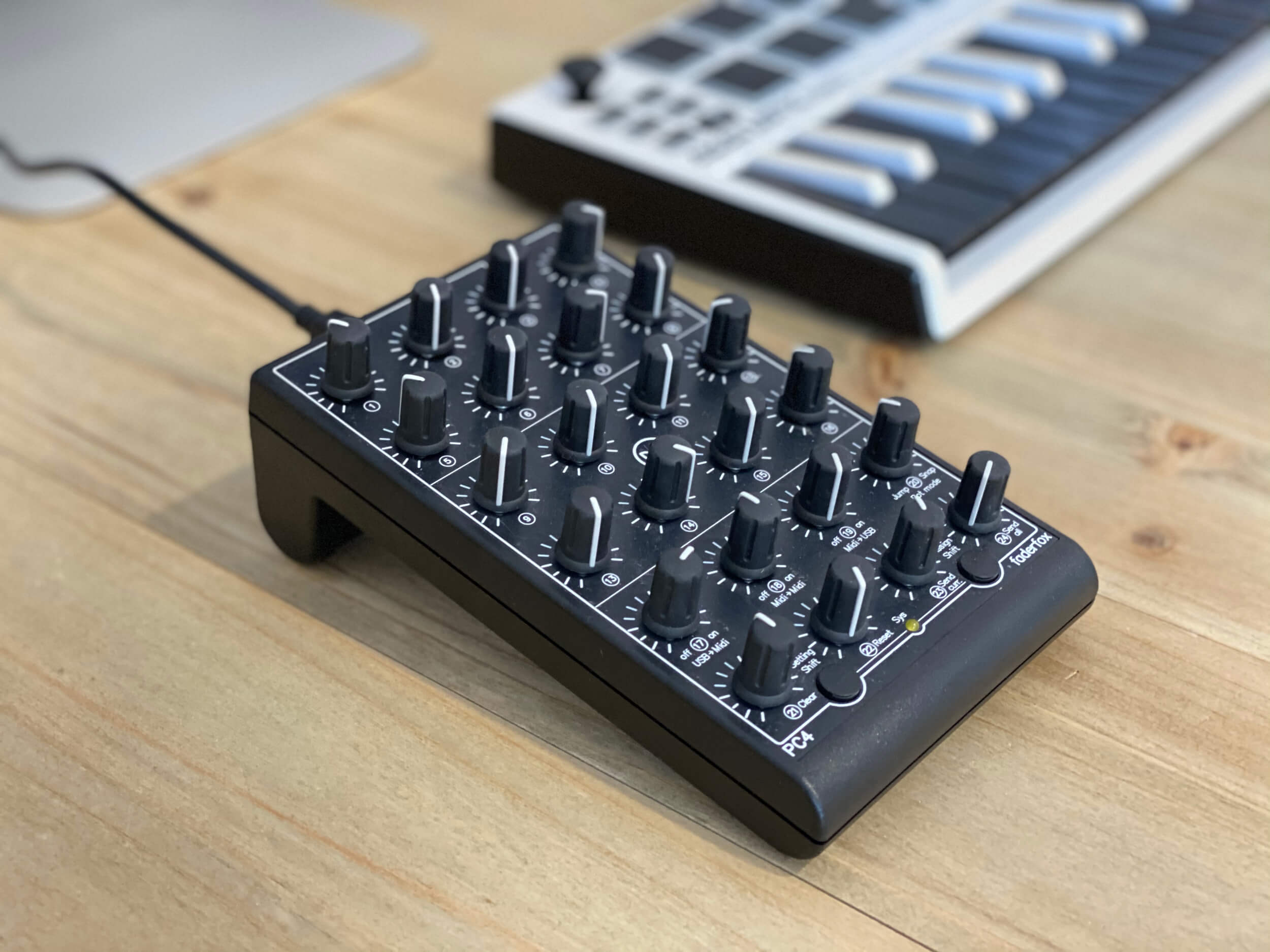 These controllers allow me even more flexibility when it comes to creating live sets and arranging my tracks. The Faderfox PC4 costs $270 just for the knobs. Honestly, it's kind of expensive, but it's high quality, and I love it.
The Allen & Heath Xone:K2 controller costs almost the same but I got all three on eBay for $150 each. Great value for the money, perfect size, and I find the knobs and faders extremely satisfying to use.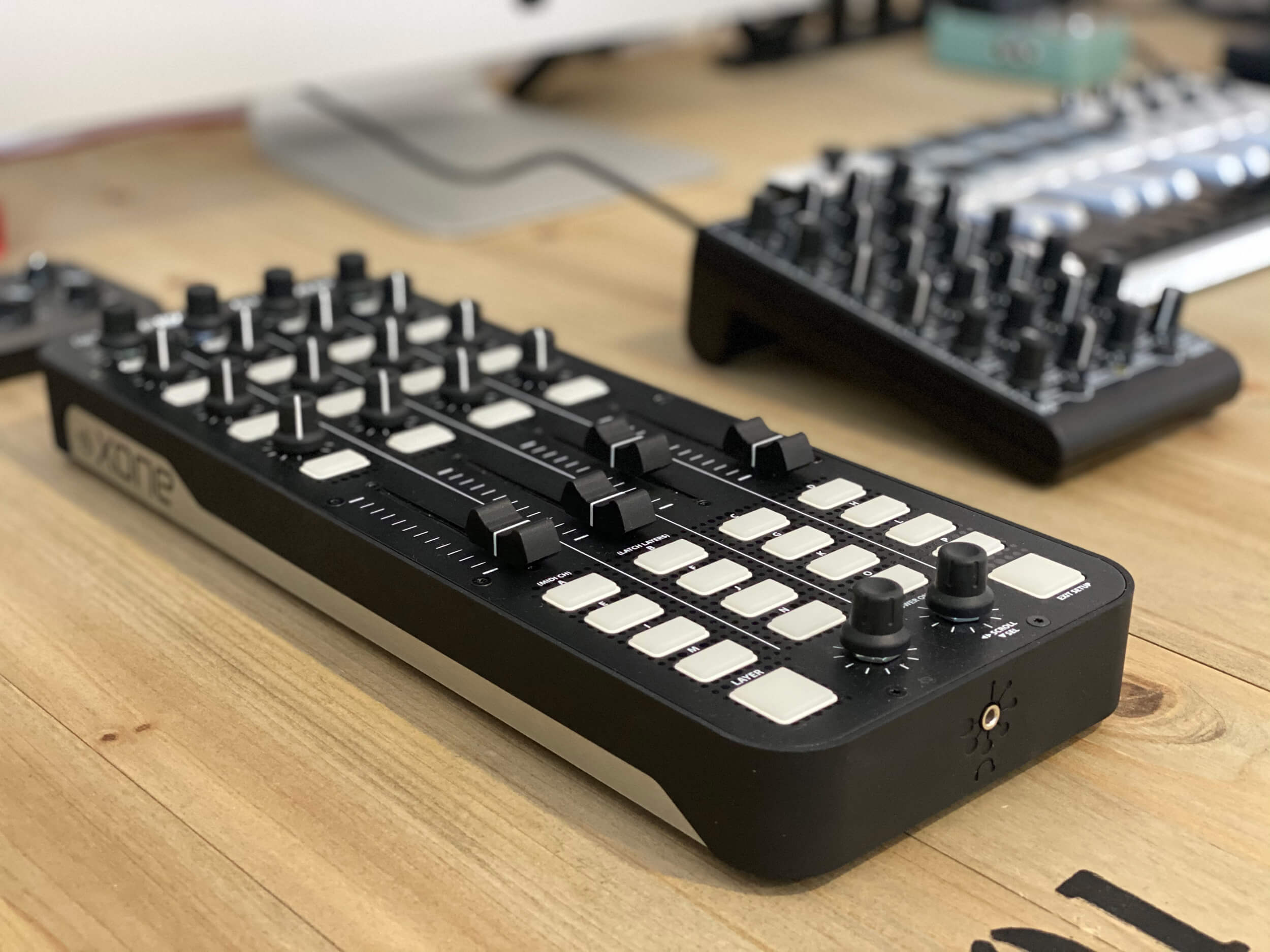 What does your typical day look like?
Due to the pandemic, my daily routine changed a lot. In total, it's been five months since lockdown began.
Twice a week I am at my official workplace offering online fitness classes. On the other days, I am working from my home office: sending e-mails, managing the social media platforms, getting in touch with the members, etc.
This means that I have plenty of time for producing music, learning lots of music theory, learning the keyboard, and preparing my live set. This is a unique time in my life during which I have both opportunity and headspace for self-realisation and promotion of my creativity.
Every day I spend up to eight hours at my desk. My bubble of creativity can sometimes consume me. Then I have to force myself to take care of my daily admin, too.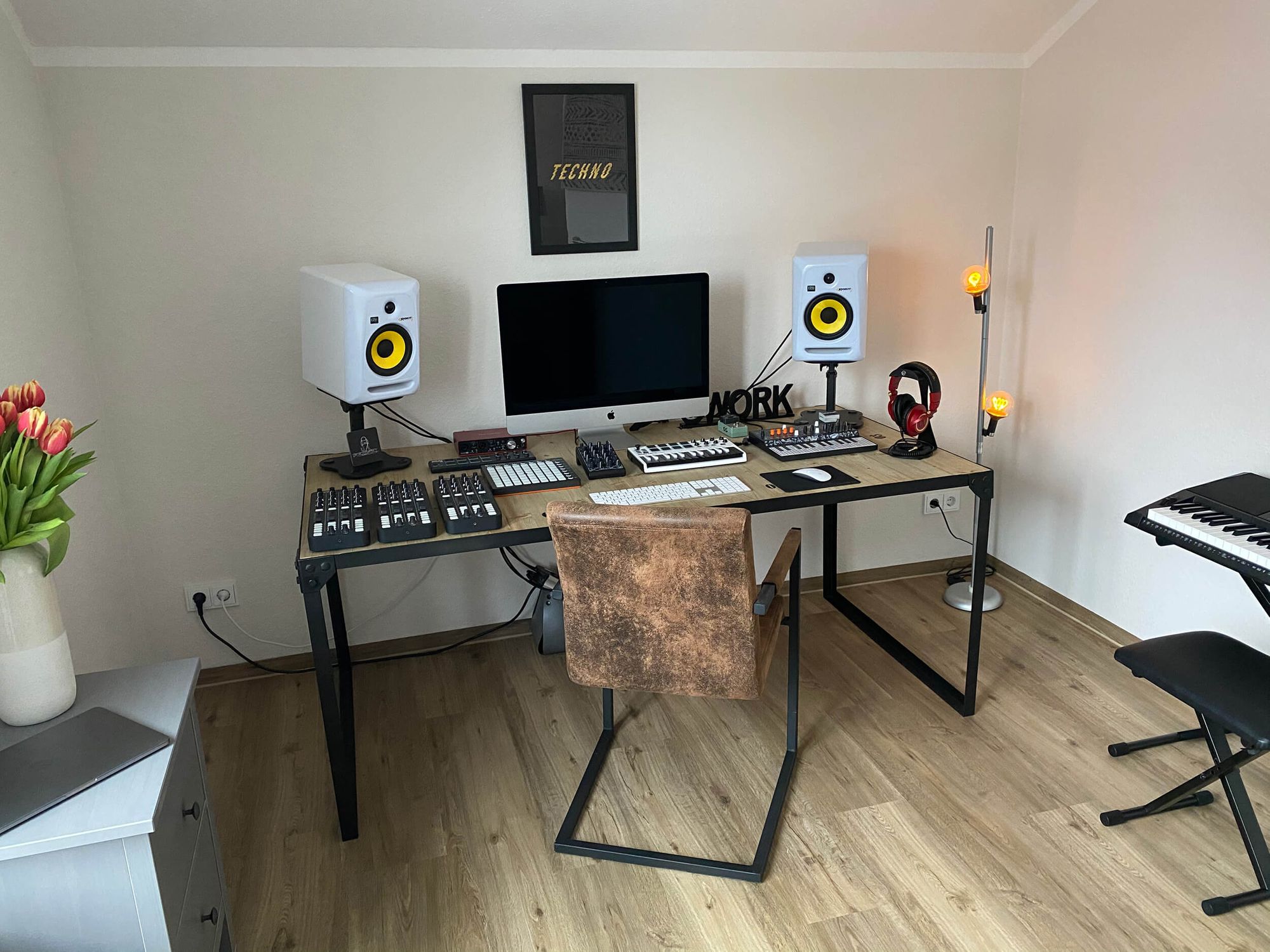 At least I'm disciplined about my sleep pattern: I go to bed before midnight and get up at 8 am. I feel fit and vital when I start my day with this rhythm.
It's impossible for me to kick off the day without coffee and breakfast. Or without my phone. I have to admit that I became somewhat addicted to it as I open Instagram first thing in the morning. It's kind of relaxing — or you could say mindless — but personally, I rather like it.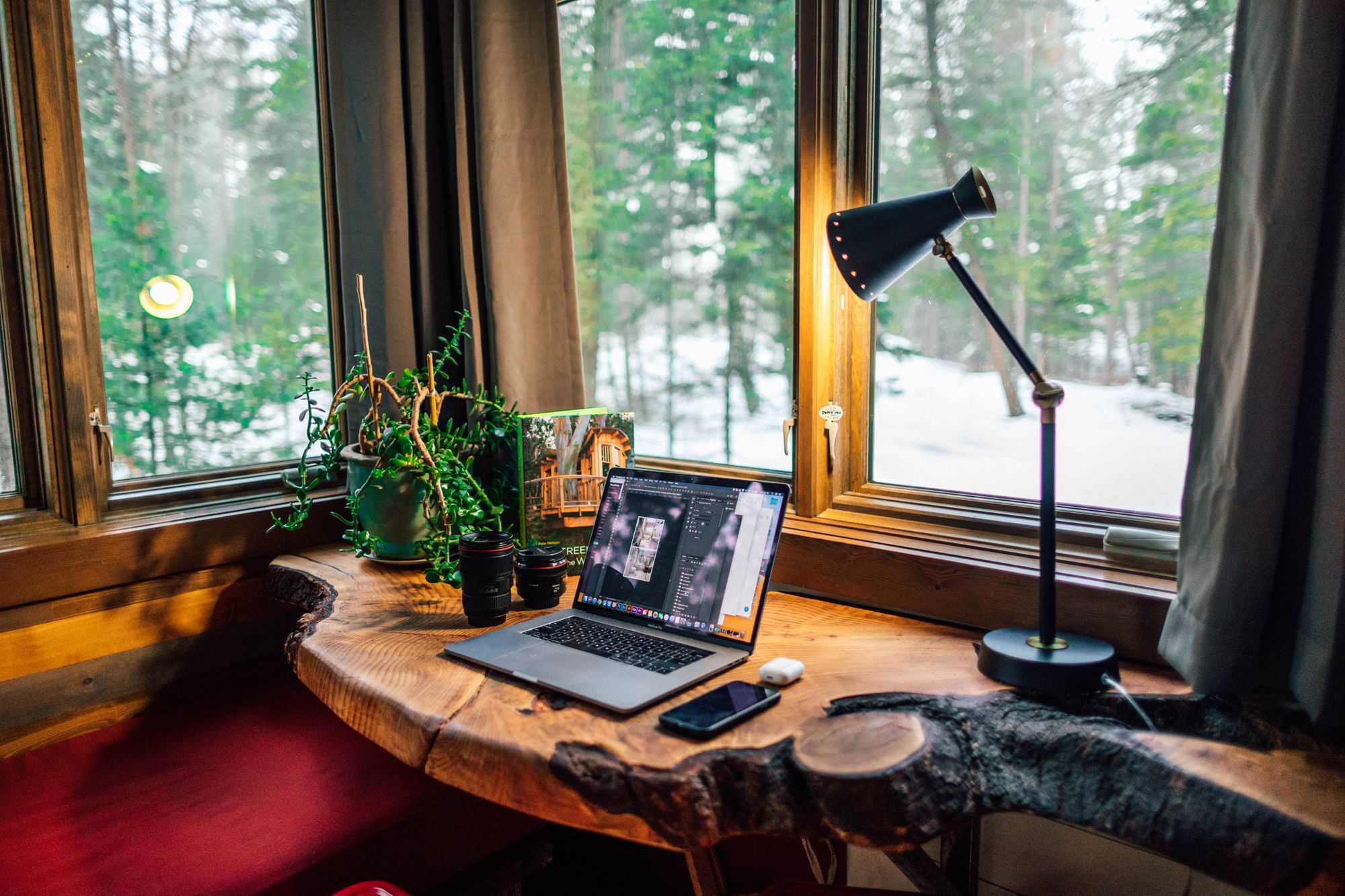 Although I am normally very sporty, I have to force myself to exercise at home these days. When I am not working at my desk, I enjoy some sports or just go for a walk with my wife.
Your tips for working from home?
Just do it! Don't let your internal overthinker talk you out of taking your first step.
There's no one ideal WFH routine to which everyone must adhere. For instance, I'm not the type of person to follow detailed to-do lists, but if you feel comfortable using them, go for it.
I prefer setting weekly or monthly targets. For me, it's a good way to get things done, and all I need to get going is a few stepping stones.
I usually start my working day with a smaller task to get the ball rolling, even if it's not very important.
As soon as that first smallish task is finished, I'm on track and ready to work and "go with the flow".
Working from home requires a strong sense of self-discipline. Those lacking it may need to communicate their daily objectives and weekly goals with peers or friends. A healthy dose of pressure may be useful to get you started.
Another important thing: do some exercise or physical activity every day. Even if it's only taking a short walk, you have to move your body and change context.
We're a reader-supported publication. This article might contain affiliate links. It means we may receive a commission if you click a link and buy a product that our maker has recommended. The interview was done independently.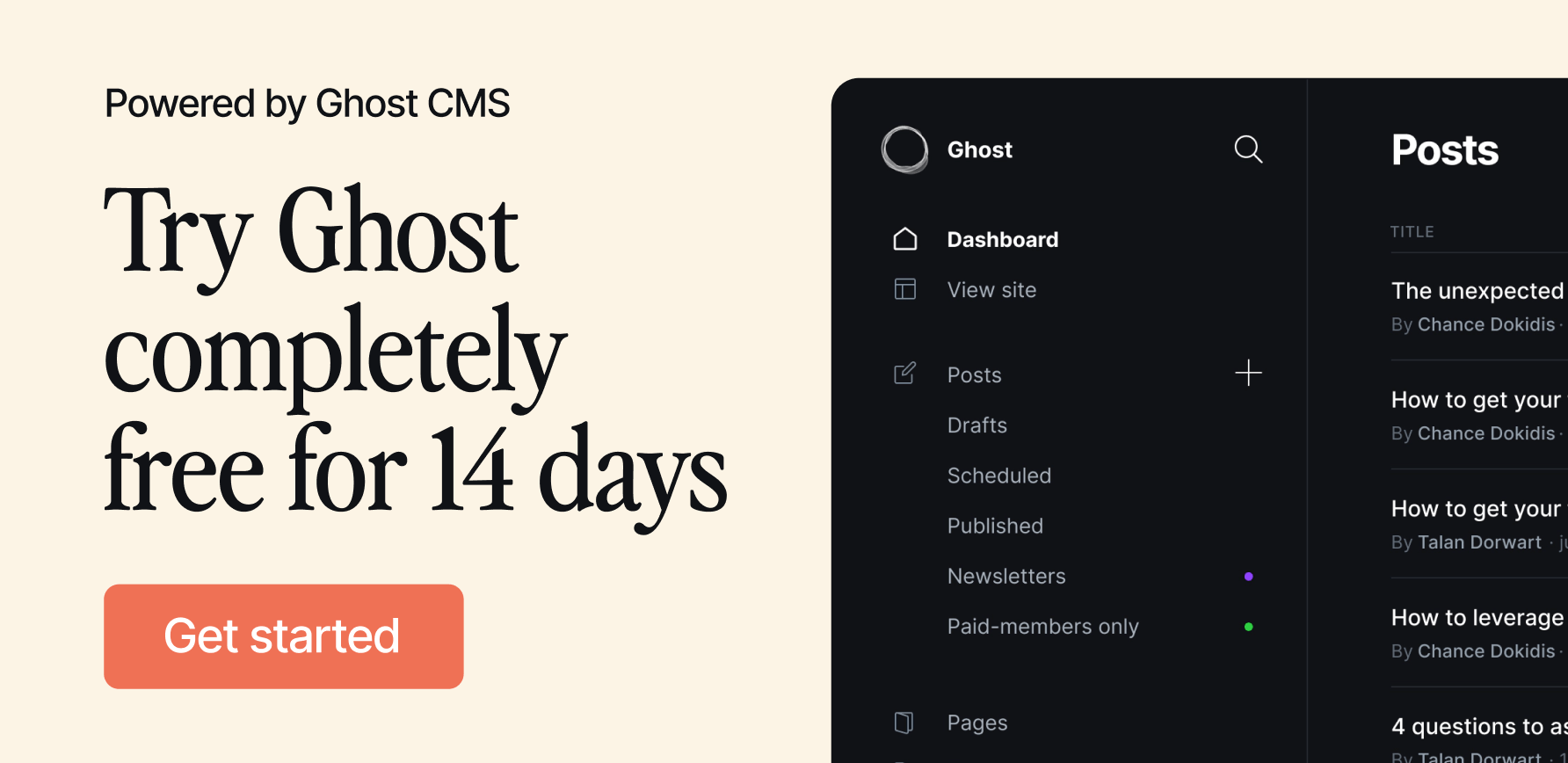 ---