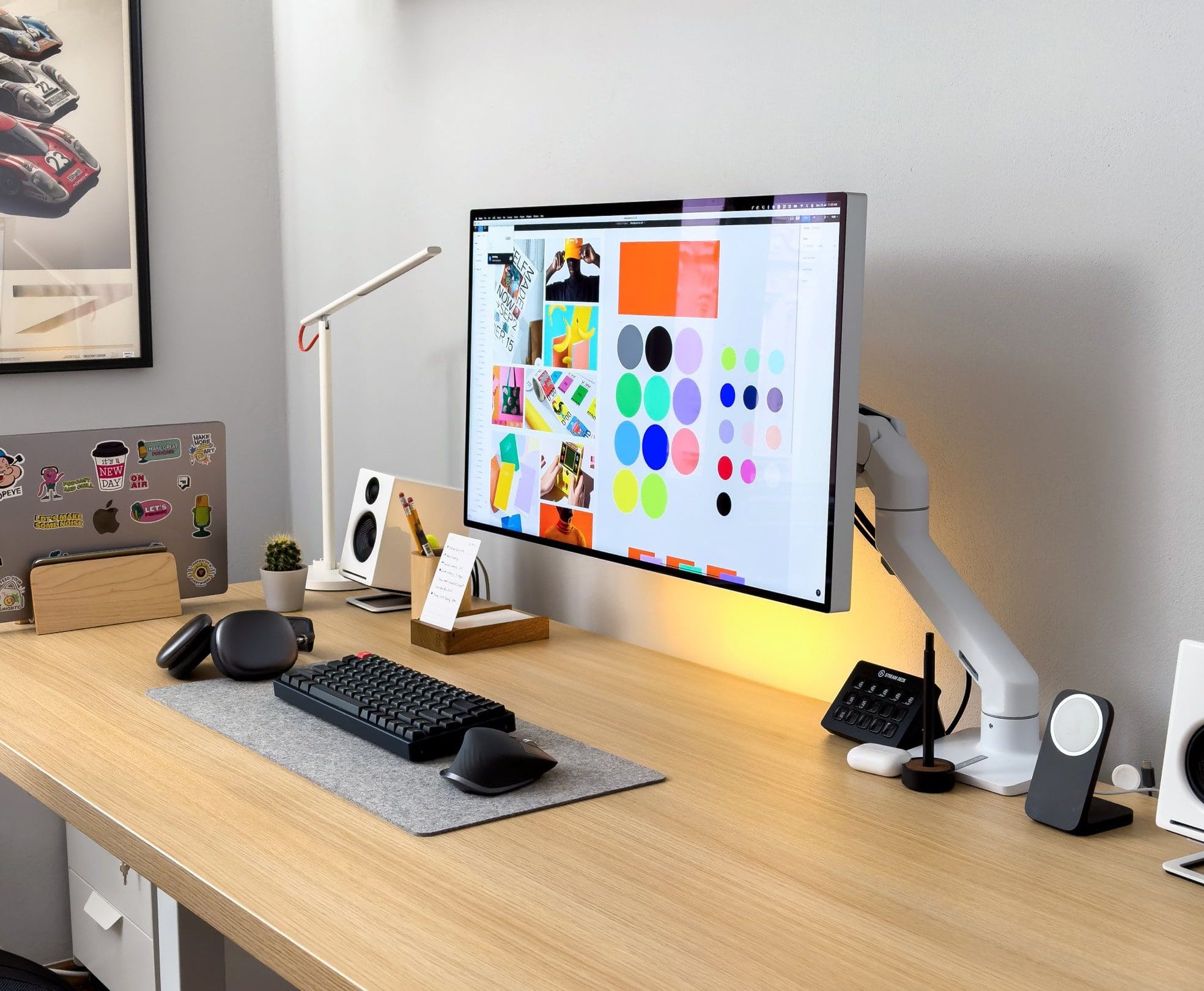 Minimal and Functional Workspace of a Creative Director in Prague, Czech Republic
"I'm a minimalist nerd, and I appreciate everything that has a purpose"
Join 1700+ Curious Readers.
Every Sunday evening, get an *in-depth* workspace tour from a random corner of the world.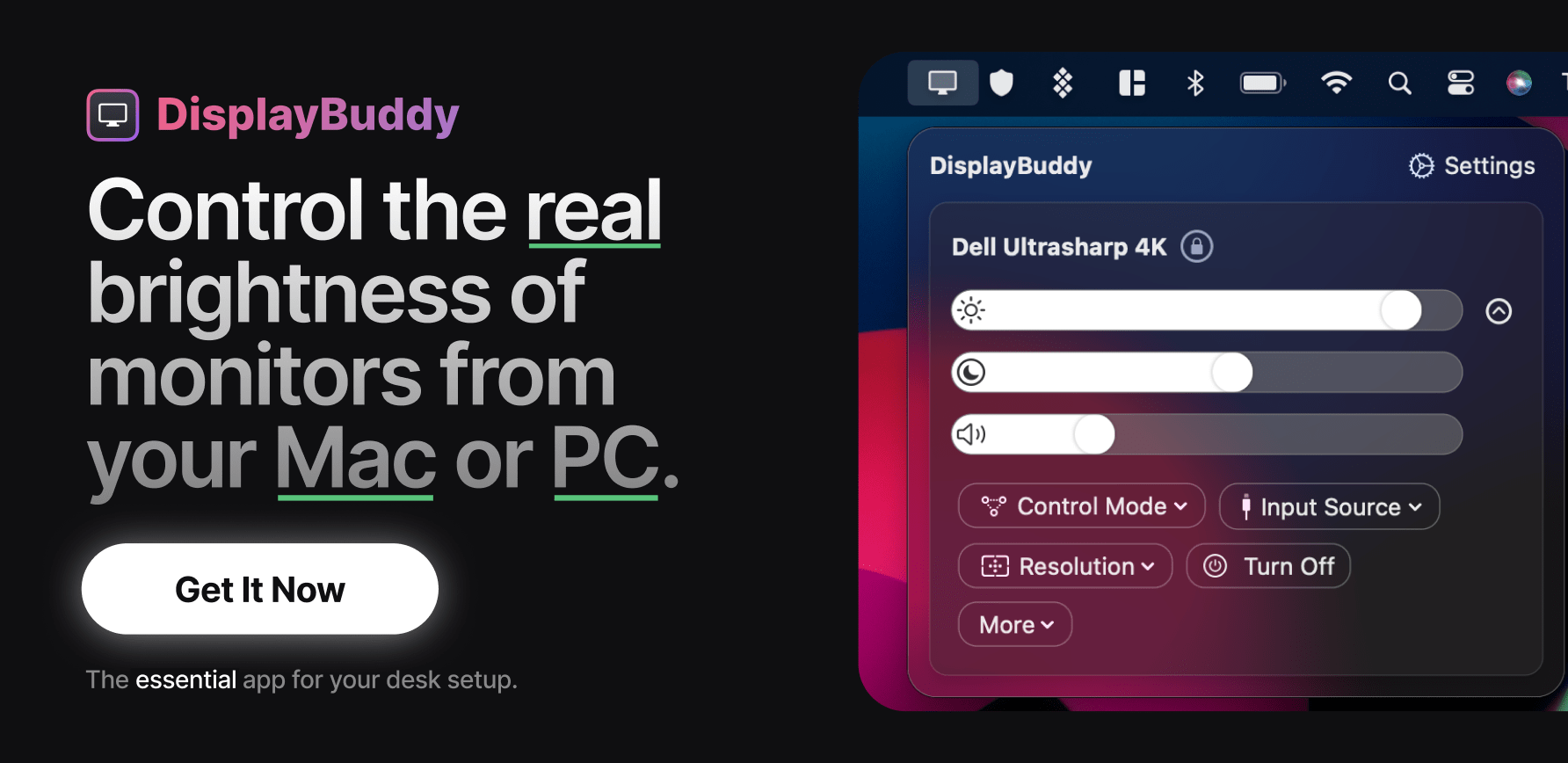 Name: Faizur Rehman
Location: Prague, Czech Republic
Occupation: Independent Creative Director & Educator
Room size: 11,5 m² (124 ft²)
Cost of setup: $10-15K
Social media: Instagram, Twitter, YouTube
Hello! Tell us a bit about yourself
It's me, Faizur 🖐️
I started my creative journey over 13 years ago as a graphic designer.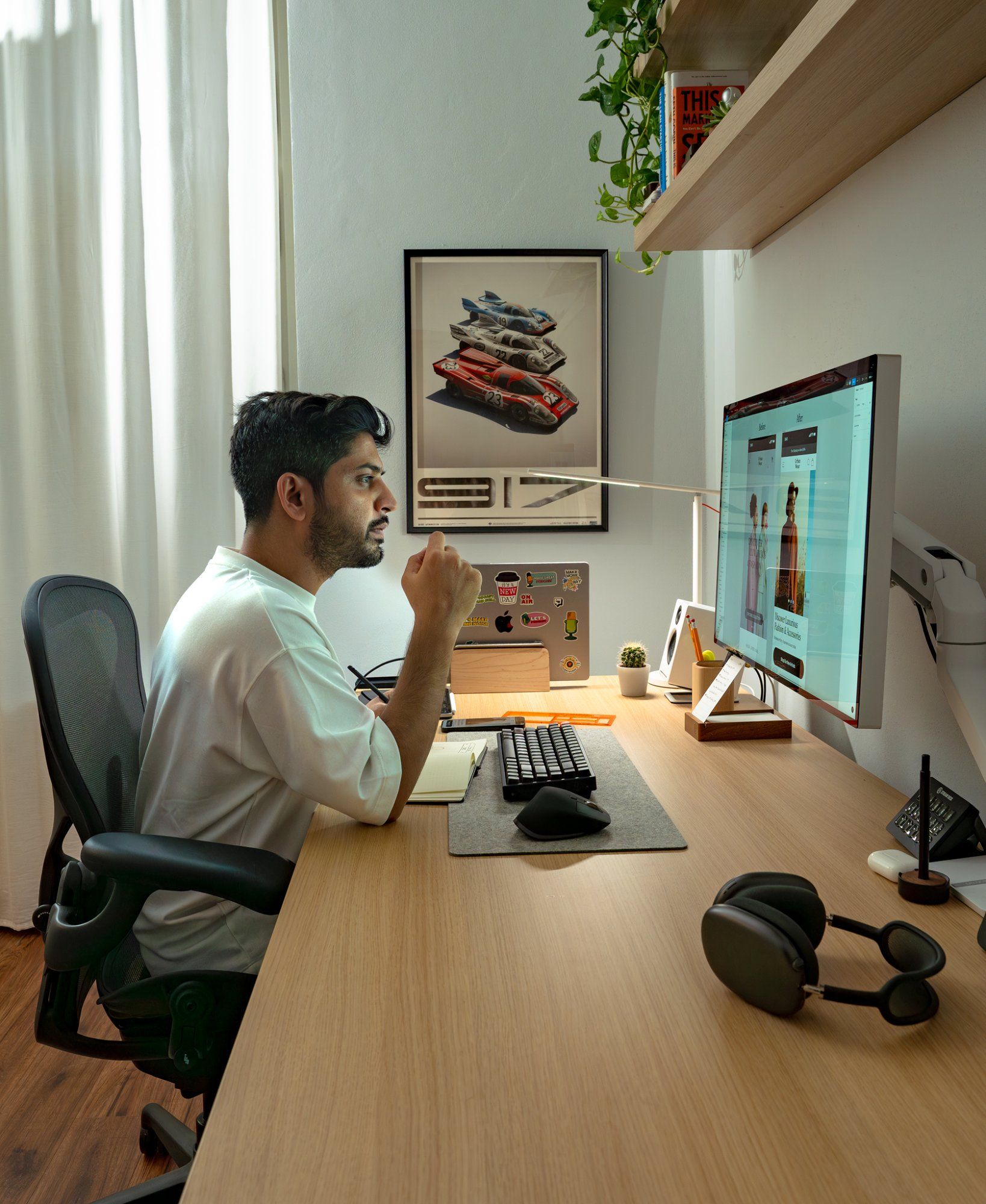 Since then, I have expanded my skills to become a UX/UI designer, creative director, and now I do a mix of everything from UX/UI design to product design and content creation.
I currently work as an Independent Creative Director and Educator, collaborating with brands and startups to build digital products and experiences.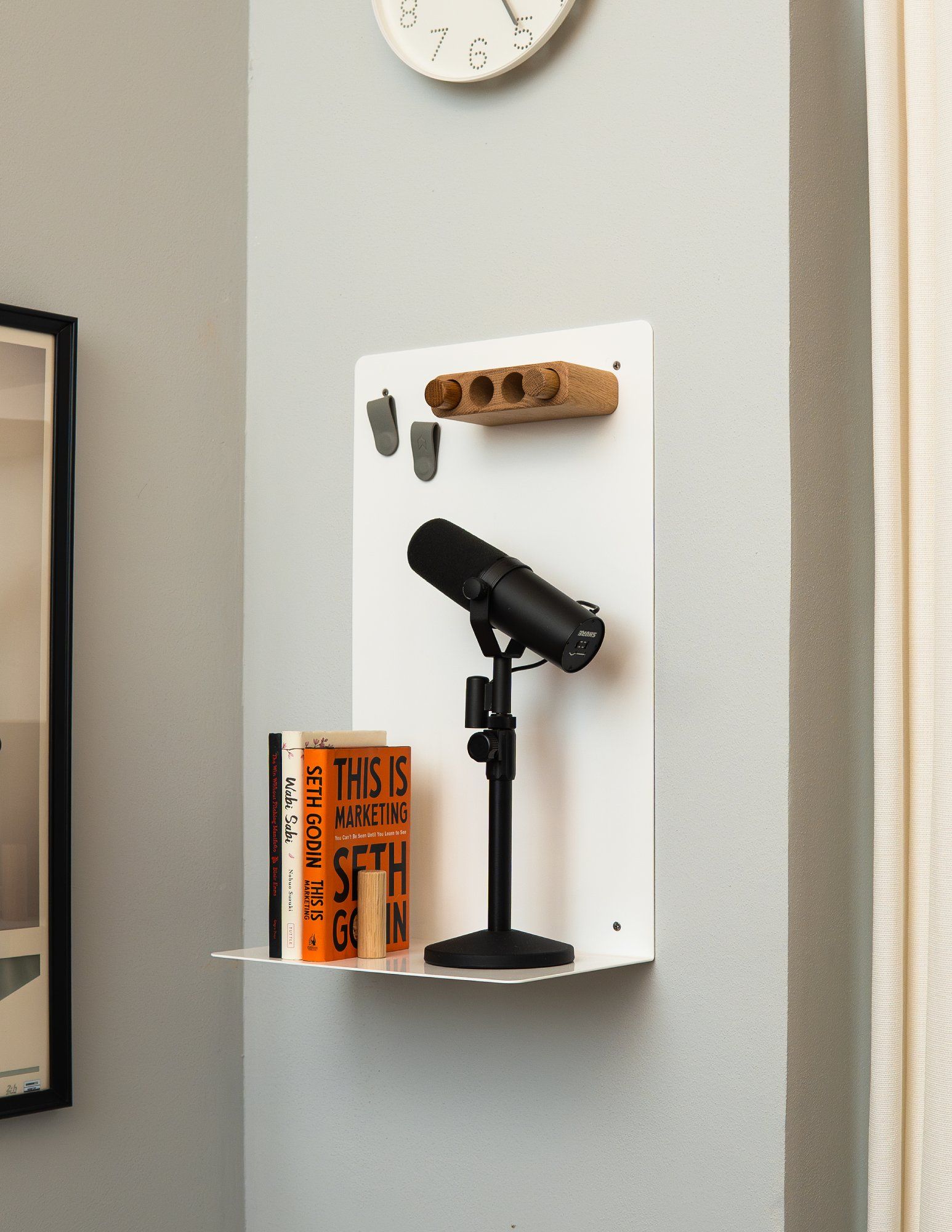 I also create content on design and productivity to help others become valuable designers.
That's all about me. Now you may be wondering why I designed my desk setup as a UX/UI designer.
Well, here's the thing: I discovered an interesting aspect of my design journey.
I'm a minimalist nerd, and I appreciate everything that has a purpose.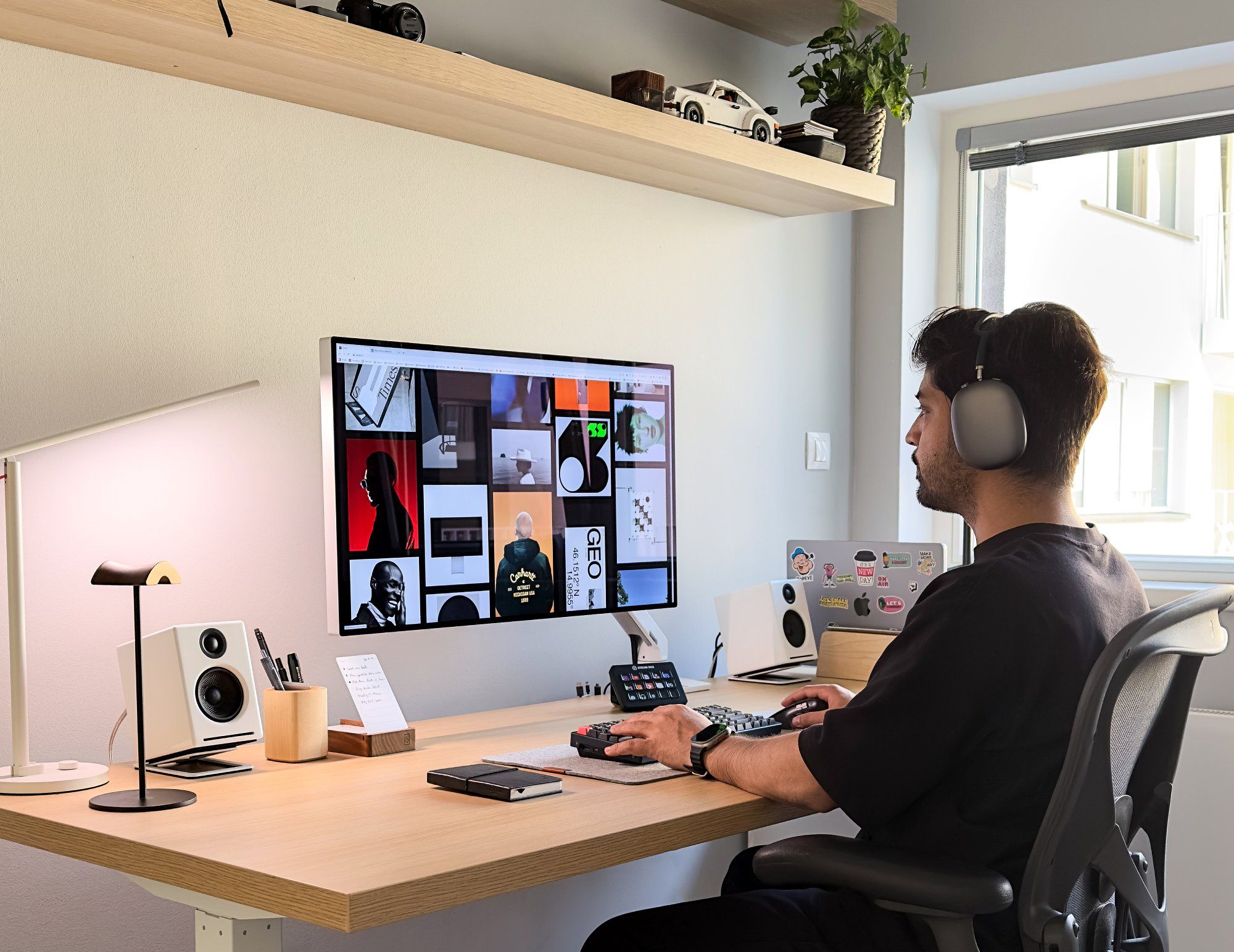 This is where I found my passion for designing minimal setups.
I still remember, in my journey as a freelancer, I had a humble home studio.
Ah, memories!
I wish I could show you, but it's not possible.
I've come a long way since then, always seeking to enhance my desk setup and create a workspace that balances functionality and aesthetics.
I carefully considered a few important elements when designing the ideal workspace:
Functionality: Organising tools efficiently for easy access.
Minimalism: Removing clutter to foster creativity.
Productivity: Crafting a space that enhances my best work.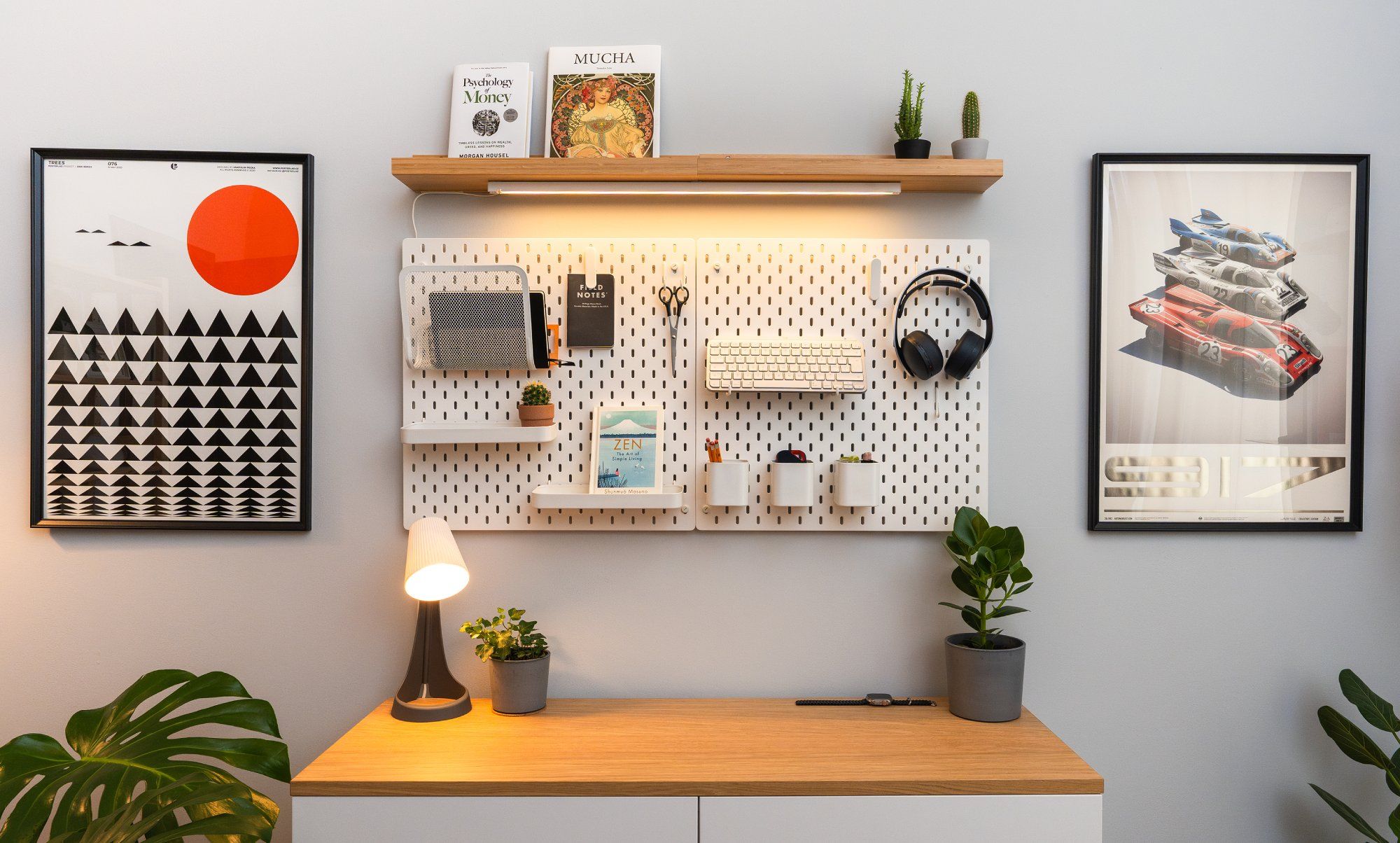 Take us through your setup
Here all the links behind my desk:
Creating the perfect workspace is all about finding the right balance between functionality, comfort, and aesthetics.
My current workspace has been a labour of love that I have nurtured for the past three months. I'm glad to say I have finally achieved my desired desk setup, boasting all the features I need.
The centrepiece of the setup is my custom desk.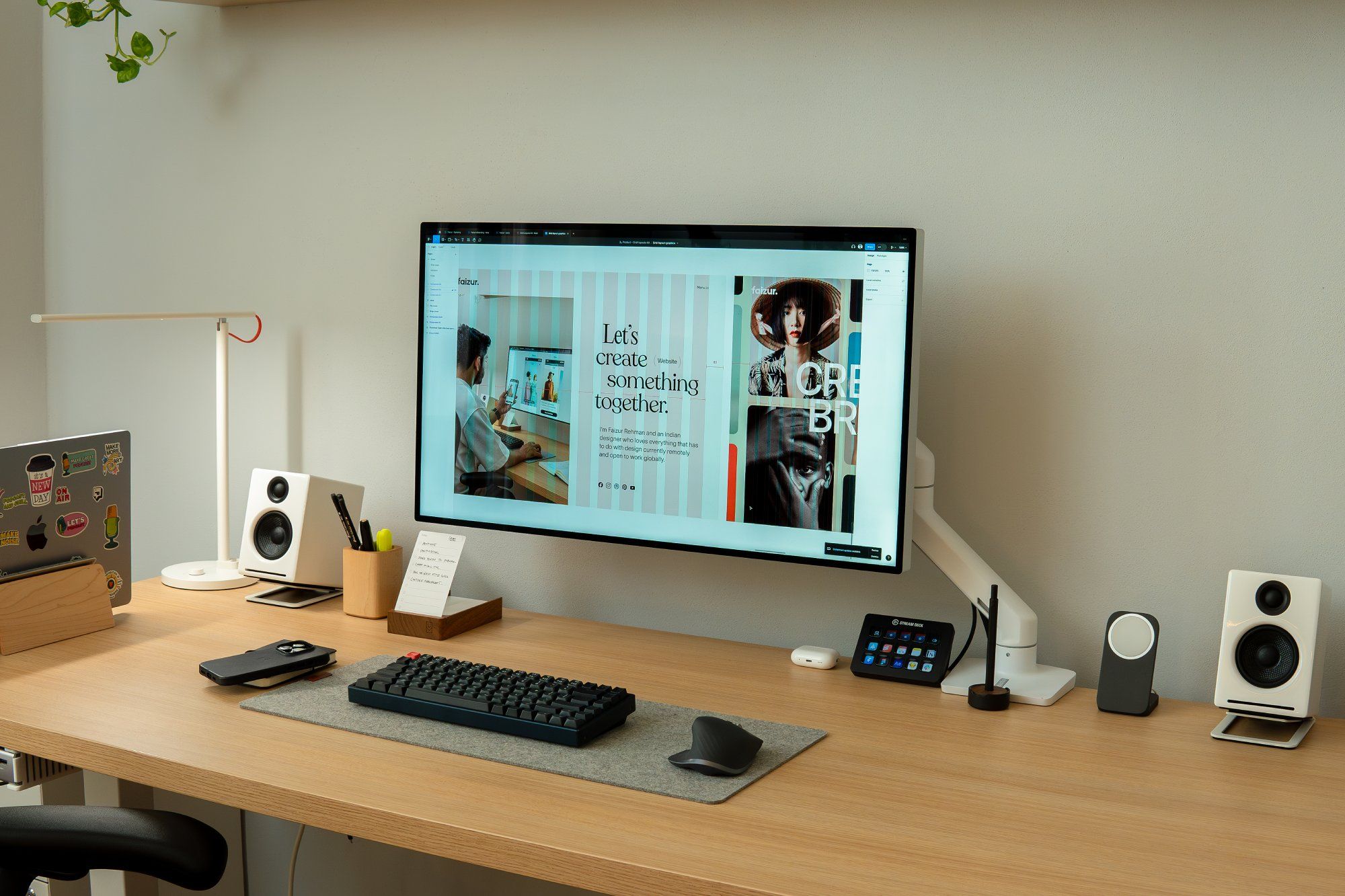 There's an interesting story behind it.
I had set my heart on the Ergonofis fancy sway desk, but they couldn't deliver outside the USA.
So, I crafted my own plan. I purchased table legs from autonomous.ai and had a local craftsman create a customised desktop measuring 180×80 cm.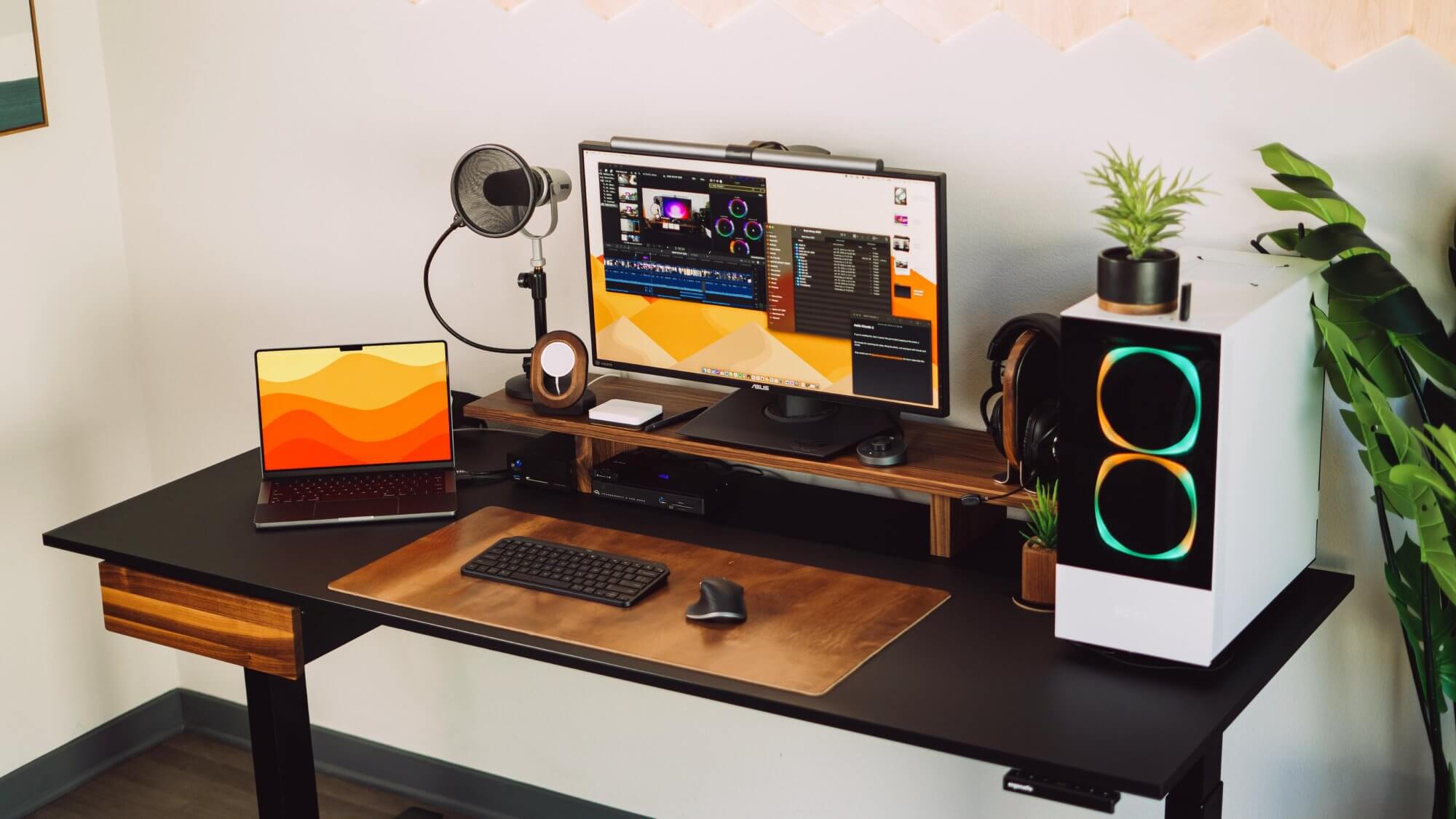 Funnily enough, this approach not only saved me some cash but also cost me almost a month!
After my desk was in place, I directed my attention to other essential items like a new monitor, chair, and various accessories.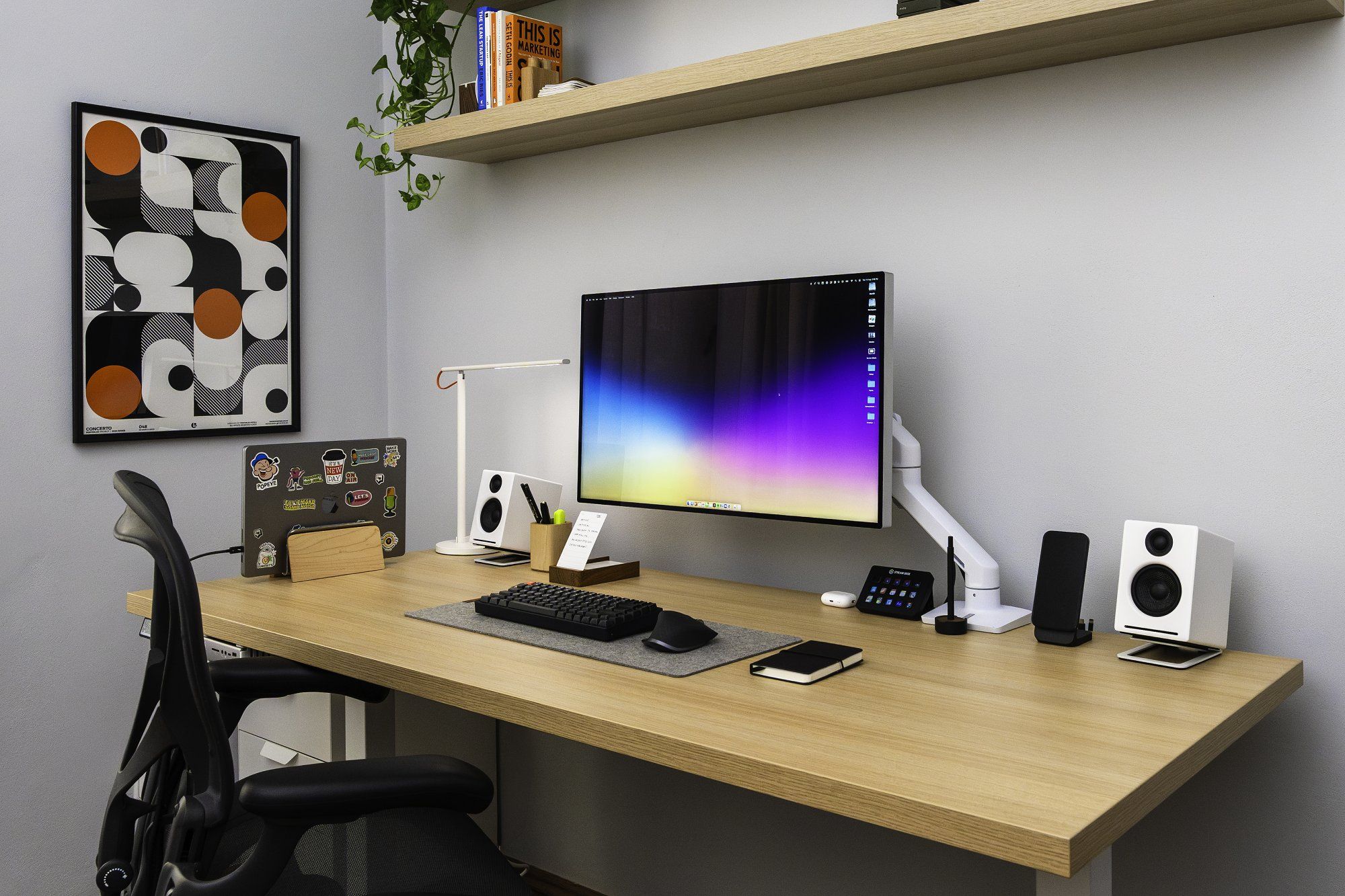 Initially, I bought the Apple Display, but I soon realised that the 27-inch size didn't meet my needs.
Having enjoyed working on my previous favourite, an LG monitor with a larger 32-inch screen, I decided to upgrade to the Apple Pro XDR display.
Beside the monitor, I also invested in an M1 MacBook with a 16-inch screen to better my work experience.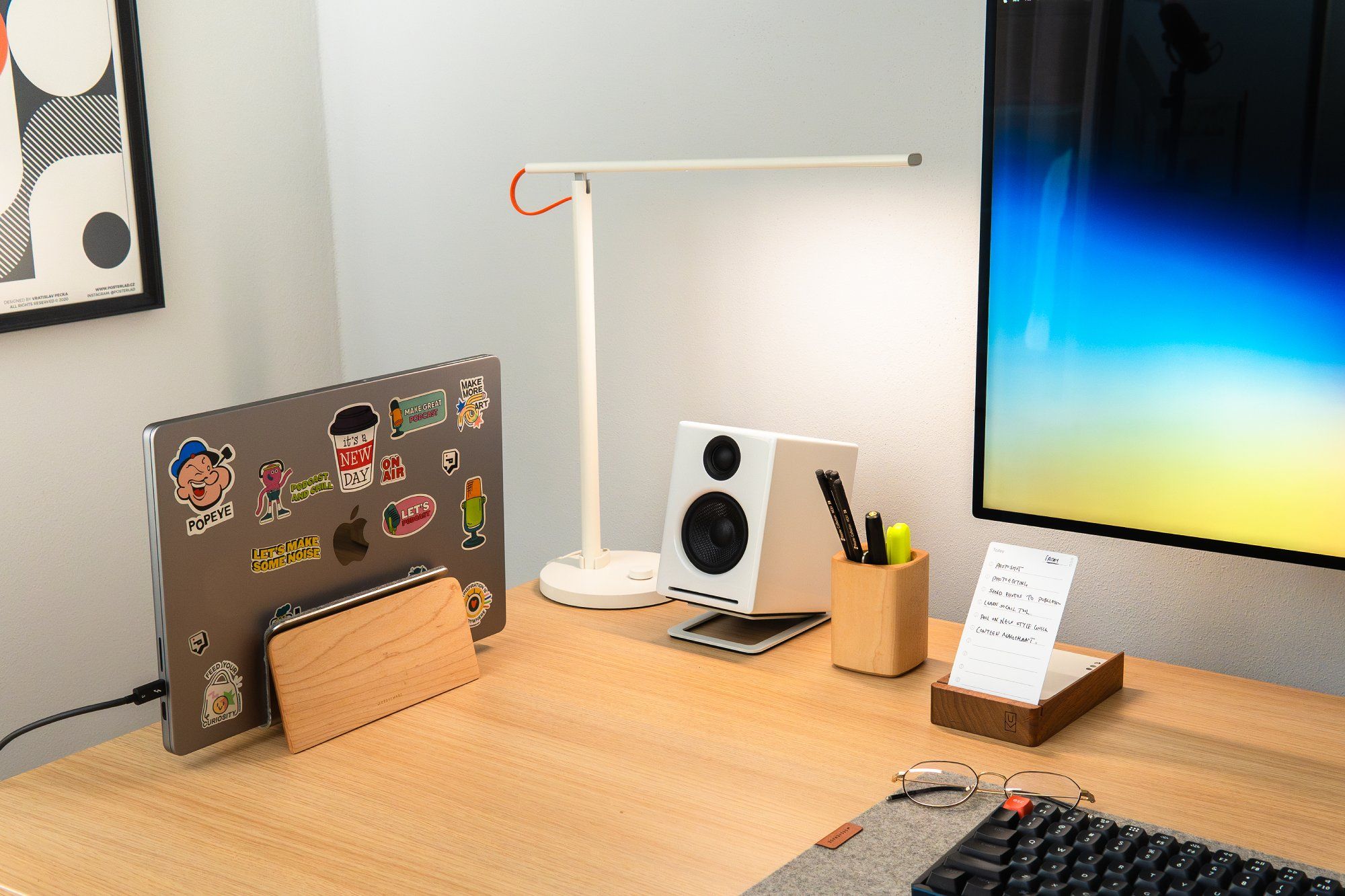 Taking care of my physical well-being during long work sessions was also crucial.
For comfort and support, I chose the Herman Miller Aeron chair.
Despite the steep price, I believe in the importance of a quality chair for peak performance and well-being.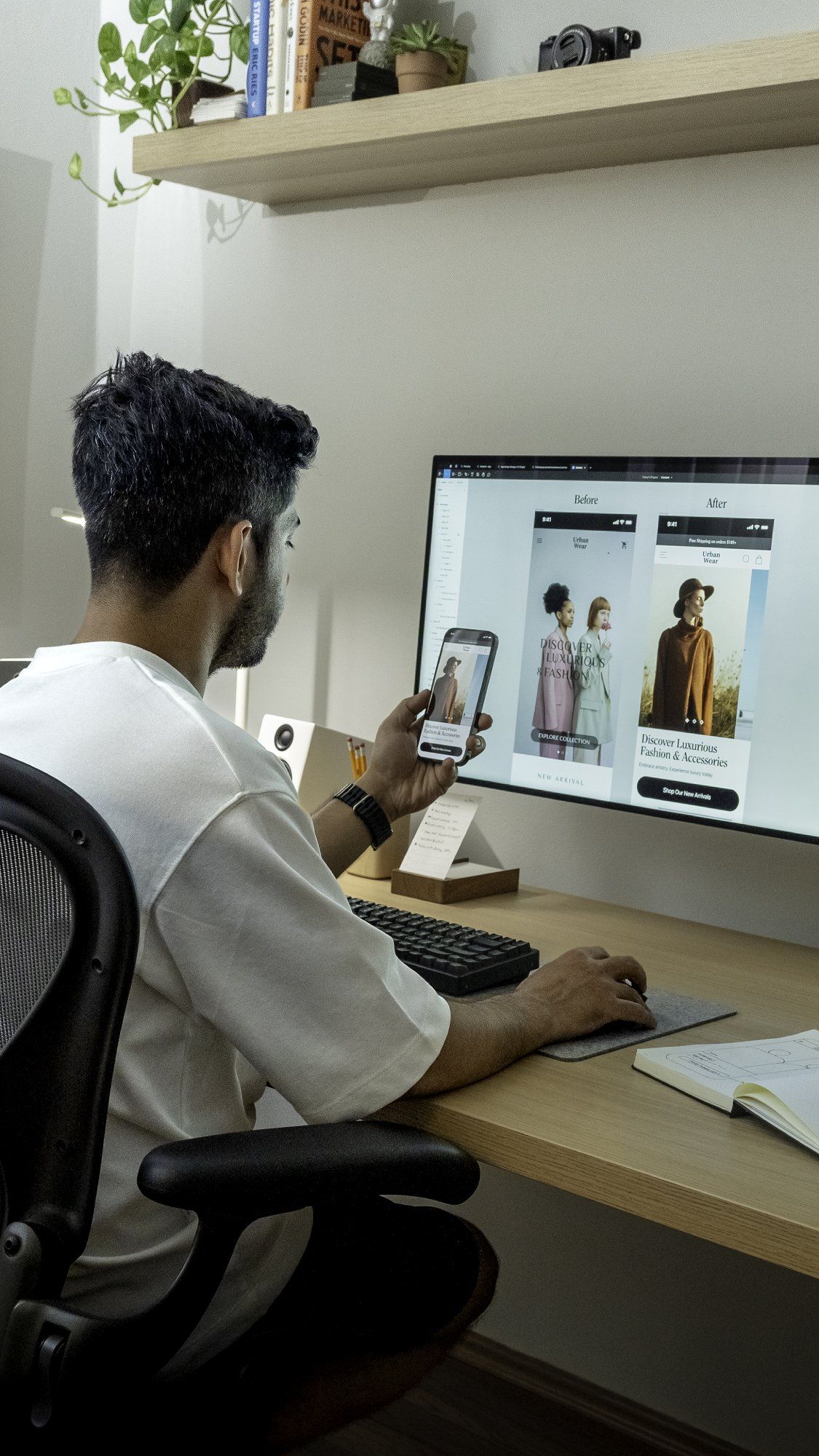 I have to admit, I do spend a lot of time shopping.
Among my absolute favourites are the Grovemade laptop dock, pen cup, and desk pad I ordered from the USA.
I'm also expecting a headphone dock and a desk shelf soon, which I believe will further enhance my setup's organisation and aesthetic.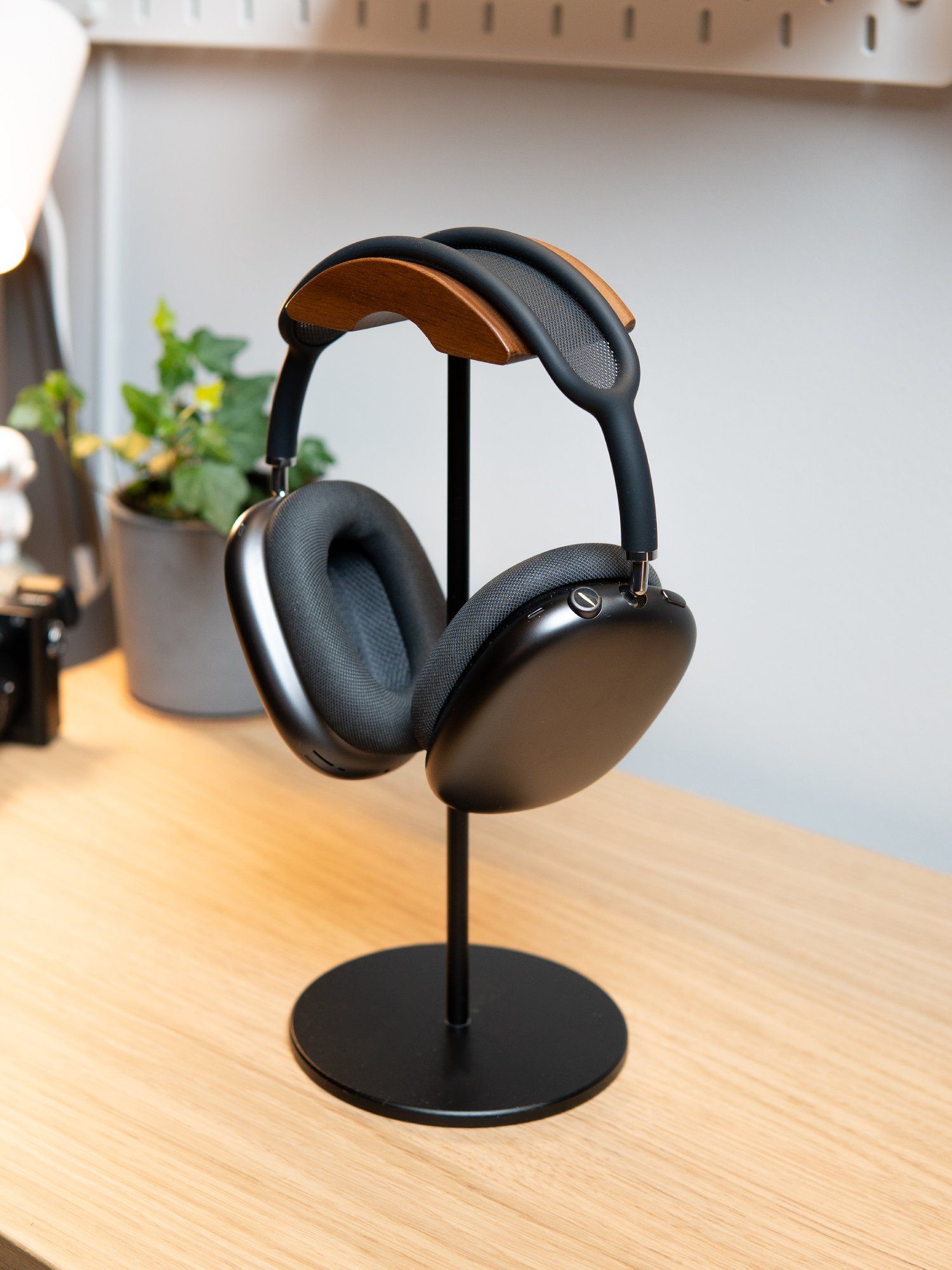 When setting up my space, I encountered several challenges, with poor lighting being the major one.
To address this, I used an app called Shapr3D to design a 3D lighting plan.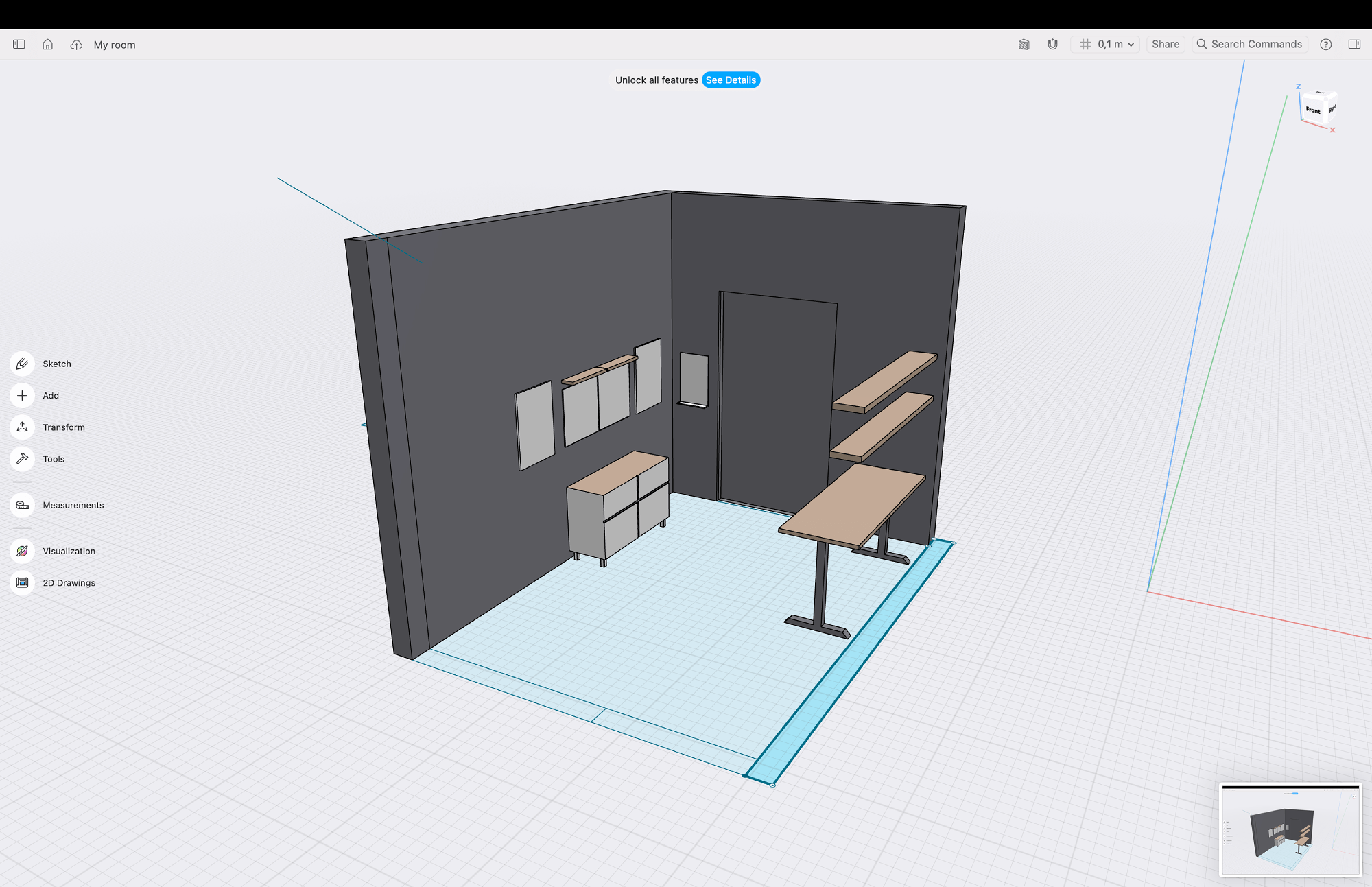 Based on this, I bought items like the MÅLERÅS, SKYDRAG/TRÅDFRI lighting kit, and the HEKTAR floor lamp from IKEA.
The effort was significant, but I'm pleased with the outcome — the lighting in my room is vastly improved.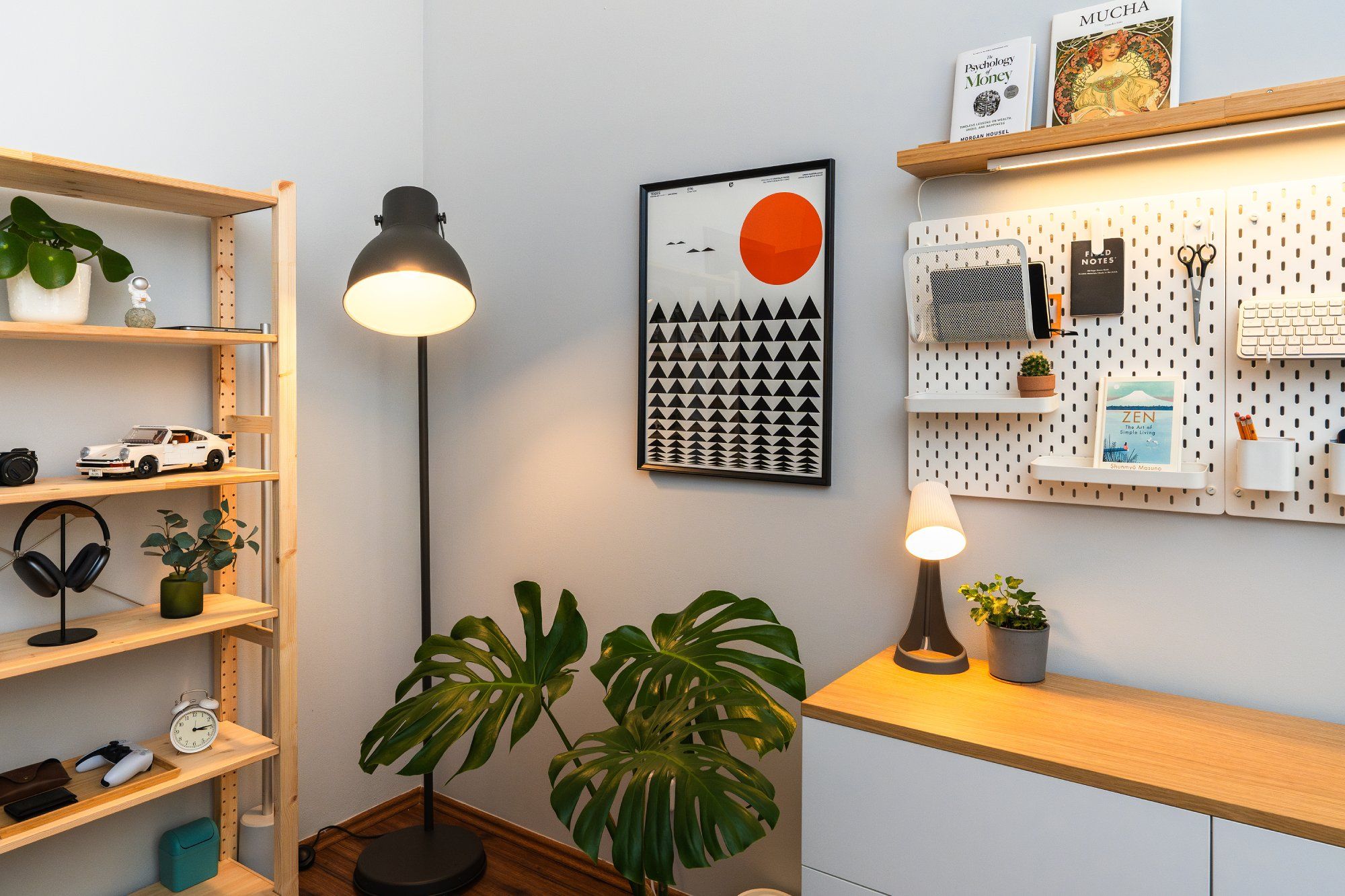 With all that said, I believe there's always room for improvement.
As you might know, hobbies can be expensive, and being a coffee lover, a coffee machine is next on my list.
I've also placed an order for the Mac Studio Ultra.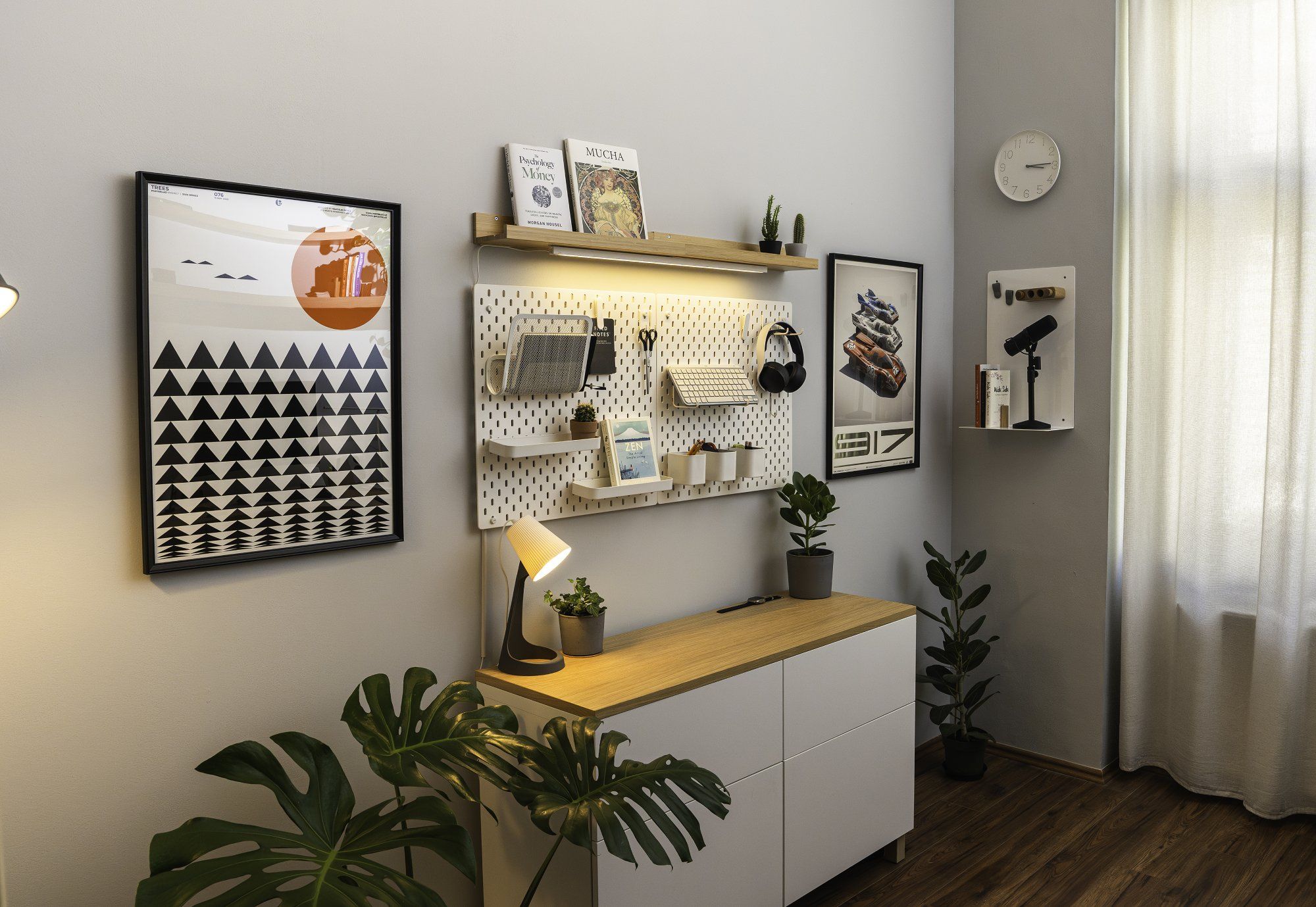 What's your favourite item on your desk?
My desk is not just a place to work; it's a reflection of my personality and preferences.
Each item on my desk holds a special place in my heart, but there are a few favourites that truly stand out.
At the top of the list is my custom desk.
Another beloved item is my monitor.
Whether I'm editing photos, watching movies, or working on intricate designs, the monitor brings everything to life, allowing me to fully immerse myself in the task at hand.
To reduce clutter on my desk, I opted for Grovemade accessories like the desk pad, laptop dock, and pen holder, which provide a sleek and sturdy resting place for my laptop and other items.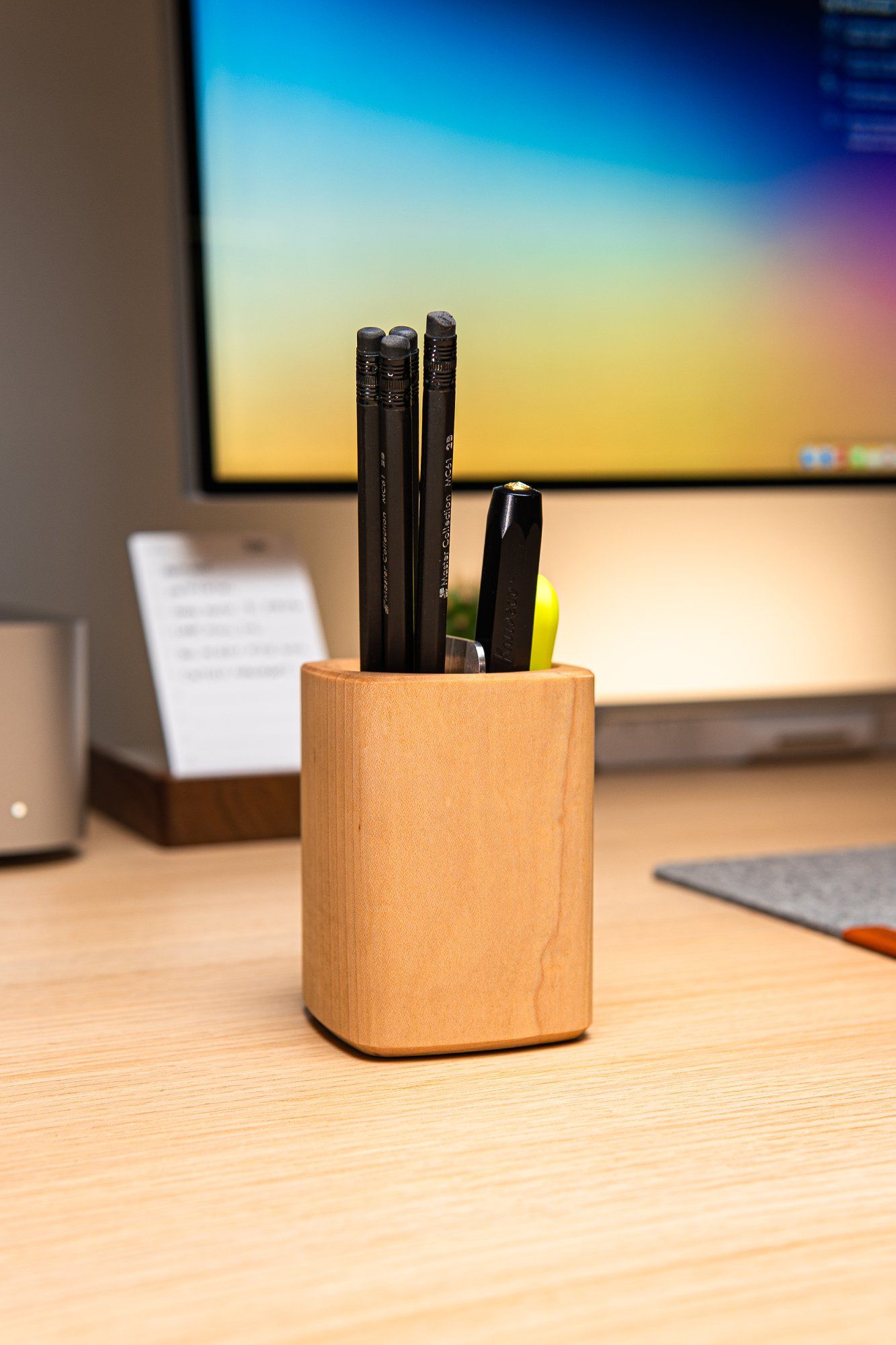 Overall, each item on my desk is carefully chosen to create a productive work environment that reflects who I am.
From the custom desk to the high-quality monitor and beautifully crafted Grovemade accessories, they all make my desk a special and personalised place to work.
What apps or tools do you use to get things done?
As a designer, I use many apps, but here are some apps I use on a daily basis for my work and productivity:
Figma: My UX/UI design, wireframing, prototype app.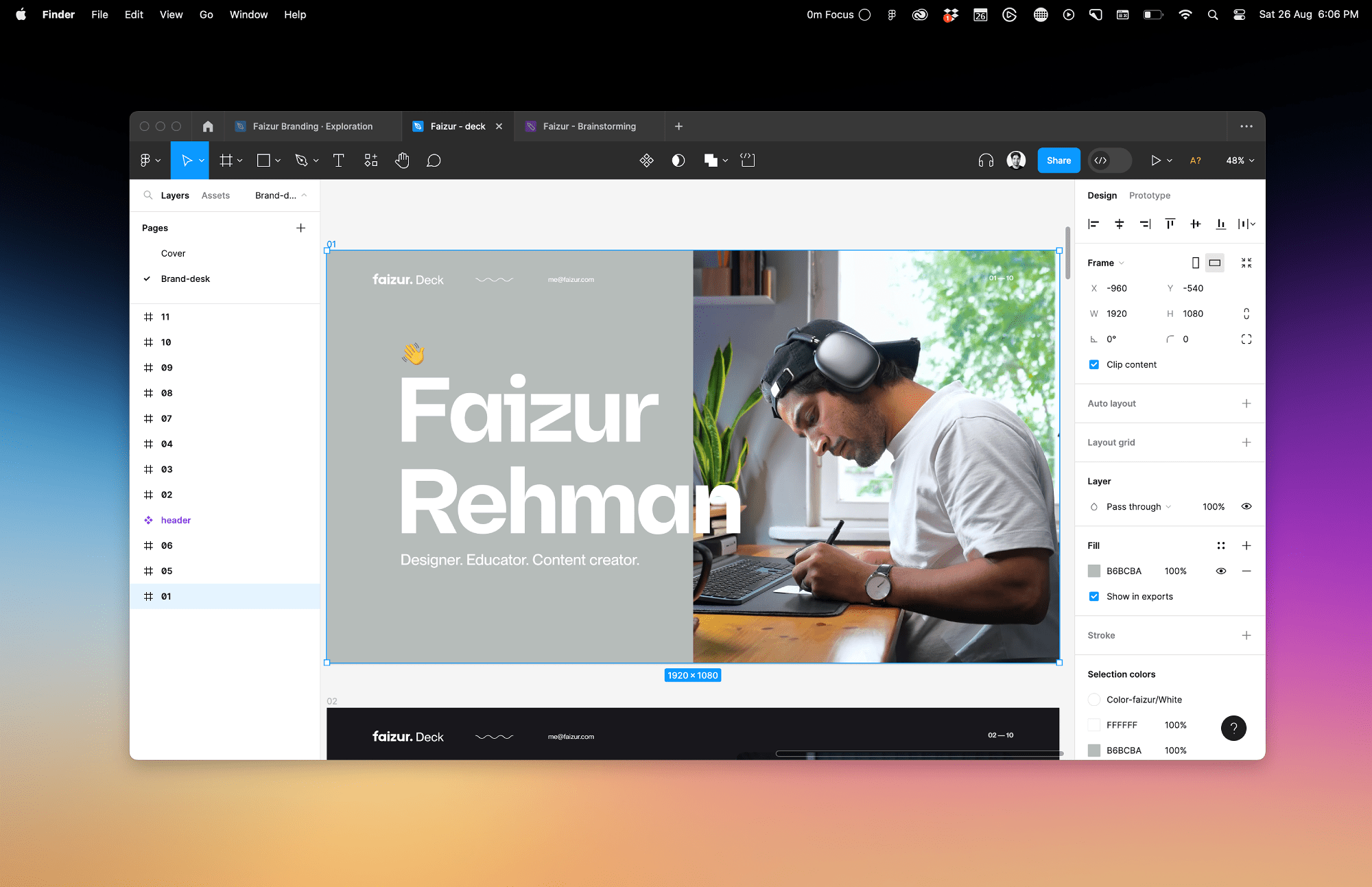 Setapp: The suite offers the best apps for Mac, and I actively use numerous UX/UI apps.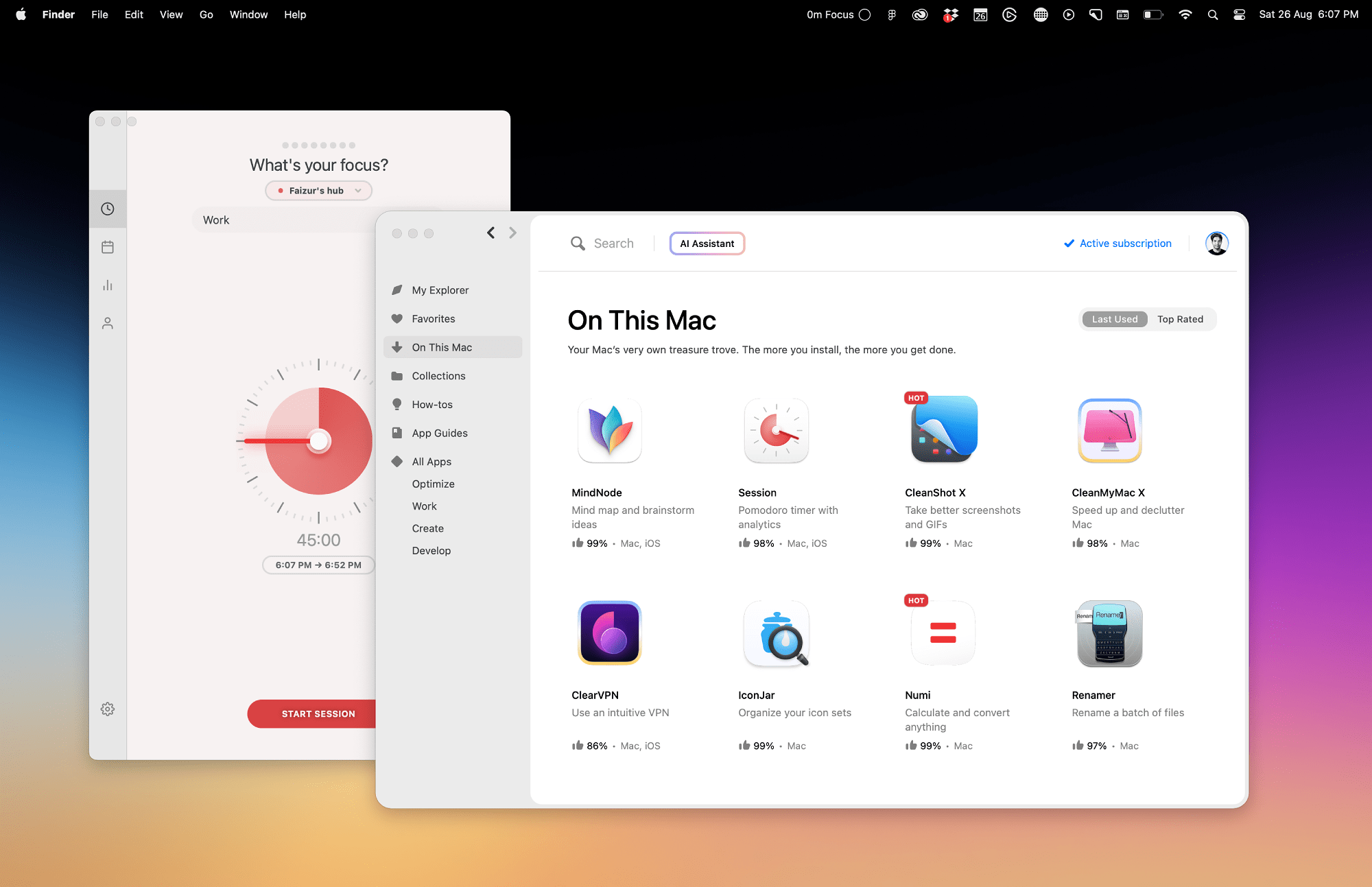 Todoist & Calendar Fantastical: My go-to productivity combo.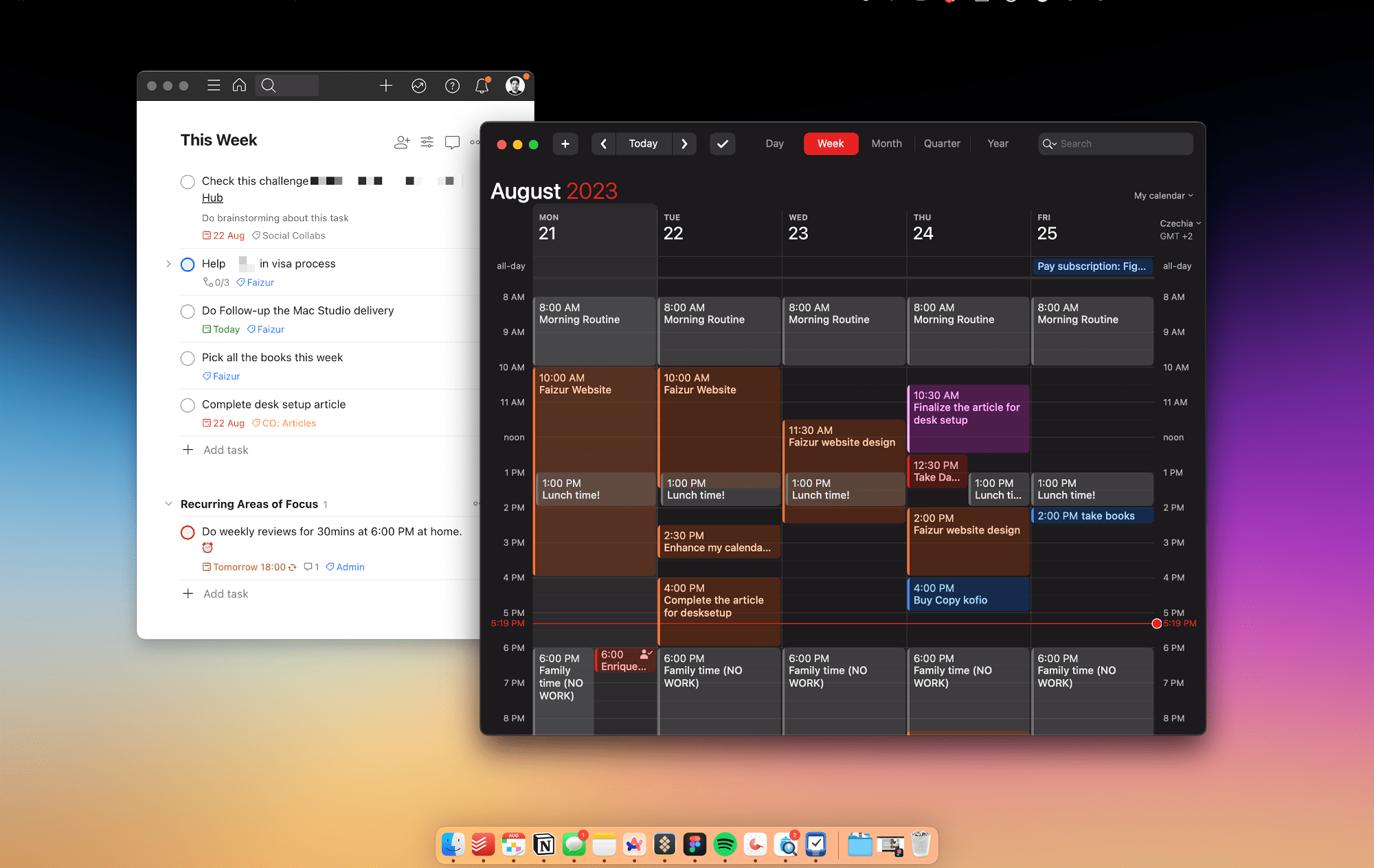 Notion: I use Notion for content and business planning.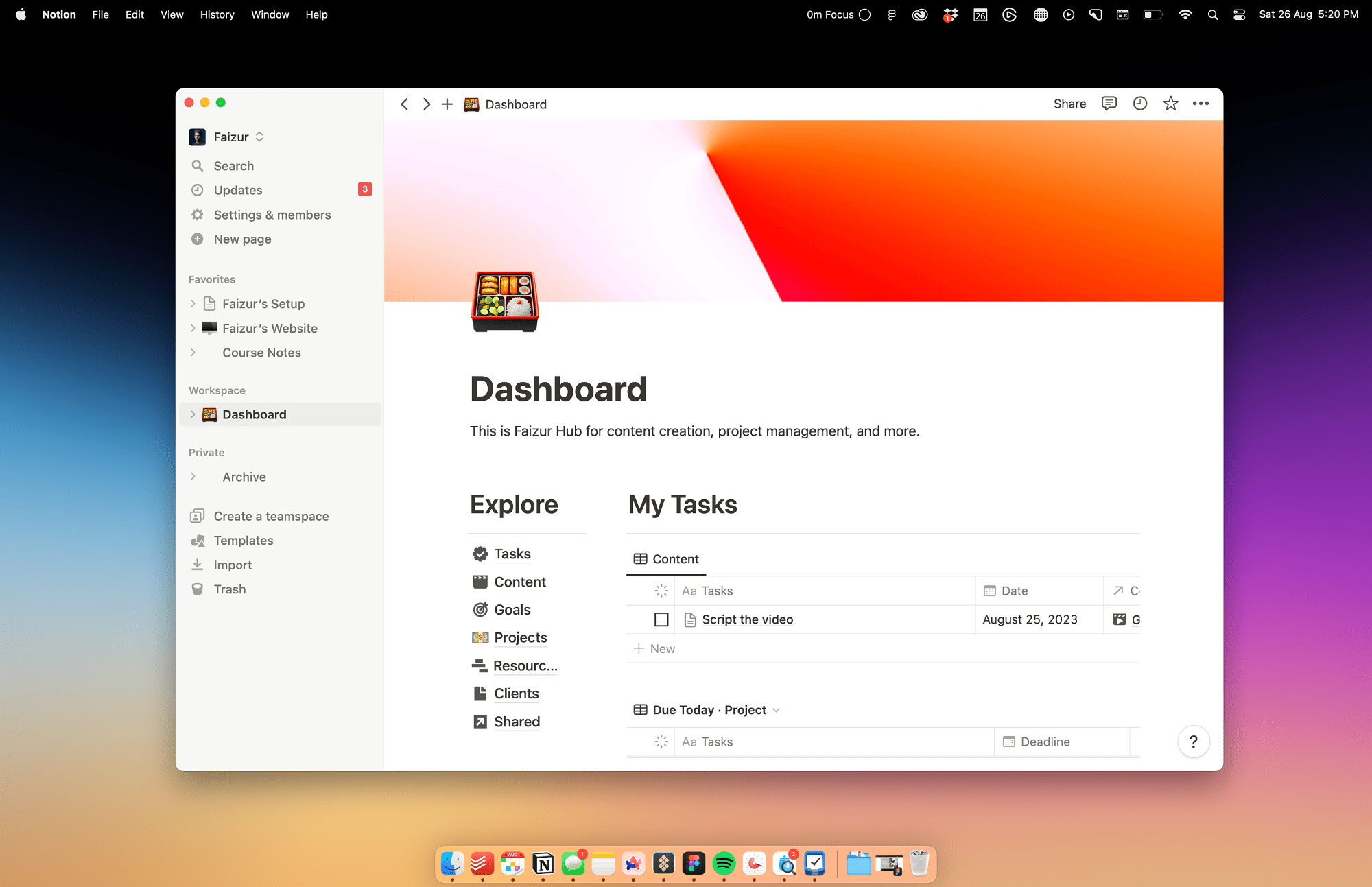 Any tips for other makers who want to improve their workspaces?
As a friend, I want to share some helpful steps for setting up your space:
Take your time: Remember, setting up your space is a process that takes time. Stay patient and don't rush.
Plan ahead: Begin with gathering inspiration. Tools like Milanote or Notion can be very helpful to collect ideas and craft a plan for your setup.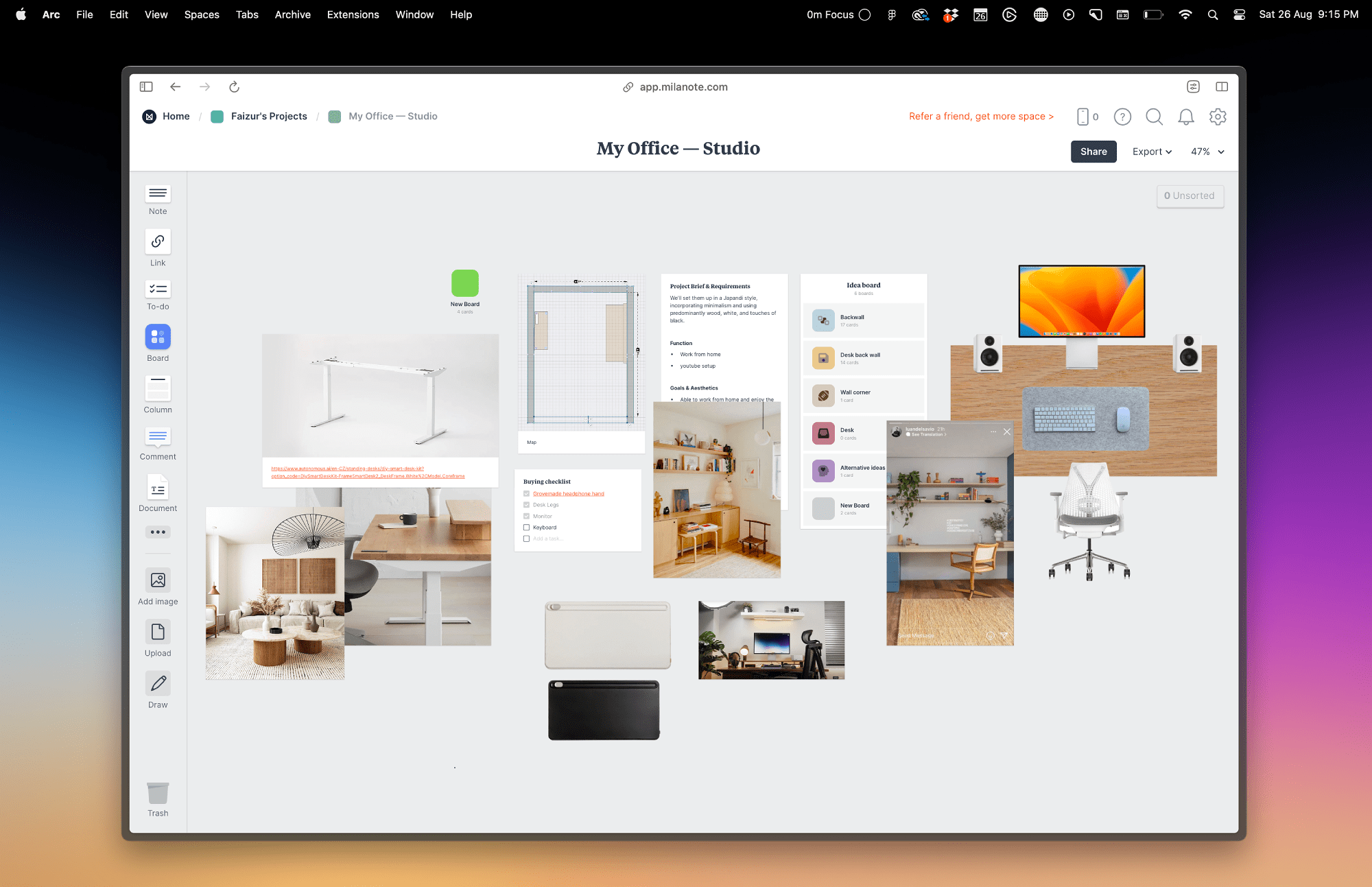 Determine your purpose: Clearly identify the main function of your space — be it for work, study, or relaxation. This insight will guide your choices as you arrange your space.
Make a list: List all the items you deem necessary for your setup, prioritising essential pieces such as a desk and a chair. This allows you to progressively build up your space, adding items over time.
Remember, setting up your space is an ongoing journey.
Enjoy the process and feel free to make adjustments along the way.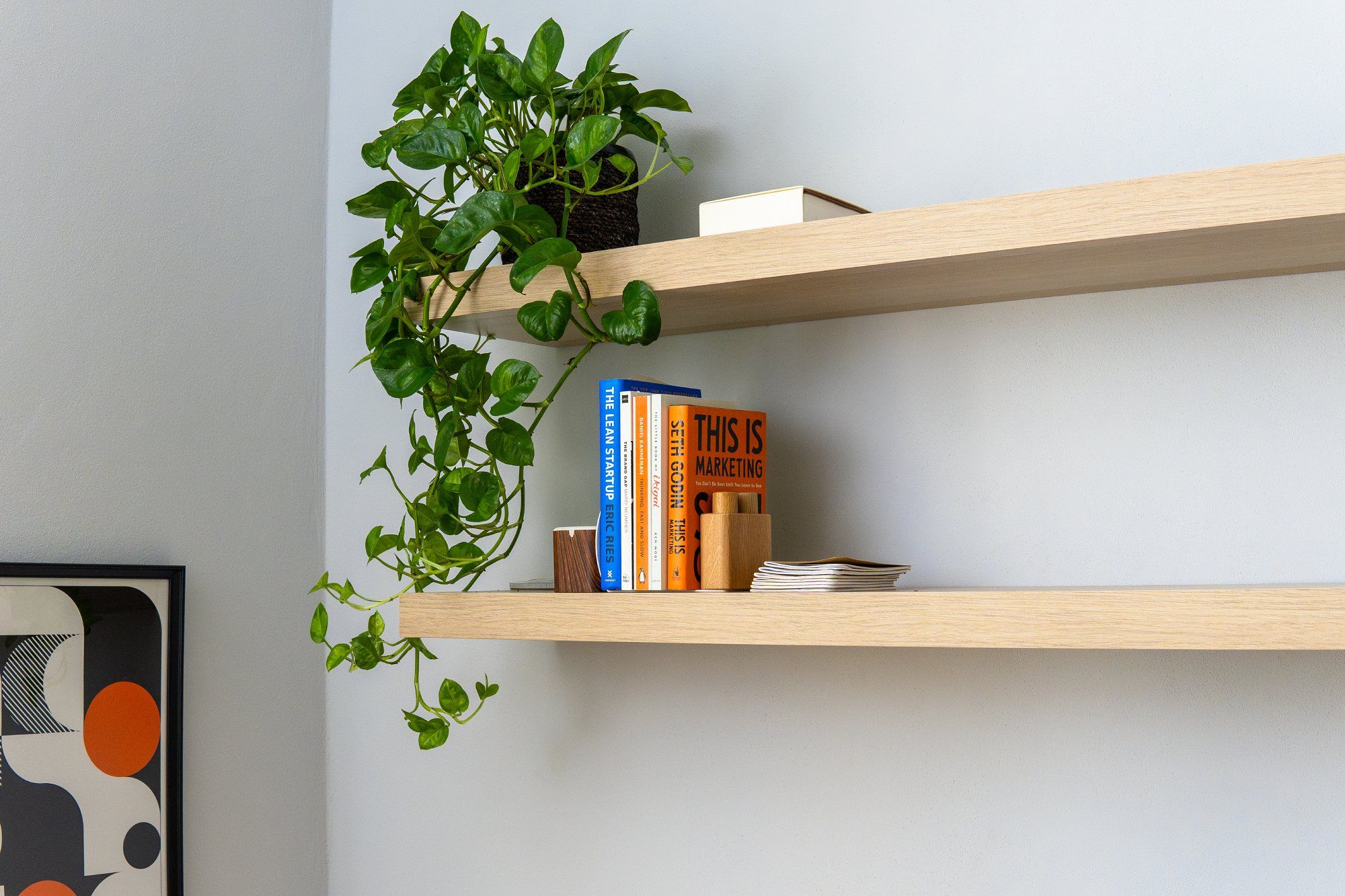 What does your typical day look like?
As an Independent Creative Director who's been working from home since 2019, I start my typical day by taking the first three hours to disconnect from my phone and computer and simply focus on being myself.
After completing my morning routine, I plan my day by reviewing my tasks and notes on Notion and checking my to-do list.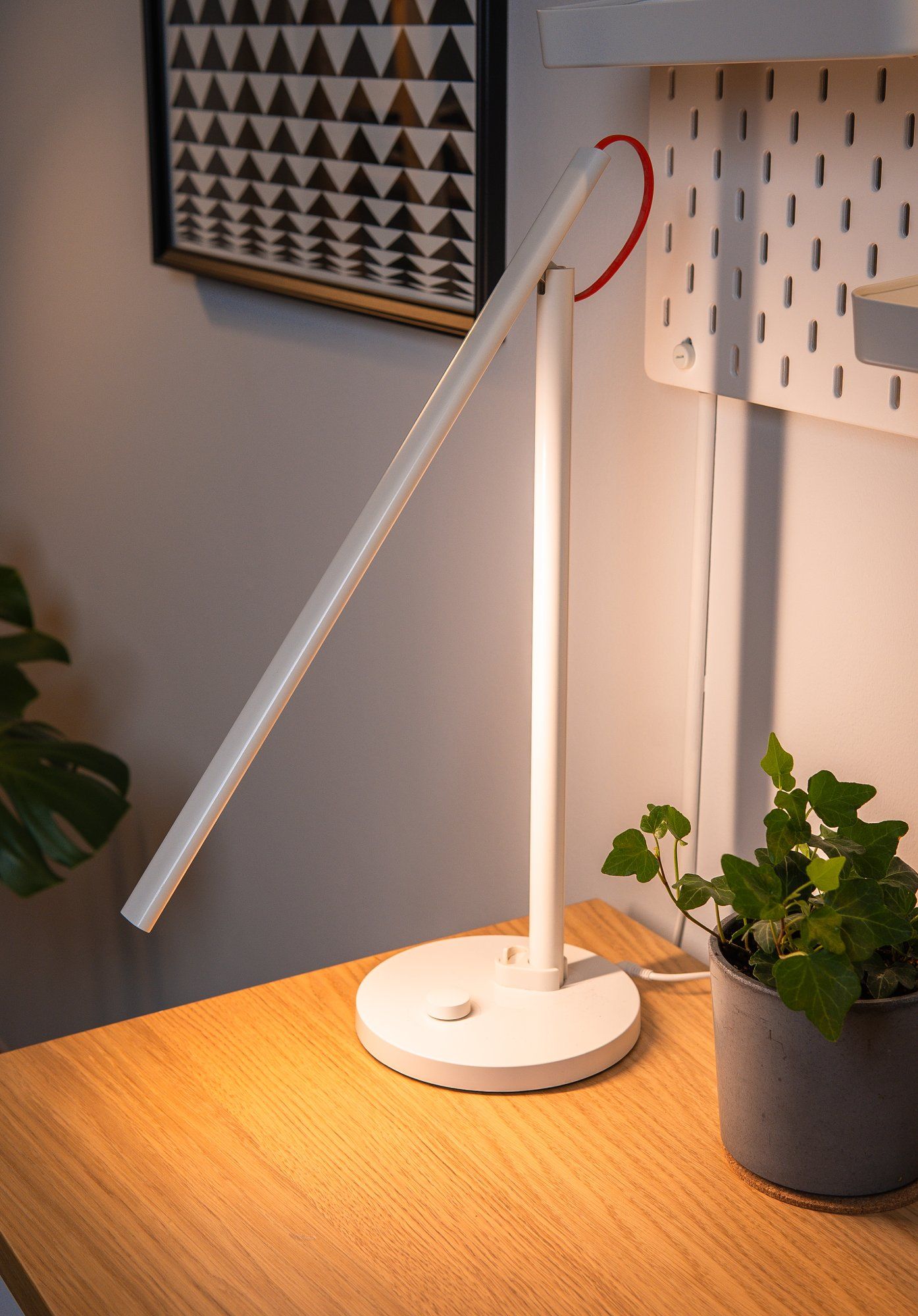 Then, I write everything down on paper and organise my calendar accordingly.
For the first four to five hours of my workday, I intentionally avoid getting distracted by my phone or social media, unless it's an emergency.
I have random meetings covering specific topics, and I switch between projects regularly.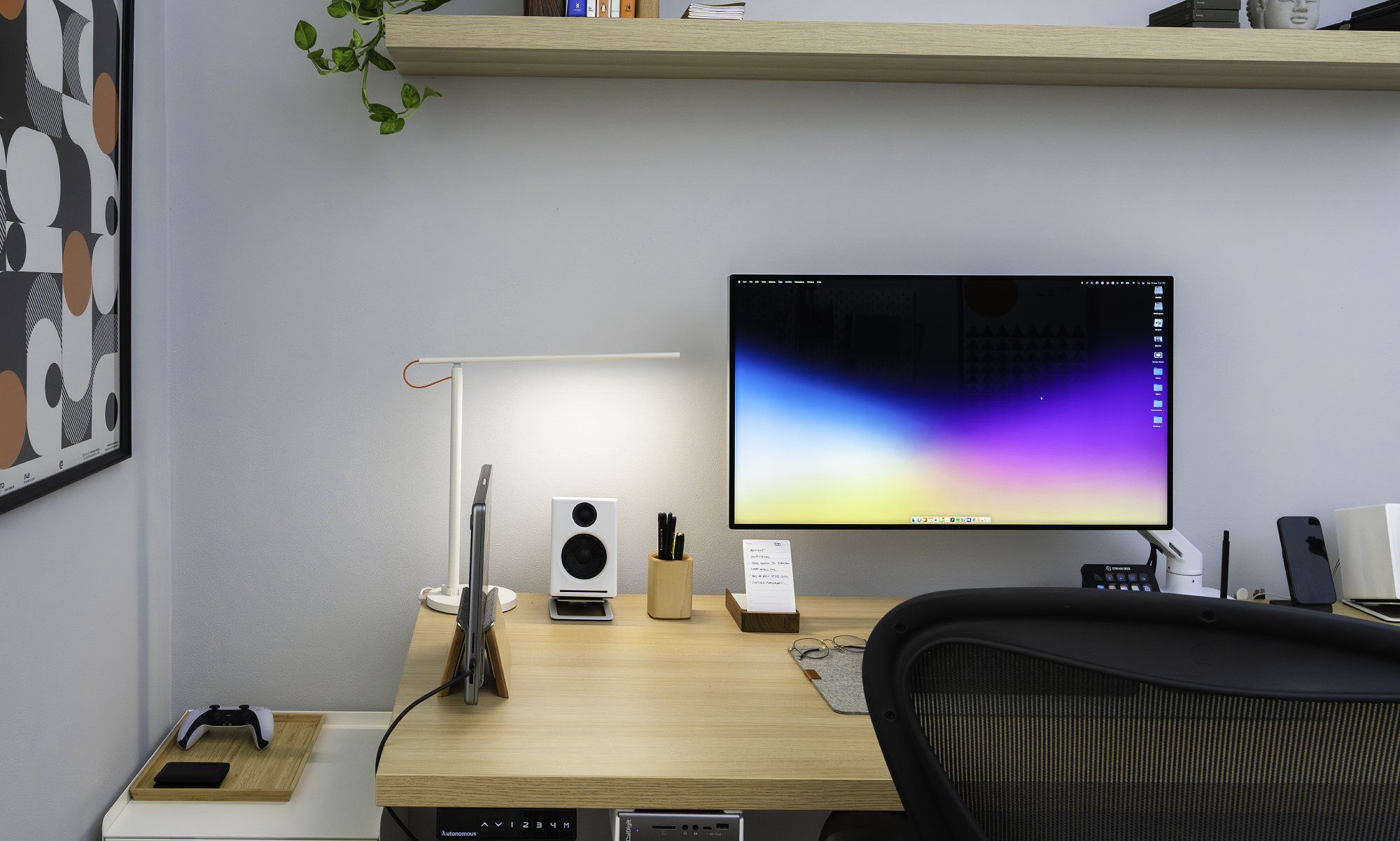 After work, I love playing video games on my PS5.
To keep myself motivated, I set rewards, such as allowing myself two hours of gaming after completing a design.
Despite being a workaholic, I prioritise taking care of my health and spending time with my family.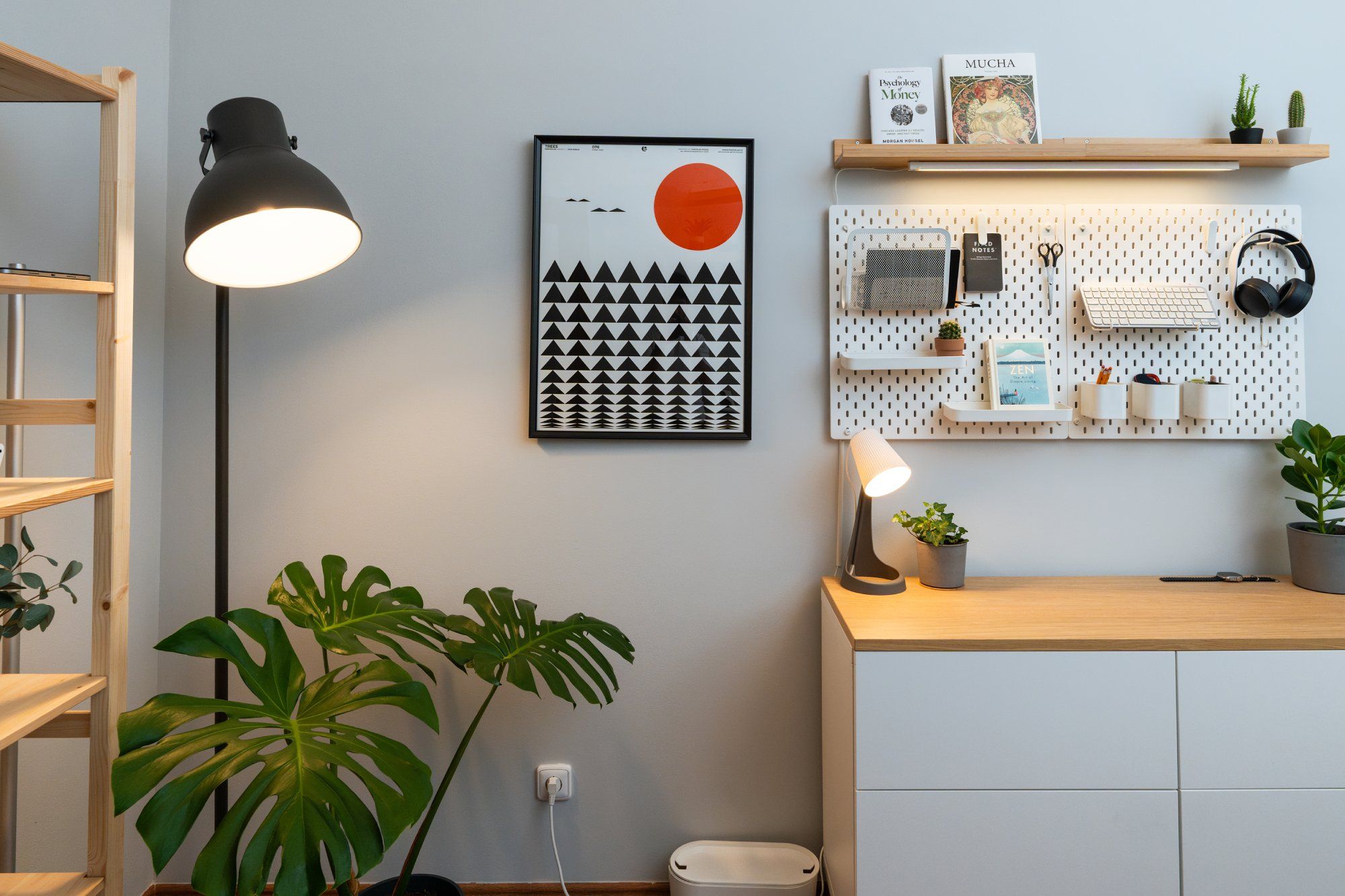 Your tips for working from home?
Although I'm constantly experimenting to find ways to increase my productivity, I believe everyone's definition of productivity is different.
As much as I've tried many apps and to-do lists, I've found that writing everything down on paper works best for me.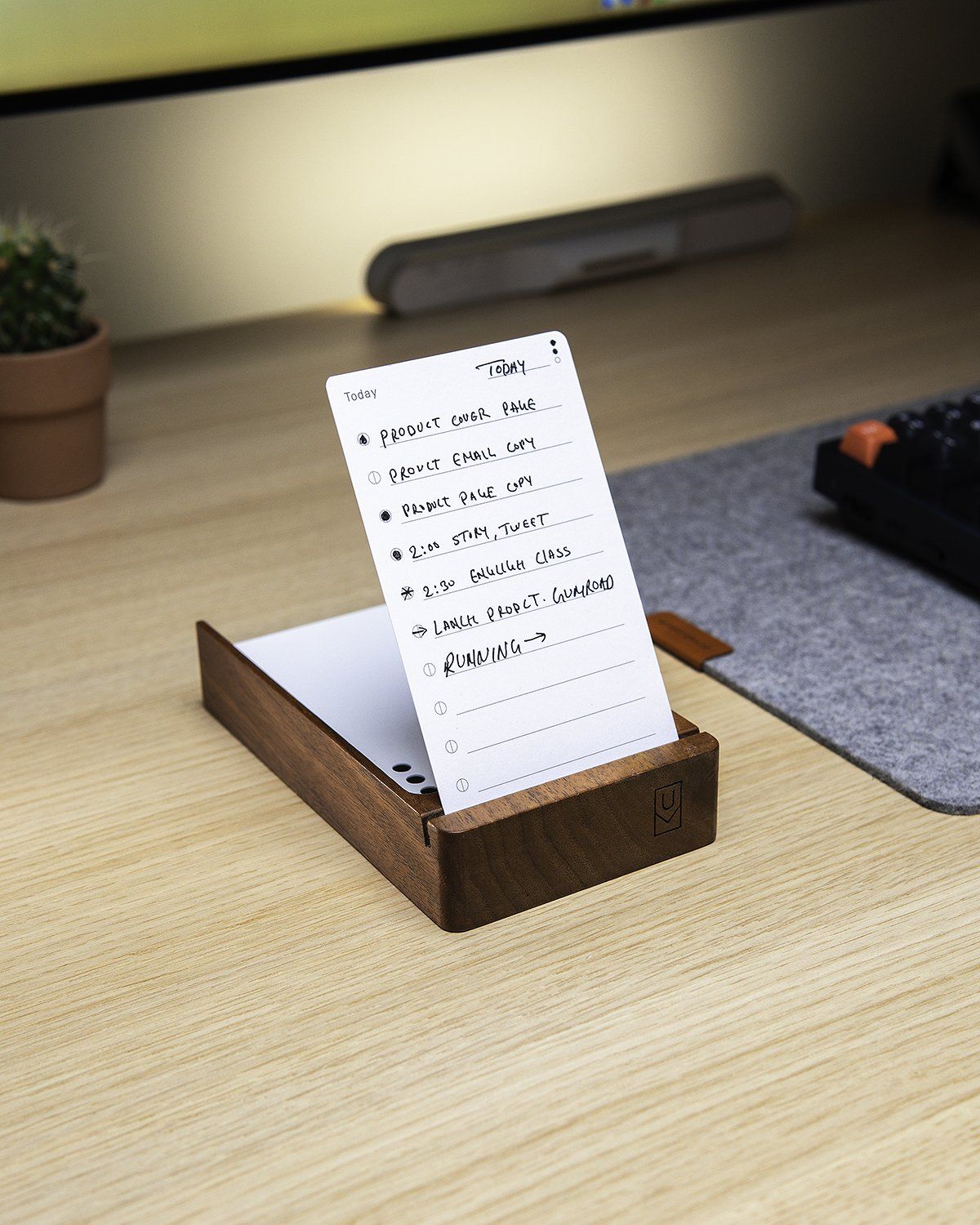 Alternatively, I use Apple Notes to track my weekly goals with three columns: personal, work, and social media.
I also suggest using different apps for various tasks instead of relying on one for everything.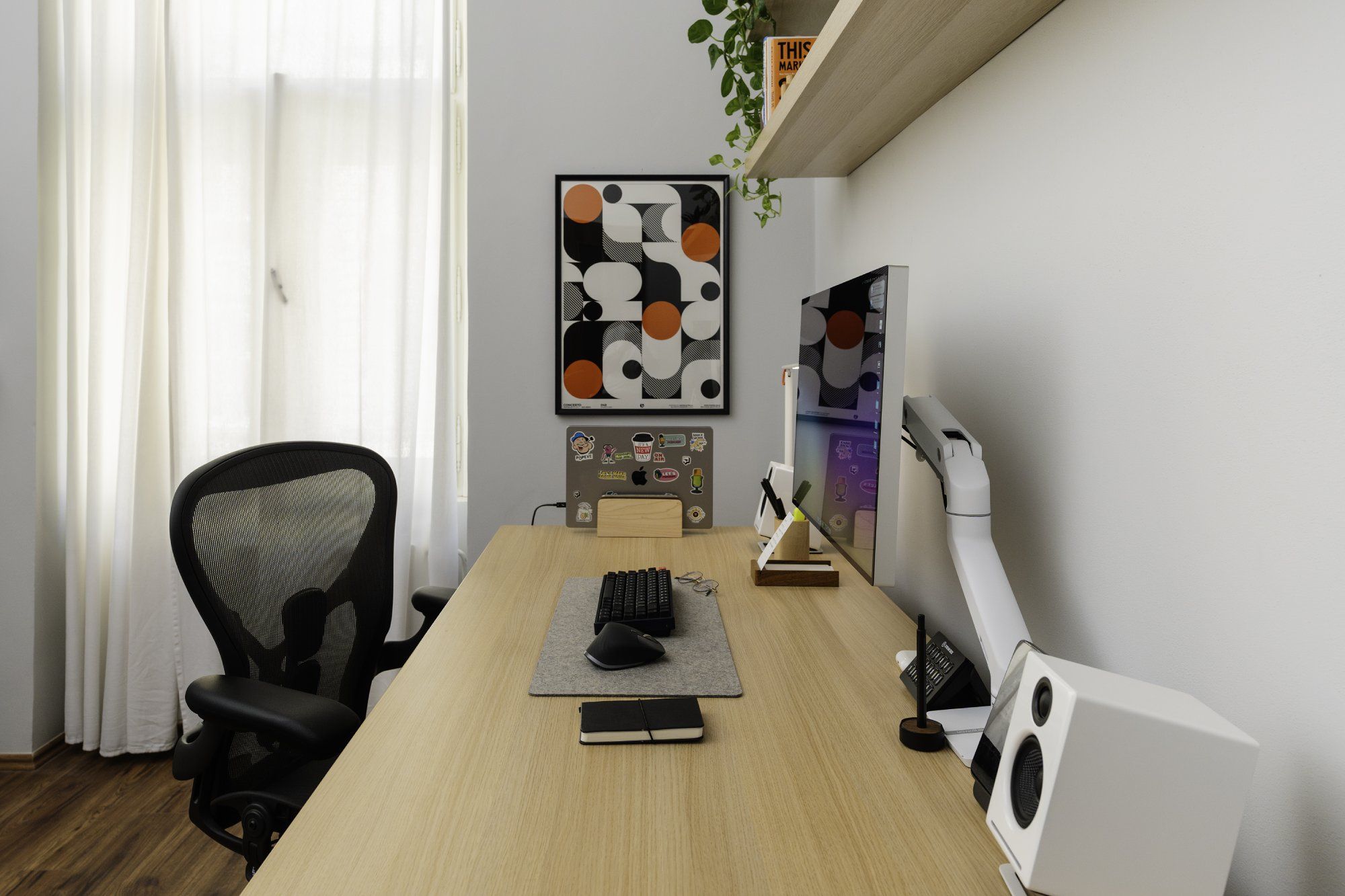 I struggled when I tried using Notion for everything, so I switched to using Apple Notes for all my general notes and reserved Notion for only my business-related tasks such as content creation, CRM, and project management.
As a dedicated Todoist user, I find it helpful mainly for quickly capturing ideas; however, I predominantly rely on time-blocking with my calendar.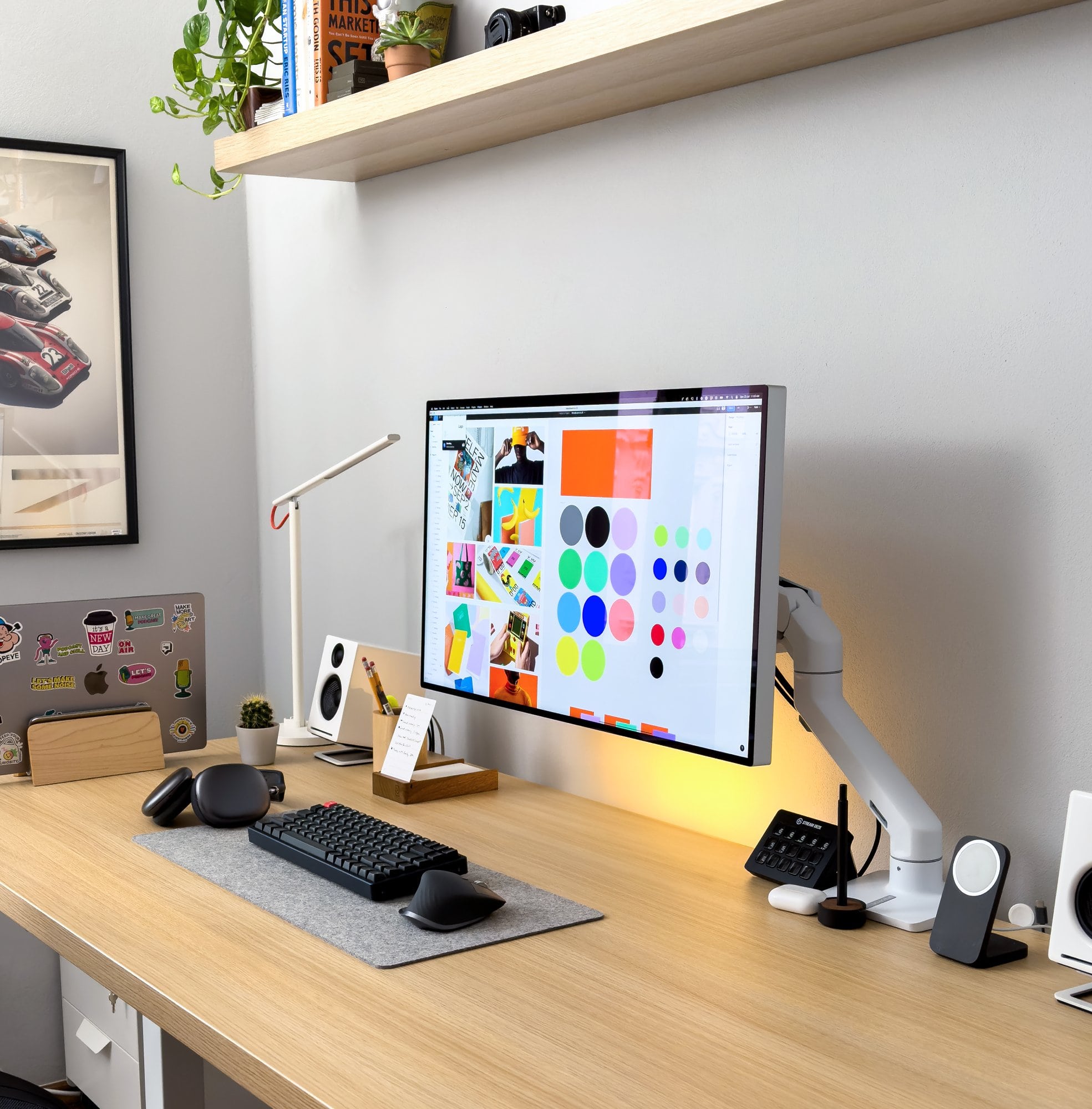 If your tasks are getting done without any tools, keep doing what works best for you.
After reading this article, it's possible that you've found some similarities between us.
If that's the case, why not take the opportunity to become friends or simply say hello on Twitter, Instagram or YouTube?
We're a reader-supported publication. This article might contain affiliate links. It means we may receive a commission if you click a link and buy a product that our maker has recommended. The interview was done independently.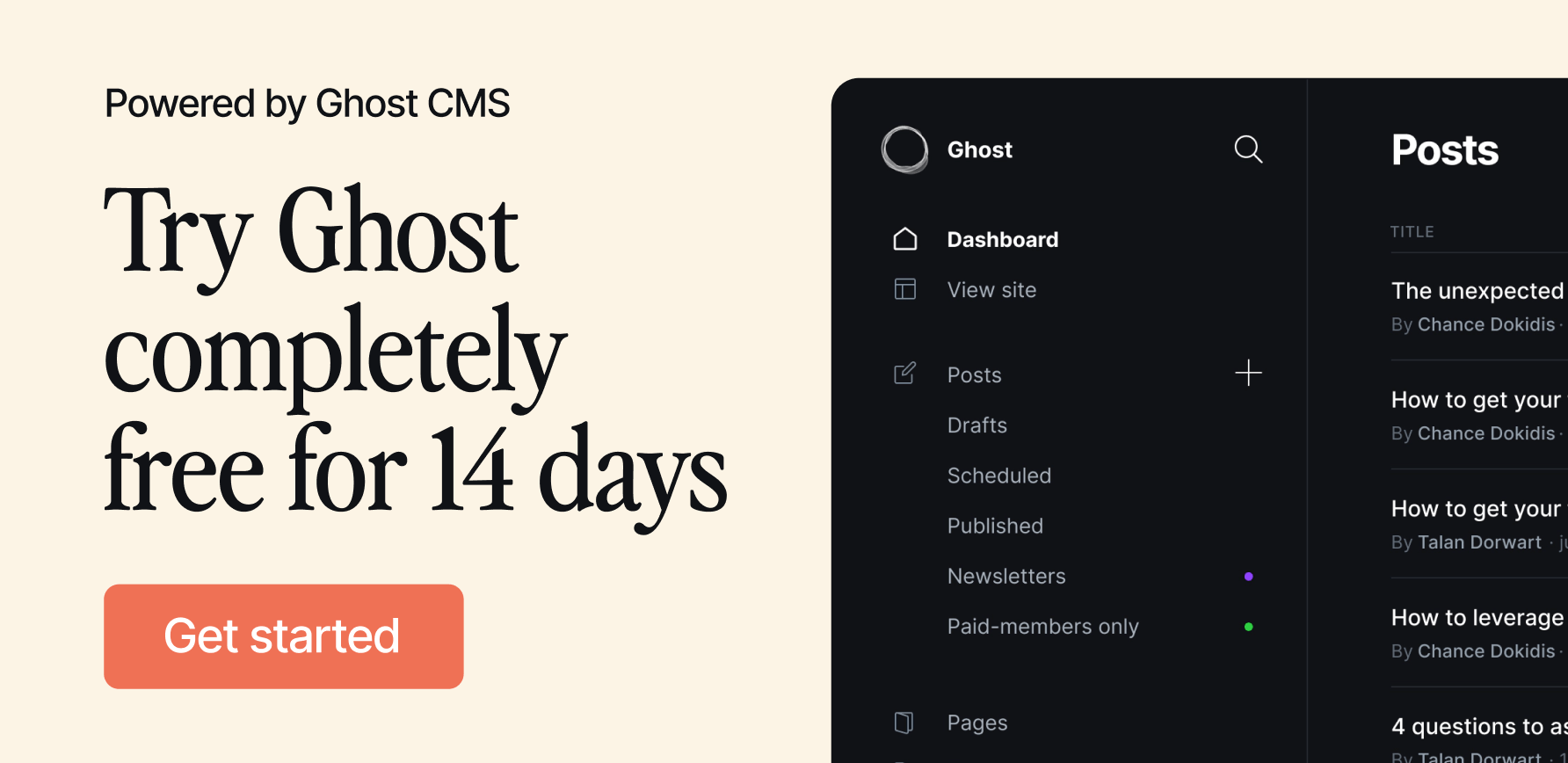 ---