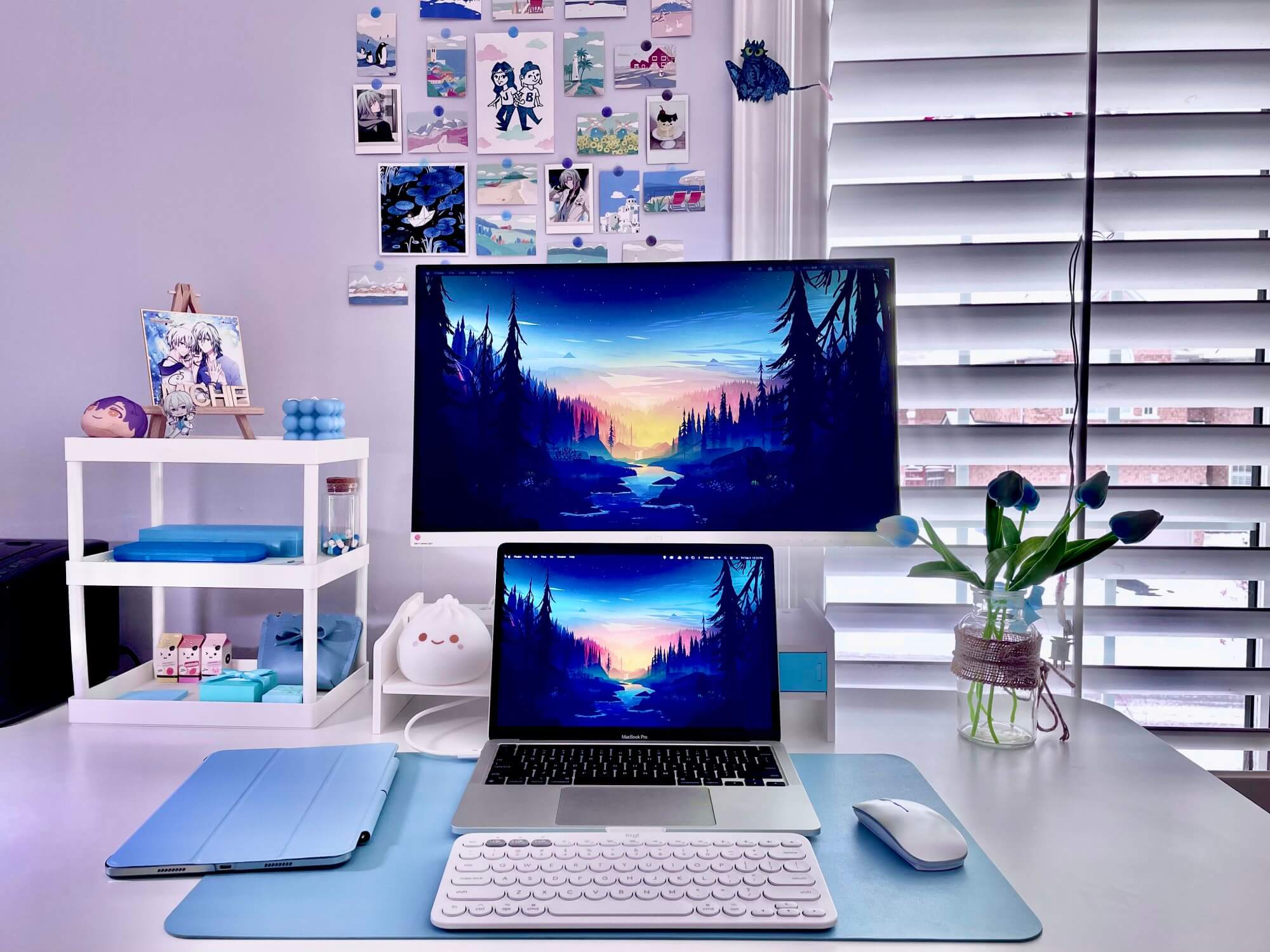 Blue-Themed Desk Setup in Ontario, Canada
"Many white setups used pink as an accent colour. I went with blue, as the colour made me feel the calmest and most productive"
Join 1700+ Curious Readers.
Every Sunday evening, get an *in-depth* workspace tour from a random corner of the world.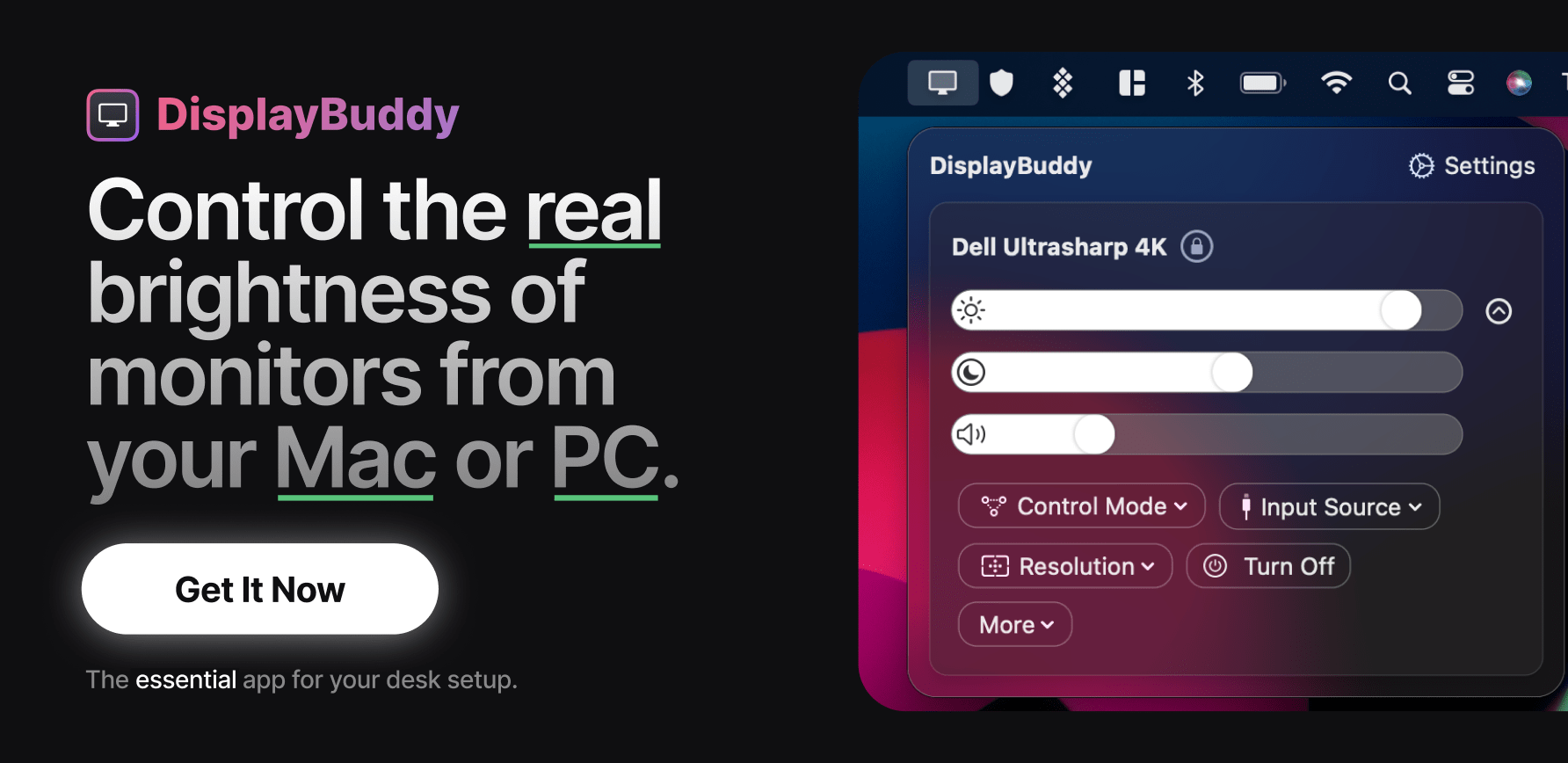 Name: Michie
Location: Ontario, Canada
Occupation: Medical Illustrator
Room size: A large master bedroom size
Cost of the setup: ~$750 (not including MacBook Pro or iPad Pro or TV)
Social media: Instagram, Twitter
Website: Michie Wu
Hello! Tell us a bit about yourself
Hi! I'm Michie, a graduate student currently studying at The University of Toronto.
The degree I'm studying for is a Master of Science in Biomedical Communications.
For those of you that don't know what that is, it's a degree in medical illustration.
For those that are further confused as to what medical illustration entails, I don't blame you.
It's a niche but rapidly growing field.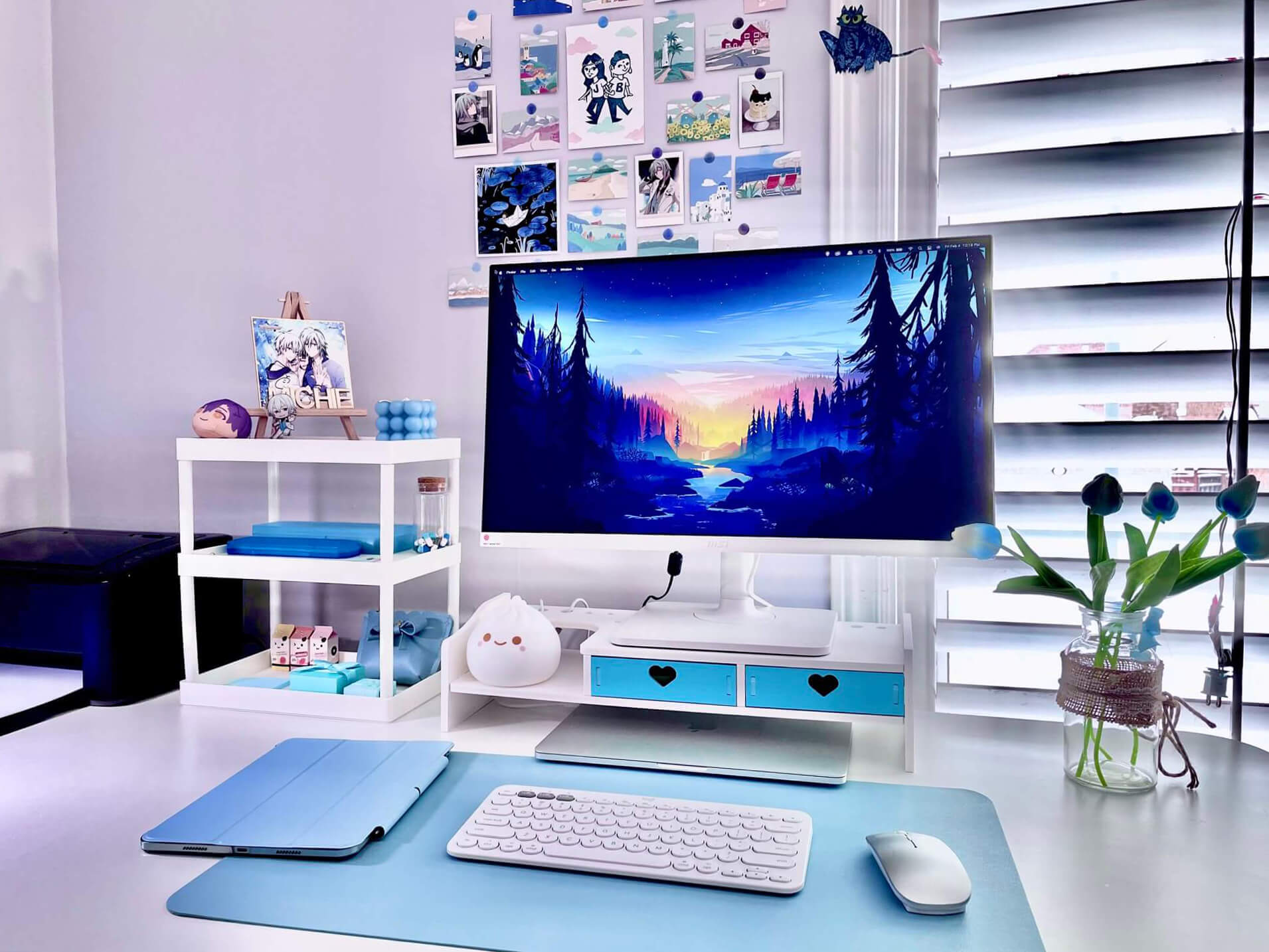 The medical illustration profession involves communicating and visualising scientific, anatomical, and medical concepts in ways that are accessible, interactive, and interesting.
For example, we are the ones that draw the cross-sections of human organ systems in medical atlases and diagrams to help train surgeons.
We also make interactive visuals for lawyers to use in courtrooms that help the jury understand how an injury occurred.
We do much more than that, but those are just some examples!
The majority of jobs in medical illustration require a Master's degree in one of four accredited universities in North America.
Essentially, we are scientific communicators from a variety of backgrounds. What we all have in common is extensive science and/or medical education, specialised training, and skills in illustration and design.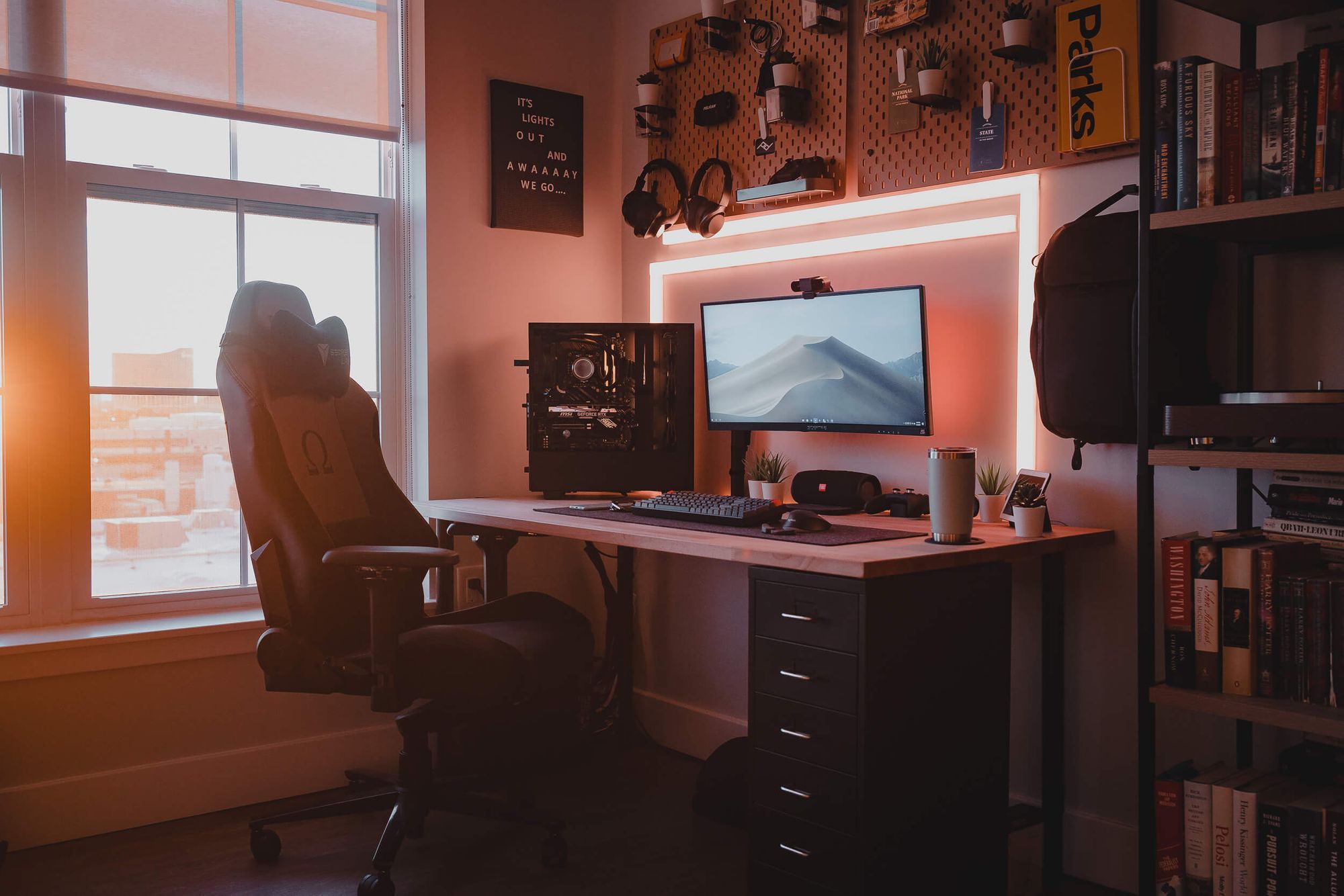 Our network of professionals is very close-knit. If you ever catch any one of us in conversation, we could go on and on about our field!
Prior to my pursuing my Master's, I did my undergraduate studies specialising in Forensic Chemistry at the University of Toronto.
While I pursued science in my studies, I loved drawing on the side. I am largely self-taught, and I spend a lot of my free time drawing my favourite anime characters as well as buildings and architecture.
My artistic friends went on to apply to art schools for illustration, design, or animation. Still, those fields never felt right for me.
When people asked me what my dream career was, I didn't have one solid answer, but I knew that science had always been a passion of mine, so I was considering that path.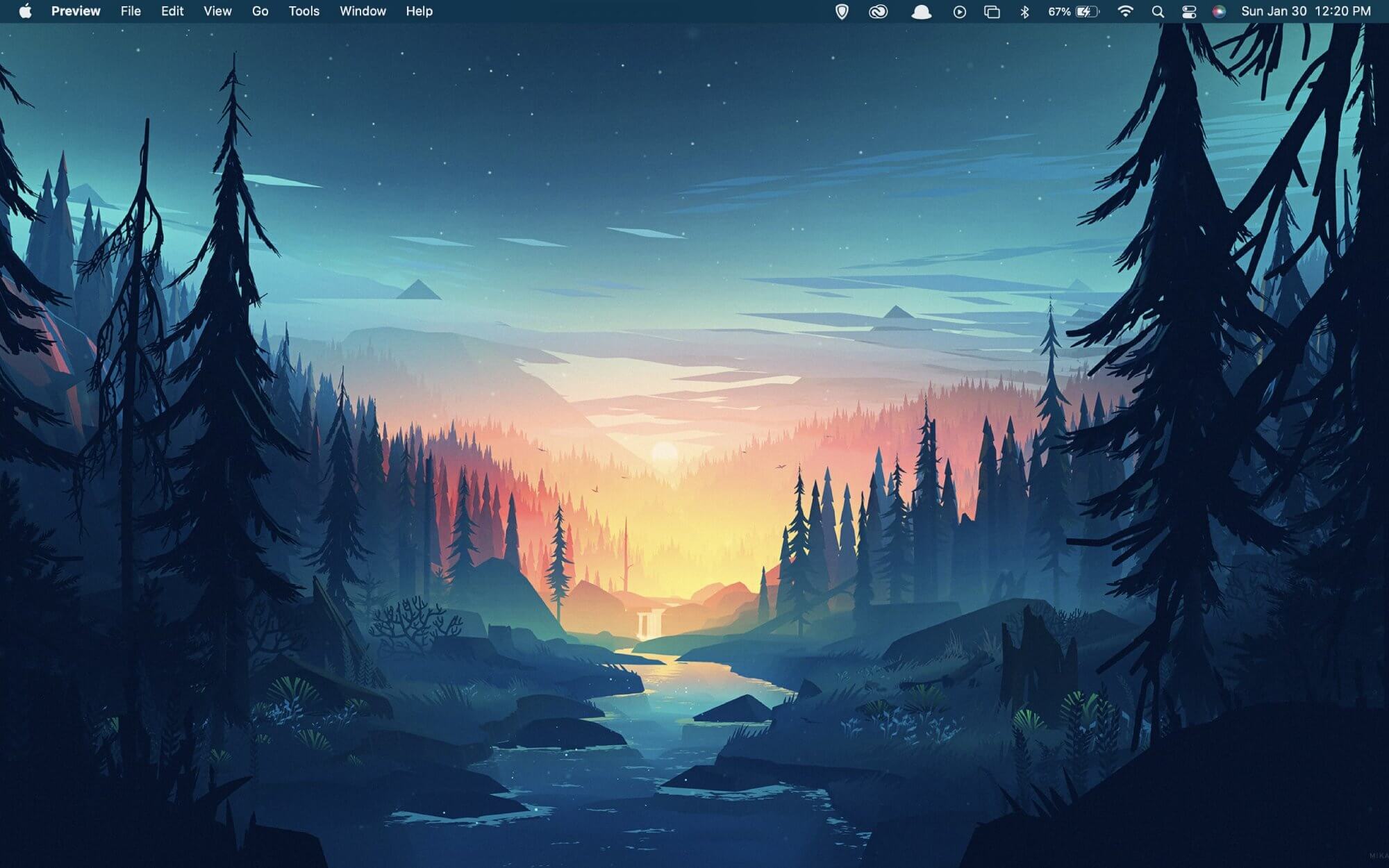 Unfortunately, I sustained a life-threatening brain injury from an accident back in 2012.
I was just entering my second last year of high school at that time, and I struggled with the permanent cognitive effects of the injury.
Going into university, my grades suffered, and I fell behind in my studies.
While I still loved science and what I was studying, I found that I needed new ways to teach myself the material that used to come easily.
I found that drawing diagrams and making step by step pictures really helped me understand complex topics.
Fast forward to my last year of undergrad, and visuals not only helped save my grades, but they were a way for me to teach my peers scientific concepts that they were having a hard time with.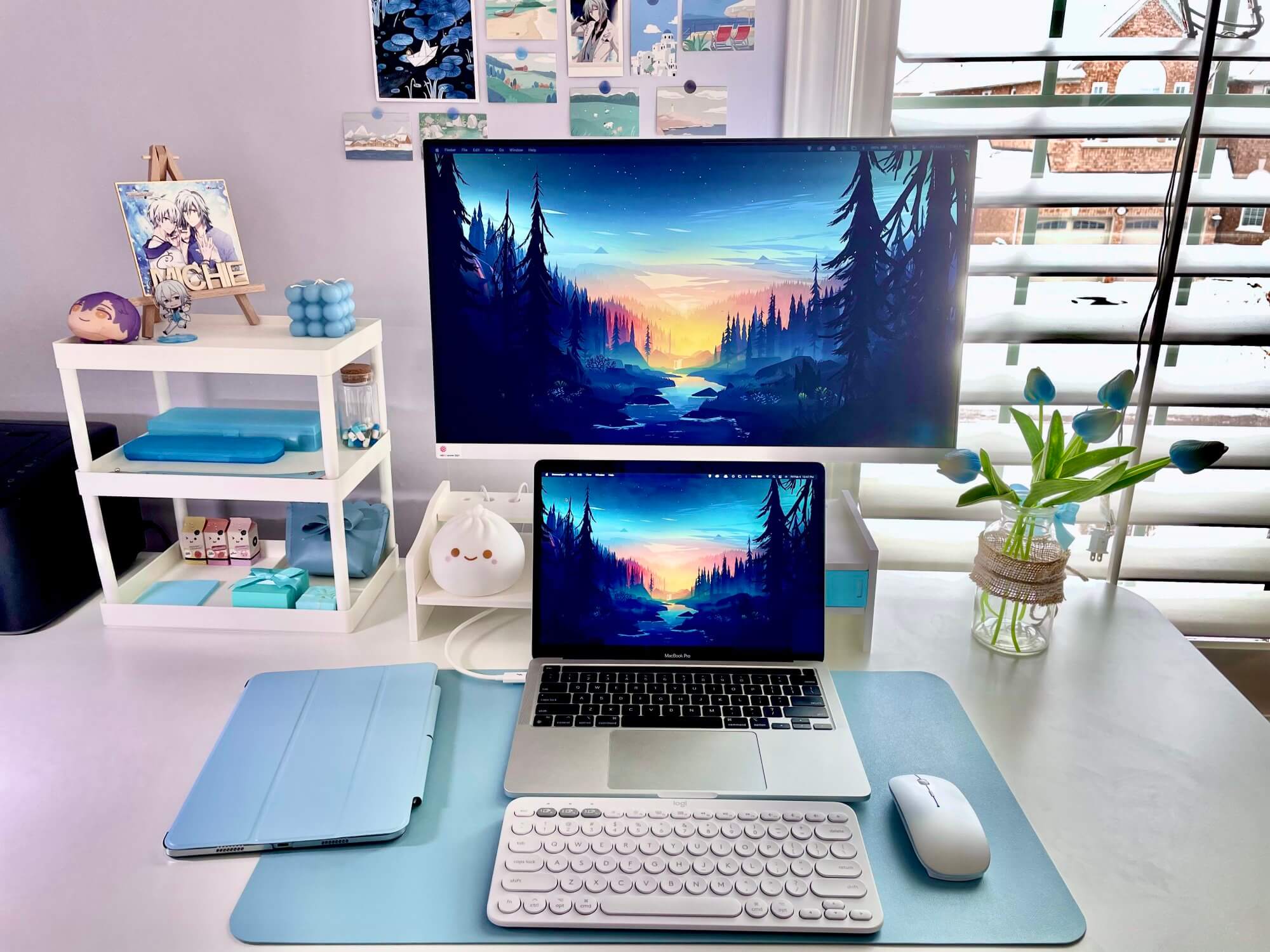 Although I hadn't drawn much in over four years and my skills had stagnated, I began picking up drawing as a hobby again.
One day, I stumbled into the Biomedical Communications wing on campus. I learned that there was a whole program where I could combine my passions for art and science right under my nose!
I scrambled to apply, and here I am now, in my last year and super happy to be a part of the medical illustration community.
I currently work part-time as a medical illustrator for a company called BioRender.
BioRender is an online tool that helps scientists create and share high quality and professional figures using pre-made icons and templates.
Our company is based in Toronto, but my role is currently remote. I enjoy working here, and I find the culture great. I'm really lucky to be working within a field I love and alongside some program graduates.
After graduation, I see myself either working remotely or in Toronto. I am also open to freelancing on the side.
If you're interested in my work or learning more about what I do, feel free to check out my website or connect with me through any of the platforms listed above!
Take us through your setup
The workspace took about a month and a half to create, mostly due to the long shipping times for AliExpress orders.
Most of the options weren't available to ship to Canada and didn't quite look right.
It was worth the wait. The items were super affordable and suited my aesthetic perfectly!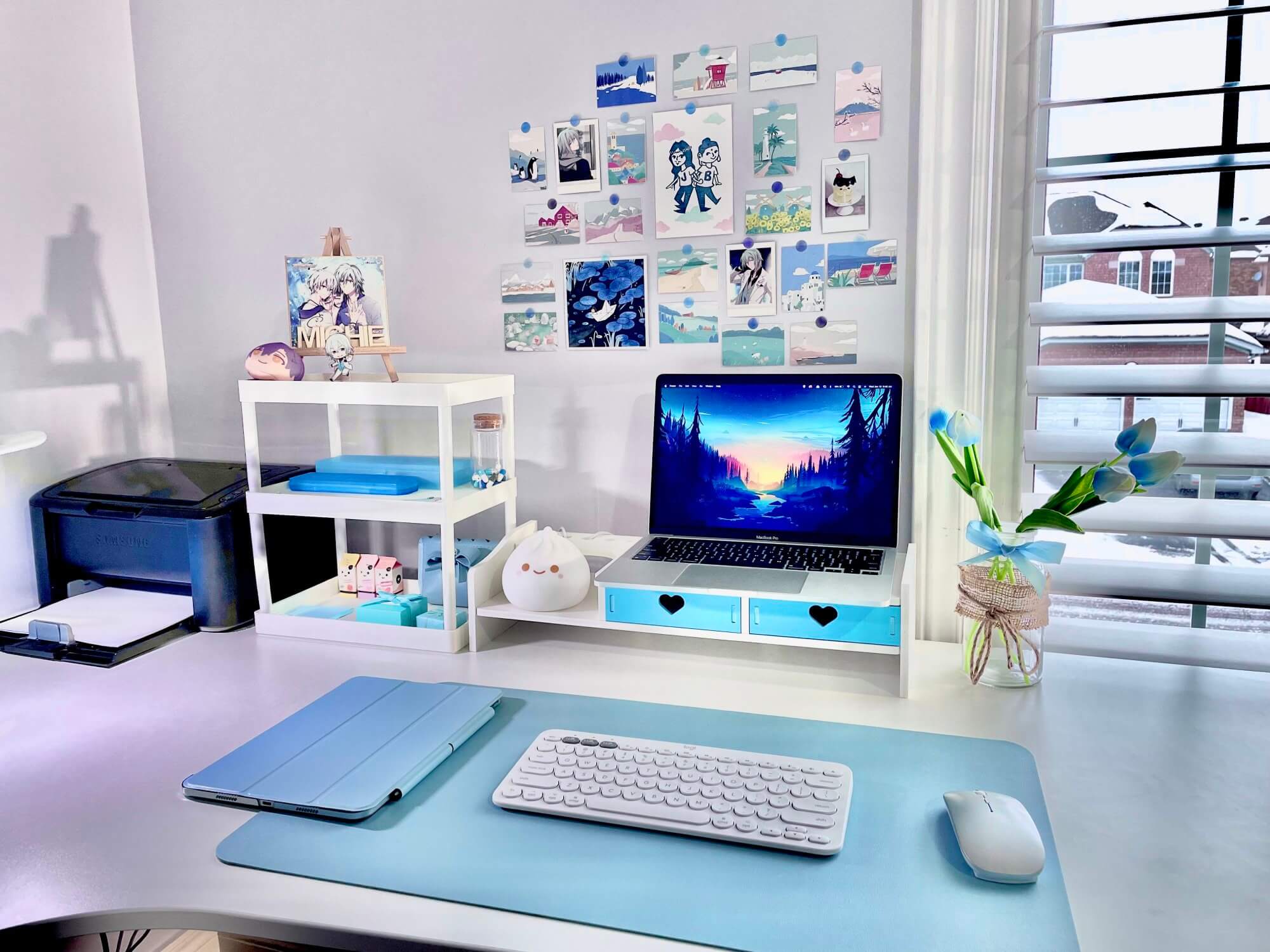 My desk was an absolute mess before I did the setup makeover.
I had the IKEA Galant corner desk in black, terrible cable management, and around ten years of miscellaneous items stuffed into storage boxes next to me and on top of the desk.
I was using a 2011 21,5″ iMac and a 2015 HP OMEN laptop, both of which were starting to show their age.
Since I was into productivity, I figured it was about time to transform my space.
I took inspiration from YouTube, Reddit, and Pinterest. While many dark setups were cool and modern, I was most drawn to white themes as they made the area feel spacious and airy.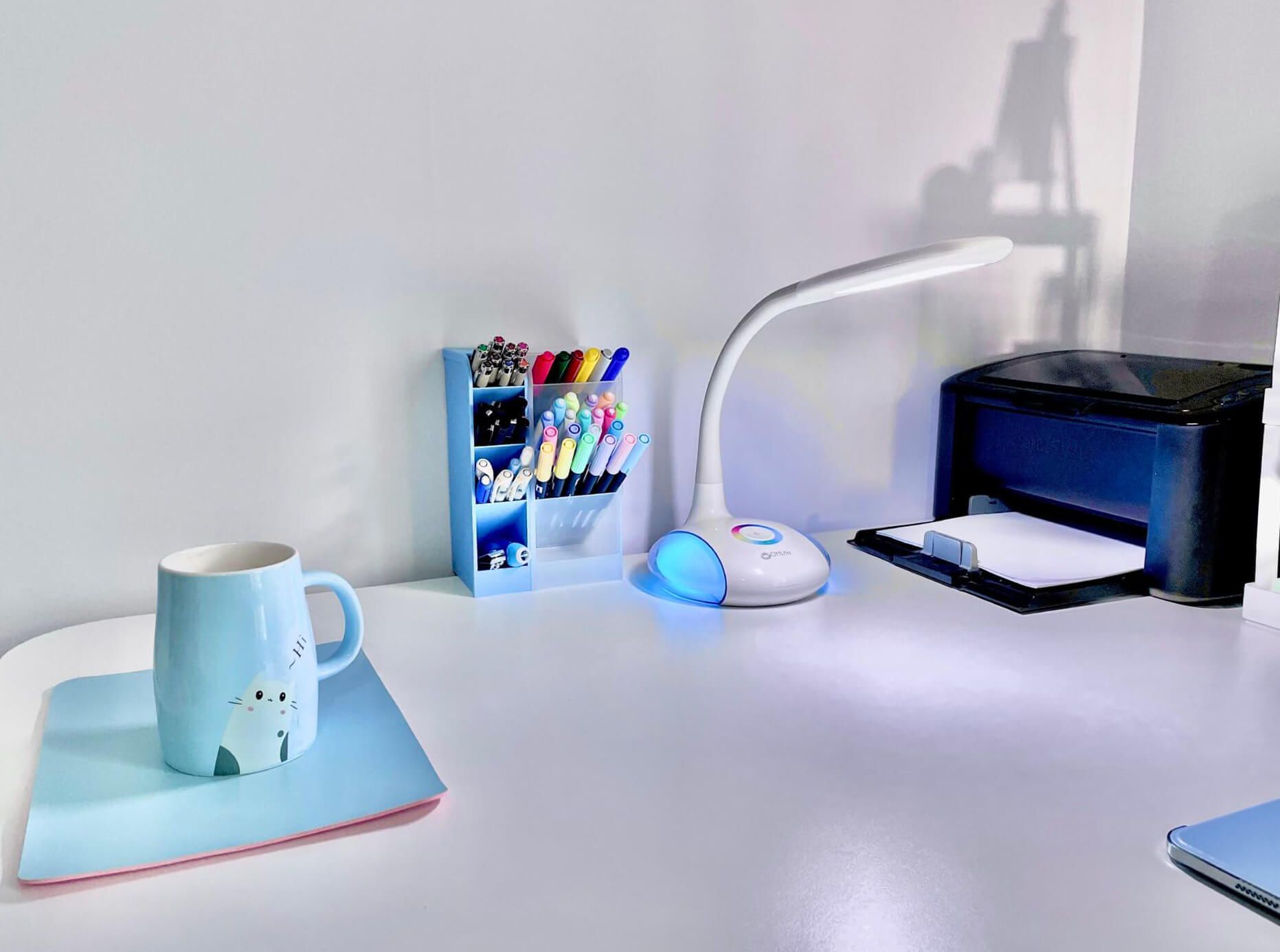 Many white setups used pink as an accent colour.
I went with blue, as the colour made me feel the calmest and most productive.
I started by choosing the desk.
I knew that I wanted a corner desk as I was used to having a lot of space with the Galant, and I also knew I wanted it in white.
The Bekant desk is a direct successor to the Galant, and I appreciated the rounded corners and black legs.
I chose not to get a standing desk, as I take breaks to go on walks and stretch. I dislike working while standing up.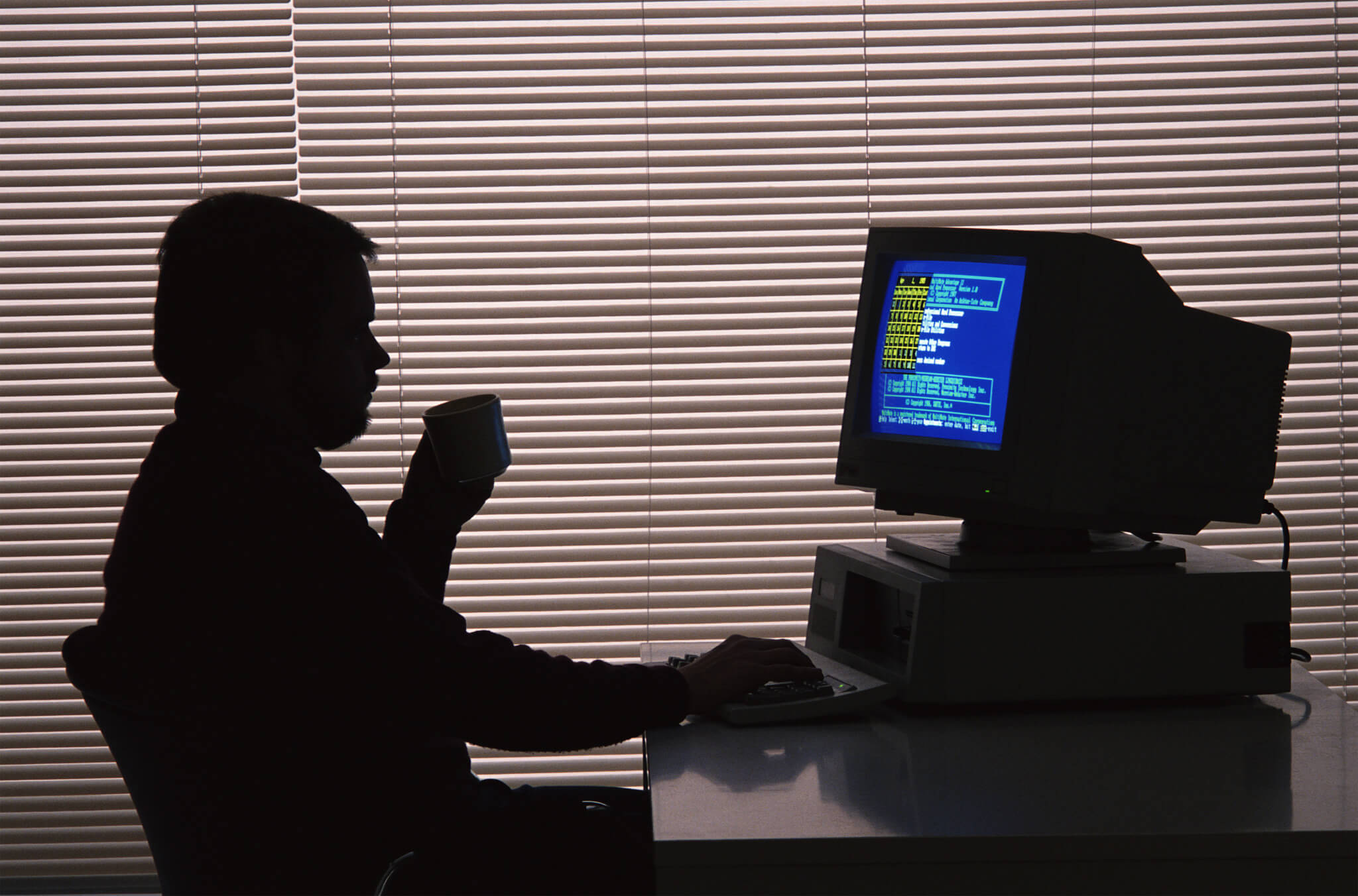 I read up on positioning it against the wall, so it doesn't wobble, and overall I'm very happy with it!
I paired the desk with an Alex drawer, as I have many creative supplies that benefit from shallow drawers.
To the right of my desk, I have a 55″ Sony Bravia TV facing my couch.
I put ambient renders on the big screen while I work.
I pretend I'm living life in a luxury penthouse apartment with a city view.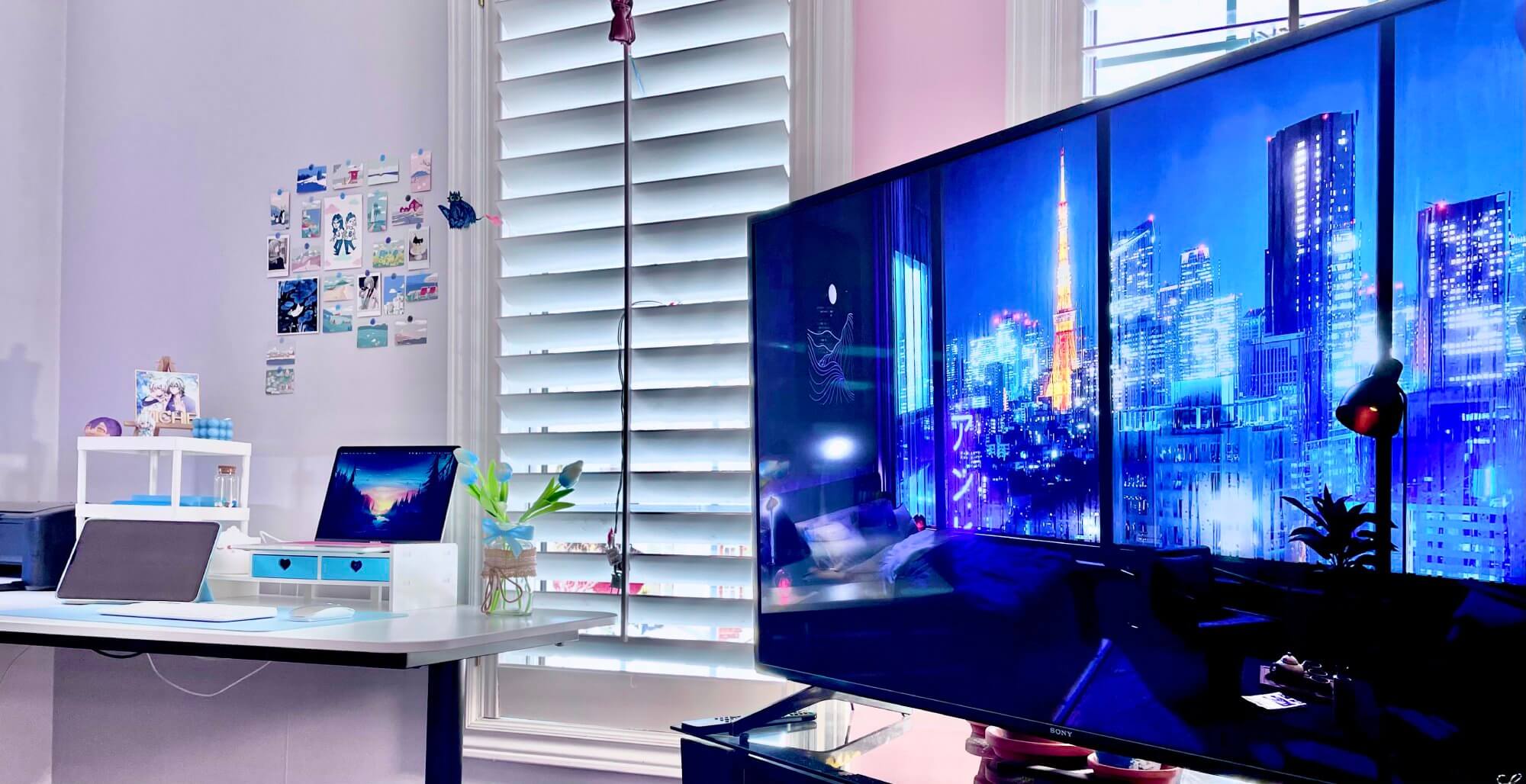 I currently use an MSI MD241PW monitor in white. It's a 1080p monitor and connects and charges by one USB-C cable to my MBP.
I prefer smaller screens over 27″ and above for my setup, and it was hard finding USB-C monitors at 24″.
The next item I'm buying is this cute study timer in blue.
I think it fits the desk aesthetic perfectly, and you can make one cycle any length of time you want. It'll be super handy for most days where I switch to and from multiple tasks.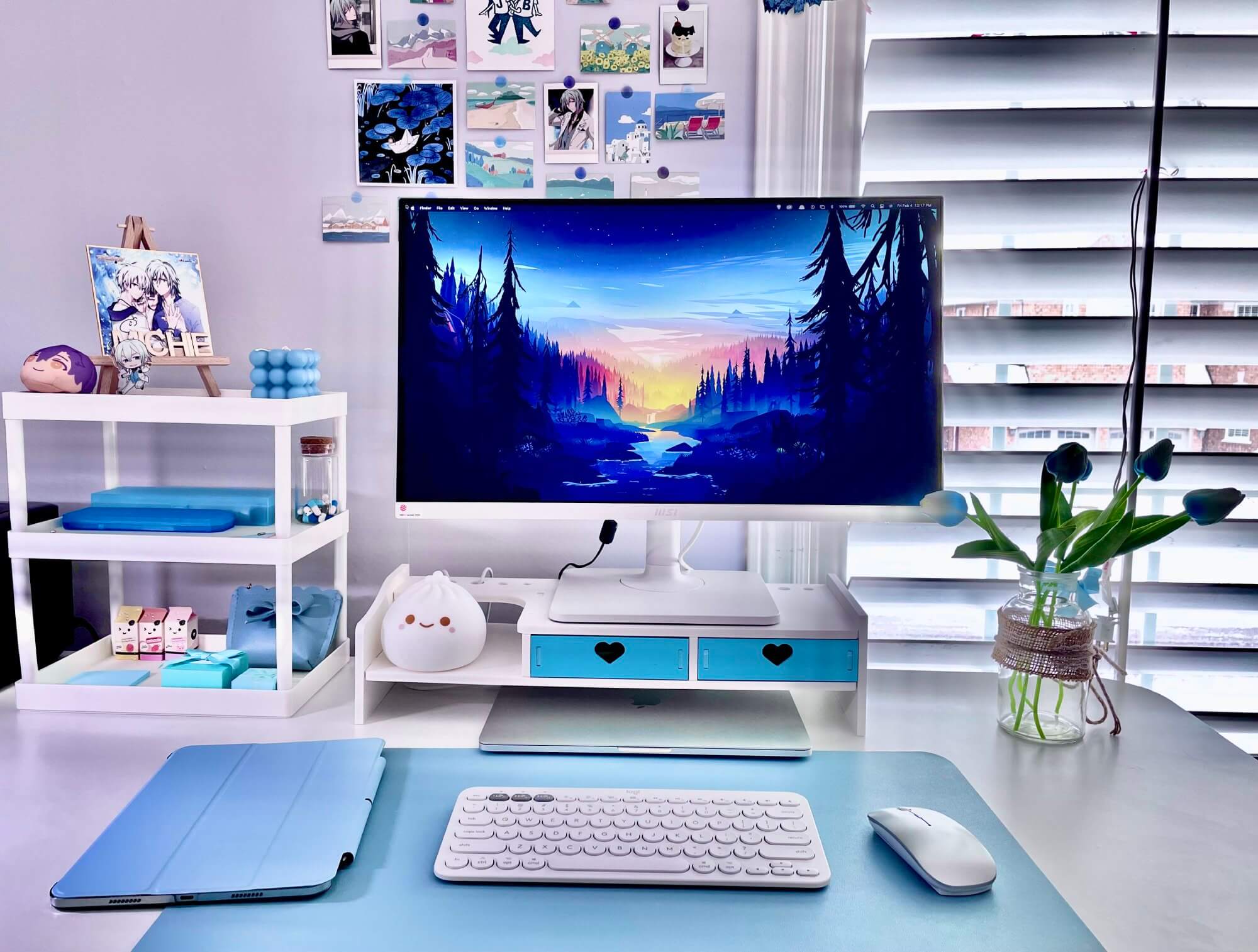 The biggest challenge to my desk setup has got to be living in Canada.
So many electronics, furniture, and items cannot be shipped here. I'm sure many others living here feel me on this!
I can't even count the number of times my hopes were crushed when I found the perfect item, but it wasn't available here for a non-exorbitant price.
What's your favourite item on your desk?
My favourite piece would probably be my monitor riser.
It has two cute drawers where I store stickies and tape.
I got it on AliExpress for 31,51 CAD ($25). It was a bit challenging finding blue desk accessories.
But I found that by choosing blue, I was limiting my options, so it felt a little less overwhelming.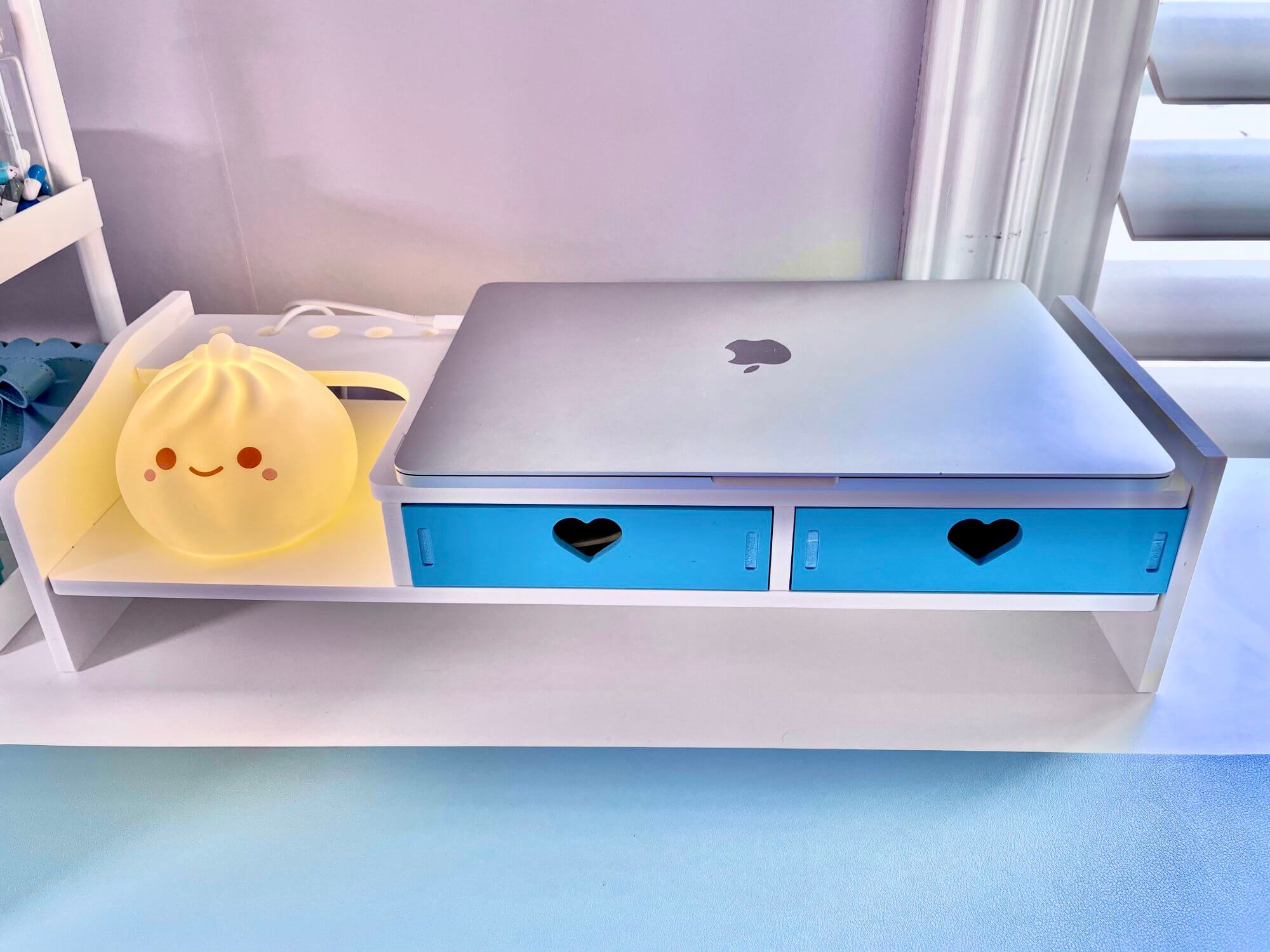 I searched "monitor stand" and this was among the most popular items. It was super easy to assemble and very sturdy.
I think it centres my entire desk nicely in any photo.
What apps or tools do you use to get things done?
My favourite software/app/tool ever is Notion.
No other tool has changed my life so drastically, and I now organise my entire life on it.
It's completely free, too!
I made sections for personal, work, and school. Its database and tagging features make it so easy to organise documents and cross-link pages.
I also use it as a central hub to embed and link to all my other databases, such as Google Drive. I can't recommend it enough!
As for school, our program has been primarily online throughout the pandemic, but we do have some in-person labs, dissections, and classes.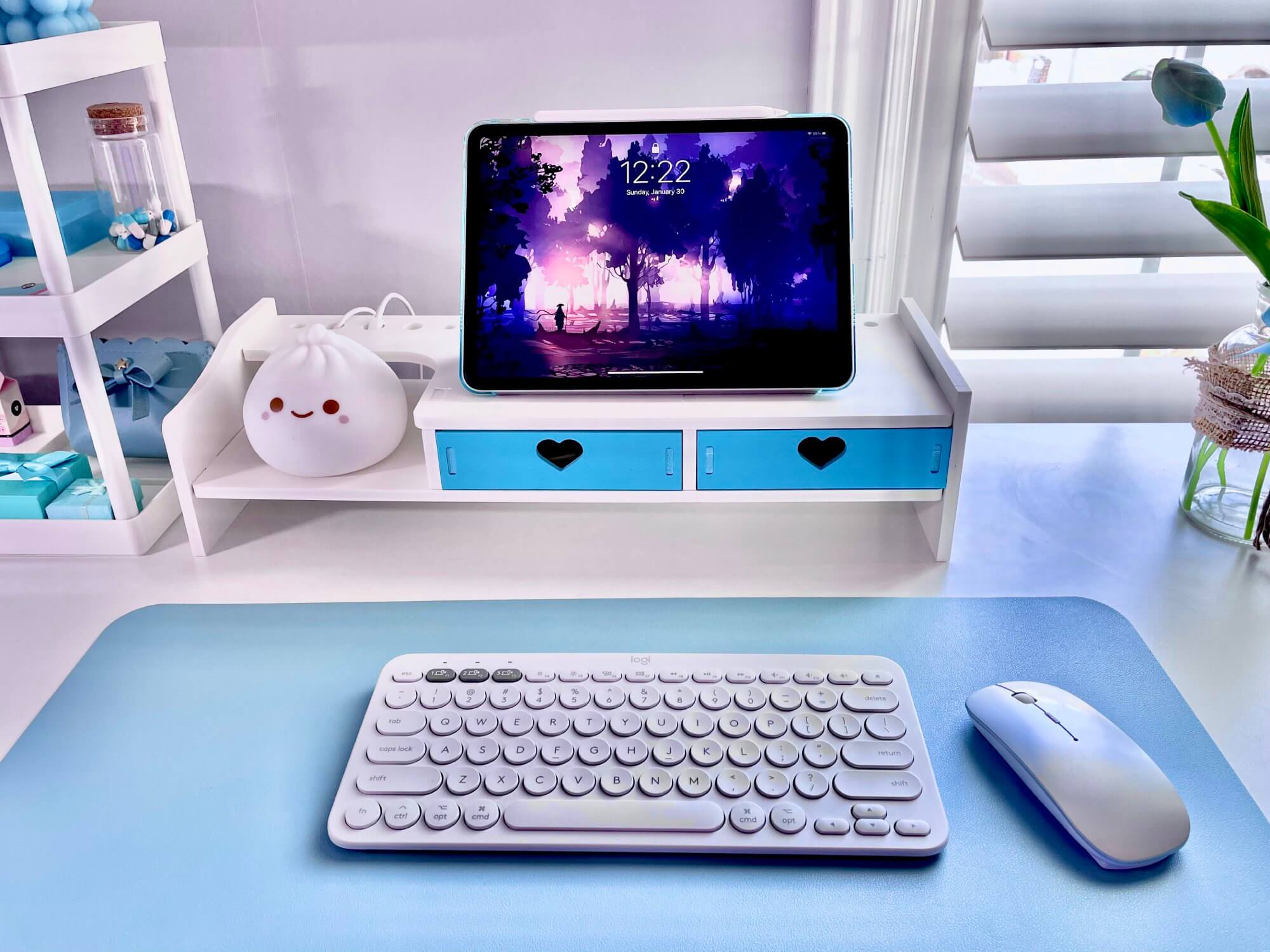 We use a variety of 2D and 3D rendering software. This includes the whole Adobe Suite, Maya, Cinema4D, and ZBrush.
While my 2020 M1 Macbook Pro is sufficient for most tasks, I make use of the school computers for large renders and animation projects.
I use a Wacom Intuos Draw, a Wacom One, and my iPad to do most of my creative work. My favourite drawing software is Clip Studio Paint.
Anyone who knows me knows I'm a walking advertisement for it!
I think it's the perfect program for digital illustration at an affordable one-time price compared to a Photoshop subscription.
I use it for many of my illustration projects alongside other software.
What books, blogs or podcasts recently caught your attention?
As a medical illustrator, I recommend this book that has come out recently: Immune: A Journey into the Mysterious System That Keeps You Alive by Philipp Dettmer, aka Kurzgesagt, on YouTube.
It's got beautiful illustrations and overviews the complexity of immunology super well for a lay audience.
Someone recommended me Manage Your Day-to-Day: Build Your Routine, Find Your Focus, and Sharpen Your Creative Mind by Jocelyn K. Glei and Scott Belsky.
It's next on my to-read list, and I hope it'll be as promising as it sounds!
Any tips for other makers who want to improve their workspaces?
Make a mood board and pick a theme you like!
This could be one or two accent colours that you will base your choices around.
It helps to start with a clean slate and plan out where things will go so you know every item will have its place.
Have fun with it and let the end result reflect some of your personality.
What does your typical day look like?
I get up at 8 to 8:30 am, and I lament the trauma of waking up for anywhere between 10 to 30 minutes.
I check my phone and catch up on emails and messages during this time. The first app I open is usually either Mail or Messenger.
I make my morning tea and sit down at my desk to start getting work done.
When I don't have lectures, I try to get the fewer fun tasks out of the way.
I always block in my day the night before on Google Calendar, so I try to stick with what I have planned.
I block out time for admin tasks throughout the day and leave large chunks for each creative task to give myself enough time to reach a flow state.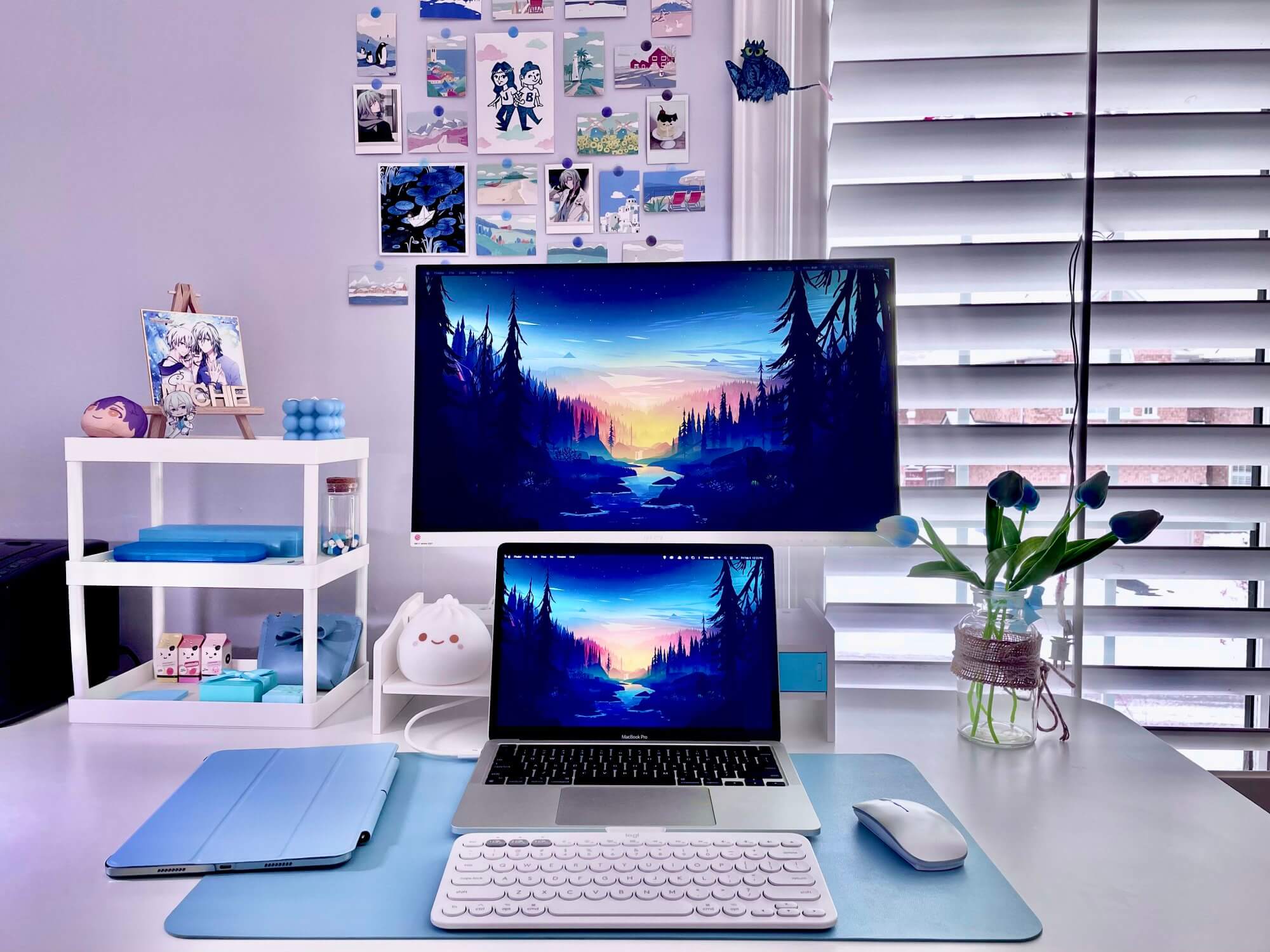 When I'm not working, I walk my dog, read, draw for fun, watch anime, and play the occasional video game.
I either play my Switch from my couch and TV, or I connect it to my MacBook via ShadowCast and stream to my friends.
A favourite game I've recently played is The Great Ace Attorney Chronicles!
My program has been almost entirely online since I started in September 2020. My internship and current part-time work have also been online.
We are transitioning back to mostly in-person learning in February, but I'll still be spending the majority of my week at home.
Your tips for working from home?
I use Things 3 as my main task planning app.
It's synced between my laptop and phone. I've tried other to-do list apps, but I must say Things 3 is the best one and worth every penny!
I list all my deadlines in chronological order in the app and set up recurring tasks.
My main strategy for time management is blocking out my day and using the Forest app (or any other timer app) to track time.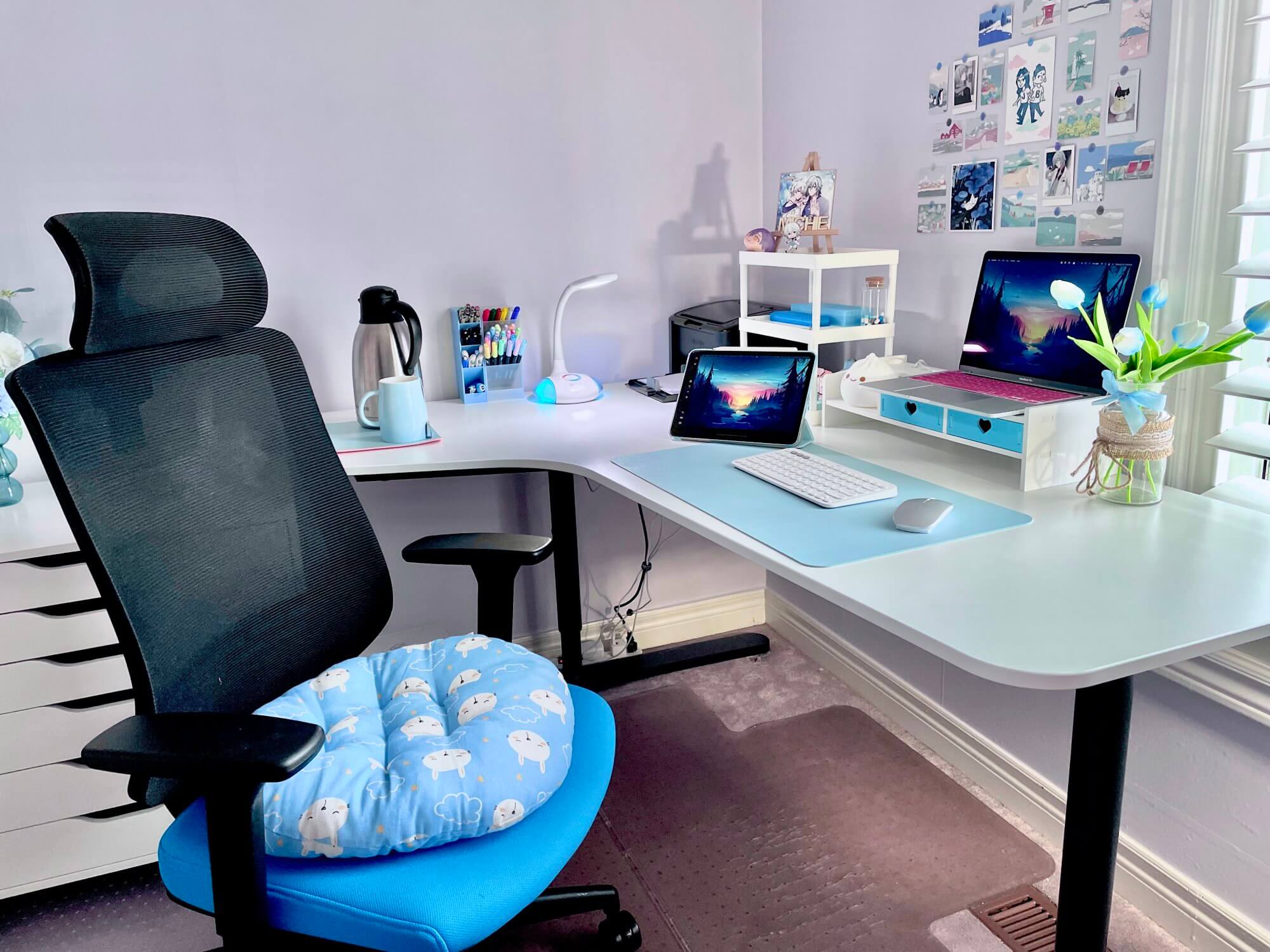 It feels rewarding to watch my forest grow and see how much time I've dedicated to each task per week, month, and year.
Admittedly, it's hard to stay focused sometimes, but I find that getting started is often the hardest part.
Once I reach a flow state, I just let myself keep working and don't force myself to take a break until I feel like I need one.
Putting on a podcast, music, or ambient sounds also helps me enjoy what I do.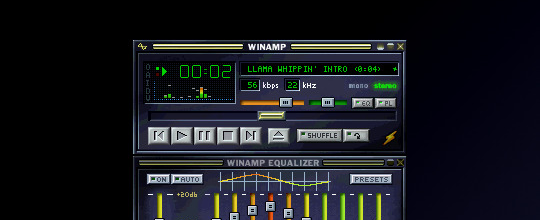 If you made it this far, thanks so much for your interest in my simple setup and for taking the time to read this!
If you're just getting started on your desk setups, I know it can be intimidating at first.
But just go with what feels most comfortable to you.
Remember that the cheapest, simplest items can really be the best parts of your setup sometimes.
I love what I do, and I am super pleased with how my little corner of the world turned out.
It'll always be my favourite place to be, even after the world opens back up.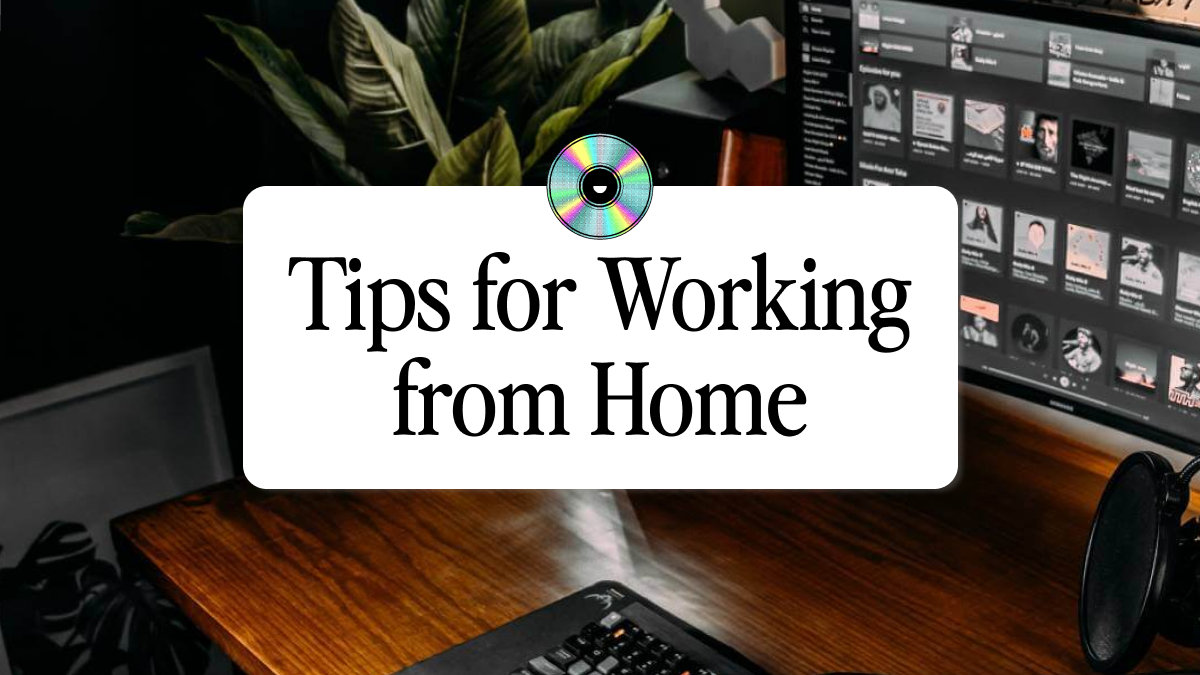 We're a reader-supported publication. This article might contain affiliate links. It means we may receive a commission if you click a link and buy a product that our maker has recommended. The interview was done independently.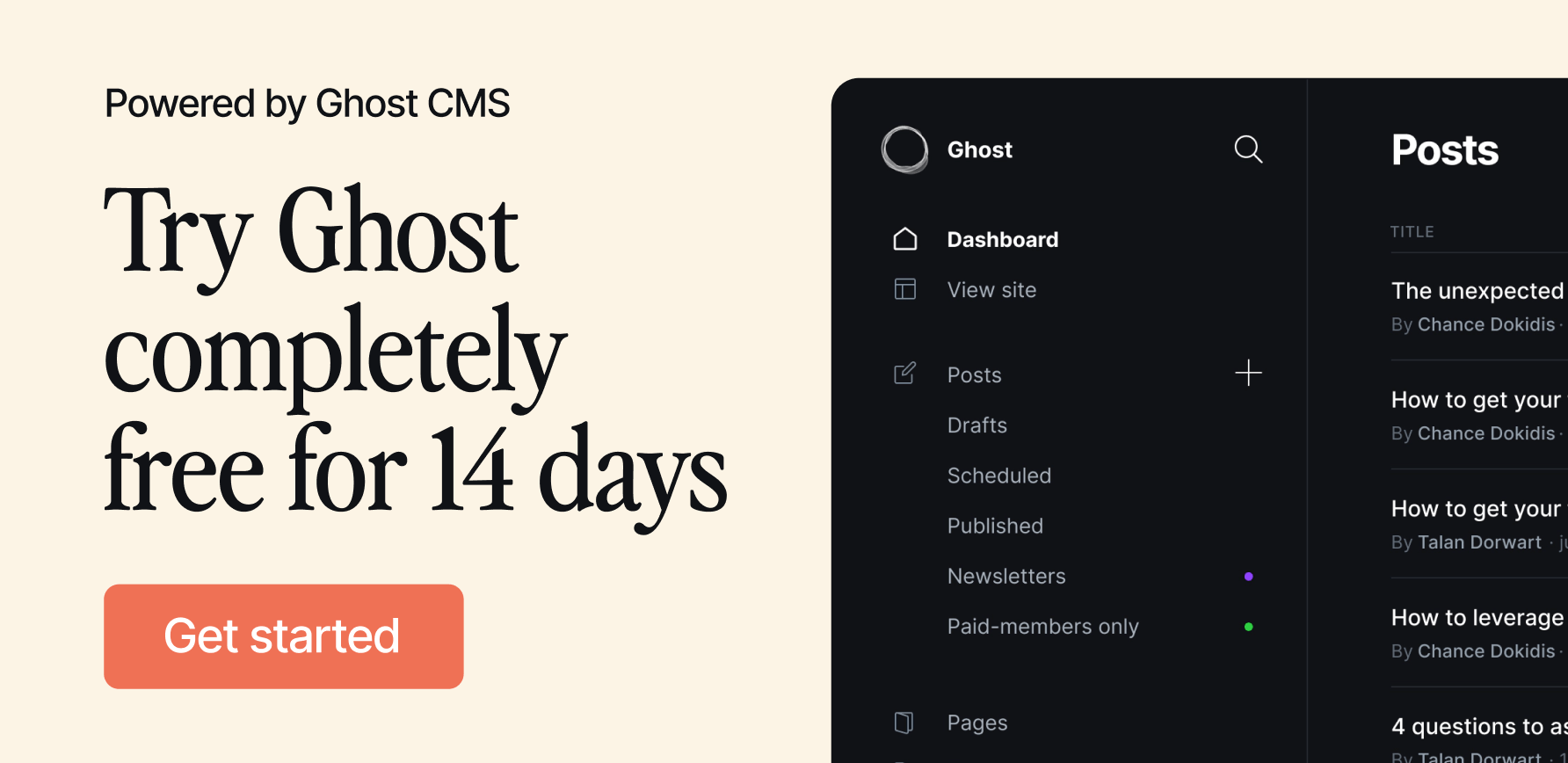 ---