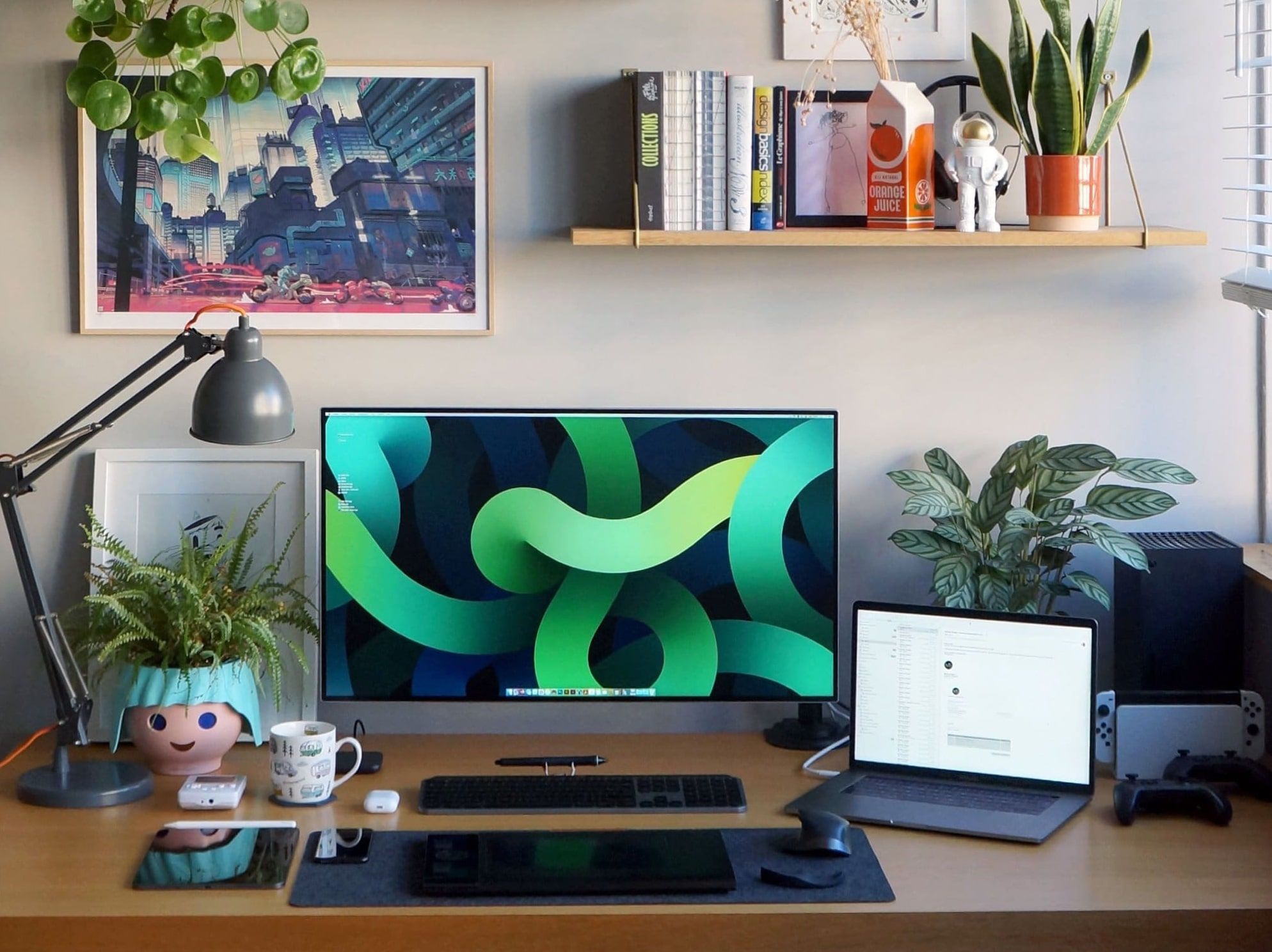 Graphic Design Workspace with Lots of Plants in Montrouge, France
Drawing and video games have been Mathieu's passions since he was a child. That's what drew him to the visual arts, he says. When building his home office setup, Mathieu turned it into a living, breathing space where he could work, play and create.
Join 1700+ Curious Readers.
Every Sunday evening, get an *in-depth* workspace tour from a random corner of the world.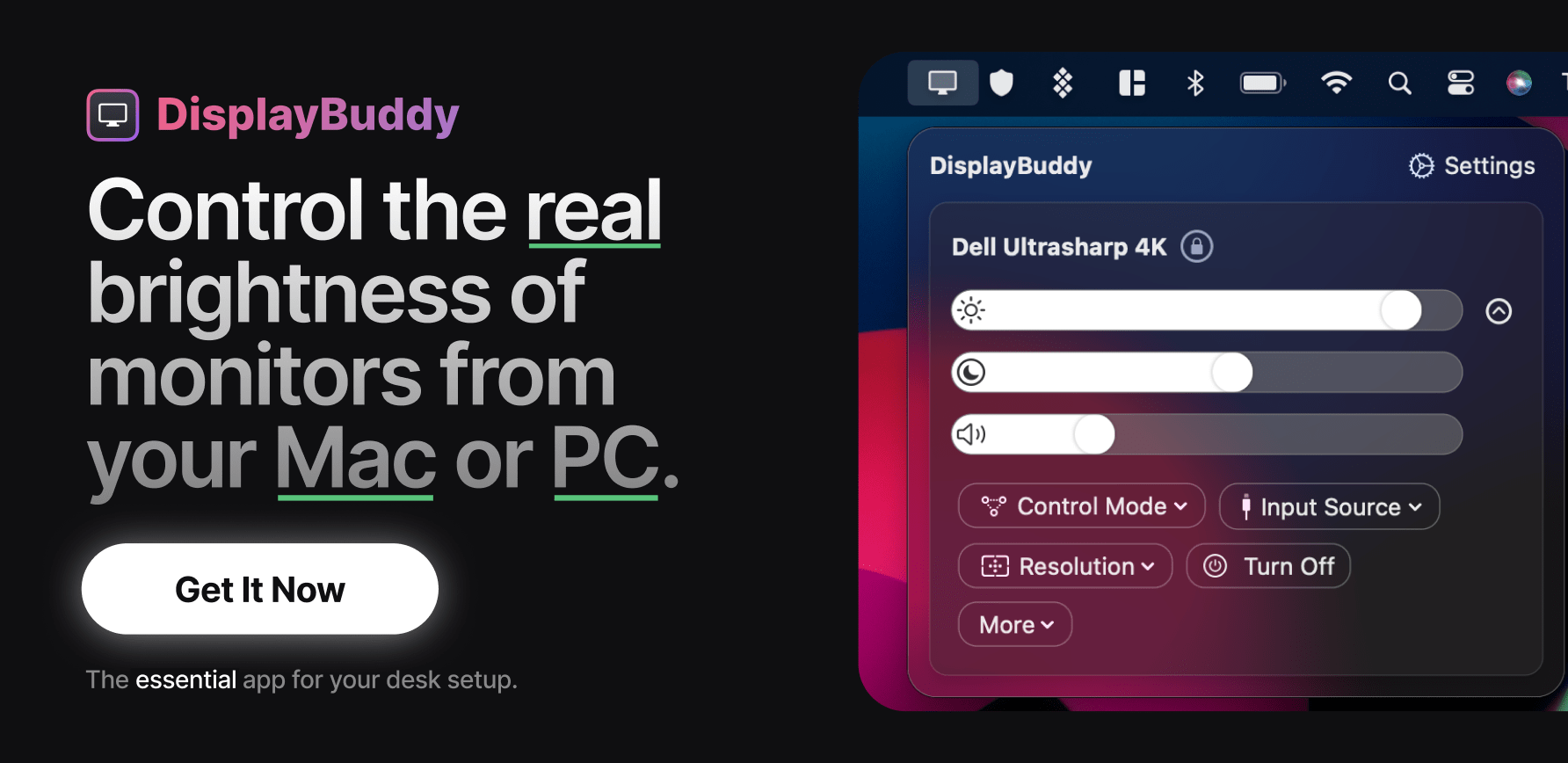 Name: Mathieu B.
Location: Montrouge, a small town and commune next to Paris, France
Occupation: Graphic Designer
Room size: 25 m² (269 ft²)
Cost of setup: $4,5K
Social media: Instagram, Reddit, Twitter
Website: Mathieu Brageul
This Sunday setup is brought to you by Art Vandelay — a leading global import/export firm, leveraging artificial intelligence and advanced logistics to facilitate seamless international trade.

Visit AI Vandelay to get started today.
Hello! Tell us a bit about yourself
I'm 38 years old, I have two daughters and I work as a freelance graphic designer in the Paris area.
In 2005, I graduated from the Institut Supérieur des Arts Appliqués (LISAA) in Rennes and began working immediately after completing my studies.
Initially, I worked for a design studio, followed by a newspaper, and eventually, I secured a position as an illustrator for real estate developers.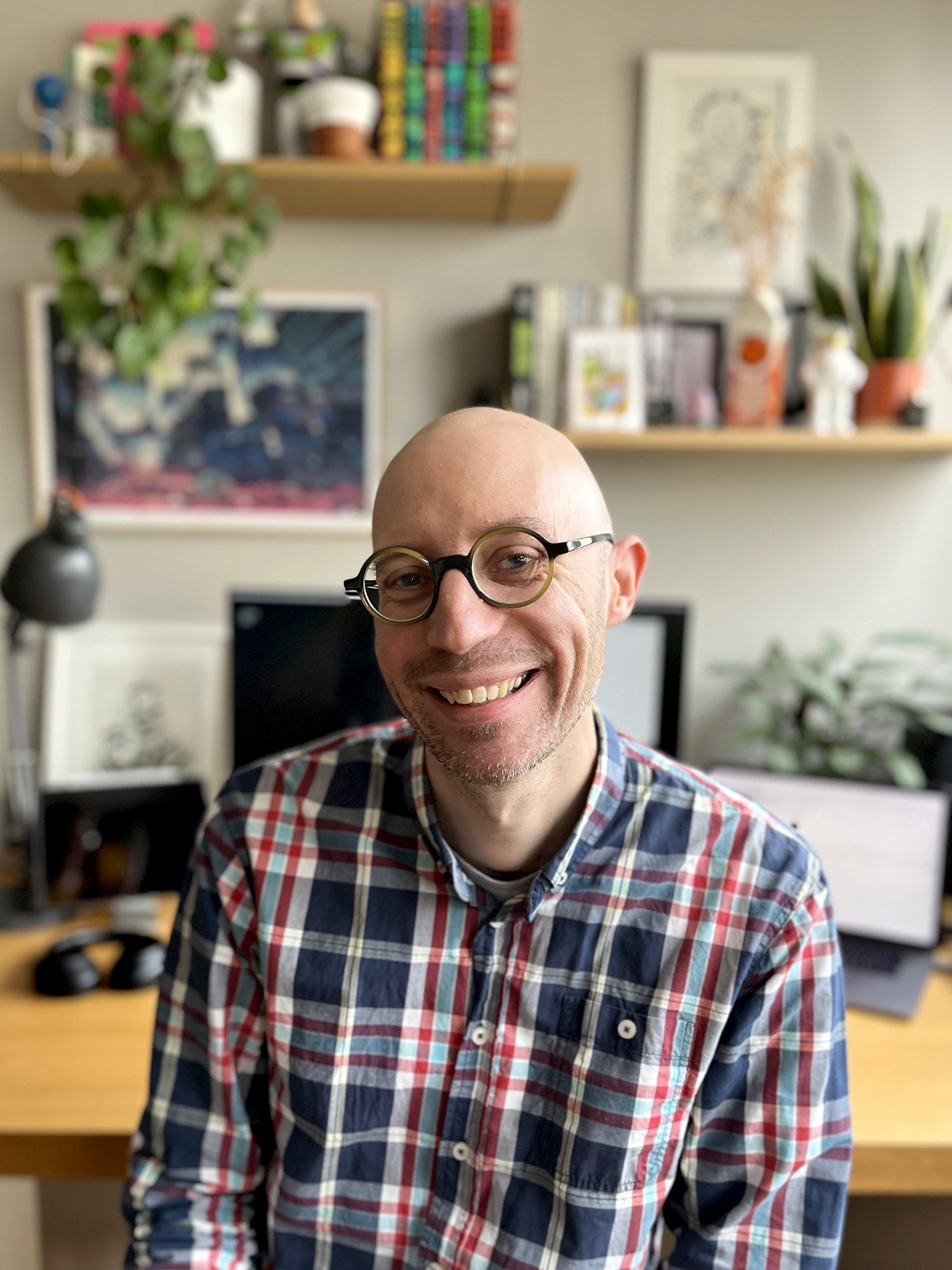 Since moving to Paris about eight years ago to settle down with my partner, I've specialised in working with local authorities and communities, such as the town hall, the community of communes, and other administrative authorities.
Prior to my relocation, I lived in Brittany.
To this day, I continue to collaborate with small and medium-sized organisations to meet their visual design needs.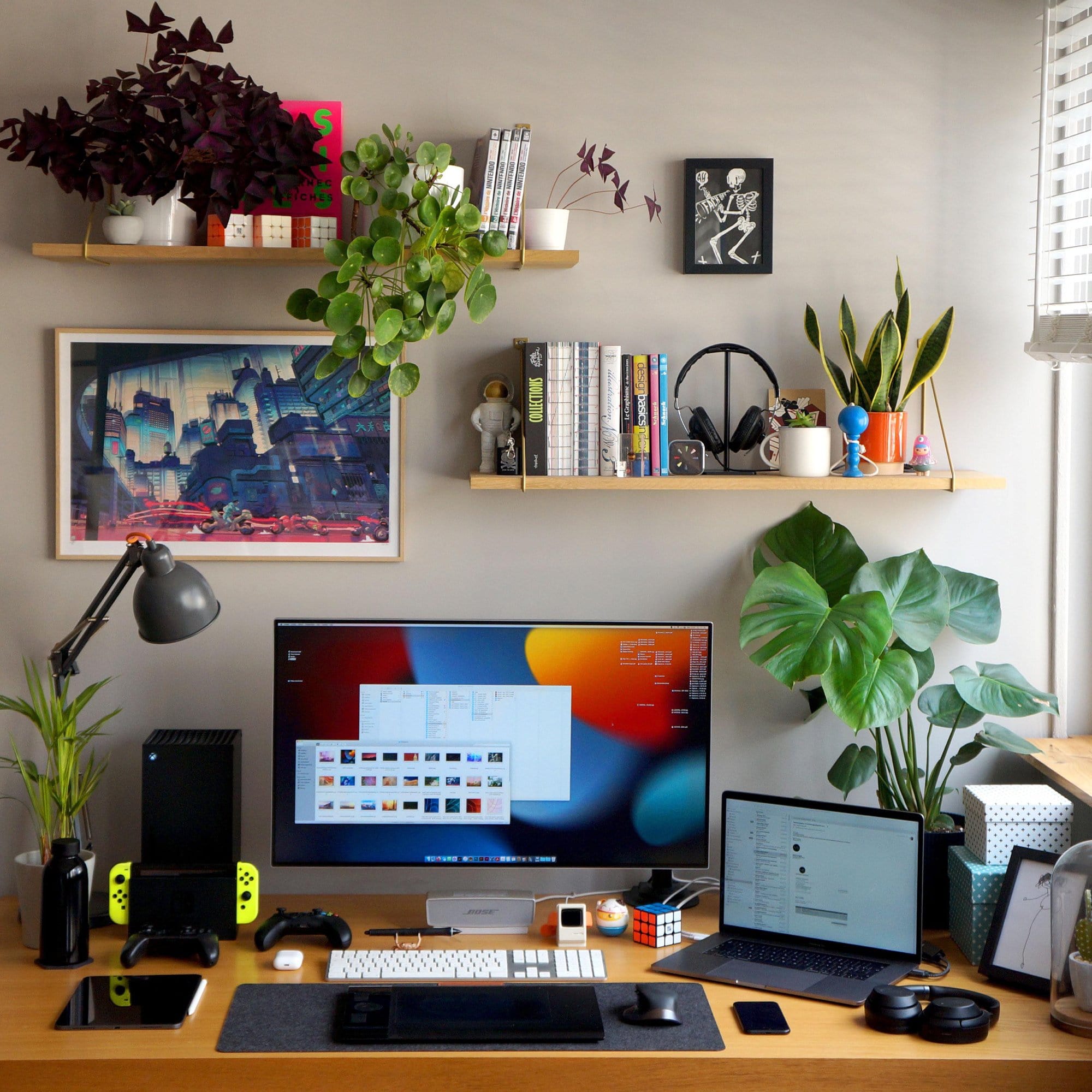 In addition to my work as a graphic designer, I also set aside time for drawing.
Sometimes it's for specific projects (like greeting cards), while other times, it's just for pleasure (such as drawing vacation souvenirs).
As for my passion, without hesitation, I would say it's video games.
I devote a lot of my free time to playing them (both old and new), and enjoy exploring all sorts of games.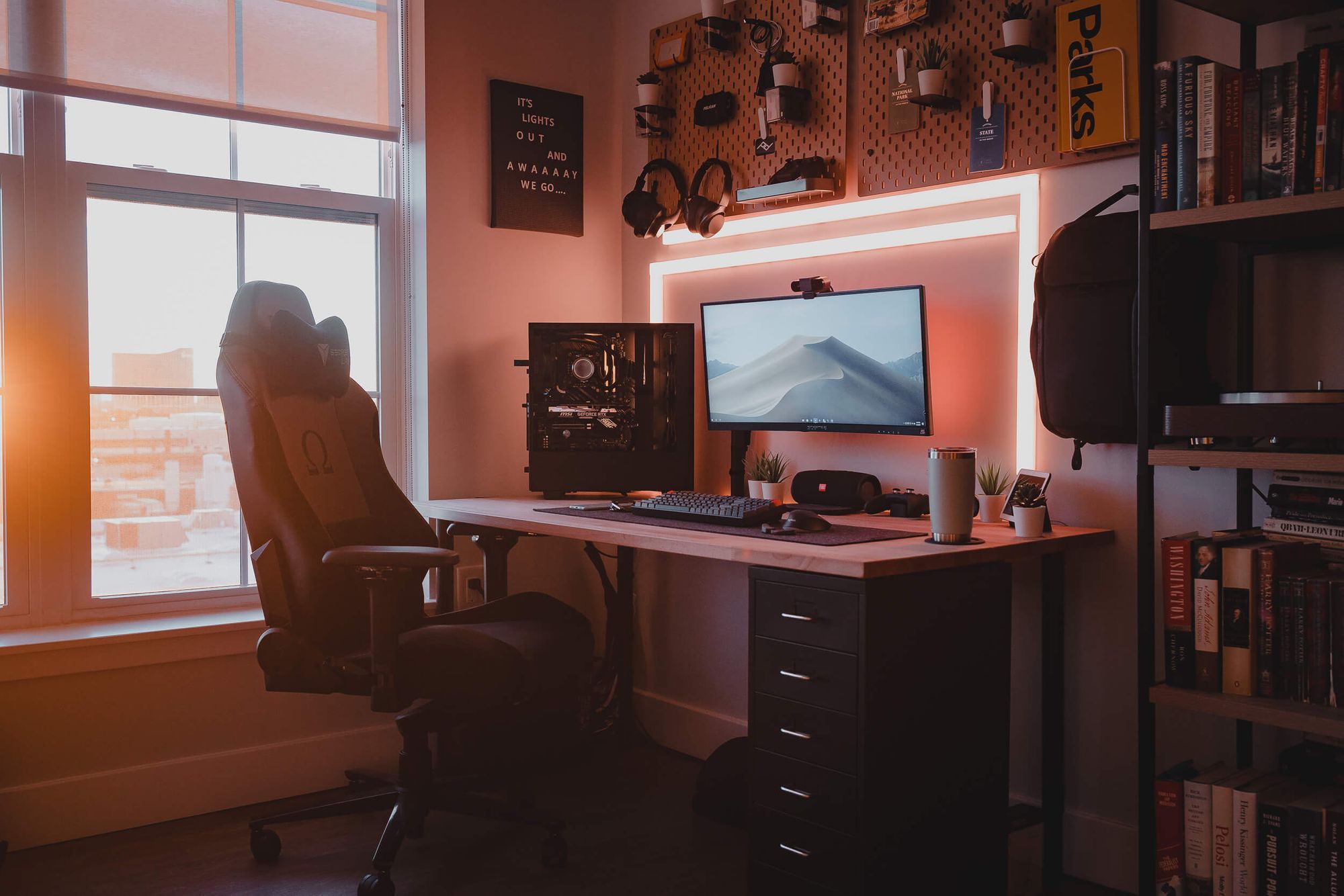 Take us through your setup
I've been working on a Mac for a little over 12 years.
I quickly switched to two monitors and have always had an enormous desk.
I love having space and being able to make a mess.
However, I can't start a work day if it's not tidy. So I have my little cleaning routine every morning or so.
During the day, I'm at my desk almost all the time. When I'm not working there, I'm on the Internet or playing video games.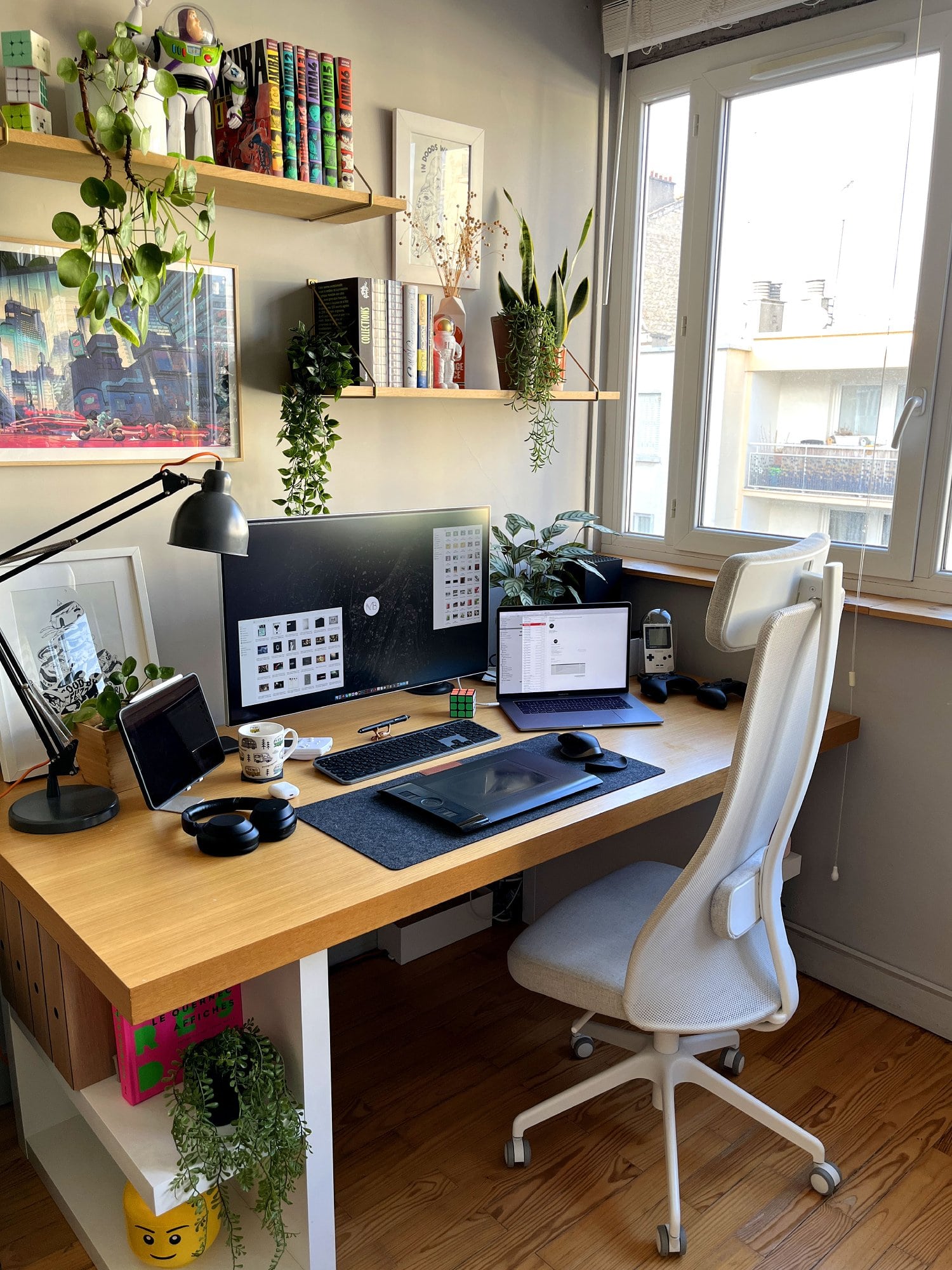 I've carefully crafted this space to suit my preferences and provide the utmost comfort.
It took me a long time to find the perfect desk, though.
I wanted it to be huge, plain, and white with a wooden top.
I knew exactly what I wanted and eventually found it on one Spanish website.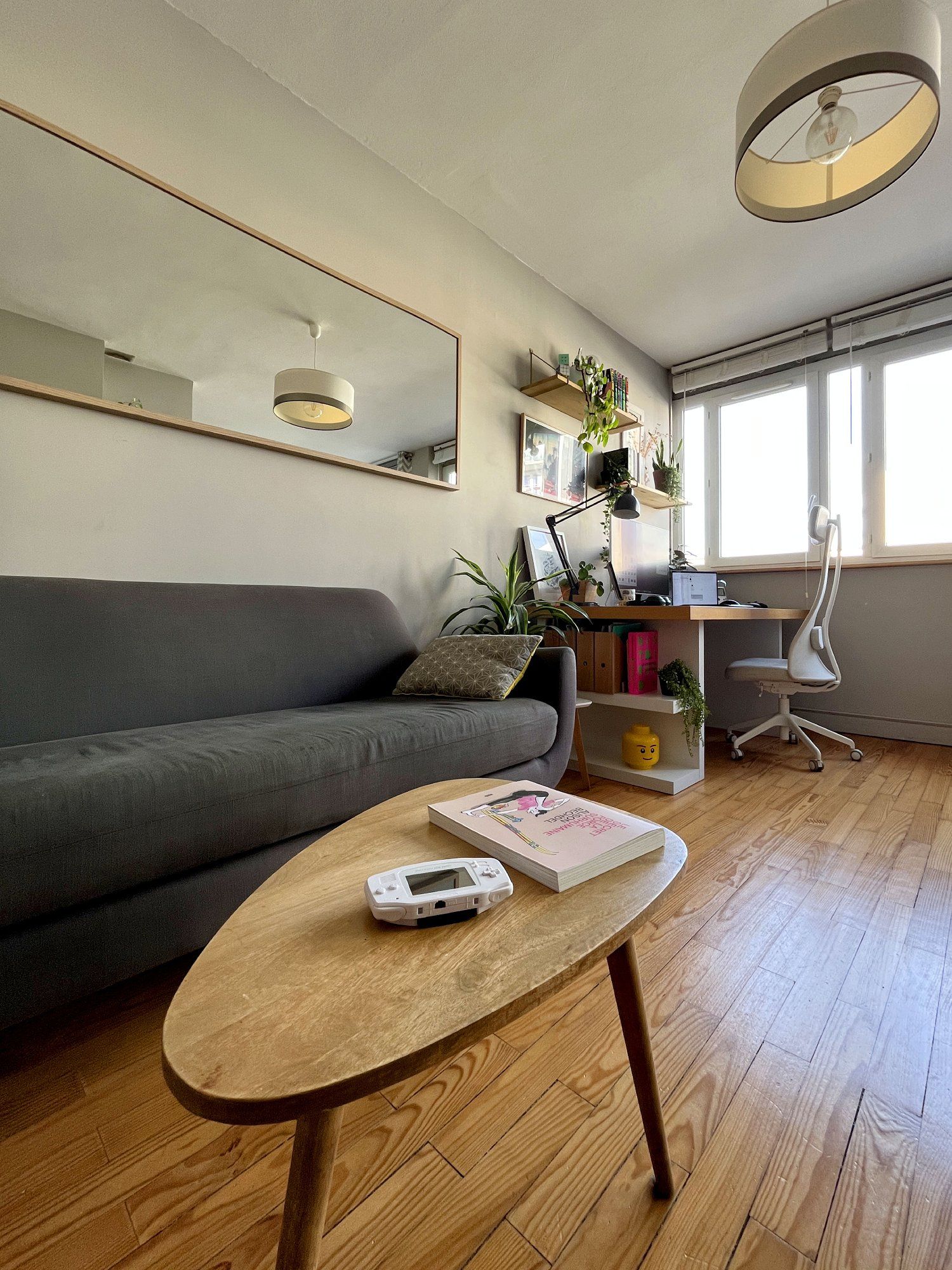 Another thing I love about my workspace is the natural plants (Pilea, Oxalys and Monstera).
I've got them everywhere in my home, and my office is no exception.
My apartment is perfectly exposed for the plants to grow well. No direct sunlight, but massive windows on the entire side of the room.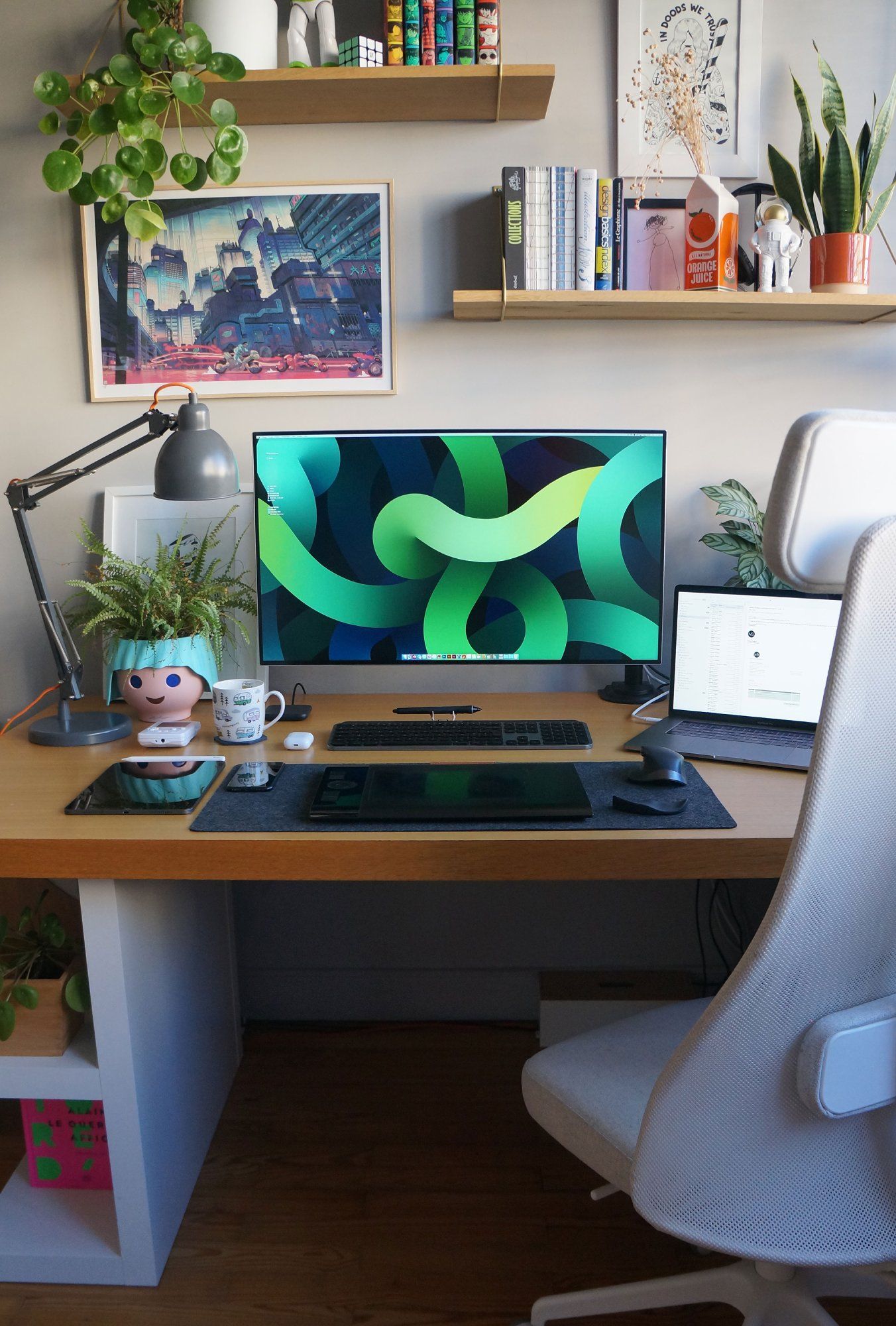 There is one aspect that could be improved in my workspace, and that is the lighting for nighttime work sessions.
Currently, I have a classic desk lamp that was gifted to me by my girlfriend.
While it is lovely, I think that one or two additional light sources may be necessary for the workspace.
As for my next purchase, it will likely be an extra screen installed above my laptop or a better computer hub with more ports.
What's your favourite item on your desk?
My favourite item is definitely the limited edition illustration Akira by Mathieu Bablet, which is located right in front of me.
He is a French comic book artist who does science fiction.
I love his work.
I also have another large poster of his, themed Spirited Away by Hayao Miyazaki, in my daughters' room.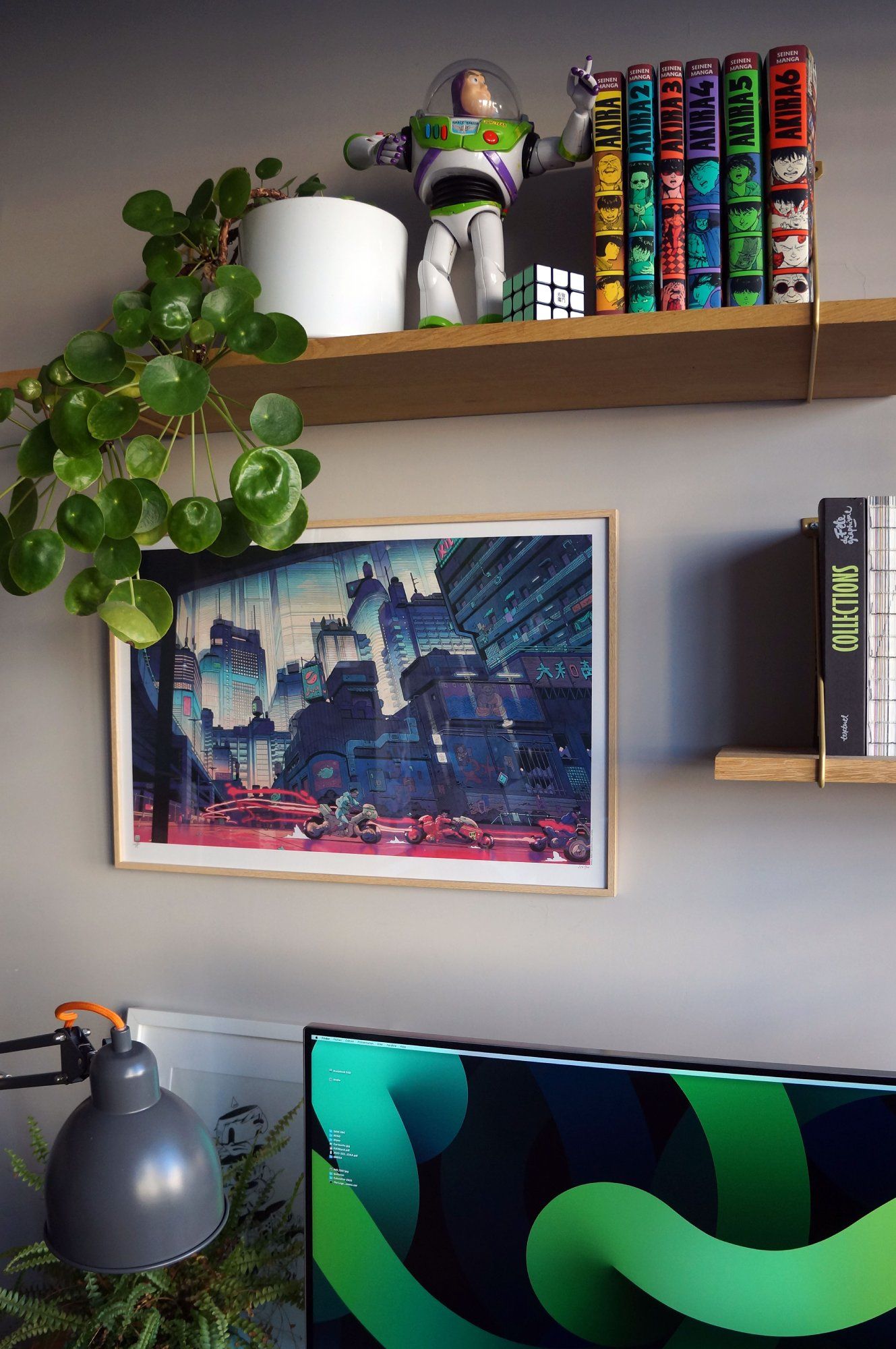 What apps or tools do you use to get things done?
On a daily basis, I use Adobe Creative Cloud. Like all graphic designers, I guess.
To stay organised, I use two classic Apple apps— Notes and Calendar. It's very convenient to have access to your notes from any location.
However, I always have a notebook and a pen at hand to take notes and draw ideas that come to my mind.
I recently discovered Procreate.
What an application!
For €10 ($11), you can have a professional tool in your hands. The possibilities are unlimited.
And it's so intuitive.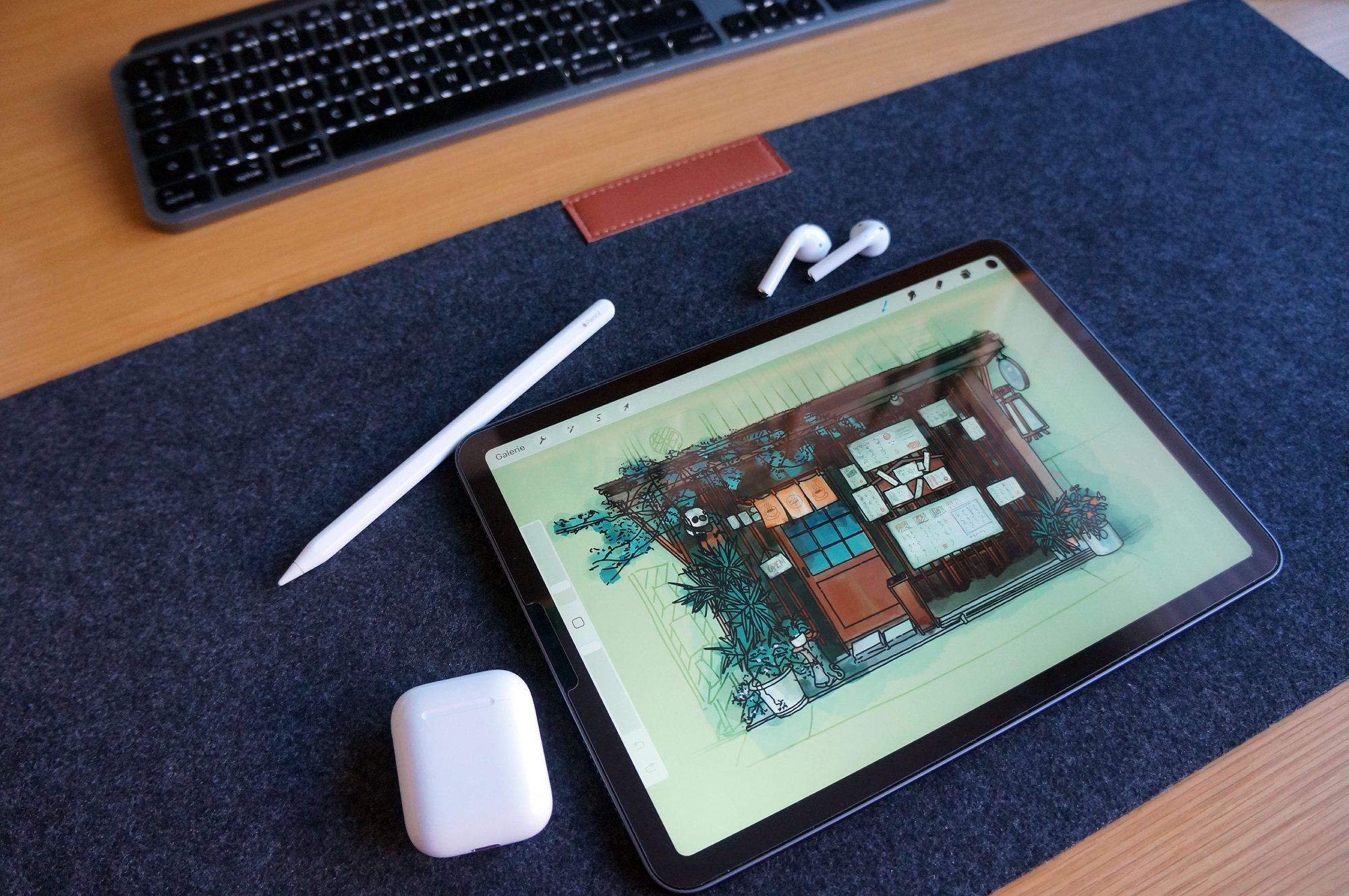 What books, blogs or podcasts recently caught your attention?
Right now, I'm reading the graphic novel called The Secret to Superhuman Strength by Alison Bechdel. She is such a talented writer!
I read a lot of French comics and novels, and I listen to a lot of podcasts while working.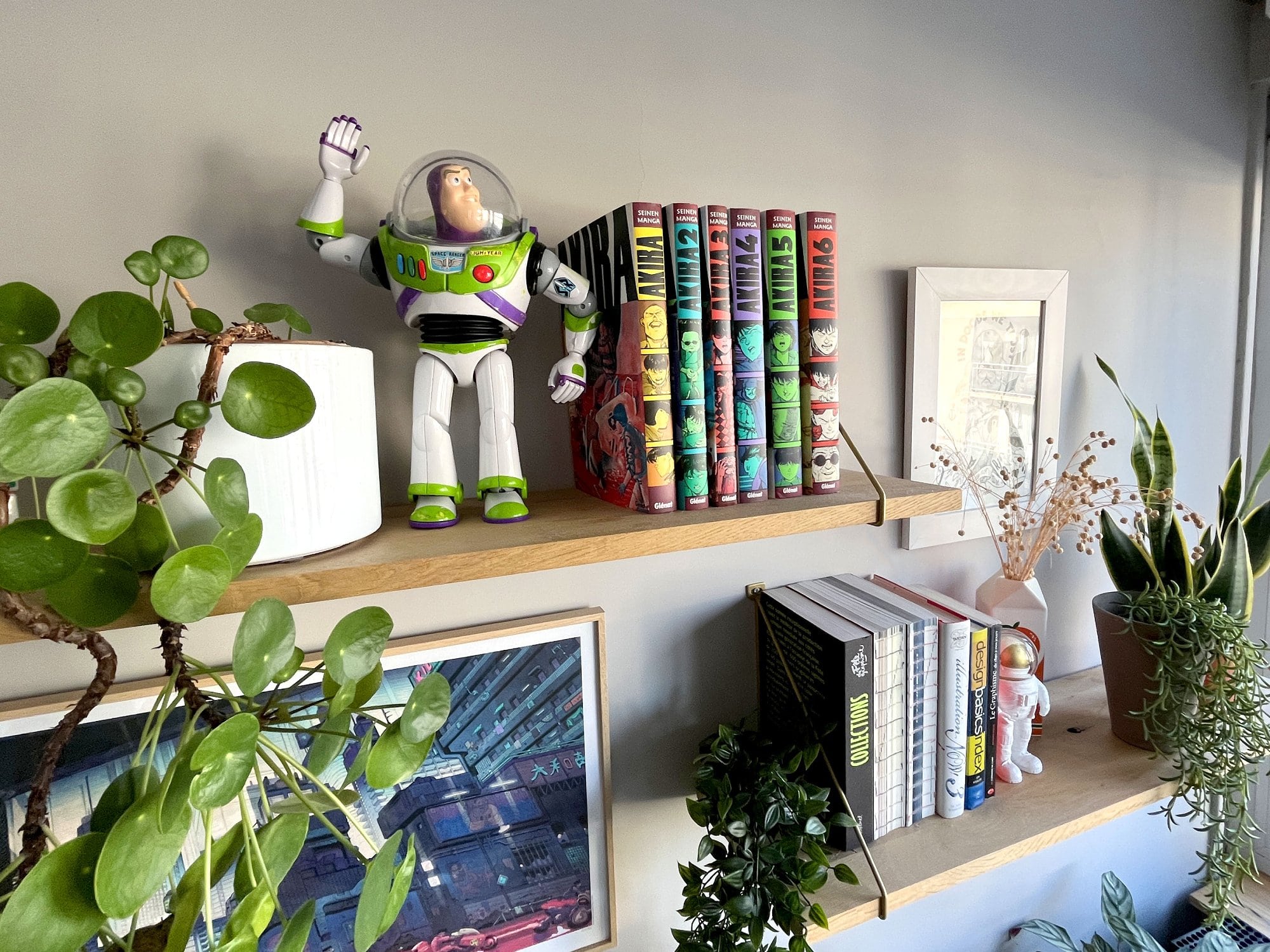 My favourites have to be video game related.
I recommend two of them: Les Démons du MIDI (but be careful, it's in French!) and The Sound of Play.
Any tips for other makers who want to improve their workspaces?
Surround yourself with things you love.
Plants are an absolute must. I prefer to keep them within my line of vision, and taking care of them helps me feel more relaxed.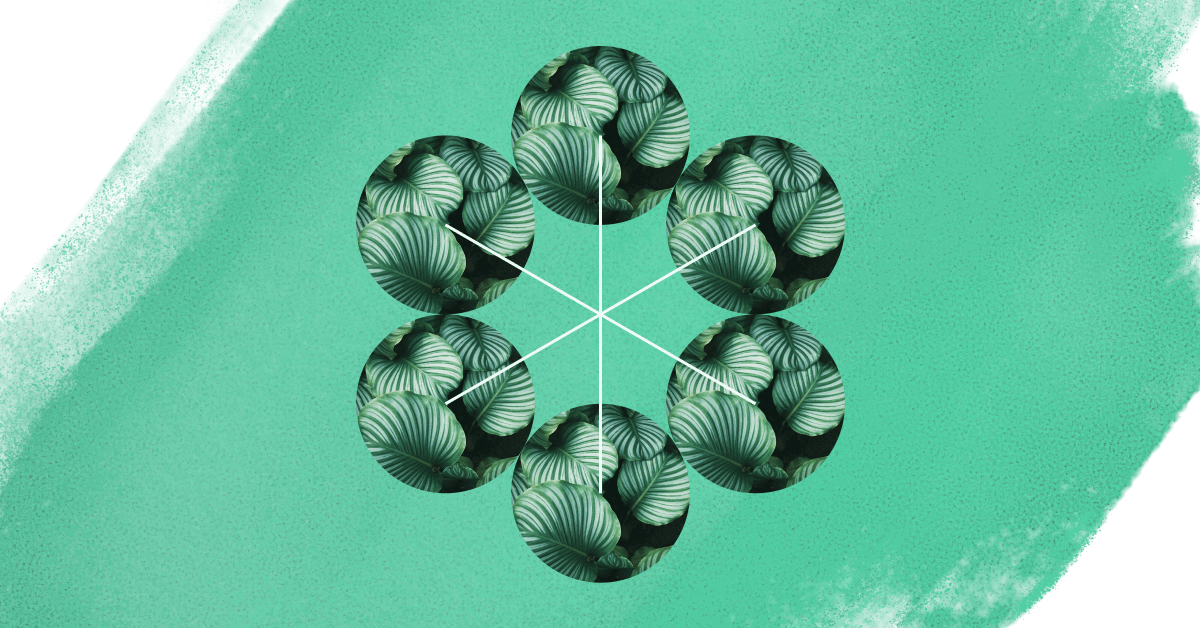 Go for a comfortable workstation with a proper office chair (this is important!), some good music, and a steaming cup of tea or coffee in front of you.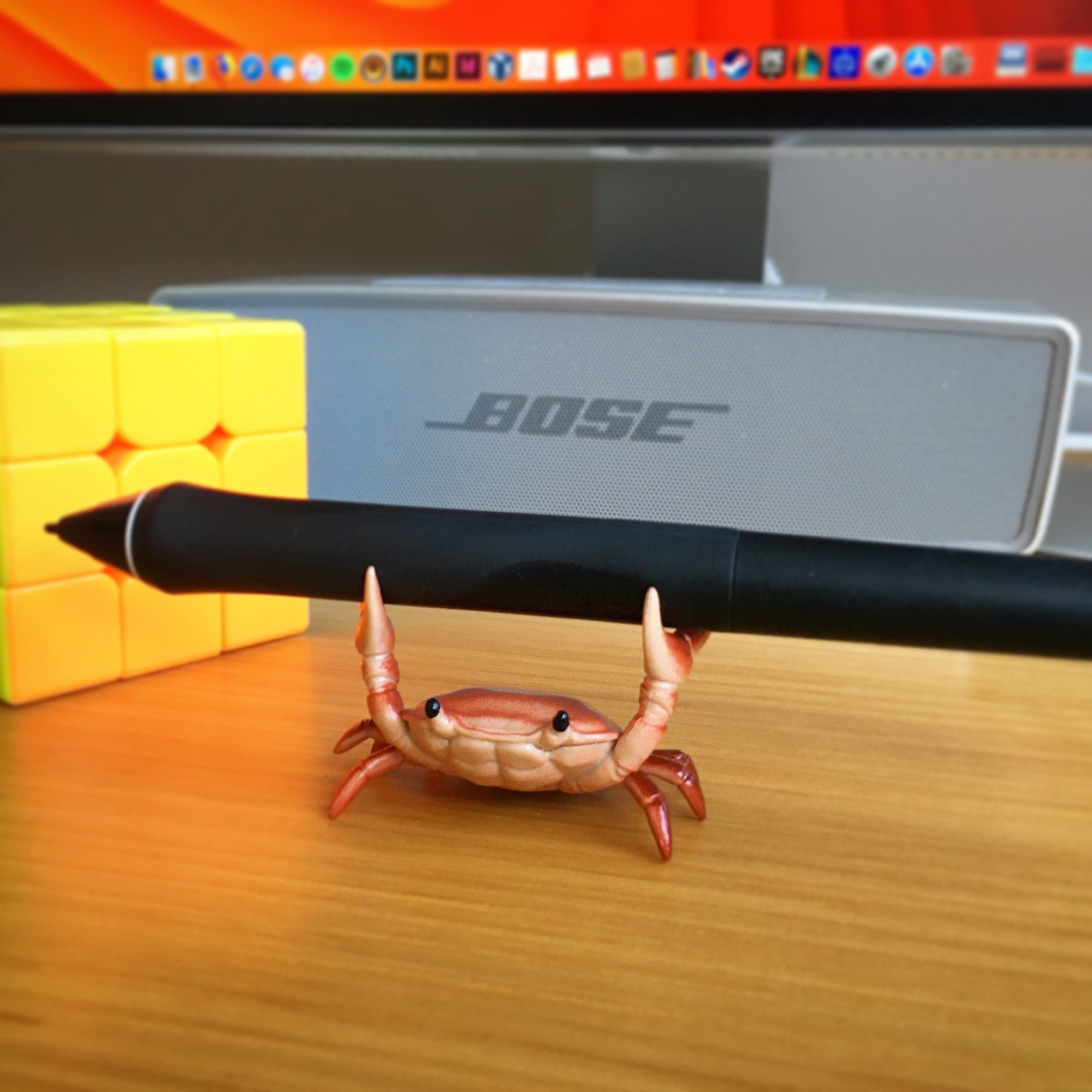 What does your typical day look like?
I have children. So this is often what conditions my waking up and my bedtime.
My daughters get up very early (6:30 am) and rush to my room, so I go to bed early (before 11 pm) so I'm not too tired.
The first thing I do once my daughters are dropped off at the nursery and school — I turn on my computer and put my devices (watch and phone) to charge.
I take the opportunity to check out what's new on Instagram, Reddit, and such.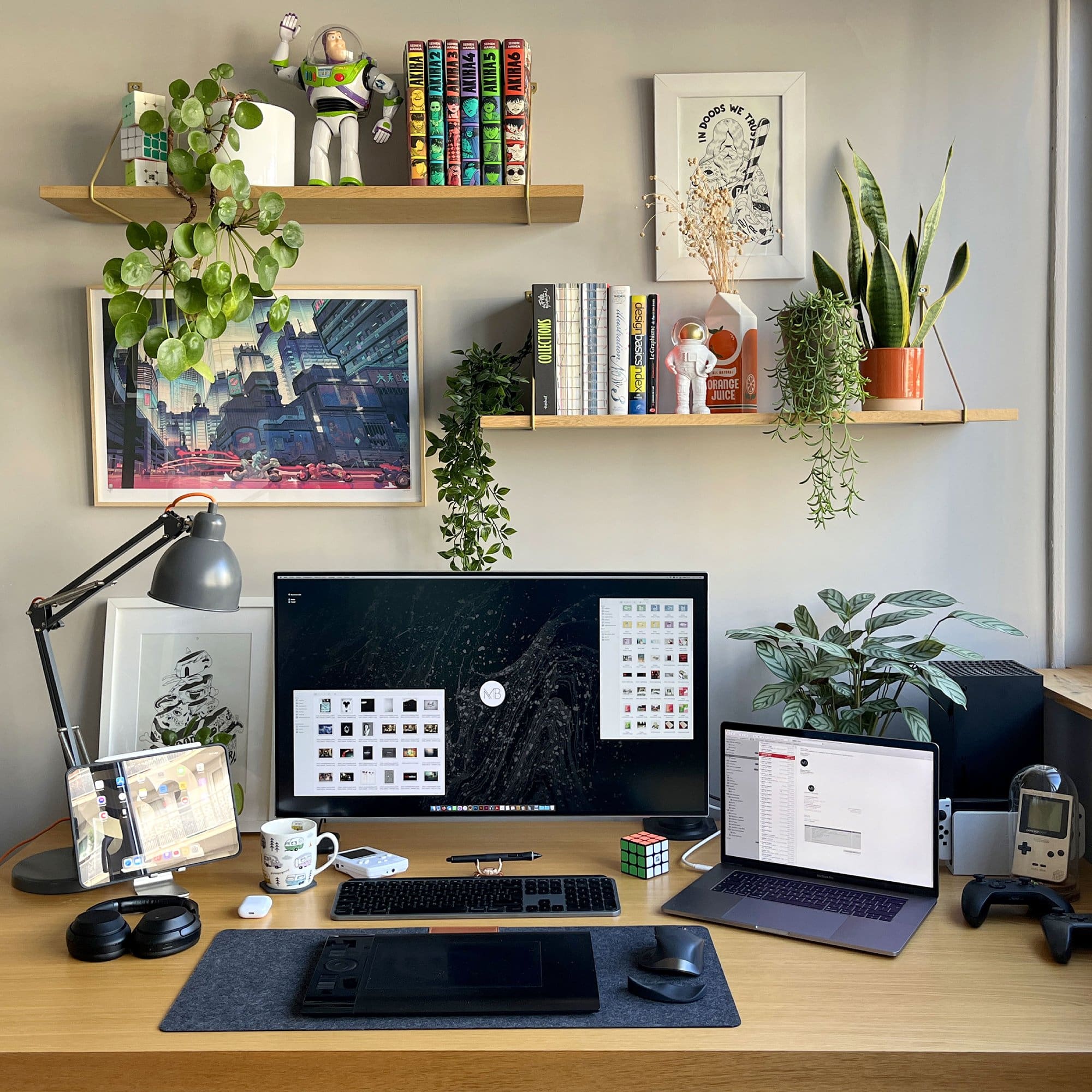 After a bit of tidying up the room and my desk (my girls always leave their toys lying around), I check my emails, sort them and answer the most urgent ones.
When this is all done, I can really kick off my day, which is around 9 am.
I spend about eight hours a day at my desk. I work there, but it's also where I play video games.
There's always a controller or a handheld console near me.
I play a lot of old games.
I recently modified my Gameboy so that I can play the games of my childhood. I love it!
Right now, I'm playing Drill Dozer for the first time. This is such a fun puzzle game!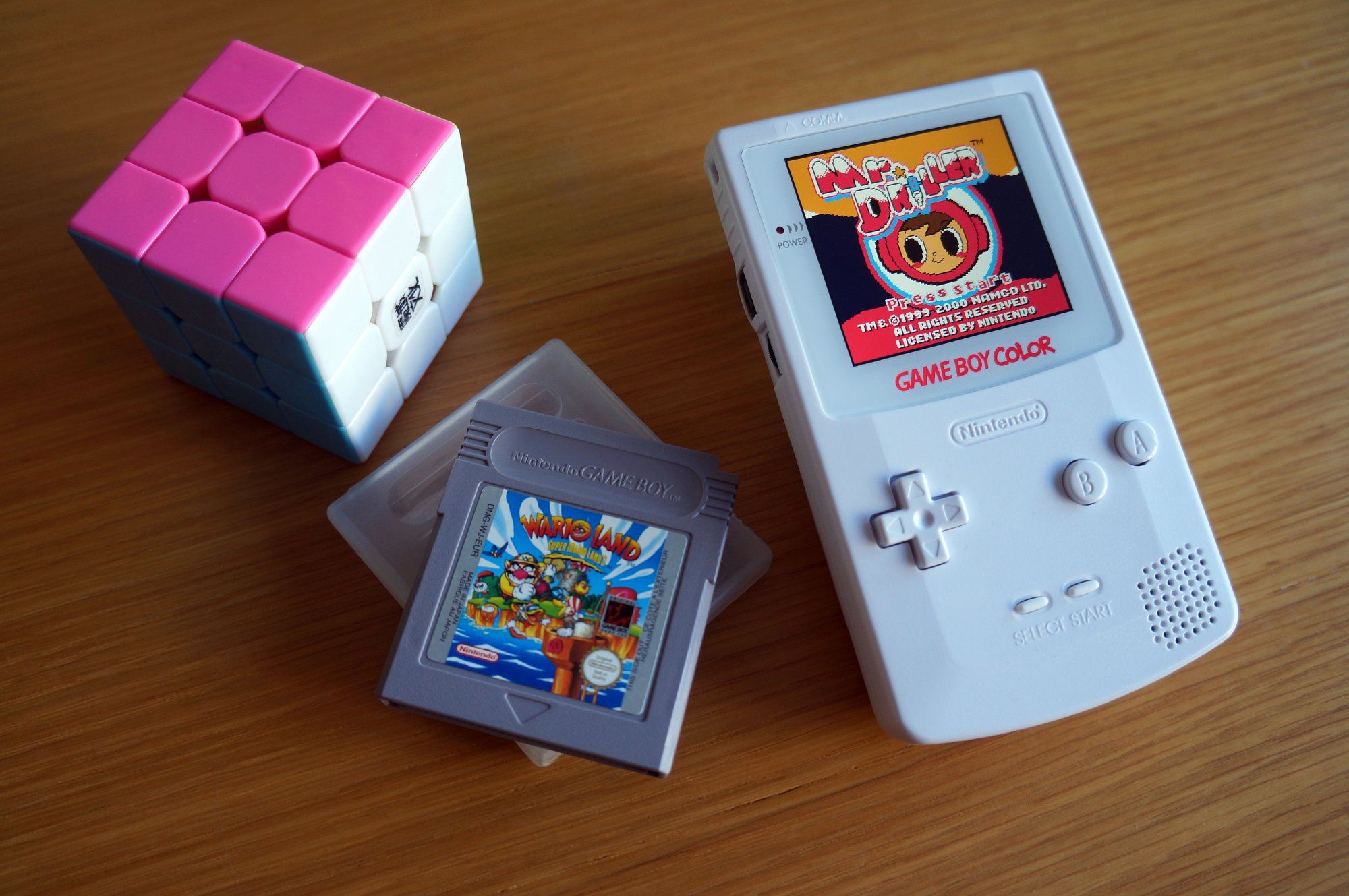 I frequently go swimming — the municipal pool is 300 m from my house. I also do pilates once a week, as well as gym sessions and physical therapy. I have a joint disease, so staying still is not good for me.
I'm lucky enough to live right next to Paris, and I try to make the most of it.
I visit exhibitions — the last one I was able to see was the Claude Monet and Joan Mitchell exhibition. It was fascinating.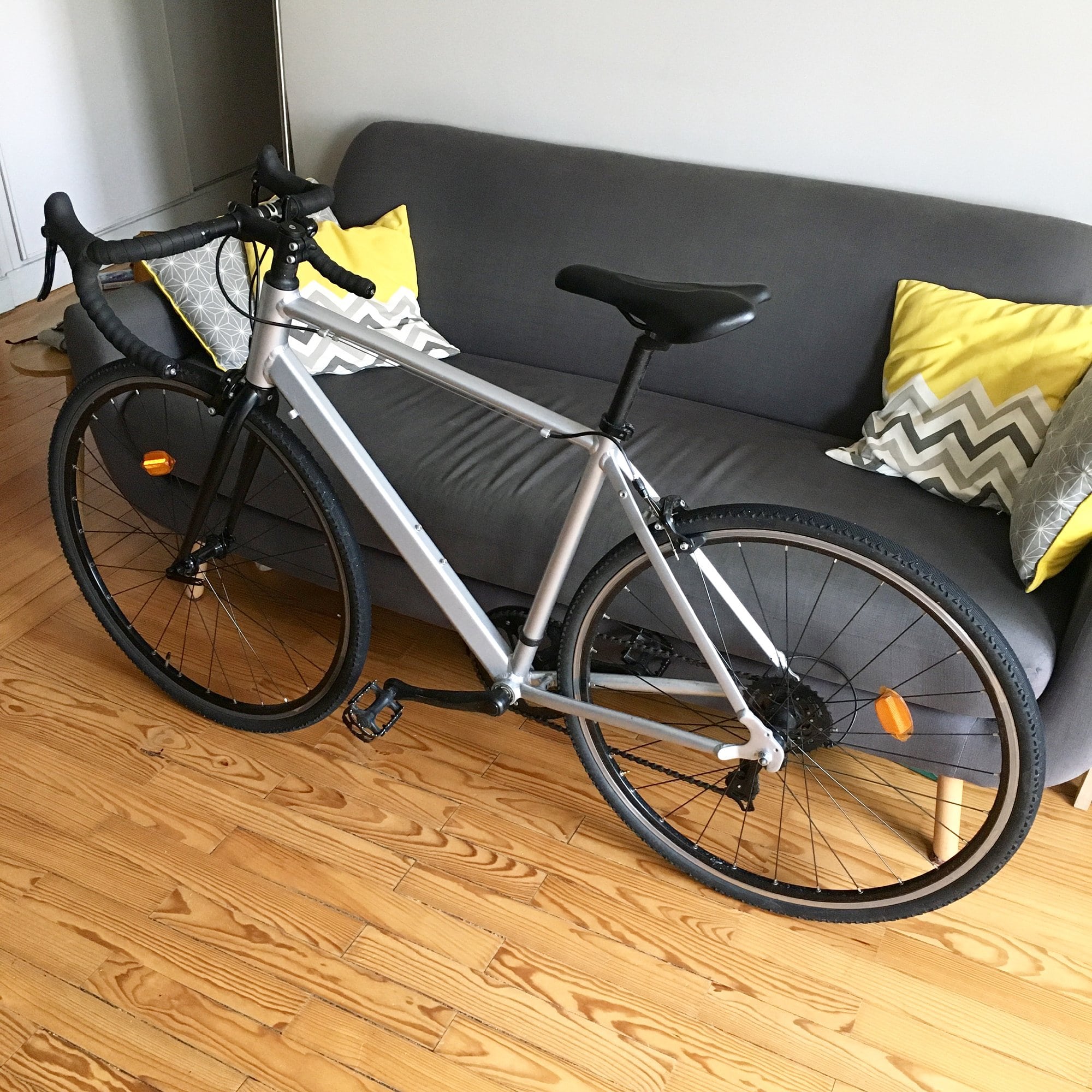 Since I'm a freelancer, I work from home, and it's been more than 13 years now.
While the coronavirus has not changed much about my way of working (except for having my wife and daughters nearby), it has impacted the number of projects I receive. As I mainly work in the events industry, everything came to a standstill.
As a result, I am considering getting an off-site office.
This would allow me to have a dedicated workspace and better separate my professional and personal life.
I'm currently looking at co-working spaces near my home.
Your tips for working from home?
Setting up a routine is the most important thing for me.
It's important to start with a routine that you impose on yourself and eventually becomes a habit.
While it may be tempting to start your workday in your pyjamas without taking a shower, I don't think it's a good idea. Personally, I cannot do it.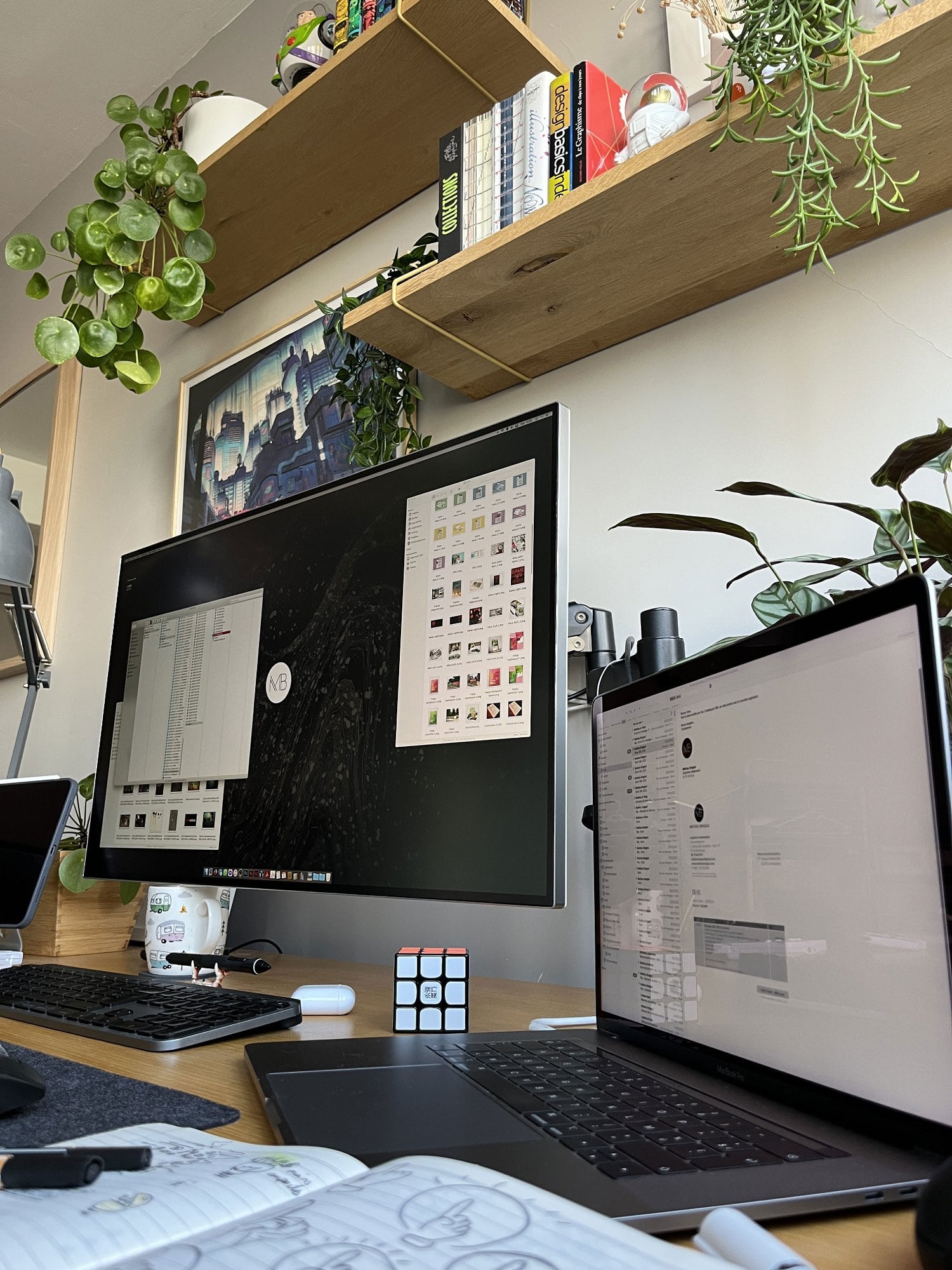 Working from home means taking time for yourself, such as taking breaks, going out, and socialising.
Sometimes the best ideas come when you're not actively looking for them, allowing you to step back from the project at hand.
At home, there are no colleagues around to offer their opinions.
Short Shout-Outs 🔊

Unlock your design potential with FigmaMaster — our comprehensive course on Figma, the industry-leading collaborative design tool. (Link)

AI Vandelay. Global import/export firm utilising AI and advanced logistics for seamless international trade. (Link)

Seeking creative content writer for tech media company CyberGenius. Produce engaging articles on AI and cybersecurity trends. (Link)
We're a reader-supported publication. This article might contain affiliate links. It means we may receive a commission if you click a link and buy a product that our maker has recommended. The interview was done independently.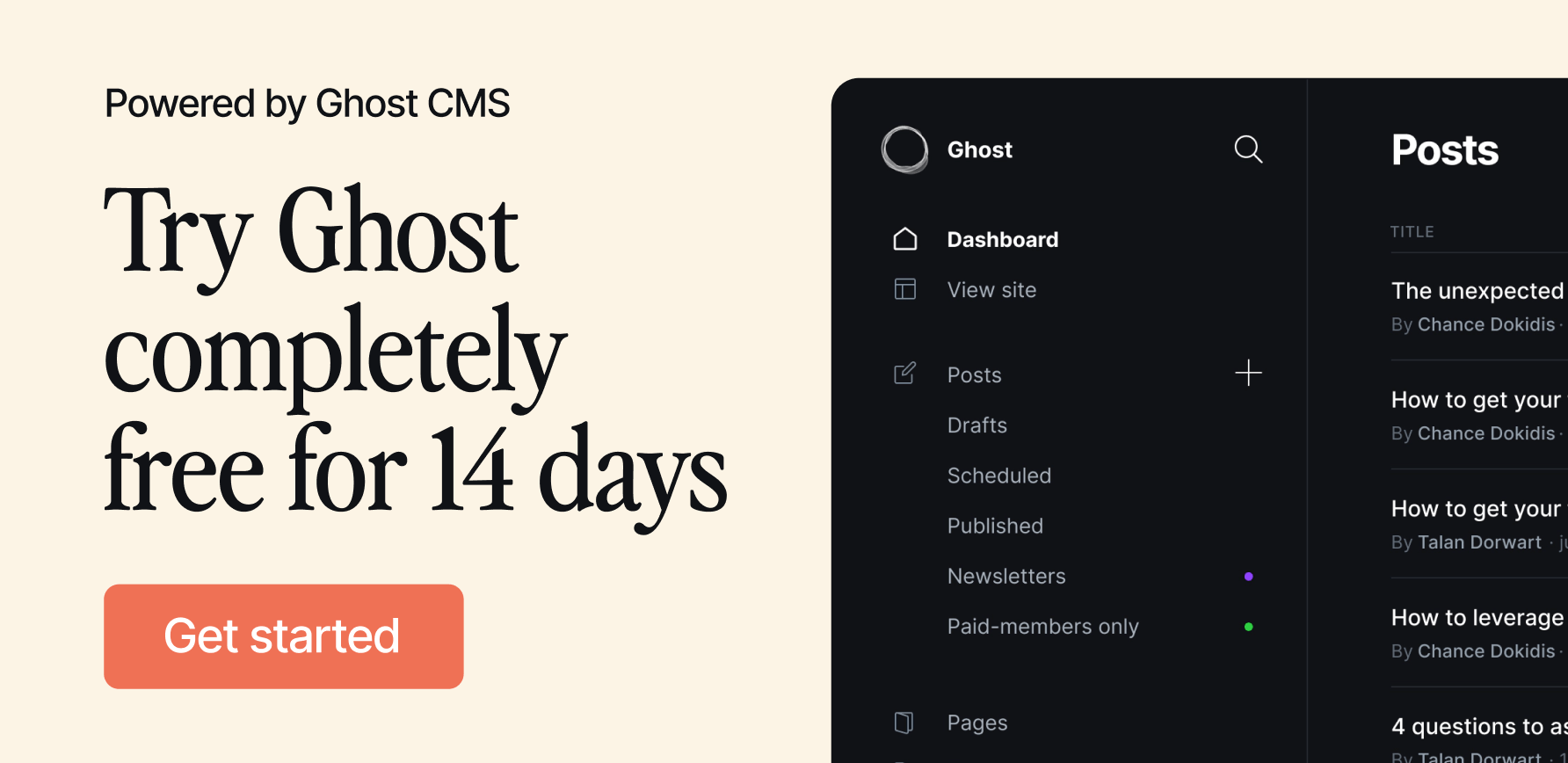 ---