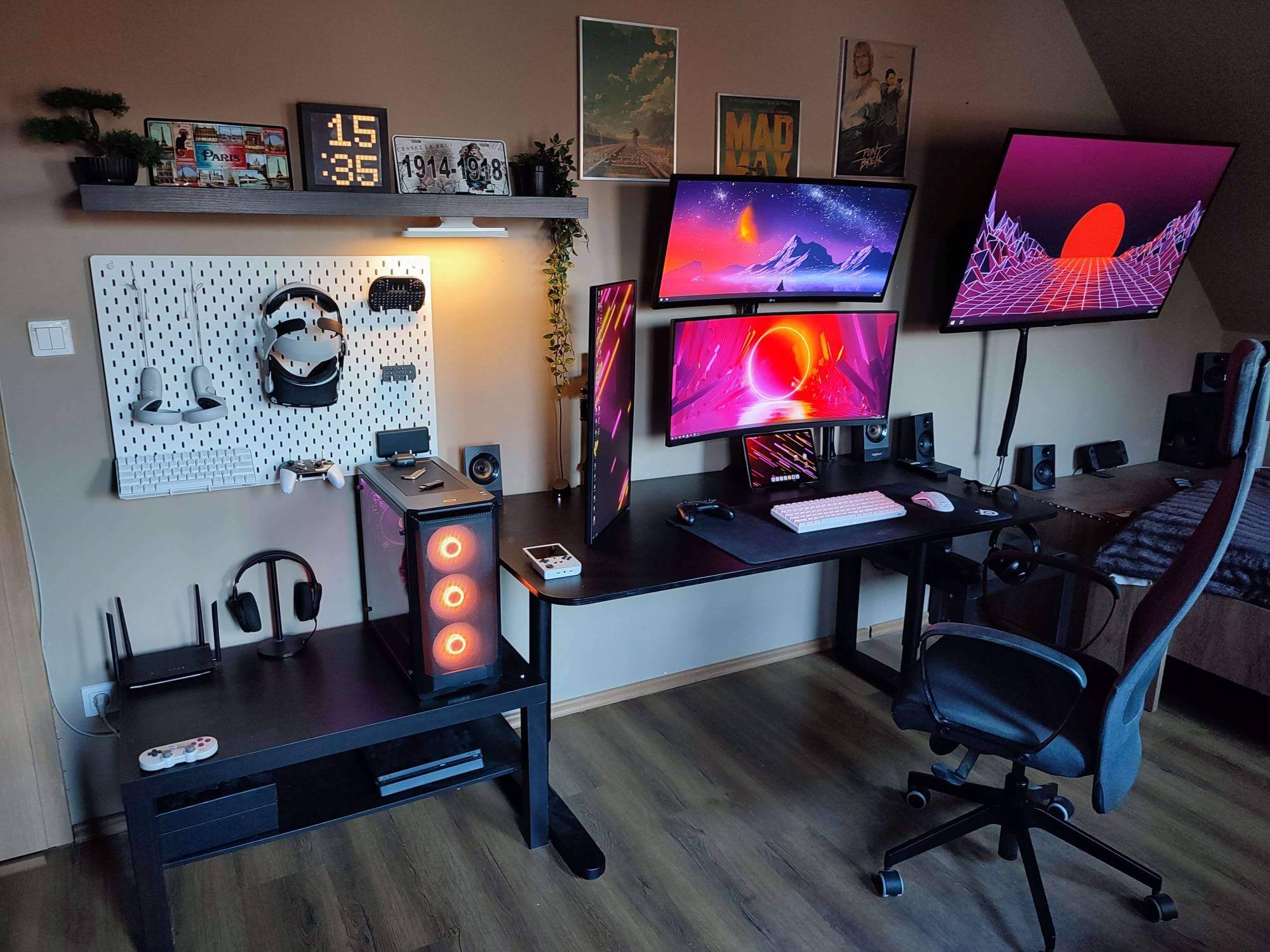 Multi-Monitor Desk Setup in Zala County, Hungary
"I don't like to overcomplicate things"
Join 1700+ Curious Readers.
Every Sunday evening, get an *in-depth* workspace tour from a random corner of the world.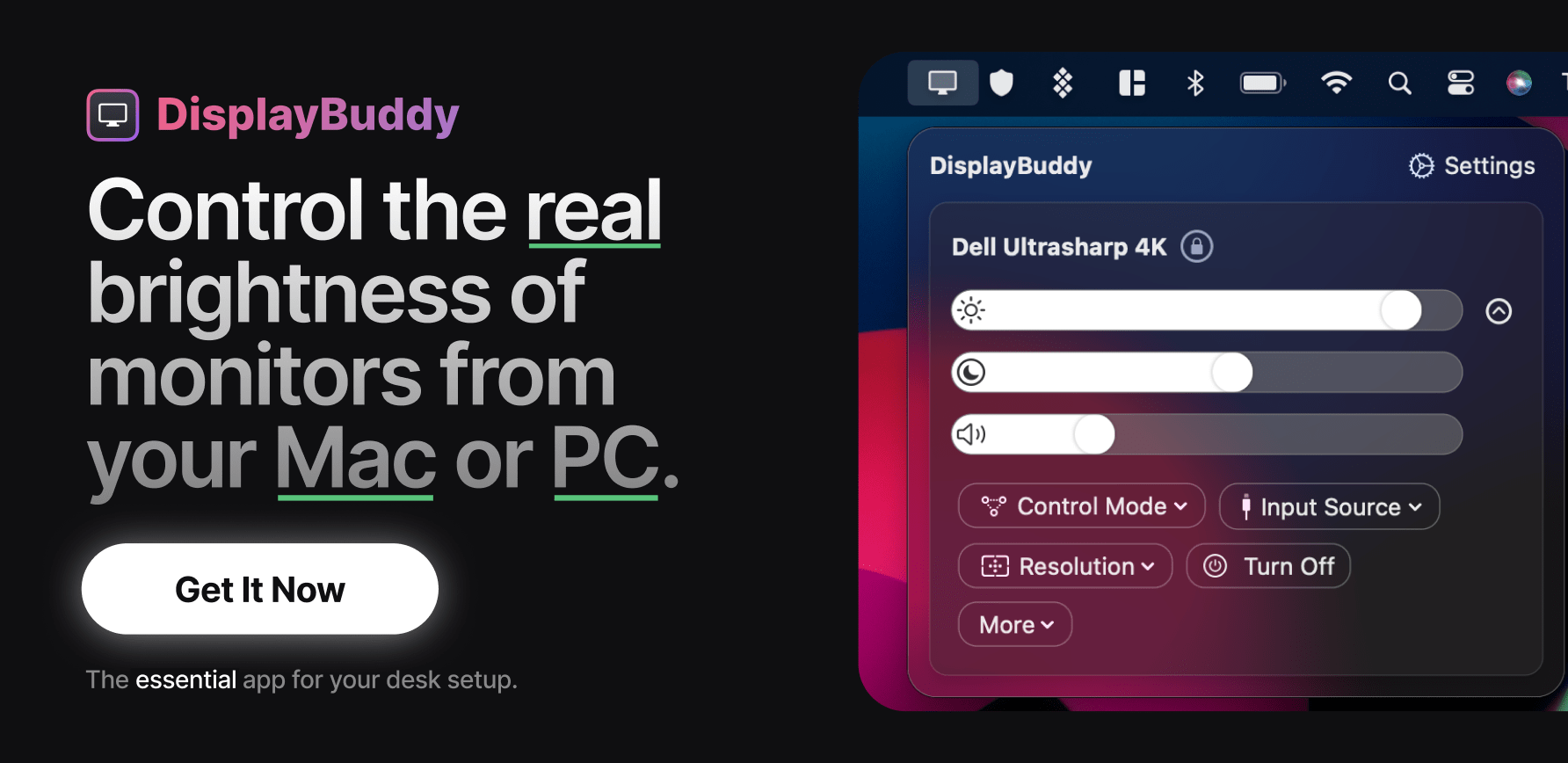 Name: Lesi
Location: Zala County, Hungary
Occupation: IT, сurrently working in Delivery
Room size: 20 m² (215 ft²)
Cost of the setup: between $3,9K and $4,5K
Social media: Twitter
Hello! Tell us a bit about yourself
Hey, I'm Lesi. I live and work in Hungary, my native country. For now, I'm working as a delivery person in my neighbourhood.
As well as that, I have a couple of side jobs as a ski trainer, guide, and translator. Most of these are seasonal jobs.
Also, I do some basic photo and video editing, but mainly for fun, not money.
When I was a kid, I travelled a lot. I've been to all European countries west of Hungary (except Portugal and Ireland).
I've got a lot of mileage, so building up a proper desk setup for my home office was a great change of pace.
Take us through your setup
I built my workspace with multitasking and productivity in mind.
I find it quite helpful to have multiple monitors with different screen ratios and sizes to suit my needs.
I have four of them, but I don't really use the TV screen that much. Even with three screens (especially when two are ultrawide), it's kind of overkill.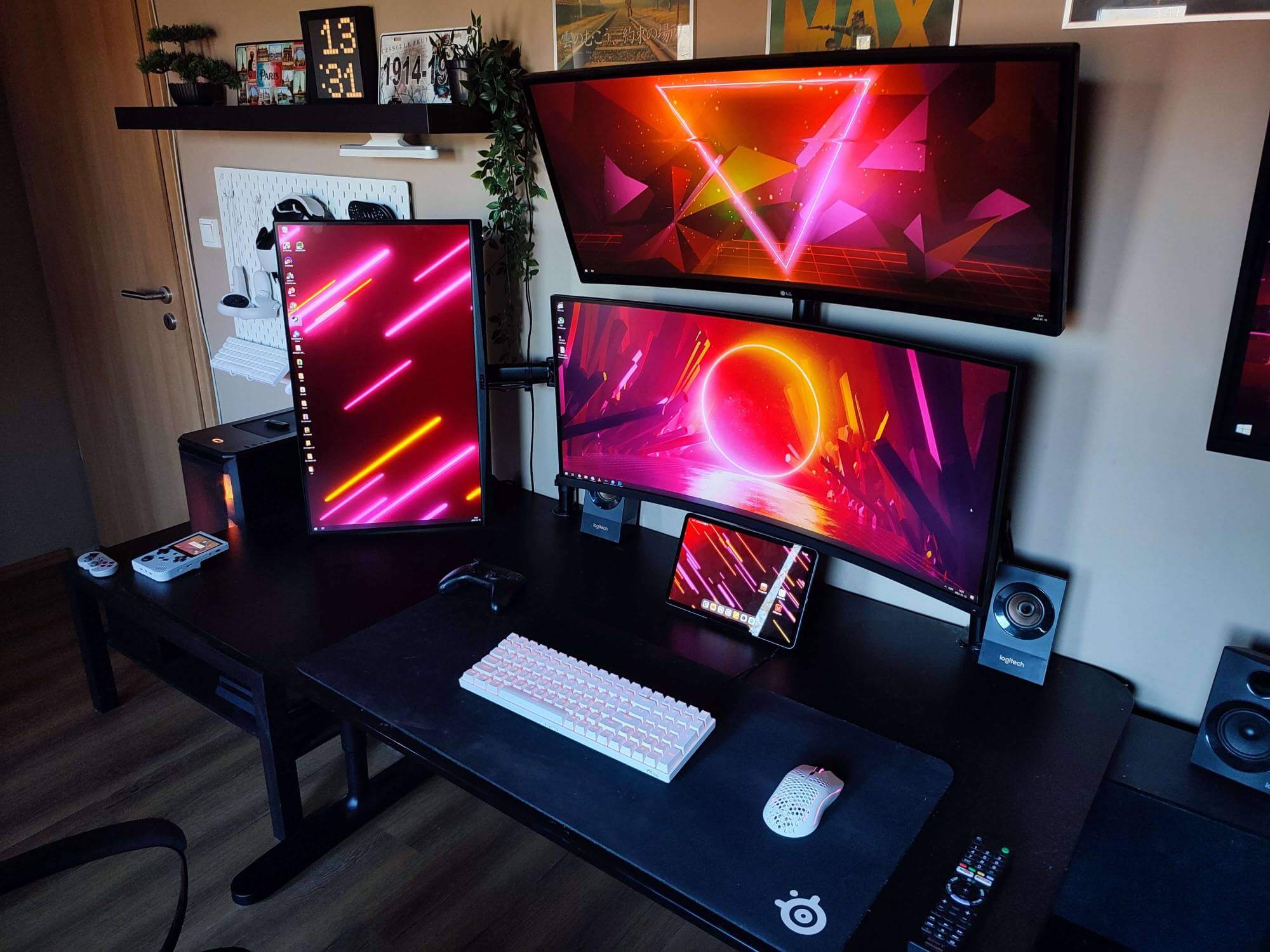 Having different monitors with different aspect ratios does make your life easier.
Imagine you'd like to watch a movie without black bars. Either of my ultrawide screens will do in this scenario.
And vice versa — you can use the normal MSI monitor if you're watching 16:9 content — for example, TV series or YouTube videos.
It's super handy.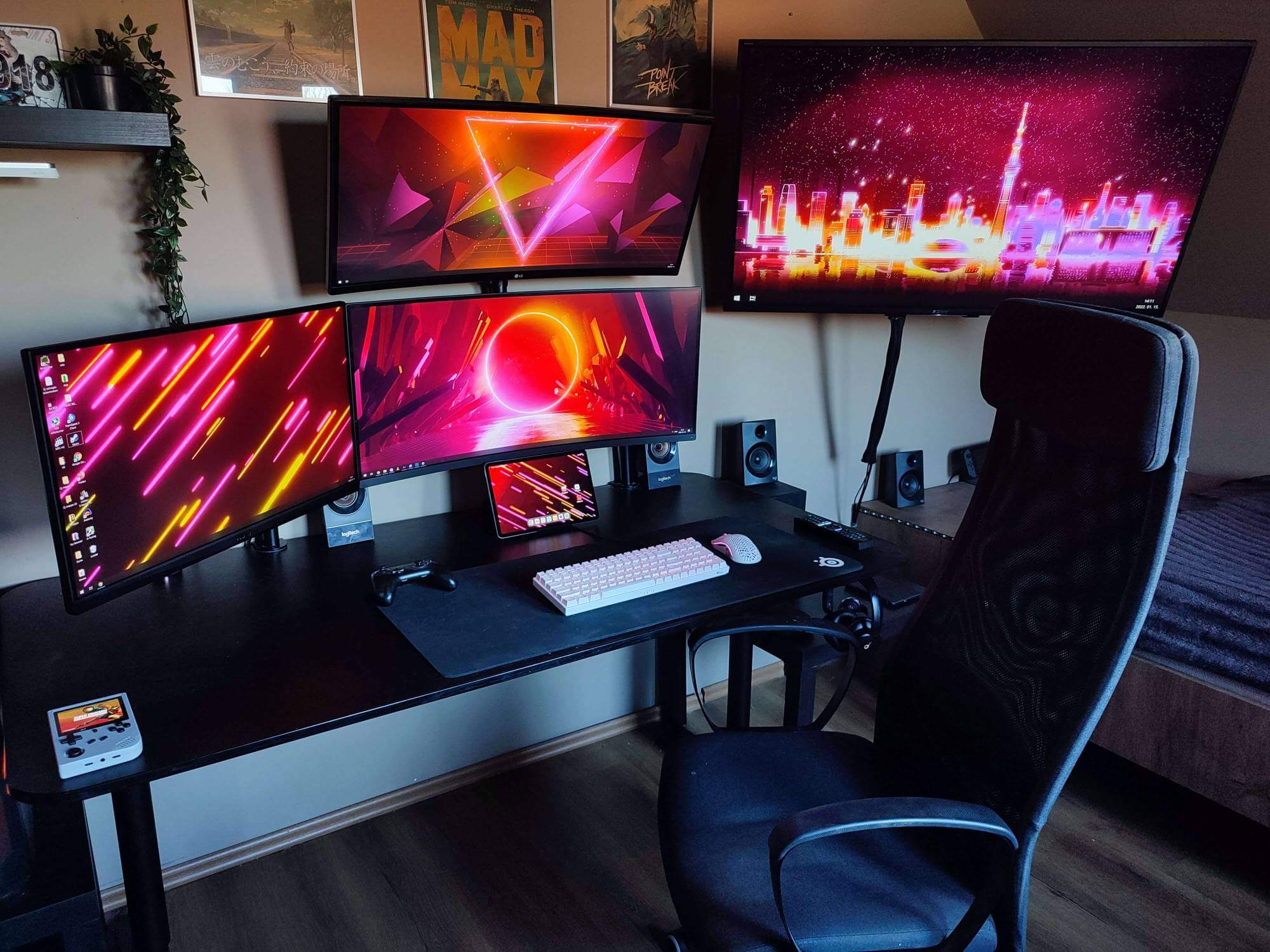 The left monitor in my setup is an MSI Optix G273QF: 1440p 165hz IPS Panel.
The middle ultrawide is a Xiaomi Ultrawide: 1440p 144hz VA Panel.
The upper monitor is an LG 34UC79G: 1080p 144hz IPS Panel.
The TV is a basic 4K Sony TV.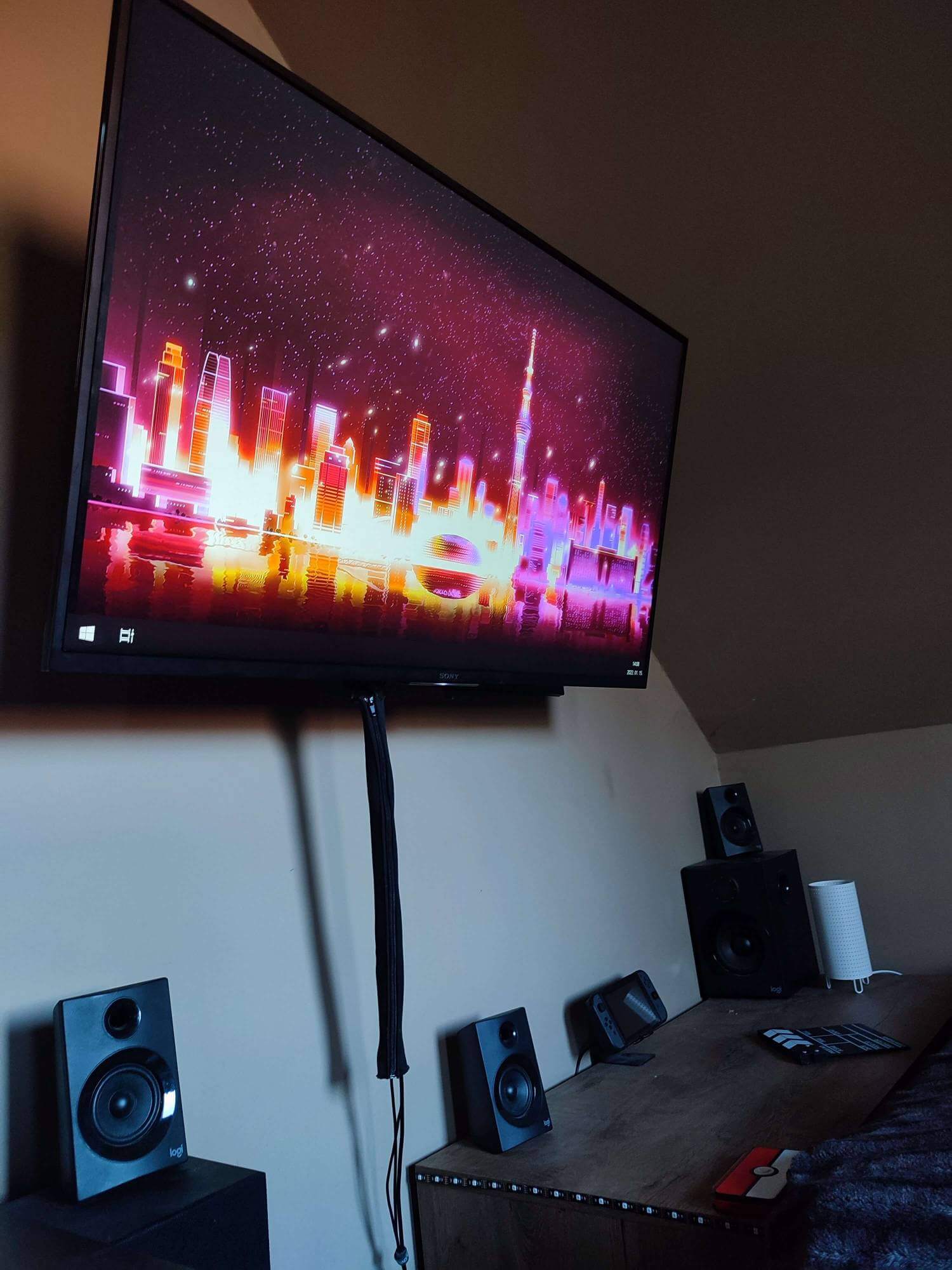 Thanks to reusable tape and cable sleeves, I managed to tame my cords, more or less.
Also, my desk has a net to hide some cables. I don't use it that much though since I move my monitors around quite often.
My keyboard and mouse are both wireless.
The tablet you can spot on my desk obscures the monitor stands where all the cables are hidden.
By the way, I'm very happy with my keyboard. It's a Royal Kludge RK100 wireless mechanical keyboard.
Although it's almost a full-blown keyboard (96%), it has a TKL form factor, making it small enough for me. It also has red linear switches, which are perfect for gaming.
I've tried all three main switch types and, to my surprise, I liked them all.
I love the feel of blue switches, the quietness of brown ones, and the speed of red ones.
Right now, I'm open to anything new, like white, purple or grey switches from Outemu.
As for my mouse, I use the Glorious Model O Wireless. I bought it from Amazon about a year ago.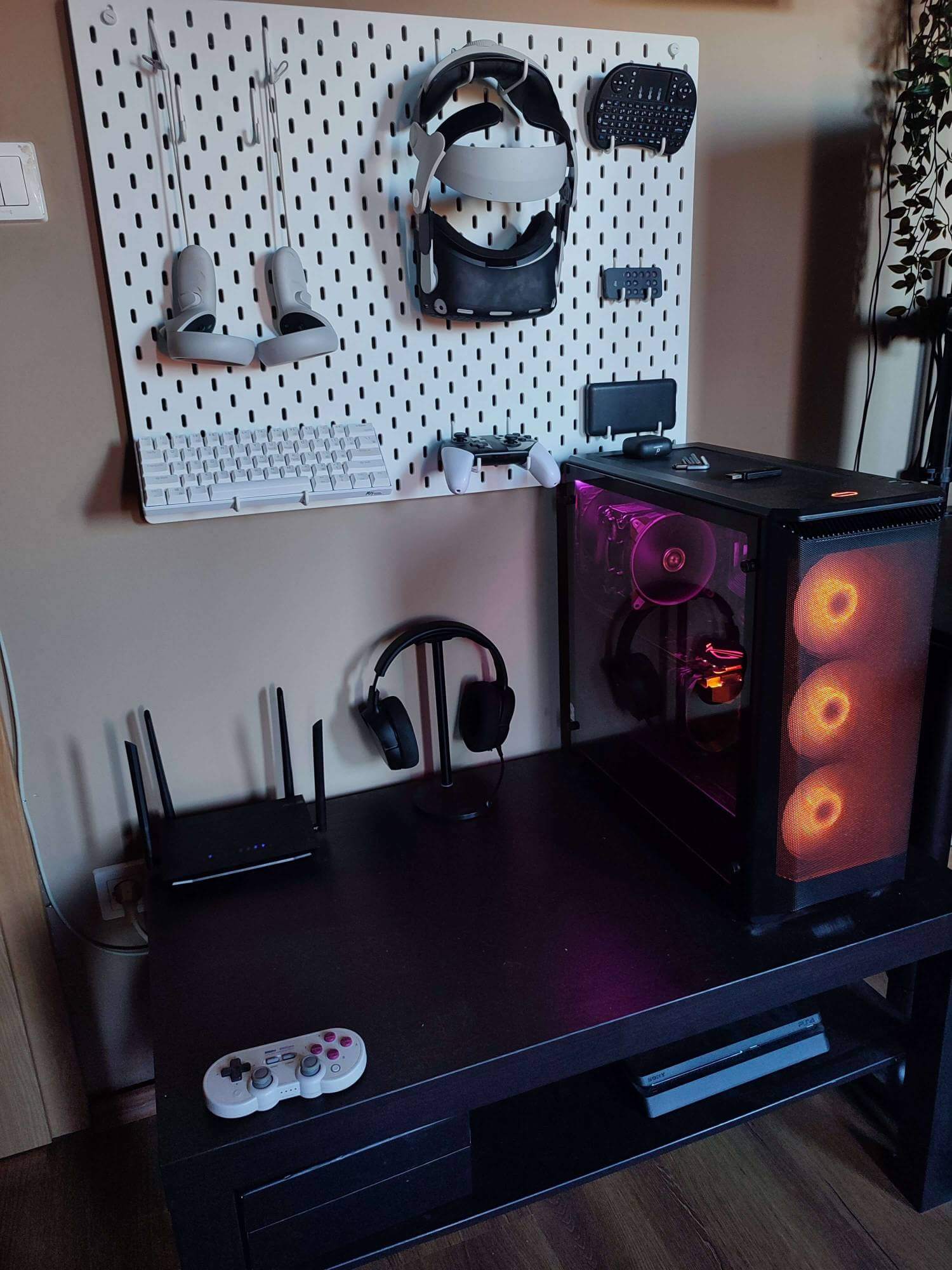 My gaming chair is Markus from IKEA.
I had a racing-style chair before, but I hated it. This one is much more comfortable for my back. I can sit in it for a long time without getting tired or sore.
As I sit at my desk, all the natural light coming into the room is behind me. To avoid too much reflection, I have to pull down the curtain.
I tried moving my setup right in front of the window, but that wouldn't let me open the window to get some fresh air in, sadly.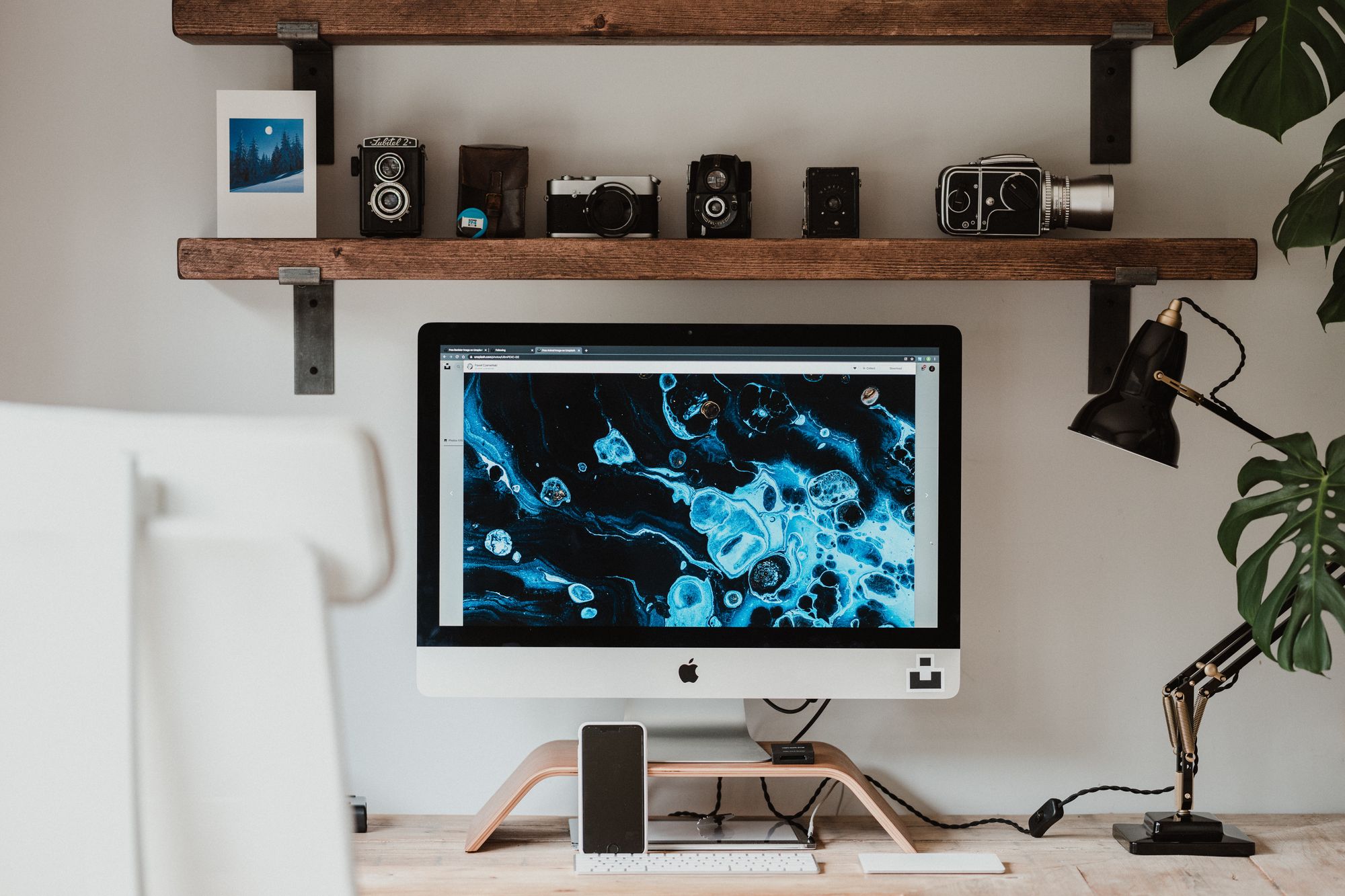 As for my next item, I'm dreaming of a Steam Deck which is now available for reservations.
I love it even though I have yet to see if I can use it alongside my setup.
It feels a little weird playing on a low-powered handheld console while you have a proper gaming PC.
On the other hand, I'm still travelling quite a bit.
My family runs a travel business. We do bike, ski, and rafting tours all over Europe, but mostly in Italy, France, Austria, Germany, and the UK.
So having my Steam library at my fingertips wherever I go would be great.
I'm constantly making my workstation better. It's hard to tell how much time and effort went into it, but I'd say not that much.
I don't like to overcomplicate things.
I've been building my setup for a few years now.
Each year, I either get a new monitor or replace a part for my PC.
What's your favourite item on your desk?
Well, that's pretty easy!
It's a fake Game Boy released under the name Anbernic RG351v.
It's essentially a small emulator in the shape of the original Game Boy. From Atari to N64/PS1, it's all there.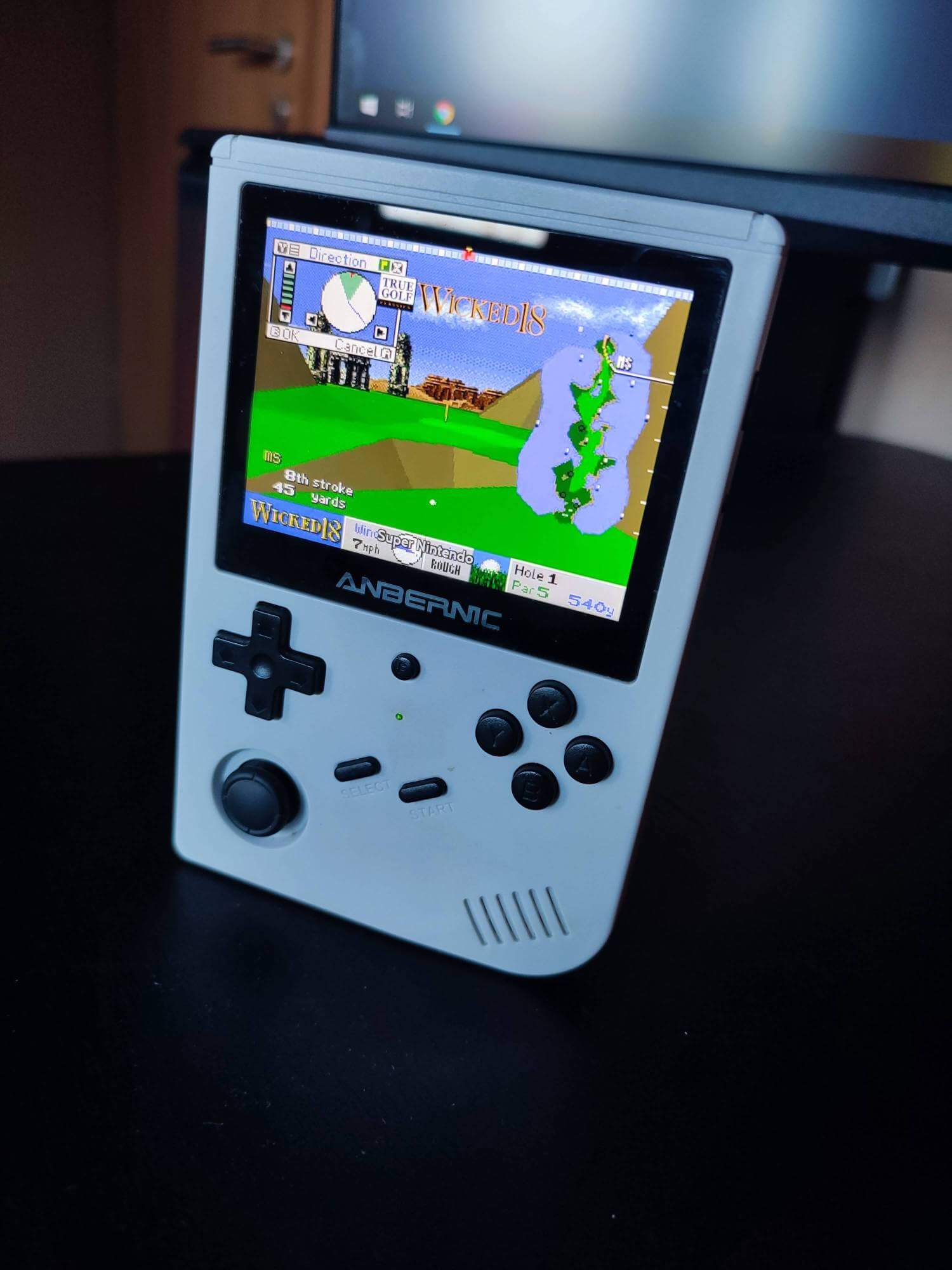 When I was a kid, I always wanted a Gameboy or Gameboy Advanced.
The moment I heard about this item as a grown-up, I knew I had to get it.
And I'm so glad I did.
I purchased my Anbernic RG351v online from a Chinese retailer and it cost me only $90.
Playing old-school platformers while watching movies or TV halfheartedly is my favourite way to relax.
What apps or tools do you use to get things done?
For my hobbies, I primarily use Photoshop and Sony Vegas. Even now, I'm still learning how to make the most out of them.
For both Adobe and Sony Vegas, if you have multiple monitors like me, you can easily set up a nice arrangement between them.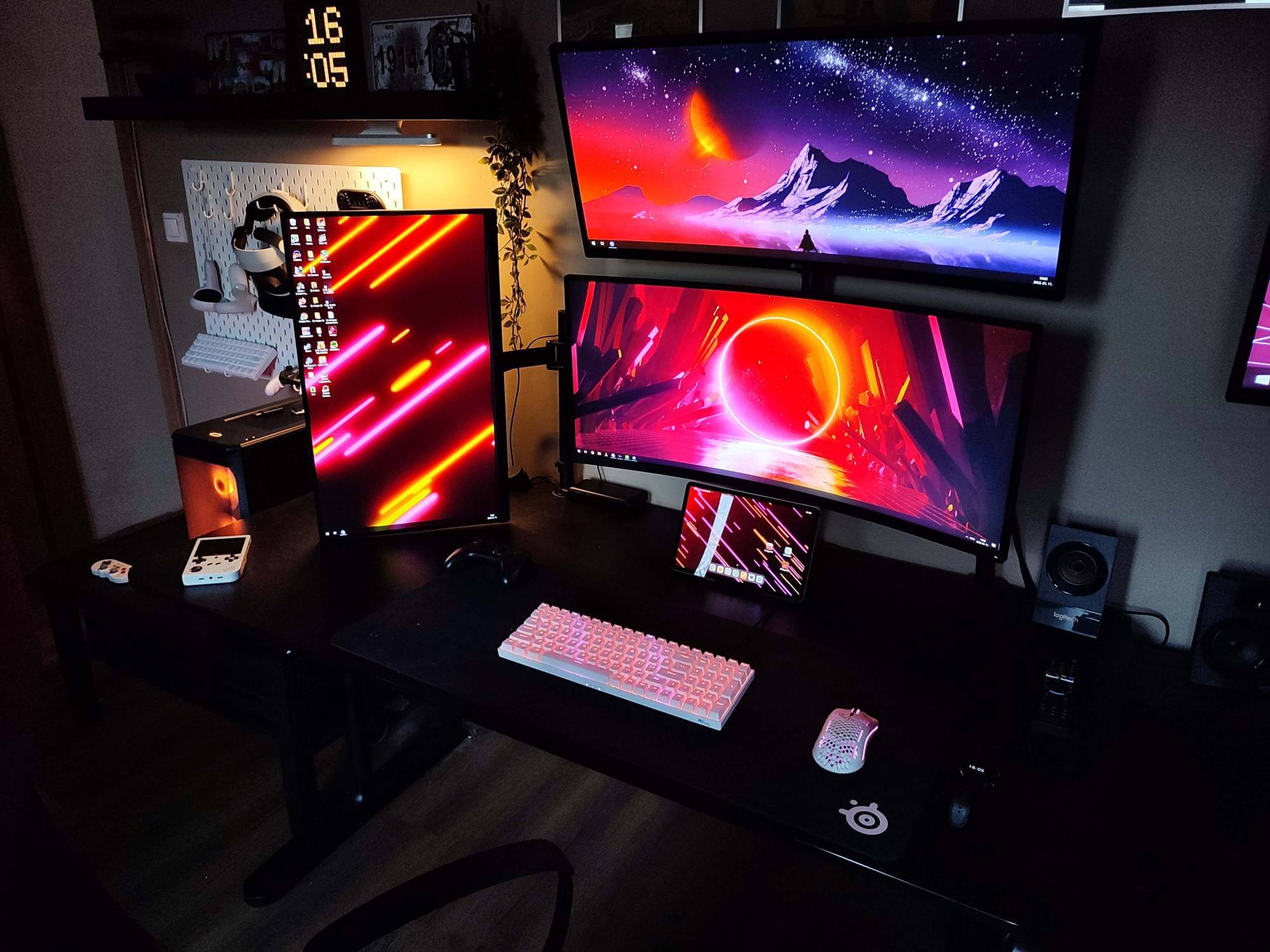 If you've got a nice 4K display with accurate colour reproduction, you can set up the image output there while using your other monitor(-s) to manage the settings of the picture or the video timeline.
I use my 4K TV for that. It's not a proper studio-grade monitor, but its picture is great and accurate in colour.
What books, blogs or podcasts recently caught your attention?
I have a couple of podcasts I listen to. The latest is the one called They're Just Movies.
The podcast is made by the team behind Linus Tech Tips, but it focuses mostly on recent film titles.
It's worth checking out.
They all have different tastes and opinions so it's really fun listening to them and comparing their viewpoints to your own.
Any tips for other makers who want to improve their workspaces?
Honestly, just hide your cables. It instantly makes any setup look way better.
Seeing all those cables and cords just hanging around... I don't like that.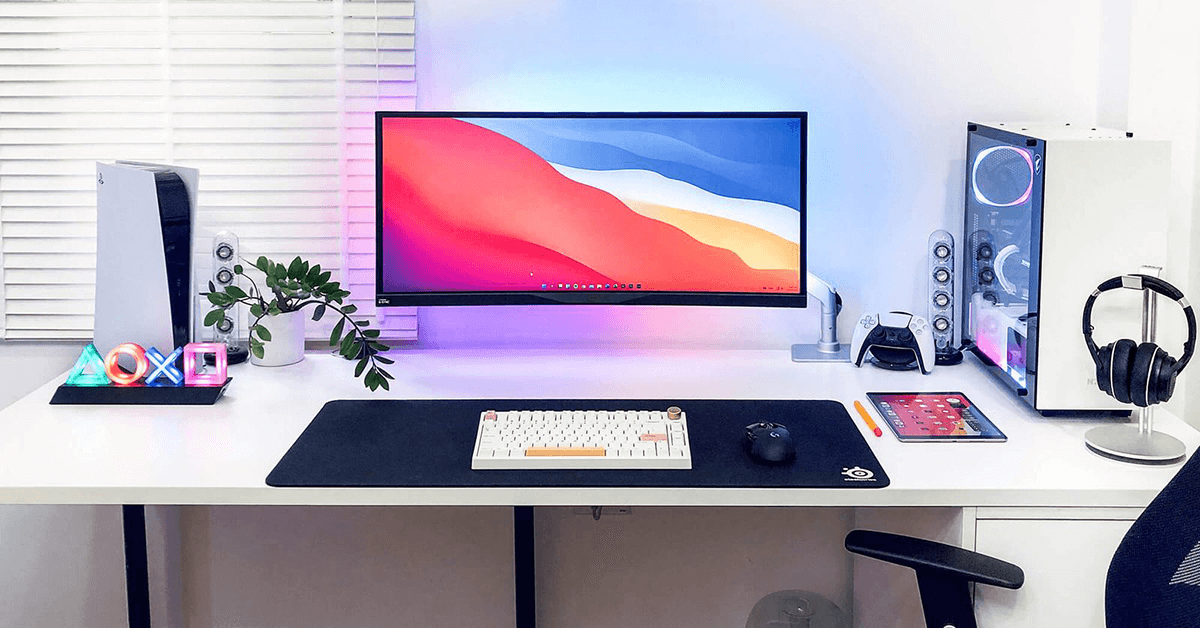 What does your typical day look like?
Well, it depends on when I wake up. It's usually around 6 to 7:30 am.
I check my phone or tablet first thing in the morning to see what's going on in the world. To keep up with local news, I mostly use Reddit Relay and YouTube.
When I'm at work, I deliver packages. My workload varies.
Sometimes, I only go to 12-15 houses a day. Sometimes, I have to deliver packages to 80-100 homes per day, usually before the holiday season.
I spend around three to four hours at my desk on the weekdays and around five to six hours on the weekends.
I play video games quite a bit.
I was really into Counter-Strike: Global Offensive before.
Nowadays, I mostly play more relaxing games: Slay the Spire, Cities: Skylines, Banished, etc.
Occasionally, I'd play some FPS games, such as Battlefield V or COD: Warzone.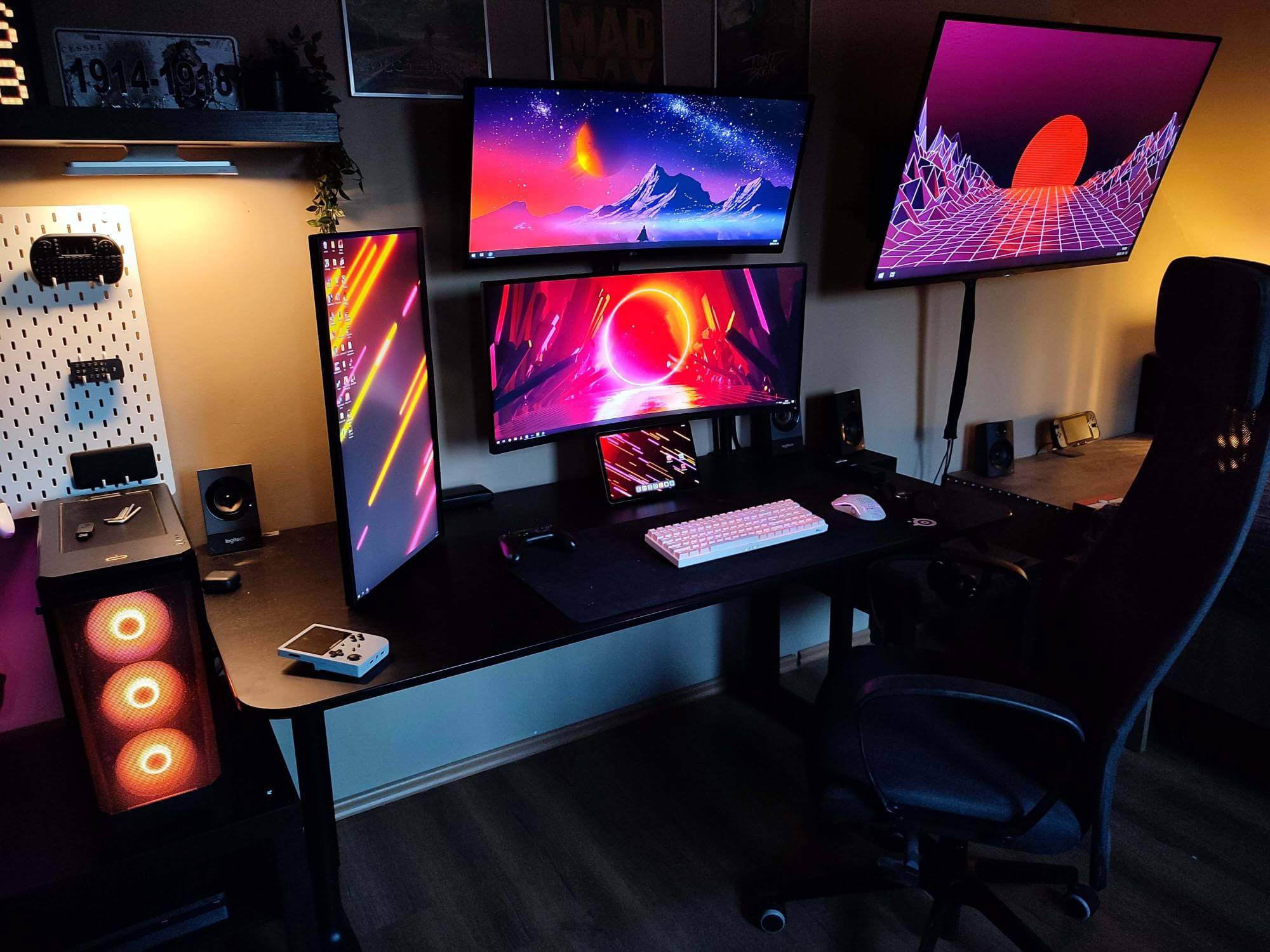 Coronavirus has affected my work life in some ways.
For example, I'm wearing a mask all the time now. It's not that bothersome for me, and I totally understand the importance of it.
I just find it hard to breathe in it, especially when I'm in a car. The air conditioning doesn't even work sometimes.
Your tips for working from home?
When it comes to deliveries, some parts of my job can be done from home.
For example, if a customer isn't there when I attempt delivery, I'd go back home and call them up from my room.
We have a "Second Day Attempt" service to sort such cases out. There are three options: we can deliver a parcel to a neighbour, try another address, or leave it at the company's storage so the customer can pick it up whenever they want.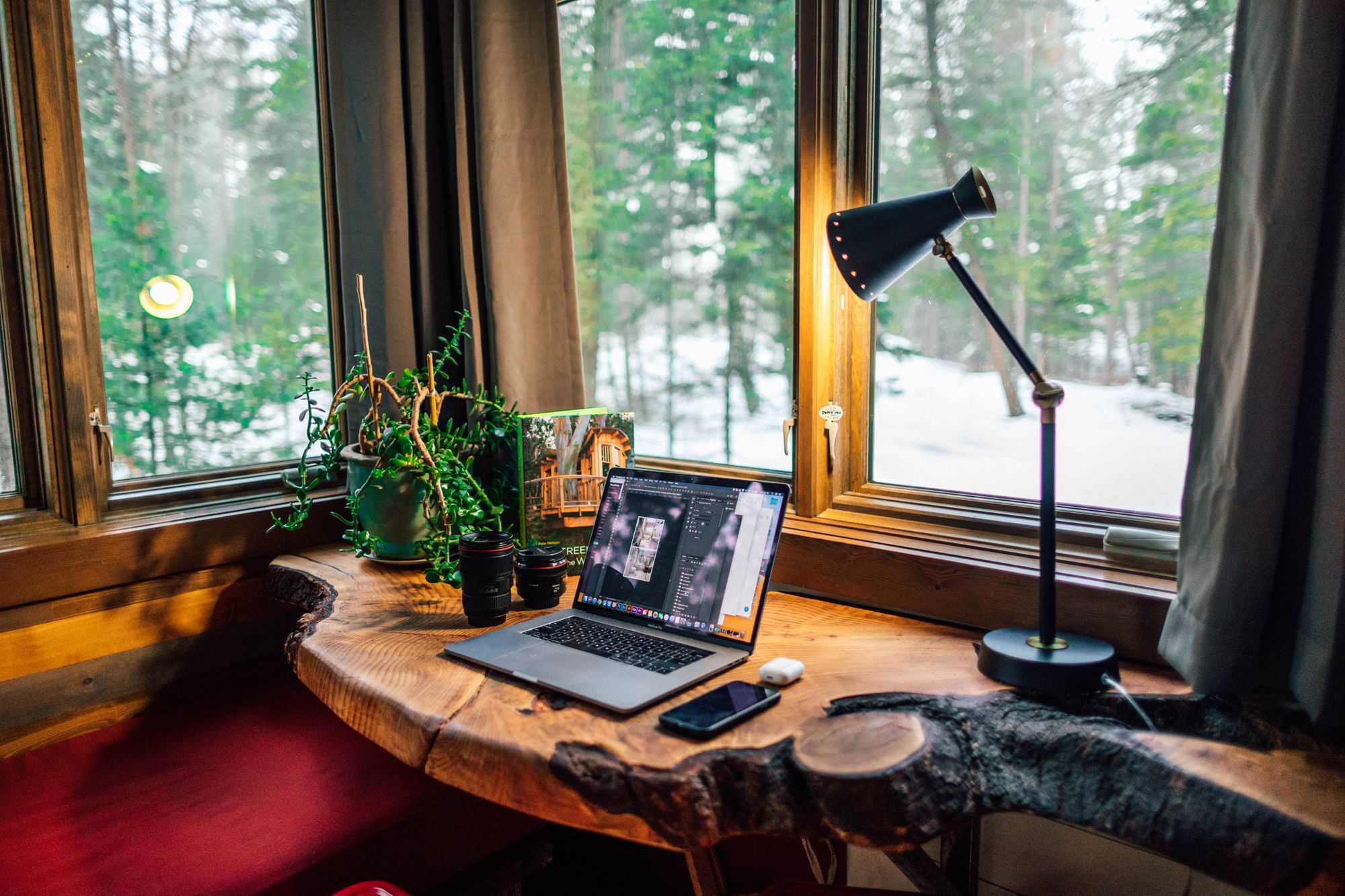 When it comes to personal time management, I'd suggest prioritising your workflow.
I try to organise my workflow so that I don't overwork myself and have more time for personal stuff.
We're a reader-supported publication. This article might contain affiliate links. It means we may receive a commission if you click a link and buy a product that our maker has recommended. The interview was done independently.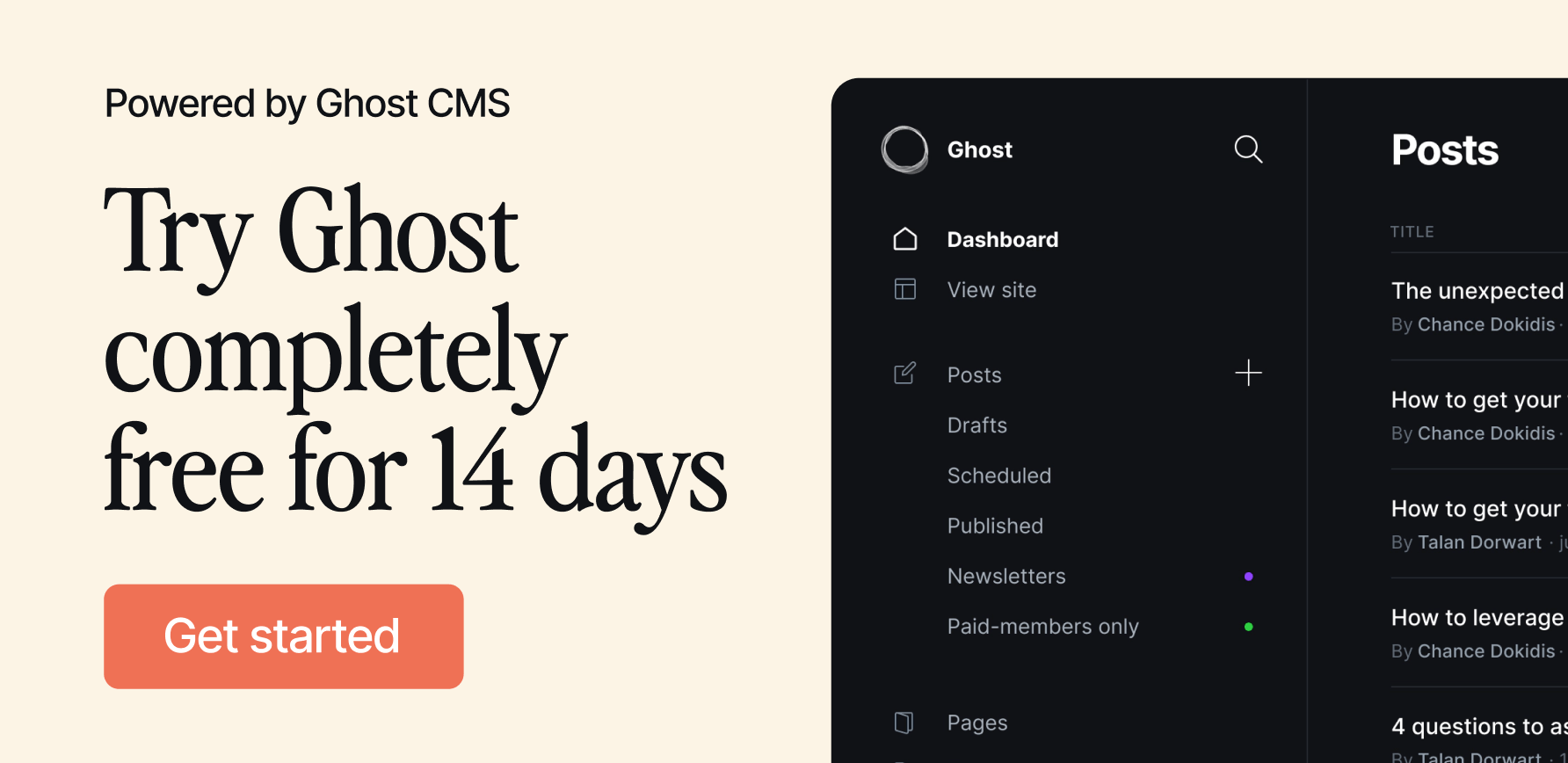 ---