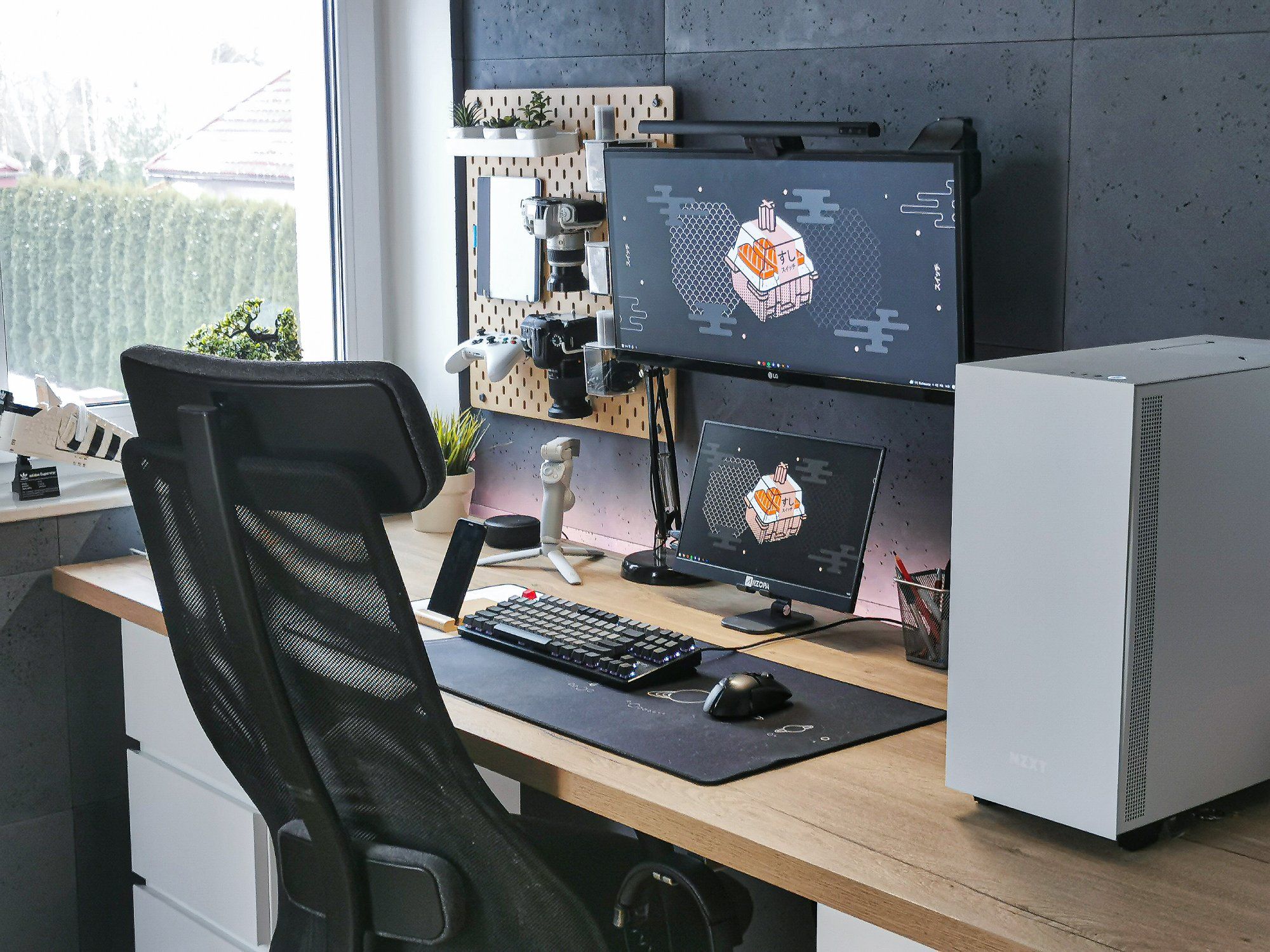 IKEA Desk Setup with Concrete Panels in Bydgoszcz, Poland
"My workspace is the fulfilment of a longtime dream of mine"

Name: Jakub Flizikowski
Location: Bydgoszcz, Poland
Occupation: High School student
Room size: 12 m² (129 ft²)
Cost of the setup: ~$4K
Social media: Instagram, Reddit
Hello! Tell us a bit about yourself
Hi! I'm Kuba Flizikowski. I would like to introduce myself and share a little of my world with you.
I'm a student at a high school N°6 in Bydgoszcz, Poland, the city where I was born and live now.
I like to describe myself as someone who is interested and involved in computer graphics — whether it's vector/raster graphics, 3D or even movie editing. All of these things are my passion and hobby.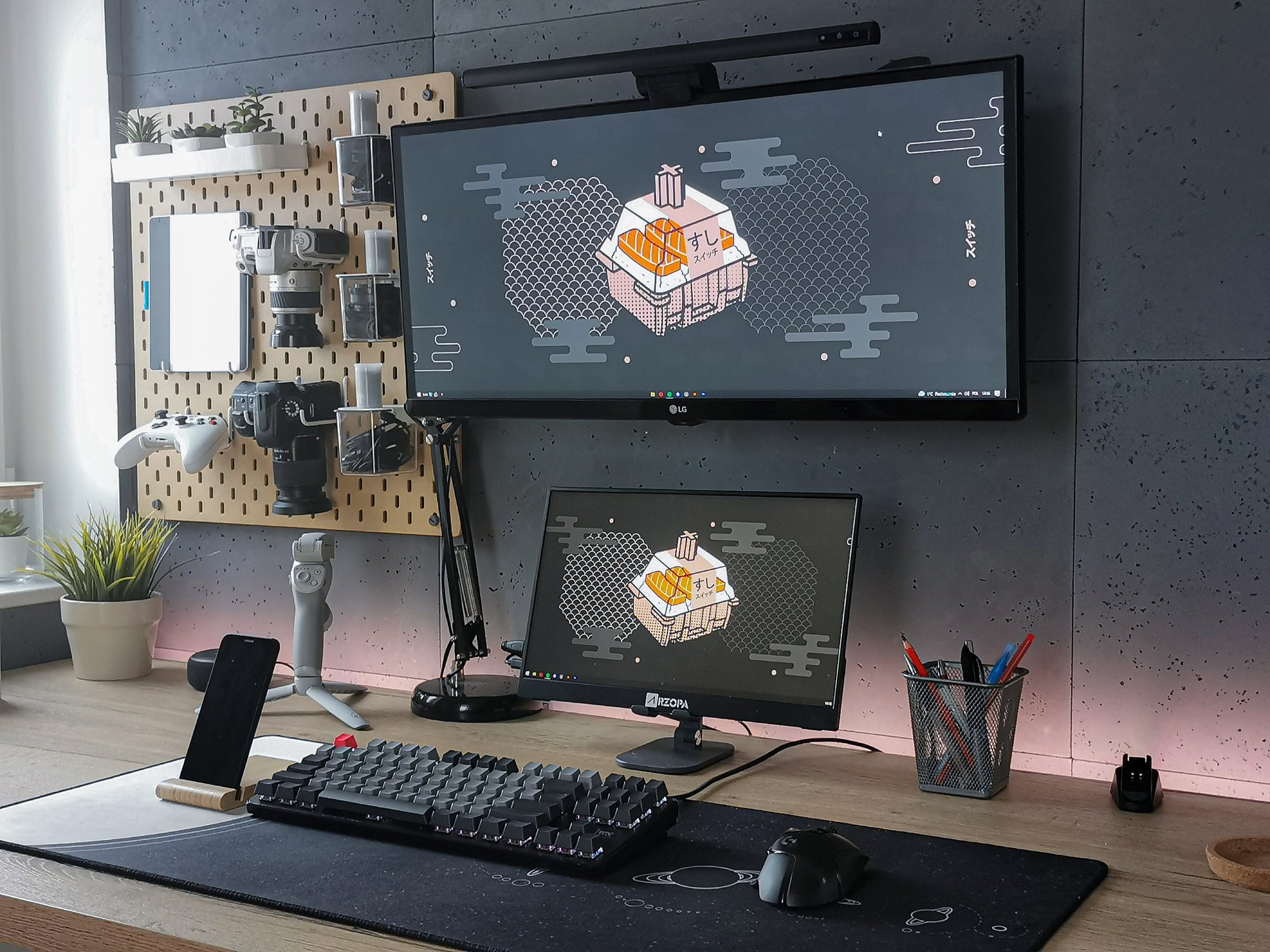 My big adventure with computers and video games began at six when I borrowed my mom's laptop for the first time. I played Minecraft all day long, marvelling at the secrets of computer science.
As a kid, I was also fascinated by my dad's work. He was a telematics engineer, so was always into anything to do with computers.
The passion, as you can see, has stayed with me, and is slowly turning into something more serious. I have a lot of other interests as well though, like astronomy or cars.
I would like to take this opportunity to thank my lovely girlfriend, Agata, for always being there for me and supporting me.
She and my parents have been pushing me forward my whole life, and I don't think I would be where I am today without them.
I love them dearly.
Take us through your setup
My workspace is the fulfilment of a longtime dream of mine.
Ever since I can remember, I wanted to have a workstation of my own where I could spend long hours studying, creating, and playing games.
The obstacles were always money and space, or rather the lack of them.
Once we've moved into a bigger house, I knew it was time to start making my dream come true.
That's when I began saving up. To earn some money, I also worked as a temp.
In March 2021, I created the first version of my desk setup.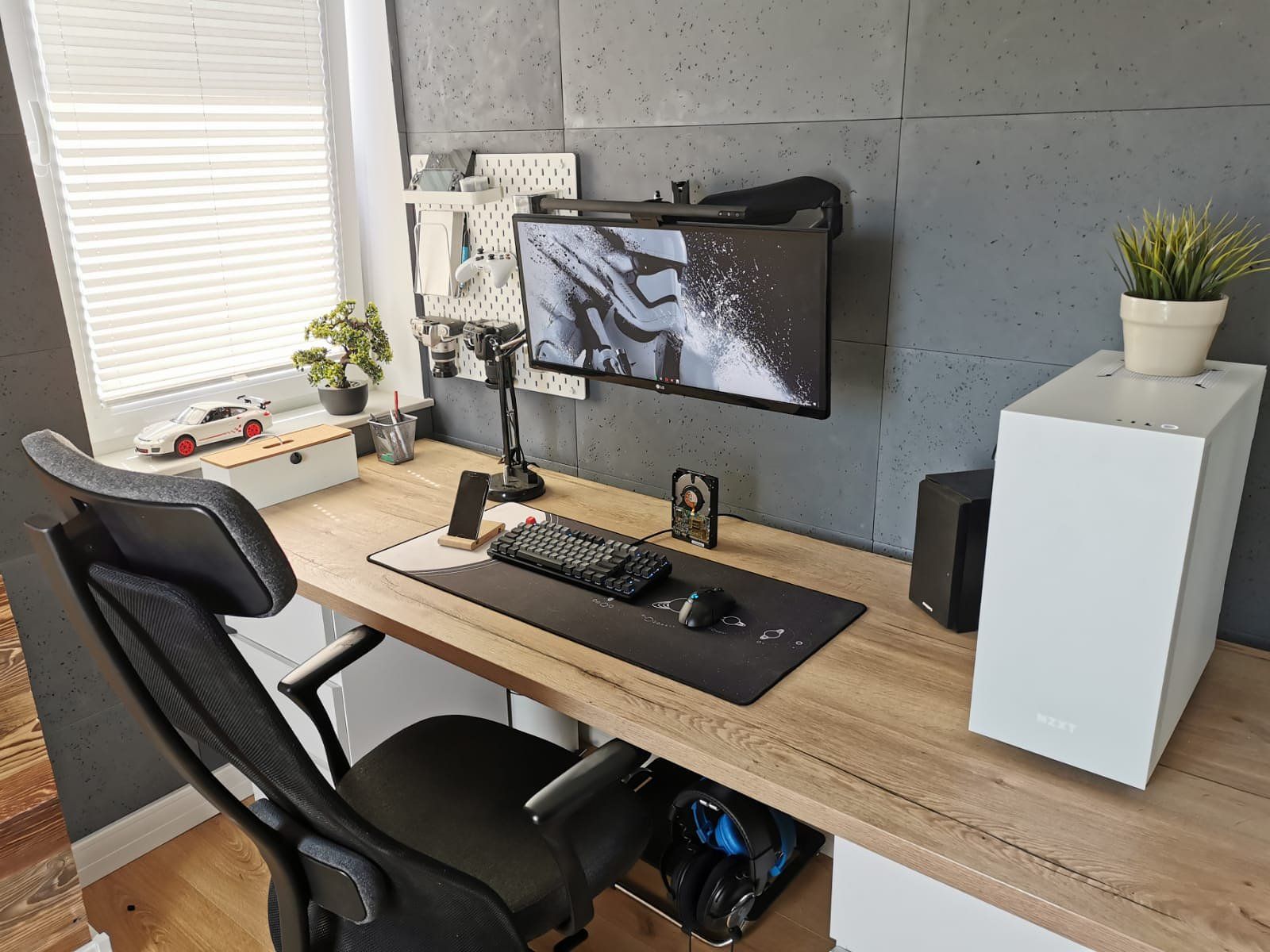 In retrospect, I can see it wasn't really complete, but it gave me joy and satisfaction regardless.
The second version, the current one, is perfect for me.
Size-wise, the 215×75×3 cm tabletop is ideal.
Two MALM drawers from IKEA hold my tabletop. They're actually bedside tables, but don't tell anyone!
I put up the architectural concrete panels on the wall, and almost everyone who's seen them stayed impressed.
And I can't disagree. Those panels are incredibly impressive in pictures and in person.
They add a natural look to the workstation and give it a character I haven't seen anywhere else.
From the desk pad and keycaps to the LEGO shoe, everything in my workspace complements the vibe set by the concrete panels. Oh, did you know there are trainers made from LEGO? I think this is awesome.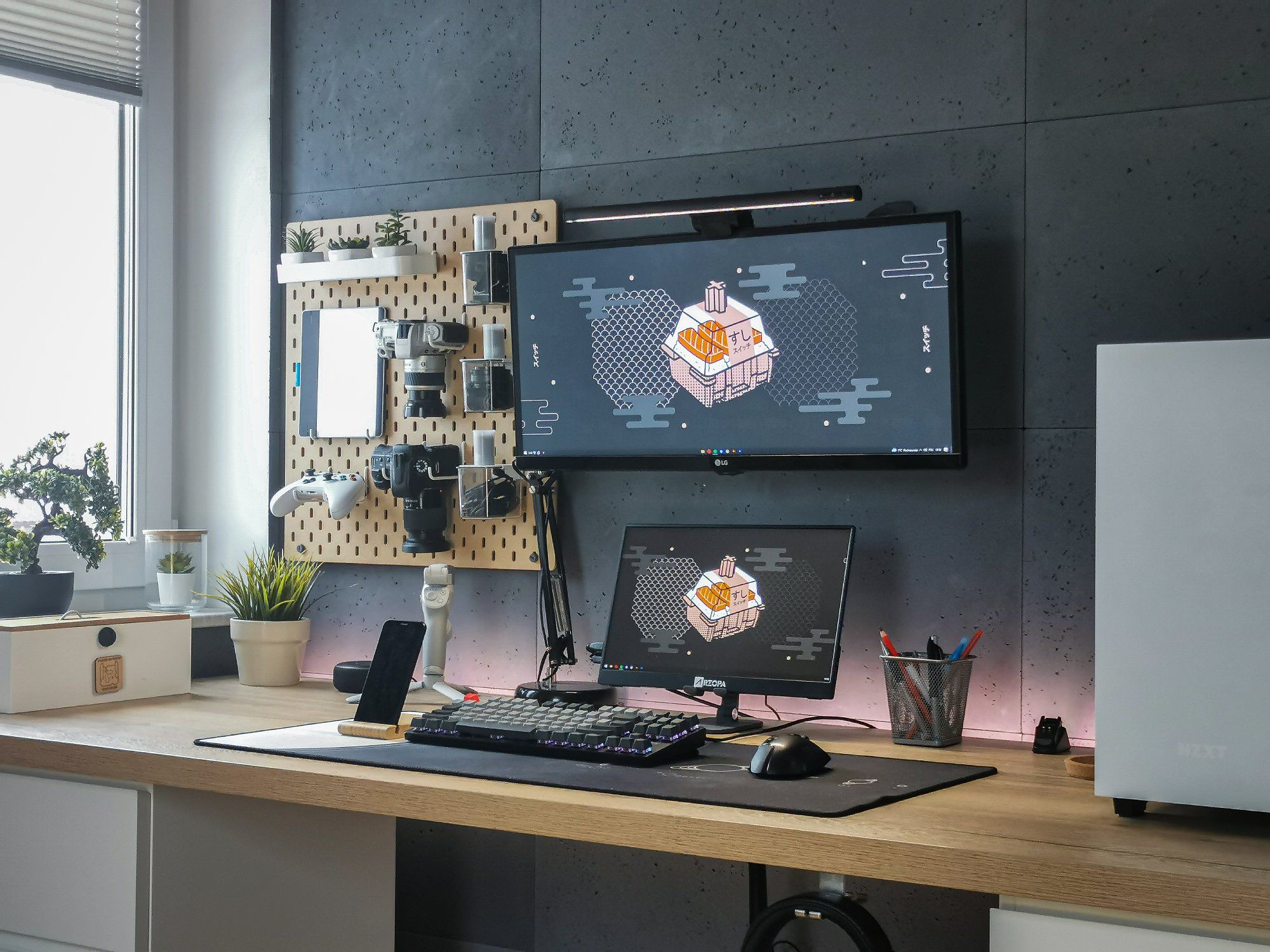 I've got two monitors. I use my main monitor for programming, editing photos and videos, creating graphics or even developing games. It's nice to have that extra space. Plus, as you can see in the photos, my main monitor is hung pretty high, and I wanted to fill that space with something.
The second monitor is slim, light, and looks like a thin notebook. I can use it as an additional screen for my phone. Overall, I recommend this monitor to anyone who wants a second screen that can be used in any location.
Plants for my home office are something I plan to work on more in the future.
I've always wanted a bonsai tree, so I got a fake one for now, but who knows what will happen one day!
What's your favourite item on your desk?
It's hard for me to pick one item.
Everything on my desk has a purpose, and all the items complement each other.
It could be the G502 mouse, which I think is a good and versatile mouse for practically everyone.
I could also mention the gimbal from DJI, which is an indispensable device when it comes to shooting small amateur films.
However, I think that my item of choice would be the Echo Dot from Amazon, which my lovely girlfriend gave me for my birthday.
Even without the sentimental aspect, this device is an essential part of my life.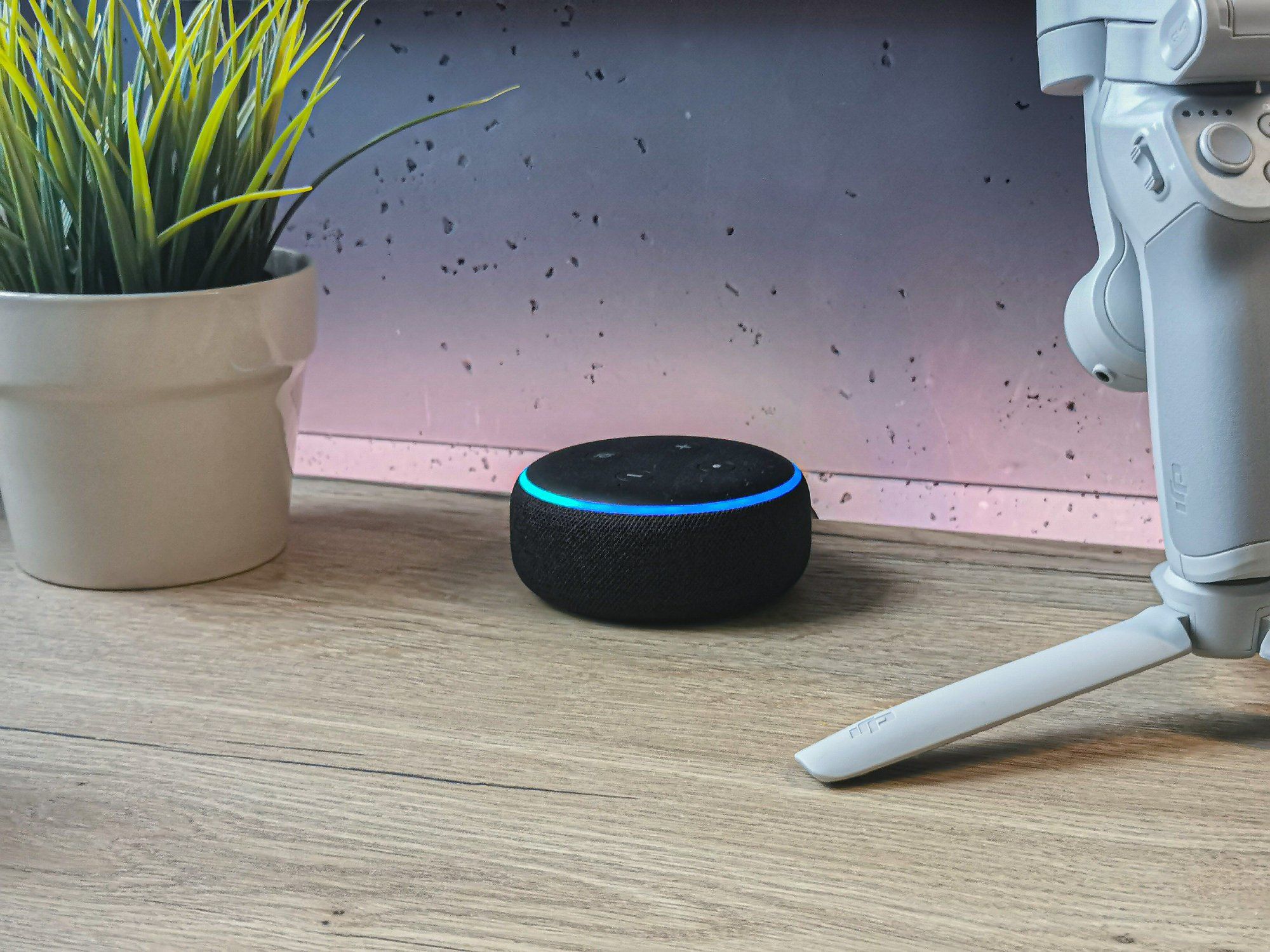 Alexa has many uses in my room, like controlling lights (all my lamps and bulbs are connected to the Amazon mobile app), reminding me of important events, or even playing music when I want to take a break from my headphones.
Another reason I love my Echo Dot is that this isn't an expensive device for all the features it offers.
For people who have a lot of smart devices in their house or room, this is the perfect solution because you can control them all by voice.
What apps or tools do you use to get things done?
I'm a student, so I have to use a lot of different software — from communication platforms, like Microsoft Teams and Zoom, to Office365 programs.
To learn programming, I use Visual Studio Code or a website called replit.com, which I cannot recommend enough.
It's super easy to use, has a large database of available languages, and you have access to your codes whenever and wherever you want.
And no, they didn't pay me :(
I also use several programs from Adobe Suite, such as Lightroom and Premiere Pro.
I enjoy editing videos and creating graphics. Not only do these programs offer endless possibilities, but they're also fun to use.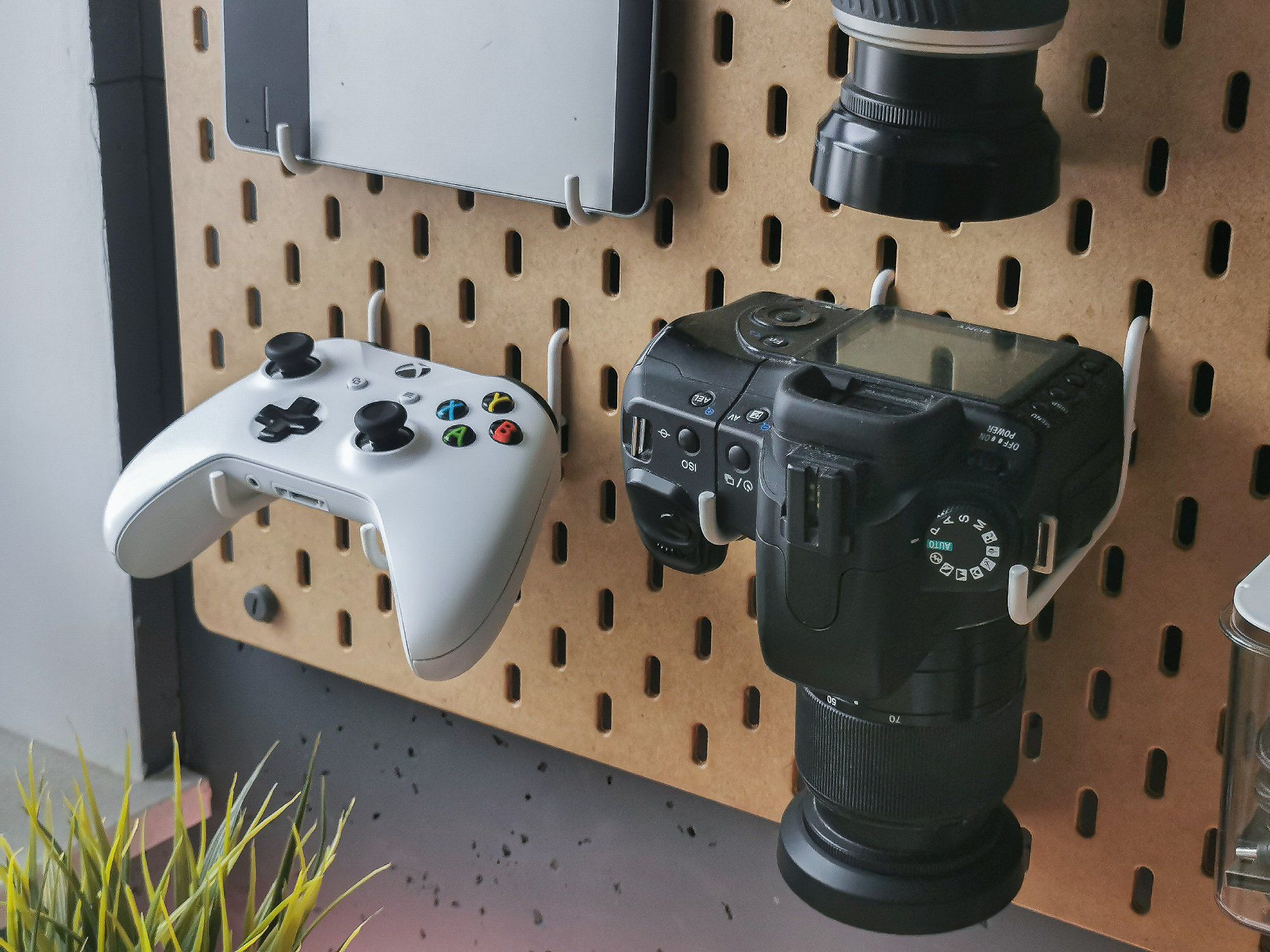 As I mentioned earlier, I'm also interested in making games. I'm a fresh "player" in this market, but I do have big ambitions.
For this reason, I'm currently learning UnrealEngine 4.
It's not easy.
I must admit I'm a little overwhelmed by all the features, options, and possibilities it offers, but I'm getting there.
No one said it would be easy.
Lastly, I use Aseprite and MagicaVoxel apps to create cool stuff, which you can find on my Instagram.
Both are for pixel graphics, except in the second one, we're operating in three dimensions.
Quite simple and fun, they're a great way to relax or take a break from work or study!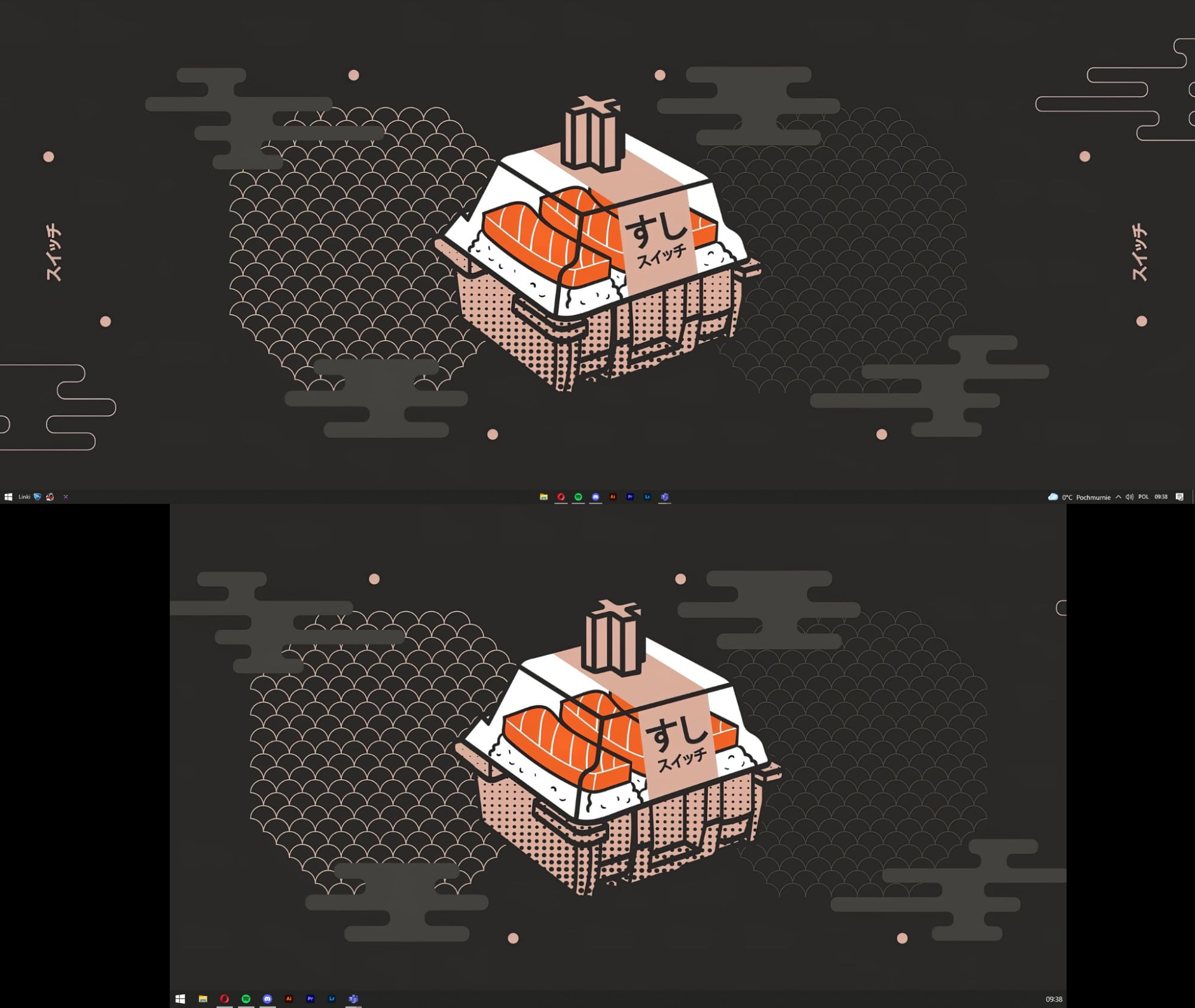 I like to keep my desktop simple and clean.
I pinned the most important applications to the taskbar, and I navigate through them with Windows search.
What books, blogs or podcasts recently caught your attention?
I have to admit that I'm not a big reader.
My young age might have something to do with it, or maybe I just haven't discovered this passion yet.
In my spare time, I enjoy listening to that podcast called Kryminatorium. It's a Polish podcast about true crimes from around the world.
I don't know what got me interested in such dark topics, but I like it a lot.
Unfortunately, this podcast is only available in Polish.
Any tips for other makers who want to improve their workspaces?
There are a few things you should keep in mind when building your workstation.
From the very start, it'd be good to have an idea and a plan of what you want your desk setup to look like.
Personally, I got a lot of inspiration from Reddit and Pinterest. There's nothing wrong with looking at other people's ideas.
You may also want to define the style you're after and filter results to see only minimalist or gaming setups, for example.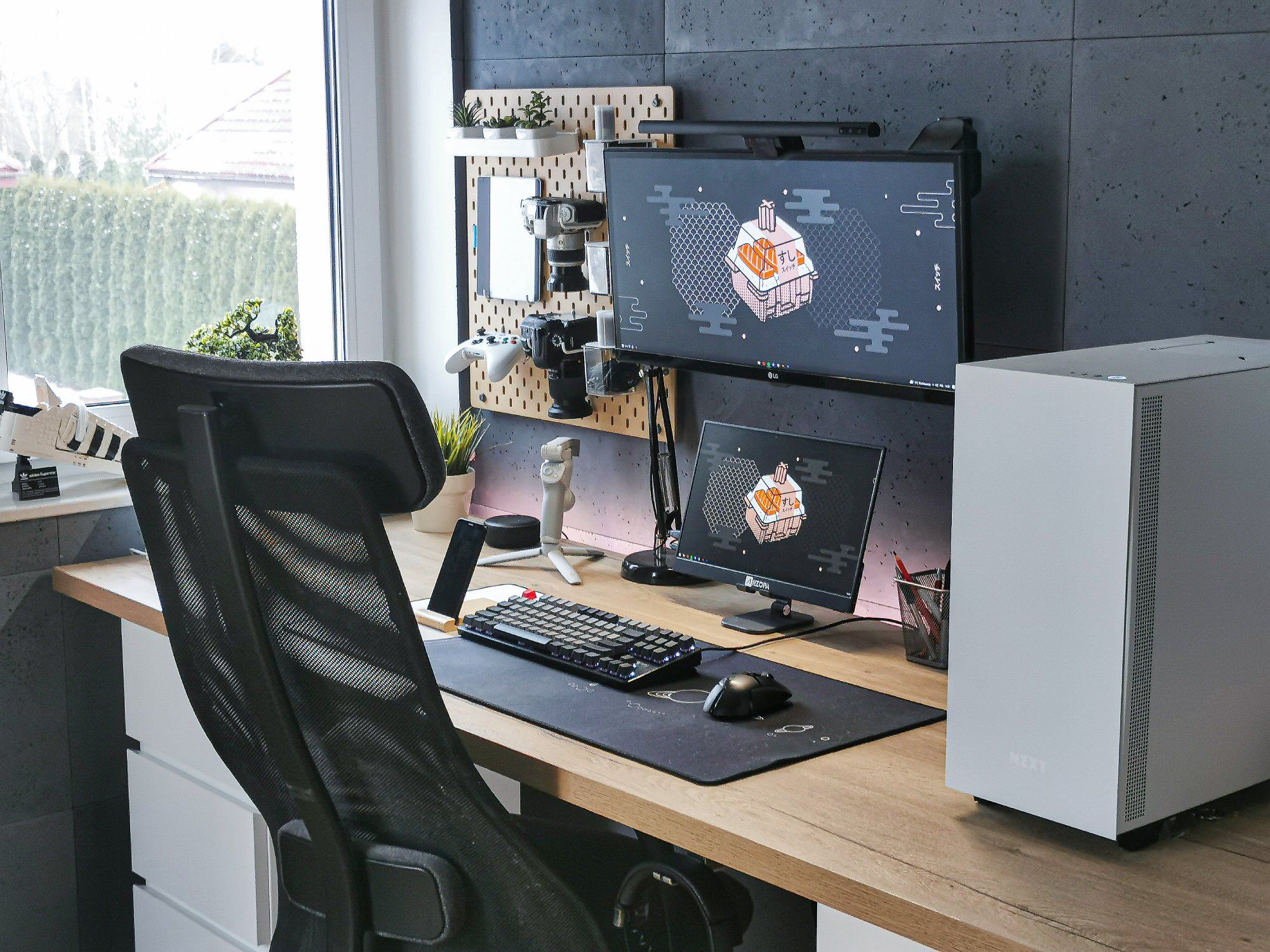 Once you have a plan in your head, write it down or post it somewhere.
There are lots of ways to plan it out: from a drawing on a piece of paper to using advanced computer programs.
Take note of all the dimensions you need.
Make sure you get a cost estimate. It's especially important when you have a limited budget to spend on a home office.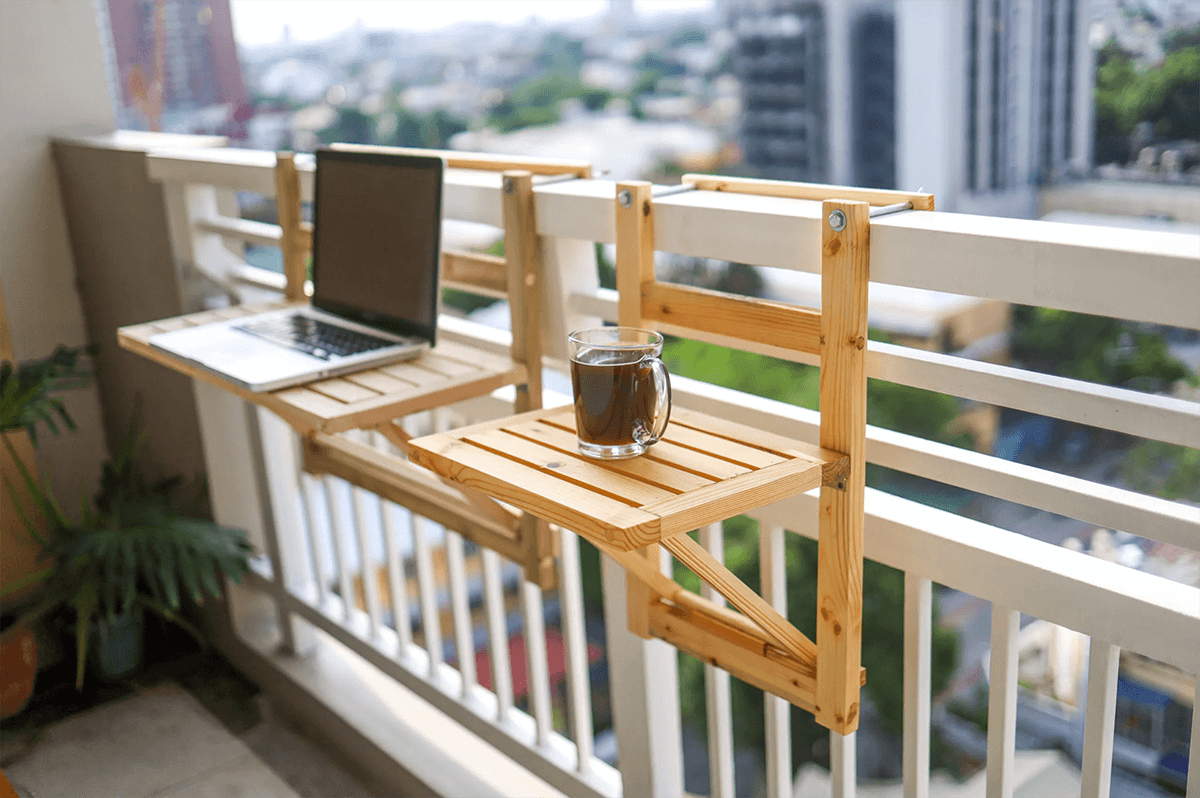 A good workstation is ergonomic and adapted to our needs but also has its own personality.
Put some plants, a toy car, or a figure from your favourite game on your desk.
Details matter.
In a way, they tie the entire workstation together.
The main thing, however, is that your home office is good for you and you enjoy using it in the first place.
What does your typical day look like?
I'm a student, so every day looks pretty much the same.
I get up at 6:30 am in the morning (it's hard!) and usually, go to school at 8 am.
I start my day with a few exercises, such as push-ups or a plank.
Around 4:30 pm, I usually get home and spend the rest of the day at my desk.
Some nights, I play games with my friends to de-stress after doing homework and studying.
We like playing ETS 2 or some good old Minecraft together.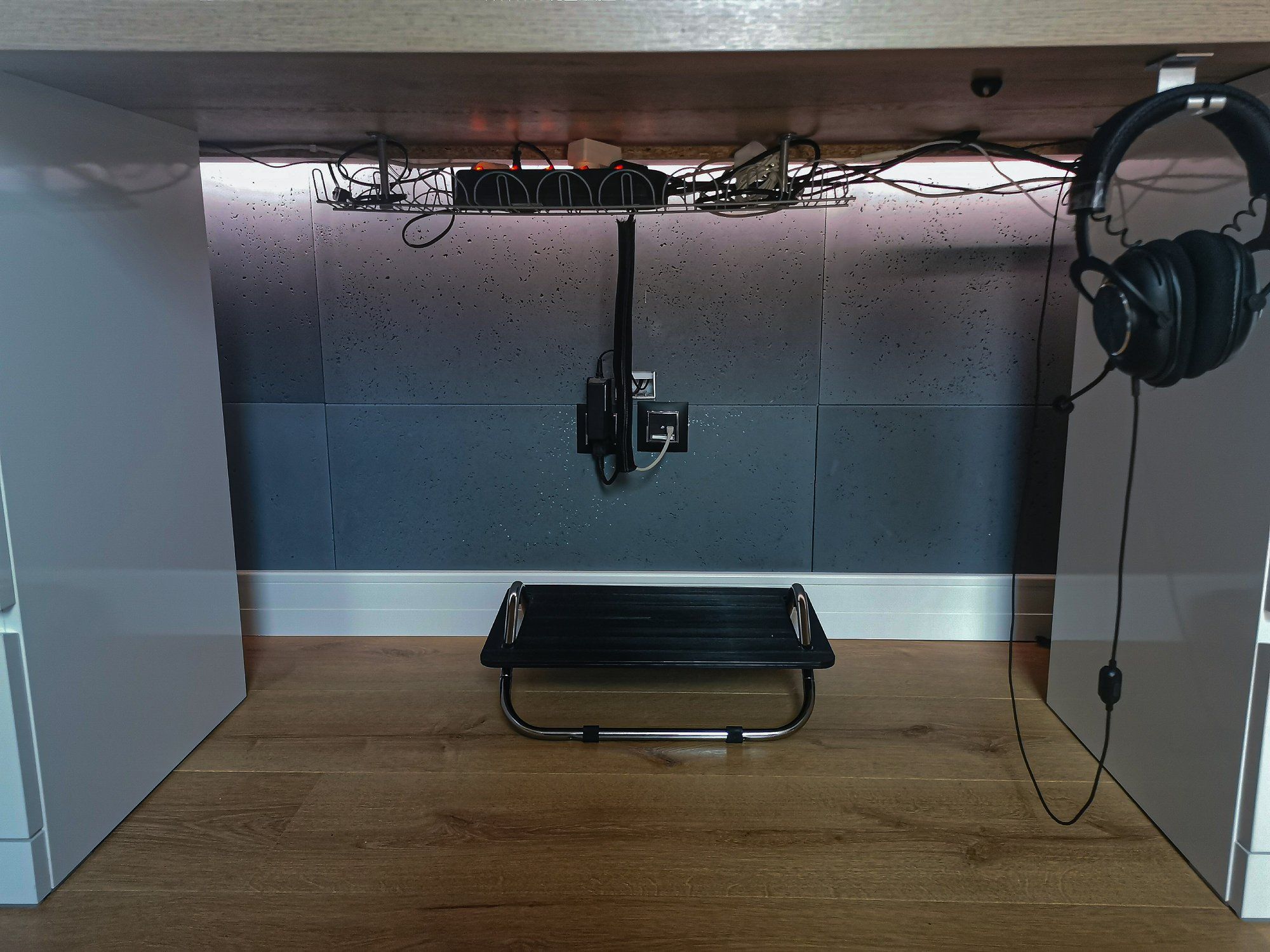 After the pandemic began, I realised my workstation would have to serve me more and more often.
That's why I optimised it with ergonomics in mind so I wouldn't go crazy staring at the screen for days on end.
As a result, I got used to the idea that lots of things can be done remotely from home.
These days, it's becoming more and more common.
Your tips for working from home?
Throughout this pandemic, we've all been put in a tough spot, especially us, students, who by nature love meeting new people and getting together.
I had a hard time getting used to longer computer sessions.
There are a few things that are absolutely necessary for me to work from home effectively.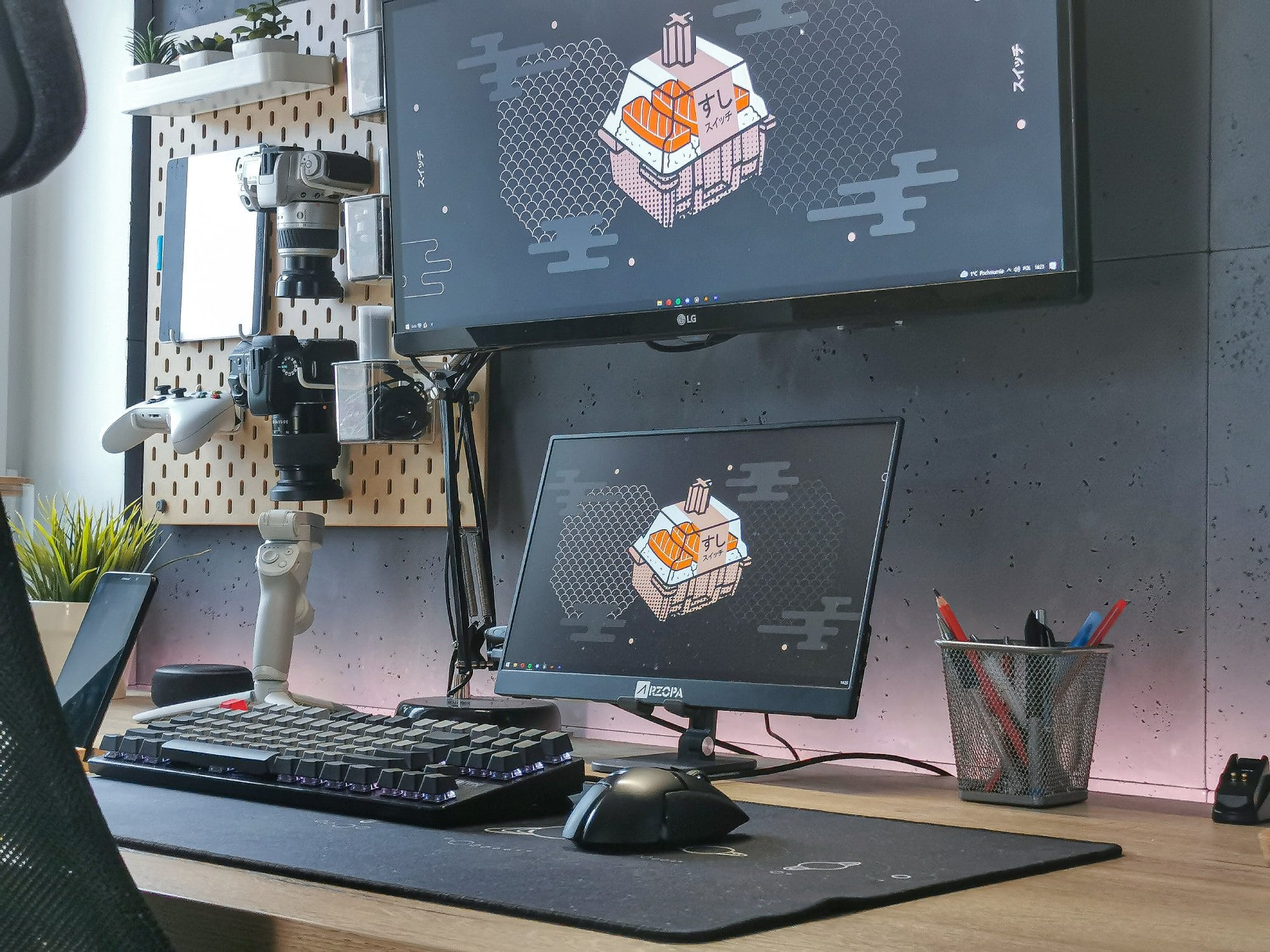 I find it helpful to write down clearly what you need to do so you can manage your time better.
I use the Pomodoro technique to keep focused for longer periods of time and better optimise my work.
Make sure you take regular breaks from sitting in front of the monitor.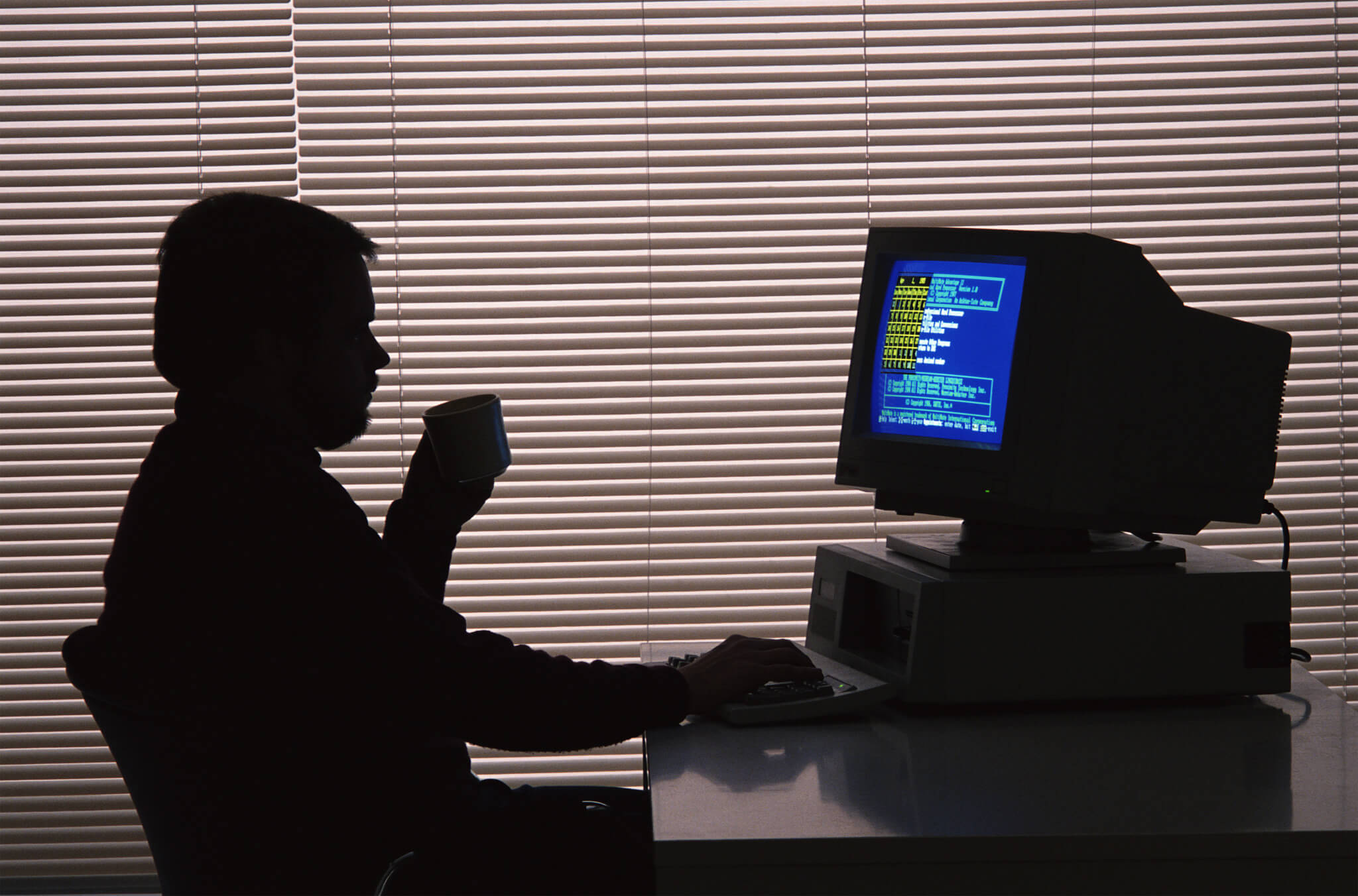 Put away all your gadgets, do some exercises, and drink more water.
Also, I recommend wearing blue light-blocking glasses. They're great for keeping our eyes healthy, and they also help us sleep better, so we wake up happy the next morning.
We're a reader-supported publication. This article might contain affiliate links. It means we may receive a commission if you click a link and buy a product that our maker has recommended. The interview was done independently.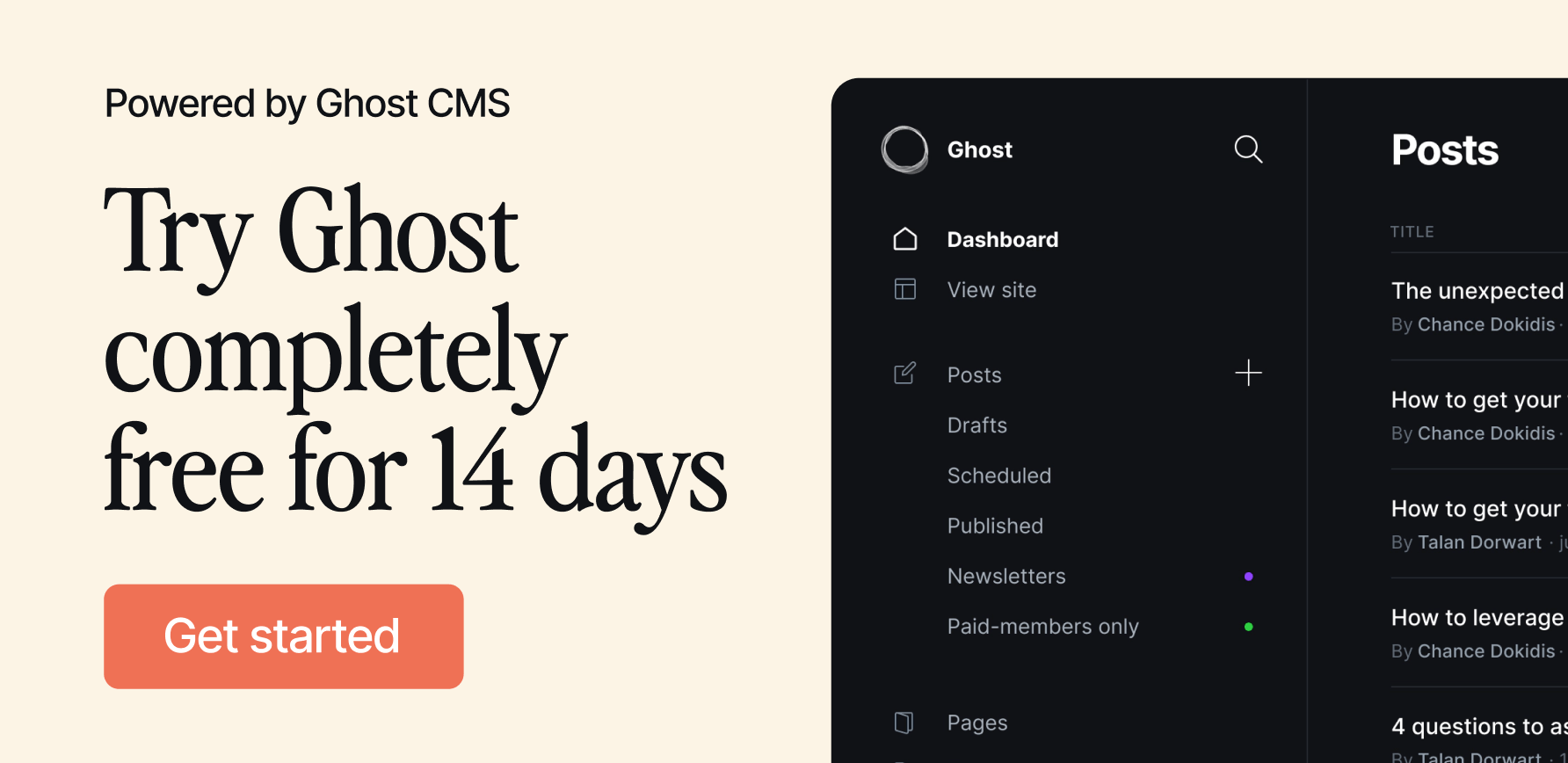 ---