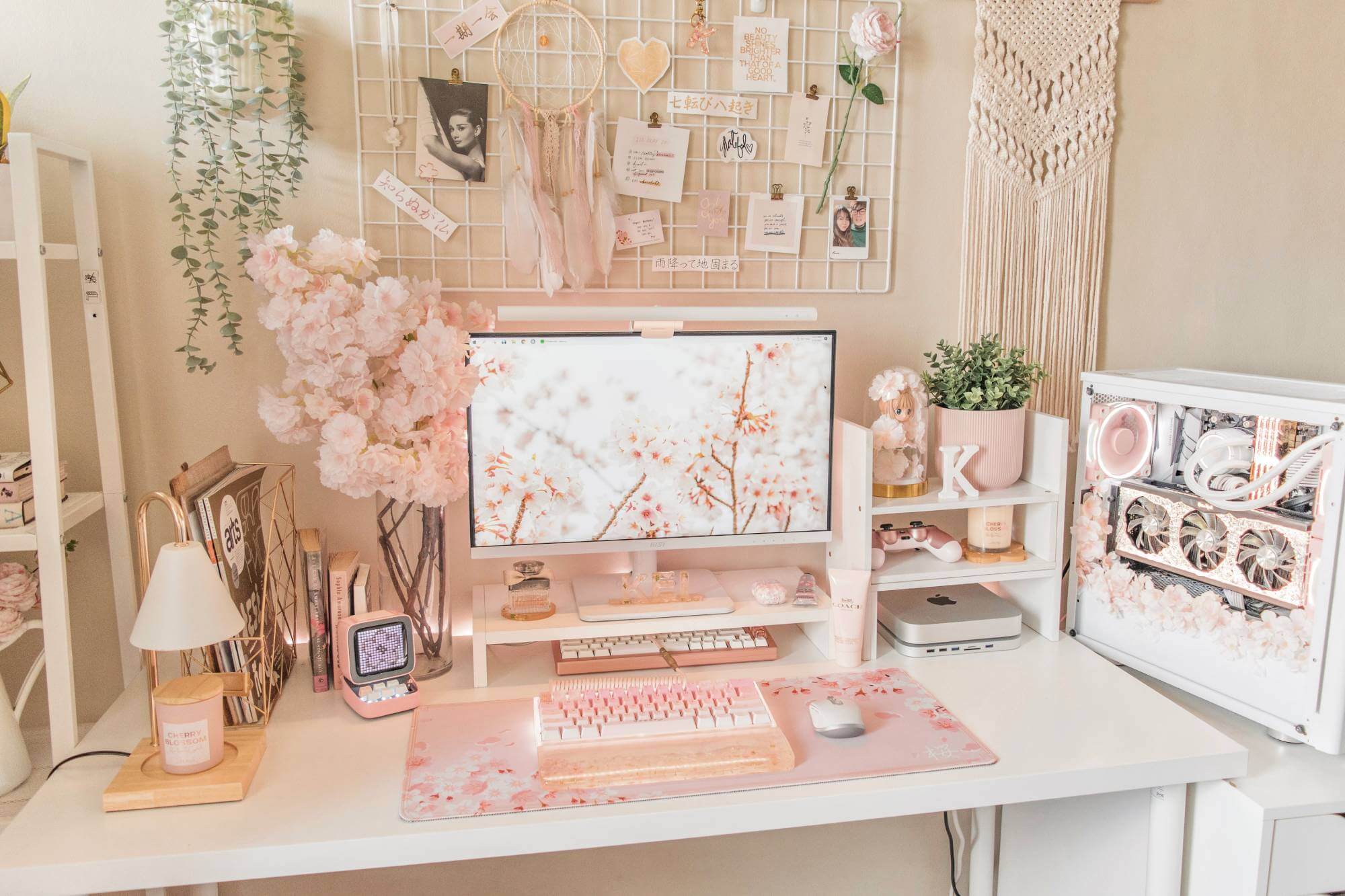 Chic Pink Desk Setup in Metro Manila, Philippines
"I love pastel pink and soft tones. This, I think, is the non-negotiable aspect of my workspace"

Name: Kei Yoshikawa
Location: Metro Manila, Philippines
Occupation: Development Manager, Graphic Designer
Room size: 9 m² (97 ft²)
Cost of the setup: ~$7,4K (with all tech)
Social media: Instagram
Hello! Tell us a bit about yourself
I'm Kei Yoshikawa. I'm a half-Japanese, half-Filipino creative from the tropical and sunny Philippines.
I'm currently situated in Metro Manila. I used to fly to Japan three to four times a year, staying a few weeks/months at a time.
The current situation meant I'm stuck working from home — not that it's any different from my pre-pandemic life.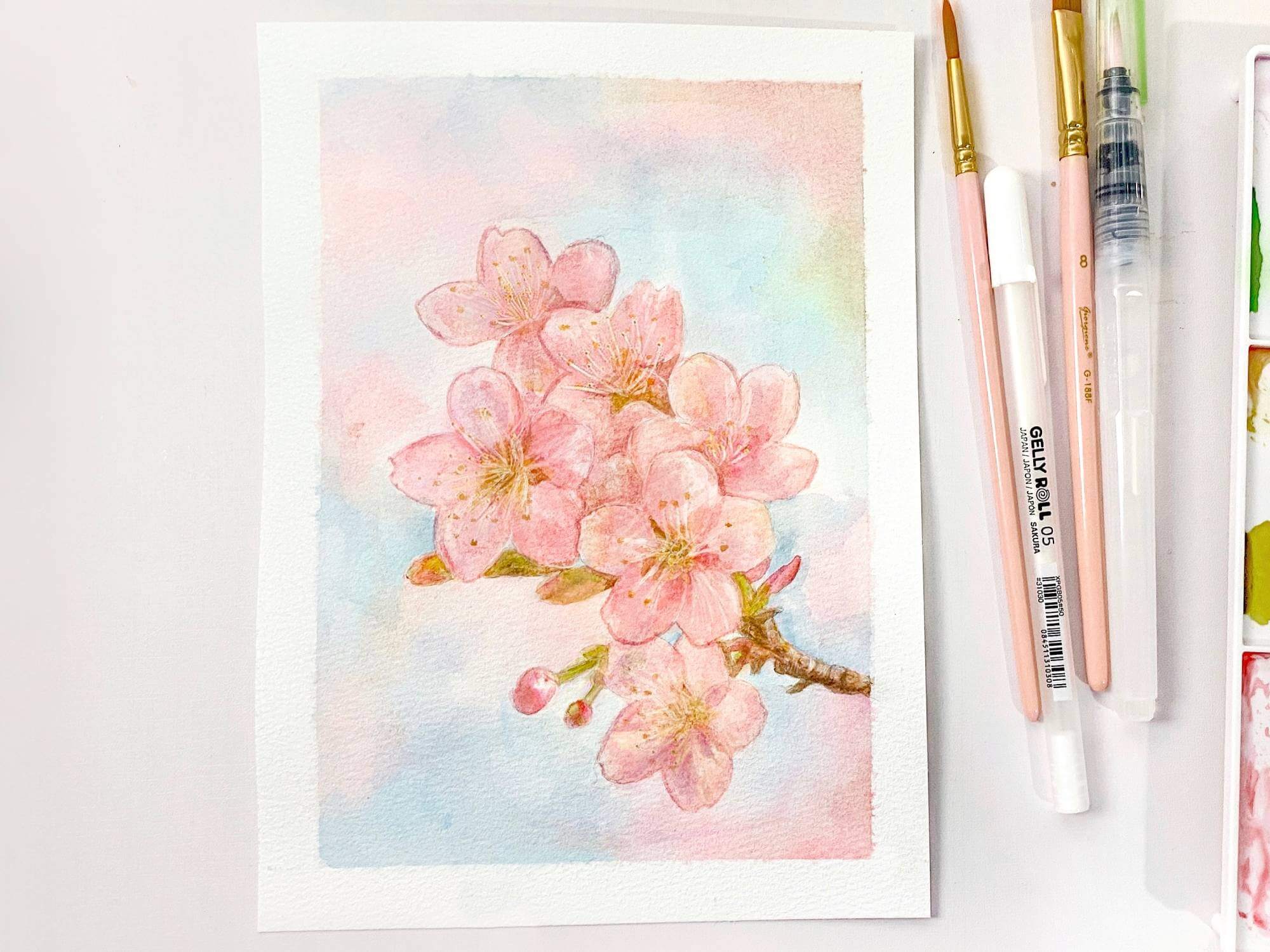 I earned a living by providing designing services through a self-owned shop throughout my twenties.
I mostly provided custom branding packages for my clients. I still do to this day, albeit I started limiting the number of projects I take on.
In 2020, I worked as a video editor briefly. When I was hired by my current company, I was still working as a video editor.
When juggling both jobs (or three, since I never stopped designing) proved too difficult, I decided to take the risk and work full-time for my current company.
Now, I'm a Development Manager for a start-up social media marketing agency based in Canada.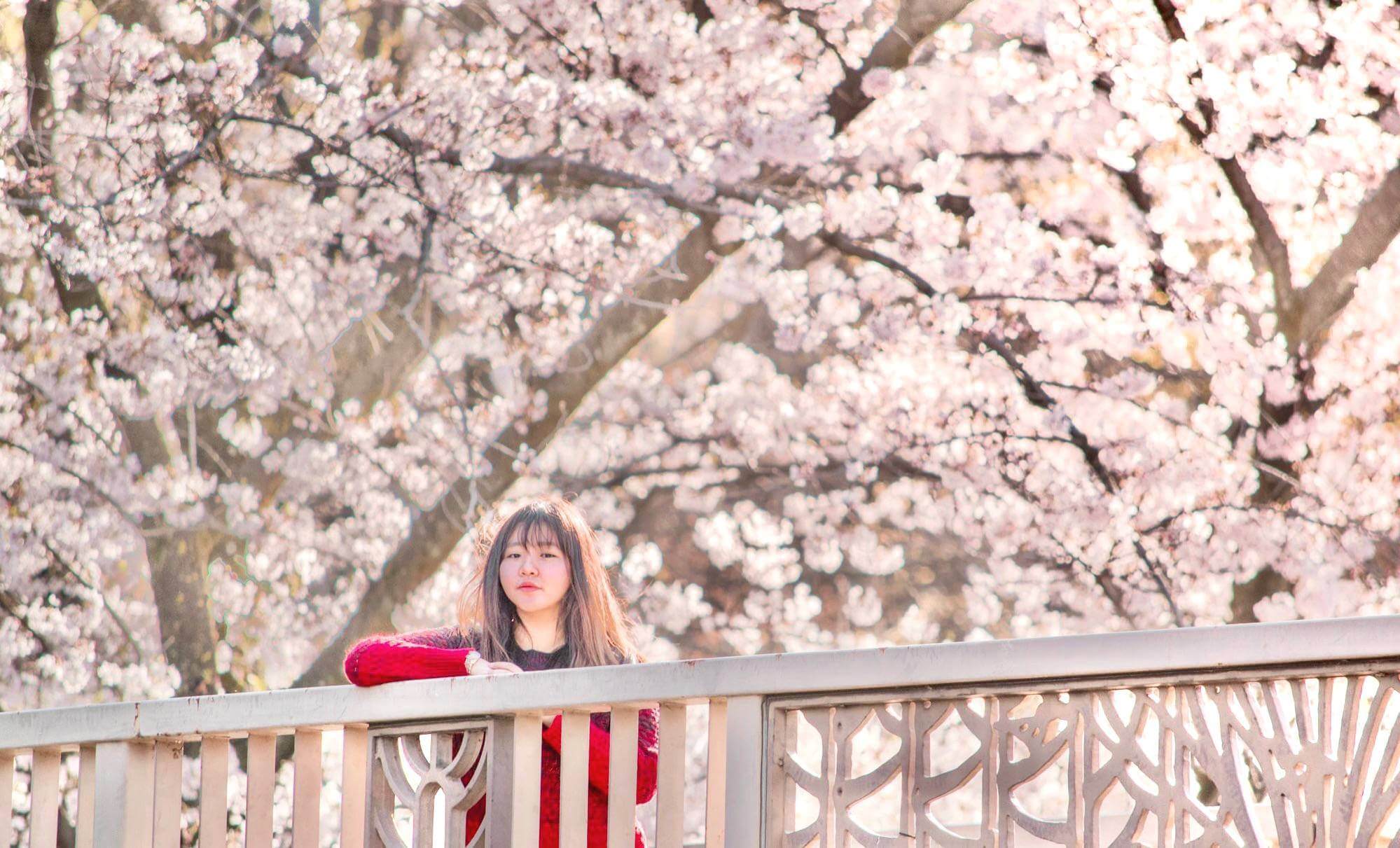 I didn't know why I jumped the gun and left a stable job at the time — I was about to be just the 3rd employee of this company.
It was probably because our CEO was such a nice guy that I figured working for someone who knows my value is more fulfilling than knowing you're a dispensable team member.
When I was still working for both companies, I was hospitalised for COVID-19 and couldn't work for a good part of two months.
The way my current company's owner handled that made me feel better about making the decision.
That is not to say that I had it easy. I probably had the most difficult time of my career last year. I was the project manager for all the 50-60 clients we had at the time, and I managed all the teams. I was also responsible for the hiring (and firing) while taking care of client needs through countless meetings a day.
I also learned how to do everyone's jobs so I could help out any time.
I understood what it entailed working for a start-up company, though.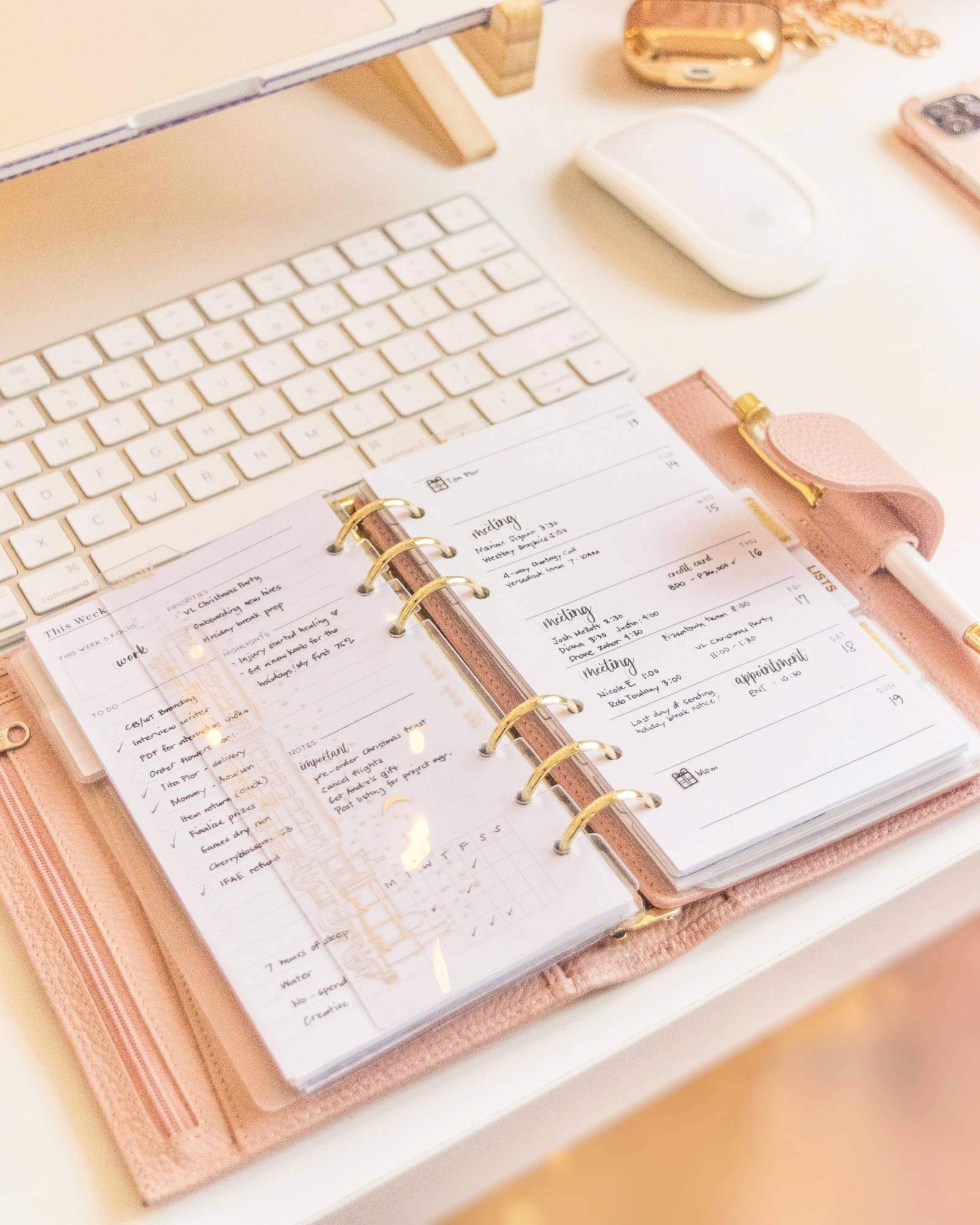 I worked hard, and within a year, we have now established several departments. I want to give myself a pat on the back. I know I did a great job.
I learned a lot from this experience. I will continue to work hard because I know a lot of people depend on us now.
Currently, I'm still training a few key team members of the company, but after this hurdle, I will have enough time to do what I love again: creating.
During the little free time I have, I play a lot of small indie games (Sable is my current fave!), do some watercolour painting, and build mechanical keyboards.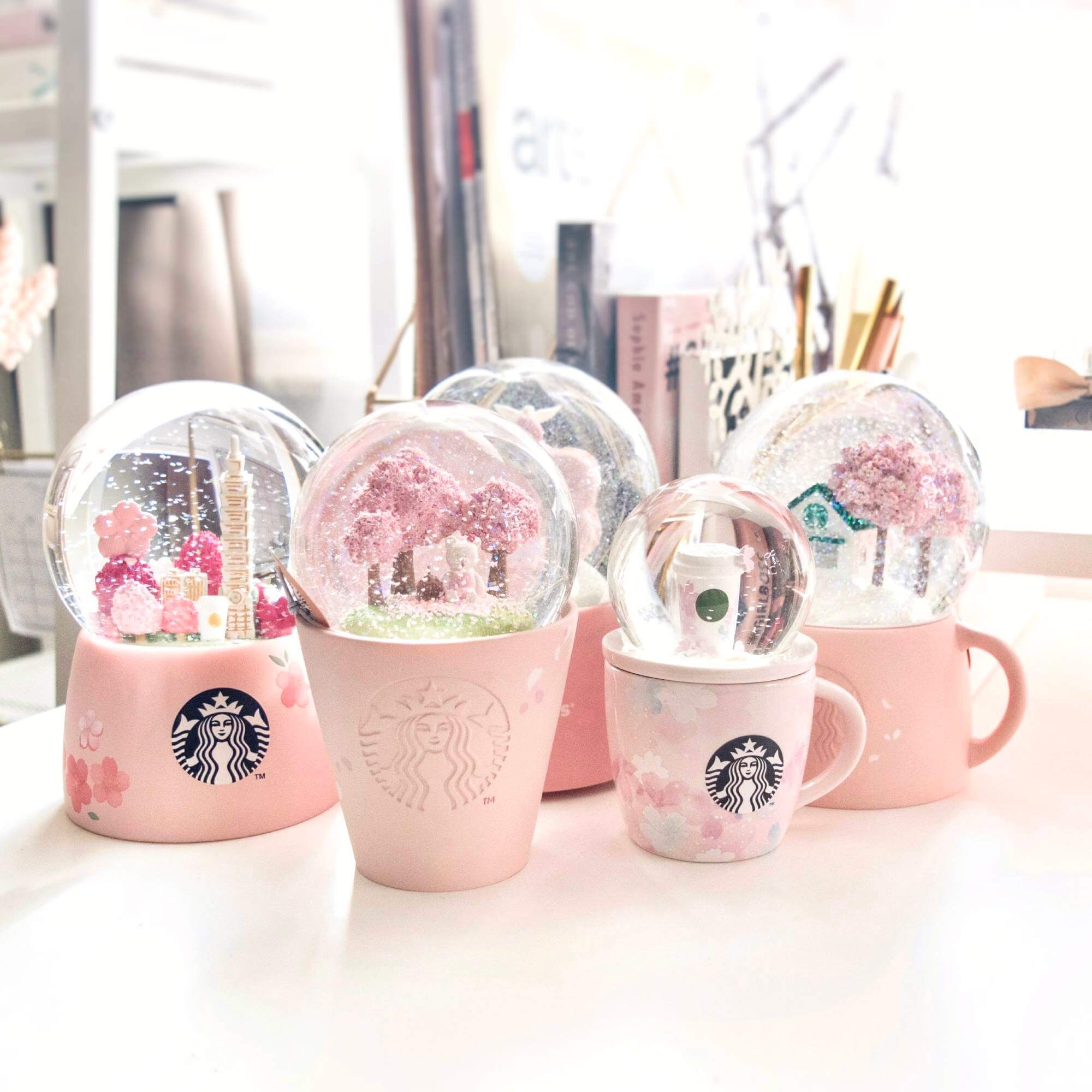 I document my hobbies on my Instagram @keittycat_ .
It's a newly created account after I lost my main account of ten years, which contained a lot of travel photos and artwork.
Take us through your setup
When I started getting creative with my workspace, I made sure to make it a safe space that is artistic, artisanal, homey.
I wanted to make it a space that is a hundred percent me.
I love pastel pink and soft tones. This, I think, is the non-negotiable aspect of my workspace.
Firstly, I got rid of everything that wasn't pastel or was too bright. I literally had to throw or stash away a lot of pink stuff I had because I was so particular with the kind of pink I wanted if that makes sense.
I also incorporated lots of gold elements into my space to give it a chic factor. I always chalked this phase up to my tastes, getting more mature because I used to love cute stuff.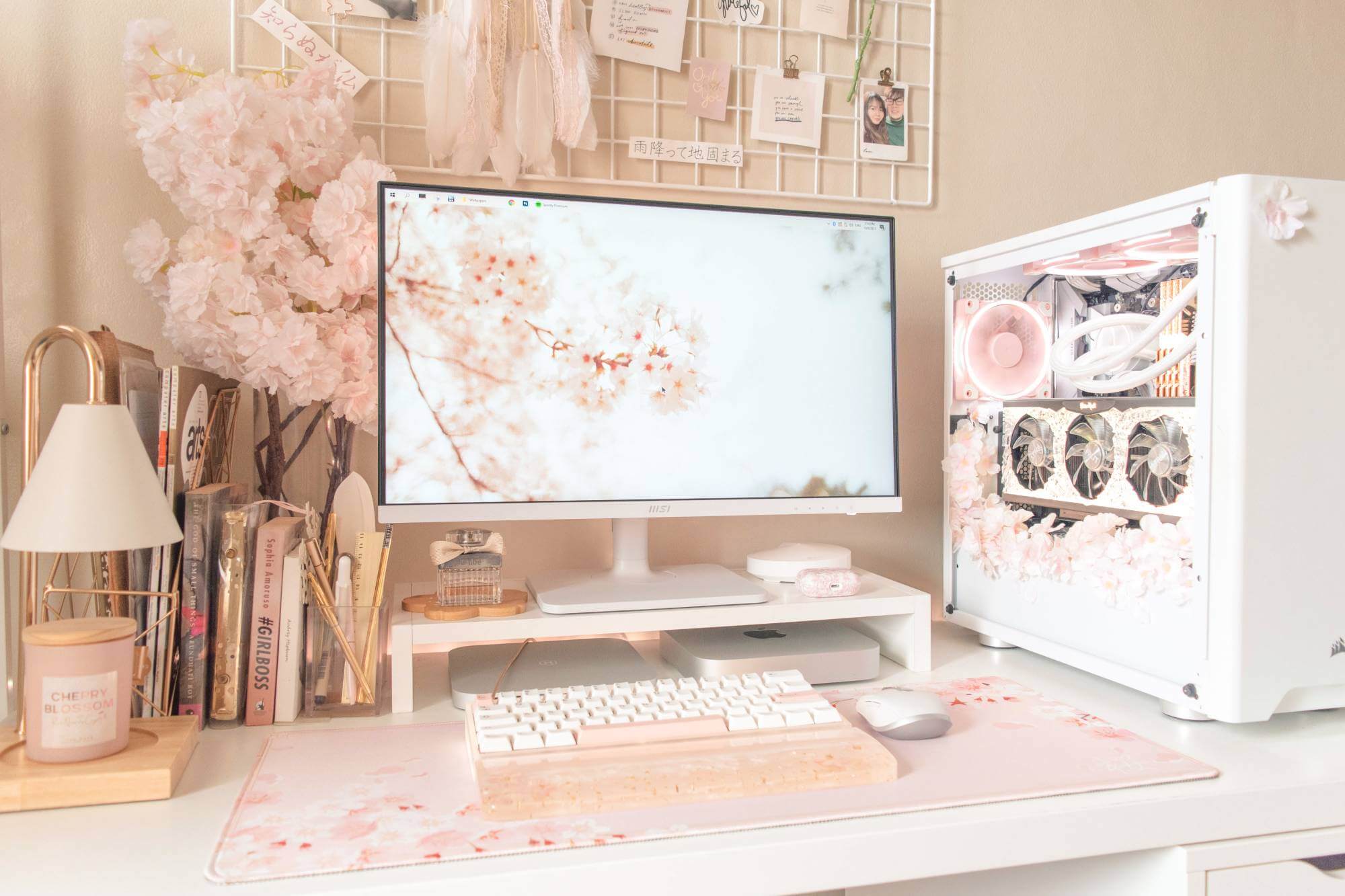 In 2020, when I started working as a video editor, I needed something powerful enough to handle heavy loads, and that's what got me started on building my PC.
The last PC I had at this point was probably a decade prior. Before I built my PC, I've only been using my trusty 2017 15-inch MacBook Pro for work and play.
Back when I only had my laptop, matching things and staying on the theme was easy.
Since I wanted everything to be pastel and there are not a lot of PC parts and PC peripherals that fit into that category, finding PC parts that are the right colour was (and still is) the biggest challenge for me.
I chanced upon some pastel fans and I changed the white fans I had. I made sure every single part was white/light coloured. I also added faux cherry blossoms to my PC.
I love cherry blossoms.
For me, it's not just a trend and an "aesthetic" — it's my lifestyle.
When I was building my computer, I also made sure to incorporate that. This could probably be because of my Japanese roots, but there's something inexplicable that just makes me so in love with it. I've had a huge fascination for it since I was a kid.
When I was a young teenager, I'd cover my blogs and profiles with so many falling cherry blossom petals (back when those Javascript effects were all the rage) that people would complain whenever they visited my page.
Adding the faux cherry blossoms to the PC was probably one of the greatest decisions I ever made with regard to my workstation.
It just made it somewhat different from the rest and made it me. I didn't want something generic, and just that simple addition already made it stand out from the rest.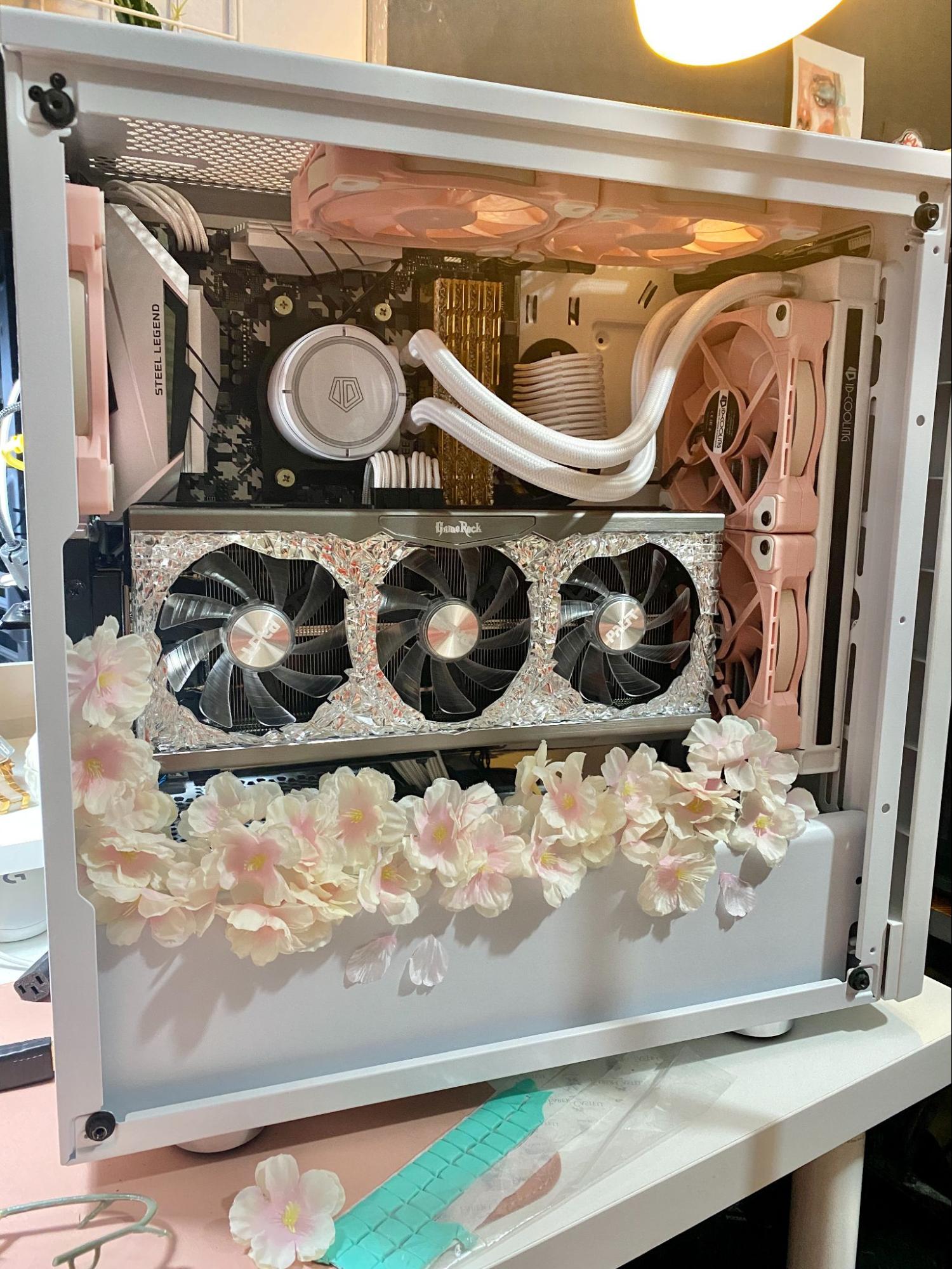 With the addition of these pretty gold RAM sticks and the jewelled look of this amazing GPU (I was able to snag one amidst the shortage), I successfully built a PC that looked like an art piece itself.
I first paired it with an old Apple LED cinema display to keep it consistent with that chic, industrial Apple look while at the same time still keeping it "artsy".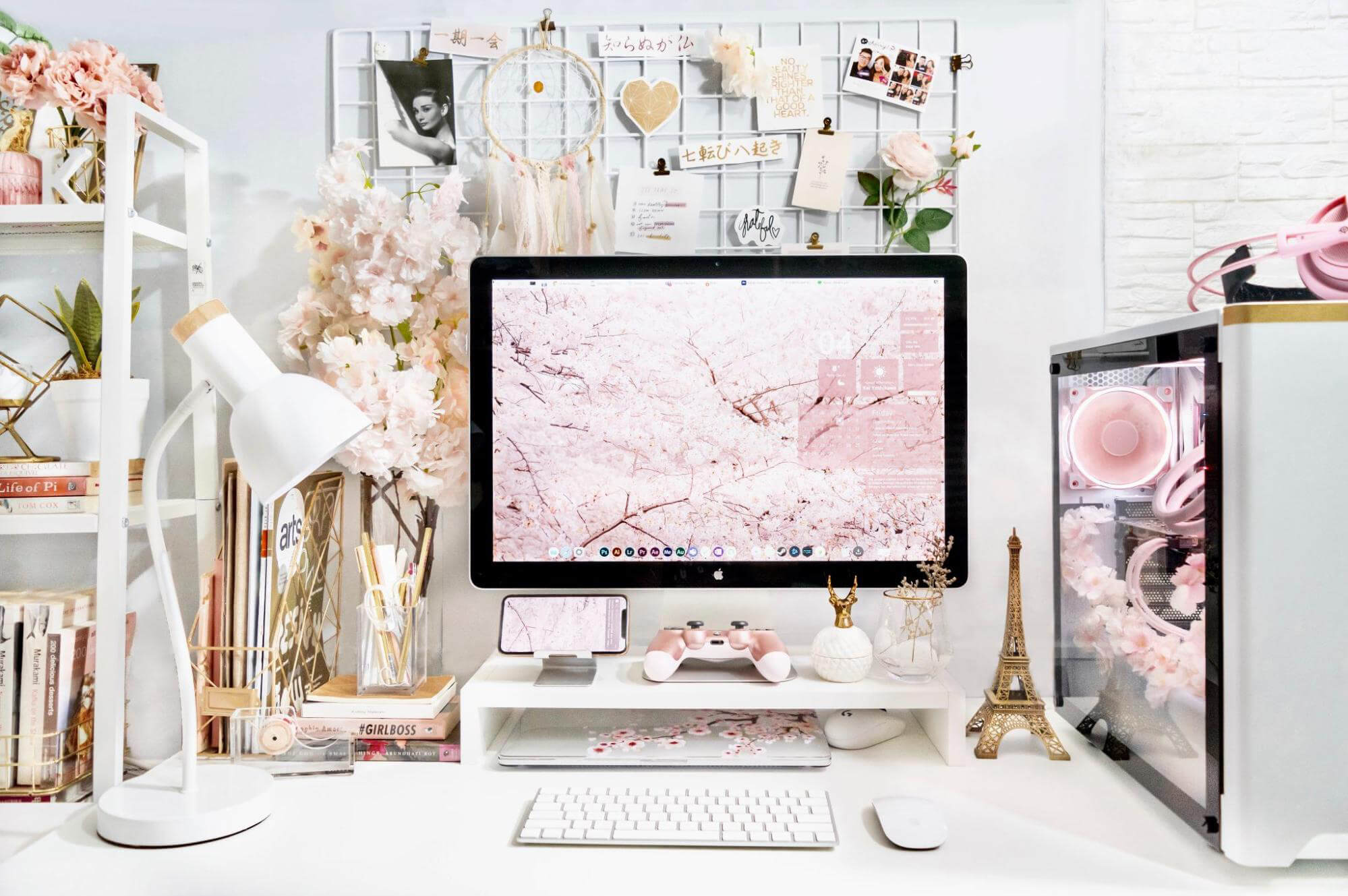 My desk setup stayed the same for pretty much the rest of 2020.

We moved houses in March of 2021, and I still set up everything the same way.
Even when I started using the extra tiny room we had (it's only around 9 m²), my workspace stayed unchanged.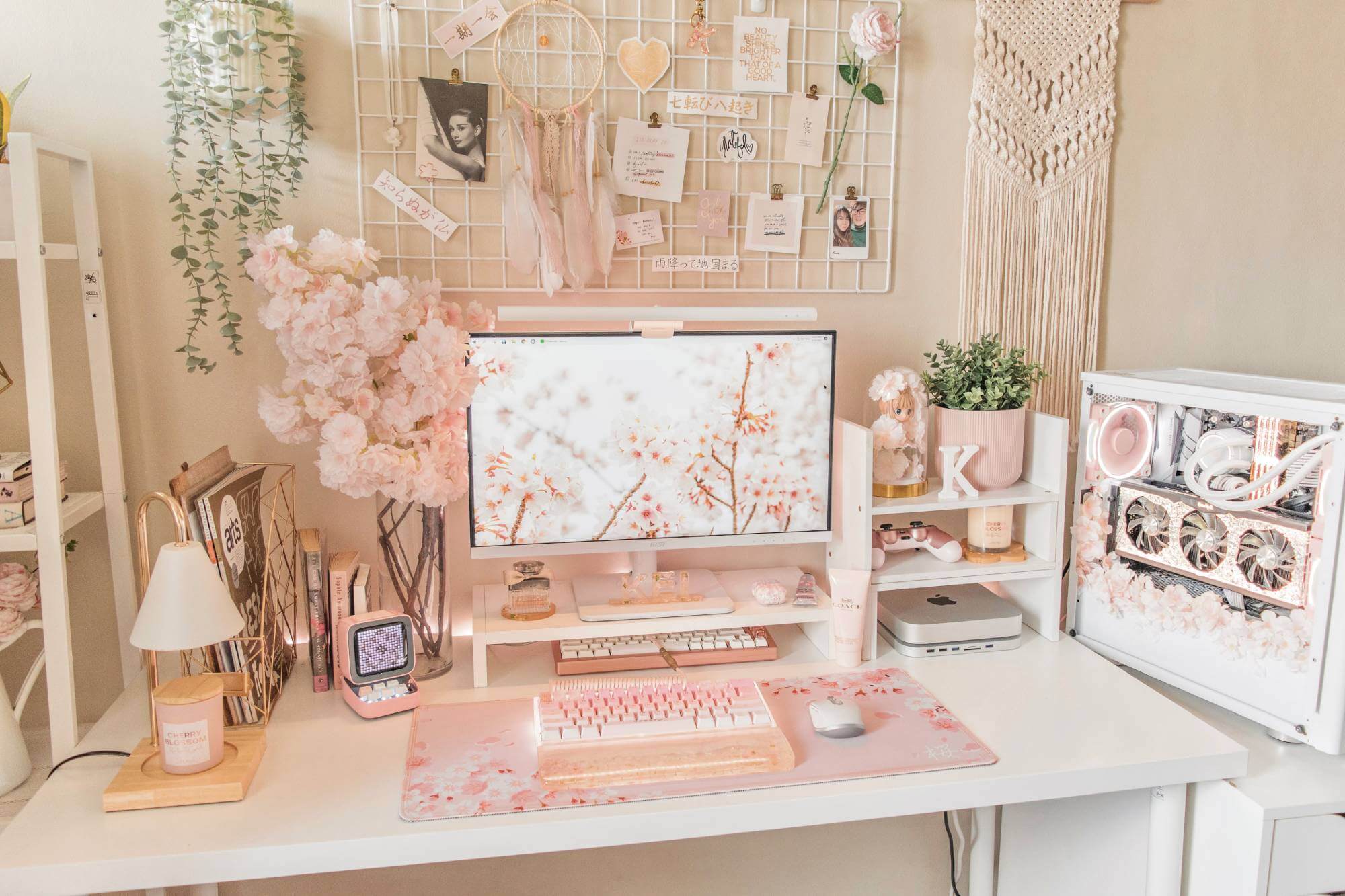 For my birthday last year, my fiancé gifted me a Mac Mini, a pair of AirPods Pro, and a new mouse.
He knew that having a Mac for work made it easier for me to sync everything since I also have a MacBook, an iPad, and an iPhone.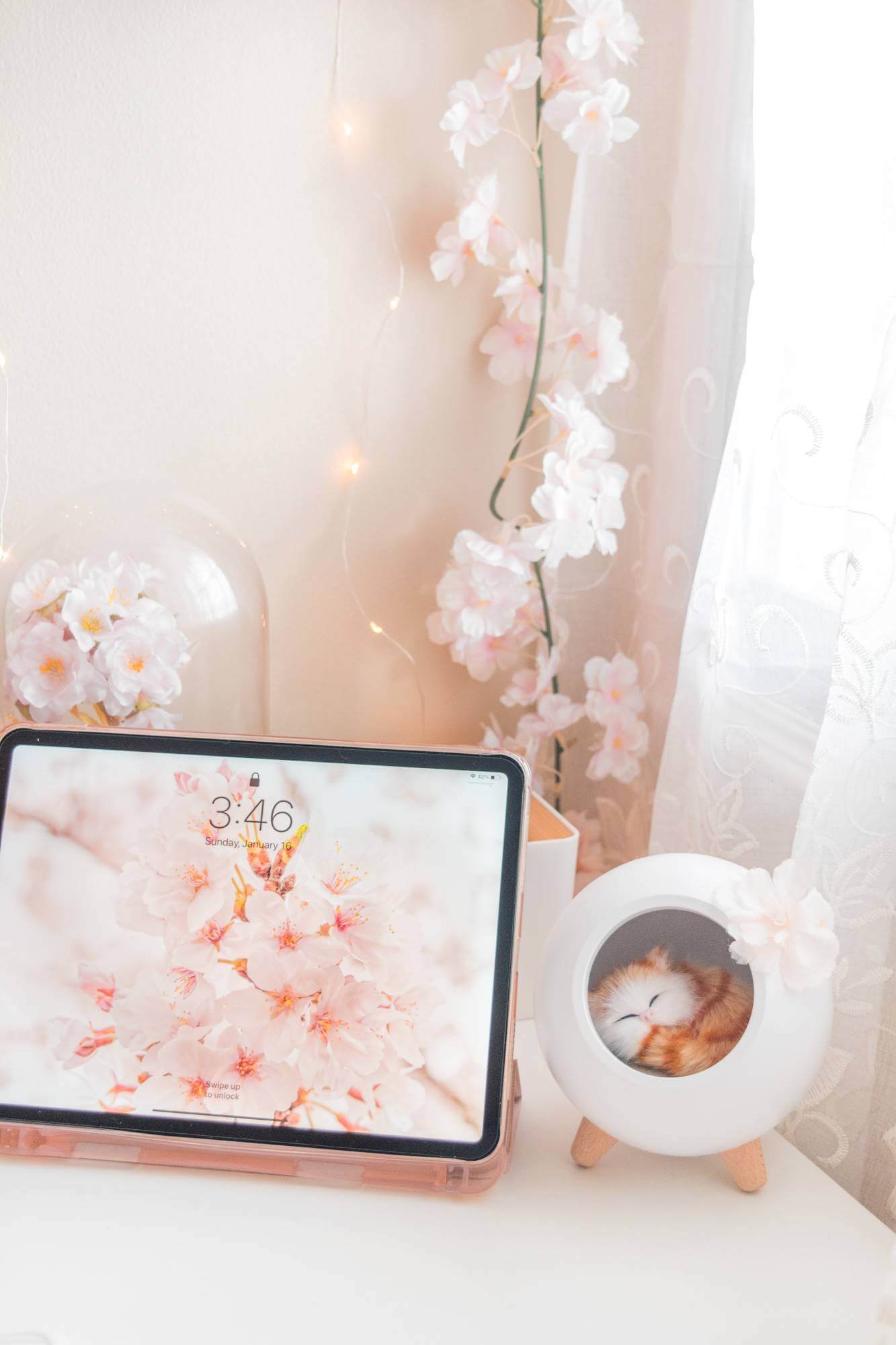 At this point, I had already been working as a manager and had no need for a powerful PC anymore.
Around this time, I also got myself a new monitor so I could easily switch between different outputs.
The thick bezels of my old monitor were a bit too dated, anyway. This setup is just perfect. I can easily pick up my work from anywhere I want.
I also love the mouse he chose.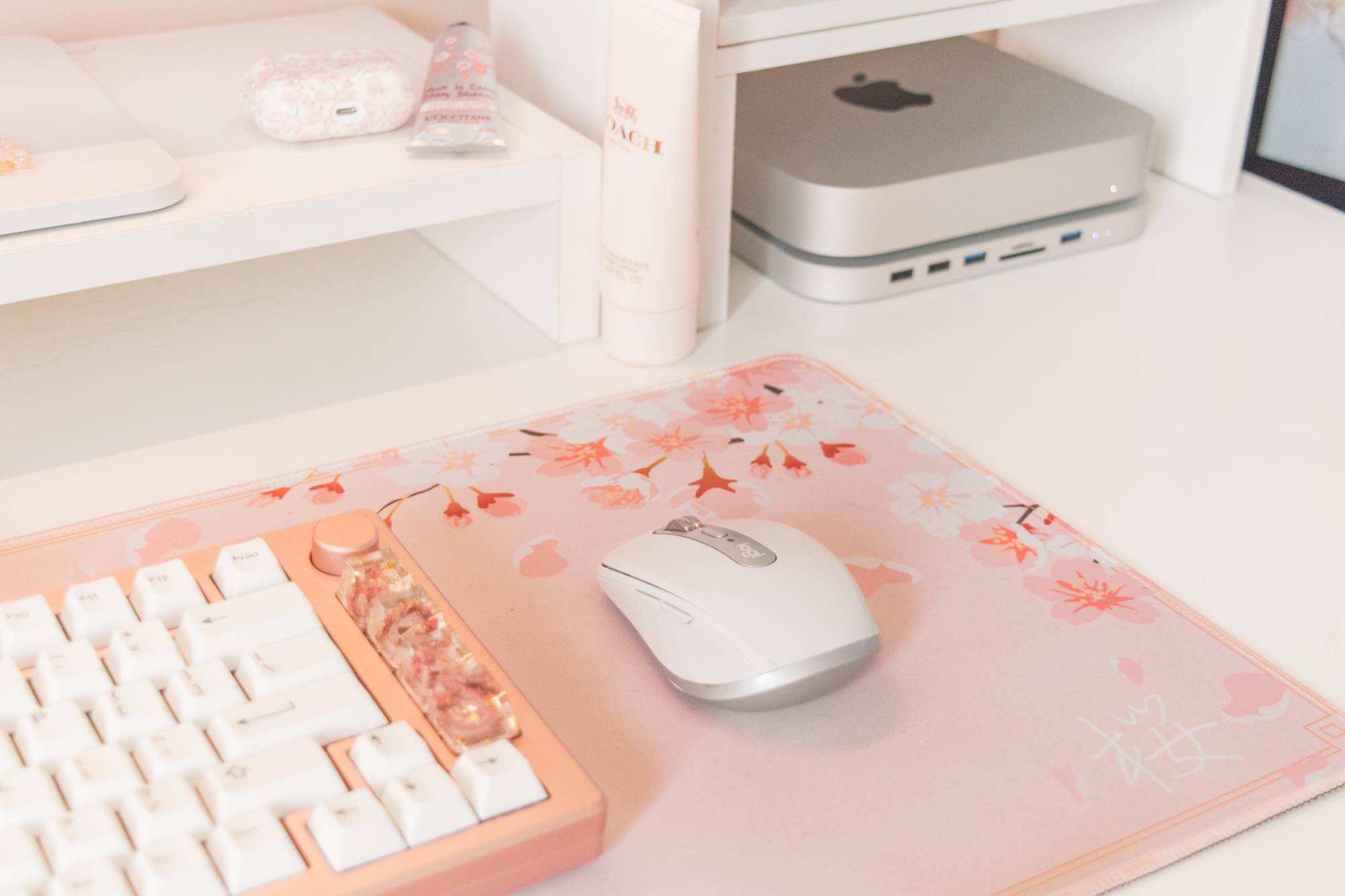 It was white, wireless, and, most importantly, can seamlessly switch between my devices.
Form and function!
On the other side of my tiny room, I have a second desk and a bookshelf.
I use the second desk when I'm reading, painting, journaling, or when I just don't particularly feel like working in front of the computer.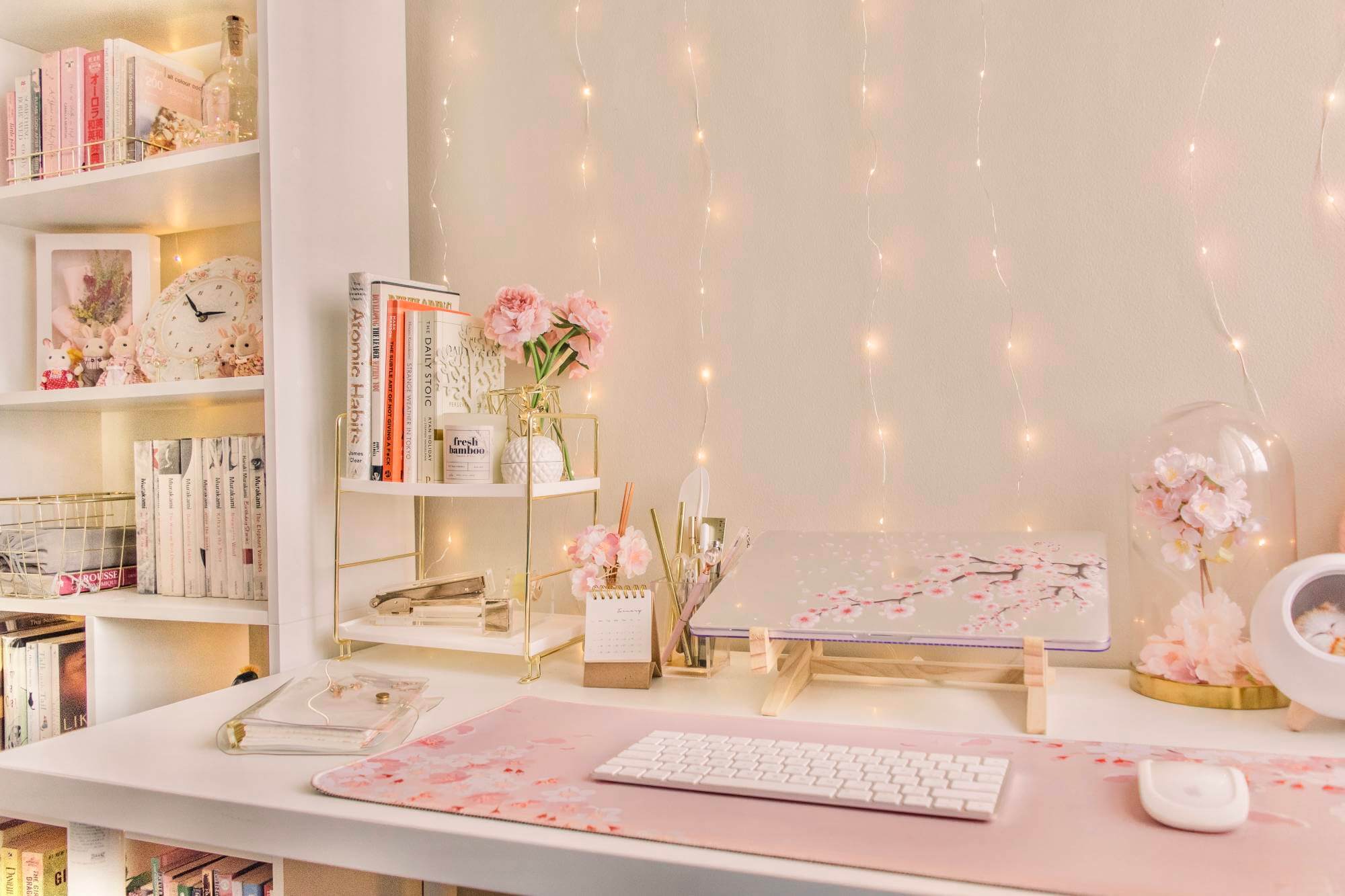 Sometimes, just being in front of a computer exhausts me. It makes a difference for me for some reason.
There's not much that I would want to change.
It's me and that's all that matters.
What's your favourite item on your desk?
I don't think I have any particular favourite item. I do, however, have a favourite section.
This is the space above/behind my computer.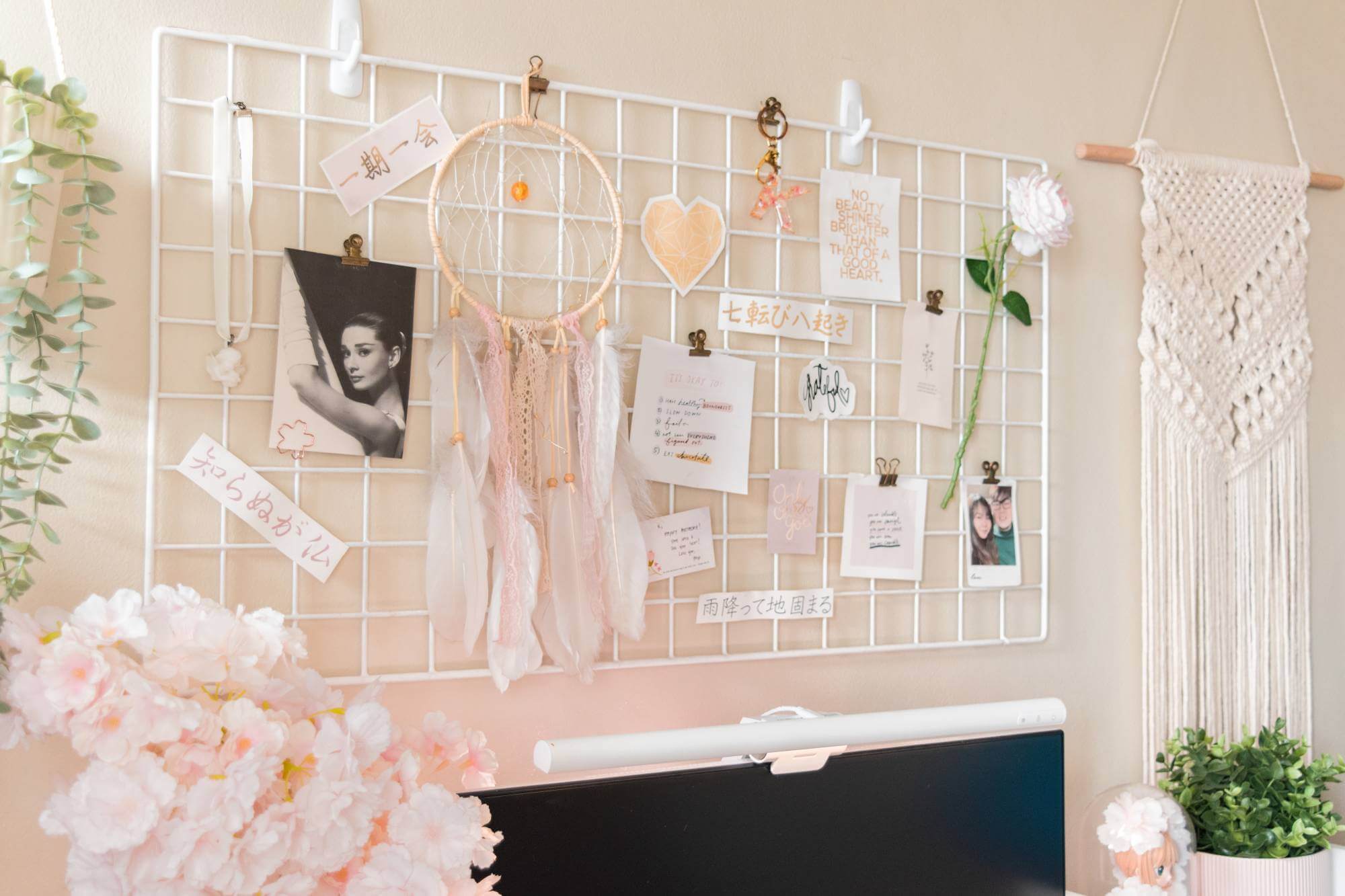 I've had the grid for a while now.
The quotes/passages I printed and posted on there haven't changed much since I first put them up.
I guess just having those visual affirmations help a lot when I'm starting to lose track of things or feel down.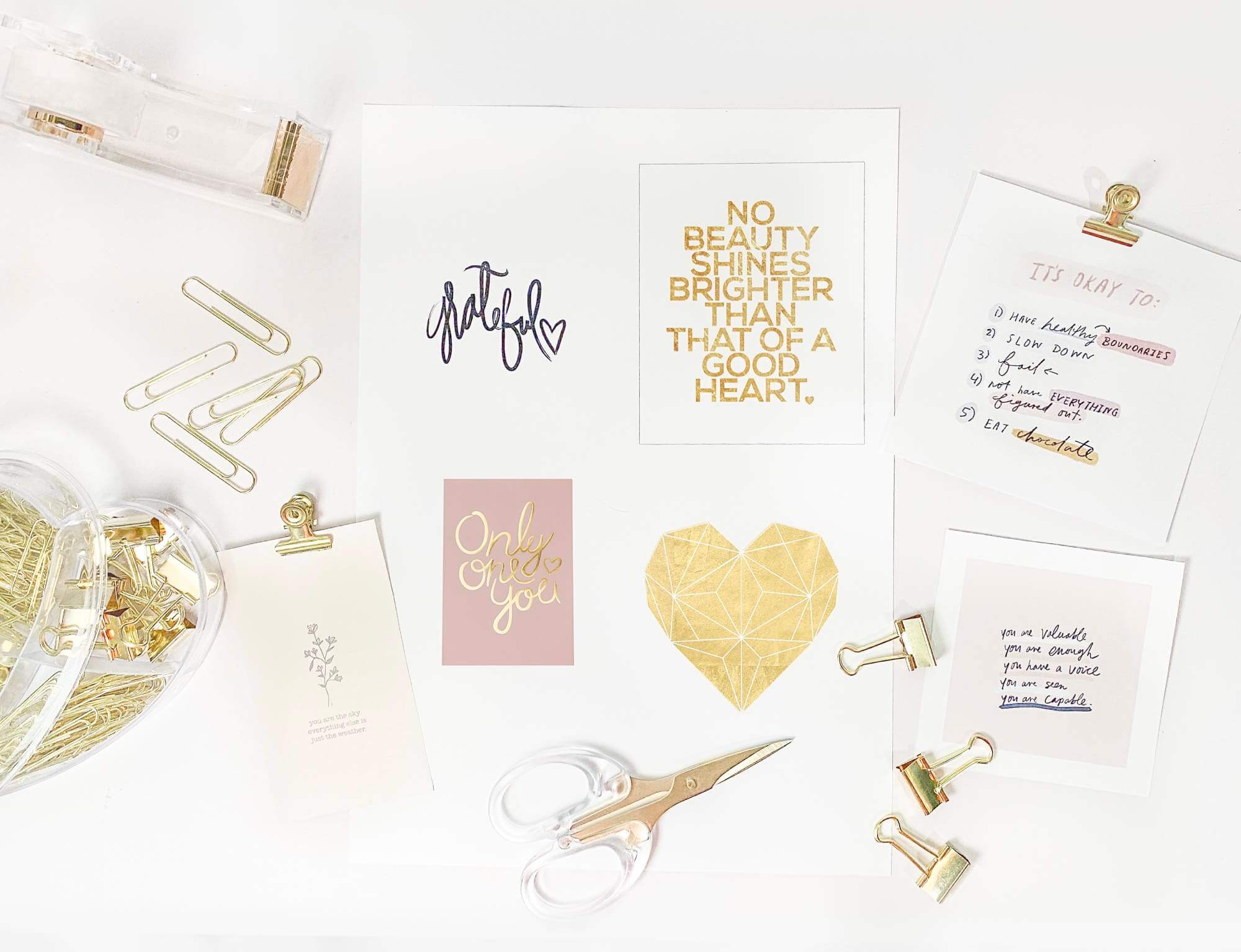 I have Pinterest-esque quotes, Japanese idioms, photos of my fiancé and me, cards from friends, etc.
On the right side, I hung a macramé piece I got for less than $10 from a local shopping site.
I contemplated a lot whether I should put LED lights there (particularly Nanoleaf). But I ultimately decided that something more natural and artsy is better. I'm glad I did it.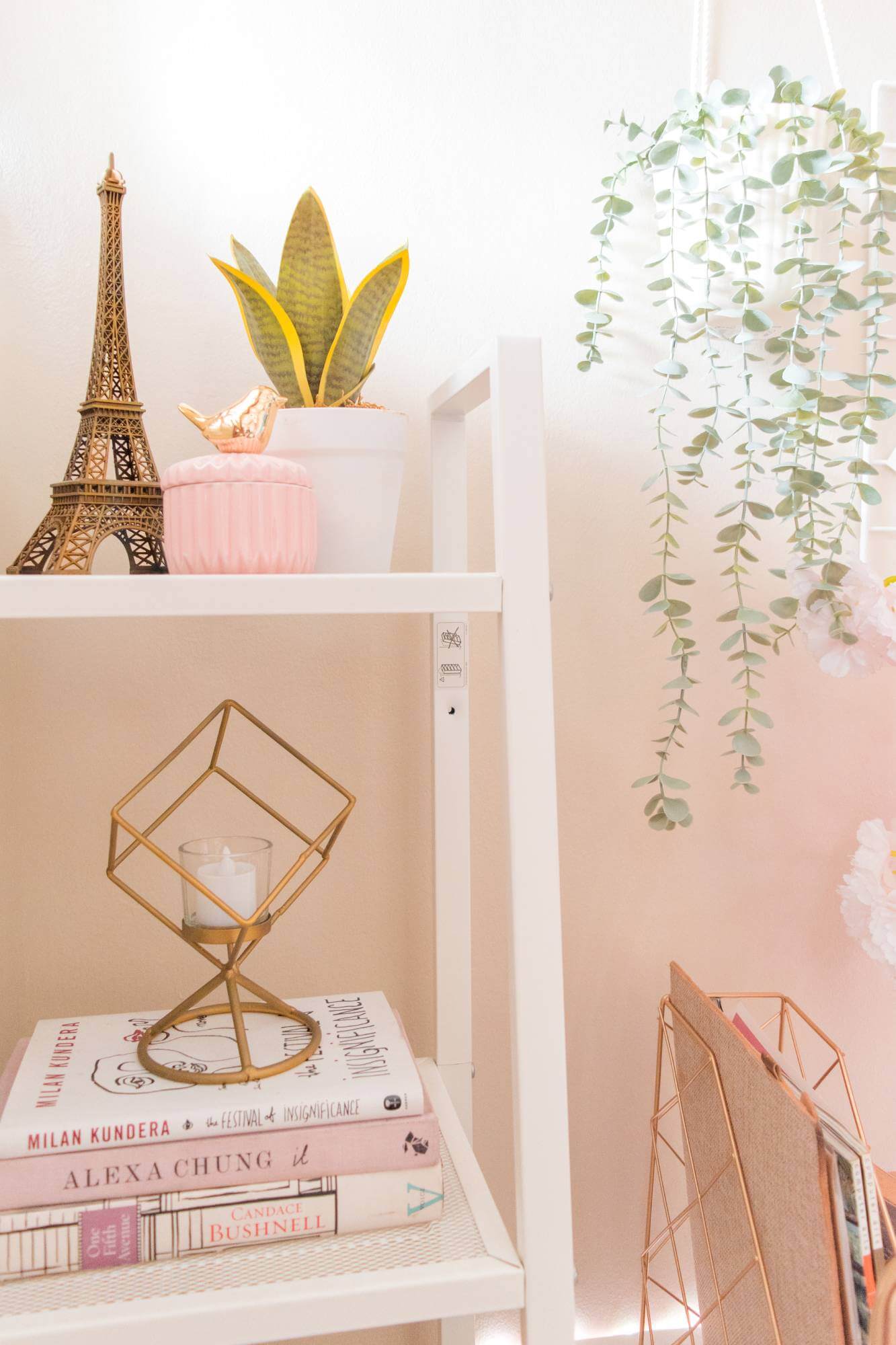 On the left side, I added an artificial hanging plant from IKEA.
I wanted lots of plants, but we have six rescue cats at home, and real plants are out of the question.
RIP, two of my 7-foot palm trees.
What apps or tools do you use to get things done?
I use lots of programmes when I have to be hyper-focused for work (time-blocking programs or games, for example).
But one thing that I find most useful is the integration/synchronisation of my Notes, Reminders, and Calendars on all of my devices.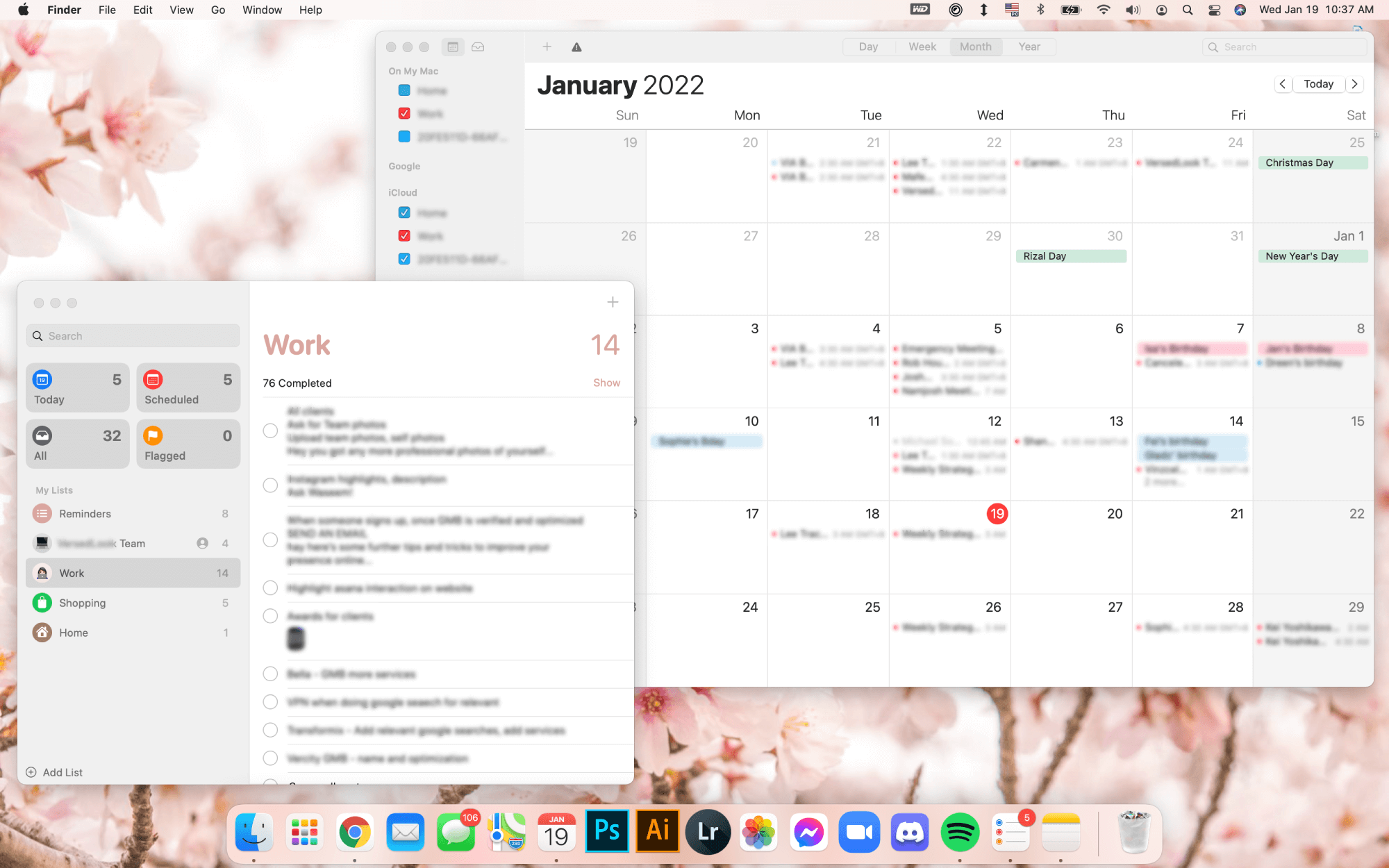 I think a lot of people underutilise this feature.
I make sure that all my reminders, notes, and calendars (which I use a lot to monitor meetings!) are synced across all my devices.
The synchronisation of these basic apps alone helps me stay organised and on time, whether I'm in front of my desk or not.
What books, blogs or podcasts recently caught your attention?
Recently, I've been reading a lot of leadership material.
I have a lot to improve on, and I want to be a better leader to my colleagues at work.
I'm checking out John C. Maxwell's works, but I'm always asking around for better recommendations.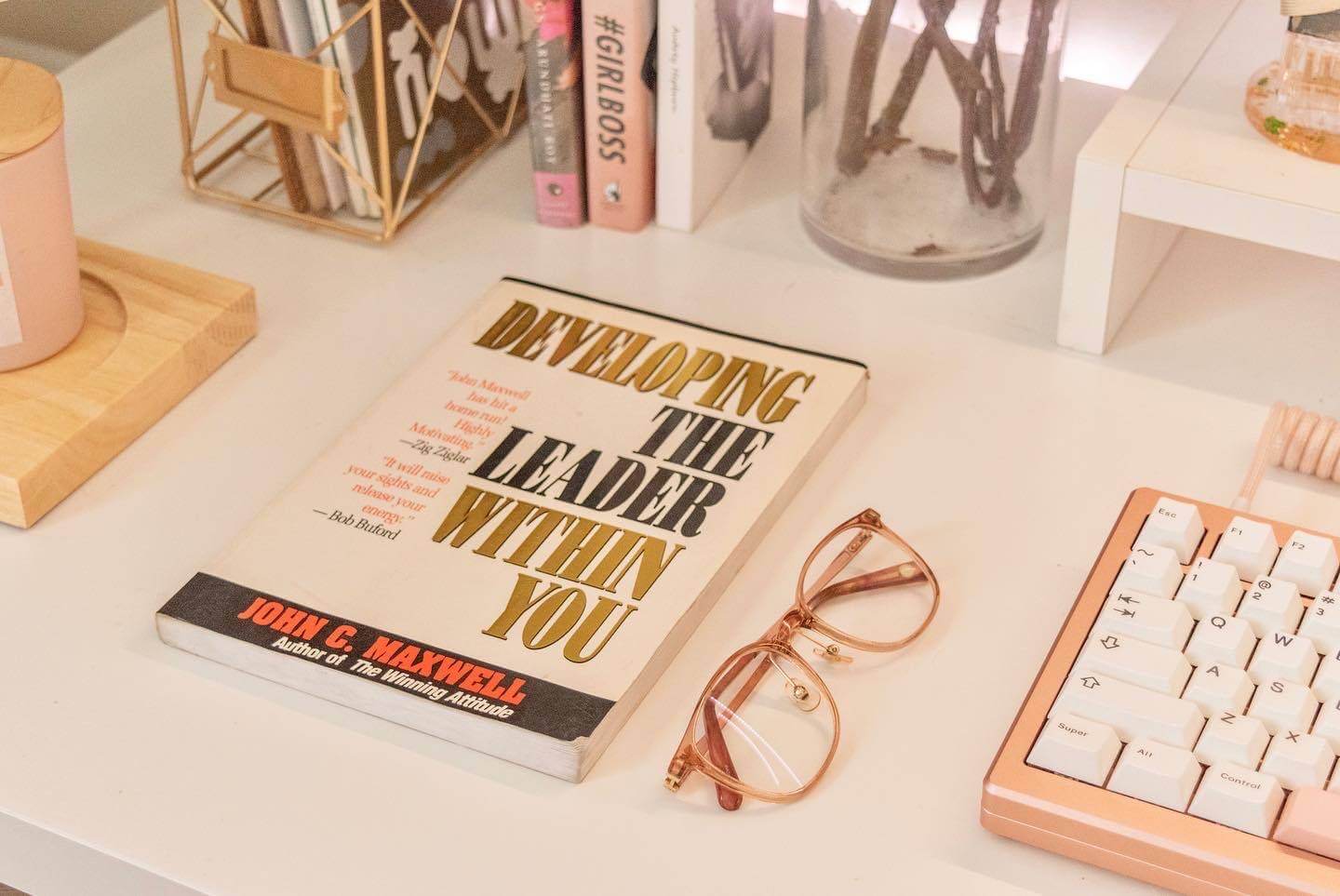 Any tips for other makers who want to improve their workspaces?
Be inspired and stay inspired.
Understand that getting the ultimate setup is a process.
Think of every step as adding a chapter to complete your own book — and writing a good book takes time.
Take it slow and build up that story until it becomes something worth sharing.
What does your typical day look like?
I work nights, so my "day" usually starts at around 11 pm.
I then have a meal with my fiancé. We found a way to make our contrasting schedules work by still having our meals together.
We would either watch a movie or play an episode or two of our favourite show (we love Korean variety shows!)
My work starts at around 1 am. On a typical day, my fiancé brings me coffee and leaves me alone for the rest of the day.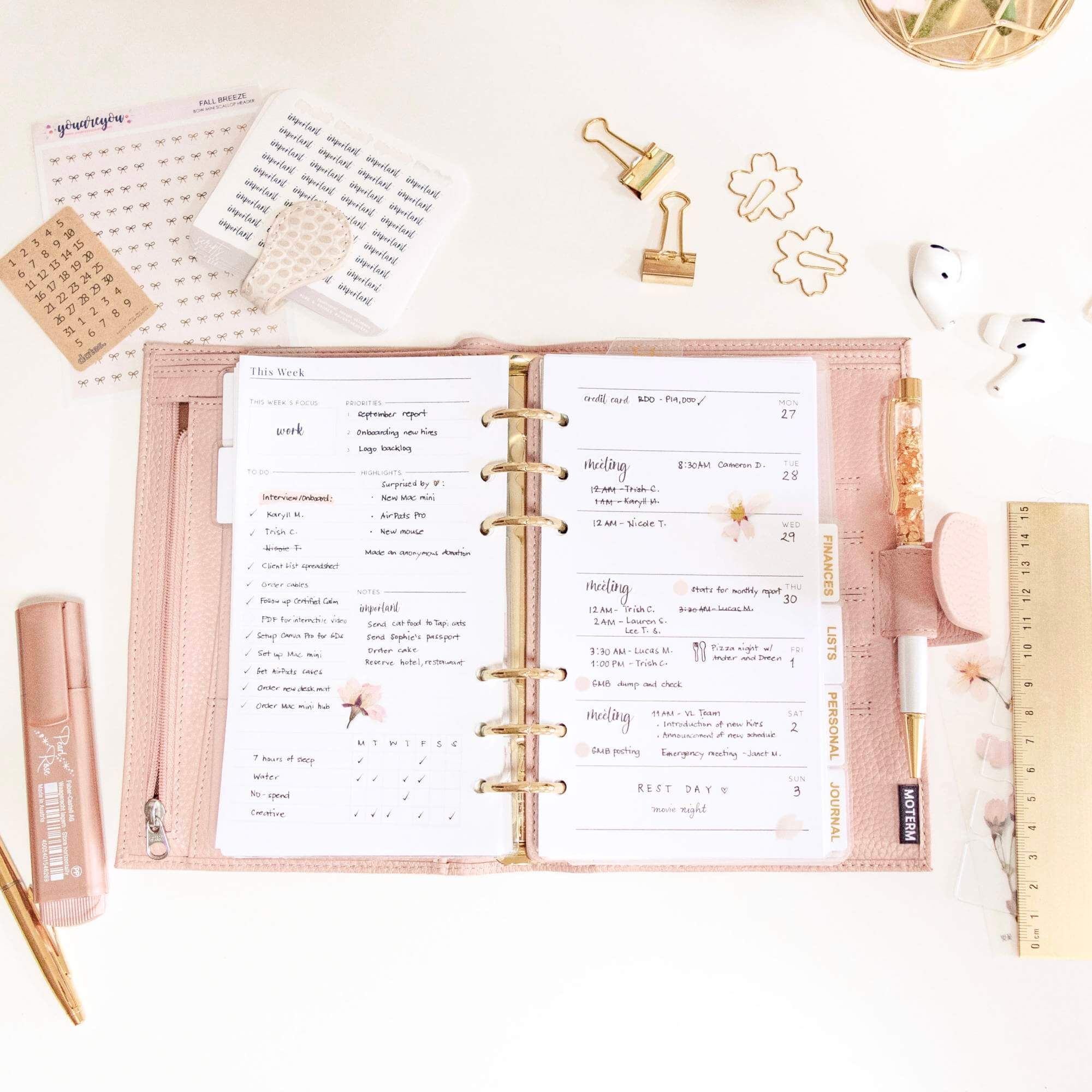 Sometimes, when it's a slow day, we'd watch something or play a game for a bit before he goes to bed at around 3 am. This is very rare, though.
I've always been a night owl.
I find the calmness and the quiet comforting.
I feel more relaxed and focused at night when I'm alone with my thoughts. All I need is a lo-fi or jazz playlist, and the sun will be up before I know it.
When I start hearing the birds sing outside, that's usually around 6 am, I take a break, and I'd have another cup of coffee.
Quiet, early mornings are one of my favourite things about working nights.
Things slow down in the morning, so sometimes I get to do some logos between work.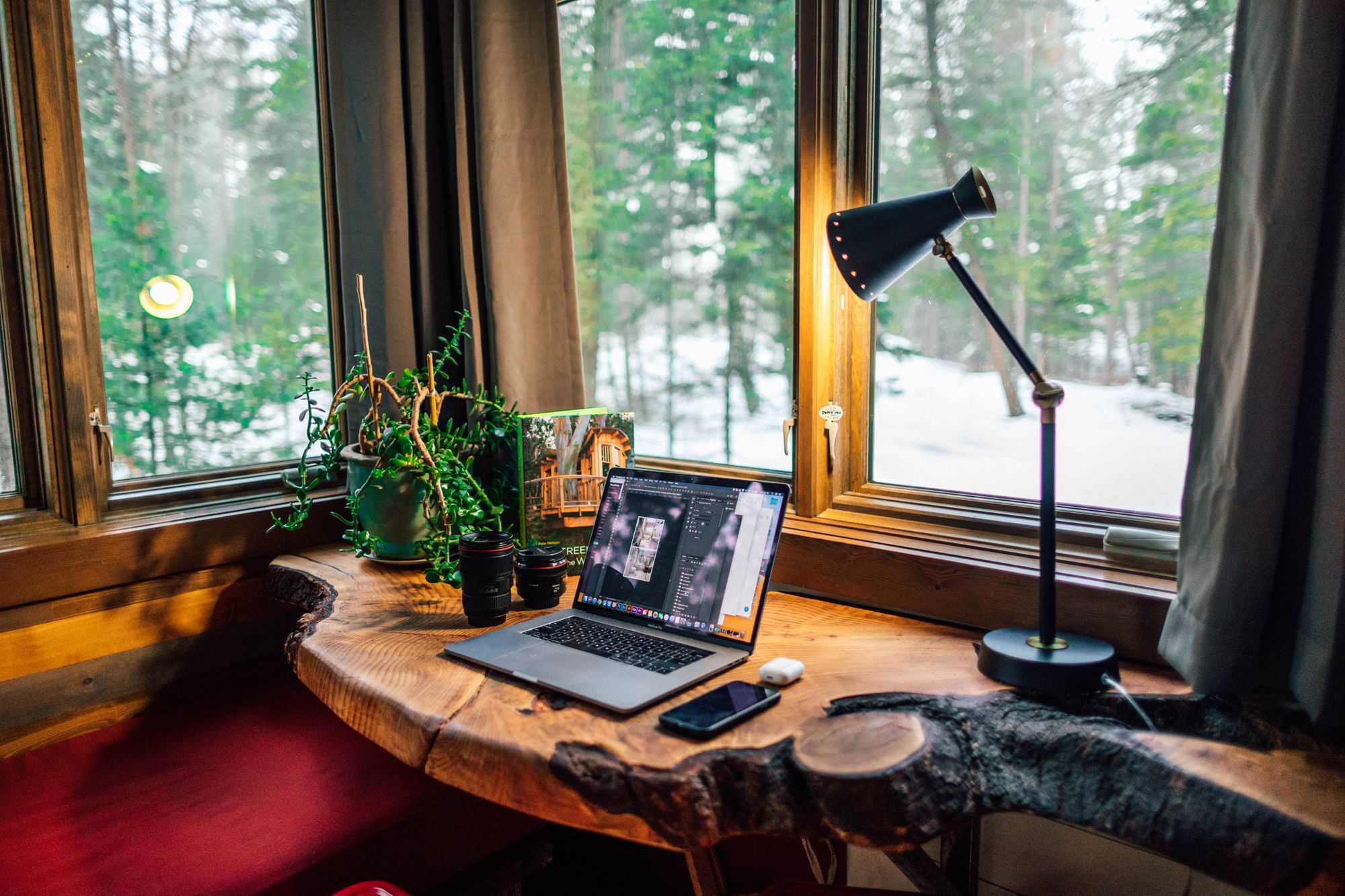 Workday typically ends at noon for me. At this point, I have about four hours left to squeeze in that second meal, cleaning the house, attending to our cats, etc.
I'm trying to cut down my working hours, so I get to spend more time on my hobbies.
On days off, I love playing games and watching movies. My fiancé is a huge cinephile, so movie nights in our (living room) home theatre are always fun.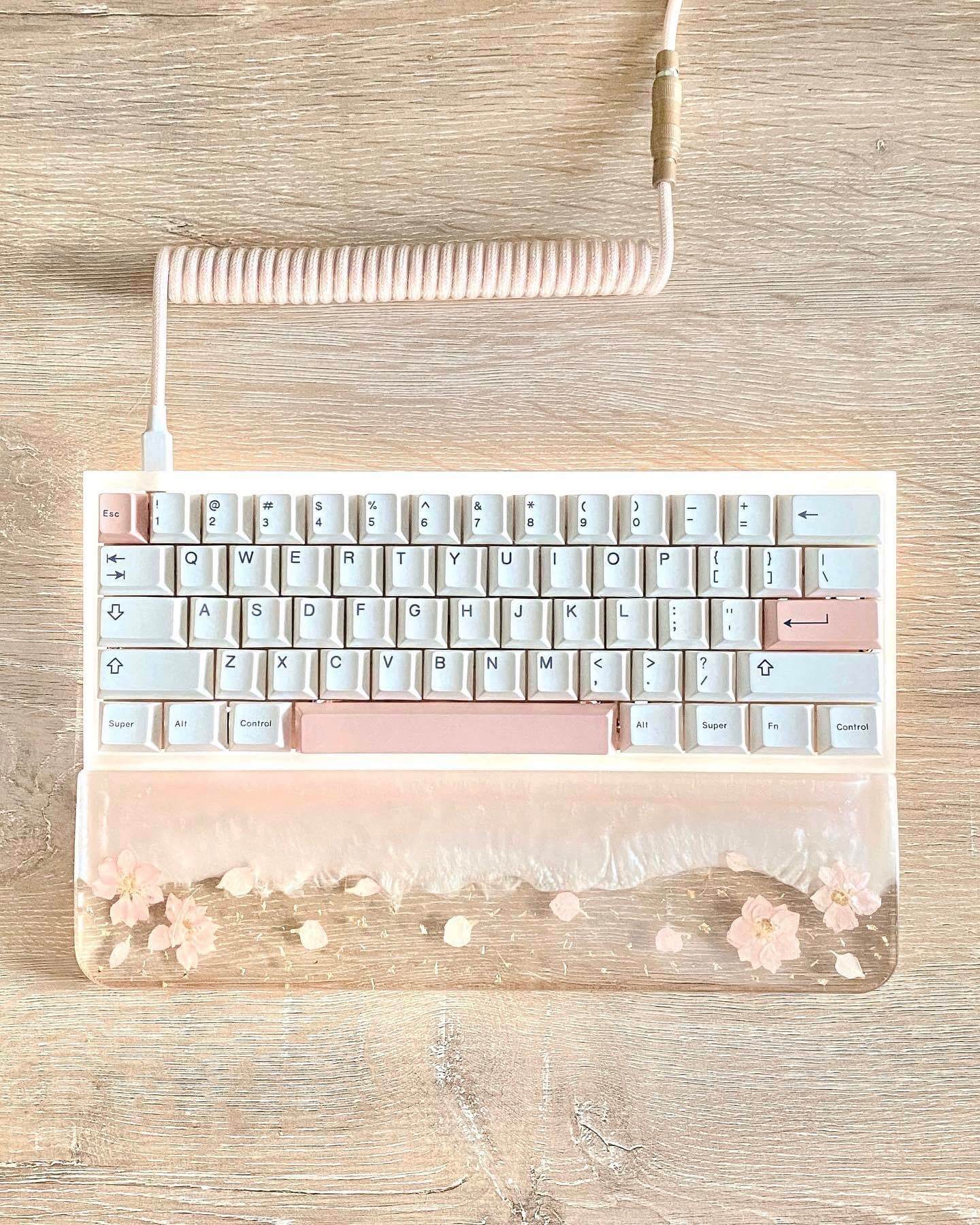 We share a lot of hobbies and interests, too. We are both into building mechanical keyboards. I think I currently have about seven.
I don't see myself working from the office anytime soon, and I don't think I would want to. Ever. I'd rather spend long hours in my tiny room.
I say this to my friends all the time: "If I'm getting burned out anyway, might as well get burned out in front of a pretty desk"
Your tips for working from home?
Manage your time well. I know how working from home since the start of the pandemic took a huge toll on everyone's mental health.
Get a dedicated space for work, if you can. Draw a distinct line between your work and personal life.
I know I'm not one to talk, but I'm trying not to think about work when I don't have to — and I've come a long way.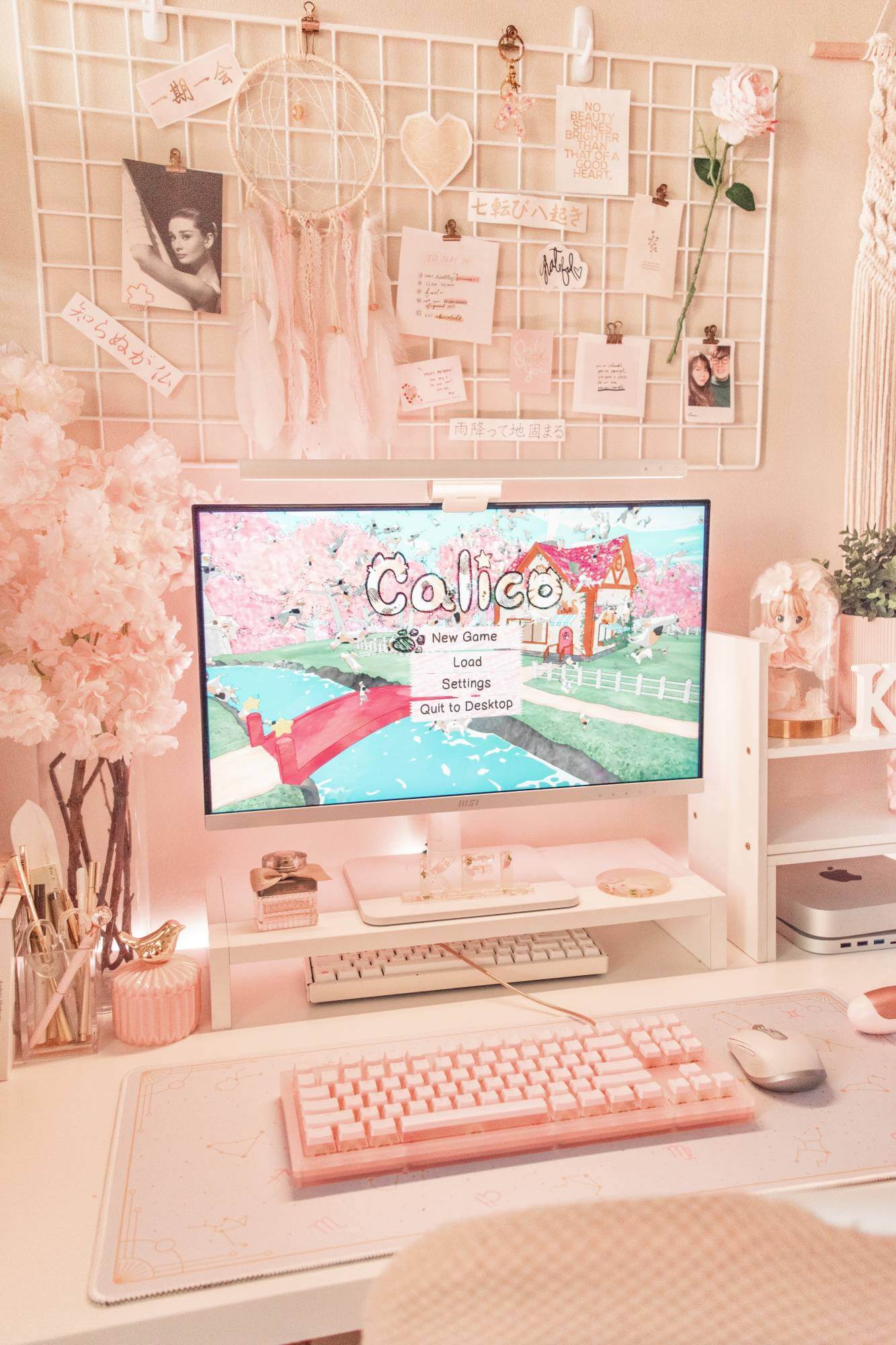 Turn off notifications for your work-related apps during off-hours and resist the urge to check that app. Don't forget to do the things you love and make time for your hobbies.
It is so easy to lose sight of all the extraordinary progress you've made during this pandemic.
You are striving, so be gentle with yourself.
We're a reader-supported publication. This article might contain affiliate links. It means we may receive a commission if you click a link and buy a product that our maker has recommended. The interview was done independently.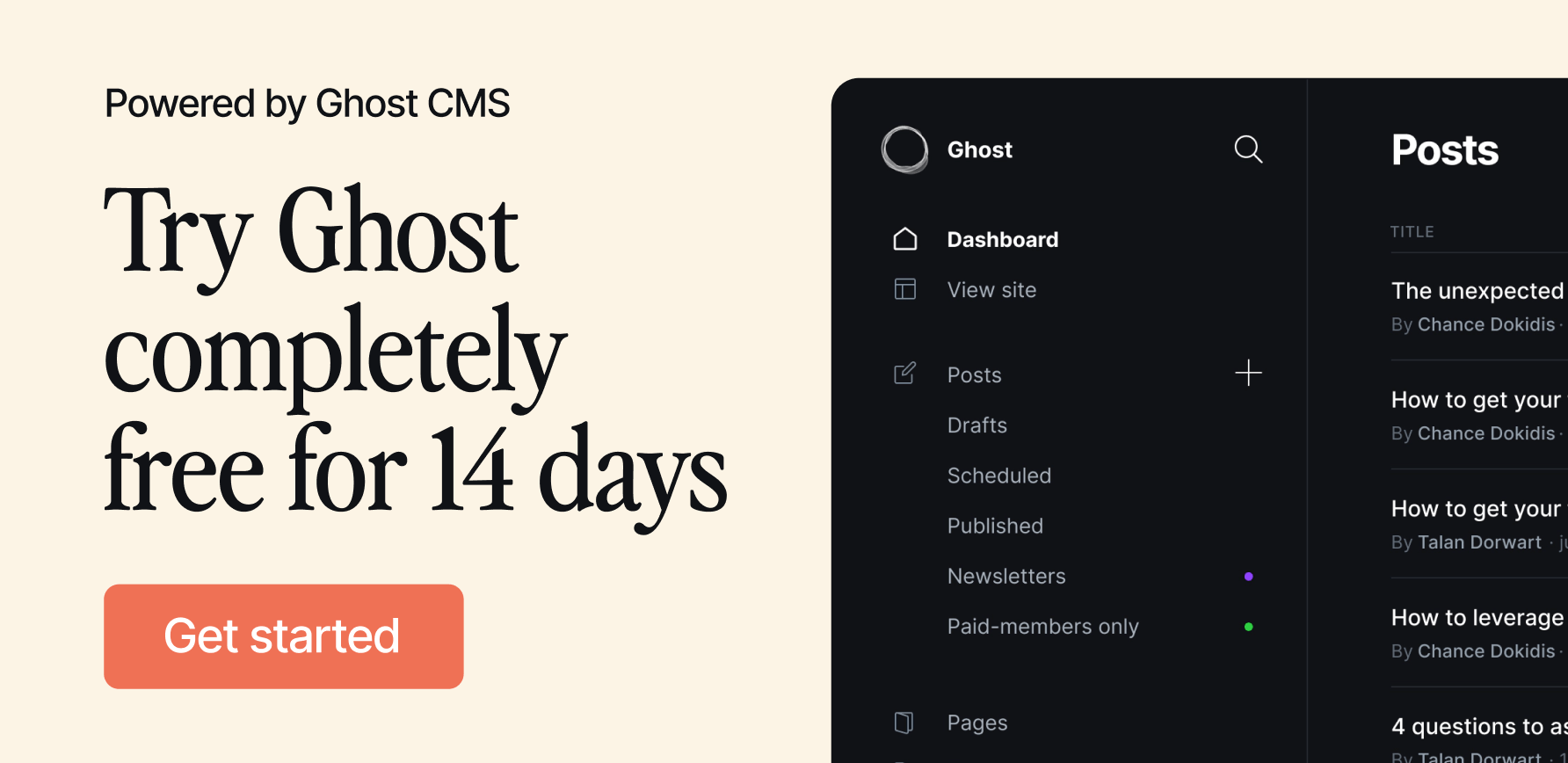 ---