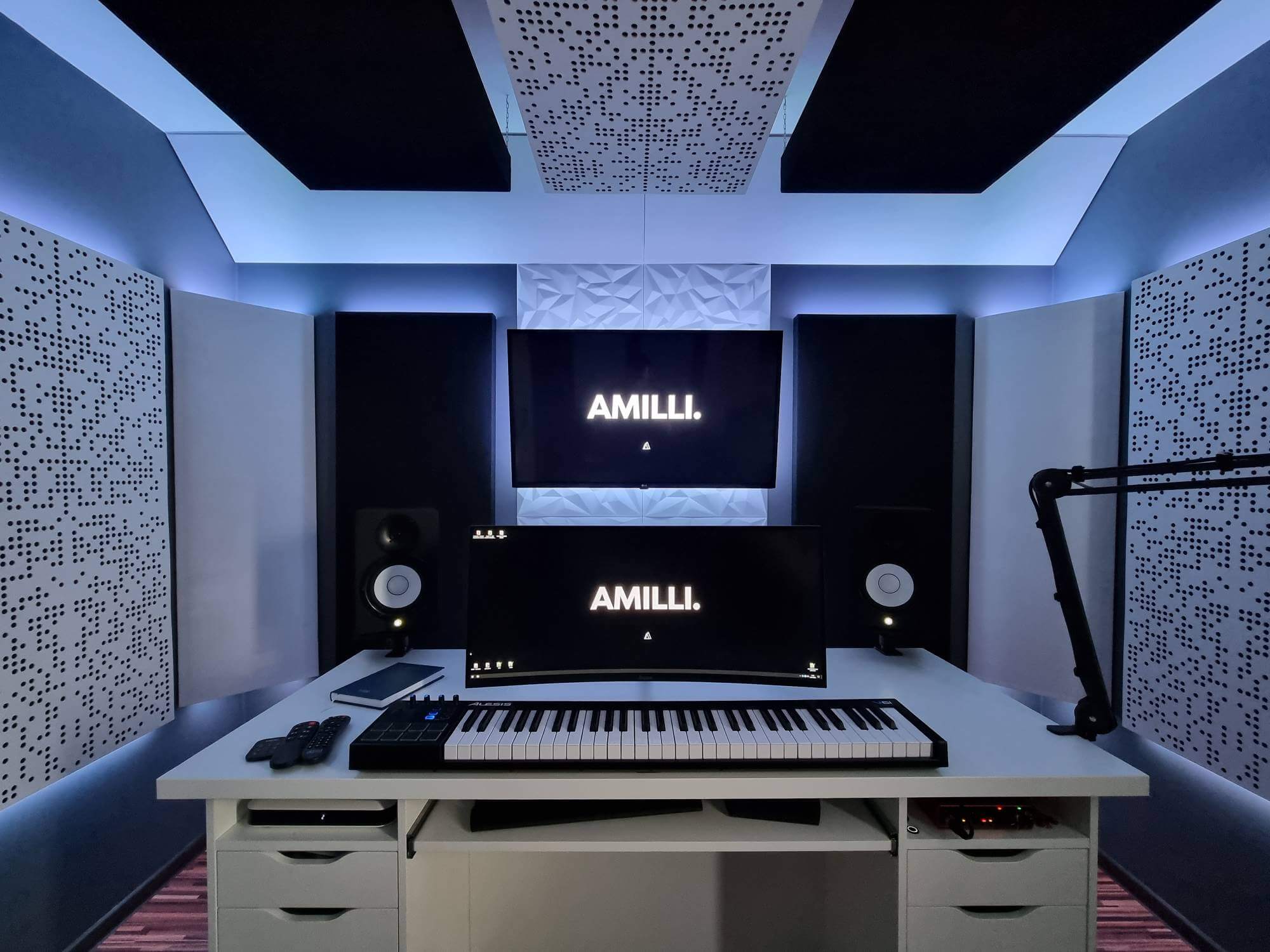 Minimalist Music Production Setup in Kraków, Poland
"Almost everything in this room is custom made"
Join 1700+ Curious Readers.
Every Sunday evening, get an *in-depth* workspace tour from a random corner of the world.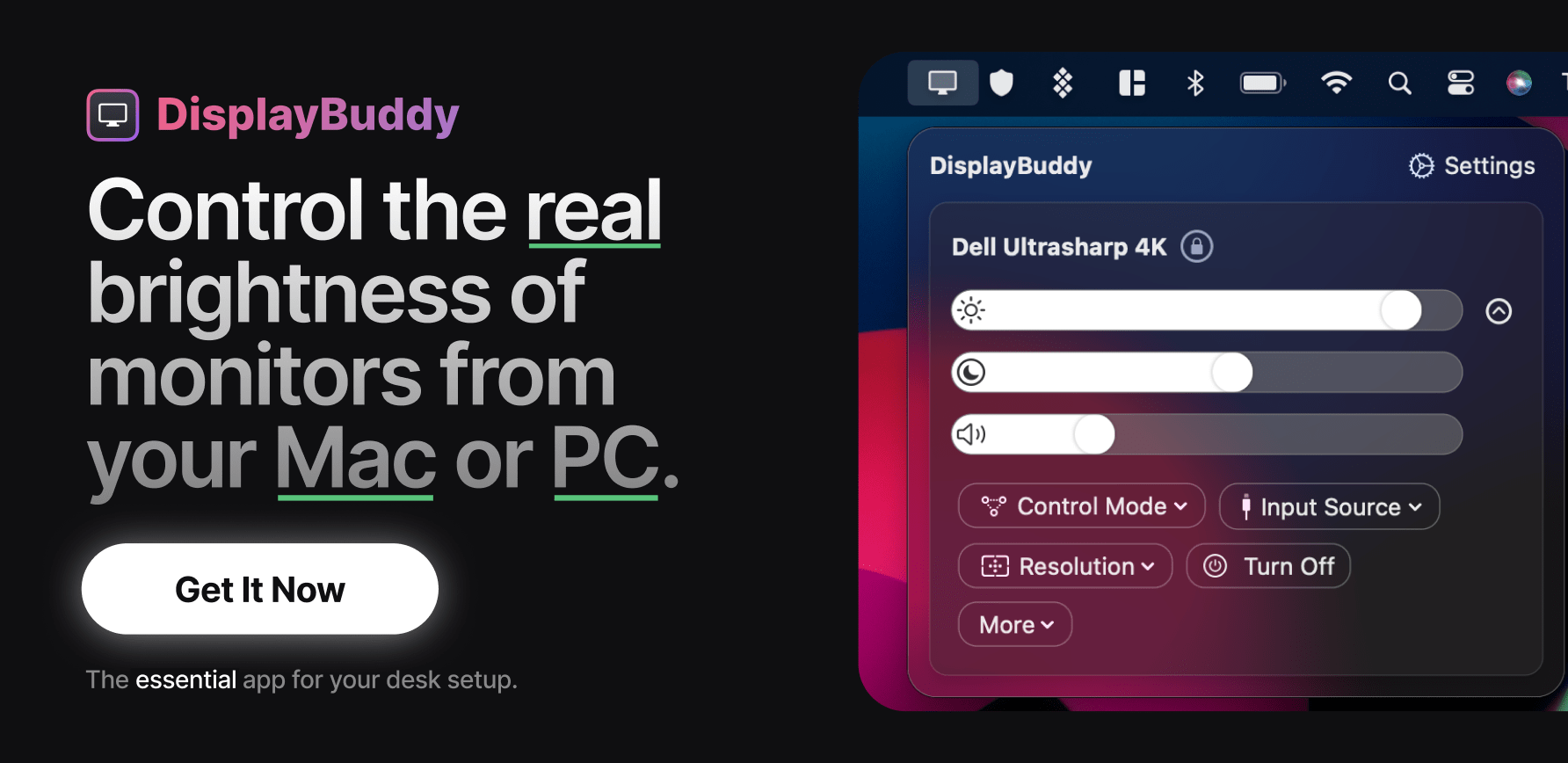 Name: Kamil
Location: Kraków, Poland
Occupation: Music Producer
Room size: 15 m² (161 ft²)
Cost of the setup: ~$5,5K (hardware only); ~$2K (renovation; Kamil did everything himself)
Social media: Instagram, Facebook
Website: SoundBetter, AMILLI Productions
Hello! Tell us a bit about yourself
Hi there! I'm Kamil. I was born in the late '90s in Kraków, Poland.
I've been enjoying dance and electronic music since I was a kid. I had my first contact with music production at the age of ten when I got this free software called eJay Techno on a computer magazine CD.
When I was 13, I started to learn a real digital audio workstation (DAW) called FL Studio.
As a teenager, I wanted to be a famous DJ & producer travelling the world, but life led me to another path.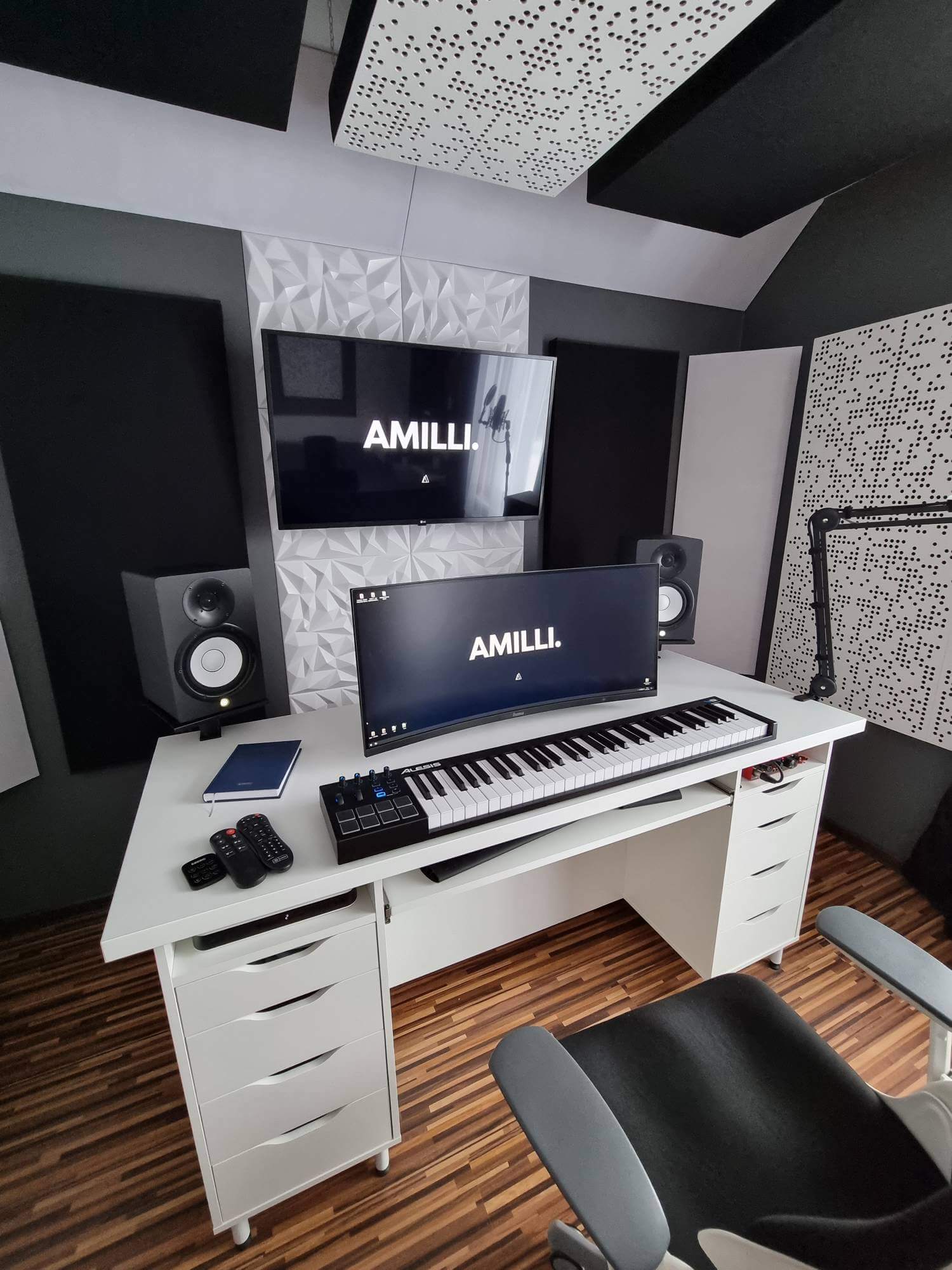 When I was 15, I started working as an apprentice carpenter and earning my first money.
I invested all my earnings and free time in perfecting my craft as a music producer (including all the gear and needed software). I also used to release my music under my private alias.

At the age of 19, despite the odds and everyone around me, I quit my job as a carpenter.
I focused entirely on producing music for other artists (ghost-producing), first selling my music through online music stores and recently starting my own brand — AMILLI Productions.
It allowed me to work directly with clients and collect reviews for my work on my SoundBetter profile.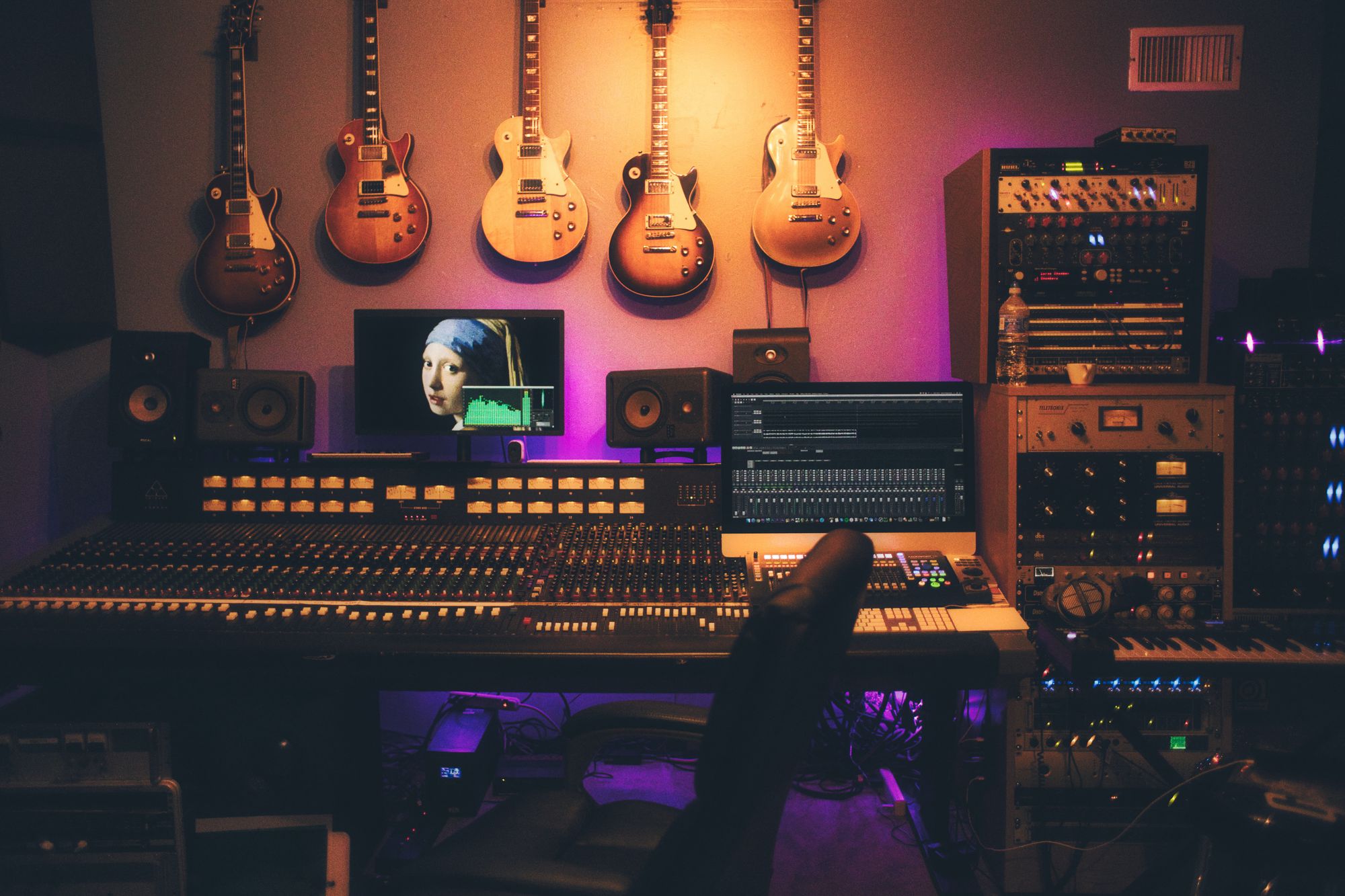 Writer's block can be tough sometimes. It's my dream job nonetheless, and I'm grateful to have achieved it so early in life.
I've never looked back since then.
Take us through your setup
My story is a little bit different from others because it's not only about the main setup.
It's rather about the whole room renovation — starting from the project through electrical wiring, acoustic treatment, etc., to the final product you can see in the photos.
This room had already served as my bedroom from my teenage years. I kept adding various equipment that helped me make music. I did a bunch of work there, but I wasn't happy with the "studio" itself.
The old design had already started to overwhelm me.
I made it when I was young and didn't have a lot of resources or knowledge. However, it was enough to last me all these years.
As time trained my ears, I also began to notice the room's poor acoustics and wanted to improve it.
There were too many inconveniences: an impractical desk, the room's colour, old furniture, electrical outlets in weird places. The list goes on.
I decided to completely rebuild the room during the summer of 2021.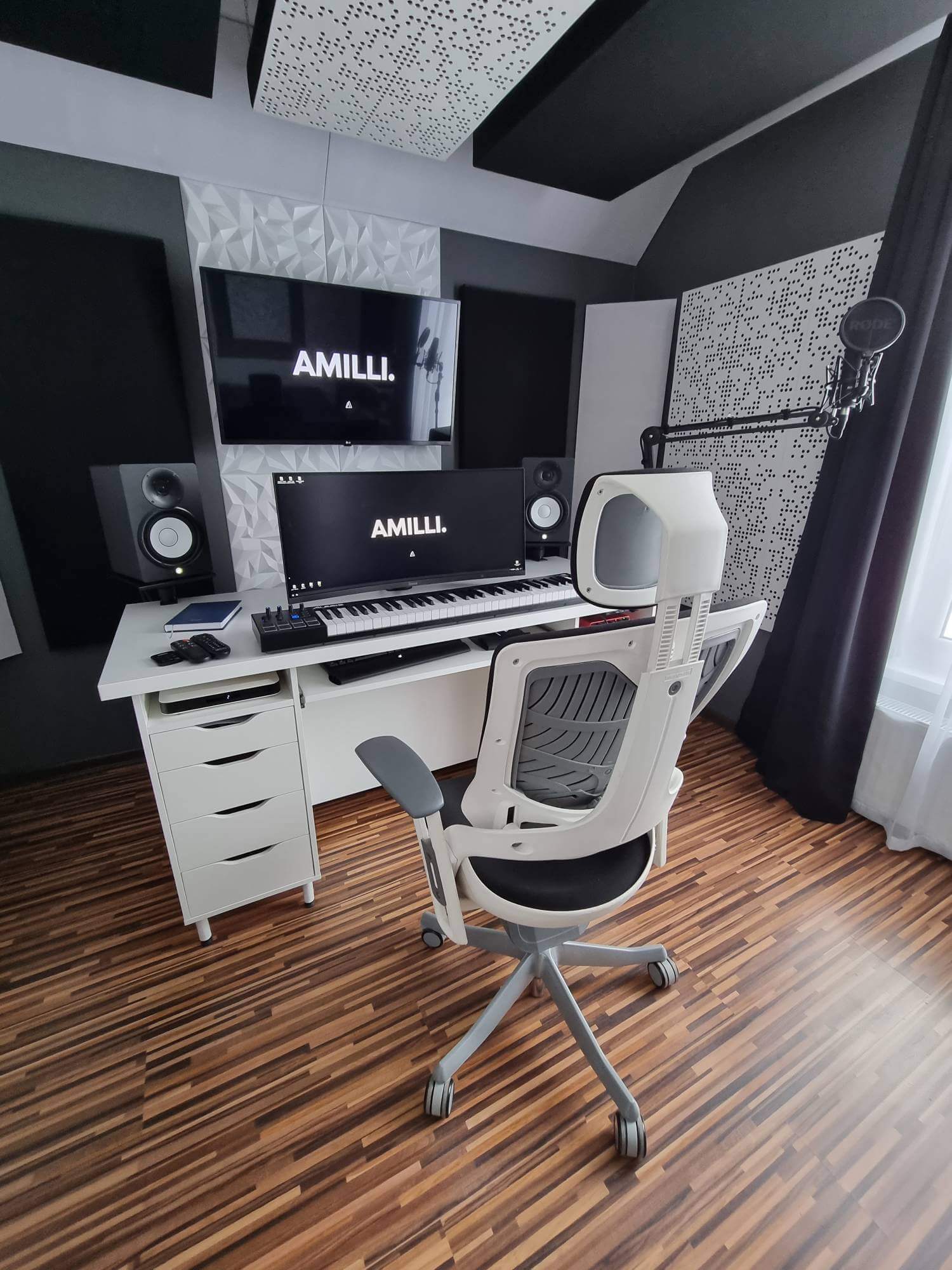 When creating the new room's design project, I had a few main things in mind: minimalism, no cables visible, easy to keep clean, black & white colour scheme.
On the room project alone, I spent one month, I believe. Starting from scratch and constantly trying and fitting new things here and there.
I had no prior experience at all with interior design. I used a random online creator I found on Google — FloorPlanner, and I did everything there.
You've probably noticed by now that it's not only a music studio. You can still find a bed and closet in the back, so it seems I'm still a bedroom producer :D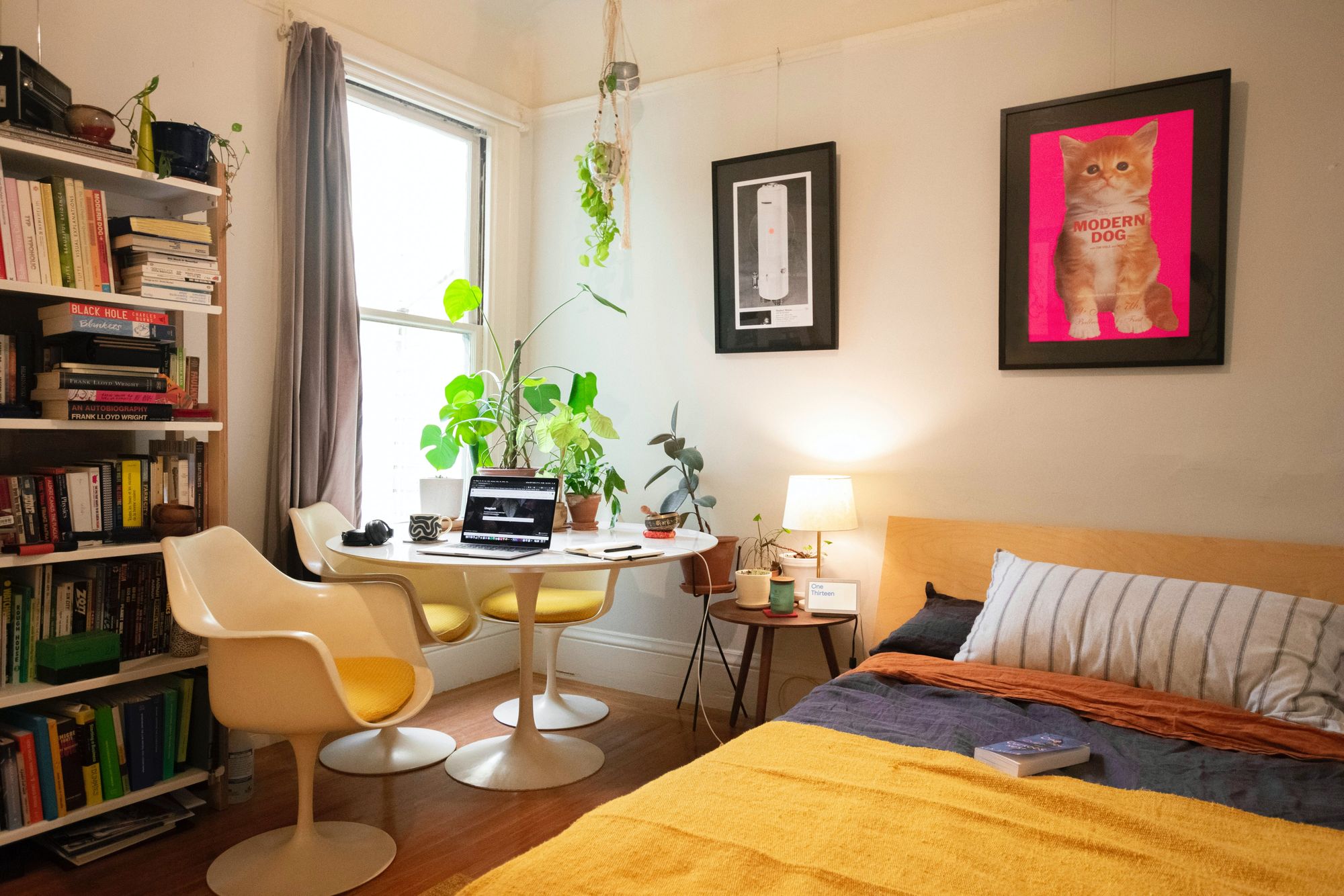 Next to the bed, you can also see a hanging electric guitar and something like a shelves thingy.
It's my own project as well, and it looks pretty sick, in my opinion. It was the last minute idea to fill up the space there!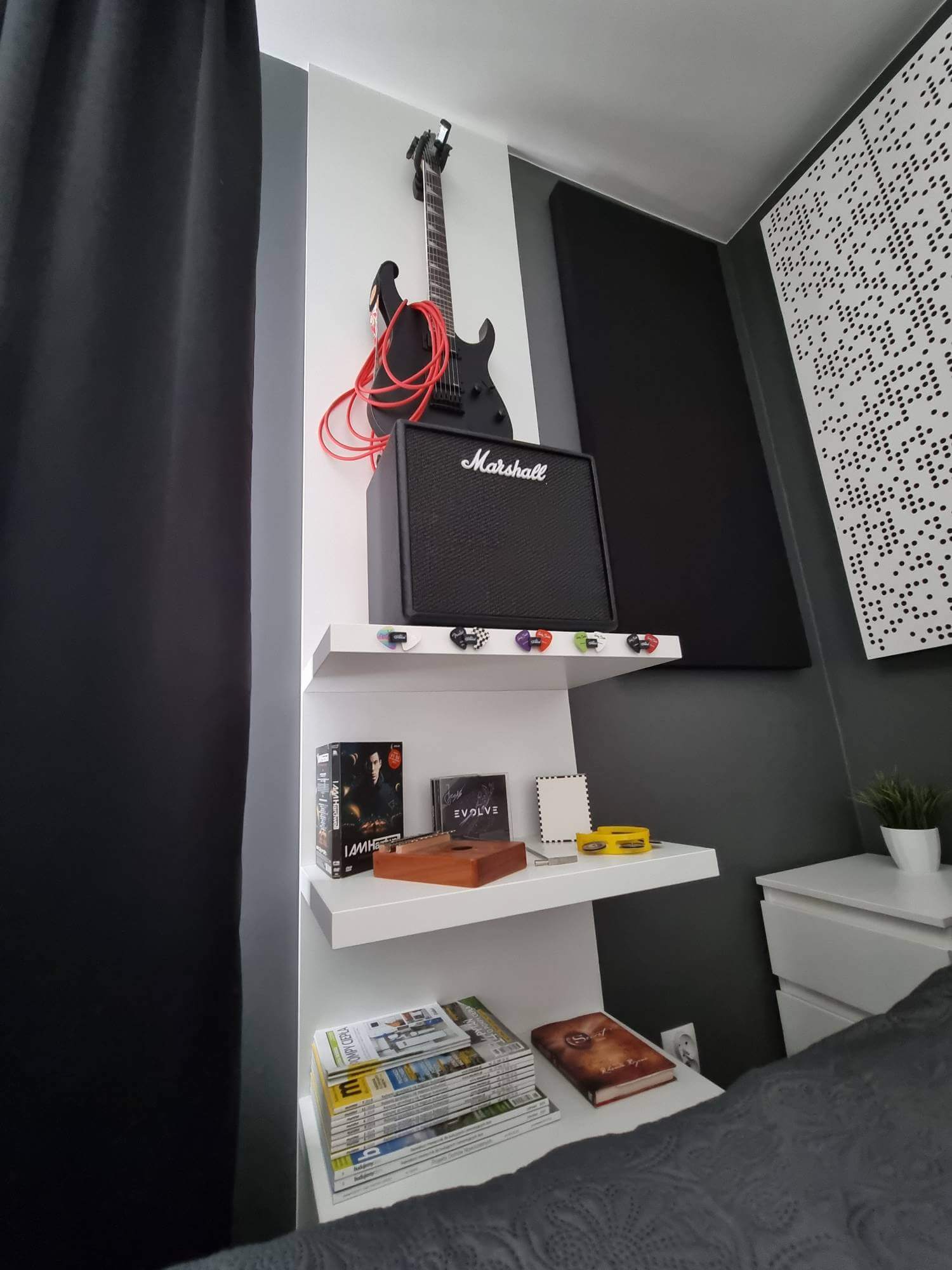 When I finally decided that the project was finished, I started the real job and disassembled the old bedroom/studio. I only kept the old floor, which I now regret.
With so much to spend, I could have changed it to fit the new decor better. Everything later was done from scratch.
Even though I had a room project, I still had to measure and map everything out on the walls to make sure everything was in the right place.
I had to make sure where I could put TV or guitar on the wall, where I should make contacts or pull electric cables. If finally, after installing everything, the whole thing will be visually coherent.
Two months of constant work, almost day by day.
The main struggle with all of this was the fact that almost everything in this room is custom made. It took a lot of time to prepare and polish every bit to perfection.
The panels you see on the walls are acoustic ones with acoustic wool inside.
The acoustic panels without holes reduce the reverberation of the room.
The hybrid ones (with holes) help to further disperse sound in random directions.
Panels in the corners and above the TV are so-called bass traps. They help to reduce room rumble.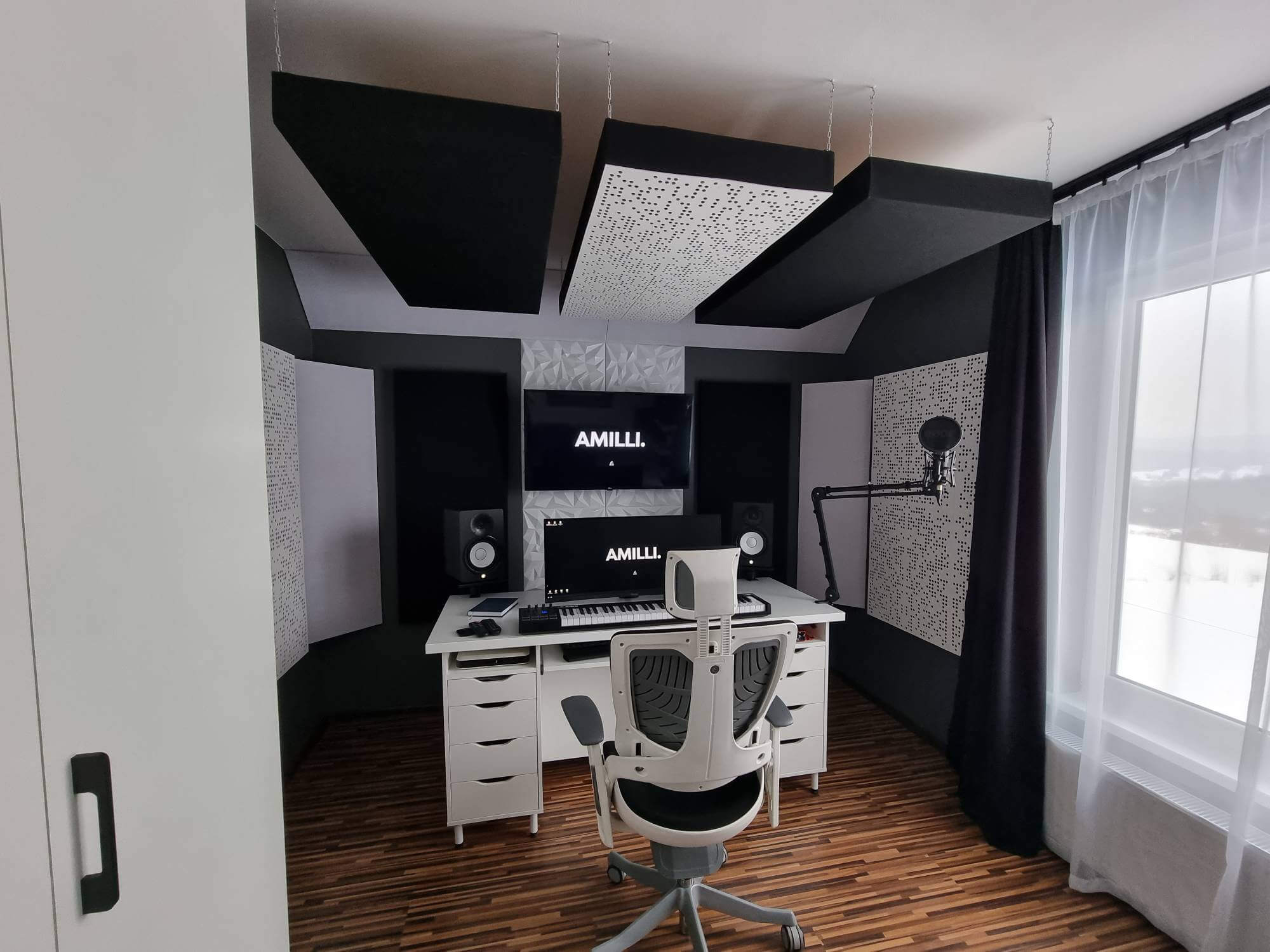 The position of the listening monitors and the listener's head (the so-called sweet spot) is not accidental either. The sweet spot had to be an exact distance from the wall in front.
I also had to take into account the height of the monitor stands, as well as where to put the mouse and keyboard drawer. And how far away from the sweet spot do I mount the LCD monitor so that everything is fairly ergonomic.
There's also a bed in the back. While lying on it, I wouldn't want the LCD to block the TV!
Everything is set up to centimetres.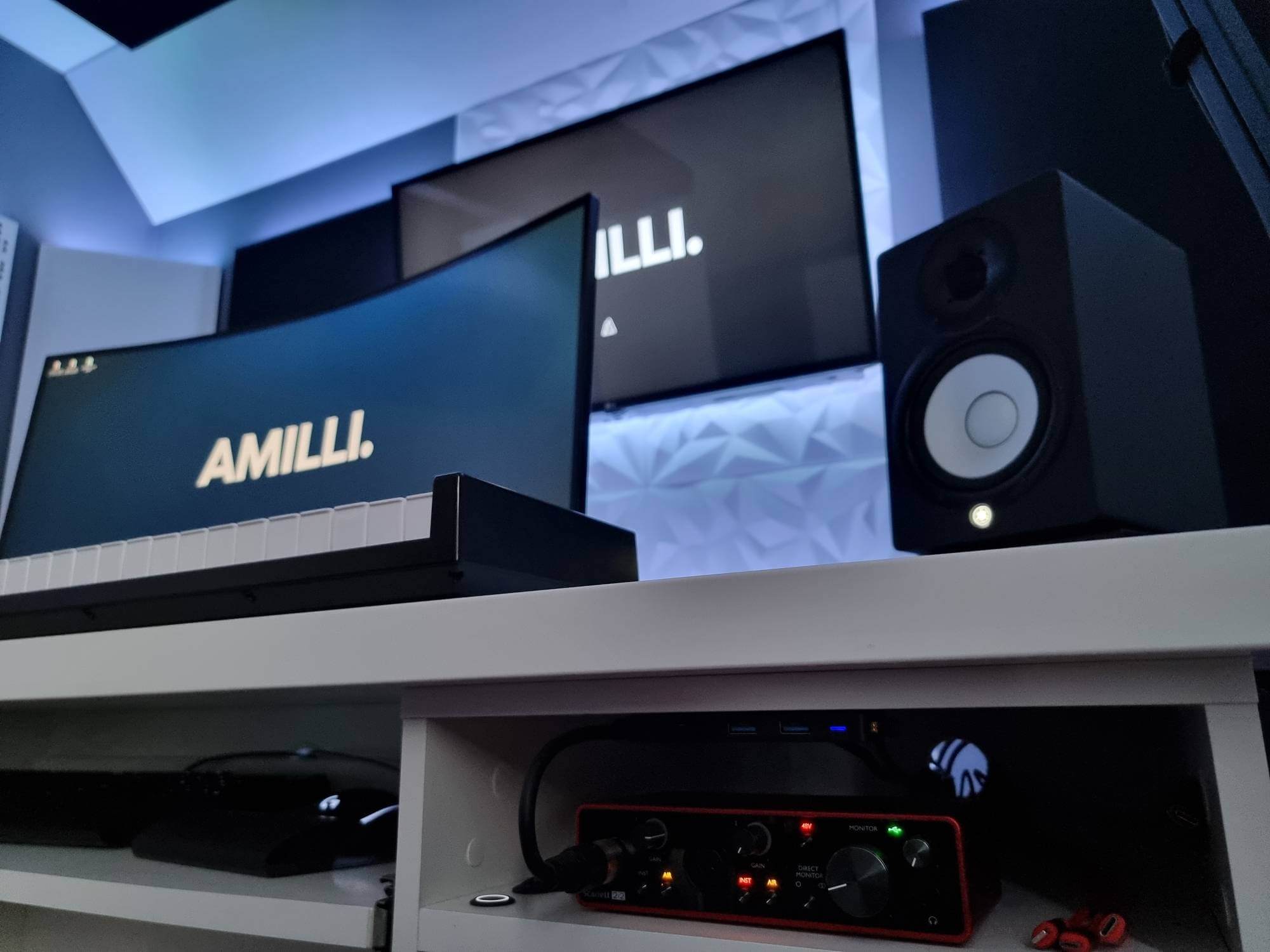 And did you notice that the distance between each panel and even the TV set from the panels is practically perfect?
It's not a coincidence.
It's my pedantic brain.
Sometimes, I hate it.
Sometimes I think it would be better to do it on the spot than to spend half a day calculating. But it looks good. It looks good, right? :D
The last change I made to the bedroom studio was to add some smart stuff. I can turn all light sources off and on from Google Assistant or the web panel. An interesting and useful thing for lazy people like me.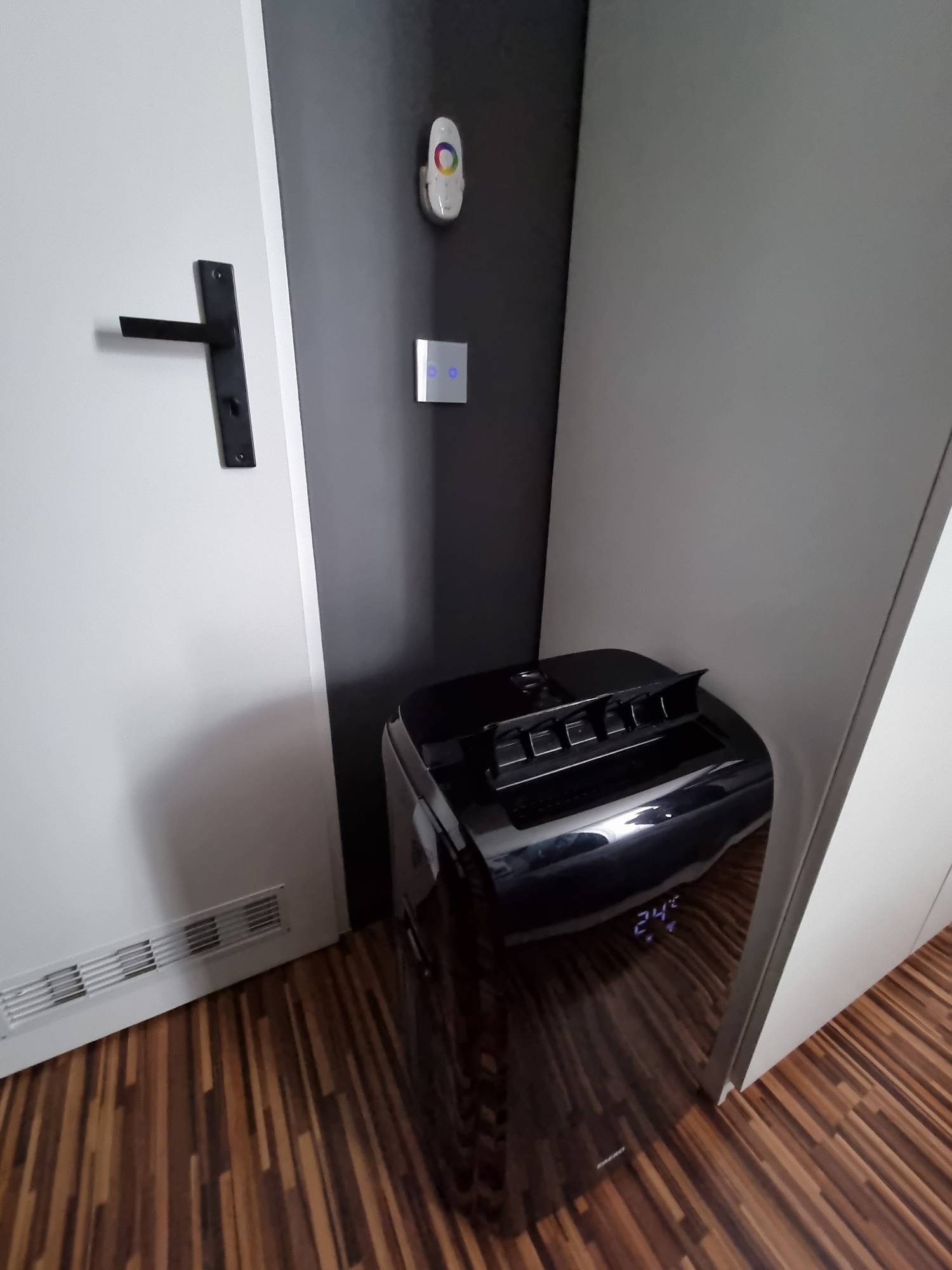 What's your favourite item on your desk?
I would say my curved LCD iiyama GB3466WQSU-B1.
It's the freakin' monster.
It's a 34″ ultrawide monitor with a 144hz refresh rate. I bought it a month before renovation as I was already preparing all the hardware.
But what's better is hidden a little bit lower.
In music production, you need to have a pretty powerful PC, right? But instead of showing off the beautiful RGB glowing case, I went full stealth mode.
I built the desk the way I could hide the PC behind it.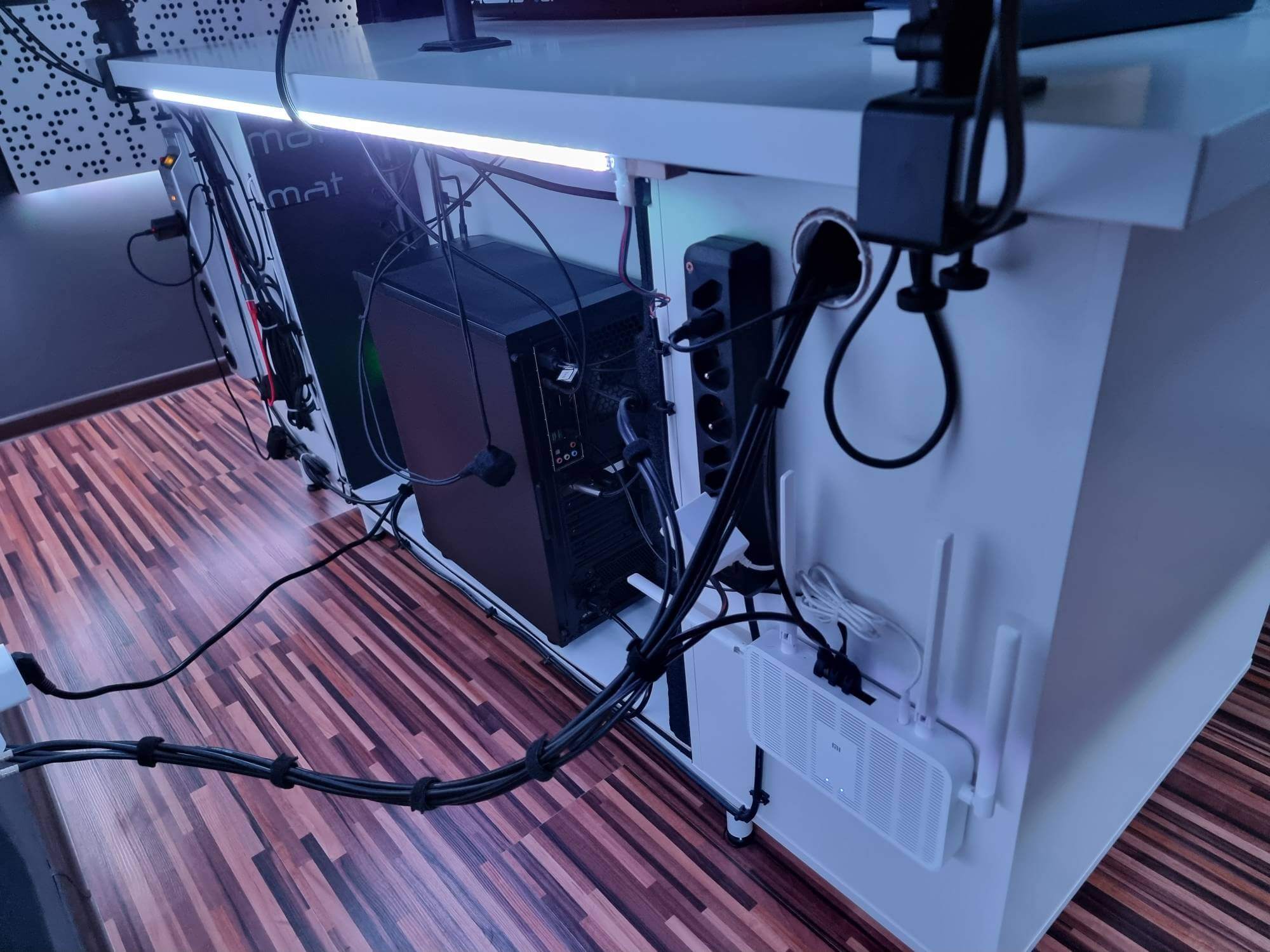 I managed to mount the power buttons to the power strip and PC itself into the front of ALEX drawers. The USB hub/card reader is also in there, as well as retractable USB cables and a fast charger cable for my phone.
I don't need direct access to my PC or the back of the desk at all! That's my favourite part of my desk setup.
My PC is also custom:
— AMD Ryzen 9 5900X
— ASUS TUF GAMING X570-PLUS
— Hynix 32GB RAM 3600MHz
— MSI GT 1030 (no gaming at all for now)
— 2x1TB M.2 PCIe Gen4 NVMe
— Stealth PC case (cheap but airy)
What apps or tools do you use to get things done?
For the software, FL Studio!
I remember it like this day, as a kid, I started looking for information on how to make the music I hear on the radio.
That's how I came across this video.
After a few minutes, I knew. I want to do this. Thank you, Bass Hunter!
As far as DAWs go, it was a hit in my opinion. Very intuitive to learn. I tried a few others but always came back to FL Studio.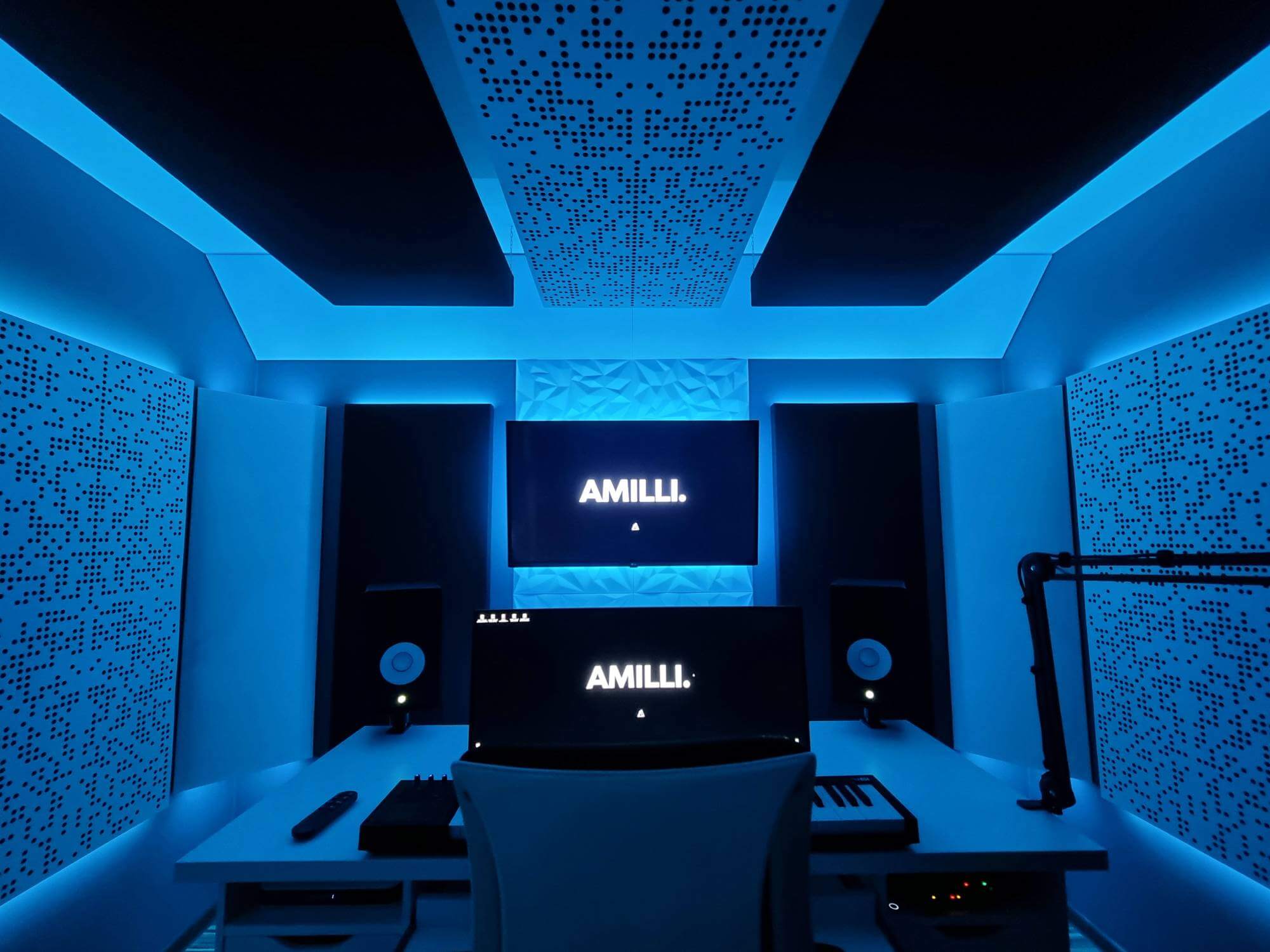 Of course, as a kid, I didn't have the money to buy such an expensive programme. I had to work other ways.
As soon as I started making money from music, I redeemed myself and bought a legal program in the highest edition. I literally love Image Line Software.
Can you imagine buying their DAW once and getting free updates for the rest of your life?
Wow!
For hardware, I have my Yamaha HS7 studio monitors. Bang for the buck ($500 for a pair).
I've reached the point where it would be good for me to upgrade to a higher-end listening monitor.
For example, the Genelec 8351B, a dream on a bucket list. But a pair costs $8K!
I also have Focusrite 2i2 audio interface, Rode NT1A mic, Alesis V61 MIDI Controller and beyerdynamic DT990 headphones for reference monitoring or using them when my girlfriend is sleeping :D
Seems like a lot of stuff, right?
You don't need all of that. Start simple.
I'm thankful that we live in a time where with a laptop and headphones, without much knowledge of music theory, we can create a smash hit in our bedroom — any genre!
It is beautiful in its simplicity. Think about it. It's beautiful!
What books, blogs or podcasts recently caught your attention?
Honestly, I'm not the type of person who reads or listens to podcasts a lot.
Instead, I watch a lot of tutorials on music production, listen to a lot of new music, discover new genres and analyse them.
I'm inspired by listening to music genres that I theoretically wouldn't like or have never listened to.
In my free time, I also love tech news and any information about it, as well as modern automobiles.
Any tips for other makers who want to improve their workspaces?
Put the practicality of your room or desk setup above their appearance.
A chair to work in! If you work at a computer, spend a large amount of time researching and purchasing a decent ergonomic chair.
The price may be high, but it's a long-term investment in your health and comfort.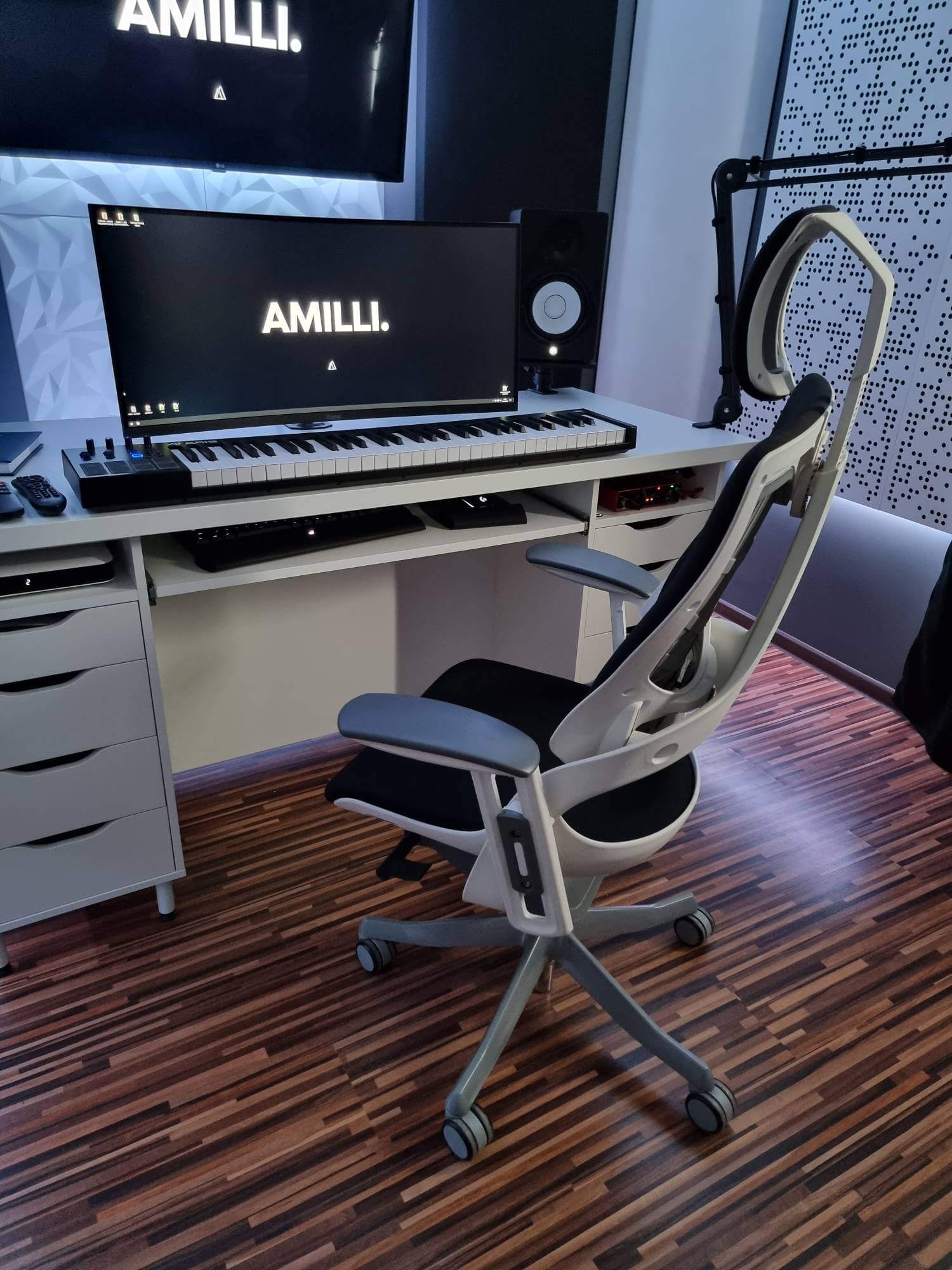 What does your typical day look like?
I'm not proud of it, but I have no rules about my work.
Often I don't even want to think that what I do is work because it affects my creative process and the result.
I don't like to force myself to work, even though I know that in the long run, it could be good for me both financially and mentally. It's a complicated matter.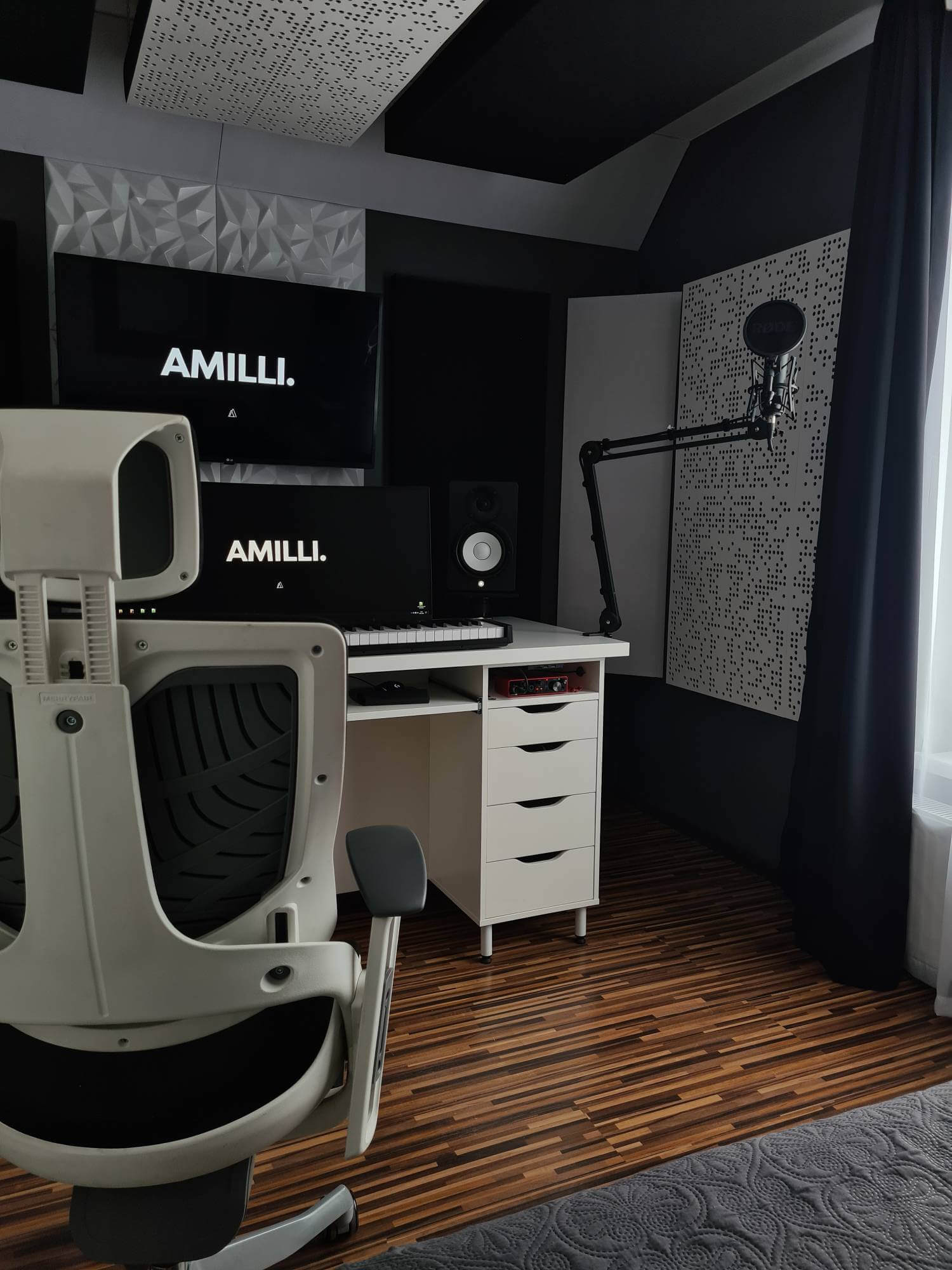 The most interesting things come out when I randomly sit down to work and fall into the so-called "flow state".
It seems that everything you touch fits together perfectly and sounds unique.
There are also days when you spend several hours trying to put something together for a client and give up with frustration only to improve the project a day later in a few minutes and have a hit. Sometimes unheard-of things happen here.
I always start my day with black coffee. That's the only routine, I believe. Also sometimes, I waste too much time on my phone, YouTube, Reddit, and Discord.
Huge time eaters.
I console myself only with the fact that I waste time on interesting content, I believe :D
I've been working from home for over five years now. Such a way of working has many advantages but also many disadvantages when it comes to socialisation.
For example, even though I work with people from all over the world, I've been sitting in the same house every day for several years.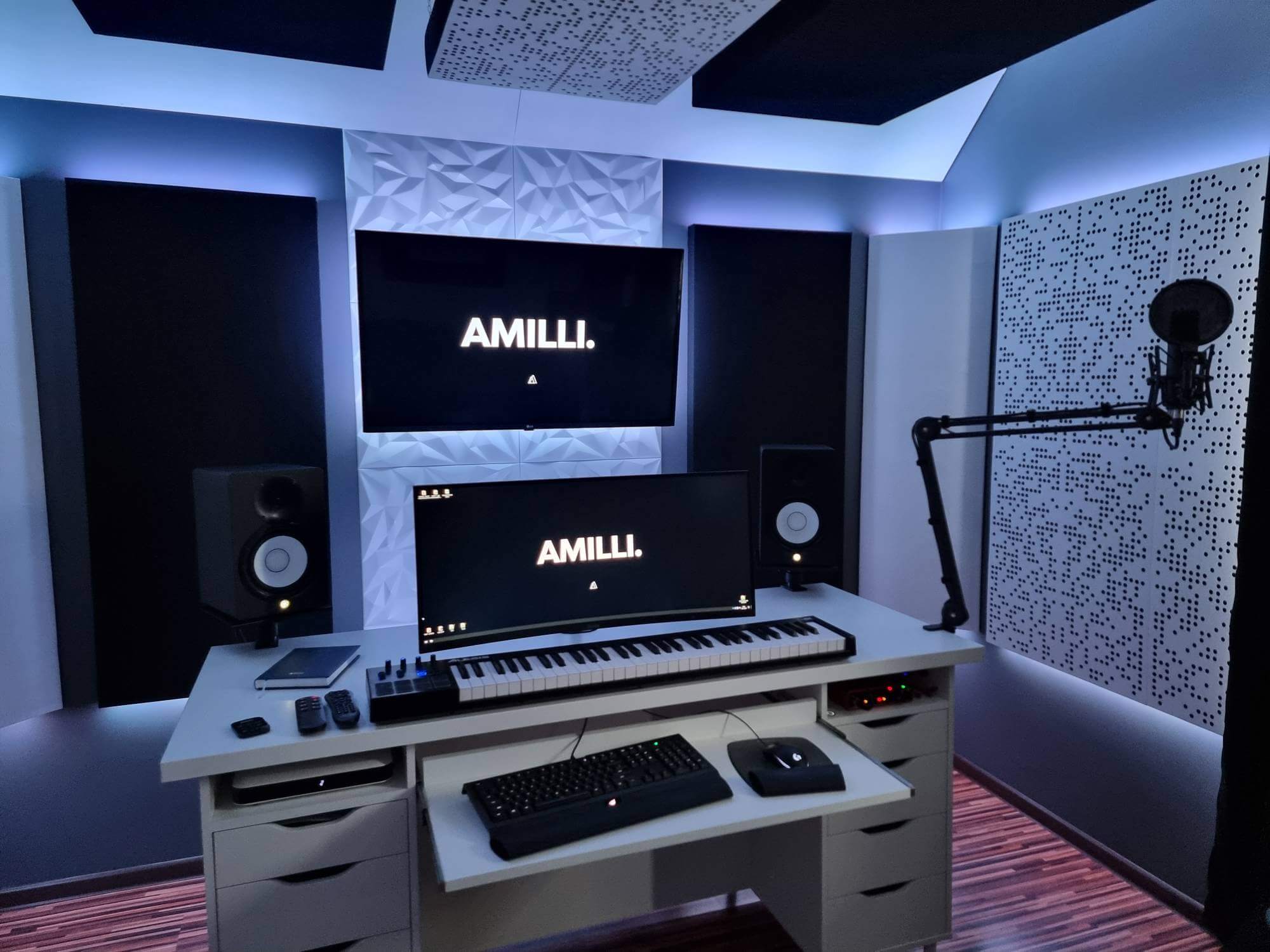 There is another plus! The coronavirus hasn't affected my job in any way (not taking inflation into account).
To be totally honest, though, it did. I got a positive test result a few days ago and had to put off a few projects, but you get my point.
Everything's getting better now, I think.
Your tips for working from home?
I rarely follow these rules.
I don't want to force myself, but I know that if I did and stuck with them 100% it would boost my productivity a lot.
Get up at regular times.
Eat healthily and don't check the fridge every hour (like me).
Do the work first and only then check social media or waste time on stupid stuff, not the other way around.
Make work/project the biggest priority.
Turn off notifications.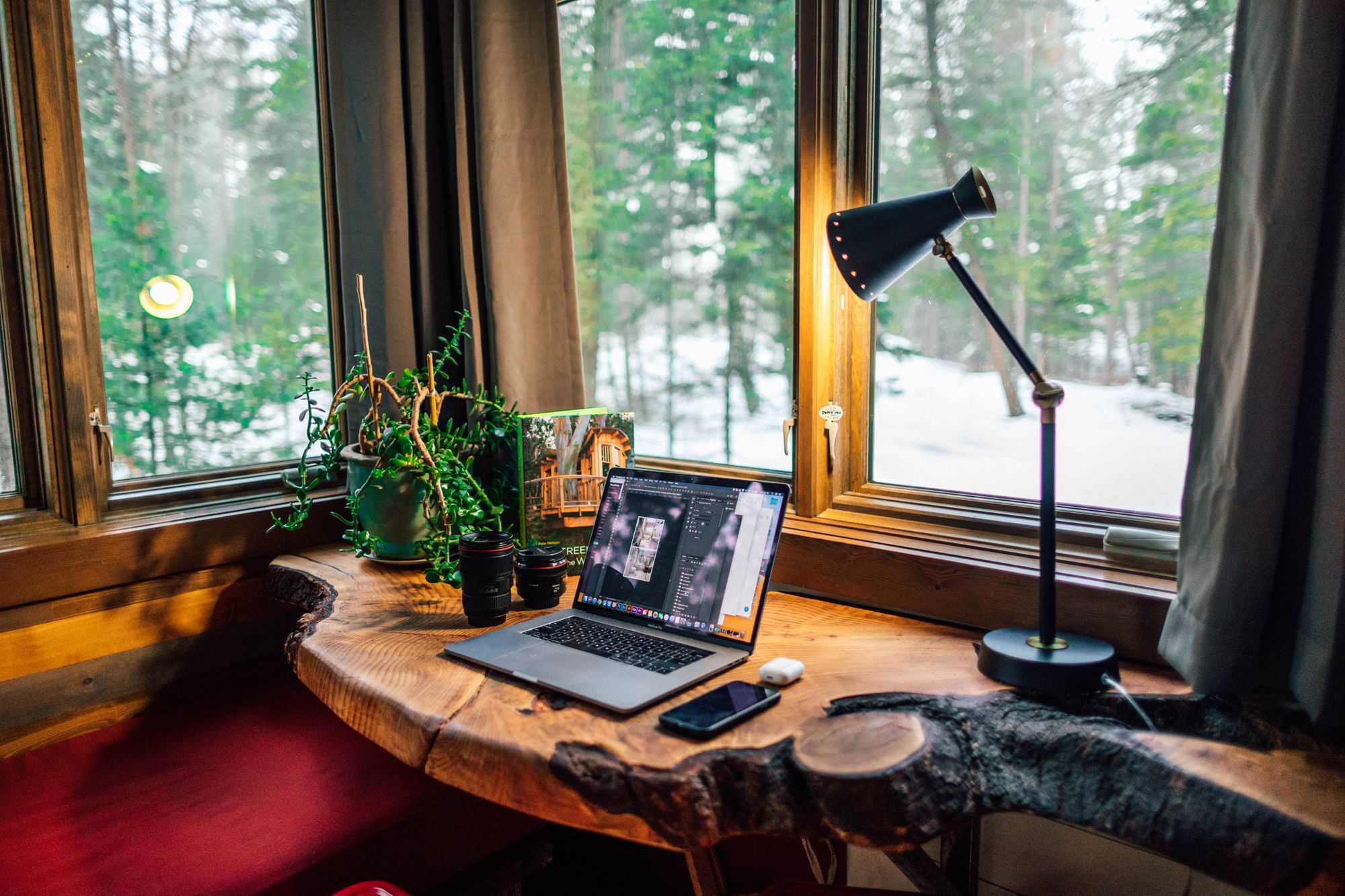 We're a reader-supported publication. This article might contain affiliate links. It means we may receive a commission if you click a link and buy a product that our maker has recommended. The interview was done independently.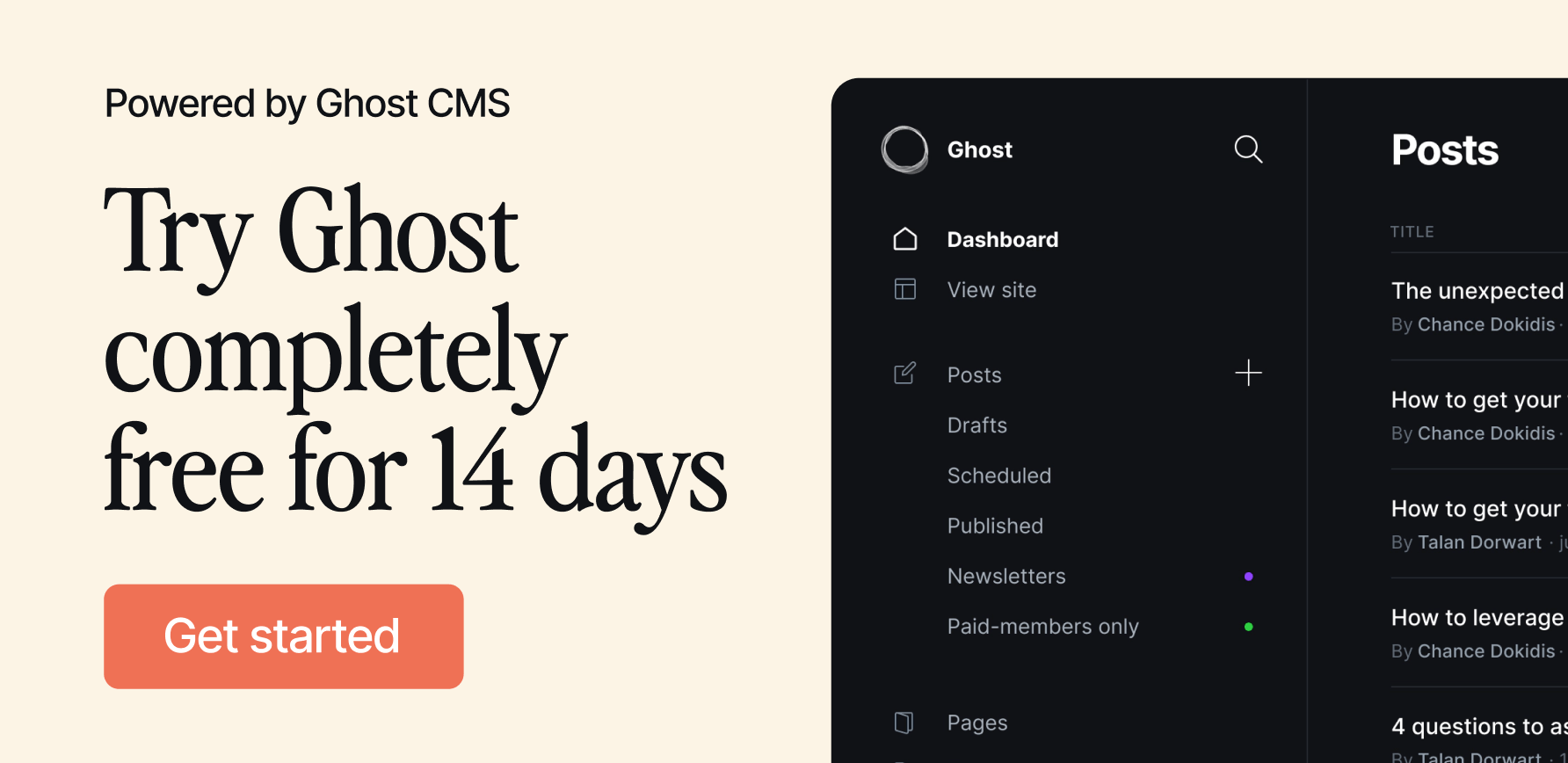 ---