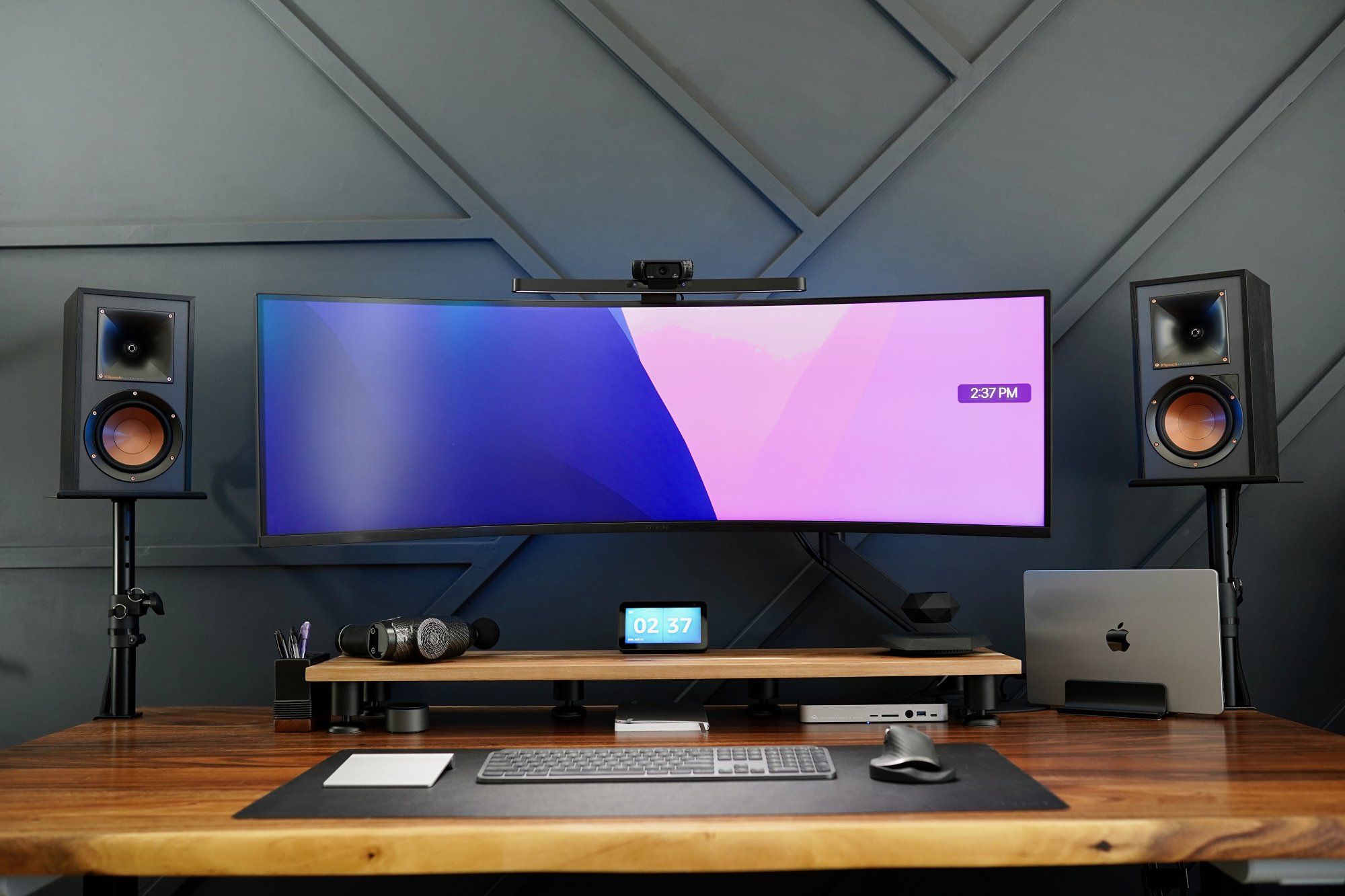 ER Doctor's Super Ultrawide Desk Setup in Florida, USA
"This desk setup allows me to do all of the above and is modular enough to change on the fly"

Name: Joseph Z.
Location: Florida, USA
Occupation: Physician, Bedroom DJ
Room size: 10 m² (108 ft²)
Cost of setup: ~$5K
Social media: Instagram, Twitter
Hello! Tell us a bit about yourself
My name is Joe, I'm an ER physician in the heart of Florida, USA.
I've always had a long-standing fascination with unique desk/workstation setups.
So, when I bought a new home, I finally dedicated time and effort to plan out my ideal home office.
I designed it to boost my productivity and provide a space where I could relax and enjoy my other two passions — music and photography.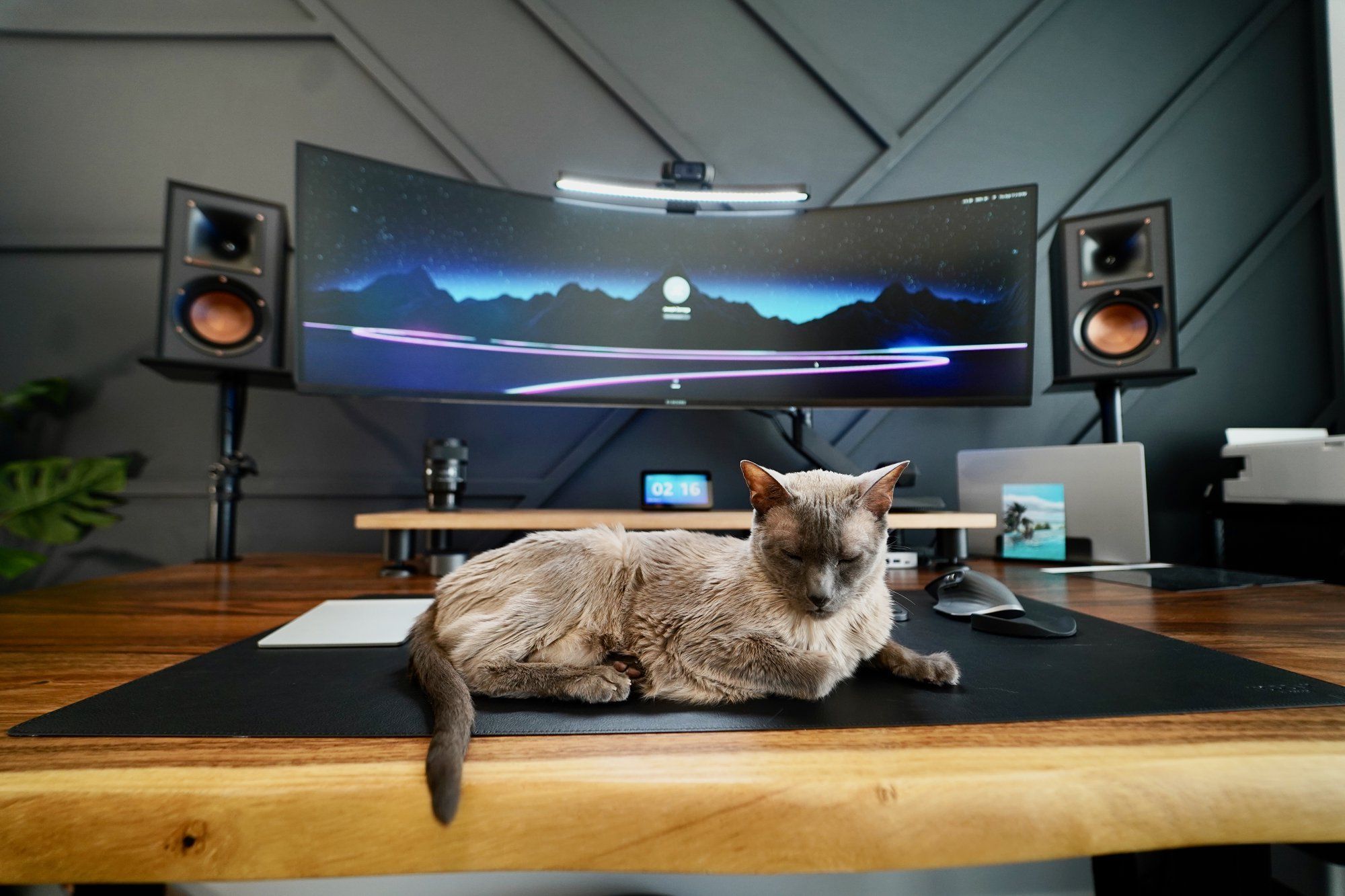 In medical school, I spent the majority of my time in front of a computer studying.
Unfortunately, much of my job responsibilities now also include the same and I often have to bring work home, work on large Excel sheets, be on web meetings, etc.
This desk setup allows me to do all of the above and is modular enough to change on the fly.
Throughout college and medical school, I also continued DJ-ing for bars, parties, weddings, etc., which also kept me sane.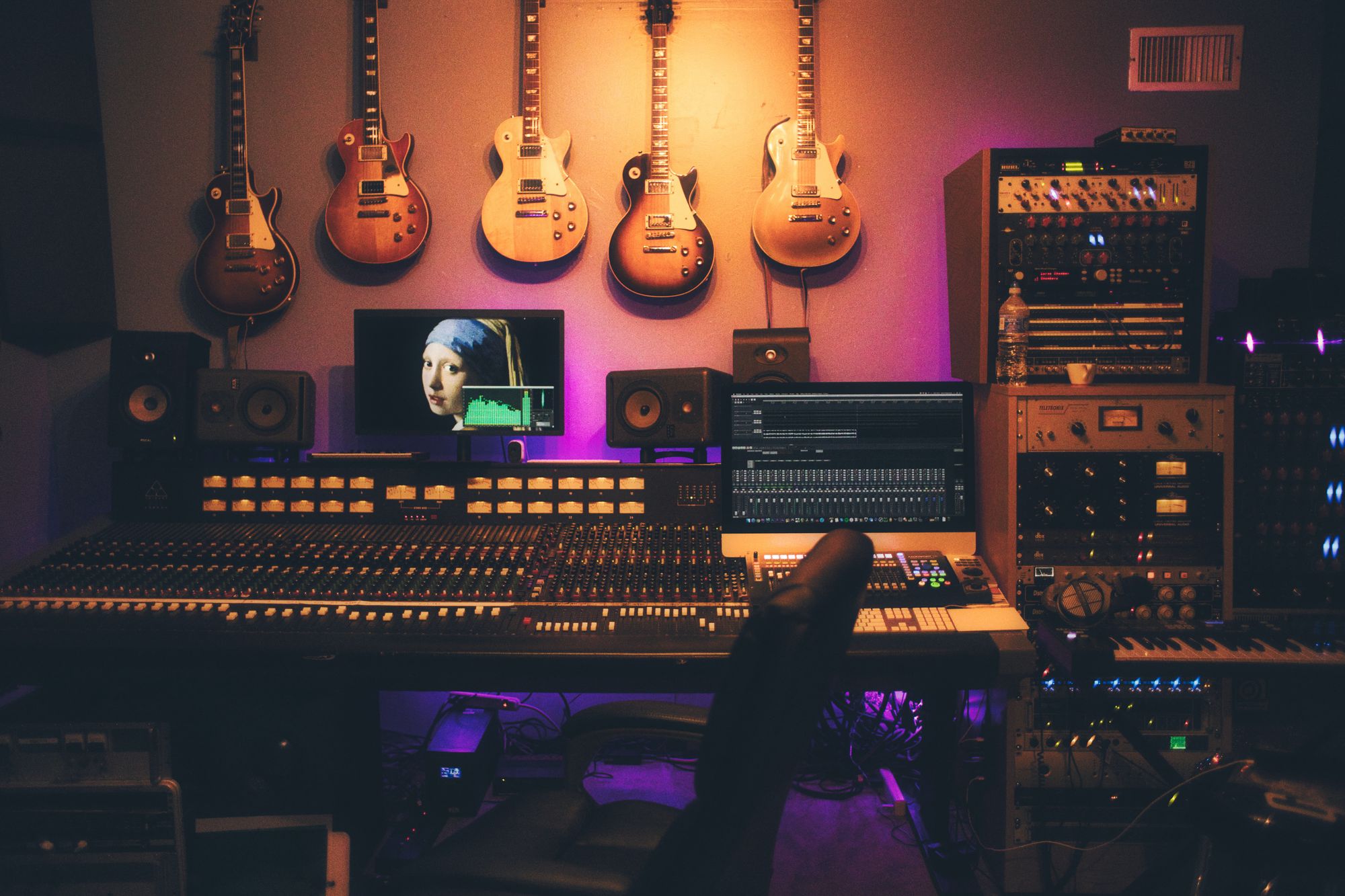 While I no longer do that, I did keep some DJ essentials as I still tinker around and enjoy manipulating music, again as an outlet.
I wanted to implement these into the room setup in a way that showcased my past but also added in space that still was usable.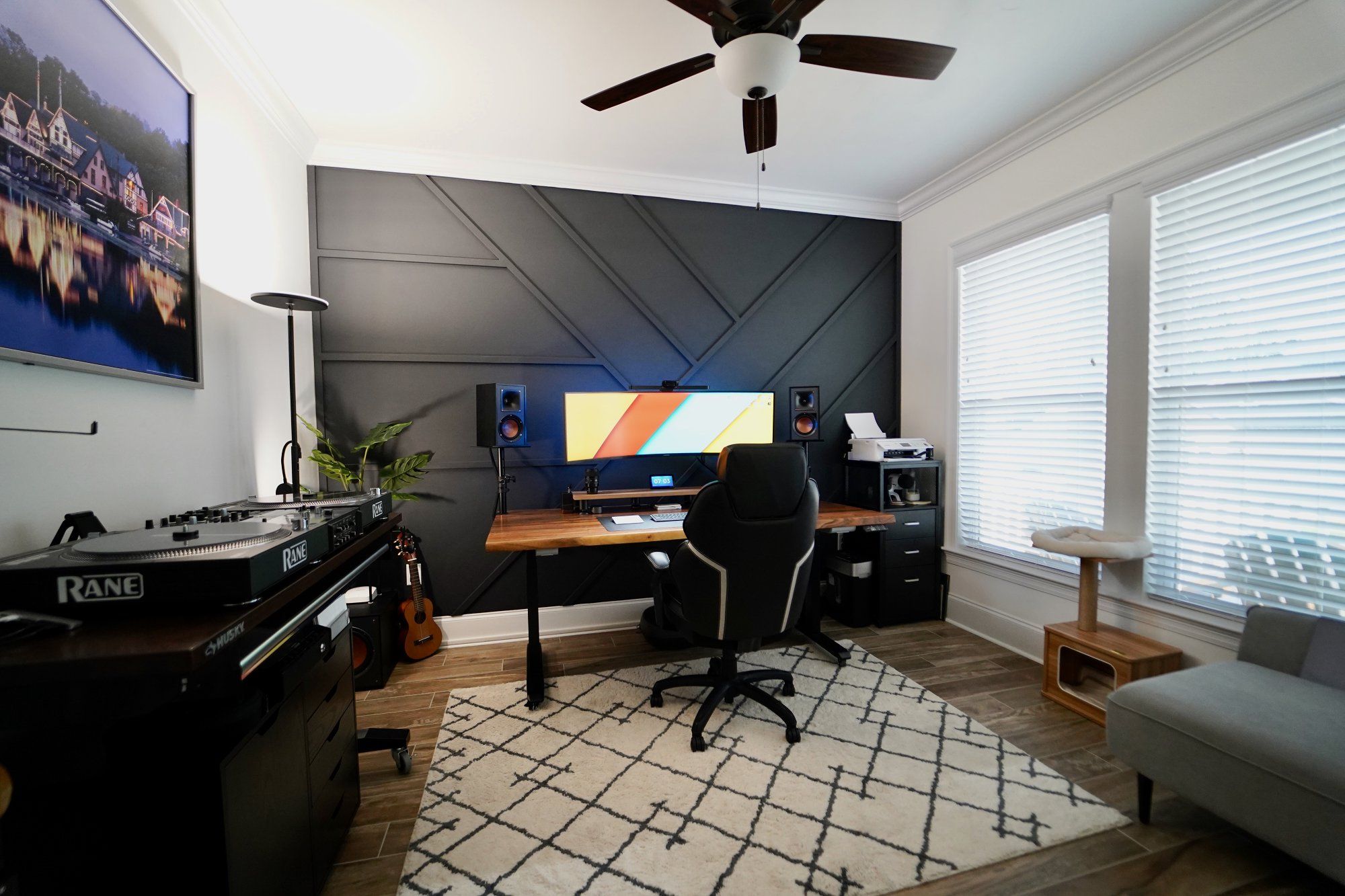 Despite the computer and monitor setup, I don't really game, code, make videos often, etc.
The computer monitor may seem like overkill, but with the aid of certain programs, it enhances my productivity, especially in handling daily tasks and managing emails.
But again, I like to dabble in everything, and having the ability to do so and change things on the fly is perhaps the best part of this setup.
After finally building my dream setup, I'm always looking to change/improve aspects of it and love the supportive and inspirational community out there who share similar interests despite coming from very different walks of life.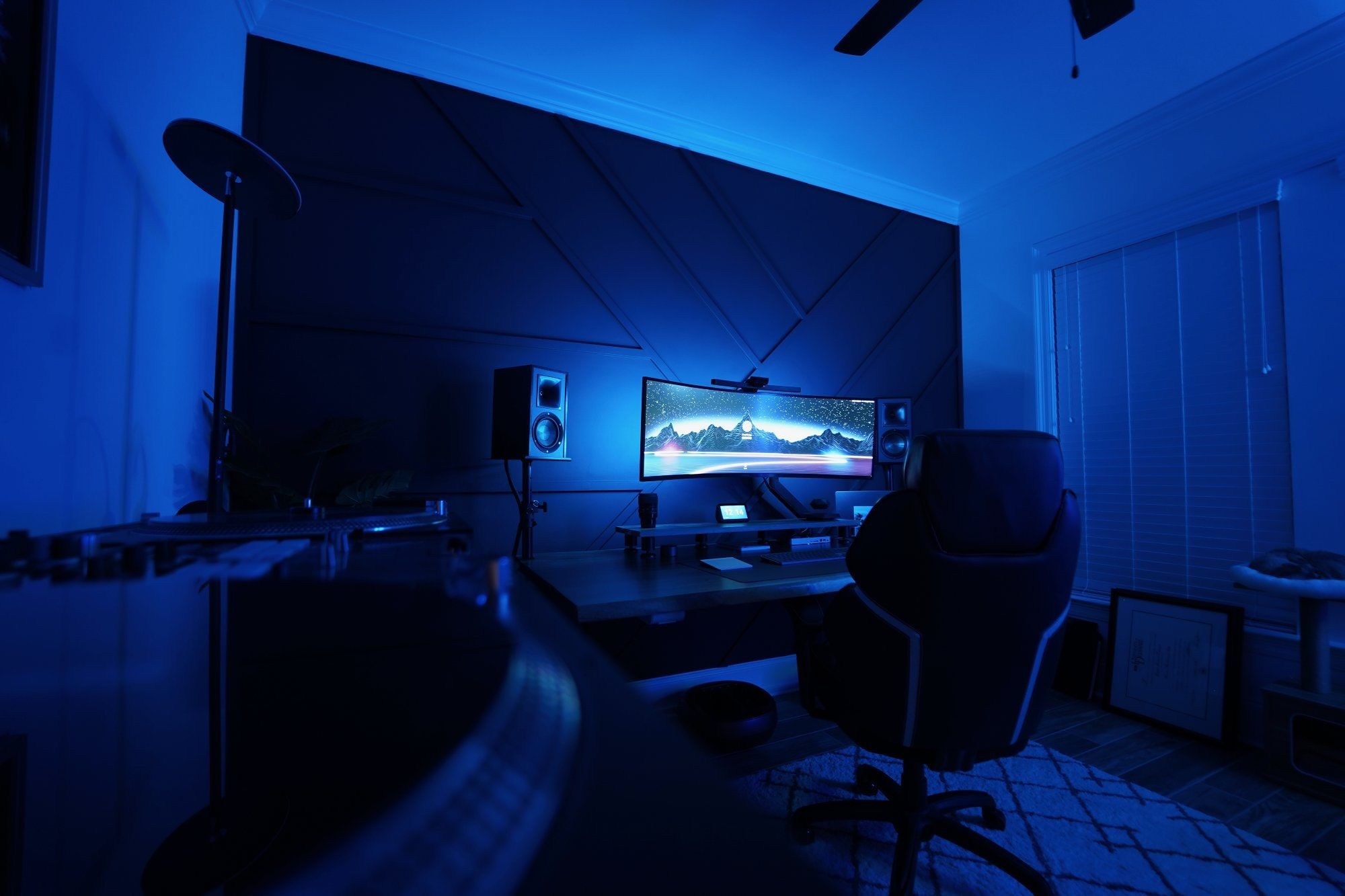 Take us through your setup
The main setup has been inspired by multiple sit/stand desk setups in the past.
Originally I was going to go with an IKEA countertop, ALEX drawers — the usual combination.
However, IKEA was two hours away from me, shipping was expensive, and to be honest, I wanted something a bit more unique.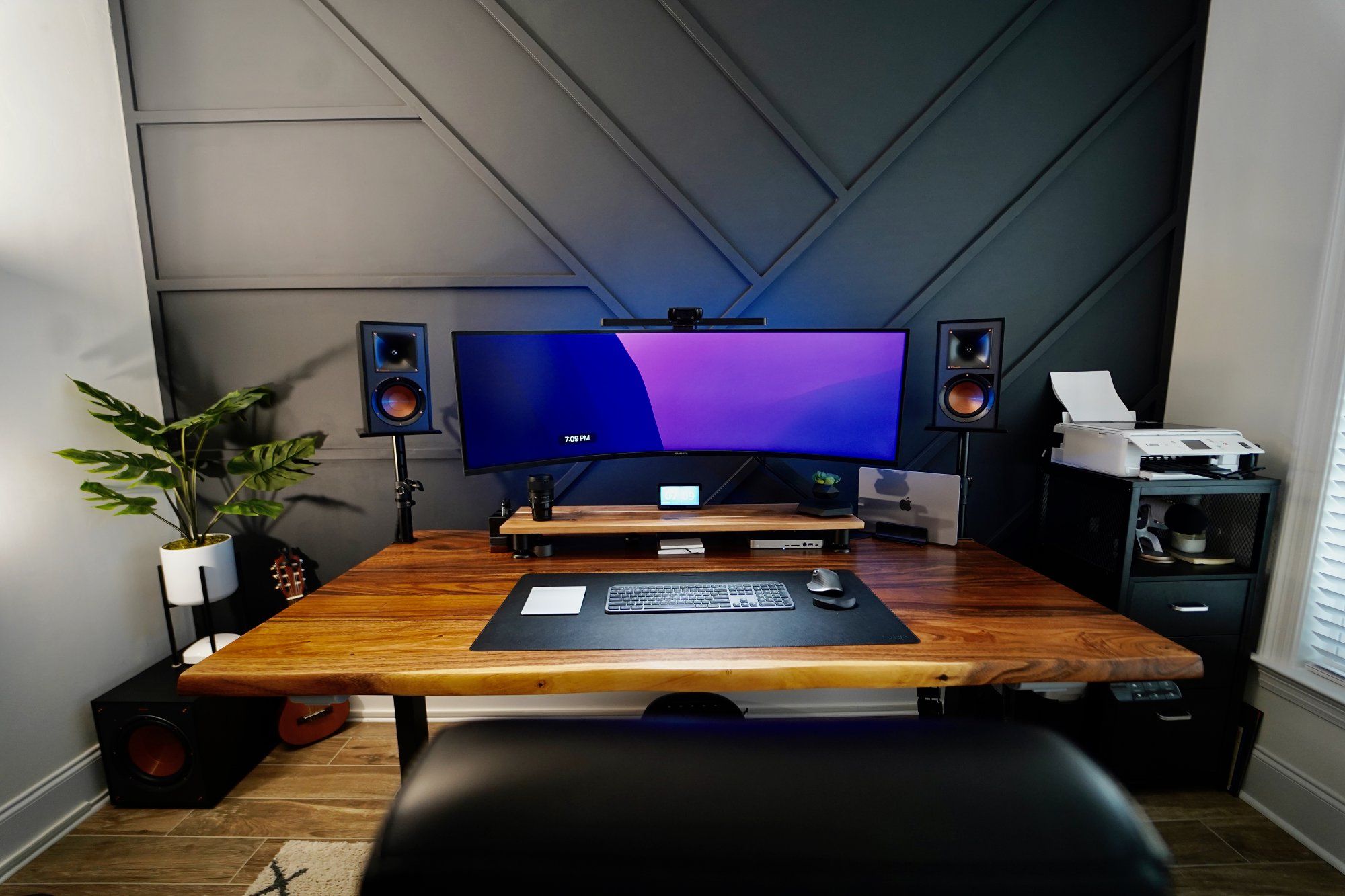 Another problem I found was that the countertops were often way too shallow — a 25″ (63.5 cm) depth for a countertop seemed very narrow and a 49″ (125 cm) super ultra-wide would be extremely close to my face.
I ended up going with the idea of an island countertop from Home Depot and chose one that was pre-finished with a live edge, 39″ (100 cm) deep and 72″ (183 cm) wide.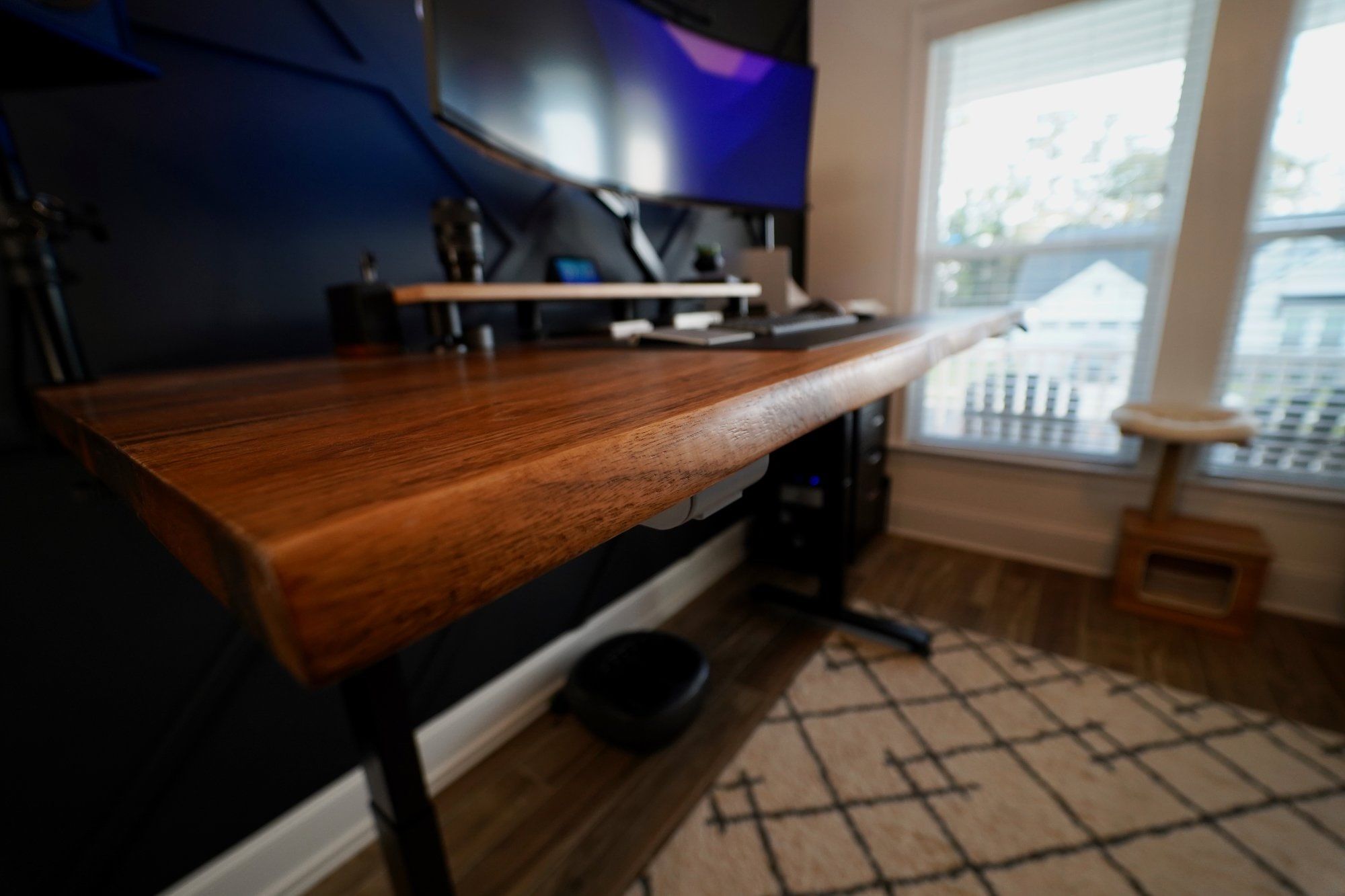 The real estate that this size provides makes it easy to keep the desk looking clean, minimalist, and not cramped, which I feel can happen easily once you add a desk shelf, other peripherals, etc.
I chose a highly reviewed standing base from Topsky on Amazon that was heavy duty and put castors on the legs to allow it to be a moveable setup, making it not only easy to adjust if needed but also to update parts of the setup, move cables, etc. if need be.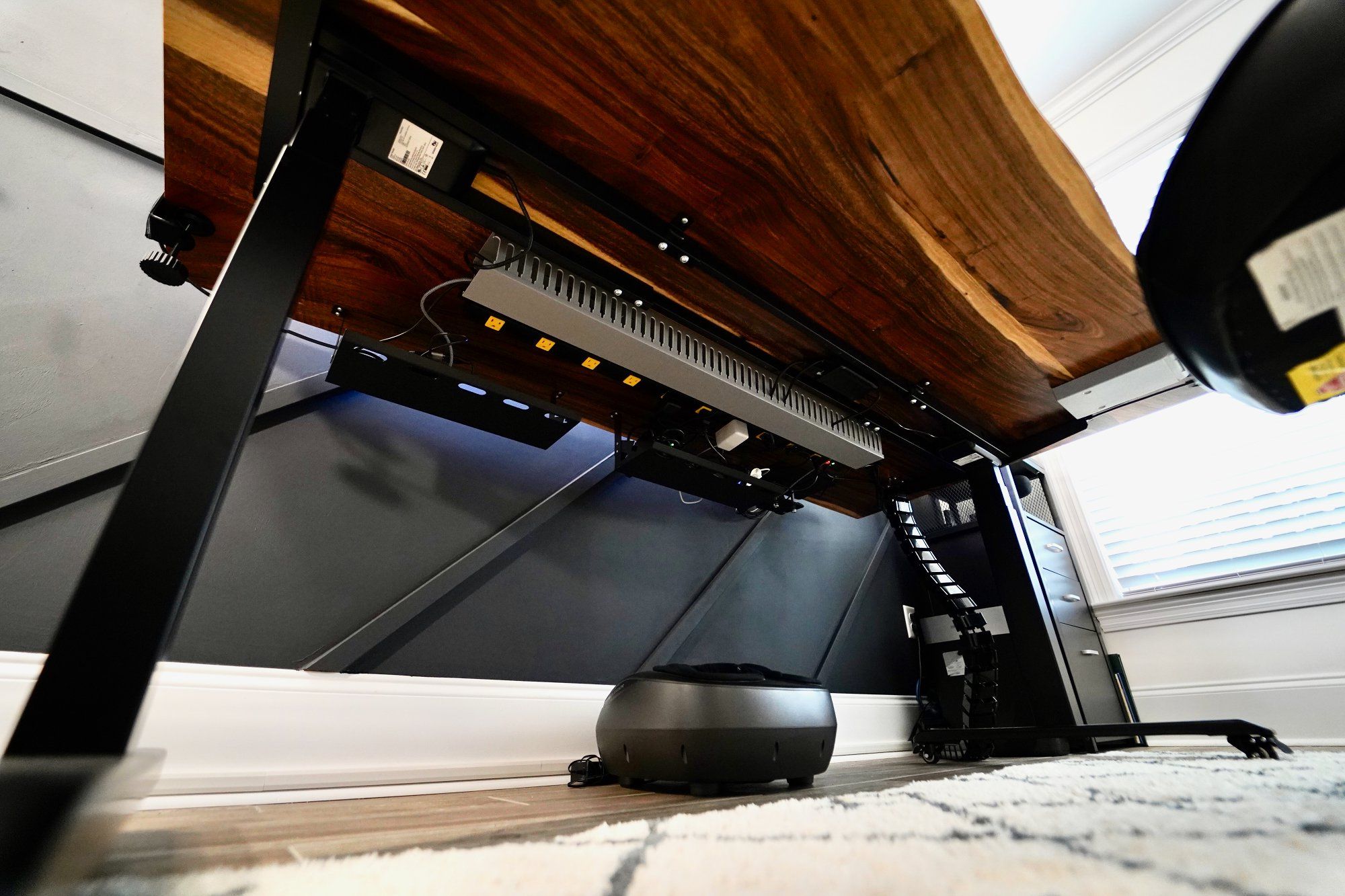 Other key features include the aforementioned 49″ Super Ultrawide Samsung G9 monitor on a desk mount, an OWC Thunderbolt 3/USB C dock, Apple MacBook Pro 14″ M1, and Klipsch RP-51m powered monitors with a matching sub.
Peripherals include an Apple Trackpad on the left for zooming, swiping, etc., while Logitech MX Keys and MX Master 3 mouse round out the rest of the inputs.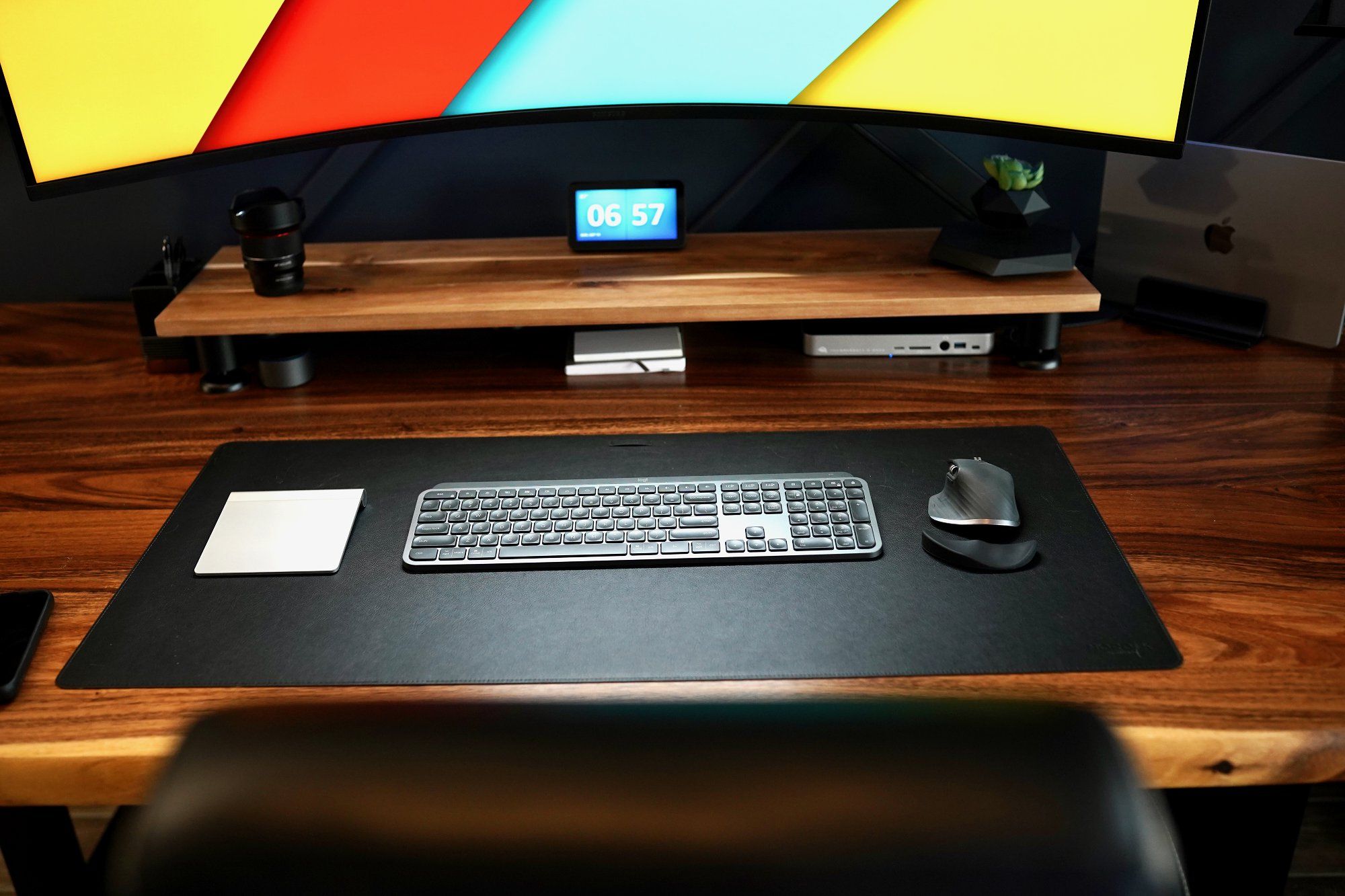 This room, which was a den next to the front door, was the perfect spot for a home office.
Measuring 10×11 ft, it was just big enough to have two large desks and a small seating area to relax for a short break or for a guest to lounge in.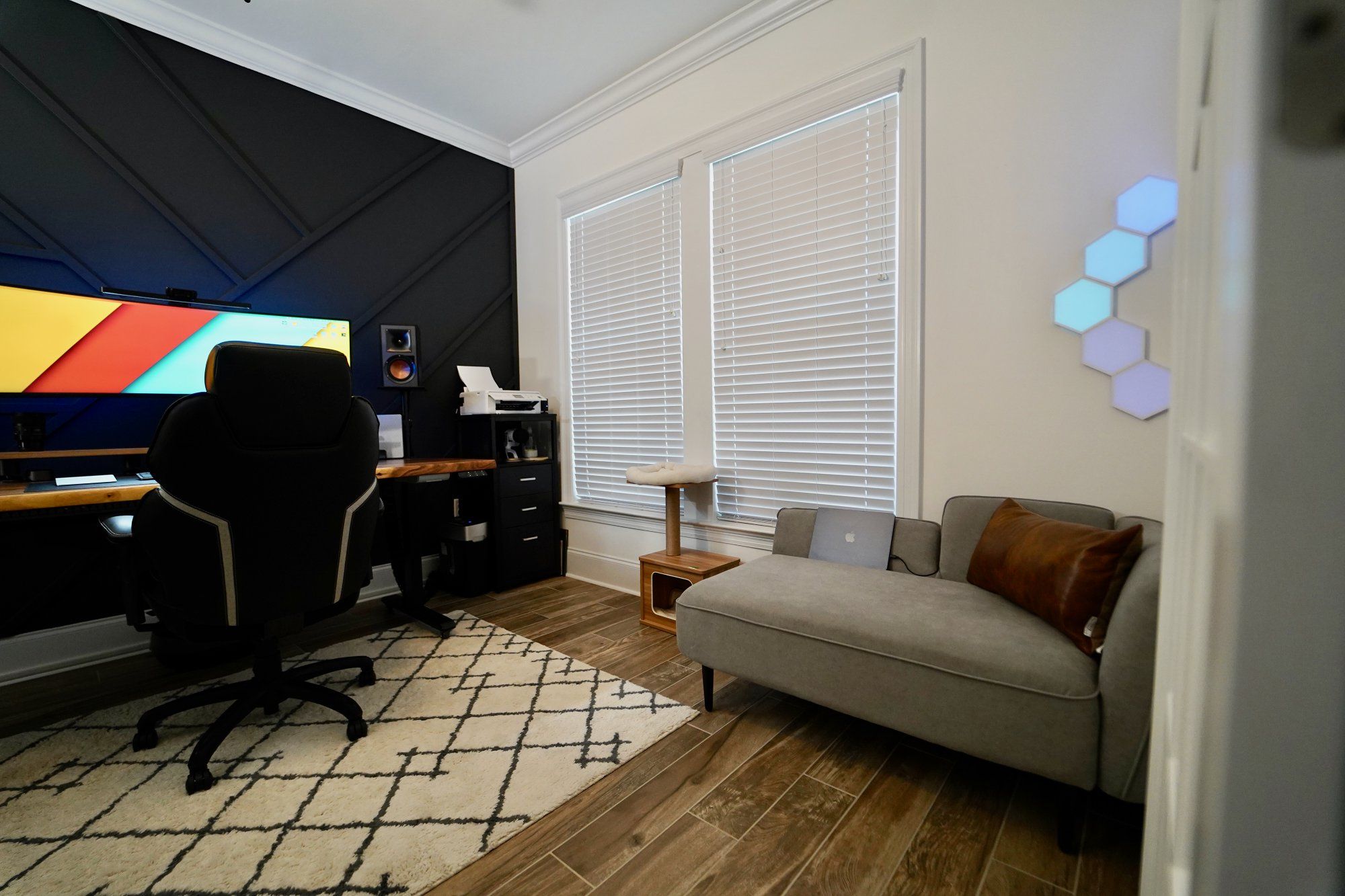 Two forward-facing windows allow enough natural light in when needed, and can see the street/front door easily for when guests arrive.
Knowing that this room was going to often be the first room that guests would see, I wanted it to be unique, bold, yet still professional and presentable.
We did a DIY accent wall with trim in a geometric pattern and chose a dark grey/black matte paint by Behr Marquee called Night Club.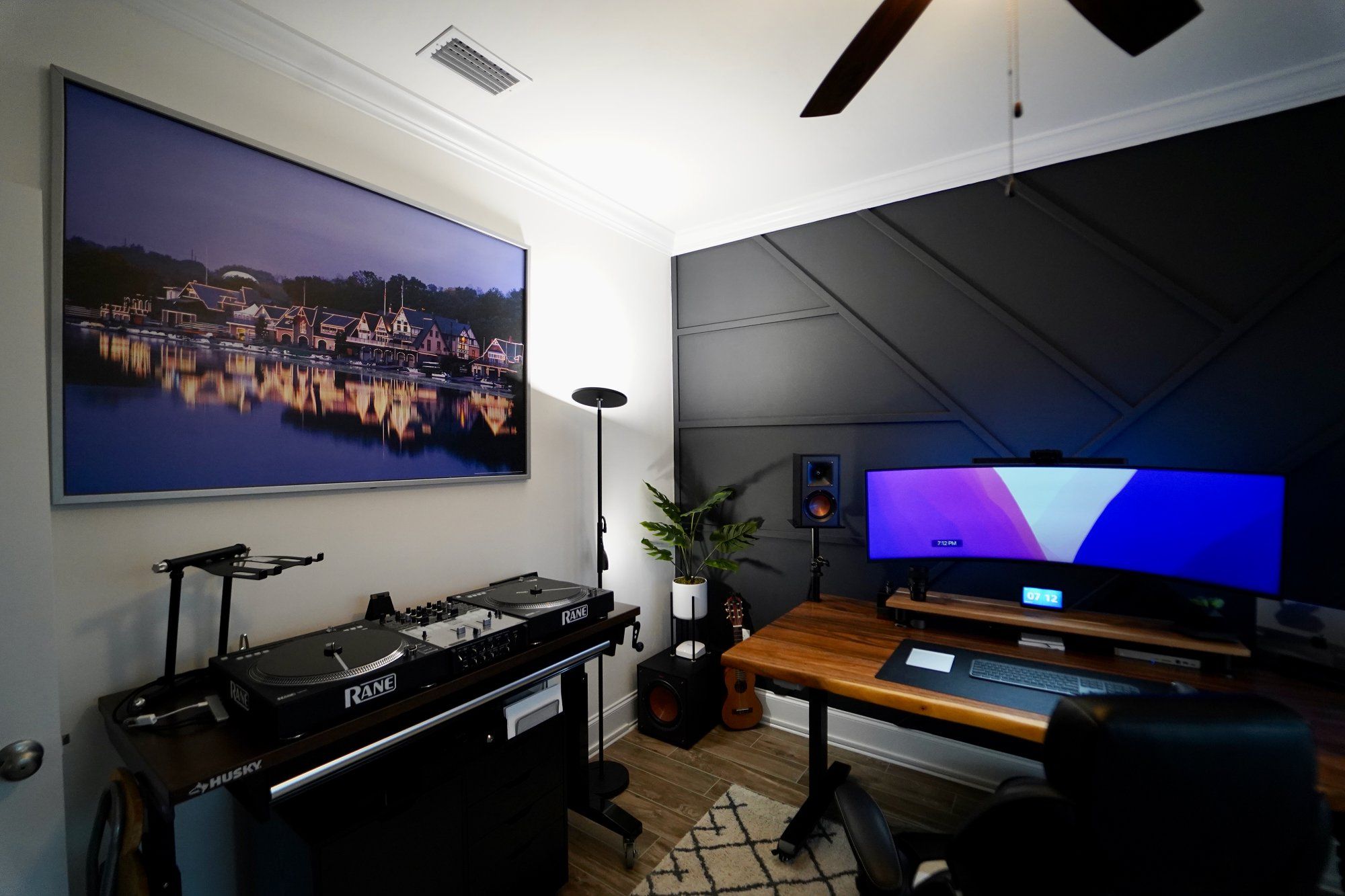 Originally, we were going to do a lighter grey for the rest of the walls, but we found that the black-and-white contrast was bold enough.
The colour definitely pops and the matte finish helps to hide wall inconsistencies.
Surprisingly, the wall and paint took less than 24 hours to do without the help of a nail gun, paint gun, or power saw — a true DIY project here.
While the workstation is definitely polarising and the focal point of the room, I wanted to also devote some space to a compact DJ setup.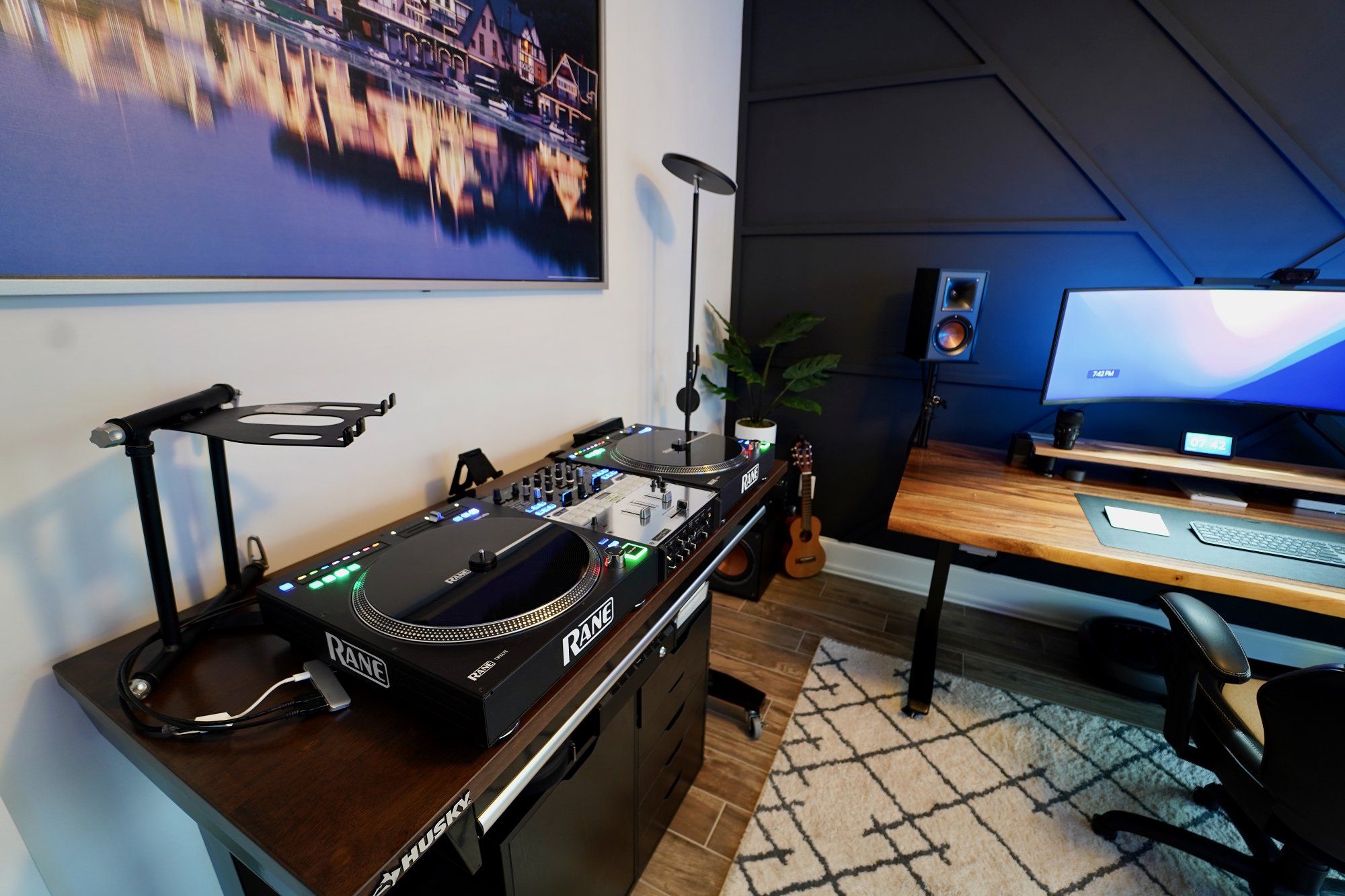 Stability is needed for a DJ desk/booth, so instead of going with another electronic standing desk, I went with a 52″ wide adjustable height workbench by Husky.
It is extremely robust, stable, and at around $300, an extremely good bargain.
Some people have used this as their main workstation desk, which gave me enough confidence in its performance.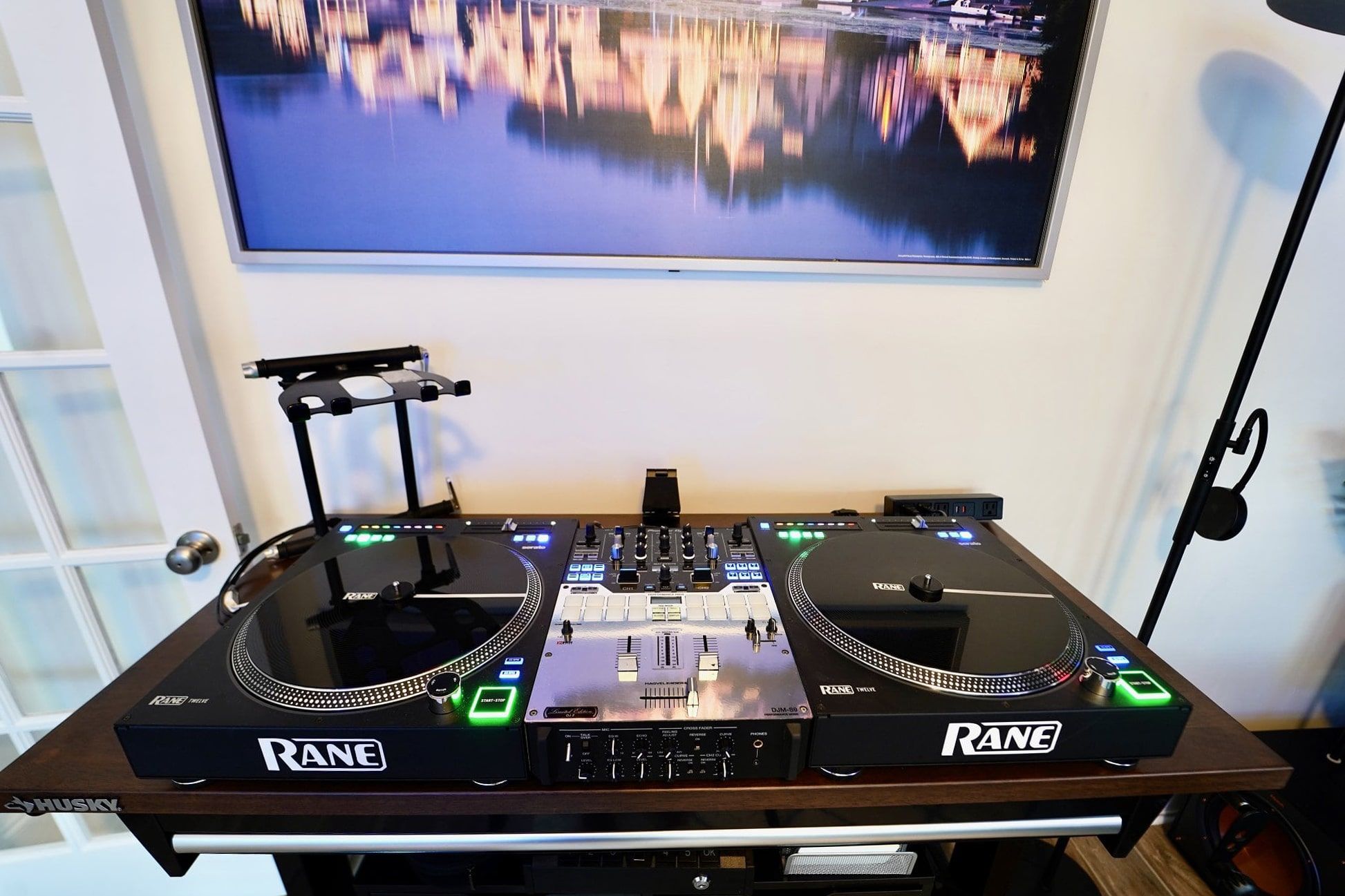 The fit and finish of the product and the wood top are surprisingly good, and the hand crank for the height works well.
I went for the workbench with a thin sliding drawer and ended up using it as a home charging station, which in my opinion, is my favourite hack of the setup.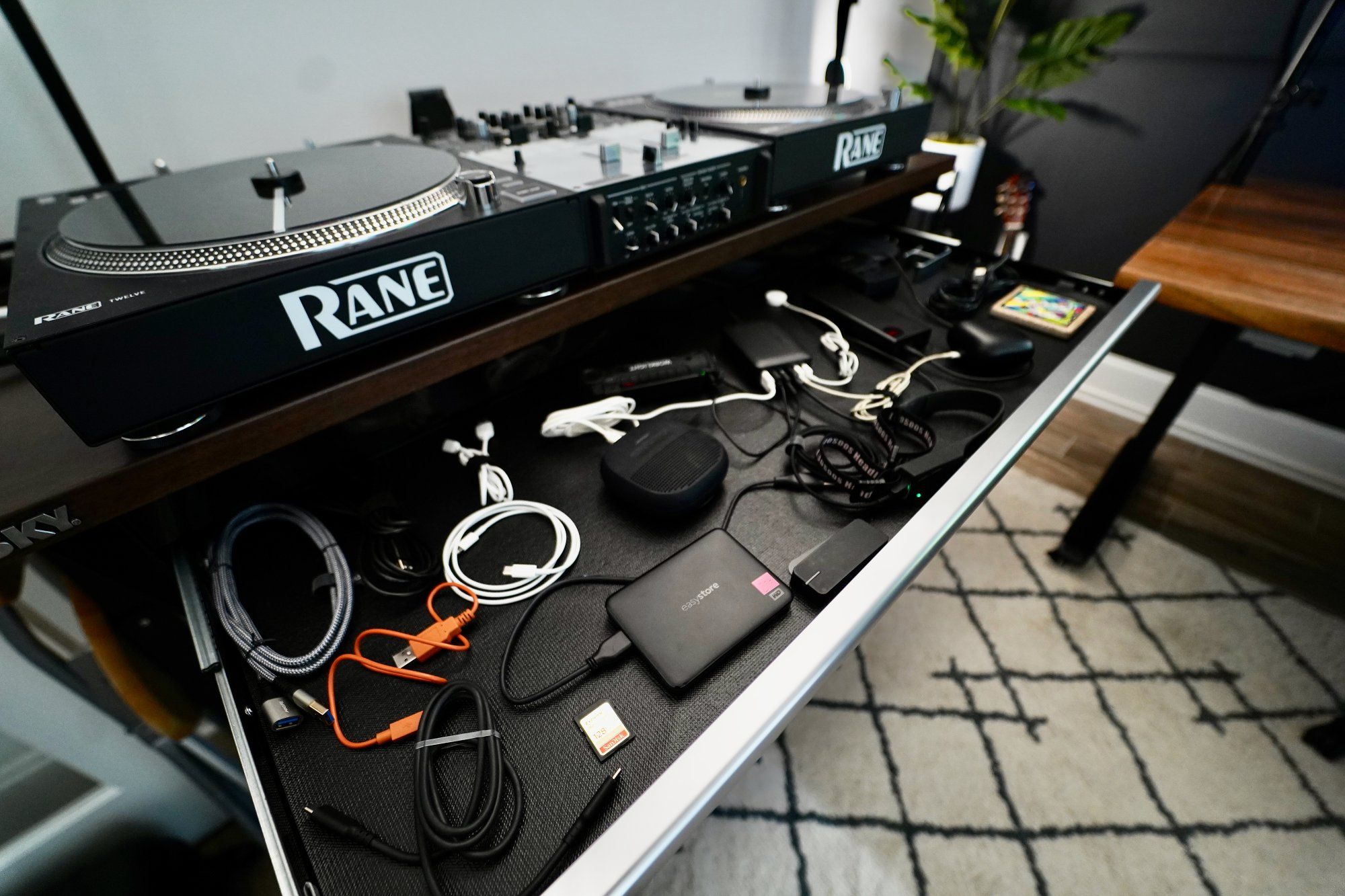 I placed an old, cheap, six-USB charging block in the back of the drawer and it keeps anything and everything charged — camera batteries, portable Bluetooth speaker, flashlight/work lights, a portable charging bank, and more.
Also, I have frequently used electronics here — USB hard drives, memory cards, and other miscellaneous cables that I need in a pinch.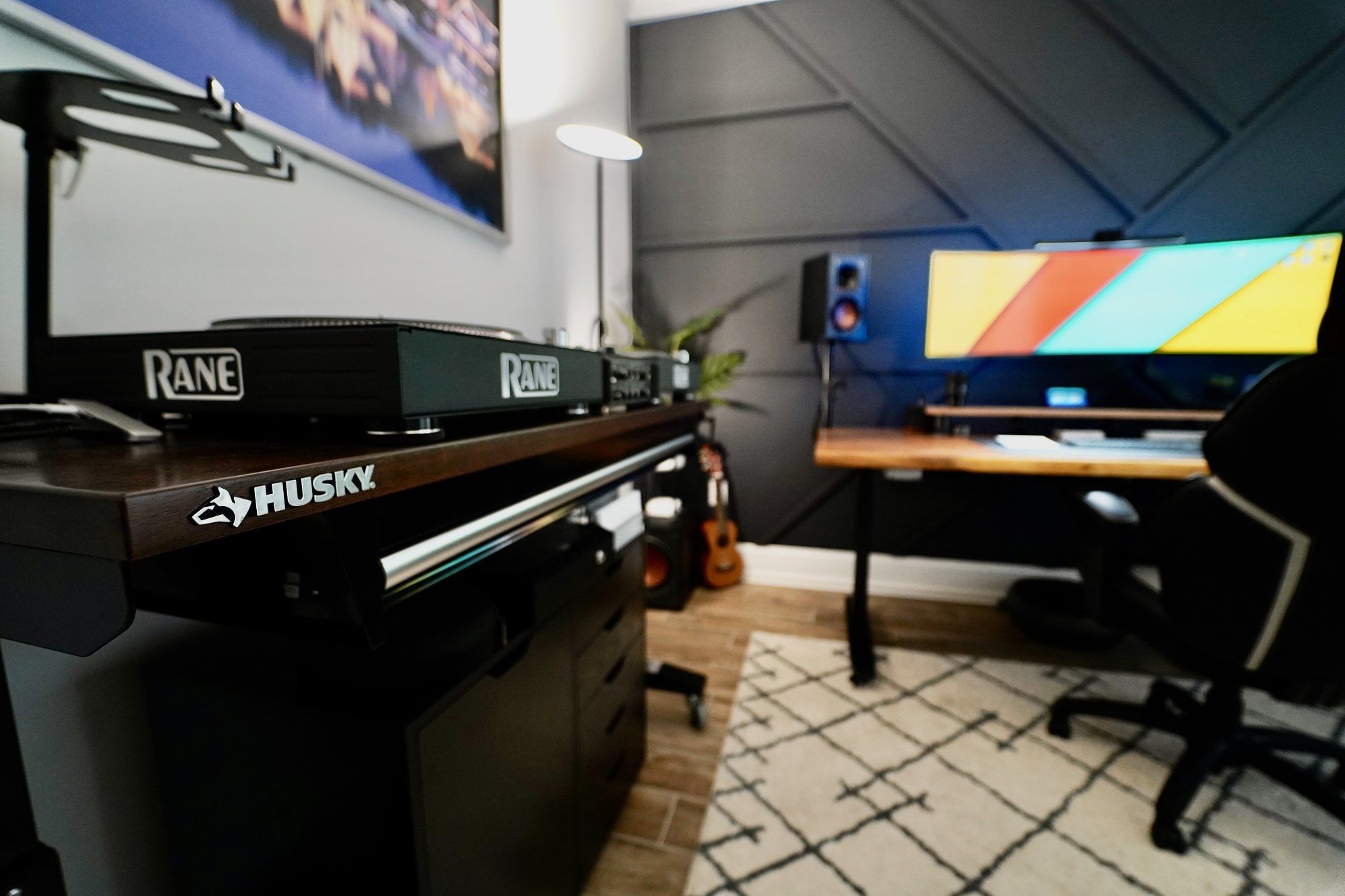 What's your favourite item on your desk?
My favourite item on my desk has to be my floating geometric plant holder.
For $60, you get a unique piece of tech that is as captivating as it is simple.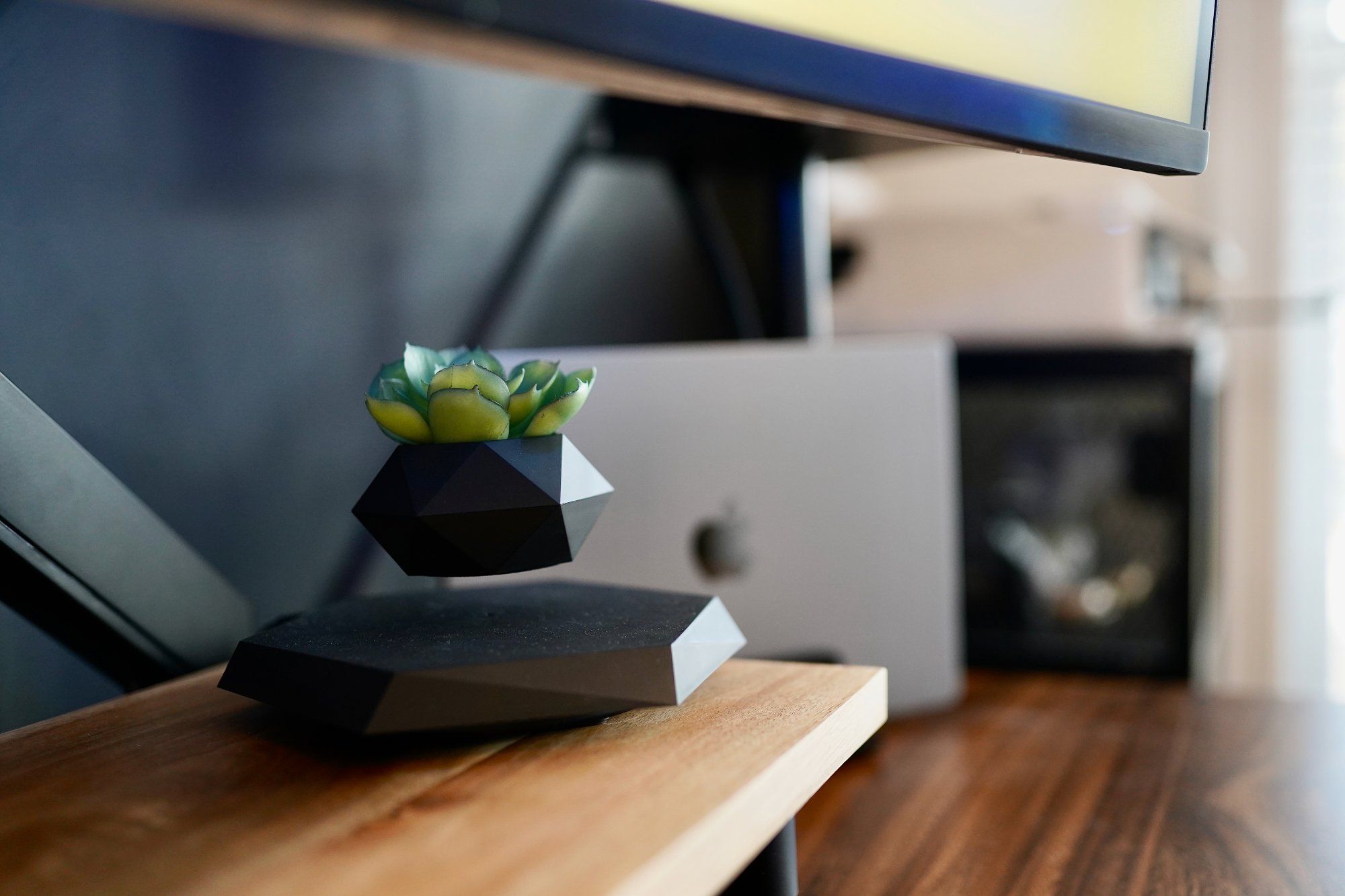 It never fails to be a conversation starter, and I could spend hours watching it spin (and I have).
Every office/desk setup needs a few unique pieces to bring it together, and this one does so for me, especially with a splash of green colour contrasting my otherwise dark, earth-toned setup.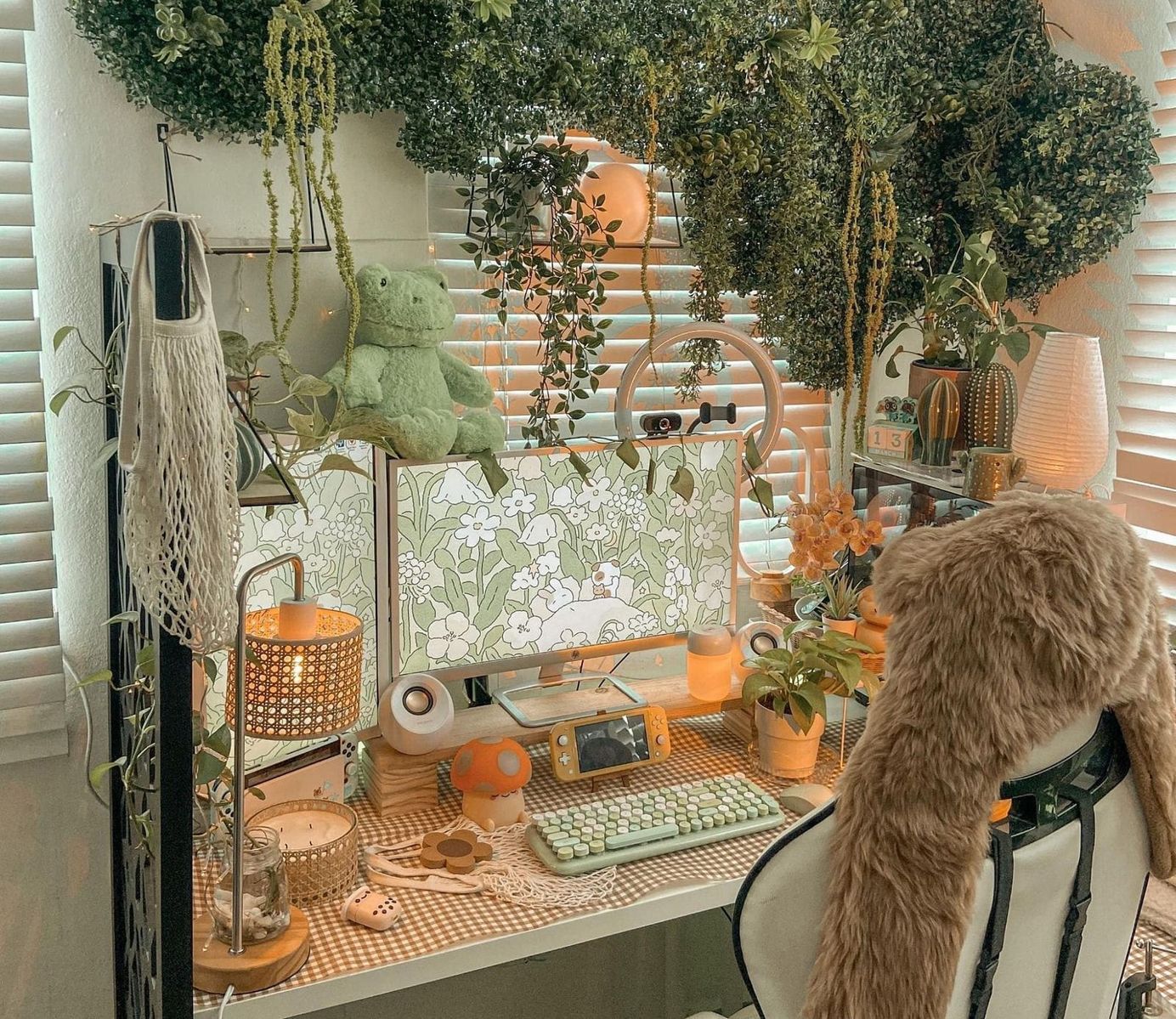 What apps or tools do you use to get things done?
I have used Apple products for years and have been heavily invested in the Apple Ecosystem for some time.
The one feature I missed the most from Windows was their built-in window snapping software which allowed for quick rearrangement of windows (snapping to the left half of the screen, right half, or going full screen), something also especially needed for larger displays.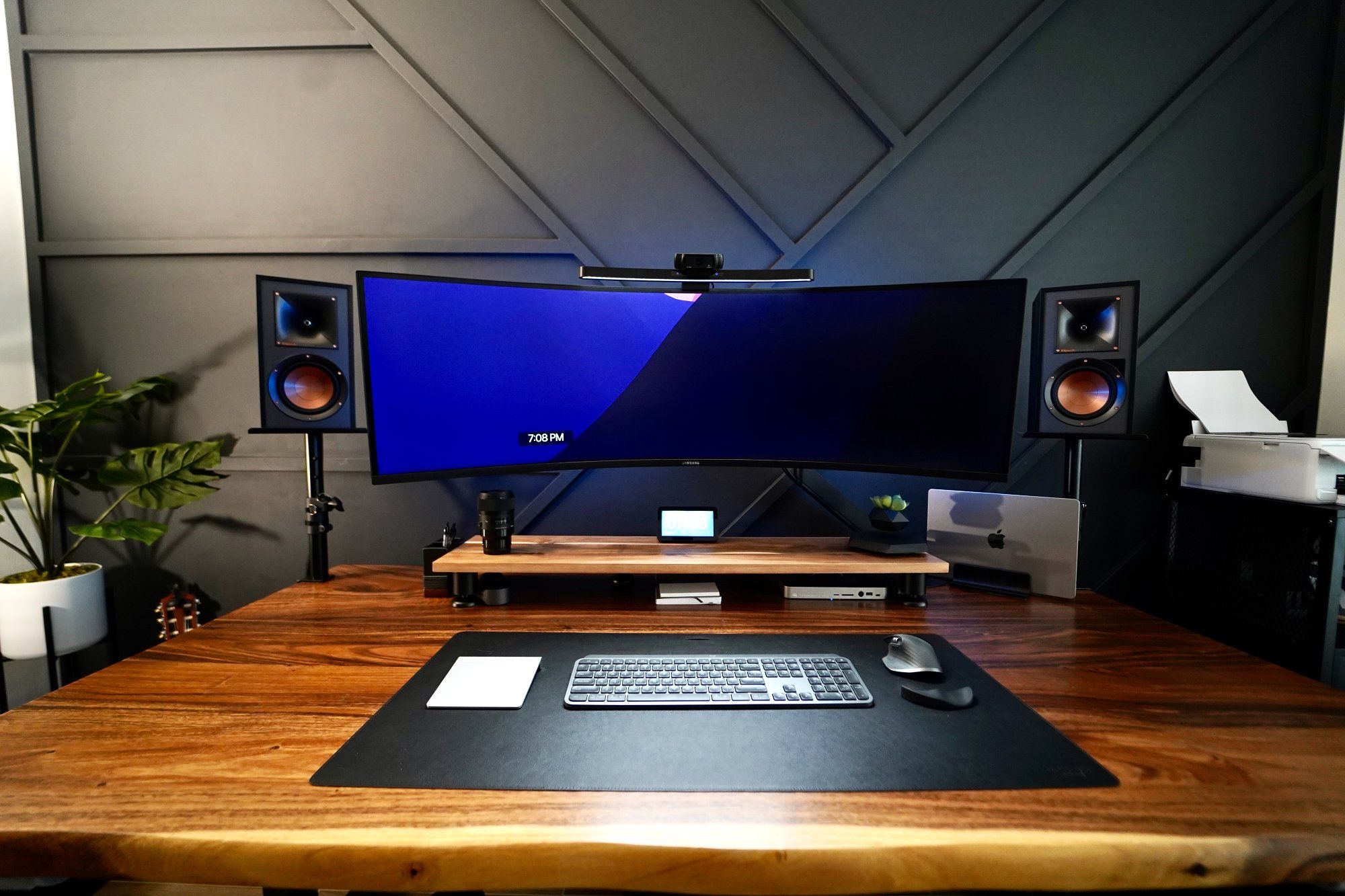 My favourite apps to enable similar functionality on Mac are Cinch and Magnet. Both are well worth the low price.
Cinch allows you to drag windows left, right, and top, like Windows, to go half-screen or full.
Magnet takes this a step further and allows keyboard shortcuts to divvy windows up into a third, fourth, sixth, etc. of the screen, allowing quick resizing of windows.
This is extremely handy on a 49″ super ultrawide screen.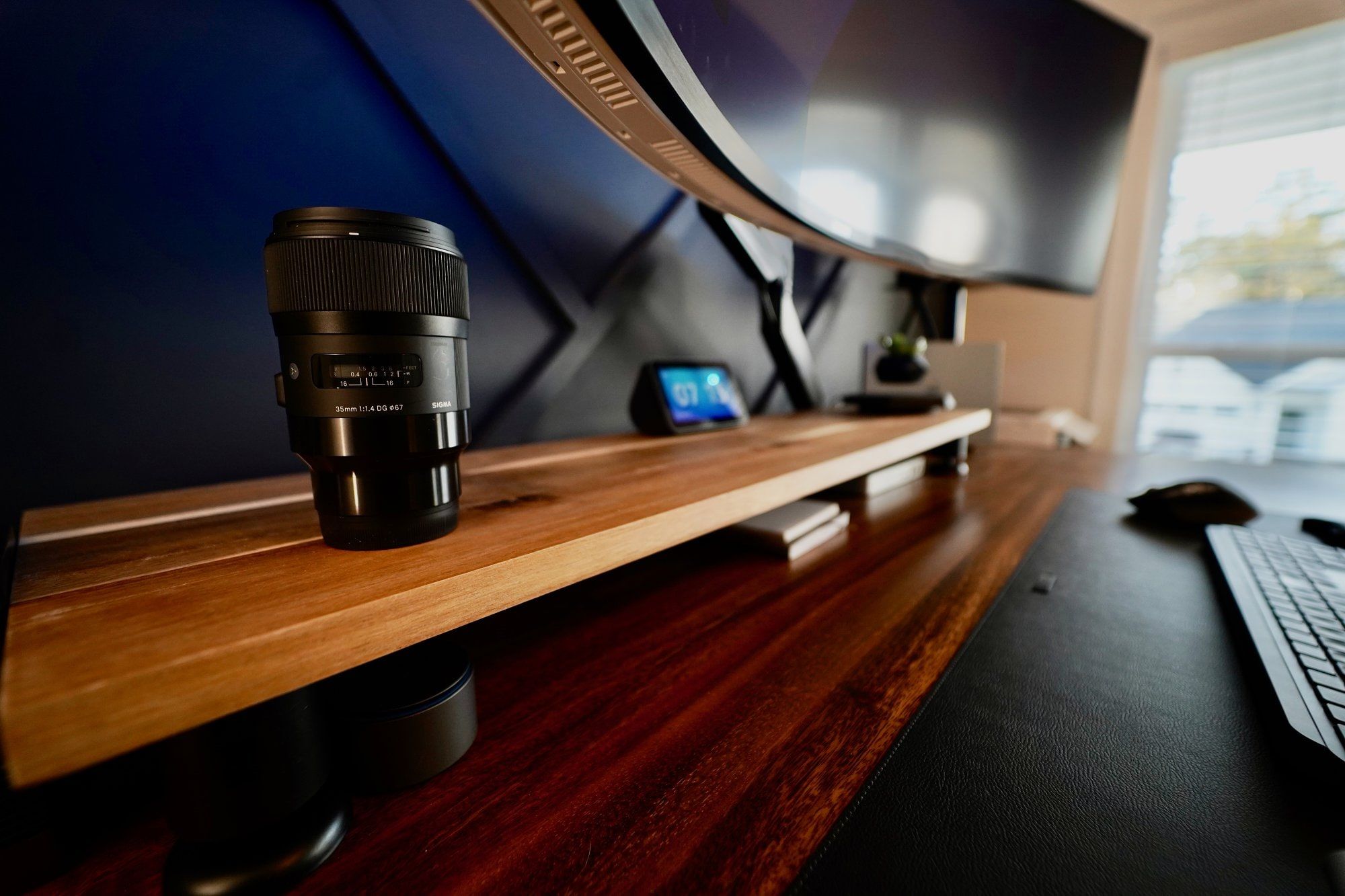 Any tips for other makers who want to improve their workspaces?
My biggest tip would simply be to have a vision and build around it.
The biggest difference between a modest home office and a true workstation you want to spend time in is how cohesive and symbiotic everything is.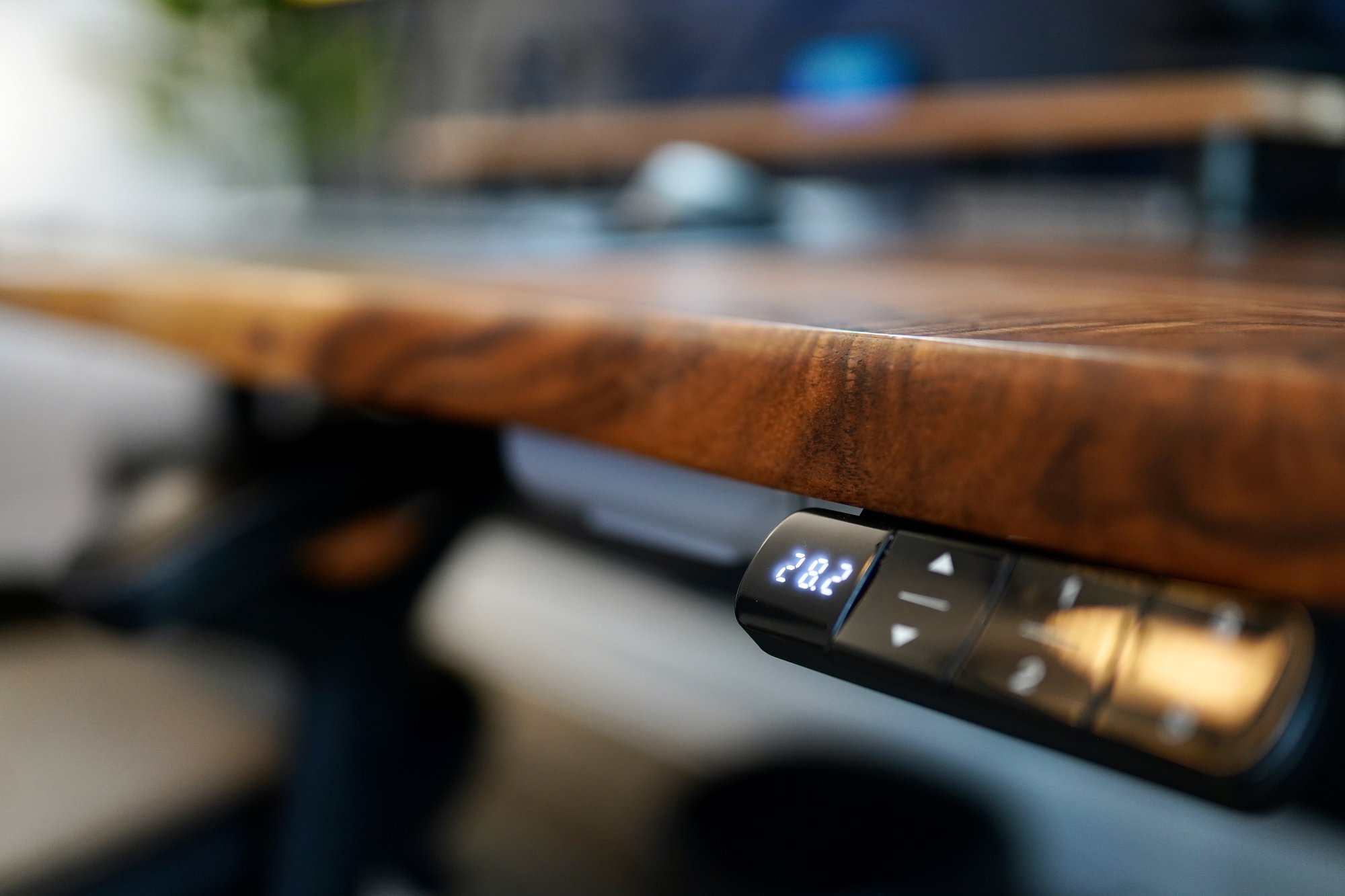 Not everyone is able to start from scratch and build everything at once.
But still, when adding components, you want to make sure that everything plays nicely and contributes to your vision.
My SO was integral in keeping me focused on my vision.
After being inspired by hundreds of desk setups and wanting to incorporate a million ideas into my own vision, she often would have to remind me of my original vision and how some things just would not fit.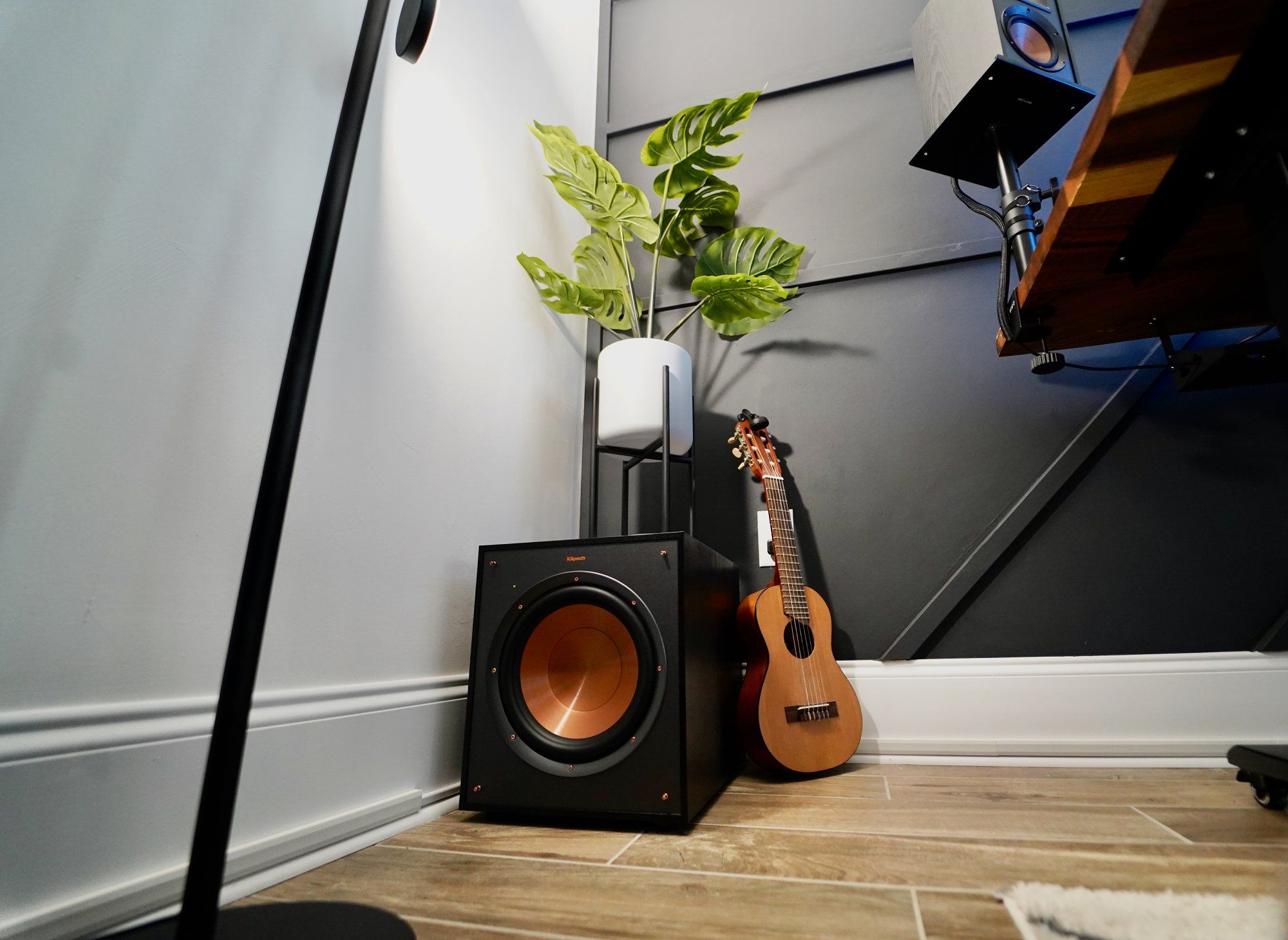 What does your typical day look like?
Unlike the majority of people here, I have no typical day and I do not mainly work at home.
As an ER physician, I have a very hectic and sporadic schedule.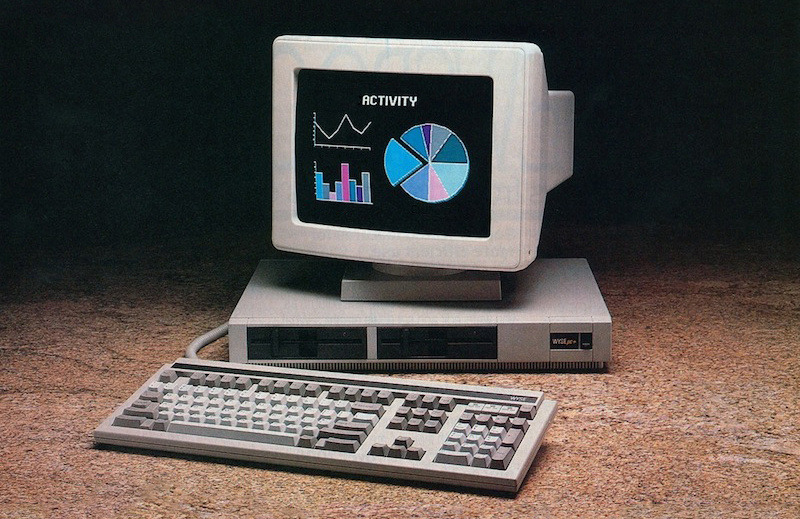 Many day shifts, followed by a random night shift here and there, etc. This makes maintaining my circadian rhythm and sleep schedule just as difficult.
However, on any given day when I'm home, I will spend at least one to four hours at my desk, work-related or not.
Unfortunately, on all my days off, I often have multiple emails for administrative duties as well as multiple spreadsheets open, as I also am in charge of making the schedule for the physicians in my hospital.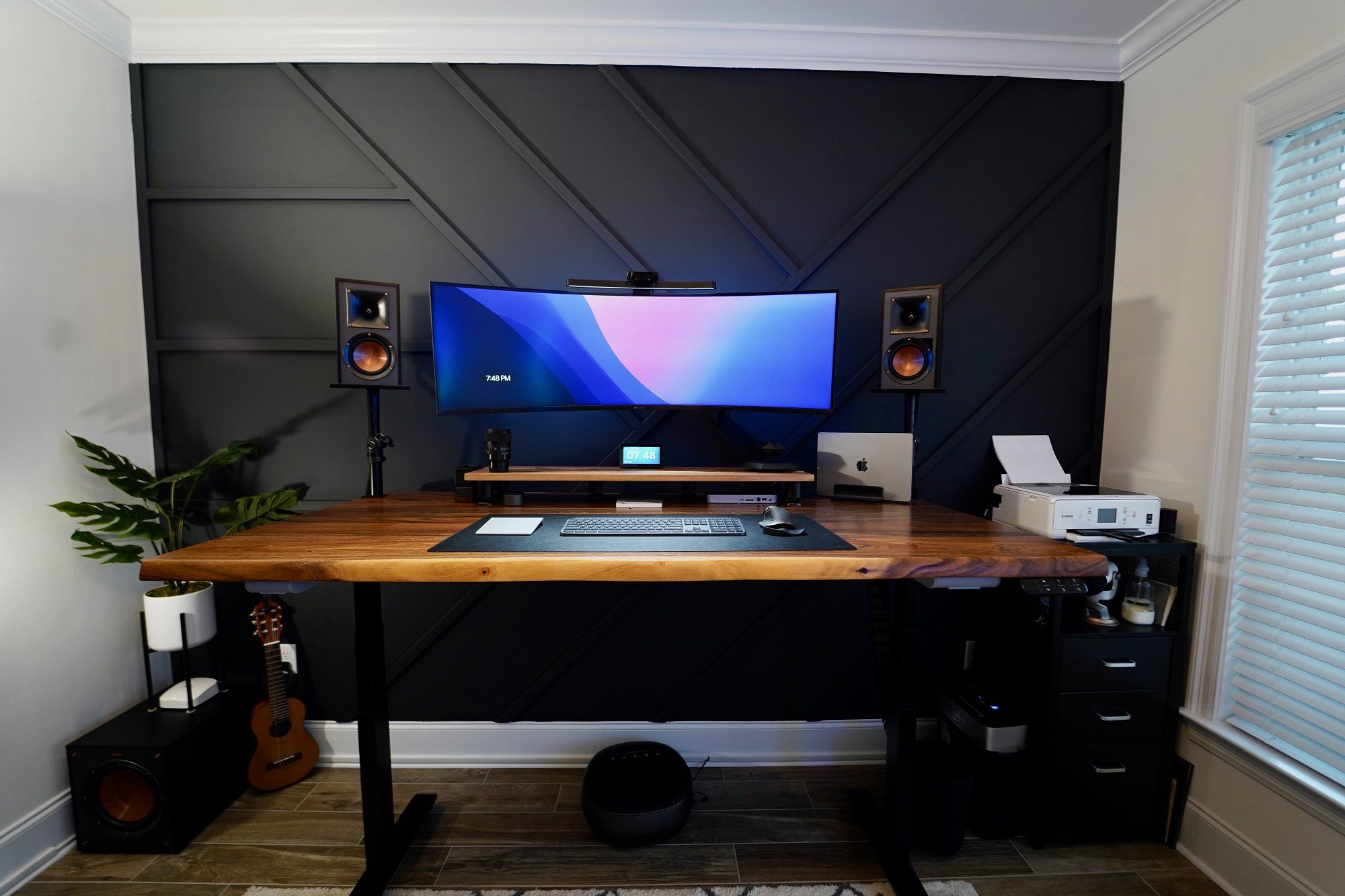 This workstation has allowed me to quickly change workflows and multitask in ways I was unable to before.
The screen real estate has allowed me to work on multiple spreadsheets at a time, all while managing emails, videos, music, etc., with space to spare.
Placing the Thunderbolt dock under my desk shelf has significantly cleaned up space on the desk but has also given quick access to memory card readers, USB plug-ins, and even a headphone jack if needed.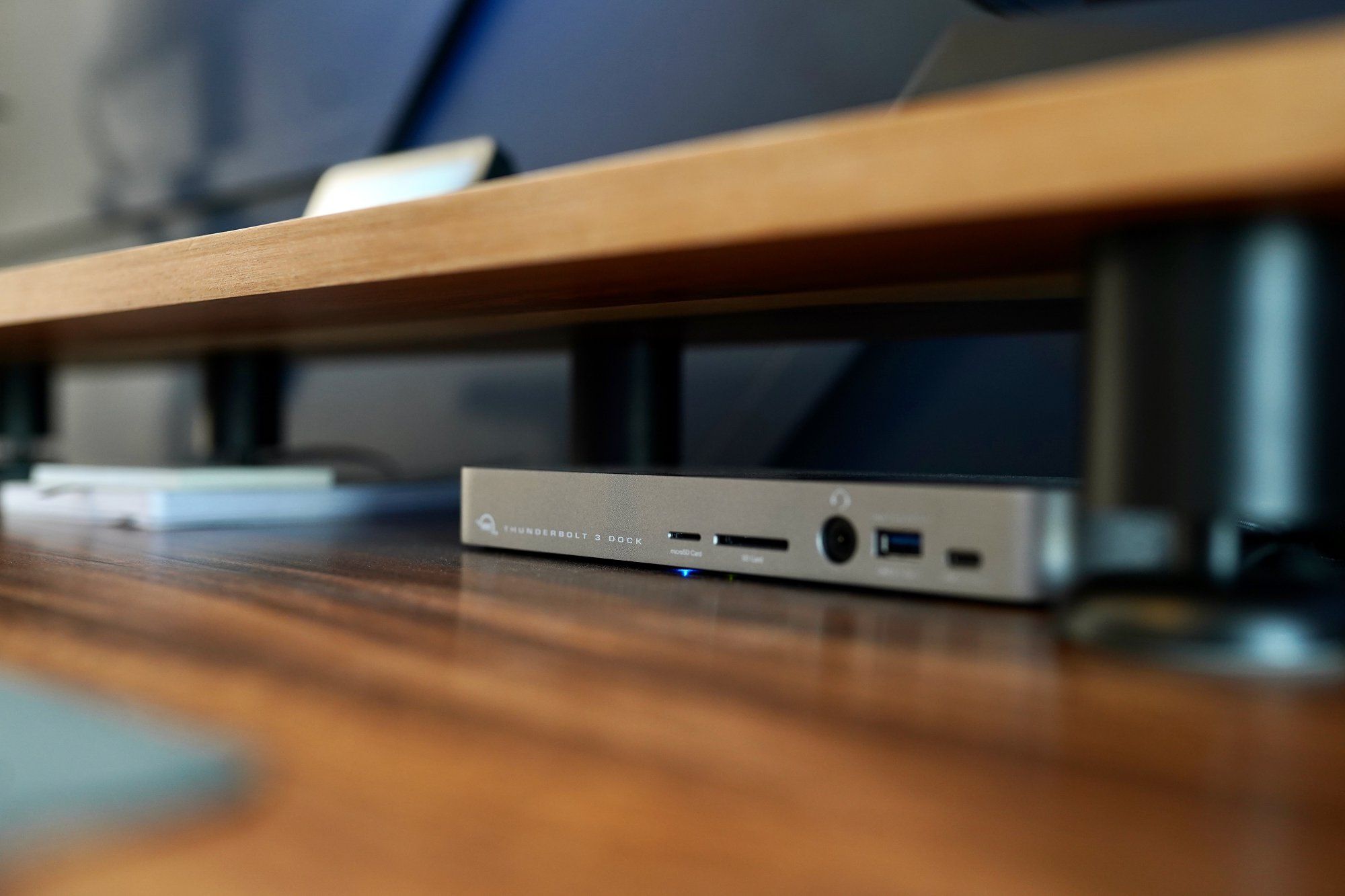 Your tips for working from home?
In today's era of mass media consumption (which ironically can be amplified by these computer workstations), staying productive and focused is becoming harder and harder.
With work-from-home options much more viable for people, even more distractions are present, with the distinction between workplace and home now blurred.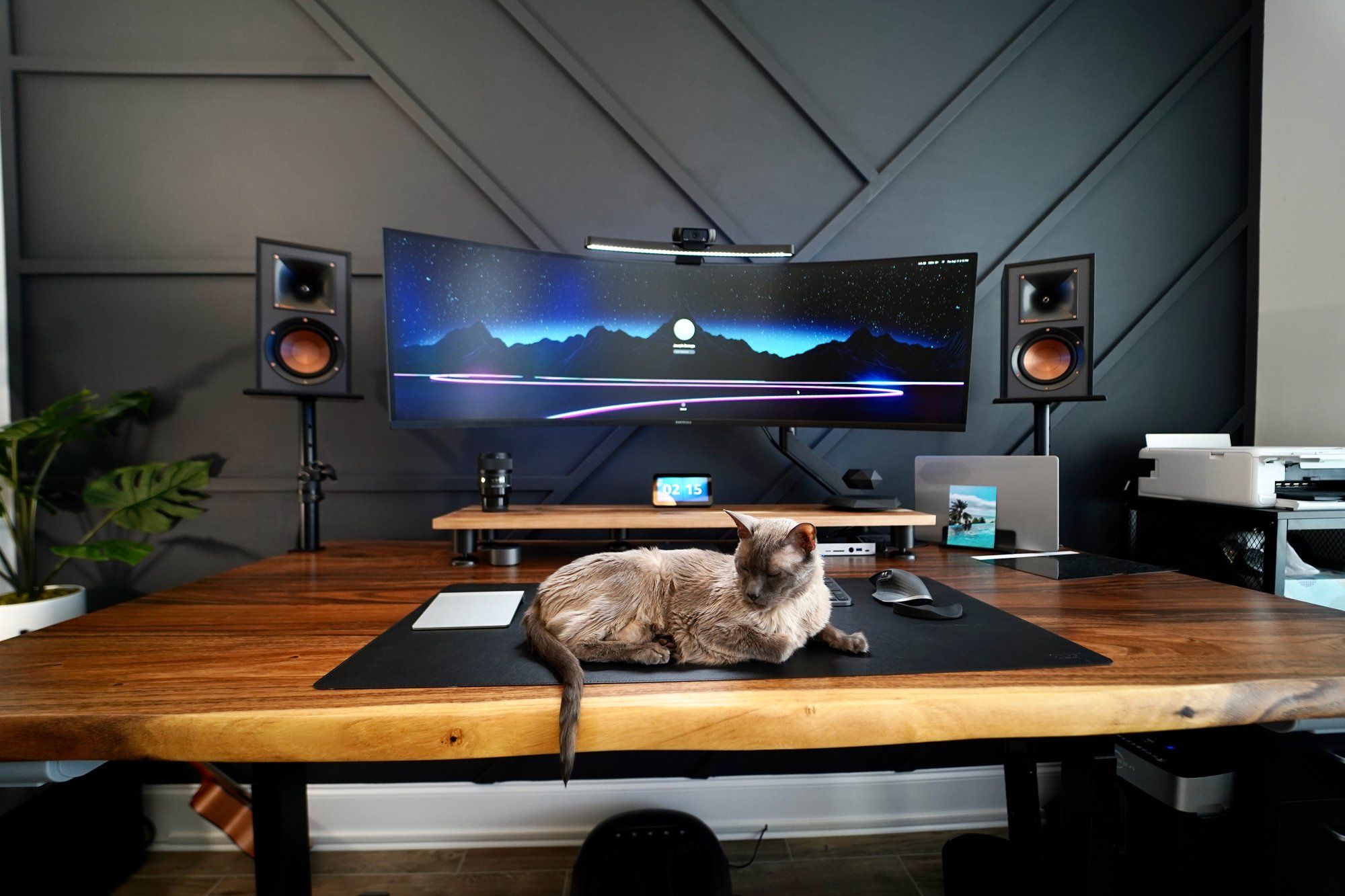 My tips for working from home:
Have a routine. With my schedule, I don't have one. But as a medical student, I did. I stuck to it and I was the healthiest and most productive I have ever been.
Make lists. The most successful people I know use lists. The mental confidence you get from crossing off micro achievements on a list continues to motivate you further and further to accomplish more throughout the day.
Use timers. Working multiple hours straight without designated breaks often equates to subpar effort. 50 minutes of 100% effort with a 10-minute break for mental relaxation is often better than multiple hours of distractions and work mixed in.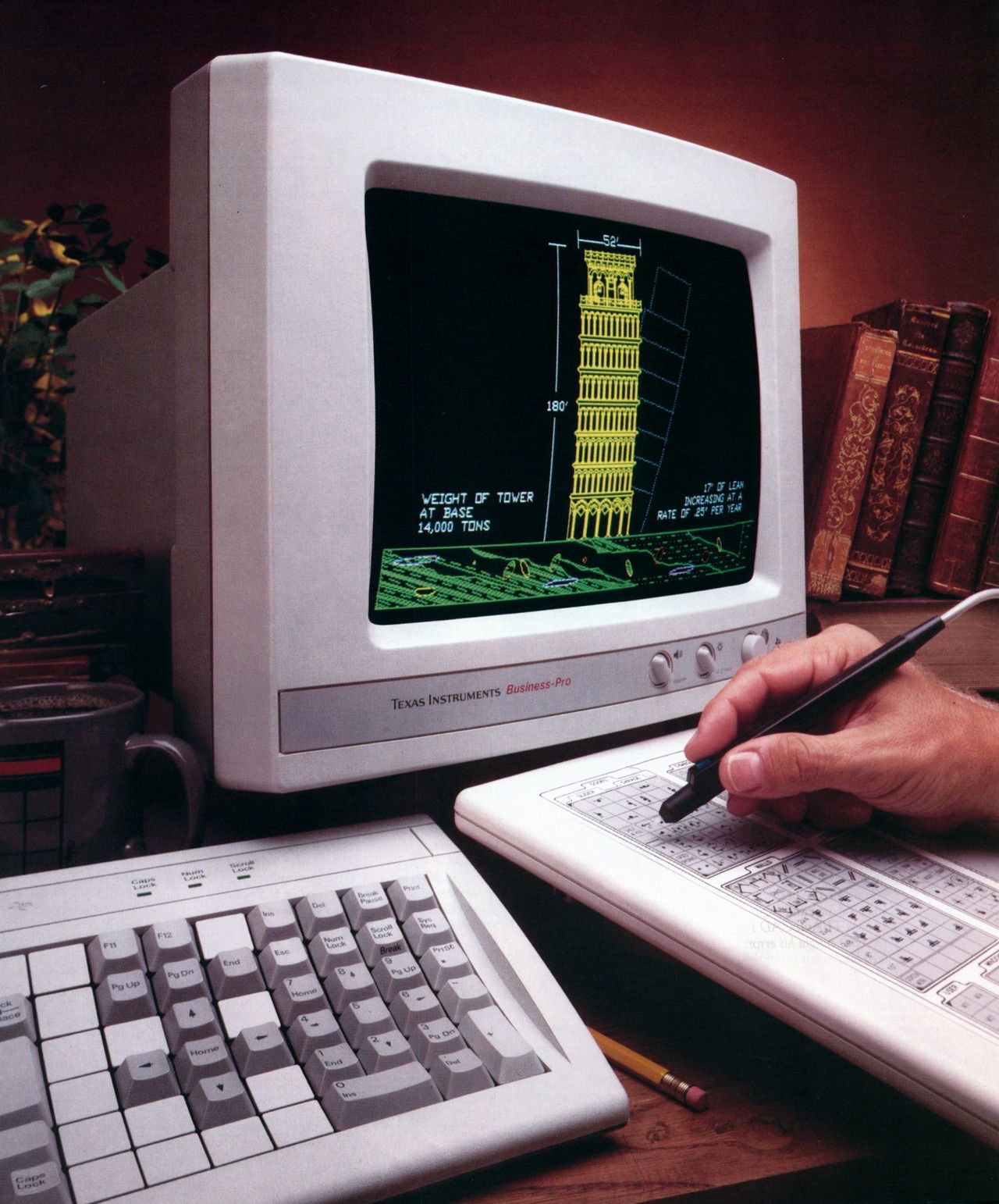 We're a reader-supported publication. This article might contain affiliate links. It means we may receive a commission if you click a link and buy a product that our maker has recommended. The interview was done independently.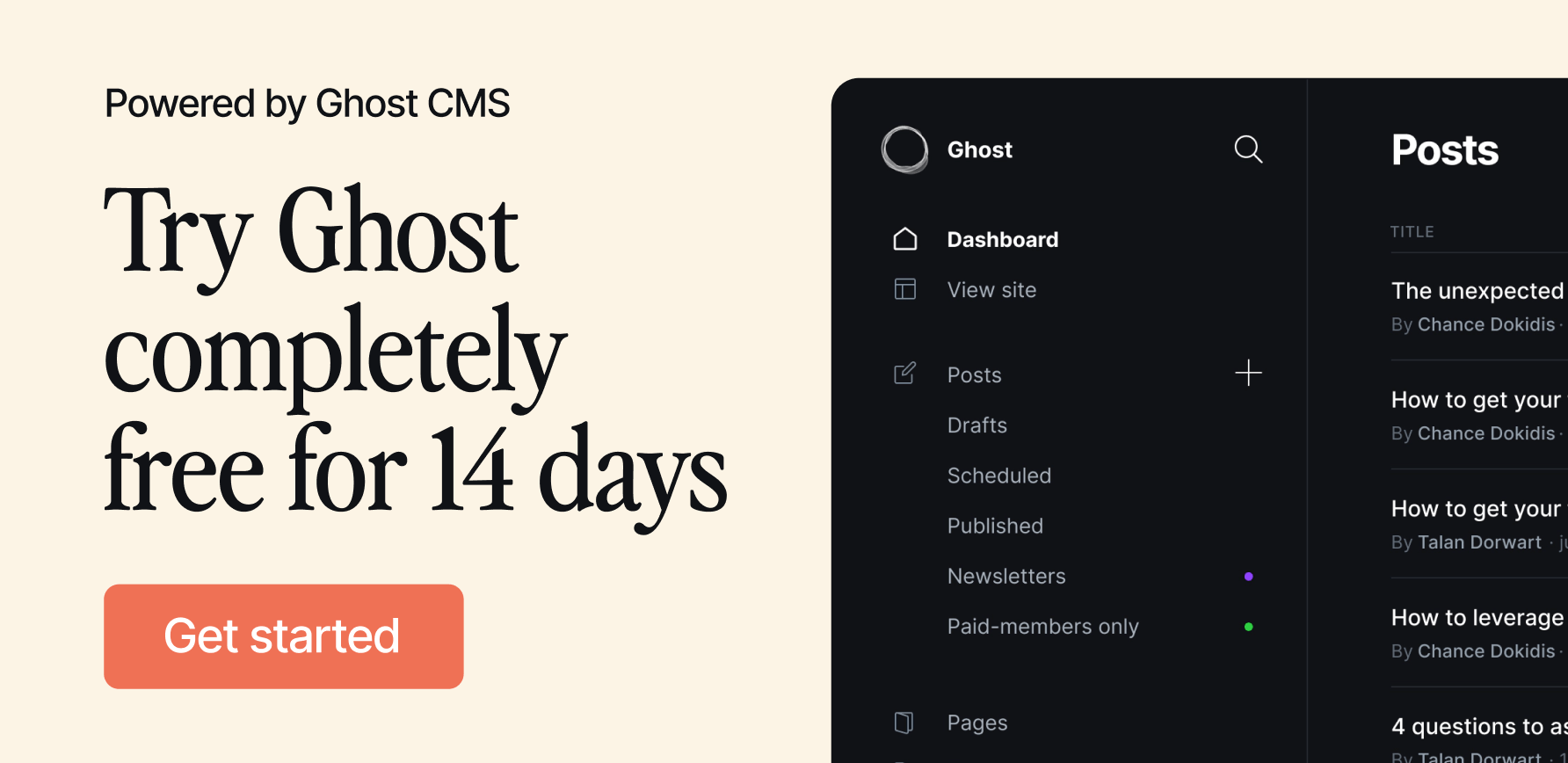 ---