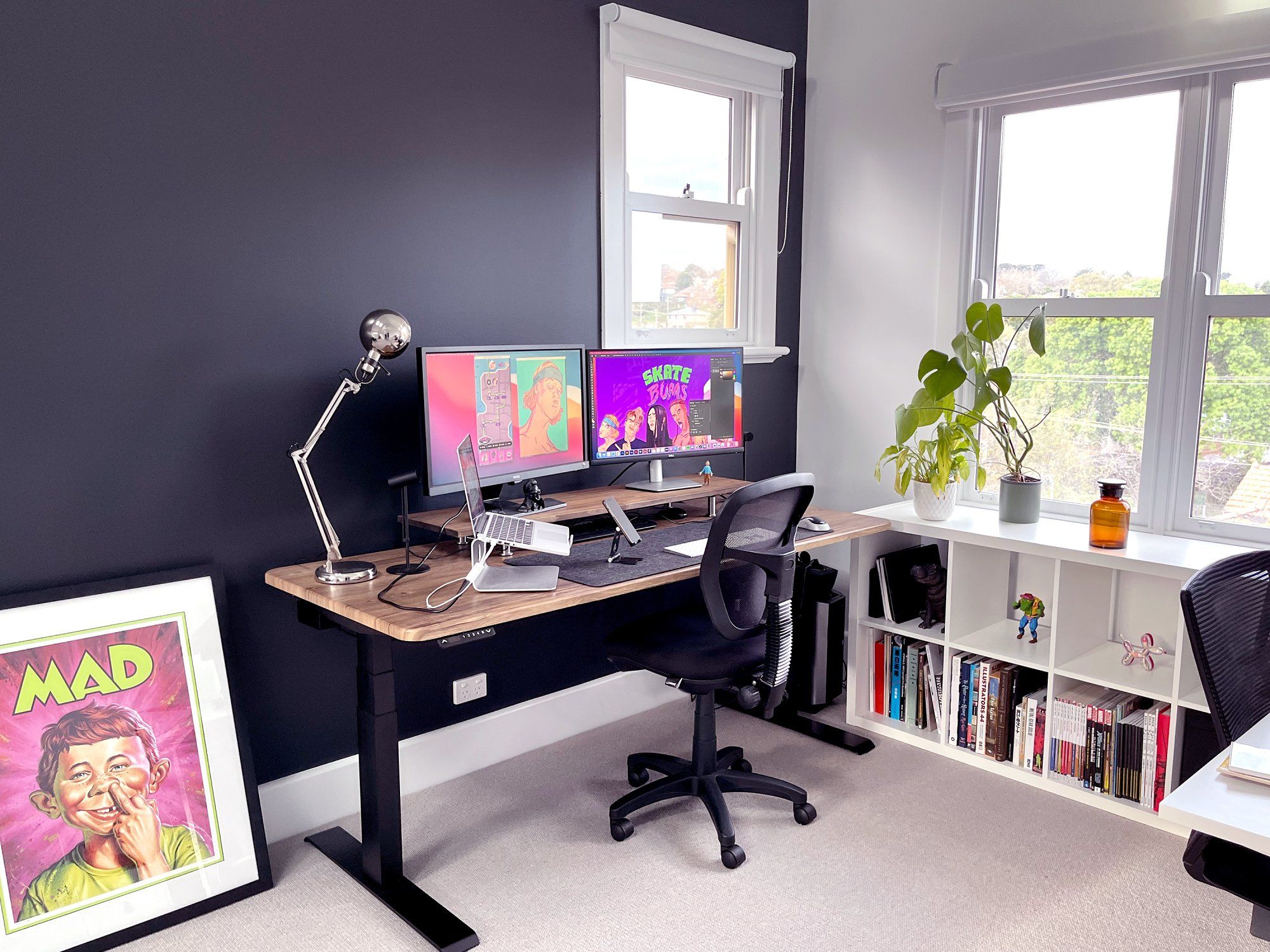 Spacious Standing Desk Setup in Melbourne, Australia
"It's all about space. Space to breathe, space to think and space to put all my stuff"
Join 1700+ Curious Readers.
Every Sunday evening, get an *in-depth* workspace tour from a random corner of the world.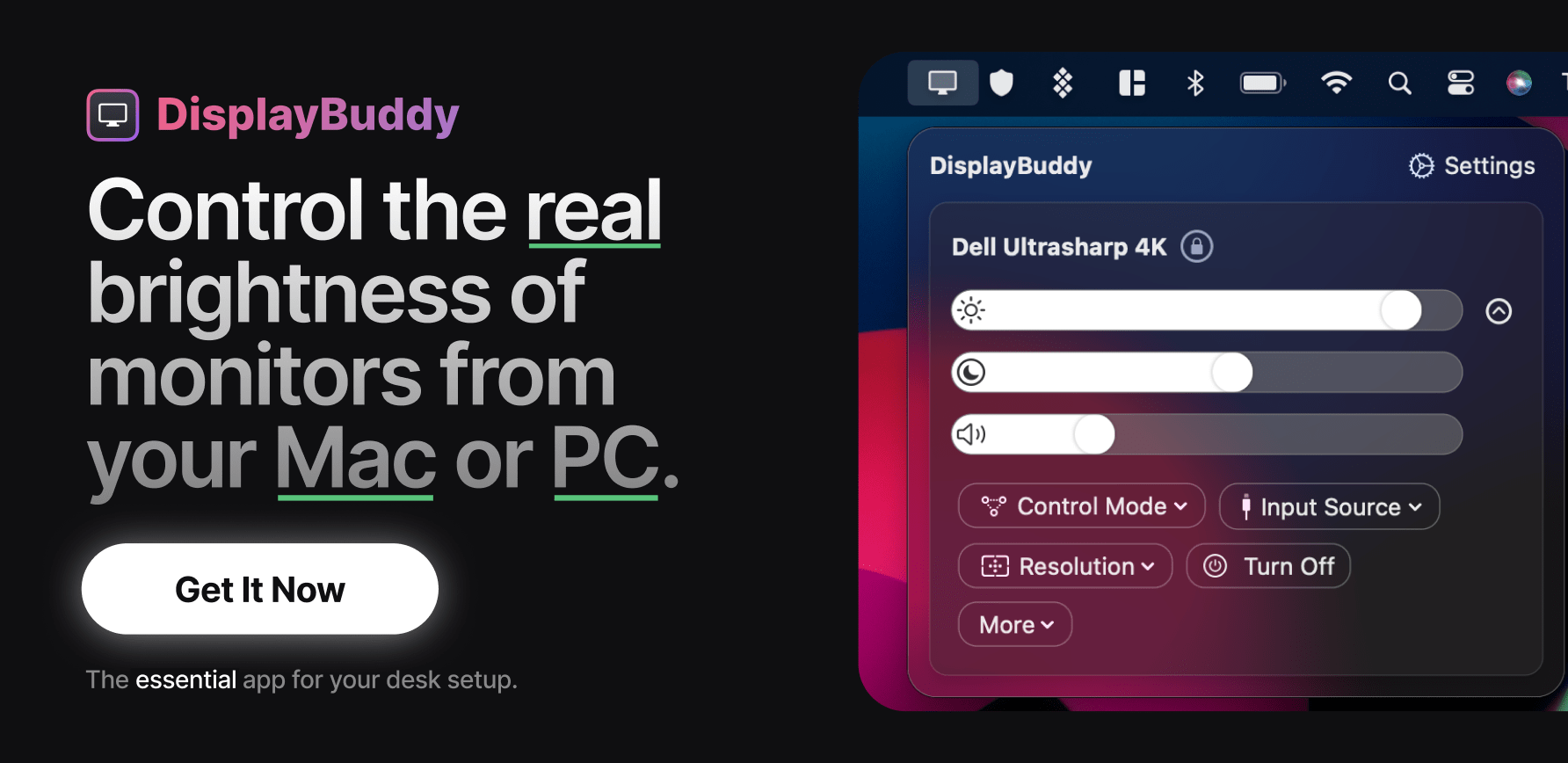 Name: Jono Yuen
Location: Melbourne, Australia
Occupation: Creative Director
Room size: 22 m² (237 ft²)
Social media: Instagram, Twitter
Hello! Tell us a bit about yourself
G'day! My name is Jono Yuen.
I'm a freelance Creative Director for interactive experiences and founder of HUDS+GUIS, a platform focused on FUI — Fictional User Interfaces.
Based in Melbourne, Australia, I've recently started working in a newly renovated studio on the top level of our house that I share with my wife, Natalie Cheng (also a designer!), our two kids and a new puppy.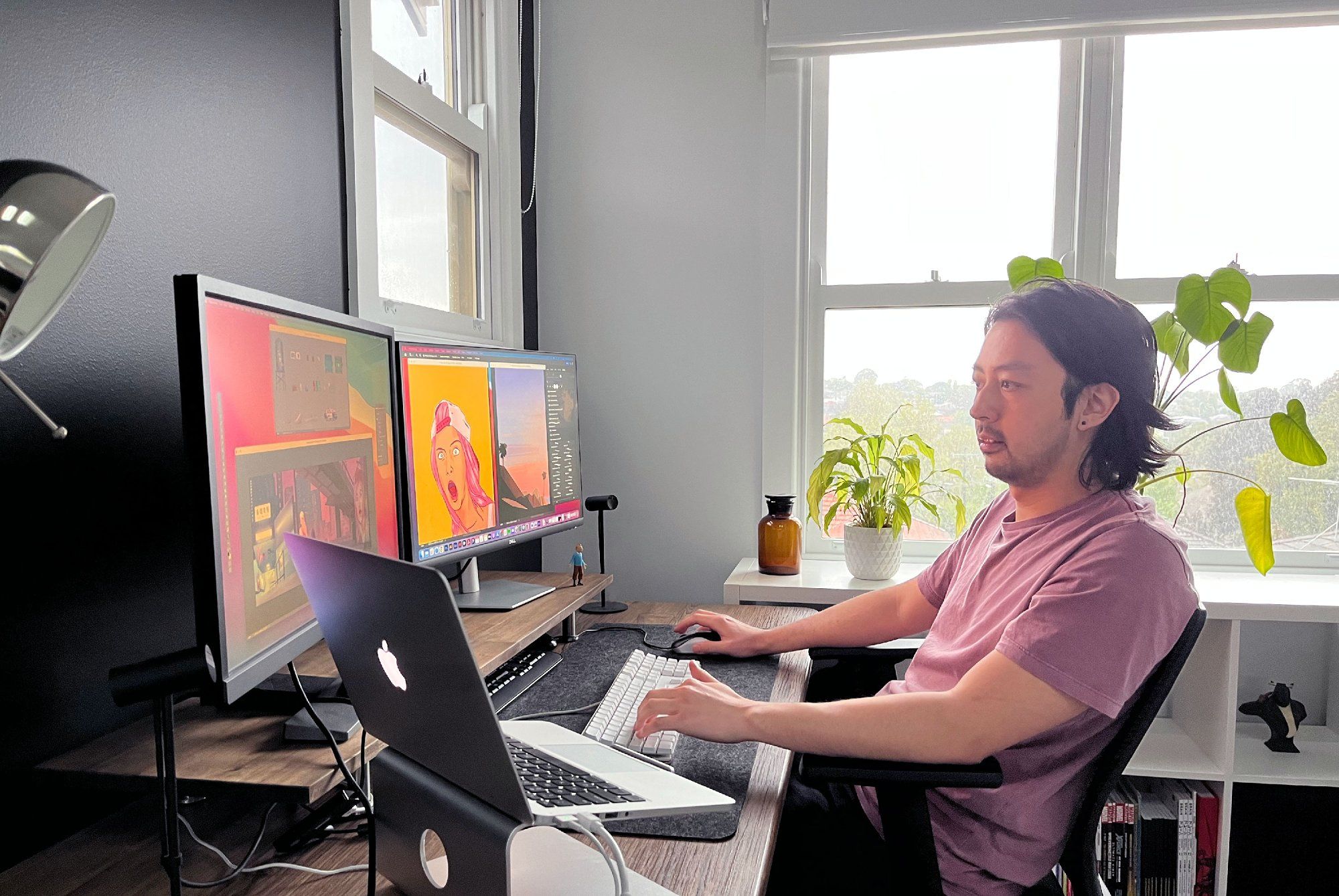 Before I started freelancing, I spent my career creating interactive experiences and campaigns for clients such as Disney, Porche, Cadbury and Volkswagen.
I still do that in my freelancing work, but I've expanded to focus more on games, exhibitions, events, and mixed reality experiences (XR, VR & AR).
I've also recently formed a games studio, and we're working on releasing our first game Skate Bums, so stay tuned!
You can see more of what I'm up to on my site: jonoyuen.com or my Instagram @jonoyuen.
Take us through your setup
My wife and I have been working remotely for the past few years.
That wasn't likely to change anytime soon, so we decided to design spaces within our house where we could work comfortably.
We designed the main studio with vaulted ceilings, big windows and some skylights to let the natural light in and then added some plants and kept it clutter-free.
It's my favourite room in the house and where I spend my time working.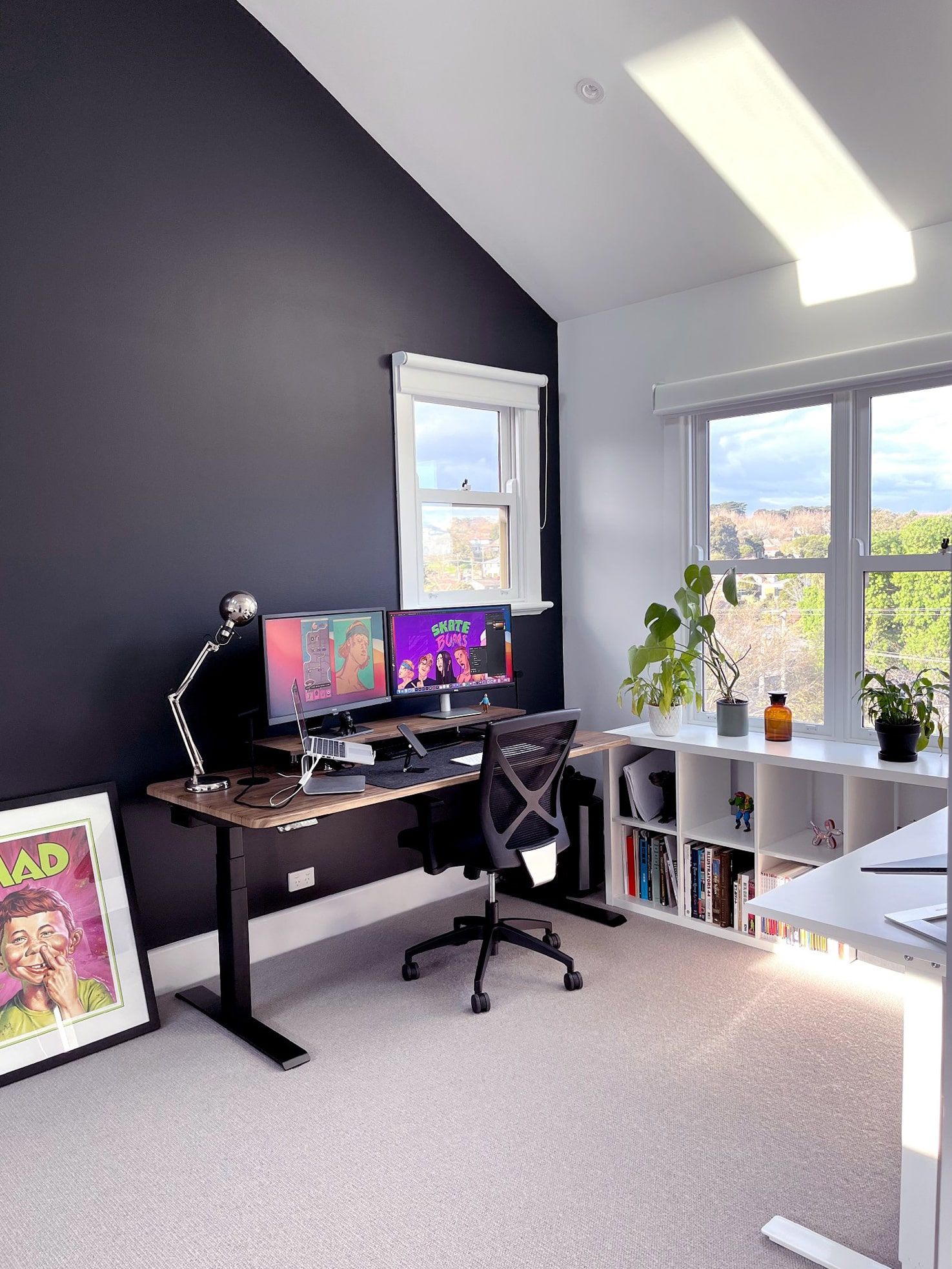 I've tried working in many different spaces in the past. So I had a good idea of what kind of desk setup allows me to work efficiently and, most importantly, makes me enjoy going to work!
For me, it's all about space.
Space to breathe, space to think and space to put all my stuff.
In the past, I've had to create a workstation to fit a limited space, but with a renovation. I was able to design it from scratch and customise it the way I wanted.
Because of my work in VR, I needed to have a PC workstation alongside my Mac setup. So my biggest challenge was to create a way to swap between PC and Mac seamlessly.
I ended up getting a 1800×750 mm electric sit/stand desk, which gave me plenty of space for my equipment and some extra space for sketching, painting on the iPad, drinks and snacks.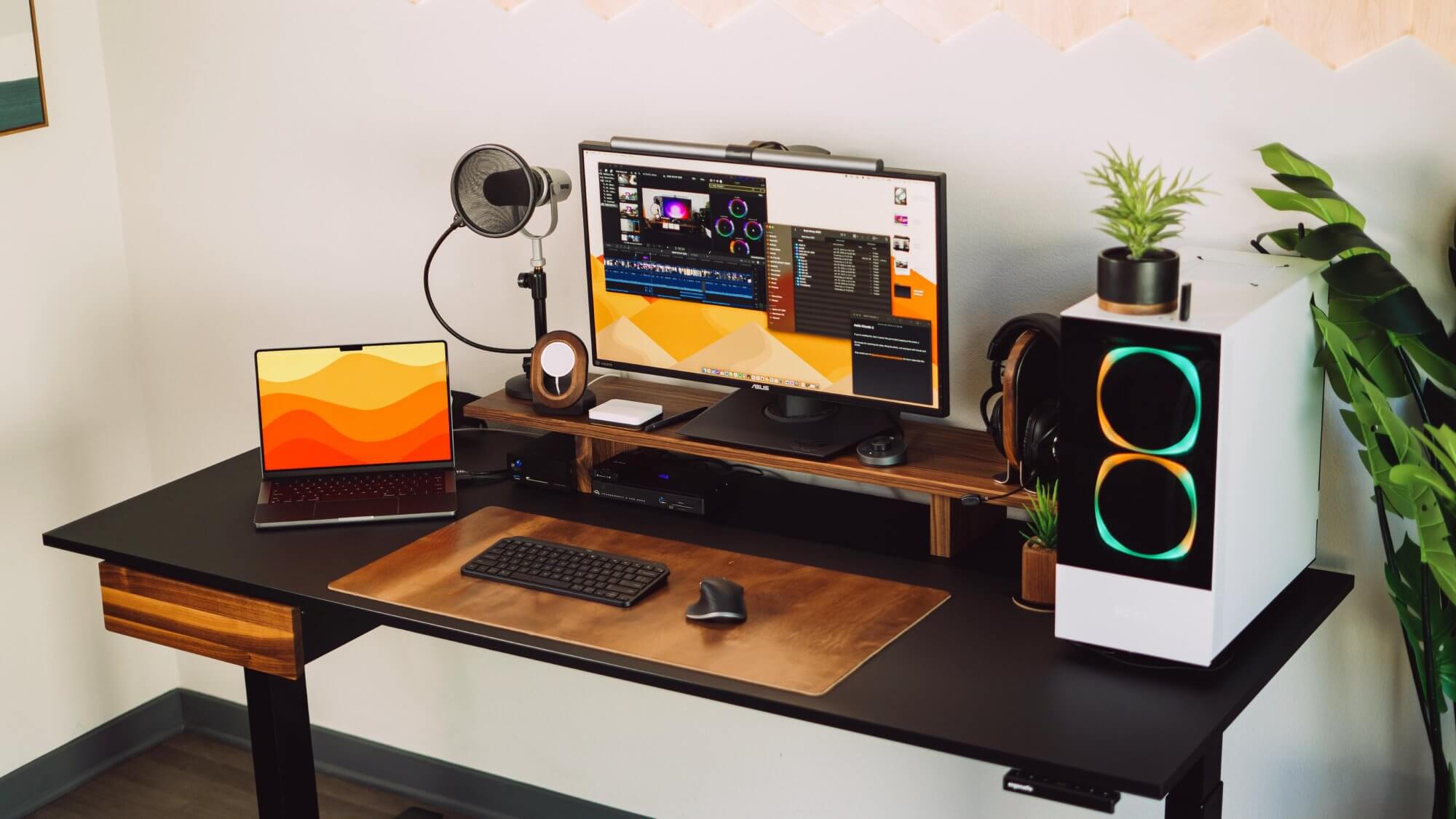 I also built a monitor stand using a piece of wood from a hardware store and some IKEA legs.
This was essential as it gave me room to put two 27″ monitors and use the space beneath to keep my second set of keyboard and mouse that I can easily switch between.
I installed two hooks underneath the table to store my headphones, Oculus headset and VR controllers.
That freed up my desk space and gave me a proper place to put things when I take them off momentarily.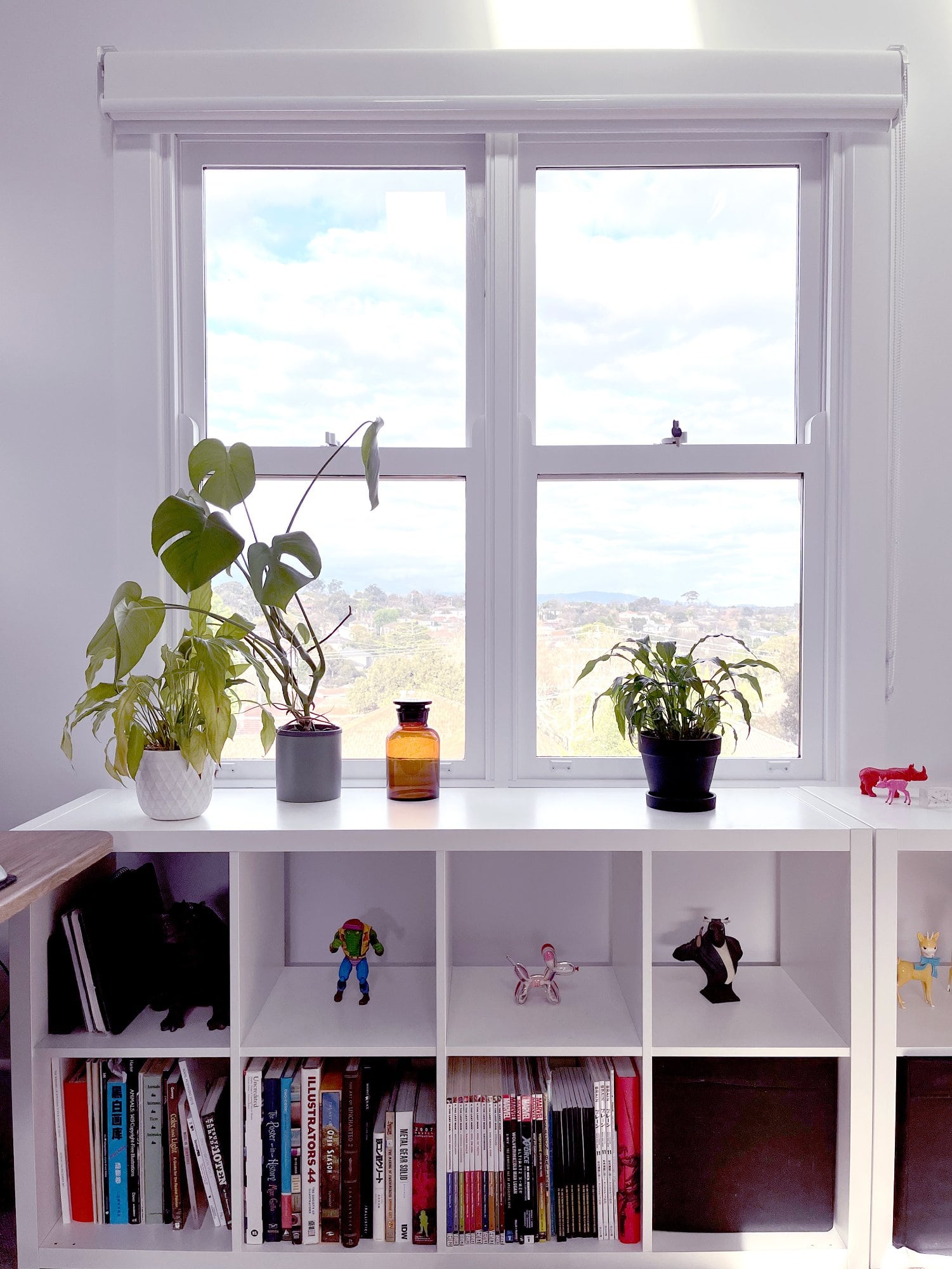 To my right, there's a nice big window with a great view looking down through a valley and into the mountains.
I've always liked being able to look outside, especially when I'm concepting and thinking of ideas.
It's helpful to have some separation from the screen.
It also gives my eyes a break.
Underneath the window are just some low shelves that hold my favourite books and art supplies that I like to have close at hand.
The studio is still a work in progress, but currently, there's a couch on the other side of the room with a TV and my Pandora's Box, which is an arcade machine with two joysticks loaded with old-school arcade games.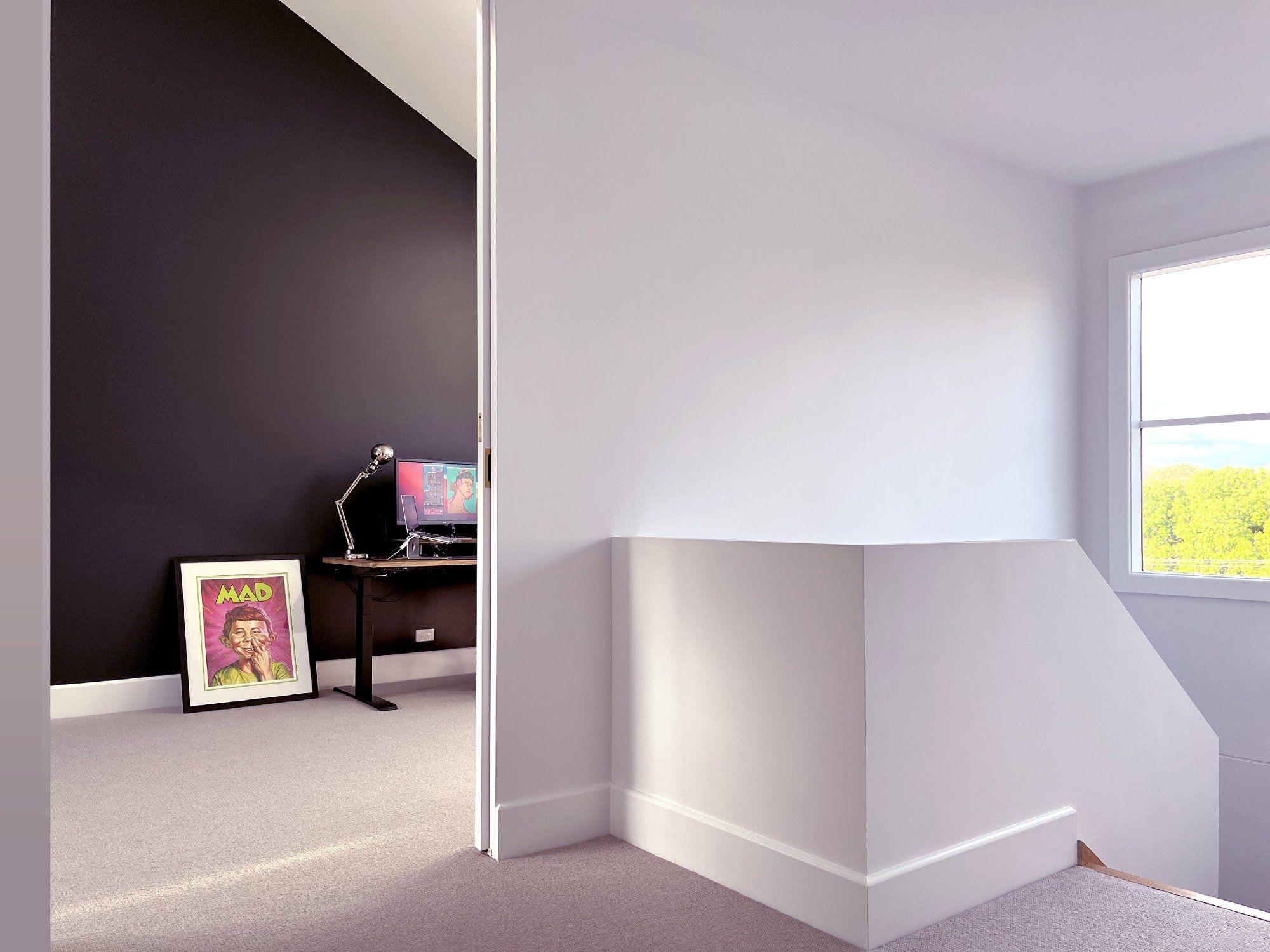 Being a child of the 80s and 90s with little to no pocket money, I always dreamed of being able to play arcade games whenever I wanted, as much as I wanted, so this was just a dream come true!
It's awesome to be able to take a break and go chill or take a sneaky nap on the couch.
The next thing to do is to put up some art. My screens are set against a dark feature wall, which will be perfect for some vibrant and colourful art pieces.
What's your favourite item on your desk?
My favourite work thing on my desk would probably be my iPad Pro with the Apple pencil.
I recently bought a case that holds the pencil, lid and charger adapter, which was surprisingly hard to find. But this has become my go-to drawing kit.
I used to have a 12″ Cintiq that I bought in 2006, but it had a battery pack and lots of wires.
I love that I can quickly pick up the iPad, open up Procreate with no load time, whip out a quick illustration for an asset, and airdrop it to my Mac instantly.
This process has been invaluable to my workflow.
My favourite non-work-related thing is my hippo statue.
I picked it up from somewhere long ago, and it's sat on my desk, keeping me company through all the various places I've worked at.
It just wouldn't be the same without him around. It just makes me happy.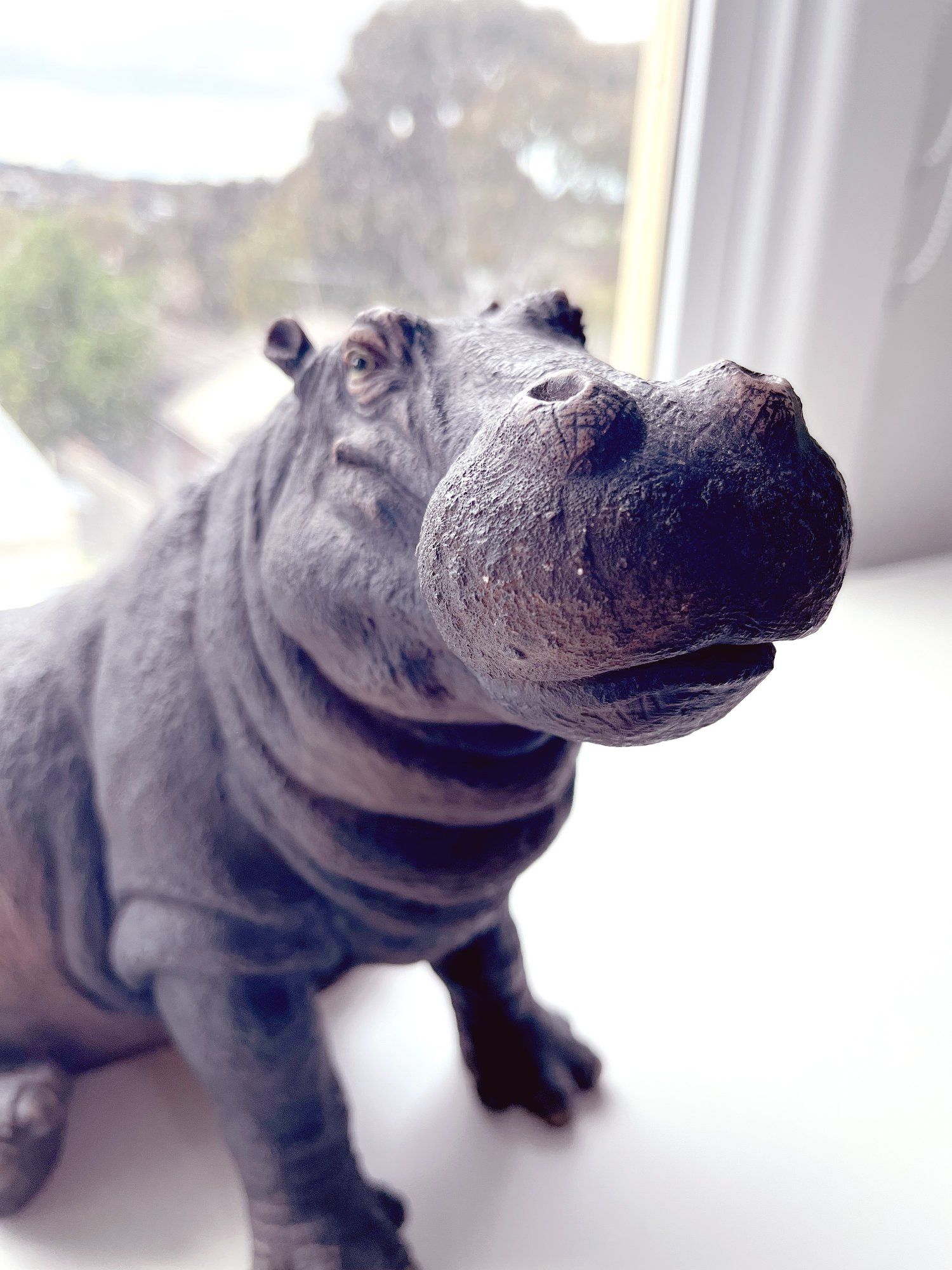 What apps or tools do you use to get things done?
The Adobe Suite still gets a lot of use, Photoshop, Illustrator, and After Effects, but I would love it if they were faster!
I'm using Figma a lot simply because it's so fast and great for prototyping on mobile.
Procreate for illustration.
For VR, I'm using Quill and Blender.
What books, blogs or podcasts recently caught your attention?
Stuff you should know is great for learning about obscure things. Easy to listen to whilst driving or working.
They dive into all sorts of topics, from Ayahuasca and Neanderthals to Flea circuses.
This American Life — great stories. My favourites would be 129 cars and Harper High School.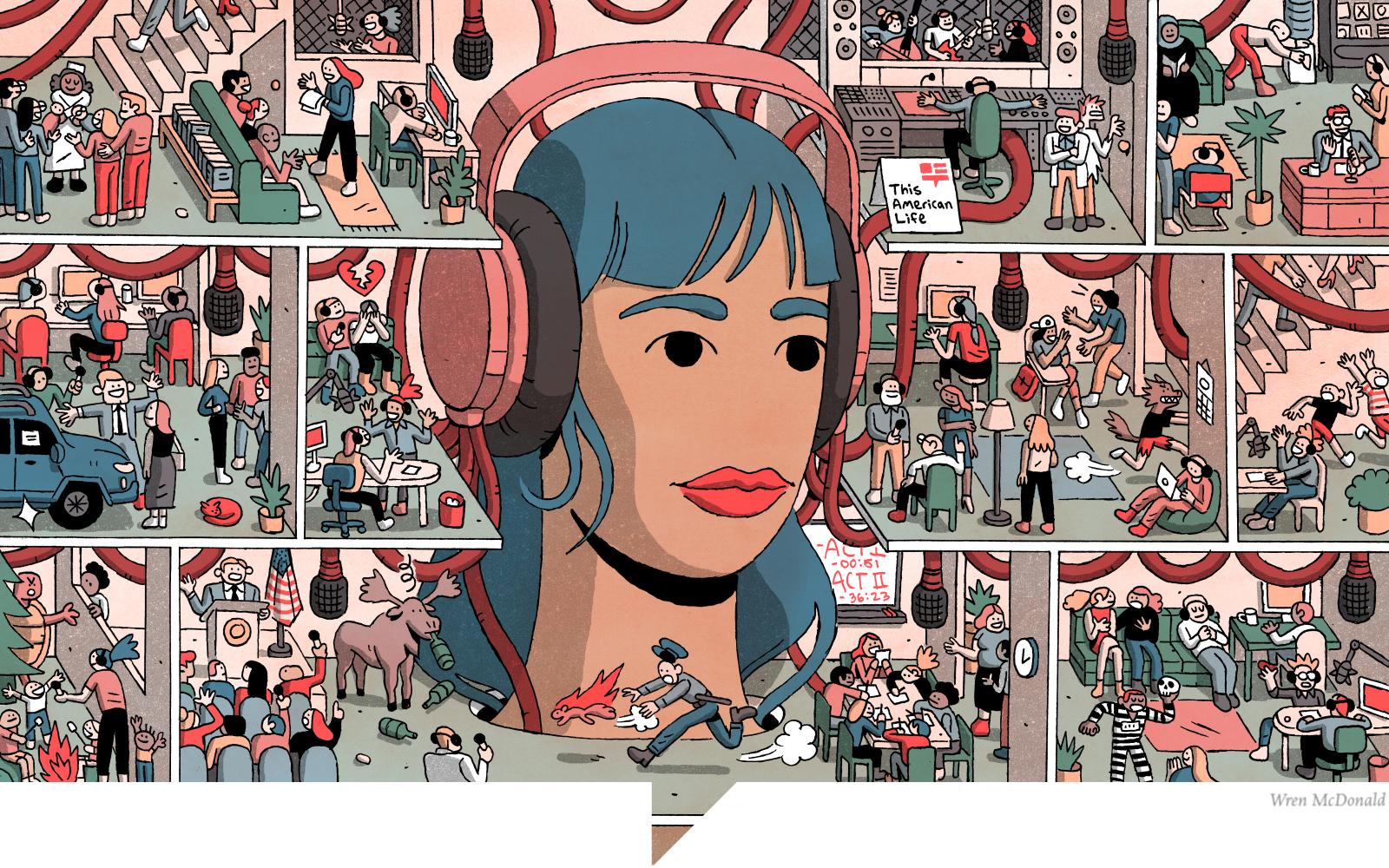 The Daily — finger on the pulse. News from the New York Times in bite-sized chunks.
Any tips for other makers who want to improve their workspaces?
I think the best thing to do is to take note of what you like and don't like with each desk setup you work at.
Over time you'll fine-tune your preference and what works for you.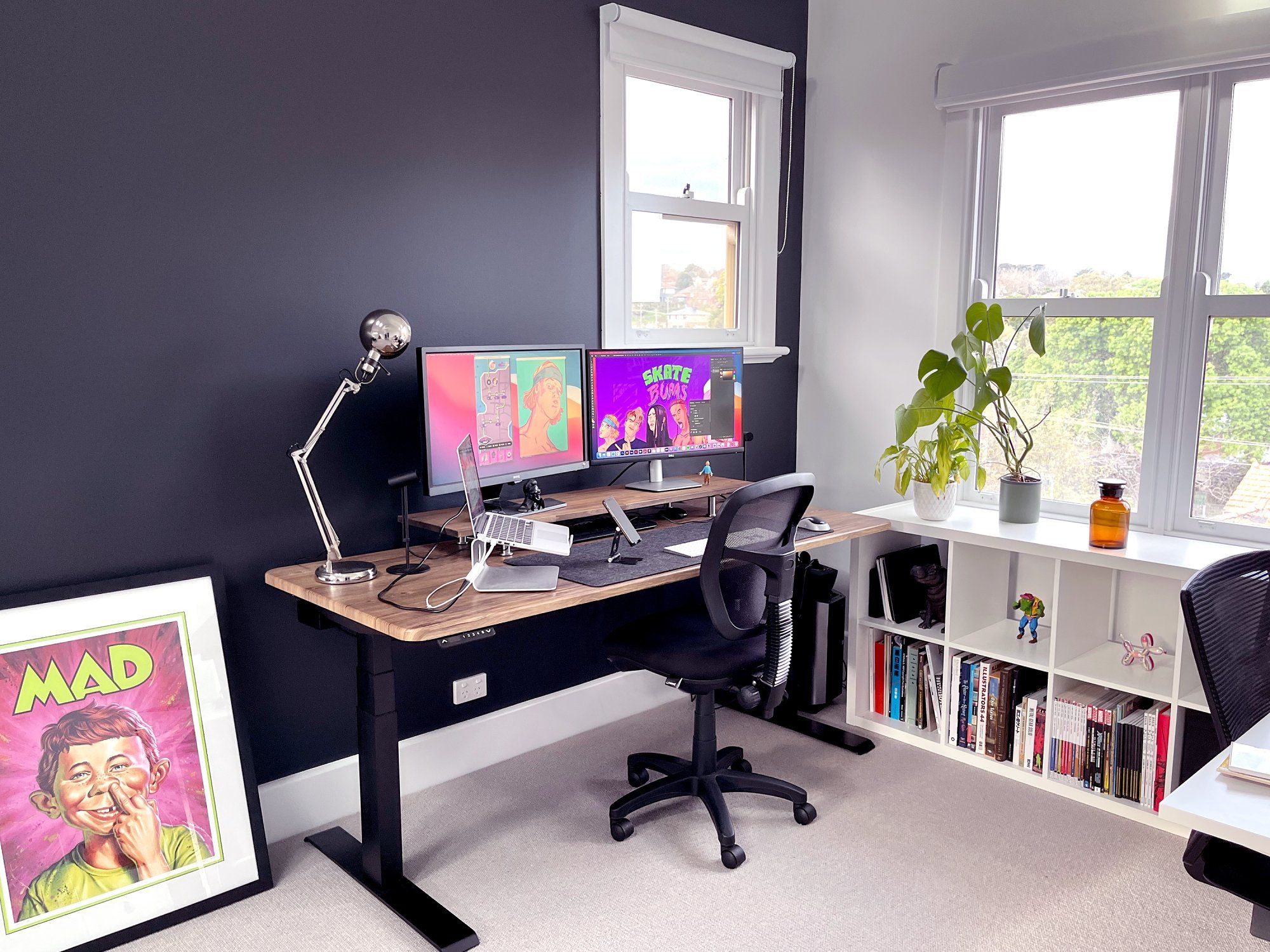 It's good to have a clear idea of what you want from a workstation, especially if you spend lots of time there.
Think of ways to make your life easier, things that save you time, things that inspire you and include those.
Remove anything that distracts you or slows down your process.
It's not actually that hard to create the desk of your dreams, and it's really fun once you decide to do it.
It's a worthwhile exercise, especially if it makes you enjoy work or allows you to work more efficiently.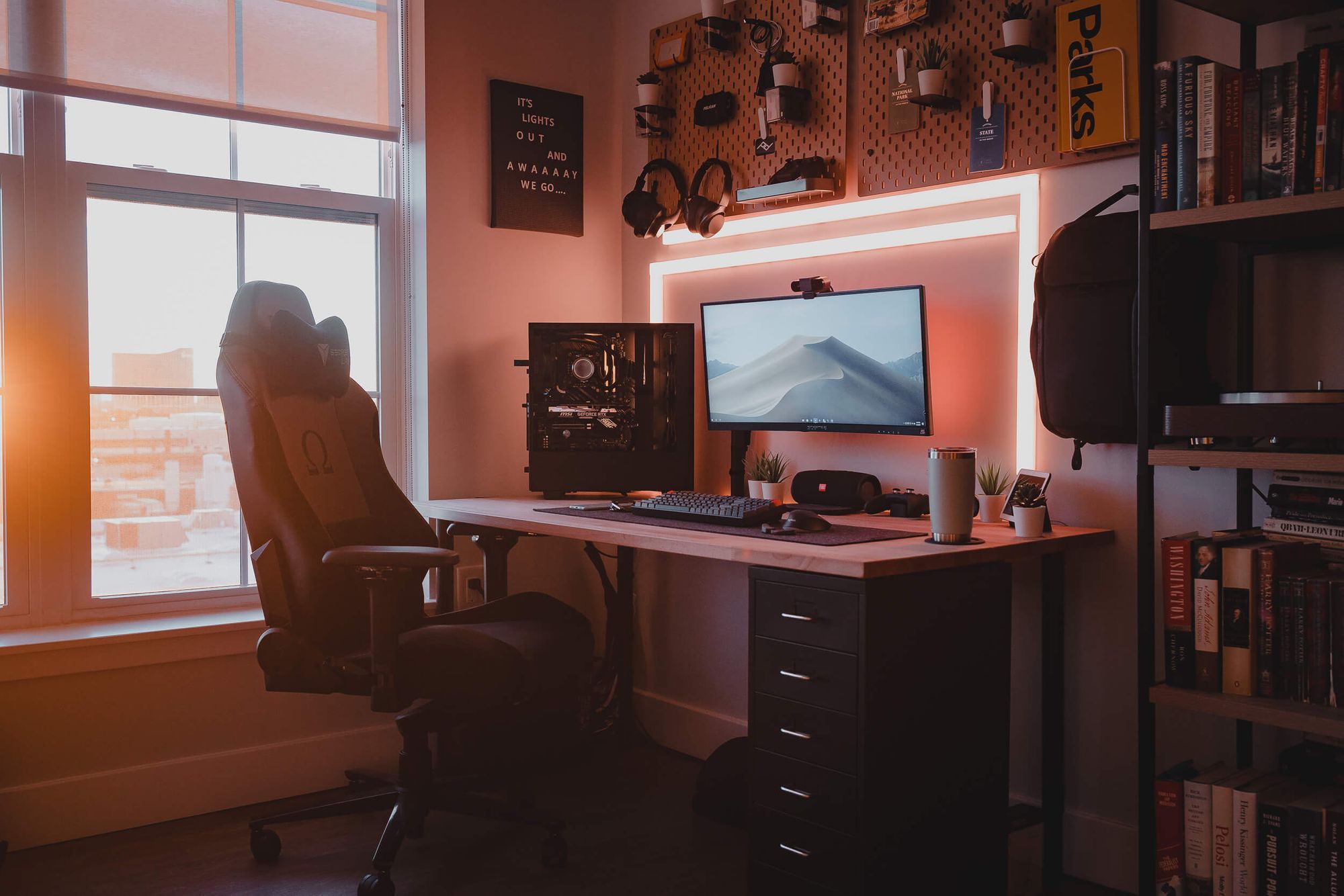 There are plenty of tips and hacks online that may help you find solutions that don't break the bank.
It's definitely not just about buying the latest and greatest items, but more about finding things that suit you.
That could even be a second-hand item you found or hacked together.
What does your typical day look like?
I normally start the day by meeting everyone in the kitchen and making my first cup of coffee.
Then my wife and I get the kids breakfast, pack lunches, and prepare them for school. If the weather's good, we all walk to school with the dog.
Once we're back, the dog goes to sleep, and I go to the studio.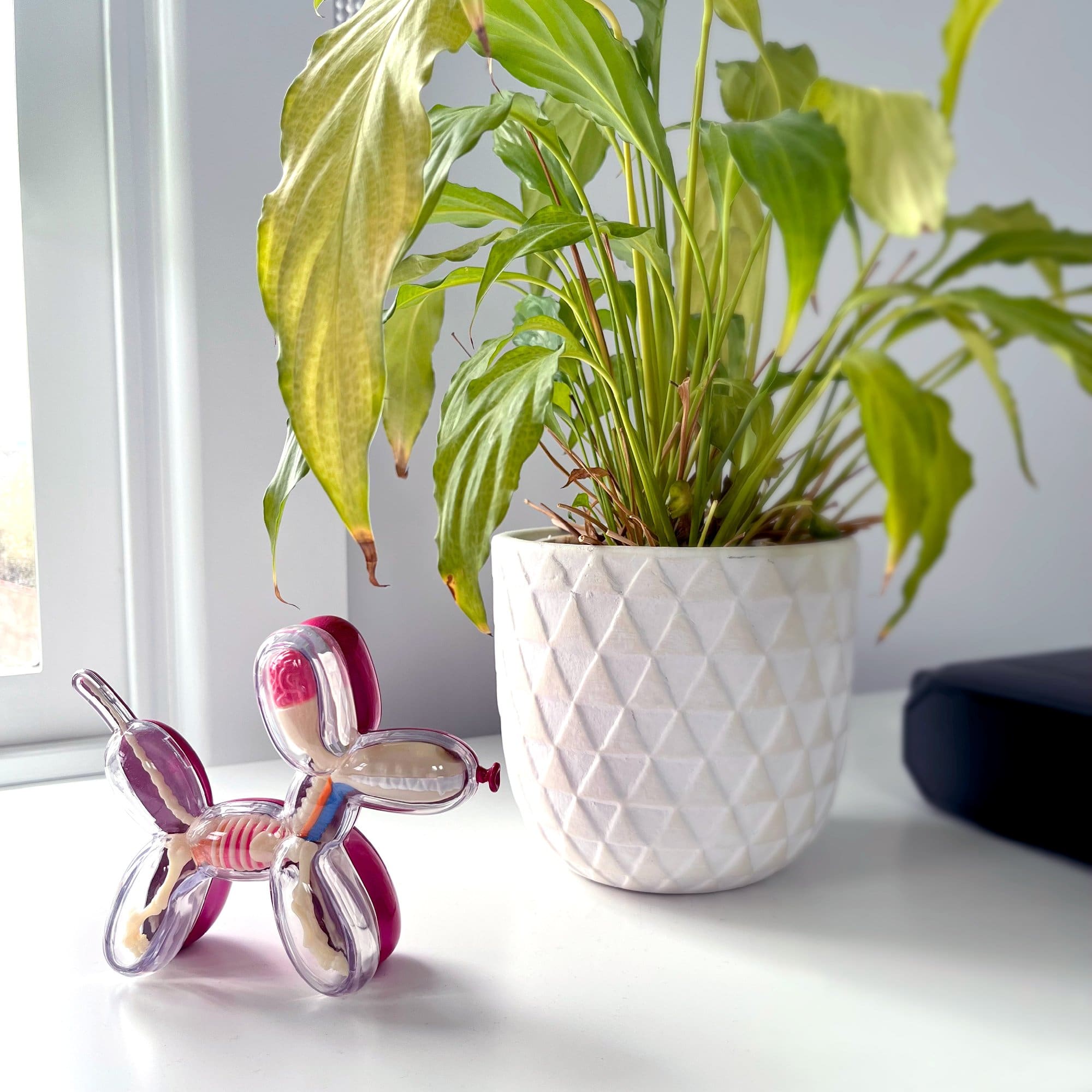 I normally check my emails and Slack to catch up on any updates, urgent messages or life admin tasks.
Then because I've already made a list of things I want to be done the night before, I can have a running start on the tasks for the day.
This includes anything from giving feedback and support to a team, art tasks, writing, planning and concepting.
I usually spend seven to eight hours at the desk with breaks in between.
For many years, I've been working 4-day weeks. My dad wasn't around much when I was a kid, so when we had our first kid, I decided to cut back on work to spend more time with the family.
It's been a great balance and a luxury I'm incredibly grateful for.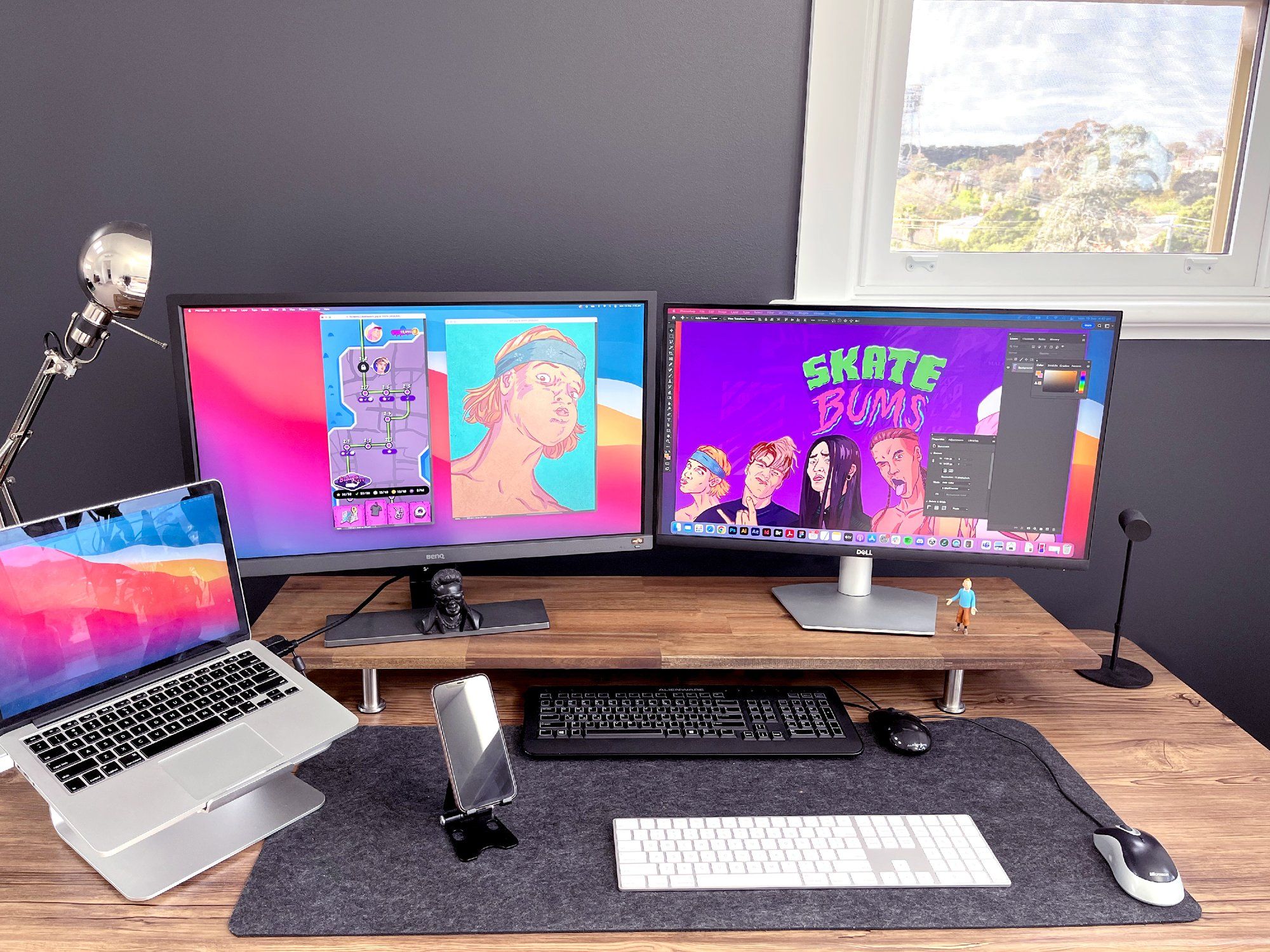 I've been working from home for about six years, so when Covid hit, it didn't dramatically change my work routine.
The main difference was having my wife working at home with me as well.
That was before we moved into our new studio, so we were working next to each other in a tiny room, trying to avoid being in each other's cameras during meetings!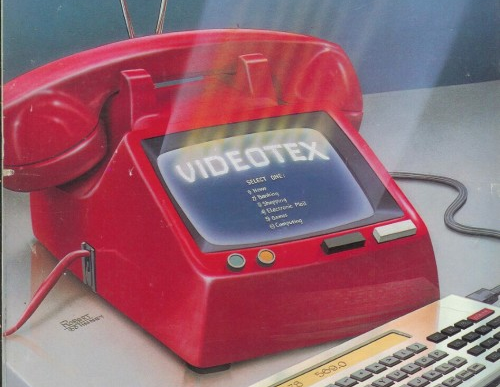 Your tips for working from home?
One tip that works for me is to make a list of things I want to achieve the next day.
Having thought about what I need to get done gives me a running start the next morning and lets me maximise my time spent at the desk.
I think leaving the house is important too.
I've had days without going outside, and I don't think it's a great habit to fall into and probably not great for mental health.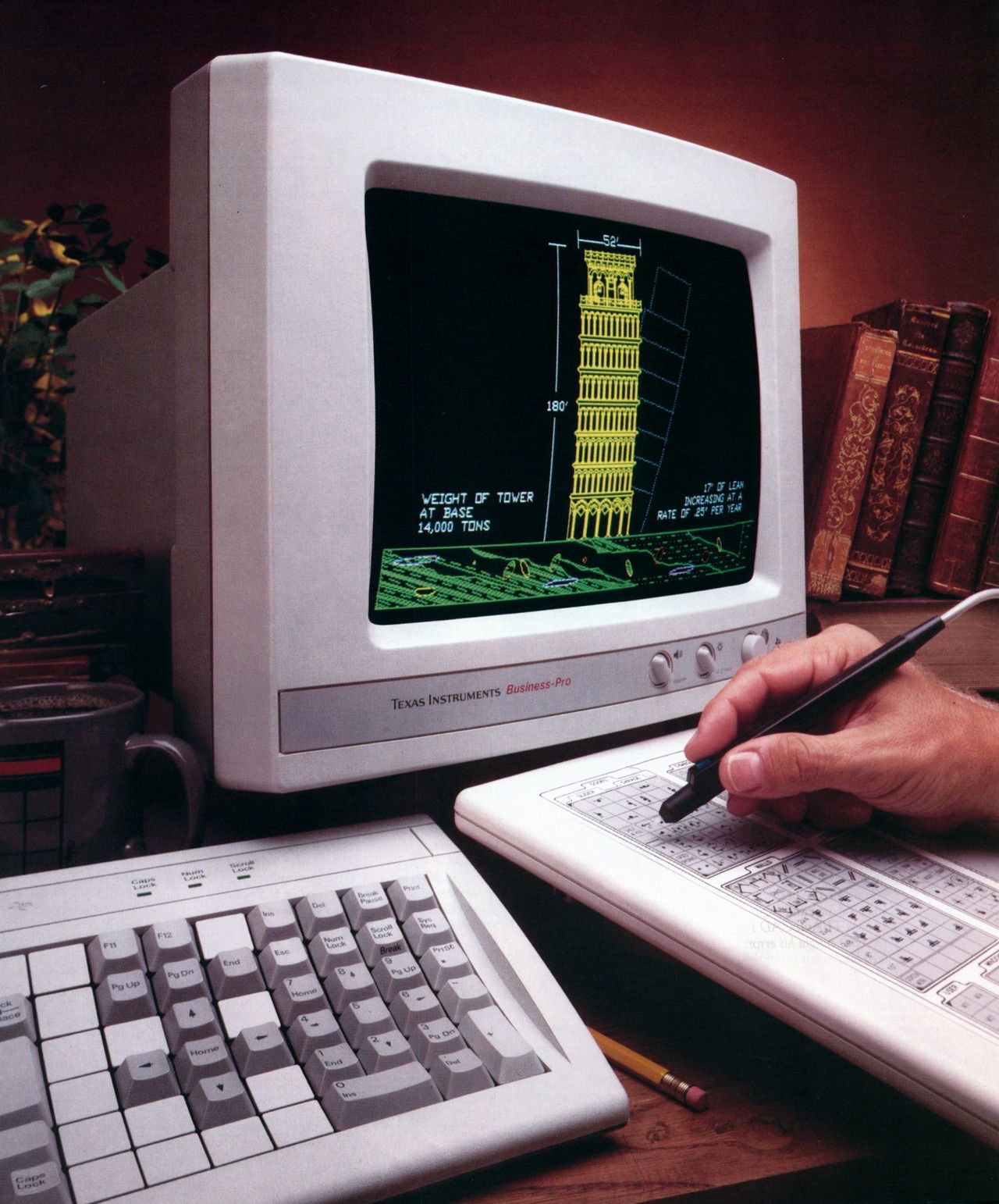 I heard someone say once that you should treat your workspace like a chef does their kitchen. That you should leave it in a state where you can easily start cooking immediately.
I quite like that idea, and so I try to leave my desk tidy before I clock off work.
I like tapping in and out when I need to with minimum resistance.
We're a reader-supported publication. This article might contain affiliate links. It means we may receive a commission if you click a link and buy a product that our maker has recommended. The interview was done independently.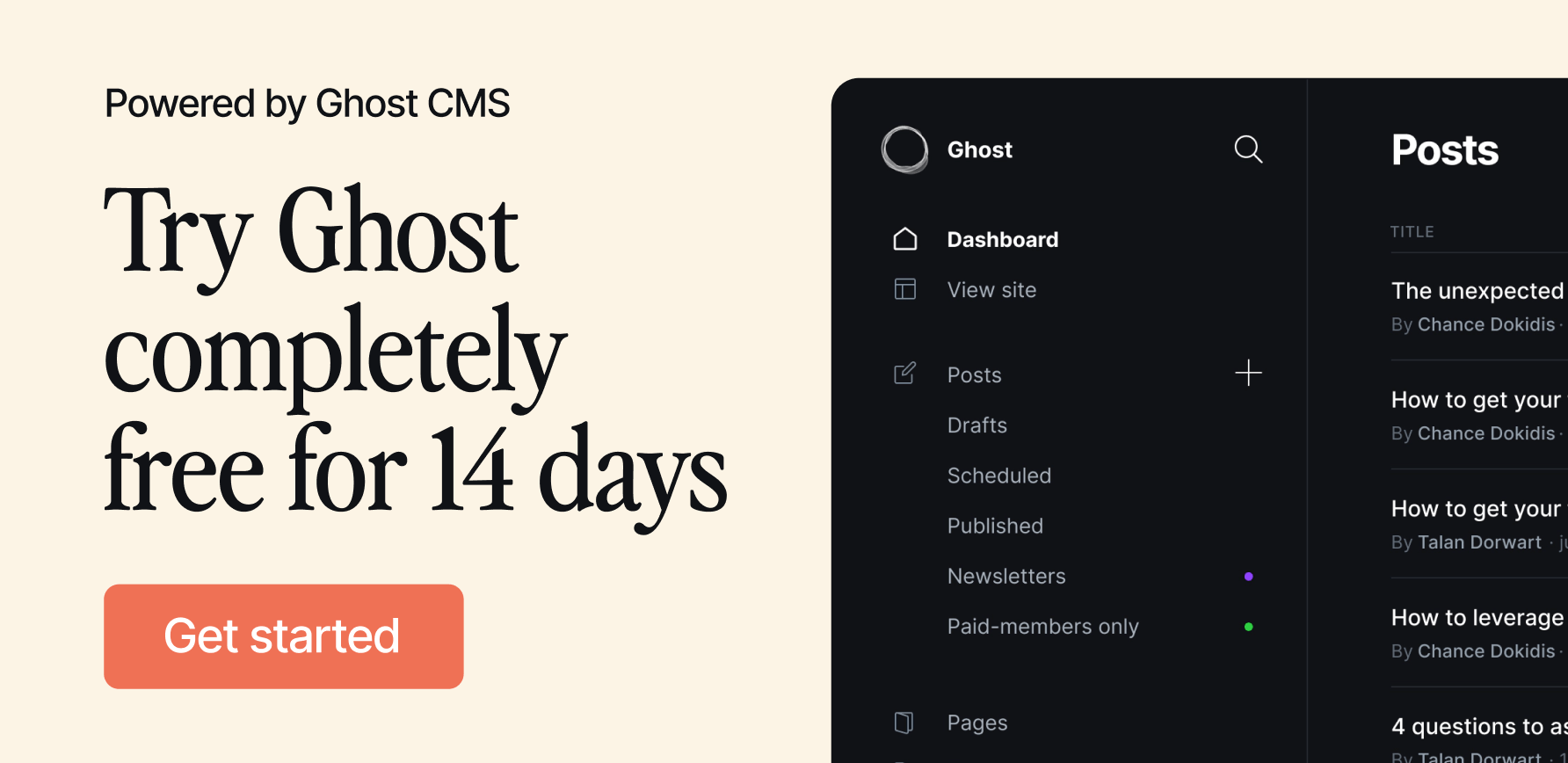 ---