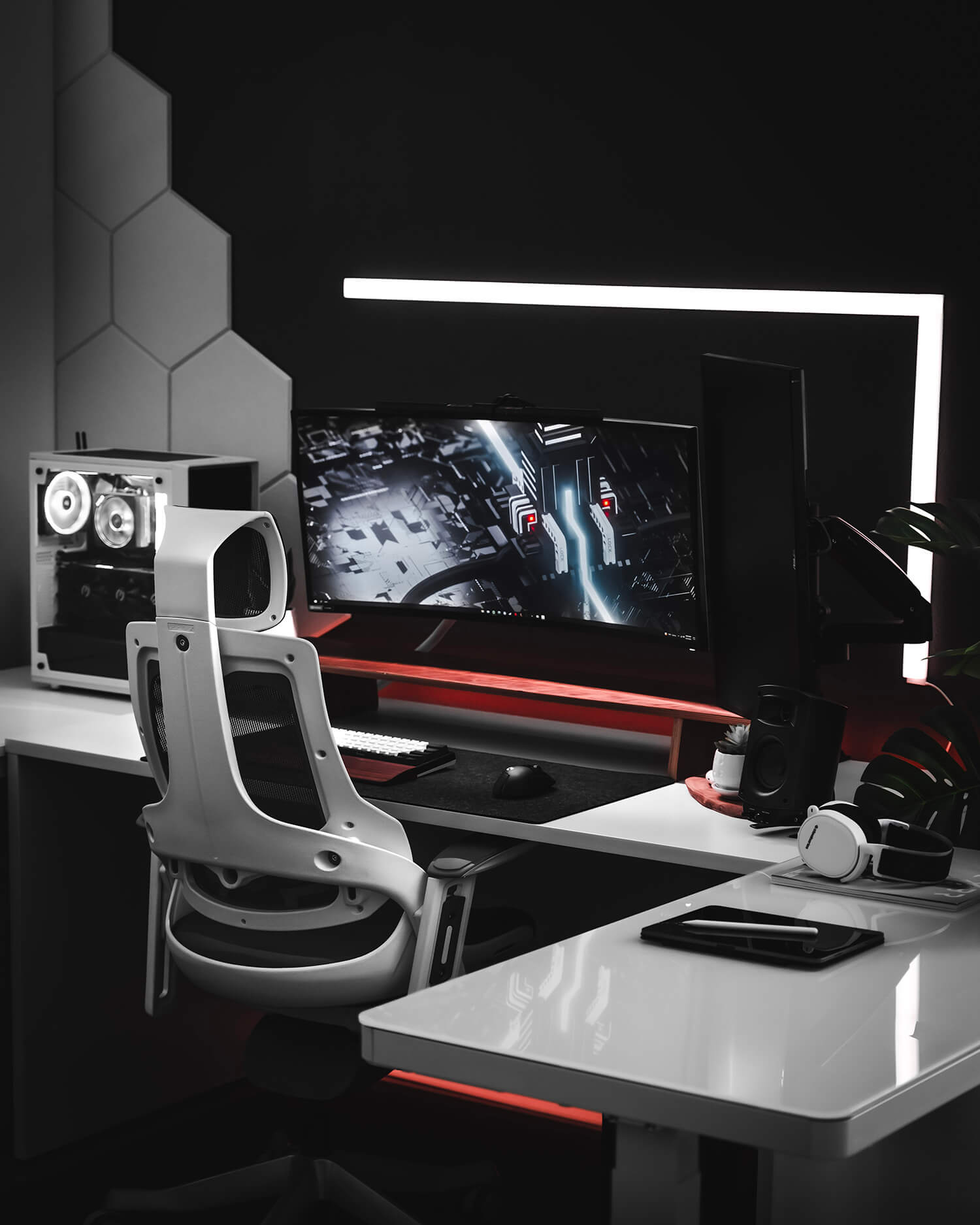 Futuristic Gaming Setup in California, US
"I mean, look at that chair, it screams out "I'm a Stormtrooper!"
Join 1700+ Curious Readers.
Every Sunday evening, get an *in-depth* workspace tour from a random corner of the world.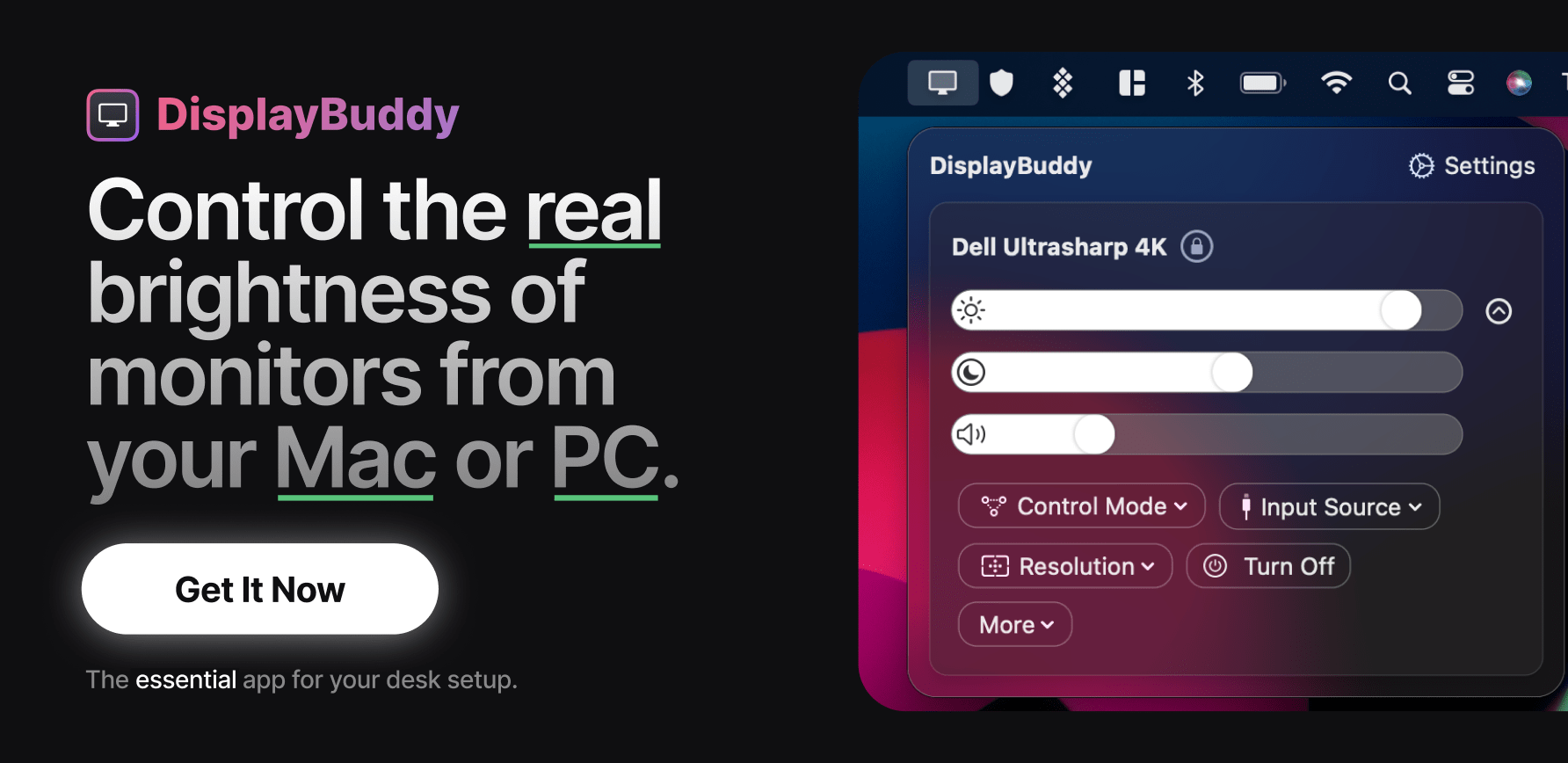 Name: Jay
Location: California, US
Occupation: Power Plant Operator
Room size: 13 m² (140 ft²)
Cost of the setup: $5,1K (doesn't include free sponsored items, Apple items, room upgrades)
Social media: Instagram
Hey, Jay! Tell us a bit about yourself
Hello, world!
My name is Jay, I am a hobbyist photographer and part-time content creator based in California. You can find me on Instagram where I post my desk setup and tech photography.
As for my main job, I am a power plant operator for one of the biggest multinational energy corporations.
Basically, I babysit turbine/generator units and make sure the plant isn't on fire or anything.
In 2019, I decided to buy my first camera, the mighty Sony a7 III paired up with a Tamron 28-75mm F/2.8 lens. I've always been passionate about photography and I figured it was time to upgrade from my iPhone camera.
I explored various styles of photography, from street to portraiture, and honestly, I enjoy all of them. Originally, I wanted to focus on landscapes, then I realised I'm not a travel photographer where I can post IG bangers consistently.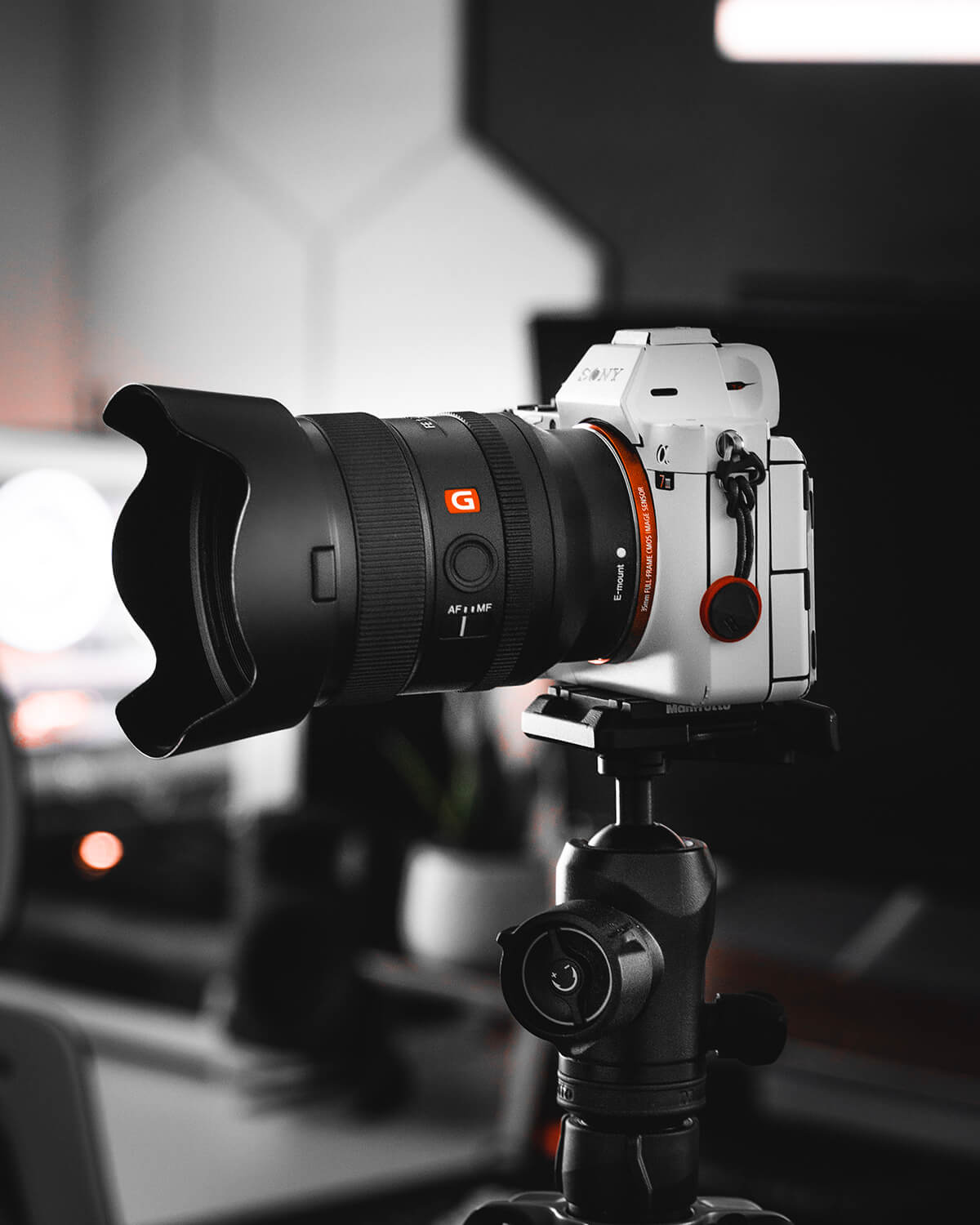 Fast-forward to October 2020, I started posting pictures of my desk setup on Instagram and Reddit.
I was surprised by the amount of positive feedback it received. During this time, my setup was still under construction without any clear vision.
Fortunately, I discovered the desk setup/tech community on Instagram where I found some inspiration. With all the travel restrictions going on due to the pandemic, shooting indoors wasn't a bad idea.
So I moved on forward with this desk setup & tech photography thing. The best part about it is that I've met a lot of talented creators in the community. Creators like Nvzion, Current Spaces, Jeorge Paolo, Rlopezhn8, just to name a few.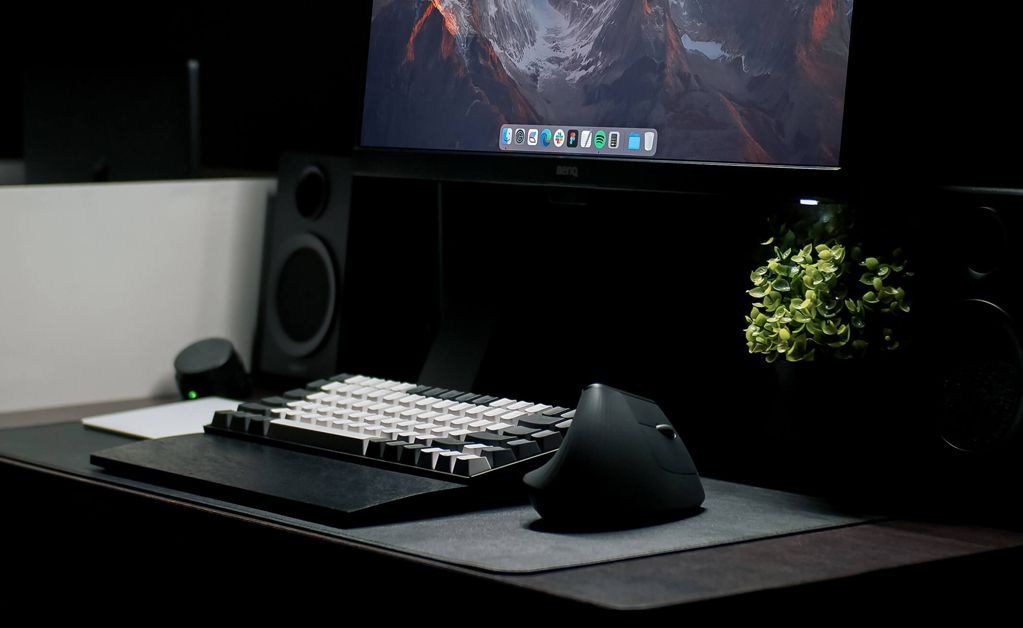 I wish I could name them all but if you guys are reading this, thank you for the continuous support, it is very much appreciated.
Keep on creating!
As far as future plans go with content creation, I plan on making videos on YoutTube eventually. I'm currently learning how to use Adobe Premiere Pro for video editing.
However, I'm not actually sure what my content will be about yet. Desk setup tour? Mechanical keyboard ASMR? Lightroom/Photoshop tutorials? Stay tuned!
Can you describe your battlestation?
I would describe my home setup as minimal, with a side of sci-fi.
I mean, look at that chair, it screams out "I'm a Stormtrooper!"
My goal for this setup is functionality with a unique aesthetic. When someone sees my setup on a repost page, I want them to know immediately it's Jaydimaster's without even reading the caption.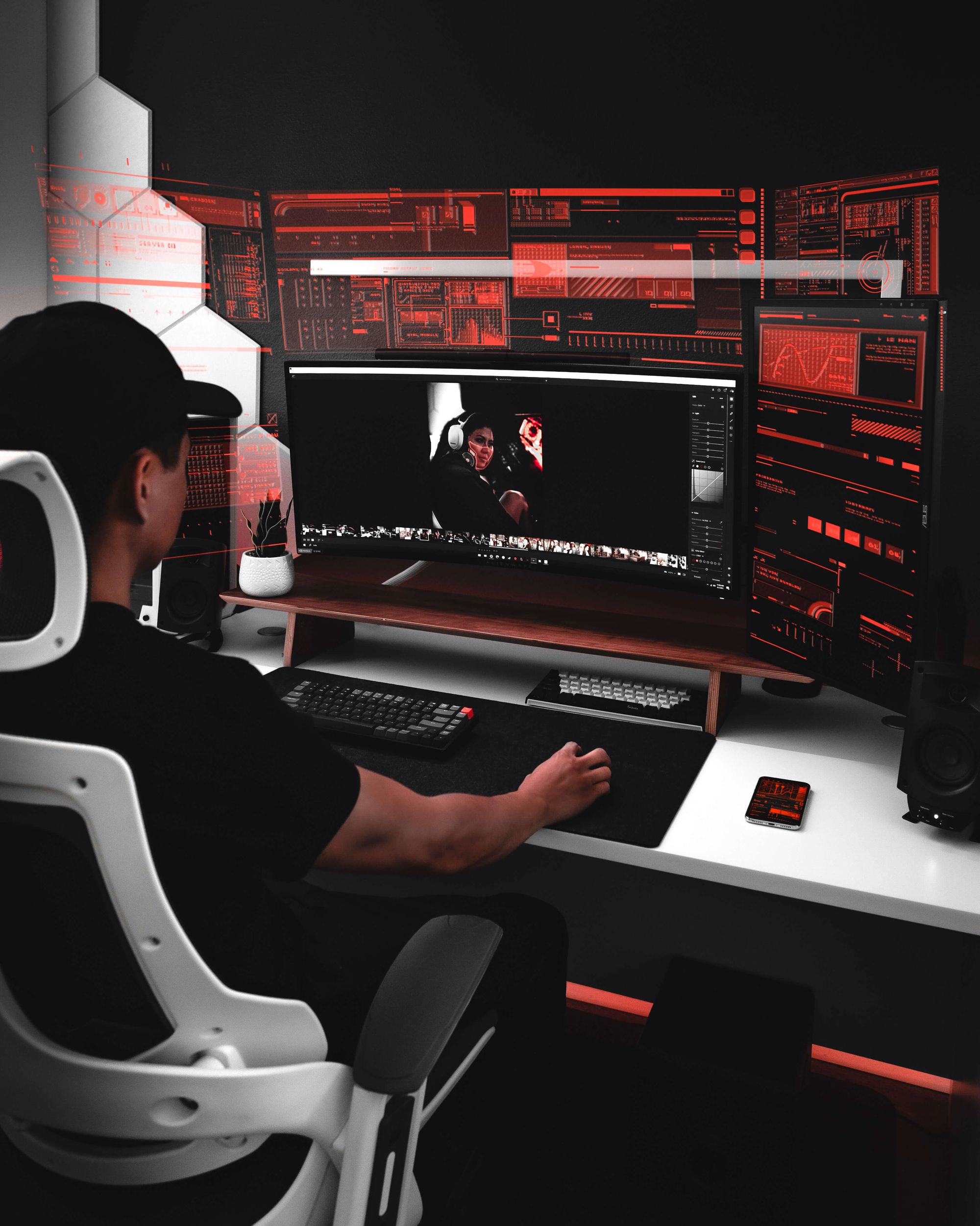 I took elements from minimal & gaming setups and created something in between. It's a perfect medium, in my opinion.
When it comes to functionality, I love my desk space. My main desk is a 60×30″ (152 × 76 cm) white desk called Studio C made by Bush Business Furniture. It fits my 34″ Alienware ultrawide and vertical 27″ ASUS monitors perfectly.
My other desk is a white 48×24″ (121 × 61 cm) sit/stand desk with a beautiful glass top from FlexiSpot.
My third one is some generic 54×20″ (137 × 51 cm) white desk I bought from an office garage sale.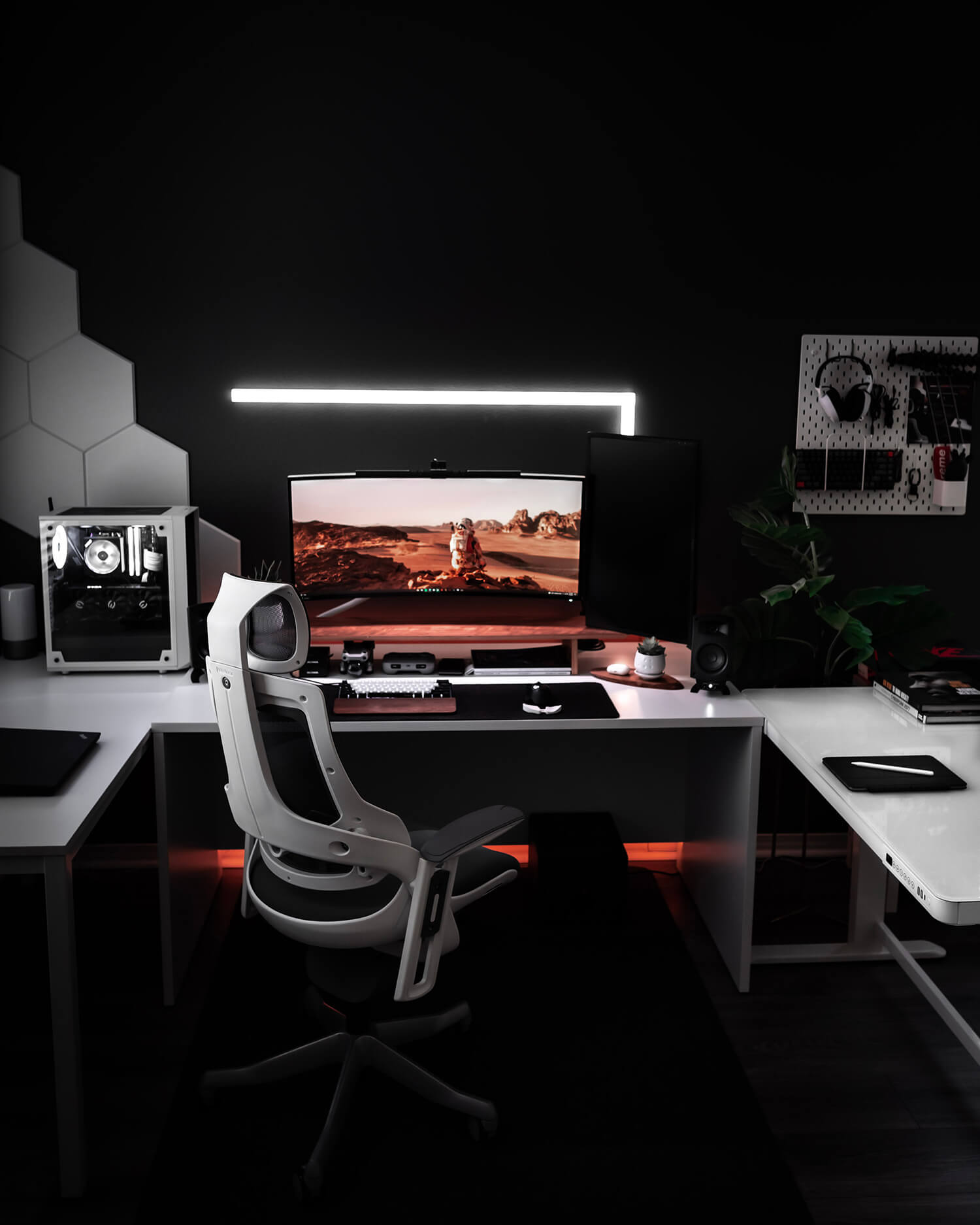 The desk mat I'm currently using is the one from DeltaHub. I got it through a partnership. It's made out of wool felt material and does its job perfectly.
I am also very satisfied with my Pursuit ergonomic chair from UPLIFT Desk. It is a solid chair and it's comfortable enough to sit on for hours. It could use more soft padding in my opinion, but its ergonomic features and awesome looking design make up for it.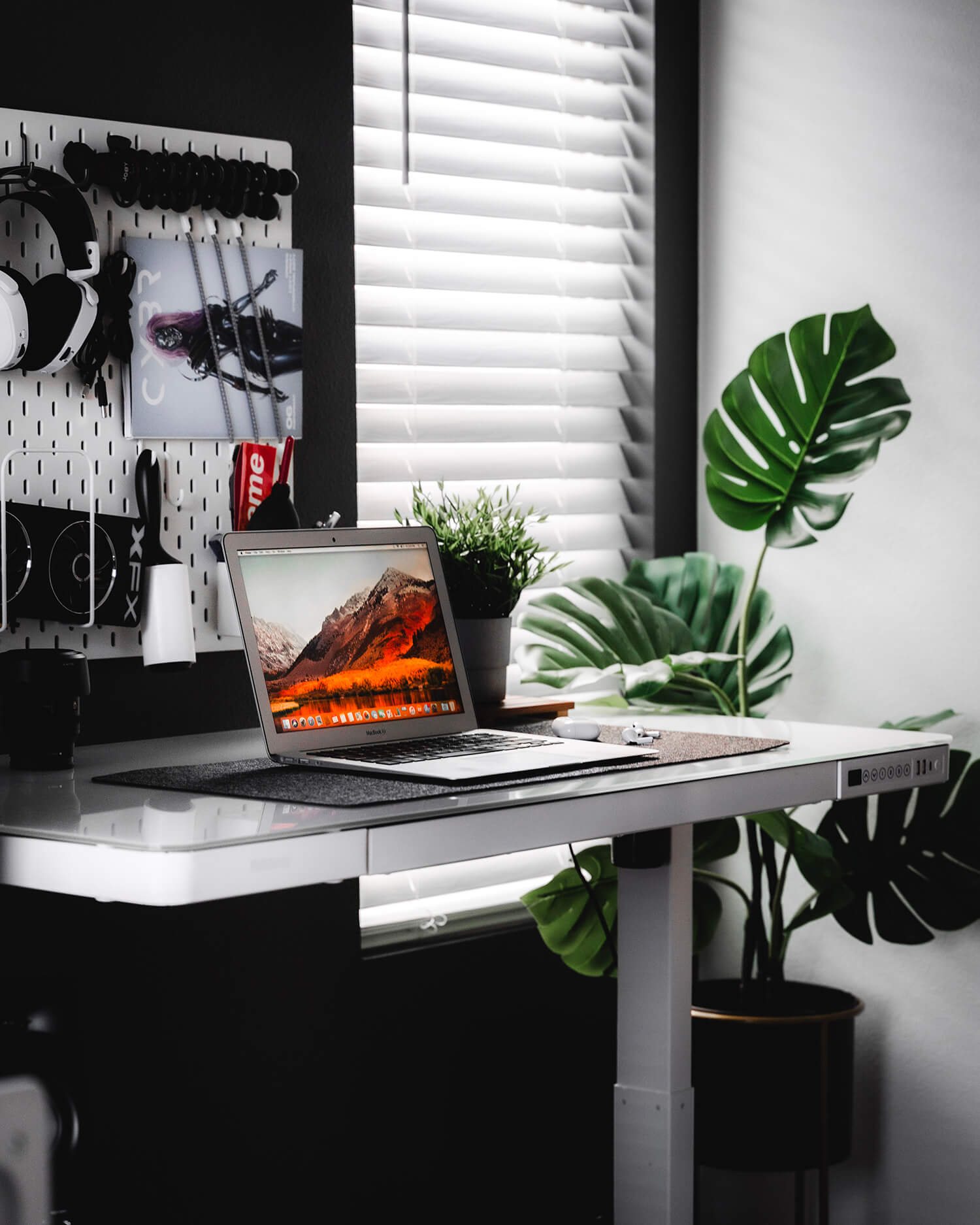 My mouse is a Logitech G502, wireless version. I've always used Logitech mice ever since I could remember.
The main keyboard I am using at the moment is a Ducky One 2 Mini. My favourite thing about this mechanical keyboard is the typing experience. There's just something about the connection between your fingers and the keys after every stroke.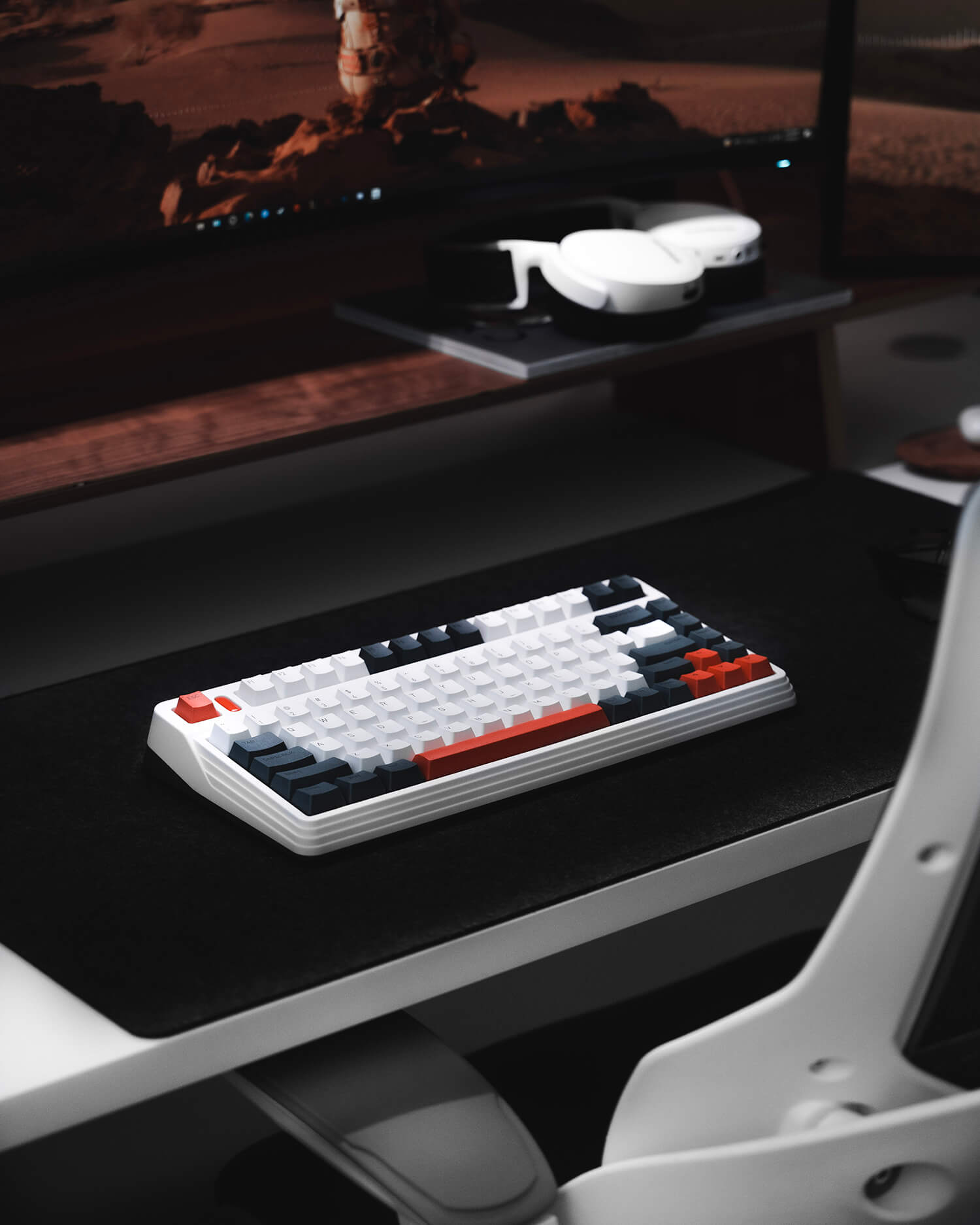 For my speakers, I am using the Klipsch ProMedia 2.1. These are probably the best $100 speakers anybody could find.
I pretty much use my speakers for everything, way more than the headphones to be honest. I would normally use my headphones only when I need to communicate with my teammates in a game or something.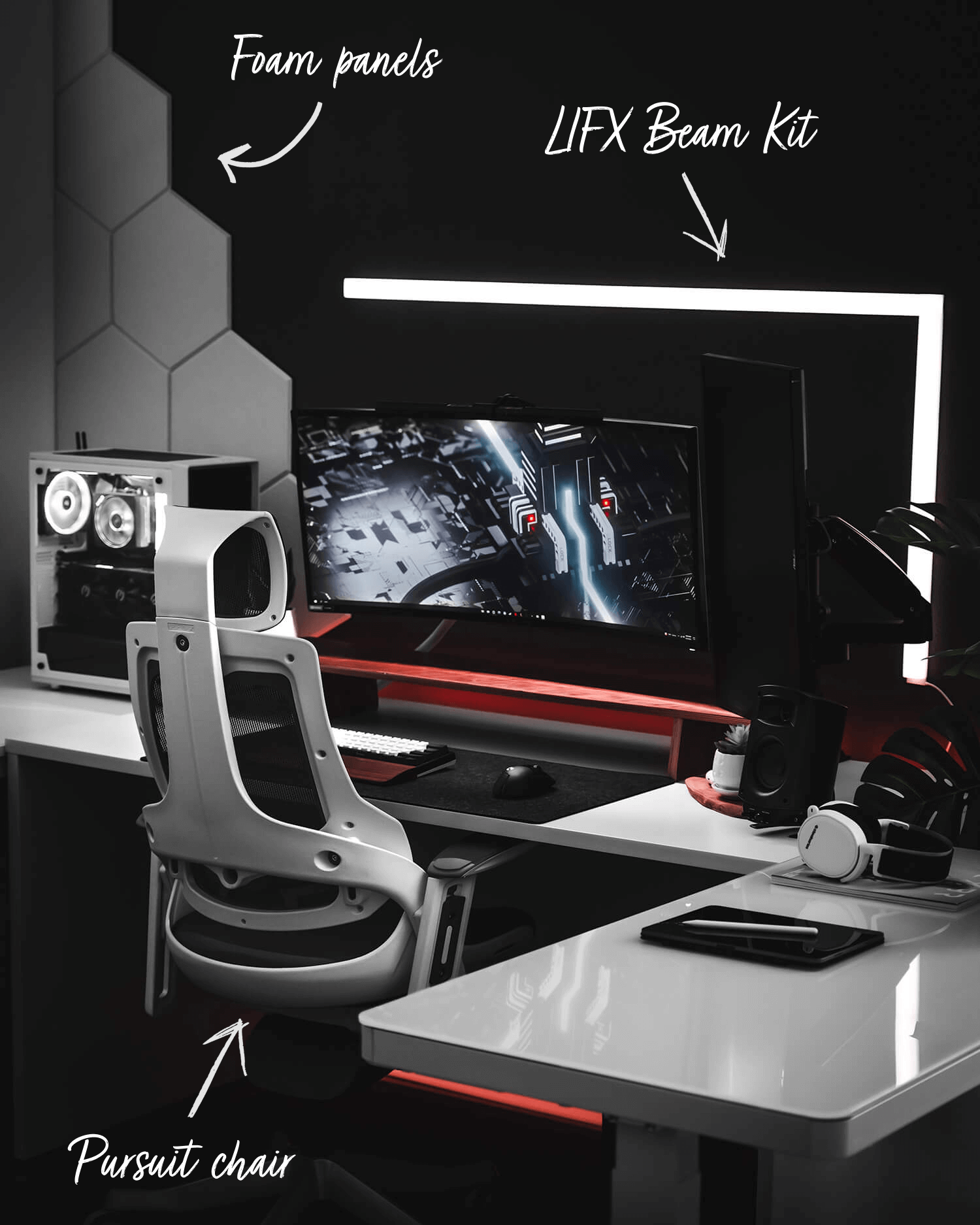 I get a lot of compliments and questions about the hexagon tiles. It's what makes my setup look futuristic.
They are supposed to help with soundproofing but I haven't done any audio work to know if they actually work well. However, they do look cool.
As far as future projects go with my setup, it's hard to say. I'm always down for a change but at the same time, I'm content with my setup.
There are some things I'd like to experiment with, starting with the desk arrangements, just to spice things up a bit.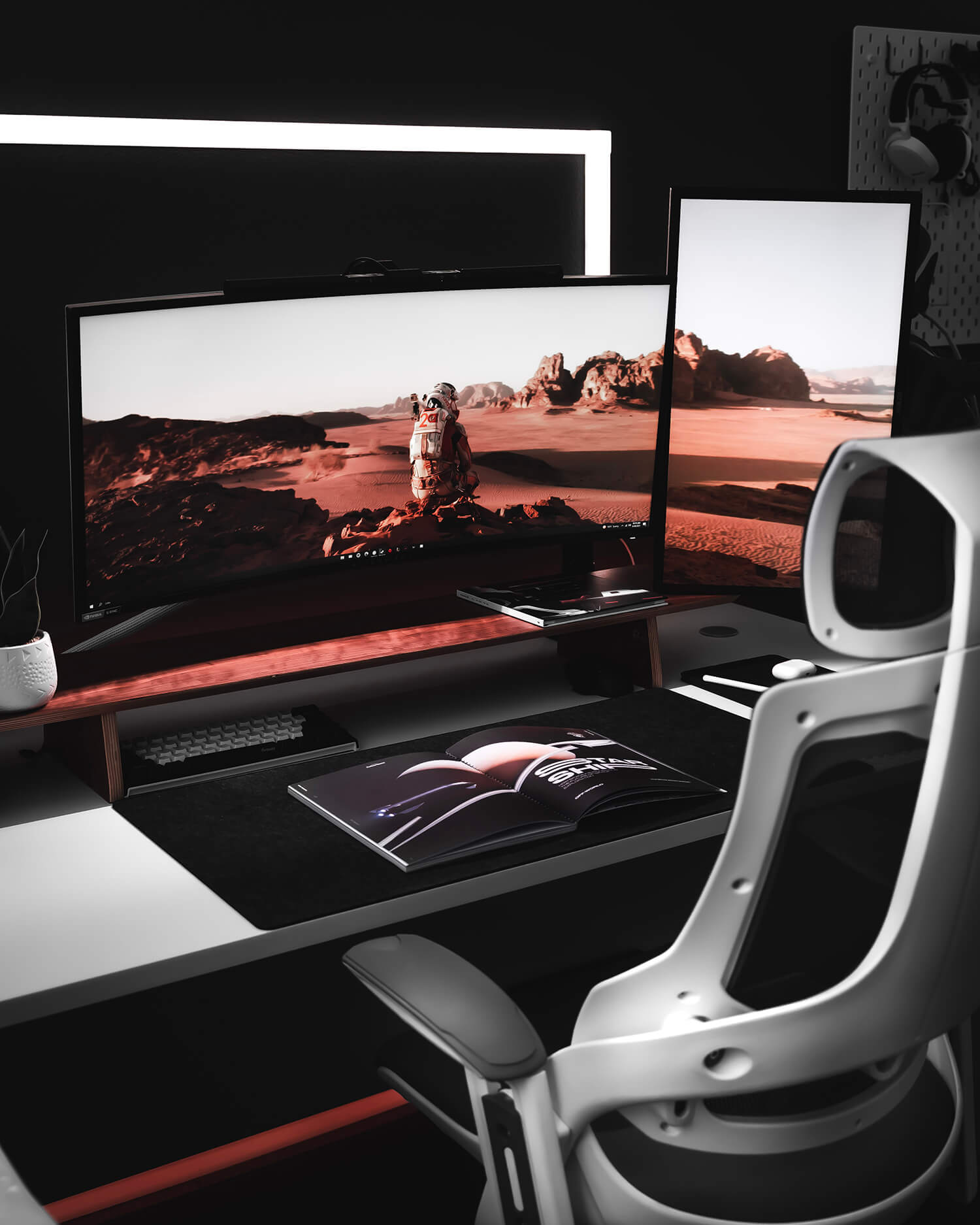 I've been also thinking about putting something on my wall, possibly shelves or wall art.
If you guys have any suggestions, just let me know!
What's your favourite item on your desk?
Does a whole PC count as one item? Yes? Okay.
I've had custom-built PCs since high school. Piecing them together and pressing the power button for the first time just brings in all types of satisfaction.
My latest PC build is from March 2020 and the only upgrade I've done to it so far is the Nvidia RTX 3070 from the 2070 Super.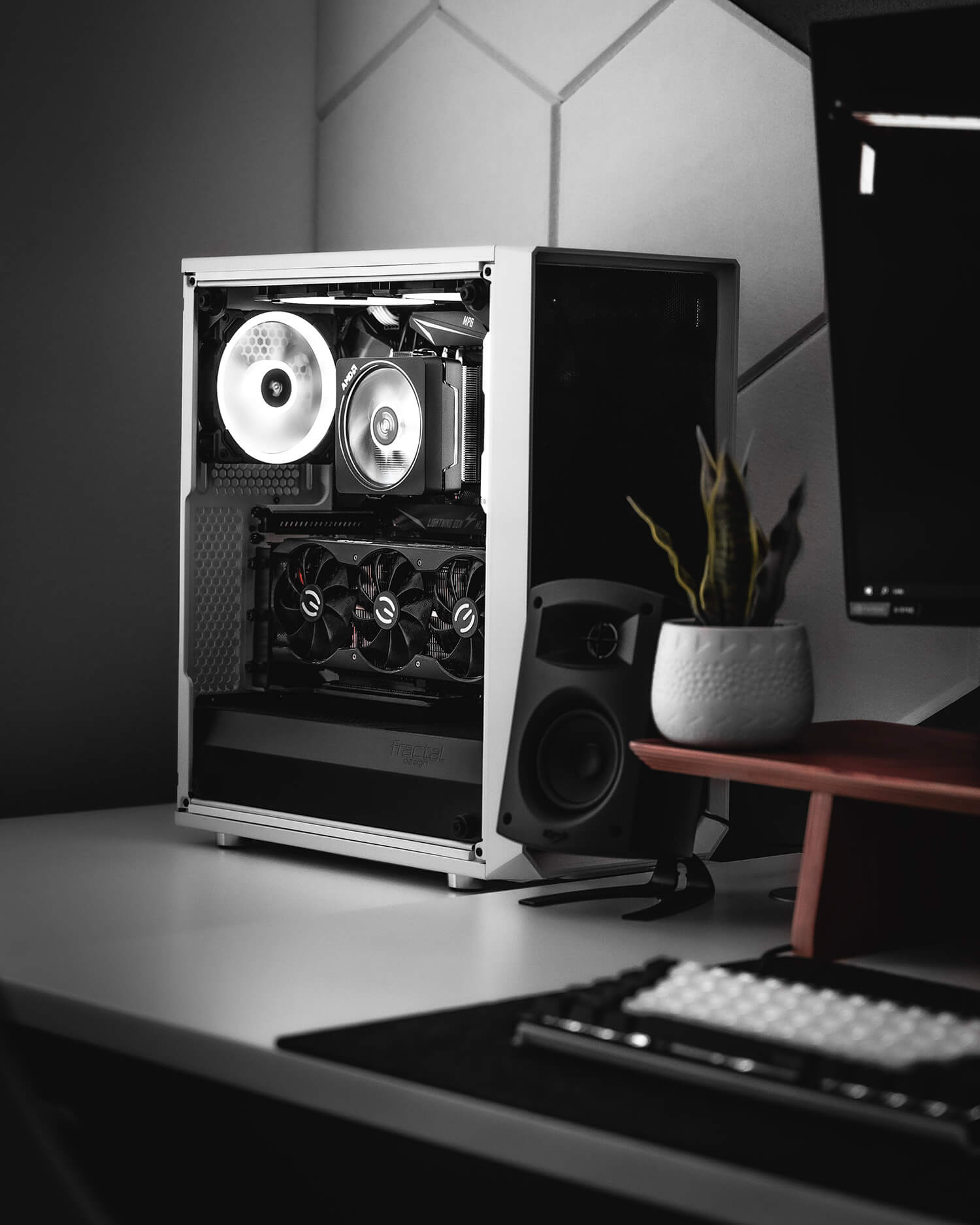 I was set on a 3080, but with the state of the GPU market, I had to buy what was available at the time.
Sad story, when the 3000 series were announced, I sold my 2070 in hopes of getting a 3080 at launch.
Big mistake!
All 3000 series cards were sold out, and I had to use an old GPU for a couple of months.
I'm hoping to upgrade my GPU and CPU once more before a new build, possibly in 2020.
What does your typical day look like?
I have two types of a "typical day", one when I'm working at my main job and one when I'm off.
When I'm working, it's pretty much straightforward. I work 12-hour shifts, 4-5 days straight and then I'm off for 4-5 days.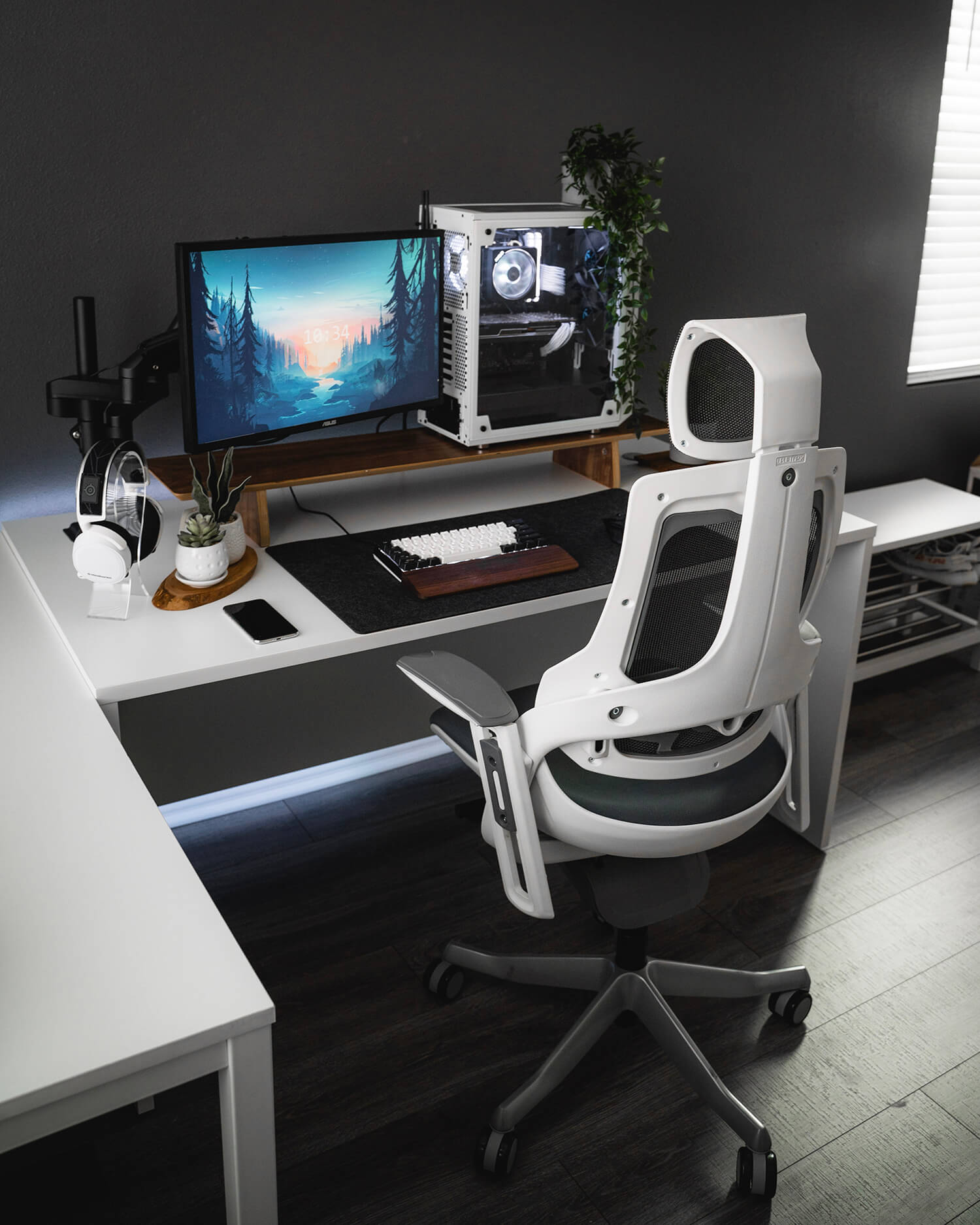 Routine-wise, I wake up, get ready, get to work by 6 am and then come home at around 6:30 pm.
I eat dinner, clean up, walk the dog around the neighbourhood, relax for a bit, and then get ready for bed before 10 pm. Rinse and repeat.
The grind doesn't stop!
My off days feel a lot more random but in an organised way, if that makes any sense.
Generally, I'll sleep in and wake up at around 6-7 am. The first thing I do is browse Instagram and post my content. I'll wash up, eat breakfast, and then head to my battlestation aka my home setup.
I'll play some games, go on YouTube, browse Reddit, brainstorm, or shoot some content, not in any particular order. Lately, I've been incorporating the gym back in my life again because you know, gains bro.
Typically, I would run some errands before or after the gym and then have lunch at around 12-1 pm. My wife should be home at around that time also.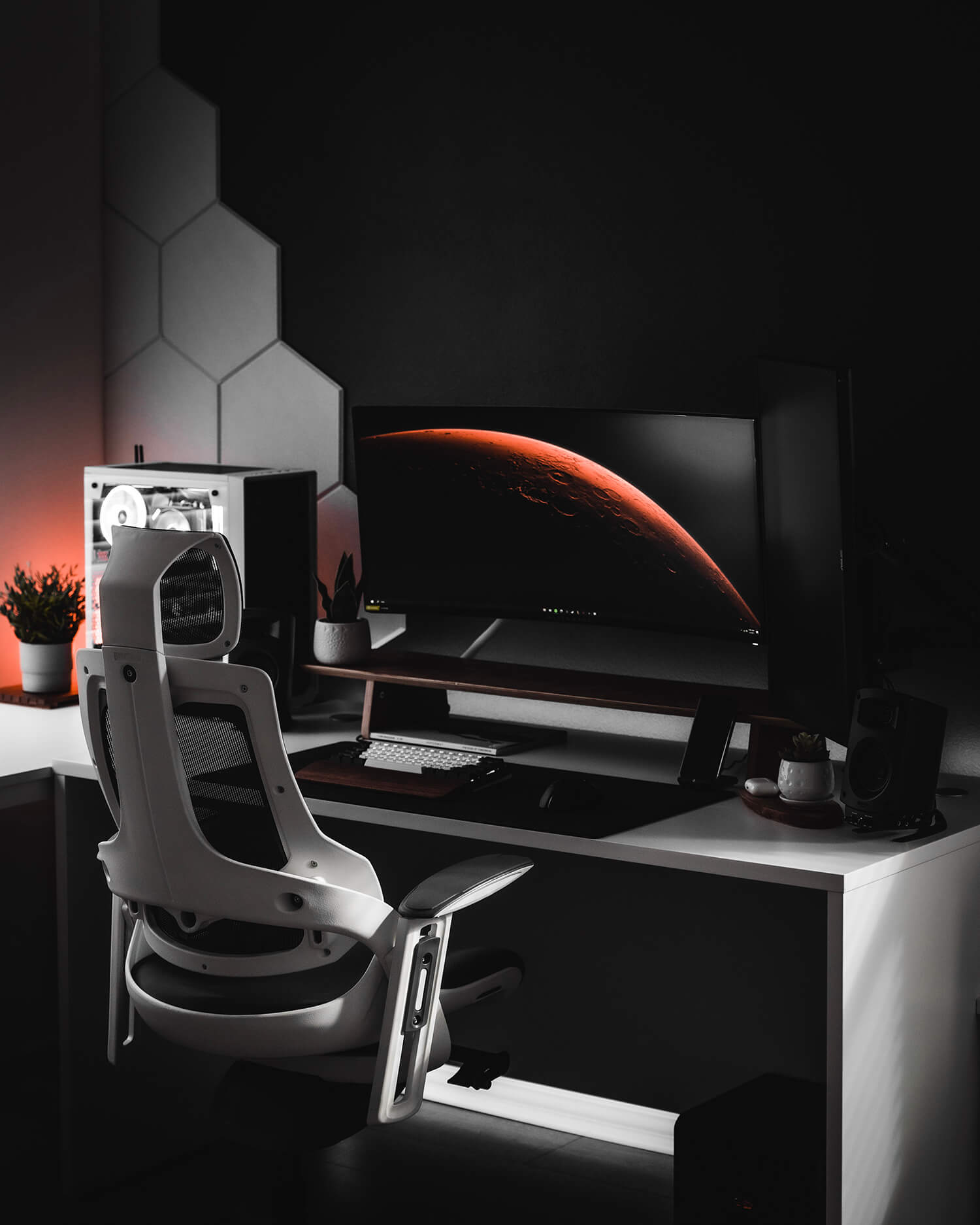 My wife and I will hang out for a bit until she falls asleep on the couch. I'll most likely be in my room again or doing chores around the house.
Typically, I'll start preparing dinner at around 4-5 pm if it's my turn to cook that day.
We'll have dinner at around 5-6 pm, clean up, and then walk the dog. She'll do her own thing for a bit while I'm doing my own.
On a good day, we'll both be in bed by 10 PM.
Your tips for working from home?
I'm probably not the best person to ask for WFH tips as my job requires me to be physically at the job site.
However, there were some days during training where I had to work from home.
For the first few days, I had a difficult time focusing, not going to lie. I mean, working next to a gaming PC is probably not the best idea.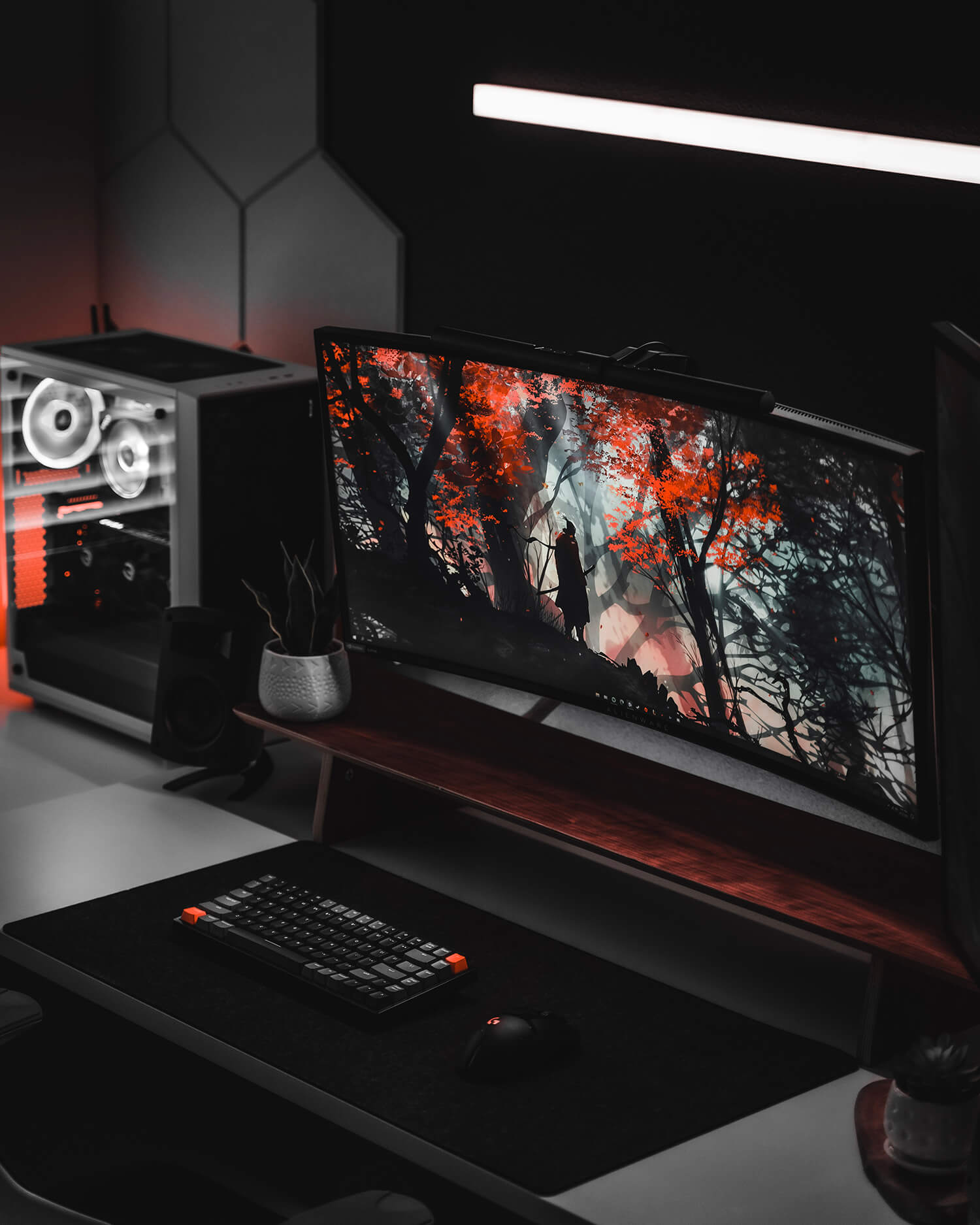 I just have to constantly remind myself that I am at work, even with house clothes on.
I don't have a special routine or anything. I wake up, eat breakfast, and get through the day as if I'm not working from home.
Plus, I don't want to get fired and I like money.
If these don't motivate you to focus on your main job, I don't know what to say.
We're a reader-supported publication. This article might contain affiliate links. It means we may receive a commission if you click a link and buy a product that our maker has recommended. The interview was done independently.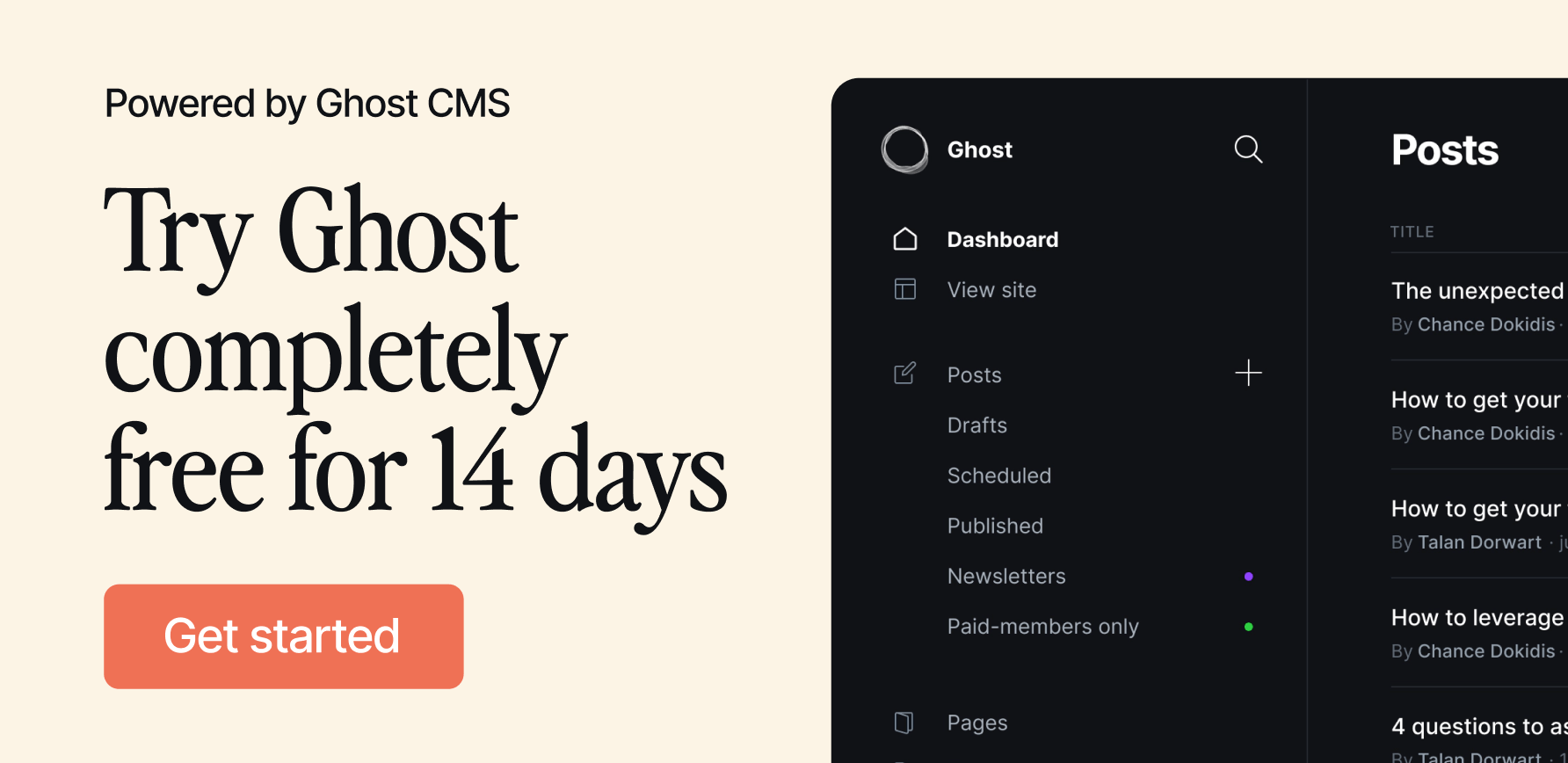 ---