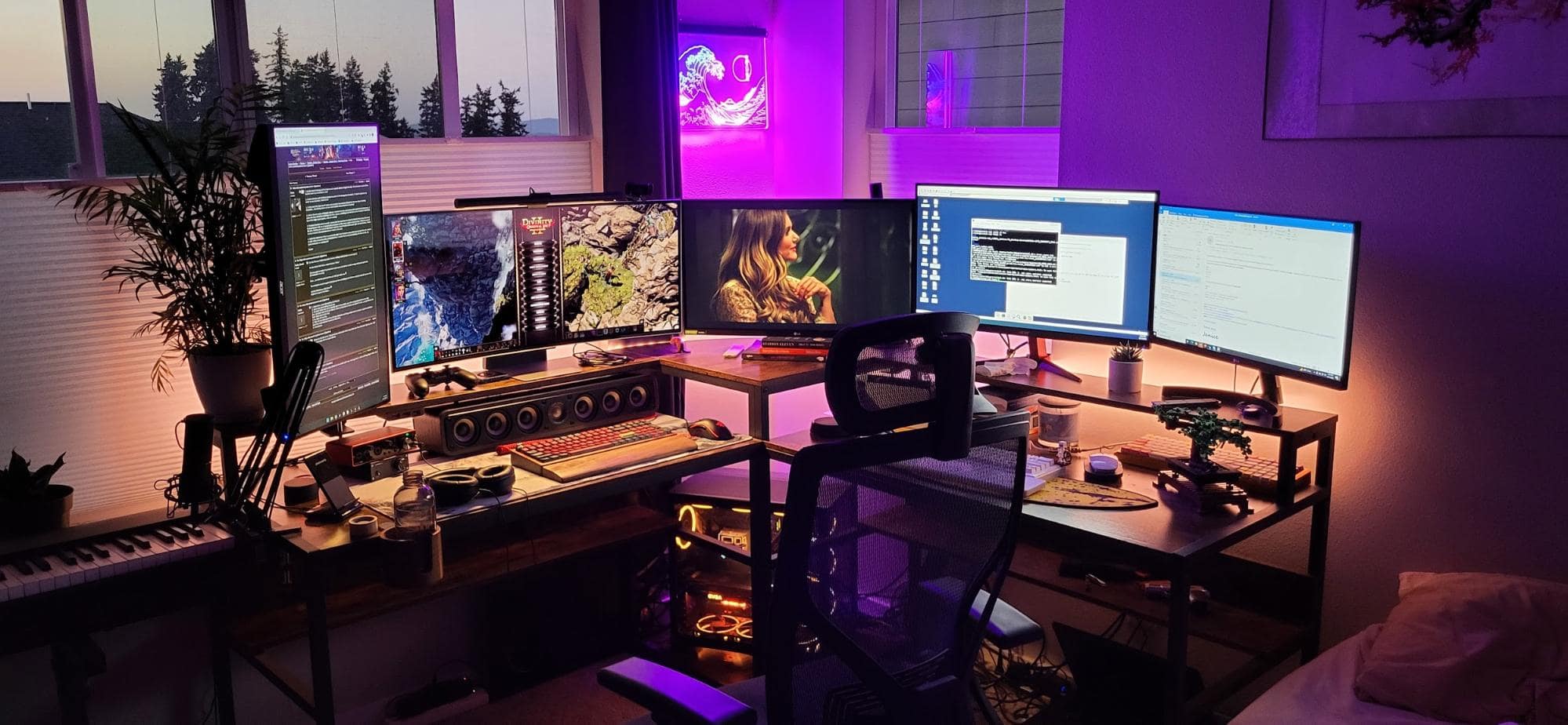 Real-Life Five Monitor Desk Setup in Seattle, US
"The challenge was finding a desk large enough to fit all of my monitors comfortably"

Name: Jake Yang
Location: Seattle, Washington, US
Occupation: Software Engineer
Room size: 20 m² (215 ft²)
Cost of setup: $9K (not including instruments)
Hello! Tell us a bit about yourself
Hi! My name is Jake, and I'm a 26-year-old software engineer living in the Seattle metropolitan area.
I grew up in the Seattle area and always knew Washington was where I wanted to be due to its natural beauty, moody atmosphere, rich musical history, and proximity to friends and family, among other things.
Four years ago, I graduated with a Bachelor's degree in Computer Science and began my career as a software engineer at an aerospace company, where I've been working since.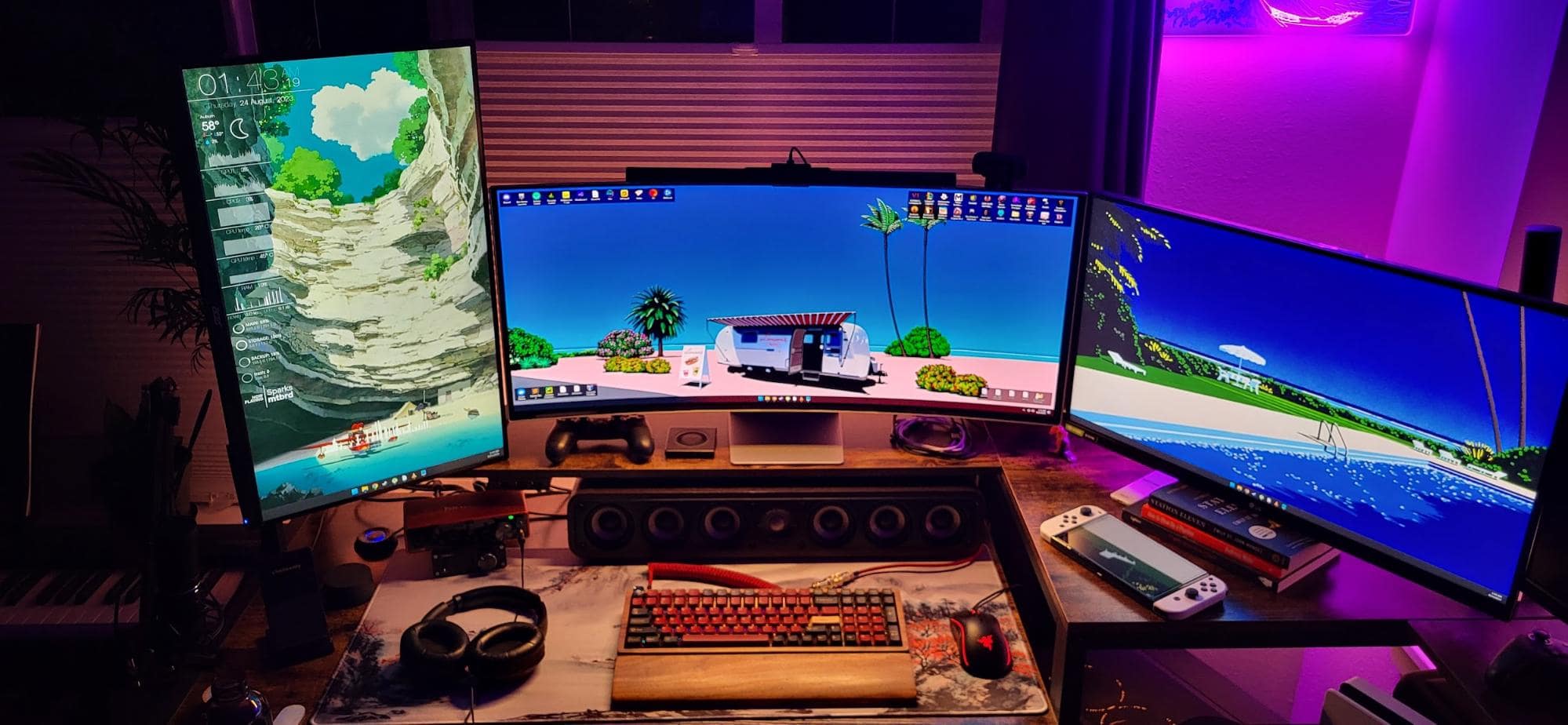 I'm also currently pursuing a Master's in Computer Science with a specialisation in Machine Learning.
My hobbies include reading, playing music (mainly drums and piano), weightlifting, watching movies, and playing video games.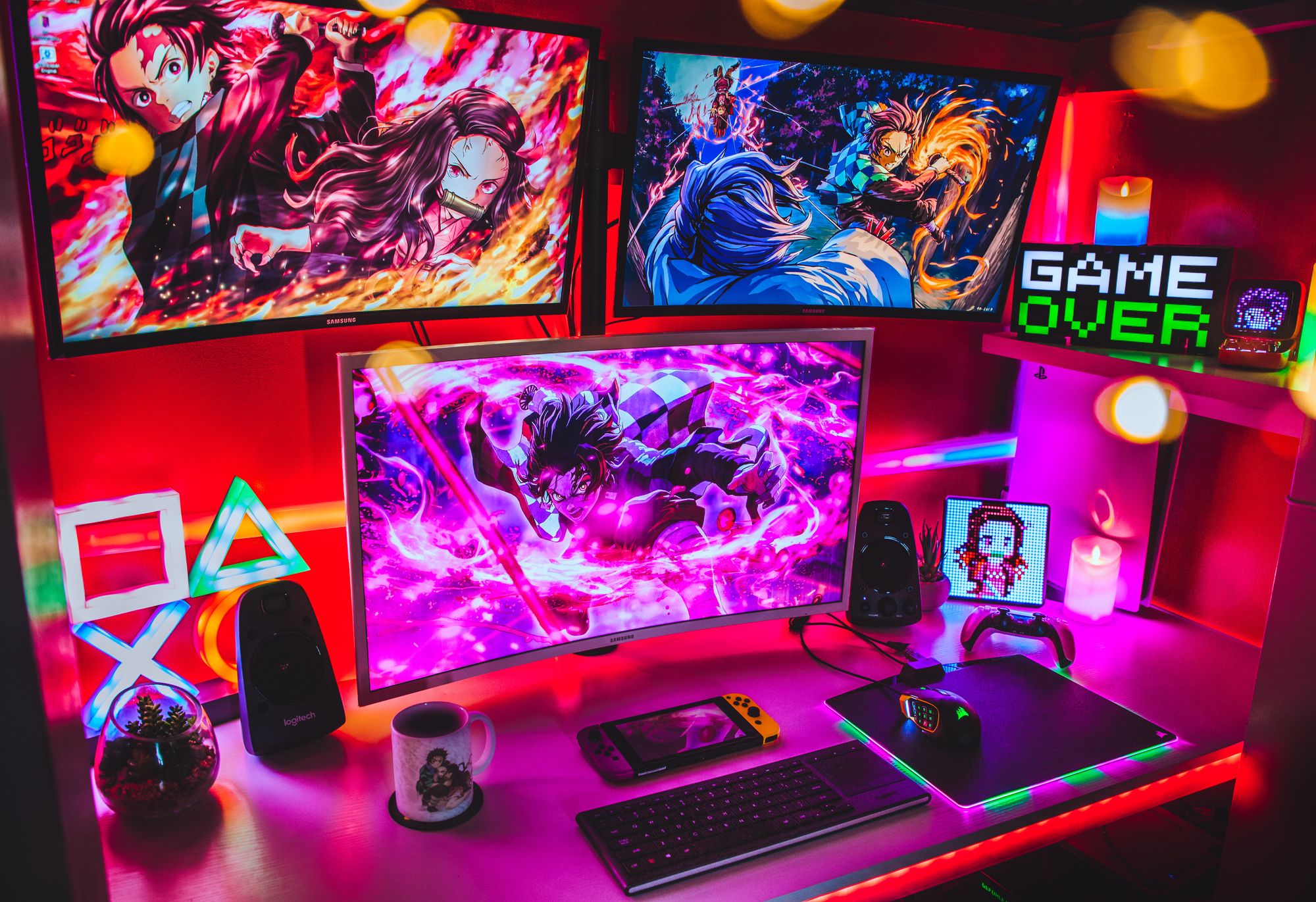 Take us through your setup
| Item | Model |
| --- | --- |
| Monitor (left to right) | Acer VG271, Samsung G85SB, LG 27GL850-B, Acer VG271, LG 24ML600M-B |
| Monitor light bar | Xiaomi Mi Computer Monitor Light Bar |
| Speakers | Polk Signature Elite ES35 |
| Headphones | Sony WH-1000XM4 |
| Audio interface | Focusrite Scarlett 2i2 3rd Gen |
| Amplifier | AIYIMA A07 TPA3255 |
| Keyboard 1 | YMD-96 96-Wood, Boba U4T switches, GMK Red Samurai keycaps |
| Keyboard 2 | YMD-96 Melody 96, Gateron Black Ink V2 switches, NP PBT Ice Cream keycaps |
| Keyboard 3 | Kit Adam, Kailh Box Jade switches, YMDK Double Shot Shine Through keycaps |
| Mouse | Razer Mamba, Ultra-Thin 2.4G Office Wireless Mouse |
| Desk mat | Shan-Shu Ink Desk Mat, Banana Deskmat |
| Chair | Sunnow Ergonomic Office Chair |
| Docking station | NOVOO 12 in 1 |
| Laptop stand | A cardboard box |
| Web camera | NexiGo N930AF |
| Gaming console | Nintendo Switch OLED |
| Desk | Tribesigns L-Shaped Desk |
| Lights | TP-Link Tapo L930-5, MiMaik The Great Wave Off Kanagawa LED Neon Sign |
| Smart power strip | Kasa KP303 |
| USB hub | ArmadilloStoreA Wooden Hub |
Two years ago, I bought a house in a new neighbourhood in the suburbs.
In order to help pay for the cost of my mortgage (and also just for fun), I rented out my three unused bedrooms as well as my office room to friends.
As such, my home office is currently in my master bedroom.
The main window being north-facing, has proven to be quite nice, as it lets in consistent natural light throughout the day without the sun ever glaring in my eyes.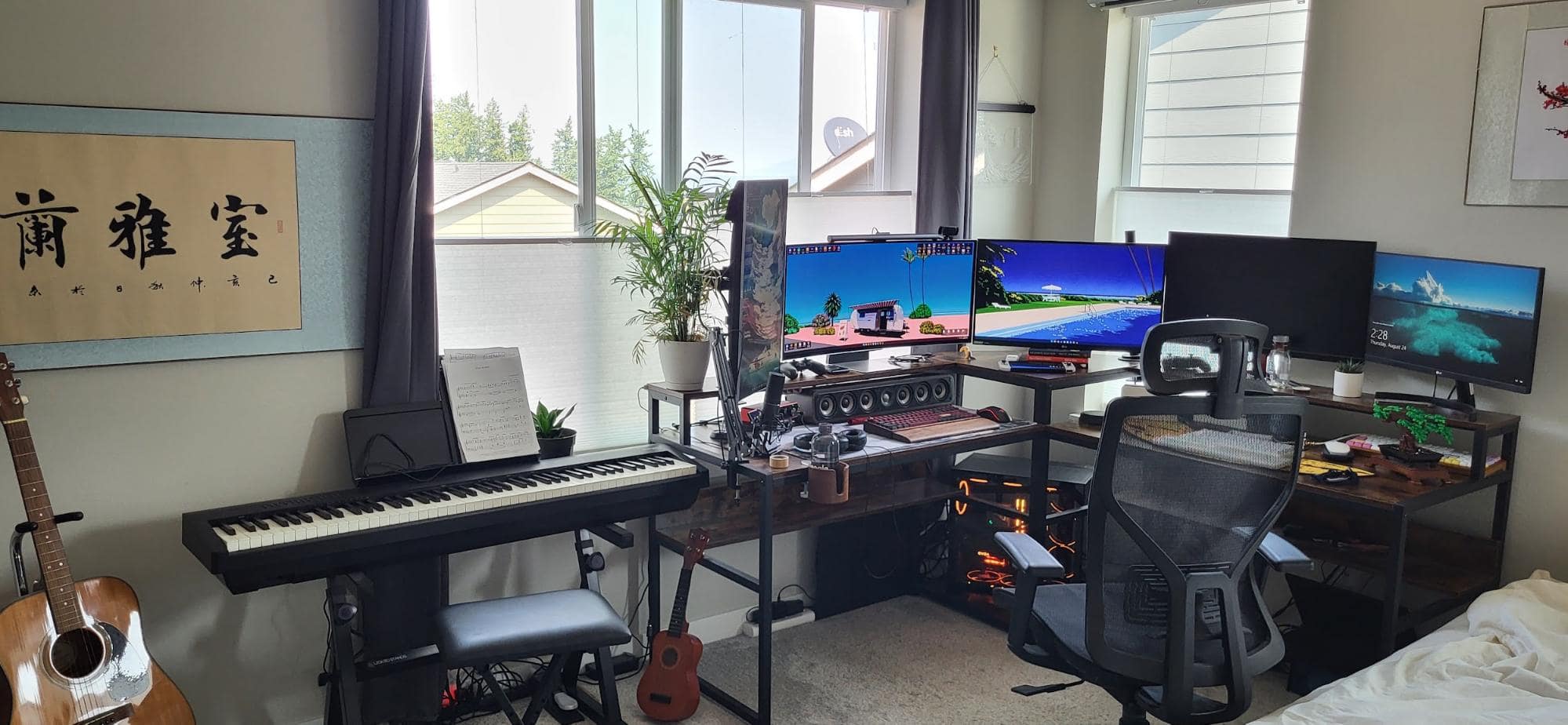 As with many new neighbourhoods these days, the houses are all very close together, so I could easily see into my neighbours' windows and vice-versa.
While this may not be a huge deal to a lot of people, as someone who grew up in a somewhat private house that had a green belt behind it, this was making me uncomfortable and I wanted to make my space as relaxing as possible.
To address privacy concerns while also allowing for natural light, I installed top-down, bottom-up shades in my room, which do the job wonderfully and I find even add to the atmosphere.
I already had quite a collection of monitors and knew that I wanted to incorporate five into my new station — three for my PC and two to dock with my work laptop.
The challenge then, was finding a desk large enough to fit them all comfortably.

After a lot of searching, I settled on the Tribesigns L-Shaped Desk, which turned out to fit my needs perfectly.
With the shades and the desk out of the way, the rest of my setup quickly fell into place.
For night-time lighting, I didn't want to rely on my room's recessed lights — I wanted my station to be more atmospheric and cosy so I could relax after a long day and tune out the rest of the world.
To this end, I installed a light strip along the back of my desk and hung up an LED neon sign of the very popular art piece "Great Wave Off Kanagawa" which I found on Amazon (which also helps fill up the empty wall).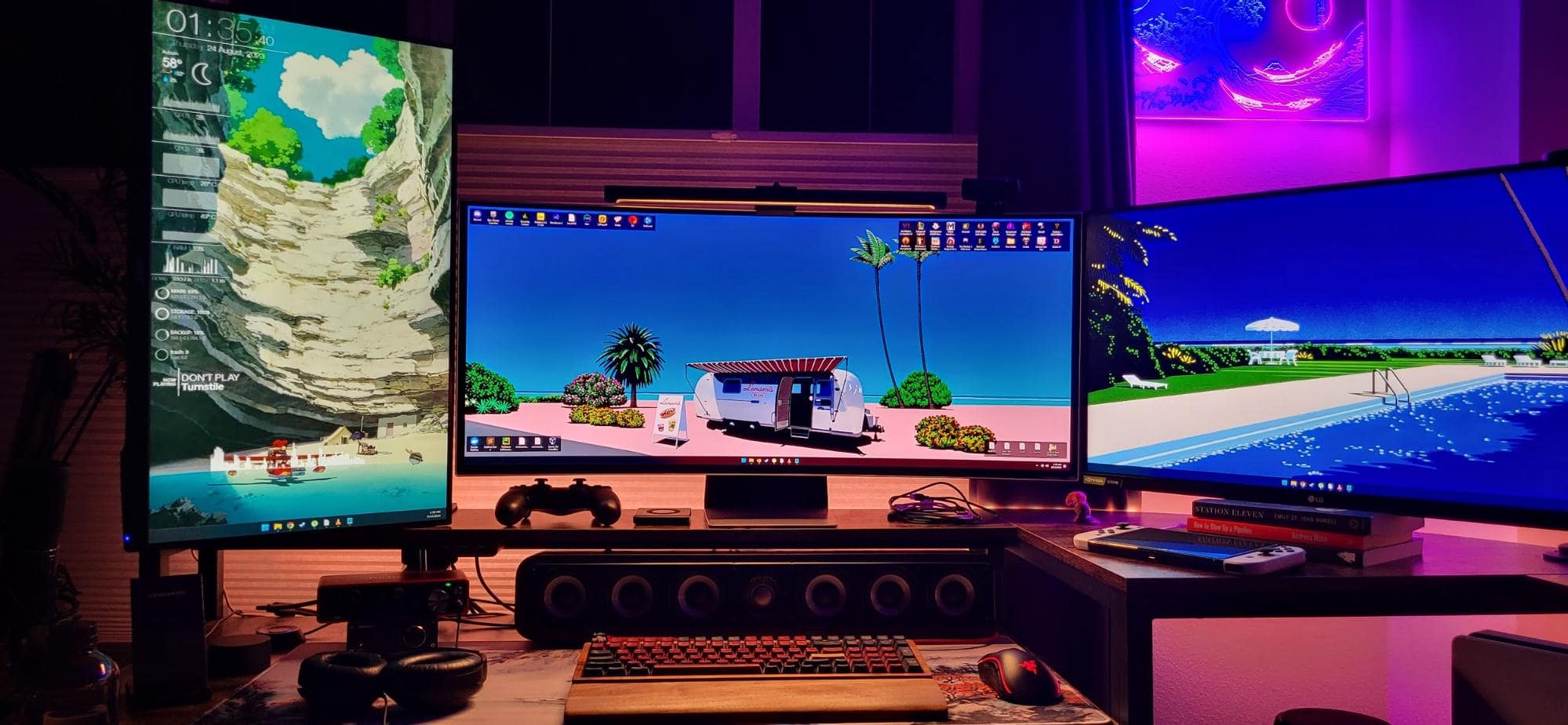 I was a little wary when I ordered the sign, but now that it's installed, I absolutely love it and especially appreciate how the colours blend with those from the strip.
Finally, to reduce eye strain and introduce some front lights to match the backlight, I use a Xiaomi monitor light bar.
I have all three of these light sources plugged into a smart power strip so that the lights come on automatically an hour before sunset.
Something in dire need of improvement is my cable management on the right-hand side, which is basically non-existent.
If I'm honest, it doesn't bother me at all but it would be nice to clean it up and have something else there instead, like a nice footrest.
Also then, maybe folks would stop complaining about my cable management, so there's that too.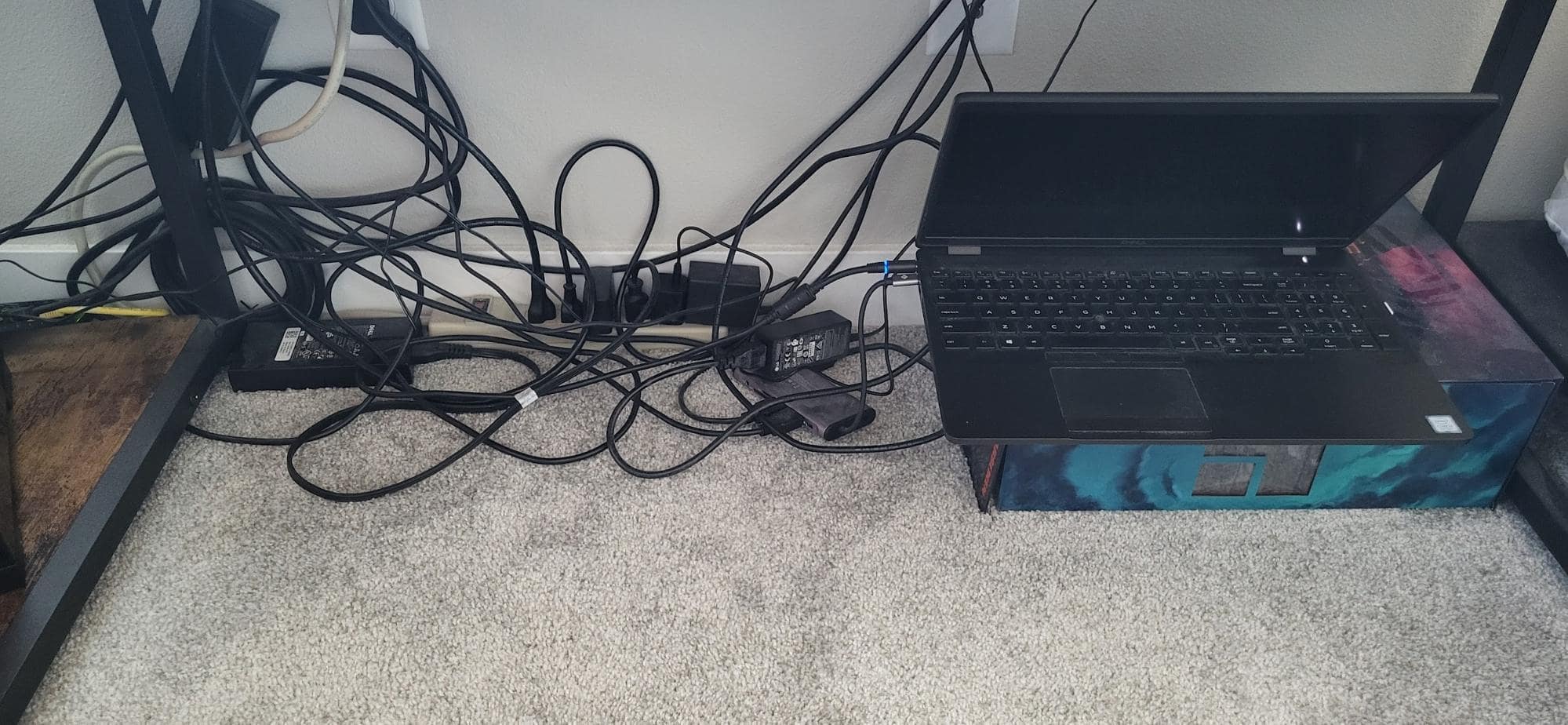 My laptop is also just sitting on a box right now, so I may look into investing in an actual stand or a better solution.
My next purchase is most likely going to be a new chair; health is important and I am sure a fancy ergonomic chair would be better for my back and posture.
I'm not sure what chair I would get yet, though I know I'll probably be steering clear of a lot of Steelcase models — they just remind me a bit too much of being at the office.
What's your favourite item on your desk?
My custom mechanical keyboards are my favourite things on my desk.
Before I built my first keyboard, I had started frequenting the r/MechanicalKeyboards.
Someone posted a keyboard with "ice cream" keycaps that looked really awesome and inspired me to look into building my own.
The keyboard with the gold case and the ice cream keycaps was my first build — typing on it is very smooth and it really does have a "creamy" sound.
I did, however, realise I was not a fan of linear switches — I found the lack of feedback was making typos way more frequent.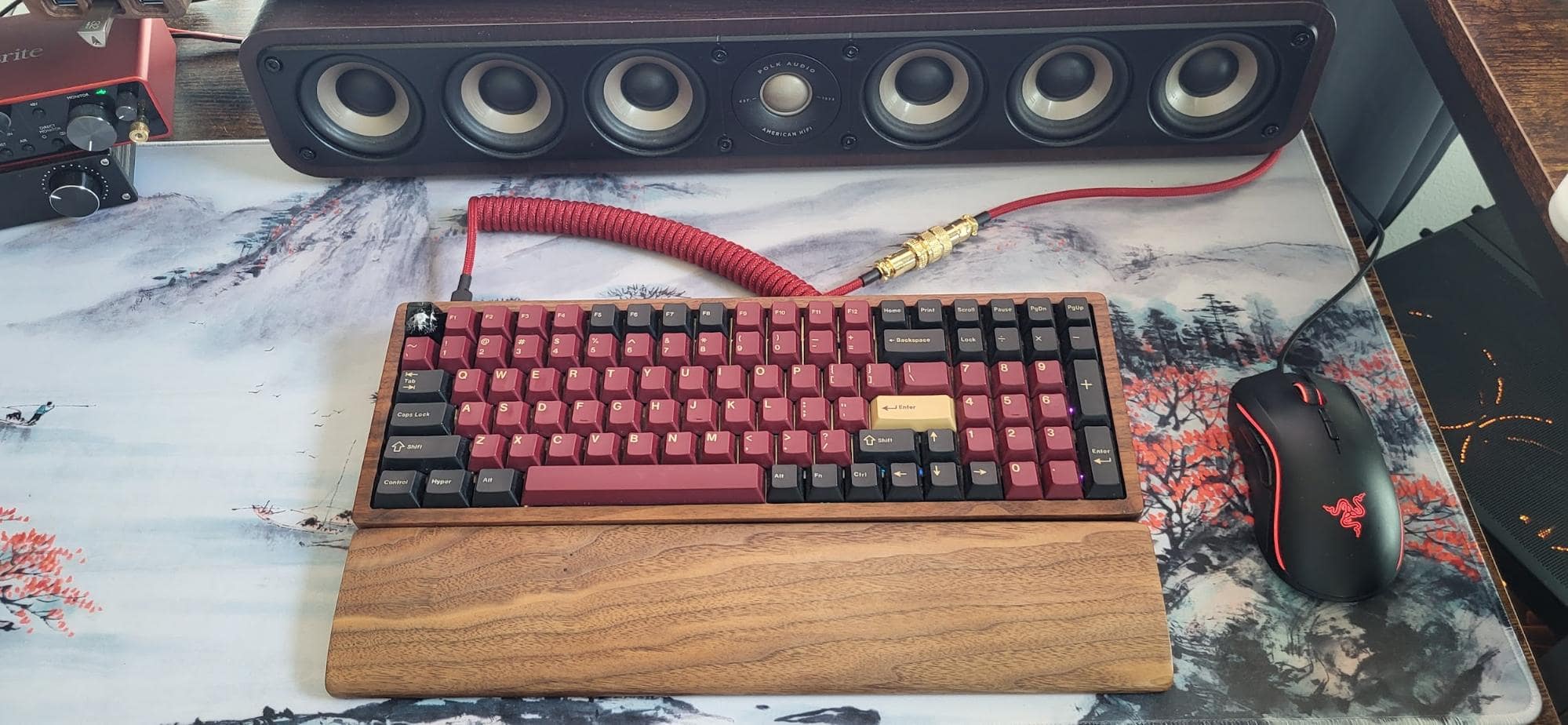 My second keyboard was the wood one, which is my favourite to type on (due to the tactile Boba U4T switches), and I think it aesthetically fits the rest of my setup the best.
Finally, when I saw that KBDcraft was coming out with the Adam Kit — a relatively cheap kit with a case made entirely of (off-brand) Legos, I decided to build yet another, which is now my daily keyboard for work.
Even though it lacks a 10-key, which is a feature important to me, I let it slide because I love the novelty of it; with box jade switches that make typing extra-clicky and a little deeper-sounding, it almost sounds like building Legos.
My first two keyboards cost me about $500 each to build, while my third Lego one cost me around $250.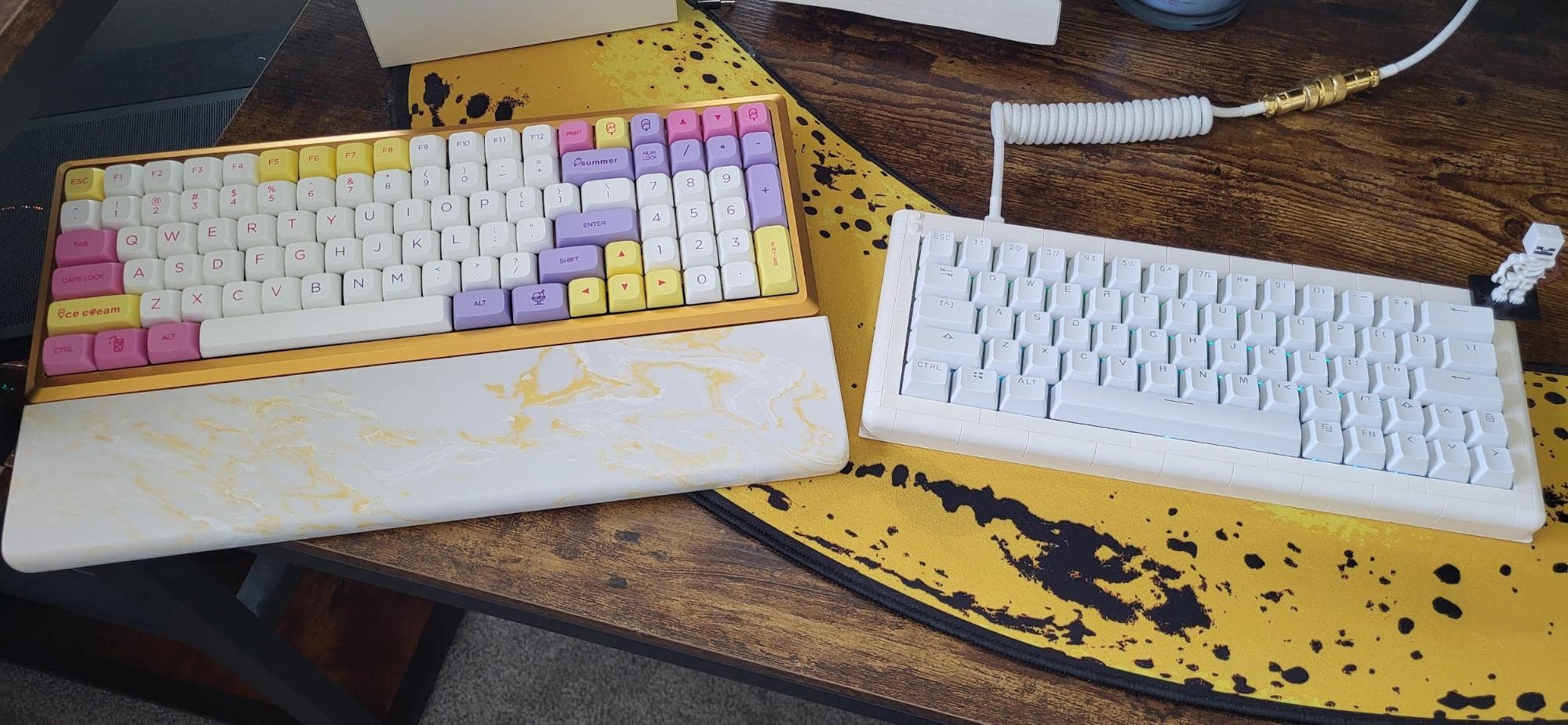 A runner-up for my favourite desk item is my PC's main Samsung G8S5B which is a 2K ultra-wide OLED monitor.
This was a relatively recent purchase with a pretty heavy price for a monitor (got it for $1K) but I think it has been/will be well worth it.
Everything looks fantastic on it, and the extra screen real estate coming from a standard 16:9 resolution monitor is a huge convenience.
One of my favourite things to do is to turn the lights down, put on my noise-cancelling headphones, grab a giant bowl of junk food, and put up a good movie late at night on the G8.
What apps or tools do you use to get things done?
As a software engineer and computer science student, I need to use a lot of different tools, and some are subject to change.
As a student aiming for a specialisation in machine learning in particular though, I find myself programming in Python quite a lot, as it is arguably the premier language in machine learning and data science spaces; for all my inevitable Python projects, using PyCharm has been immensely helpful.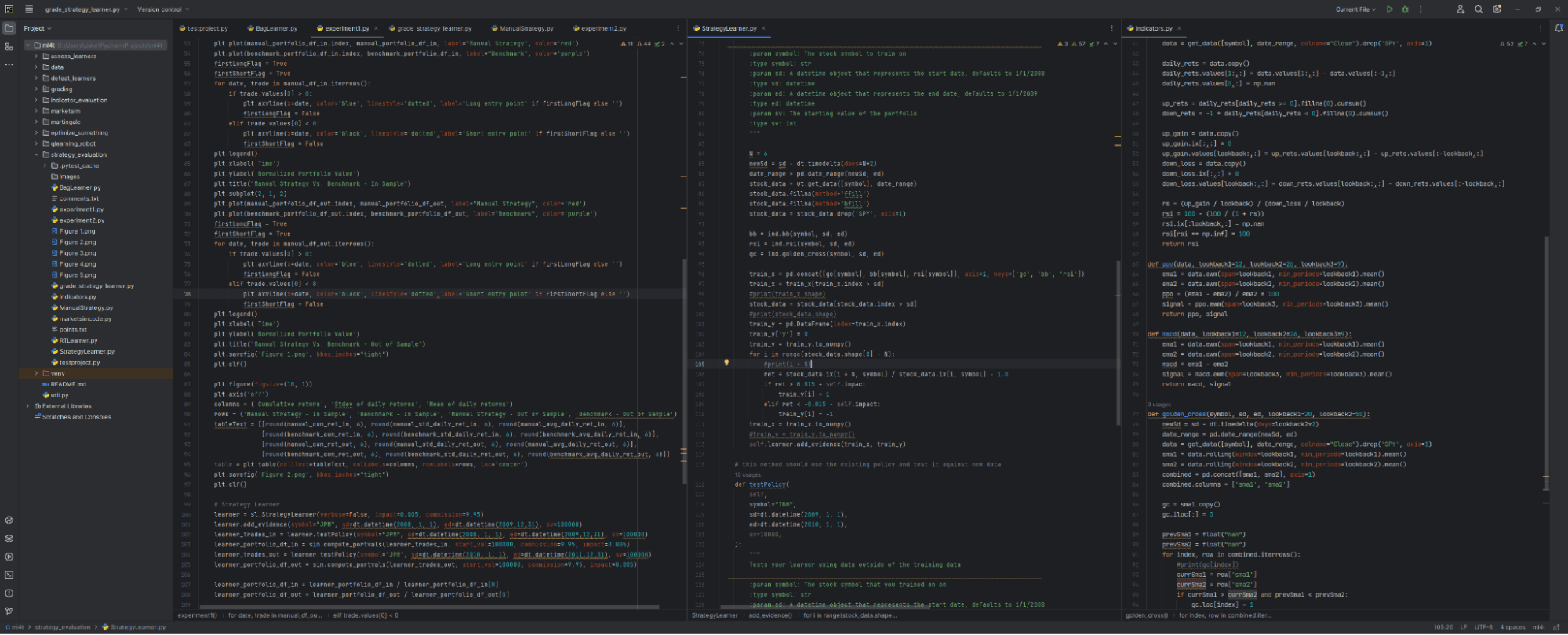 PyCharm is an integrated development environment for programming in Python, developed by JetBrains.
I like PyCharm because I find it helps me manage my projects and has a plethora of built-in features and plugins that make programming, testing, and debugging quicker and easier.
What books, blogs, or podcasts recently caught your attention?
I'm currently halfway through Infinite Jest by David Foster Wallace, which is a massive novel set in a dystopian future that tells a number of interwoven stories.
So far, it has been both a monotonous and fascinating read.
I would say the book definitely isn't for everybody (I'm still not sure if it's for me either), but it is a one-of-a-kind novel that is extremely well written.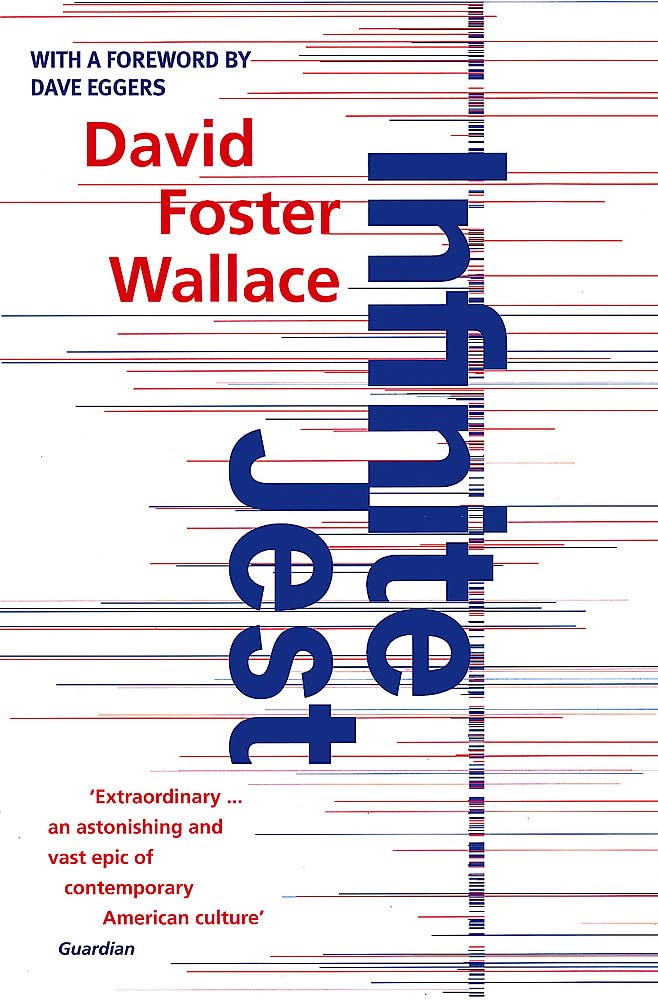 a novel by David Foster Wallace
Check price on Amazon
I think what has drawn many readers including myself to it isn't so much the story, but the quality of writing and the insane amount of detail.
To me, it is sort of a showcase of what a passionate, dedicated person can accomplish, which I find very inspiring.
I am also almost done with The Grace of Kings by Ken Liu, which is the first book of a fantasy series called The Dandelion Dynasty.
I remember Liu mentioned the series was inspired by classical Chinese stories of heroism, and reading The Grace of Kings has indeed been reminiscent of things like Romance of the Three Kingdoms and Journey to the West, which my mom introduced me to as a kid.
I would definitely recommend it to anyone with an interest in fantasy novels.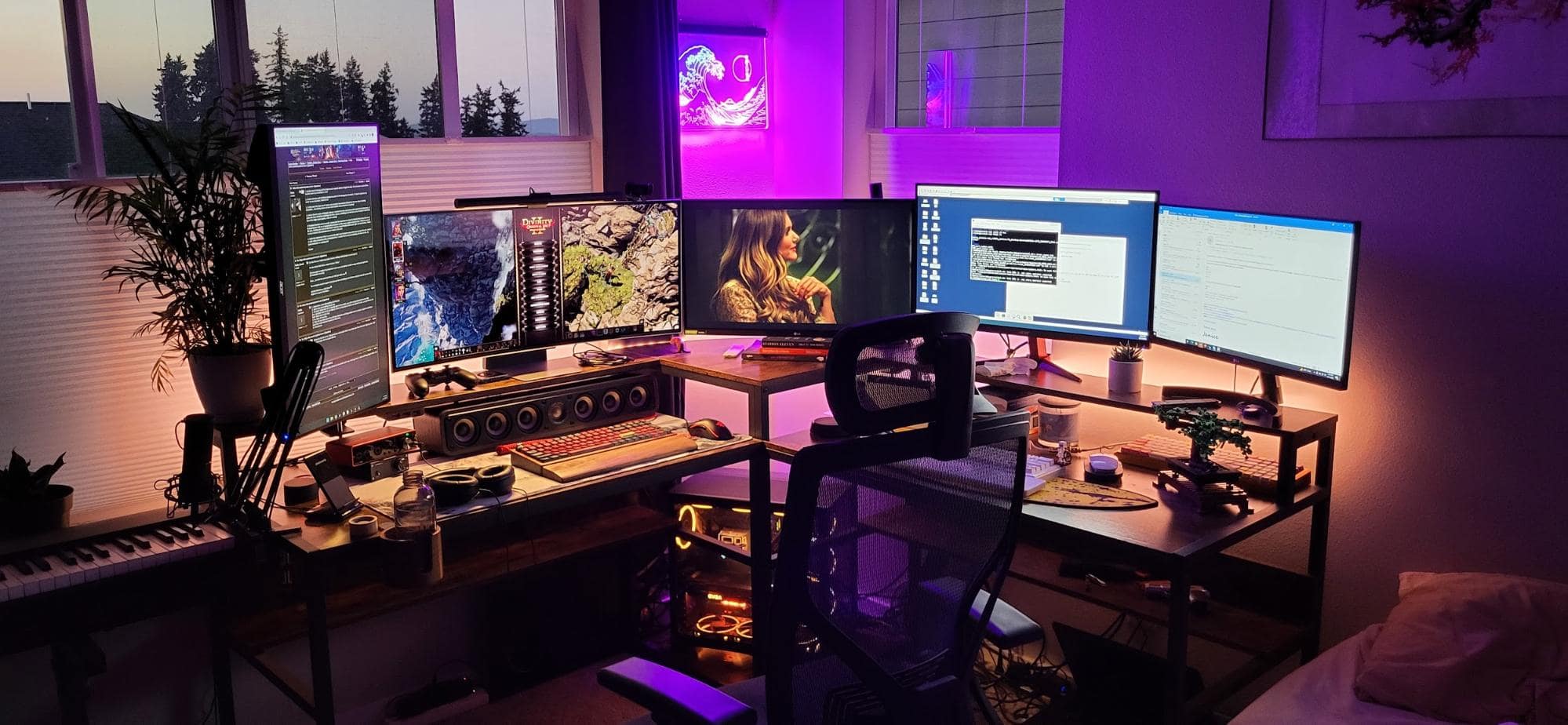 Speaking of Ken Liu, I later realised he was the same author who wrote a short story called The Waves, which I read as a teenager and has always stuck with me.
The story is pretty outlandish and heavy sci-fi which might disinterest some people, but it presents some big existential ideas that absolutely blew me away back then.
It's a novella so it's a quick read.
I highly recommend it.
I recently bought his short story collection, The Paper Menagerie and Other Stories which I will likely read next, that includes The Waves.
Any tips for other makers who want to improve their workspaces?
While aesthetics are an important aspect of a home office, I think it is more important to choose efficiency over aesthetics when necessary, and what "efficiency" looks like varies from person to person.
For example, while I really like the clean look of single ultra-wide monitor setups and I am sure it is perfect for many, I could never do without multiple monitors.
If you feel like you could use another monitor, then don't let "aesthetics" get in your way — you should just get one and enjoy the boost to your productivity.
What does your typical day look like?
I had been at my job for about half a year and was working in the office full-time before COVID really picked up.
Afterwards I was working from home, but as of a year ago have been on a hybrid schedule, going in three days a week.
Thankfully, I haven't heard anything about working in the office full-time yet.
I am very, very much a night owl — I typically sleep around 3 am, and wake up between 9 and 10 am. The first thing I do is check my emails and messages.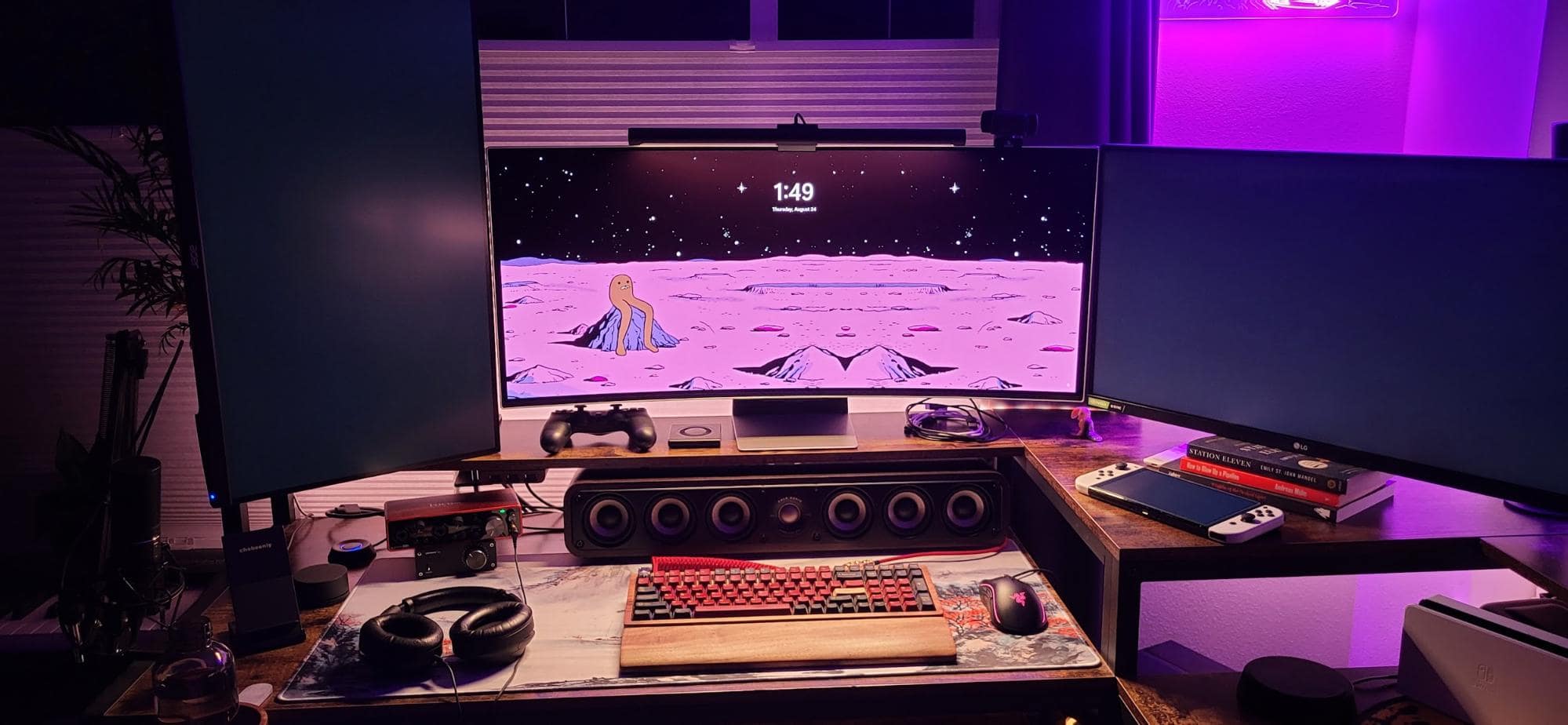 On days that I work from home entirely, I usually begin work as soon as possible and finish around 7.
On days that I go into the office, I make myself coffee (or just grab some canned coffee I buy in bulk at Costco), which helps me wake up and get energised, so I can exercise harder later in the day.
I will stay at the office until around 3, at which point I head to the gym where I will be till around 5:30, then head home and finish my work day at my home office.
After work, dinner, chores, hanging out with my friends or housemates, etc., it will usually be between 10 to 11 pm.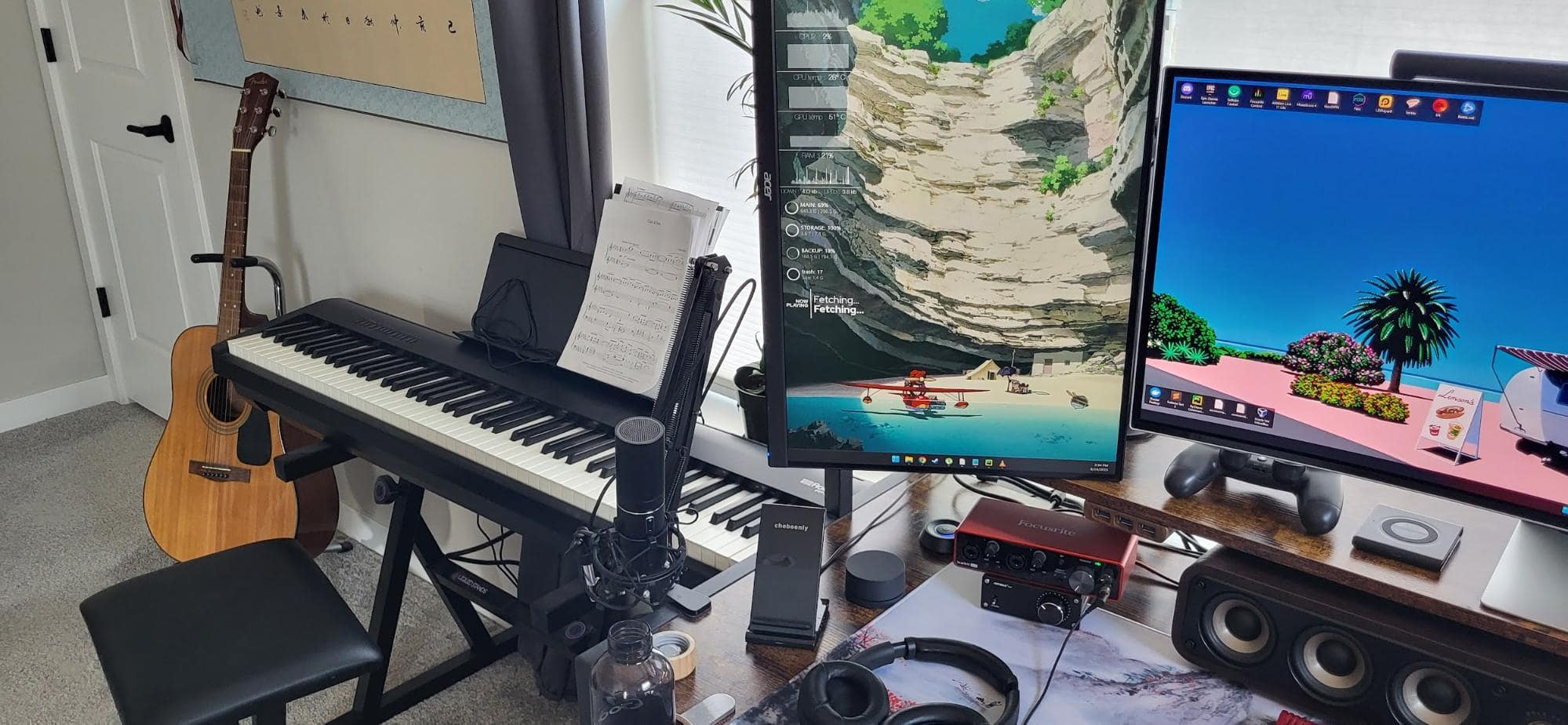 At this point I spend the rest of the night at my desk, attending to my coursework, working on personal projects, playing video games, and/or watching movies/shows.
RPGs are my favourite video game genre; right now I am working on finishing Divinity: Original Sin 2, so that I can tackle Baldur's Gate 3 later.
I am excited for Starfield to come out soon, as well as the new Cyberpunk DLC!
Your tips for working from home?
My first tip is to take frequent breaks, especially if working on a task that requires a lot of thought or attention.
I find taking quick breaks gives my mind a chance to 'reset' and undo any tunnel-vision so that when I come back to my desk, I can look at my work with a refreshed perspective and maybe get some new ideas on how to tackle things.
During my breaks, I like to bother my housemate's cat (cats are awesome, and I am definitely going to get one of my own later), head downstairs and pick out a snack, or play some music.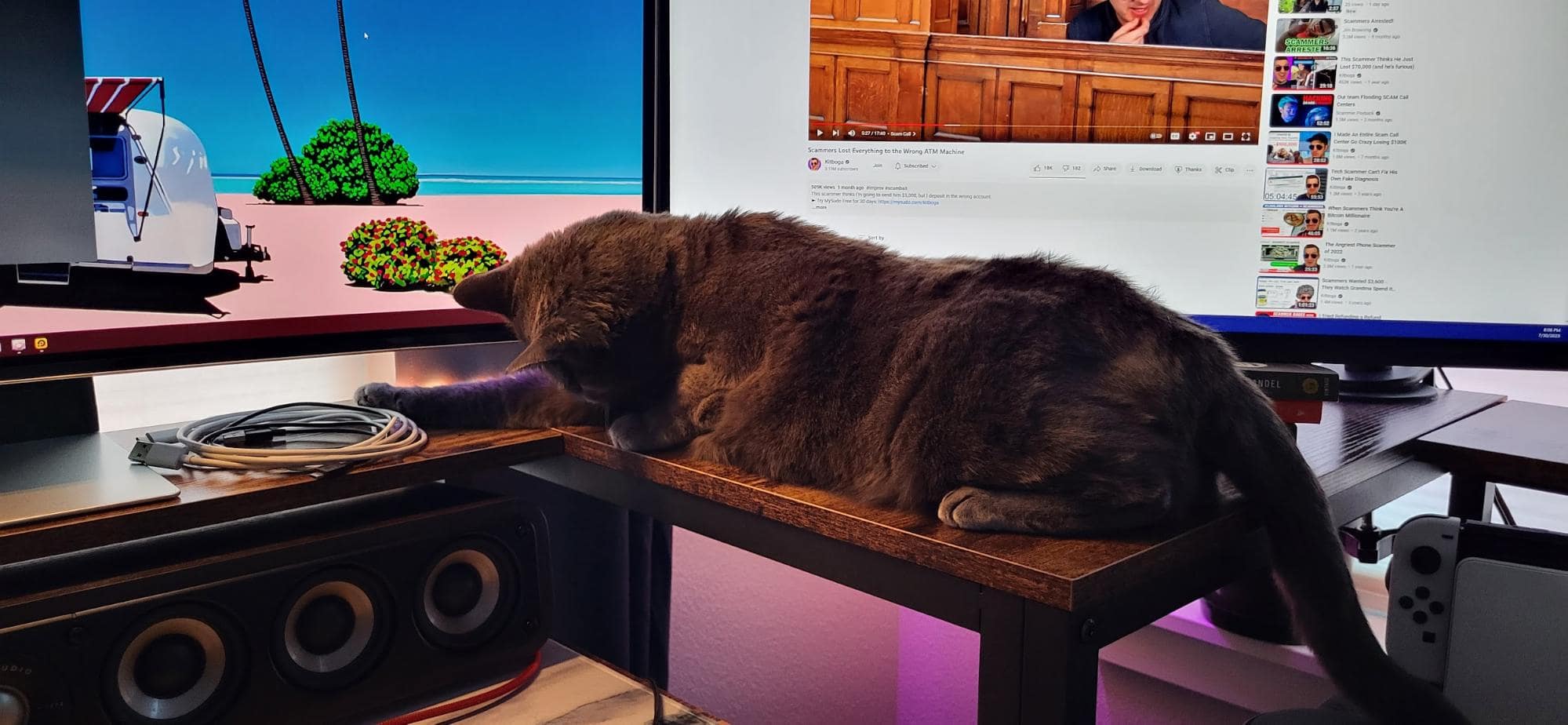 My other tip is to separate your workspace from the rest of your home if at all possible.
I think having a good work-life separation is vital to both improving efficiency when working and enjoying the rest of your life when not working.
I've noticed that since I had to move my station from my office room to my bedroom, I have been having a harder time staying tuned-in and have been spending more time thinking about work when not working.
To go one step further, I think having a space specifically for a WFH setup and a separate space for leisure would be even better, though I know not everyone has the room to do it — myself included at the moment.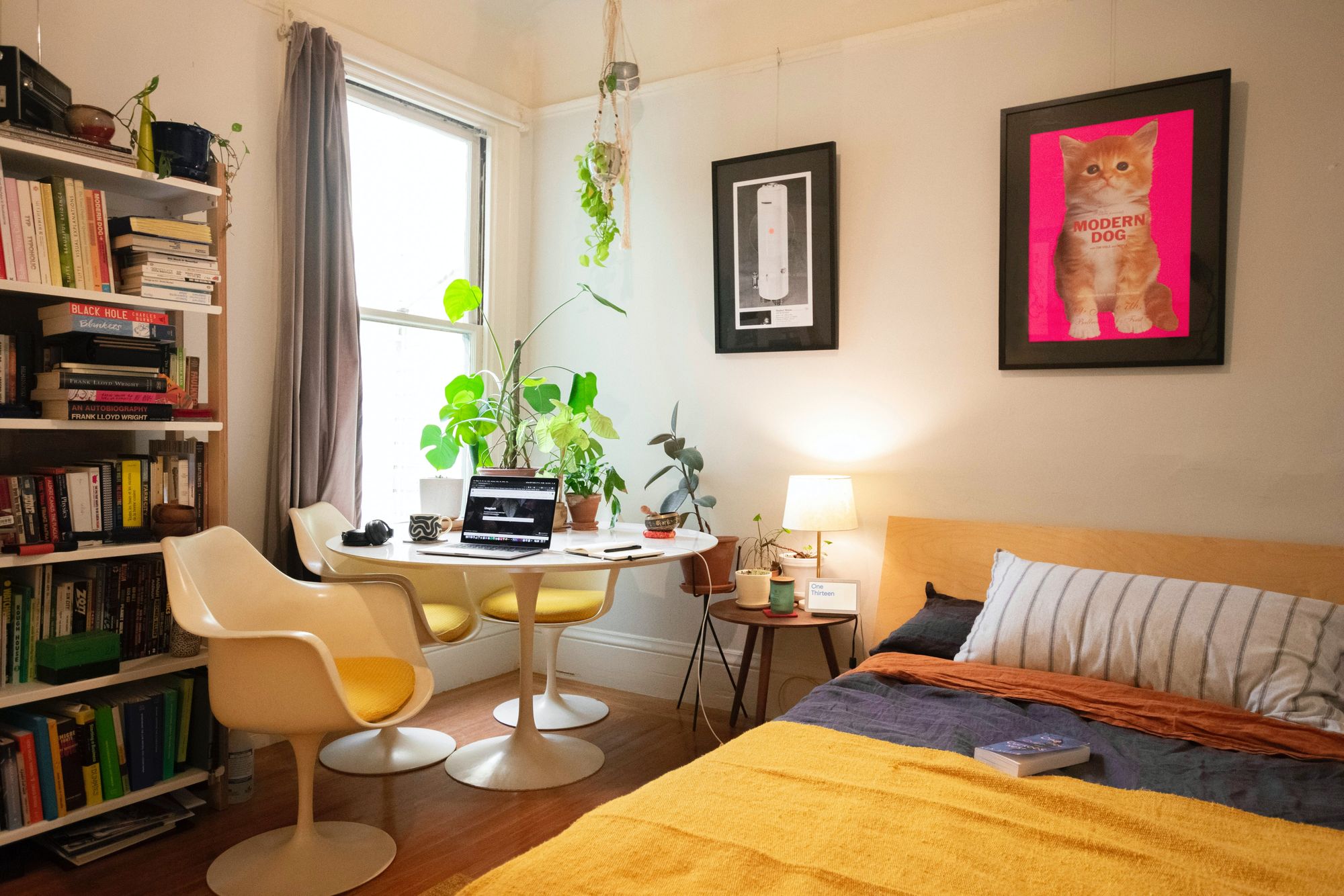 We're a reader-supported publication. This article might contain affiliate links. It means we may receive a commission if you click a link and buy a product that our maker has recommended. The interview was done independently.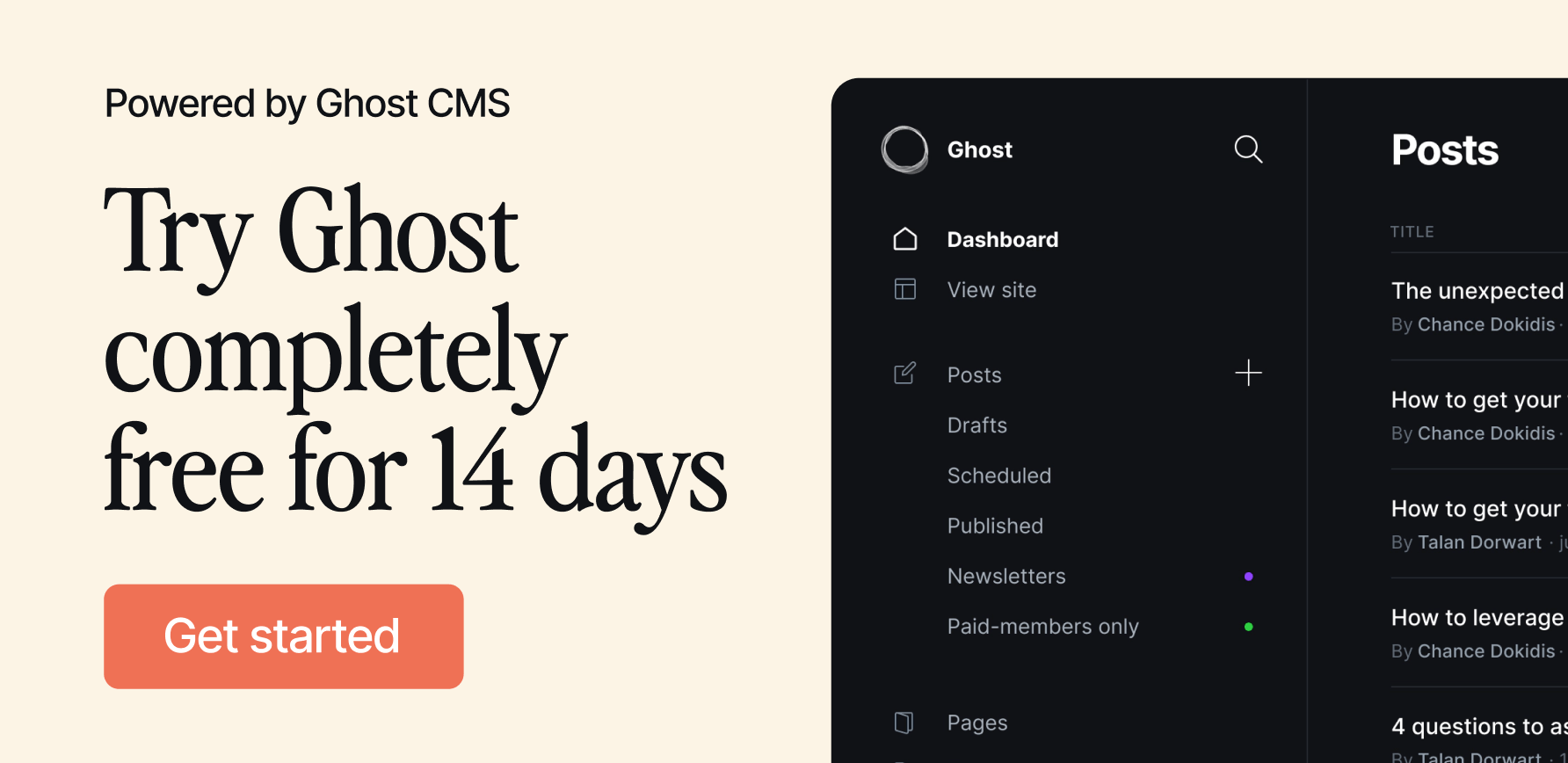 ---