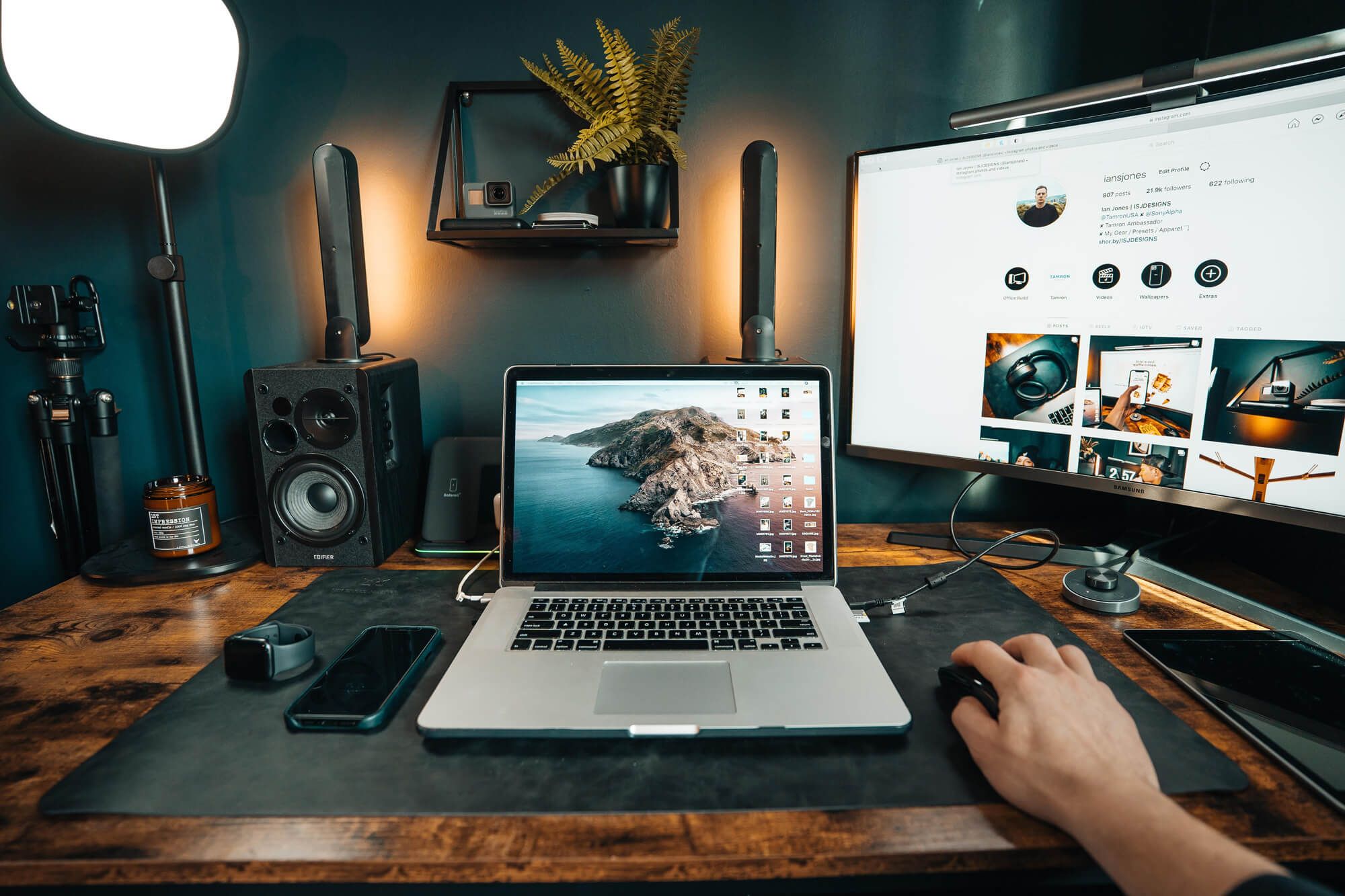 Photography Setup in Pittsburgh, US
"It's like a productive casino, with fancy lights and sounds"

Name: Ian Jones
Location: Pittsburgh, PA, US
Occupation: Photographer, Content Creator, Marketer
Room size: 8 m2 (86 ft²)
Cost of the setup: $11K (including $5,5K Tamron's lens collection)
Social media: Instagram
Website: isjdesigns.com
Hey, Ian! Tell us a bit about yourself
My name is Ian Jones. I would like to think I'm a pretty popular photographer here in Pittsburgh, Pennsylvania.
I was born in Las Vegas and grew up in Upstate NY. The arts and college brought me to Pittsburgh. Moving to a big city changed my perspective from a small town in Upstate NY. It shocked me how so much more is accessible to you.
There wasn't much to do back in my home town and I always had this urge to strive and keep busy. I think that passion inside me has helped me get to where I am currently. My passion and dedication to the craft are evident in my unique captures and fresh editing techniques.
I went to school for Graphic Design, so when I graduated I had a hard time finding a job because of how saturated the market was even at that time. This led me to go down different adventurous paths. Photography is one of them. I didn't pick up photography till years down the road, but I am glad I did.
From street shots to food photography, I try to showcase my creativity and range in everything that I do.
For the past few years, I have been working with a company helping their marketing and social media needs. I have been known to be managing anywhere to five different Instagram accounts at a time. One being most important is my own!
I've worked with restaurants, breweries and a big national dry-cleaning brand. I am currently trying to discuss some things with a very popular whiskey maker. Fingers crossed that pans out because I love whiskey.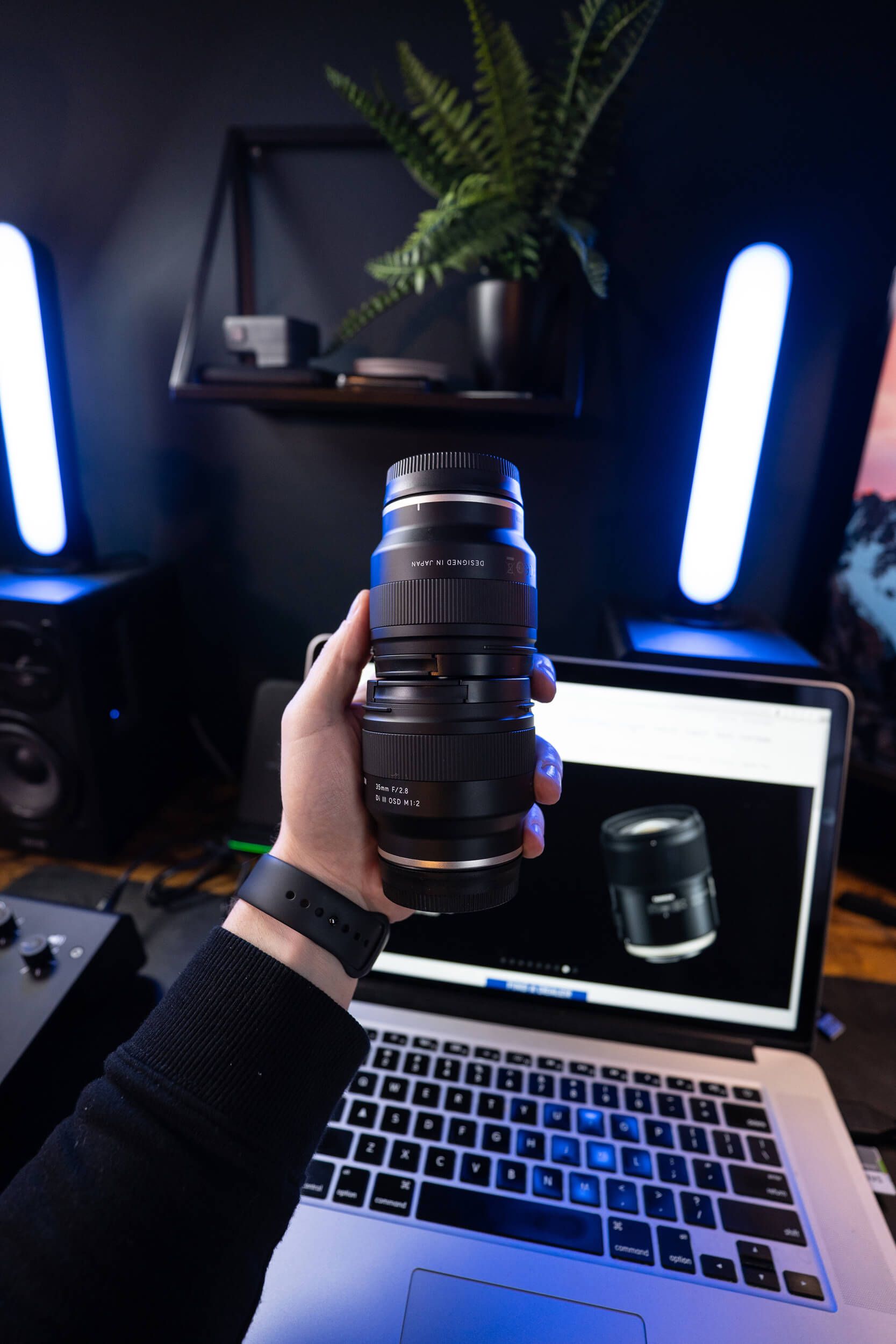 You can find a more immersive, updated experience of my work on my Instagram page. You can also visit my website, and find a list of everything in my office on Amazon.
Can you describe your home setup?
Something I have been able to do recently after purchasing our first home is finally built the home office of my dreams!
I would say the key feature of my workspace is lighting. I wanted a space that felt like you were transporting into a different universe. Having a home office you can easily be distracted by anything, so I wanted my office to feel like it wasn't in the house.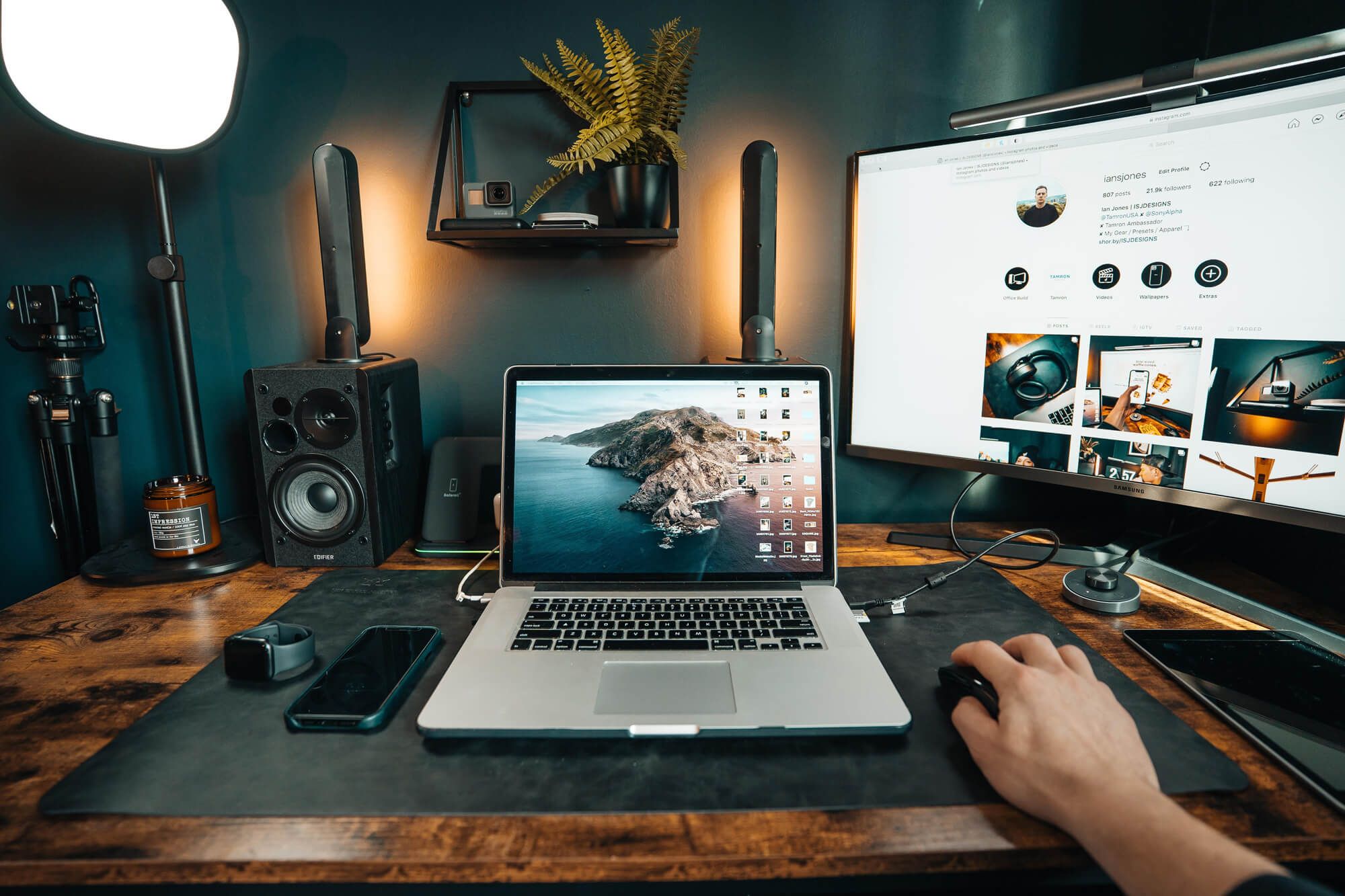 As soon as you walk in you are greeted with warm tones and motion detected lights directing you to the desk. Since moving I think I spent about three solid months getting my office to where it is now.
It was a younger boys' room with awful paint and stained carpet. It looked nothing like it does now. I had to sand walls, rip up the flooring and start with a clean slate. It was really fun and rewarding.
I chose this room because it was almost perfectly square and the other free rooms were spoken for. I didn't need a huge amount of space to be honest, just enough to fit my vision in and allowed me to be creative and get work done. Now that I think of it, it is becoming more of an office studio, so in my next house, my desired space will be larger.
I think the main struggle I had with the office is what colour to pick and how I wanted to handle the paint. I shopped all over and looked at a ton of photos before I settled on a paint.
The paint I chose is Behr "Winter Way" in a matte finish. That was probably one of my most asked questions "what colour paint is that".
I chose a matte finish so it wouldn't bounce light and flare up and give me "hot spots" in video or photos.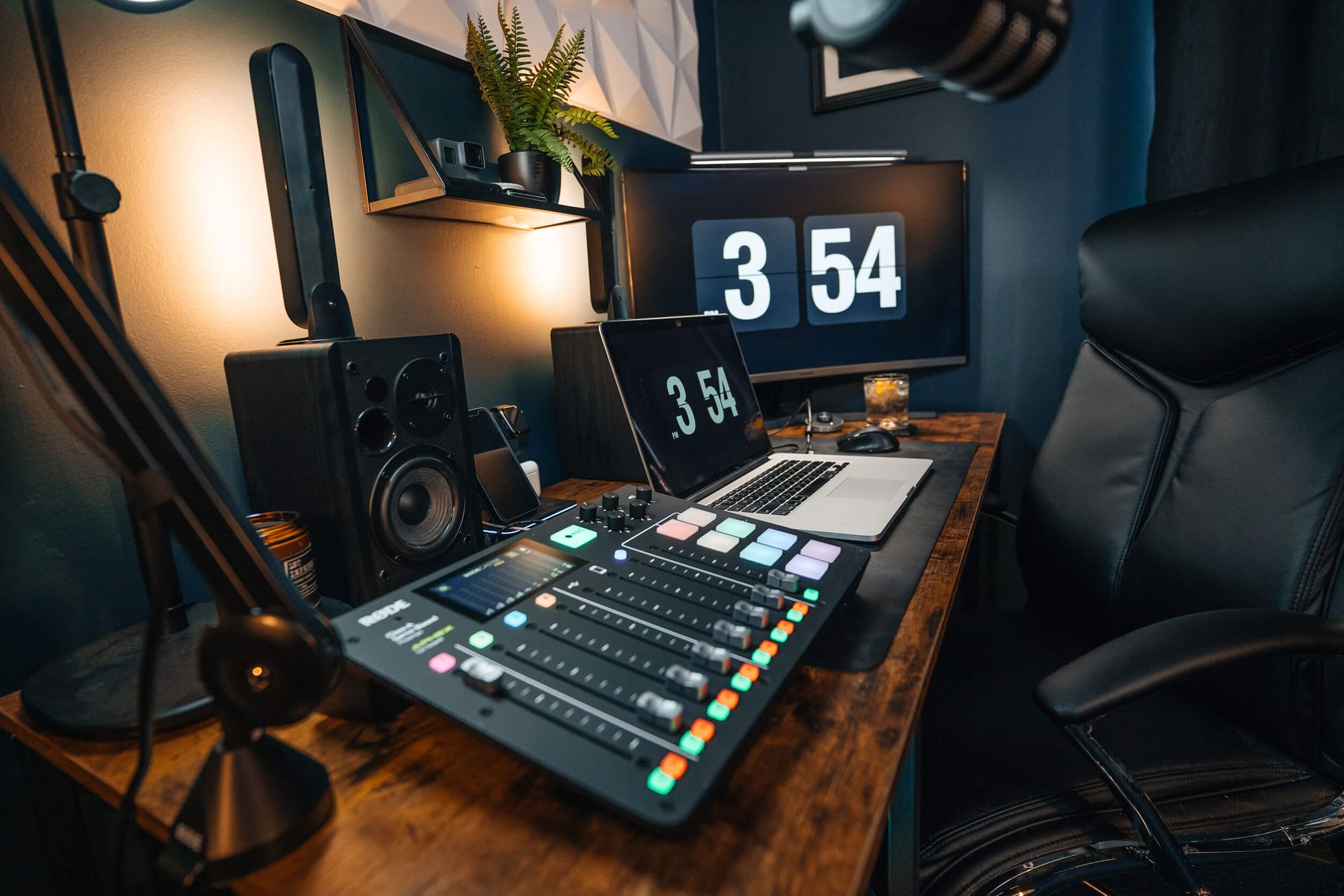 There are still things I would like to improve. For example, I wish I had a nice overhead light but the room was not wired that way. Maybe eventually! For now, I have some softboxes that get the job done.
What's your favourite item on your desk?
It would probably have to be my Edifier speakers. They are solid and sound amazing. I knew what I wanted and it took a while to find them (and a lot of YouTube reviews, haha). I research everything before I buy it to make sure it is going to do what I need it to do.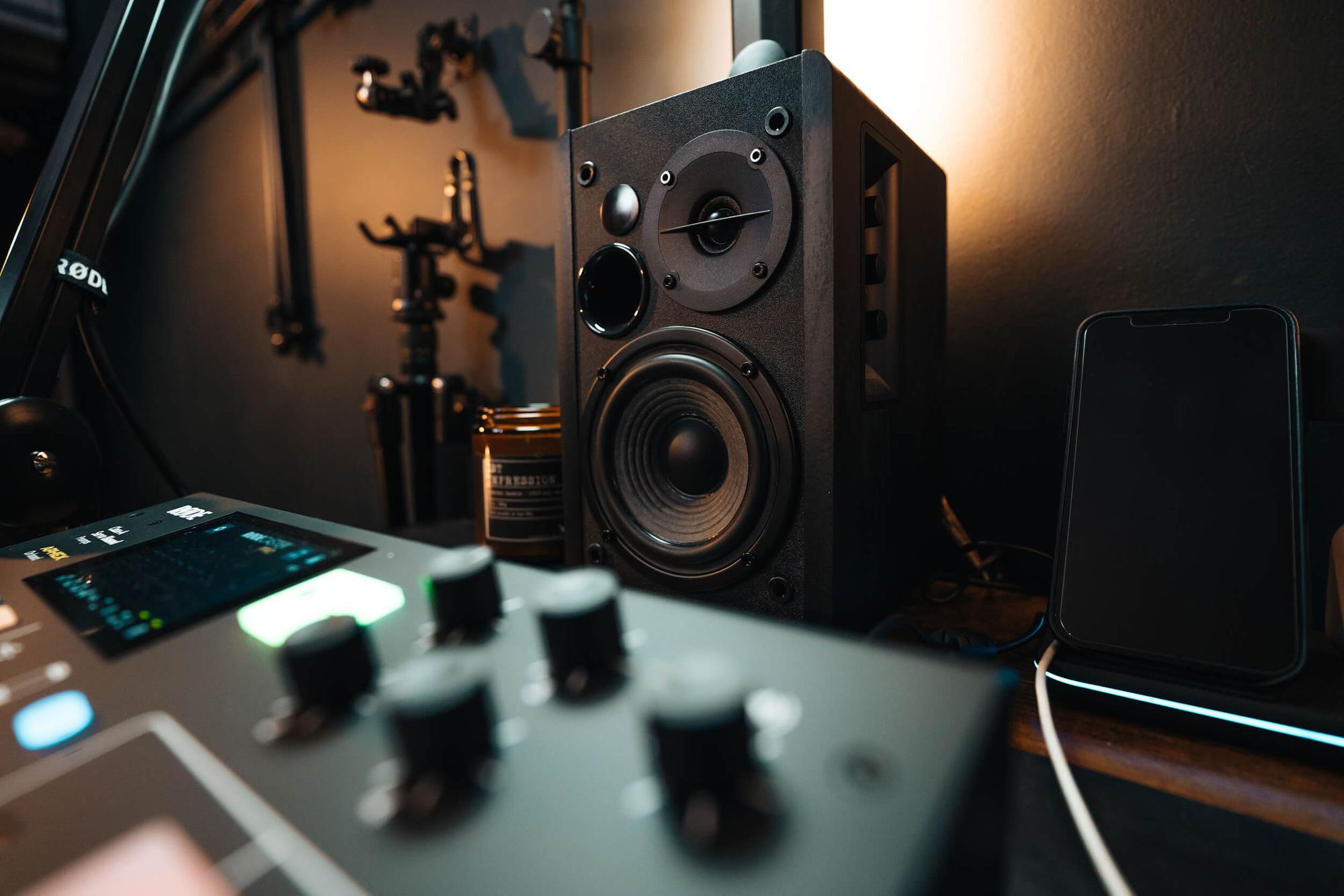 One of the biggest selling points of these is how sexy they look when you remove their protective mesh grill cover. Exposing the components really sold me. The best part about these speakers is that they were only $130. A steal.
My RØDECaster Pro production studio is a beautiful piece of machinery! The PodMic and arm just make the desk look so damn professional. The Philips hue bars on my speakers also really speak to me.
It's hard to choose my favourite thing, but those few items come to mind instantly. I am trying to get my space set up to YouTube and podcast out of it.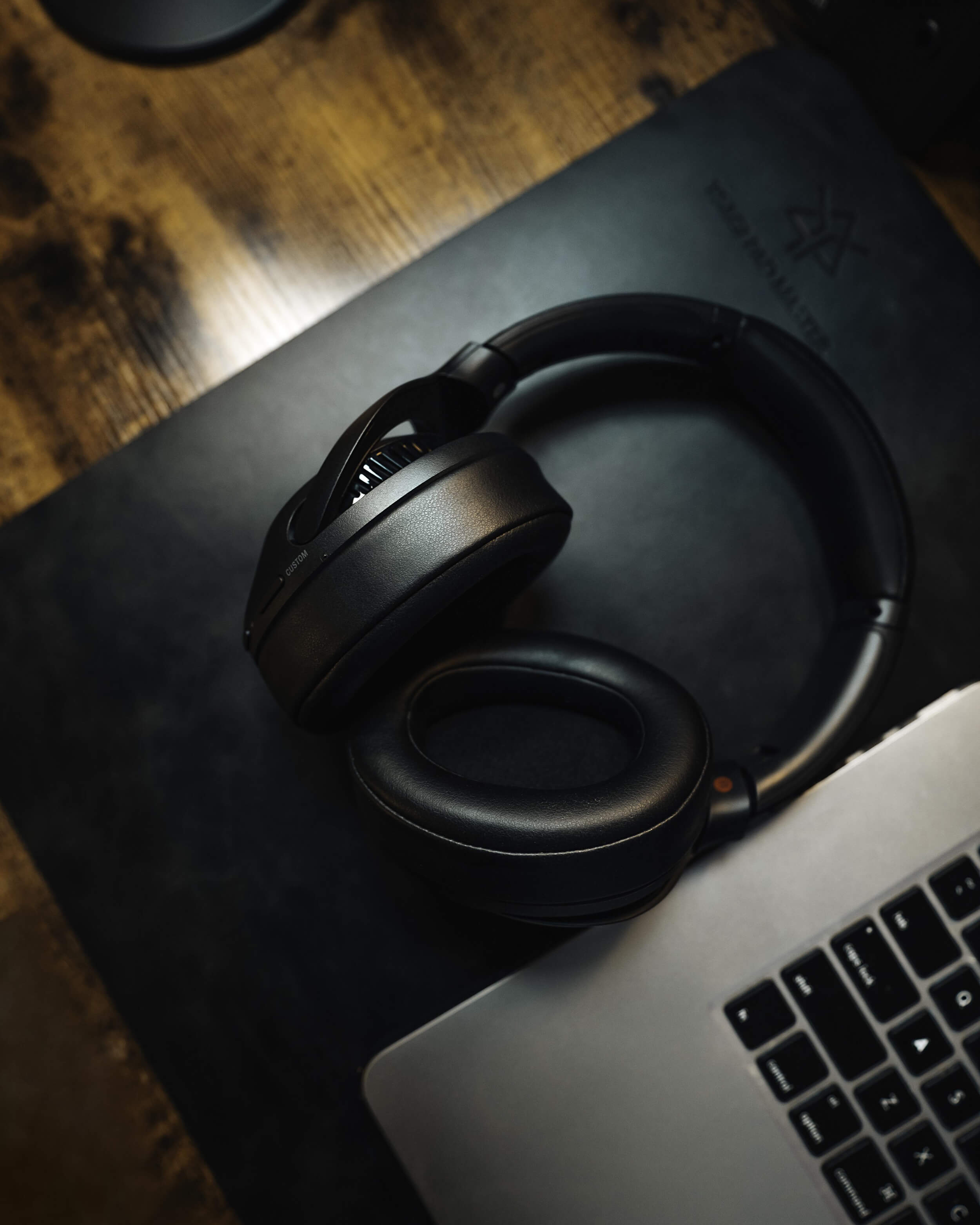 This is still very much in the works but I am closing in on getting it set up to start recording.
I'm a perfectionist so I won't release anything to the public until I feel it's ready.
What does your typical day look like?
A typical day for me usually starts at 7 am. I get up, let the dog out and make a cup of coffee.
Once the dog has been taken care of I open the door to my office and it starts. Like I said, I am greeted by my lights turning on for me and I pull out my chair and sit down.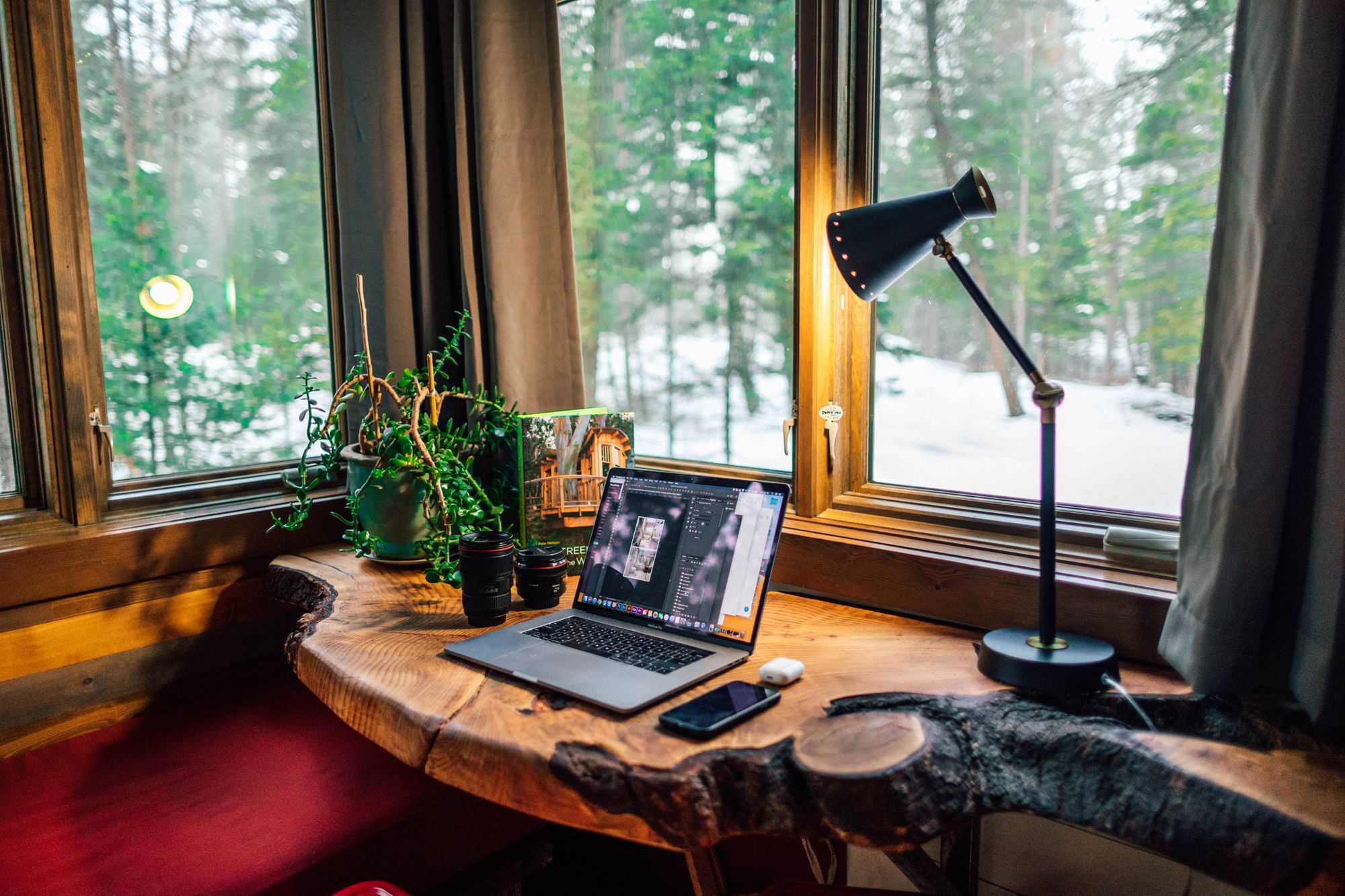 My MacBook Pro opens up and music starts to play. I listen to all sorts of music, but in the mornings I like to put on some nice upbeat classics.
Once I start to work the mood switches to a rap low-fi beat playlist.
I check my website, e-mails and I open up Instagram on my desktop and respond to any messages I may have. I plan out my content for the day and figure out what I'm going to be posting. I also write notes for a YouTube channel that I'm getting ready to release.
I try not to spend too much time at my desk a day, but I can easily spend four hours in my office just getting things done. It is very easy to lose time in my office considering it looks the same no matter what time of day it is.
It's like a productive casino, with fancy lights and sounds. It is an experience.
With COVID-19 making its impact on the world, it has truly put a driving force on getting the office done. I used to sit on the couch with my laptop, now I have this beautiful space to work in.
Your tips for working from home?
Get up and shower. Get dressed and wake yourself up. You won't believe how much this can change your mood and productivity.
I always keep a notepad in my office. I write things down as ideas come about. It is awesome to refer back to when needed.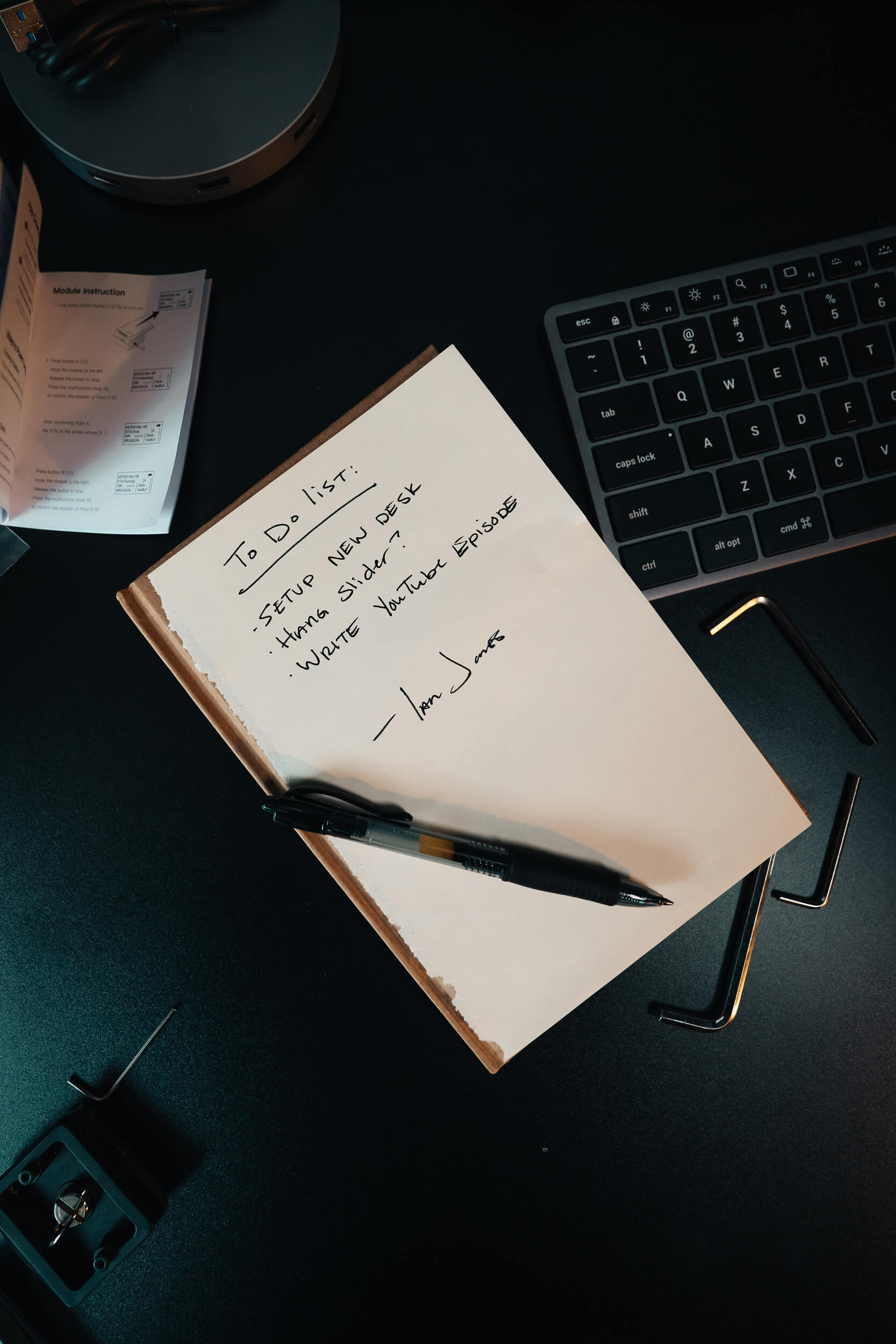 I try to get client work out of the way first, that way I can focus on myself and my projects afterwards. I can tackle my stuff differently and I like that.
We're a reader-supported publication. This article might contain affiliate links. It means we may receive a commission if you click a link and buy a product that our maker has recommended. The interview was done independently.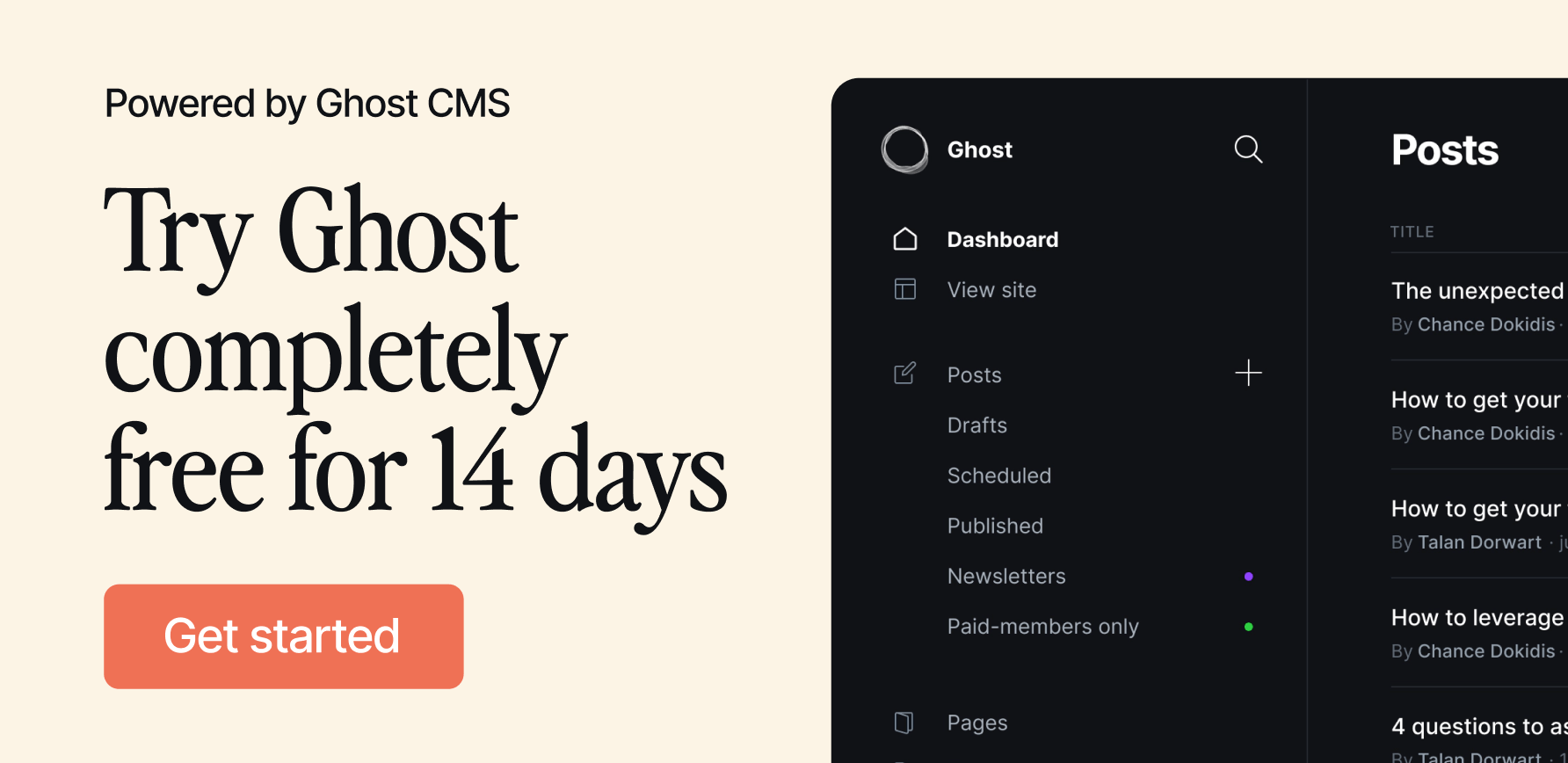 ---