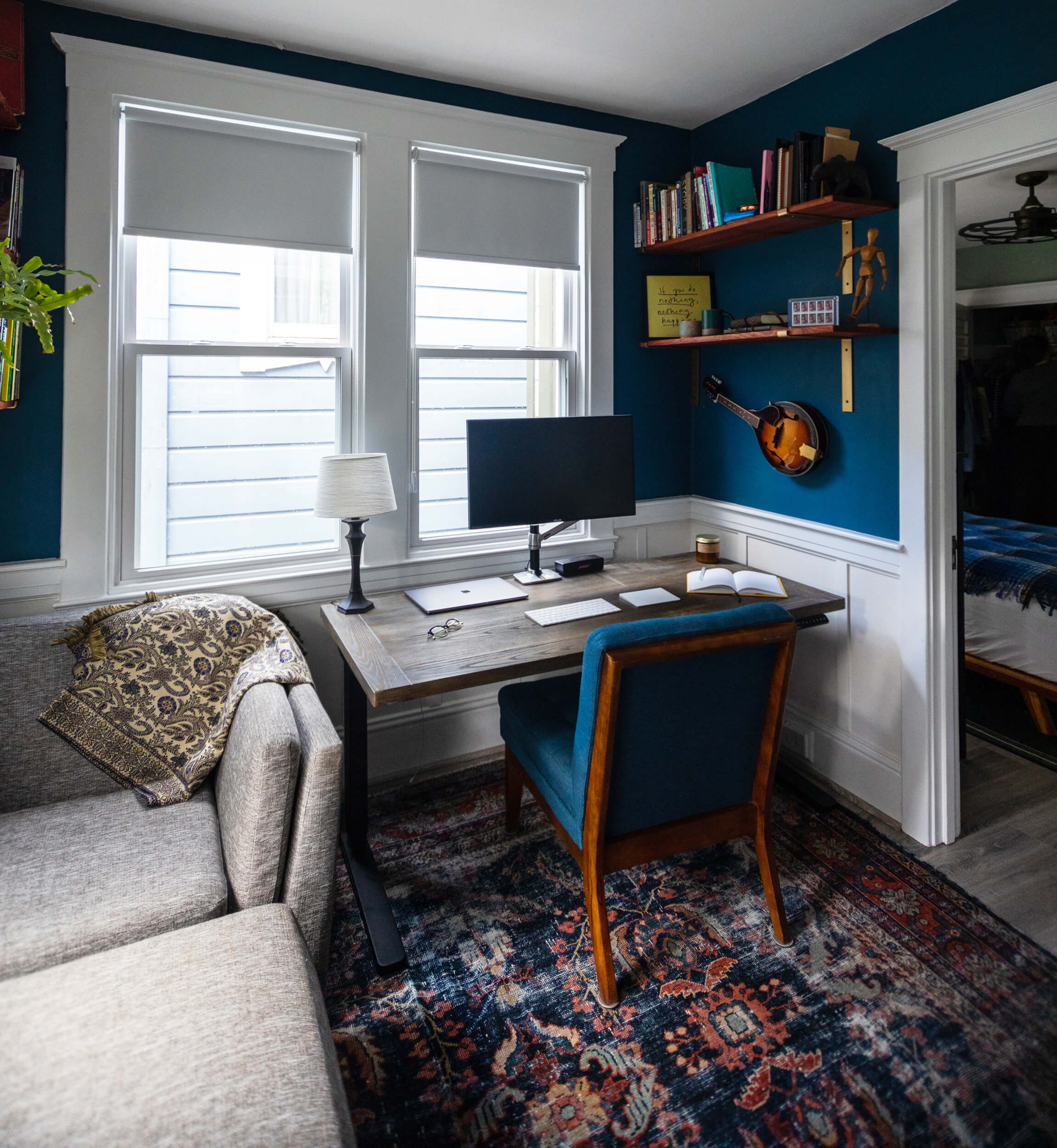 Creative Station in San Francisco, US
"To be honest: I hate working from home"

Name: Hazel Jennings
Location: San Francisco, California, US
Occupation: Writer, Designer
Room size: 9,3 m² (100 ft2)
Cost of the setup: about $1,5K
Social media: Instagram, Vimeo
Website: The Hardest Part Podcast
Hey, Hazel! Tell us a bit about yourself
Hi! I'm Hazel. I live with my husband, Daniel, and my 15-year-old rescue dog, Molly, in San Francisco.
I have a full-time writer & designer gig at a big tech company. And, outside of work, I like making podcasts and short films.
I like riding my pink bike around the city, going on epic camping-adventure-road-trips, taking dance classes and learning pop songs on my ukulele. I also really love animals.
I'm originally from Amish country, Pennsylvania and have lived in San Francisco for nearly a decade. I grew up living in small apartments and modest houses, and always had the smallest bedroom (or shared bedroom) because I'm the youngest in my family.
My family loved camping, and so setting up my little tent exactly how I wanted it was always an empowering and joyful activity for me.
And thus began a love affair with small, functional and beautiful spaces.
When my dog and I first moved to California, I lived in a 125 square foot studio apartment and never wanted more space.
A year and a half ago, my husband and I bought a 650 square foot apartment right on the Panhandle of Golden Gate Park in San Francisco and have spent the last year of COVID-19 lockdown designing it. It's been a wonderful project!
Can you describe your home setup?
When I moved into the apartment, the study certainly didn't feel cosy at all.
So, the first thing I did was build the wainscoting around the walls myself, paint the walls teal and hang bookshelves in every corner.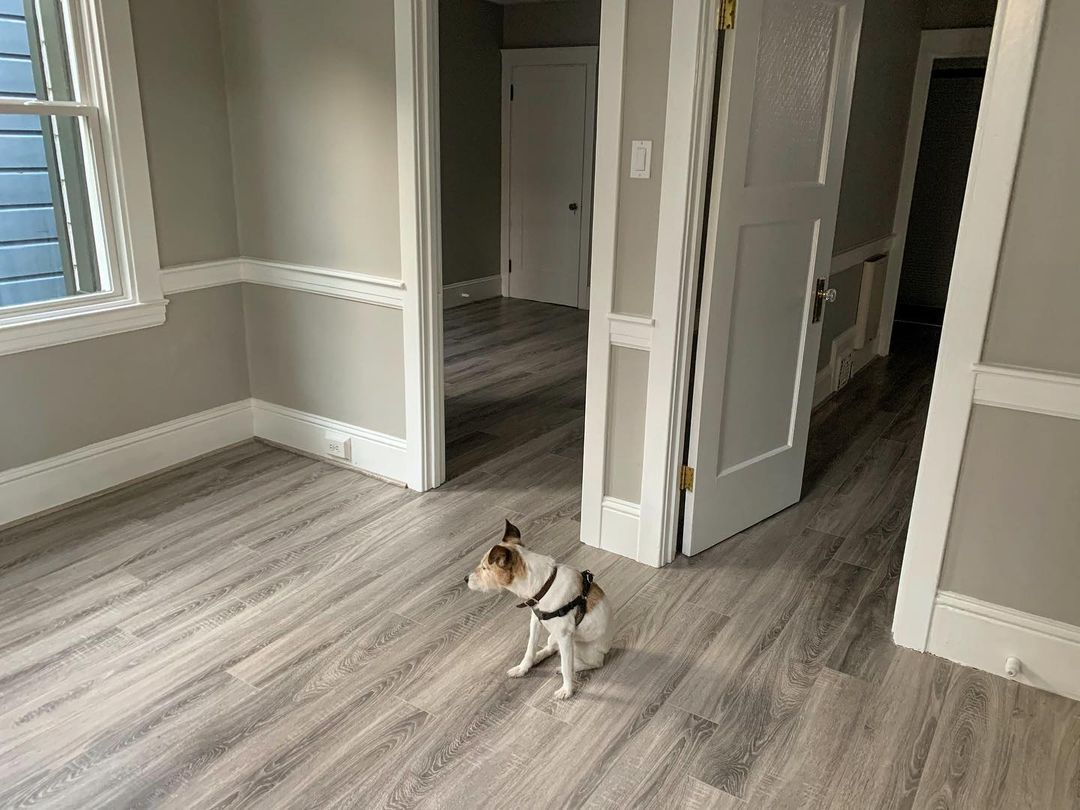 I put in the desk and big reading chair so that we would have a space to work on creative side projects, for my husband to play PC video games in the evening and for me to read on lazy Saturday afternoons.
But, like a lot of knowledge workers, I've been unexpectedly working from home for the past year. So our hobby desk suddenly had to do a lot of heavy lifting.
For example, I had just a regular sitting desk. But, with me working at it full time, I was starting to really feel the negative effects of sitting all day. So, I disassembled the desk and put the desktop on motorised sit-stand legs so I can use it as a standing desk too.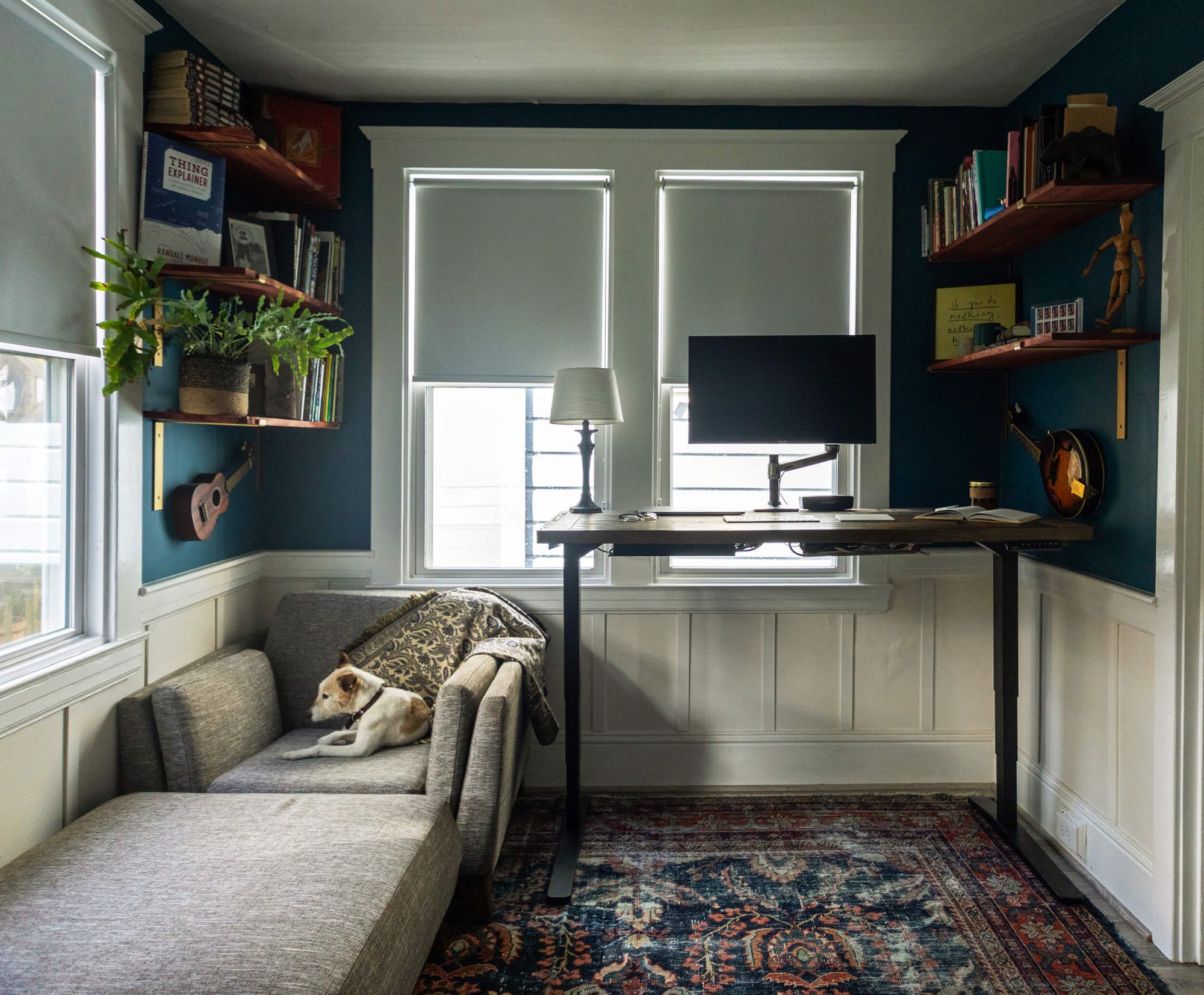 Working from home unexpectedly also brought more plants into the room. The study has four large windows and lots of natural light.
I've never been a particularly gifted gardener, but I've found that a big advantage I have now is being in the same room all day with the plants I'm taking care of.
You actually do notice small changes: a bit of a droop, slight browning at the tips of the leaves. I've learned a lot about noticing when a plant is happy and learning what it needs.
One of the biggest challenges was trying to keep the space looking beautiful… while also remaining a functional desk that I need to be my meeting space, workspace, breakfast table and lunch table… as well as a gaming space for my husband on some evenings.
When creating spaces, I always start with function.
First, I figure out what are all of the things a space or object needs to do. Then I start understanding how form can help serve that function.
There's nothing too unique or interesting tech-wise about the setup. I use a MacBook Pro connected to an ASOS ROG monitor connected to an Ergotron monitor arm.
The desktop is from a desk I got second hand for $100, attached to Uplift sit/stand legs. My husband has a gaming PC hidden under the desk, but to be honest, I don't know anything at all about it.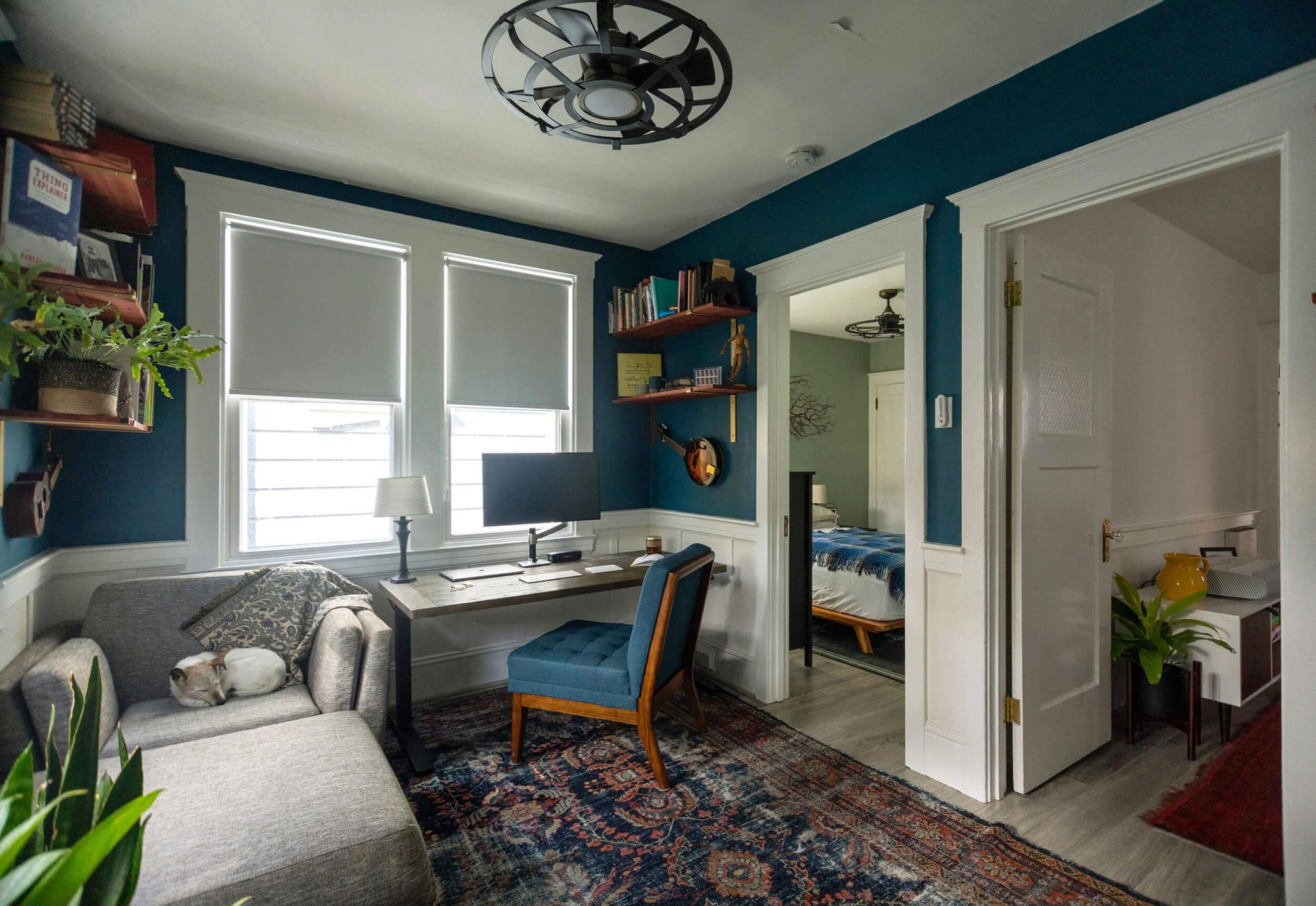 This also isn't a workspace that was set up all at once.
I've had a desk in all eleven apartments I lived in between moving out of my mother's house after high school and moving in with my (now) husband.
And then my husband and I combined the desk setups we each had at our own spots and used one shared desk in all four apartments we've lived in together.
So, nothing came together overnight. And, really beautiful, functional spaces never do.
What's your favourite item on your desk?
This was tough: as my study has shelves full of books and items that I love and cherish.
One of my favourite items is a set of Mr. Rogers stamps that my mother got me. I put them in a little acrylic frame so I could keep them at my desk.
Mr. Fred Rogers was the creator and host of an American children's show called Mr. Rogers Neighborhood that ran from 1968–2001. He was from outside of Pittsburgh, Pennsylvania — very near where I also grew up.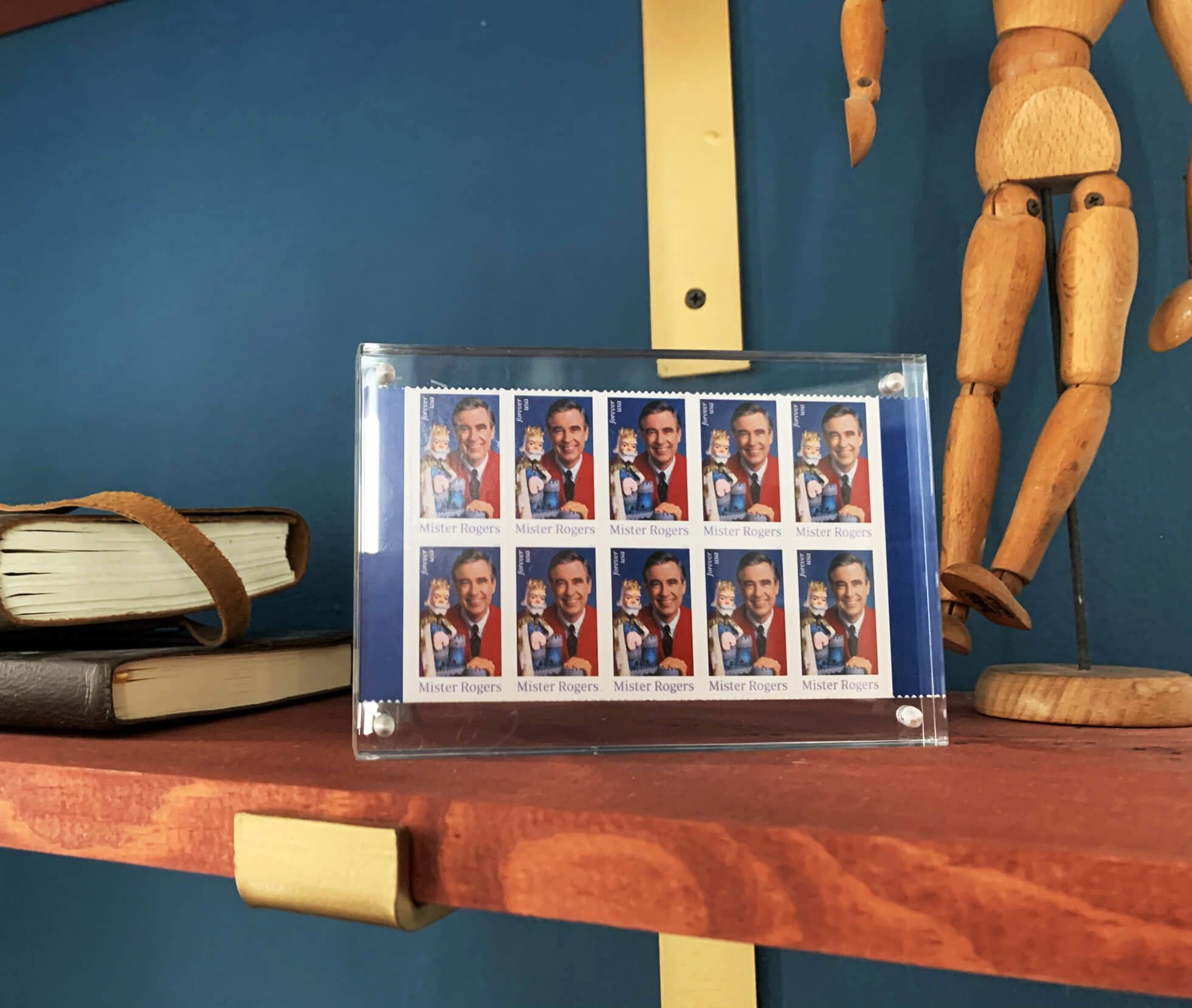 Mr. Rogers has always been a hero of mine. In all of his writing, speaking and on his show: he emphasised kindness, patience and perseverance.
I love having this little set of stamps by my desk because it reminds me of my mother, of Pennsylvania, of the joy in letter writing and of the importance of being kind to others.
What does your typical day look like?
My days have been quite predictable and uniform for the past year. One thing that hasn't changed between 2019 and now is that I still wake up to a clock radio: I have ever since high school.
NPR starts playing at 7:00 am every morning, and I usually lay in bed for 5-10 minutes listening to the headlines.
Then I get up and pour myself a cup of cold brew and sip it while changing into my workout clothes.
I aim to work out for 45 minutes or so every weekday morning. Sometimes that's a bike ride to the top of a big hill, a jog through Golden Gate Park, a yoga or kettle bell work in my backyard or, lately, using my new rowing machine.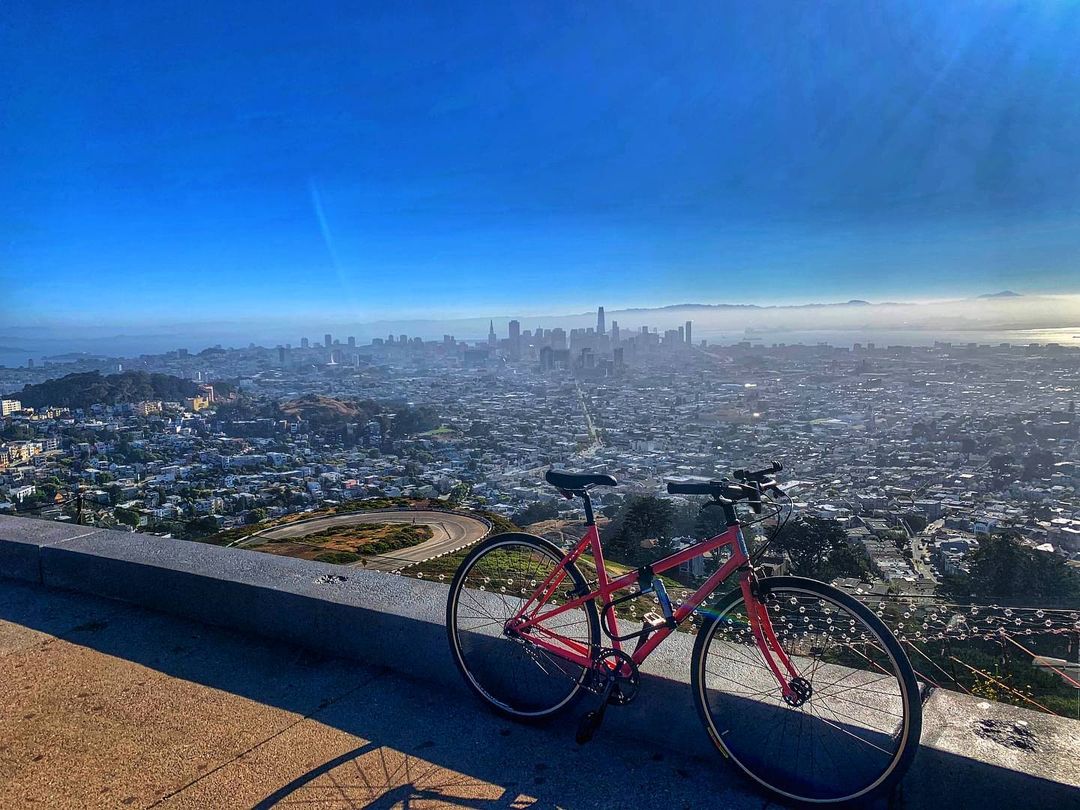 But realistically, sometimes it's also sitting on the couch and doom scrolling in my pajamas before frantically realising an hour has gone by.
My meetings normally start at 8:30 or 9:00. After a quick shower and switching to hot coffee, I head into the study to start my day.
I have a lot of trouble focusing and paying attention in meetings, so I usually stand at my desk during them. It's helpful if I can move around the slightest bit: even if that's just shifting my weight or going up on my toes and then back on my heels.
A lot of my team sits in New York City, which is three hours ahead of California. So, my meetings are typically finished by 1 or 2 pm my time, and 4 or 5 pm their time.
After the meetings, I usually take the desk down to sit-mode so I can do the actual work of making things.
Around 5:00 or 5:15, I often find myself in the big reading chair with my laptop in my lap.
I wind down the day by sending off any emails or messages with links to things I've made so people can give me feedback on it, as well as crossing things off of today's to-do list and writing down what I'd like to focus on the next day.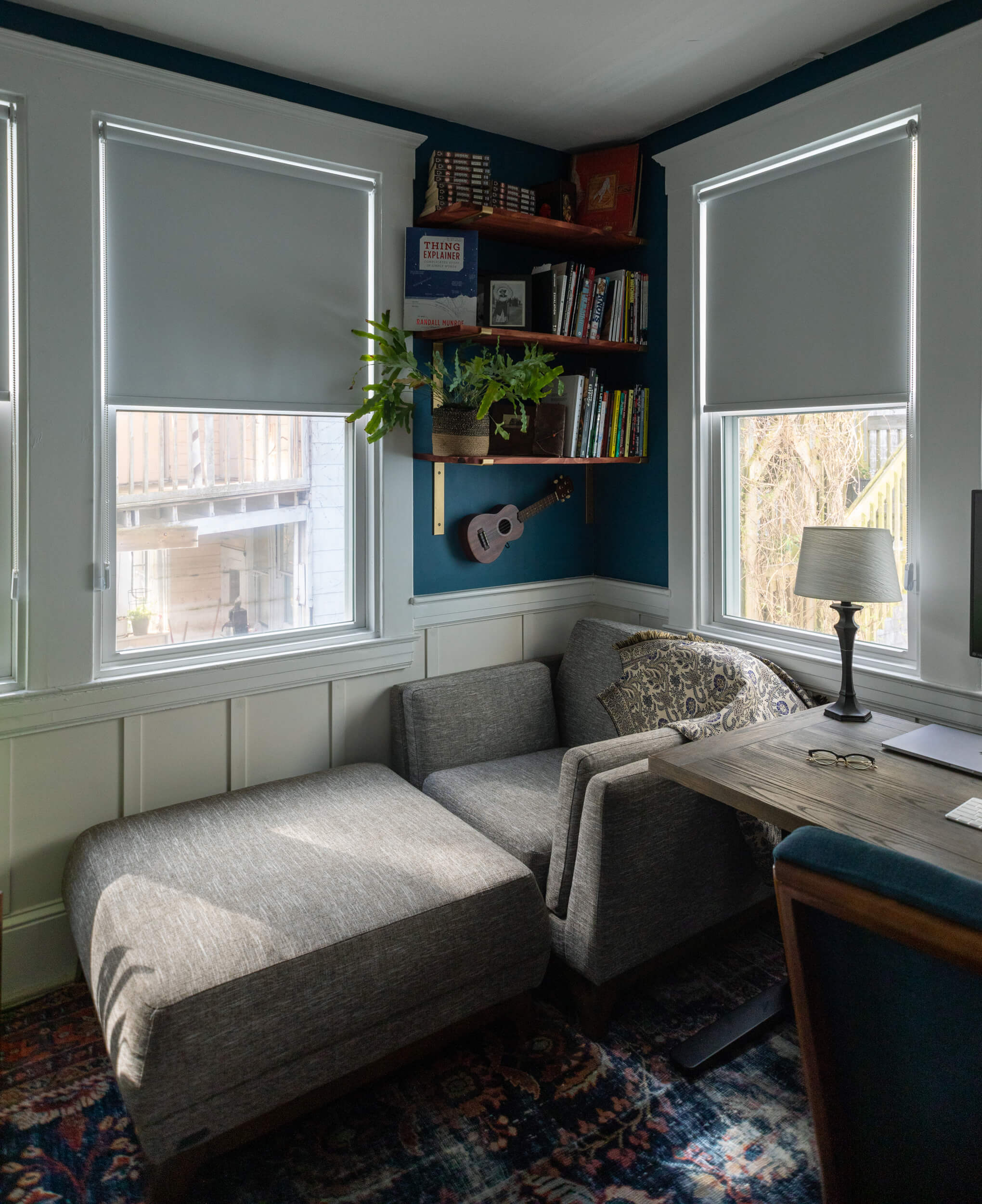 I really like that I have three modes in such a small space: standing, sitting at a desk, or chilling out in a comfortable chair.
After I'm done working, I like to try to break up the day by taking the dog for a walk outside or kicking the soccer ball in the park with my husband. But that doesn't always happen.
Sometimes, I just end up sitting on the couch mindlessly scrolling through social media on my phone and feeling like I'll be lonely and isolated and away from my friends forever.
And then I make dinner!
Your tips for working from home?
To be honest: I hate working from home. Before the pandemic, I had a beautiful 4-mile bike commute through beautiful downtown San Francisco.
I'm lucky enough to work in a gorgeous, downtown skyscraper with epic views, great coffee and plenty of convenient places nearby to grab a happy hour or a bootcamp class with friends.
I describe myself as "debilitatingly extroverted" and I loved everything about working in an office. I loved meeting new people, eating lunch together and sneaking out early sometimes on Fridays to laugh at the absurdity of our jobs.
Though we've tried to recreate these things through video conferencing: I like brainstorming and attending design critiques and working through flows and whiteboarding and arguing about data in person and together.
My tip for working from home (if you're not doing it by choice or are doing it under less than ideal circumstances) is to be gentle with yourself.
It's OK if you're not as productive or as happy as you were when things were "normal".
It's OK if you've gained weight or abandoned that hobby you were going to try or if you can't keep your house clean or maybe if you've picked up a habit of crying in the shower before bed every night.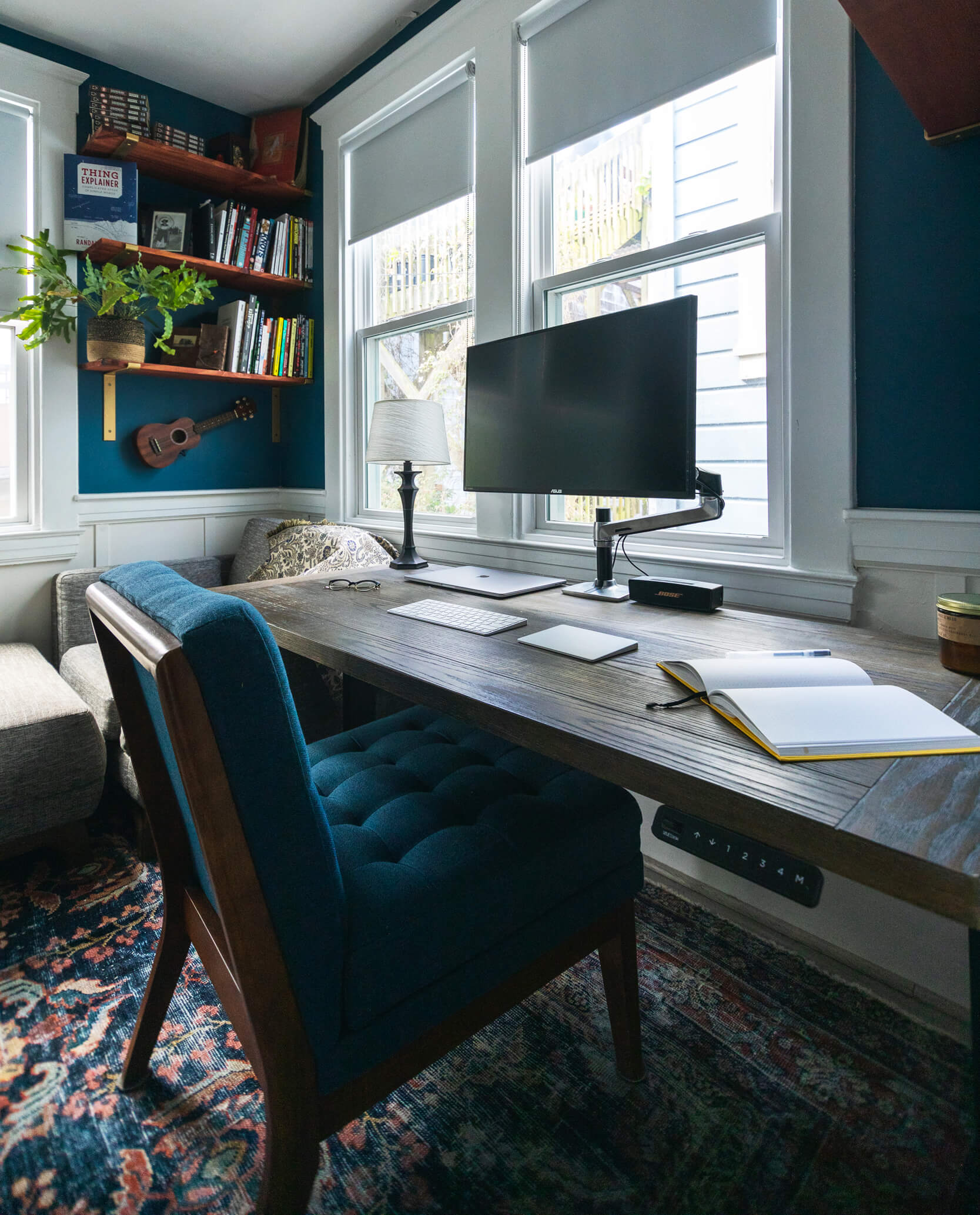 Of course, I can repeat back all the things that have been repeated to me: close your laptop when you're done working, go for walks, remember to get your exercise, wear work clothes to get into a more productive headspace, drink more water, eat healthily and meditate.
But is anyone actually doing all those things? I'm not. We're all in this together, ya know?
So be kind to yourself, be kind to others and relax that little space between your eyebrows. Unclench your jaw. Wiggle your toes and take a deep breath. You're doing great.
We're a reader-supported publication. This article might contain affiliate links. It means we may receive a commission if you click a link and buy a product that our maker has recommended. The interview was done independently.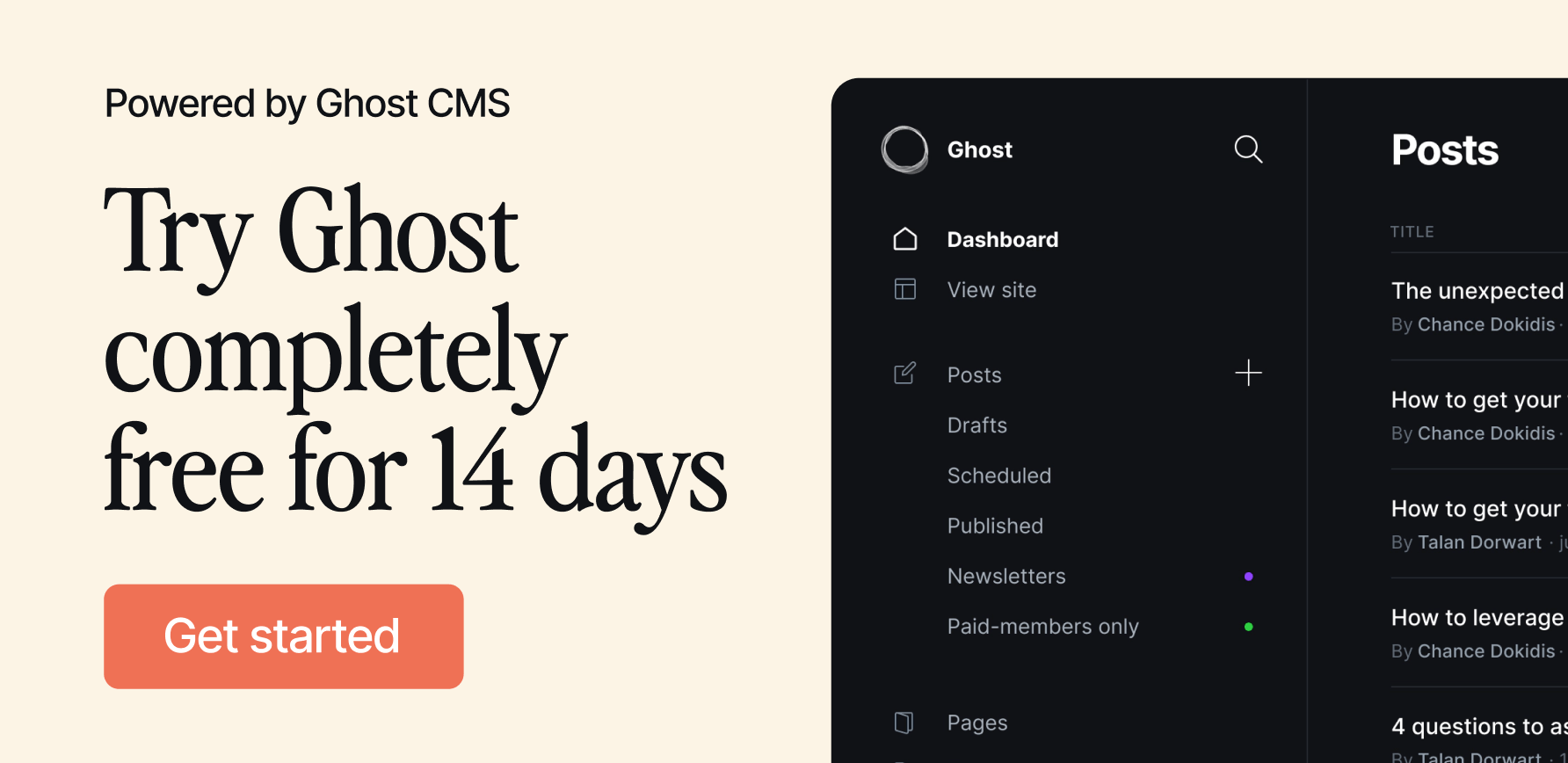 ---