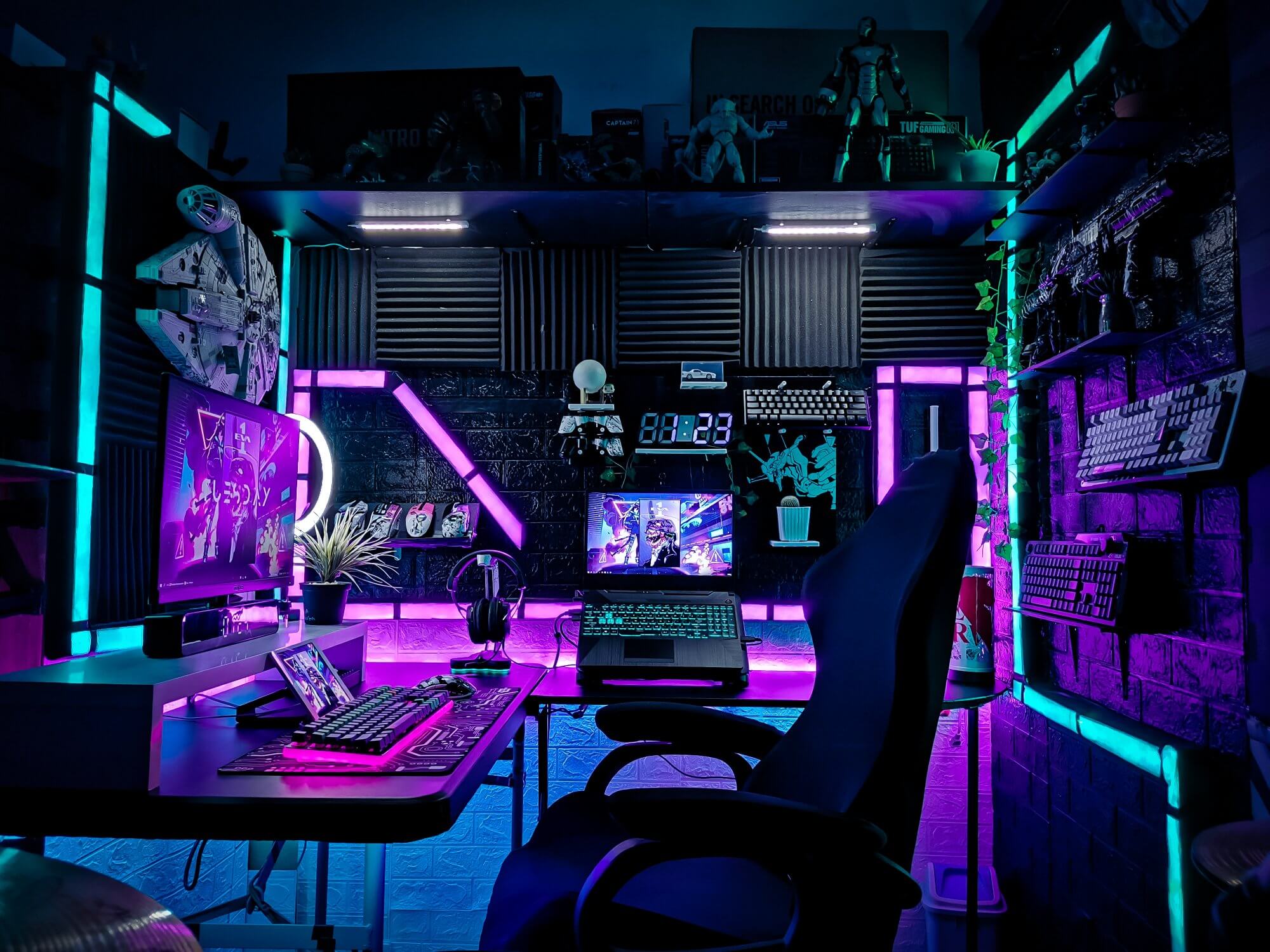 Cyberpunk-Inspired Gaming Setup in the Philippines
"While I'm a huge fan of neon lights and RGB, I didn't just splash them all over the place. What I did was smarter"
Join 1700+ Curious Readers.
Every Sunday evening, get an *in-depth* workspace tour from a random corner of the world.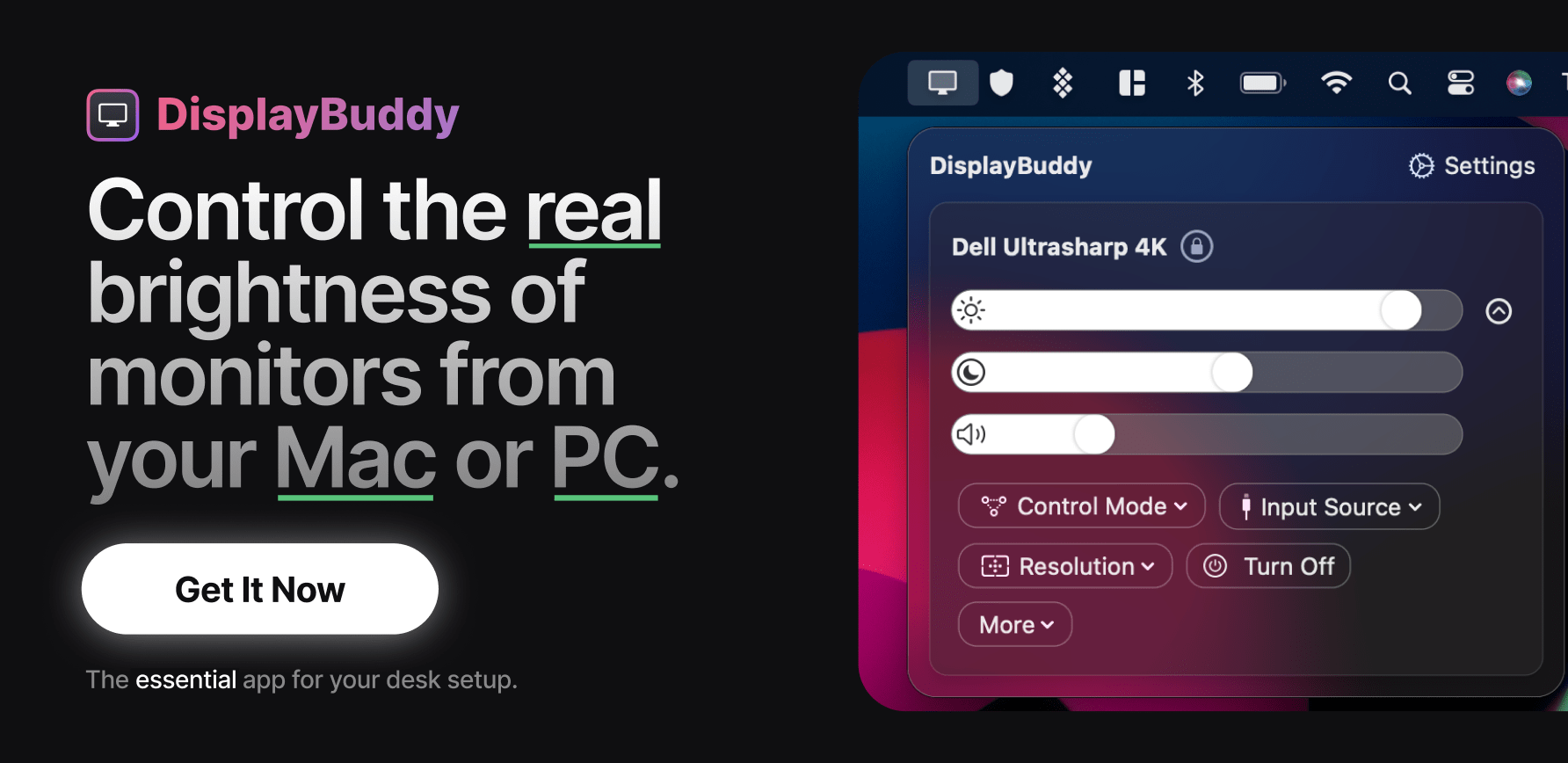 Name: Gerwyn Manuel
Location: Rizal, the Philippines
Occupation: Student, Drummer, Artist
Room size: 14 m² (151 ft²)
Cost of the setup: ~$1,5K (₱77K, including a laptop and monitor)
Social media: Instagram
Hello! Tell us a bit about yourself
Wazzzupppp, you guys! I'm Gerwyn, a student from the Philippines.
I'm a full-time drummer and a small-time partner of my girlfriend in our business selling apps and books.
To be honest, it was never my dream or intention to build a desk setup.
I'm a musician, and during my pre-pandemic days, I was always on the road, practising and performing.
I simply didn't have time to sit at my desk at home or play video games.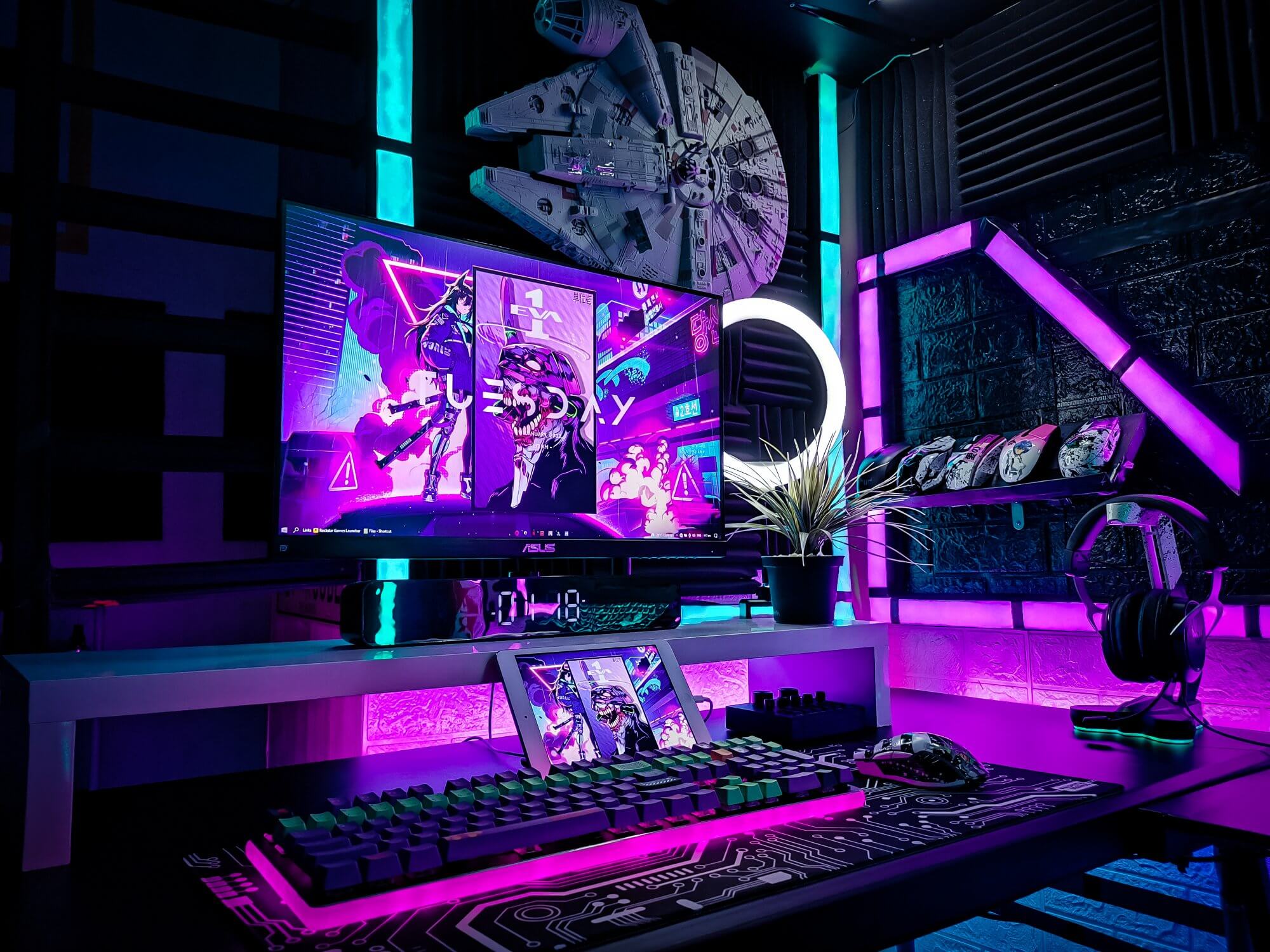 In 2020, when the lockdown started, I began getting into tech and gaming more since that's what my hangout time with friends looked like at the time (shout out to Genshinan sa Kanto and CAT GANG.Co!)
When I met my girlfriend online during the lockdown, gaming became an important part of our bonding time. She's a veteran gamer from a pro team that competed in tournaments before.
It wasn't that long ago that I stumbled upon Setup Wars videos on YouTube as well as Matthew Moniz's channel (where I got featured eventually).
They became my main inspiration for building my battlestation.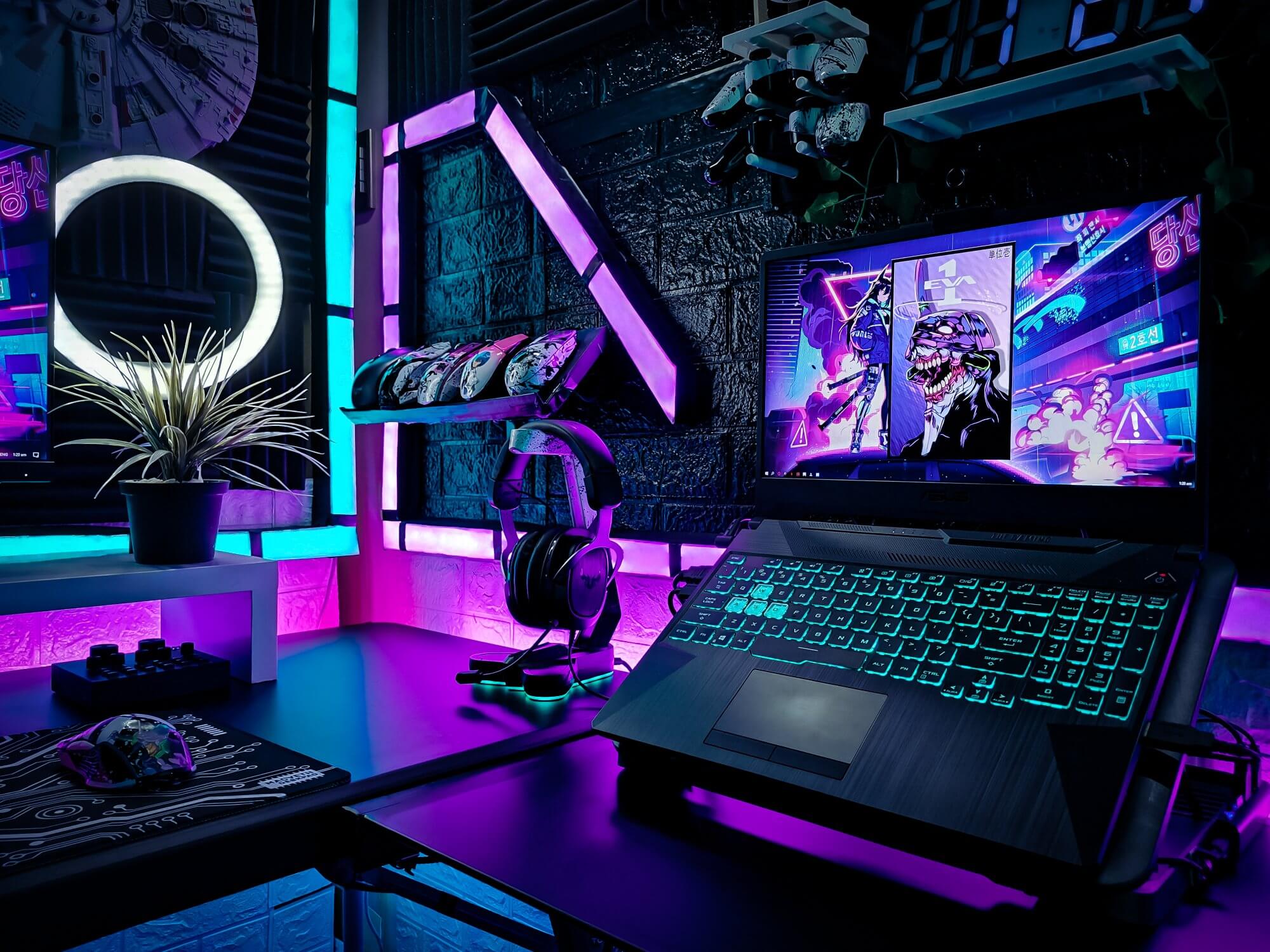 Since then, building upon and getting my setup to perfection has become a new hobby I'm surprised I'm good at.
I got featured by a bunch of tech pages on IG, and my setup is also on Pinterest. Matthew Moniz's channel also featured me — my desk setup was even used as a thumbnail.
I never expected this blessing to come, but here I am, talking to you guys and being featured again.
I hope to inspire more people!
Take us through your setup
The main purpose of my setup is to show the world that you don't need a huge budget to build one.
What's more important is creativity, personality, and imagination.
A lot of people have been asking me how I came up with this look.
I was inspired by NeoTokyo-like cyberpunk vibes and put them into my imagination.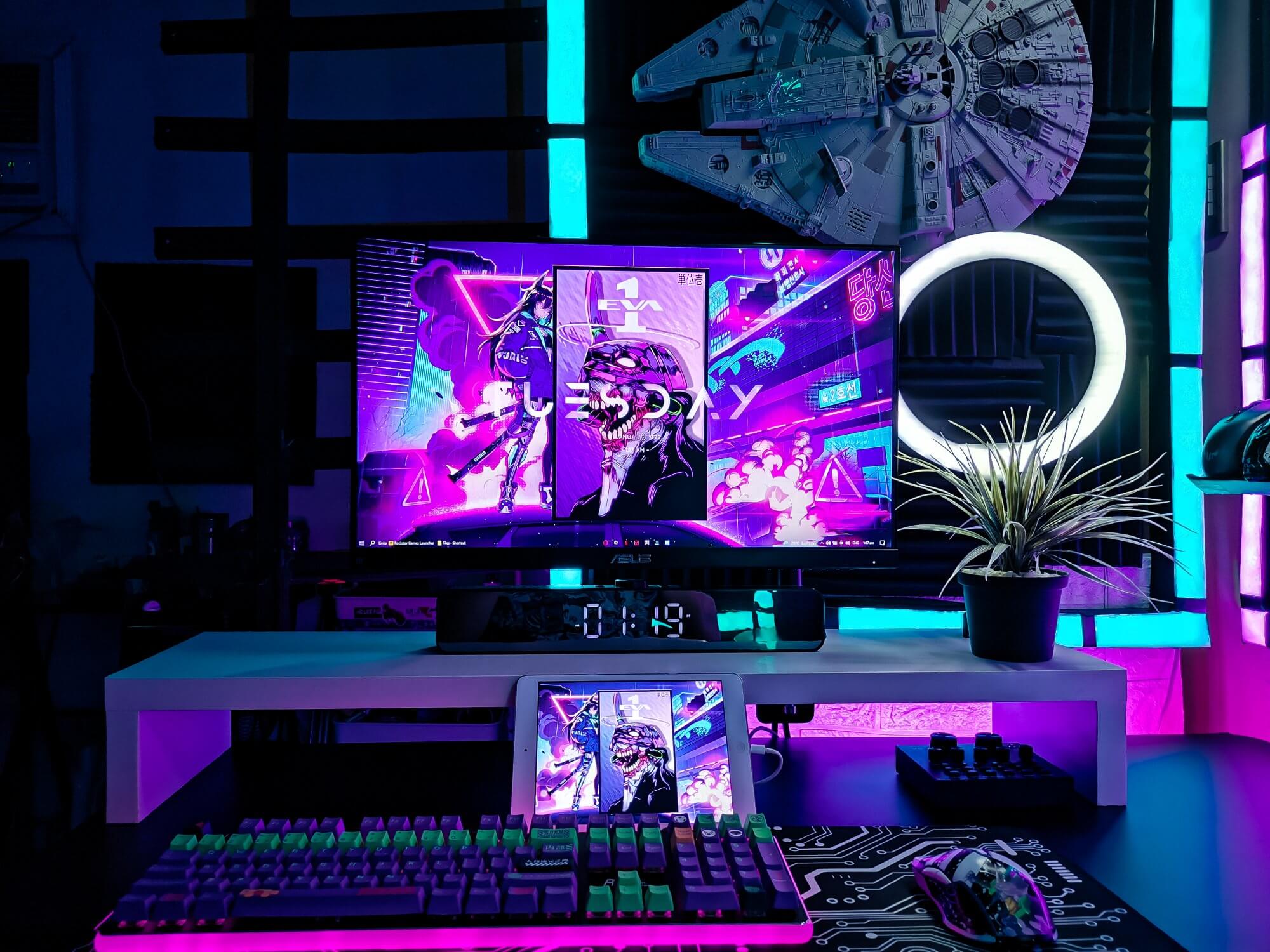 While I'm a huge fan of neon lights and RGB, I didn't just splash them all over the place.
What I did was smarter.
I carefully planned where I'd put them and how they would affect the lighting of my setup.
I'm quite proud to say my lights have a distinct style and uniqueness to them.
I love my neon light bars. They're just like the ones in Night City from Cyberpunk 2077.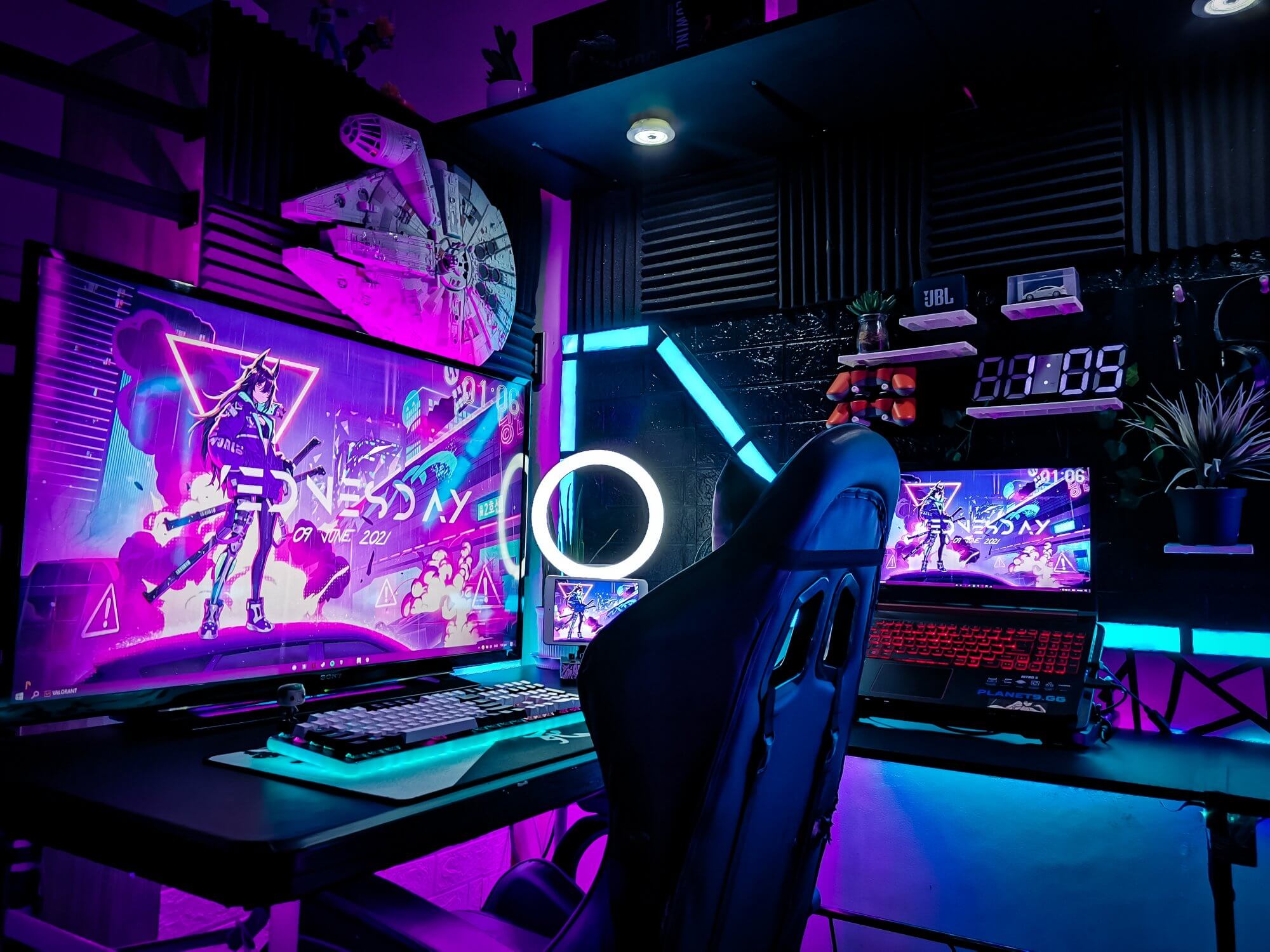 My setup went through different phases.
The first one had the NeoTokyo cyberpunk look.
The second was minimal and moody.
And, finally, my current setup is inspired by Eva Unit-01 [editor's note: the flagship mecha of the Evangelion anime saga].
It took me seven months to get to this Eva-01 phase, and during that time I was using my other two setup themes.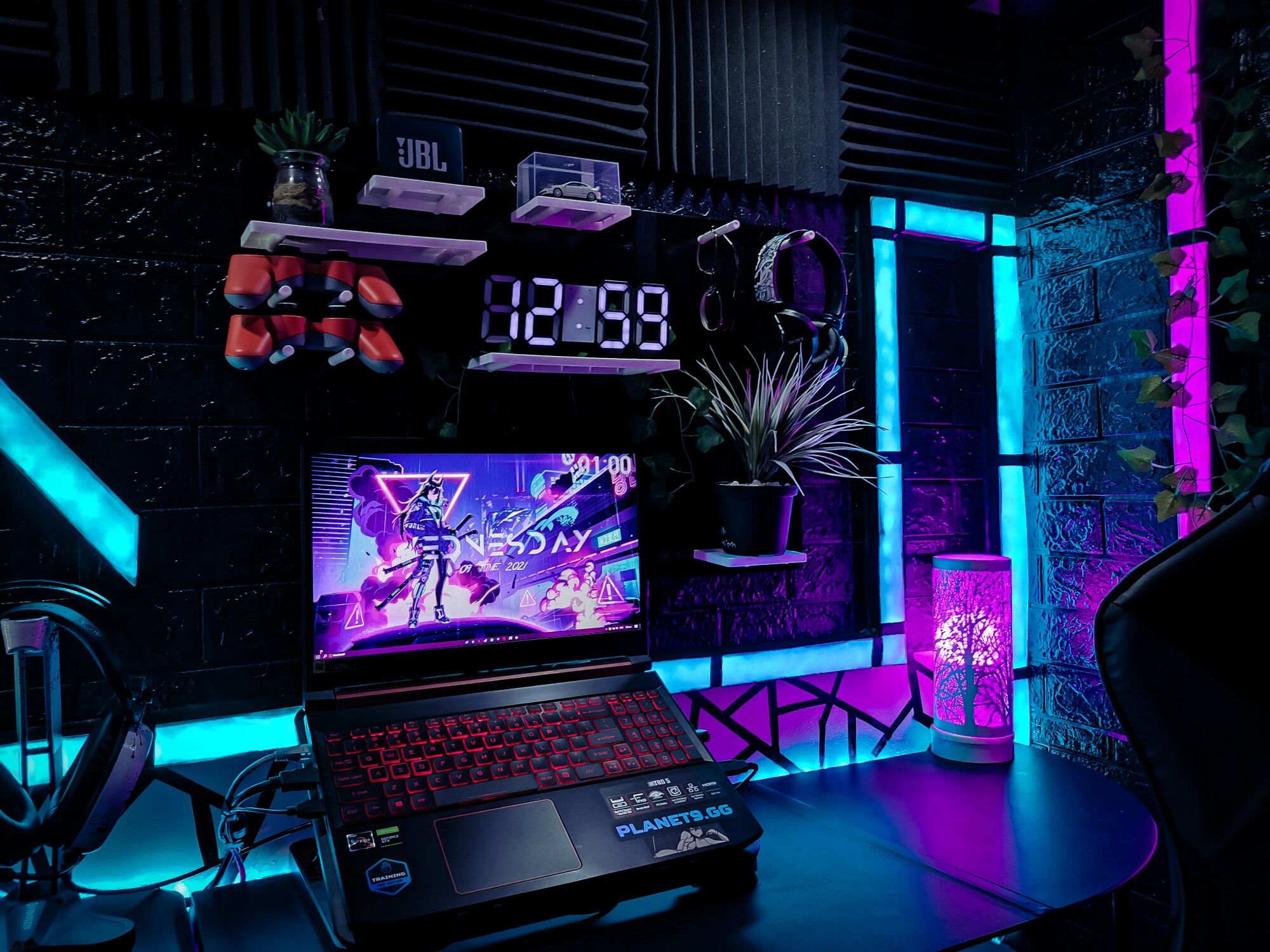 The lighting would be my trade secret.
Many people think they're Govee light bars, but they're not.
I designed them myself based on the measurements I figured out through experimentation, like thickness and diffuser placement.
What's your favourite item on your desk?
I love my mice collection.
Since I'm a huge fan of anime, I customised my old mice and made them Evangelion-themed.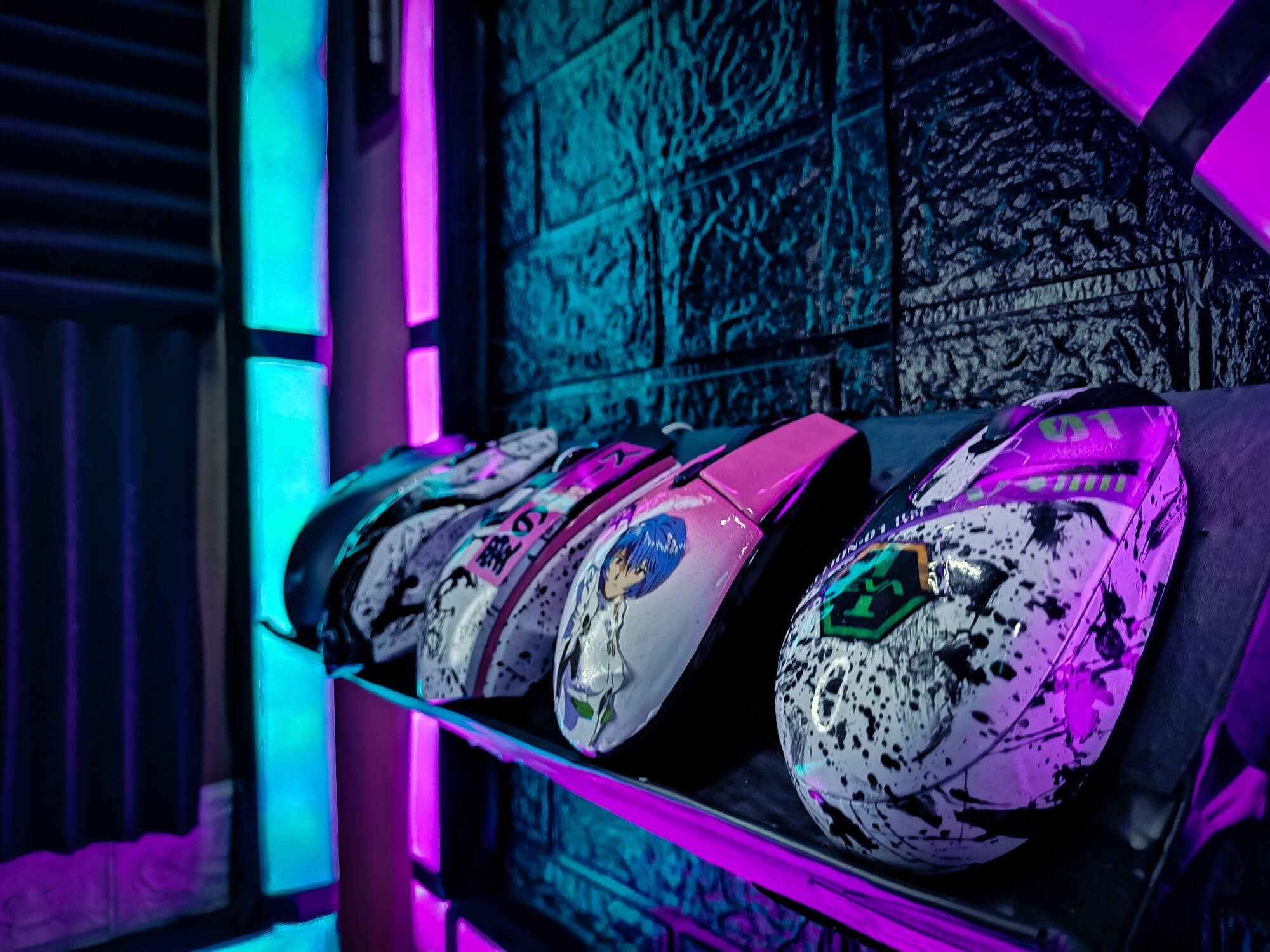 There is no story behind this.
I'm just really into customisation and design since I'm also a drawing artist.
So I decided to add some personality to my mice with spray paint, washi tapes, and stickers.
Also, I do enjoy this custom Funko Joker keycap my girlfriend gave me.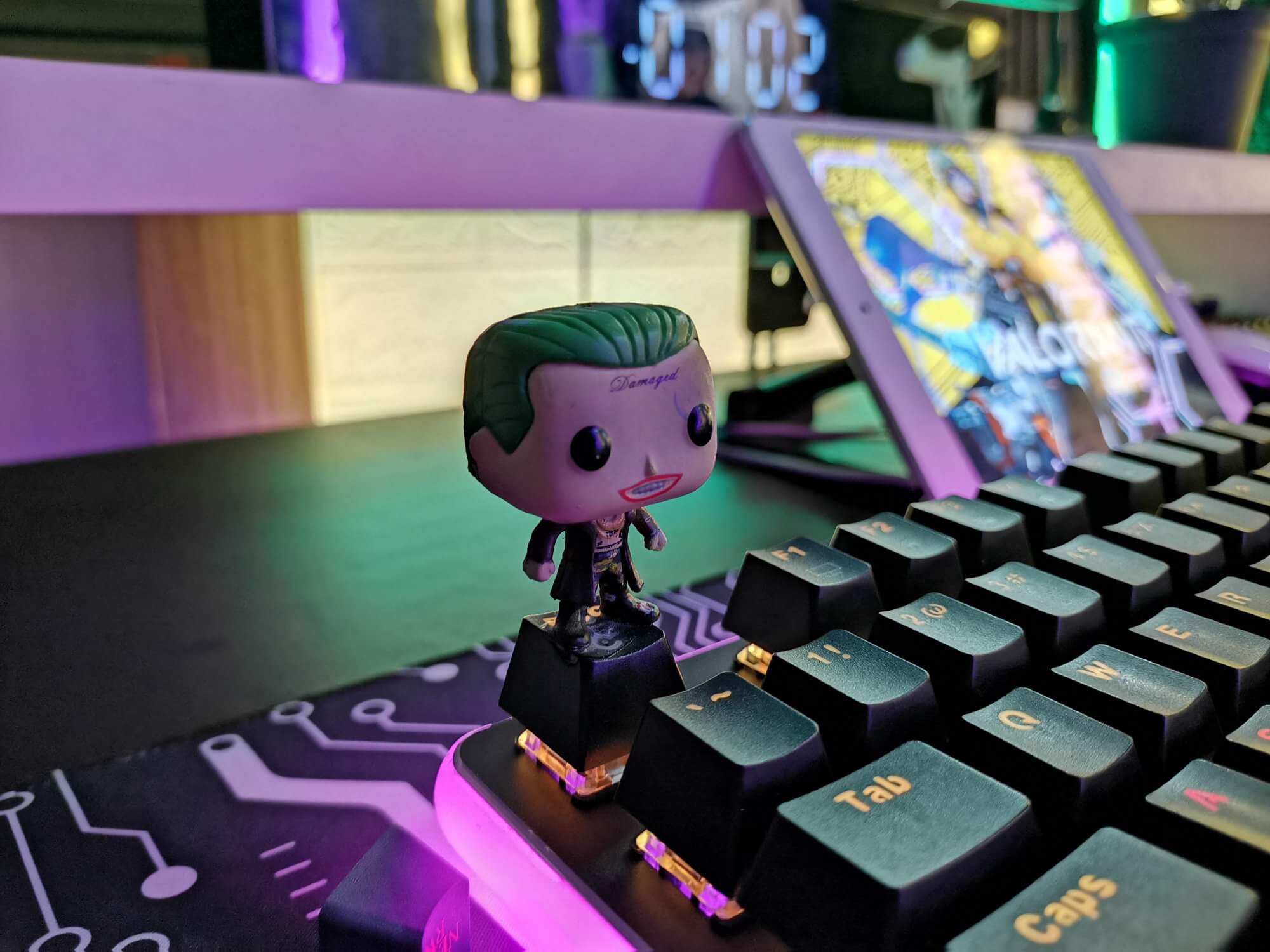 What apps or tools do you use to get things done?
As a musician who edits music, I go with Garage Band on my iPad Mini since it's easier to use and fast to work on.
To record my drums, I use a mixer routed to my laptop.
For guitars and piano, I use my V8 sound card.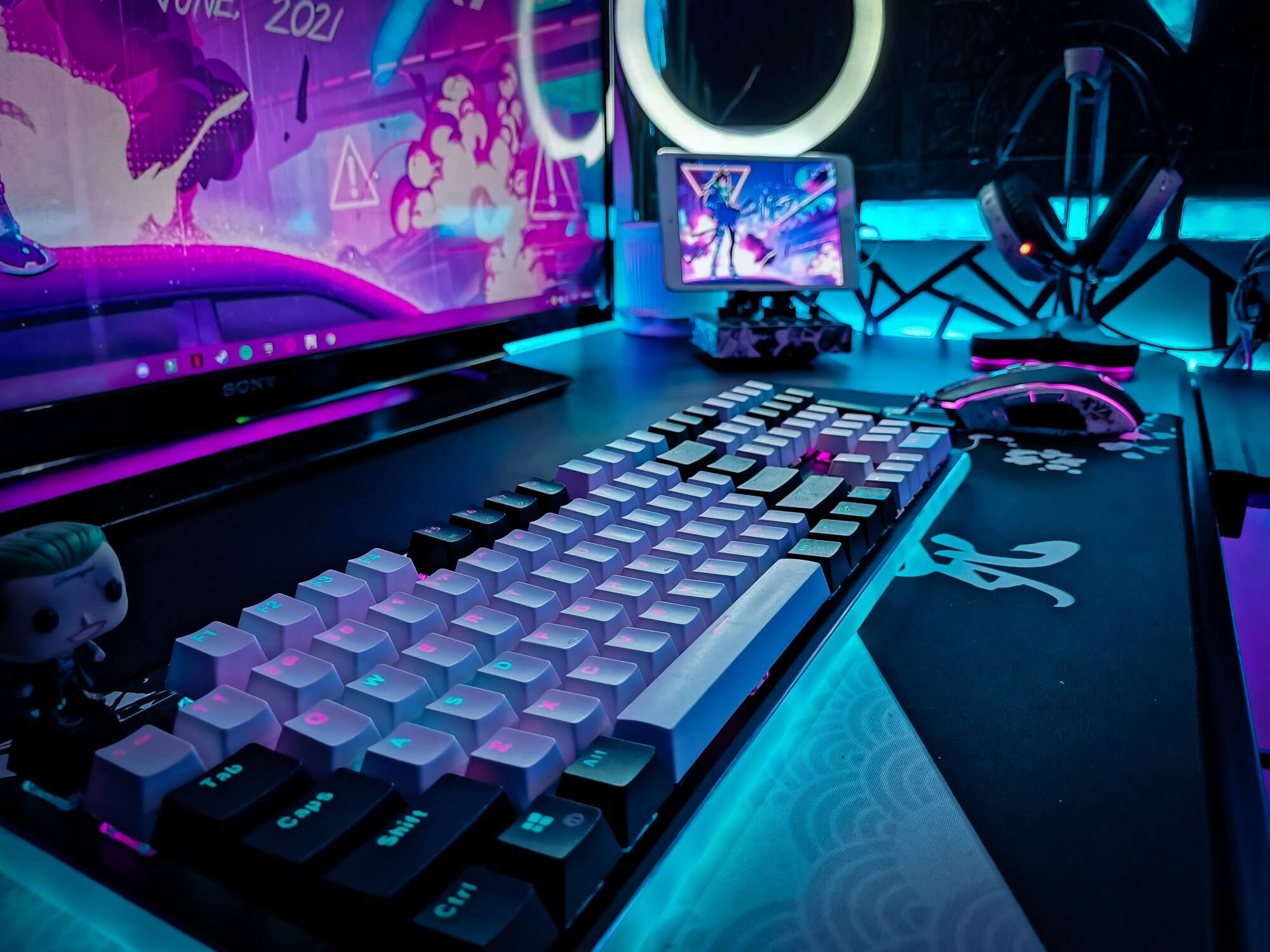 Apart from that, I also like Canva and Filmora. Using these apps, I edit wallpapers for my setups and music videos for my drum covers.
Although I'm still learning professional photography, I use my phone camera in pro mode.
All photos for this interview were taken using my phone!
Here are my Huawei Nova 5T camera specs:

What books, blogs or podcasts recently caught your attention?
I rarely listen to podcasts or read books.
As a visual learner, I prefer watching videos to learn stuff.
I'd rather watch a movie than read a book — reading makes me sleepy no matter what.
Any tips for other makers who want to improve their workspaces?
It all starts with you.
A killer gaming setup or workstation doesn't really need that much money.
All it needs is your imagination and creativity to work its way up.
Dedicate yourself to building your setup, and it'll eventually pay off.
What does your typical day look like?
Depending on my class schedule, I usually get up at 8-10 am.
I check my phone for updates and message my girlfriend good morning. Sometimes, I call her to wake her up if I do it first.
After eating breakfast, I start my class right away.
I have lunch around 1 pm, then take a shower and head to my afternoon class.
Afterwards, I do my homework so I can record drums or play video games in the evening with peace of mind.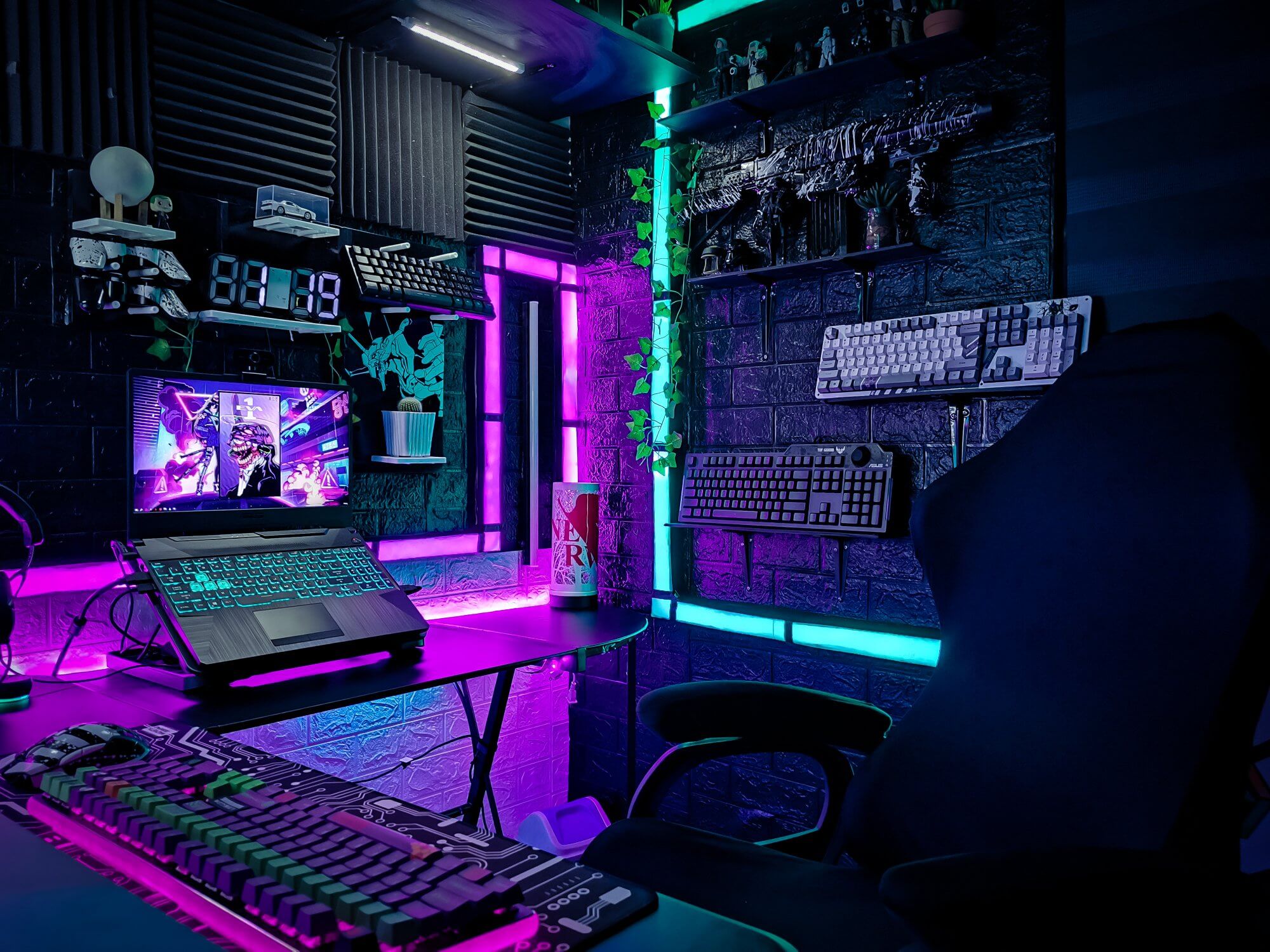 I usually eat my dinner around 8 pm and stay up until 1-2 am.
Since I'm there for 8-12 hours a day, the aesthetics of my setup is very important to me.
My battlestation is what I see most of the time.
I usually play Genshin Impact and GTA online with my friends. I also play a lot of Valorant with my girlfriend.
In case I can't fall asleep (due to a caffeine rush, cause I love coffee so much), I watch anime until I doze off.
I'm a huge otaku by the way.
Your tips for working from home?
Since I'm still a student, I can't compare the stress of working from home with the stress of studying from home.
I guess there's a lot more pressure?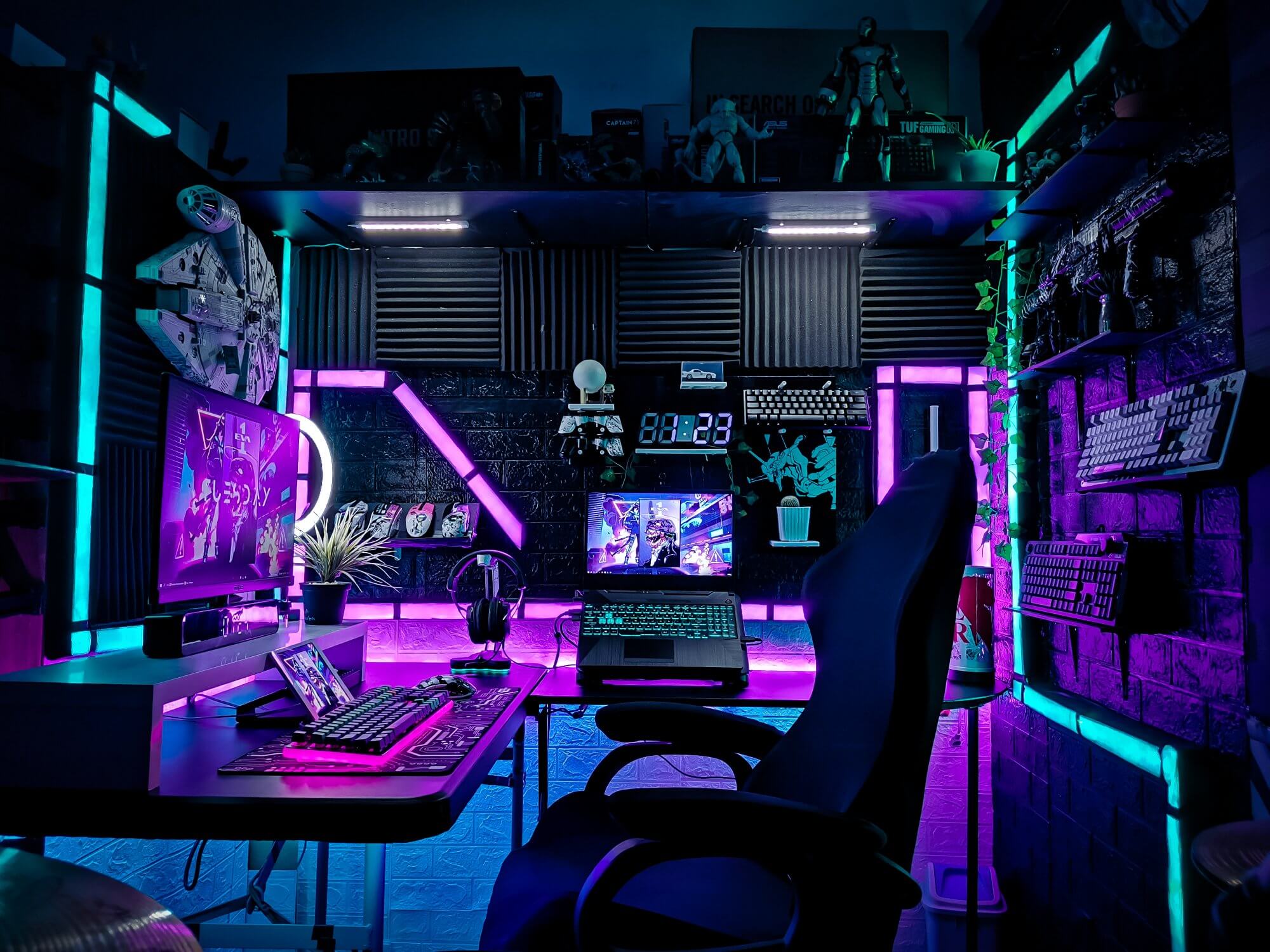 As for my morning ritual, breakfast kickstarts my day along with strong coffee to keep me awake. Then I get right to work.
I manage my time in a pretty simple way. I make sure to finish up all my academics first before doing anything else.
Pomodoro study-with-me guides on YouTube help me focus, too.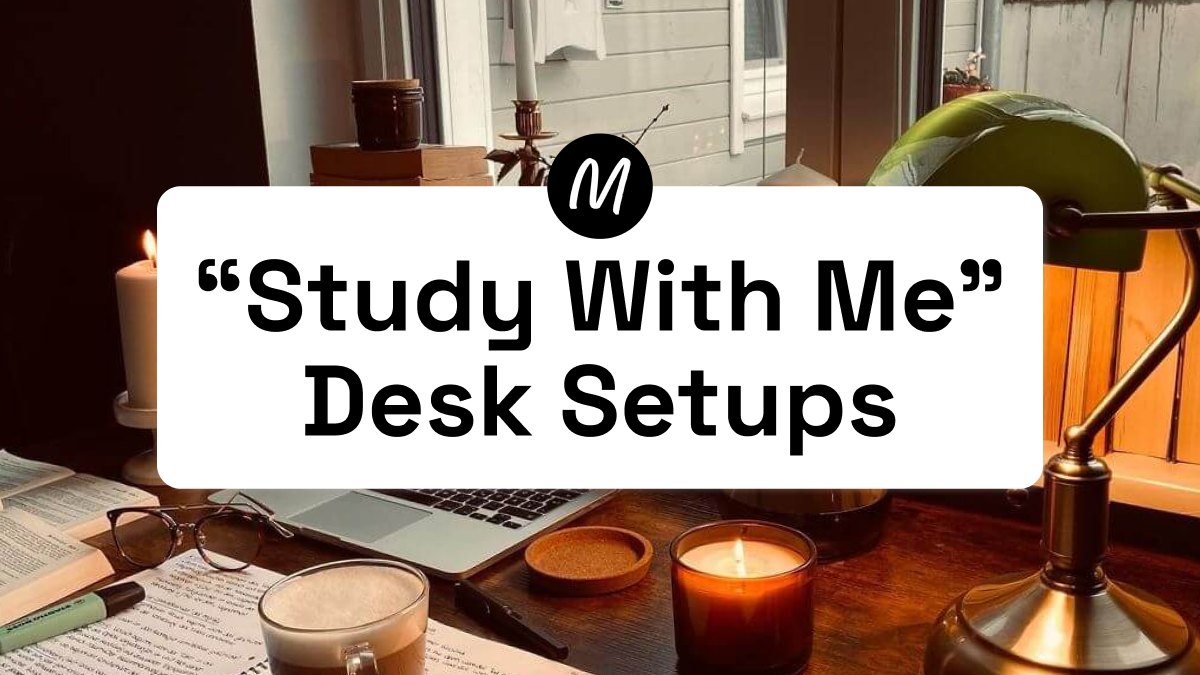 This workspace is brought to you by
The Curious Bunch.
It's a free weekly curated newsletter of bite-sized reads, productivity tools, and resources to be creative at what you do.
Join over 1100+ creators, entrepreneurs, and productivity enthusiasts from all over the world!
Subscribe and discover something new!
We're a reader-supported publication. This article might contain affiliate links. It means we may receive a commission if you click a link and buy a product that our maker has recommended. The interview was done independently.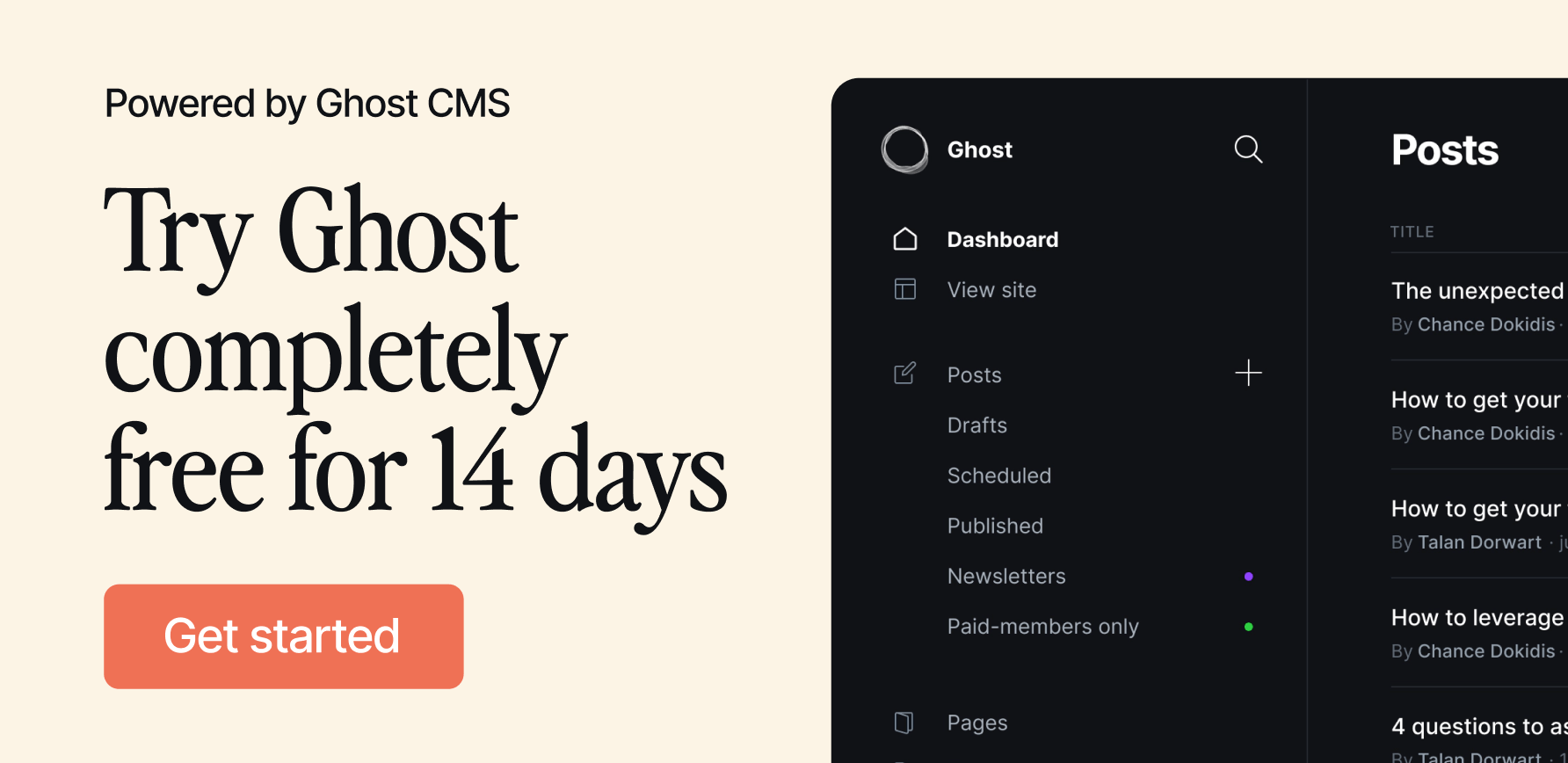 ---