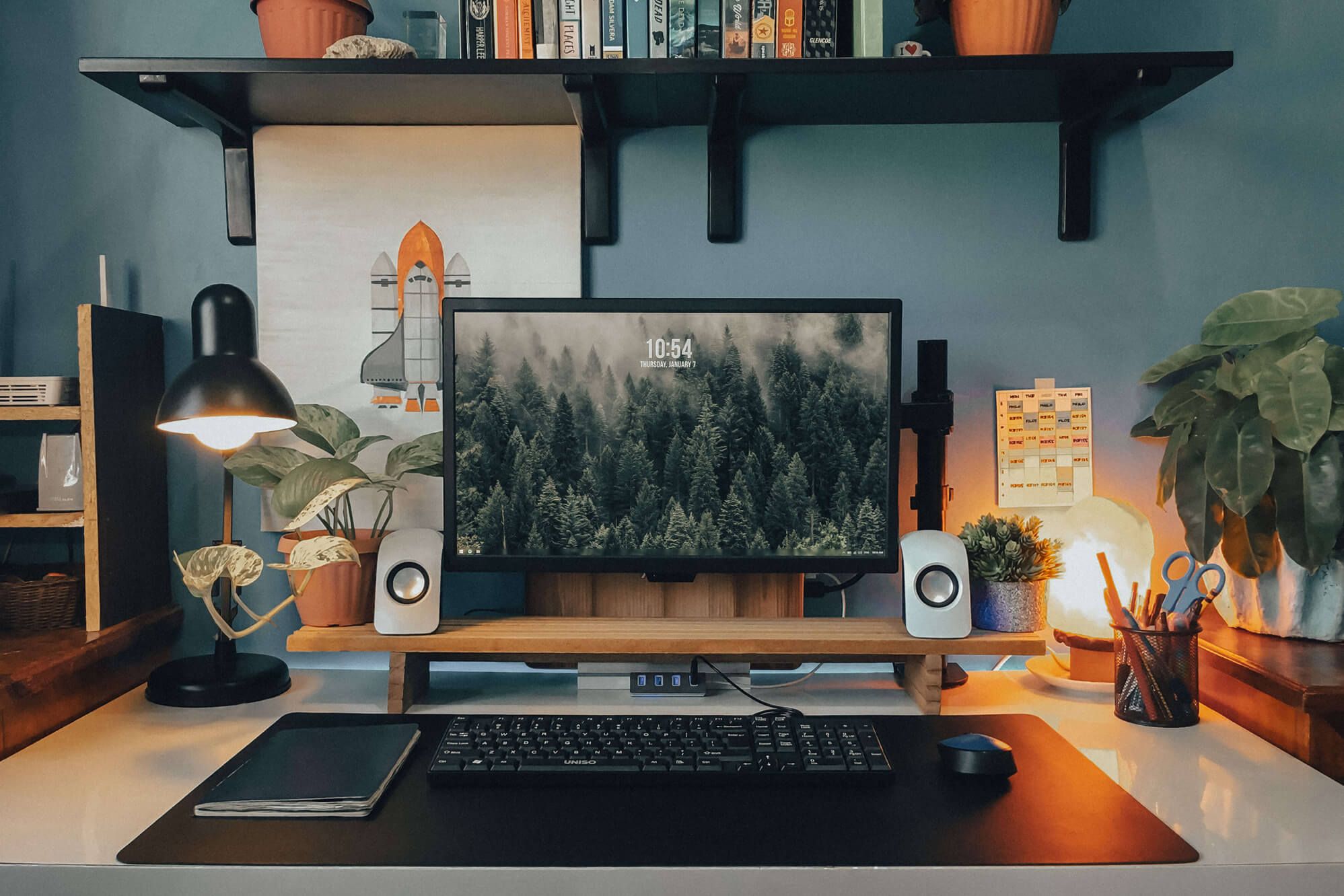 Budget Study Setup in the Philippines
"I wanted to have a nice workspace so badly that I started saving money. After I had saved enough, I purchased a monitor, speakers, and other items one by one. Rather than buying other things I wanted, I decided to create them myself"
Join 1700+ Curious Readers.
Every Sunday evening, get an *in-depth* workspace tour from a random corner of the world.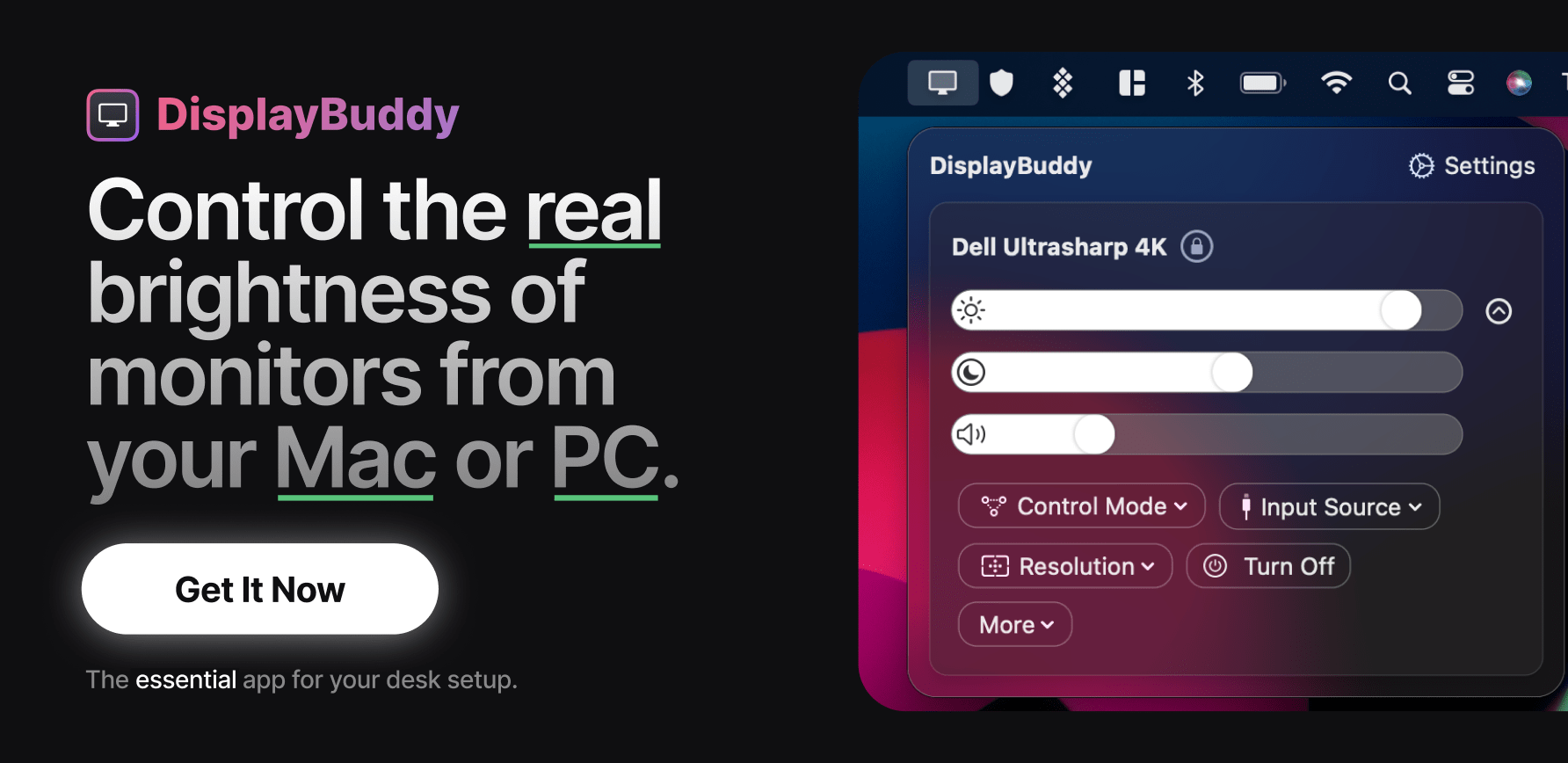 Name: Christian Realin
Location: Ilocos Sur, Philippines
Occupation: Student
Room size: 4,6 m2 (50 ft²)
Cost of the setup: $640
Social media: personal Instagram and art Instagram
Hey, Christian! Tell us a bit about yourself
I am a third-year college student studying BS in Electronics Engineering at Mariano Marcos State University and I have a passion for arts and graphic design.
This passion sparked during my high school years but I only got serious about it when I was in my first year of college. The whole thing started with me being a part of my school's publication as a graphic artist. This is where I was assigned to create illustrations for literary pieces and social media banners.
I have an interest in photography and photo manipulation as well but I am still working on my skills and I wish to have my very first camera soon.
To be honest, I am an introverted person. I spend most of my time in my room, and whenever I'm free, I like to create art, particularly digital art. I have some of my works posted on my Instagram page.
I don't have a job yet but I am planning to start doing commissions very soon. As of now, I am still in the process of setting up my portfolio, rates, and everything.
Can you describe your home setup?
Since I'm an artist and a graphic designer, I wanted to have a space where I could feel inspired and motivated to create something. I started building my desk setup, I think, in January 2019.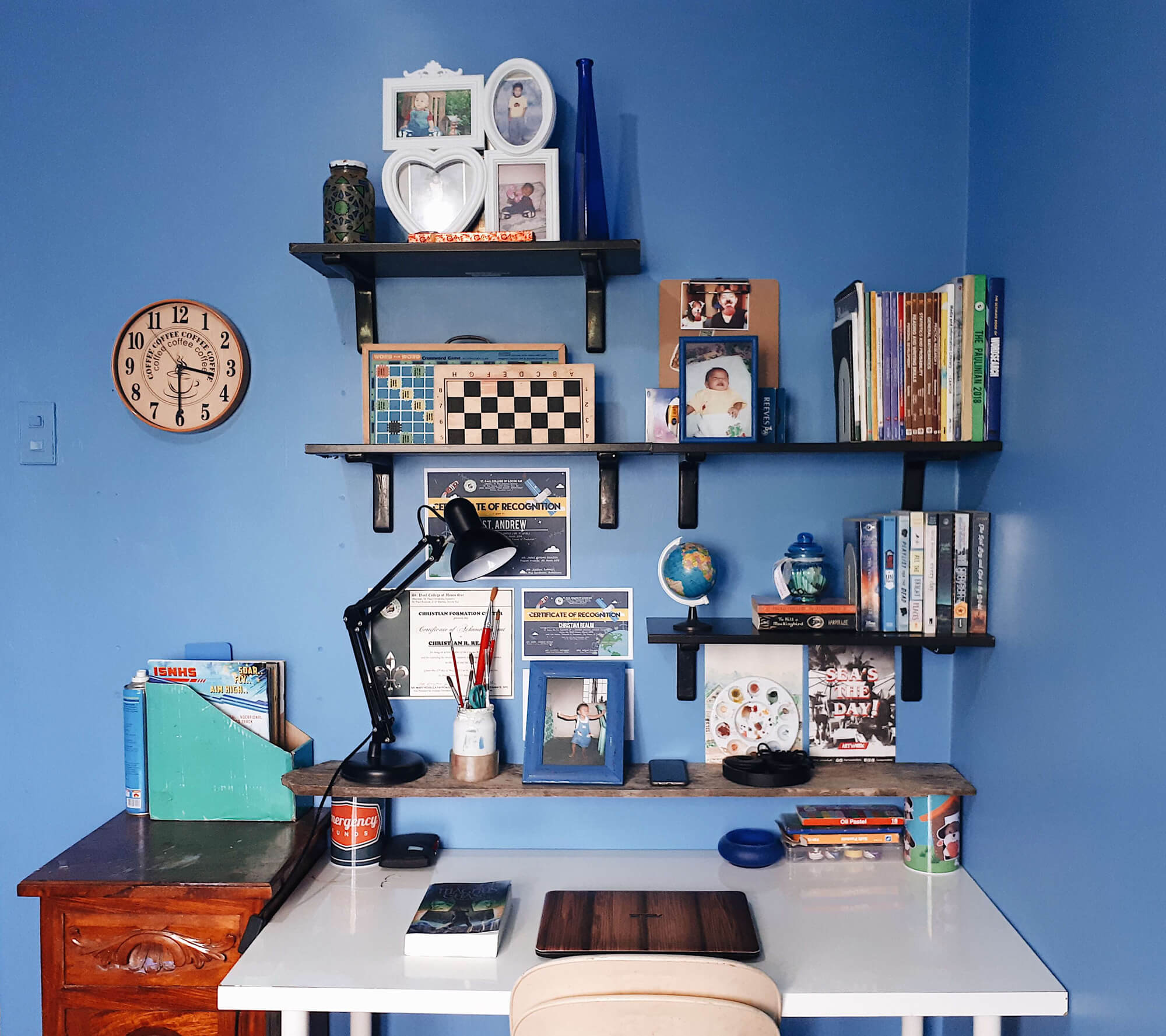 I wouldn't say that there were some issues with my desk setups from the past few years. It's just that I watch a lot of desk setup tour videos and I follow a lot of desk setup pages on Instagram and then when I see someone's setup that I really like, I try to make my setup just like theirs.
Another reason why I changed my setup a few times is that I didn't have an actual plan before. I mean I just put my table at a certain part of my room, installed some shelves on the wall, and added some random stuff up there. I loved it but then as months passed by, I felt like I needed to change it again. I don't know but I think I have commitment issues. Haha!
In truth, I was frustrated before because I didn't have the means to buy the things that I want to add to my desk since I am still a student and my only source of money is my allowance and savings. Also, we aren't rich.
I wanted to have a nice workspace so badly that I started saving money. After I had saved enough, I purchased a monitor, speakers, and other items one by one.
Rather than buying other things I wanted, I decided to create them myself. These DIY projects include the wooden desk shelf and the laptop dock.
My setup is powered by an ASUS laptop that is connected to the monitor which is actually a TV. Honestly, the tech items that I've got aren't that great compared to those you usually see online so I won't talk about the specs anymore, lol. But I don't mind as long as it does the job.
Besides, it's the space that matters more to me. It took me a few years to build the setup that I have today. I know it's quite a long time but I think building a workspace that you feel comfortable and productive to be at is a process. And in my part, it was a fun process.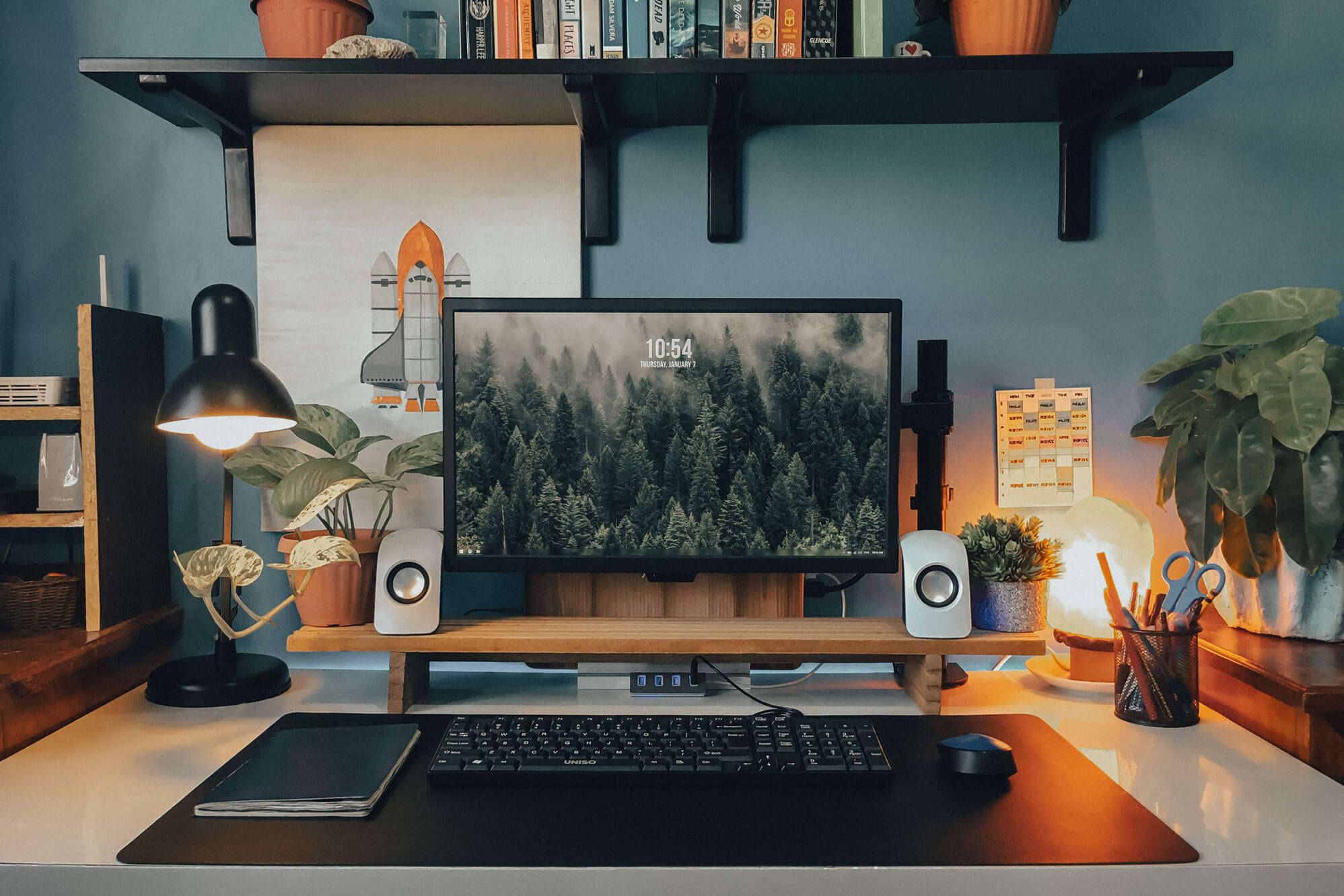 My bedroom is like a small cube and it has only one window. I am not happy with the amount of natural light maybe because of my wall colour which is blue and I haven't repainted it in years.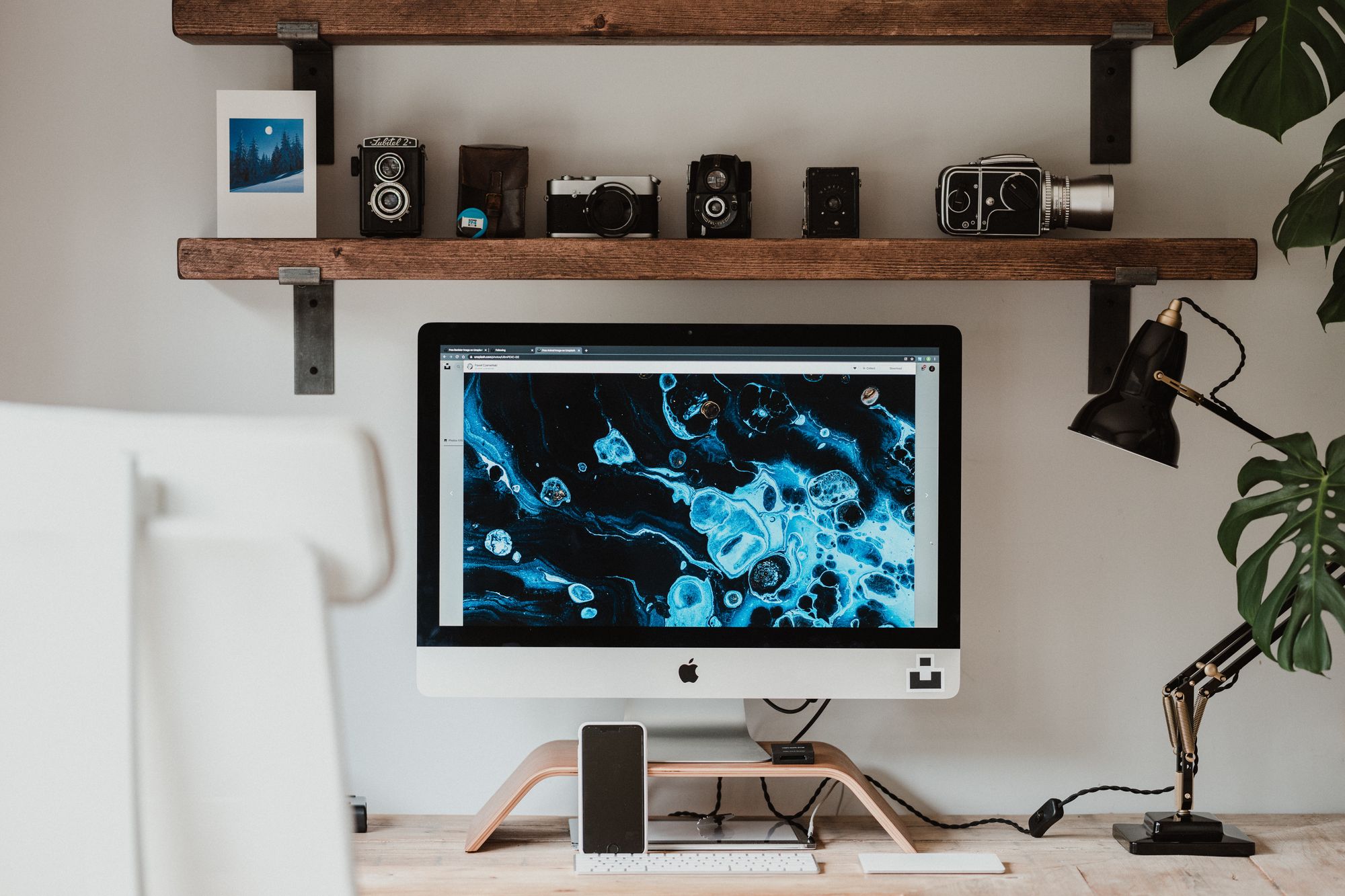 I tried placing my desk in different areas in my room but I decided to put it near the window for obvious reasons.
If there is something that I wish to change, it would be the wall colour. I want to repaint it white but, I guess, it will stay like that for a while.
What's your favourite item on your desk?
My favourite item on my desk would probably be the wooden desk shelf that I made out of scrap wood that I found at our house.
I saw a lot of setups with it and I thought it was so cool! I would've purchased one but it's really expensive for me so I just made one for my desk.
I've always wanted to learn woodworking. The desk shelf is special to me because it's the first woodworking project that I have ever done and I'm proud of myself for it.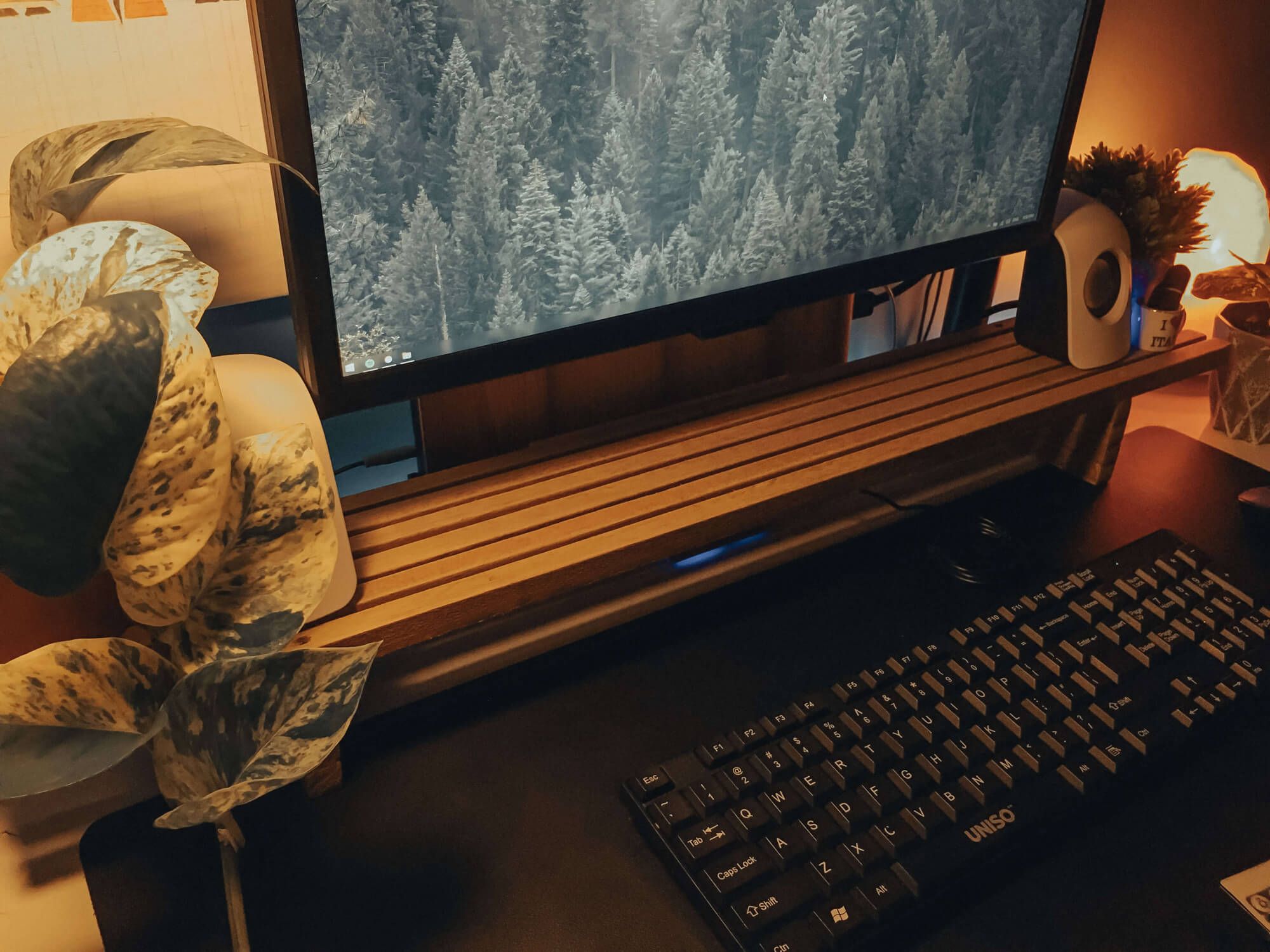 What I really like about it is that it helps to hide the cables that are usually seen on my desk. It also keeps my desk organised and allows me to have a big enough space that I could work on.
I consider myself an organised person. I love to organise my stuff in the best way possible so the desk shelf is a good addition to my setup.
What does your typical day look like?
I am a college student. My first class starts at 8 am, so I usually wake up at around 7 am.
The first thing I do in the morning is to clean and organise my room so that I could get rid of the visual clutter. I am the type of person who can't do anything without organising everything. So, a clean workspace always helps me focus and be more productive.
Then, I would sit down at my desk, and start to plan my day. Using my bullet journal, I write down the things that I have to complete and prioritise them depending on their importance or urgency.
I know that I could just use an app on my phone but I prefer writing them on paper. I don't know, but I feel like I can accomplish my tasks more easily when I write them down.
During the weekdays, I typically just stay in my room, in front of my computer attending class discussions (we don't have that many vacant periods which is sad and our classes end at 5 pm) since our school can't conduct face-to-face classes yet so we have to take our classes online which I am not used to. But I have to adjust whether I like it or not.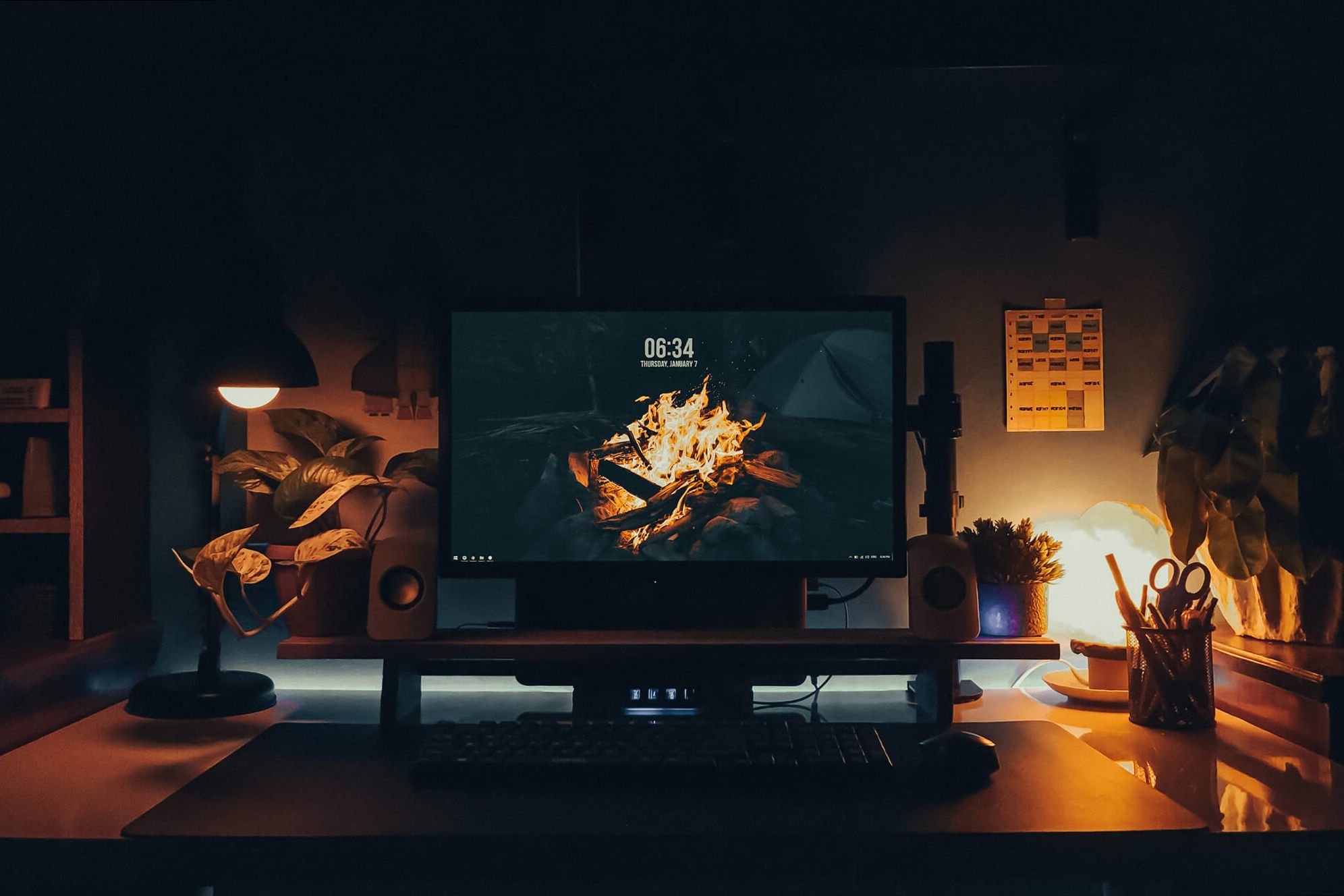 I am a part of my school's publication called Sirmata as well.
Every now and then I am tasked to create illustrations and graphic arts or designs that are needed. I tend to get stressed most of the time dealing with academics and extracurricular but I think that's just how a student's life is — it's stressful but it's also pretty fun.
During the weekends, I find time to unwind and relax even though I have some academic-related stuff to do. I like to relax by watching my favourite shows on Netflix, creating art, or doing anything creative I can think of. I would then go back to making my assignments at night and sleep at around 11 pm.
Your tips for working from home?
I also struggle with working from home — or in my case studying from home — so I do not have that many tips to share.
Since we are all stuck in our own homes, I think the first step that we should take is to have a dedicated space to work. You can really get a better handle on everything and focus more on what you do.
It does not matter if it looks not too fancy at first as long as it's functional and you feel comfortable being in it.
One of the reasons why I built my desk setup was to have space where I could focus and get motivated to read my lessons and do my homework. And I'm happy because it's working well for me and I enjoy being in it.
Sometimes I lose track of everything — my deadlines, schedules, etc. So I decided to buy a bullet journal. I use it to jot down my thoughts or ideas that I might need in the future but I mainly use it to plan my day.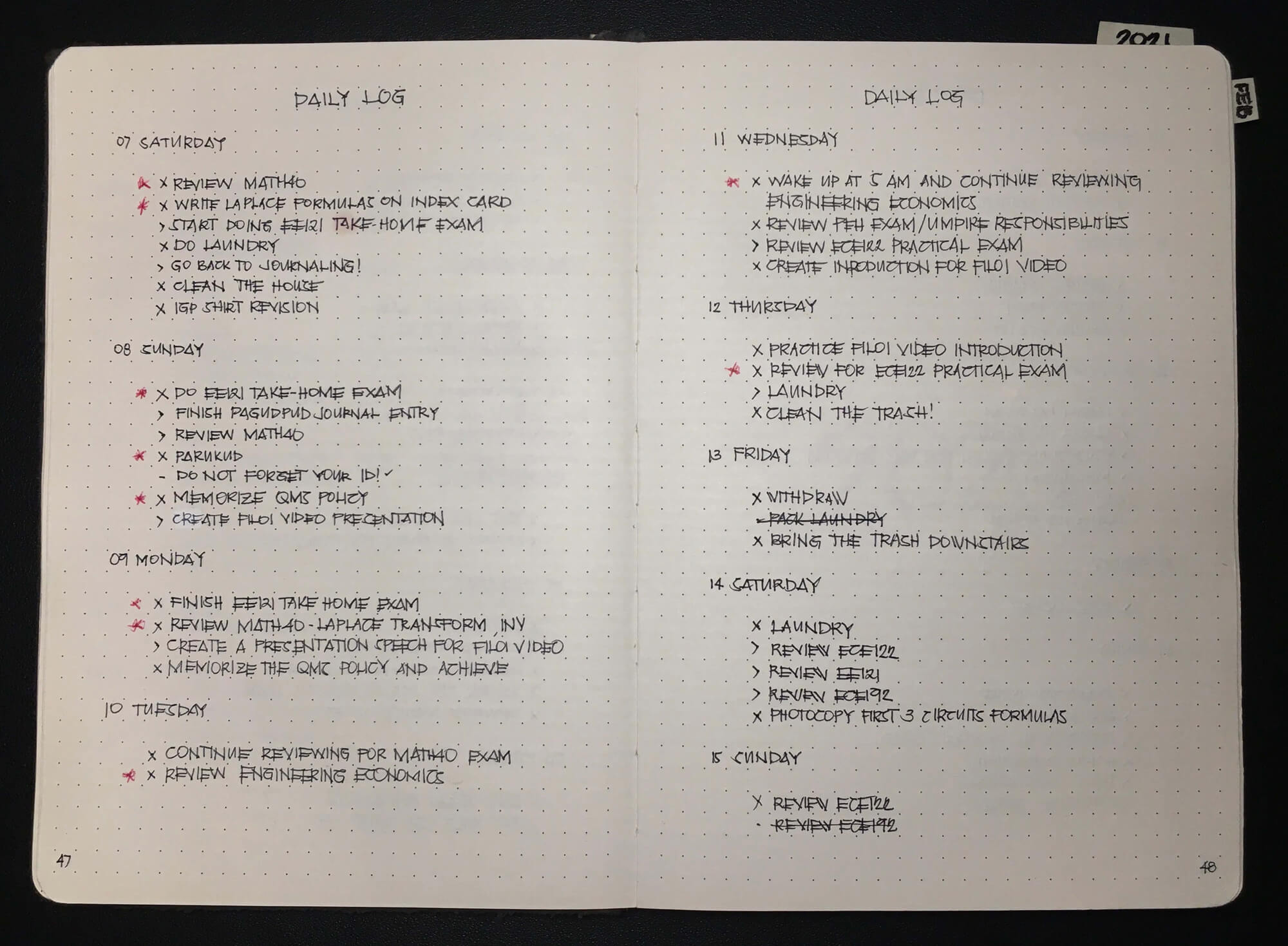 Having a bullet journal makes it easier for me to prioritise what's important. It also enables me to be more productive and organised. If ever you want to try journaling, there are plenty of YouTube videos that you could watch.
But if you aren't that kind of person, you could just use an app on your phone as well, if that's what you prefer.
We're a reader-supported publication. This article might contain affiliate links. It means we may receive a commission if you click a link and buy a product that our maker has recommended. The interview was done independently.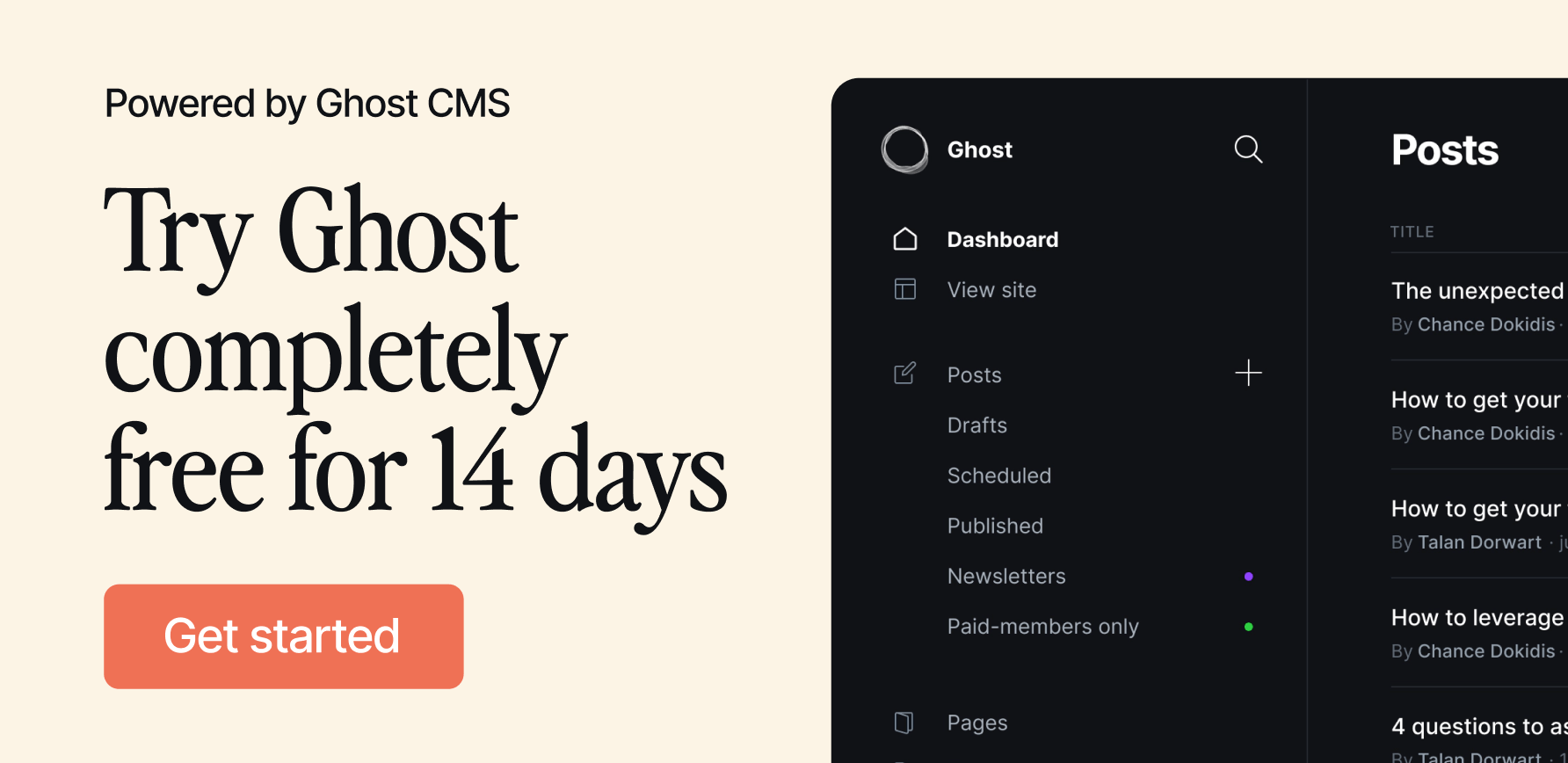 ---