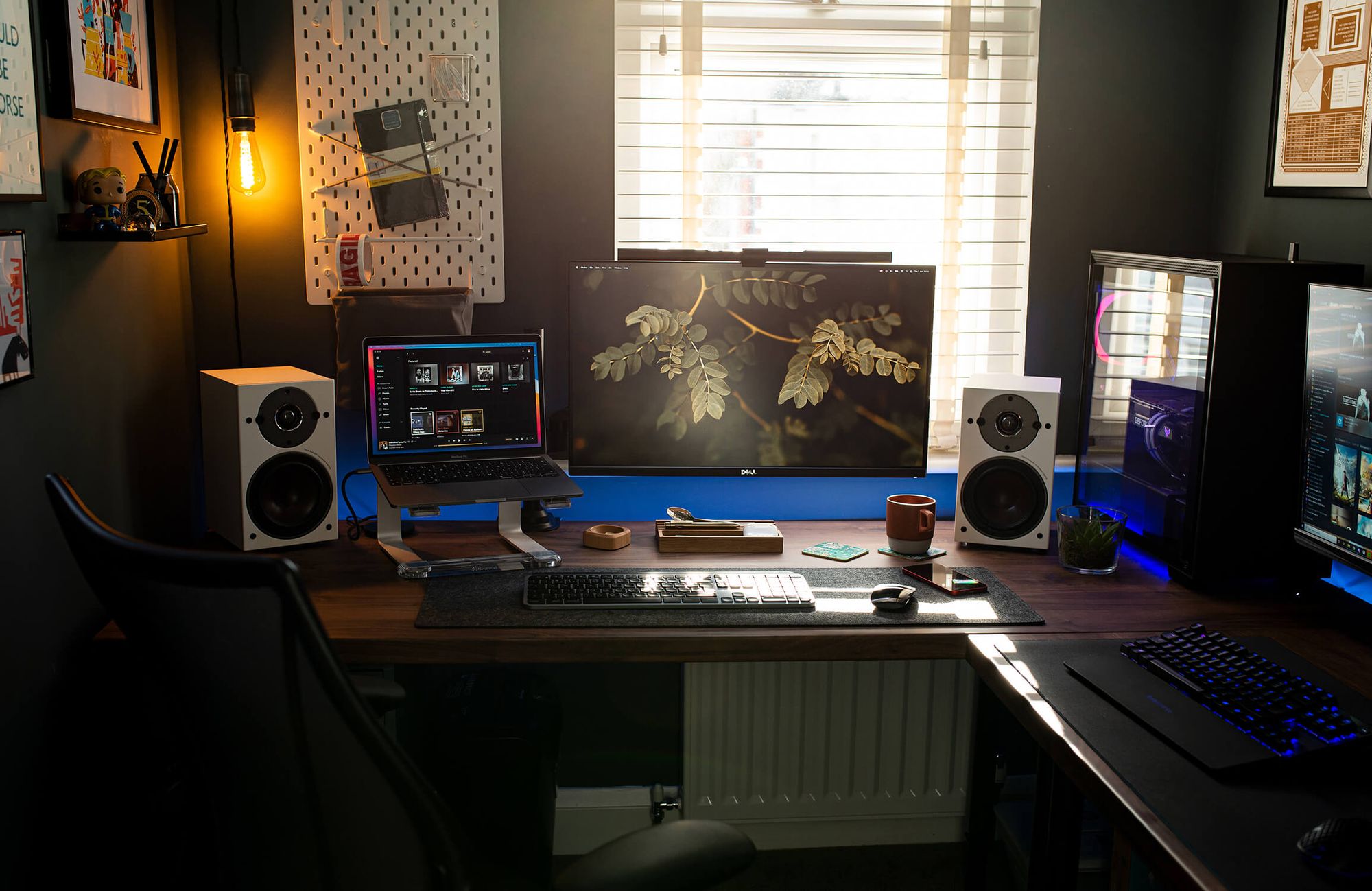 L-shaped Desk Setup in Essex, UK
"I wanted something that felt considered and designed, but not overly clinical"
Join 1700+ Curious Readers.
Every Sunday evening, get an *in-depth* workspace tour from a random corner of the world.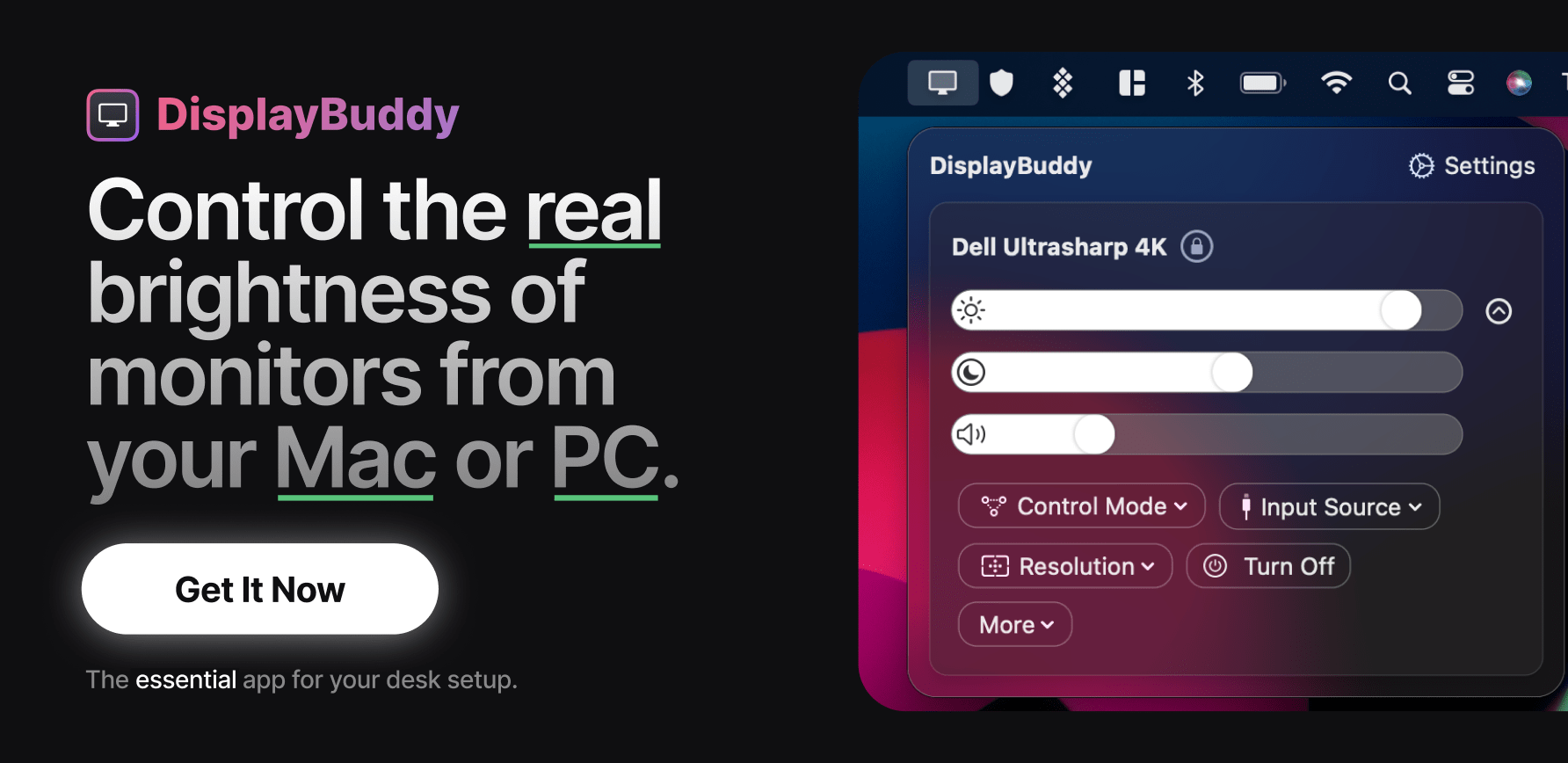 Name: Ben Garratt
Location: Westcliff-On-Sea, Essex, United Kingdom
Occupation: Digital Product Designer, Co-Founder of Fare Studio
Room size: 4,95 m² (53,28 ft²)
Cost of the setup: $2,5K — without tech (desk, peripherals, paint, chair etc.), £11,2K — with tech (PC, Mac, Hifi + the above).
Social media: Instagram, Twitter
Hey, Ben! Tell us a bit about yourself
Hey, I'm Ben, I am a digital product designer who's recently moved from East London to Westcliff-On-Sea in Essex.
Leaving London was something we had never considered until remote working became much more normal for people in the tech/design world.
I feel really lucky that it worked out that way for us.
London is a great city but after nearly ten years of renting, we wanted a space to call our own.
Being able to afford that in London would have required a lot of borrowing and a big mortgage, which is all a bit scary and would have had me tied to the sort of jobs I was doing before.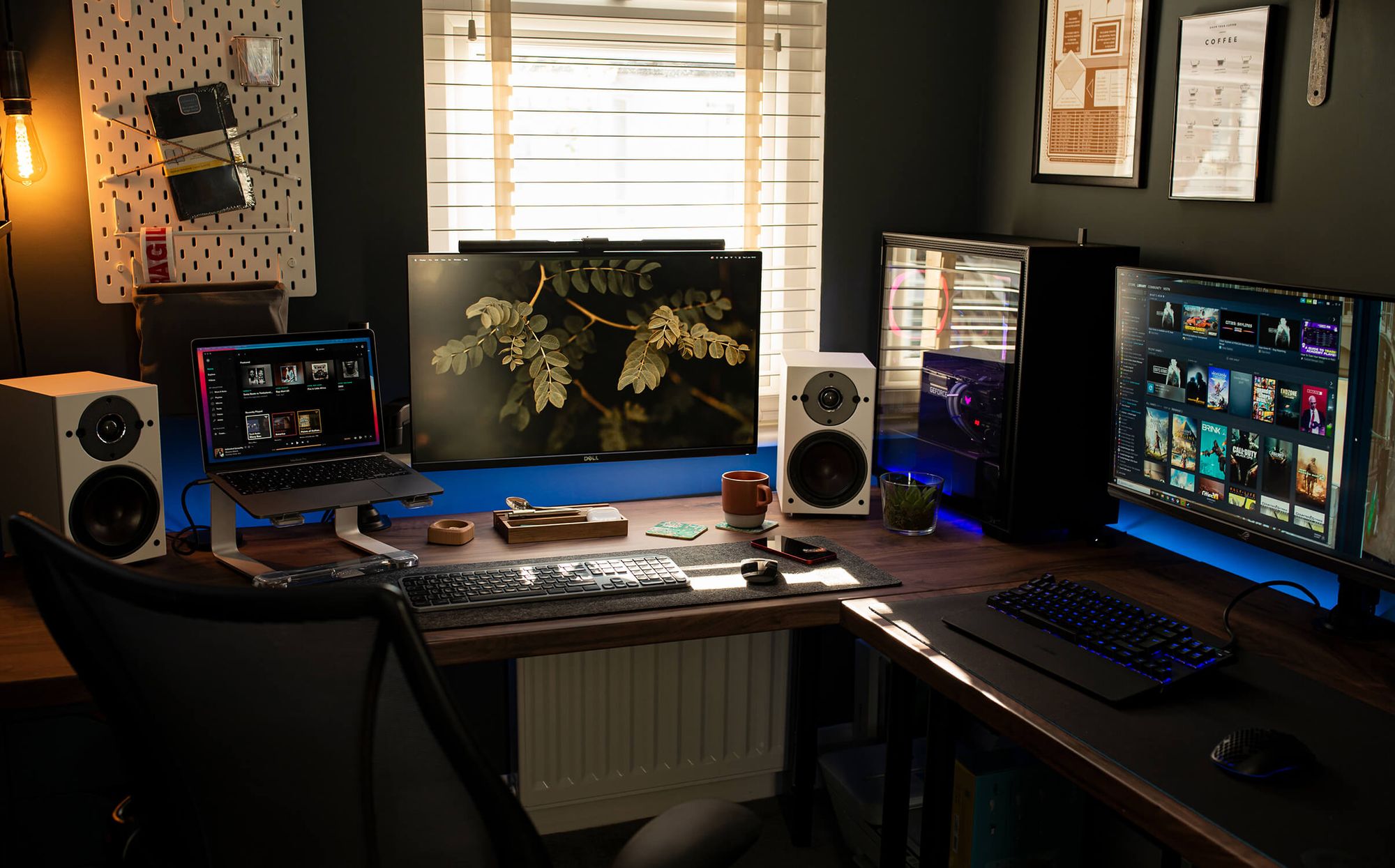 Until recently, I was the Head of Design at a fintech app called Cleo, but about two months ago I joined up with a mate of mine to launch our agency, Fare Studio. We work on all sorts of things, including app and website design and branding projects mainly.
I'm a big coffee enthusiast. There are a couple of hints at that in my space! We have a Sage dual boiler espresso machine and a Niche Zero grinder and use that to make either flat whites or long blacks or pour-over from a V60.
We drink mainly lighter roasted speciality coffee from all sorts of roasters around the UK and Europe. Some favourites include Square Mile, Workshop, Bailies, Coffee Collective, Colonna and Barn.
I've been documenting some of the great coffee we have been enjoying specifically during the lockdown last year.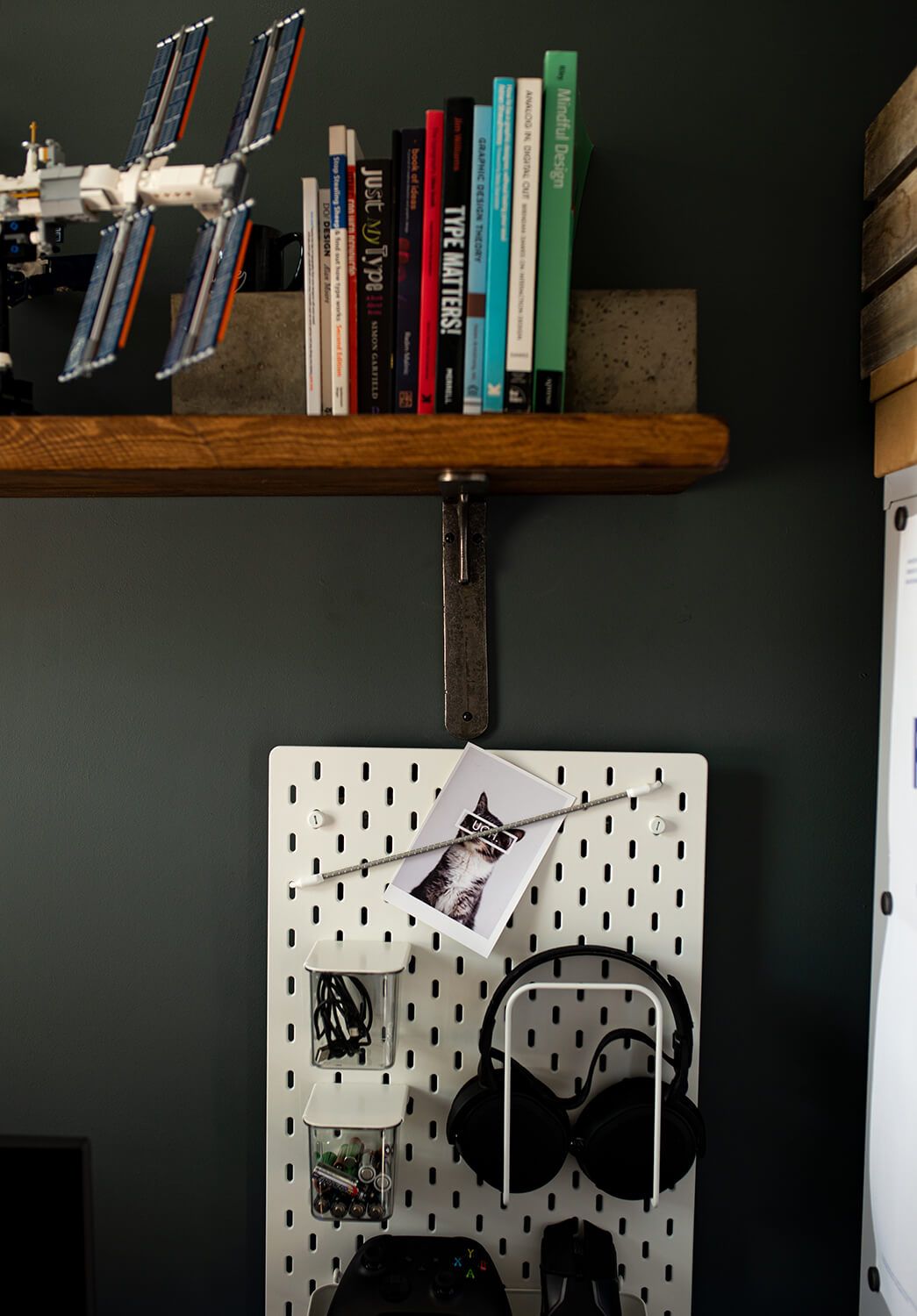 I play tennis regularly and I'm ageing but still an enthusiastic PC gamer. I enjoy a wide range of games from competitive esports titles like CS: GO and Valorant through to Football manager.
I'm also a keen but average photographer, you can check out some photos over on Unsplash.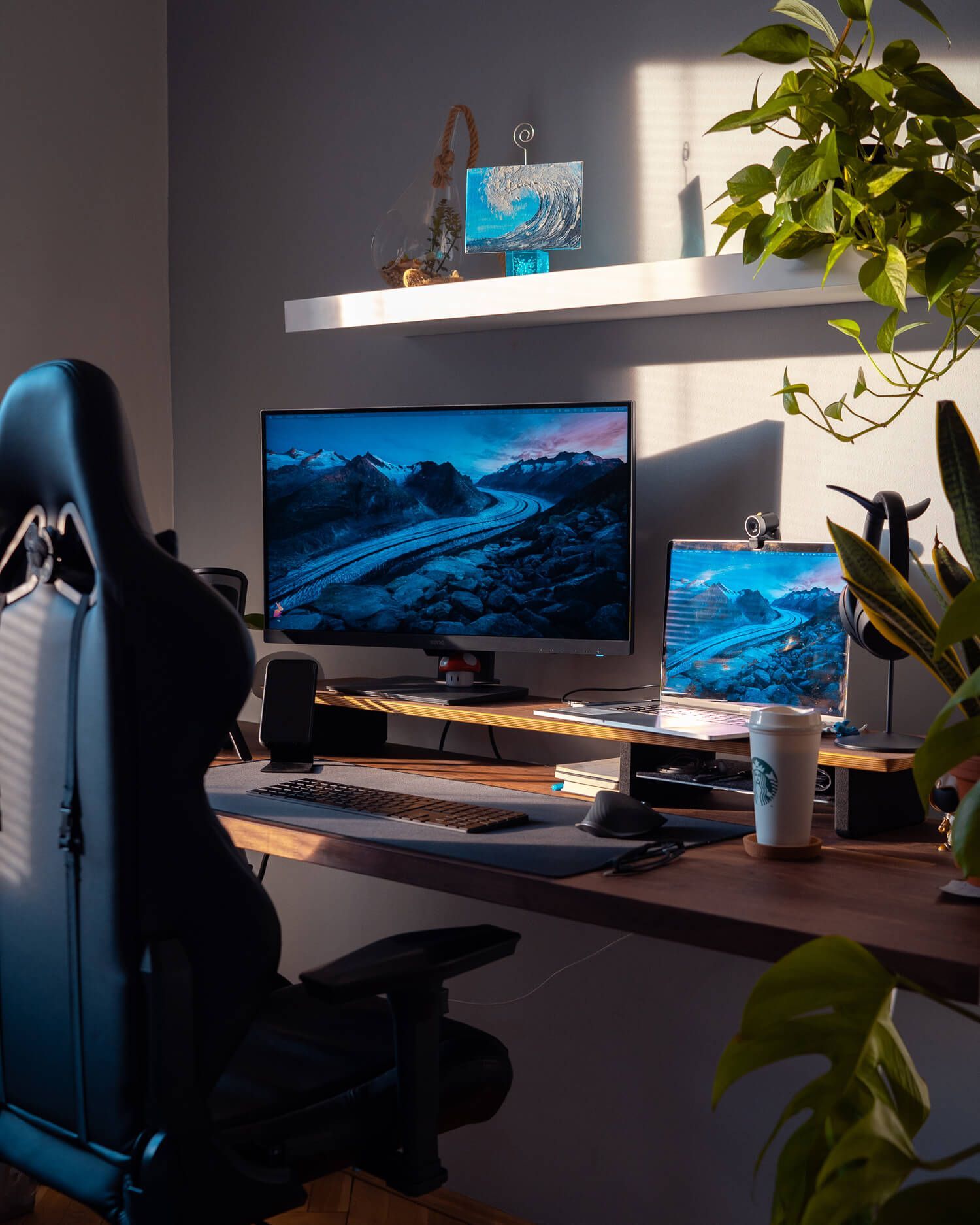 Can you describe your home setup?
We moved into our Edwardian arts and crafts period terrace house in Westcliff-On-Sea back in April 2021.
The house is small, but for us, the increase in space has been pretty wild. I'd started planning what I would do with the small third bedroom at the front of the house a while before we moved.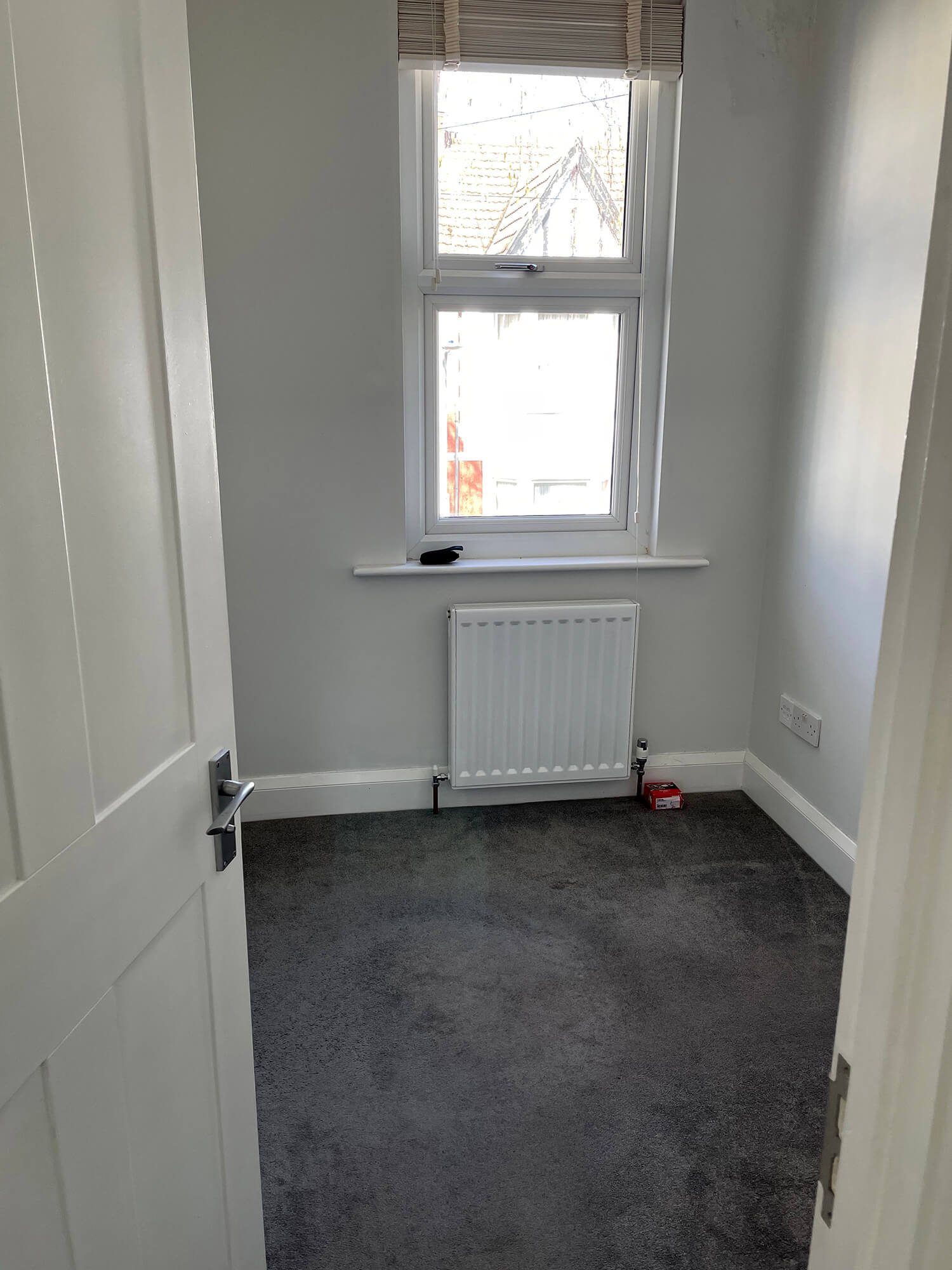 I knew I wanted to create a space where I could happily work and relax. A space with some character and warmth, while I enjoy the aesthetic of ultra-clean minimalist setups, it's not really for me.
I wanted something that felt considered and designed, but not overly clinical.
I decided early on that one setup wouldn't be right. I like to work on the MX Keys from Logitech with a Magic Mouse (I know lots of people hate them, but I've been using them for years!). However, gaming-wise I like a mechanical keyboard and ultra-lightweight mouse.
Similarly, I found it hard to find a good option for a colour accurate IPS monitor that had fast enough refresh rates when connected to my gaming rig. It would also have had to handle the 60hz Macbook without ghosting or having to manually change settings.
Two setups solved these problems, and space just about allowed me to do it.
I built an L-shaped desk from a walnut veneer kitchen worktop from Worktop Express, sat on IKEA Olov legs and ALEX drawer units.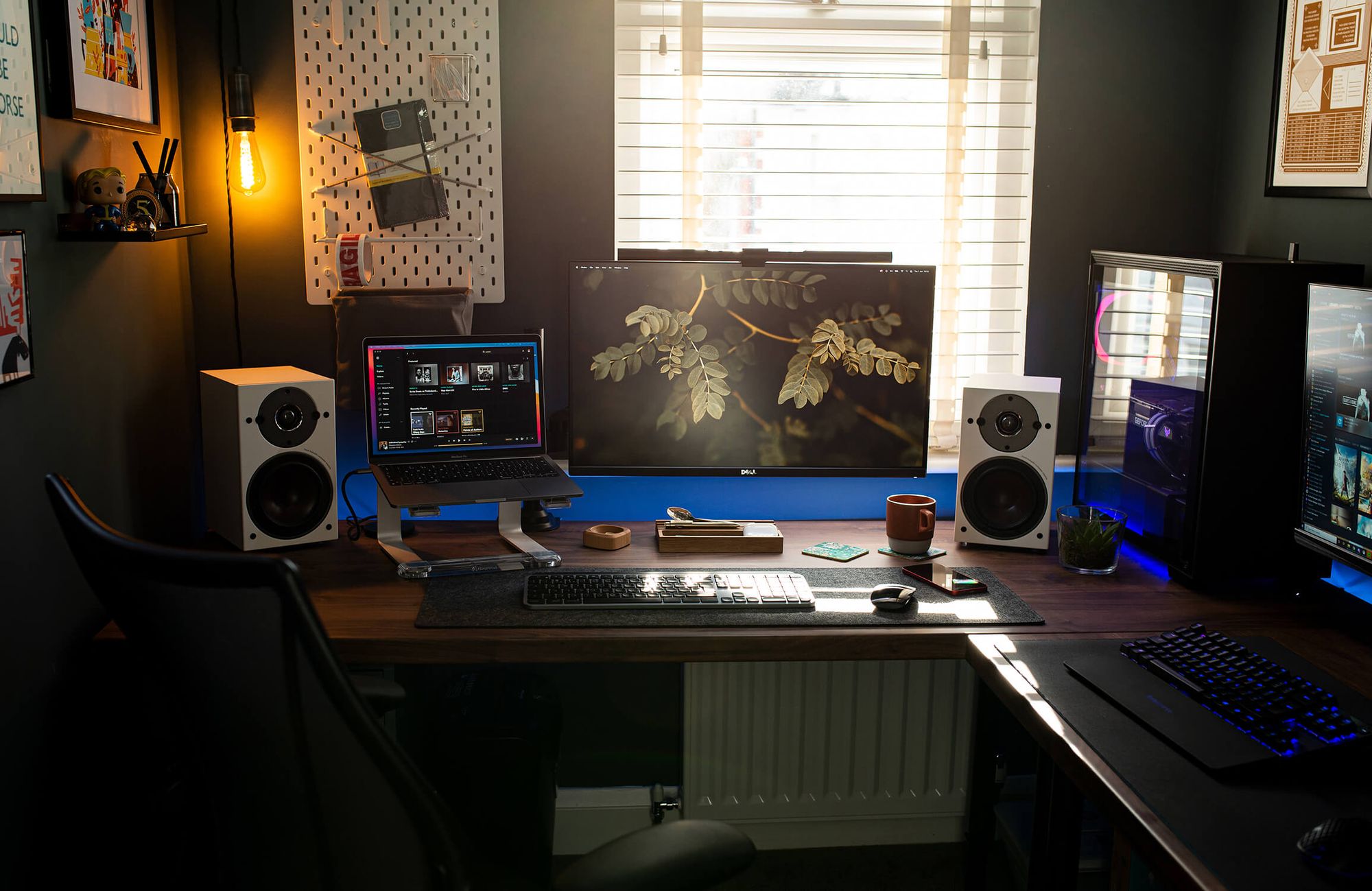 I love industrial style lighting so I wanted to have some of that in the room.
I don't like using the main ceiling light and was originally planning to have an anglepoise lamp or something on the desk with the speakers wall-mounted on brackets.
However, I changed my mind as sitting the speakers on the desk meant I was struggling a bit for space for a table lamp so had to re-think.
Wall lamps take a lot of work to wire, so something like this corded pendant makes the cable a bit of a feature. The hooks are usually used on a ceiling but it works quite nicely on the wall. It's plugged into a smart socket so I turn it on and off from my phone.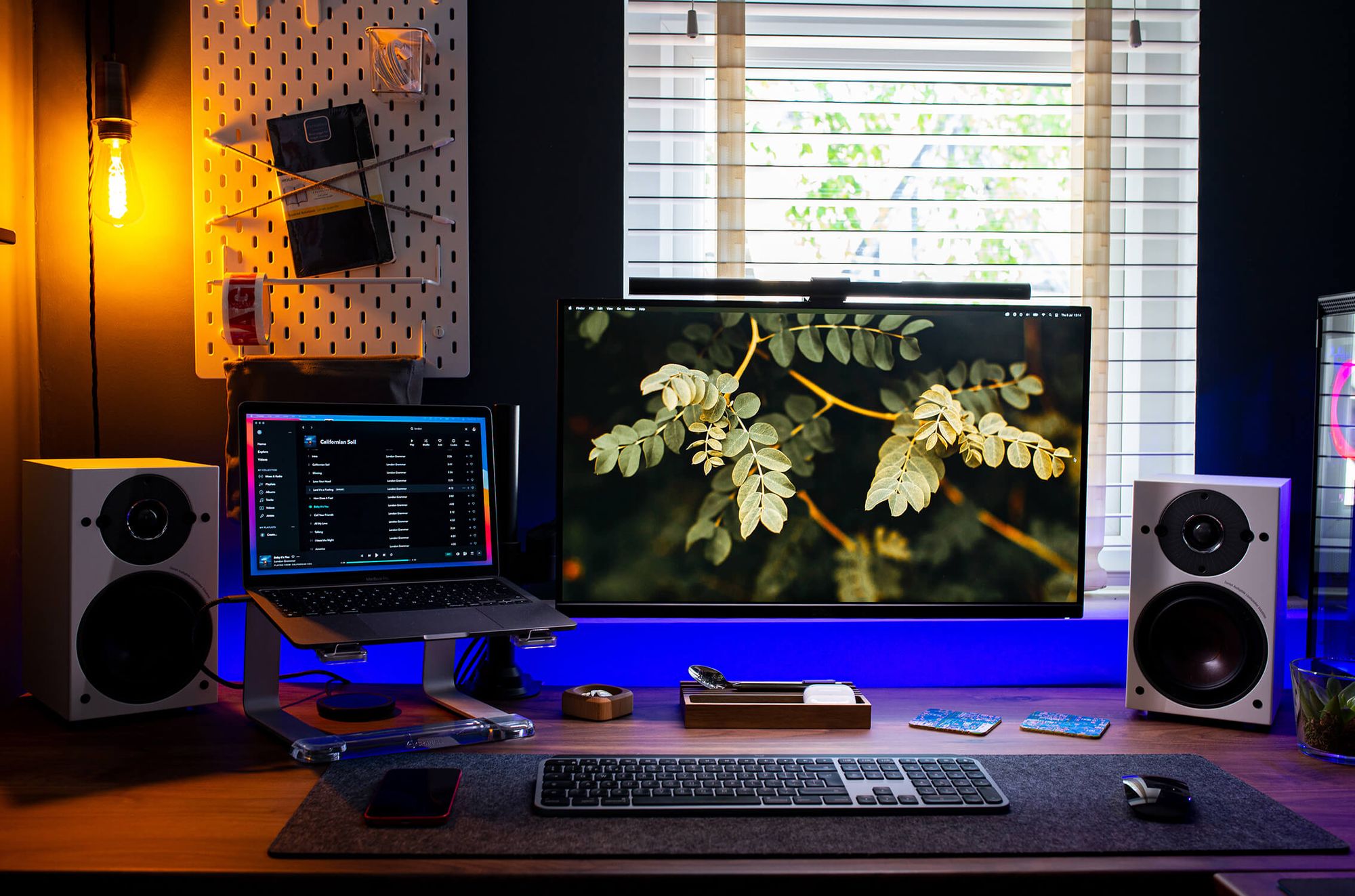 The speakers are Dali Oberon 1's and they're powered by a Cambridge Audio AXA35 Amp, and a Cambridge Audio DacMagic. I prefer Hi-Fi speakers to studio monitors and these sound lovely. They're not bass beasts or anything but in a room this size and this close to the neighbours you wouldn't want them to be.
The pegboards are IKEA Skådis in white. I'm still working out what I'll use them for. The one over in the gaming side holds my headset, controller, an additional mouse and batteries. I'm not using the one over on the work side at all right now — need to fill it up!
I just use it to store a new notebook and some charging cables at the moment. Plus, the fragile tape from the boxes when we moved house. My fiancée put it there as a joke — I'd had enough of seeing that tape!
I like the light that the BenQ ScreenBar gives off. It's a standard version without the desktop controller. I was a bit sceptical at first before buying it and did quite a lot of reading but I'm glad I went for it in the end. It's a nice even light for working and stops me from working in the dark which I used to do almost without realising.
The chair is a Liberty Task Chair from Humanscale, refurbished and bought on eBay for a lot less than the price of a new one!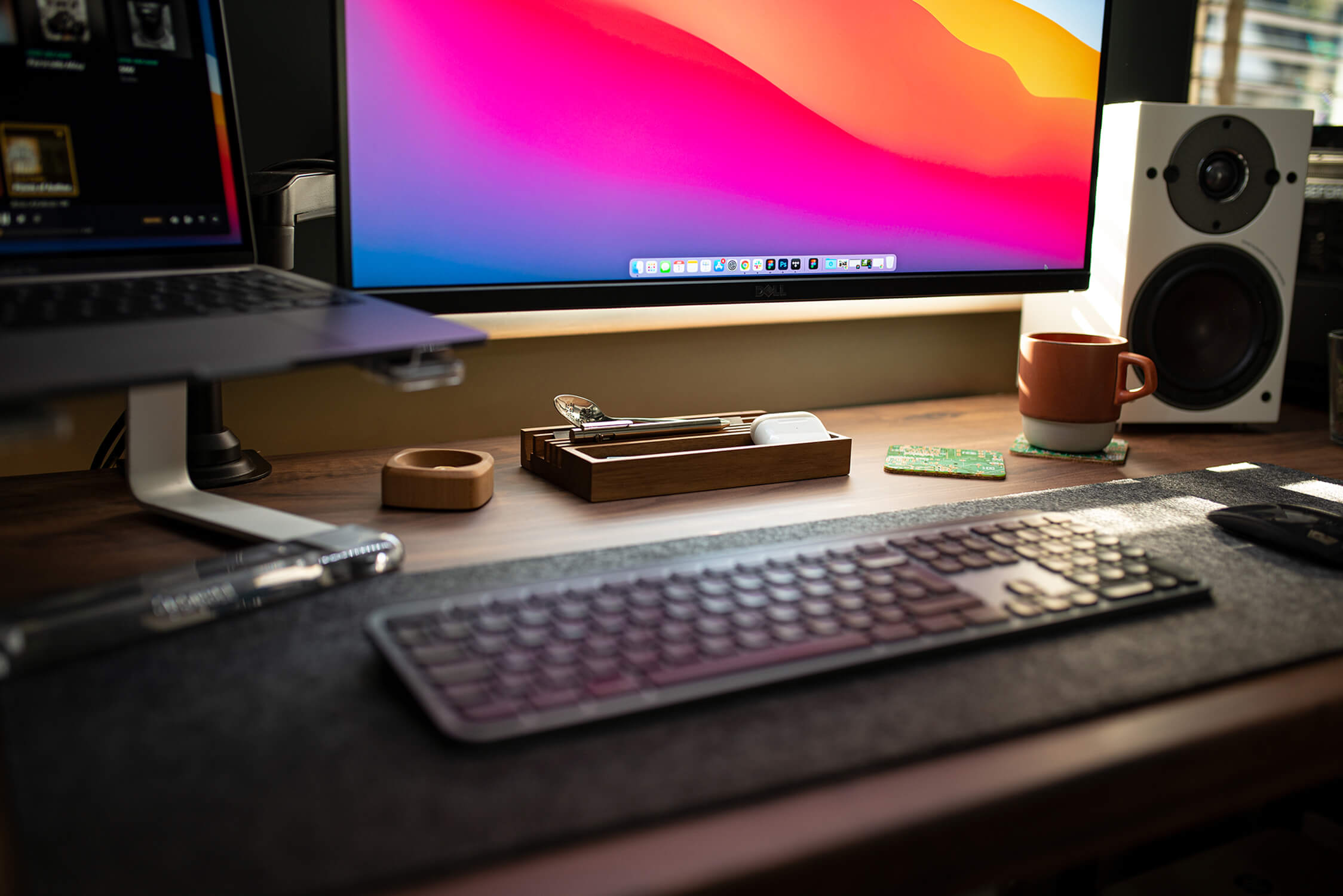 I'm looking into a few improvements at the moment. Some sort of footrest under the desk might be nice and I'd quite like to upgrade the older Dell 1440p display I use for work to 4k.
I'm hoping to get some of my own photography printed and framed to add to the walls as well.
What's your favourite item on your desk?
There are probably two things that fall into this category!
I really like the PCB [Printed Circuit Board] coasters my fiancée bought for me for Christmas. These work nicely with the aesthetic of the room and are a balance of the tech and design sides of my interests.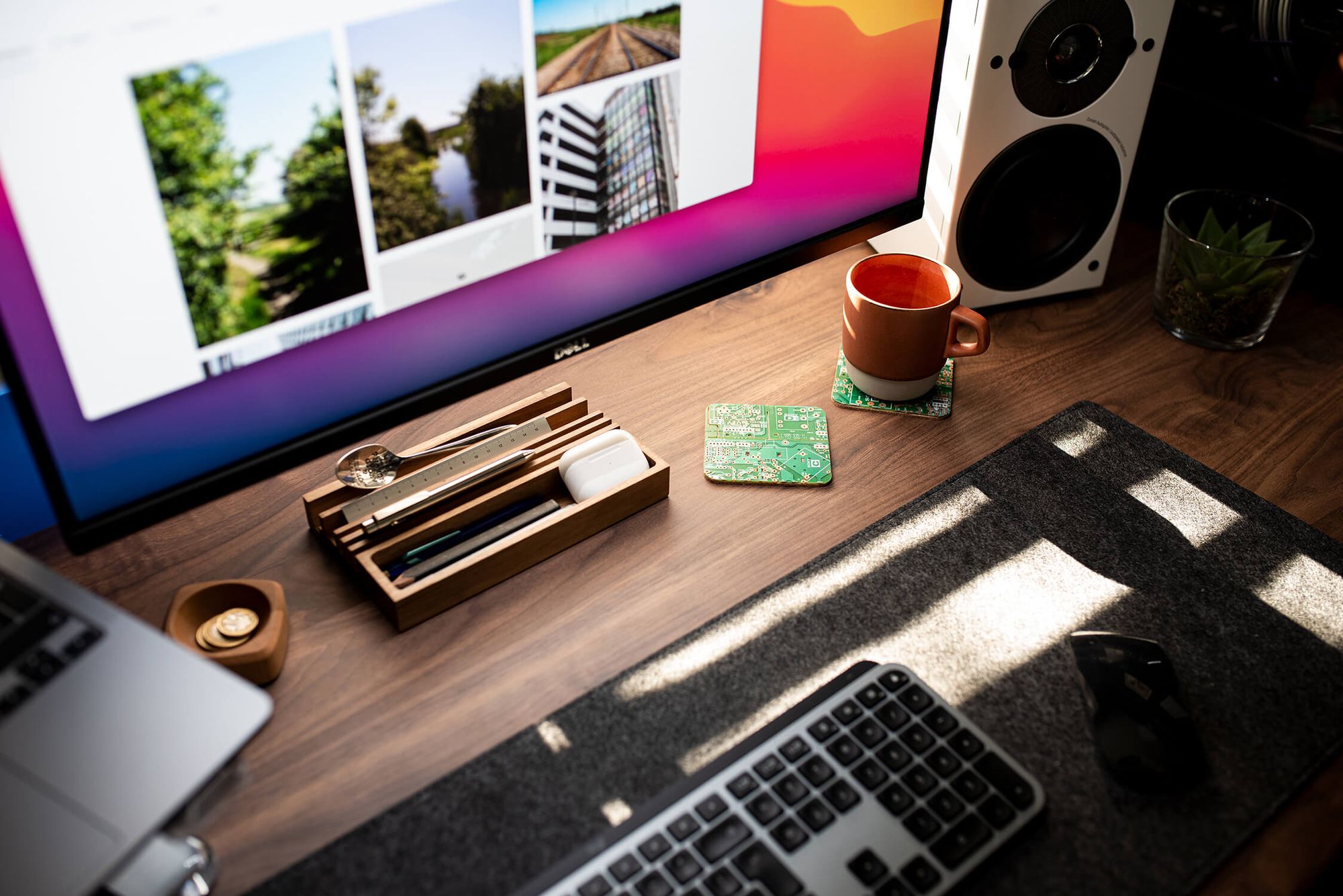 My gaming PC is a bit of an extravagant nod to the dream system I could never quite afford to build when I was younger, so that makes me smile.
My design preferences are usually pretty stripped back and tasteful but I quite like how that goes out of the window with "gamer" style PC things — RGB lights and custom sleeved cables.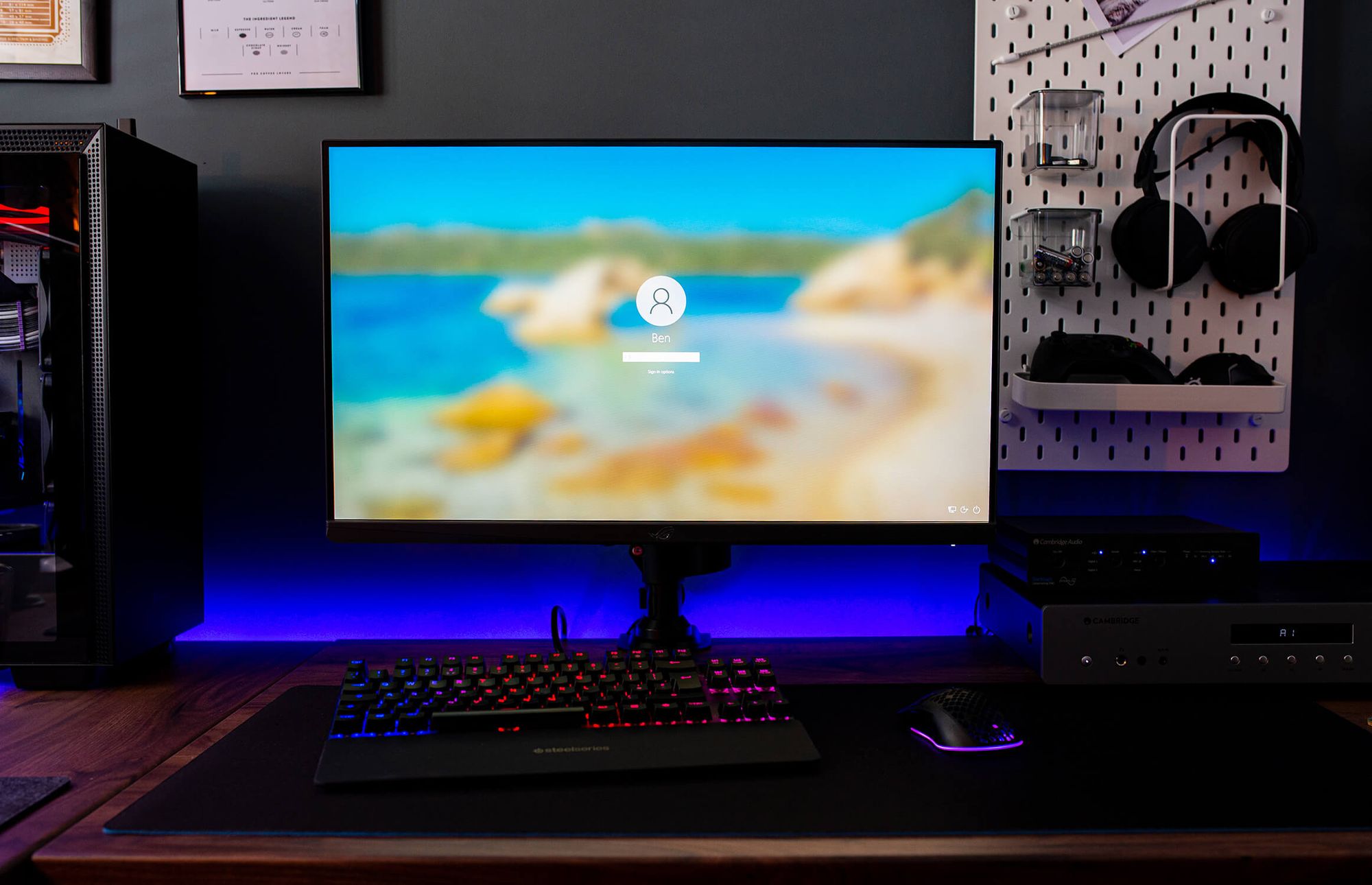 What does your typical day look like?
I've always been a bit of a night owl — I'll usually be up until 12:30 am and in bed until 8:30 am.
Working from home has made that more possible as I don't have to spend a lot of time in the morning getting into the office. I'll usually get out of bed, shower and head downstairs to make a coffee and feed the cat.
My days are a mix of design projects for various clients and some admin type stuff. I don't really have a system or way of prioritising one or the other. I'll happily leave some of the non-design tasks to later/the next day if I find myself in a good state of flow and things are coming together.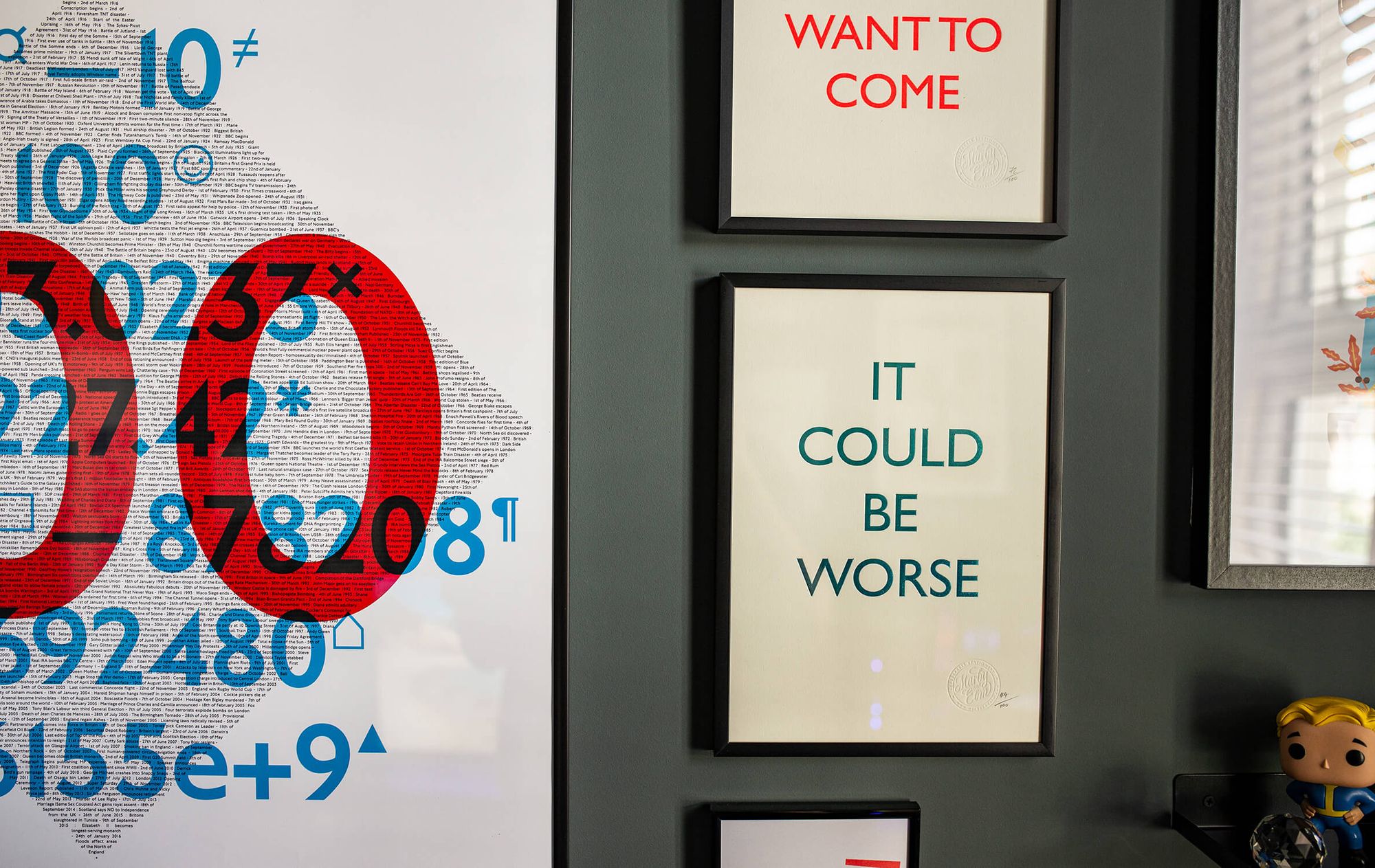 Similarly, it's nice to have other things to think about when the creativity isn't flowing quite as well!
I'll be at my desk for about 8 hours of working time, I try to have a walk at lunchtime and then a long walk after work in the early evening.
We moved here to be near the seafront, so we'll usually head down and walk along the coast for an hour or so.
After an evening with my fiancée, I'll usually head back up to my office for some gaming time or just watching some YouTube or whatever. That's when I spin the chair around and use the PC.
I enjoy that small bit of separation between the two spaces and setups.
It makes me feel like I'm not at work (and has the same effect during the day, I feel a bit naughty if I'm using that setup when I should be working!).
Coronavirus dramatically changed how I work, not just the shift to working from home but also really made me think about how I was spending my time.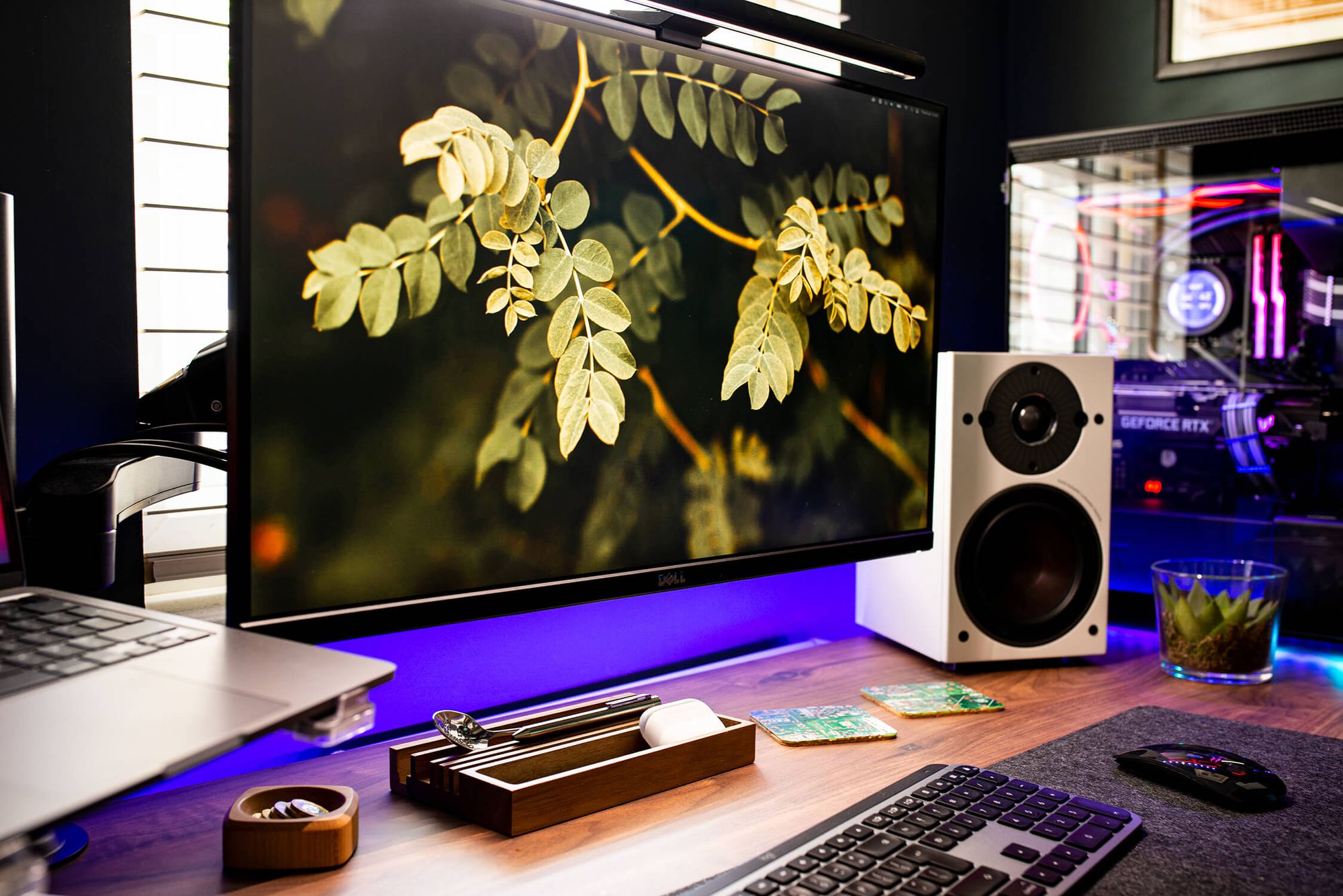 For some reason, doing meetings on Zoom showed me how much of my day was spent not actually designing things.
It proved to be the catalyst for the leap into taking on a new job that would give me back much more time to design and create.
Your tips for working from home?
One of the big changes for me moving from our bed flat to this house is having that separate space.
I went a step further by dividing that space a bit with the two sides to the desk, but having a designated room makes a huge difference.
I know that's not a tip, and not everyone can do that (especially if you're renting in London or another expensive city), but if you can somehow create a feeling of separation, it's a big help.
Avoid working from your sofa at all costs!
Get dressed as if you were going into the office. I wasn't doing this initially (I was guilty of the old top half-shirt, pyjamas on the legs!), but that bit of morning routine and being ready to start the day helps you feel like you're at work and helped me focus more.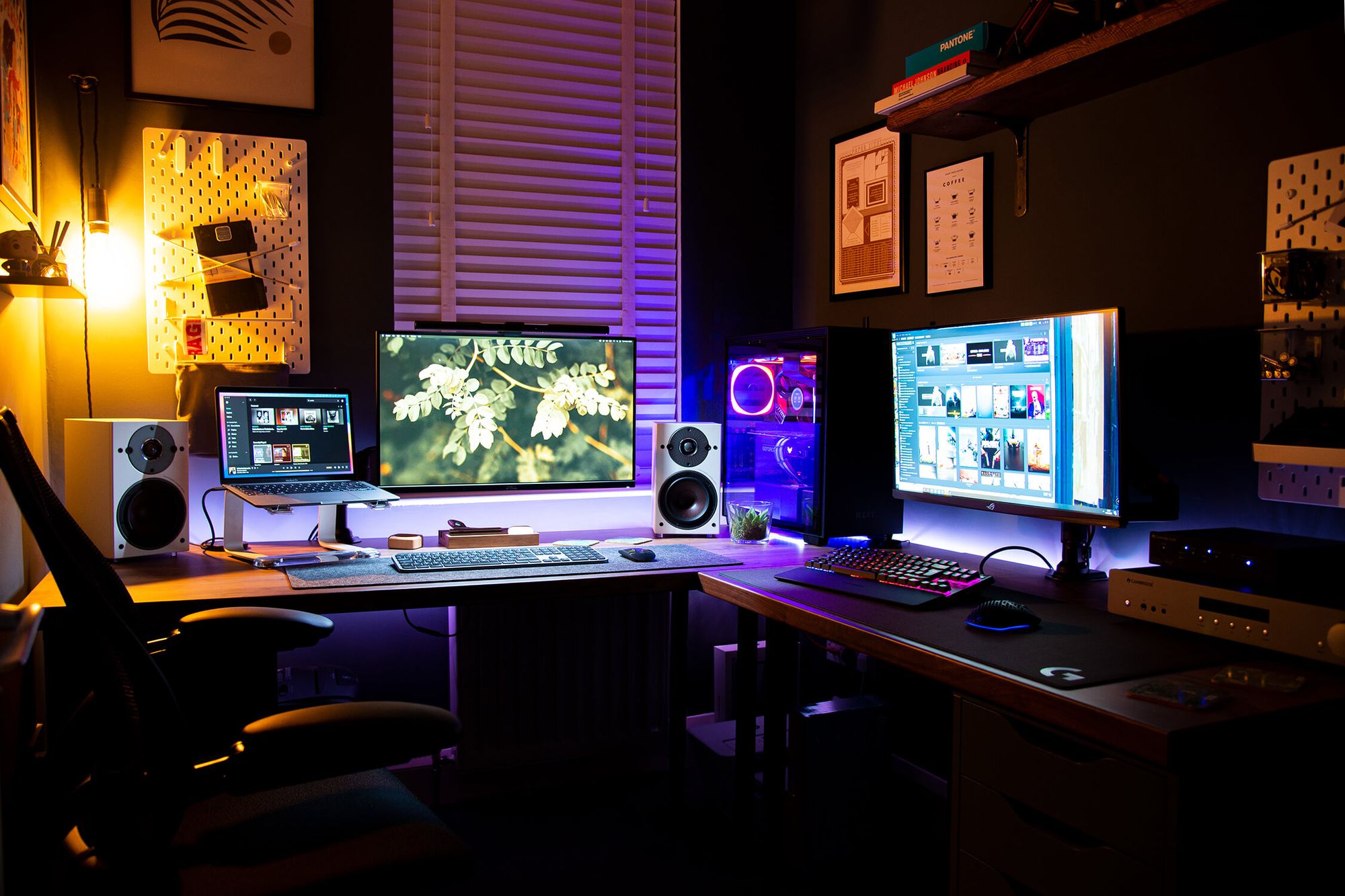 Eat lunch away from your desk if you have space for it. Try to get out for a walk at lunch or some point during the day. That helps me stay focused and is a great thinking time.
I've never been great at time management, but I find keeping achievable to-do lists helps. I don't use any fancy apps or anything — just a good pen and paper.
I've been looking at Analog by Ugmonk recently but haven't gone for it yet, although I'm tempted!‌
We're a reader-supported publication. This article might contain affiliate links. It means we may receive a commission if you click a link and buy a product that our maker has recommended. The interview was done independently.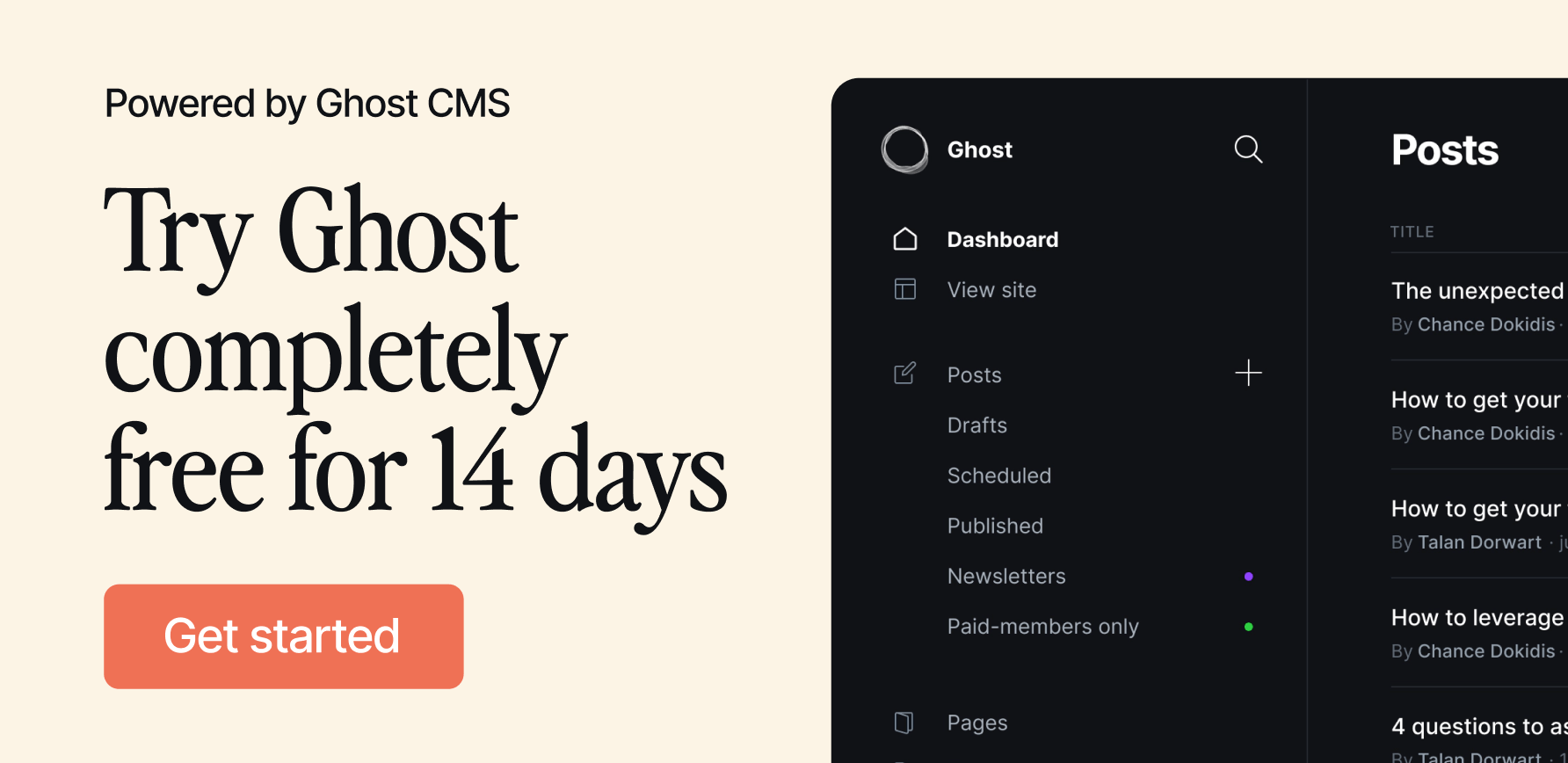 ---