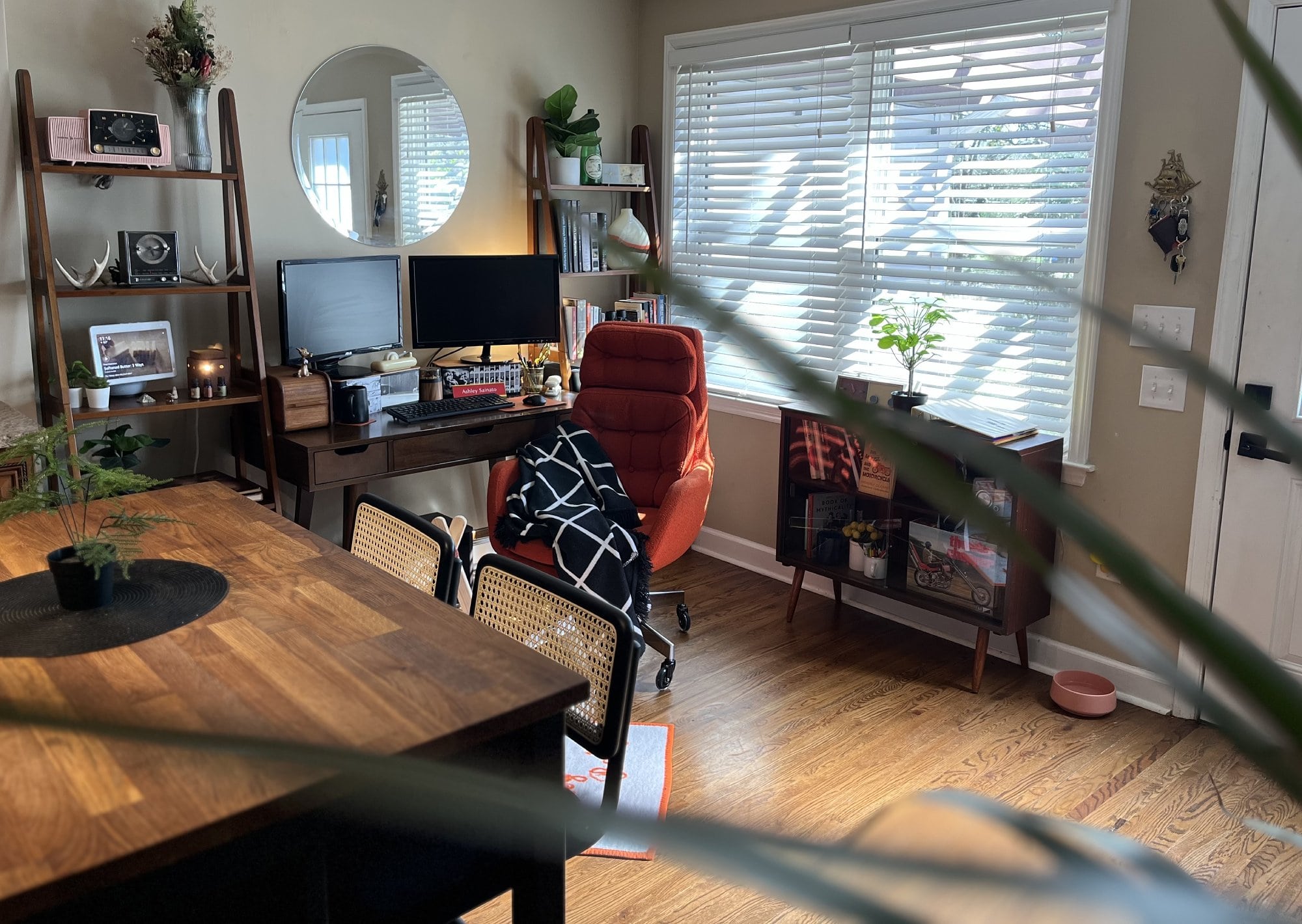 Mid-Century Workspace in North Carolina, US: a Working Mom's Dream
Ashley's vintage workspace wouldn't be complete without her trusty orange chair. Its rock-and-recline feature provides optimal comfort for Ashley as she works or takes care of her little one. The chair's bold hue adds a playful touch to her home's midcentury aesthetic.
Join 1700+ Curious Readers.
Every Sunday evening, get an *in-depth* workspace tour from a random corner of the world.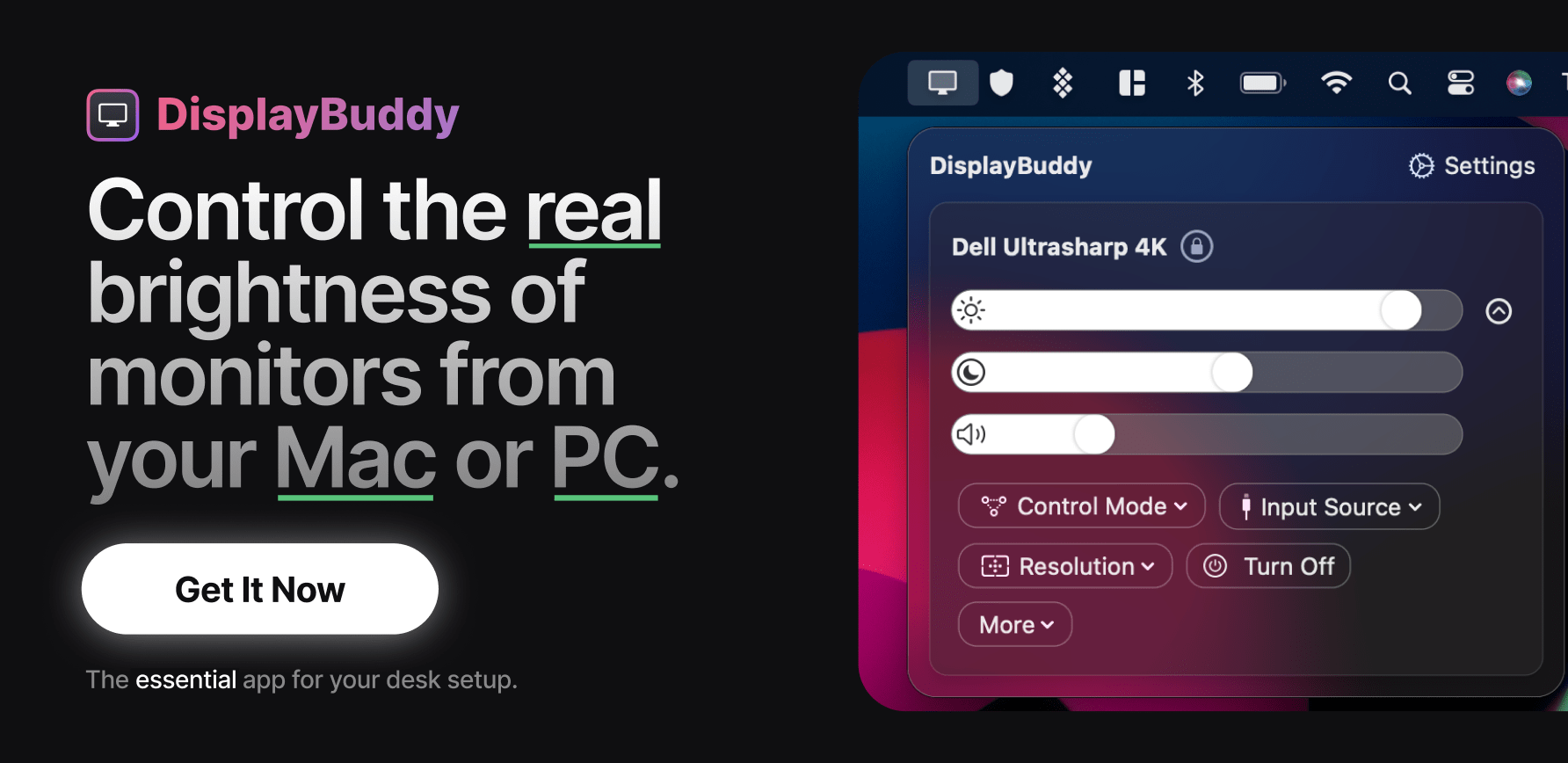 Name: Ashley Sainato
Location: Charlotte, North Carolina, US
Occupation: Service Coordinator
Cost of setup: $1K
Hello! Tell us a bit about yourself
I'm a Service Coordinator for a construction contractor.
I make sure our crews get paid.
I recently came back from a 12-week maternity leave. It can be hectic, but I've been enjoying my time back.
I absolutely love my job and my teammates. I'm lucky that my job allows me to have the work & life balance that it does.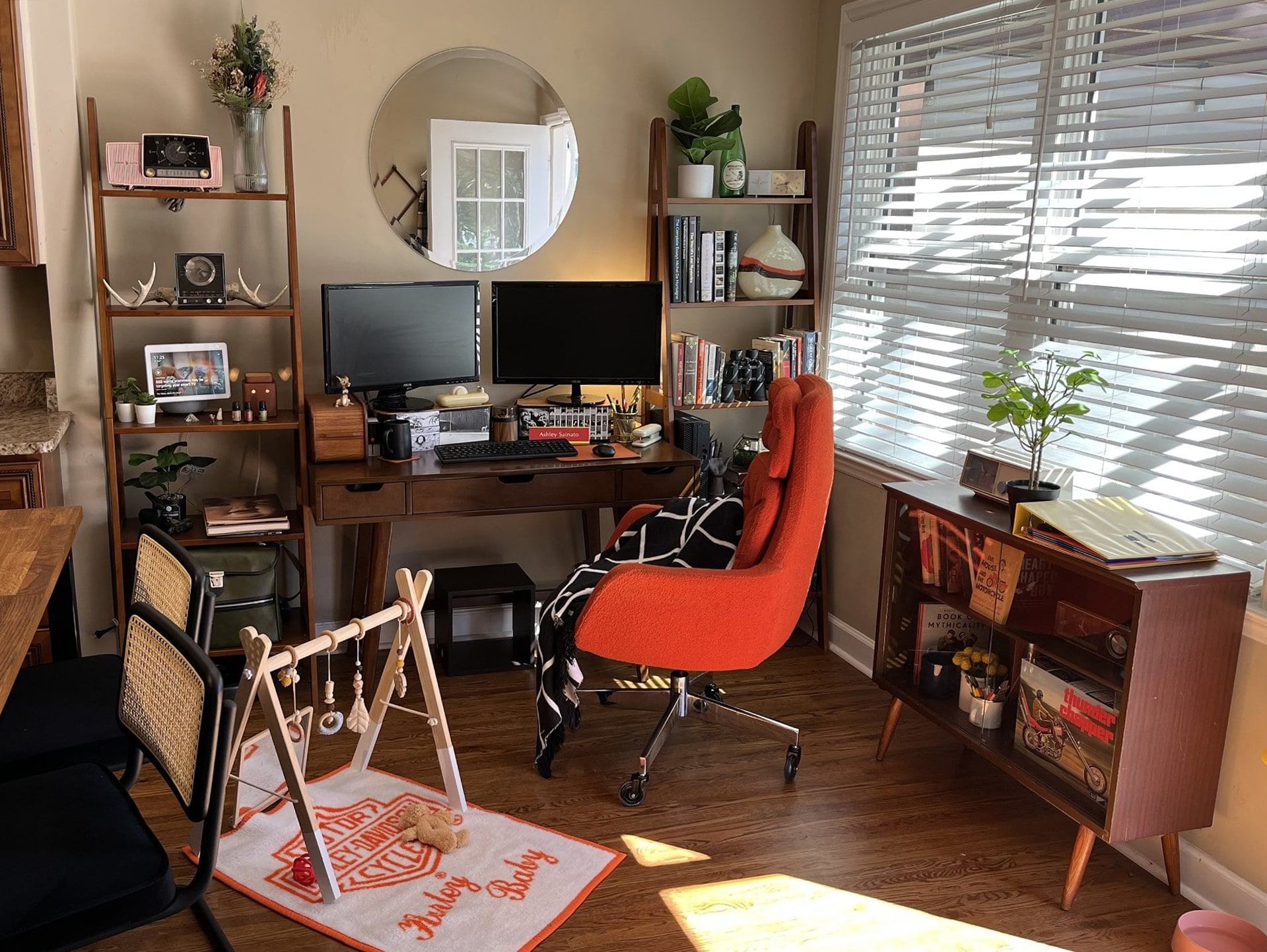 I'm 34 years old. Mom to a 3-month-old baby boy named Orin and two old dogs — Emma and Graham.
I have lived in Virginia, West Virginia, Ohio and now, finally, Charlotte, NC. I have been in Charlotte for about eight years.
My husband and I married in 2020 but have been together for about seven years.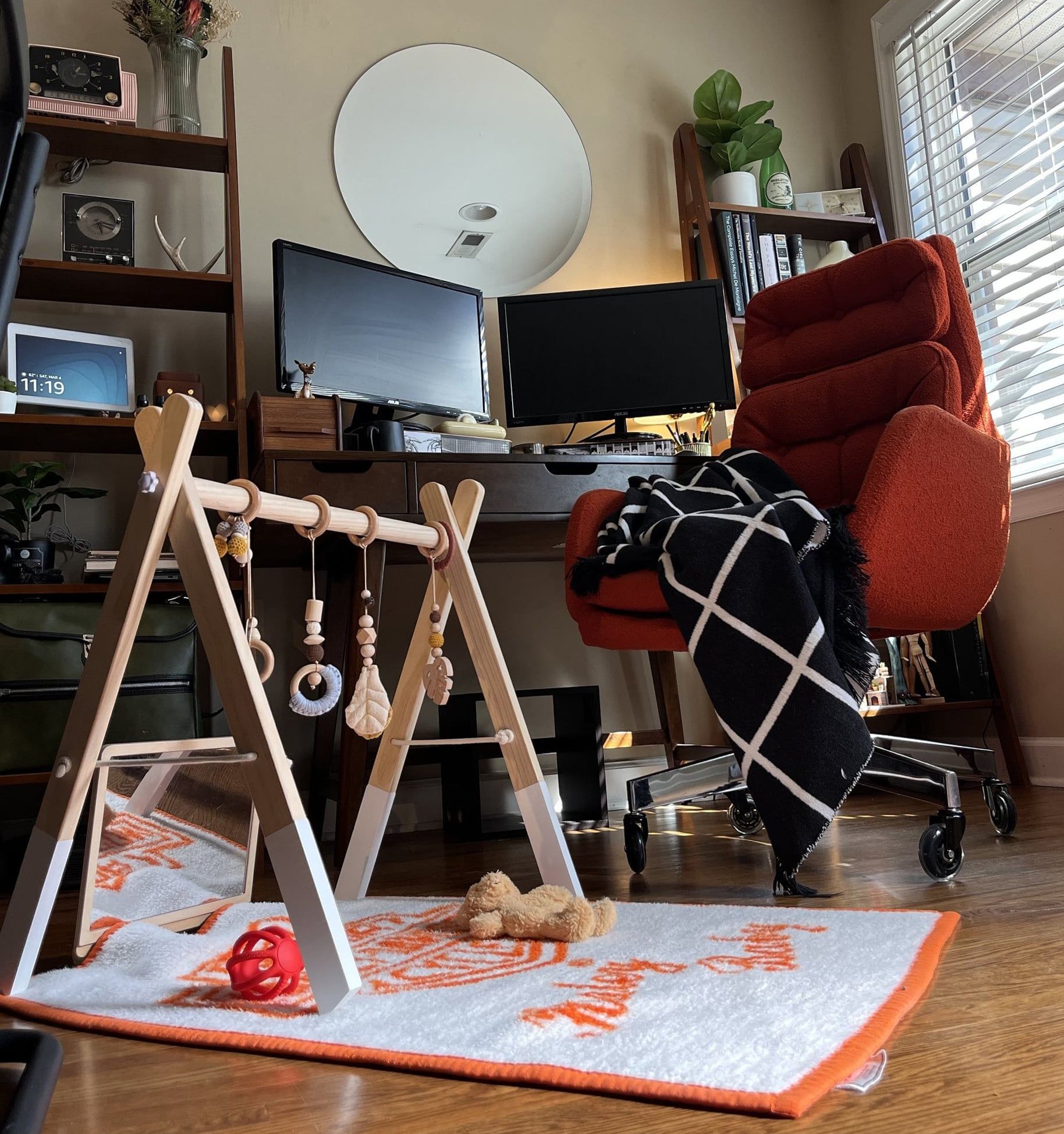 We own a three-bedroom, two-bathroom house on a dead end.
The house is always changing because I get bored often.
I actually just finished a weekend rearranging everything but the furniture.

Take us through your setup
The key feature of my workspace is my orange chair. It got a lot of love on my Reddit posts.
I don't know much about it. Unfortunately, there are no markings.
I got it from a mid-century modern reseller called Fos Restoration Co for $250.
It rocks and reclines perfectly and is comfortable while I'm working or feeding the baby.
It fits our style in the house and adds some colour that we need.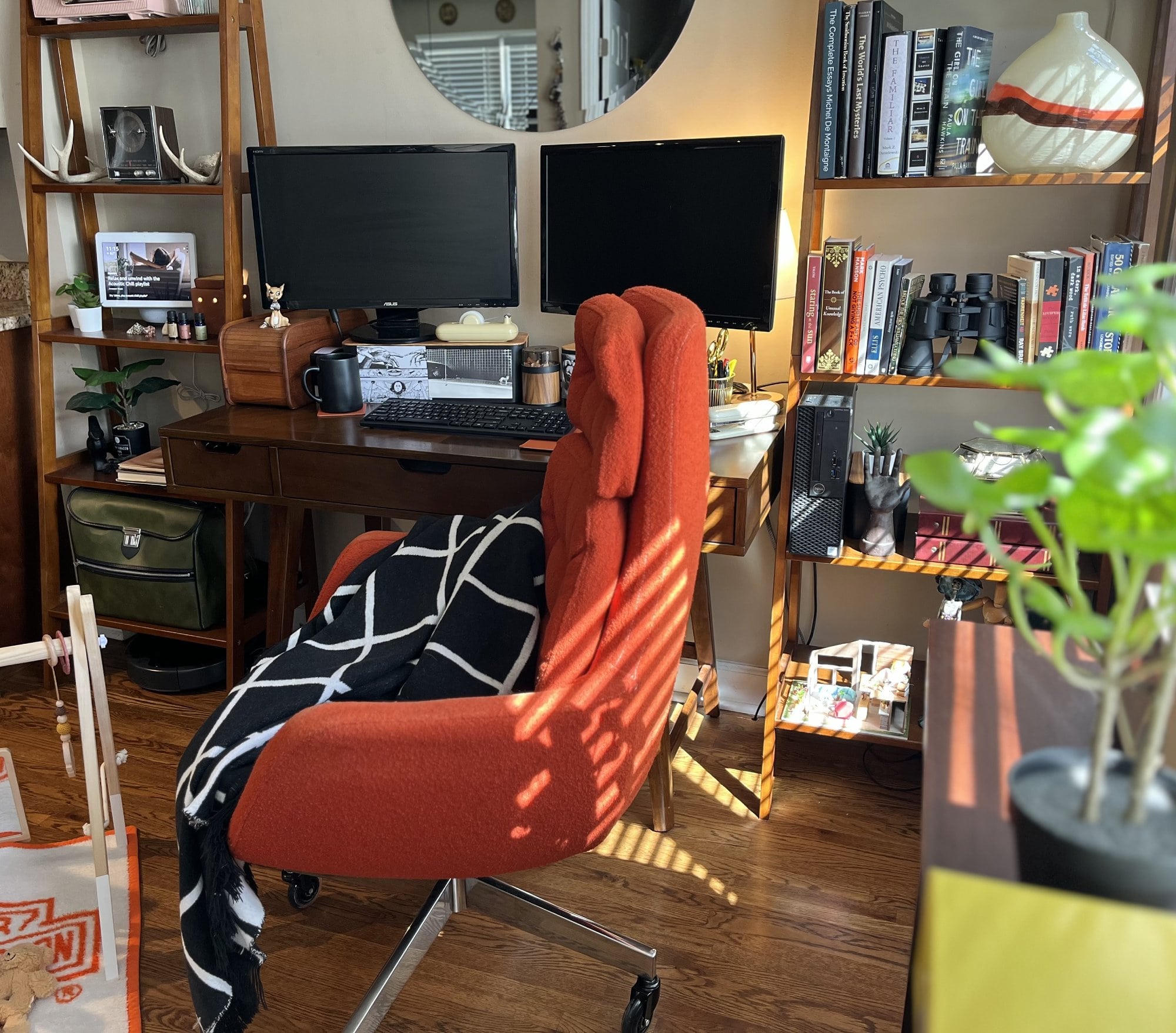 The next is the vintage Harley baby blanket.
It's not technically an office item, but it's a staple on my office floor for when the baby has playtime.
My husband is a vintage motorcycle fabricator, and it was a gift from our good friends.
It doesn't hurt that it matches the chair.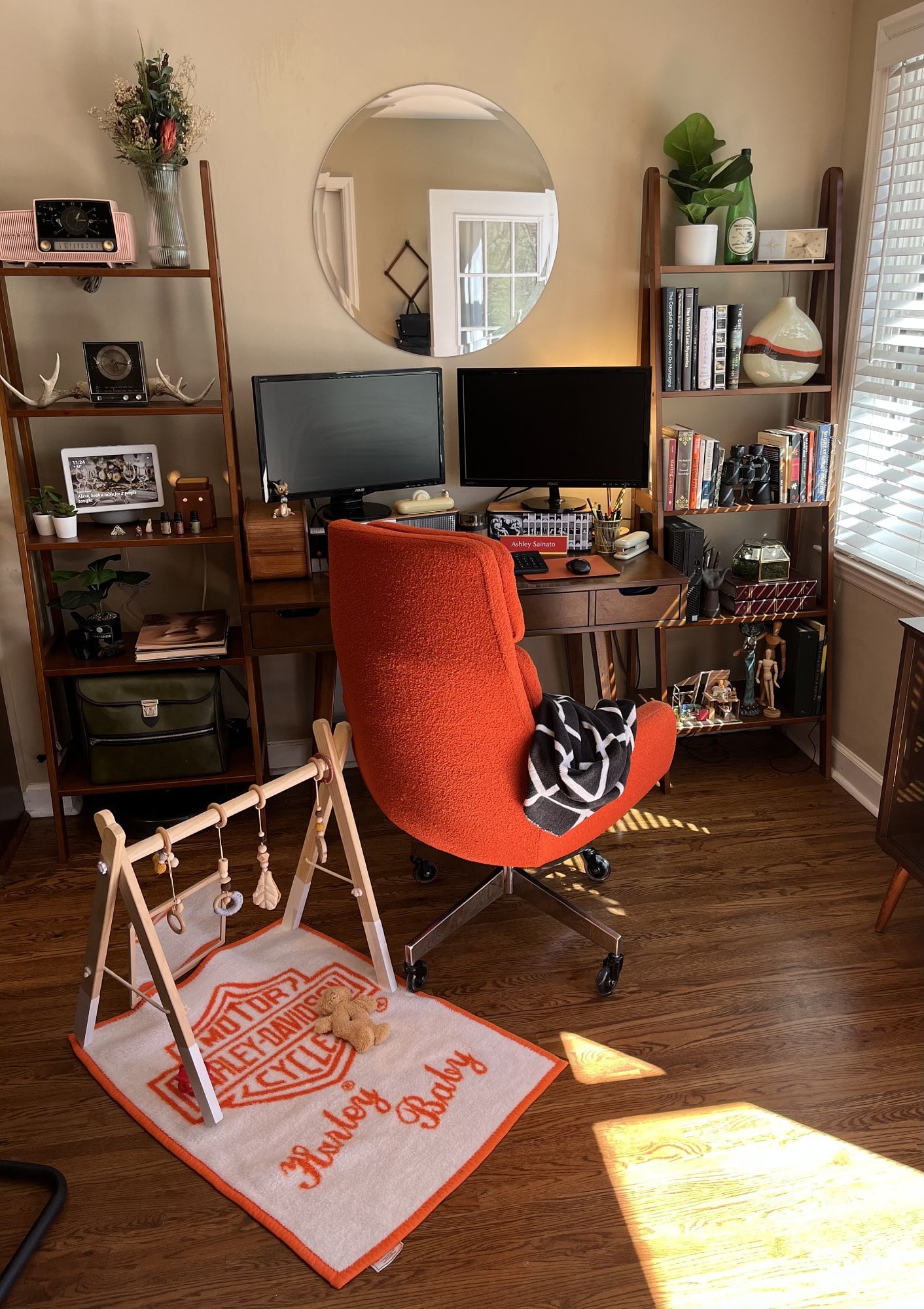 The shelves were an Amazon purchase. I think they were ~$200 for the pair.
When we got them, they were going to be too wide to fit alongside the desk.
My husband cut the shelves down so they would be slimmer.
I love the height they bring to the room, along with the mirror in the middle.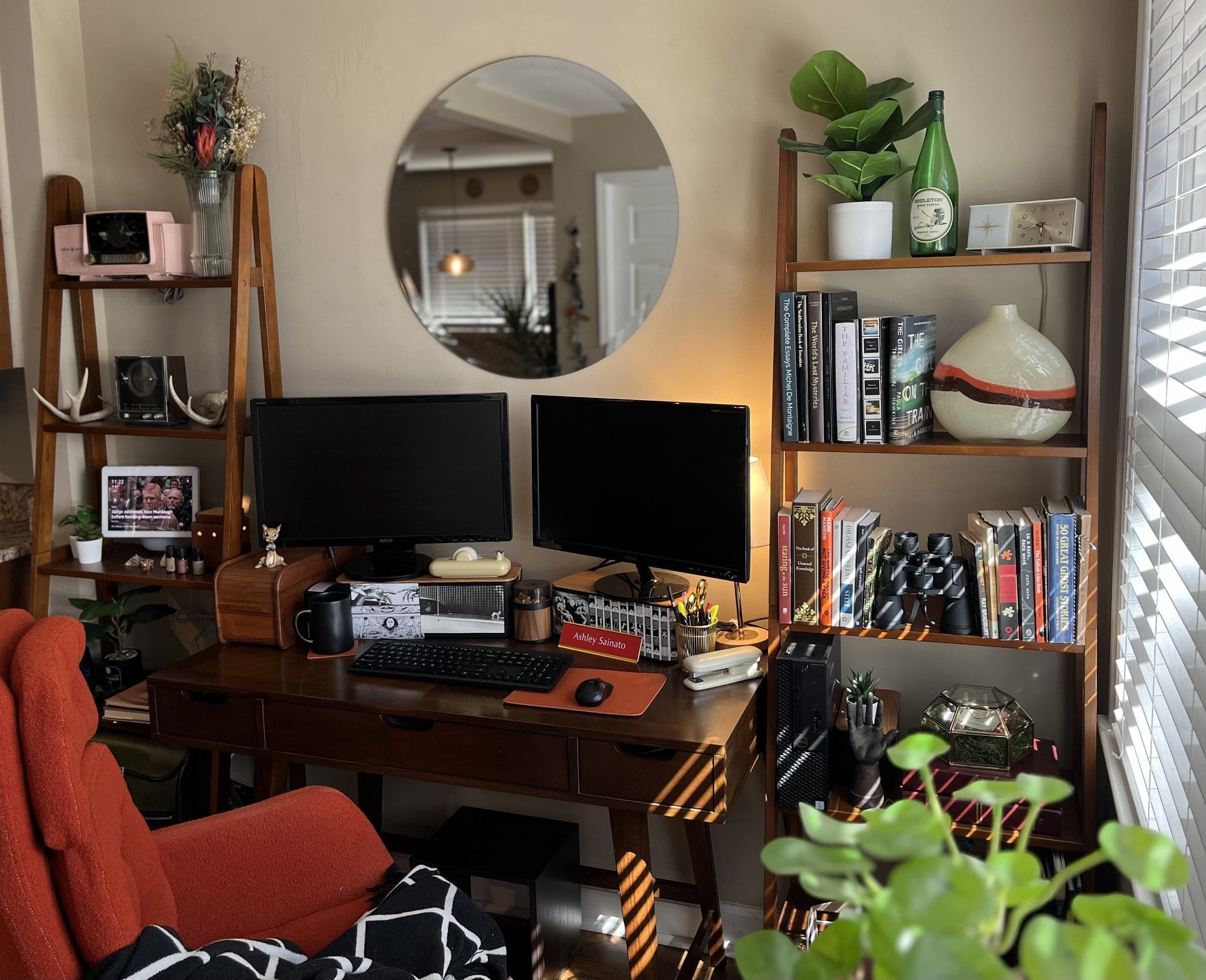 I think the symmetry in the nook is really pleasing because of the shelves and dual monitors.
The small mid-century bookshelf/credenza was a Facebook Marketplace find.
One of my favourite things on the shelves is our mid-century clock collection. We have six of them and are always on the hunt for more.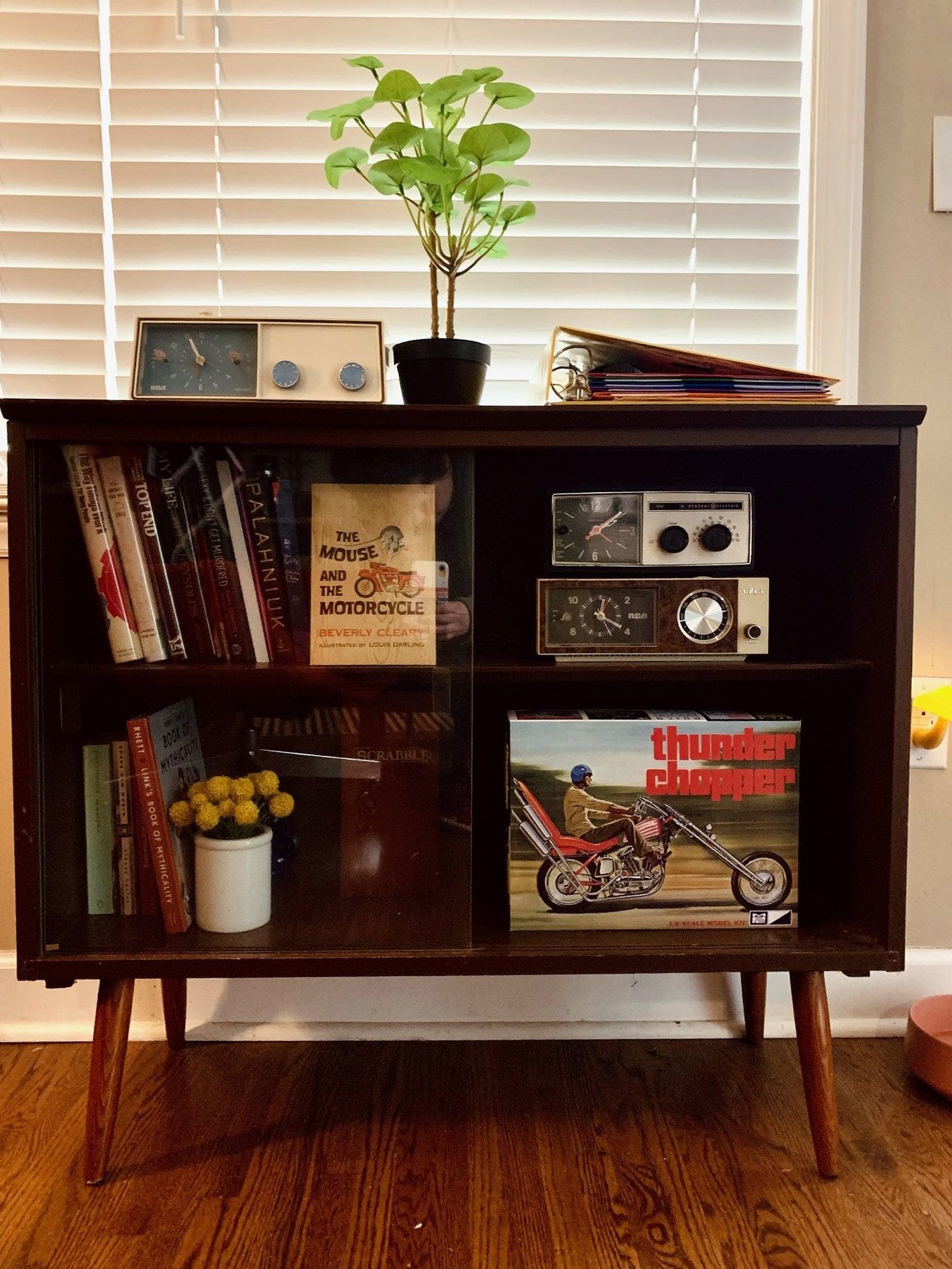 My office space is off of the kitchen.
You can see the bar stools and the island. The barstools were a recent Amazon purchase.
I recently watched a document about cantilever chairs and had to have some. I like having the space between the kitchen and the office open.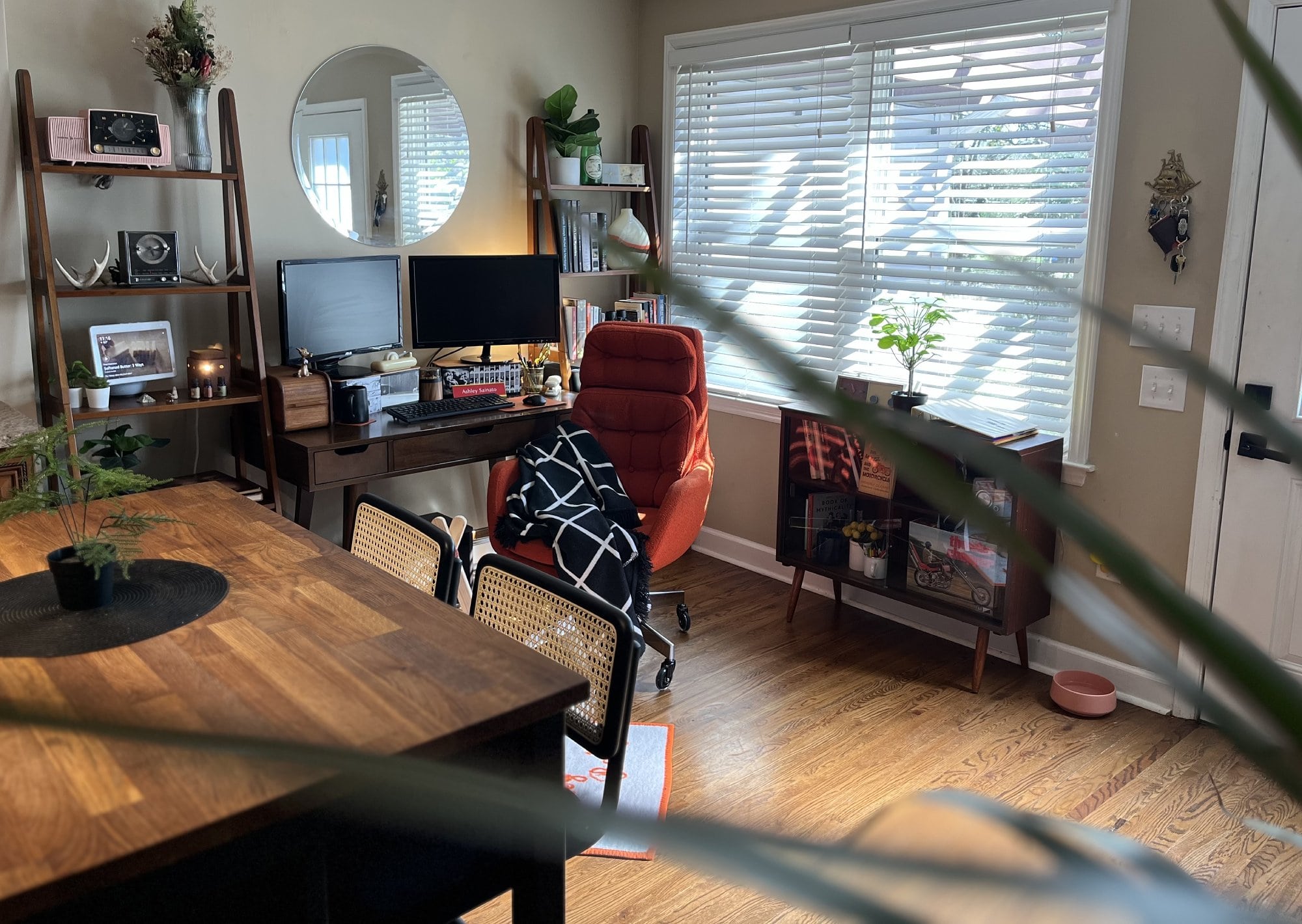 The dark wood in the desk and shelves and the dark wood cabinets really complement each other.
We had an office in one of the bedrooms, but we turned it into a nursery. I like this setup better due to the more natural light.
Although the space feels finished, I'm always on the hunt for new things to put on the shelves, so they just will be ever-changing.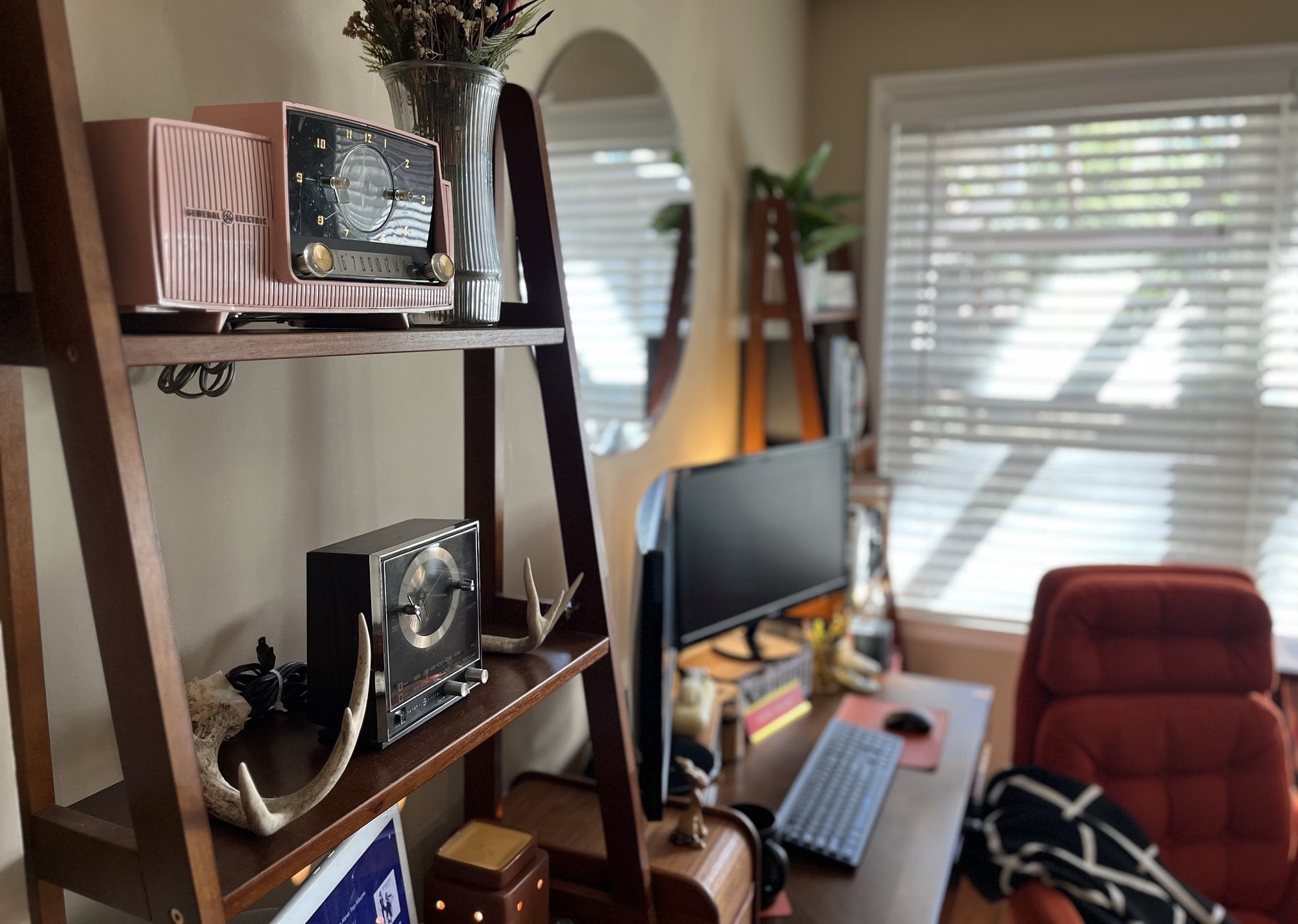 What's your favourite item on your desk?
My favourite item on my desk is the vintage electric pencil sharpener.
It's wood grain. And it still works! I couldn't tell you where it came from.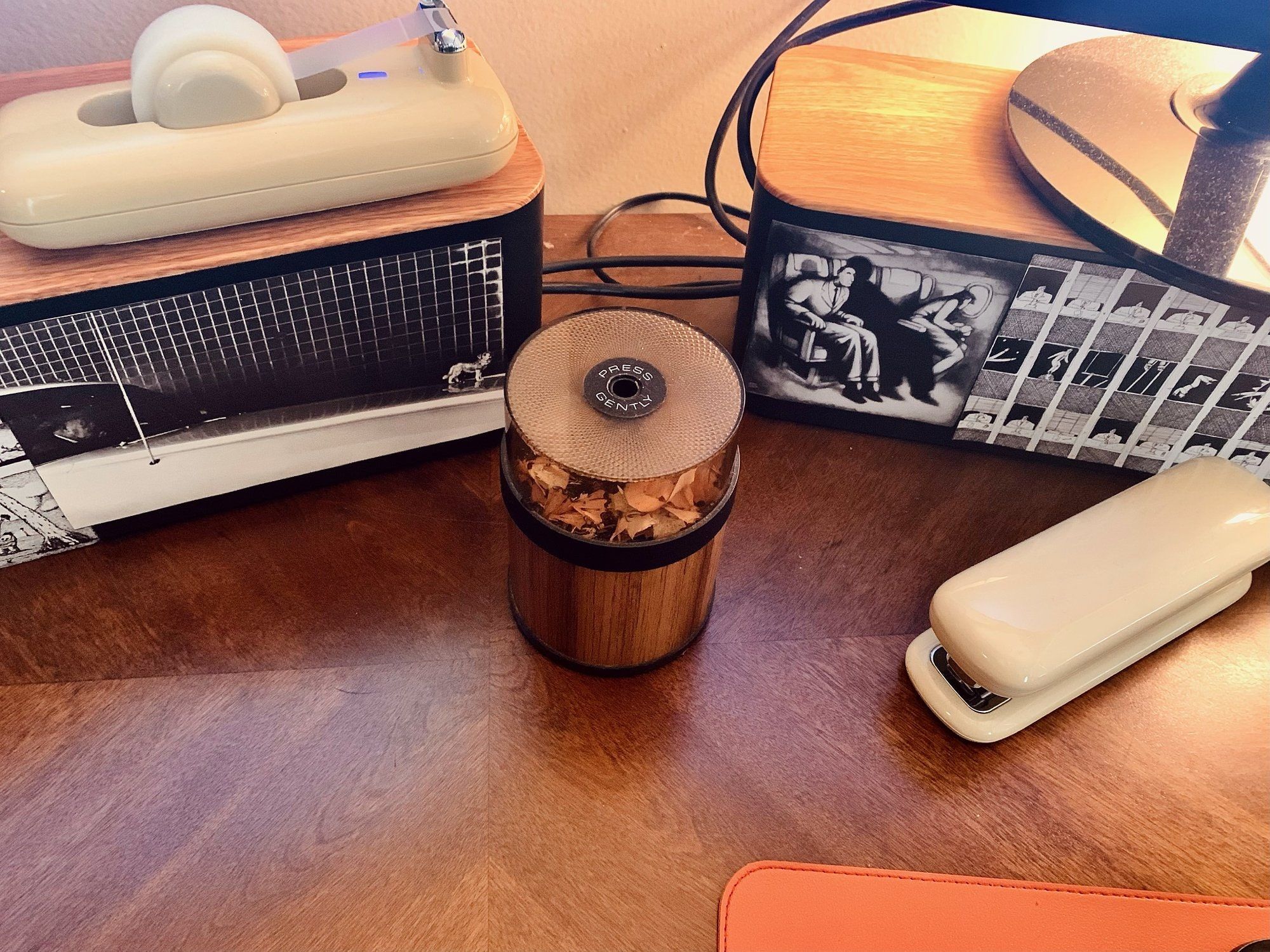 I also have a pencil sharpener shaped like a globe.
I had a full pencil sharpener collection in the past, but they've mostly gotten lost over the years.
What apps or tools do you use to get things done?
I work in Sage and a program called Wrapt.
I communicate with my coworkers through Teams.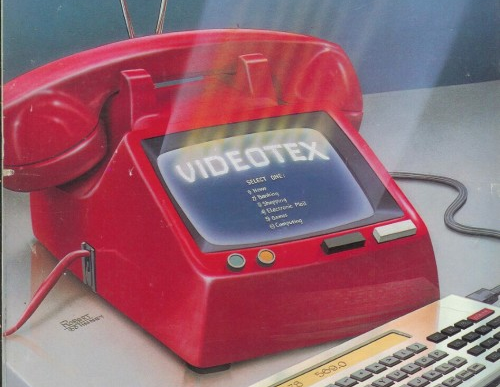 What books, blogs or podcasts recently caught your attention?
I'm a bit of a crime junkie.
My lasting favourites have been the Last Podcast on the Left and Sword and Scale.
I mainly listen to music while I'm working. Boards of Canada, Salem, Air, Röyksopp.
I'm a sucker for anything ambient or atmospheric.
My favourite book on the shelf is House of Leaves by Mark Z. Danielewski.
I'm a horror fan, so it was a really interesting read. I recommend it.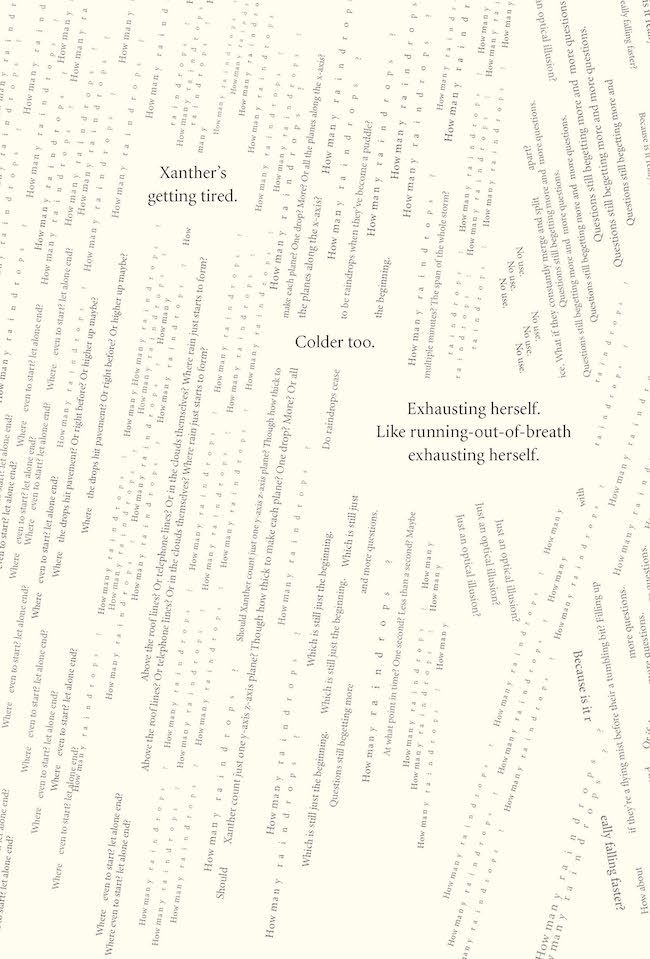 House of Leaves by Mark Z. Danielewski
"A novelistic mosaic that simultaneously reads like a thriller and like a strange, dreamlike excursion into the subconscious." — The New York Times
Buy on Amazon
Any tips for other makers who want to improve their workspaces?
Just acquire what you like, and it will all come together.
I don't follow any rules or specific styles.
I rarely buy anything decorative for a specific room in the house.
If I like it, I buy it.
This really keeps things moving in the house, so it doesn't get stale.
I have weekends where I shop for my own house.
I put all of my decorative items in one place and find new homes for them.
I can really get into it. I'm sure my friends get tired of seeing me post pictures of different versions of my spaces every month, but it brings me joy.
What does your typical day look like?
I typically wake up around 6 am with the baby. Sometimes, we sleep a little longer.
I try to have the baby fed before 7:30 am, so I can log into work a little before eight and start my day.
My husband usually gets up to feed the dogs before me, and then he heads to work.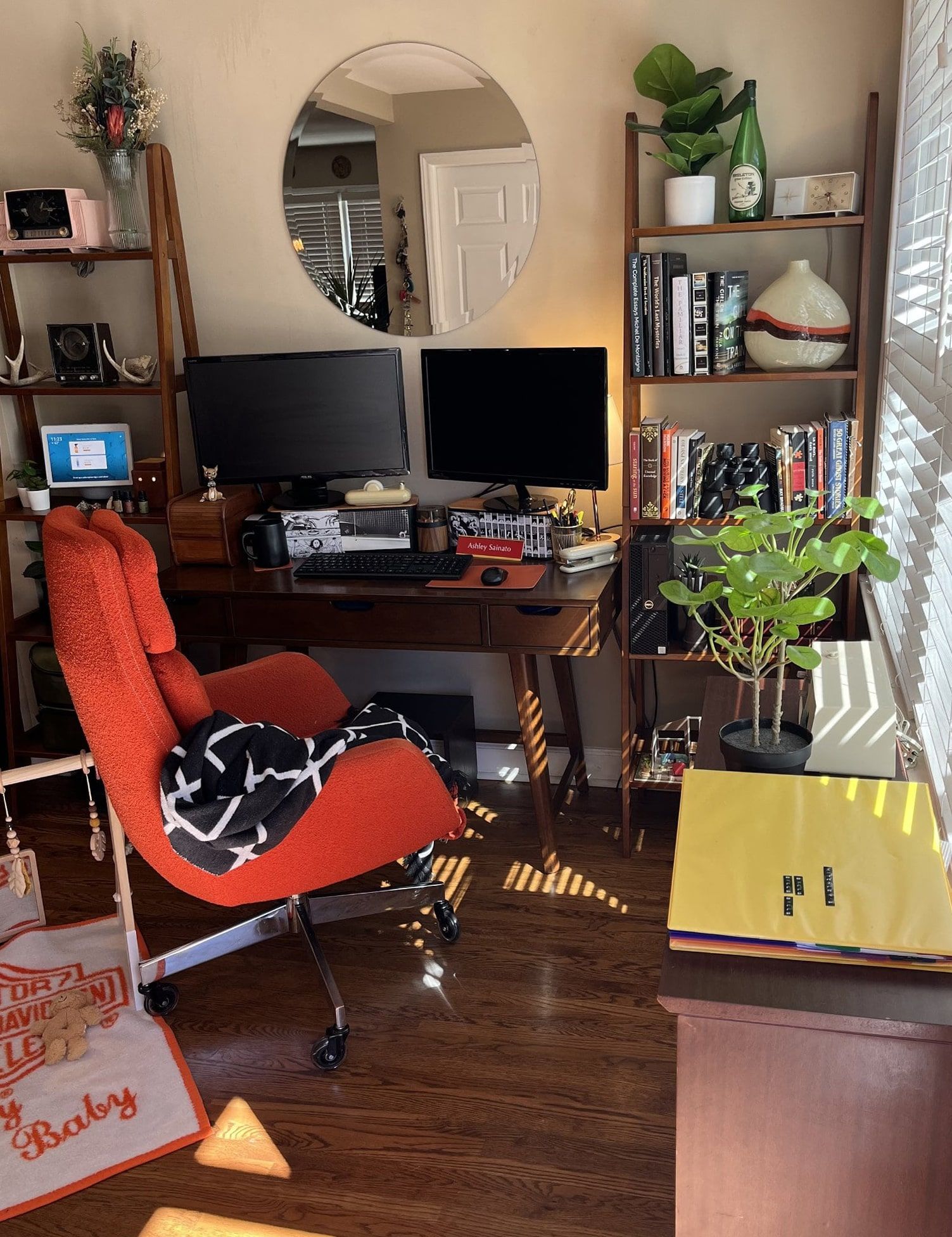 I don't do a whole lot of social media.
I will check Instagram and TikTok a few times a day. And I may post a story every few days.
My day starts with a cup of coffee.
Black with sugar.
I log into work and check my emails first.
The majority of my day is closing out completed work tickets and making sure the construction crews are paid on time.
I will also help schedule crews if I have downtime.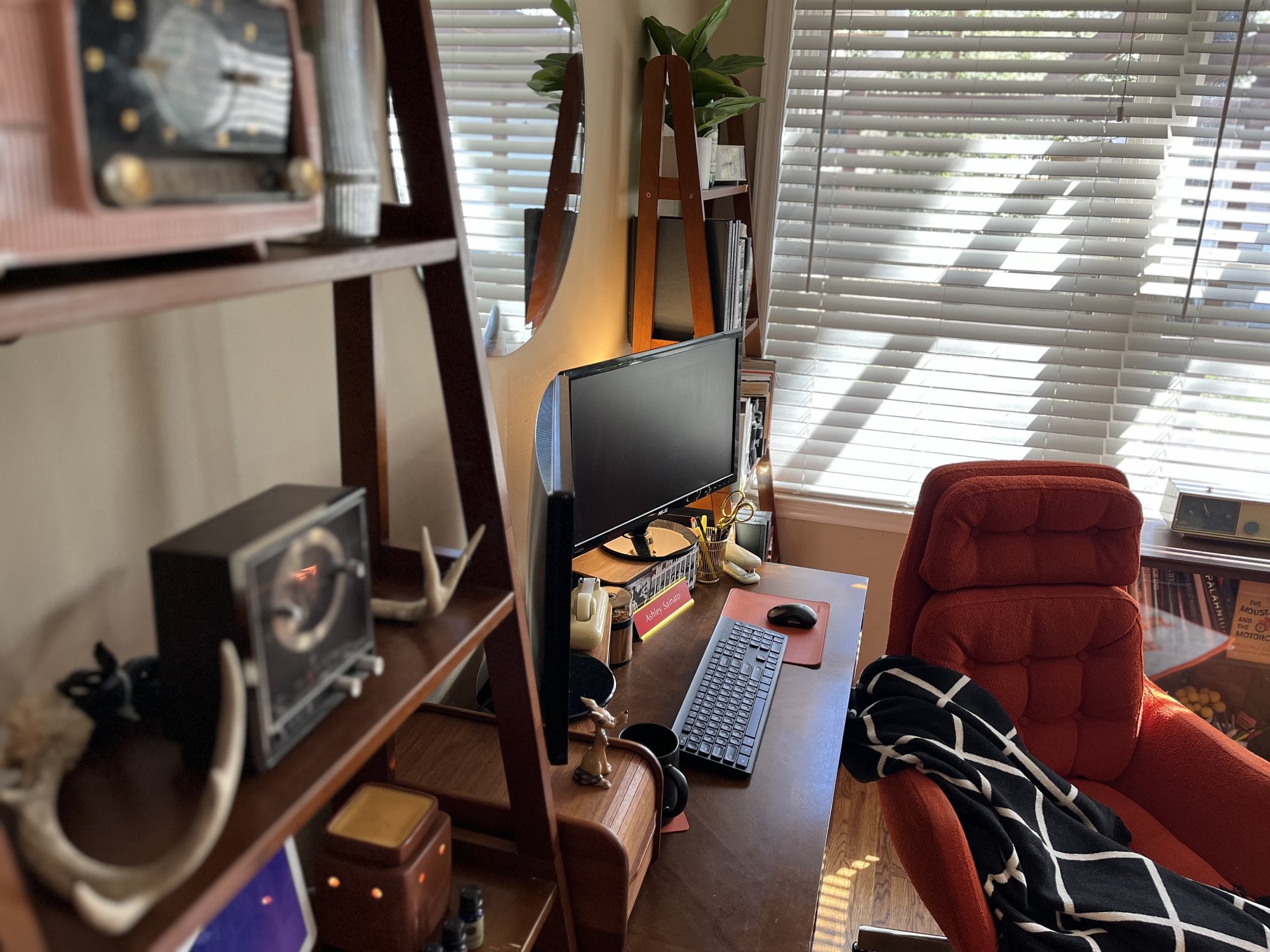 I spend 8 am to 5 pm in my office nook.
I spend my breaks making sure the baby is clean, fed and happy.
Sometimes we will go on a walk around the neighbourhood.
I'm scheduled to be in the office twice a month, but I haven't been in the office since before maternity leave.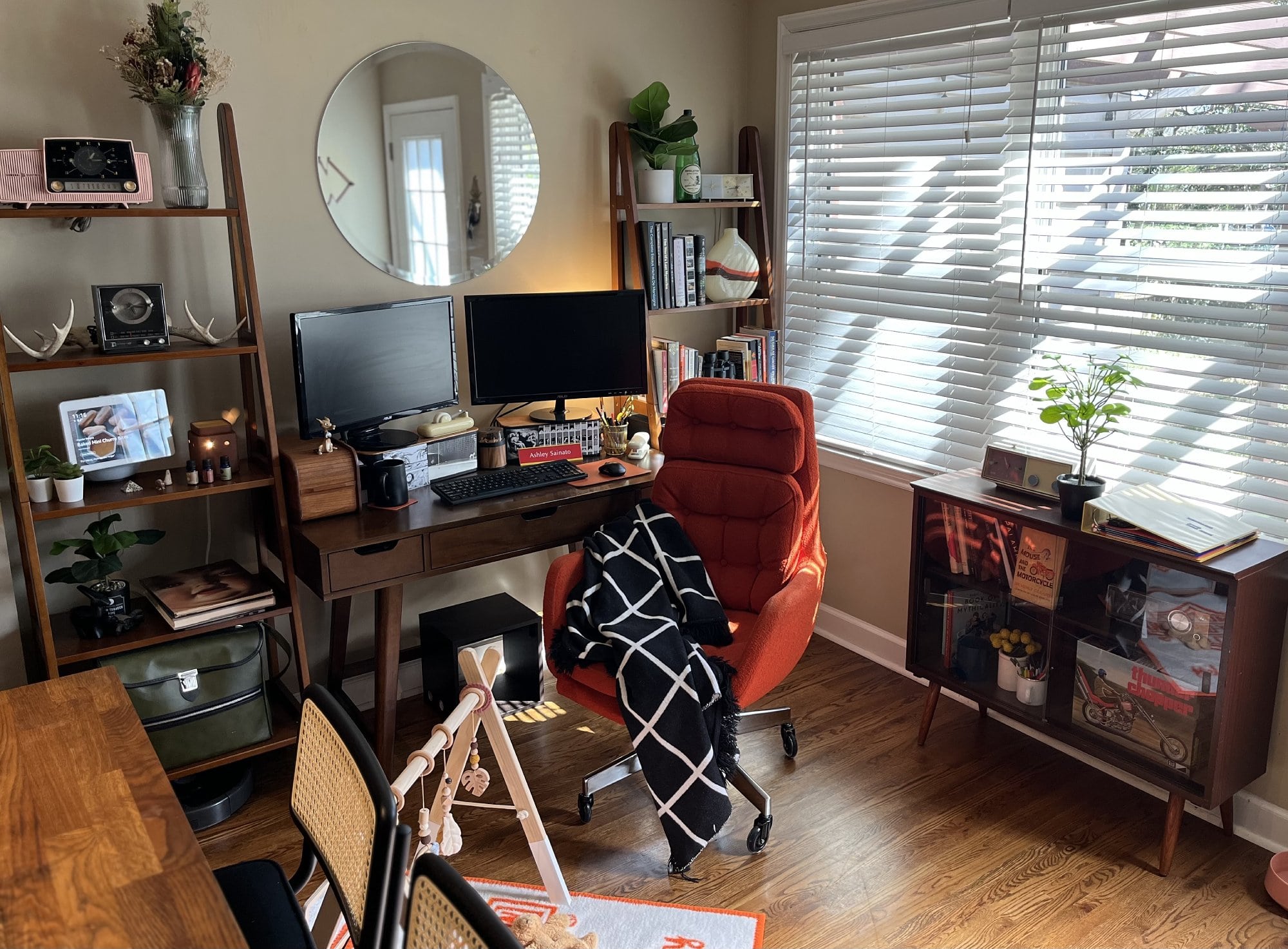 I will be starting my rotation in March.
I have been working at home on and off since before COVID-19 hit.
In the past, I've had a work-issued laptop, so I wasn't tethered to a desktop setup.
It was nice being able to work in different rooms of the house, but I prefer having one main workspace like I have currently.
Covid hit us hard.
I was laid off from a previous hybrid in-the-office/WFH job right before shut down.
Luckily, I was able to secure unemployment until I found work again.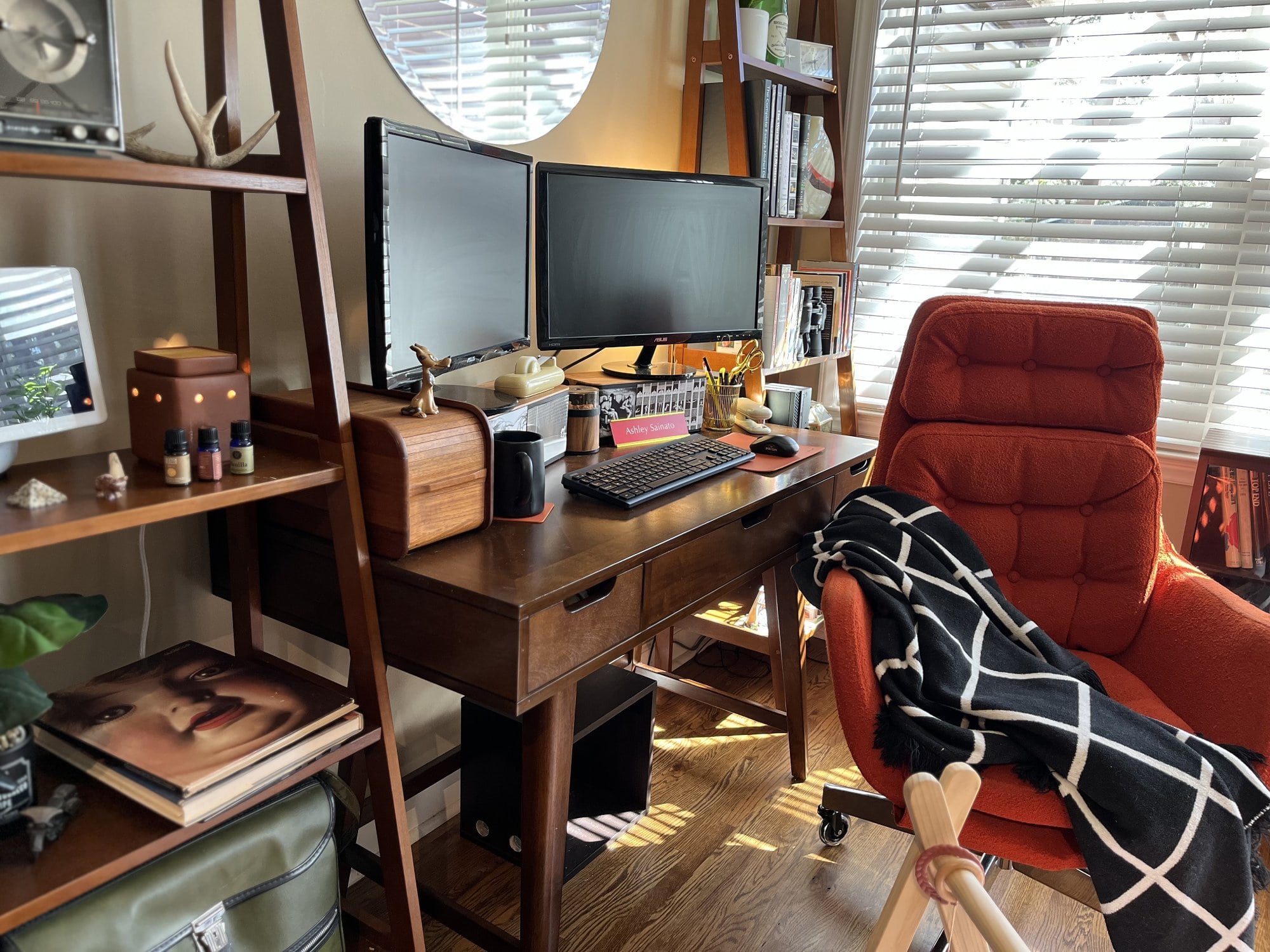 When I was out looking for work, I tried a little bit of everything.
I worked as a preschool assistant for a classroom full of two-year-olds.
I hosted at a restaurant. I worked in a doggy daycare.
I volunteered as an escort/defender for a women's health facility and eventually signed on to work there for a little under a year.
It was a powerful experience.
I felt a little like Mike Row from Dirty Jobs trying all of these new careers on.
Ultimately, I ended up with the company I'm working for now.
I worked for them in the past when I first moved to Charlotte.
I realised that the grass isn't always greener. I'm happy and secure where I'm at in my career for the first time.
Your tips for working from home?
My core job is basically the same process all day.
It can get repetitive, so I just sit tight and put on some music and tackle my list.
I make sure to get to my emails first, pressing items from yesterday next and then on to closing tickets.
Any downtime I have, I will step in and help my coworkers with their views.
Usually, that would be creating work tickets and scheduling construction crews.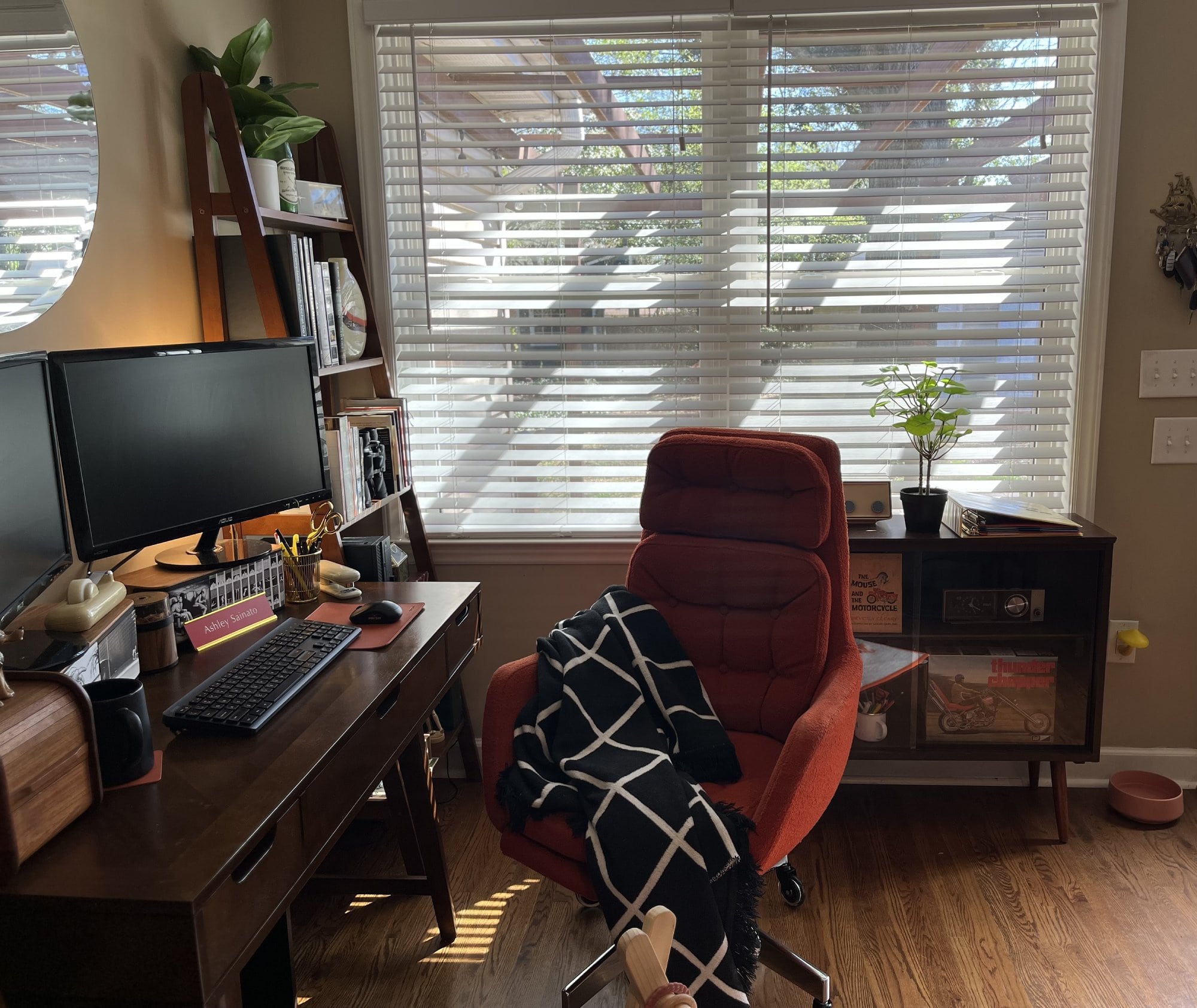 My biggest advice for anyone starting working from home would be to have a comfortable space.
Find what works for you and make it your own.
I'm able to enjoy my work day and still feel comfortable and energised by what I've created around me.
We're a reader-supported publication. This article might contain affiliate links. It means we may receive a commission if you click a link and buy a product that our maker has recommended. The interview was done independently.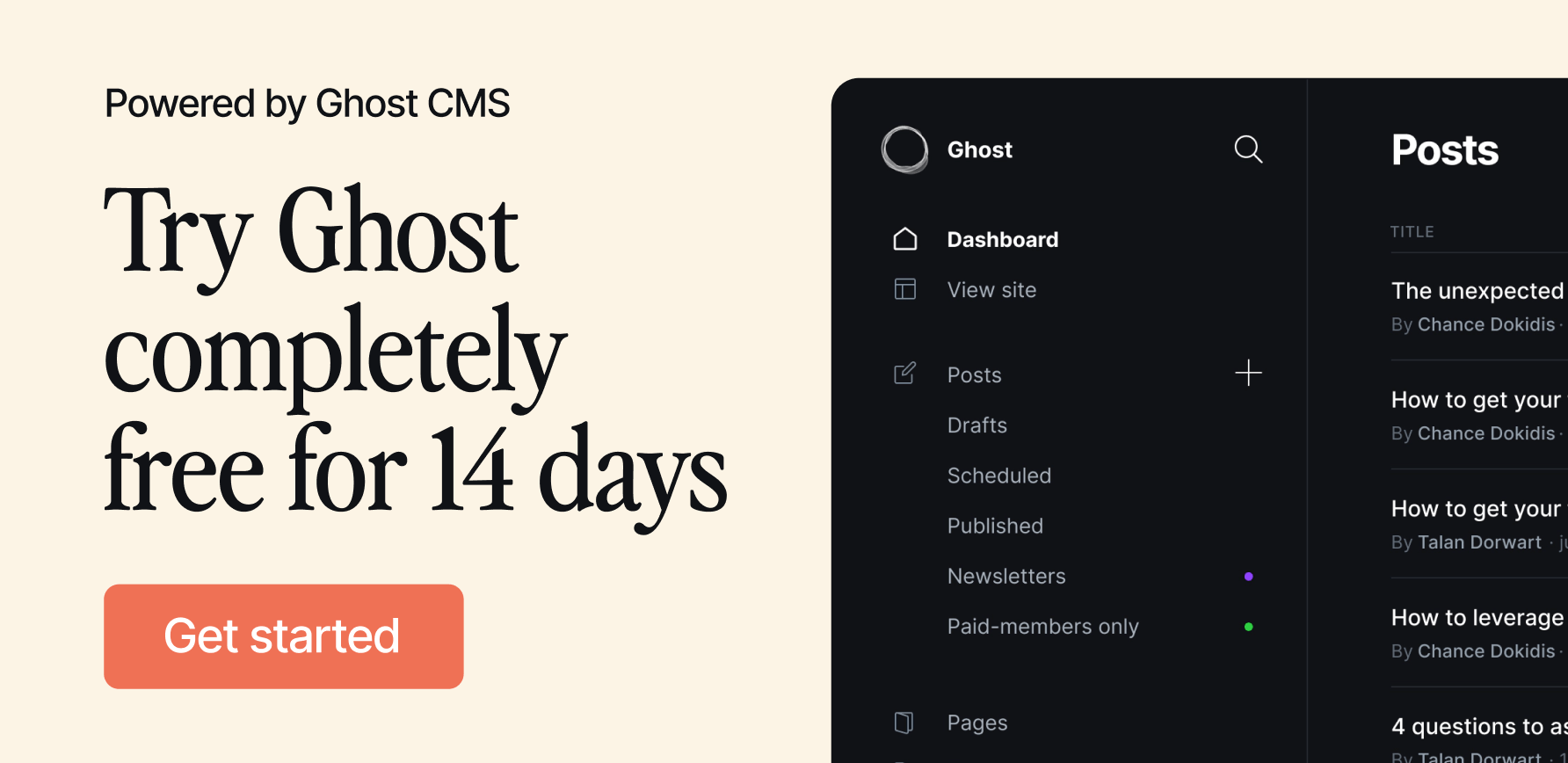 ---